What a pleasure it is to be able to share these exceptional images, brought to you by a wonderful creative team led by Coco & Kat.
These sublime images are a celebration of the graceful space and most beautiful wedding venue that is Lartington Hall. Nestled within the stunning Country Durham countryside, this effortlessly classy venue oozes light, space and sheer elegance. I'm going to waste no further time handing over to Coco Wedding Venues founder Emma Hla to tell you all about it.
"The inspiration behind our editorial images and film, was the heart-stoppingly beautiful Lartington Hall. This spectacular country house in North Yorkshire exudes elegance. Famed for exquisitely tasteful interiors, super pretty gardens, a private chapel, a stylish Grand Ballroom and delicious food, we wanted to capture the essence of a weekend wedding at this country house estate."
Photography & Film by Jacob & Pauline

+ Follow
The look of the shoot is classic with a contemporary edge. We wanted our bride to be modern and style-savvy. Our sartorial choices by Alexandra Grecco added a fashion-forward edge to the overall classic design of the shoot. Jo Adams, The Hair & Makeup Atelier, kept the makeup fresh and dewy for our romantic ceremony gown but ramped up the evening glam for our final look. With smokey eyes, a loose ponytail and an embellished hairband by Miss Clemmie our bride was ready to party!
Creative Styling by Coco & Kat

+ Follow
We took the simple pearl as the basis for our shoot and threaded this into many of the details. From delicate pearl rings to statement pearl ear cuffs, a cake adorned with pearls to teeny edible pearls on the divine Macarons created by Poppy Pickering. The epic pearl cape by Alexandra Grecco was a lot of fun to style! The pearl is quite a classic look, but we wanted to add a freshness to this organic gem.
We chose various shades of neutrals for our colour palette which worked well with the pearl thread. The neutrals were very much influenced by the paint colours and interiors within Lartington Hall. We added pops of colour in the flowers with delectable toffee and sand coloured roses adding depth.
The stationery by Nat's Paper Studio included grey and sand tones, finished with luxurious black envelopes and tassels. The whole palette felt chic and contemporary whilst reflecting the historic venue.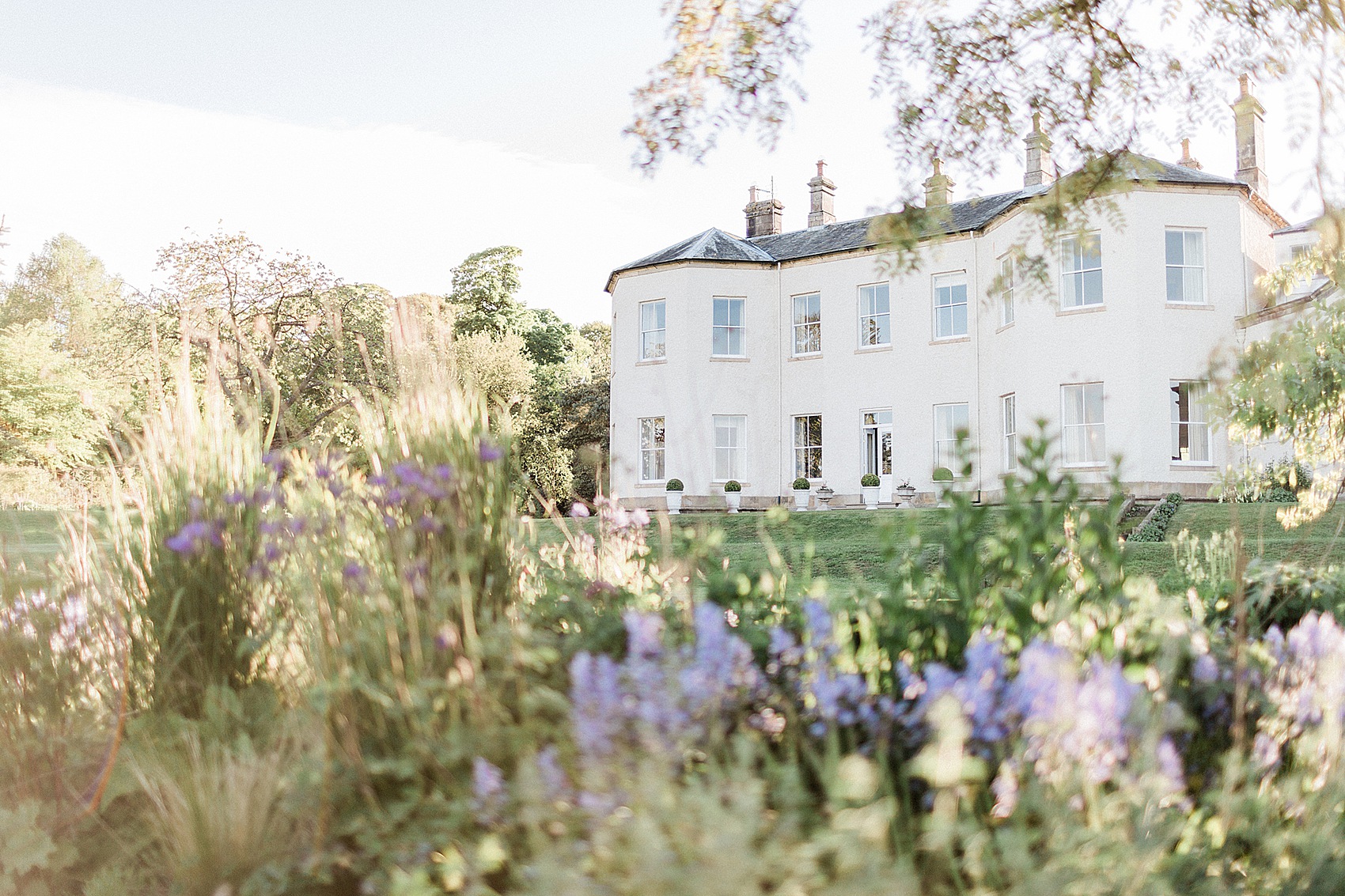 It was such a joy to create large installations in Lartington Hall's spaces, however we wanted to keep the softness found in a natural summer garden – think light and whimsical in style.
Our florist Lucy MacNicoll combined the best of British summer blooms including Sweet Peas, Orlaya, Philadelphus, Fox gloves and Roses with luscious green Beech, Silver Birch foliage and delicate grasses.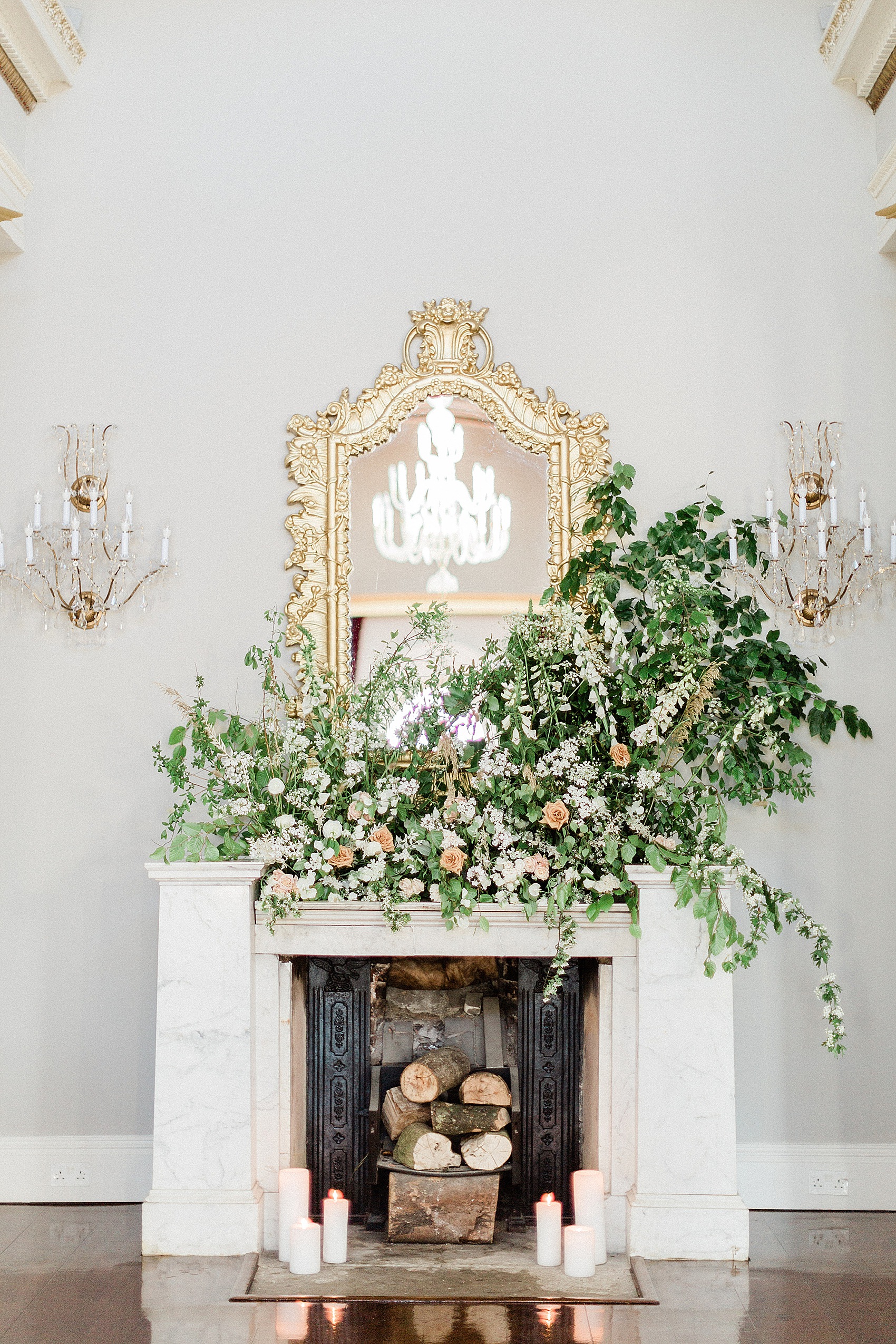 To add depth to some of the florals toffee and sand tones were added via blousy garden Rose including varieties, such as Sahara and Toffee Roses with pretty taupe coloured Bunny tail grasses.
The tablescape design featured ceramic bowls filled with airy and feminine florals to compliment the delicate tapered Ester & Erik candles and dinnerware by Duchess & Butler. The table was framed with an asymmetric loose and natural oversized fireplace design.
The bedroom setting was dressed with a whimsical meadow design incorporating masses of Cow Parsley, Orlaya and Fox gloves.
My personal favourite detail is the bathroom – there are so many incredible places for portraits at Lartington Hall but this fabulous mural was pure drama. I also loved the Chapel – it was both wild with flowers and yet serene in atmosphere. A truly magical place to say your vows.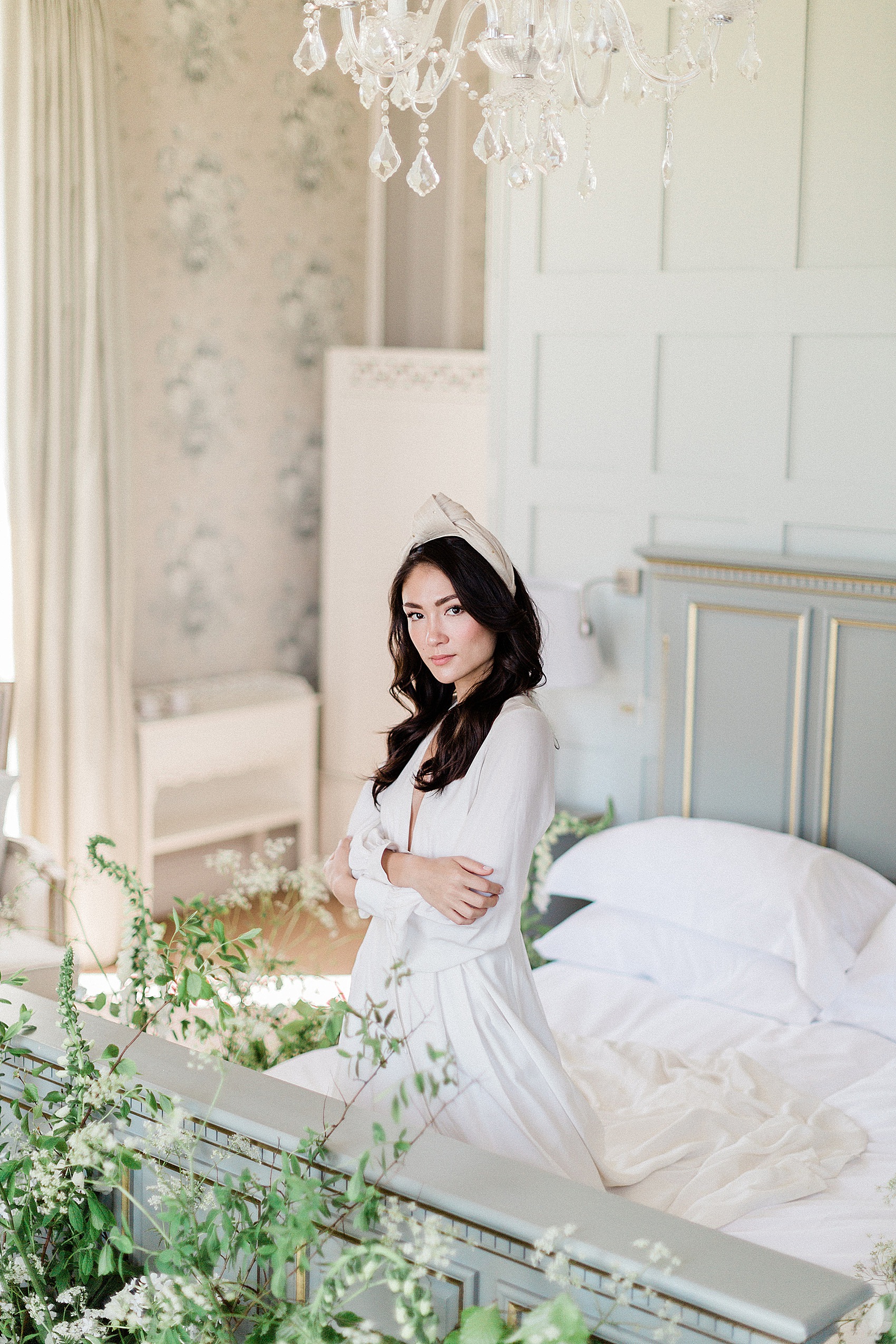 Capturing the shoot was husband and wife duo Jacob & Pauline. This is the second time we've worked with them and they're pure magic. Their attention to detail is second-to-none and we just love these beautiful images and film.