I adore this time of year; the days are getting longer, all the pretty snowdrops herald the arrival of Spring, and as far as my job goes – this is when designers launch their new annual collections.
It's a time of creativity, inventiveness and newness. Three words that really capture the essence of designer Debbie Carlisle's 'Moonlight' – her 2020 collection of bridal accessories including earrings, headpieces and hair accessories.
I have long been a fan of Debbie's – in fact I think her business has been going just as long if not longer than my own. She has certainly been a constant, creative presence over the past decade, and I've loved sharing my own business journey with hers. I caught up with Debbie recently to chat with her about creating for brides, business in general, innovation, sustainability and more…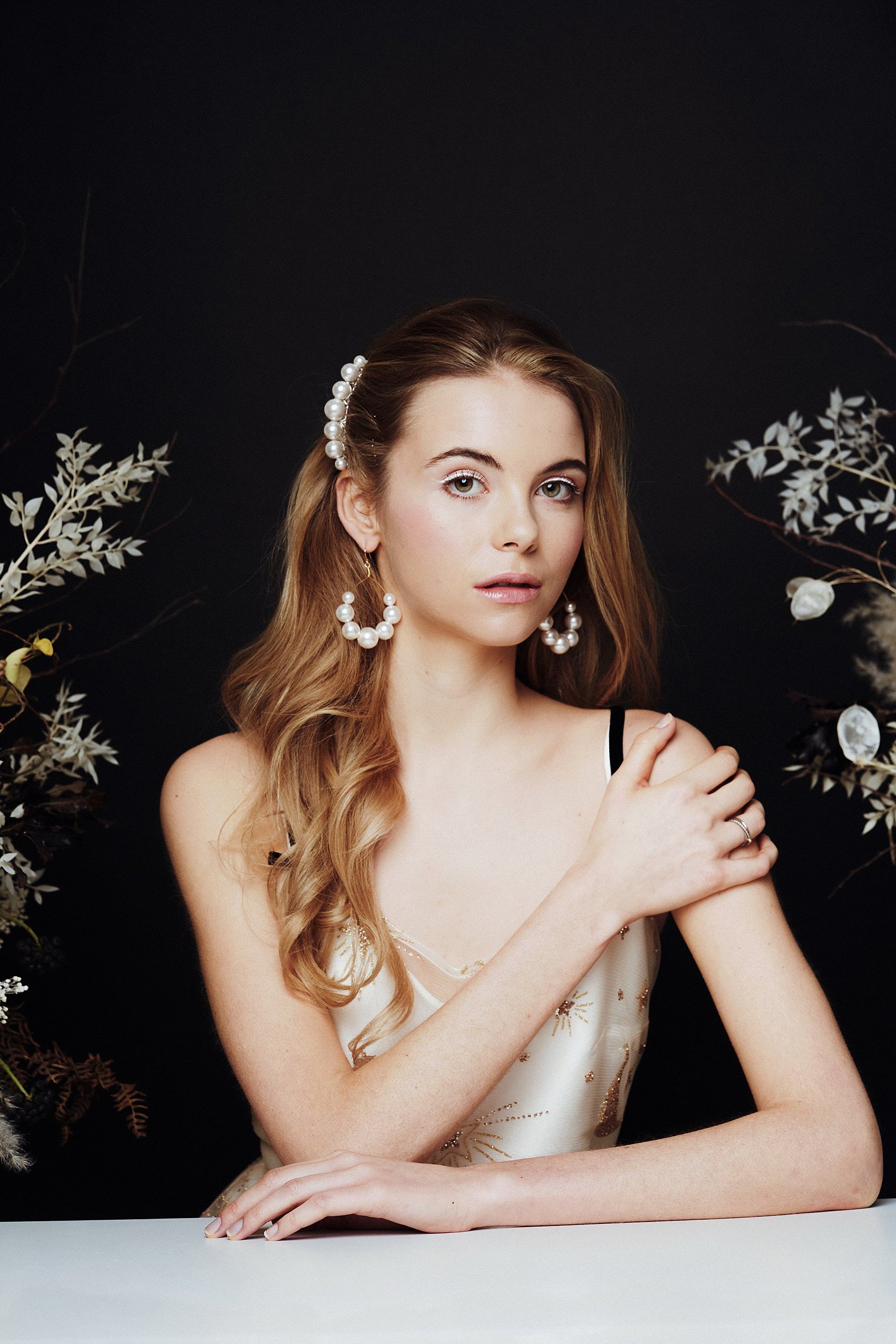 A Conversation With Debbie Carlisle
Debbie, please introduce yourself…
I'm Debbie Carlisle and I'm a bridal accessories designer and maker, living and working in Sheffield in the north of England with my husband and young son.
Tell us how you started out in bridal fashion and what drew you to bridal in particular?
It all began when I made my own accessories for my wedding in 2009 – after my honeymoon I just kept designing and making new pieces and I haven't been able to stop!
What do you love most about working in the bridal fashion world?
I just love the whole bridal aesthetic – I love working with beautiful materials and designing accessories in intricate natural feminine forms, and I love that my pieces are chosen by brides looking for something special to wear on their wedding day – and long after.
Can you describe your signature style?
My work has a deconstructed wild and natural bohemian feel and combines current trends with a classic and sometimes vintage edge. My designs have an ethereal quality – even in my most statement or contemporary pieces there's a delicate element that balances my pieces so they're never overwhelming.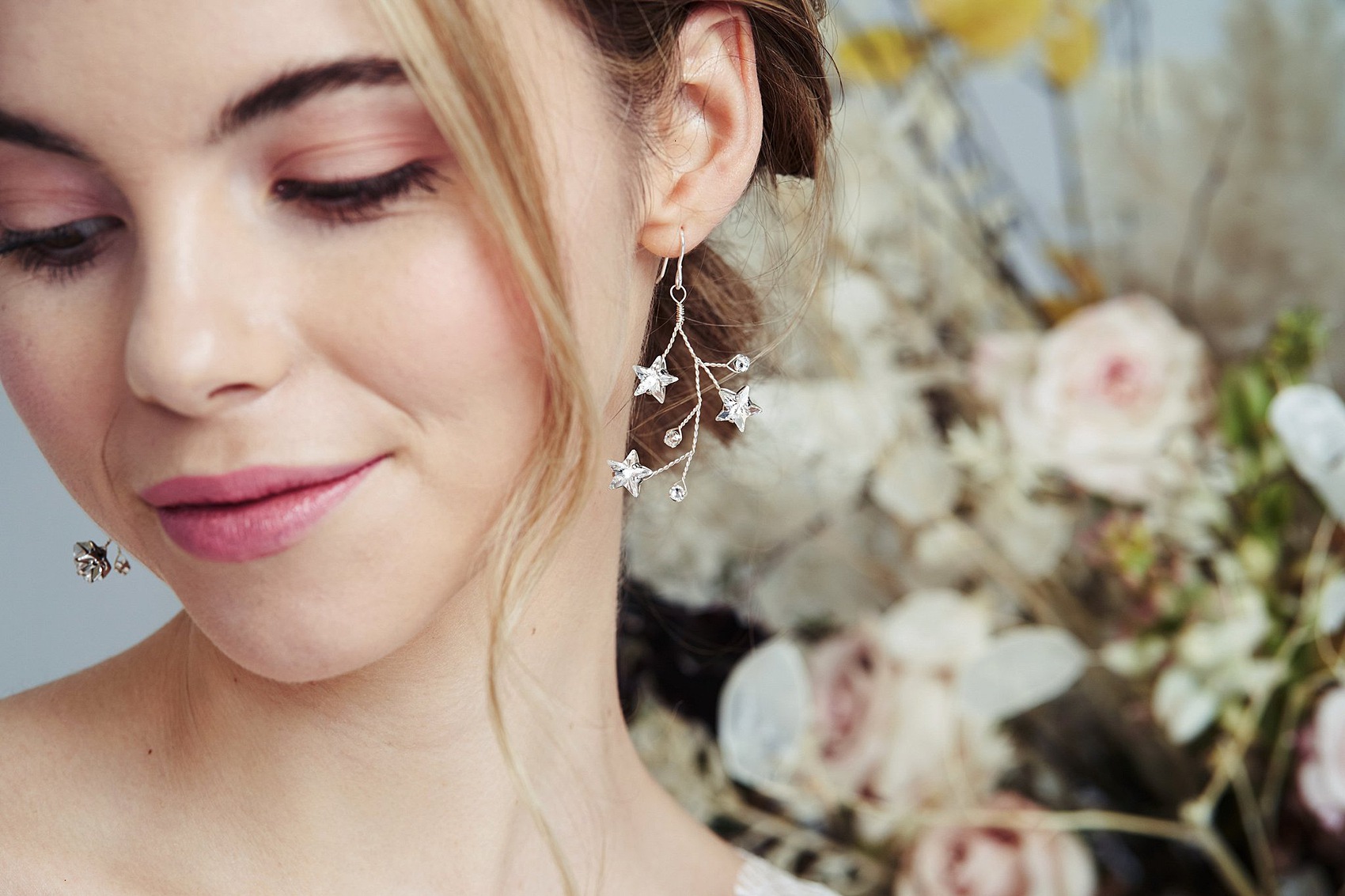 What do you think makes your brand so appealing to brides?
I think its appeal lies in designs which are wearable and beautiful and which balance fashion with a timeless sensibility. For brides I think knowing that they're buying their accessories from an established designer who makes everything in house from quality materials adds to the appeal, especially at a time when people are so aware of conscious consuming and throwaway culture.
How would you describe the typical Debbie Carlisle bride?
They tend to be design-conscious fashion-loving brides who understand the value of buying a hand-crafted accessory designed and made in the UK. They have often made a specific choice to support independent designers and makers who create considered, beautiful pieces using carefully selected materials – and they all love a bit of sparkle!
Where do you start with each new collection – can you talk me through your process?
I start with the materials first – I'll source different beautiful raw ingredients and then just start playing. My designs tend to come from my fingers and heart rather than my head – it's a very organic process and seems to come into being quite naturally rather than through a very strong advance plan!
Tell us about your latest collection, Moonlight, and what inspired you to create it?
The first piece I created for this collection was the Orion star-encrusted crown and this really set the scene for the Moonlight Collection as a whole. I was in two minds about designing with the big pearls as they have been such a big fashion trend and, as always, although I wanted the collection to be conscious of current trends I very much wanted it to be unique to me.
I decided to use luxe Swarovski pearls and combine them with Swarovski star crystals to create a series of moon and star inspired constellation designs which I think resulted in something completely current but also fresh and unique to me and I'm really happy with the way the collection turned out.
Do you have a favourite design in this collection?
I swing massively between the Orion crown and the Lunella hair vine. It's definitely all about the stars for me! And I'm really excited to have added earrings and matching headpiece and earring sets to this collection – I'm such a fan of a statement earring for brides right now and it's a really easy way to elevate your bridal look, especially if you want to change your look from day to night without any fuss or great expense.
Can you tell us what efforts you are making to ensure your brand is as ethical and sustainable as possible?
From a design perspective I work really hard to create versatile pieces with a timeless feel so they can be worn long after the wedding day they were designed for – this hopefully means brides can feel confident they are buying a cherished piece of jewellery rather than a single-use fashion accessory.
I am really working hard to approach every aspect of my business in a more sustainable manner – in terms of the raw materials I use for production and packaging, the choices I make when shipping my products and buying in materials and also in how my studio works.
We've done really well in terms of using eco-friendly gift boxes and postal packaging, bulk buying and avoiding single use plastics – and I'm constantly researching more sustainable alternatives when it comes to the materials I use in my designs. I was really excited to find sustainable satin ribbon made from recycled plastic bottles earlier this year which I now use in my headband designs.
We use a lot of Swarovski crystals and pearls and I am really happy to see that they are taking ethical and sustainable production very seriously and are very transparent about their efforts.
How do you balance your role as mum and business owner/designer?
By constantly changing and evolving – in some ways running my own business prepared me for being a mum…things don't stand still or stay the same and you constantly have to adapt how and what you do to best meet the needs of both! I would say that being organised helps, and also having excellent and reliable childcare and colleagues.
I've been lucky that I was able to work from home when my boy was a baby and when that was no longer feasible he and I were both ready for him to go to nursery! I'm very aware that I was lucky to be in a position where putting him into nursery was completely my choice and I didn't have to feel rushed to do it. I'm very grateful about that as I know it's the not the same for a lot of mums.
Having said that it's certainly not always easy – in the same way that it's tough to balance any relationship or friendship with the all-consuming reality of running a business – and of having a baby! I'm lucky to have a job that I really love which makes going to work much easier.
Can you share a bit about your work/creative space with us?
I have a light and airy workshop/studio space of my own in a striking Art Deco building in Sheffield city centre – Exchange Place Studios – which houses an eclectic mix of artists, jewellers and artisans. As well as being the place where I design and make all my pieces, my studio includes a beautiful plant-filled consultation area where I host one-to-one accessory styling sessions by appointment.
It's in a part of Sheffield which is currently going through a huge regeneration and is fast becoming a real creative hub and it's a really exciting place to be.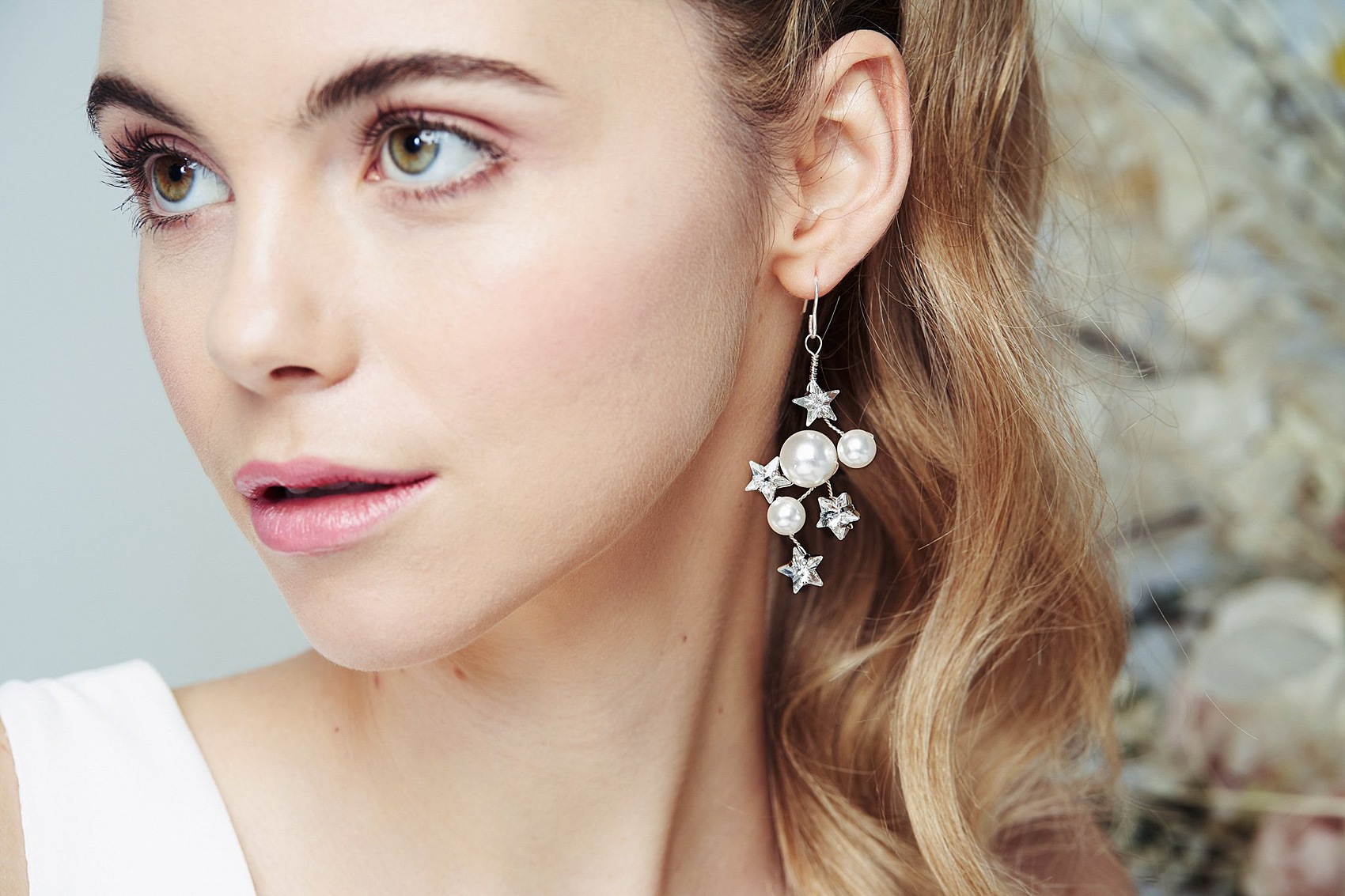 What does an average day for a successful bridal fashion designer look like?
I usually start with a cup of Yorkshire tea (and lots more as the day goes on) while I answer emails, check and post on Instagram and Pinterest, then as the day goes on I get to do the really fun stuff which is either designing and making pieces for clients or hosting one-to-one consultations. Meeting brides is one of my favourite things to do and it's a really relaxed and organic process – I love the feeling we both get when we find 'the one'!
As we're a really small team (there's me and two other part time members of staff who help with admin and making) every day is quite different – I could be on a photoshoot, designing an advert, or planning a new collection, the variety is crazy and one of the things I love about my job.
What would you be doing if you weren't running your own design business?
I think I'd still be running some kind of business – I'm always coming up with new business ideas but I've never found anything I want to do more than what I'm doing right now!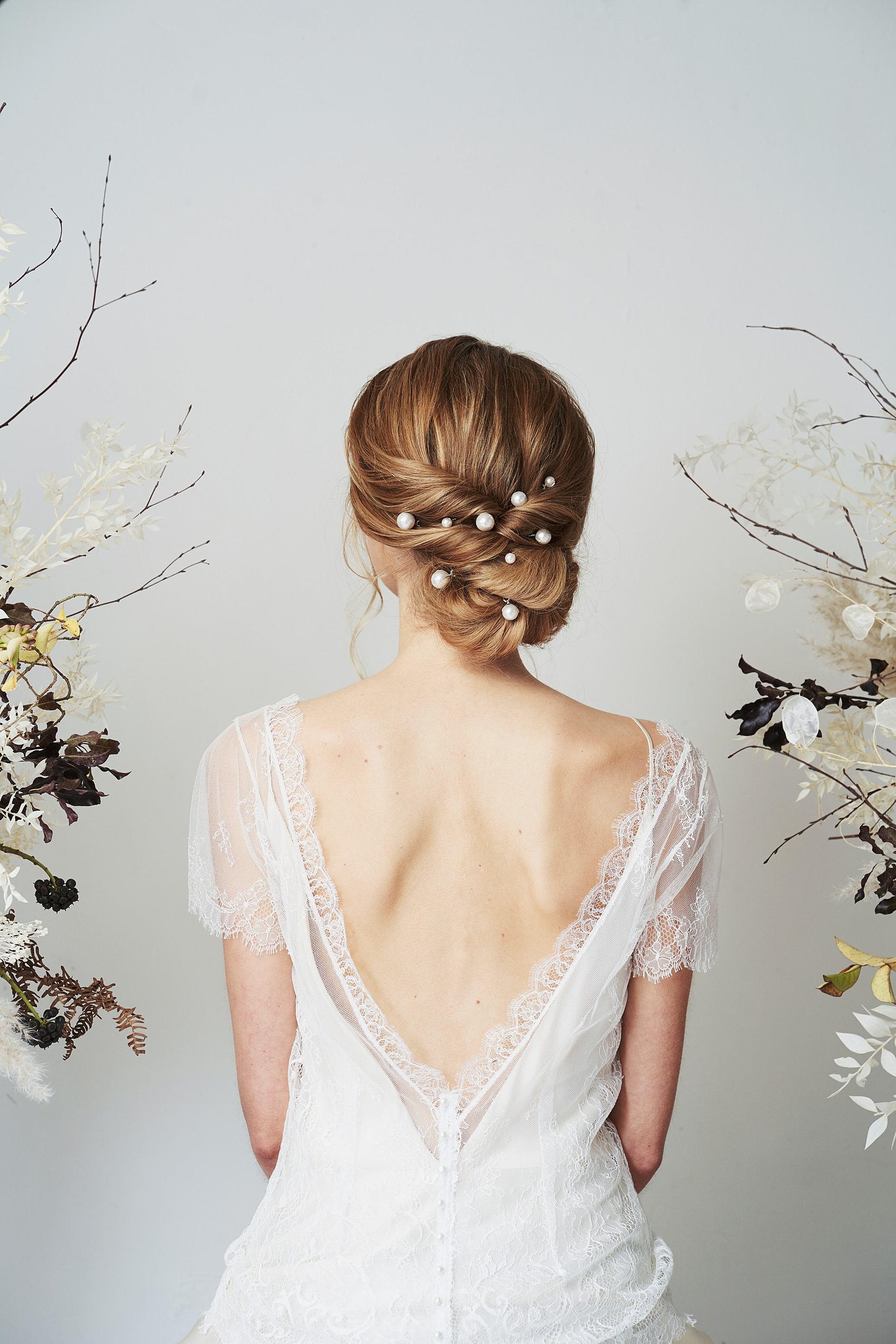 What do you love most about working with brides?
It's such an honour to be entrusted with making something that a bride will wear on their wedding day and cherish for years to come – and hopefully hand on to a loved one to wear or re-purpose for their wedding. The job satisfaction is immense and is absolutely what makes what I do so special!
What's next for Debbie Carlisle the brand?
I'm always looking for ways to take my brand and business to more brides – we've got a great worldwide presence on Pinterest and I'd love to see that develop into more overseas stockists so those brides can see and try on my pieces in person when they're choosing their wedding accessories.
I very much want to keep evolving the business to be as sustainable as possible – as new processes and materials become available I'm hoping that will be something that improves all the time. And while I've only just launched my new Moonlight Collection it won't be long before I start the design process for my 2021 collection so that's already on my mind – I'm already mulling over some new earring designs and have some new materials in mind!