Sense of place is an extraordinary feeling. Remembering being in a certain place at a certain time can bring up such powerful feelings of emotion and that's exactly the sense that I got today when I first saw the photographs of today's Irish wedding.
Bride Marie-Claire, an e-commerce marketer and groom Shane, a management consultant, returned to their native Ireland to wed on 6 September at the breath-taking Virginia Park Lodge, County Cavan on the banks of Lough Ramor.
Photography Chris Copeland Photography
Chris Copeland Photography

+ Follow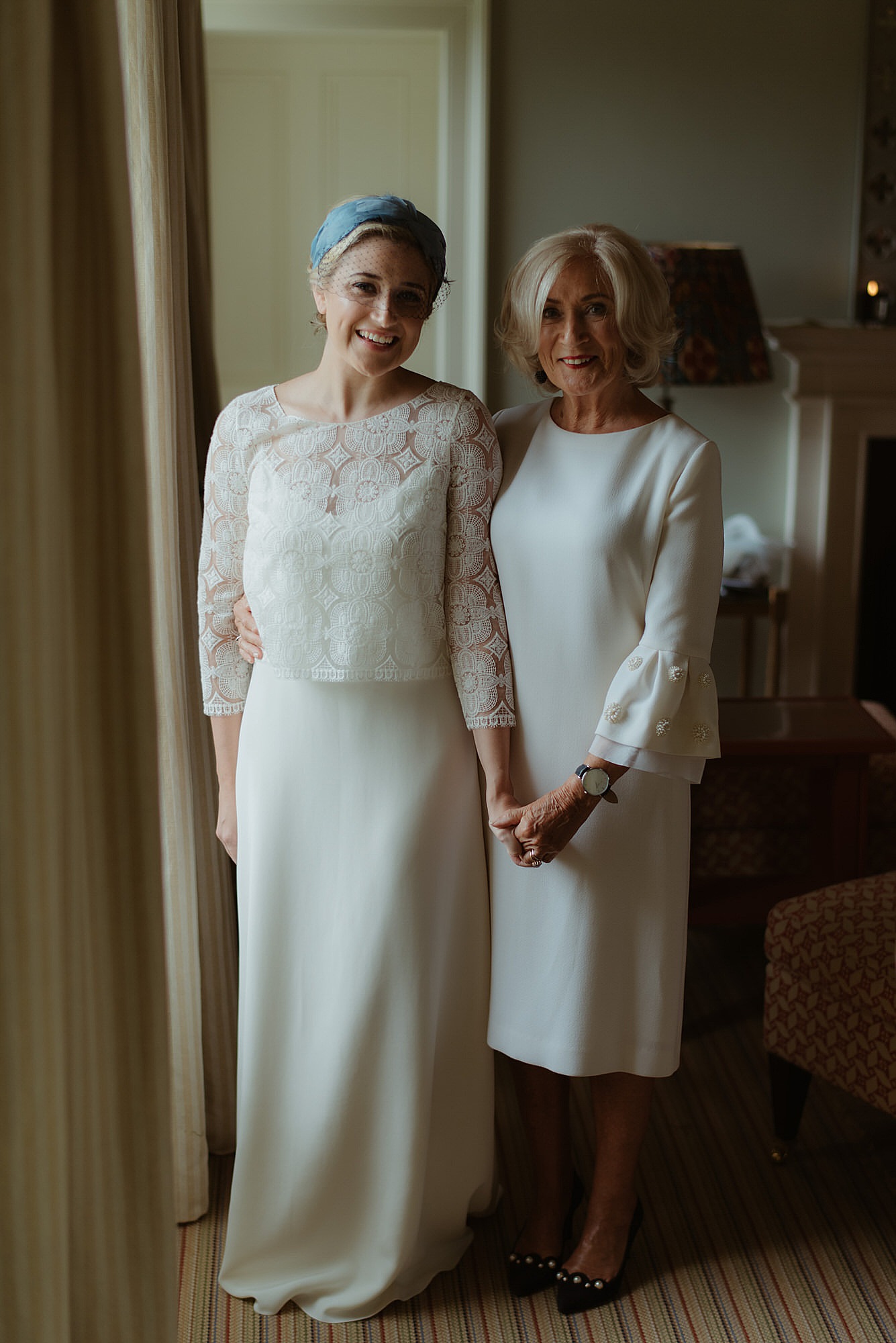 Taking inspiration from the gentle, dusky blue and green hues of the lake and the rolling hills around it, they also drew from a watercolour painting of the autumnal colours of Hudson Park, where they got engaged.
"When it came to designing the wedding and choosing colours, we were inspired by both the colours of the Hudson Valley and the scenes at Virginia Park – a lot of natural blues and greens. Our save the date was a painting by Niamh Langton of the view of the Hudson Valley from our engagement day and the invitation itself was a painting of Virginia Park Lodge. These two paintings really inspired the aesthetic of the day."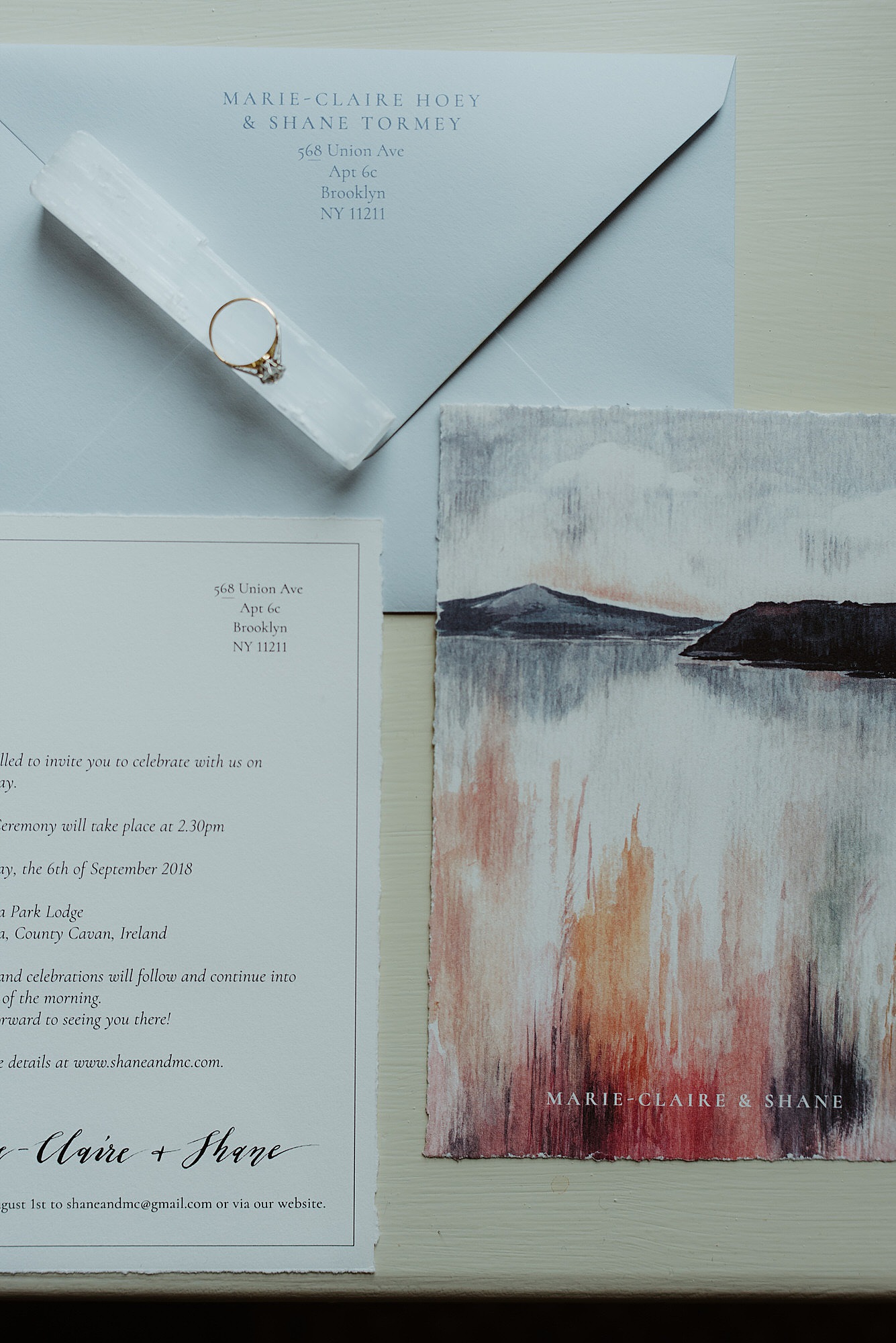 The couple live in New York City, where they moved together in 2011, but decided to return for their humanist ceremony and celebrations.
"We had been dating for 13 years before our wedding day. We are from the same town so had known each other for many years and were friends as teenagers. We got together near the end of secondary school/start of college and the rest is history! We spent some time doing long-distance when we were in college and then moved to NYC together."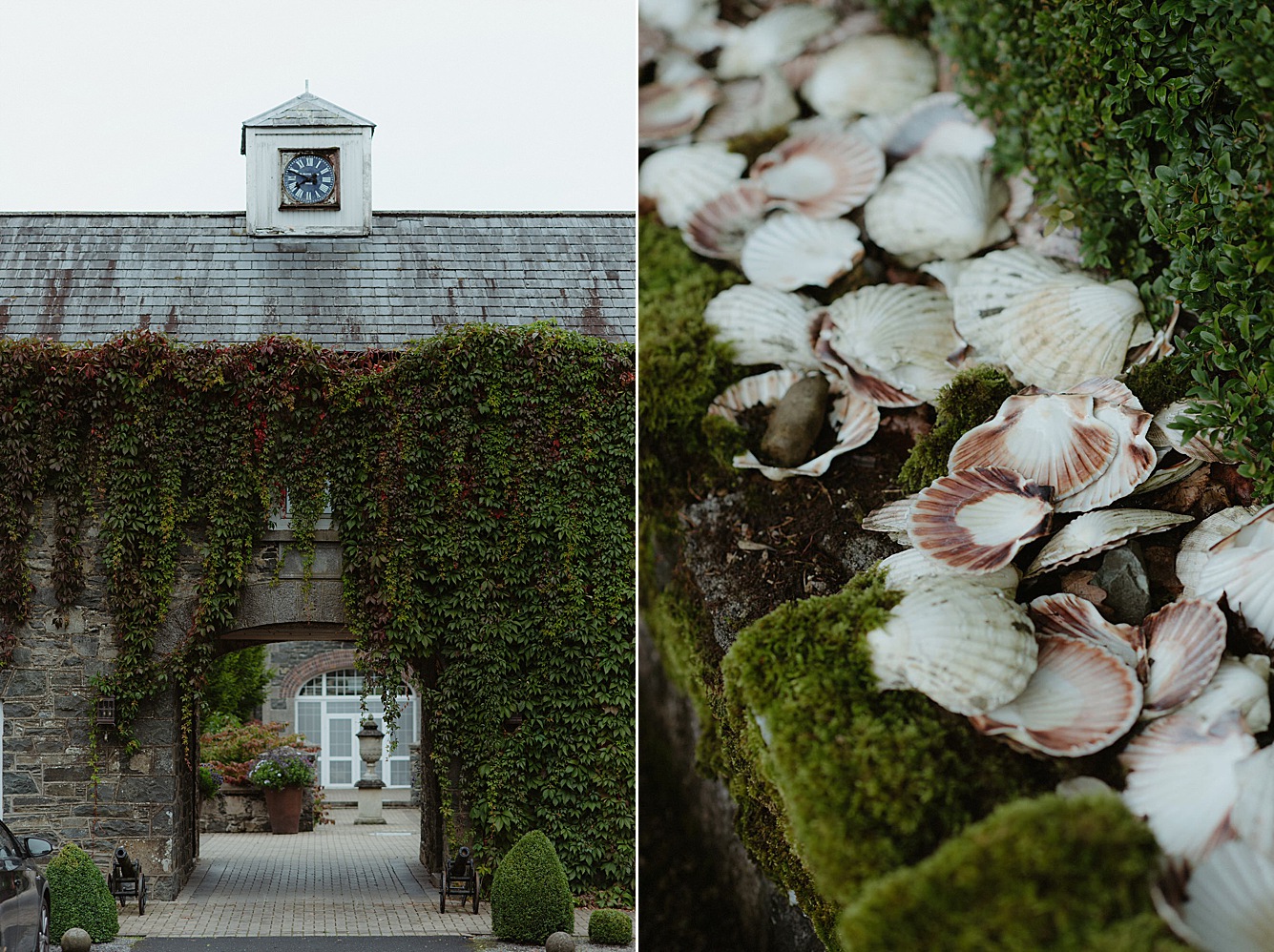 "We both love the outdoors and being from the country but living in the city we take advantage of the amazing hiking near NYC a lot. Shane popped the question while on a very typical hike looking out over the beautiful Hudson valley."
"He then revealed that he had dinner booked that night in a restaurant we had always wanted to try, Blue Hill at Stone Barnes, the weekend booked at my favourite upstate getaway and even flights home the following weekend so we could tell our families in person. It was pretty perfect."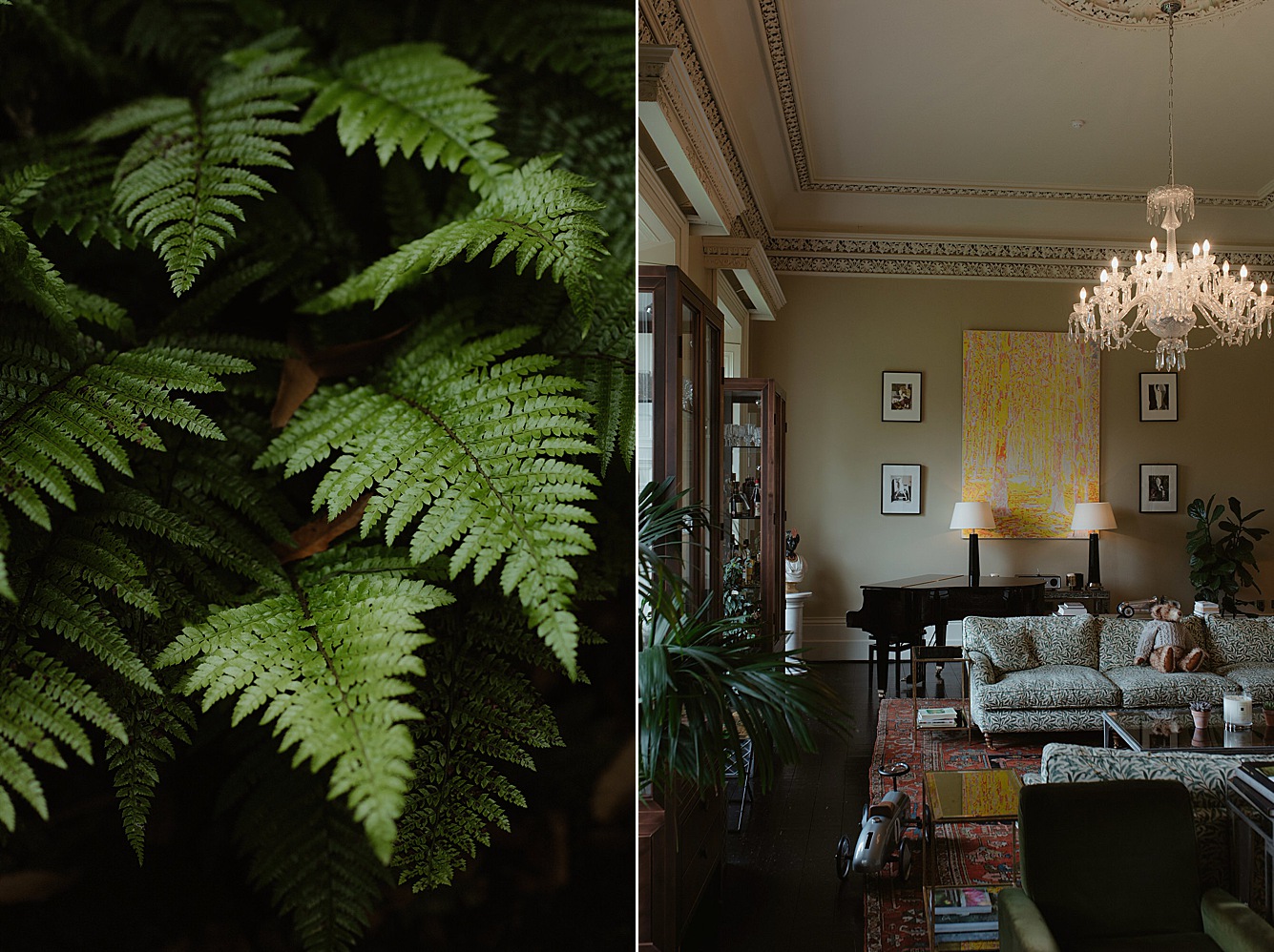 Make-up artist Suzie O'Neill of AYU created the bride's flawless look and gorgeously soft, smokey eye and her hair was swept up in to a swept-up, boho bun by Hair by Leo.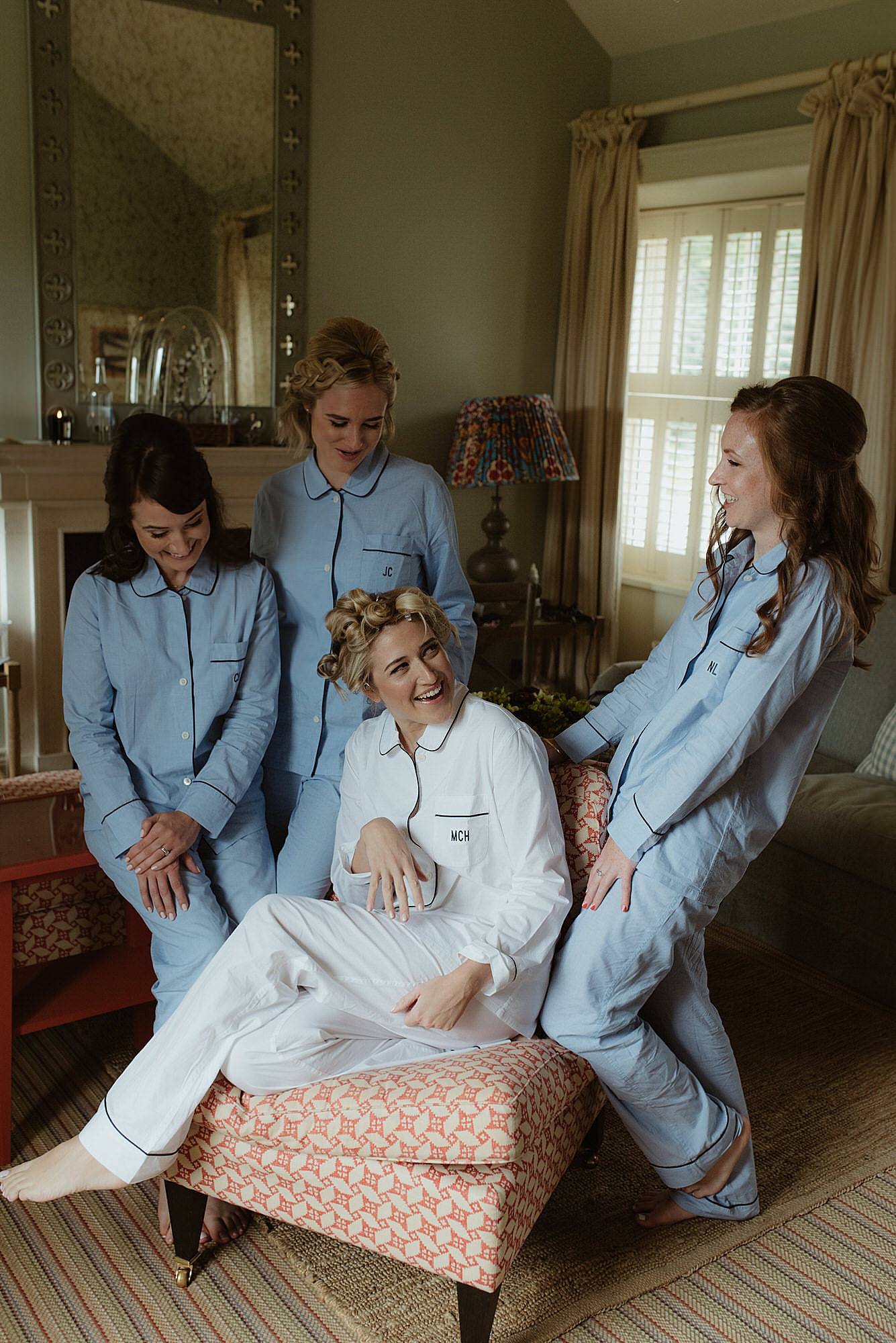 Marie-Claire was drawn to the relaxed, boho and light feel of Laure de Sagazan's gowns, and selected her own beautiful dress at her atelier in New York. I love the elegance of the simple skirt and puddle train, with a sheer, lacy bodice adding daintiness and a bridal feel.
"I first became aware of Laure de Sagazan when my sister was looking for her wedding dress at the White Gallery in Newry. I loved the unique, relaxed style of the dresses and so when it came to finding my own dress that was my first stop. Luckily, Laure de Sagazan has an atelier in NYC right beside my office so it made fittings super-easy."
"The thing I loved about working directly with the atelier was that I was able to customise certain elements of the dress. For example, I loved the button detail of one skirt but the overall style of a dress so they added the buttons to my dress. I loved the cut of one top but the lace from another so they combined them. It was a lovely, personal process."
"Like all brides, I tried on so many dresses and although probably looked better in others, the one I chose I felt was very me and so comfortable and relaxed which was exactly how I wanted to feel on the day. I felt like I was in my PJ's most of the day which came in very useful when I was bopping around on the dance-floor."
Her crushed velvet, knot-front mules came from Loeffler Randall and she added the most beautiful Rita Von hairband, with the daintiest of birdcage veils, in pale blue.
"I wore Tiffany pearl earrings Shane gave to me on our tenth anniversary, a sapphire ring he gave to me on our wedding day (something blue) and my mother's sapphire engagement ring – another something blue!"
"I used to work for Jo Malone in New York and therefore always wears Jo Malone. Although Pomegranate Noir isn't a very popular scent in the US that I don't wear often anymore, it was my first favourite scent that reminds me of living in Ireland when I was younger so felt it was only right to go back to it for my wedding day."
Before their humanist ceremony, held outside in the beautiful sunshine, the couple chose to have a first look on the lake, resulting in these romantic, joy-filled images.
The formal gardens of the Lodge look like such a wonderful place for any ceremony, and it was here that the couple chose to exchange their vows, against a wooden arch wreathed with foliage.
As 'Laudate Dominum' was performed by opera singers Gavan and Nicole Ring, Marie-Claire walked between the flowerbeds towards Shane accompanied by her mother.
"I'm very close to my mother and a feminist! Why do dads get to have all the fun?"
For his wedding day, the groom selected a classically smart, dark grey suit from Brooklyn Tailors. His pale blue accessories were selected at Suit Supply and he wore a blue Shinola watch, given to him by Marie-Claire as his 'something blue'.
Whilst the flowergirls dressed in dainty little Jacardi frocks, the couple invited Shane's groomsmen, and the bridesmaids, to wear their own suits and dresses.
"We wanted everyone to look and feel like themselves."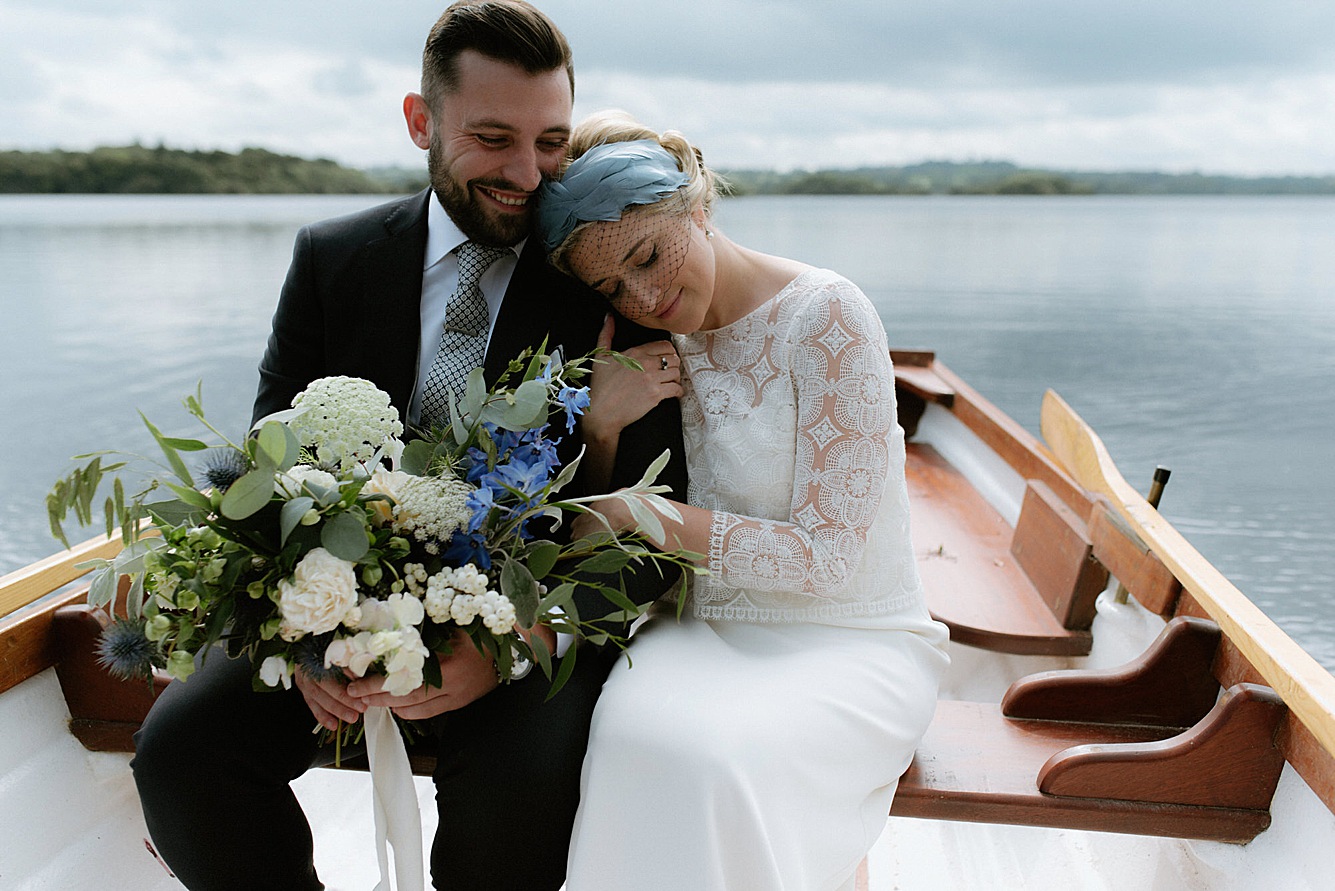 The couple's priorities for the day were for their friends and families to gather together, drink, dance, eat good food and enjoy the great outdoors. Virginia Park Lodge was the ideal place for these festivities.
"It ticked all those boxes and really allowed us to host our party in a relaxed and private way."
"We chose to have an unplugged ceremony, no phones allowed, and it really did make the ceremony feel very mindful and in the moment. It is a pretty unique feeling to be in the same, personal moment with hundred people from all your different walks of life."
Celebrant Billy Hutchinson led the service, which included personalised vows and three readings; 'The Invitation' by Oriah Mountain Dreamer, 'When You Are Old' by W.B. Yeats and 'Why Marriage' by Dena Acolatse.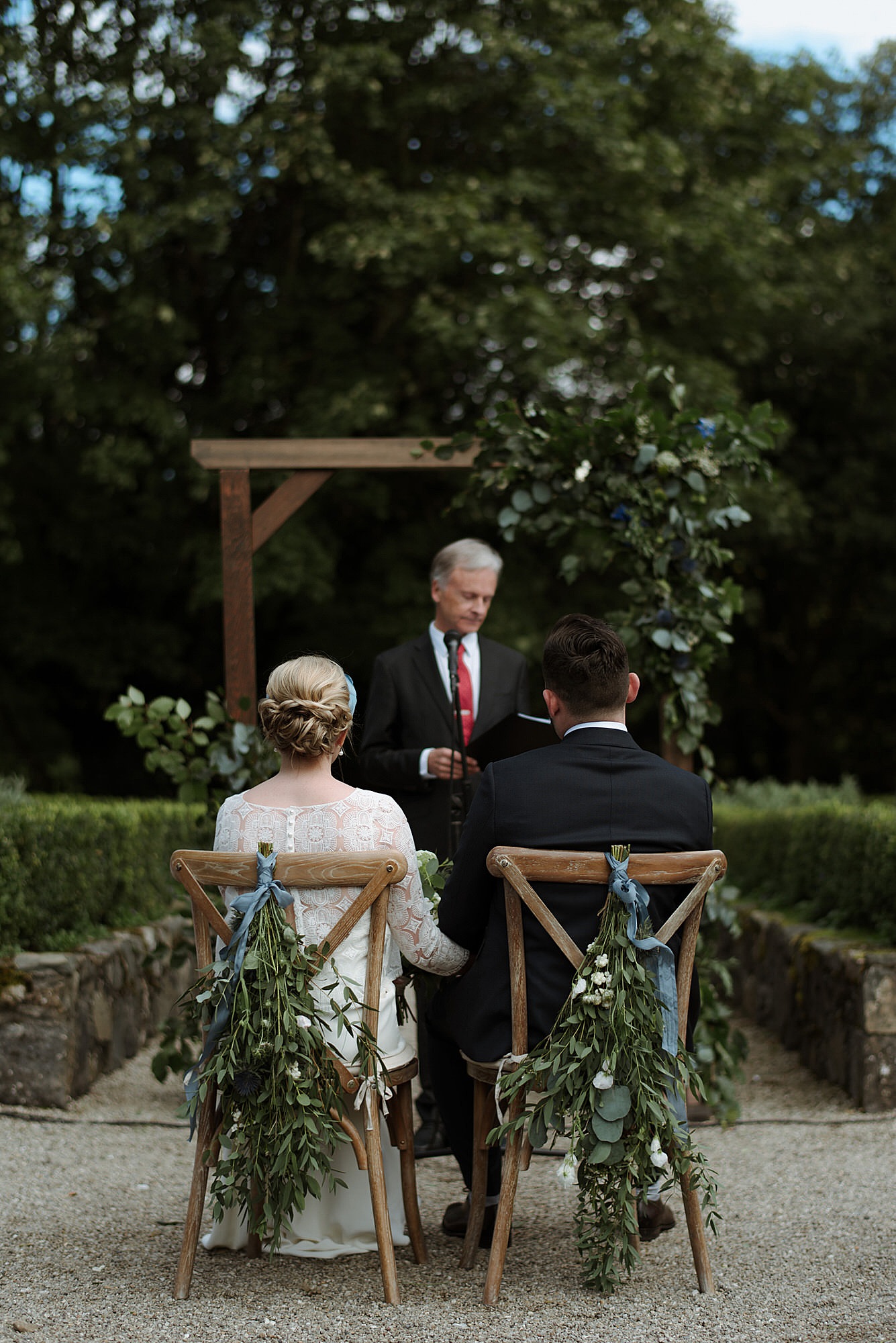 "We created our own vows to represent what was important to us as a couple going into our marriage. We made a series of promises to each other that we wanted to reflect our future life together."
"We felt all of these readings represented how we felt about marriage and the commitment we were making to each other. They were all very 'real' and maybe not the most romantic but we felt they were beautiful and apt."
"We connected early on in our relationship over Yeats while studying for the leaving certificate. It felt right to have Yeats included in the day."
The bride decided to use her grandmother's wedding band and for Shane, jeweller Natasha Sherling designed a ring to match the style and shape of Marie-Claire's.
"The ceremony was the part of the day that stands out. It is not the part we thought we would enjoy the most but it is certainly the part that stays in our minds. It was a special moment to talk about how you feel about each other surrounded by our family and friends. There are not many moments in life where you stop and take notice of these things."
"We wanted to include as many people as possible in the day and so Shane thought of a great idea of having lots of short quotes read out by different friends and families. We had seven in total and they ranged from George Bernard Shaw to Dobby the House Elf from 'Harry Potter'!"
There was plenty of time for relaxing on the lawn, with drinks, canapés and more music from Gavan Ring, before the whole party moved in to the Lodge for the wedding breakfast.
The room was dressed with pure white drapes, hundreds of fairy lights, taper candles and garlands of foliage in silvery-blue.
"We wrote short notes to every guest and had them inside envelopes at people's seats as place names. We knew the day would be busy and we wanted everyone to feel seen and appreciated after them making the effort to be there so we thought this would be a nice, personal touch. We got a lot of compliments about it and have seen it done at many of our friends' wedding since."
Watercolour artist Niamh Langton created the beautifully evocative paintings for Marie-Claire and Shane's stationery, with her soft colour palette flowing through to the rest of the day. The flowers, mainly soft greeny-blue leaves and pure white flowers, with a touch of cheerful blue, were styled by The Informal Florist.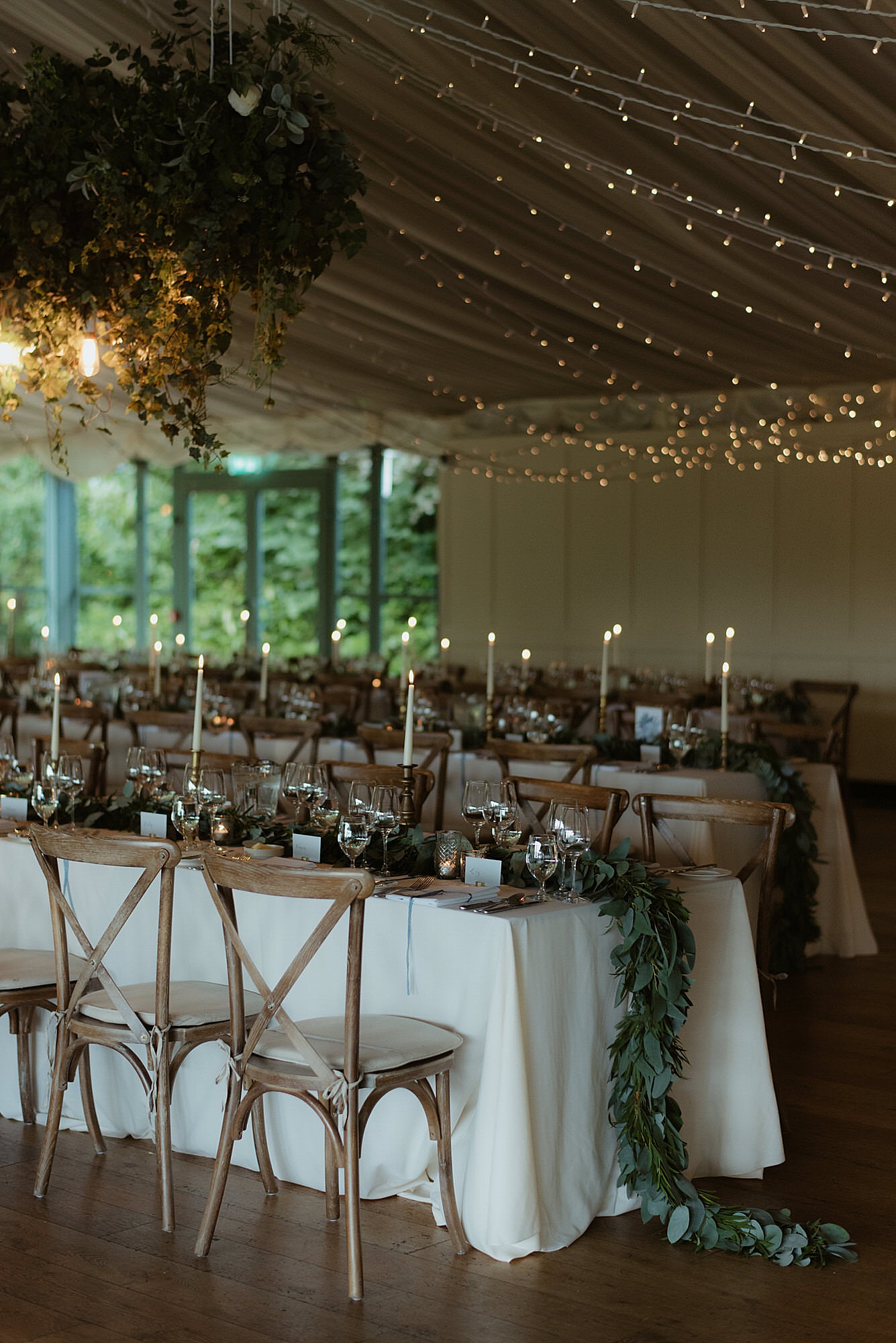 Virginia Park Lodge provided the wedding breakfast but the tiered, naked cake was baked by the groom's mum. I love its simple, boho dressing of strings of pearls and leaves – what a clever idea.
After the cake cutting, the party got underway with sparklers, music from The Swing Cats, The Hitmen Trio and DJ Colm Donnelly and a first dance to 'Home' by Ed Sharpe and the Magnetic Zeros.
I really do believe that photographer Chris Copeland has captured the sense of place so incredibly in this portfolio of images, and his eye for detail is simply immaculate. The soft grey and blue hues simply pop too, especially in the ceremony photographs where the sun revealed itself to bathe the couple in sunshine.
We are delighted to list Chris Copeland on our Little Book Wedding Directory, so please visit his listing to find out more about his natural and emotive work.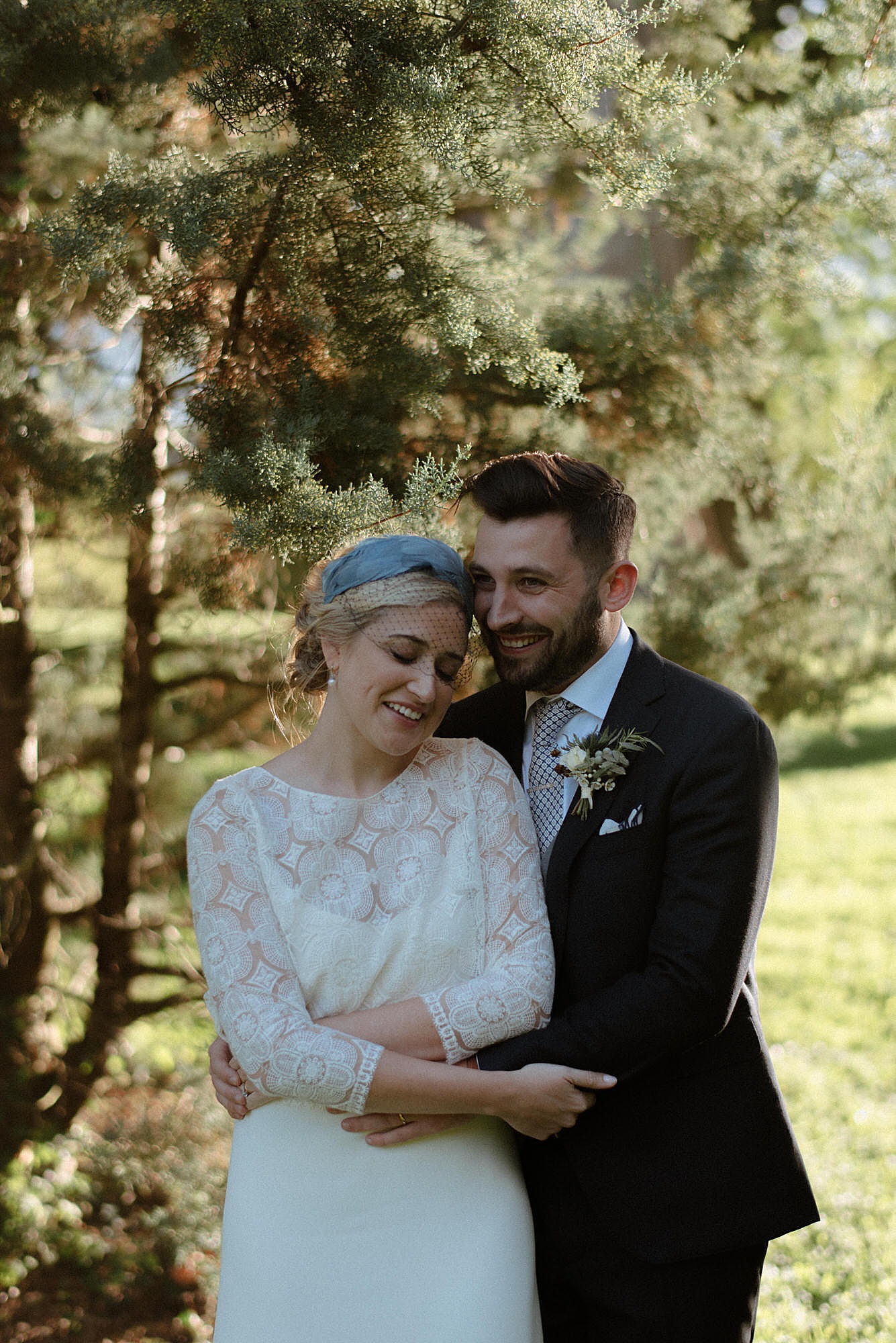 "Chris was absolutely amazing. We met him before our wedding and instantly connected. His style is very genuine and he captured some beautiful images. Chris also has a talent for making you feel relaxed in front of the camera. He also was just great fun and a wonderful energy to have around you on the day."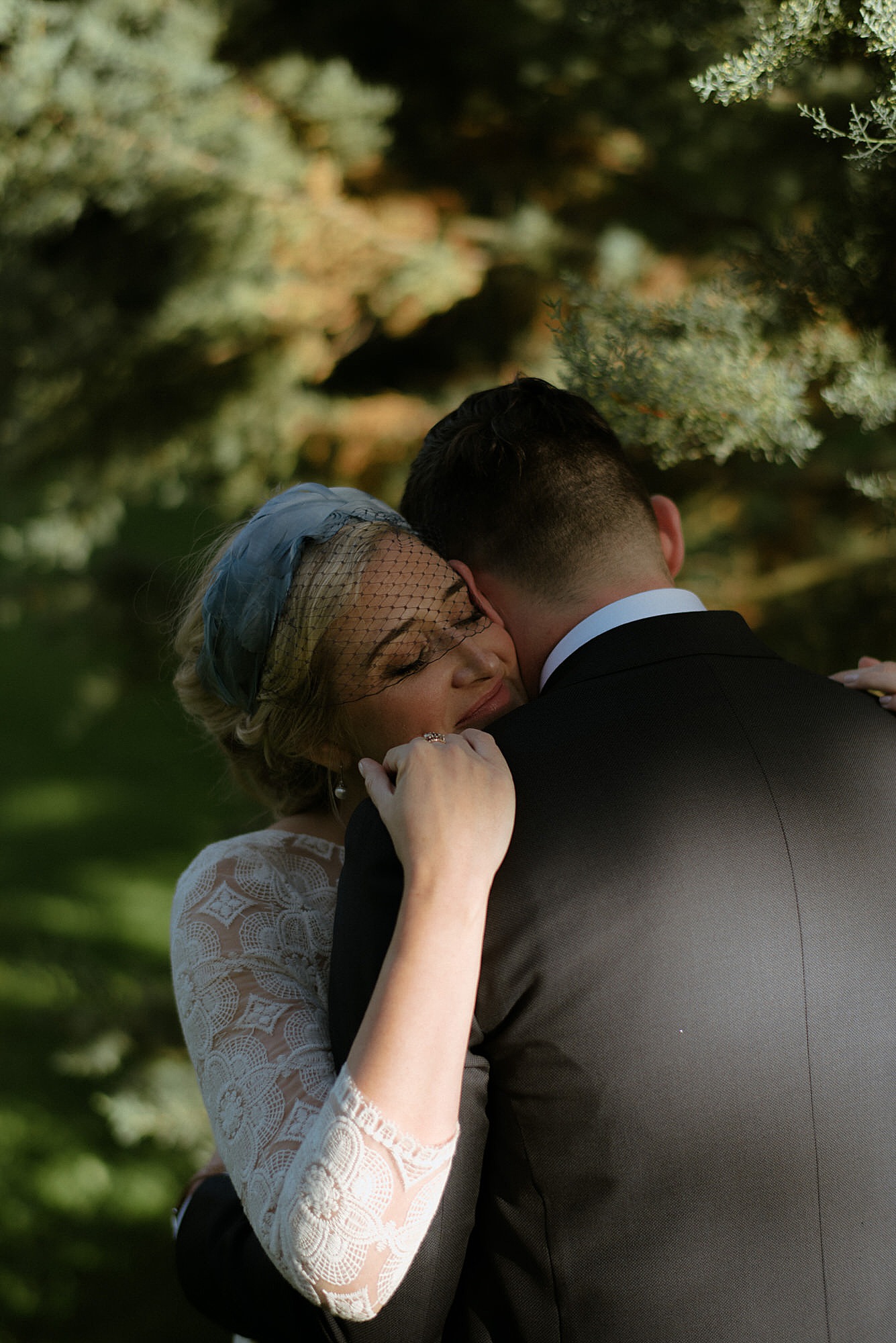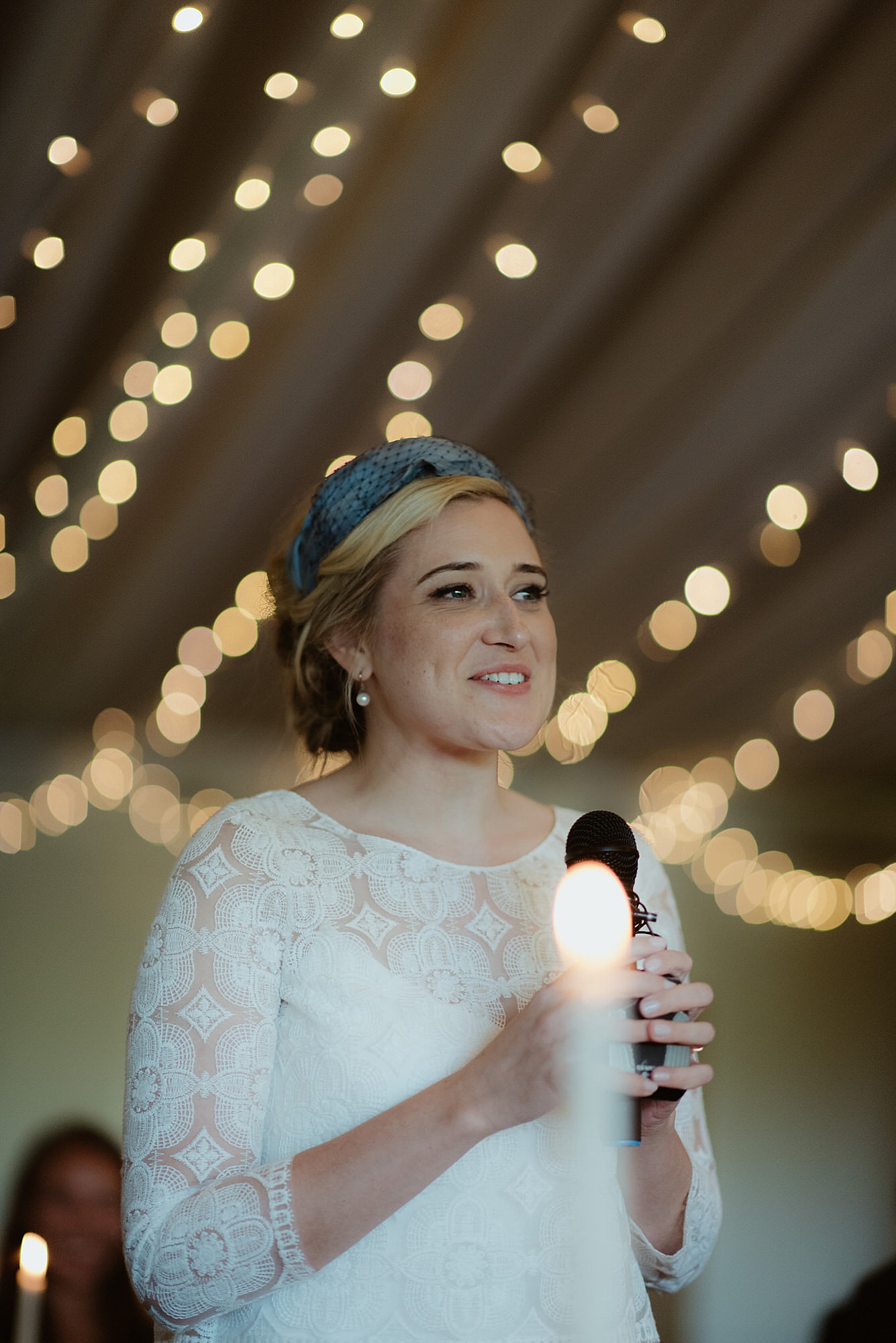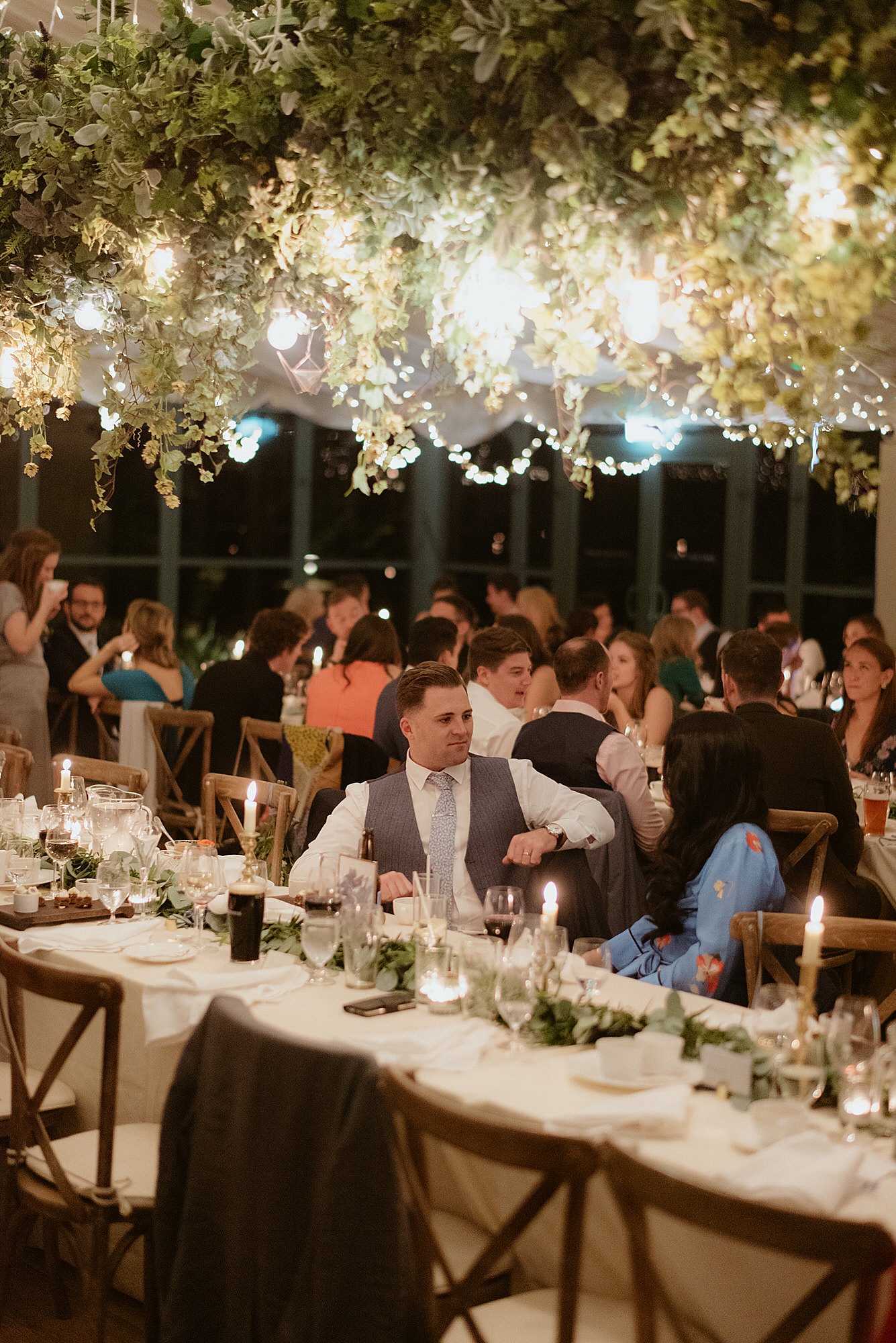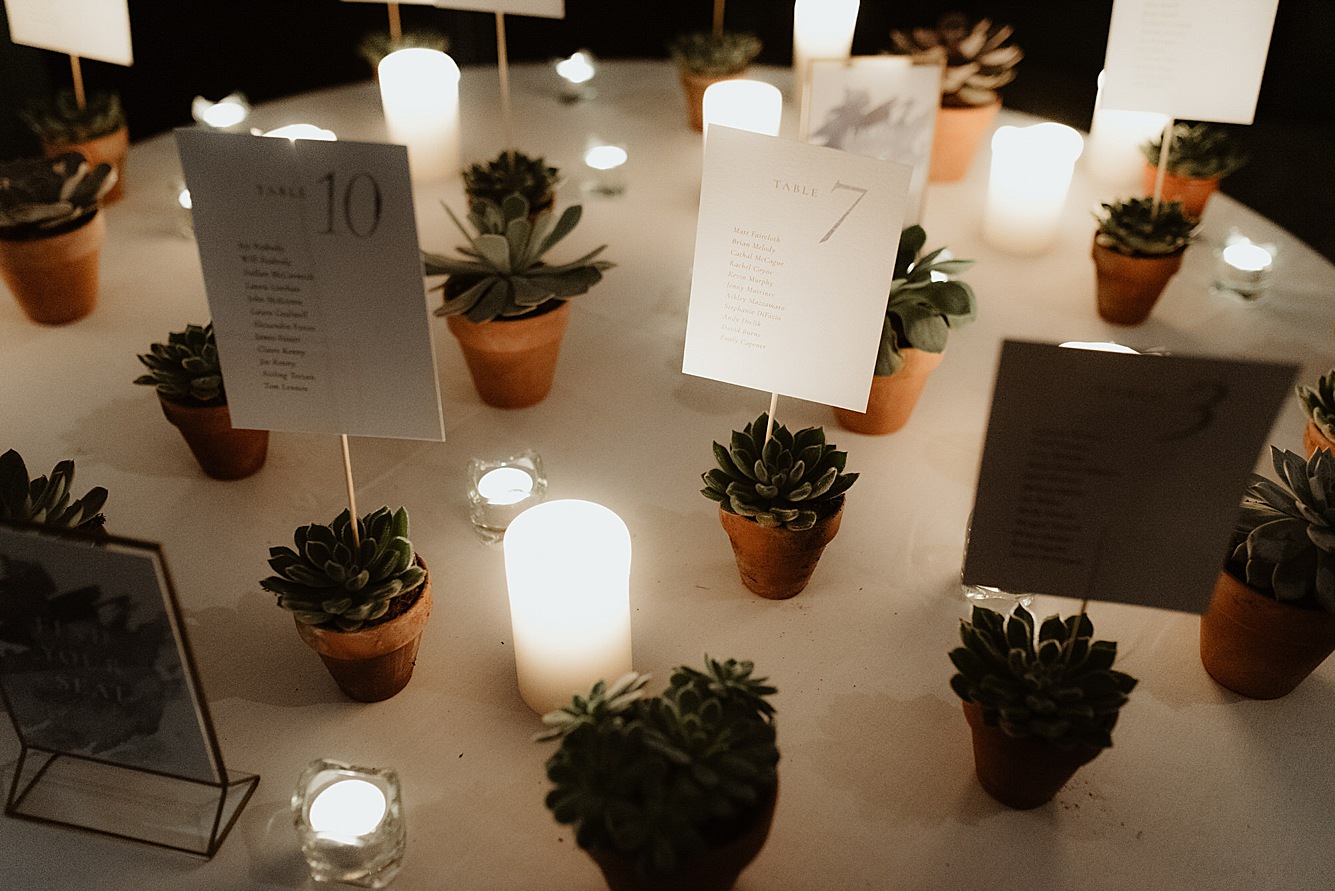 Words of Wedded Wisdom
"Be prepared! It is so easy to procrastinate and avoid the planning part but do as much as you can beforehand so that you can really enjoy the day and be present and mindful. It really is a very unique and special feeling to celebrate your relationship with all your loved one so do as much as you can to stop and take notice."
"The day goes so fast so try and take a moment to take it all in and enjoy it."
"Ask for help! It's a lot to take on and take in so ask for help and get people to do things for your before and on the day. Visualise yourself on the day and identify all of the feelings, tension and stress you might expect yourself to feel and then make a game plan on how to combat them."
"Prep a friend or a sibling to be on the lookout and ask them for what you need because, trust me, you won't think of it on the day! Just ask a friend, 'Hey, I think I am going to be pretty nervous before my speech so can you remember to take me aside to take a deep breath beforehand' or, 'Make sure you me give lots of water because I drink too much when I'm having fun'."
Marie-Claire and Shane, thank you so much for taking us to the beautiful, rolling Irish countryside today and sharing your wedding day. Your advice is so valuable so thank you for taking time to share it with us. As ever, Chris Copeland, its been a joy to share your work on Love My Dress. If you've fallen in love with the cool blue hues of this day, then get even more inspiration with these weddings.
Ele xx