I always look forward to reading the multitude of ways our brilliant couples are inspired when planning their weddings.
And today's summertime celebration at a charming, rustic barn in Surrey is the second consecutive piece I've written about with a literary influence. For this wedding, our couple have taken inspiration from Frances Hodgson-Burnett's children's classic, The Secret Garden. This is the wedding of Megan, an Assistant Production Controller, and Benjamin, who is a Lead Technician.
Look Back & Remember

+ Follow
https://vimeo.com/392706595
This sweet couple celebrated their marriage on the 5 August 2019 at Gate Street Barn in the Surrey Hills; a beautiful, oak timber framed barn built from trees lost in the Great Storm of 1987.
"My favourite movie is The Secret Garden, and I took a lot of the floral inspiration for the wedding from this film. Our colour scheme was pinks, greens, and hints of copper and gold. We wanted our wedding to be soft, enchanting and pretty. We like the country cottage / vintage look, and this is how we've decorated our home, so we took this as our main inspiration. We wanted our wedding to be family orientated and welcoming."
Charlotte Razzell Photography

+ Follow
"Gate Street Barn was the only venue we visited. It was a gorgeous summer's day in June 2018, and the venue staff were setting up for another wedding happening a few hours later. When we walked into the barn, I had to take my sunglasses from my head and place onto my face because I started to get so emotional. The venue ticked all the boxes with the rustic and romantic setting we were looking for."
"The onsite accommodation included a gorgeous farmhouse, which we stayed in the night of the wedding, and the kitchen had Emma Bridgewater mugs and Cowshed hand soap, so my Mum was sold! We booked our wedding date that same day, and opted for a Monday wedding as we wanted a summer wedding, but not with the added price tag! Benjamin proposed to me on a Monday, so why not get married on a Monday?"
Giving guests a sneak peek of the couple's flower-filled day was a suite of stationery illustrated with peonies and leaves, from Papier.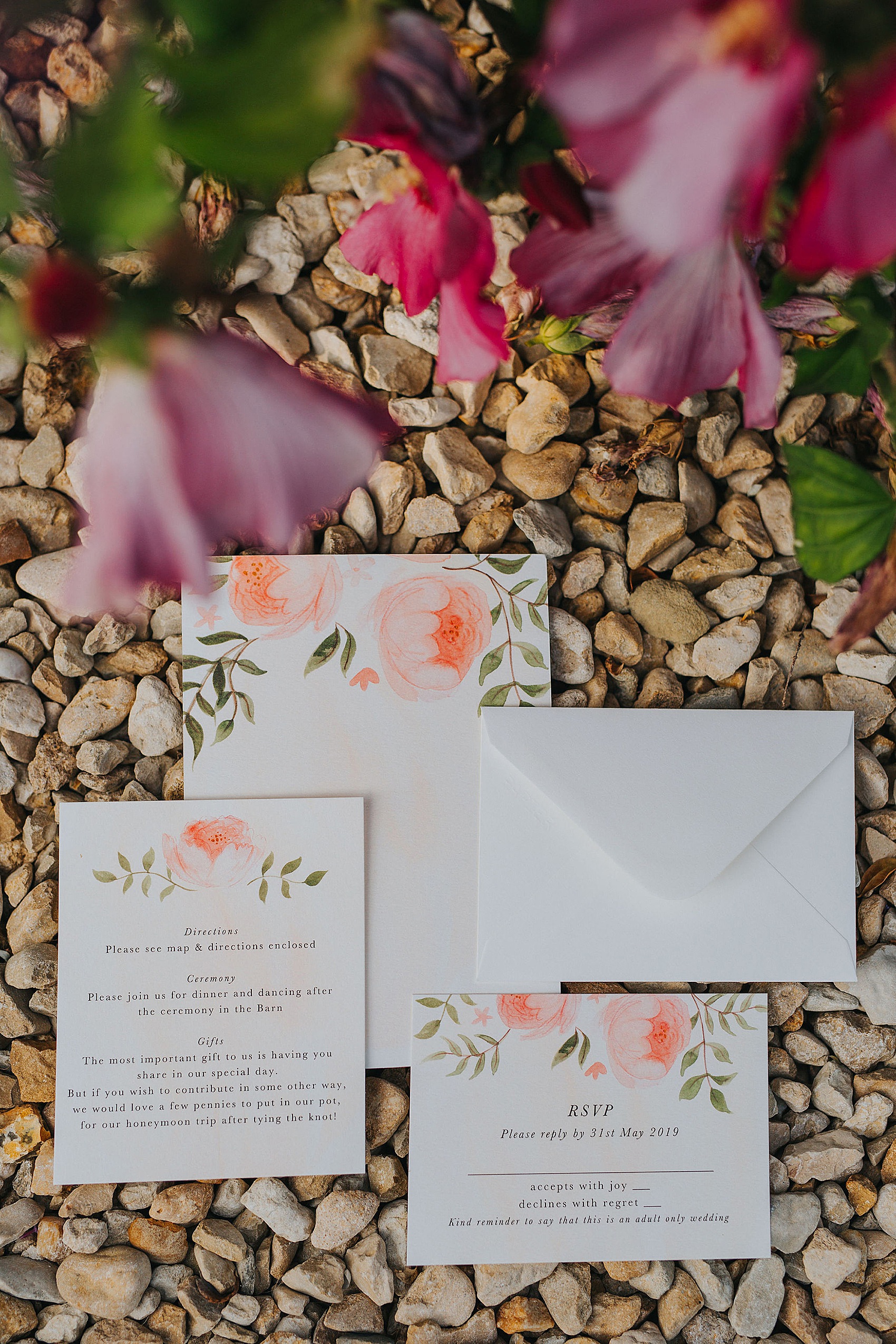 Megan's earrings were a sale bargain from Jon Richard at Debenhams, and I love that her deep blue velvet ring box (her 'something blue' and 'something borrowed') belonged to Benjamin's late grandparents, and was re-lined by Megan's mum. Her wedding day fragrance was the romantic scent of Roses de Chloe, and on her feet she wore pale blue sandals from Boden.
"I did my make-up myself. After two make up trials, I felt more confident with the way that I did it myself, and I had my statement pink lip (MAC – Girl about Town) throughout the day. I felt radiant, and everyone loved that I looked like me."
There were flowers all over Megan's off-the-shoulder dress by Anny Lin, chosen at Bride by Aster in Dorking – both appliqué and embroidery, with a layer of delicate sparkle and a gorgeous, fishtail silhouette. Alterations were by Zen from Tailoring & Alterations, Sutton.
"Prior to visiting Bride by Aster, I had already been to five wedding shops, two bridal fairs and purchased a dress, which I returned a week after buying. None of the dresses I tried on wowed me. After this, I had a break from wedding dress shopping, and started the search again in February 2019. Hannah, the owner of Bride by Aster is very active on social media, and posts new dress arrivals daily on her Instagram account."
"Every single dress is so unique and not traditional, which I loved. Hannah was extremely welcoming to me and my family, and was so helpful throughout the bridal appointment, and in the final stages of my wedding preparations. The shop is beautifully decorated, and an experience in itself! Hannah's hospitality and endless amounts of cups of tea and biscuits were a lovely touch. If you want a fabulous wedding dress that will turn heads, I cannot recommend Hannah at Bride by Aster enough for her extra mile customer service and happy disposition."
"My mum and sister picked out the dress off the rack, and I know everyone is biased about their wedding dress, but honestly it is the most whimsical, wonderful dress I have ever seen, and I was completely surprised with how I felt and looked I it. I wanted a statement dress, and I loved the applique, embroidered flowers and leaves all over the dress."
"The construction of the never-ending train blew my mind, and the truly scrumptious buttons on the back were a detail I always wanted. The dress is so sparkly, and who doesn't want to sparkle on their wedding day?! The dress has a secret hidden zip so I was able to get dressed last minute on the day, which was great!"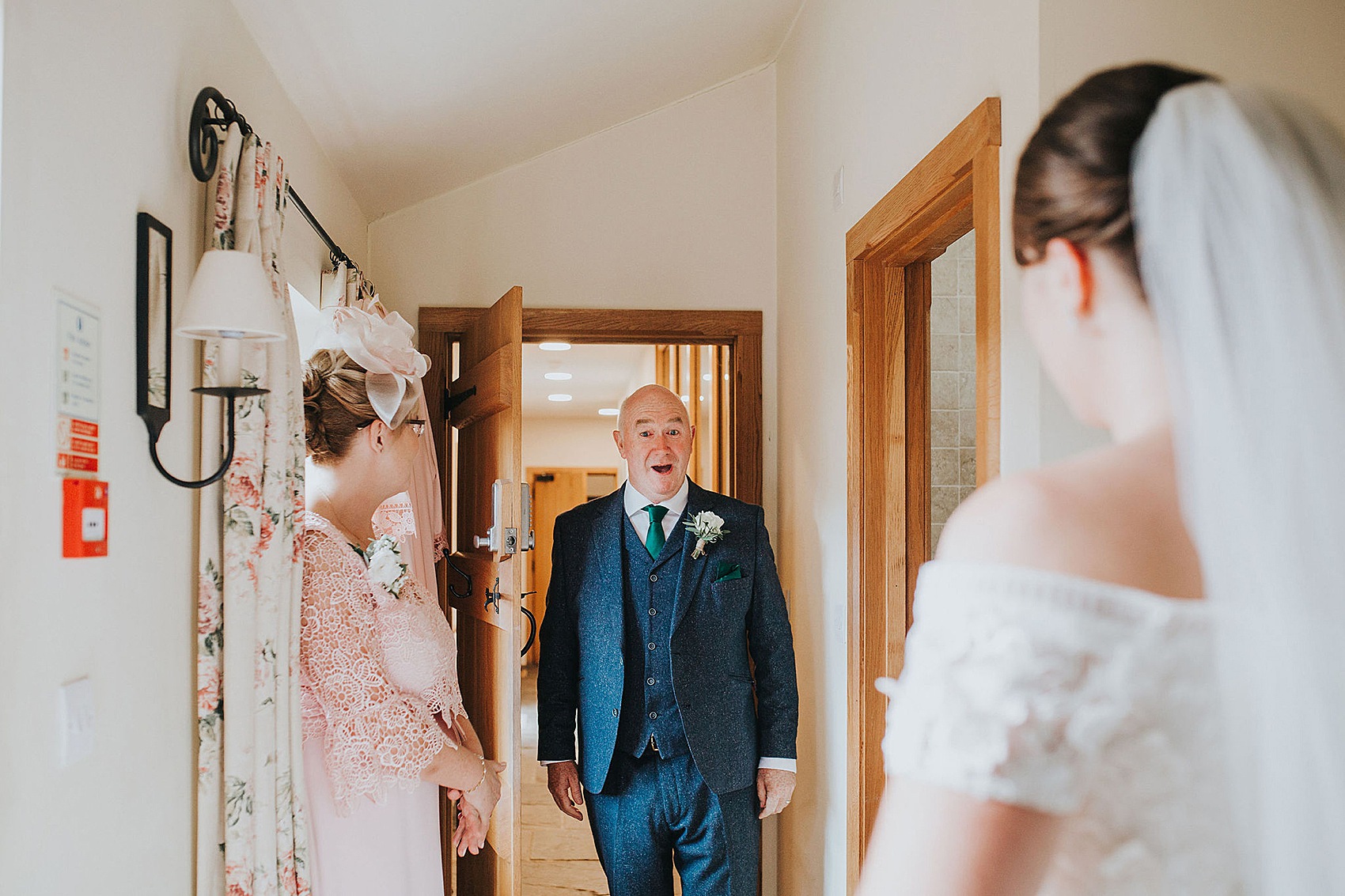 Sharon Roberts styled Megan's hair in a polished, elegant chignon, finished with a cathedral length veil, which was a kind gift from Hannah at Bride by Aster.
"Sharon did an incredible job on the day with the bridal party hair. She was able to attach the veil without compromising my hair style, and she also was there to help me into my dress, ensure my hoop was in the correct place, and gave me calm and kind words of wisdom to ease my worries on the day."
The barn was filled with glorious floral displays by florist Gill Pike; chandelier and table garlands, as well as a spectacular moon shaped arbour to provide a lovely ceremony (and later on, reception) backdrop, filled with hydrangea flowers, David Austin roses, sweet peas, stocks, gypsophila and astilbe alongside beautiful greenery.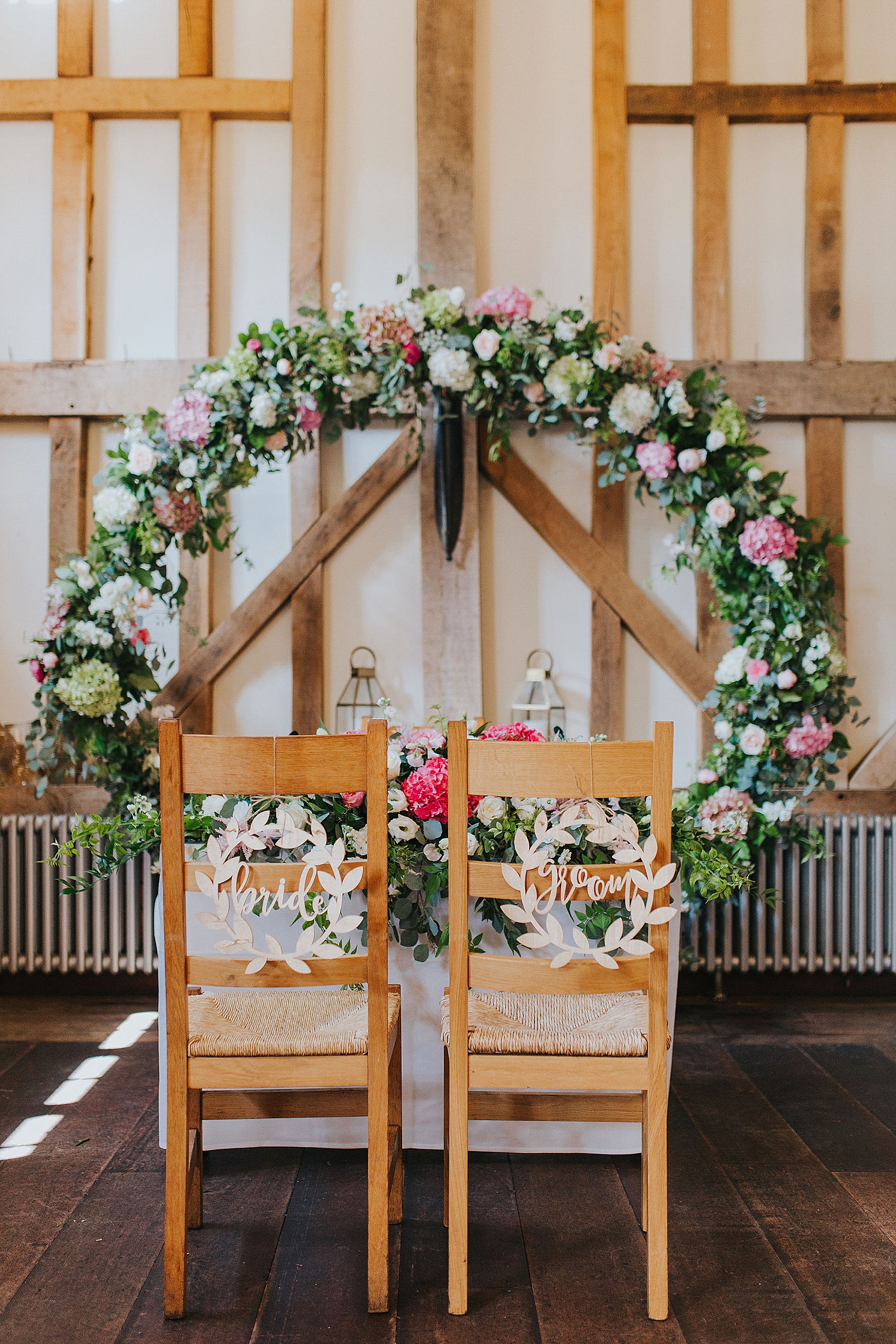 "Gill is a recommended supplier for Gate Street Barn, and I knew from day one that I wanted her to do our wedding flowers. She understood my vision completely, and flowers were an integral part of our style for the day."
"For me, the flowers were one of the most important parts, and all I knew was that I wanted lots of them! Seeing and smelling the flowers everywhere was an amazing highlight of the day. Walking into the venue once everything was set up – the end result just took my breath away."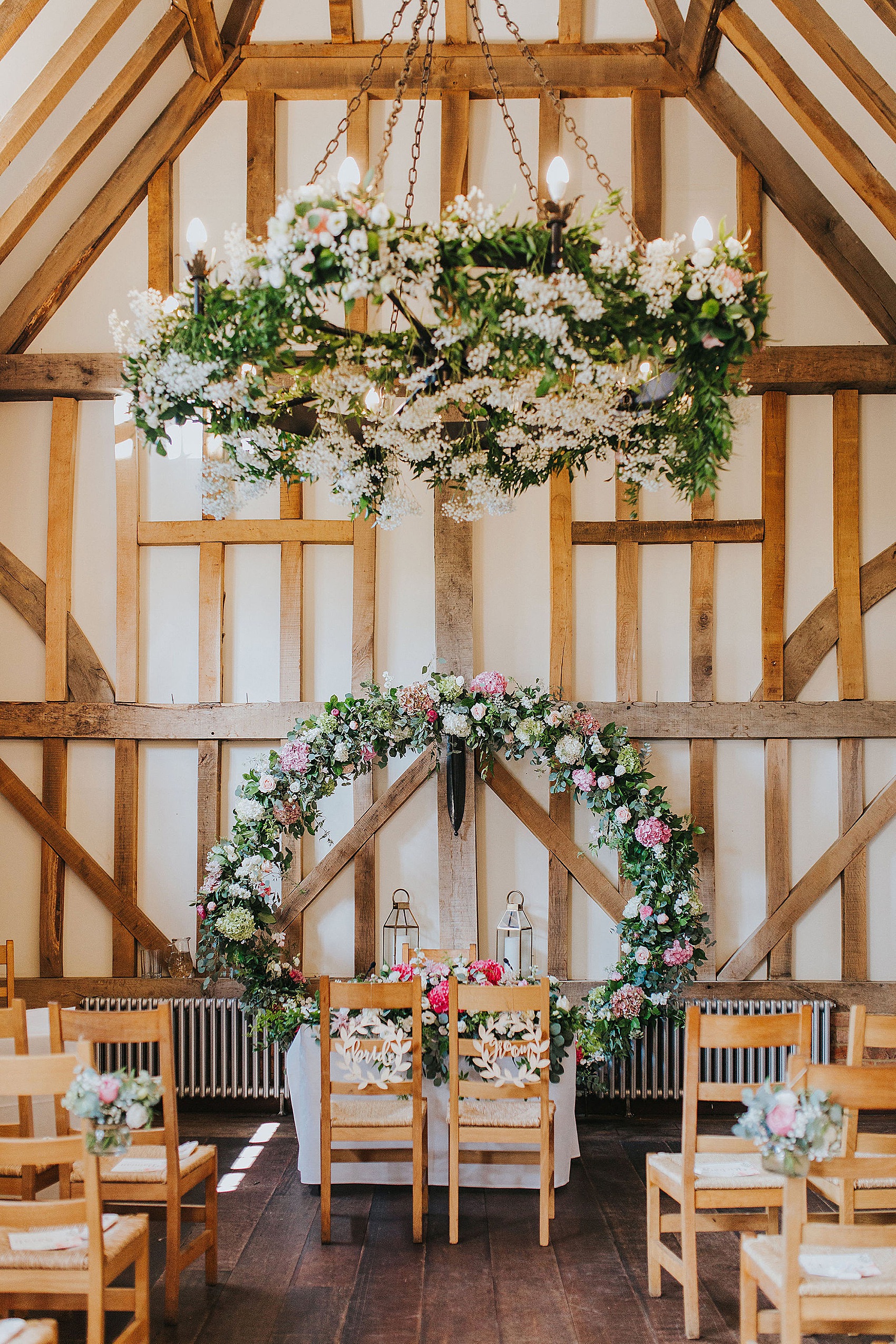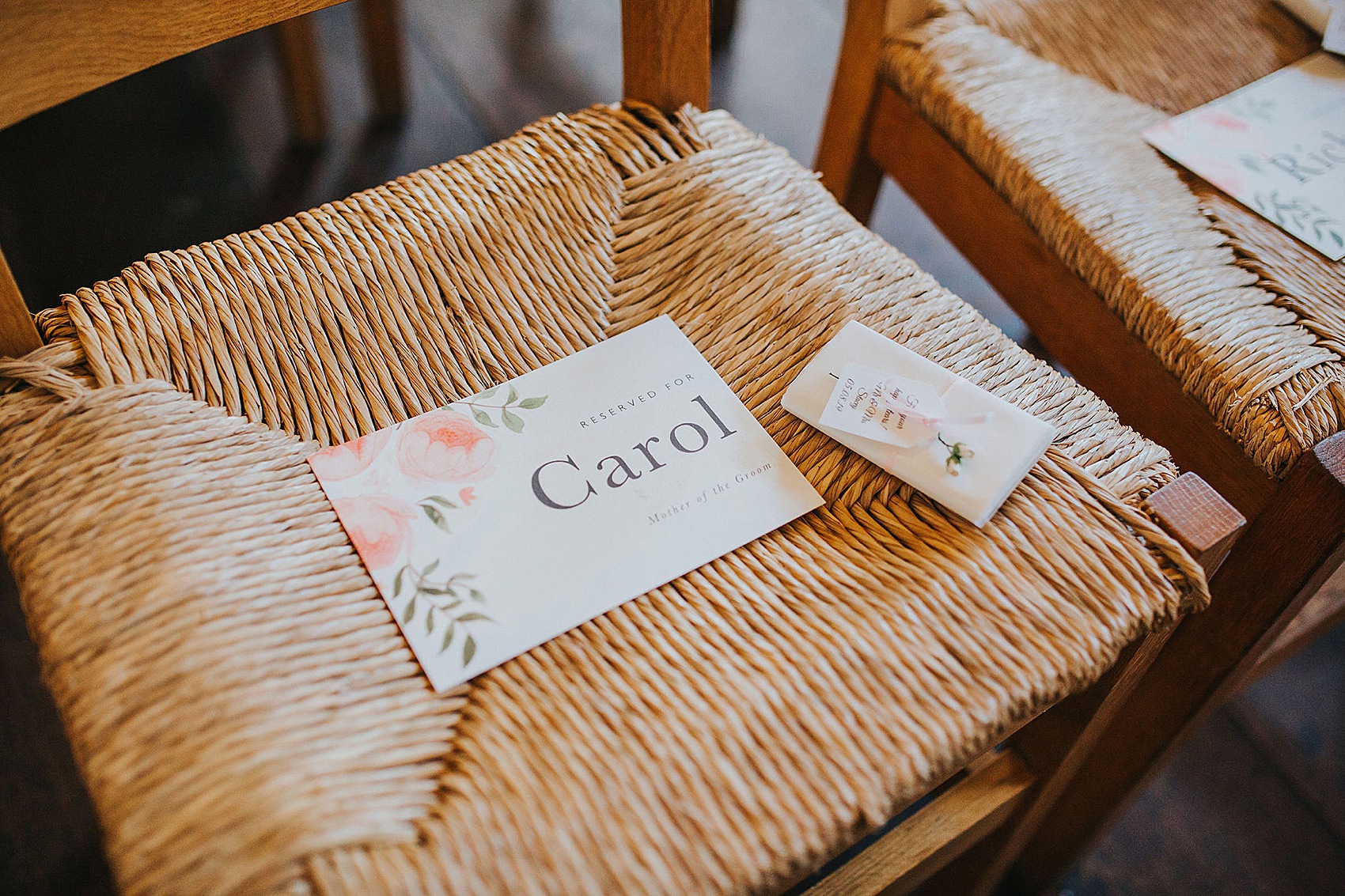 The bridesmaids looked lovely in forest green dresses, which they wore with shoes and sandals from New Look, and diamond stud earrings from Warren James. On the morning of the wedding, Megan presented these in a goodie bag along with a silk robe, personalised slippers, a hanger and pyjamas, as well as a make-up bag containing essentials. There were also hair clips and  bands, mints, and Prosecco glasses.
"My super proud dad walked me down the aisle. There were a lot of happy tears before the ceremony. I walked down the aisle to Canon in D by Johann Pachelbel. It was the same piece of music that my mum walked down the aisle to marry my dad 22 years before."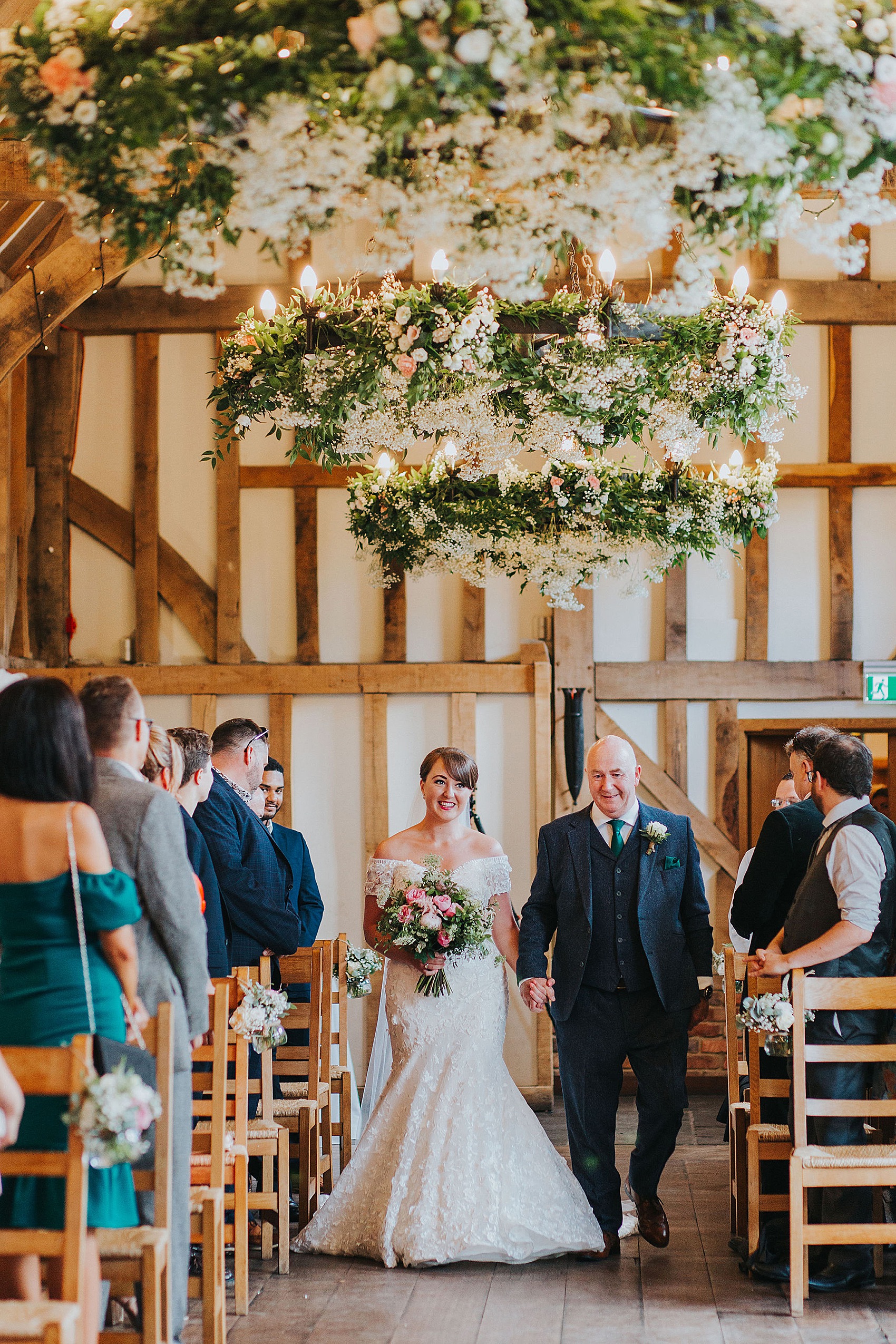 To minimise any nerves, and to spend more time with their guests, Megan and Benjamin kept their ceremony short and sweet, with simple vows exchanged alongside rings from Ernest Jones. Megan chose a white gold diamond band, whilst Benjamin opted for a simple white gold band.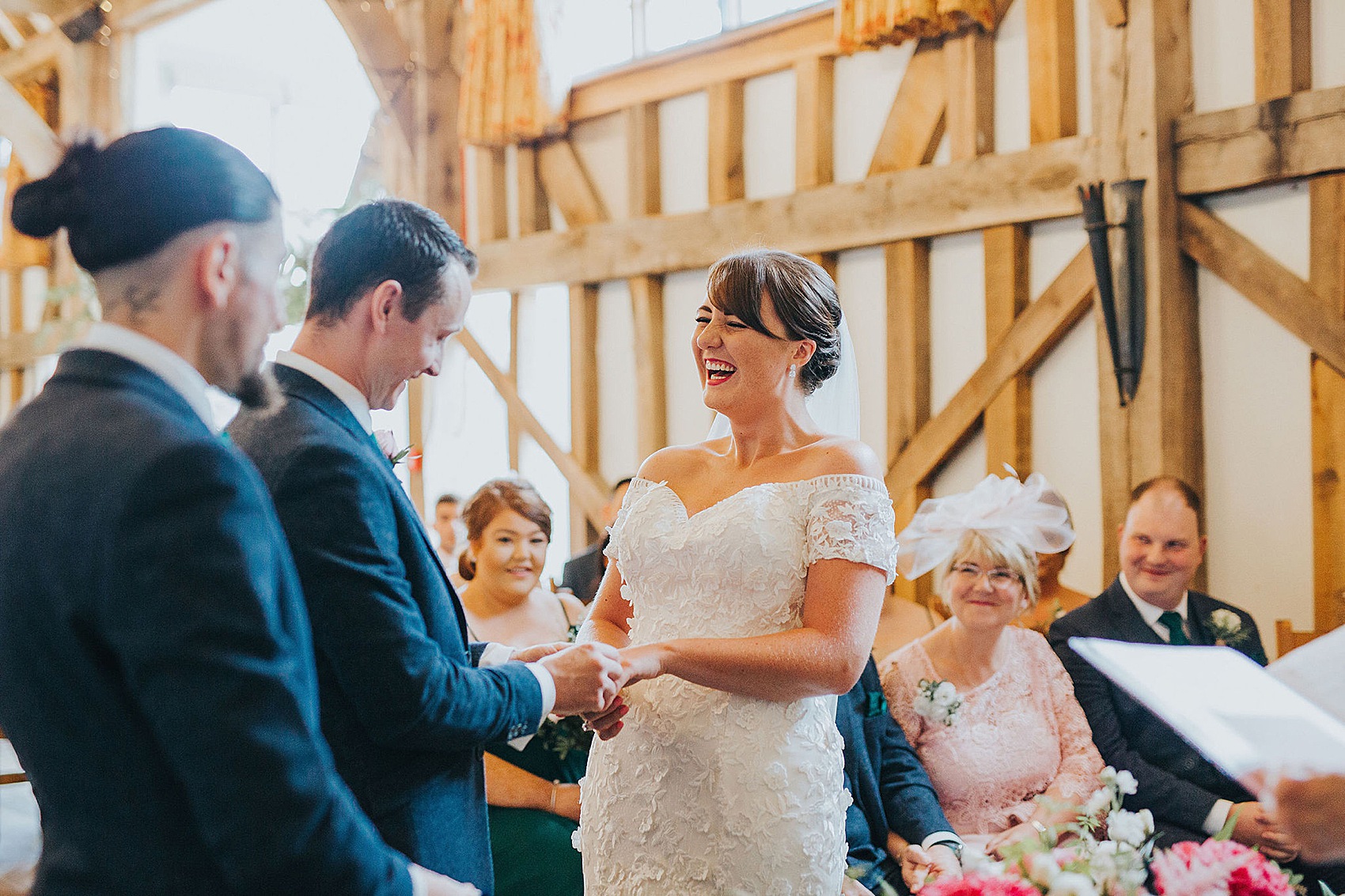 Benjamin wore a blue three-piece suit from Dapper, which he paired with a crisp, white shirt and green tie, and shoes from Burton.
Megan gifted Benjamin, the Best Man and the dads a pair of personalised silver plated cufflinks from Etsy-based SuesLatexCraftMolds. Benjamin's cufflinks showed their wedding date on one, and the other had a clock design pointing to 2pm; the time of their ceremony.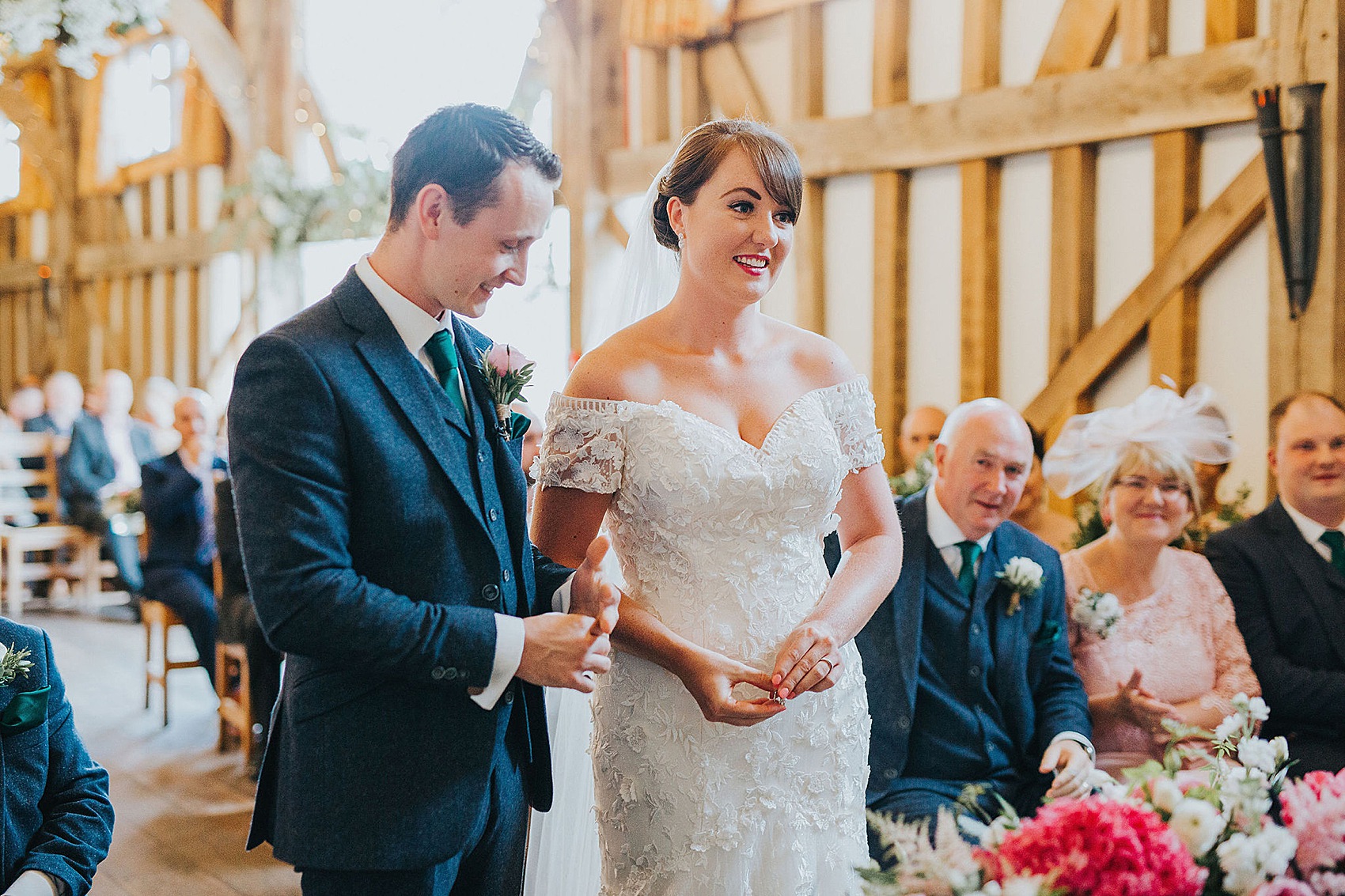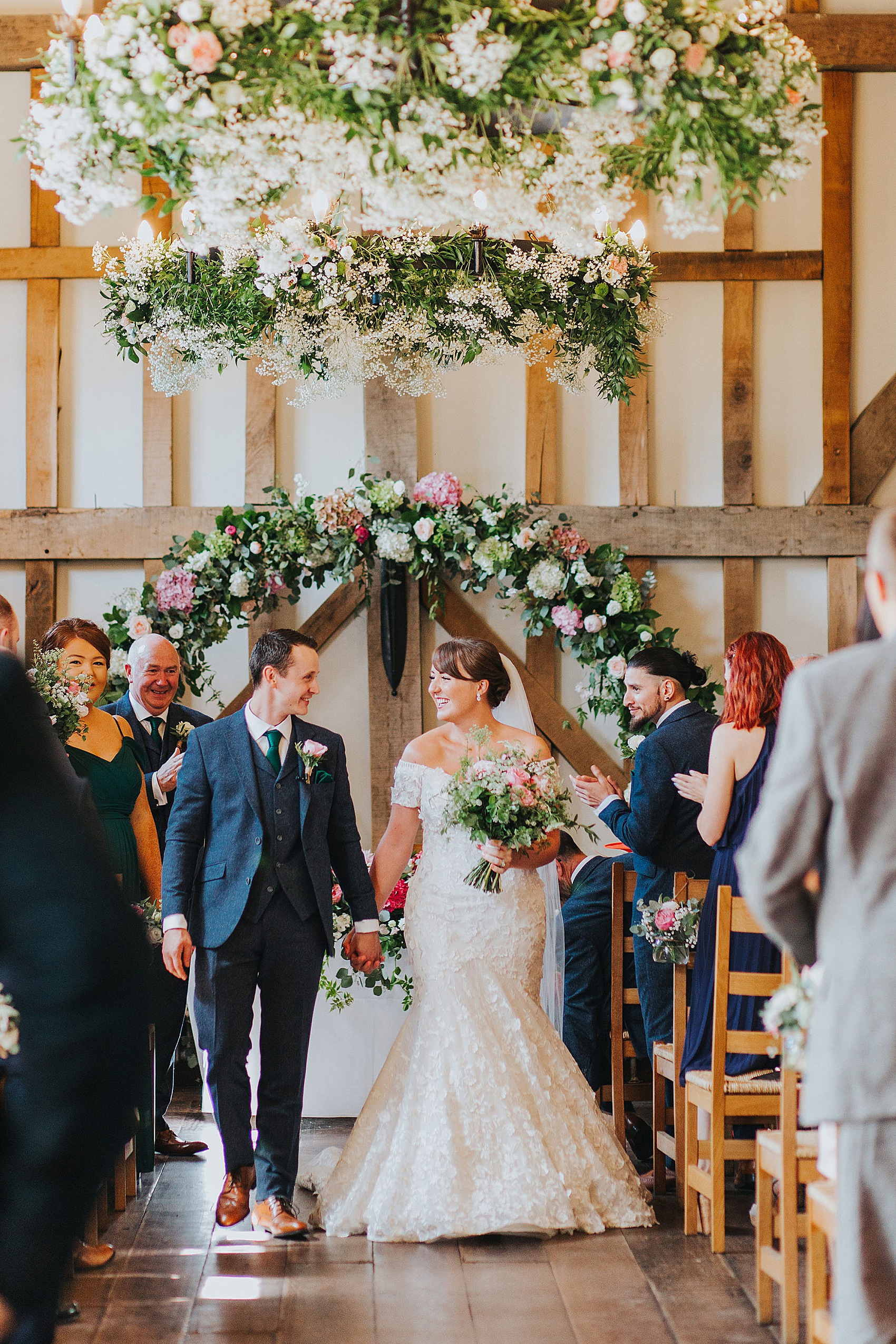 This lovely collection of images comes to us courtesy of photographer Charlotte Razzell, whose natural, elegant style lent itself perfectly to Megan and Benjamin's country cottage, Secret Garden day.
"Charlotte was the first supplier we booked for our wedding. I used to work with Charlotte's sister, and knew of Charlotte's natural and colourful work, which was just the vision and feel we were looking for. Charlotte was available for our wedding day and we met for a coffee to discuss everything further."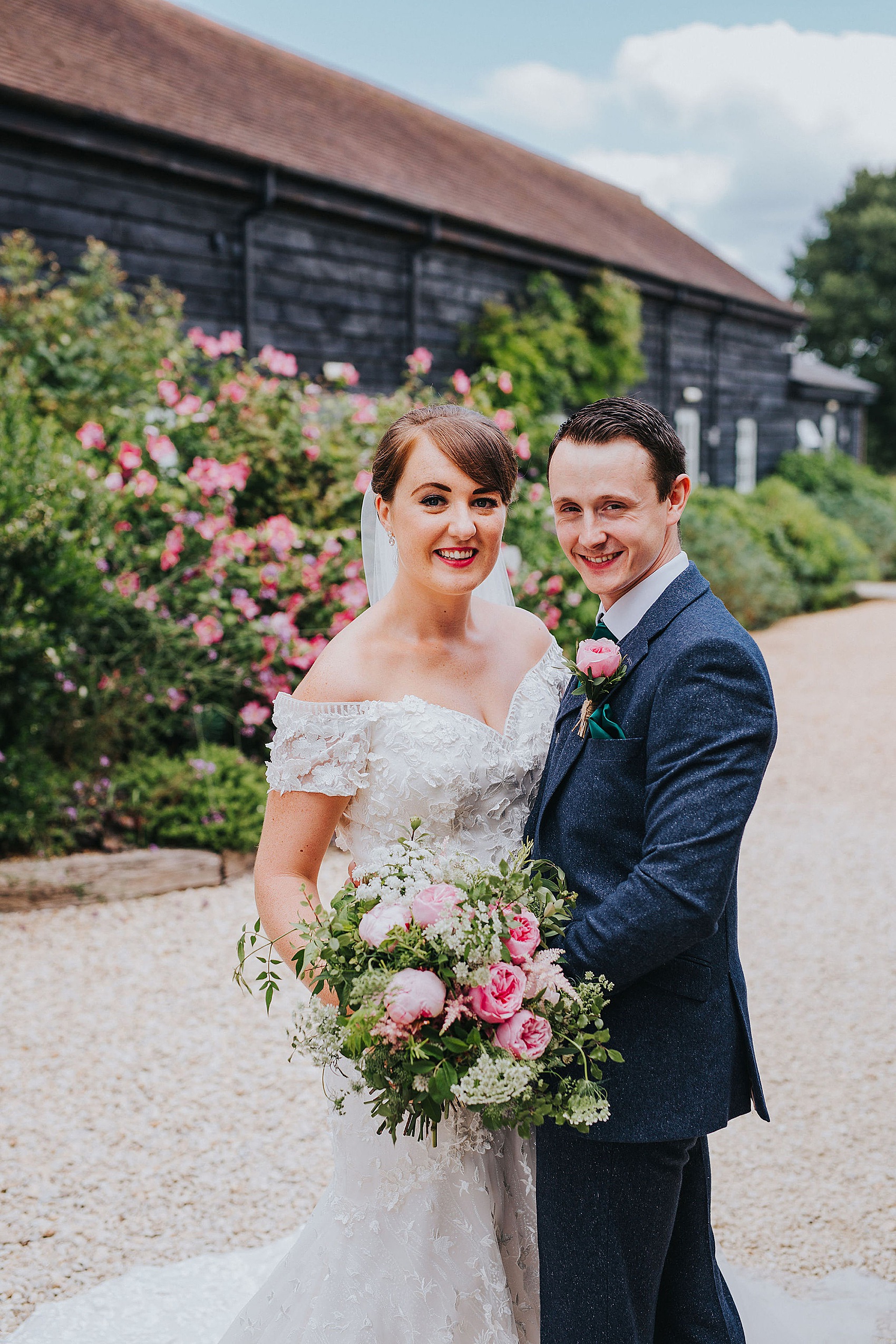 "Charlotte's package included a free engagement shoot, which was a great opportunity to get used to being in front of the camera before the big day, and the photographs from the shoot were used as part of a display at the venue. We felt very comfortable in Charlotte's company, and the service we received was so professional. Since we have received our photos, we have had such an amazing response from everyone we know."
"The photographs turned out exactly how we wanted, and we cannot wait to start putting our photo album together. Being able to look back on these shots for the rest of our lives is invaluable to us."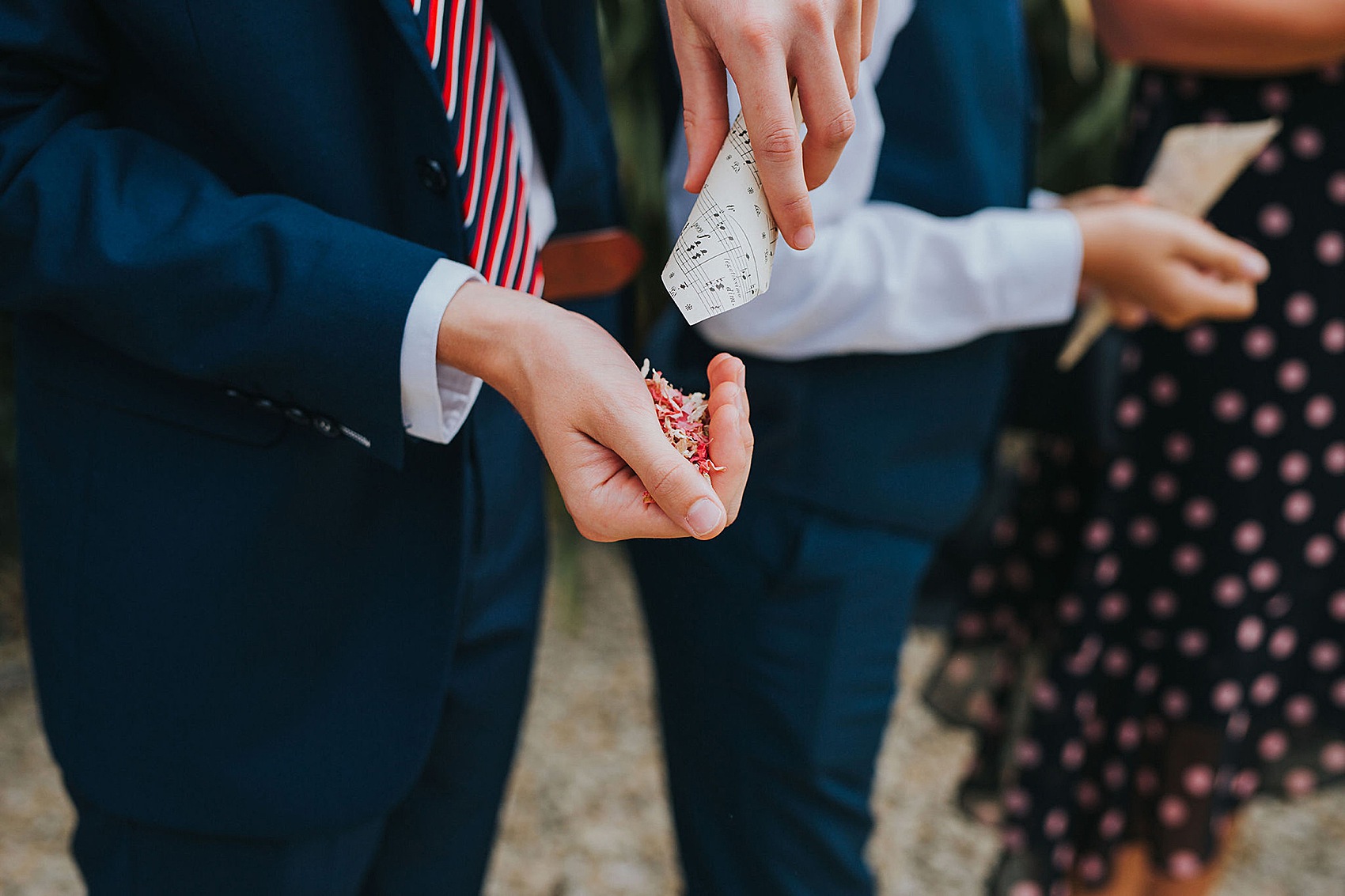 Megan had wanted peonies in her bouquet, but as they were out of season, she thought it wouldn't be possible. Florist Gill Pike, however, managed to track some down, and filled Megan's beautiful bouquet with them, along with scabiosa, Queen Anne's Lace, and greenery.
"We met back in July 2013 in a local pub close to where we live. I had just finished university, and Benjamin was working full time at the same company he works for now."
"When me and my sister arrived, we said hello to our friends, I went to the bar, and I bumped into Jack, who I went to junior school with. We started chatting and a little while later my sister came over and said that she was leaving to go out to a club with our friends. So, I said to Jack that I was going to head home, and he invited me  to join him and his friends. I sat next to Benjamin, and we spoke for ages. He came out at the end of the evening and checked out my car, as I thought I had a flat tyre – which I did!"
Three weeks later Megan and Benjamin officially became a couple, and two years after that, they bought a house together before becoming engaged in May 2018.
"Benjamin proposed to me at Anne Hathaway's cottage in Stratford-upon-Avon, surrounded by roses and sunflowers. We have been together for six years now and have never looked back!"
The barn was decked out beautifully for dinner, with a pretty table plan and signage from Natural Wedding Creations, along with lots of personalised details, such as a copper frames (courtesy of florist Gill Pike) displaying guests' RSVPs, and photos of Megan and Benjamin, and a wooden ladder (from eBay) used to display family photos.
Delicious food was served by Tandem Catering, and after canapés including mac 'n' cheese cups, caramelised onion sausages with mustard, fish and chip cones and bruschetta, everyone sat down to enjoy the wedding breakfast. There was a stater of melon with Parma ham and fresh figs, followed by roast sirloin of beef with Yorkshire puddings and Madeira gravy. Dessert was a lemon and vanilla New York style cheesecake with fresh berries.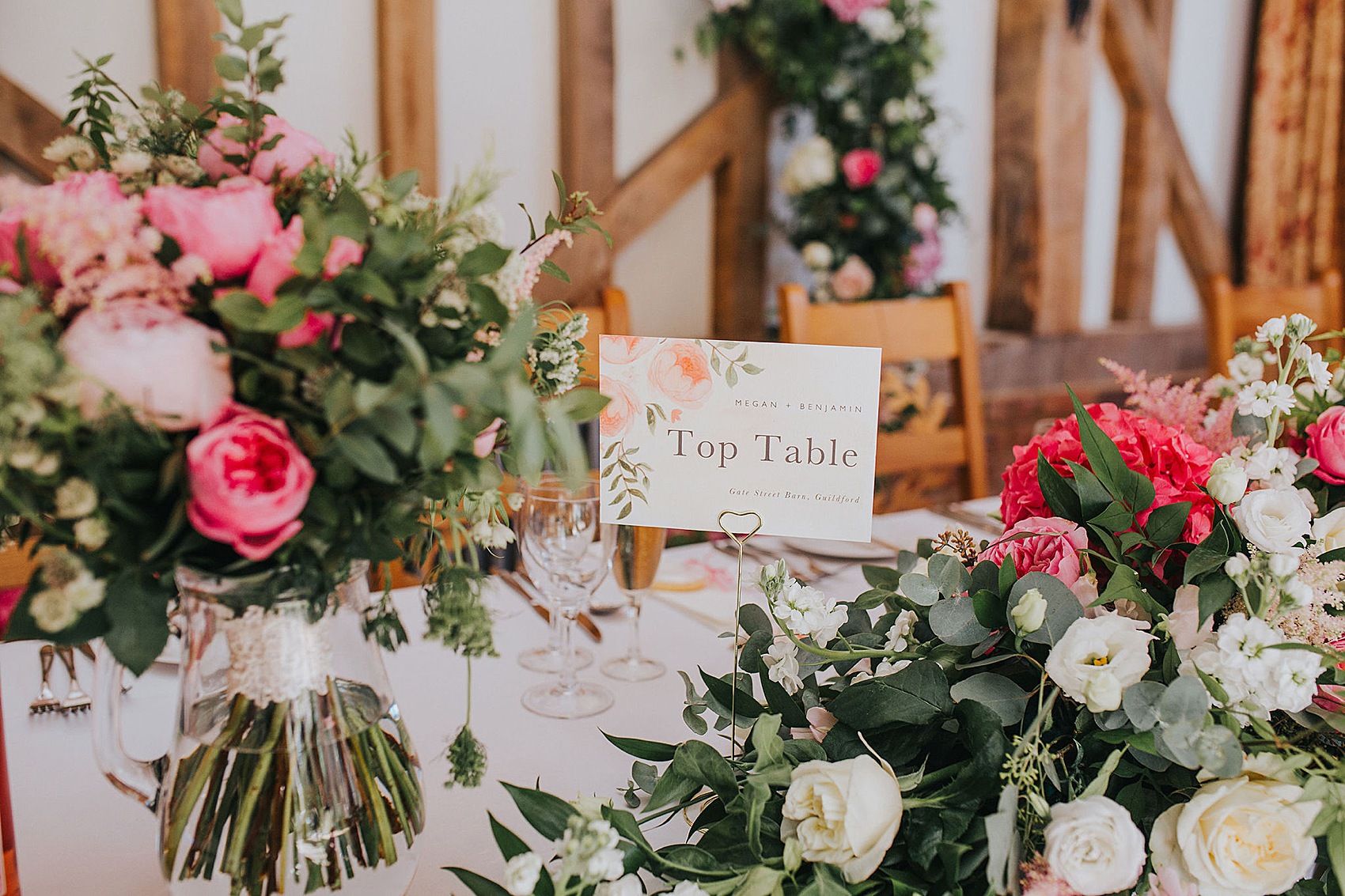 "Tandem also provided the evening food for our guests, which included bacon, sausage and fish finger baps with ketchup and brown sauce. They were fantastic on the day and were able to accommodate all dietary requirements. Their staff were super friendly, and were able to deal with any last minute changes. Everyone loved the food and everything ran like clockwork."
"A vintage suitcase was purchased through one of my bridesmaids' friends who got married, and we used to display pastel pink flip flops for our guests. A little treat for their dancing feet!"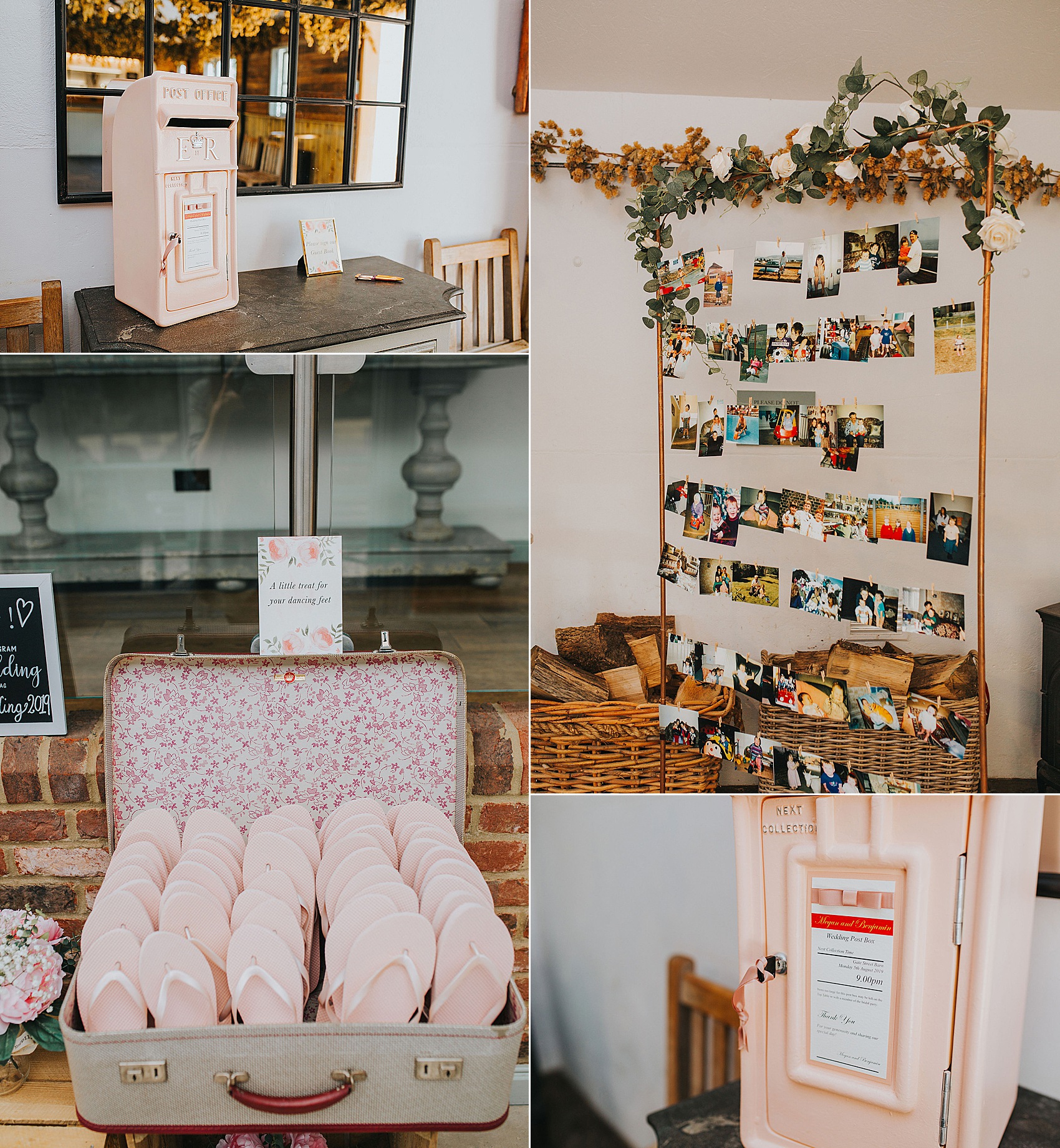 There were flower petal confetti cones made from sheet music, and there were vases of flowers dotted throughout the venue, and used as table centrepieces together with lots of candles.
"We provided personalised biscuit favours in bags tied with pink ribbon. My sister works in a primary school, and the canteen staff make shortbread biscuits for the children every week to have at break time. The school kindly gave my sister 100 biscuits for free! My sister and mum iced them, stamped them with a personalised stencil, bagged and tied each individual favour. They were perfect! We had an adults only wedding, so a lot of our guests took their favours home for their children so that they could have a little keepsake of the day."
"We hired a vintage sweetie cart from South Surrey Candy Carts, but we used our own glass jars and supplied the sweets. We had a sweetie table at our engagement party and it went down very well. All of the jars were decorated with a rose pink ribbon to keep within the theme."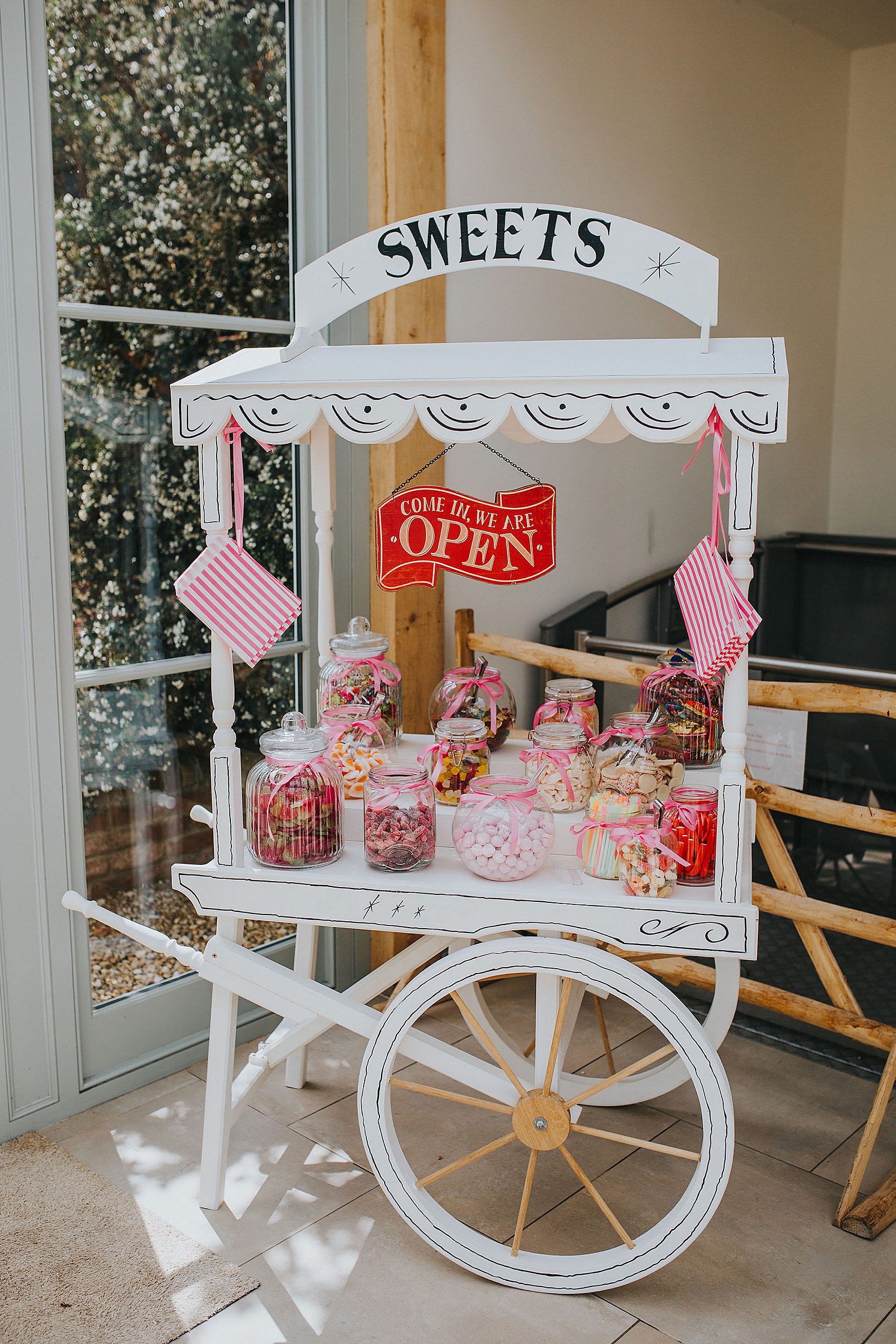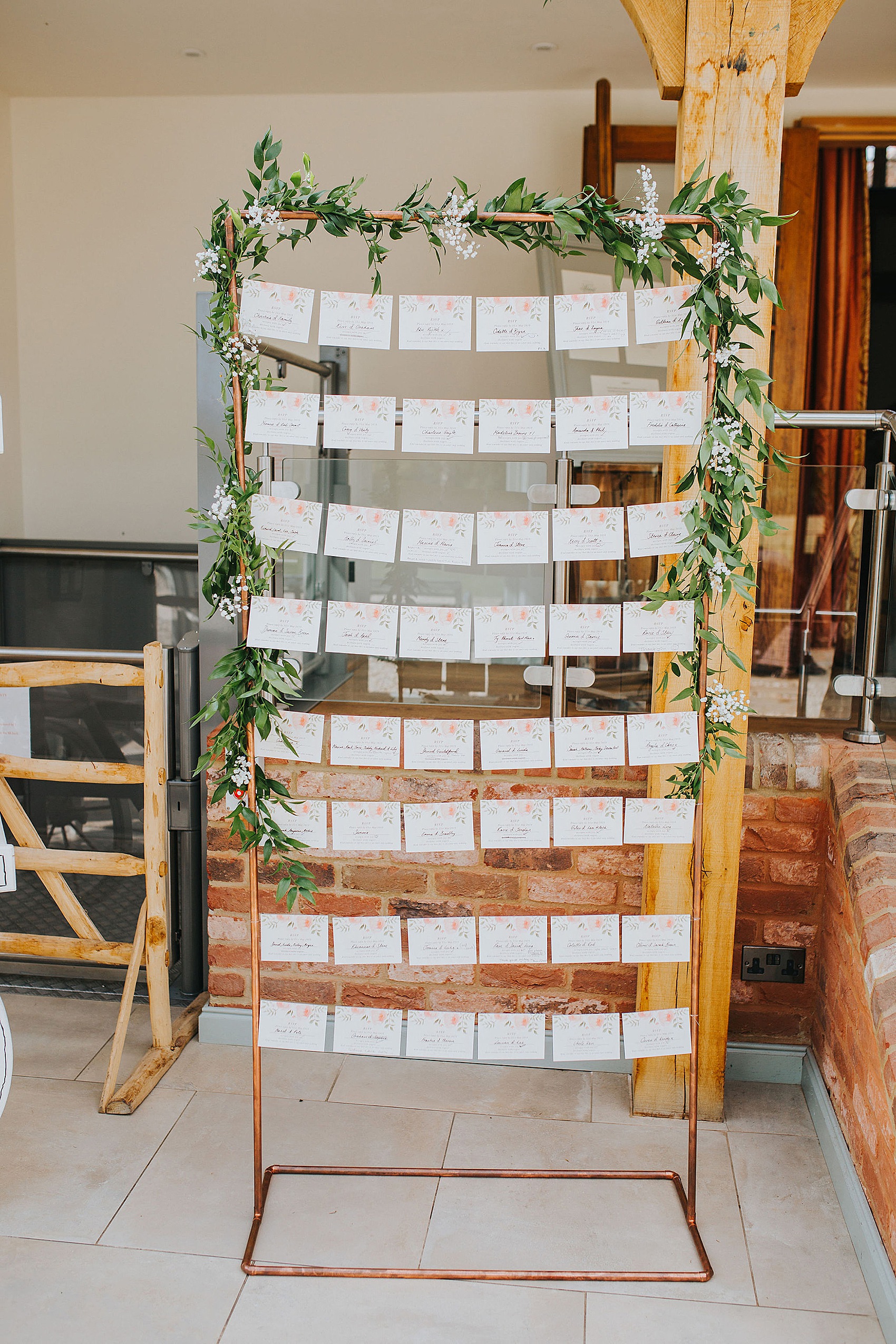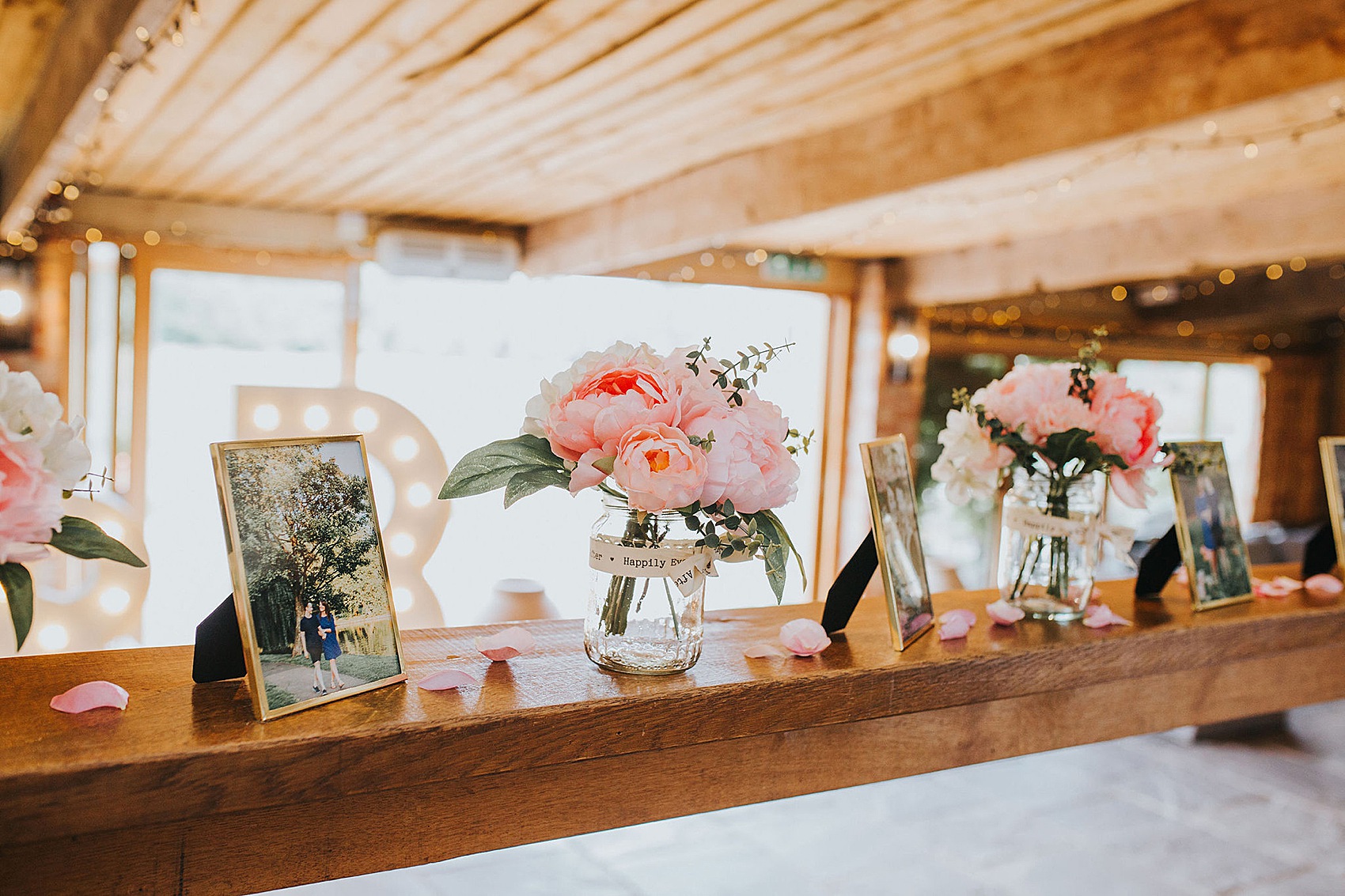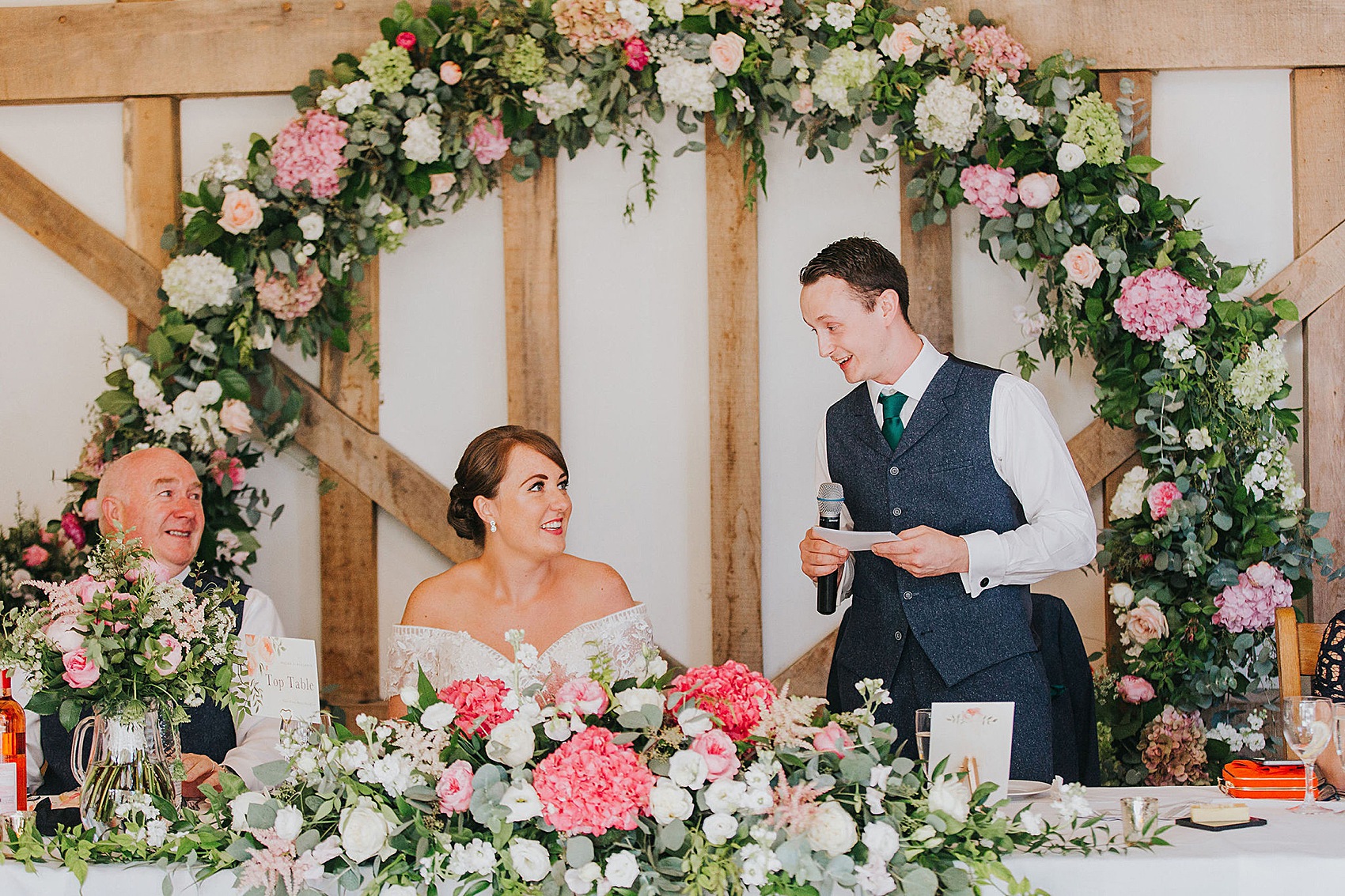 Megan and Benjamin's spectacular four-tier cake, with ruffled buttercream and gold leaf was by Lucy from Stable Cottage Cakes, and also doubled as a birthday cake, too! Light-up initials from Soiree Events were a wonderful backdrop for the couple's reception styling.
"Stable Cottage Cakes use fresh eggs from their own free range hens, and Lucy had also just won cake designer of the year (South East) at the English Wedding Awards."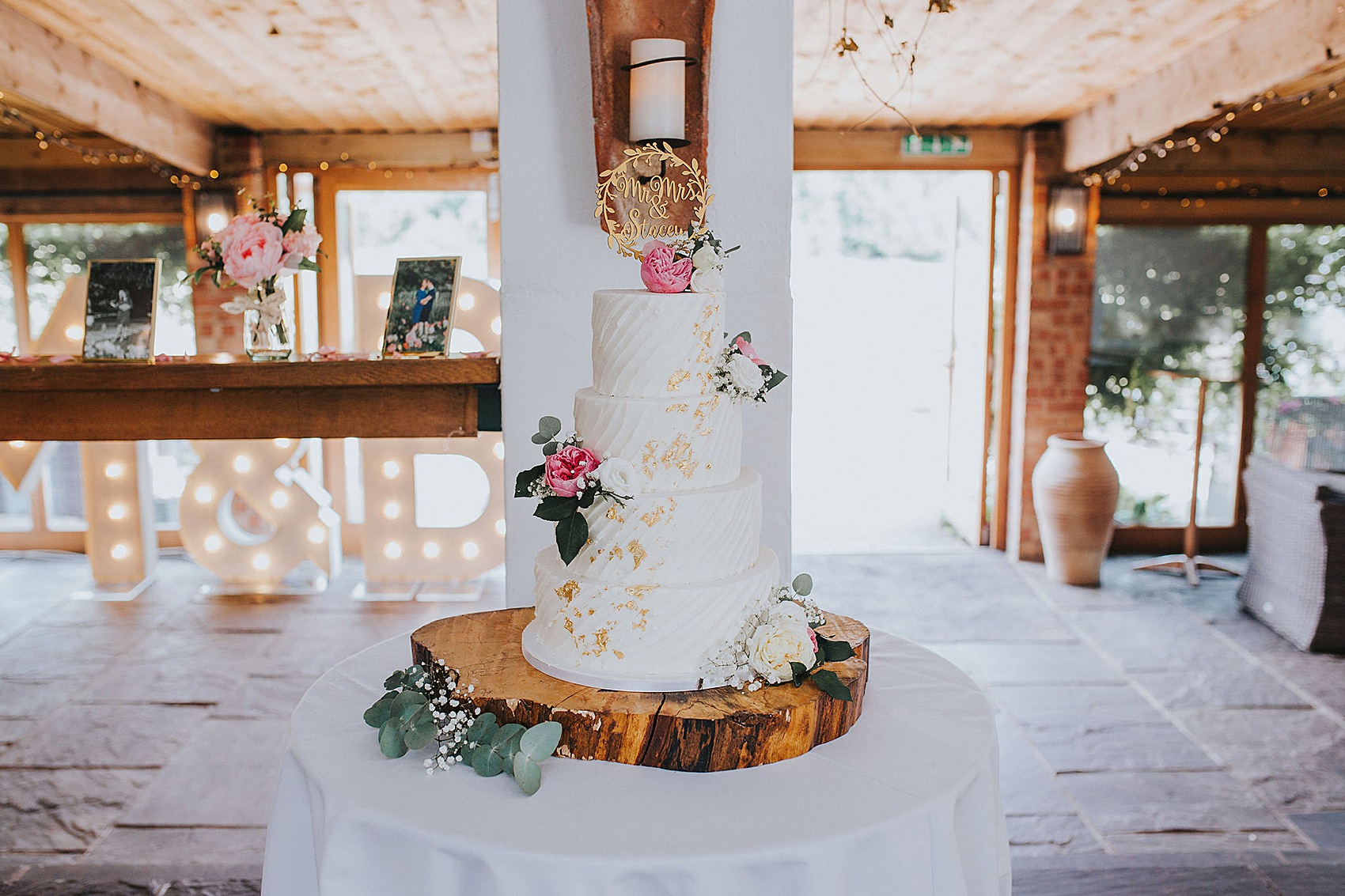 "We were originally going to go for a three-tiered cake, but as it was my future brother-in- law's birthday the same day we were getting married, we added an extra tier and made the top tier his birthday cake."
"The two bottom layers were Victoria sponge, the third tier was lemon, and the top tier was red velvet as this is Anthony's (brother-in-law) favourite."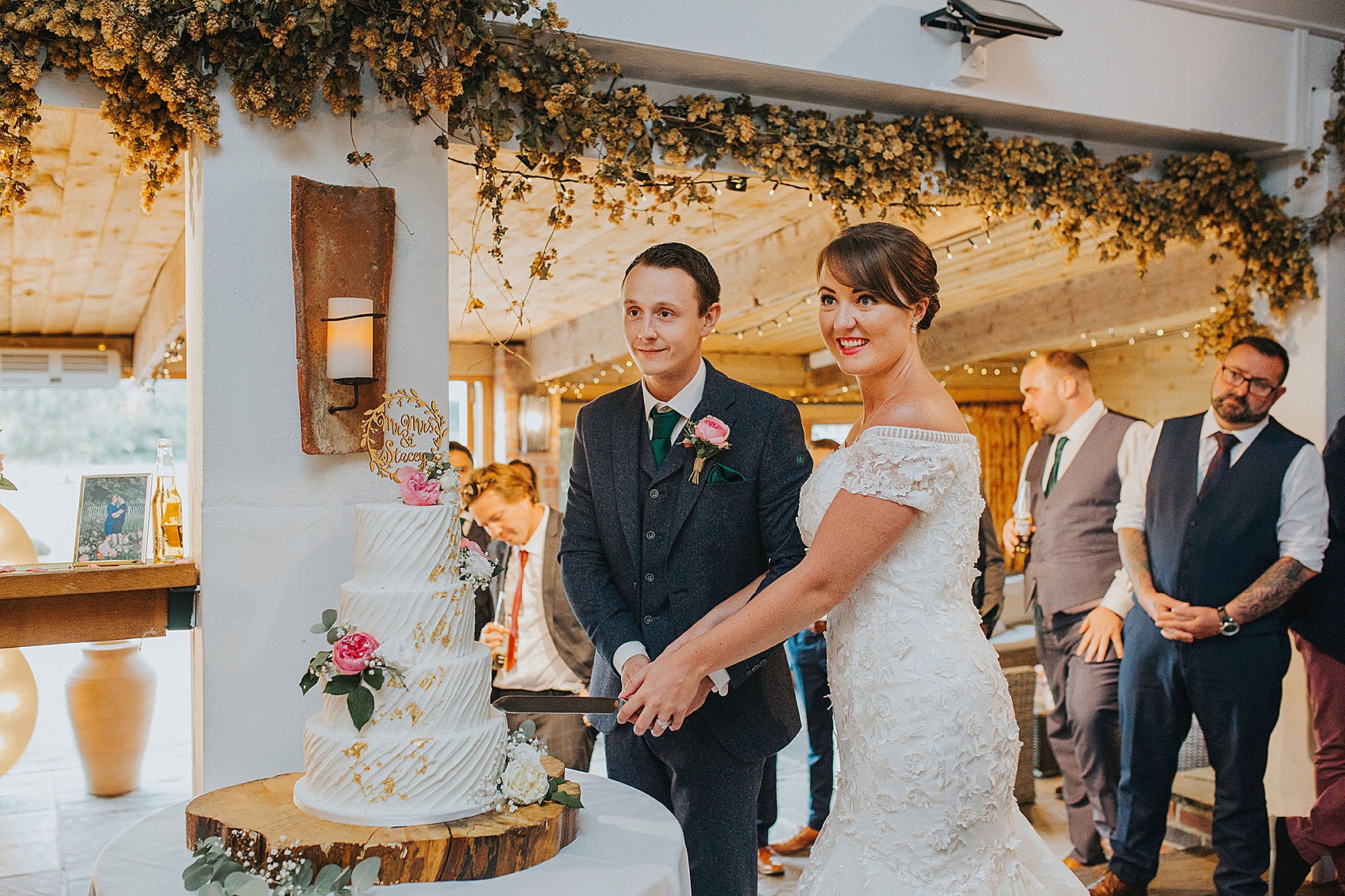 After dinner and speeches, there were games set up outside for everyone to enjoy, which included giant Jenga, noughts and crosses, and skittles, all from Skittle Alley Hire. It definitely looks like skittles got pretty competitive!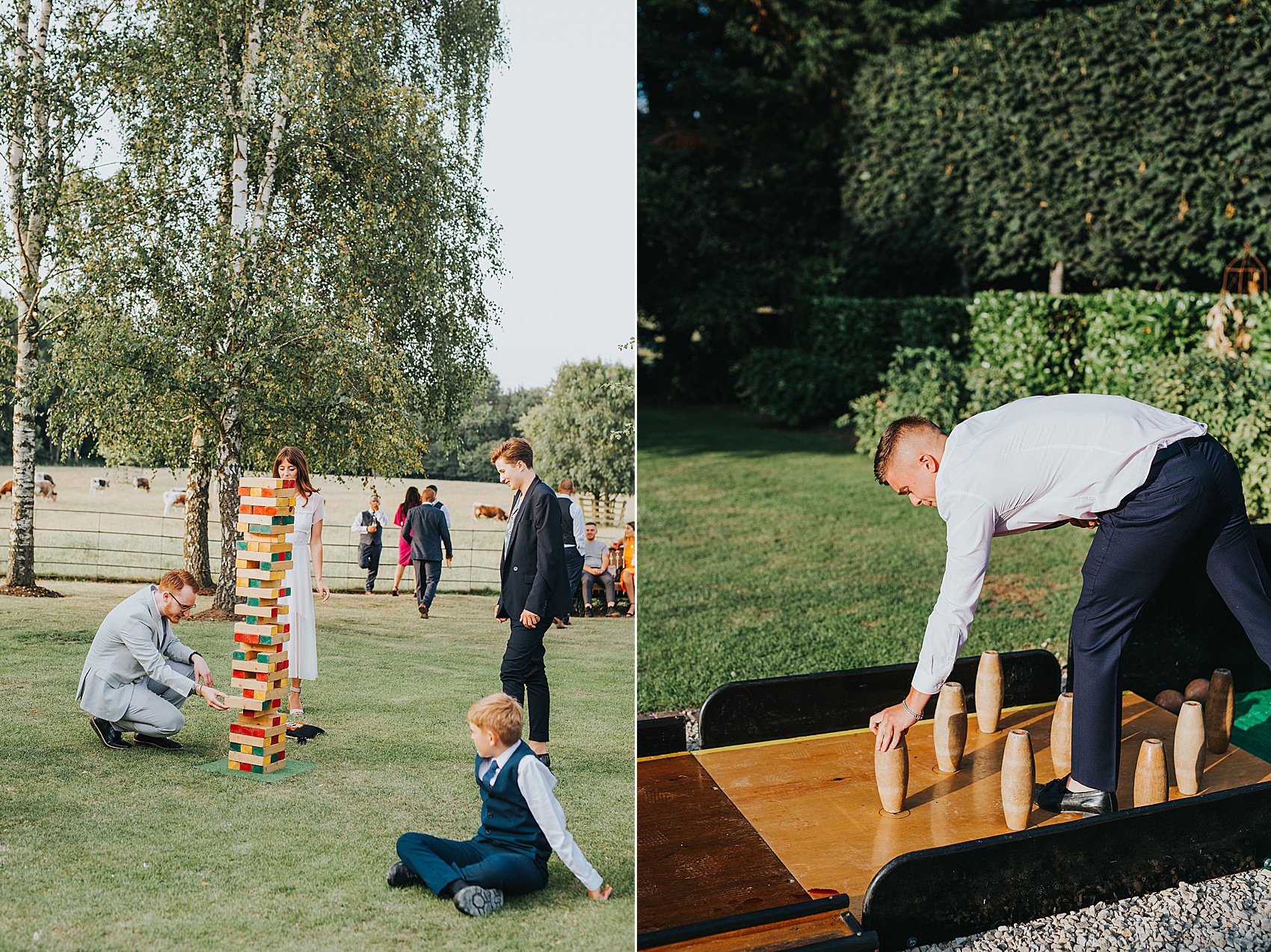 "If you are looking for evening entertainment, we would highly recommend supplying a photobooth for your guests. We went for a rustic open booth from Oh Snap to accompany our theme, and the quality of the prints were fantastic. It's nice for the guests to take a little keepsake of the day home with them, too."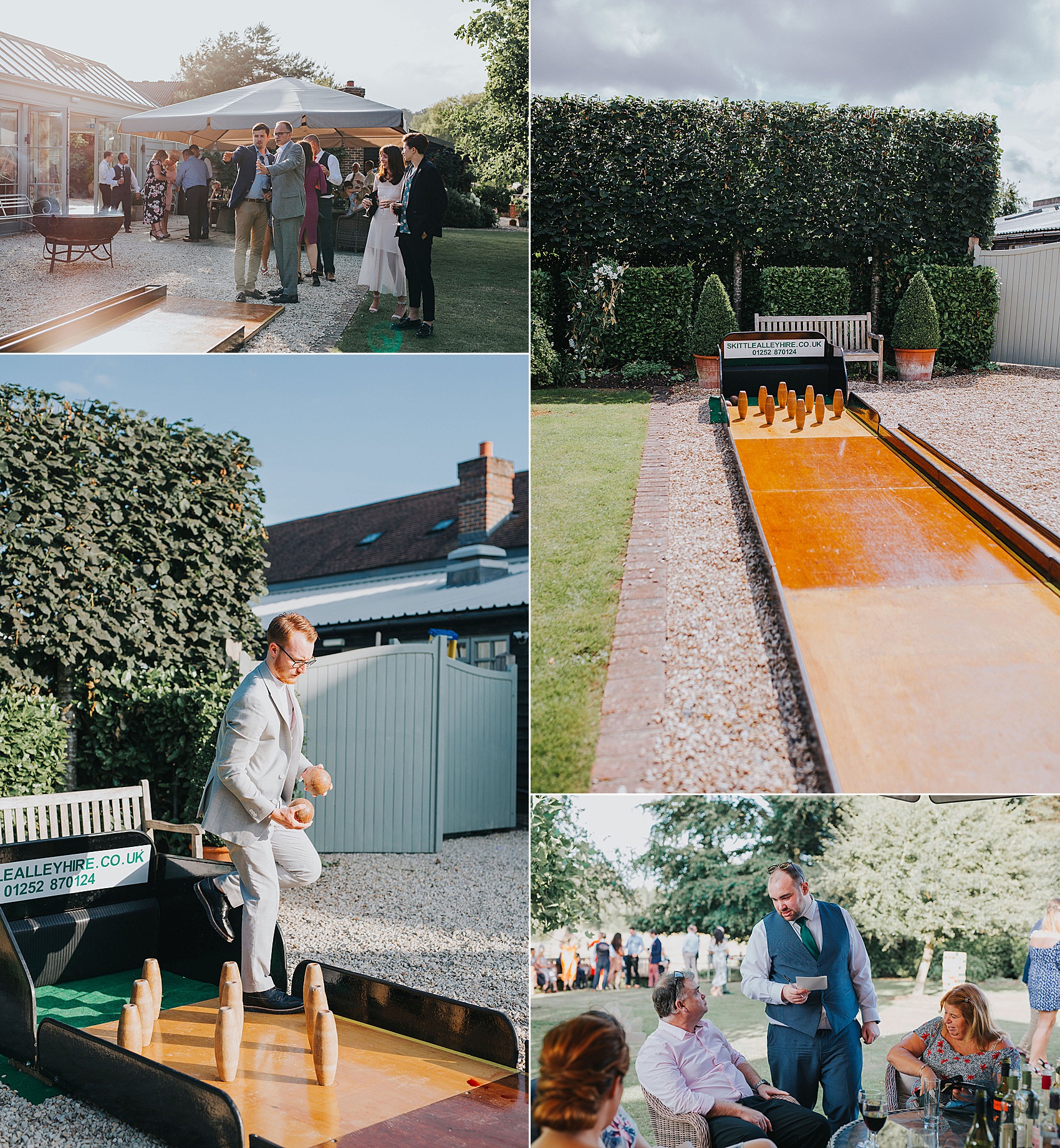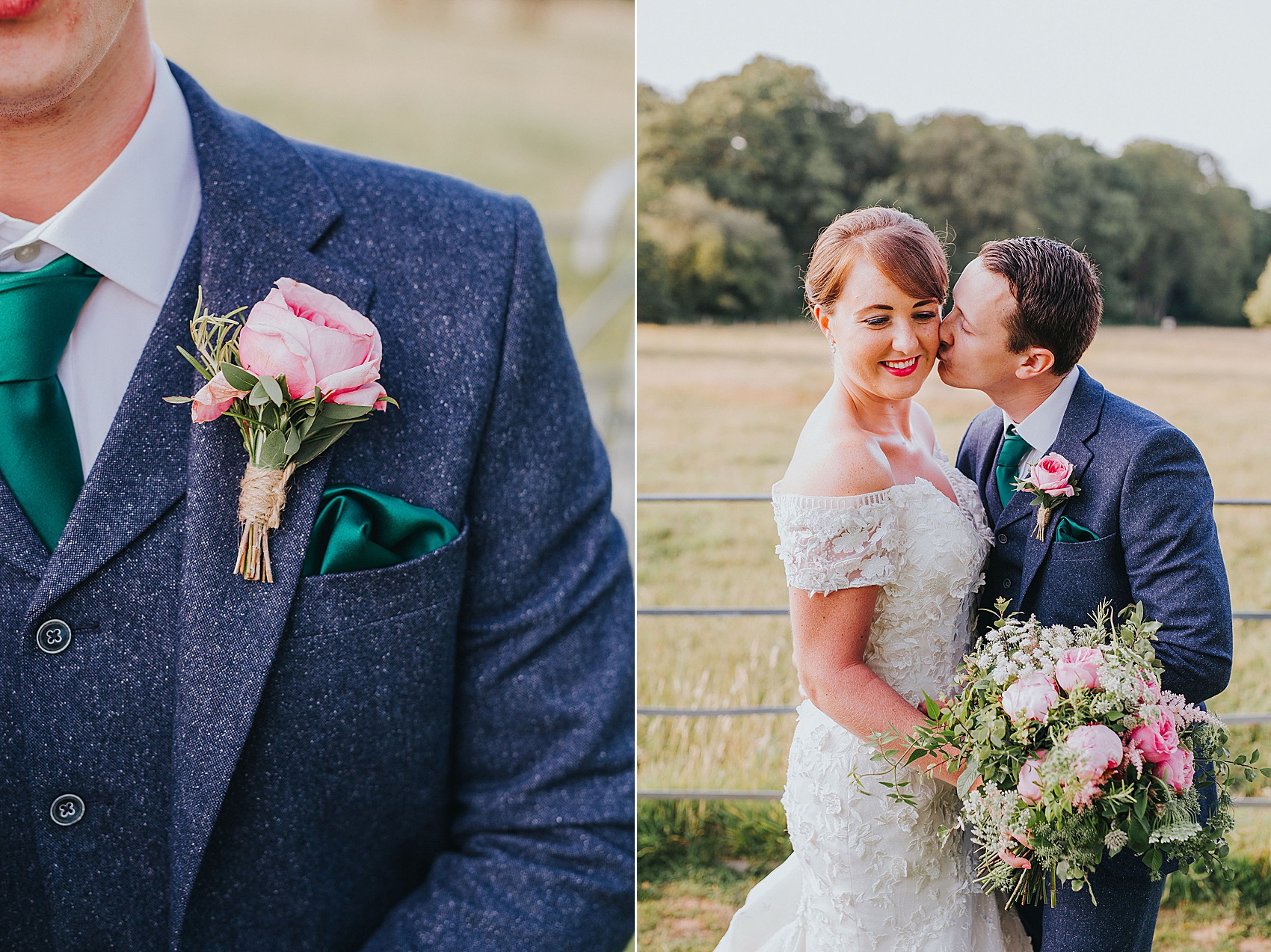 "Our first dance track was Butterflies by Kacey Musgraves. I am a massive fan of country music, and we had a lot of this genre throughout our wedding playlist. I was at home cleaning the kitchen, and Benjamin came in from work and the song was playing in the background."
"We started to slow dance off the cuff, and it clicked and we decided there and then that it was going to be our first dance song. We really liked the lyrics, as it reminded both us of when we first met."
"Benjamin: The ceremony was definitely my favourite part of the day – seeing the love of my life walking down the aisle. She looked absolutely stunning. The whole day was magical and one we will never forget."
"Megan: Standing with my dad in the waiting area ready to go in for the ceremony was my favourite part. 14 months of planning came down to this moment. No more stress and worry. We looked at each other and said, 'Let's do this,' and he told me he was super proud of me, and to enjoy every moment. My mum said I was beaming from ear to ear when I walked down the aisle and I was!"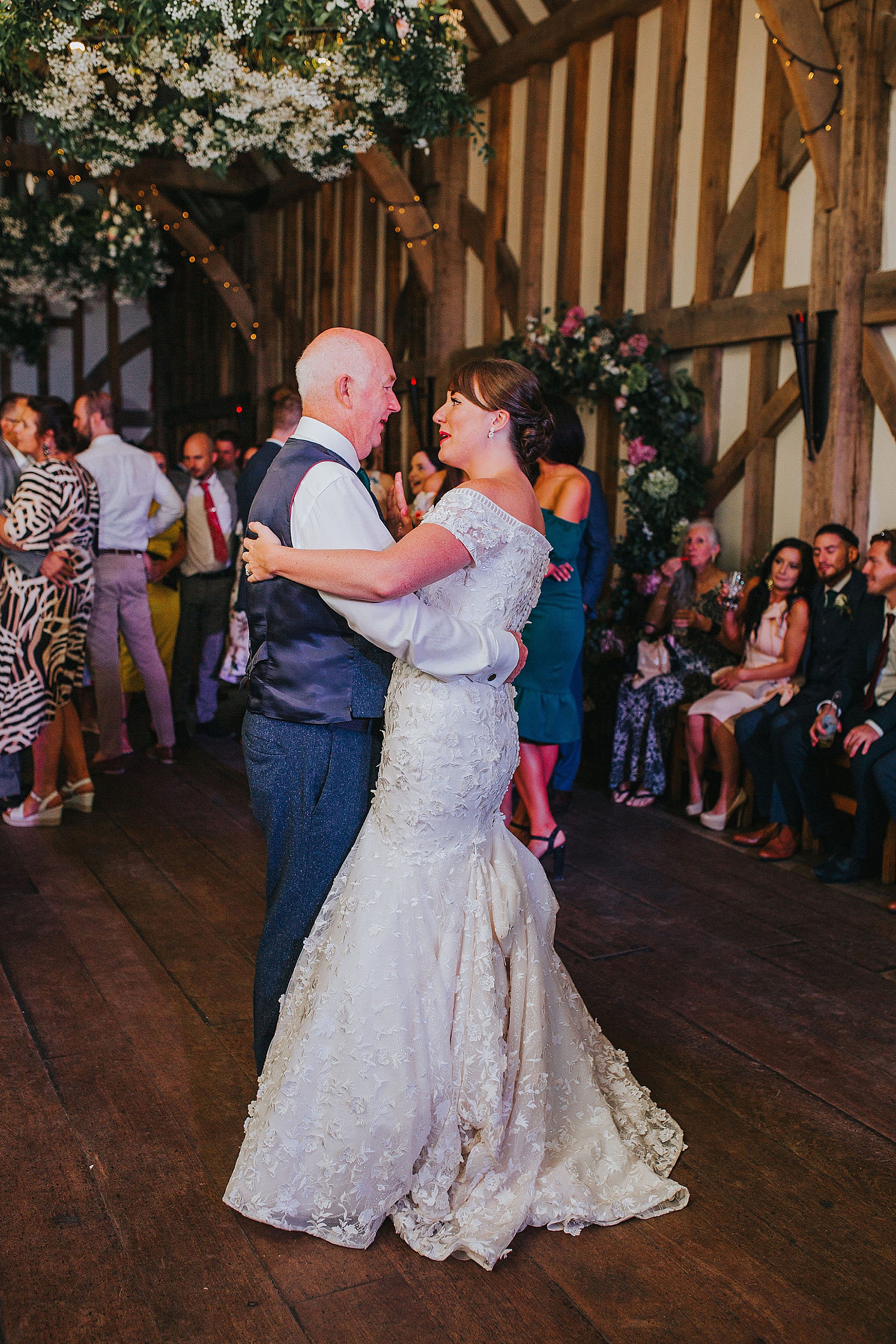 Words of Wedded Wisdom
"When you go wedding dress shopping; try every single style on! If you like parts of a dress but are not sure, there is no harm in trying it on. My dress was completely different to what I had envisioned and 9 times out of 10 you are going to walk out with a dress which was not your first thought!"
"It's ok to feel anxious – Unfortunately my social anxiety did get the better of me on the run-up months to the wedding and I did have to go to therapy as it was getting me down. The techniques I learnt from the courses helped me so much on the day and I was able to completely relax. This has also helped with my mental wellbeing at work. I am now in a much happier place. Don't feel embarrassed to get help."
"Be prepared for people to let you down – we did have people not turn up to the wedding, it's always going to happen but don't let it bother you – the people who care about you will be there and that's all that matters."
Don't look for perfection – things will go wrong and at the end of the day, it will only be you who will notice.
"Keep track of budgets – I had a spreadsheet with formulas that was literally my bible for the 14 months of planning. it showed me how much I was spending and what we needed to cut back on. It is so easy to see things and want to buy straight away. If you have the time, try out DIY and save on the expense."
"Don't go on a crash diet – remember the reason why your partner is marrying you. There is no problem wanting to eating and drinking a little cleaner before the big day but don't go on a crazy crash diet – it will make you unwell and you will need to pay a load out in dress alterations! Luckily my dress fitted me like a glove and my alterations only cost me £100 to have my bustle taken up."
"Take time for you and your new husband on the day – this is the best piece of advice I could honestly give. Put in a couple of 10 minute slots throughout the day for you and your partner to get away from the crowds to talk, reflect and take everything in. It really helped us relax and helped us go at our own pace."
Megan and Benjamin, thanks a million to you both, and we're wishing you every future happiness. Many thanks to Charlotte Razzell for capturing all the delightful details so beautifully, too.
Until next time!
Love, Laura