We recently shared a beautiful new set of images that showcased the talents and aesthetic of the original ethical wedding dress designer, Sanyukta Shrestha.
For those of you perhaps not familiar with this name, Sanyukta Shrestha is the original eco-wedding dress designer. She has pioneered the concept of sustainable luxury since the launch of her first eco-friendly bridal collection back in 2011 (please note – and not just since Greta started her climate strikes). Within this time, Sanyukta has created hundreds of non-white bridal gowns.
These have been for brides with diverse cultural backgrounds and from all across the world. They have ranged from simple and elegant pieces to extravagant couture gold designs. I think it's important to say, that Sanyukta is also a dear friend to Love My Dress and I'm hugely moved by the passion and energy she pours into creating such original, ethical designs with such love and consideration.
Sanyukta Shrestha

+ Follow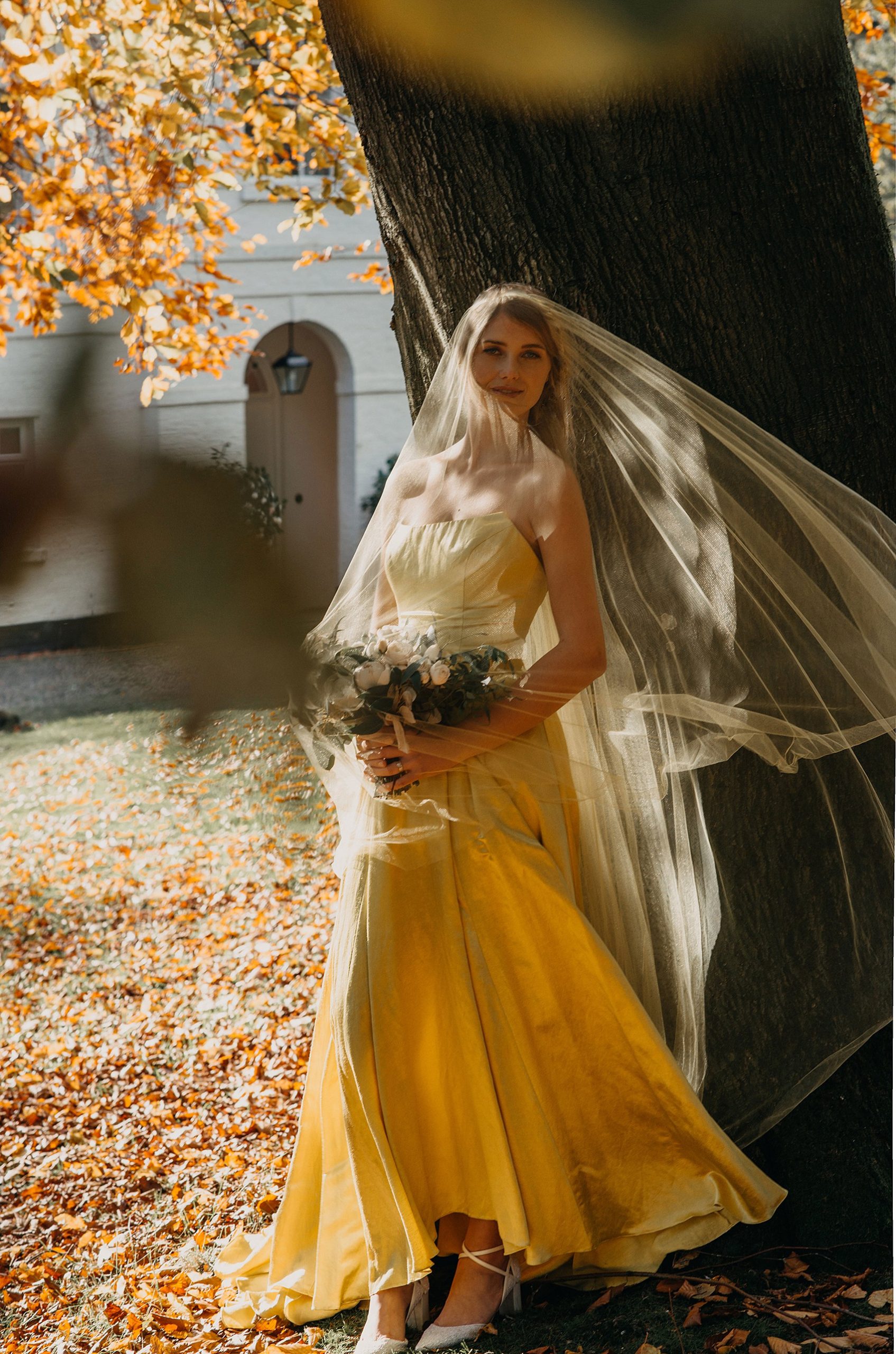 Back in January, we shared this set of images, captured at the designer's own home. This latest suite of photographs that you see here today, was also captured in the grounds of Sanyukta's sublime home, Seto Mahal, and celebrates the concept of colour and wedding dresses.
These images bring to life four beautiful different designs that for Sanyukta, represent the multicultural identity of her cultural and international brides. They are, the 'Constance Bridal Set', the 'Noor wedding dress, the 'Blanche bridal set' and the 'Claret' dress.
I wanted to present a capsule collection for brides who loves colour. I have always been inspired by my brides but for these particular designs, I drew on my experience of working with brides who have come to me specifically for a non-white wedding dress. And there are many brides who do this! Weddings aren't seen as the same traditional concept and experience they once were, and brides are becoming so much more bold and confident in their wedding day wardrobe choices, which is thrilling for a designer like me.
A vegan wedding cake for a pretty blue dress
Sanyukta is a beautiful person inside and out; a softly spoken, gentle heart who really cares about the environment, her friends and who loves her family fiercely. I think it's important to mention this, for so often, we read these 'designer interviews' on sites like Love My Dress and they can appear so brand promotional – lacking any heart and soul.
I decided to focus on five colours, presenting alternative options for brides who love ethical craftsmanship but are after a truly unique yet elegant coloured wedding gown. Sanyukta Shrestha explains.
I'm all about supporting excellent brands, it's what I do and how I earn my living – but I want to do so in a way that explores the people behind the brand – the processes and all those things you don't usually get to see when you're pouring through fancy campaign images. The usually hidden elements of magic that sparks away behind the scenes. Please know, this is so important to me – that we help create a bridge, a human connection between the designers we love to support, and you.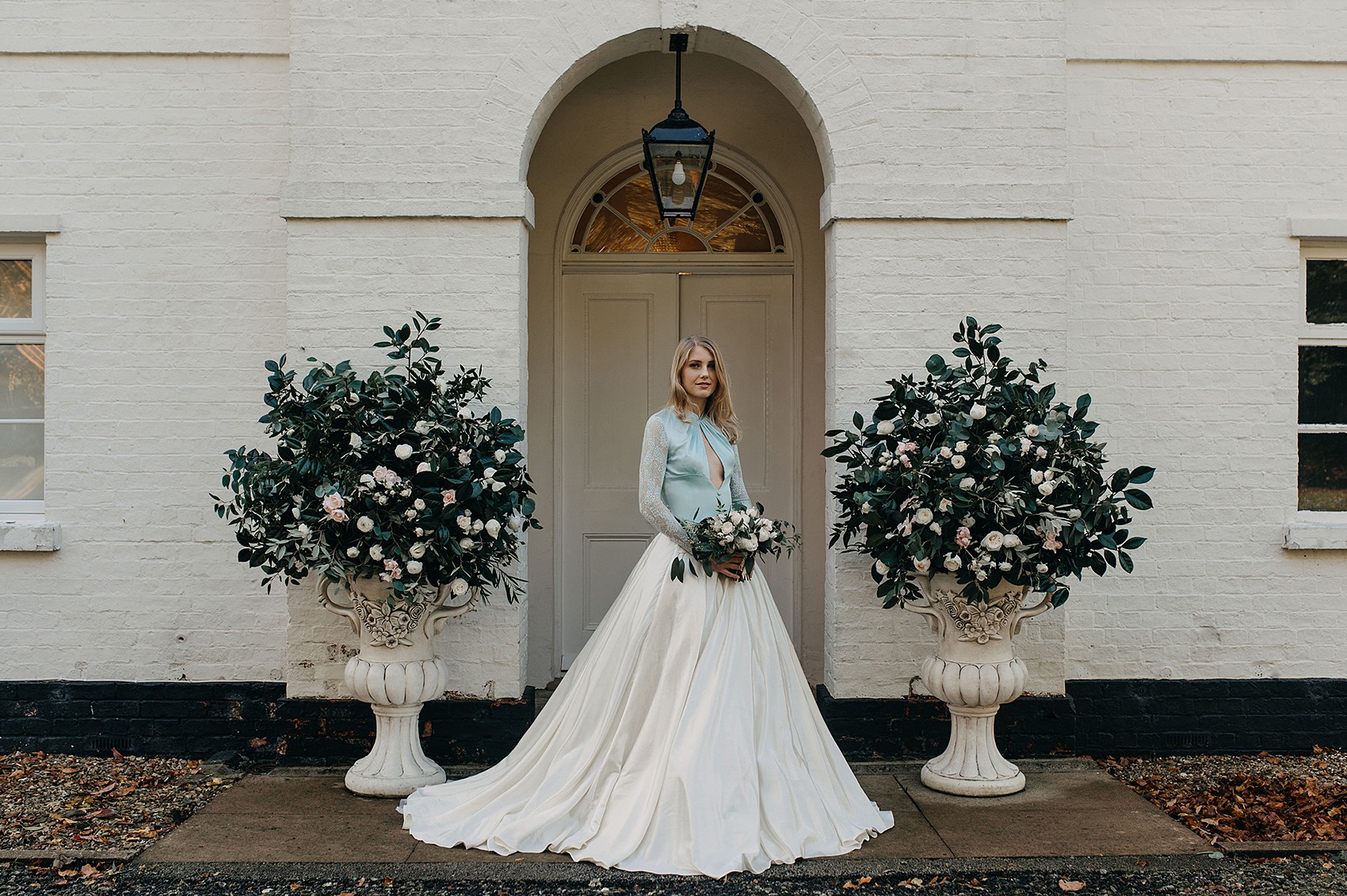 Sanyukta's innovative approach to bridal fashion design, and her welcoming and lovely bridal boutique based in Fulham was last month awarded 'Wedding Boutique Of the Year London', by Britain's Asian Wedding Awards 2020. We are thrilled for this wonderful woman and her team.
This award (which was a pretty big deal, let me tell you), was won on the strength of Sanyukta's innovation and beautiful boutique, but mostly for her unwavering dedication to supporting an ethical workforce of artisan women based in Nepal, who craft all her exquisite, organic and eco-silks, entirely by hand.
This represents (and has done for the past nine years), an incredible environmentally conscious and sustainable choice for brides. Sanyukta leads by example by giving back to the community that has supported her, and through doing so, empowering women (which, a day ahead of International Womens Day, we are VERY happy to be shouting about). By the way, to learn more about the artisan silk making communities that Sanyukta supports, please go here.
Winning 'Wedding Boutique of the Year 2020' in London was a pinnacle moment for us. I am humbled and grateful for all our brides who trusted me and my team – they have each become an integral part of our brand identity and success. Sanyukta Shrestha
"I've been lucky enough to be part of many cross-cultural weddings", says Sanyukta, "…of couples who have mutual respect and love for each other's traditions and customs. As a designer with a diverse heritage and background myself, I understand the deep desire to be able to weave heritage and family values where possible into the design and concept of a couple's wedding day – and especially, for the bride, in to her bridal gown. And I understand how important it is to do this,  without compromising the bride's own unique vision and personality."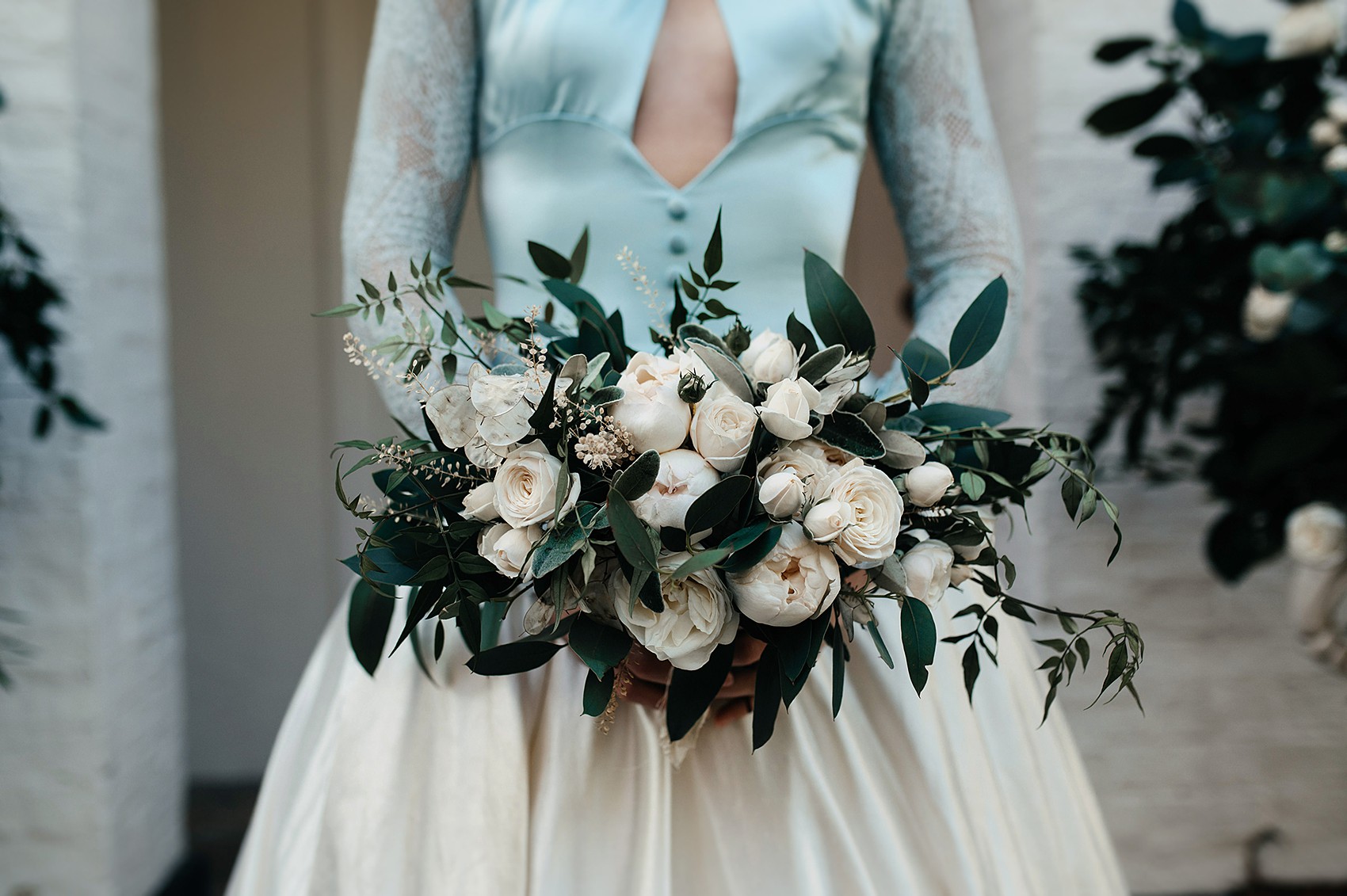 Sanyukta has been working more than 16 years with international brides, and colourful wedding gowns have, in all this time, been a favourite choice with her clients.
During her research into colour choices, Sanyukta actually noticed that history is repeating; prior to the year 1840, coloured wedding gowns were a popular option in the Western part of the earth. In 1840 however, Queen Victoria married her beloved Prince Albert of Saxe and wore a white wedding gown. This act is credited with establishing the trend towards white bridal gowns. This is in contrast to many eastern parts of the world, who have celebrated weddings in colourful gowns, for more than five thousand. years.
Colour theory encompasses a multitude of definitions, concepts and design applications that are widely known, but what fascinated Sanyukta, was the symbolism of each colour, depending on different cultures and parts of the world. With that in mind, she decided to focus on five different colours: deep red, pastel blue, ivory, silver and yellow.
For a sustainable brand, creating a colourful wedding dress does have its challenges. Sourcing high quality, but low impact sustainable dyes is one of these challenges, as is the limited of dye colours actually available. Sanyukta has long been pushing for more creativity within bridal fashion and she continues to do so.
So, back to these images. They were all captured at the designer's own sanctuary, Seto Mahal. The creative team behind the images wanted to design an elegant outdoor set with fairytale vibes.
Constance, in Powder Blue
"The inspiration behind the Constance gown, was to create an aristocratic two-piece design, that would work both together and separately. Sensuous, sexy, yet elegant and daring, the Constance top draws inspiration from the 1930's – and the skirt, from a Victorian ball gown."
"Constance is all about the simple details: an open back, delicate bamboo lace sleeves, the silk buttons and of course the voluminous hemp silk full skirt that steals the show. Many Brides want to create two bridal outfits but often they are restricted when it comes to their budget. We specialise in bespoke services – that's really important to me, because our services is all about the provision of good design solutions."
"For a traditional church wedding, a classic top with a voluminous Constance skirt could be a perfect match whereas for non-traditional wedding, the blue Constance top with its voluminous skirt would be a match made in heaven. For a reception dinner, the bride can easily transform her outfit with the simple change of bottom skirt, following her personal needs and taste. "
There is nothing more beautiful than a Bride who feels happy and confident in her wedding gown. Sanyukta Shrestha
A note on powder blue: Historically, for brides, powder blue was a popular choice as it represented purity, piety and a connection to the Virgin Mary. Ivory, on the other hand, has been an all-time favourite shade over history, often being connected with innocence and hope in different cultures all over the world.
Noor, in Yellow
"The Noor yellow wedding dress was inspired by nature, the sun, autumnal leaves and sunflowers. Our bride model Charlotte looked stunning in this organic hemp silk gown with matching veil – you really have to touch and feel the silk here to appreciate the quality. It is beyond divine."
"Yellow is a high energy colour, often described as the colour of sunshine, hope, and happiness. During the research, we found that traditionally, yellow ribbons were worn as a sign of hope as women waited for their men to come home from war. Today, yellow ribbons are still used to welcome homes loved ones, and yellow has emerged as one of the most popular colours for weddings at exotic destinations with sunset receptions."
A note on yellow: Yellow is illuminating and up-lifting. It relates to the mind and intellect. It also evokes the strength, warmth and vibrancy of the sun.
Blanche, in Silver
"Our beautiful Blanche gown is the epitome of elegance – and it is so adaptable too. This beautiful dress would look very much at home at a sophisticated London Wedding or within a relaxed French garden wedding. This is one of the most interesting designs in our bespoke capsule collection. The ethereal cape, luxurious fabrics and delicate embroidery complete the beauty of the gown, while the daring open back is an unexpected twist of modernity."
"Blanche really is a one of a kind gowns for brides with a strong identity and timeless elegance, dreaming of a wedding that will be inspired by paintings that stand in time and eternal beauty."
A note on silver: Silver has feminine energy. It is related to the moon and the ebb and flow of the tides. It is fluid, emotional, sensitive and mysterious, soothing, calming and purifying.
The Claret Red Dress
"When it comes to our most daring brides, there is no other choice than our Claret Wedding Gown, made from bamboo and rich, luxurious natural silks.  The richness of the colour transforms our Claret gown, in the most beautiful red rose without thorns, representing passion, love and romance."
"With a halter neck wedding gown with a beautiful bow detail at the front and a stunning open back, this gown has a unique personality all of its own. Self-confident and fearless, walking down the aisle we envision a bride who loves to laugh, celebrates life and loves hard with all her heart."
"The red silk cape adds a contemporary touch to the stereotype of a red wedding gown."
A note on red: Red refers to psychology perspective, creates passion, energy and excitement. A symbol for auspiciousness and good luck, red is the most popular colour for brides in Nepal, India, China, Pakistan, and Vietnam, among other countries.
All the suppliers involved from the photographer to the florist (who used eco-friendly flowers), cake designer (who created a vegan cake), makeup artist (who used cruelty free products) and more, were chosen for their ethical business credentials.
I thank them, and Sanyukta, for once again trusting us to their most beautiful, heartfelt work.
Love A x
Sanyukta Shrestha

+ Follow