If, like me, foliage is your thing then you are most definitely going to fall in love with our wedding feature today. We've got masses and masses of leafy joy and 'living décor', pink and blue smoke bombs and the most romantic, lacy gown from Temperley London.
It is a real pleasure to introduce the bride and groom, Claire and Chris, who together run part-time theatre schools for young people. They wed on 15 August 2019 at the wonderful Cripps Barn near Cirencester in Gloucestershire. Rustic, relaxed and a blank canvas, it was the ideal location for their celebrations which focussed on good music, delicious food and fabulous entertainment.
Photography Emily & Steve Photography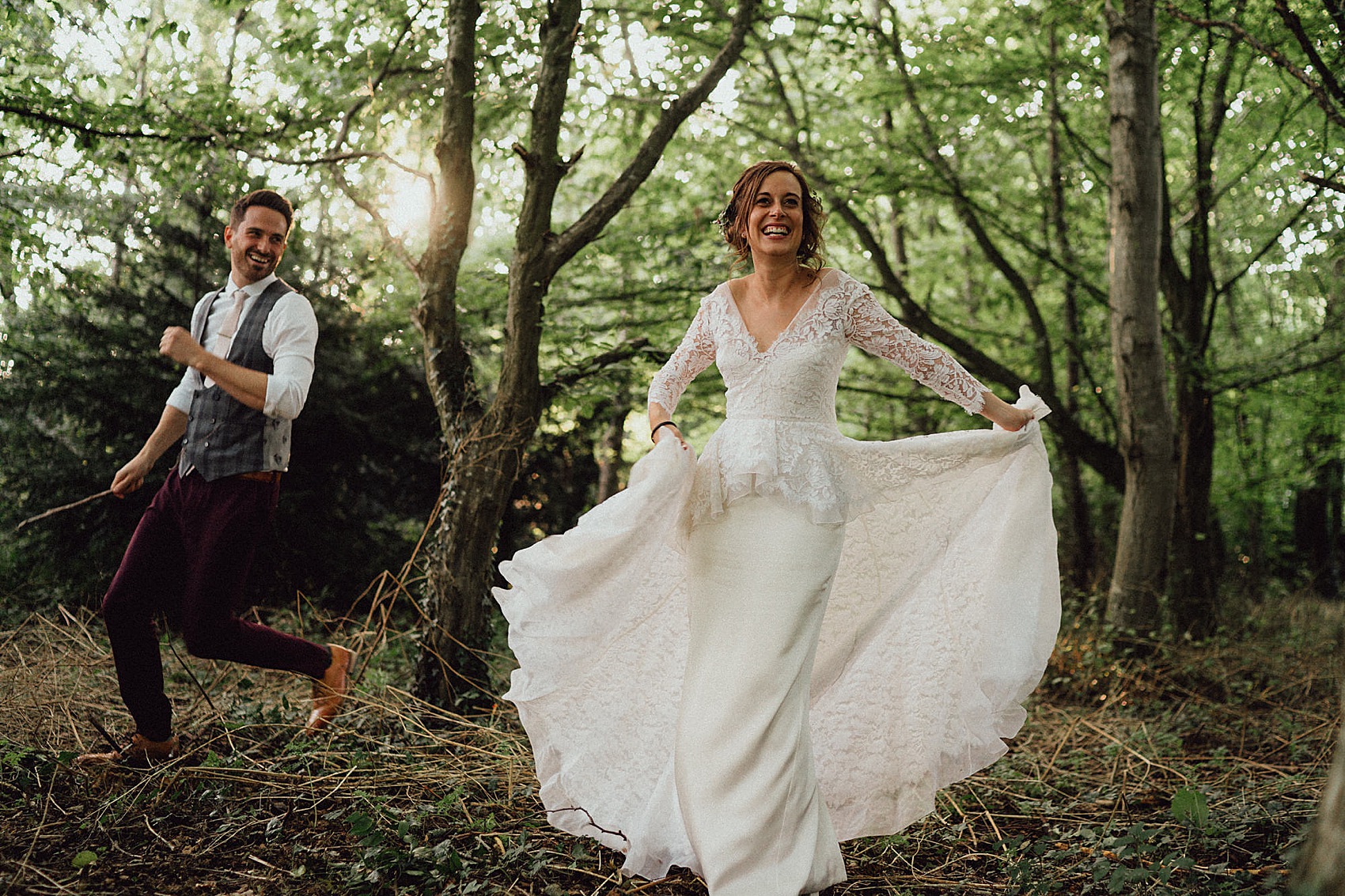 "We wanted it to be more of a party than a wedding; an inclusive party that was fun and silly. I didn't have a colour theme but knew I wanted flowers to fill every corner. I was inspired by places such as Petersham Nurseries near where we live. They create stunning living décor alongside rustic furniture and natural materials."
I love that regular visits to Love My Dress helped Claire realise she could fulfil her own, personal vision for the day.
"I love Love My Dress as it's really accessible and full of real, obtainable weddings. Sometimes blogs put out these idealistic 'fantasy days' which can make you feel like you're doing a rubbish planning job, whereas Love My dress filled me with confidence to keep going with my vision and know that it would come together in the end."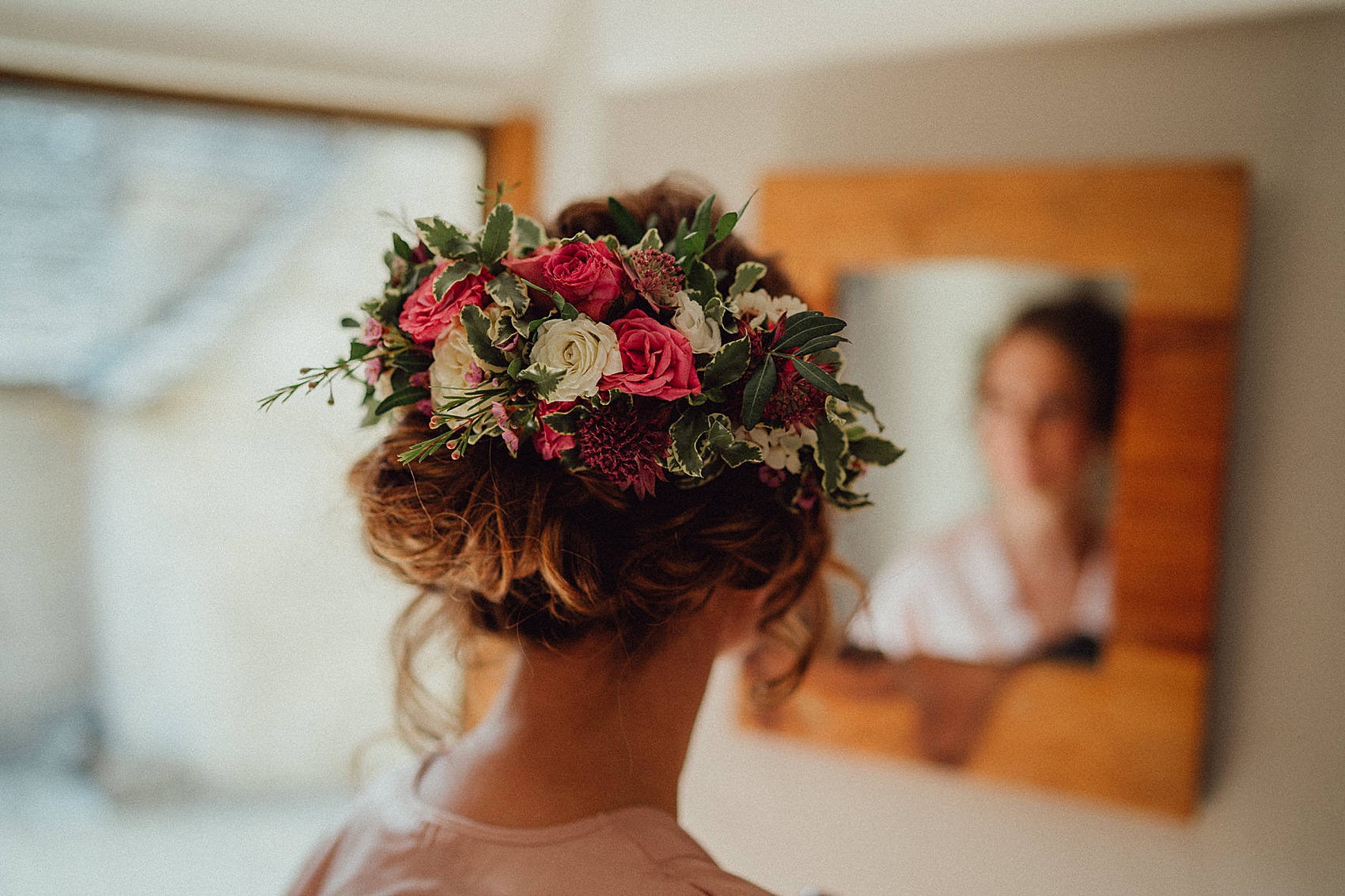 Claire's look was romantic, fairy-tale and utterly gorgeous. She discovered this Temperley London 'Posey' gown at The Wedding Gallery in London but bought it via StillWhite. I love the timeless and classic feel of this vintage lace gown and the unusual waterfall skirt over the slim, figure-hugging column skirt.
"I swooned over lots of Temperley on Love My Dress! I went to The Wedding Gallery in London who have a stunning store. The sales assistant bought out my dress which was £3,000 above my budget. It was very disheartening as you are then in love with a dress you can't afford."
"However, I love a bargain and not one to be deterred, I went searching online to see if there were sample sales of the Temperley Posey dress I now had my heart set on. A few days of googling and I found a second-hand dress online at StillWhite. I did lots of communicating with a lovely teacher in Ireland who wanted to sell her dress and I got it for £3,000 cheaper than the price tag. It didn't have a mark on it."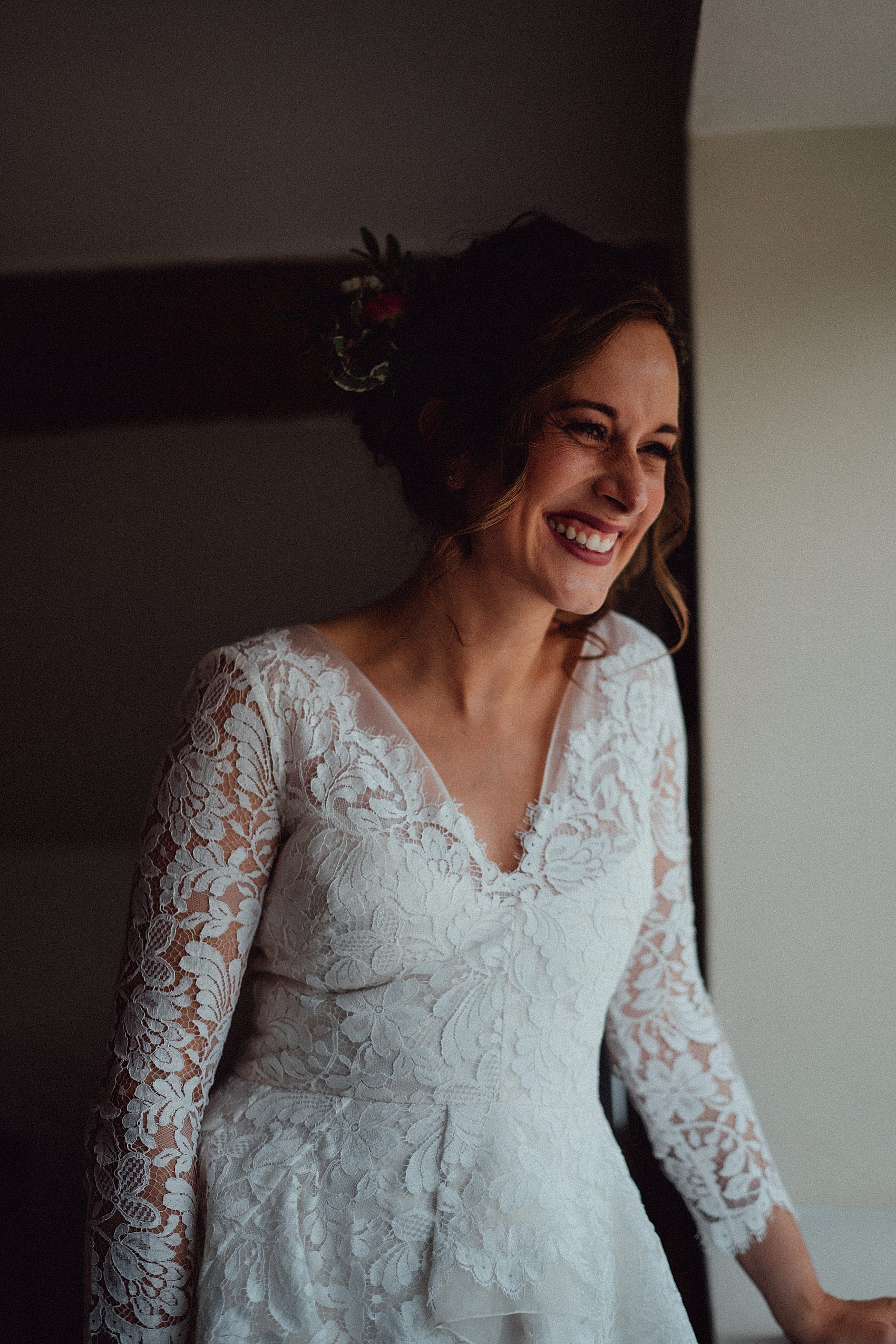 With her gown, the bride wore the most divine pair of embellished Emmy London shoes, along with simple earrings from Anthropologie and Missoma and rings from Missoma and Carrie Elizabeth.
"My shoes were so comfy and absolutely beautiful! Emmy offer a cleaning and dying service so I'm going to get them stained black so I can re-wear them."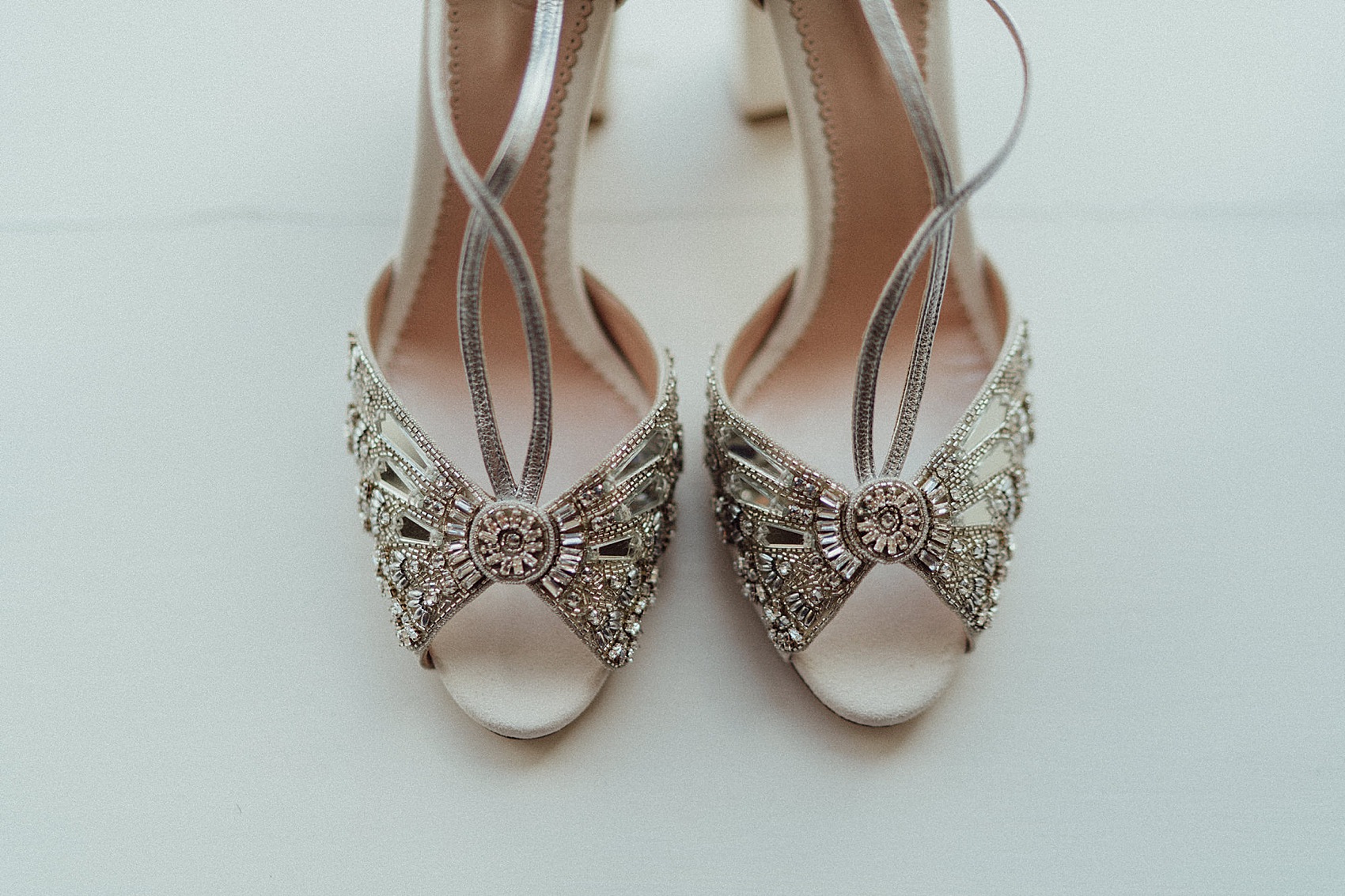 The bridesmaids wore soft pink gowns, all different styles, from Show Me Your Mumu, along with more gorgeous floral crowns and shoes from ASOS.
The girls' hair was styled into relaxed, boho up-dos by Rachael Johnson at Alchemy Hair & Makeup, and flawless make-up was applied by Rosie Williams. The final touch was their beautiful floral crowns from Go Wild Flowers.
"People think that wedding dress shopping is like the movies but for me the reality was simple; there were lots of dresses I liked and lots I didn't. I chose this dress because the cut was different from a lot of others and I felt like the shape of it flattered my body."
"When I put it on, I immediately felt like I was wearing a second skin. It was light and just moved with me. I knew I could wear it for eight hours, dance the night away and feel fabulous. I'm really drawn to features such as lace, high necks and sleeves so this ticked two out of the three boxes for me. Well, I have to make some compromises for a summer wedding!"
Once she was ready, Claire and her mum hopped into an iconic Ambassador, upholstered in the richest of fabrics and jewels and adorned in more beautiful blooms.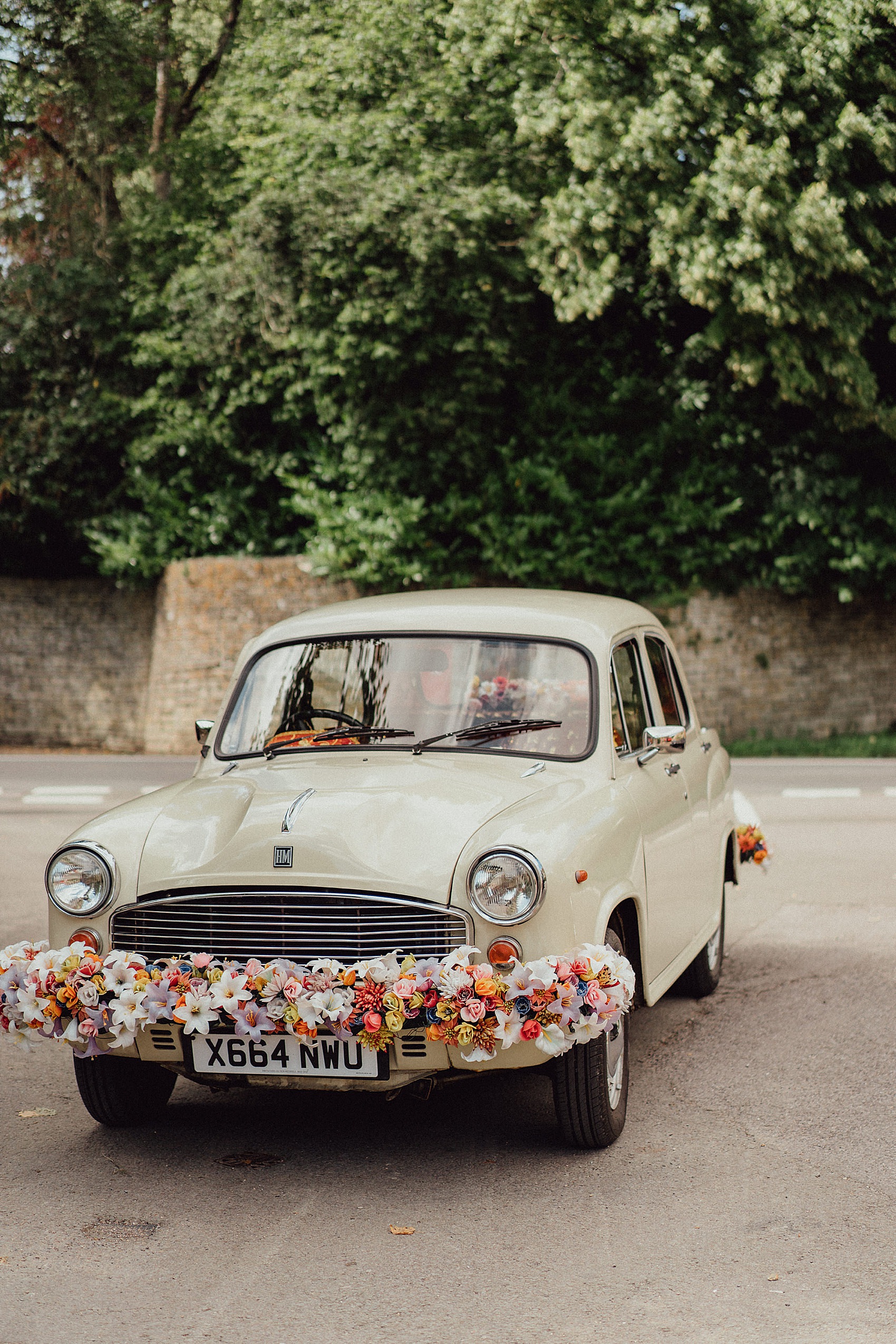 "Suzie at Kushi Cars drove me and my mum from our accommodation to the venue. She has a vintage Ambassador from India, which was beautiful and really caught the eye of the tourists in the area."
"She was so accommodating and drove myself and Chris away for a steal 20 minutes and photo session to ourselves. One of my favourite parts of the day."
Cripps Barn is elegant and rustic in its own right but with a dressing of foliage, candles and personal touches, it was transformed into a magical, woodland dream. I adore the wreaths of foliage and fairy lights, with a rainbow of ribbons, hanging from them which framed the top table.
"Our décor was a mix of random stuff from our house, things we had collected and lots of flowers, mainly all curated by the super woman Gemma at The White Emporium."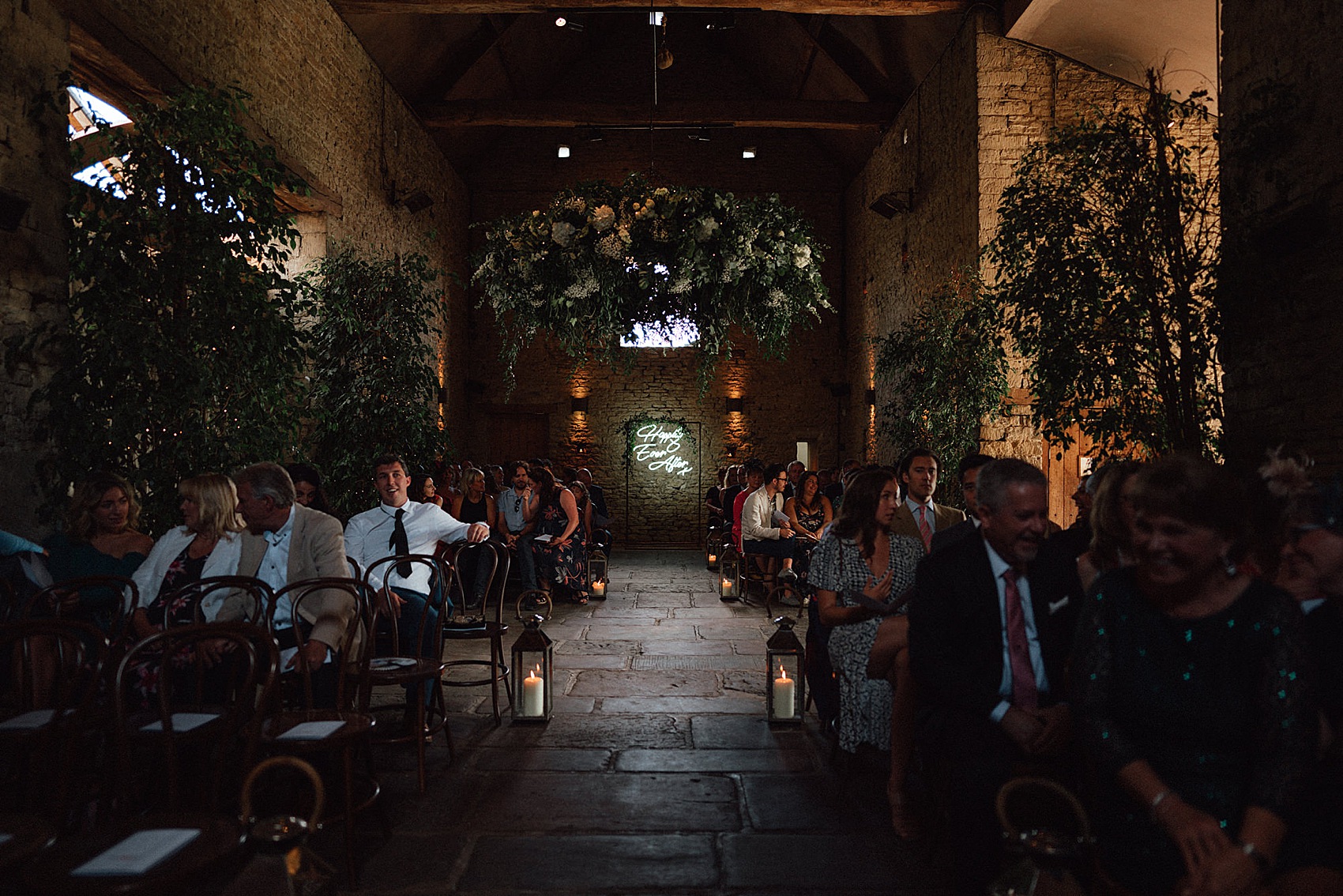 "Chris was very set on having a stylist because he knew that I would add lots of 'stuff'. Gemma bought along so many wonderful pieces such as the vintage rugs, a camera case, candles and lanterns. She styled all the tables and arranged areas that were important such as our memorial table, our polaroid table and s'mores area outside."
"We also hired a neon sign from The Word Is Love. They have some really cool pieces and it added a fun vibe to the ceremony and followed through into the evening party."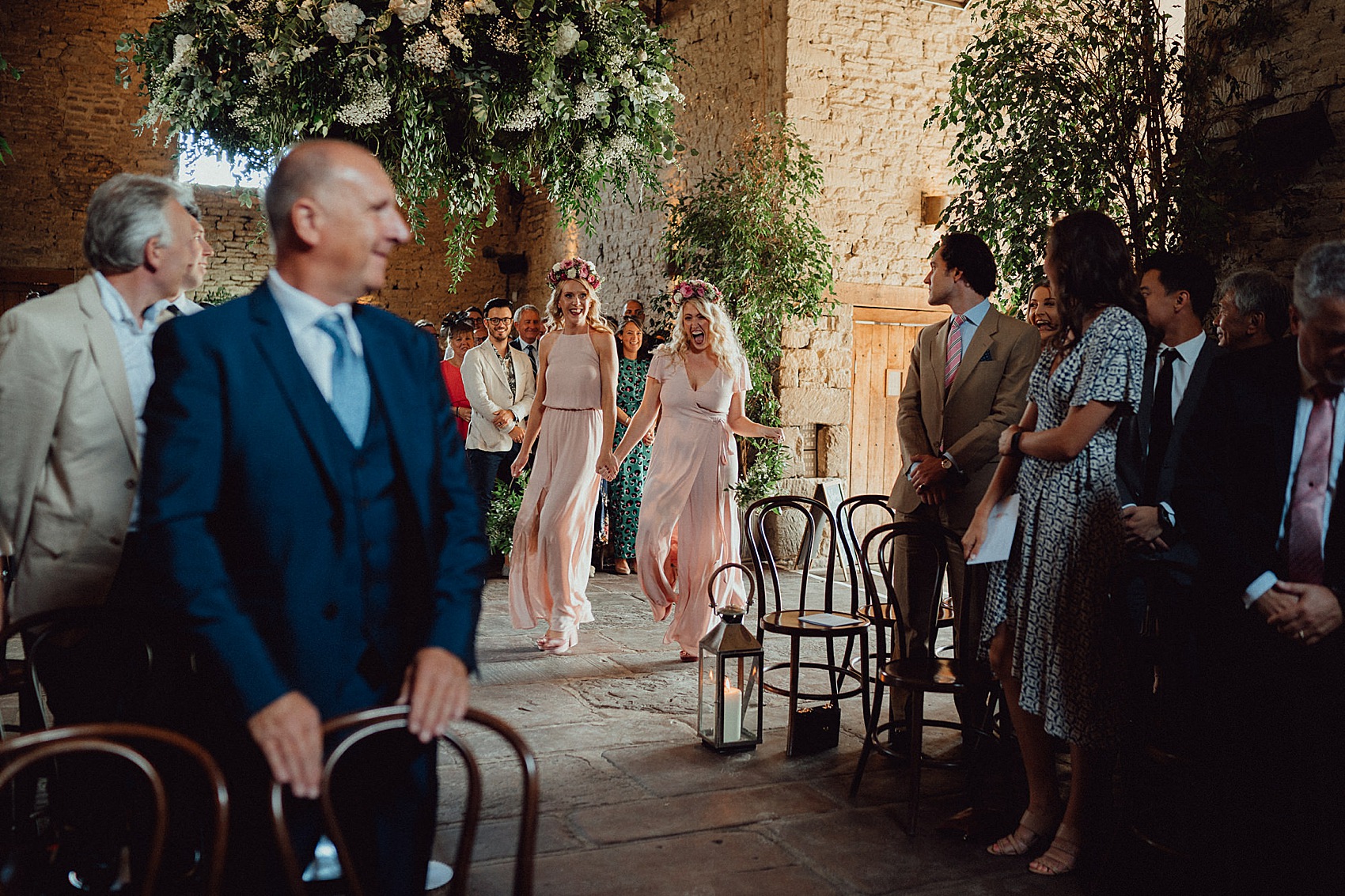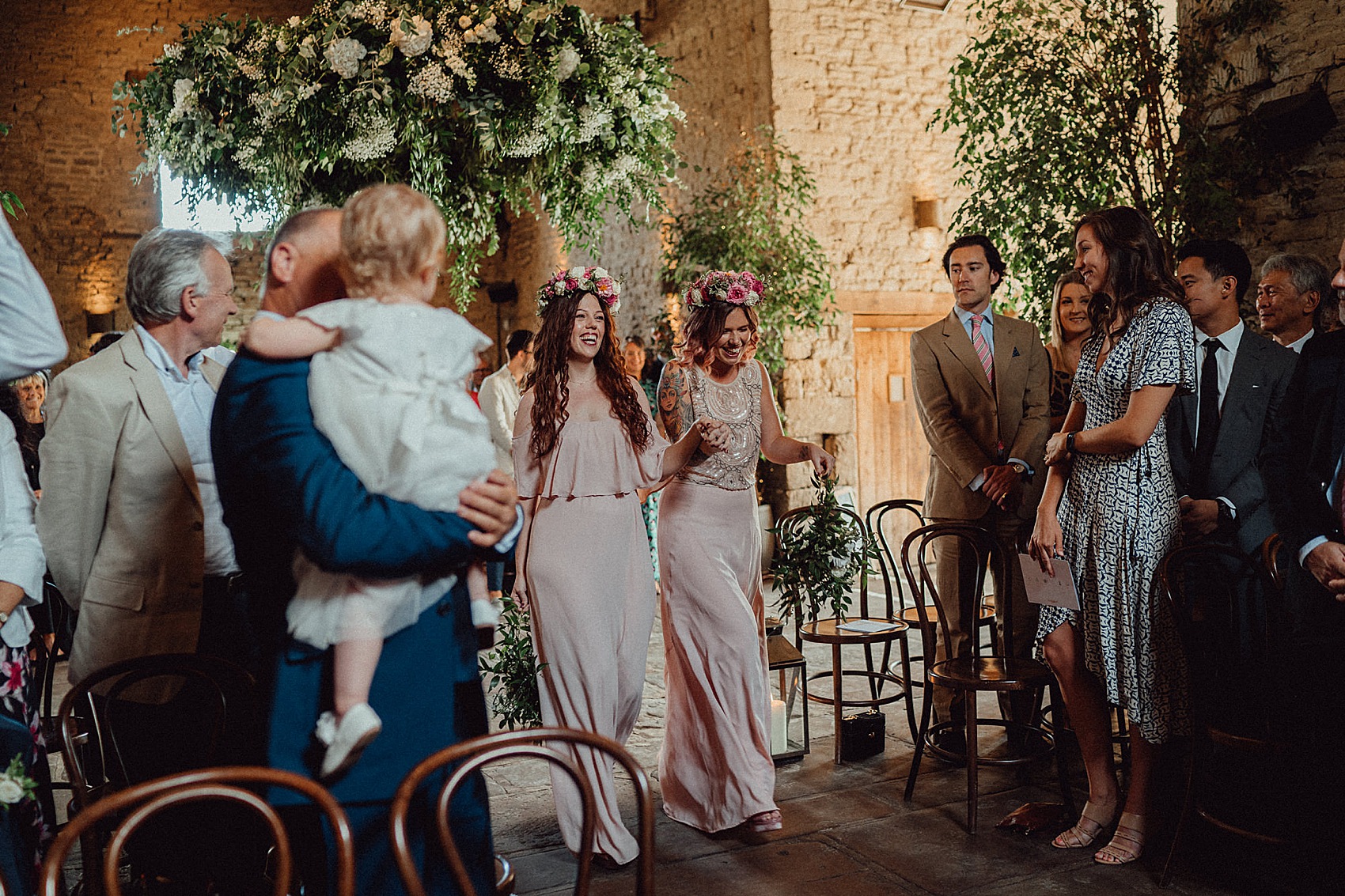 I absolutely adore Claire's statement bouquet, a real armful of blooms and leaves which was styled as such for a very special reason.
"Our flowers were designed by Beth at Go Wild Flowers. I had seen some flower crowns for the bridesmaids that I had wanted and knew I wanted the colour of the bridesmaids flowing through into the table flowers. I also wanted a flower piece for my hair as I was keeping jewellery minimal and didn't want a veil. The minute we saw Beth's creations the morning of the wedding we were in awe! I had a replica of my grandmother's 1940s bouquet which she did perfectly. The flowers were a really special part of the day and just popped on my gorgeous bridesmaids and in the venue."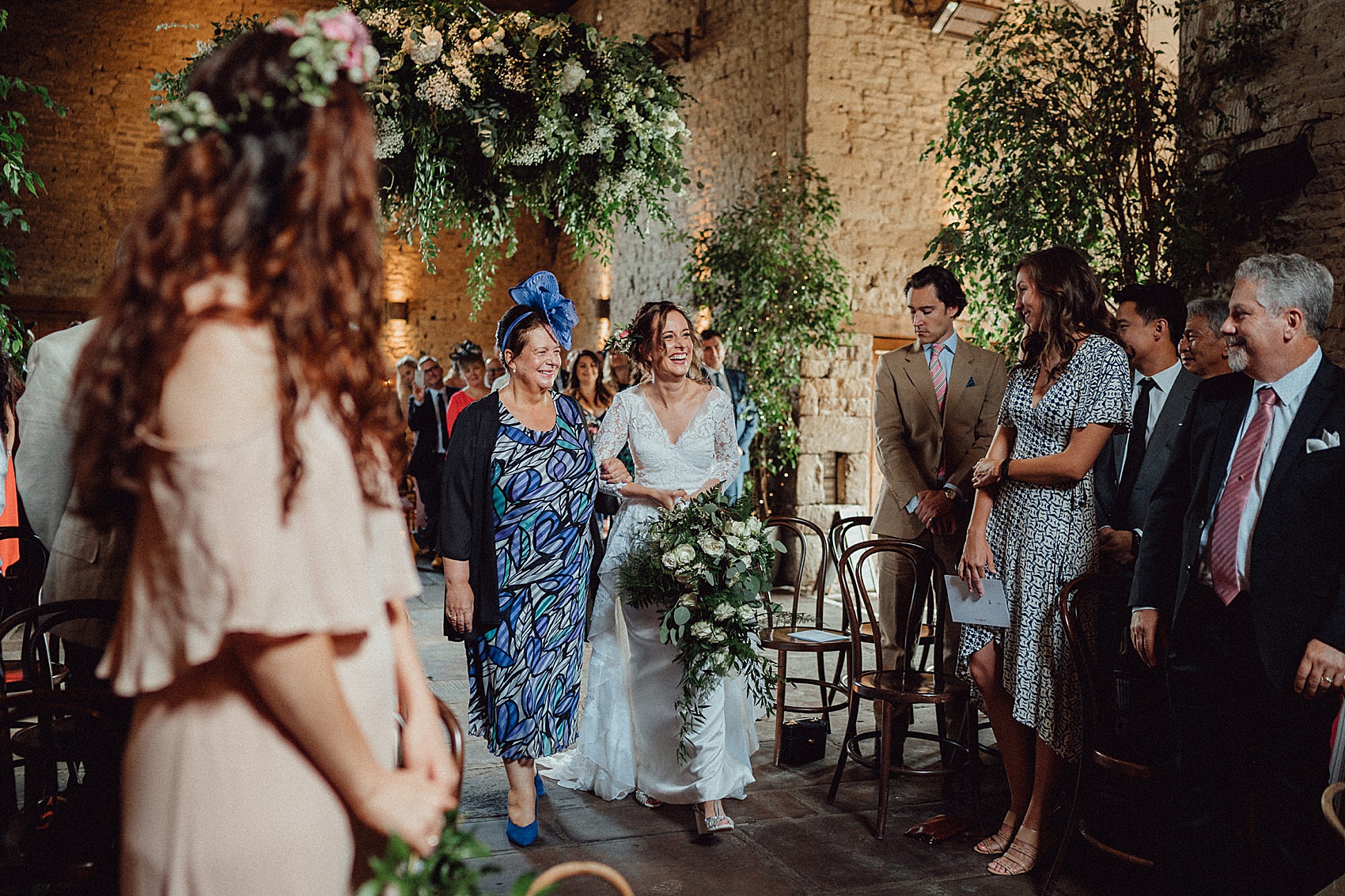 After meeting more than a decade ago in Chris' native America the couple now live in Surrey and spent two years planning their day.
"Our relationship is more 'spirographic' than linear. We met twelve years ago working in New York, were long distance for three years, broke up for three years, and have been together into the UK for six and a half years before our wedding in August. We live with our cat Mabel and run our businesses from home together."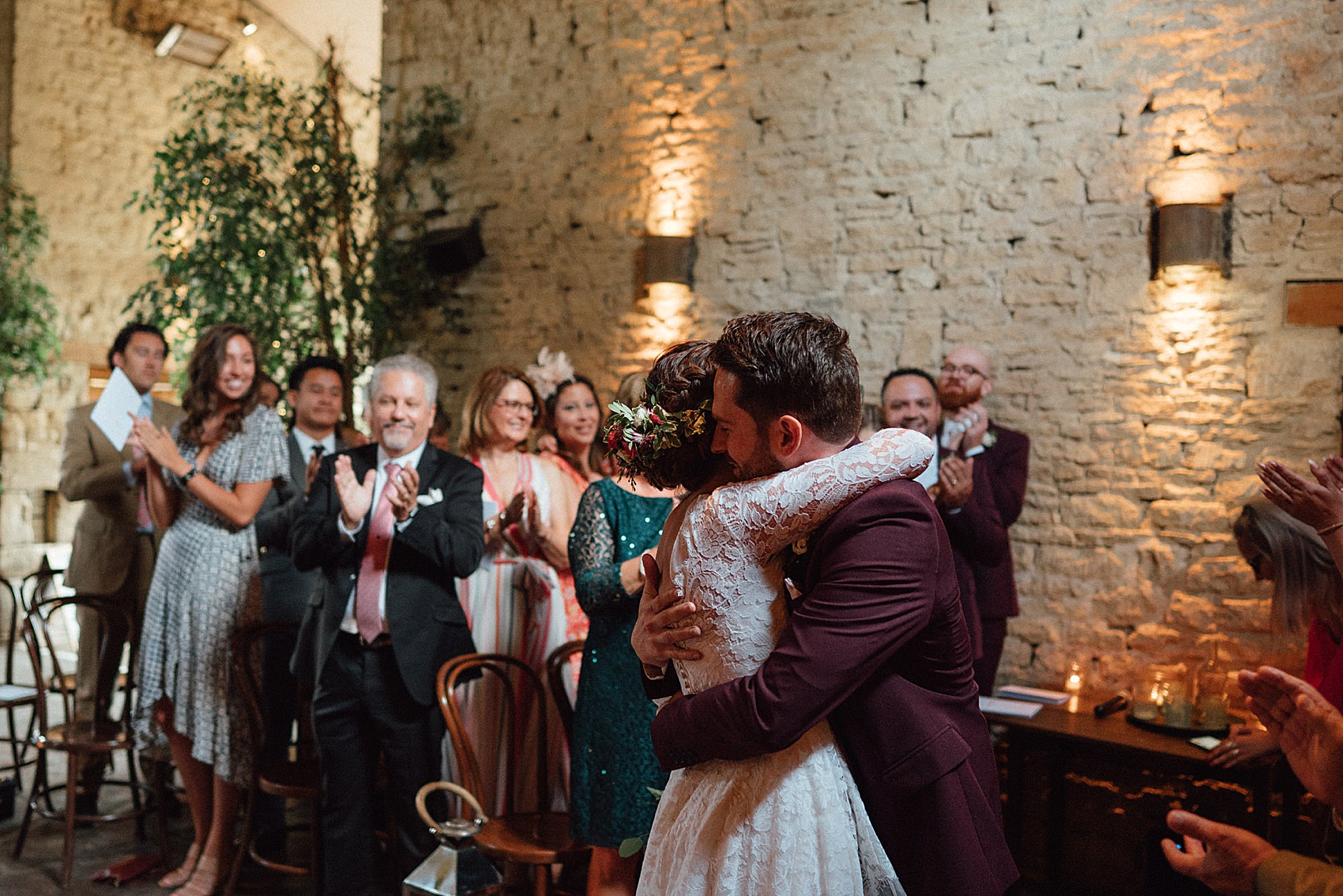 Chris chose a super-modern Burton Menswear suit in burgundy, adding a light grey, checked waistcoat from Twisted Tailor, a pocket square and tie in the palest of pinks from Show Me Your Mumu and Shuperb brogues. His look is classic yet contemporary and looks awesome against the exposed stonework of Cripps Barn.
The couple's legal marriage service was held separately, so their day's ceremony was totally unique. First though, the bride walked down the aisle with her mum.
"Our performer friends, Laura Lee, Kat Hitti and Fifi Green, sang me down the aisle. They did original arrangements for the day and provided the upbeat buzz for the walk down the aisle that we wanted. We had 'His Eye Is On the Sparrow' by Lauryn Hill and Tanya Blount from 'Sister Act 2' and an original arrangement of 'You Got The Love' by Candi Staton and Florence and the Machine."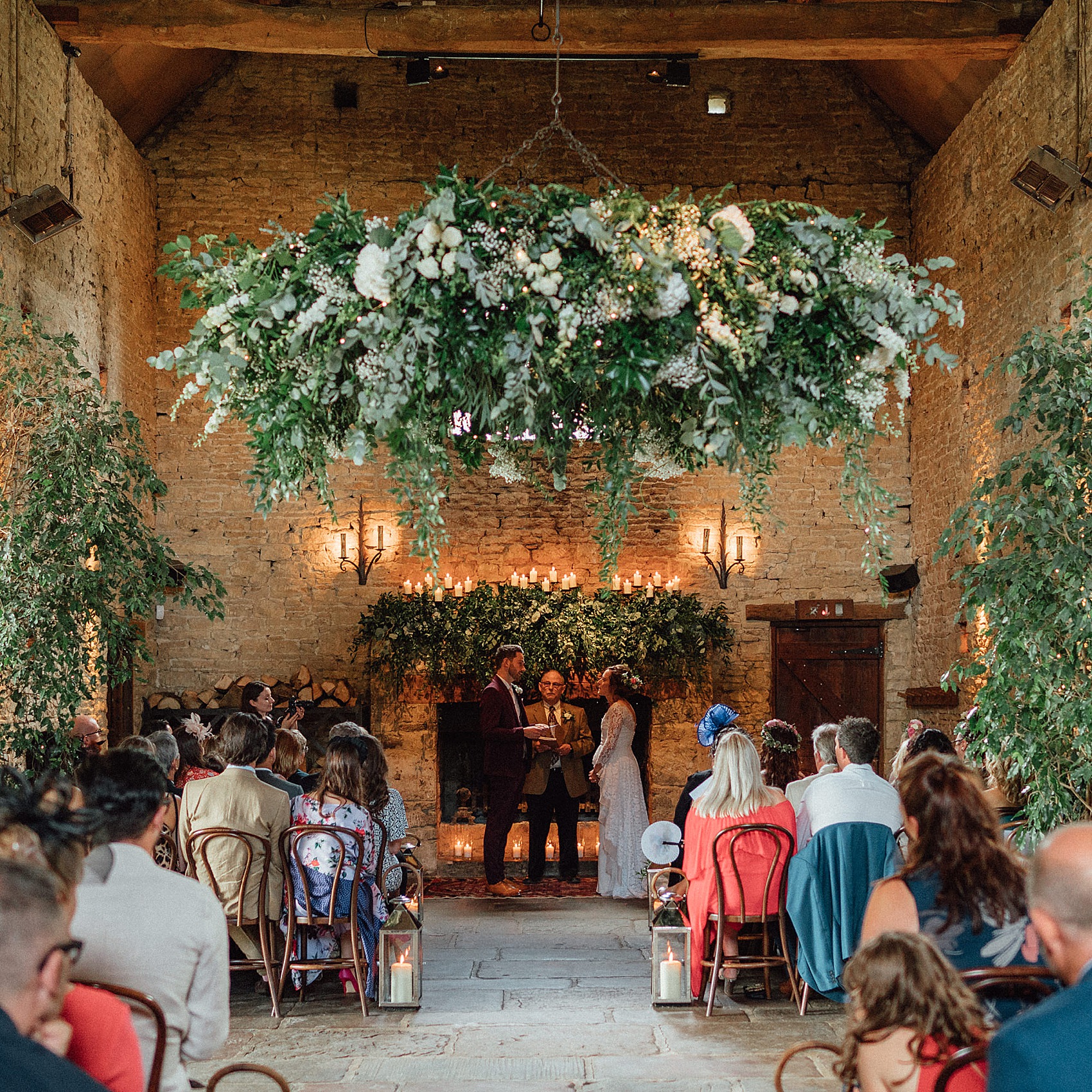 "As cheesy as it sounds, my favourite moment was when I entered the ceremony room and saw all our favourite people in one place. It was overwhelming, special, and will probably never happen again."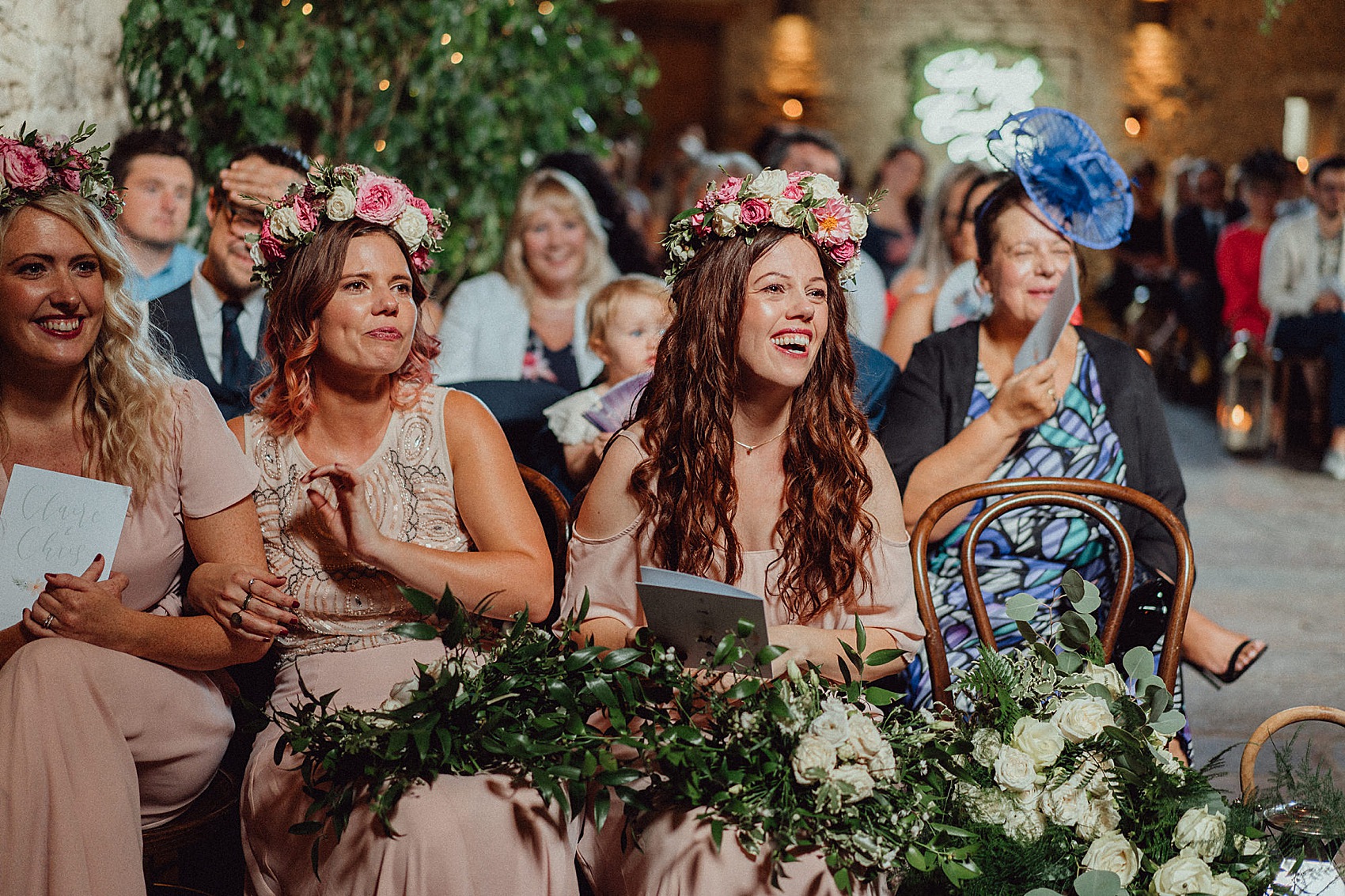 "We did our legal part of marriage separate from the day and this was the best. It meant that the ceremony could be whatever we wanted. Chris' stepdad conducted the ceremony with stories, advice and talking us through our vows and exchanging of rings. Having a family member conduct the ceremony was a big ask and he did a great job. It means you are all so much more relaxed and can talk through how you want the ceremony to flow."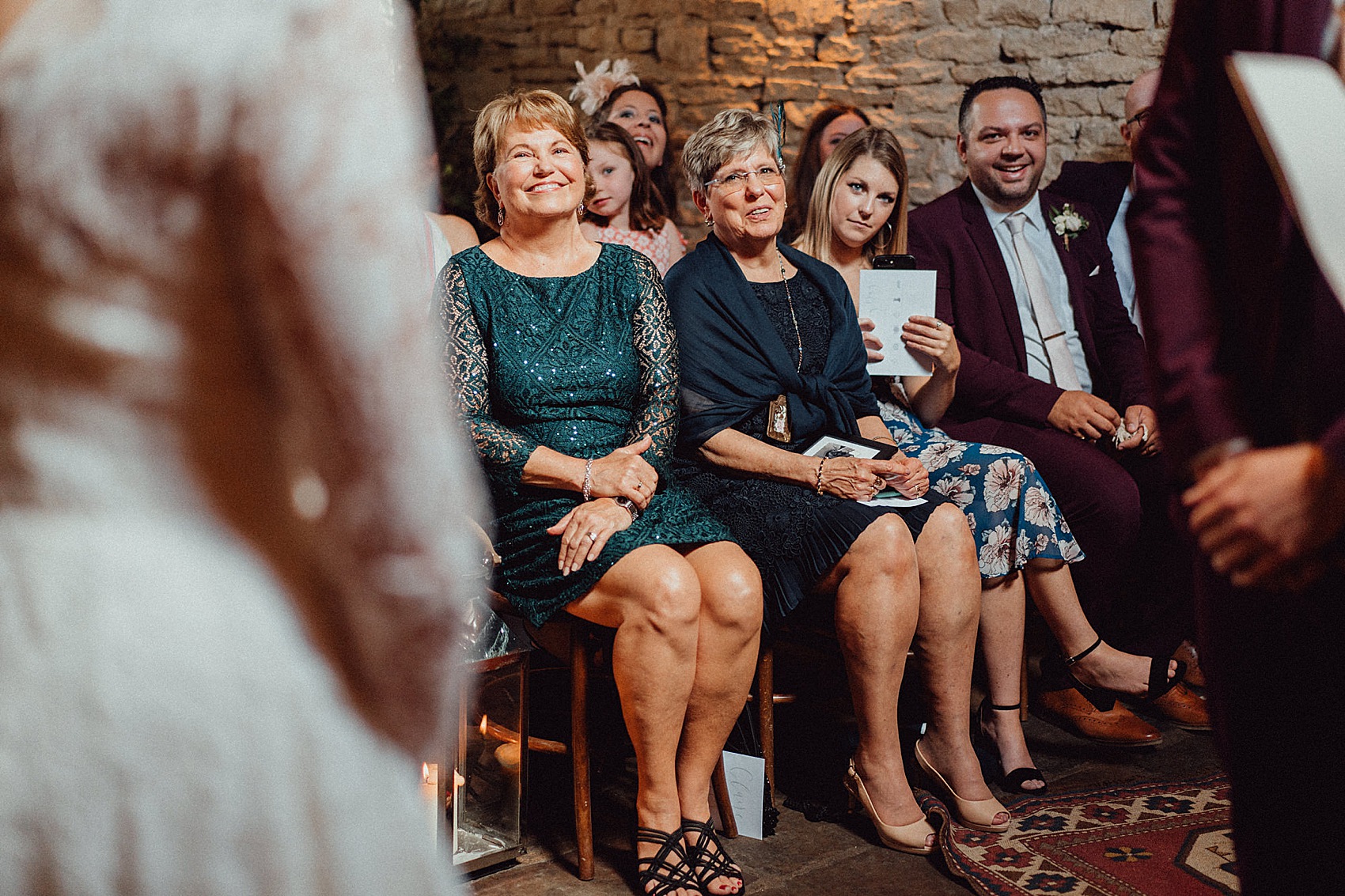 "Our ceremony and vows were completely written by ourselves. This was not an easy task! We thought that, as we both can write pretty decently, we'd enjoy it. You definitely find yourself tearing apart even the smallest words but it was worth it in the end, even if we were finishing them off the midnight before the day."
The ceremony included a poignant reading, as well as the exchanging of the rings.
"Chris' ring was his great-grandfathers that he had sized to fit – it is about 100 years old and a lovely token. My ring is a dainty gold and diamond design by Melanie Casey. It's very thin and delicate and I absolutely love it."
"The reading was very special to us – 'The Lovely Dinosaur' by Edward Monkton. Chris and I bought this for each other when we started dating. One of my oldest and best friends, Dai Knight, was meant to be reading this during the ceremony as he was a dinosaur fanatic."
"Sadly, after a courageous battle with a brain tumour, he lost his life five months before our wedding day. His husband and our other best friend read it in his place and it was dedicated to him. He will always be our 'Lovely Dai-nosaur'."
The newly-weds look so radiant and happy as they walk back down the aisle. As their guests relaxed in the summer sunshine playing lawn games, Chris and Claire headed into the open countryside for some romantic photographs together.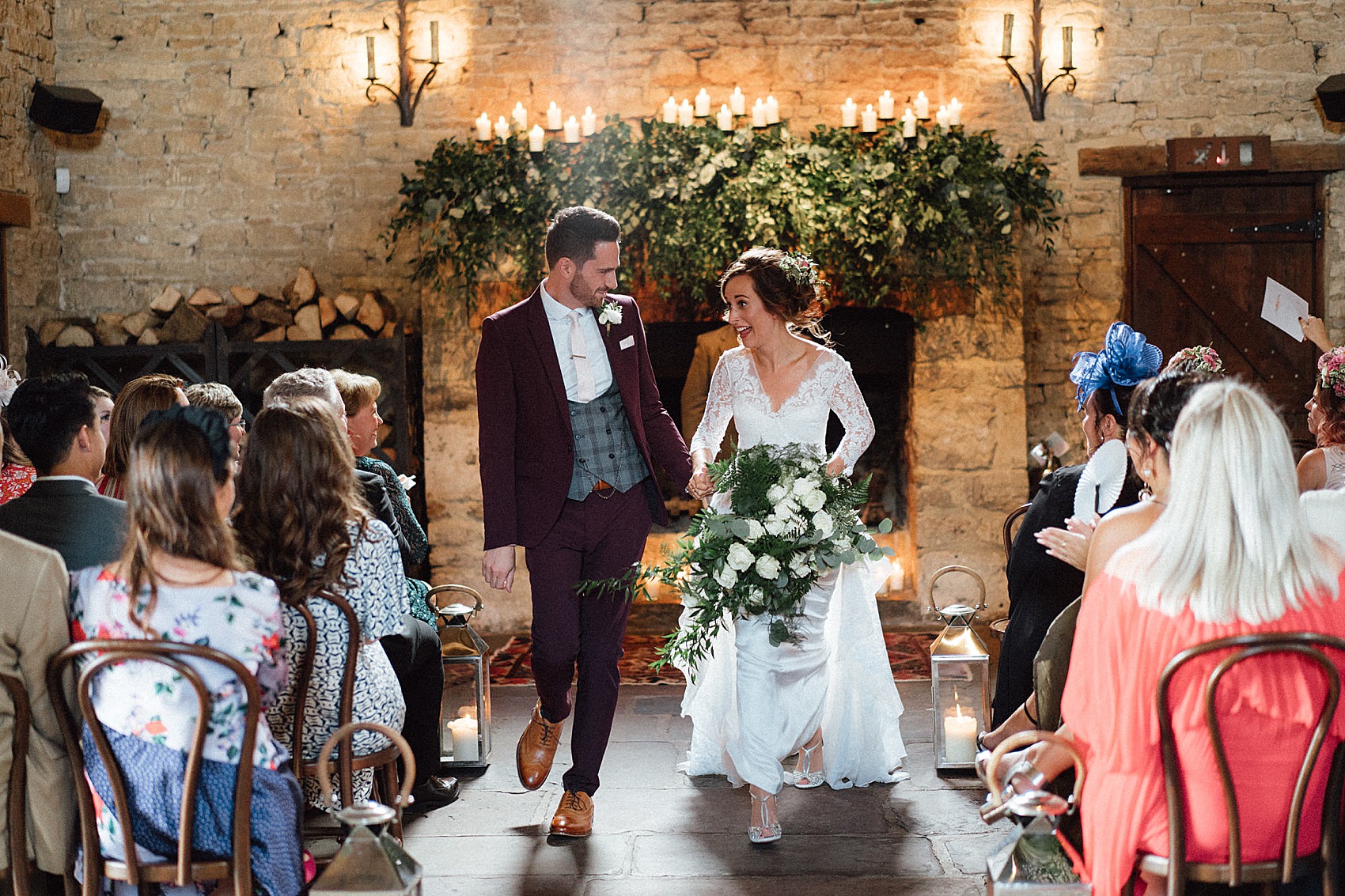 Emily & Steve Photography shot this relaxed, romantic, evocative portfolio of images for the couple and I adore the magical, forest feel which runs through them all.
"We knew as soon as we saw their work that they were the photographers for us. We also had a great Skype chat about our favourite Wes Anderson films ('Grand Budapest Hotel' for me). They were so relaxed, chilled, super nice and supportive about the day. The turnaround for the pictures was so quick and we loved having them there with us."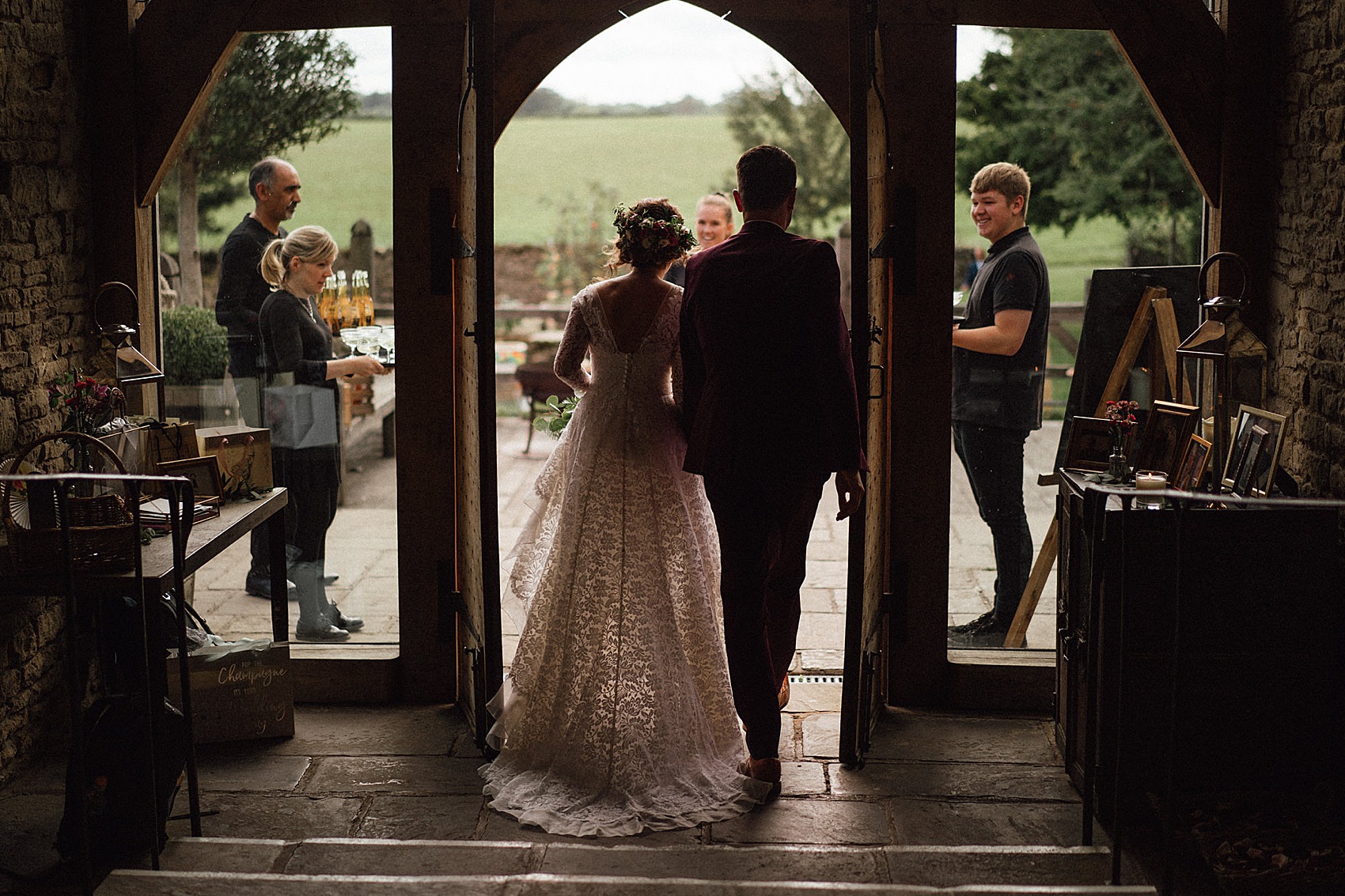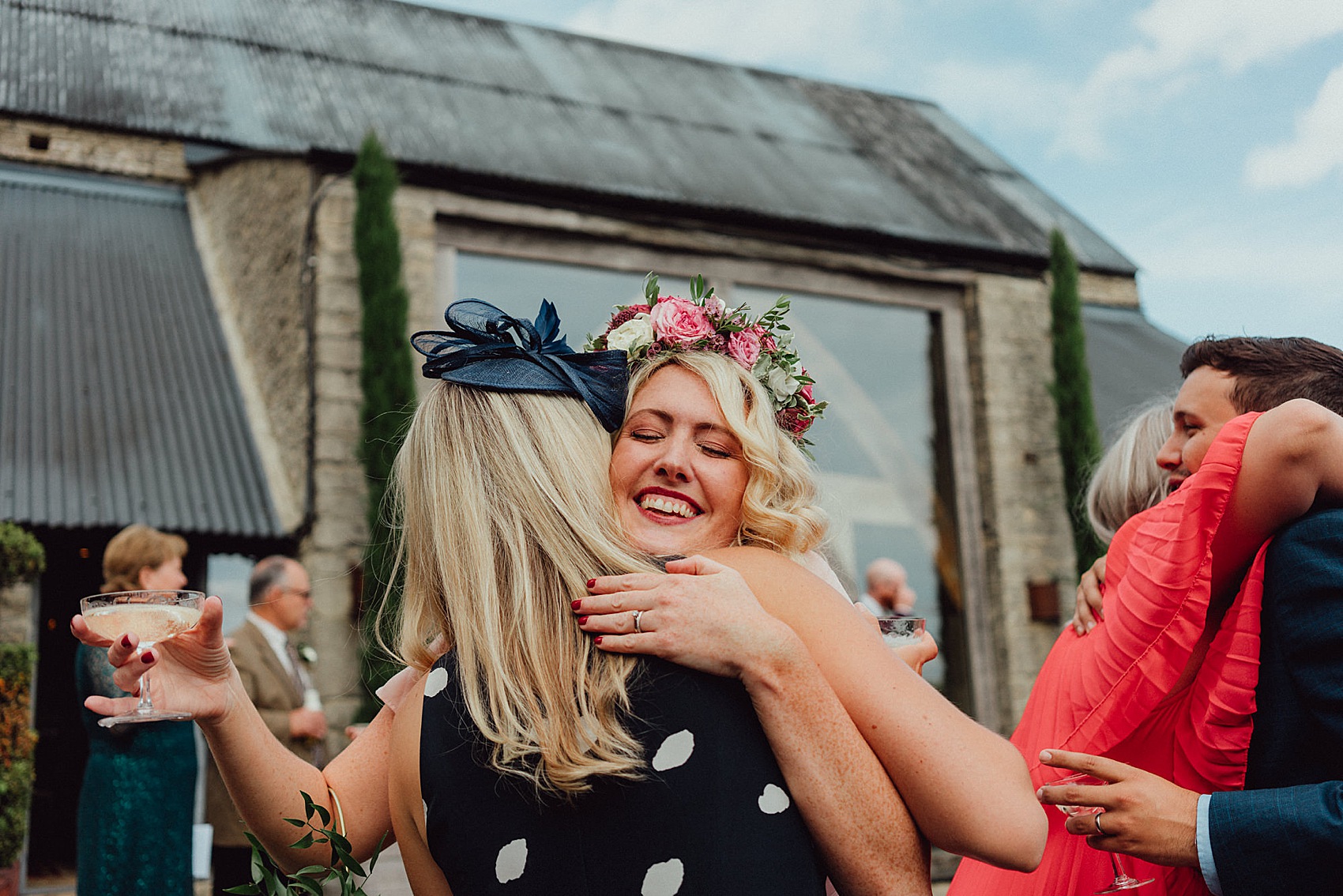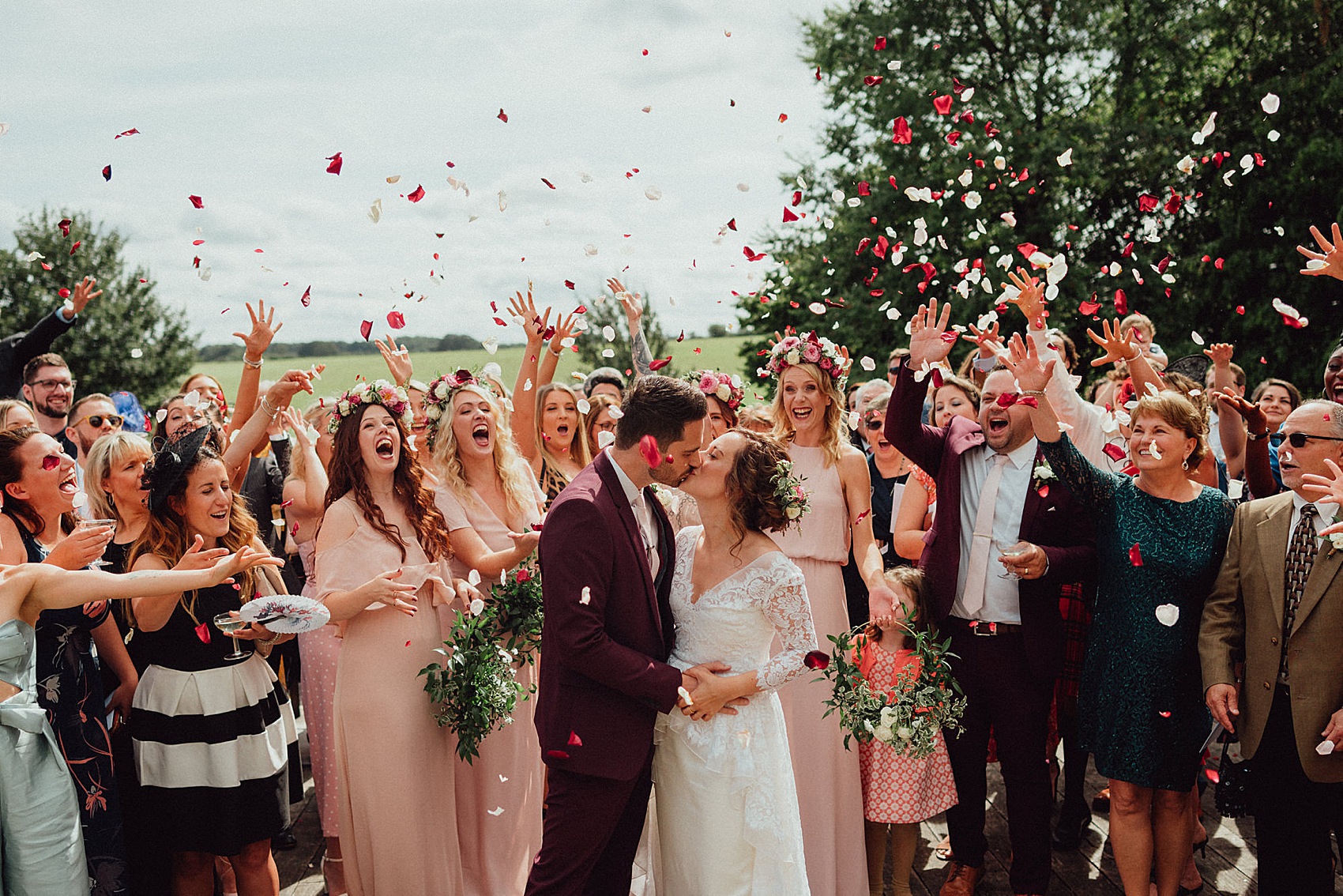 "We hired some lawn games from Pollyanna's Party Hire. They came and set up the games and took them away without any fuss and without anyone knowing."
"Having a sneaky twenty minutes away with Chris, our photographer Emily and Suzie at Kushi Cars was a moment to catch up on the morning, be ourselves and have a breather before going back in and making our way through the excitement again."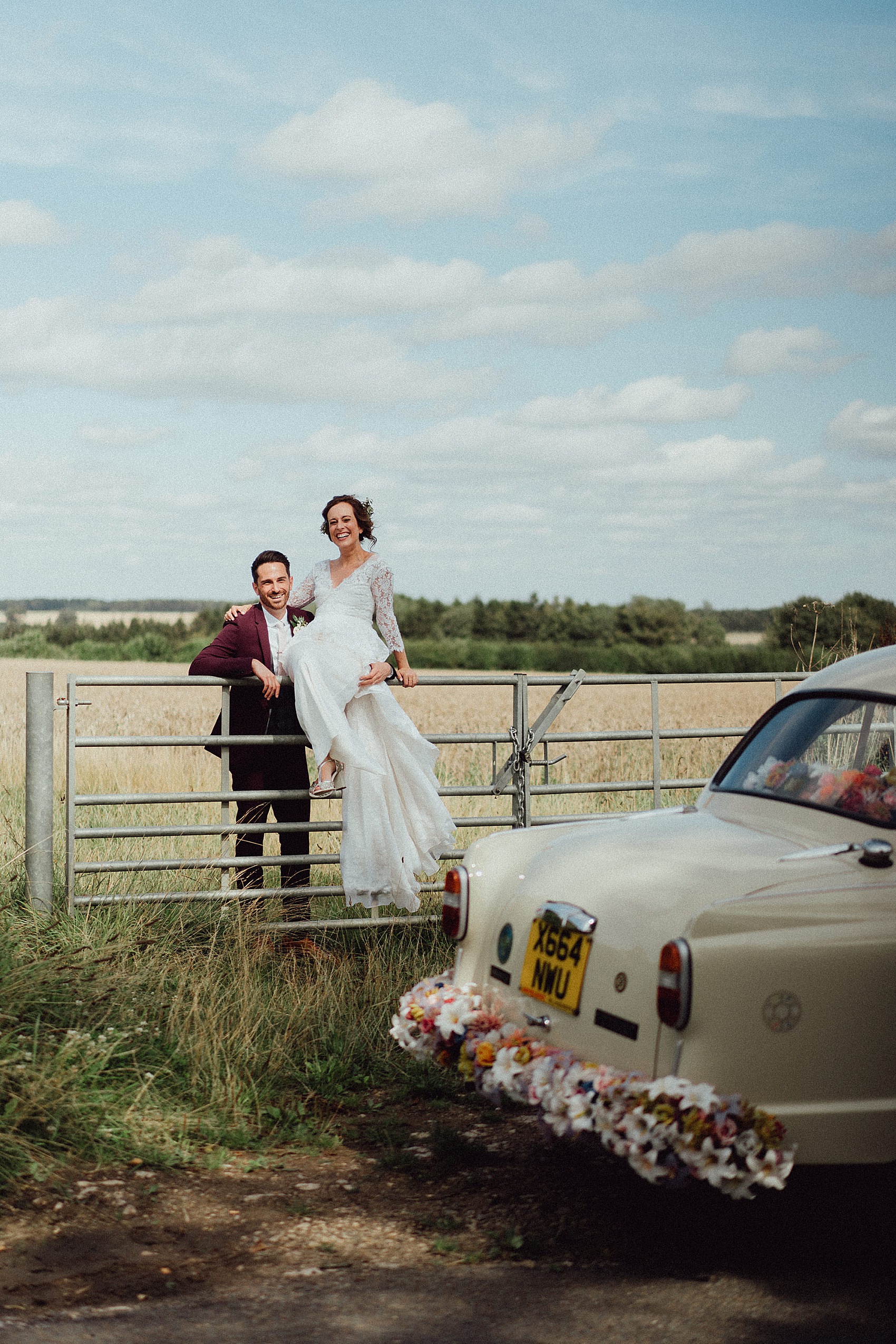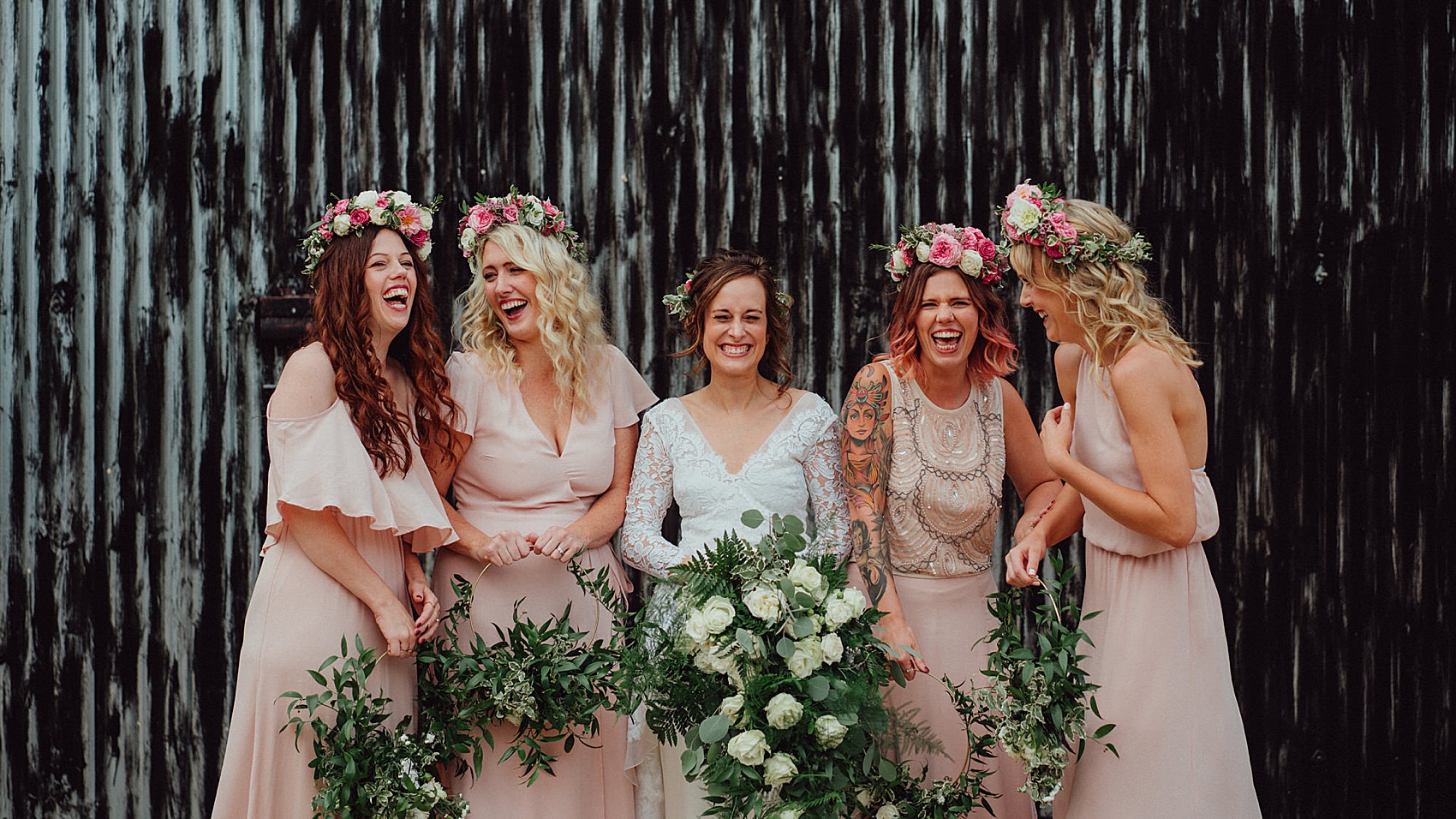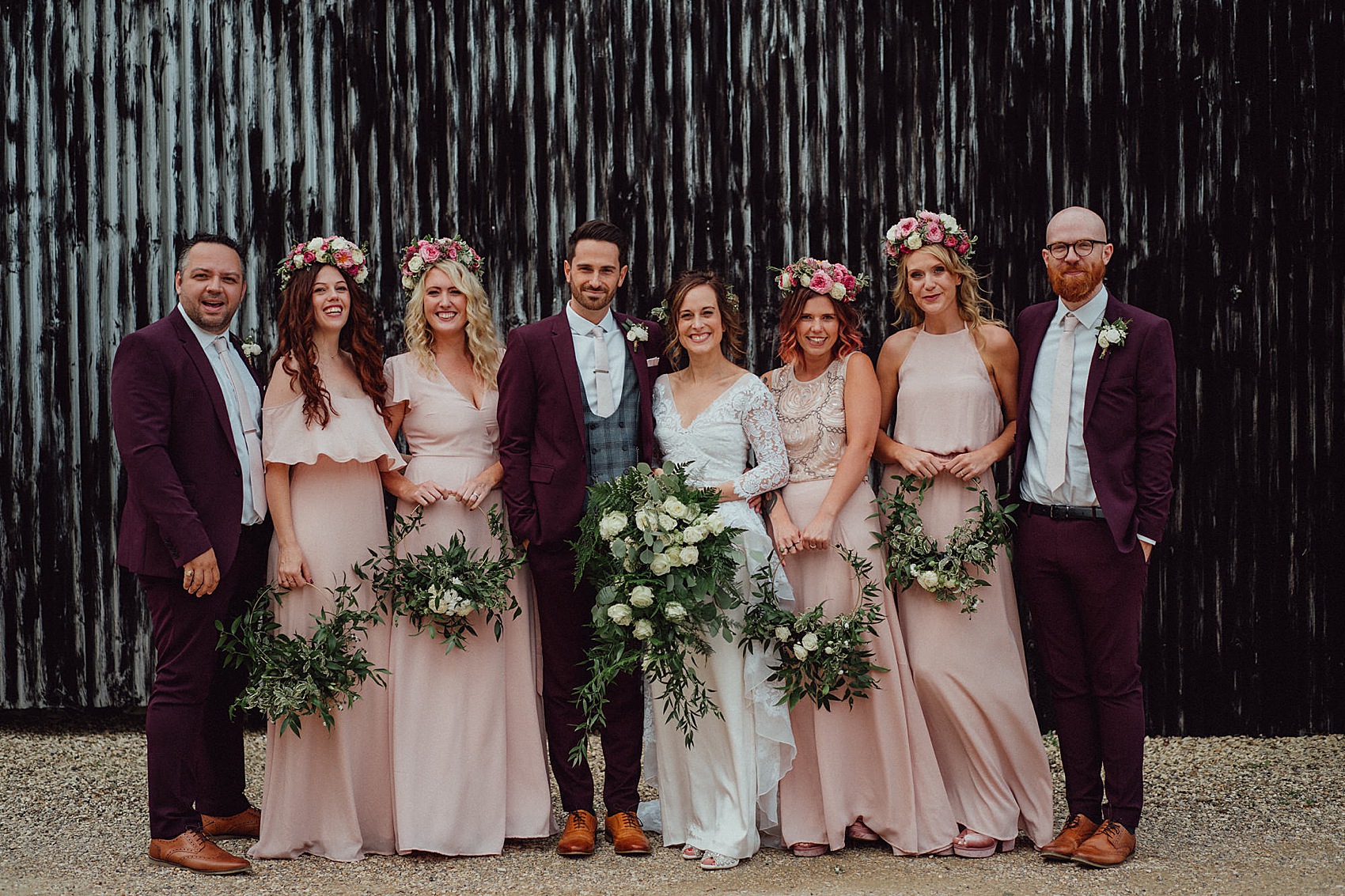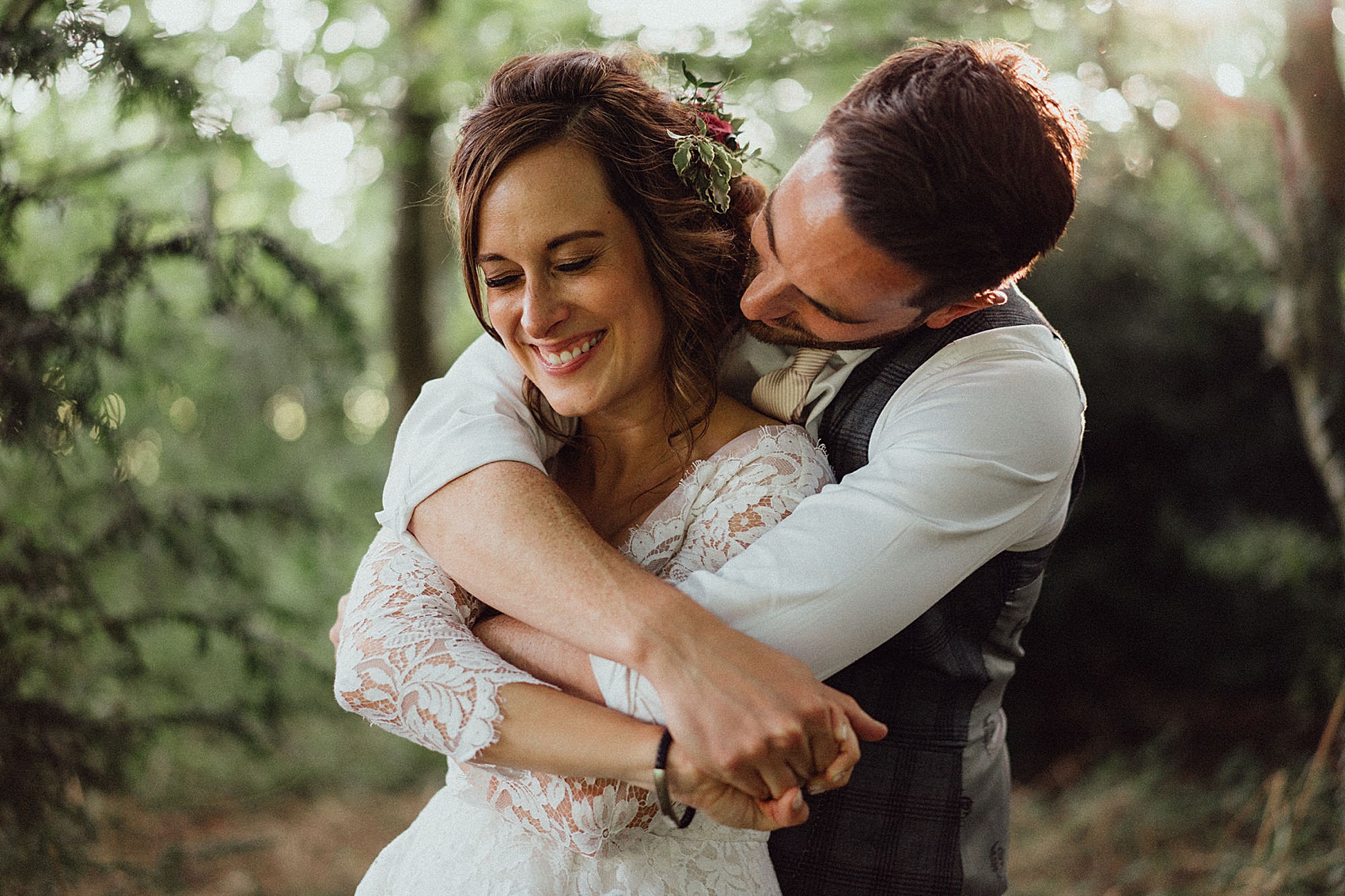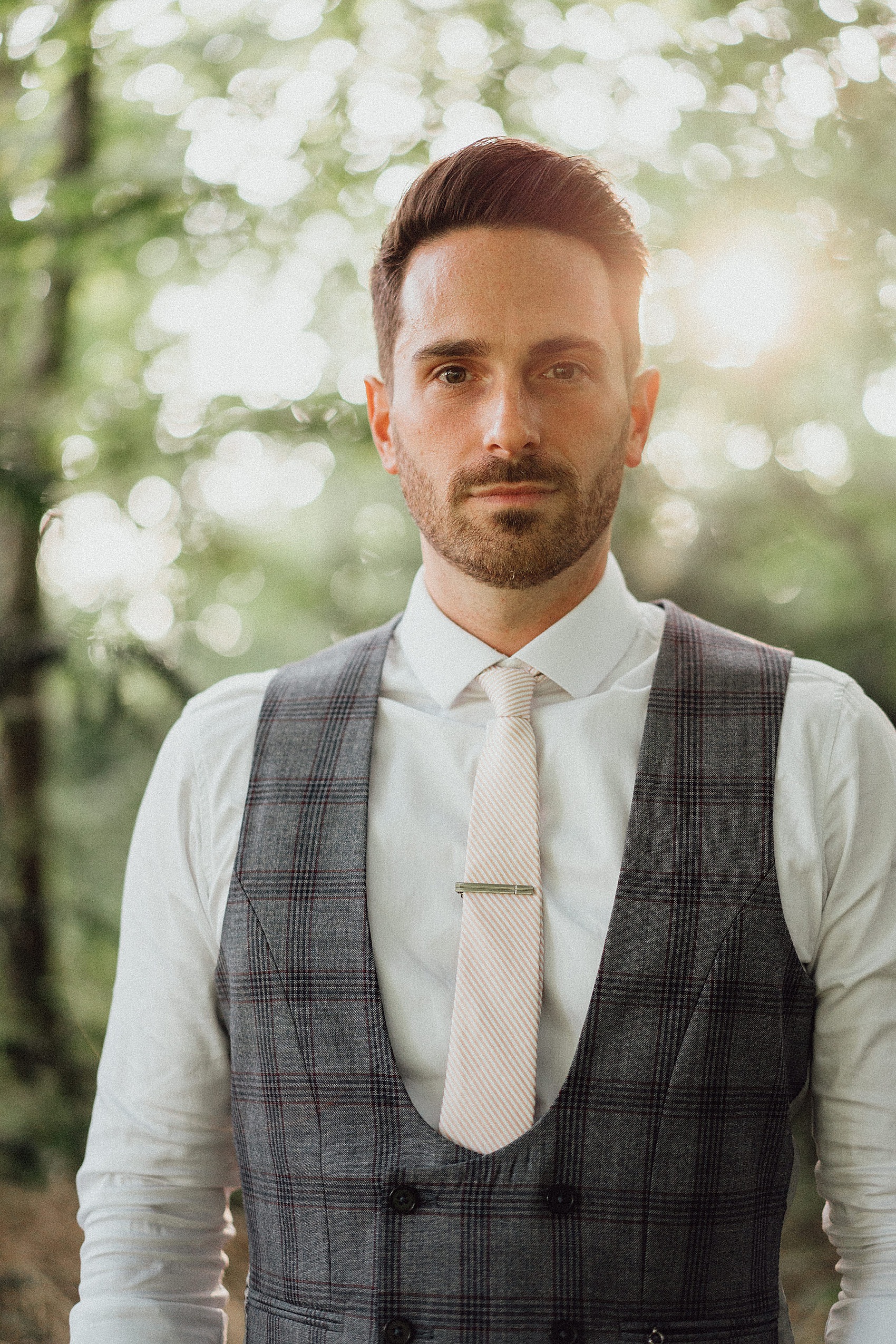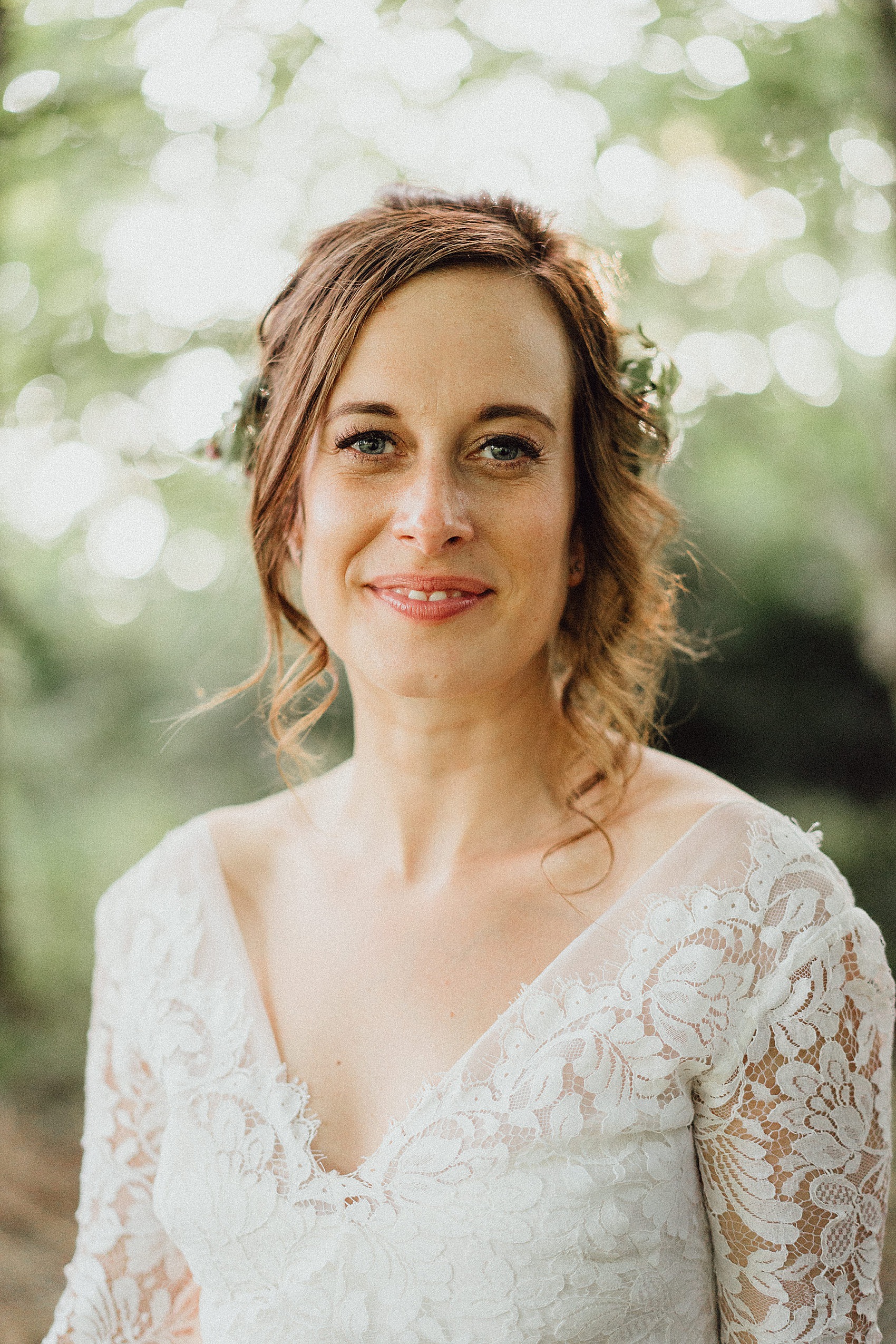 "When searching for a venue, I knew I wanted something a bit weathered and rustic with personality but also somewhere we could put our own identity into. The hardest part of choosing was that we really gave ourselves too much choice as we weren't tied to any particular area."
"Cripps kept coming up in all our searches until one day I was up near Cirencester and dragged my bridesmaid along to see what she thought. She is a wedding photographer so gave it her expert eye into what it could lend our day. Following a viewing with Chris, we were both in love with the relaxed vibe and how the choice of food was exactly what we wanted."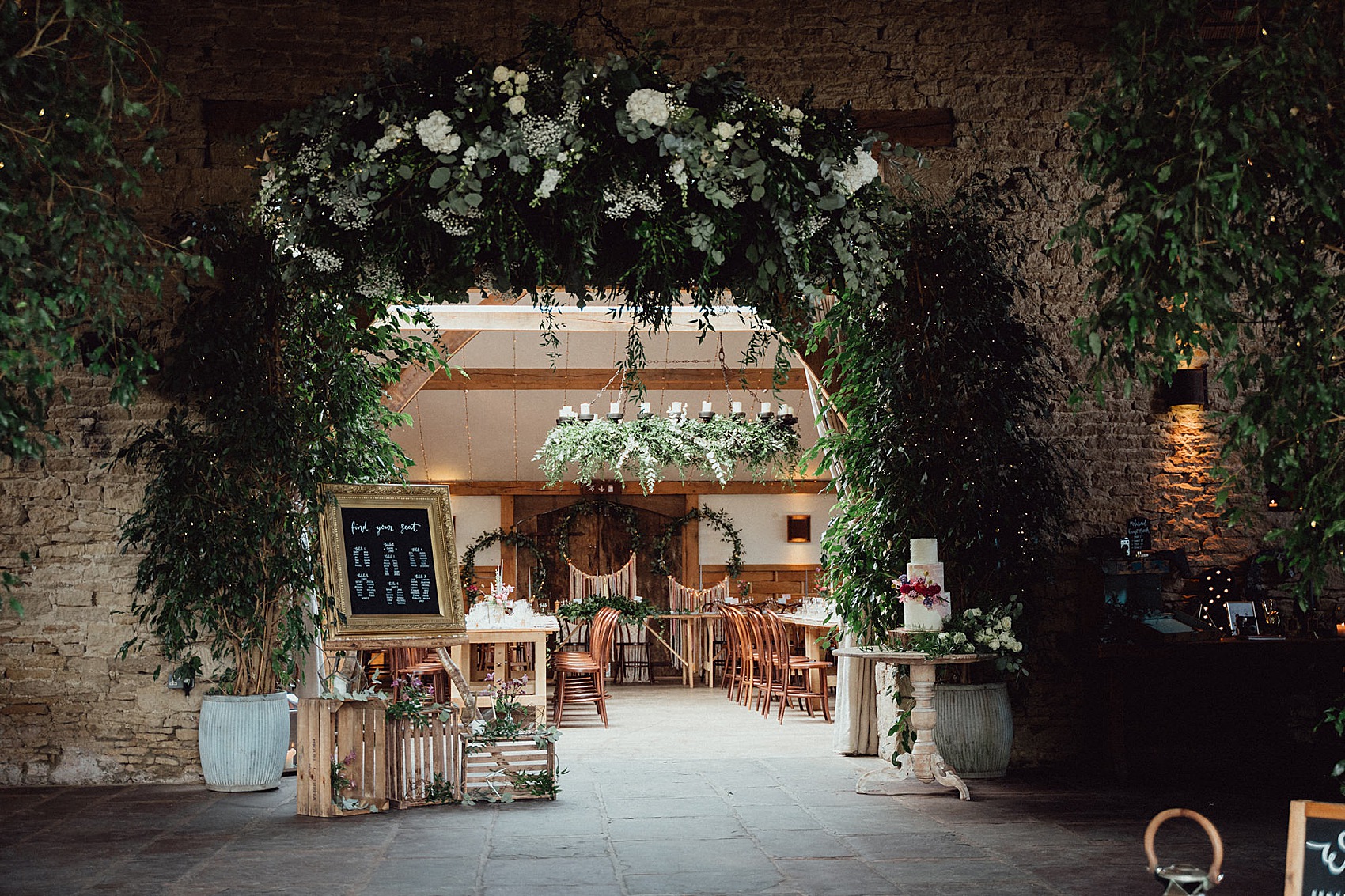 The guests sat down to a feast-style, sharing banquet and speeches, with each of their places marked by an animal wedding favour.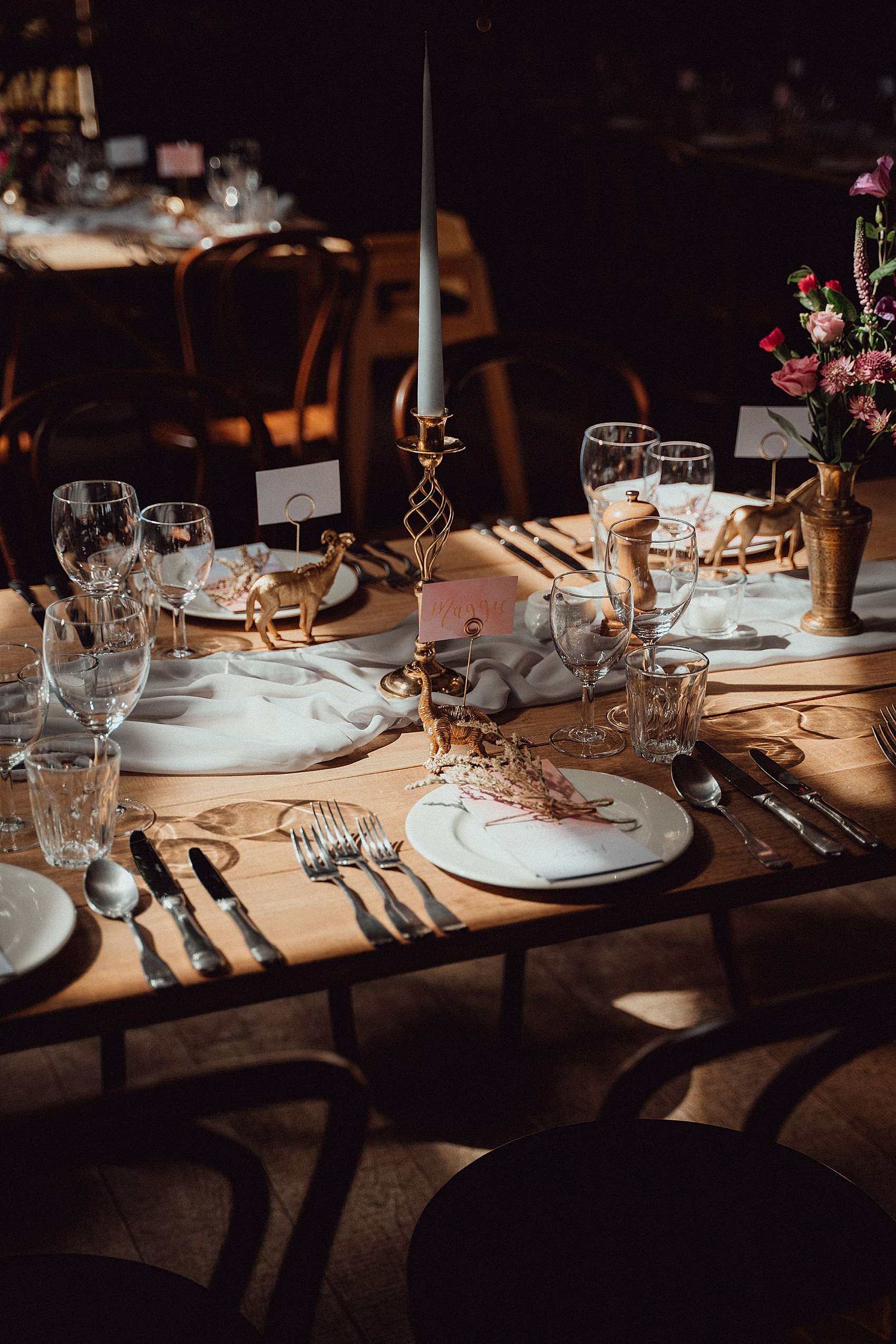 "Cripps have the most incredible menu and on-site chefs. We went along to their feast night and could have had any of their choices. We had rotisserie chicken that was bought banquet-style to the table to share. There was so much food, never a shortage."
"We kept it light and summery; salads and sweet potatoes served with the house rose wine. In the evening, we had affiliate supplier Baz & Fred Pizza who is based in Flat Iron Square and served stone-baked pizzas. Lots of guests said it was the best food they had at a wedding, especially those with dietary requirements such at gluten-free and vegan."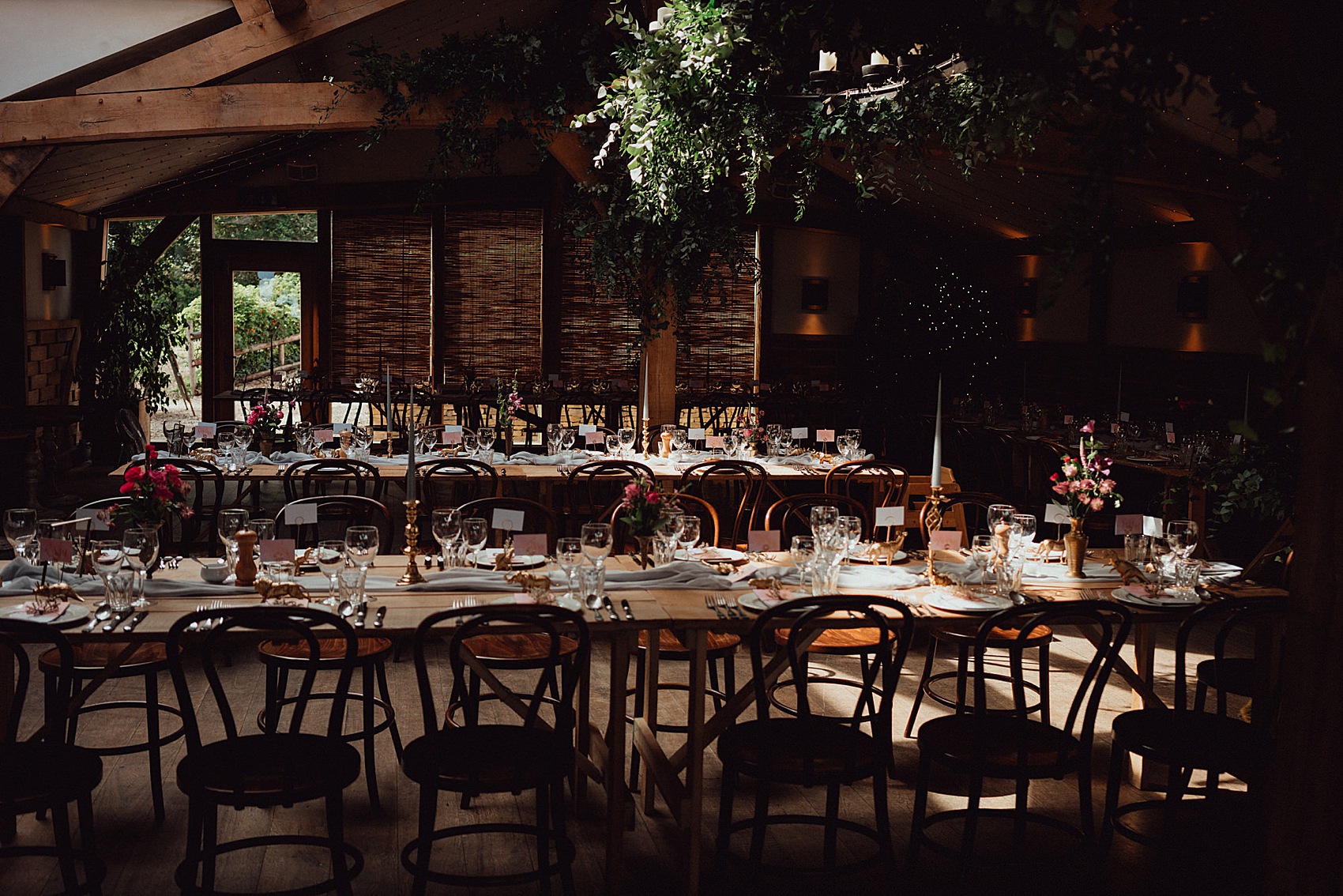 More florals decorated Claire and Chris' wedding cake, three tiers of elegant cream and pink deliciousness created by Vanessa at The Sparkling Spatula.
"It was simple, chic and tasted incredible. Vanessa decorated it with beautiful flowers to complement Beth at Go Wild Flower's designs."
"Vanessa also got married at Cripps so it was lovely to have someone who knew the venue. We had three tiers and three flavours. They were lemon drizzle, chocolate caramel and Ferrero. The cake was served with pizza in the evening."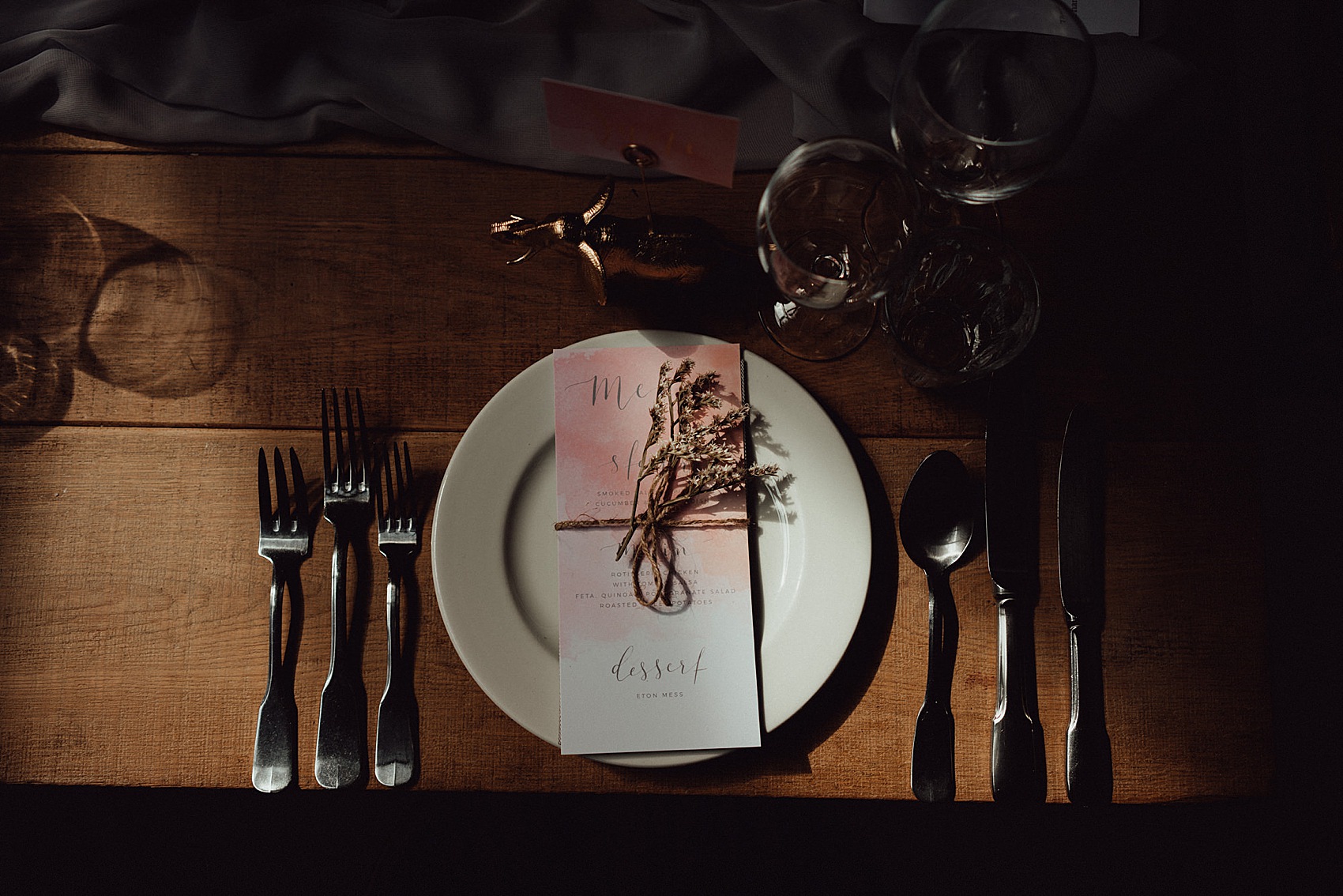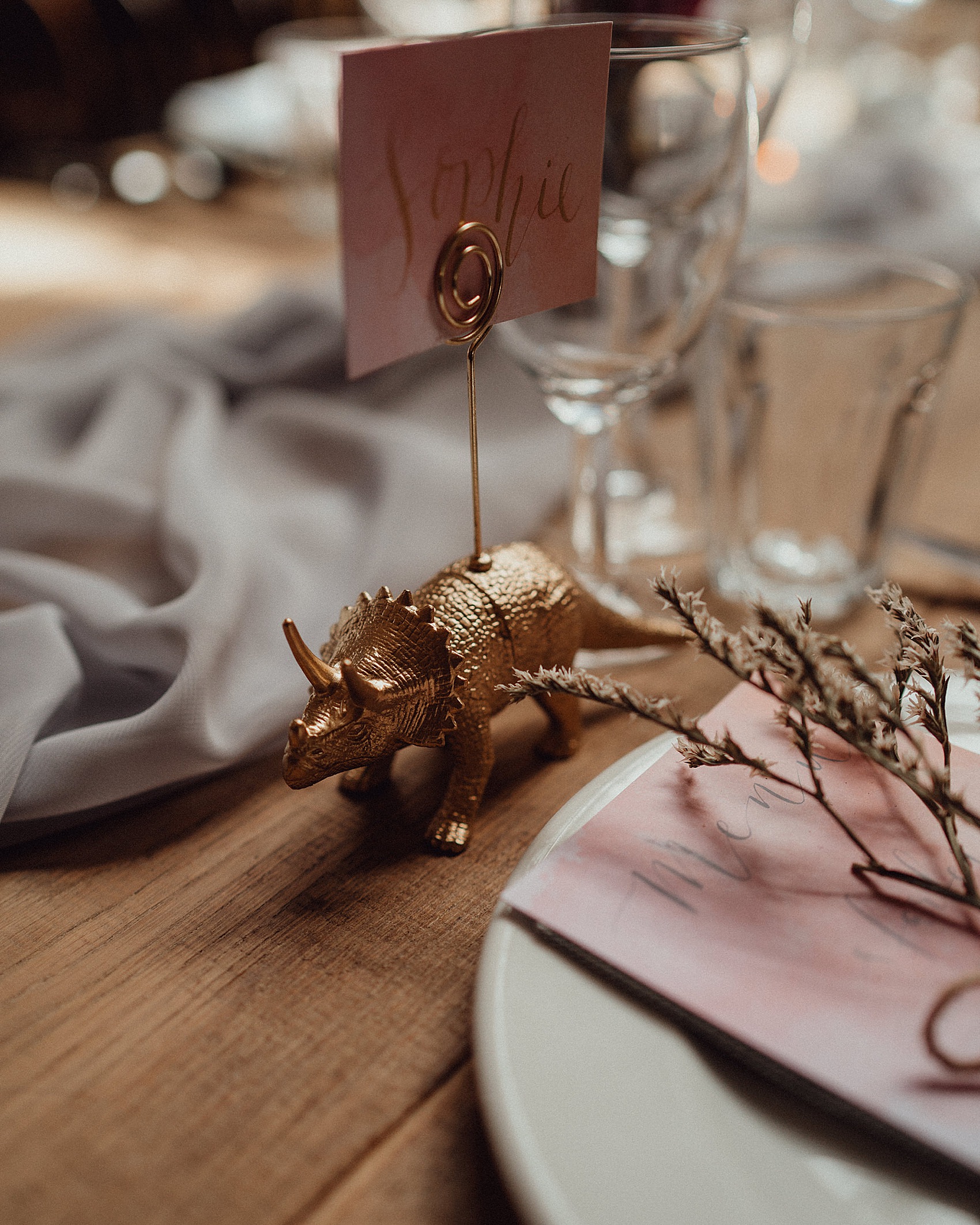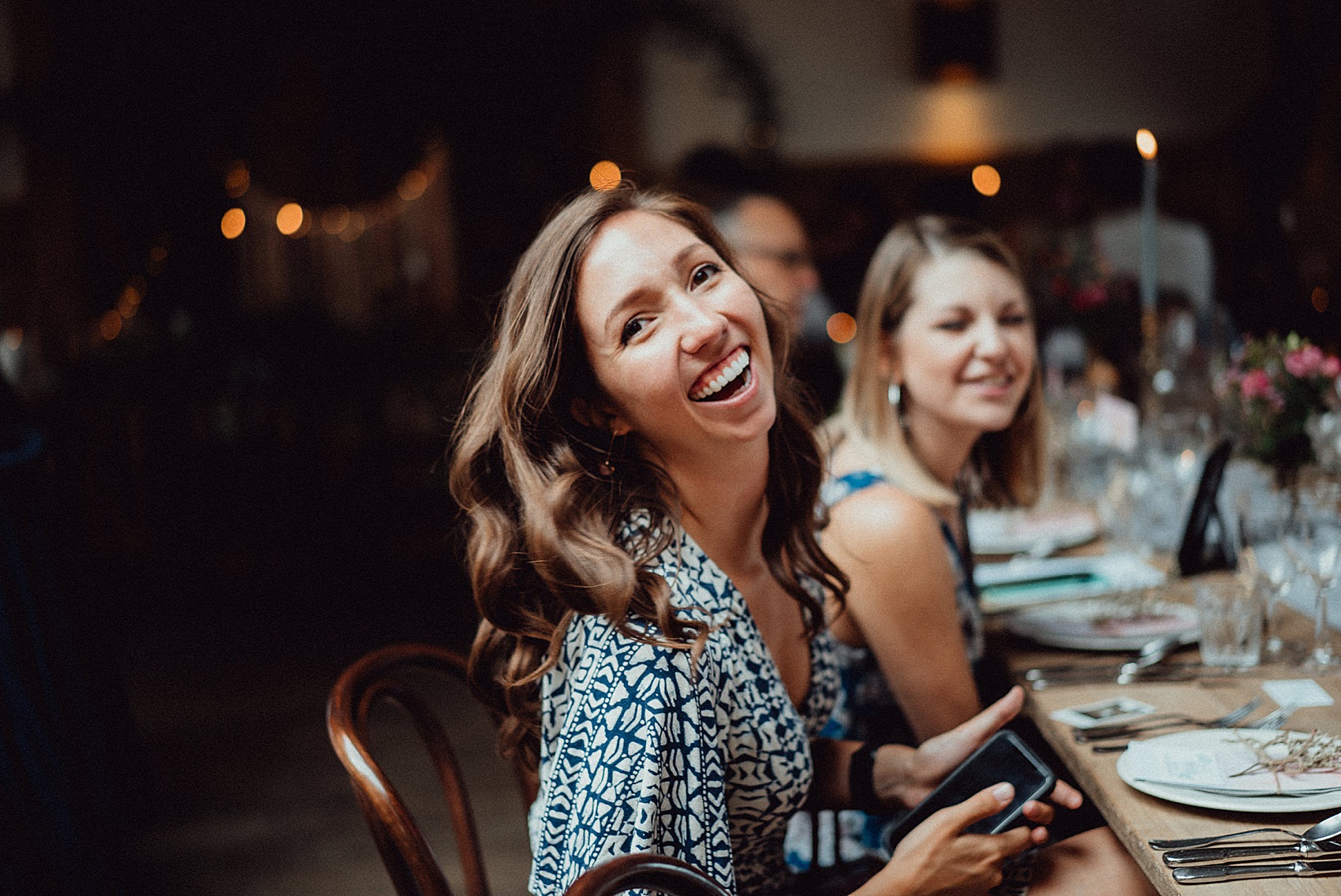 A soft, painterly style was chosen for the on-the-day stationery but an elegant, gold design adorned the invites.
"We had stunning gold work from The Golden Letter . She created embossed designs for us, was really supportive and listened to exactly what we wanted. Our on-the-day stationer was Loupaper who designed a beautiful collection that really complemented the blush tones and florals in the barn. She designed an order or service with a timeline, menus for the table setting and place names."
"I loved our speeches. My bridesmaids gave an incredible, quiz-style speech, which fused the hilarious, silly and sentimental."
"The wedding favours were made by myself and Chris. We collected plastic toy animals such as dinosaurs, woodland creatures and dogs. We spray painted them gold and drilled a card placement into them. They held the name placement at their place. We matched each guest to some sort of animal and they got to take them home."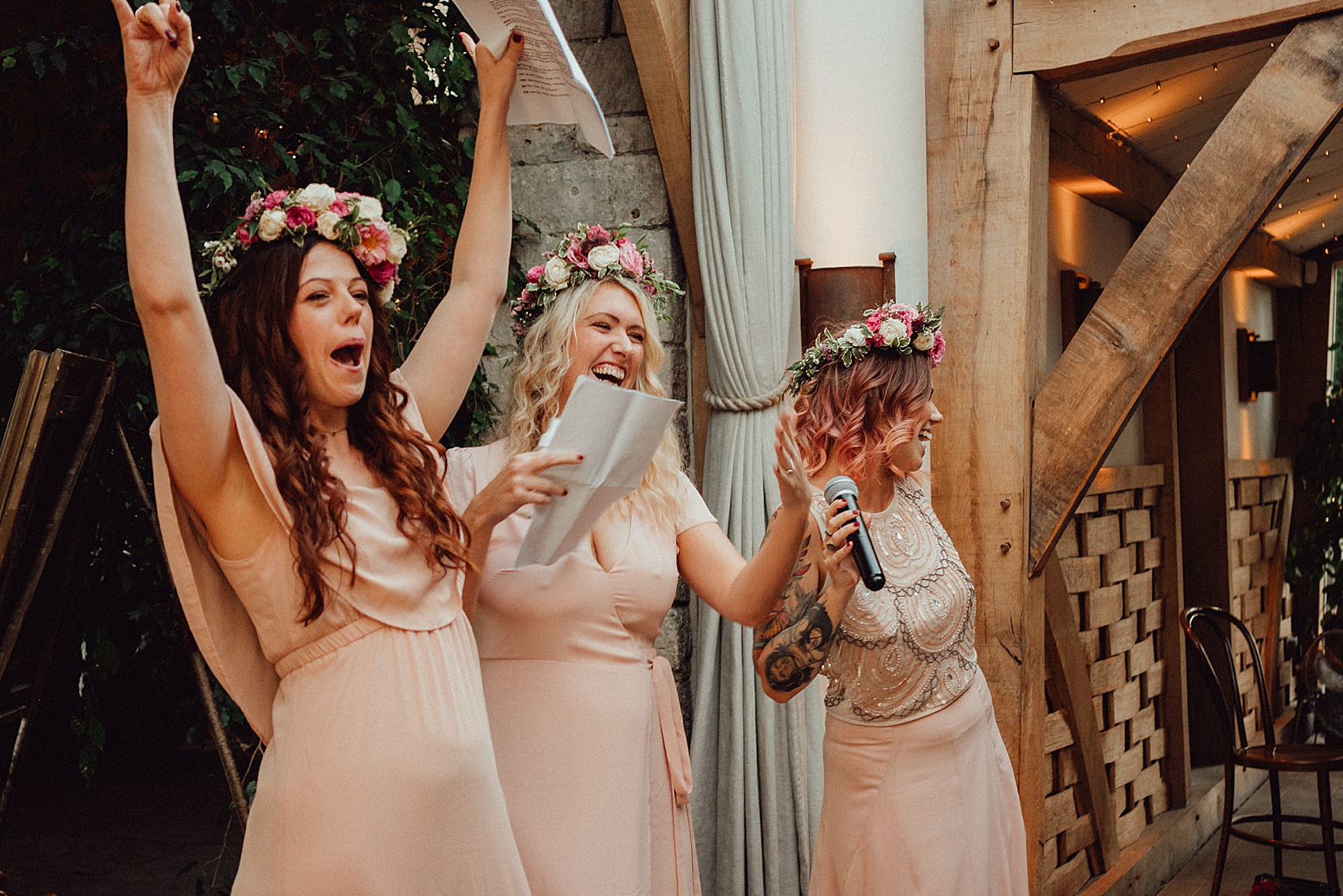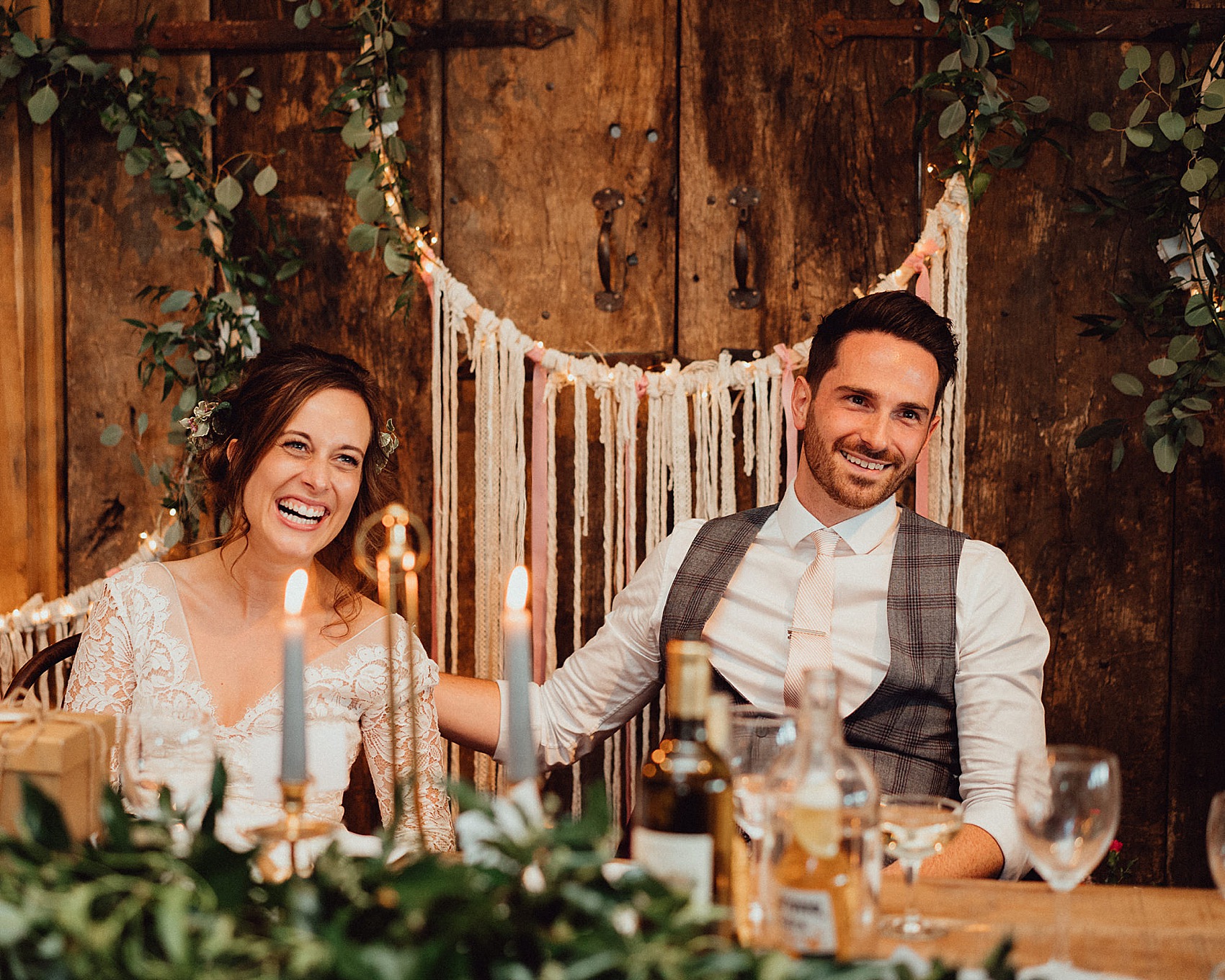 Before the evening party got started, the bride, groom and the bridal party headed out in the fields for some unforgettable, joy-filled photographs complete with blue and pink smoke bombs.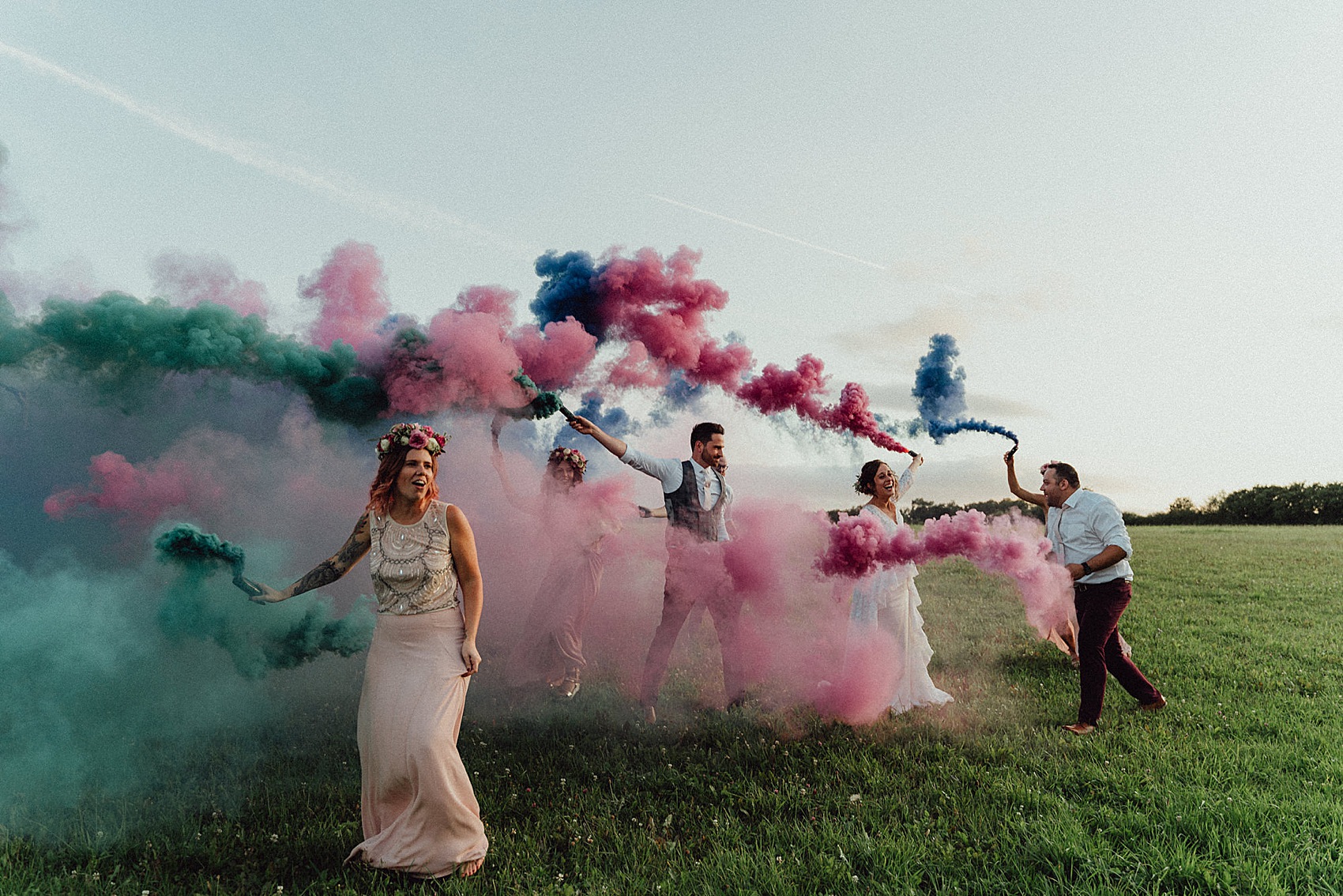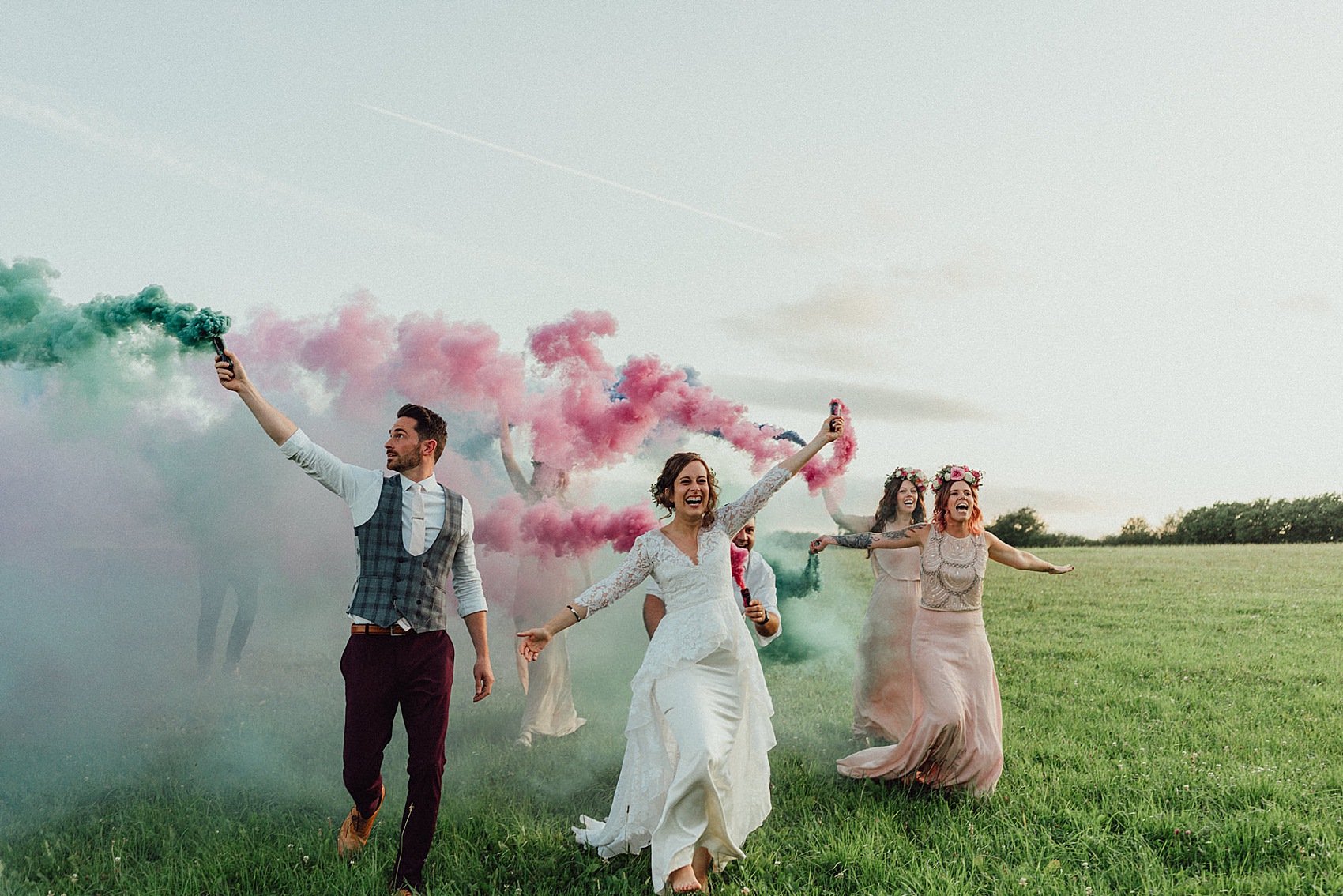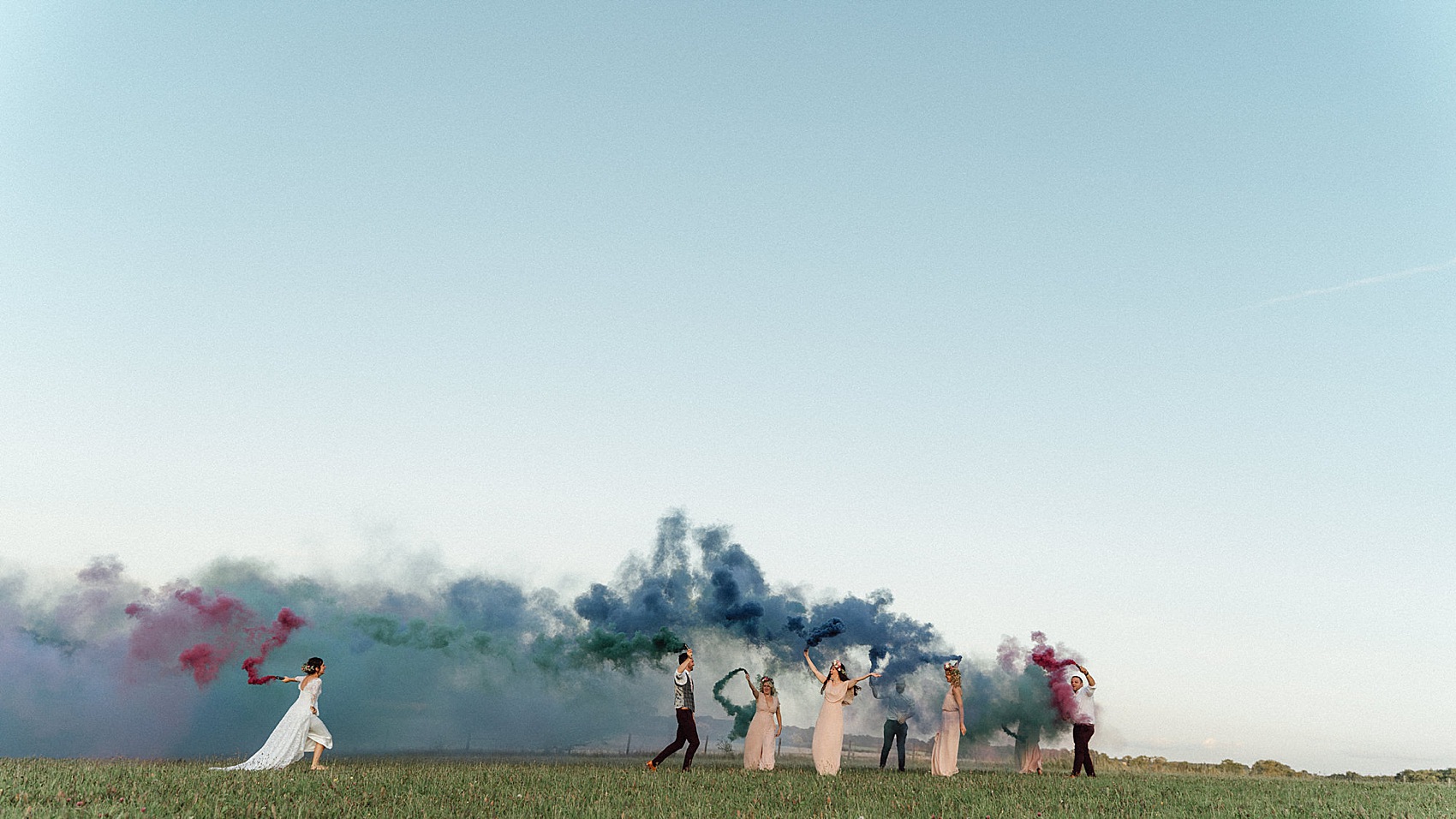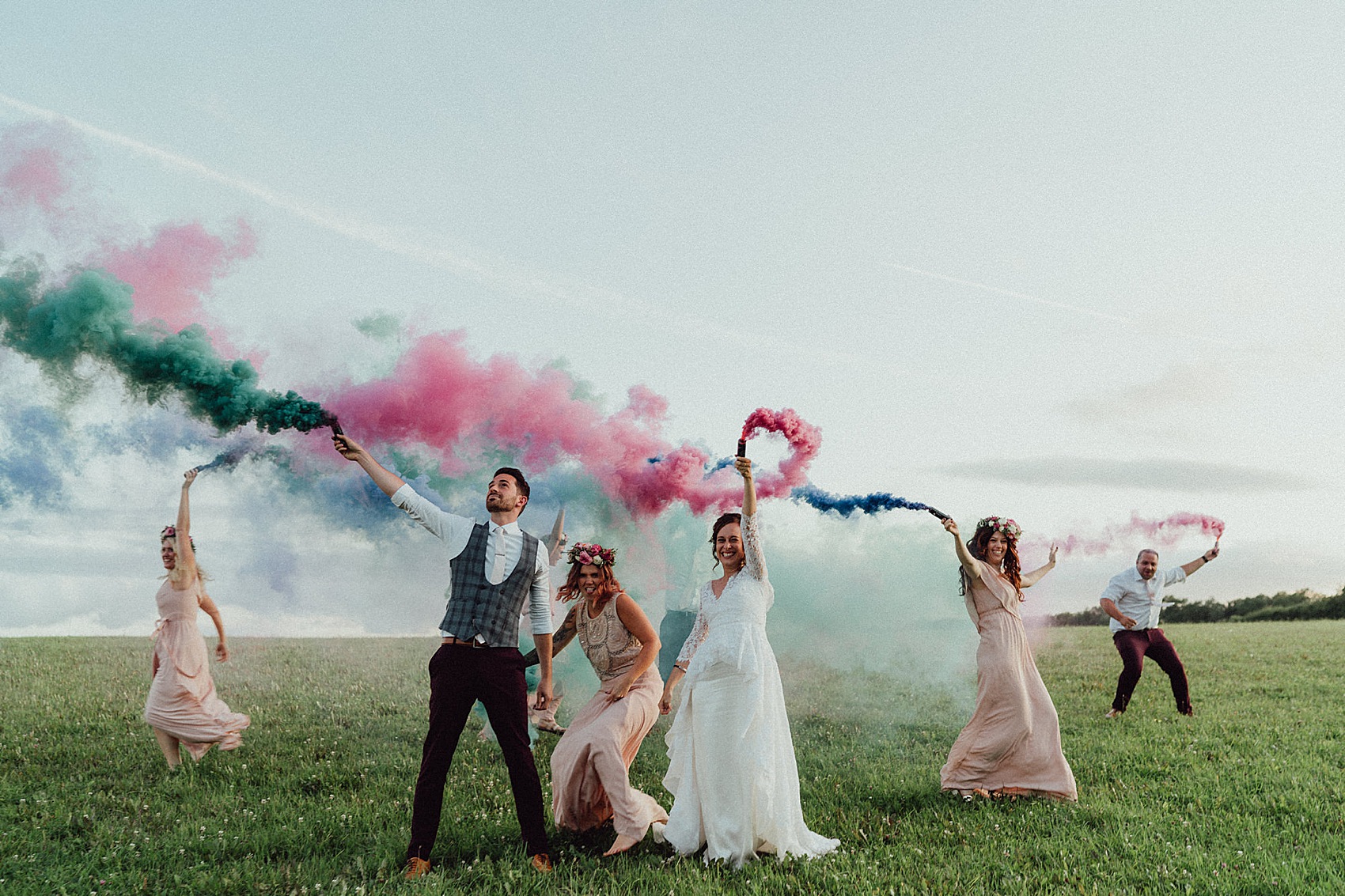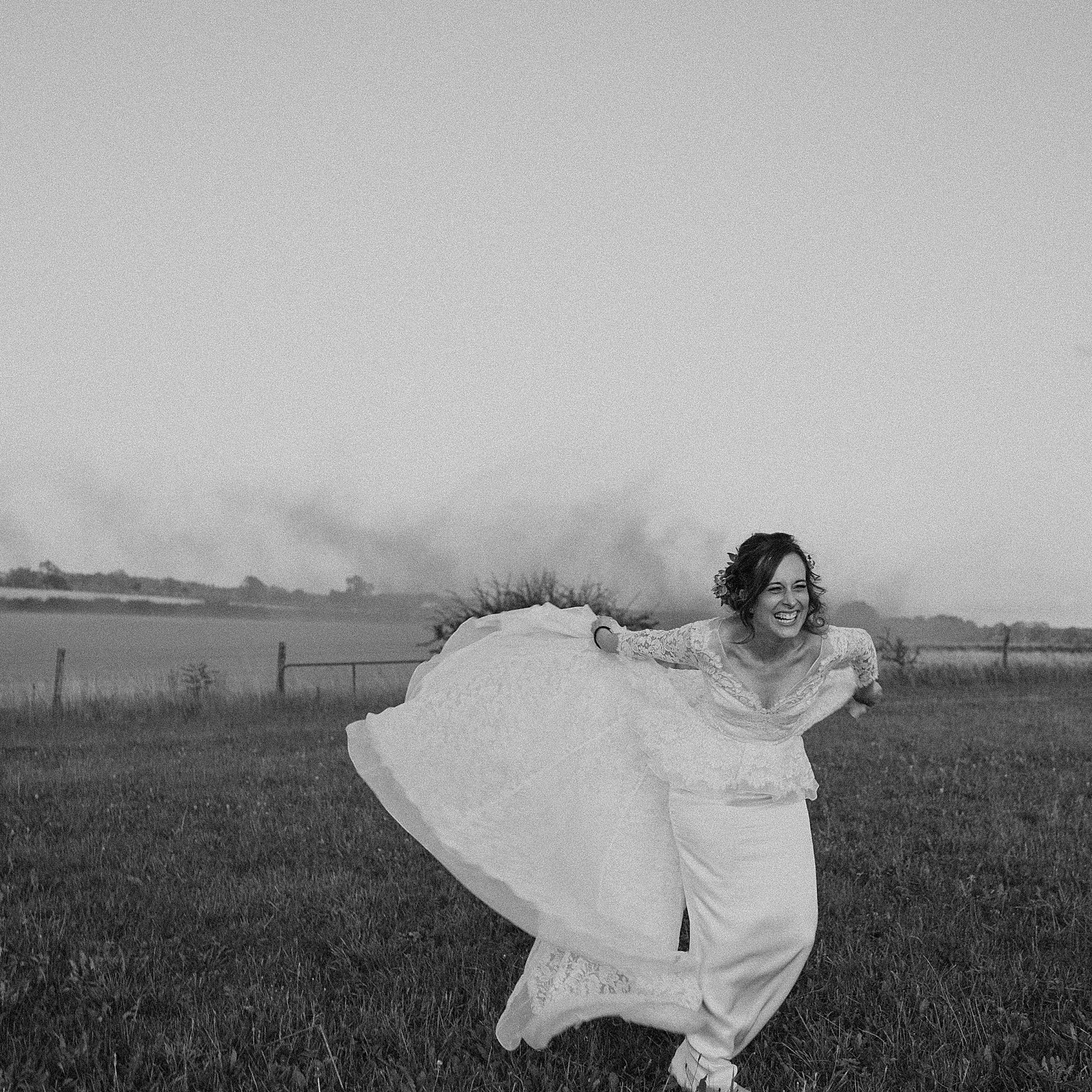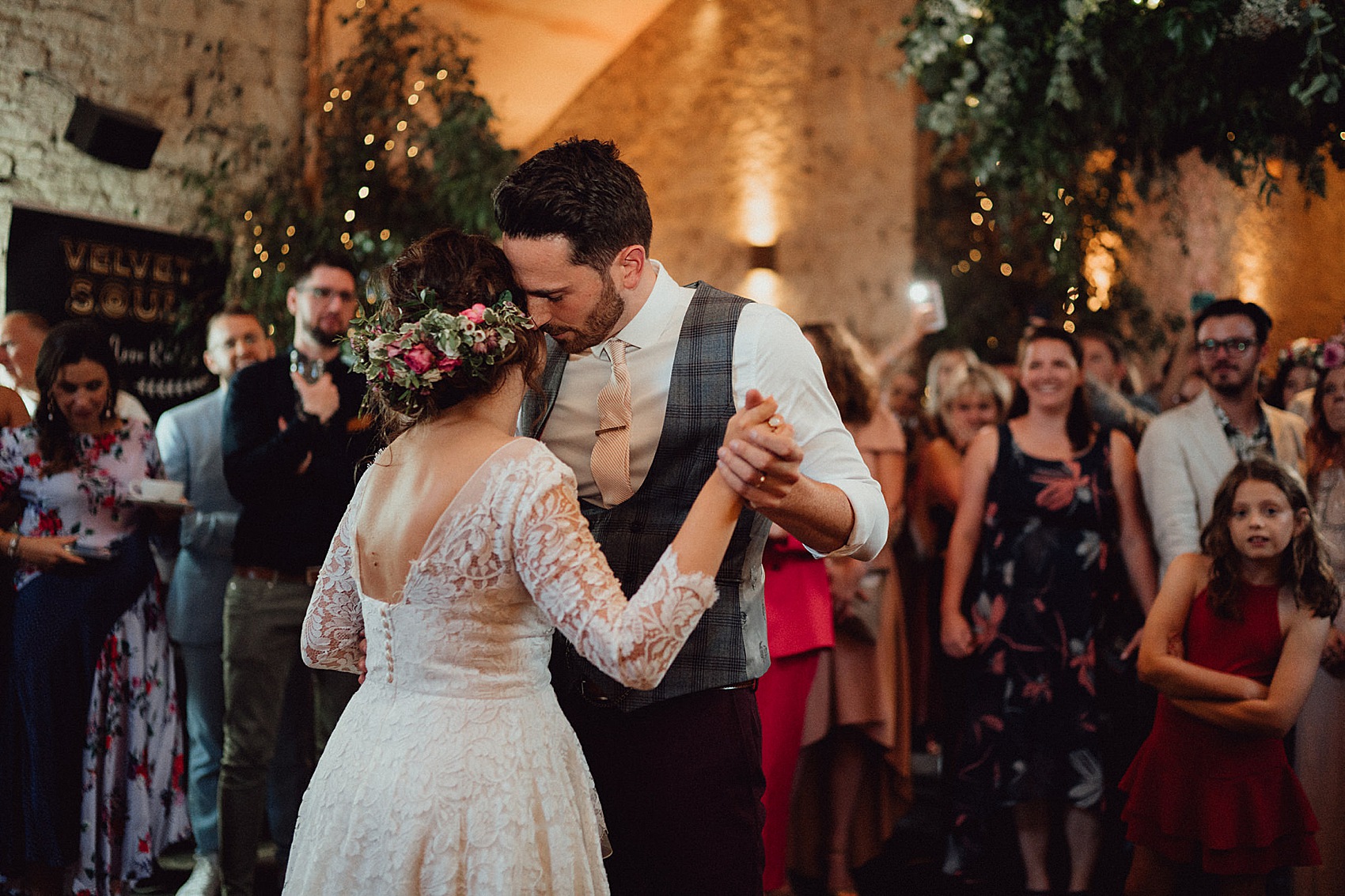 As well as pizza and cake, the guests were kept entertained by Velvet Soul as well as a glitter bar.
"I booked a Glitter Bar for the evening last minute. I was nervous people wouldn't be interested but the girls from Eco Angels Glitter Bar had a constant queue for three hours. They were so much fun and the talk of the evening as people's designs got crazier and crazier as the alcohol flowed. This included a glitter beard, a glitter bald head and glitter cleavage. 100% bio-degradable, 100% worth it."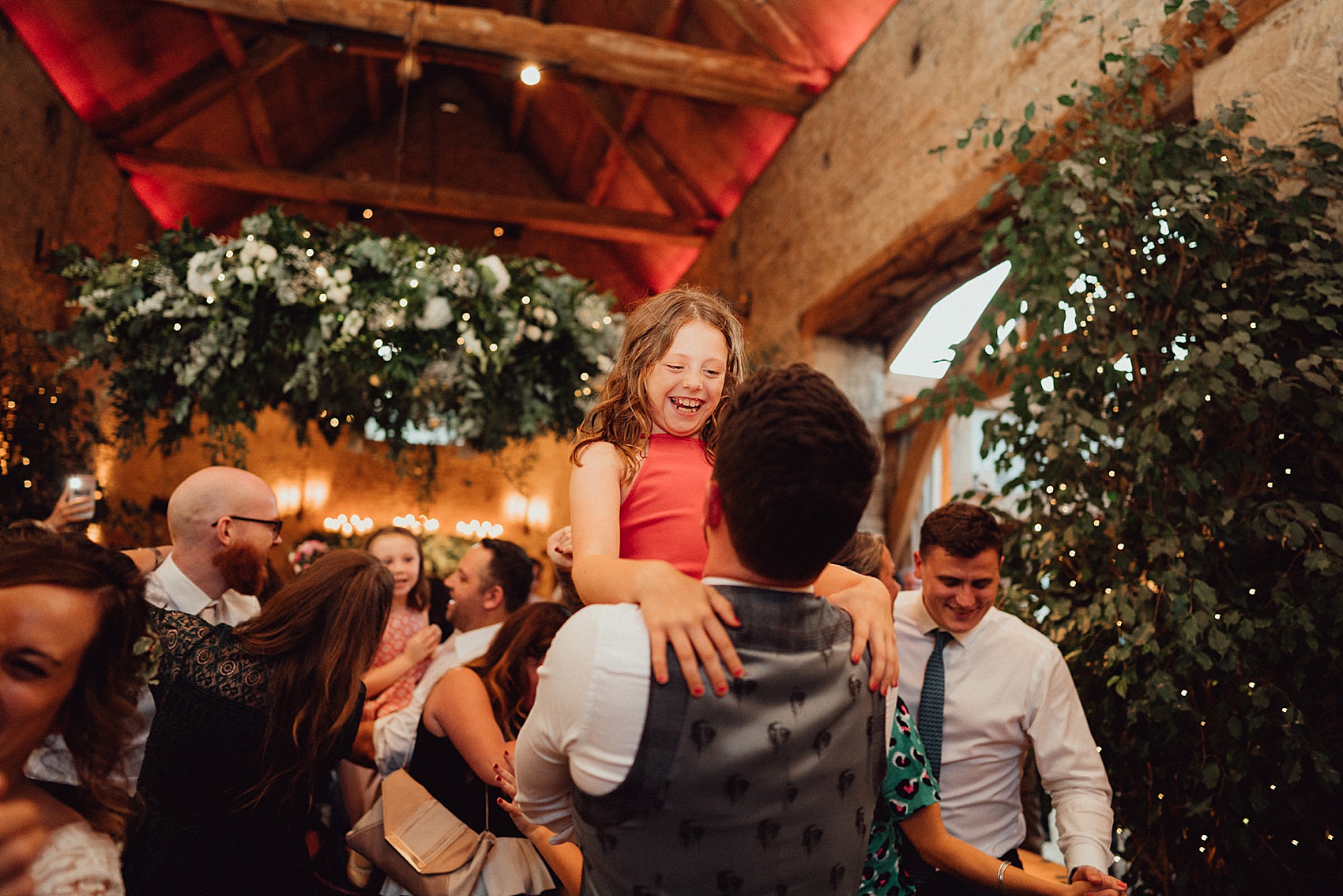 "Music was really important and, knowing our friends, we knew we had to get the right band for the evening party. We had Velvet Soul who played funk and soul and DJ'd for us. They were so brilliant and really kept the dance-floor going. Their choice of songs was spot on too."
"Our first dance was to Meadowlark, 'May I Have This Dance'. We chose it because its vibe suited us and we love that song."
"I got changed into a white jumpsuit by Velvet Johnstone for the evening. It meant I could freely dance and change up into a different style. It was really fun and meant I could add a bit more of my 'everyday' personality to what I was wearing. It was really fun changing up my makeup and jewellery and having a second wind of party."
"I paid a really close eye on budget and followed every payment along in a spreadsheet. It helped me know what we'd paid in deposits so we didn't get any crazy last minute bills. Cripps have a really easy payment portal too so you can pay off bits as and when you can. We came in at about £25,000 with our biggest spends being on venue, food, photography and flowers."
Words of Wedded Wisdom
"Leading up to your wedding you will have lots of people tell you, 'It's tradition to do this' or, 'You should have this in your day'. There are no 'shoulds' – it's only what is right for you and your partner."
"I had a bit of a dress alteration disaster because I wasn't brave enough to speak up and say I wasn't happy with the fit. I ended up having to take it somewhere else for a second alteration. ALWAYS take your most opinionated friend with you on fittings and speak up when you're not happy with things."
"I had a lot of anxiety leading up to the day and my bridesmaids had to shake it out for me. Your wedding will always be amazing because you have everyone who you love and love you holding the day up. Put trust in your loved ones and your suppliers and know what will be, will be."
"Before the big day make some time for yourself and your significant other to find some alone time – even if this is a dinner, just the two of you, before you head off your separate ways because you are both in it together."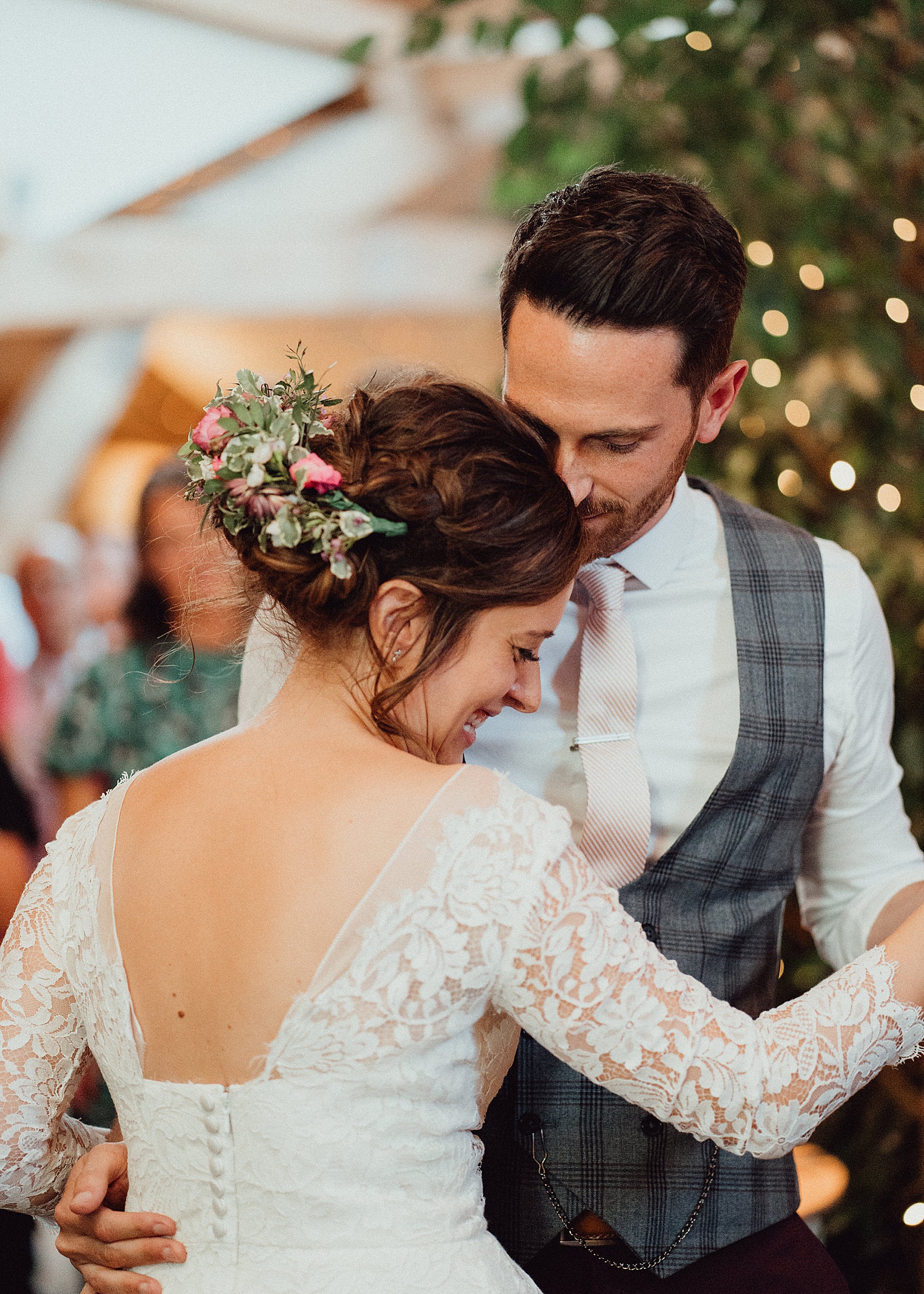 Just wow, Claire and Chris. What a beautiful day you created, and I'm so glad that our pages gave you the confidence to put together the relaxed, leaf-filled dream that you wanted. Thank you and congratulation, and thank you Emily & Steve Photography too; I just love your work. For more ideas for your own rustic wedding, please do take a look at these Love My Dress celebrations.
Ele xx