What do you do when the rain pours down on your wedding day? If the thought of a wet wedding day is worrying you then I hope that today's feature shows you that a rainy day wedding can be every bit as magical as one on a sunny day, if not even more so.
This bride and groom truly embraced the wet weather and had fun. And, with grey skies and drizzle coming down the bright colours of the confetti and multifarious umbrellas really did pop whilst an abundance of fairy lights created a magical and cosy venue for their celebrations.
Stevie Jay Photography

+ Follow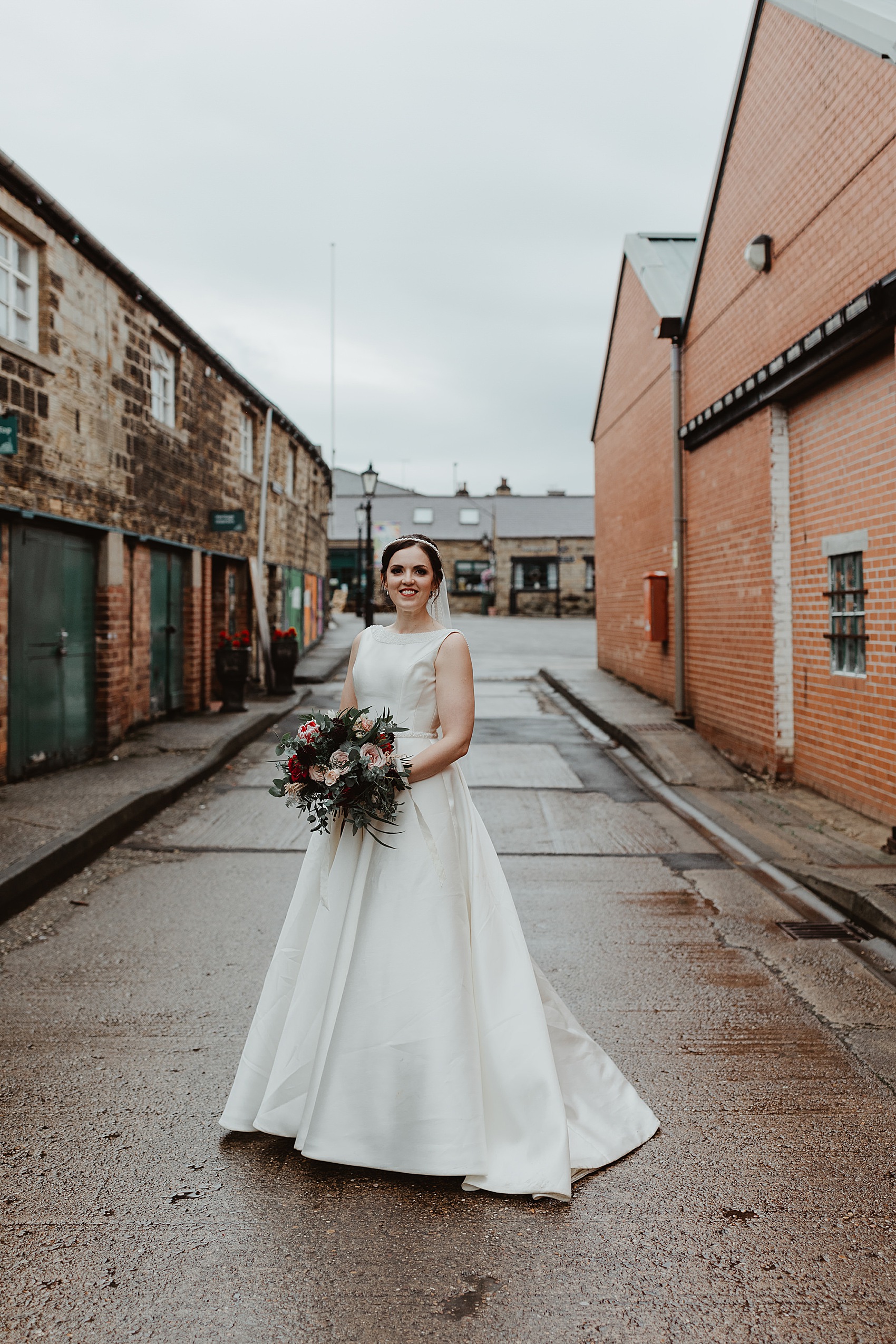 On 27 July 2019 teacher Anna wed telecommunications engineer Jim at Elsecar Heritage Centre near Barnsley in Yorkshire, a converted collection of brick buildings related to the area's mining and ironwork history.
The venue was perfect for this couple whose families have roots in the mining industry, and its blank canvas allowed them to create a day of relaxed fun mashed up with classically beautiful elements, including lots and lots of romantic roses and magical fairy-lights.
Susanna Greening put together the flowergirls' dress whilst the two pageboys wore different suits. We really are over the moon that their designer, Susanna Greening Designs, is one of our highly-recommended Little Book Wedding Directory members and you can find out more about her here.
"The youngest, Jack, wore a little Next outfit and Seth wore a suit from Roco Clothing."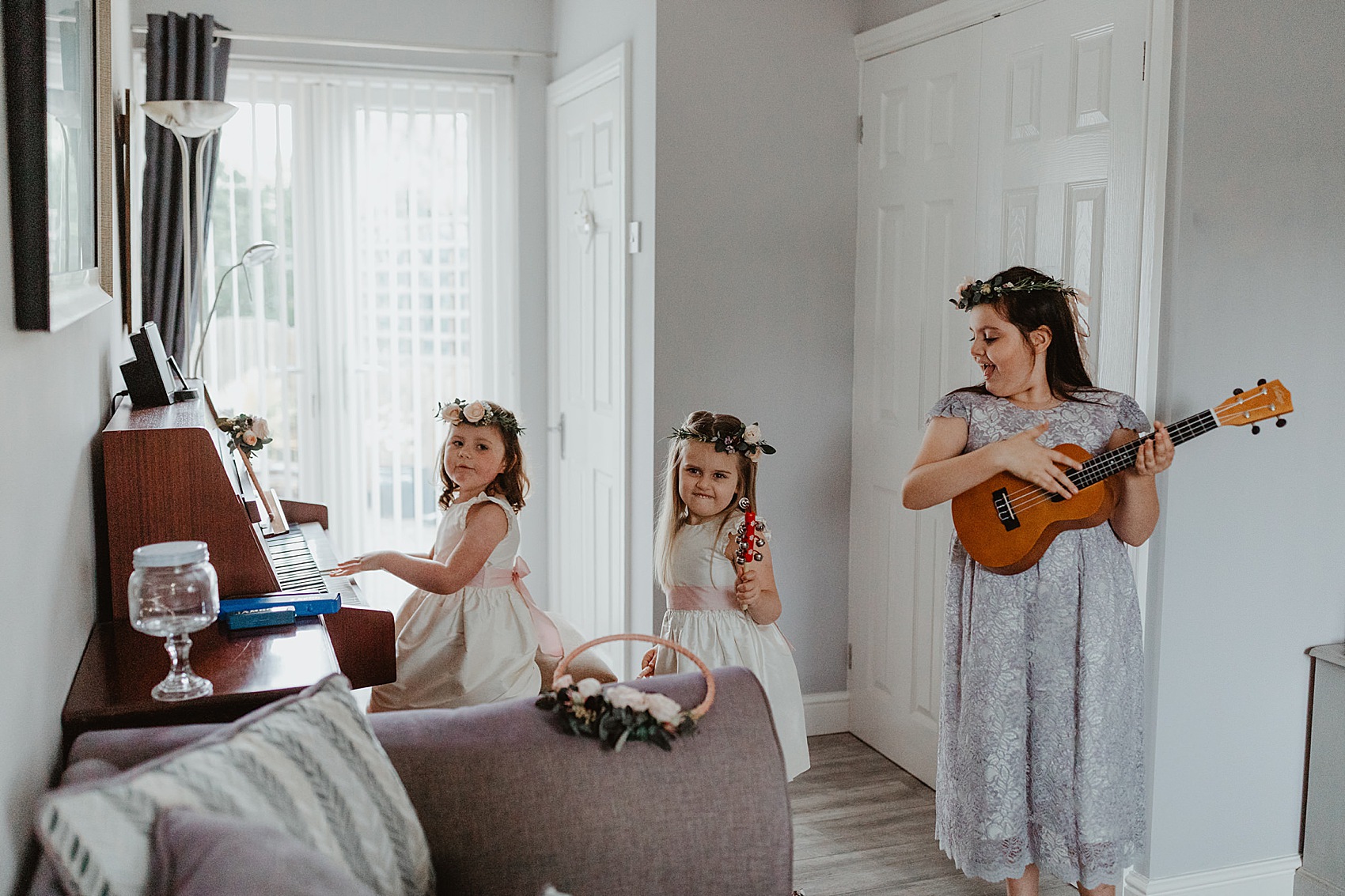 Anna looks amazing in the clean, modern lines of her full-skirted 'Bronte' gown by Louise Bentley Bridal, the embellished detailing of the boat-neck and scooped back picked up by her Rainbow Club shoes.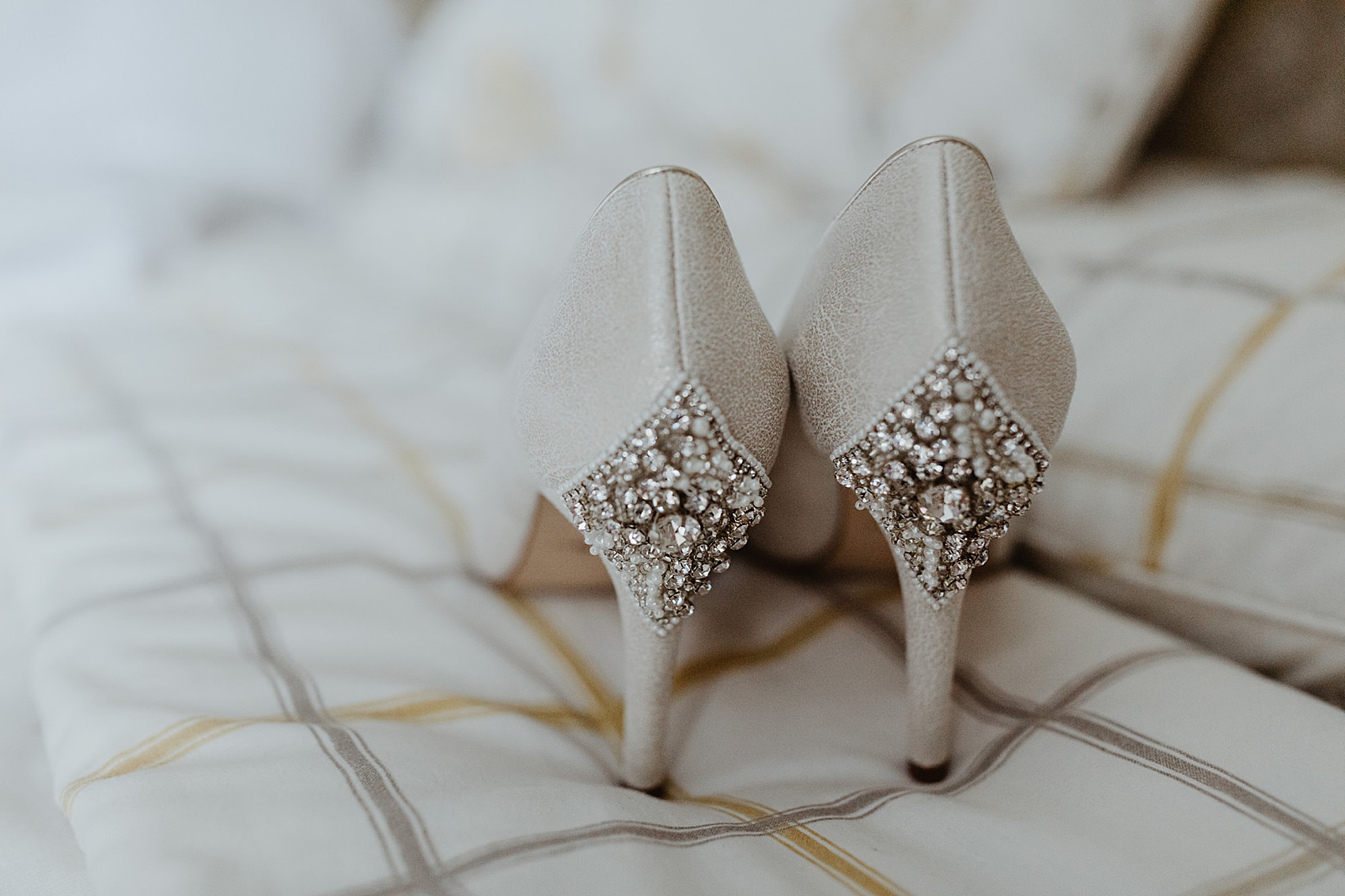 "I found my dress at The White Yard Bridal Boutique at Elsecar. My mum saw the dress as soon as we entered the boutique. I tried it on and didn't want to take it off. I did try others on but I just loved this one."
"I don't know if it's because this was the first dress that I saw myself as a bride in or if it was the beautiful pearl details. Then there was the weight of the fabric and the way it fell. It didn't need any fluffing or placing; however I moved the fold just fell beautifully."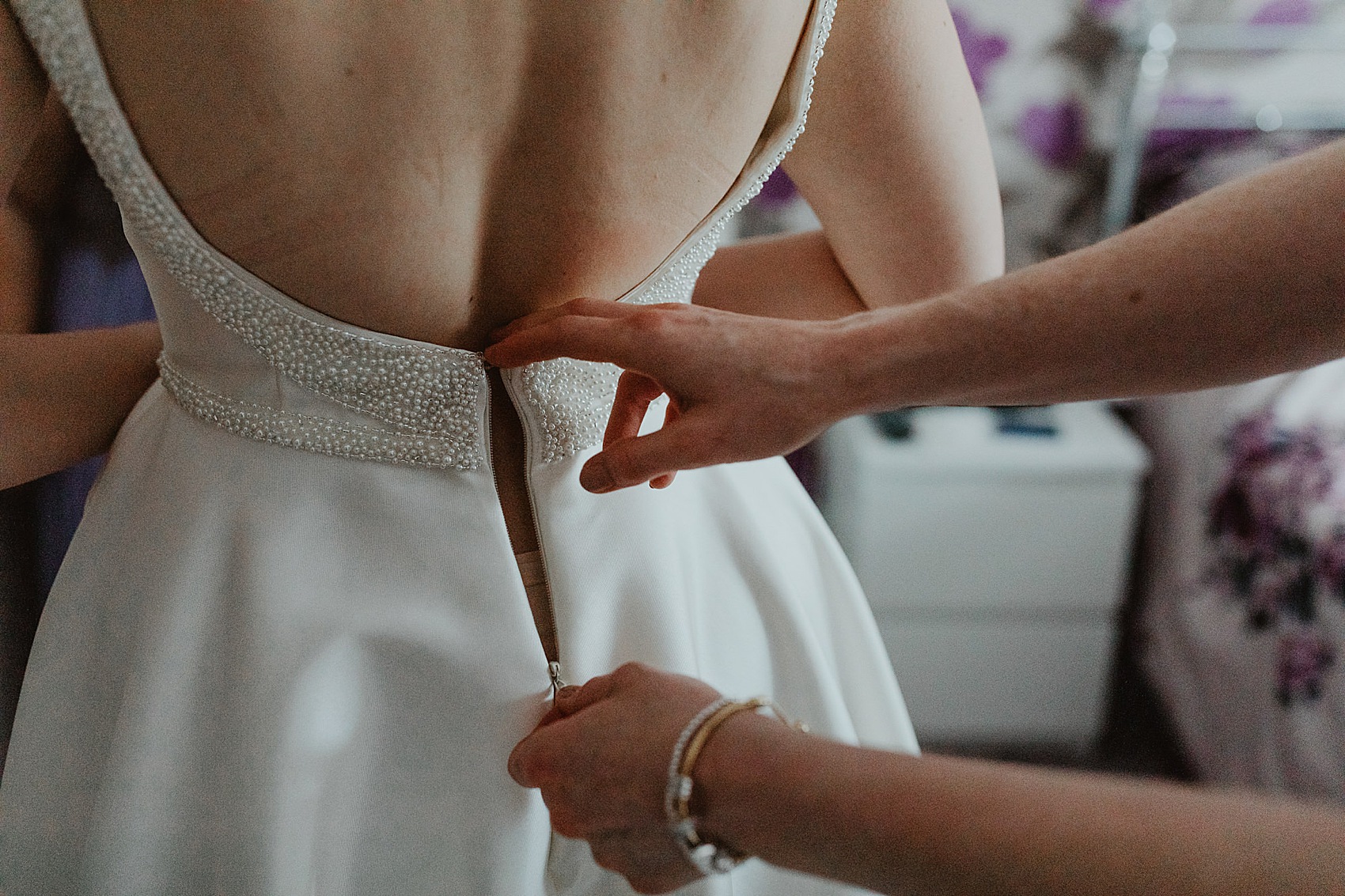 The beading on the gown's waist was reflected by her simple, elegant headband from Ivory & Co. and her jewellery.
"I wore my mum's pearl bracelet and a pair of faux pearl earrings that I found on a shopping trip on Portobello Road in London with my maid of honour."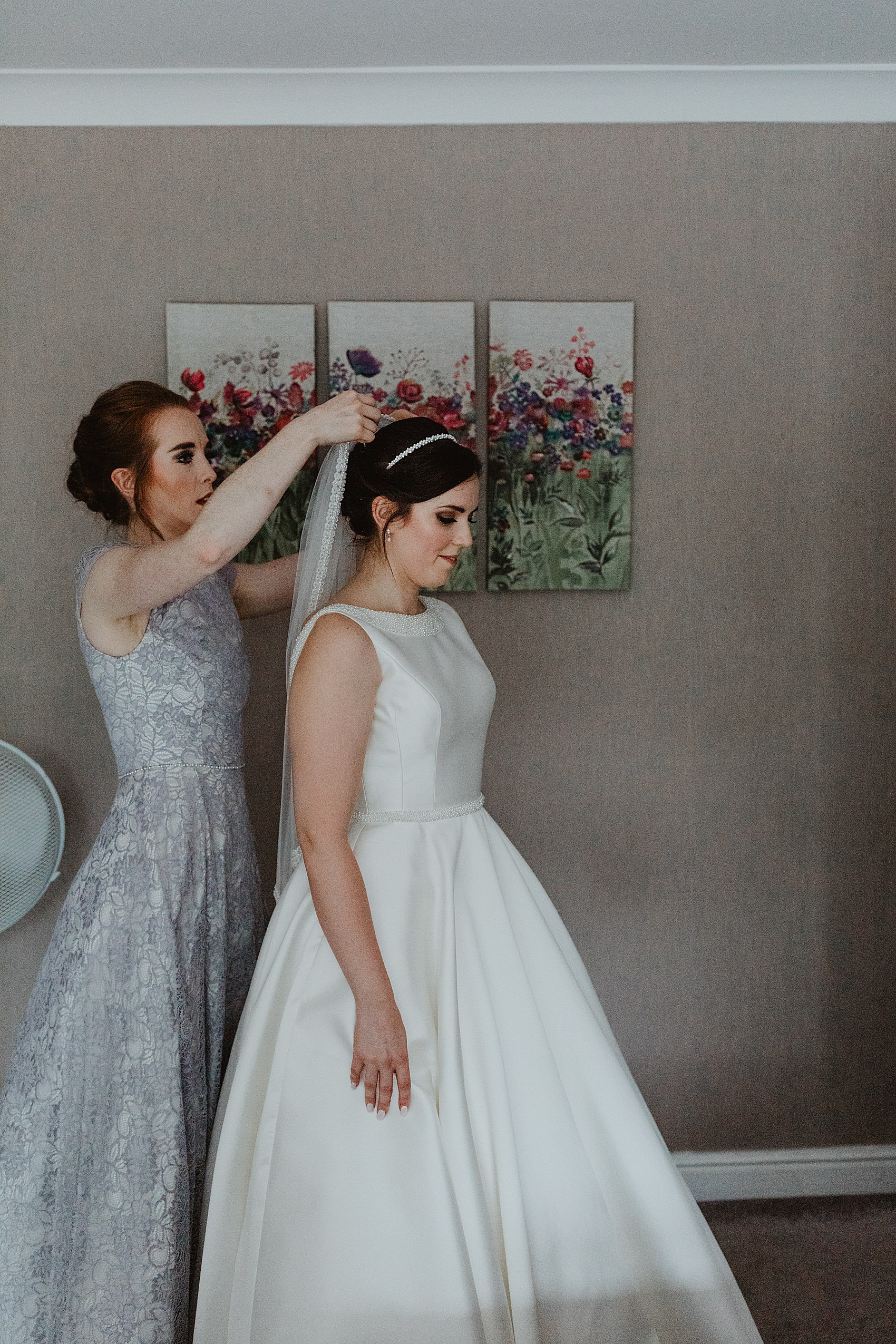 Her bridal look was completed by a simple, lace-edged veil and a rich lip colour and soft brown smokey eye applied by Julia Jeckell Hair & Makeup Artist, who also twisted her hair up in to an elegant chignon.
"I spent ages shopping for perfume. I went to Penhaligon's and the guy at the shop threw me a wild card scent – the Iris Prima which I wore on the day."
"I love that the perfume was created to resemble the theatre and the soles of ballerina shoes (suede notes, mmmm). I am a singer and I danced as girl from two-twelve so it really reminded me of growing up."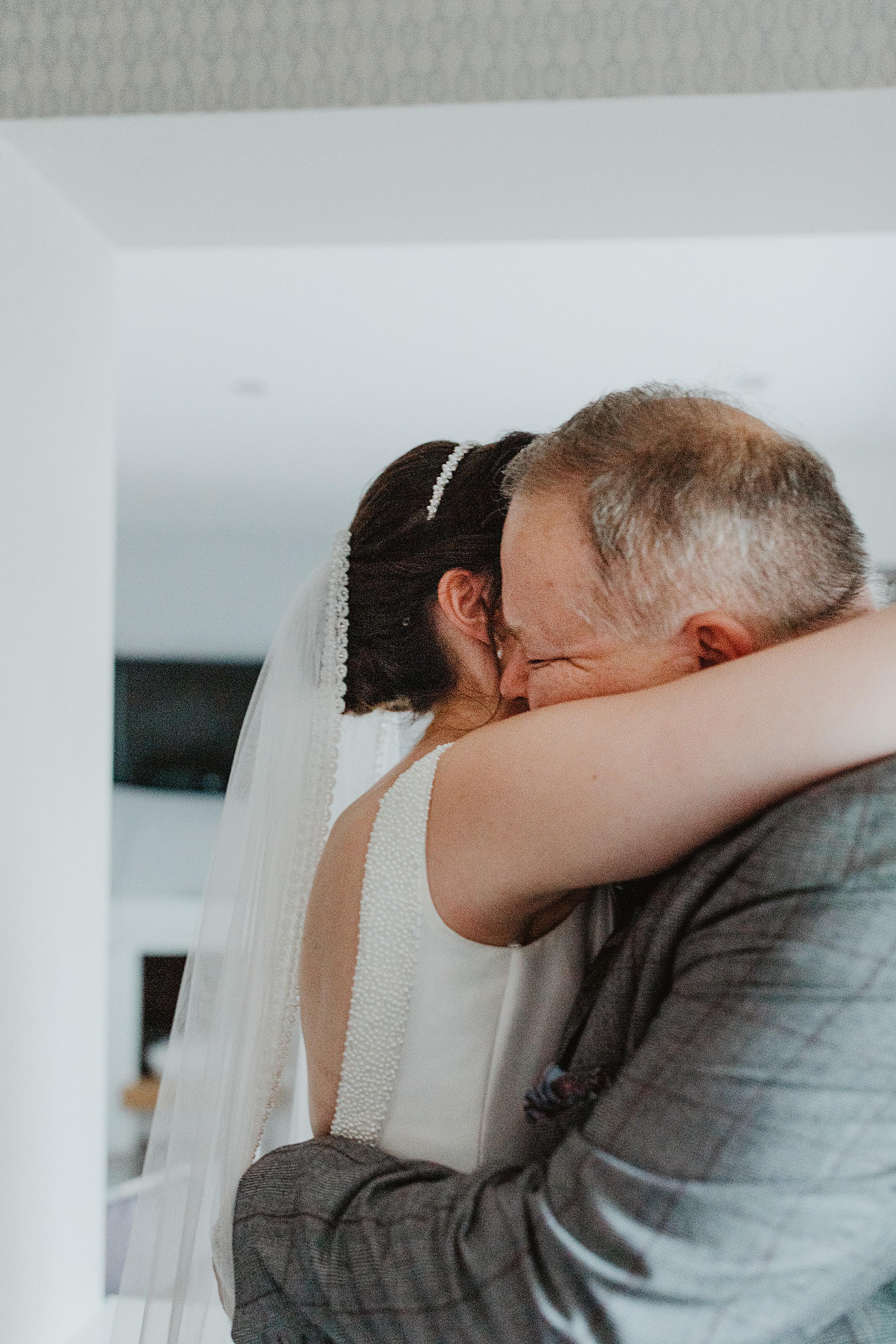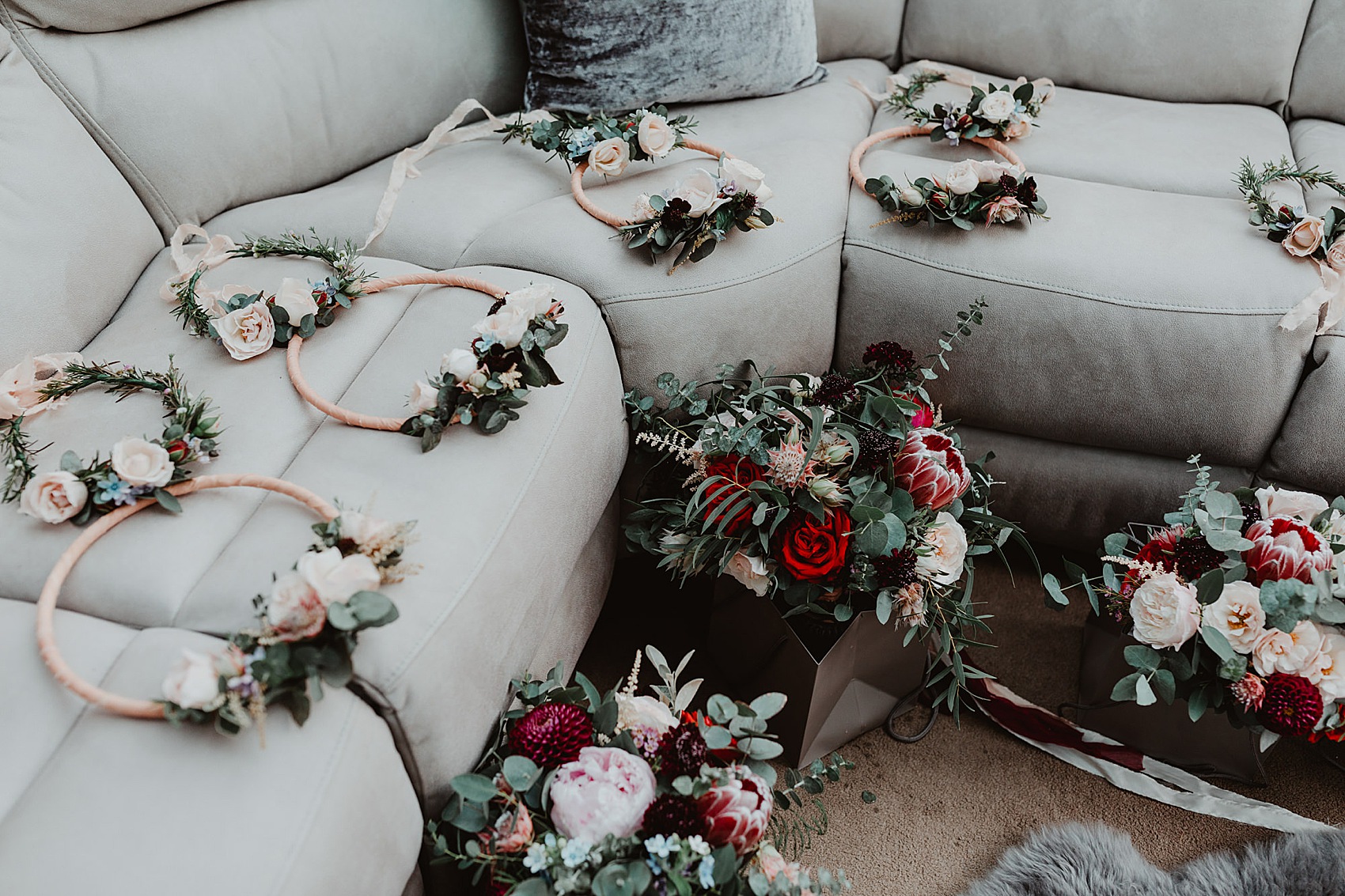 The couple had a whirl-wind romance, and the bride moved in to Jim's home after just four months together.
"My family were involved in our local rugby club, where Jim and his brothers are rugby players. I had moved back to the area after living in Liverpool and my cousin brought me along to the club to 'meet a rugby player husband'."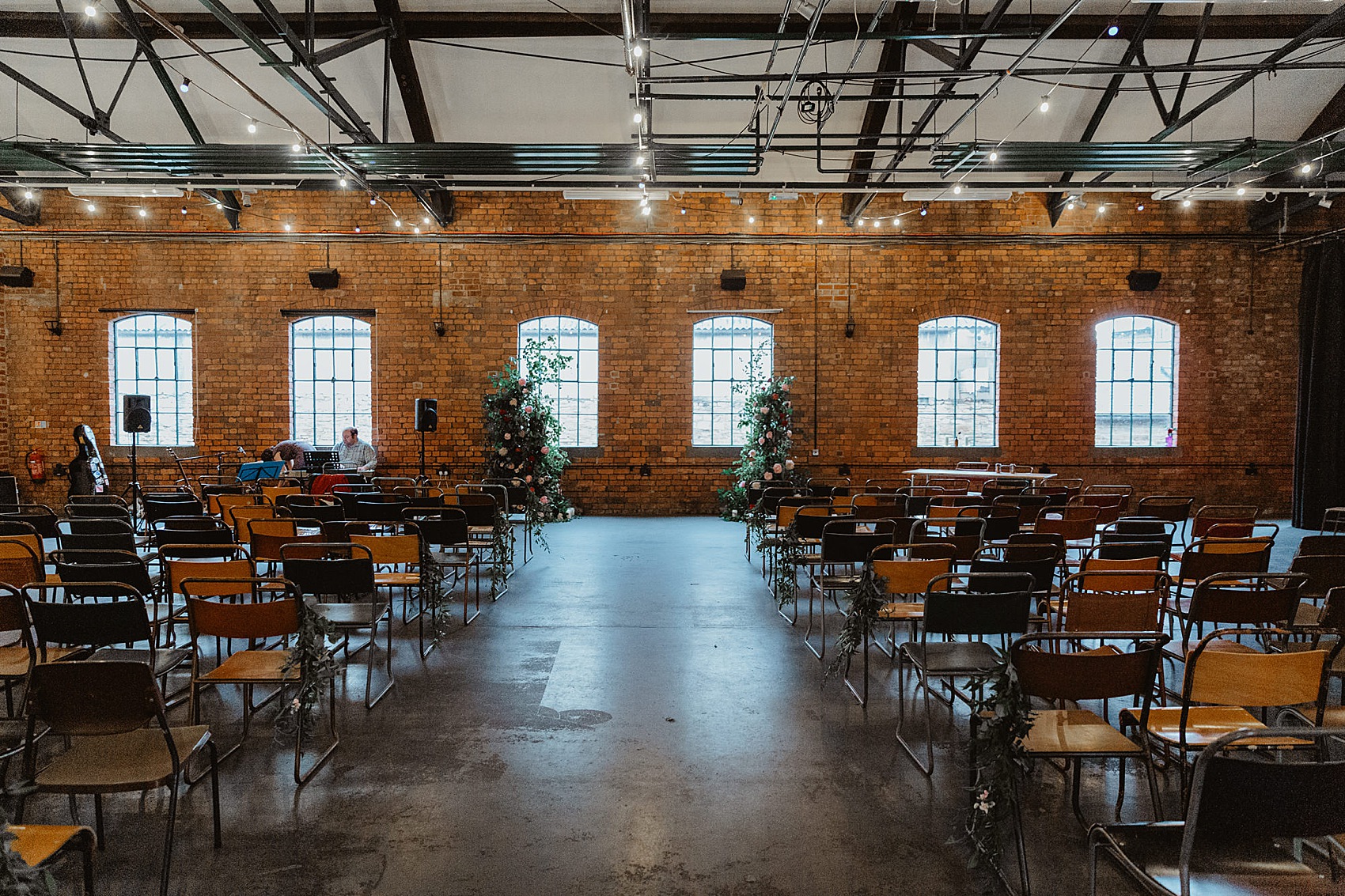 "Jim was the only one that she would allow to speak to me; she said the others weren't good enough for me. She was right, though, Jim was and is still the only one for me. We had a few dates and I moved in four months later. We just knew."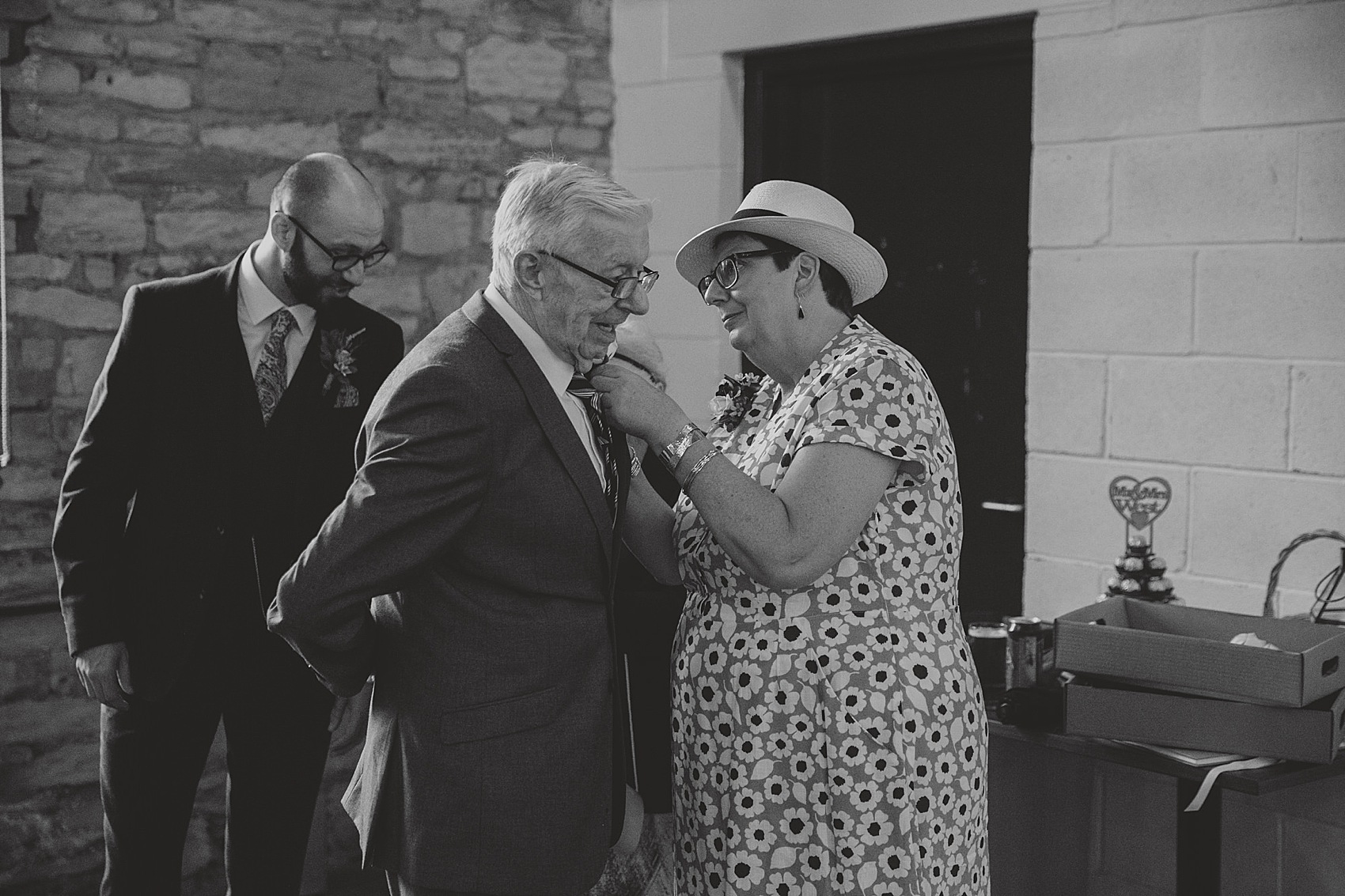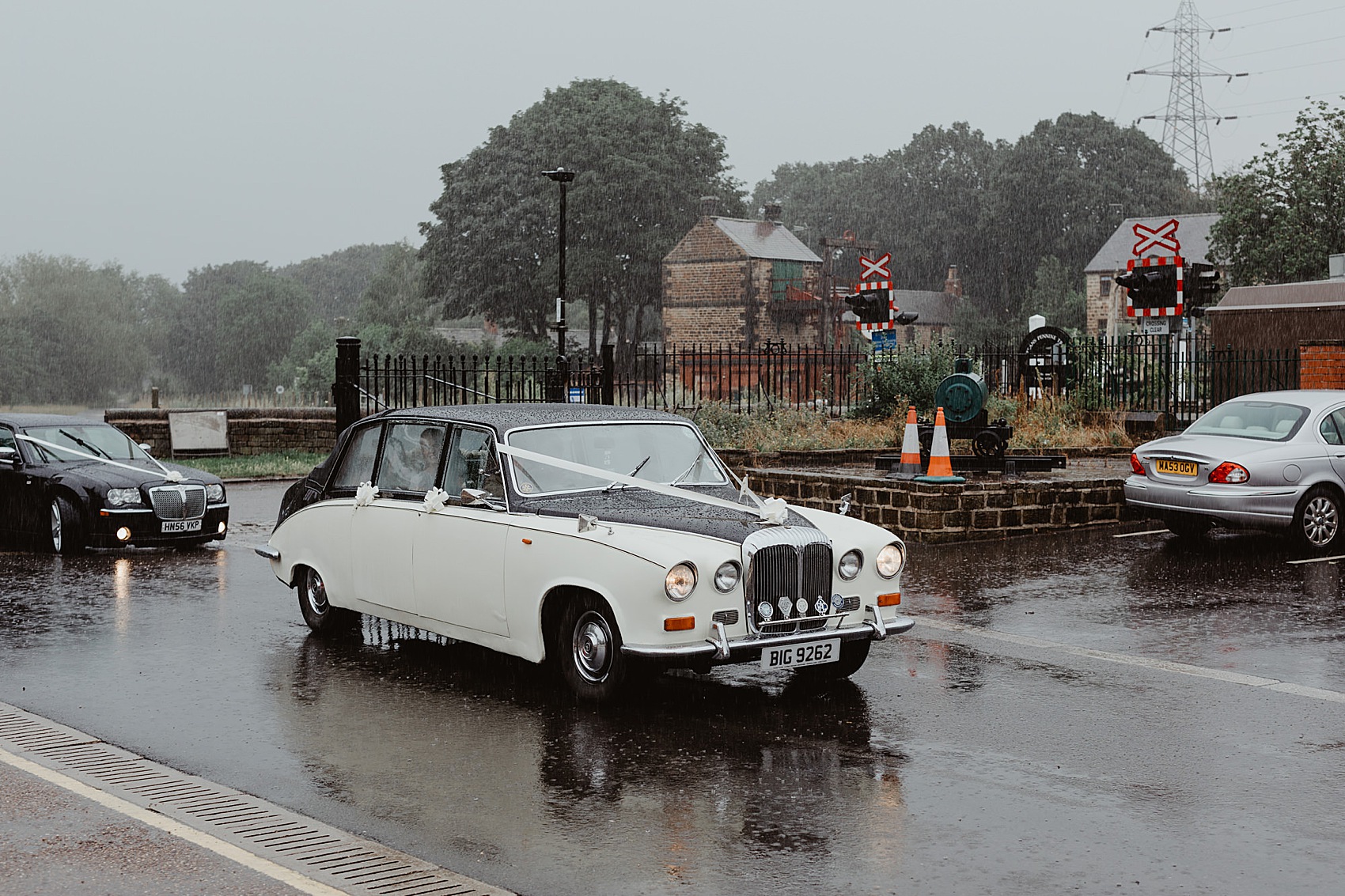 Jim visited Tweed & Groom in Elsecar for his suit, selecting a dapper Herbie Frogg outfit.
"I bought Jim penguin cufflinks from Harvey Nichols. The groomsman wore a suit from Moss Bros and the waistcoat was a Herbie Frogg to match Jim."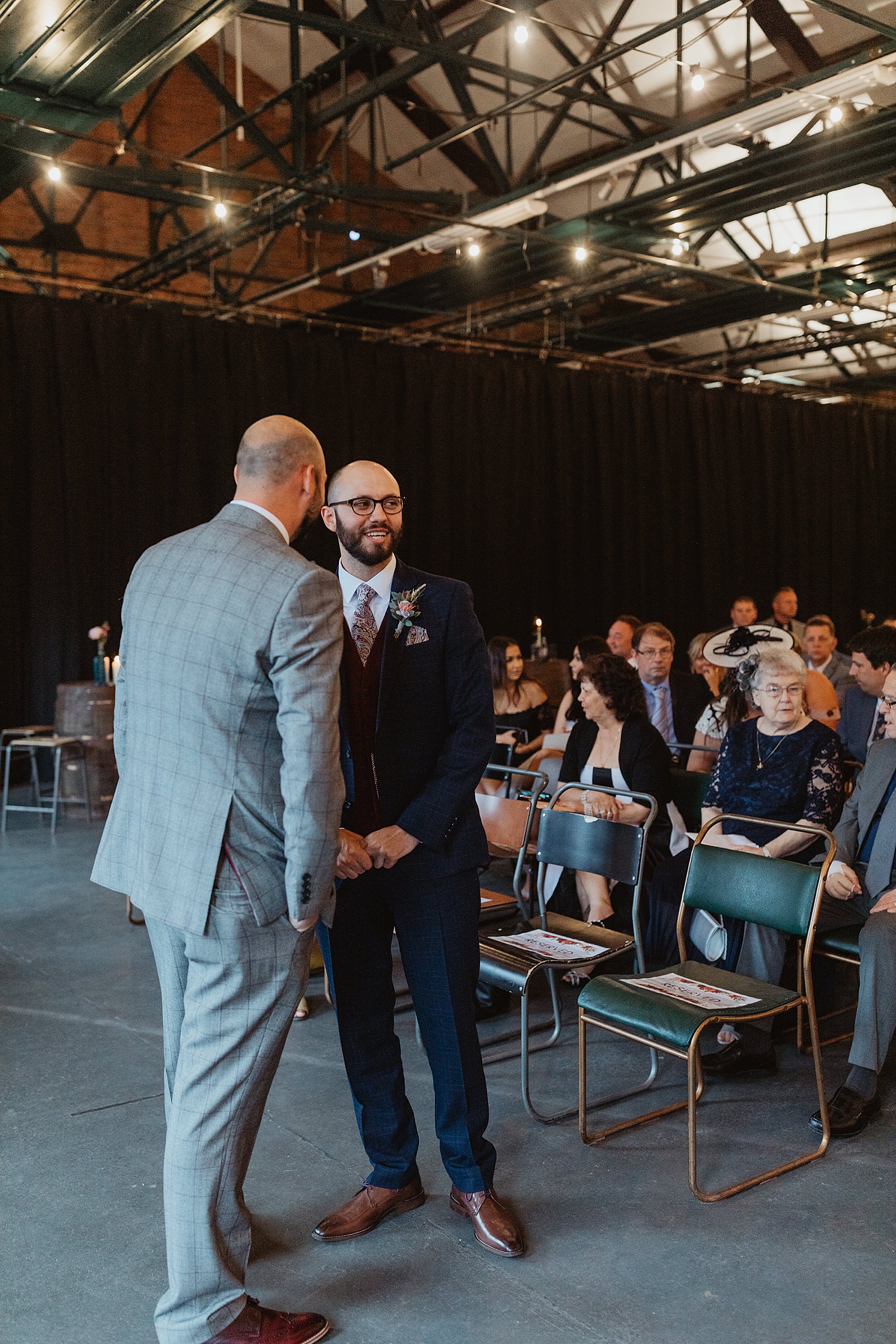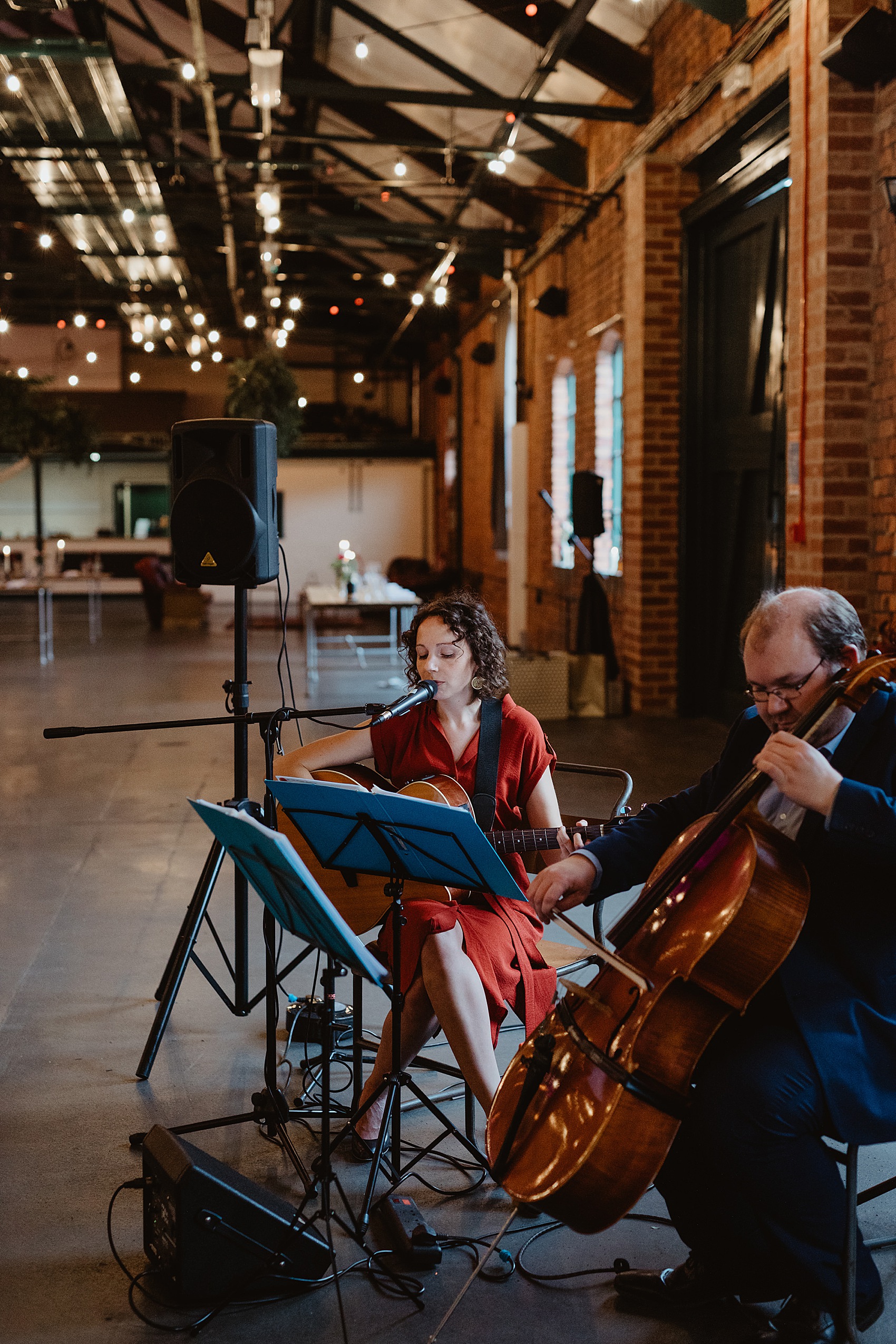 As the guests arrived they were serenaded by folk duo Captives On The Carousel.
"They played for our guests as they arrived and through the ceremony."
"My favourite part of the day was seeing Jim at the end of the aisle. He's got this beautiful, big, cheesy, chin in the air grin that I was waiting all morning to see and when I saw him, my heart burst. Jim's favourite part of the day was seeing me happy (what a smush)."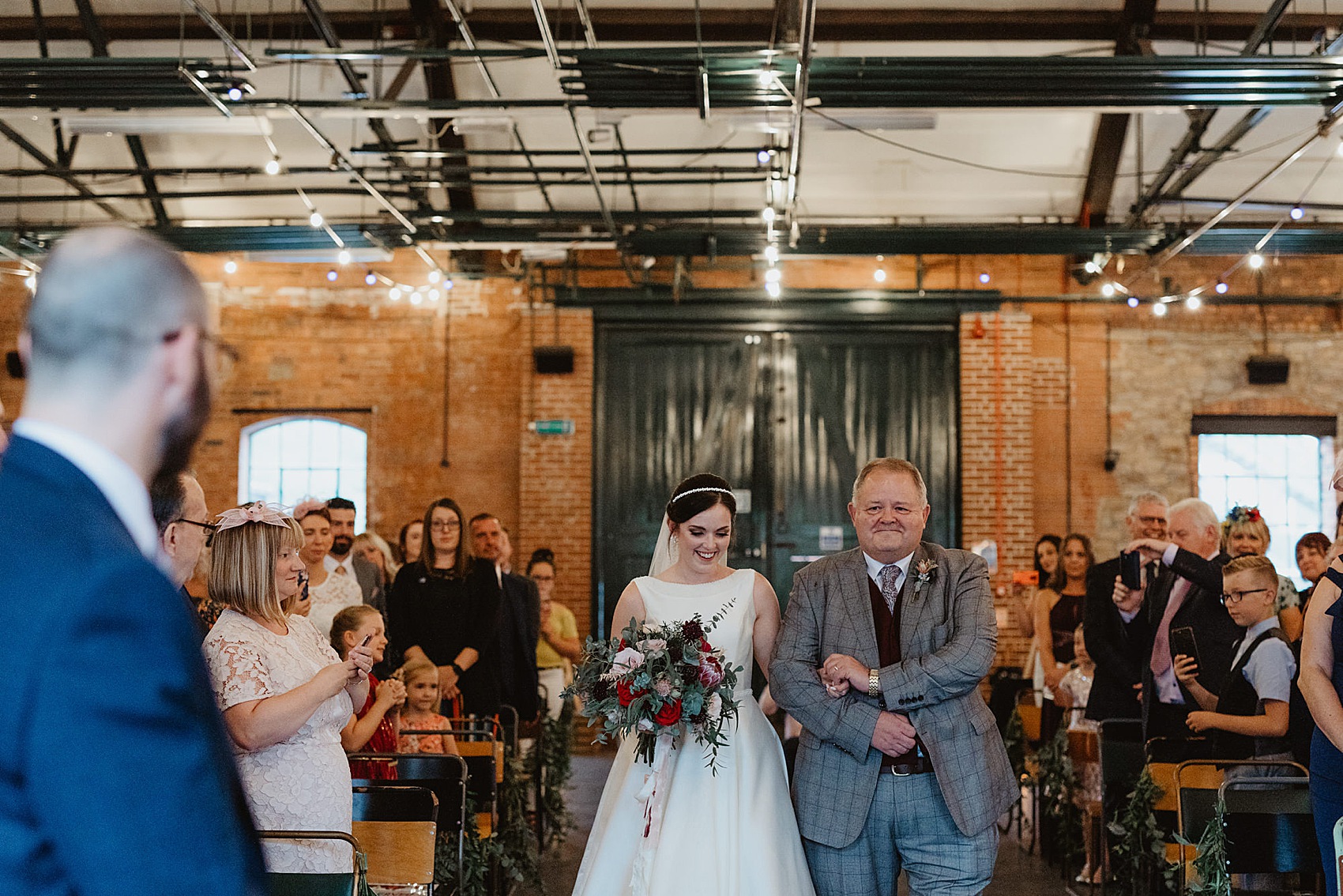 Anna walked down the aisle with her dad to Kate Rusby's 'Hundred Hearts'.
"We chose this because our first and best weekend away was at the Underneath The Stars Festival that is organised and run by local Yorkshire girl Kate Rusby. I loved the words and we used some of lyrics on display boards around the venue, for example 'If we had a hundred years, you could keep your hand in mine, If we had a hundred years, like trees in a garden we'd stand entwined.'.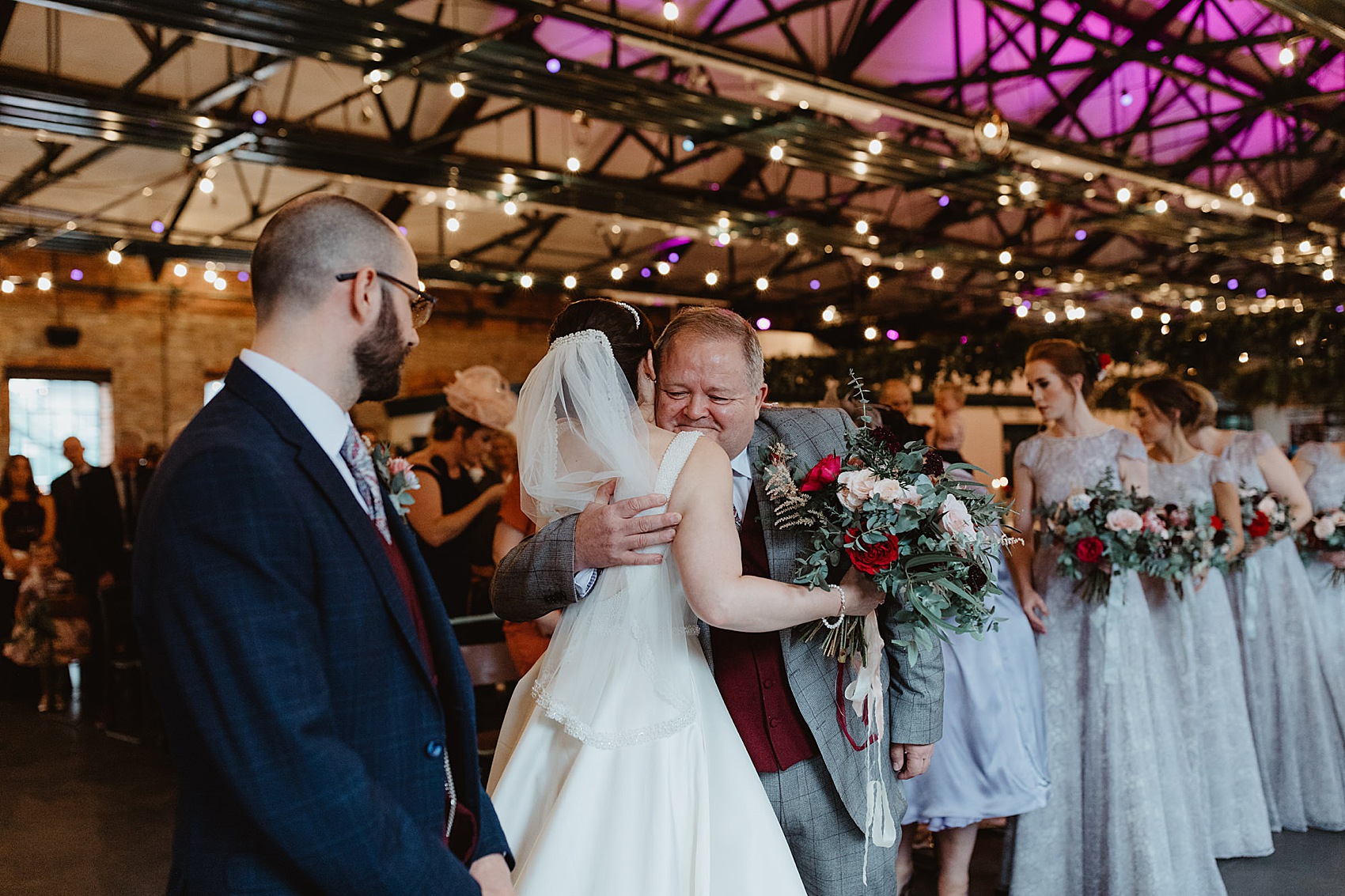 The civil ceremony included Pam Ayres' poem 'Yes I'll Marry You My Dear', read by sister in law Nicci.
"We chose to stick to the original wording for our vows because both of us found it too tricky to put into words how we felt."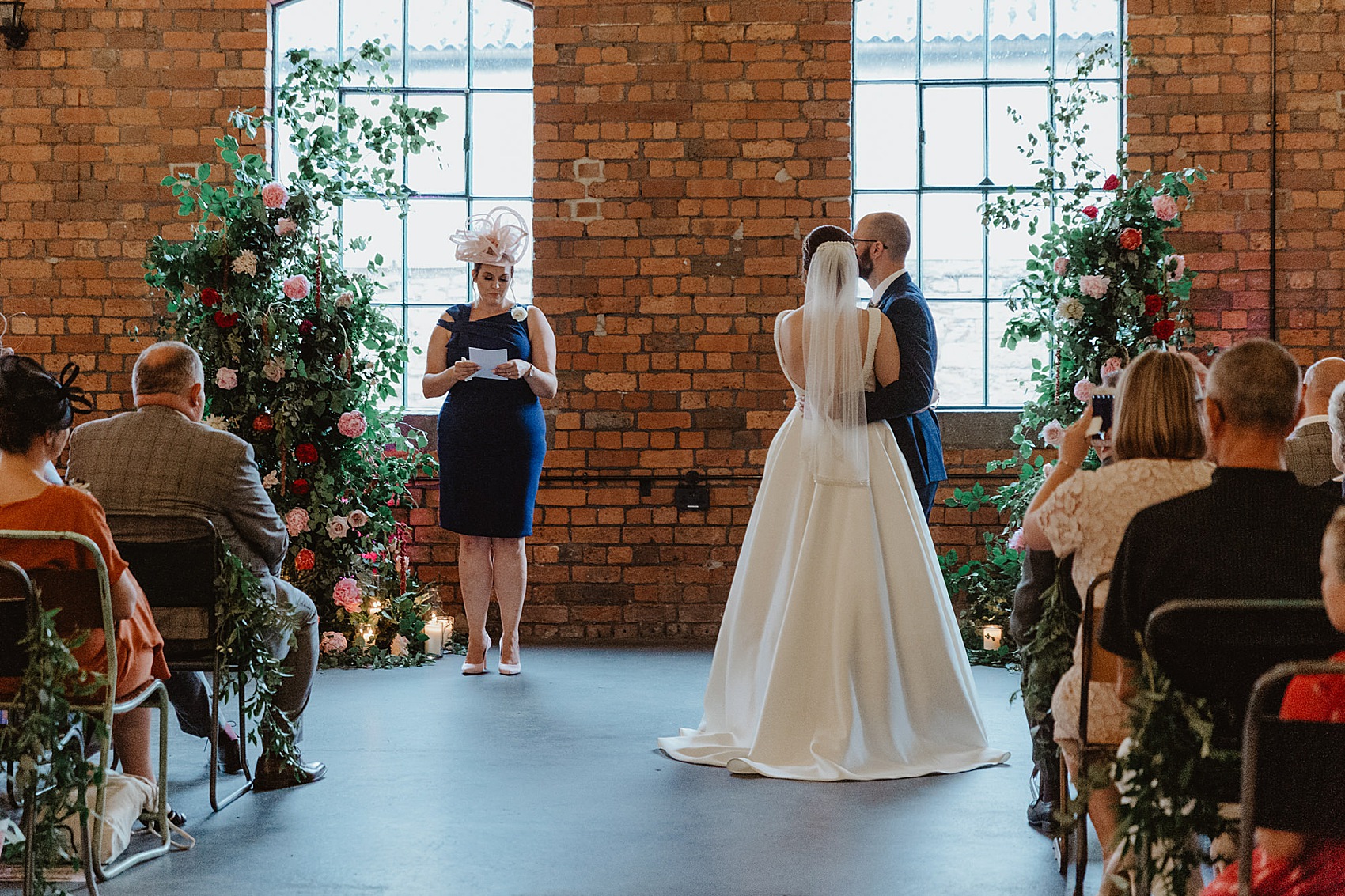 "I found my ring at our local jeweller, Herbert Brown in Mexborough. I wanted a diamond band but it was tricky to find one to shape around my engagement ring. We searched high and low before finding the one right on our doorstop."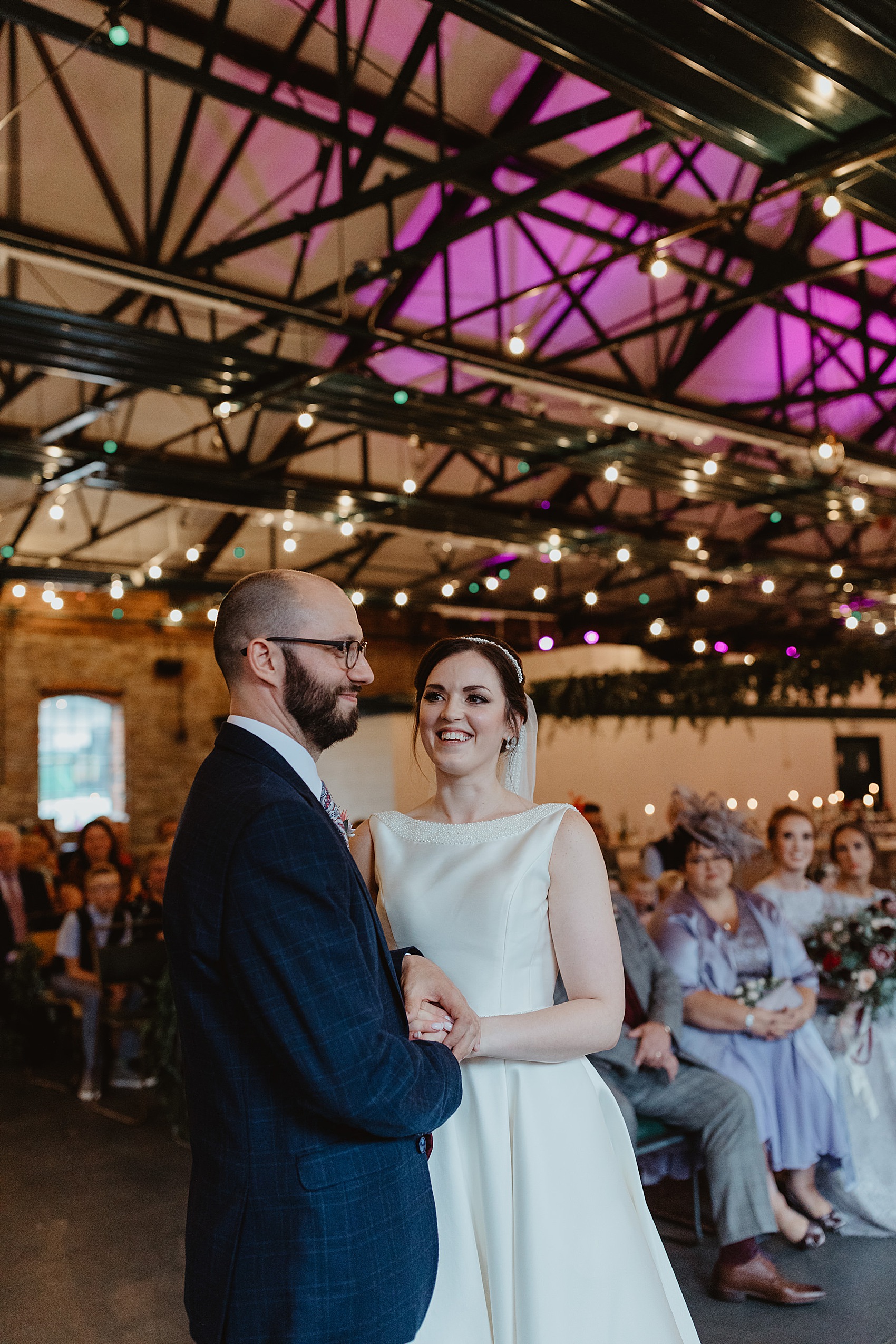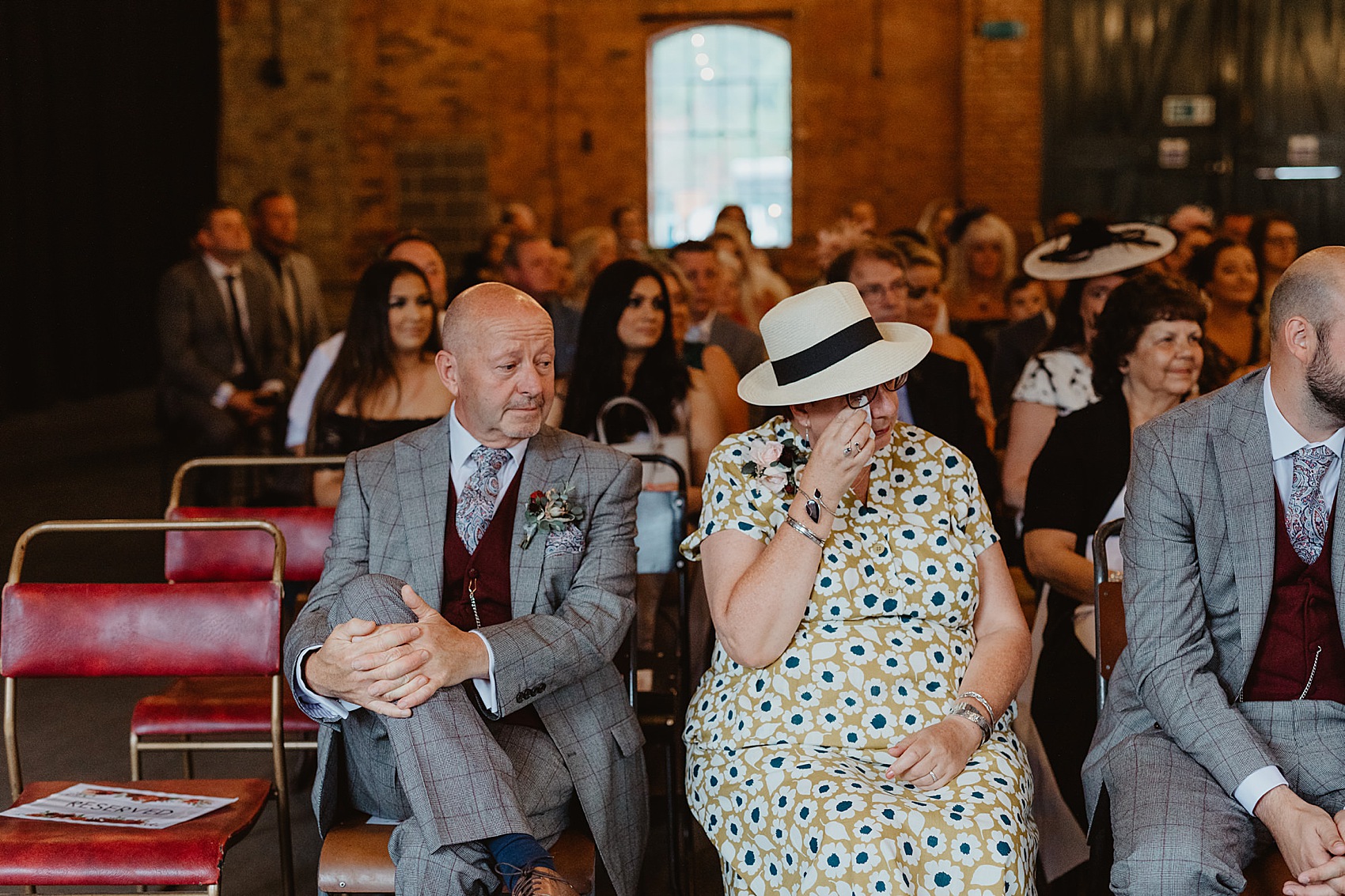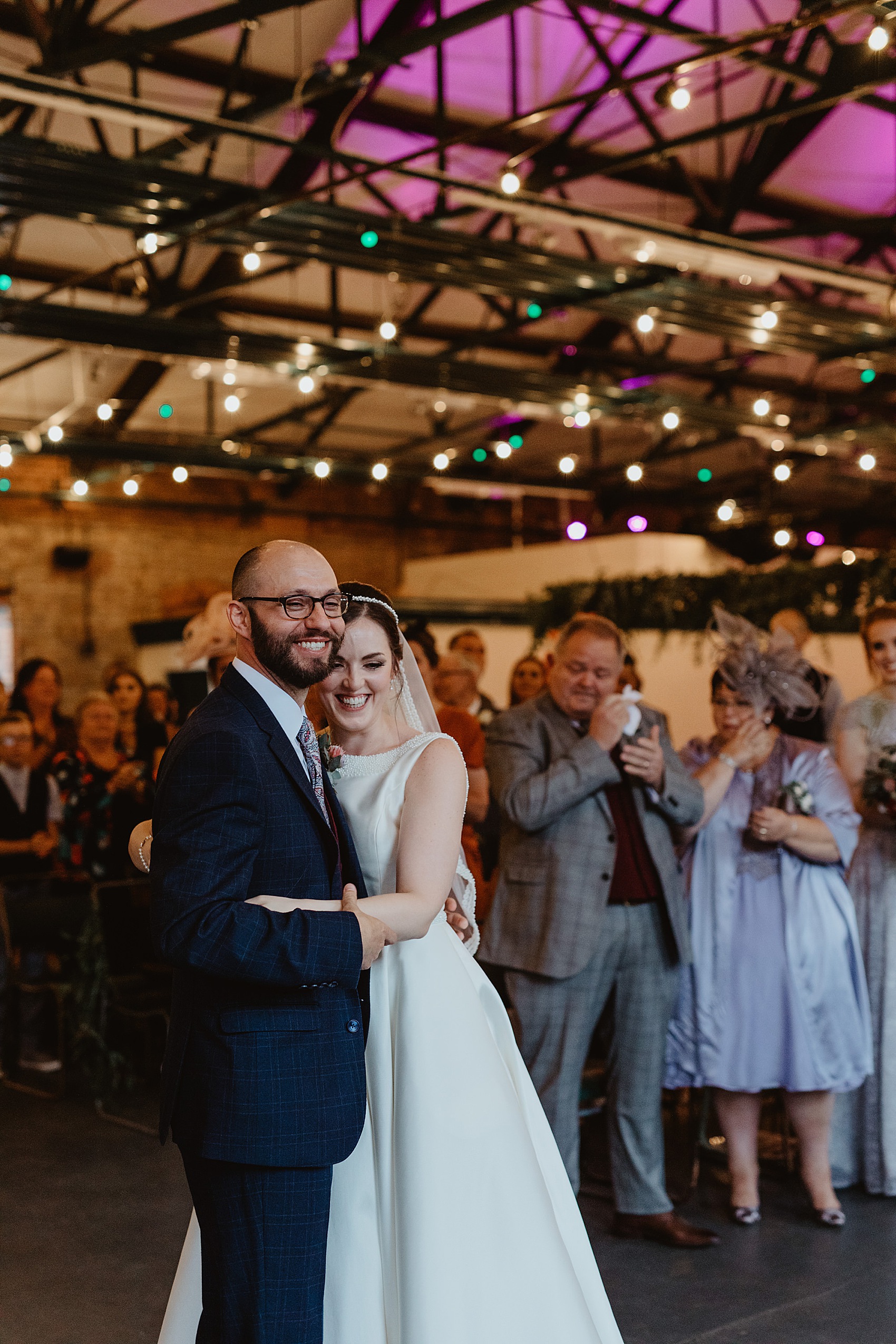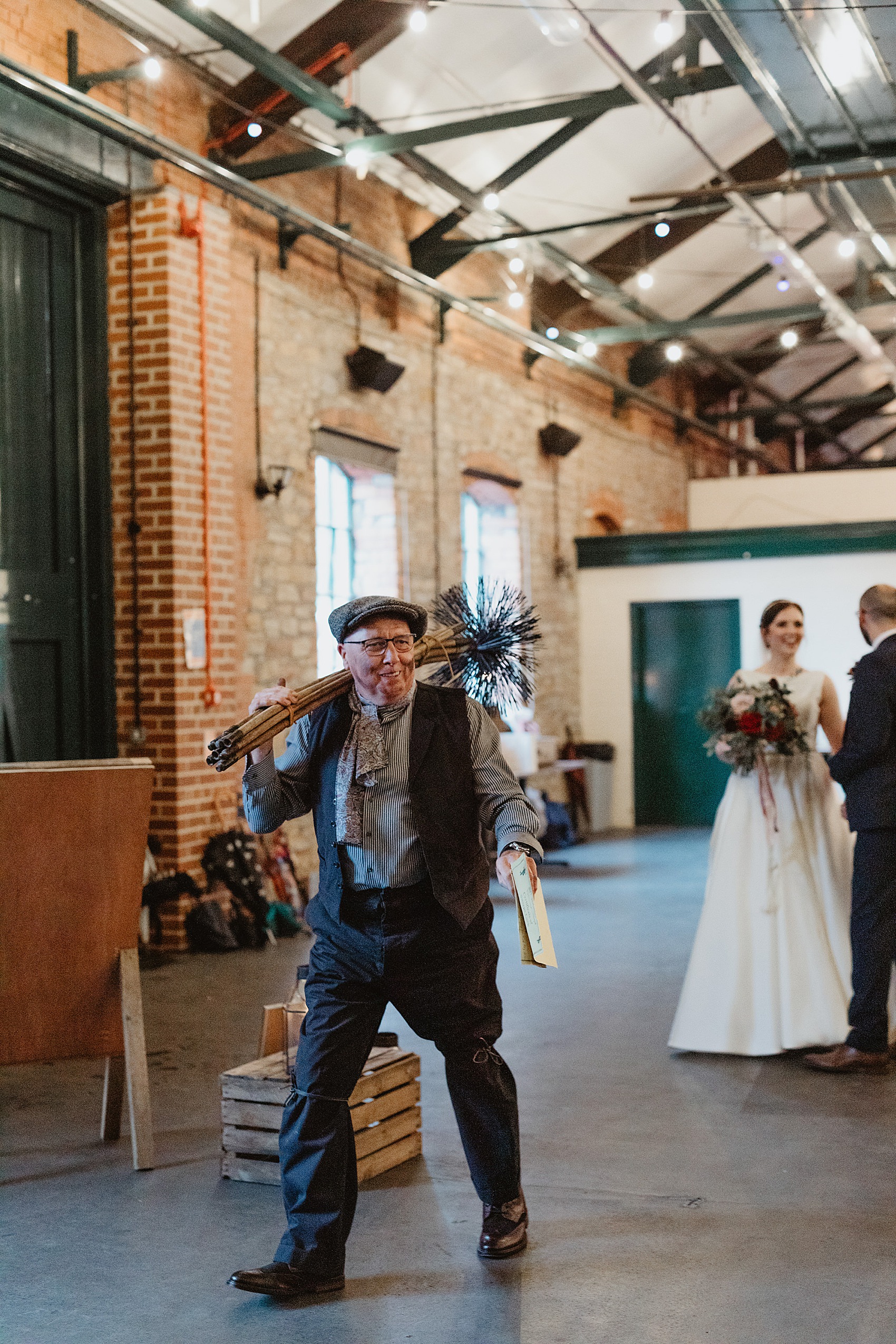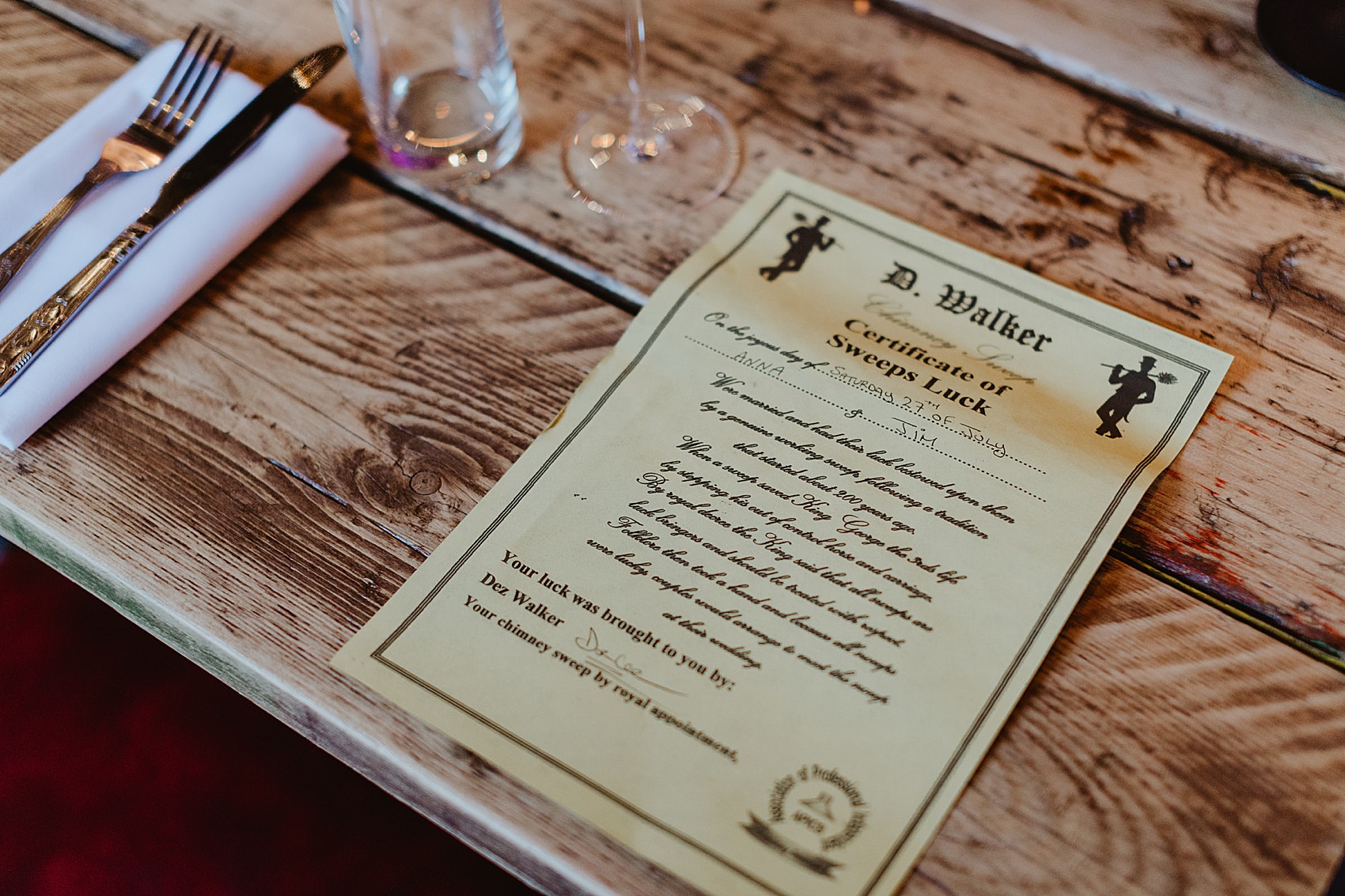 The modern silhouette of Anna's gown was reflected by the dresses worn by her bridesmaids and maid of honour; ethereal creations of soft lilac.
"My bridesmaids' dresses were designed by Susie at Susanna Greening Designs. She was an absolute dream to be around. I miss her. The girls chose their own shoes and accessories. I wanted to them to look like them."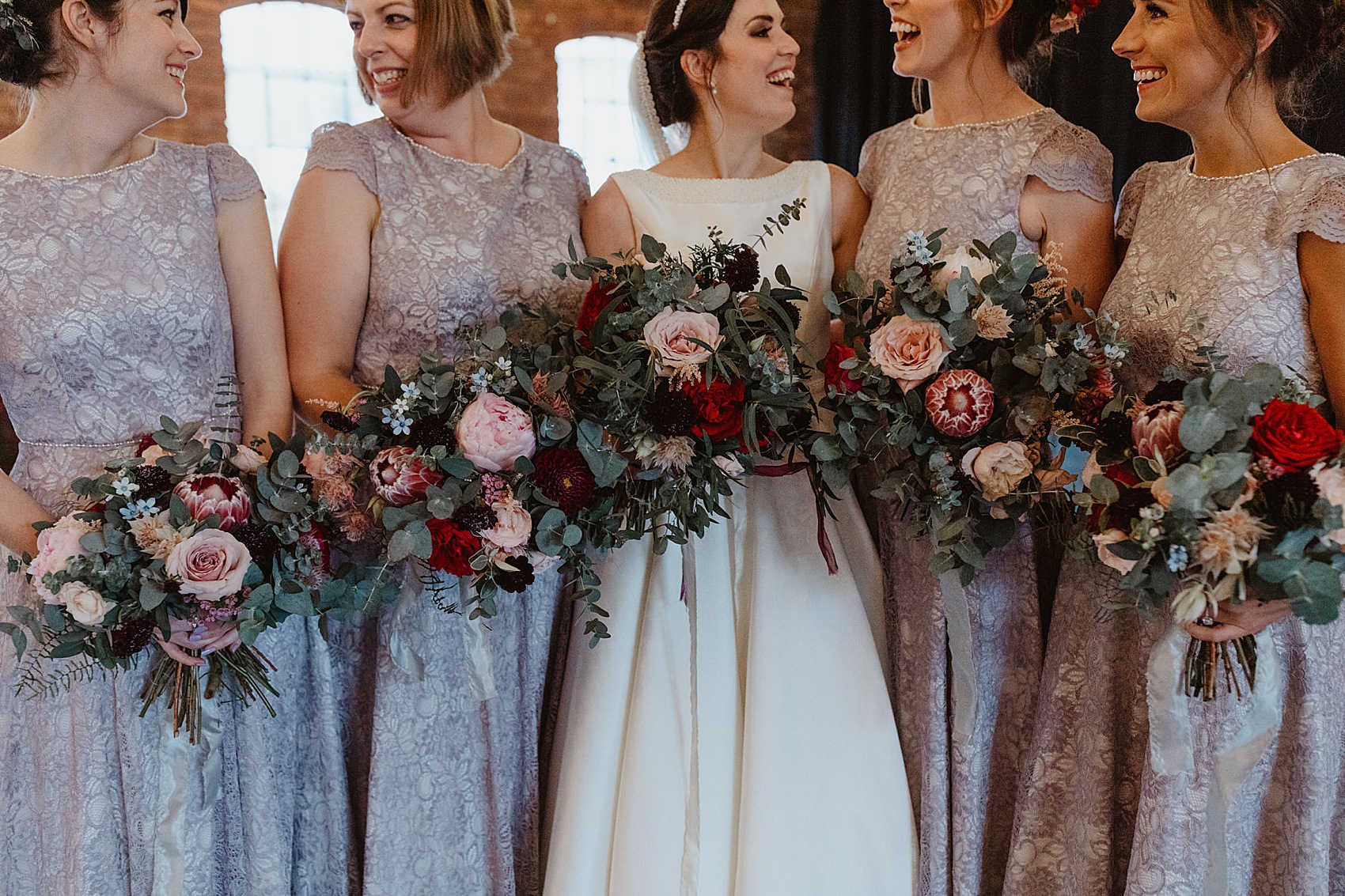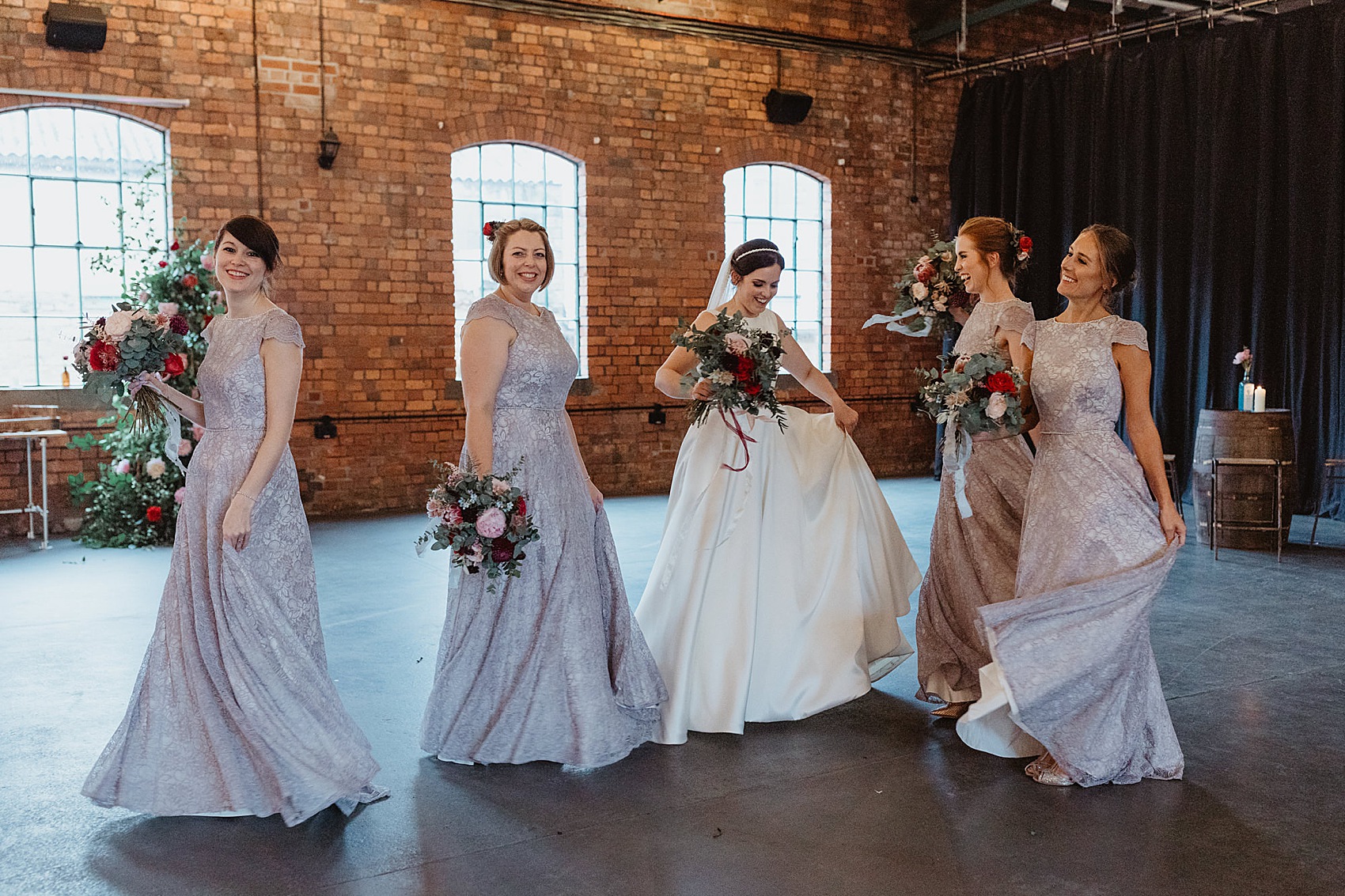 After being pronounced husband and wife, Anna and Jim led the way out into the rainy July day, and totally owned their moment, grabbing brightly-coloured umbrellas to shelter them on the walk over to the historical steam railway.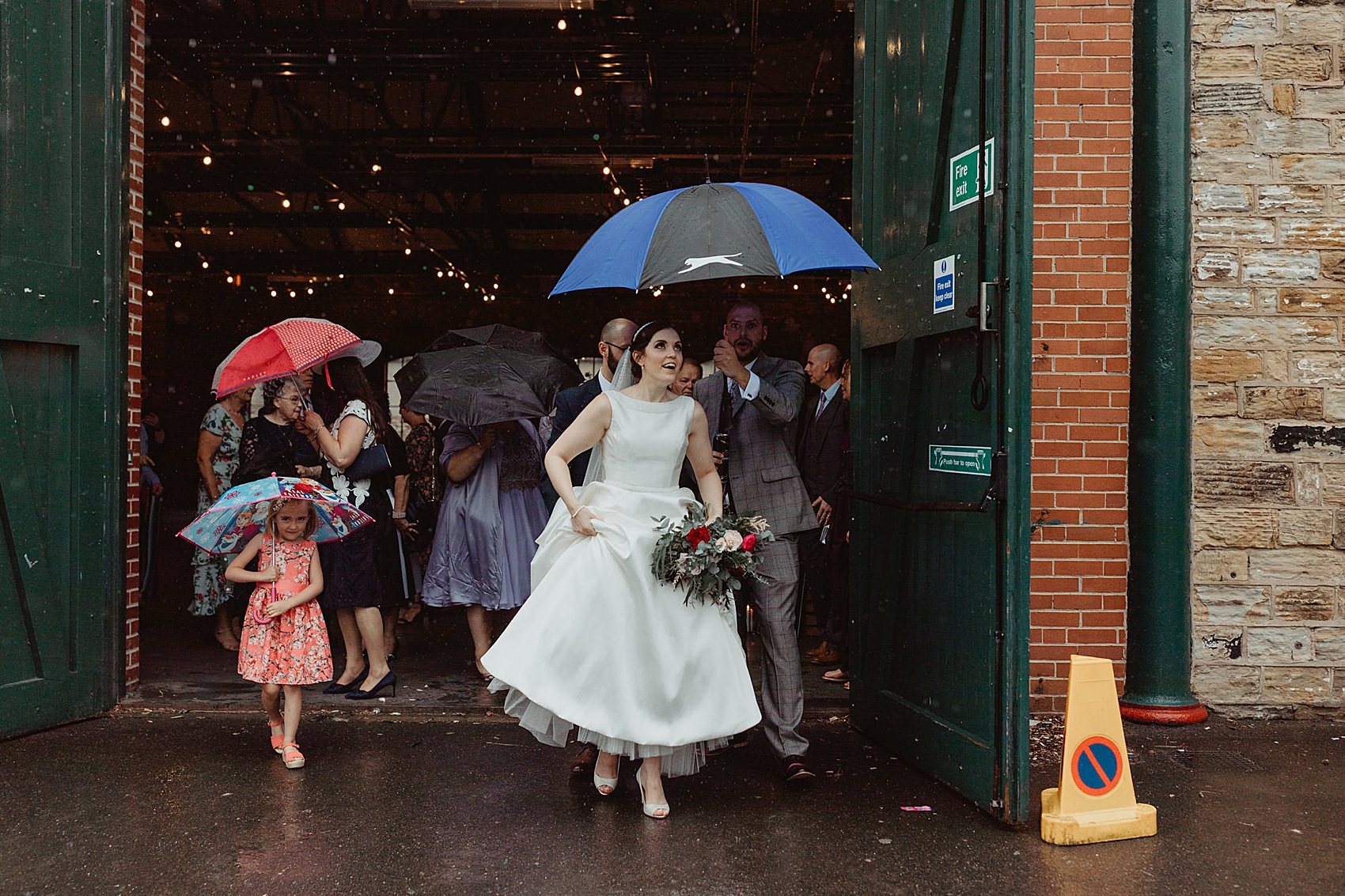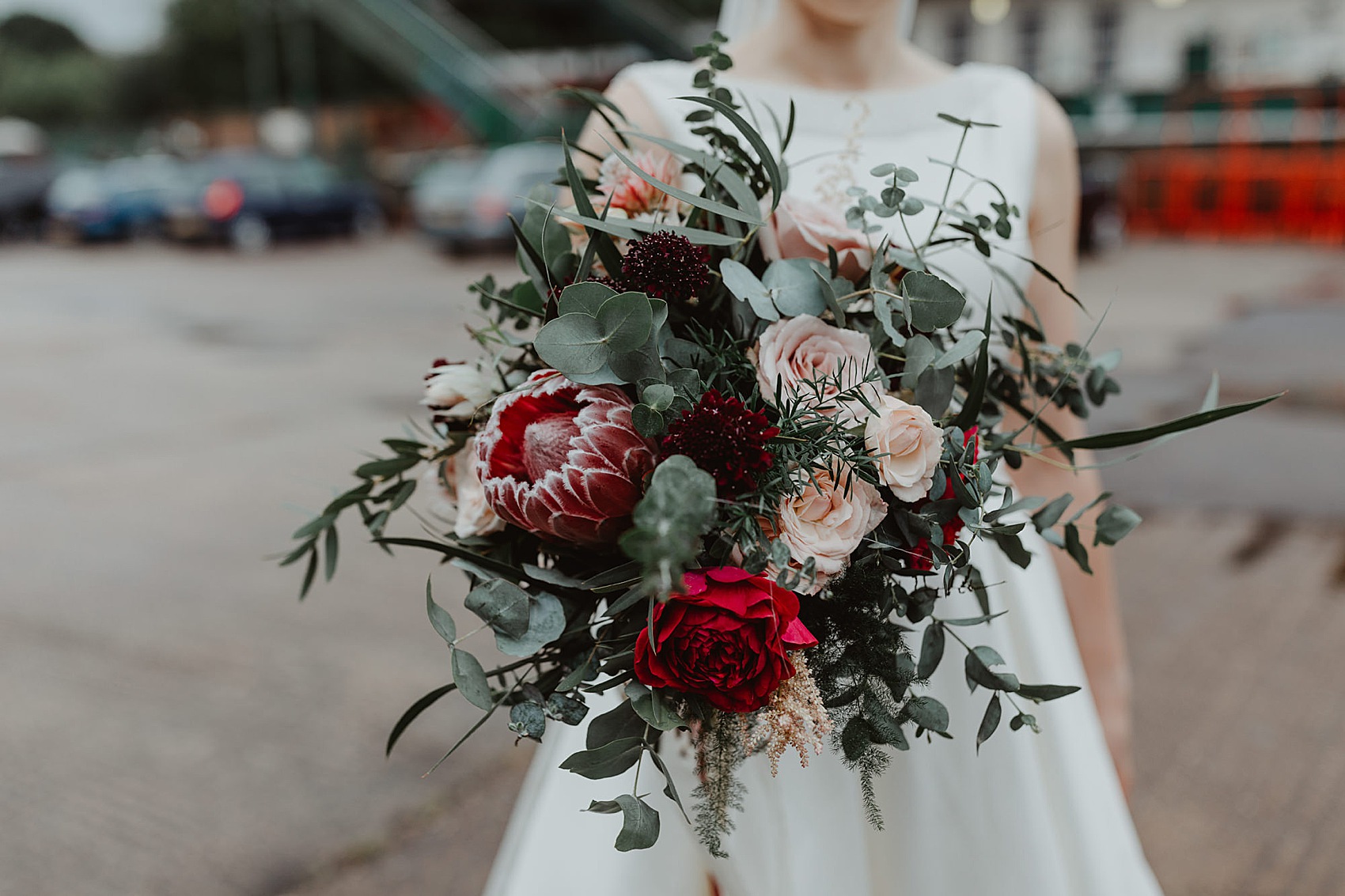 Despite the rain, it really does look like they had so, so much fun, every moment of which was captured for them by Stevie Jay Photography in her signature relaxed, documentary style.
"What a gem. She captured every moment of our day in such a real, beautiful way."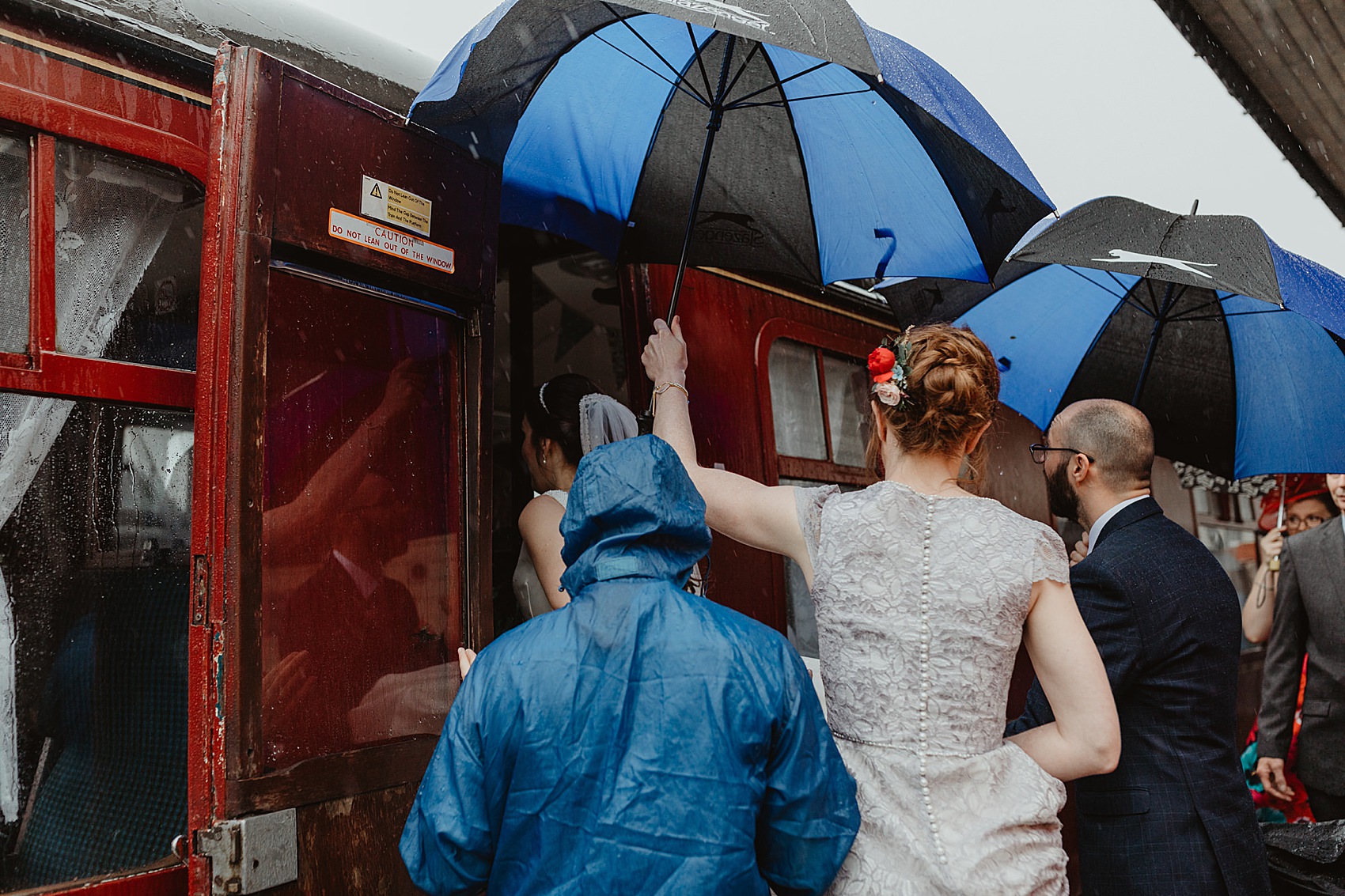 "Elsecar Heritage Centre means so much to us as individuals and also as a couple. Elsecar the village was transformed by the Earls of Fitzwilliam into a centre for ironworks and coal. Both our families have roots in the mining industry so Elsecar has always been part of our lives. We wanted a good old Yorkshire knees-up and we felt that The Ironworks building at the centre was just perfect. It is so beautiful; industrial, raw, imperfect and full of history. Just magical."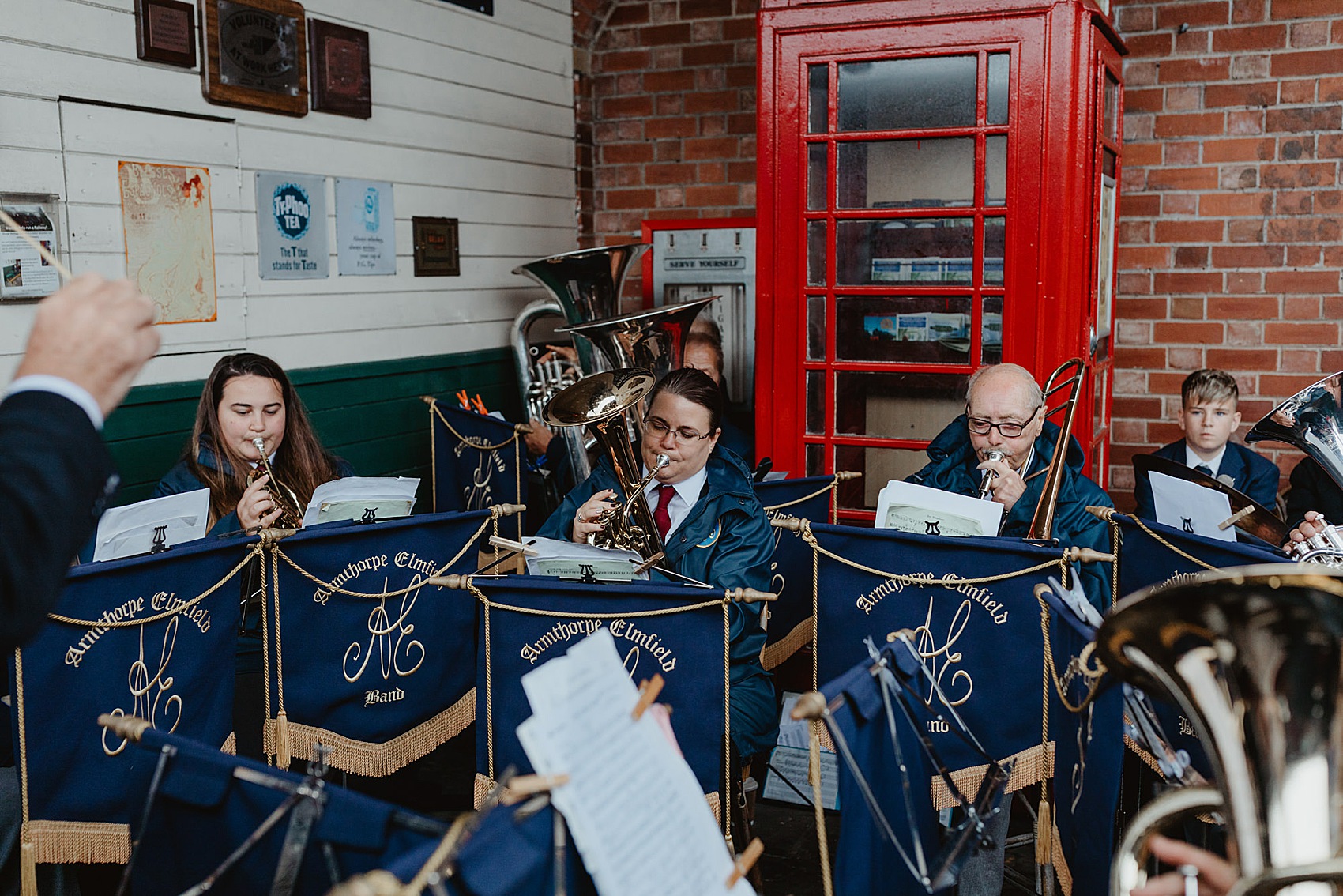 "Armthorpe Brass Band played for us as we boarded the train."
After a super-chilled drinks reception on the train, the newly-weds made their way back in to The Ironworks, where they were showered with an indoor deluge of multi-coloured confetti before sitting down to dinner from Blue Pepper Catering.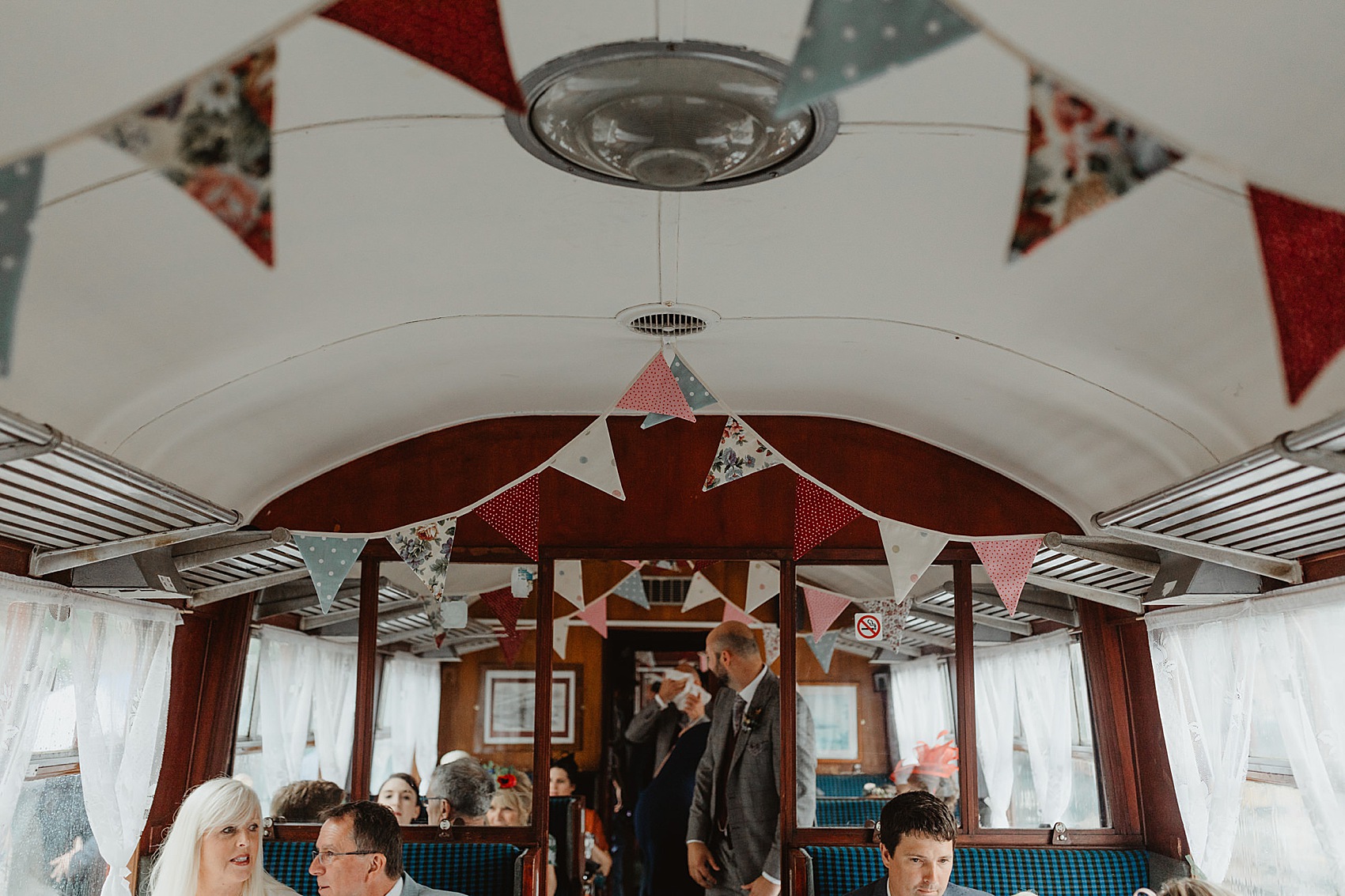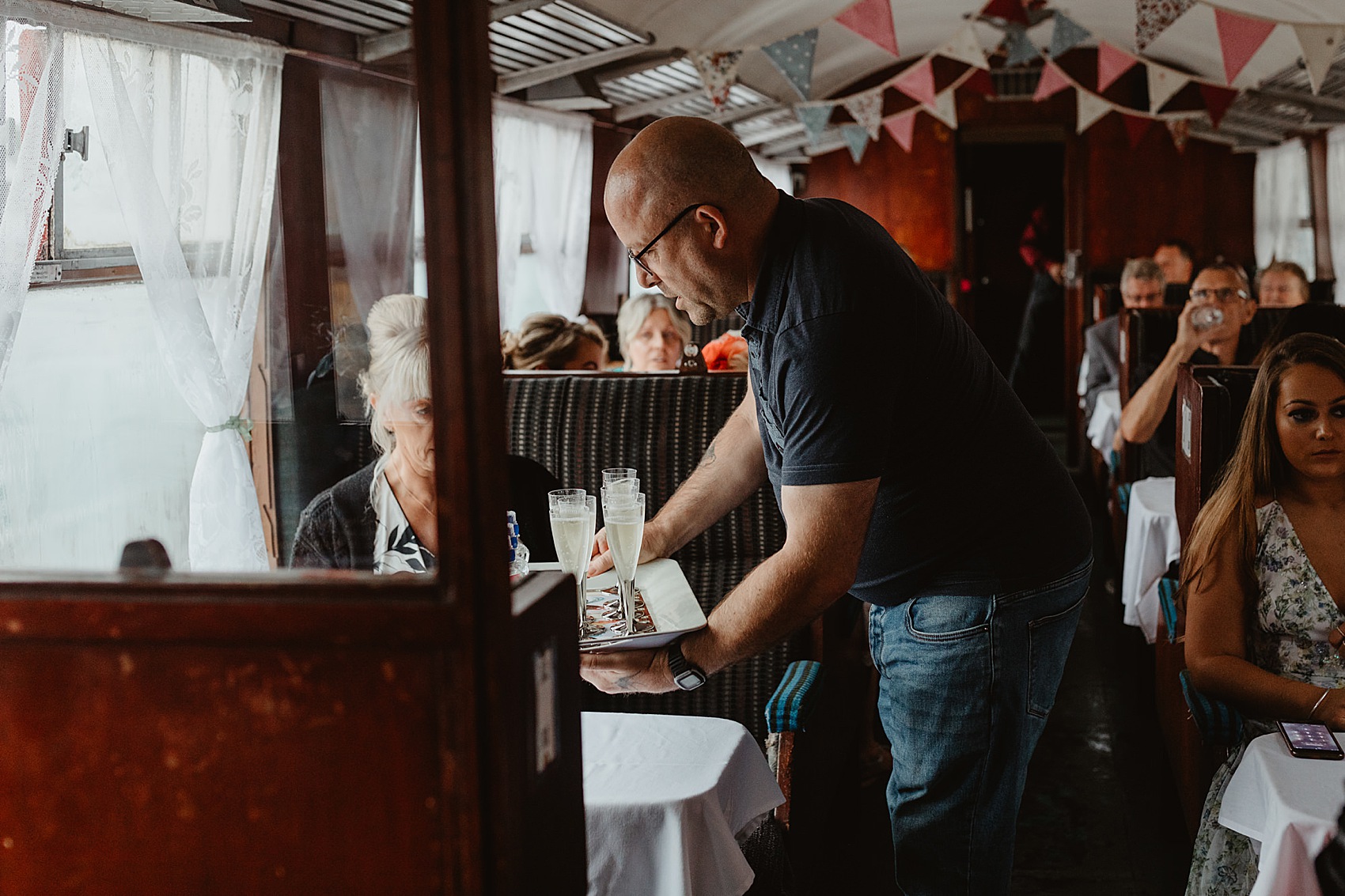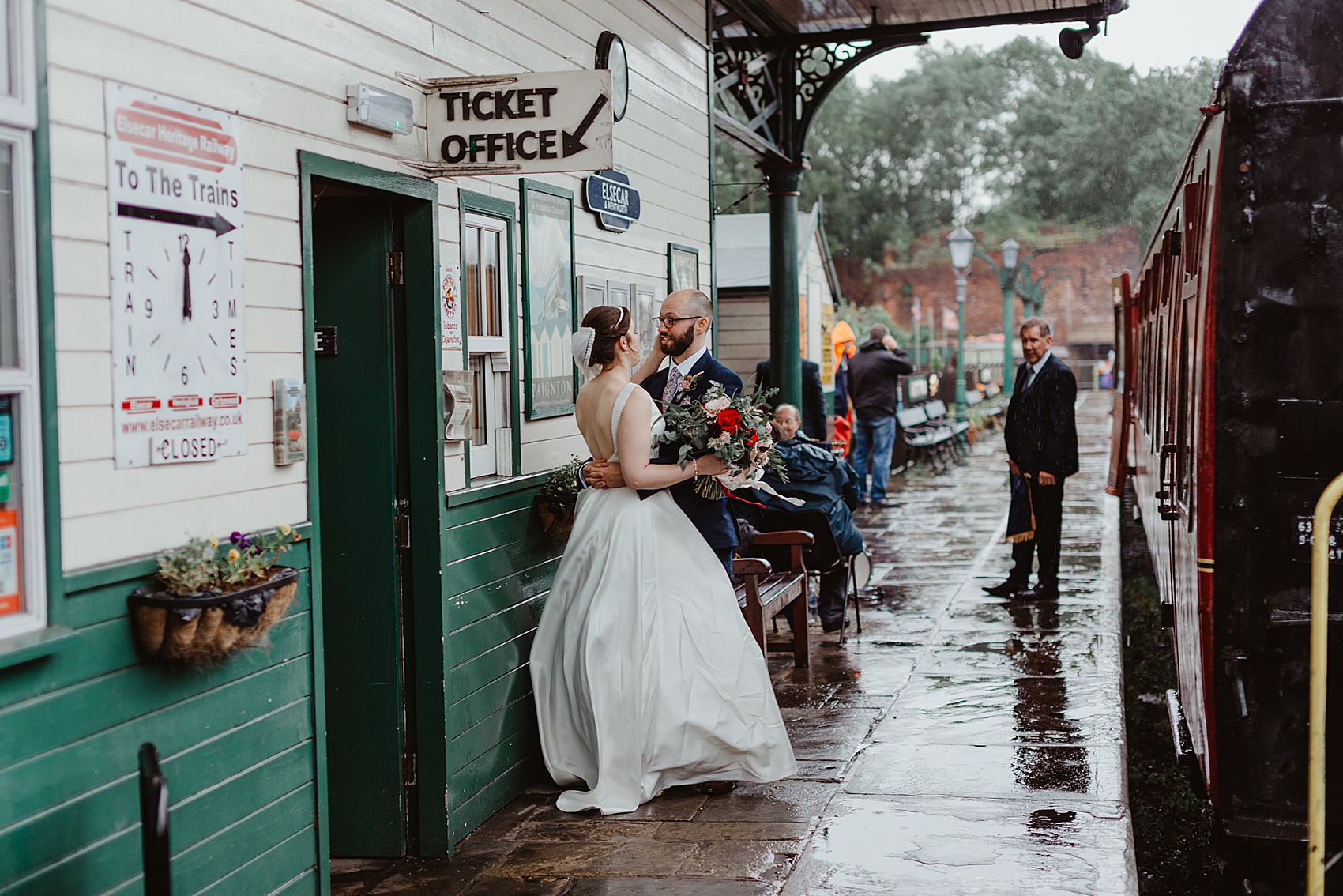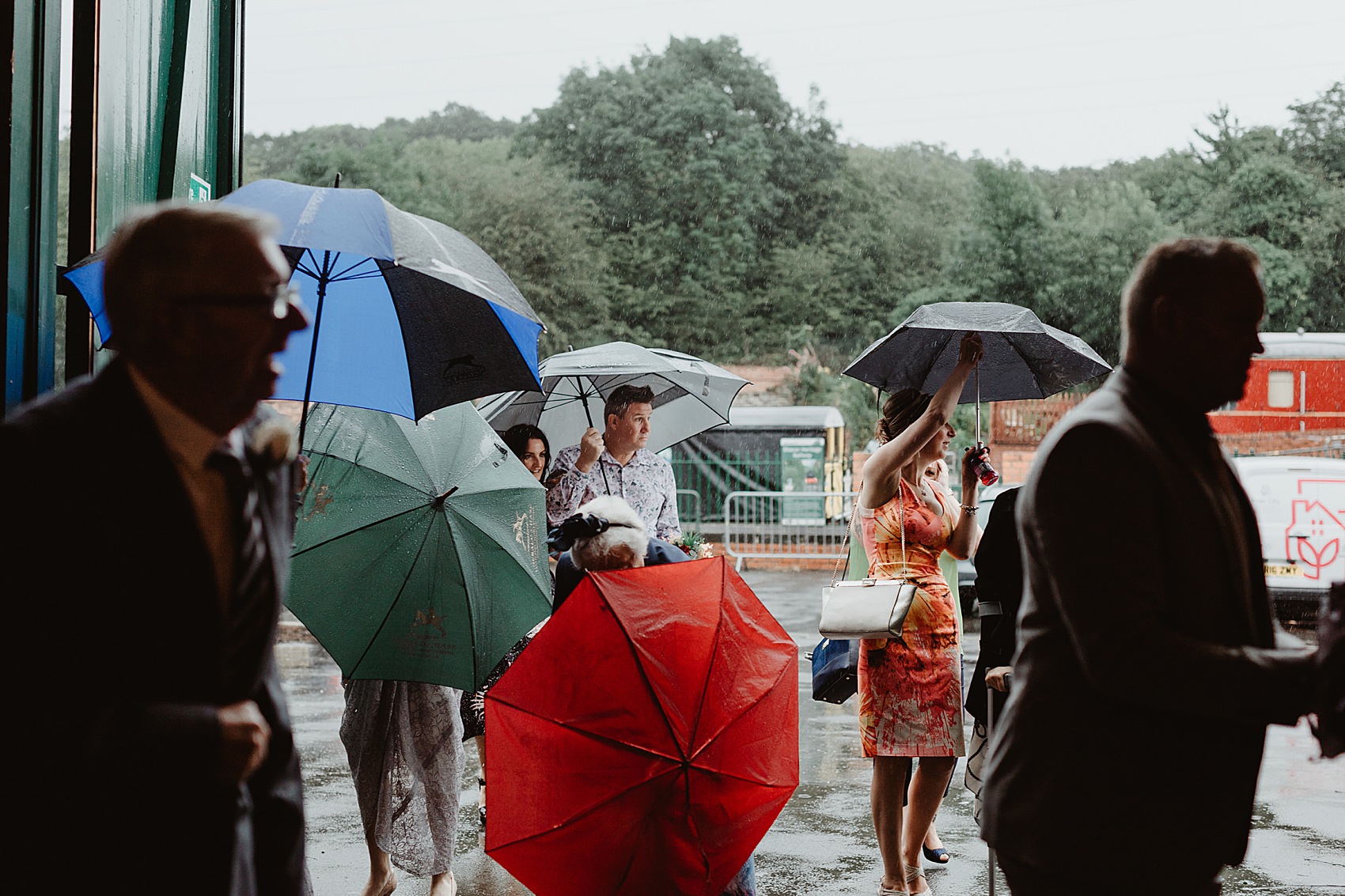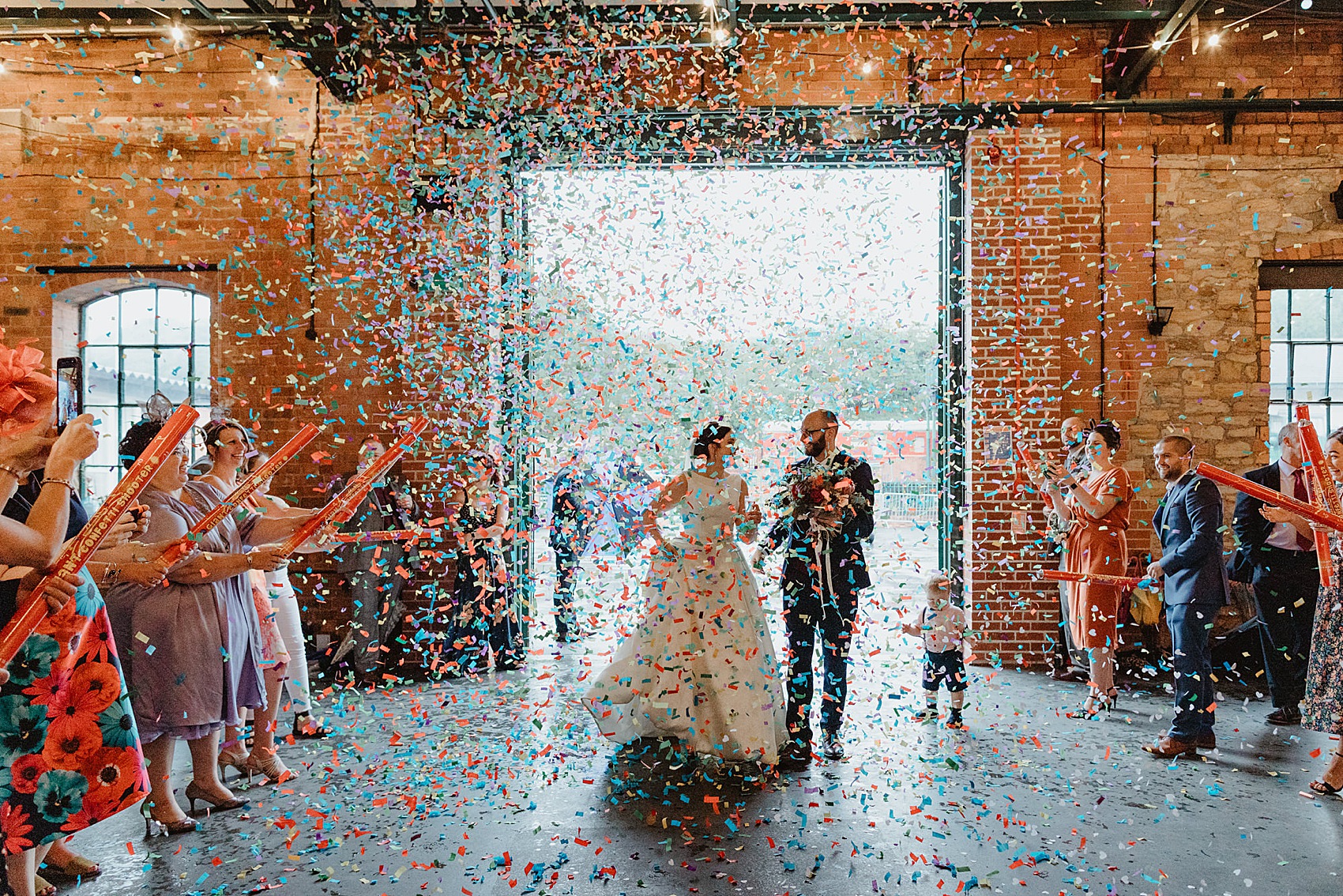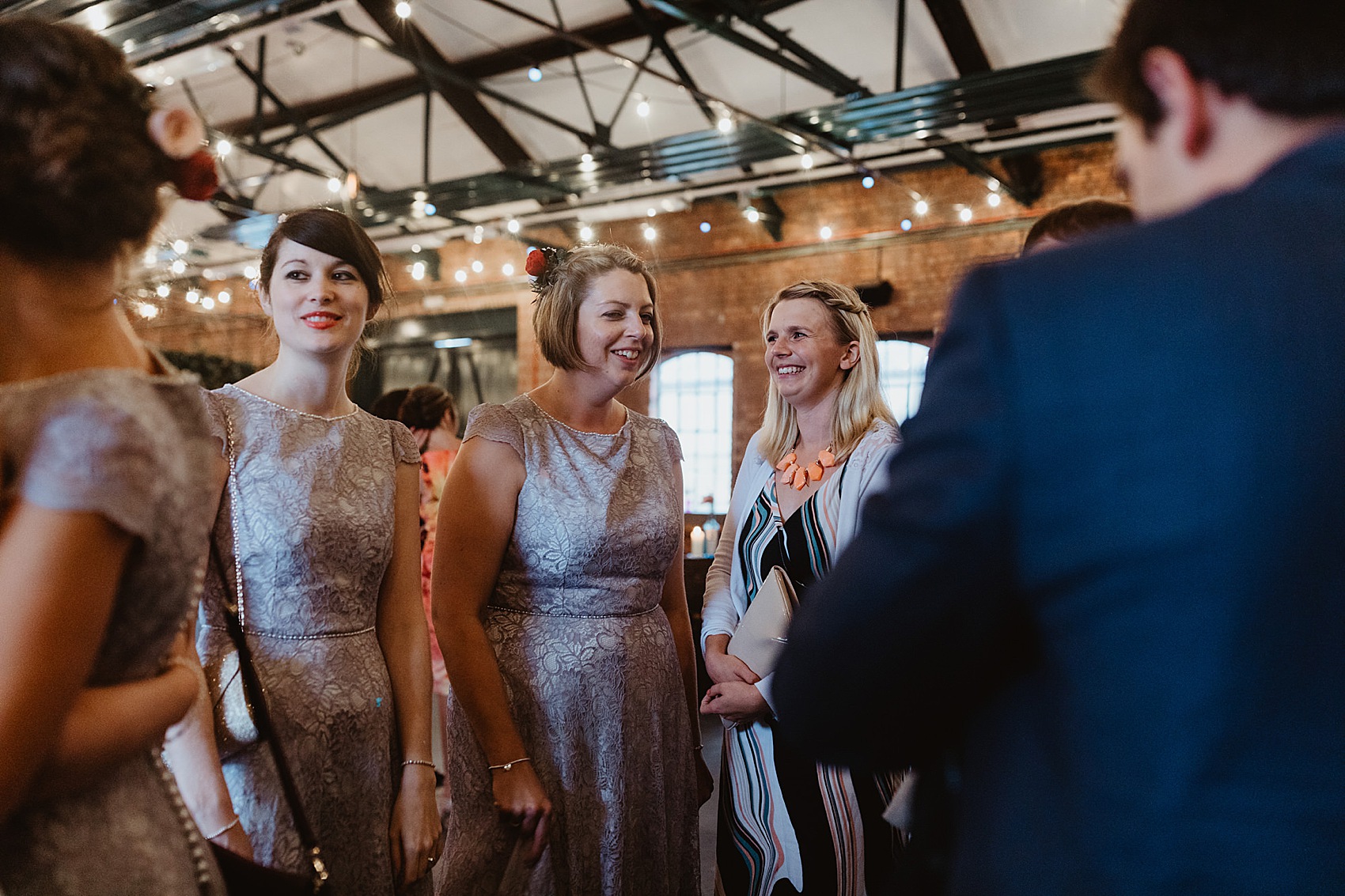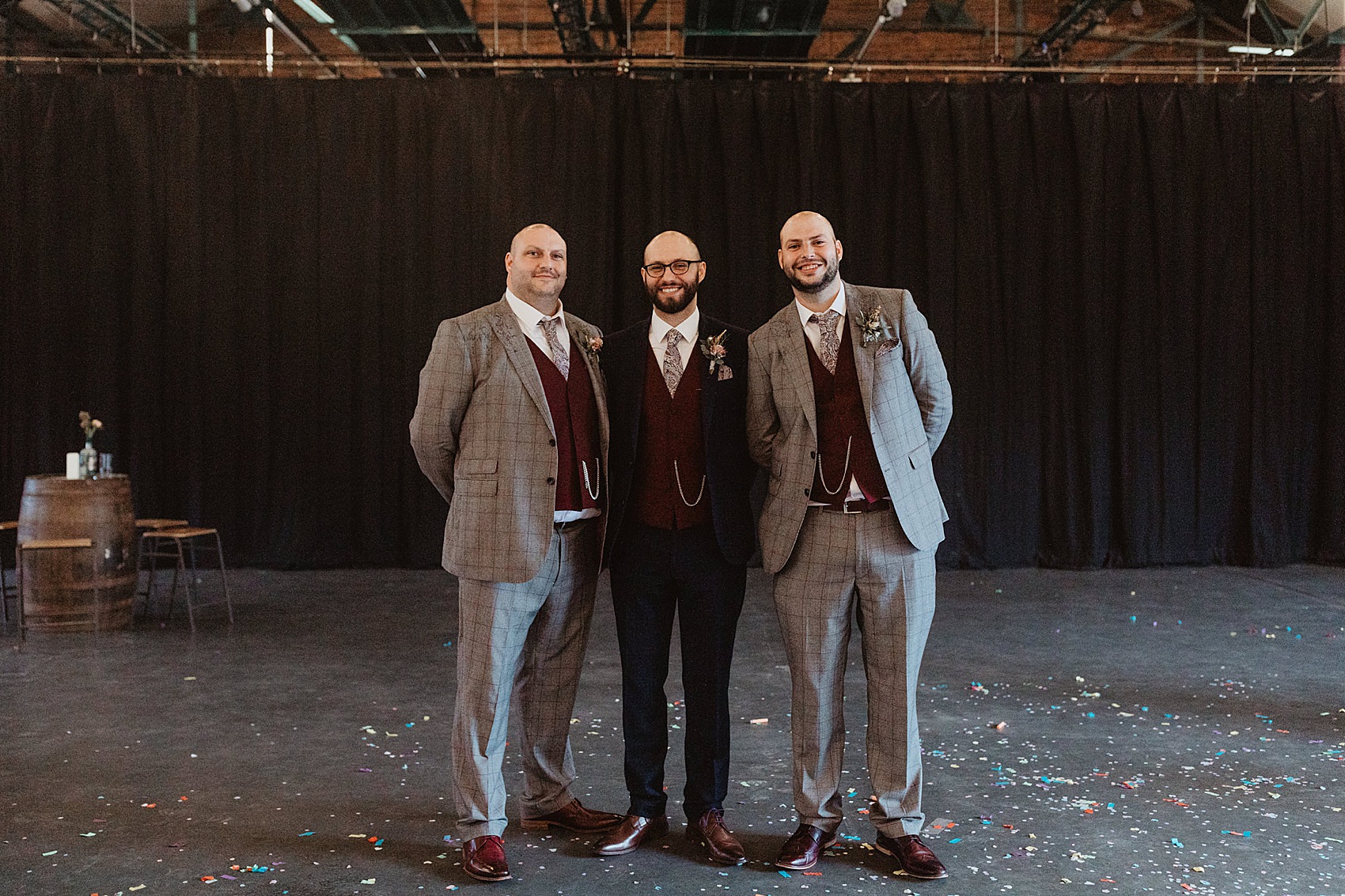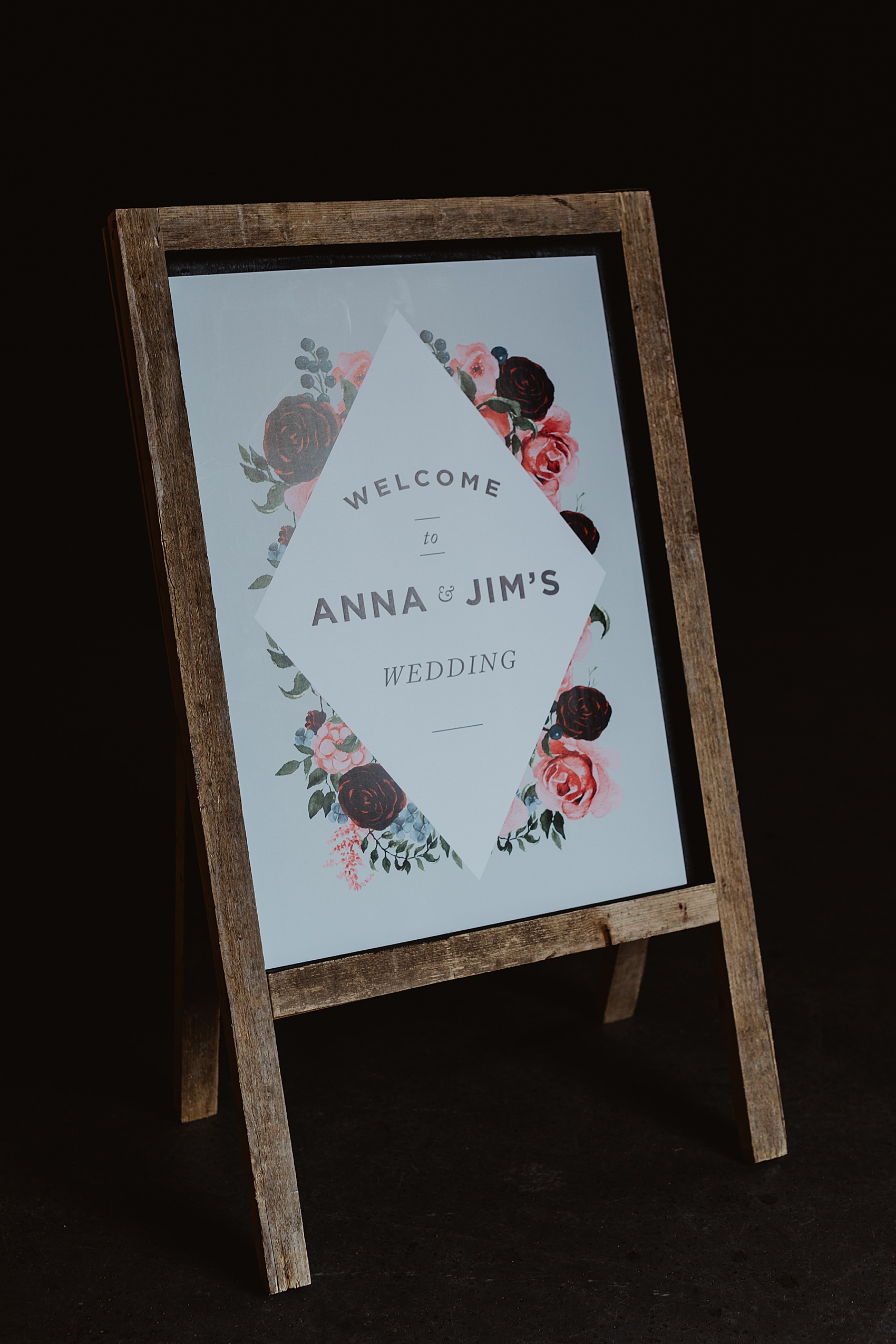 Working with event planner Ellie of Inner City Weddings & Events, Anna and Jim softened the hard lines of their venue with the addition of soft floral displays and twinkling lights.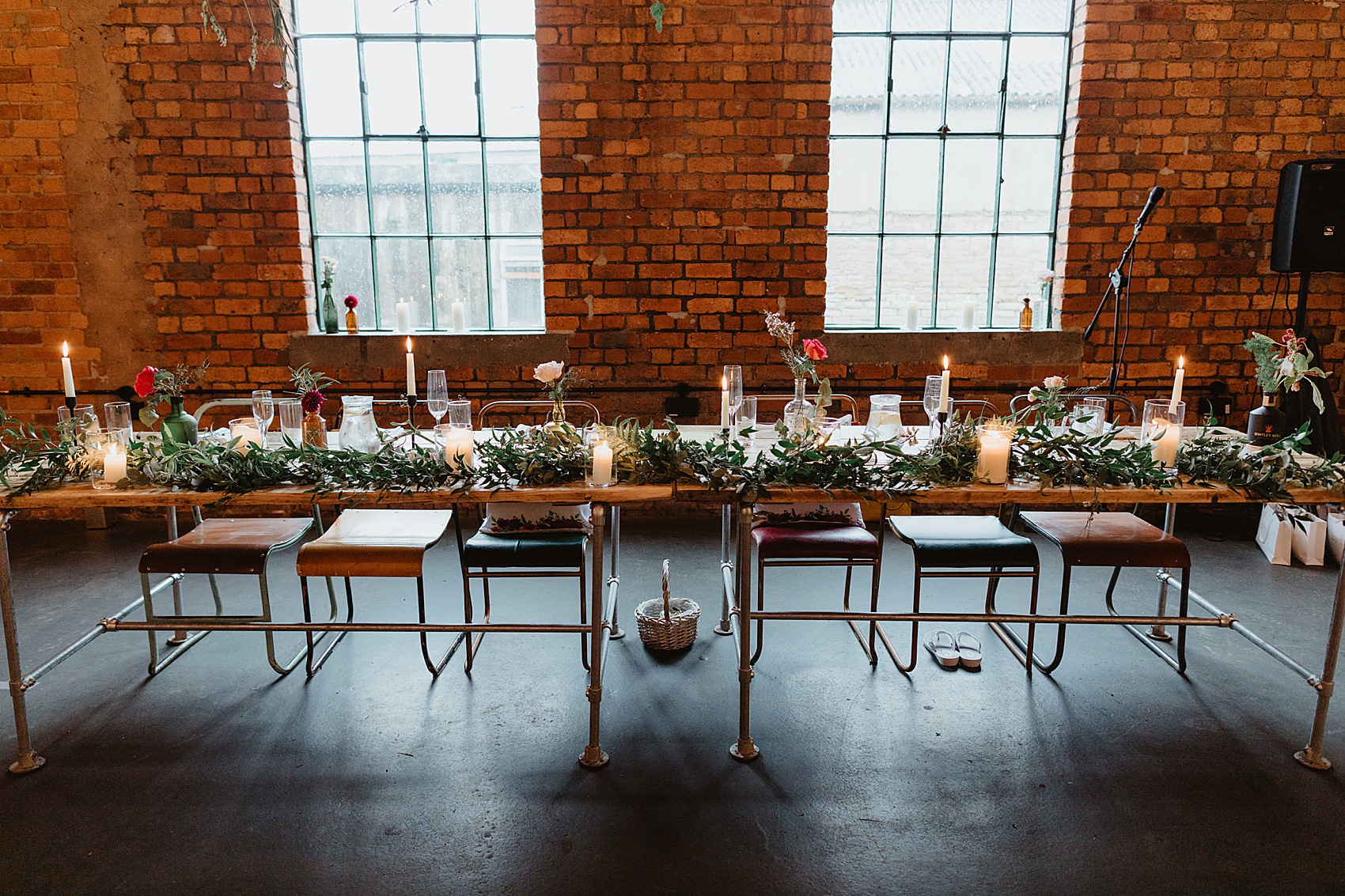 "I love the industrial look but my style has always been pretty and classic. We mashed the two. I didn't have a theme or a scheme, I just chose what I thought were beautiful things and thankfully, I think at least, that everything looked amazing together."
"Ellie was amazing too – she had so many no-fuss ideas. The only rule we had was no chair covers."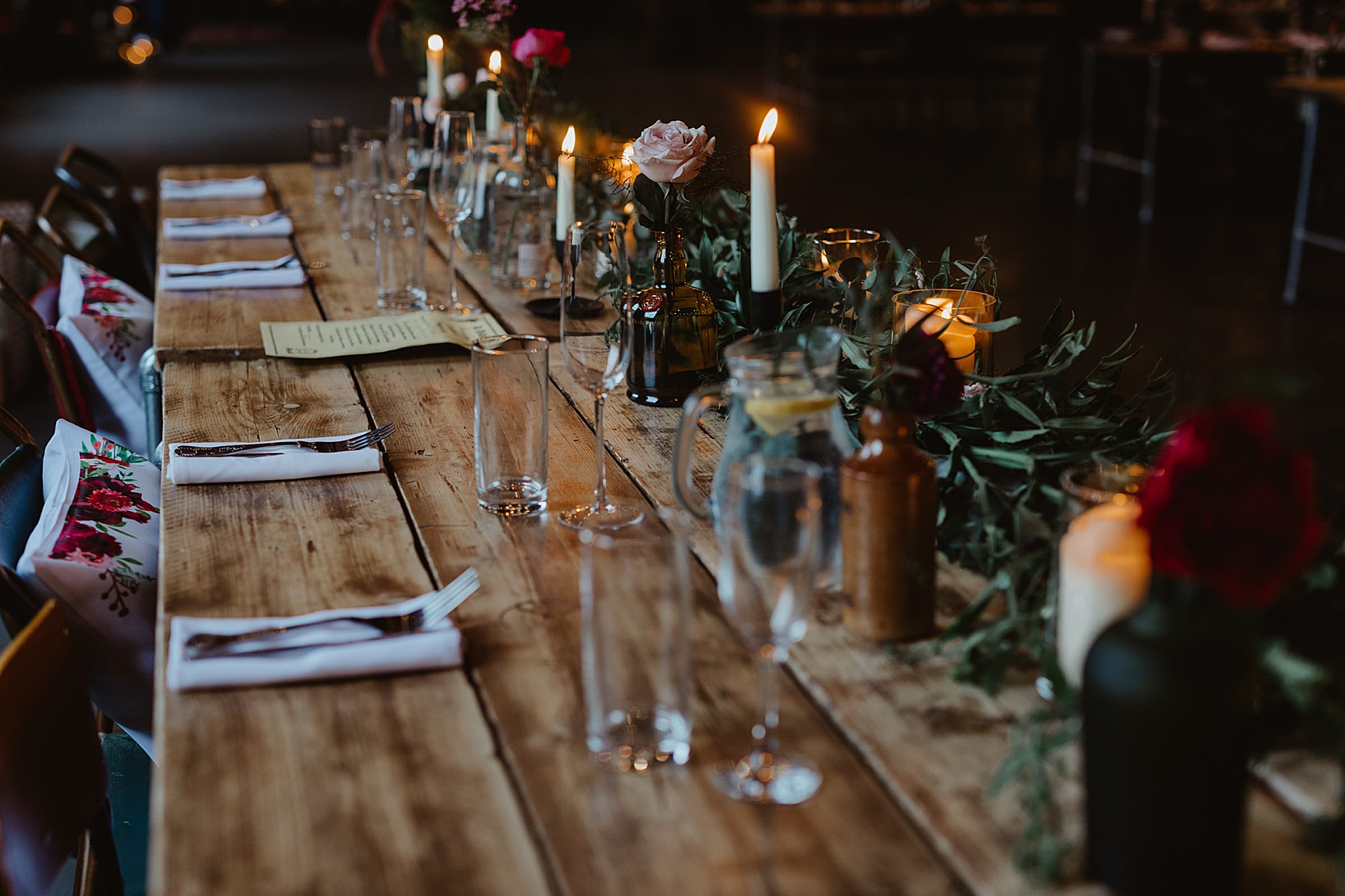 In preparation for the celebrations, event planner Ellie of Inner City Weddings dressed the room with hand-picked items. There was also lots of flowing, romantic greenery and romantic flowers to soften the industrial lines, created by Cath at Sweetpea & Thyme.
"I loved the way that Cath's florals were full of greenery. Our venue is notable for the green guttering, window panes and coach doors so I wanted lots of dark moody greens in the flowers. Cath had lots of experience dressing industrial venues so she was perfect for us."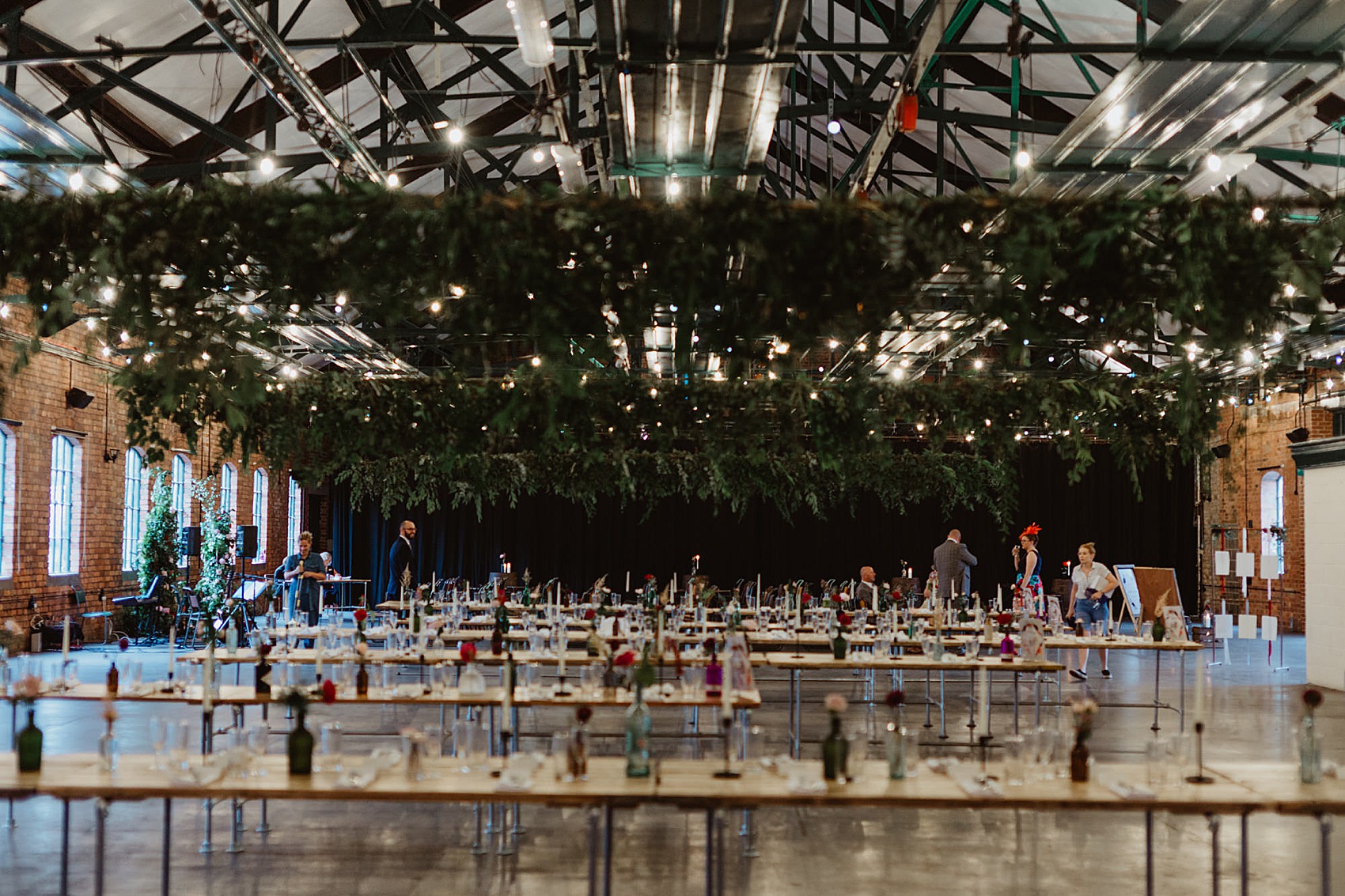 "Ellie came with a van load of stuff for styling our day, from the mismatched chairs to the undressed trestle tables."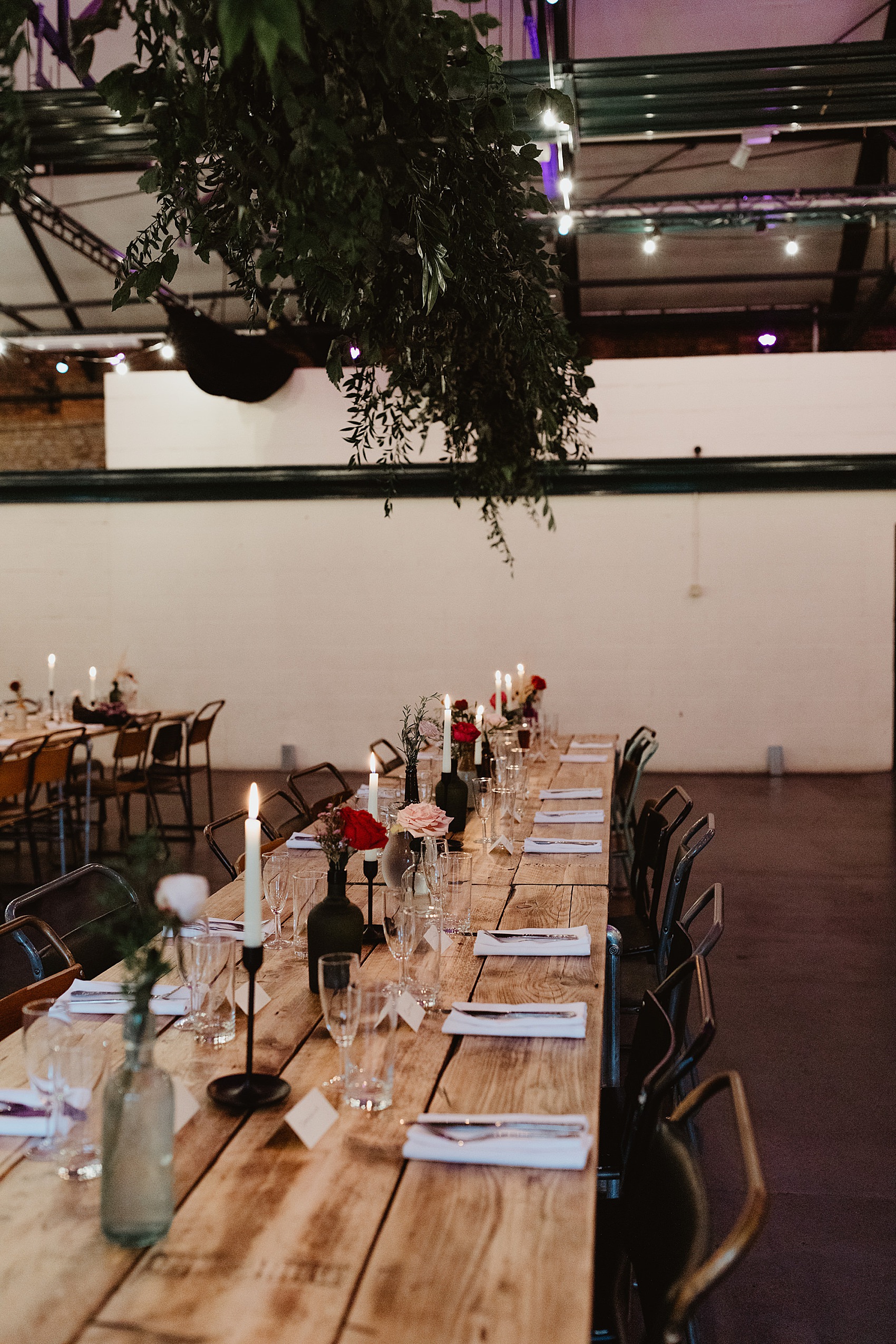 Matching their florals was the stationery suite which was designed by Hannah at Bonny & Clyde Wedding Boutique.
"She created our invites and on the day stationery. She designed what I had always imagined; dark florals and greenery – modern yet classic."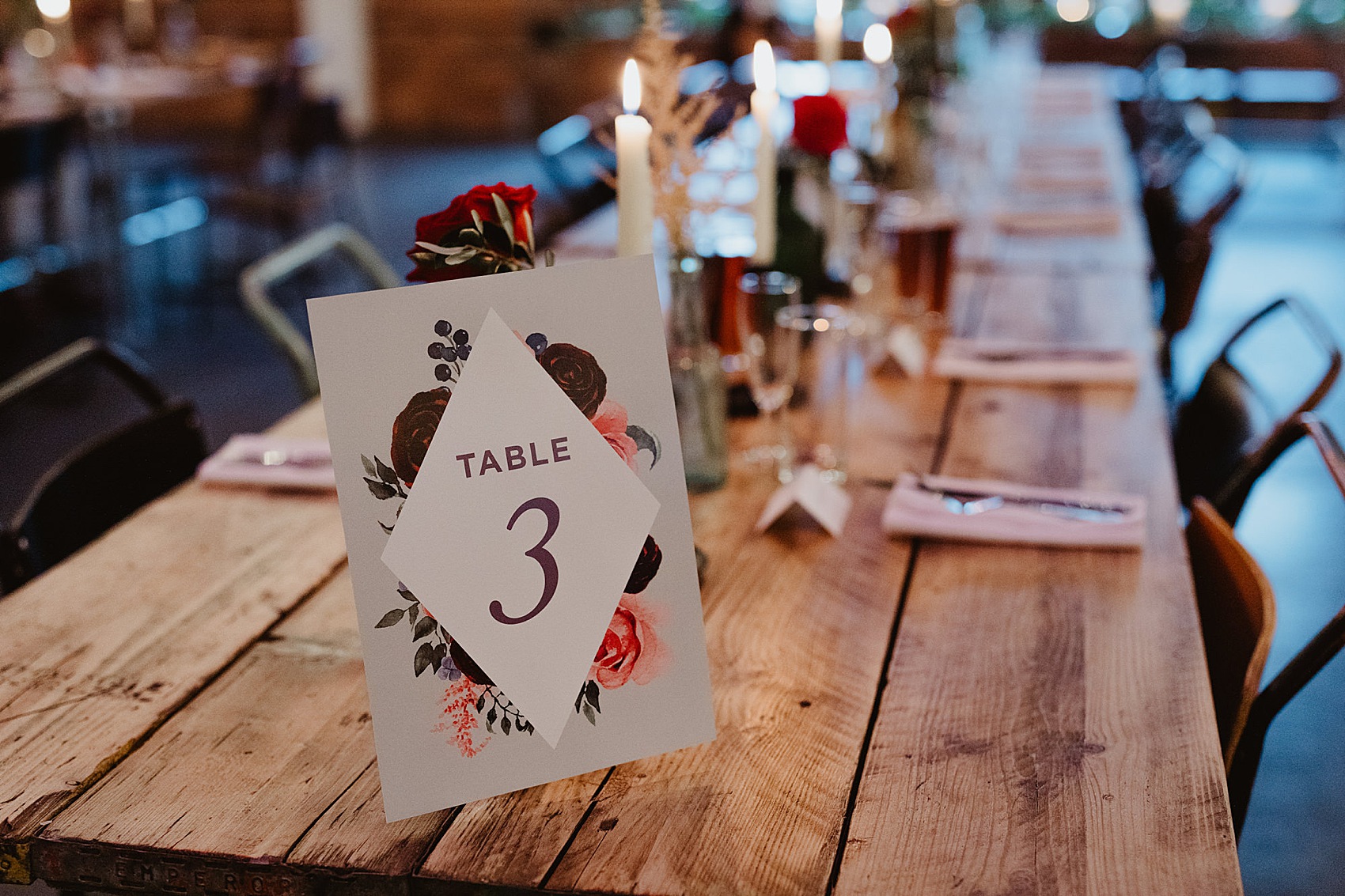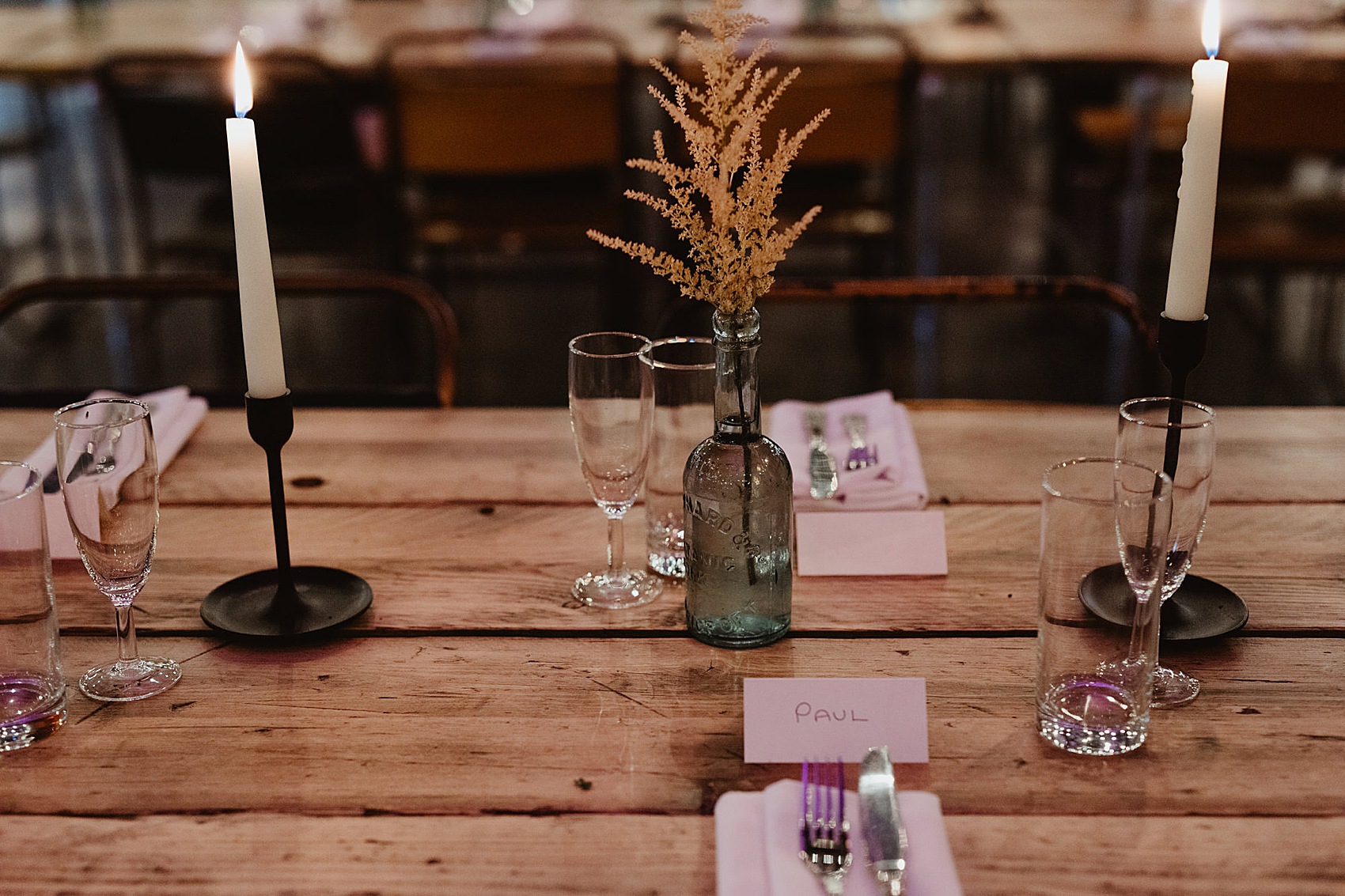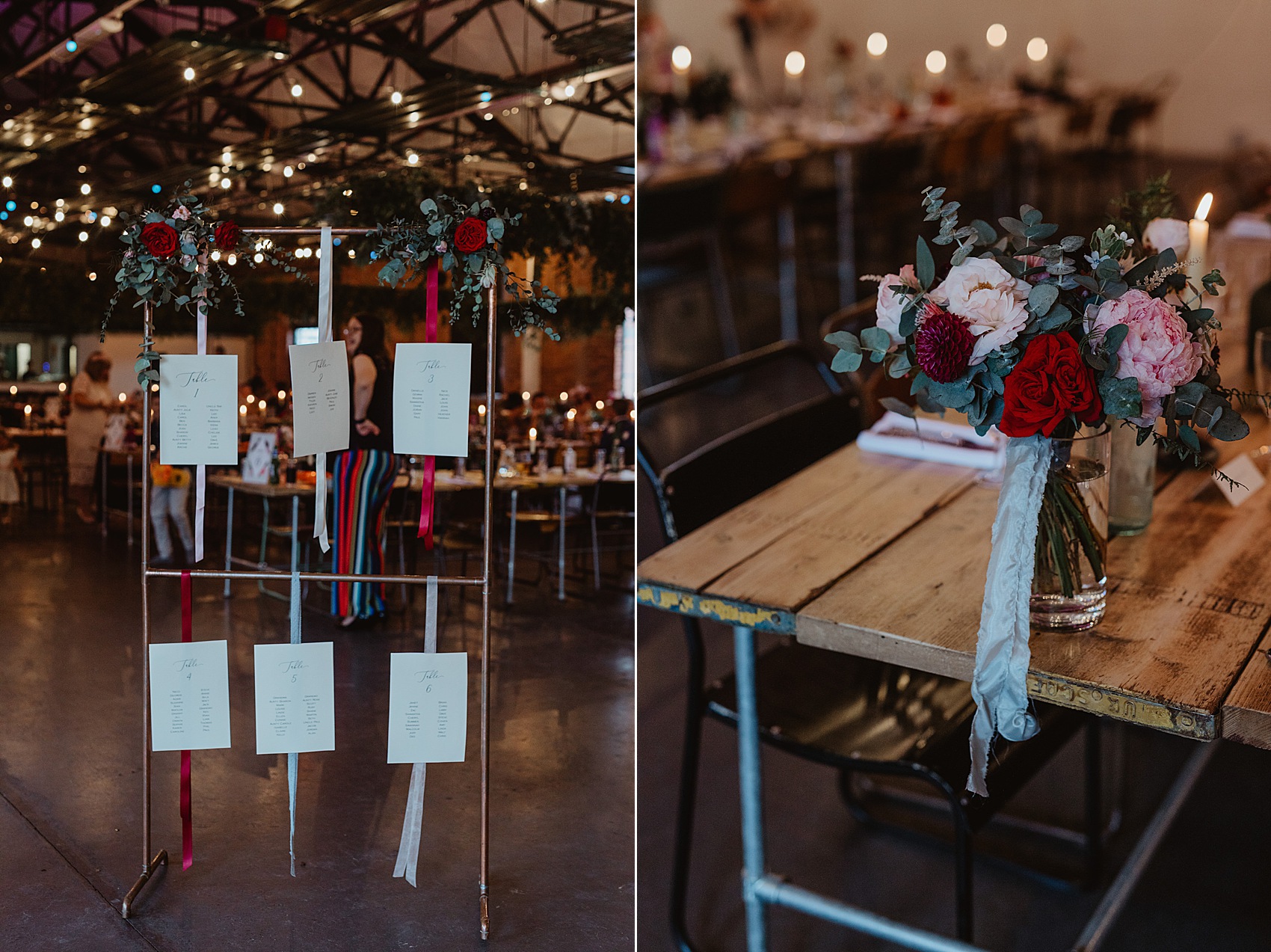 The cake was a magnificent, three-tier creation dressed with more fresh flowers, put together by Sara at The Bake Lab.
"We had a Victoria sponge layer, a red velvet layer and a carrot cake top layer. We wanted lots of dark red berries, figs and strawberries to be the main decorative element and we went for a buttercream frosting all over, dressed with Cath's greenery."
"It looked perfect. I don't like chocolate cake but lots of my family do, the nieces particularly, so I had a separate chocolate indulgence cake."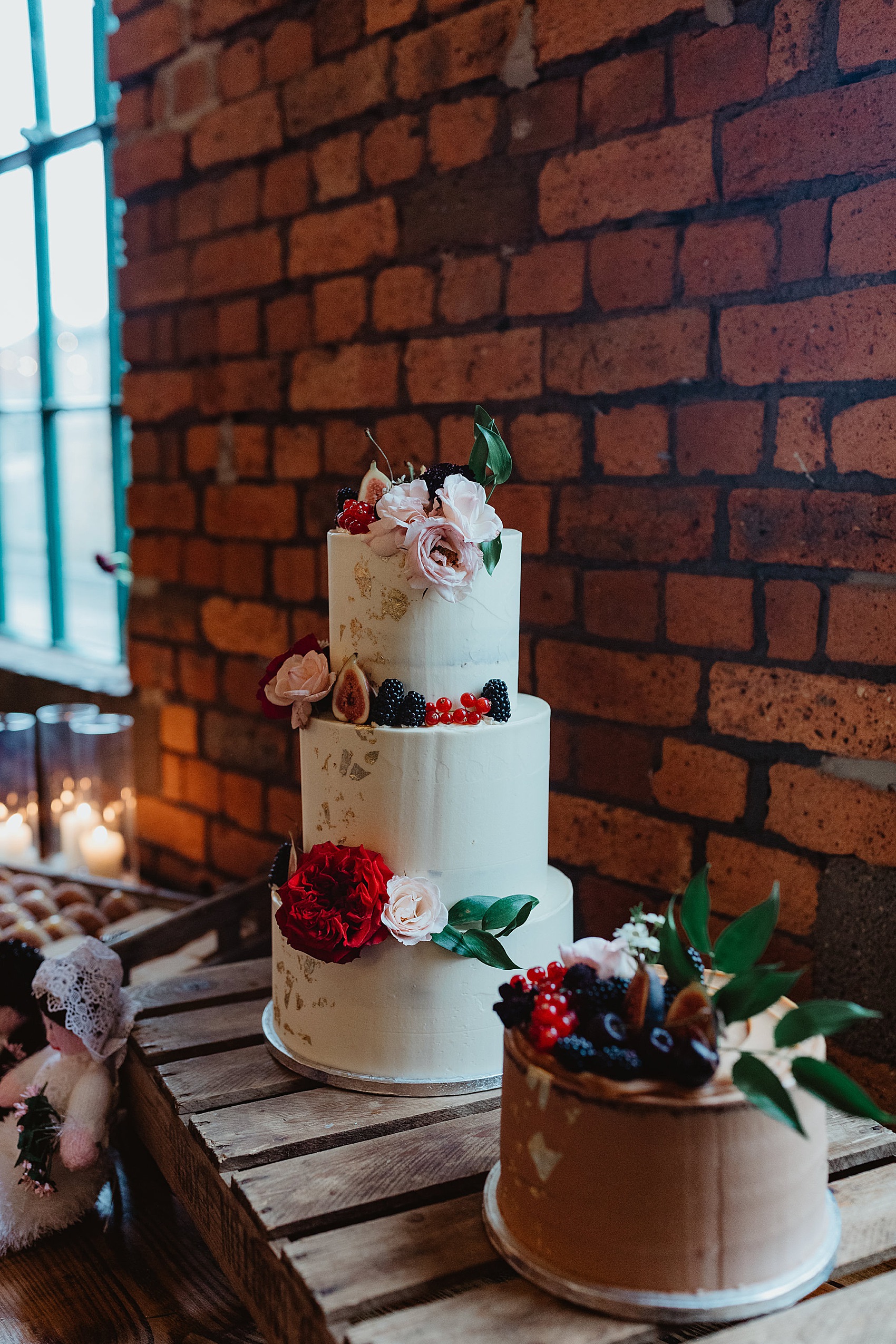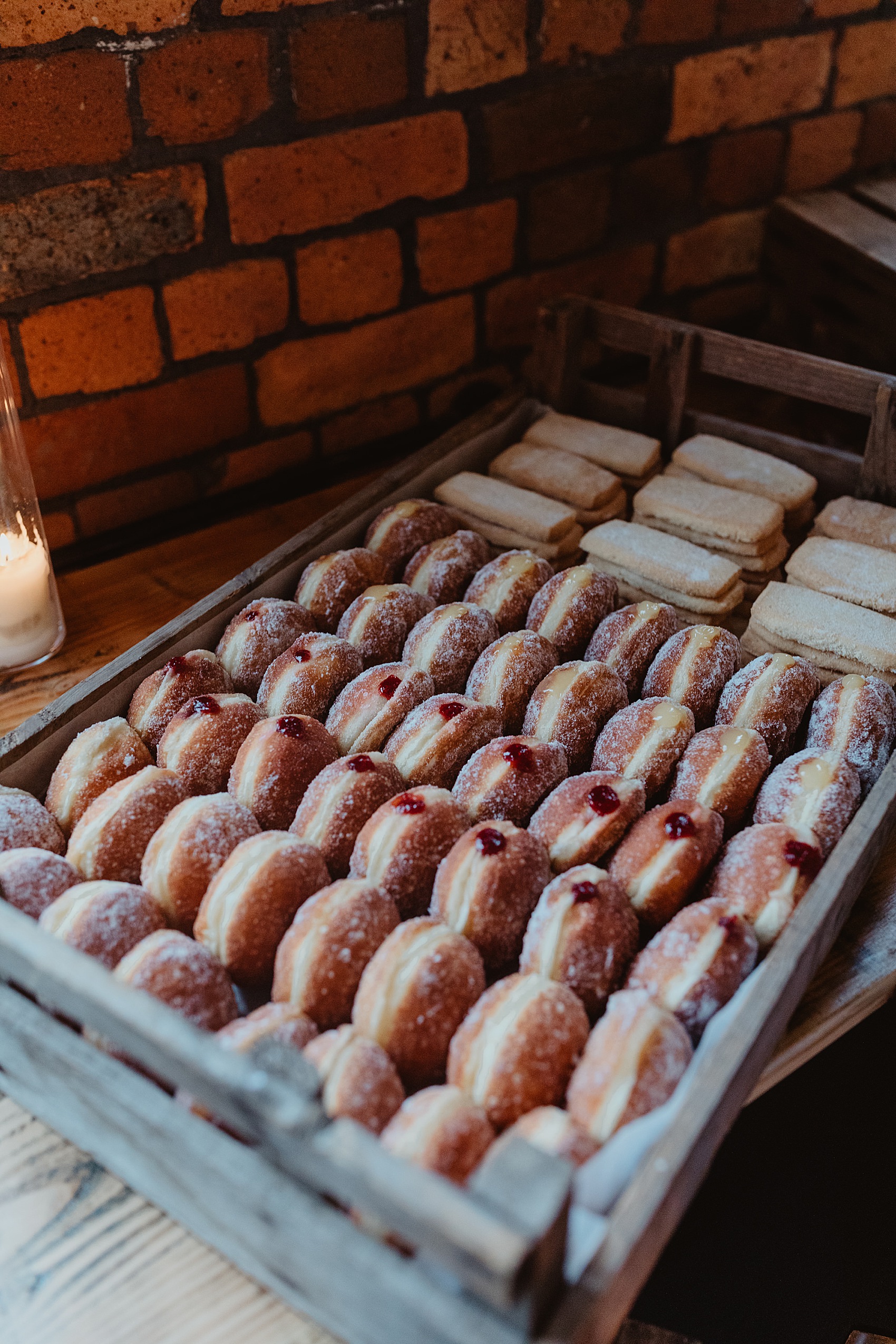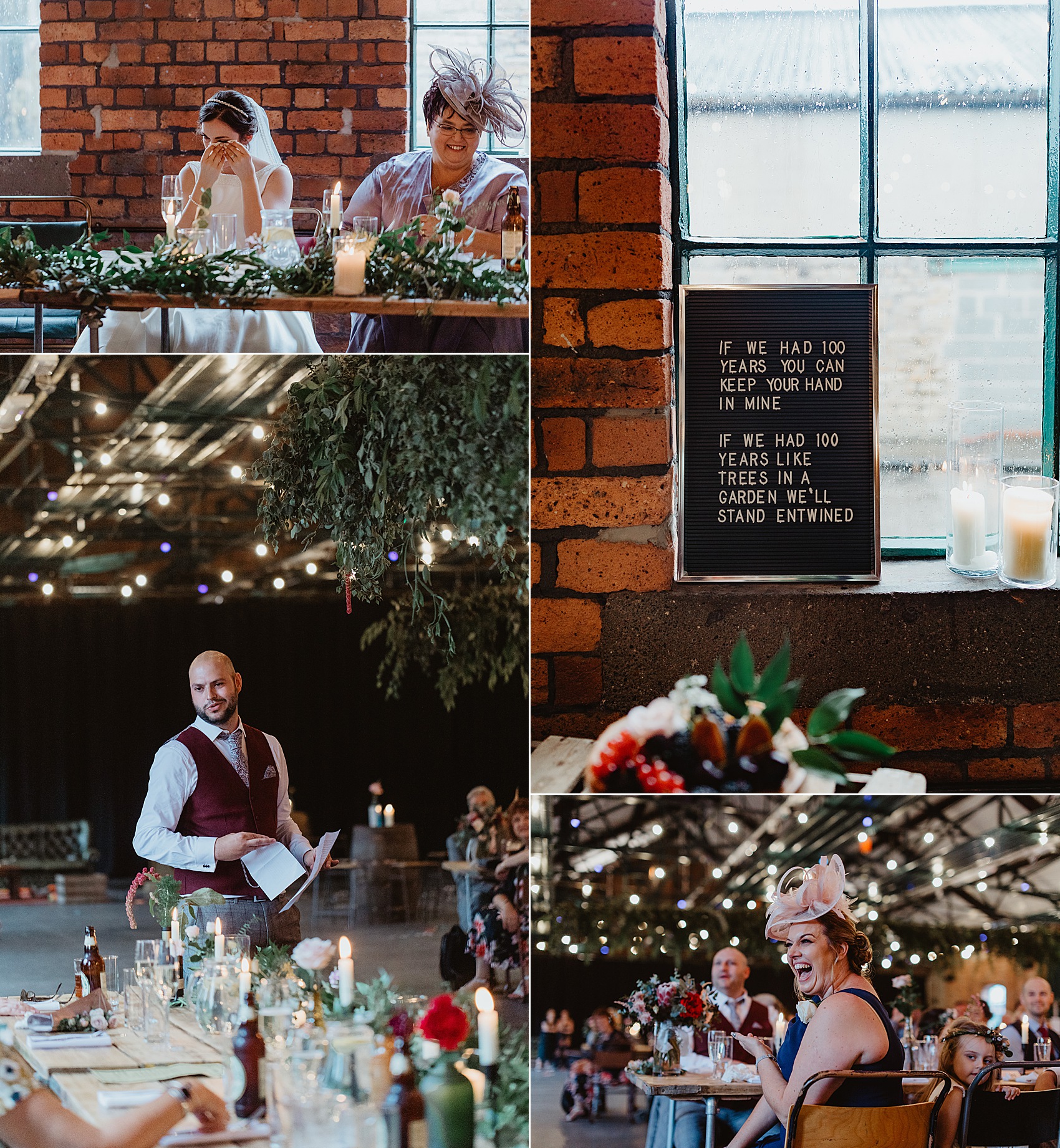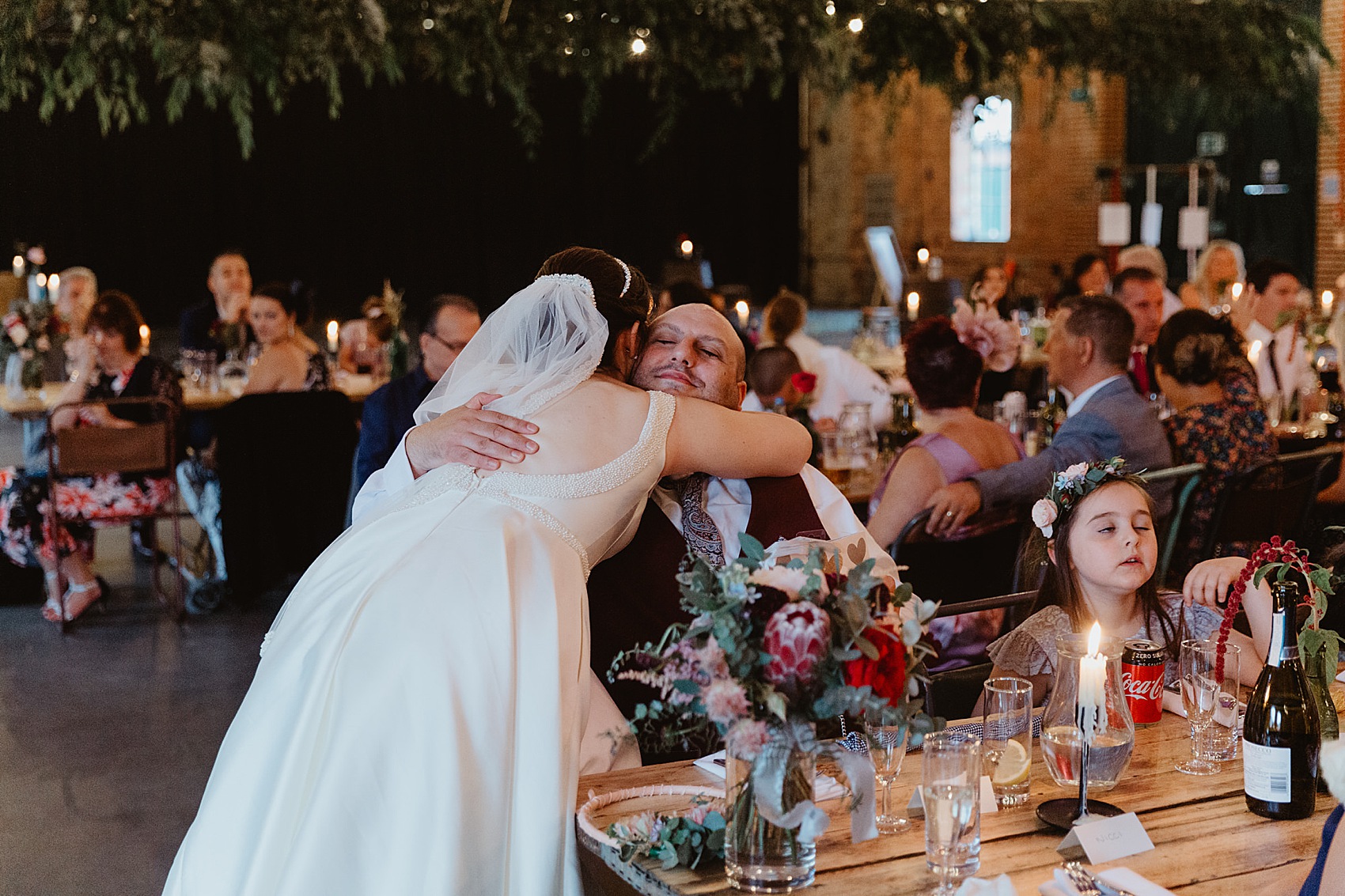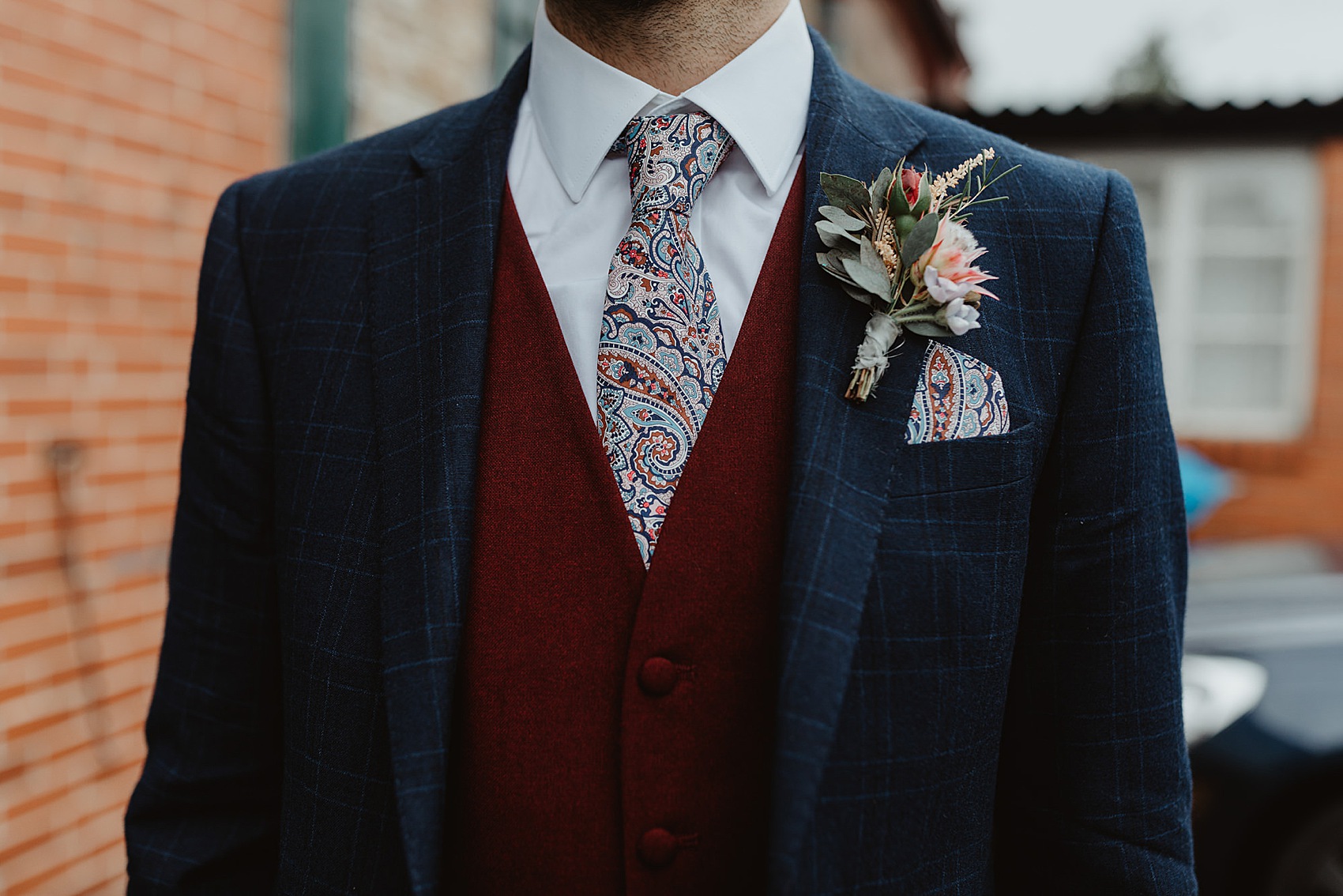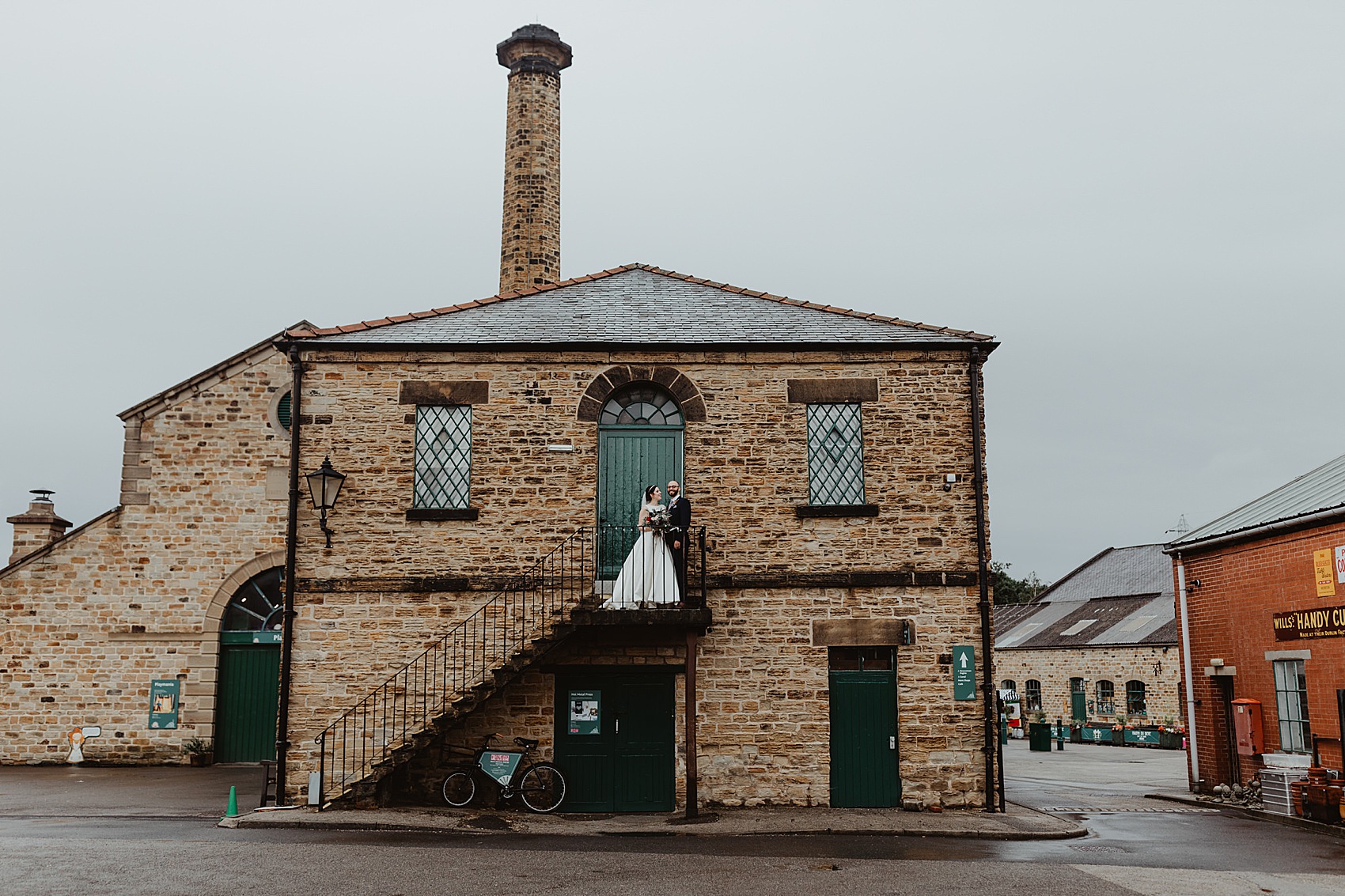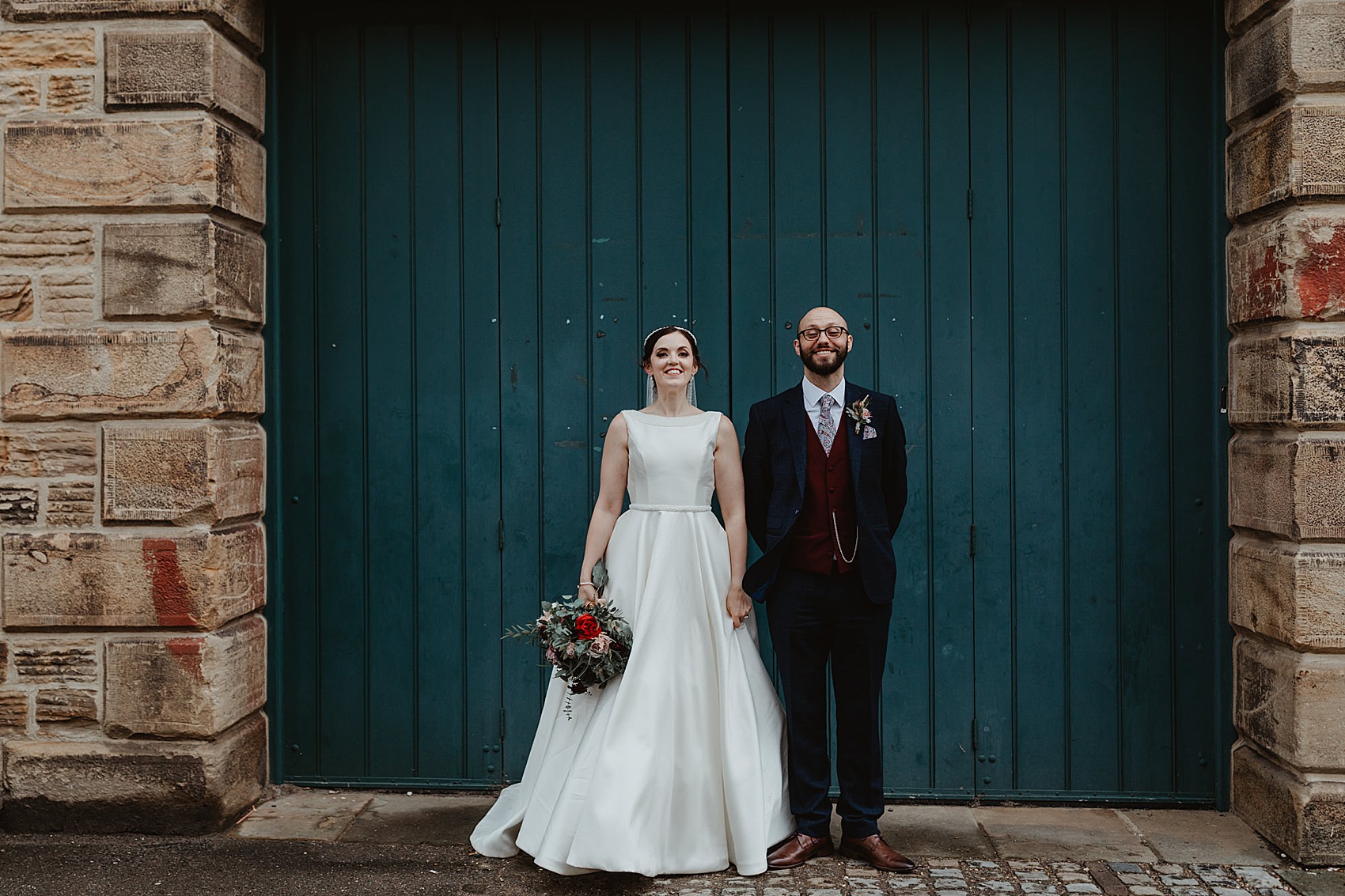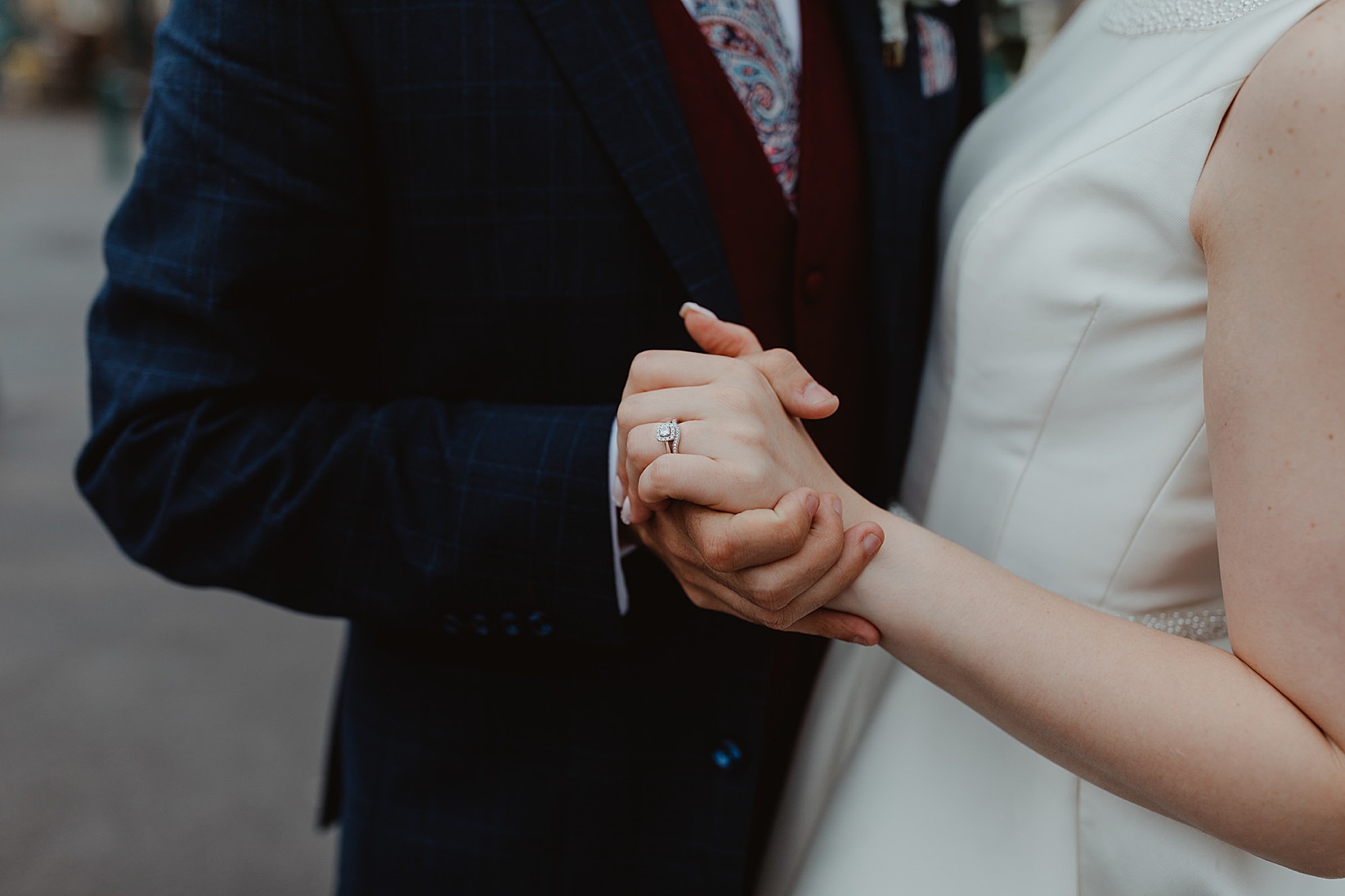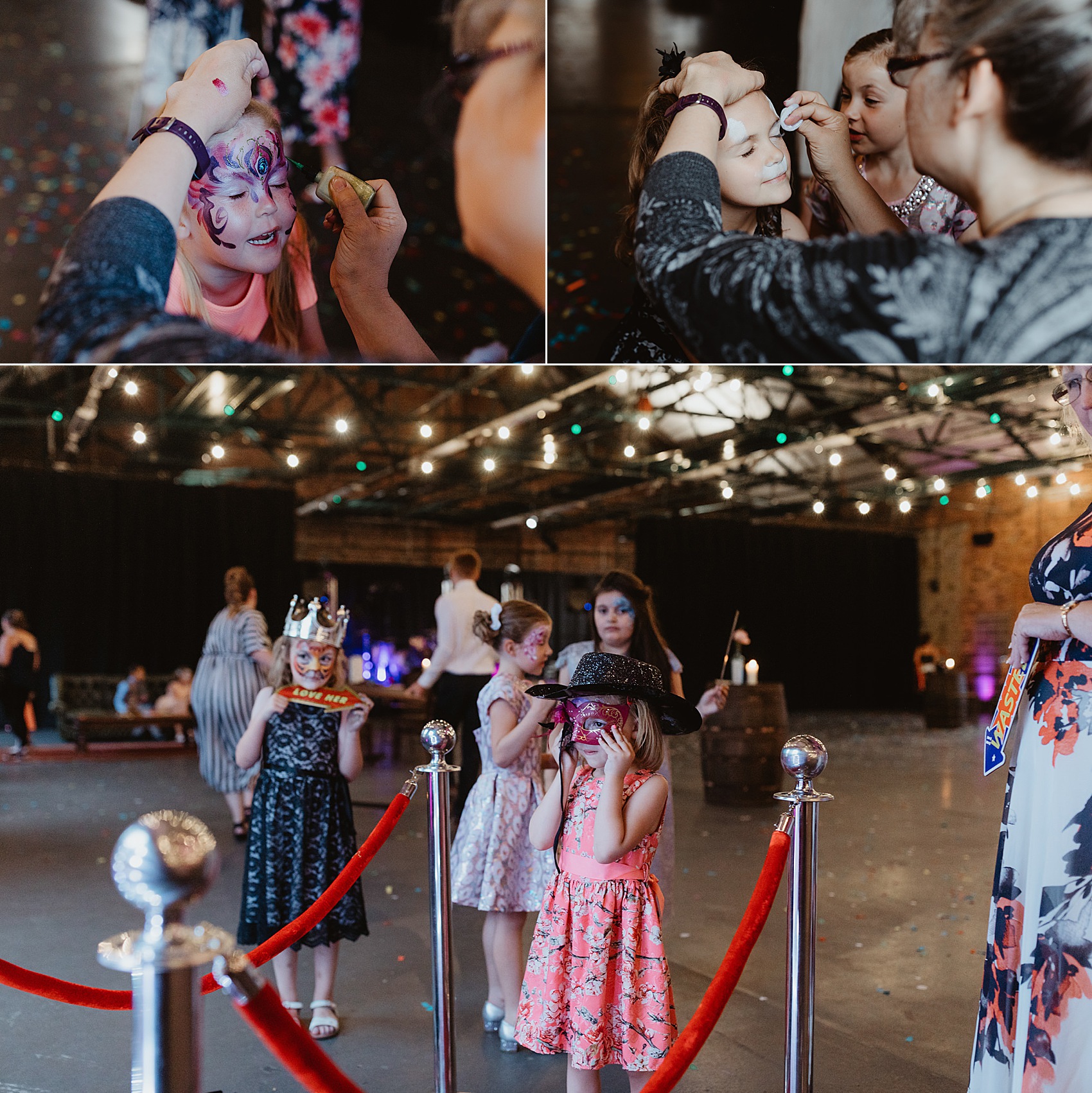 Before the evening party with music and a DJ set from The City Folk, a very special person took to the mic for the first dance.
"Keith Senior, my dad, sang our first dance, Elvis Presley's 'The Wonder of You'. I was singing guest soloist for a local choir at their annual concert and the choir sang 'The Wonder of You'. I remember thinking, 'Crikey these song lyrics are so Jim and I'."
"Jim was watching the concert and afterwards I told him that I'd had an idea for our first dance. He said that he'd had an idea too. We'd had the same thought. We asked Dad to sing it for us because he is the best singer I know and we thought it would be really special."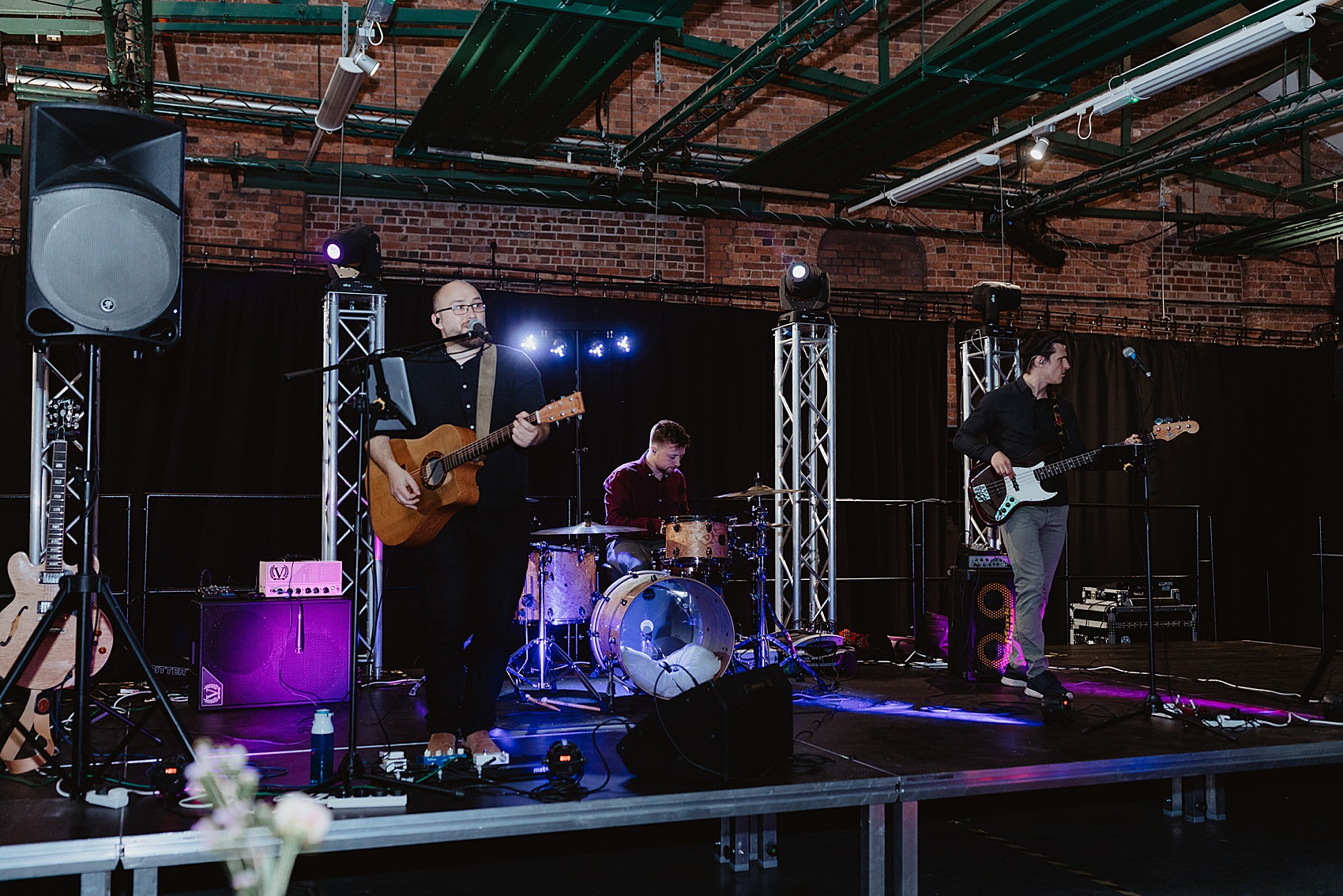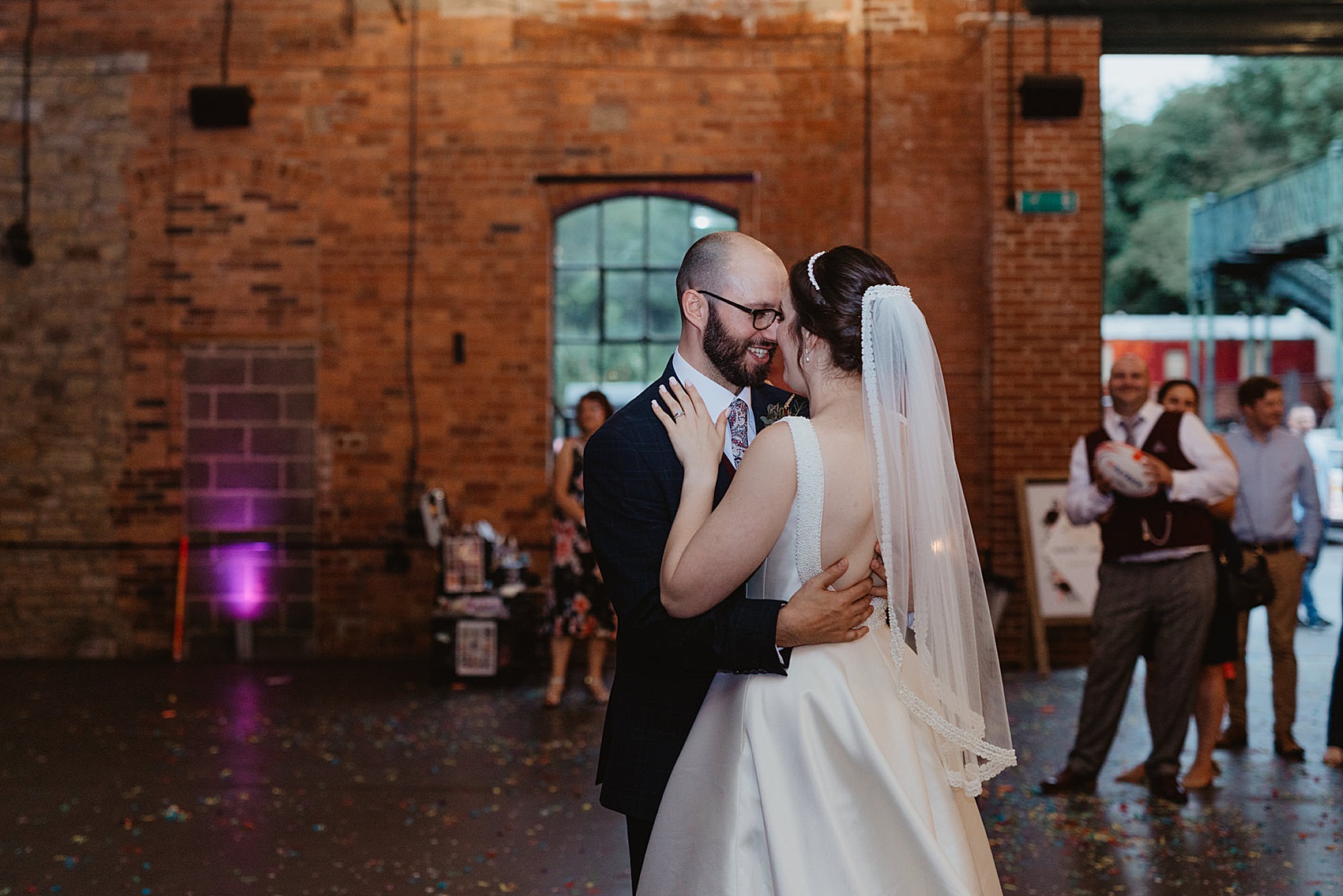 Words of Wedded Wisdom
"My advice for the planning process is to follow this simple rule. Choose only the things that you love and trust that everything will pull together. I started by Pinteresting and trying to get a colour scheme together but eventually I gave up and I ended up with red flowers, lilac dresses, grey suits, blue suits and pink bows and that it how a 'theme' or 'scheme' for the day was born. I think that this is the trick to a unique wedding."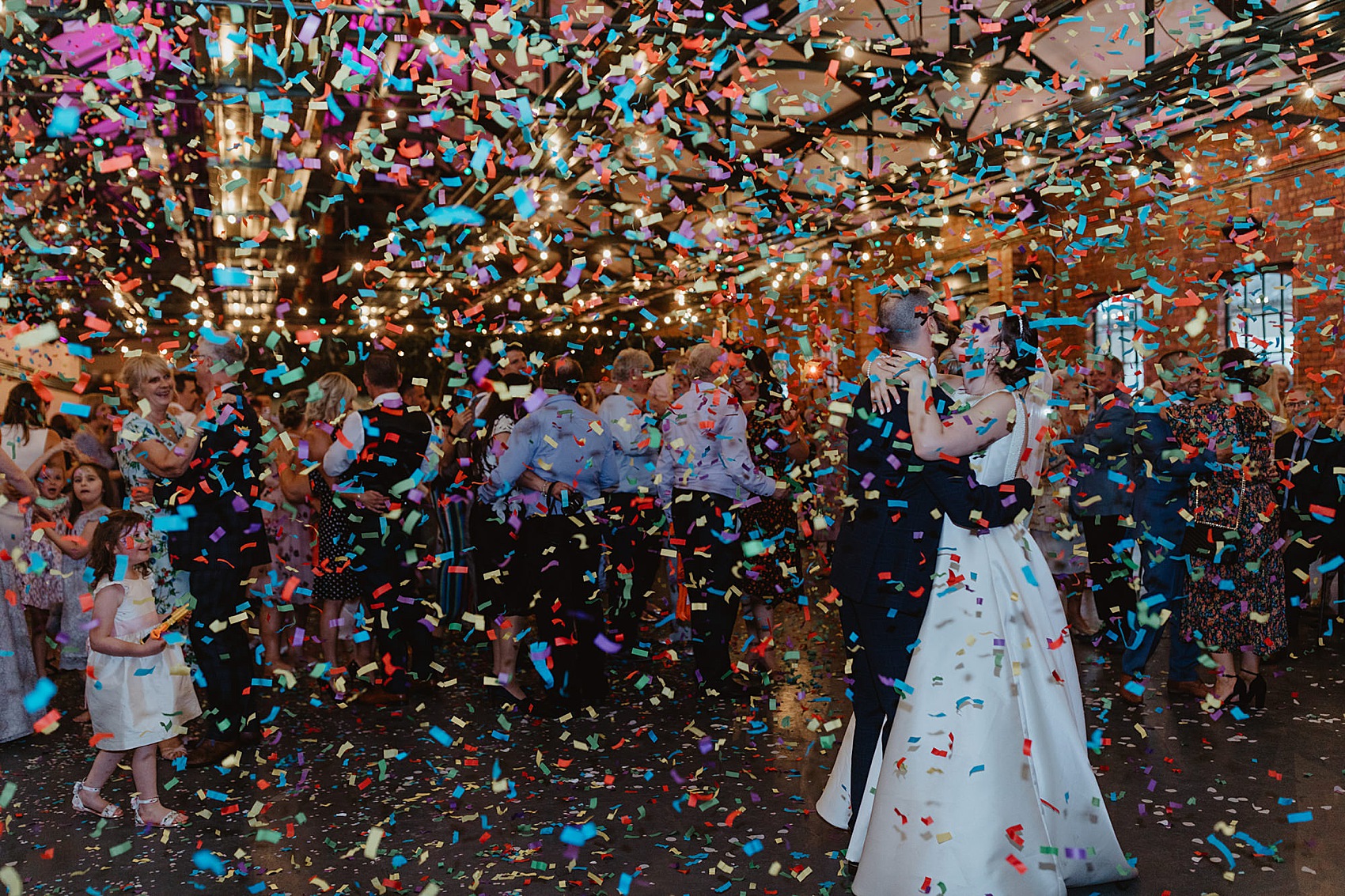 Anna and Jim, it really has been a pleasure to share the joy and magic of your wedding day, and see you truly embrace all that the weather had to throw at you. On behalf of all of our Love My Dress readers, many thanks. If you'd like more rainy day wedding inspiration, why not take a look here?
With love,
Ele xx