We are deeply proud of all of our Little Book Wedding Directory members right now. For anyone working in an industry that depends on hospitality and events, these are incredibly difficult and challenging times.
The concern of how the lockdown is going to impact careers and livlihoods is very, very real, and yet I am surrounded by hard-working individuals full of hope and adapting to the new environment they find themselves in, with grace, intelligence and creativity. We have a number of new Little Book members to welcome you to over the coming days. This evening, it gives me pleasure to introduce you to our latest member, wedding planner Sophie Warren.
Sophie is offers a modern, contemporary and non-traditional planning and styling services for creative modern couples – she has also just launched a new virtual planning service which you can learn more about here. Sophie told me more about these images…
"Having newly launched my wedding planning business, Sophie Warren Weddings, I wanted to create an editorial piece that would reflect my offering to clients. I love to create celebrations that are unique and unconventional with a sophisticated edge."
Sophie Warren Weddings

+ Follow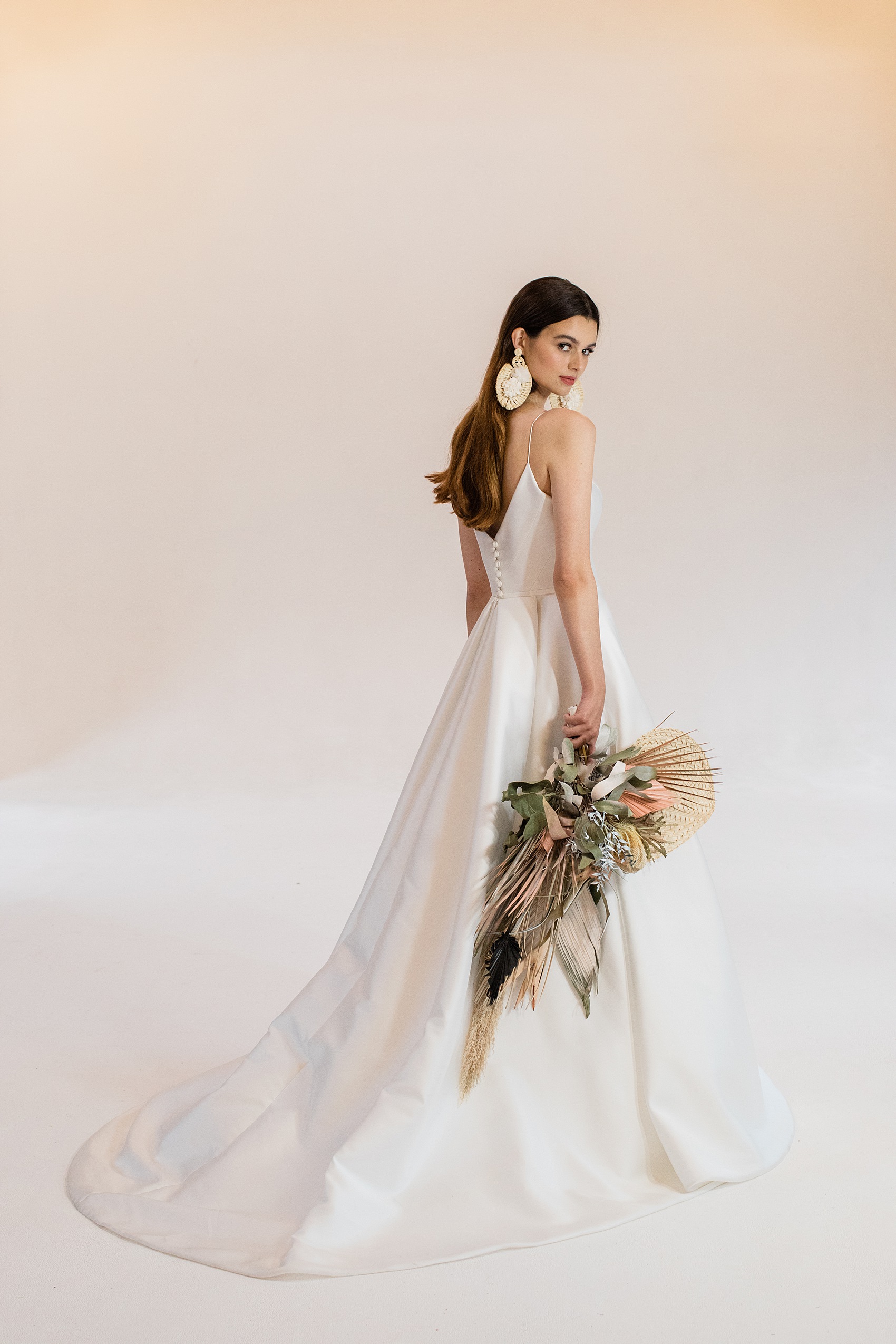 "Through this collaborative shoot, I wanted to produce images that celebrated the individuality of the modern, free-spirited, sophisticated woman who oozes elegance – someone who is confident in her skin and fashion style."
"There are two particular styles that I was drawn to when planning the creative concept; simple, stripped back Scandi design and modern, Moroccan chic. I wanted to combine these styles to create a fresh, modern and minimalist take on the popular boho-luxe aesthetic. I was keen to use a soft and muted colour palette that centred around creams, whites, soft pinks and subtle nods to bold black tones."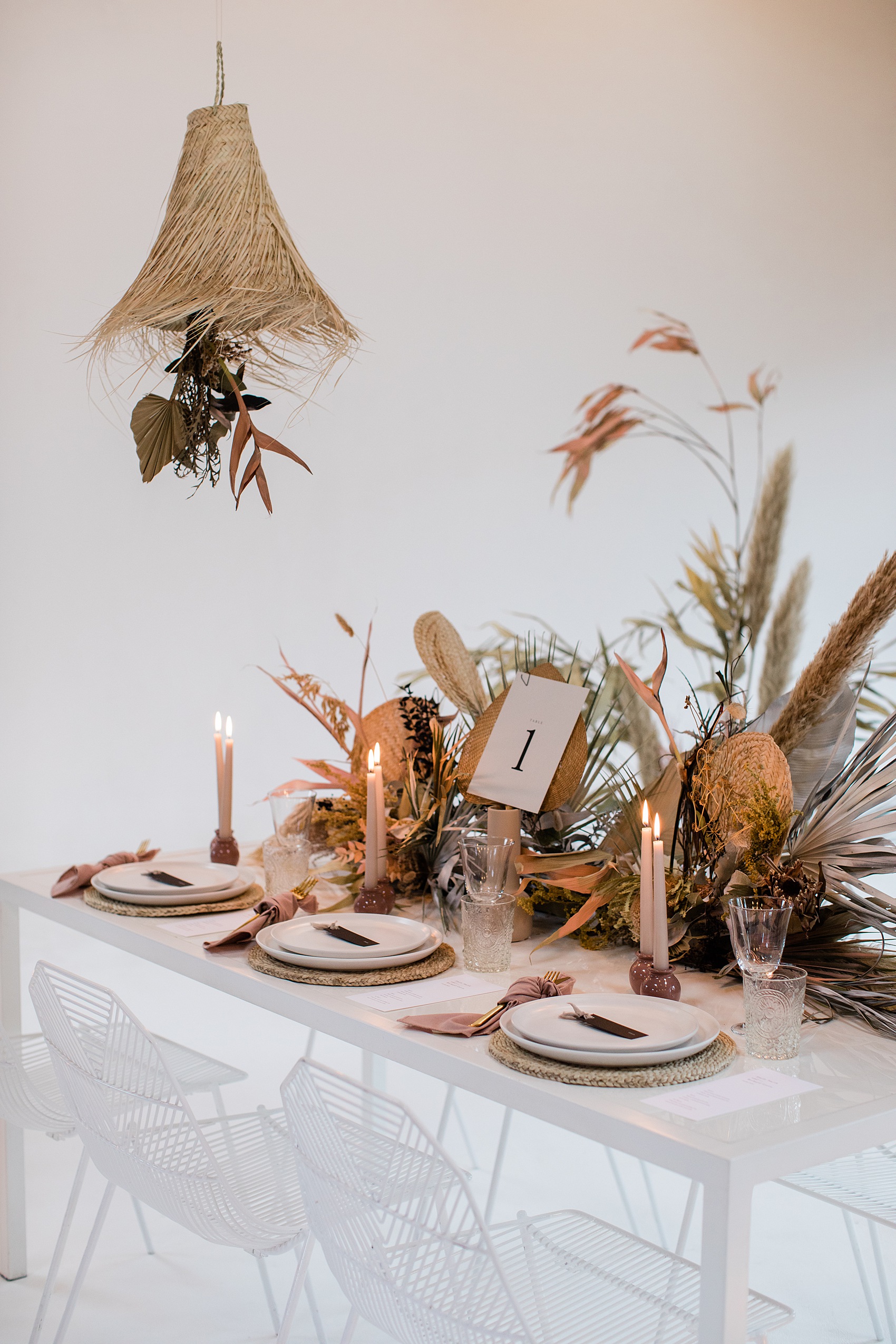 Sophie and her team worked with the 'River' dress, from Suzanne Neville 202o 'Flores' collection. This effortless simplicity of this dress was a perfect match for the overall vibe of this shoot.
The dress comes with pockets too, adding a sense of practicality and relaxed romanticism. A perfect gown option for a modern bride who appreciates beautiful craftsmanship.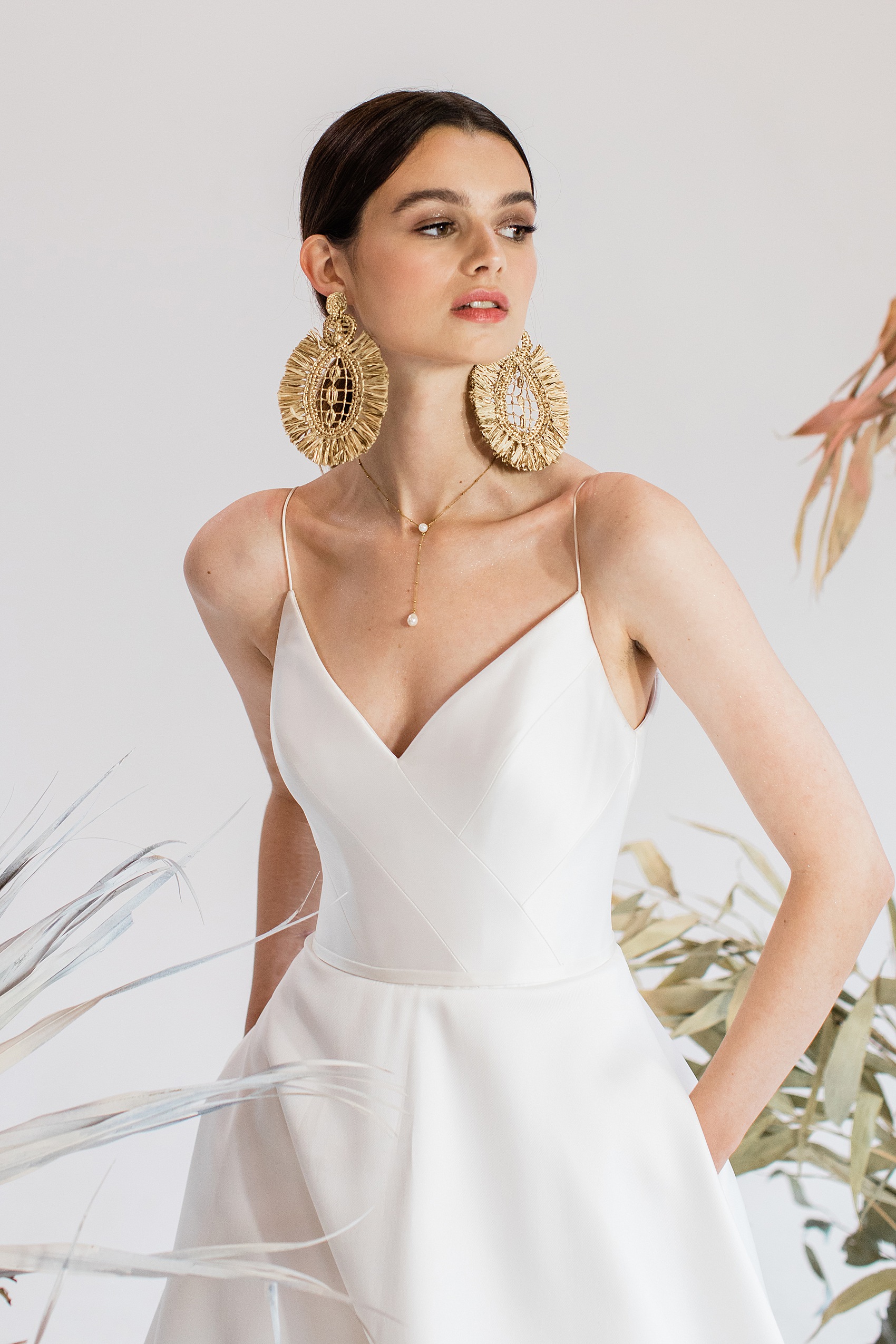 "In terms of the accessories, I'm a sucker for a statement headcrown and I love independent and unique designers. I've been a little obsessed with Verbena Madrid for a while now, who produce statement accessories that are inspired by traditional techniques made in Spain – and was so excited to get them on board for this project"
I'd say if you've got a half decent budget please invest any budget you have in a planner. Spend money to save money. Claire, real bride
"Soft waves through the hair and bold editorial brows paired with a Verbena Madrid headcrown and earrings brings the Moroccan feel to the forefront and complements the simplicity of the Suzanne Neville River dress."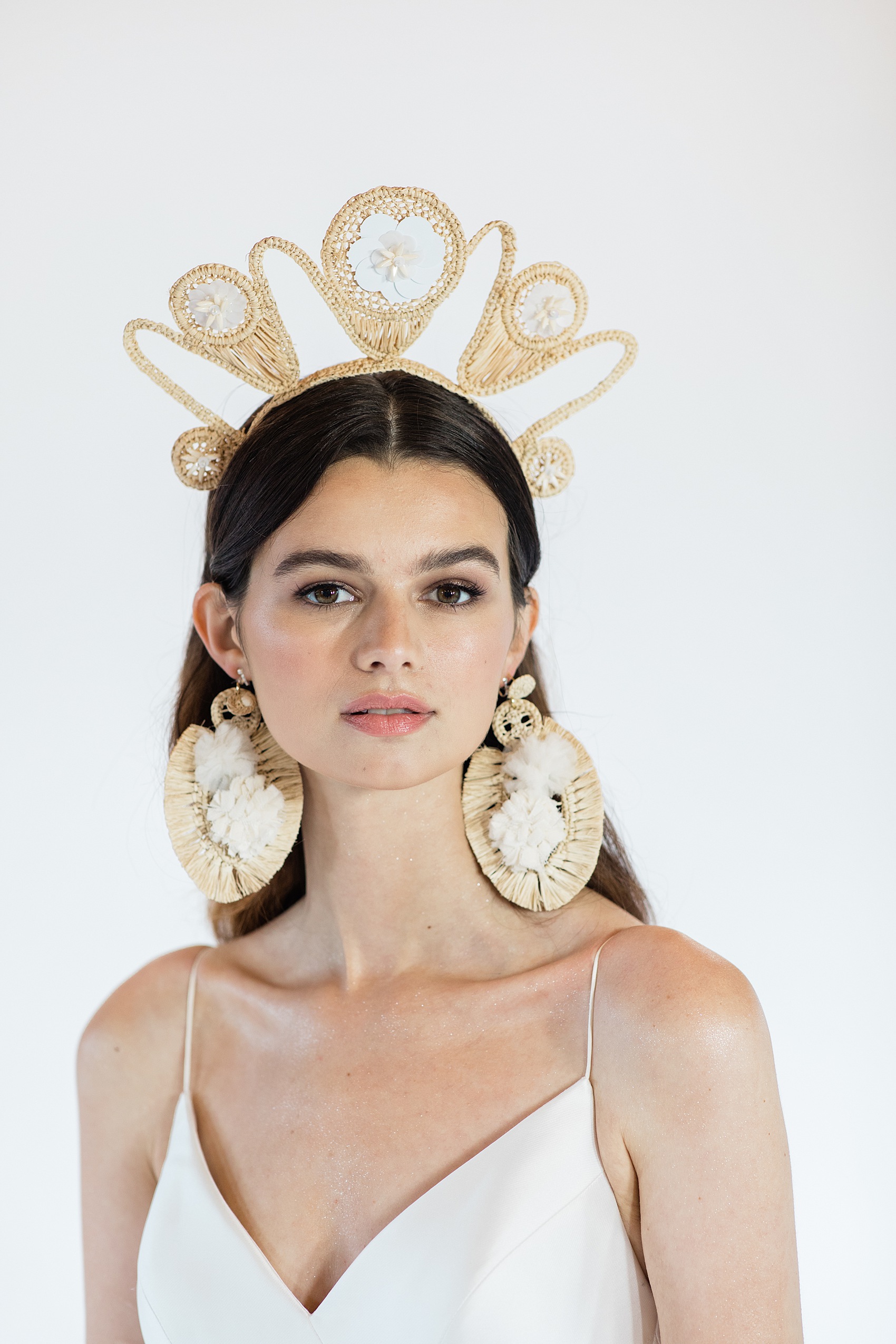 "The focal point for the furniture was inspired by the natural rattan/wicker interior trend. Instead of real flowers, a selection of beautiful dried flowers in neutral shades were used to create a modern and alternative, oversized bridal bouquet. Floral artistry was supplied by the wonderful Hazel Gardiner Design. I used an assortment of dried palm fans, wicker hand fans and other dried flowers to add detail."
"The table styling was brought to life through the use of dried flowers, helping to create a bold and modern vibe. The mono minimalist stationery by talented Nats Paper Studio, oozes every bit of elegance and brings with it those bolder tones of black and grey – a great way to lift the softer colour tones."
"Drawing on the Scandi vibe, I chose to minimalise the linen on the table with the dried flowers acting as the table runner. For the place settings, two white plates were layered on top of a rattan placemat with gold cutlery placed in the knot of a dark pink linen napkin."
"The incredible cake by 27th Baking Co, was the real point of difference. A three tier imperfect abstract stack with visibly imperfect icing and a Moroccan design etched into the lower two tiers. Styled with dried sun spears and pillar candlelight,, this is a wedding cake with serious individuality and edge."
"My thanks to the whole creative team for helping me bring this vision to life, and to photographer Nina Wernicke for capturing it so perfectly."