I got a little talkative recently about how my view of wedding images and my editorial eye has altered since pandemic lockdown.
And it truly has. You'll need to read this Instagram post to understand how – but if there was one single wedding that perfectly captures what I was trying to say, and illustrates the kind of images I'm feeling more naturally drawn towards now, this beautiful day is it.  The photographer, Chris Barber, an industry friend I've known for a few years now, is incredibly talented at documenting people and love and capturing inconsequential moments in a way that makes them look so fun and magical. Just enjoy this wedding – you'll see exactly what I mean and more than anything, I hope that these photographs bring you a little bit of joy in to your day and make you smile.
Chris Barber Photography

+ Follow
Claire, an Account Director at a Creative Content Agency, married Will, a head Chef, on on 5th July at The Cherry Barn in Rye, East Sussex.  The couple discovered their wedding planner, the wonderful and amazing Dita Rosted, through our recommended supplier directory, Little Book, which makes me want to dance around the room with delight!
Working with Dita, this creative couple were able to host a beautifully bohemian and relaxed kind of day that provided an unforgettable and very much sensual experience for their guests (sight, sound, taste – everything was considered carefully). The whole wedding day vibe was focussed around the experience it would provide for the guests; fabulous food, beautiful natural decor and a relaxed and playful atmosphere.
With the couple both having creative careers, it was inevitable that their creativity would influence the style and vibe of the whole day.
"We wanted it to provide 'an experience' for everyone at every moment. Nothing was going to feel standard or 'as per' the norm."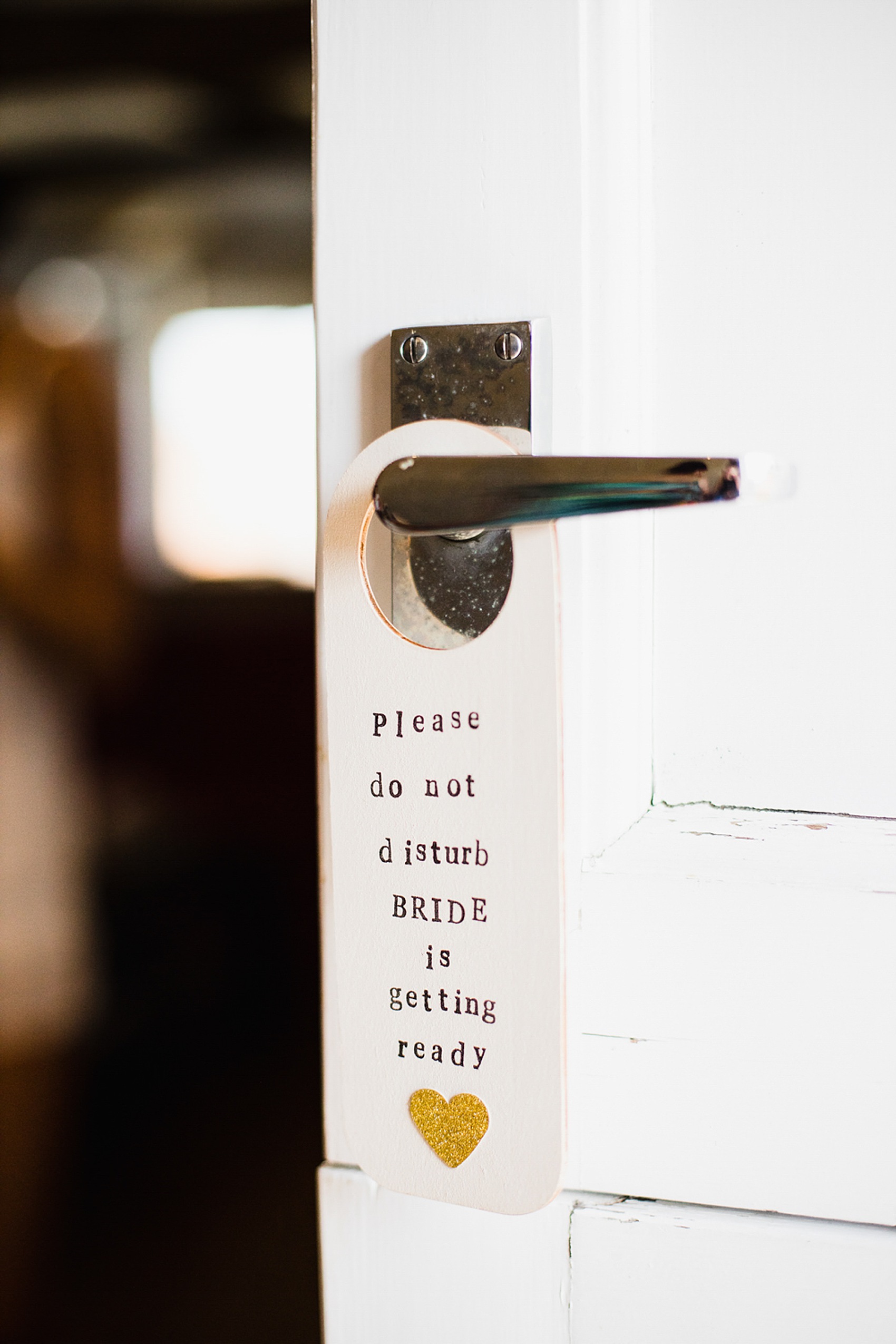 Claire's hair was adorned with beautiful blue jewelled flowers, with a homemade blue rhinestone pin made by her mum.
Earrings were Claire's 'something borrowed', again, from her lovely mum.
Claire's halterneck, modern bridal gown was by those Australian brand Grace Loves Lace who also have a flagship boutique in London…
"I wanted something fairly bohemian but not too over the top. Something very simple yet unbelievably beautiful. The idea of fine homemade lace sounded totally perfect. Grace Loves Lace was the dream boutique."
In keeping with the super relaxed and bohemian vibe of the day, Claire wore flats from Kurt Geiger.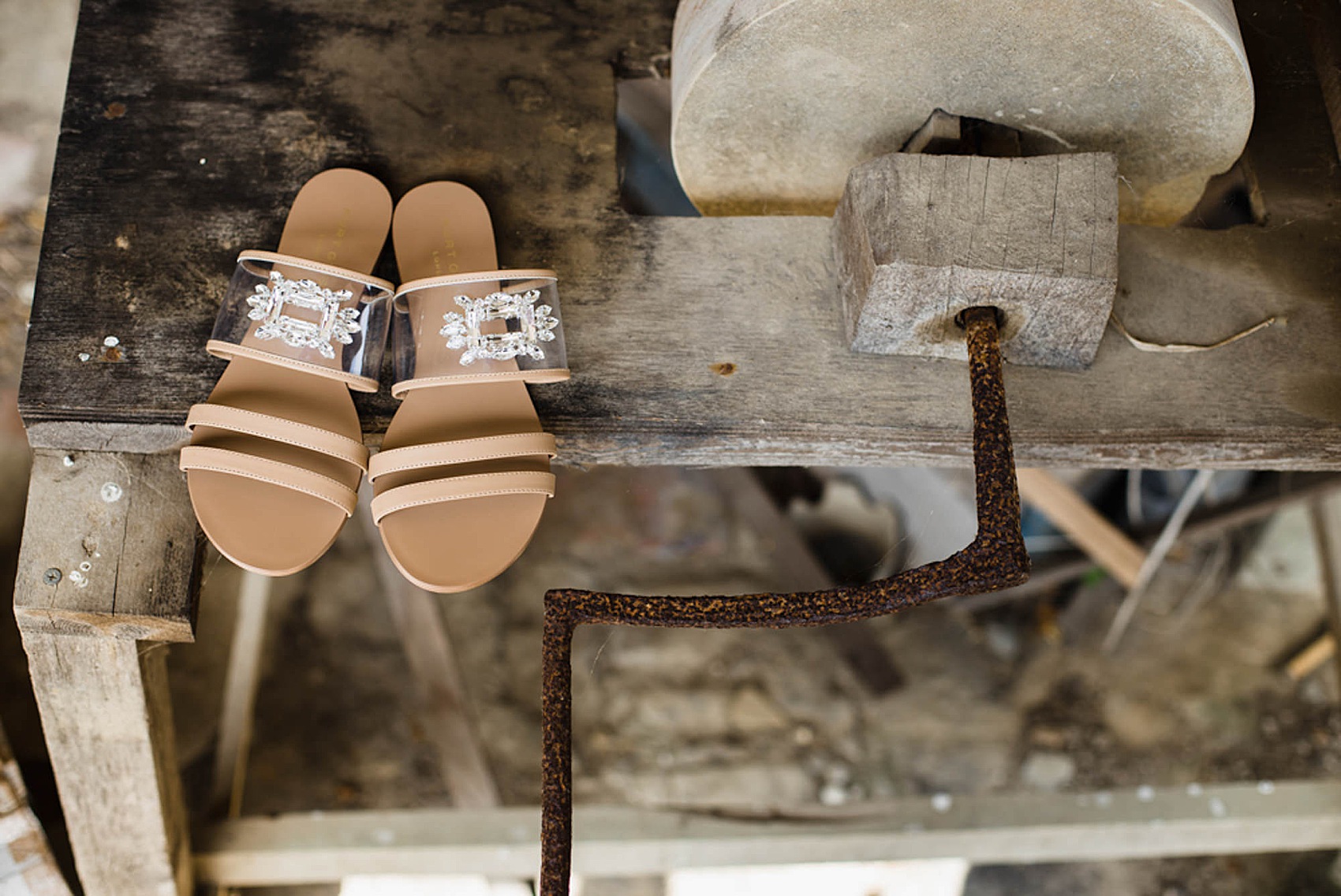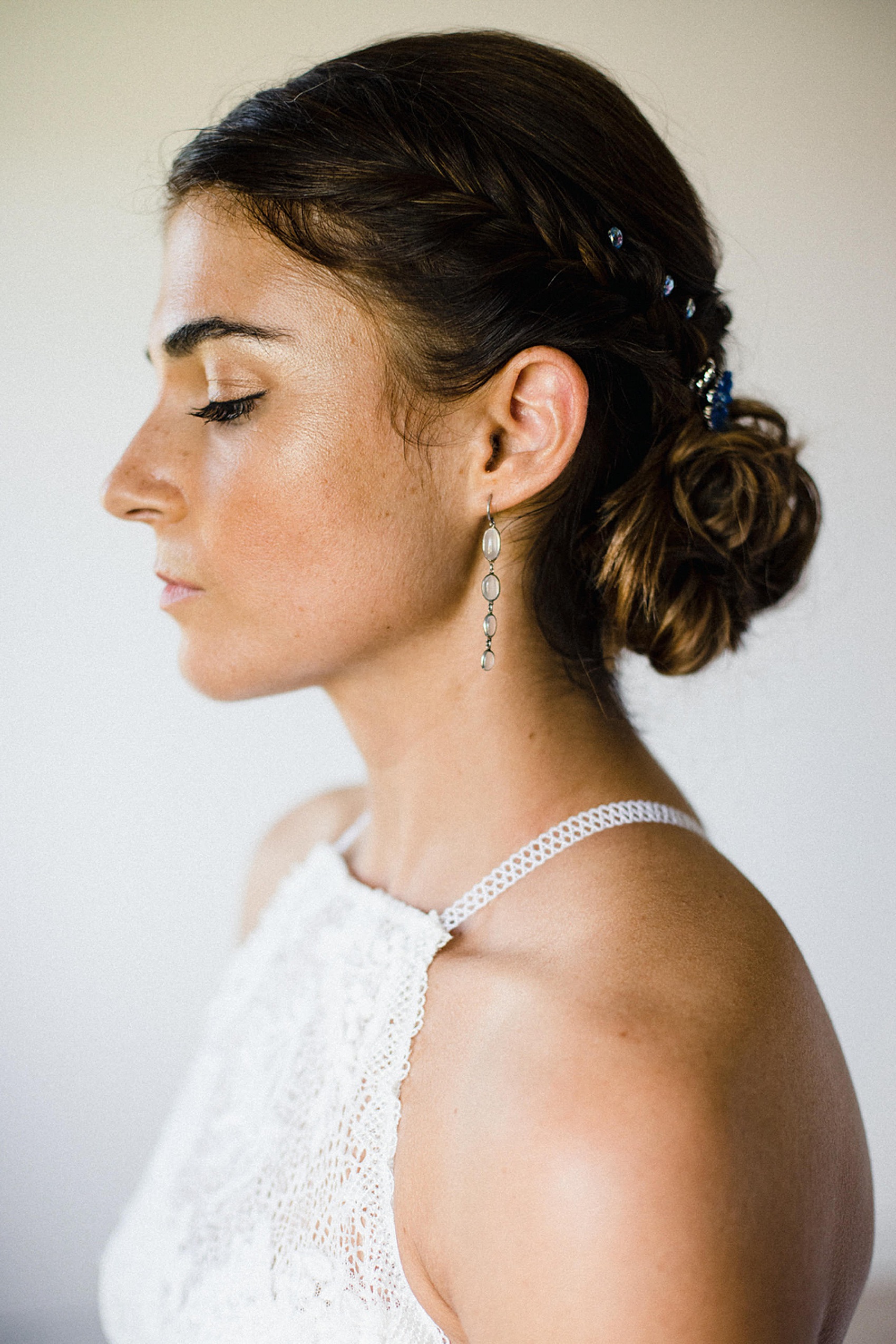 THIS is the kind of photograph I love -a fleeting but precious moment shared between the bride's parents before everyone made way for the ceremony.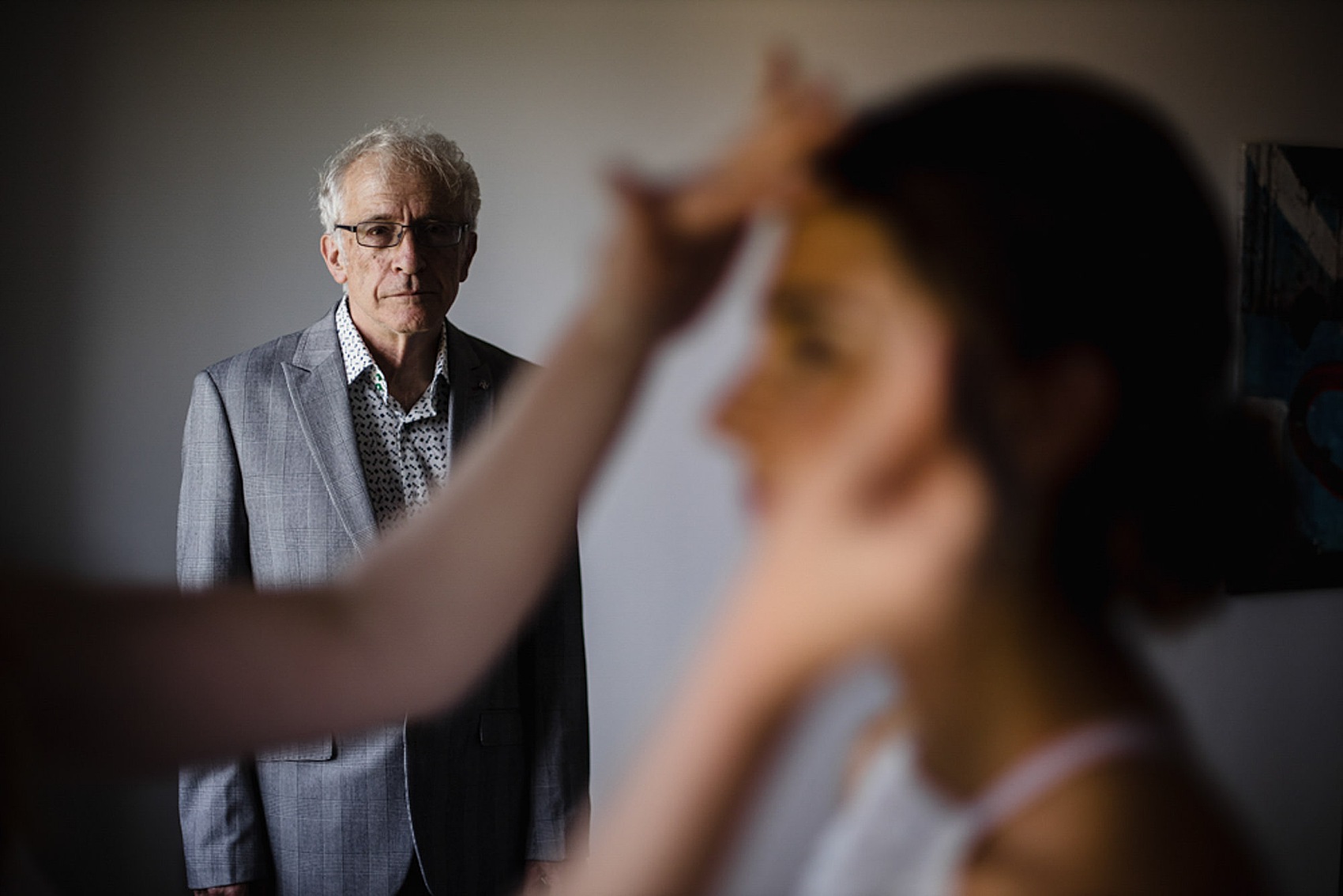 "I was born and grew up in Rye, East Sussex and so it felt like the right place to start with our wedding. I'm a very good decision maker and have weirdly good gut instincts. Seeing the venue on the internet – I just knew this would be the one."
"It felt perfect; it was a blank canvas (something we wanted, to put our stamp on something) and in the right area. Plus, a cherry orchard on site – who wouldn't want that?"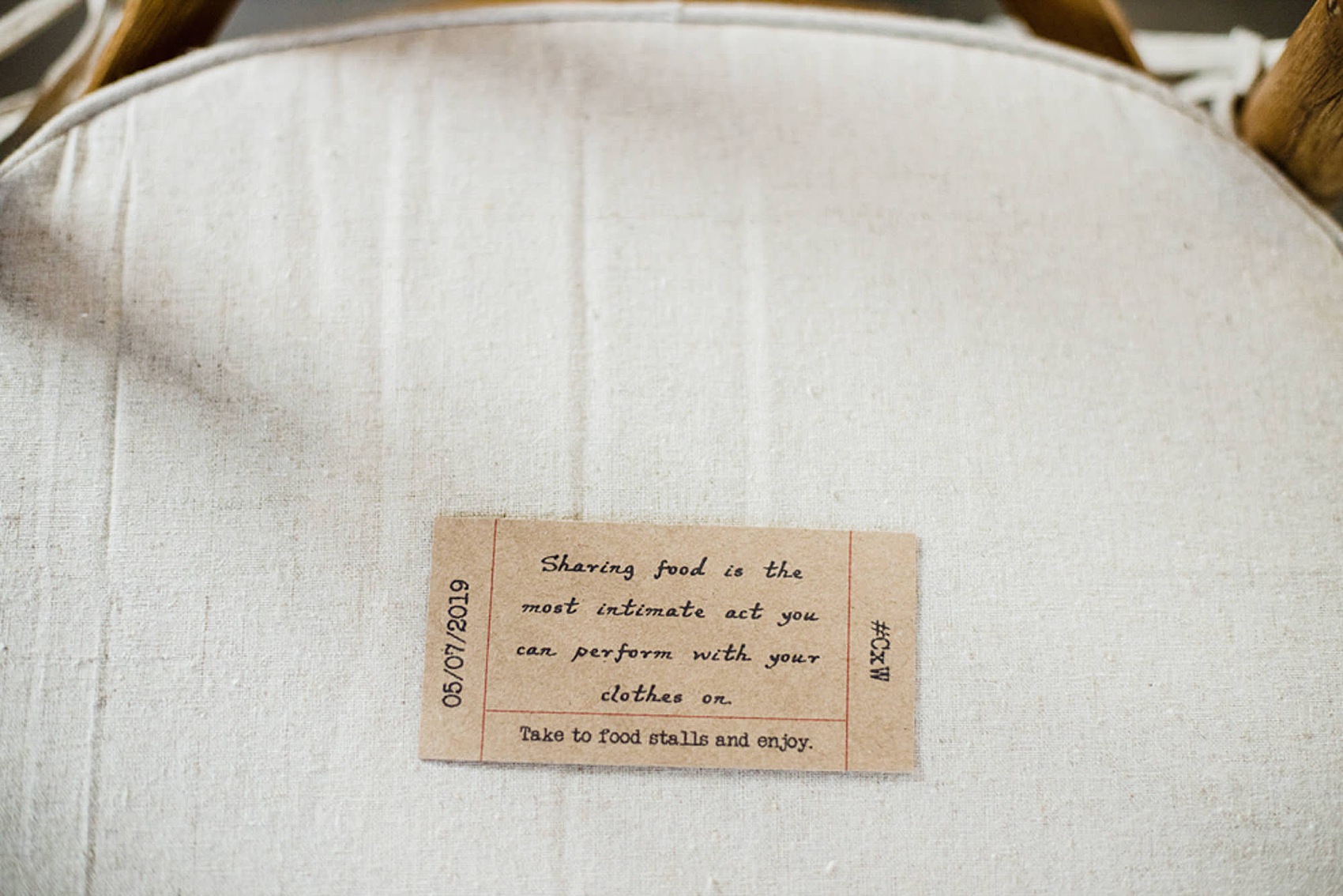 "When we got there, it was like the owners had looked into our brains and built a venue bespoke for us. It was rustic and old, but with touches of modern and industrial about it. The bathrooms were a statement room – and everything had been restored and refurbished to an impeccably high standard. It was a little over our budget, but, like any decision I make – boom – 'where can I sign?'"
"We wanted to create 'zones' within the wedding. The aisle providing a historic church feeling; candles, foliage everywhere, dim lights, (in a bright barn that was a tough one, for sure), and long persian rugs for the aisle with a beautiful hand woven arch for the alter."
"We met in Edinburgh Festival 2014. I was working as an Actor/Musician back in the day, and playing a part of a troupe who were doing a musical rendition of Dracula. Will was friends with the theatre company and after recently ending his last relationship, decided to take a break and go up and surprise some friends."
"Little did he know that those friends actually got together that very trip, meaning he couldn't exactly stay with them because…'awkward'. So that meant he had to make friends with the rest of us which led him to meet me and get to know me.  One trip up Arthur's seat, one six x hour train ride home later and the rest, as they say, is history."
"Five years later, I proposed to Will myself. I knew he was a perfectionist who would never get around to doing it for wanting it to be 'just perfect'. I'm a feminist and Will totally loves and supports that. So when I took his parents to breakfast to ask their permission, none of them saw it coming."
"I had planned to propose in Italy on our next holiday, So naturally when, I took him for a random walk down the canal that day near Camden, I got down on 'one bench, and asked him to marry me. He was totally gobsmacked. Cried. Said 'yes'! We then went to the pub, got drunk and told everyone. He boasts about it even to this day – 'my wife proposed to me actually, you sexist pig'."
In true 'account director' style, Claire was onto things immediately after the proposal…
"We decided we didn't want to faff about – we wanted to get a planner and plan, produce and execute (advertising style!) a wedding within one year.  Dita Rosted was our wedding planner." (you must read Claire's thoughts on hiring a wedding planner, under the 'Words of Wedded Wisdom' title at the end of this article)
Celebrant, Linda, guided the couple through a simple ceremony that didn't involve any readings…
"Instead we asked those that would not usually give speeches at a wedding, the opportunity to all stand together and give mini speeches. This included the mother of the groom, mother of the bride and father of the groom."
"This was a purely atheist wedding/civil ceremony, but we wanted it to feel totally peaceful and provide 'an experience' for everyone at every moment. Nothing was going to feel standard or 'as per' the norm."
The beautiful, natural flowers were supplied by former horse trainer, turned florist, Alex Ball of Flowers in Rye.
"Alex Ball was an ex Horse Trainer of ours from 20 years ago when we lived in Rye!"
Rings were from Flawless Fine Jewellery in Hatton Garden.
"We weren't very fussy – and just wanted something simple and classy and not too expensive."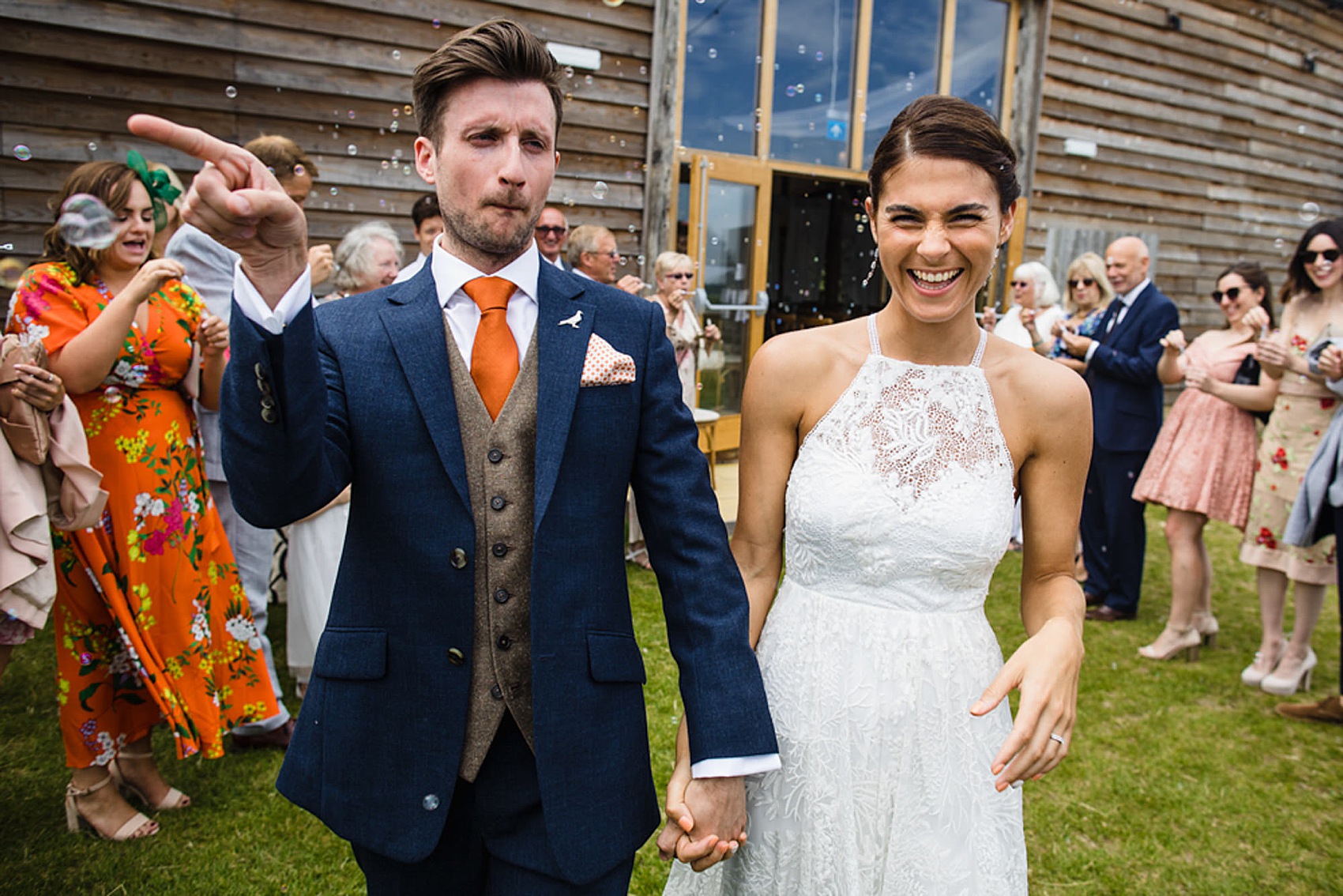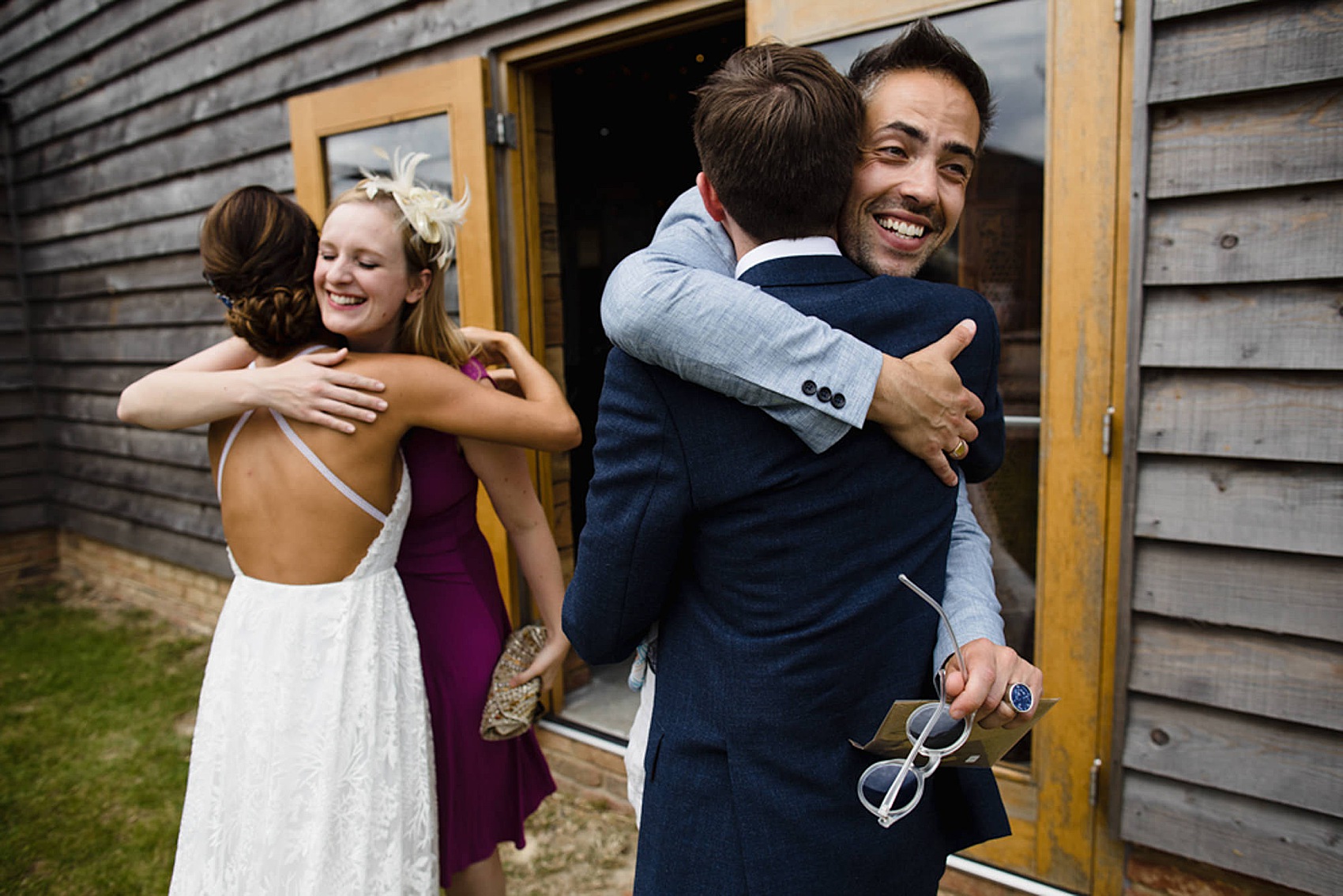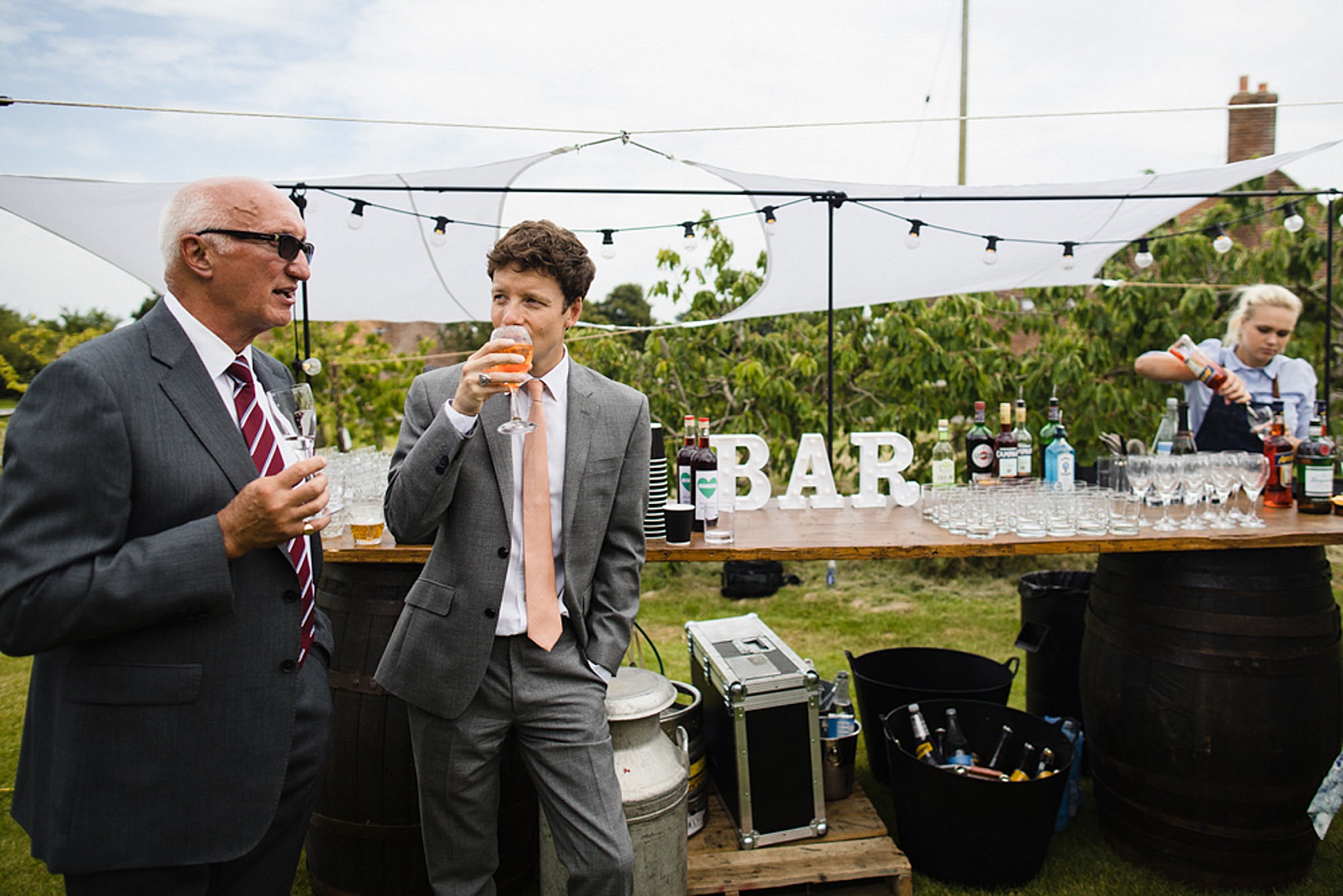 The groomsmen all wore a  pigeon broach, as did the groom. This is Claire's nickname for Will, "Pidge' – from 'Lady and The Tramp'. Claire always wanted someone to call her 'Pidge'.
"When Will never budged and instead insisted on calling me 'trits' due to my size 7 feet and 5'5 frame, I decided to call him Pidge instead. And it stuck." ?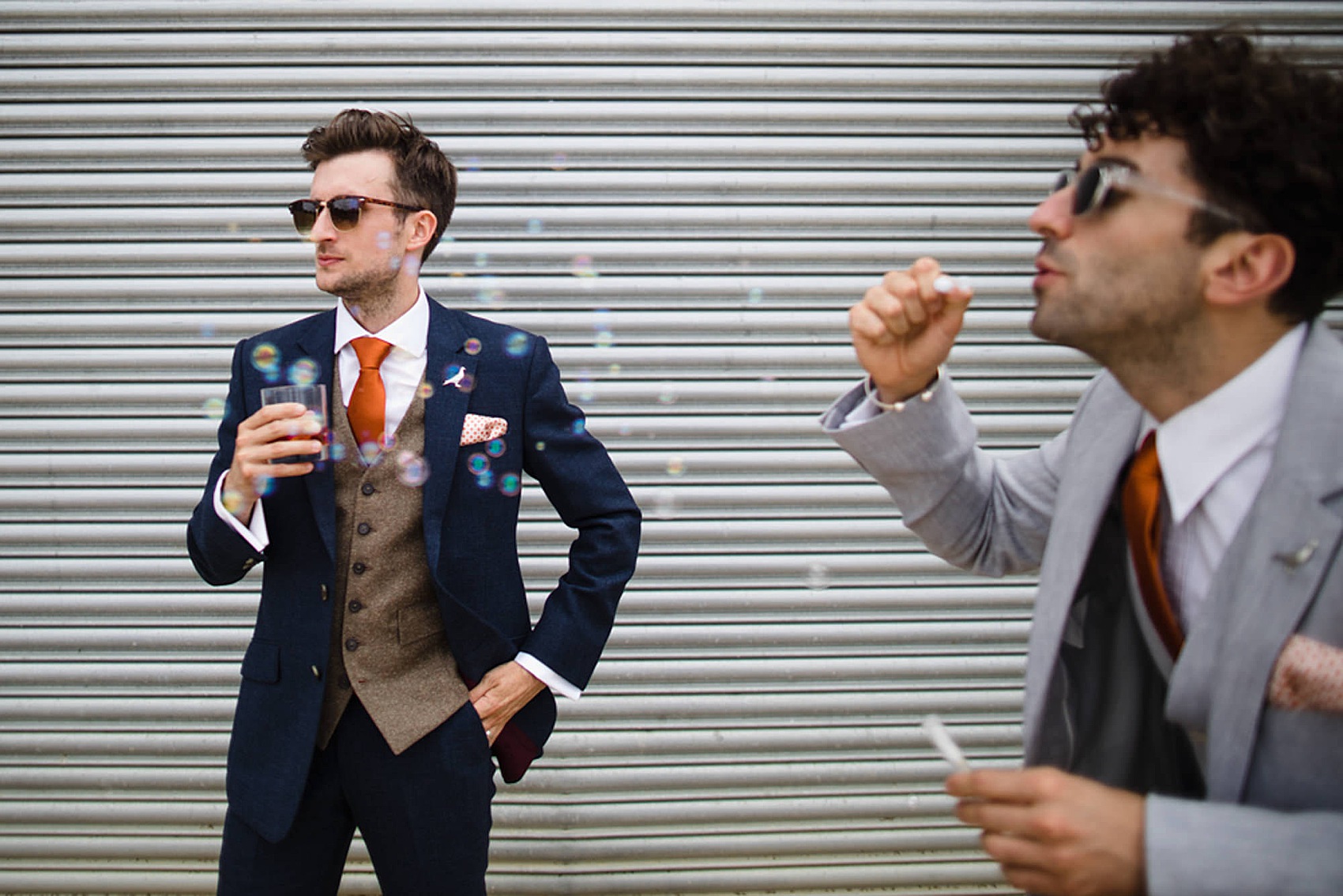 "Will didn't want any boring suits. He is a smaller man and therefore thinks he looks like a penguin in a normal tux (shh!). He wanted something that stood out but not too flashy."
"He wanted a nice darker coloured suit with a flash of colour in the socks and ties for the groomsmen. He wore a suit by Beggars Run."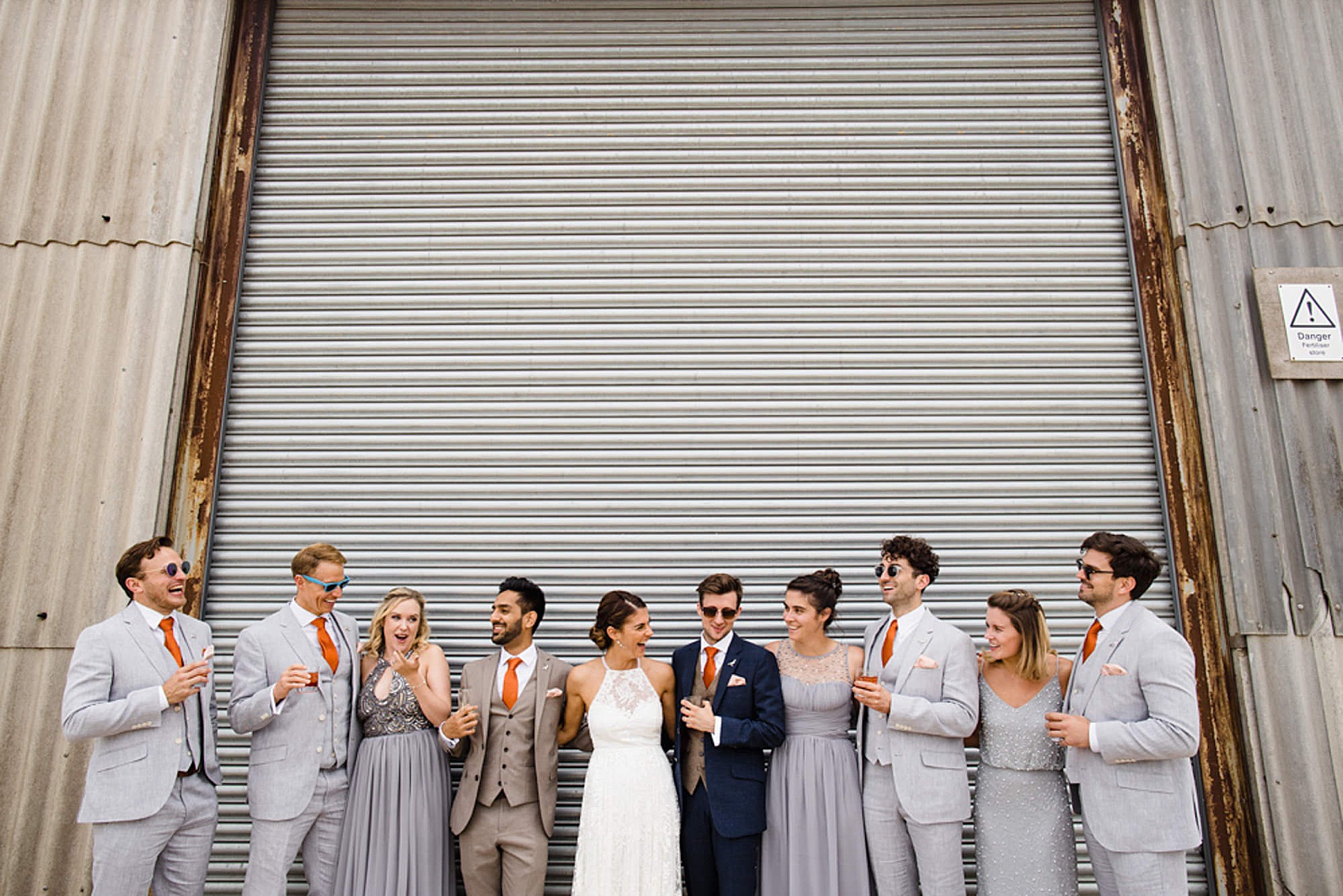 The bridesmaids wore midi-dresses from House of Fraser.
"I wanted my bridesmaids to feel at ease and relaxed, so asked them to choose a dress of their own desire so long as it was light slate grey and mid-long length."
"Everything else was up for grabs (and that was the bridesmaids begging me to give them a tighter brief! I originally just wanted them to wear, well, whatever they wanted!)"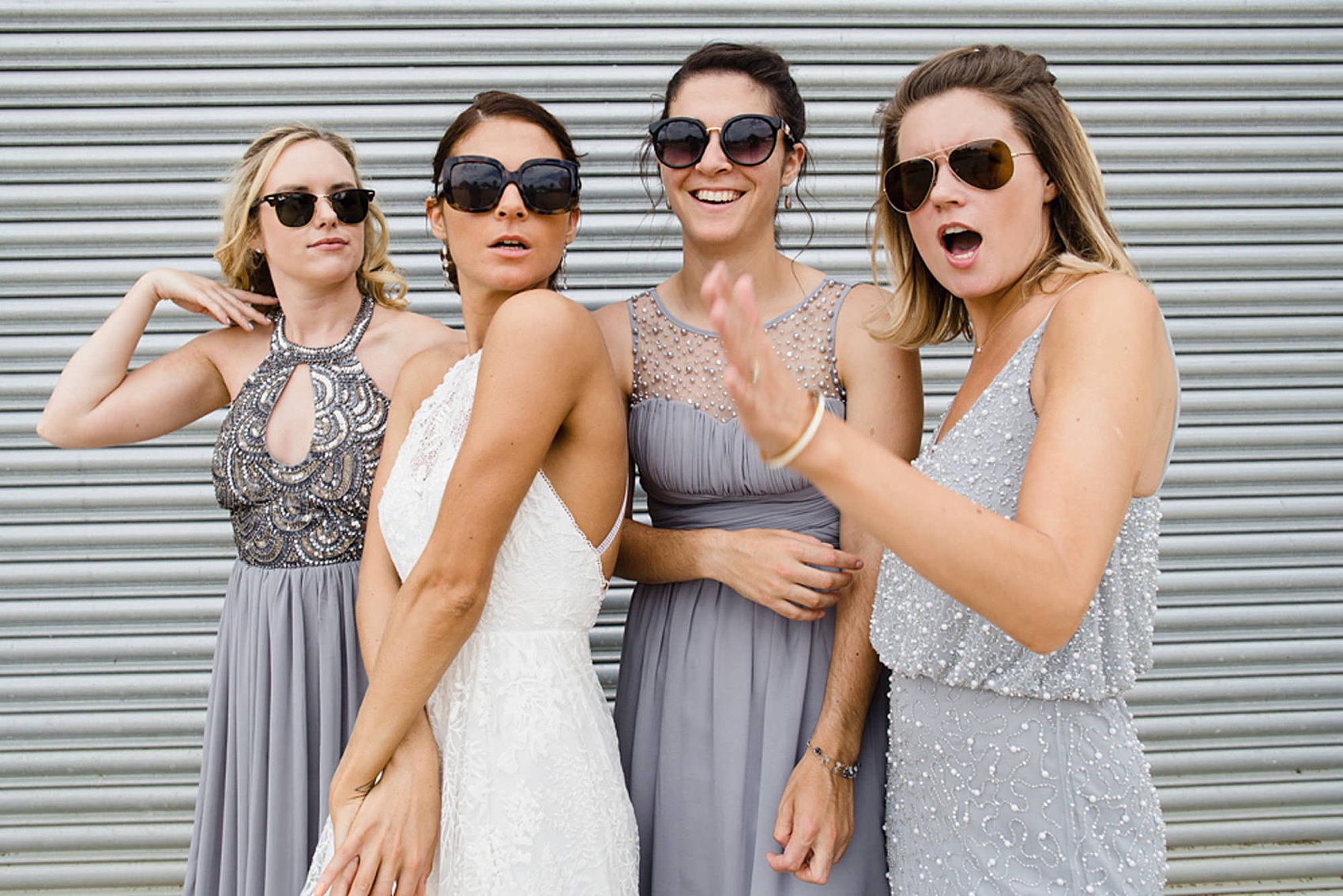 The couple called on the amazing natural talents of the incomparable Chris Barber to document their day in images…
"Our photographer was Chris Barber – we knew he was the one the moment I saw his stuff online. We always knew we didn't want stuffy overly posed and crafted photos."
"We're attention seekers and love photographs, but don't like posing. We love to laugh and be goofy and silly and Chris had a way of capturing that but finding total beauty and hilarity through the lens that – not making anyone look horrific in the process! There was never any question that he wouldn't be our photographer."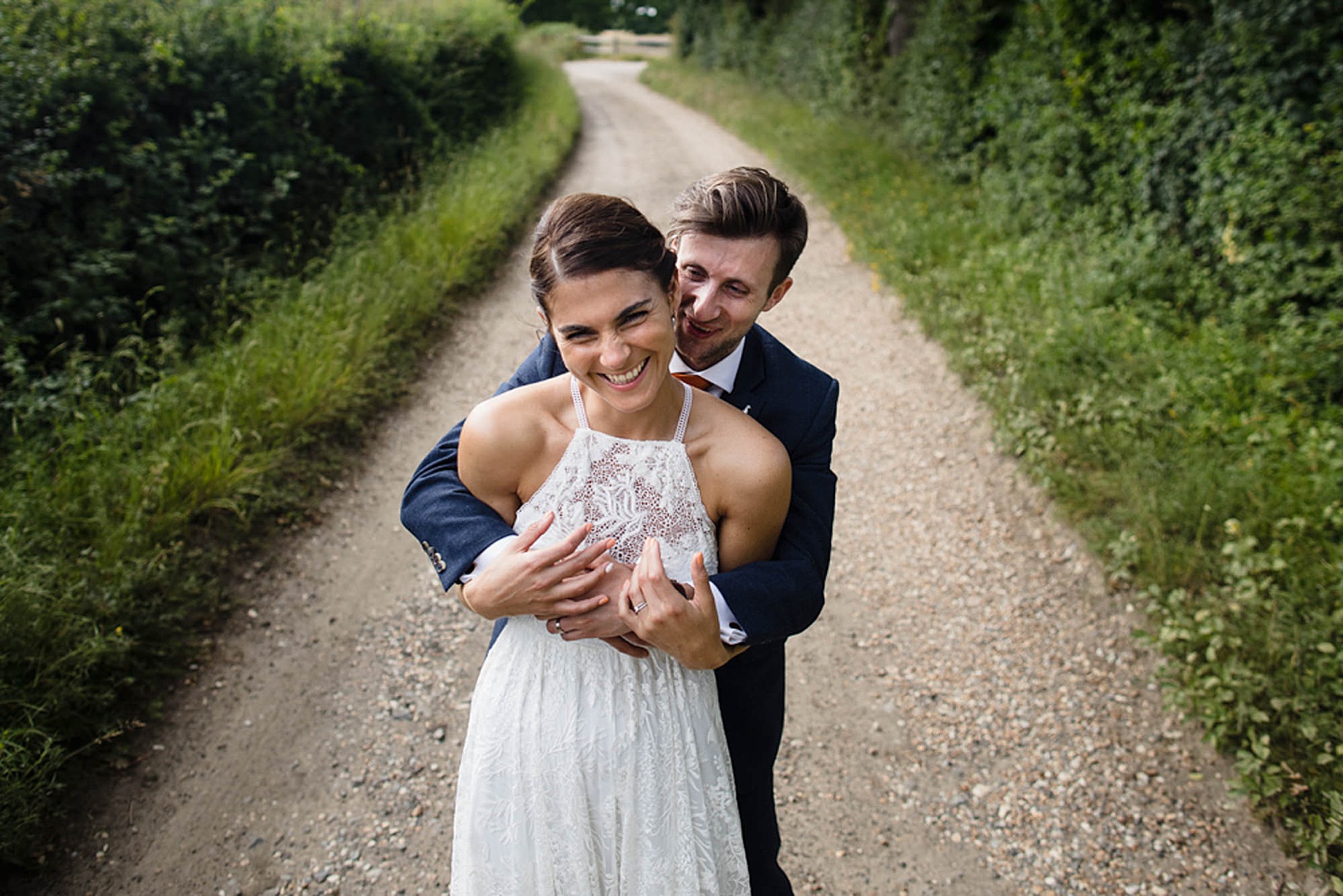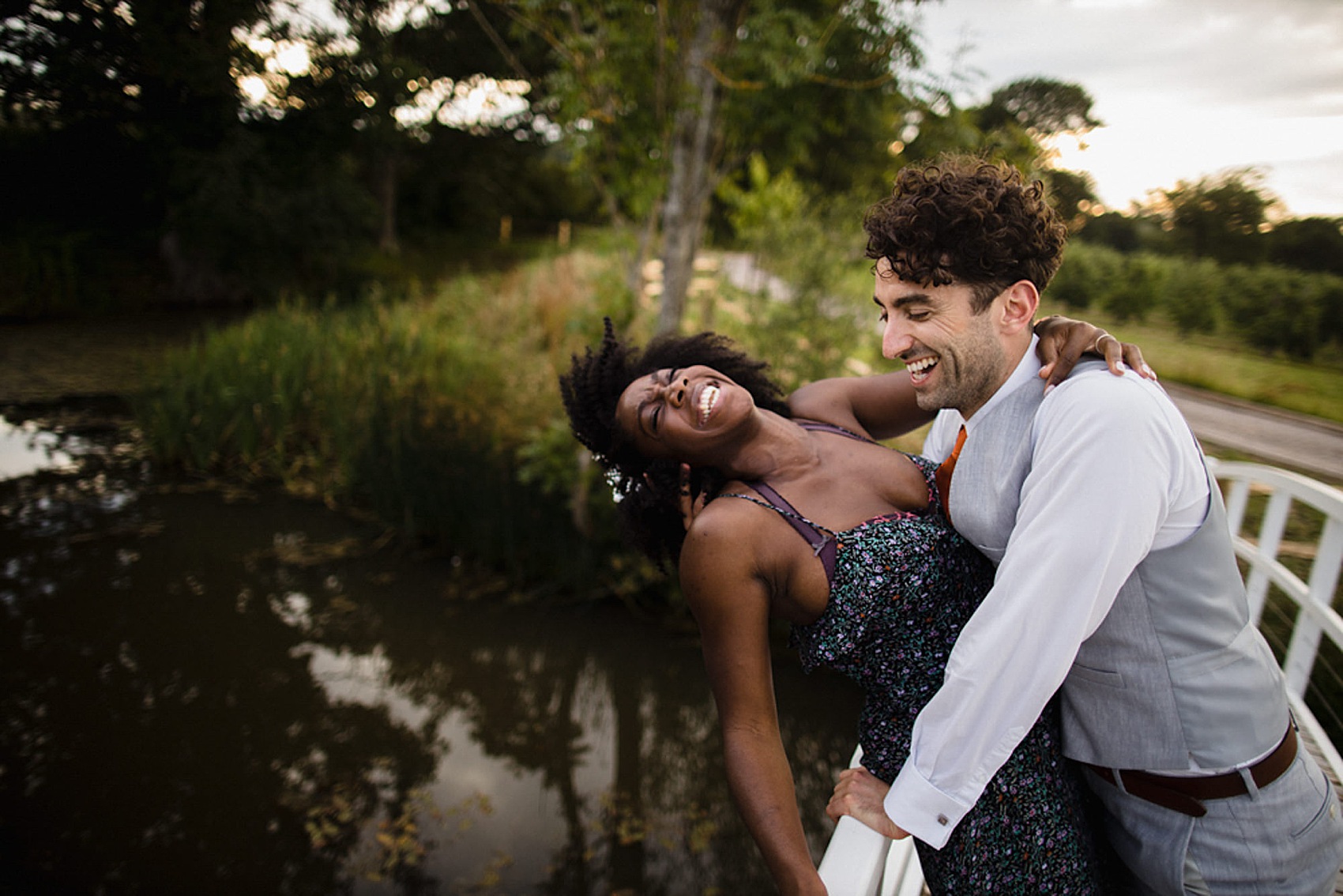 "As Will is a chef – the food was going to be the biggest feature. Will both designed the menu from start to finish. Will was more stressed out and busy than I was myself (I leveraged the skills of our planner to do most of the hard stuff!) so as I sat back, he was slaving away trialing, testing, failing, succeeding at every dish you could think of."
"He designed the menu on all of the fantastic dishes we'd tried over the years of being together – mainly from one restaurant we totally adore, 'Little Bird', based in Chiswick, where we live."
"The beer would be local too. We used the Cherry Orchard's home brewed cider 'Star of Crow' and Chiswick's Fullers Frontier on tap. Everything was personal, and everything was home crafted where and when it could be (when it wouldn't risk quality)."
The lovely, rustic nature of the venue played the perfect backdrop for Claire and Will's vision.  The creative element was delivered with such a sense of effortlessness, thanks for Dita Rosted and hire company, Hire Love.
"Hire Love  was our props/set designer of sorts – they gave us all of our tables, chairs and decorations and dressed it all for us using our vision."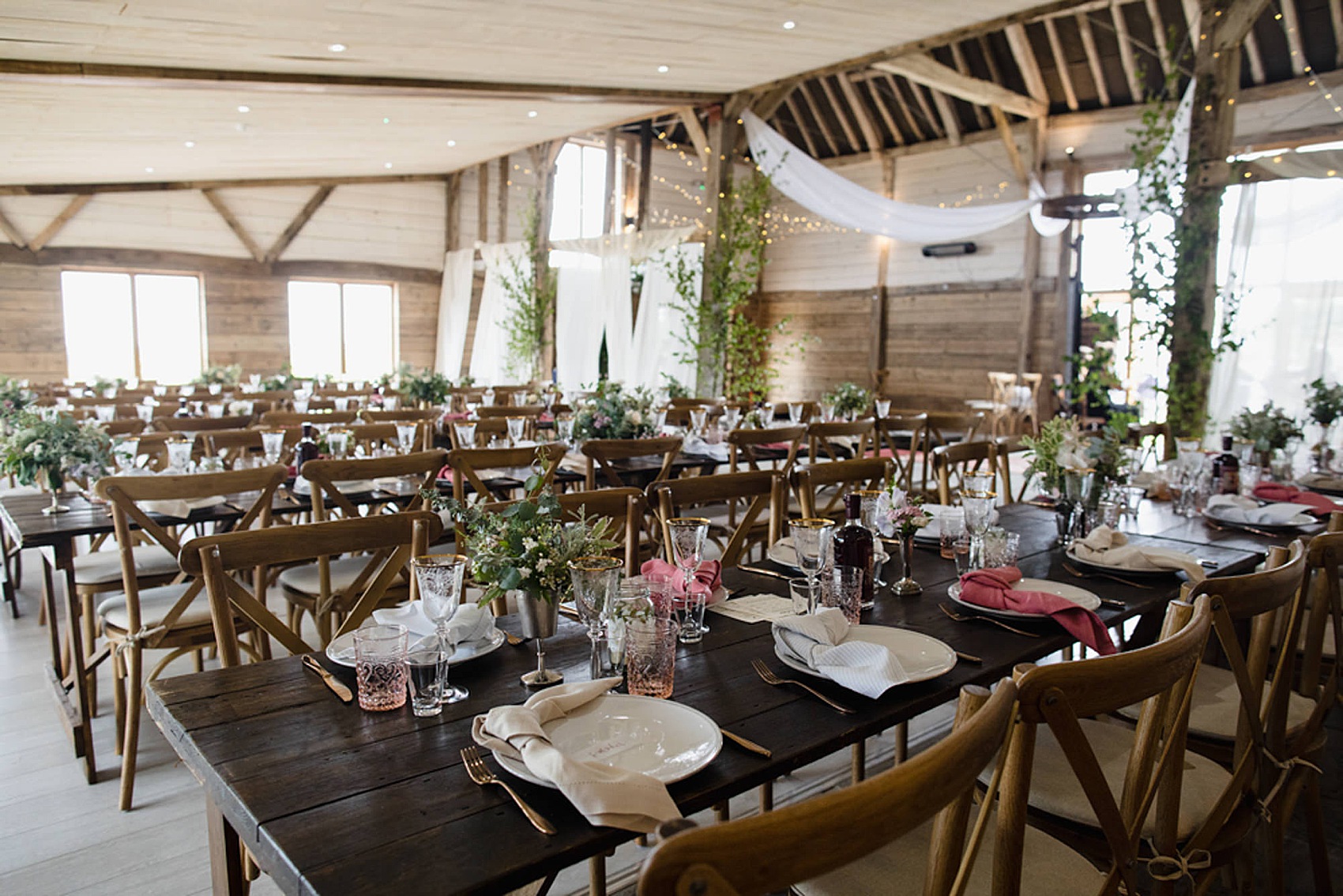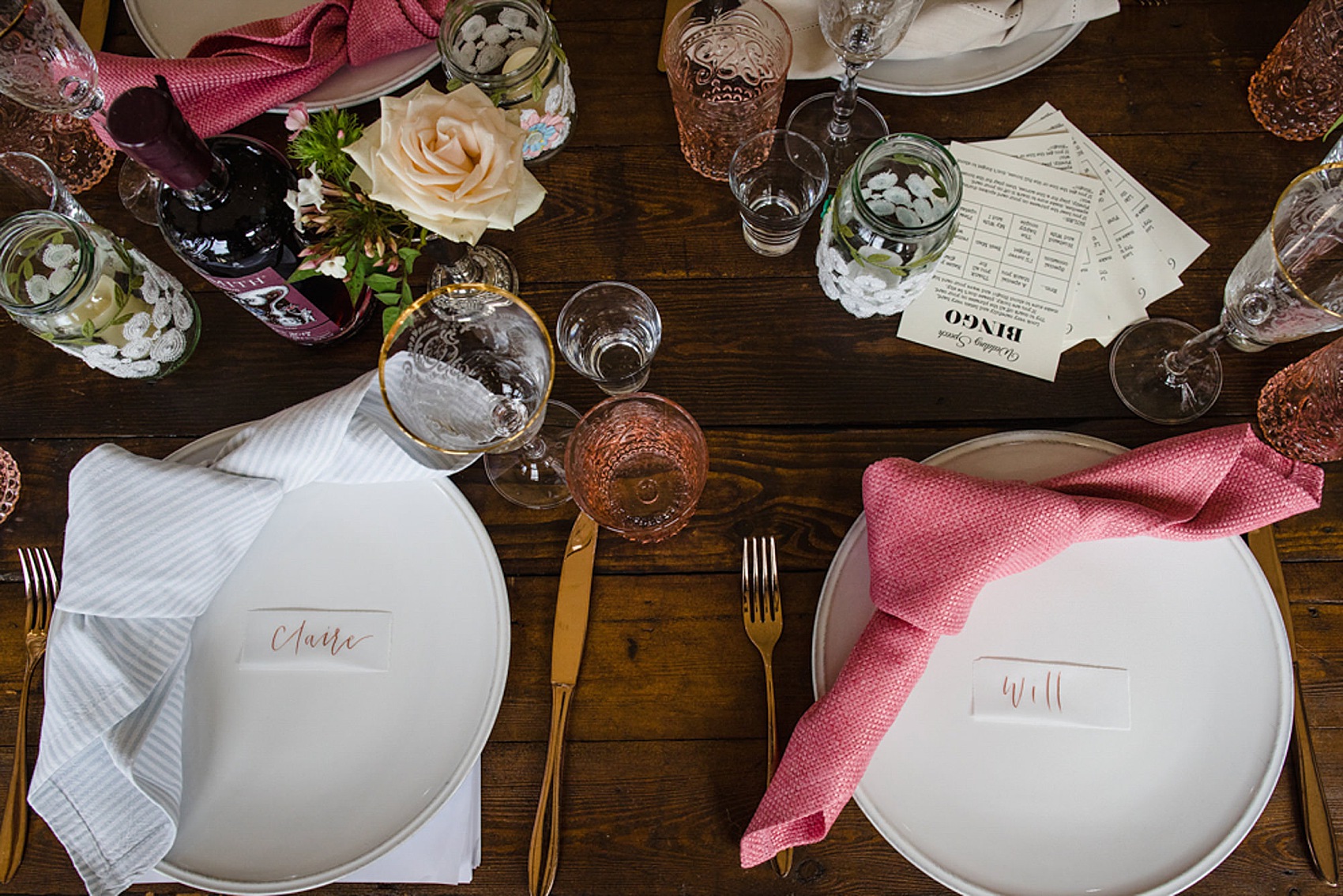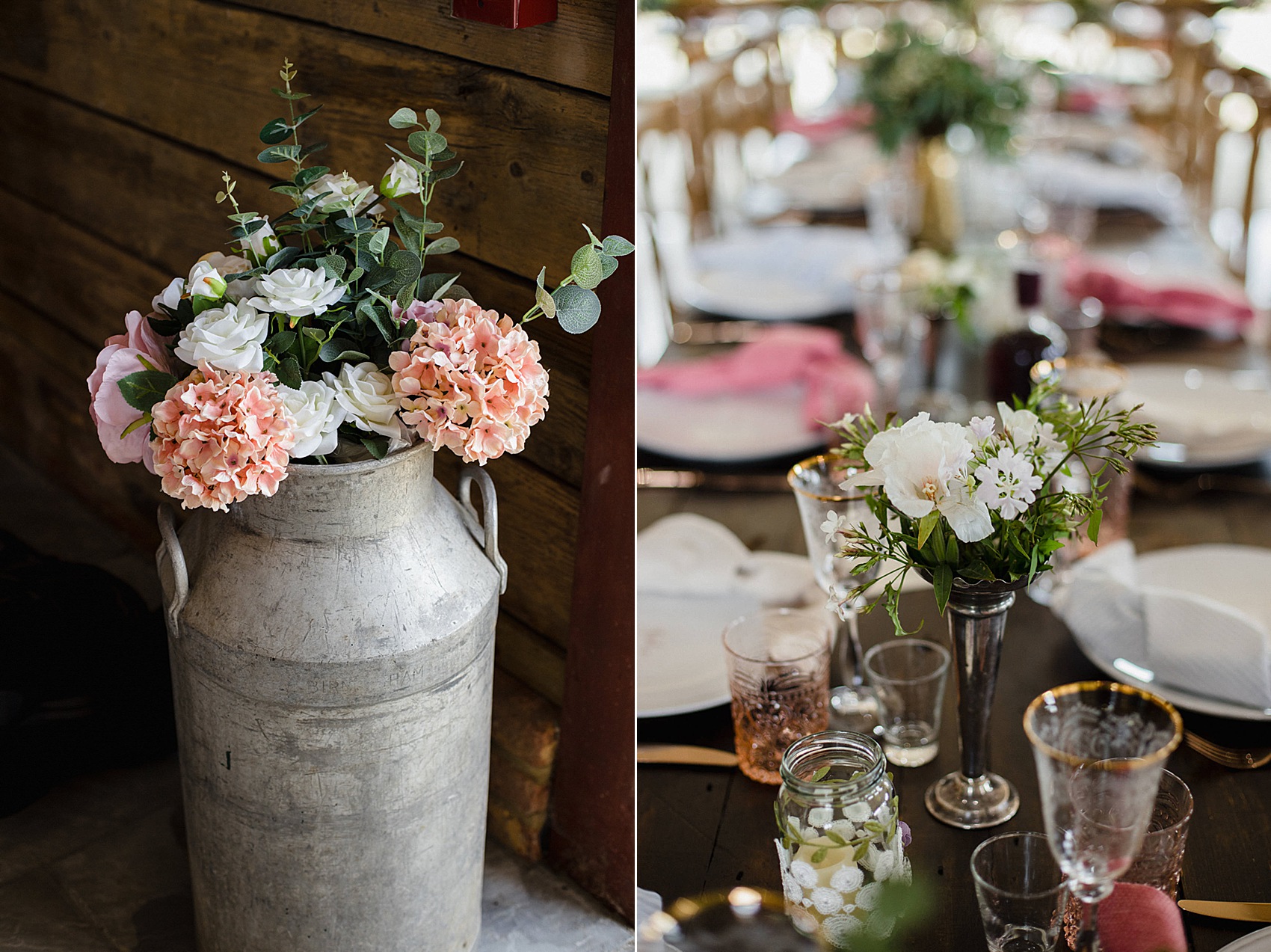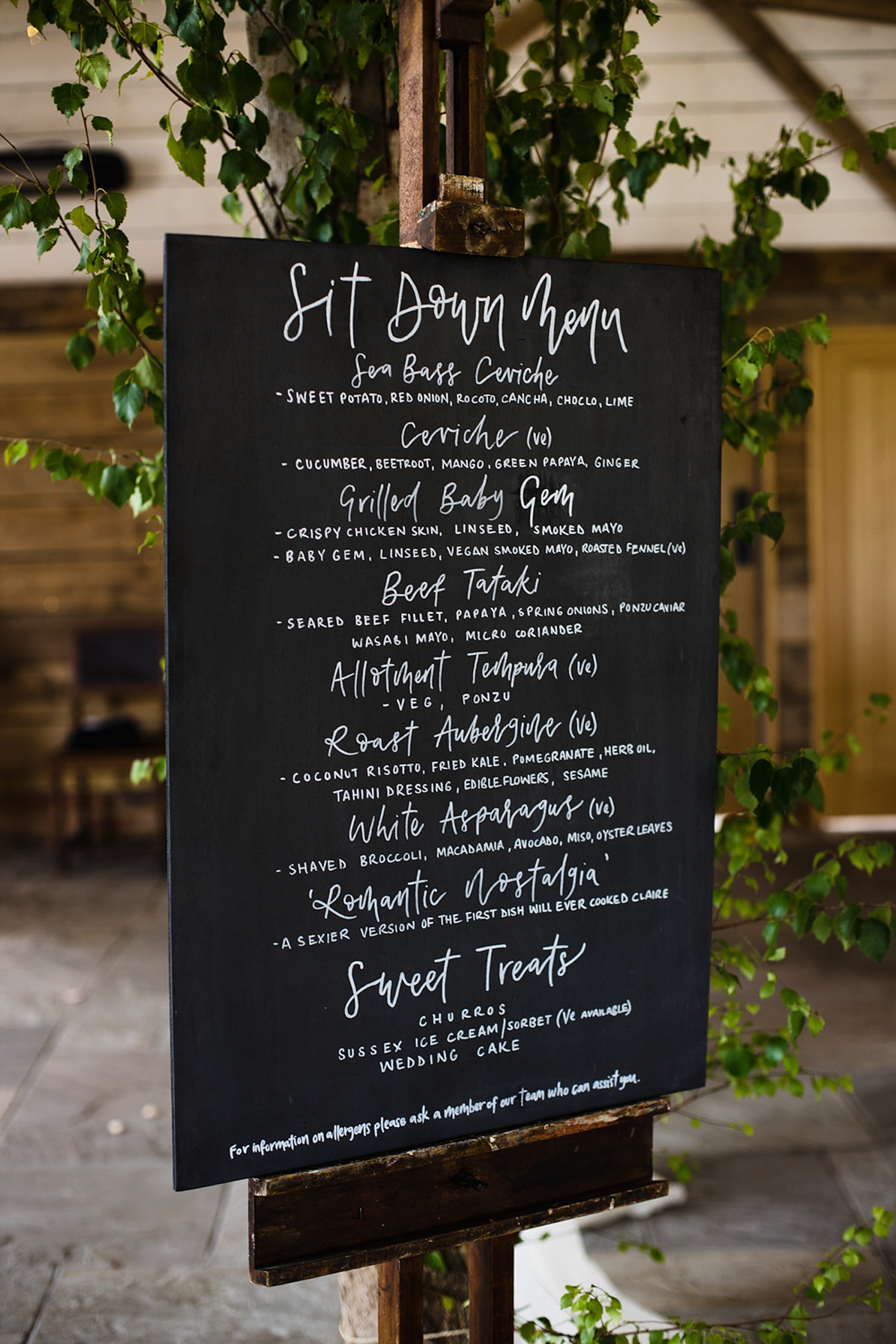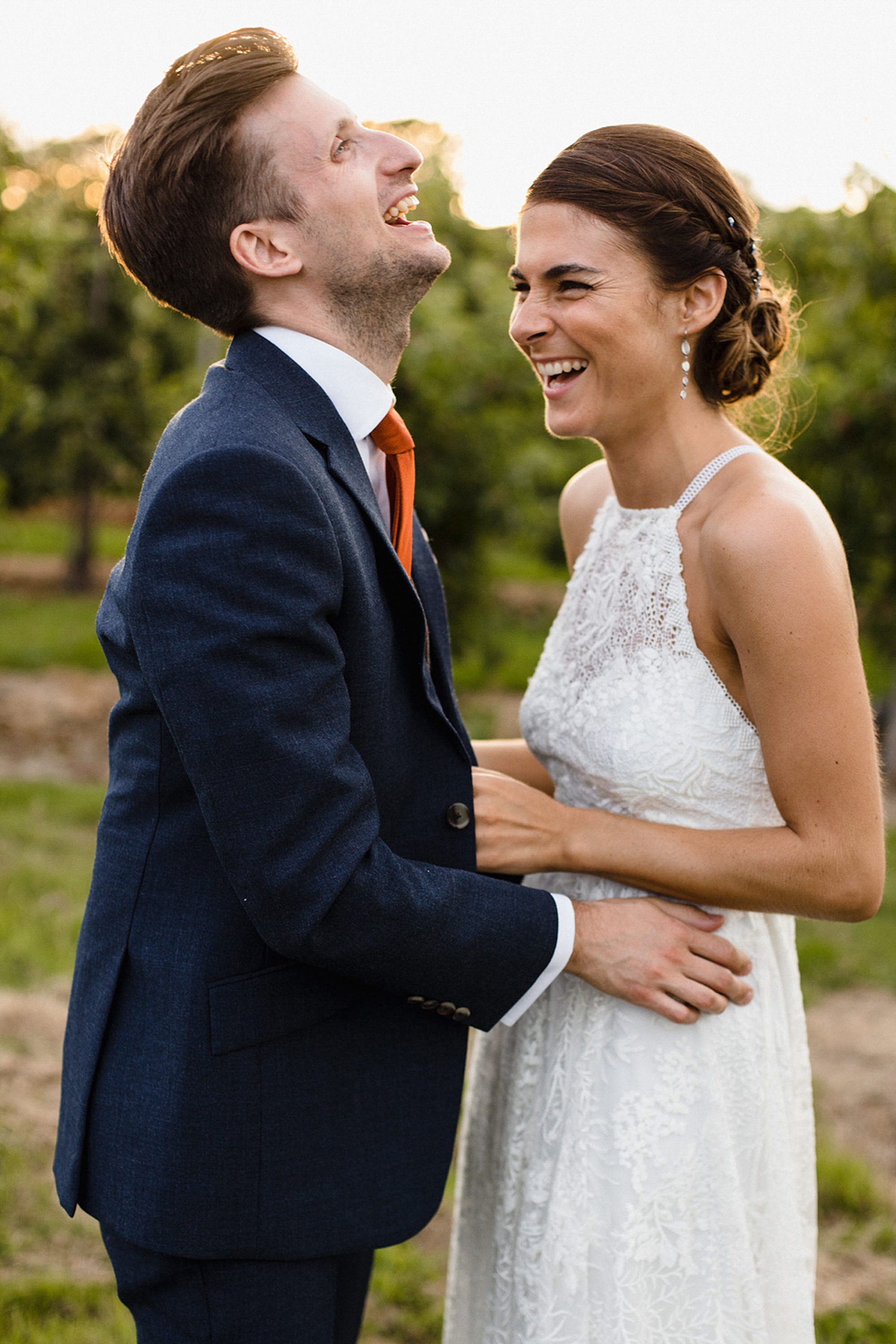 The couple danced to 'Landslide' by the Dixie Chicks, "sung by a bloke with a rock band – it was ace". Haha!
Claire says her favourite moment was taking five minutes outside in a gazebo with her new husband and looking out over the orchard and the starry sky – how wonderfully romantic…
Words of Wedded Wisdom
"I would have either extended the day or shortened the meal! It kept on going but people didn't want the food to stop, so everything pushed later into the evening until we had to just cut out half of the dessert food given there was no time!"
"I'd say if you've got a half decent budget please invest any budget you have in a planner. Spend money to save money – honestly we would have spent far more without Dita Rosted. She told us when we were being ridiculous, when we could probably do better, came up with incredible ideas and expanded our vision more than we could possibly imagine. Made everything 10 times classier than we could have done it ourselves, and found cheaper ways of doing everything. She was just super."
"Non financial advice is, ignore the pressure from outside. People have their opinions – screw them. Your wedding is too expensive, too cheap, too this, too that. You just do you and have it how you want it. It's going to be the best moment of your life so make it how you want – whether that's small and no fuss, or big and loads of fuss."
"It's yours and your partner's decision only – don't allow pressures to invite people you don't want either. More people = more money. Don't be afraid to use that sentence and talk about money particularly when pressure is coming from your family; 'I can't afford your great aunt Anne' often hits home clearly."
"We set out with a £20k budget but did end up spending £30k, and now that we're married, I'm just more certain than ever that it was totally the right thing to do to spend more money. We could have stressed ourselves out silly by trying to save on one thing or another, but ultimately that would have just made it less than the thing we wanted. Just relaxing and spending the money and dealing with that bit later made the whole thing a lot less stressful when we finally succumbed to it."
What a truly beautiful day – Claire and Will, my love and thanks to you for so generously sharing your beautiful wedding – something I know will lift a lot of spirits right now.
You can see more brides wearing Grace Loves Lace here on Love My Dress.
Wishing you all peaceful and gentle weekend vibes.
Annabel x