Here's to Monday, and finding a reason to feel positive, to refocus and try to make the best of the wedding planning in lockdown situation we all find ourselves in.
I made a personal commitment at the start of this lockdown, despite having to downsize my team, that we'd carry on sharing content – more so in fact,  if possible – and inspiring readers as usual. I really hope that what we are sharing – a mix of practical, honest advice and dreamy escapism through all our real weddings, is hitting the right tone right now, but please get in touch if you think we're missing something or could be doing things differently. So if it's OK with you, my team and I, be that team much smaller than usual, will just carry on as is.
Emma, a photographer based in Cheltenham, married her love Chris, a Reactor Physicist, on 24th June 2019, at Lapstone Barn in Chipping Campden.
As a creative lady herself, the bride had a pretty clear vision for her day…
"From the very beginning I had a fairly clear vision of the look and feel I wanted for our wedding: neutral, blush tones with a relaxed, romantic, feminine, flower-filled feel. I wanted timeless elegance, with modern romance, in a garden setting. Besides the venue, for me the three biggest elements of our day were the dress, naturally, the photographer, and the flowers."
"We had originally been planning an intimate outdoor garden wedding in the South of France, as we both have ties with France. But our venue fell through so we decided to see if we could create our dream garden wedding in the Cotswolds, where we live. We came across Lapstone Barn quite quickly and saw it offered outdoor ceremonies in a pretty Cotswold setting. We visited and were sold."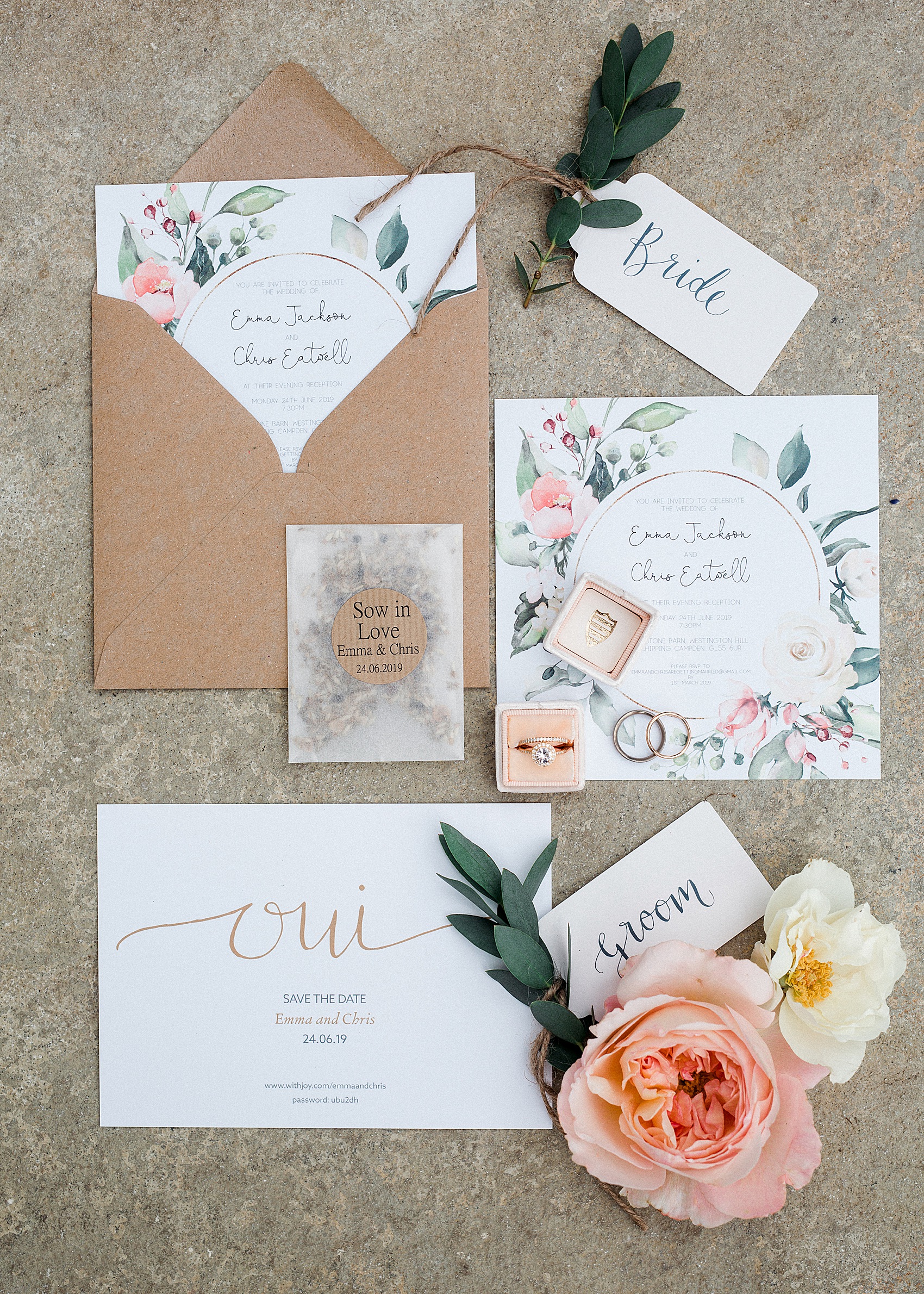 "My make up artist, Natasha Louise, and my hair stylist Dean Brindley were both perfect. I think it's really important to surround yourself with people who you feel comfortable with. And Natasha and Dean blended in brilliantly in the bridal suite."
"Natasha was such a wonderfully welcome calming presence. From my trial with her I just felt really comfortable, like I was chatting with an old friend, so I knew she was the right choice. Dean has been doing my hair for years, so I knew I was in safe hands with him. He was great with my young flower girls as well, helping make them feel special on such a big day."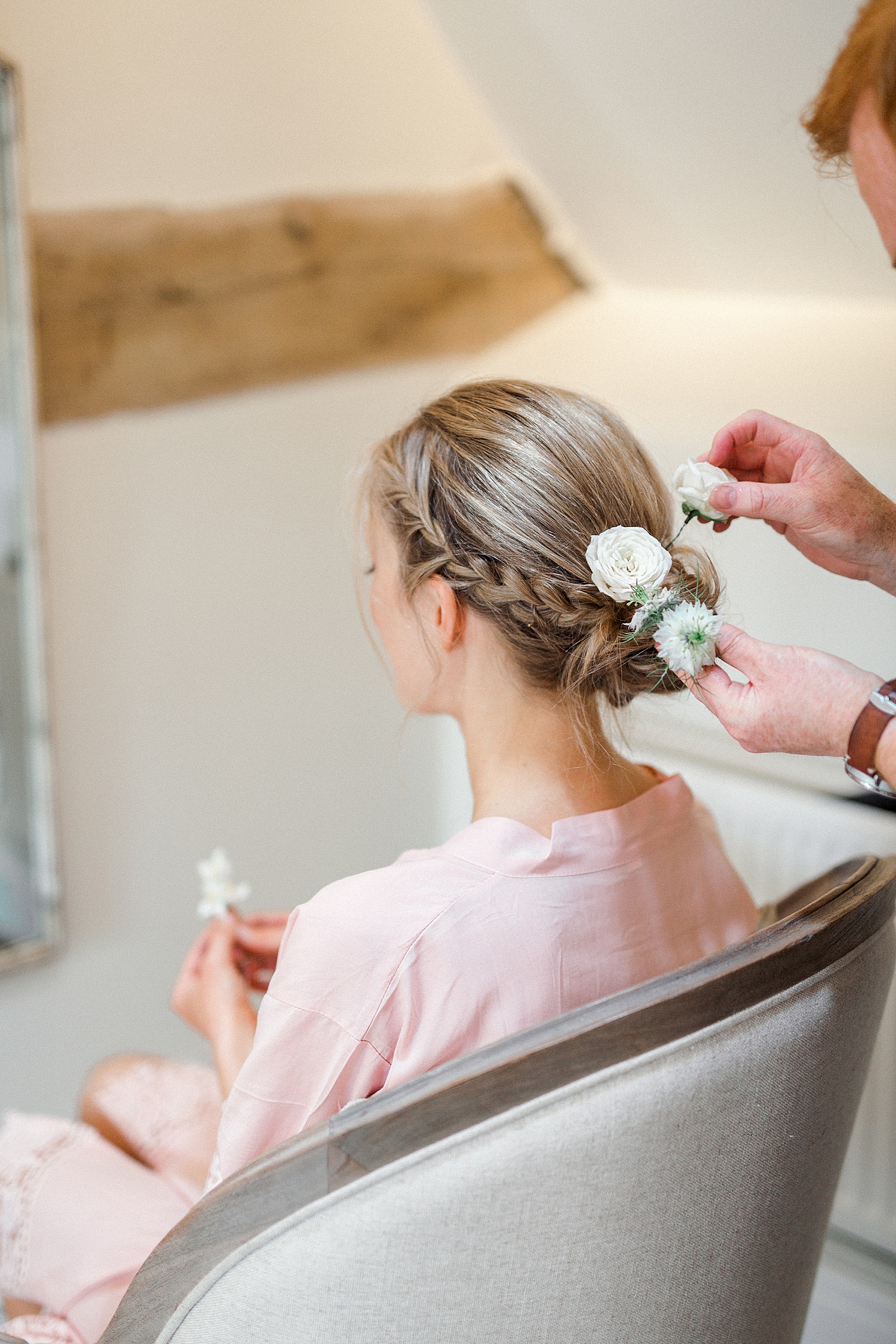 The bride's beautiful blue tulle dress was by designer Chantel Lauren, who Emma discovered through The Bridal Rooms boutique in St Ives.
"Tiffany at The Bridal Rooms was great. I was at the end of a very long dress hunt and was starting to feel like I may never find my dress."
"Of all the boutiques I visited, Tiffany had the most beautiful selection of dresses which were all a little bit more individual than your average bridal shop."
"By far and away my favourite of all the 13 shops I visited! I would recommend her in a heartbeat. She has a great eye for elegance and unusual beauty in a wedding dress."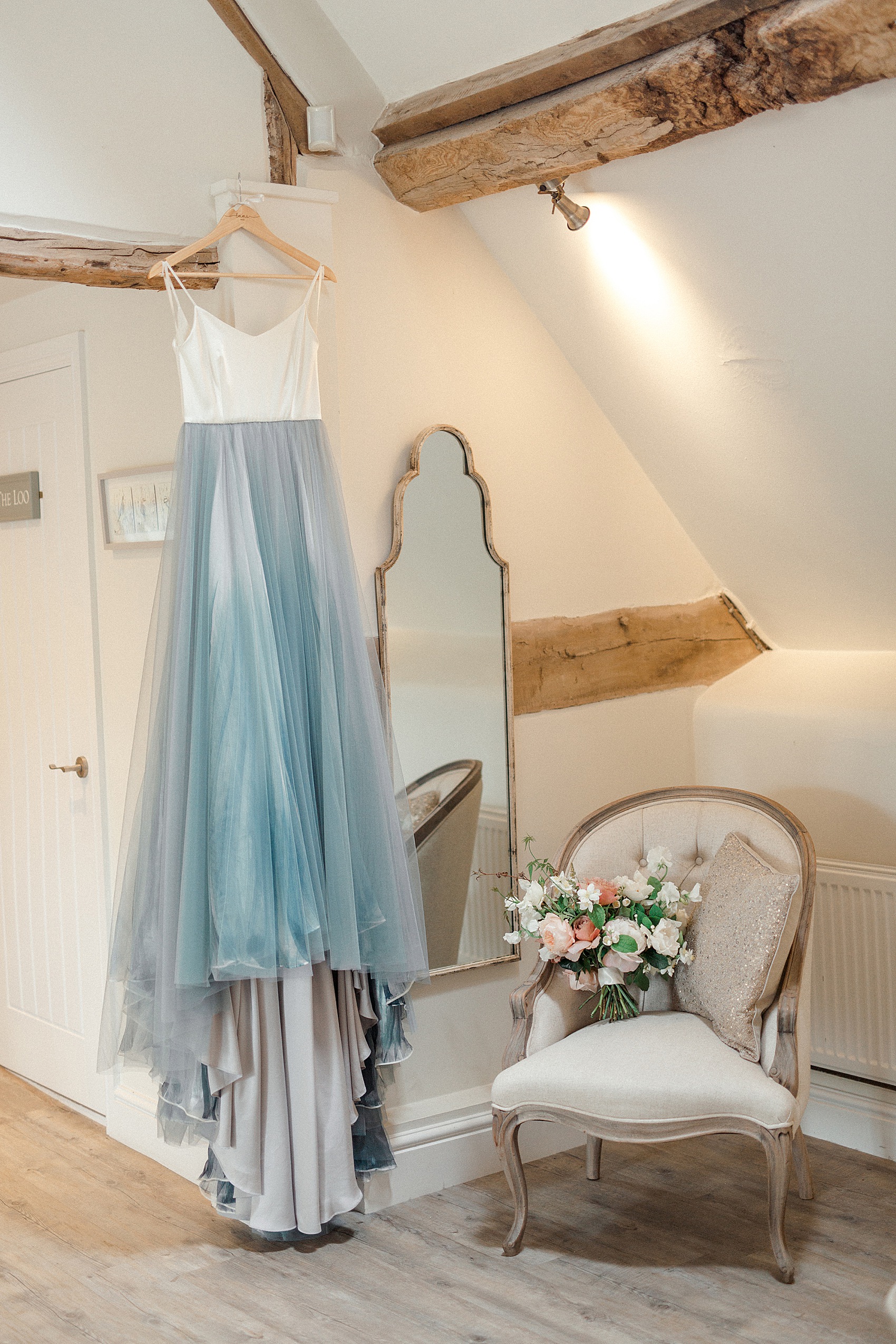 "From the start, I knew the style of dress I wanted. I didn't particularly want an ivory gown. I wanted something a little bit different that would feel more like me. I guess it was a reasonably tall order: I wanted a little bit of drama and a lot of romance; feminine but not too revealing, and definitely not strapless; a full skirt, but not in a ball gown style way; I wanted fluid movement in tulle and lace rather than structured, heavy silk; boho over tradition; a statement back without being too low cut on the front; and if possible I wanted colour."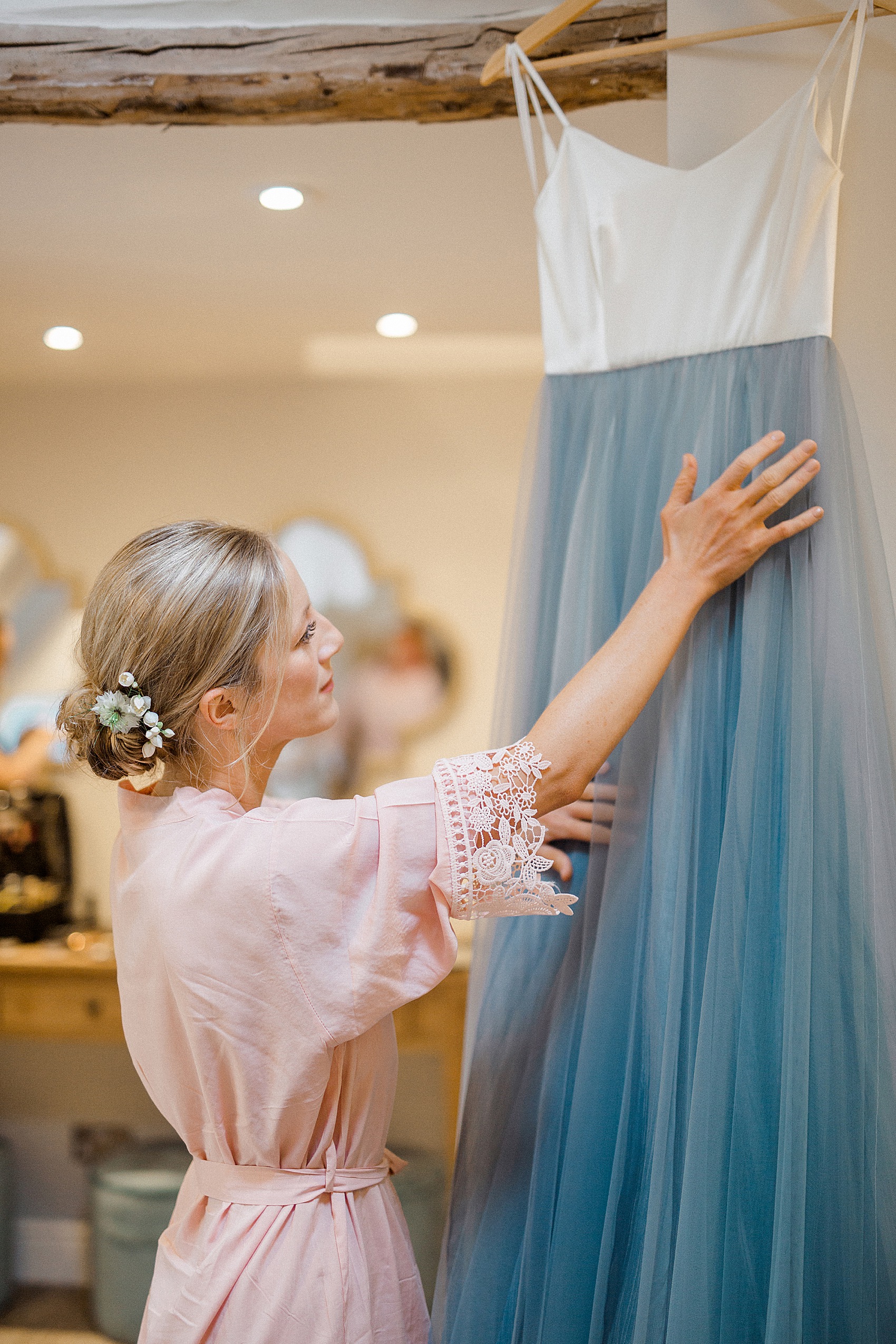 "However it proved quite a challenge to find this style of dress in the UK! I had visited 12 or 13 bridal boutiques and was beginning to lose heart. I even contacted a designer in the USA who had one particular dress which I just adored and had been lusting over since before we even got engaged."
"She was happy to make me the dress remotely, but there was no way of trying it on, and I needed to make sure the cut and colour of the pale grey fabric would suit me."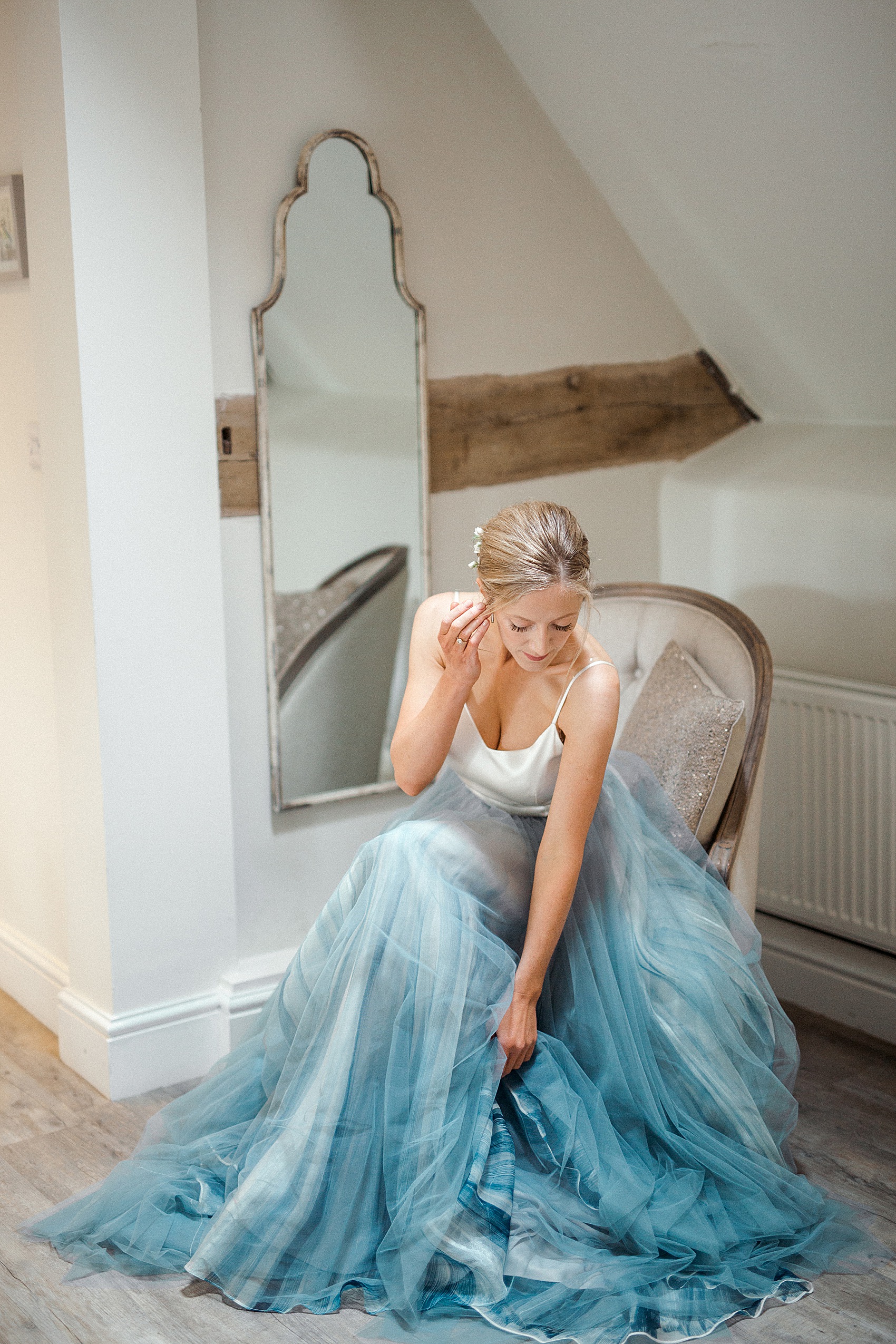 "One day, purely by chance, I came across a dress on Instagram which was the dream. It was a repost of a repost of a repost. I followed the breadcrumb trail and with a bit of detective work I found the designer. Again, she was in the USA but she had two UK stockists."
"I was concerned we might not have enough time to have the dress made, but as quickly as we could arrange it, we made the 8 hour round trip to see the dress. (My husband-to-be didn't need too much convincing to spend 12 hours at one of his favourite surf spots!"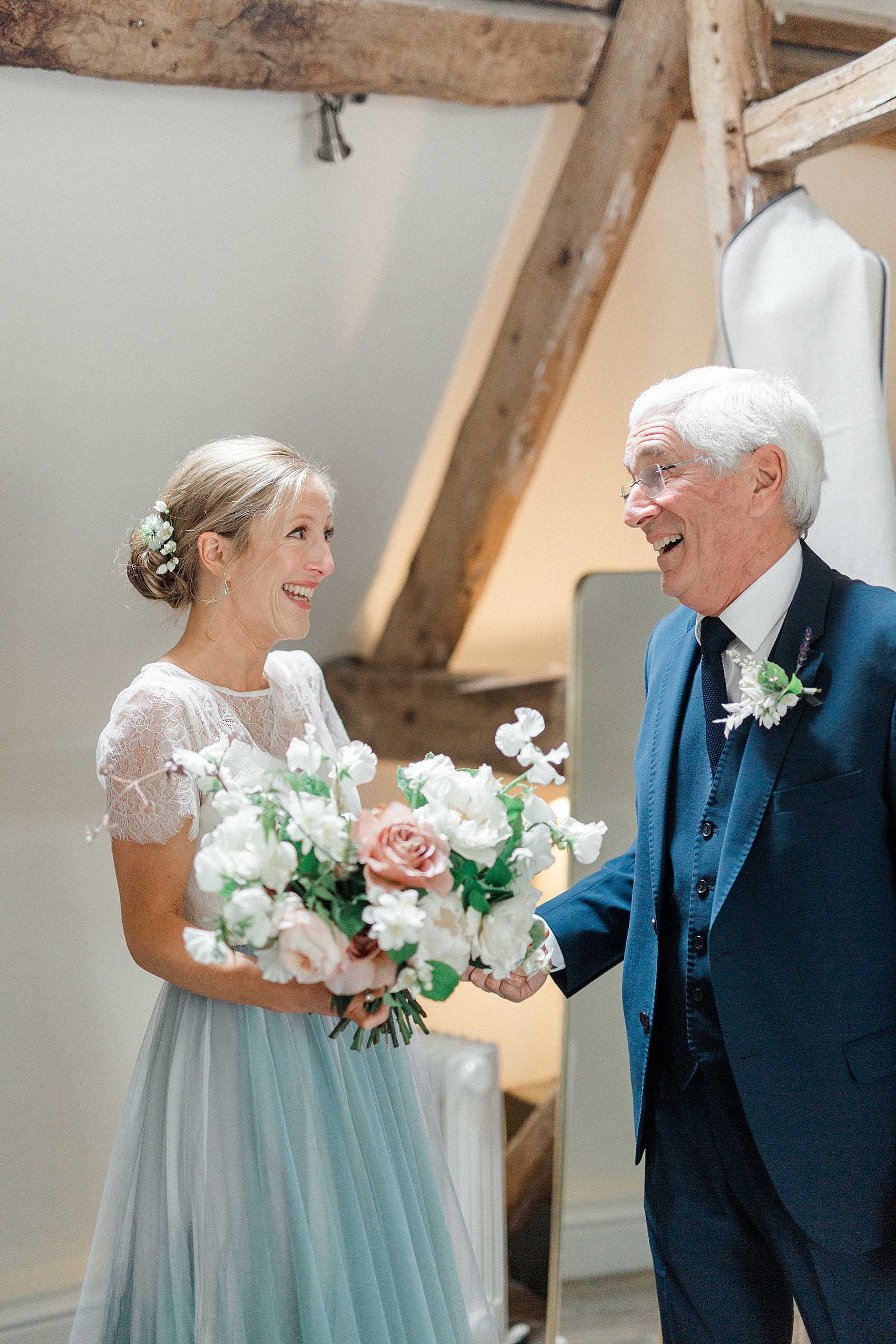 "Trying the dress on for the first time, tears pricked my eyes – it felt like I'd come home! Until this moment I hadn't believed it when people said you 'just knew' when you had found your dress. But I knew – and it was a bit of an emotional moment, ending a very long rollercoaster of a dress hunt."
"A few months later and one round of alterations later, we picked up the dress with just a couple of weeks to go until the big day – and it was perfect! I'd found it, the dress that felt like me, and I felt amazing in it."
"I wore my late Granny's blue drop earrings during the ceremony, which picked out the blue in my dress. I later changed into a pair of simple gold diamanté drop earrings. I didn't wear any other jewellery as I felt the dress did all the talking."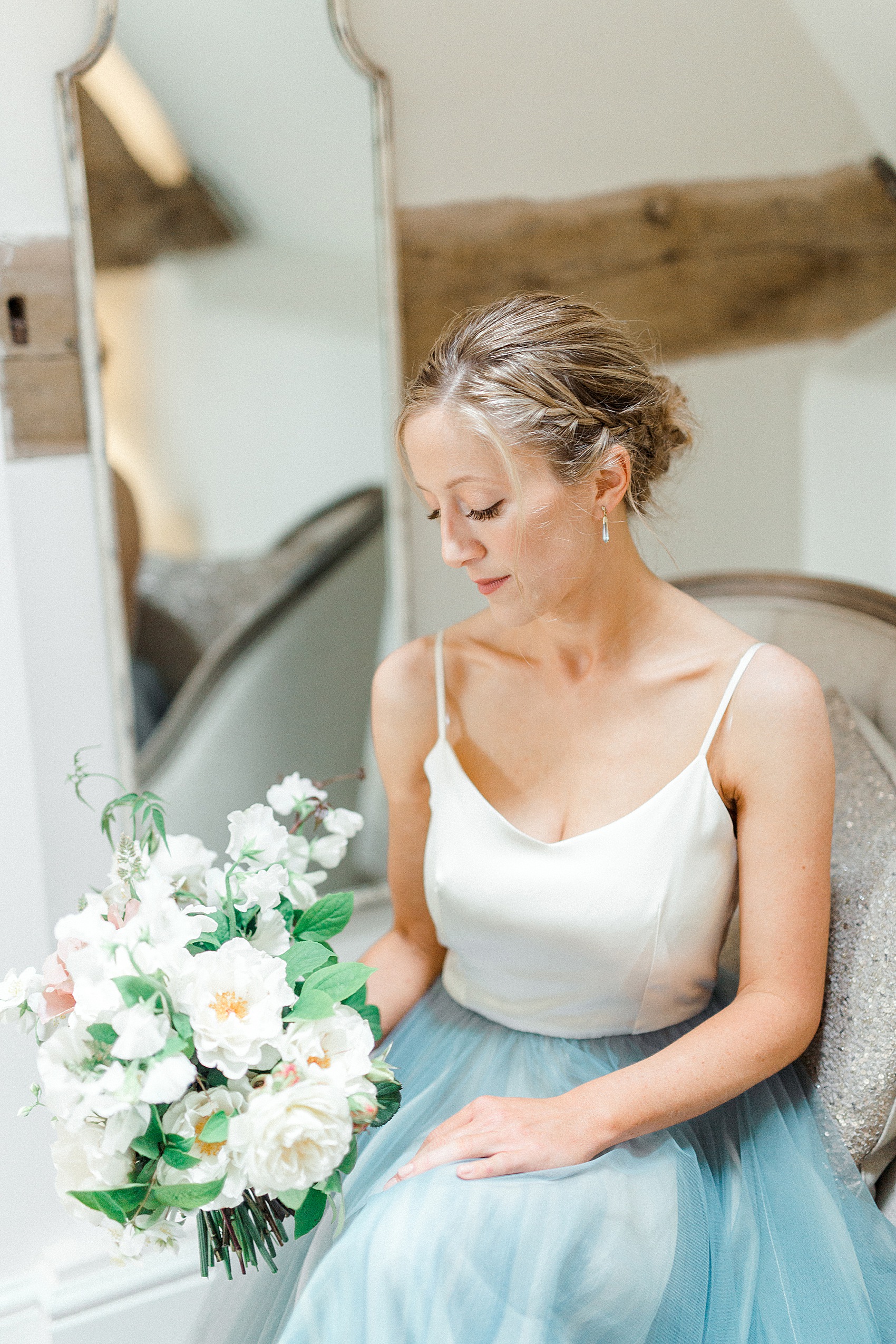 "I chose a pair of ivory Rainbow Club shoes, and for the evening I changed into a pair of cream, glittery Kate Spade x Keds trainers. My dress was going to be so long that I knew my shoes wouldn't really be seen."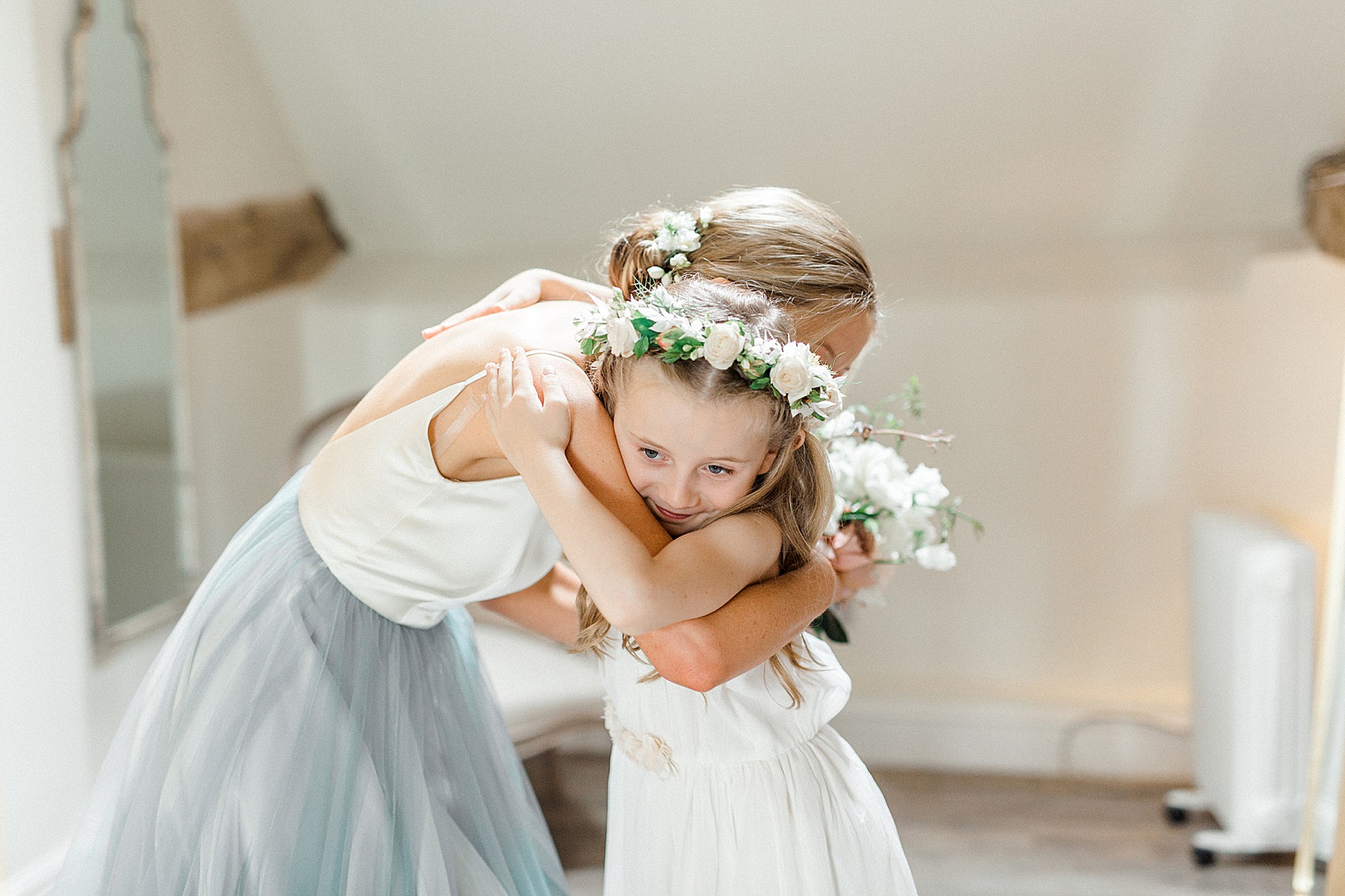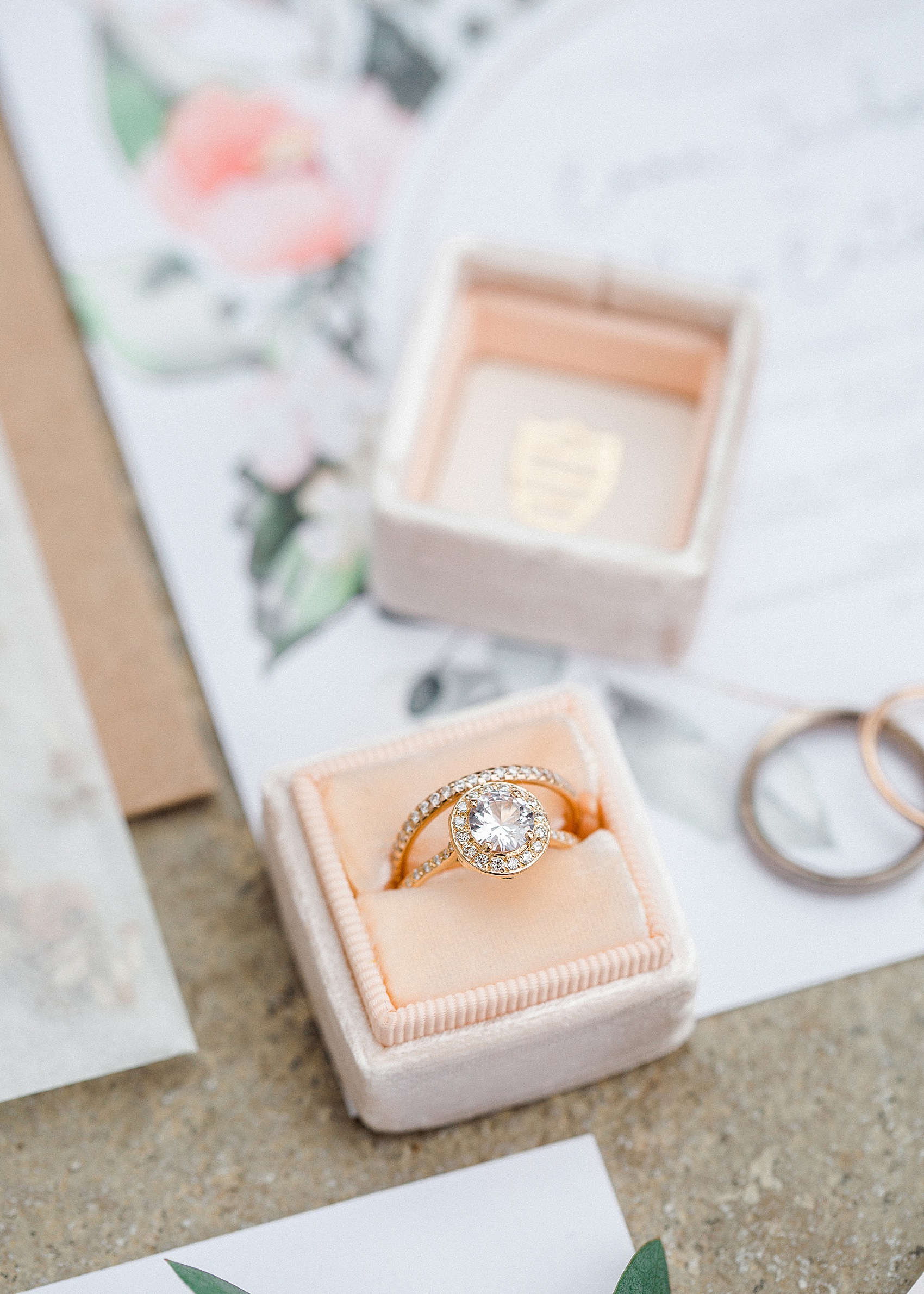 "For the groom we chose a dark blue Italian wool three piece suit from TM Lewin, a white shirt, brown shoes and a dark blue tie to match the suit. My husband had no idea that my dress had any colour in it, so I had to work quite hard to steer him away from the idea of having a different coloured tie!"
"I knew that the simplicity of a dark blue tie would work beautifully and felt that introducing another colour could be risky, so wanted to keep things simple."
"Chris and I met through work. Our first date seemed to go on for days, and we haven't looked back since! Chris proposed on our 7 year anniversary and by the time we married we'd been together for 10 years. In our decade together we've travelled the world for a year, Chris with his surf board, me with my camera, and had many adventures. We now have a little boy together."
"Our little boy, who was two and a half at the time, was our best man. He wore dark blue chinos, a white shirt with little grey zebras, and blue trainers. Our Ushers wore a dark blue three piece suit, white shirt and brown shoes, to co-ordinate with the Groom."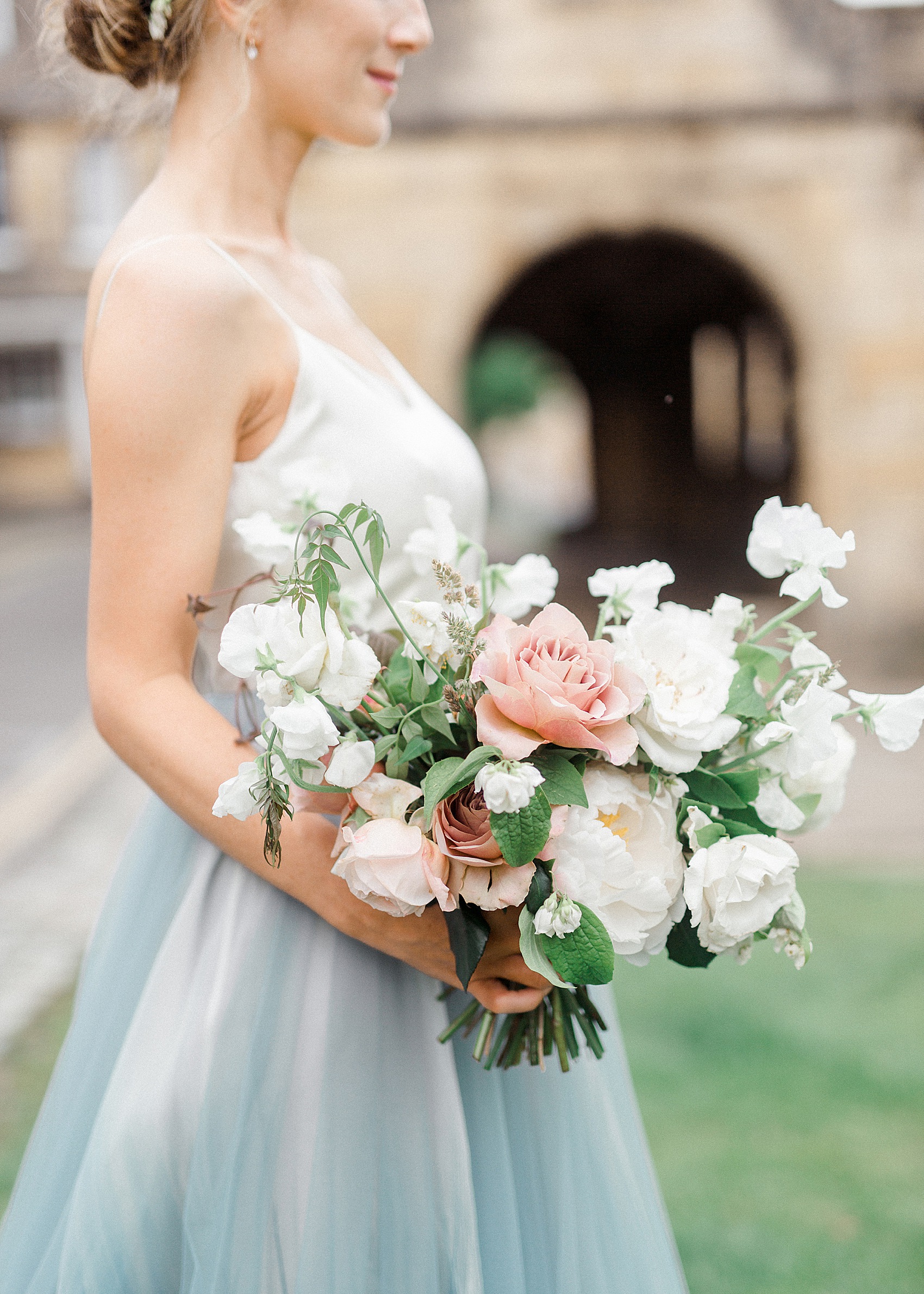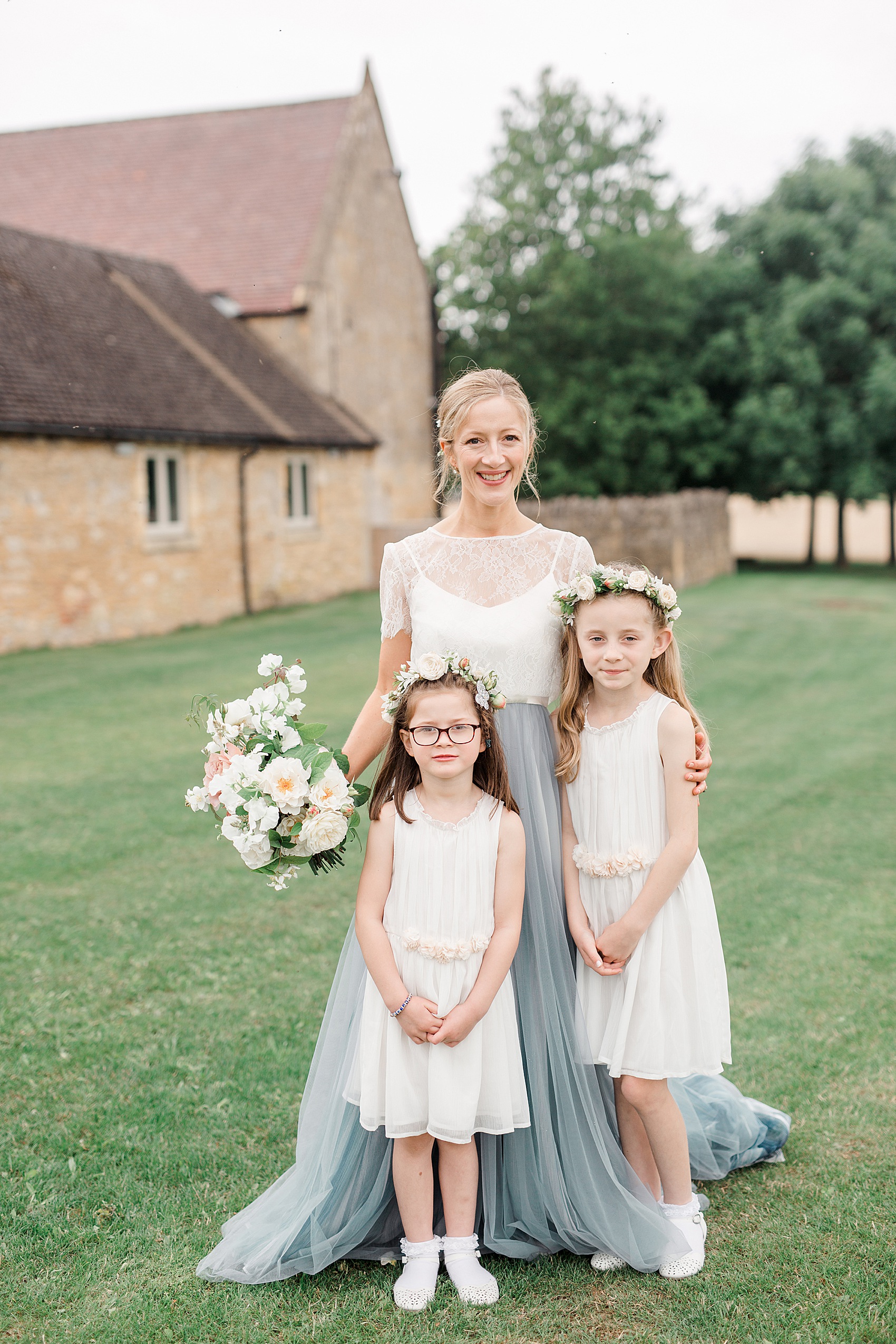 "We wanted to have a few surprises along the way for our guests. I wanted the ceremony barn to be filled with flowers so I chose a meadow of English garden flowers to line the aisle, bringing the garden inside. Our two year old was our best man and he did a sterling job!"
"After the ceremony we made our grand entrance into the garden as the new Mr & Mrs with two alpacas, who were a complete surprise for our guests, and who stayed for a meet and greet during our reception drinks!"
"But perhaps my favourite surprise was the dress I chose – a hand painted blue gown. The skirt on the dress was painted in different shades of blue. The top half was a silk camisole, and it had an off-white lace topper."
"We're lucky that both our dads are quite creative and practical. I asked my father in law if he could create us a wooden structure to marry in front of. We decided on a heptagon shape, which Jennie decorated with flowers and foliage. It looked amazing."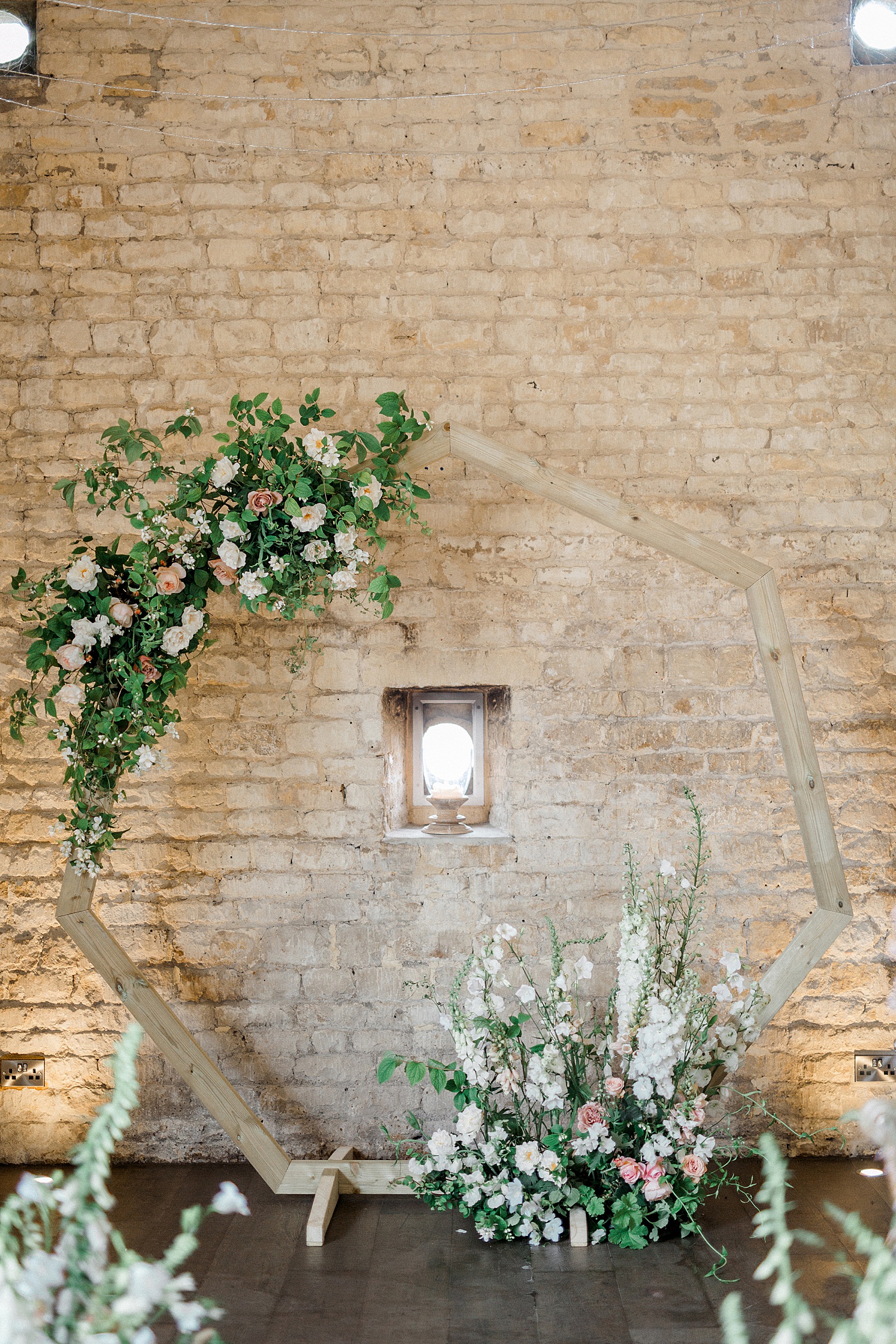 The stunning florals were provided by Jenni of Liberty Lane Flowers, and as a wildflower meadow lover myself, I adore how she brought the outside in.
"I had a pretty clear vision for the whole day, and flowers would make up a big part of that. I wanted big, blousy, feminine blooms. A soft, neutral colour palette, with a natural garden feel. Jennie from Liberty Lane Flowers was recommended to me, and I'm so grateful for that because on the day Jennie's work literally took my breath away! I loved her natural and feminine style. She was the perfect fit and I trusted her implicitly."
"I knew I wanted a meadow lining the aisle, and Jennie produced the most awe-inspiring sight of towering delphiniums, foxgloves, soft sweet peas, roses and lots of greenery. My bouquet was free flowing and loosely arranged with garden roses, jasmine tendrils, sweet peas and grasses. She also made the sweetest flower crowns for my two flower girls."     
"Because my dress had colour, I wanted to keep the colour scheme for my Maid of Honour and my two flower girls very simple. We went for a beautiful ivory jumpsuit by Mori Lee for my Maid of Honour, and pretty ivory dresses with a blush pink flower garland around the waist for the girls."
"My Maid of Honour had a smaller version of my bouquet, and the flower girls had the most beautiful flower crowns in their hair.
The bride's dad accompanied her into the ceremony, to the sound of 'At Last', by Etta James.
"It was such a beautiful song, the sentiment behind it felt right. It also felt appropriate because we were finally getting married after 10 years together!"
"I was a little apprehensive about walking down the aisle and I remember feeling a wave of relief when I reached Chris at the top, and it suddenly just felt about us then. I started to relax into it and enjoy myself! Walking back down the aisle once we were married was amazing."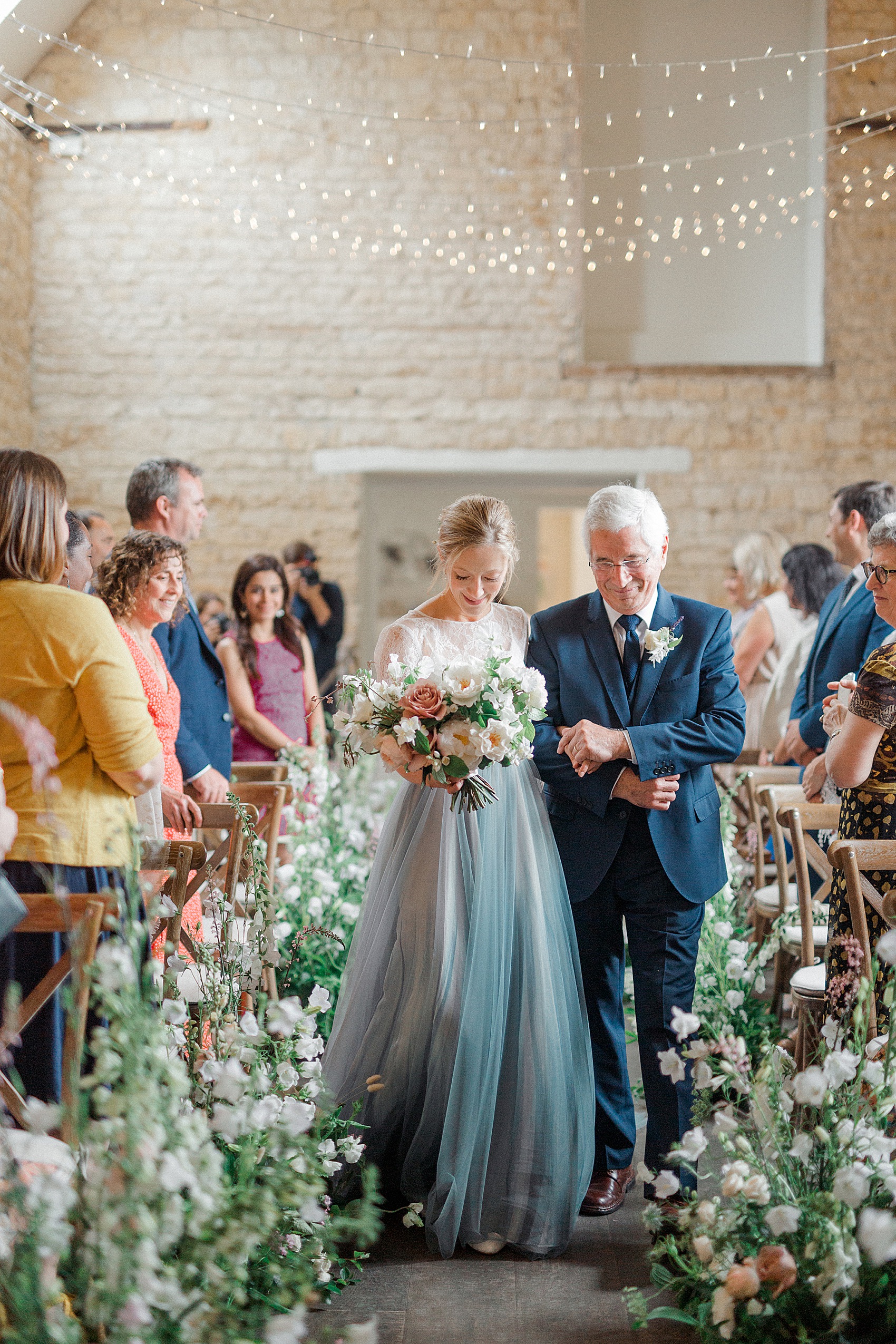 "We chose two readings: one from 'The Chaos of Stars', by Kiersten White, 'I didn't fall in love with you. I walked into love with you', and another from Winnie The Pooh, "If you live to be a hundred, I want to live to be a hundred minus one day." They both struck a chord with us. I wasn't sure if I would be able to hold it together during the Winnie The Pooh reading, but on the day I managed it and it was fine."
"A piece of advice that our florist Jennie had given me was to try not to see the ceremony barn until it was ready. I saw it for the first time as I walked down the aisle during the ceremony and it literally blew me away! Making our way through that flower meadow, my arm linked through my dad's, walking towards my husband-to-be, was a very special moment."
"We designed and made our own wedding rings, under the watchful eye of our silversmith friend Helen London."
"I chose a simple slim rose gold band, and Chris chose a matte silver band. My engagement ring was a custom design by Sophie at Beards in Cheltenham."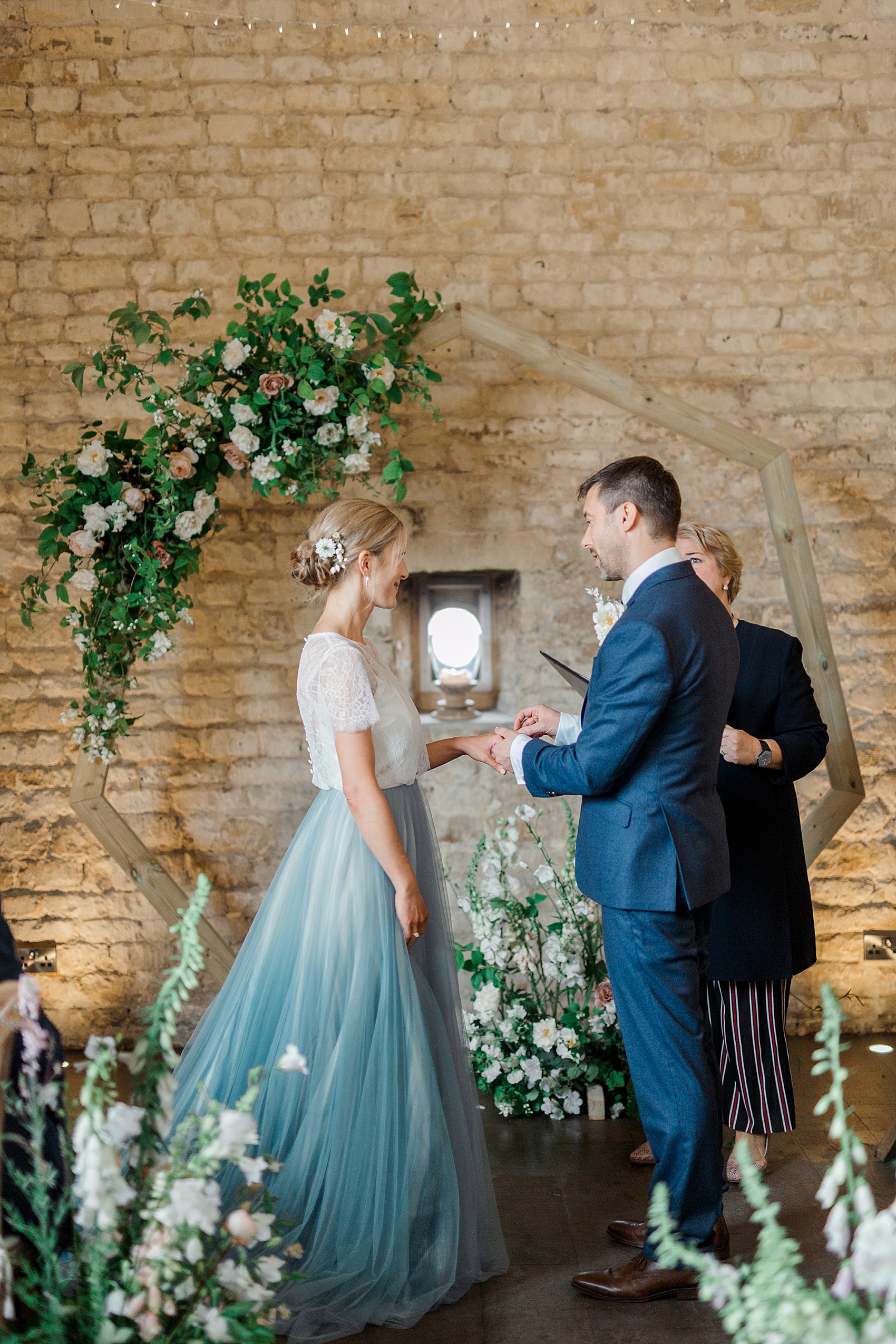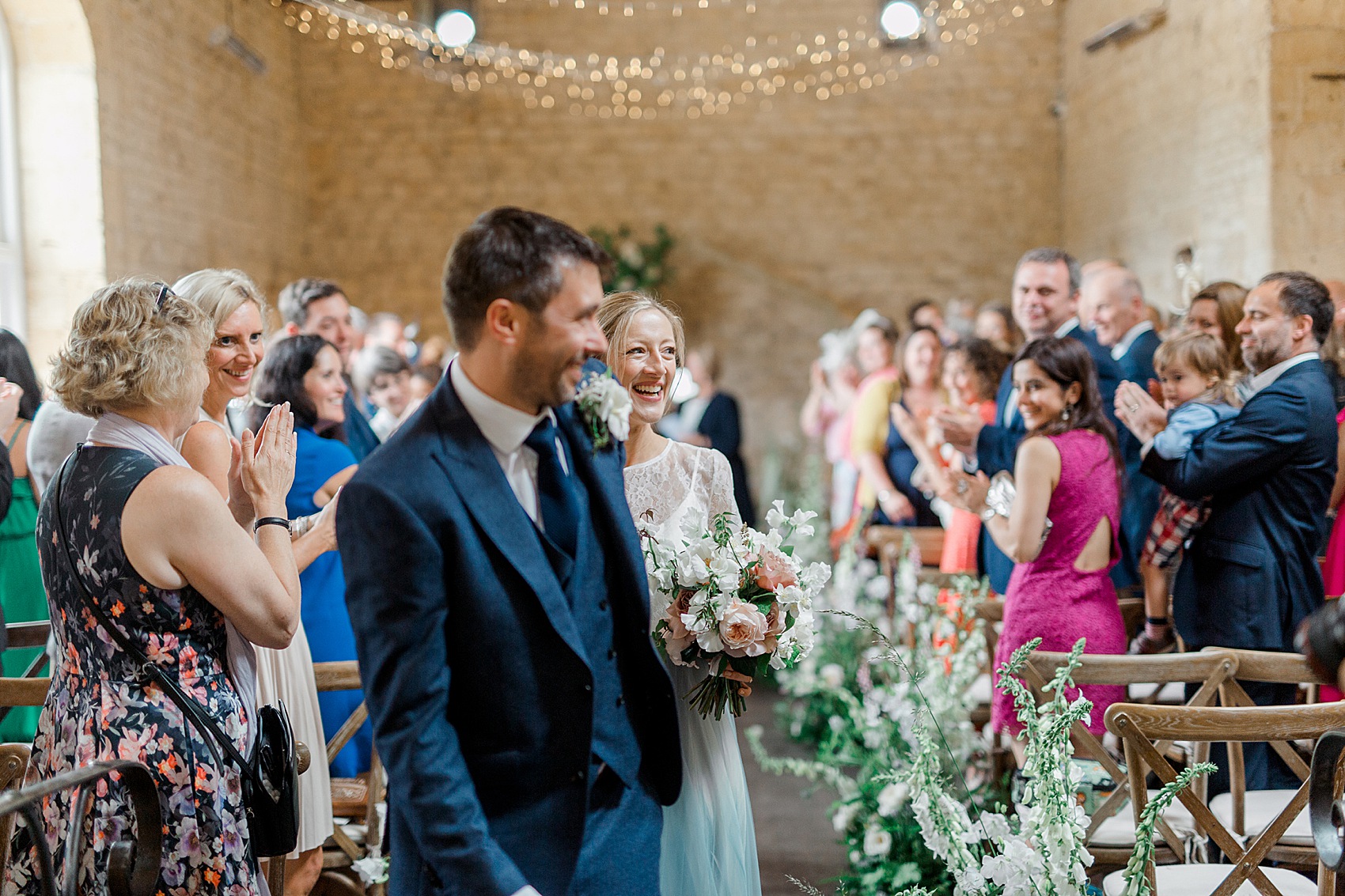 "Being a photographer myself, choosing the person to capture our day was as important as finding the dress! However I'd known for a while that I wanted Nastja Kovacec."
"Her fine art, editorial style was exactly how I wanted to remember our day. The soft, pastel tones in her photography are incredible, so we didn't really think twice about flying her and her sister Nives over from Slovenia to photograph our day."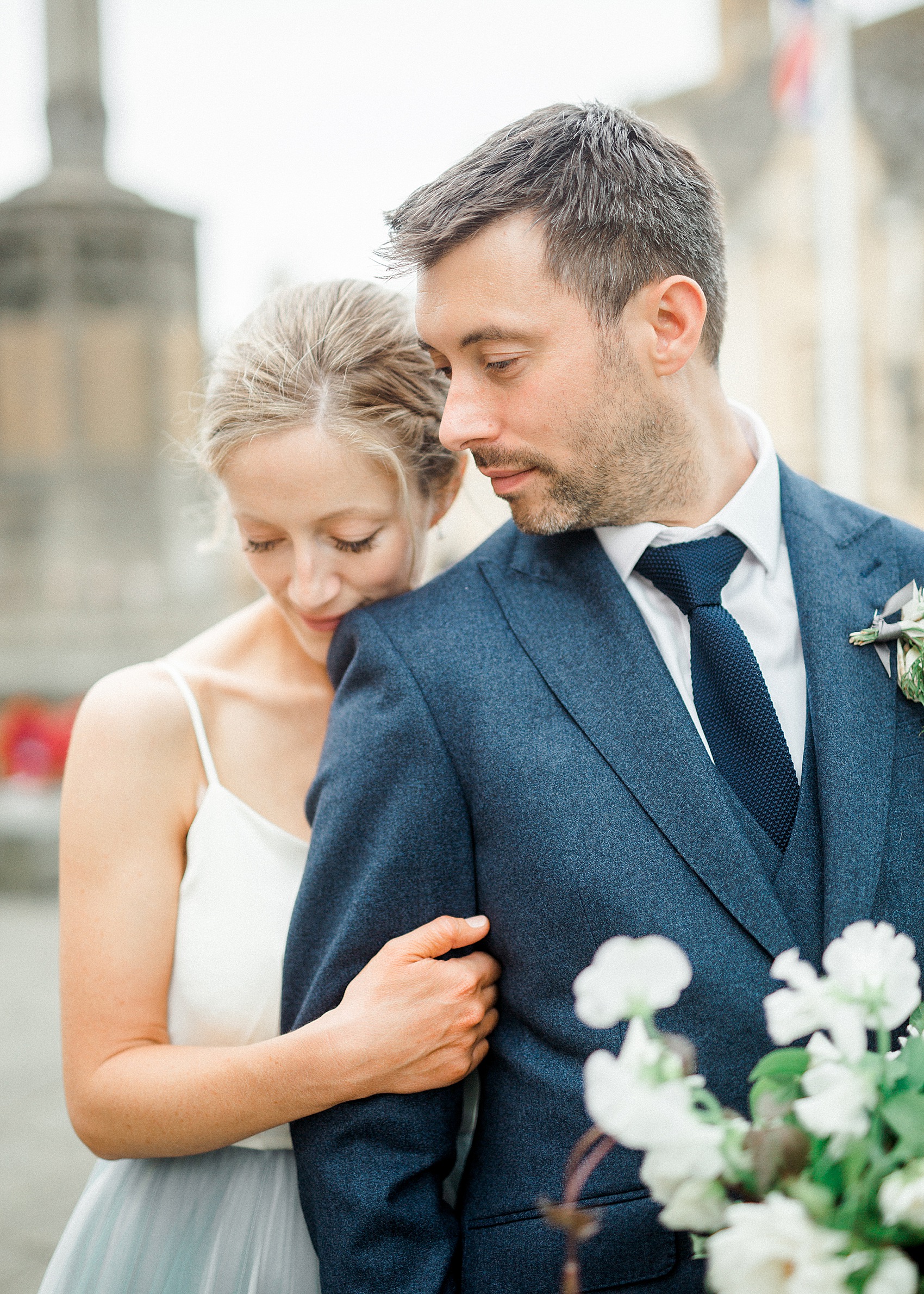 "The videography was done by a friend of mine, Jack Wakeley. I worked with Jack for a number of years, and we were so glad we picked him. He worked so hard and captured the day perfectly. He was incredibly discrete on the day and we barely noticed he was there."
You can watch the couple's film here.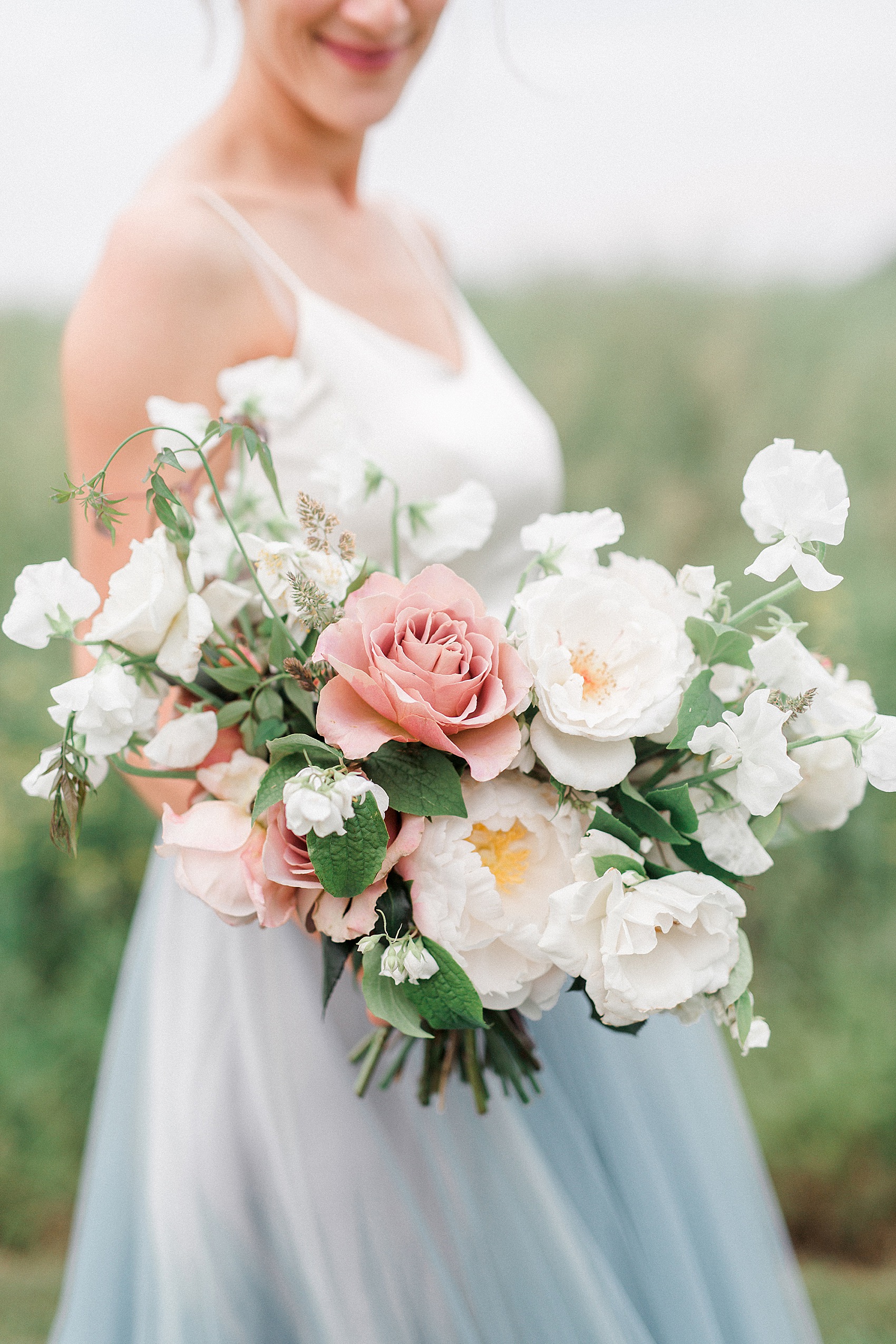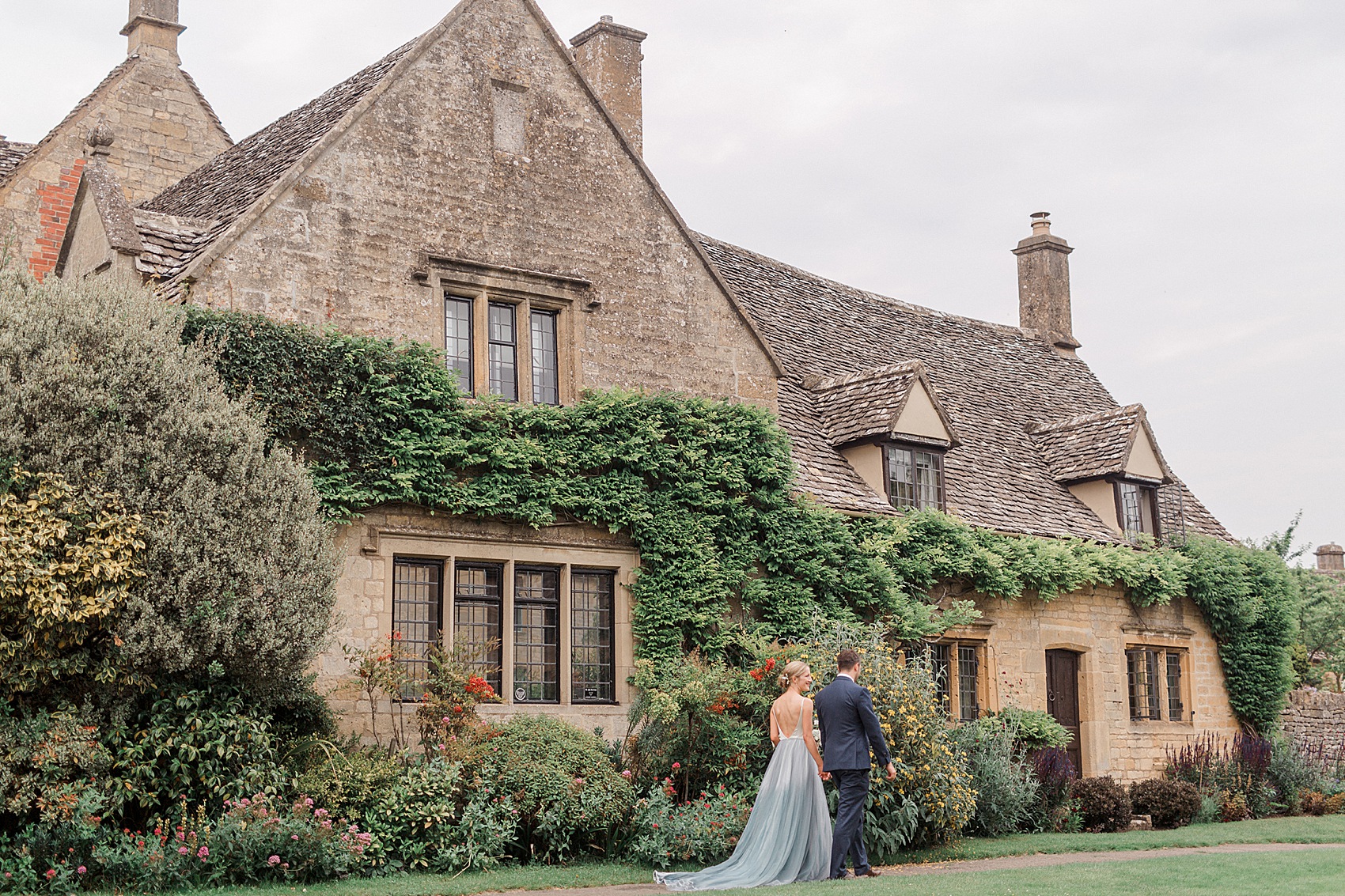 "The on-the-day signage was made by Amber at Flourish & Flora Co. I wanted a fairly modern but minimal feel to the table plans and other signage, and had an idea of what I wanted it to look like. Amber took all my ideas and sketches and brought them to life!"
"I had taken a calligraphy workshop with Emerald Paper Design some time ago and it dawned on me that I could try to use my newfound skills to create our day time invite."
"A graphic designer friend of mine took my calligraphy and helped me create the day invites, in simple gold and white."
"My dad created two beautiful copper frames which we used for a welcome sign and for the table plan, which we decorated loosely with greenery."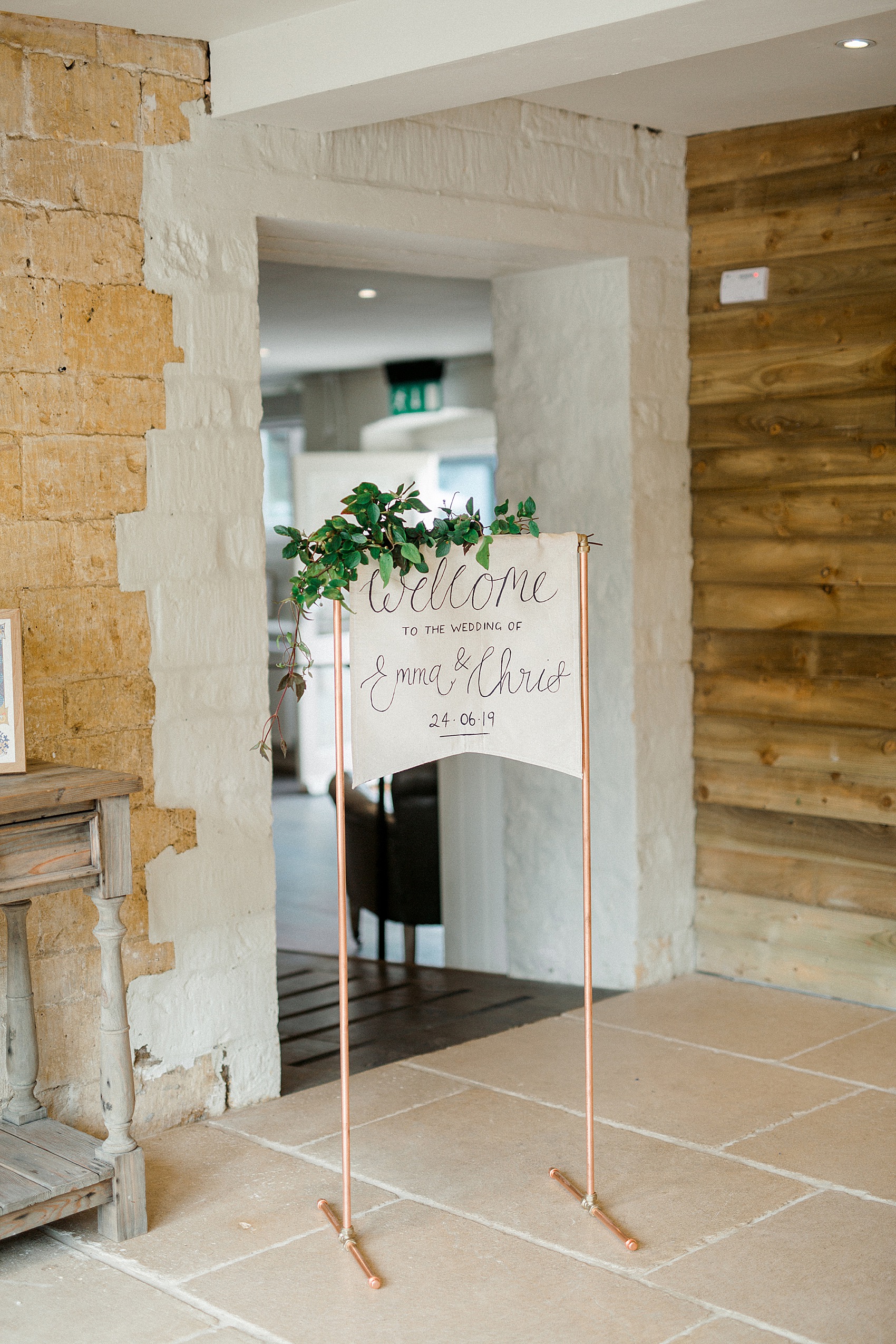 "The venue was so simple yet striking that we didn't feel we needed anything beyond Jennie's incredible flowers for decoration."
"For the wedding breakfast tables we chose clusters of small cut glass vases with a few stems of flowers in each. We had tall nude coloured candles in simple gold candle sticks, with tea lights dotted around. These were complimented beautifully by the simple gold frames we used for the menus. We also hired in oak cross backed chairs, which I absolutely loved. The sprigs of baby eucalyptus on the calligraphy name settings finished the tables perfectly."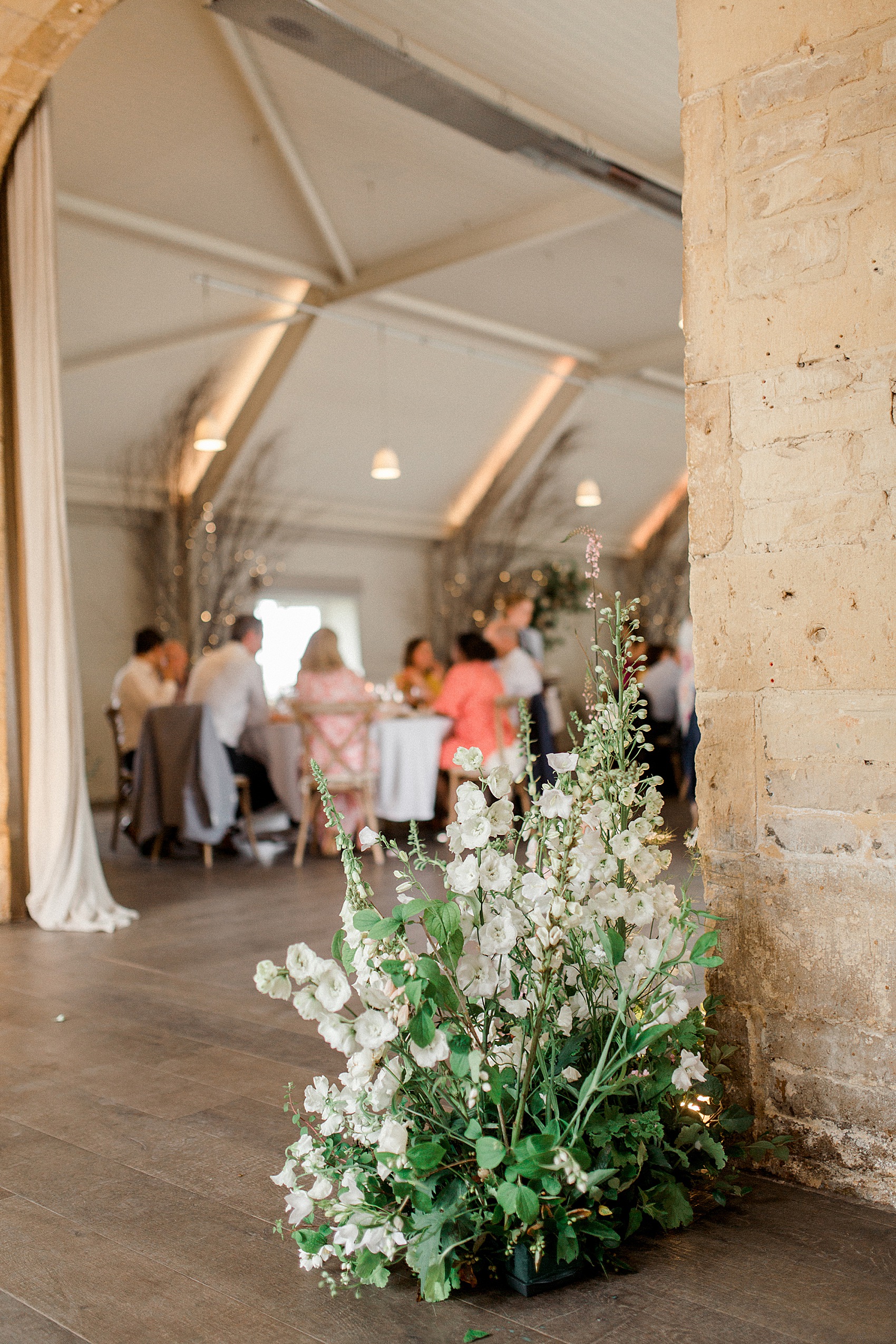 "Our wedding favours were wildflower seeds from Adamapple Confetti. We wanted something that everyone could use and enjoy, regardless of whether they had a window box or a big garden, and I wanted something that would help support our birds and bees. We found them on Etsy, and they were personalised with our names and our wedding date. I chose this company because even the packaging was biodegradable."
"Our wedding cake was made by Cherish Cakes by Katherine Edwards. We chose a very simple single tier semi-naked cake, made up of 3 or 4 layers of sponge. It was almond sponge with cherry filling, decorated with simple foliage."
"Family members also baked cakes for us, creating a cake table for dessert. The big chocolate Guinness cake, which my sister in law Liv of Livia Eatwell made, was a huge hit! Every table had a big sharing platter of cakes, with bowls of fresh berries and cream."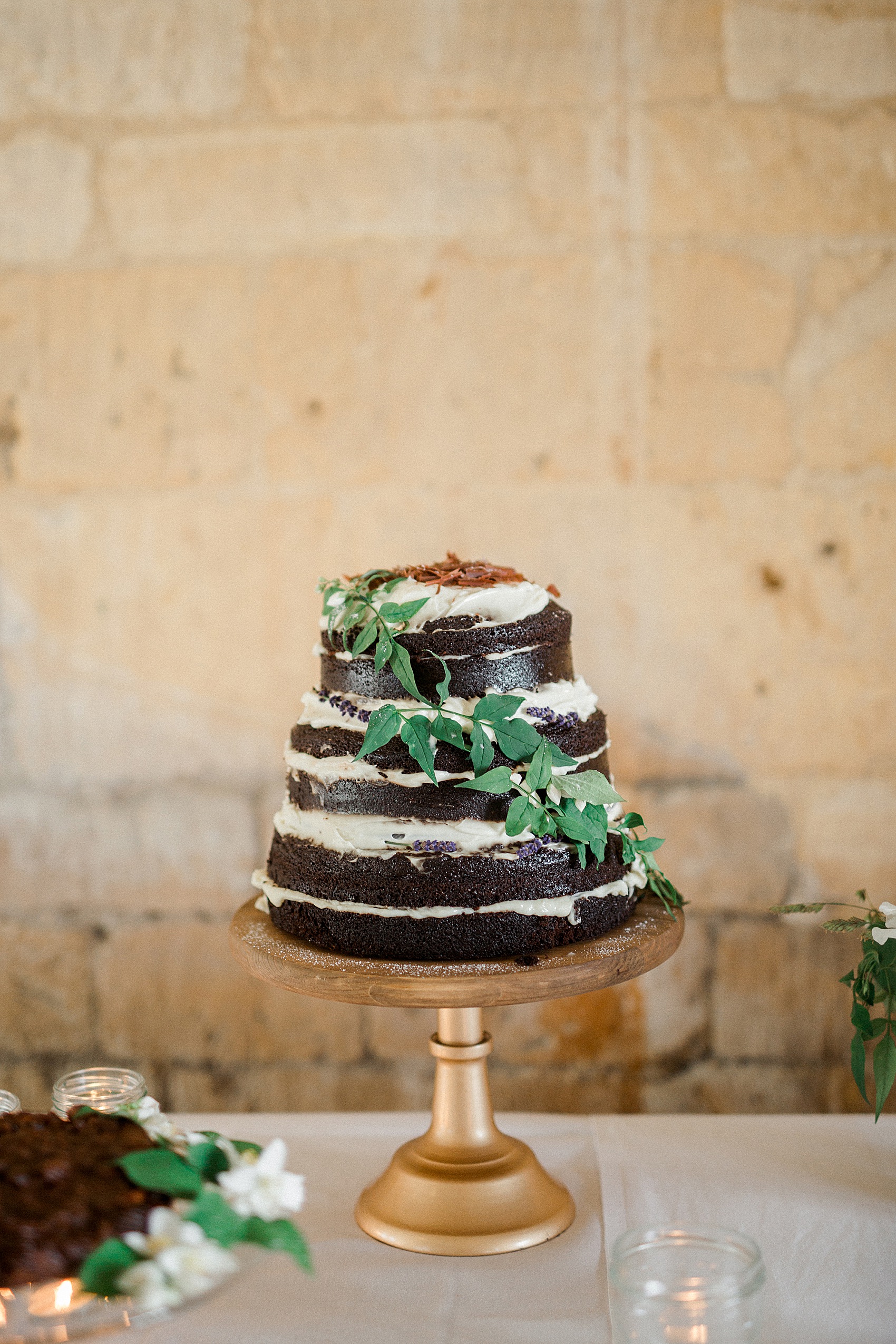 "The speeches were brilliant, there were moments when I think most eyes around the room had tears of laughter! And I actually really enjoyed our time with the photographers, because it was a little bit of time when it was just the two (ok, four!) of us."
"I think it's really important to try to take a few minutes during the day for just you two – the day really does go by in a flash, so try to escape for a few minutes to take it all in and catch up with each other."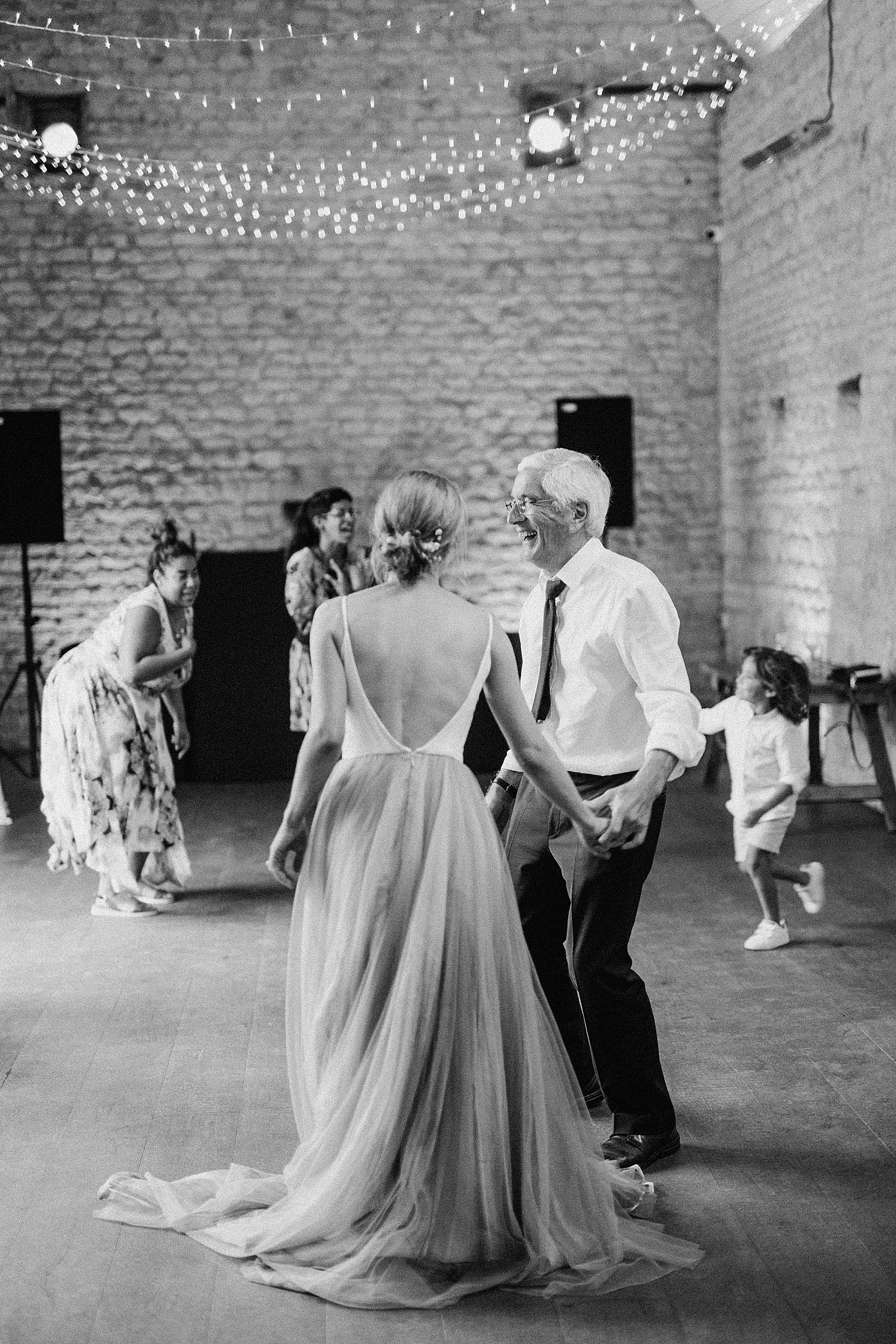 "I really enjoyed our confetti tunnel moment, and we also had a similar sparkler moment in the evening involving our evening guests. I thought it was really nice to have some kind of activity that involved the evening guests too."
Words of Wedded Wisdom
"When it comes to choosing your suppliers, surround yourself with a team you trust and are comfortable with. I had originally booked a hair stylist who was very capable, but didn't feel like the right fit for me."
"I'm glad I made the change and booked Dean, his style was much more in tune with mine. I would recommend creating and sharing Pinterest boards with your suppliers. It really helps to ere that they understand your vision for the day."
"It sounds obvious but try to make the day yours – make it personal to you. Choose things which have a special meaning to you both. If you asked our friends and families, they would probably tell you that we both like to do things our own way!"
"We never really felt that we fitted into the cookie-cutter wedding mould, and I certainly never felt like a true bridey-bride. So we poured our hearts and souls into designing a day that really reflected us."
"Also, try not to sweat the small stuff – easily said I know. But realistically, it's probably only you who will notice if something doesn't quite go to plan, or if your favourite flower isn't in season."
"Obviously try to keep an eye on the budget. Be honest with suppliers about your budget too – they want to try to do everything they can to help you create your perfect day, and they might have suggestions for how to could achieve a similar look and feel by doing things in a slightly different way, but keeping within your budget. And be prepared to compromise! If you splurge in one area, you may need to find ways to pare things back in others."
"If you have a wedding coordinator at the venue, work closely with them – they do this all the time so will have lots of experience and advice."
"Most importantly, enjoy it! It really does go by so quickly so try to take in as much as you can. I would definitely recommend hiring a videographer so you can look back on your day, and see lots of little things that you would otherwise have missed. And of course, choose a photographer whose work you love. Years from now your photos may be your main memories, and they will almost certainly be an heirloom for your family to keep!"
How effortlessly elegant all-round – Emma, thank you so much for sharing so much of your beautiful day with us – and despite everything happening in the run up to your first, most precious wedding anniversary, we hope you are able to celebrate that time with a day full of wonderful memories.
You can see more beautiful barn weddings here.
Love Annabel x