I adore the wide variety of weddings we share here on Love My Dress, and I absolutely love sharing the stories of newlywed couples.
This particular couple, Katie and Joseph, tied the knot on 7th September 2019 and had a wedding that intertwined elements of tradition that the couple appreciated for it's symbolism,  with a more modern, creative wedding element. For example, the couple had two ceremonies on the same day, one of them incorporating seven blessings, inspired the bride's Jewish heritage.
Sarah Williams Photography

+ Follow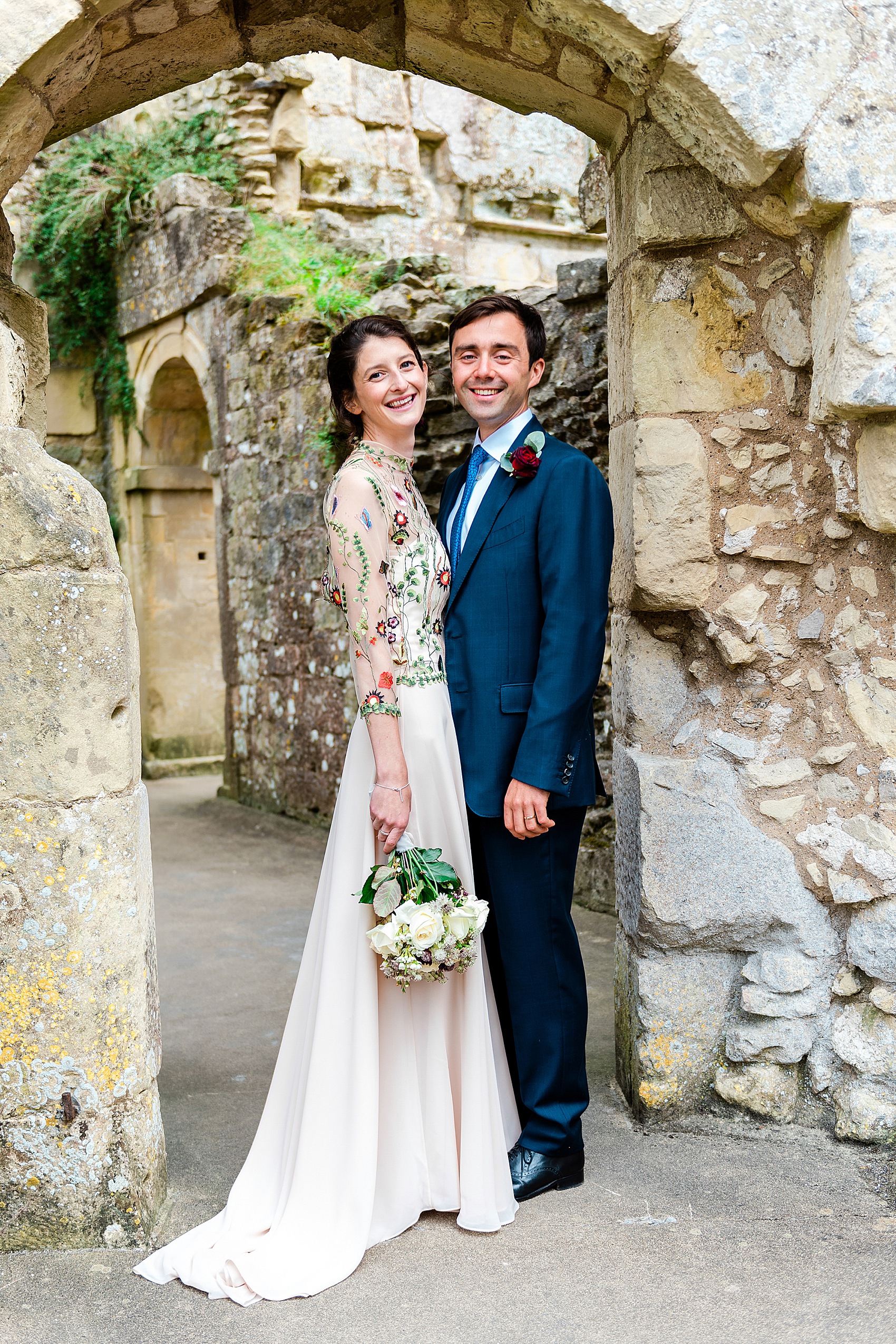 The couple, both feminists, left behind elements they considered more patriarchal – the bride being 'given away' by her father for example, and chose instead to each be accompanied by both sets of parents when arriving at the ceremony. They also delivered speeches together and instead of having a bridesmaid, Katie had a 'Best Woman'. It's fascinating to see how modern couples are adapting tradition like this to create a wedding and celebration that much better reflects who they both are.
The location for both weddings was the beautiful Tisbury in Wiltshire, where the groom's parent's garden hosted the marquee and one of the ceremonies was held in the nearby Old Wardour Castle – which was rather conveniently located 'next door'.I fell in love with this wedding initially because of that beautiful dress. And do you know what ladies – it was created across a series of virtual appointments with the designer (the bride was in Berlin, the designer in London) – which is a wonderful example of how  proof in this 'lockdown' period that virtual appointments work a treat! Another word on lockdown too, from the lovely bride. Hang on in their lovelies. Your day will come…
"We're thinking particularly of friends and family who have had to postpone weddings this year and are looking forward to celebrating their commitment to each other as soon as they can."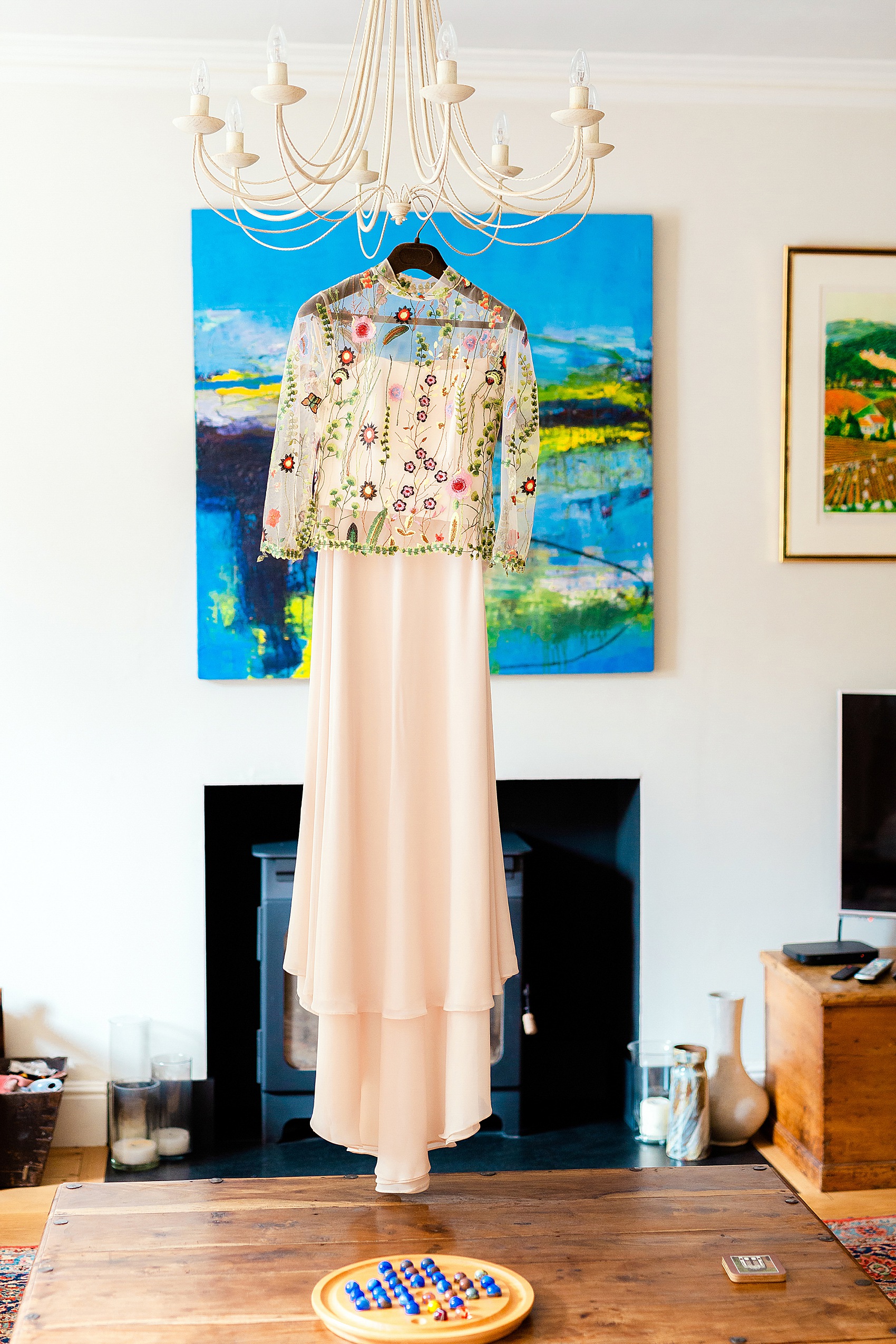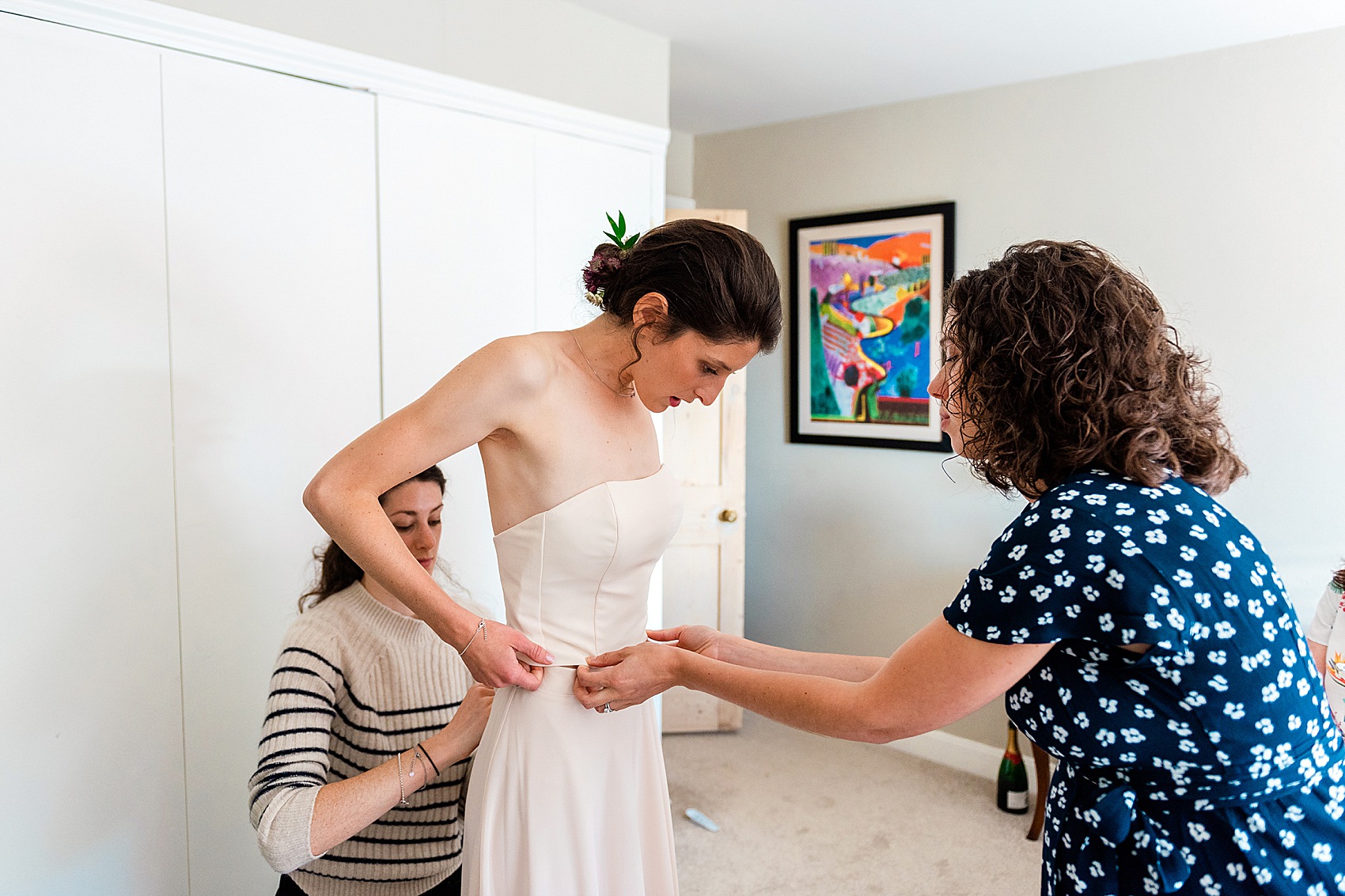 Katie wore the most beautiful floral top and skirt, which she designed herself along with designer Dana of John Dana Tailoring. Just look at that beautiful detail!
"Dana of John Dana Tailoring was wonderful and I couldn't recommend her more highly! Fantastic, personal service and virtual contact (I was creating my dress with Dana whilst she was in London and I was in Berlin)."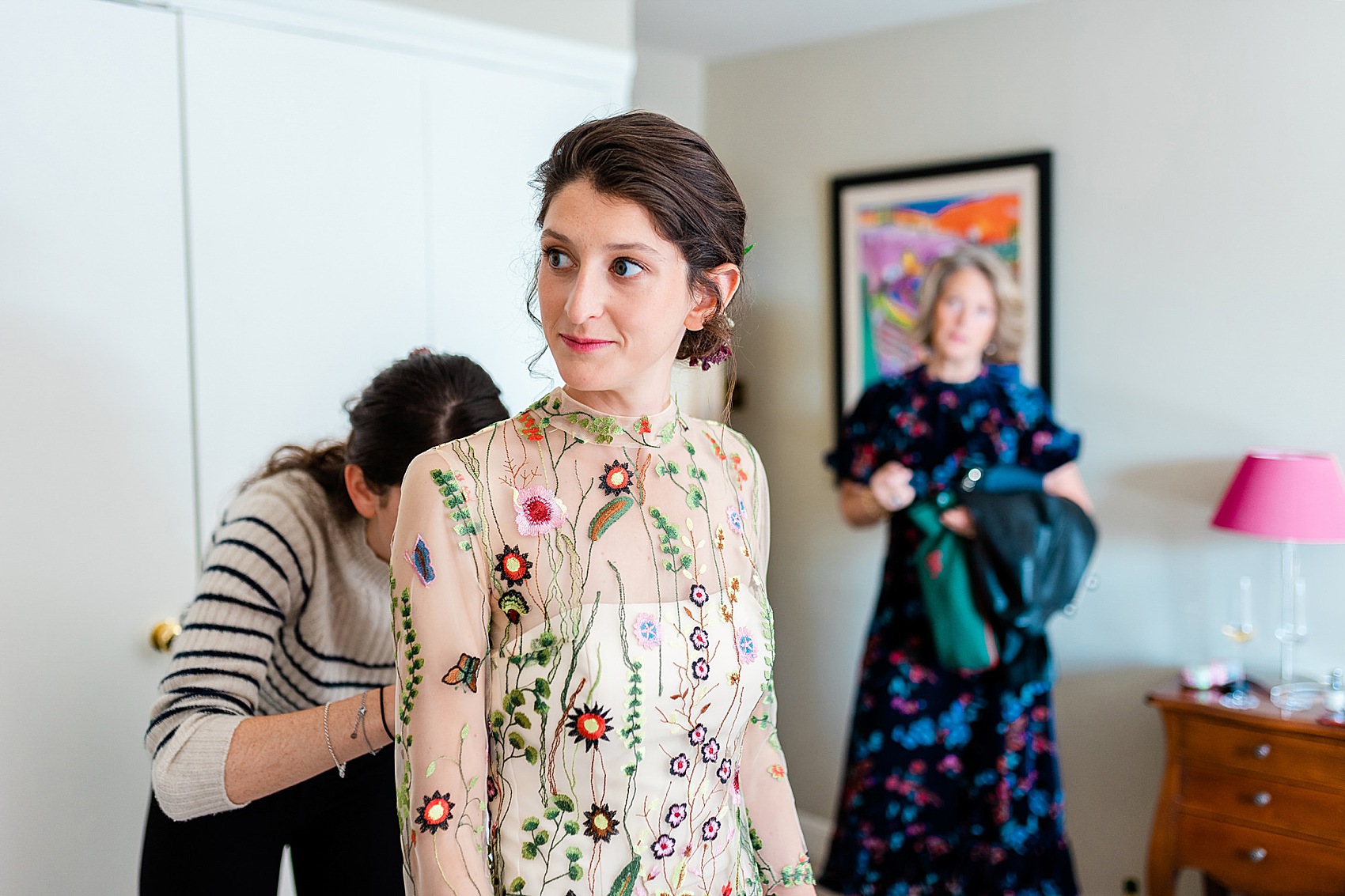 "Although I hadn't spent much time thinking about what I would wear on my wedding day, I didn't want to wear an entire outfit that could never be worn again. And I realised I wanted it to have some colour too."
"As soon as summer comes around again, I'll be able to wear the top and bodice again and I'm waiting to decide what colour to dye the skirt – or at least shorten it. I had a huge amount of fun designing the dress with Dana (with help from my mother and sister), often from afar."
"I love that it is completely unique and something that I played a role in creating. Joseph loves flowers – whenever we go cycling, which we do a lot, Joseph can be found taking pictures of whatever wild flowers we find, so I knew that it would be right up his street, too!"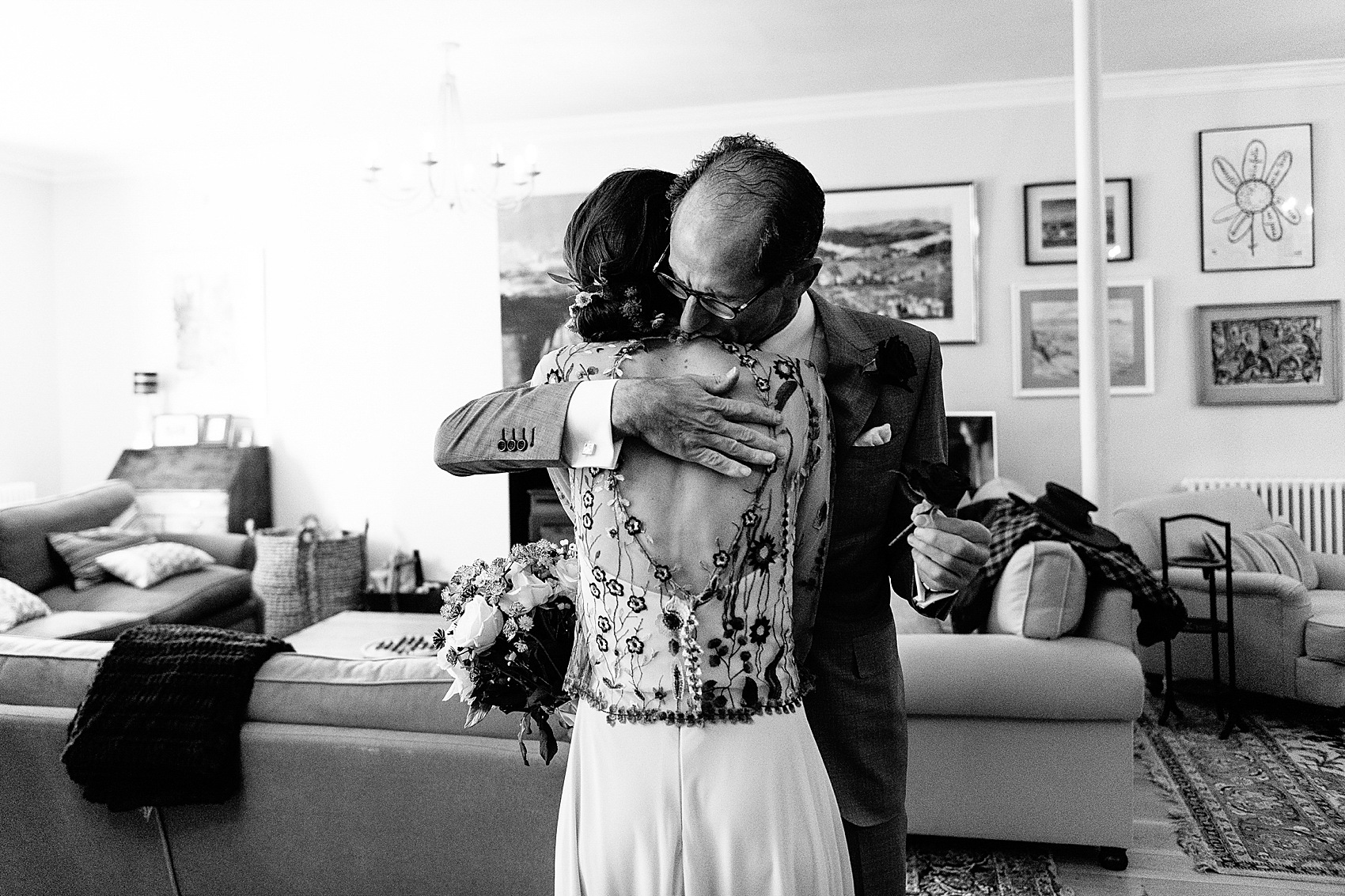 The beautiful bouquet and floral decor were created by Katie's mother and cousin, who sourced the blooms via Ted Martin Flowers.
"They were the brains behind all of the decorations. My mother advised us on seasonal flowers and together we chose the colours we most preferred. They both did a phenomenal job, the entire marquee looked wonderful and couldn't have been more perfect. They also made my bouquet and the buttonhole flowers."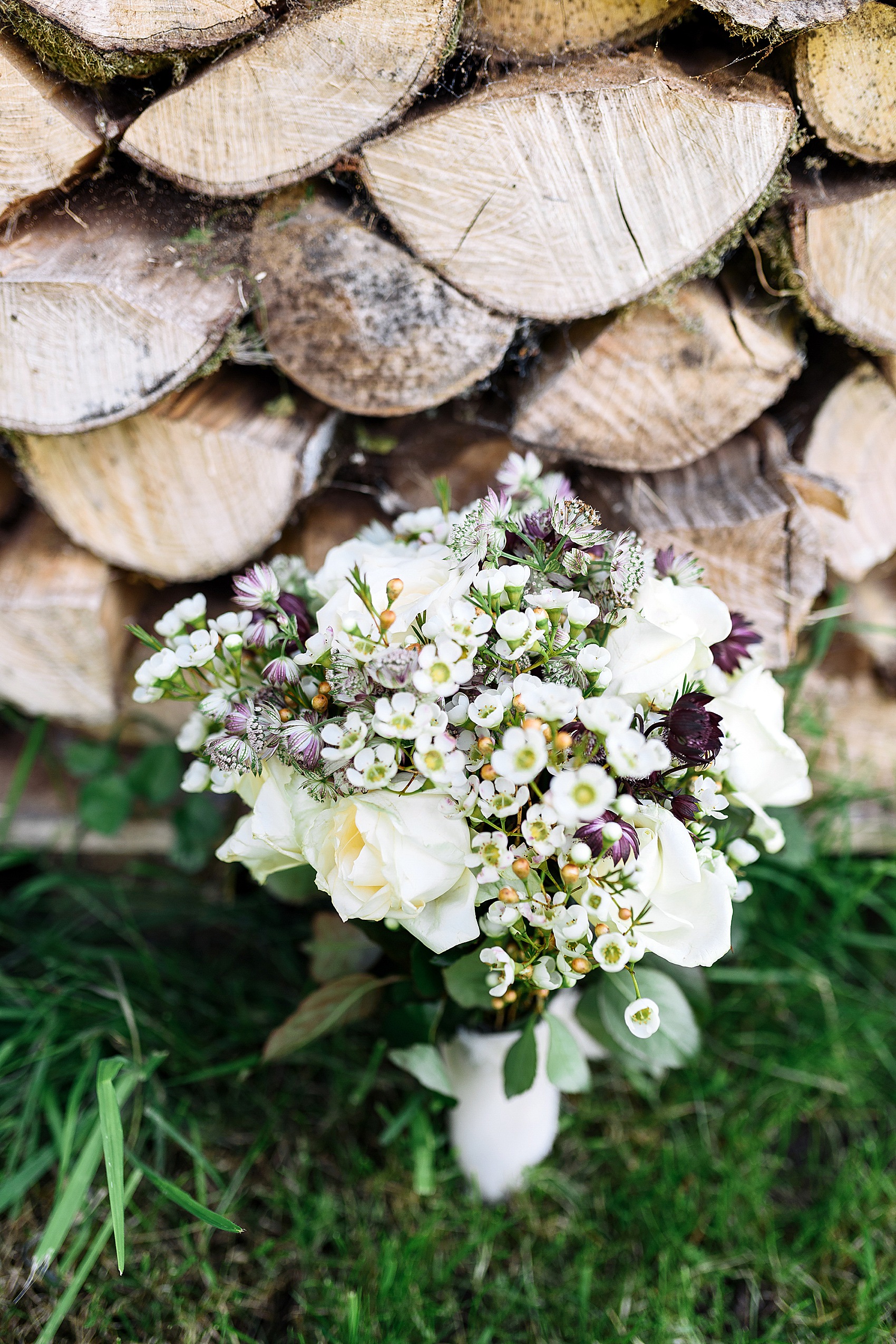 The couple hired photographer Sarah Williams to document their beautiful day.
"Our photographer was one of the first suppliers we booked for our wedding (once we knew when and where it was going to be!). We asked for suggestions from friends, emailed a couple and looked at instagram pages (which give quite a good idea of their style). We wanted a photographer that understood that we wanted natural pictures that captured the day. Sarah was absolutely brilliant in that regard and we would absolutely recommend her to others; it was a pleasure to work with her and her husband."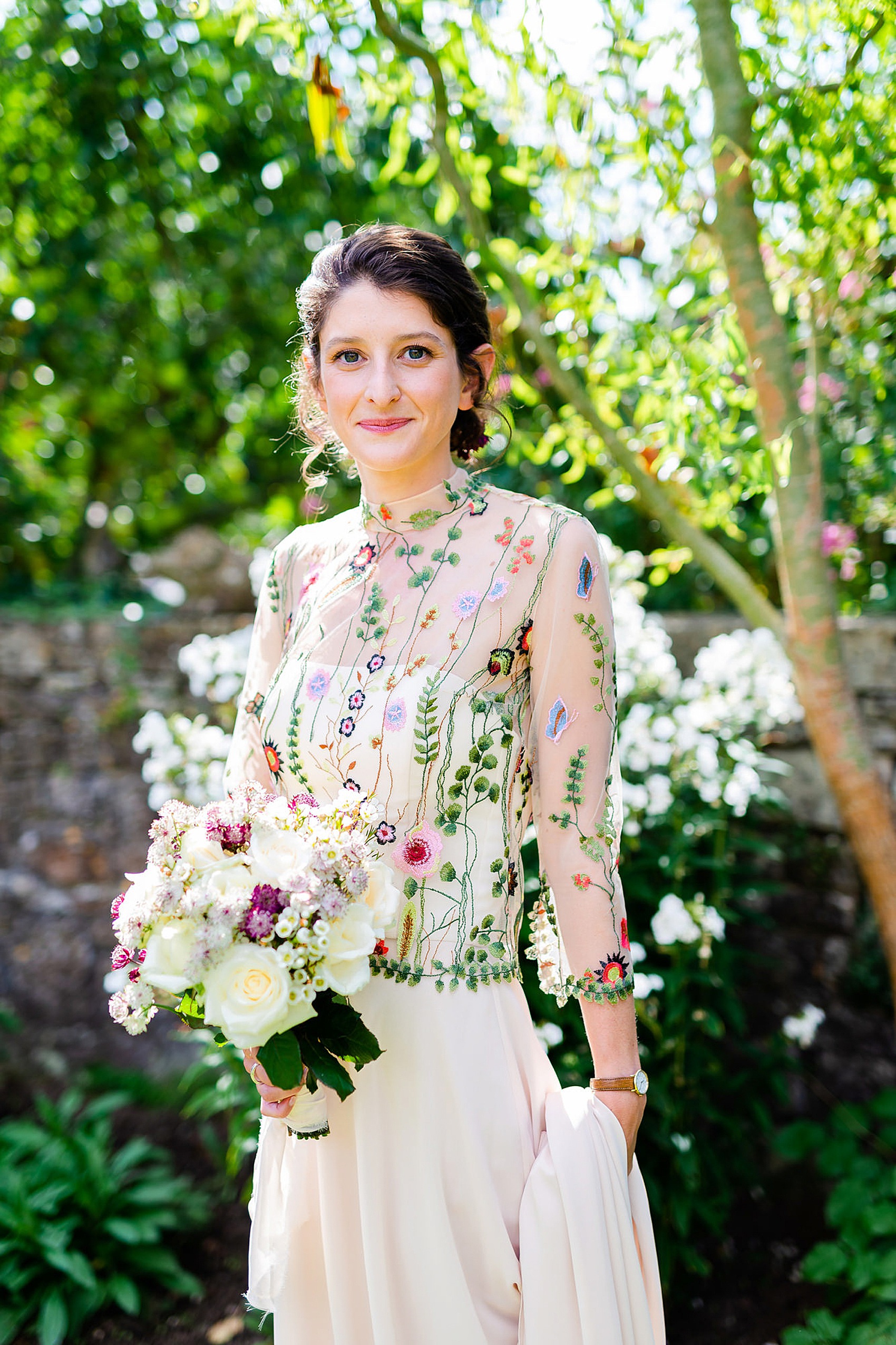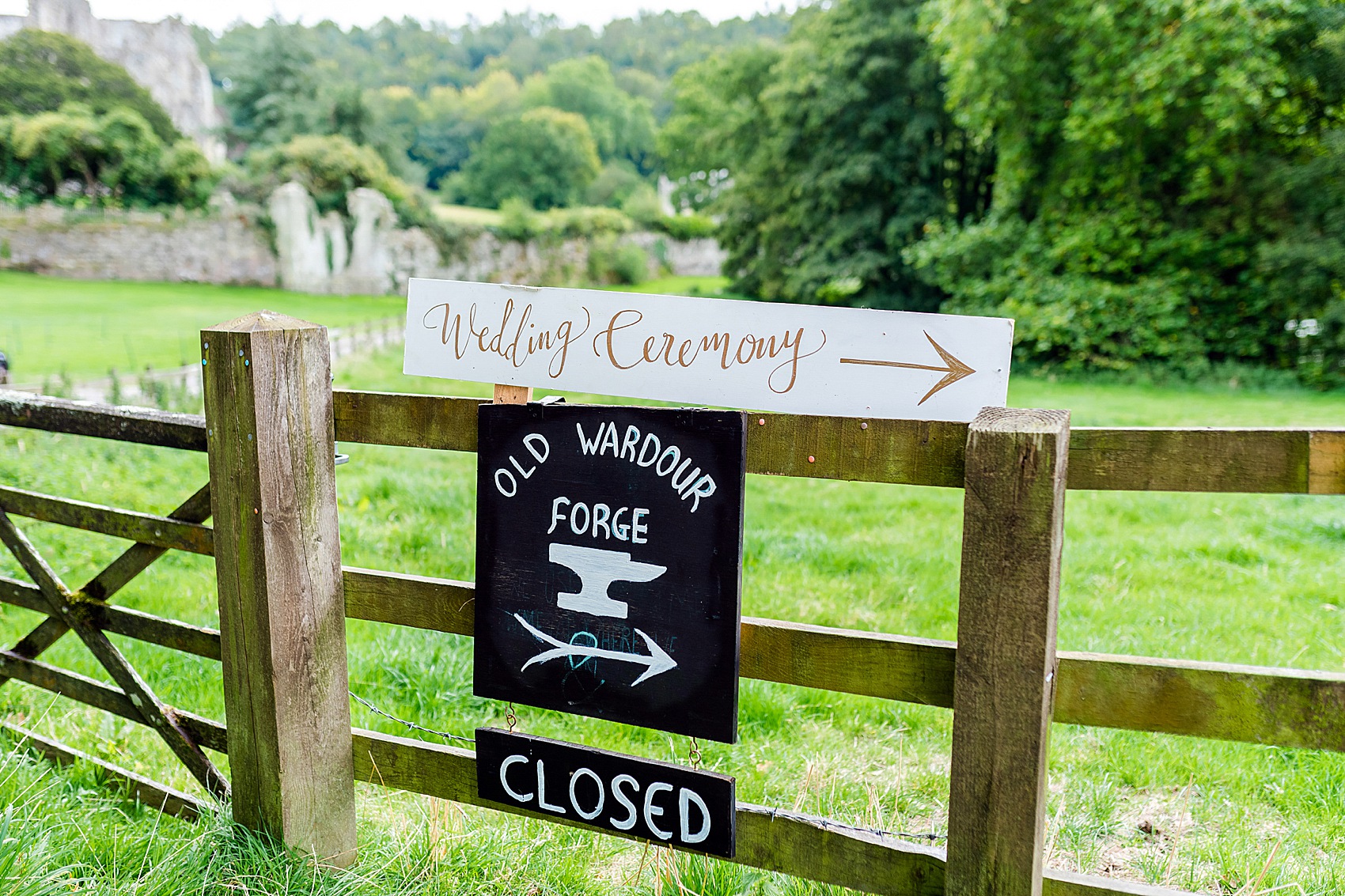 "Joseph and I have been together since we met during our final year at University (in 2014). Joseph proposed in February 2019 by reading Katie a poem he'd written, whilst we were sitting on Tempelhof (an old airport, now park) in Berlin, where we live. We got married seven months later."
"We created our invitations and order of service ourselves. The image on the invitation and order of service was made through incorporating photographs that Katie took, of places that hold a certain significance in our lives, made into a graphic."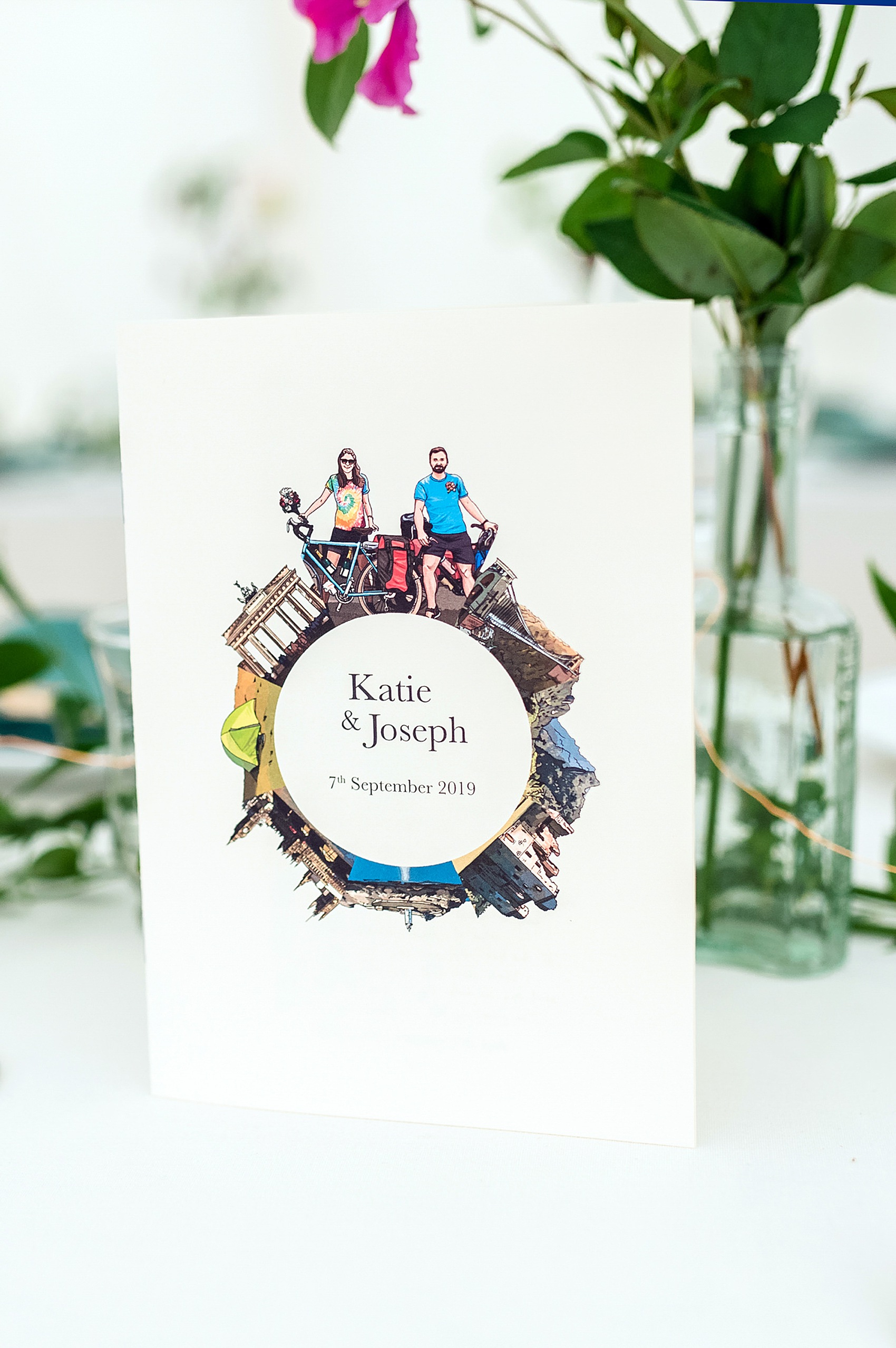 "Vale Coaches were flexible and understanding, especially when we had to change our booking last minute, when the train bringing most of our guests from London didn't end up travelling all the way to Tisbury as usual and stopped instead at Salisbury!"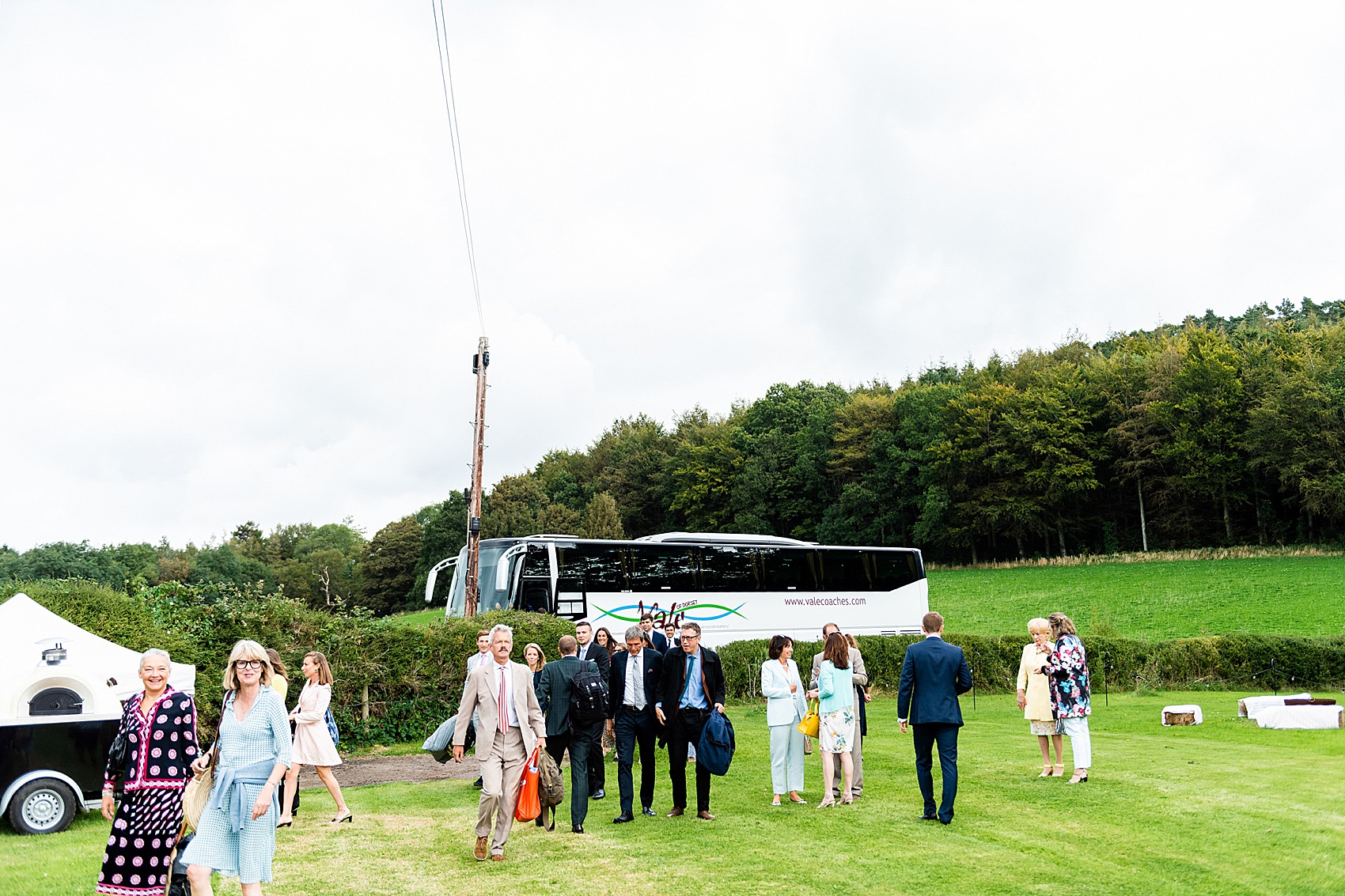 I love how the couple chose to arrive at their first ceremony – the groom first, arm in arm with his parents, folllowed by his bride to be, arm in arm with her parents. What a lovely way to arrive!
Joseph was accompanied, from the woodshed in the garden, to the ceremony in the marquee by his family, arm-in-arm with his parents and his four siblings following behind."
"Katie then emerged from the other side of the garden with her family, arm-in-arm with her parents, and three siblings following behind. The sound of 'Unconditional' by Nick Mulvey was playing as the couple arrived at their ceremony.
"We had two ceremonies. The first was in the garden in the marquee, the second was the civil ceremony which took place next door at Old Wardour Castle."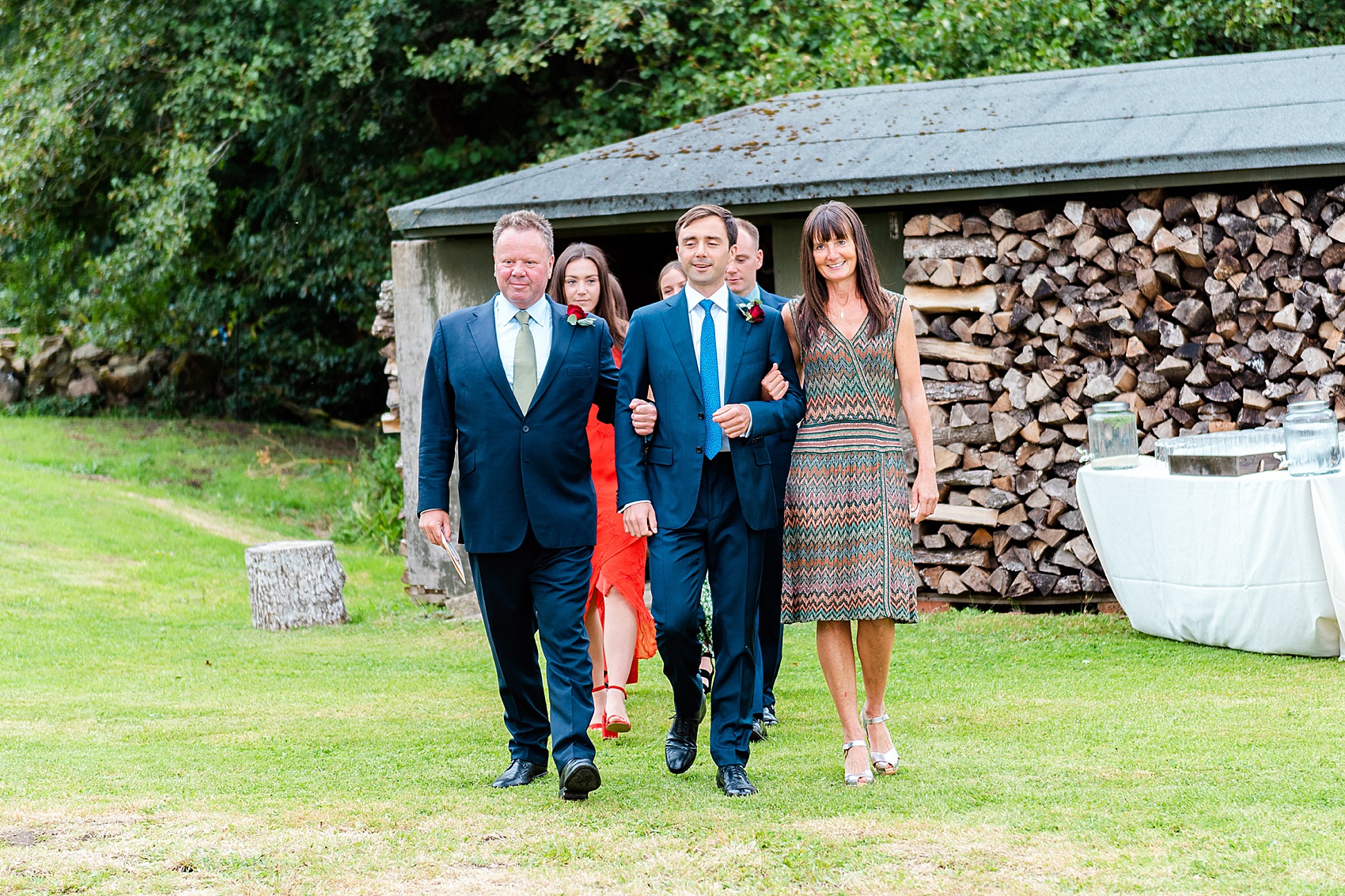 "Traditional weddings, and marriage to some extent, can be heavily patricarchal, but as feminists, this was not our style. We wanted our wedding to reflect us, our values and our heritages; we wanted it to be personal. This was quite easy to achieve, since we were fortunate to be able to get married at Joseph's parents' beautiful home in Wiltshire, where we could create our own ceremony – and hold a separate civil ceremony just next door in Old Wardour Castle."
Katie and Joseph exchanged rings and exchanged vows they had written themselves. Katie's Aunt led the 'Seven Blessings' with contributions from family members and friends.
"We didn't have an official celebrant for the first ceremony. We had lots of family members and friends playing different roles. For example, our mothers opened the ceremony, a friend read a poem ('Wedding', by Alice Oswald), another friend gave a reading (From Zen and the Art of Motorcycle Maintenance), Joseph's sister gave a reading from his late grandfather's writing, my brother and cousin gave a reading from the perspective of my late grandfather and Joseph's father gave an address during our ceremony too."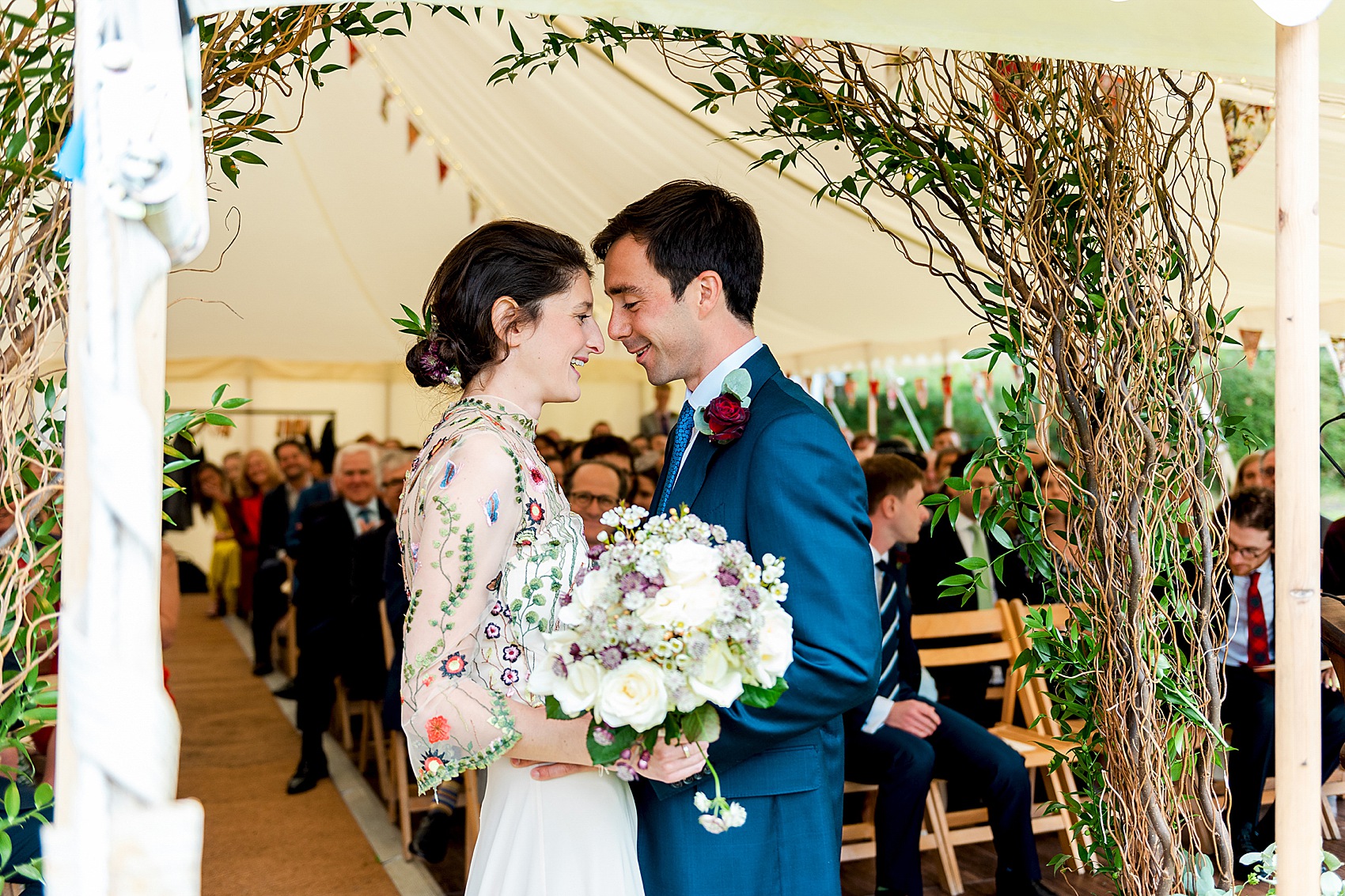 "During the civil ceremony the celebrant was from Wiltshire County Council and the ceremony incorporated all of the necessary legal aspects."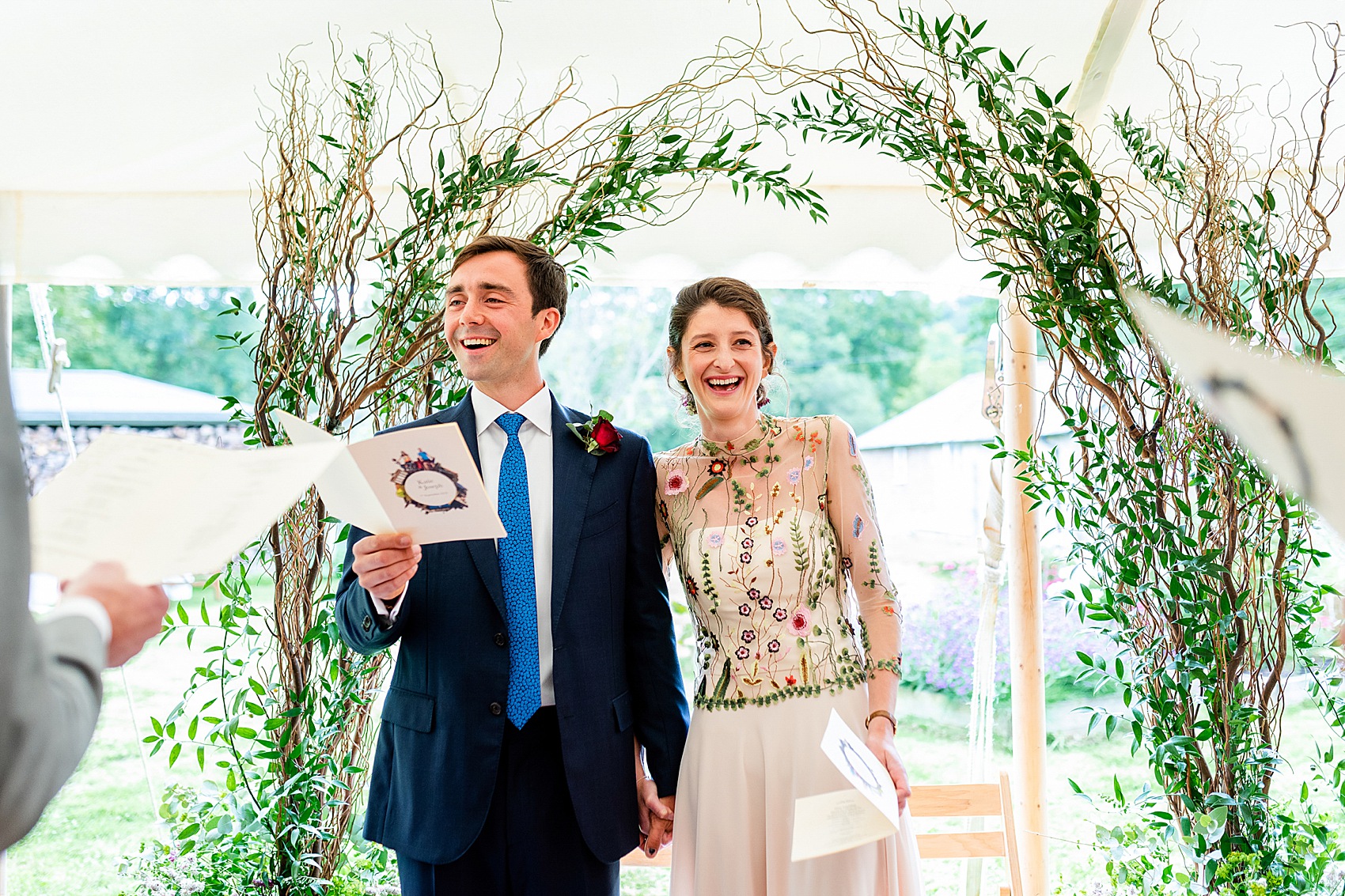 "The friend who played a part in us meeting for the first time read a poem called 'Wedding' by Alice Oswald and another friend of Katie's, who she has grown up with, read a passage from Robert M Pirsig's book, 'Zen and the Art of Motorcycle Maintenance: An Inquiry into Values'."
"My Aunt and godmother also led a part of the ceremony which drew on my family's Jewish heritage. During a traditional Jewish wedding, seven blessings are read."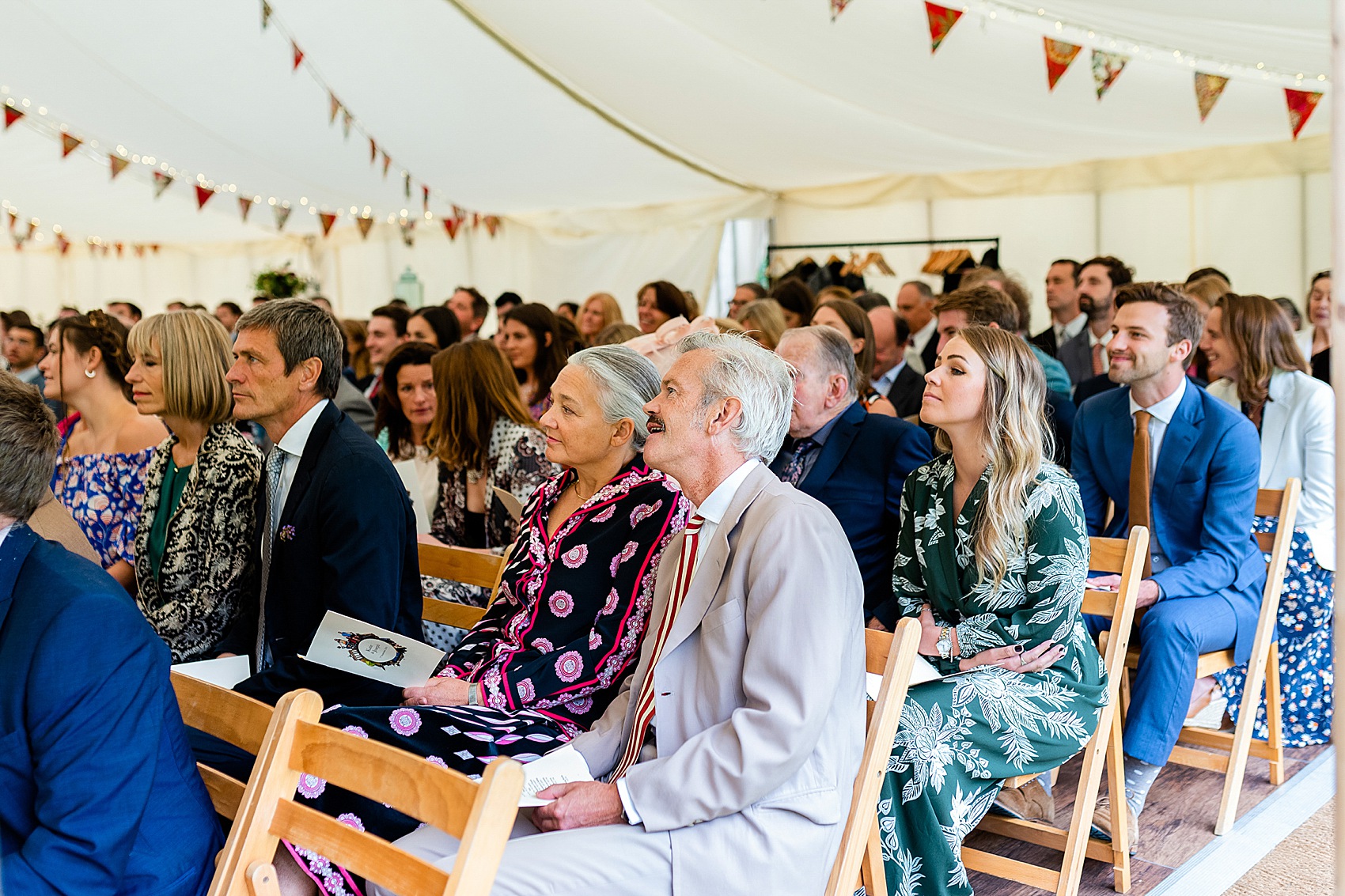 "Instead of the original seven blessings, seven friends and family wrote their own 'blessing' for us and our lives together as a married couple, based on a loose theme. It was one of the parts of the ceremony that we didn't know what was going to be said, so it was particularly moving."
"The ceremony was the part of our wedding that we spent most time thinking about. It was the part that was most important to us, so this is perhaps not surprising. My personal favourite part of the day was the ceremony – walking toward the tent full of our friends and family was incredibly moving and exciting."
"My wedding ring was from a jewellery in Berlin called Hoefer Antikschmuck – it is a diamond and sapphire gold ring made near Birmingham in 1909. It is a wonderful jeweller, run by a couple of young guys. We wanted to create our rings out of recycled gold, which they do, so we went back there for our wedding rings too."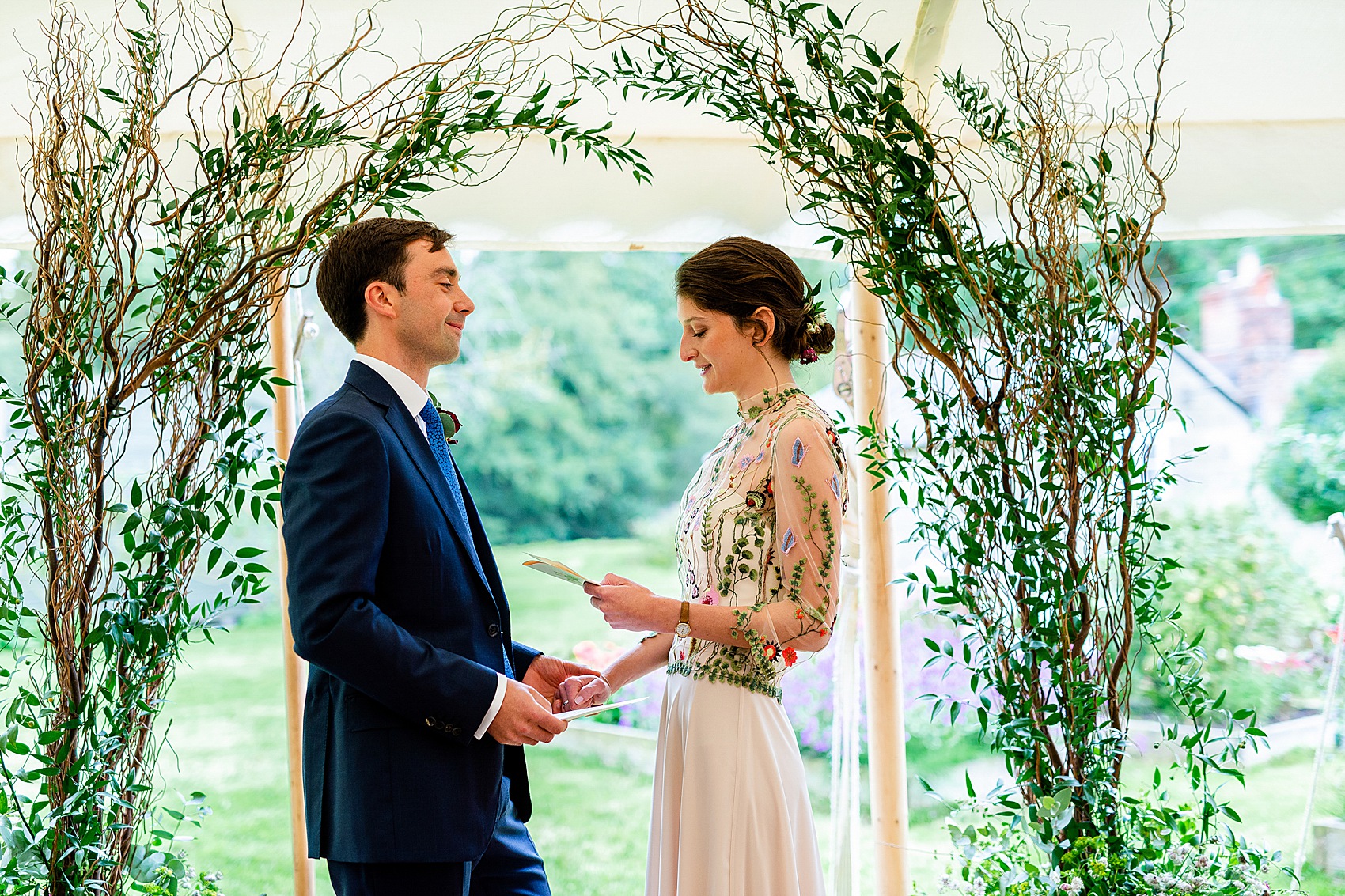 "I didn't have bridesmaids. My sister, Laura, was my best woman and Joseph's brother, Fred, was his best man. Our other siblings were 'ushers'. Laura and I found her dress at Harvey Nichols (a week before the wedding!), but it is also something that she can wear again. We're both so lucky to be part of such big families and we wanted our families and siblings to play a role in our wedding."
After their first ceremony, the couple made their way, in rather unique transport, to their second ceremony location.
"Joseph's Mum surprised us by arranging a rickshaw to take us from the marquee up to the castle (courtesy of a local Indian restaurant in Devizes)."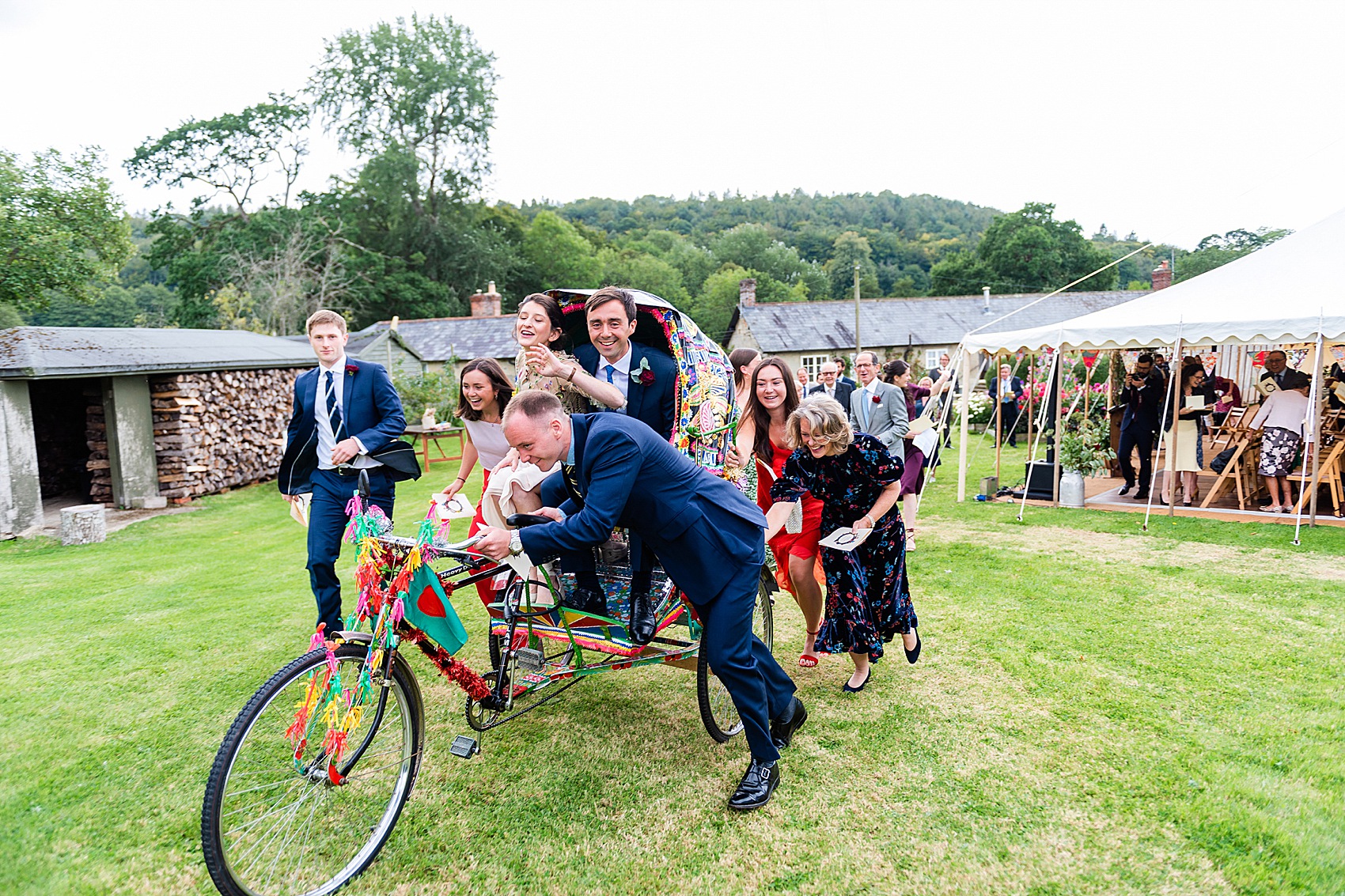 "I wore some cream wedge espadrilles I found on Net a Porter. Again, I wanted to make sure they were shoes I could wear again after the wedding."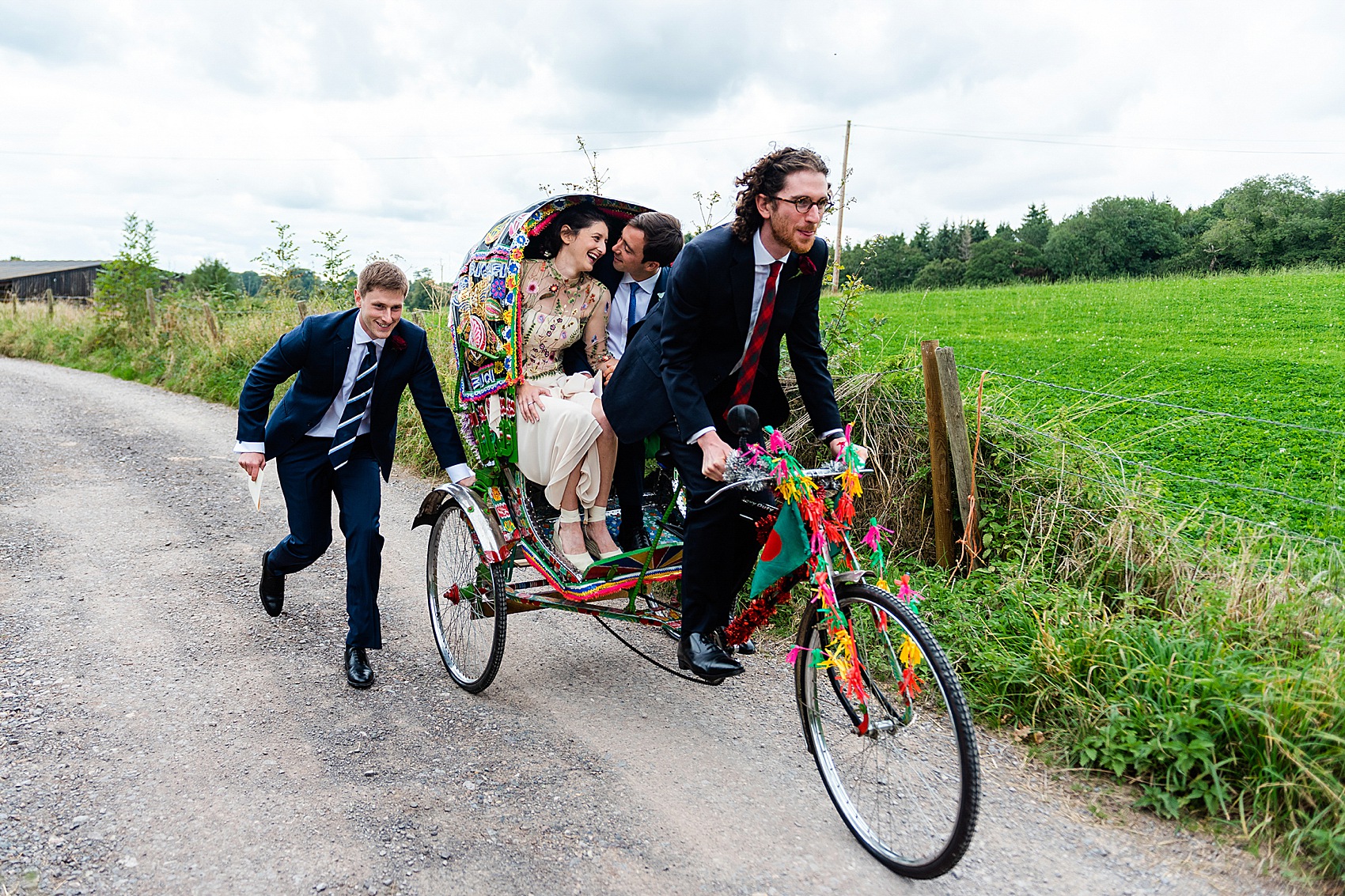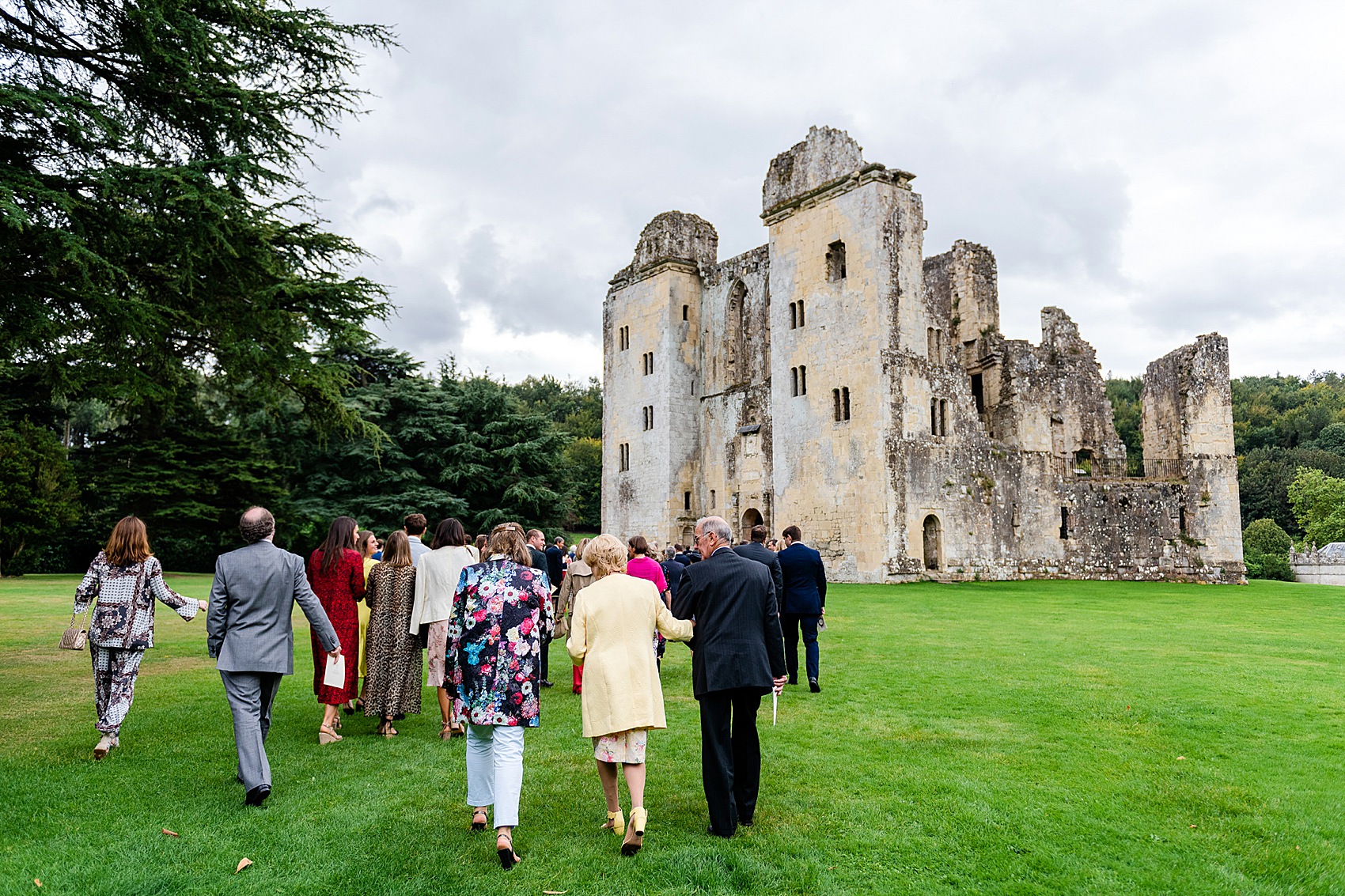 "Joseph's suit was custom made by Richard Gelding.. He even had a shirt change for the evening! He chose to wear a 'normal' lounge suit as morning dress felt old-fashioned and inappropriate, and as these days we find very few of our friends even where lounge suits for business, which effectively reserves them for special occasions."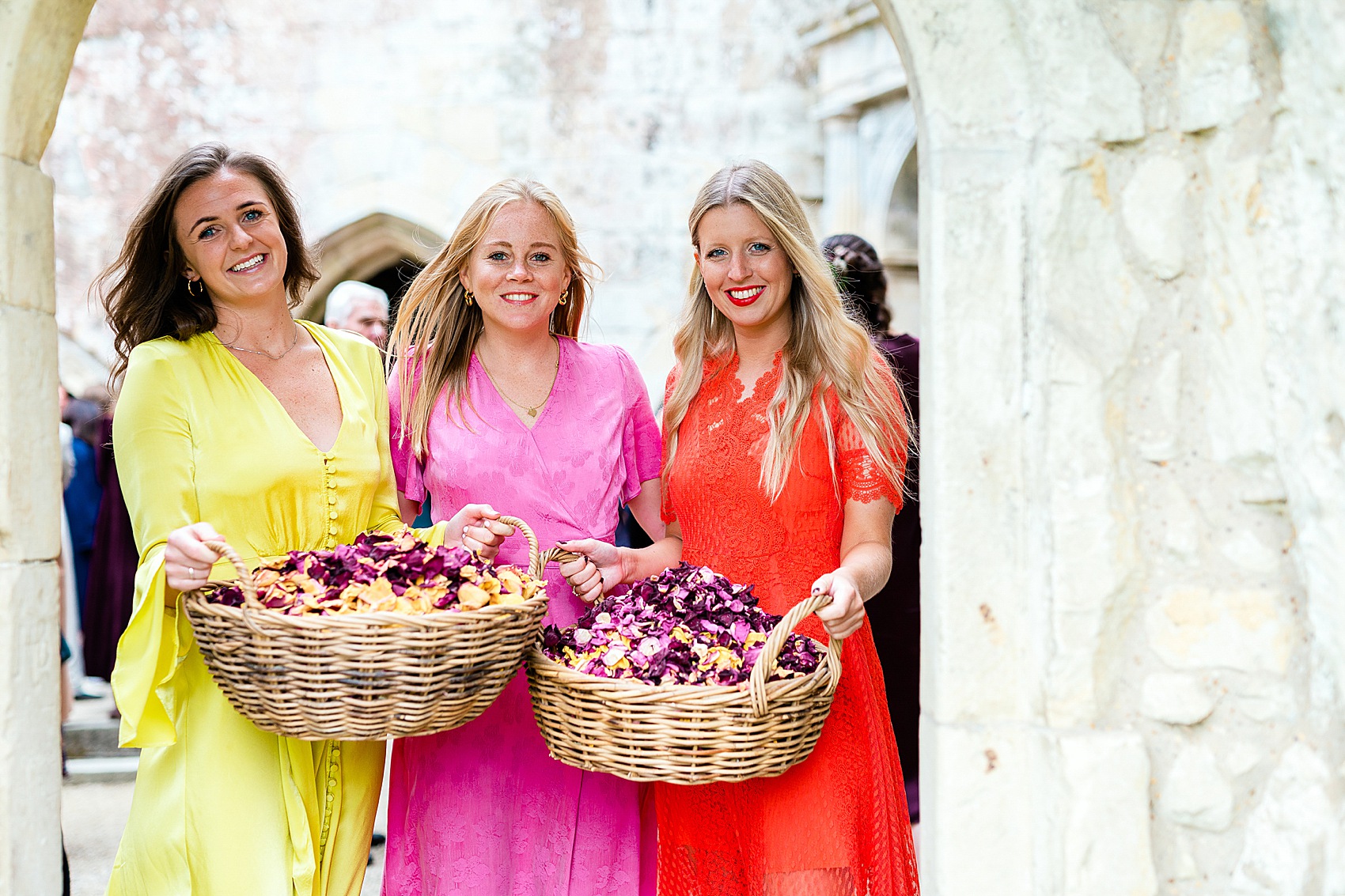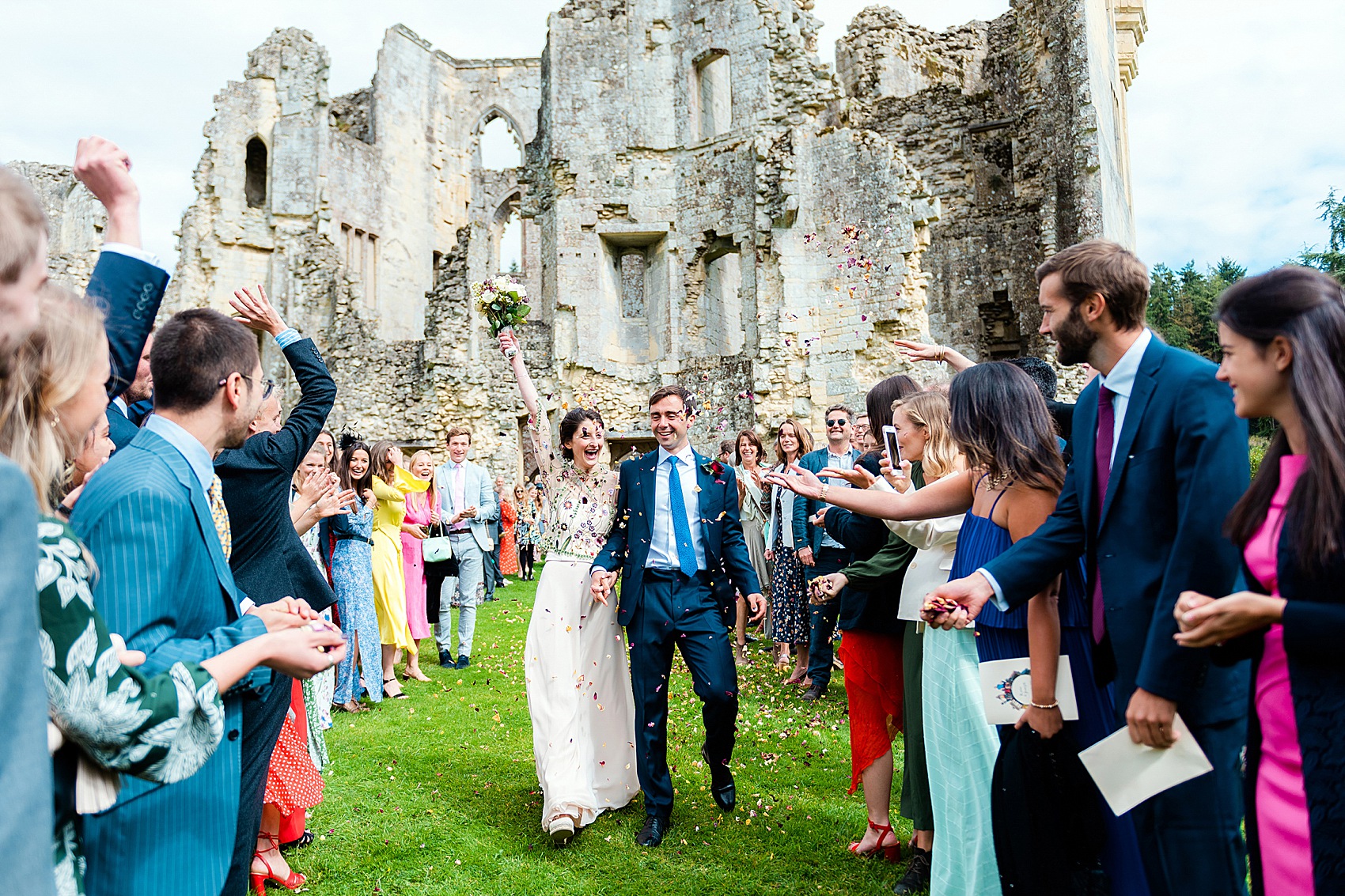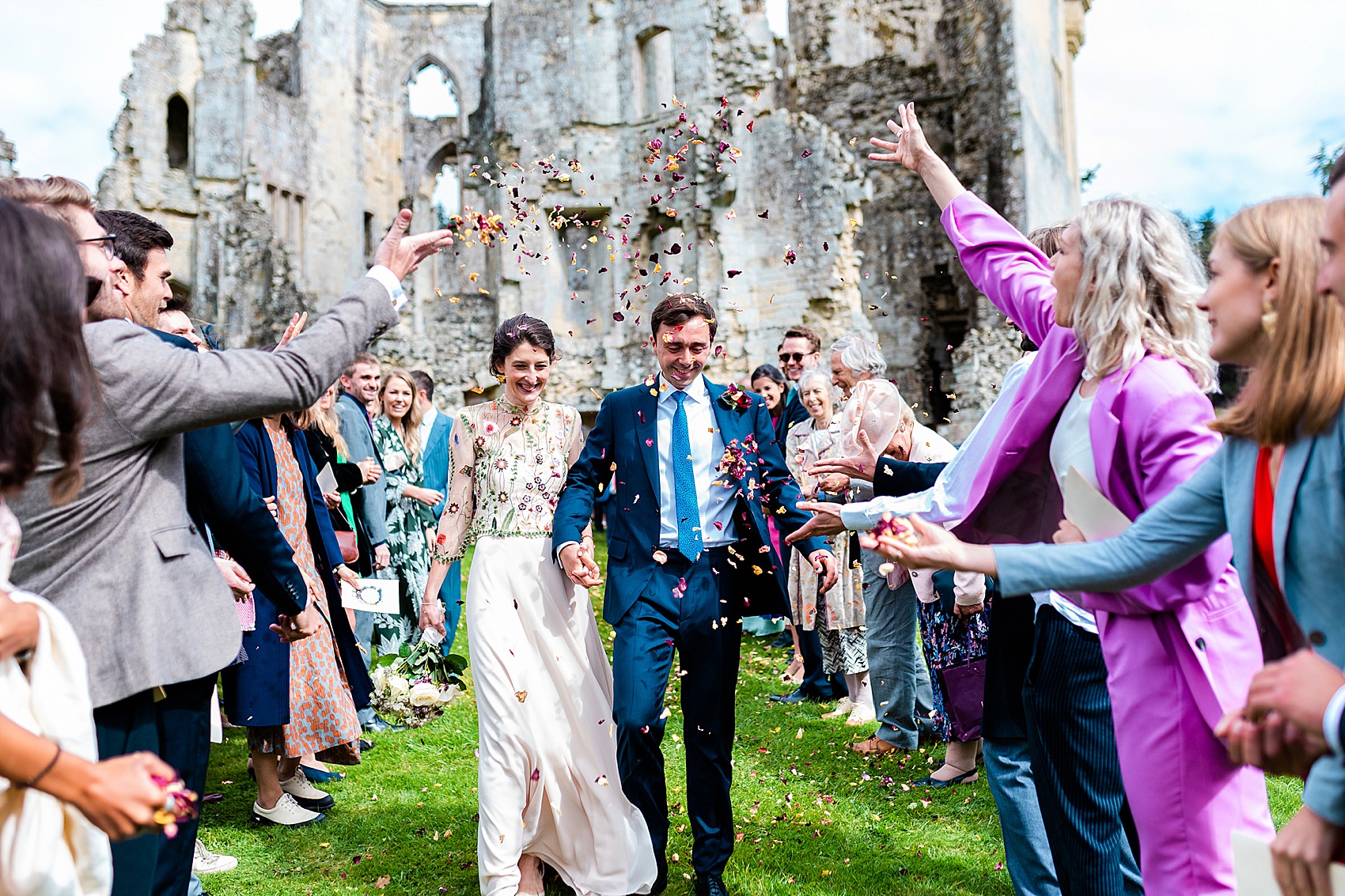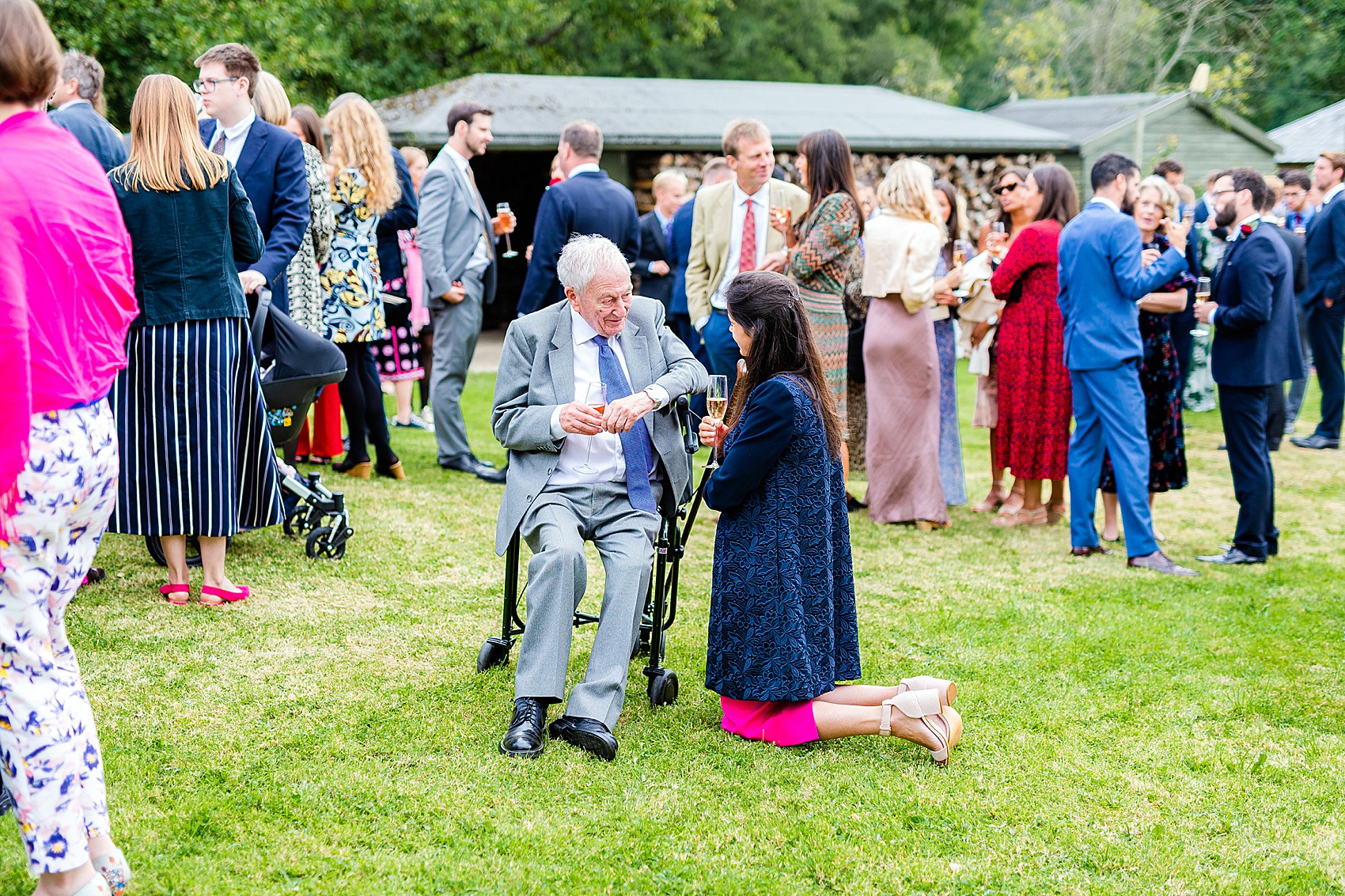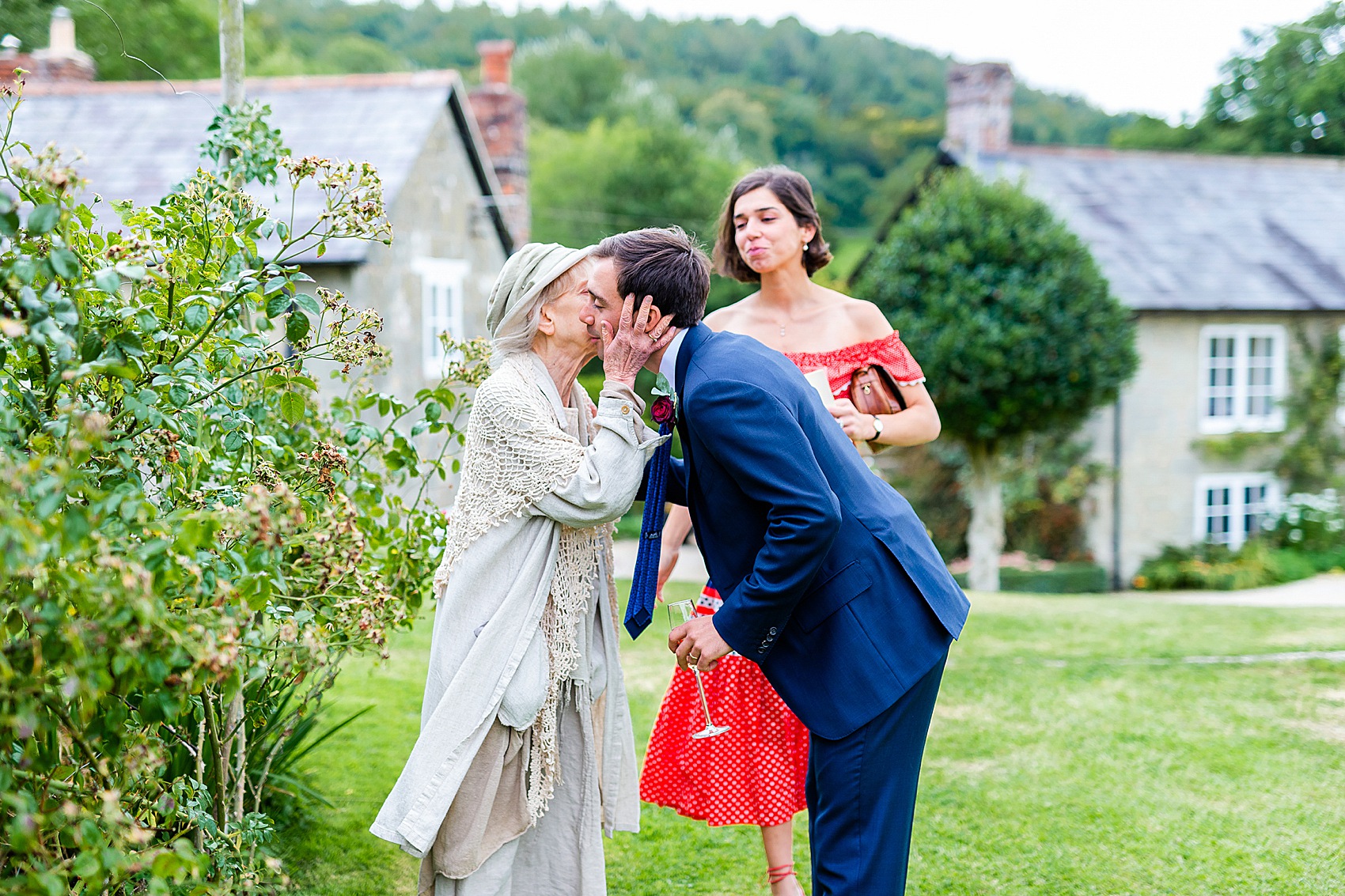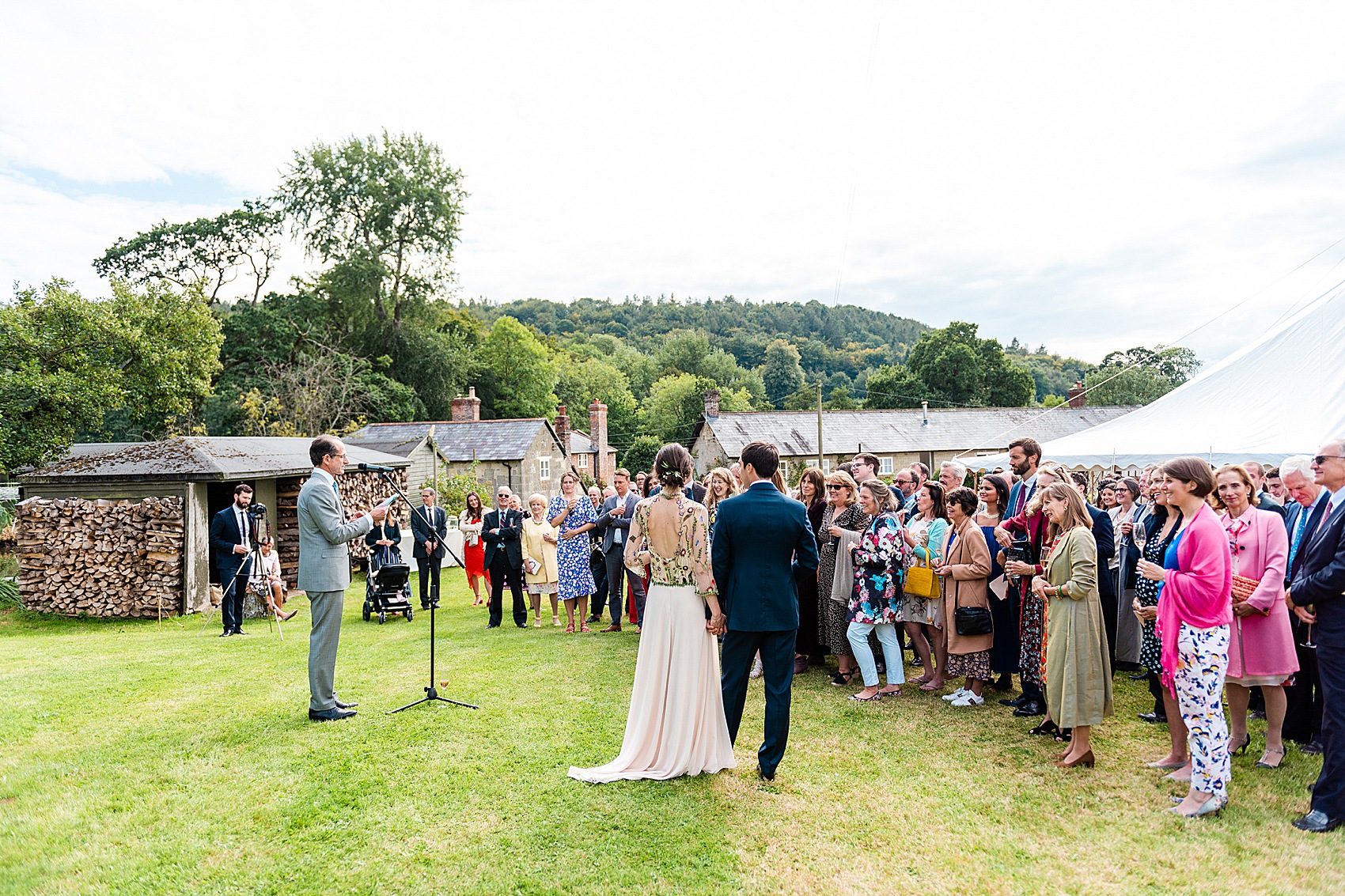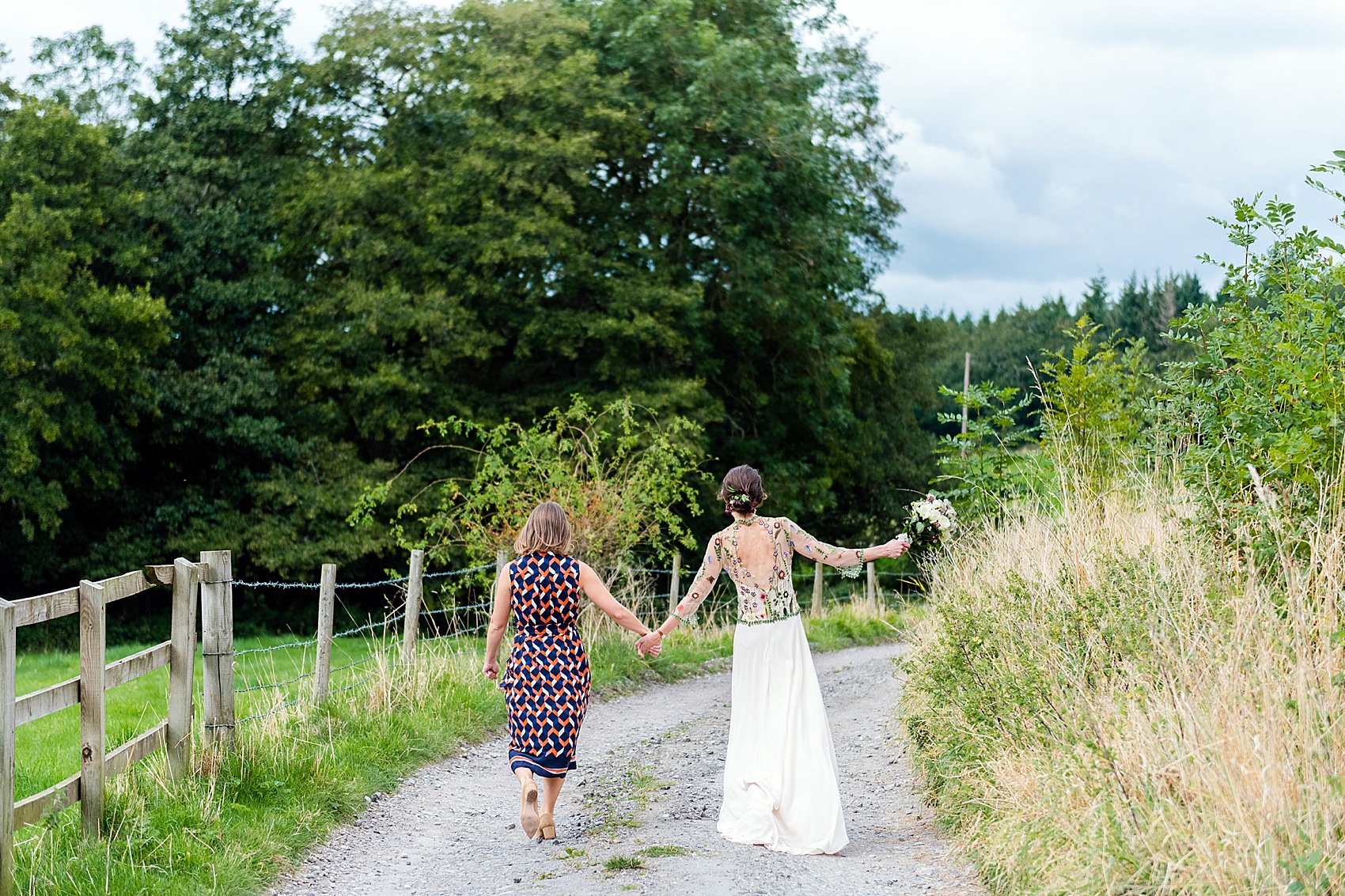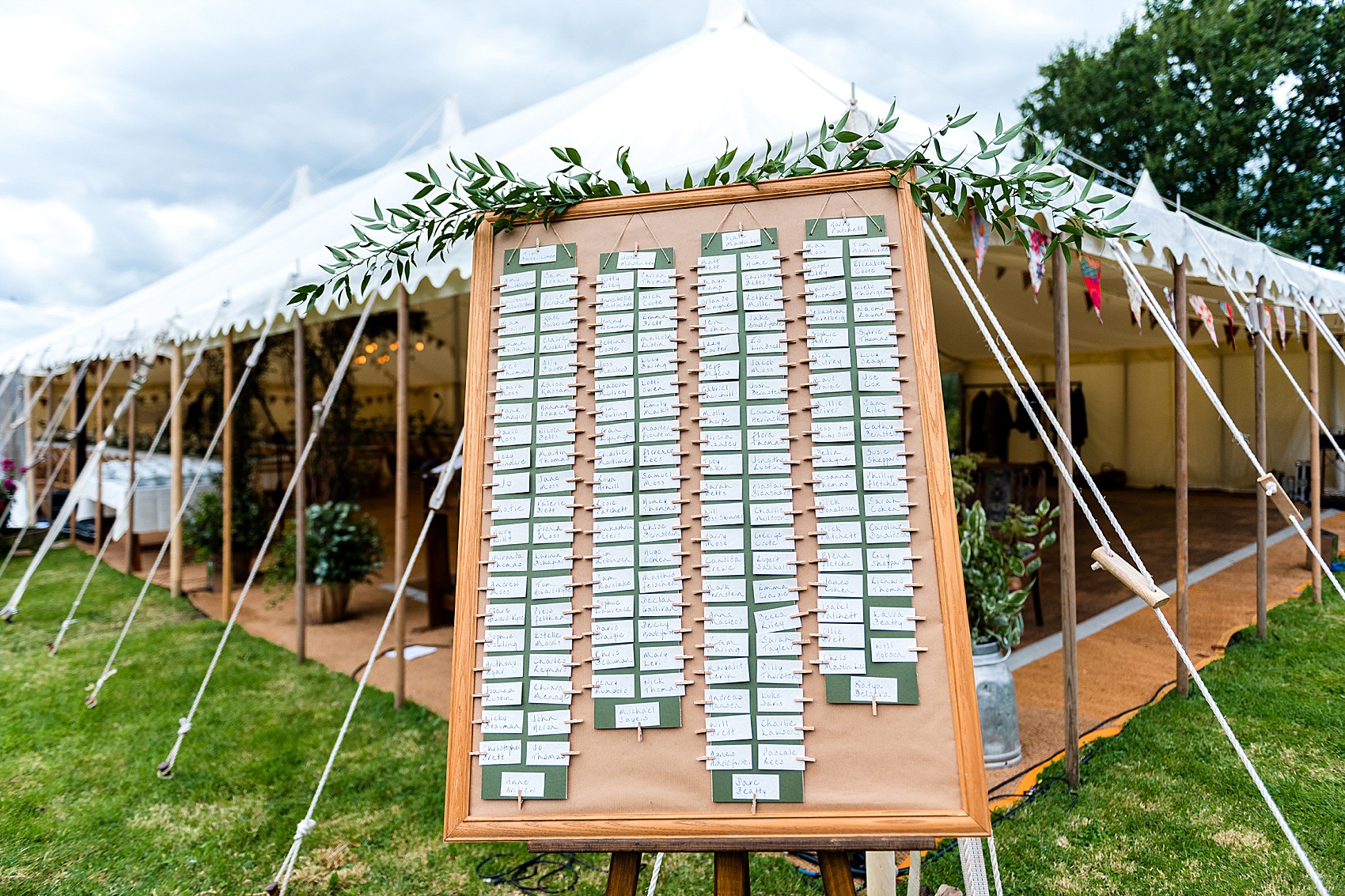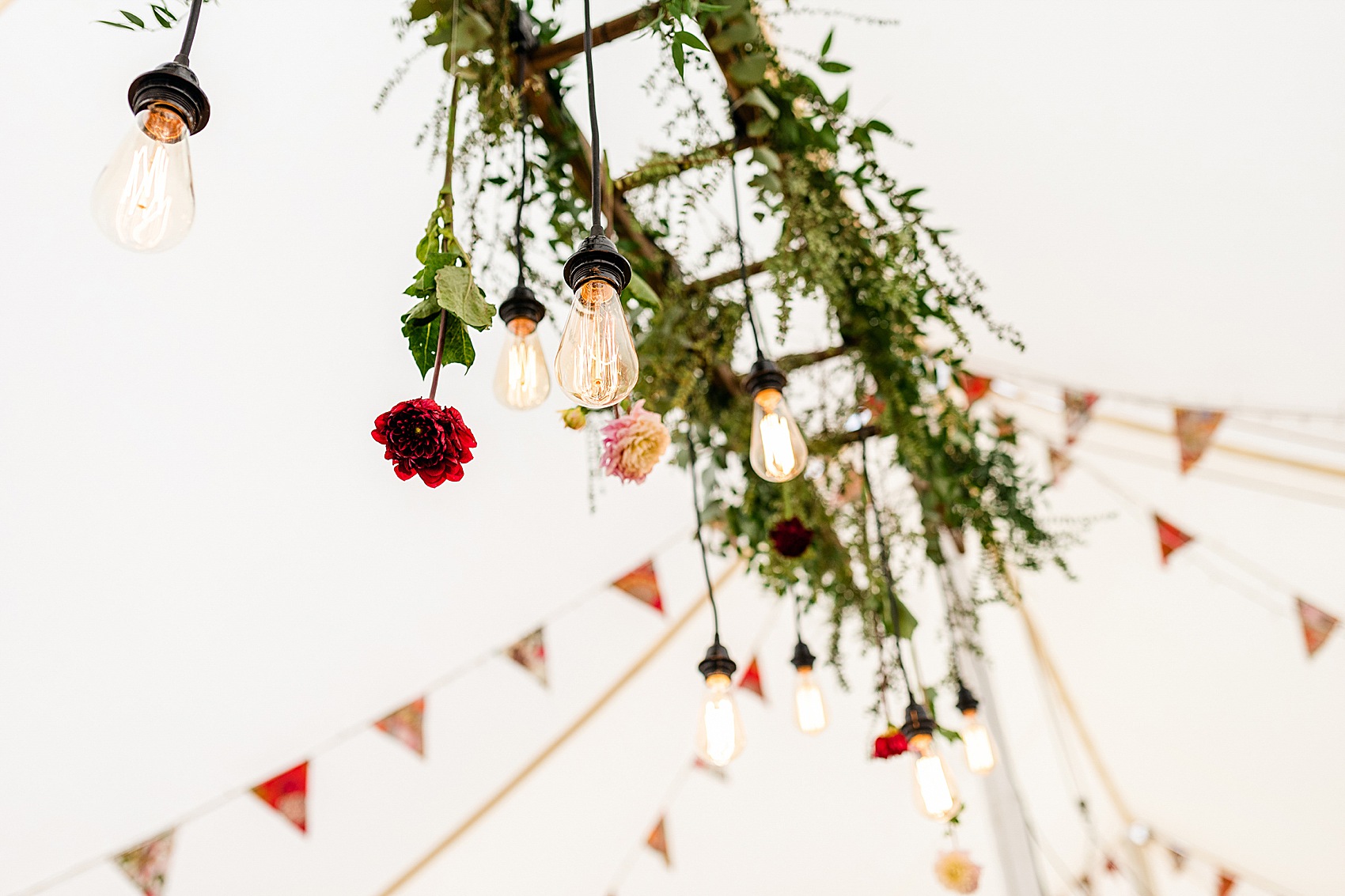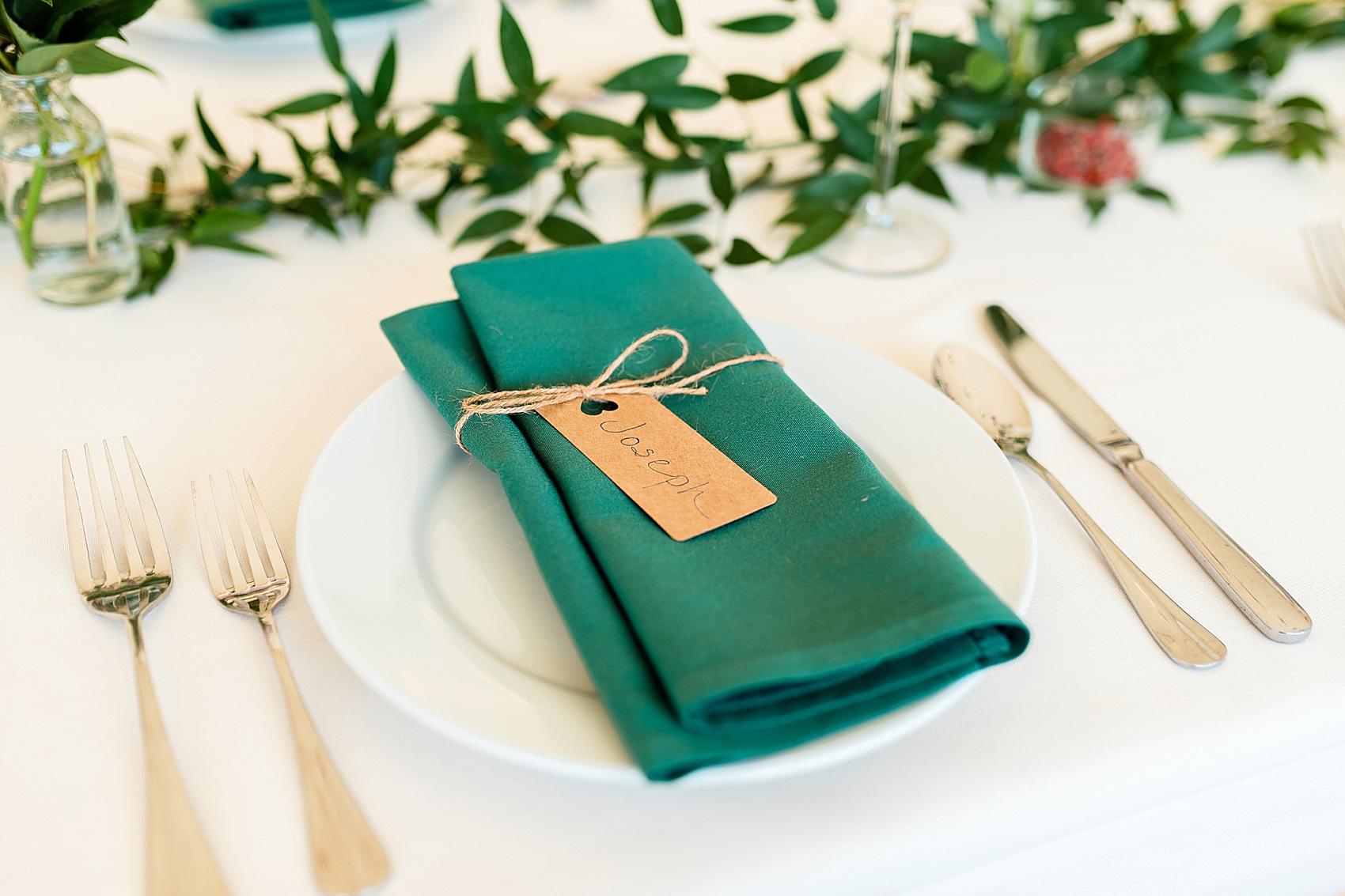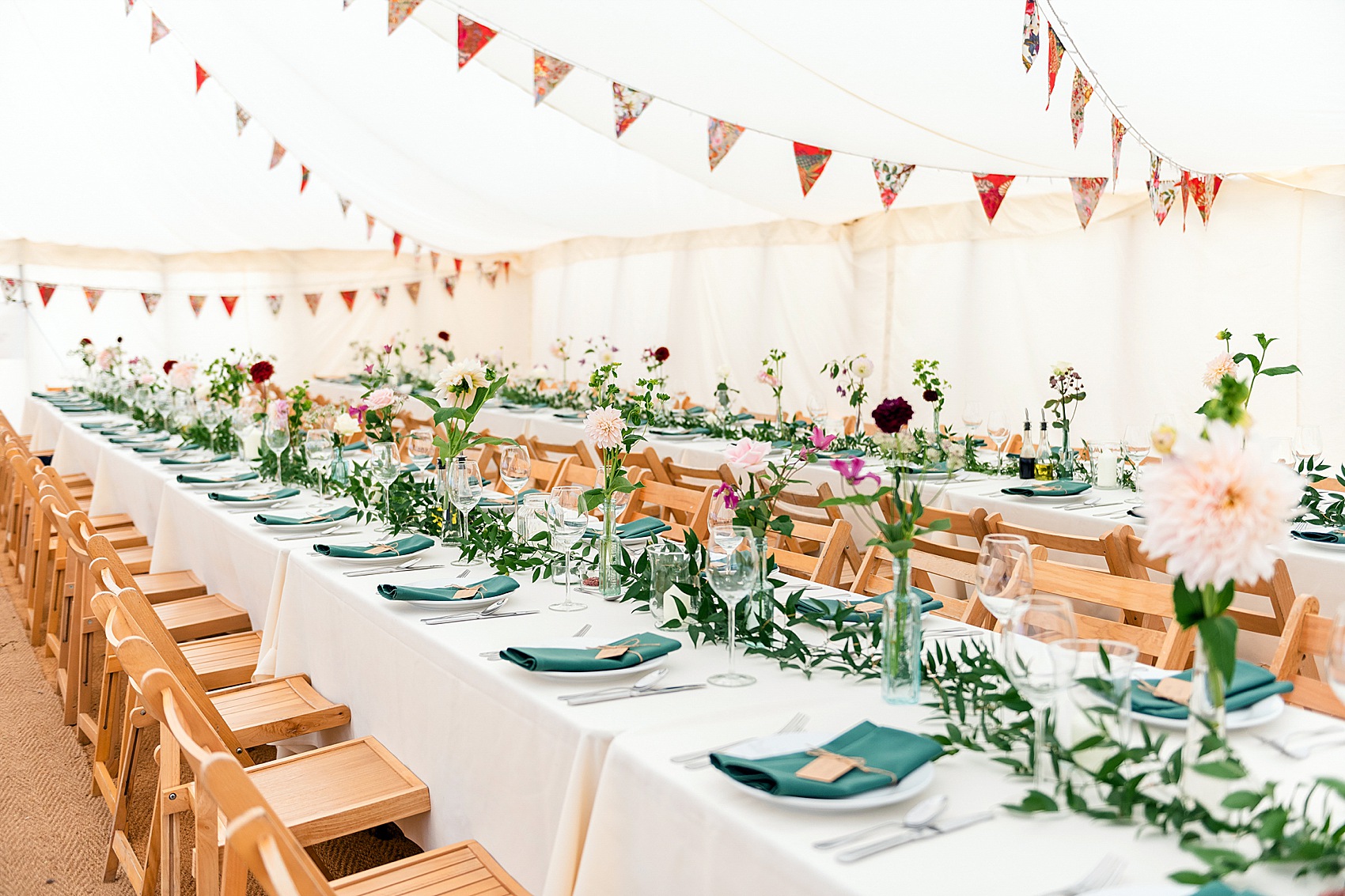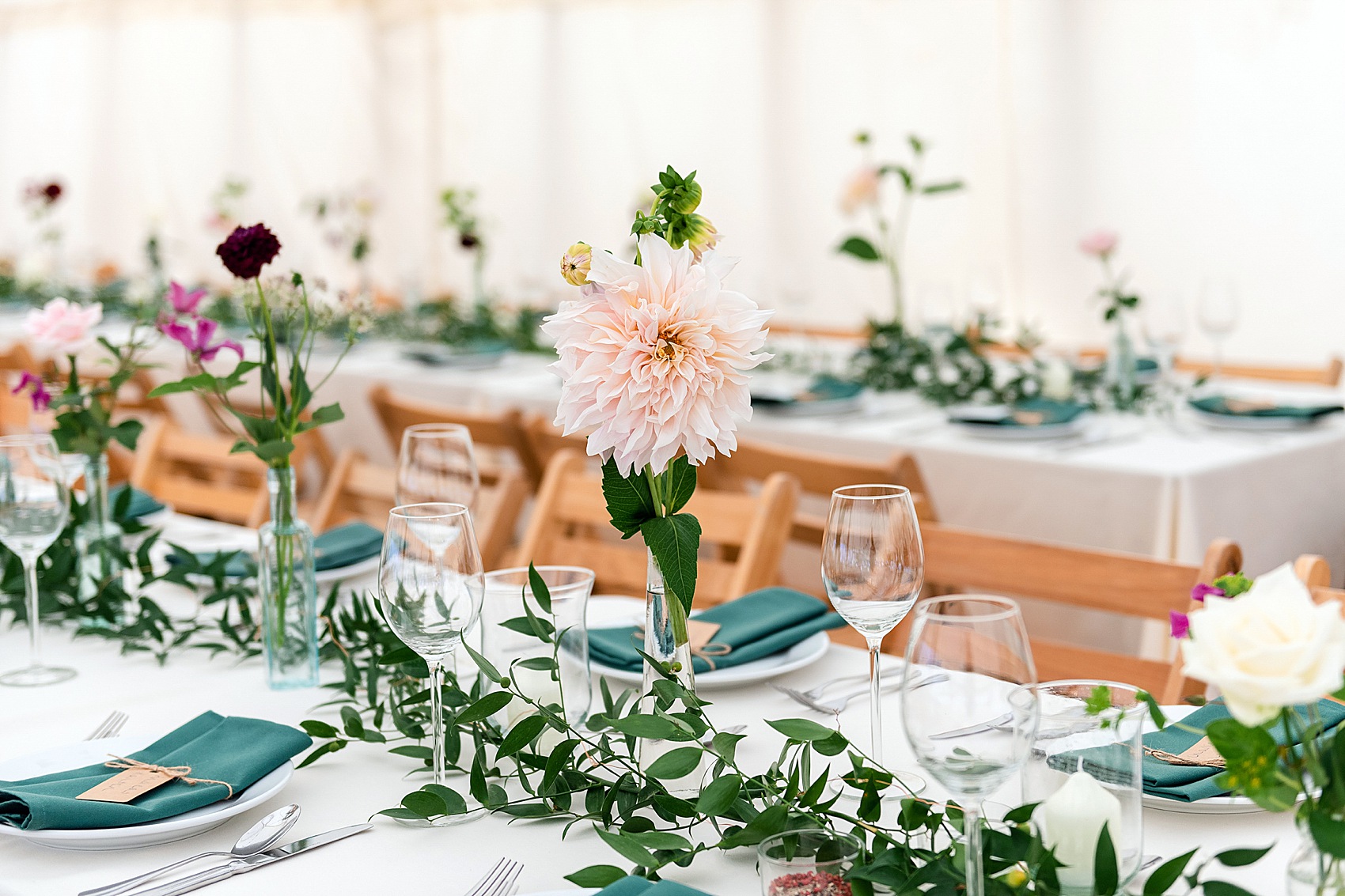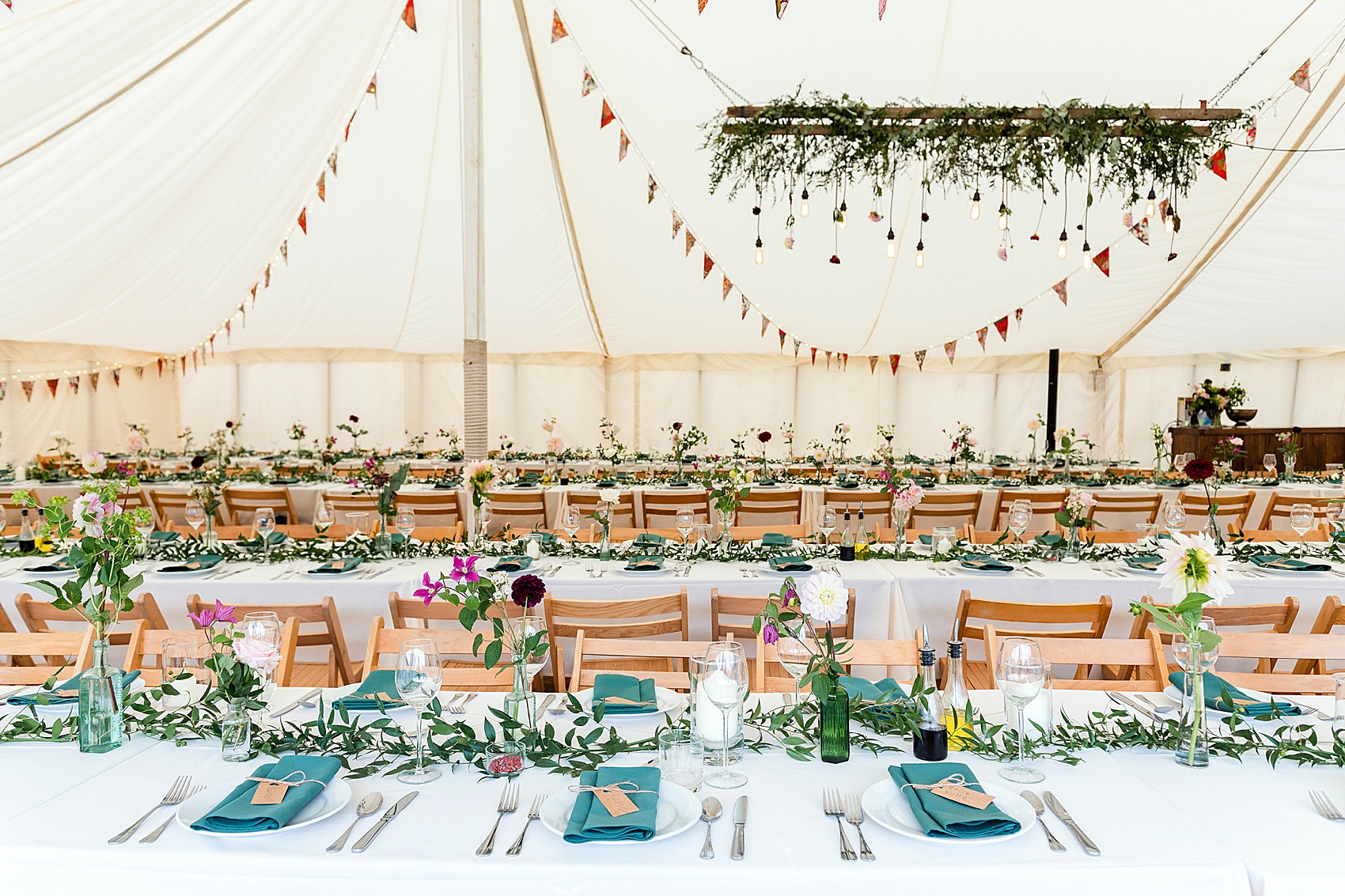 "We both gave speeches , starting together to thank the most important people, before then individually speaking. This is not everyone's forte, nor should anyone (bride or groom!) feel obliged to have to give a speech, but an all-male line-up isn't particularly representative!"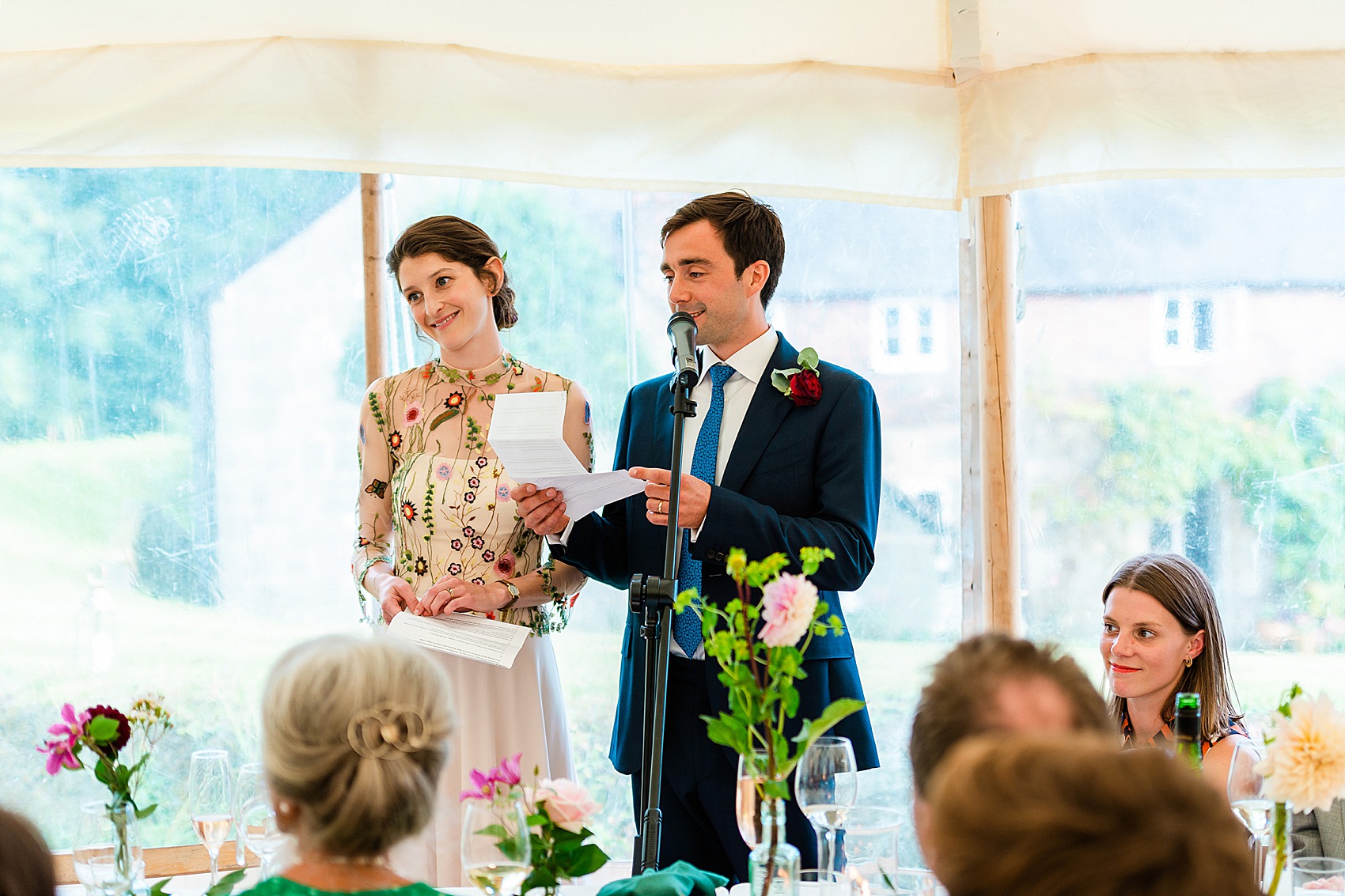 The bride's mother has by all accounts a fantastic eye for decor and detail and assisted the couple in decorating the marquee.
"My cousin's beautiful handmade bunting (used first for her daughter's wedding in 2016) and the natural surrounding of the Thomas's garden, including some flower beds planted specially for the occasion by Joseph's mum. We borrowed candle holders and vases from friends and family, as we were to re-use where possible."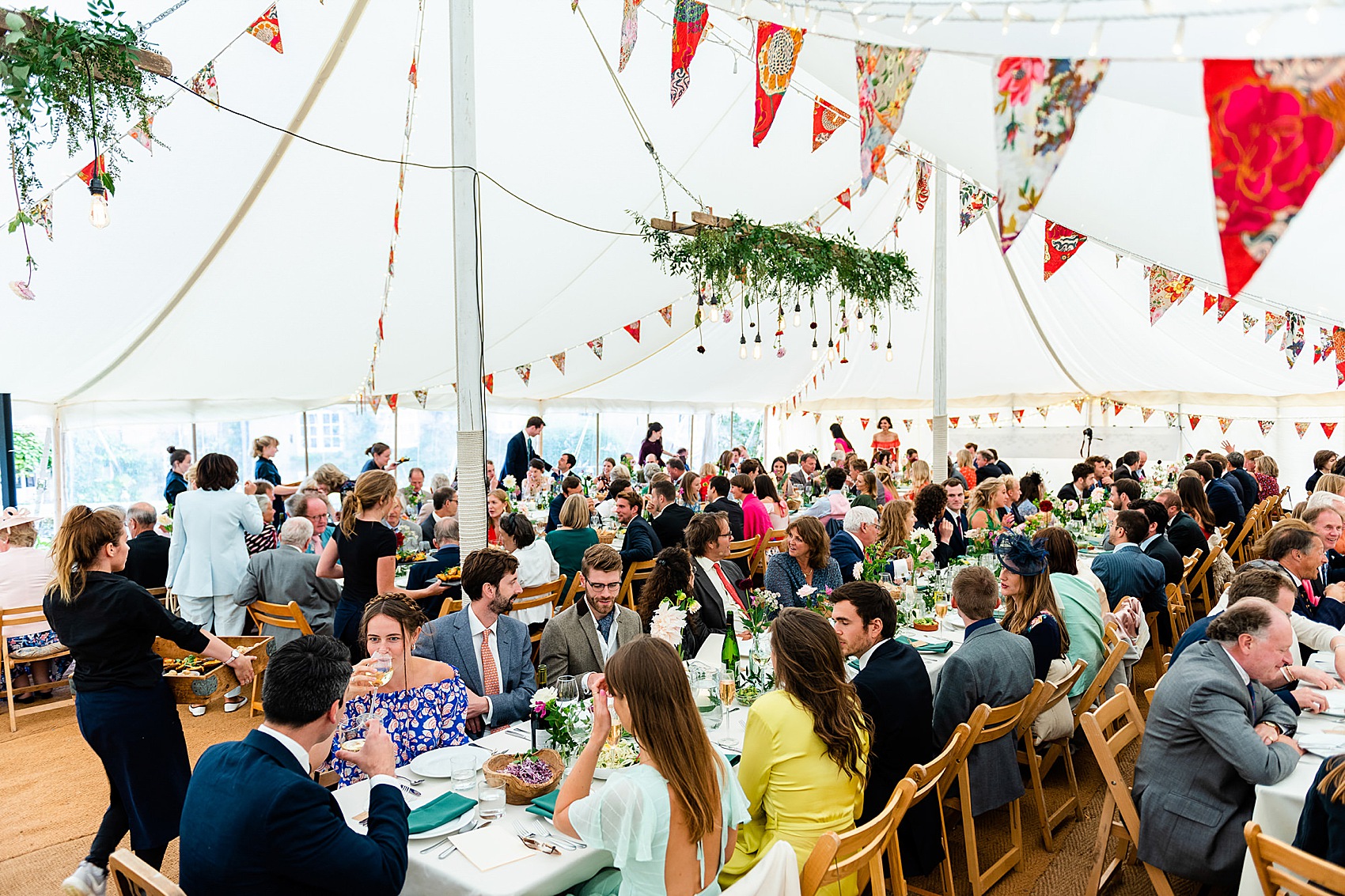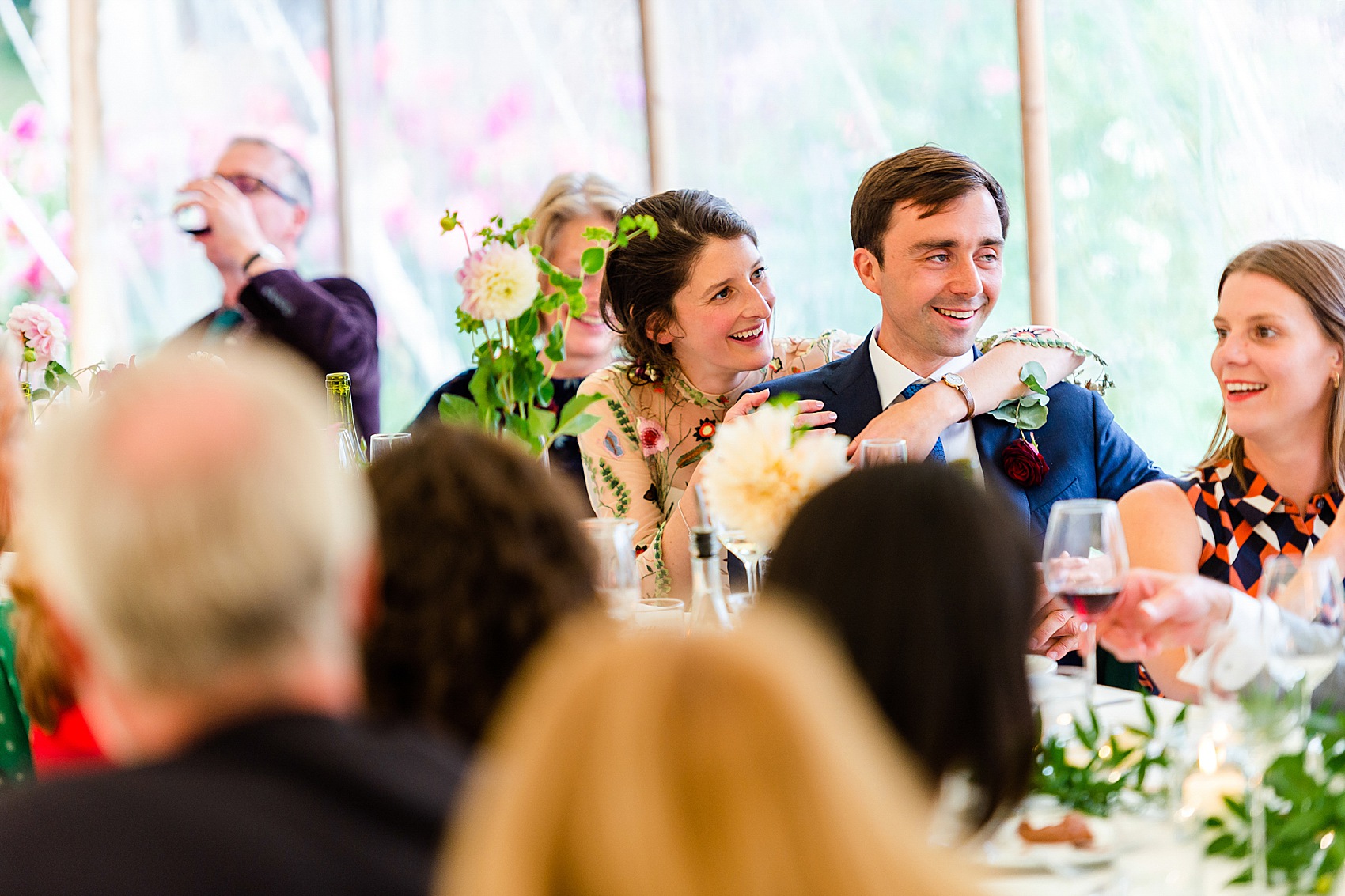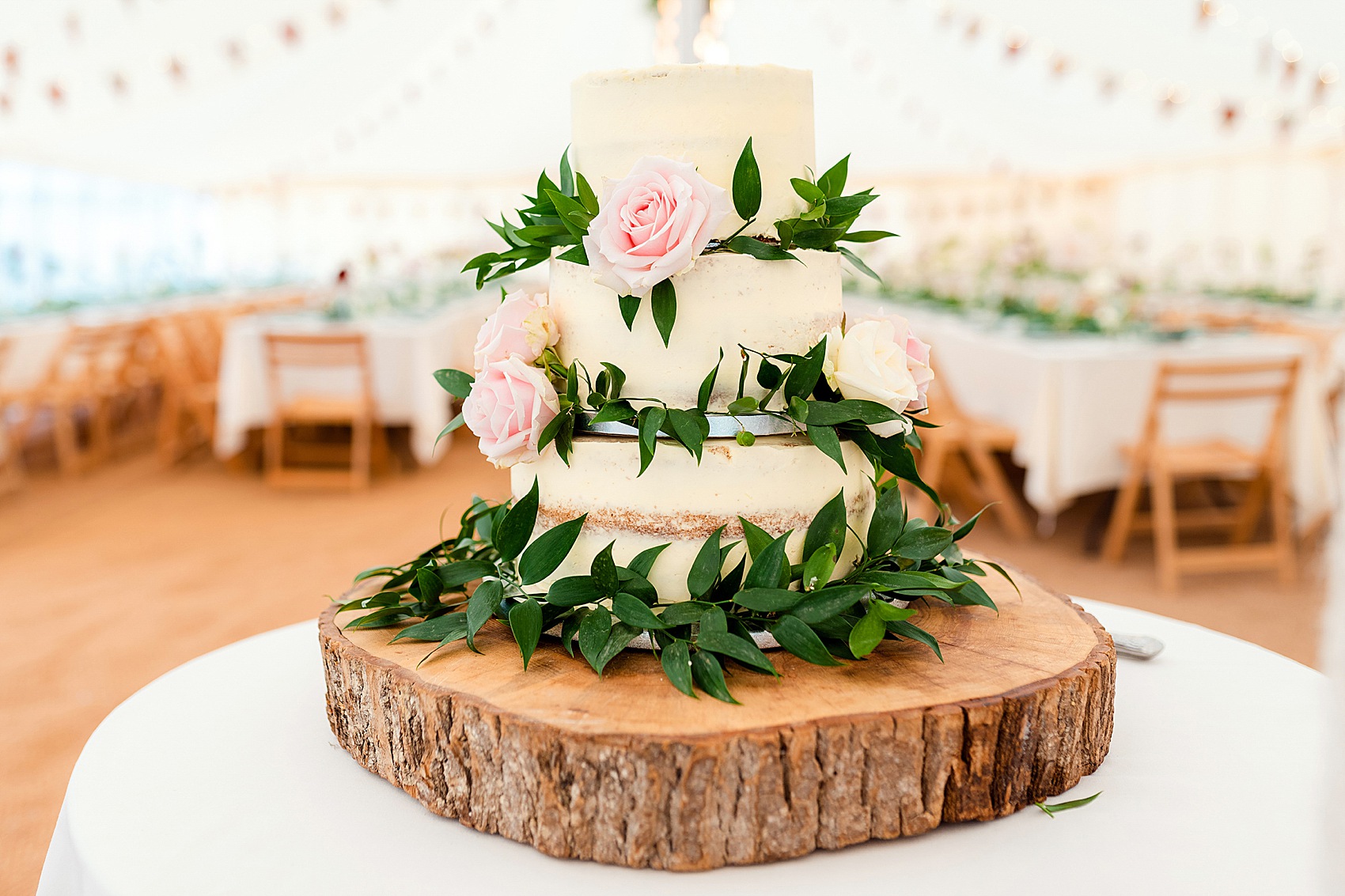 The couple hired Indulge Catering to feed their guests, with The Grange Wine supplying drinks.
"Our cake was created by Izzy Carter – Izzy creates the most beautiful cakes that also taste delicious. She made a carrot cake, lemon and blueberry cake and a victoria sponge. It was three tiers. She is based in London."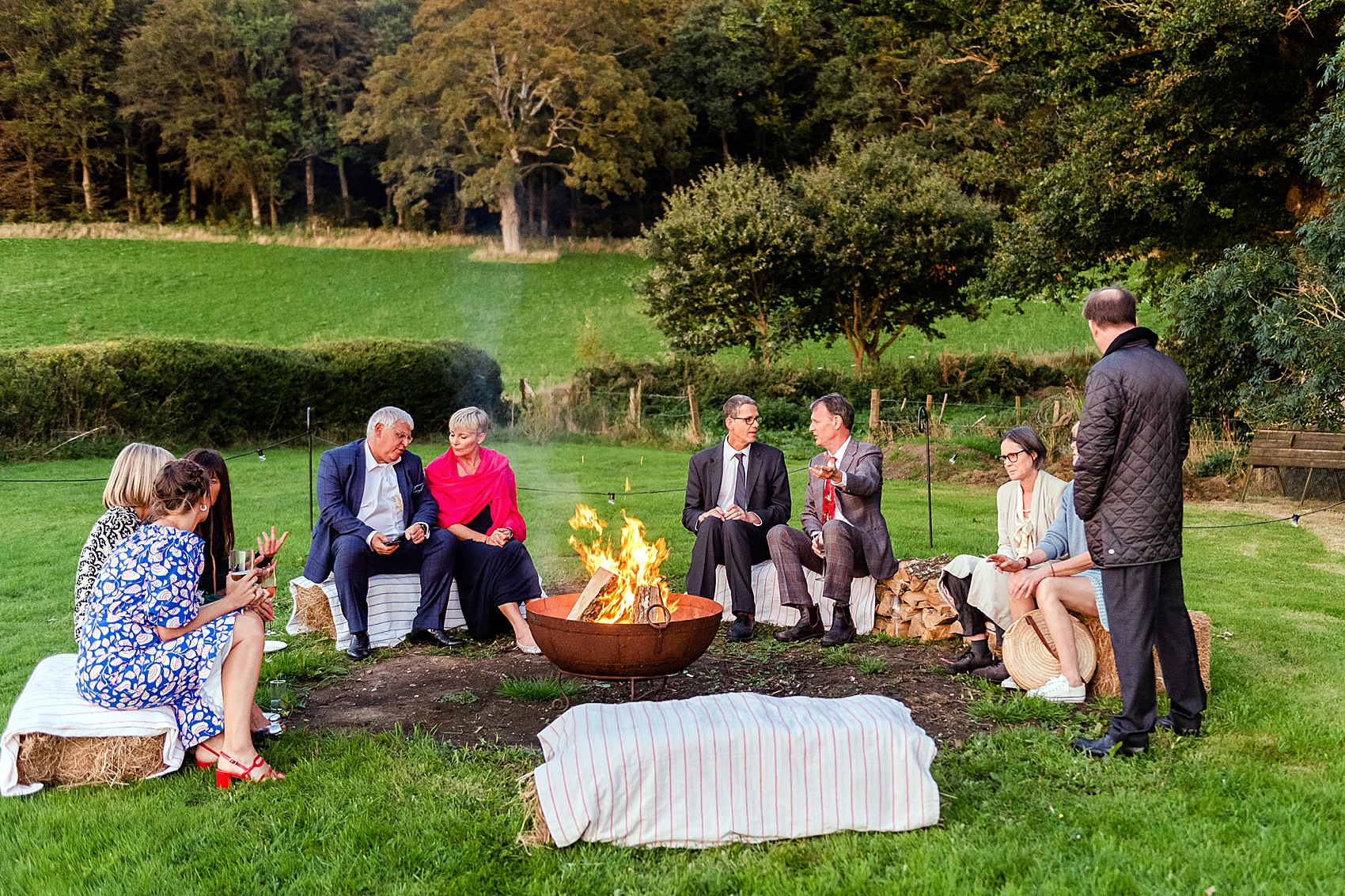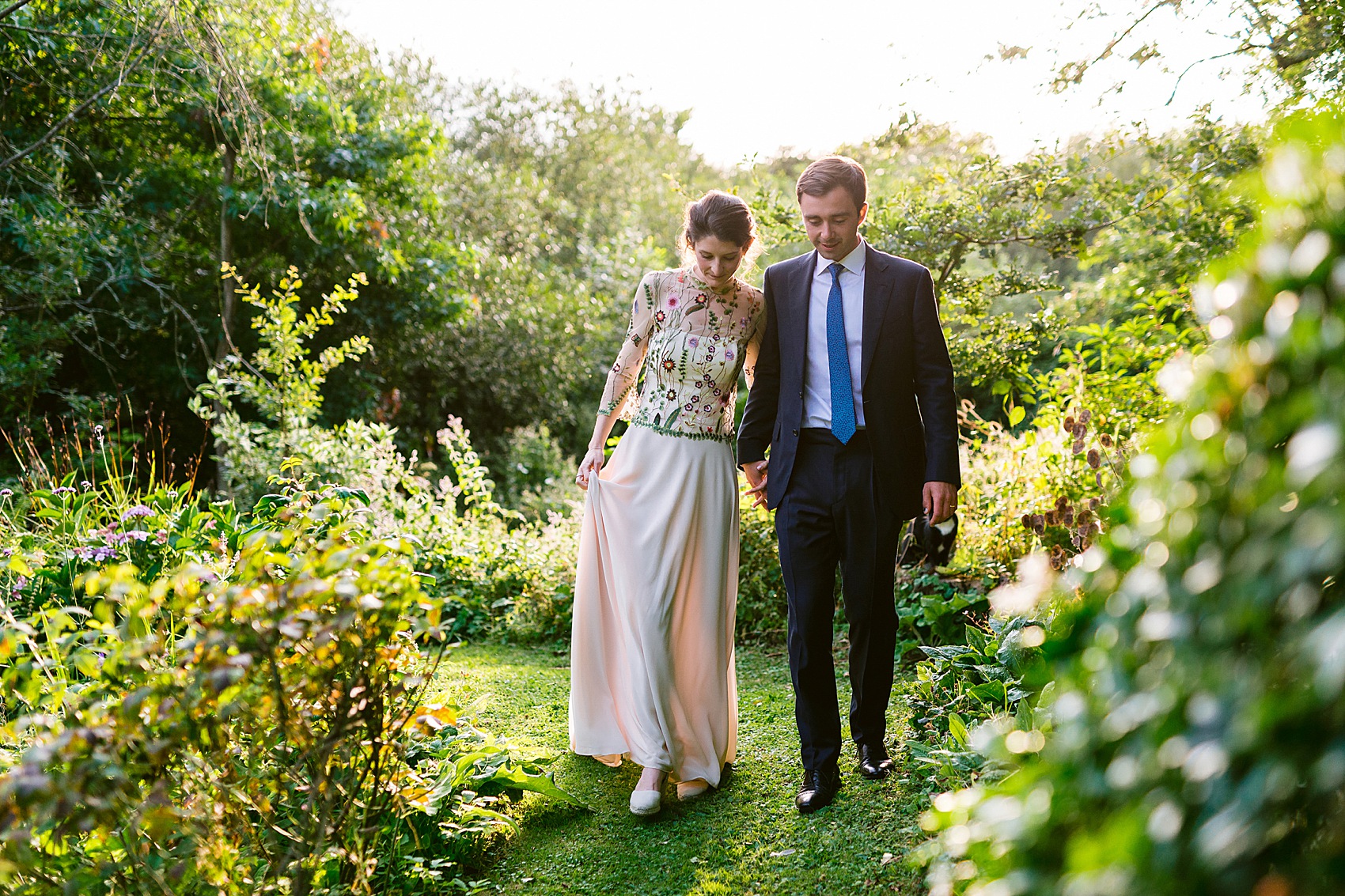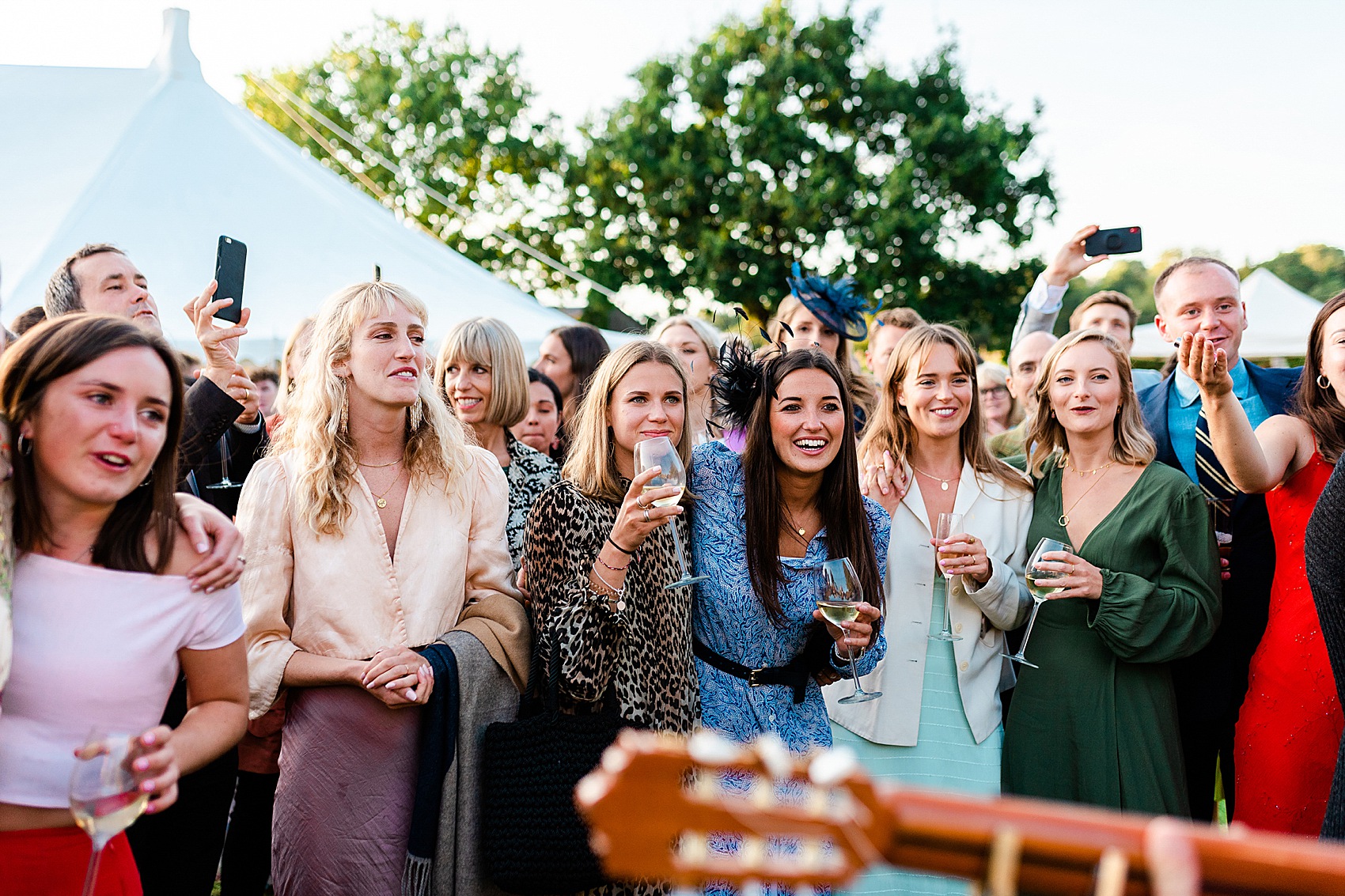 "I am so lucky to have so many close friends, but none of whom I wanted to dress up in matching clothing. Friends played a role in the day in many other ways. I also wouldn't know where to start if I had had to choose between them to be my bridemaids!"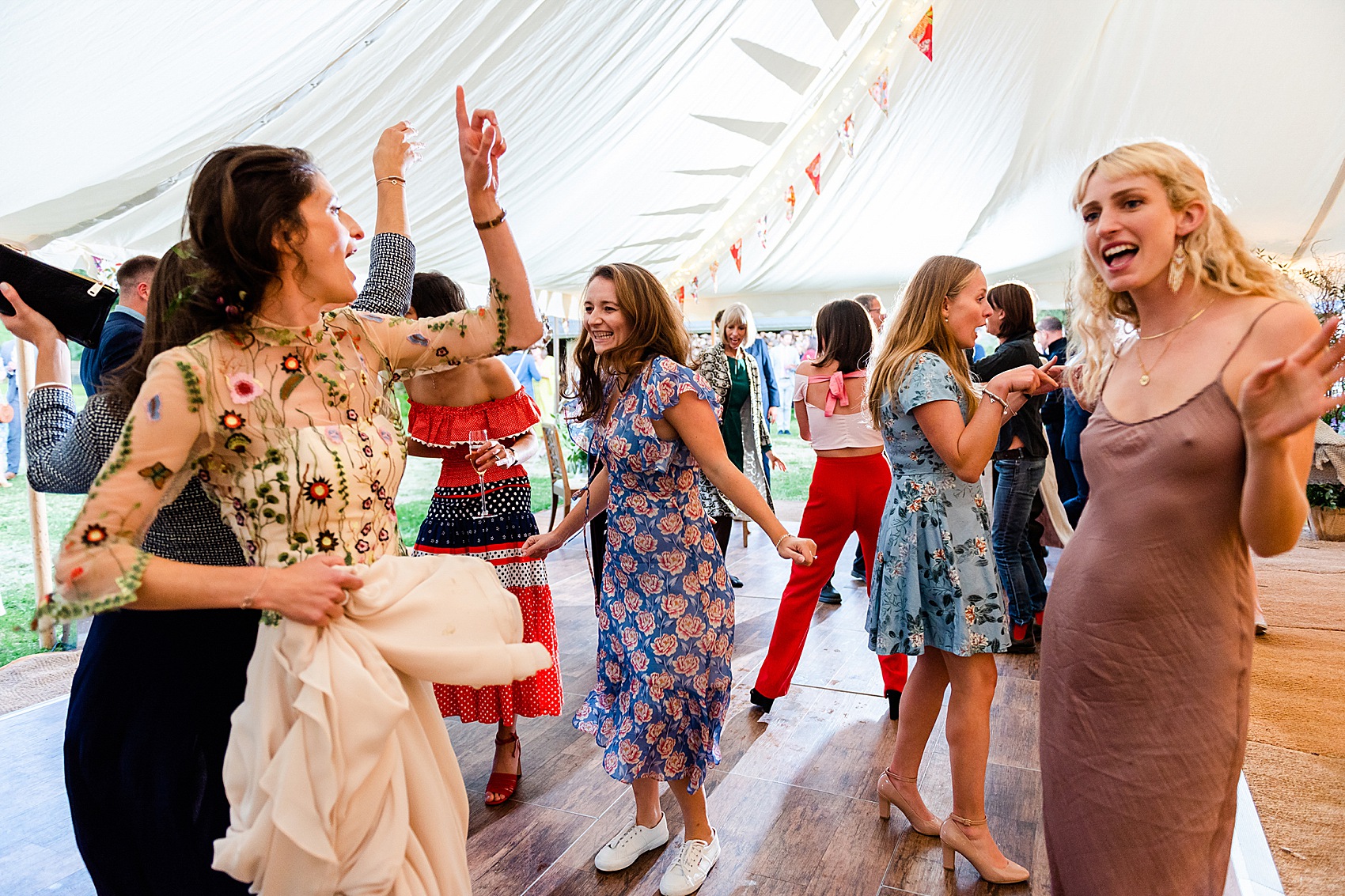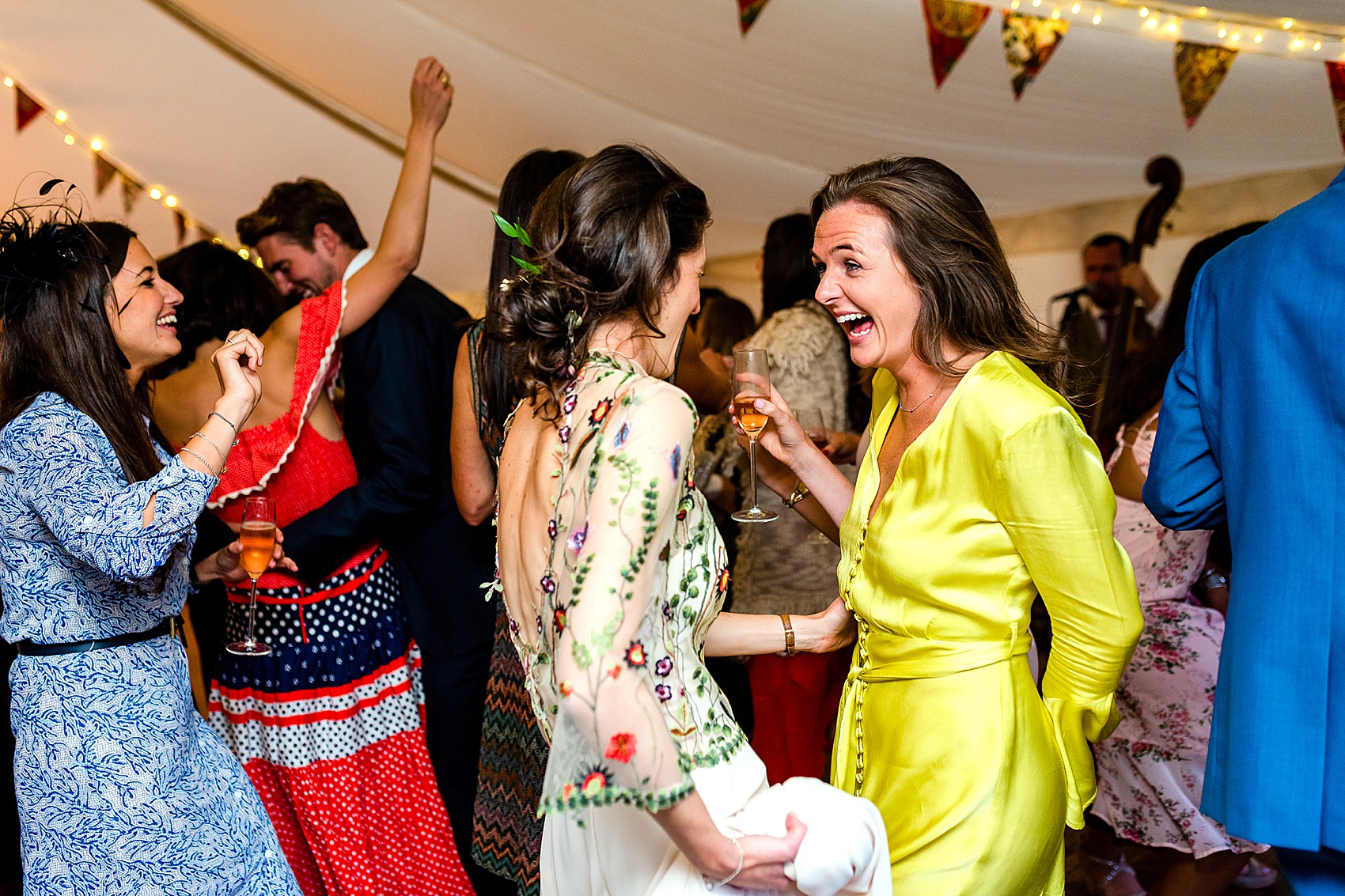 Words of Wedded Wisdom
"Make it personal. Think about why it is you are getting married and ensure that that is front and centre. If you can, create your own ceremony! For us, it was not about celebrating the fact that we had got to a stage in our relationship that we were willing to make this commitment, instead it was about recognising the gravity of the commitment we were making, asking our family and friends gathered there on the day to be our witnesses to that promise and celebrating the beginning of our lives as a married couple."
"It isn't about what will look good in photographs or best on Instagram. Your photographer is there to capture the day, not to create moments for the sake of a photograph."
"We know that for some couples getting married can be incredibly stressful, particularly balancing the wishes of different family members or parents. Understand early on what the most important aspect is for everyone involved, that way you know what needs to be prioritised and what just is not worth worrying about."
"Relax and enjoy it – being surrounded by so many of your closest friends and family is unlikely to happen in the same way for a very long time."
"Had I been able to get a photo with my girlfriends altogether, I would love to have that now. But I'm also glad that we did not spend the day worrying about making sure we had every photo we could have ever wanted, it would have taken away from our enjoyment of the day."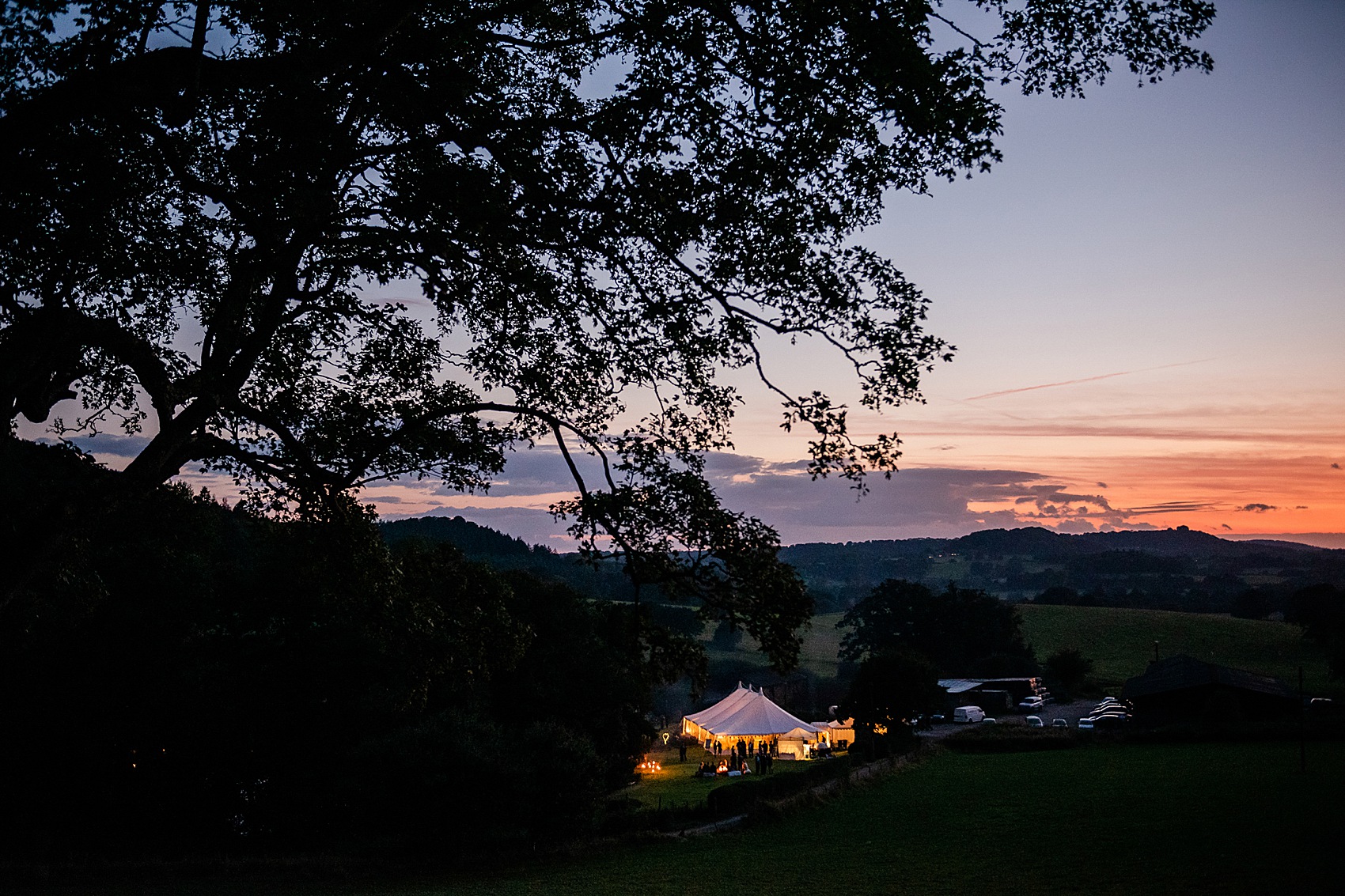 Such a beautiful day full of personality, character and charm.
Katie – thank you so much for sharing so much lovely and inspiring detail, and Sarah Williams – thank you for sharing your beautiful photography with us too.
Readers – take a peek at more gorgeous floral wedding dresses here.
Annabel x