Hello loves, how are you? I know so many of you will be at home, either adapting to a new home-based work environment, or adjusting to a period of non-work, if perhaps you've been put onto a 'furlough' scheme because of the pandemic.
We're all just doing our best, aren't we, to adjust, adapt and rebalance our lives, livelihoods and businesses because of what's happening. I'm just like you, thrown into a situation I could never have anticipated and trying to get through to the end of each day with my sanity and sense of humour still intact. Please bear with us, we've so much we're trying to do to bring you support, guidance and reassurance at this time, whilst trying to also support our incredible community of suppliers.
I have a little something wonderful up my sleeve for you today – a treat for those of you who fancy getting a little creative – and, a special gift for all NHS workers that I hope will lift the spirits of those brave souls working incredibly hard to save lives and protect our entire nation right now.
After about 2 trillion back and forth Whatsapp messages, phone calls and a Zoom meeting (who else is loving Zoom?), we're teaming up with our lovely friend Freya Rose of Freya Rose London to host a special competition that we'd love to invite you to participate in.
So here's the idea…
We want you to help us design a brand new pair of shoes!
That's right, we want you to help us (Freya and myself) to design a brand new pair of shoes (or boots!).  Below, we will invite you to submit your design (as an image or text description – or both) and after 3 weeks, when this competition has ended, we will pick a winner.
The winner will be invited to meet with Freya and I via 'Zoom' (if you're not familiar, it's a bit like Skype) to talk through and refine the winning design.
The finished, tweaked, fully refined design will then be produced as an actual pair of shoes that will become part of the Freya Rose shoe collection (which will be available to purchase on a made to order basis). The winner will receive their own beautifully boxed and packaged pair of said shoes too.
Because the shoes won't be ready for several months, Freya will issue the winner with a voucher for £250 that can be redeemed immediately and at any time within the next 12 months, via her online store.
Everyone who enters this competition will be gifted with a 10% savings code to use after this competition has ended – details will be released to all entrants after the competition has ended.
In addition to this, Freya is currently providing all holders of an NHS Blue Light Card, a 30% saving on all/any purchases made from her online store.
And in an even bigger act of generosity, she is giving away a pair of silver and freshwater pearl earrings to any NHS bride who was due or is still due to get married this year.
What say you? Sound good?
So, in the spirit of 'lockdown', we thought we'd hop onto a Zoom session to talk through and present our competition idea to you 'in person', so to speak, though you'll find full details of how to enter below, along with an interview with Freya and the terms and conditions.
Do excuse me for pointing upwards towards Freya on this video ?…when we were filming, she was located above me on screen! ?
(subtitles available)
Introducing Freya of Freya Rose London
Freya, please introduce yourself to our readers
Hi Love My Dress readers and followers! I'm Freya Rose, founder of Freya Rose London and I live in Southsea with my husband Matthew and my children, Johnnie 9 and Willow 18 months.
I love living by the sea and immersing myself in nature and the places that I travel to from all of the cultural and architectural influences that create their character; places like Marrakesh, the opulence of the far east and many of art deco influences in New York.
Apart from my family, shoes are my world; everything about shoes, the designing, making and wearing to me is truly magical and enchanting. I'm fascinated by the way shoes can transform the way you look and feel.This is what I've always dreamed of doing.
Tell us how you started out in designing shoes and what drew you to bridal in particular?
I always had a desire to create my own label designing unique and luxurious collections that would be a marriage of both shoes and jewellery. As a child we lived above my mother's Jewellery shop and workshop where everything was made.
I would spend hours observing her, as she designed jewellery for some of the world's most glamorous women. I have always been mesmerised by the opulence and beauty of the jewels that she worked with and was totally absorbed by her passion and perfectionism for design and craftsmanship. a true artisan at work, telling stories through her designs.
This passion in design led me to do an art foundation course, I was totally immersed in sculpture and fashion textiles. While looking through a prospectus for the London college of fashion I saw a degree in shoe design and in that defining moment, I thought, Yes! That's me!
I gained a 1st class honours degree in shoe design, and later created my label, Freya Rose, with the support of a £3k loan from the Princes Trust.
Can you describe your signature style?
Innovative, sculptural, wearable works of art that transcend the boundaries of design whilst reflecting the wearer's individuality.
The use of jewelled elements from sterling silver and Brass combined with exquisite iridescent mother-of-pearl.
Tell us something about your business that you're really proud of
We work with artisan shoe couturiers in Spain and we know each and every person that turns our designs into a reality.  Our signature mother of pearl heels and jewellery are responsibly sourced in Bali, every part of the shell is carefully cleaned, cut and polished before being hand-inlayed by experienced artisan jewellers to create unique statement pieces.
The creation process showcases the unparalleled artistry and craftsmanship which has been passed down throughout generations, We support keeping the craftsmen renowned for possessing innate artistic talents in ethnic arts alive as it becomes endangered due to change or degraded by globalisation.
The provenance and traceability of the materials we use and the people we work with really matter to us.   Freya Rose shoes will  be treasured forever with timeless and iconic style. Each pair of shoes tell a story and have integrity.
What gave you the idea to open up a competition for brides to design their own shoes
I've always loved the idea of working with bride's visions and getting feed back is so insightful and a real pleasure to receive. I ADORE Annabel I feel we are so in sync as friends and working ethos and aesthetics so of course she was the first person I approached with the idea.
Annabel and I have been talking about doing this for some time, when the pandemic started we felt it could be insensitive but once lockdown was announced we wanted to help people lift their spirits and as time is one thing we have on our side we actually thought the time could work well for brides to get creative and have some fun!
Freya Rose boot design, hand-painted by Bertie Valentine
What would you say to those brides who aren't confident in having a go at actually drawing their ideal shoe/boot design?
We are not looking for a Picasso and we're not here to judge your drawing skills! We simply want an expression of excitement and engagement with this idea. You can submit a description with some supporting visuals – perhaps a pair of your own shoes that you love with a picture of a buckle you adore or have seen online/via social media, etc, along with a short description. As long as we can translate your vision into an actual design, that's the main thing. We pretty good at the translation thing 😉
What overall hints and tips would you provide to everyone entering this competition?
Firstly think the practical things – what is your ideal heel height? Will it be a skinny or a block heel? will it have a platform? Open toe, pointy toe etc?
Then the fun part, the details material/colours/trims – get yourself inspired! Creating a Pinterest board to gather images that inspire you might be helpful. You don't have to look at other shoes – inspiration is literally all around us. Look at art, books and clothing instead. Look around your house and if you have one, look around your garden. Do you want some floral detail or perhaps a jewelled trim?
Think outside the box – Inspiration could even come from your bathroom tiles! (Annabel told me that a former version of her website design was inspired by the colours in her bath mat! True story ?)
Dive into your jewellery collection – is there a beautiful necklace you could vision as a detail on the front or the back of your shoes? What about fabrics and textures?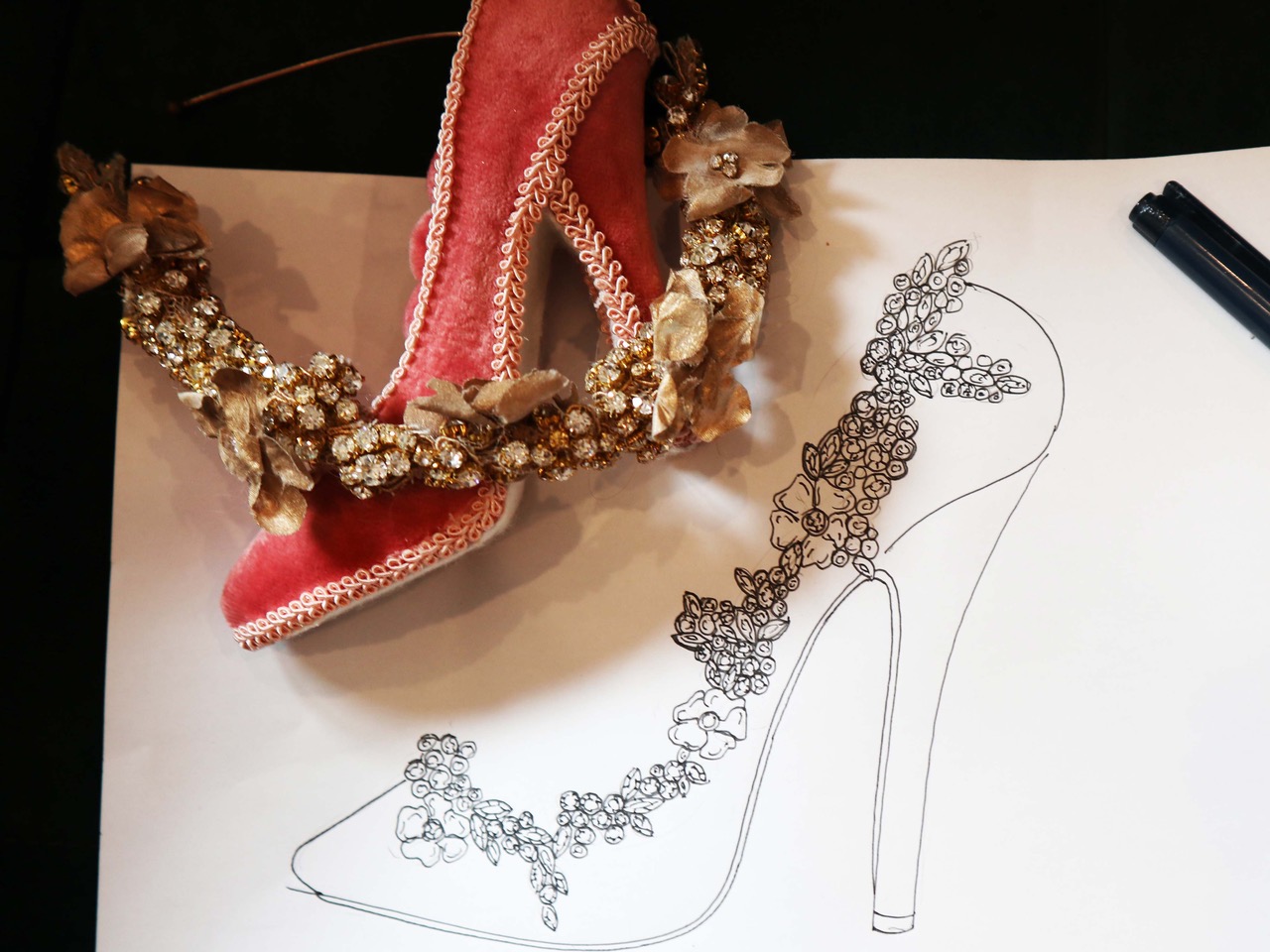 Sketch by Freya Rose London
We will open up this competition today (Sunday 5th April) and it will run for 3 weeks in total. We'll provide some little reminders and nudges to keep you focussed – and keep an eye out on both the @freyaroselondon and @lovemydress Instagram stories as I'll be providing some creative tips to help you along the way.
That just leaves me to say  I genuinely cannot wait to see your entries and get you all involved in something fun.  I really hope we can help lift some spirits and get those creative juices flowing! I am so privileged to do something I love and I can't wait to share my passion and knowledge and give back to you guys through my favourite ever wedding blog.
NHS Staff – How To Apply For A Free Pair of Earrings
Visit this image on the @freyaroselondon Instagram account an tag yourself, or a friend/family member/colleague who works for the NHS. Freya will contact you via DM after this so check your messages.
How To Enter This Shoe Design Competition + Win a £250 Voucher/Pair of Shoes
It's easy peasy!
Firstly, follow both @freyaroselondon and @lovemydress on Instagram.
And then, complete the form below. That' it!
This competition will open on Sunday 5th April and end at midnight on Sunday 26th April 2020.
We'll be providing entry prompts and encouragement through our newsletter (sign up here) and Instagram accounts (which you should be following by now ?).
Any questions, please direct them to [email protected].
Good luck everyone!
TERMS & CONDITIONS
The competition will open on Sunday 5th April and will close at midnight on Sunday 26th April 2020. The winner will be notified via email and text message the week commencing Monday 27th April.
The winner will be invited to join Freya Rose of Freya Rose London and Annabel Beeforth of Love My Dress via a Zoom video conferencing call to discuss their design in more detail and flesh out plans for creating the winning pair of shoes.
The prize will take approximately 6 months to produce from submission of the final sketch to receipt of the fully packaged and quality checked product.
Sample shoes can be sent to your home address (on loan, to be returned) for you to try on for size, so that you can be sure you order your winning shoes in the correct size.
All data submitted as part of this prize will be maintained safely and securely by Freya Rose London for market research purposes. Email addresses will be added to the Freya Rose London and Love My Dress mailing lists – you will have the opportunity to opt out of either mailing list at any time.
All entrants to this competition will receive a special time limited savings code for ordering any product from the Freya Rose London website – details of which will follow after competition closure.
Prizes are not transferable or eligible for exchange or refund.