Simple green foliage and pure white blooms. So sophisticated, so timeless and so classically beautiful. They're the perfect choice for any of you lovelies looking to create an elegant and chic wedding décor, as we're about to see in today's celebration.
Come with me to Town Hall Hotel in Bethnal Green, London for the sophisticated and elegant wedding of Lucia, who works for FeelUnique.com and Kilian, a developer at IBM. Their summertime wedding was on 10 August 2019 and was inspired by the refined Edwardian and Art Deco aesthetics of the Hotel together with an abundance of pure green foliage and white blooms.
Kristian Leven Photography

+ Follow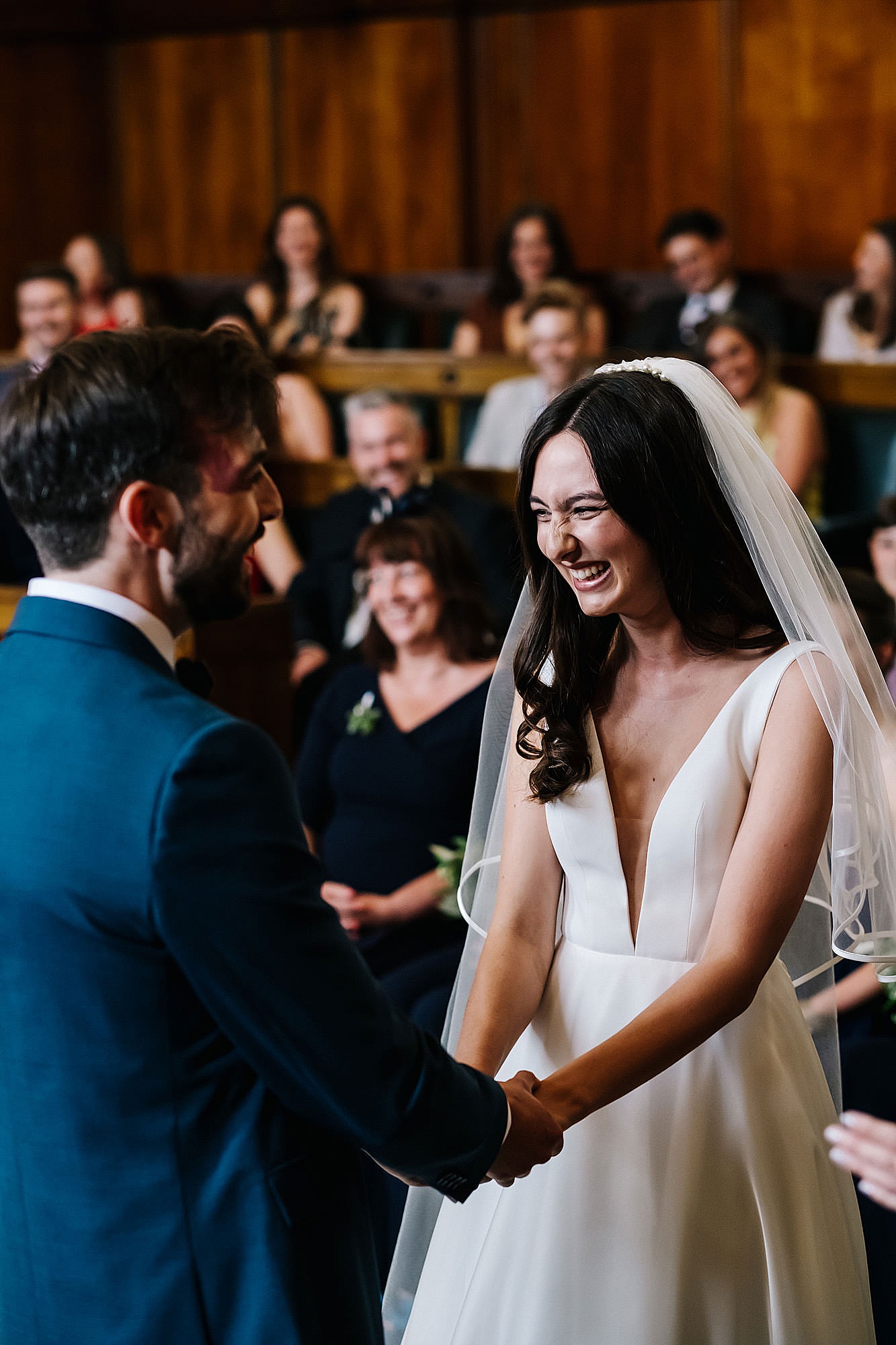 The bride was excited to plan the day herself and took plenty of inspiration from the venue, the first thing she and Kilian decided on.
"I knew before I started planning that I wanted a really sophisticated wedding without it being boring or 'overdone'. The Town Hall Hotel is a gorgeous building; the mix of Edwardian and Art Deco architecture and beautiful styling helped guide us in our other aesthetic choices."
The sophisticated tone of the day was set by the refined and pared-back vibe of the stationery, with invitations, menus, place cards and orders of service from Papier.
"We chose simple, elegant designs to fit in with the rest of the day. All Frills Studio designed all our signage as well as table numbers. We had the usual welcome sign and table plan but she also designed some brilliant signs with some of our favourite song lyrics for the sweet trolleys and dance floor. I spent a lot of time over the place settings as I wanted it all to tie in and look super-sophisticated."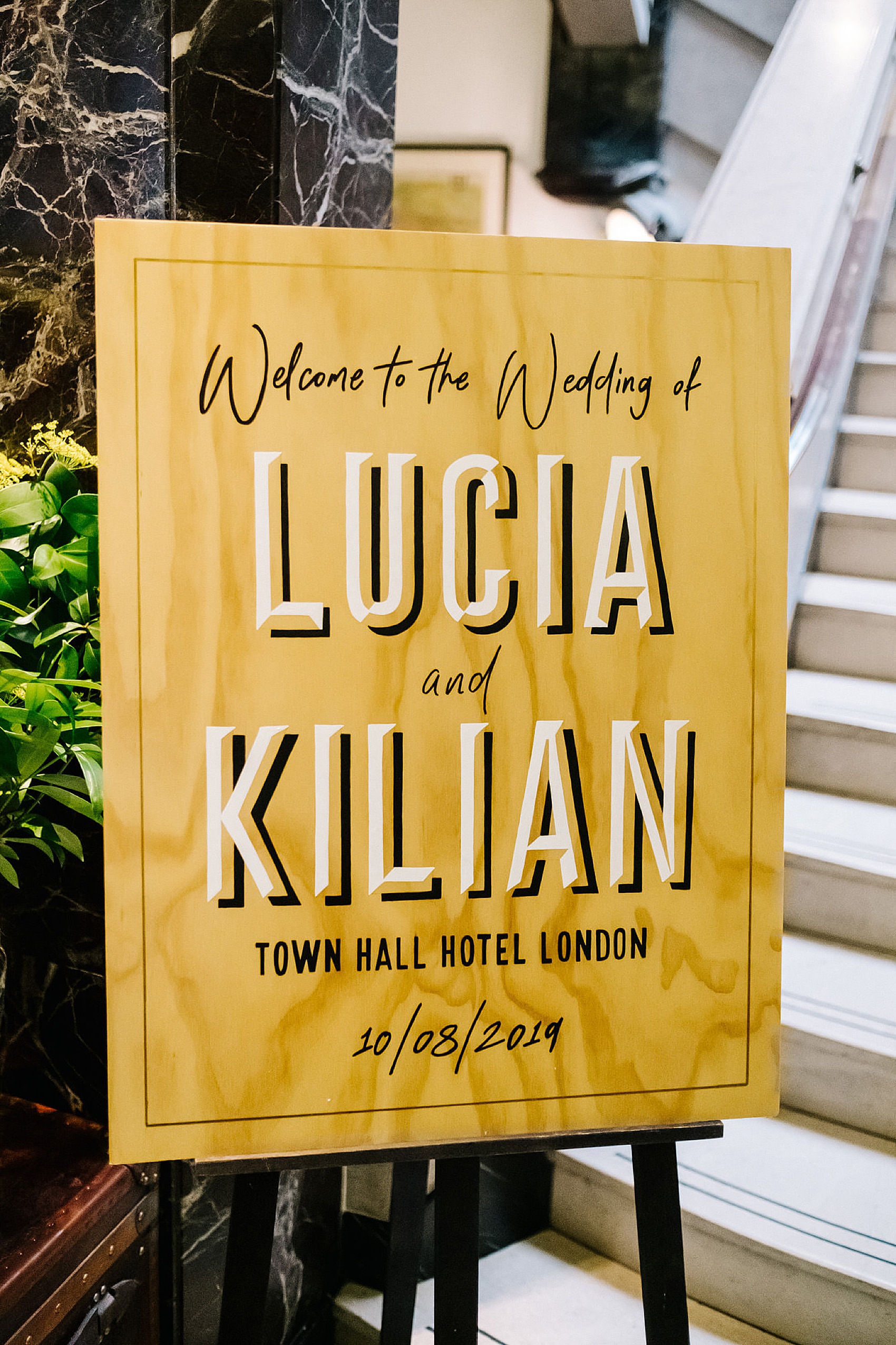 The bride got ready in the hotel so it was just a short walk down stairs to the ceremony room. Her gown was by Suzanne Neville – the 'Serrano' design. We adore the low-cut, plunging bodice and light and airy skirt.
"I booked a very last minute appointment at House of Snow in Bury St Edmunds one weekend when I was at home and it turned out to be a great decision. I subsequently trawled several boutiques all around London but none of them compared to the fantastic service I got there."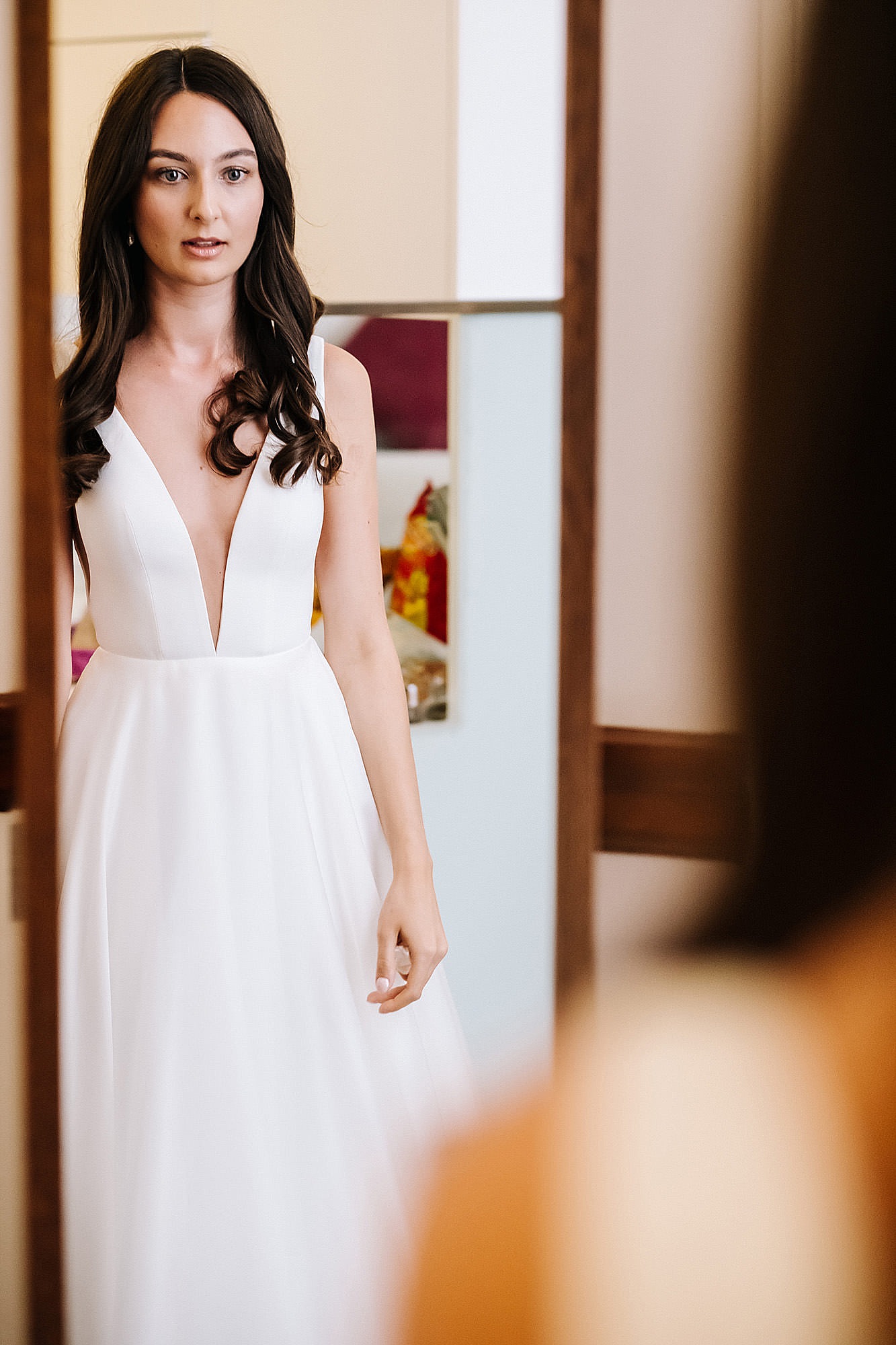 "I wanted something simple and classic, something that I hopefully won't be cringing at in years to come. The plunging neckline was a little risqué but I thought I could pull it off. The dress also felt amazing on; it was all silk and it didn't feel overly heavy or bulky."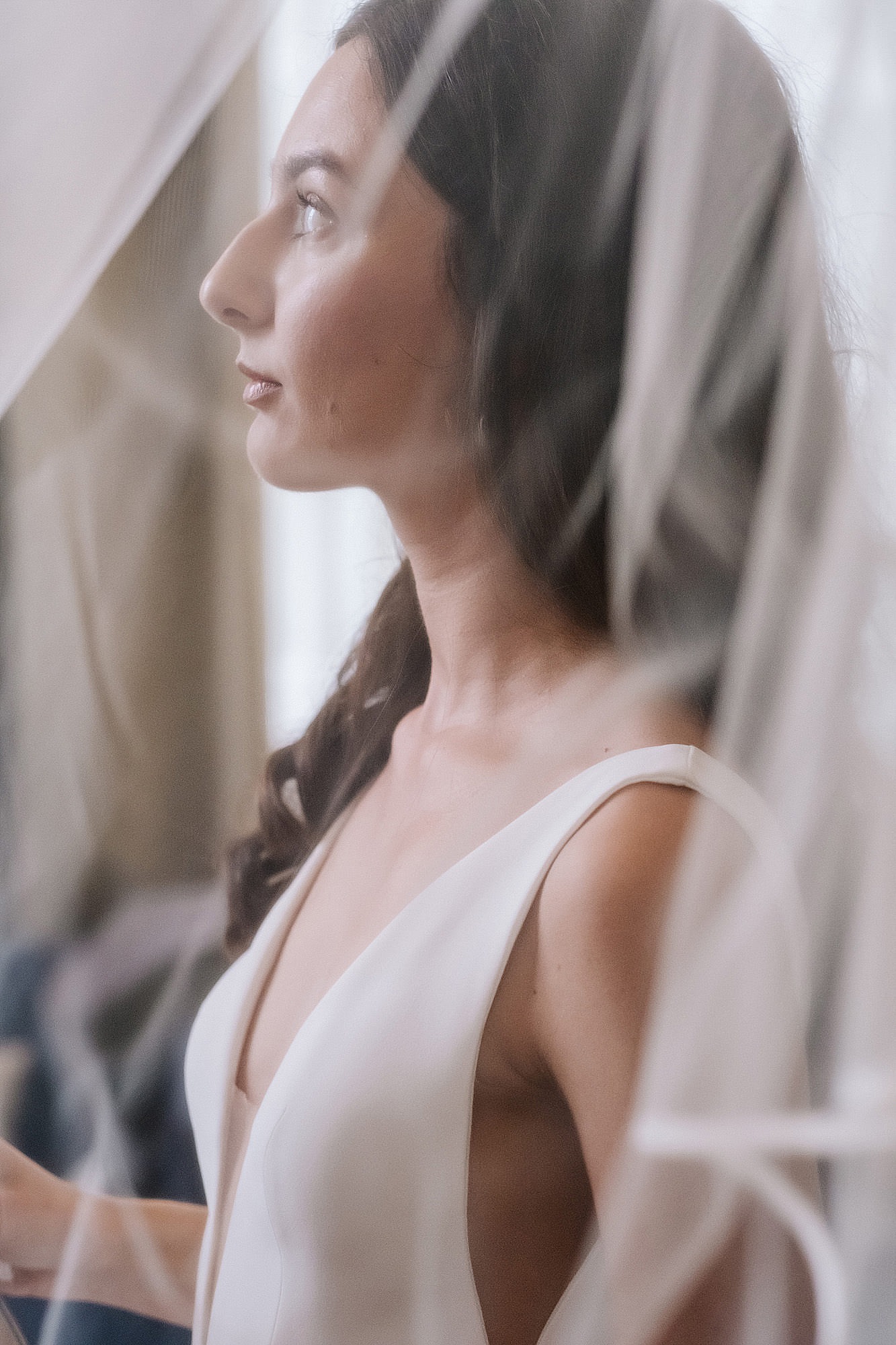 Lucia's bridesmaids wore a variety of sophisticated, dark blue gowns which look so, so beautiful and chic with their pure bouquets.
"My bridesmaids chose their own dresses and were from Rewritten, ASOS and dresses they already had. My only stipulations were floor-length and dark blue, and they were all very different styles."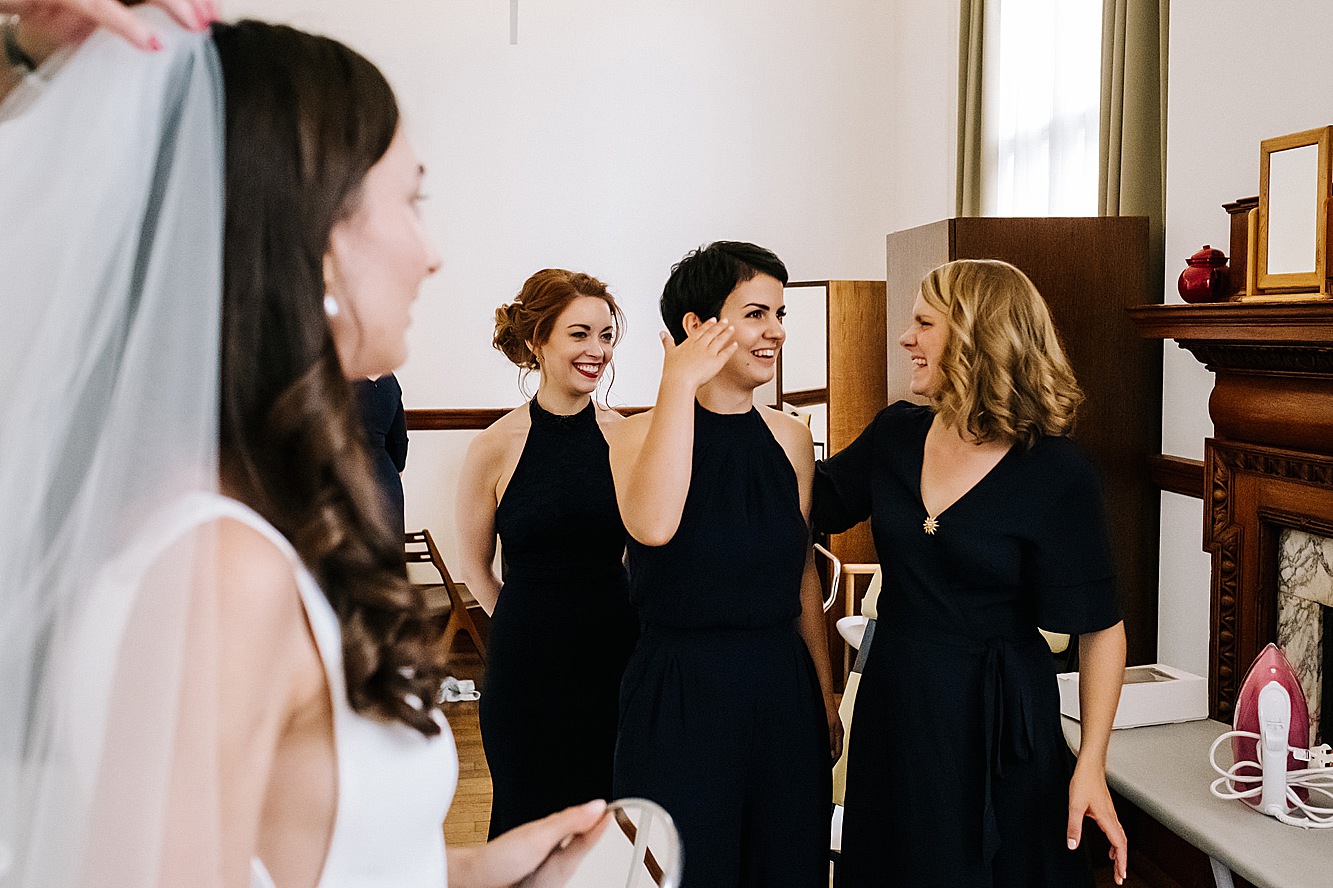 "We went to school together and grew up in the same town but we weren't friends until after school really. When I was on my gap year and Kilian was on a placement year we spent a lot of time together and ended up going out. I would NEVER have put us together in our school days."
"We were engaged for ten months before the wedding, and I organised most of the big things within a couple of months of the engagement despite saying I wasn't bothered about getting married any time soon."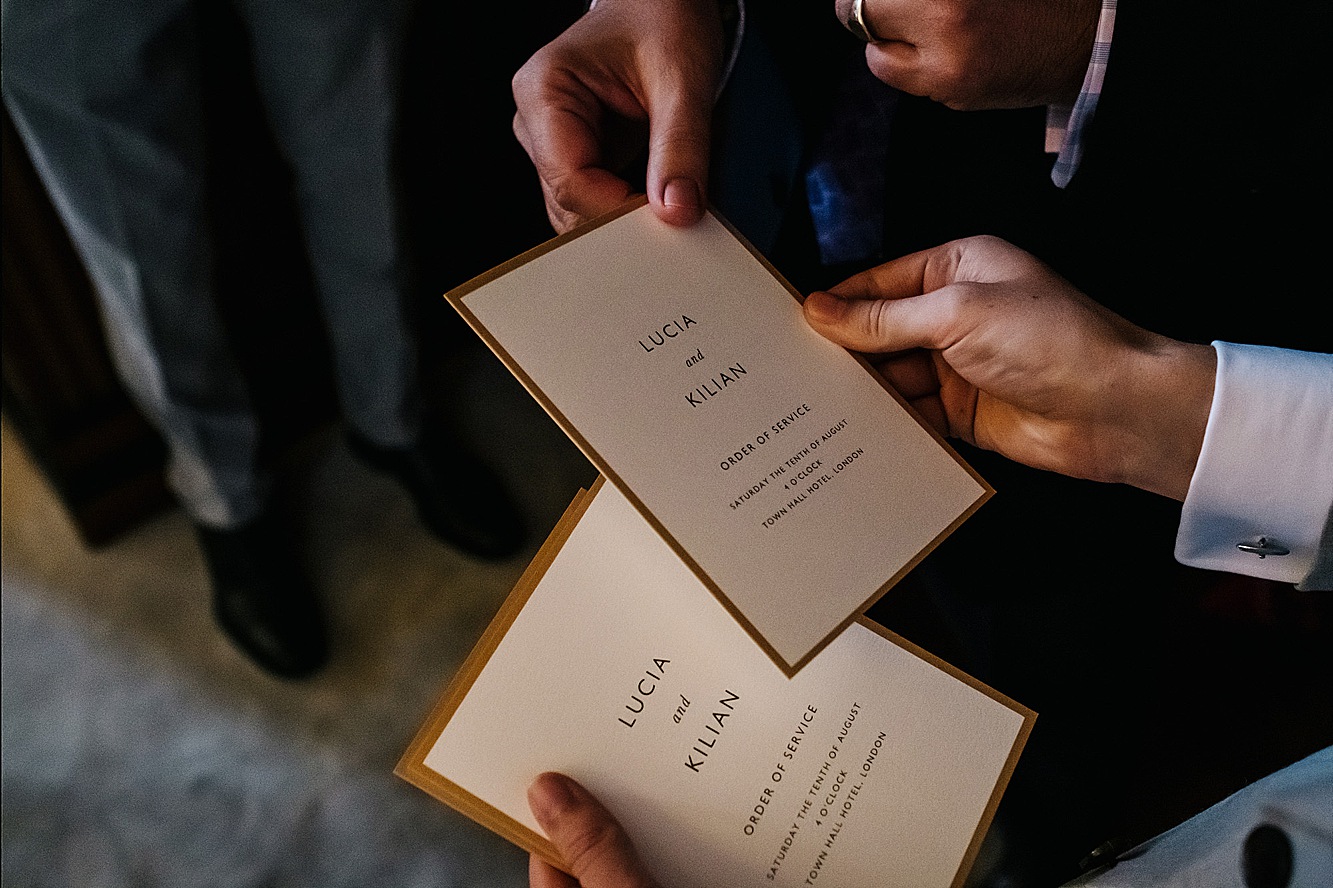 As Lucia walked down the aisle with her mum, her aunt Catherine's string quartet The Rosemount Quartet played some beautiful string music.
"My absolutely amazing mum walked with me. I could not have done that without her."
"We had the brilliant The Rosemount Quartet during our ceremony and drinks reception. Everything they played was brilliant and we chose very modern/fun pieces, although they accompanied me down the aisle with the classic Pachelbel's 'Canon in D'. Most of our other choices were fun and different, but this made me feel like I was in a wedding from a film!"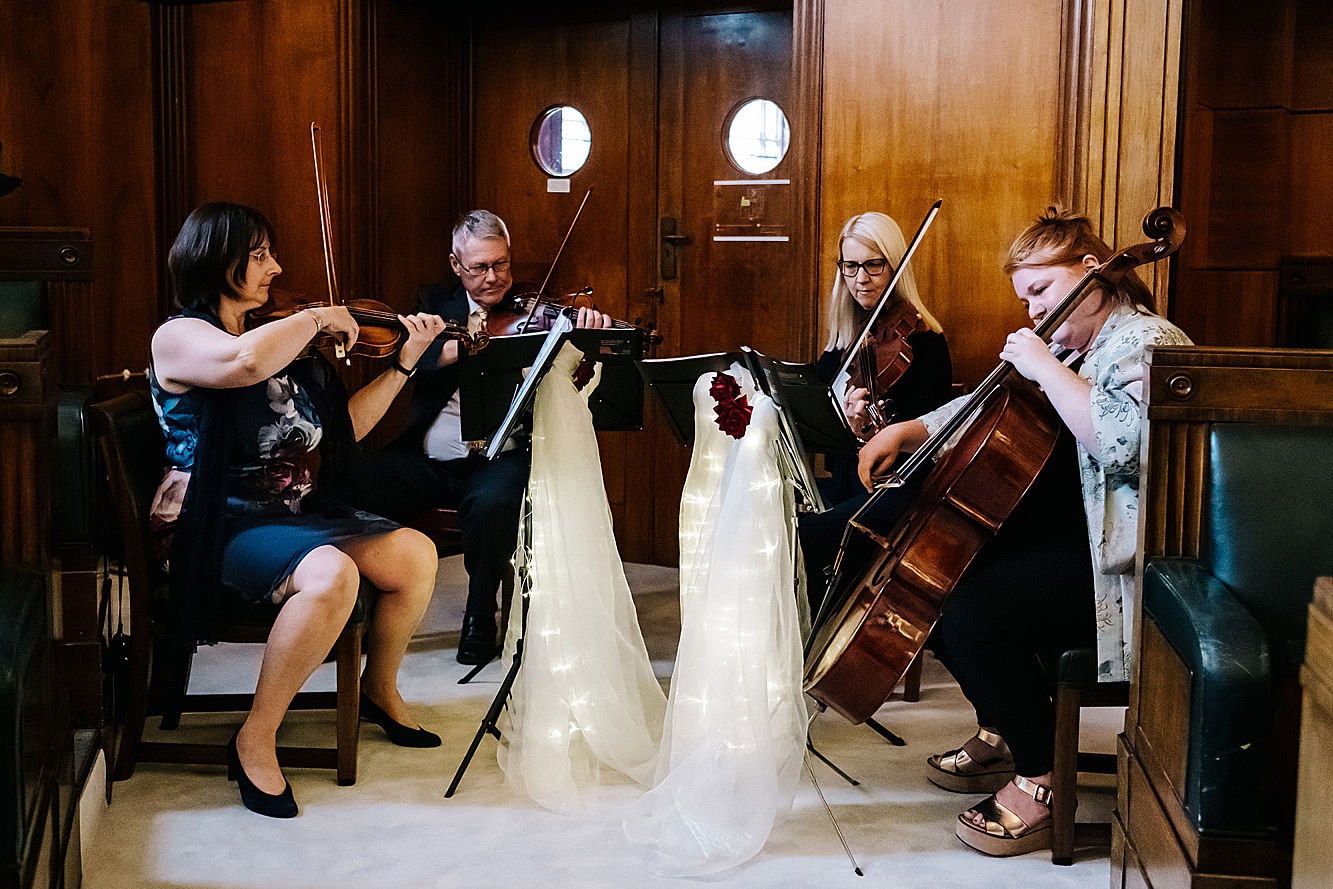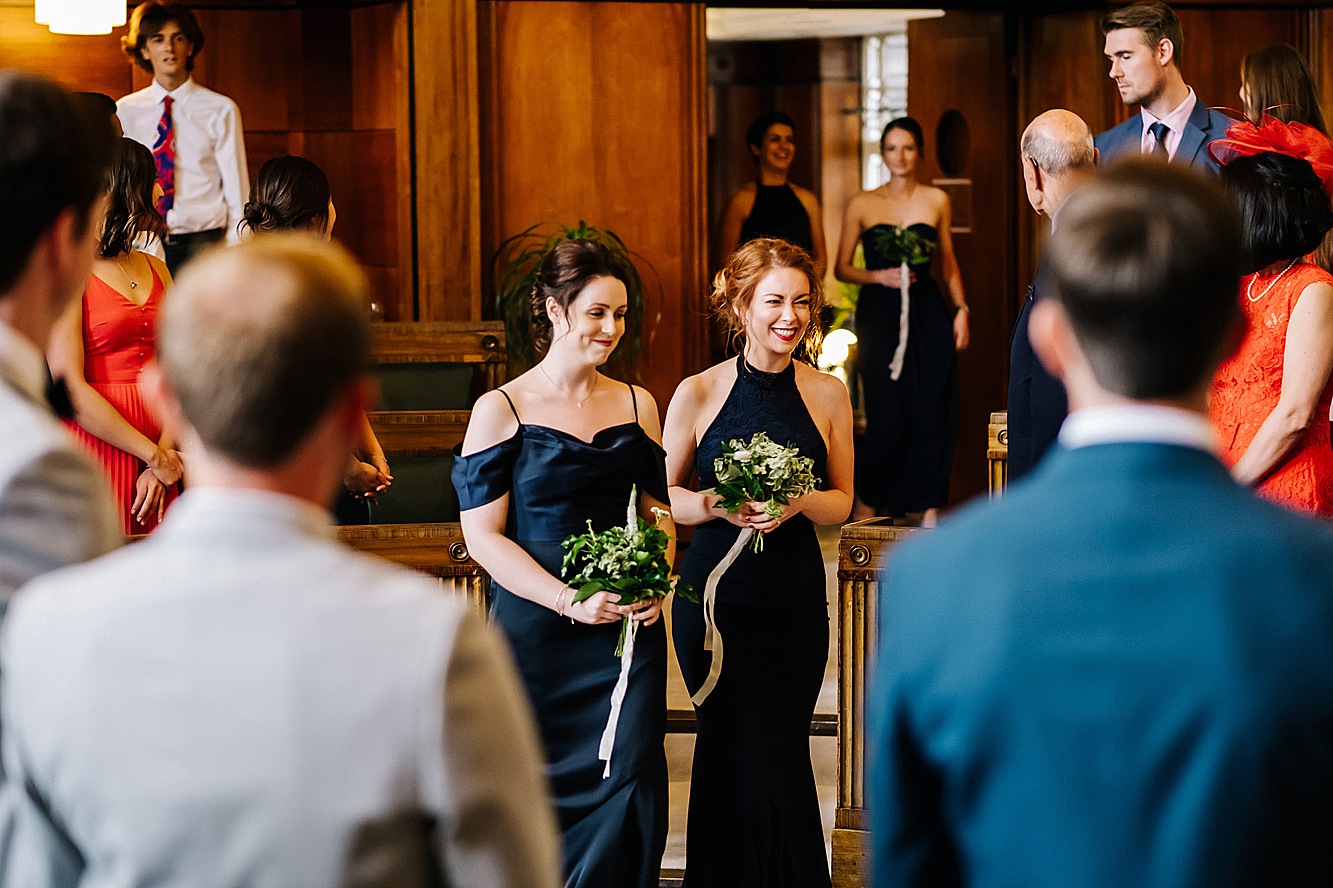 She added a chapel-length veil, edged with ribbon, from Richard Designs at House of Snow and a beautiful pair of 'Gypsy' star and freshwater pearl earrings from Miss Clemmie.
We are so delighted to recommend this artisan jeweller through our Little Book Wedding Directory here. Her final touch was Armani Acqua di Gioia.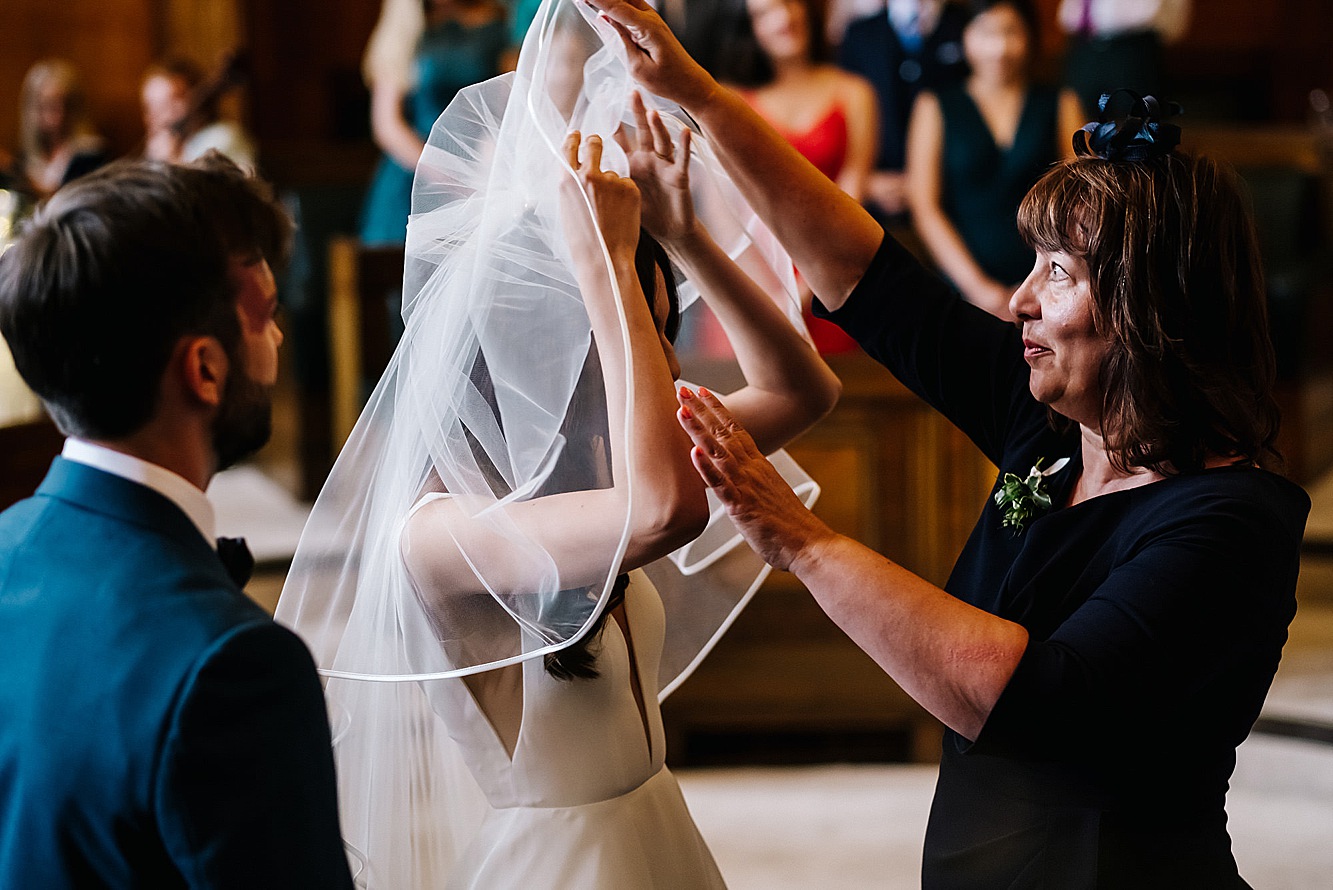 "It's something my dad always used to buy me so I love it for that and it meant I felt closer to him on the day."
"I had a very demure pair of nude shoes for the ceremony, then changed into a pair of huge, extremely high glittery platform heels for the party."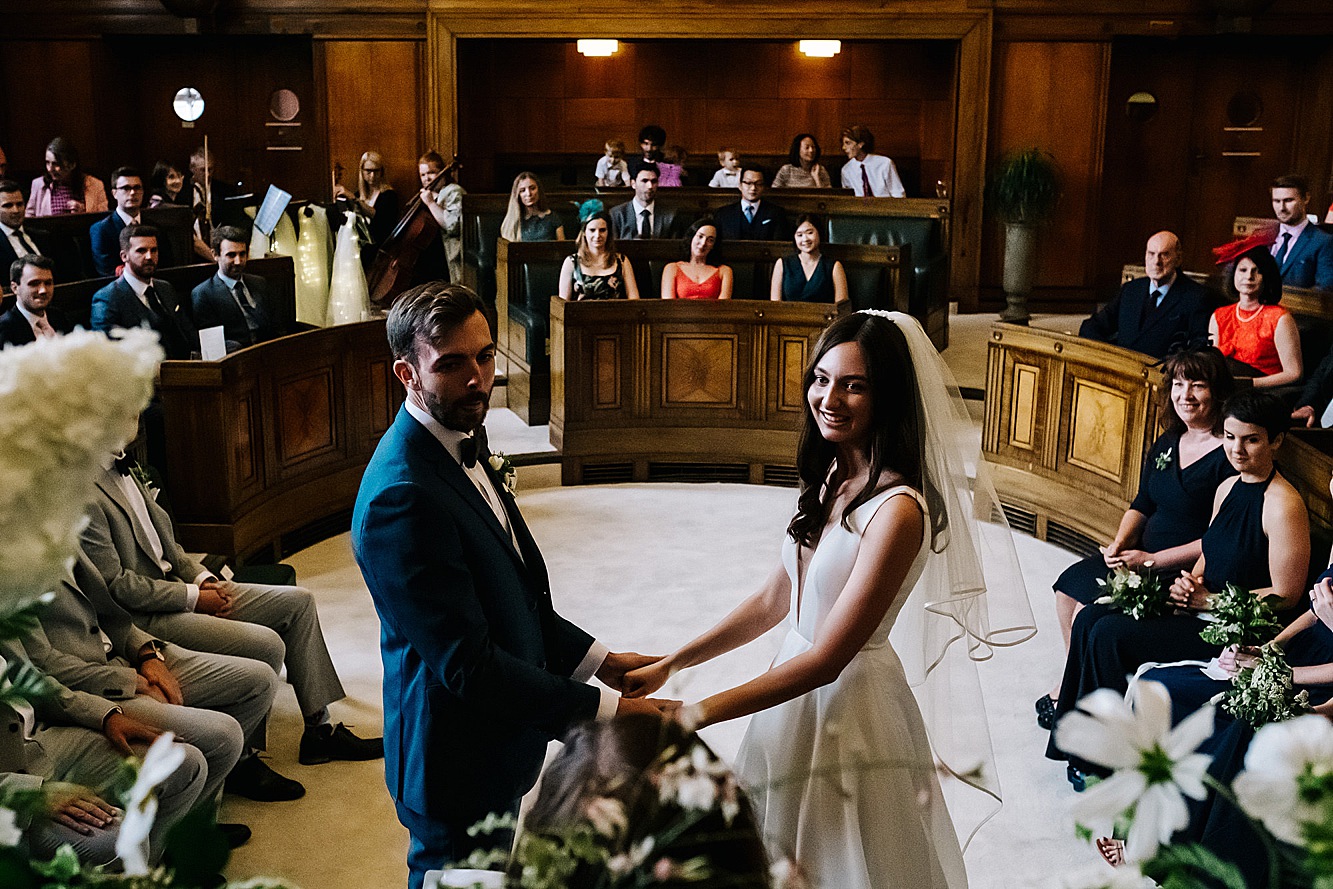 The couple married in a civil ceremony, surrounded and supported by their friends and family. It included some very personal choices for music and readings.
"My cousin and bridesmaid Phoebe did a reading from Philip Pullman's 'Northern Lights'. I think that set quite a few people off, including myself. It was so beautiful and felt so special having her read it for us. Kilian and I are fans of the book and it felt perfect, especially as we didn't want anything religious."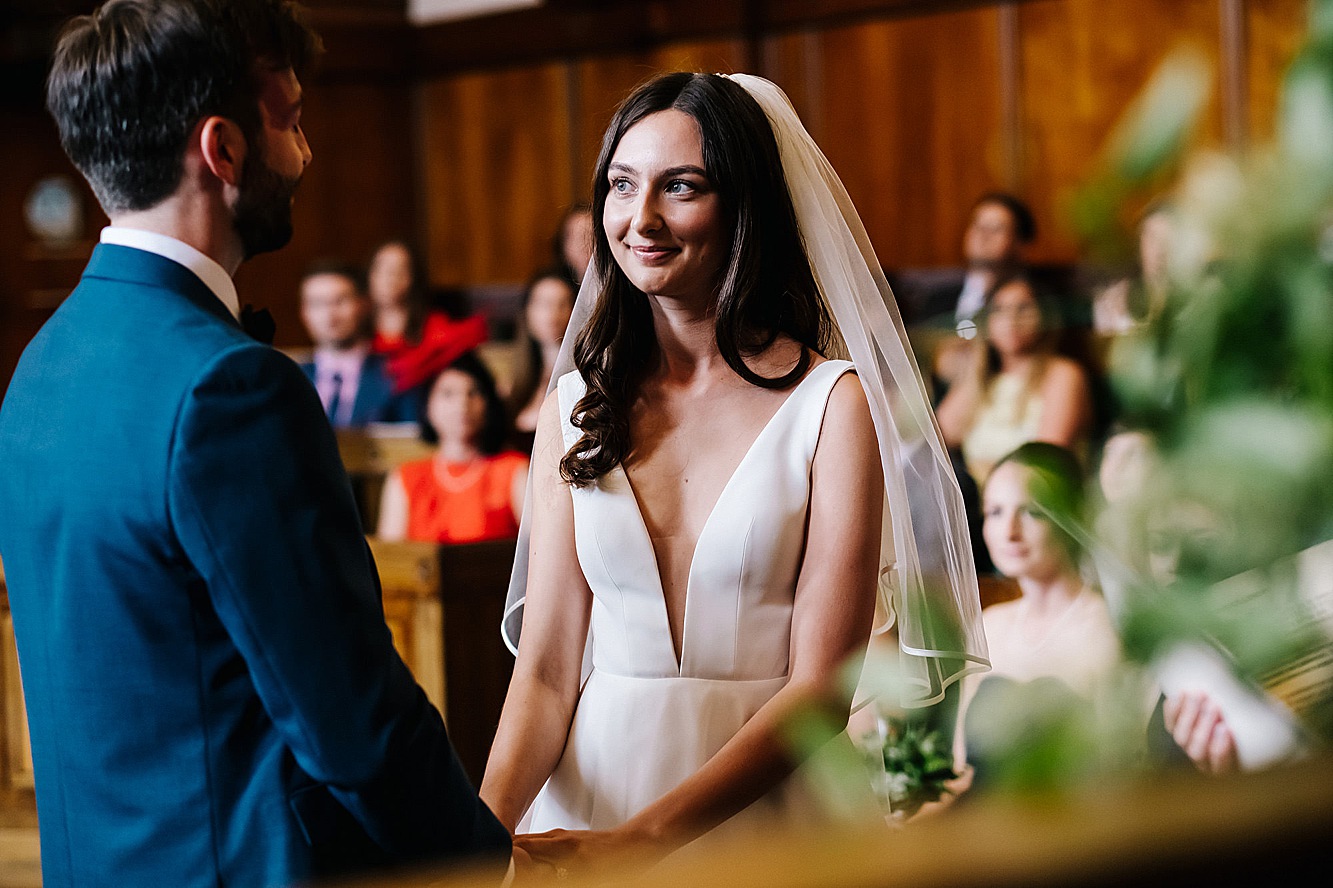 "My aunt's string quartet played for us during the ceremony. She arranged the music from 'The Railway Children', 'The Secret Garden' and 'Pride & Prejudice' especially for us as these are really sentimental to me. This set off another round of tears!"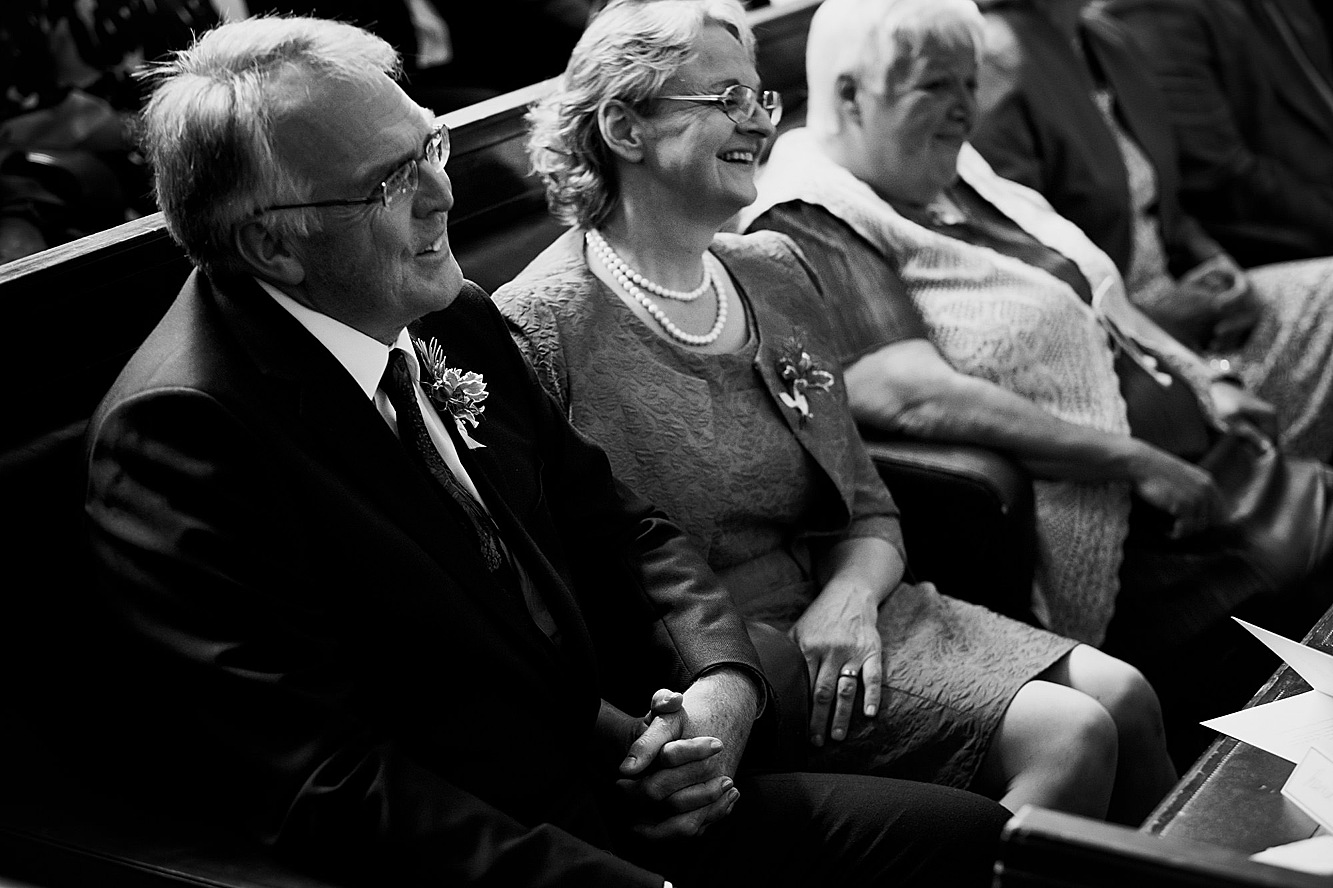 Lucia opted to wear her wedding ring on her right hand and chose a plain silver ring that Kilian got for her when they started to date.
"I love my engagement ring (from The Antique Jewellery Company) so much and it didn't look great with another ring on top. The right hand is a nod to our European roots, although it confused the registrar a bit during the ceremony which was quite funny."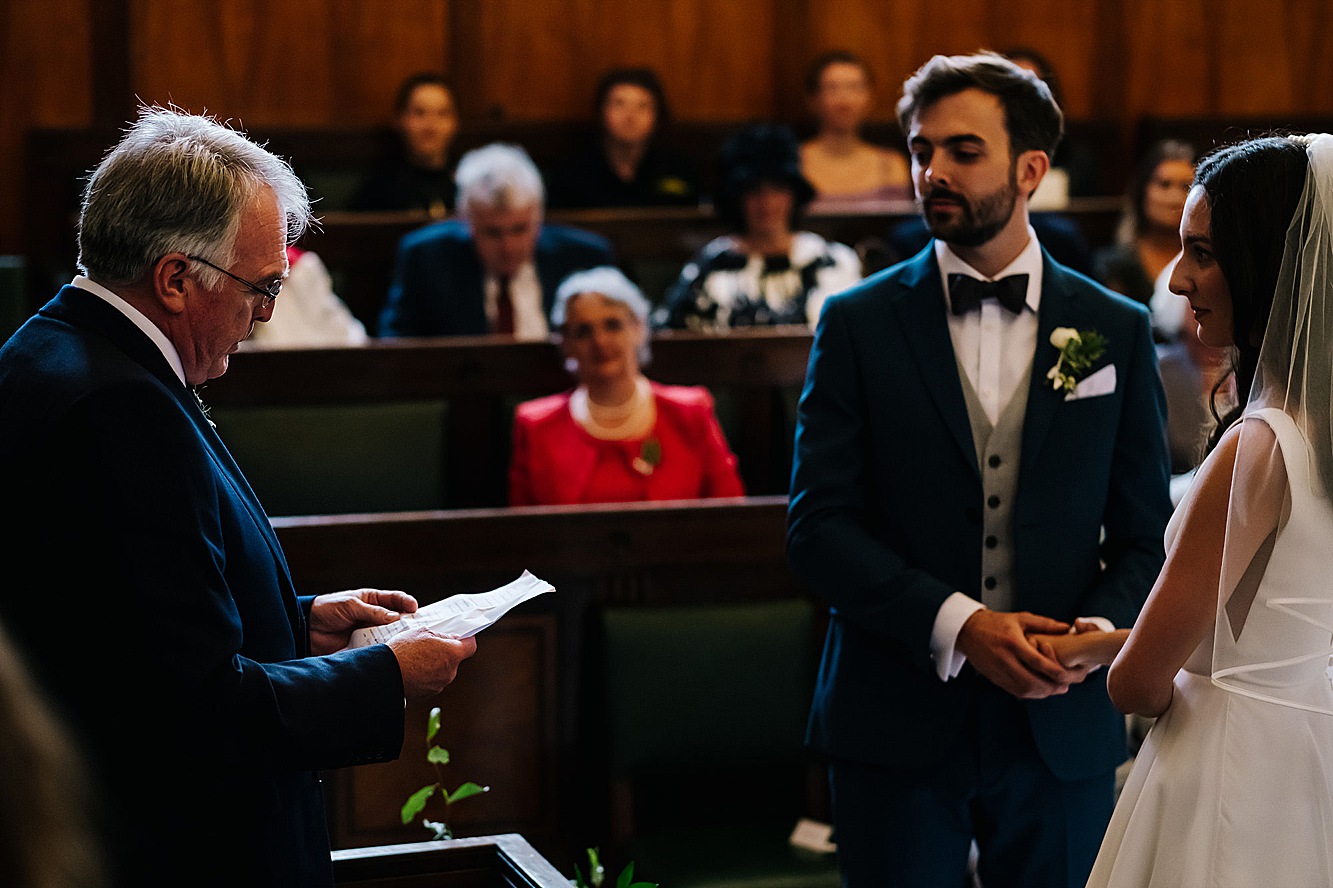 After being declared husband and wife, the couple emerged from the hotel into a cloud of confetti. And after? Back inside for speeches and toasts before dinner along the elegant dining tables dressed with gold candlesticks, garlands of leaves and home-made candle favours.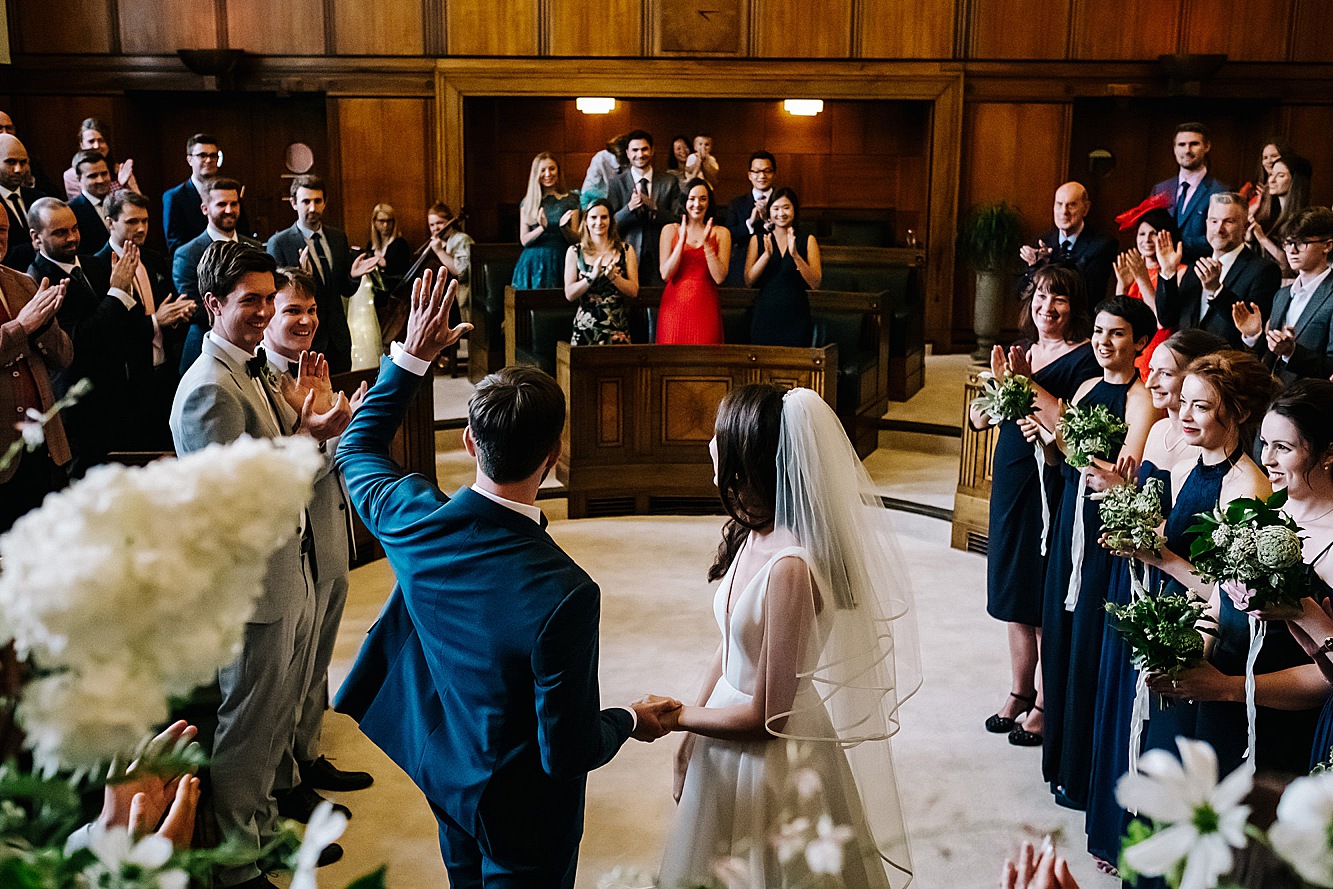 Kilian's debonair suit was DKNY from Moss Bros and looks fantastic with a pale grey waistcoat and contrast bowtie.
"Kilian painstakingly found specific cufflinks for each groomsman based on their nicknames. 'Bone' got a pair of bones, 'Raptor' got dinosaurs and 'Bird' got some rather large eagles."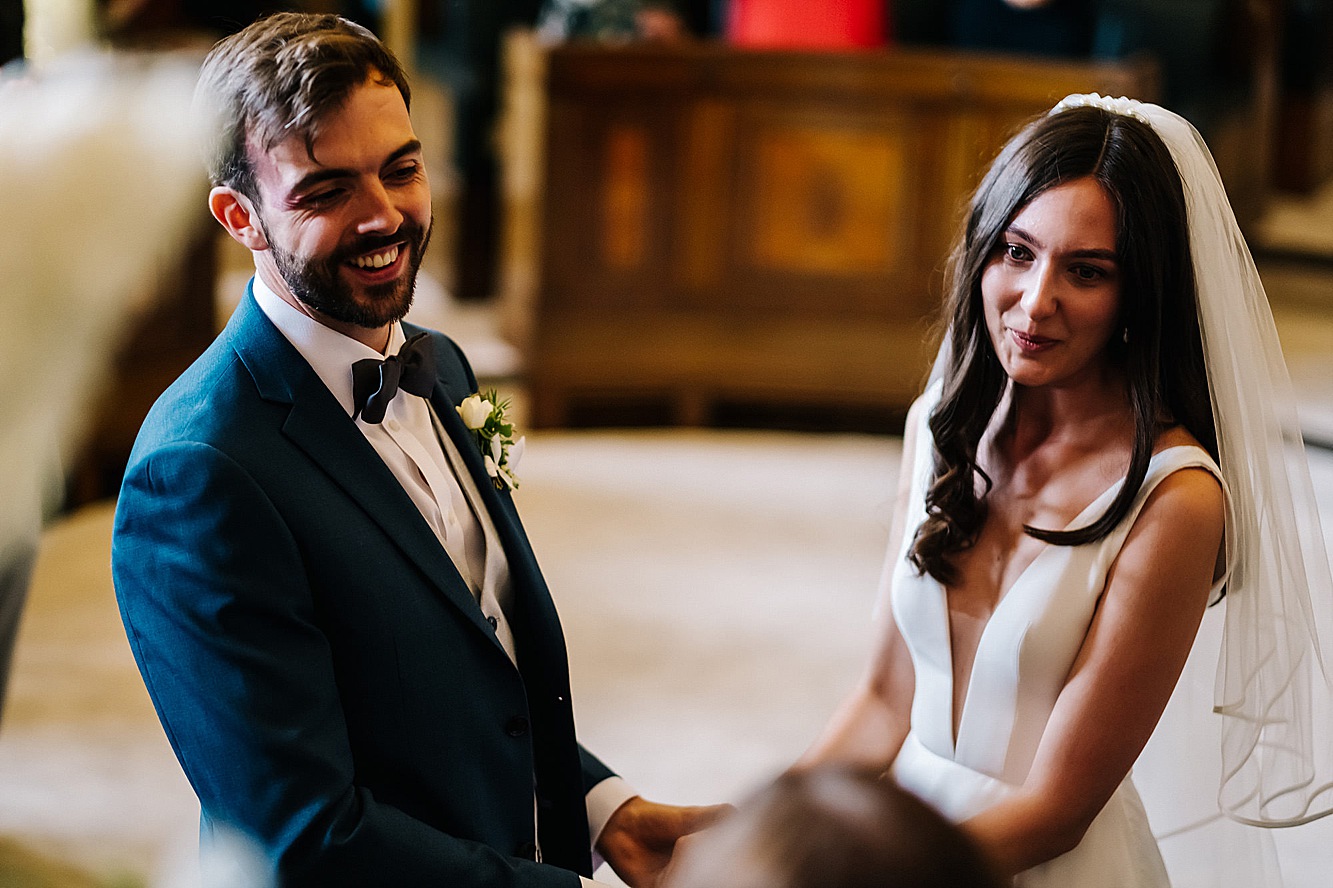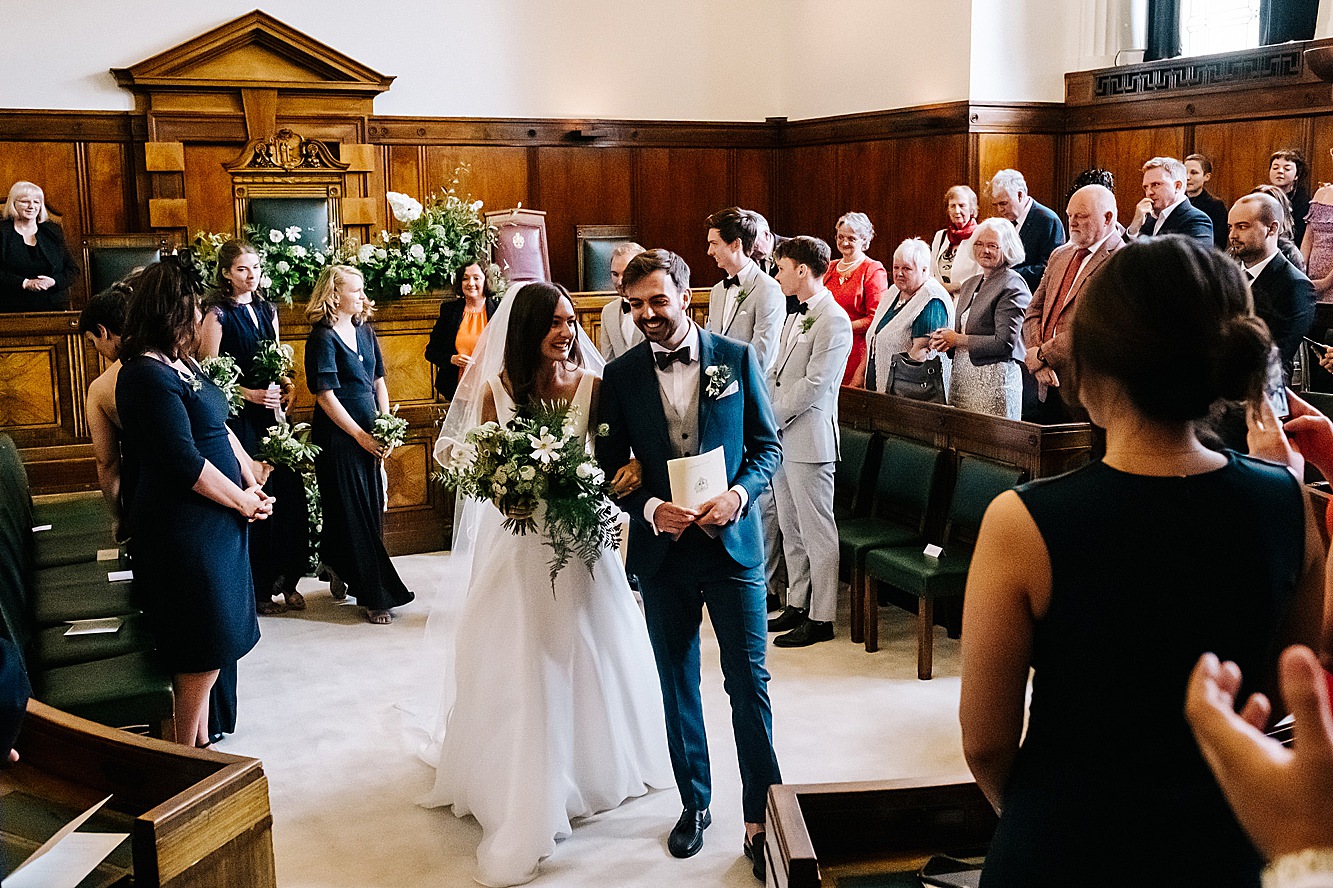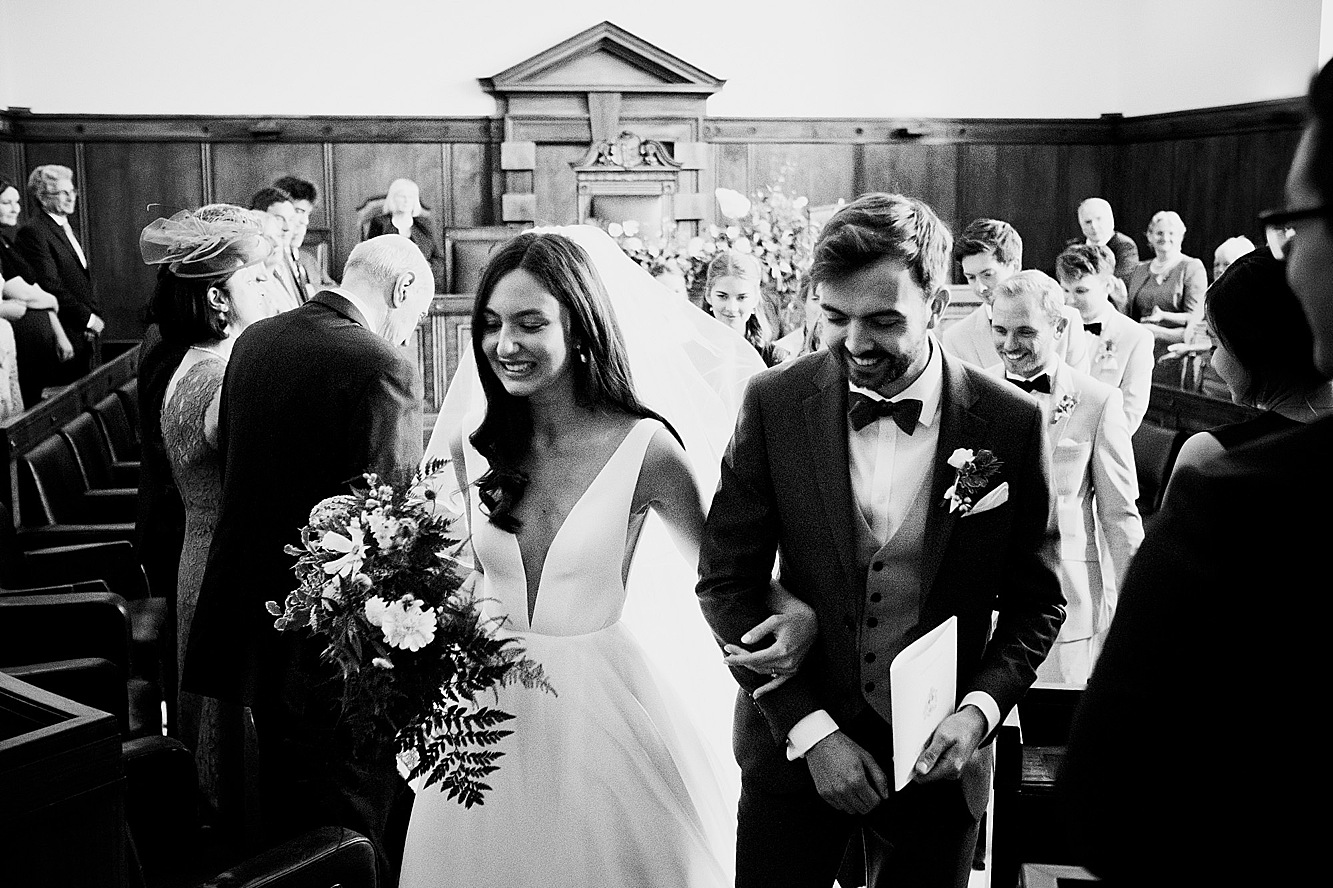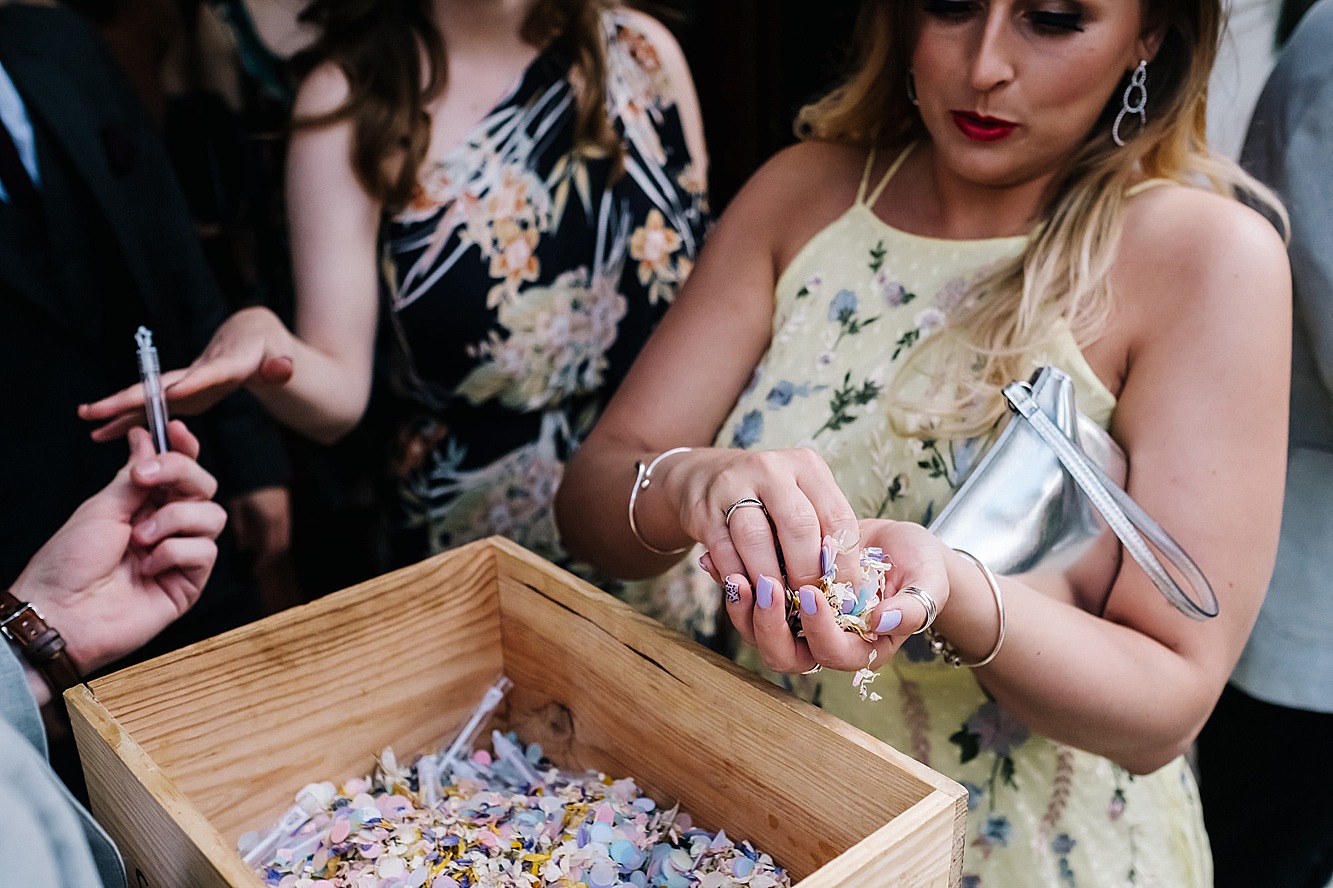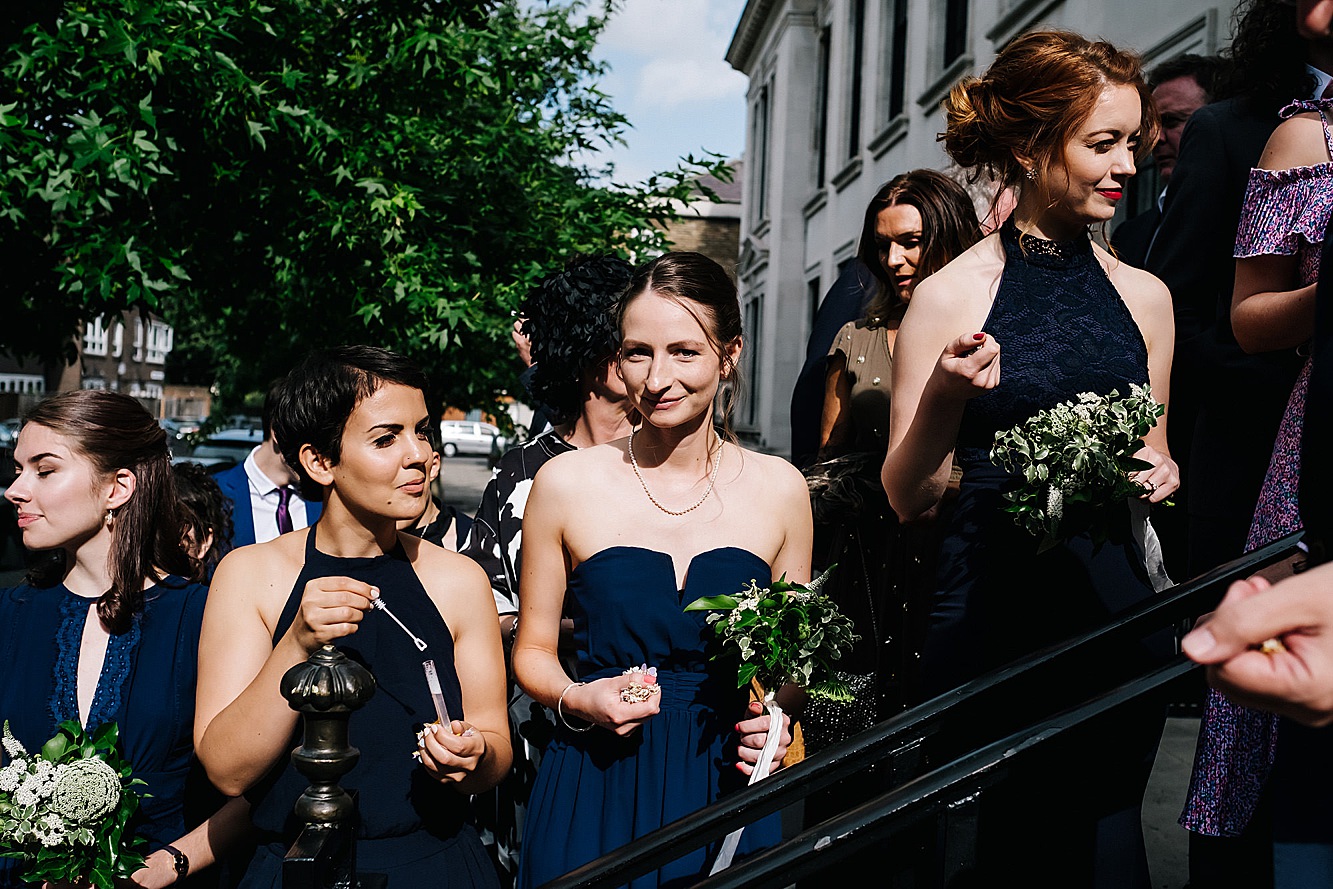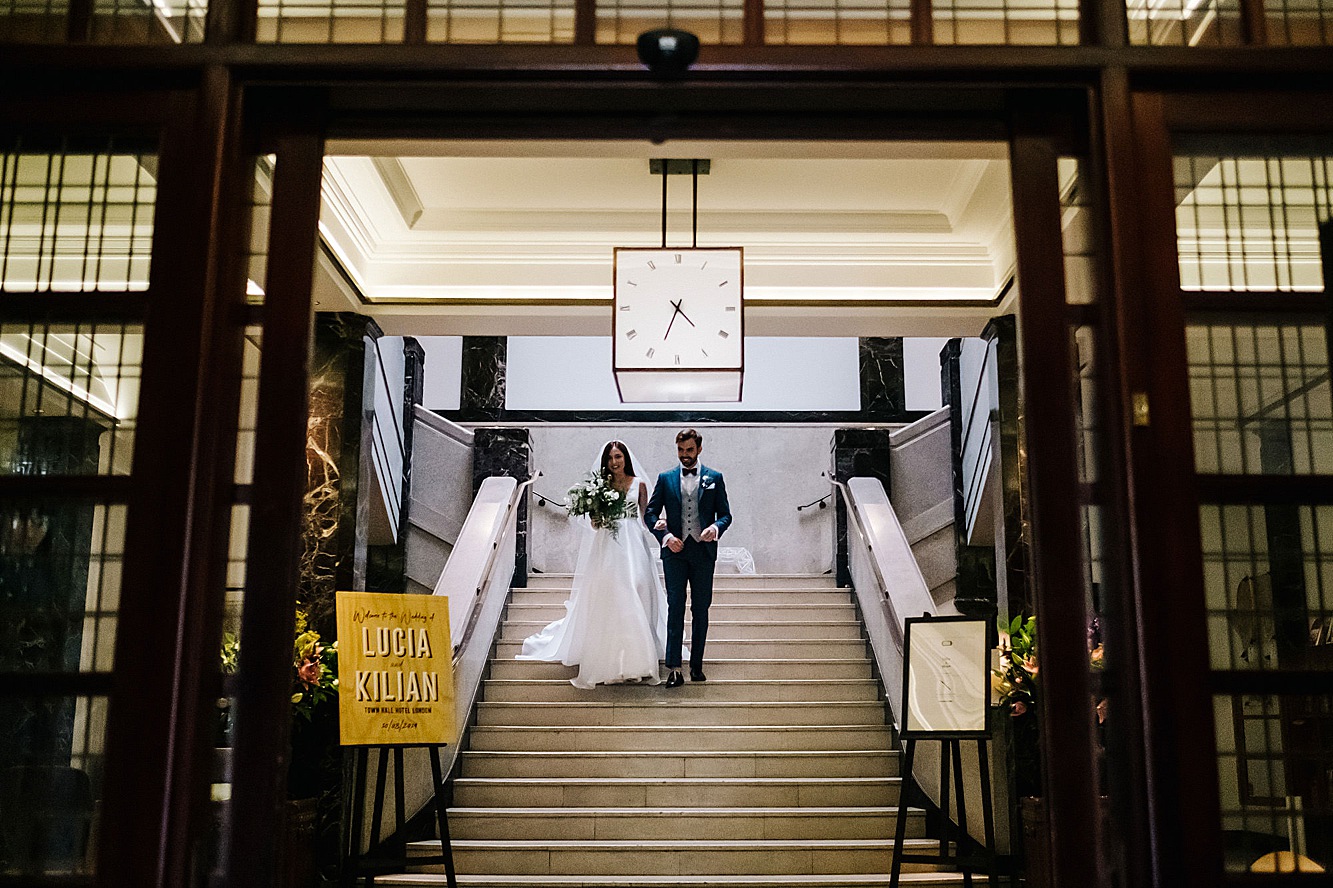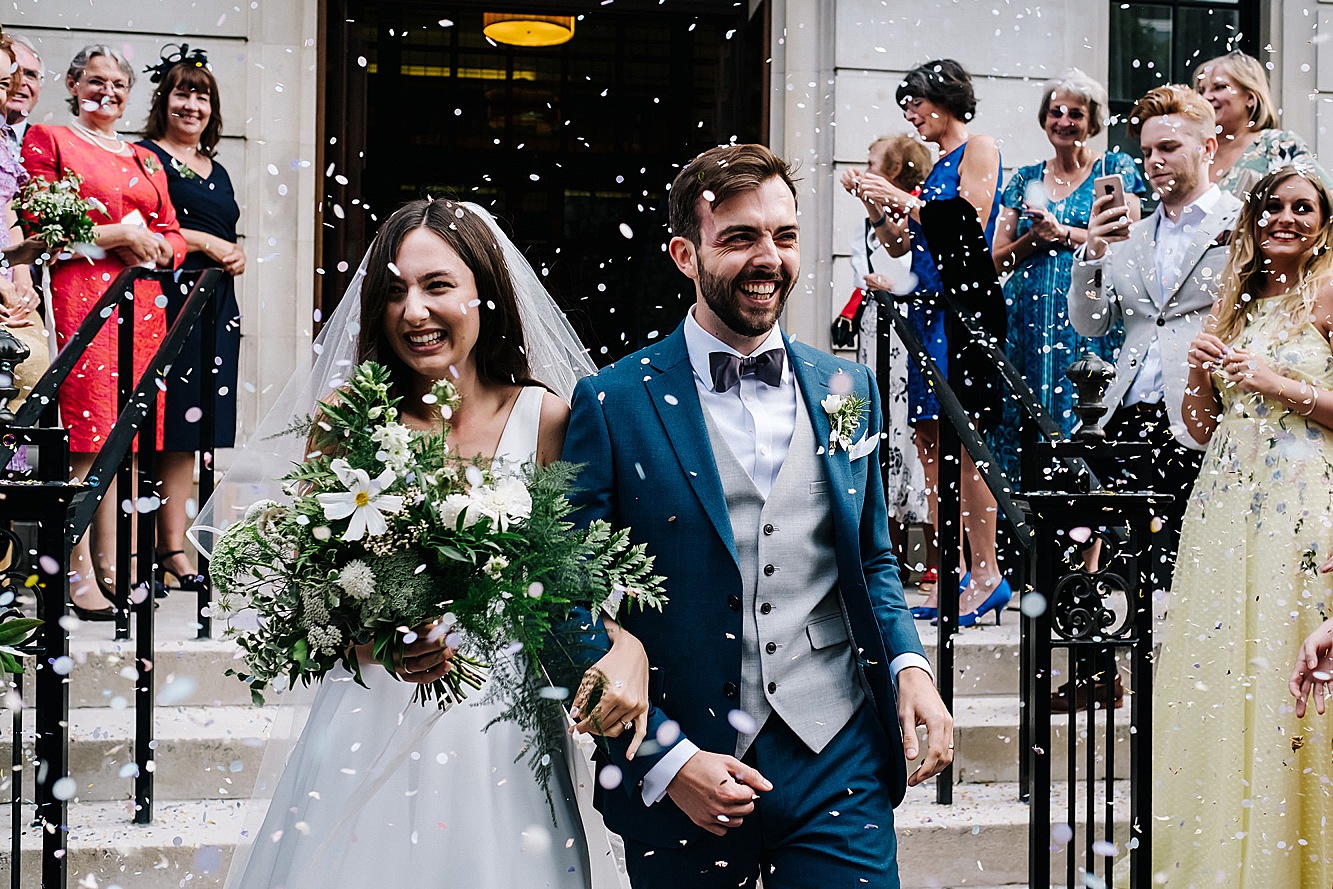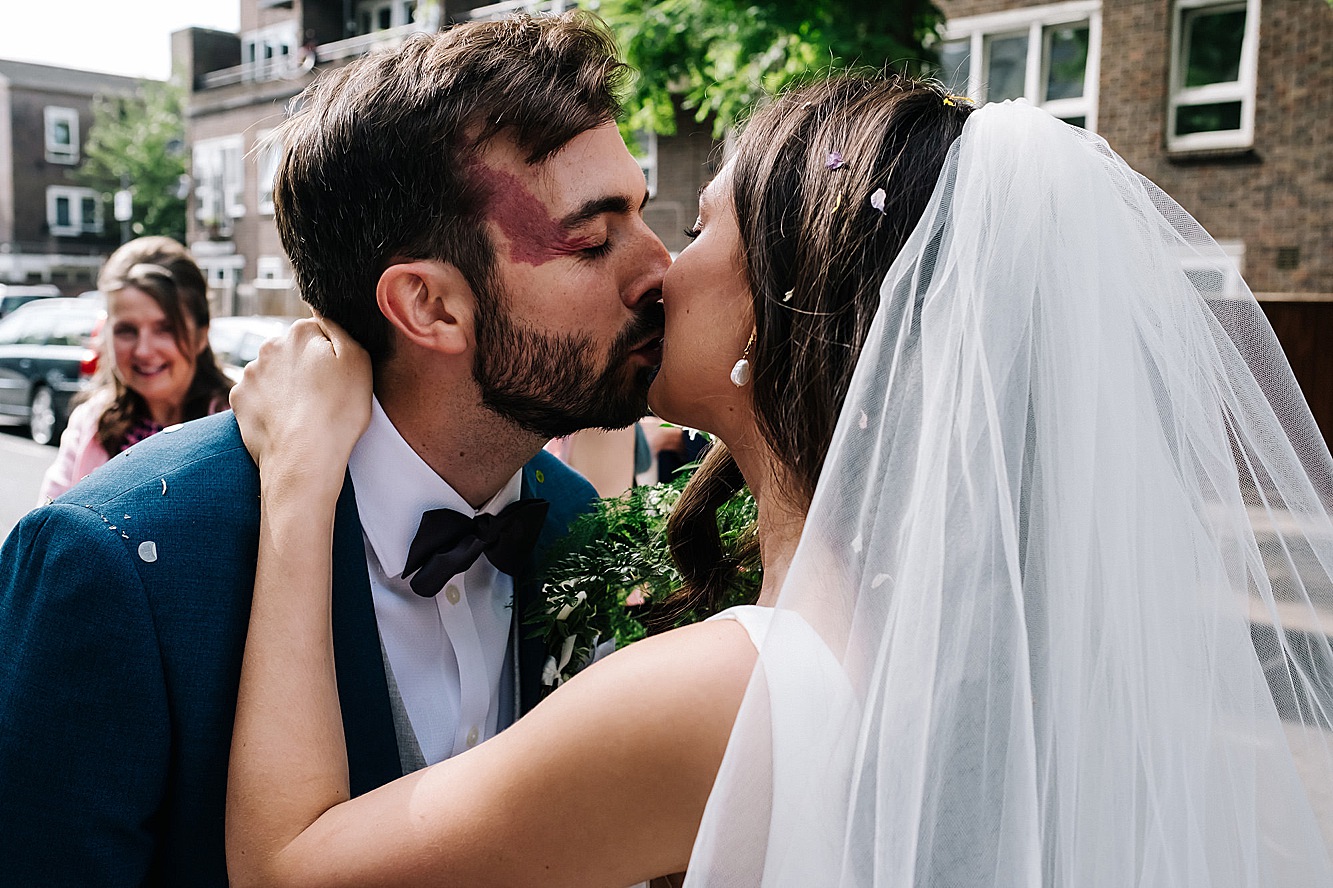 All of these details and, of course, every emotion and joy of Lucia and Kilian, was captured by Kristian Leven Photography, whose style is crisp and modern with a lovely touch of moodiness.
"Some of the best wedding photos I'd ever seen were Kristian's and I knew I wanted him to do ours before we even chose the venue."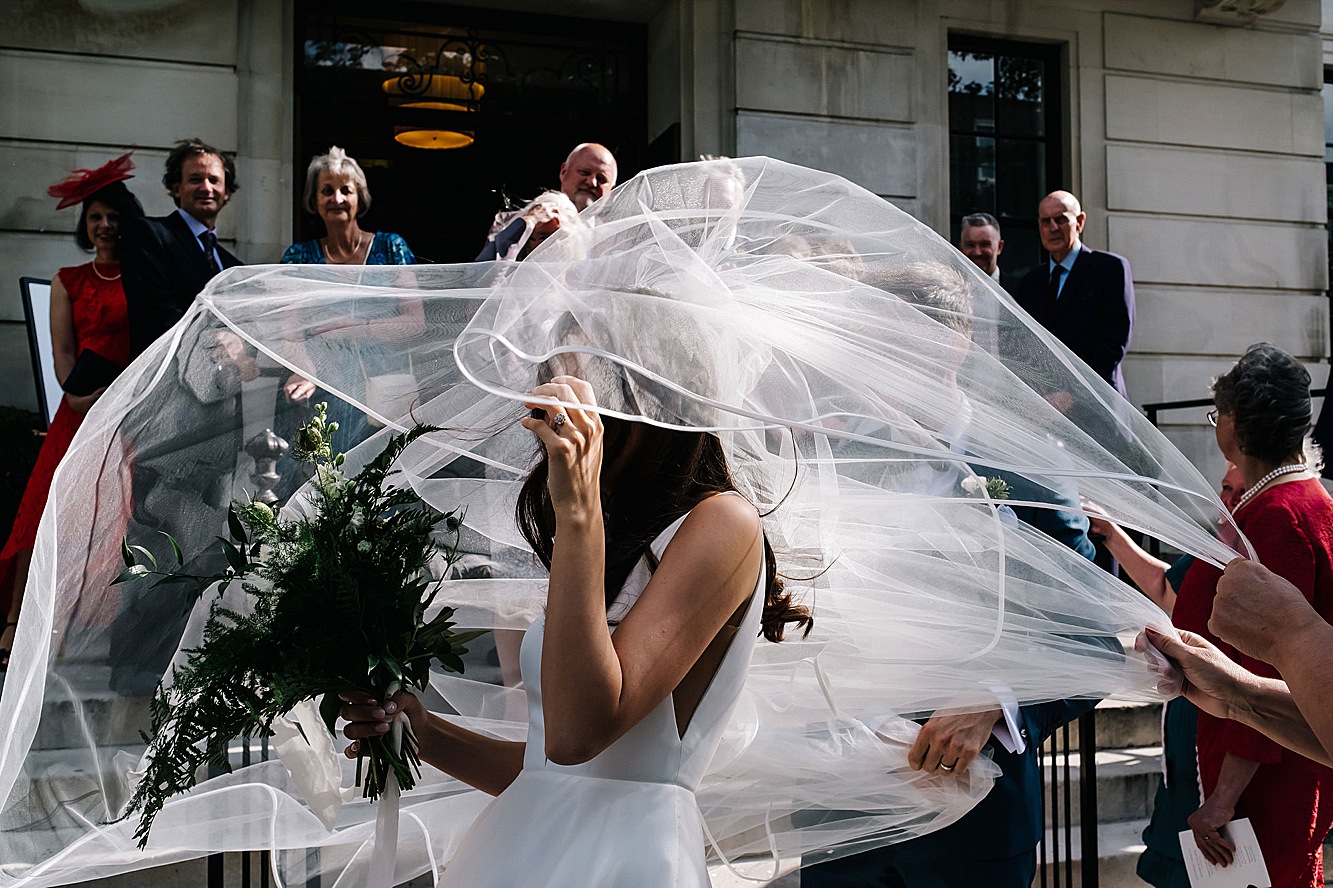 "Looking at the photos now we're still utterly overwhelmed by them. He just captured the day so brilliantly and they're stunning. Kristian was great throughout but especially on the day; he completely blended in and at no point did we feel we were actually being photographed."
"In fact, one of my guests said 'Oh! I didn't think you had a photographer there!'. He blended into our day so well and I think the photos are better for it."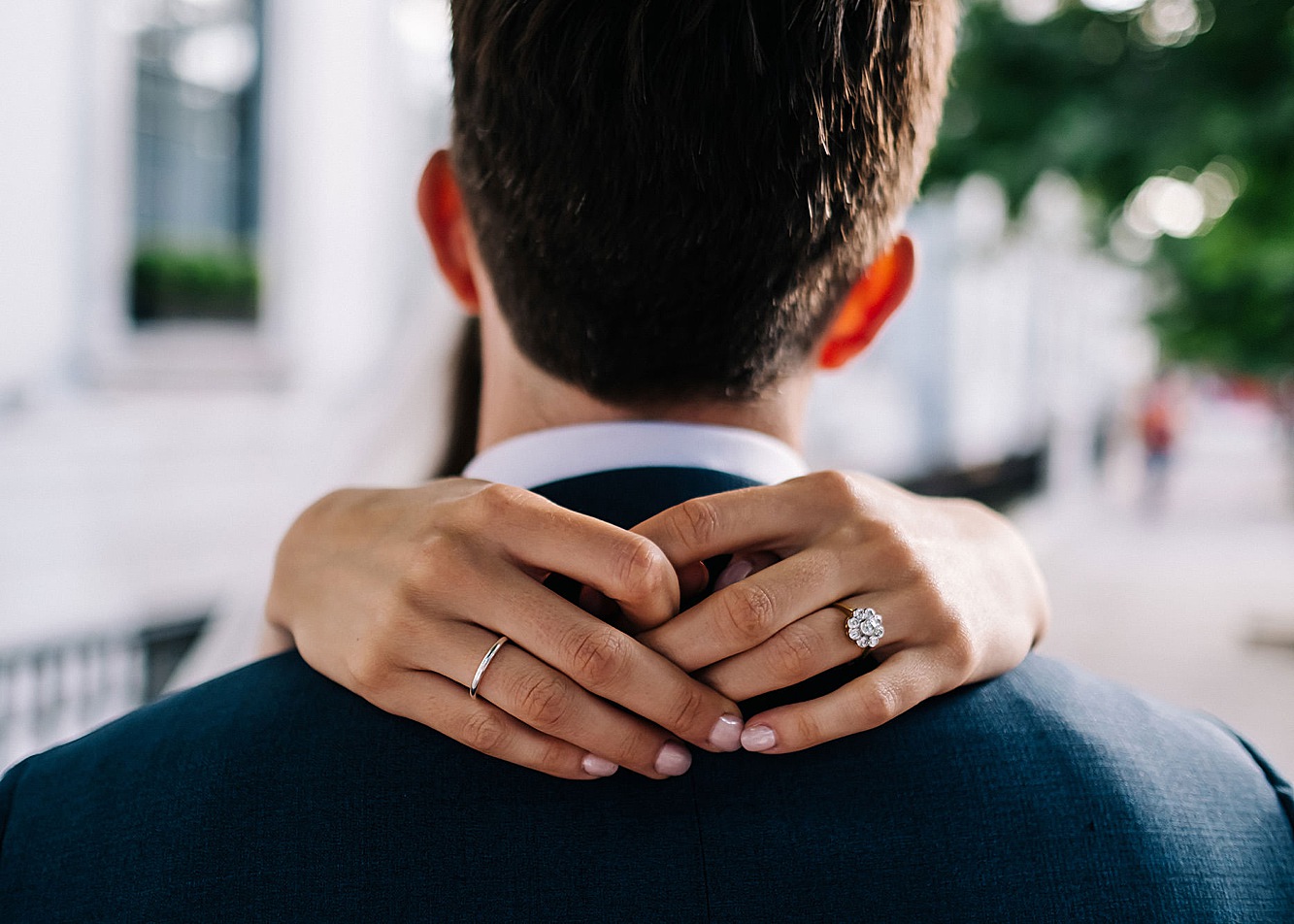 The bride's auntie styled her hair into long, polished waves which look relaxed and chic.
"My aunt Lorraine is a hairdresser and she kindly did my hair for me. I knew it would be brilliant and she did it perfectly."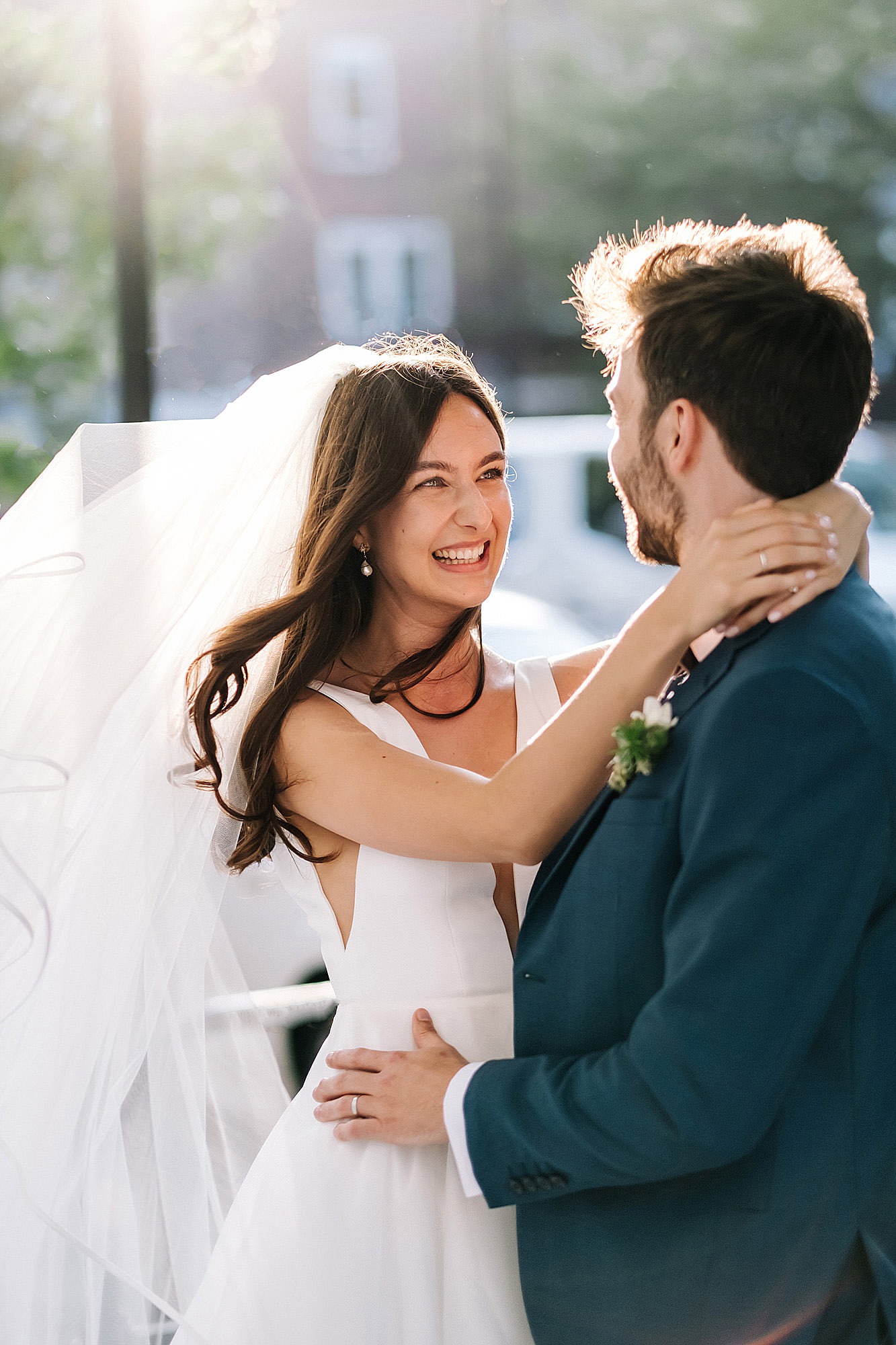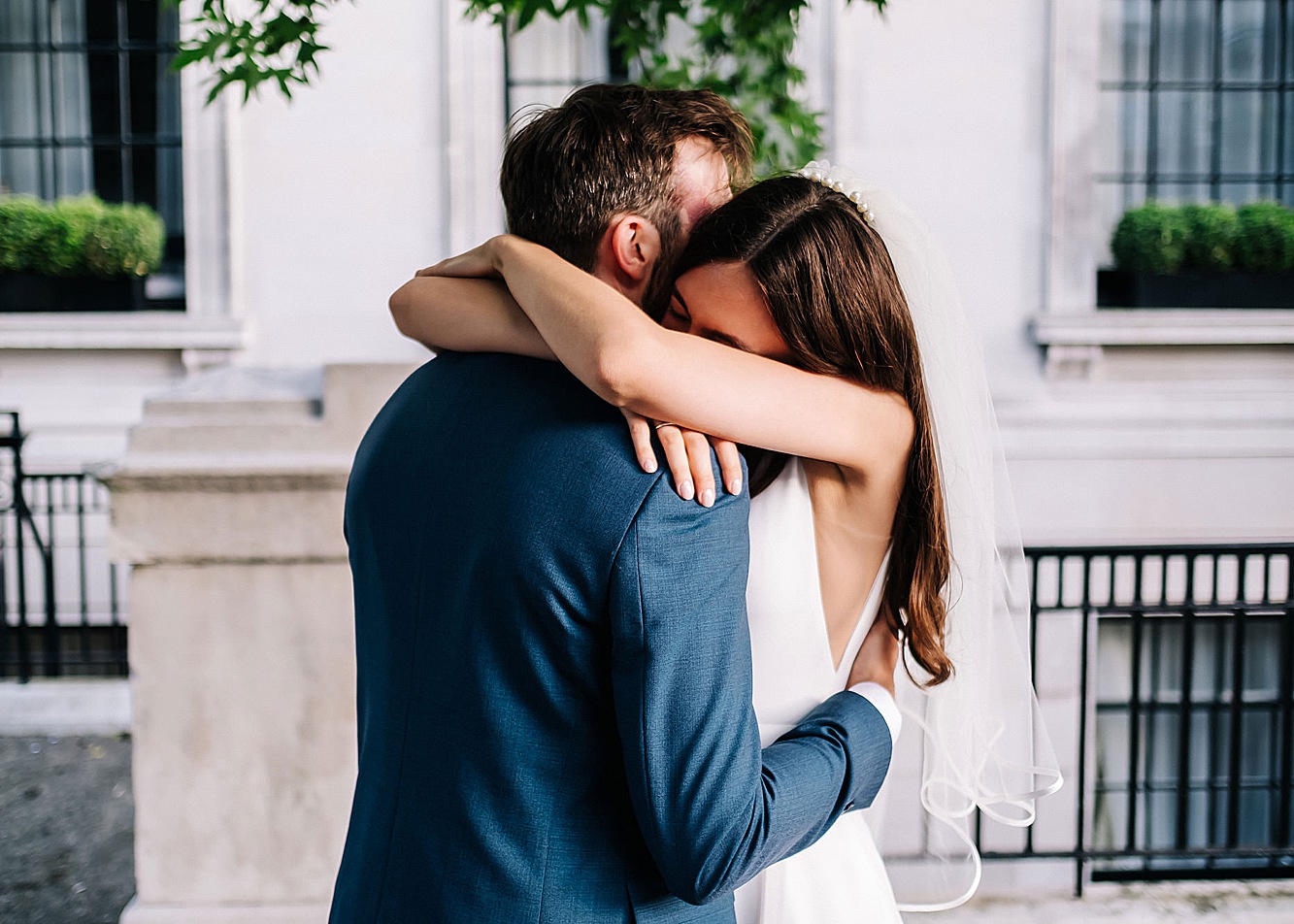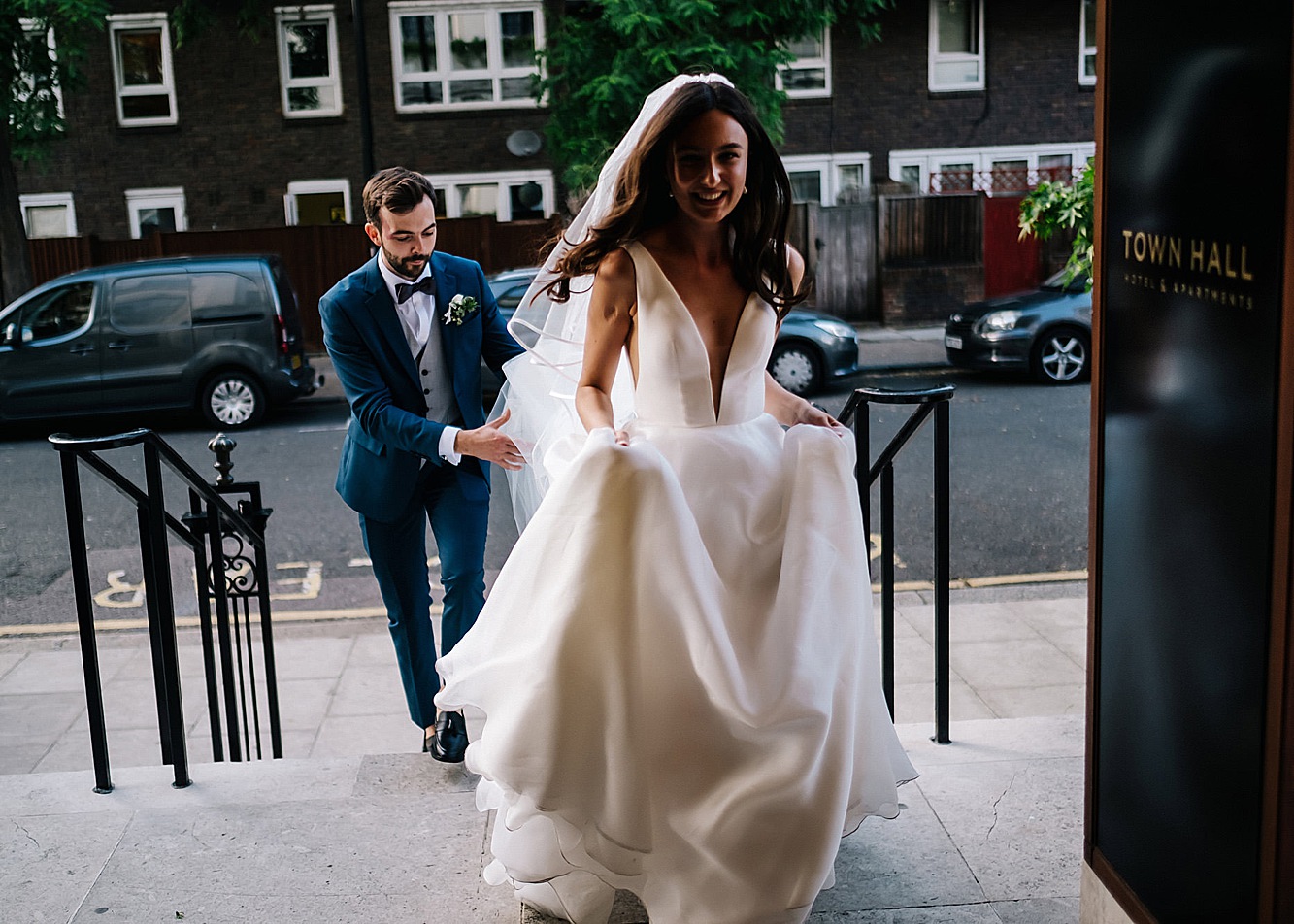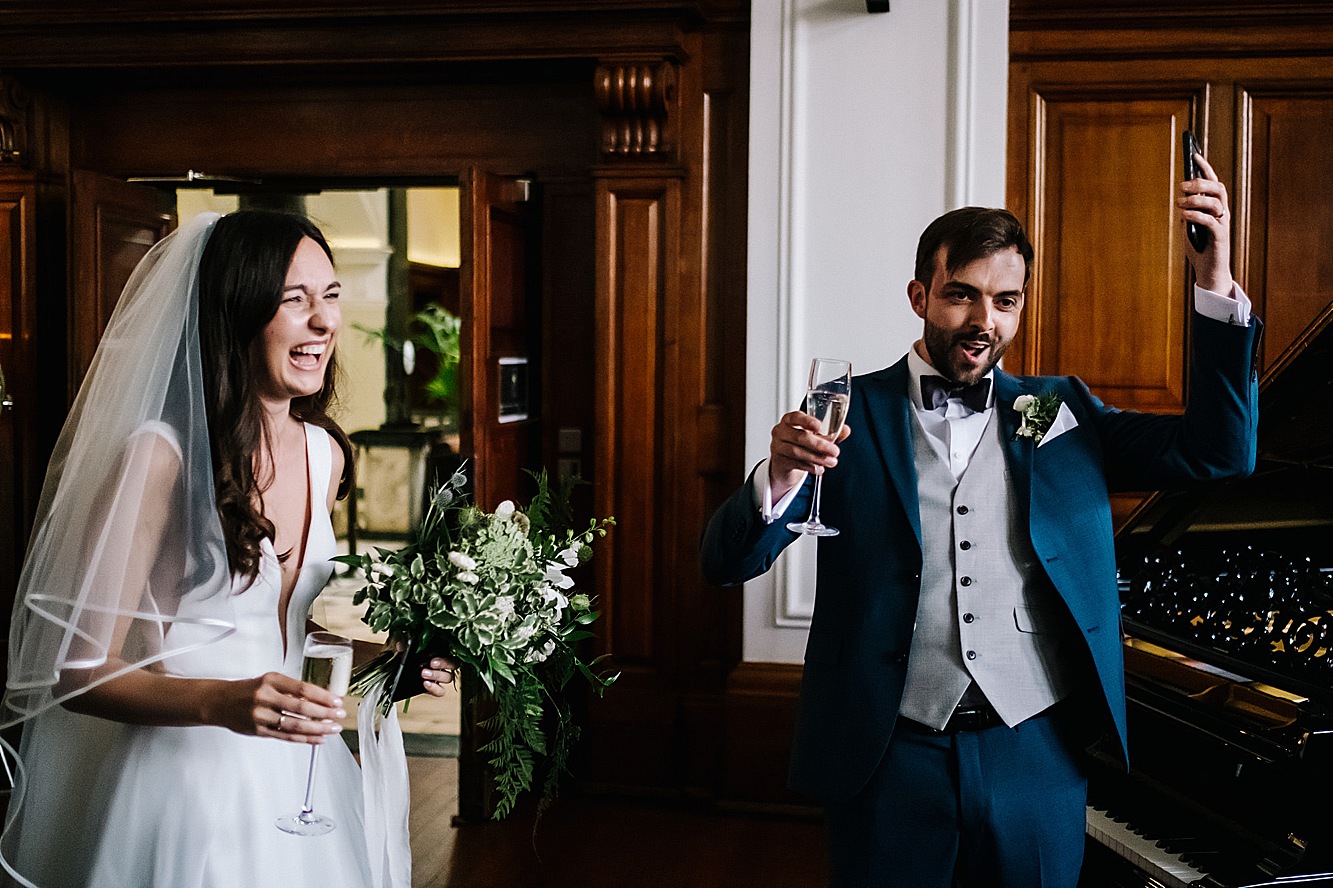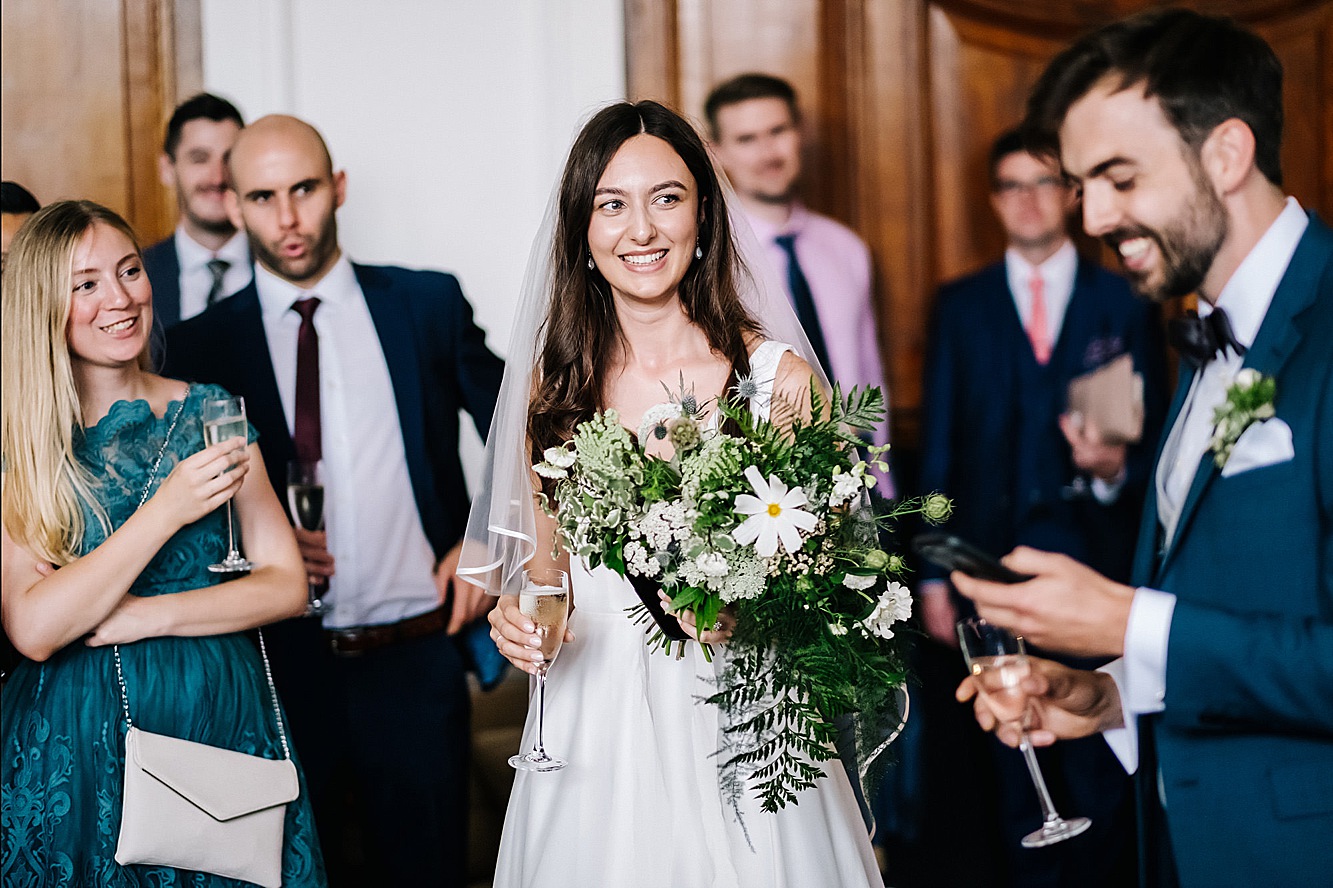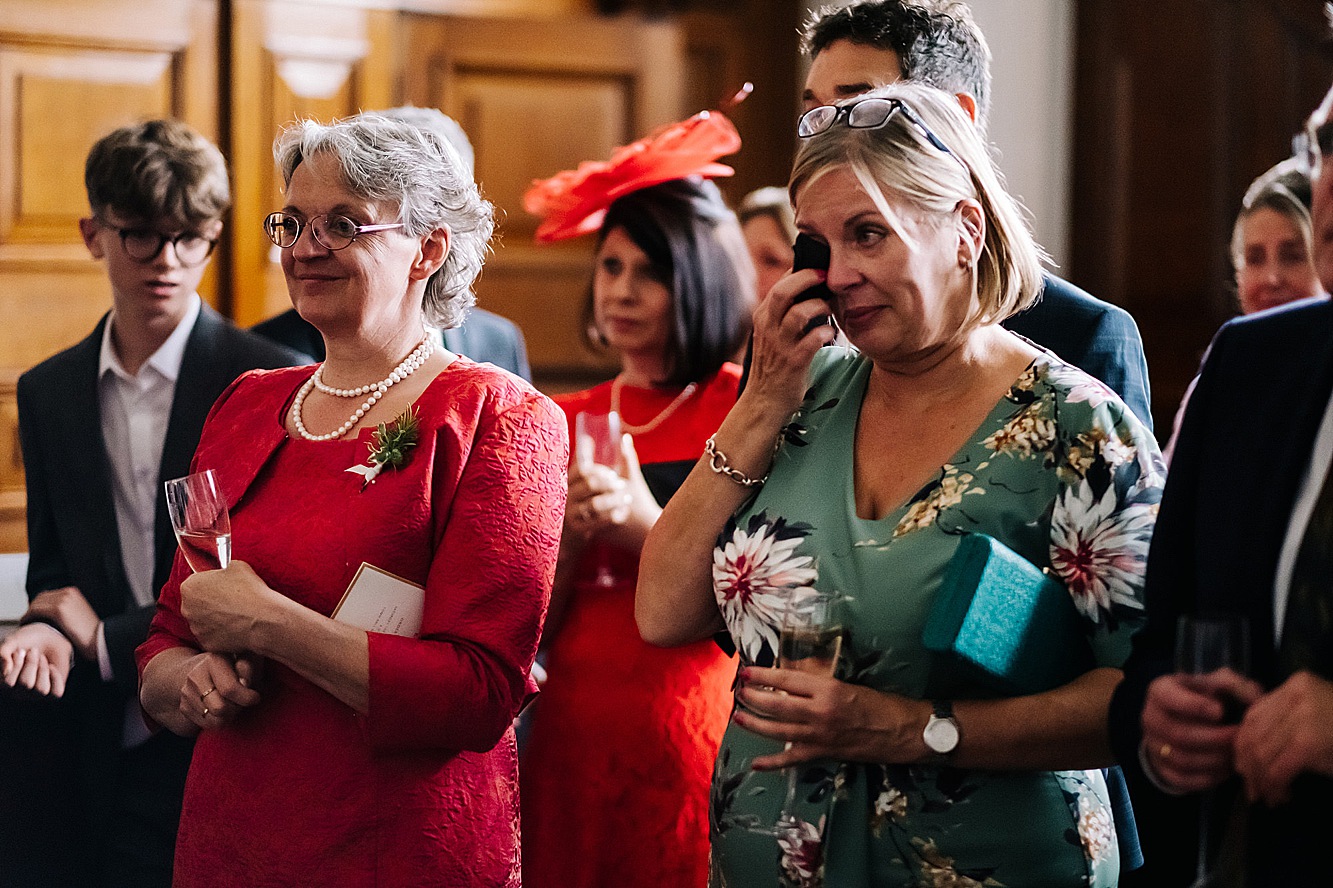 "The venue catered for us and it was some of the best food I've had! I decided fairly early on that I wanted to make candles as favours. Only realised what I'd let myself in for after labouring for hours over the first ten of about 80 I needed to make (Kilian took over after I gave up!)."
"I'd still encourage others to do this though. I made them completely from scratch and got all the elements separately, I designed the labels based on the rest of our stationery and based the fragrance mix on The White Company's 'Seychelles' scent.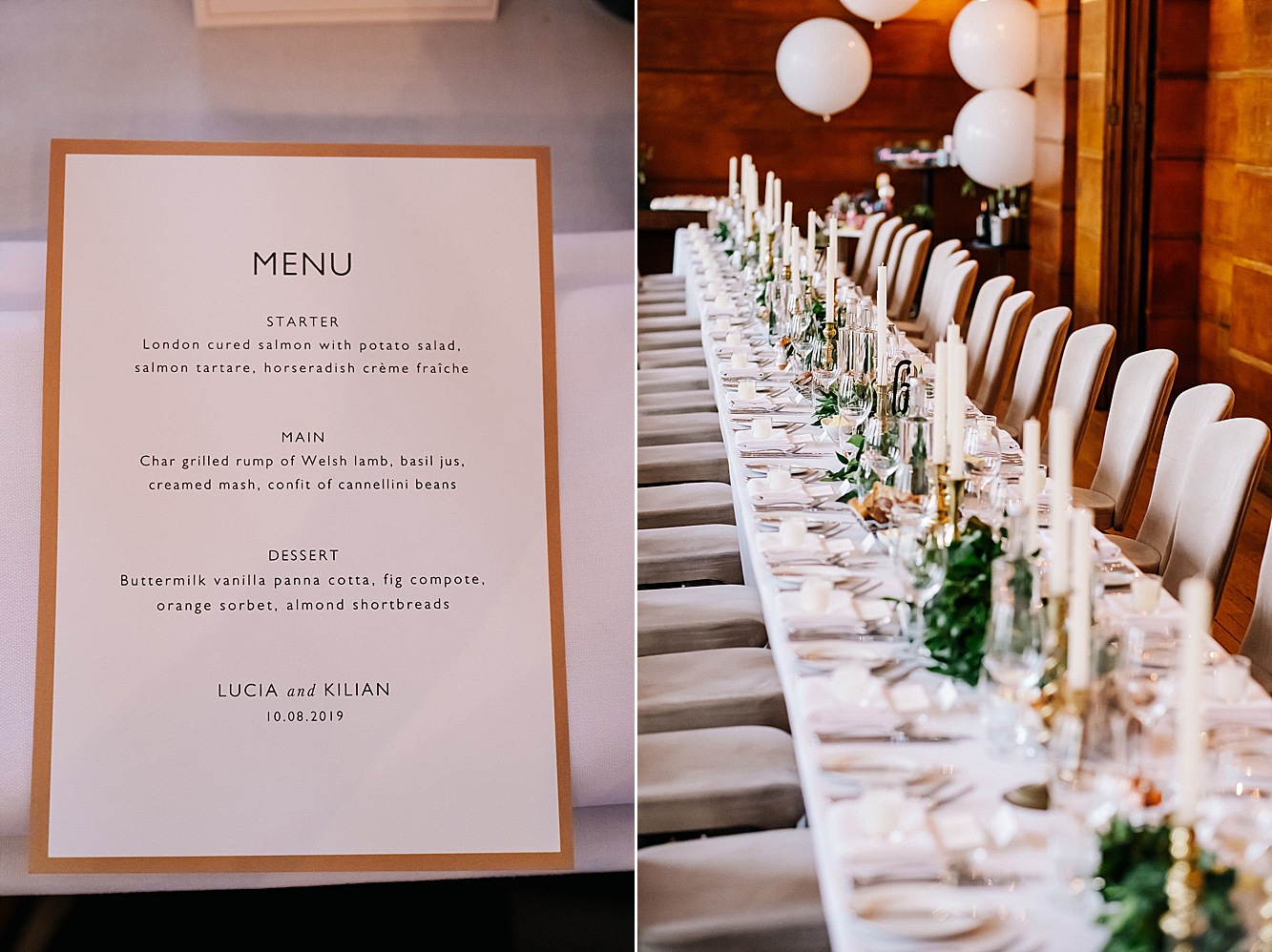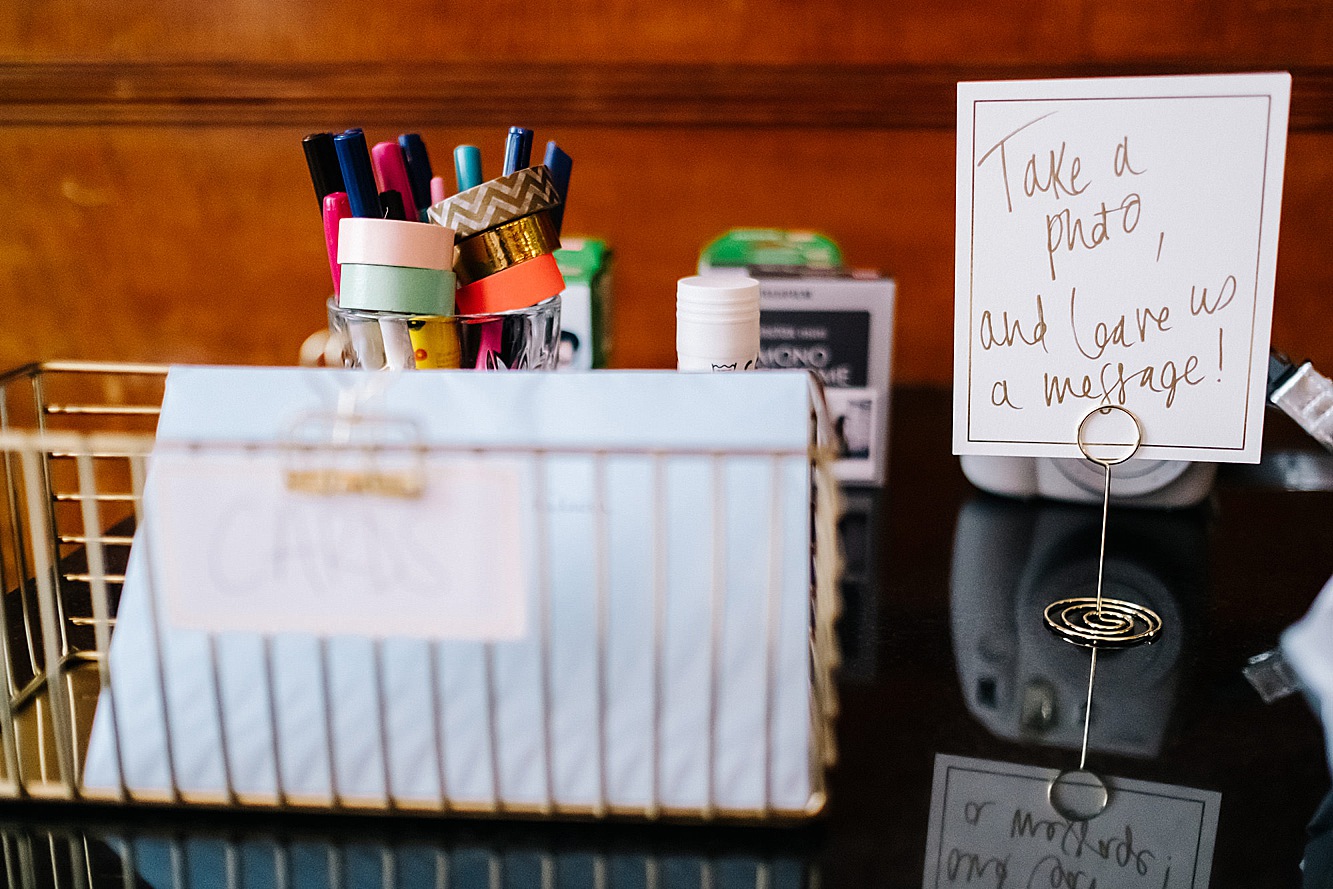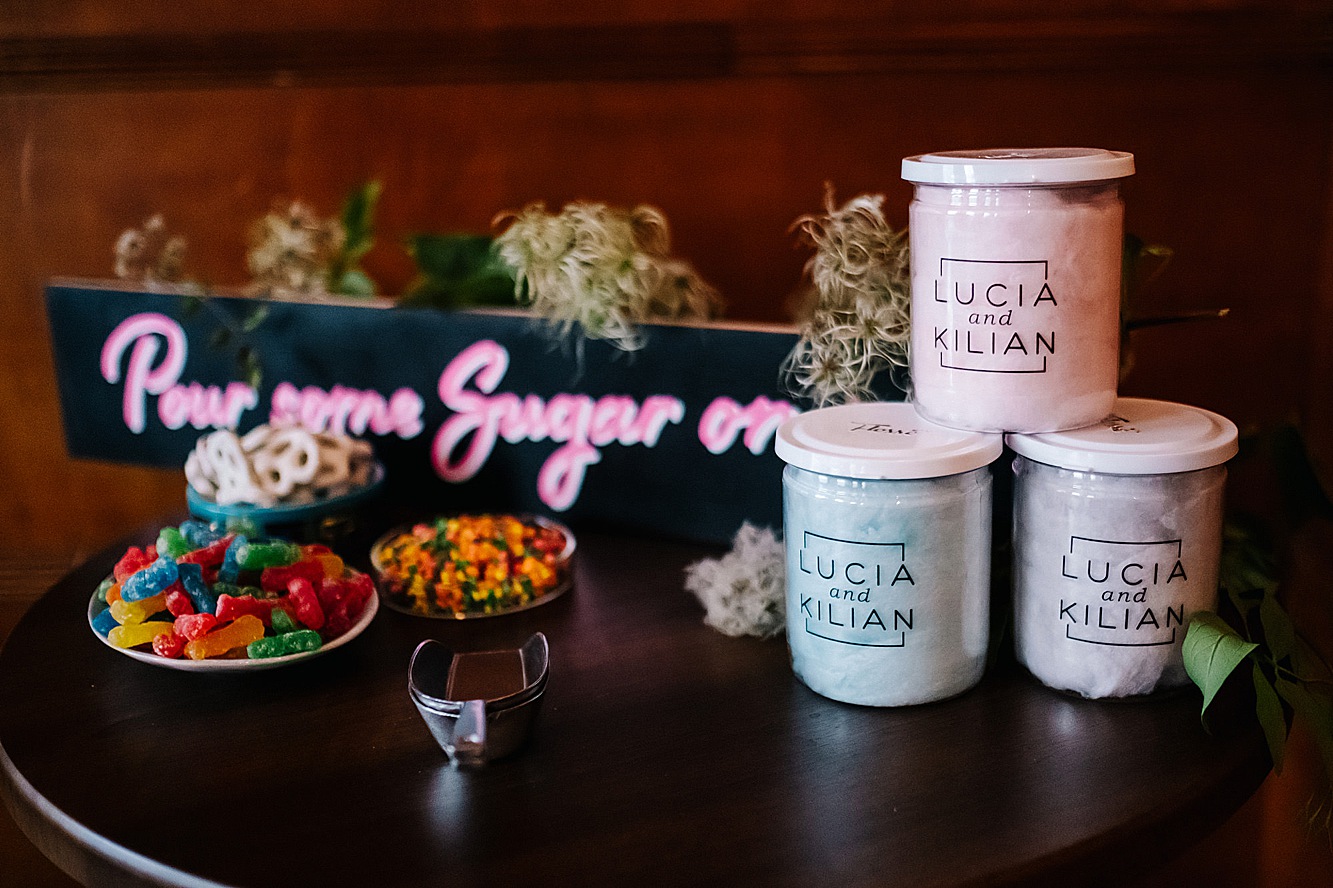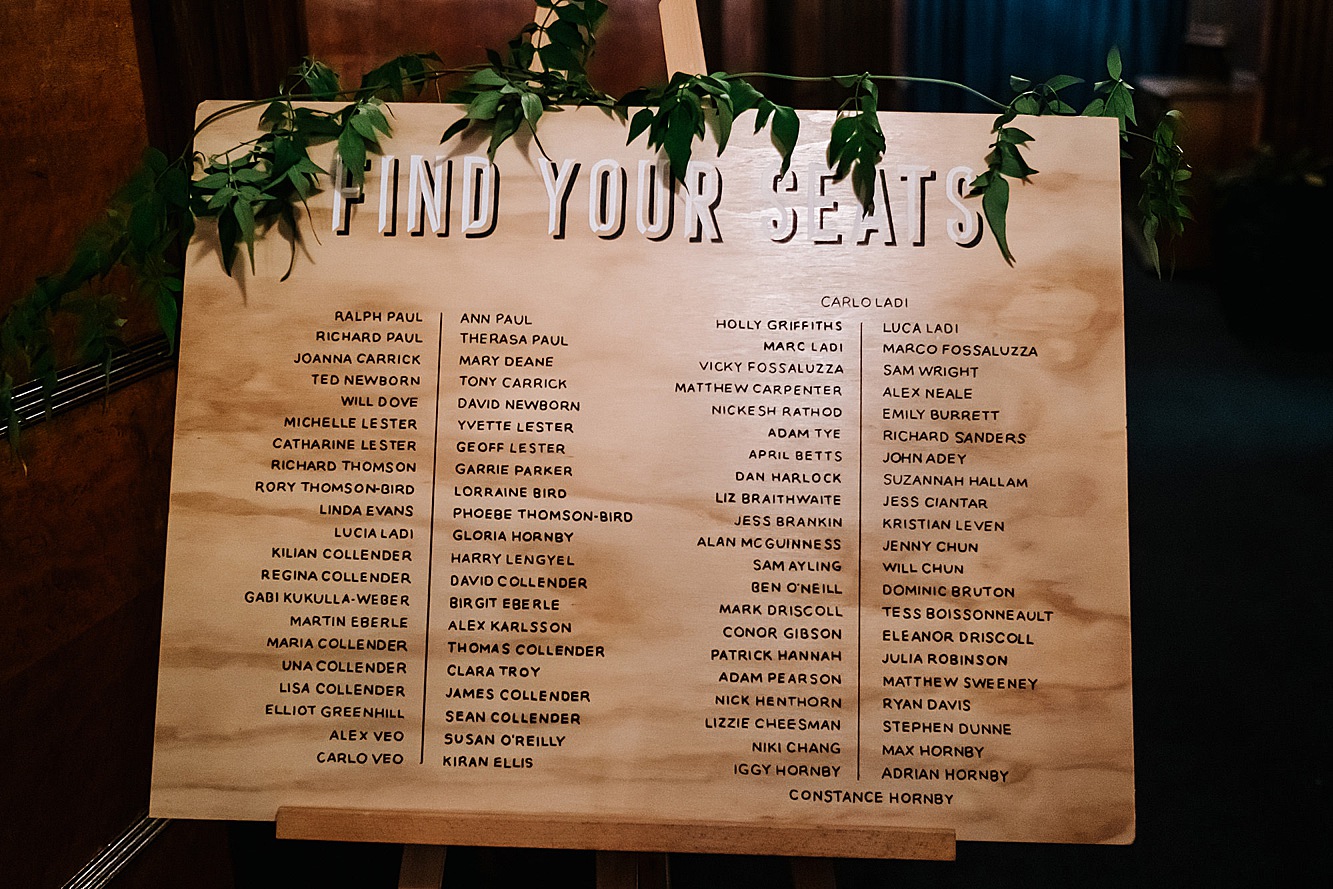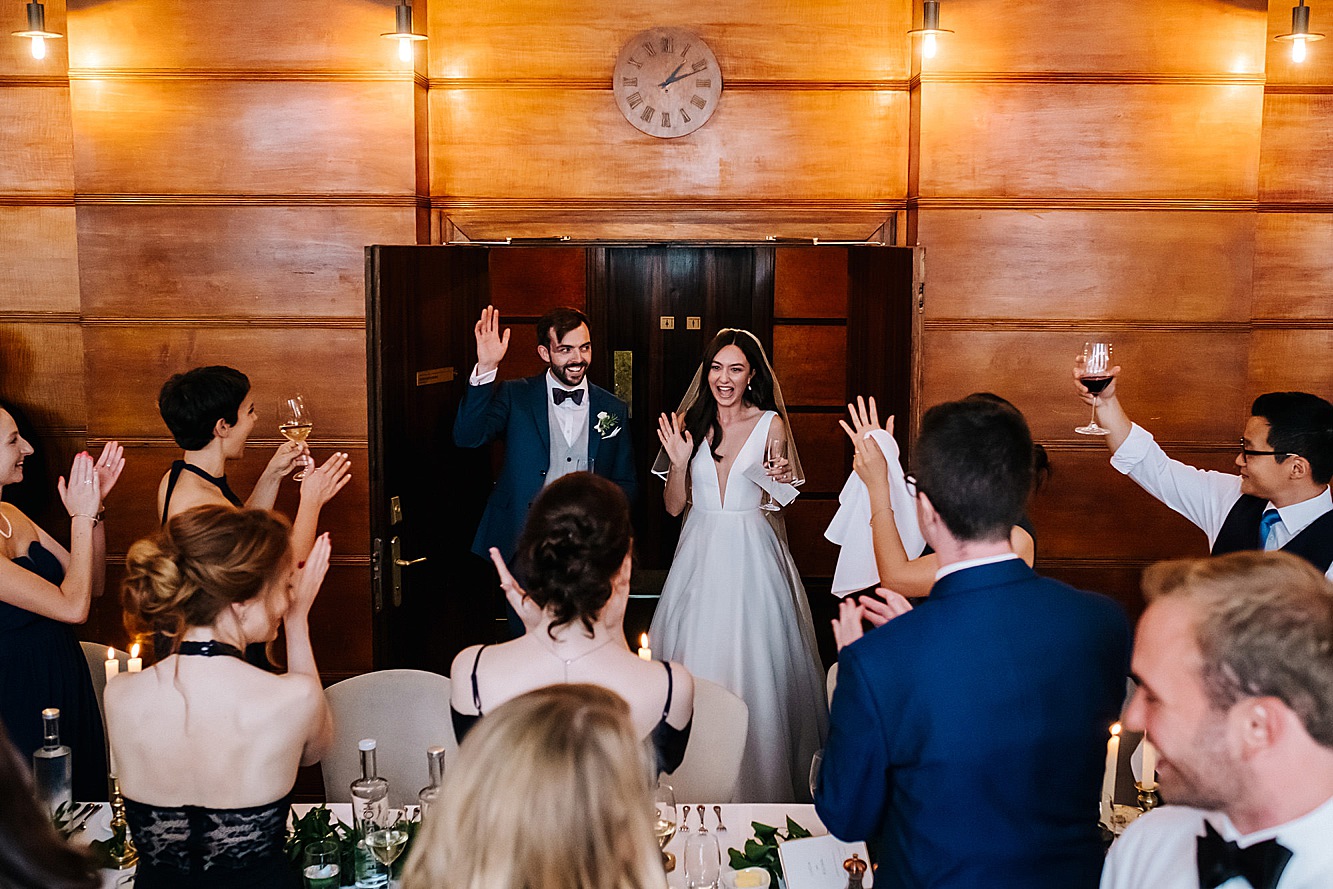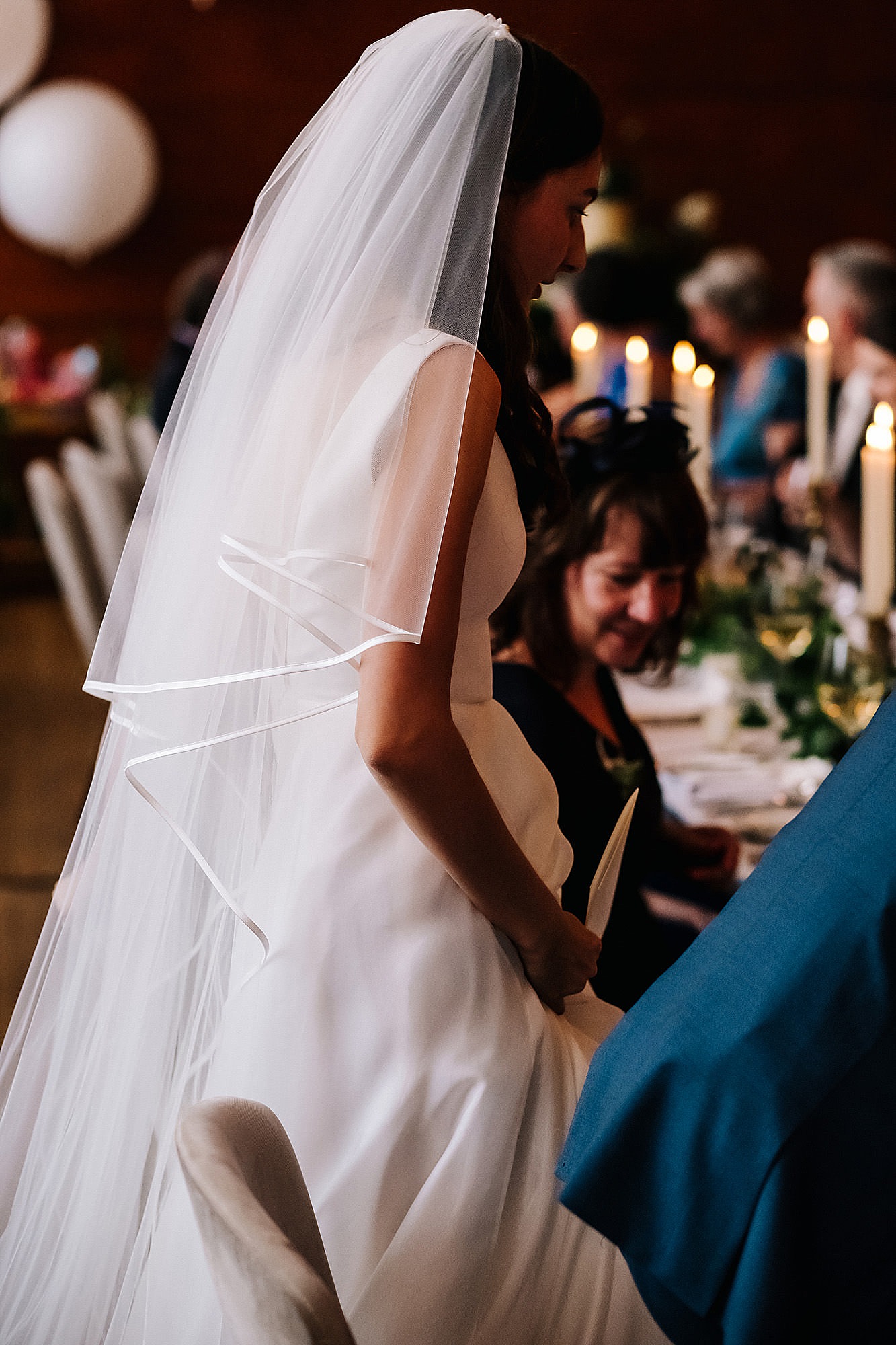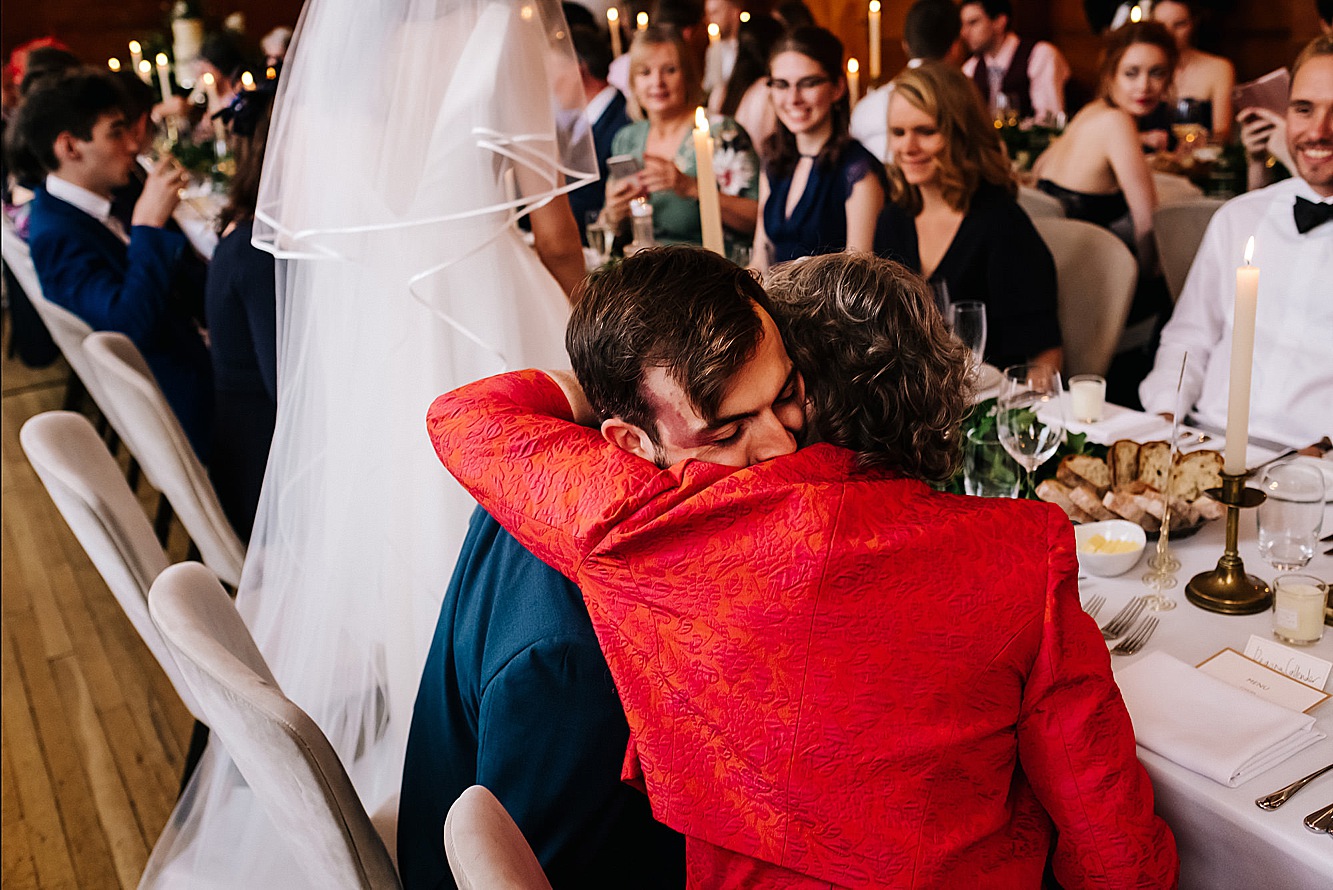 The couple added just a few touches to personalise the historic, panelled interiors of Town Hall Hotel, as well as adding swathes of foliage and blooms styled by Hazel Gardiner Design.
"We had signage from All Frills Studio, the brilliant 'Curious Tree' from Vowed & Amazed as well as some giant mirror balls, neon from eBay and Bag & Bones, two gold drinks trolleys as sweet tables (one was ours and one borrowed from my office), giant white balloons by Bubblegum Balloons and brass candlesticks from Dottie Events & Hire."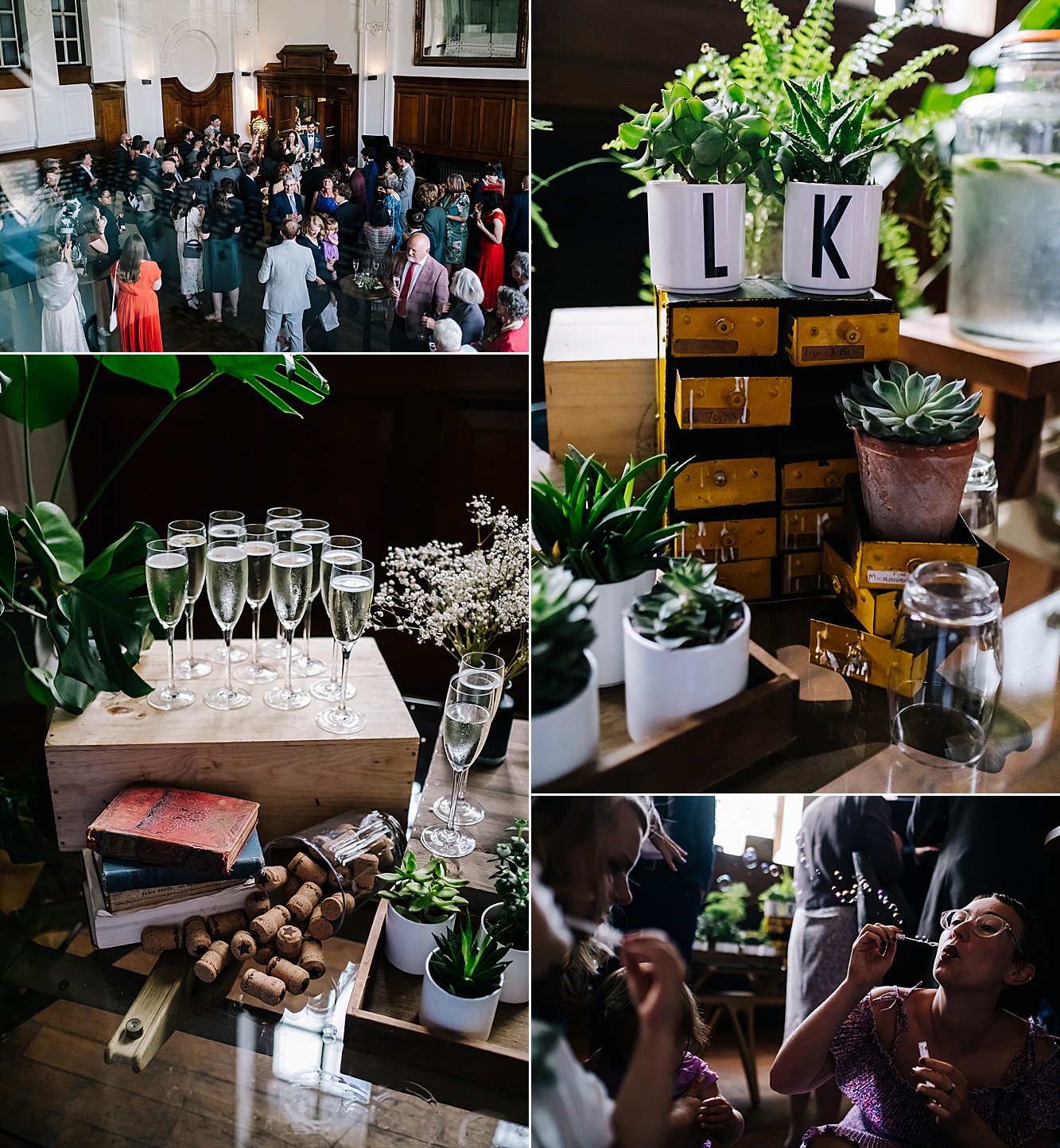 If you love this lush green indoor tree, bedecked with hanging bulbs, please do visit Vowed & Amazed's Little Book Wedding Directory page to find out more about their stylish offerings, as well as grab a lovely discount.
"I can't tell you how brilliant she was at every stage. I always knew I wanted tons of greenery with hints of white and Hazel just got it. Her floral design is exquisite and she was such a brilliant person to work with. The foliage went perfectly with the venue – the ideal partner to all the dark wood panelling and moody interior."
There was also plenty of sweet deliciousness for the guests, courtesy of the sweet trolleys.
"One of the things we were most excited about was our sweets trolleys! We used two gold drinks trolleys and spent months finding all our favourite sweets to fill them with. We brought sweets over from America and ordered from European brands as well as having lots of classic British sweets. I didn't want it to be like sweets tables I'd seen at other weddings so I tried to make it as fun as possible."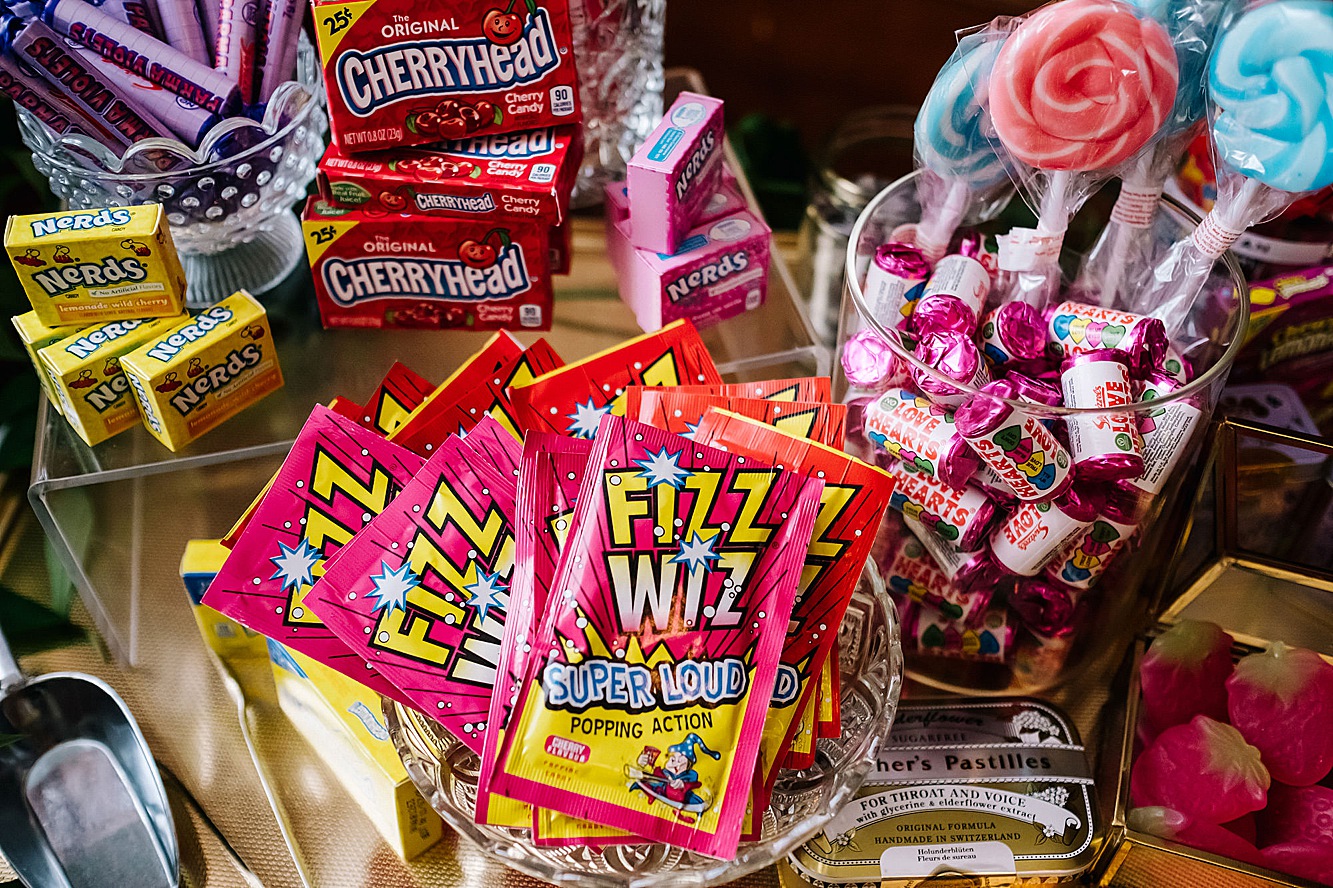 "We also had personalised meringue kisses from Meringue Girls and personalised candyfloss from Flosse. I'd created a 'Lucia and Kilian' logo which the meringues and candyfloss were branded with and we also provided sweet bags and large goodie bags which I branded too."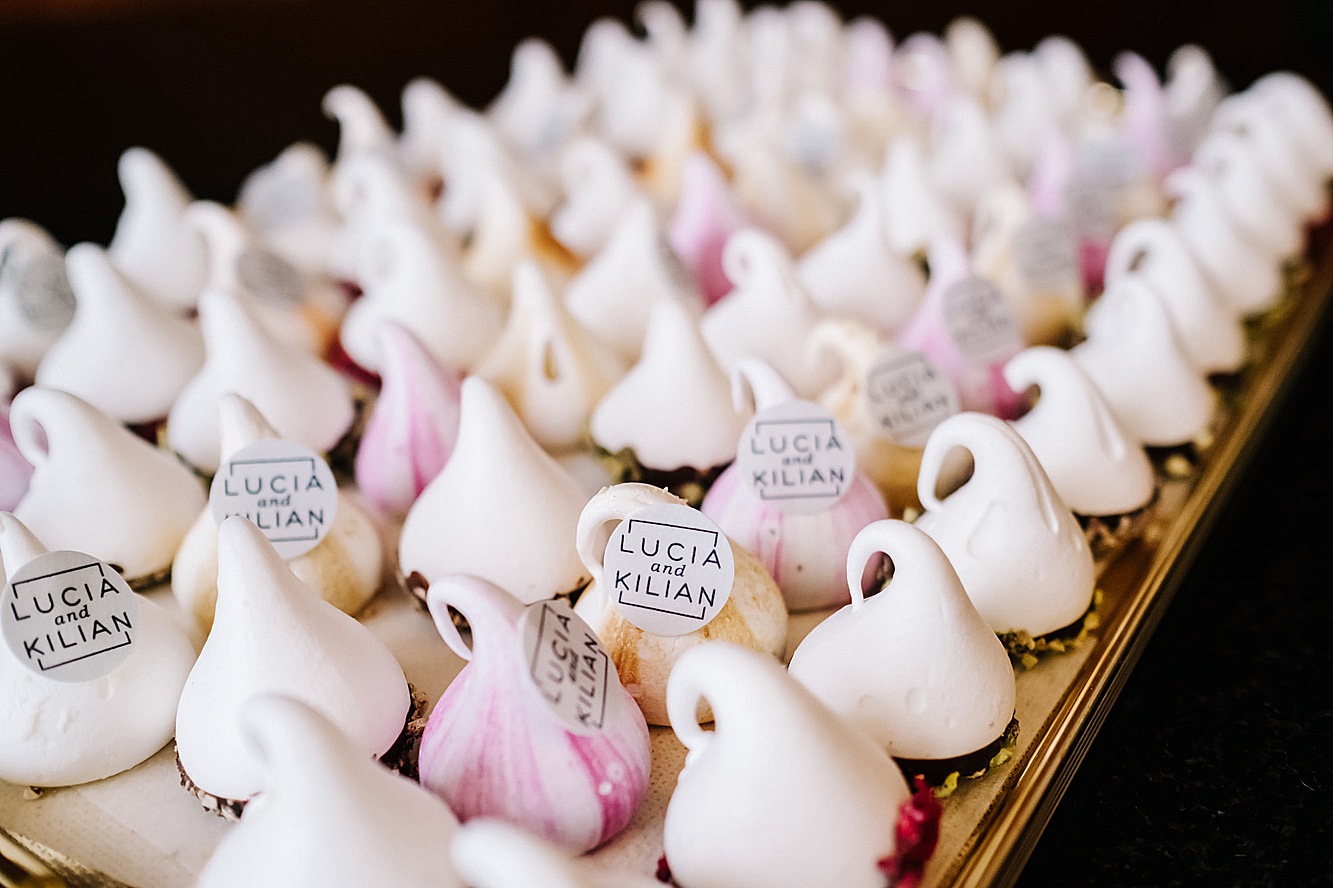 "One of our best friends Julia made our cake. It was the best wedding cake I've ever tried and was exactly what we wanted. We were so lucky to have had her make it for us! It was a three tier, semi-naked lemon cake with a different flavour of curd between each layer."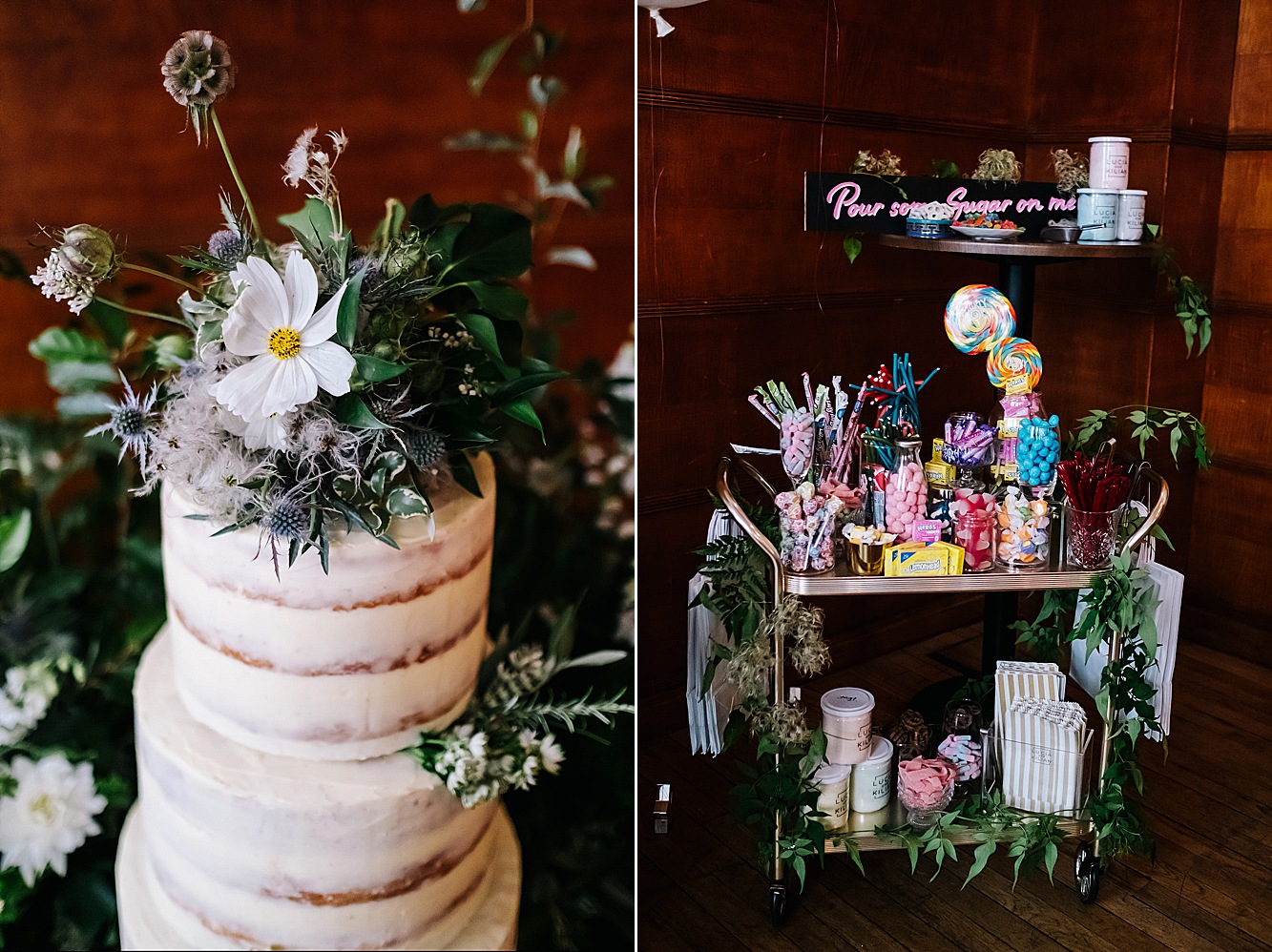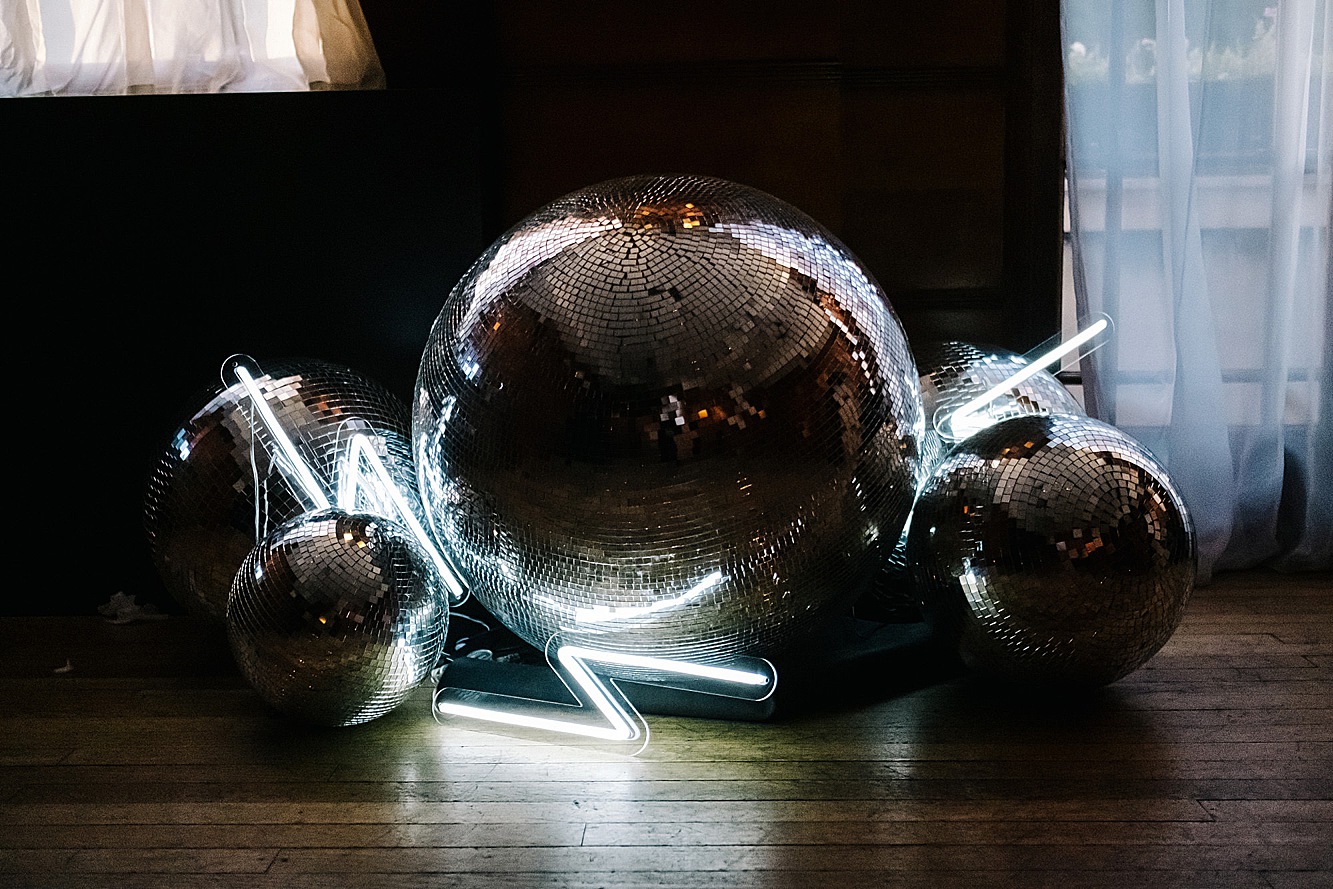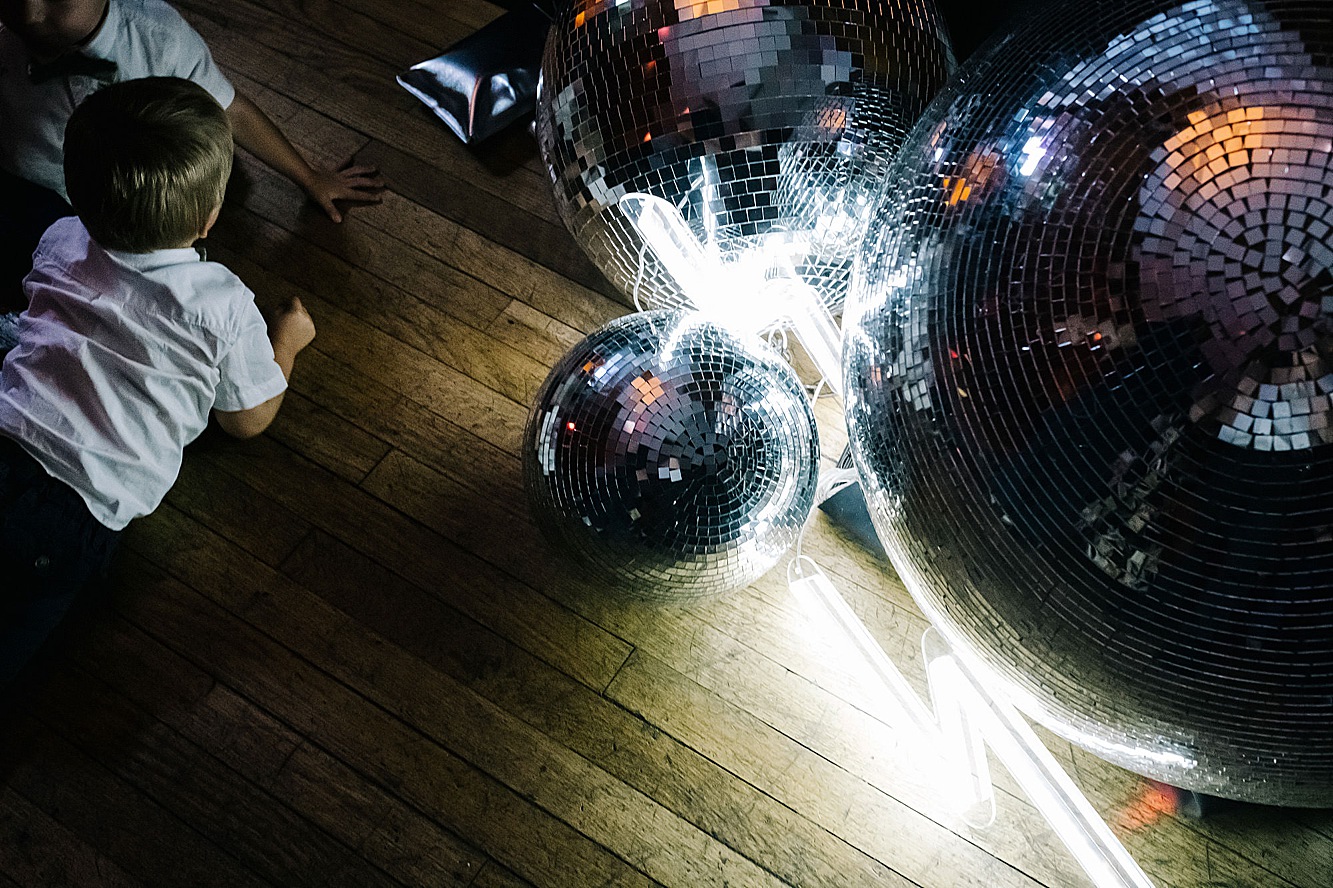 Later in the evening, DJ Anna from Wedding Smashers, another of our Little Book Wedding Directory members, played for the wedding party.
"Everything she did was brilliant and we worked with her on the first dance. We started with 'L-O-V-E' which was lovely but after about a minute cut to 'Ballroom Blitz' which got everyone on the dance floor."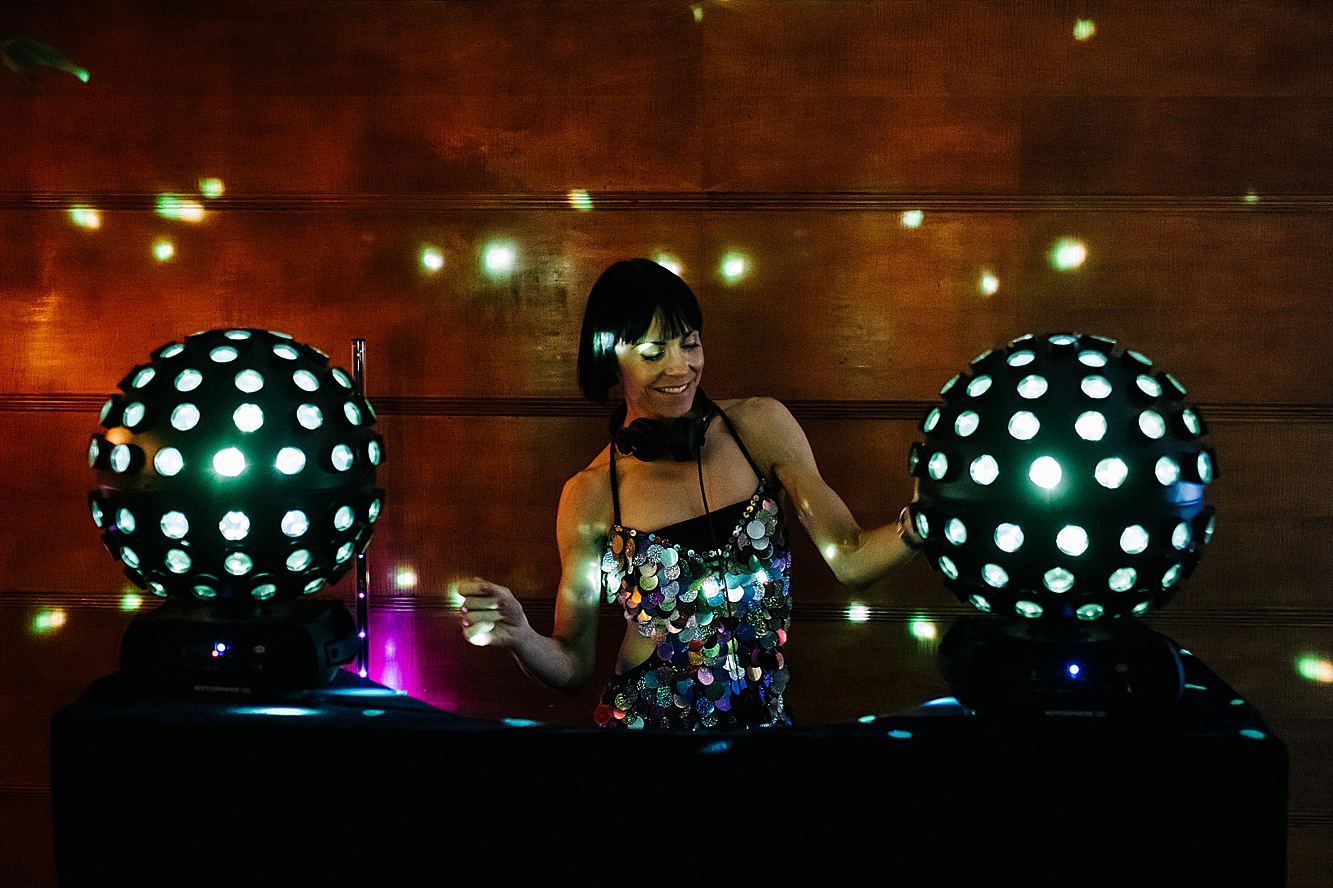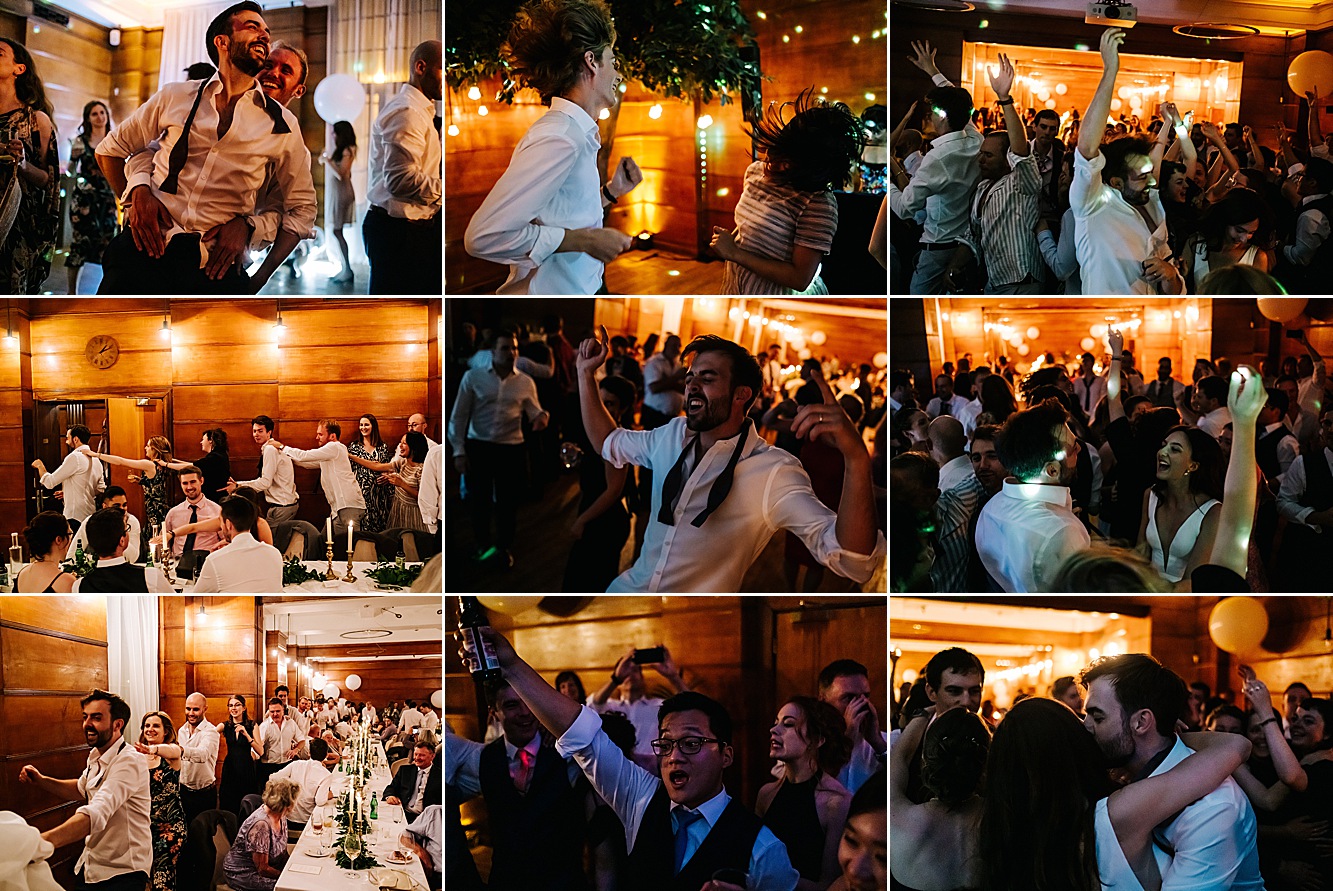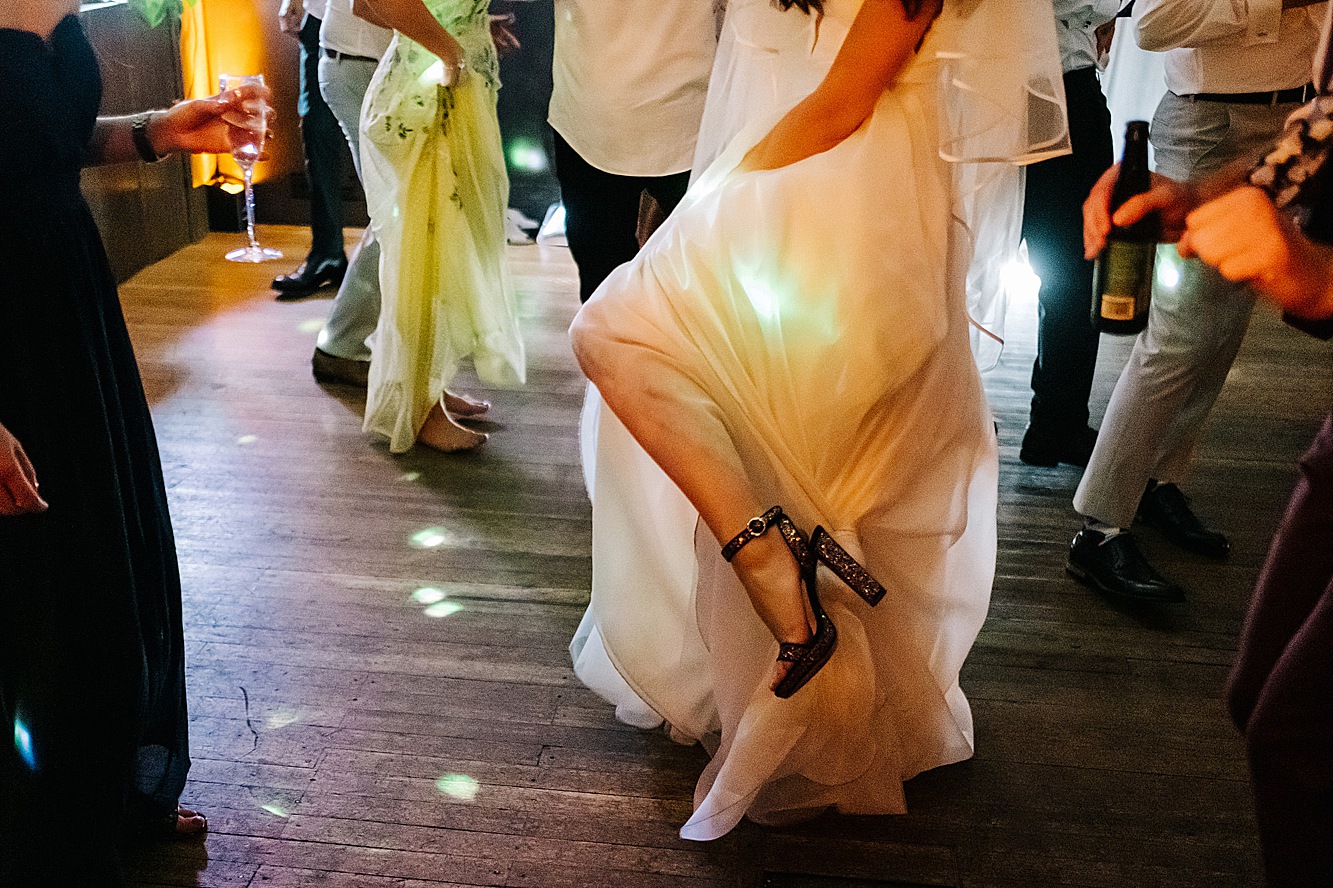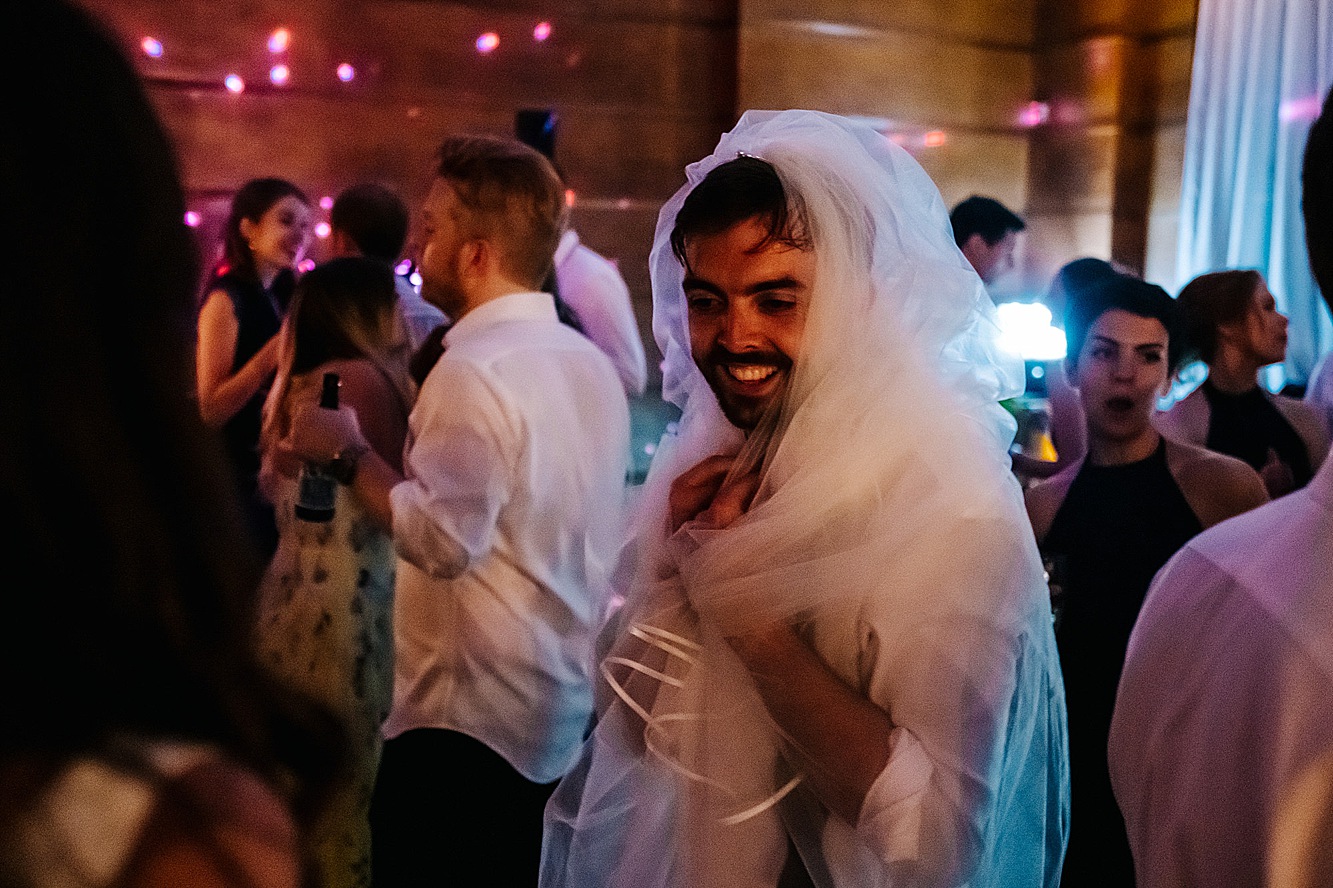 Words of Wedded Wisdom
"If you have an idea of something you want to do for the wedding, and you can't decide in the run up to the day just go for it! Some of the things I loved most about the day I decided to chuck in last minute and they worked out so well."
"I might also suggest not having an impromptu night out with all your family and bridesmaids/groomsmen on the eve of the wedding or deciding to buy rounds of champagne 'for everyone'! There were certain consequences the morning after but it turned out alright (after a few full fat Cokes and a couple of paracetamol) and was a pretty great night!"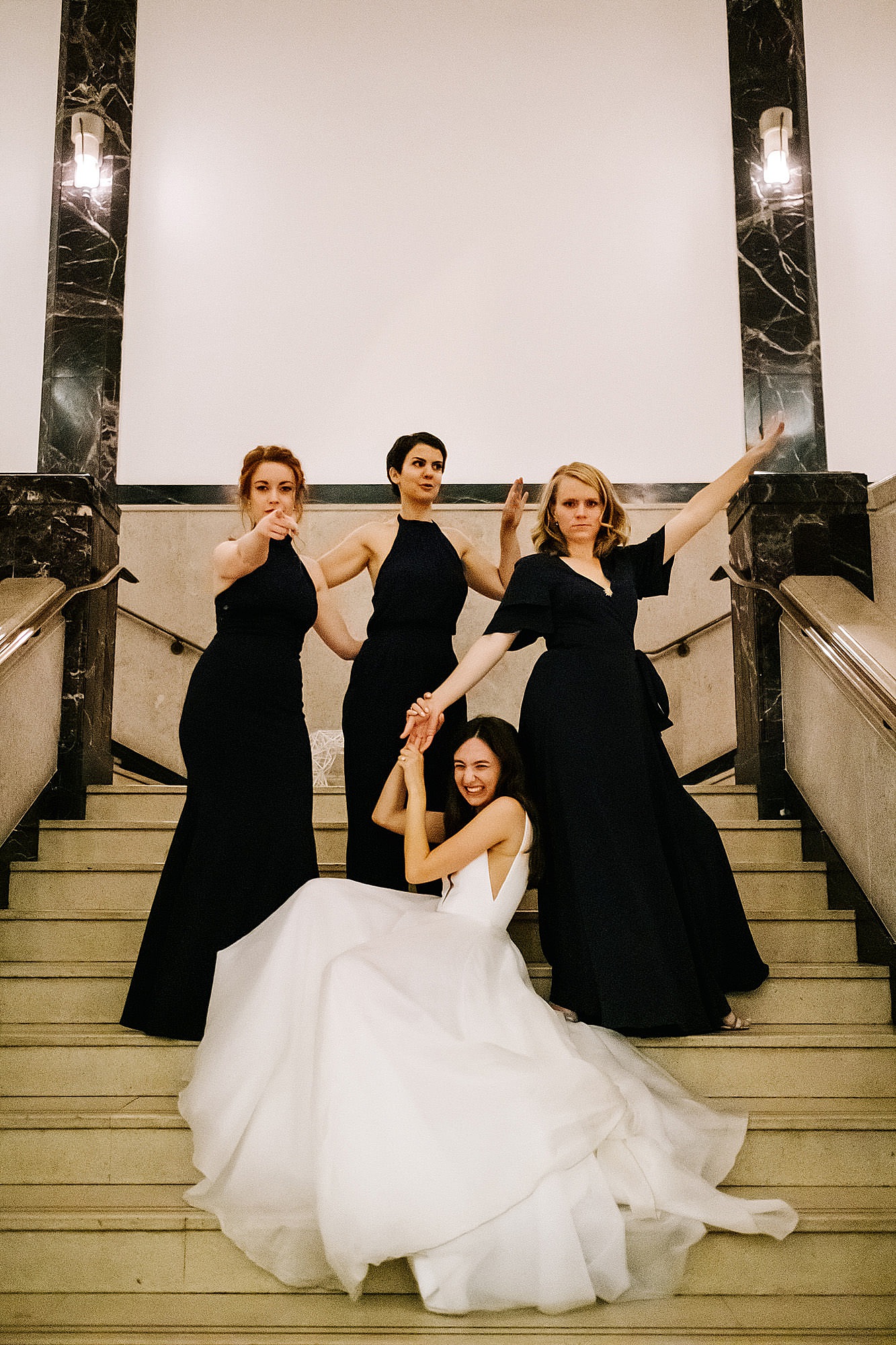 Lucia and Kilian, please accept congratulations on your marriage and so many thanks for giving us an insight into your celebrations. I'm head over heels for both the minimal, refined look (with the touch of colourful fun from your sweets and meringues) and your sexy, gorgeous Suzanne Neville gown.
Kristian Leven, it's been truly wonderful to see your work on our pages again (check out some of his other weddings here), and for more City wedding inspiration, I invite you to take a look at these other Love My Dress features.
Ele xx