Hello loves – thank you for the phenomenal response to this morning's article over on Instagram and to all those of you brave enough to have shared how bride Laura's thoughts resonated with you.
It's proof beyond doubt of the far reaching impact of this pandemic and how a wedding postponement is about so much more than the wedding itself. Our hearts go out to each and every one of you with important, precious life plans on hold right now. We hope that in continuing to share real weddings, we will continue to inspire and lift you through this time.

This is the super classy and elegant wedding of Sarah, who works in fundraising in the non-profit sector and Nick, a management consultant, who ttied the knot on Saturday 10th August last year with a ceremony at Exeter College Chapel, followed by a drinks at the Sheldonian Theatre and a reception at the Bodleian Library.
The couple, who live in Sydney, Australia, hired London based wedding planner and designer Andri Benson at Always Andri.
"Nick proposed on a trip to Japan in January 2018. My grandparents met in Tokyo, and the city had always held a special, romantic place in my heart. In the beautiful Shinjuku Gyoen National Garden Nick asked me to marry him and I of course said yes."
"Our engagement lasted a year and a half. We knew planning a wedding from the other side of the world would be a challenge and are so glad looking back that we gave ourselves so much time to plan."

The bride applied a spritz of Chanel Mademoiselle as her wedding day scent.
"I wear this scent every day, and the wedding day was no different. I wanted to feel, and smell, like me on the day."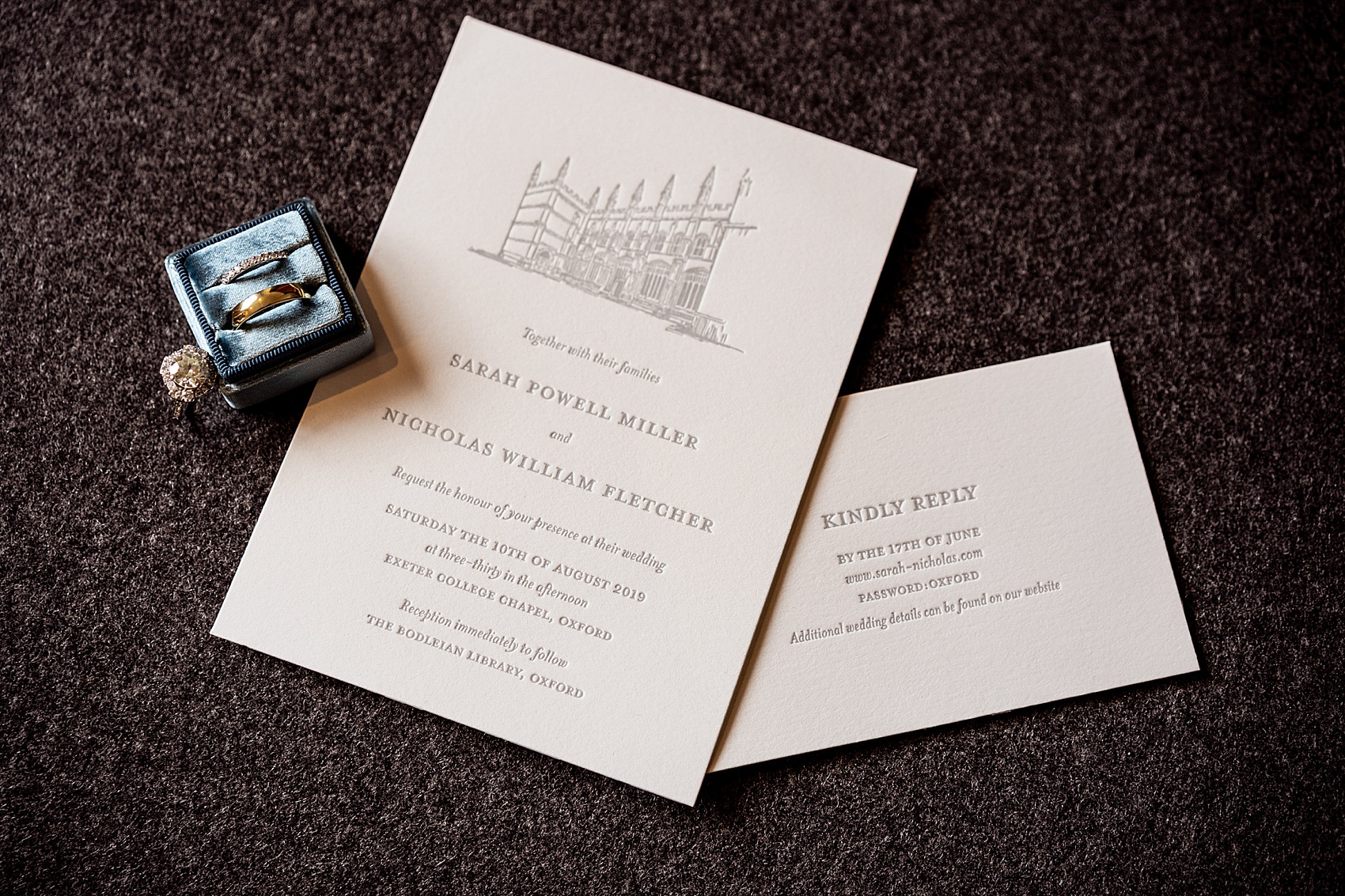 Pearl and diamond earrings from Mikimoto were a special wedding gift from Nick. My grandmother collected Mikimoto pearls from her time living in Tokyo, so this was a special nod to her and to our engagement in Japan. I carried my grandmother's blue handkerchief, embroidered with her initials to keep her with me on the day."
The couple turned to Deciduous Press for their classy letterpress invitations.

The bride's incredible dress was a Sachin and Babi design, which she discovered through Kleinfeld.
"I was lucky to buy my dress at Kleinfeld Bridal  l in New York City (of Say Yes to the Dress fame). I was visiting my family in the US in April 2018 and decided to go shopping with my mom. It was early in our engagement and I wasn't expecting to find anything that day. I had also just flown in from Sydney, so jetlag was clouding my day!"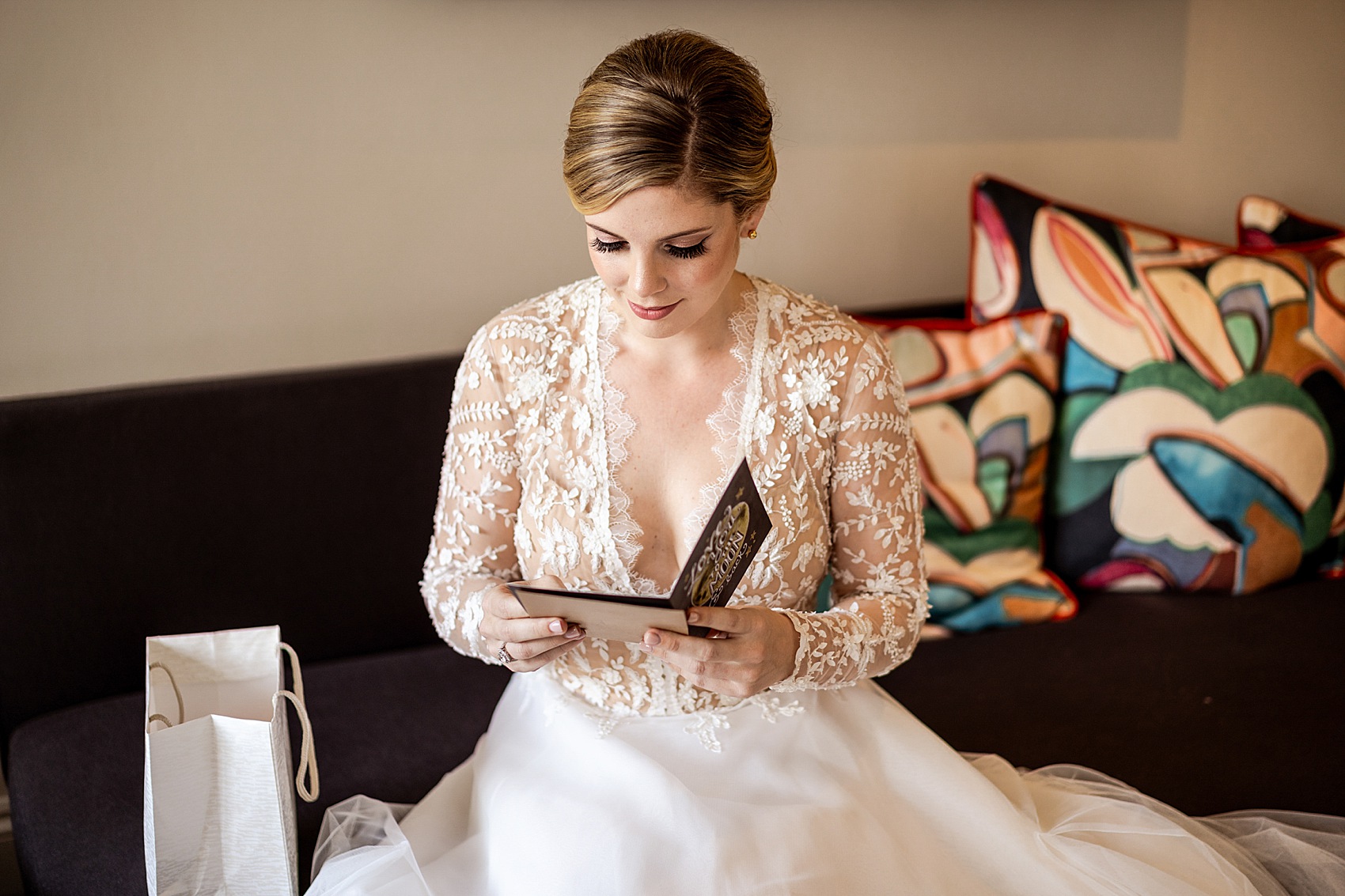 "Kleinfeld has thousands of dresses and the experience was quite overwhelming at first. My bridal consultant was Michelle and she was such a joy to work with. She listened to my vision and was able to find me my dream dress."
"In fact, I later realised that I had bookmarked a photo of it on my phone months earlier. I would recommend this experience to brides with a real vision of what they want in a gown. The selection at Kleinfeld is unparalleled so you are bound to find something you love!"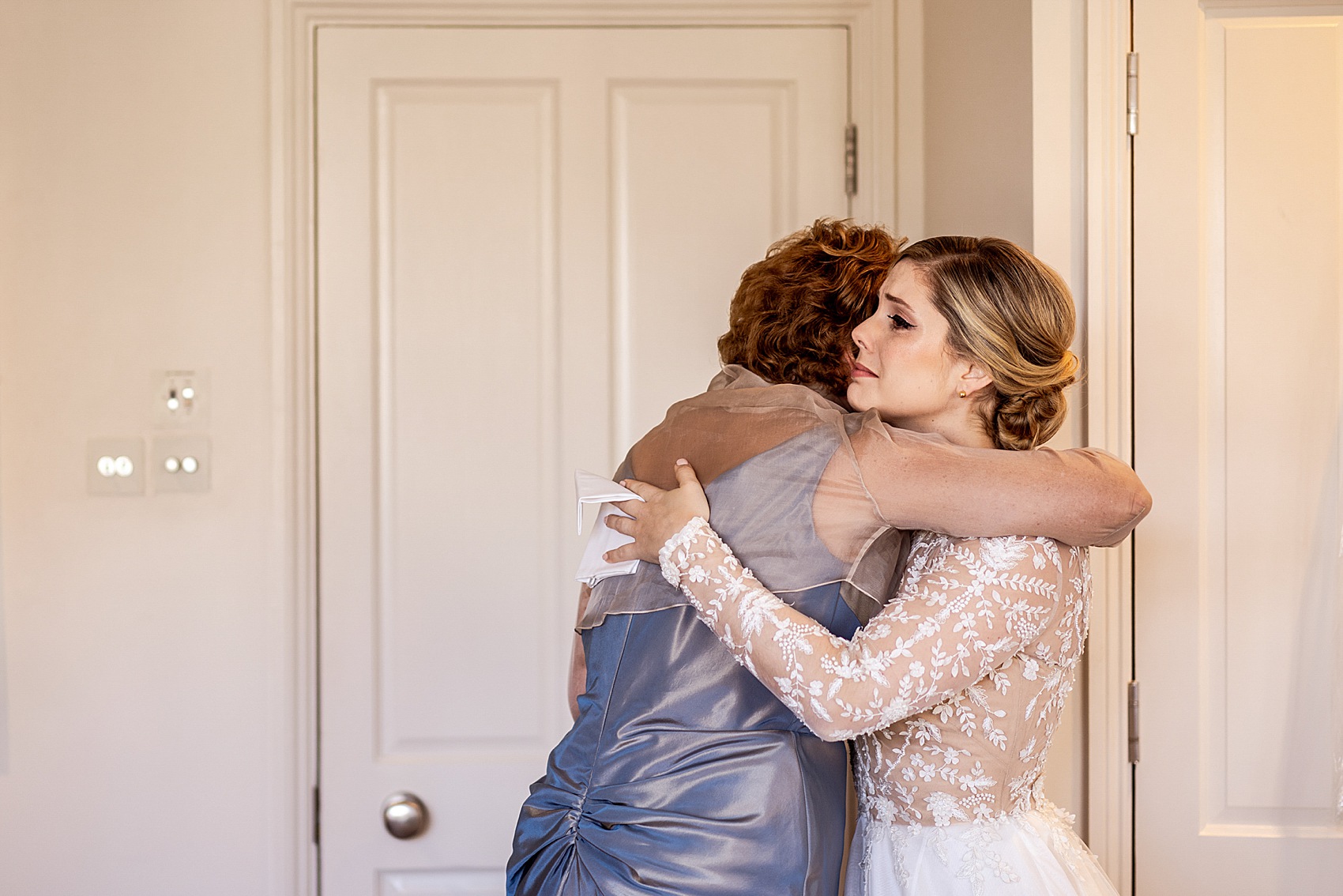 "I had to travel back to New York to pick up the dress, take it to Australia for alterations, to London for the wedding, and back to Australia. It was well travelled! This journey was 100% worth getting something so beautiful and unique."
"Like my vision for the wedding, I knew a wanted a combination of classic and modern in my wedding dress. I envisioned a traditional ball gown shape, with modern, romantic details to make the dress pop. I knew this was my gown from the moment I saw it. It has a full airy tulle skirt, hand embroidered pearl and floral applique across the sheer bodice and long sleeves, and a tiered chapel length train."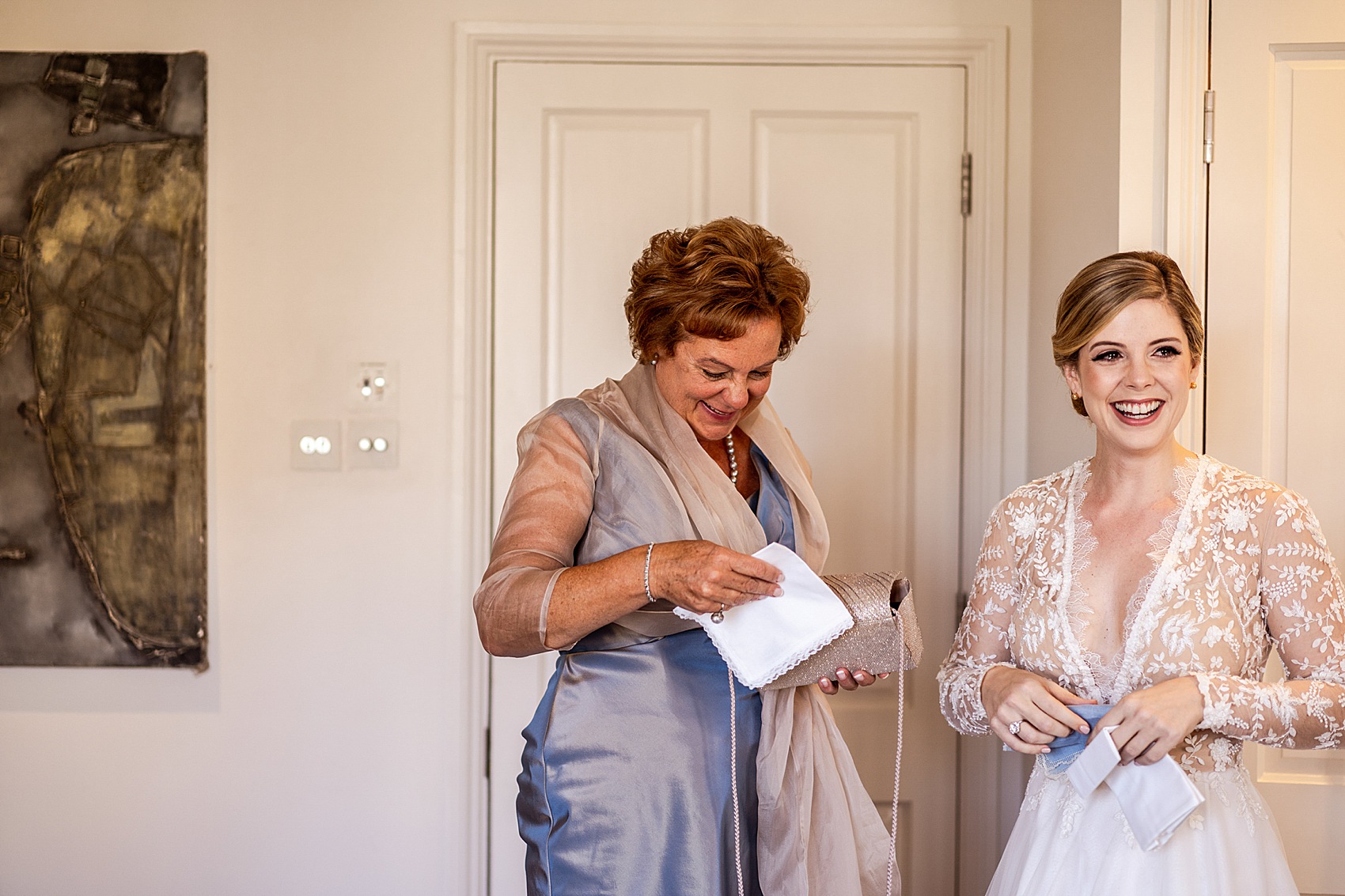 "The deep V neckline with lace trim added a special softness and sophistication to the gown. I absolutely loved this element of the dress. It made me feel modern, confident and romantic—everything I wanted to feel on the day. It is the most unique, beautiful gown I have ever seen, and I still haven't tired of looking at photos of it."

"Nick and I met as students at Oxford in 2010 through a cappella singing group. Nick was in the men's a cappella group, 'Out of the Blue', and I was in the women's group, 'The Belles'. At the start of the year, our two groups went on a date to a terrible Indian restaurant and we sat across the table from each other. Despite the food, we hit it off instantly."
"I was studying abroad for a year from the US and went back to Boston in 2011. Two years later, Nick moved across the pond and we've been together ever since. In 2015 we took a huge chance and moved to Sydney, Australia for Nick's job."
"Four years later and we are still in Sydney, living a beautiful life filled with friends, travel, good food, and another a cappella group."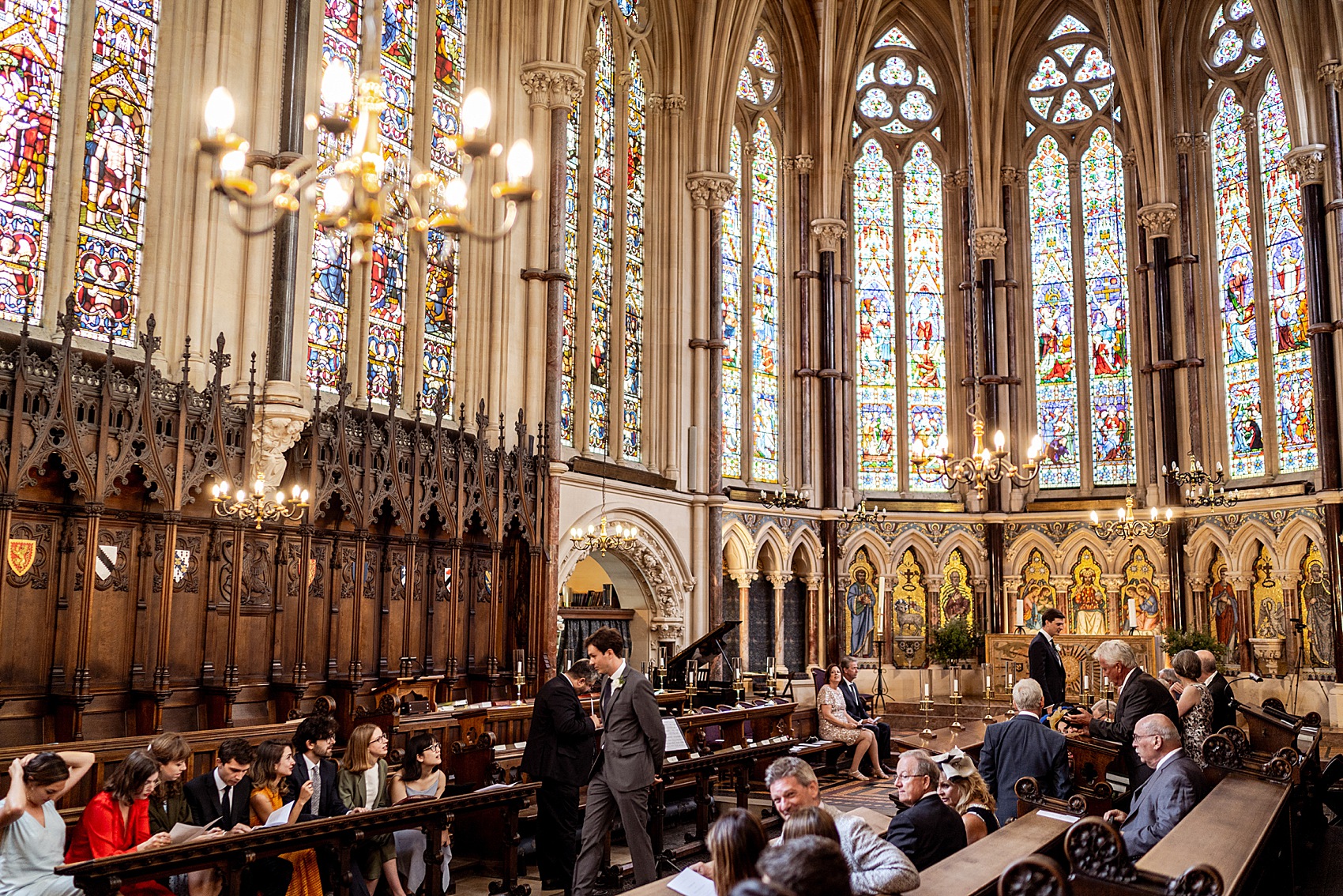 "Nick wore a custom suit from P. Johnson. The three-piece suit was made from Italian midnight blue wool, and grey silk. Nick wanted something modern which also referenced the traditional morning suit, and this design really delivered on his vision."
"P. Johnson has studios in Sydney and London, so we were able to design the suit in Sydney and do some final pre-wedding touches from London. Nick's shoes were from Church's and his tie was by Paul Smith."

"We knew immediately that we wanted to get married at Oxford, the city that brought us together. It's a place that holds special memories for us individuals and as a couple, not to mention every inch of it is a beautiful setting for a wedding."
"We chose the Chapel at Exeter College for the ceremony, where Nick was a student, and the Divinity School at the Bodleian Library for the reception. There is really no way to fully describe how beautiful both of these spaces are and we felt so privileged to use them for our wedding."

"A cookie cutter wedding wasn't for us – we wanted our guests to feel like they were unmistakably at a celebration of Nick and Sarah. This focus on personalisation extended to every element of the wedding, including the welcome bags given to out of town guests, readings and music at the ceremony which we spent months choosing, the celebrant (my Godfather), the dinner menu, stationery, speeches, first dance and music at the party."
"Family and friends travelled from all corners of the world to be with us, from the US to Australia and South Africa. As a result, we had a weekend filled with celebrations, rather than just one day. It was a truly international crowd and we were grateful to get to spend quality time with each and every one of our guests."
The bride's father, Glenn, accompanied her down the aisle to the sound of 'Gymnopédie No.1′ by Eric Satie.
"Music was absolutely the most important aspect of the ceremony for us. We've both always sung in choirs and really wanted choral music as the centrepiece of the wedding."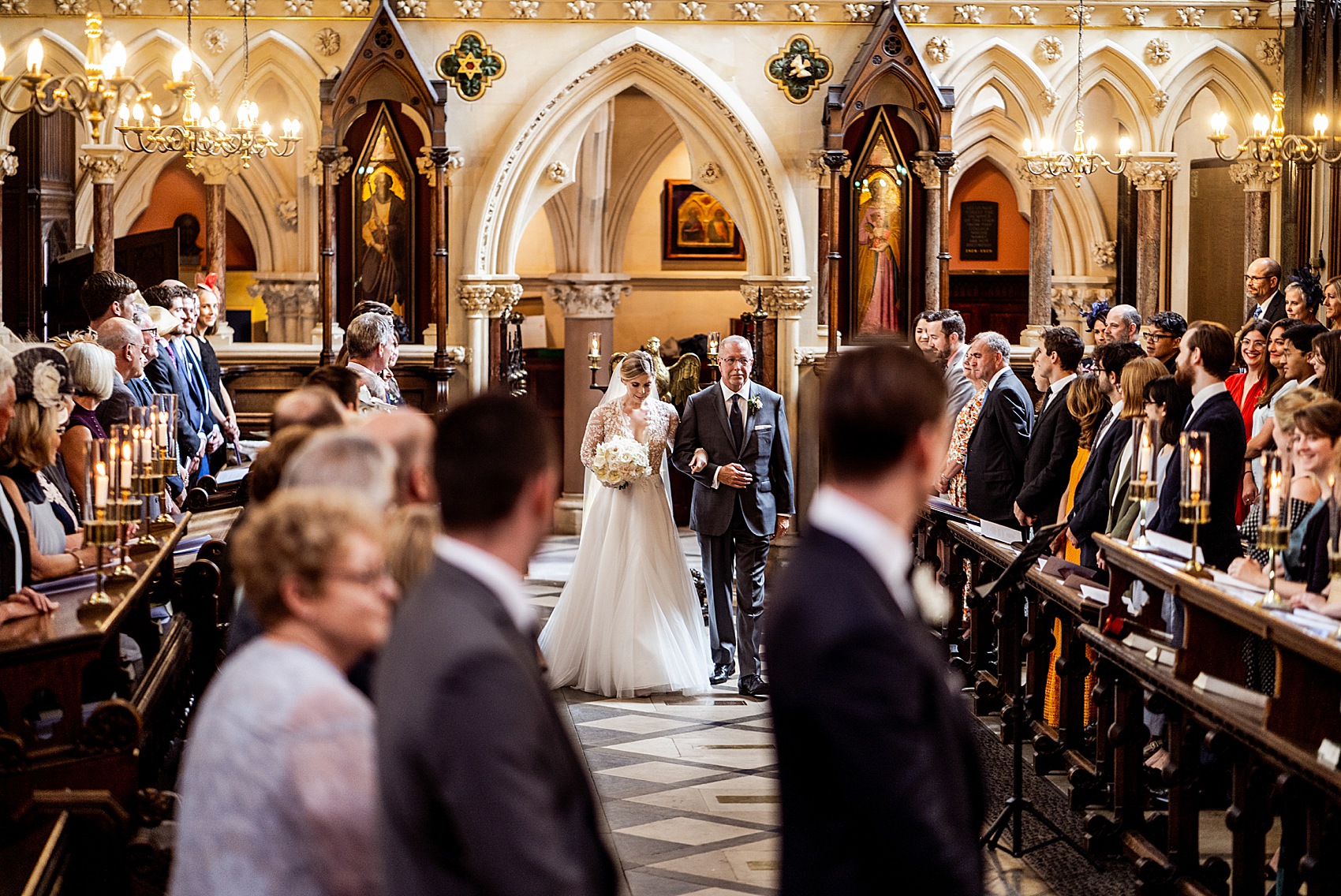 "We spent many hours choosing the hymns and pieces to include. Many of our guests commented that it was the most emotional, beautiful wedding ceremony they have experienced. There were certainly many tears shed by all."

"The Exeter College Chaplain, Rev'd Andrew Allen, officiated our wedding. The sermon was delivered by my Godfather, the Rev Dr Mark Oldenburg. Mark baptised me, so it was incredibly special to have him participate in the wedding."
"Readings, and in fact the entire ceremony, was the most important part of the day to us. We really wanted to honour the ceremony properly, rather than rushing through it to get to the reception."
"We wanted the readings to truly reflect our relationship. We think of our marriage as a mature partnership, with mutual love, respect and support at the centre. Being together makes us better people, not just for each other, but for our broader community."
"Our readings all worked together to express this idea. My Uncle Mark used this quote by Antoine de Sainte-Exupery, in his sermon, which really summarised the core of our readings; 'Love does not consist in gazing at each other, but in looking outward together in the same direction.'"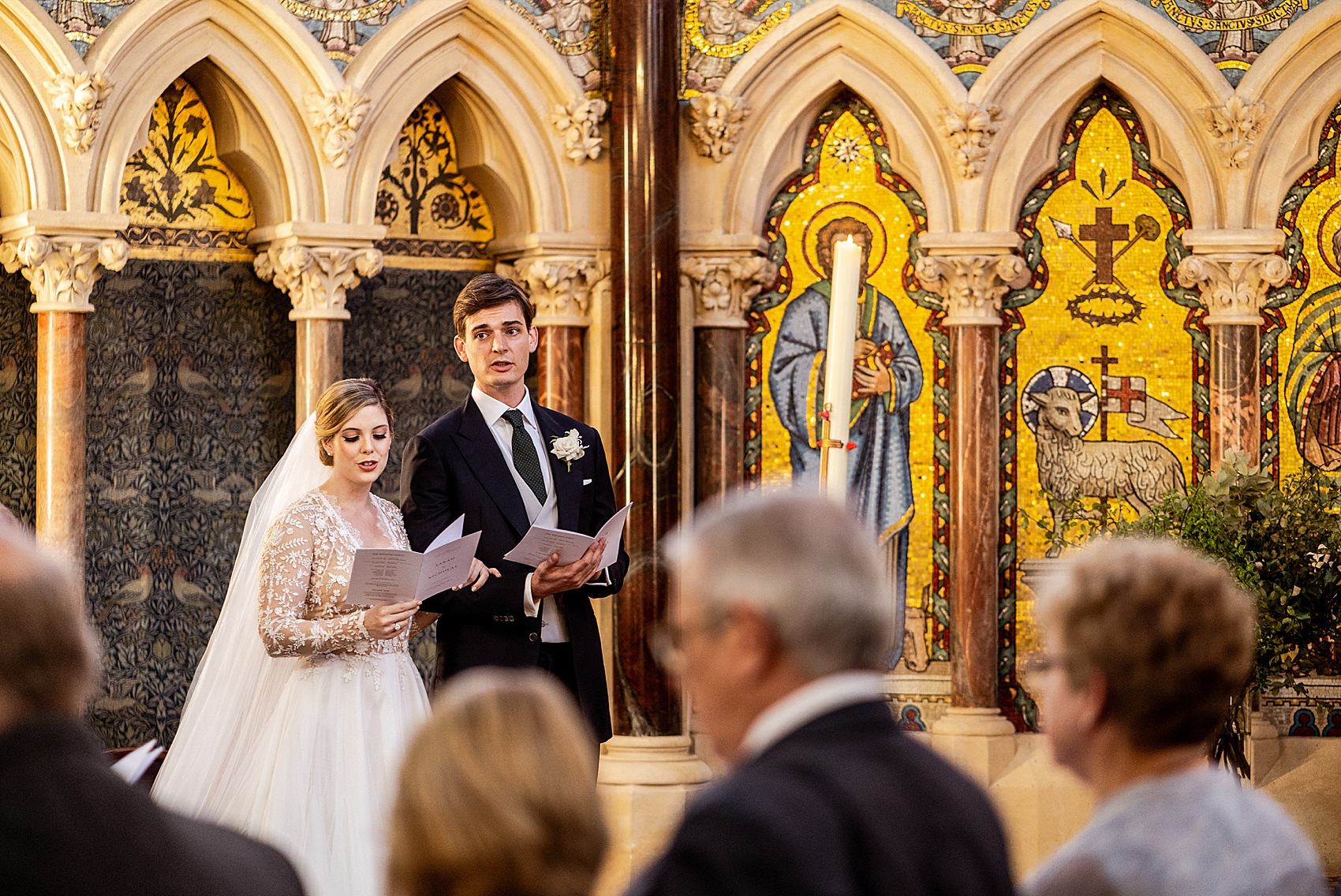 "Our readings included ROMANS 12:9-18, 'To Love is not to Possess', by James Kavanaugh and a quote by Rainer Maria Rilke."

"My engagement ring is a vintage family ring from the 1920s. Our wedding rings were custom designed in Sydney by Daniella Jewellers. My ring is a diamond infinity band, while Nick's is a classic gold band."

"Our photographer was Allister Freeman. We knew we wanted a documentary style approach to our photography. We've been to so many weddings where posed portraits take up hours of the couple and family's time. We really wanted to experience our reception and capture the natural moments of the day as they unfolded."
"Allister's photos stood out to us when we were searching for a photographer. Even knowing the quality of his work beforehand, we couldn't have expected the stunning photographs that Allister created for us. The emotion in each image is palpable and takes us right back to little moments throughout the day."
"Al is a joy to work with and put us at ease throughout the day. He was so unobtrusive, several people asked us if we had even had a photographer at the reception! I'm not sure how he managed to be in so many places at once, but we are so grateful to have benefited from his amazing talent."

"My bridesmaids wore ombre shades of pink crepe de chine by Jenny Yoo and Amsale."

"Our florist Emma Soulsby recommended by our wedding planner Andri. Her style is lush, romantic and modern—everything we wanted in our floral design. I had a very clear floral vision—I'd always pictured lots of greens and dramatic use of height, nothing too traditional. Emma delivered something absolutely perfect."
"The lush greens almost felt like trees and drew the eye up to the incredible ceiling of the Divinity School. My bouquet was full of soft pink roses, lilies and hydrangea. The contrast of the green against the sand coloured stone made such an impact—it literally took our breath away! The final product was both soft and modern, exactly what we wanted."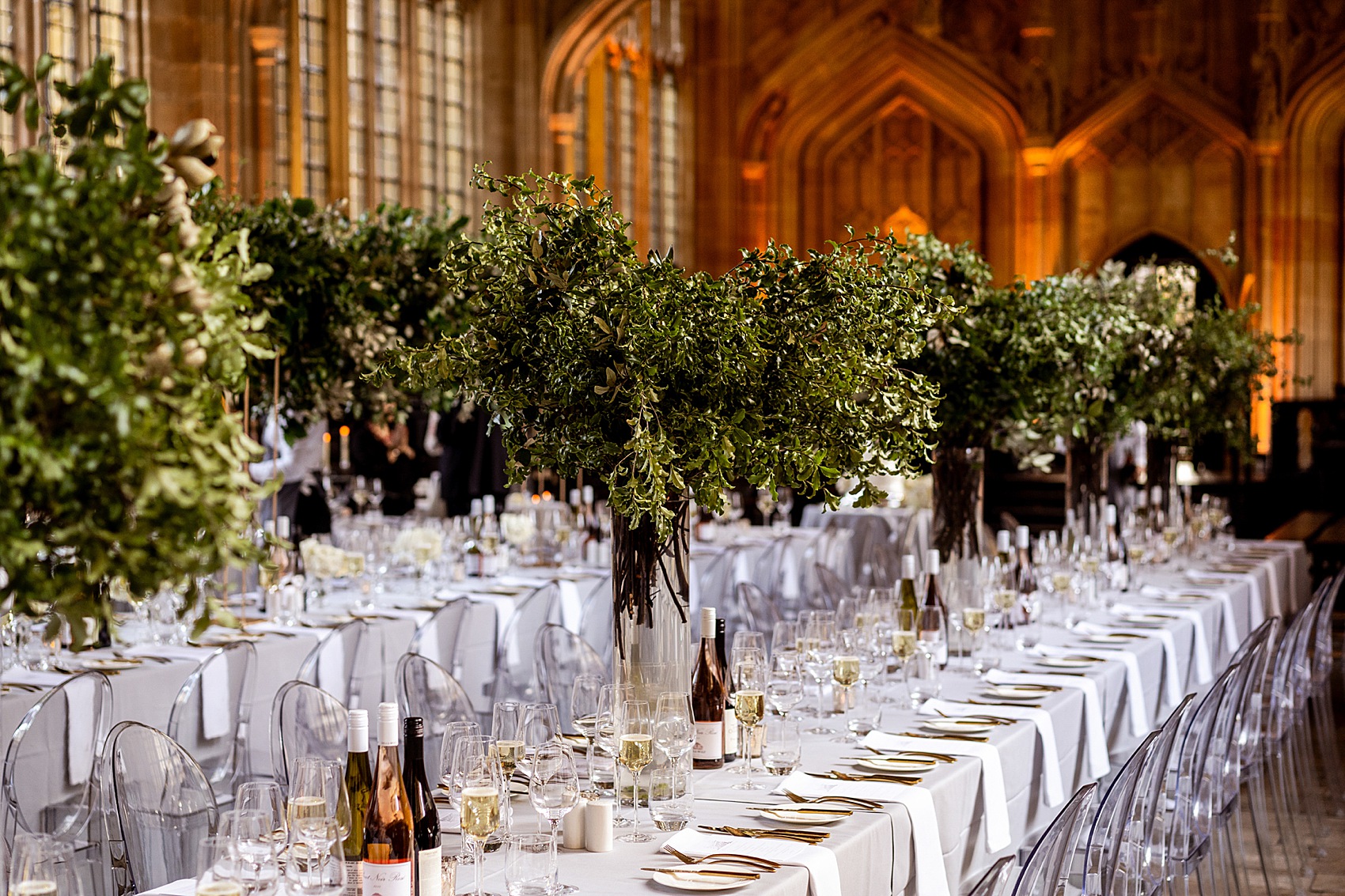 "Because we were working with such incredible venues, the design of the day was romantic and sleek, drawing attention to the incredible detail of Exeter and the Bodleian, while also bringing in a modern edge for a bit of contrast with the traditional stone spaces. Our palette included deep greens, whites and light pinks."
"The height and colour of the foliage centre pieces in particular drew the eye to the amazing ceiling in the Divinity School, and the ultra-sleek ghost chairs contrasted nicely with the more traditional feeling of the room. The overall effect was a day filled with raw emotion, intimacy, fun, and incredible beauty."

"In lieu of favours, we made a donation in the name of each guest to the Against Malaria Foundation. This charity is particularly important to Nick and we were delighted to give back to them through our wedding."

"My incredibly talented Aunt Lynn made the cake for us. The flavours were strawberries and champagne and lemon elderflower. Lynn baked the cakes from her home in Chorley and transported them down to Oxford where she assembled the cake at the venue. It was a lovely simple white design, with the same flowers used in my bouquet to accent the layers."
"We used the bride and groom cake topper that my grandparents used at their wedding in 1950. We also had a tiered cheese cake tower in the evening from The Oxford Cheese Company."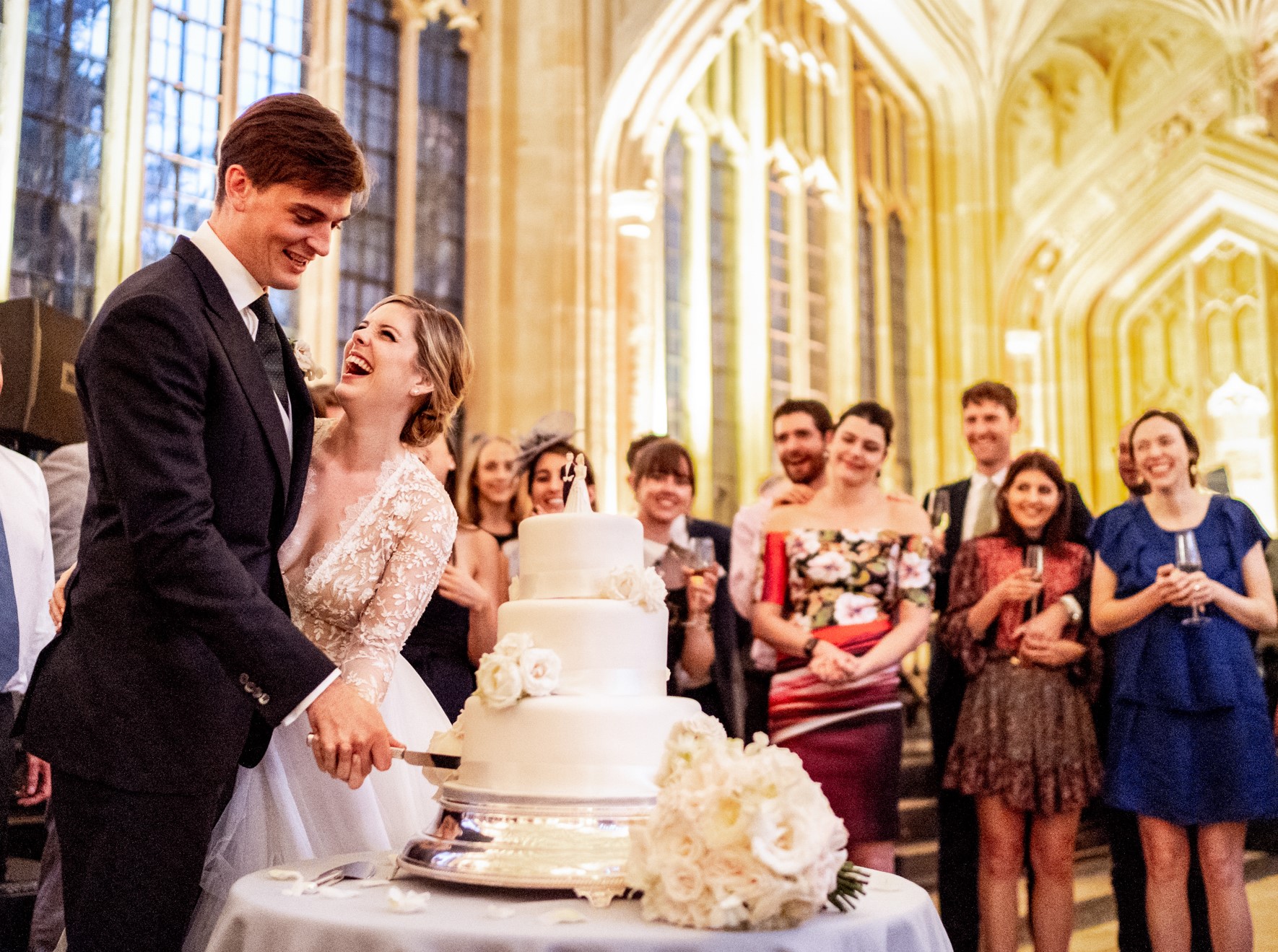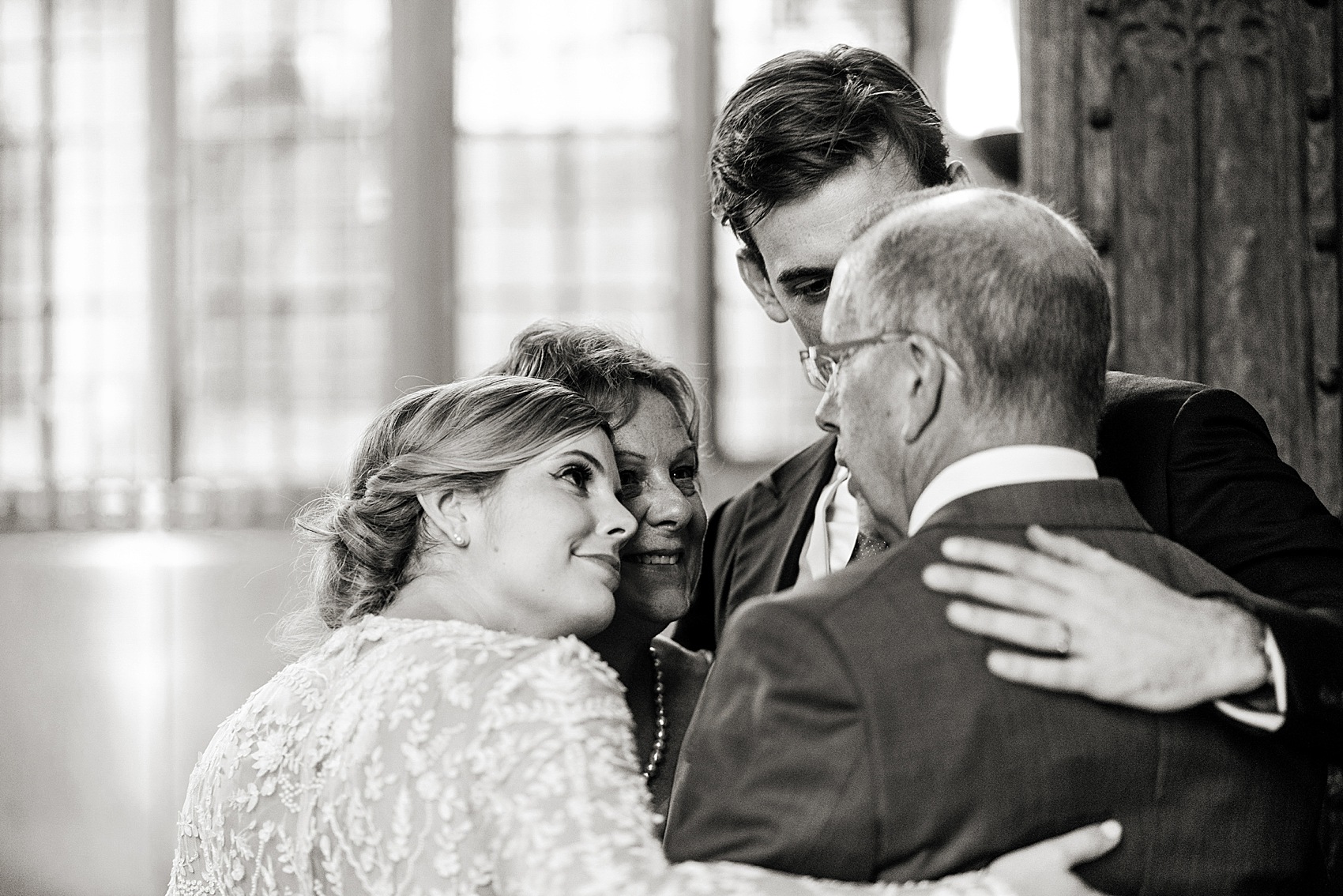 The couple took a first dance to one of my favourite tracks ever, 'Everywhere', by Fleetwood Mac.
"This has always been our song! Nick used to sing it to me when we were long distance between the US and the UK."
"At one point during the ceremony, the choir was singing the most amazing piece by Eric Whitaker, set to the text of E.E. Cummings "I Carry you Heart" and the sun was streaming in through the stained glass windows."
"Nick and I were both crying, overcome by the beauty of the music and the importance of the moment. I looked around the chapel and saw that almost every other person was also crying. It felt like we were all sharing the moment together, a collective feeling of joy and love."
It was amazing to think that many of these people, from all corners of the world, would never have met were it not for our wedding. It was lovely to see old friends and new friends coming together for us and making new friendships of their own."

"Music was especially important – we met through music, so it played a huge role in the day from the choir at the ceremony to the string quartet at the drinks reception and the eight piece band at the party."
"We also surprised our guests with a special rendition of 'Can't Take my Eyes off of You', by Frankie Vallie. It was such a fun element of the party and brought everyone on the dance floor."

Budget
"We exceeded our budget, but we did this in a structured way, deciding together at certain points what really mattered to us and what elements we thought merited additional funds. At the beginning of the wedding, we agreed to prioritise three elements (music, venue, food/drink)."
"This made it easy when it came to budgeting because we had already agreed where to put our money. For example, we decided to add a horn section to the band, because live music was so important to us. It was absolutely the right decision and added an incredible element to the night's festivities."

Words of Wedded Wisdom
"Your marriage is a partnership, and your wedding should be too! Though I put more time into wedding planning, we really worked together as a team to come up with a shared vision for the day."
"This was especially true for the non-visual parts of the day i.e. the ceremony and music. The result was a wedding that reflected us as a couple, rather than the tastes of just one of us. Working together on the wedding was an amazing start to our marriage, and really brought us closer."
"I want to say a special thank you to our wedding planner, Andri Benson. Andri is a breath of fresh air. She is calm, creative and enthusiastic, and we felt like she was always advocating for us. She had an amazing ability to listen to what we wanted and also suggest design elements that we may not have thought of."
"I would highly recommend her to any couple looking for a collaborative approach to wedding planning. We absolutely could not have had the wedding we did without her, especially planning from Australia.
"We really wouldn't have done anything differently. It sounds so cliché, but the pure joy of the day overshadowed any little details that might not have perfectly matched our vision. When we think back on our wedding, we think about the love that surrounded us from all corners of the world, and how lucky we are to be together."

Truly truly beautiful. I am rather a sucker for a wedding in a historic setting like this, simply breathtaking.
Our love and thanks to Andri  of Always Andri for sharing these images.
Love Annabel xx