Darling readers, we'll start by sending you lots of love and virtual hugs. However it might feel at time, you're not alone and whatever you're going through, we're walking the path with you, with all the bumps and deviations that that entails.
If you are in the middle of planning a wedding and facing postponement or any other kind of disruption to your plans, please join our closed Facebook group for brides. We already have a wonderfully established community of women all looking out for one another and exchanging empathy, compassion and advice, but we also have plans to provide extra support to our group members soon – through dedicated Zoom sessions where we can help guide and support you through these unchartered waters – we'd love you to join us.
Right now, we're welcoming one of our readers, the lovely Laura Lawton to Love My Dress to share her experiences of having to postpone her wedding and what she did on her 'would have been' wedding day. If you're postponing, considering postponing or wondering how to spend what would have been your wedding day, this is a great read. Go and grab a cuppa…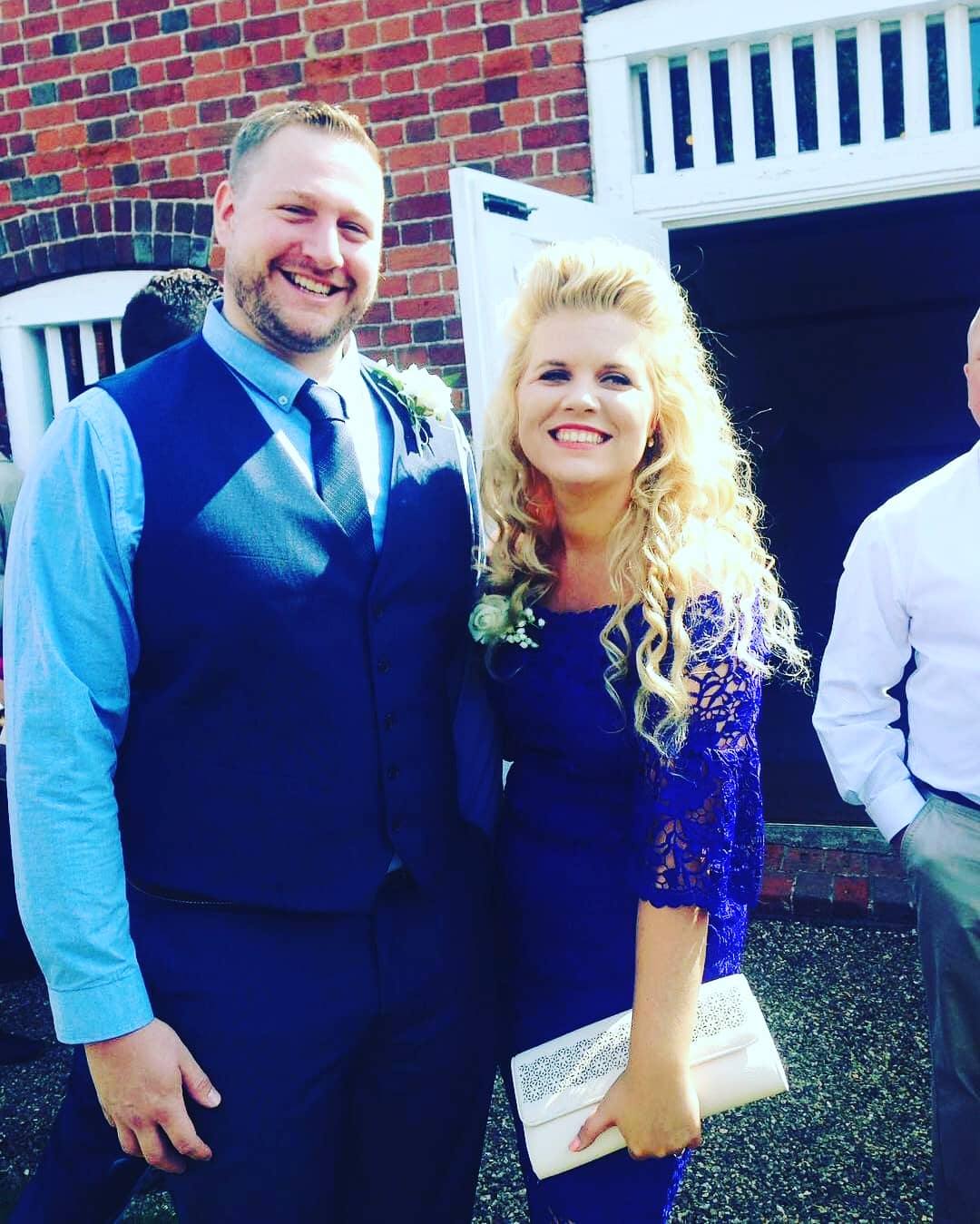 The Plans
Our wedding was planned for 11th April 2020, Easter Saturday. Our favourite time of year is spring and we thought Easter weekend would be perfect as the long weekend would mean that most of our guests would be able to make a celebration of the whole weekend. It is also the day before my sisters' (they're twins) birthday which made it that bit extra special as I knew we would all be together on the morning of their birthday!
Dean and I got engaged in April 2018, so had been planning for pretty much 2 years. We came across our venue and loved the simplicity of it. Furtho Manor Farm is a beautiful venue and it's just a blank canvas so all of the arranging and sourcing suppliers was left to us. We had quite a big guest list of about 120 people for the day (we both have very big families!) with an extra 30-40 in the evening and having everyone with us was definitely one of our priorities.
We decided that we were going to have a picnic type meal for the wedding breakfast plus a burger bar and ice cream station in the evening and we were aiming for quite a chilled out vibe. We (mainly me!) had also been making our table decorations, stationery and collecting all sorts of decorations and other bits for years and we were going for a rustic-y feel with lots of logs, lace and hessian. Our spare bedroom is jam-packed with wedding boxes and decorations, which obviously we were hoping to be rid of by now, but they are there to stay a bit longer now- it would look too empty without anyway!
The Postponement
I am a natural worrier, so as soon as I heard about the coronavirus I panicked. I watched the news and looked at updates obsessively to the point where it was making me feel very anxious and I was really struggling with being able to think about or focus on anything else. It was unhealthy and I actually made the decision to delete the news apps of my phone and limit my use of social media, which did really help.
We went out for dinner on Saturday 7th March and I remember being very teary and in the restaurant, everything just felt very weird, I can't really describe it. I think I reached out to the venue about this time also, but as there was nothing official and we were still in the very early stages of understanding the virus and how it might impact and effect things, it was just a bit of a waiting game.
Obviously as time went on, coronavirus was all everyone was talking about. To begin with most people I spoke to about the wedding were of the opinion that it would be fine and that the wedding was very unlikely to be affected. Our friends and family were all trying to remain positive for us and obviously wanted to help us to hold onto hope that the day that we had been planning and saving for for two years, was going to go ahead.
My mum was probably one of the first people that mentioned to me about postponing the wedding. She told me what I needed to hear and reassured me that no matter when the wedding was going to happen, even if it wasn't April 11th, it would always be amazing.
We had been in regular contact with our venue and they had been amazing, very understanding and helpful. The decision to officially postpone the wedding was made on the 18th March, a few days before we were put in 'lockdown', mostly because everything was just so uncertain. As this was such an unprecedented thing and no one knew what to expect or had any idea about how long this would be going on for, the uncertainty and not knowing for us, was so difficult.
Also, we were very conscious about and aware of the safety of our guests. We had a number of guests over 70, as well as pregnant guests and guests with underlying health issues and as all of these people were being told to stay inside as much as possible, how could we expect them to attend an event where there would be a large number of people there?
We knew that there was a chance that most of them still would want to come as they would want to be there for us, but if someone got really unwell after attending the wedding and contracting the virus, we would have felt absolutely terrible and we just couldn't risk it.
As we were planning a DIY wedding at a blank canvas venue, I had a lot more suppliers to contact. The venue were the first people we spoke to and we decided on a new date, taking into account their availability for the rest of the year and what would work best for us. I emailed the registry office to check their availability and contacted all of our other suppliers once that had been confirmed. Luckily, everyone, except our photographer, were available on our rearranged date, which made life a lot easier for us and everyone switched the bookings over really smoothly.
All of our suppliers have been great and really, really understanding. They have offered support and advice and, as I mentioned before, have gone above and beyond to move things with as little stress as possible for us. So far, there has been no financial implication to us for the postponement, although we will have to pay to give our notices of marriage again as these will be out of date soon.
Once we had made the decision to postpone I did feel like a weight had been lifted off my shoulders. People commented at work that I seemed a lot happier and I didn't feel like my mind was constantly occupied worrying about the possibility of our wedding not happened. It felt good to have made a decision and for us to feel like we had a bit of control back!
Key Advice
I would say my main tip would be to be in regular contact with your venue and suppliers and reach out to them if worried. They are all really struggling in this situation too and it really helped me to know that I had the support and understanding of them and that I was able to email or call them with worries or concerns.
I would also advise talking about it! I felt like a broken record and that it was all I spoke about in the lead up to the postponement, but talking it out with family and friends really did help me feel better.
There was nothing that anyone could do and no one could fix it, but knowing that we had the support of others meant everything. It was also really helpful to talk to other brides in the same situation as me and I felt like I definitely built up a bit of a support network with other brides, which was invaluable.
Looking forward
We actually postponed our wedding to 31st October 2020 – a date we originally chose very specifically as it falls within October half term so that ideally, we'd have the week leading up to the new date to prepare the barn and get ourselves ready.
But if it turns out we can't have our big do in October, we may try and get officially married anyway (registry office style) and have a big party next year to celebrate.  We haven't looked into this properly yet, as it still feels a bit far off, but, if a few months down the line, it's still looking a bit unsure, then we will.
We had planned to start a family of our own after the wedding, and don't want to feel that we have to keep putting that on hold.
What would have been 'the day'
I was dreading the 11th April leading up to it but I kept seeing posts on social media about brides and how they have spent their original wedding day and it gave me a bit of a kick up the bum that we should be celebrating the day, not moping around!
We woke up and had a lovely cooked breakfast out in the sunshine in our garden and I put up a few wedding decorations and I made a sign that read 'Happy Dean and Laura Day!'. I put on a white dress and wore my veil that my bride tribe had brought me for my hen do and I actually did my hair and make-up and made a bit of an effort, something that I hadn't really done during the past few weeks as I had been living in joggers with no makeup on! Dean put a shirt on a tie on and we even got our gorgeous puppy wearing a little tie we had made for him.
When I came down the stairs after getting ready, Dean had his brother and his wife on Zoom, and they performed a fake wedding ceremony for us where we exchanged our vows and put our rings on. Throughout the day we did lots of different Zoom calls with different groups of family and friends. Everyone had a toast with us and there were even a few speeches along the way. It was so nice to see everyone's faces and A LOT of prosecco was consumed!
After our final Zoom call of the day, we took the dog for a walk and came back and put on our first dance song. We danced together, ordered some of our favourite food for our evening meal and we even received some deliveries from family and friends plus some lovely, thoughtful messages of love and support. We knew that even though we couldn't spend time with everyone physically, everyone was supporting us from afar.
It was a magical day and one that I will cherish forever. 11th April 2020 will always be a special day to us and nothing will ever change that, not even coronavirus.
There were definitely tears, but there was also happiness – lots of it.
_________________
Readers – are you thinking of still holding a legal ceremony as soon as possible and then pushing back your 'wedding' or 'big party' into 2021? We'd love to hear from you if so and we'll be exploring this more in coming features. Please email [email protected].