We are always proud of all of our Little Book Wedding Directory members but never moreso than now. In this most difficult of times, when weddings can't take place and those who work in weddings can't run their businesses, we are humbled to able to shine a spotlight on the work these business owners do.
This is the wedding of Husna and Francesco, which took place on 8th June last year at the historic Roman Baths in Bath. This wedding was beautifully photographed by our wonderful Little Book member Emily Black.
"Our photographer Emily Black was wonderful, not only does she have an eye for the best moments, but she also puts everyone at ease. Having a camera focused on you all day can be overwhelming but I'm so glad we had Emily, as we were completely natural and comfortable being our silly selves."
Emily Black Photography

+ Follow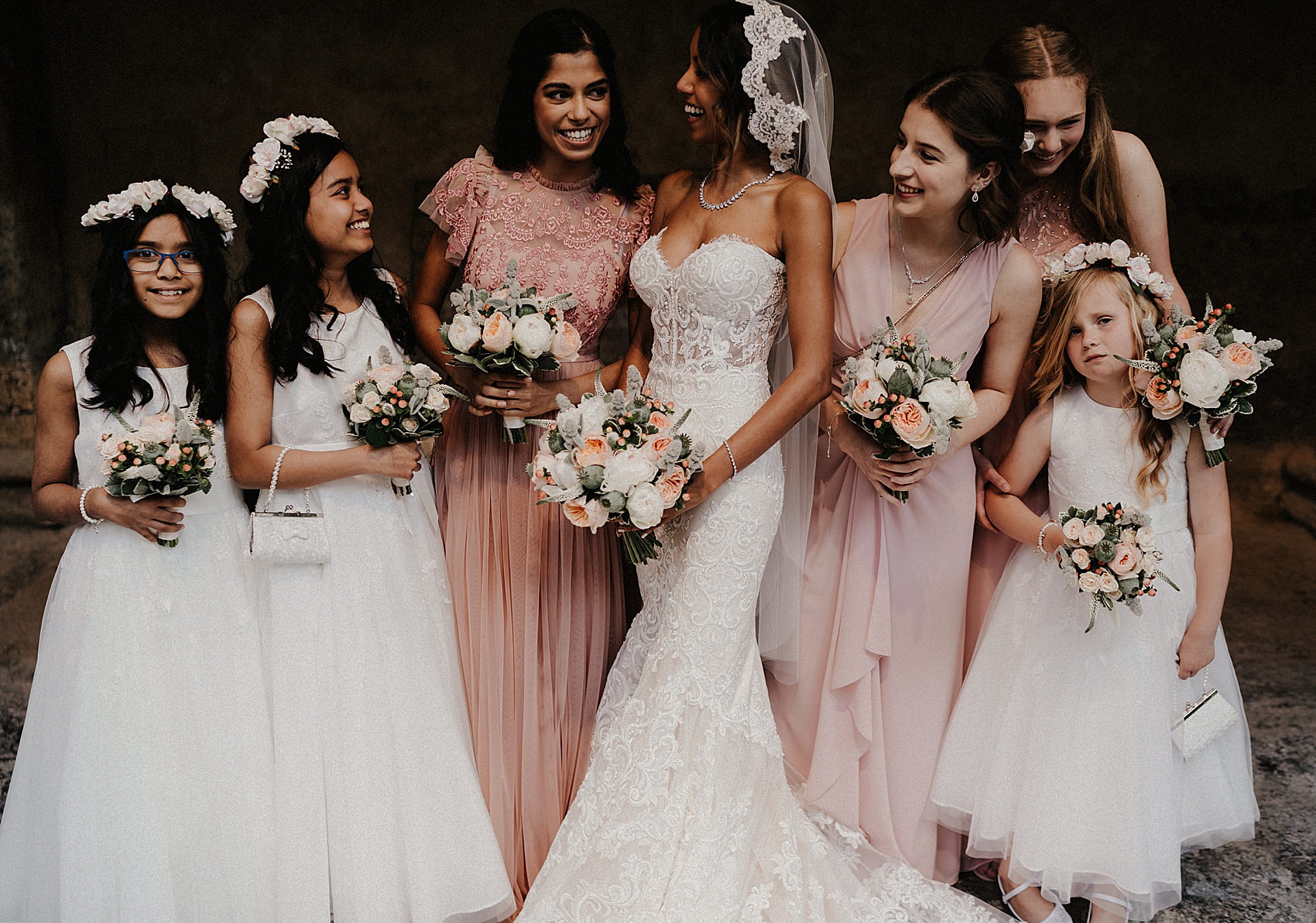 "Our wedding planner was the very lovely and extremely efficient Caroline Green. I thoroughly recommend her integrity, professionalism and ability to solve any problem with ease and sensitivity."
Husna looked utterly glowing on her wedding day – she hired professional makeup artist Evie Smith and had her hair styled by Sam Dare at Bath Bridal Hair.
I love the sense of excitement captured in this image, at the day that lies ahead as the bride captures a glimpse of this beautiful city through the window.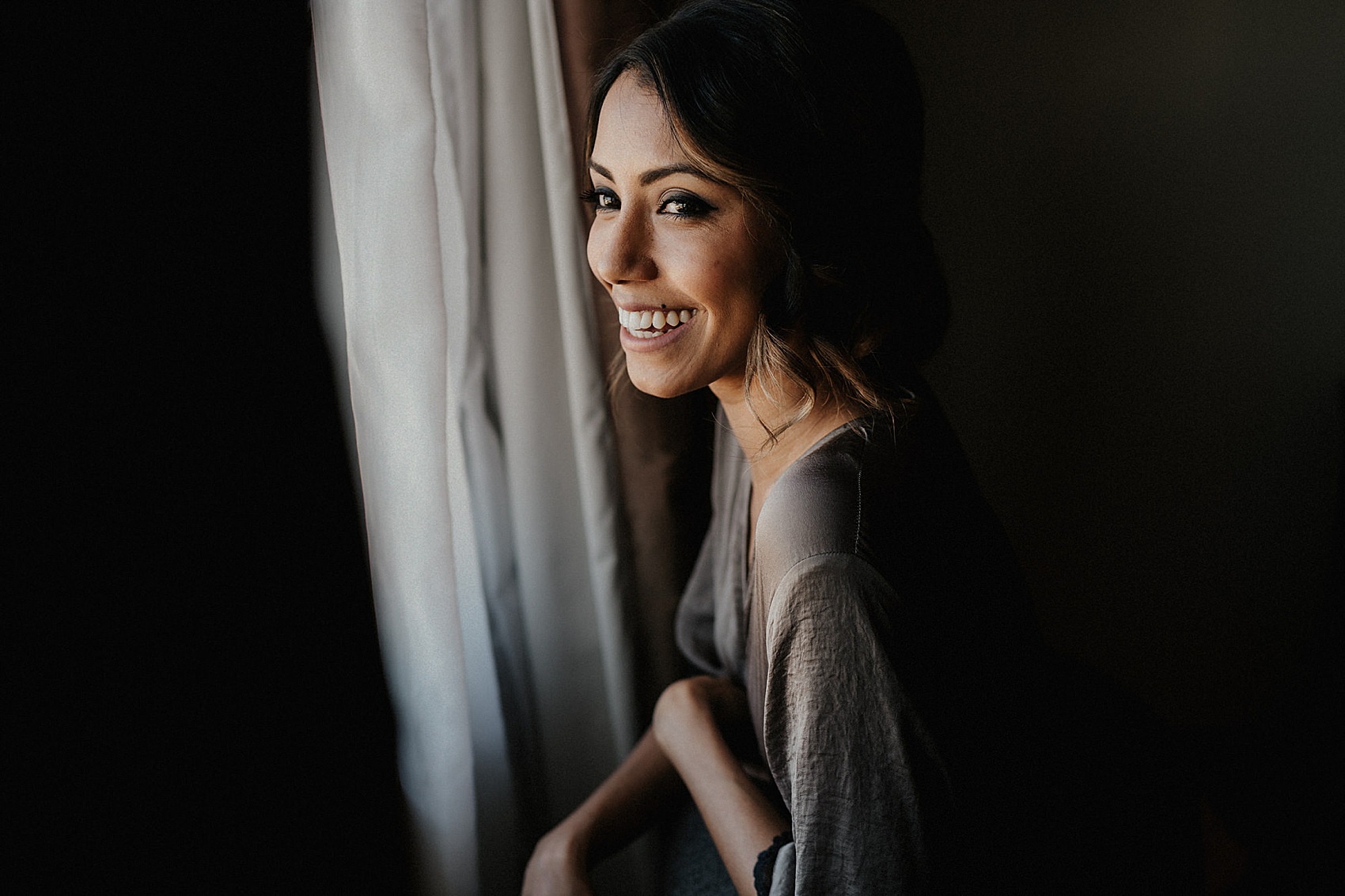 The most elegant pair of Jimmy Choo high heels finished
Husna's sensuous, fitted wedding dress was by Israeli designer Riki Dalal who has a flagship store on Bond Street.
"The team were excellent throughout, dealing with my endless questions very well. It was the first dress I spotted online that I loved, and upon first try it was an immediate yes."
"I absolutely loved the champagne colour, embroidery and Chantilly lace – but mostly, it was the train that did it! Wanting to avoid alterations, I chose the bespoke option, so it took a year for the dress to be handmade."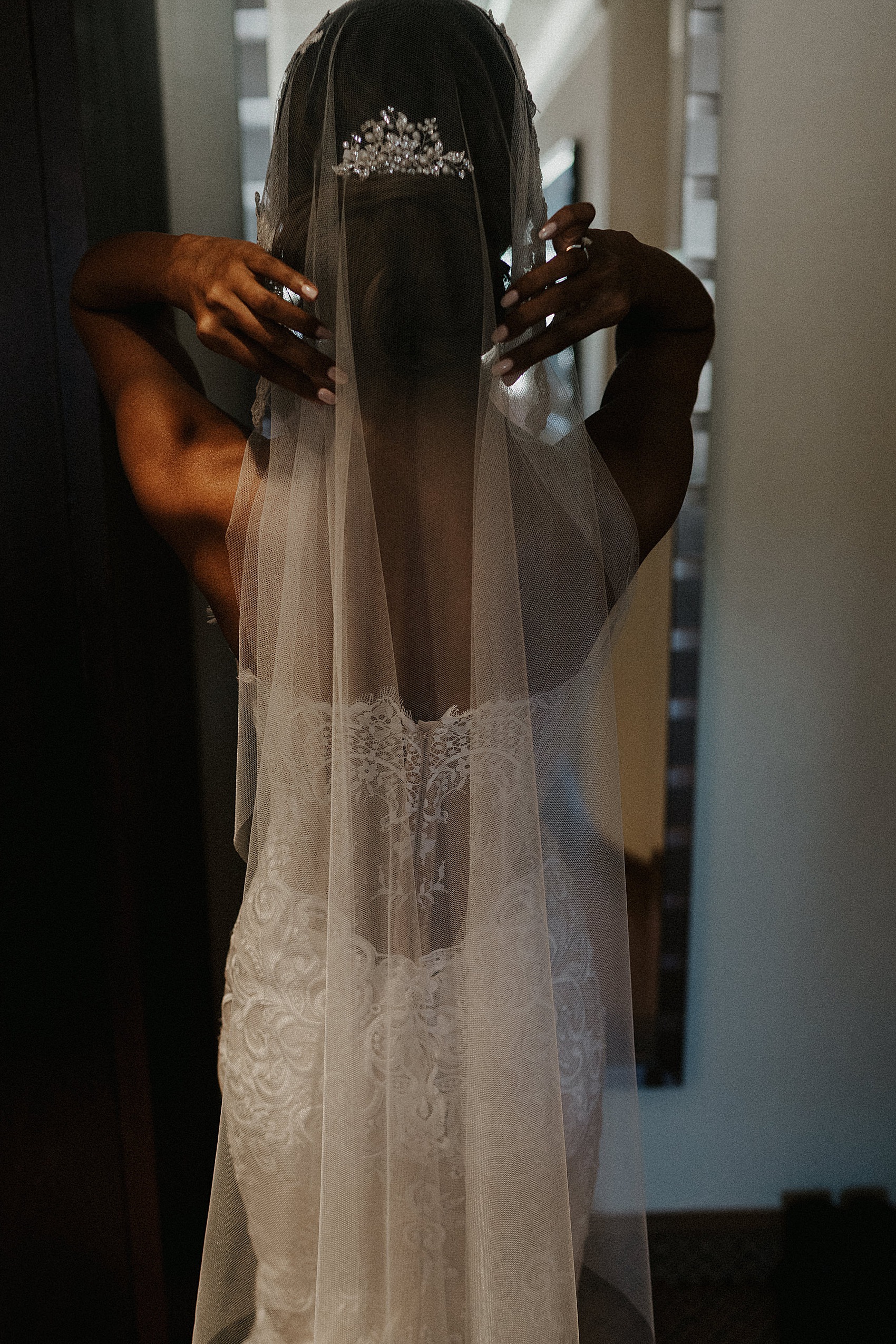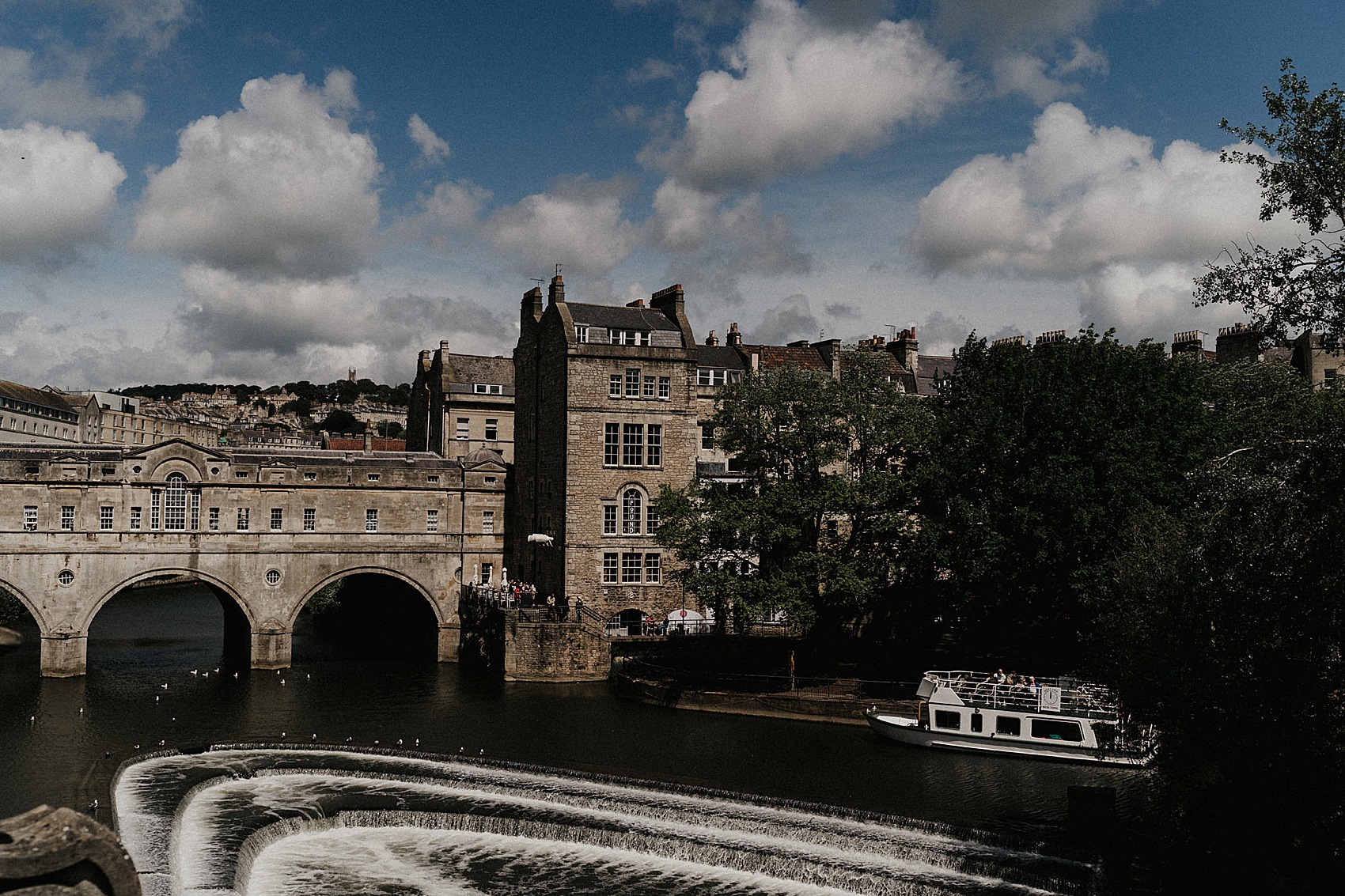 "Our florist, Andrew, of Jacaranda Wedding Flowers, was exceptional. Arranging a wedding in Bath from London meant most of our communication with suppliers was via email and phone."
"Andrew sent photos of arrangements, asked excellent questions other florists didn't, and I loved his attention to detail. In the end we chose bouquets of Juliet roses, peonies, Veronica, hypericum, poppy heads and lambs' ears; with hair flowers, corsages and boutonnieres featuring single roses."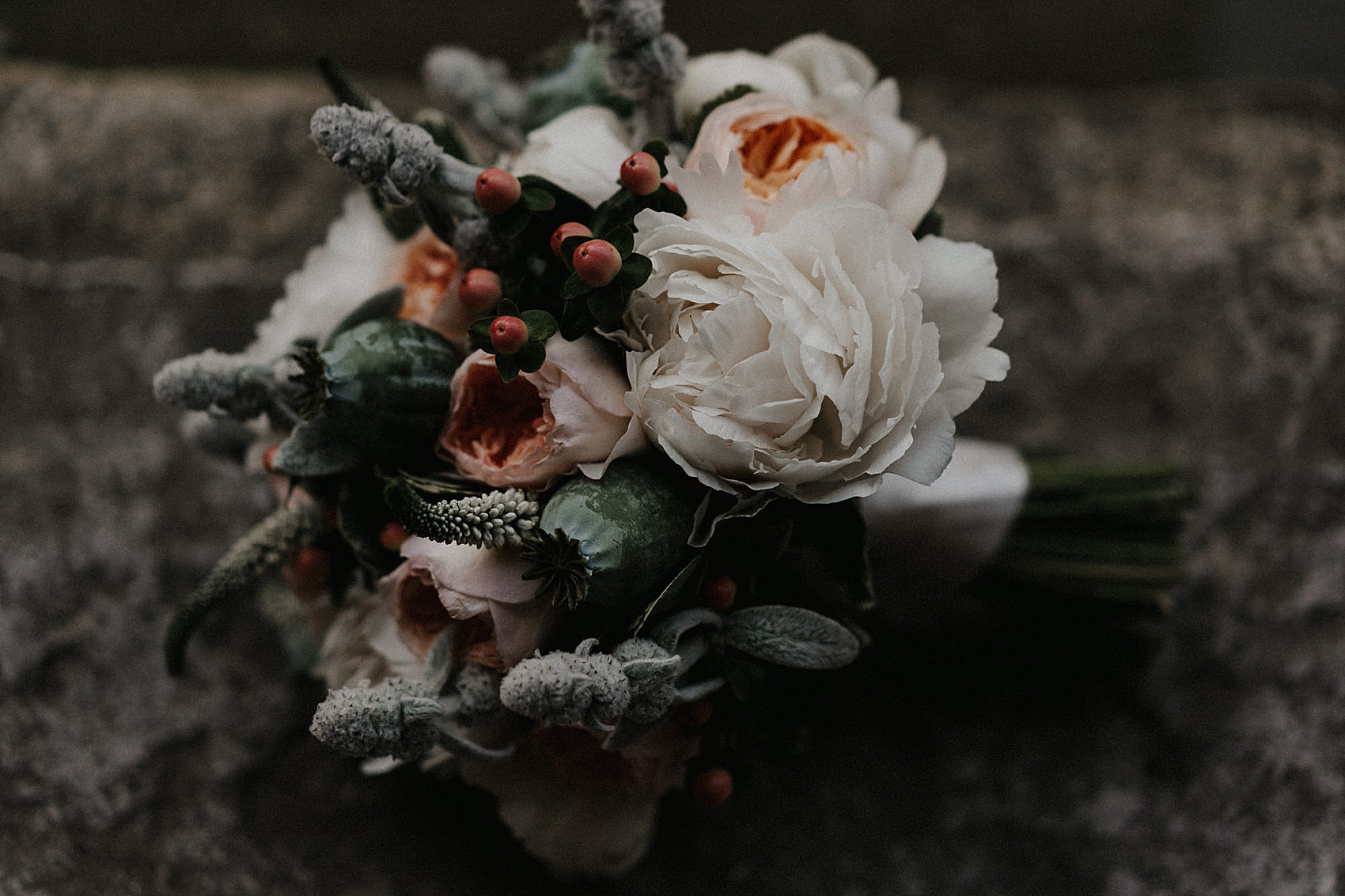 "Franc proposed with a Haribo ring he'd carried around in his pocket for a couple of weeks. I wore it until the ring he had designed was ready, and now the Haribo has been preserved for future generations. In June it had been just over 2 years since we met."
"Franc and I share a love of classics and spent most of our early dates in museums; our first trip abroad together was to see Euripides' play Medea performed at the ancient theatre of Epidauros in Greece. We wanted a venue in the UK that reflected our interests, and the Roman Baths delivered that and much more."
"We were guided by the style of the venue and did not plan any set theme, preferring to choose our favourite from the available options. This could have been disastrous but thankfully it all came together on the day!"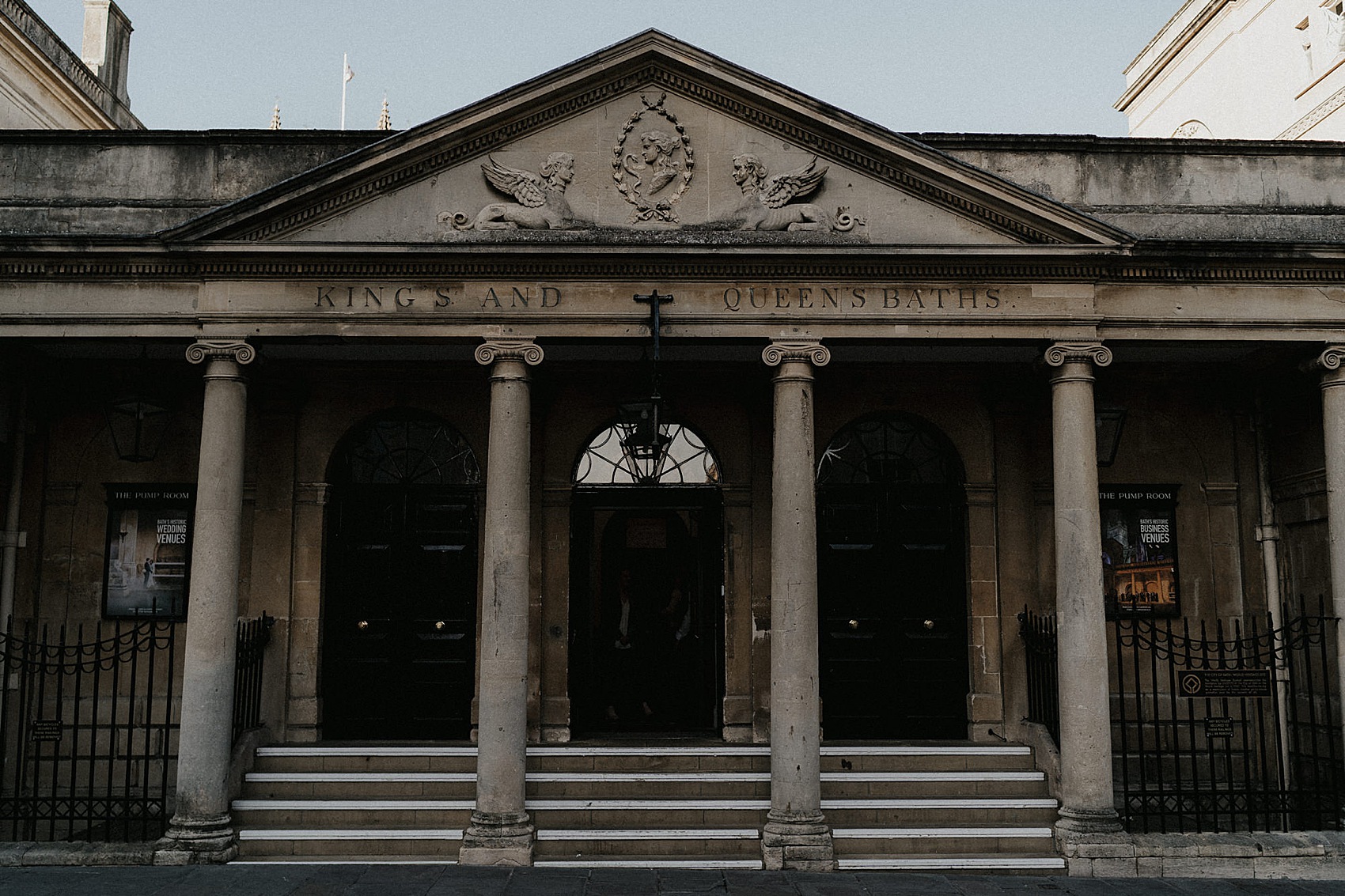 "We used a classic Bentley owned by our friends Matt and Liz, who very generously offered to drive me to the venue, and also decorated the car, stocked everything we could possible need for the journey, and carried out various 'reconnaissance missions' beforehand to ensure no hiccups on the day. It was perfect."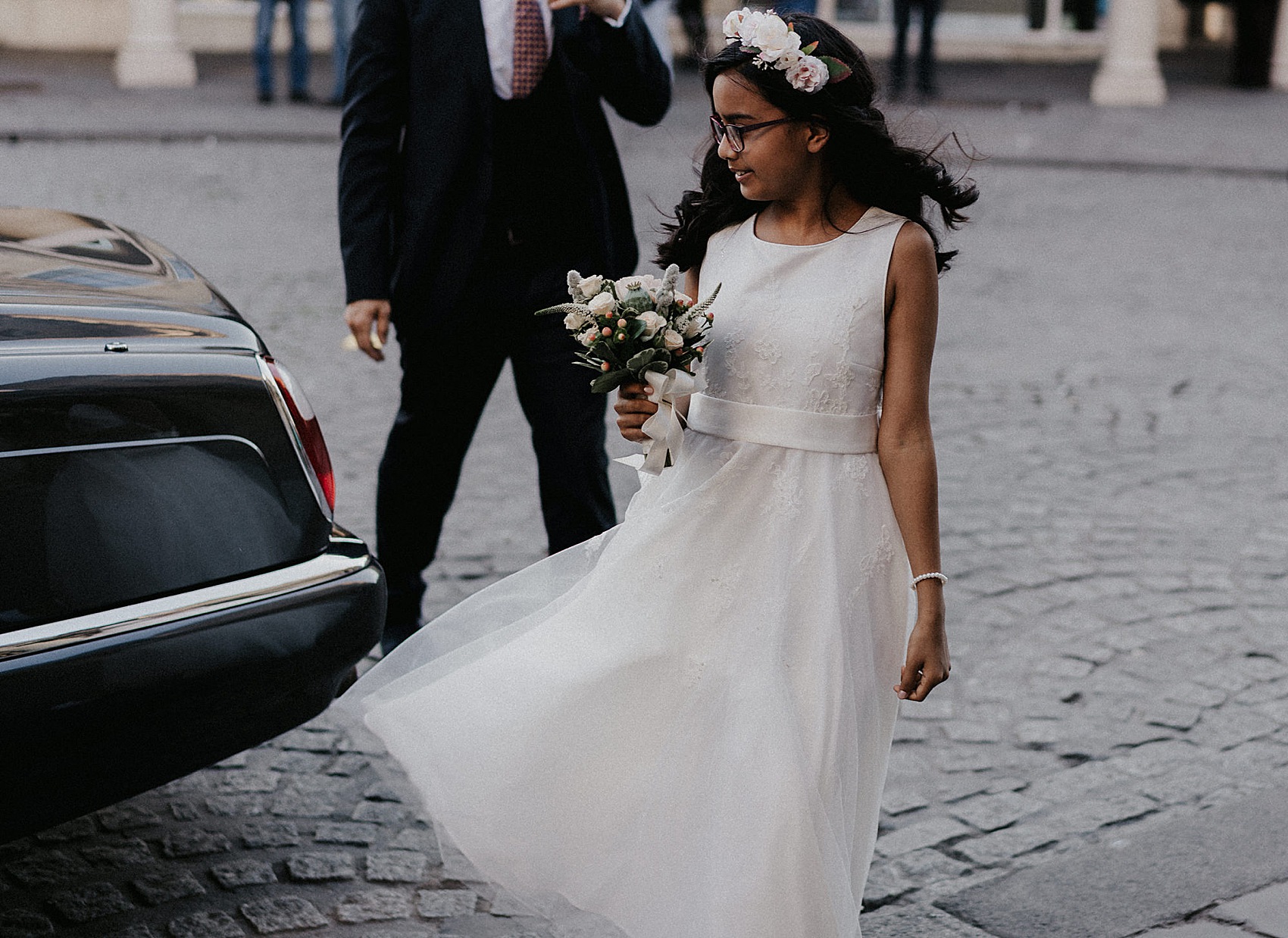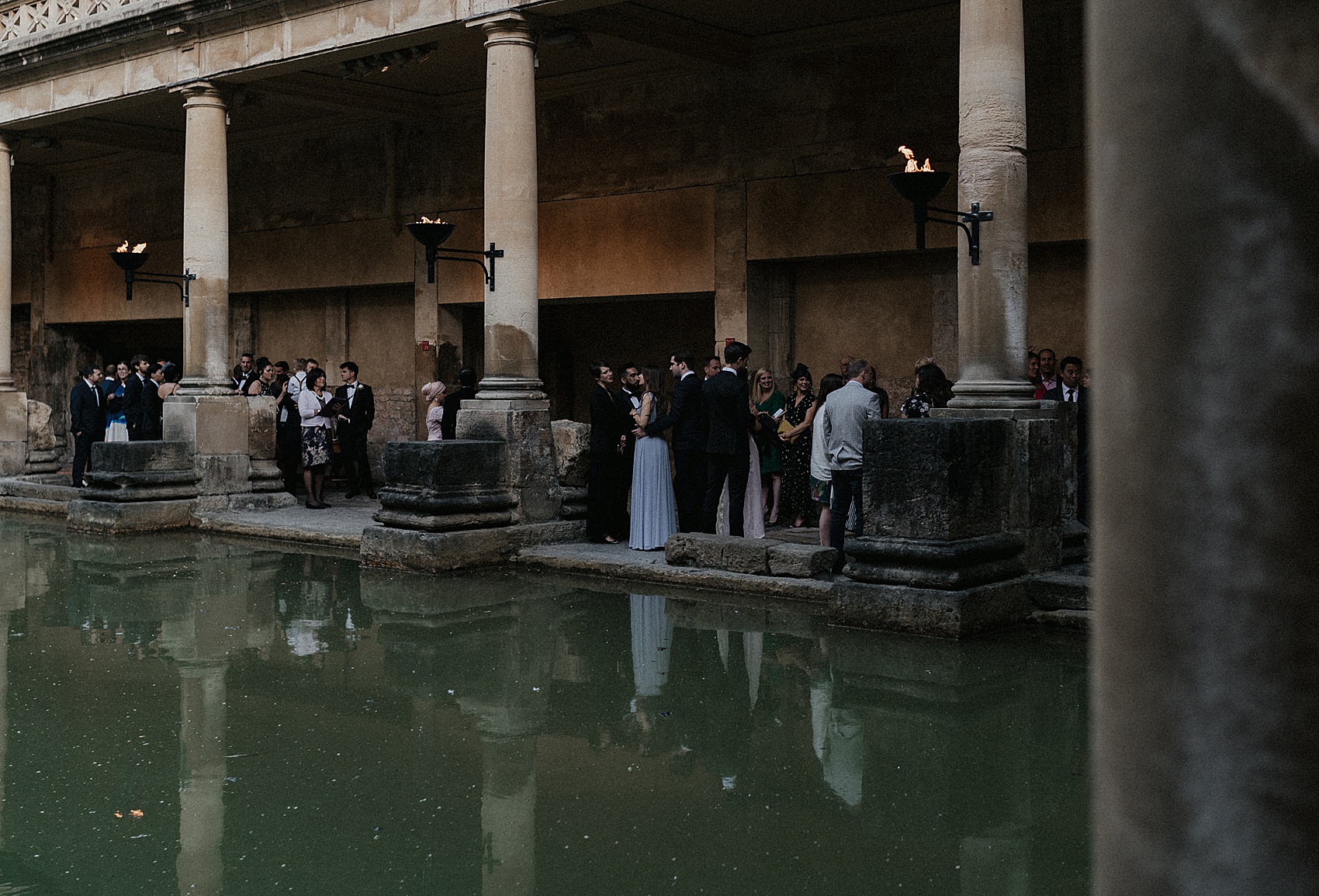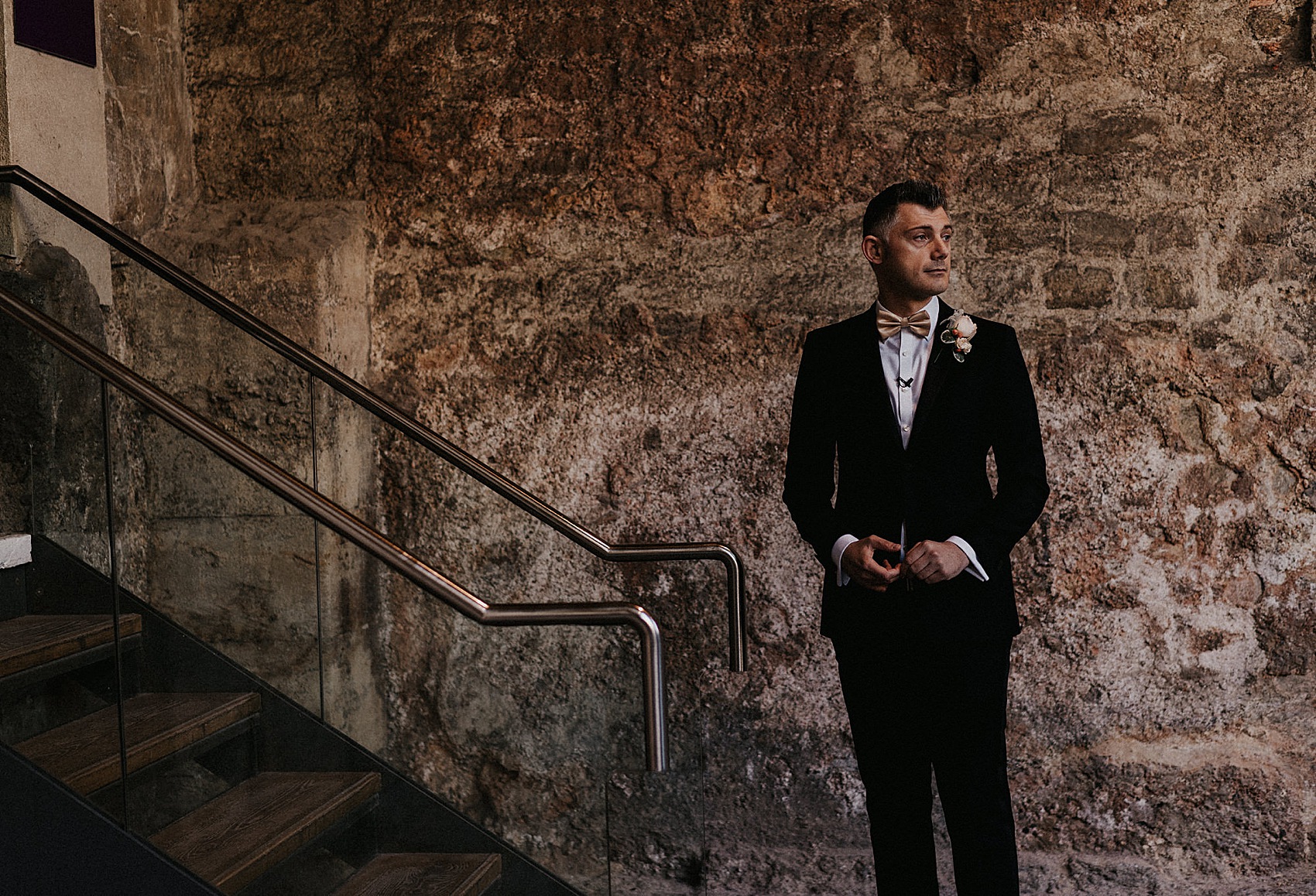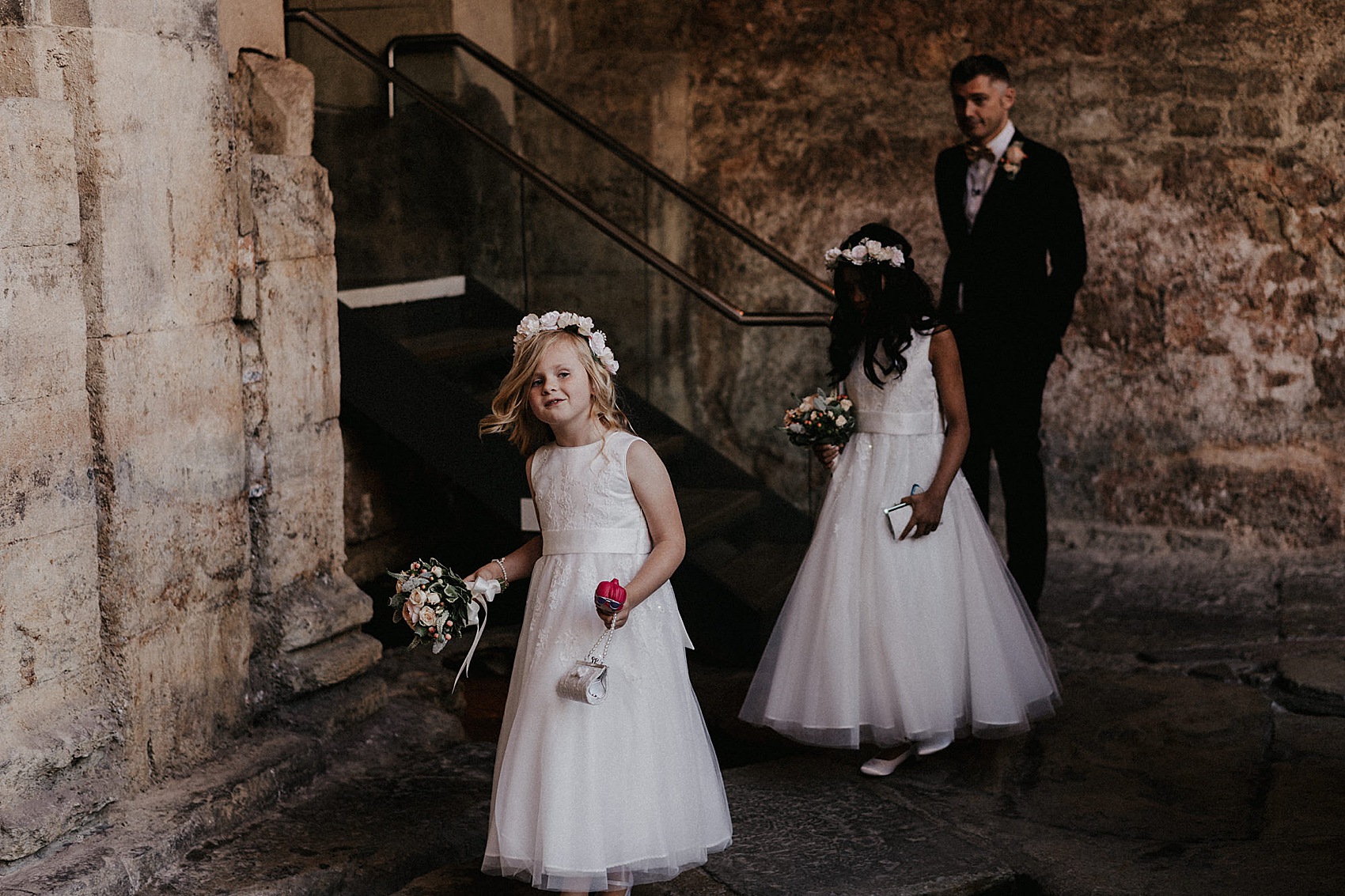 "I didn't want to be 'given away'. Franc arrived at the venue with his party an hour before I did, and we walked down the aisle together after the flower girls and bridesmaids."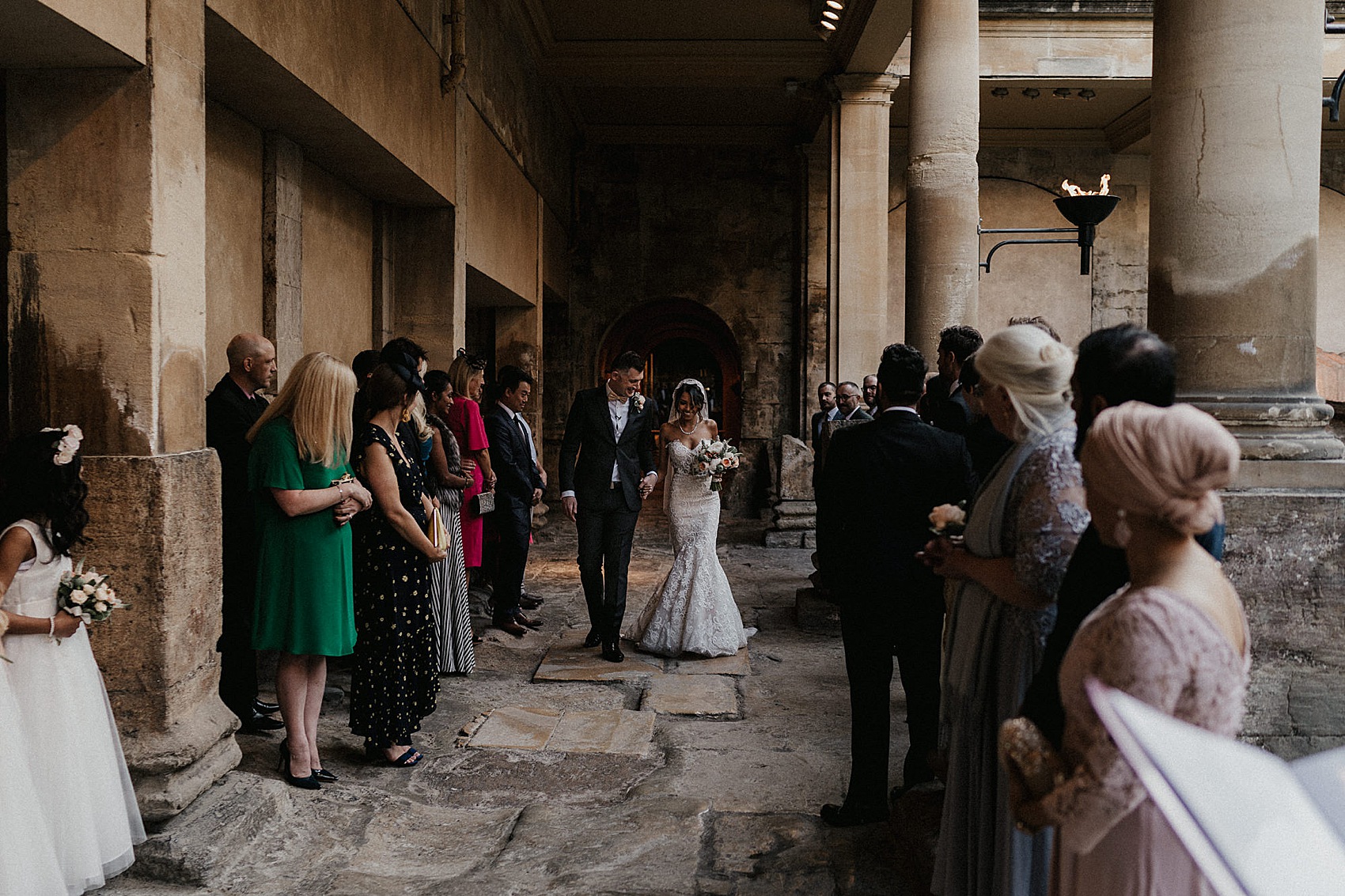 "We were accompanied into the ceremony by the sound of the remarkable soprano, Gemma Ashley, who sang Schubert's Ave Maria for the bridal procession and L'Amore Sei Tu during the signing of the register."
"For the champagne reception, Gemma sang a set list of jazz and classical crossover songs including: At Last, Ain't No Sunshine, Stella by Starlight, Feeling Good and Moondance. Gemma's role and contribution to our wedding was a truly unique and unforgettable experience."
The couple's ceremony was led by Celebrant Carol Smith.
"We tailored our own vows, an extract of which is below…"
"Above all, I promise to be kind and to do my best by you and for our life together.
I choose to give you my whole heart, with abiding courage and faith.
I promise to remember that neither one of us is perfect, and there will be both tough and beautiful days ahead, but I will be by your side through them all.
Let us build a life as partners in every way, today and all the days that follow."
"Our readings included 'Love', by Roy Croft – of the many possible readings we combed through, this one struck us both as perfect. It really captures how we feel about the impact we've had on each other since we first met."
"My favourite part of the day was the ceremony. It was very emotional, but we had some light-hearted bits too. As soon as we were pronounced husband and wife, Bath Abbey's ten bells rang out, which was a great moment. Overall, we couldn't have asked for a more perfect day."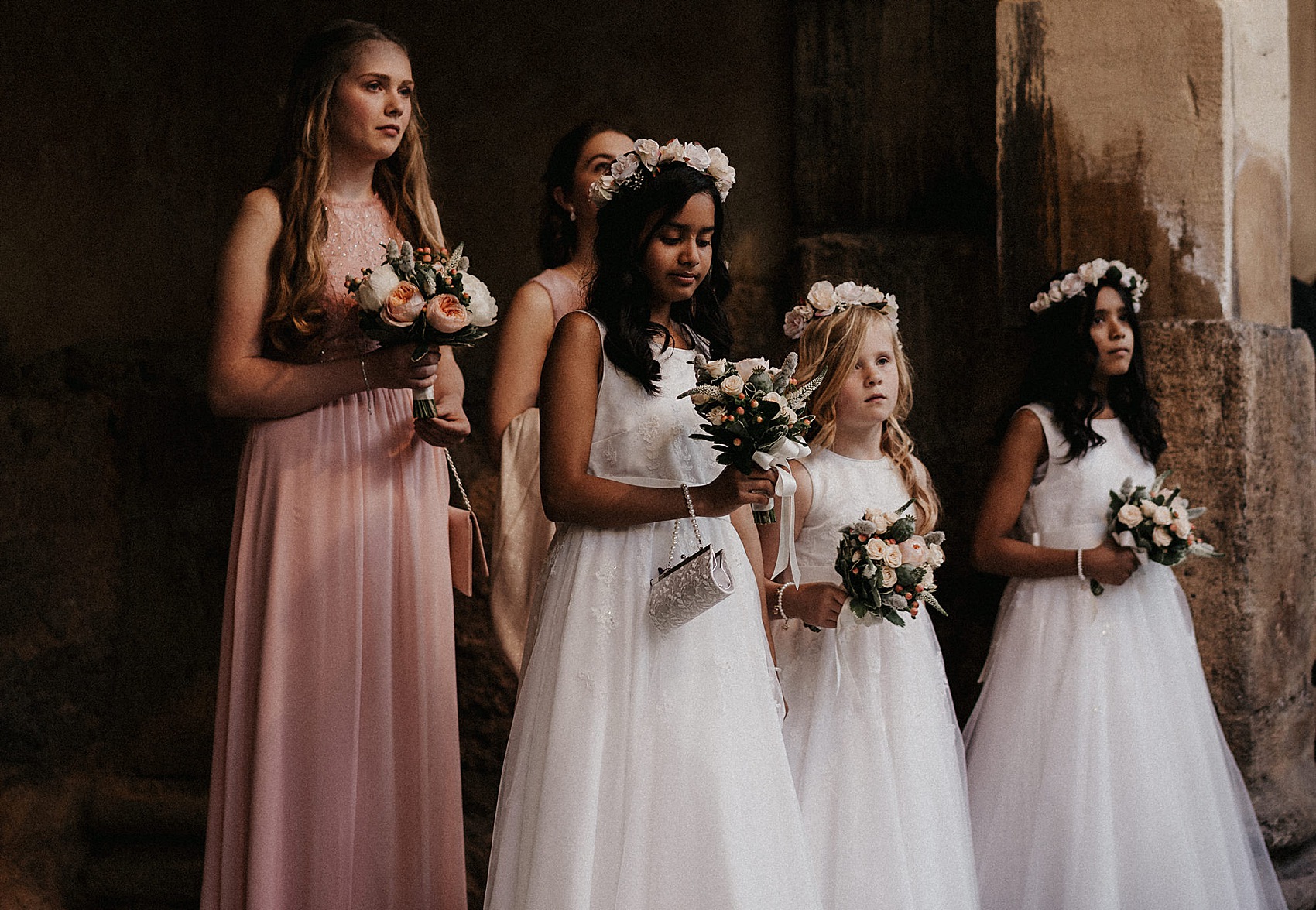 Husna's beautiful veil was by Britten Weddings.
"Riki Dalal's matching veil was a spectacular 5-metre-long cathedral style veil but when I tried it on, I was lost in all the tulle. I decided to go for a much shorter mantilla veil from Britten and planned to wear it only for the ceremony."
"However, I completely forgot this and danced until the end of the night with the veil still on (very firmly secured, thanks to Sam!)"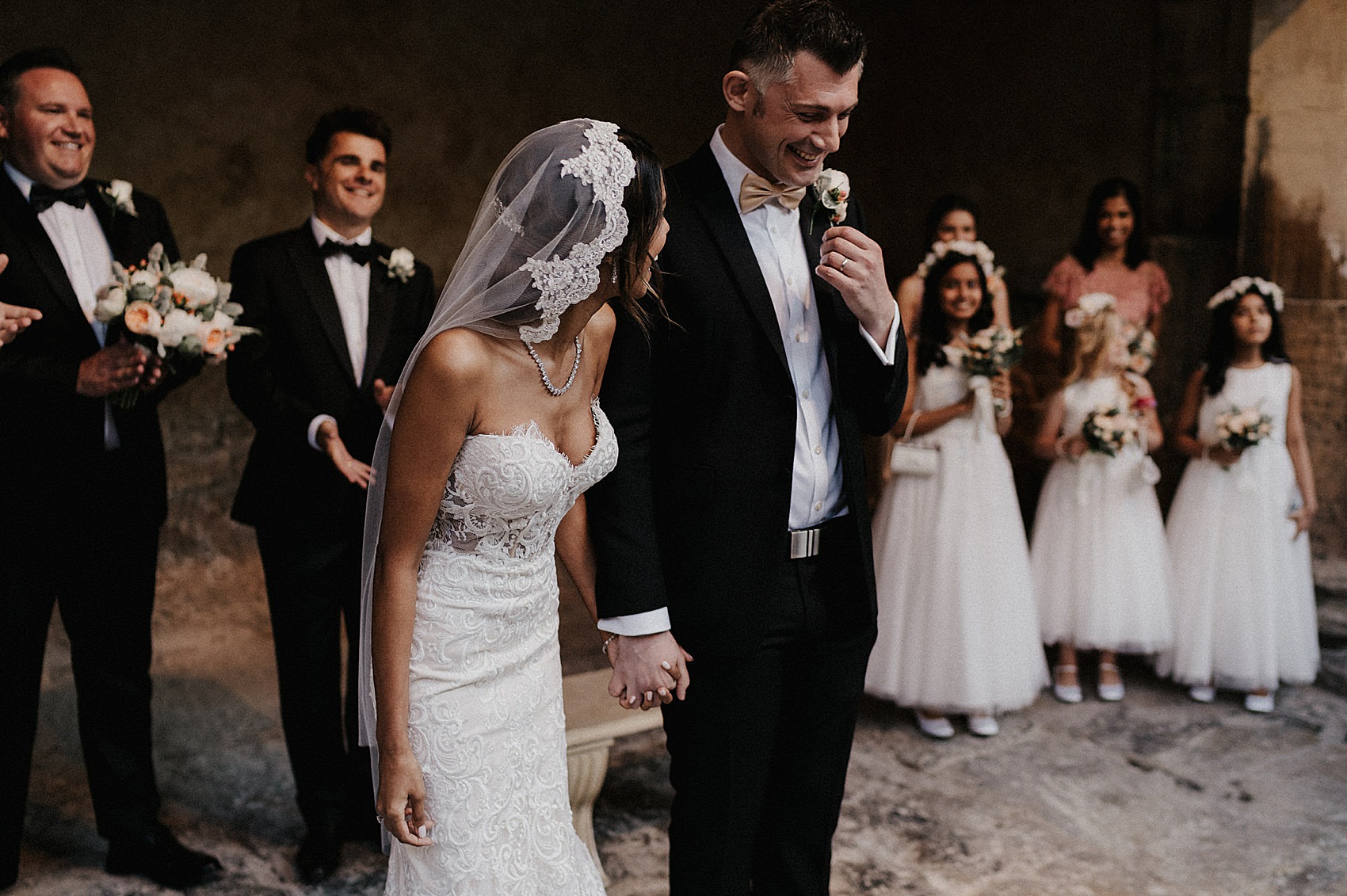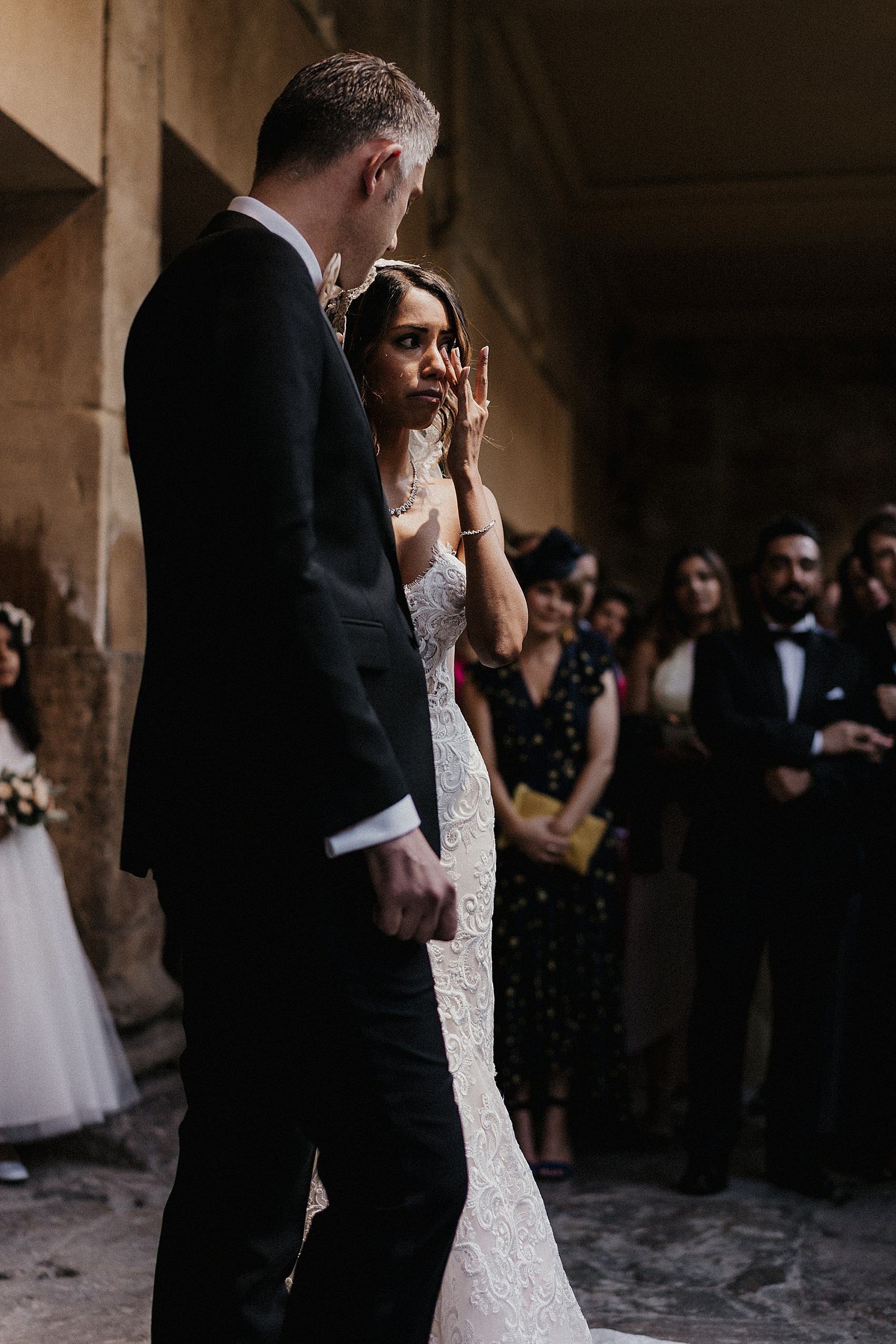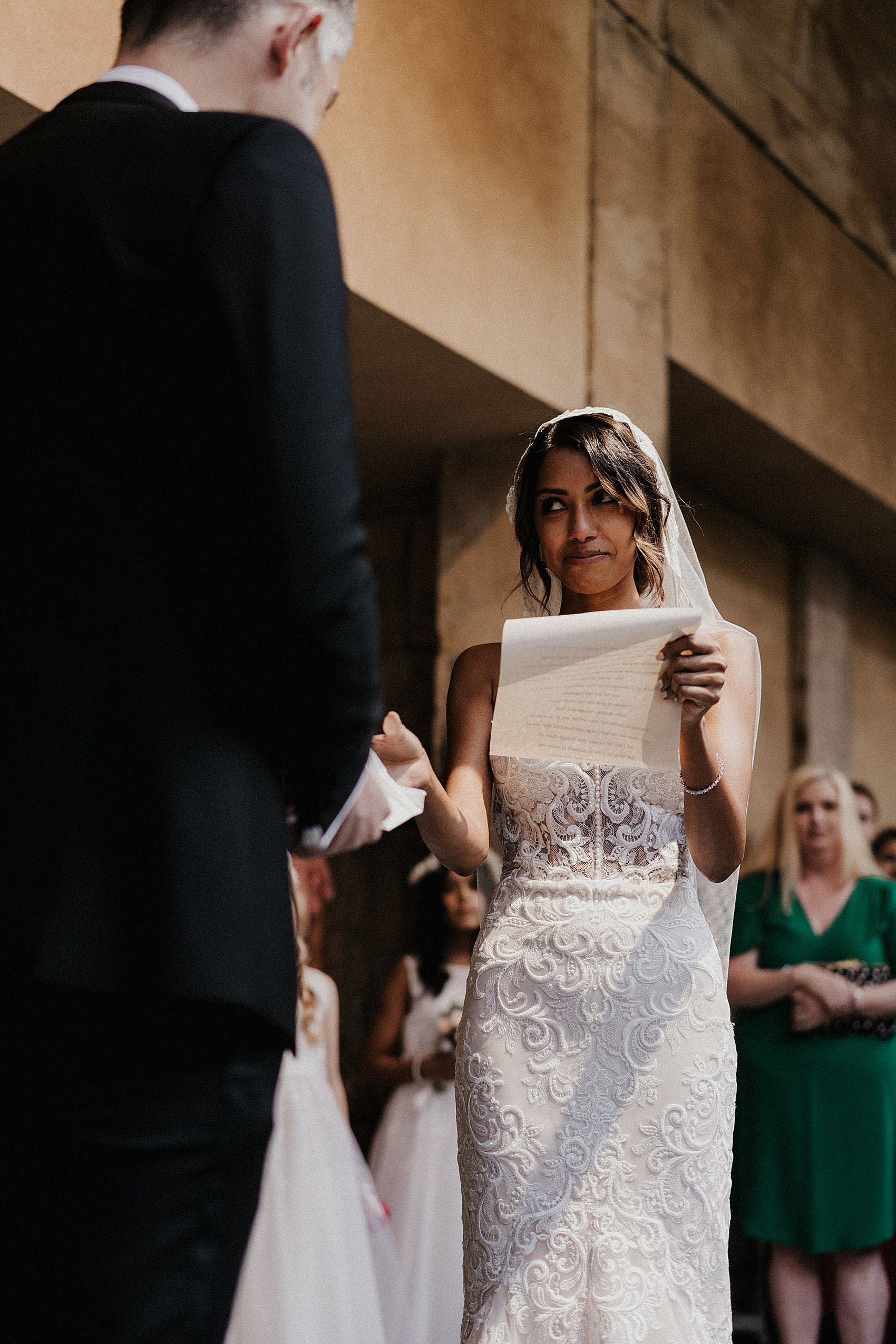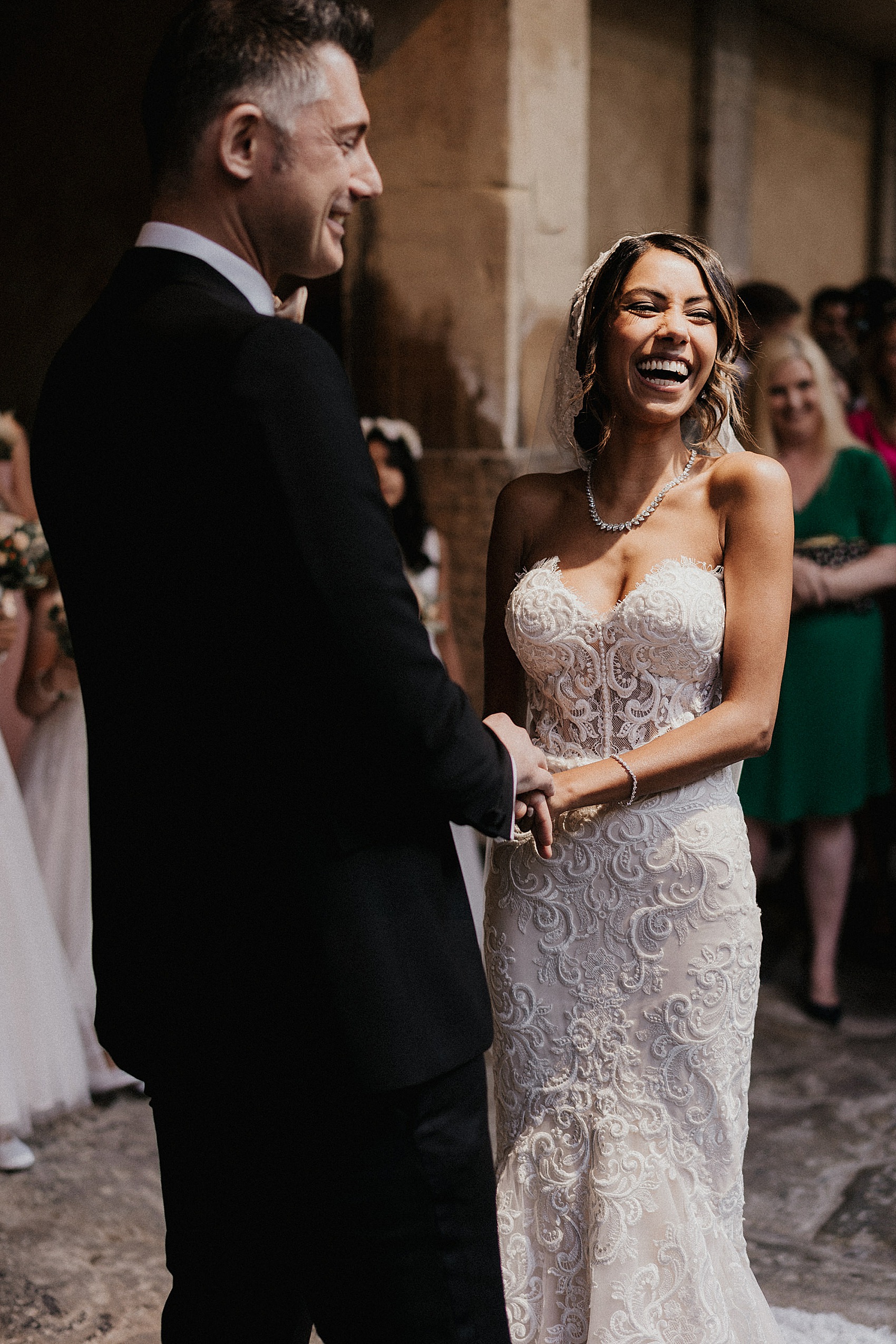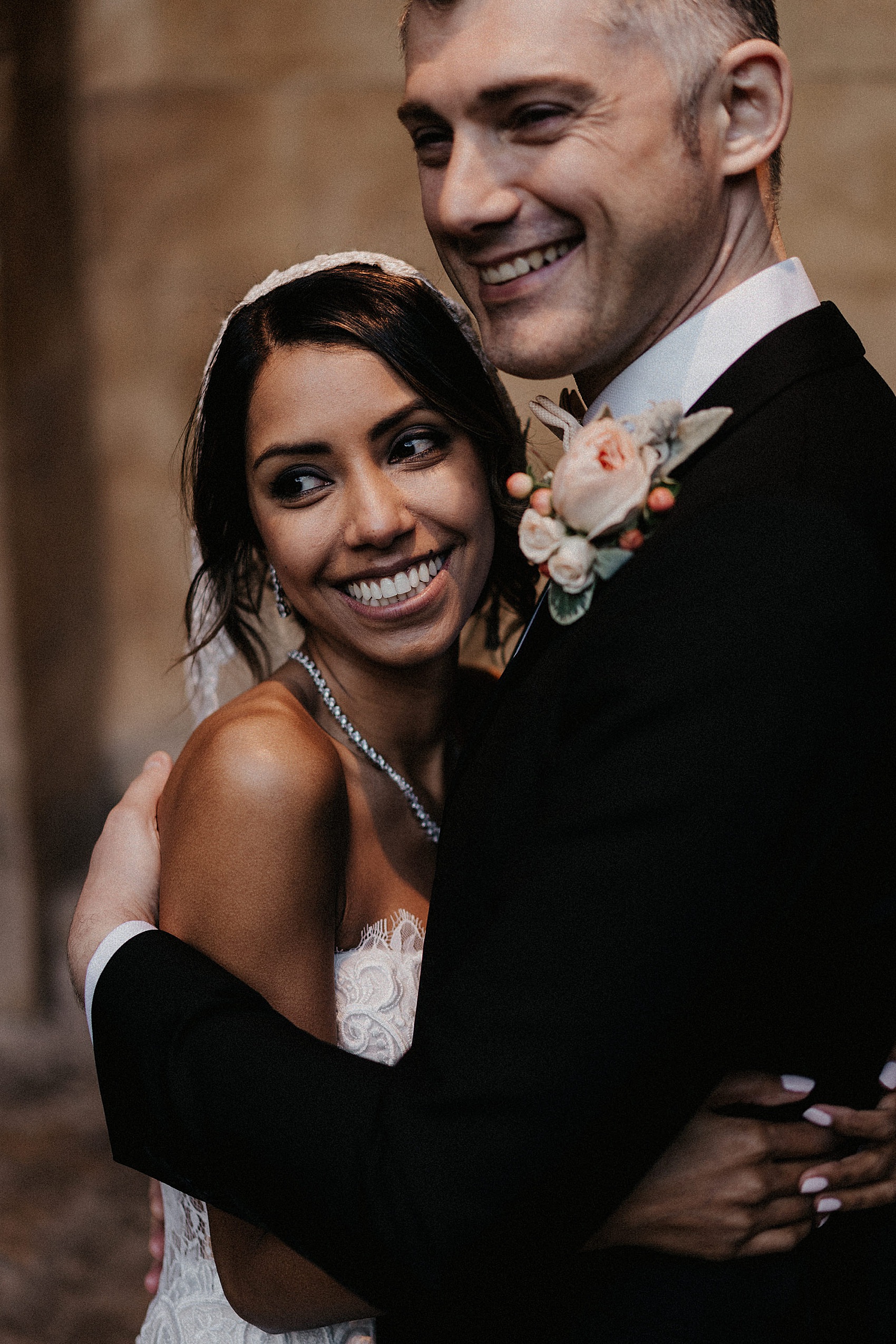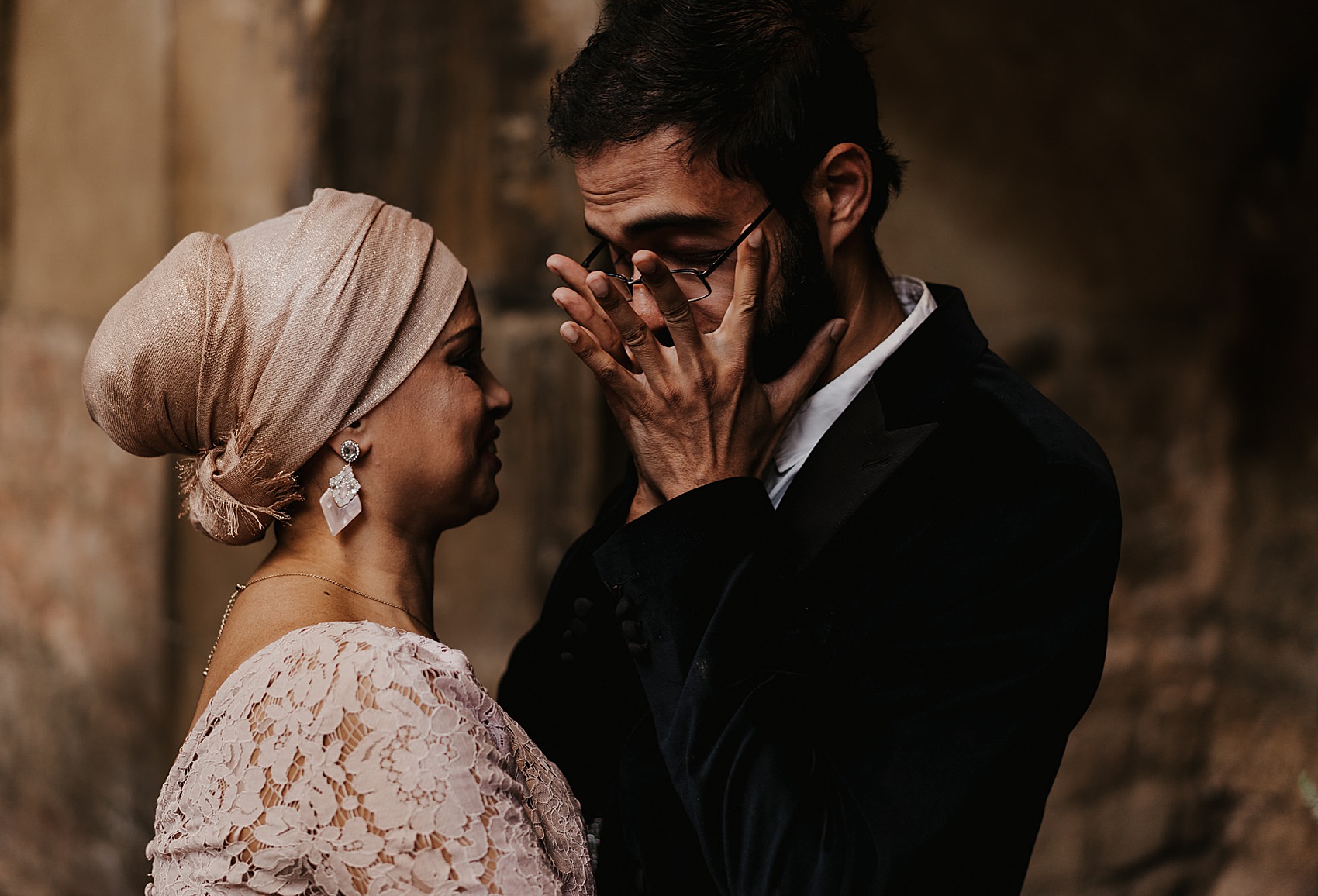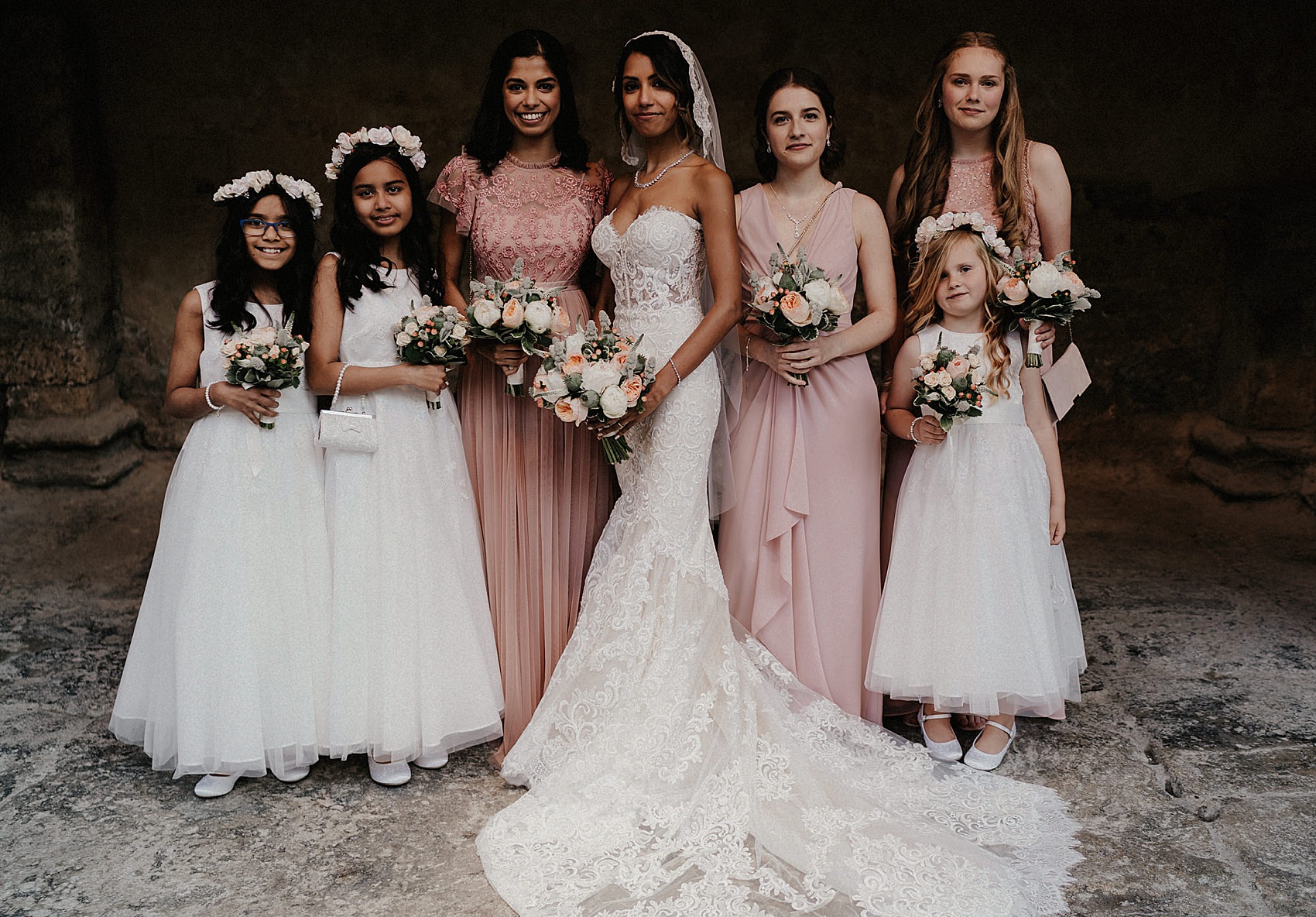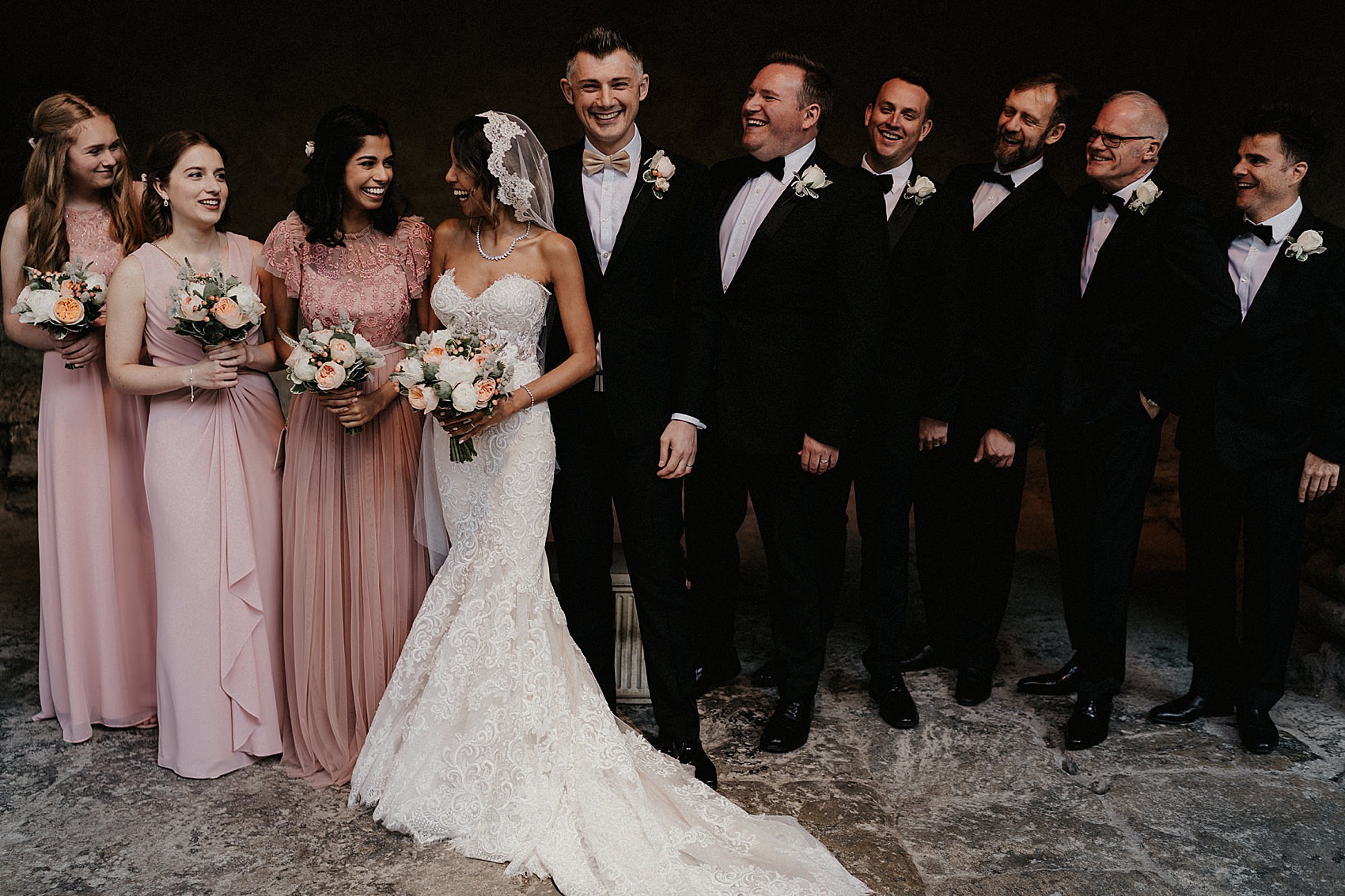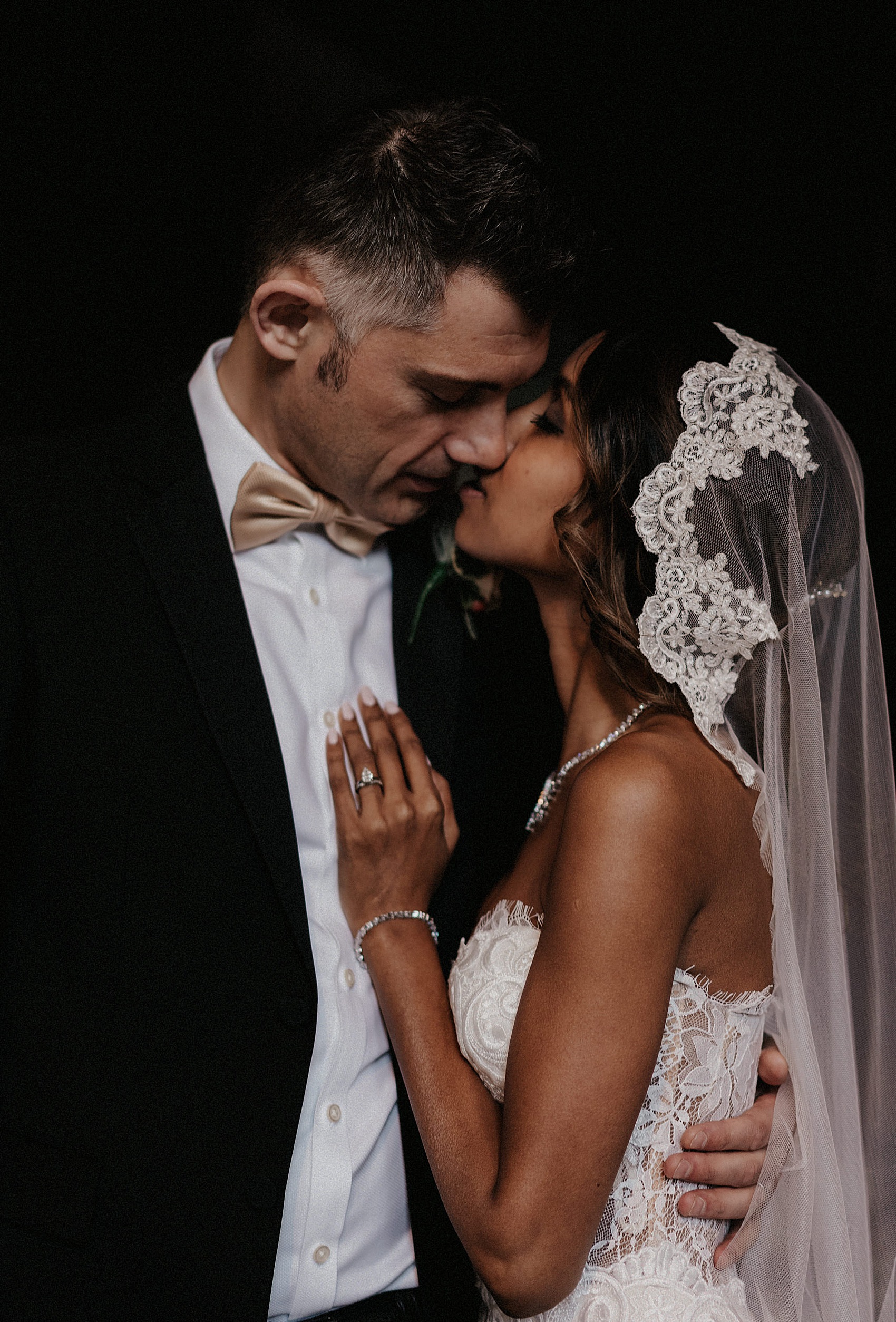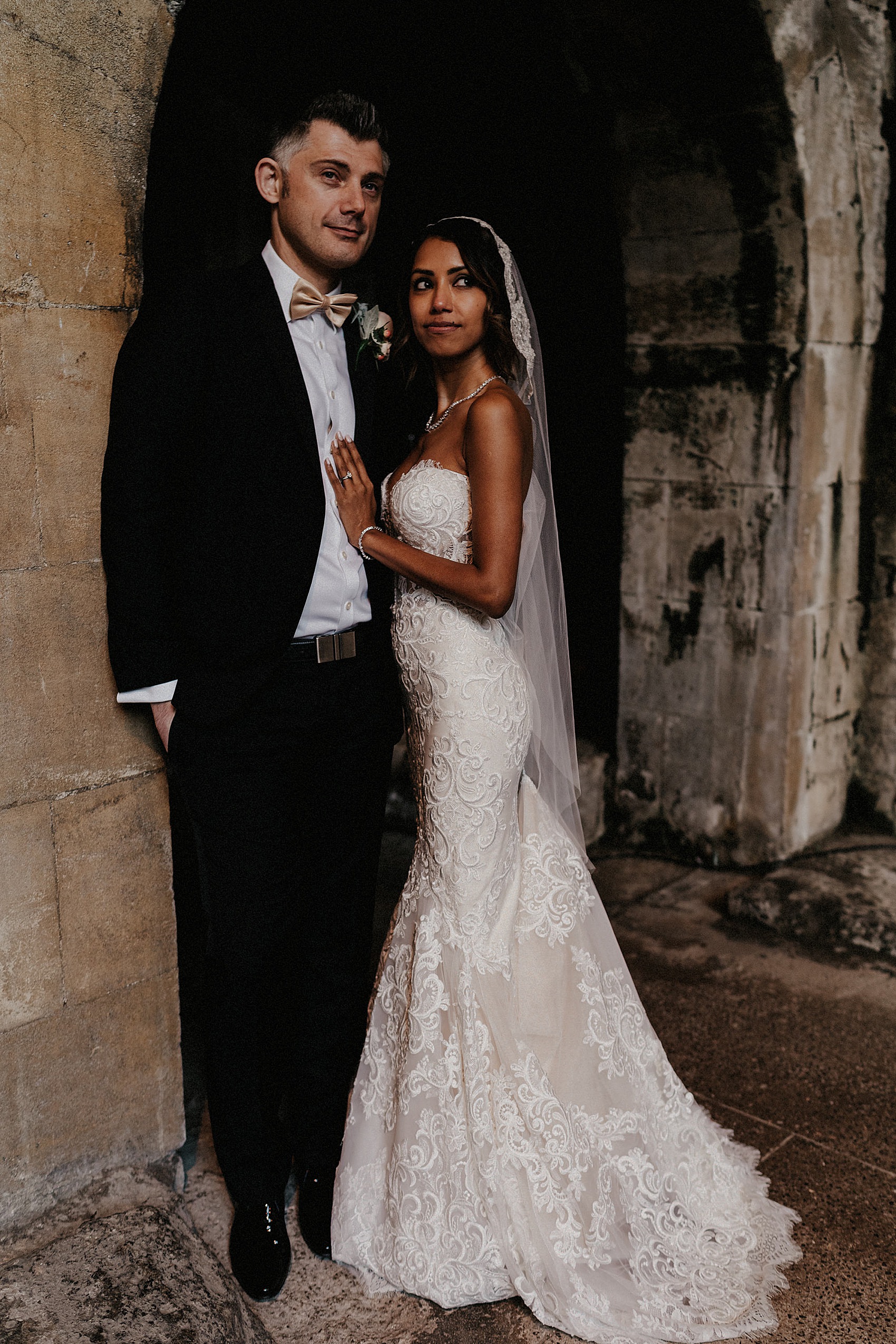 "Our events company, Ice and Lights, could not have done more from the first enquiry onwards. They installed all the interior lighting and decorated the Pump Room with centrepieces, 5-foot love letters, and a blossom tree canopy over a floral carriage."
"I was never someone who dreamt about their wedding day, but faced with the option of a floral carriage, who could say no? As the ceremony was held by the Great Baths on a sunny day, we needed no outdoors decoration at all."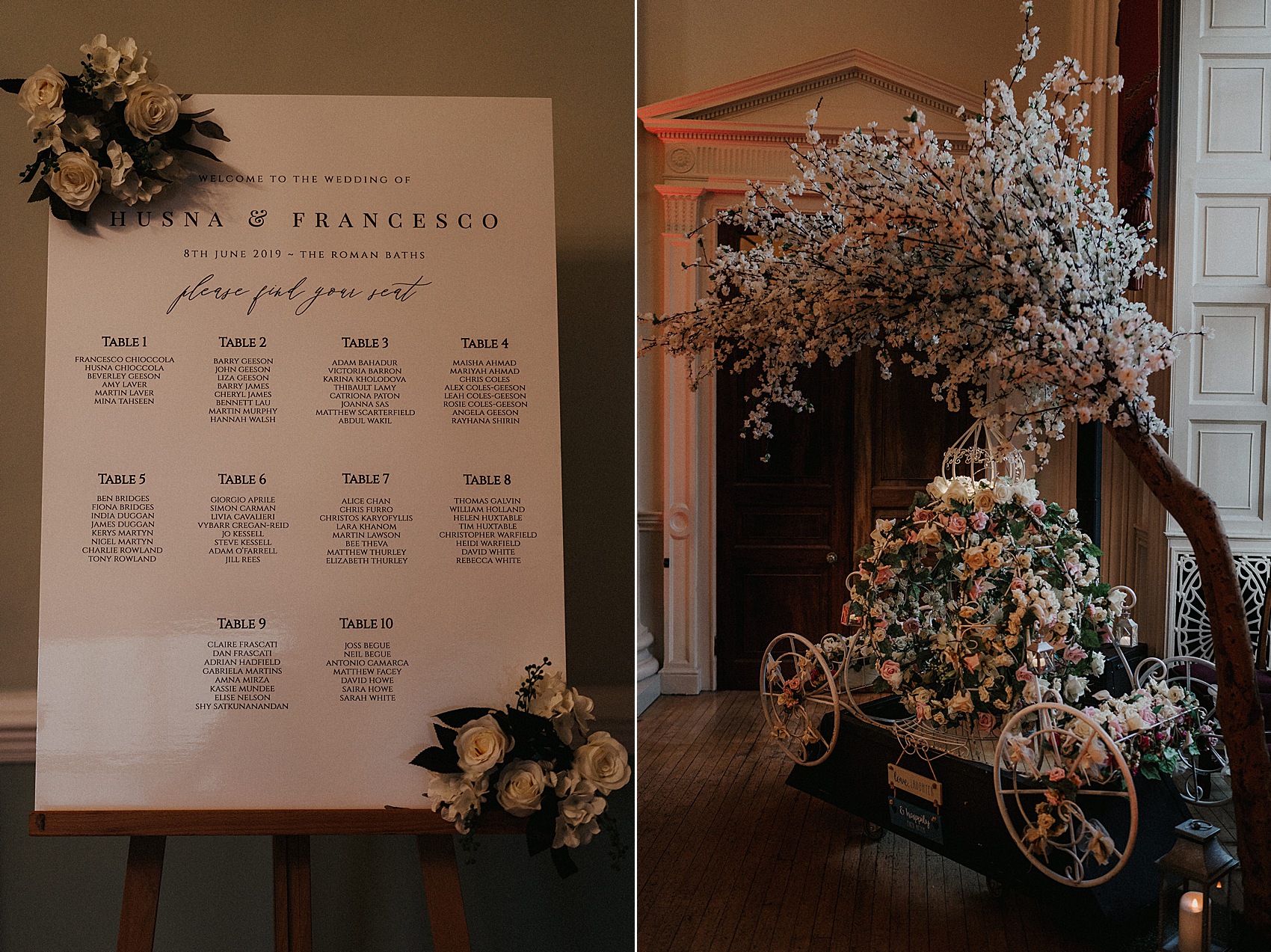 "Very early on, Franc declared that cake is important and was the one thing that had to be perfect. We used Duke of Cakes and decided on a four tier Neapolitan cake, each tier was Madeira sponge layered with passionfruit, lemon and strawberry fillings."
"The exterior was white chocolate ganache covered in grey buttercream for the marble effect, topped with handmade fondant figurines, and decorated with fresh flowers by Andrew from Jacaranda Flowers. It was delicious and we highly recommend Louise for her amazing baking skills."
"I designed the stationery and handwrote the place cards. The table plan was by Dream Paper Company on Etsy."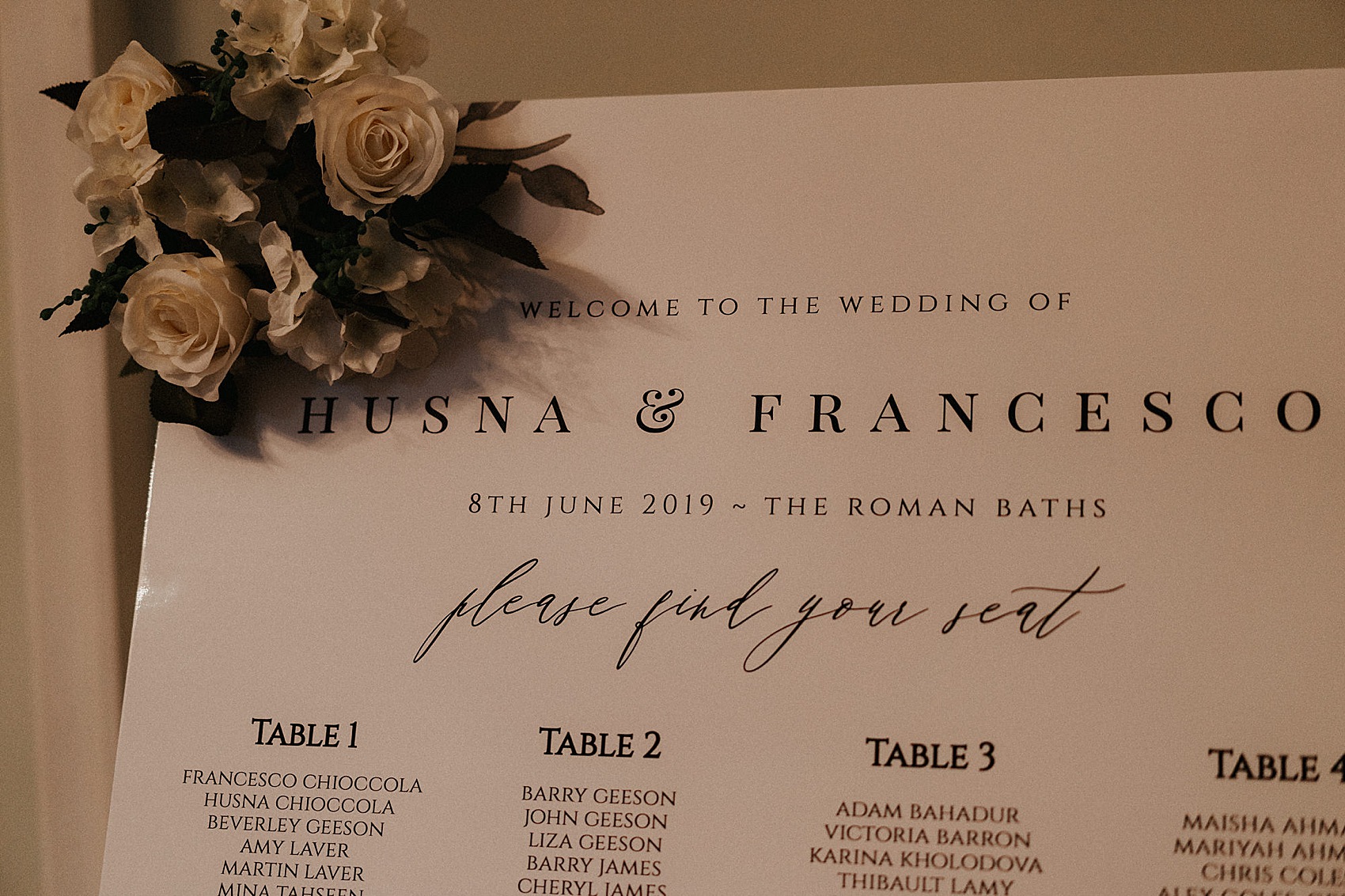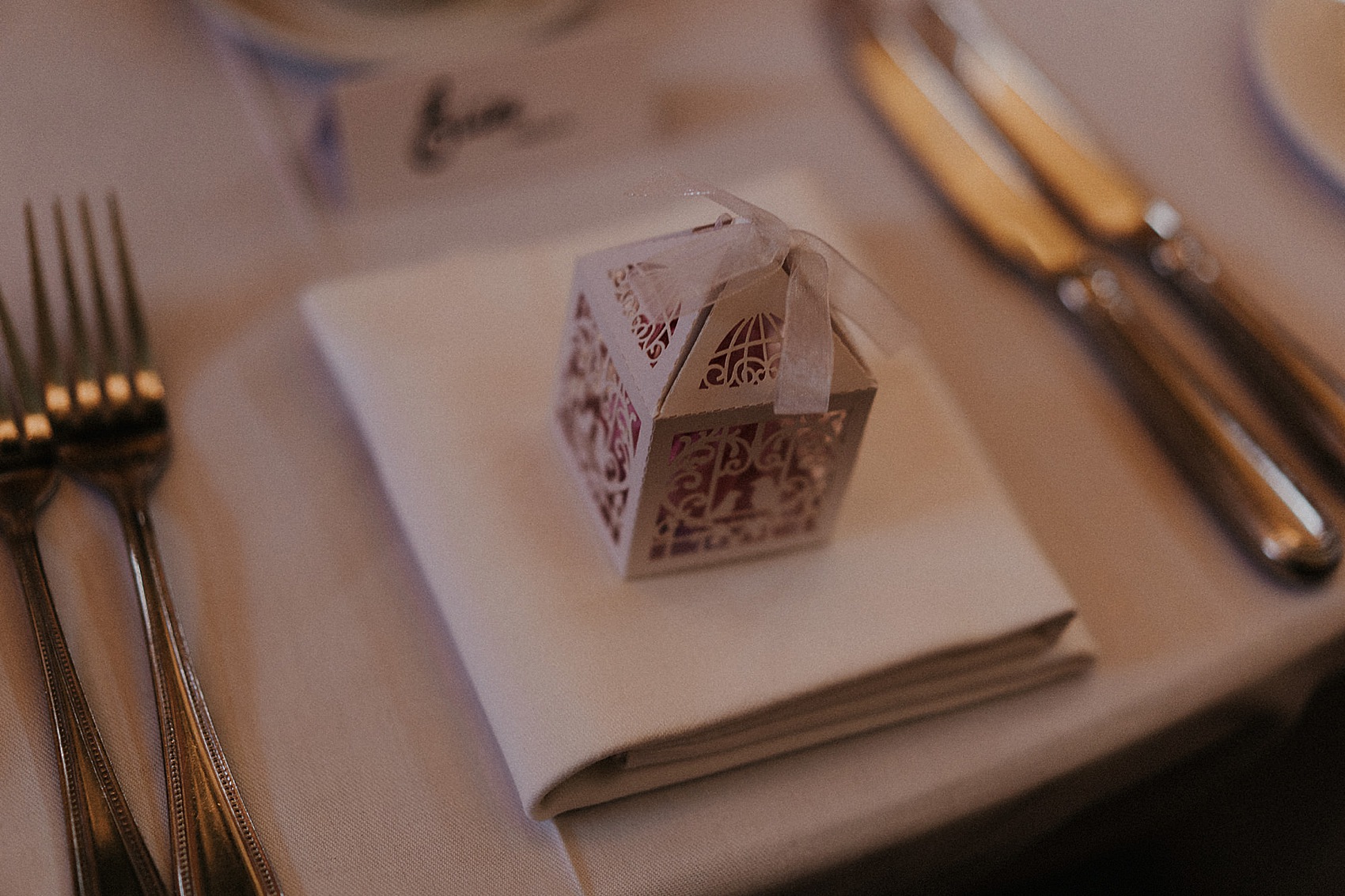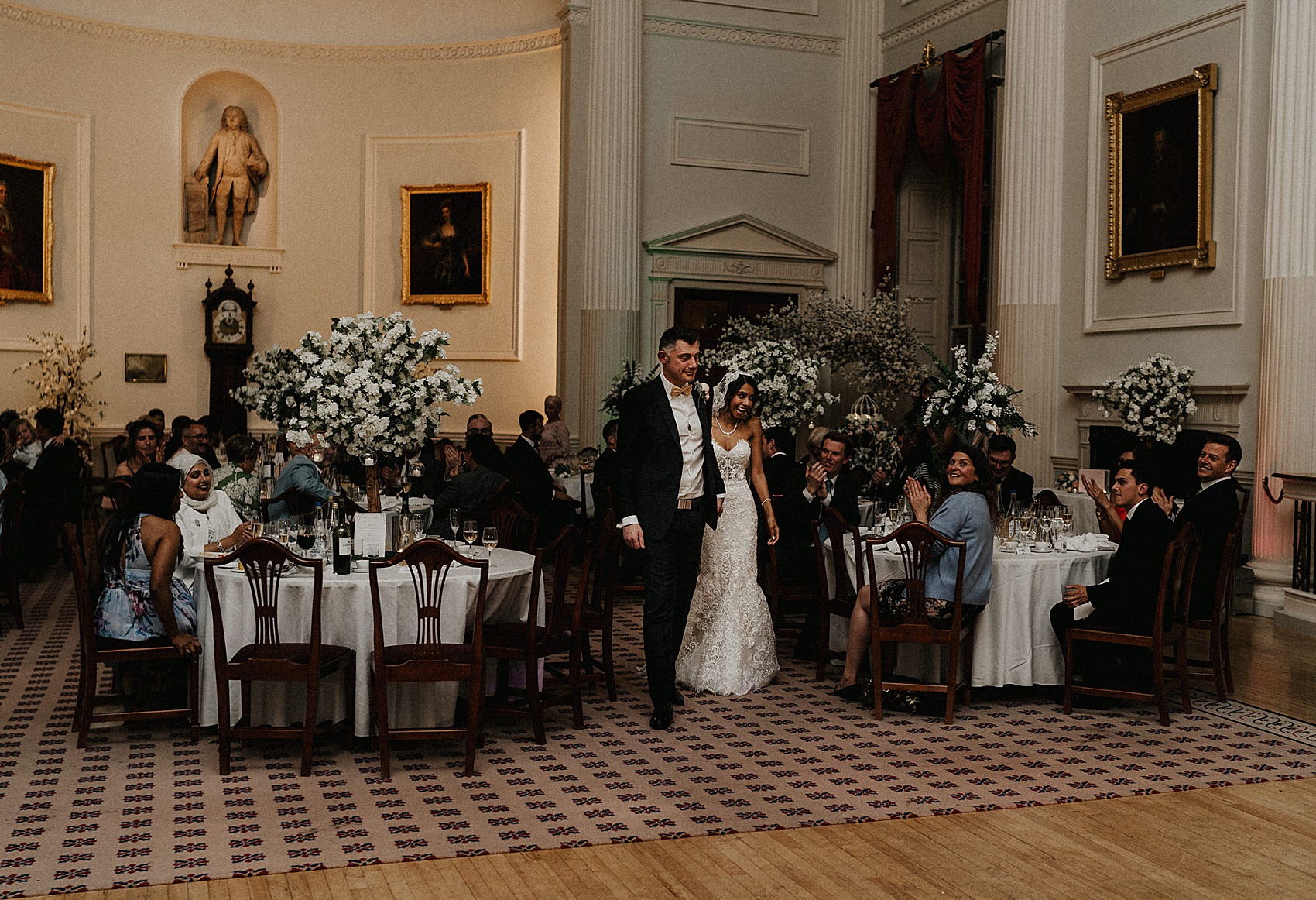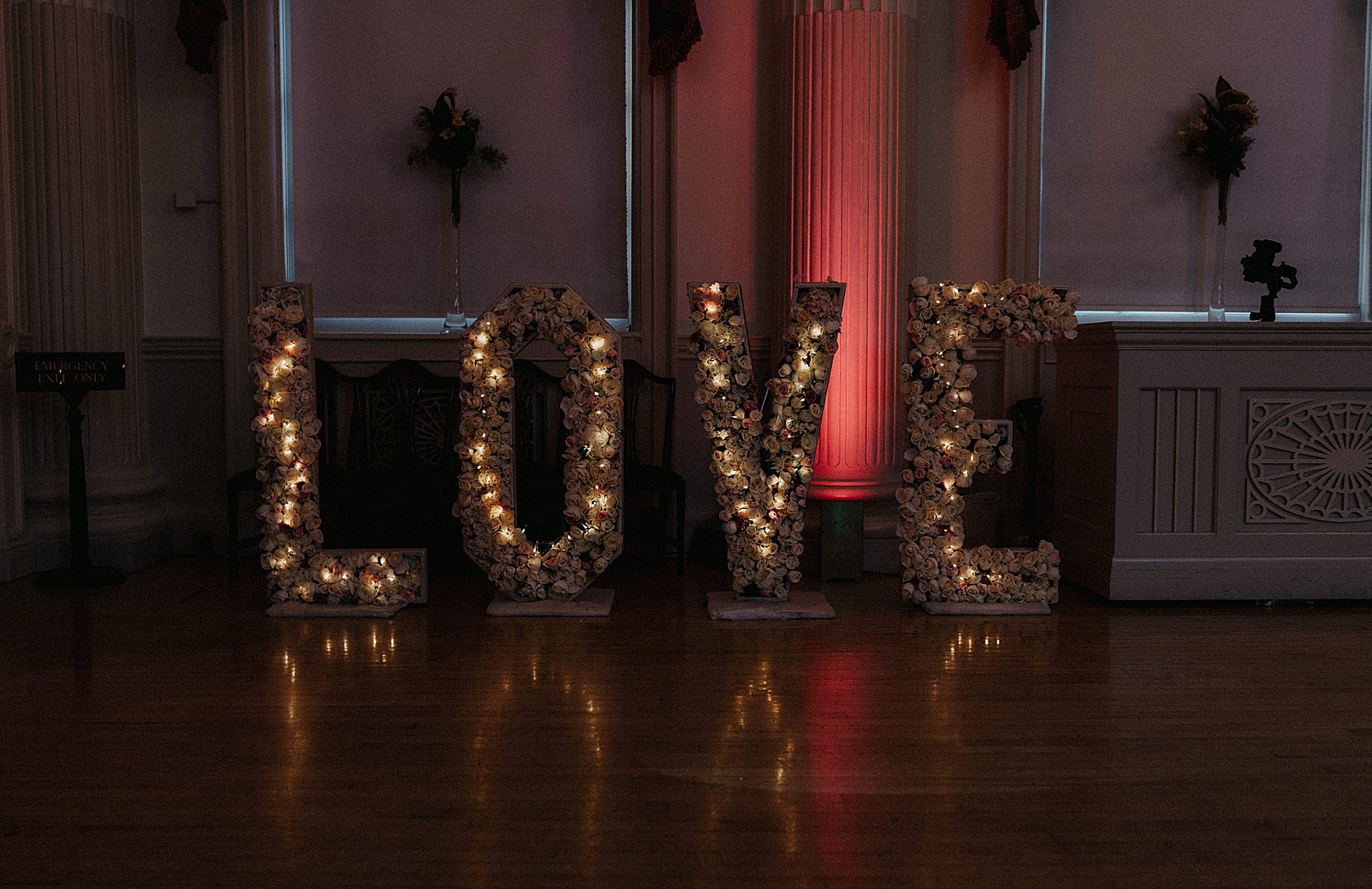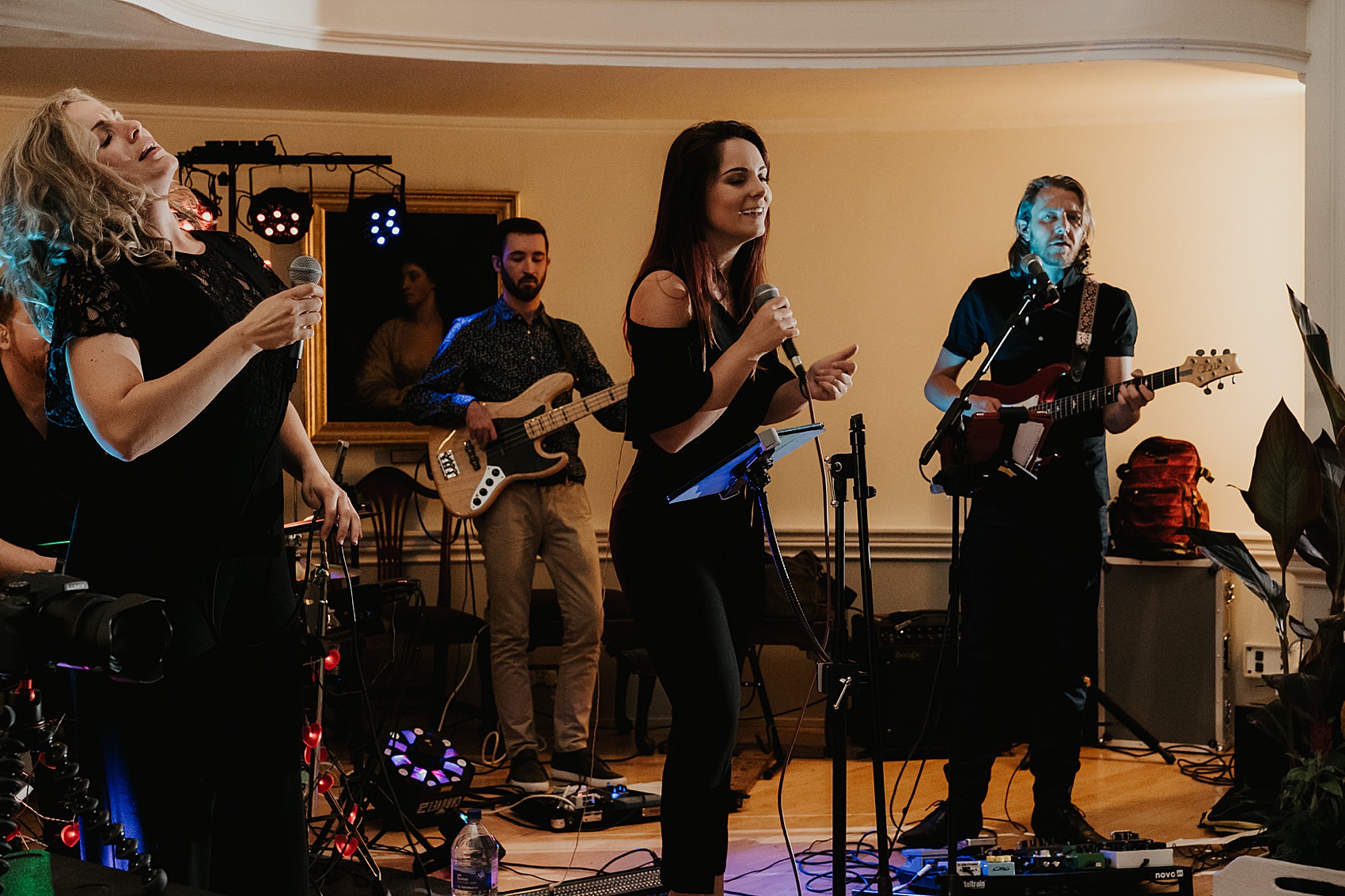 "We asked our band to start with Eric Clapton's Wonderful Tonight then break into Prince's Kiss."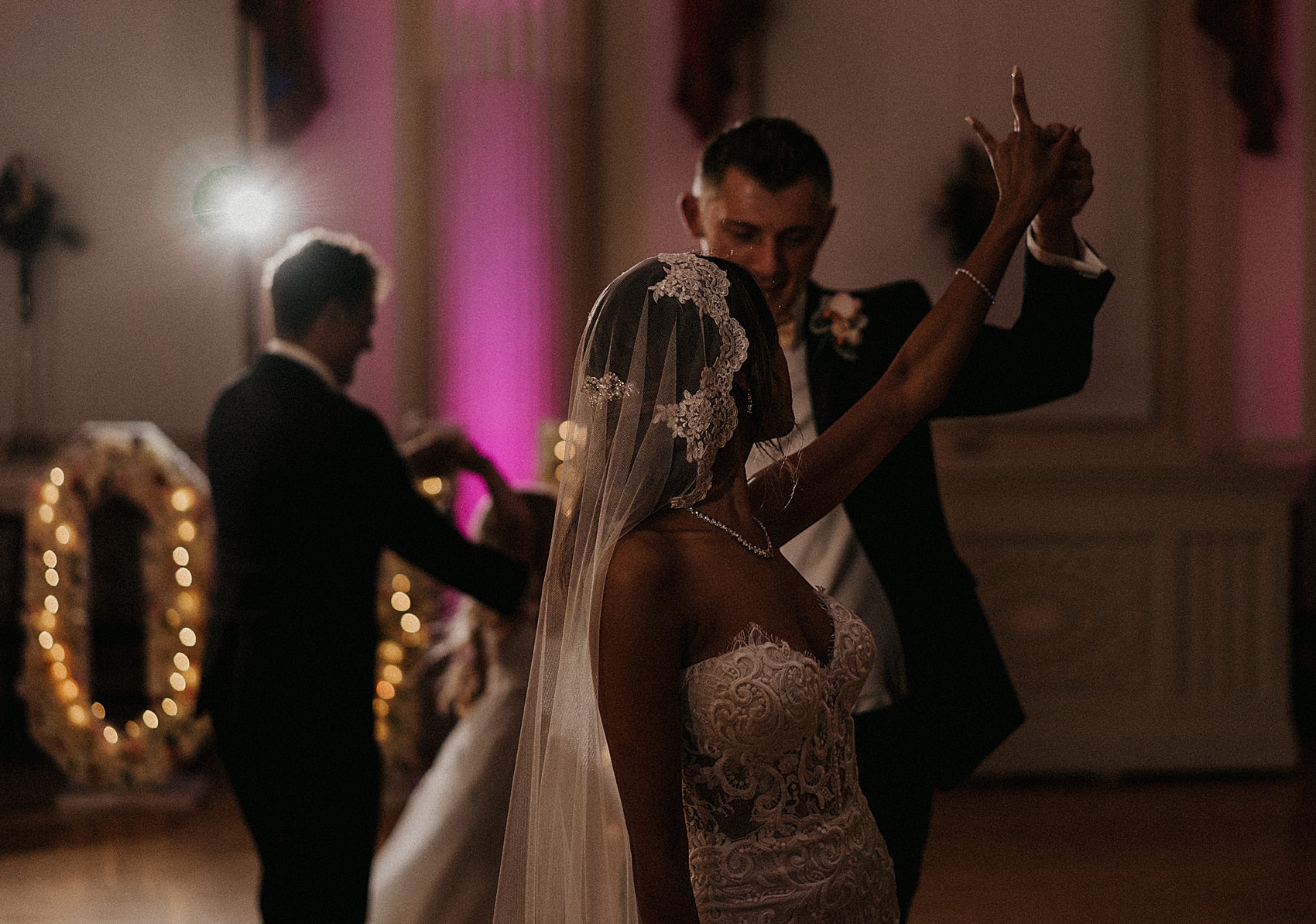 Words of Wedded Wisdom
"Wedding planning is such a huge project on top of demanding jobs, so it's important to give yourselves the care you need. Delegate! My amazing sisters were a huge help throughout the process, and I couldn't be more thankful for them. Make lists, and use a spreadsheet or app to track your spending."
"Decide early on which categories are most important to you. For us the biggest priority was to ensure our guests – who had all travelled a long way and some from abroad – were well fed and watered. Once you agree your priorities, it's a lot easier to say no to all the extras that later appear 'necessary'."
There will always be someone who lets you down, the stress will get to you, and you will wonder if spending all this money on just the one day will be worth it. It was completely worth it."