Hello everyone – we hope to provide some distraction from the news for you today with this truly beautiful wedding. Because by heck, we all need some wonderful escapism right now, don't we?
Tanya and Jake had the most beautiful winter wedding in Devon and I hope that this will inspire all those of you having to relocate your wedding plans to one of the winter months. The couple, who work together as co-founders of Hot Futures an East London Eyewear brand, exchanged vows on 23rd November 2019, at the exquisite Huntsham Court in Tiverton, Devon. This was one of those effortlessly glamorous wedding days full of elegant touches and one head-turner of a high-collar gown.
Siobhan Beales Photography

+ Follow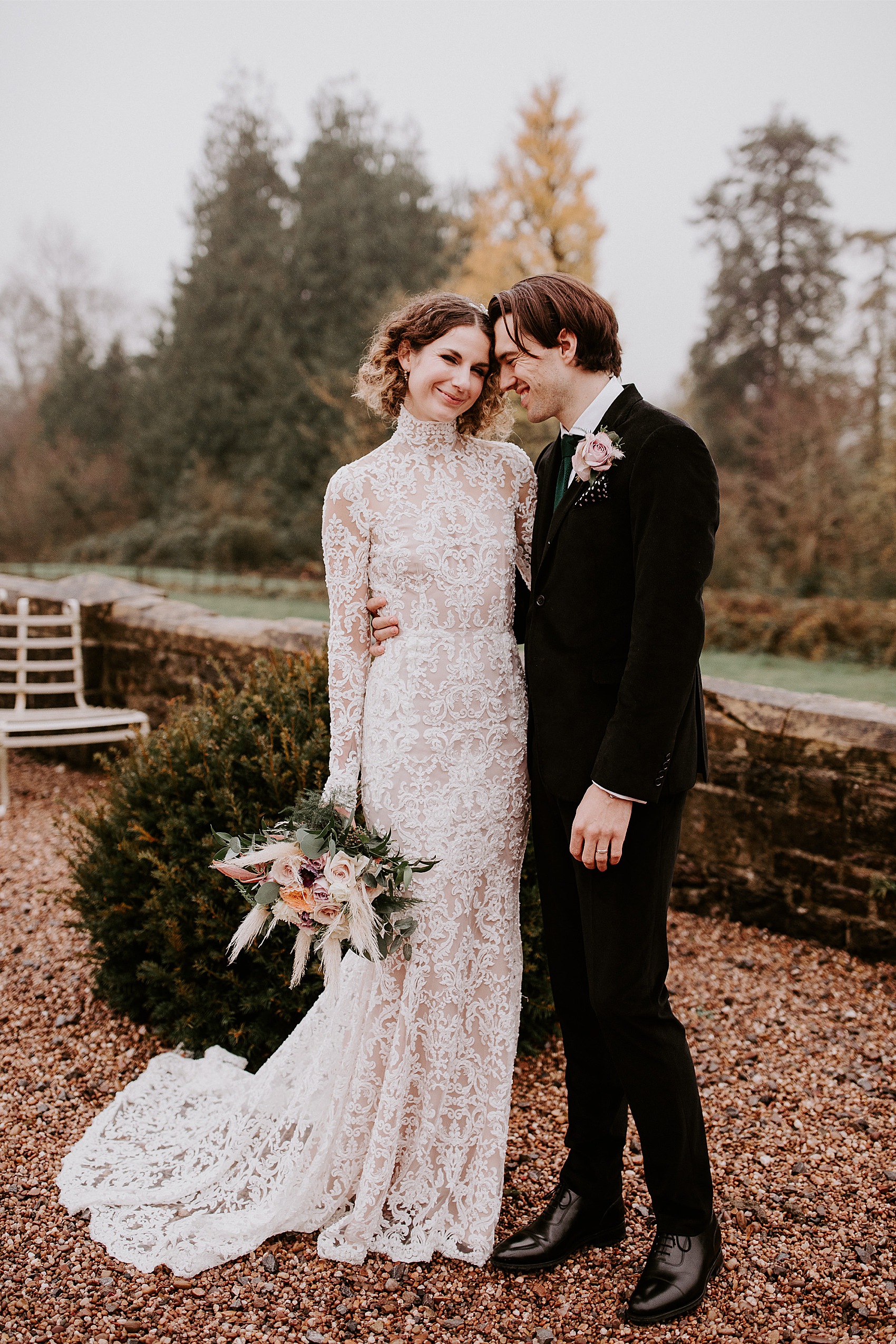 "I received a text message from a friend who had just worked as a makeup artist on a shoot with a bridal designer called Mishi May – my friend sent me a link to her website. The dress of my dreams was the first dress I saw on her homepage."
"I contacted her and drove to Bristol to try it on – it was the only one she had made as she hadn't yet launched her collection. I tried it on and it fit me like a glove so it was definitely meant to be – that was the dress for me!"
"I saw a dress on the runway about eight years ago and it was a high neck, long sleeved ivory lace long gown and I stored that image in my mind in the 'dream wedding dress' folder."
"I searched and searched for hours most nights for something similar and didn't find anything. I visited bridal boutiques to try on other styles of dresses as I thought the dream dress wouldn't materialise. I still hadn't found a dress by March – only eight months before our wedding."
"I couldn't believe it when I clicked on the link from my friend and the dress in my head was there on my screen on Mishi May's website!"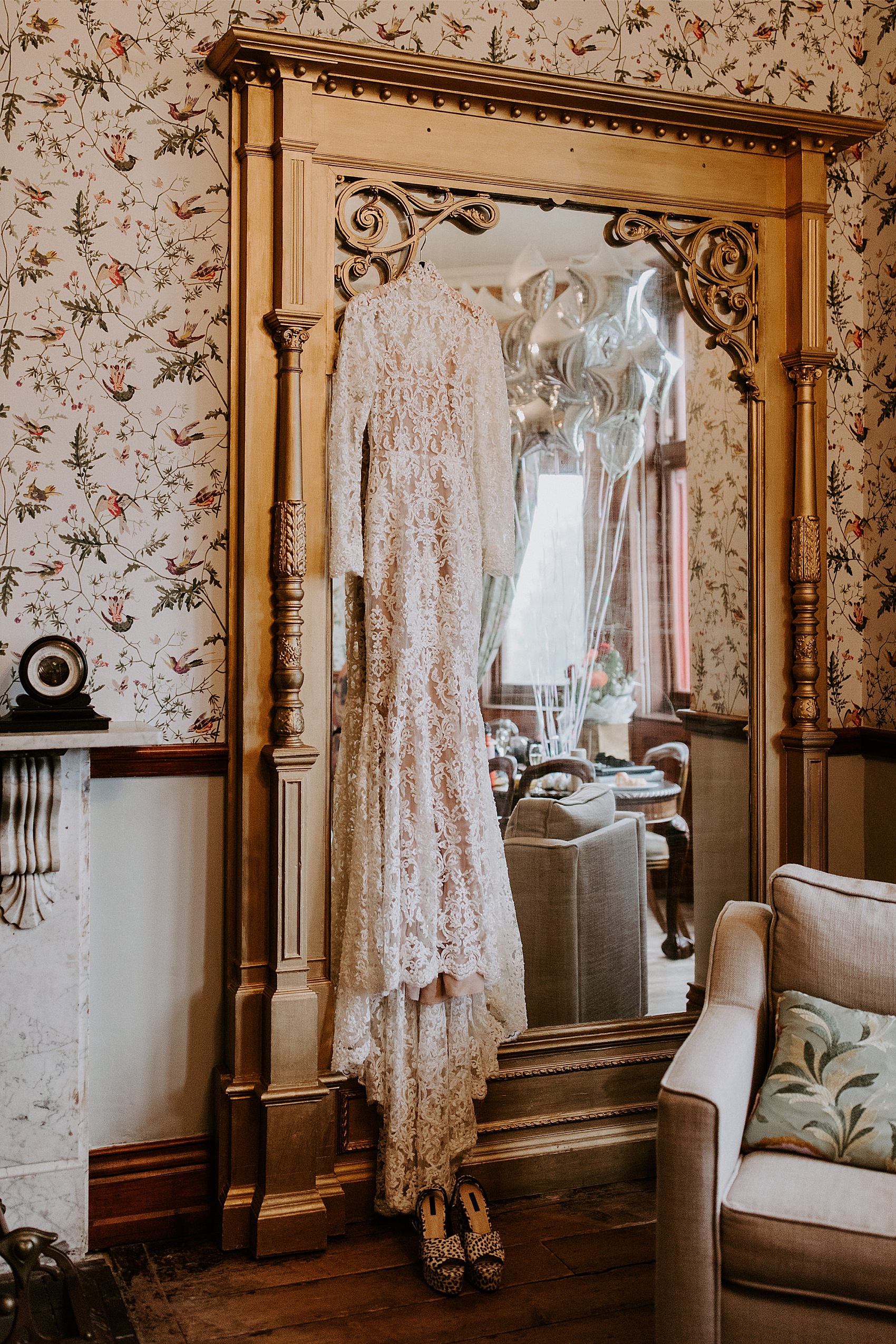 "I love my dress so so much, I feel so special when I'm wearing it – I was so worried that when I put it on that it wouldn't look right or I wouldn't have that feeling that people talk about knowing that its 'the one'."
"I had butterflies of anticipation in my stomach when I was driving to Bristol to try it on but as soon as it was zipped up and I looked in the mirror, it was as if the dress had always been mine."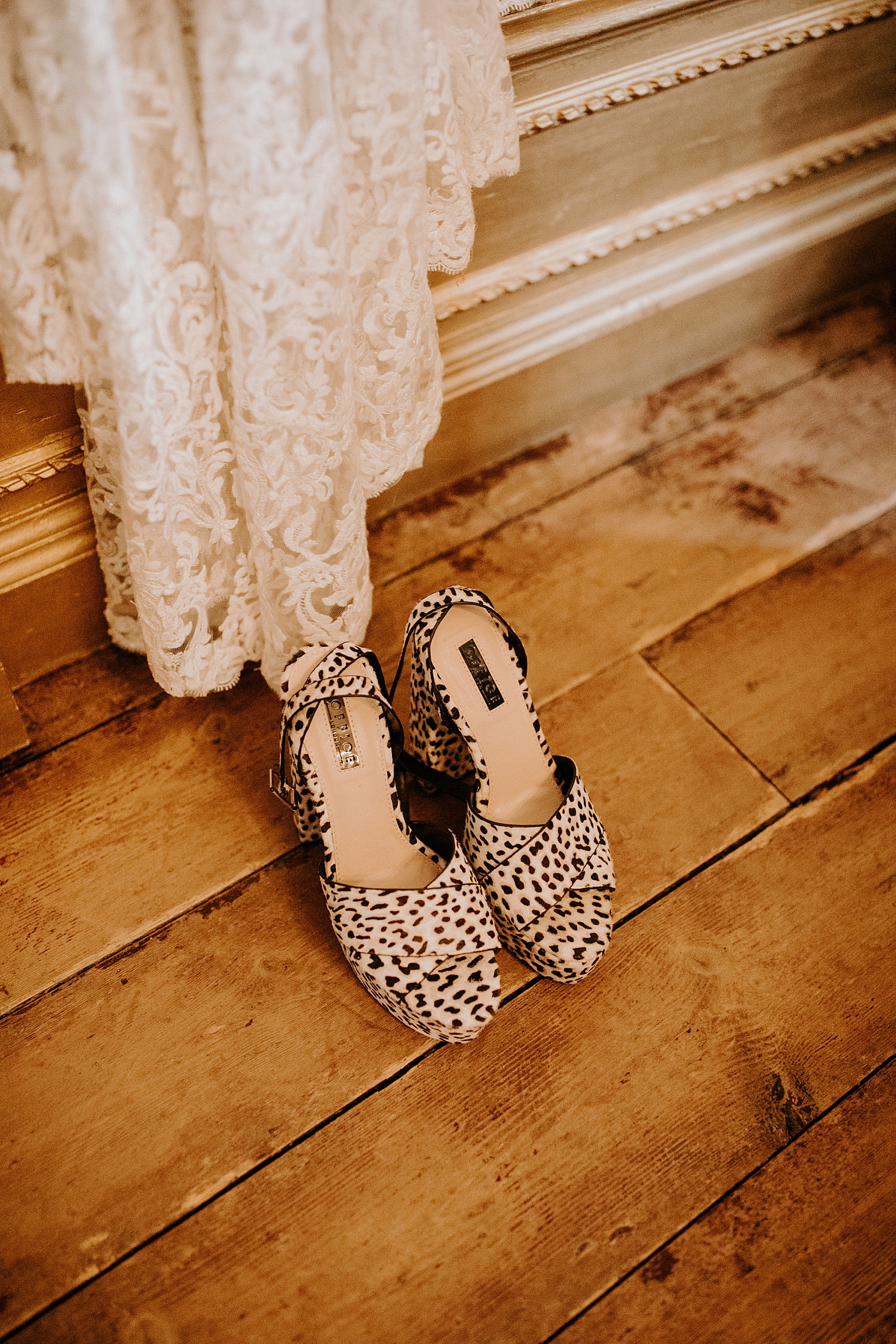 "My shoes were a bargain in the Office sale for just £45! People that know me will tell you there is usually a minimum of one piece if animal print in most of my outfits so I was over the moon to be able to incorporate a bit of animal print into my wedding outfit."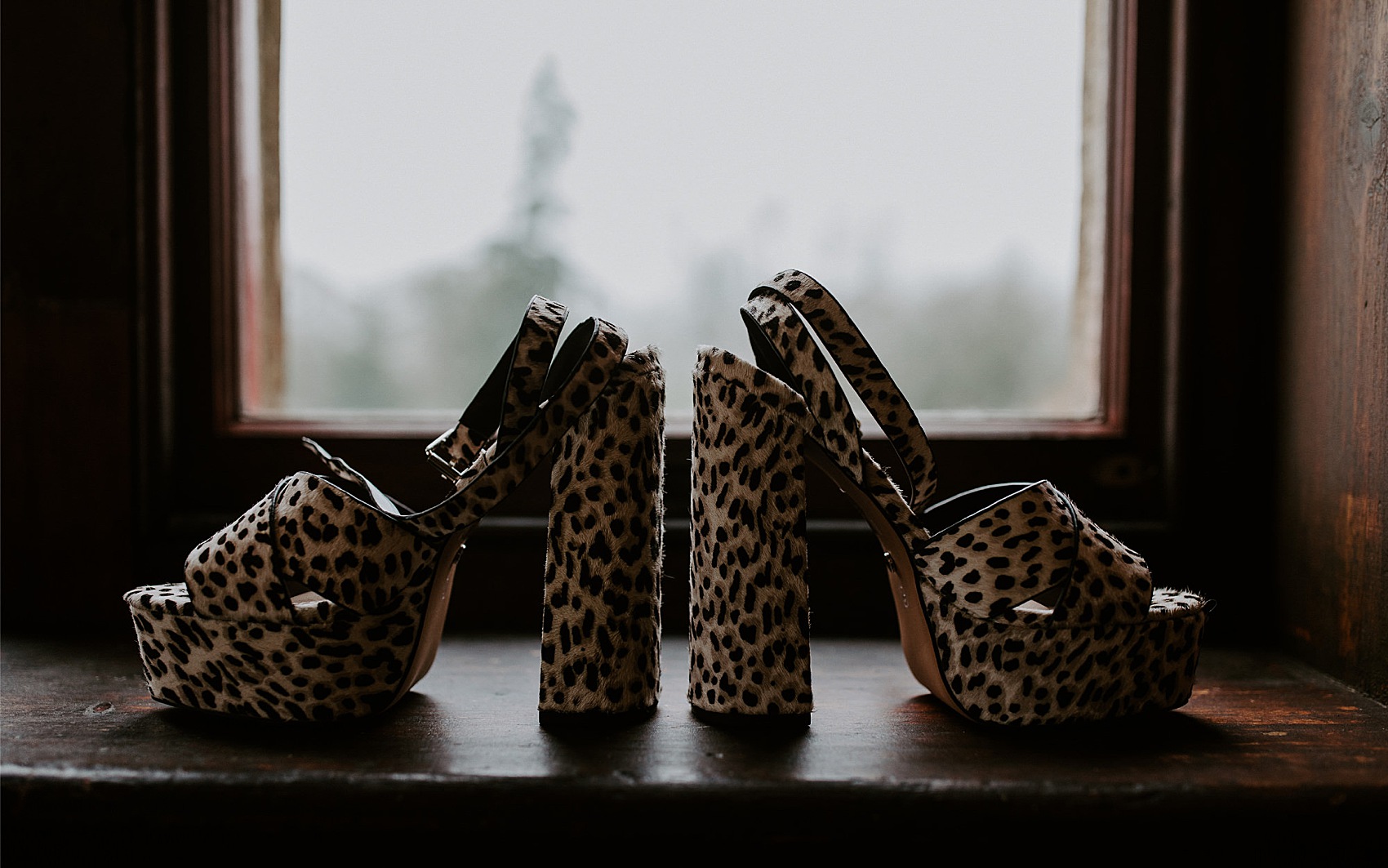 The bride had a professional makeover by makeup artist Elle Hitchens.
"I just love the smell of roses and most of my perfumes are rose based. Jo Malone Red Roses is my fave."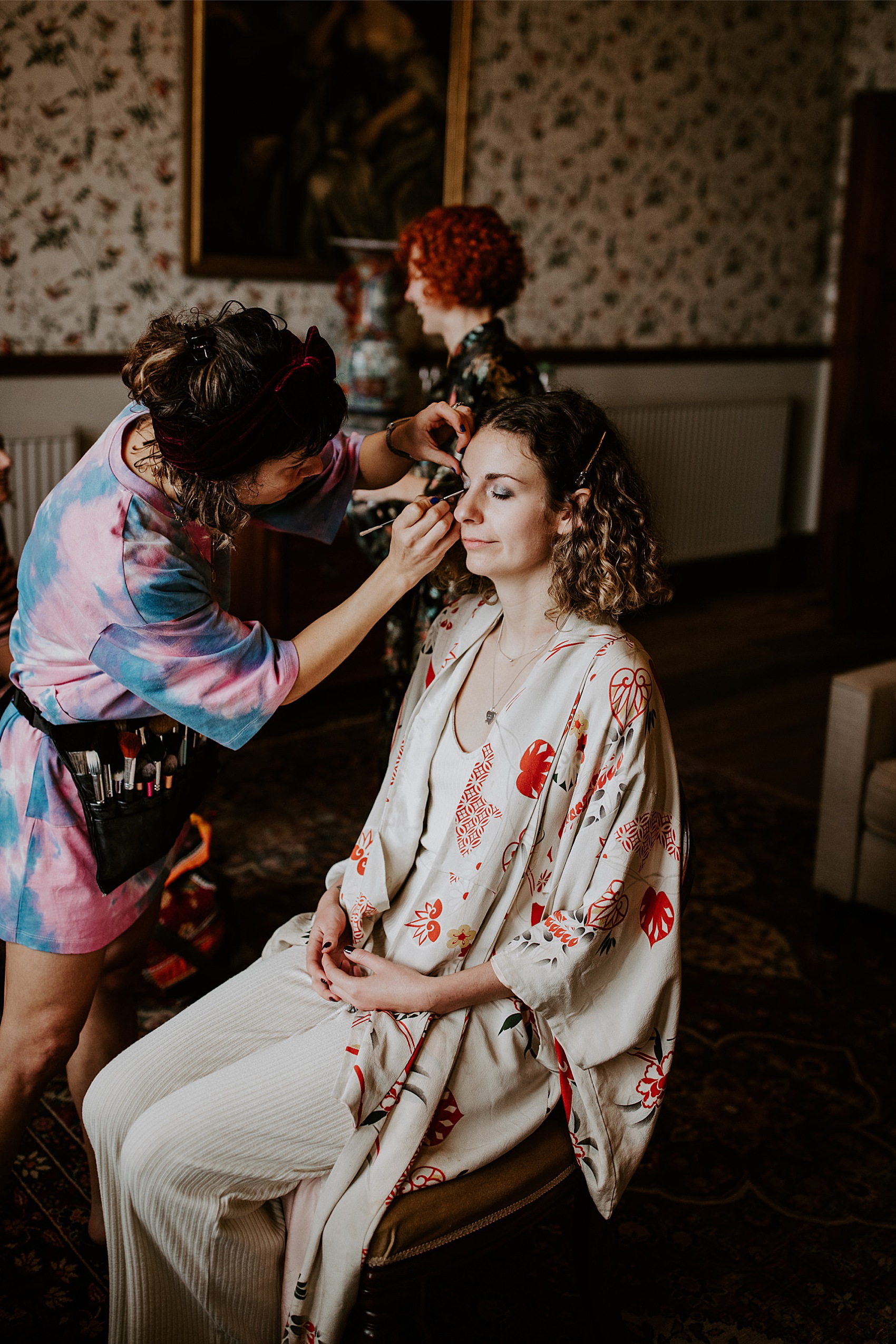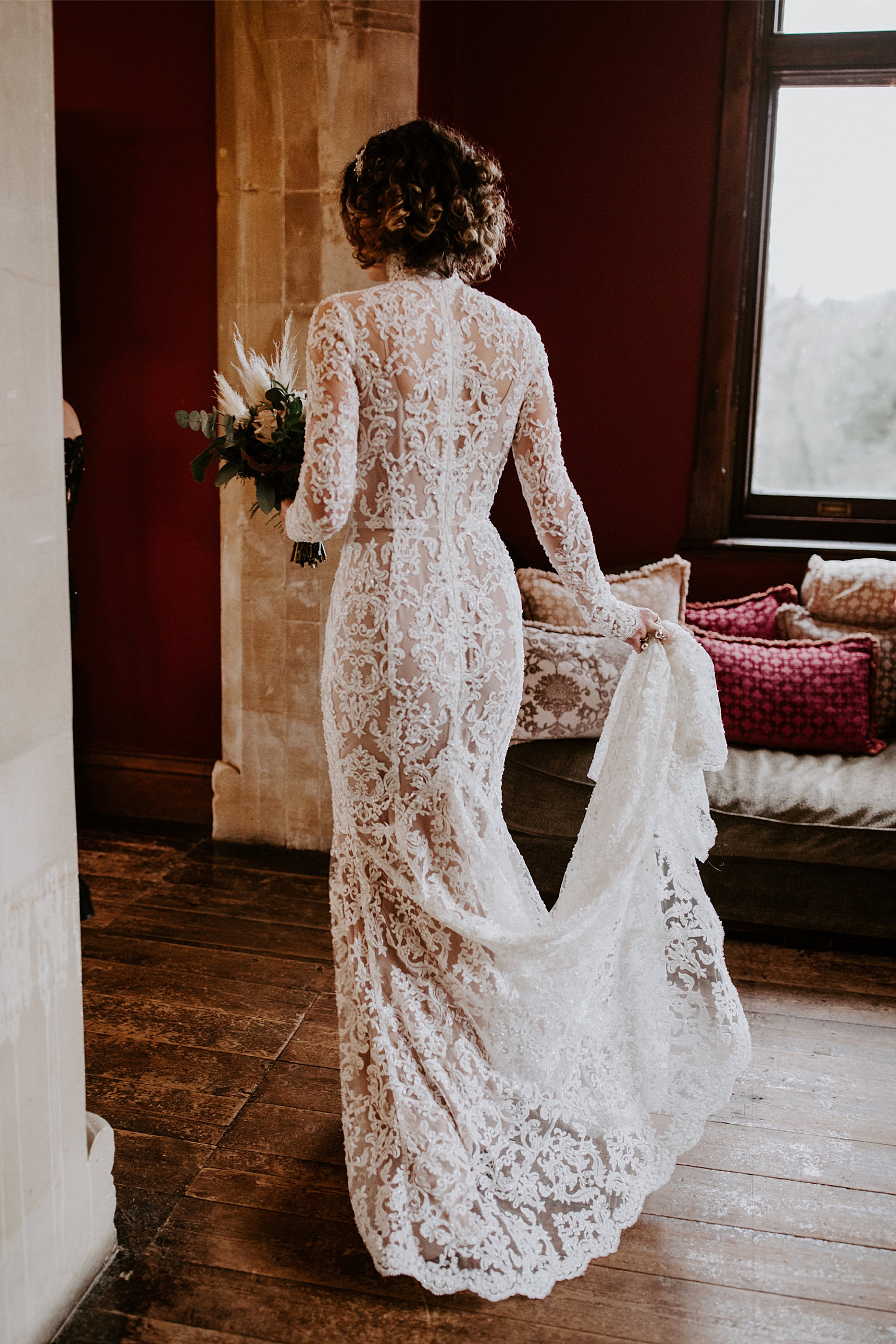 The groom was kitted out in an Armani suit, from Farfetch.
"We hired the groomsmen suits from Esclot – they came with free alterations and the service was impeccable. I highly recommend if you are looking to hire."
"Jake and I met on Brick Lane in Shoreditch, London, seven and a half years ago – in the Brick Lane vintage Market.  We both had a stall there and became best friends pretty much straight away."
"A couple of years later, we became a couple and four and a half years later still, on 18th December 2018, Jake proposed to me at home with his late Grandma Paulines Diamond ring.  His Grandma was watching over us from a picture frame on the windowsill next to where Jake asked me to marry him."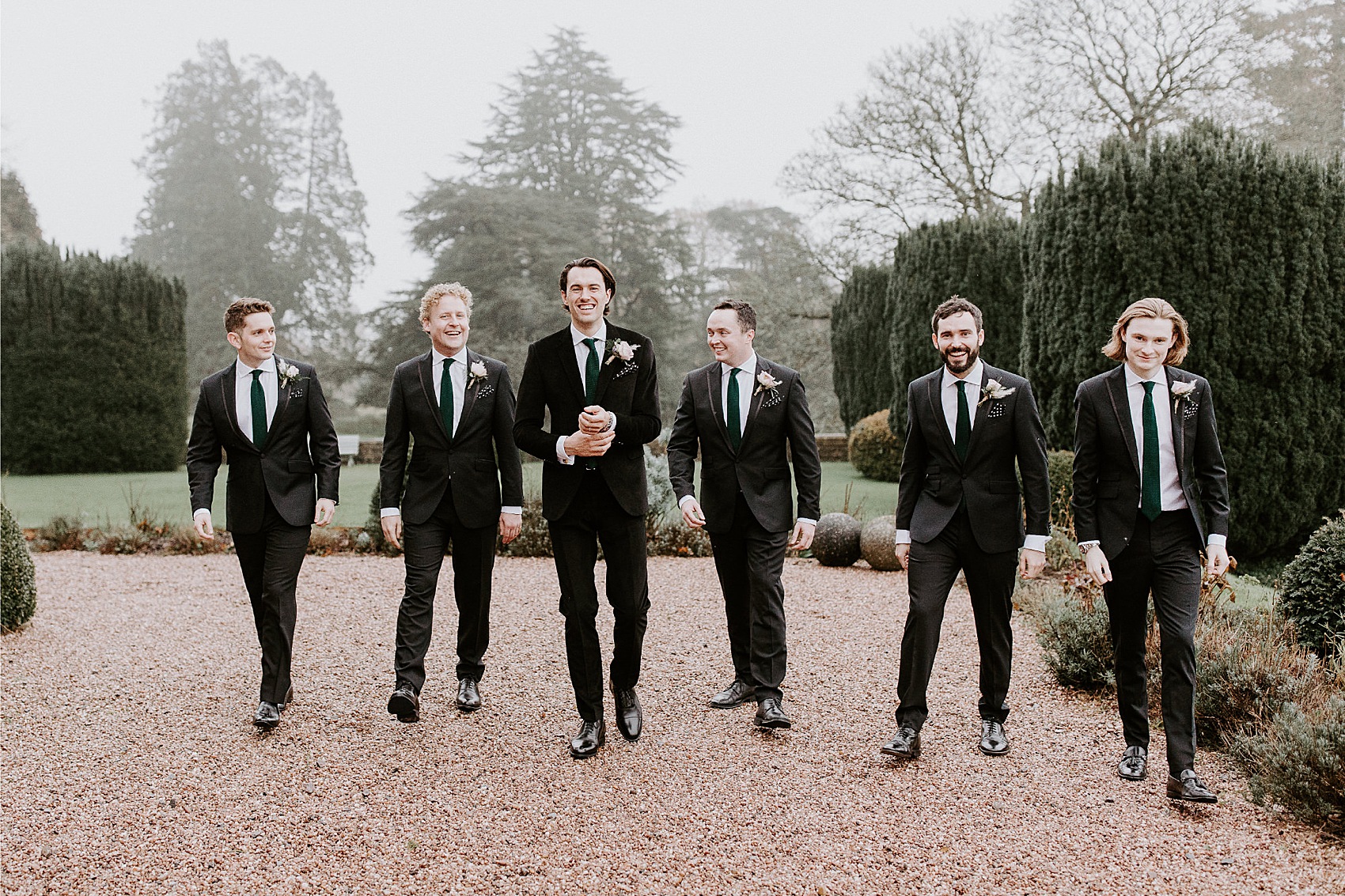 "We started looking for venues straight away as we both have grandparents that aren't in good health and it was very important to us that they were a part of our wedding. So we married 10 months later and our grandparents were there to witness it – which meant the world to us."
"Huntsham Court in Tiverton, Devon was one of the first venues we found online when we started to do our initial searches."
"We really wanted to be able to host a party over a weekend and have all of our guests stay together in a house, our guest list at that stage was substantial, with family and close friends included."
"There aren't many house's in the UK that can accommodate as many people as we needed to be, all under one roof, so it felt like our lucky day when we came across Huntsham court. We found Landed Houses (who specialise in country houses for parties and weddings) to be a very helpful when searching for large group accommodation."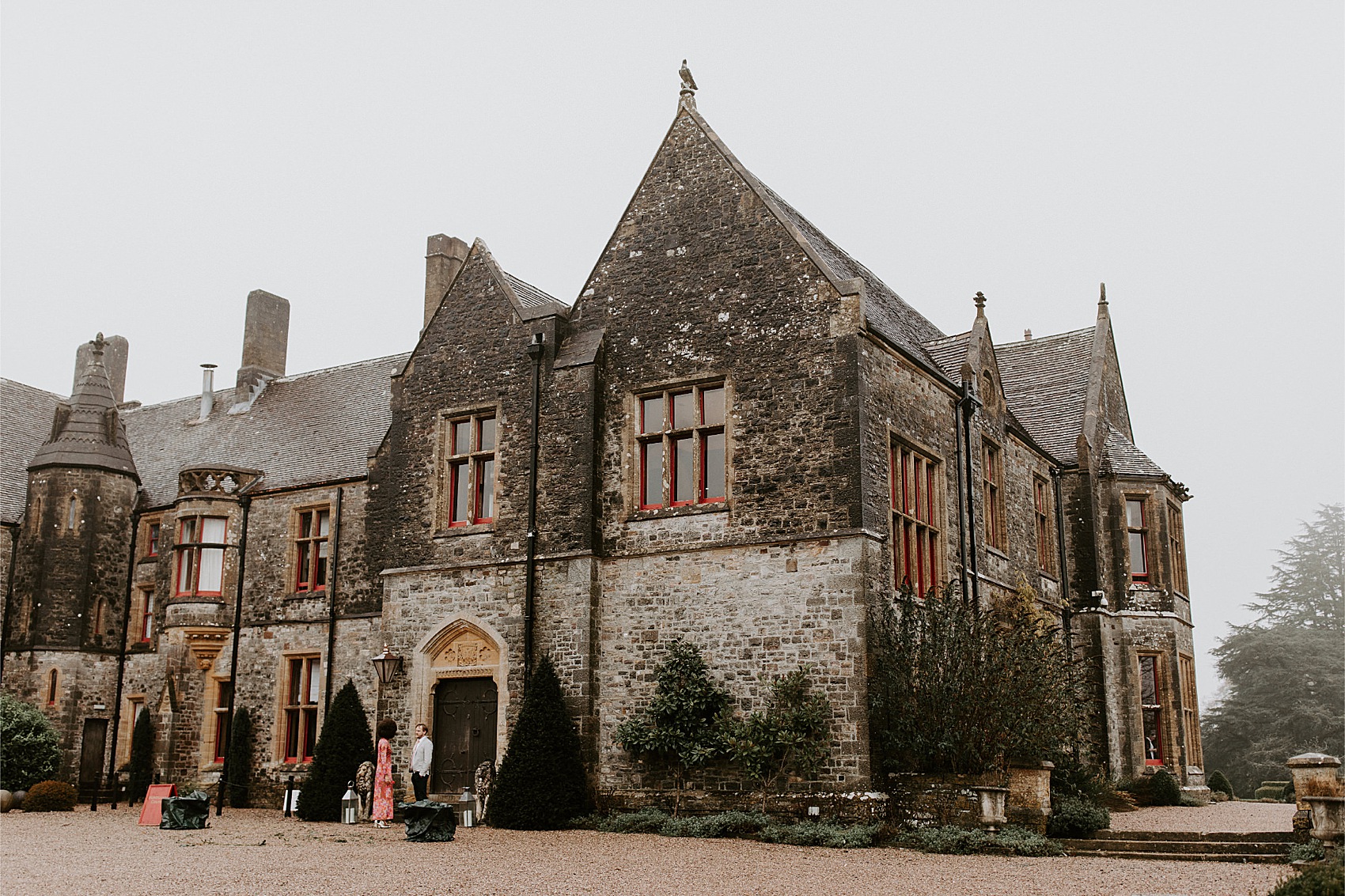 "We fell in love with the photos of the house and initially it seemed like a bit of a pipe dream but after crunching some numbers and discussing other options we decided to make an enquiry."
"We used Papier for our menu's and name cards and order of service. A friend of ours painted us a welcome sign and we used a local printing company called ABC printing in London to print our table plan that we designed ourselves."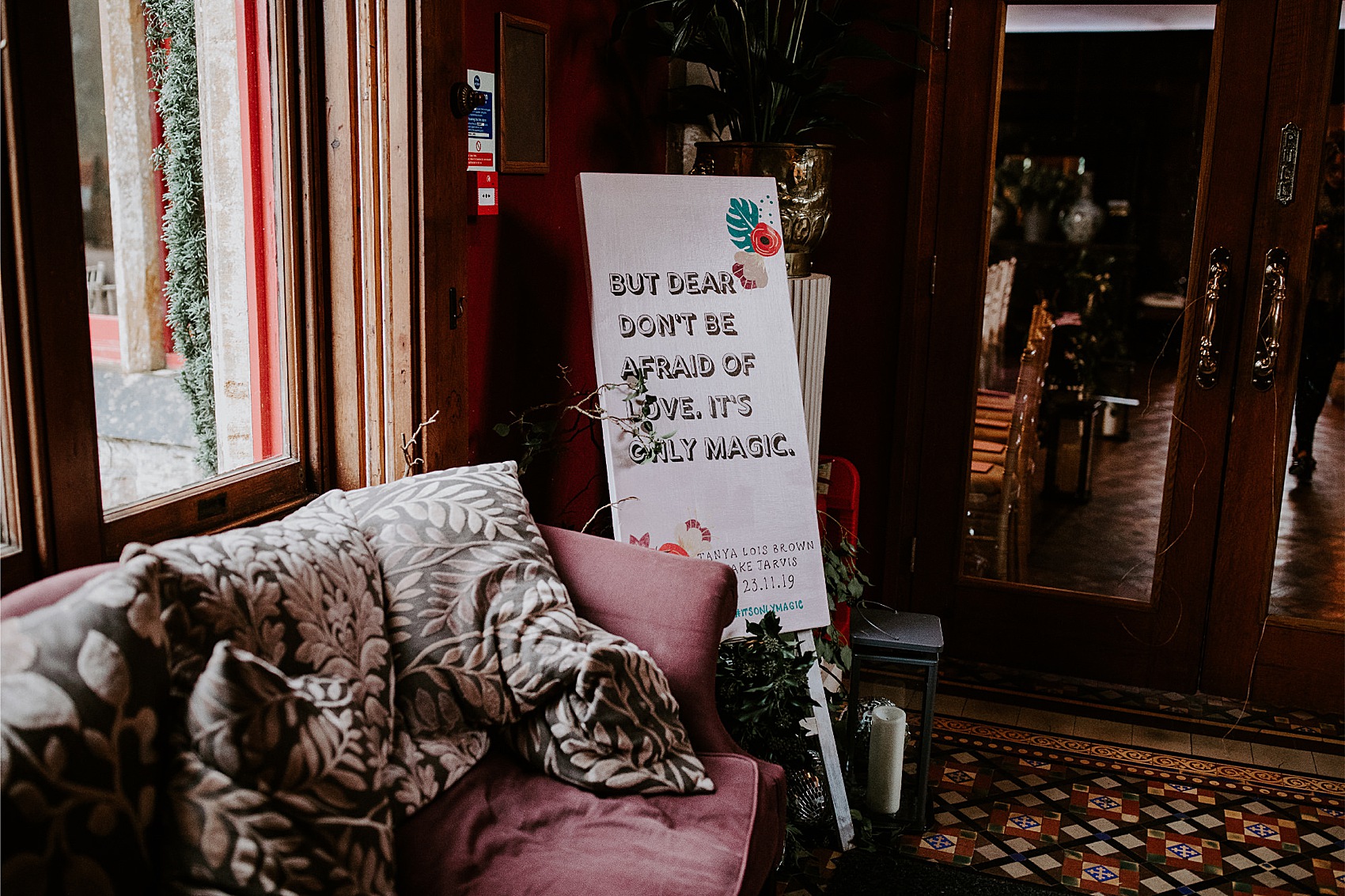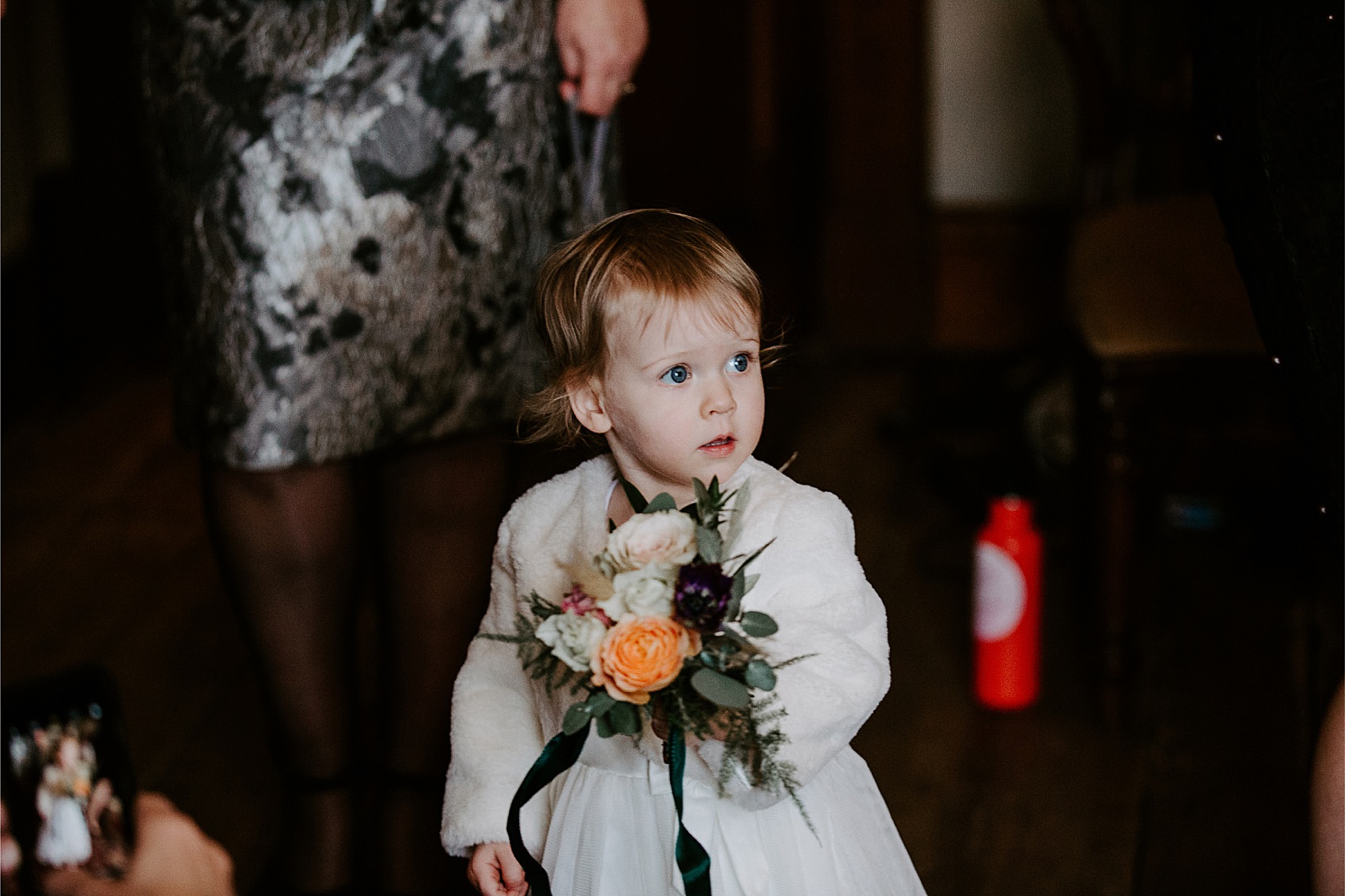 "Chris, one of the owners of the house, replied straight away and they had one weekend left for 2019 so we hopped in the car and to Devon we went! Needless to say the house was even more stunning in real life and Chris was so helpful and informative without being pushy."
"We confirmed the date the very same day as it really felt like a home and we couldn't wait to host the greatest weekend of our life there. The date was set and we had ten months to knuckle down and plan a wedding."
"Huntsham Court and their amazing team made our whole planning process and wedding seamless – they were so supportive and all of their team that we hired throughout the weekend were so helpful and kind. It felt like they were part of our wedding party by the end of the weekend."
We can't recommend Huntsham Court and their staff enough in particular one of the venues appointed wedding planners Jennifer went over and above in making our wedding seem effortless."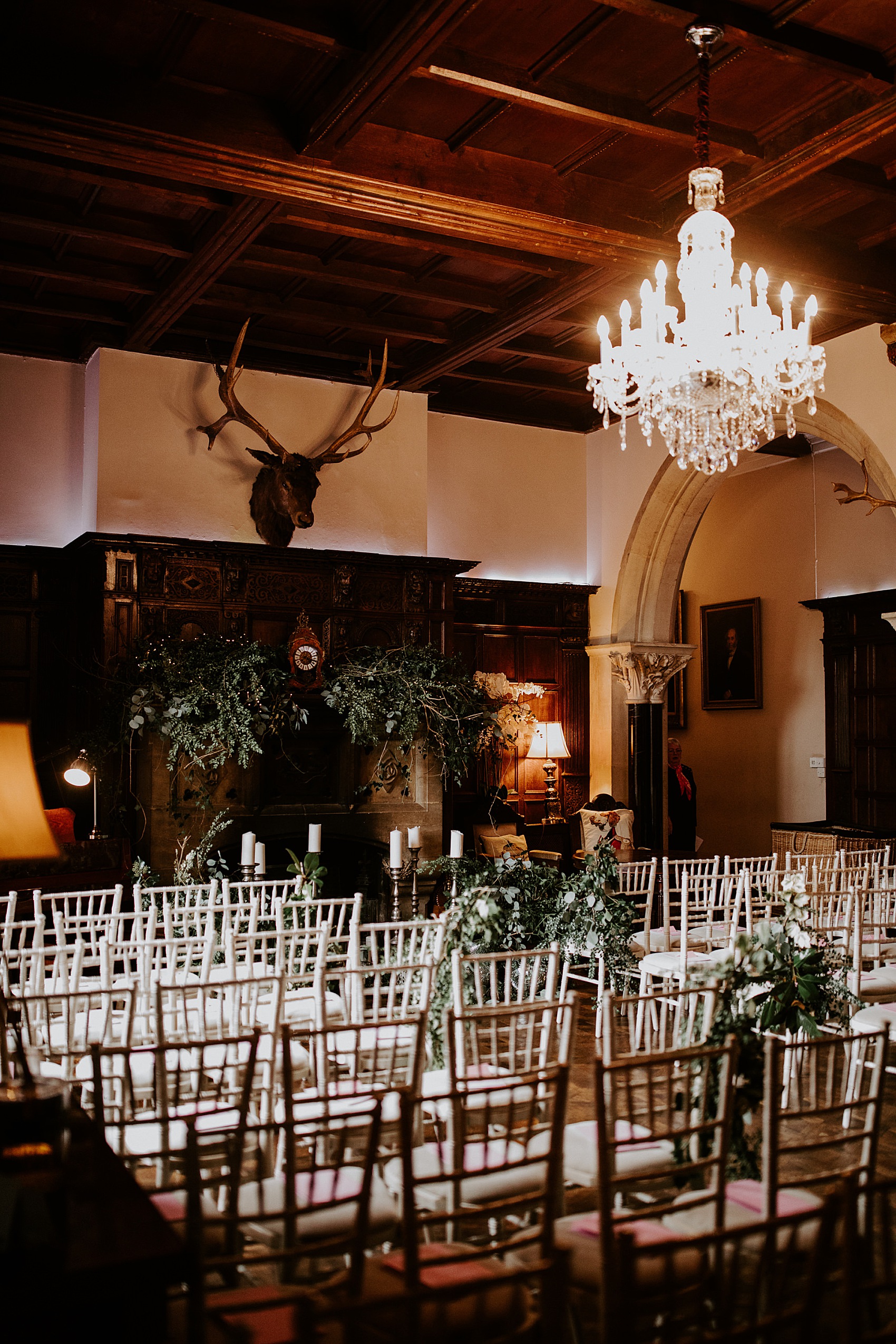 "Huntsham Court assign you with one of their wedding planners – we had 7 hours of her time assisting us in booking bar staff and housekeepers and giving us very valuable advice on what works well in the venue, we also had Jennifer on hand on the wedding day which enabled Jake and I to relax and enjoy every moment as we trusted that Jennifer had everything under control."
"Initially we wouldn't have dreamed of having a wedding planner but once we started to organise the day you soon realised the amount of co-ordination needed and it was a luxury that made all the difference on the day for us."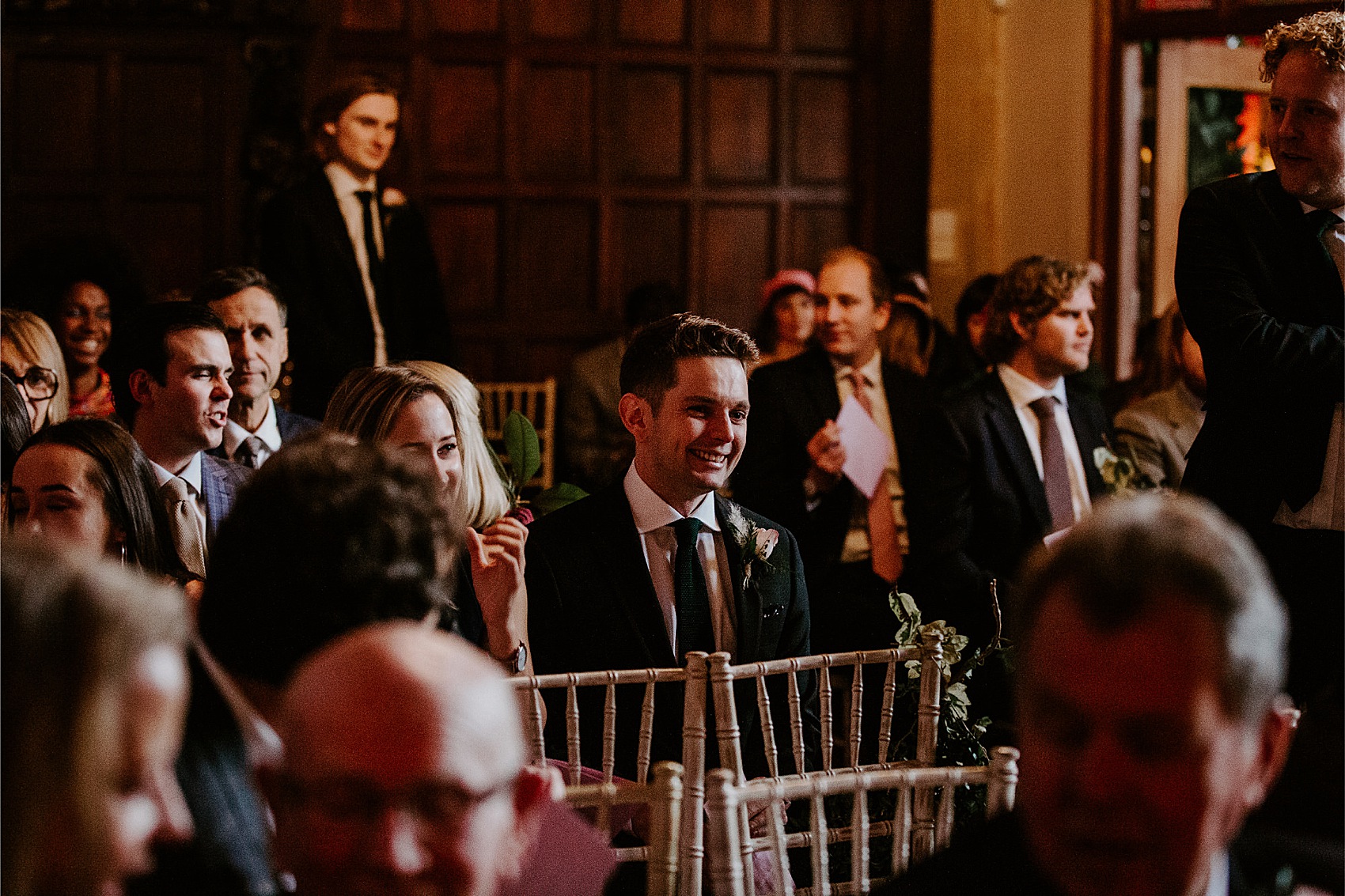 The bride's father accompanied her into the ceremony, to the sound of 'Into My Arms', by Nick Cave.
"Walking down the aisle and making eye contact with Jake waiting for me was my favourite moment and looking around seeing all of our family and friends during the ceremony. Any pre ceremony nerves melted as soon as I saw Jake."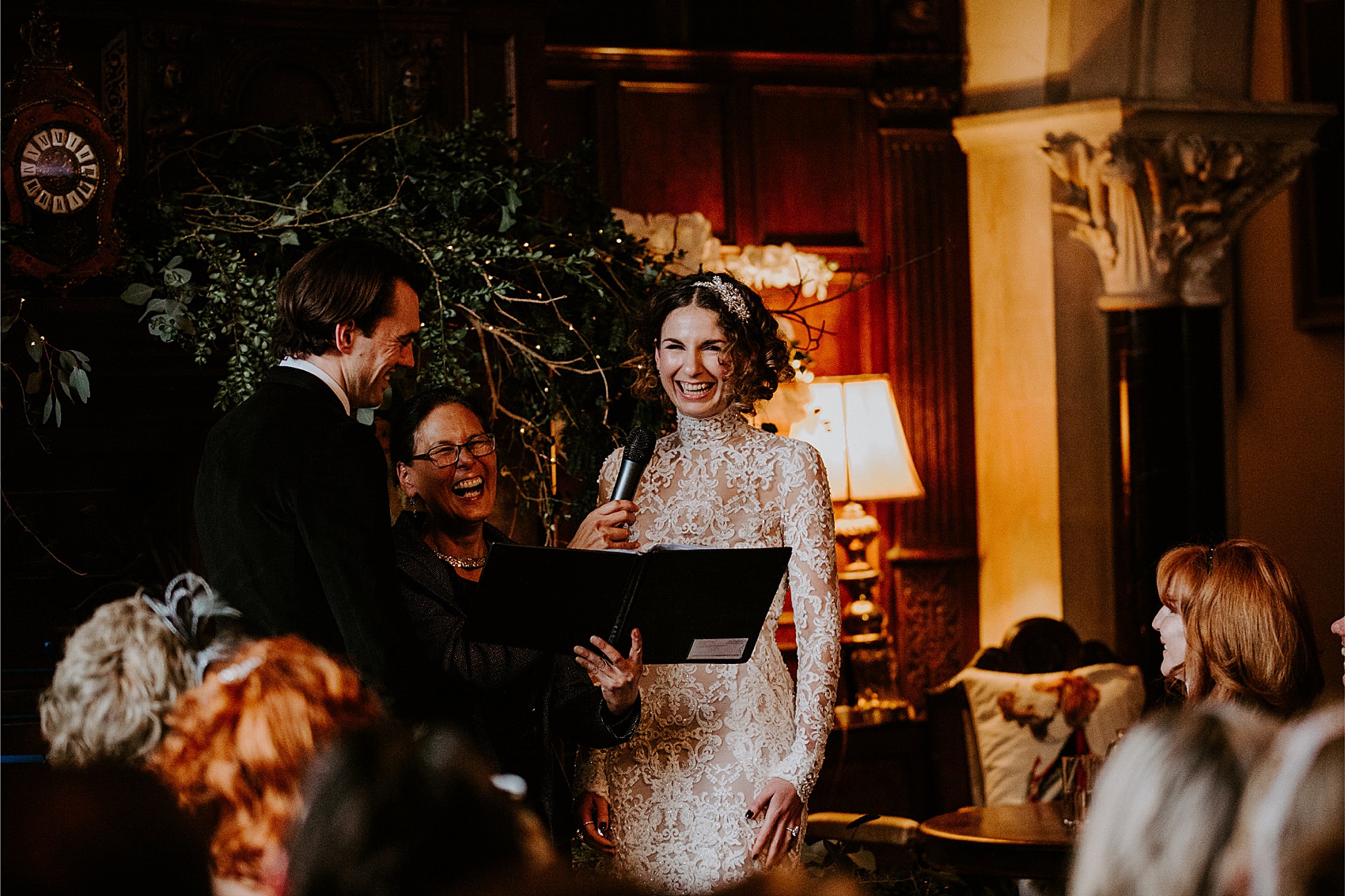 "We decided to have a humanist ceremony as we didn't want to have any religion in the ceremony. Having a humanist ceremony meant that we had a lot of control over the actual ceremony planning, enabling us to focus on the fundamental messages of love and unity between us and our nearest and dearest."
"We chose traditional white gold court rings – I had a smaller thickness to Jake as I enjoy stacking my rings day to day and love being able to customise my wedding ring finger, adding other bands to my wedding ring when I'm not wearing my engagement ring. We bought our rings from an independent jeweller in Hatton Garden."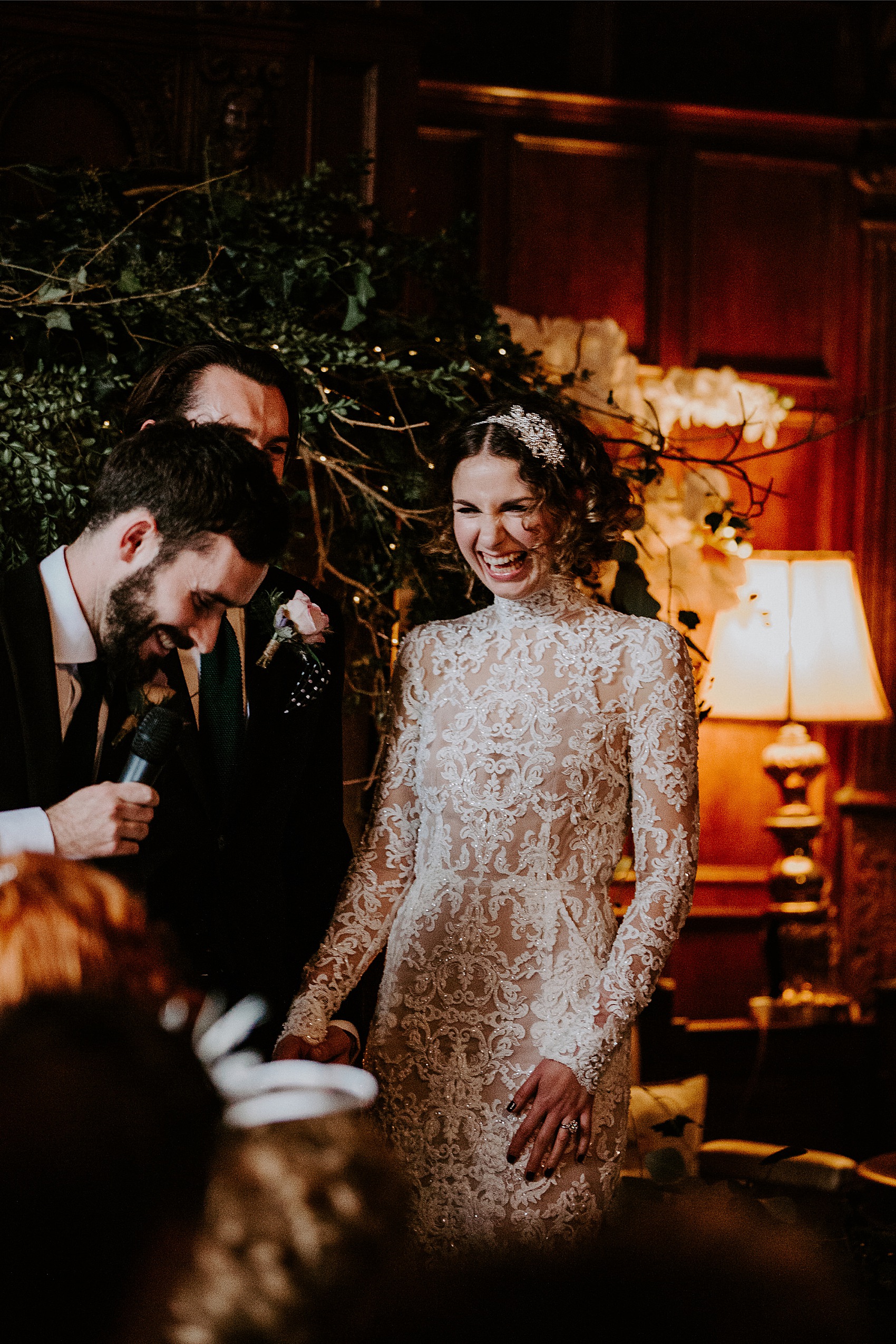 "We gave each other a big hug and kiss once I was at the front of the room before the celebrant Clare started the service as we couldn't wait until the 'you may now this the bride' moment – hehe!"
"We also faced all of our guests for the ceremony rather than facing the front of the room, it felt more inclusive this way and everyone was able to see the two of us go through all of the emotions and there were a lot!"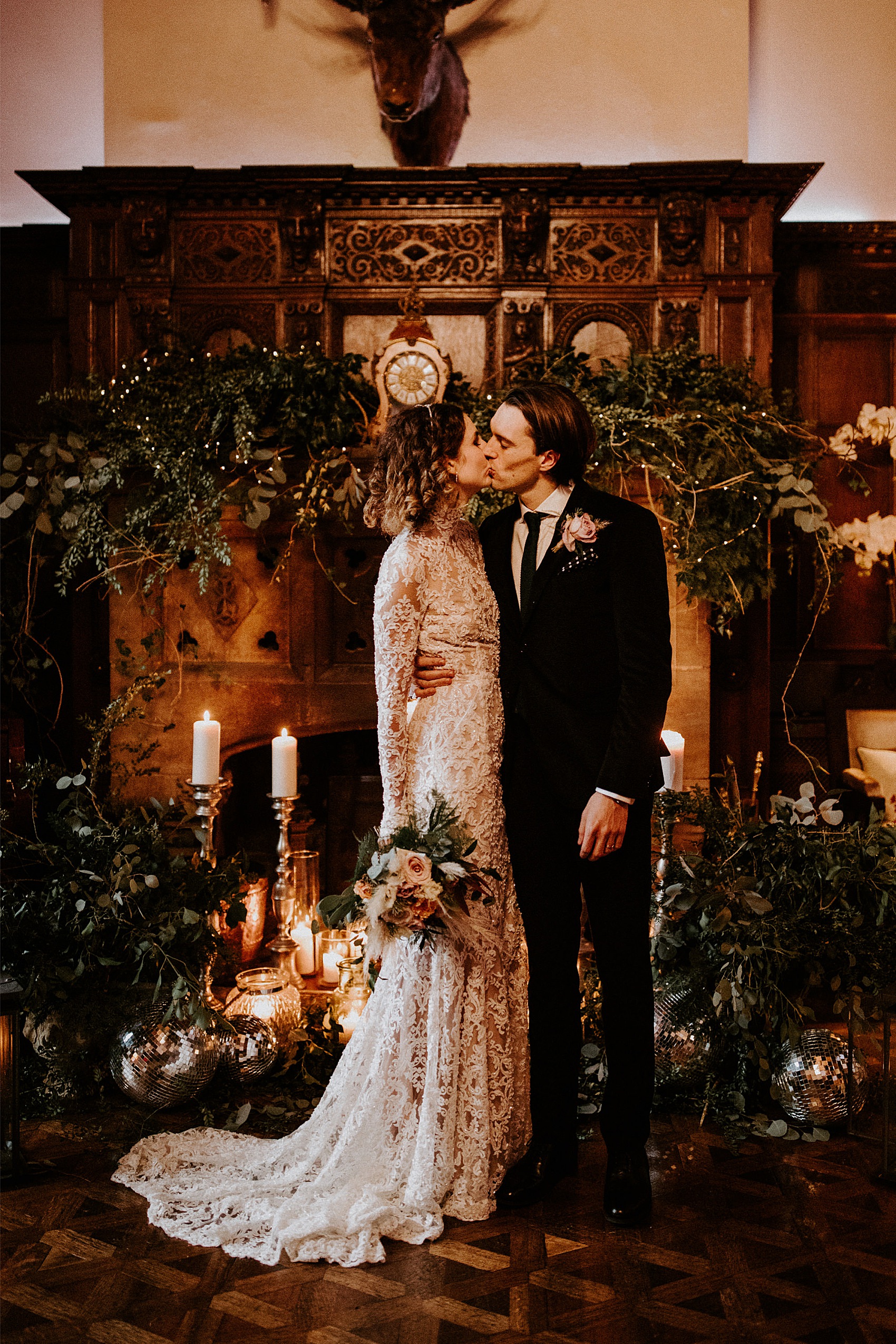 There ceremony was lead by Celebrant Clare Hanson-Khan…
"We chose a celebrant who was recommended by my maid of honour. We wanted the ceremony to feel intimate and relaxed and decided to hold a ring warming ceremony where our wedding bands were passed around all of the wedding guests and each person warmed the rings in their hands whilst thinking of good wishes for us as a couple."
"As we have family members who are religious, particularly elder members, it was important that the ceremony was still recognisable to them as a wedding, and so we chose to keep some traditional elements like the vows, and my dad walked me down the aisle."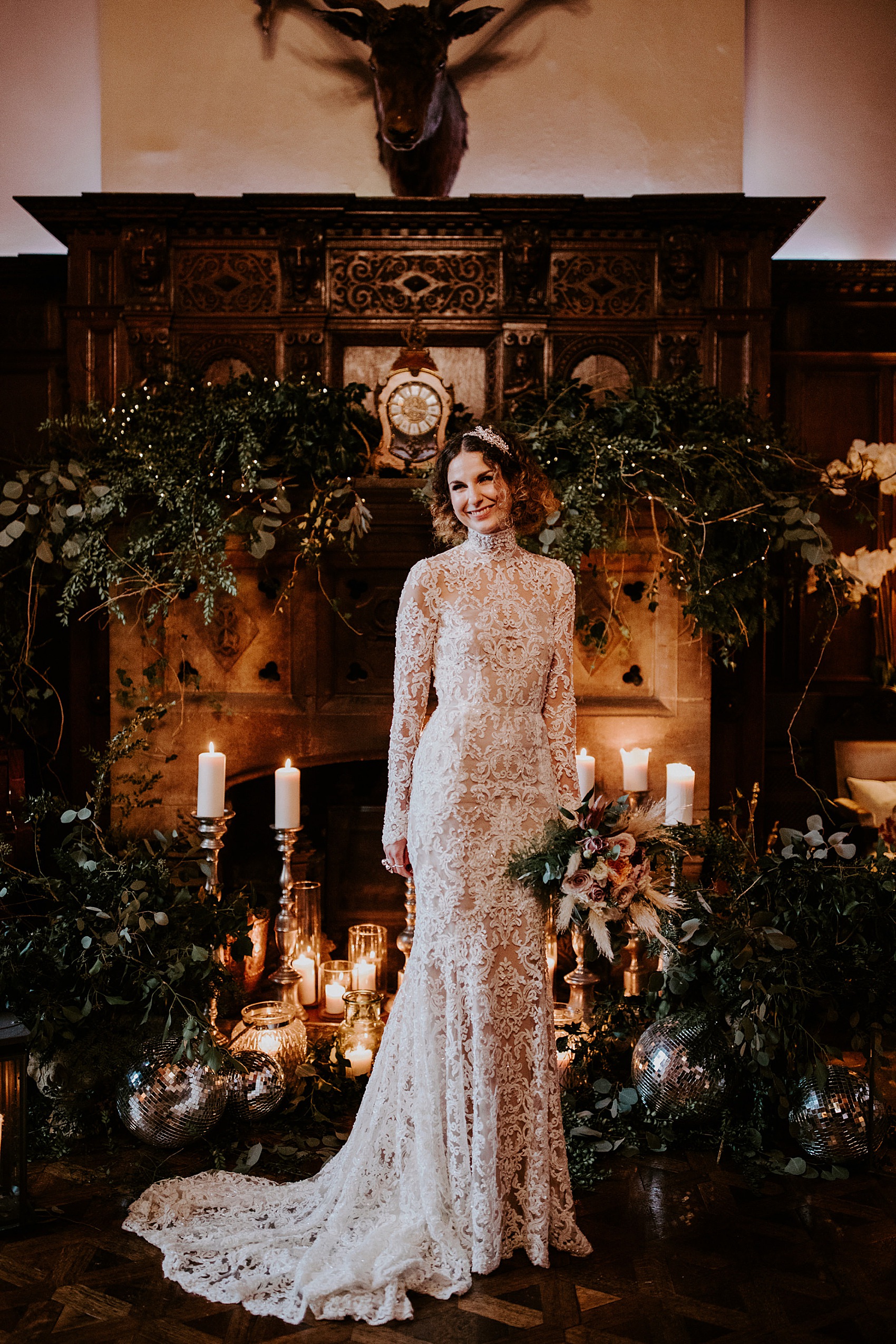 "We chose to use traditional style vows as it was a humanist ceremony but we wanted it to still be recognisable to elder family members. We altered them slightly and also did a reading together."
"Our maid of honour read 'A walled garden' and Jake and I read the 'Eskimo Love Song'. The groomsmen closed the ceremony with 'An Apache Wedding Blessing."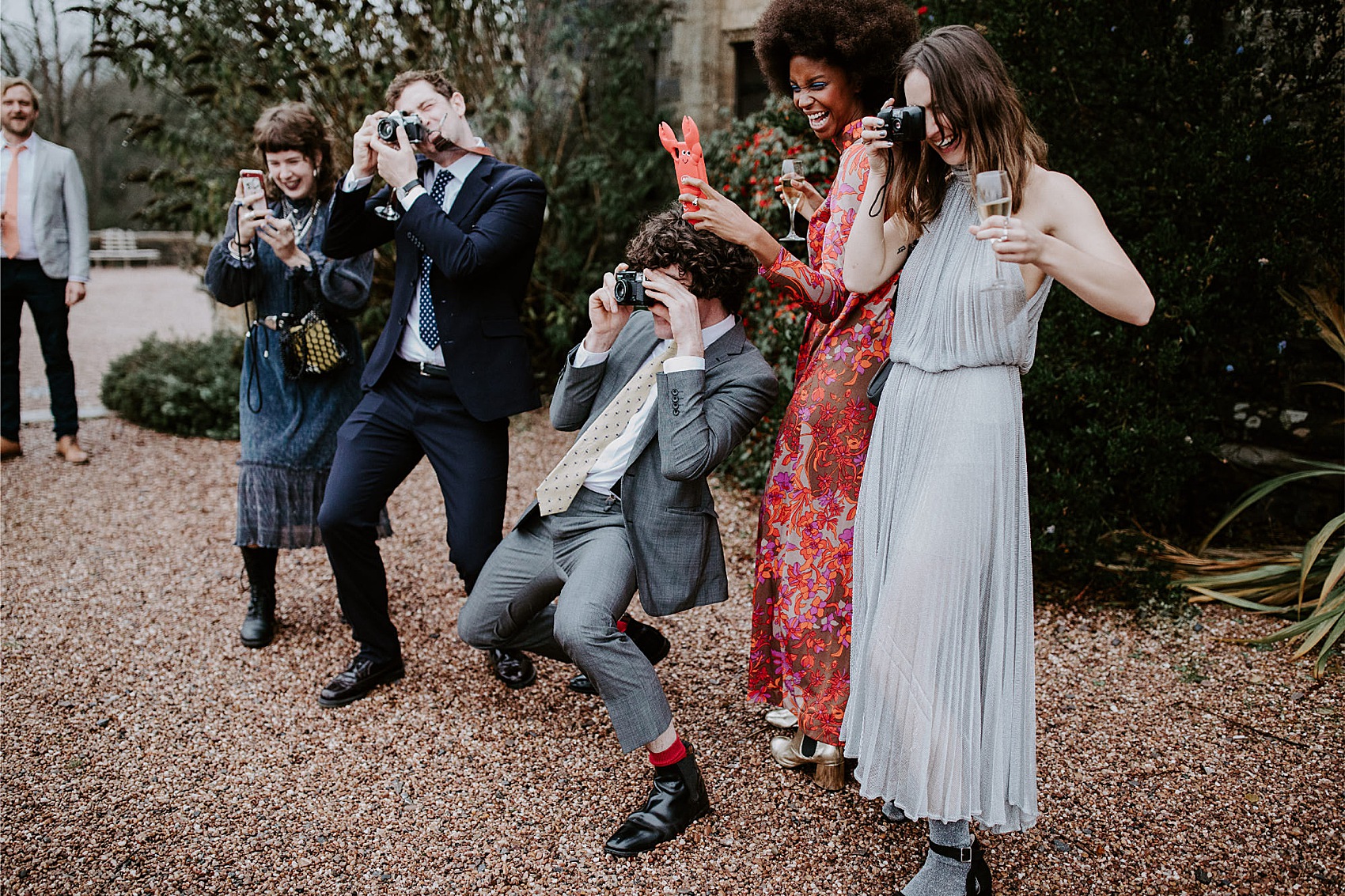 "I wore a pair of celestial themed star drop earrings to match my headpiece from Warehouse. I wear a lot of silver rings day to day and I decided to wear them on the day too as I wanted to feel like myself. Two of those are from MisanJewellery on Etsy."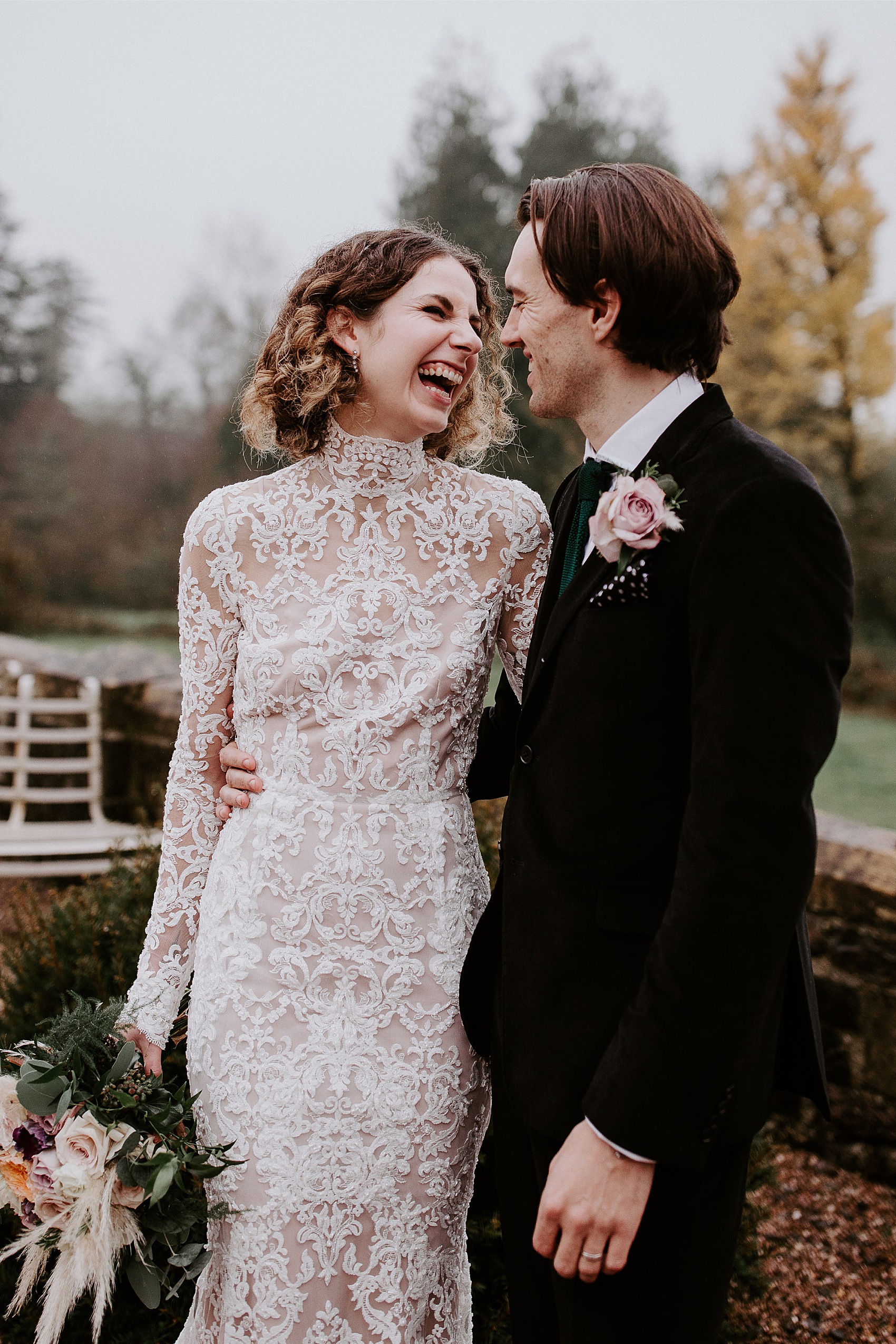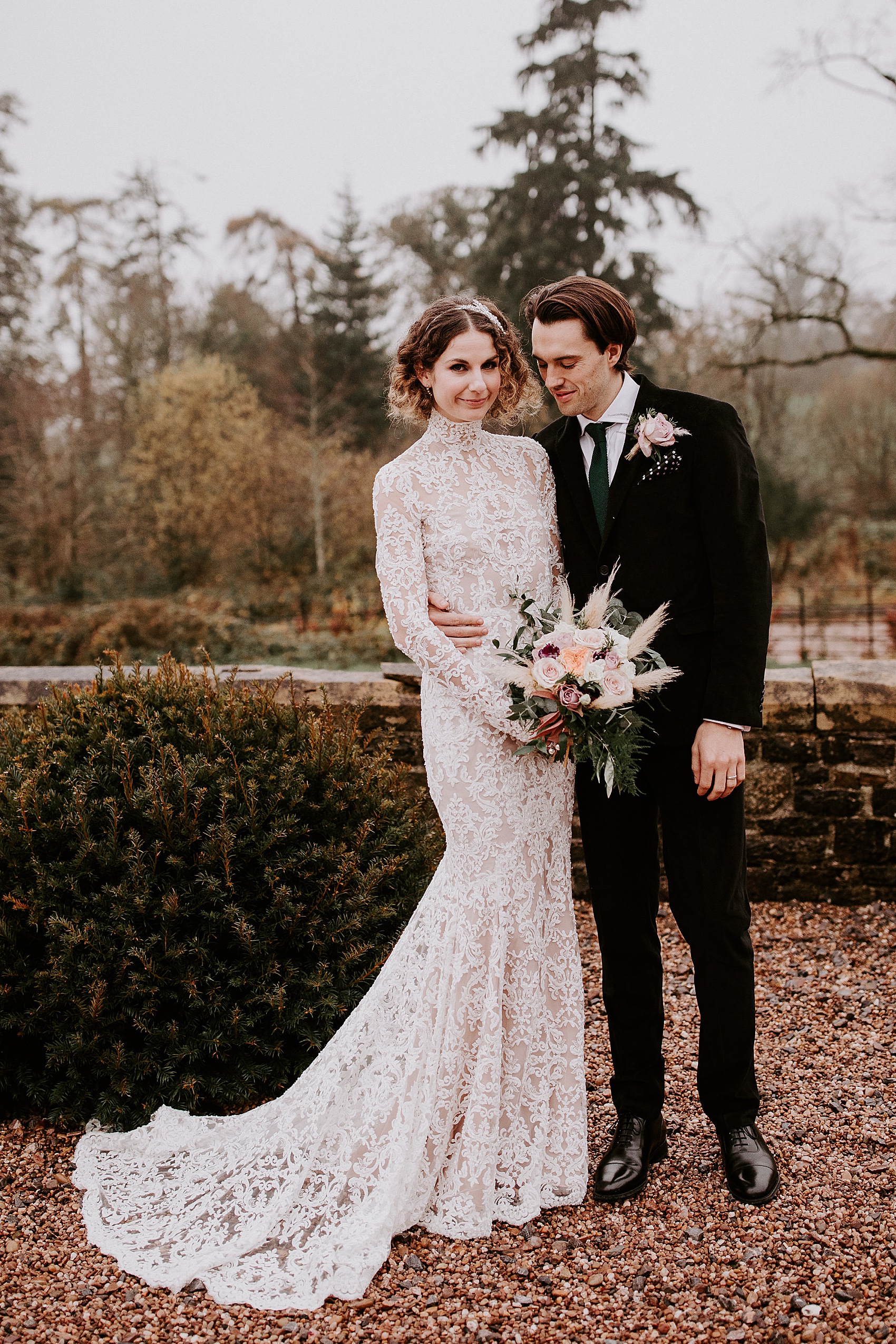 Tanya's bridesmaids wore YSL, Fendi, Vivienne Westwood and vintage dresses, with hair accessories from Zara and And Other Stories."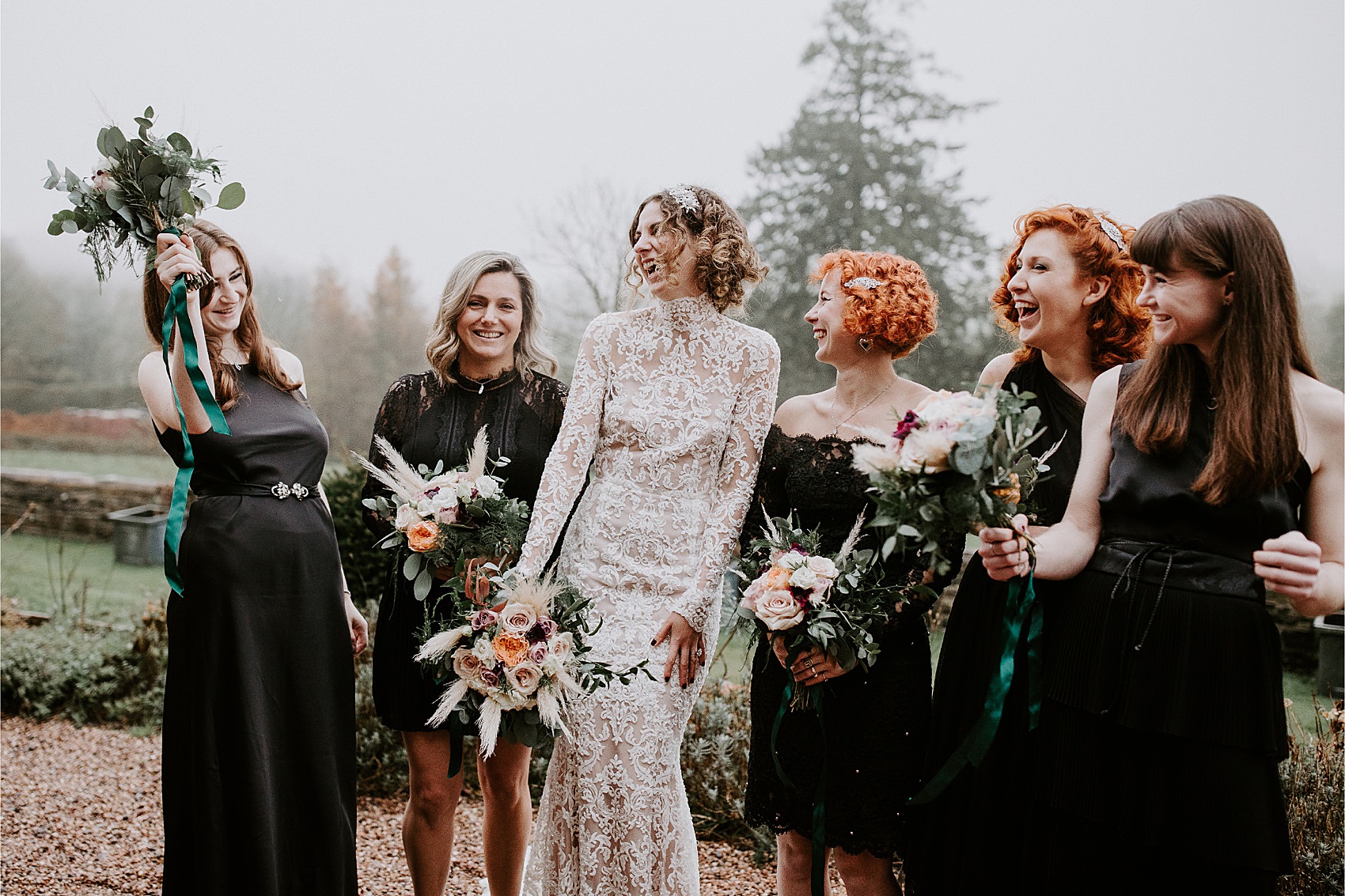 "My bridesmaids dress were a mix of Vintage, designer and high street. I wanted each bridesmaid to embrace her own style and to feel like themselves and encouraged them to choose a mix of fabrics, lengths and textures. I chose black, as the groomsmen were all wearing dinner suits and every girl loves an 'lbd!'"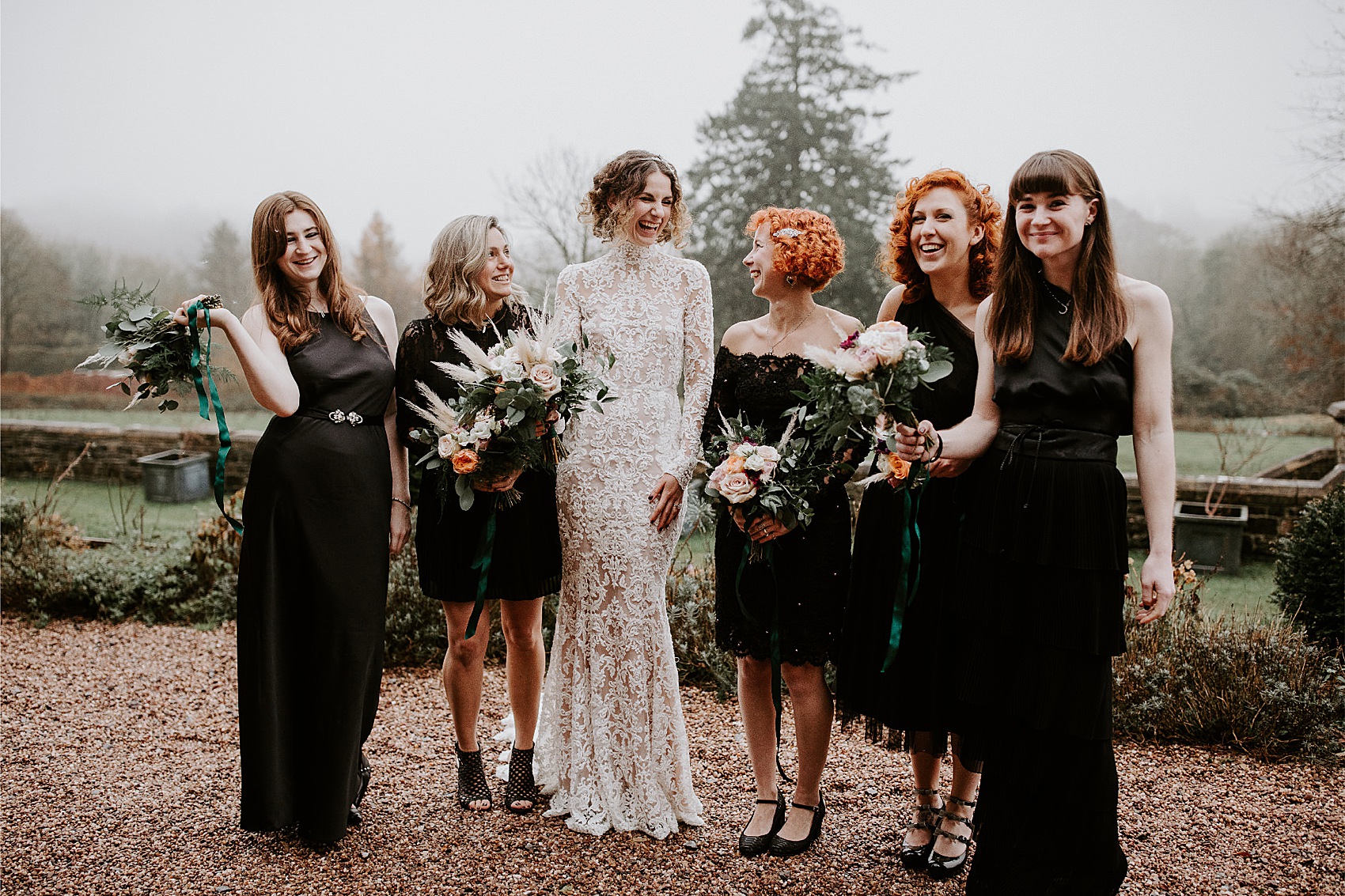 The couple hired Bristol florist Les Fleurs in Bristol to transform their venue and design beautiful bouquets…
"I chose big buttery dusky pink roses and a touch of apricot and deep reds to add some pops of colour to the bridesmaids outfits and also to compliment the decor of the house."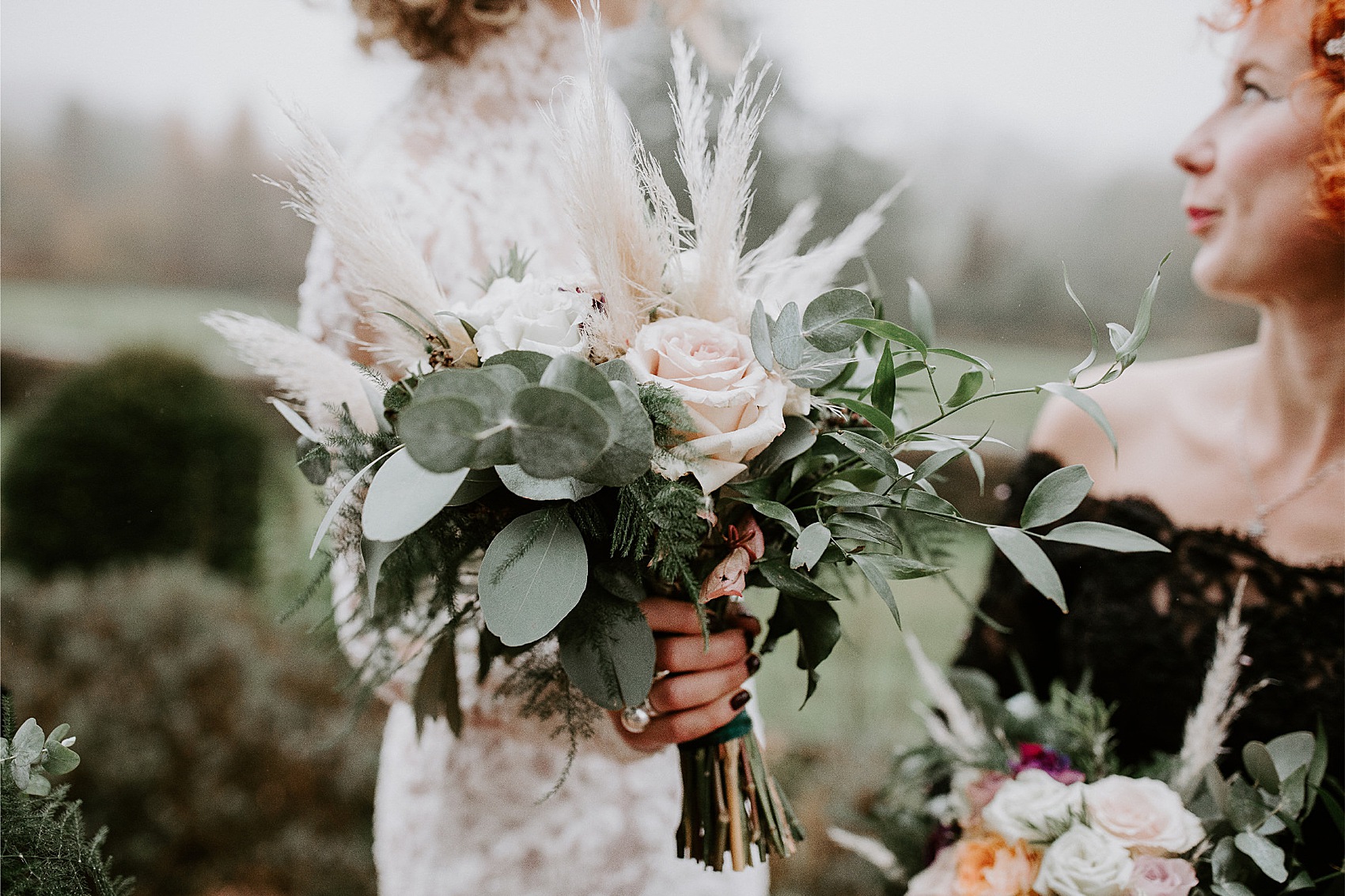 "The pops of colour worked really well in the photos. I also chose to use pampas grass in the bouquets as my Nana had a huge pampas grass plant in her garden that I have very fond memories of. "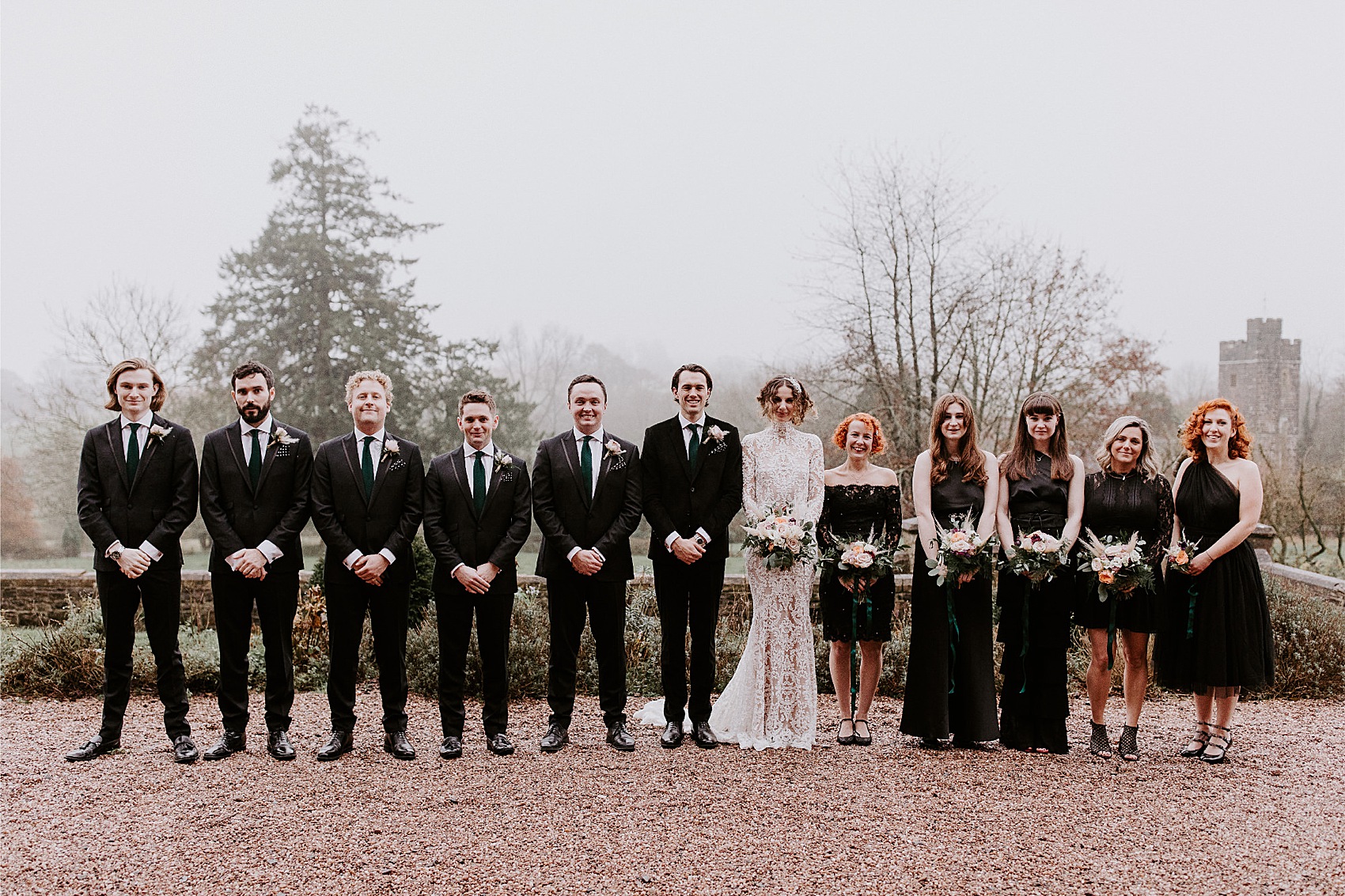 "At the time of choosing the flowers, I didn't think my Nana would make it to the wedding due to illness and I really wanted to hold something that represented a bit of her on the special day."
"Luckily she was able to come but the pampas really gave some height to the bouquets and softened the green and burgundy tones."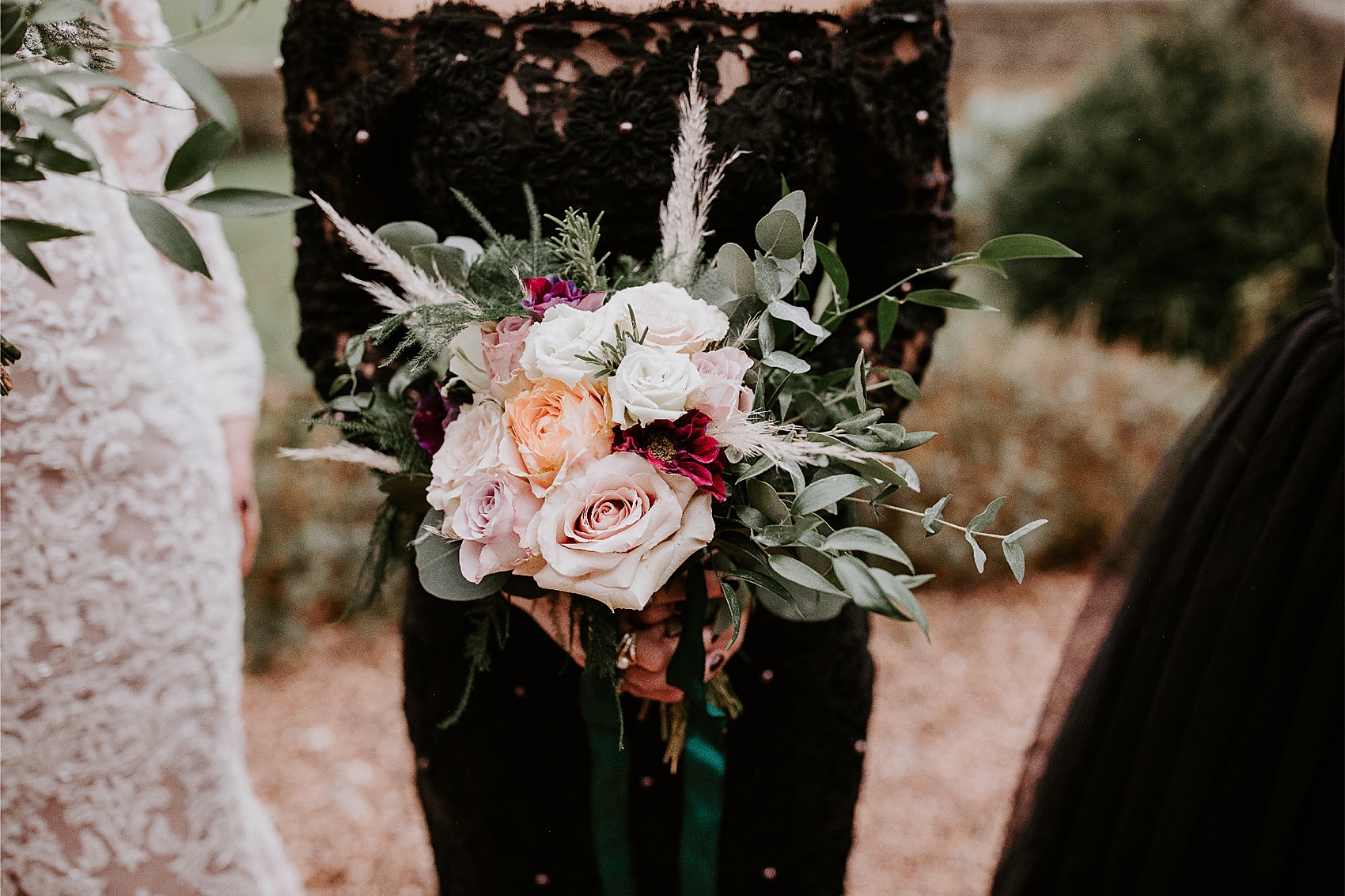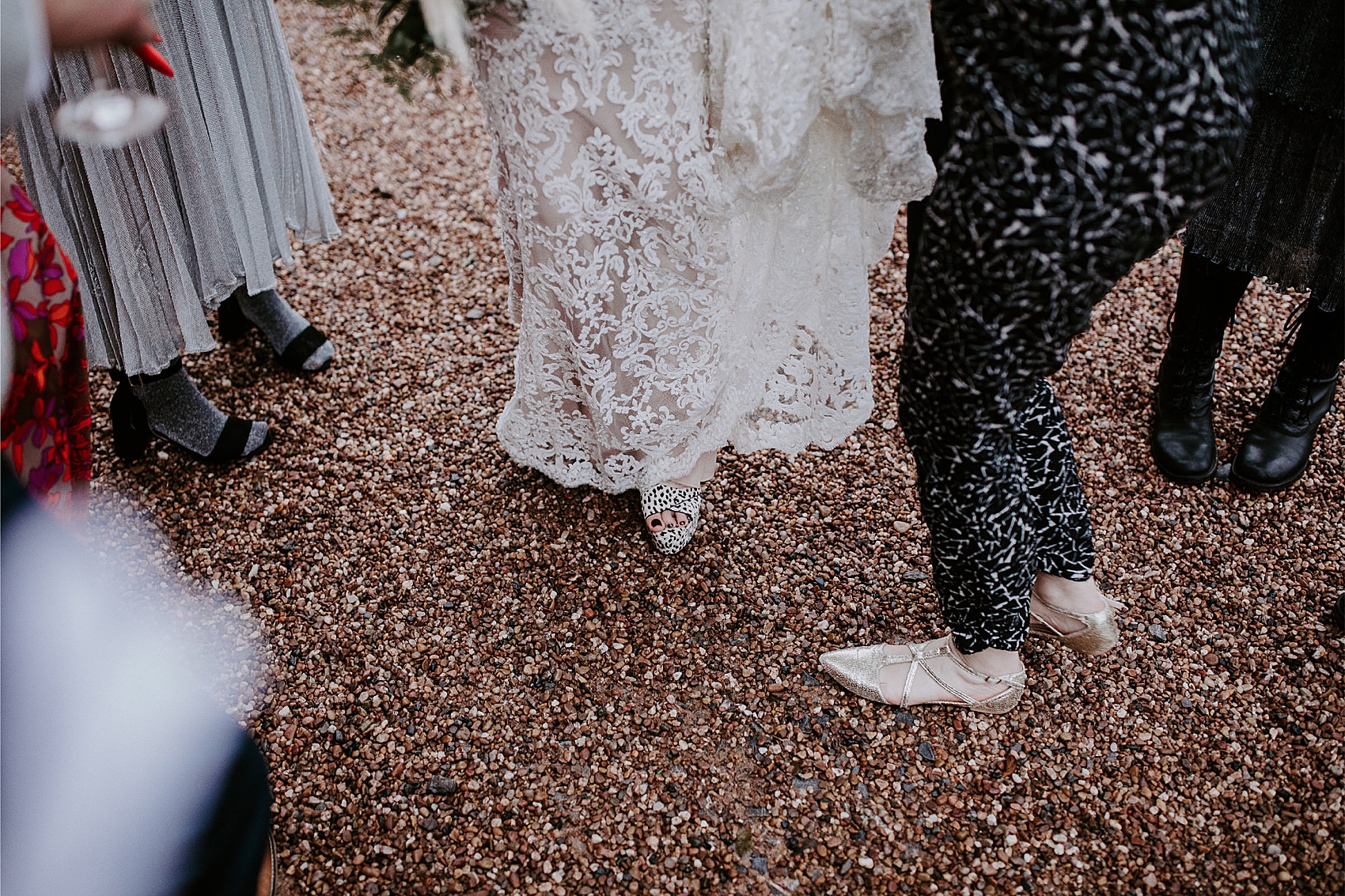 "Our photographer was Siobhan Beales – we cannot recommend her enough. We reached out to Siobhan initially through finding her on instagram and she called us and gave us a very detailed overview of how she worked and asked us what our expectations were."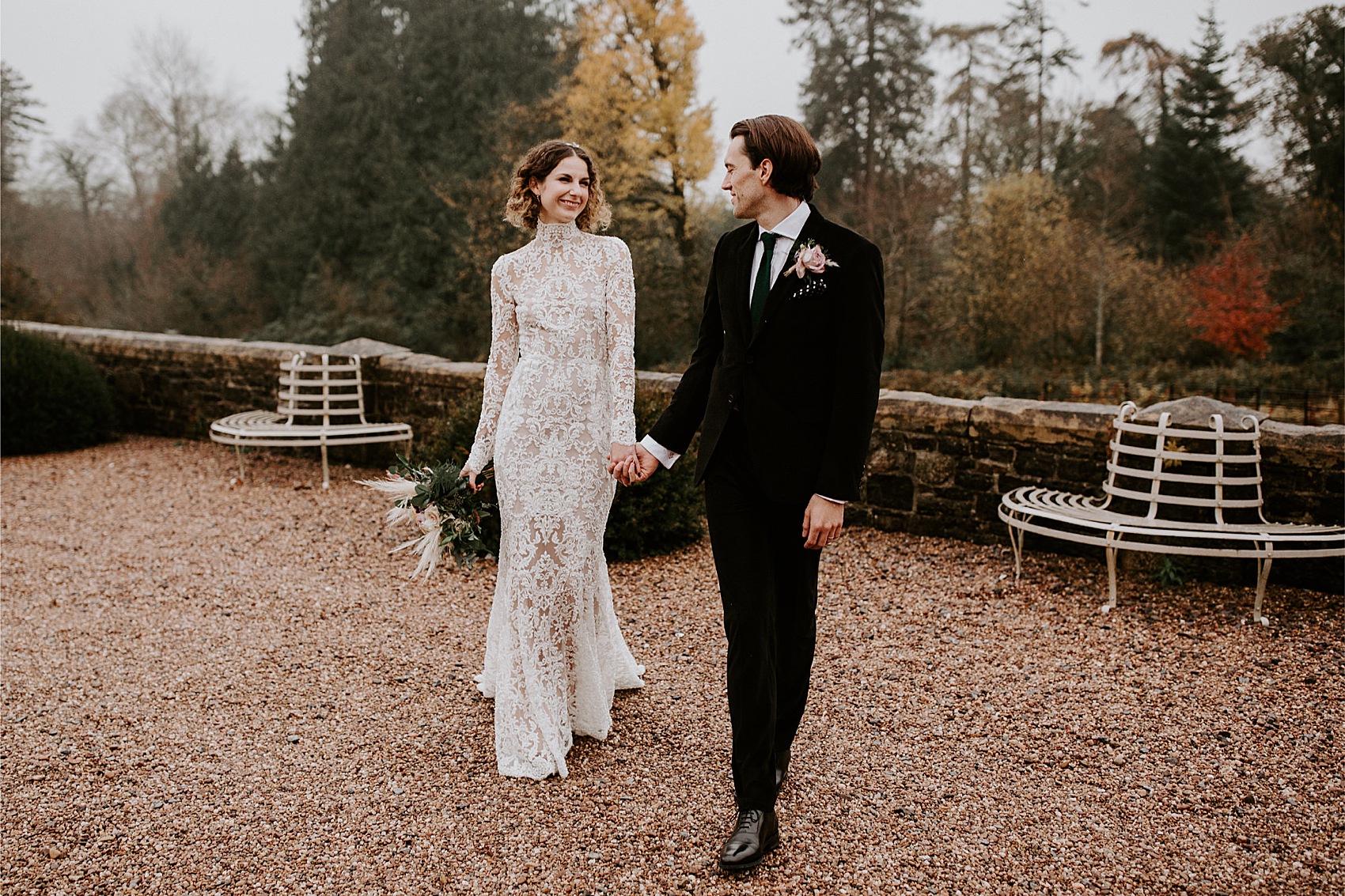 "We met for the first time on the day of the wedding and other than doing the group formal shots, we didn't notice that she was there."
"She captured our day perfectly, it felt like we spent most of our day laughing with each other and our guests and when we received the photos they are filled with all of the joy we felt that day."
"We cannot thank Siobhan enough for giving us this collection of photographs, to keep as reminders of the time we had and also lots of moments of the day that we didn't even see ourselves."
We woke up the morning after the wedding and Siobhan had already sent us a sneak preview over on email by 8.30am which was the perfect start to our first day as a married couple."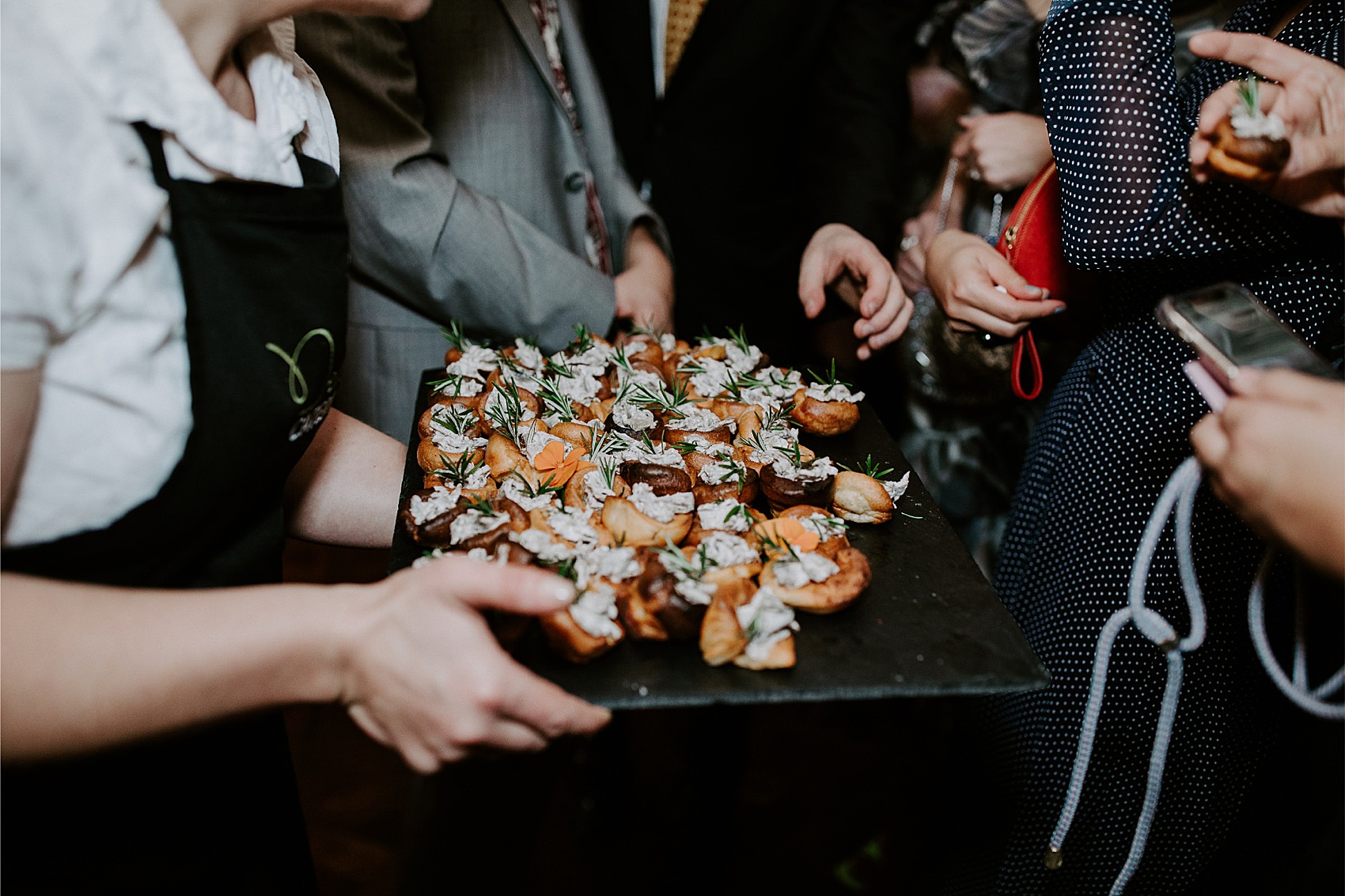 "We used Devon Catering for canapés after the ceremony and a two course wedding breakfast. We also hired a pianist to play throughout our wedding ceremony and canapes/drinks reception. He was called Giles and was recommended by the venue and was on their supplier list."
"We also hired Starry Eyed Weddings to come and style the venue for us the night before the wedding and we woke up on the morning of the wedding to a fairytale scene of beautiful greenery framing the fireplace in the ceremony room adorned with candles and Disco Balls for a touch of sparkle!"
"Hayley and her team at Starry Eyed Weddings invited us for an appointment about five months before the wedding so that we could choose from their selection of props. We used large metal lanterns with big pillar candles in them to light up the entrance to the house without the worry of a naked flame."
"We also used easels for the table plan and welcome sign and decorative metal trays on the tables with lots of clear textured glassware."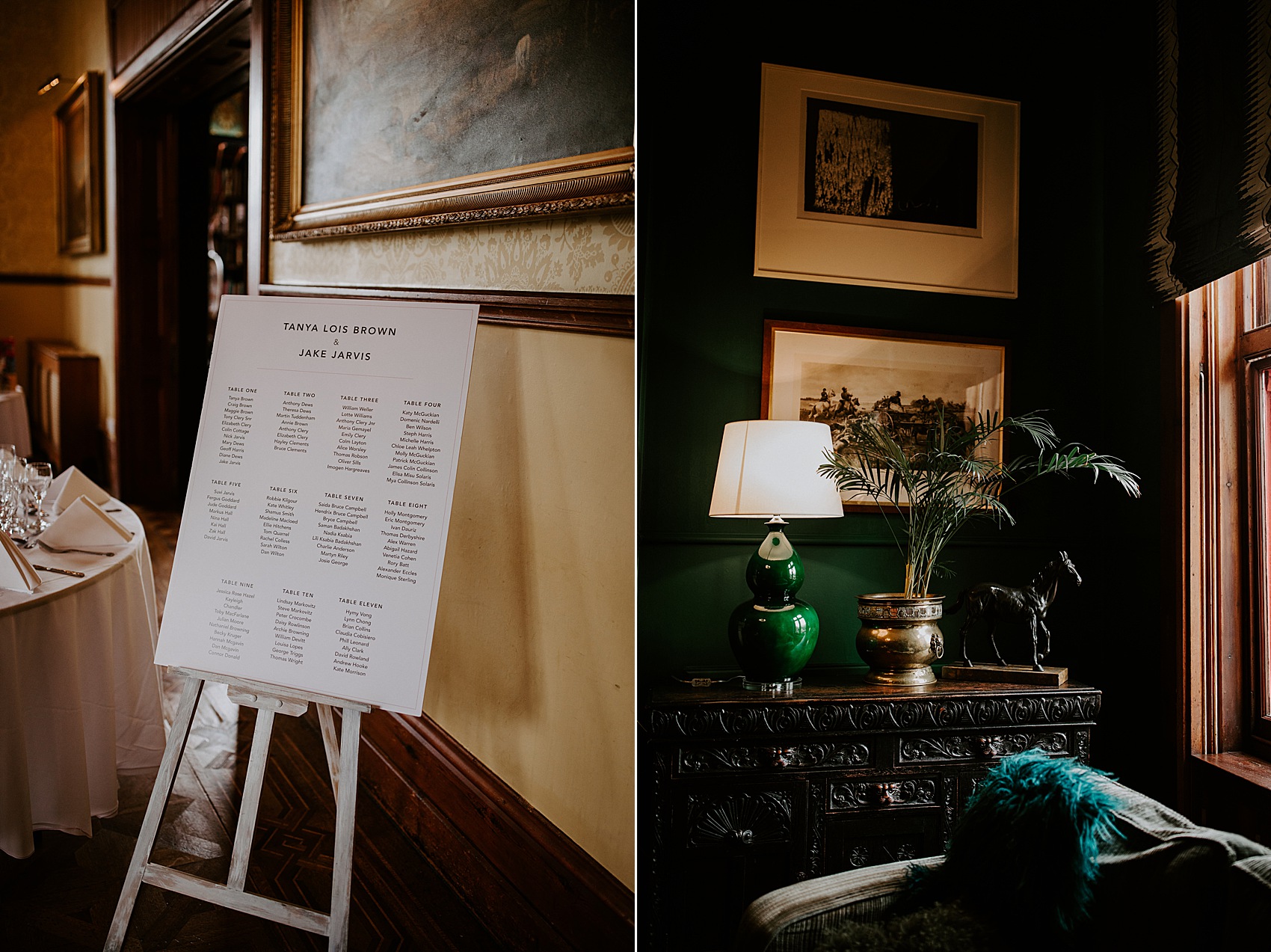 "Hayley created amazing centrepieces combining all of my favourite things and it worked together perfectly it looked so magical. She cleverly used large glass cylinders with submerged flowers, foliage and floating candles and huge candelabras that towered over the displays."
"She used lots of eucayptus and rosemary and conifer so the smell when you walked into the room was so good."
"The house has a very grand staircase which Hayley and her team went to town with using suspended foliage and fairy lights with disco balls and candles scattered around."
"We didn't want to spend huge amounts of money on flowers and it was a was the end of November so it felt appropriate to use lots of greenery."
"We foraged the greenery from Jake's mum's garden and gardens of friends, which meant we had a lot to work with without a huge price tag. We also placed an order for some eucalyptus and rosemary and flowers for the tables from a wholesaler in Essex called D Byfords & Sons which cost around £250 and there was enough to dress 10 tables."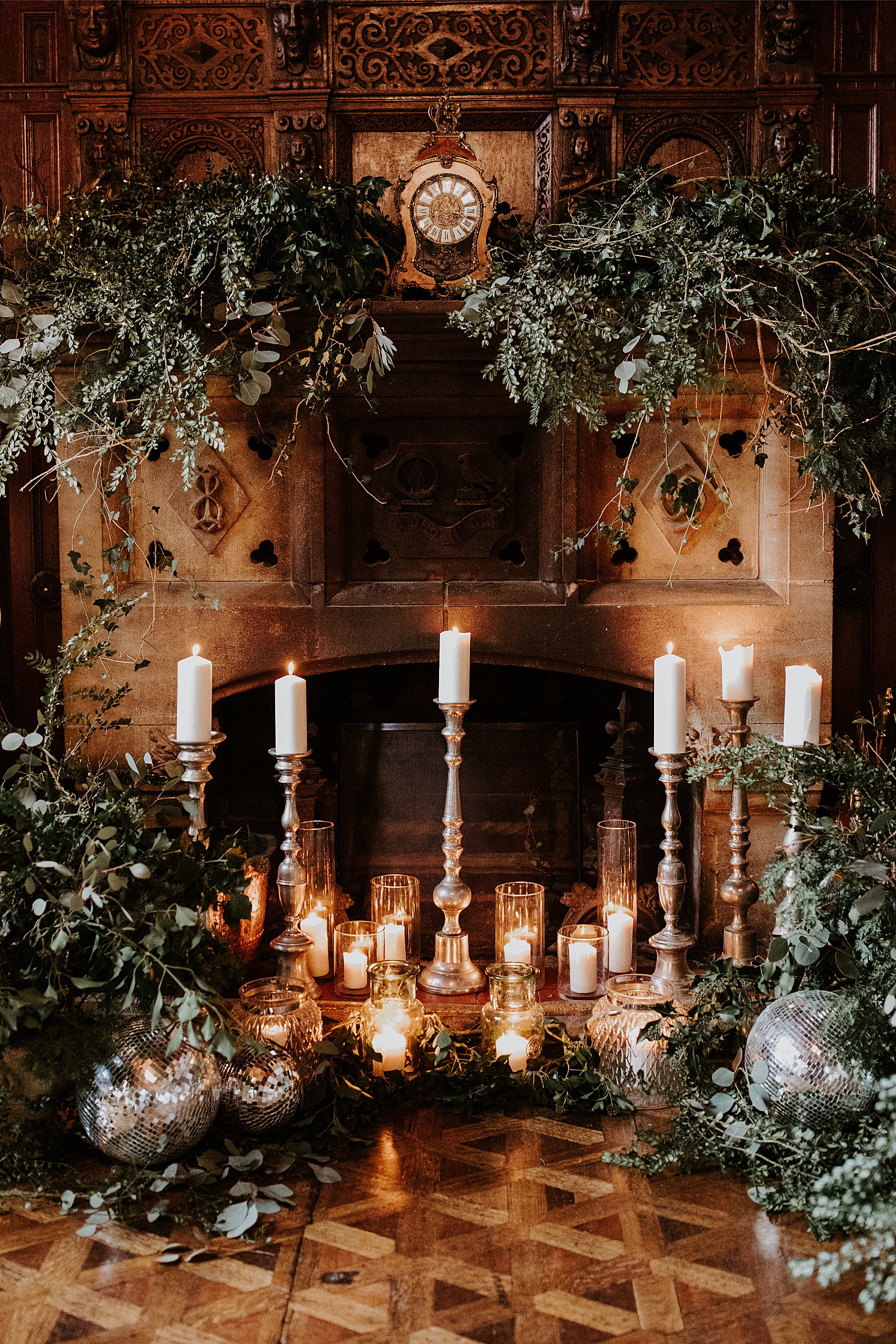 "It was a winter wedding so we indulged in lots of candle light and foraged greenery that made the house smell divine and looked very wild yet classically beautiful"
"Jake and I live in a building that used to be a mirrorball factory so we had clusters of disco balls hidden in the greenery and the candle light bouncing off them was just divine."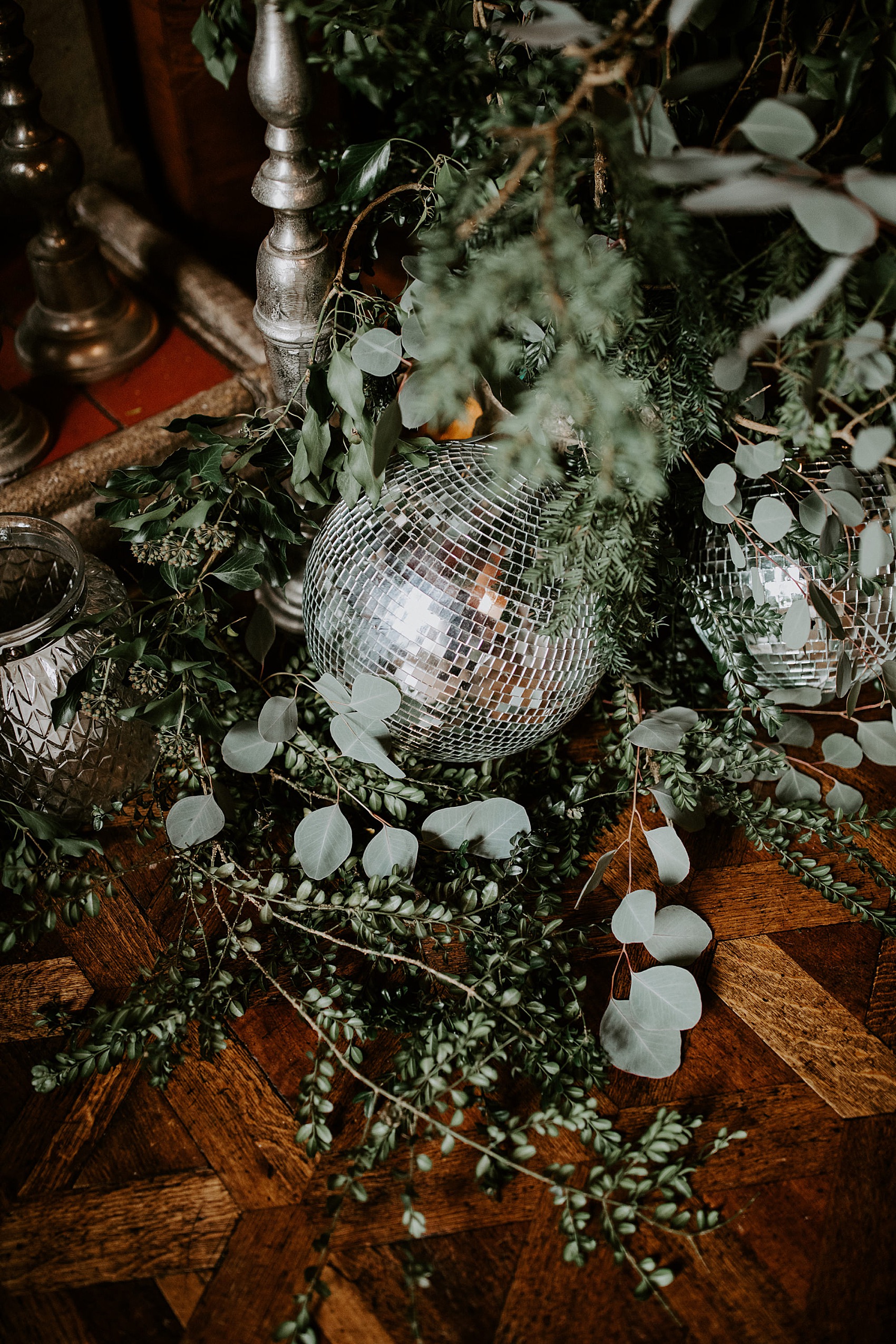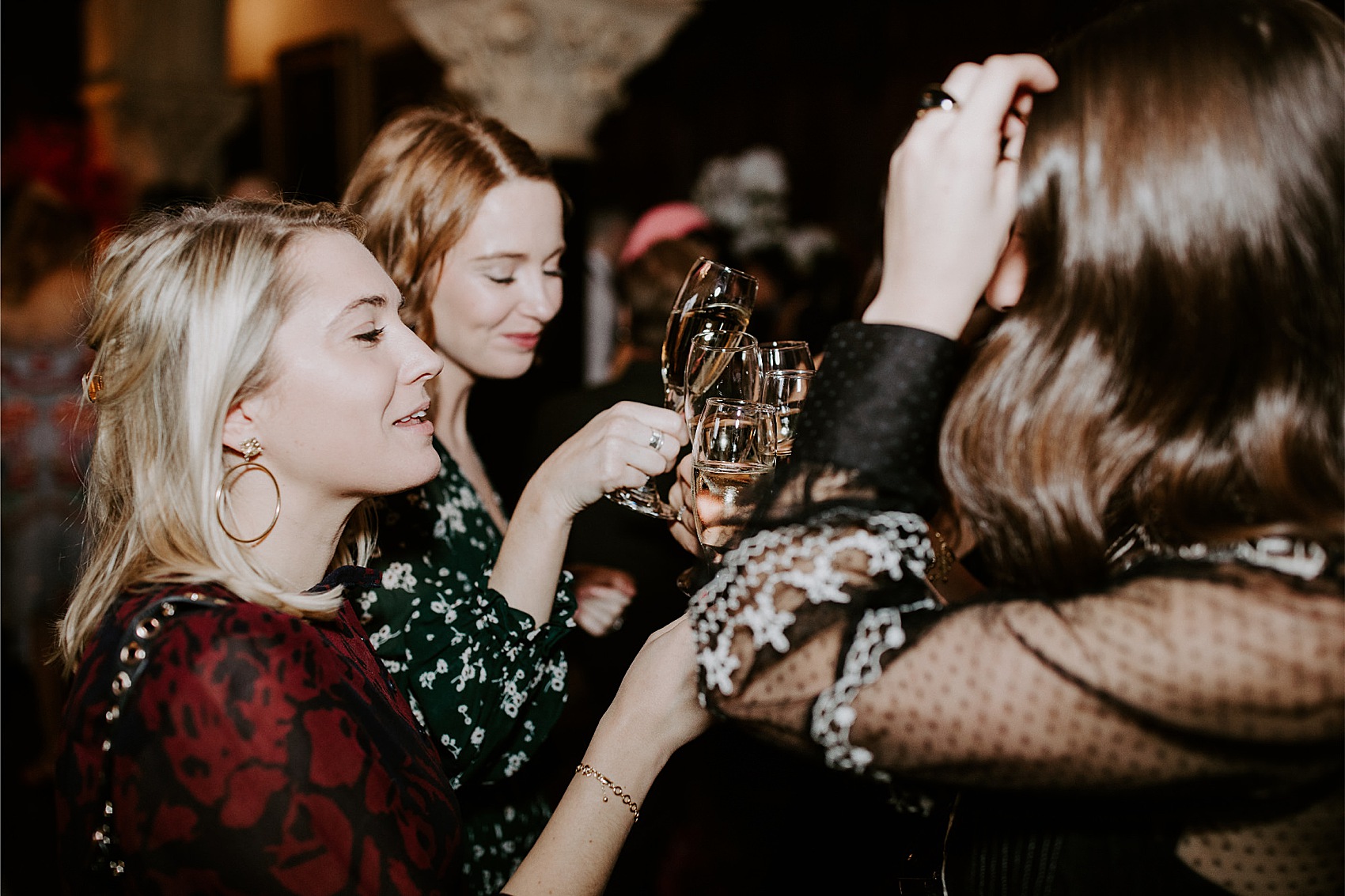 "We bought really cute mini love hearts personalised with our names and wedding date on them from Swizzles which proved very popular. We wanted something inexpensive but still personal to us to gift as favours – and who doesn't like love hearts."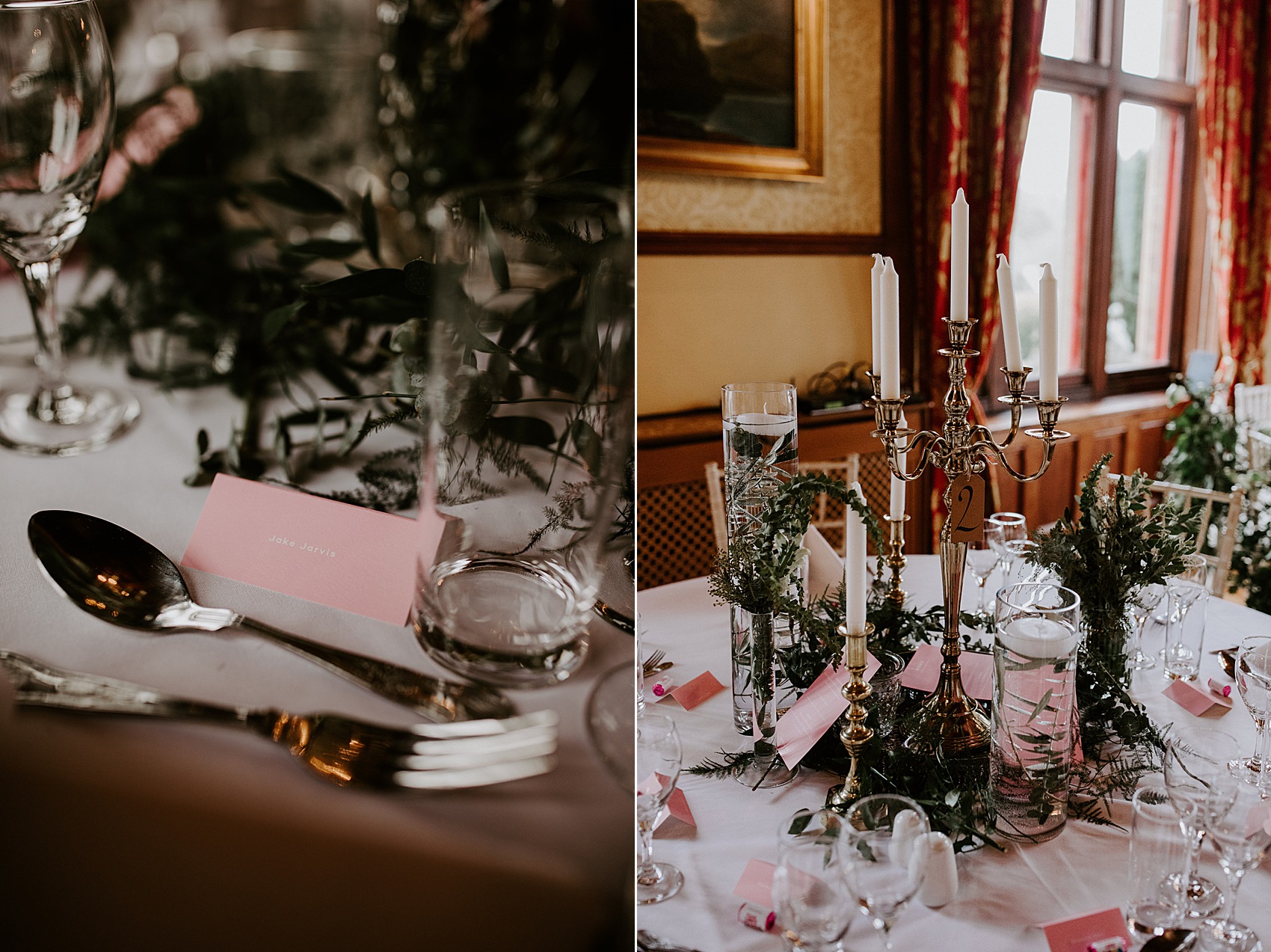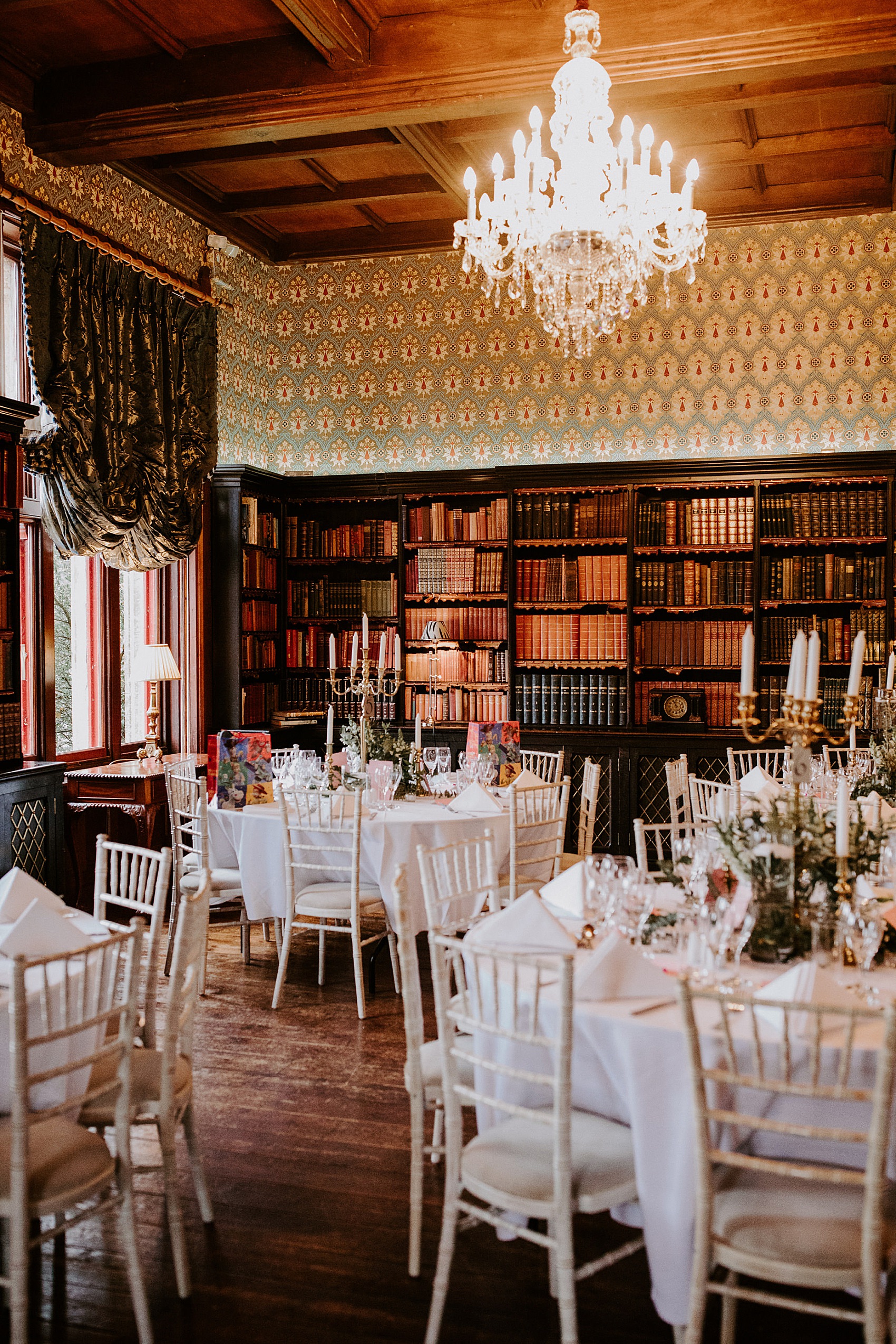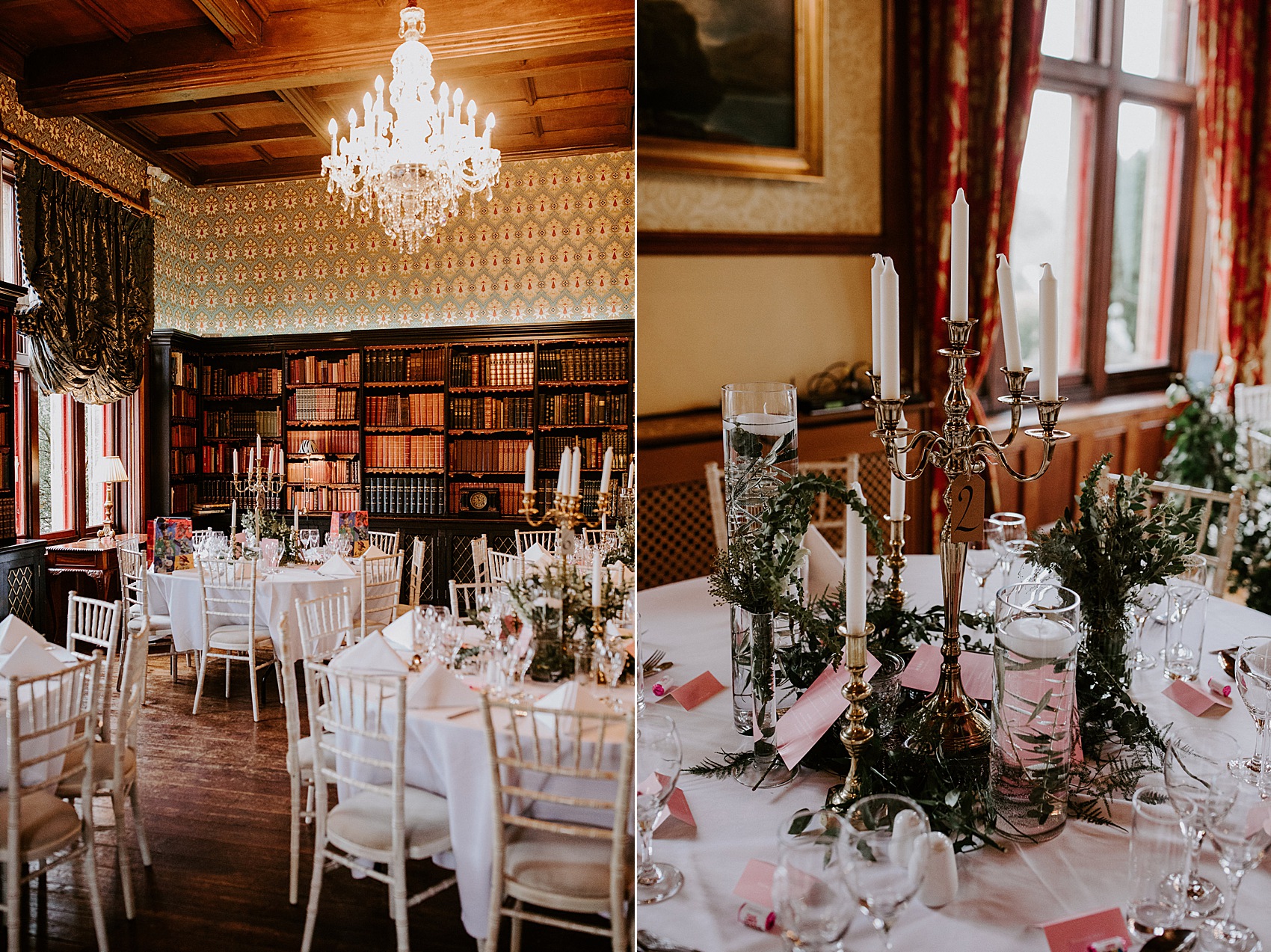 "My lovely mum made our wedding cake we had two tiers of cherry fruit cake and one tier of sponge."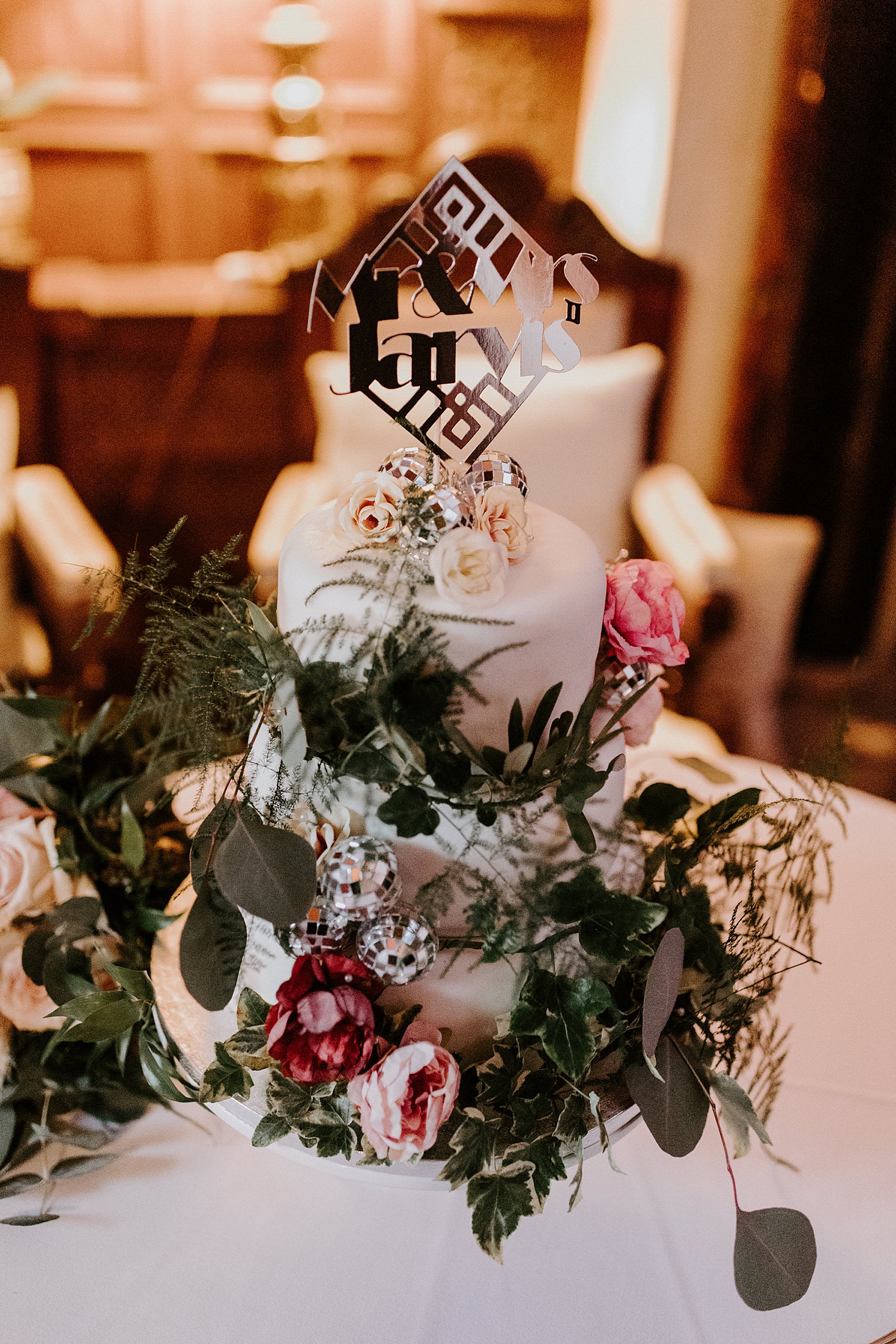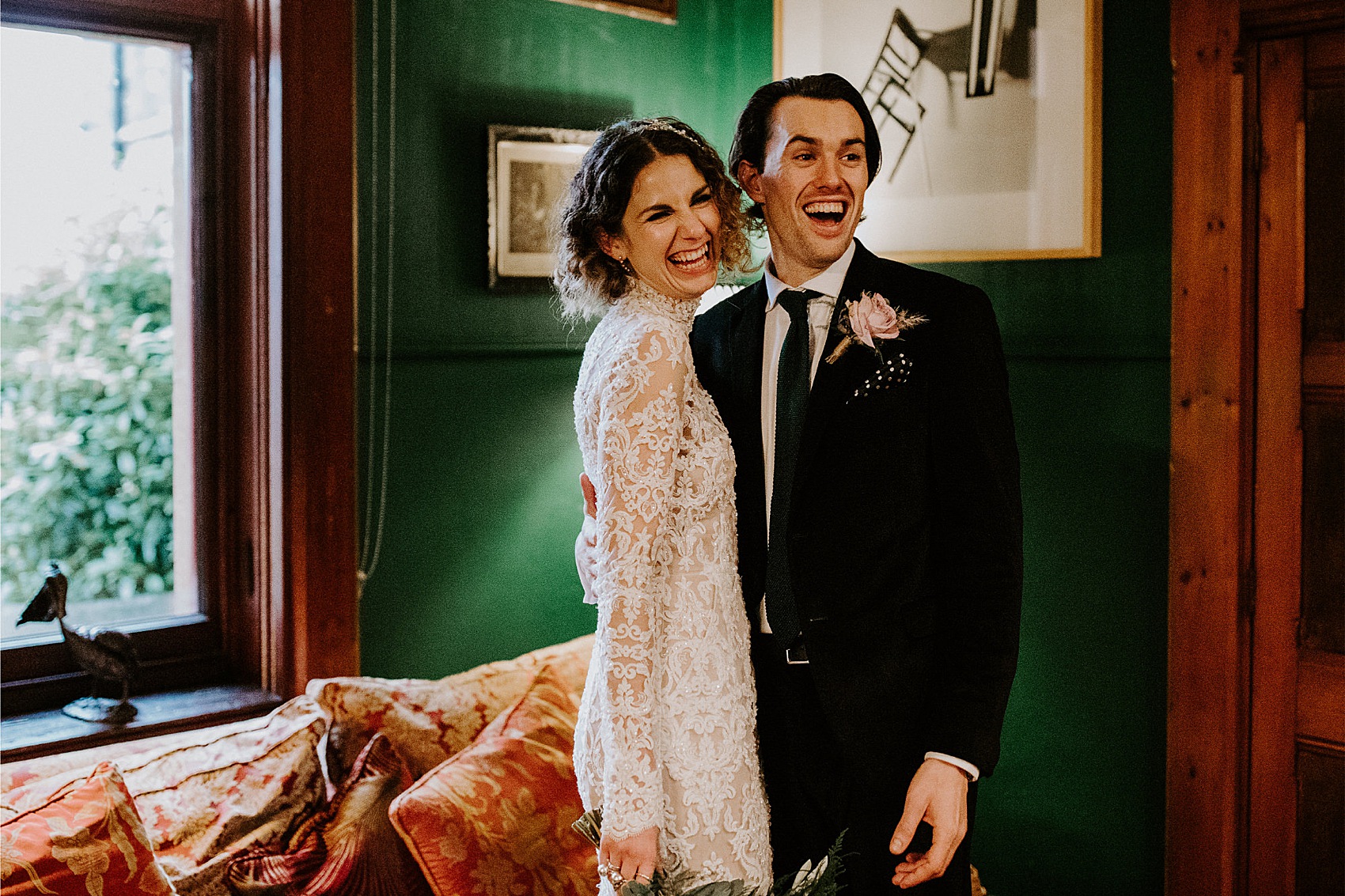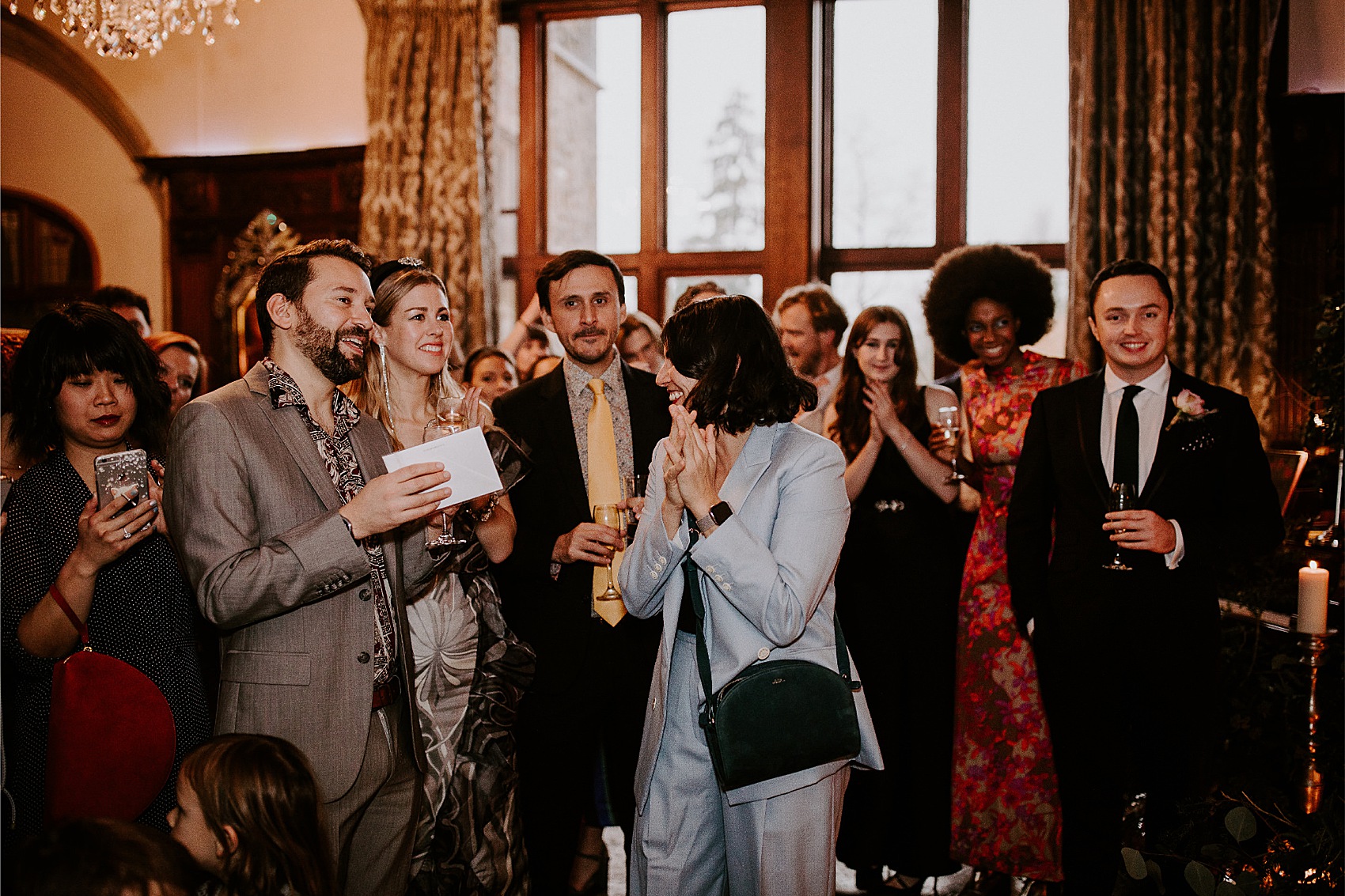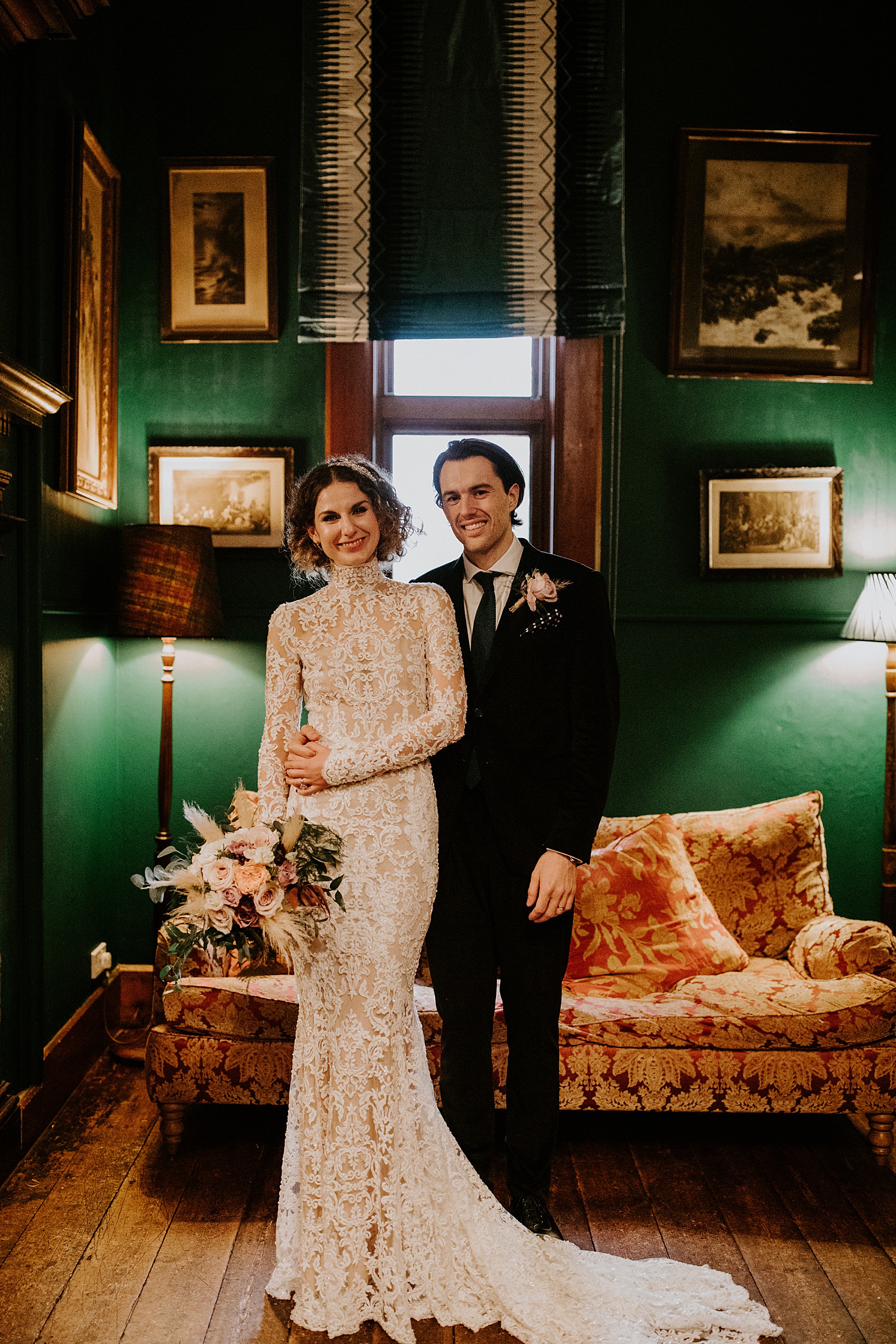 Budget
"We had a loose budget in mind when we initially started planning the wedding but we soon realised this would be exceeded as there were so many small things that add up that we just hadn't considered initially."
"Including the venue, the overall spend would have been about £35,000 originally, but guests paying for their rooms covered about £15000 of the venue hire which was (£21,500) which left our spending at just over £20,000."
"The venue we hired was over three days so all guests were able to stay in the venue and have a weekend break. We hired out the bedrooms in the house to guests to help cover the cost of the venue."
We had worked out what this cost would be per guest and floated the idea to friends and family before viewing and booking the house to make sure everyone was comfortable with the cost."
"Guests got 3 nights in a stately home and there were no corkage fees – so Jake and I stocked the bar with alcohol and catered for the 3 days so people didn't have to pay other than the accommodation and travel."
"Things we did to keep costs down where possible: spreadsheets, spreadsheets, spreadsheets, spreadsheets, spreadsheets!  We had a spreadsheet and shopping list/action plan for every element of the weekend. Silly things such as how many cups of tea each person would drink over the three days – we settled for 480 tea bags for 100 people."
"I checked the supermarkets for drink offers constantly and took advantage of the 25% off for 5 or more bottles that most supermarkets did before Christmas period. We also opened up a Costco account and bought a lot the wine and spirits from there as we could return anything that was unopened and not drank."
"We also saved costs by hiring sound equipment and asking friends that could DJ to do a 1 hour DJ set – this included Jake and muyself, who did a bride and groom set, which was my second favourite moment of the day!"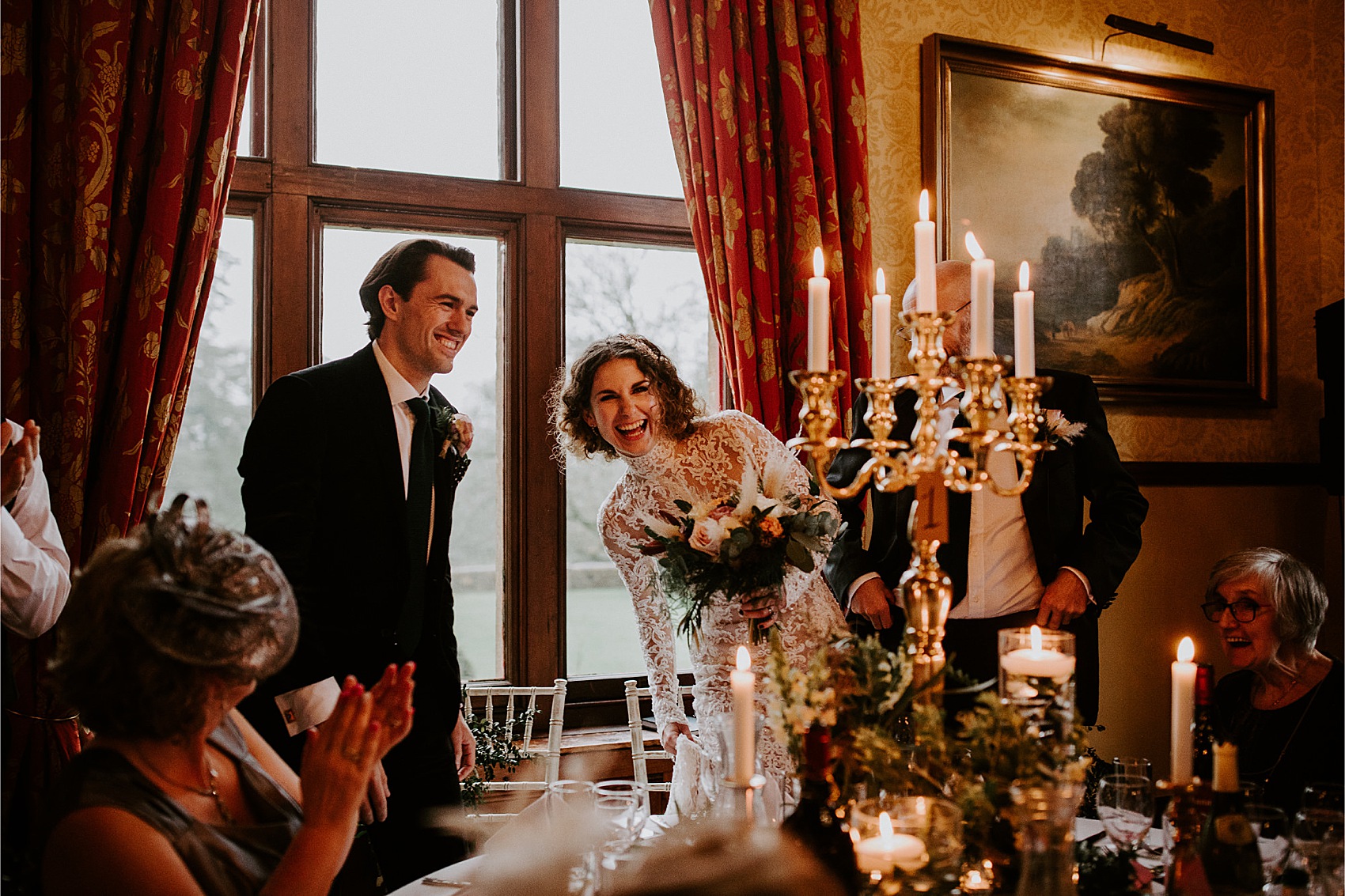 Words of Wedded Wisdom
"Don't put yourself under unnecessary pressure! Planning a wedding with Jake was a really fun hobby that we were able to do together over 9 months and even though there were definitely a few late nights crunching numbers it was mostly a very enjoyable experience."
"Before we started to plan the wedding we wrote a list of the things that were important to us that we felt would make the weekend as stress free and enjoyable for everyone.
The list looked something like this:
100 guests, approximately
2-3 days away so that we had quality time to spend with our friends and family.
Accommodation for 90+ people to avoid taxi's and unnecessary itineraries.
Self catering as an option for most of the weekend (we love cooking and also keeps the cost down).
Bring your own booze and NO corkage fees.
4 hours travel time max for people with easy connections from London.
Available in the next 12 months."
"We didn't start thinking about colour schemes or the smaller details until much closer to the wedding. The next best thing we did was ask friends for recommendations as it saves a lot of time researching. We found our wedding celebrant through a friends recommendation."
"Don't spend too much time looking at other peoples weddings as you might actually get so caught up in what they are doing that you lose track of what will make the two of you the happiest on the day. Always remember that everyone is there to celebrate your happiness and marriage and they really aren't scrutinising what is on their plate or how many flowers are on the tables."
"On the day, give yourself time to meditate or simply take a few deep breaths before getting ready. Lots of women said to me that the day would fly by and that I wouldn't remember any of it so I was very cautious to try to consciously take everything in. I had a bath in the morning with a cup of tea and that 30 minutes to my self really helped. Close yourself off to any drama that might be happening around with other people getting ready. And remember to turn off your phone – text messages can wait until tomorrow!"
"My final piece of advice would be to choose a great photographer – even if ti means choosing a cheaper caterer or not having as many flowers. Jake and I luckily found Siobhan and she was available but that was only 3.5 months before the wedding."
"We had almost maxed out our budget and were even thinking of not having a photographer and giving guests disposables to save money. However nothing can ever prepare you for how you will feel on your wedding day, its really hard to explain but it truly is the best most magical experience of your life. Having hundreds of photographs of that day means that you can relive the day over and over."
"There are also whole sections of the day that you may not be present for such as when you are getting ready in the morning."
"Siobhan had captured the moments just before I walked down the aisle and Jake is looking very teary and nervous waiting and being able to see this melted my heart the next day. We still both cry when we look at the photo's."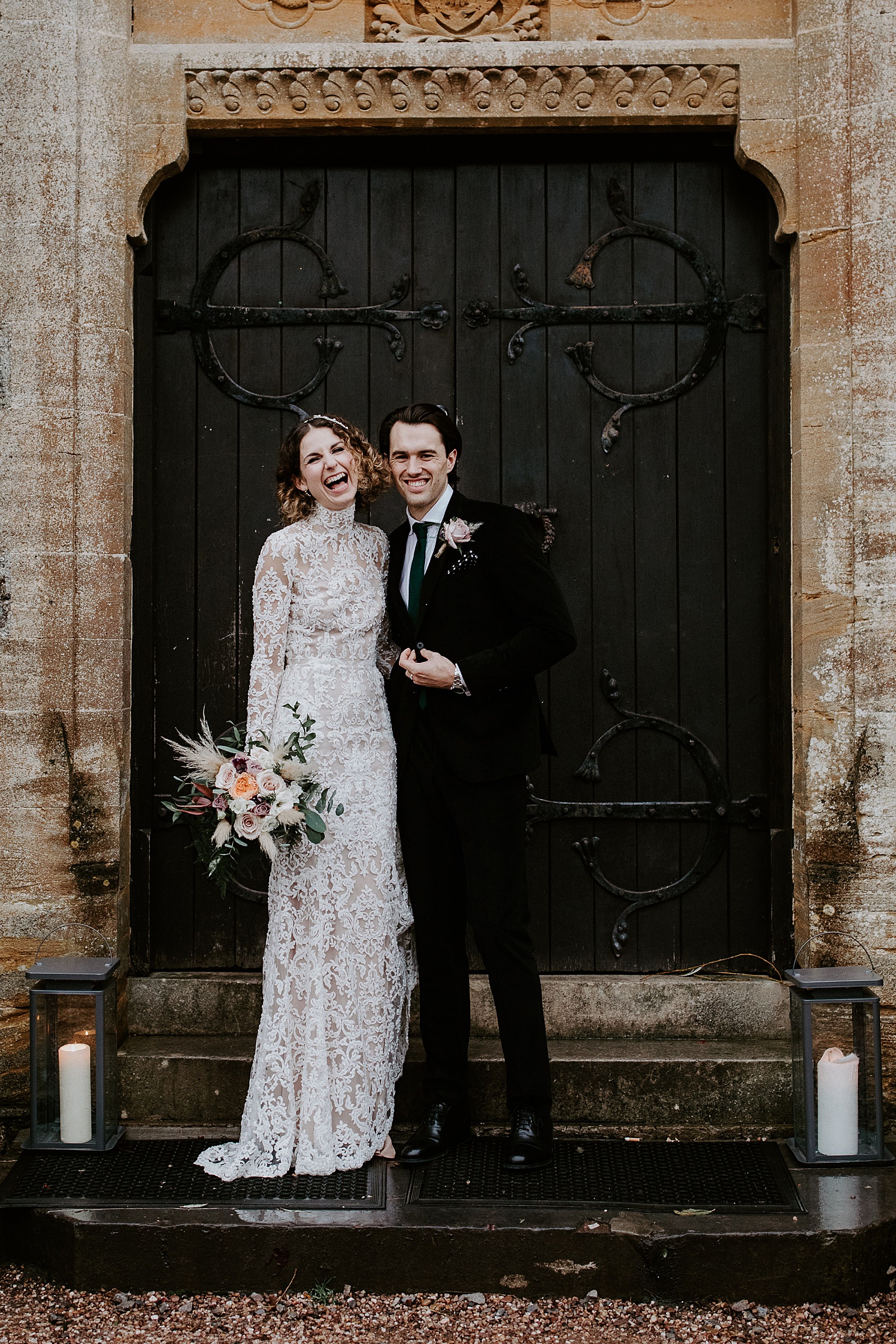 How utterly beautiful! I really hope that this wedding gives all those couples needing to postpone to winter wedding, some big inspiration.
Thank you so much to photographer Siobhan Beales for sharing these beautiful images and to couple Tanya and Jake for sharing their story.
Annabel x