Hello lovely ones, happy bank holiday weekend to you all! Now before we share some lovely wedding inspiration today, I have an important request to make – we need your help selecting a winner.
Last month, we hosted a competition with our lovely friend Freya Rose, through which we invited you guys to design your own pair of shoes.  We conjured this idea at the start of lockdown, when moods were a little low and it felt like our reader/follower community needed a lift. We wanted to provide an opportunity for you to do something creative and fun. We explained in our competition article that the winner design would be added to the Freya Rose collection – and that the winner would receive a pair of these shoes to wear themselves.
We also promised that everyone who entered the competition would be gifted with a 10% savings code to use after the competition had ended, on any purchase from the Freya Rose website. However, Freya has very generously increased this saving to 25%! We will be releasing details of this savings code later this week when we announce the competition winner. Which is where you guys come in.
We had a phenomenal response to this competition –  your creativity and excitement at being able to express your ideas and potentially bring them to life through design has been extremely inspiring and frankly, totally uplifting! We are really humbled by the number of you who participated in this and really embraced this creative opportunity.
It's taken us a little while in between balancing multiple spinning 'lockdown' plates, but Freya and I have this week selected a shortlist of 10 entries and we want to make this competition a little more fun and interactive by inviting you to help us choose the final 5. From these 5, Freya and I will select an ultimate winner, which we'll announce on Thursday evening this week, just ahead of Freya being able to celebrate her birthday next Friday!
Below, we have listed all 10 finalists and their original entry. At the end of this list, you'll find a form where you can pop a tick by your favourite 5.
Please be fair, and only submit once, but otherwise, have fun looking through these entries and thank you SO much for helping us to find a winner ?
ENTRY 1
I have designed a classic pointed toe stiletto featuring the iconic Freya Rose London mother-of-pearl heel inlay. The heel and toe both feature a celestial design with a subtle nod to Art Deco, drawing inspiration from some amazing 1920's costumes.
The premise of the celestial design of moons and stars comes from my fiancé often saying that he loves me to the stars and back, and this motto will be subtly represented throughout our March 2021 wedding. I have gone for a pale blue silk or suede outer fabric, as I want the shoe to stand out against my white wedding dress (and also act as my something blue!).
ENTRY 2
Eleanor Whisston

+ Follow
It would be a closed toe pump with a slender 3inch block heel, allowing for plenty of dancing! The pump would be champagne ivory satin for a classic style, with a paua shell heel, symbolising love and the heart, as well as NZ, where my partner and I met, and keeping the Freya Rose signature look.
Around the top seam of the pump would be a gold beaded trim (similar to the photo of a bracelet), with customisable initials able to be added to the back or simply left plain to accommodate different tastes.
The main shape of the pump would be elegantly pointed and have a gold and pearl star shaped clip on the front (similar to the attached photo of my mum's favourite brooch), adding a cosmic style. Finally, the lining of the shoe would be a blue to complement the paua and add a little something blue to the something new.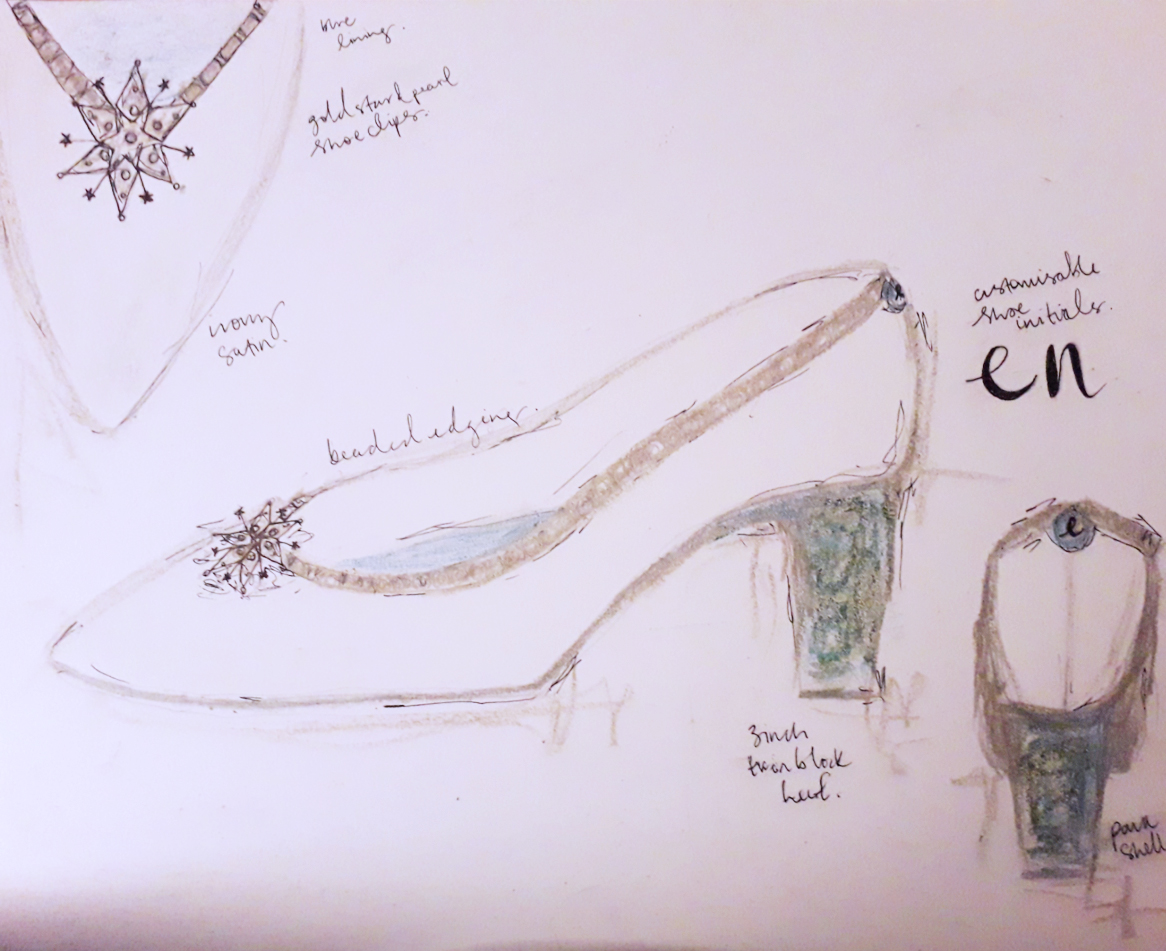 ENTRY 3
Kristina Nielsen

+ Follow
My dream shoe is a soft ice blue suede (kid leather lined) peep toe sandal with cross over straps, closed with a yellow gold rectangular buckle.
The 9cm/3.5″ block heel is divided by a thin yellow gold inlay with ice blue suede on the outer half and genuine mother of pearl on the inner half of the heel – this is a Freya Rose collection design after all.
A comfortable memory foam sock follows the natural curve of the foot in nude leather. The soft ice blue suede upper is embellished with Swarovski crystals and pearls, with 2 emerald green crystals hidden amongst these. The reason for the 2 emerald green crystals is inspired by my engagement ring designed by my fiance.
These crystals will fall in tendrils, inspired by the shapes of ferns and foliage, down either side of the upper.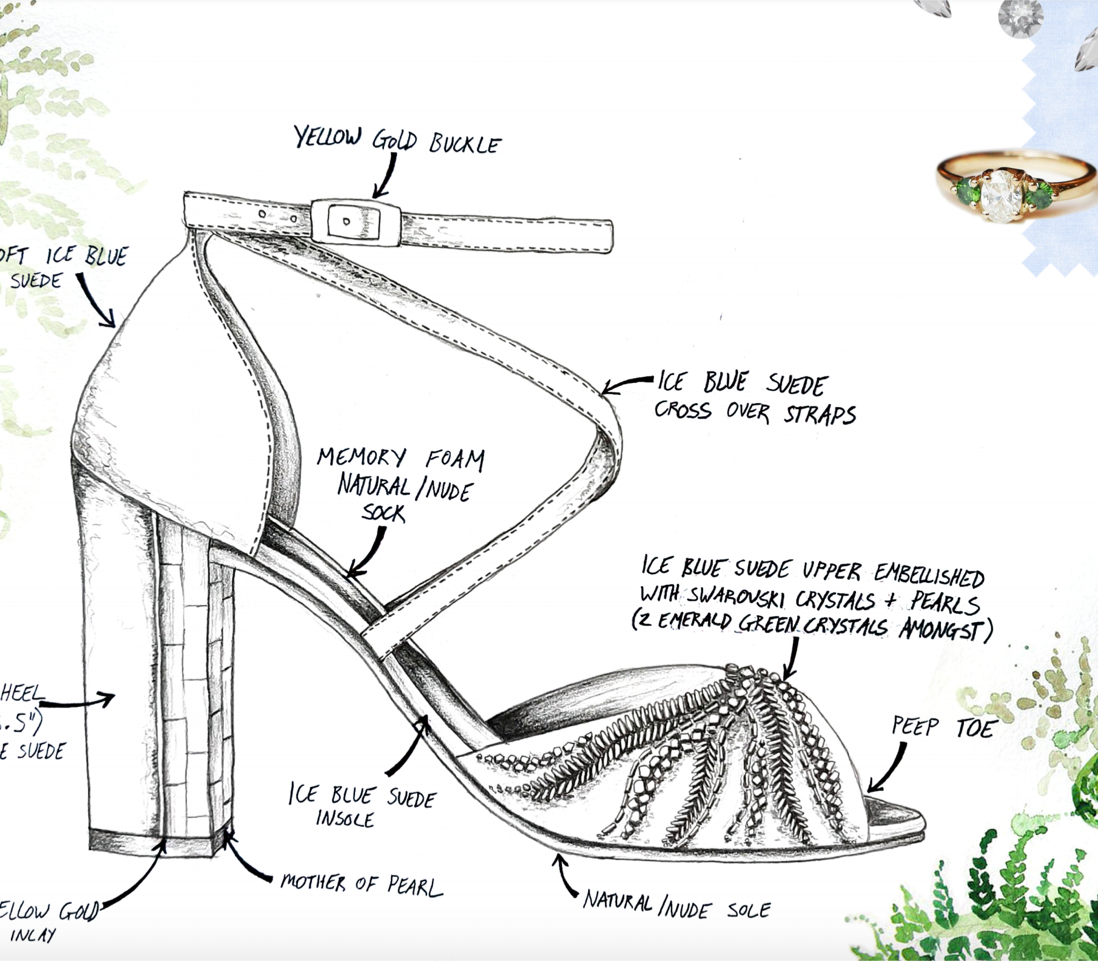 ENTRY 4
Some of my key requirements that I considered whilst designing these shoes were:
– Must not 'scream WEDDING SHOES' yet be able to make me feel special on my ceremony day.
– Must be comfortable as I will probably need to walk around the city for a photoshoot after the ceremony.
– Must be modern yet timeless and not trendy
– Must have the signature delicate and lux feel and elements of Freya Rose which I adore
Elements I have included in my design to address the above were:
– Blue insole for that 'something blue' wedding vibe
– Napa Leather as the material (I finally understood why people pay so much for luxury shoes when I got my first Jimmy Choo last year which were made of Napa leather… I've never felt so comfortable walking in high heels before!)
– Mule-style front with covered back for a more fitted, weather-proof design that is modern yet classy
– The signature Mother of Pearl details and heels of Freya Rose.
ENTRY 5
Stavroula Antoniou

+ Follow
As an architectural assistant I believe that many aspects of Architecture are totally transposable into shoe design.
Inspired by my favourite Mother of Pearl collection, I am suggesting a similar approach influenced by the rhythm on two residential tower facades. Please find attached two proposals based on this principle. For the "Simple Pastel" design I worked with earthy natural colour tones combined with white details on the block heel.
For the "Gold" design I worked with grey and black tones along with gold details on the block heel to create contrast.
ENTRY 6
Ever since I saw your Roxy Blanco boots, I fell in love and knew I had to have a pair for our wedding. We are due to get married on 30th December 2020 in the Yorkshire Dales.
I've always loved ankle boots and have too many pairs! However I now live in Singapore and never get chance to wear them as it's always so hot. One of my favourite pairs is a suede boot with tassels which I love wearing with dresses. I'm planning on a very simple wedding dress and would love some statement boots to go with it.
I love the ivory mother of pearl heels on the GiGi heels and would definitely want a chunky heel. The barely there heels with the tassel and beaded cuff are just so beautiful so I love the idea of having a 'cuff' around the top of the boot.
I love the boots to have dangling 3D flowers and some delicate beading, something similar to your Echo and Oona earrings cascading down the boots which would move when walking and dancing! Finally, just as a little extra detail, I'd love to include my initials and wedding date somewhere on the boot!
ENTRY 7
Back to nature: super soft luxurious natural materials in a light dusky pink suede upper. With a leaf vine theme both in the mother of pearl heel and shank and wrapping around the straps and vamp of the shoes. Left and right shoes having an asymmetric design but are beautifully tied together through a trailing lace vine, detailed with iridescent pewter and pearly tiny beads (to minimise any chance of wedding dress catching).
A statement heel, with falling leaves mosaiced at the bottom of the heel, with the design becoming more spaced and opening up as you move up. This extends into trailing vines which fall down the shank, so you see a little glimmer of sparkle with every step. Inlaid with off white, slightly pinky mother of pearl to show the design off.
The shoe is in a slingback style but with a trailing strap that forms part of the design but also helps the shoe stay on the foot.
Light grey leather inner to support breathability with a dark grey leather sole around the mother of pearl detail to really make it 'pop'.
A 3.5 inch heel – tall enough to look elegant but practical for navigating cobbled streets and for partying all night, helped by the additional comfort features: a wide toe box to accommodate swelling feet, cushioned heel and balls under the inner lining, the heel placed forward centrally under the heel.
Built on the themes of 'modern', 'elegant' and 'comfort'.
ENTRY 8
Eleanor Burnell-Price

+ Follow
The small block heel is perfect for me because I struggle to wear higher heels! The block heel will be a clear resin like material with pressed flowers inside.
The show will be a satin white with a huge oversized bow on the front. There will also be a strap to ensure the shoe is secure!
ENTRY 9
My dream Freya Rose shoe is a beautiful, soft blue ankle boot with a 3 inch block heel and almond toe.
The heel is slanted and hangs just past the edge of the leather upper, giving the shoe a very modern edge. It features mother of pearl/abalone swirls reminiscent of ocean waves that complement the hue of the leather.
The upper is a supple dusk blue leather with seaming inspired by Stuart Weitzman designs. The top portion of the boot has a wonderful stretch for optimal comfort (I have a condition which causes swelling in my right ankle/calf so this is very important to me) and features a hidden zipper for easy dressing.
She is as timeless as she is unique, and I would be honoured to help you design her!
ENTRY 10
These shoes are designed to try and match the theme of my wedding dress which is still in progress (I have made the decision to make my own wedding Dress).
Now Choose Your Favourite 5
Tick your favourite 5 in the form below and press 'submit'. Easy!
Together, Freya and I will pick an overall winner from the top 5 and announce the winner next week.
We will be in touch with everyone who entered via email, with details of your 25% savings code.
Thank you so much!
Lots of love,
Annabel and Freya x
**Please note that email address will be added to the Freya Rose and Love My Dress mailing lists – which are used for occasional mailouts and from which you will be able to unsubscribe at any time. We never share data we collect through forms with any third party and the data is maintained on secure servers. Thank you for your understanding.**