Hello loves, welcoming you all into the weekend and Saturday night with one beautiful wedding that I truly hope inspires you during lockdown and a time when no such gorgeous celebrations can take place.
How we're all longing and longing to be able to celebrate like this again! Jess, a Nurse and Daniel, a Planning Consultant, tied the knot on 25th May last year with a ceremony at St Mary's Church in Lowdham, followed by a black tie reception bursting with laid back glamour vibes at Norwood Park Country House in Southwell, Nottinghamshire.
Film by Rachel Horan

+ Follow
I love the detail in this wedding so much – from Jess's choice of dress (separates actually), to her maids in pink, the tasteful botanical inspired decor and the stunning country house venue.
Jessica wore the most divine separates from Spanish bridal fashion brand, Jesus Peiro, which she discovered via Miss Bush Bridal boutique in Ripley Surrey – a boutique that came recommended both via a friend and that she was inspired to visit after she had spotted it mentioned so many times right here on Love My Dress.
Just like yesterday's bride, who found the boutiques she wanted to visit and most of her suppliers via our Little Book wedding directory, we are proud to know that our content isn't just inspiring brides and couples, but supporting the many hundreds and thousands of businesses who make up our talented, creative, wonderful wedding industry.
Matt Horan Photography

+ Follow
"I loved the inclusivity of love my dress, and always enjoyed browsing the real wedding features for inspiration.  The bridal boutique I got my dress from was recommended to me by a colleague, and it was always featuring on Love My Dress."
"I was inspired to book an appointment after seeing so many brides featured in incredible dresses from Miss Bush Bridal."
"Dan and I first met when we were 16, as we went to school in the same area. We got together 7 years later, after striking up a friendship through mutual friends."
"After 4 years together, Daniel proposed on holiday to Hong Kong – I still can't believe he managed to keep the proposal a surprise! We were engaged for 18 months before our wedding day."
"I chose Le Labo, Rose 31 as my wedding day scent, it's so beautiful and fresh and I love how it reminds us both of the day whenever I wear it now."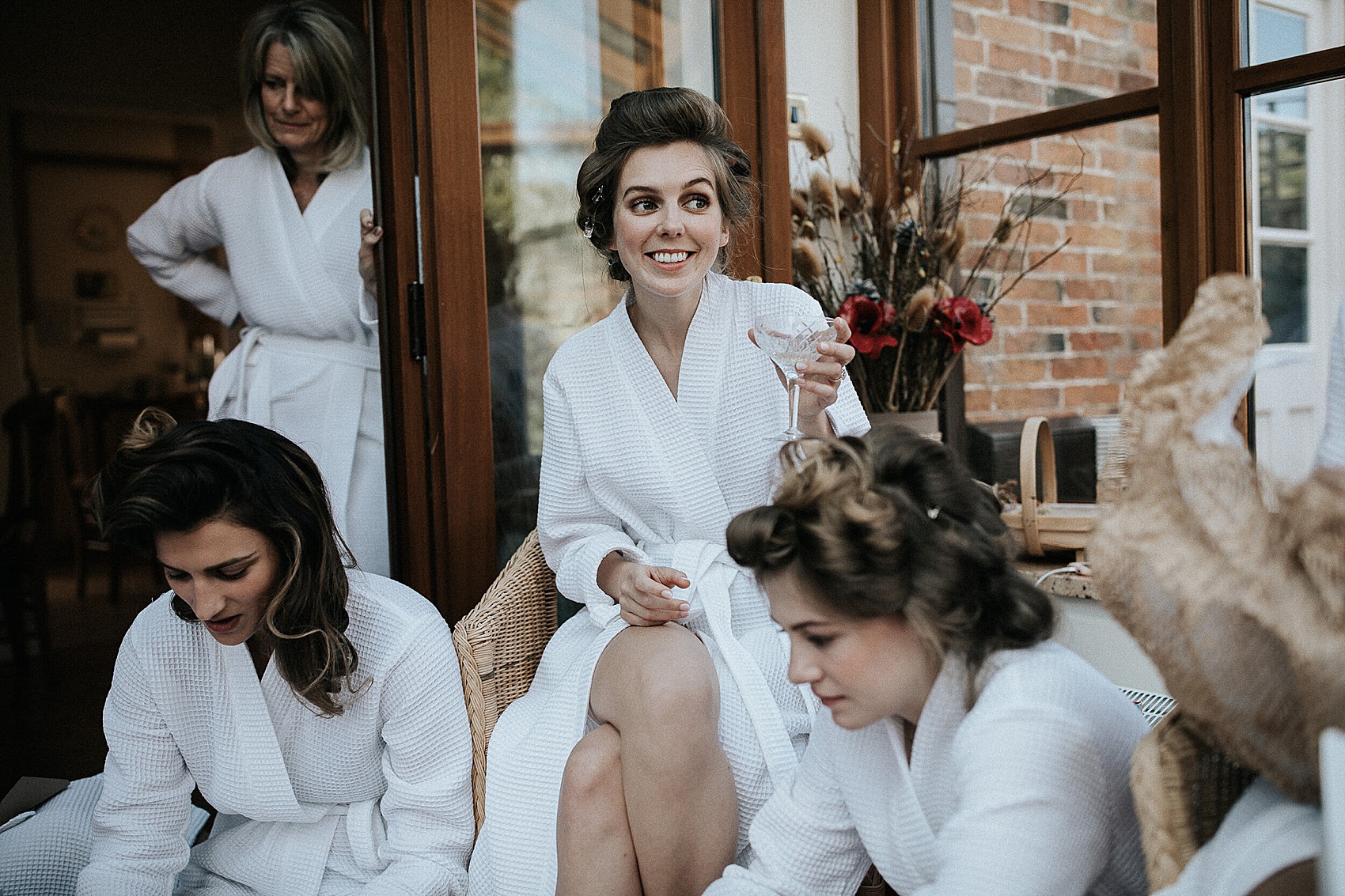 "The approach at Miss Bush is like nowhere else – they really are experts at what they do. The team were great at picking out dresses that would suit me and giving an honest opinion about what would and wouldn't work – I am extremely indecisive and needed a bit of direction."
"Emma came up with the idea of customising the style of my dress to incorporate a lower back, it was amazing being able to make changes to the design and made the whole experience so personal."
"I would recommend Miss Bush to all brides, I looked forward to every appointment at the chapel."
"I didn't have a particular dress or brand in mind when I first visited Miss Bush, but I had visions of a simple design with a nice back! On my second visit I chose the Jesus Peiro 900 separates – a beautiful boxy cropped top and skirt in a textured fabric."
"I chose to wear a ring, which belonged to my late Nana, as my something borrowed. My sparkly earrings were from Tilly Thomas Lux."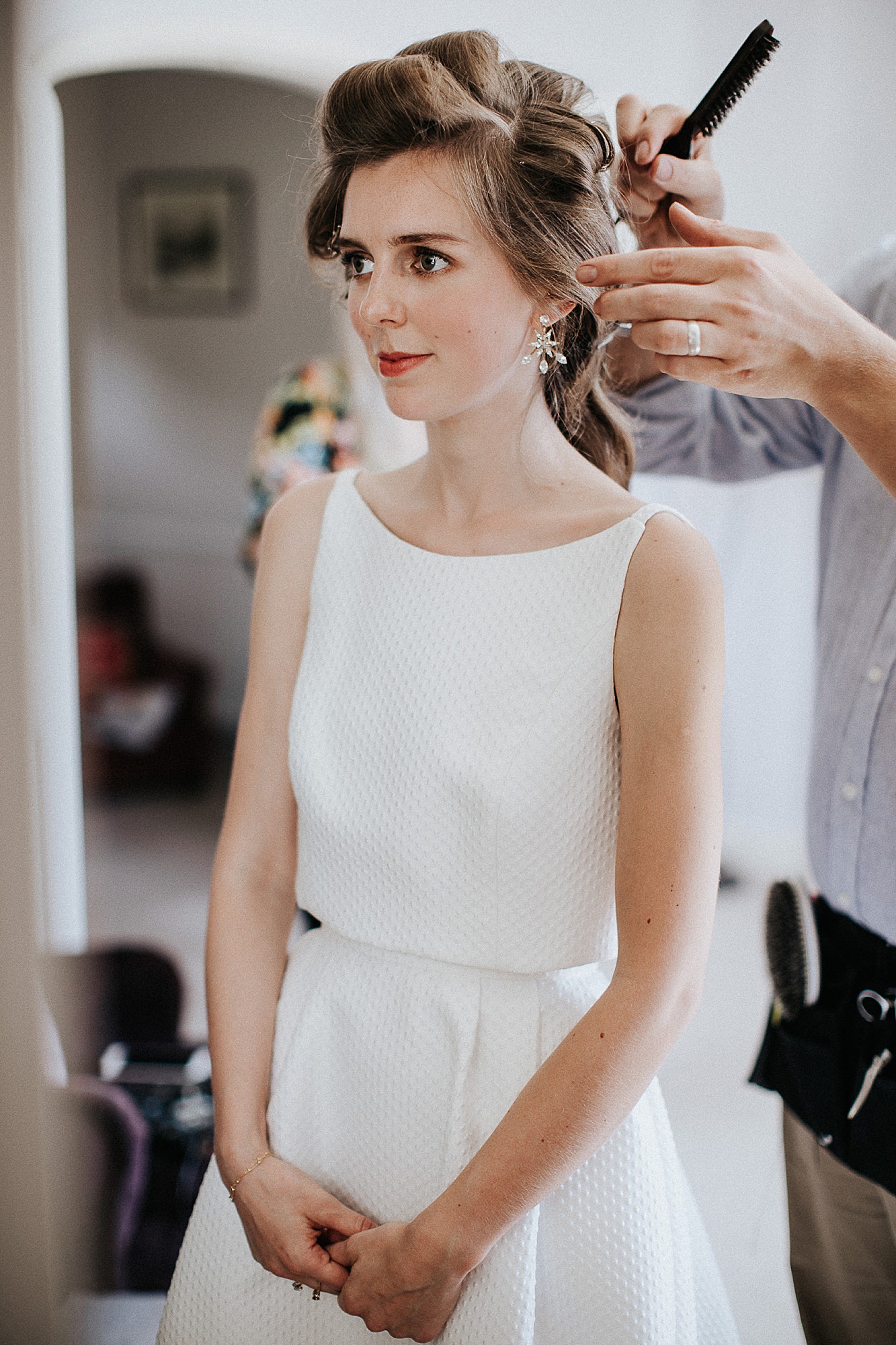 "I knew I wanted a dress that reflected my own style and that I really felt like myself in- I absolutely loved how modern and contemporary the separates felt whilst still being timeless."
"I wore a simple two-tier veil for the church ceremony, also from Miss Bush. Wearing a veil really made me feel like a bride."
"I wanted accessories that I could wear again and again after the wedding day, so I chose Gold Gucci Marmont sandals. They were so comfortable, I didn't sink into the grass and I was able to dance in them all night."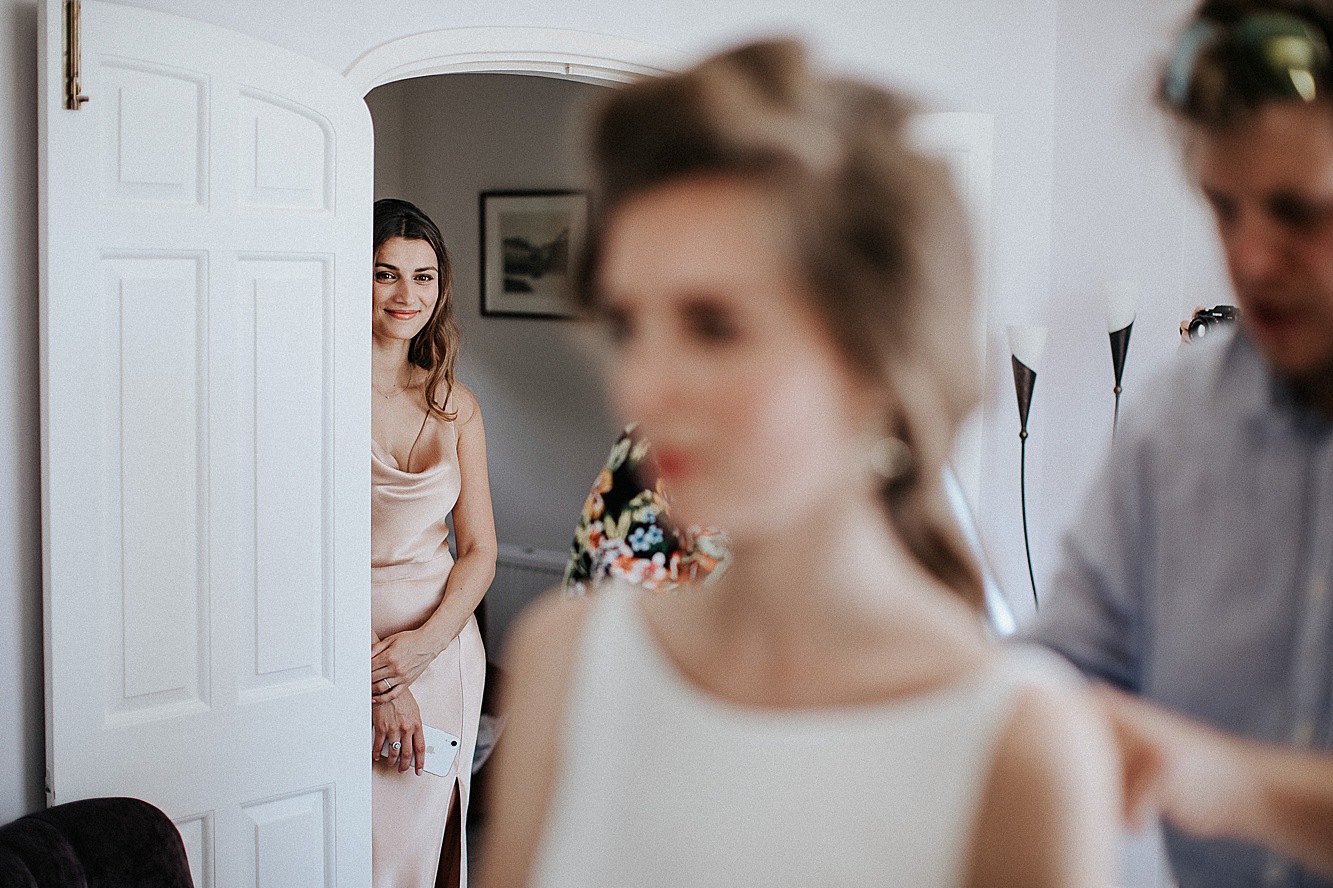 Hair Stylist James White prepared Jess's hair, whilst her friend Rachel Freeman, a professional makeup artist, styled her makeup.
"I wore my hair down in loose curls, I wanted it to feel as natural as possible. My hairstylist James was a joy to have around on the morning of the wedding."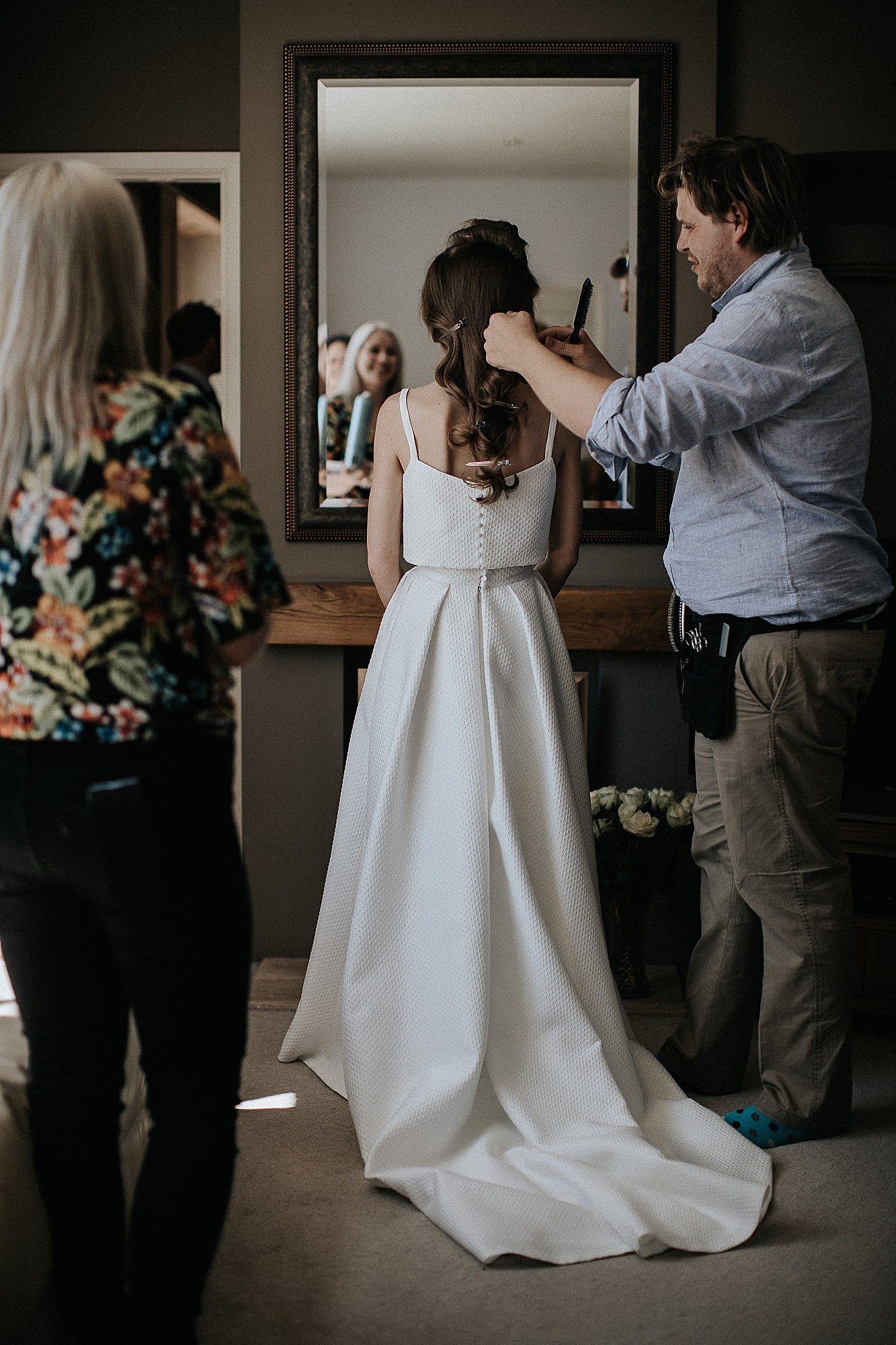 Daniel looked incredible in a J Crew tux and black velvet Lanvin bow tie which was a Christmas gift from his bride.
By the way, if black tie weddings are your thing – you can explore many more beautiful such affairs right here on Love My Dress.
"Daniel also wore a gold Omega watch, which belonged to his late granddad – it was given to his granddad on his 21st Birthday over 70 years ago."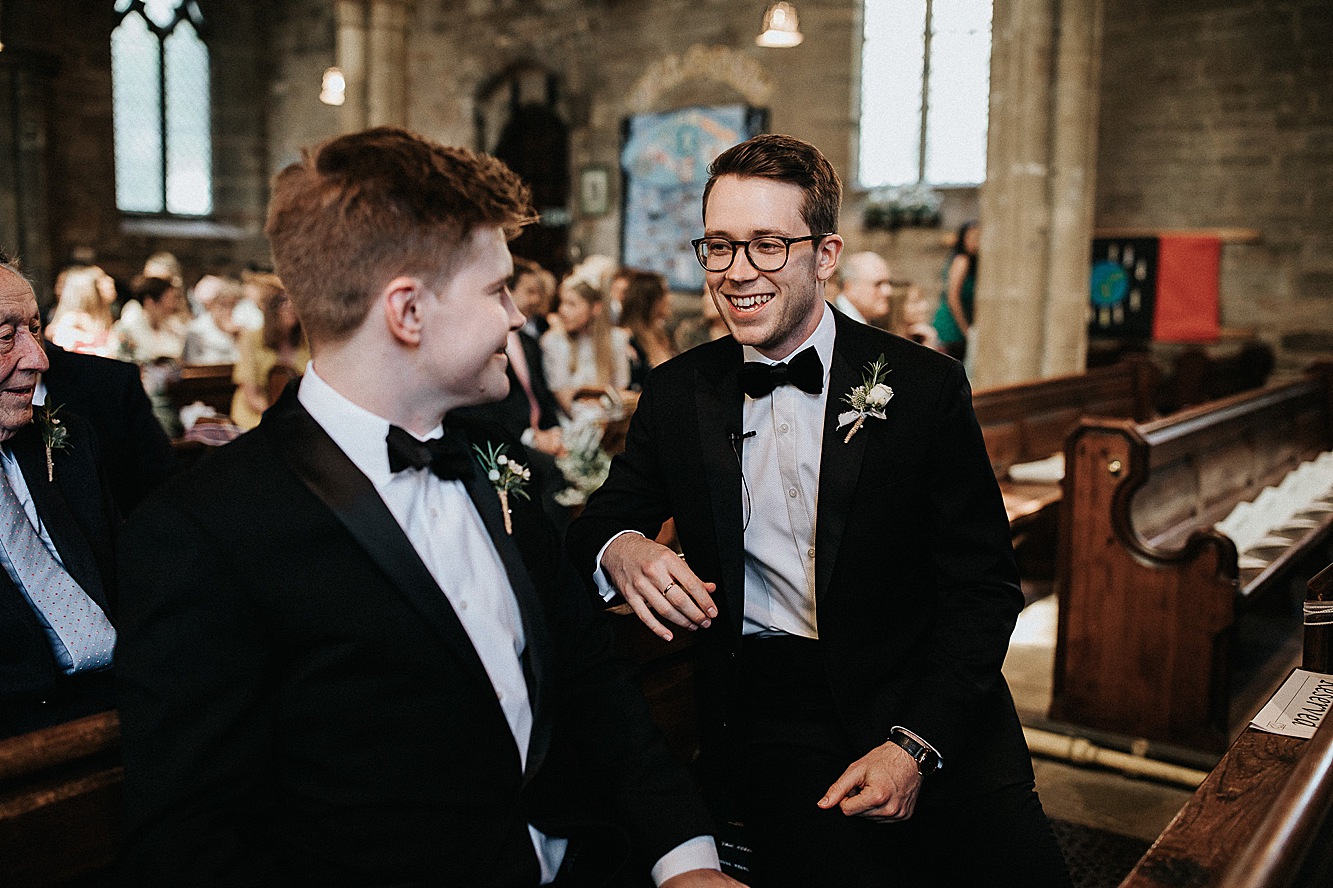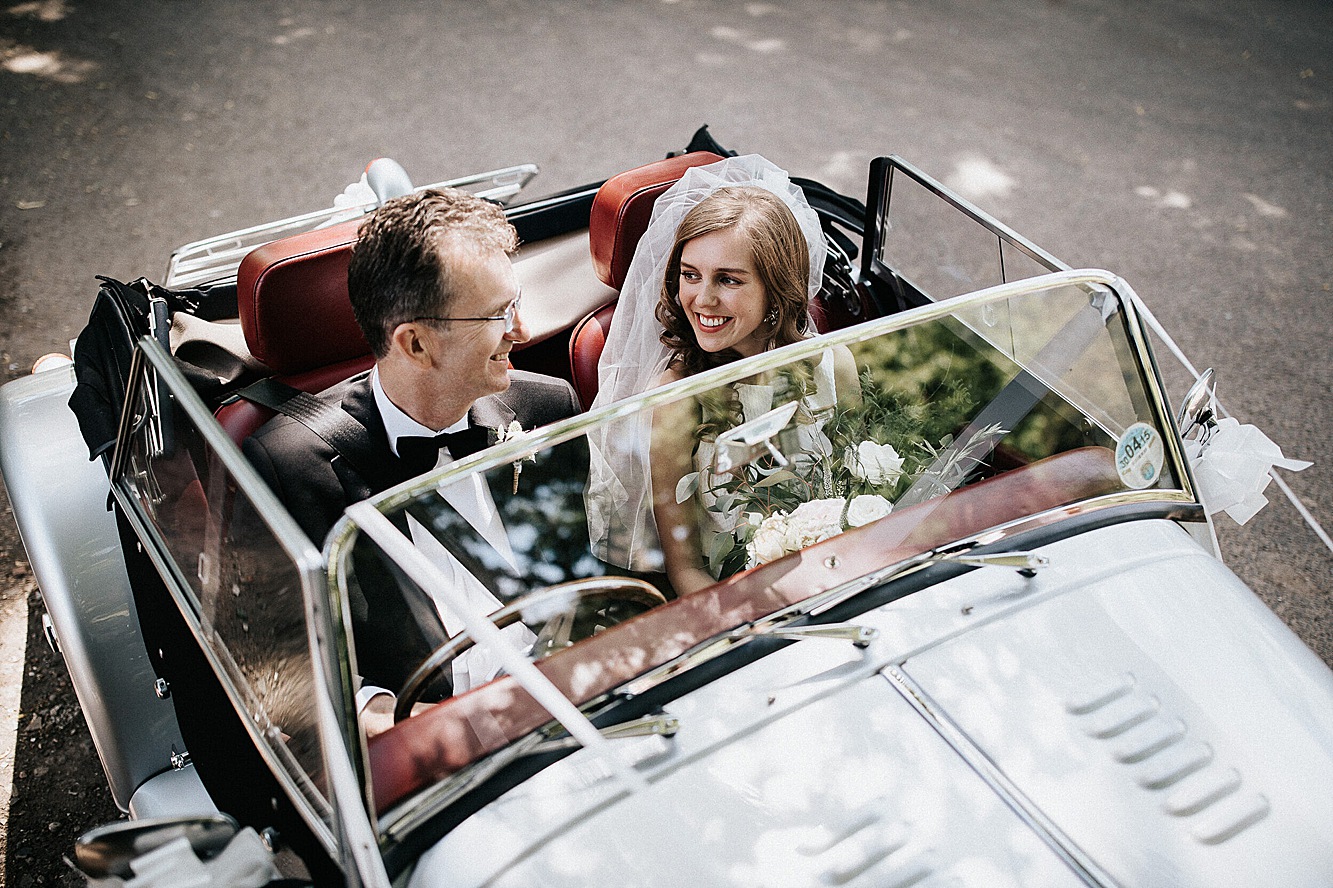 "Our flowers were by my friend Sophie of Gigil & Bloom, we went with a natural botanical theme of foliage and white flowers."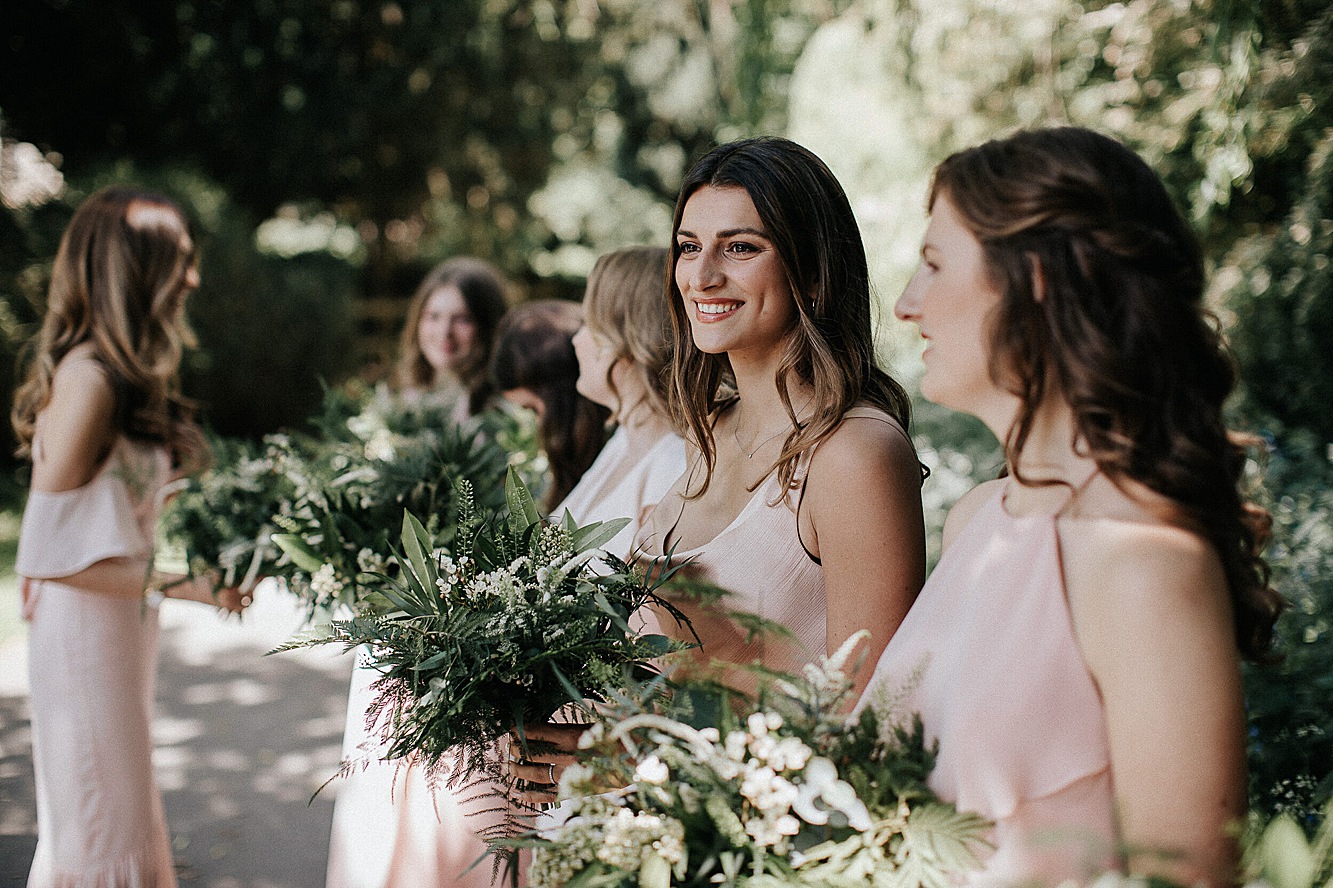 "We also had a little bit of blush in my bouquet, which was perfect for spring and complimented the flowers in the grounds of our venue."
"I left Sophie to her own devices as I completely trusted her vision, and she did an incredible job! The beautiful church flowers were created by family friends."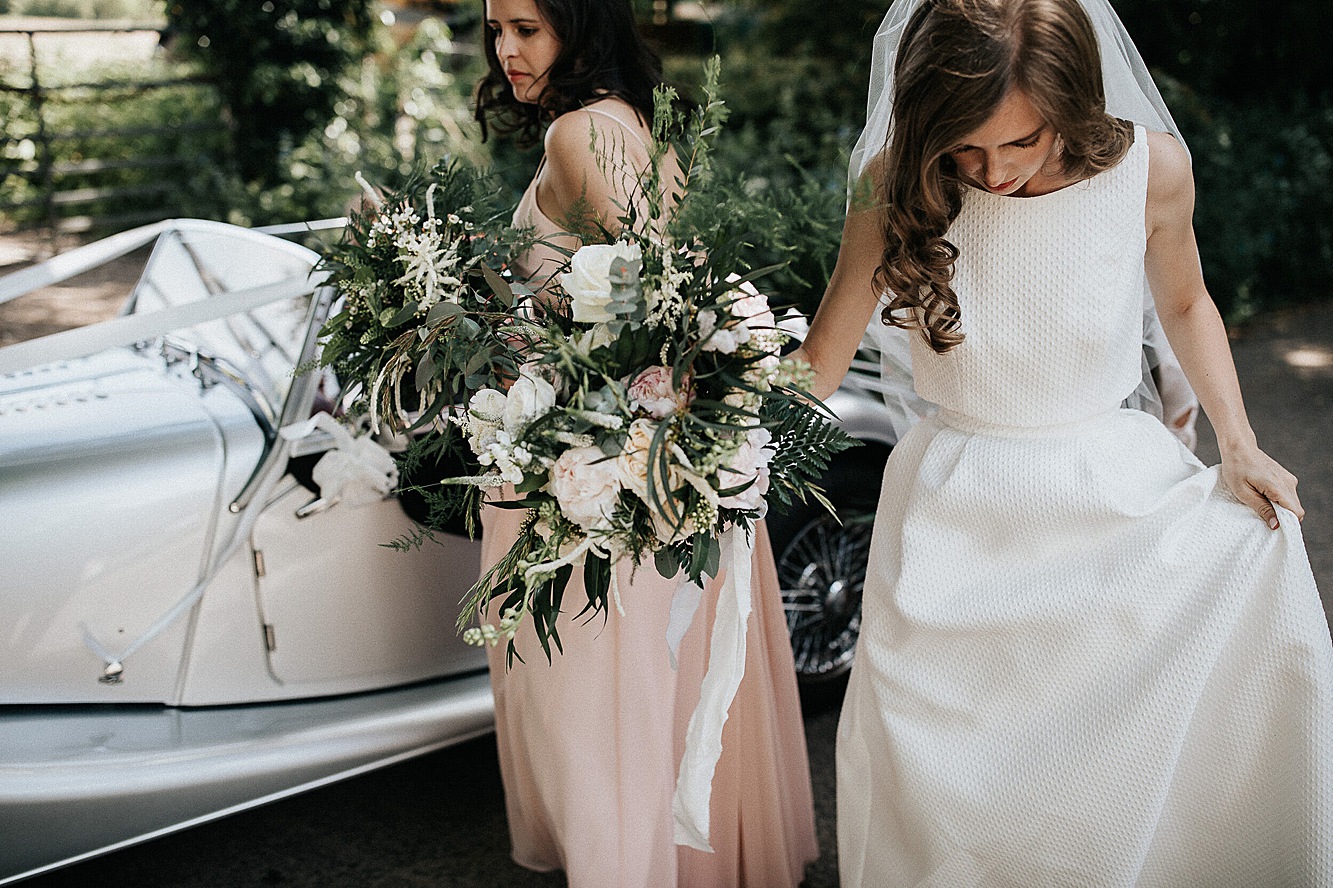 "I wanted my bridesmaids to be themselves and feel comfortable on the day so they chose their own dresses which worked really well, they all looked incredible."
"Their dresses were from Revolve, Bec & Bridge, Maids to Measure, TH&TH, Oasis and Debenhams."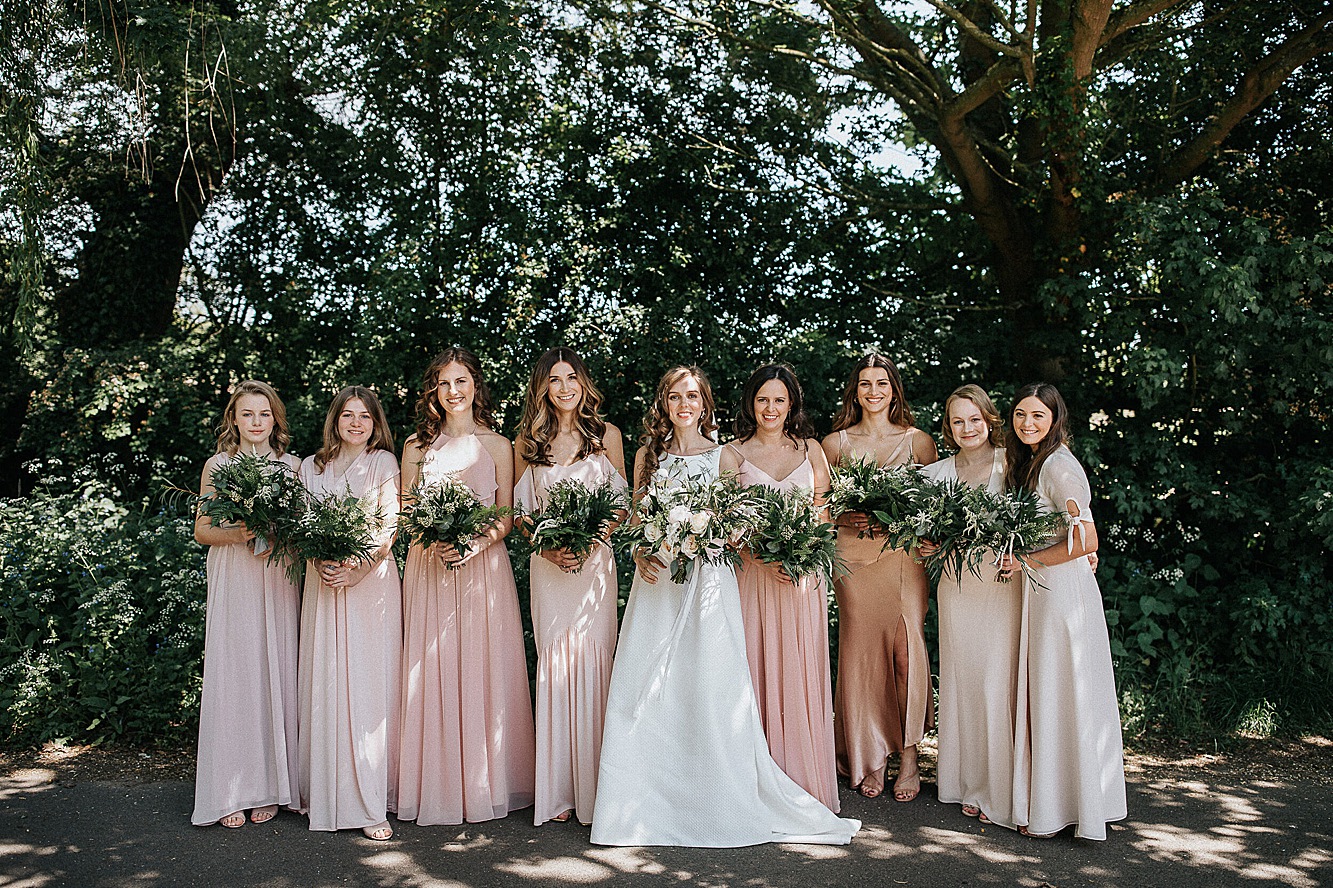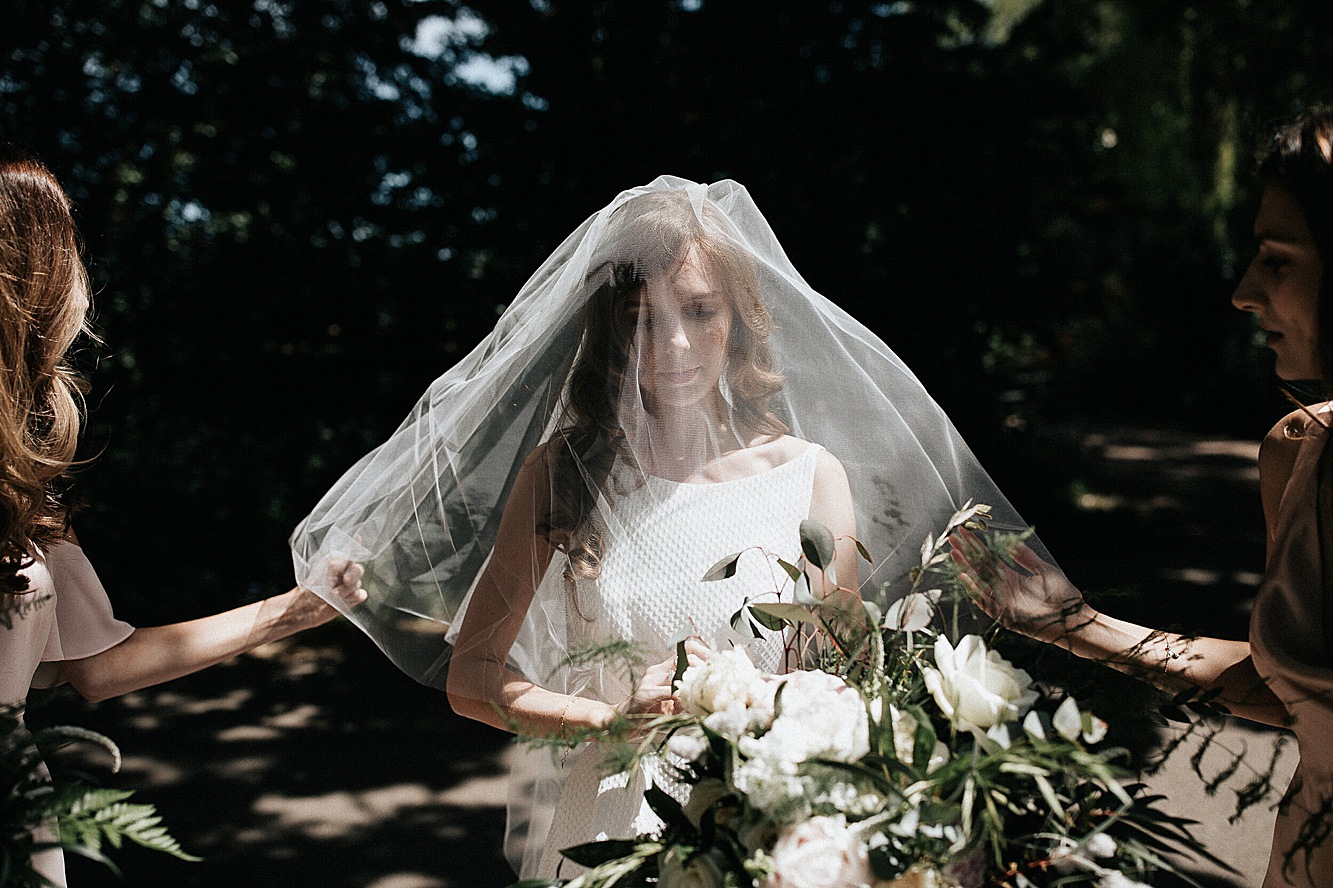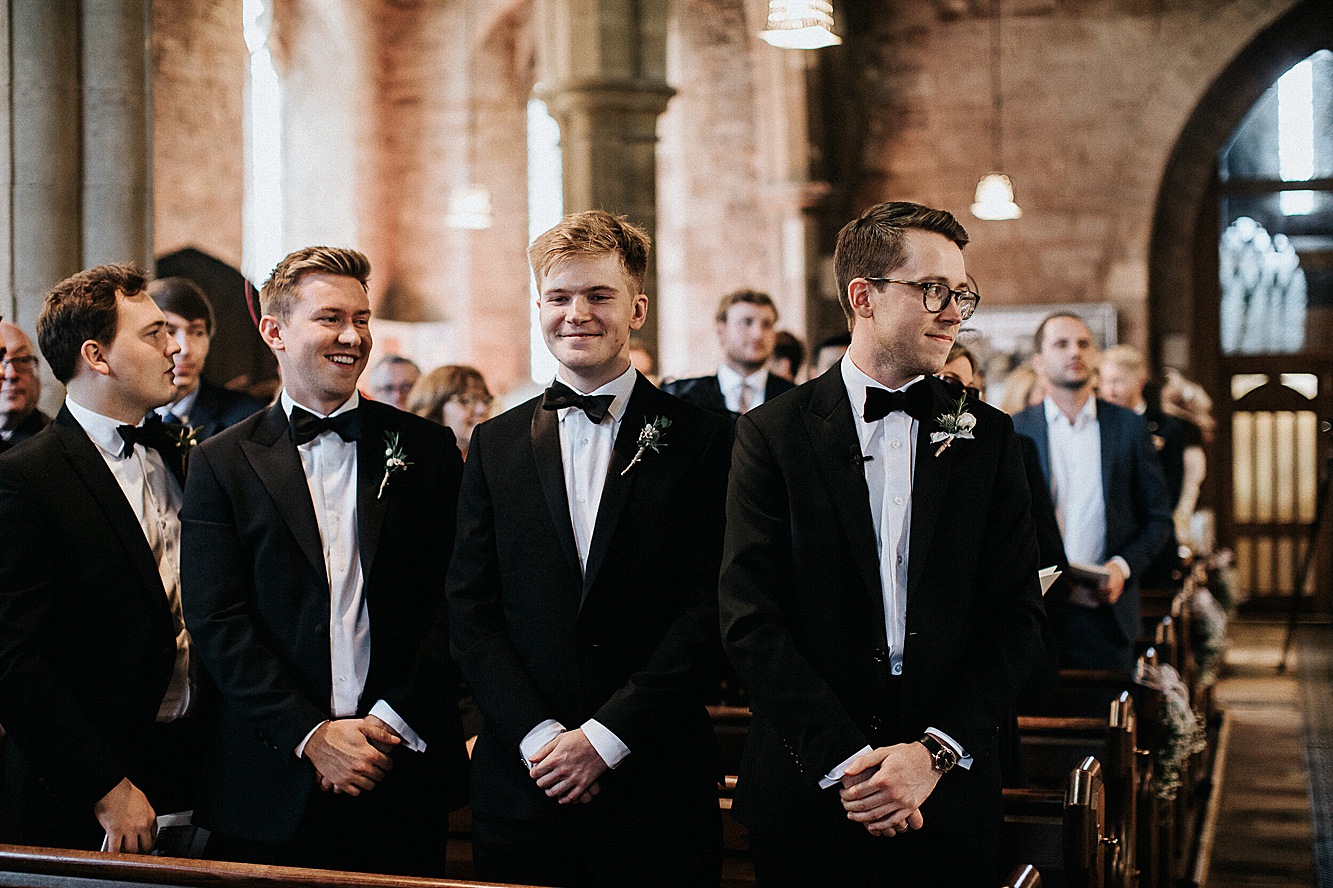 The bride's father accompanied her down the aisle.
"We had a traditional wedding ceremony at my childhood church, which was really special."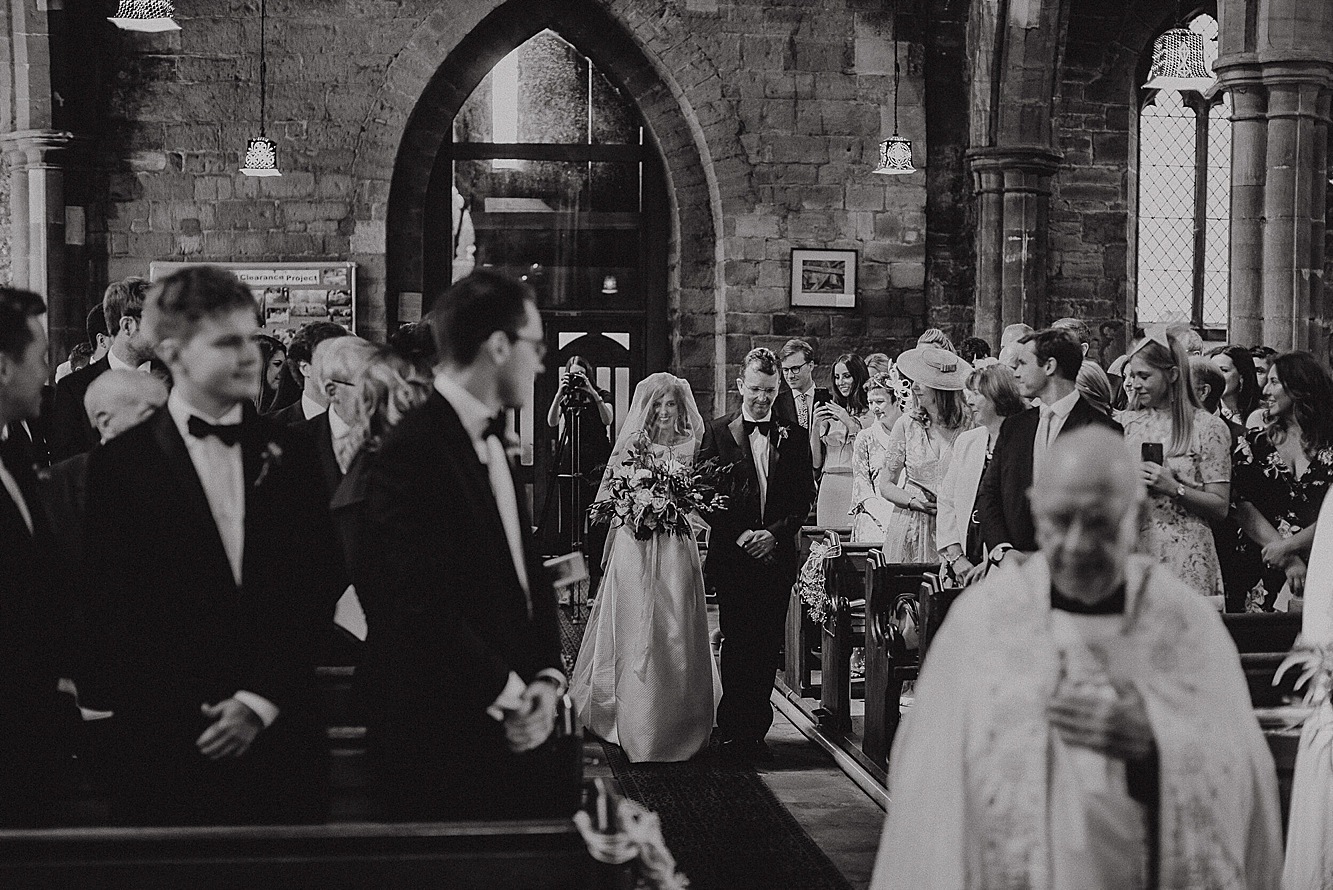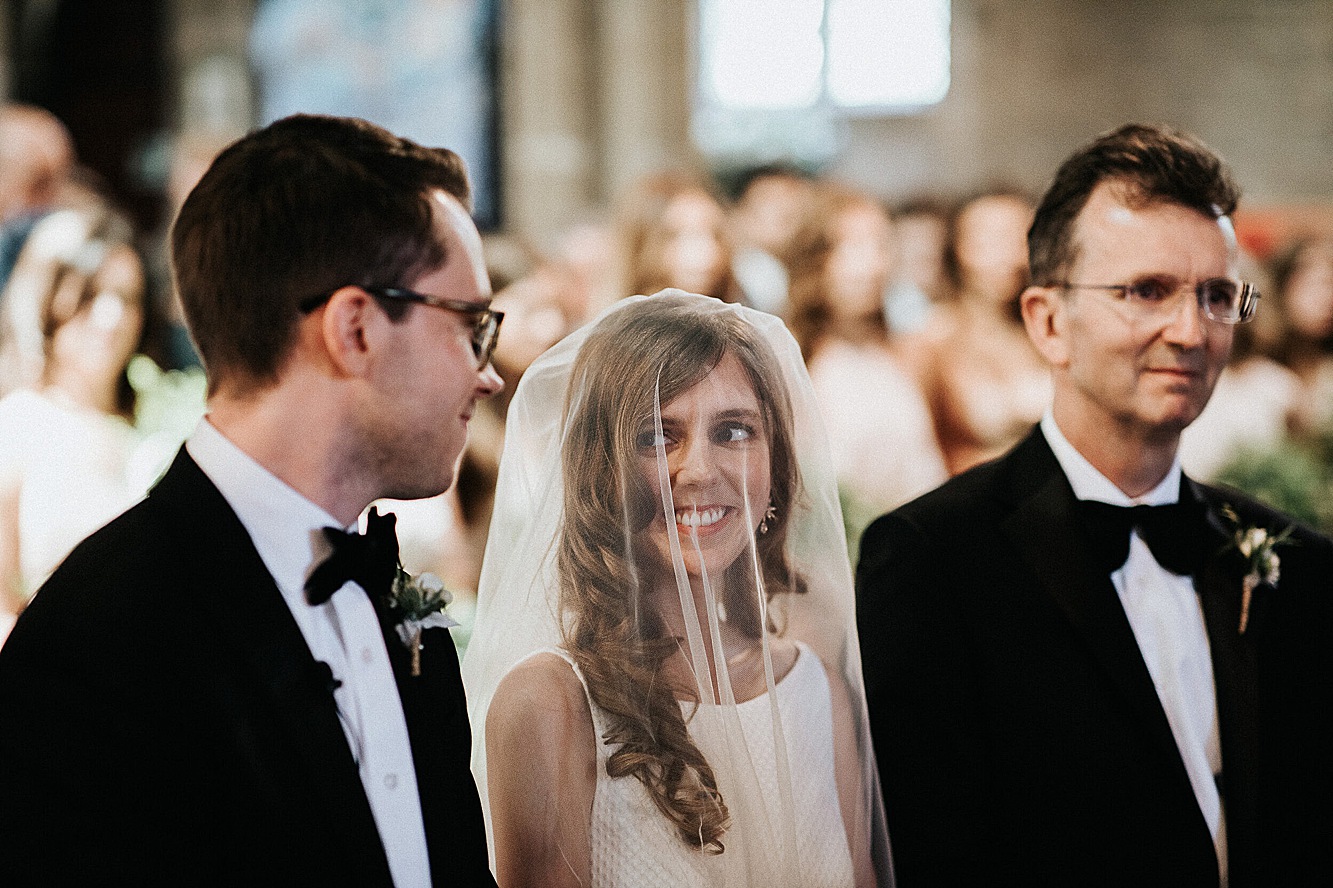 Readings included 'Scaffolding', by Seamus Heaney, an extract from Captain Corelli's Mandolin by Louis de Bernieres and Philippians 4.4-9.
You will find each of these readings and more in our wedding reading resource.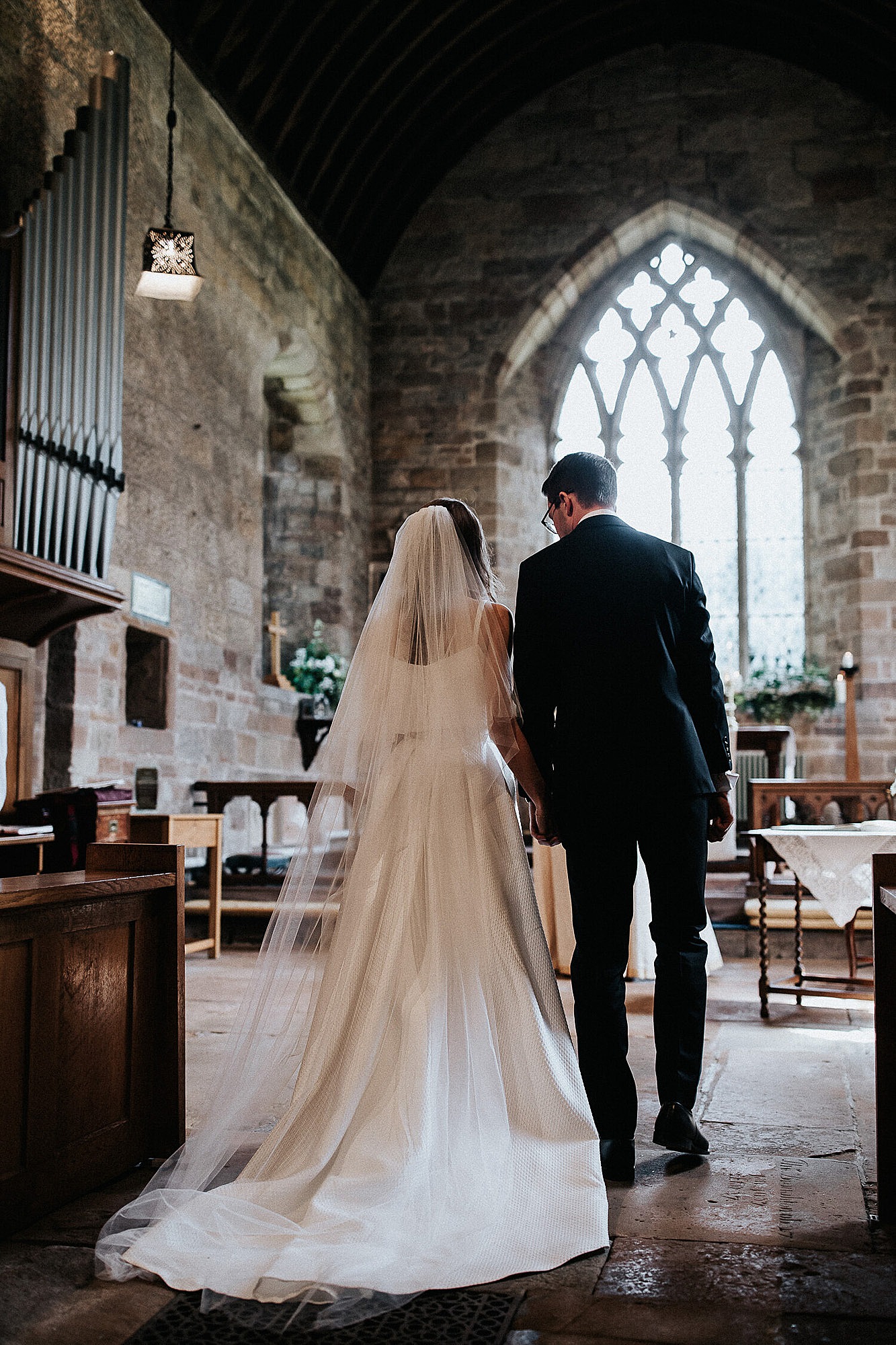 "We both chose classic gold bands from Hatton Garden jewellers, Heera Diamonds, which we had engraved with our wedding date and each other's initials, a family tradition."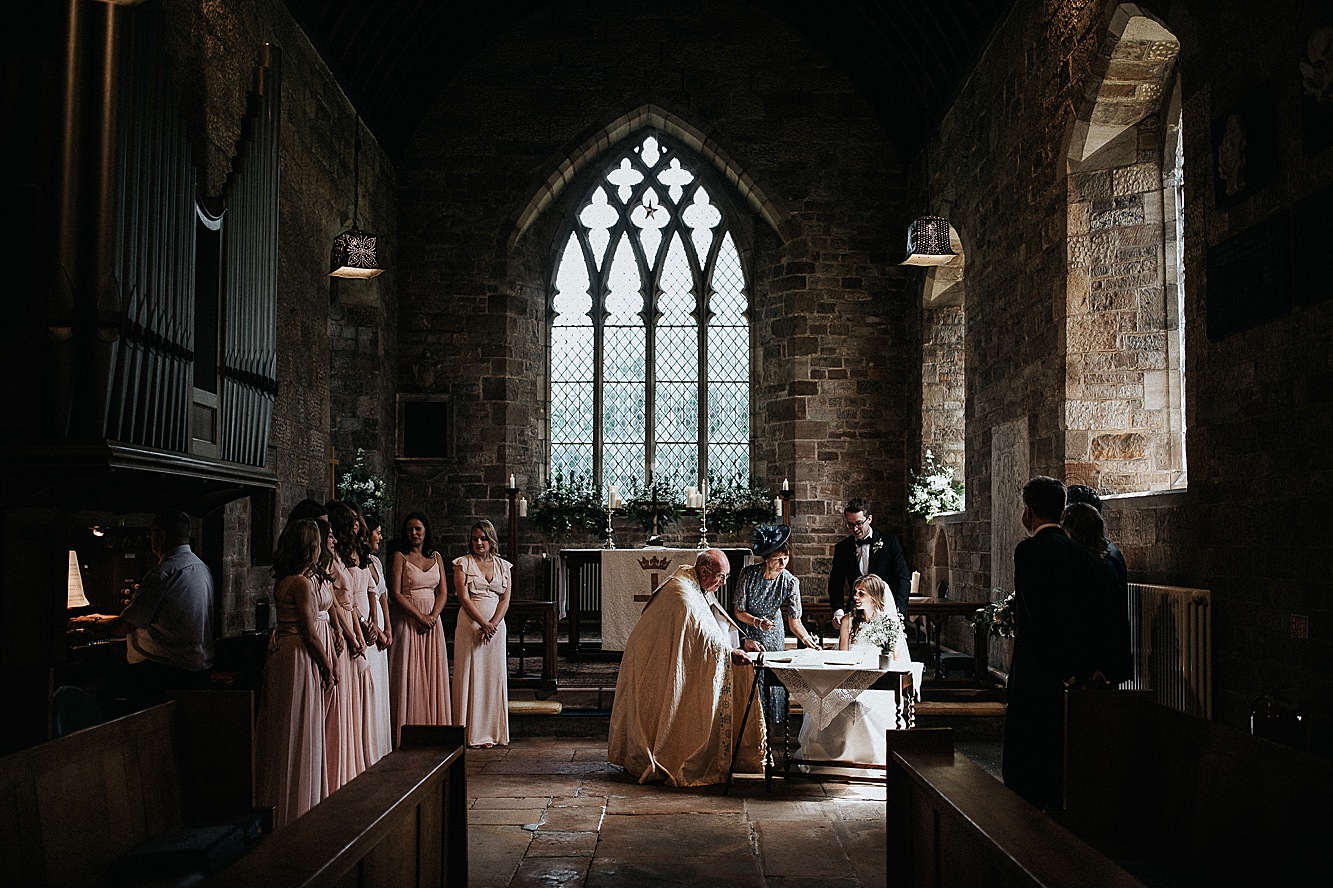 "Once married, we walked back down the aisle together to 'Send me on my way' by Rusted Root, which made everyone smile."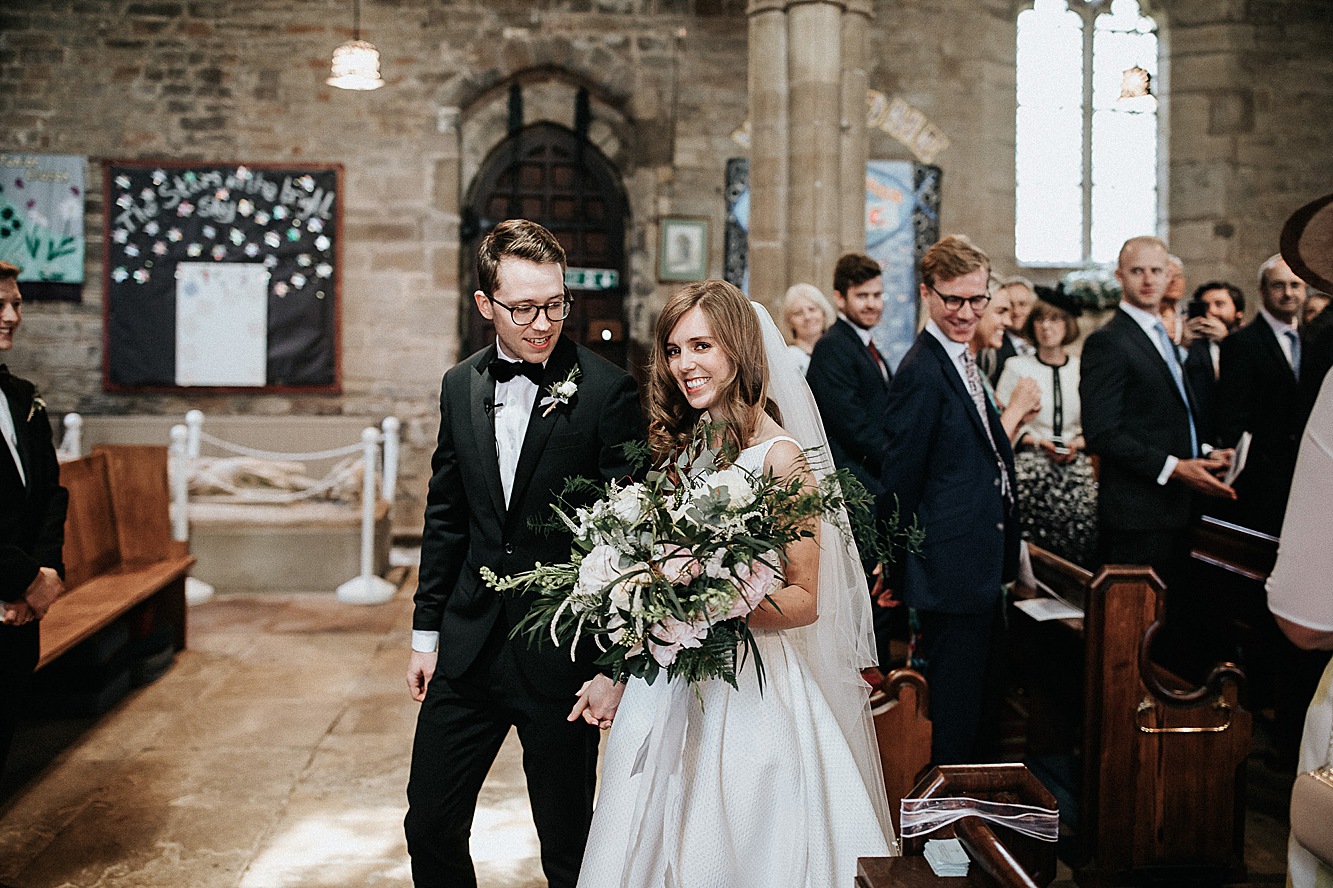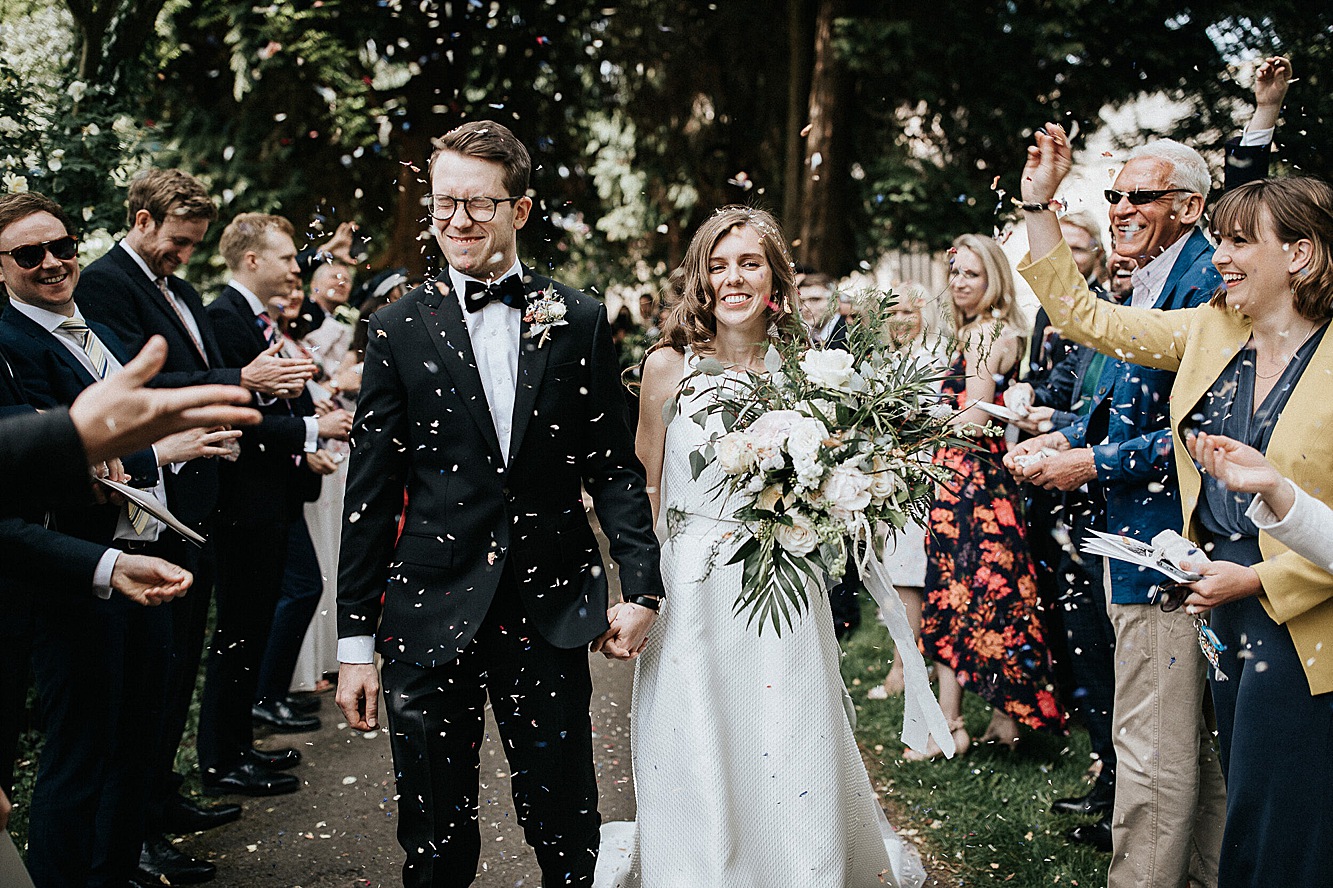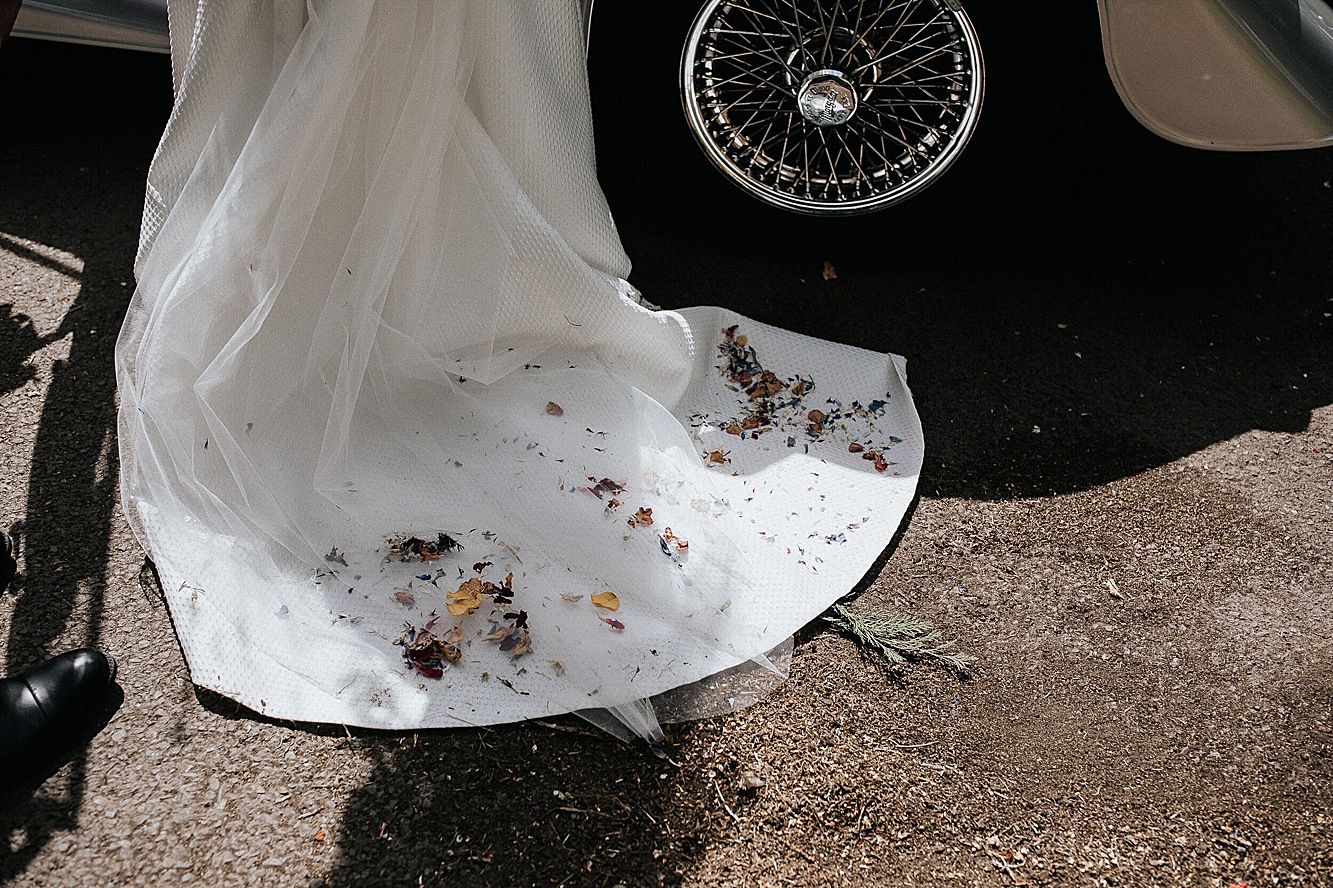 Recalling a favourite moment from the day, Jessica says…
     
"Daniel drove us away from the church in a classic Morgan which belonged to my Father In Law Phil, who sadly passed away in January. This meant so much to both of us, and this time together just the two of us on the way to the venue was one of our favourite moments of the day."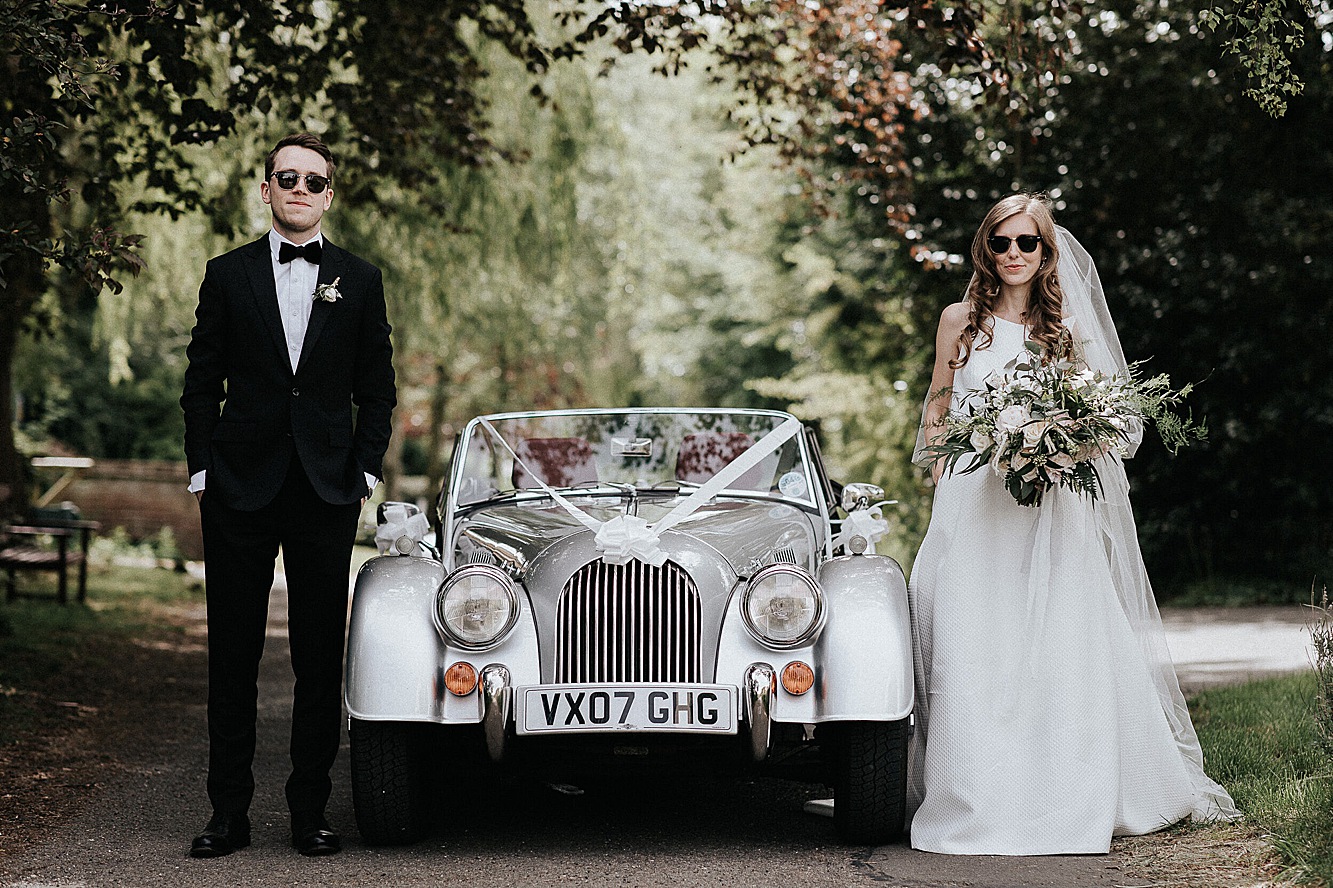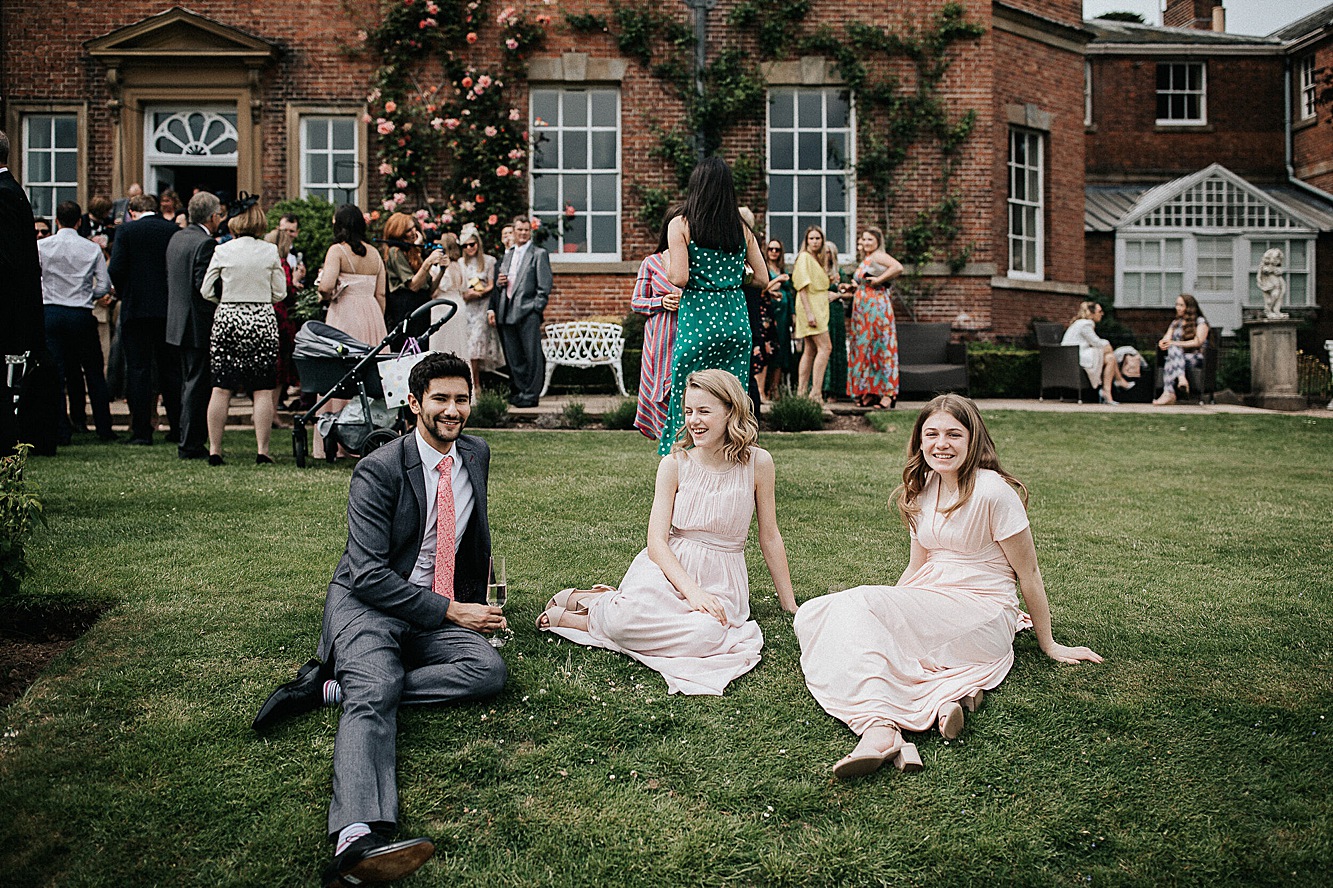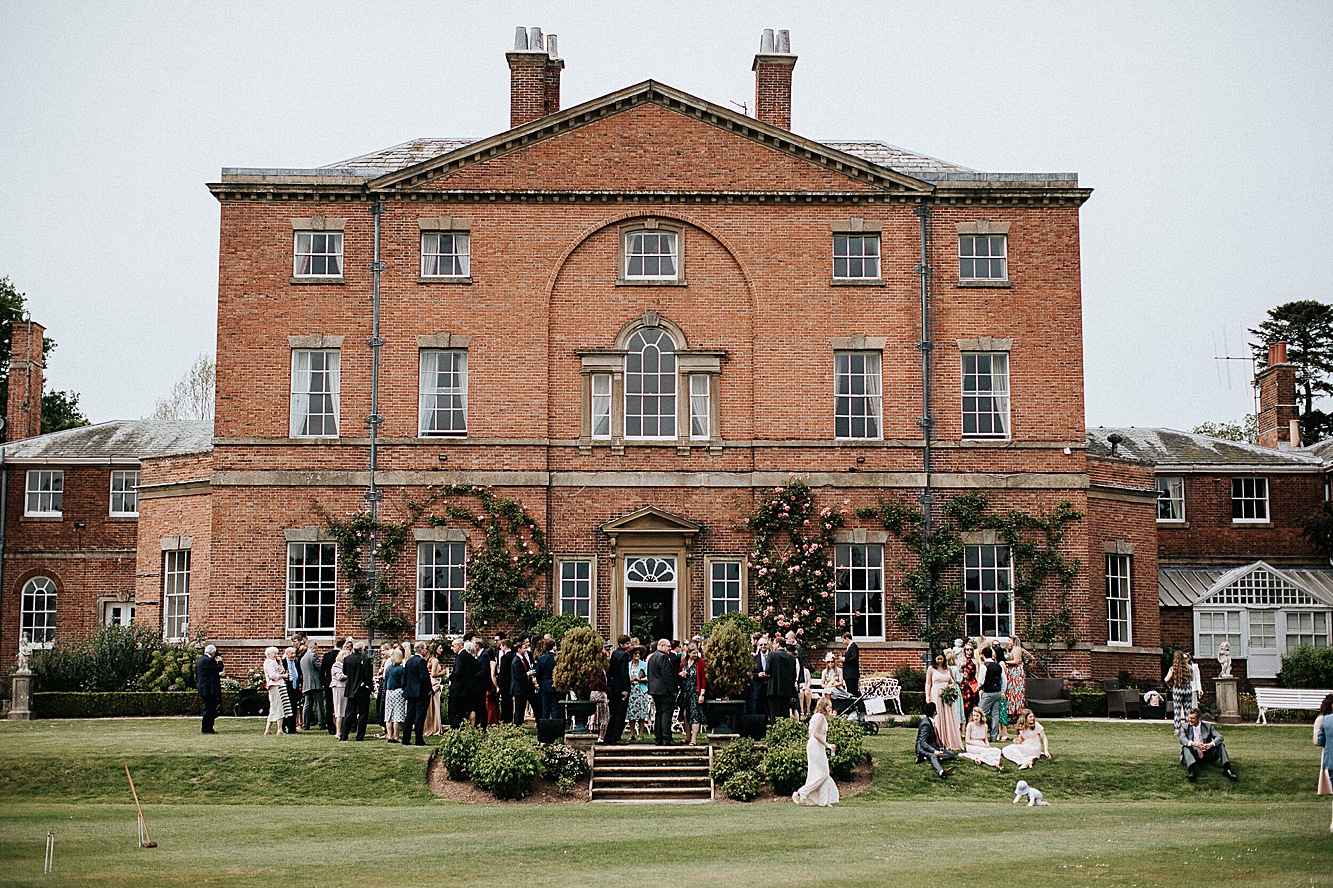 After the ceremony, the couple were joined by their family and friends for a reception at Norwood Park.
"Norwood Park is a beautiful country house in Nottinghamshire where Daniel and I both grew up. We had full use of the house so that all of our family and friends could stay with us after the celebrations, which made the whole wedding weekend as personal as possible."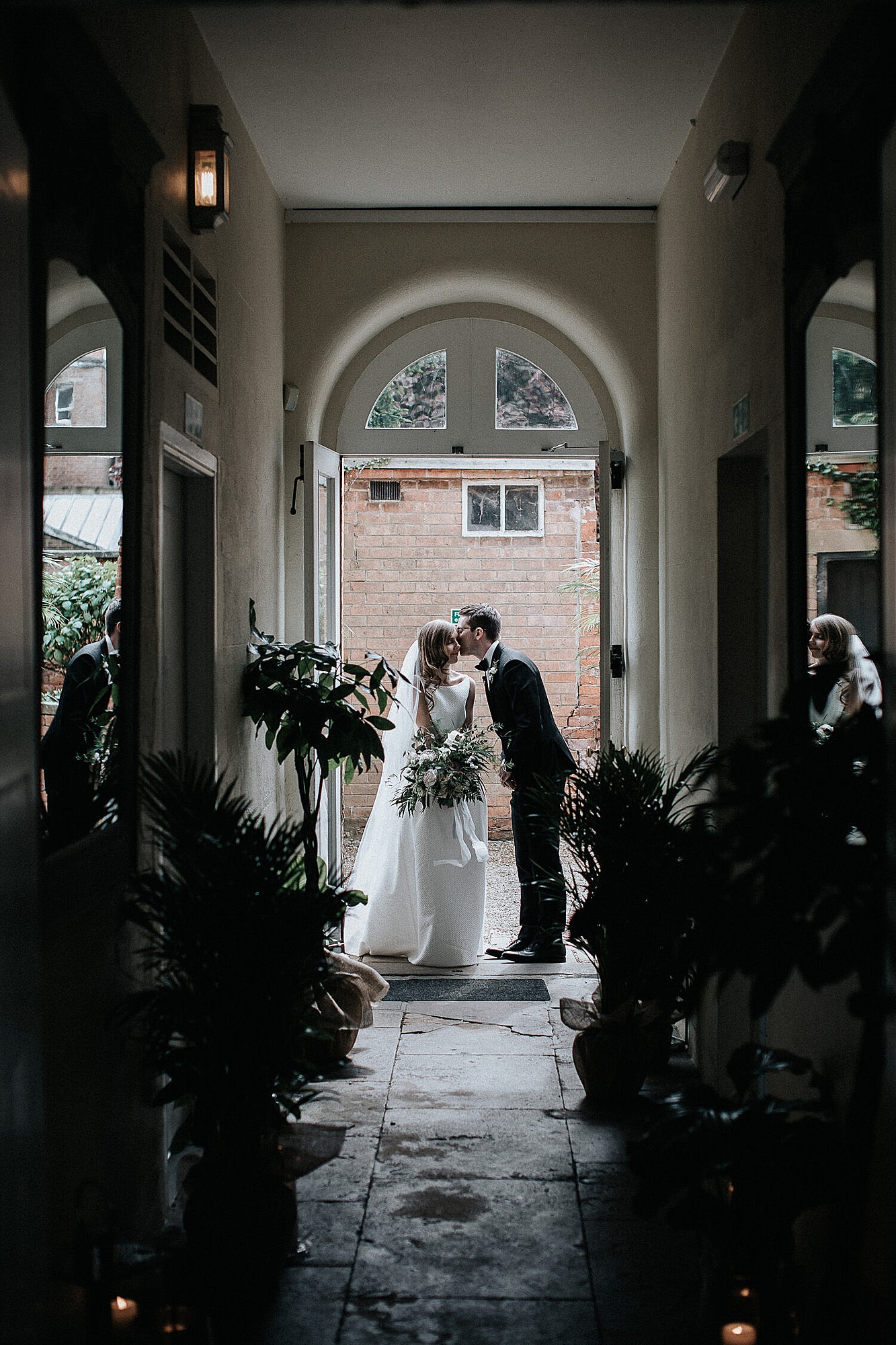 "Good food and good wine were essential and Norwood were brilliant in helping us design a bespoke menu – we chose Arancini, Sea Bass and an Assiette of desserts – it was all delicious."
"Our theme was botanical and classic, with lots of foliage and natural white flowers. We styled the venue with lots of candles and plants lining the entrances."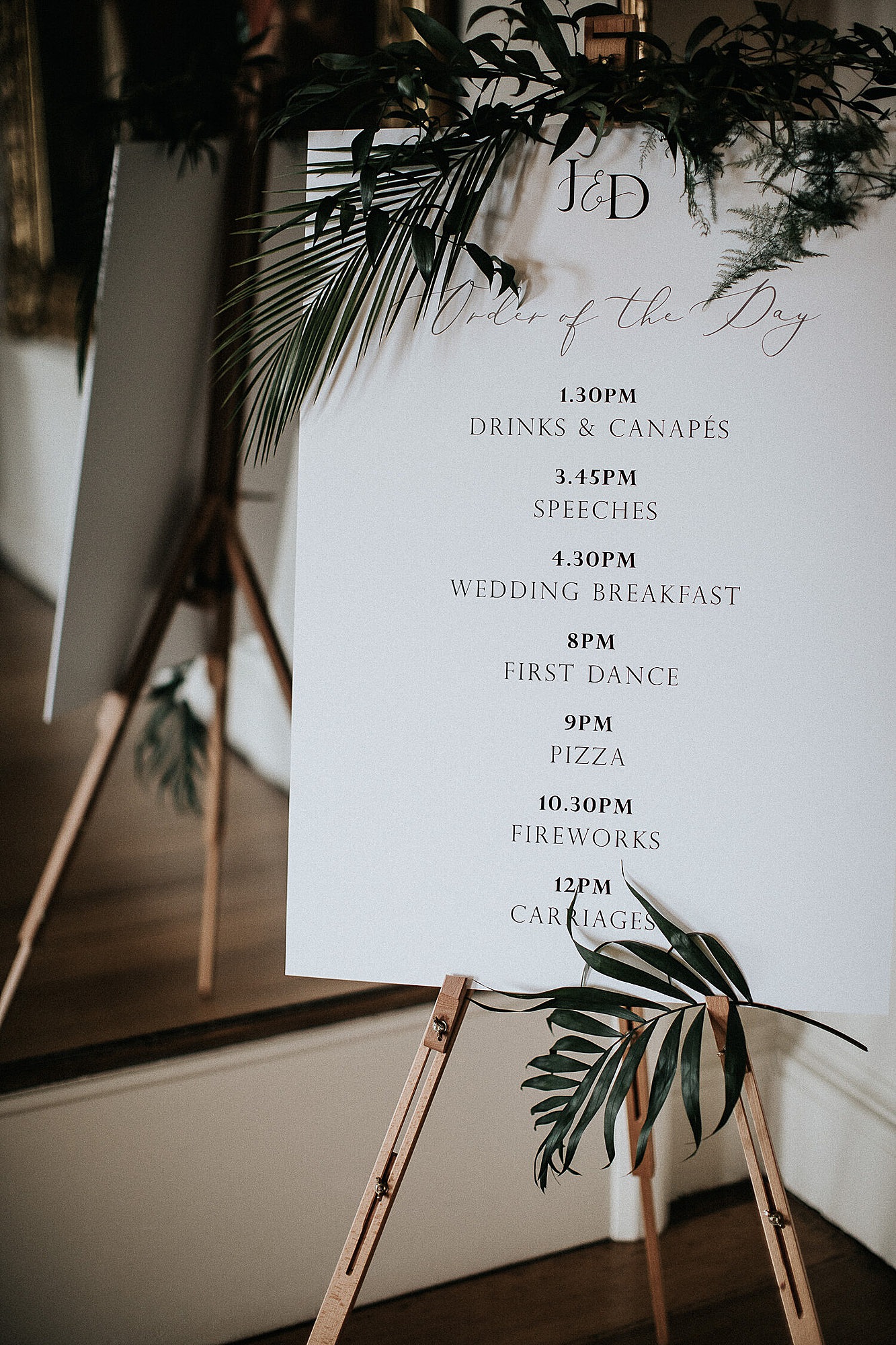 "We saved champagne bottles that we had shared with friends and family whilst celebrating our engagement and in the run up to the wedding, we used these as candle holders and displayed them with a sign thanking our family and friends for their love and support."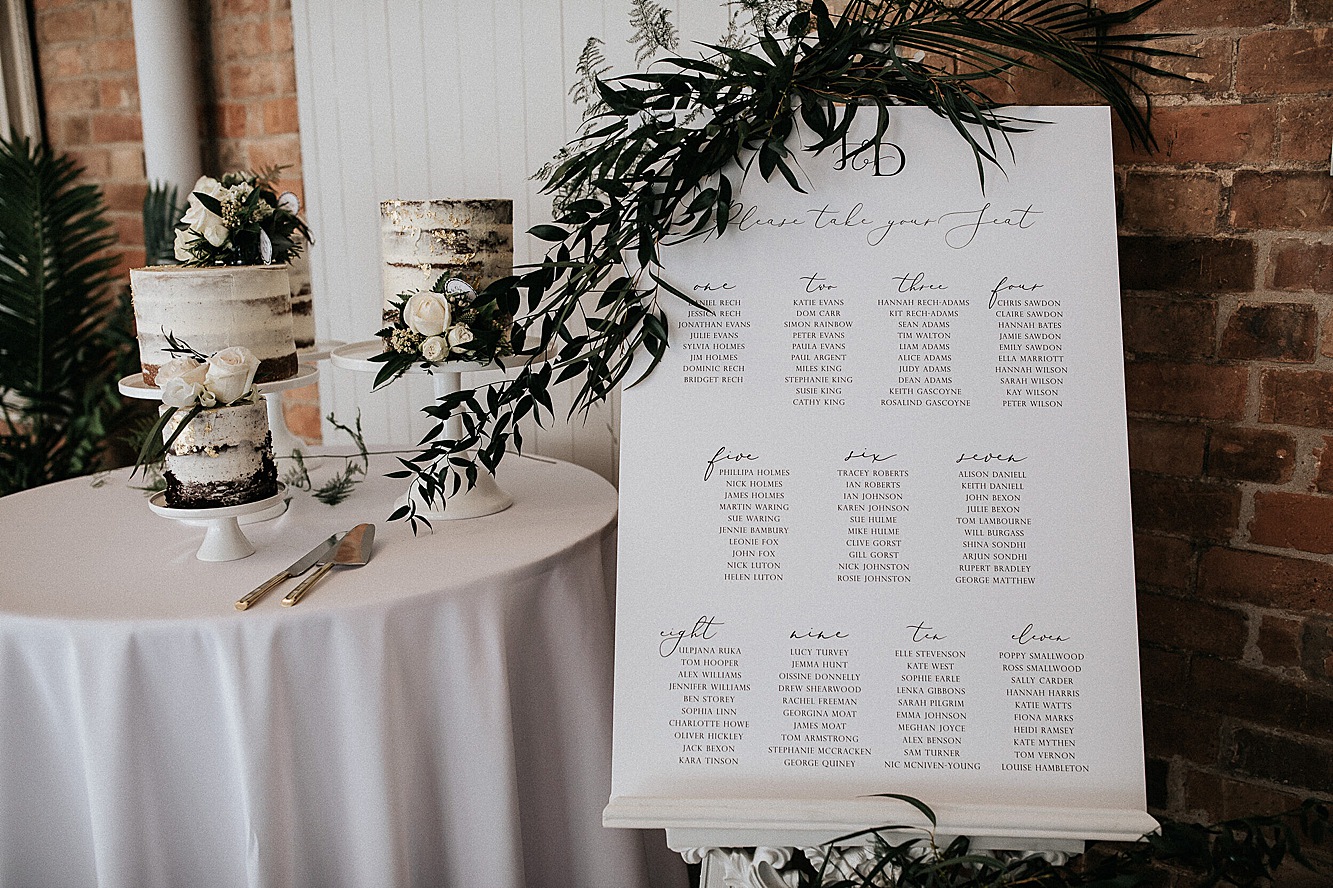 "We hired glassware from Whitehouse Event Crockery, as the glassware at the venue wasn't to our taste, we were so glad we did."
"It was a small expenditure, which made a big difference to the ambience and decor and to us, was really worth it."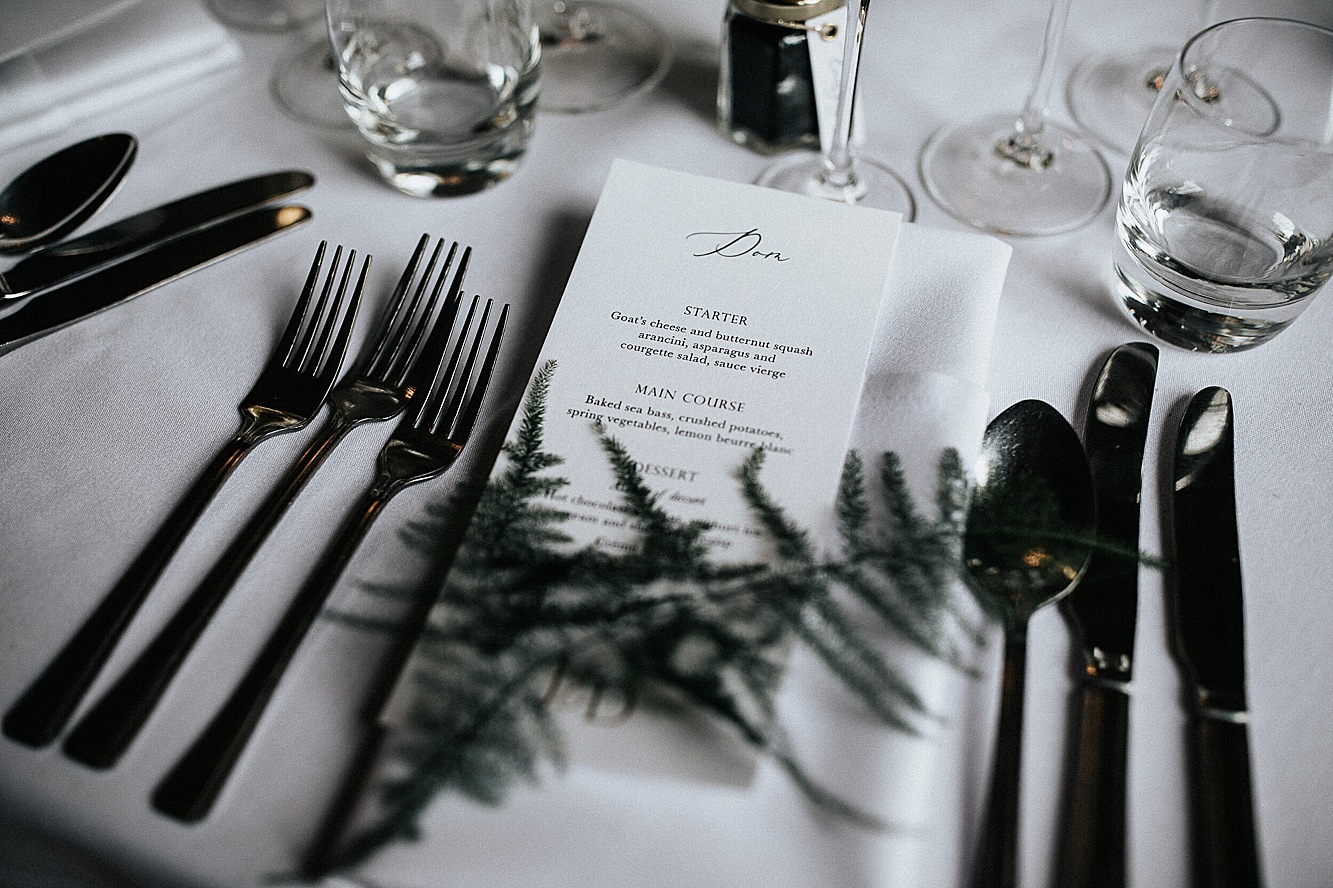 "We made our wedding favours ourselves, gold jars (via Hobbycraft)  of loose-leaf earl grey tea (from The Tea Makers of London) – something we both love,"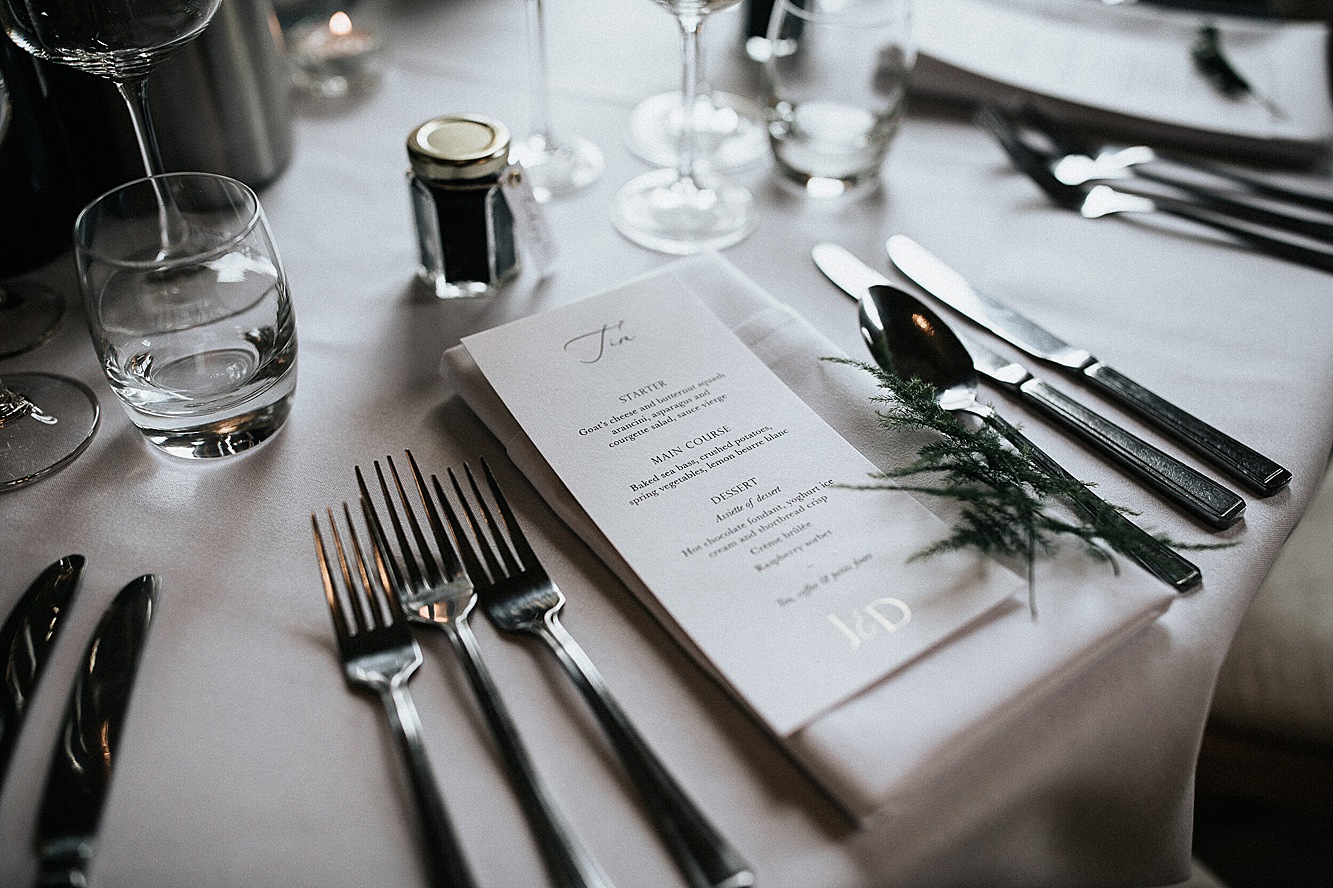 "Our cakemaker was Southwell Cakery. We went for a deconstructed wedding cake, and had four different cakes with minimal icing, decorated with gold leaf and flowers to fit with the gold and botanical theme. The four flavours were chocolate, vanilla victoria, lemon and elderflower and carrot and walnut, and they were all delicious."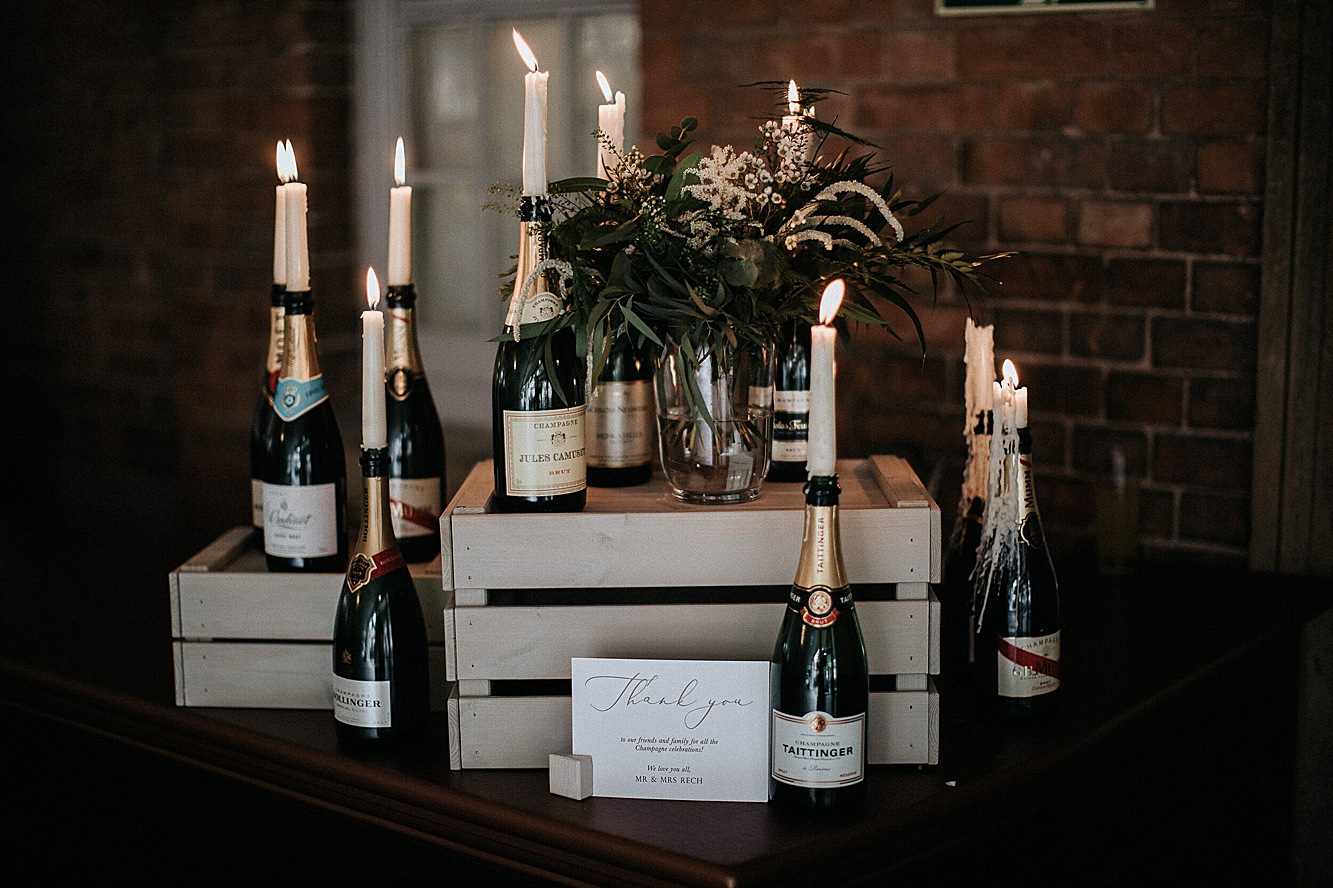 "Another favourite moment was during the wedding breakfast, looking around the room at all of our favourite people."
"We felt so incredibly lucky to be surrounded by so much love!
And, on reflection, is there anything you might have done differently with foresight?"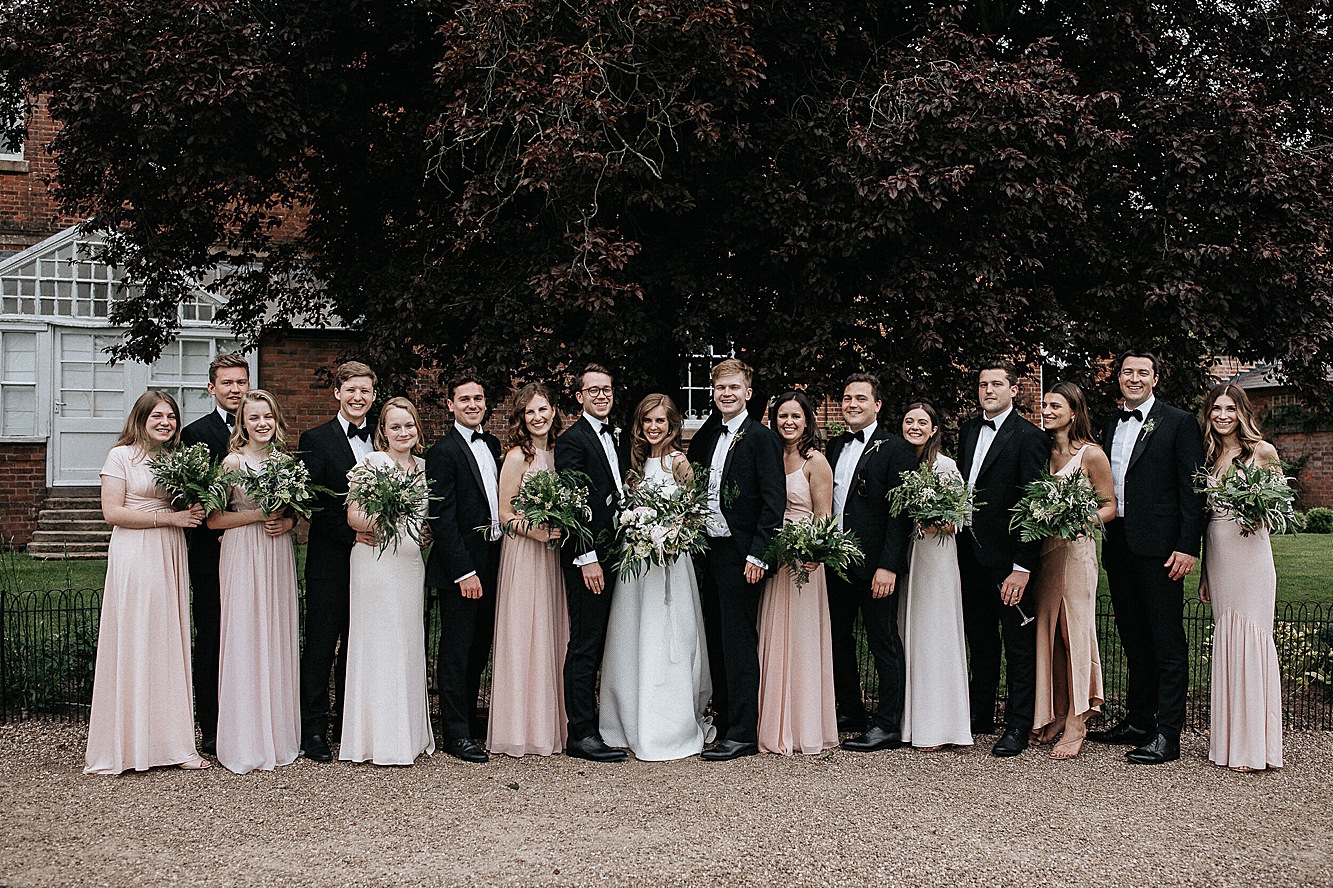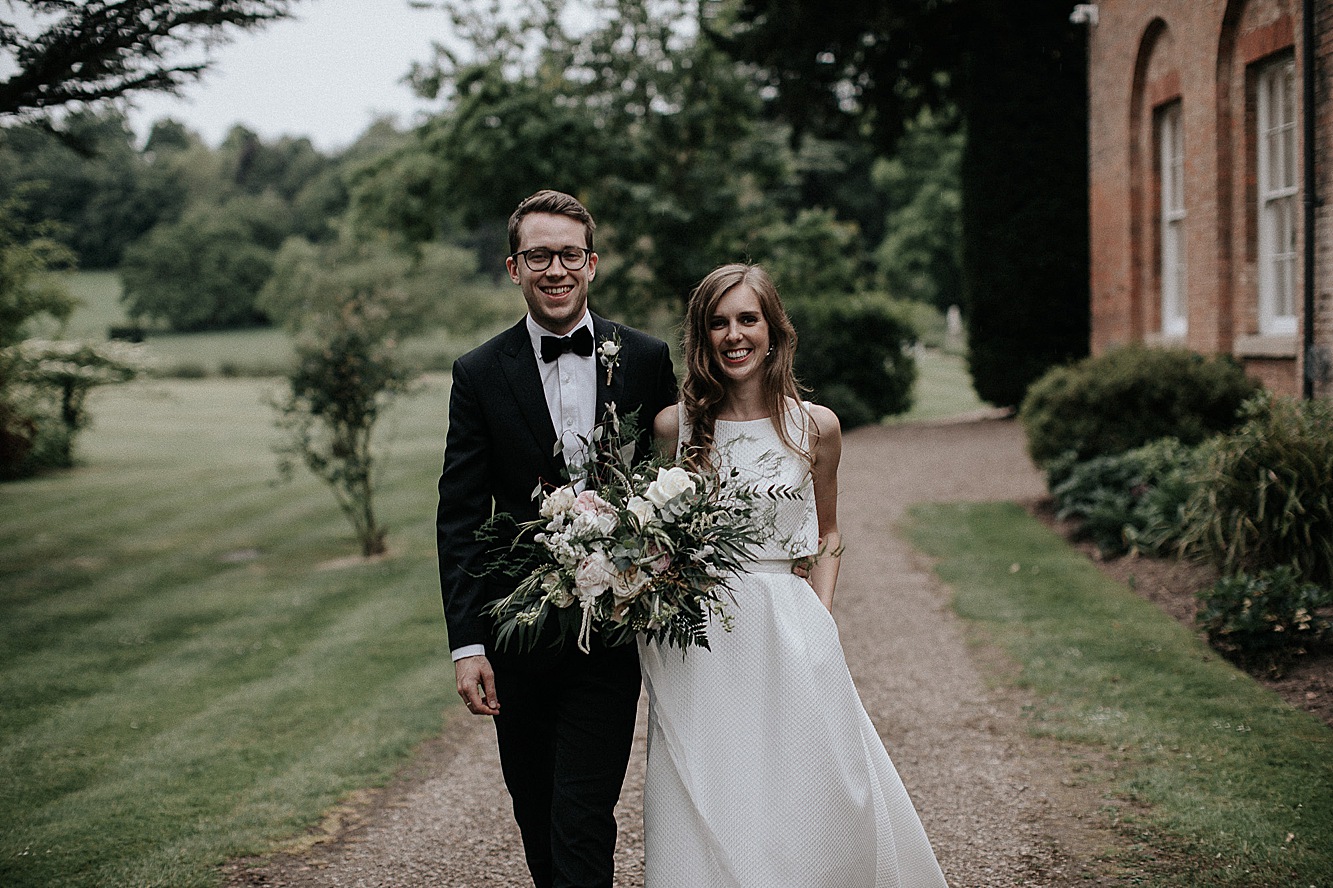 The couple hired Nottingham creative wedding photographer, Matt Horan to document their wedding in images.
"We absolutely loved the relaxed natural style of Matt's photography. We met Matt and his wife Rach (who filmed our wedding video) a couple of times prior to the day and they really put us at ease, alleviating any worries we had about being in front of the camera."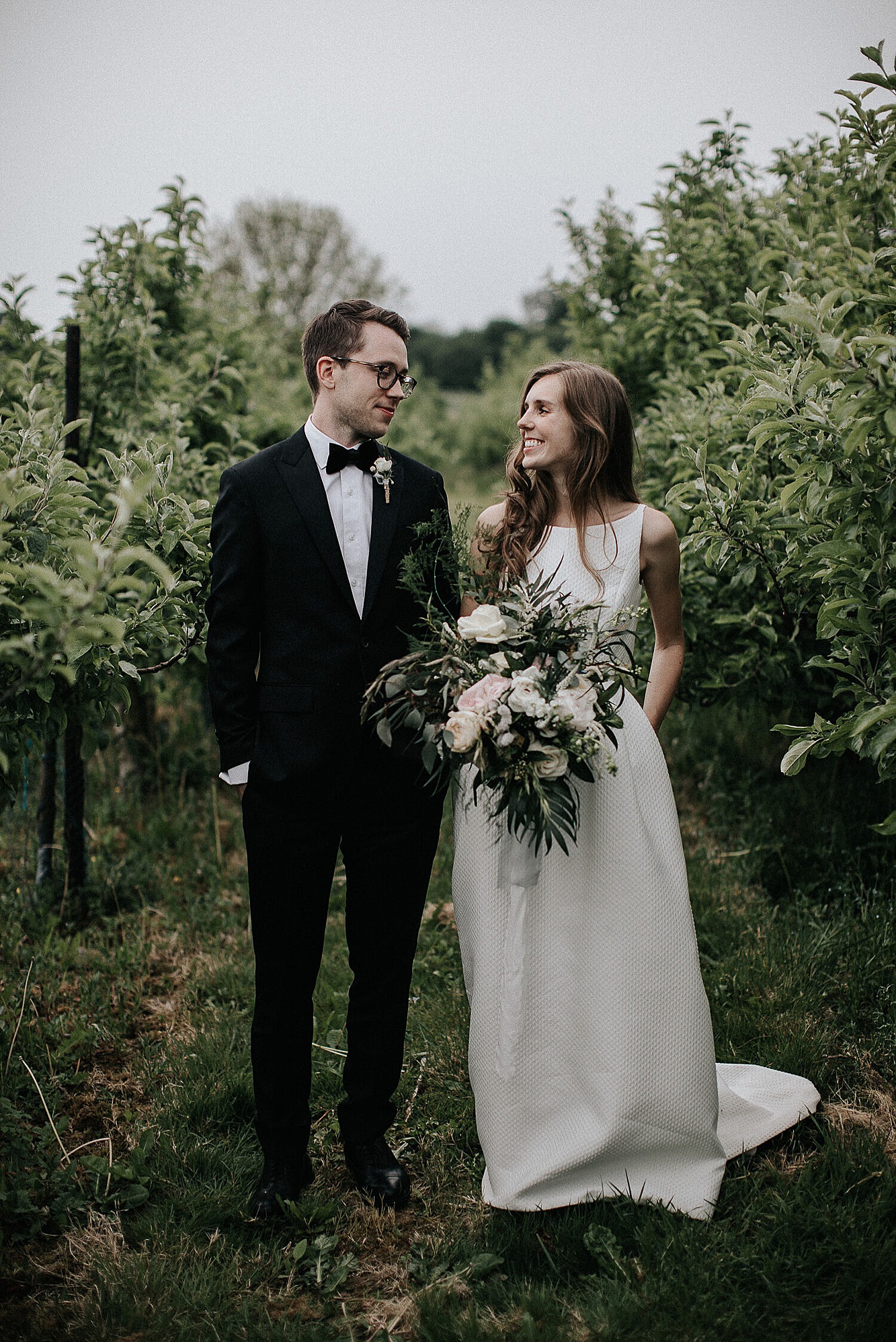 "They were amazing on the day, chatting to all our friends and family, it felt like they were guests and meant they were able to capture all the important moments so beautifully.""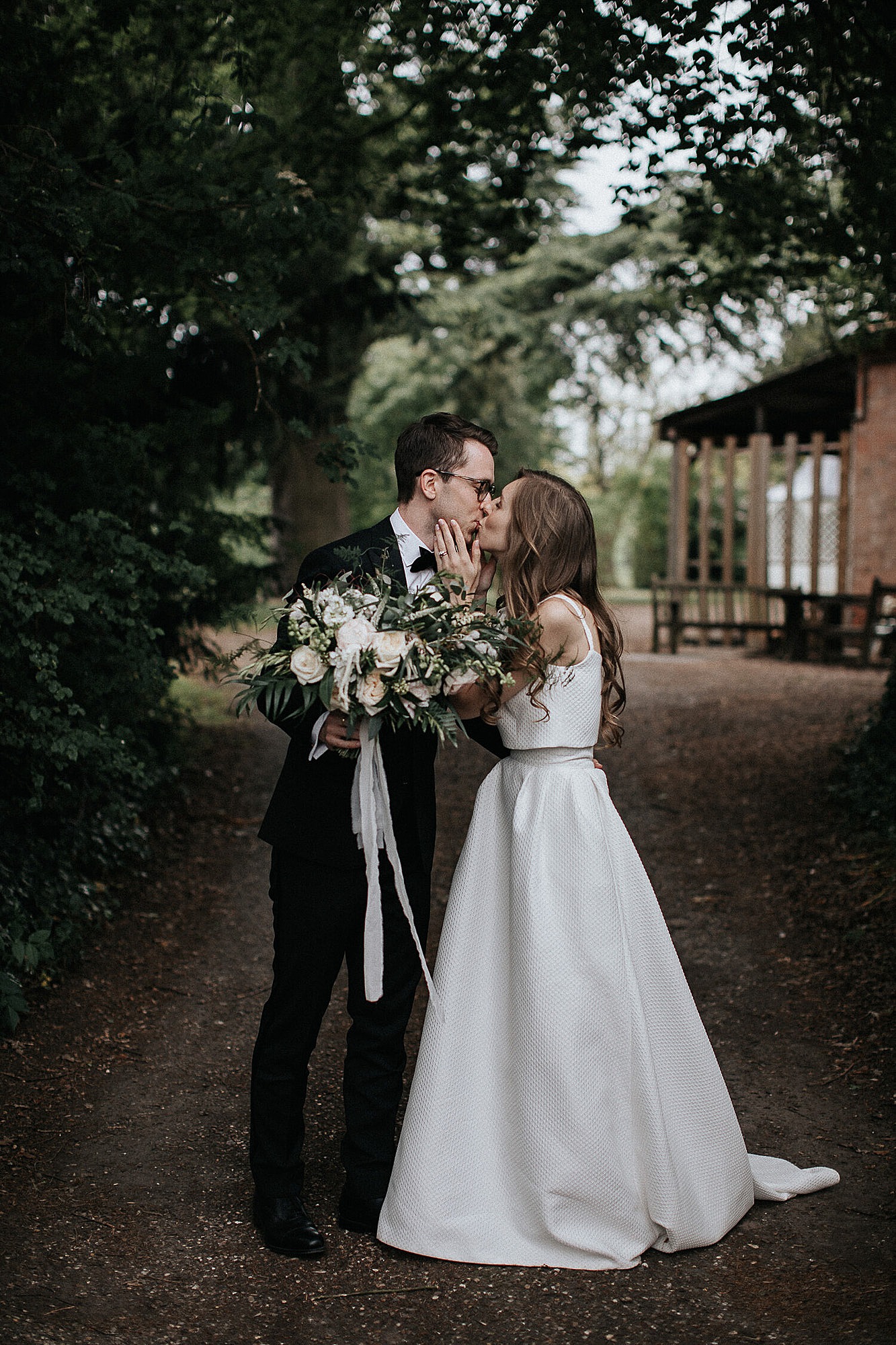 We couldn't be happier with our photos and would recommend Matt to all couples looking for a photographer."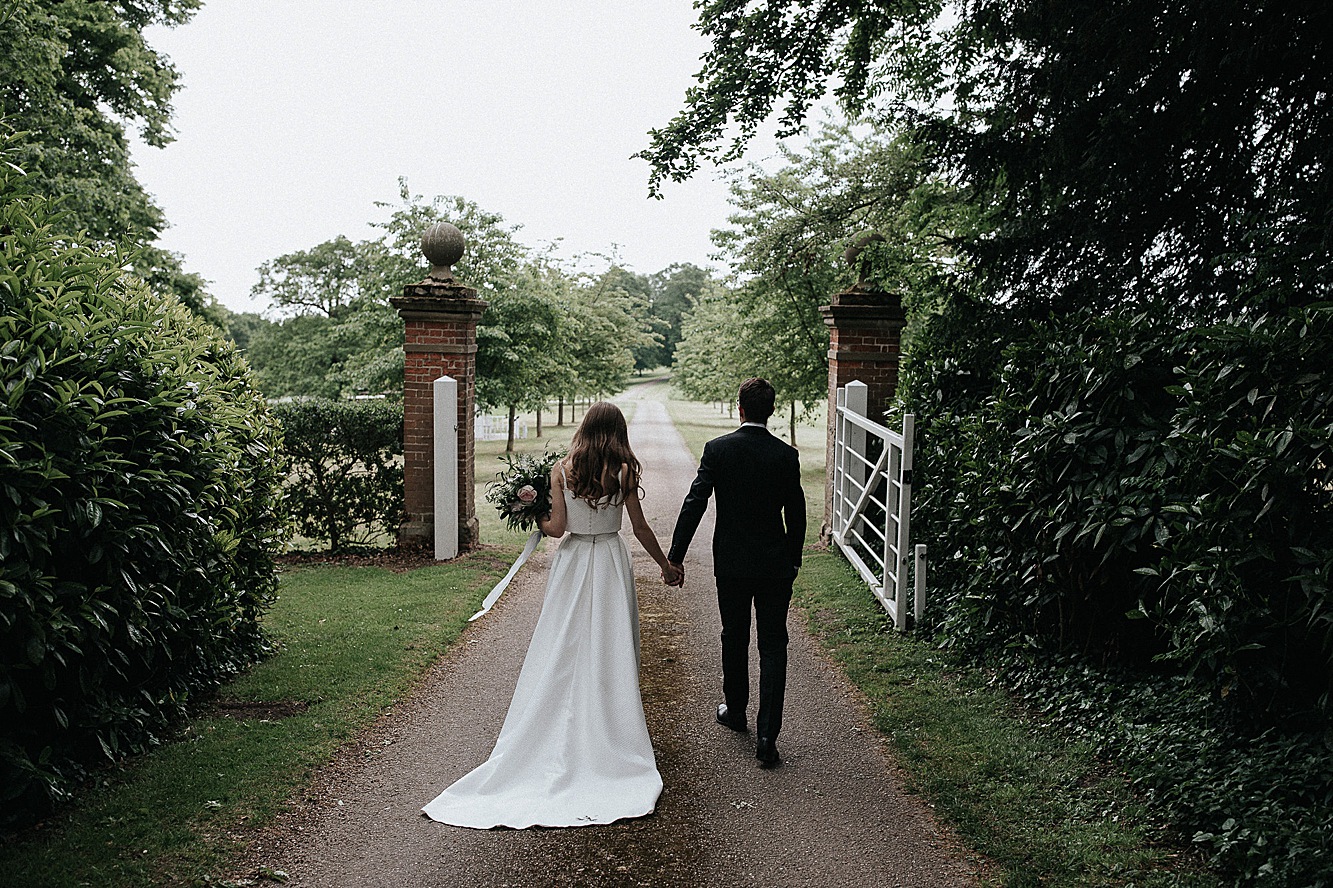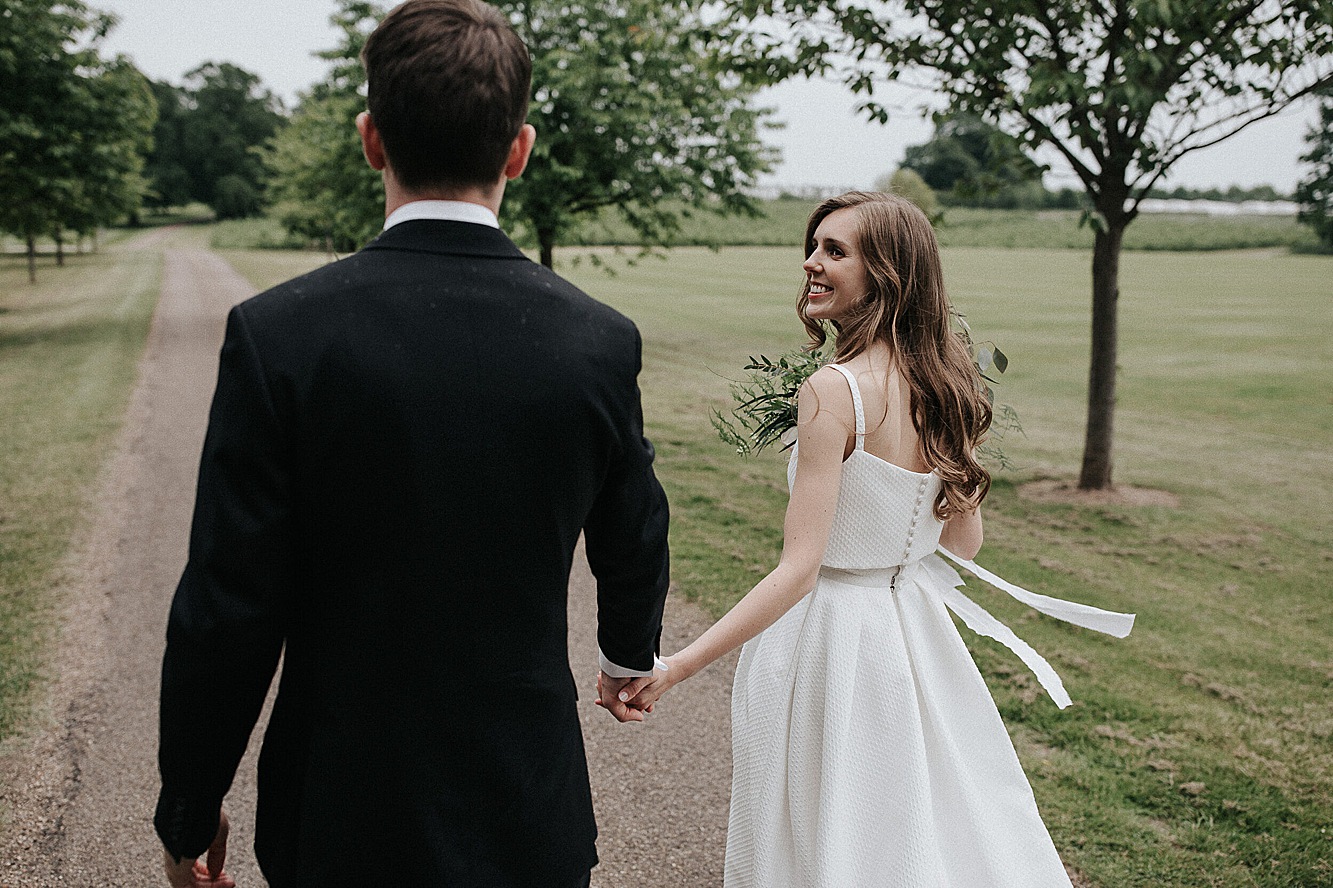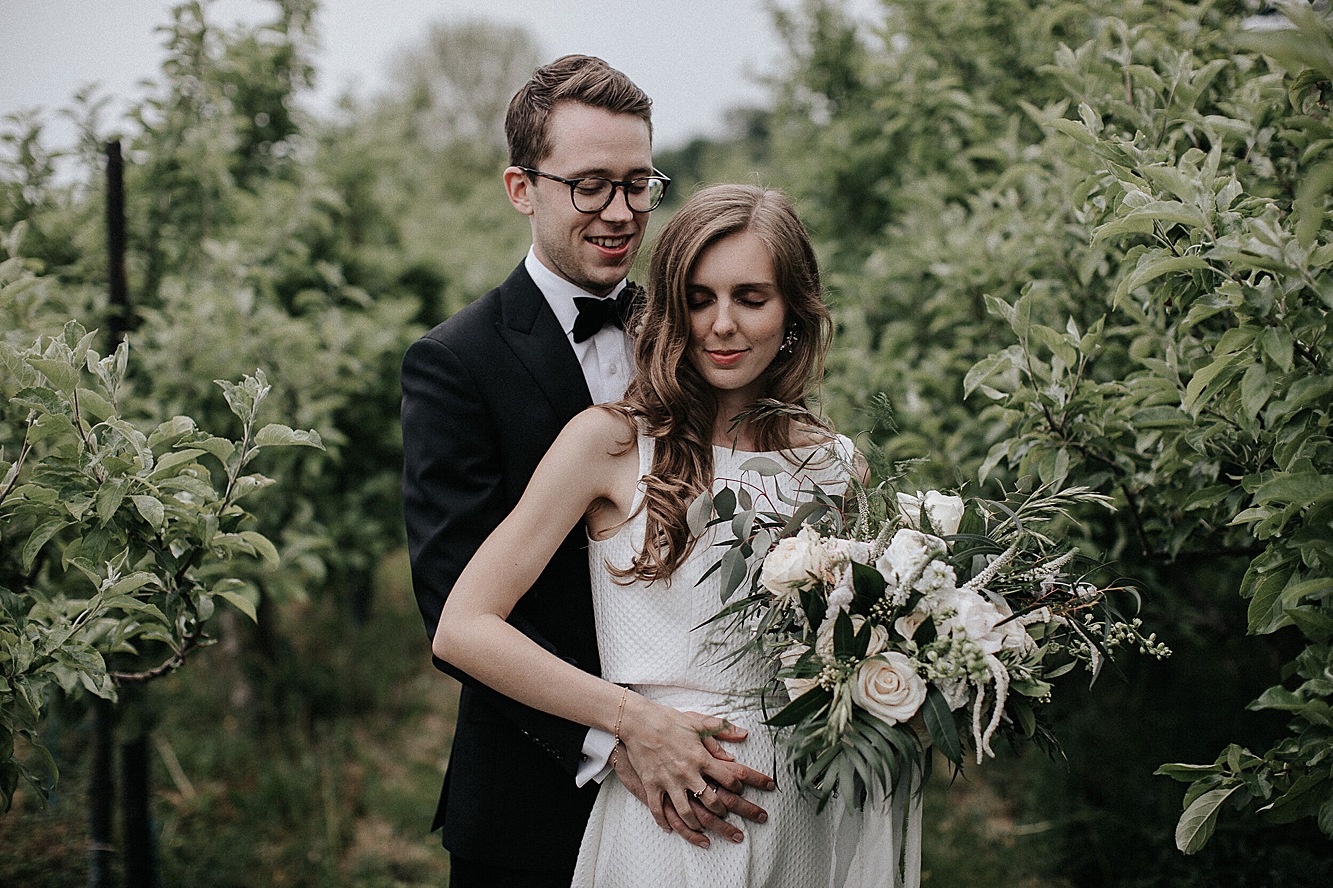 In the evening, the bride slipped into a dress that was custom made by Grace Lane London.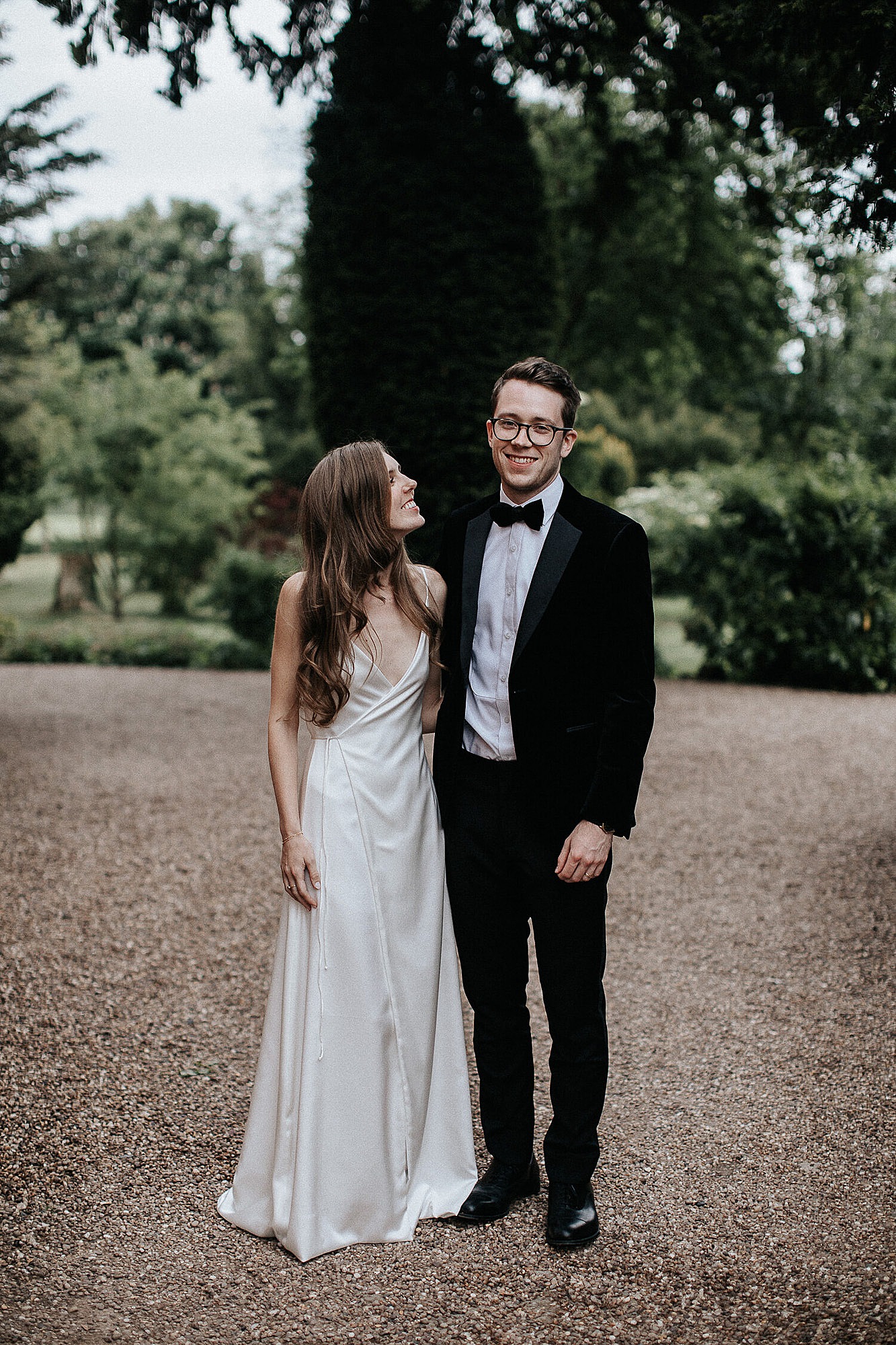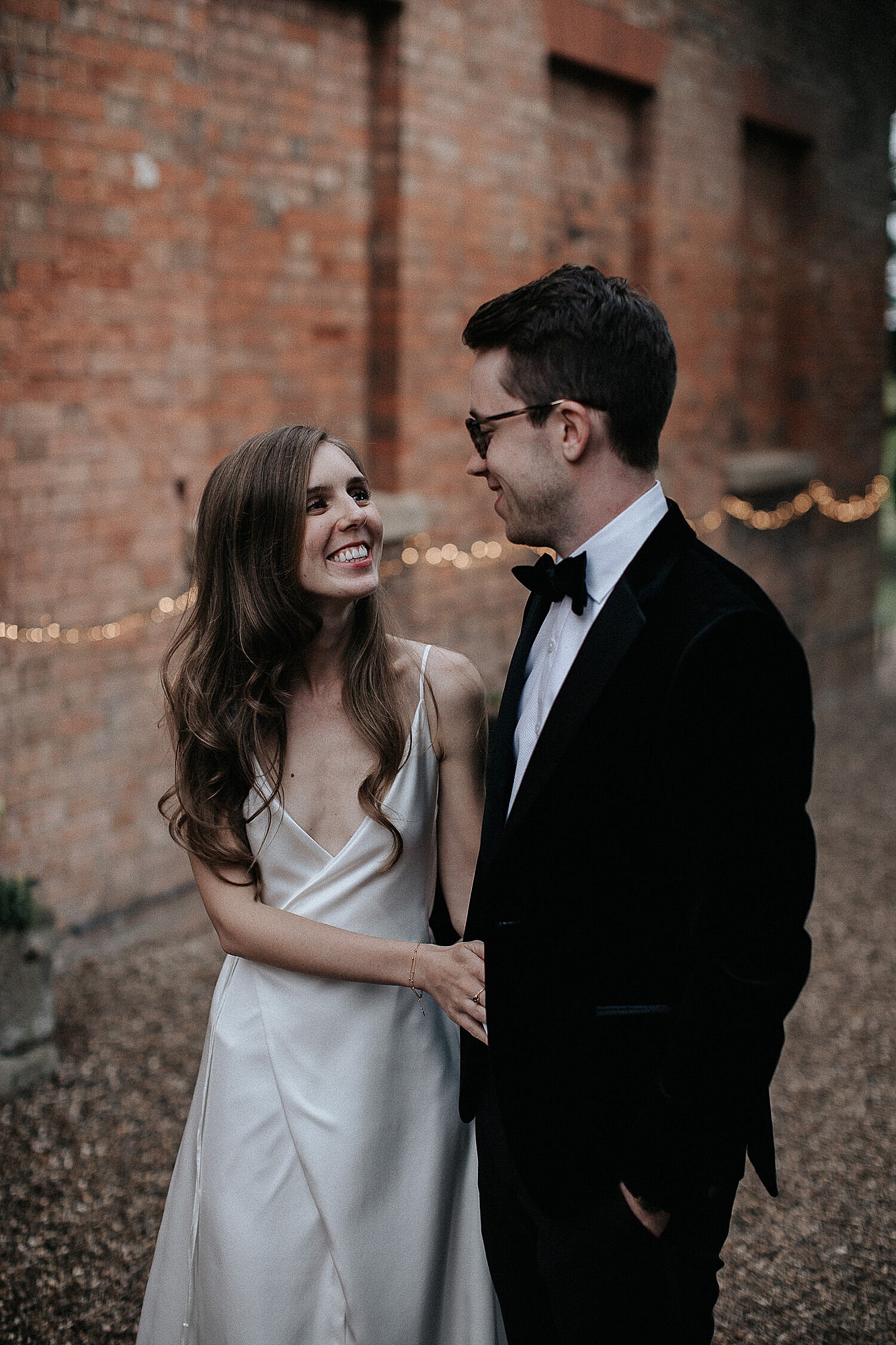 "Our first dance was to Champagne Kisses by Jessie Ware, closely followed by Fleetwood Mac – Everywhere, and Stuck in the middle with you – steelers wheel, all songs that we both love and we knew would get everyone dancing."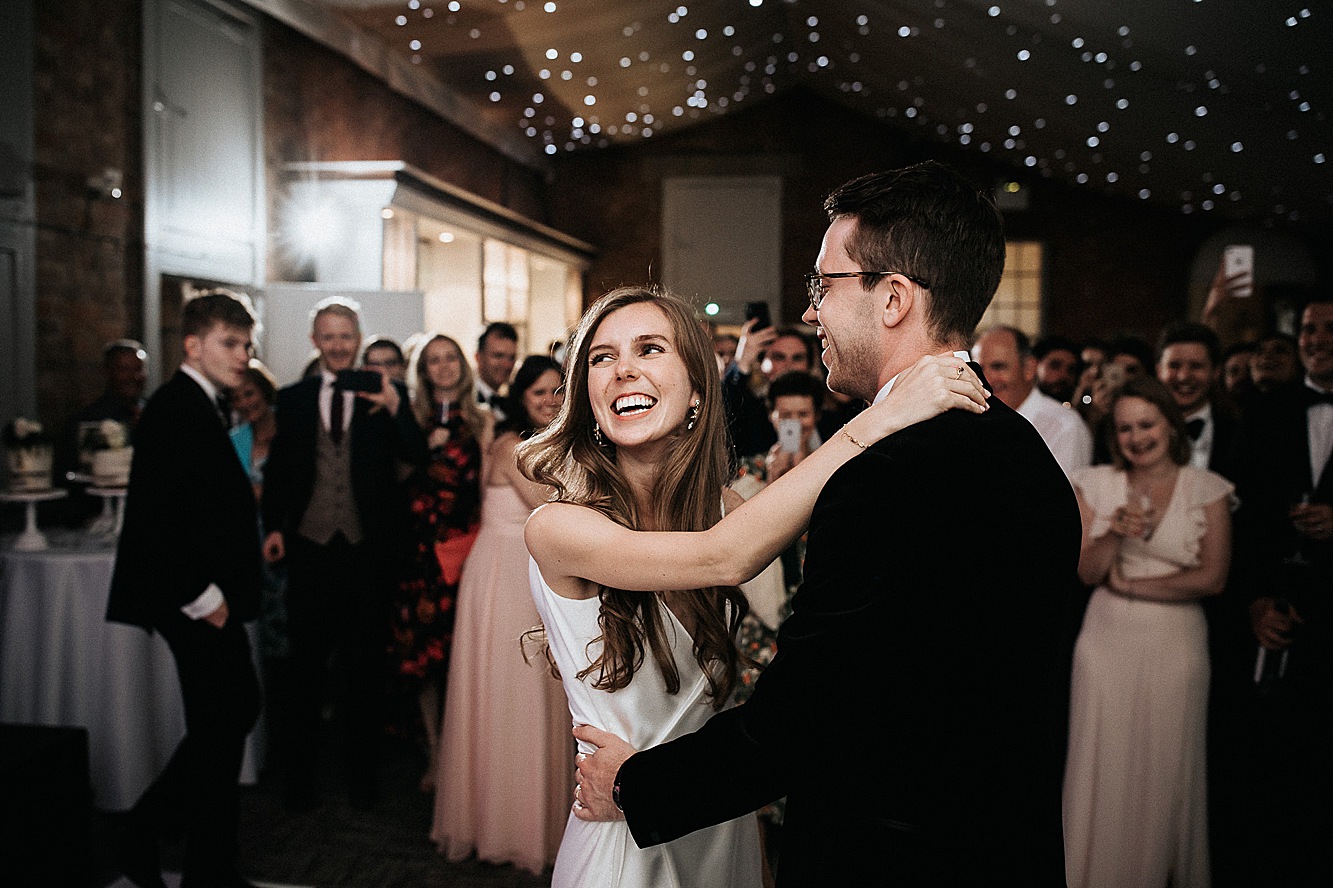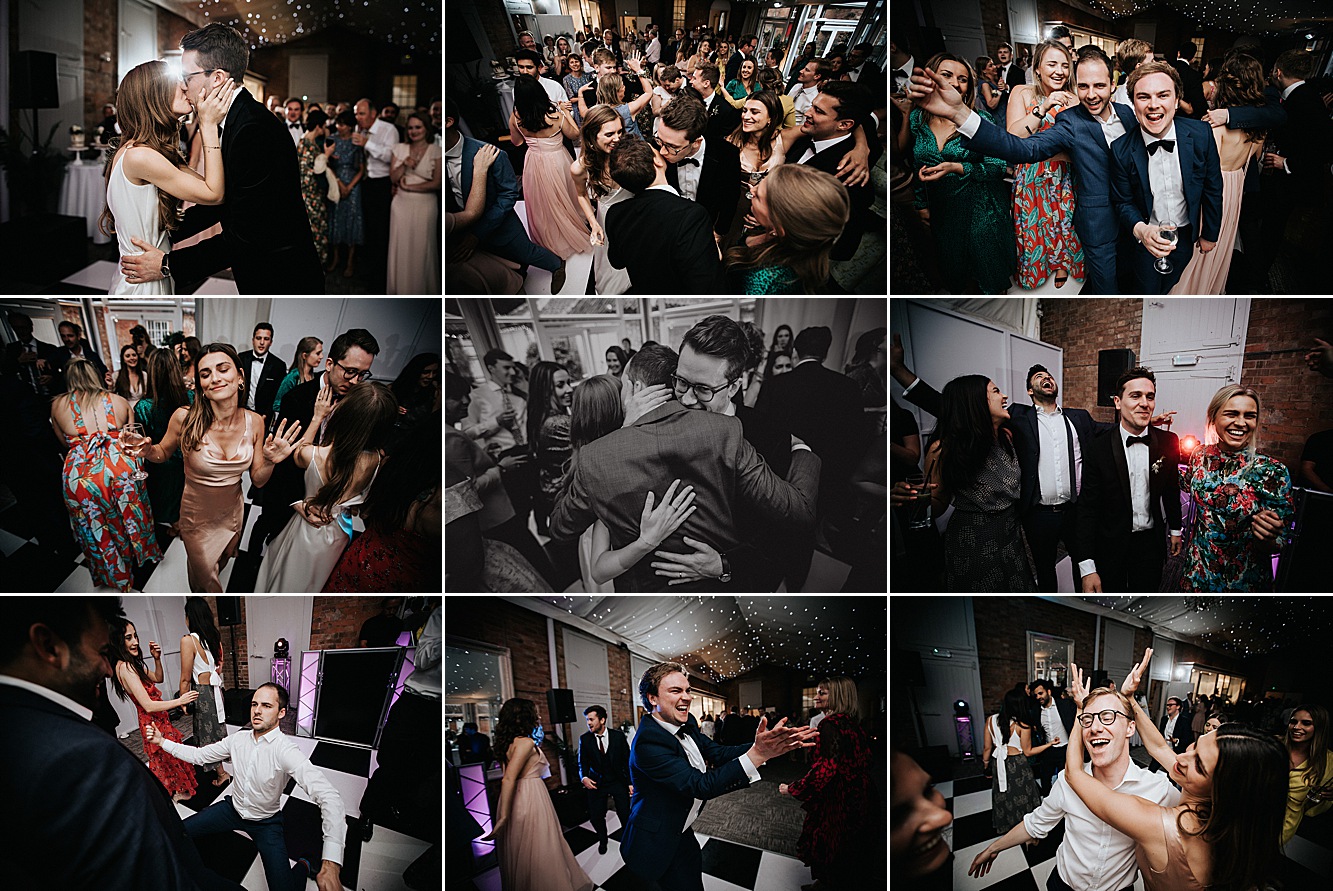 Words of Wedded Wisdom
"Be as organised as possible, so that you can relax and enjoy those final weeks in the run up to the wedding with your loved ones. I realised the importance of not putting so much pressure on everything to be perfect – not everything will go to plan and that's fine."
"You will still have an amazing day and come away from it with a husband/wife and the rest of your lives ahead of you."
"Nominate a timekeeper for the morning of the wedding, time went so quickly and the last hour passed in a blur!"
Absolutely gorgeous – and. thank you so much Jess for your kind words, we're thrilled our content lead you to finding such great suppliers and we are so happy we're able to share your wedding photographs too.
Have a lovely weekend all,
Love Annabel