Weddings at home – a couple's home, or the home of a parent or family member are so beautifully personal, and imbued with a special magic all of their own.
The bride's family home is the setting for today's elegant affair, inspired by the wild, untamed beauty of California and Australia, and underpinned by the classic loveliness of the English countryside. This is also a wedding planned and styled with quintessential brilliance by our friend and Little Book member Katrina Otter, and her team Cara and Pippa.
This is the wedding of Sarah, a start-up investor and consultant, and her love Nick, founder and CEO or sports tech company SportStack. The couple were married on the 3 August 2019 at Sarah's family home in Norfolk.
Film by Rupert Ward-Lewis Films
"My family home in Norfolk is very special place for both of us, especially as the house goes on the market this year – a final hurrah! I'd always wanted to get married outside, so it was the perfect location."
"It's impossible to choose a best bit – it was honestly the biggest whirlwind, and the most magical day we could ever have dreamed of. Everyone says it, but until you experience it, you just cannot comprehend it. We had been planning it for ages, but had never expected it to be as incredible as it really was, both emotionally and aesthetically, and executed with such incredible precision by the Katrina Otter Weddings team."
Images by Dominique Bader Photography
"People will of course be impressed by the décor, think the band were great, or love your dress, but what will really make the day special for everyone present, will be feeling like a part of your love, your journey, and your future. I have never in my life felt happier or more beautiful, and as much as the amazing hair and make-up and dress helped, at the end of the day it is purely down to letting go of trying to live anyone else's day, and being authentically me in every way."
Sarah got ready for the day ahead in an outfit from Le Rose, and her hair was styled in a super-cool, slightly undone up-do by Jo Adams from The Hair & Make-up Atelier.
"Jo made me feel more beautiful than I have ever felt. I'm not someone who wears a lot of make-up, so was worried about the wedding look, but she managed to make it look natural in person as well as perfect for the camera – she's a true magician."
Sarah chose her exquisite Suzanne Neville dress – the 'Serrano' – at the designer's London boutique, and doesn't she look wonderful? This dress is strikingly modern, with its sexy v-neck and side splits mirroring the neckline, and also timelessly beautiful, with its flowing skirt full of movement.
"I had the most wonderful experience at Suzanne Neville. From the moment I walked in, I felt totally comfortable and at ease, and they made the entire process from start to finish a complete luxury. I was quite nervous about finding the dress, and Suzanne Neville made it a joy rather than a stress. Their prices were on a par with other companies whose expertise and service was miles off that provided by SN. Couldn't recommend them enough."
"I had no idea what I would end up with. I've never been one of these girls that has their whole wedding and dress scoped out in their head, but I knew being small, something with a little volume but still classic would look best. I'm not a girly girl at all, so the structured simplicity of the 'Serrano' dress, with a little bit of a naughty side to it with the sheer panels, matched my personality perfectly."
The bridesmaids wore beautiful dresses by Little Book members Maids to Measure; the 'Elle' design with fluttering sleeves and a row of buttons on the bodice, in cloud blue.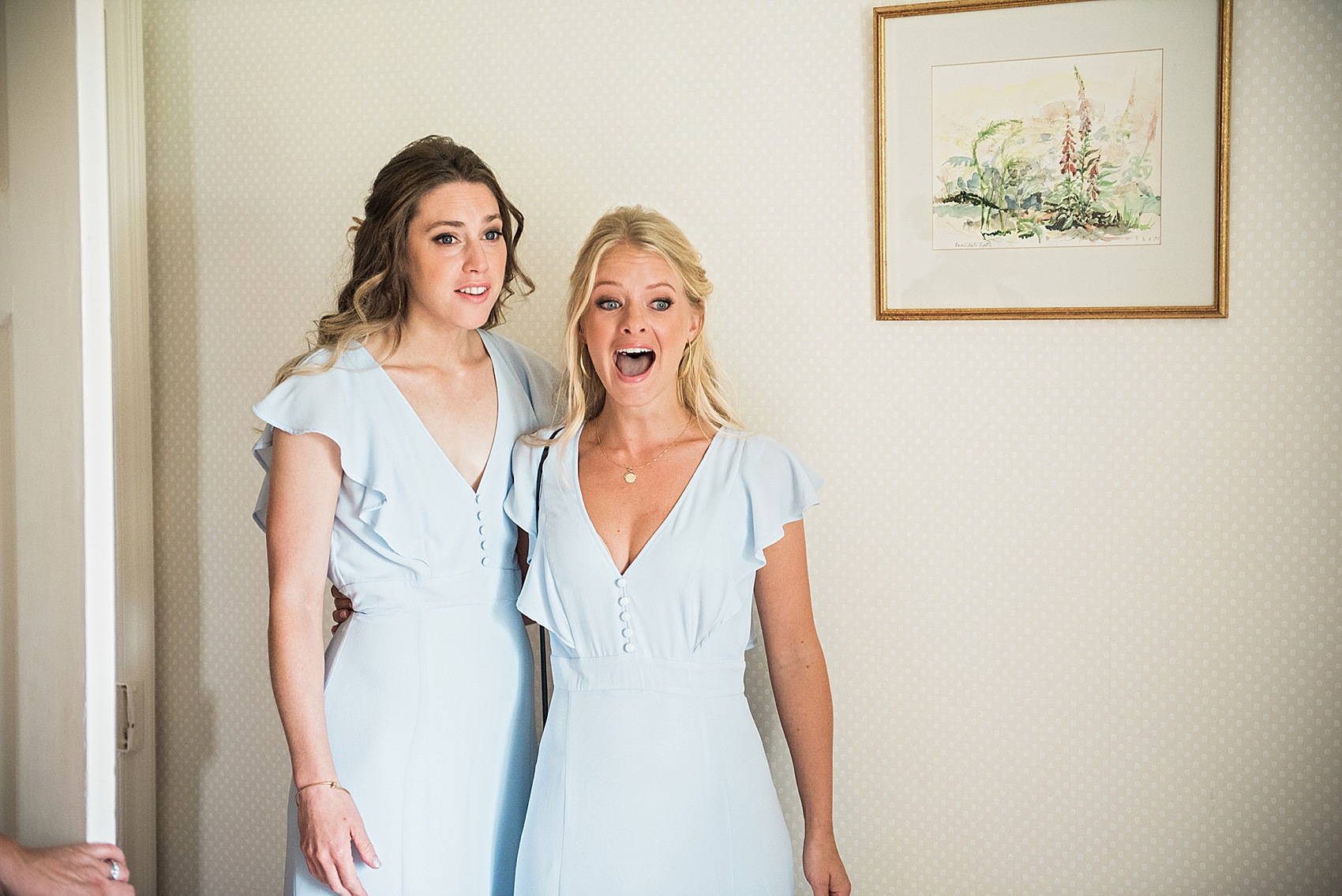 On her feet, Sarah wore Christian Louboutin's sheer 'Follies Strass' pumps, adorned with glitter and sparkling crystals.
"I wore bespoke earrings made by Smith & Green Jewellers in Hatton Garden, who also made our rings, using a ring gifted to me by my late Grandma."
To complete her look, Sarah added a pretty veil (the 'Poppy') by Suzanne Neville.
This beautiful set-up provided shade, but also let natural light flood into the space, and was surrounded with spectacular floral arrangements by Constance Rose, including a dreamy arbour of lush greenery and white roses.
"As a non-girly girl, flowers are just not my thing, and I didn't want it to be overly perfect and wedding-y. I still wanted that element of romanticism though, just a little more wild. Constance Rose completely nailed my strange brief, and produced bucket loads of the most stunning florals we could have hoped for! Archways, hanging florals, table florals, bouquets and buttonholes to die for."
Groom Nick opted for a classic morning suit, which was made bespoke for him by Favourbrook, with a contrasting waistcoat, and grey patterned tie.
"We met at work, on the trading floor at a US investment bank 4 years ago. We became really close friends, bonding over being the two front-of-the-class nerds on our training programme."
"However, it appears Nick had more than friends in mind, and 3.5 years later he quite dramatically changed his life and asked me on a date."
"After 7 months we moved in together, after a year we had bought a house, and after 18 months we were engaged! We gave ourselves a nice long 18 months to plan the wedding, as I was completing my MBA and co-founding a business alongside that, so it was for the best for everyone!"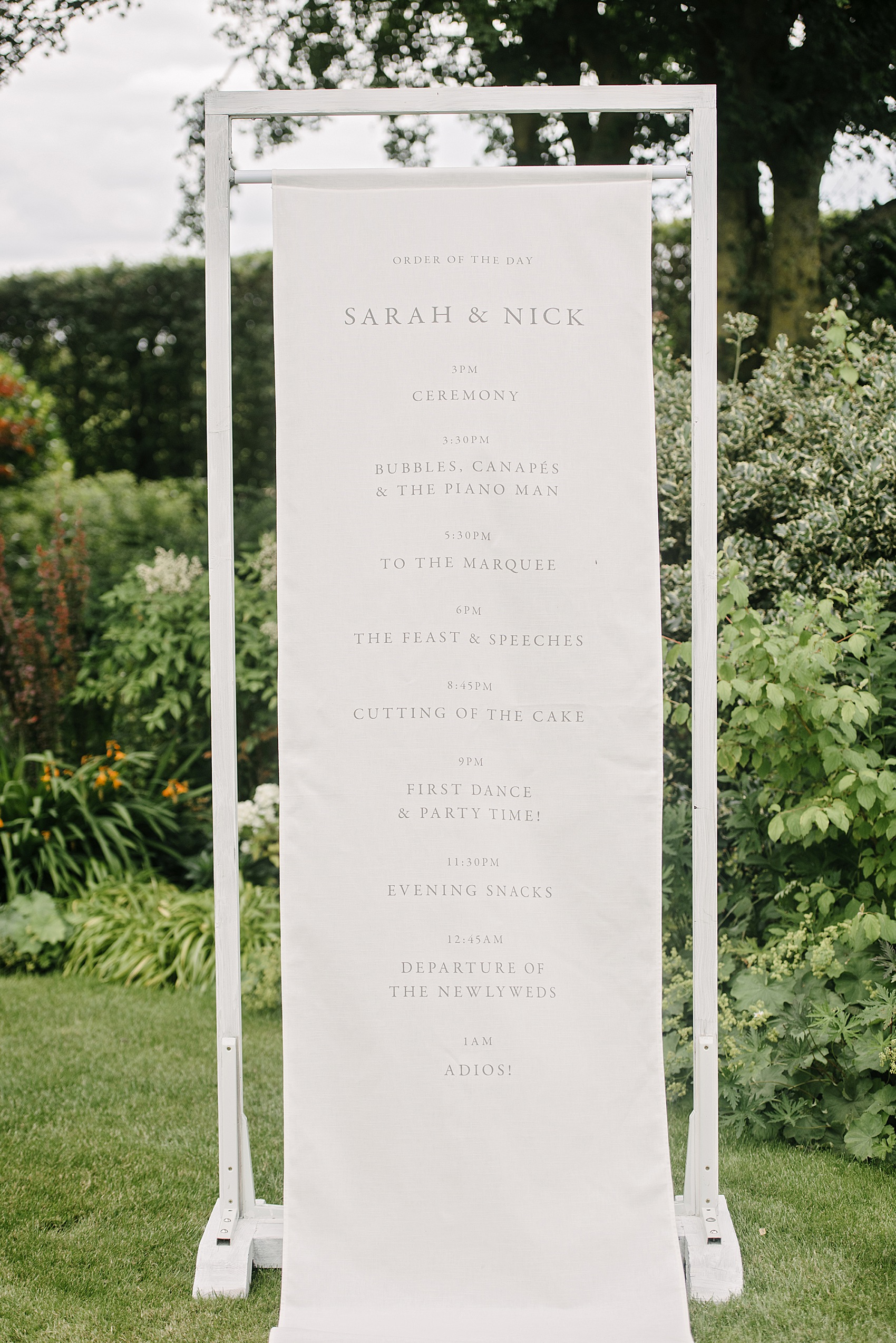 As loved ones assembled in the garden ahead of the ceremony, there was live music from Michael G. Moore, and seating was arranged under an open-sided marquee from Academy Marquees.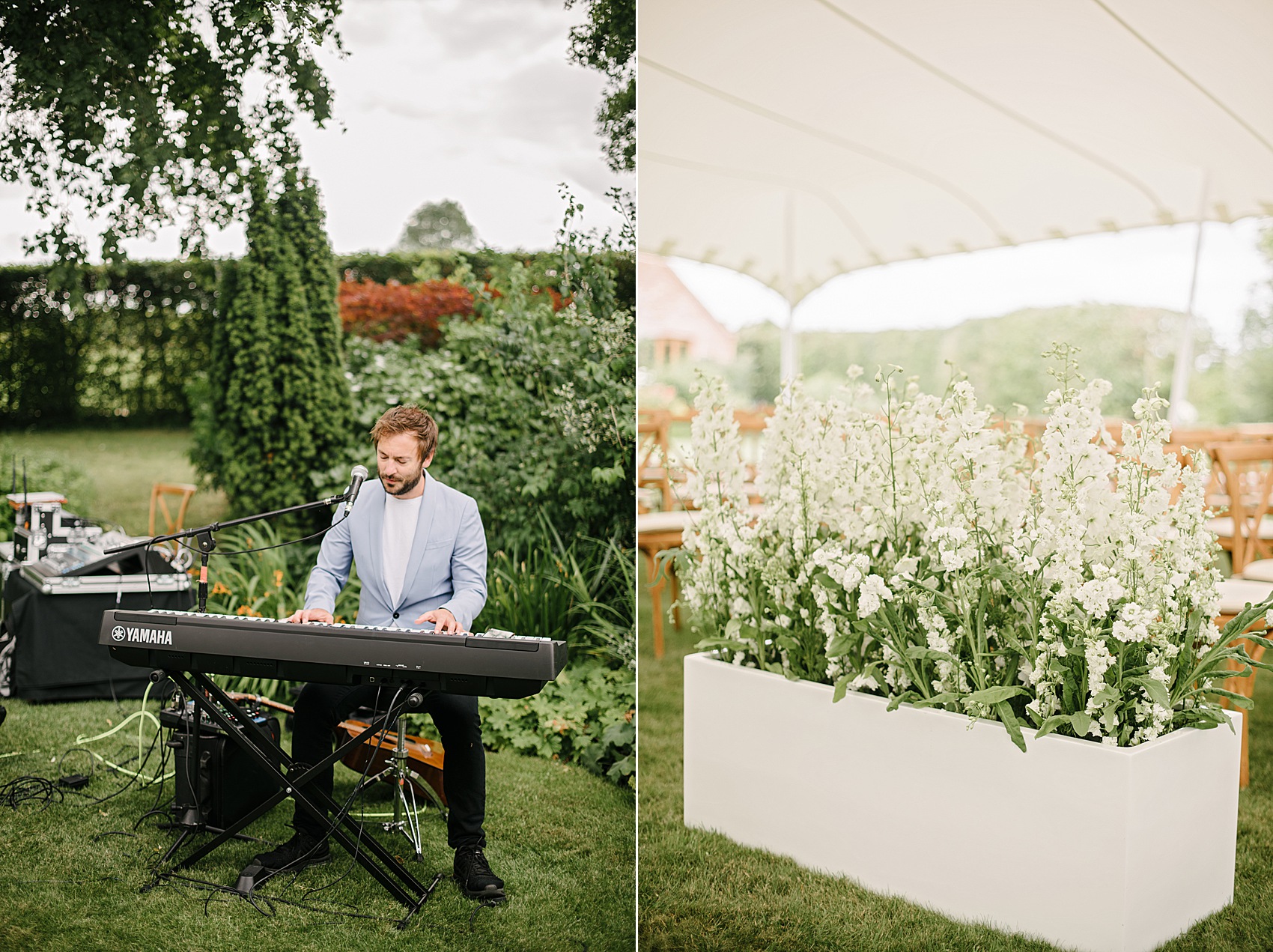 Together with her dad, Sarah left the family home, and made her way down the driveway to begin her walk down the aisle. Ahead of her were her three bridesmaids, and her sweet niece and nephew as flowergirl and page boy, wearing outfits from John Lewis.
For their entrance music, Sarah chose Can't Help Falling in Love With You, sung live by Michael G. Moore.
I could not be more thrilled to write that Sarah and Nick's celebrant was our very own team member Tamryn Settle. Not only is she a senior writer here, she also runs Wild & Oak, where she creates beautiful, bespoke ceremonies and celebrations.
"We wanted a non-religious ceremony so that we could tell our own stories, have our readers write or choose their own pieces, based around the theme of love, and say our own vows and dedications."
As they made their vows, the couple also solidified their commitment with rings, which were made at Hatton Garden based Smith & Green Jewellers. Nick opted for a simple 4mm yellow gold band, whilst Sarah chose an invisible set diamond band in yellow gold, to complement her diamond solitaire engagement ring with a diamond studded band.
"We also all sang Wonderwall by Oasis with Michael G. Moore, and he played Love Someone by Lukas Graham on guitar whilst we signed our vows."
There to capture all of the beauty and joy with a bright, elegant touch was photographer Dominique Bader, whose lovely work has featured many times on our pages here.
"Dominique was honestly a dream to work with. Nick and I are naturally very awkward in photos, and she made us forget she was even there, and produced the most beautiful photos that made it seem like we were seasoned models!"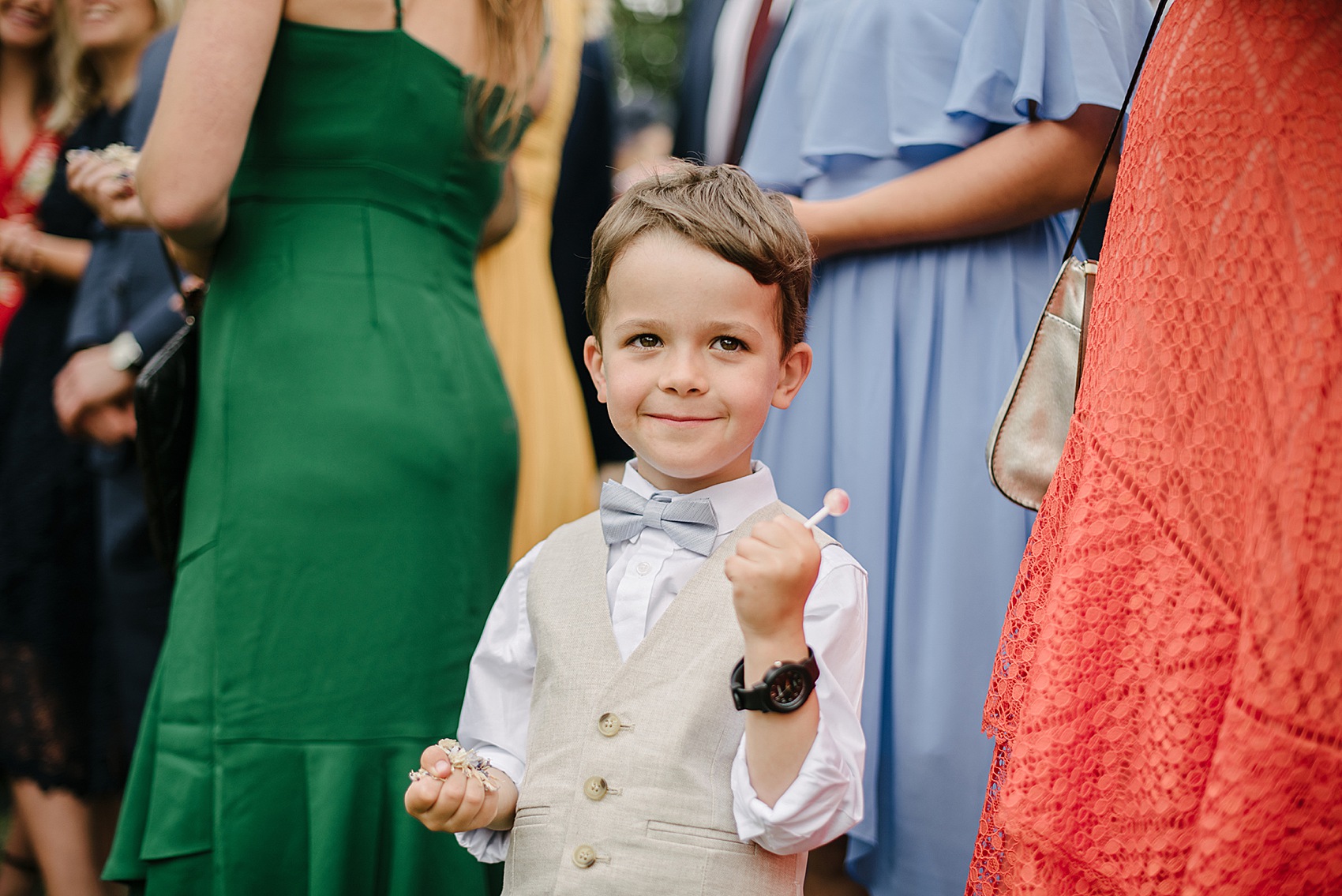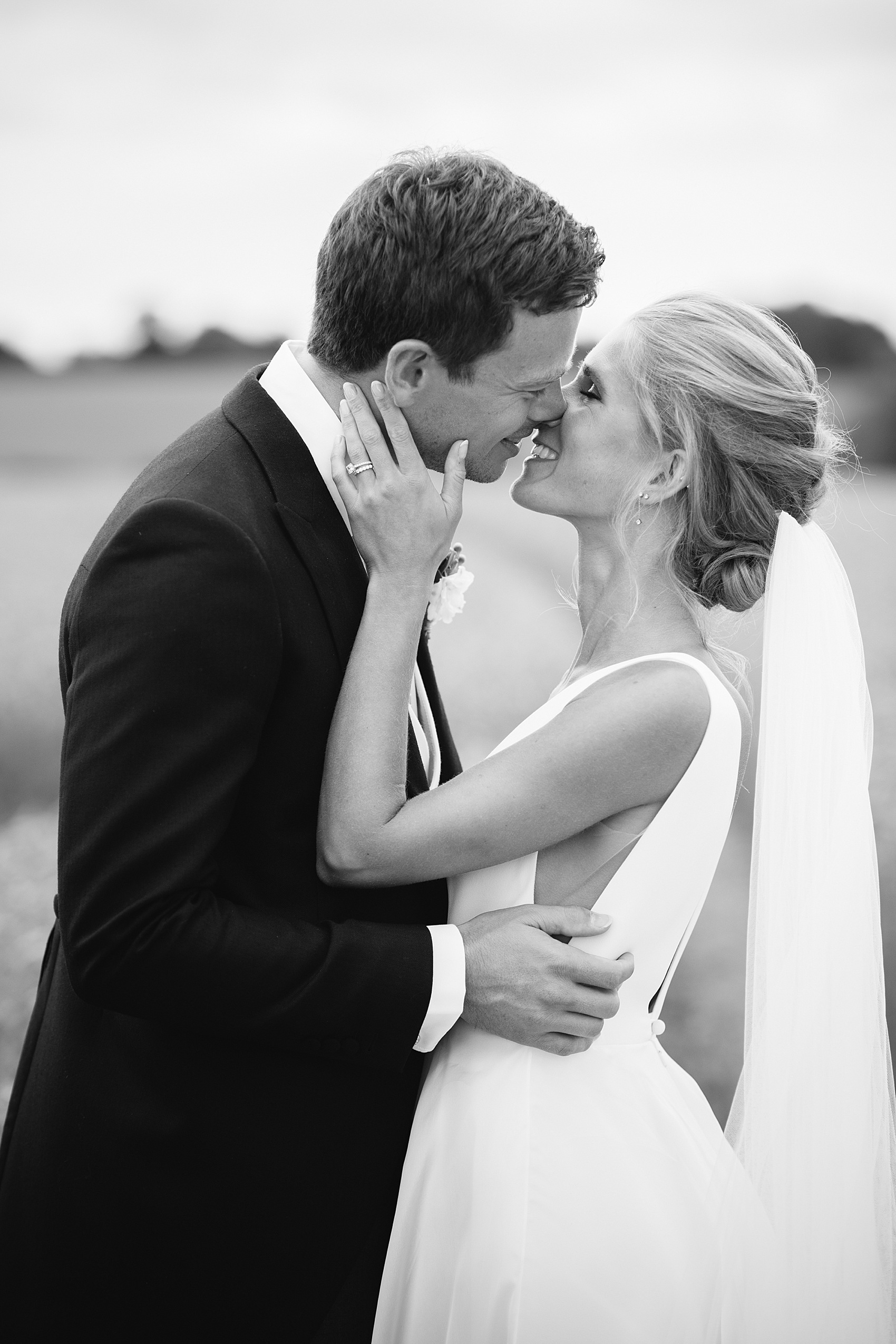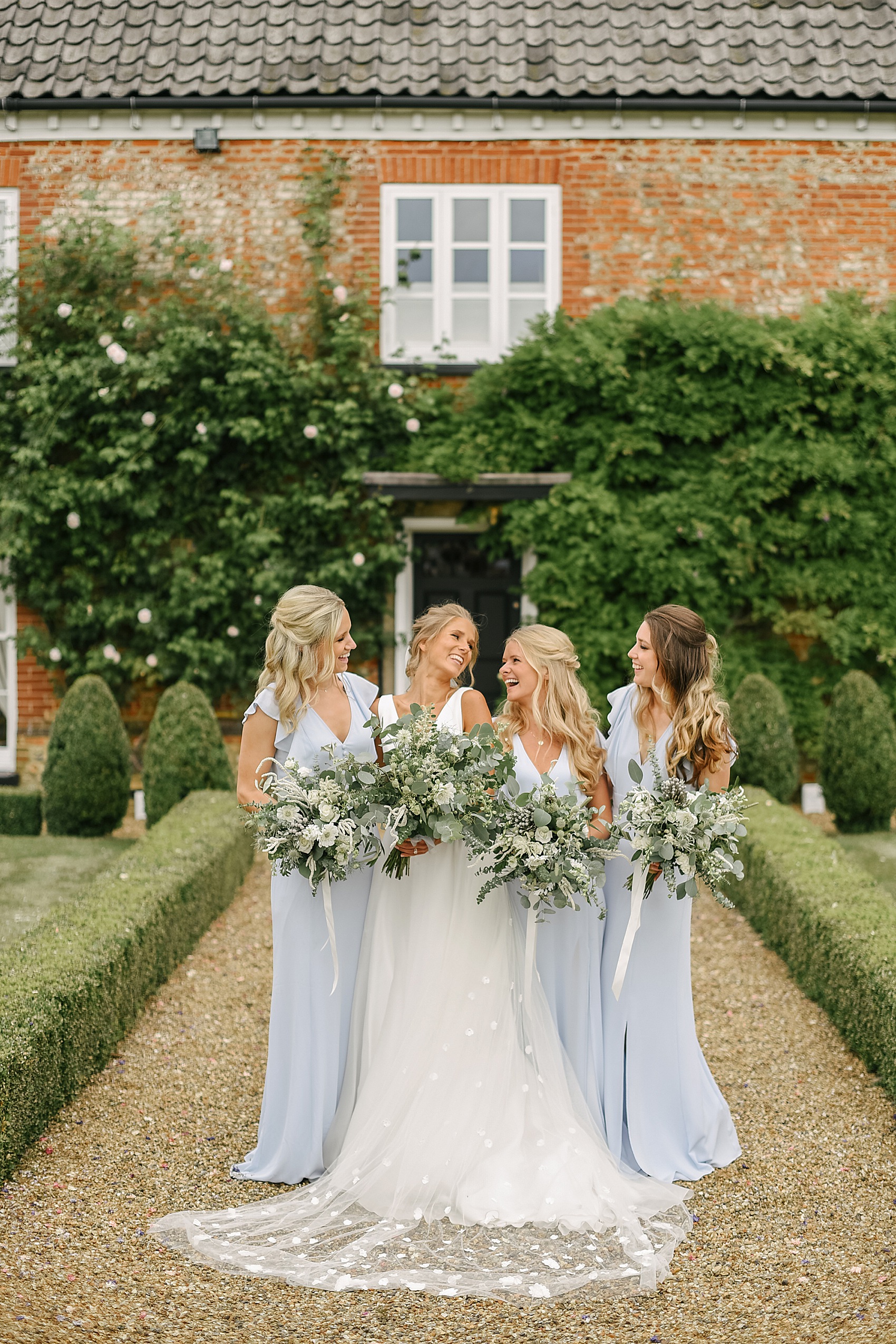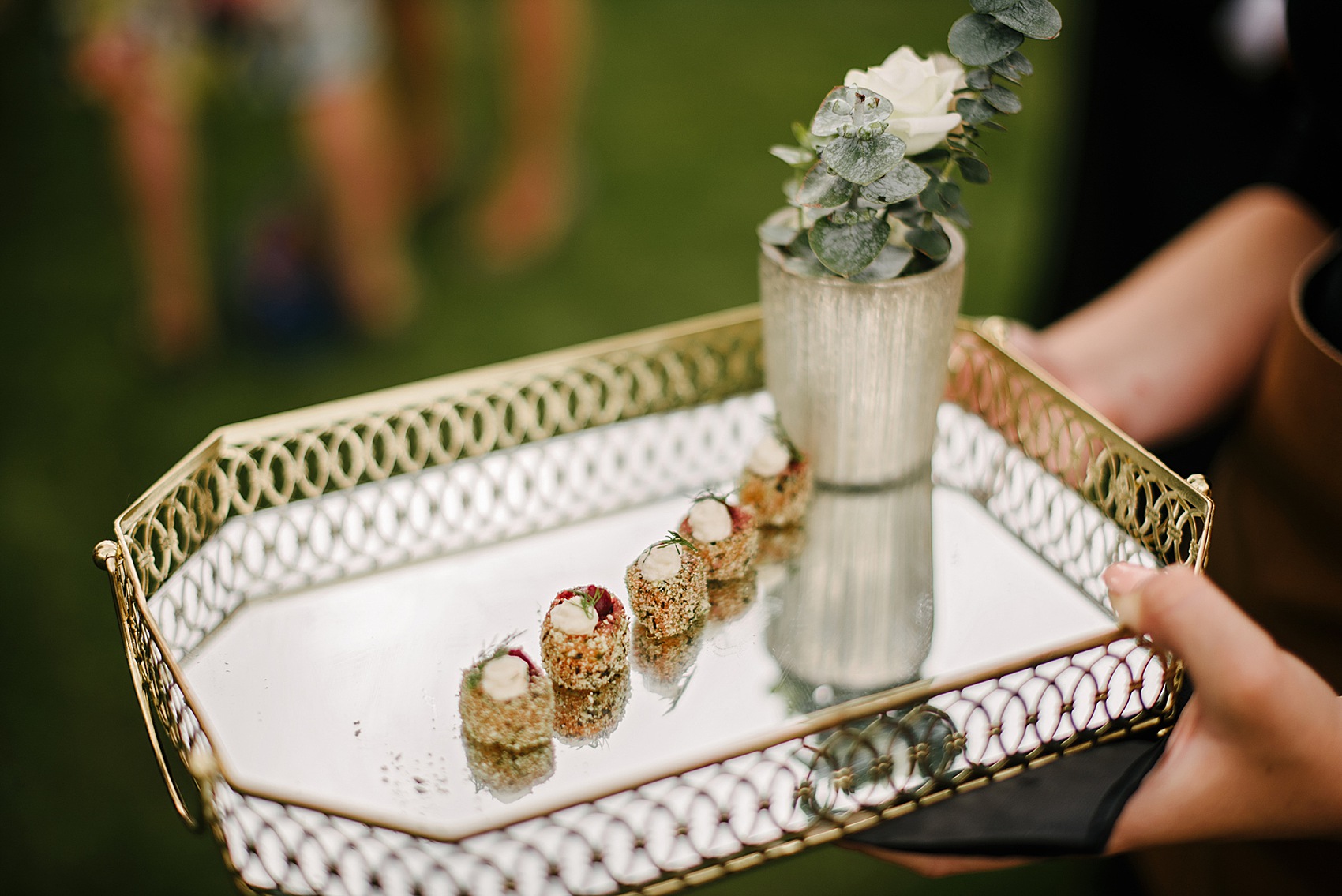 Sarah and Nick took a country drive in an Aston Martin DB9, whilst back at home, guests enjoyed drinks and delicious canapes – crispy pickled Shitake mushrooms and mini tacos from caterers Socius, who also run a restaurant in Burnham Market.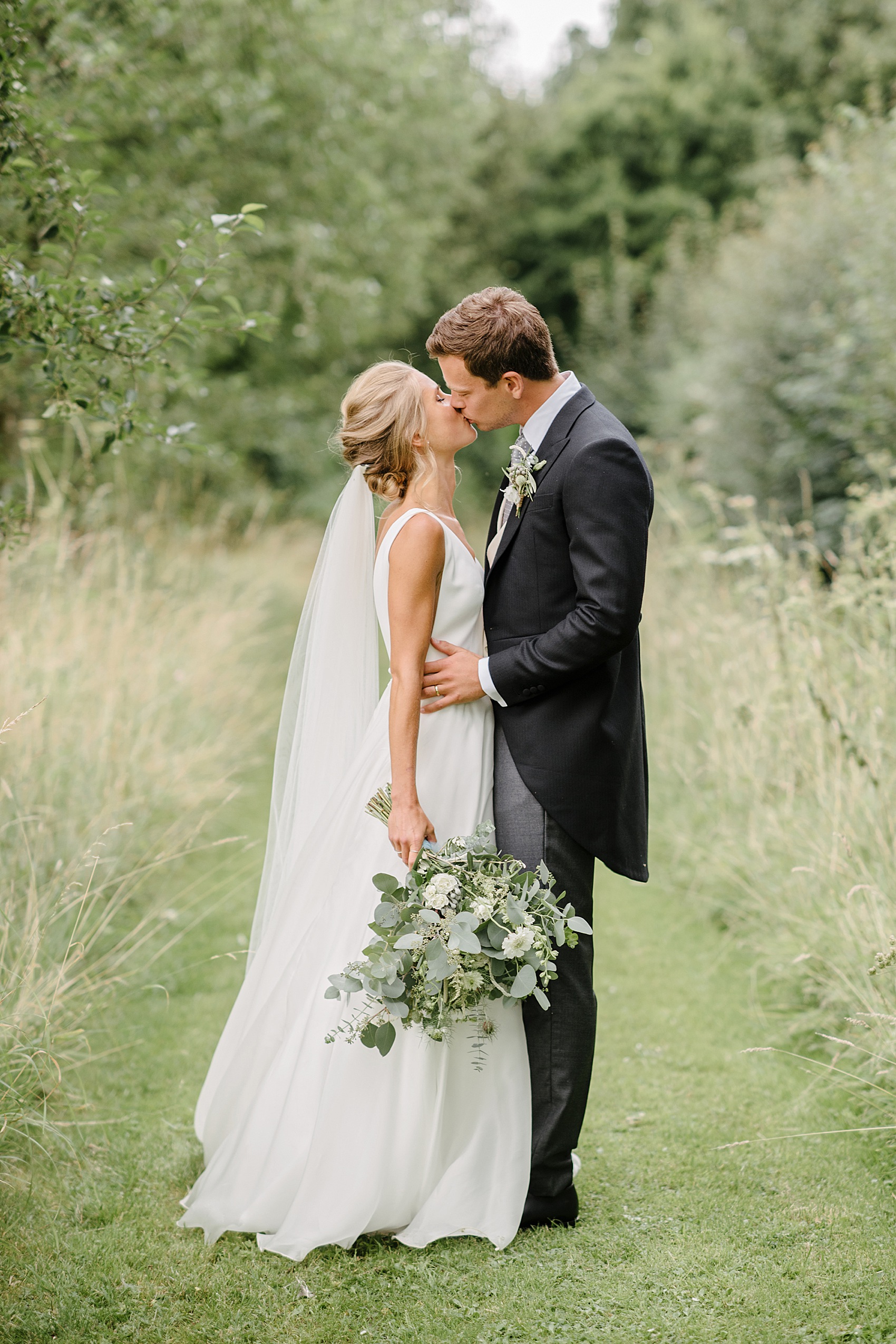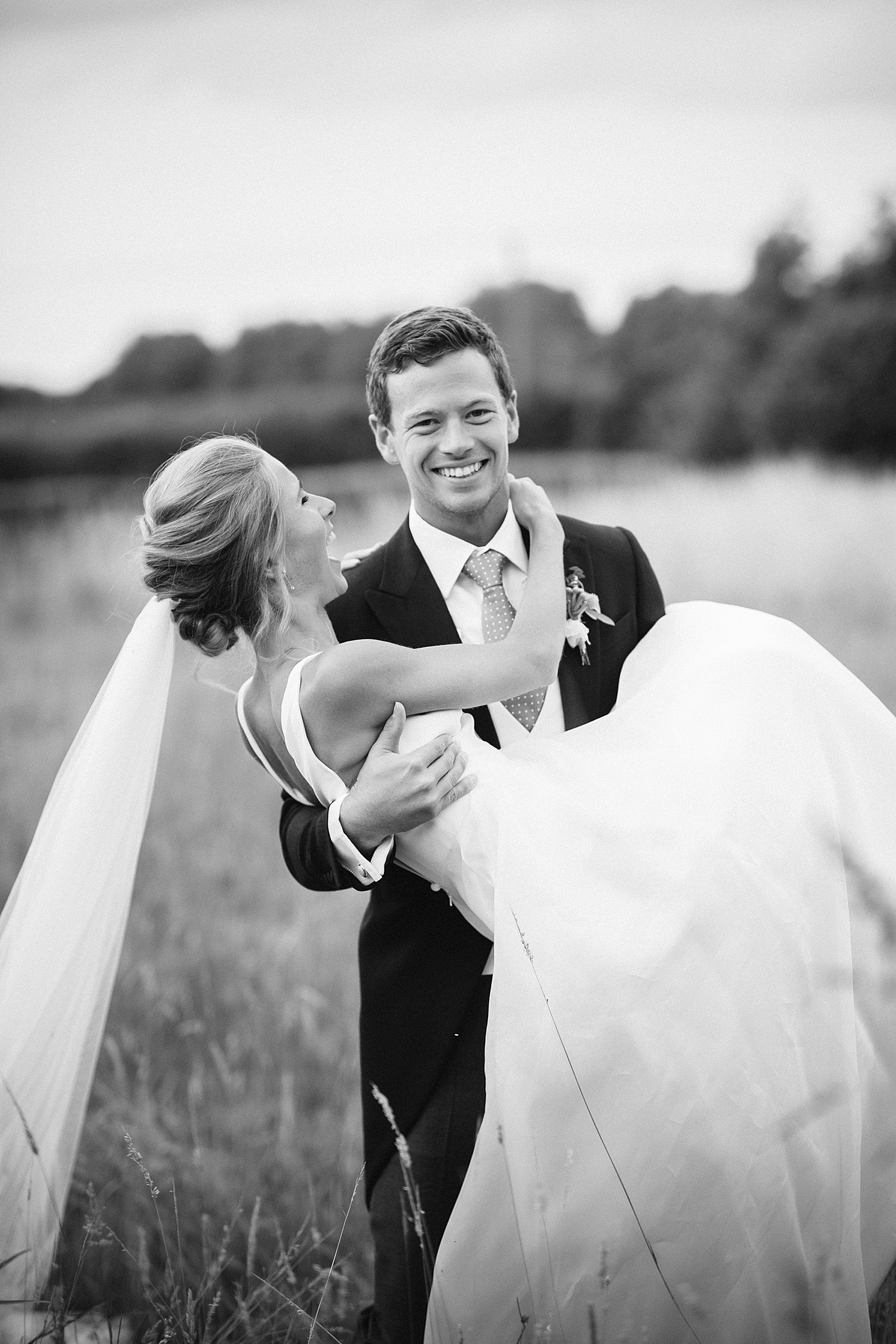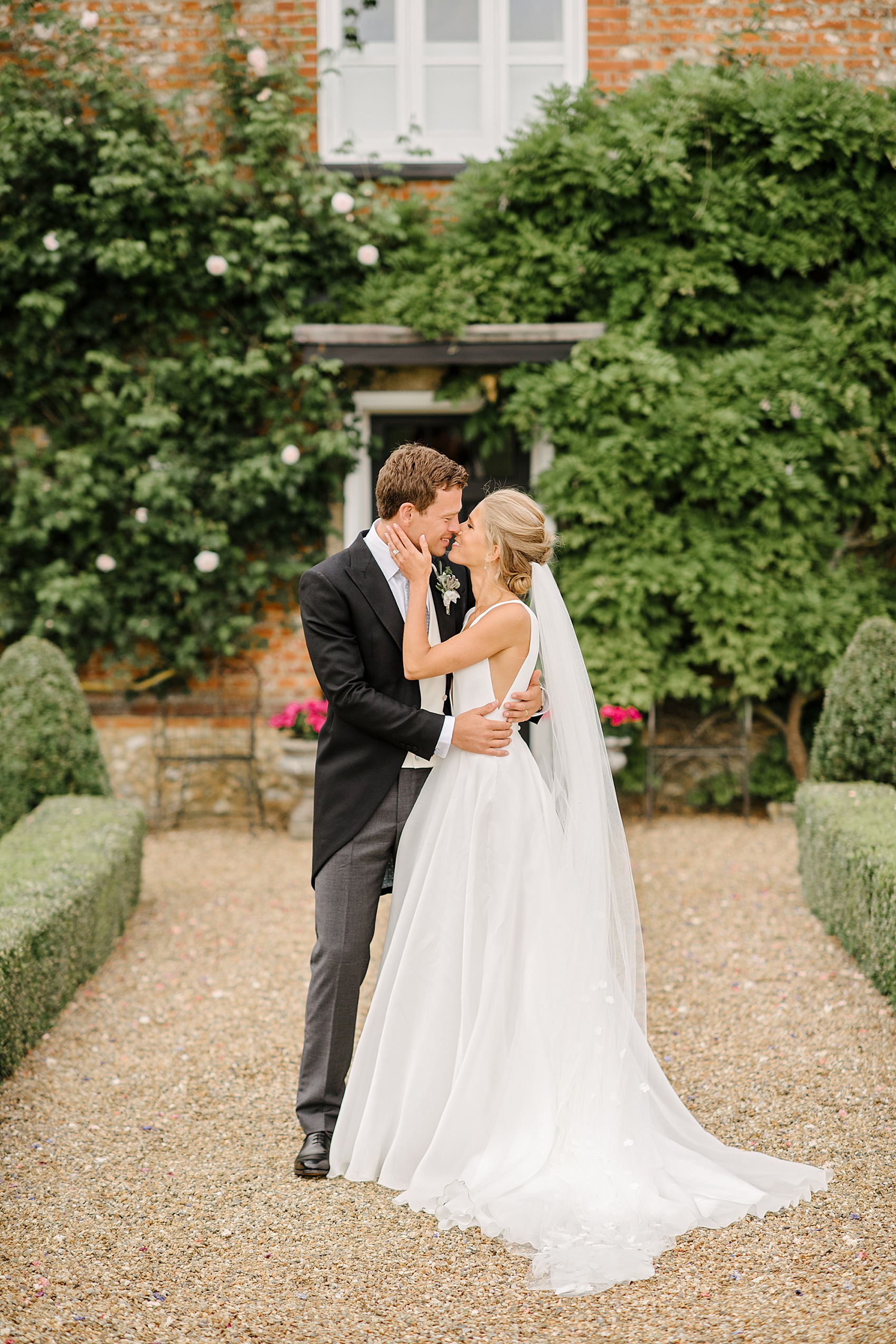 Katrina Otter and her team, and florist Constance Rose weaved a magical, nature inspired spell inside a spectacular clear-roofed marquee from Academy Marquees.
The ceremony arch was moved to the marquee entrance, along with the long planters of flowers, and inside, a gorgeously wild garland was suspended from the ceiling.
Bureau Design created stylish stationery, including a perspex table plan, gold framed table names, menus and place settings. Dining tables were lined with candles, flowers inside crystal vases, and elegant gold and white cutlery and beaded charger plates.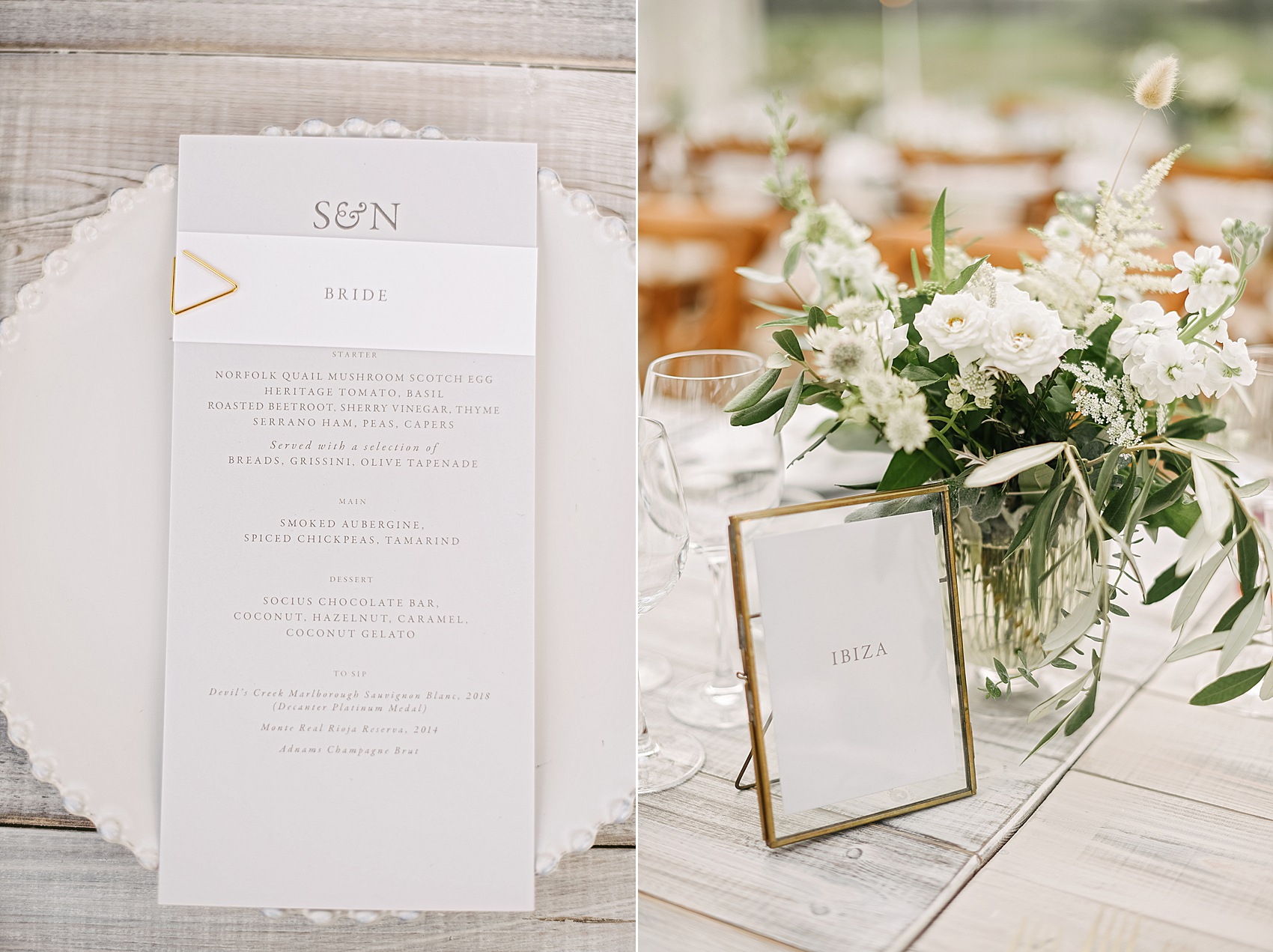 Guest favours were miniature bottles of sloe gin, homemade by Sarah's parents using sloes picked on their farm.
"Socius created a menu of antipasti sharing boards, a main course of duo of lamb, and finished off with a bespoke designed vegan 'Socius chocolate bar', with coconut, hazelnut, caramel, and coconut gelato. Unbelievable!"
All of this wonderful food was enjoyed as the sun set, along with speeches – a favourite element of the day for Sarah.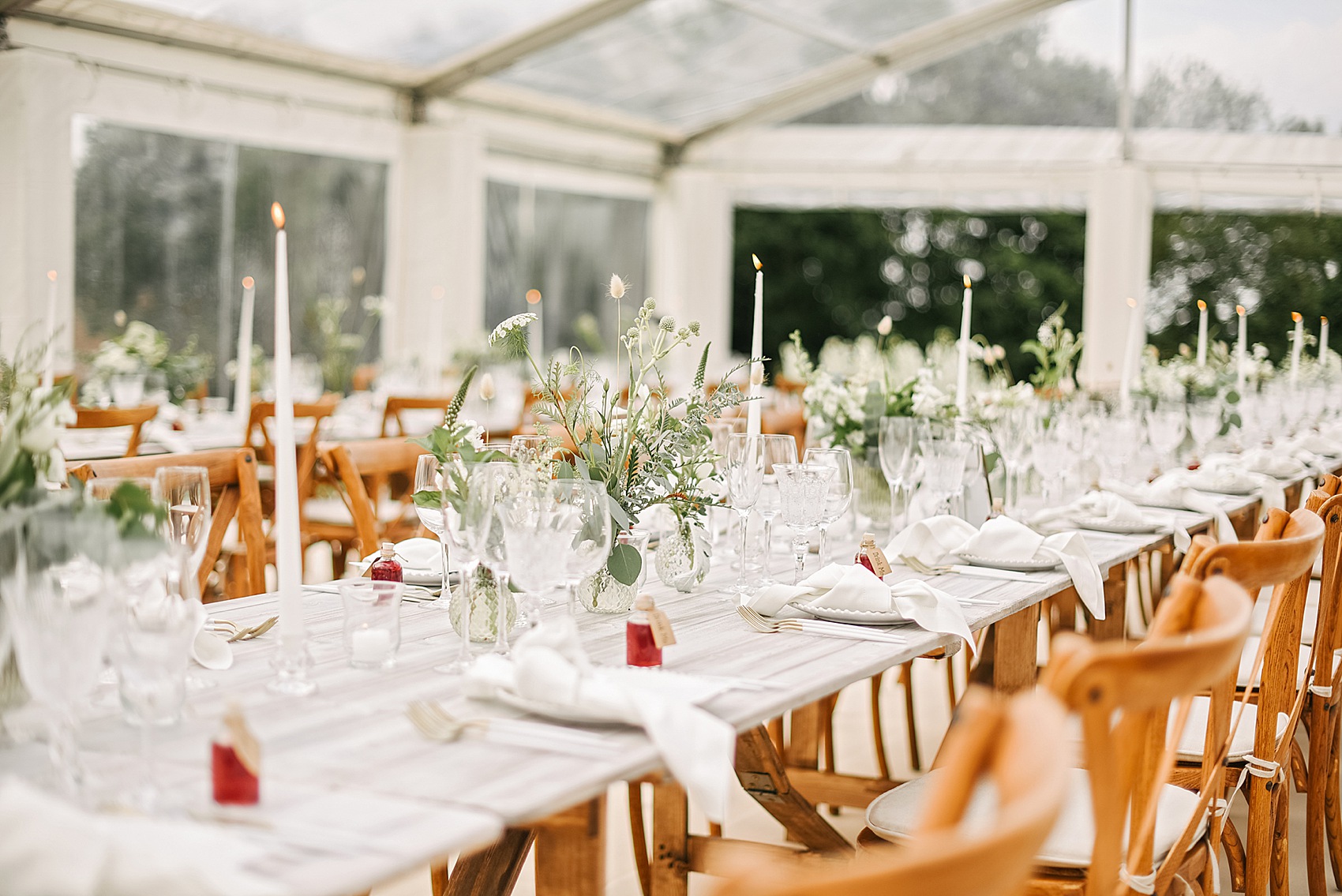 "I have to say, I am really happy I did a speech. I find it so strange that the bride rarely speaks, and I have certainly never been one to leave the talking to the men in the room! It allowed me to share my feelings, my stories, my background, and the other half of who we are as a couple."
"As someone who isn't usually great at being vulnerable, it was really liberating, and a very special experience."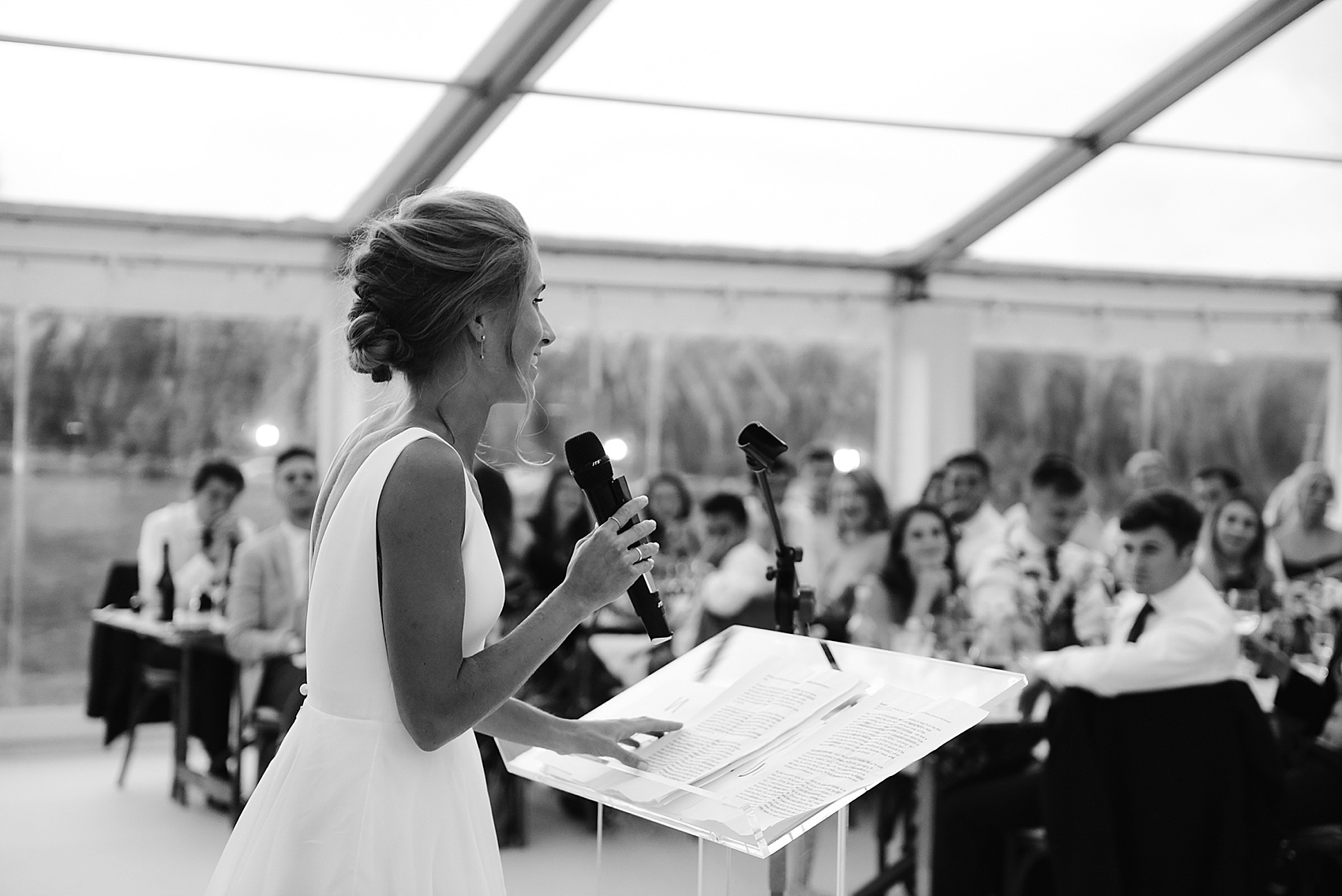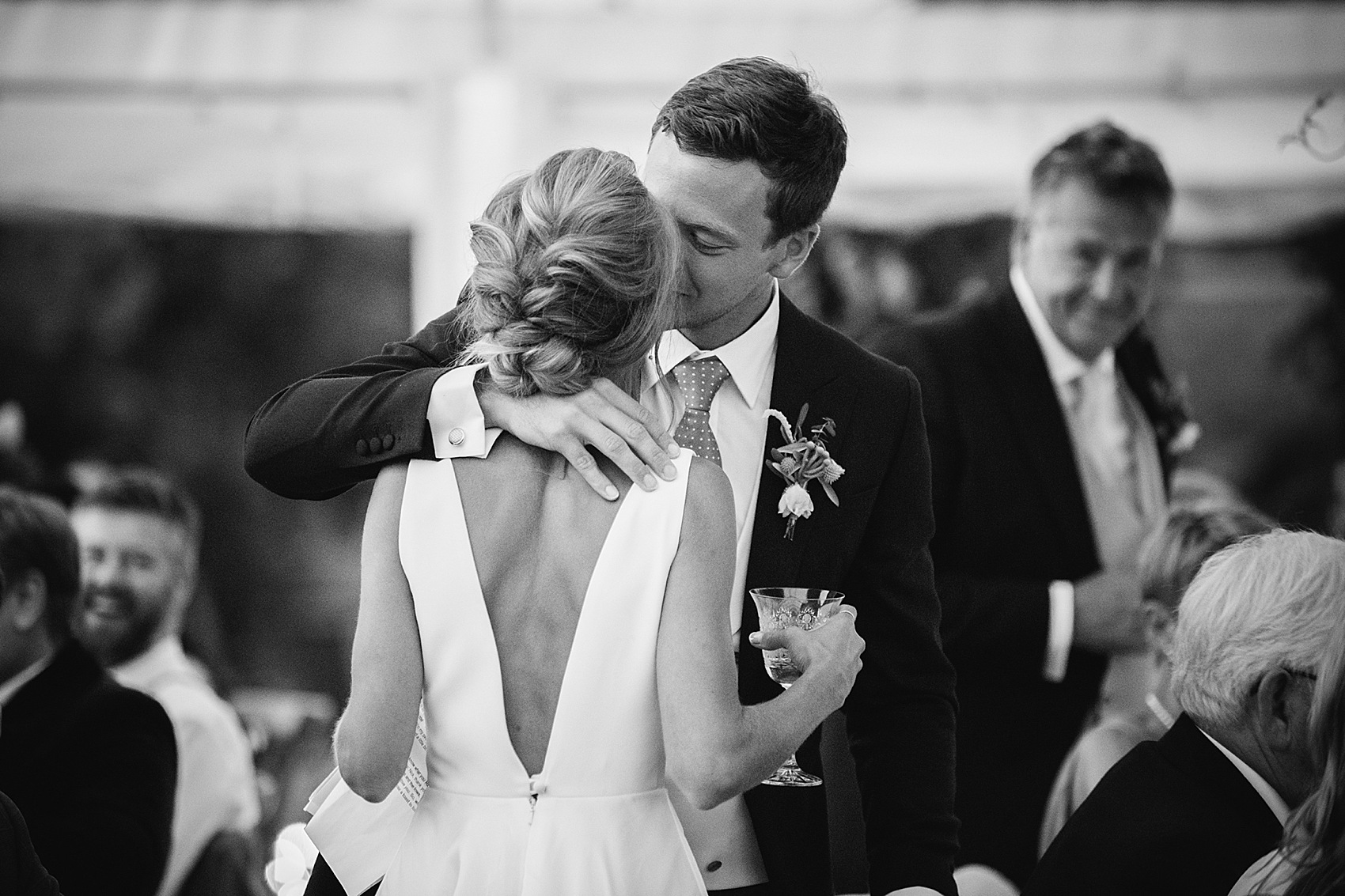 Bertie's Bar opened for the evening's merriment, with bespoke cocktails by Socius, and beer provided by Adnams. This was also the part of the day where Sarah and Nick cut their cake – a gorgeous, two-tier, semi-naked square cake by Jemima Wood from The Dial House in Reepham, Norfolk.
"The cake was dairy, gluten, and refined sugar-free lemon flavour. I have a number of allergies, so wanted something that nearly everyone, regardless of allergy would be able to eat and was still totally delicious."
"There was a rustic circular wooden bar with a blossom tree from Twilight Trees in the centre, plus a dancefloor reveal (provided by Academy Marquees) and giant Dreamwave Events disco ball that left most of the guests totally awestruck."
As their first dance together as a married couple, Sarah and Nick chose You and I by Tom Walker, which has very special meaning for them both.
"The words were just so perfect and fitting. We first heard it long before he was famous, and it became our song. Our after-party band were 9-piece Soul Beat."
"As an over-organised, total control freak, I was always concerned that I would be too worried about it all going to plan to be fully present and enjoy it as much as everyone says you do as a bride, but by the morning of the big day I felt so comfortable in the hands of Kat and her team, that I naturally just completely let go, and it couldn't have felt better."
"I had no idea what time it was all day, didn't even think about what was coming next, left my phone in my going away bag, and just absorbed every crazy emotion of having so much love around you."
Words of Wedded Wisdom
"We slightly exceeded our budget, but mainly due to additions that we all felt were necessary to really create the impact we wanted. Weddings are crazy expensive days, but also the most amazing day of your life, so if there is that thing you've always wanted, or touch you think will make you excited, go for it, as the feeling will last forever."
"That said, try and remember what the day is about, and how you want it to be/feel. We really wanted it to be personal, and very different to the traditional religious weddings our friends had done, as we wanted them to see how magical it can be by leading with love and personality, rather than religion. Everything we did and chose was to support this vision."
"If you can, use a wedding planner, even if it is just for the execution of the day itself. Best money we could have spent, and I couldn't recommend Katrina Otter Weddings highly enough."
"Remember what it's all about. Planning can get stressful, and you can feel like you're drowning in decisions that might make or break the day that you want to be perfect, and costs can escalate very easily, especially when you're trying to recreate someone else's Instagram day. It is your day, however, celebrating the love and friendship between the two of you, that is unique to every couple, and that is what is important."
"Prioritise getting the photographer you want and if your budget allows, or you can reallocate spending, get a videographer, too! Our photos were beyond our wildest dreams, and we never ever thought that two very awkward people could look so happy and gorgeous in photos. Dominique captured every moment so perfectly and managed to get photos of every single person. The video adds another dimension that allows you to relive the day in a way that photos don't necessarily."
Well, wasn't that absolutely spectacular?! Congratulations Sarah and Nick, and thank you so much for letting us share in the loveliness of your day. Many thanks to Rupert Ward-Lewis for his film, and to Dominique Bader for her beautiful photography.
Until next time.
With love,
Laura