As a London-dweller, and someone who used to work in museums, heritage and the arts, I'm always happy to share weddings at places you can also visit, and that are a little bit off the usual beaten tracks: places that are less busy and large than big tourist destinations, but are absolute gems in their own right.
Today we're heading to one such place for this stylish late autumn wedding at the The Garden Museum. Housed inside a deconsecrated church, it's close to the river, and also right next door to Lambeth Palace. This is the wedding of Ashley and Tom. Ashley works in fashion and lifestyle PR, Tom works in corporate/financial communications, and the couple live in Dubai.
A Thing Like That

+ Follow
They were married on the 23 November 2019 in a church ceremony followed by a reception at the Garden Museum, on the banks of the Thames with views across to the Houses of Parliament.
"As the wedding was taking place during autumn/winter, I wanted a warm, autumnal feel. I kept being drawn to rust tones, and that ran through the flowers, bridesmaids' dresses, and stationery. I had followed our florists, Worm, for a while on Instagram and love everything they do, so I knew instantly that was who I would wanted to do the flowers, no question."
I've long been a fan of Worm's incredible work, too, and the bridal party's bouquets were a love song to the faded beauty of the season, with soft roses alongside a wild abundance of textured grasses, seed heads, and gently curling fronds of dried umber-hued ferns, tied with burnished orange ribbons.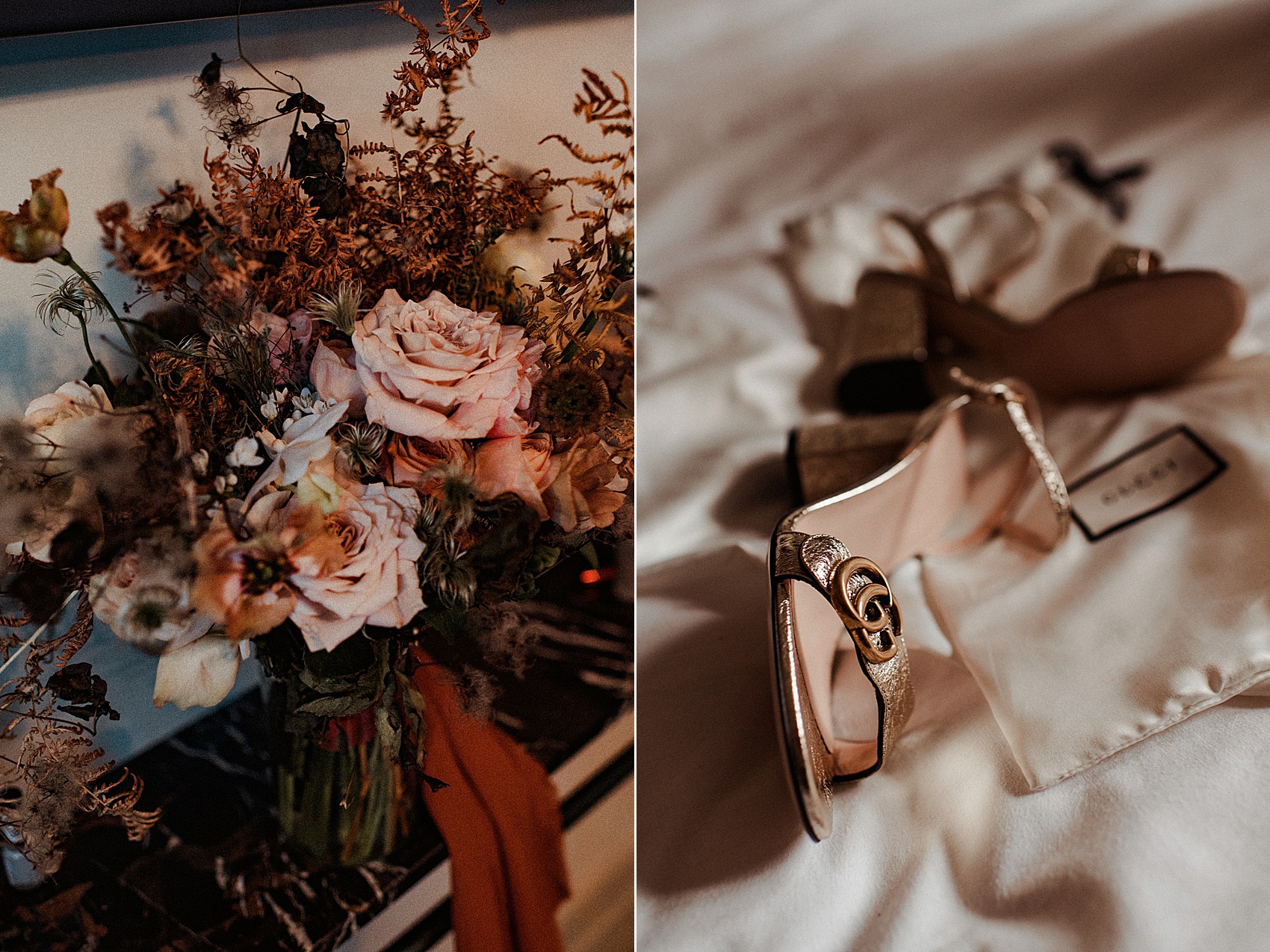 In keeping with the autumnal colour palette, Ashley wore rose gold sandals by Gucci, and make-up, including beautiful copper toned eyeshadow, was by Sophie Higginson.
Ashley's hair was styled in boho waves by Toria Stewart, to which was added a simple silk veil by Britten Weddings. Finally, Ashley added her favourite perfume, Aerin Amber Musk.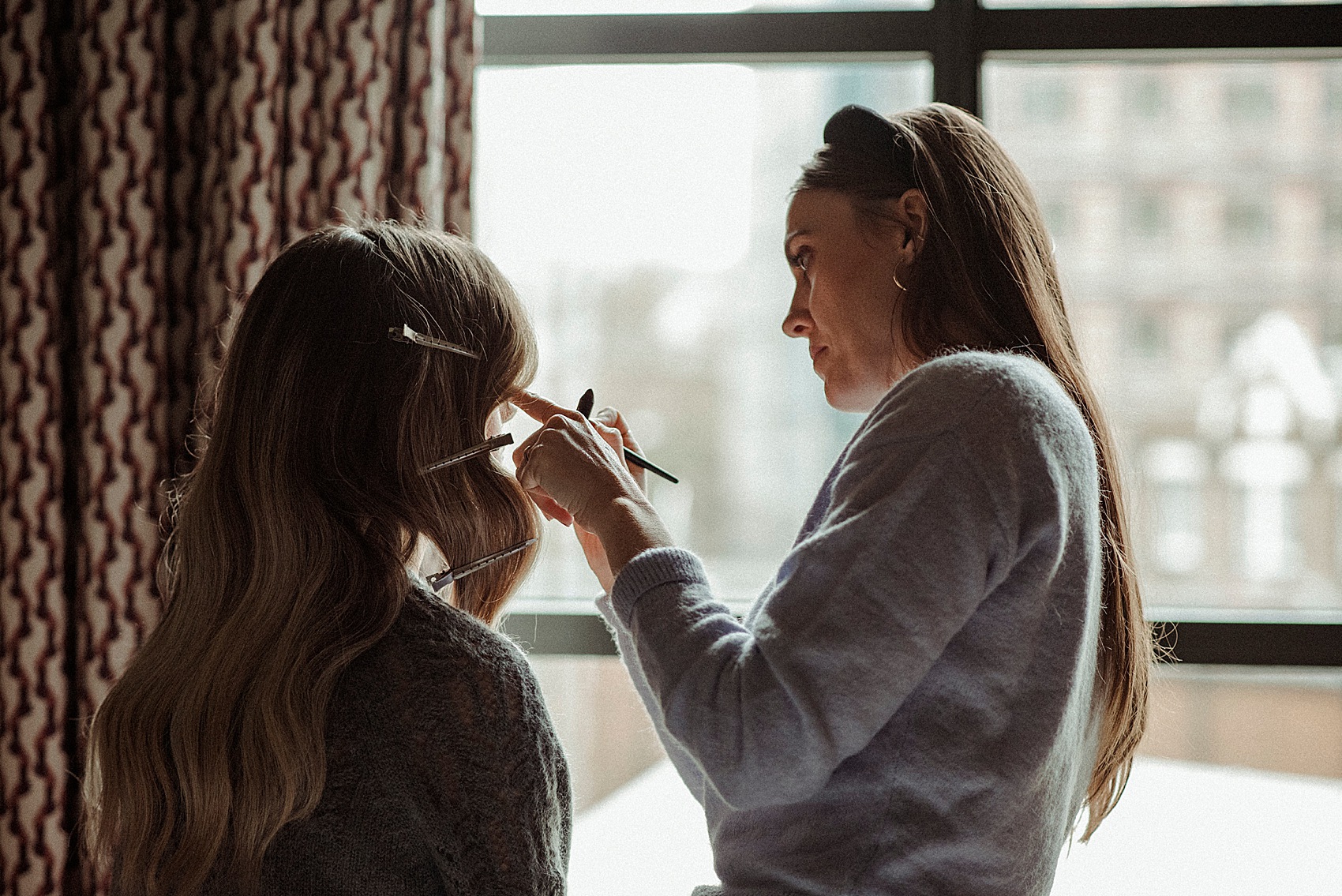 "I kept my everyday rings and earrings on. I mismatch my earrings, and they are all from Missoma. I thought I would have to have perfectly matched earrings (to the dress, etc.) initially, but as I had my hair down you couldn't really see them anyway, and I liked that I felt like me."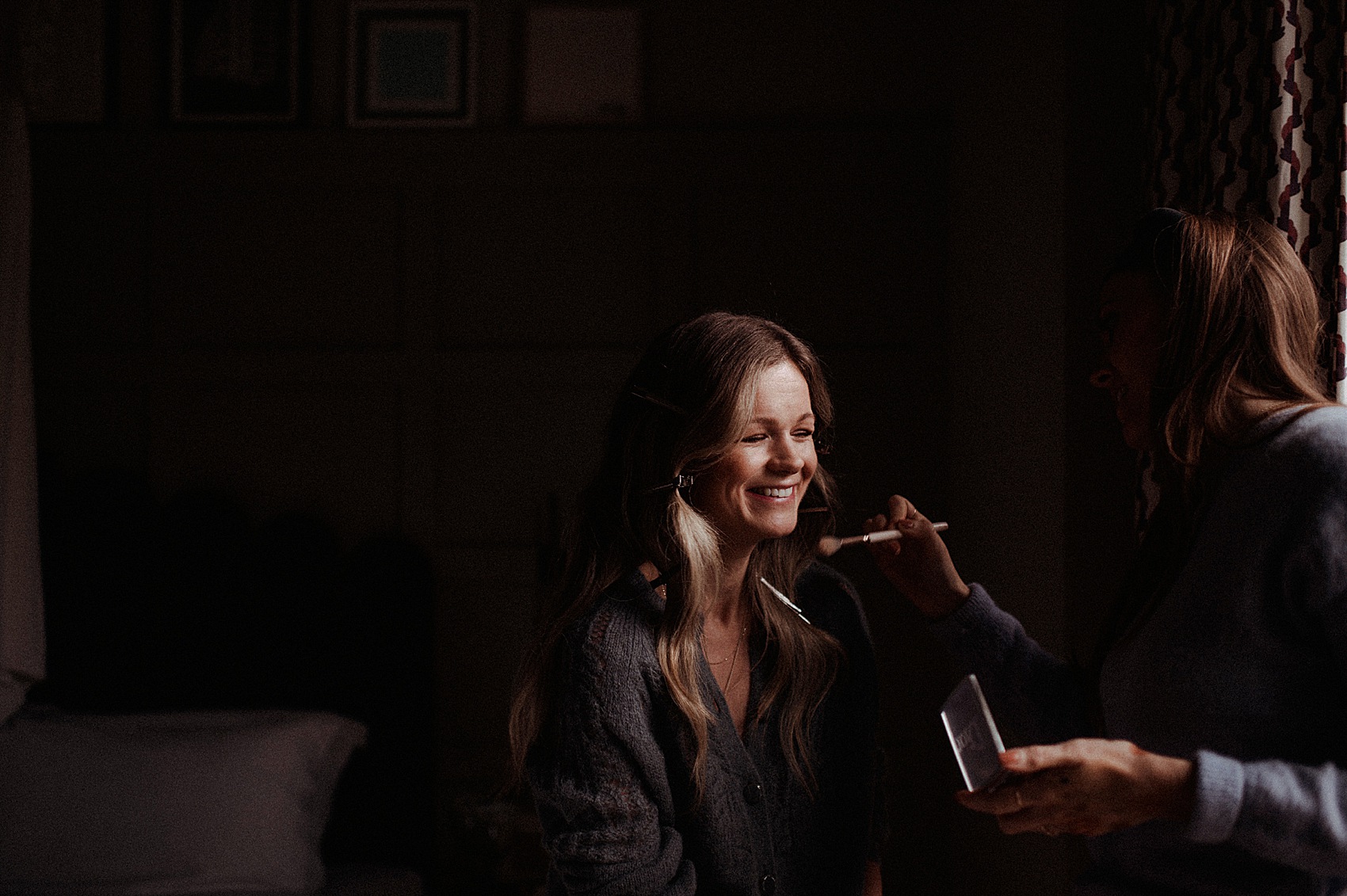 "I chose my dress at The Mews Bridal, Notting Hill. I would definitely recommend them (and have done so!) to other brides. They offer a relaxed experience with gorgeous designers. I loved the whole vibe of the boutique."
"I dress shopped on a visit back to London over 2 days, which was quite rushed. I went to 4 shops in total, and Mews was a shop where I could have picked between quite a few of the dresses."
Ashley chose a gown by French designer Laure de Sagazan, and I love the long sleeved bodice of delicate floral lace with the contrasting lace of the waistband and low back.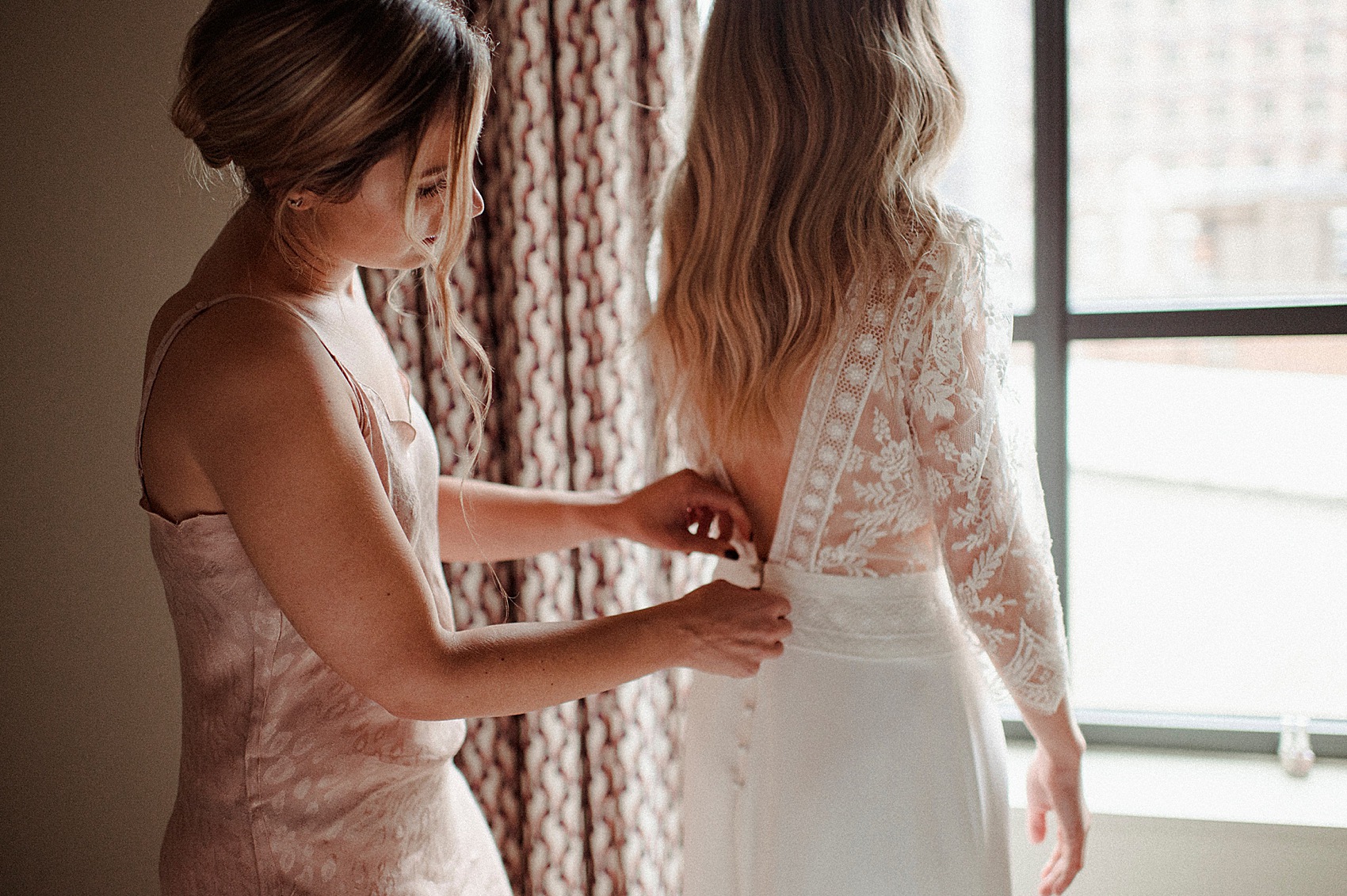 "I was initially looking at bridal separates, but in the end, decided a dress felt more special. I loved the different types of lace, and the relaxed silhouette of my dress – I think your instinct is to be pulled in at the waist, but I liked that it was a bit different."
"The back of the dress was its defining factor. From the front it appeared traditional, but the open back added another element to the look. People commented that it was 'me' in a dress, which is a nice thing to hear!"
"I actually worked on a brand (as a fashion PR) at the time I picked my dress – ba&sh – and Laure de Sagazan used to be a designer at ba&sh. You can definitely see that ba&sh, cool-girl style in the designers' dresses."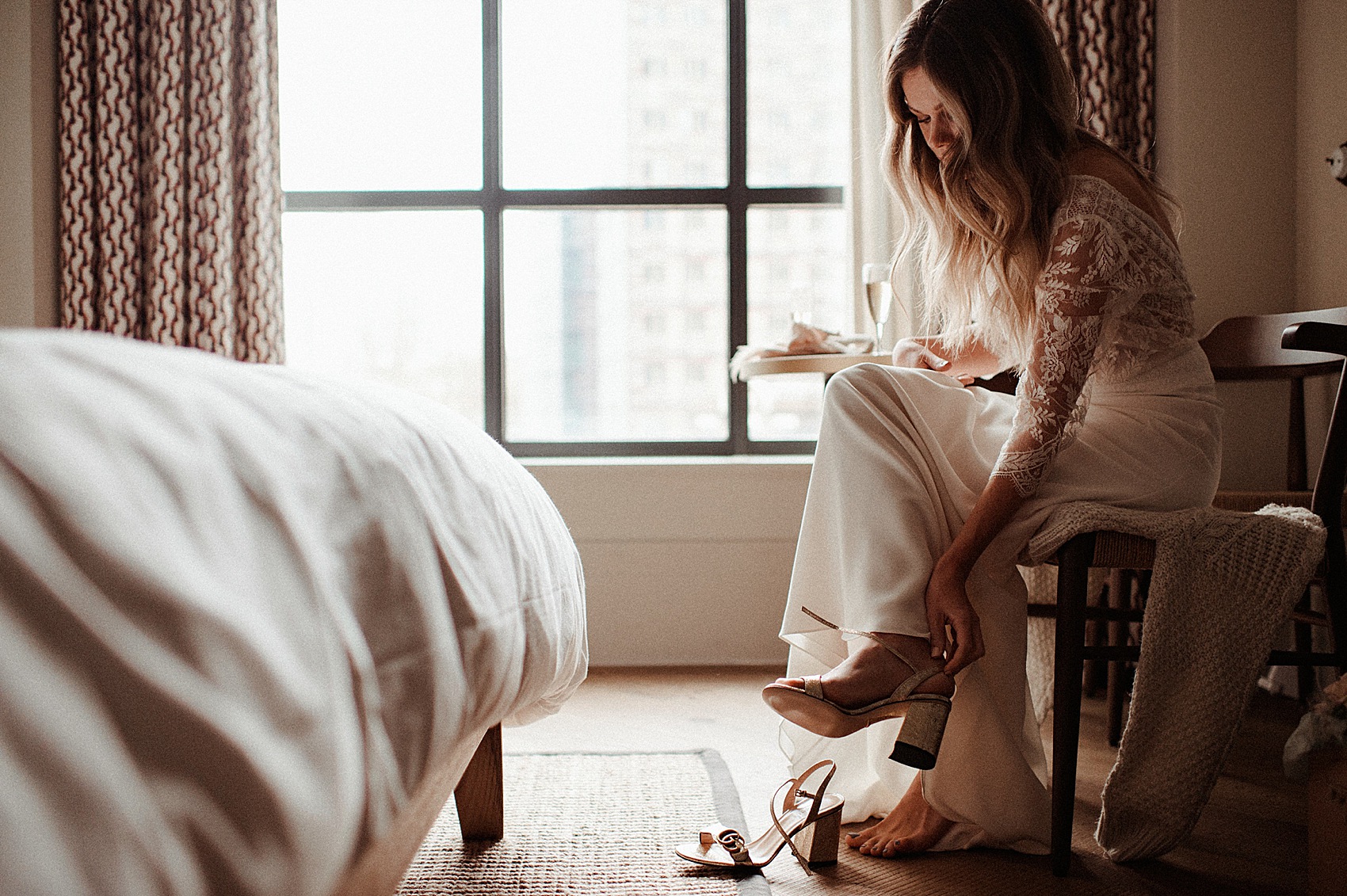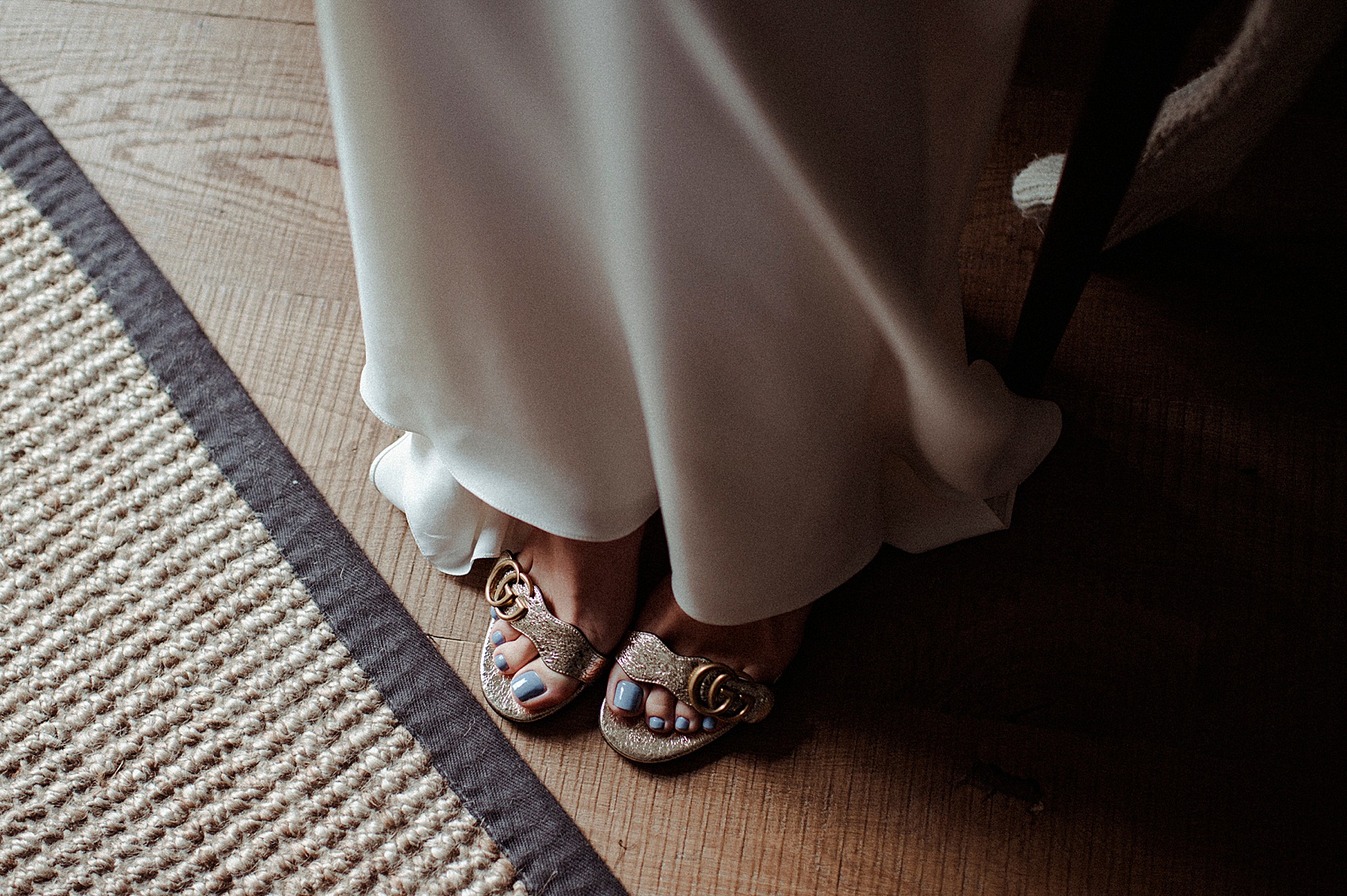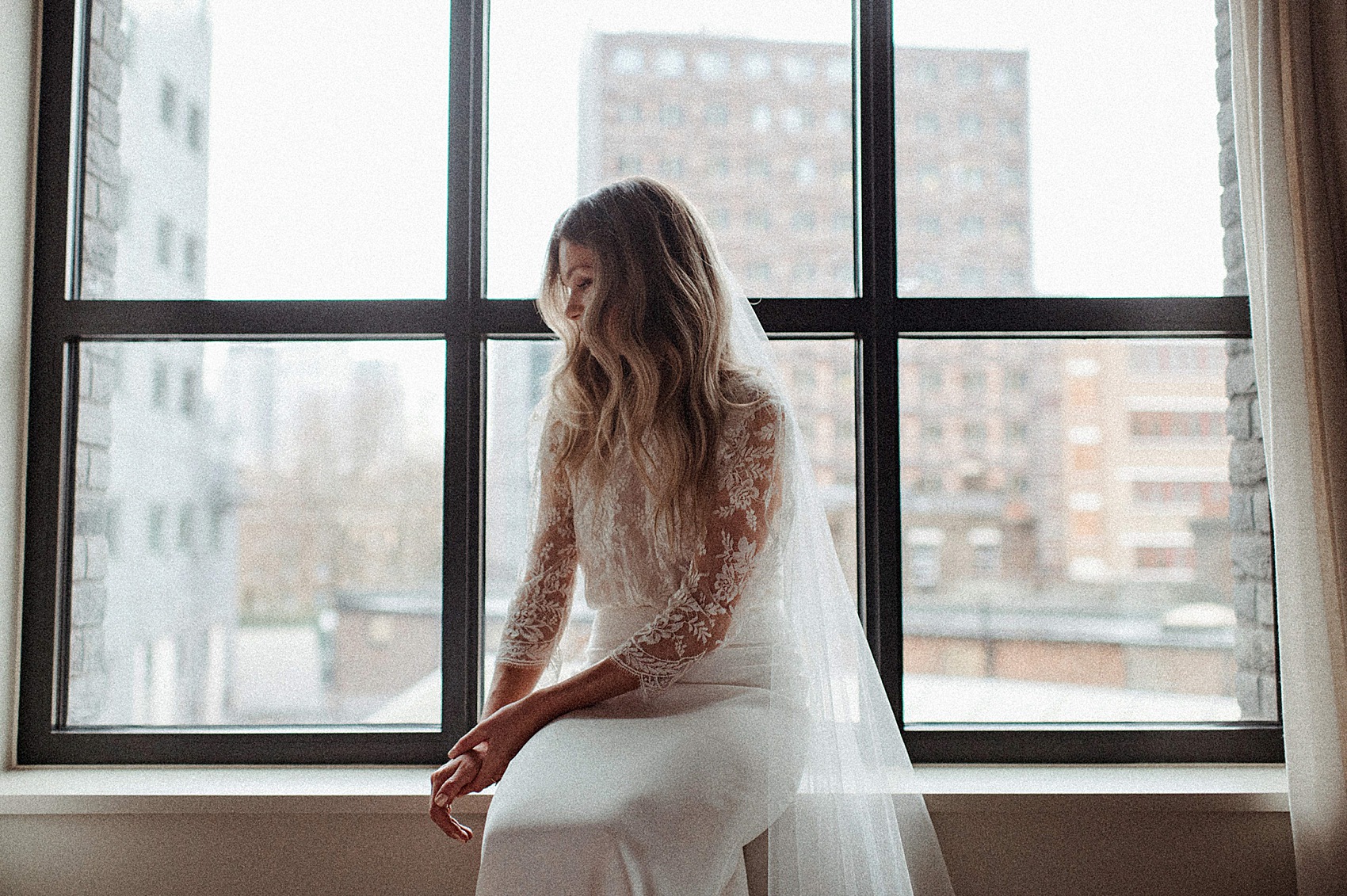 The bridesmaids looked incredible in rust coloured satin dresses (such a gorgeous 1930s inspired silhouette) by Pretty Lavish, worn with gold sandals from ZARA, and their own earrings.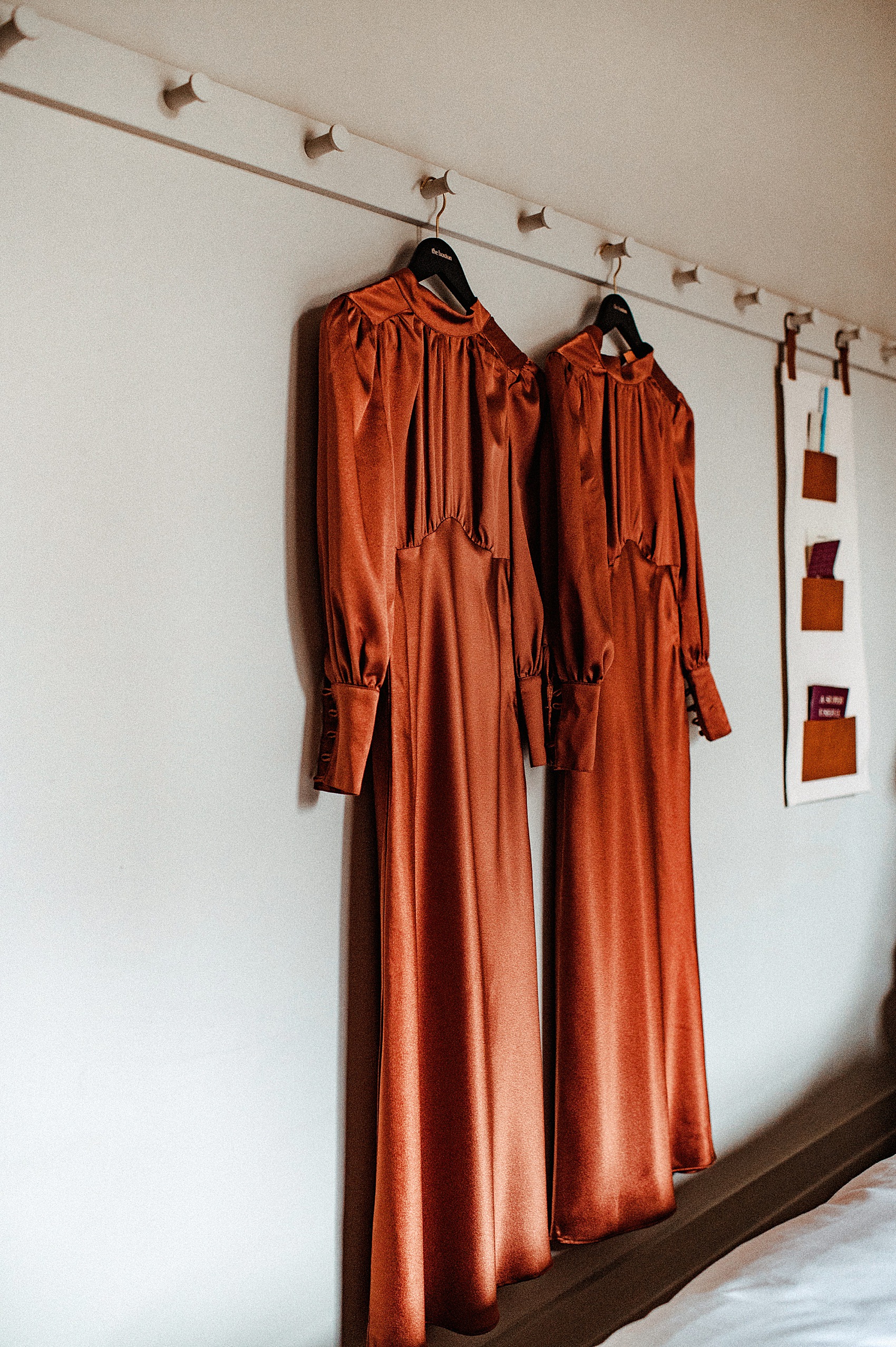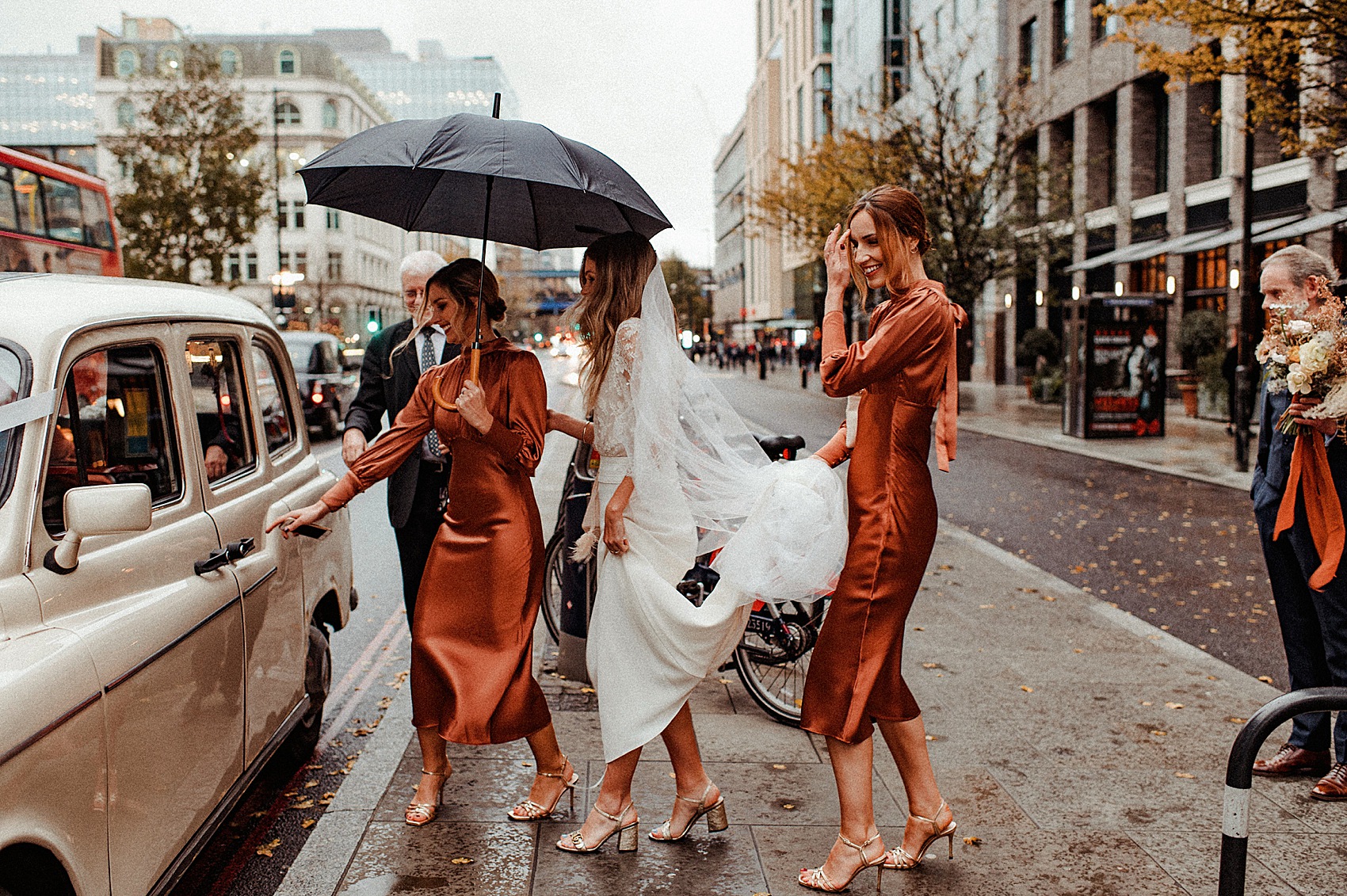 Wedding Taxis drove Ashley, her dad and bridesmaids to the church in a cream coloured vintage Hackney cab, where groom Tom waited, wearing a classic morning suit by Charles Tyrwhitt, with a double-breasted waistcoat by New & Lingwood.
"We met in London in December 2011. One of my good friends (who did a reading at the wedding) went to work with Tom, and he saw me popping up on her Facebook and asked me out for a drink – so essentially internet dating pre-dating apps!"
"We met for a Christmas drink at a pub in Clapham – where we both lived at the time. We got engaged whilst on holiday in South Africa in December 2018, so we were engaged for just under a year before we got married."
Together with her dad, Ashley walked down the aisle to Mass in B Minor (Gloria) by J.S. Bach.
"Initially making my entrance into the church on my dad's arm, with my bridesmaids behind me, was very special. I couldn't stop smiling."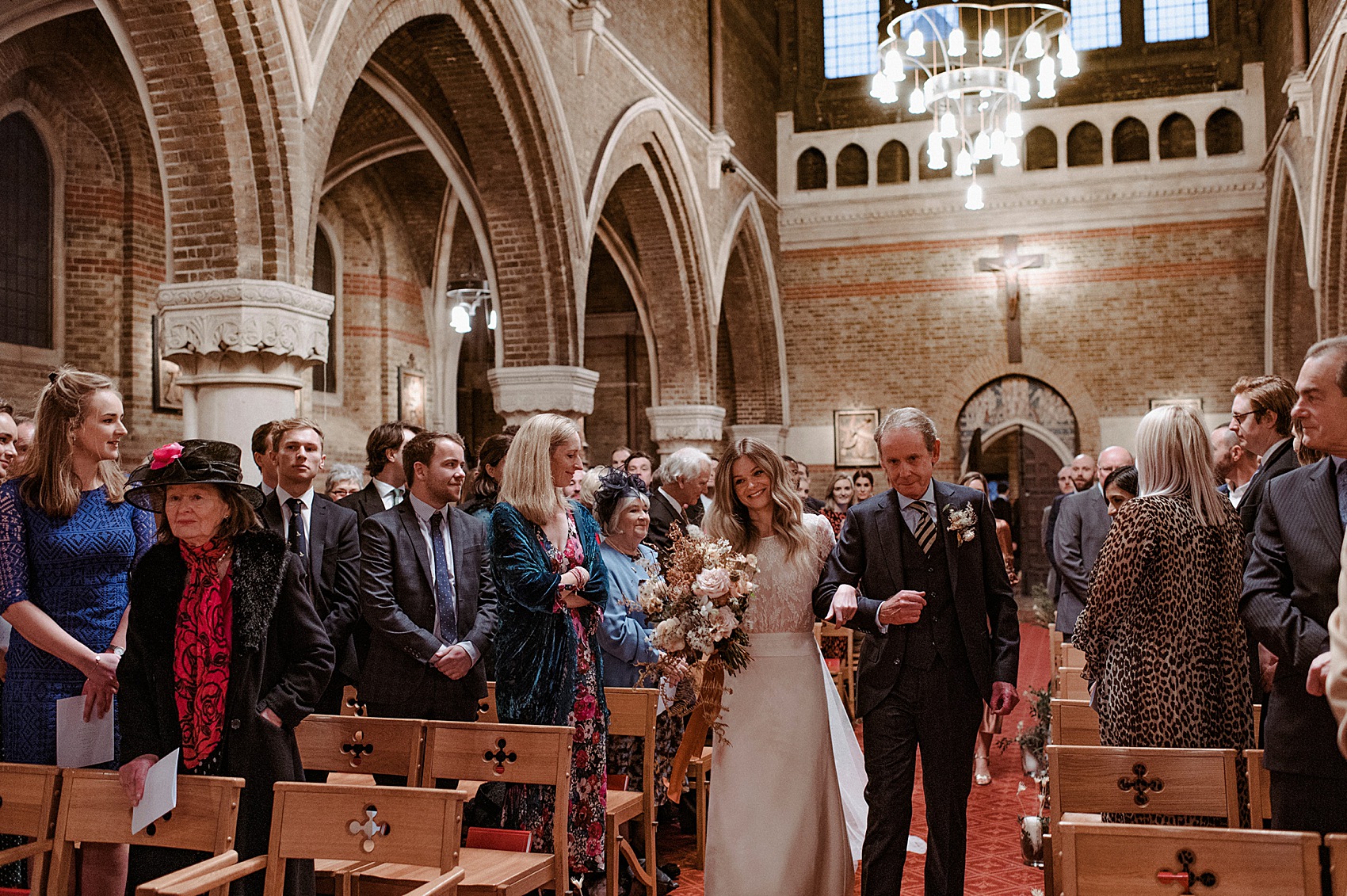 Ashley and Tom exchanged traditional vows with each other, and Ashley decided on a temporary placeholder ring, as she couldn't quite decide what she wanted, whereas Tom opted not to wear a wedding ring.
Freddie Drummond read Corinthians 13:4-13 ('Love is patient, love is kind'), and the couple's second reading was the singularly spelled E.E Cummings' i carry your heart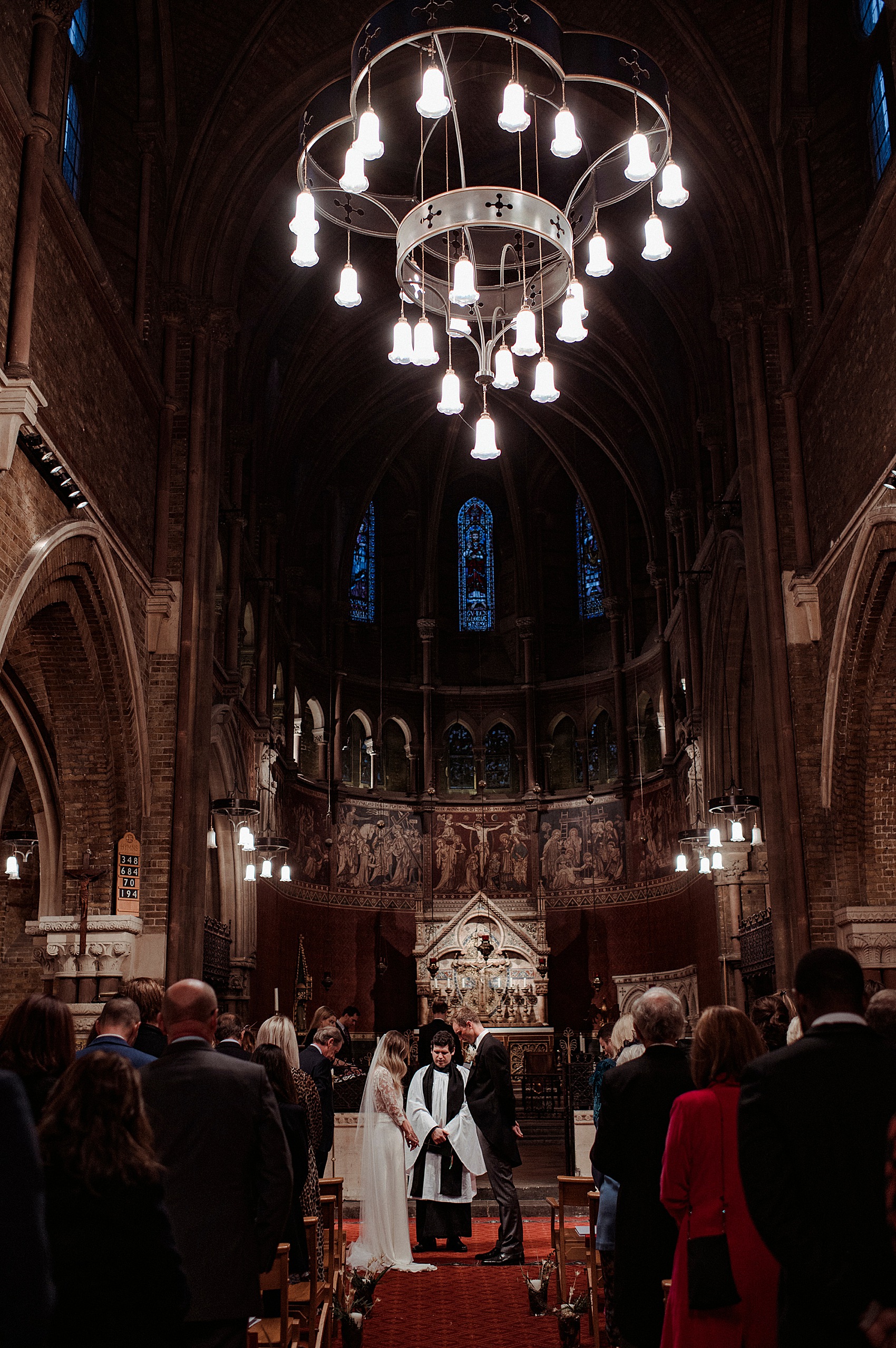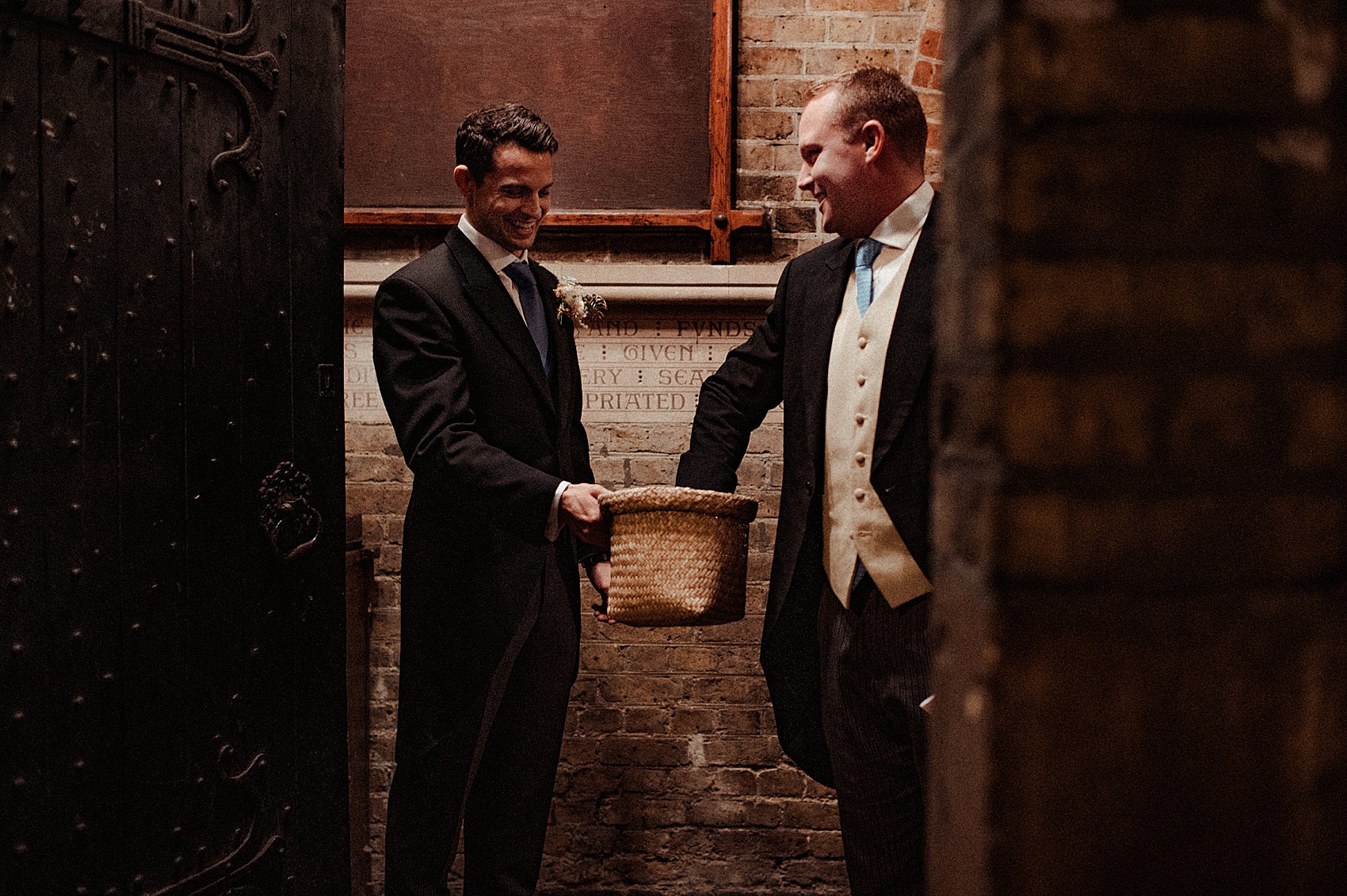 It was dark by the time the ceremony ended, and the newly married couple left the church for their waiting car in a cloud of confetti, surrounded by their friends and family.
There's such a magical sense of time and place throughout these lovely images – the work of Rachel from photography collective A Thing Like That.
"I chose them as I saw a wedding that they had done, which was featured on Love My Dress. That blog post sold it to me, as the images were amazing. They specialise in candid shots, and I loved the relaxed nature of the images I'd seen.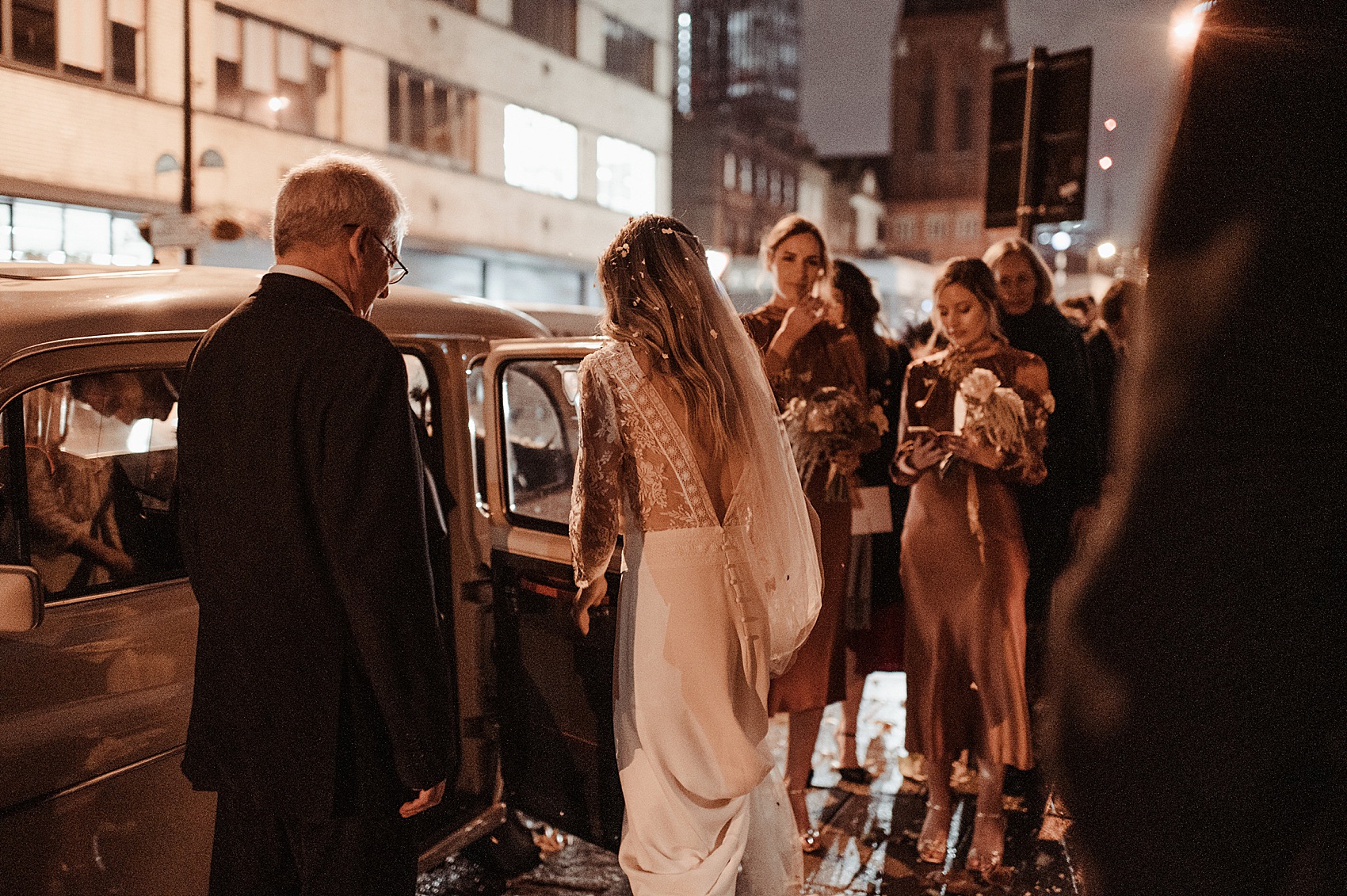 "We booked the reception venue (as we didn't want to lose the date) before sorting out the ceremony location / element, and therefore we had to work backwards in terms of logistics. As we don't live in the UK, the church element took a long time to sort out, so there was an anxious wait to see whether it would all work out, luckily it did!"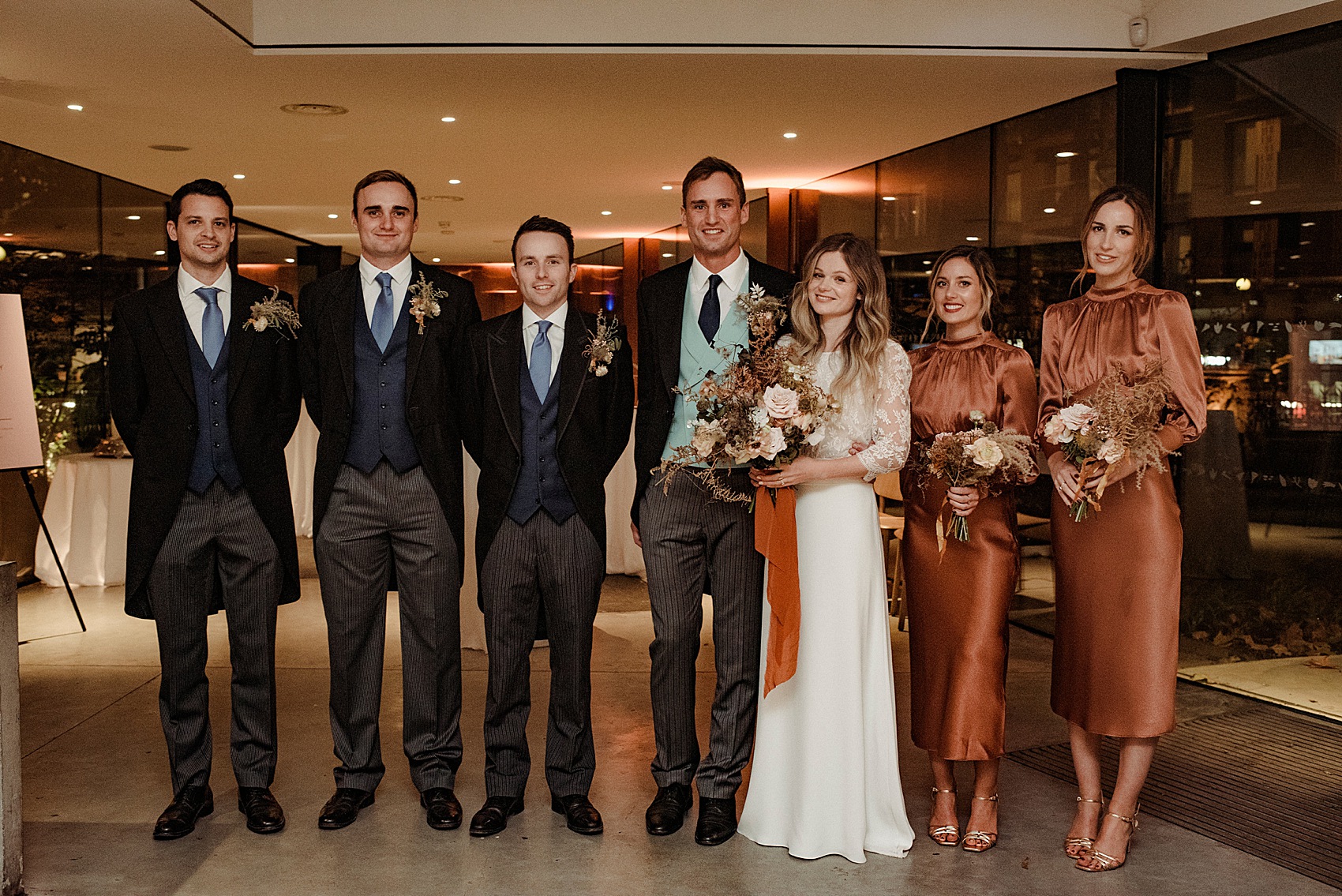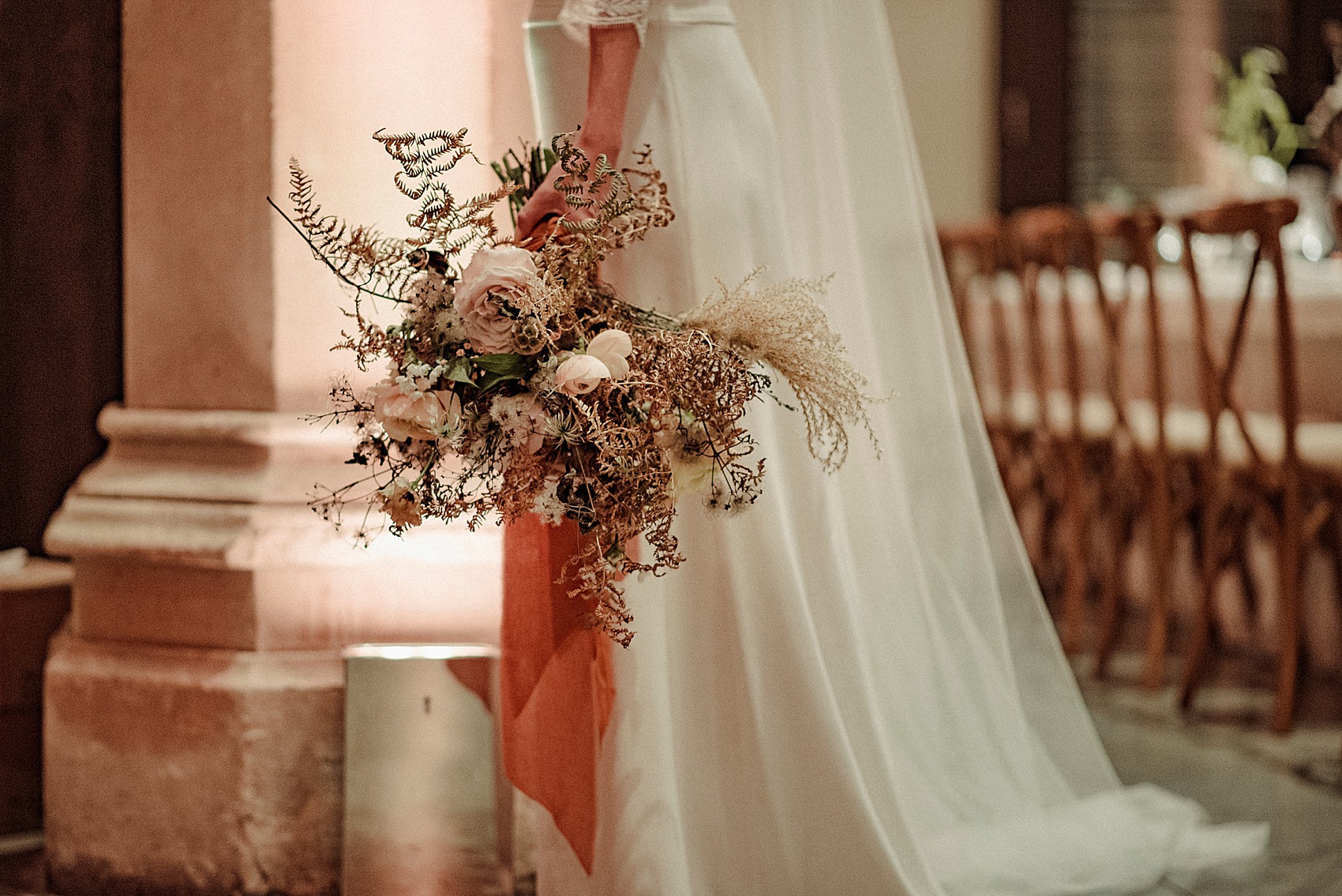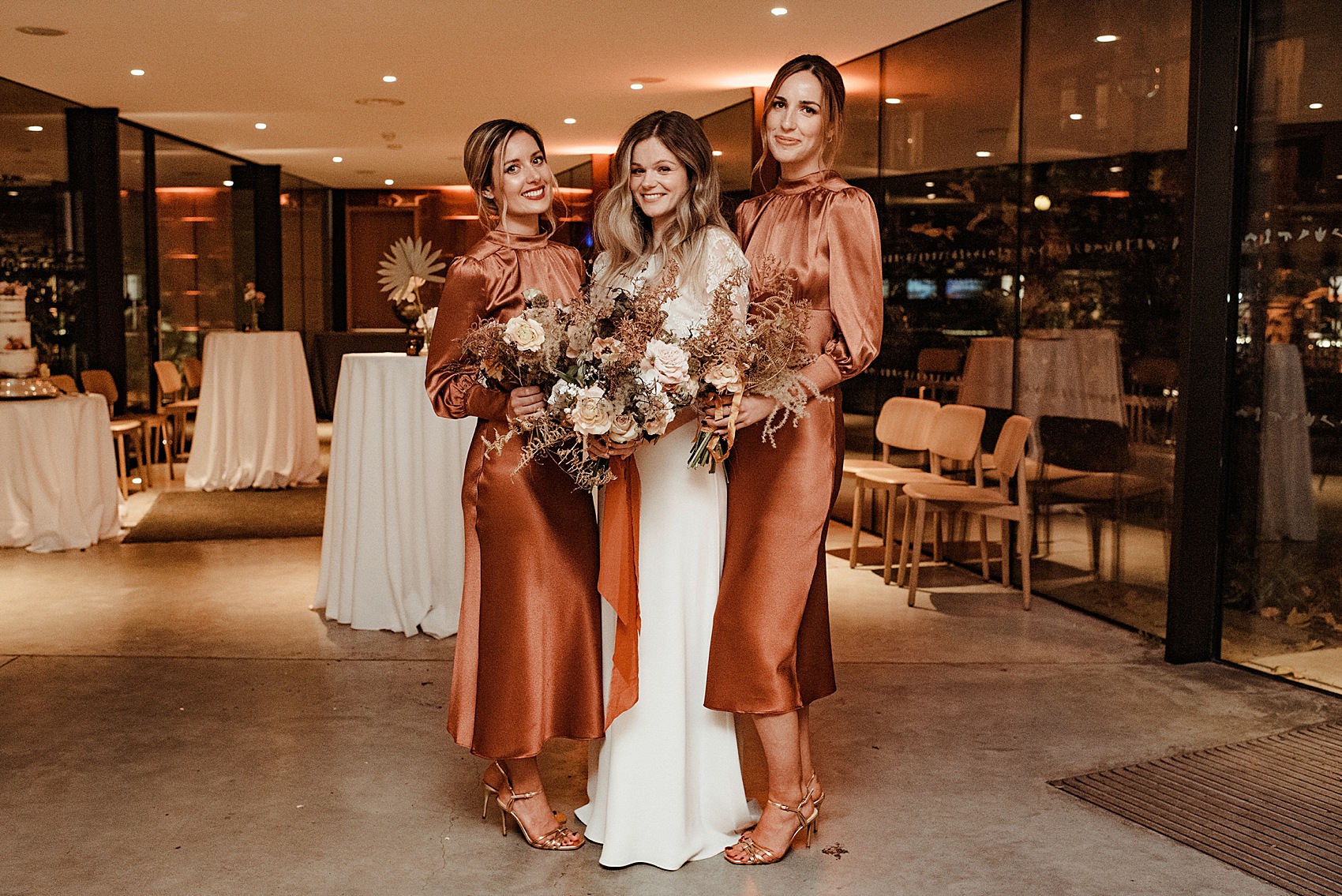 About a month before the wedding, Ashley and Tom secured the services of stylist and interior designer Samantha Latham, and on the day, there was impeccable coordination from Emma Blakemore from The Stylist Lab, too.
As a former church, the spectacular architecture of The Garden Museum is a striking and impressive events space, and in its styling, Ashley was very much influenced by florists Worm, and the work they do for brand events and supper clubs.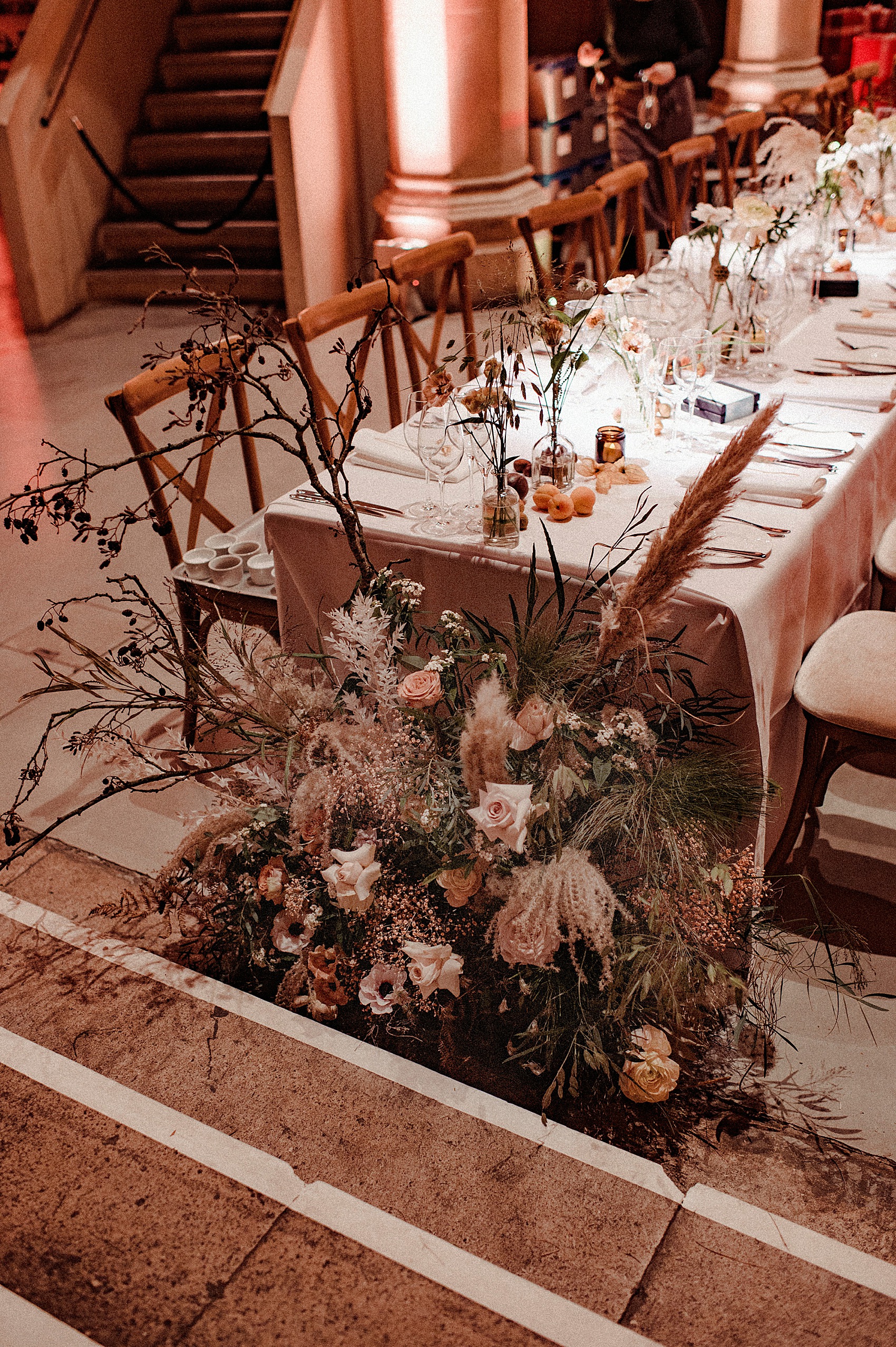 "I wanted the dinner element to feel more like cool fashion event, rather than a traditional wedding. We didn't need much else other than the flowers – which I think made a statement in themselves, as the space itself was so architecturally stunning with the columns and high ceilings."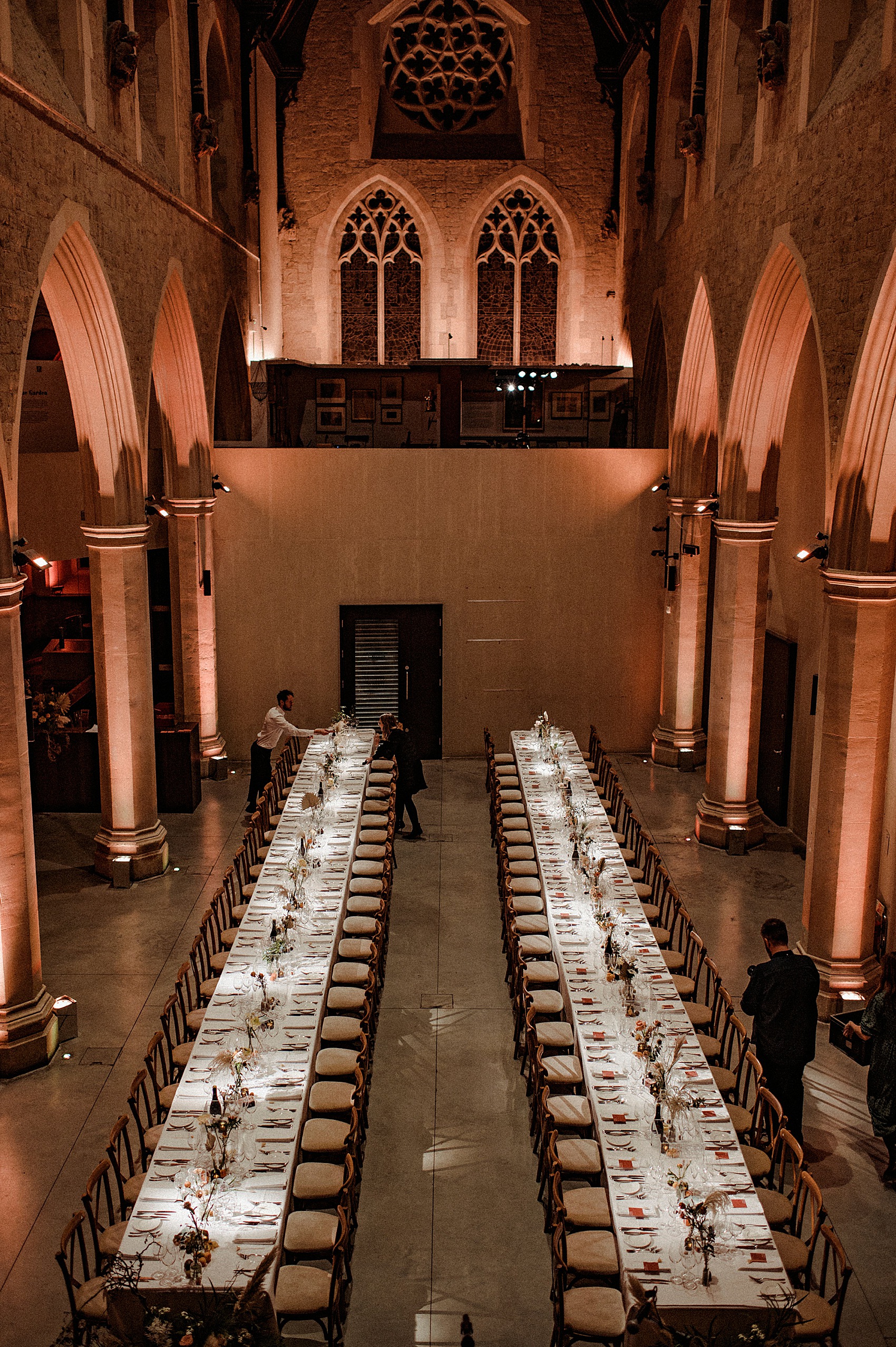 "We definitely could have added in props, for example, I was considering a sofa set-up post-meal, but didn't go ahead because of the cost. We felt it wasn't necessary, and the cost was prohibitive."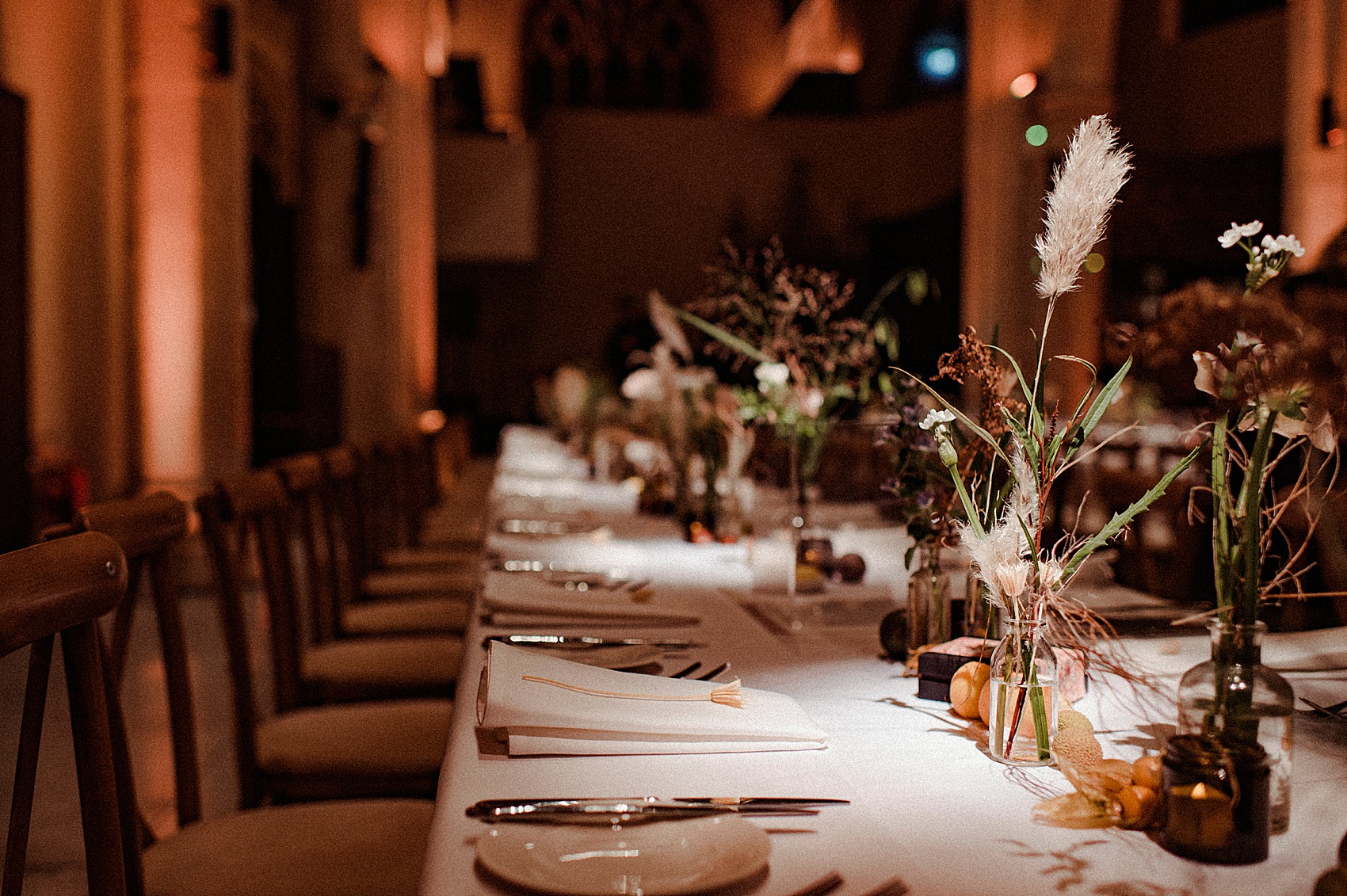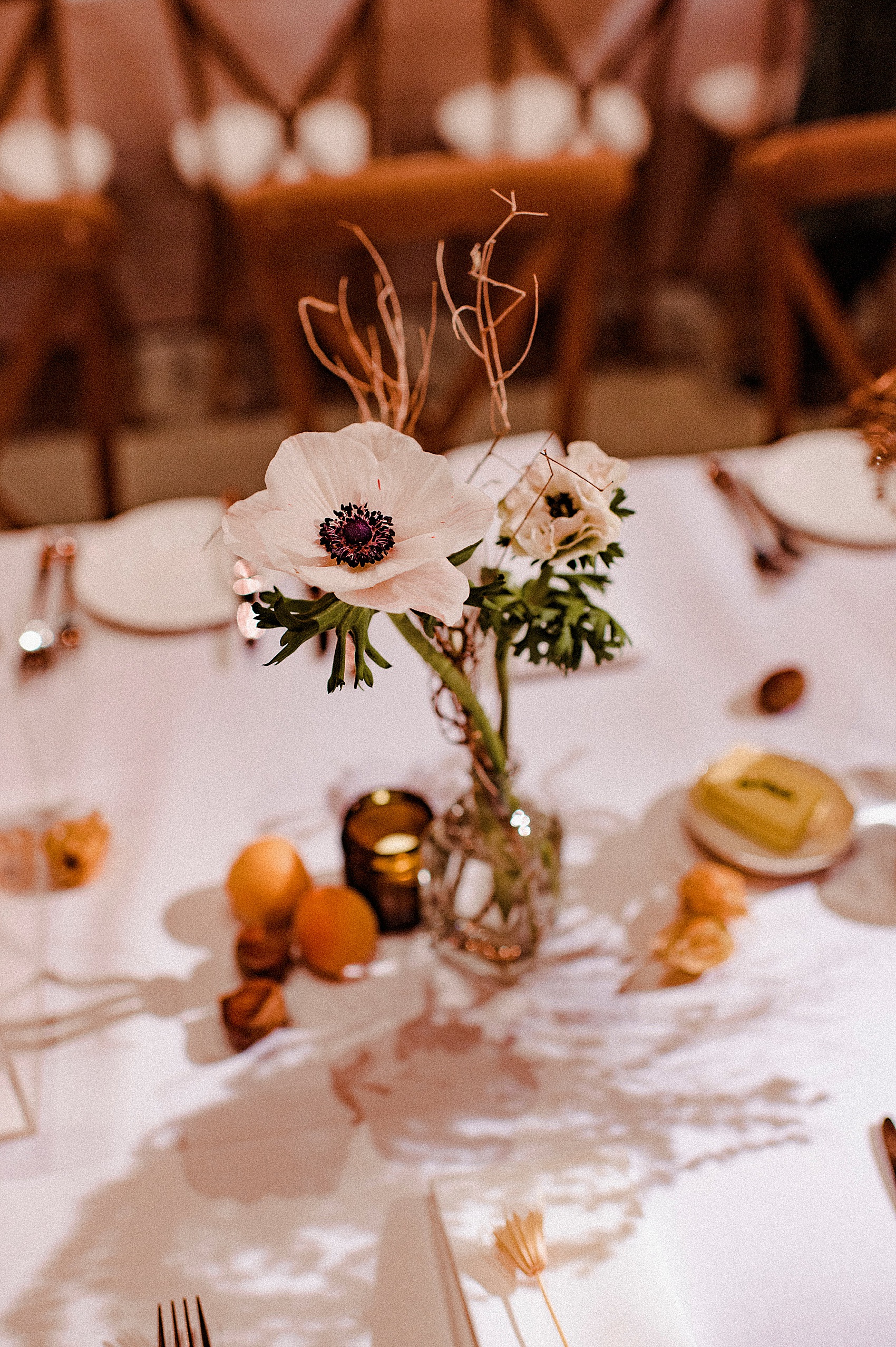 "The White Letter produced our menus, table numbers and place-cards. We then used printable templates downloaded from Etsy for an order of the day, table plan and welcome sign, which worked really well."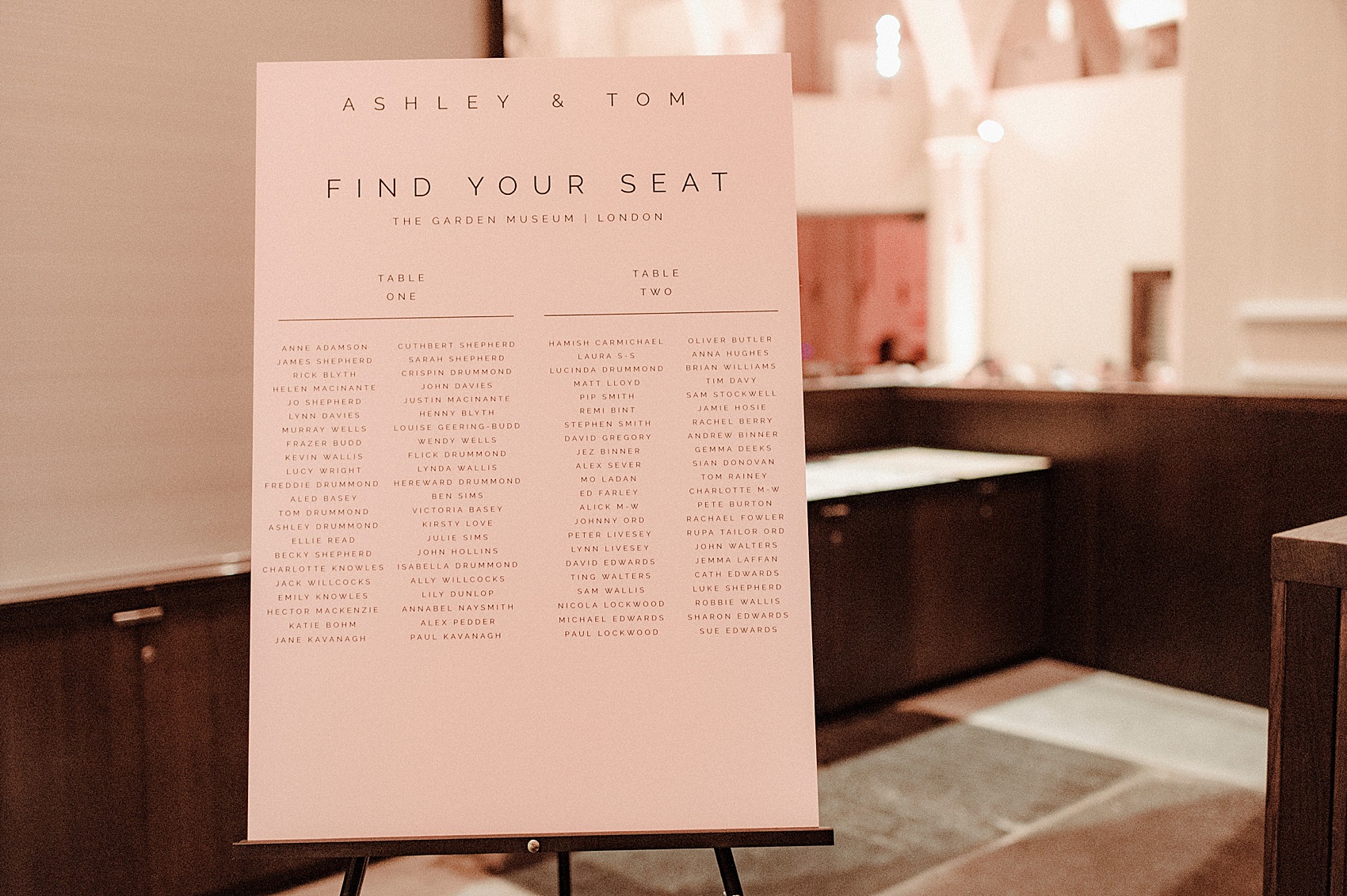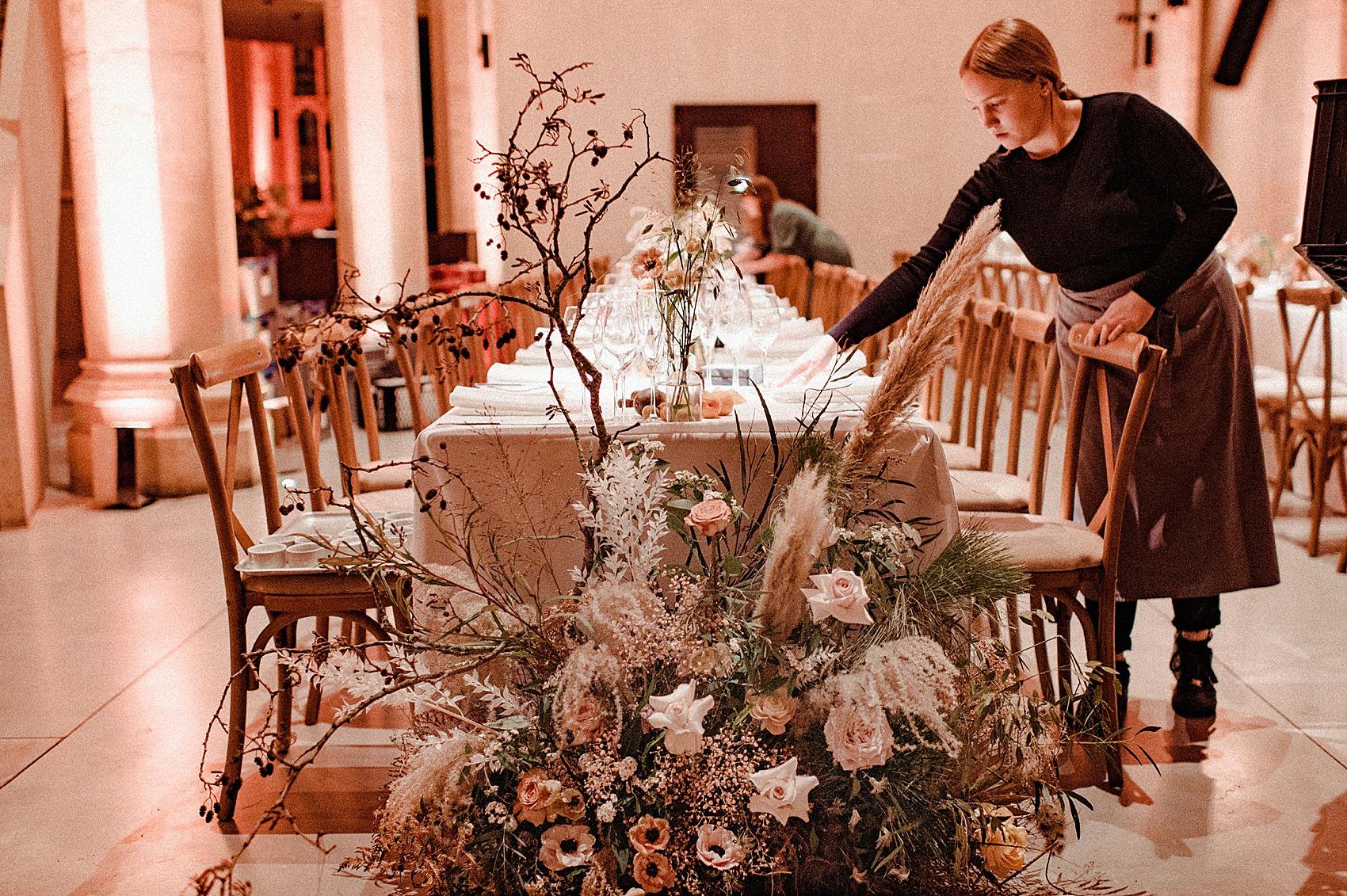 Atmospheric lighting from Glo Design and Event Production illuminated the museum's pillars, windows and stonework. Below there were two long dining tables, and at the ends, gloriously wild arrangements of flowers, branches and grasses.
Along the tables, there were more flowers, interspersed with jewel-like fruits and shining conkers. Guest favours were boxes of chocolates from Dubai-based Mirzam, shared across the tables.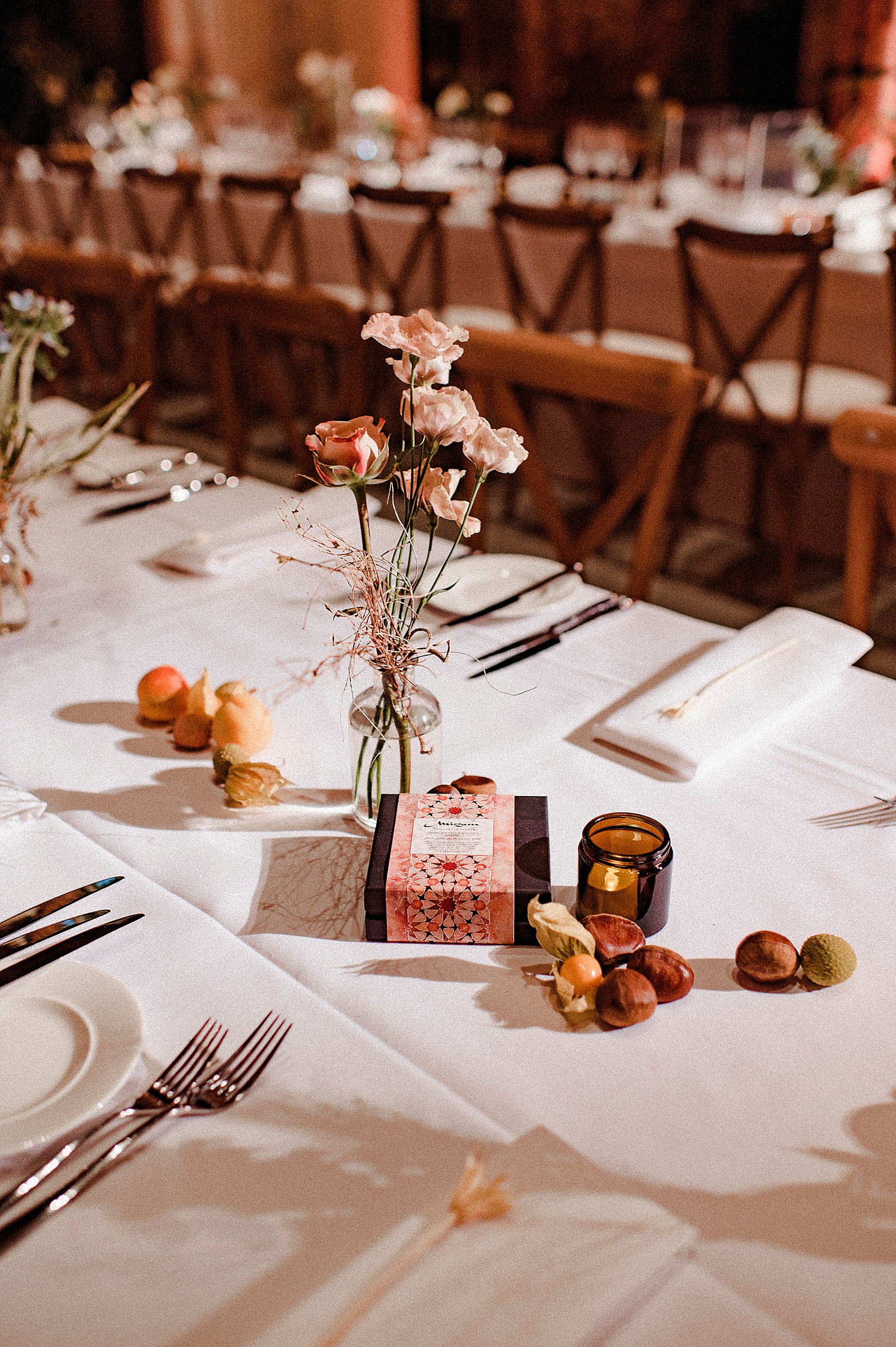 "I liked that our wedding was during the autumn/winter. I hadn't attended many winter weddings, and liked that it felt a bit different and you could play with textures (dried flowers) and rich colours to create a distinct atmosphere."
"The meal, looking around and seeing all of our favourite people in one room – the set-up with two long tables was amazing."
Everyone sat down to a feast from catering wizards Kalm Kitchen, followed by a gorgeous three-tiered semi-naked cake by Blossom & Crumb.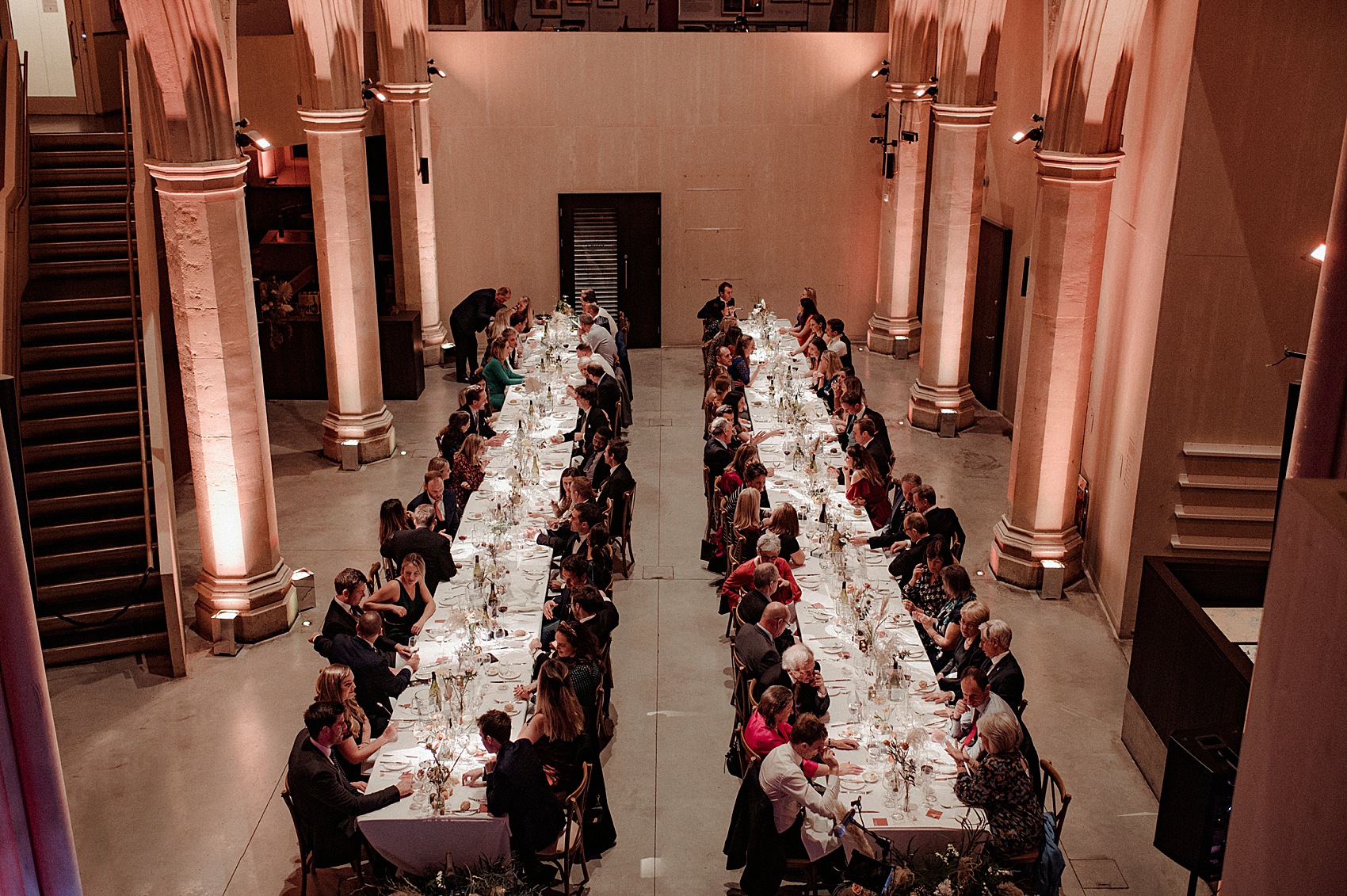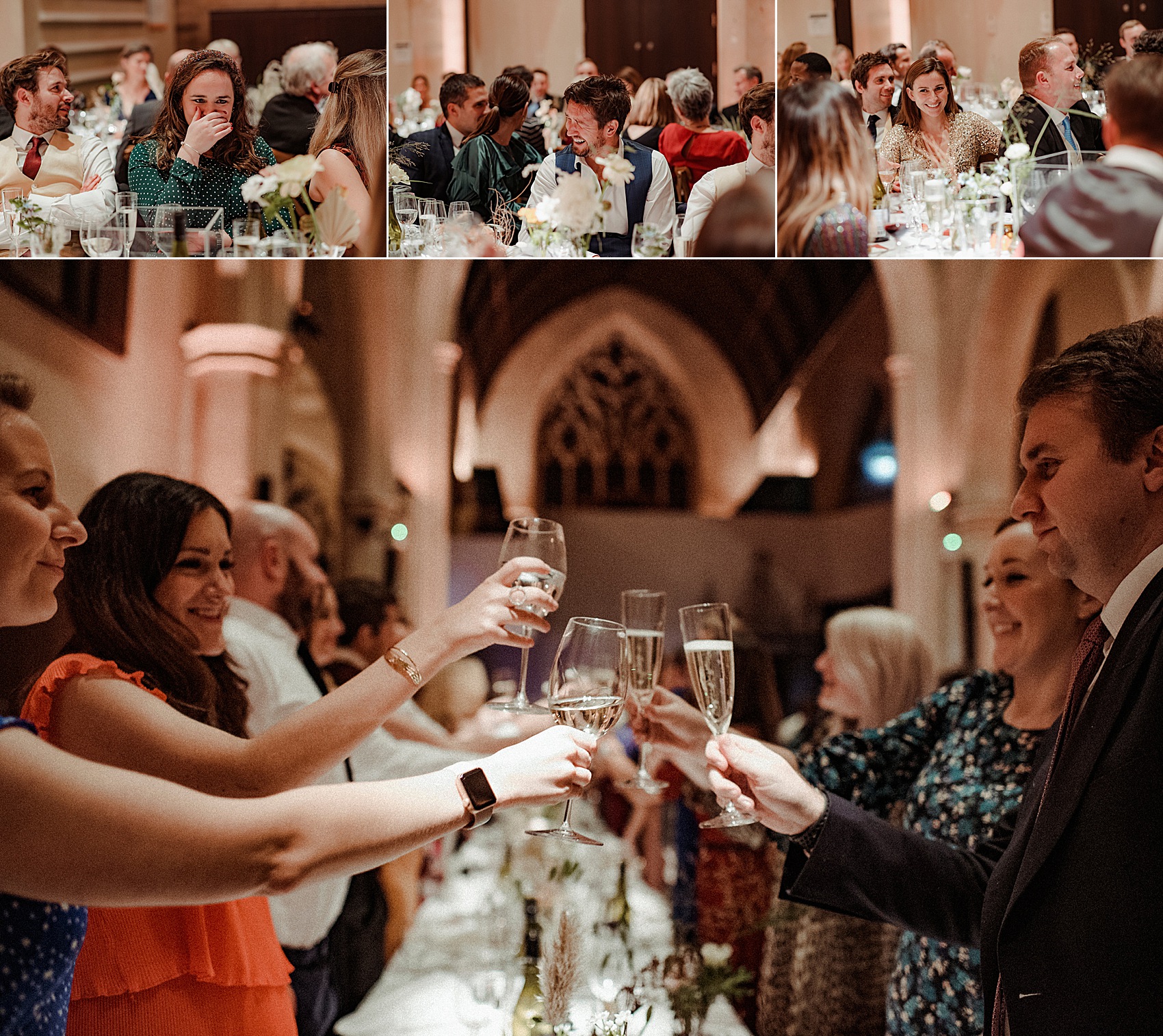 "Our first dance was to Higher and Higher (Your Love Keeps Lifting Me) by Jackie Wilson. We disagreed on this element, but I did understand Tom's mentality that an upbeat song would encourage people to get involved, and the whole slow dancing thing is just not for us! I kept choosing more obscure, off the radar songs, and Tom won out with this song in the end. There was live music from band Soul Beat."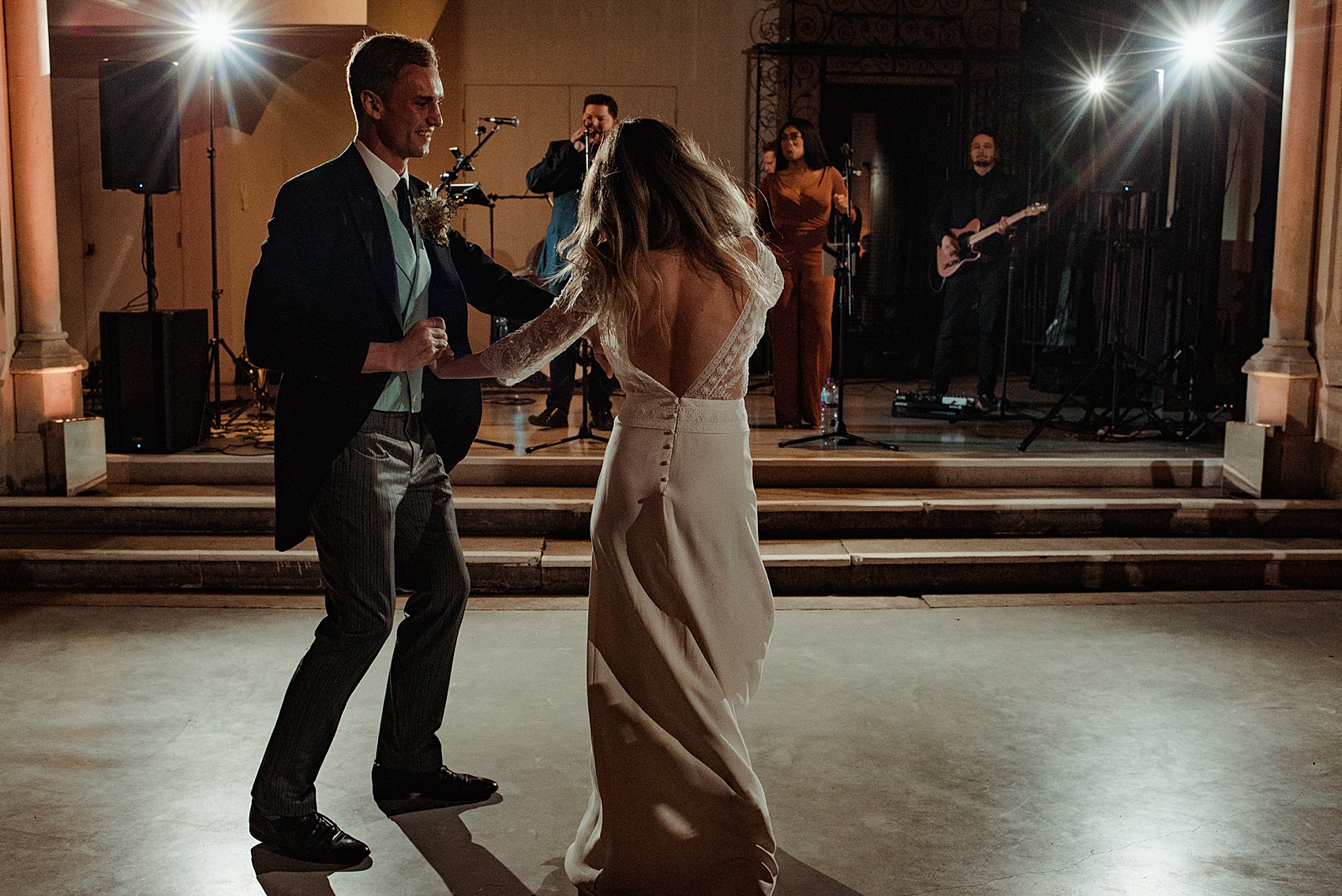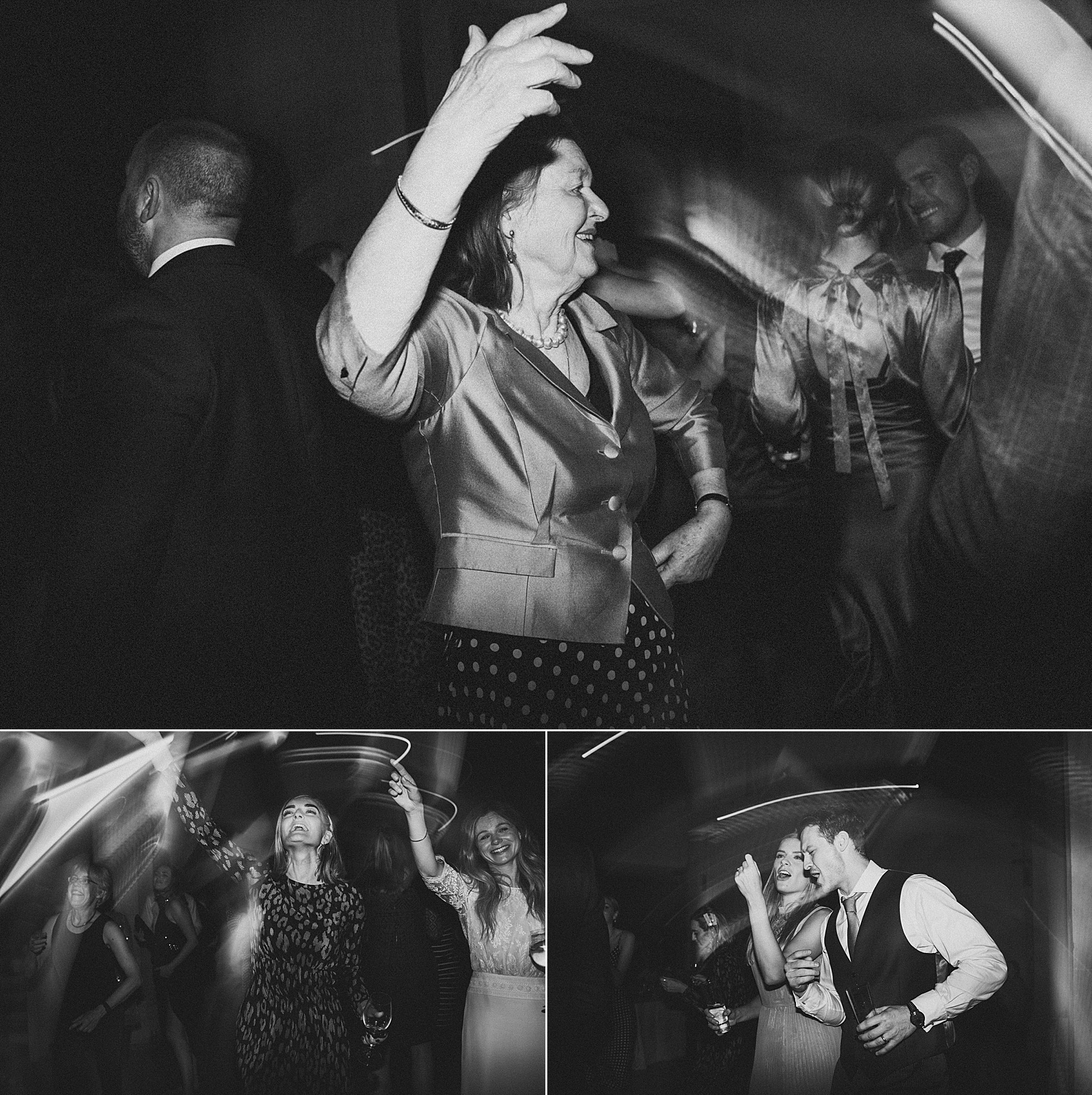 Words of Wedded Wisdom
"Weddings are much harder to organise than they initially appear because emotions are involved – whether running high or low – and it can be a bit of rollercoaster at points."
"I loved poring over Love My Dress to search for supplier recommendations, to gain inspiration, and for general image appreciation. I don't think Tom could quite believe how much time I spent looking through the posts! The Facebook group also provided invaluable advice for anything wedding, with such a lovely support network."
"Consider all the timings of your venue before booking. We couldn't get into the museum until later in the day (5pm) so it was an evening reception. This was absolutely fine, but it doesn't give you as much time to spend with your guests – however it does make hire fees more reasonable. Definitely something to consider in the planning process."
"Delegate. I didn't learn to do this well at all! I tried to control everything, which was hard at times, especially when planning from afar. Essentially people want to help so give them tasks if you feel able to."
"If you don't get emotional over your dress, it's totally normal. Everyone reacts differently – neither my mum or I were emotional. I think we're so conditioned to believe we should feel a certain way at different points of the process, and that's not realistic."
"Try not to hold yourself up to 'wedding' standards of beauty. I think that the industry is changing, and brides are increasingly being themselves more and more, however there is still a lot of noise around weddings, which makes you believe you have to look absolutely perfect at all times, and perhaps change yourself for what is one day, essentially."
Ashley, thank you so much for those carefully considered words of wisdom. I'm also really glad that you enjoyed Love My Dress and the support of its Facebook group during the planning process. Many thanks to both you and Tom for sharing your gorgeous day with us.
Finally, thanks go to Rachel from A Thing Like That for her beautifully stylish images.
With love,
Laura