Hello everyone, I sincerely hope that this finds yous safe and well in what can only be described as an entirely unsettling week, no matter which direction you look in.
Lockdown continues to gently lift in wider society, but weddings, as we know them, still don't have any clear go ahead. We continue to support our lovely brides needing to postpone, and are here for our suppliers and venue colleagues who are trying their very hardest to juggle everything and provide the best possible service and reassurance they can to their clients.
(Use password 'gorgeous' to enjoy this film)
We promised from the start of lockdown that we'd continue to share real weddings and wedding inspiration. Today's beautiful city affair is the wedding of Lawyer Shruti and Events Host Ben, who tied the knot on 19th February last year with a classy and wedding at the Old Royal Naval College in Greenwich, London. The couple were assisted in planning their wedding by Holly Poulter of Revelry Events.
I was so thrilled to learn how much of an inspiration Love My Dress was to bride Shruti…
"I thought Love My Dress did a great job of capturing a diverse range of weddings, ranging from budget-friendly village hall and pub dos to blow-the-budget affairs."
Natasha Hurley Photography

+ Follow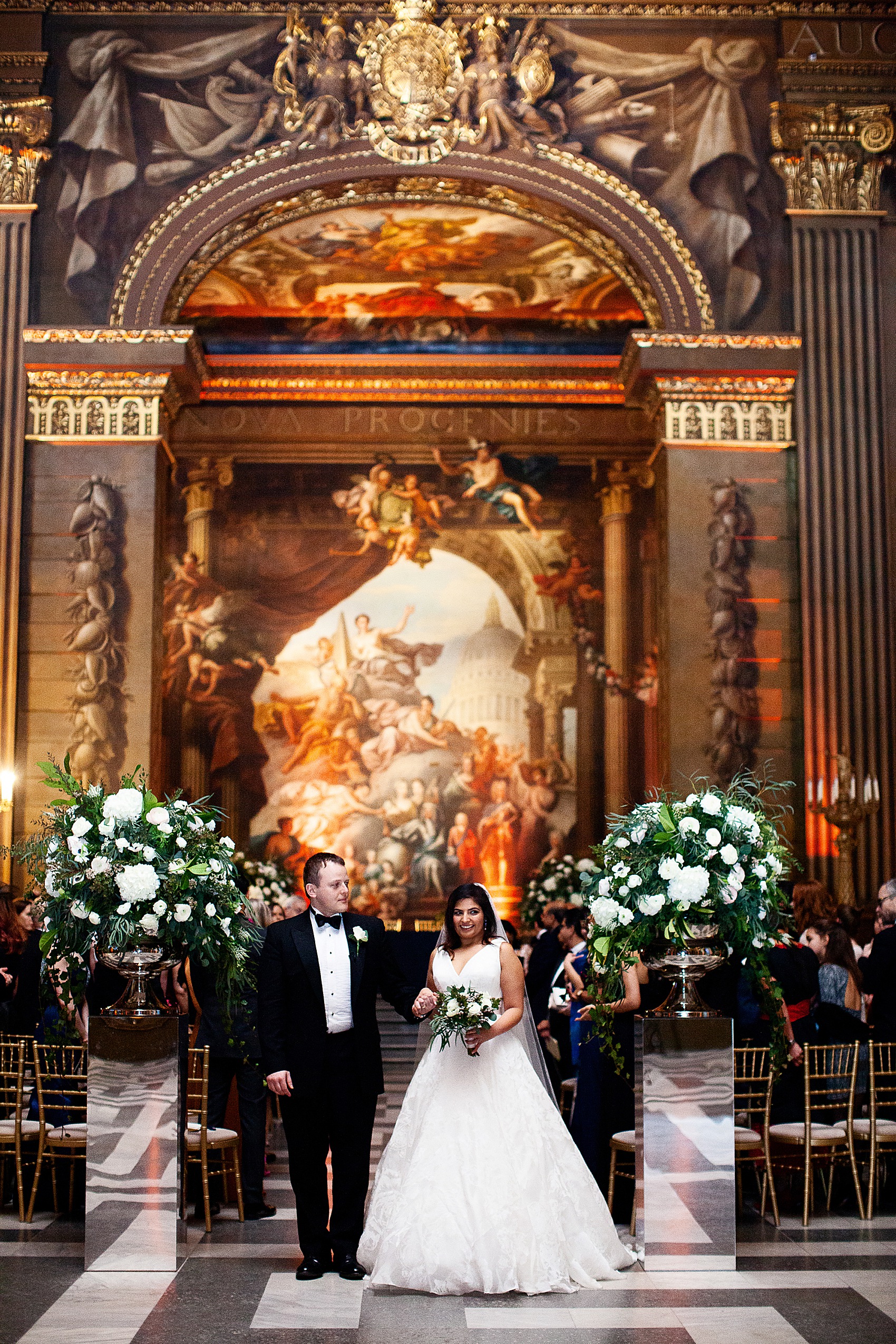 "Other UK blogs felt like they almost looked down on higher-budget weddings (while the opposite was true of the US blogs, where it seemed anything under $200,000 was not even considered) but with Love My Dress it felt like the main things was the happiness of the couple and their loved ones and that shined through the featured weddings."
"I originally came across Suzanne Neville and Emmy London via Love My Dress since Love My Dress was my main inspiration."
I'm thrilled too, to learn that our highly recommended stationery suppliers, Emily&Jo, provided this super stylish and elegant wedding stationery for the couple.
"Stationery was my absolute favourite part of the wedding design. Emily & Jo are absolutely amazing."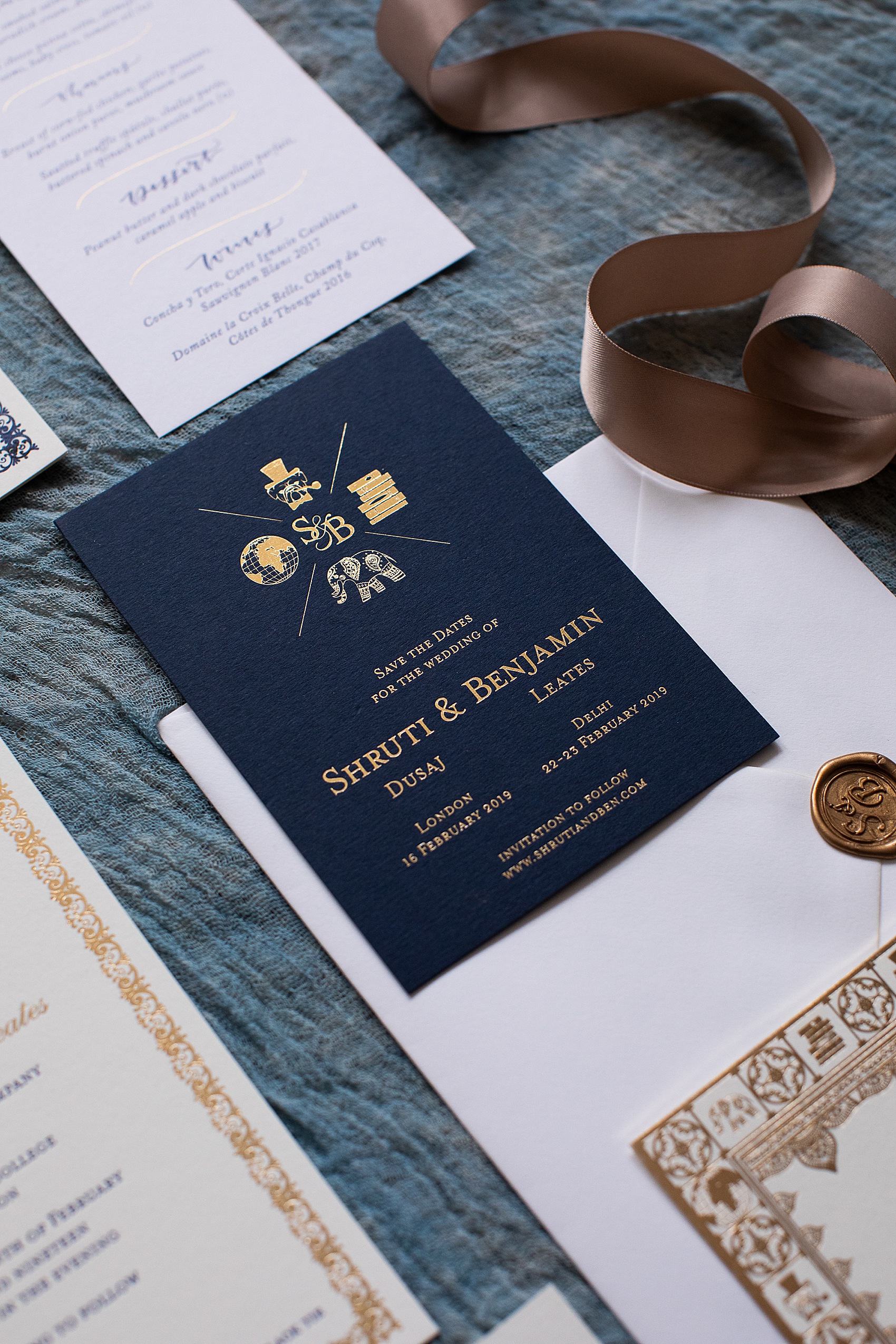 "They designed our Save the Dates, Invitations, programmes and information guides with beautiful bespoke illustrations, a lovely logo representing the two of us and our backgrounds and interests, just incredible."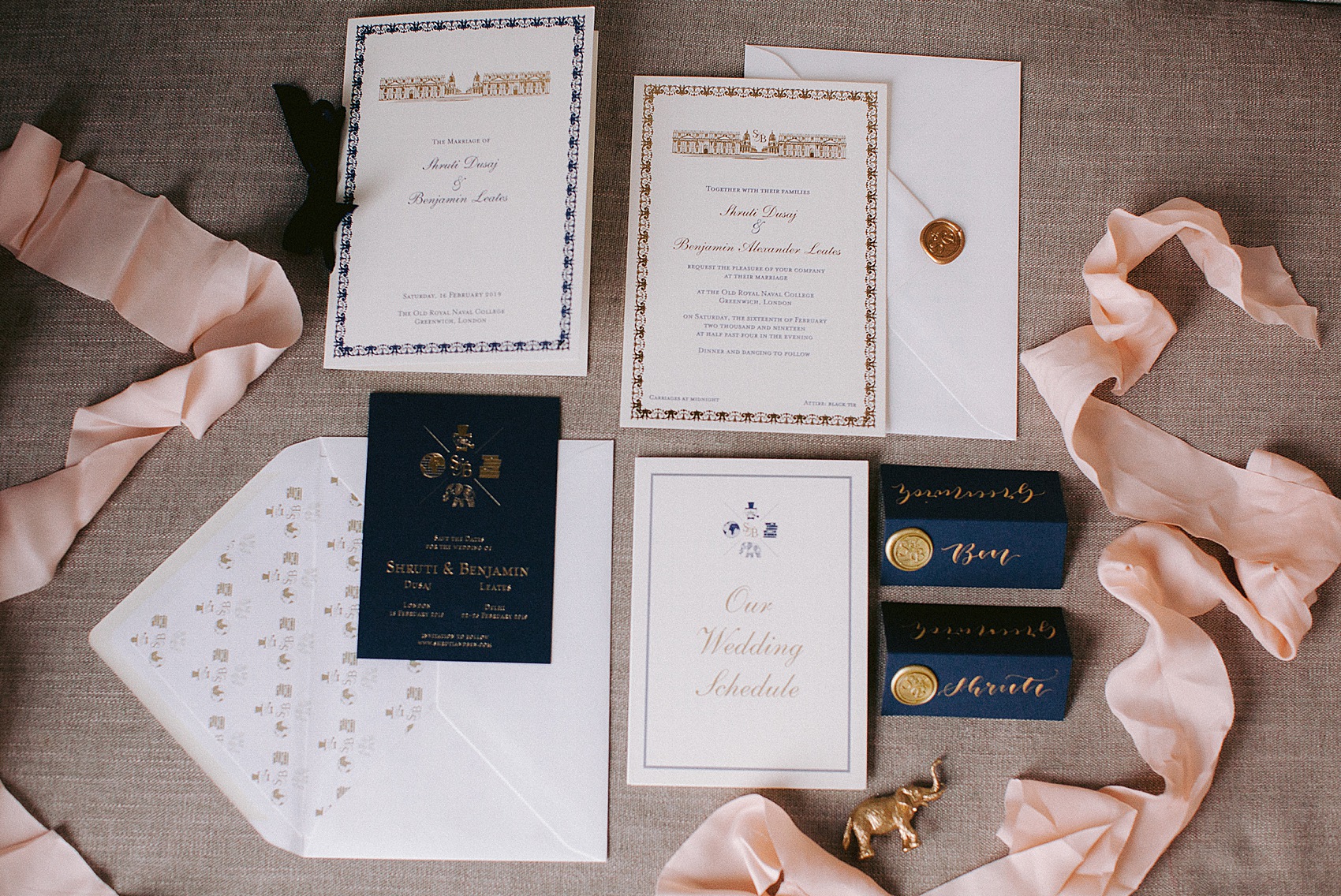 Hair and makeup services were provided byHair Stylist Love Hair by Lou and Makeup artist, Mel K Makeup.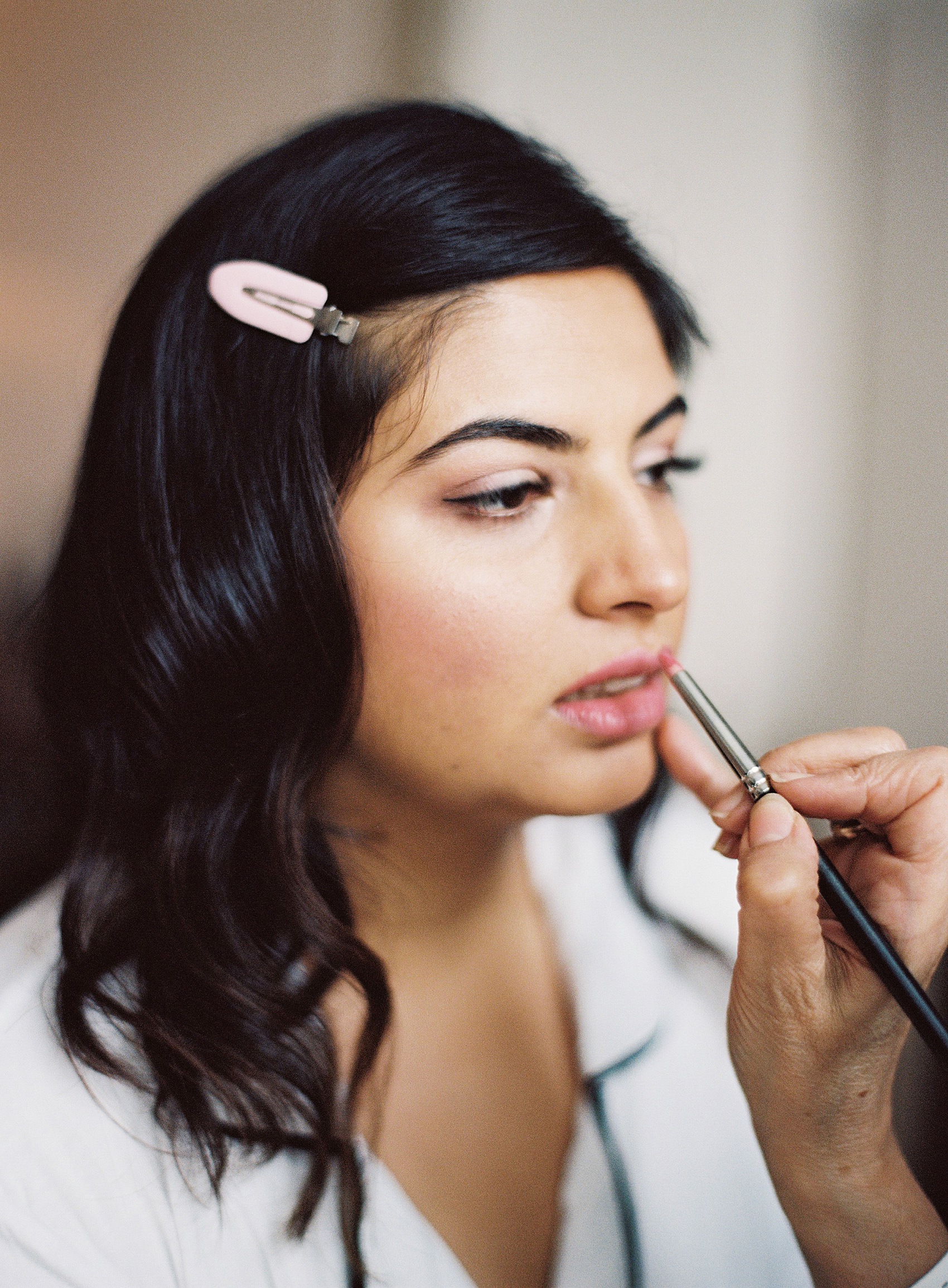 "I bought my dress from the Suzanne Neville boutique in Knightsbridge and it was an absolutely incredible experience from beginning to end. I initially went shopping for dresses on my own, with my mum being in India and my maid of honour in LA."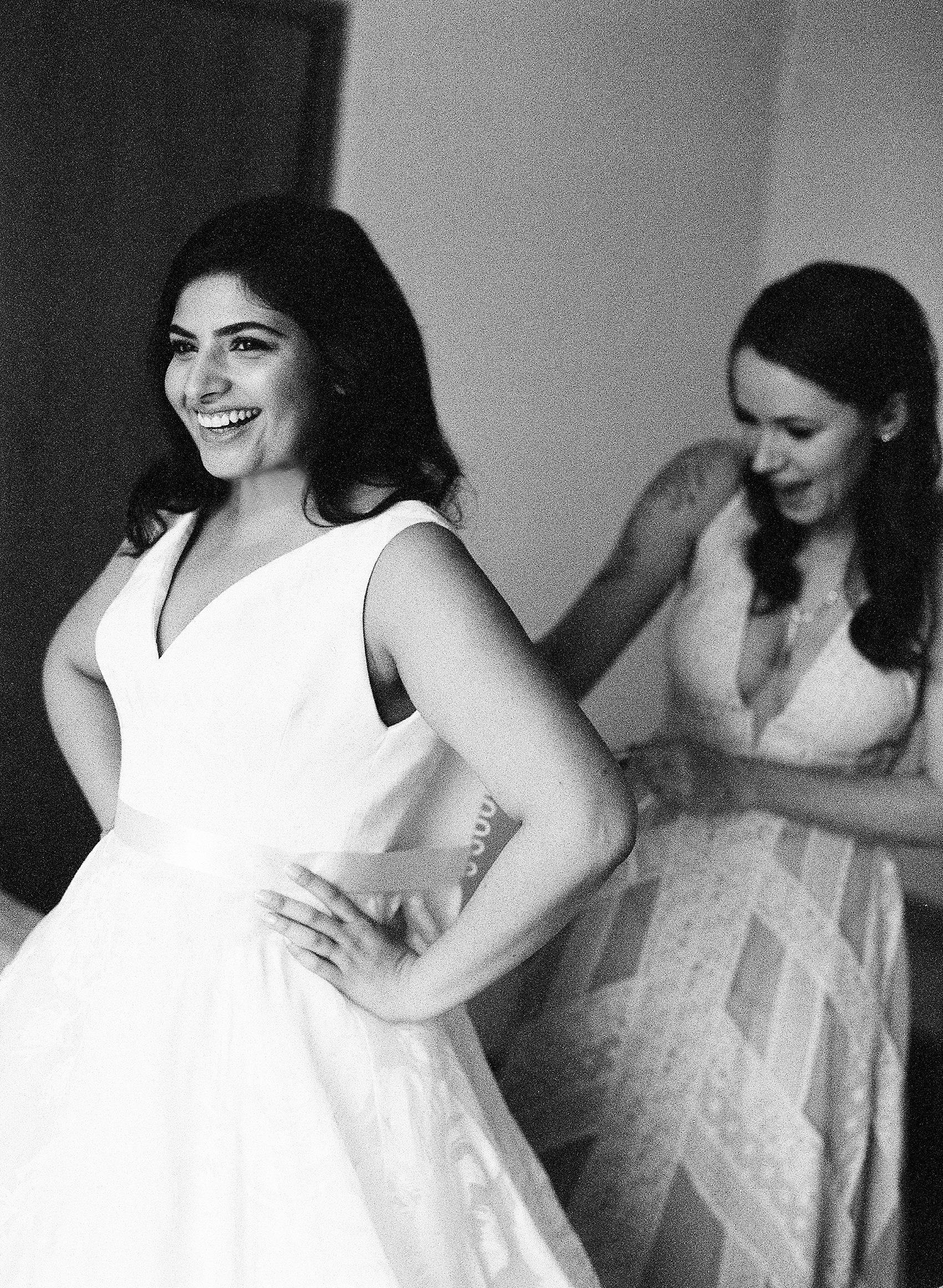 "Everyone at the boutique was so warm and friendly and considerate. I loved that they let me take photos when trying on dresses and Facetime with my mum."
"The process of getting the dress made exactly to my measurements and specifications, especially the toile fitting with Suzanne herself, was fantastic. I actually really looked forward to going to my dress fittings."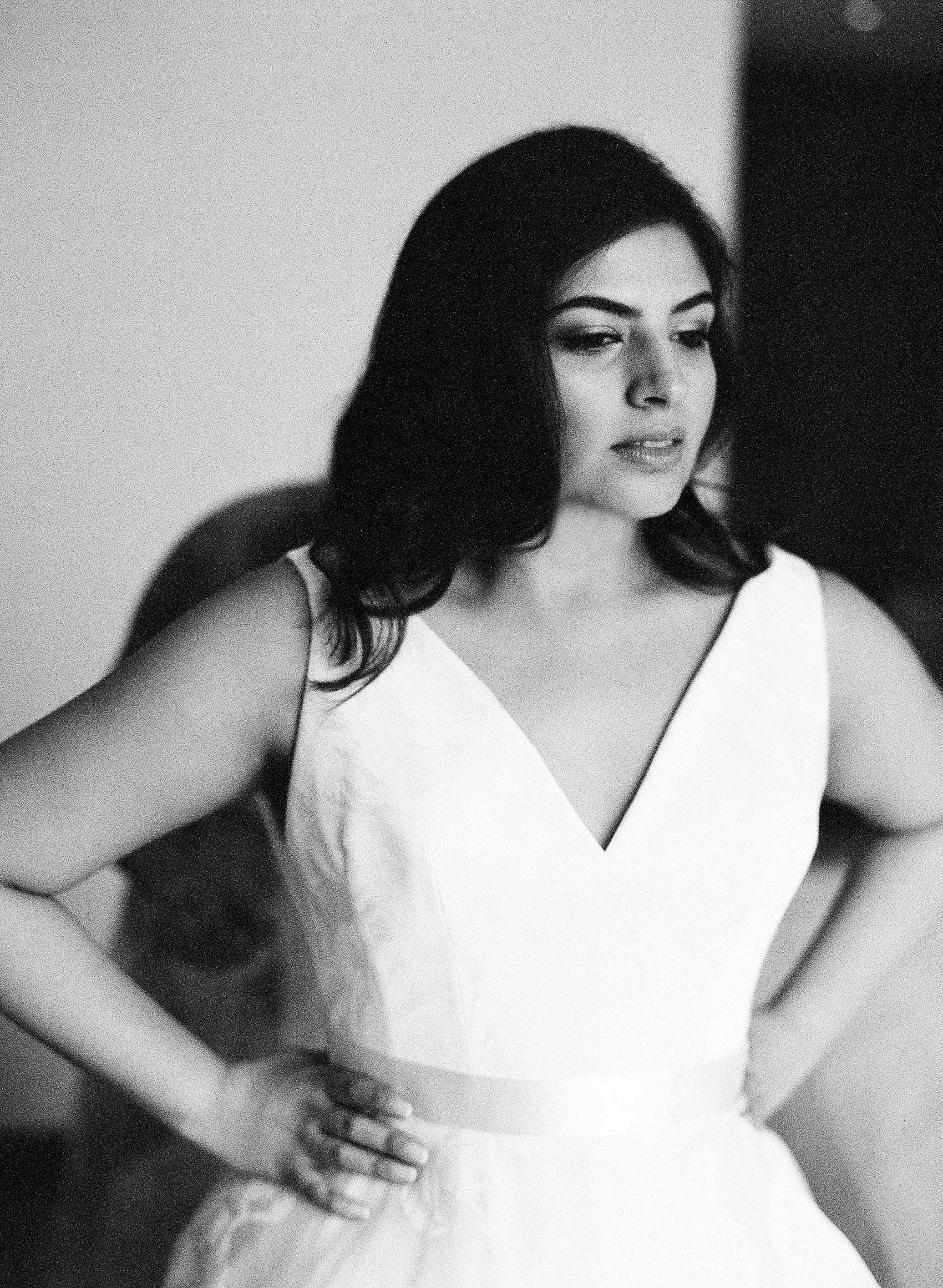 "I loved that it was simple but elegant, with a beautiful train. I knew I would be wearing a lot of sparkly embroidered outfits for my Indian wedding, so I wanted something with minimal embellishments and clean lines for my UK wedding."
"The floral print and elegant cut made it special. It also helped that the dress was called the "Rosa" and my mum is called Rosy, so it made me think of her."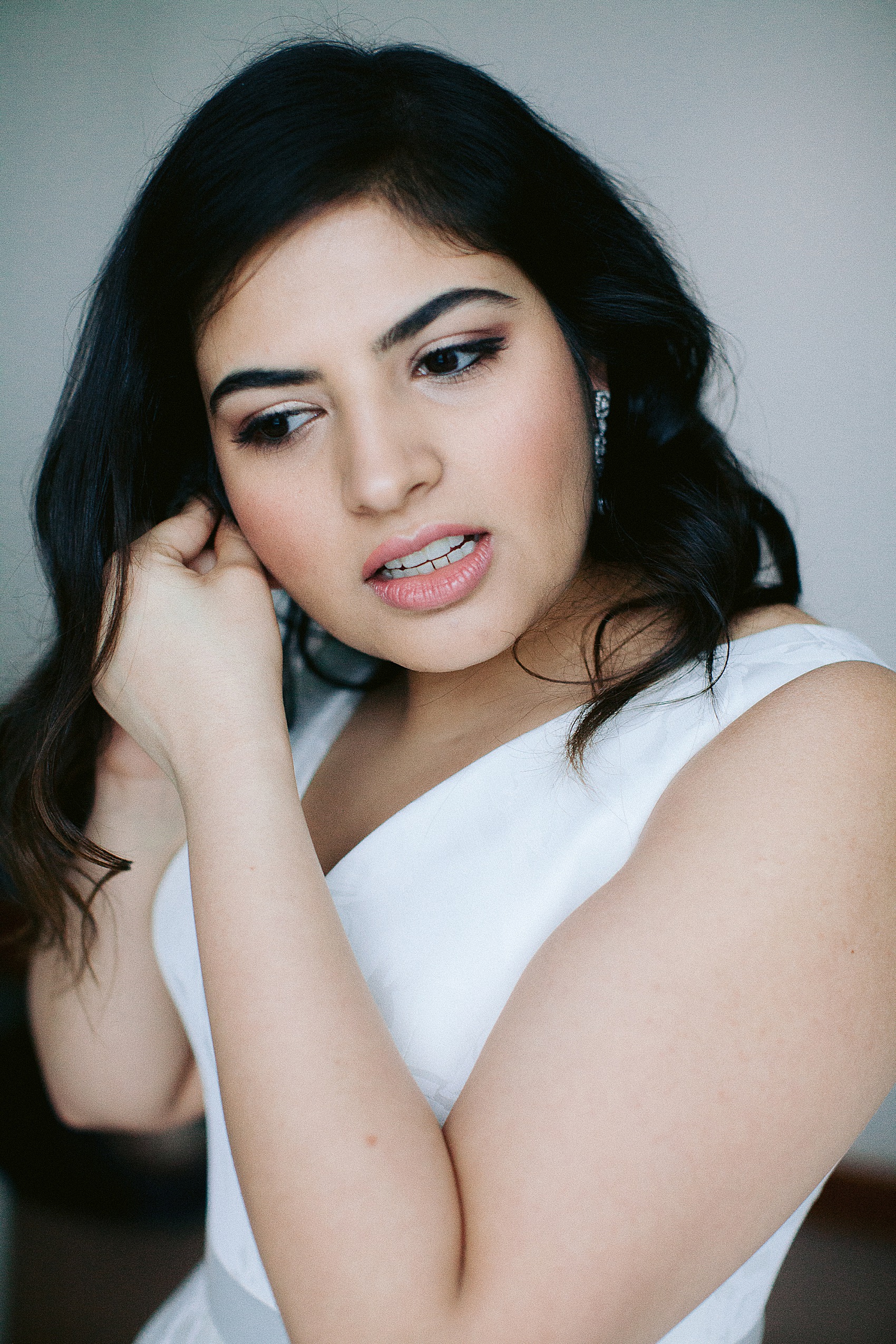 Shruti chose to wear the most beautiful blush pink heels with a soft gold trim, by London based shoe designer,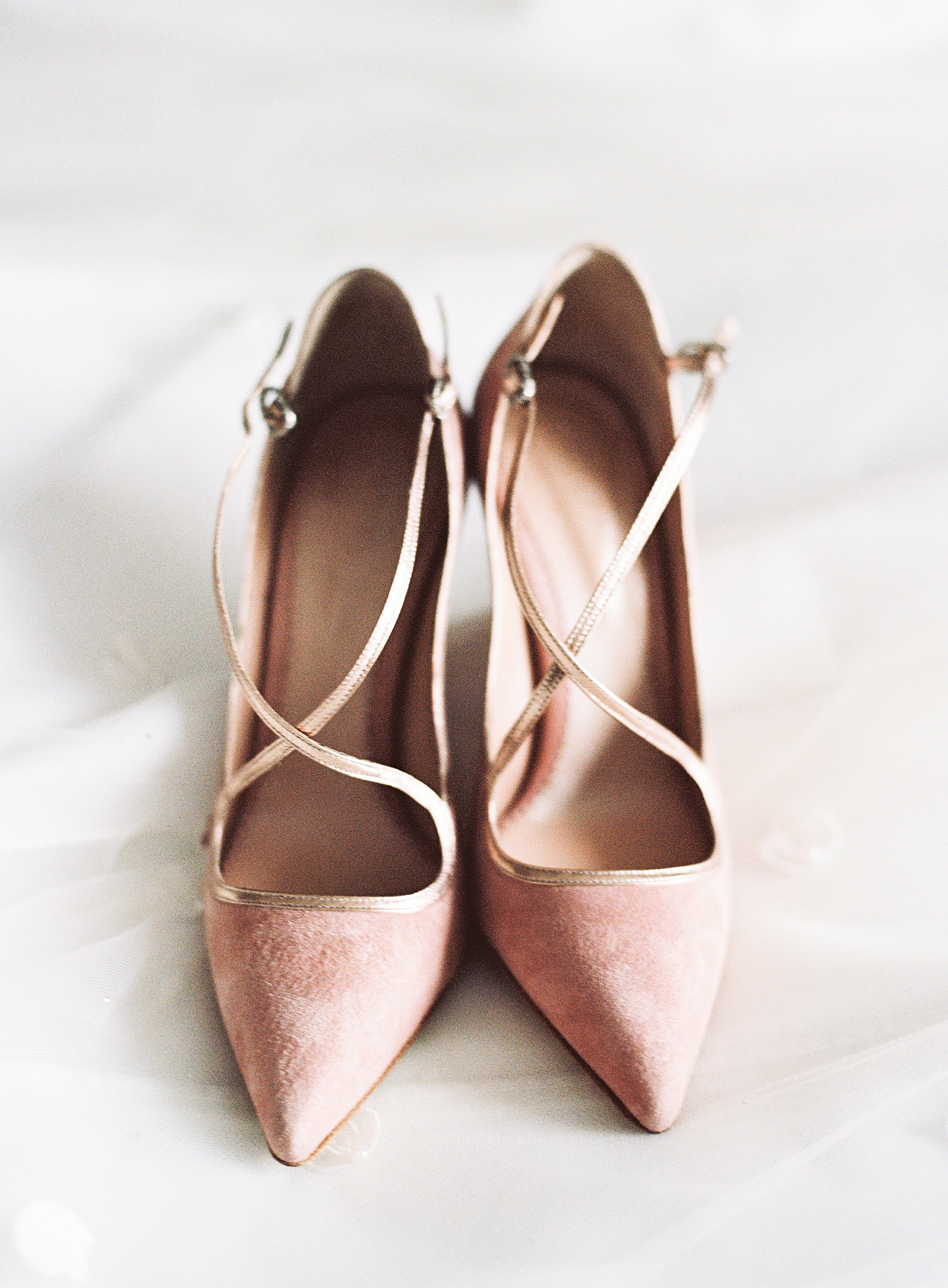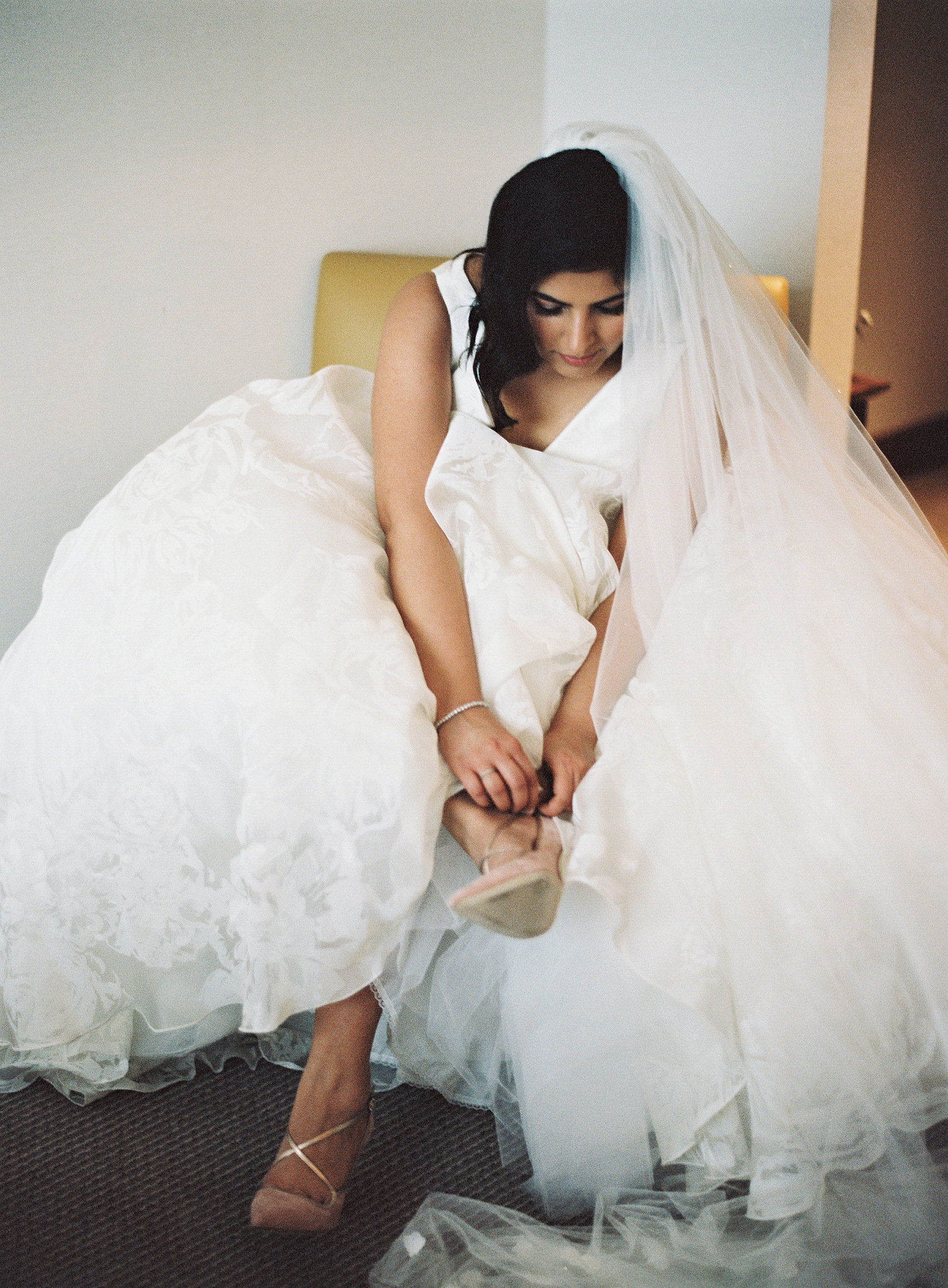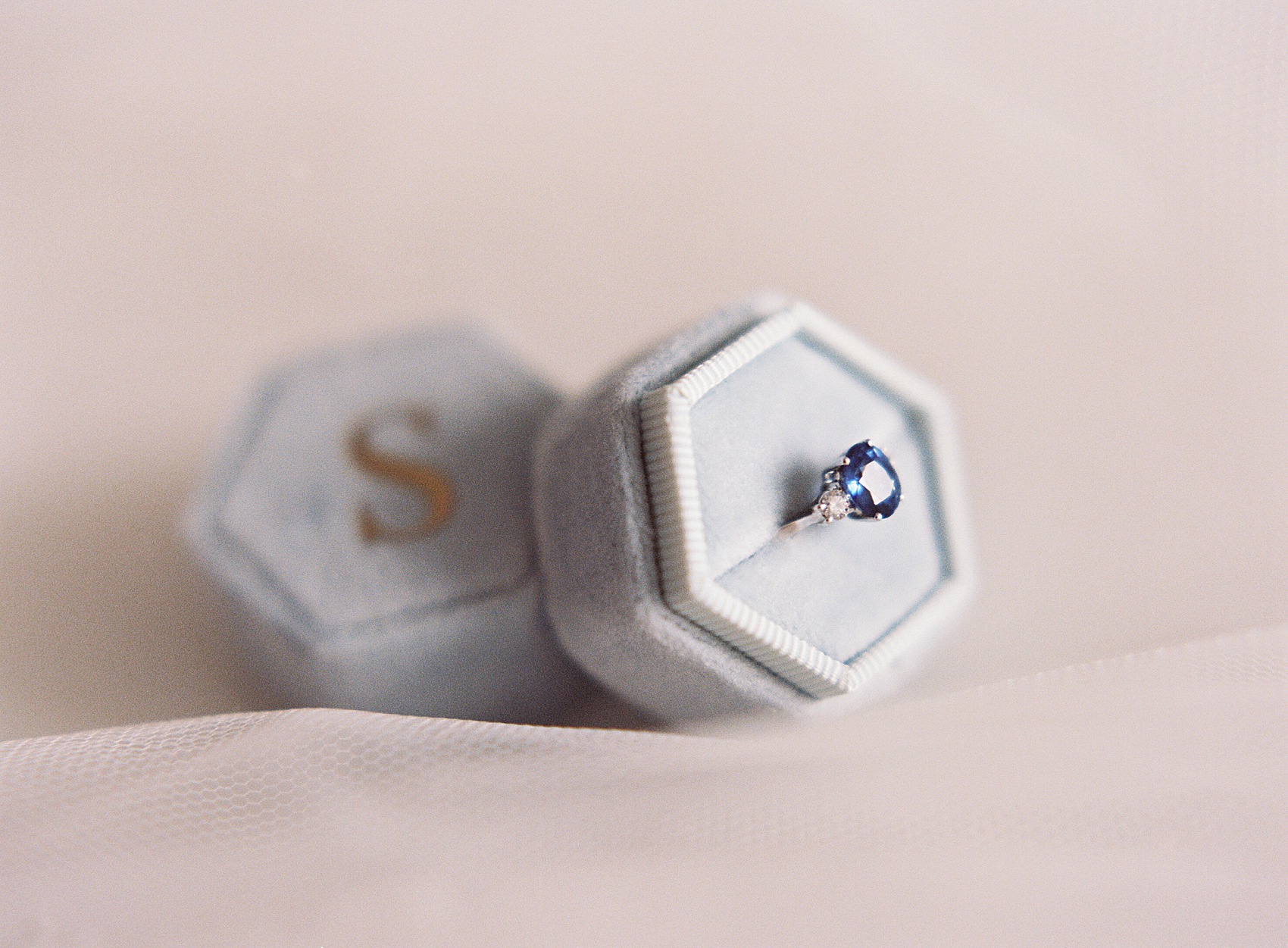 The couple hired florist Lavender Green.
"I wanted the flowers to be natural and loose to offset the formality of the venue. The whites, greens and blues (especially the anemones) felt appropriate for the February cold."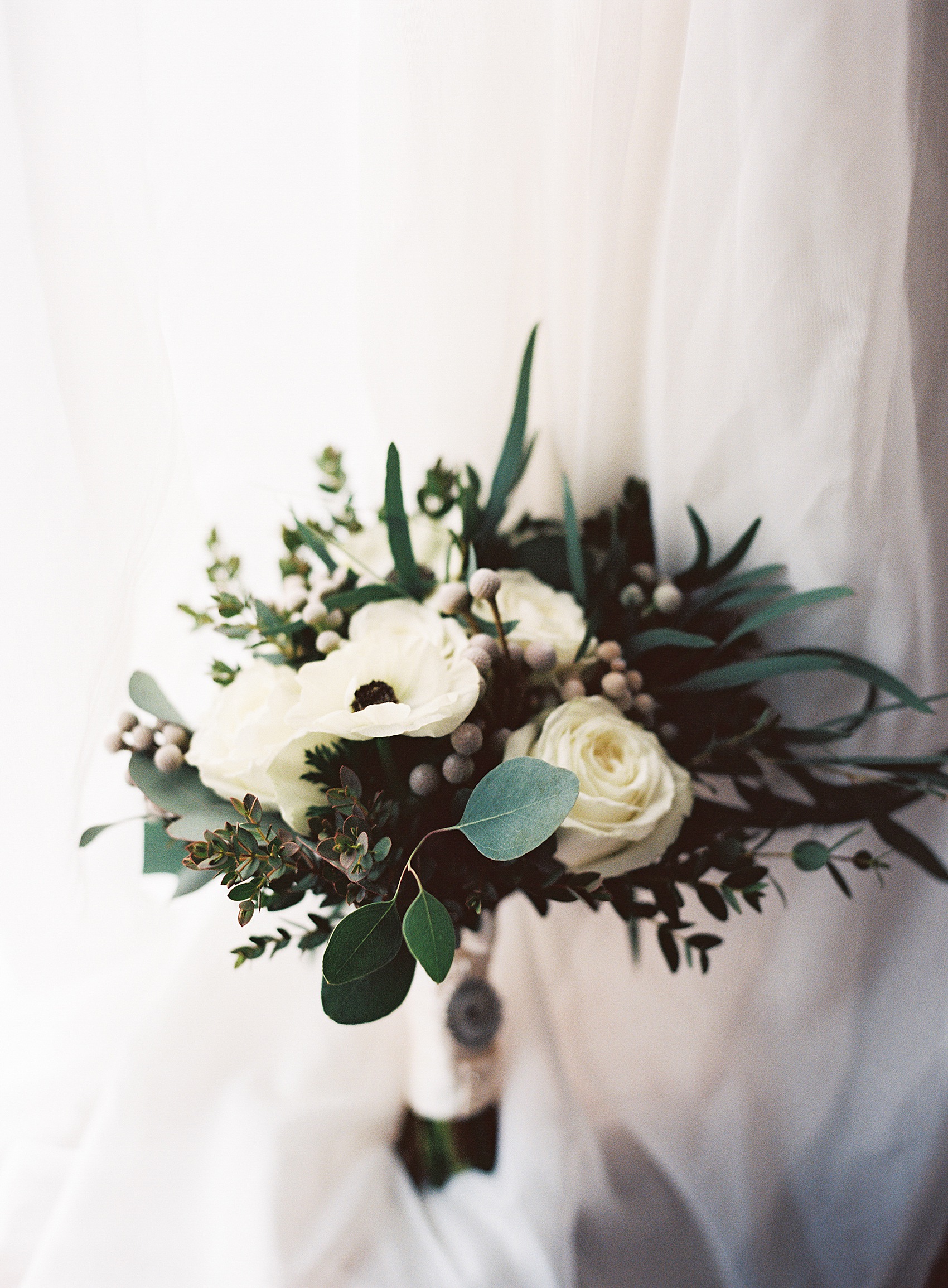 "I only had a maid of honour (Kat) and she chose her own dress, from BCBG. I asked other close friends and cousins to all wear full length blue dresses of their choice."
"My friends and family were spread across three continents so would have been very difficult to try to find one dress for everyone and it didn't feel true to me."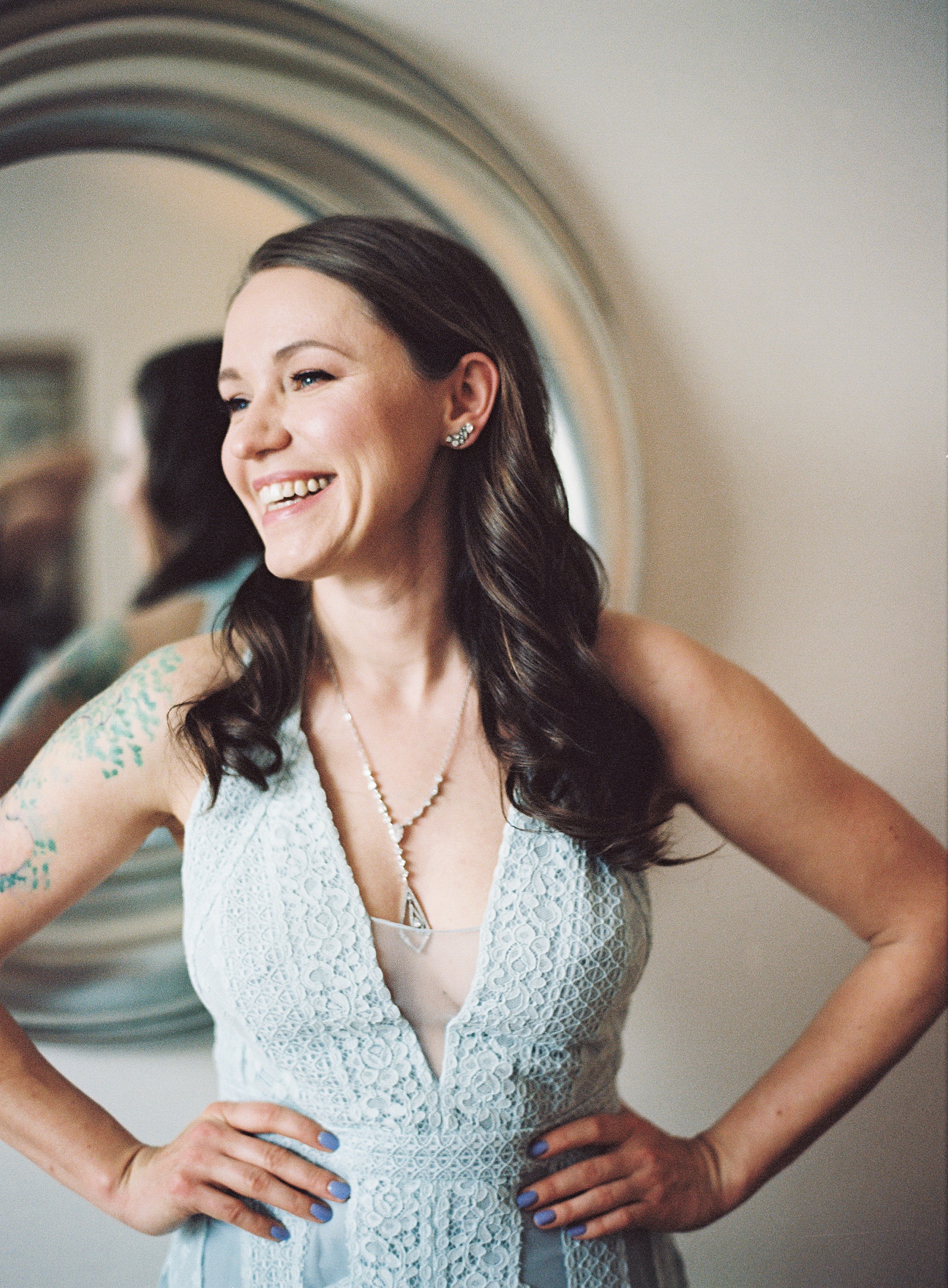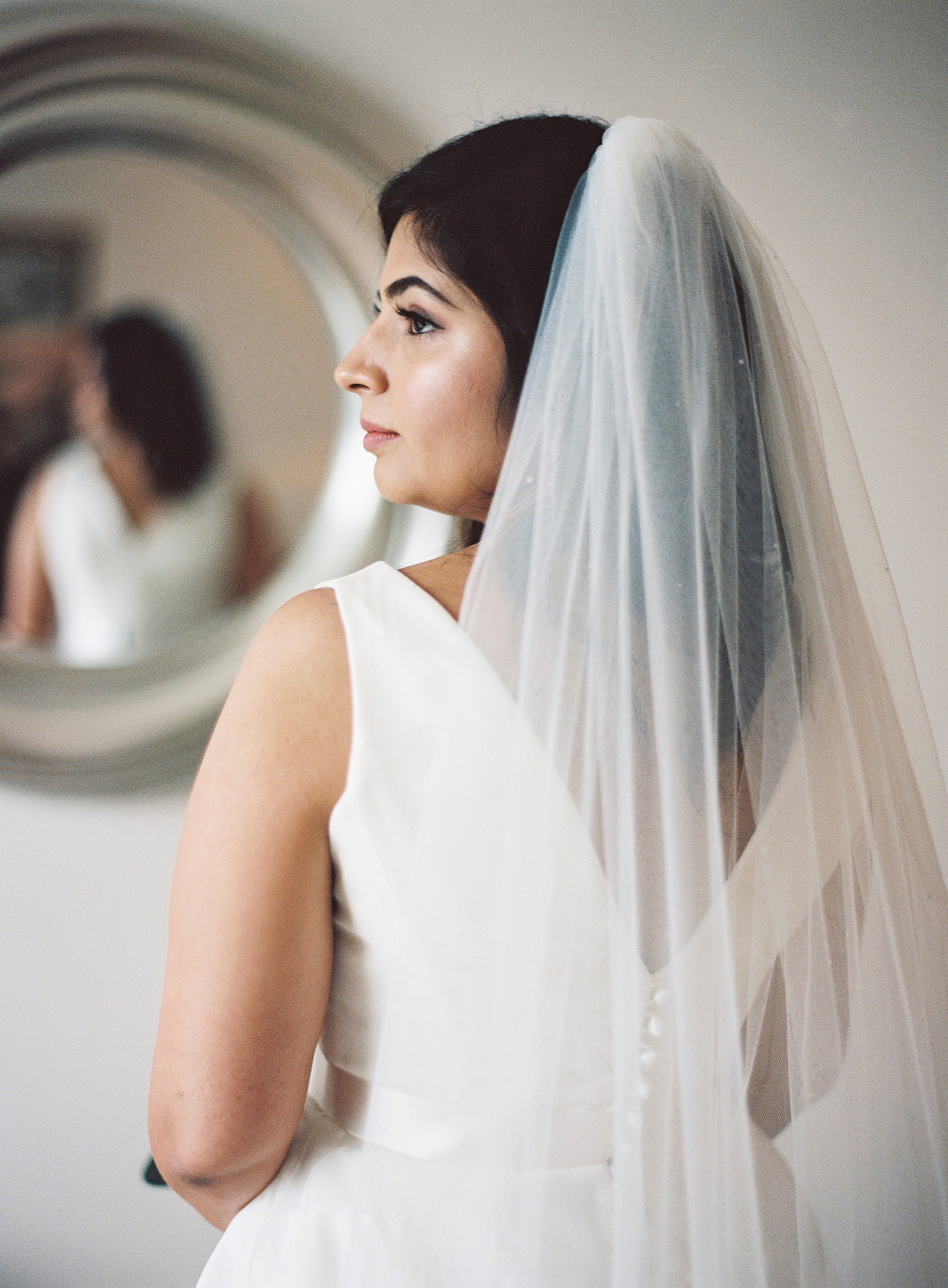 Shruti wore a pair of diamond earrings and a diamond tennis bracelet – both of which were custom-made by the family jeweller in India and were gifts from her parents.
Her mum's eternity ring was her 'something old' and 'something borrowed'.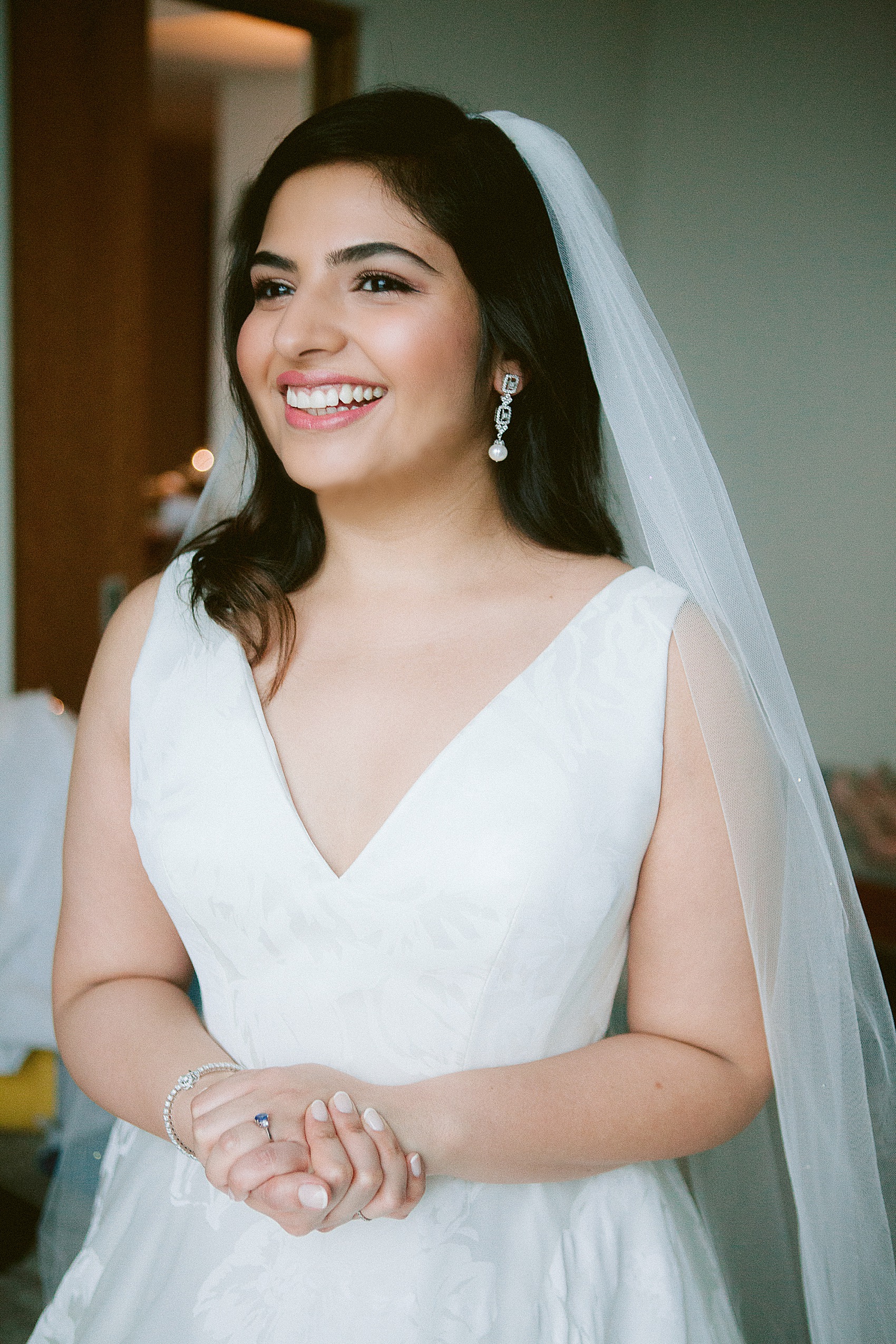 The couple hired a 1952 Rolls Royce Silver Wraith Blue Baron, with a Daimler Limousine for the bride's parents and her brother, via Lord Cars – and their choice of the Old Royal Naval College as their venue, was a no-brainer.
"We live in Greenwich, so it is local to us but also absolutely spectacular! A piece of living history and even better after the recent conservation project."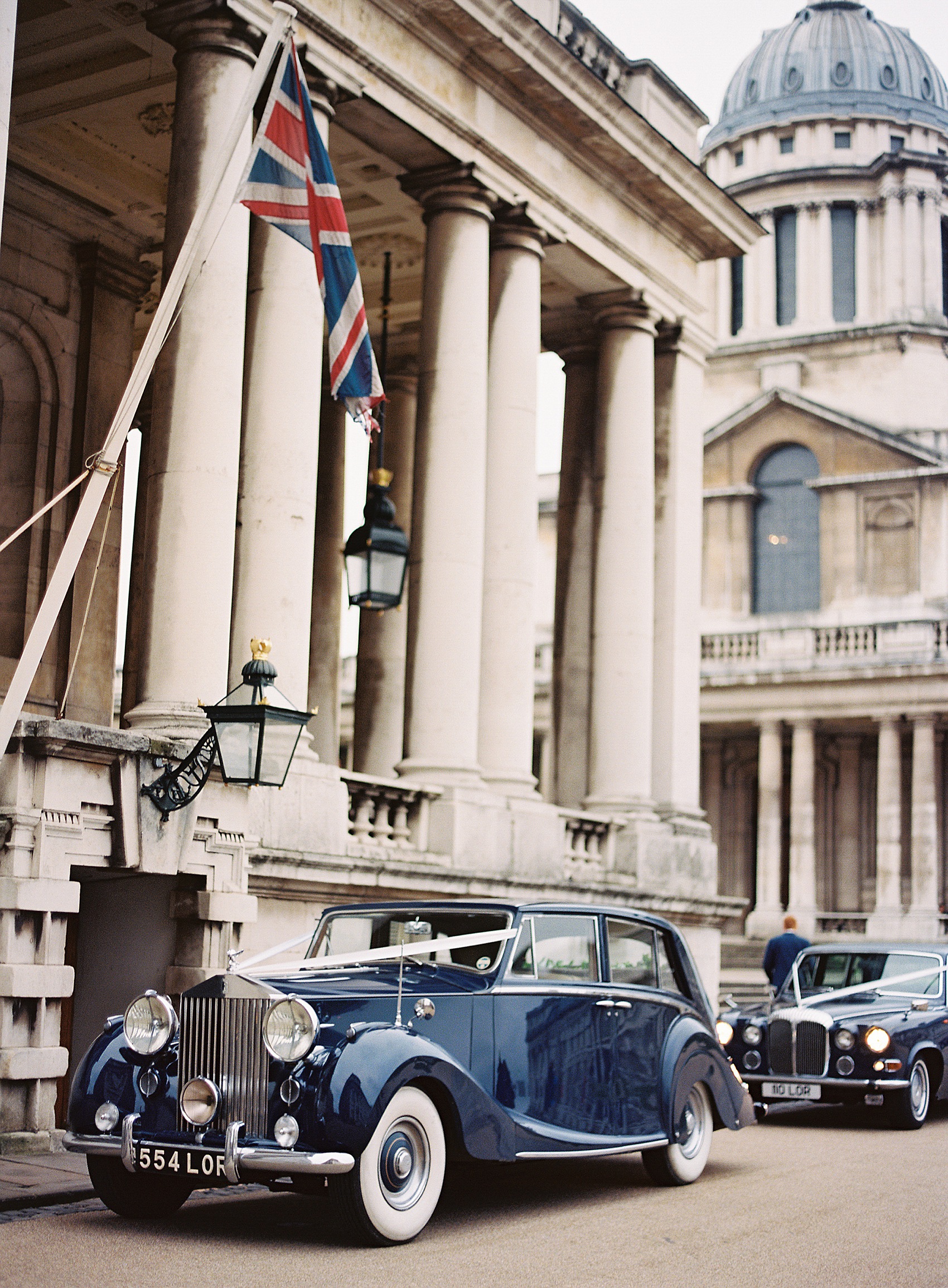 "Ben and I had our first date on February 15, 2015, shortly after, I moved to London for work in October 2014. We timed it specifically so we could skip the Valentine's Day madness and pressure."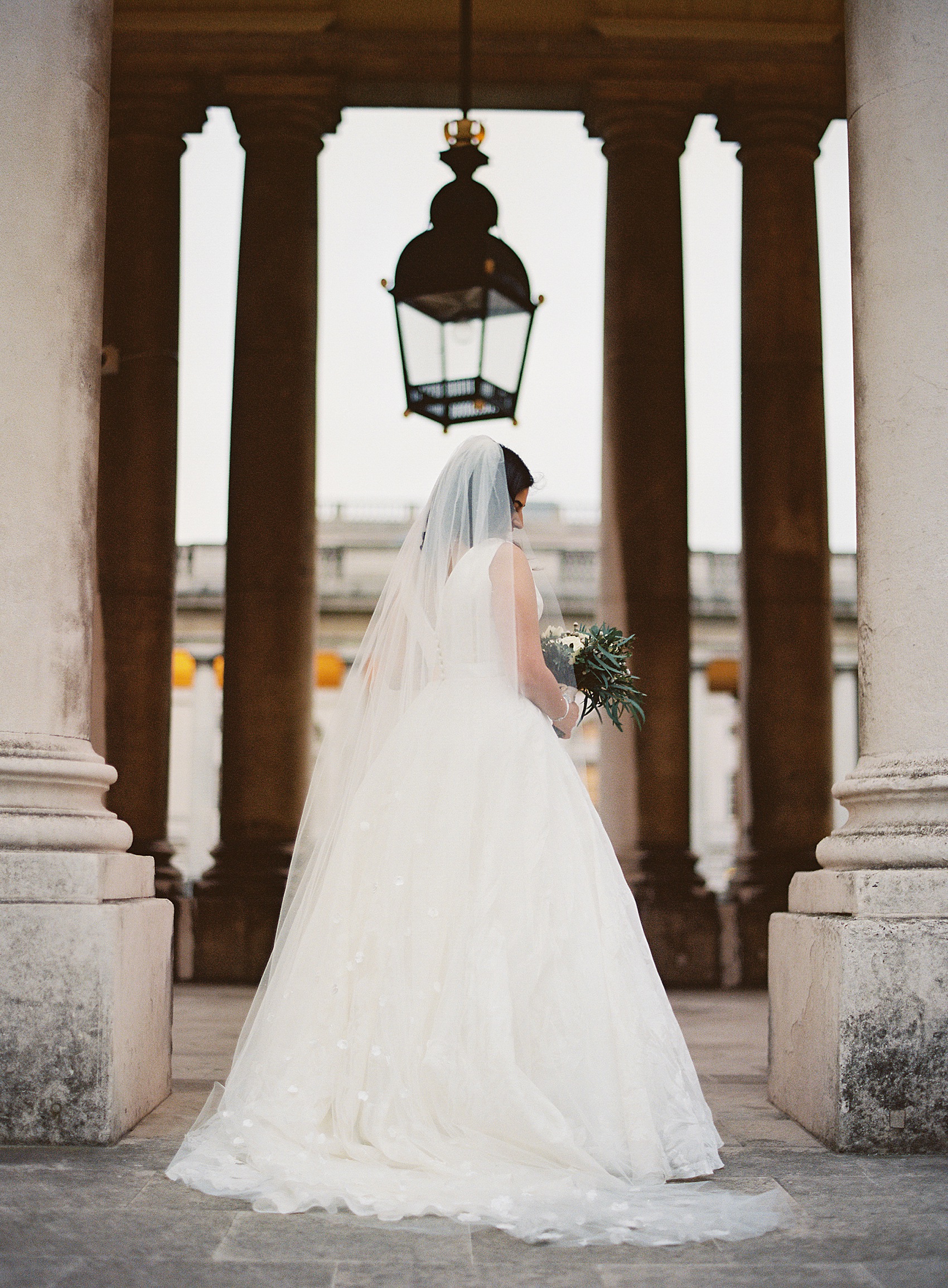 "We discussed marriage after a few years of a wonderful time together and went ring shopping together in Hatton Gardens. We got engaged on January 21, 2018 so were engaged for just over a year."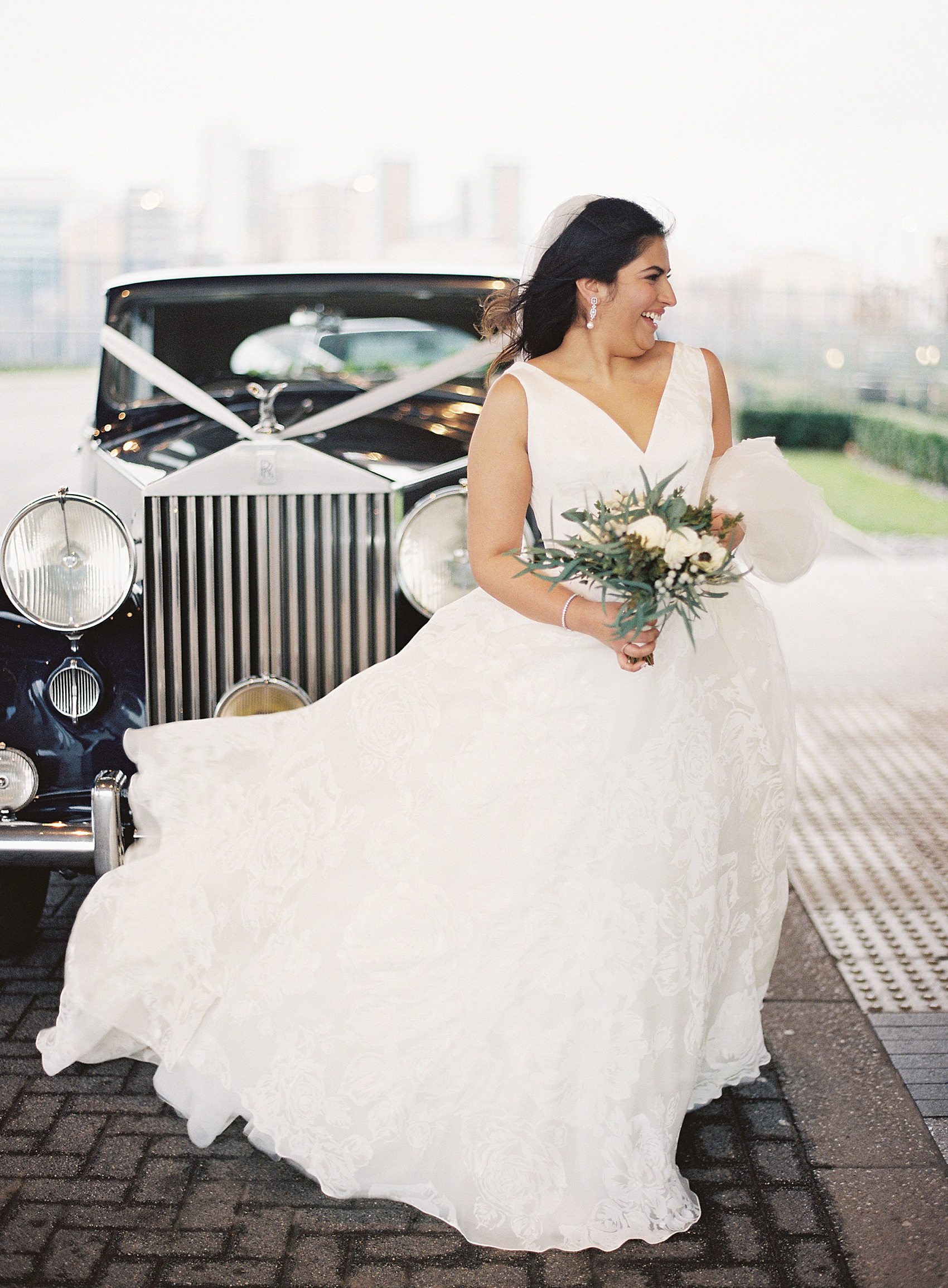 "Oh Wonder calligraphy did the on-the-day pieces: menus, escort cards, table names. These were also stunning especially the table names on West Elm frames with vintage postcards."
"We used post cards from various places we had travelled to in Italy together for the table names (as Italy is probably our favourite place to travel to together and we go at least once a year), with "Greenwich" as the name for the head table."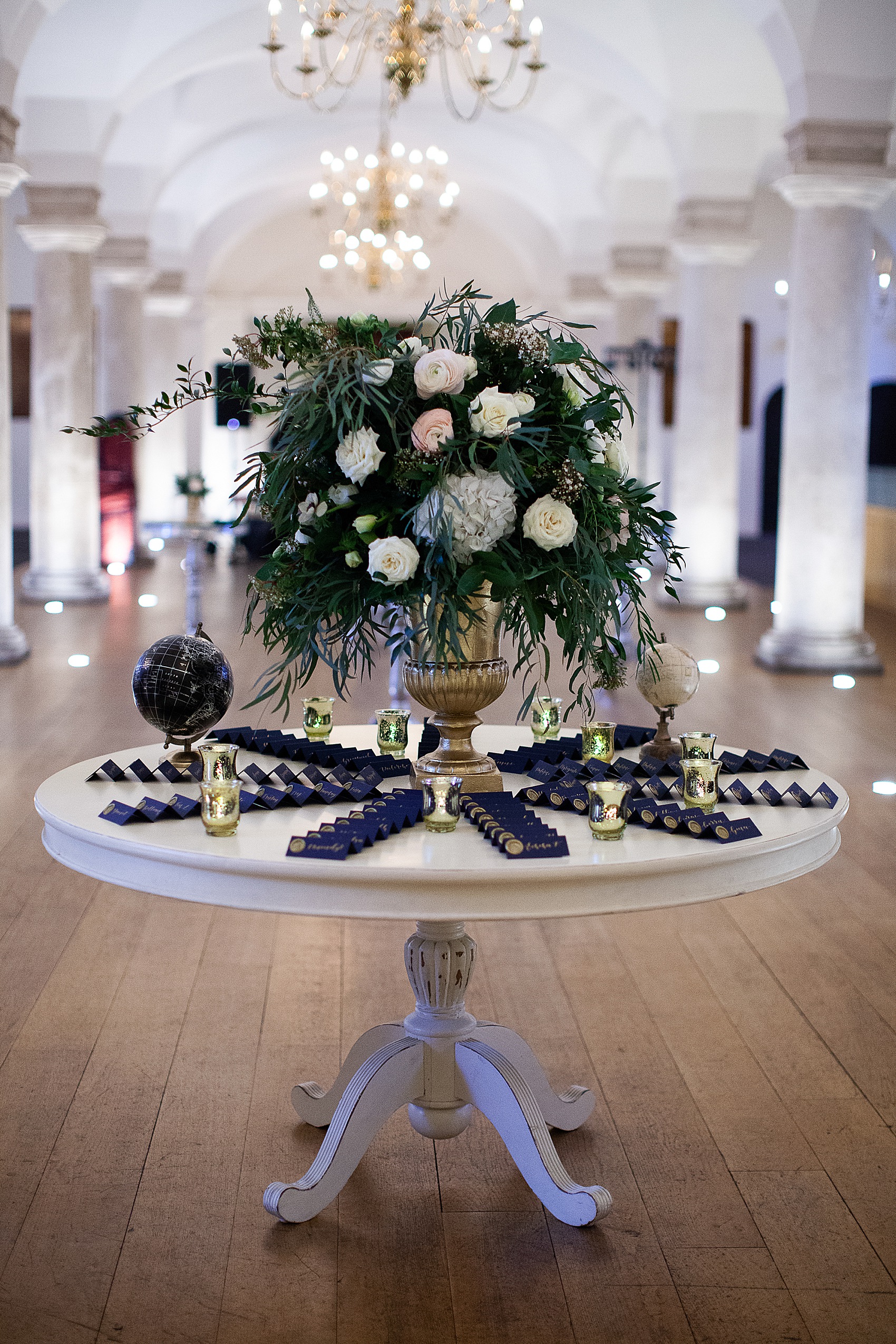 "Megan also arranged a fantastic stencil of our logo which, together with the marbling and layers, looked so good."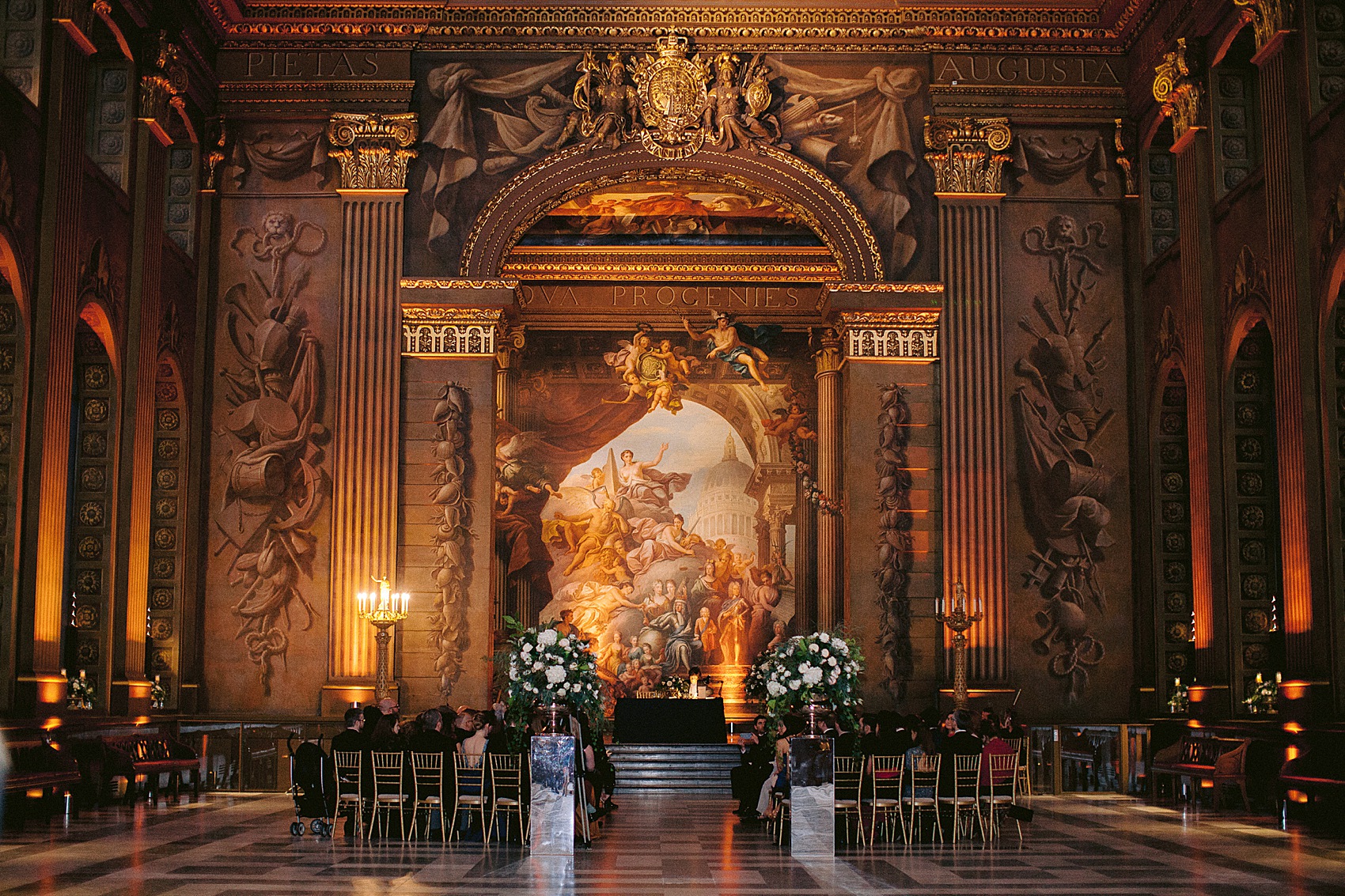 "I walked solo into the ceremony, but I followed my parents down the aisle because they have always led the way for me, and my maid of honour Kat walked behind me because my friends have always had my back. This was to Handel's 'Arrival of the Queen of Sheba'."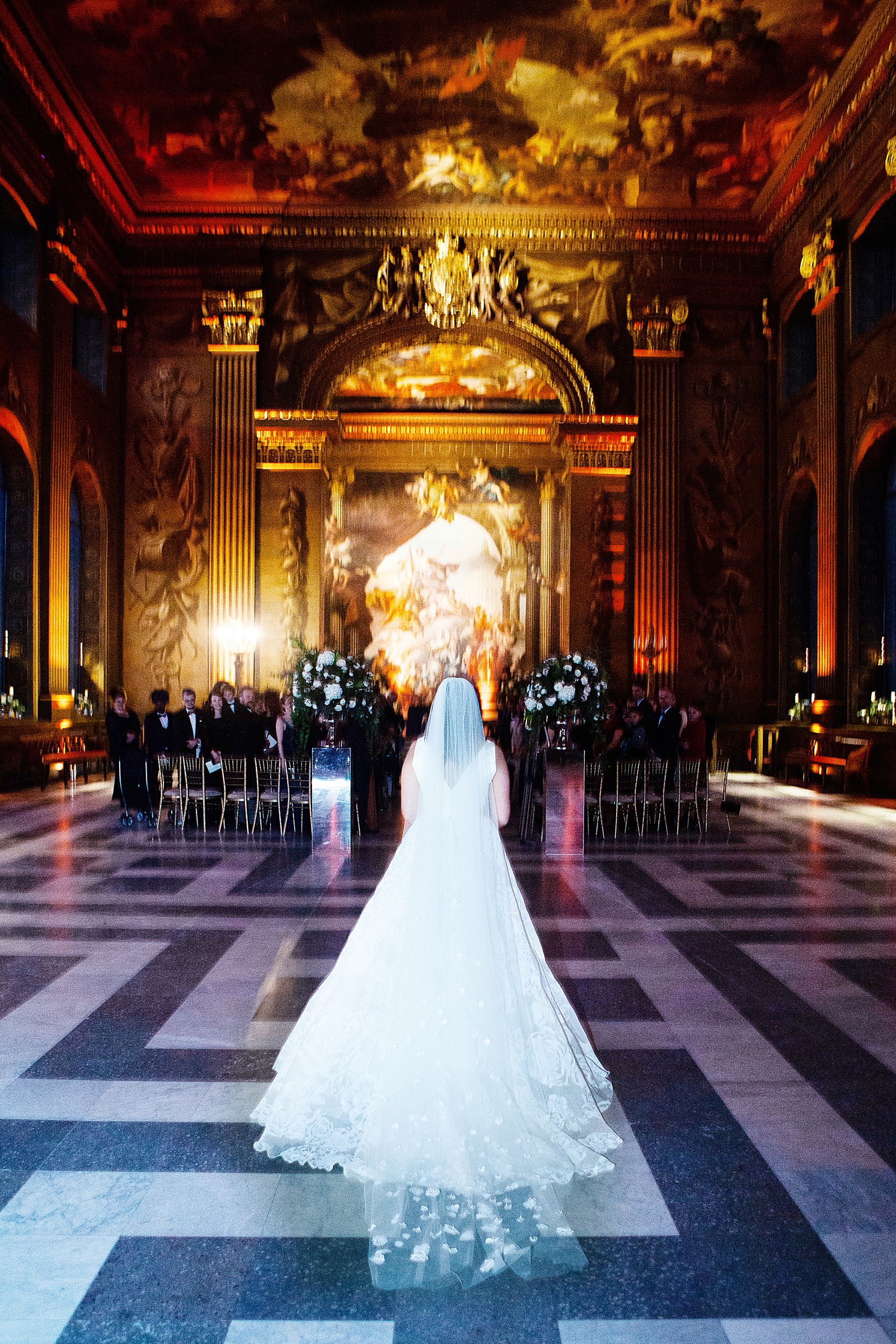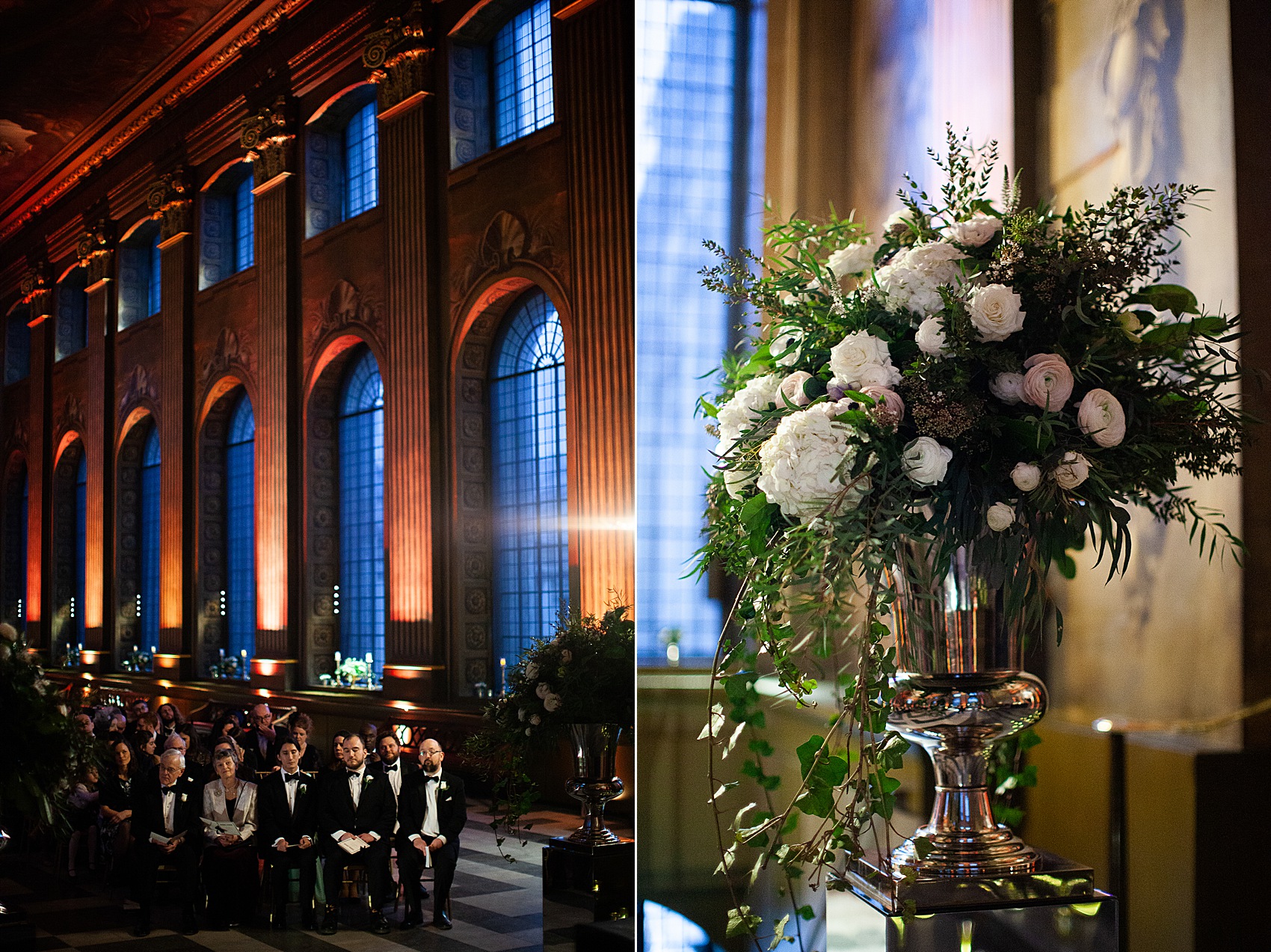 "Our officiant was from the Greenwich council but she was lovely and funny."
"We used classic vows provided to us.  It felt meaningful to say those classic words that millions of couples have said before us and mean every single word of them."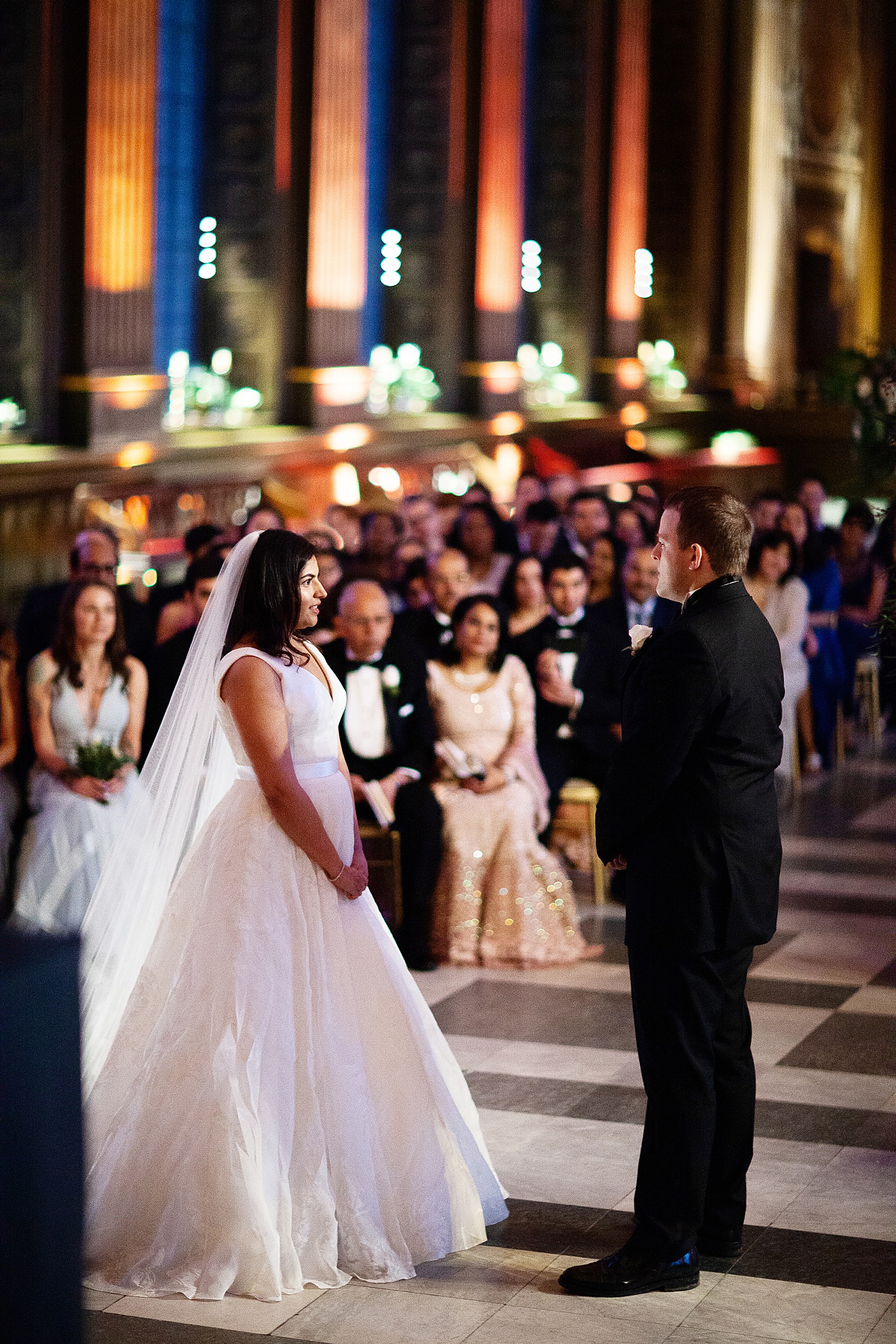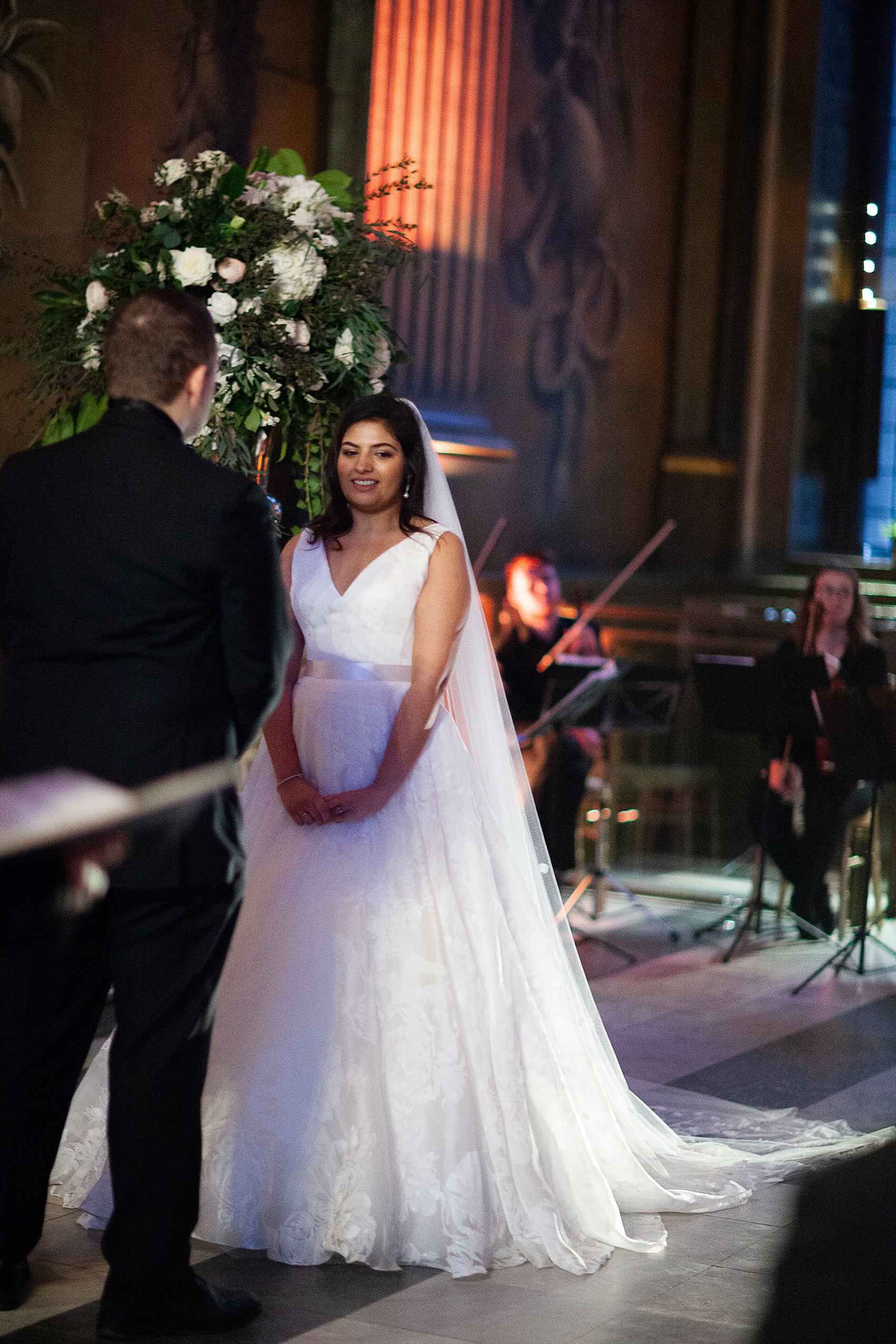 "I had a sapphire and diamond engagement ring from Finecraft Jewellery in Hatton Gardens. The service was really lovely, the rings were well-priced and we didn't feel like they were trying to upsell."
"Our wedding rings custom made by family jeweller in India. Mine was a diamond eternity band with interlocking three ring styles in rose gold, yellow gold and white gold for Ben."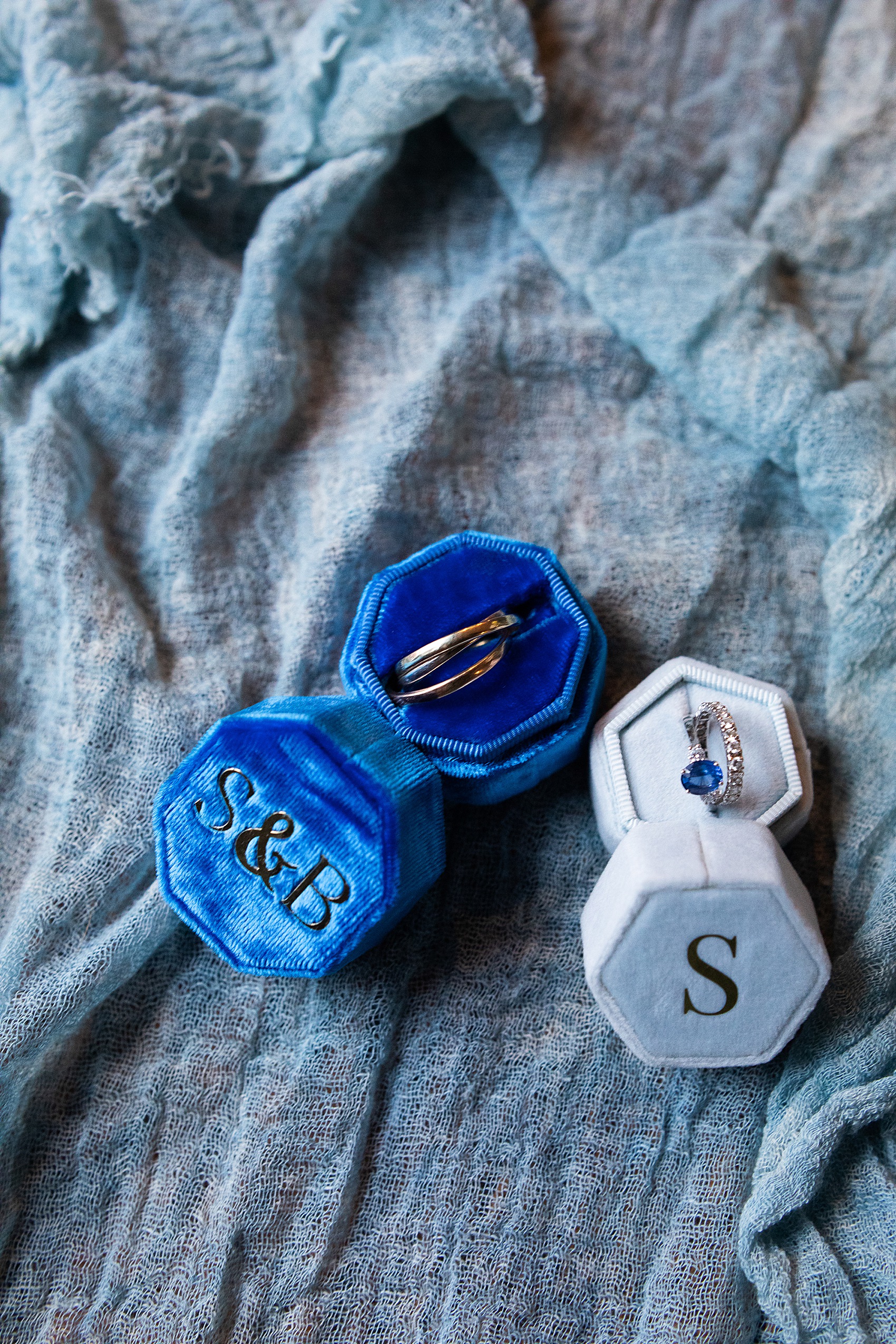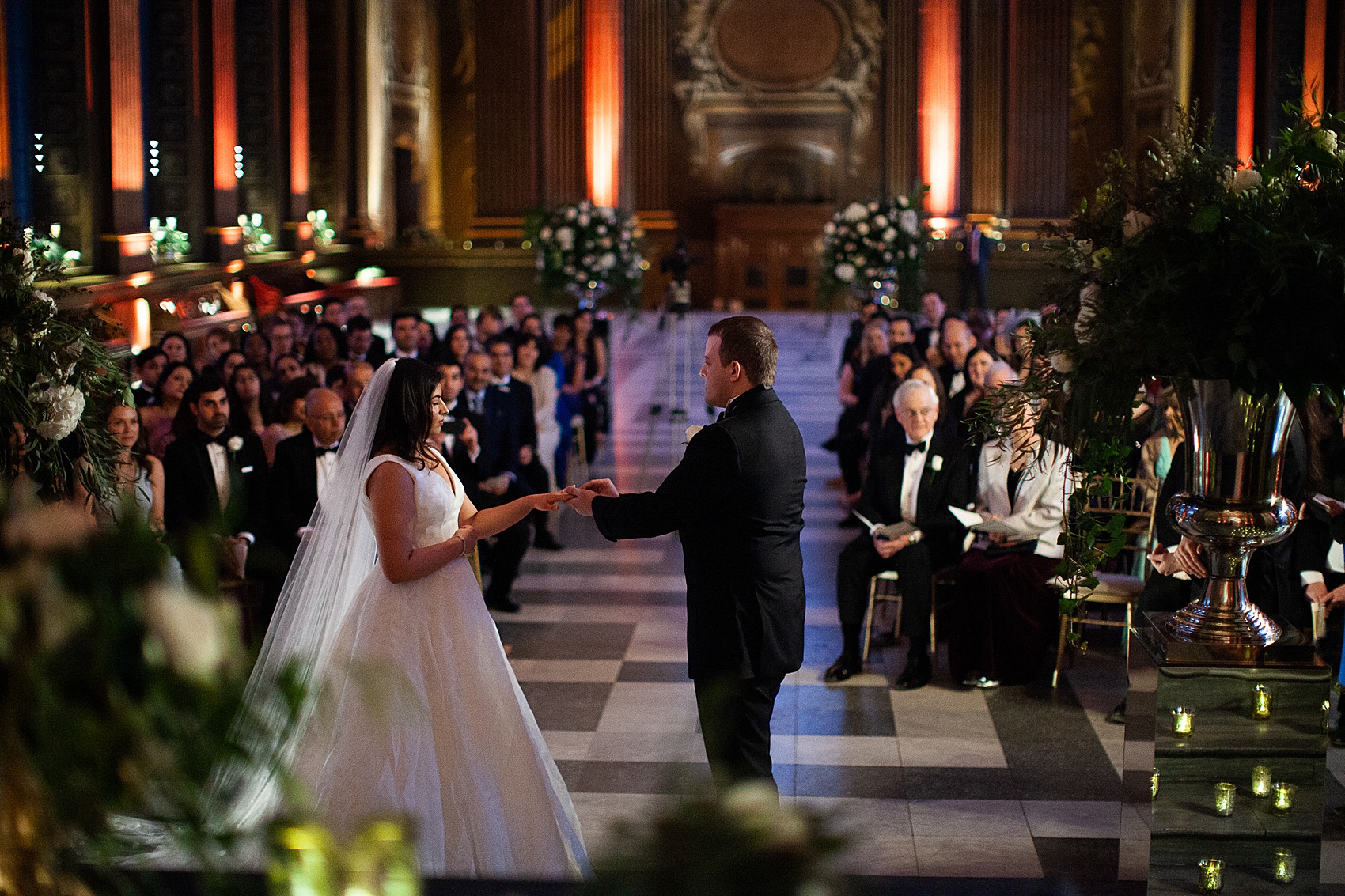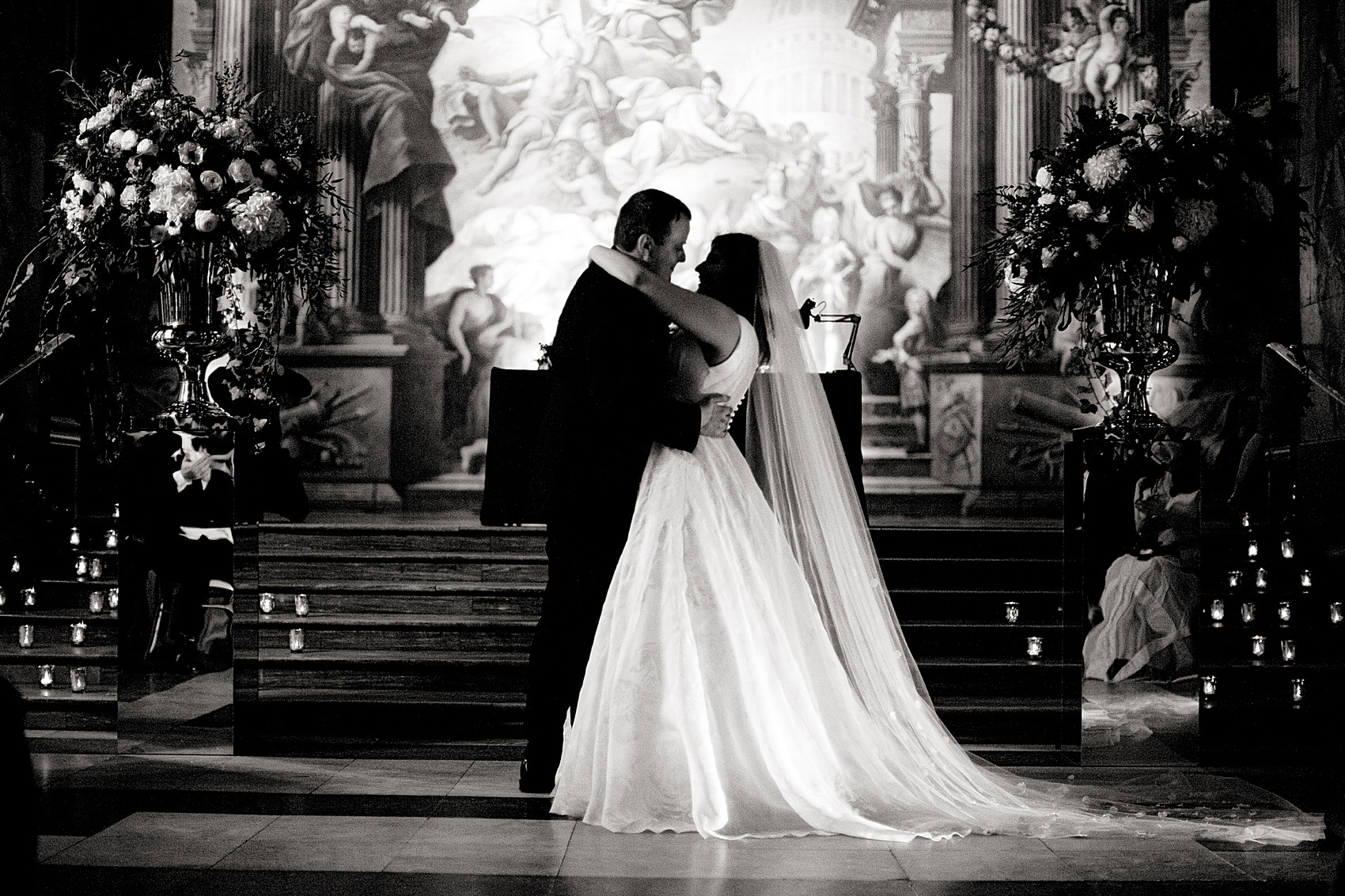 The couple hired fine art, London based wedding photographer Natasha Hurley to capture their day through images.
"Natasha Hurley is an absolute magician. Her photographs look so beautiful and romantic. She also just the sweetest and loveliest person."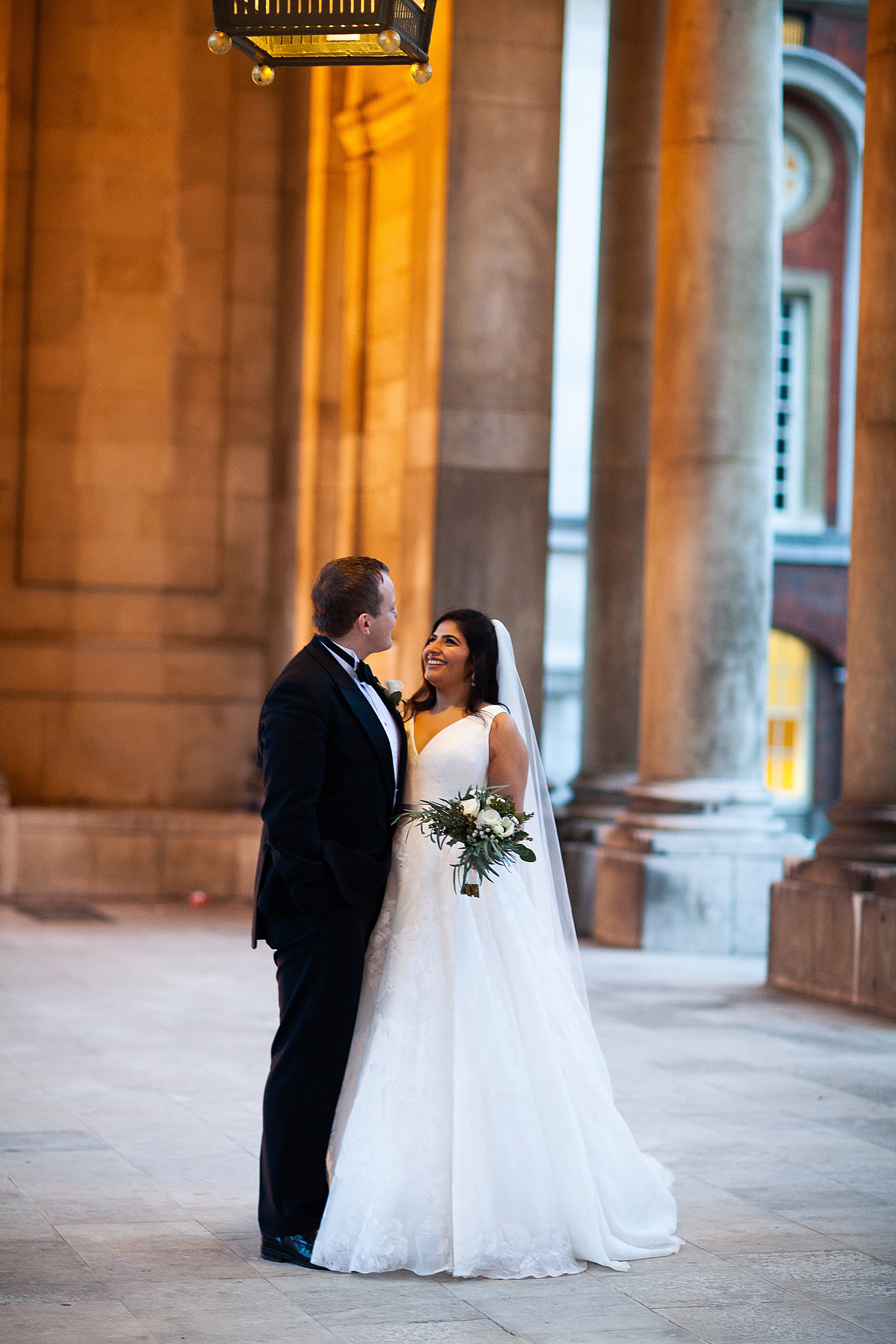 They also hired Gorgeous Films to film their day.
"They are absolutely amazing! I had not even met them before the day, but Gary came in and was unobtrusive throughout the day and just put everyone at ease."
"I cried so many times when watching the video! It is just so beautiful, and they captured so many wonderful moments that I didn't even know had happened!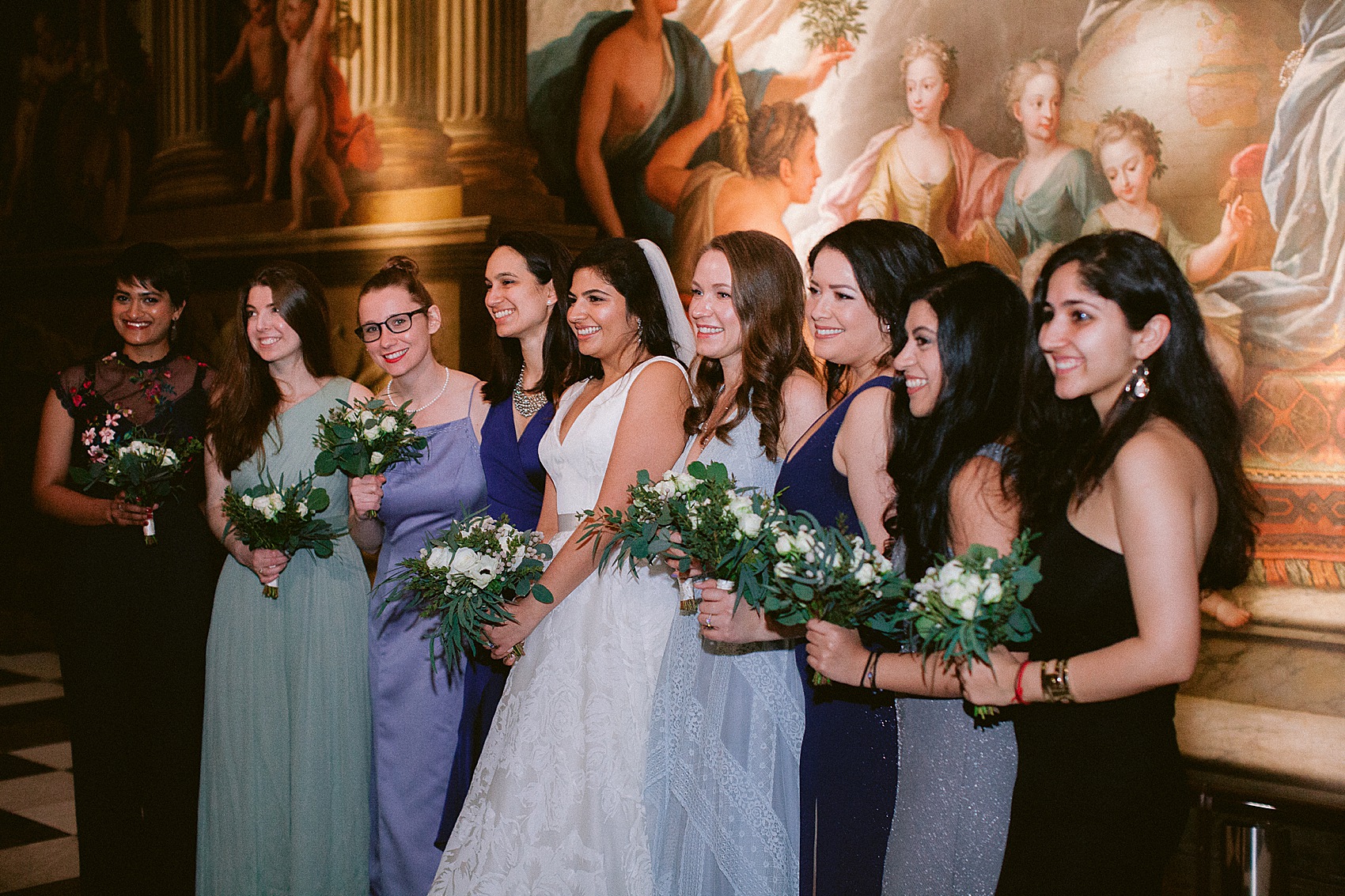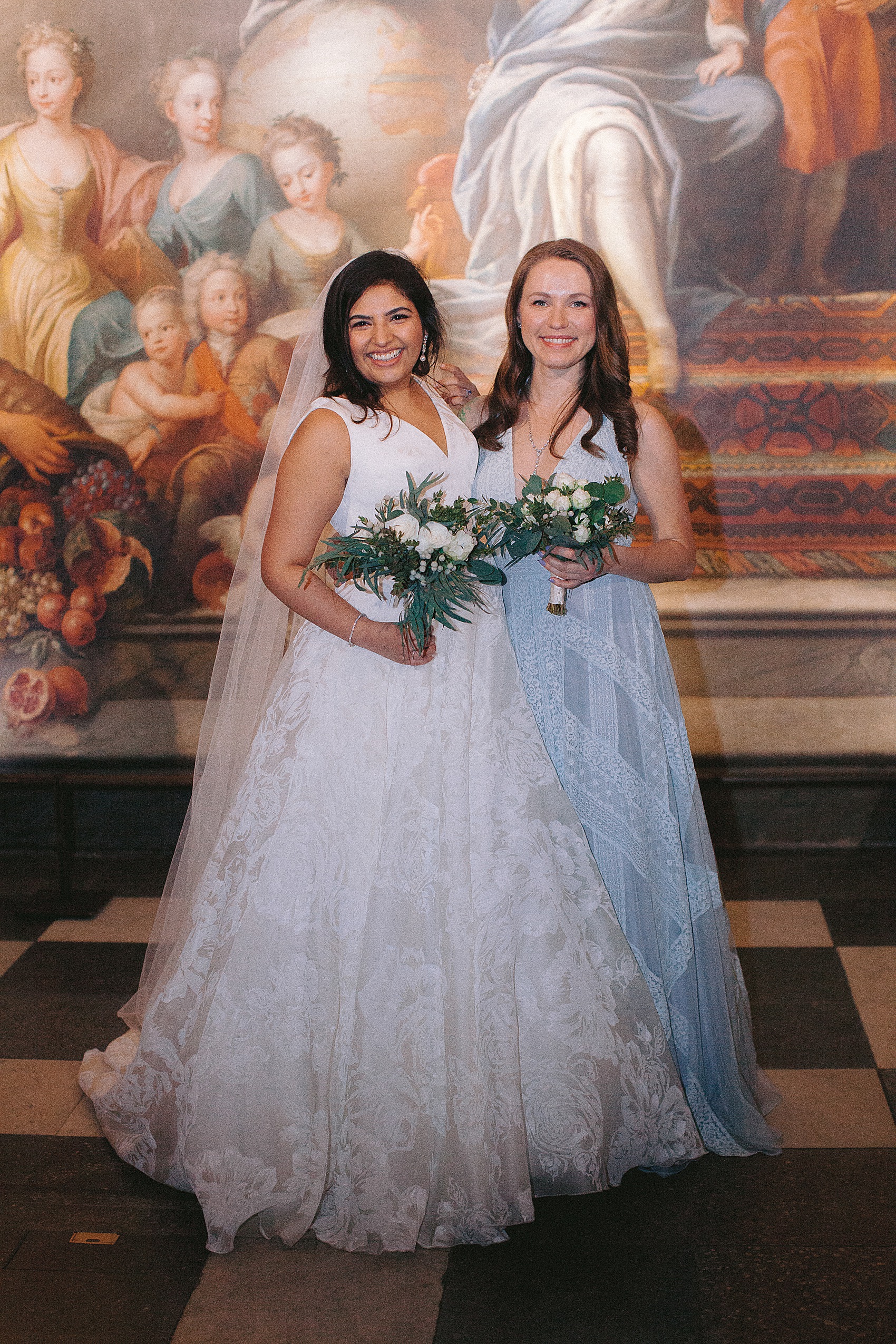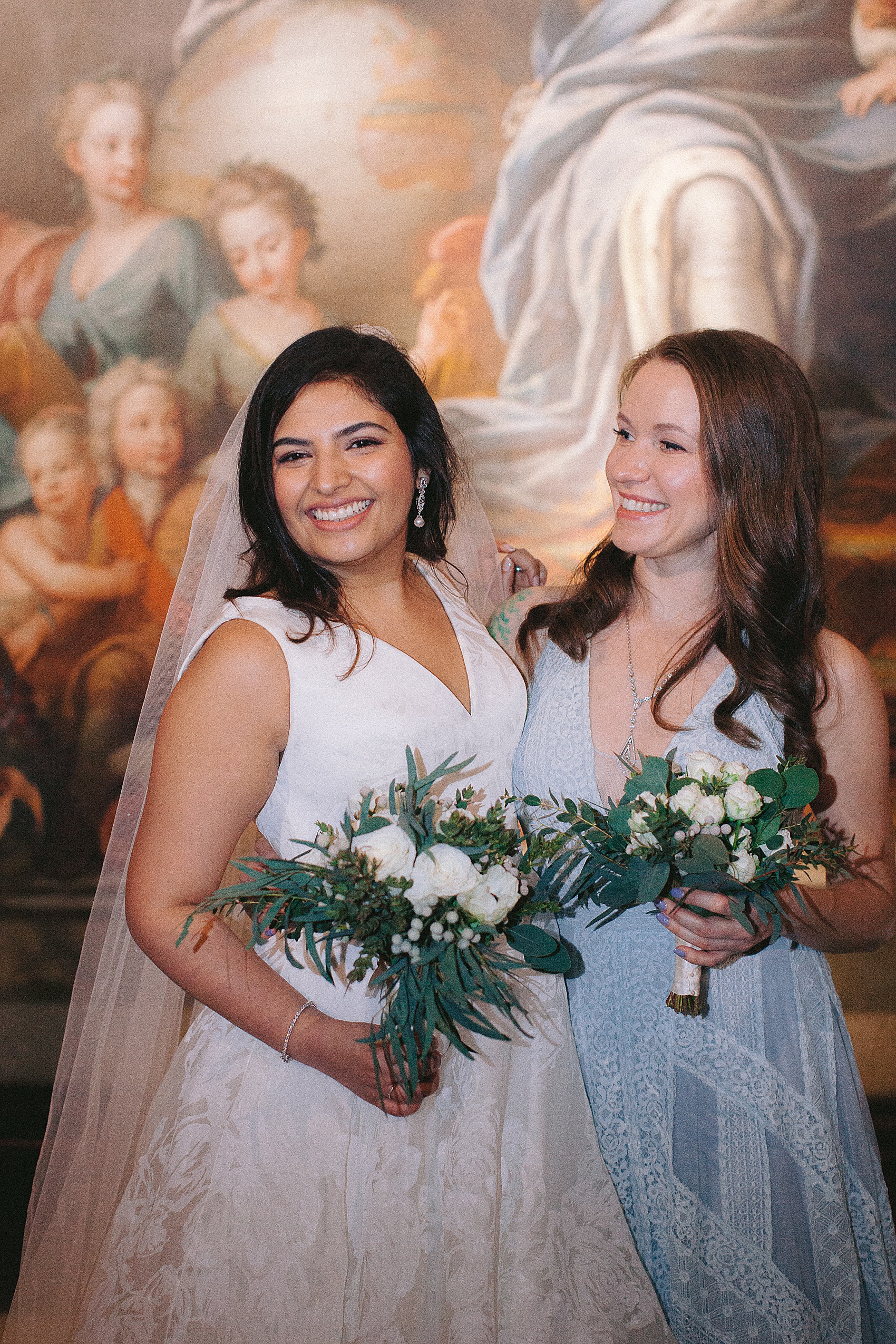 "The groomsmen all wore their own suits. They were Ben's best friends from different stages of life – primary school, secondary school and university."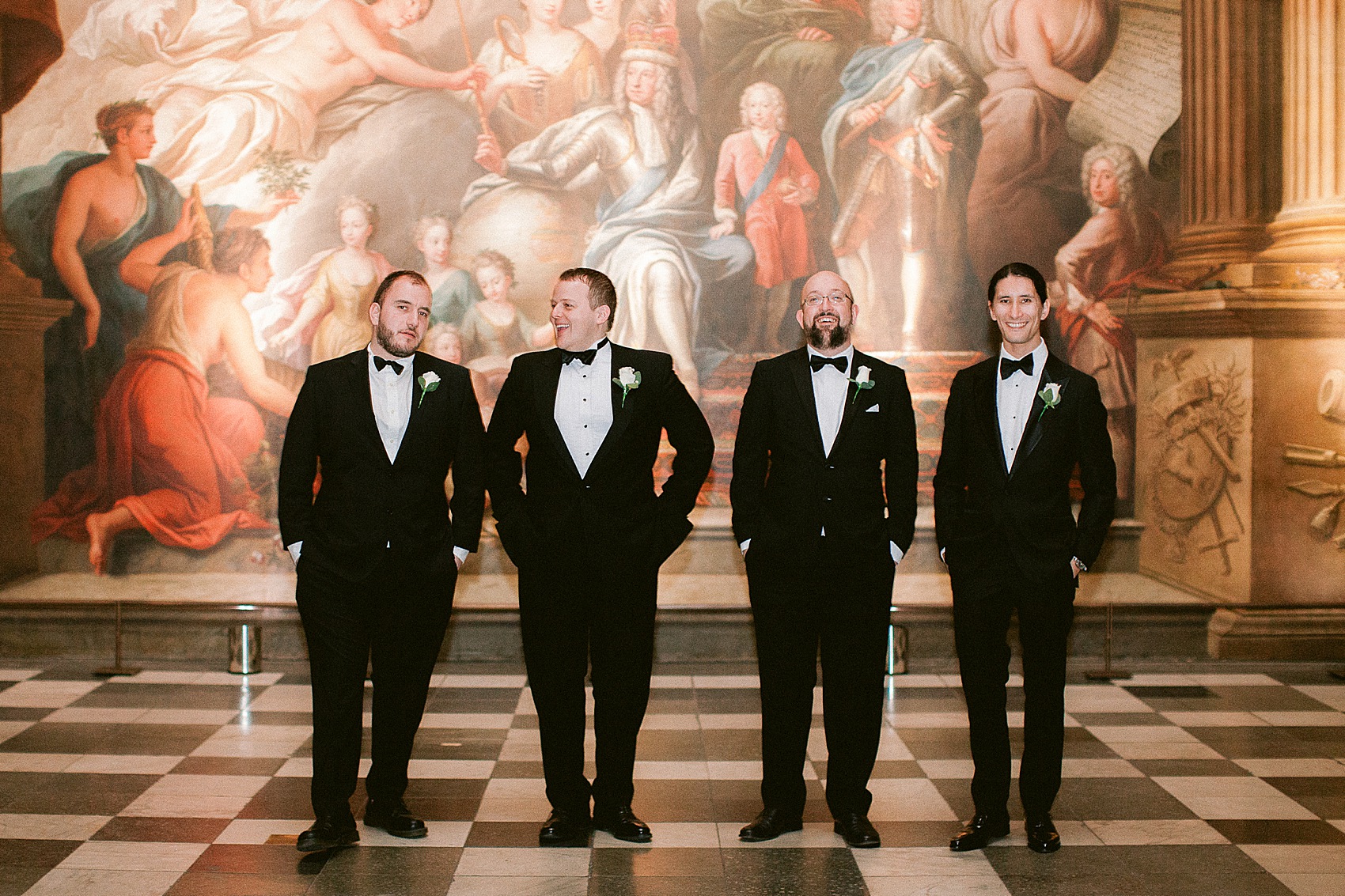 "The venue was the star of the show, so our décor and styling as very much influenced by it. The naval history of the venue and Greenwich as a whole inspired a lot of our décor, with blue and gold touches throughout."
We also tried to bring together Shruti's Indian heritage and B's English heritage with a touch of whimsy (particularly in our stationery suite)."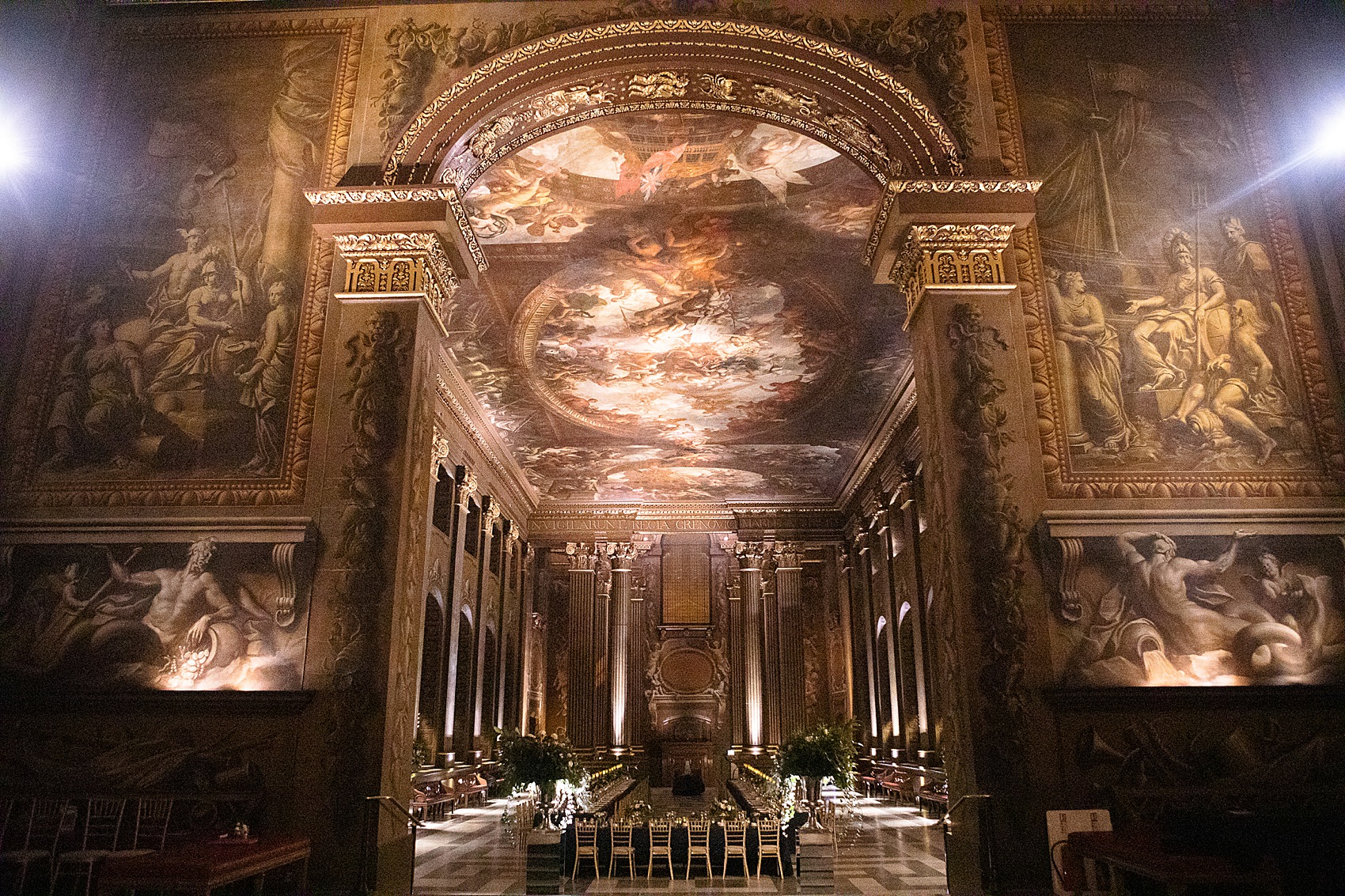 "The flowers were the main part of the décor, together with the stationery and dark blue linens, gold cutlery, gold-rimmed glassware and plates and gold Chiavari chairs (see a gold theme here?). Furniture hire was from Great Hire – they have a really stylish selection."
"For the undercroft where we had the cocktail reception and dancing, we decorated with our collection of different globes. We also hired in velvet sofas and bistro chairs and tables to create cosy corners for guests and decorated the fireplace with dozens of candles."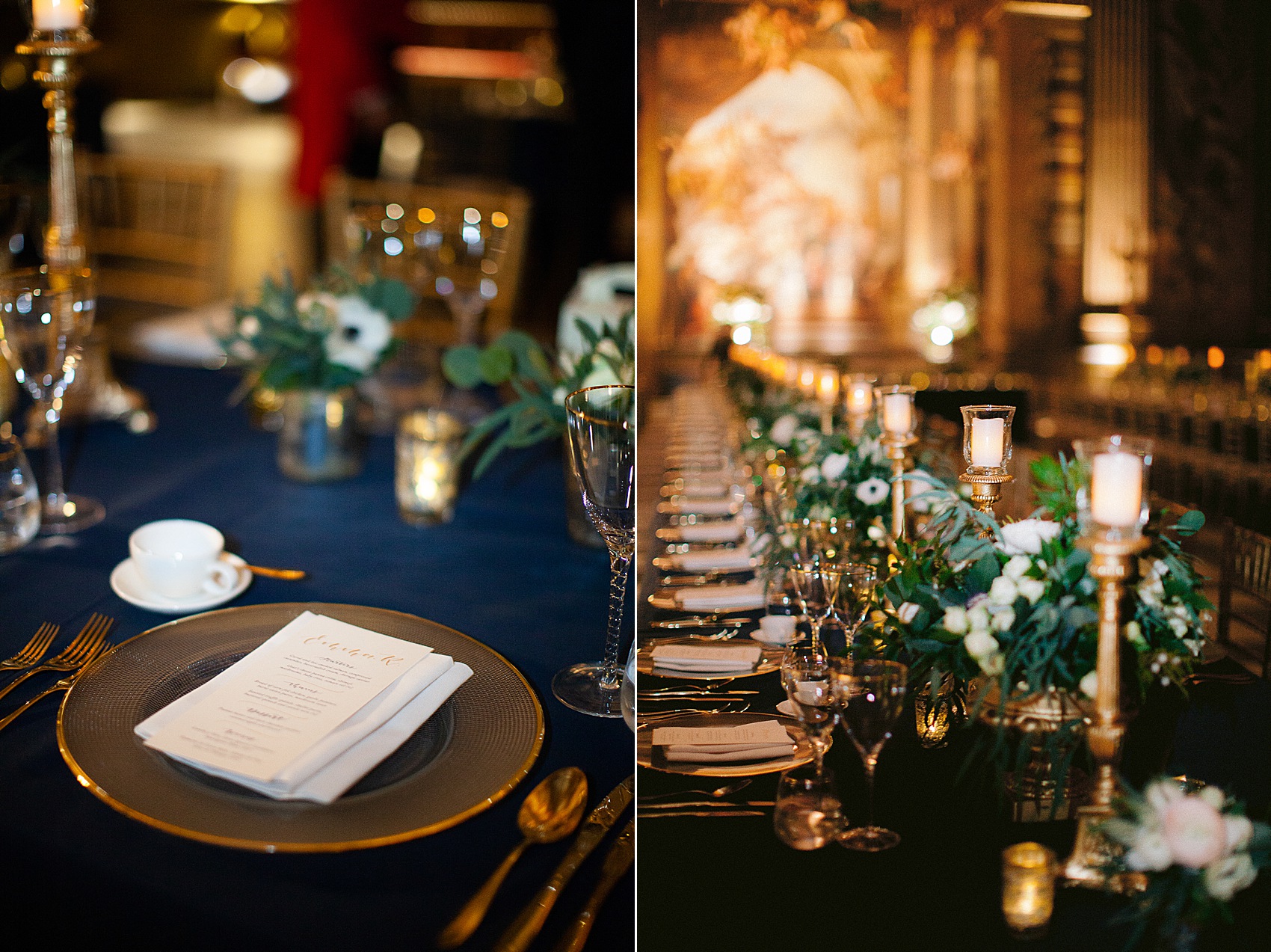 'Serendipitously, part of the inspiration for styling our day, came from the banquet scene in Victoria and Abdul which was filmed in the Painted Hall at the Old Royal Naval College and which I happened to watch on a flight from London to Delhi while we were engaged."
"The scene came on (long banquet tables down the length of the hall) and it felt like it was meant to be in that moment (I had not signed the venue contract at this time)."
"Our caterers were CH&Co  – the food was delicious and the Ships of the Line (chocolate ships with sparklers) were a huge hit."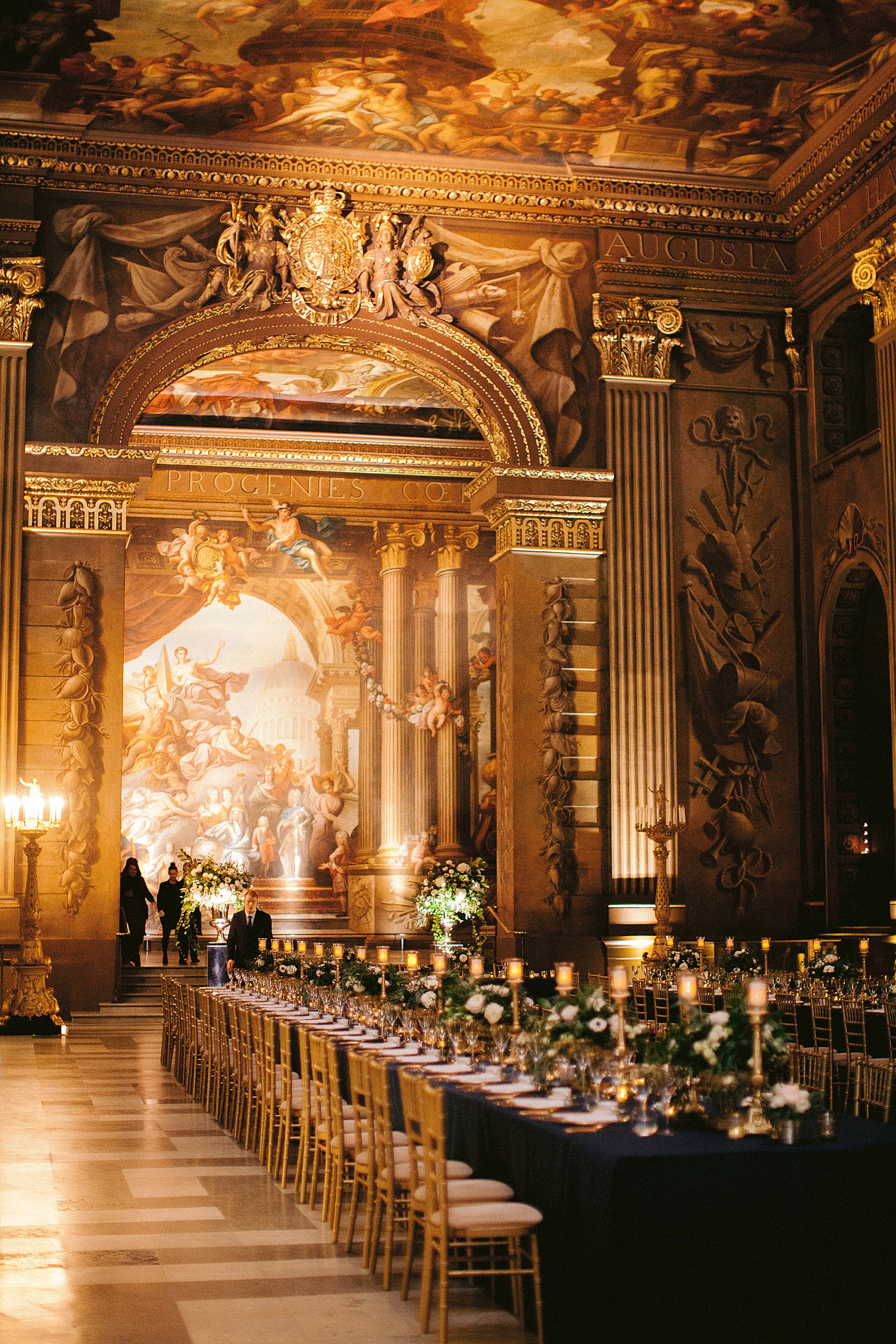 "Megan of Blossom & Crumb is absolutely lovely, and her cakes were so scrumptious! We went with three different flavours for each tier. The first was 'London Fog' an Earl Grey tea infused cake layered with lavender scented milk chocolate ganache and vanilla bean Swiss meringue buttercream [So Ben – he loves both earl grey tea and lavender]."
"The second flavour was 'Greenwich Meantime Chocolate Porter' – chocolate and Greenwich Meantime chocolate porter cake layered with caramelised white chocolate ganache Swiss meringue buttercream [It had porter from our local brewery and was a perfect winter take on a chocolate cake]."
"The final flavour was 'Coffee Lover' – coffee cake infused with cold brewed Shooters & Hill coffee syrup and layered with salted caramel Swiss meringue buttercream."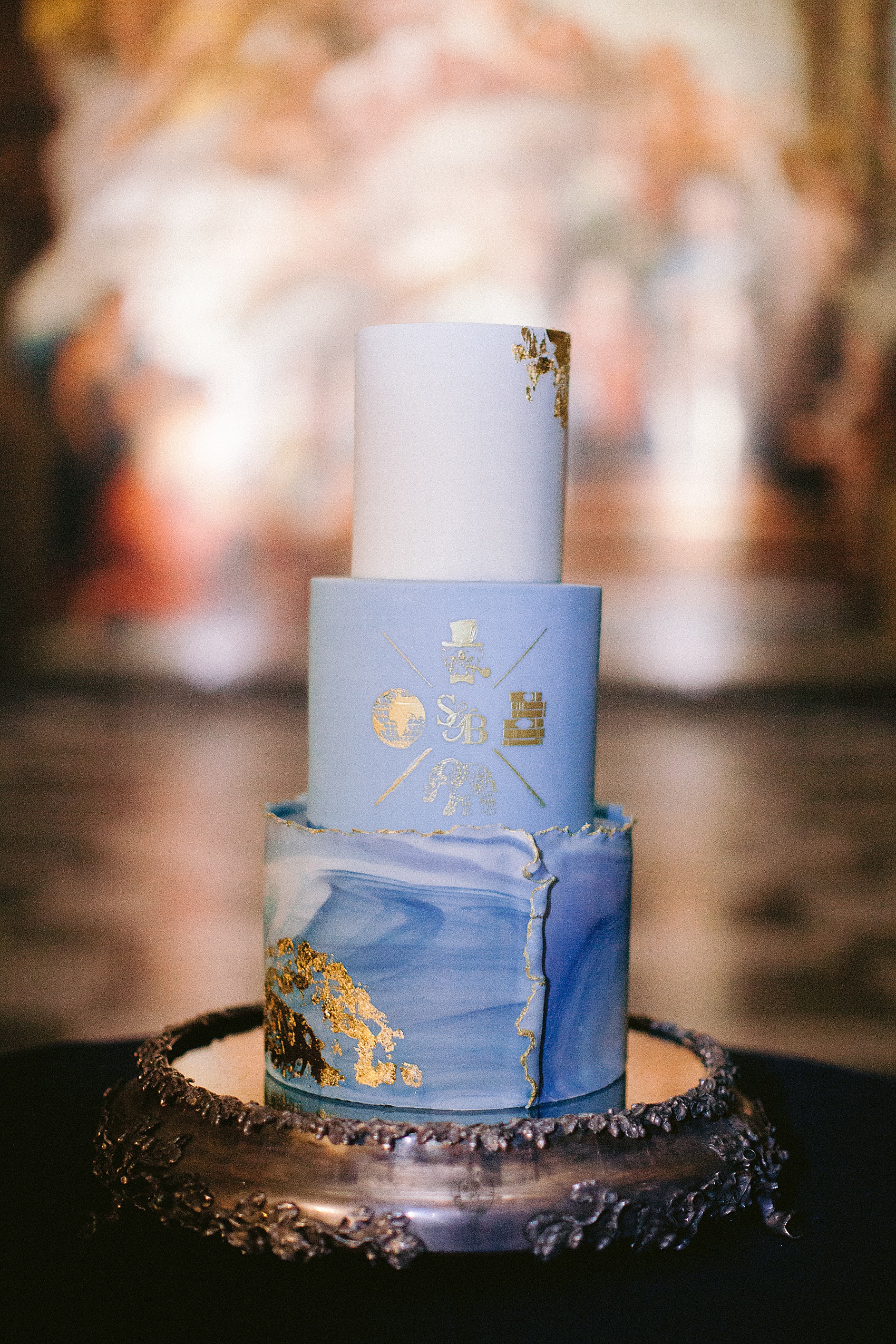 "We had nautical-themed pictures and wooden ducks in the restrooms  with the emergency baskets. We also used a blue post-box for our cards, which worked really well."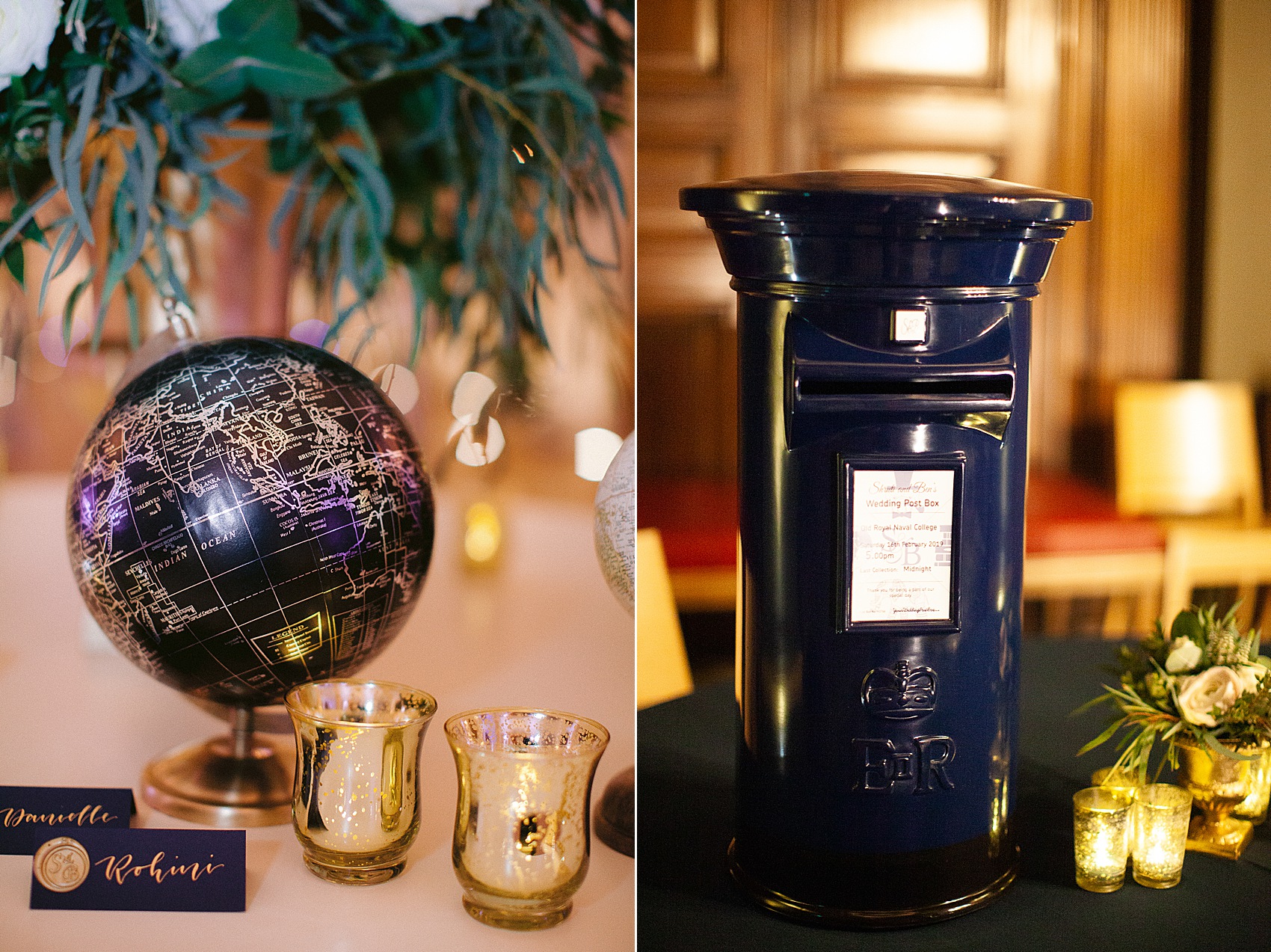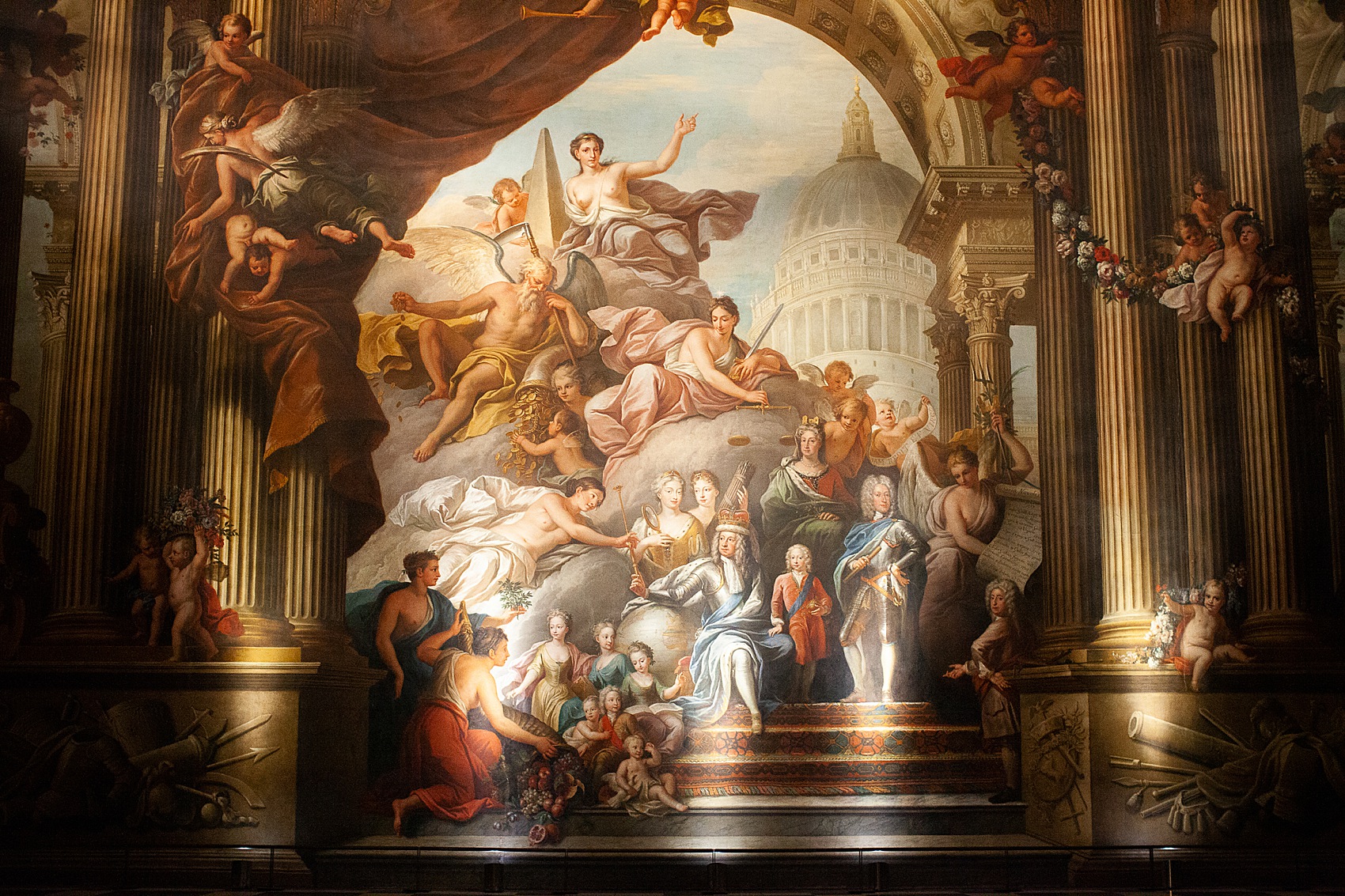 As for her favourite part of the day, the bride says…
"All of it! We loved the ceremony, especially seeing all of our loved ones gathered there for us, having travelled from far and near. My brother and cousins helped Facetime the ceremony to our grandmother who was unable to travel to the UK, which also felt very special."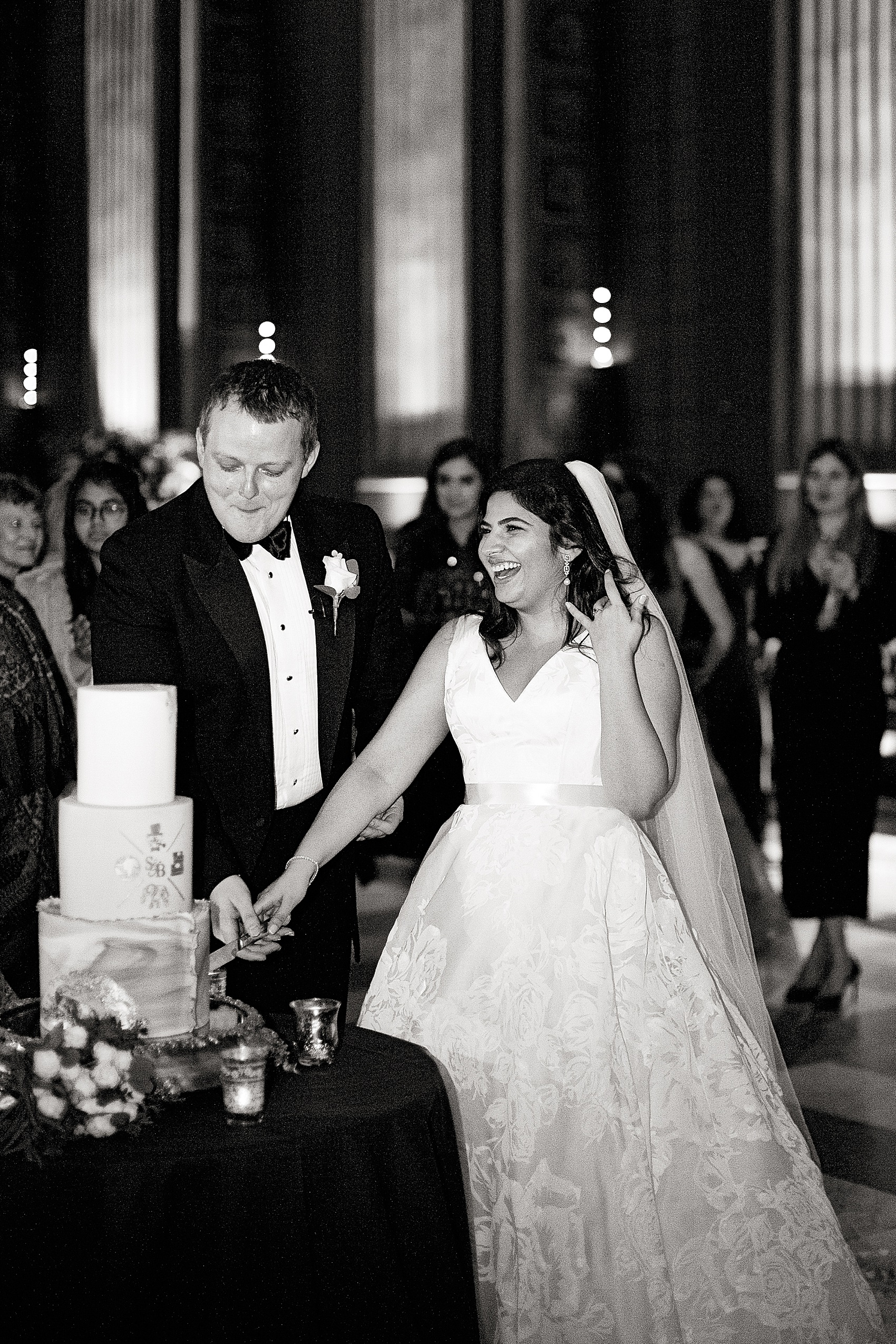 Budget
"Started out hoping for around £40,000. Definitely exceeded by quite a bit but didn't really keep track. [Would prefer for this not to be published!]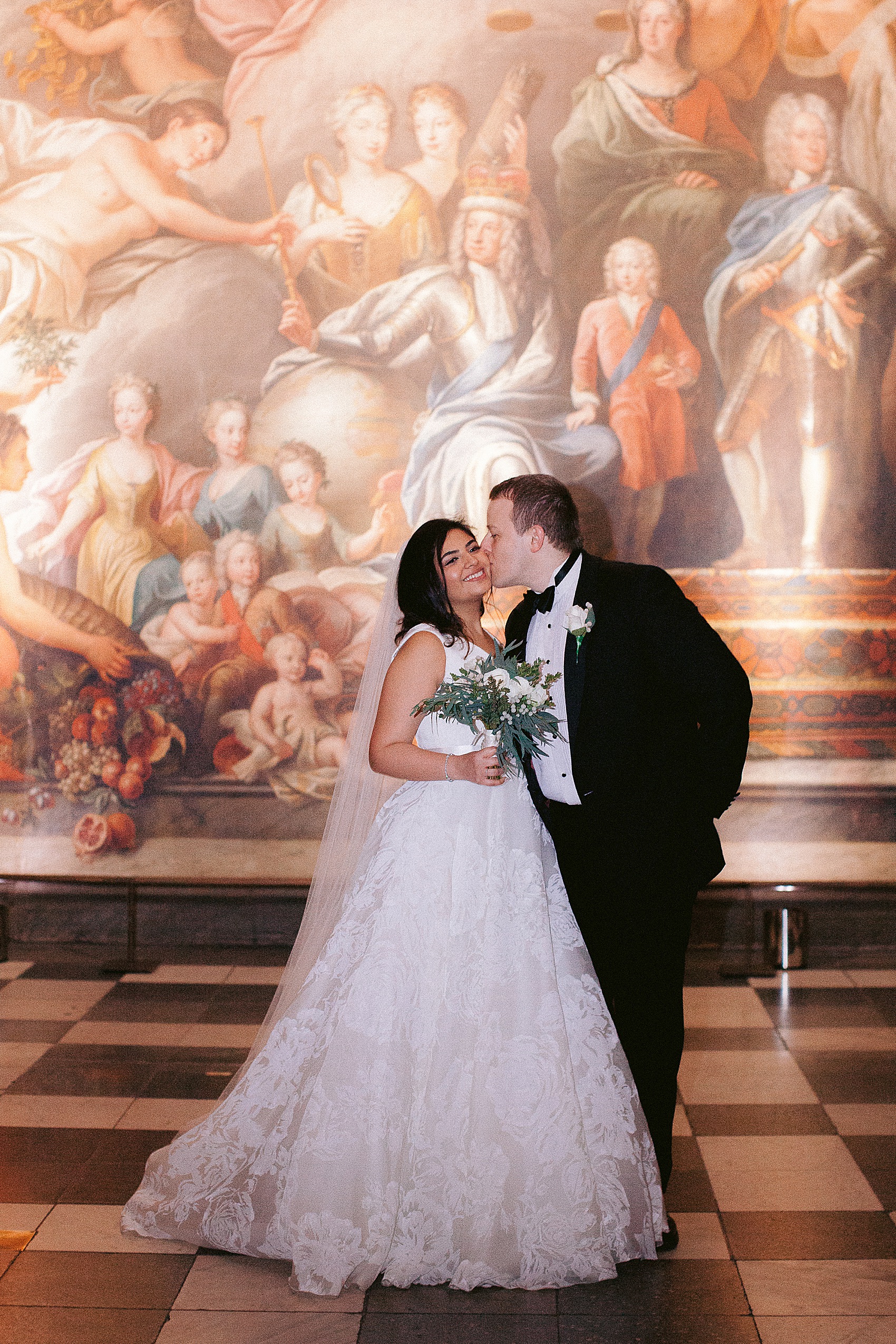 "We also loved the whole dinner as we went from guest to guest between courses to chat with everyone. Watching the video and seeing people's reactions to the venue and to the Ships of the Line was also wonderful."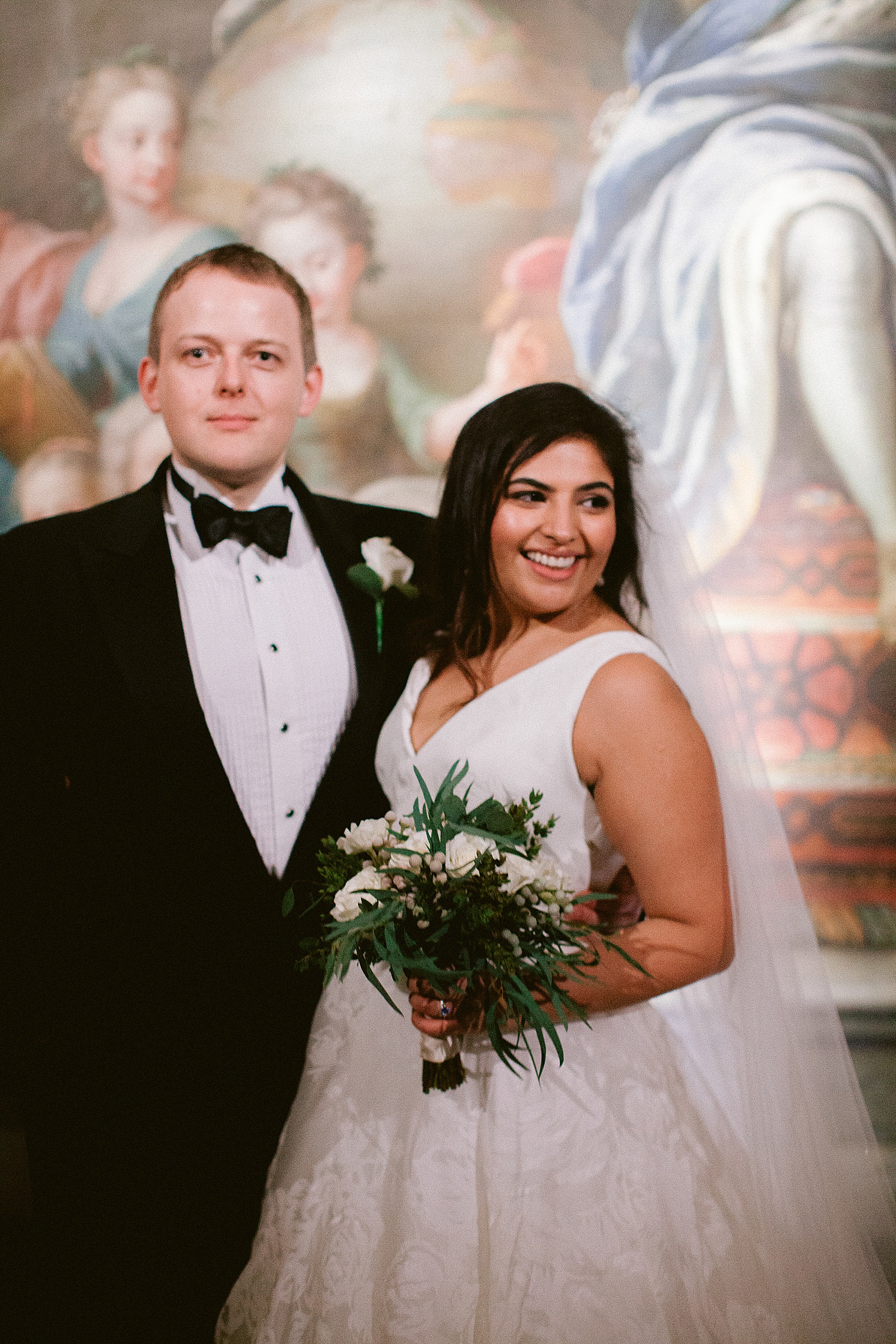 "Our first dance was to Dean Martin's 'That's Amore'. We are both Italo-philes and wanted to bring a bit of that to our wedding day. We took choreographed dance lessons with Rachel Sparks who is an absolutely amazing teacher and got us dancing a passable waltz despite my two left feet and lack of coordination."
Words of Wedded Wisdom
"Planning a wedding is tricky because everyone has a different opinion on what a wedding should be like, coming from their different cultural backgrounds, personal preferences and so on, and these can often be conflicting opinions. This can be made more difficult with emotions running on high. I would say it's important to keep that in perspective and remember everyone comes from a different place, so the way to have a wedding you are happy with is to have one that is true to you as a couple. Hopefully, when your parents and other loved ones see you happy on the day, they will understand why you did things the way you did."
"At the same time, it is ok to pick your battles and compromise on some things – compromising does not mean that you were not true to yourself. Something that is only a minor point for you could be very important for your parents, for example, and it's an important day for them too, so it's ok to align where you can. Just don't let it become another point of stress!"
"On the subject of managing stress, there is no shame in delegating! Hire vendors you trust to execute your vision and it will make the whole planning process a lot less stressful. Stay close to your new spouse on the day! Savour the moments together, whether it is the photo or your first dance as a married couple."
"We also hosted a welcome dinner the night before the wedding at the Sail Loft, a local pub. We kept this bright and casual, with an easy buffet meal, colourful balloons and little gold animals (which were a bit hit with the young ones)."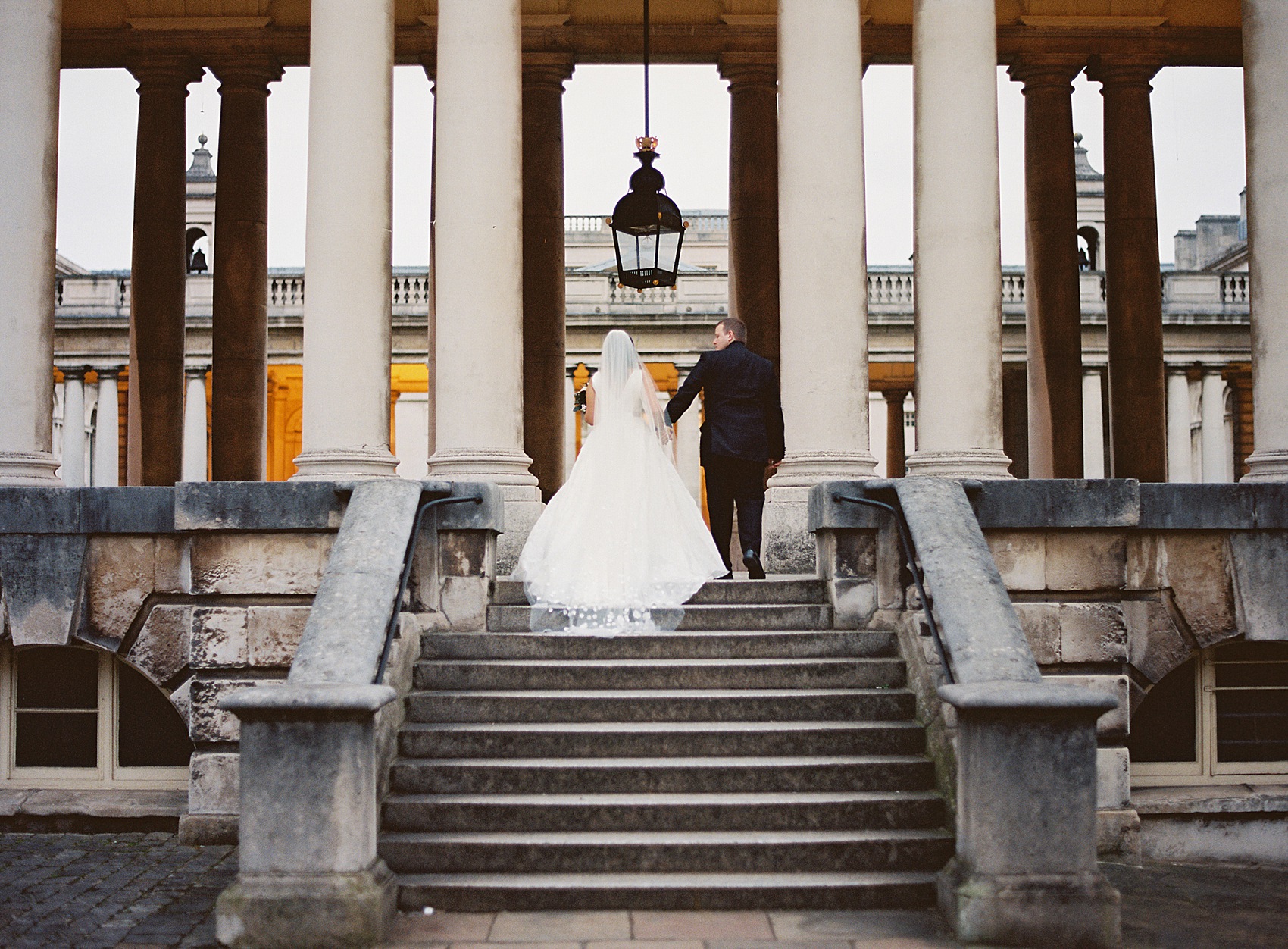 Such a beautiful day – thank you so much to talented photographer, Natasha Hurley, for sharing her work and to lovely bride Shruti and her husband Ben for sharing their precious wedding day memories with us.
Sending so much love to all,
Annabel xx