The idyllic and enchanting River Cottage in Devon has proven to be a popular and well-loved wedding venue with couples we've featured over the years here, and it's easy to see why, not least of all because of their focus on seasonal celebratory meals, using local and homegrown produce.
Food was the number one priority for today's couple, who organised a beautifully intimate day of fun and feasting for themselves and their loved ones. Becky, who is a Brand Manager for an organic baking company, and Matt, a Telecoms Manager, celebrated their marriage on the 15 March 2020 at River Cottage, Axminster, Devon.
"We could have never known at the outset that our wedding would end up being during the outbreak of a pandemic, so it's difficult to say that we could have planned anything differently. Although our day wasn't unaffected – there were some very important members of our family who were unable to attend – our hearts really go out to those who find themselves postponing their weddings. As a couple who celebrated theirs only three days before their venue closed, it has added another level of special to our day."
Big Bouquet Photography

+ Follow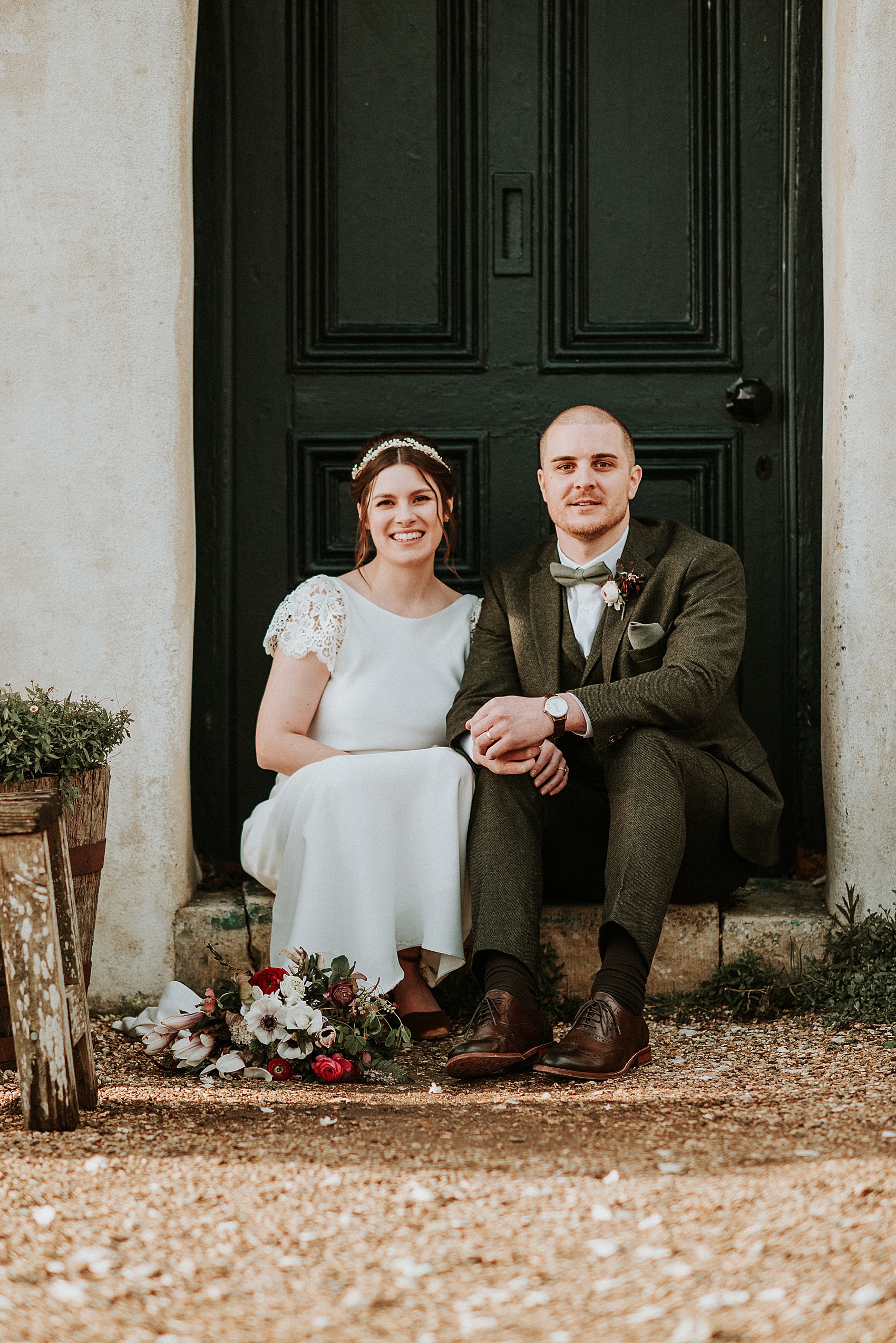 I'm happy to say that this collection of stylish, sensitively captured images comes to us courtesy of husband and wife team Emma and Ian, of Big Bouquet Photography. We've featured their work several times before, and they're part of our directory of awesome suppliers.
"Choosing to book Emma and Ian as our wedding photographers was easily one of the best decisions we made. The photos are even more incredible than we could have imagined, and they captured so many wonderful moments, emotions and memories, as well as so many aspects of the day we didn't ourselves see, which we loved."
"They were so easy going and friendly, as well as incredibly organised, meaning we got to spend so much time with our guests but still had fantastic photos from the day to look back on. My granny was sadly unable to attend, and when she saw the photos she said it made her really feel as though she had been there. We couldn't recommend them enough."
Becky's amber velvet block heels were from ASOS, and in her hair she wore Eden b. Studio's heather inspired 'Elmley' headband. Rebecca Day and Stacey Day styled hair for Becky and the bridal party, whilst make-up was taken care of by Becky's bridesmaid and sister Hannah.
"I wore my grandmother's engagement ring, which was handed down to me by by aunt on my wedding day, and was a very special piece to be able to wear."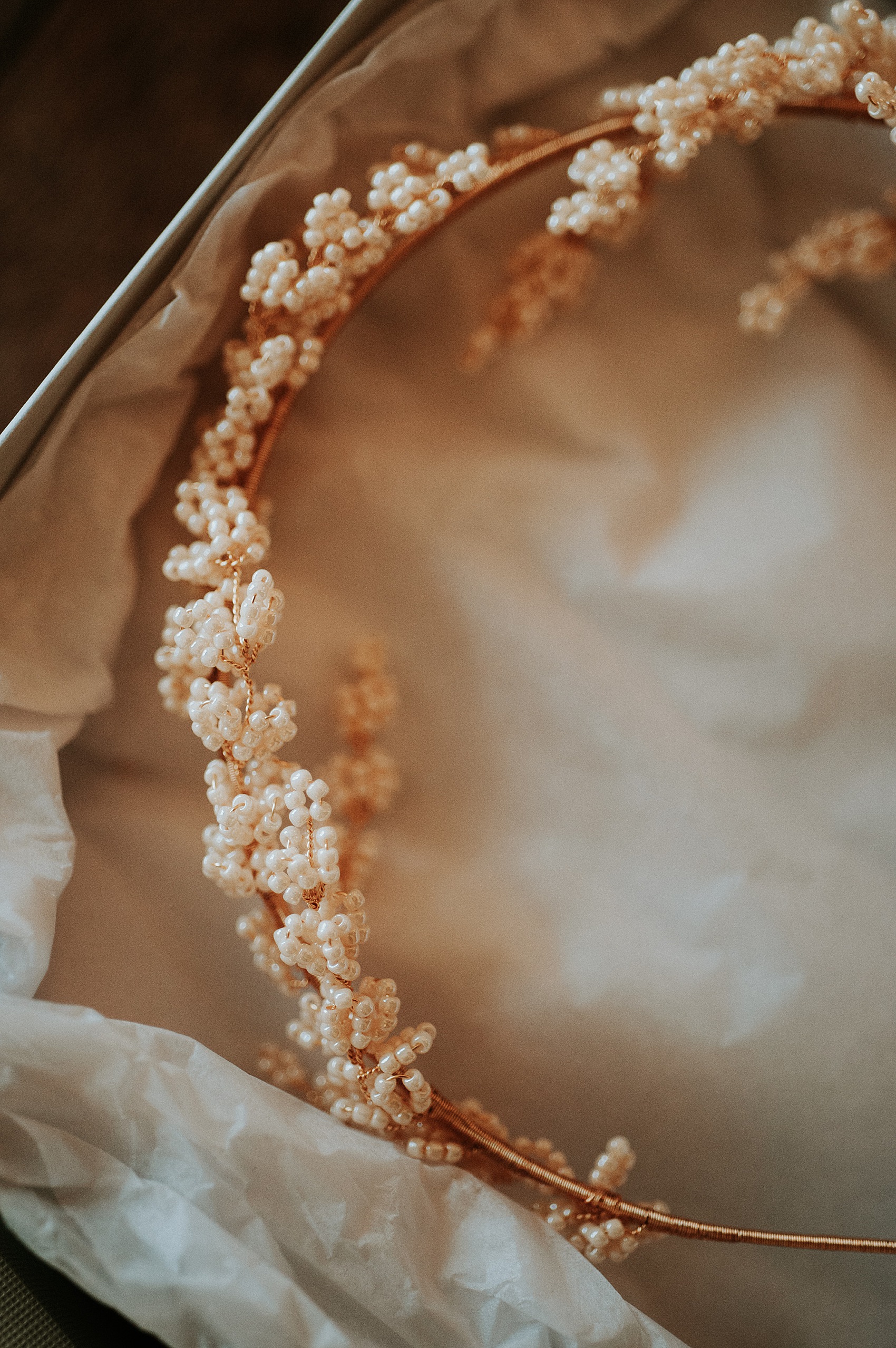 There's a gorgeous 1930s style feel to Becky's Charlie Brear dress, which she discovered at boutique Miss Bridal Gowns of Hungerford.
It's Charlie's 'Trine' design, with a dramatic draped cowl back, to which Becky added pretty lace capped sleeves and a lace panel across the back, too.
"'Miss' was the first shop I visited, and I was actually incredibly nervous before going for my first appointment, but the minute Jo opened the door she completely put me at ease."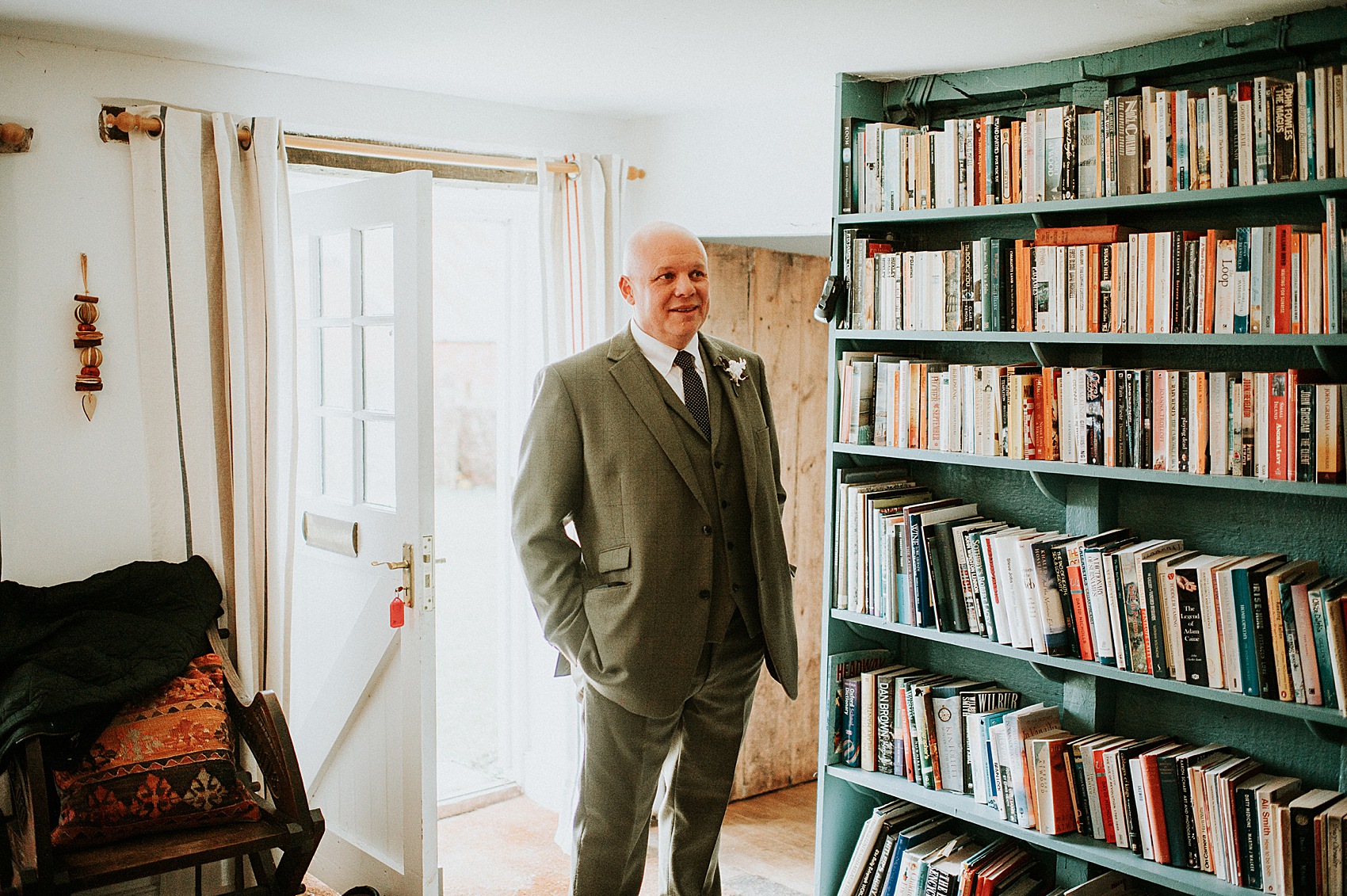 "I couldn't recommend her enough, she was so knowledgeable, friendly, accommodating when I needed to pop in and try on underwear with my dress (probably the most stressful part of the wedding planning experience for me!) and made my whole wedding dress experience really enjoyable from start to finish."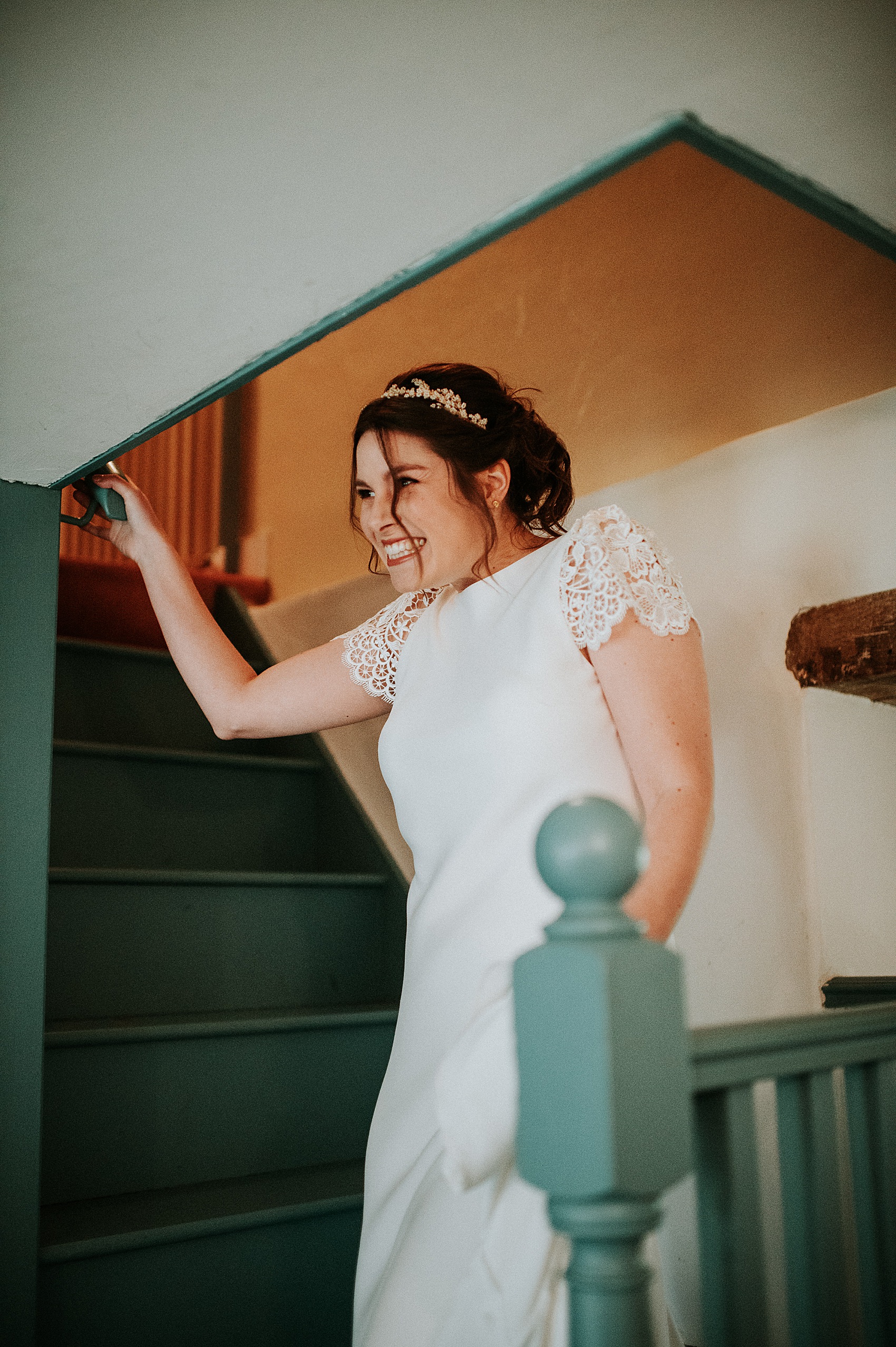 "Aside from feeling completely 'me' when I tried it on, I loved that the dress was understated, elegant and classic, but equally quite modern, and I knew that I would look back in years to come and still absolutely love it."
"I fell completely in love with the cowl back, and loved that I could create my own unique version of the dress. I also felt immensely proud to wear a dress that was not only from a British designer, but was also made in the UK."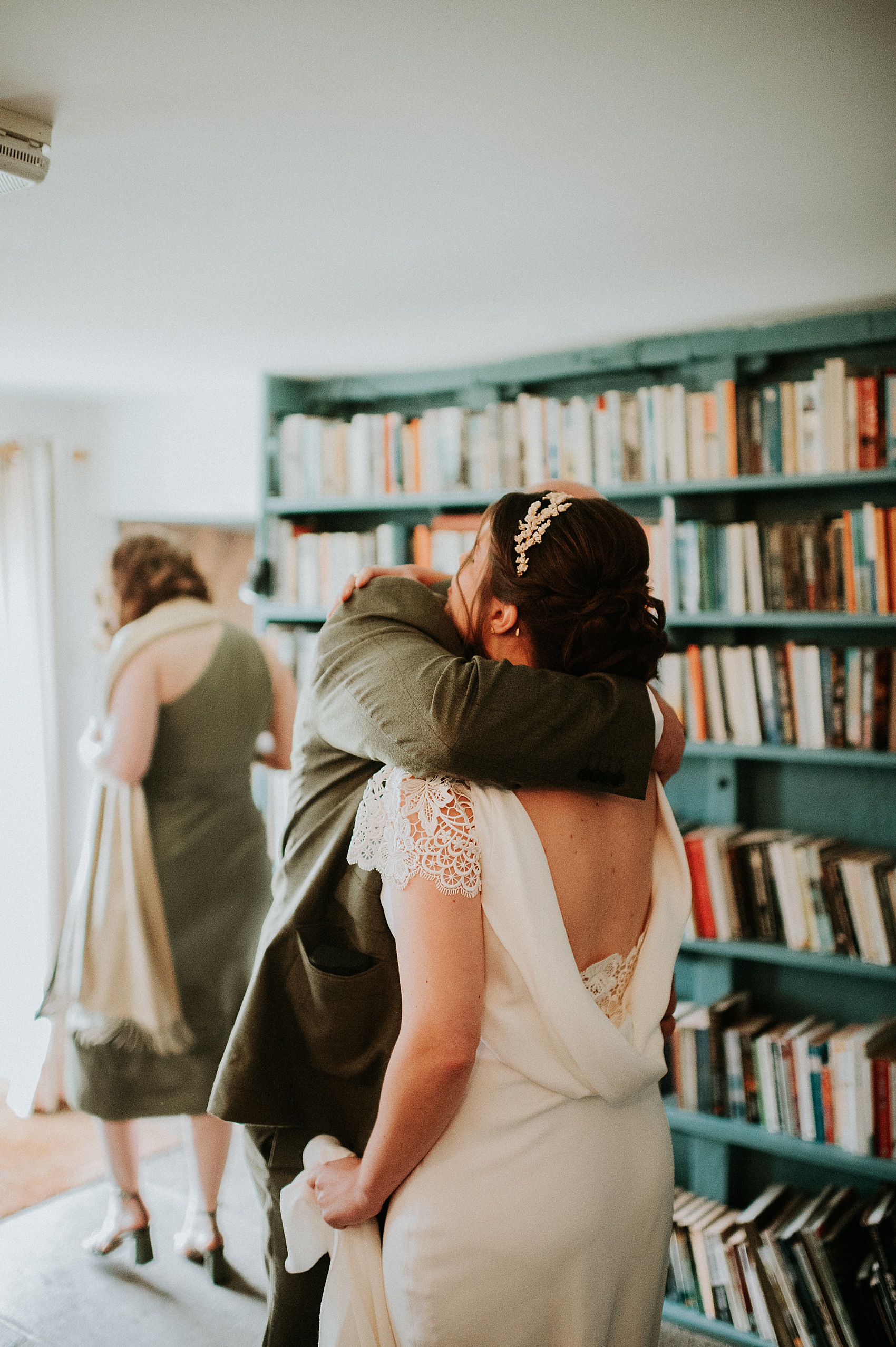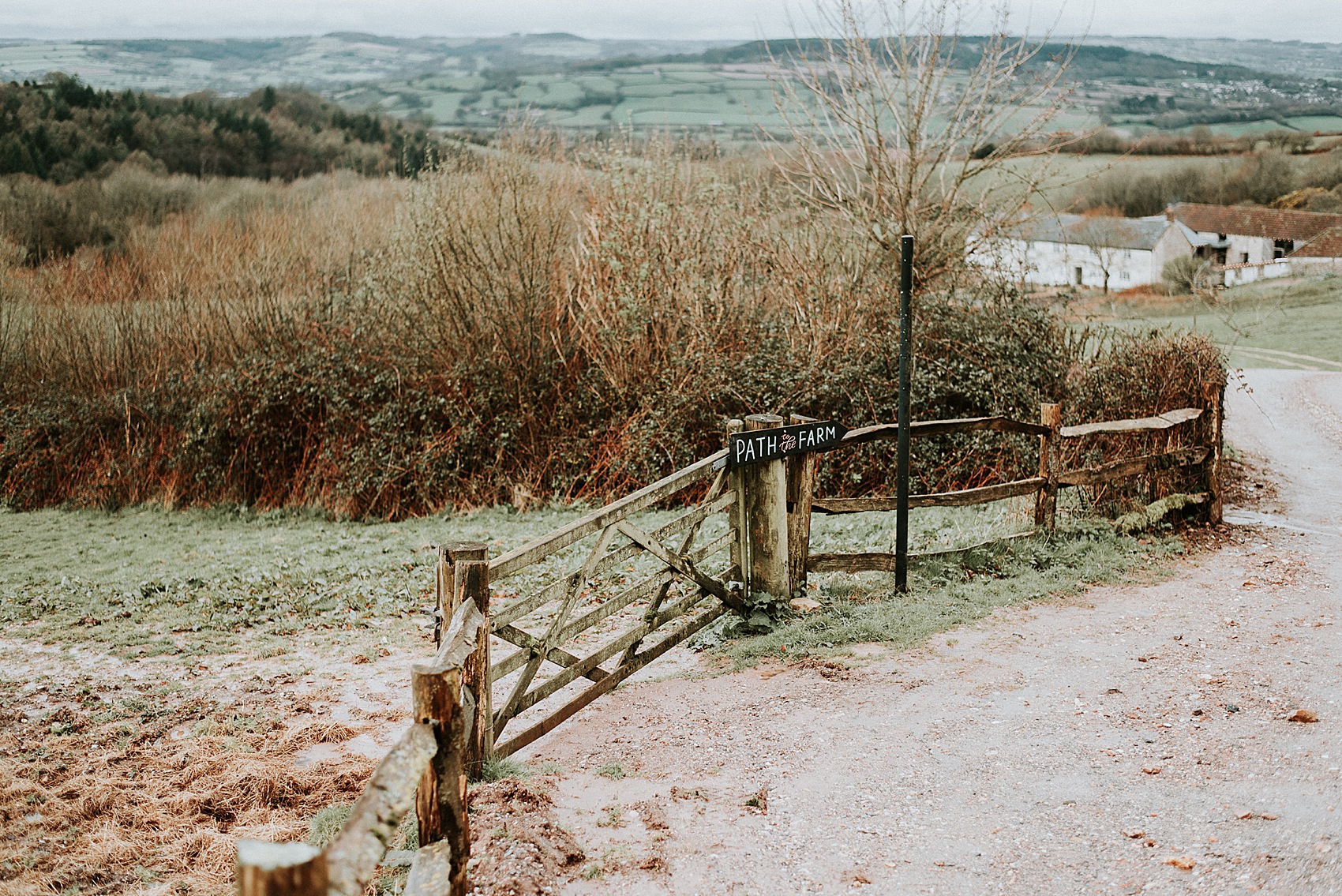 "Matt and I started dating when we were at secondary school. We got engaged in July 2019 walking our dog on a random Tuesday evening up at Donnington Castle, which is a beautiful castle where we live, and my absolute favourite place to walk and picnic."
"There wasn't a soul there, and I was taken completely by surprise. I love that every time we walk there we're reminded of it. We were engaged for 8 months before getting married."
Matt and his groomsmen looked smart in matching green tweed three-piece suits by Racing Green, via Suit Direct worn with bow ties from Etsy (no further seller details provided).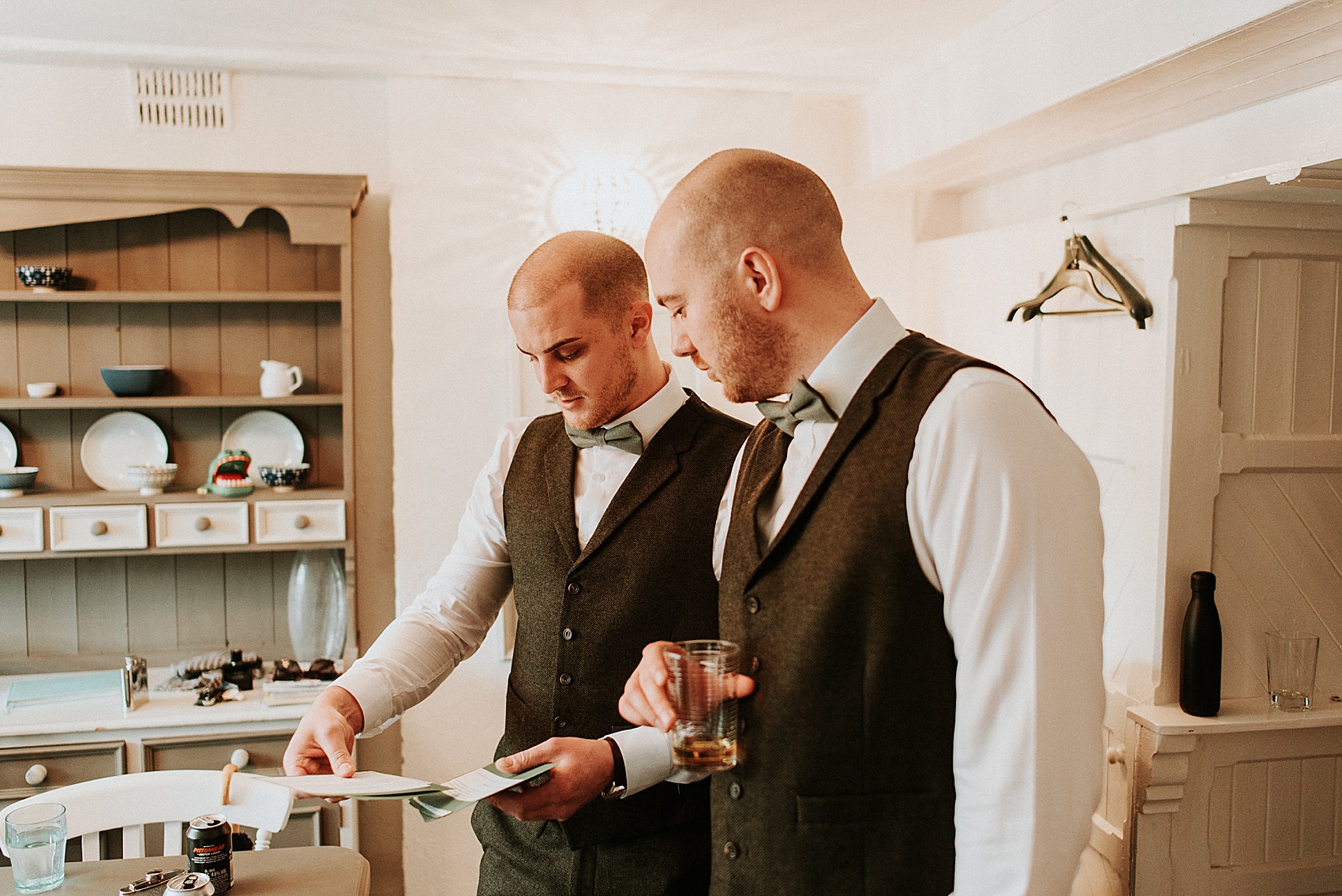 As an homage to the Jurassic Coast and Lyme Regis, which are a short distance away from River Cottage HQ, Becky wore gold ammonite design stud earrings by Alex Monroe.
"I wore Jo Malone's English Pear and Freesia. I couldn't imagine wearing anything else, I wear it every day."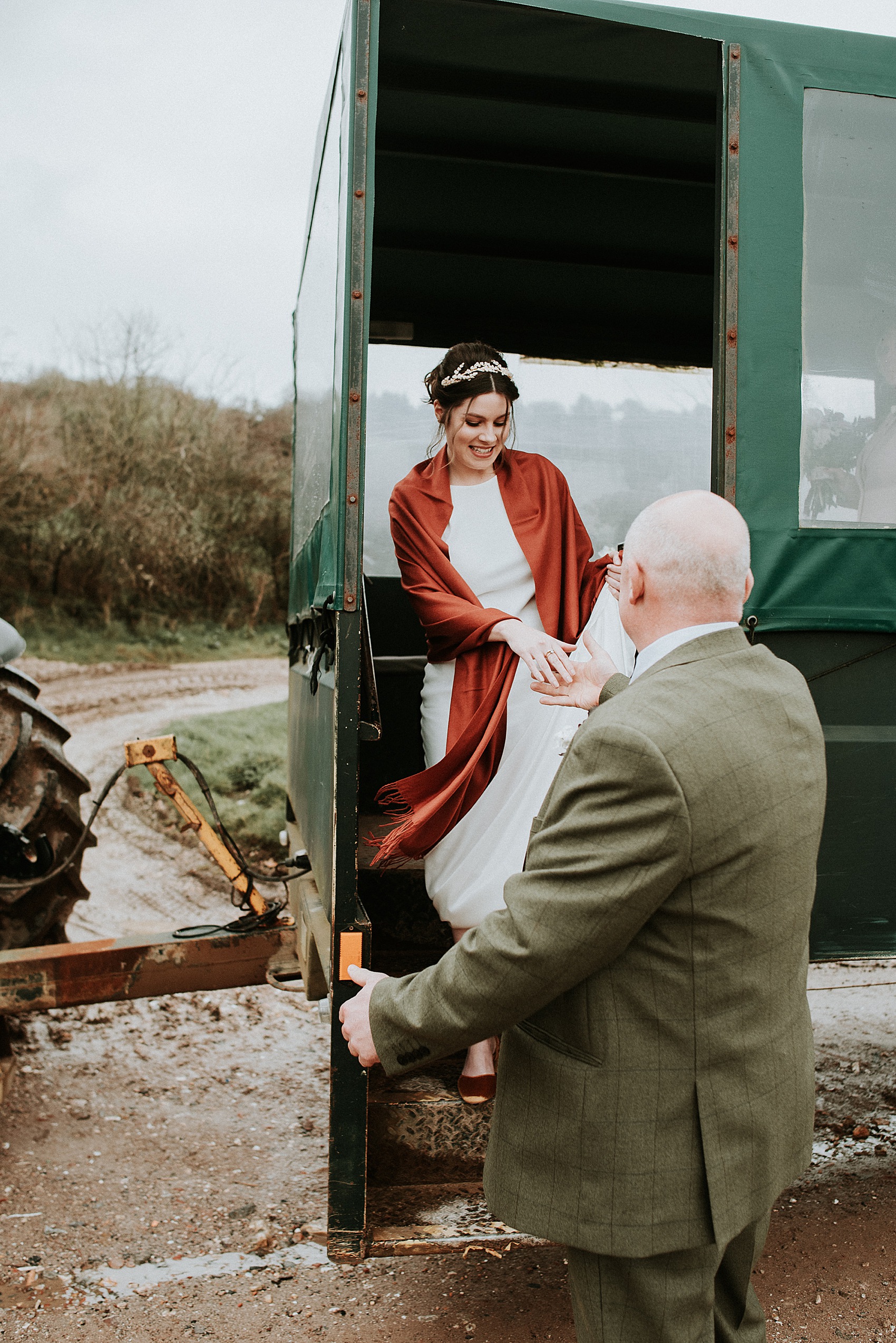 Becky's bridesmaid wore an asymmetrical wrap dress in olive green, by Ted Baker, which she paired with shoes from ASOS. Bouquets were full of springtime beauties – bright ranunculus and anemones, alongside hellebores and magnolia blooms – created by Charlie Ryrie from The Real Cut Flower Garden.
"I came across Charlie when looking at some other beautiful River Cottage weddings on Love My Dress, and loved the seasonal, wild, homegrown nature of her floristry. We wanted it to feel as though we had brought the very best of early spring inside, so the flowers we chose were all early spring flowers (which are my favourites!)"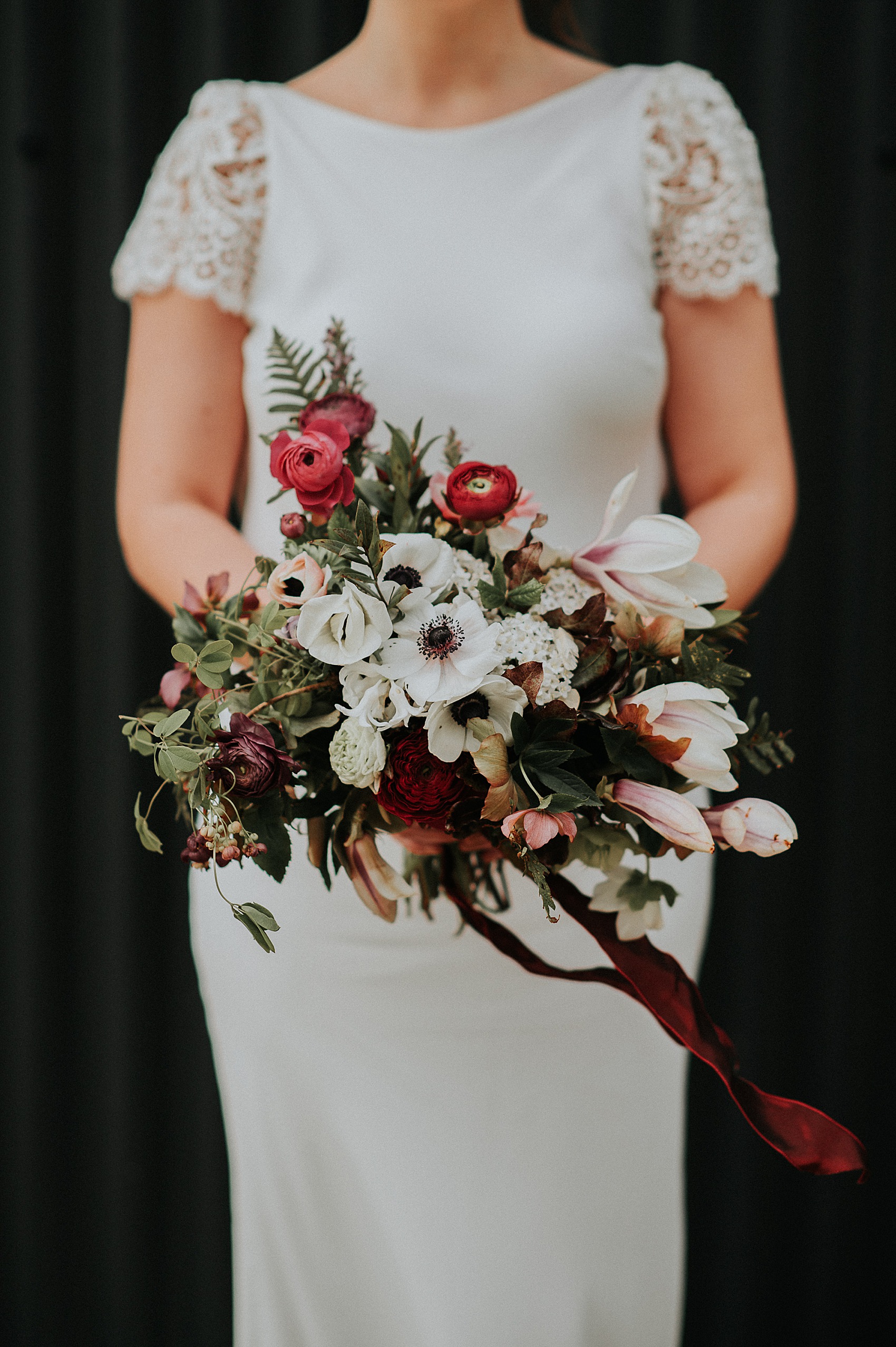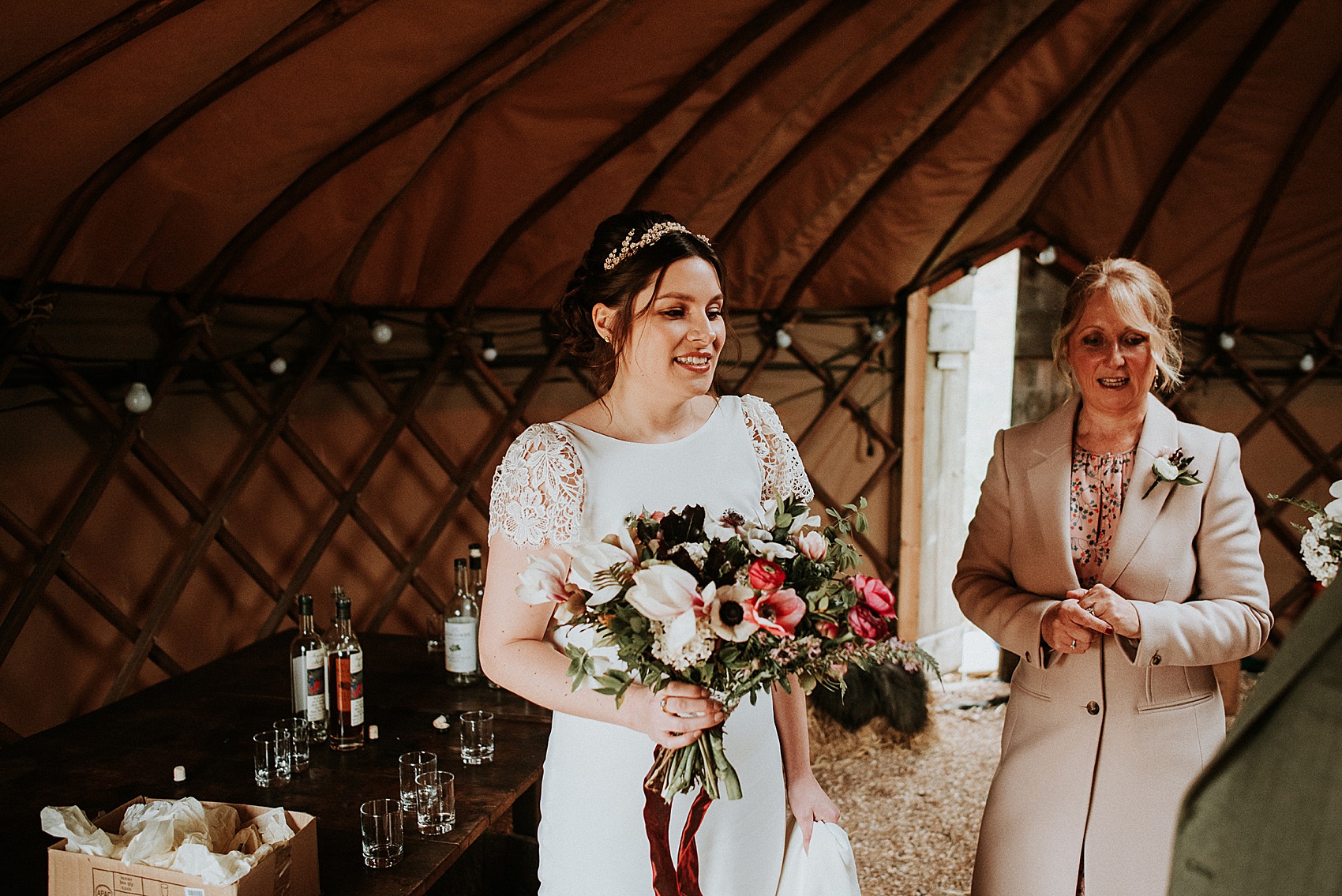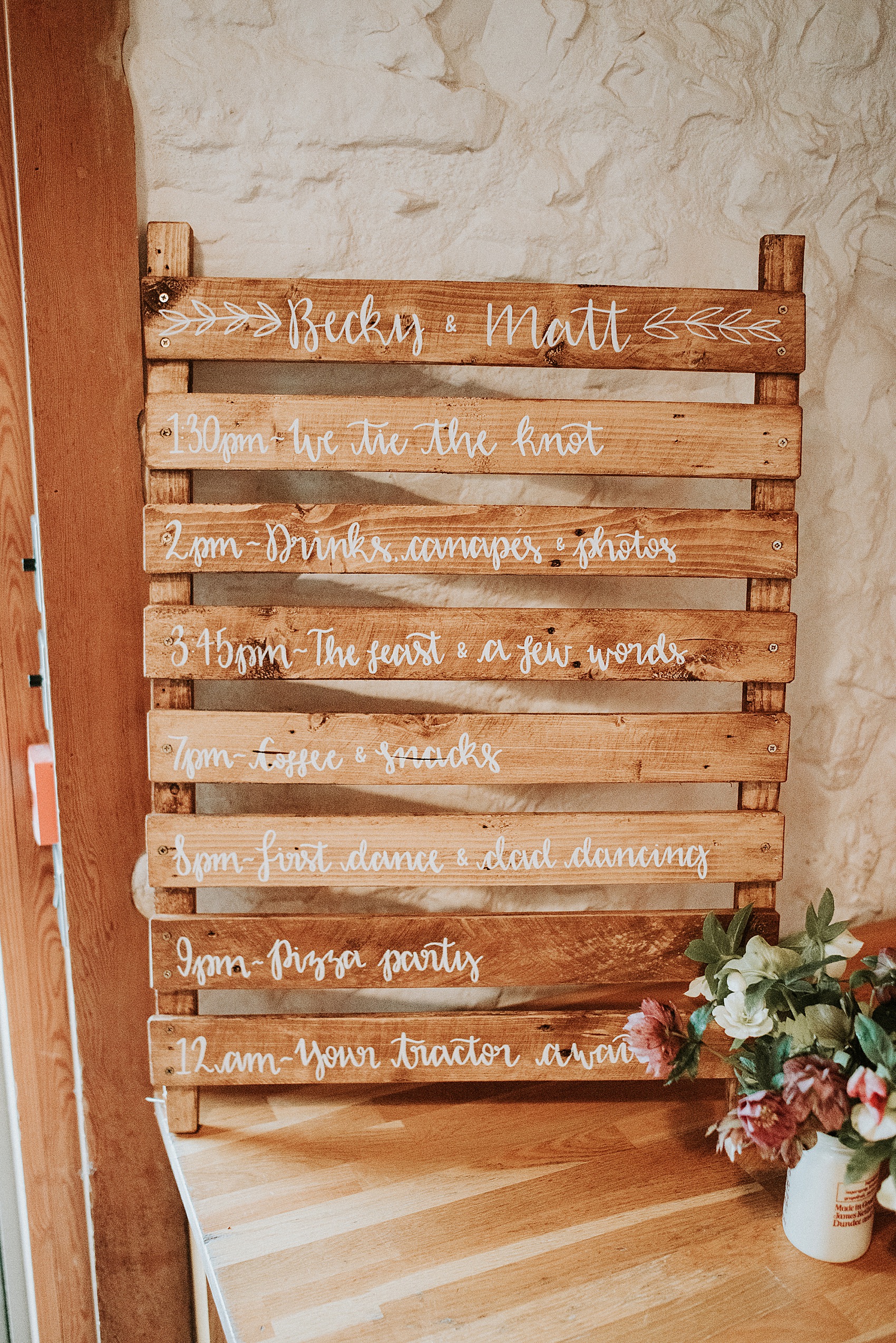 "My dad and aunt walked me down the aisle to Ben Fold's 'The Luckiest'. This is one of a number of areas where we broke with tradition. My dad's side of the family is quite small, and we are all very close, so it felt right to also have my aunt walk me down the aisle."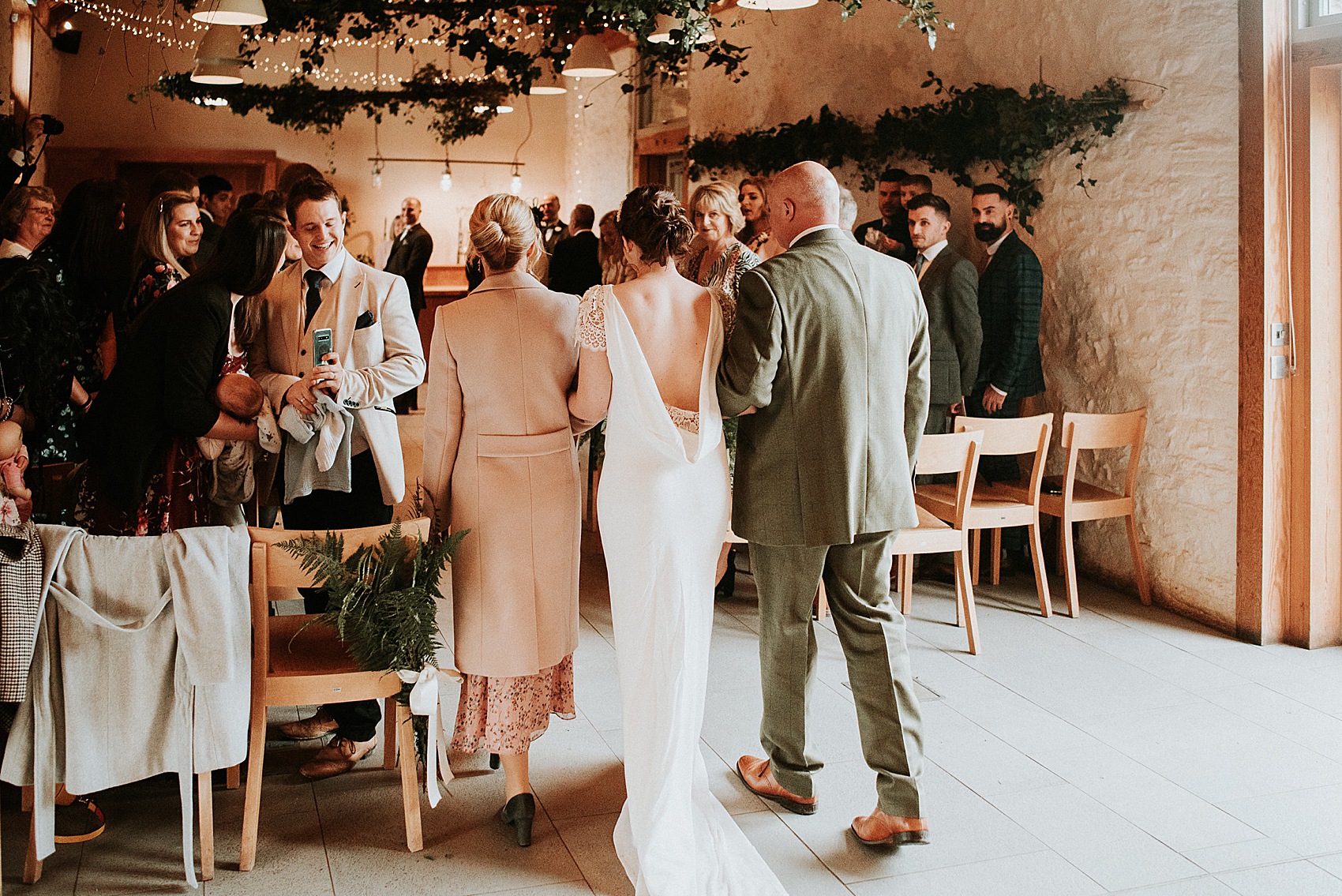 The couple decided to keep their vows simple and traditional, and as they made them, gave each other rings from East London based jeweller, Ivy Nixon.
"Matt chose a beautiful, bespoke engagement ring with a salt and pepper diamond, and yellow gold band with an engraved wreath design by Ivy Nixon."
"I knew that I didn't want my wedding ring made anywhere else, and it features the same wreath engraving in gold. Matt also had a simple yellow gold band made by the same designer."
As a book lover and avid reader, Becky thought that the task of finding a wedding reading would be an easy one, but it proved to be more difficult than she anticipated to find something that truly reflected them as a couple.
Whilst reading Dolly Alderton's book Everything I Know About Love, she stumbled across the perfect extract.
"It felt like it was written for us. It's an honest, beautiful illustration of modern love with so much we related to. It's also wonderfully funny, and had everyone in the room laughing. We only had this one reading, but we felt this one said so much about our relationship."
"The ceremony was the part we were both naturally most nervous about, but the part that we loved the most. It was incredibly emotional, with so much love in the room."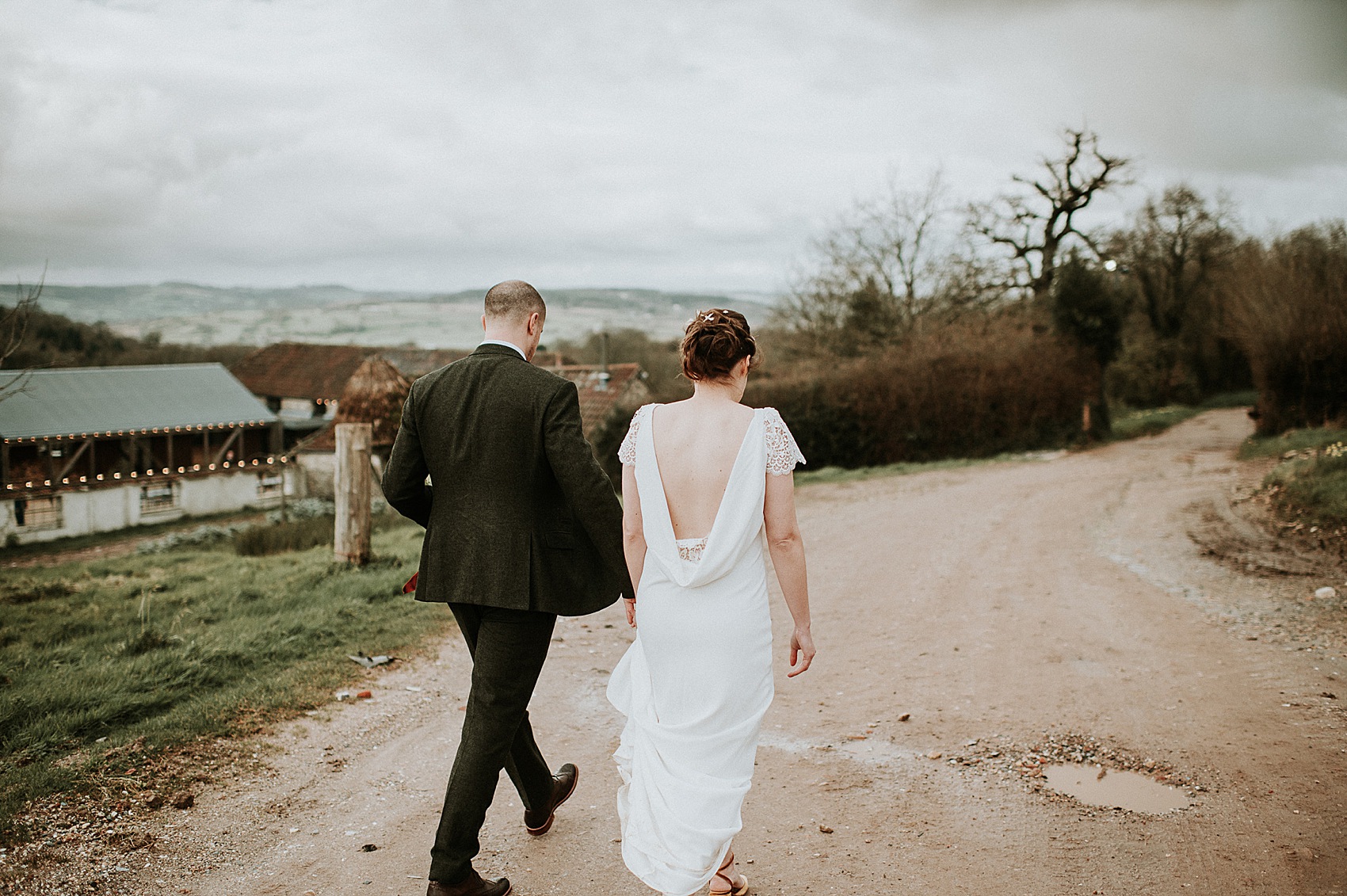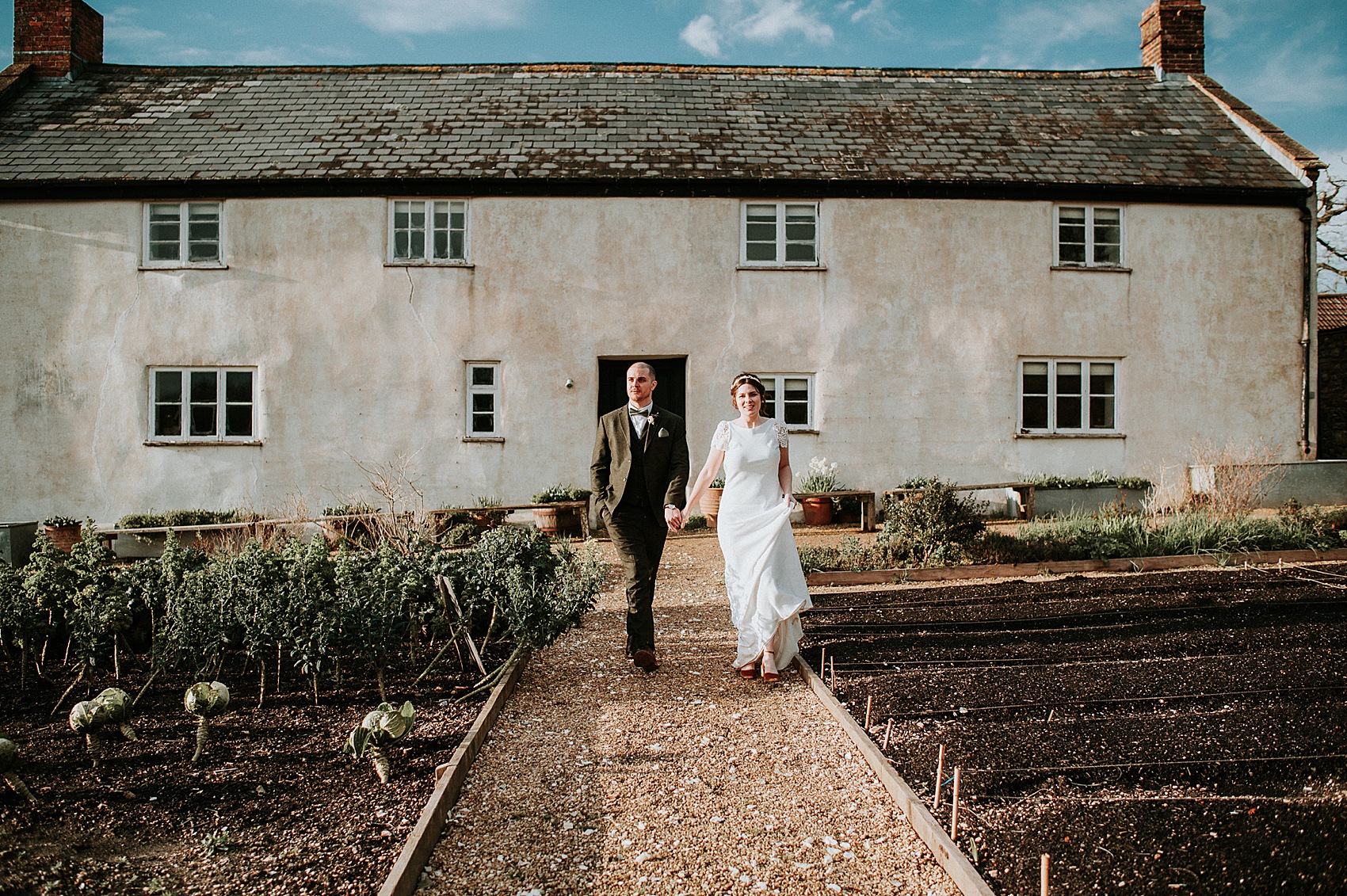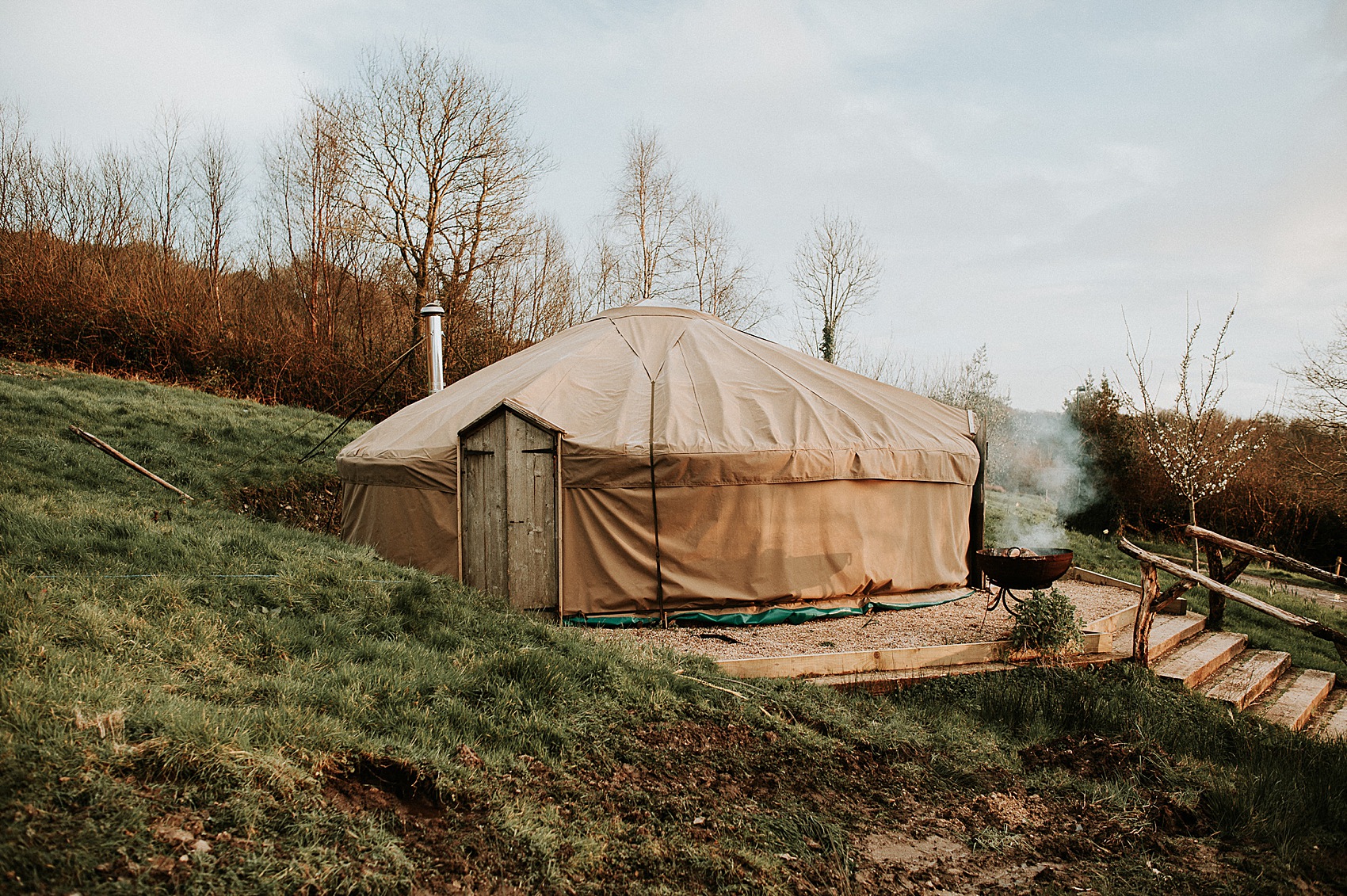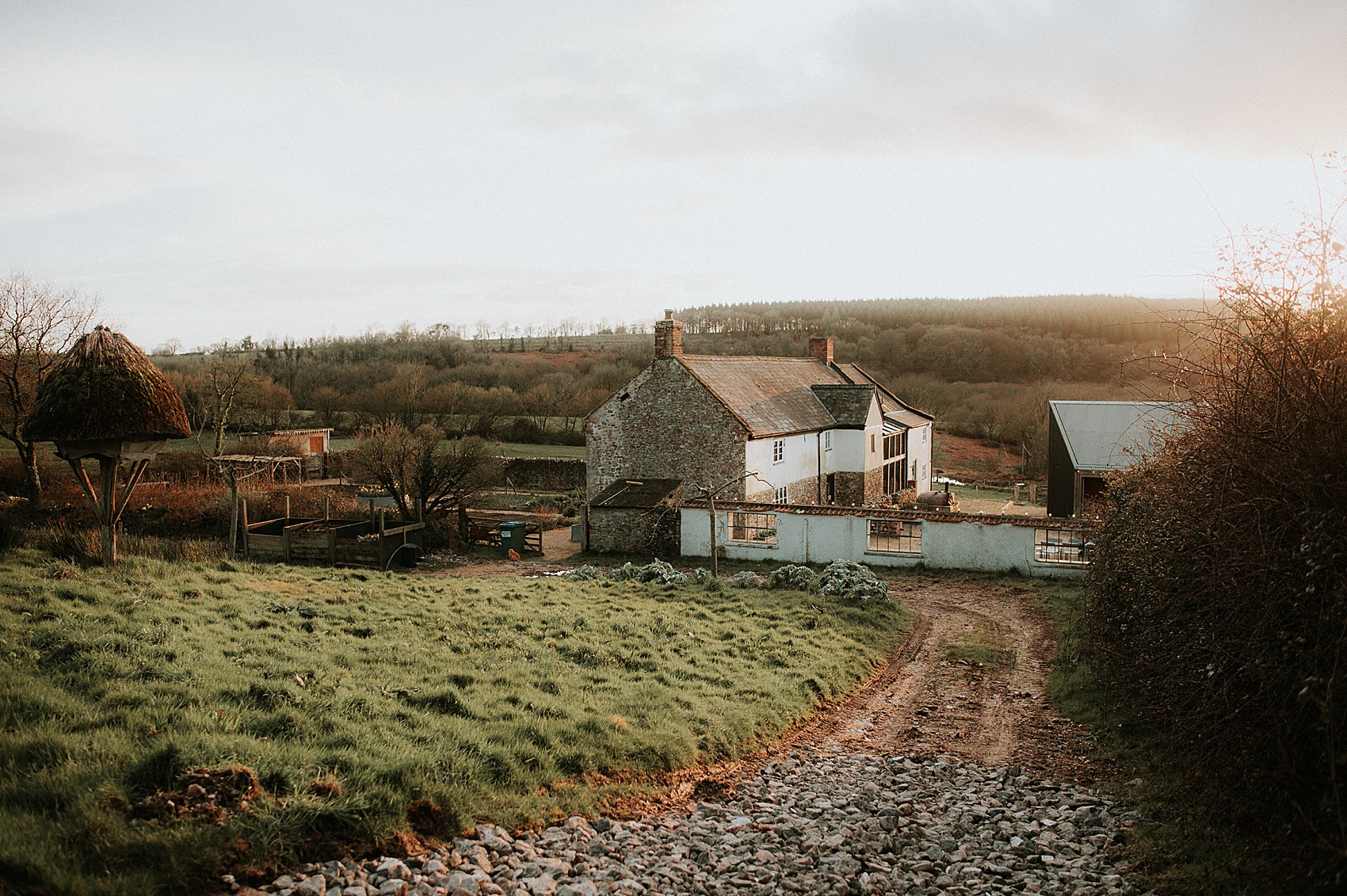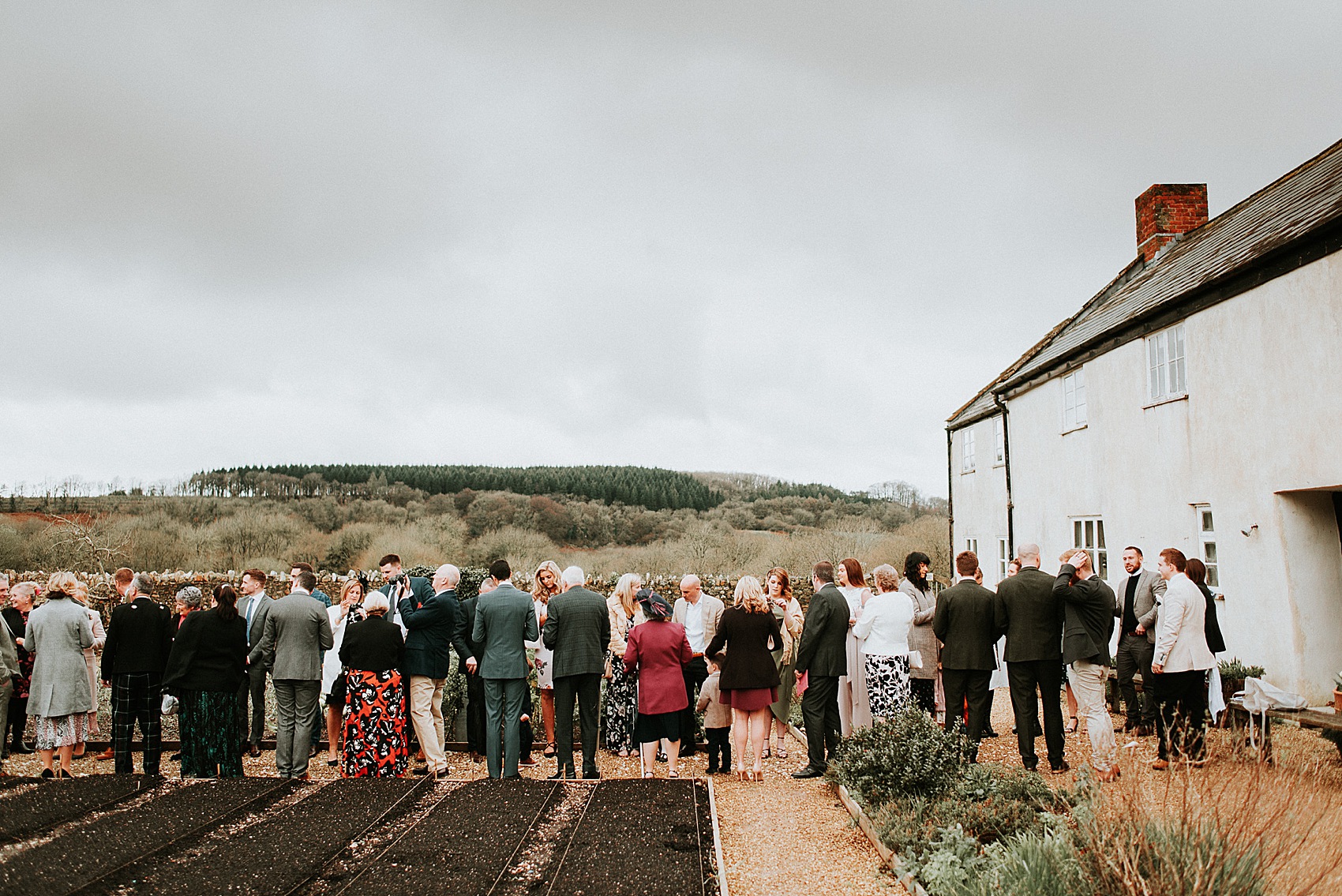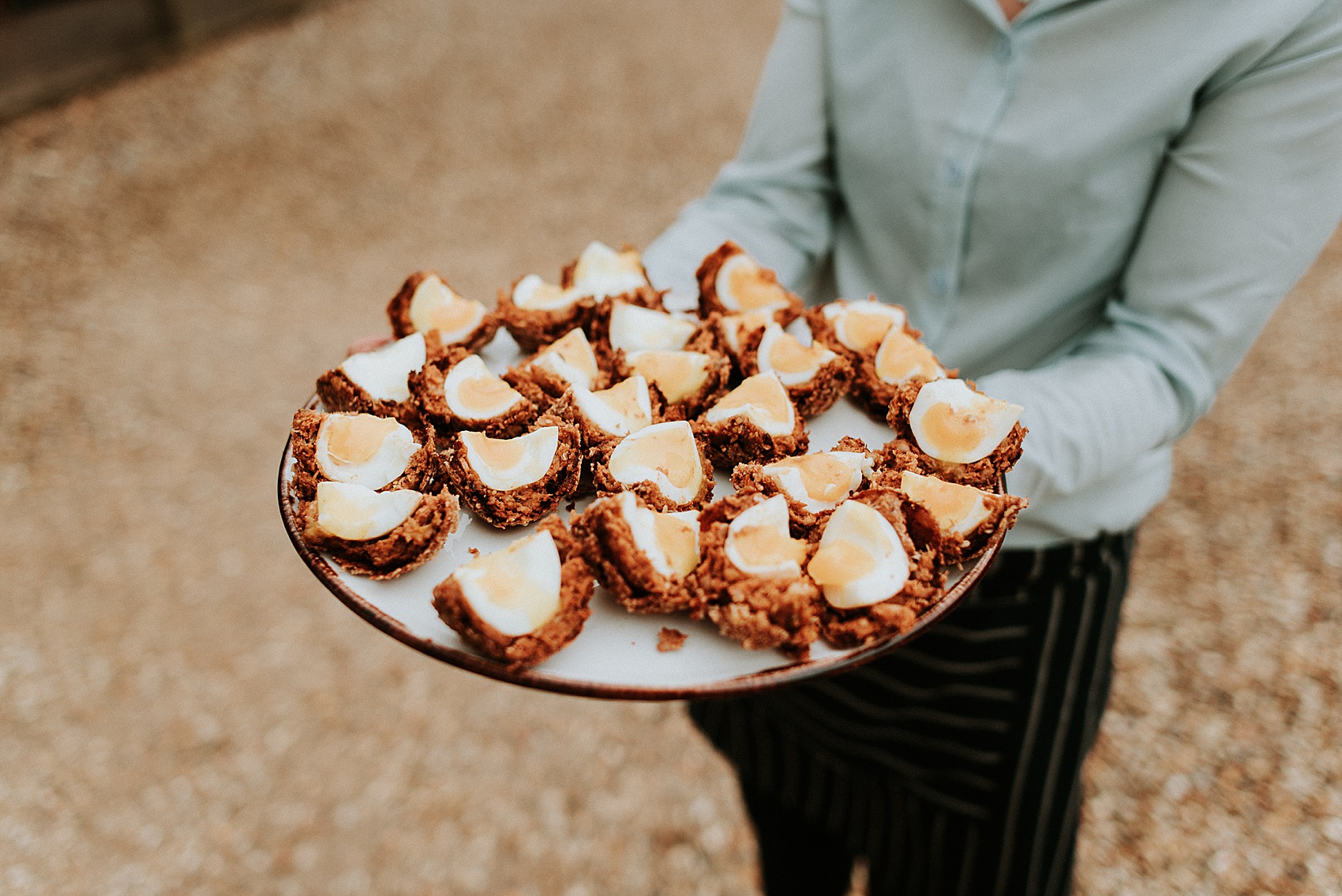 I love all of the different floral moments all the way through the room, from bunches of ferns as table ends, to a big, wild arrangement on the sideboard, tree branches in big bottle vases, and posies inside vintage marmalade jars.
The We Do Workshop made an order of the day sign on a recycled wooden pallet, whilst Lucy McSpirit Design made the table plan. Place cards, table numbers and menus were by Type O Design.
The couple's botanical inspired invitations from Papier perfectly reflected the natural feel they wanted for their day.
Florist Charlie decorated River Cottage's threshing barn with lovely garlands of greenery, which were hung across the whitewashed walls, and from the timber-framed ceiling together with twinkling fairylights.
"Charlie was an utter joy to work with, and knows River Cottage so well, so we knew from the minute we met her we were in very good hands. She really made all of my local, seasonal (and homegrown!) flower dreams come true – walking into the threshing barn for the first time really took my breath away. It looked magical."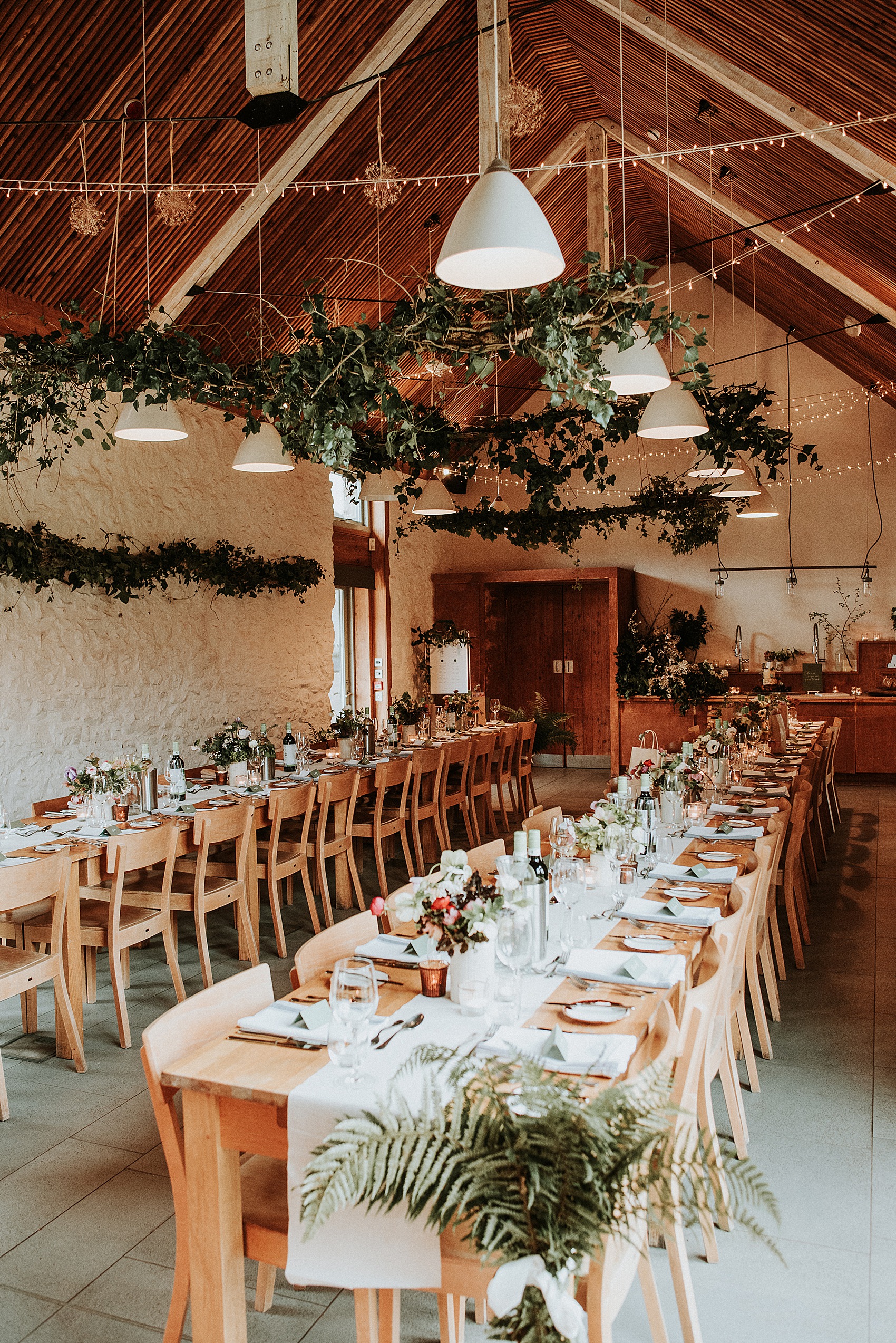 "We wanted the styling to be natural, seasonal, and with a slightly wild feel. Our decoration was largely centred on lots of foliage and early spring flowers. This ended up guiding a subtle green colour theme throughout everything else, which we really loved."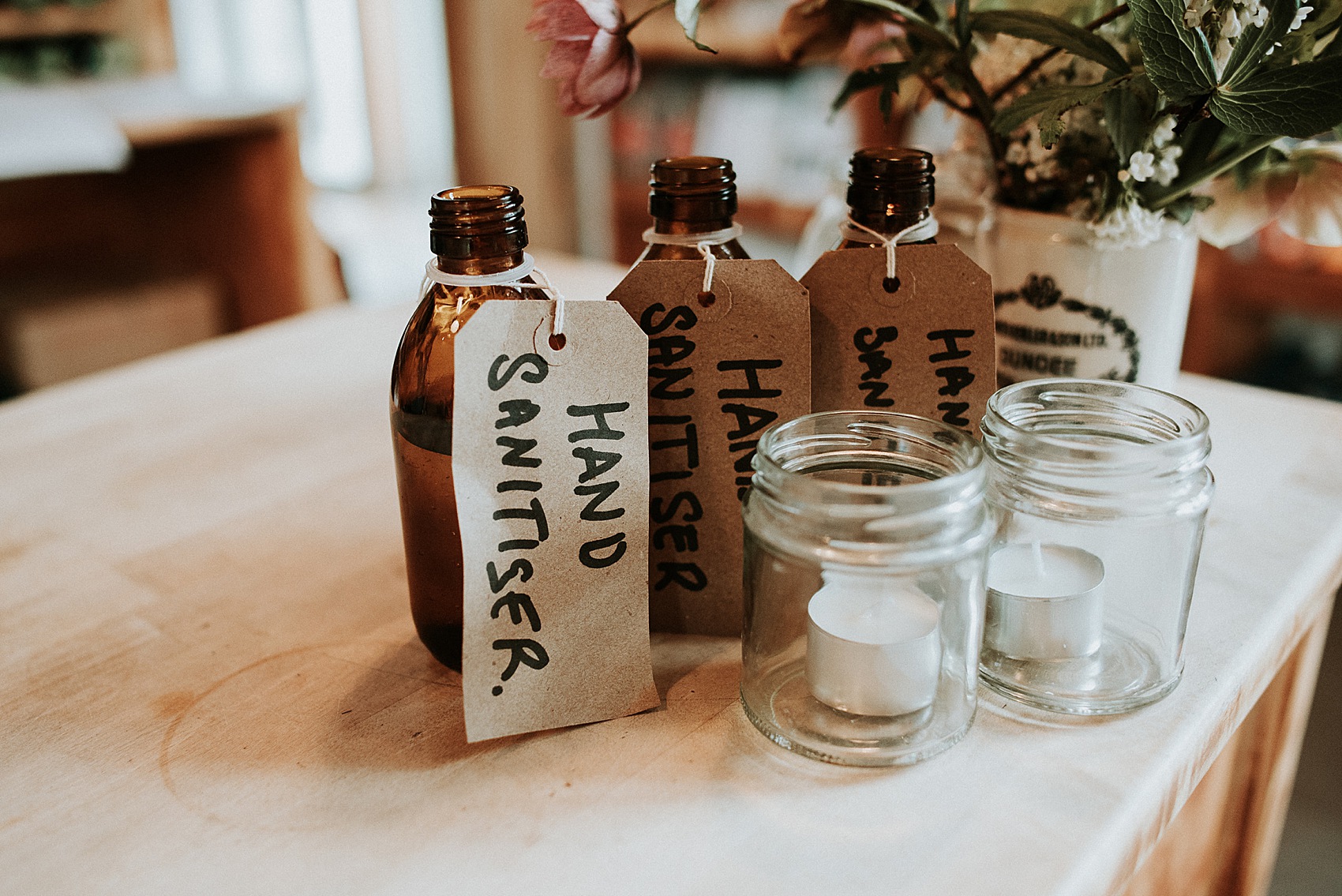 "We are massive foodies, so food was always going to be the number one priority. Beyond having visions of celebrating over a really generous feast with the best, local and seasonal produce we could get, we really wanted our day to be a unique foodie experience for both us and our guests."
"It's safe to say you don't get much better than River Cottage, and we love their approach and philosophy to food."
"In fact, River Cottage was the only venue we looked at – we just knew the minute we were walking down the hill (I mean, the view!) that it was perfect – foodie and intimate, in a spectacularly beautiful setting. Although neither of us have connections to Devon, it just ticked all of the boxes."
"It was undoubtedly, of course, the biggest but best decision we made for our day. We were able to create a bespoke menu with their head chef that was a reflection of the food we love as a couple, which was such a fun experience. The food was incredible."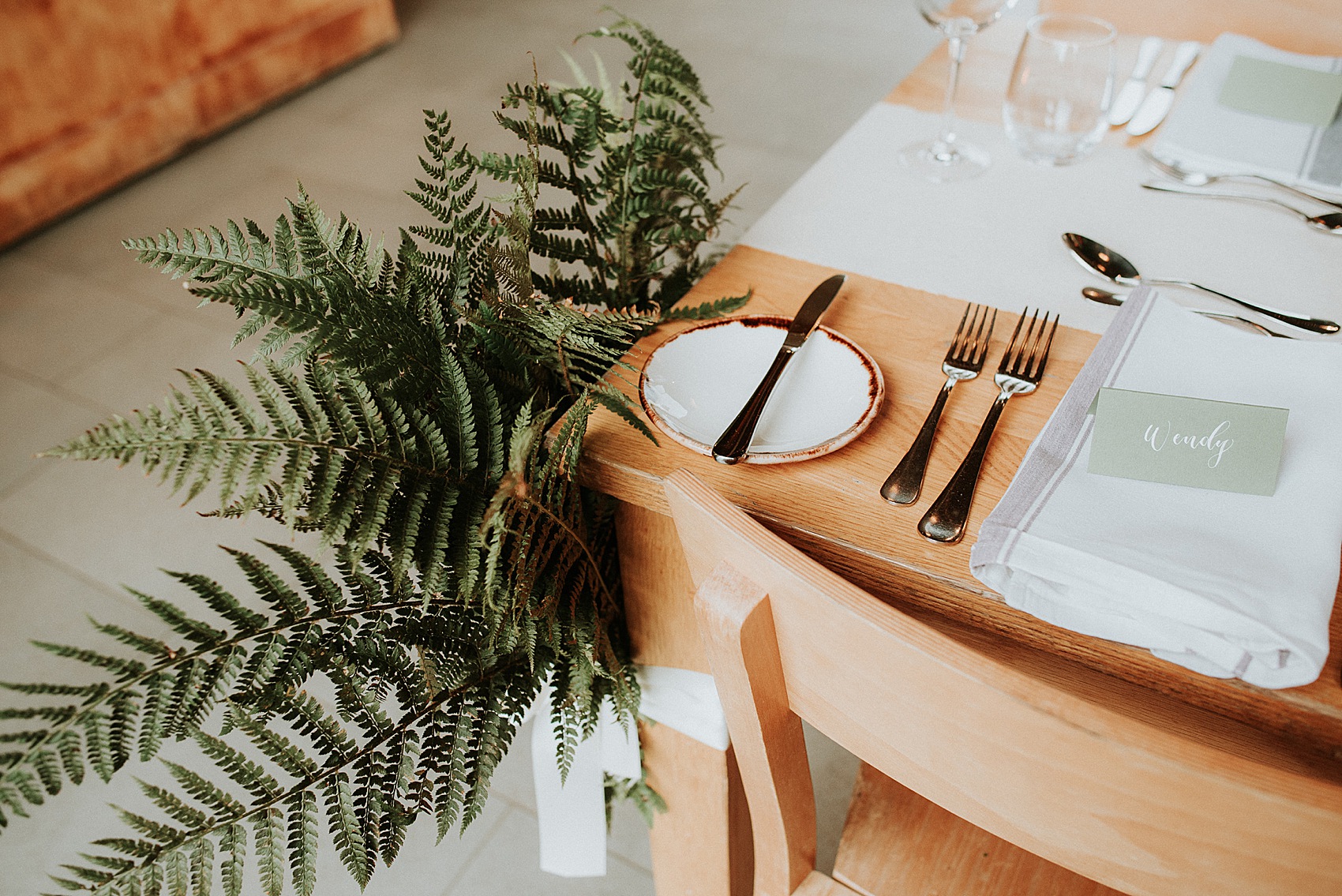 "From the chorizo scotch egg canapés to a three course feast that included an antipasti style starter, the best barbecued pork we've eaten for main, to lemon verbena panna cotta with rhubarb for pud, and homemade jaffa cake petit fours (our favourite!) it was everything and more we could have hoped for, and our guests loved it. It was literally the most delicious, memorable meal of our lives, and everything we could have hoped for. "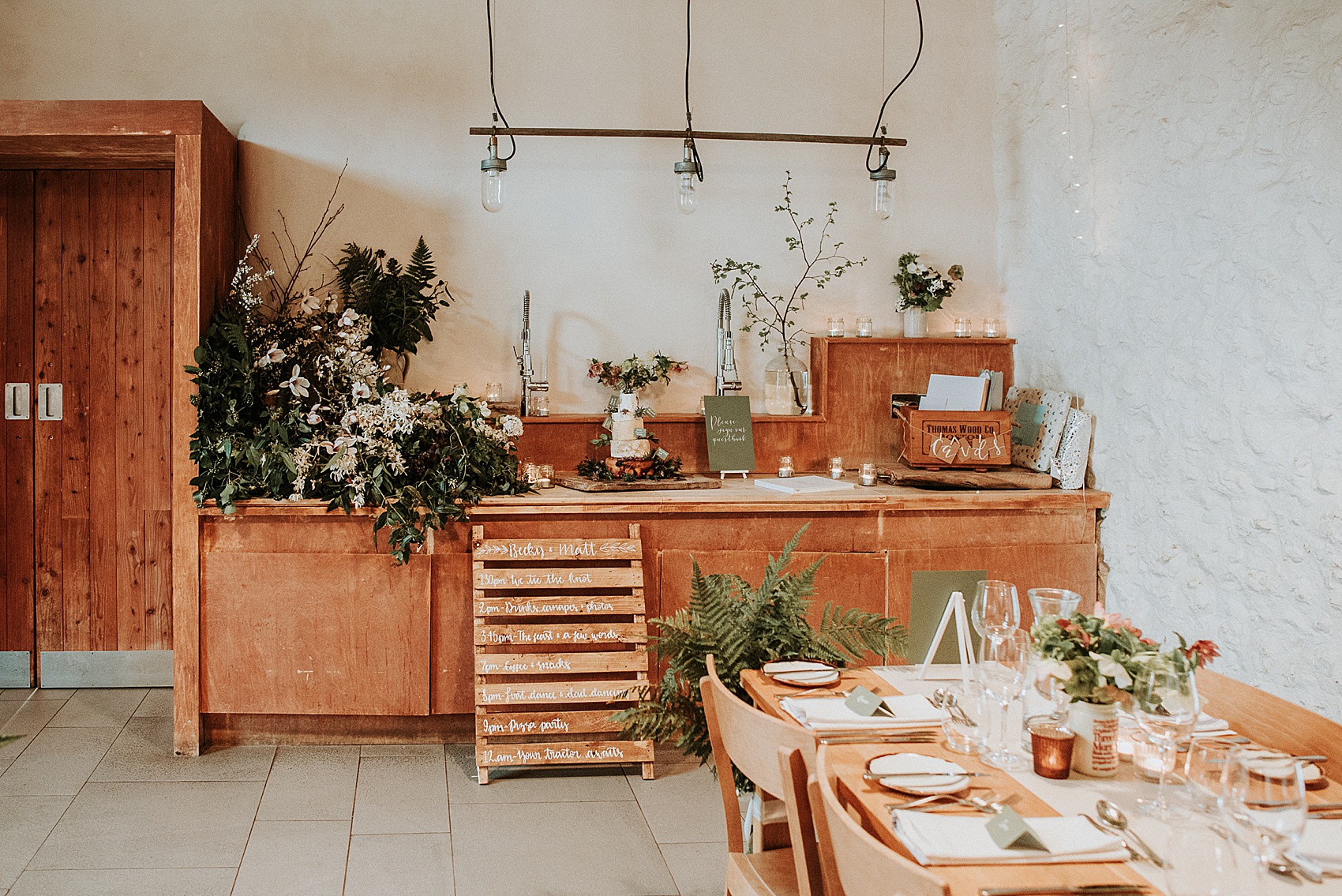 "The staff at River Cottage are so friendly – nothing was ever too much – and Laura, River Cottage's dedicated Wedding Coordinator, was absolutely amazing in helping shape and oversee the day for us."
That really does sound like the most amazing meal, and it was rounded off with a cheese and pork pie 'cake' from The West Country Cheese Co., served with lots of crackers and chutneys.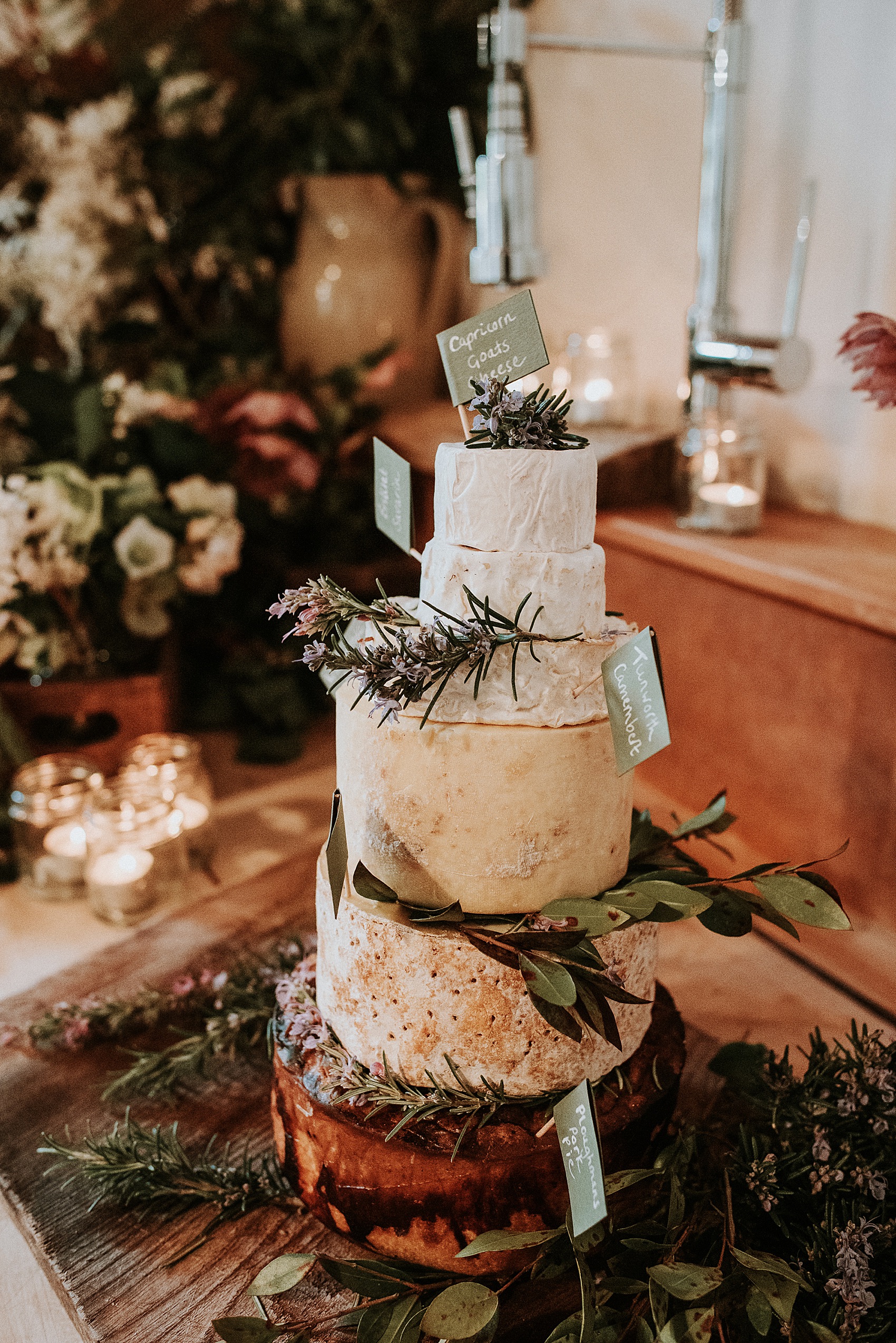 "It was such a wonderful privilege to be able to have all our loved ones in one room, to hug and kiss them, sit round a table to share a meal with them, and to dance with them."
"We can only say that with hindsight, it has made us feel so intensely grateful for this amazing time spent with our families and friends, the work of our incredible wedding suppliers, and the joy of beginning this next chapter of our lives together even more than I believe we could have done, and we know that couples who are rescheduling their days will feel the same when their day comes."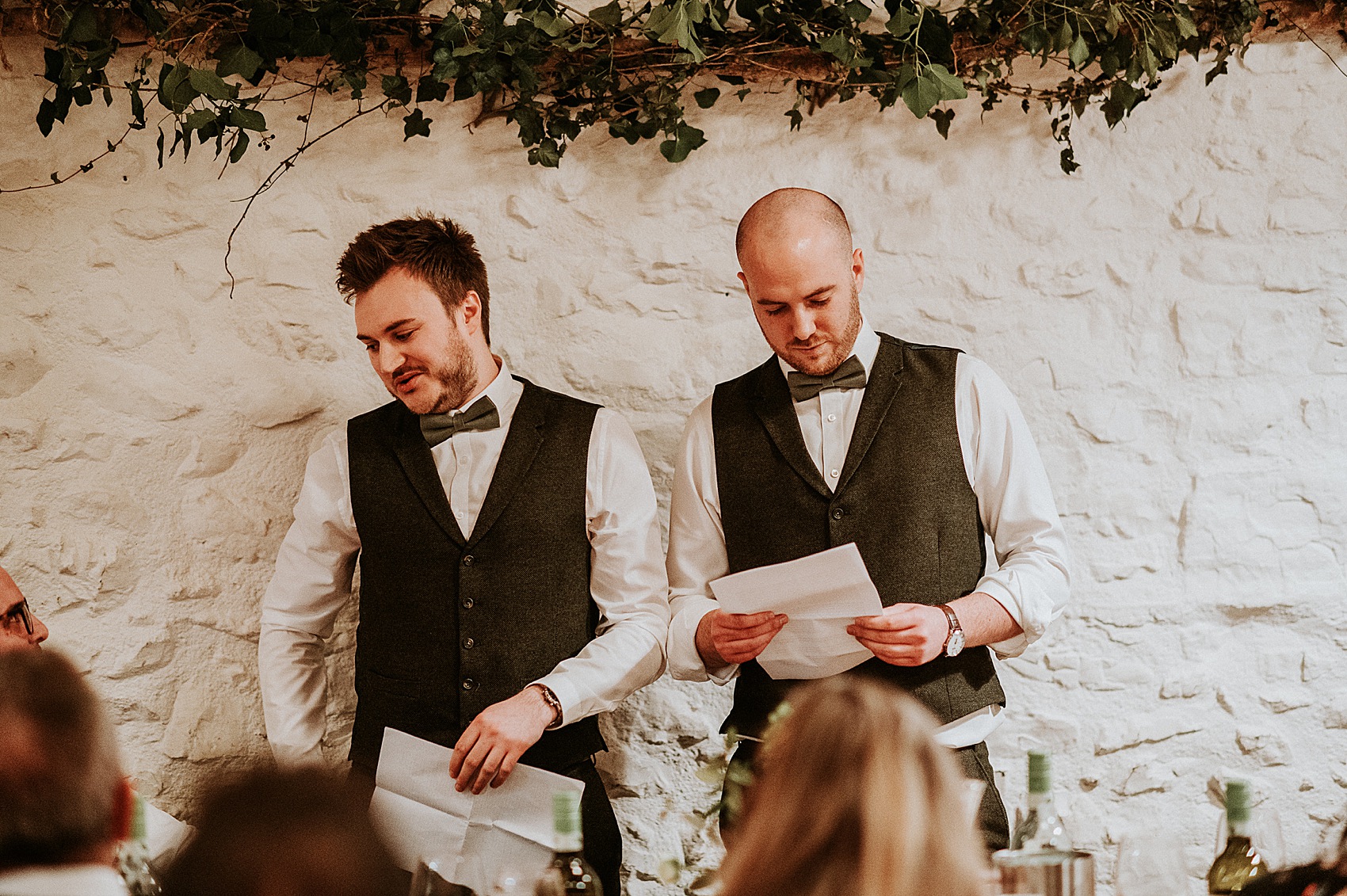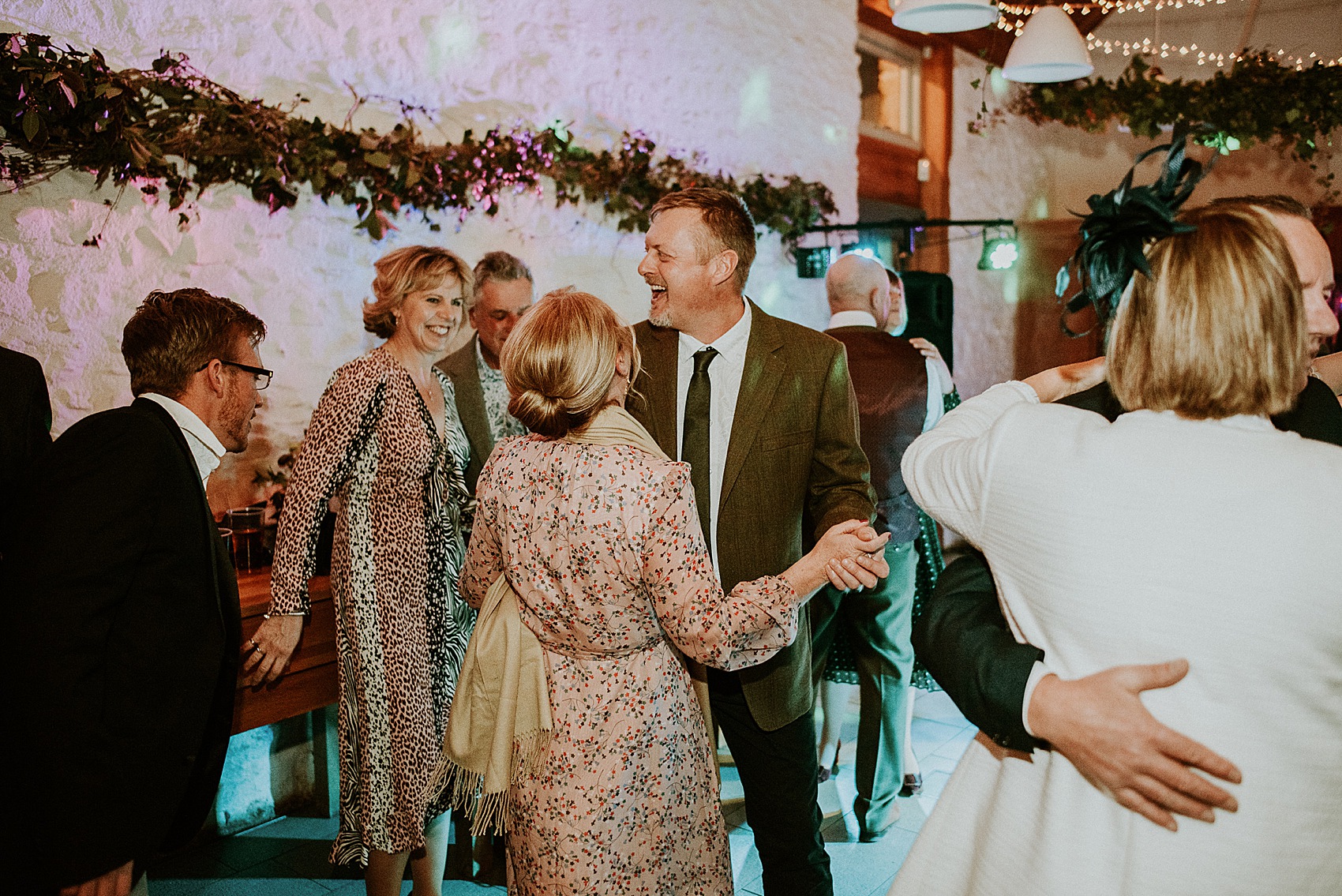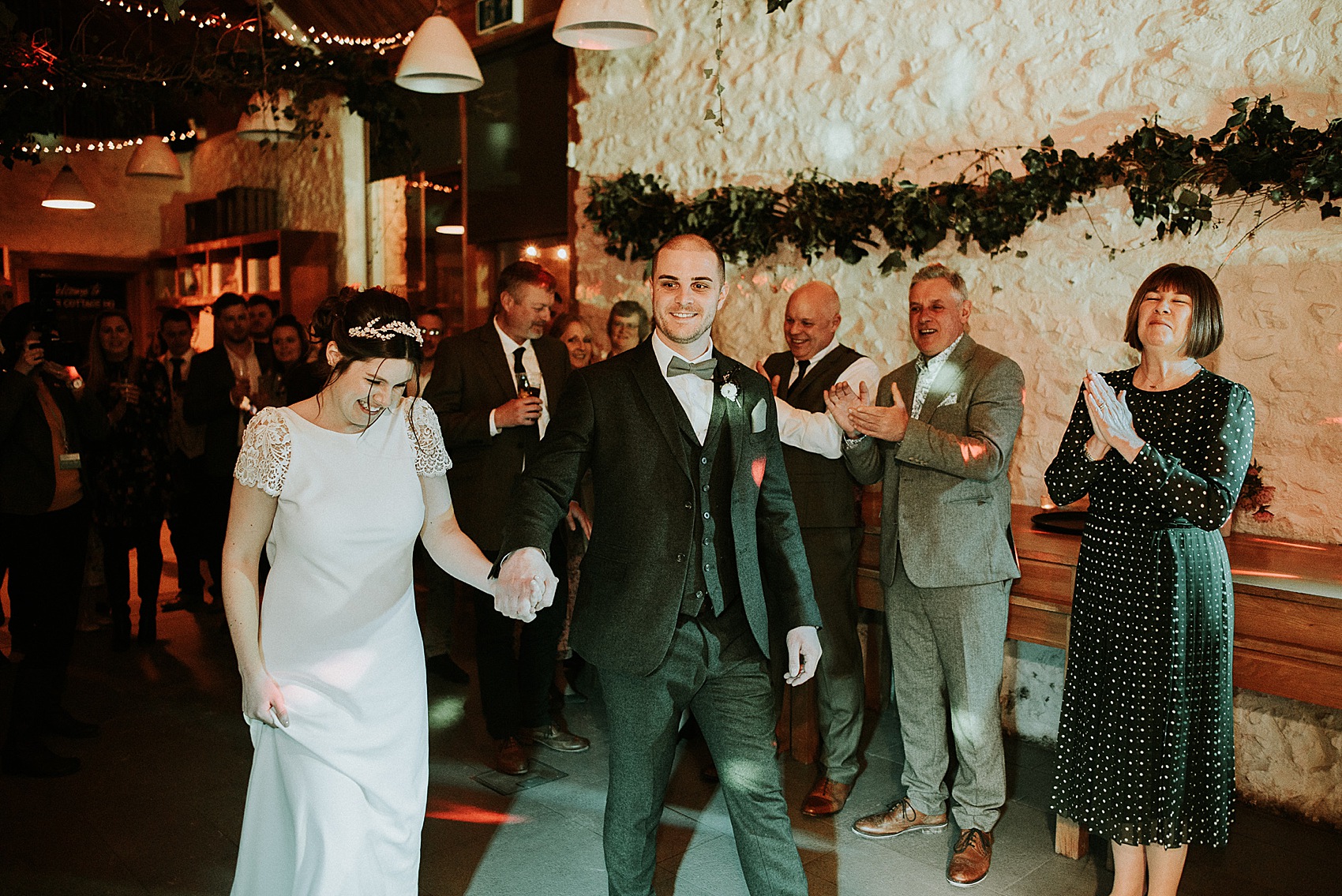 For their first, joyful married dance together, Becky and Matt Chose Barcelona by George Ezra (which reminds them of their first holiday together) sung by their evening band The Lightmen.
"They were amazing, and our guests raved about them. They had everyone on the dance floor all night. They did an amazing live cover of our first dance song too, it was very special."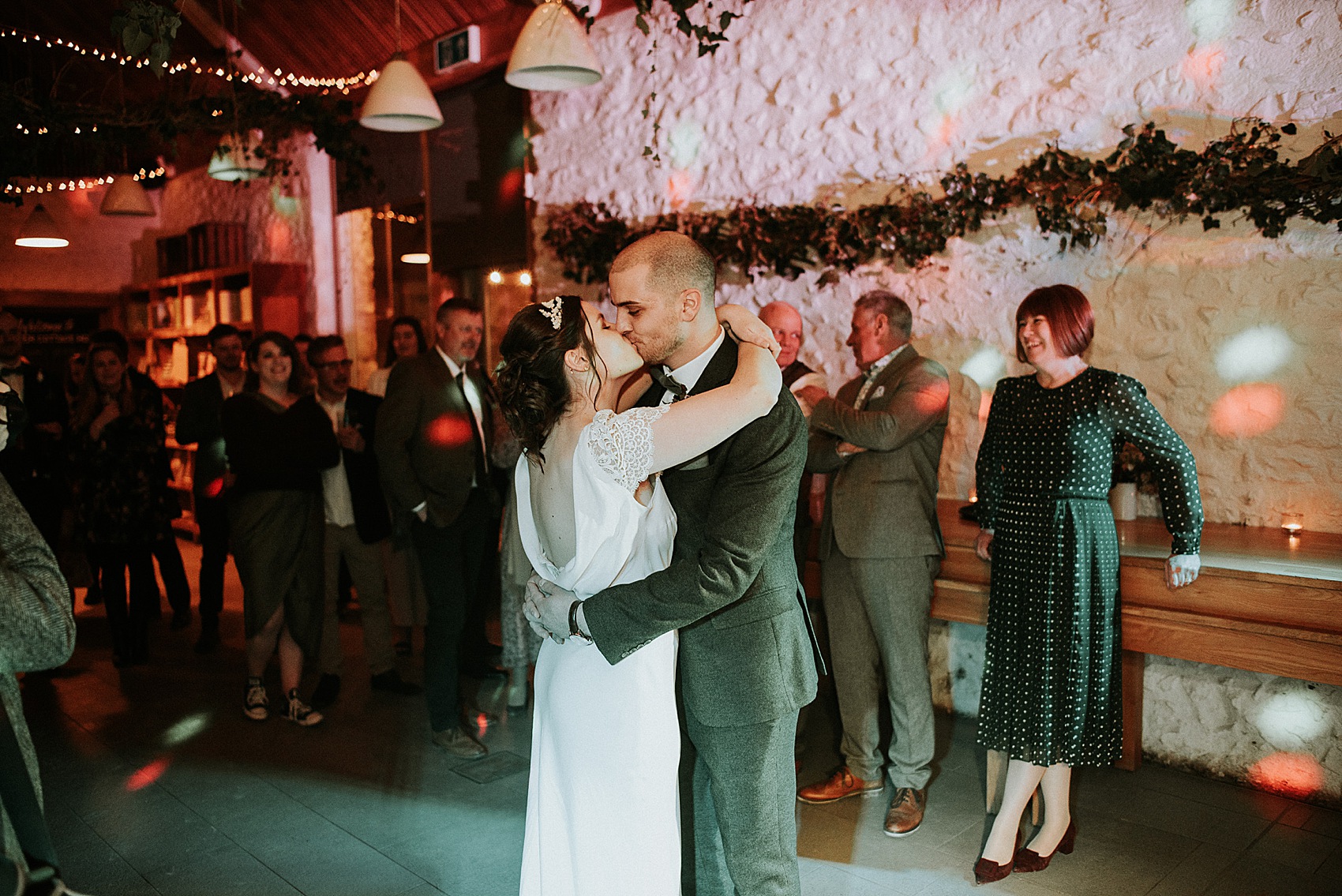 Words of Wedded Wisdom
"Where you can, really embrace doing things locally and seasonally. There are so many reasons why, but it nearly always means better quality (whether it be food, flowers or anything else) can be more economical overall, and makes planning less stressful because your suppliers more often than not have a lot of experience working with your venue (this knowledge was invaluable for us). It also often means that things are far less likely to go wrong when they are have far less to travel."
"If like us, you aren't too fussed about the time of the year that you get married, choosing to get married in March and out of season proved to have so many benefits. We were able to make the most of River Cottage's brilliant winter wedding package, which really helped us keep within budget, and included so much during the actual day as well as other extras, such as a stay with a number of family friends in the farmhouse on our wedding night, and a spectacular breakfast."
"It also meant that we didn't face any challenges with booking our preferred wedding suppliers, and our guests didn't struggle to book accommodation for the weekend."
"Finally, stick to your guns on what you want your day to be. For us, it was having a relatively small celebration with our closest loved ones that focussed on the things we love as a couple, where the attention wasn't constantly on us, and having a simple but beautiful day with minimal stress."
"It's fine not to invite that cousin you haven't seen since you were 10, skip traditions that aren't significant to you, and go big on the parts that are of real importance to you both, be it food, music, or anything in between."
Becky and Matt, congratulations and all the very best to you both. Thank you so much for your thoughtful words all the way through. Couples who are postponing and rescheduling your weddings, I do hope you can take some hope and comfort in what's been said here. We've got a whole array of helpful articles from suppliers and couples alike in response to COVID-19, and you can see them all here.
Many thanks to Emma and Ian from Big Bouquet Photography for these utterly brilliant images.
Until next time, and with love,
Laura