Hello all! THANK GOD IT'S FRIDAY. Now, I know that a lot of you are looking to moving spring and summer weddings to the winter months and so I'm hoping that this lovely celebration might inspire you.
Prep-school teacher Philippa married Science teacher Adam on 21st December last year, at St Giles House in Norwich. I'm so flipping thrilled that the couple hired our Little Book Wedding Directory member, photographer Georgia Rachael, to document their wedding in imagery.
"We saw Georgia's portfolio initially on Instagram, and were very impressed. We wanted a candid, creative approach and were not disappointed. Georgia captured the feel and atmosphere or our day perfectly, we couldn't have wished for anything more."
Georgia Rachael Photography

+ Follow
Philippa hired hair stylist Cara Hubbard and makeup artist Leanna Stibbon. She opted for a gentle up-do with a braid that she would later accessorise with a veil to match her gown.
"I wore a pair of purple heels by Nine West. They matched the embroidery on my wedding dress and the bridesmaid's dresses."
Philippa knew she wanted a non-white dress and found the perfect design in this beautiful Needle & Thread London gown.
"I knew I wanted a gown from Needle & Thread and ordered one from their website. It was perfect but needed shortening. I found a fantastic local seamstress who altered the gown as well as the bridesmaid's dresses. Having been wedding dress shopping with other brides, I much preferred this more laid back and less traditional look."
"I always knew I wouldn't wear a traditional wedding dress and I have always loved Needle & Thread gowns. I received so many complements on my dress. I felt really comfortable on the day and am planning on getting the dress shortened to knee length so that I can wear it to other events now we're married."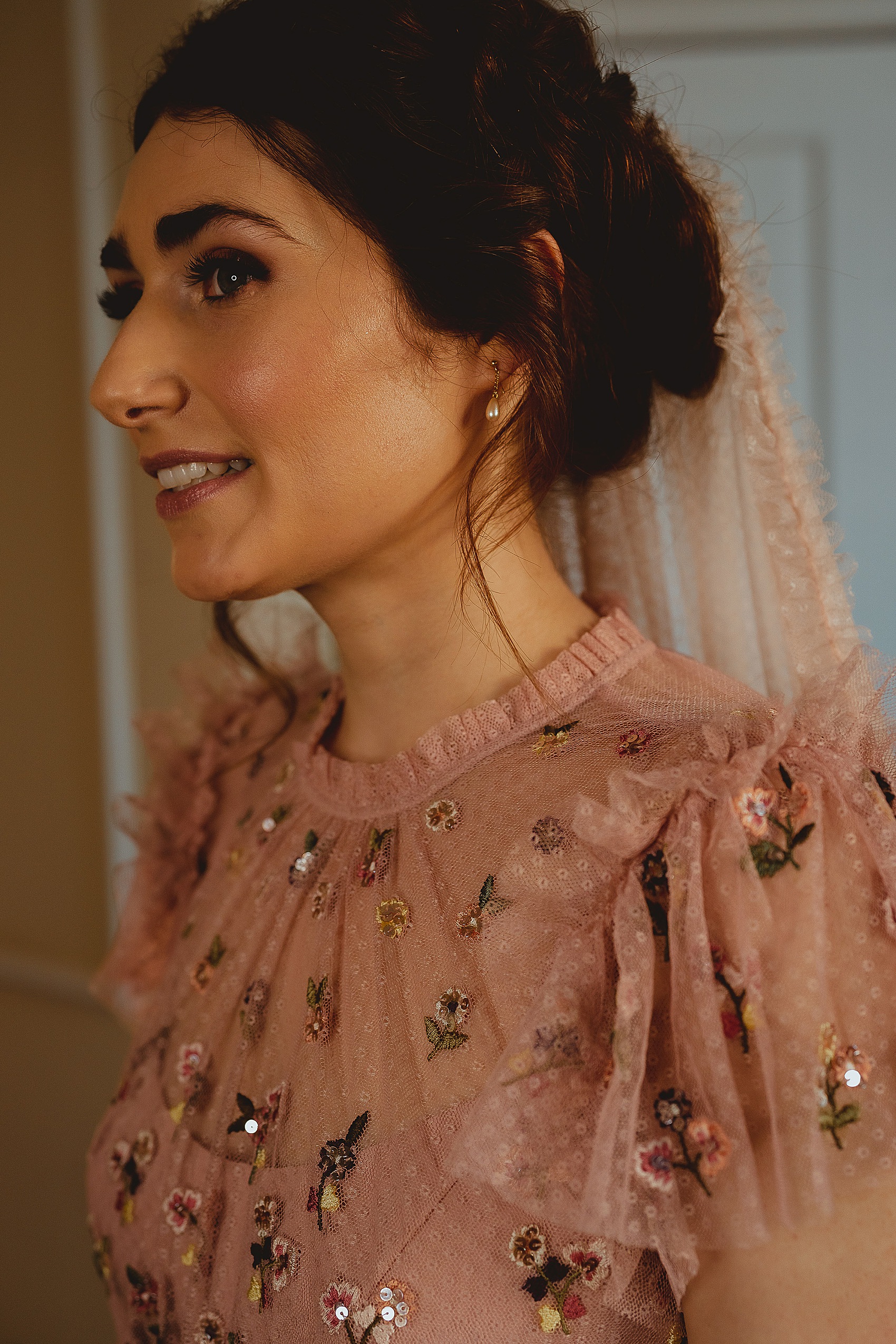 "I had a veil from Needle & Thread that was a slightly different shade of pink."
Philippa's chosen scent was Coco Madamoiselle by Chanel.
"It's the same perfume my mum wears and it always makes me feel confident."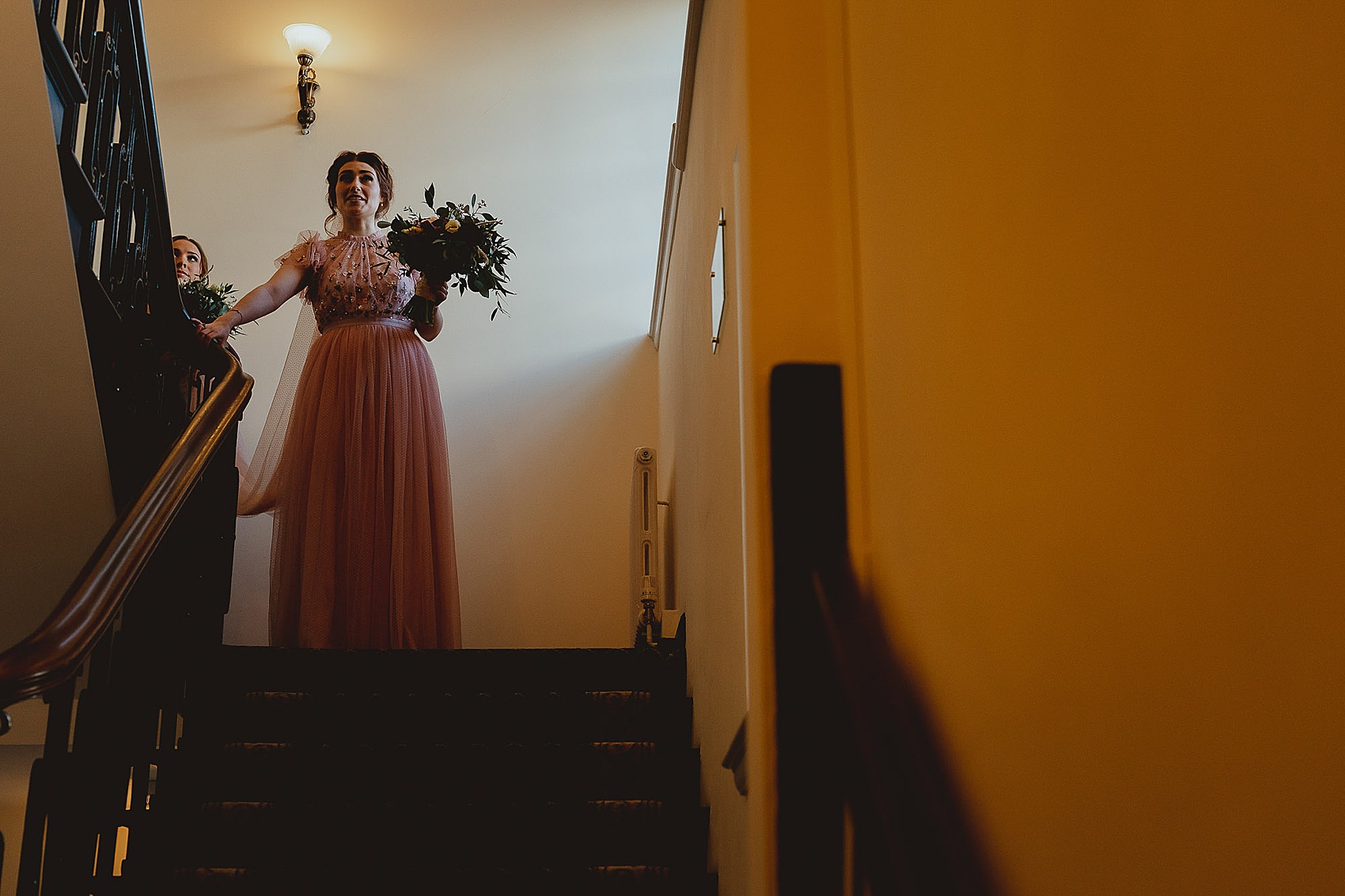 "Adam and I met on a night out whilst at University in Leeds in 2008. AOer a few years of long distance, we lived together in Liverpool and then London before moving to Norwich two years ago."
"We got engaged on 1st December 2018 – ten years to the day after our first date. After being together for so long, we knew we didn't want to wait long for the wedding."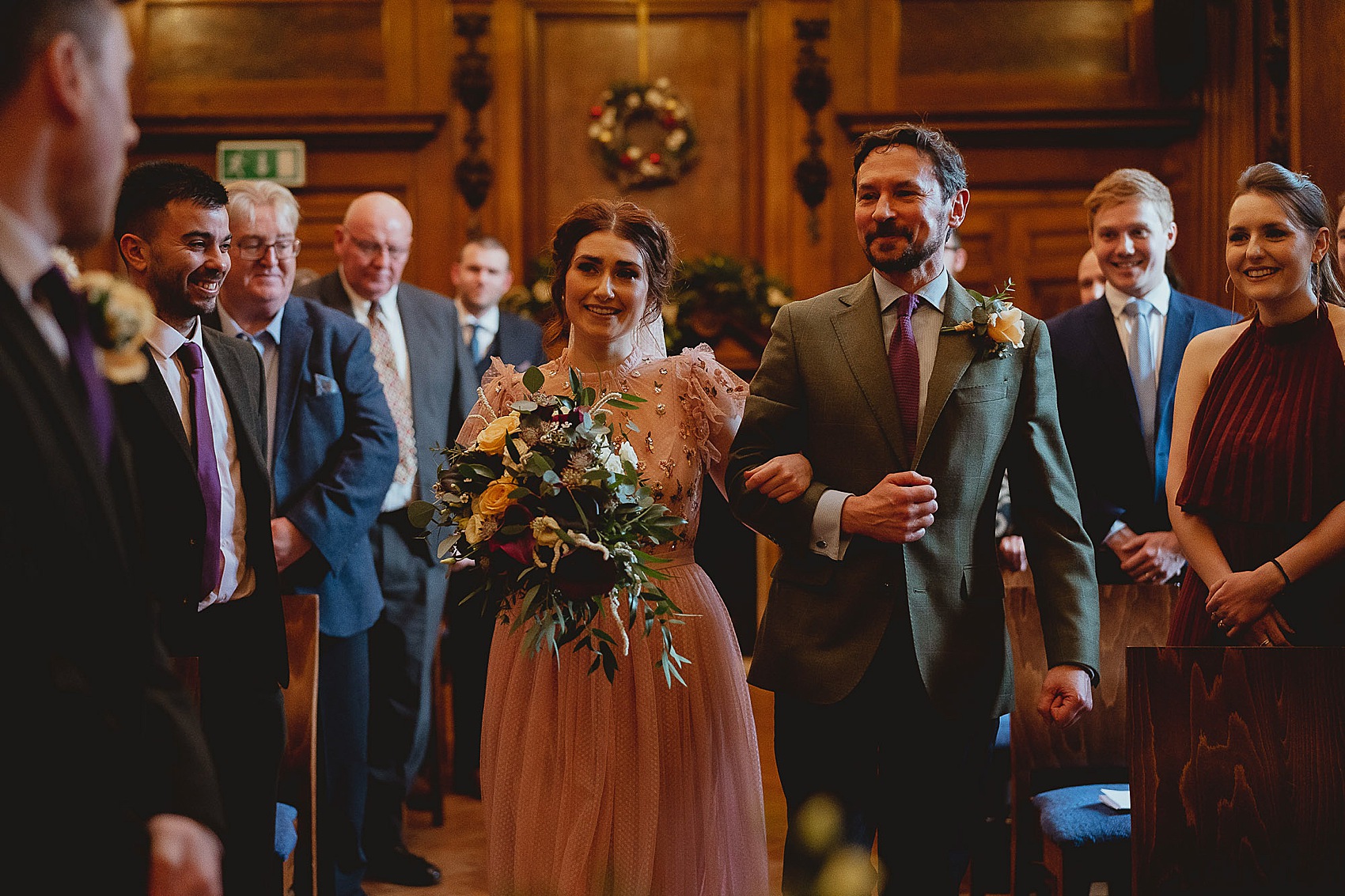 During the ceremony, the couple had 'Everything I know About Love', an extract from Dolly Alderton's book, delivered as a reading.
The second reading was 'You Really Got A Hold On Me', by The Beatles – which was in homage to the groom's hometown.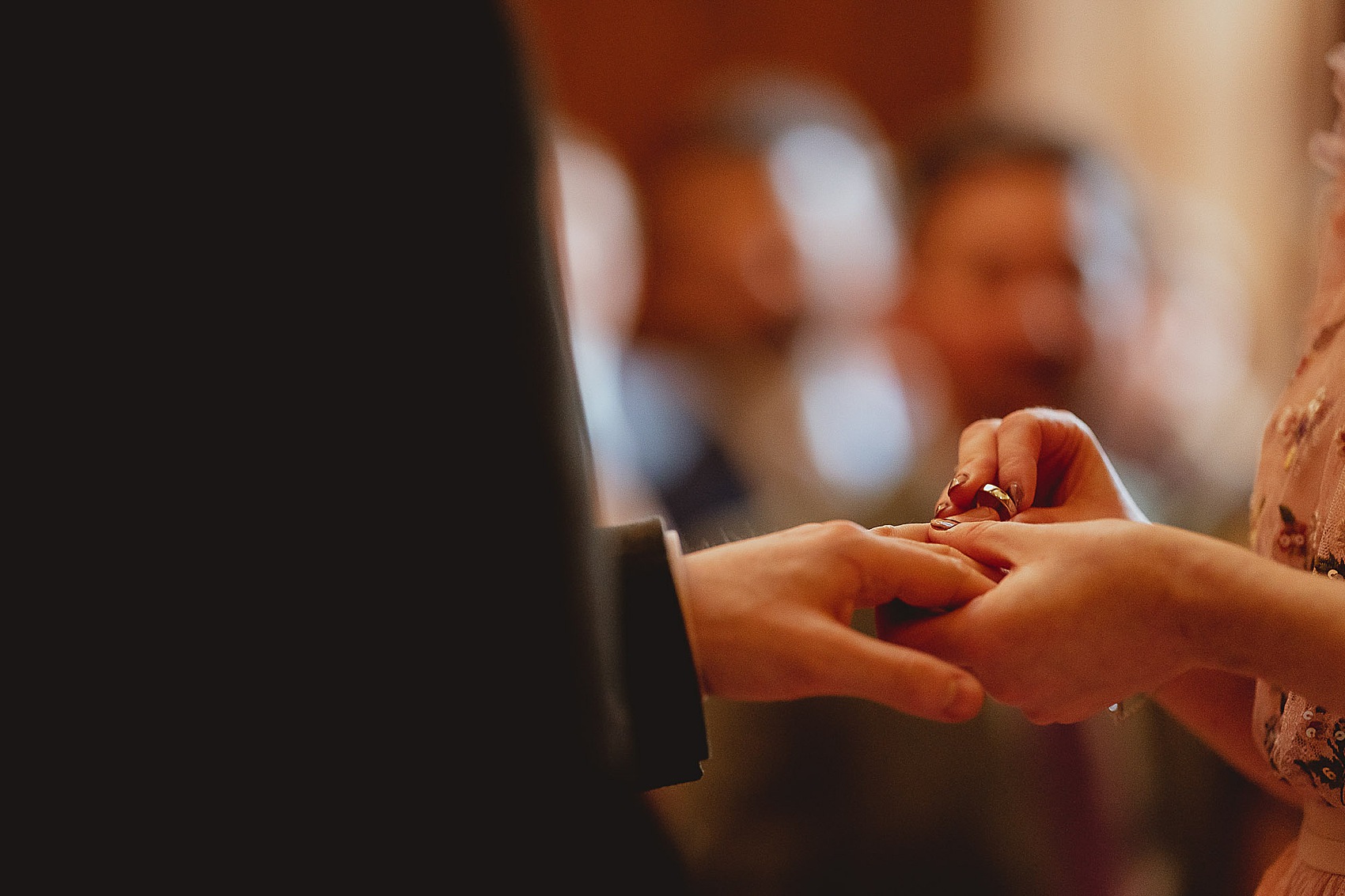 Adam wore a dark green tweed suit from Moss Bros.
"We found Adam's suit together at Moss Bros and loved the dark green tweed scheme, for our December wedding. He also wore a pair of oxblood coloured brogues by Dr Martens."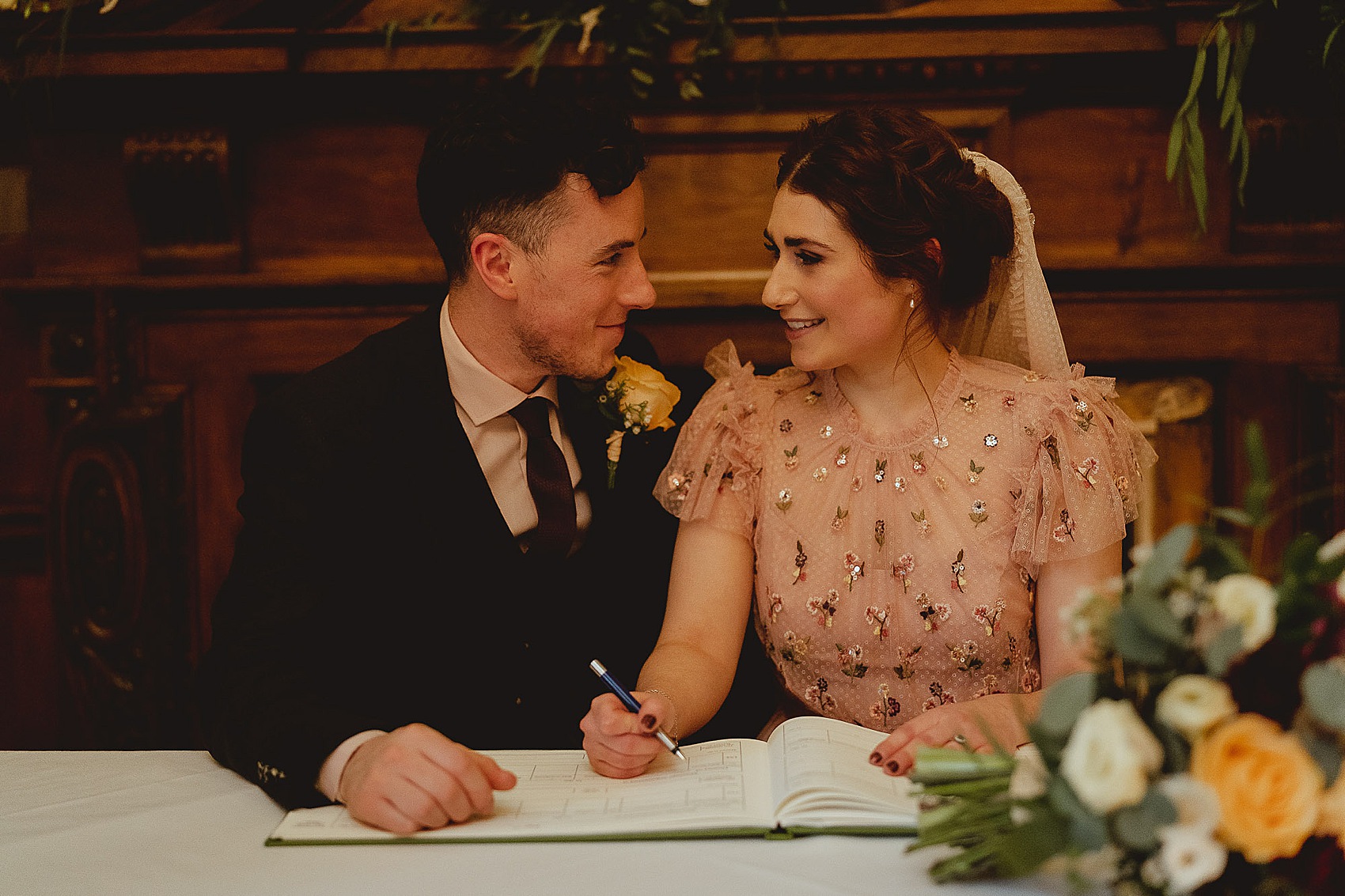 Philippa says her favourite part of the whole day was the ceremony.
"It was such a relief to get to the front of the aisle and see Adam. I just felt so happy throughout the whole thing."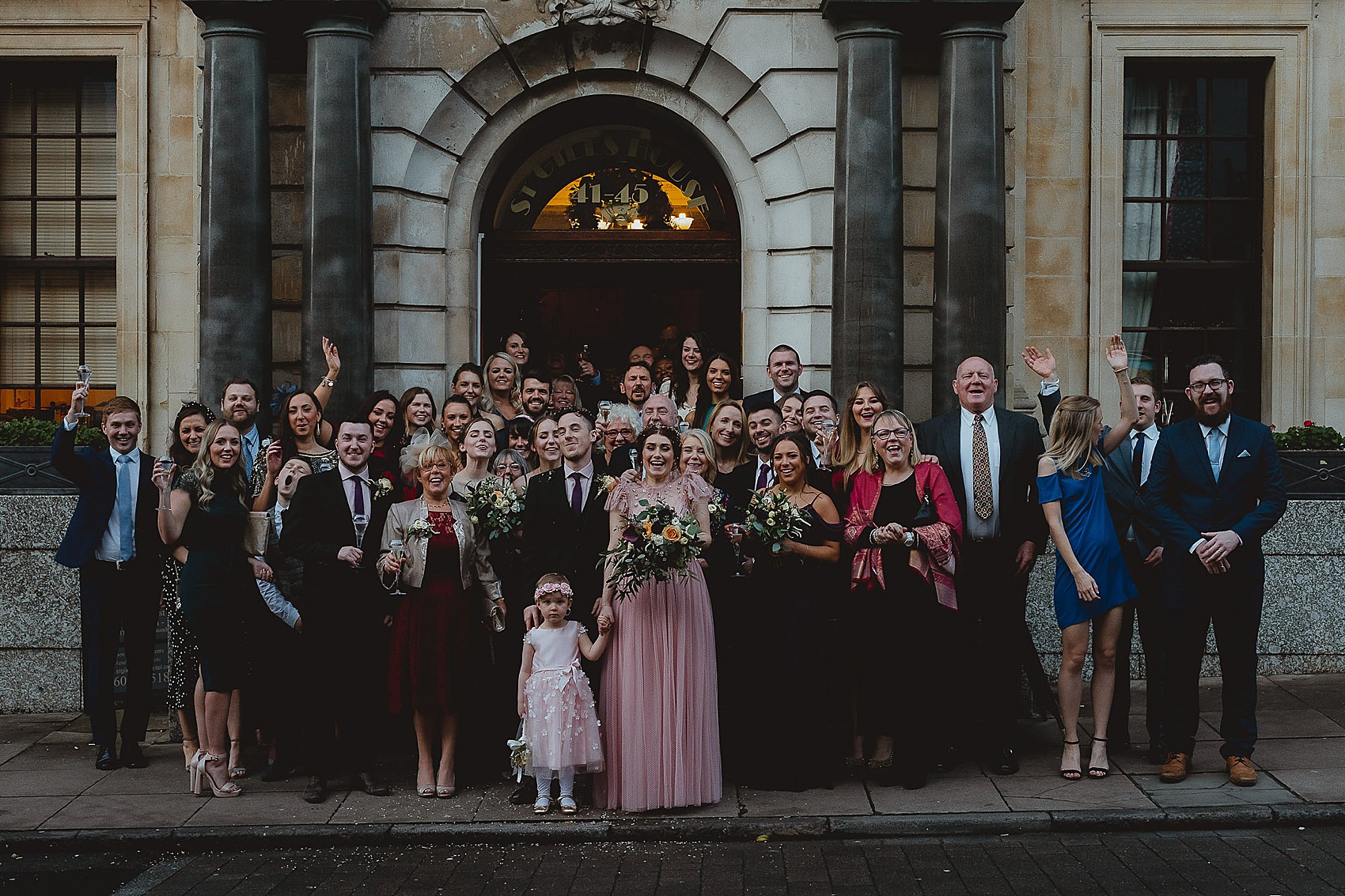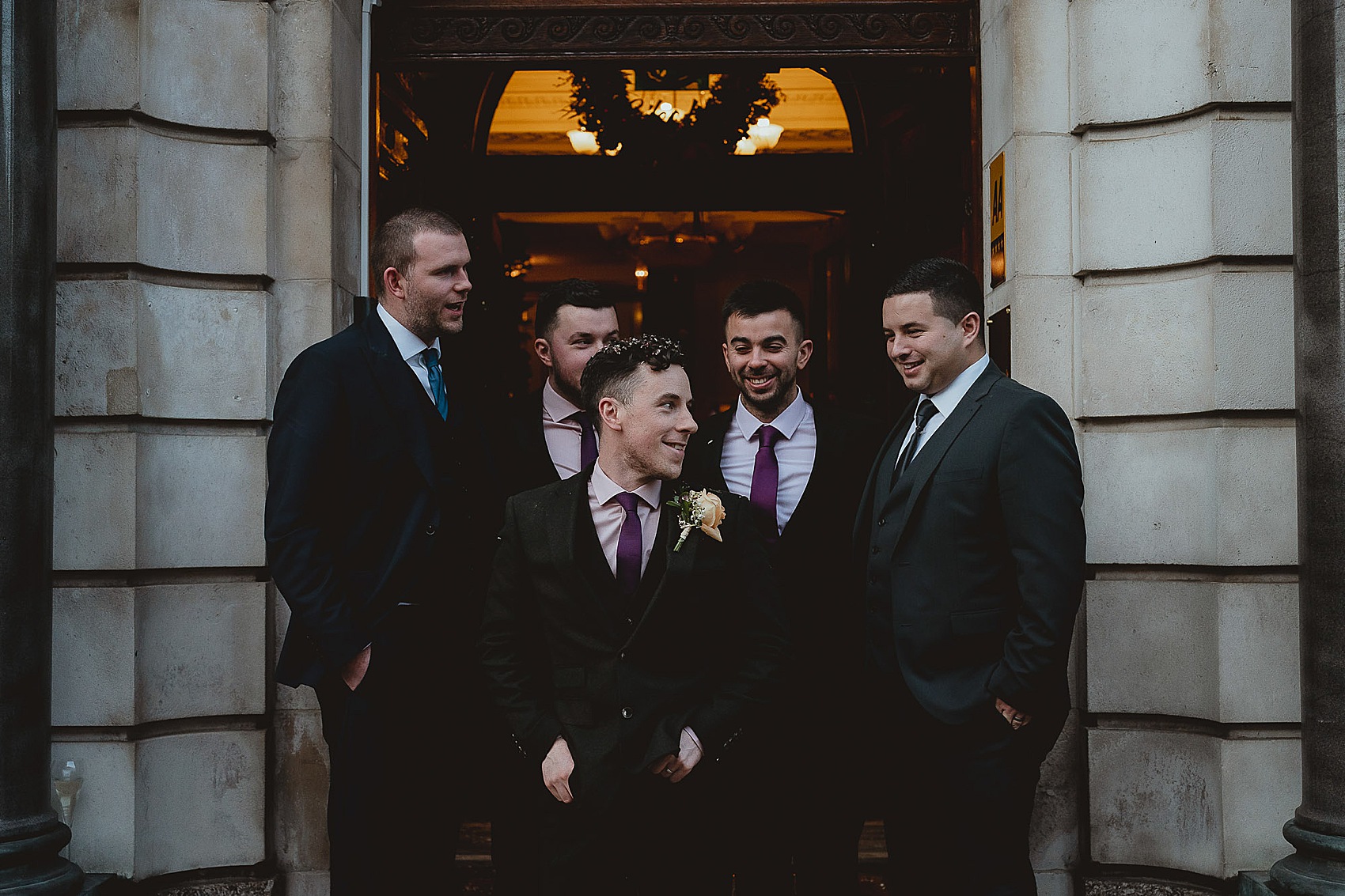 As for the groom, his favourite part of the day were when the couple had photographers taken after the ceremony.
"It gave us a chance to be alone and reflect on how perfect everything was."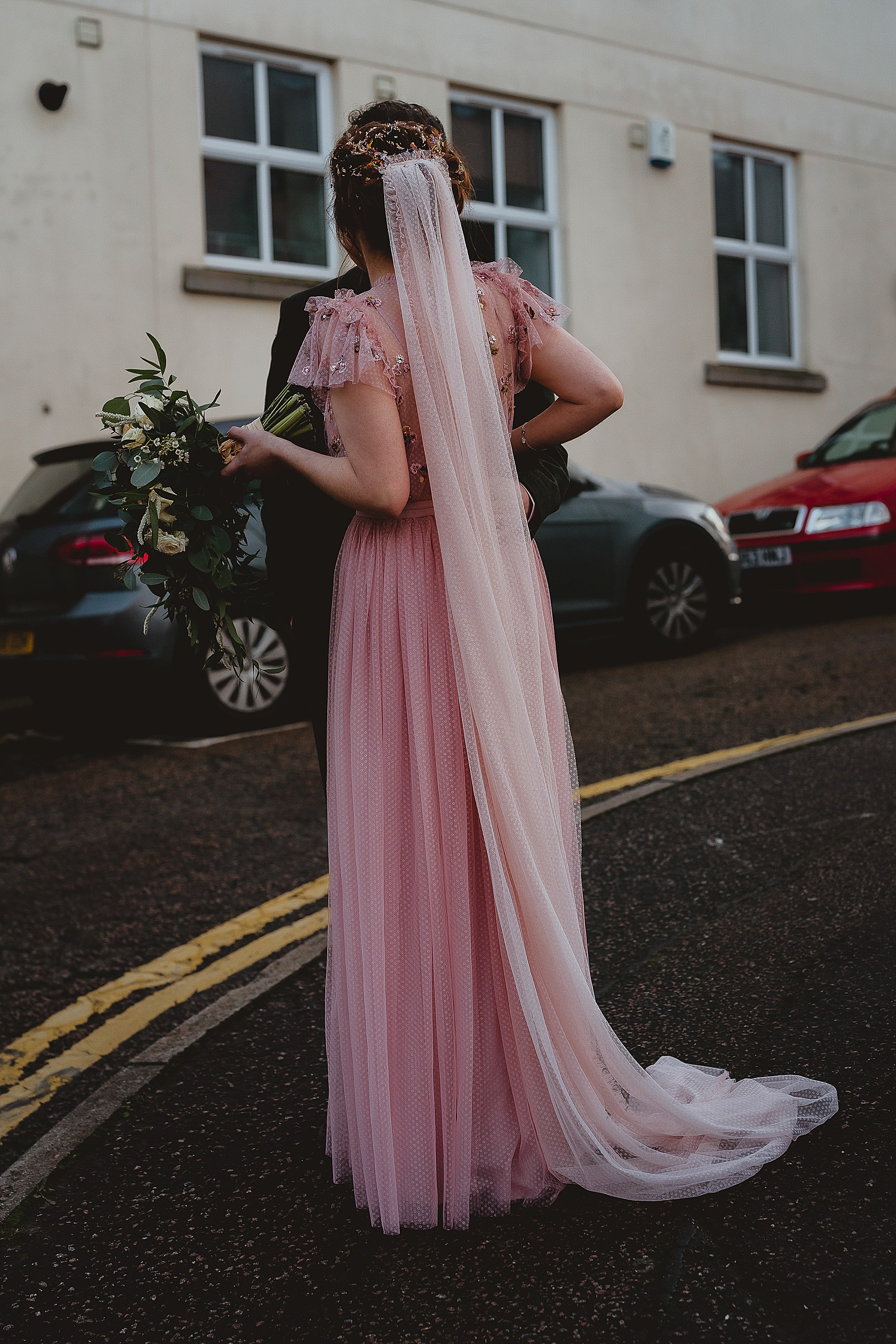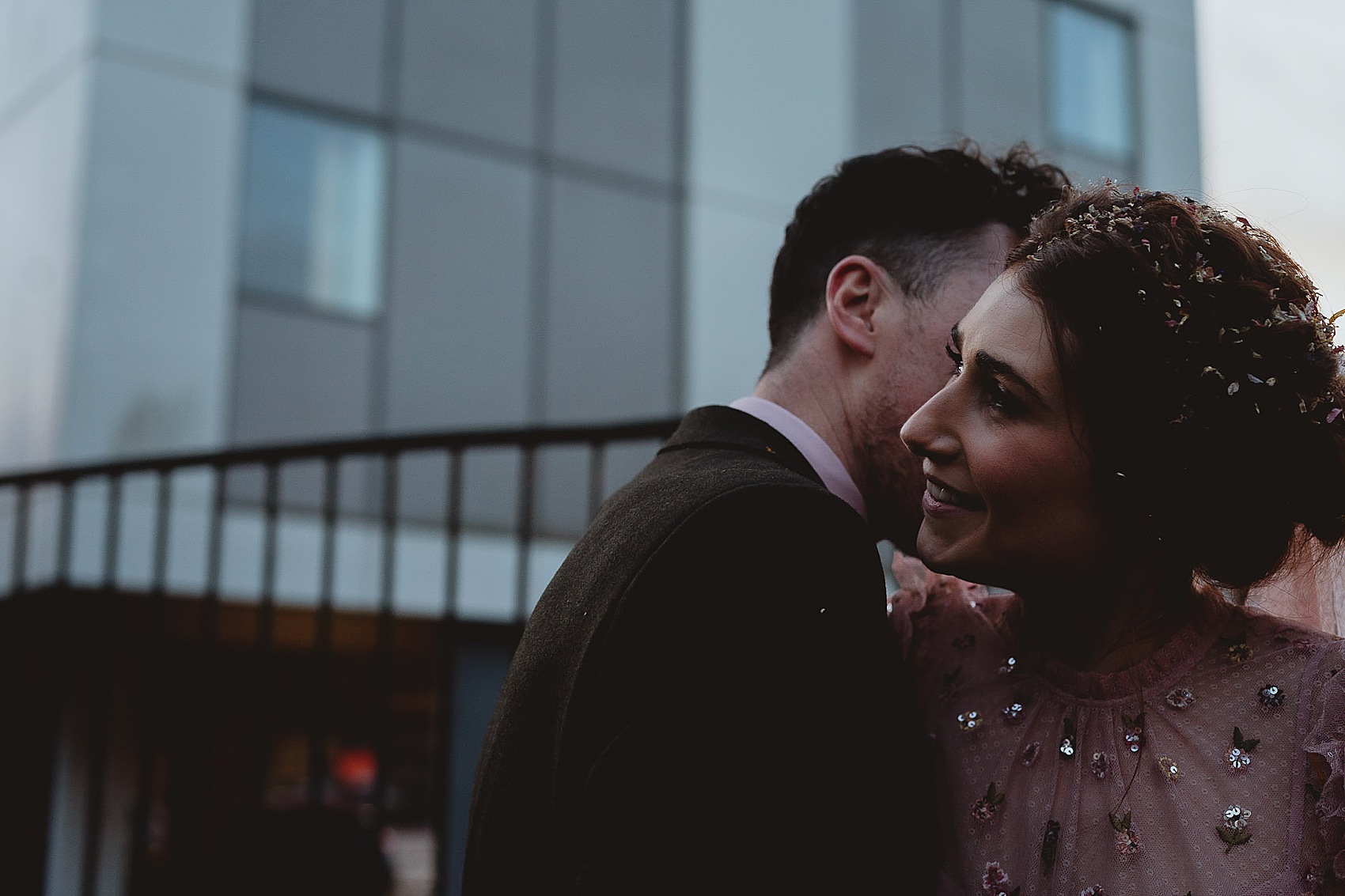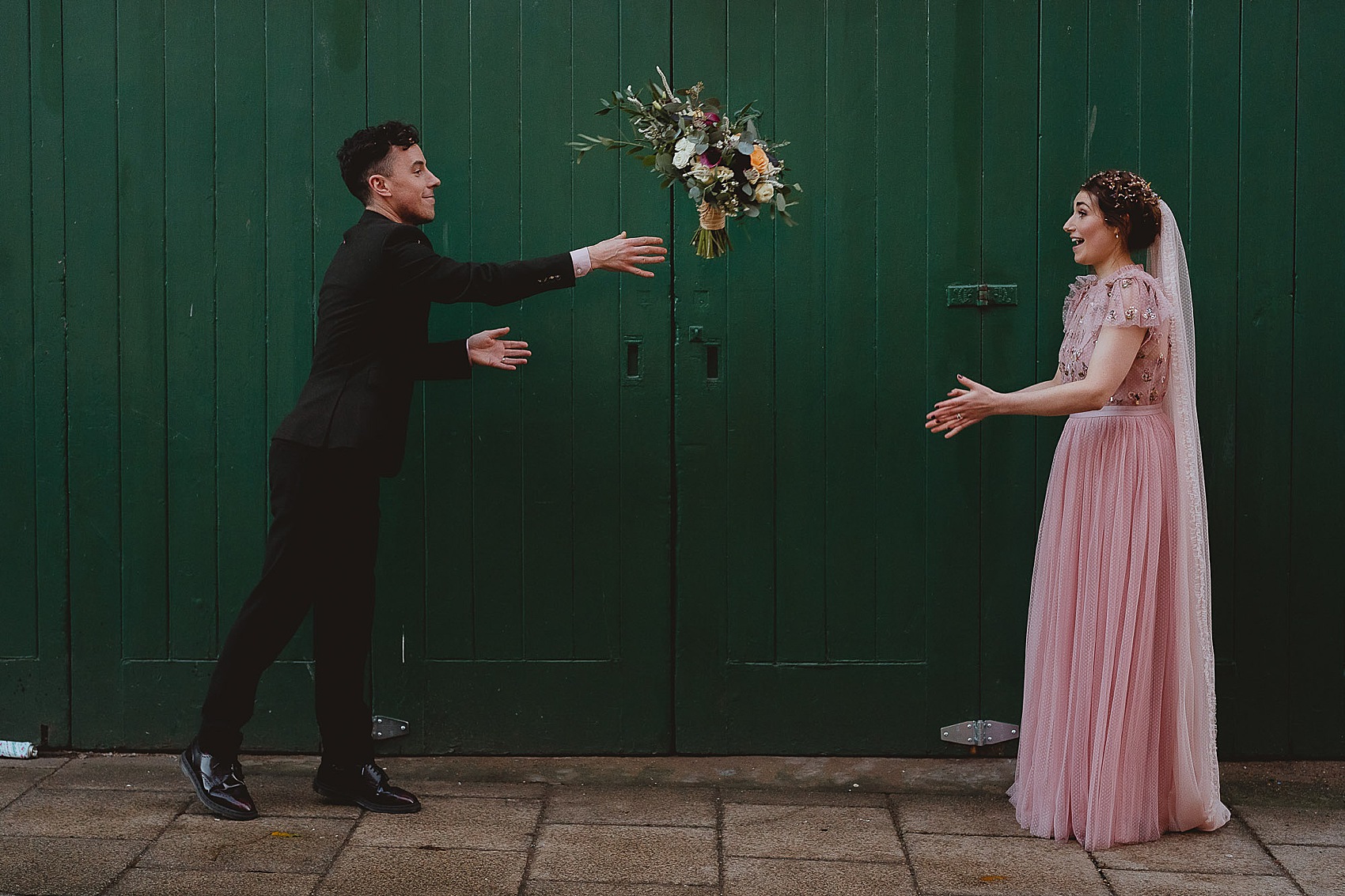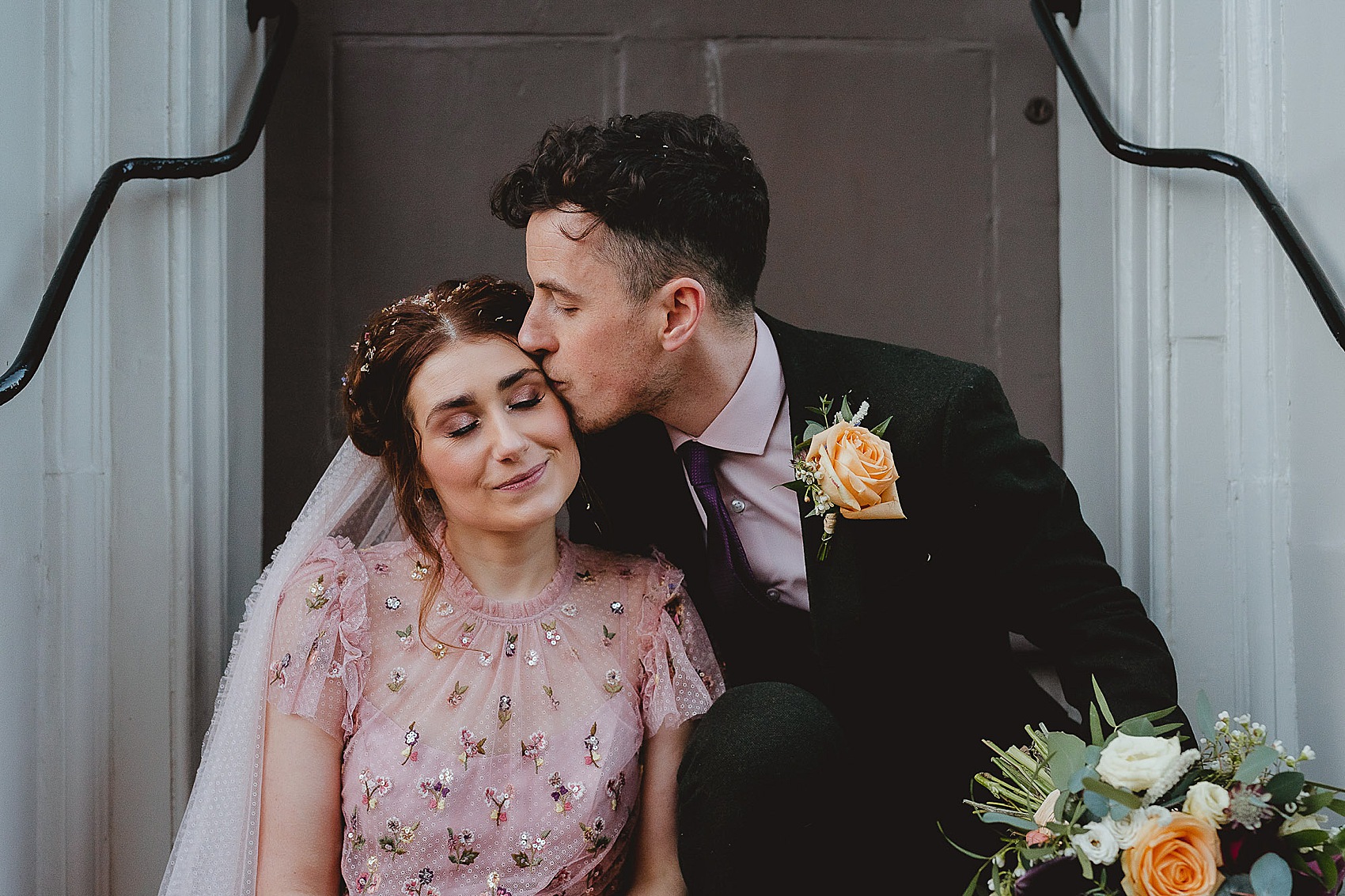 " St Giles was the first and only venue that we viewed. The Art-Deco style and city centre location was perfect for us."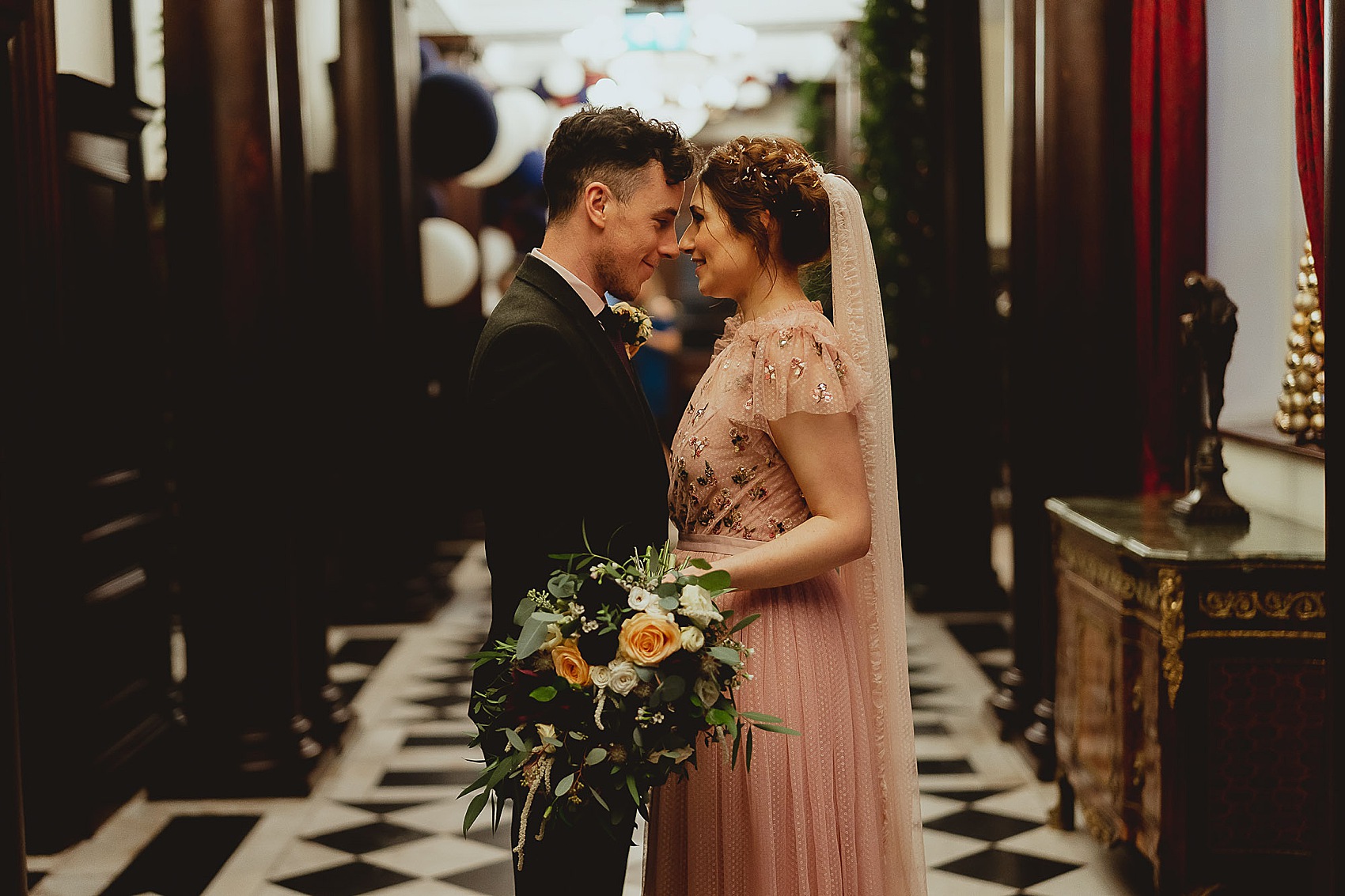 I love the understated festive touches the couple chose to weave throughout their day.
"We knew that we wanted a small, laid back wedding that reflected us as a couple. With the wedding being on 21st December, we decided to embrace Christmas with table named after our favourite Christmas films and Christmas influencing our flower choices and some of the song choices too."
The clever groom designed the couple's stationery and had it produced at Moo.com.
Favours were small bottles of damson Gin, homemade by the mother of the bride.
The magnificent 3-tier cake on a wooden log was supplied by a family friend.
"We really wanted a photo-guest book and set up two polaroid cameras, a polaroid lab and some props. This gave us something instant to look back on and smile at when we were feeling a bit delicate the next day!"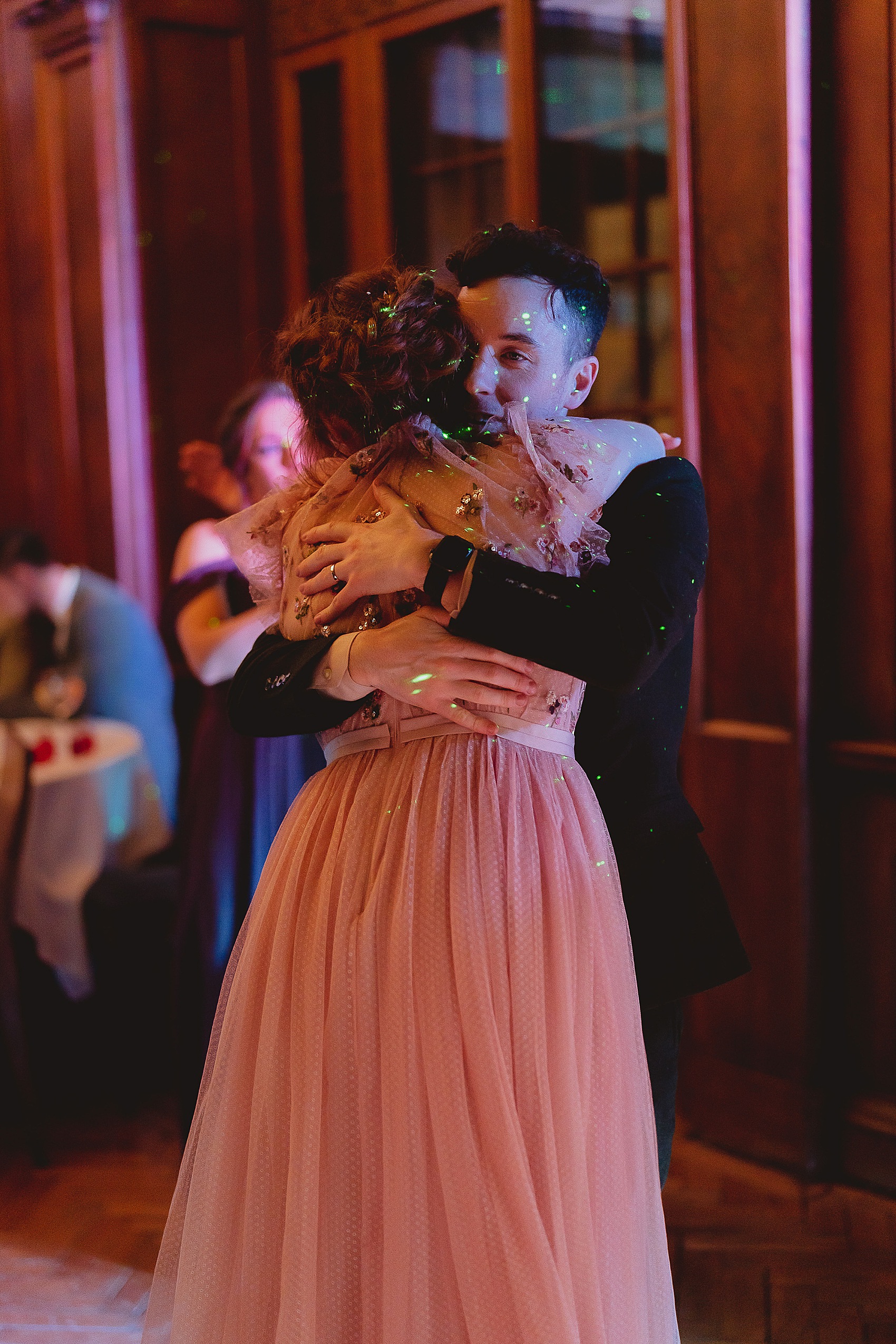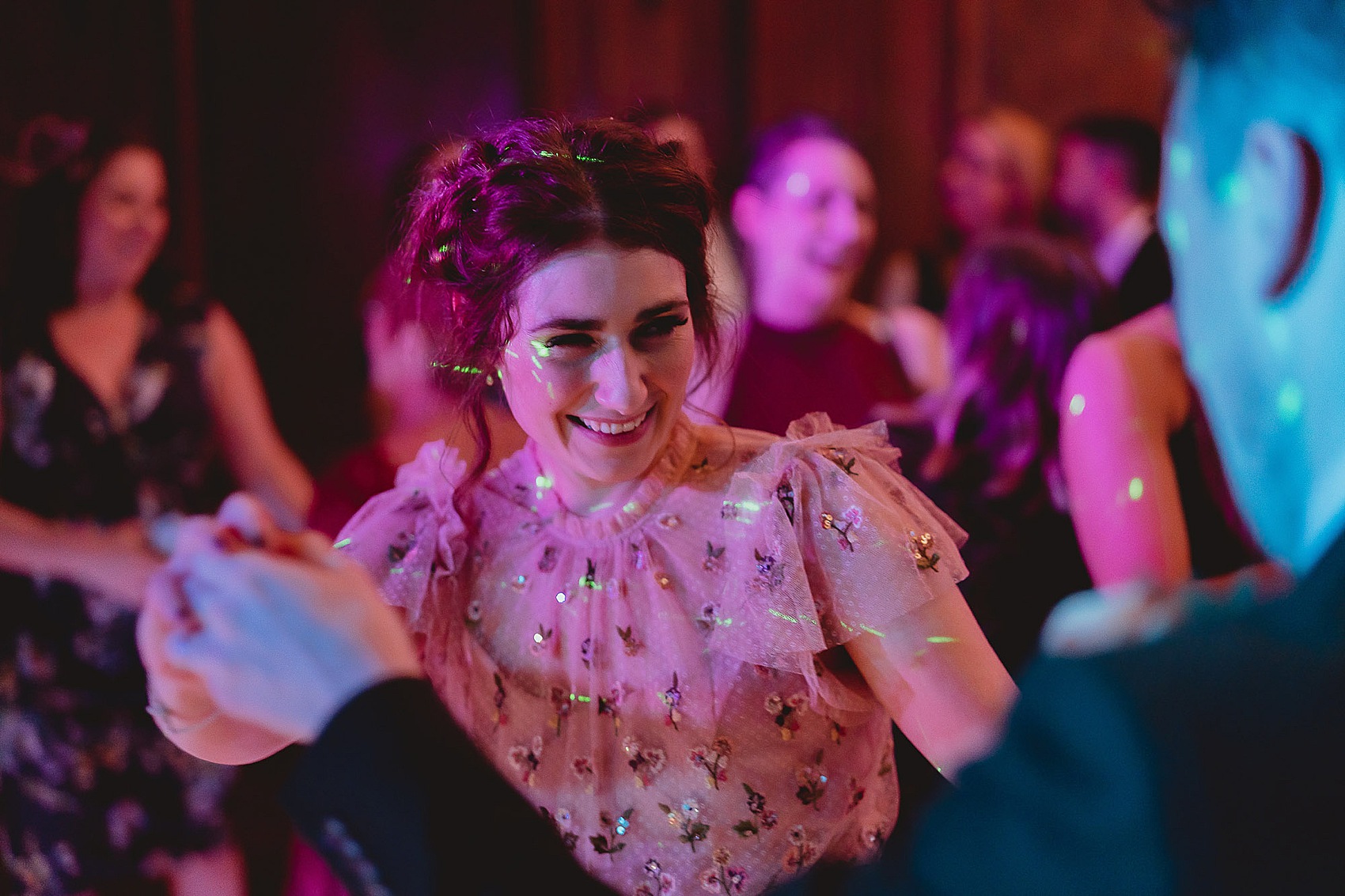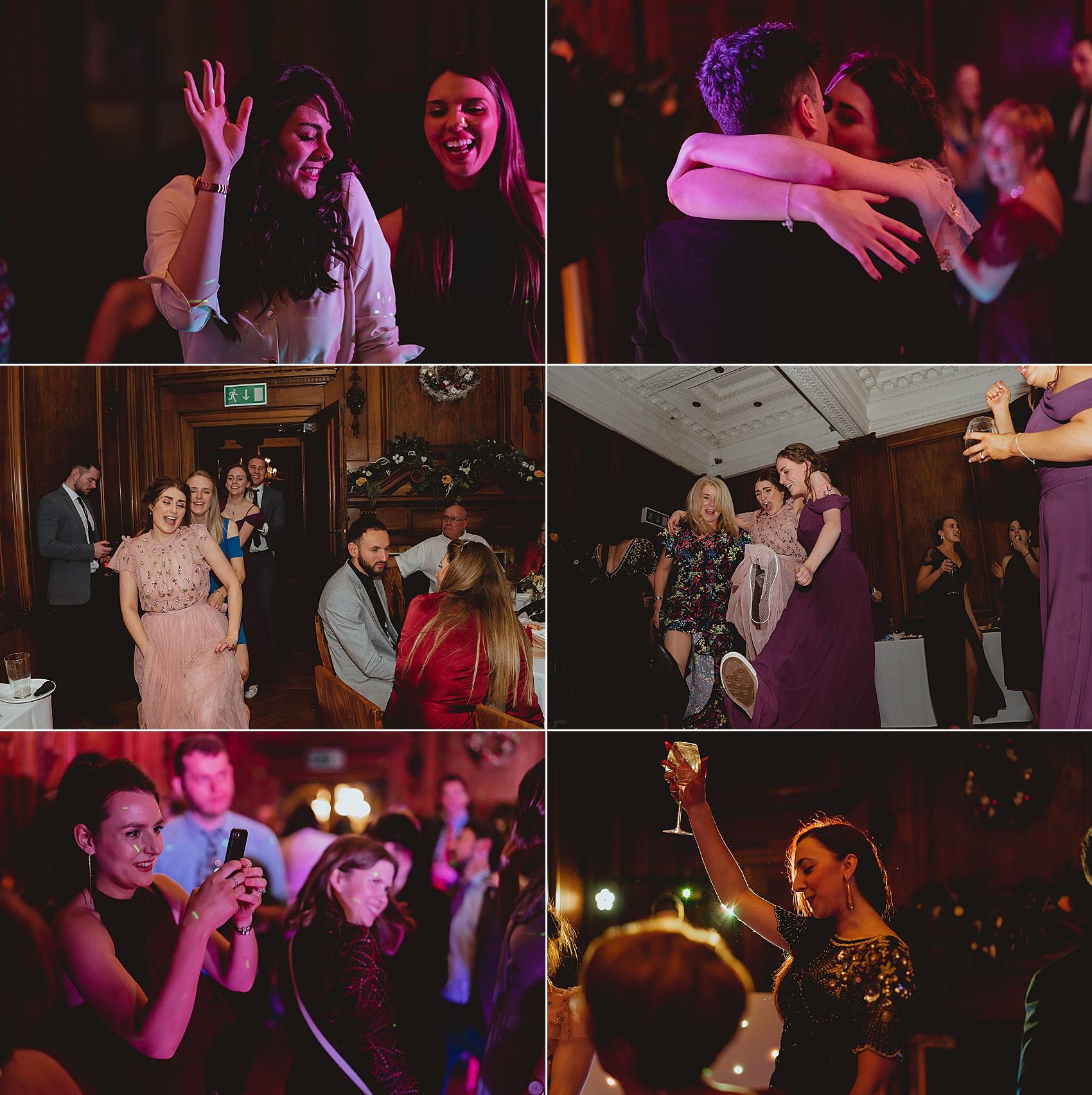 Words of Wedded Wisdom
"Don't let it get too much for you that you don't enjoy the planning. Do it together and have roles for each of you. Get the big things booked as soon you know your dates.
Don't just do things that you are told or think you should be doing. Remember that the day is for you as a couple, let it be as natural to you as you can."
"We had a £12k budget and only very slightly exceeded it in the days running up to the wedding.
There is nothing that we can think of that we would change, everything just worked as we had hoped it to."
How absolutely lovely – all those warm, wintery vibes. You n