Wedding lovers, planners, dreamers and romantics, you are going to absolutely adore the wedding I have to share with you today; a late autumn elopement wedding on the shores of a misty Scottish loch, surrounded by ancient pine forest and a dramatic mountain backdrop.
This was a ceremony organised in just six short weeks, planned to coincide with a holiday our couple had already booked in the Cairngorms, and was captured with such sweet sensitivity by our Little Book members The Caryls, who were also ceremony witnesses, too!
Photographers Katy and Jim, AKA The Caryls, specialise in beautiful, intimate elopement weddings, and their approach, style, and love of nature really stood out for Lauren and Mat when they discovered them online.
"The fact that there were two of them was a bonus, as they were able to act as our two witnesses, which was great as we weren't inviting anybody else to our day! But it was the nature of their photographs that impressed us so much – they were just so stunning and highlighted how beautiful we knew Scotland was, as well as capturing the story of the couple's elopements that we saw online."
"We also thought Jim and Katy looked like a lot of fun, which they were, and we spent the day laughing and joking and just enjoying ourselves while meeting some pretty cool people!"
"We started off with an online enquiry, then a Skype chat, in which they were very understanding of the fact that we had almost no idea about what we were doing, beyond the idea of eloping outdoors near forest and lakes; that we wanted to keep it simple, and that we had to pull it together in under 6 weeks!"
They were amazing, and gave us so much support, suggesting ideas for the exact location, dress and suit suggestions, potential suppliers for everything we might need, and reassurance that it would all work out perfectly."
Lauren, a primary school teacher, and Mat, a computer scientist at a hospital, were married on the 2 November 2019, down by the water's edge of Loch Garten, Abernethy, in the magical Cairngorms.
"We've been together for 11 years, and met at work. At first we were friends, but this developed into something more after a few months! We were at a bit of a crossroads in our relationship when we decided that we both saw our futures together, and so decided to do something about it as soon as possible."
"We already had a week's stay booked at The Lazy Duck for half term, which was 6 weeks away (eco-friendly cabins in the Cairngorms) as our best friends had recommended it, and decided that this would be the perfect opportunity to get married in an amazing setting."
"We'd always joked about eloping, but when we finally decided we wanted to marry, it just seemed to make so much sense."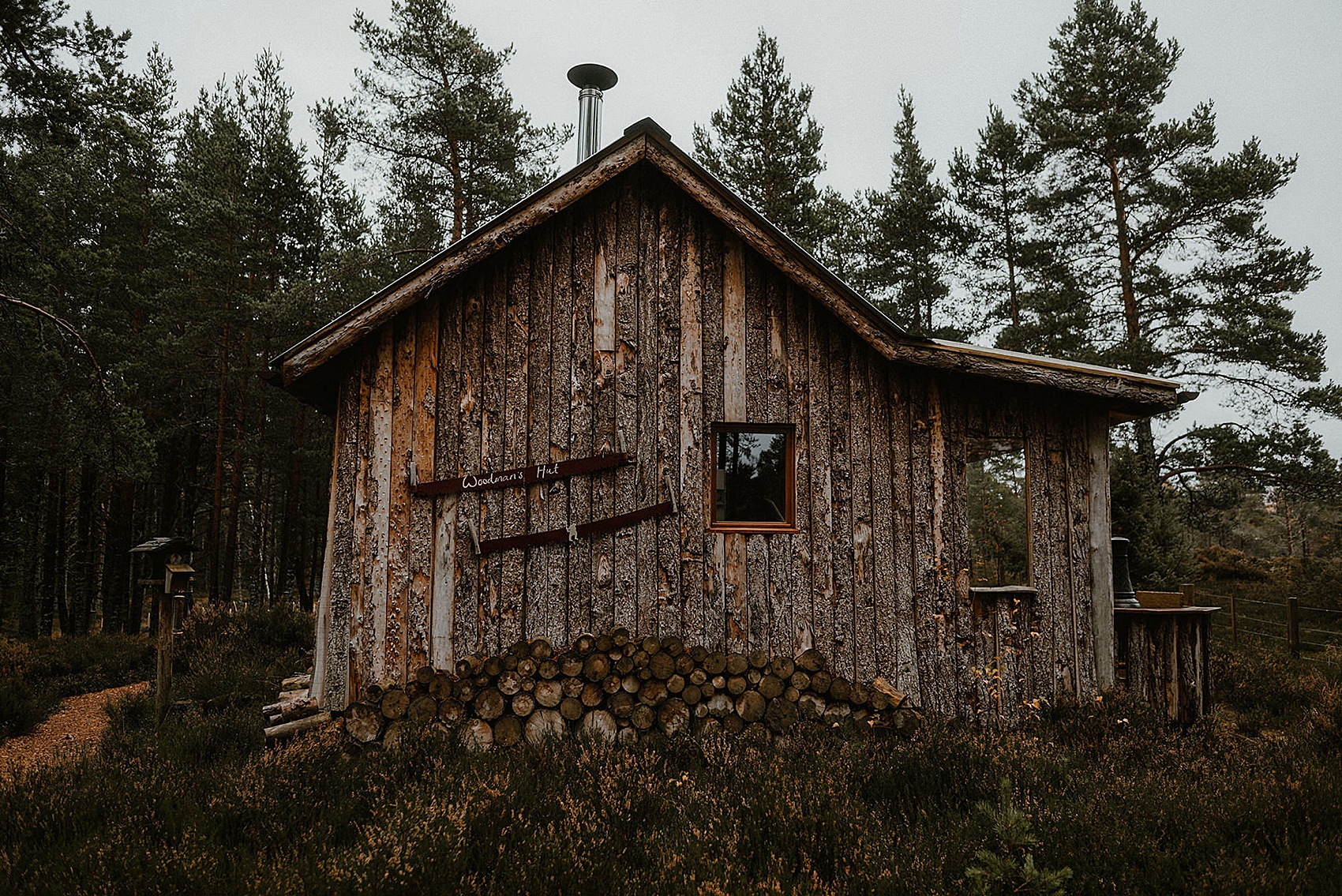 For her wedding dress, Lauren chose the timeless, romantic beauty of Catherine Deane's 'Fantasia' dress, with its softly draped silk tulle bodice and skirt, tied at the waist with silk ribbon, leading round to a delicate lace back, with a row of beautiful buttons all the way down.
Lauren found her dress, pre-loved at Gillian Million's lovely South West London boutique.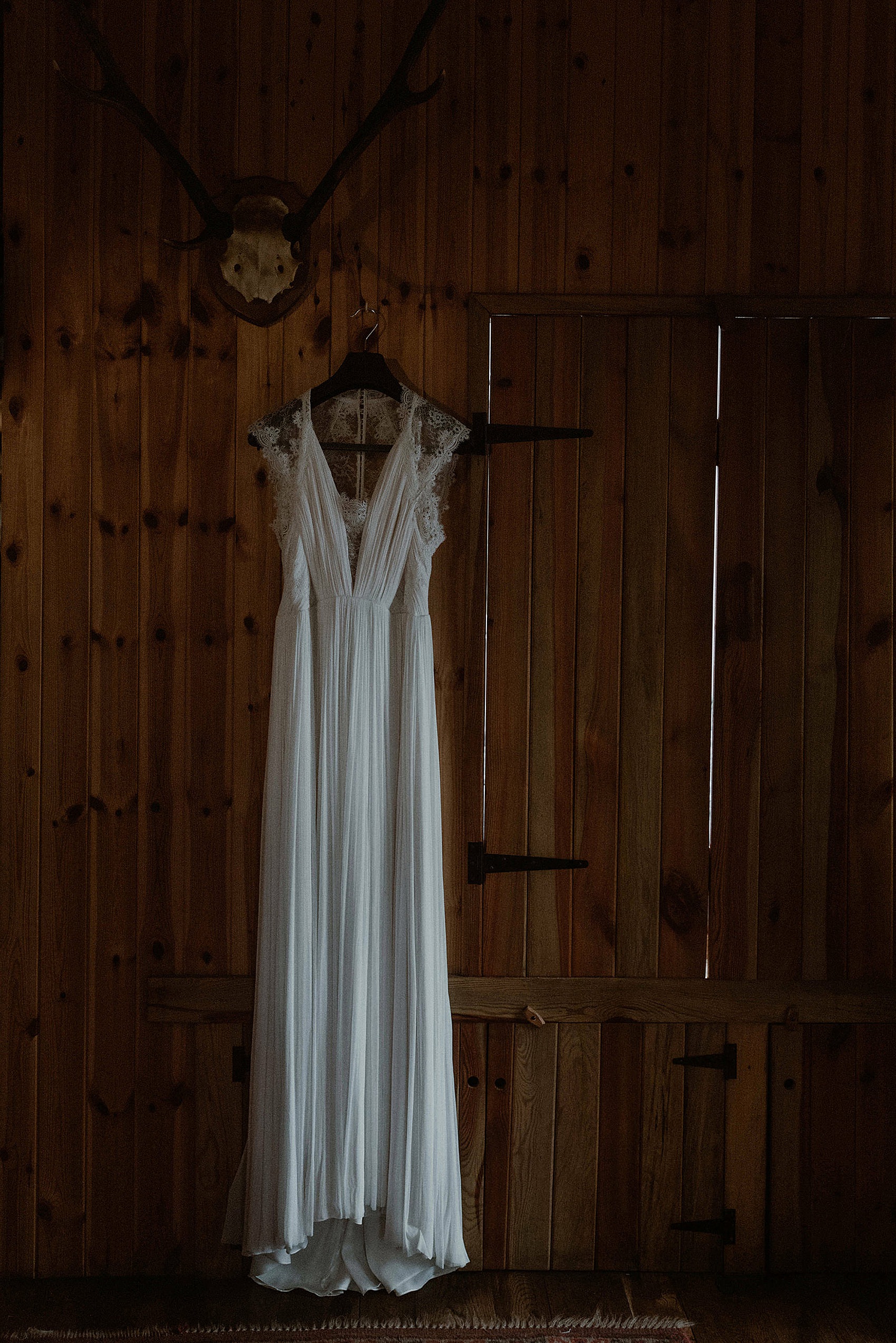 "I particularly loved that it was light and airy, the floatiness of the skirt, and the beautiful lace detailing on the back. It was also very supportive, which I needed with my larger bust!"
"I wanted to get my dress second hand, as the thought of a dress only being used for one day then put away forever just seems such a shame to me, so being able to use one that already had a history was very appealing. Our photographers (The Caryls) had been so helpful in suggesting some designers they had come across, and I fell in love with Catherine Deane's style."
"An internet search led me to Gillian Million's dress shop, which specialises in designer dresses at affordable prices through selling pre-loved pieces. I booked an appointment, and spent a lovely session trying on a few dresses after discussing my preferences (and budget!)."
"Gillian was fantastic – she really listened, and I found two dresses which were perfect. I ended up with a Catherine Deane dress that I hadn't actually seen before, but which was gorgeous and flattering, and perfect for the occasion. Gillian finished it off by suggesting a lovely hair vine, handmade by her, at a steal of a price."
With her dress, Lauren wore walking socks and a pair of Scarpa hiking boots to navigate the woodland terrain, and carried a lovely bouquet made for her by The Flower Box in Grantown-on-Spey.
"I left this a little late! I knew I just wanted something simple and local, and so we popped into the florists in Grantown-on-Spey to ask the lovely lady there if she could produce a simple bouquet and buttonhole at short notice. I wanted blues/purples with as much Scottish-ness as possible, and was very pleased with the results."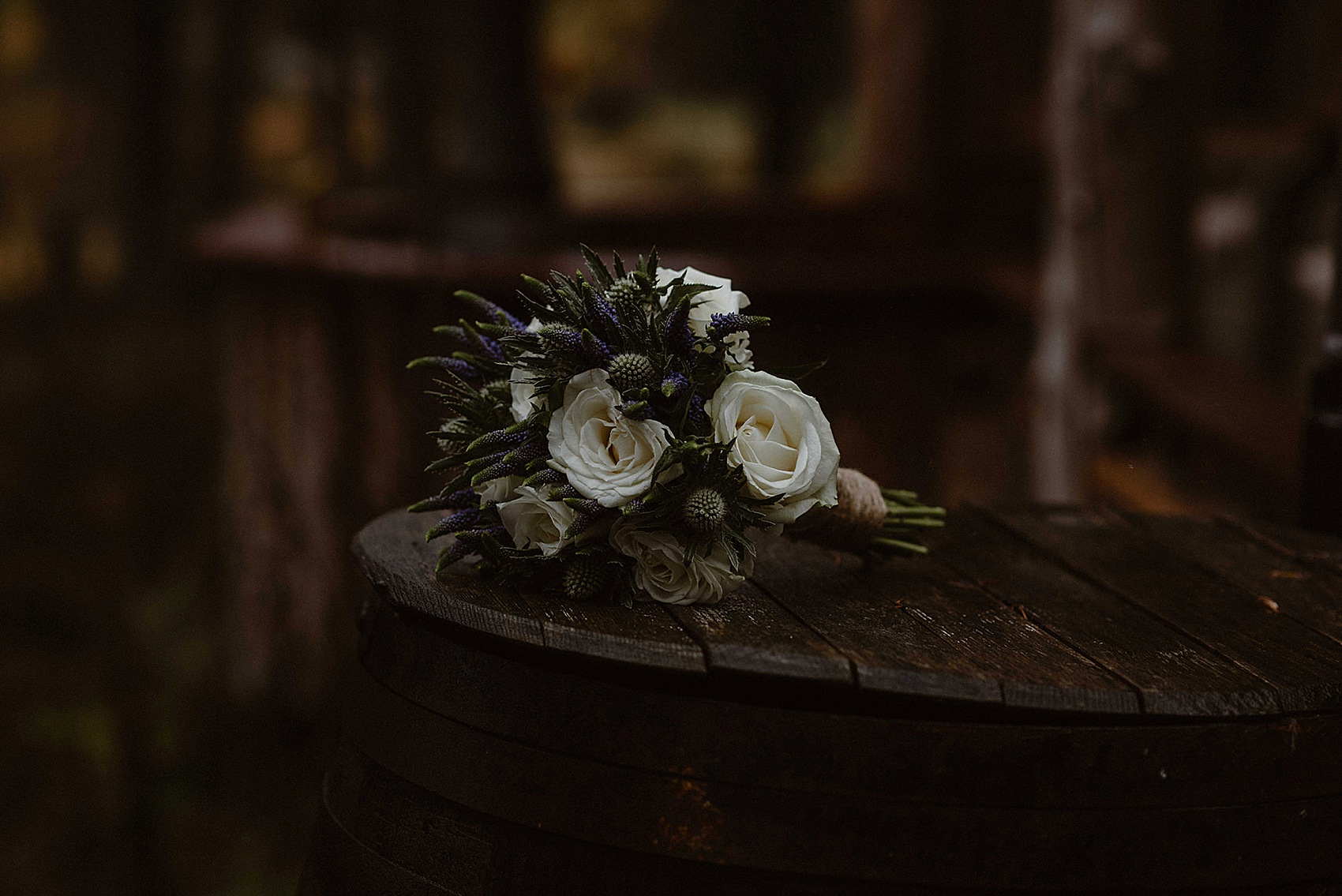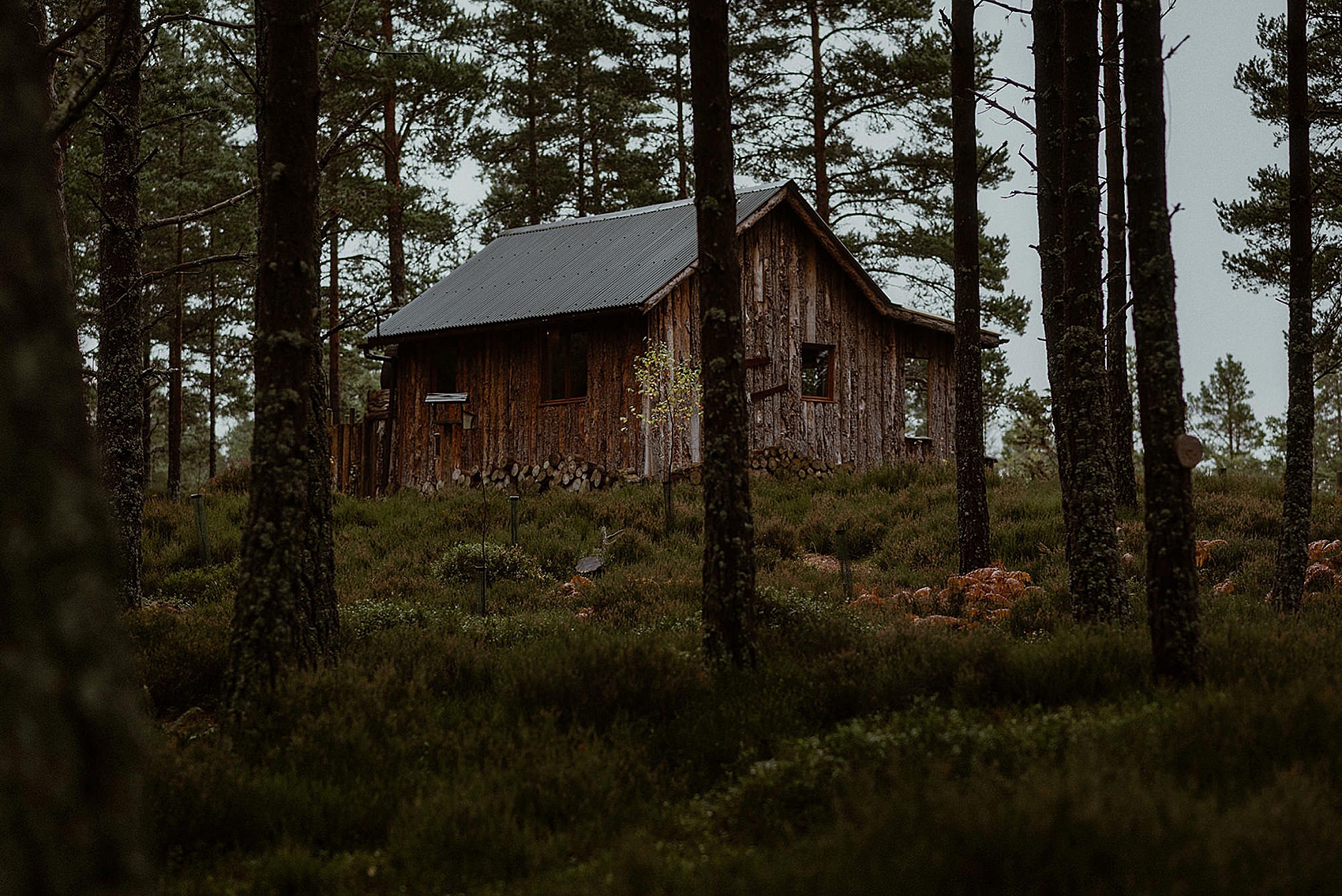 After another great recommendation from photographers The Caryls, Mat headed to Walker Slater's Fulham store to choose his splendid three-piece suit in a rich brown tweed, which he wore with a burgundy tie, a pair of oxblood brogue boots, and wooden Star Wars Millennium Falcon cufflinks – a gift from Lauren, which she found on Etsy.
"We knew that our families would have loved to be involved in our wedding, but at the same time, we also knew that there were elements of a traditional day that just weren't us. Mat is quite shy and quiet, and the idea of dancing in front of others is his worst nightmare!"
"The thought of stressing about table plans, endless preparations, and especially the fact that much of what we would do would have been about other people meant that we decided it just wasn't for us."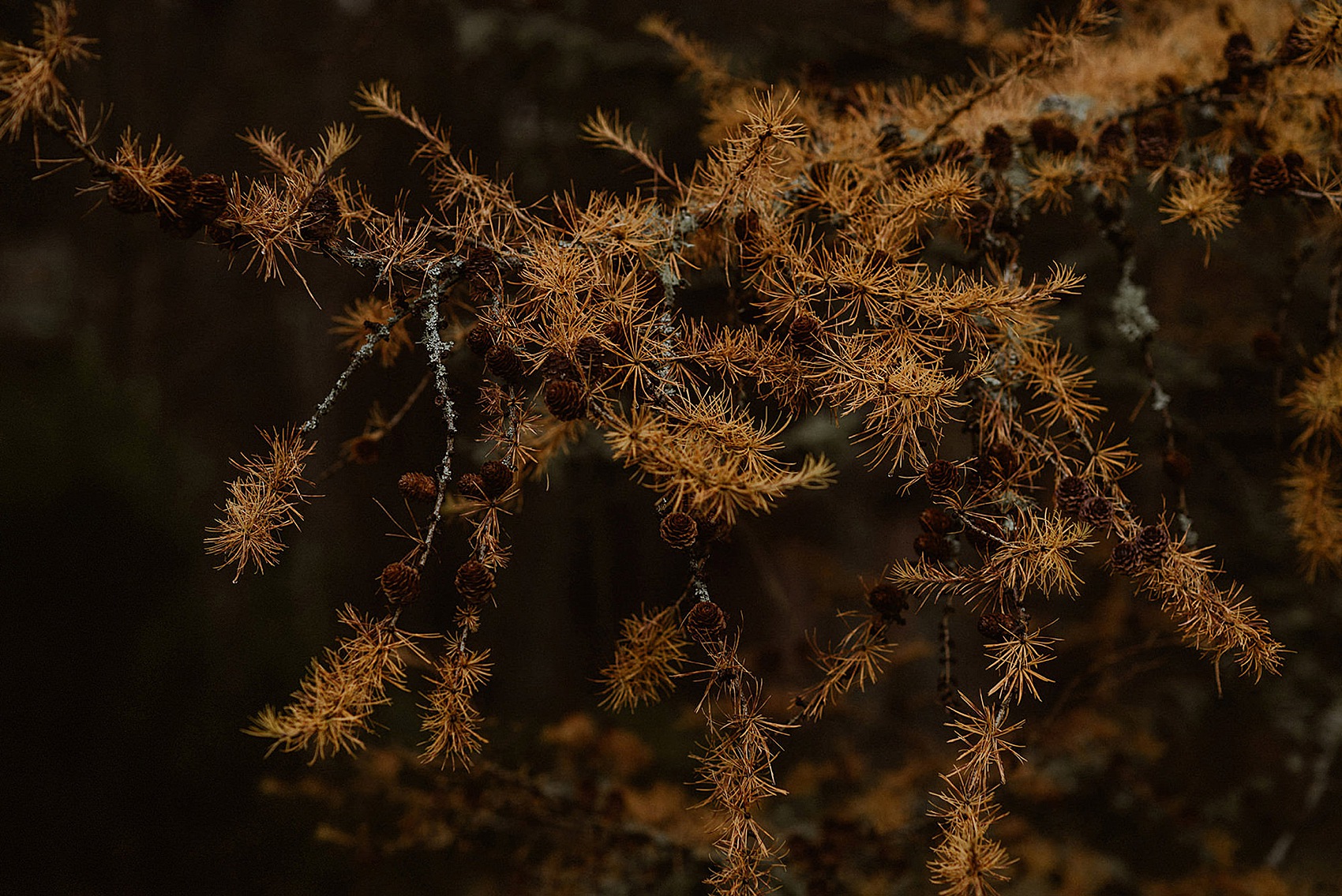 "Keeping it so simple meant that we really did decide everything together, and keeping it a secret for those six weeks made it feel so special. Our families were nothing but delighted afterwards; many people commented that this was typical of us, and as we'd hired photographers everybody got to see all the amazing details."
"When setting the wedding date, the one thing we didn't consider was that it was the Rugby World Cup Final! We were constricted by half term, and photographer availability, but I'm a big rugby fan, and as we were staying in an off the grid cabin in the middle of the woods, I was left panicking that I'd miss it, if and when England made it to the final!"
"Luckily, the owners of The Lazy Duck were amazing, and invited me in to watch it using their WiFi while Mat went and collected the flowers and welcomed the photographers, and I enjoyed/endured England losing!"
When they were both ready, the couple walked out into the woods to each other, and made their way together to the shores of Loch Garten to meet their celebrant, Viv Adam from The Humanist Society of Scotland.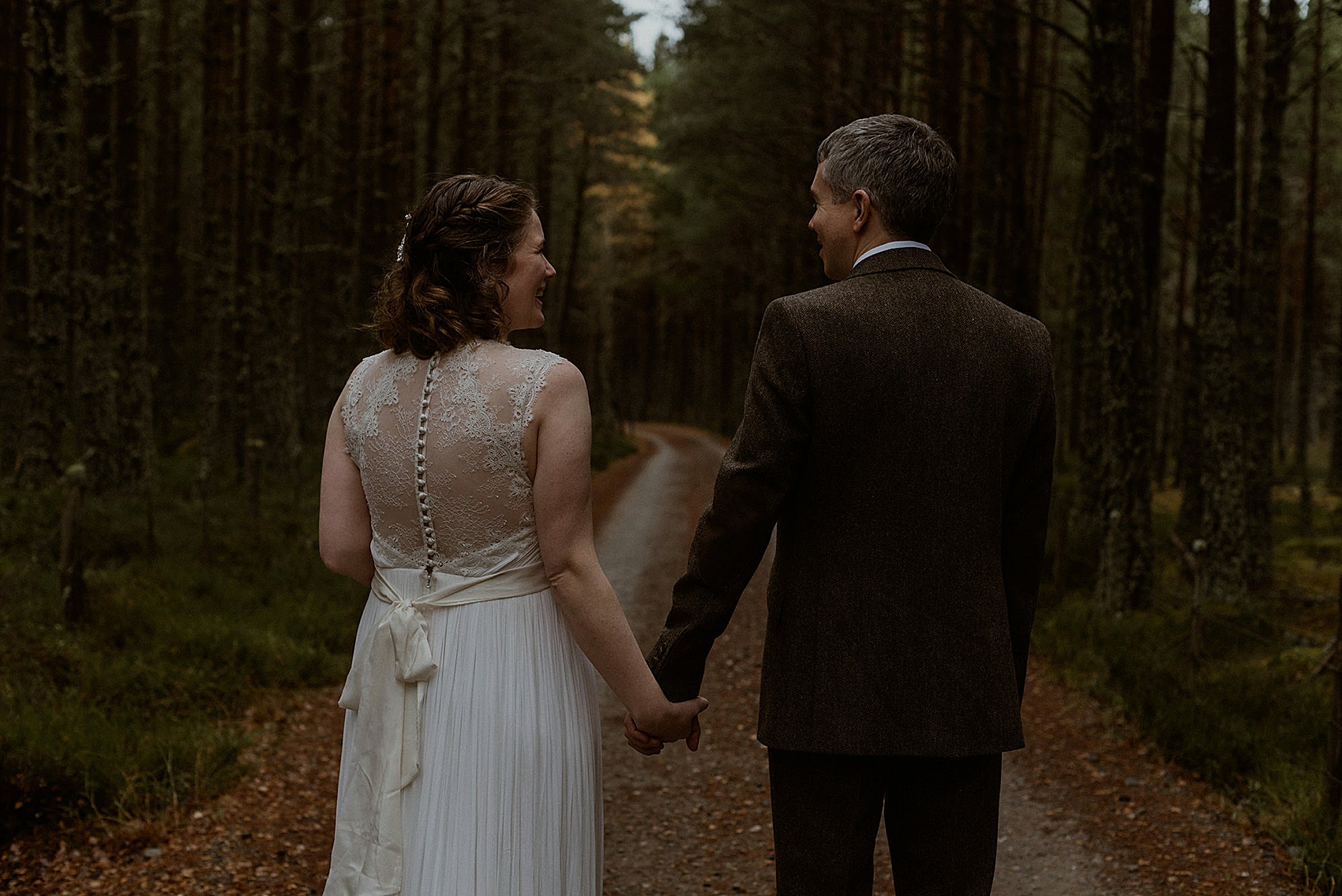 "We both love nature, and love nothing more than being outside. Forests and water are both where we feel at home, so it made sense to do it outside, especially as Scotland allows this to be done with a humanist ceremony."
"Neither of us are religious, and this gave us quite a bit of freedom, and we identified with the humanist ethos so it worked out well."
"Viv Adam is an absolutely charming lady who guided us expertly through the whole process of designing our own ceremony, which felt quite daunting to start with! She gave us sample plans, suggested readings, and helped us bring it all together."
"On the day, she was friendly and supportive, and impeccably dressed in her amazing tartan skirt and boots. She really helped make our ceremony meaningful and touching, with plenty of laughs throughout."
Lauren and Mat chose to write their own vows, although they did leave this part until the last minute! Lauren's focused on the promises she wanted to make to Mat for their future life together, and Mat's focused on living, laughing and loving together.
"Two of my best friends who live in Bristol got married in 2011, and I fell in love with the rings he chose from a local designer, Diana Porter. They were simple but beautiful, and I always came back to that style whenever I thought about rings. When we decided to get married, we decided to pop there, and spent ages choosing together – simple and natural, with ethical salt and pepper diamonds."
To further symbolise their union, the couple also chose to have Celtic handfasting as part of their ceremony, during which Viv read The Art of a Good Marriage by Wilferd Arlan Peterson.
"The whole day was wonderful; waking up in our gorgeous cabin, taking our time getting ready, exploring the scenery around the ceremony, even the drizzle as the rain started to fall during the ceremony! Hearing each others' vows was very special and quite moving."
We're not a soppy couple, and taking things seriously is not our speciality (!) but hearing each other express our love was very moving."
"Posing in puddles and climbing over fences to see the stunning mist over the mountains in the distance was truly awe-inspiring."
"Oh – I had an outdoor shower in the morning – we had to heat up the water on the wood burning stove, and it only lasted two and a half minutes, but standing outside on a very autumnal day looking all around at the Scottish pines was the perfect start to our wedding day."
Lauren wrapped up in a cosy, recycled wool shawl from The Tartan Blanket Co., which she had monogrammed with their initials and wedding date, and which now sits in pride of place on their sofa at home.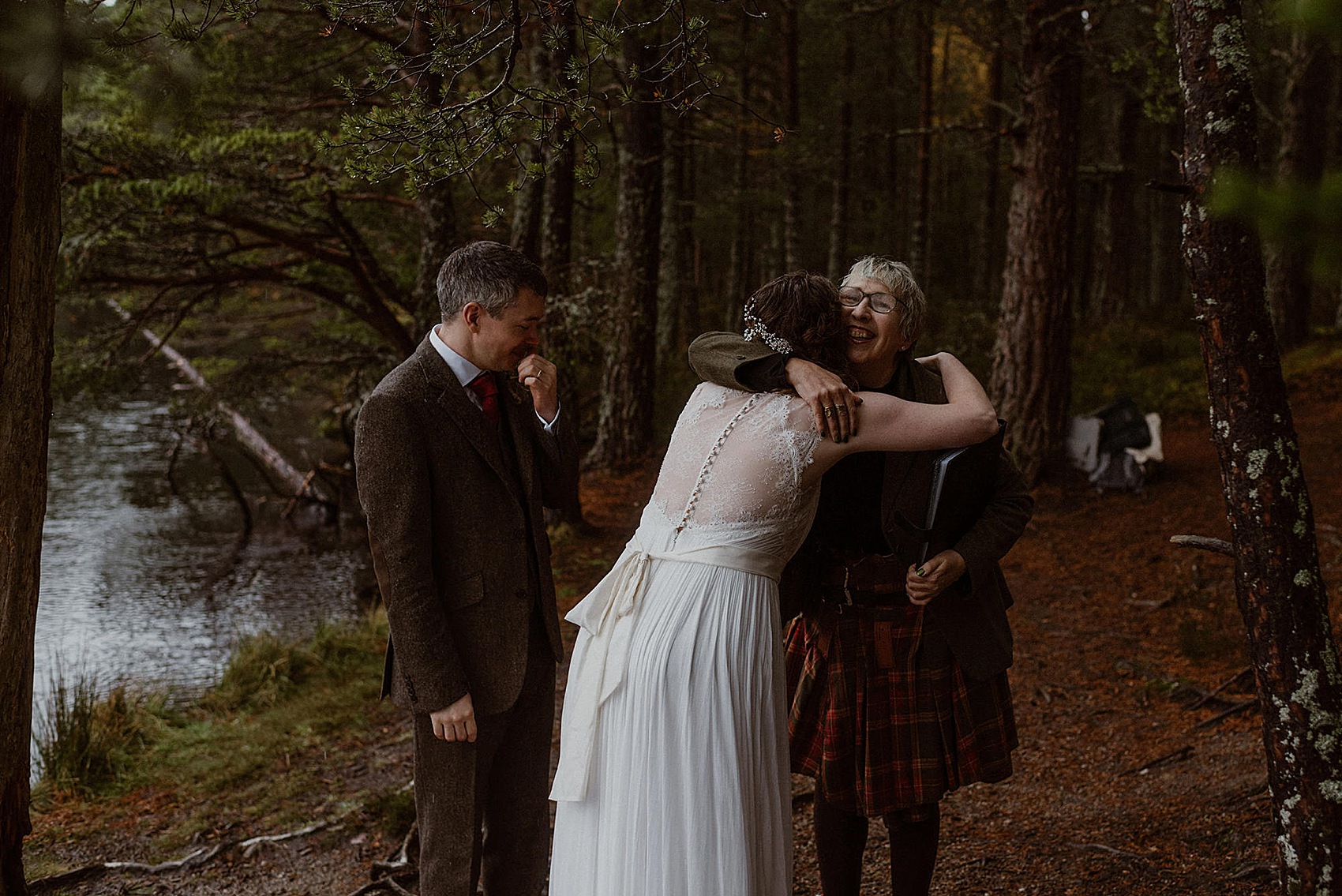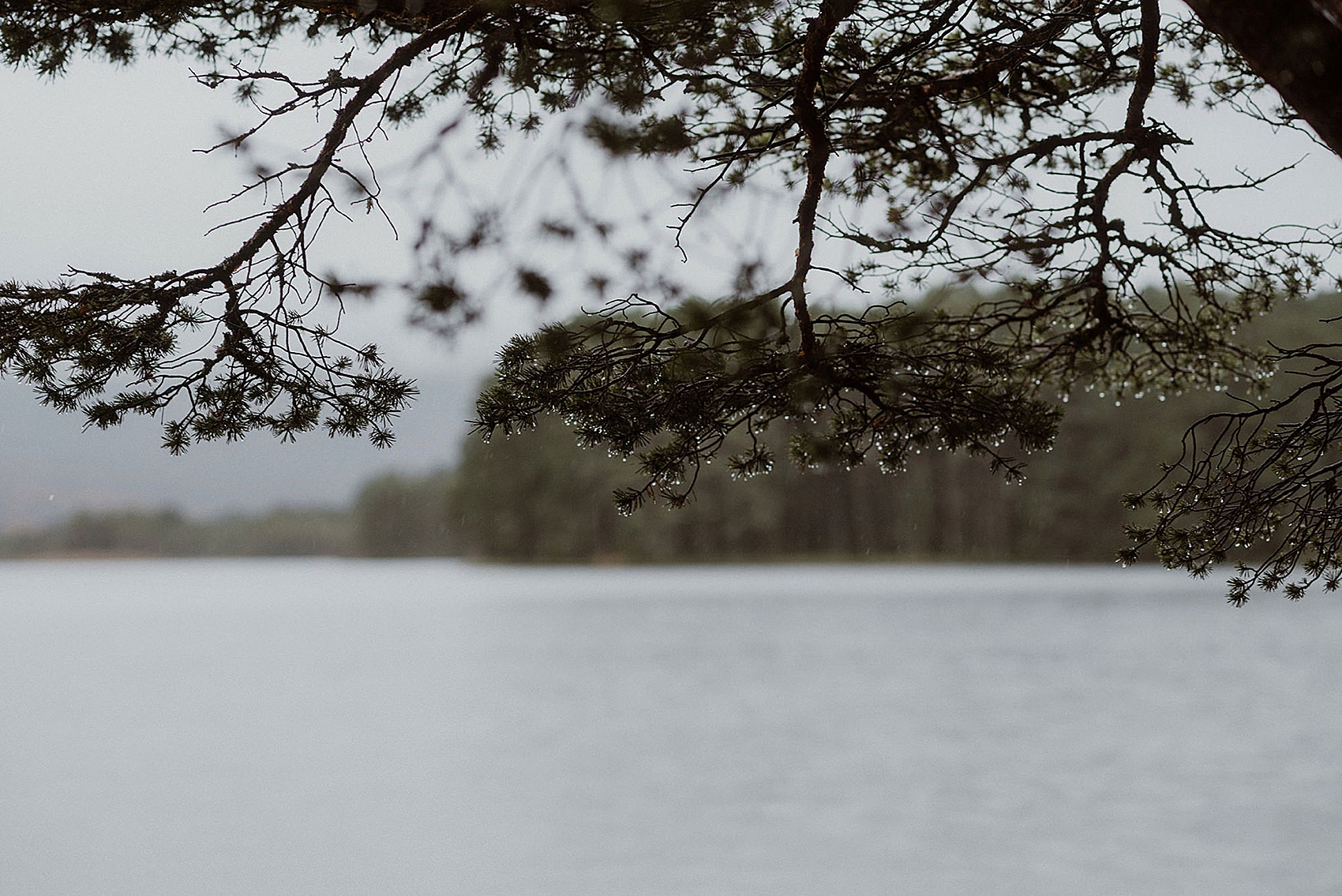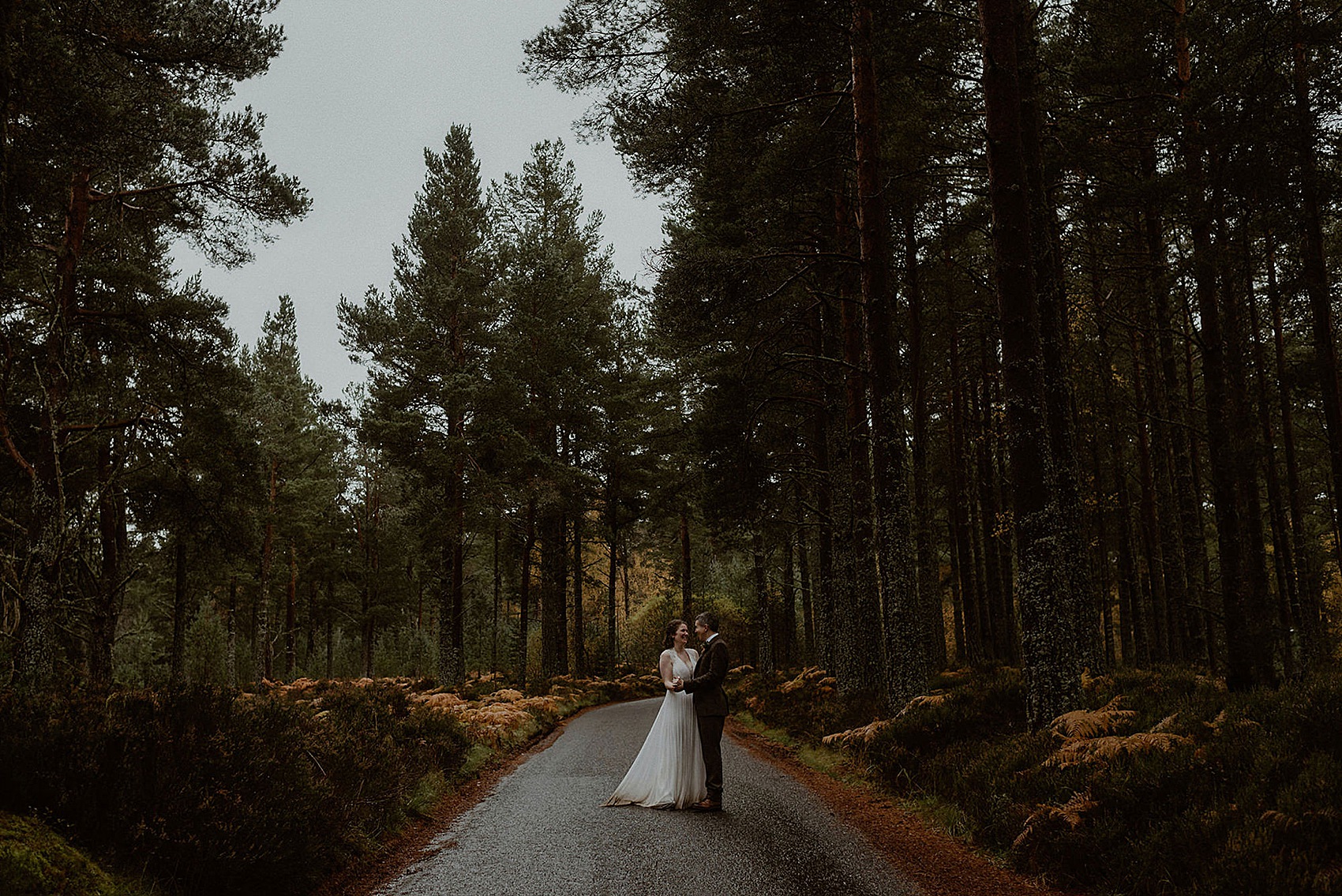 The couple walked in the paths in and around the ancient pine forest, in the midst of burnished copper bracken, opening up to beautiful wild moorland, and autumn clouds rolling across the mountains and the still waters of the loch. What a magical, incredibly special place to be married.
"We did go for dinner afterwards at the lovely Muckrach Country House Hotel, at the recommendation of the folks at the Lazy Duck. They were absolutely wonderful, and treated us to a special 'congratulations' dessert, which was a lovely touch."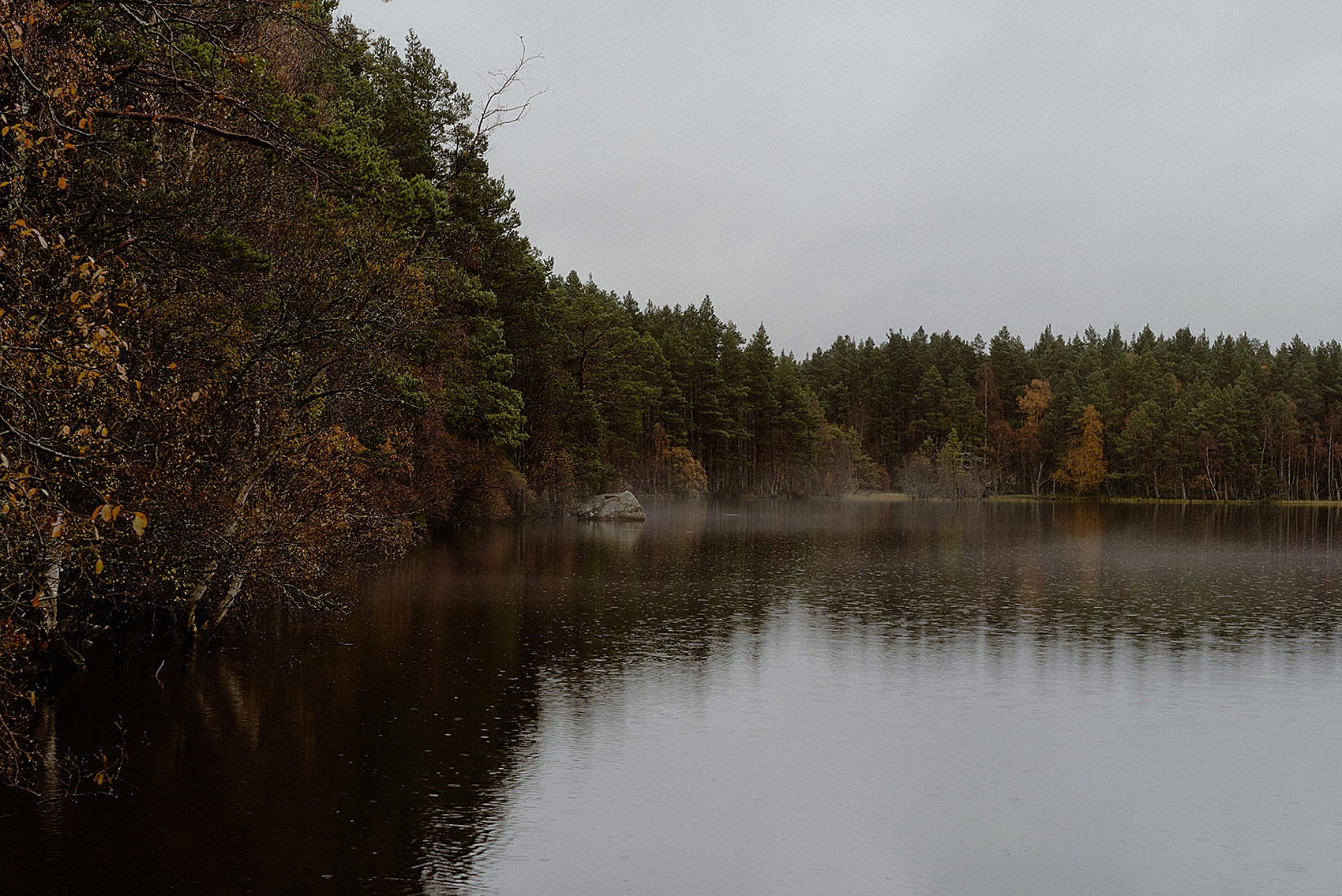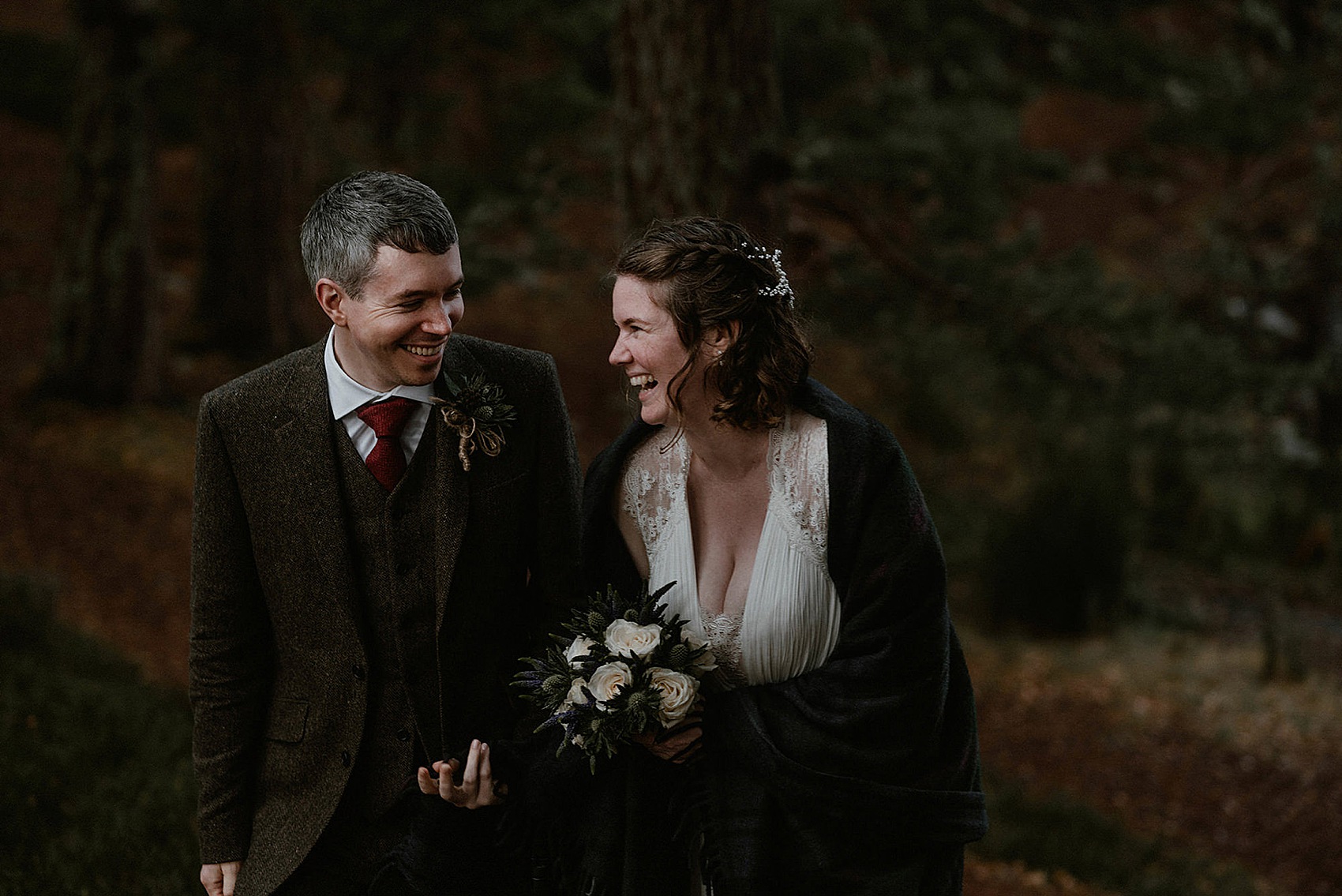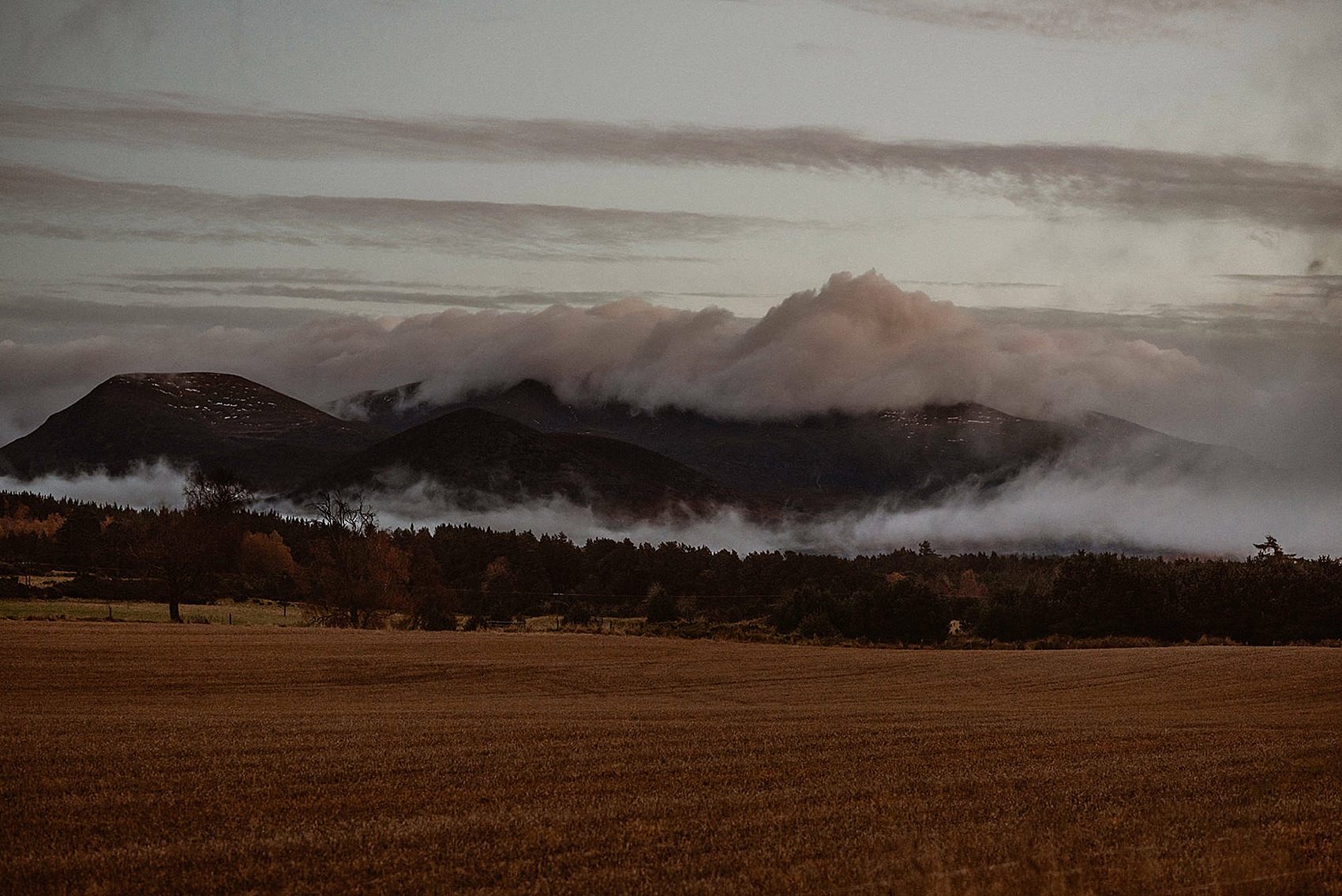 Words of Wedded Wisdom
"Remember that this day is for you and nobody else, no matter how invested they are, emotionally or financially. Your wedding day is all about how you feel about each other, and you should do what you love and what reflects you. You'll have no regrets, and you can always organise an awesome party afterwards!"
"Everybody will do their wedding differently, and that's okay – but we would highly recommend eloping!"
Lauren and Mat, thank you so very much for sharing your day, and for your lovely words. This has been a true joy to write about and share, especially with these spectacular, evocative images by The Caryls, too. Thank you, Katy and Jim.
Until next time.
With love,
Laura