When I discovered that the bridal dress designer for today's wedding was none other than our Little Book member and friend Caroline Arthur, I was delighted.
As you'll see as you start to read and scroll, Caroline designed and created such a graceful and elegant dress; its clean lines the perfect complement to the contemporary styling of our couple's summer barn celebration.
Images by Lemonade Pictures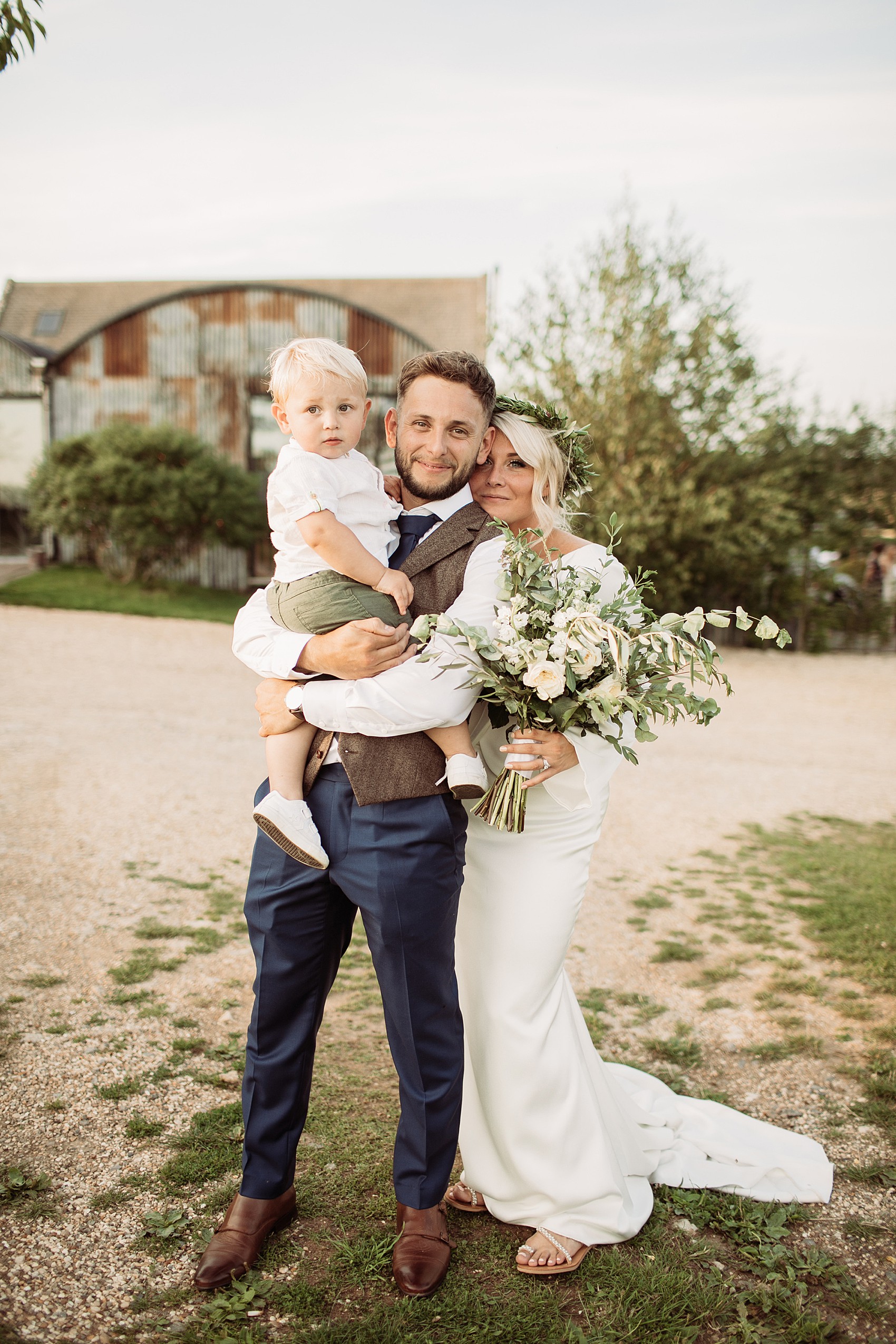 Robyn, an Events Manager, and Damian, who is a Heating and Plumbing Engineer, celebrated their marriage on the 2 August 2019 at Stone Barn, Upper Windrush, Cheltenham. This beautiful, traditional Cotswold barn is part of the Cripps & Co. portfolio of lovely venues.
"We were originally looking for a space we could dry hire and create our own look, but I spotted Stone Barn whilst doing some research, and had to go and see it whilst we were in the area. As cliché as it sounds, from the moment we walked in we knew it was the perfect venue for us."
Hair and make-up artist Alice Taper was a wonderful, calming presence on the morning of the wedding, and created super-stylish looks for Robyn and her bridesmaids.
"Being someone who likes to do her research, I looked through countless blogs and social media posts to find a make-up artist local to our venue. I happened to come across Alice through Instagram, I loved her work, and was so excited to find out that she was based in the Cotswolds area, and familiar with where we were getting married."
"I booked in a trial at her house, and even when she was heavily pregnant, Alice made me feel like nothing was too much trouble and we'd keep trying different styles until we found the perfect one. On the day, she was such a calming influence on me and all my bridesmaids that it made the morning so much more fun."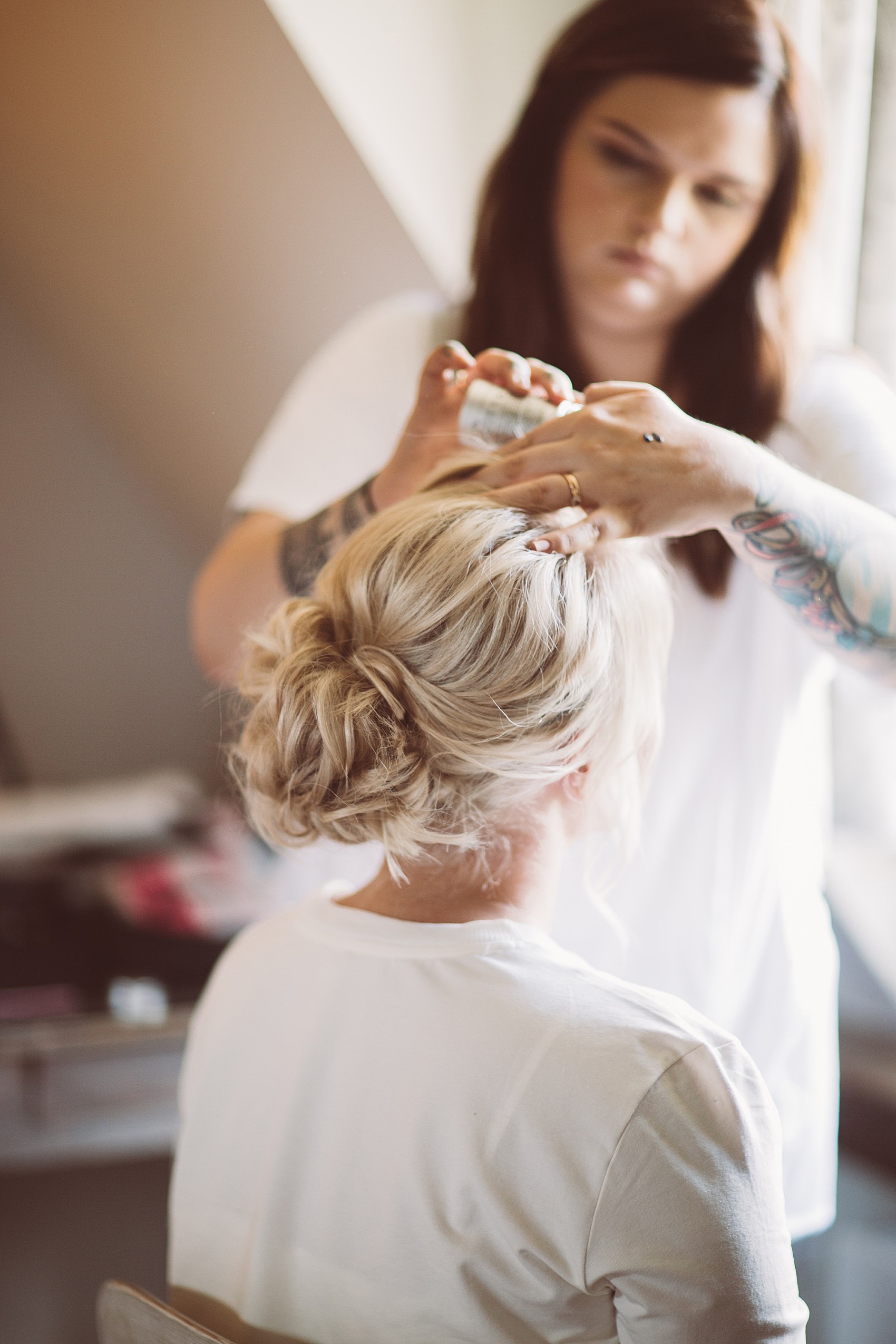 "I got more and more excited when I saw the gorgeous hair and make-up, she had done on all the girls, which was better than I could have imagined. Alice is an absolute dream, and I'm tempted to book another event in the Cotswolds just so I can have my make-up done again!" 
The flowergirls wore matching olive crowns, and summery linen dresses from Next, whilst the page boys dungarees, and a linen shirt and shorts, which were all from Zara.
"Getting ready with the girls because it was so surreal and lovely, something I'd dreamt of for years, and seeing Damian at the end of the aisle. He cried, which set everyone off because he never cries!"
"I also loved standing back at one point and watching everyone inside whilst I was outside – it's not often you get everyone you love in one building, so that was a very special moment for me that I'll never forget."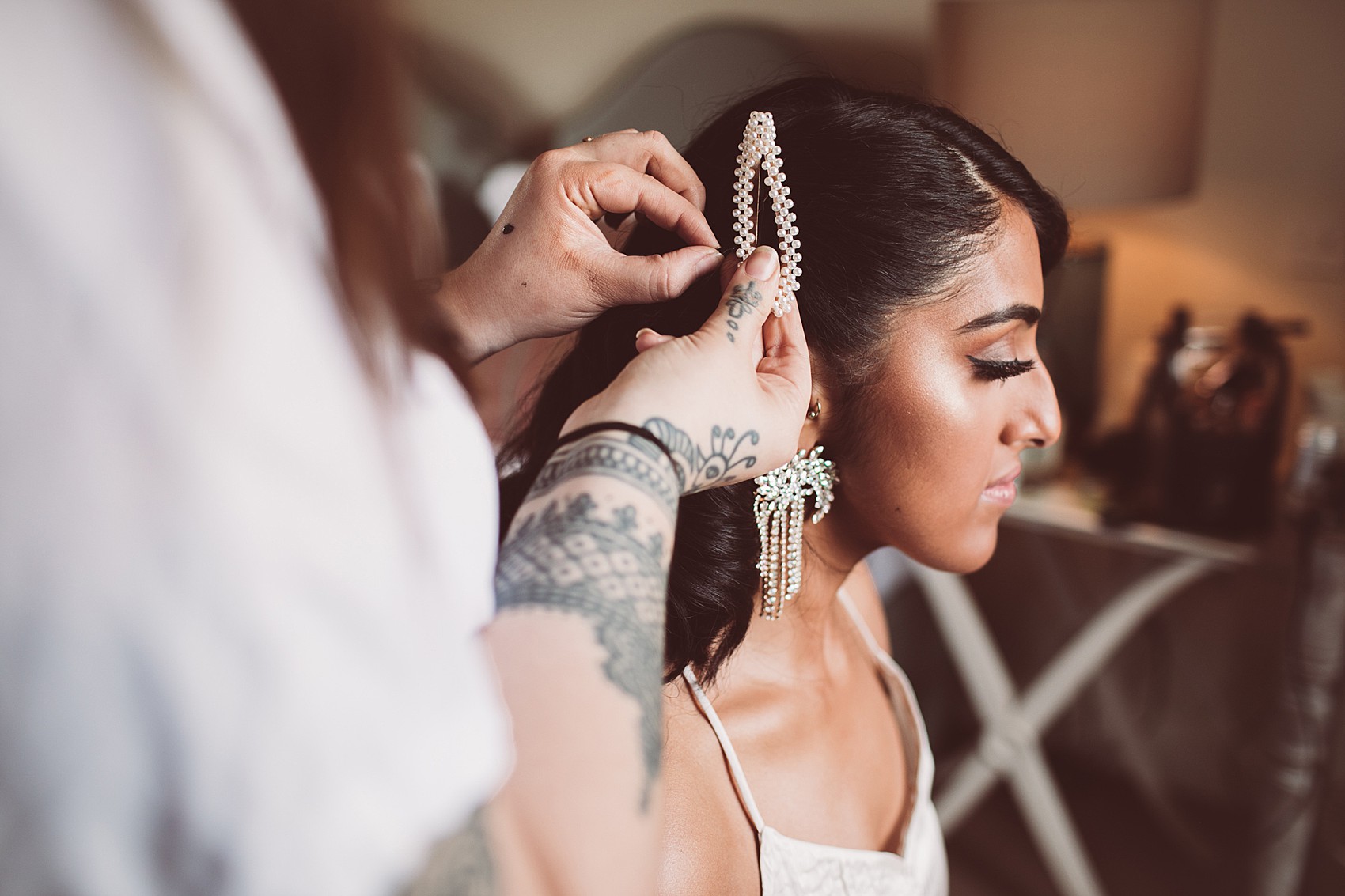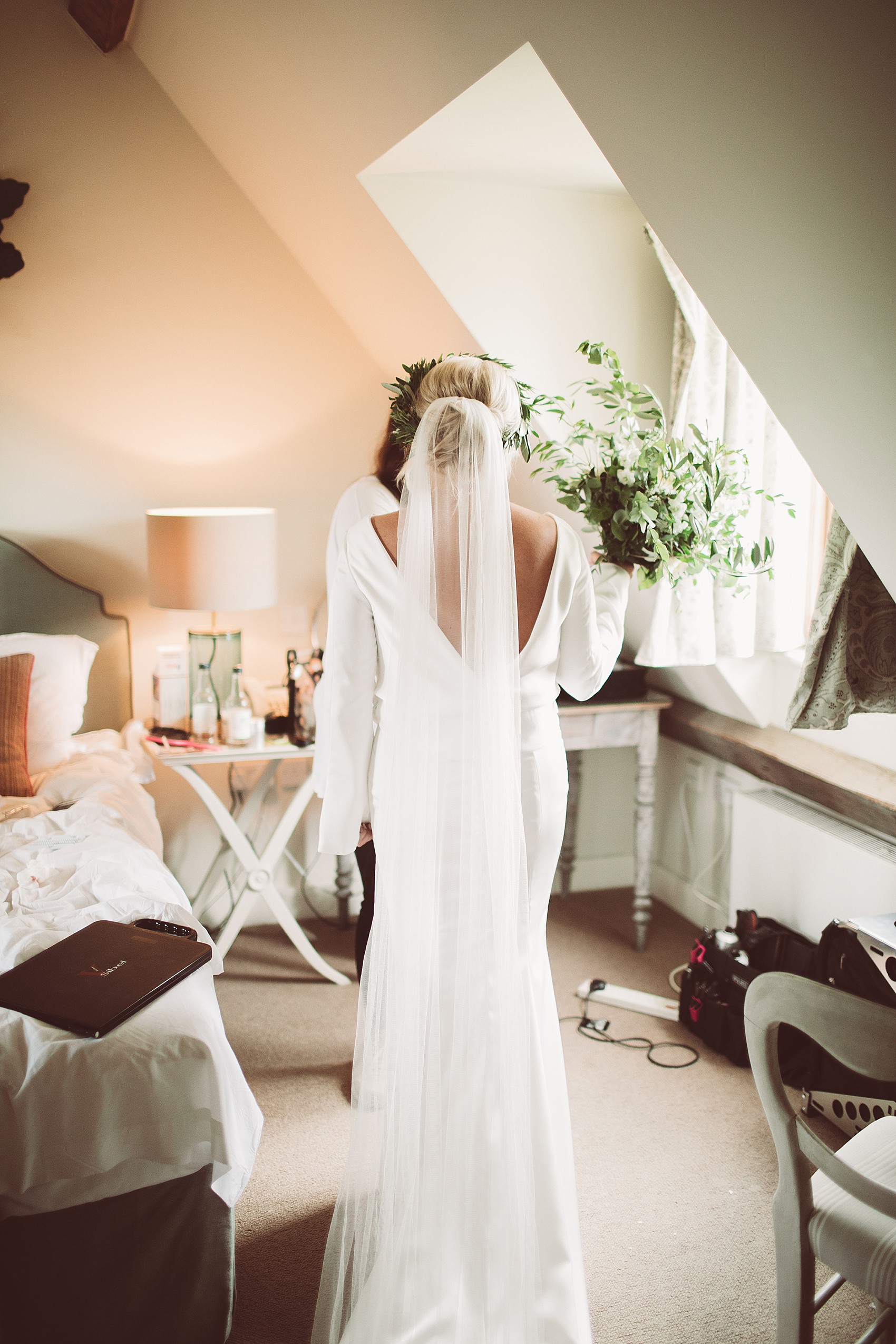 In keeping with the couple's fresh and modern colour palette of greens and whites, Robyn's spectacular bouquet by Go Wild Flowers was filled with beautiful roses, scented stocks, Veronica, and lots of lush greenery. The bridesmaids each carried a floral hoop over their arm.
"I wanted a relaxed vibe, so I didn't want my bridesmaids to be in anything too formal, and had an idea of what I wanted but it took me ages to find anything. In the end my mum found our gorgeous jumpsuits in Zara, and I loved the colour and how comfortable they looked. I had them all fitted for each bridesmaid, so they could wear them as they felt best."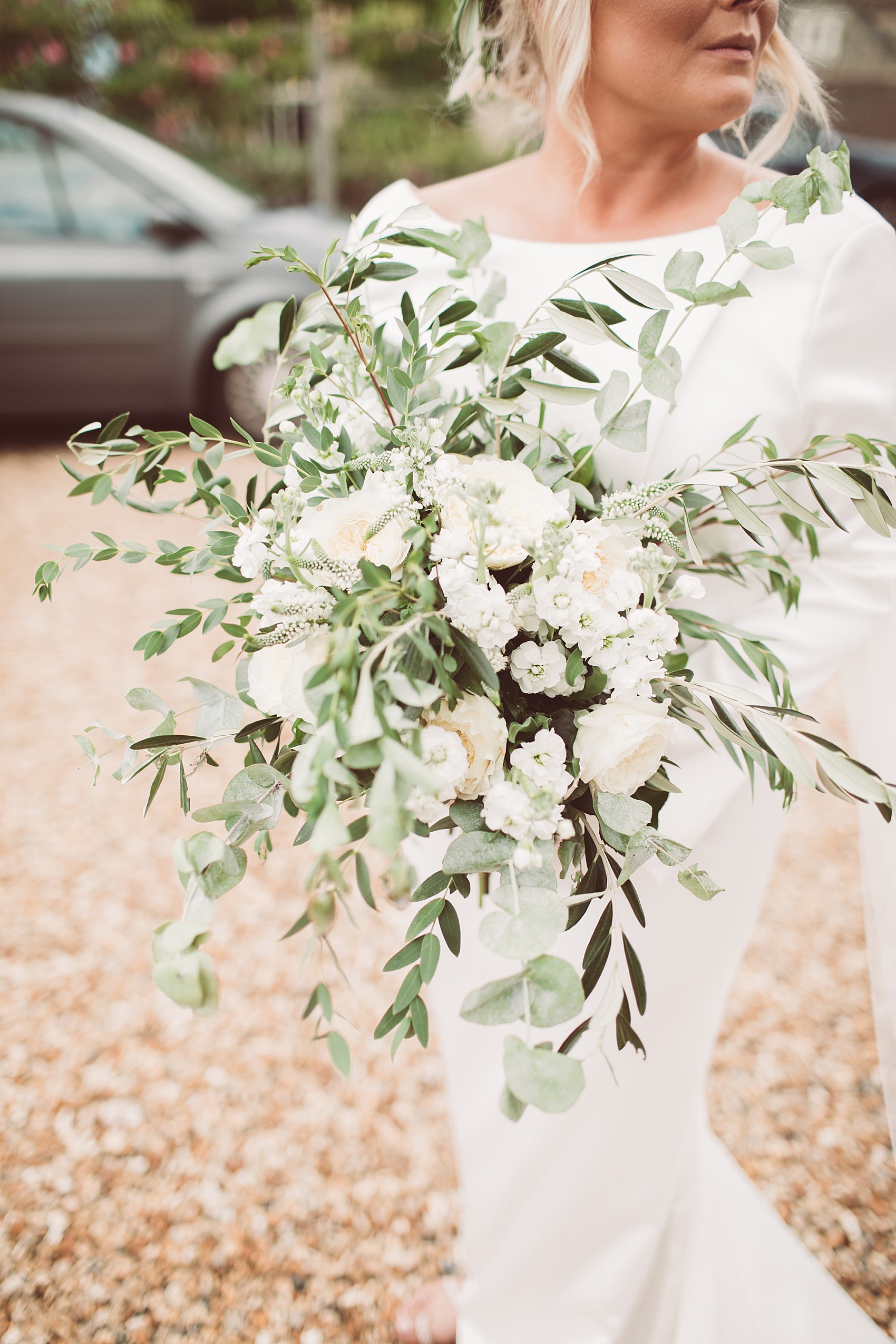 Damian, his Best Man, Usher, and the Father of the Bride wore suits by William Young, with Damian opting for a blue suit with matching tie, and a contrasting brown tweed waistcoat.
"Damian had his suit made to measure, and included some personal details, such as our names inside, and our son's name, Roux, on the inside of his collar."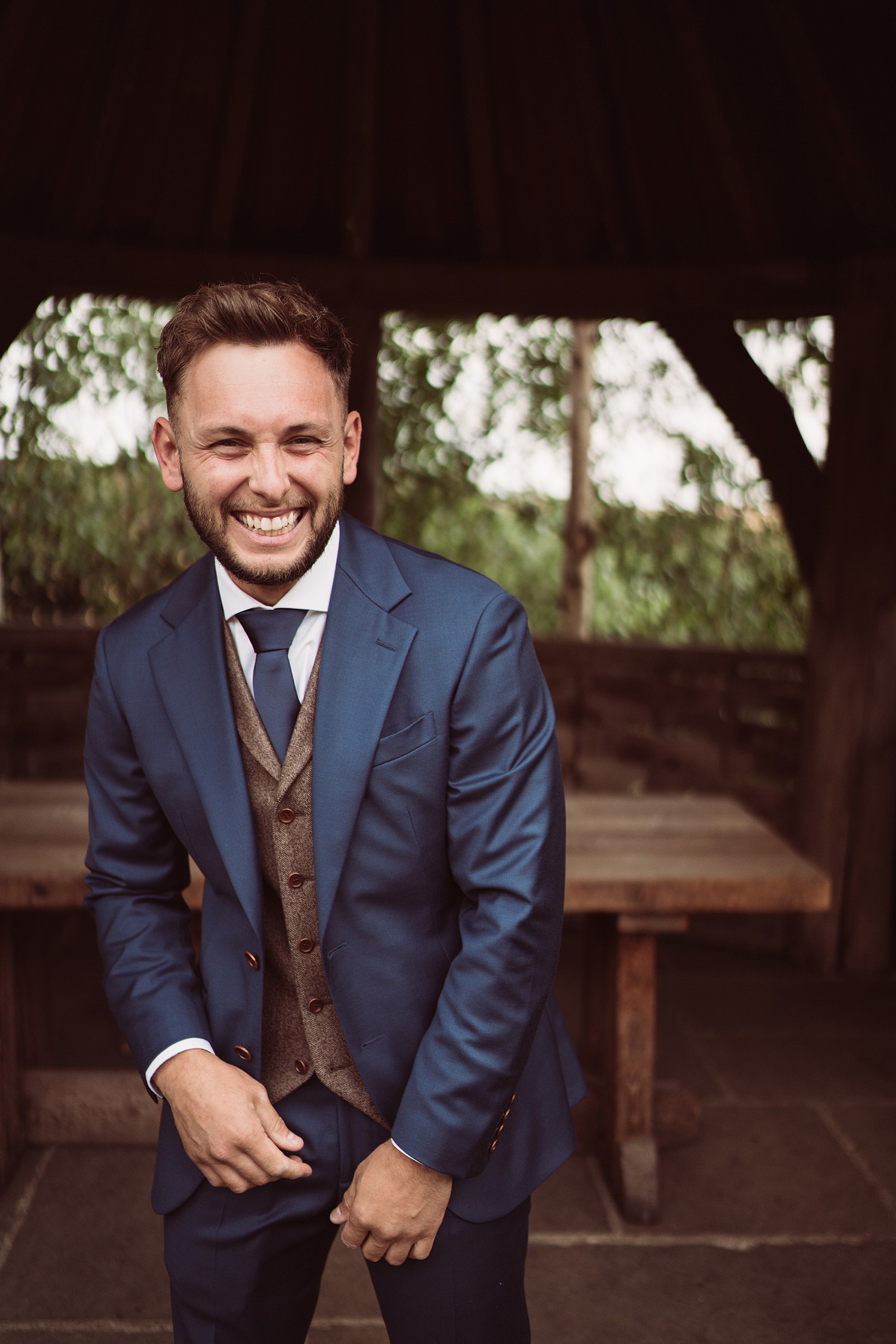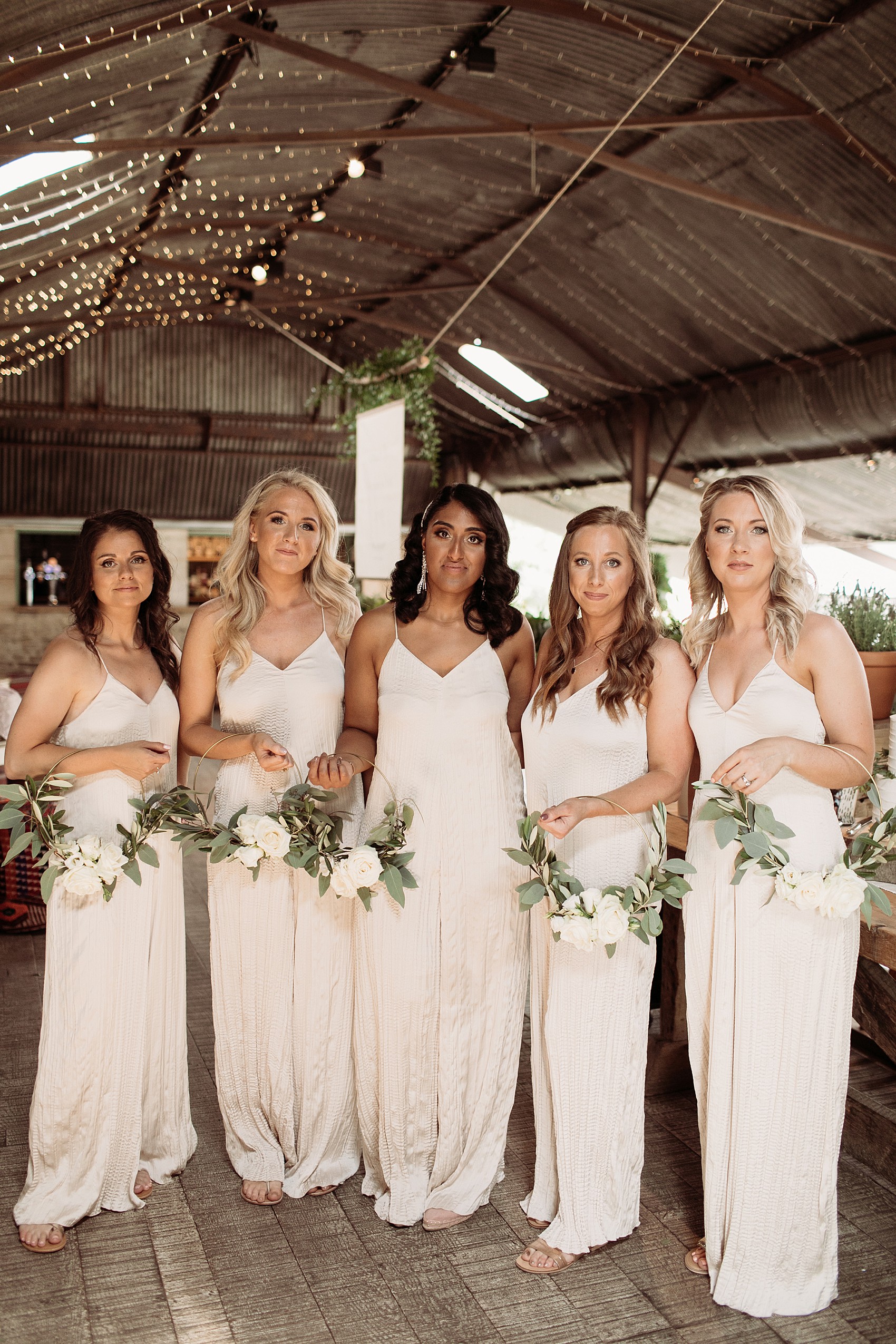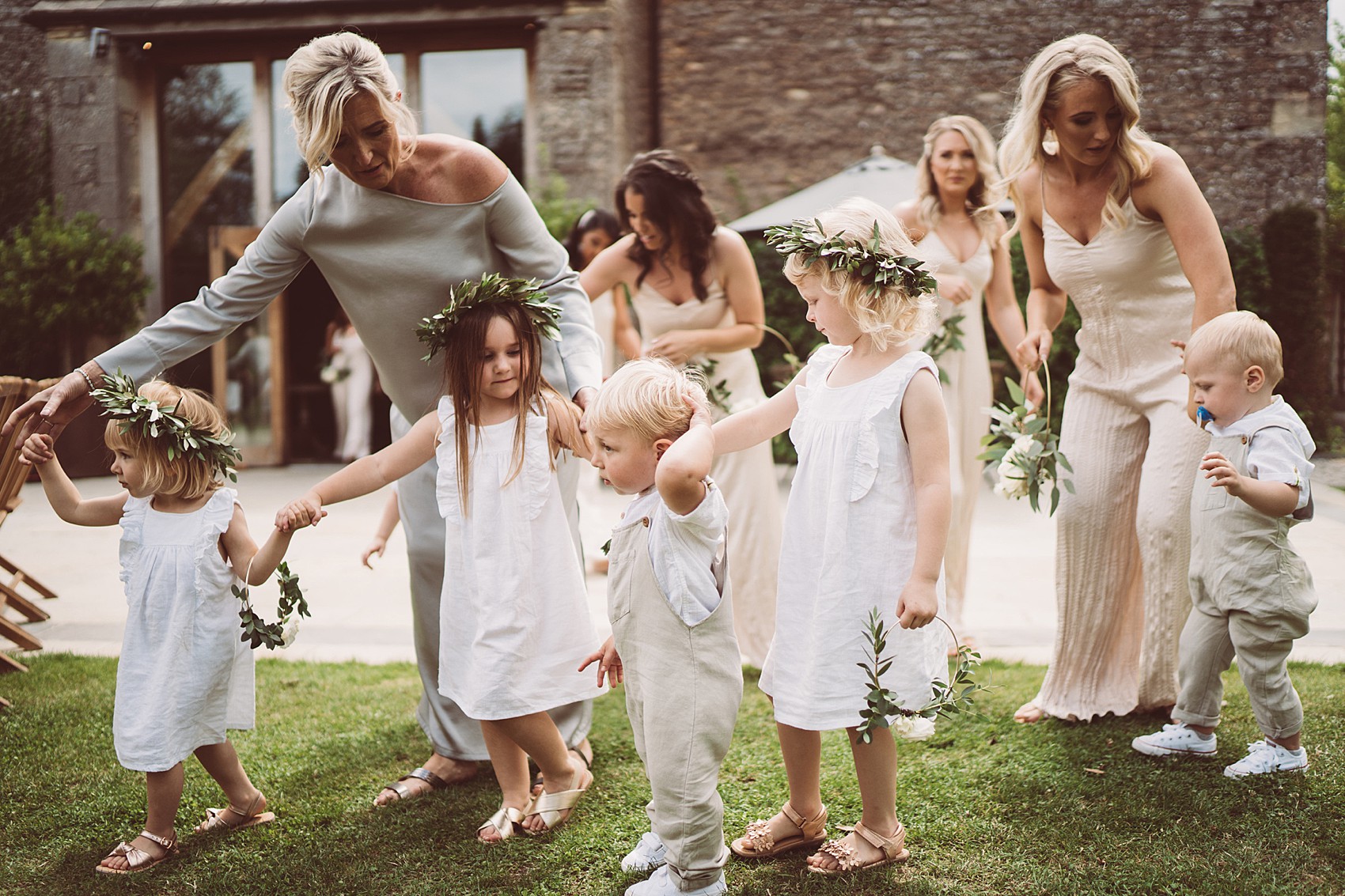 To the sounds of Eva Cassidy's beautiful Songbird, Robyn walked down the aisle together with her dad. When Damian saw his bride, it brought him to tears – such a sweet and heartfelt moment.
"We first met when we were in primary school, although we didn't attend the same school, we both went to the same school events and parties as I knew Damian's cousin, Jed."
"We then met again in secondary school, where we began dating at 14, and have been together ever since. The year we got married, we had been together for 16 years."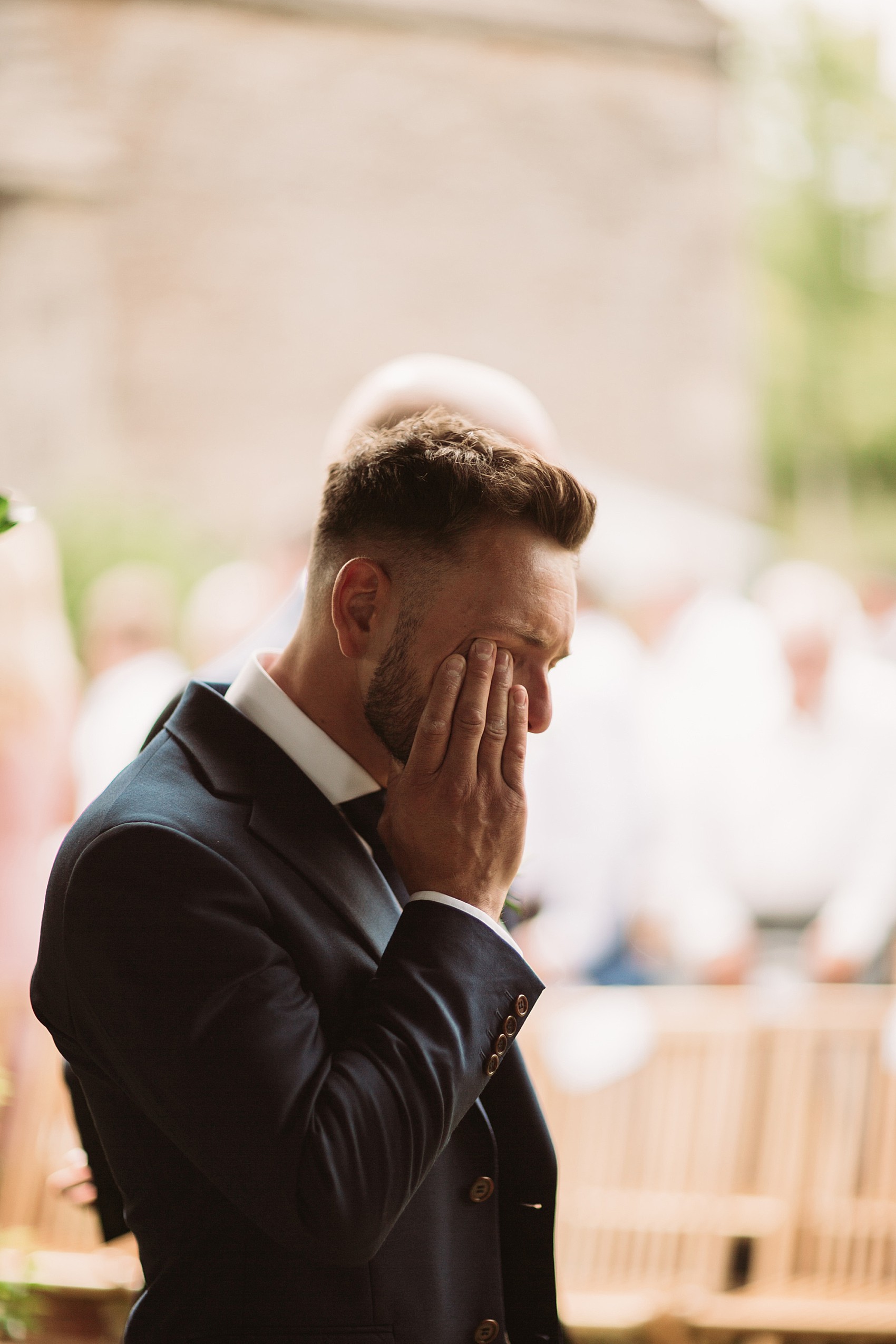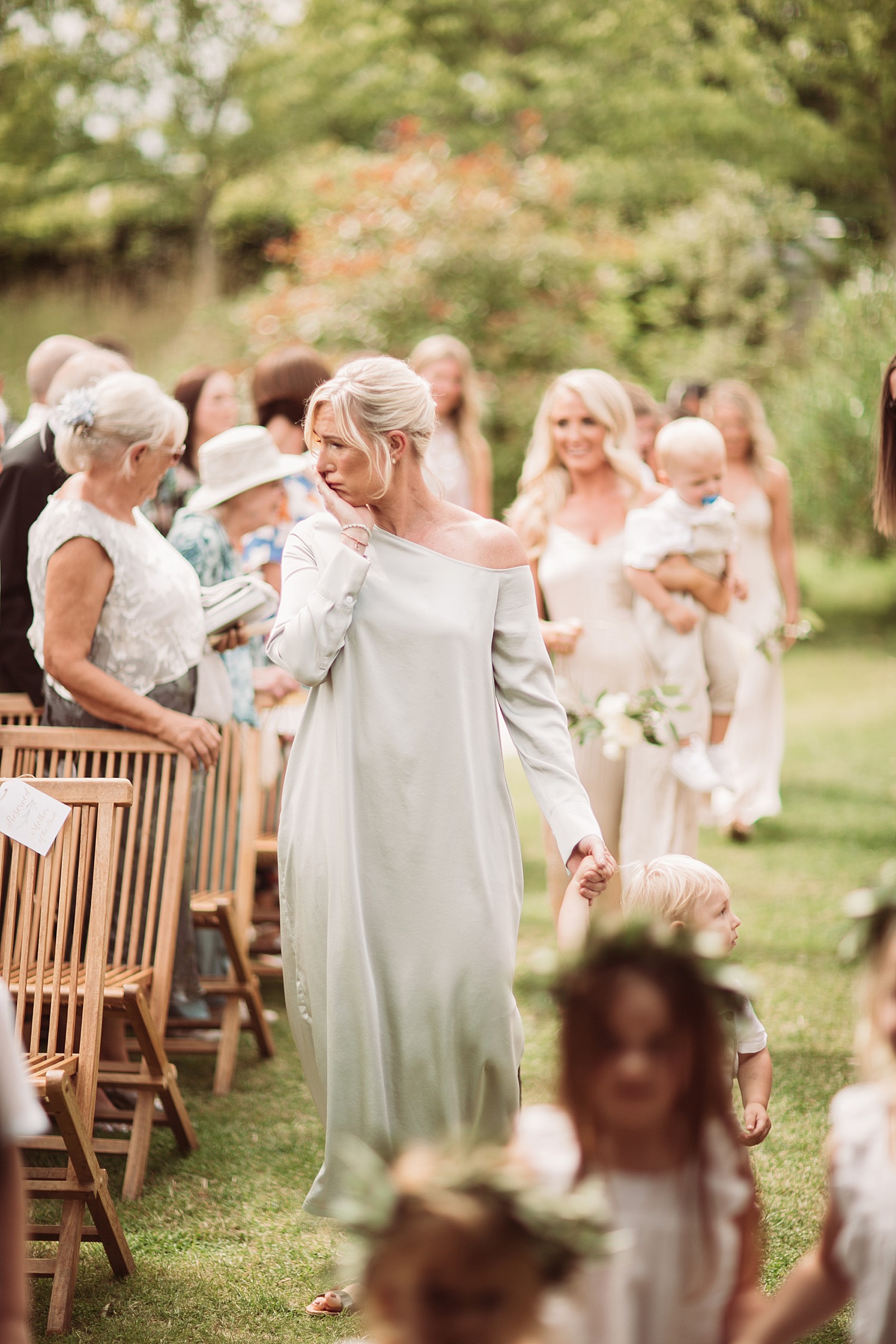 "I had been away on an international event for a few weeks, and so when I got back Damian took me away for the weekend to one of our favourite places and somewhere we had been for years whilst growing up, Coniston in the Lake District."
"It was a lovely chilled weekend, and on the day he proposed we went back to a campsite we used to visit over the years, and much to my surprise he got down on one knee whilst we were sitting on the pier – it was perfect."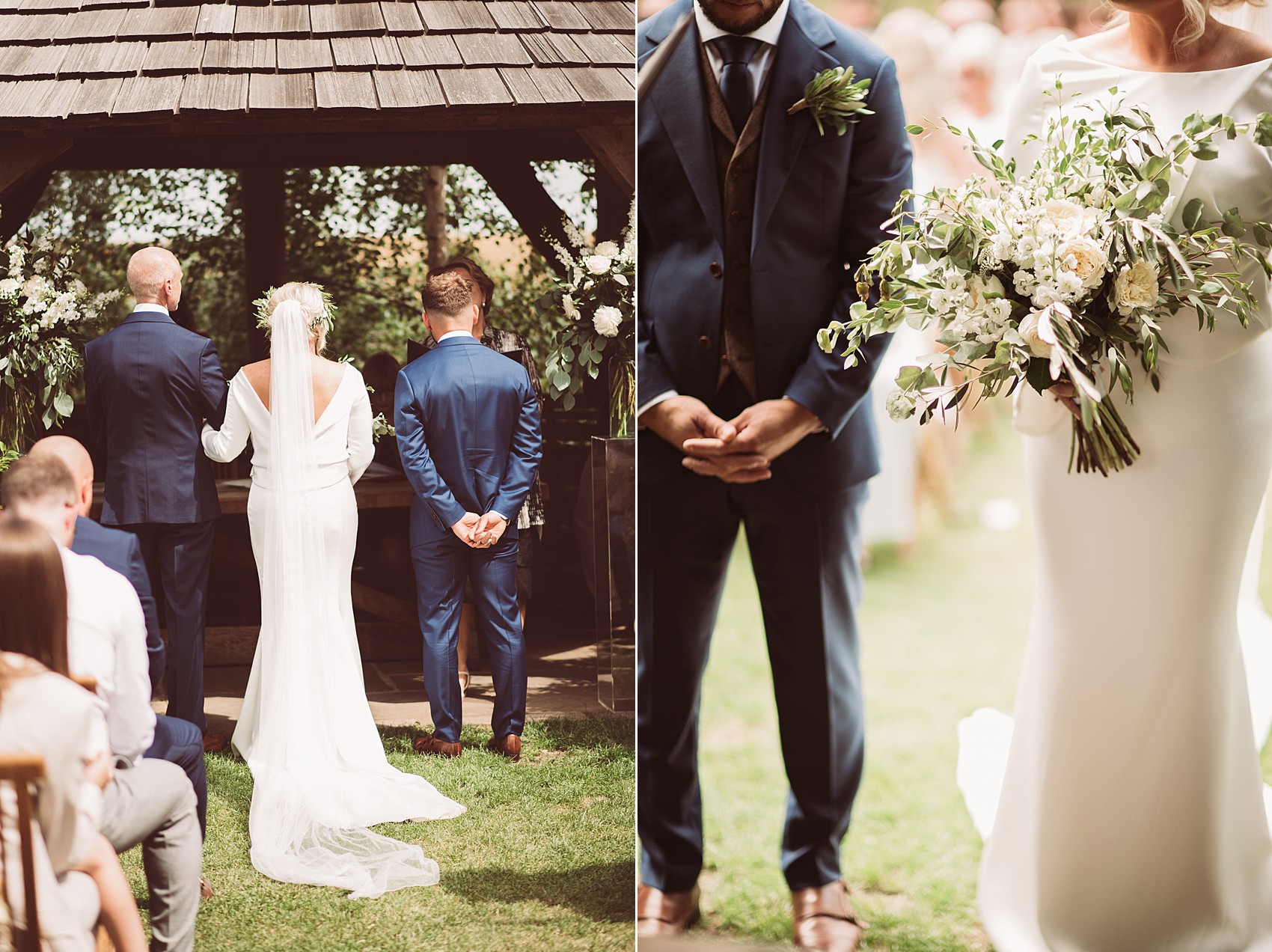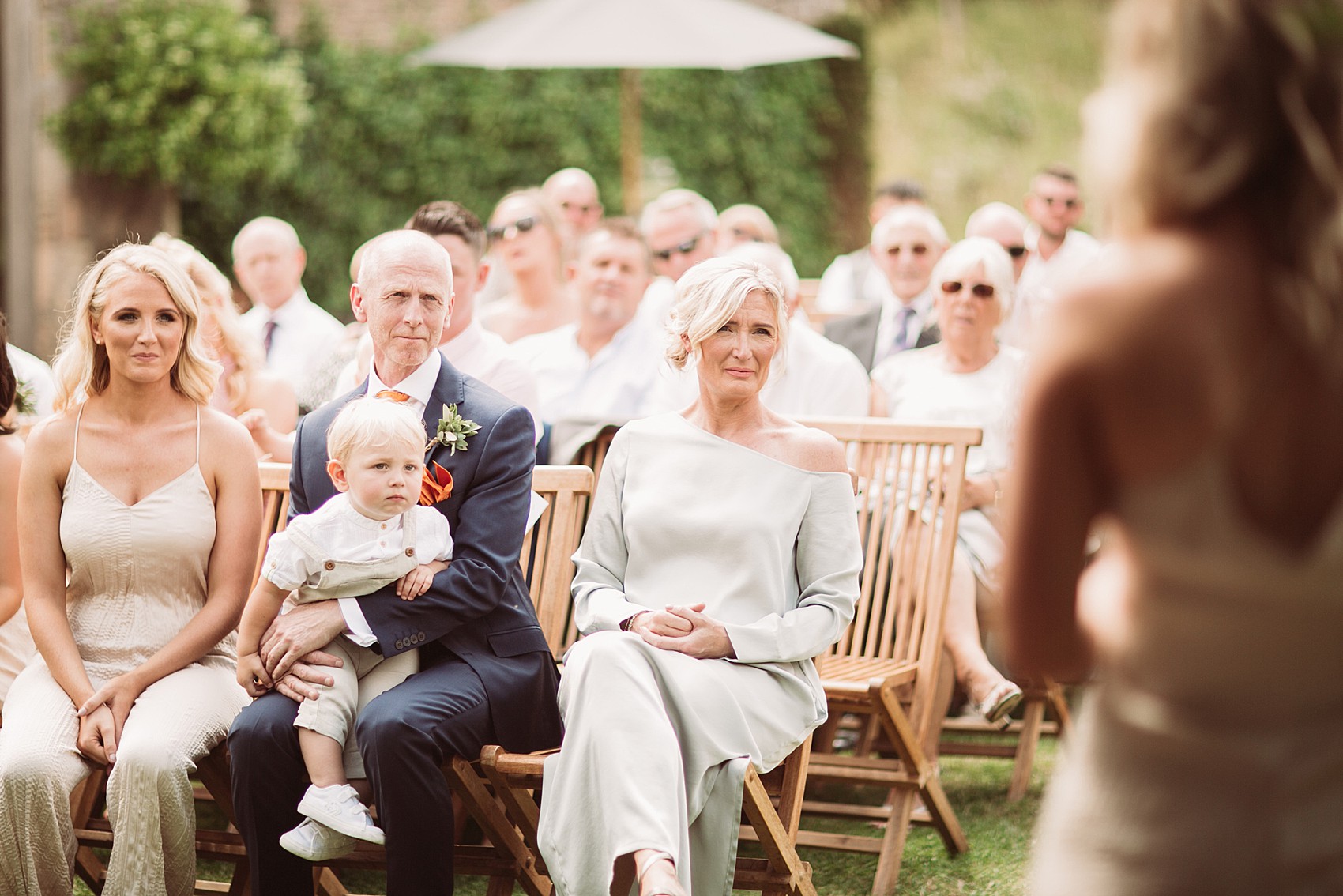 During the ceremony, there were two readings, which were specially written pieces just for the occasion. The first was written and read by bridesmaid Joanna Morris, and the second was by Damian's cousin, Josh South.
"All their words were specifically about Damian and I, and memories they had of us – there wasn't a dry eye in the house!"
Lovely Robyn was a regular visitor to Love My Dress through the wedding planning process, enjoying both the real wedding features to get styling inspiration, and our Little Book as a helpful tool for finding trusted suppliers.
"It can be very overwhelming when you start planning a wedding on how to collate all your ideas or where to even start getting your ideas from. This is where using Love My Dress really helped me, because it gave me the ability to visualise ideas I had, and see them used at real life weddings and venues, and enabled me to begin piecing together the style I wanted to create."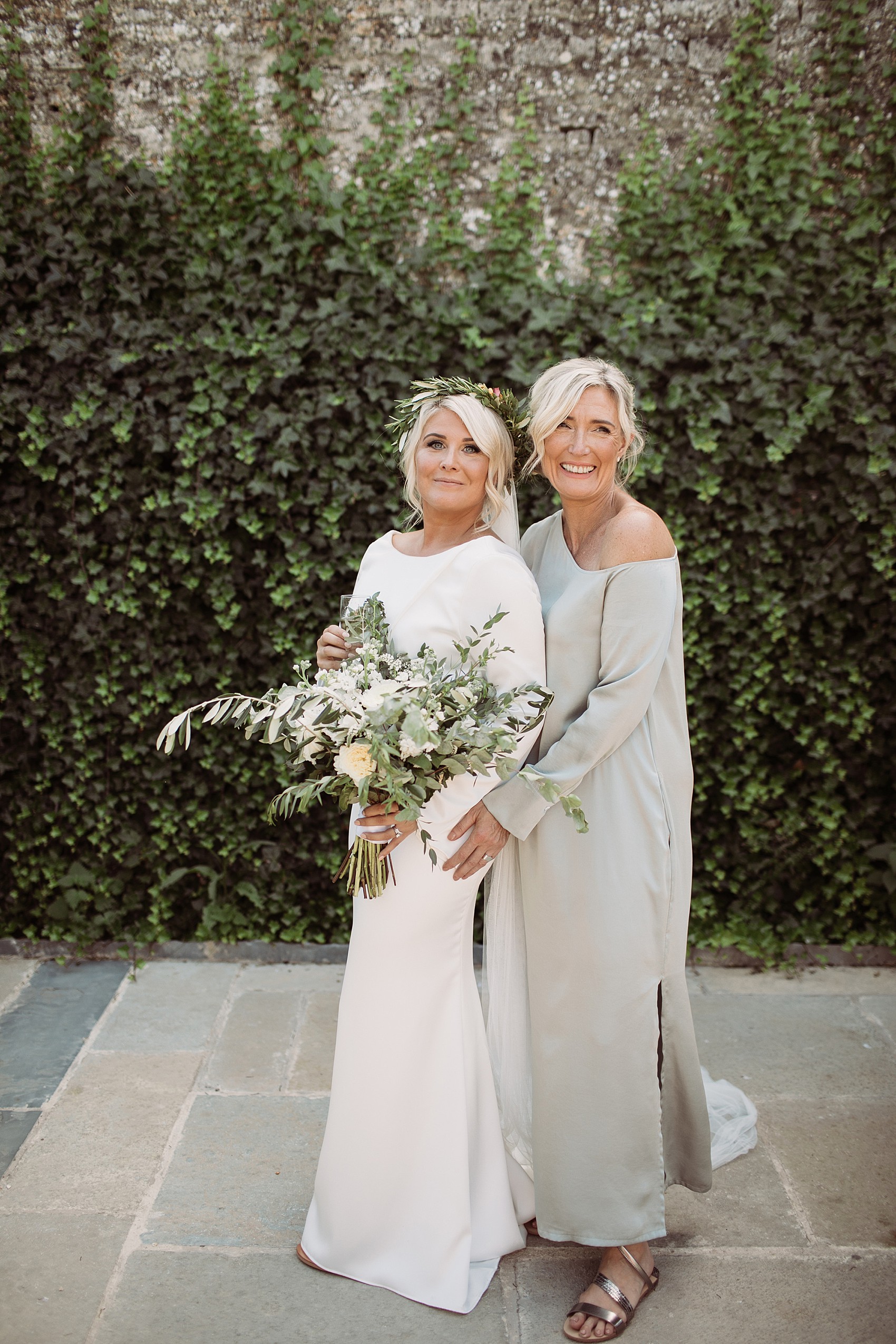 "The Little Book directory was a brilliant tool that saved so much time and stress when I was trying to find various suppliers. I have experience in organising events, but I still needed some direction, and I found Love My Dress an invaluable resource when working through all the important details. I'd highly recommend to all couples planning a wedding."
Our pages are where Robyn first came across her dress designer Caroline Arthur, and readers, you can find out more about Caroline here! She brings all of her knowledge, vision and experience to each couture creation, making the design process fun and collaborative – something Robyn likewise discovered and enjoyed.
"When I first started the process of looking for a wedding dress, I was overwhelmed by the options and pressure around picking 'The One'. I personally really dislike shopping, so the thought of trying on multiple dresses in front of all my bridal party filled me with fear. It was in this moment I decided to look for an alternative option and began my research."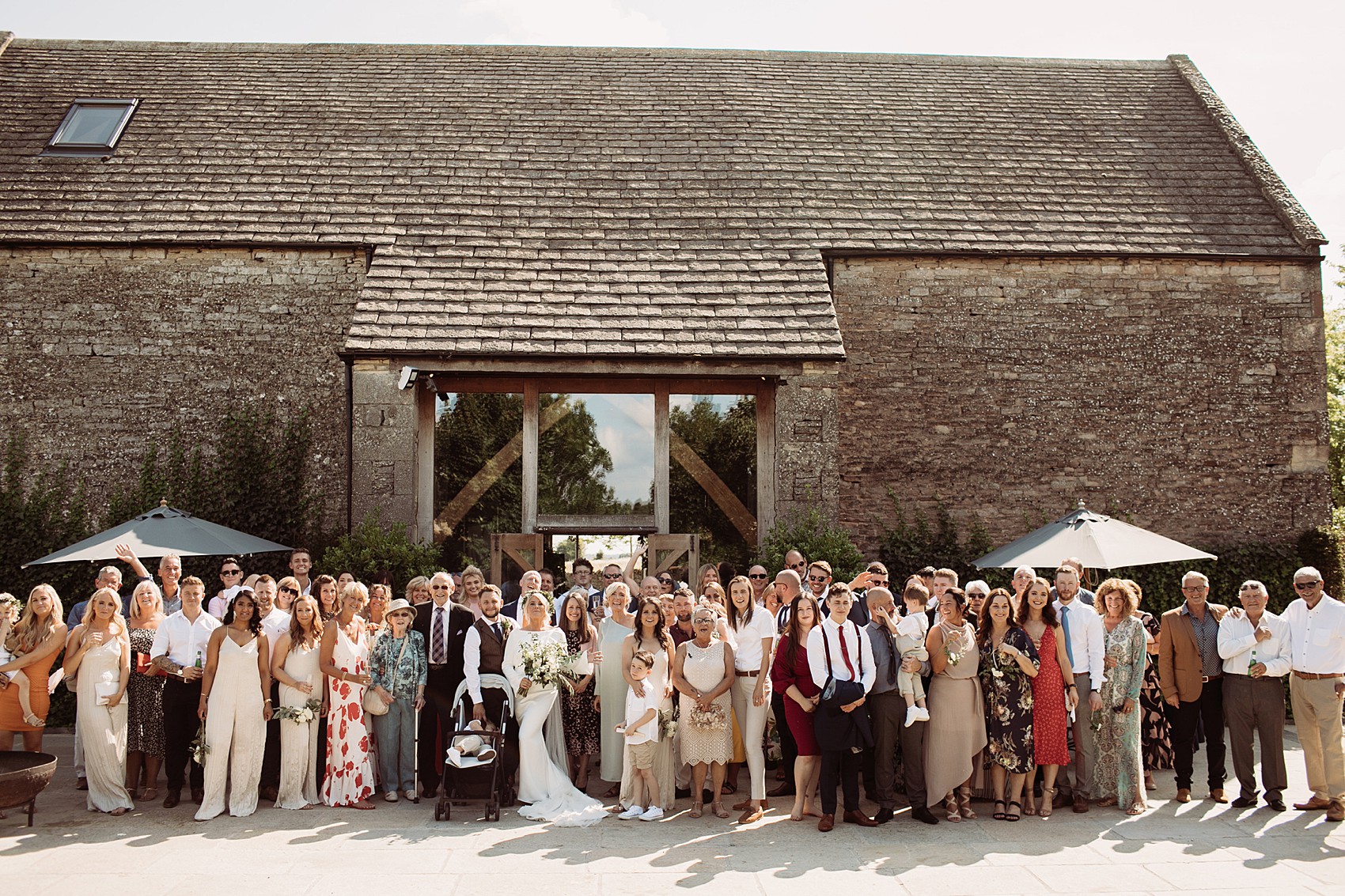 "After looking through various wedding websites and blogs, including Love My Dress, I began to see Caroline's name crop up regularly, with glowing reviews and such beautiful dresses, I decided to reach out and book a consultation."
"I can honestly say, from that moment all the way through to the moment I picked up my dress, it was like a breath of fresh air. Louise, Caroline's Design Consultant Co-Ordinator, made the run up to our appointments stress free, and was also there during each fitting to help make sure everything was perfect."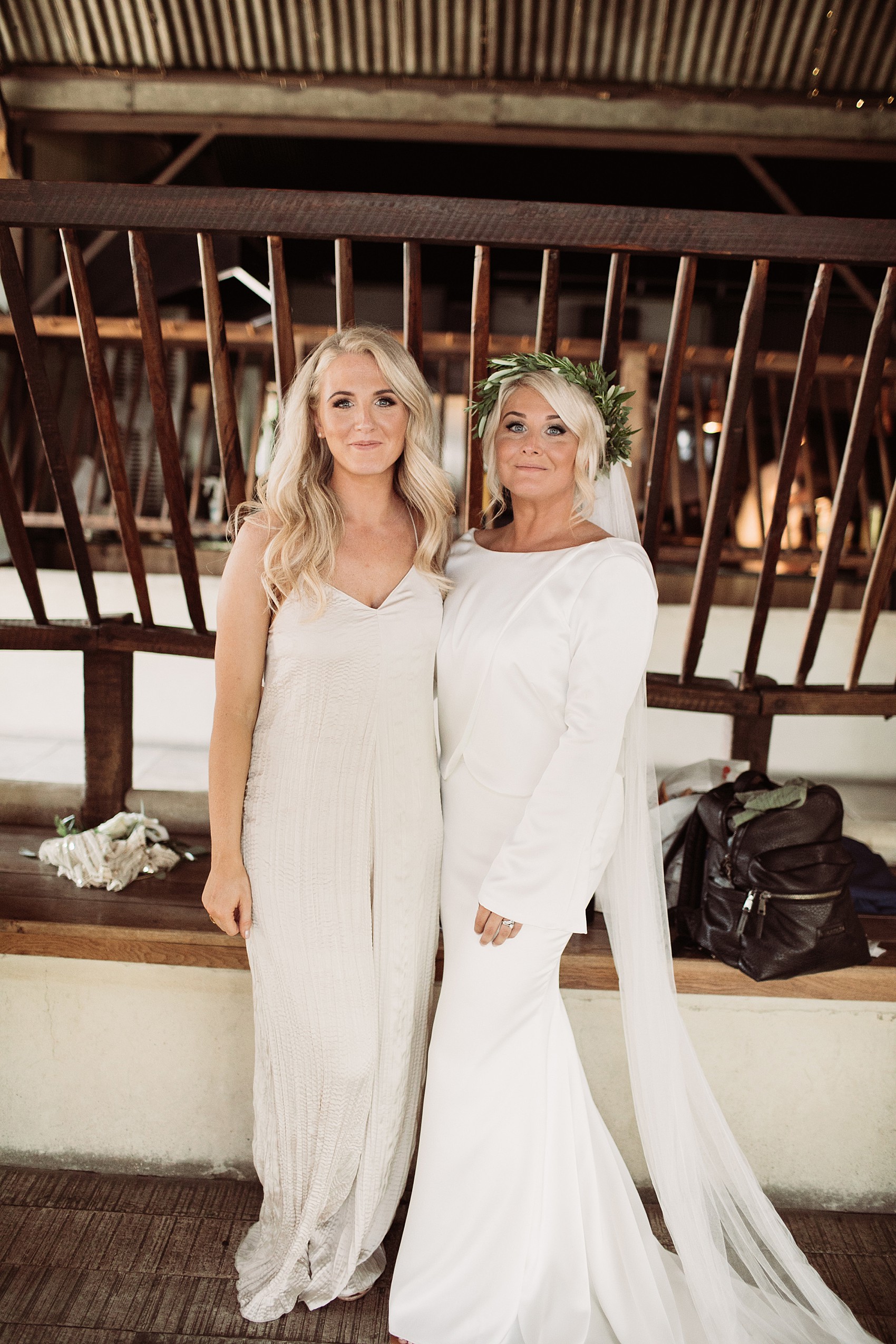 Robyn's dress is actually a skirt and top in matching fabric. The top has beautiful, long tapered bell sleeves, a chic bateau neckline, and a plunging low v-back, whilst the skirt has a gorgeous subtle fishtail shape with a row of pretty buttons.
"Caroline worked relentlessly to make sure the dress was everything I dreamed of, and nothing short of perfect would do. I had multiple fittings, as my ideas started off as something we thought was quite simple, but evolved into a more complicated design, which meant we needed to fit in more appointments than normal – but nothing was ever too much!"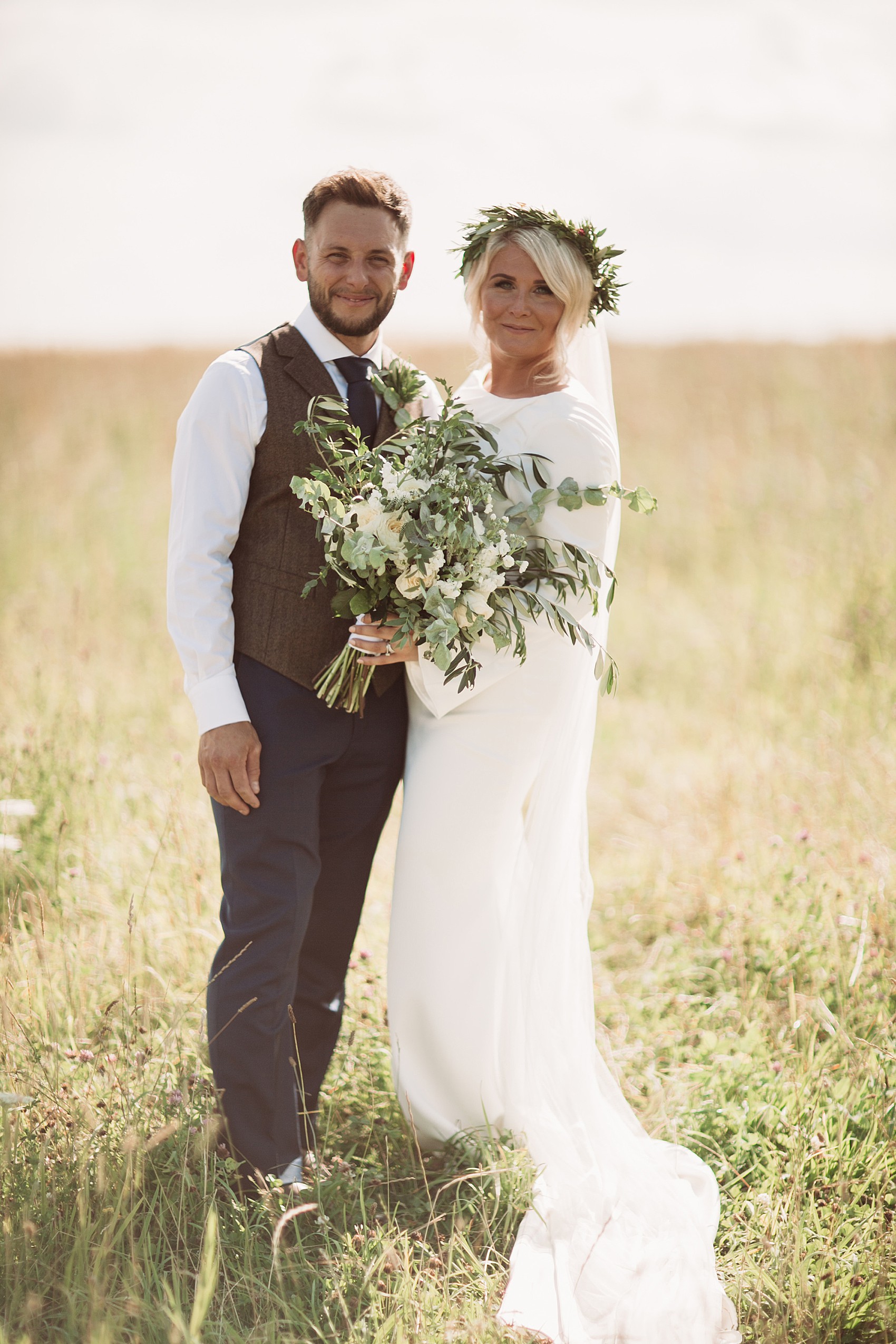 "As a team, Caroline and Louise, made what I feared could have been an un-enjoyable process into a once in a lifetime (hopefully) experience where I was able to work with a truly incredible designer to create my perfect wedding dress. Such amazing ladies and I could not recommend them enough."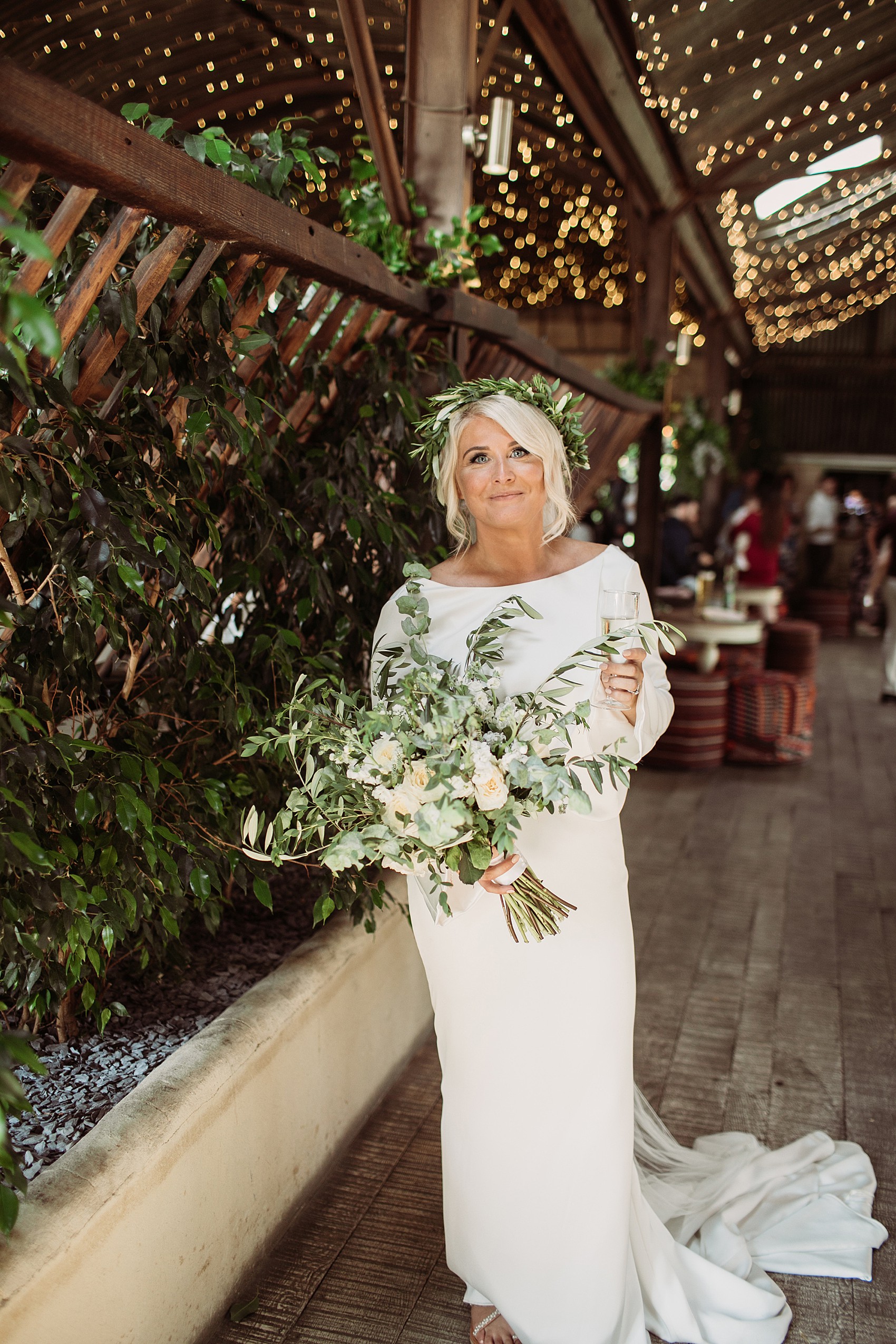 There to capture all of those moments was Nichola, AKA Lemonade Pictures, whose beautiful work Robyn first came across on our pages. I'm so pleased to be sharing more of Nichola's elegantly composed, light-filled work with you all today.
"Nic, owner of Lemonade Pictures, is just a complete all-rounder. From discovering her website on various blogs, through to our pre-wedding conversations and meeting on the day, she was an absolute joy to work with. All our guests commented on how she felt like an extension of the wedding party and fitted in so well, not making it awkward or hard work in the slightest."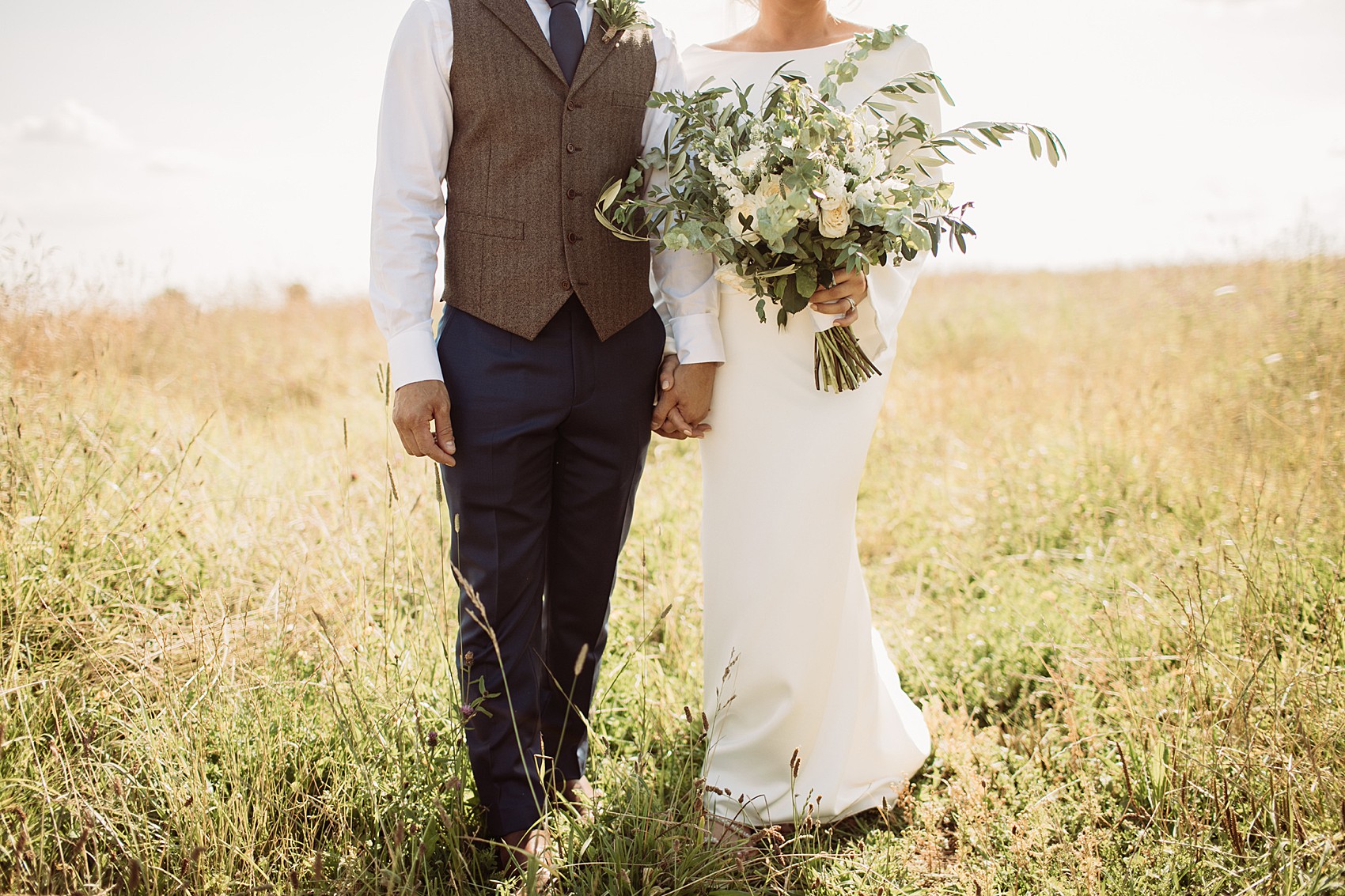 "Her pictures are beautiful, and told the story of our day perfectly. Also, her online image galleries and USB boxes are stunning – the little touches make all the difference. To this day I am so thankful that I came across her and I'd recommend her to anyone!"
"Our videographer was Andrew from Tregoning Weddings. I loved Andrew's relaxed vibe, and his videos had a really special feel that wasn't like any others I had come across. He was so lovely to work with as well, and never made Damian or I feel uncomfortable. You barely knew he was there all day, and he gave us the best memories to look back on."
Guests enjoyed post-ceremony drinks and delicious canapés from the in-house catering team, and there was live music from acoustic duo The Twelve O'Clock Highs, too.
"The Twelve O'Clock Highs were incredible, and we had such lovely feedback from guests about them after."
"Our venue didn't need dressing in any way, it was so warm and welcoming, and the staff went above and beyond from the first viewing to make the whole experience as enjoyable as possible. It's a really special place – I'd get married there again in a heartbeat!"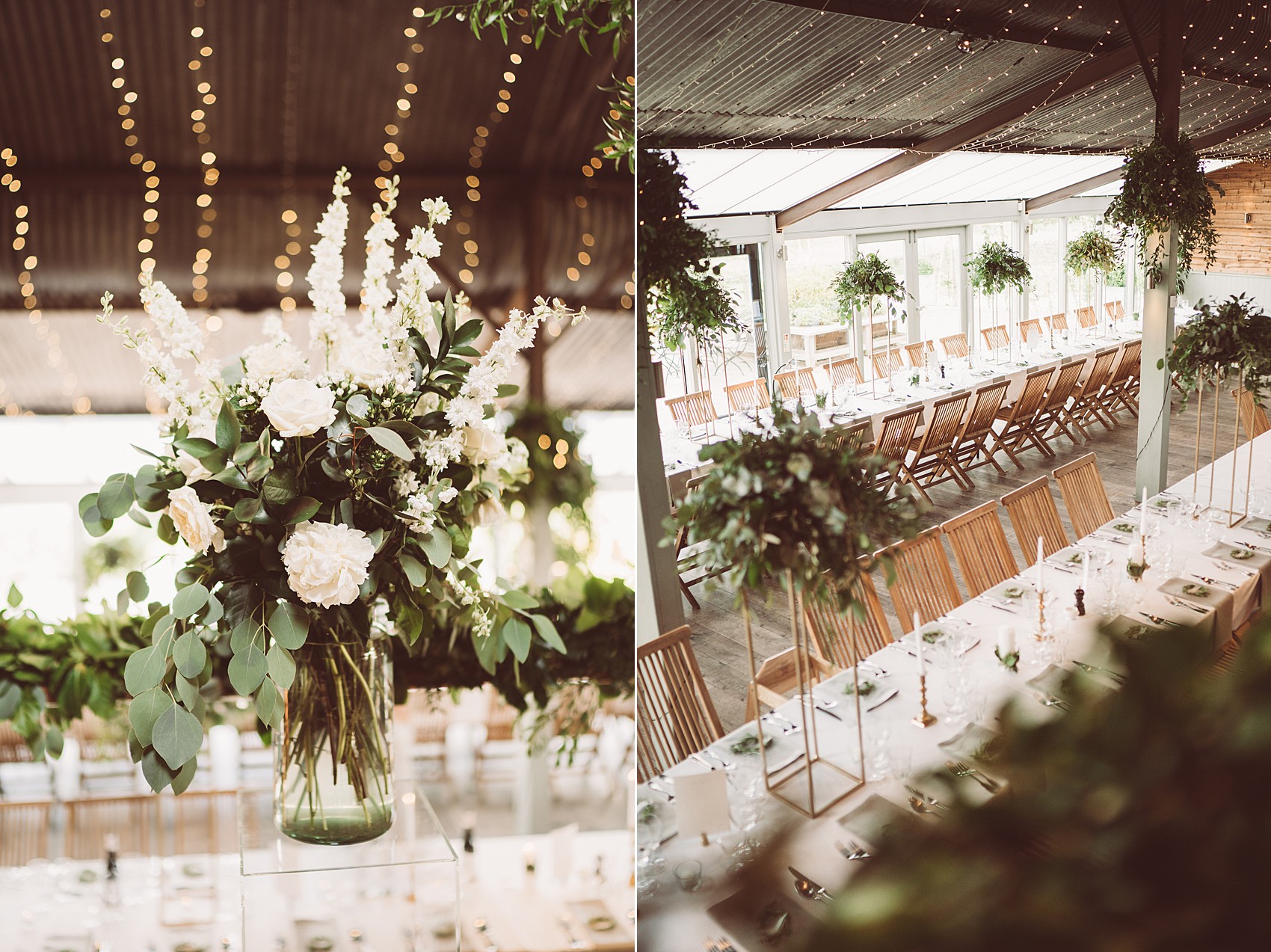 The venue's super-cool Dutch Barn was the setting for Robyn and Damian's reception, and it was decorated beautifully for their wedding feast. Above a canopy of fairylights, long tables were arranged and laid with simple white cloths and grey linen napkins. Place settings were little wreaths of rosemary, and along the tables, there were magnificent arrangements of greenery by Go Wild Flowers in tall, geometric pedestal vases to give height and drama.
"I've always loved minimalist style, but really it was the venue that gave the direction on the look and feel, because it really didn't need any dressing, it was already so beautiful. We added some personal touches, and used a lot of greenery and white flowers to complement the tones of the venue."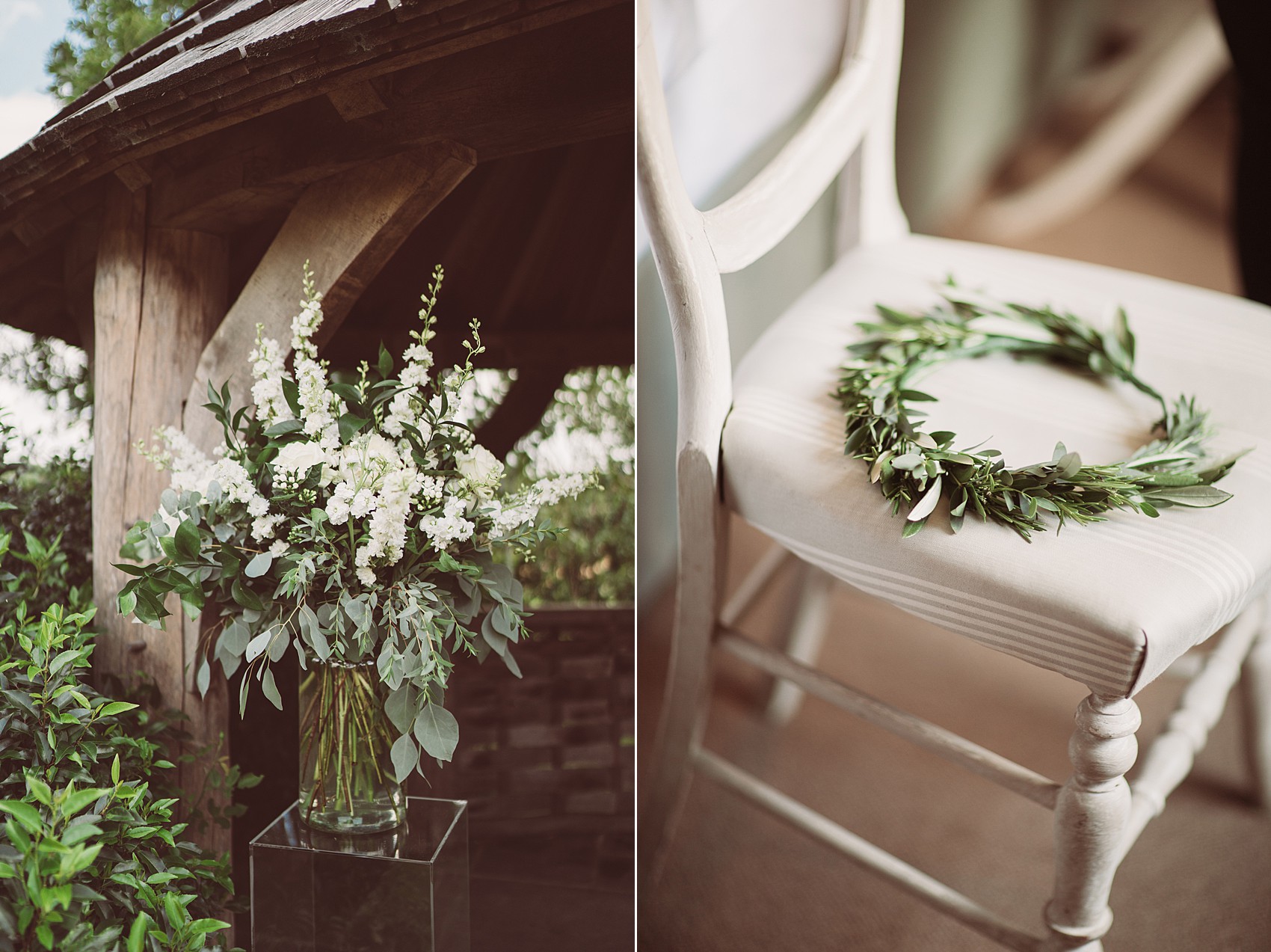 Around the venue was an array of  custom-made stationery by Emmy Designs, which paired perfectly with the modern botanical feel of the day.
"I love stationery, so I loved the process of creating our own bespoke wedding invites. The theme was based around the style we were going for, with greenery and foliage, and included a personalised illustration design that included the three of us (Damian, myself and Roux) and the venue. We then had the same picture taken on our wedding day, to recreate the invite."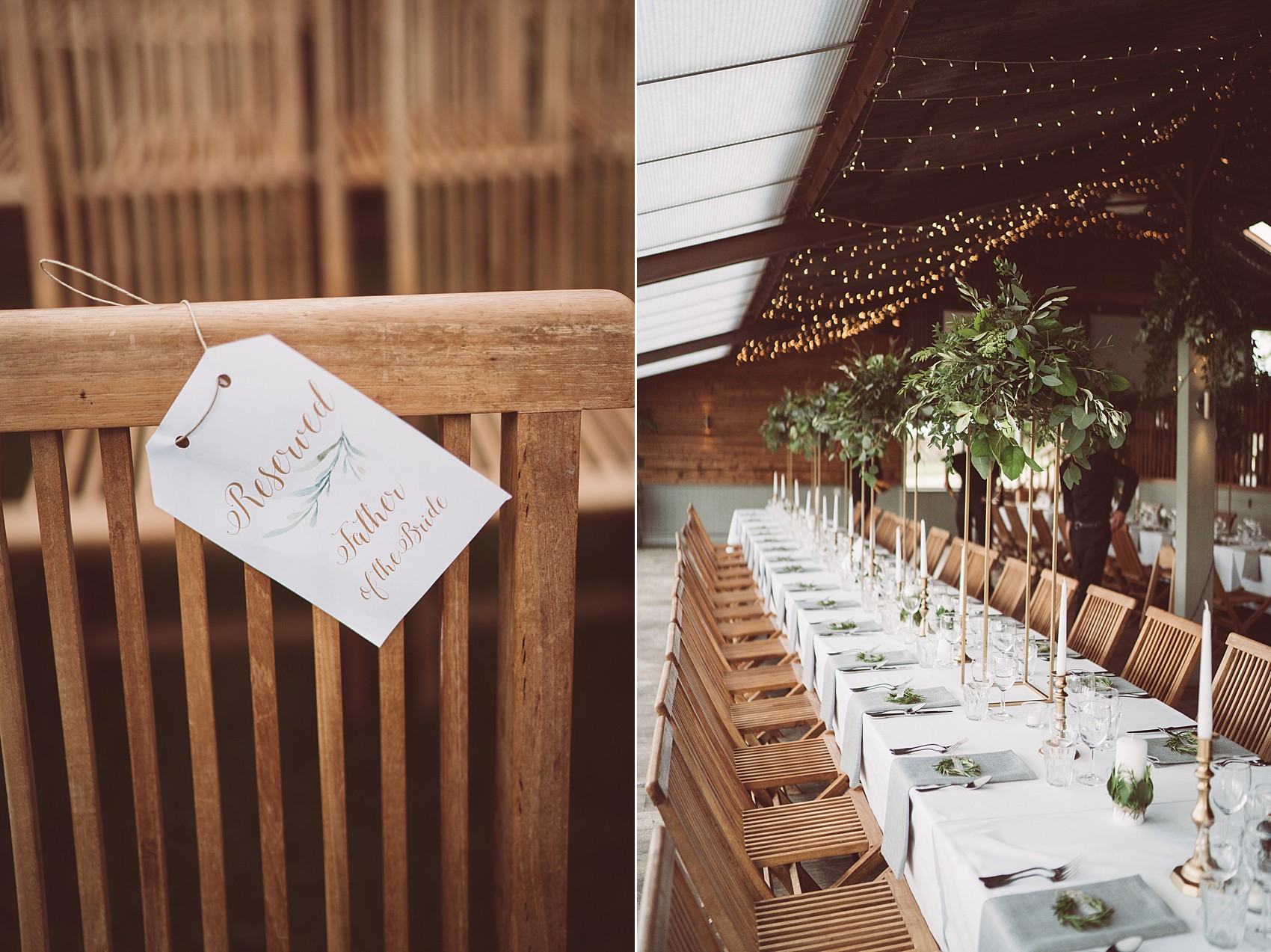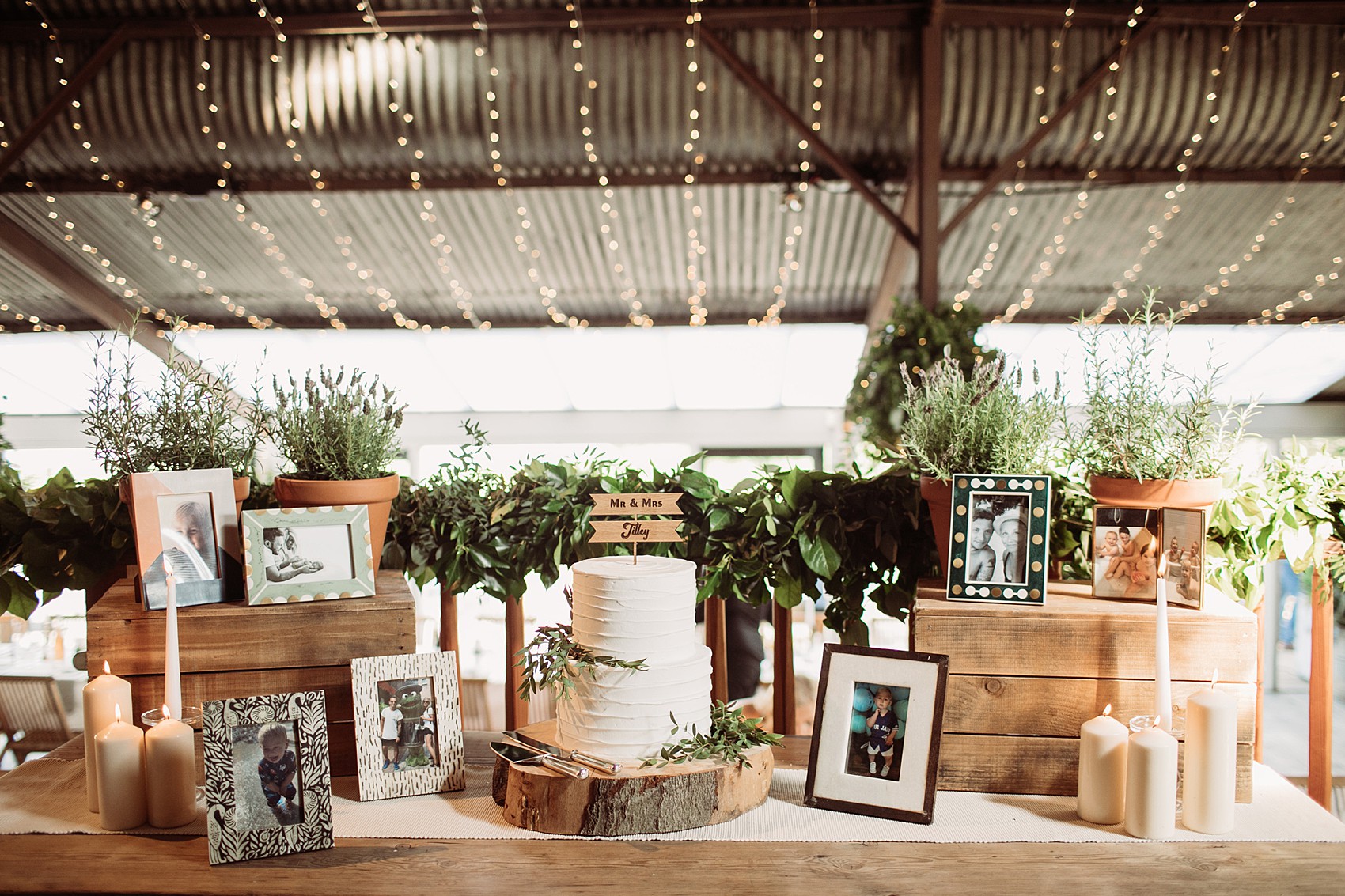 The couple's wedding feast was a whole barbecued lamb, served with a chimichurri dressing, Dauphinoise potatoes, and green beans with olive oil and black pepper. There was also a feta, spinach and filo pie with a carrot rosti and a dill and mustard sauce, and for dessert, delicious Eton Mess.
"Damian's aunt, Victtoria South, made our wedding cake and it was delicious! Victtoria is so talented and makes cakes for all occasions, so we knew when we asked her to make ours that it was going to be special. I barely had to give her a brief, she just took an image I'd sent and made the most amazing cake, and it was better than we could have ever imagined. We didn't get to eat it on the day, so when the family all got together the next day, we all sat in a pub garden and ate the cake then – it was heaven!"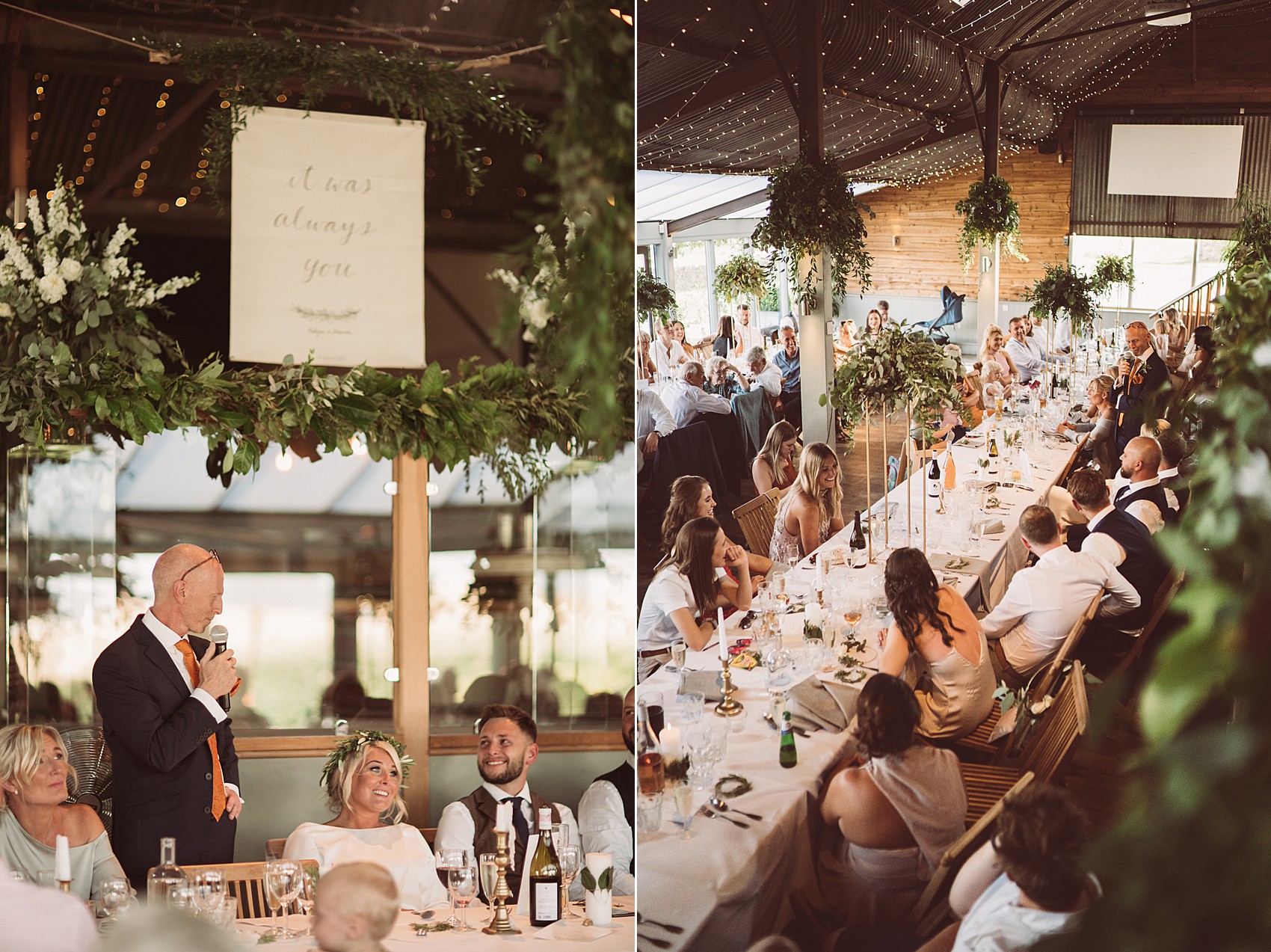 After all of that incredible food, and after the speeches were over, and the cake cut, it was time for Robyn and Damian to take their places on the dance floor for their first dance, and they chose such a brilliant song – Stand By Me, by Ben E. King.
"We had the most amazing 9-piece band for the evening called Detroit Soul Collective. Hands down the best wedding band we've ever heard, and we've even had friends re-book them for their wedding after seeing them at ours! They sang our first song beautifully."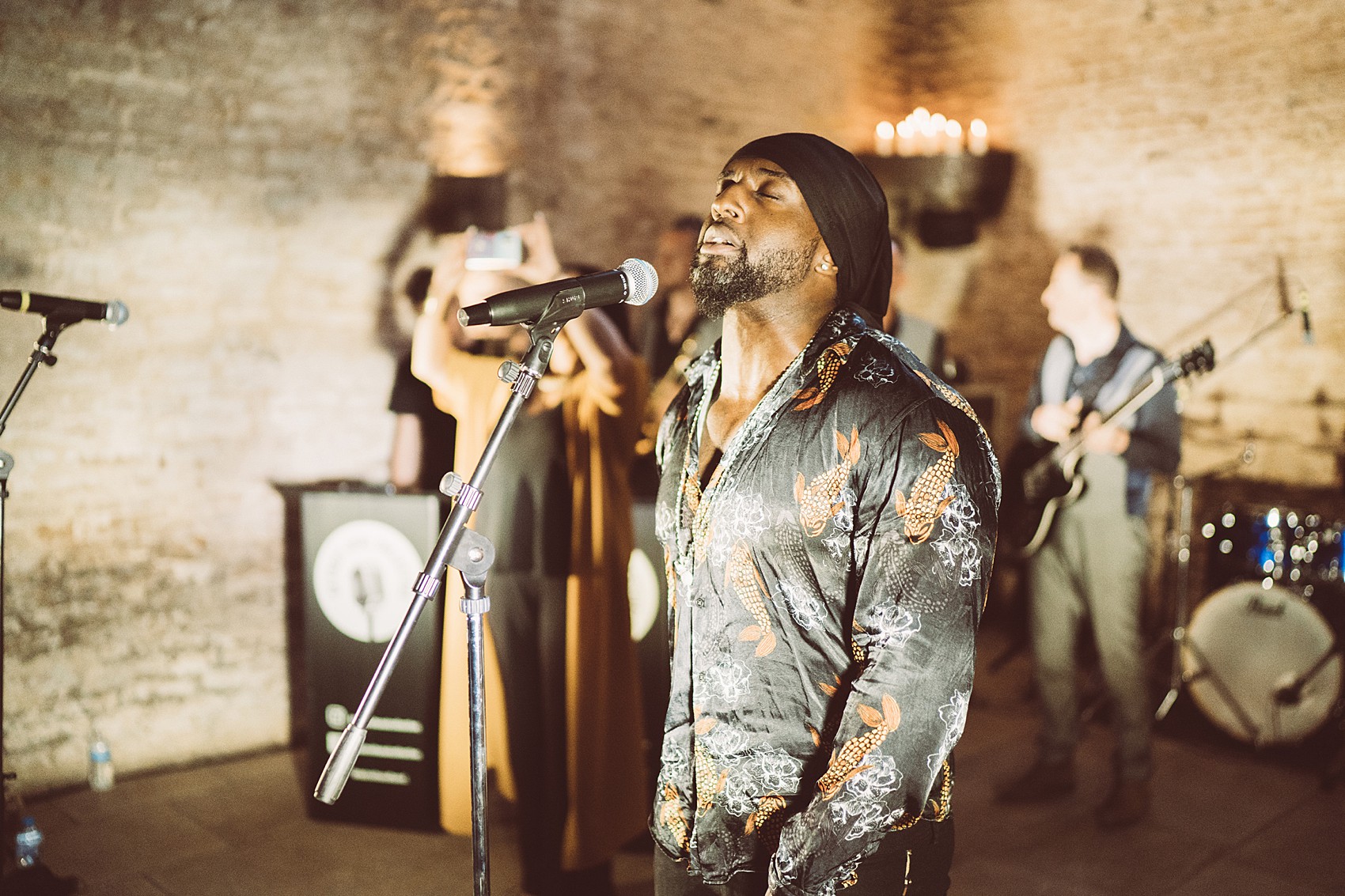 Words of Wedded Wisdom
"Try not to get caught up in the trends and what everyone else is doing, remember why you're getting married and make the day about you. Set yourself an overall budget and allocate your money wisely in advance, because costs quickly add up. Invest in the things that matter the most to you."
"You don't have to do it all yourself – let people help! I wasn't great at this, and I wished I had been, because I had family and friends who would have really enjoyed being more involved, and it would have taken the pressure off. Take a moment on the day, without photographers, etc, to just be by yourself with your new husband/wife and take it all in. Enjoy it."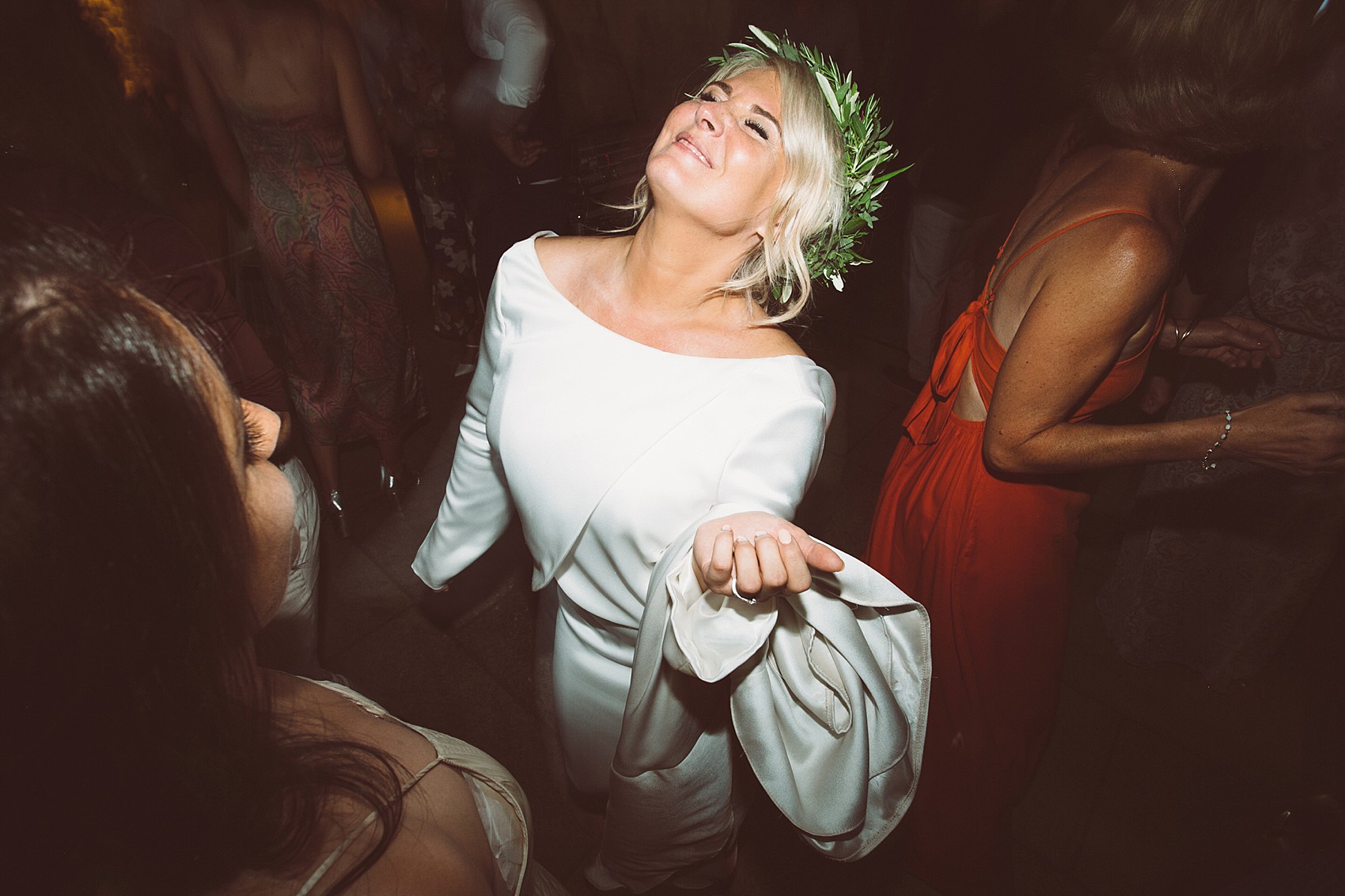 Well, that was just lovely wasn't it?! Thanks so much to you both, Robyn and Damian. It was wonderful to read about what a great experience Robyn had during the designing and making of her exquisite dress by Caroline Arthur, too. Many thanks to Nichola from Lemonade Pictures for these gorgeous images.
With love,
Laura