Dear wedding blog lovers – if you're anything like me, you may be planning all of those place you'd love to visit now that travel is a little easier.
For me, Scotland is must and having seen these breathtaking images of raw beauty of the Isle of North Uist, I think I might just extend my trip to take in the Outer Hebrides. Carinish Church of Scotland, Clachan on the Isle of North Uist was the venue for the wedding of Helen, a maths teacher and John, a civil engineer, who wed on 27 September 2019. 
Clickybox Photography

+ Follow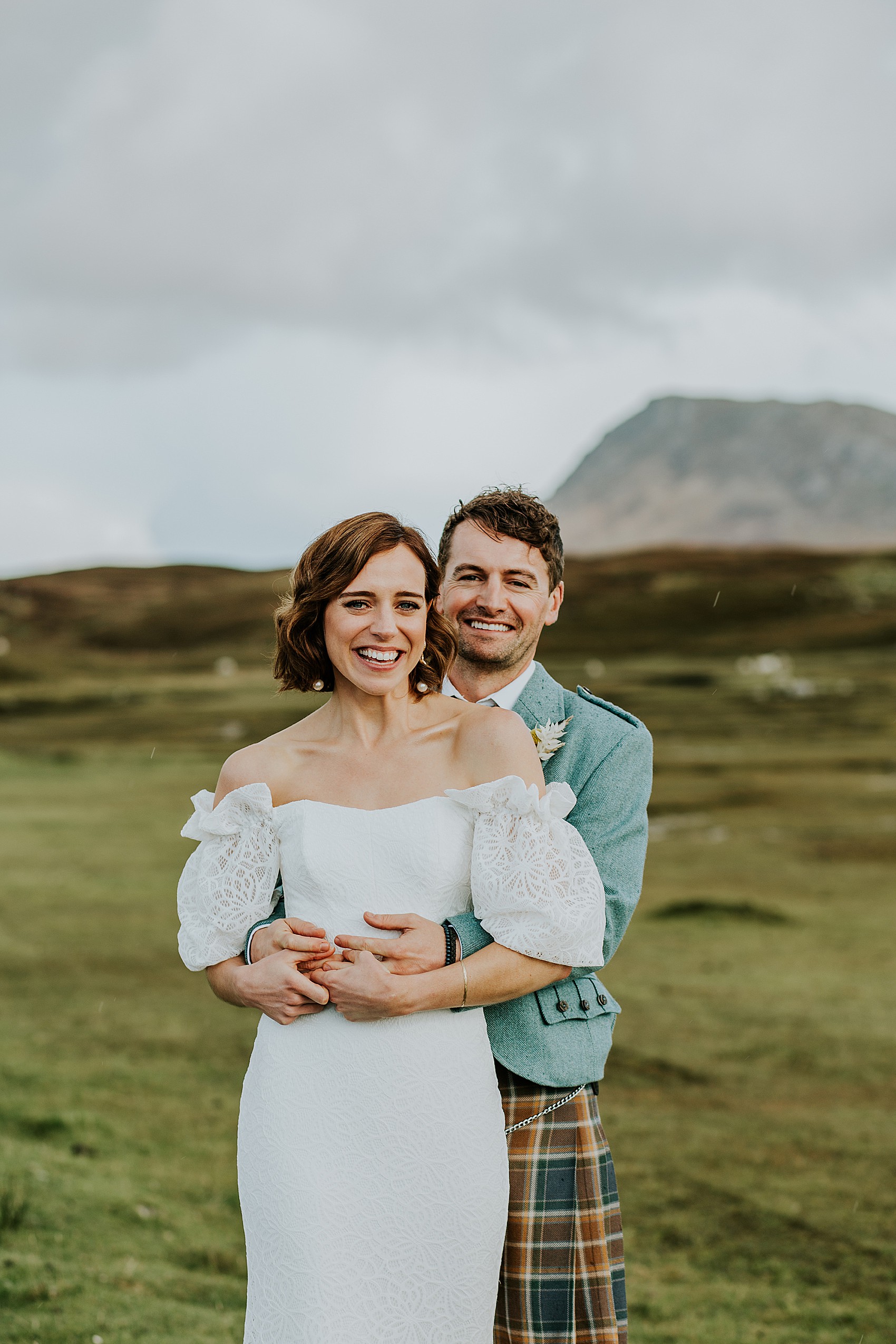 Although they live in Sydney, Australia, the couple returned to Helen's childhood island for their religious ceremony and colourful, fun-filled reception at Carinish Hall which was beautifully decorated with ribbons and streamers for a night filled with dancing, music and Northern Lights.
The bride's love of colour is exemplified in her divine velvet shoes from Myer – high block heels in luxe turquoise velvet – and her gorgeously vibrant bouquet of blooms in a rainbow of shades, designed by Pops & Piaf.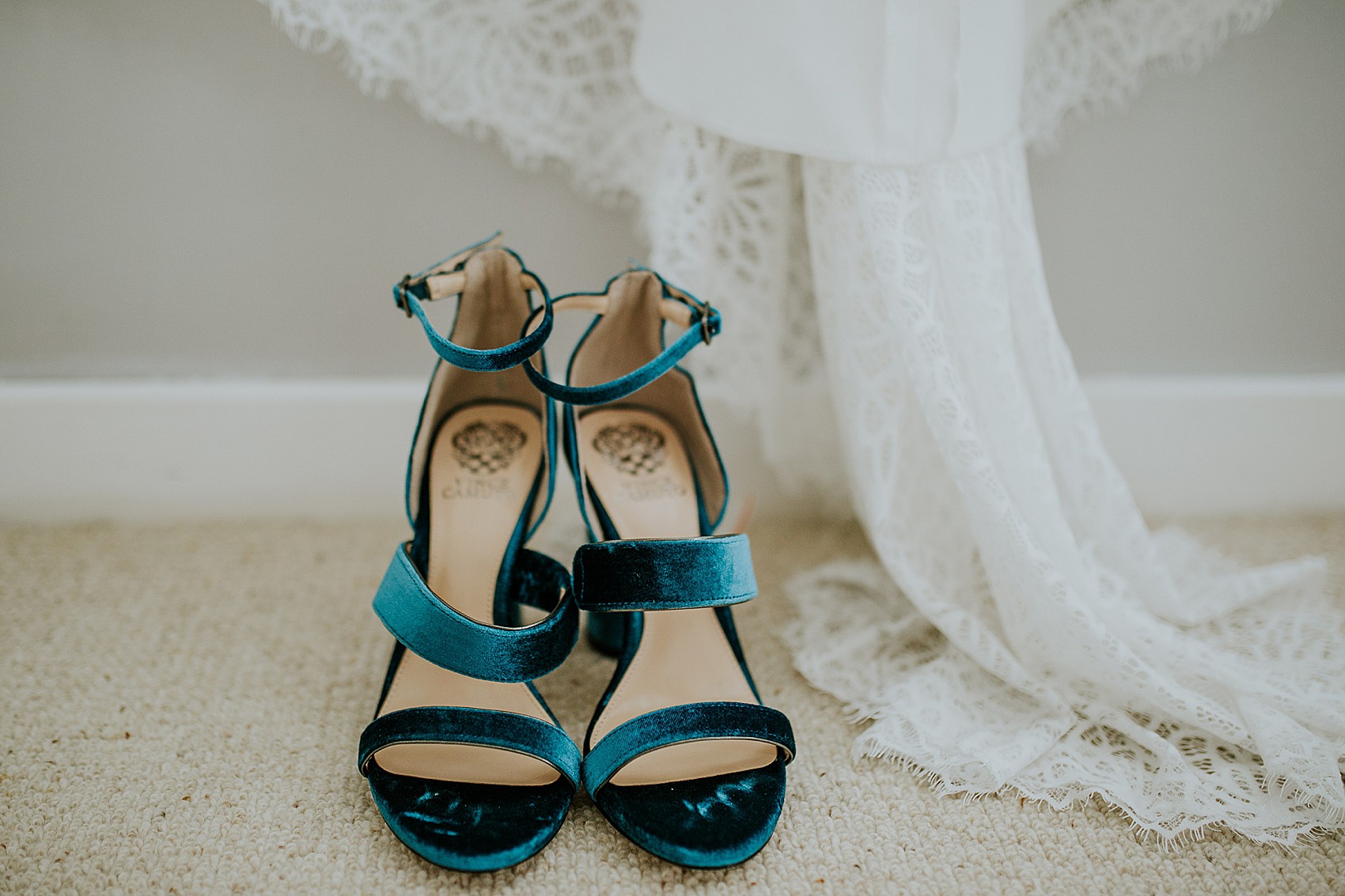 I love the trailing ribbons in soft turquoise which match the bridesmaids' elegant ASOS gowns.
"I got all the bridesmaids' accessories from markets in Sydney and some from Accessorize."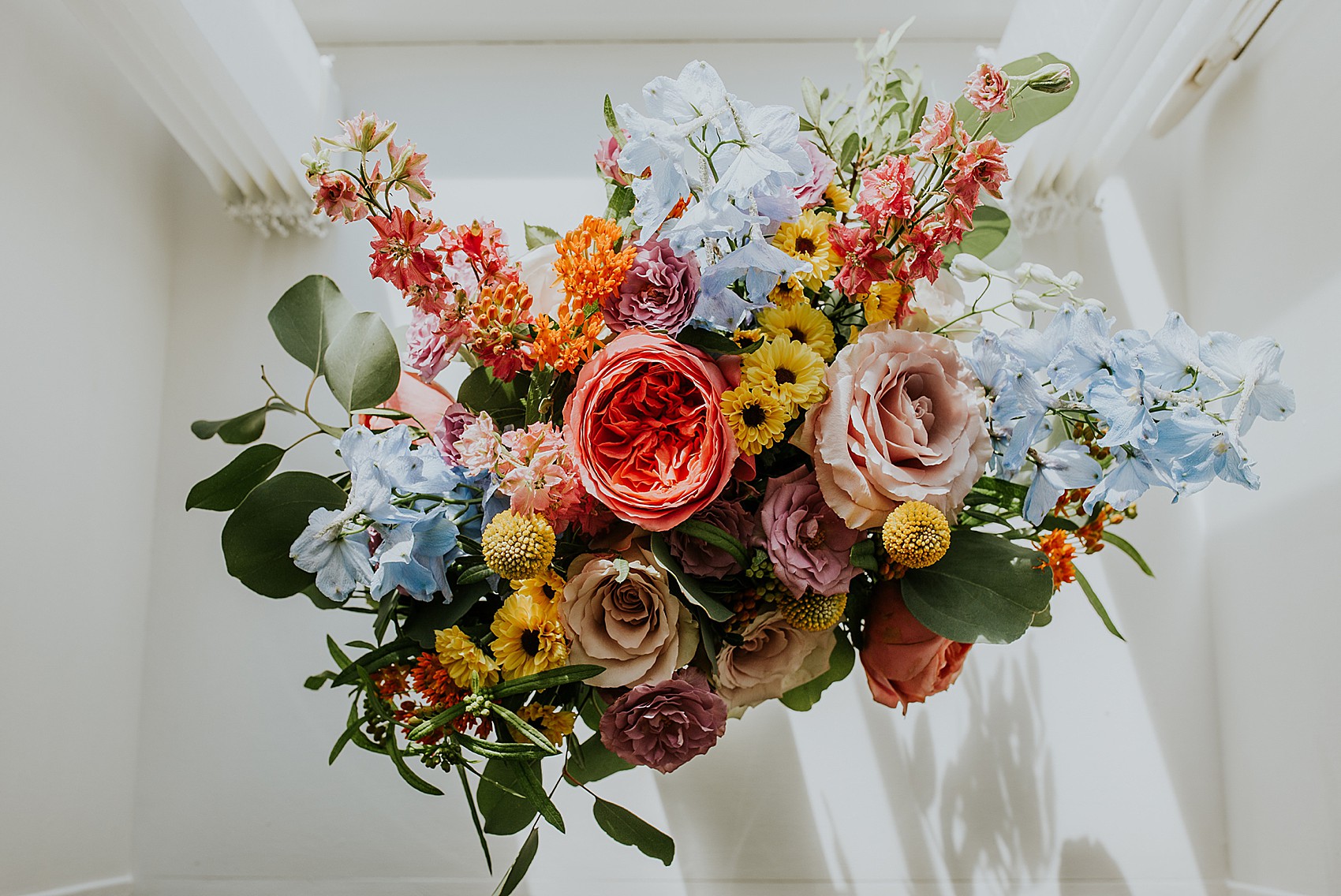 The flowergirls were in pretty, pure white dresses from Arabella and Rose and they each carried a posy to match the bride's.
Very fittingly, Helen selected the most dreamy, boho-inspired floral gown from Australian designer Karen Willis Holmes – the Vivienne from the Wild Hearts collection.
Its simple, slimline silhouette and flaring train define the bride's figure so well whilst the off-the-shoulder, balloon sleeves add a romantic and contemporary vibe.
"Karen Willis Holmes were extremely helpful and friendly from start to finish. I just loved my dress as soon as I put it on. It was a stretch cotton material so felt light and perfect for ceilidh dancing!"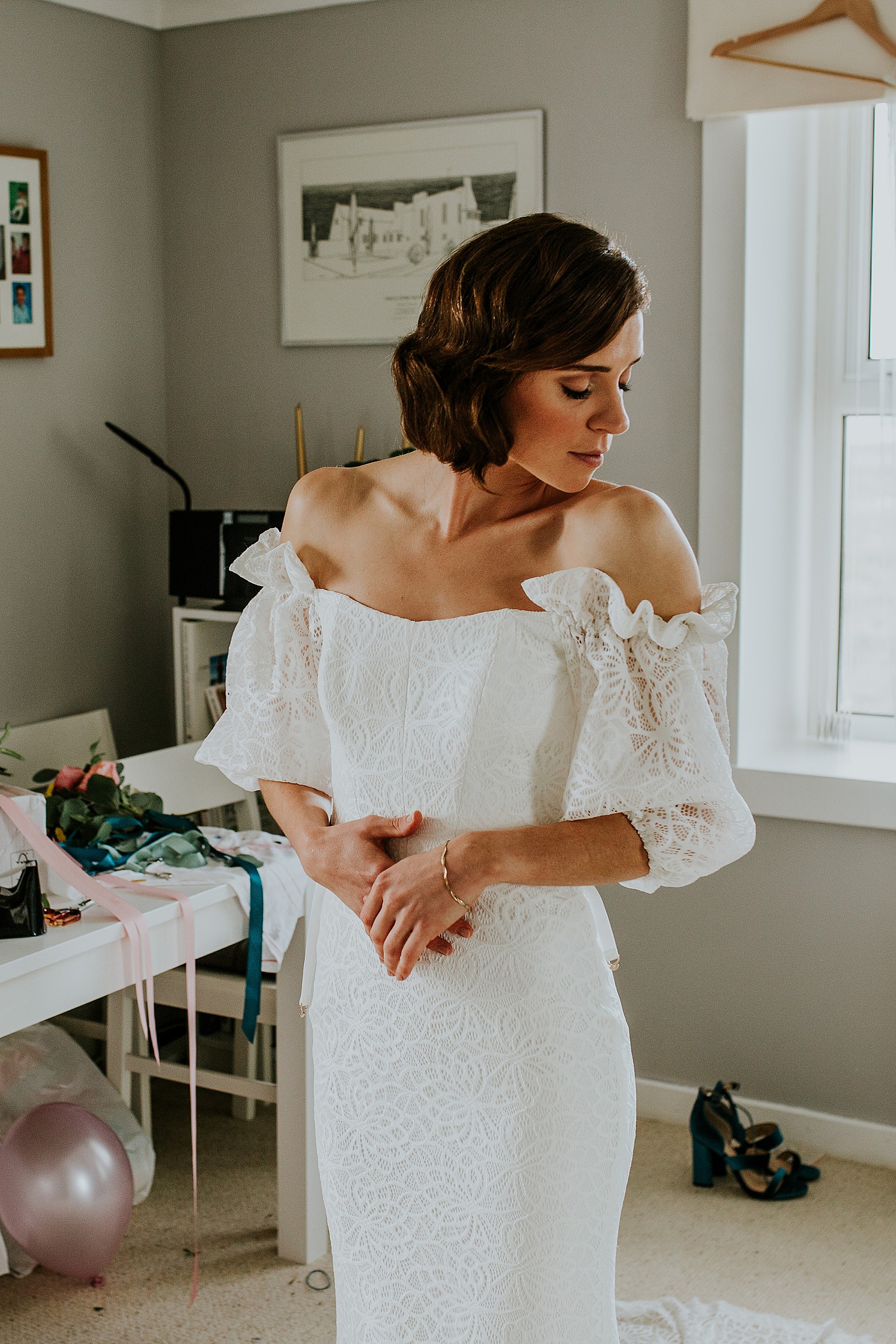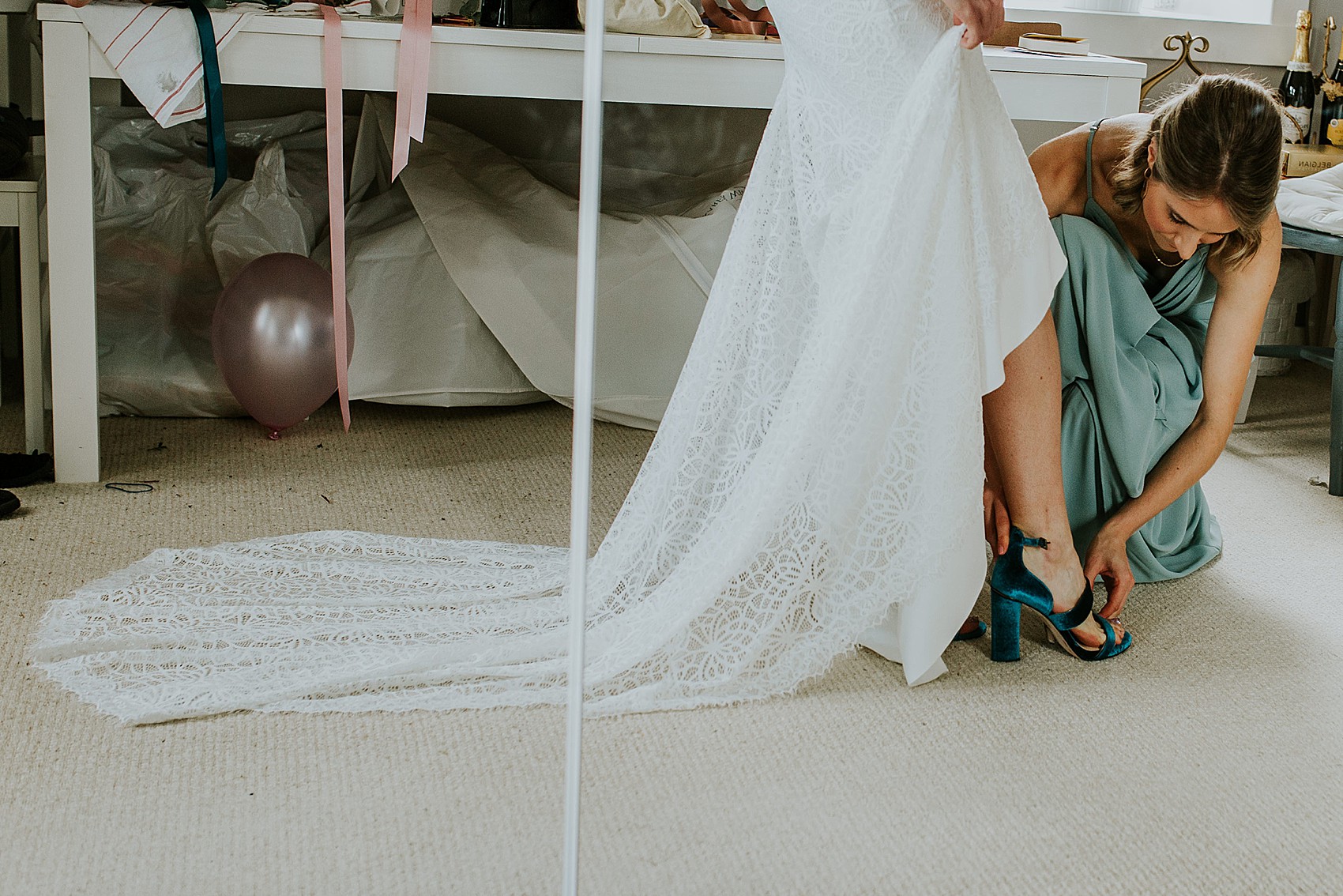 Helen looks so radiant, her wavy hair was caught back in an era-inspired do and her make-up flawless and dramatic with a soft smokey eye, by Sandra's Make-Up.
The lines of the gown were echoed by her sheer veil, borrowed from her friend as her 'something borrowed' and she added statement pearl earrings from Zara.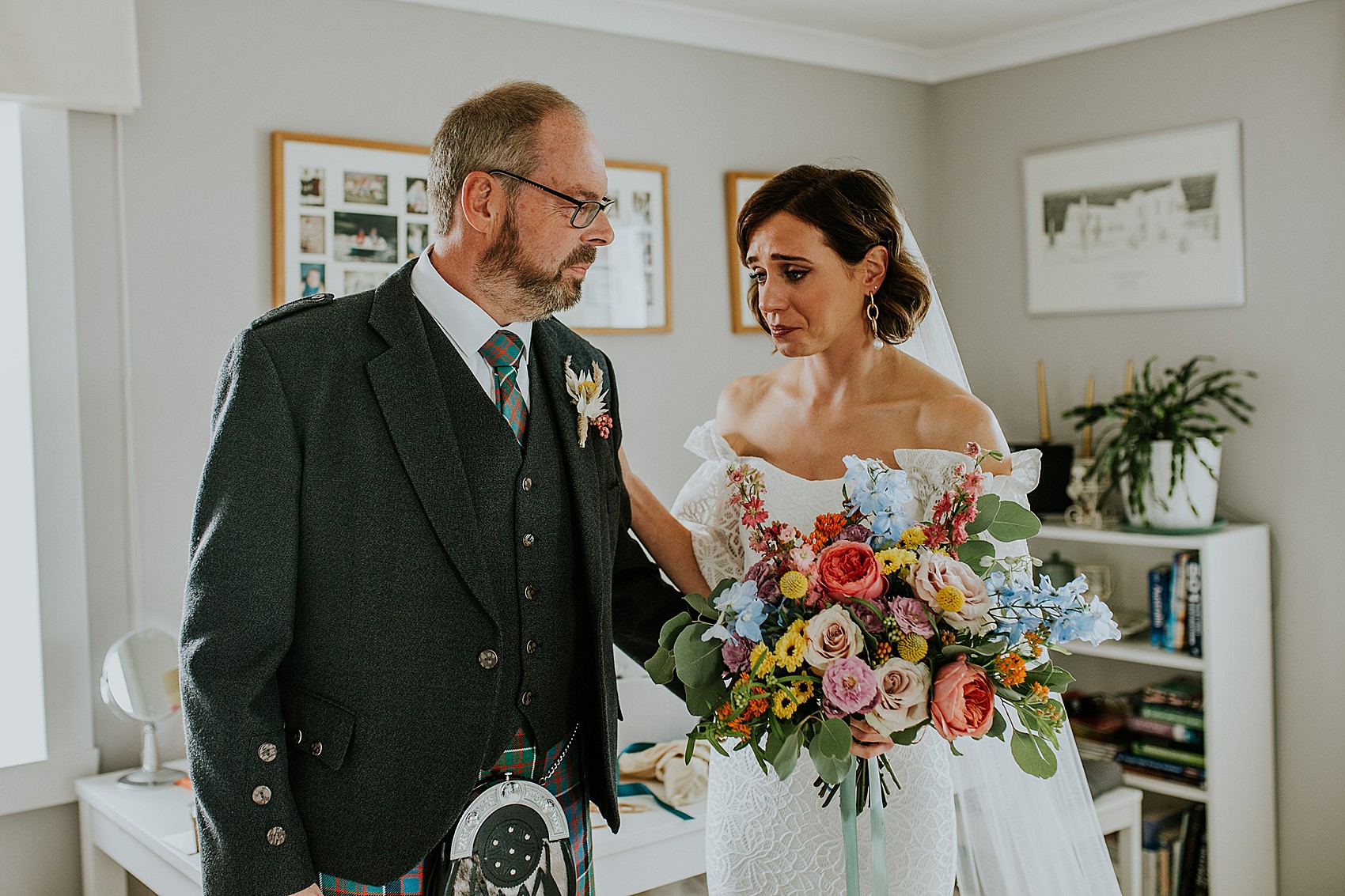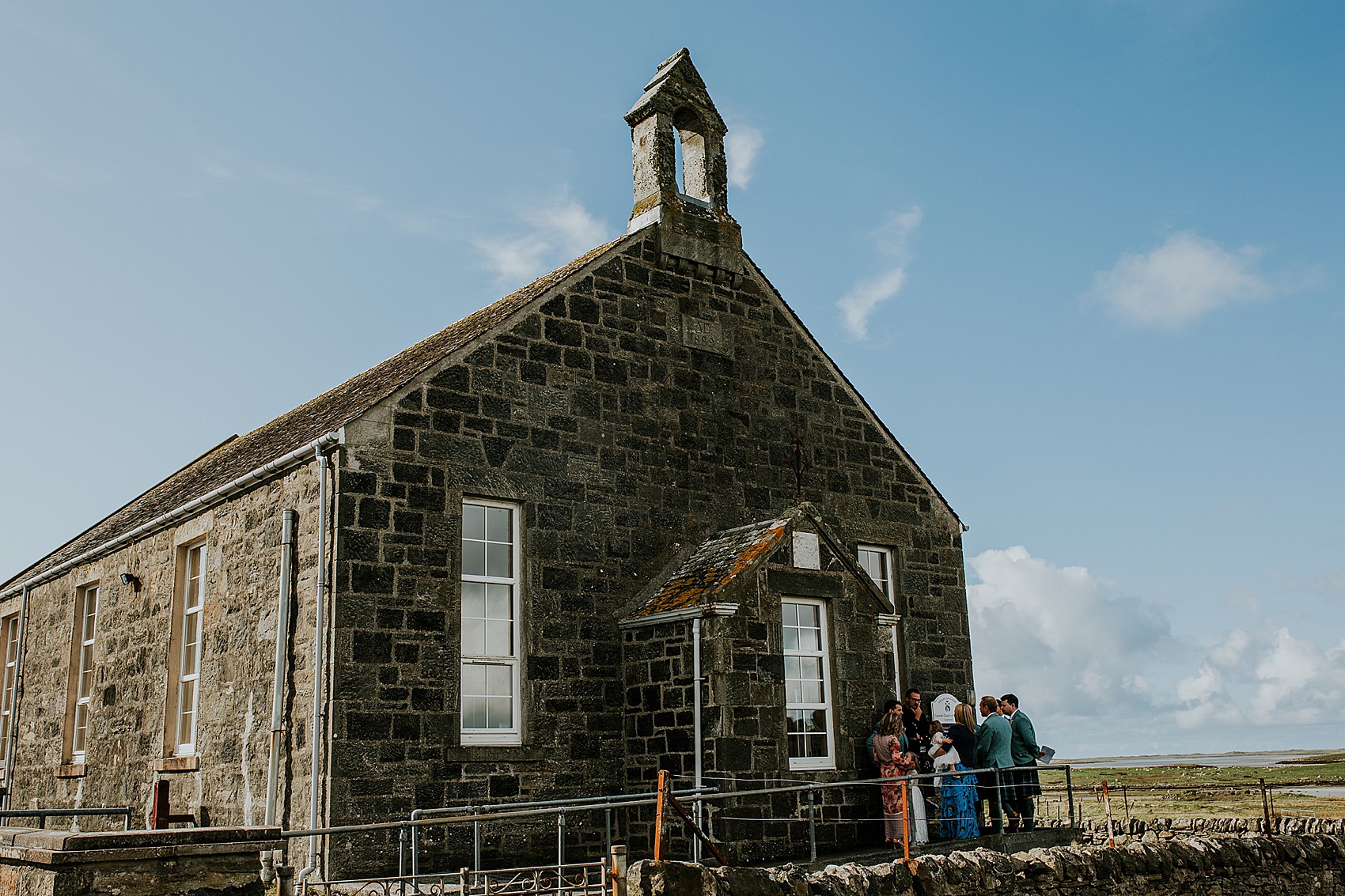 The bride travelled to the church in a car from MacVicar's Taxis before making her way down the aisle to John with her dad, Mark.
"Our friends Dave and Michael performed 'Glasgow Love Theme'."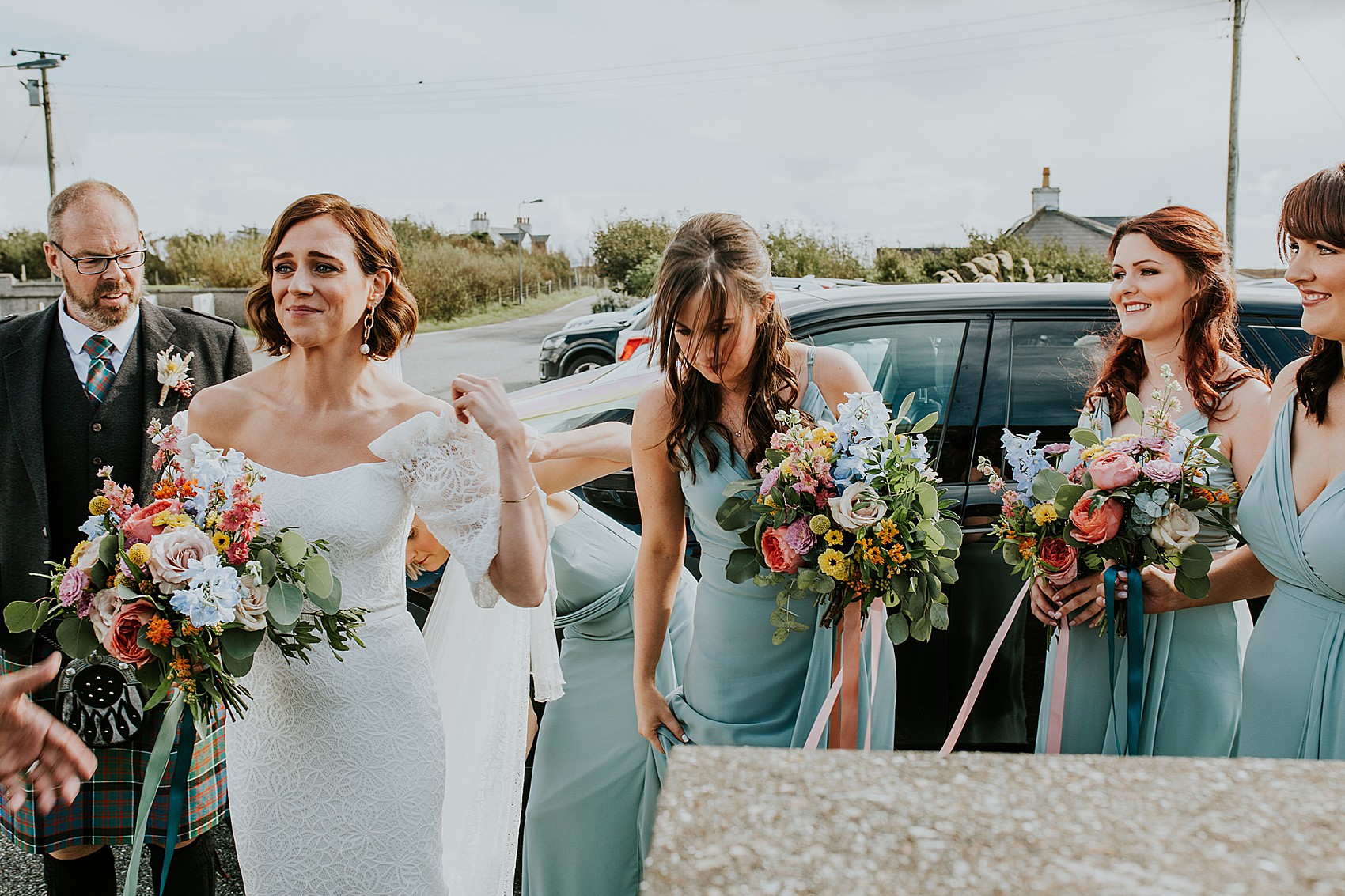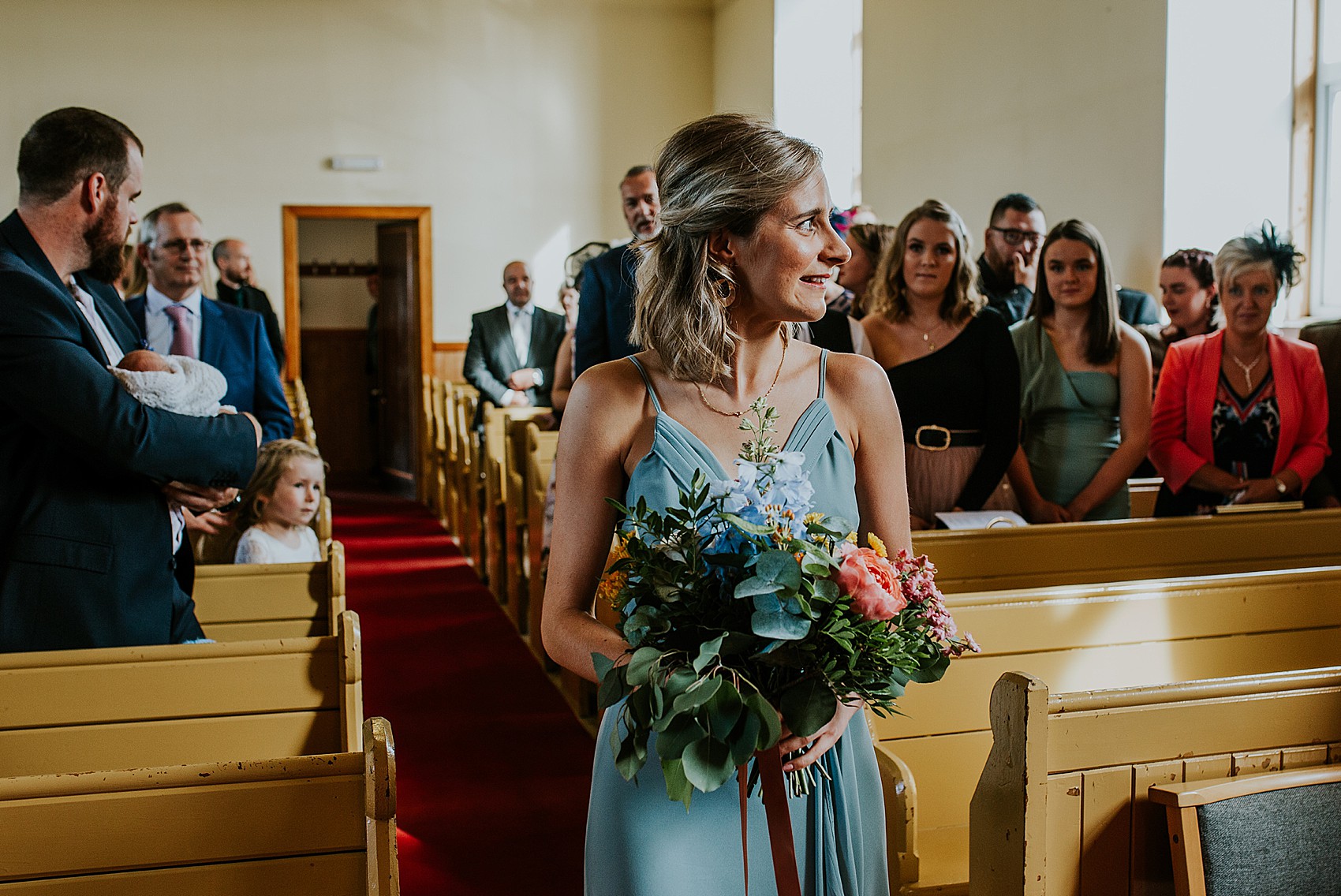 "We were married in my local church, Clachan Church, where I grew up going to Sunday school. The Reverend Drew Kuzma married us and he was extremely helpful in guiding us in the weeks building up to the wedding.
He was so kind and helpful and we will never forget his generosity and warmth with all of our family and friends."
The couple first met in a bar in Bondi Beach, went for a swim together and then became firm friends.
"I was on a working holiday visa and John (who is originally from Dublin) lived in Sydney as a citizen. I went back to Scotland after a year due to my visa running out then came back six months later to settle in Sydney with John. We are still here seven years later."
"We chose the vows that Reverend Drew had prepared. I am a very emotional person, so unfortunately writing and saying my own vows would have been a bit of a disaster. I cried for most of the ceremony; happy tears, I have to add."
"We had a Gaelic reading (as John is Irish), which our friend Aisling read. John's friend Donal also did a reading."
The bride and groom exchanged bespoke rings from Lucy Folk, before being declared husband and wife.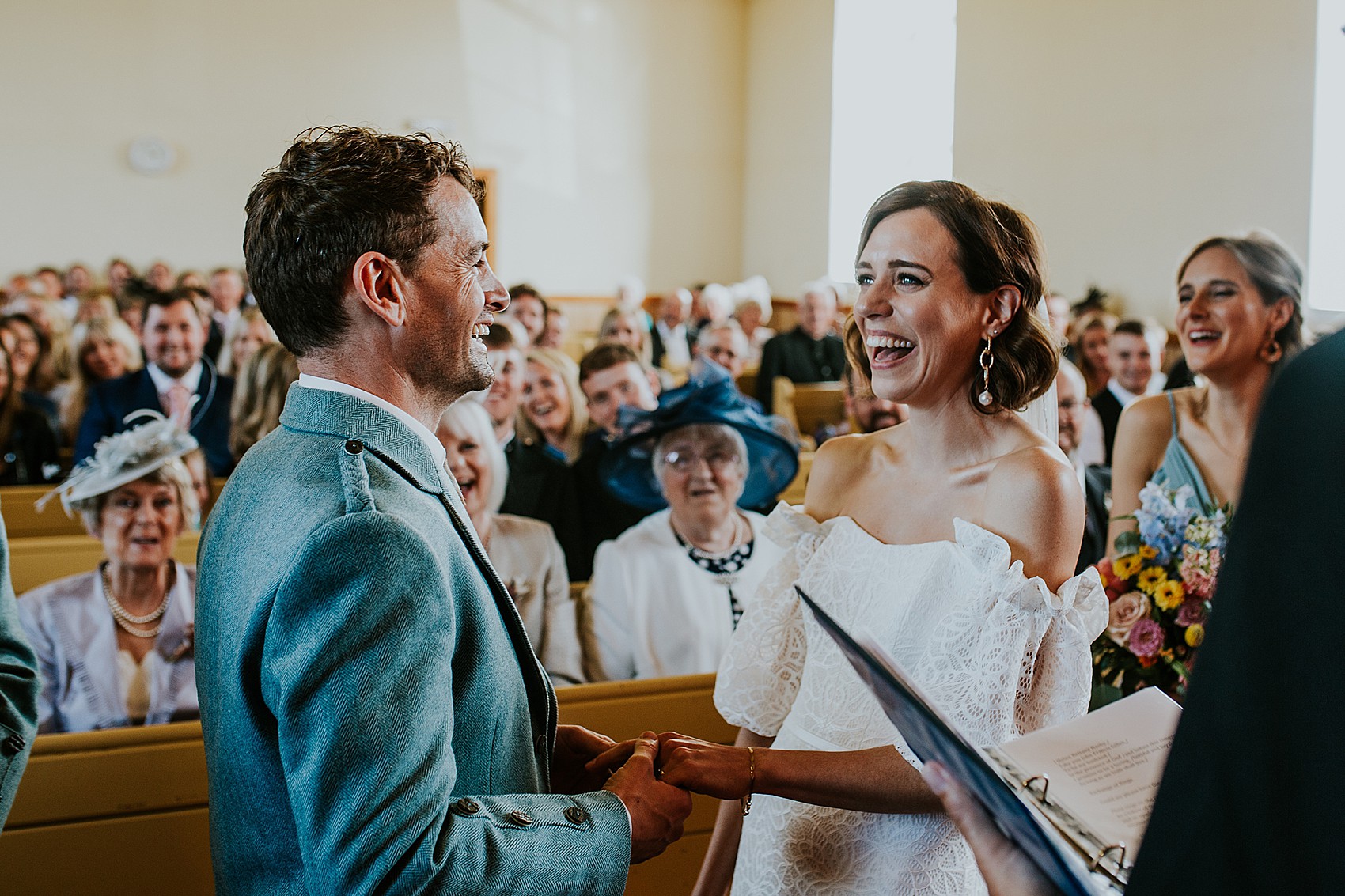 To match the girl's gowns, John selected a traditional kilt from Slanj Kilts, worn with a tartan tie.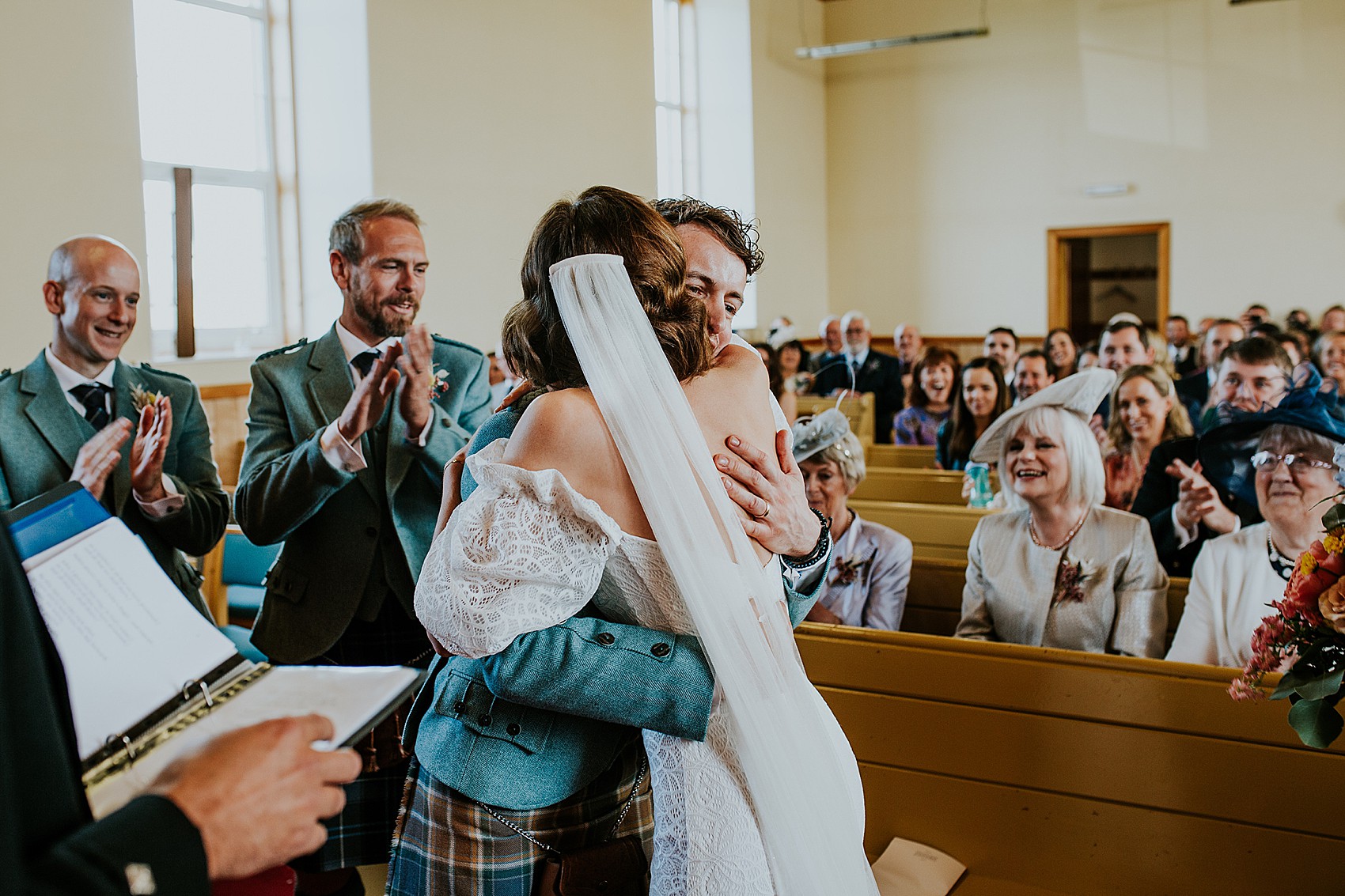 "John's favourite part of the day was when we jumped into the car after the ceremony; I had hidden a bottle of Champagne in the car for us! We just relaxed and had a drink together before it all got crazy. It was the only time we had to ourselves and it was really special."
Before the reception at Carinish Hall, the newly-weds and guests headed to Langass Lodge for canapés, photographs and incredible views.
These joy-filled, colourful photos come from the lens of Clickybox Photography, whose documentary-style has captured so many wonderful shots both of people and the incredible Hebridean landscape.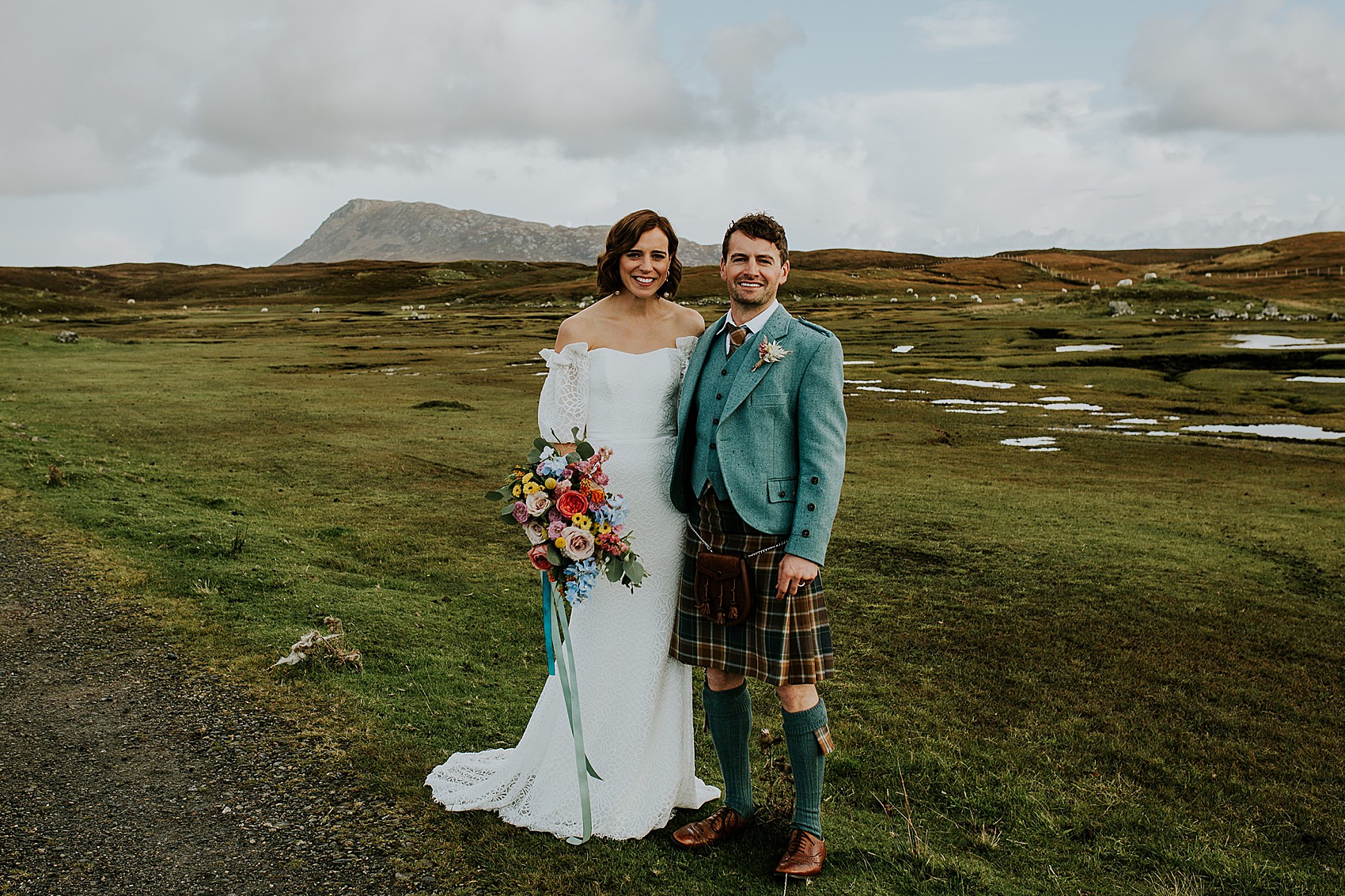 "I know Jenny from school and she has done lots of weddings of friends I know from North Uist. She also photographed one of my best friends on her wedding day and so I knew she would be perfect. I love her work and relaxed vibe."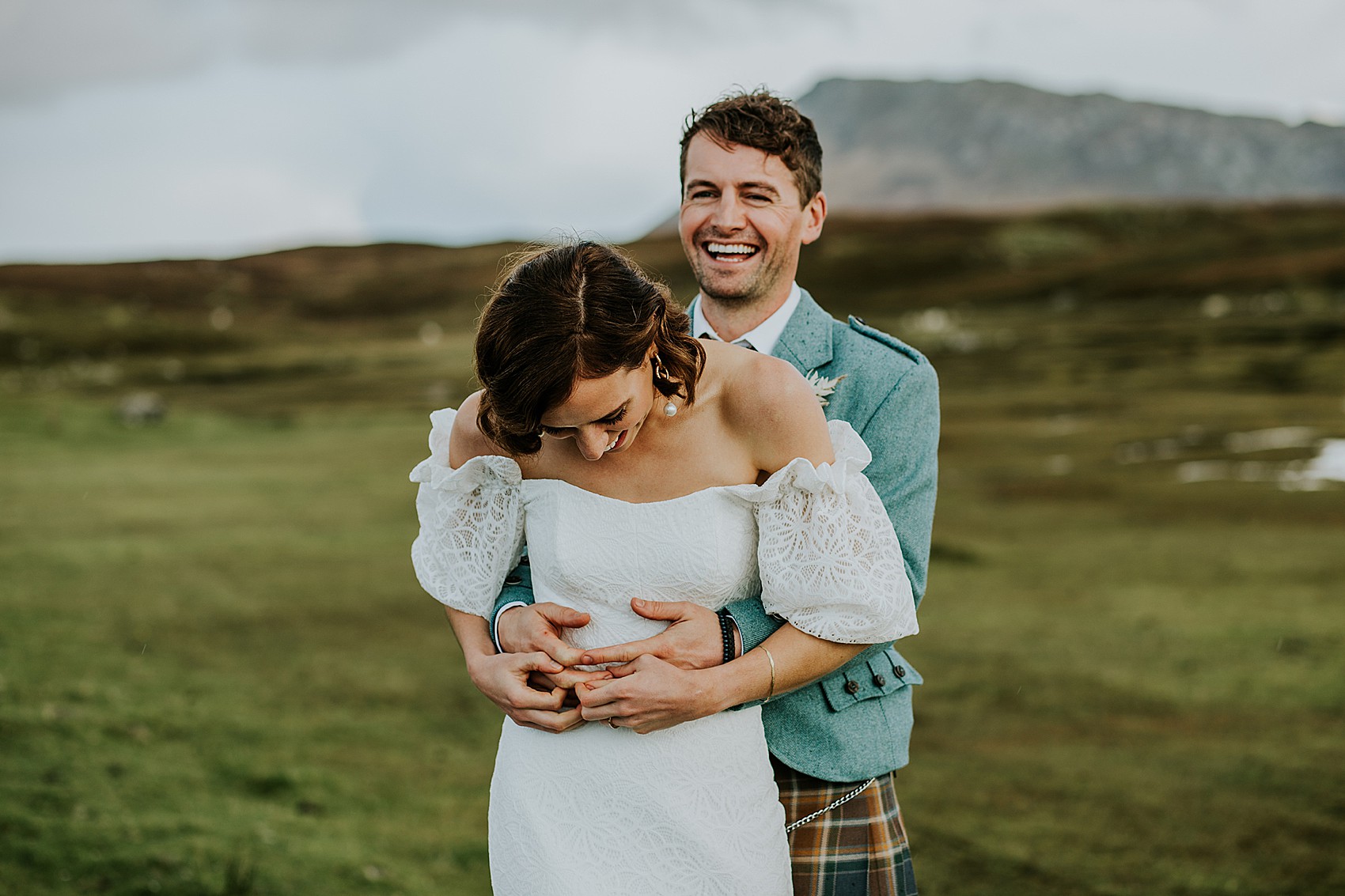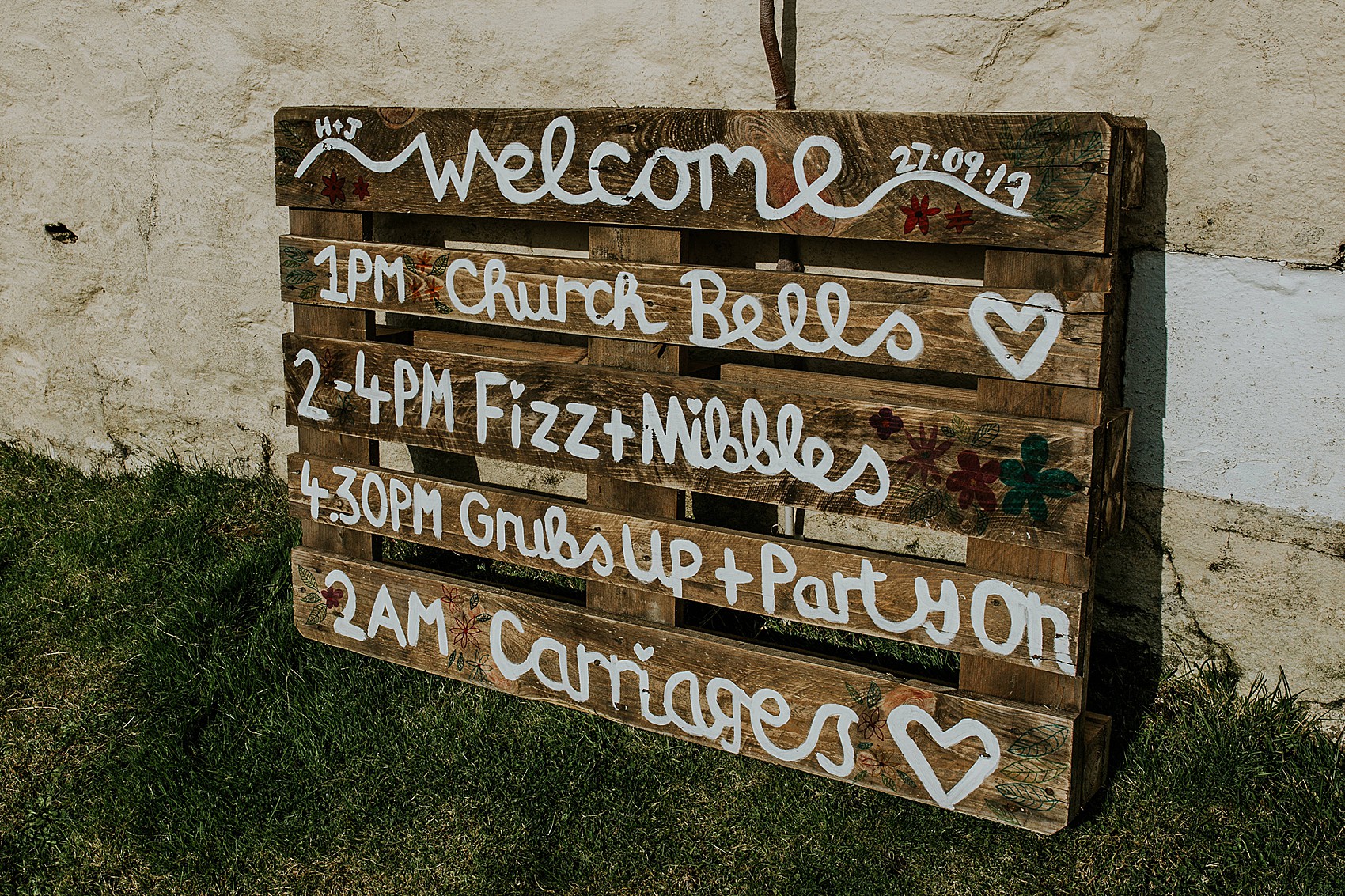 The party then moved on to the hall for the party reception. The hall was transformed by long trestle tables, fairy lights and streamers and there was a surprise bar for John.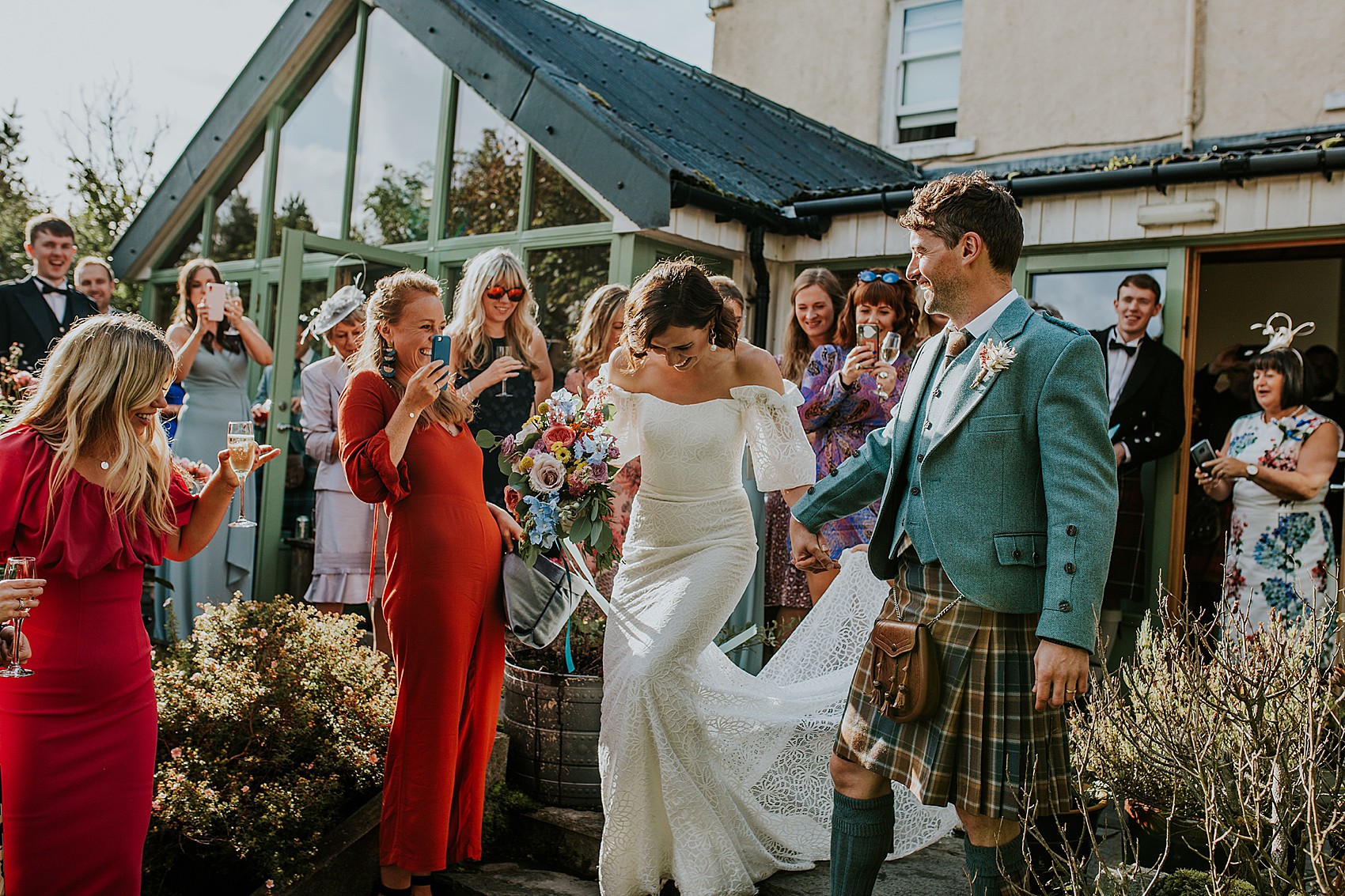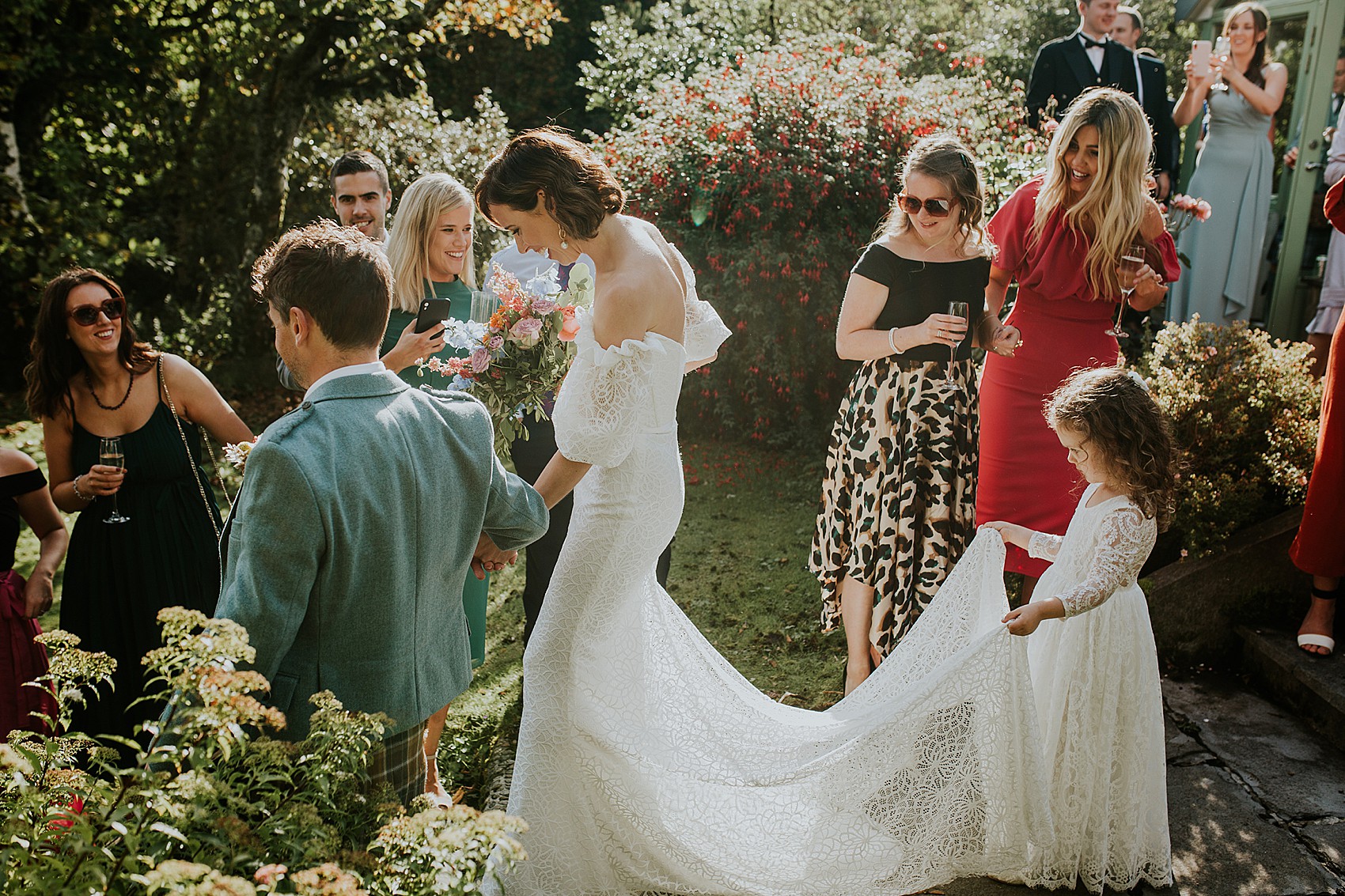 "We loved the wee Irish bar in the village hall. That was a surprise I made for John and he loved it."
"Shona Steele did the fairy lights and drapes in Carinish Hall. We decided that instead of favours that we would have welcome cocktails by our local gin distillery, North Uist Distillery. Ceit and Johnny were fantastic and are close family friends of ours. We loved the gin reception and so did all of our friends and family."
Both the church and reception venue were styled with streamers and flowers in joyful, bright colours.
"We both love colour and having fun with our friends and family. We also both love music and dancing! Pops and Piaf provided the flowers and props at the reception. I styled the wedding with John and the help of my wonderful family and friends."
"Langass Lodge kindly lent us tablecloths and we used props from pops and Piaf to decorate the tables along with many glass jars and pots we had collected over the years. We hired chairs from Gordon's Cater Hire and made streamers from rolls of crepe paper ordered by my mum on Amazon."
The Stepping Stone Restaurant provided the couple's wedding breakfast whilst their friends got in the kitchen to bake and construct the charming naked cake.
"The cake was made by my beautiful bridesmaid Kareen MacRury and my cousin Andrew Currie. My mum, Donalda, also made a gluten-free and vegan cake."
"I loved the speeches. John spoke so well. He had told me for months how nervous he was and I was so proud of him for writing and delivering such a beautiful speech."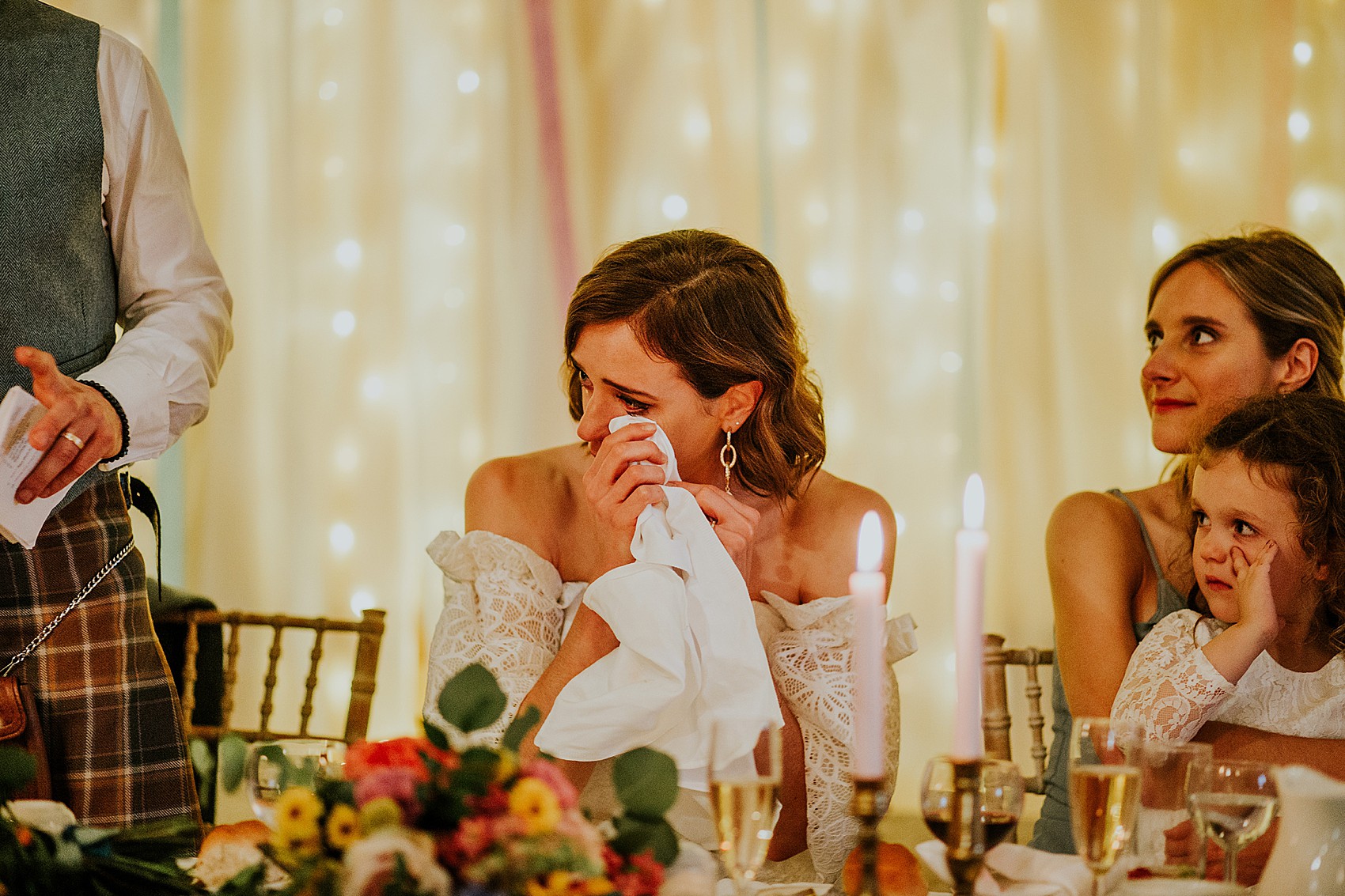 The couple opted for a traditional Ceilidh, and got the dancing off to an energetic start with a first dance to the Wedding Reel.
"We decided to do the traditional Wedding Reel for our first dance and it was so much fun! Beinn Lee provided the bagpipes for this. It was a fantastic way to get the party started. We had all practised so much (the six dancers in it – Bernard, James, Kirsty, Fiona and myself and John) so when we pulled it off we were delighted. We loved how much fun everyone had at the Ceilidh. The Irish half of the wedding were in their element, as the Ceilidh dancing was all new to them. The dancefloor was never empty. Beinn Lee were just fantastic."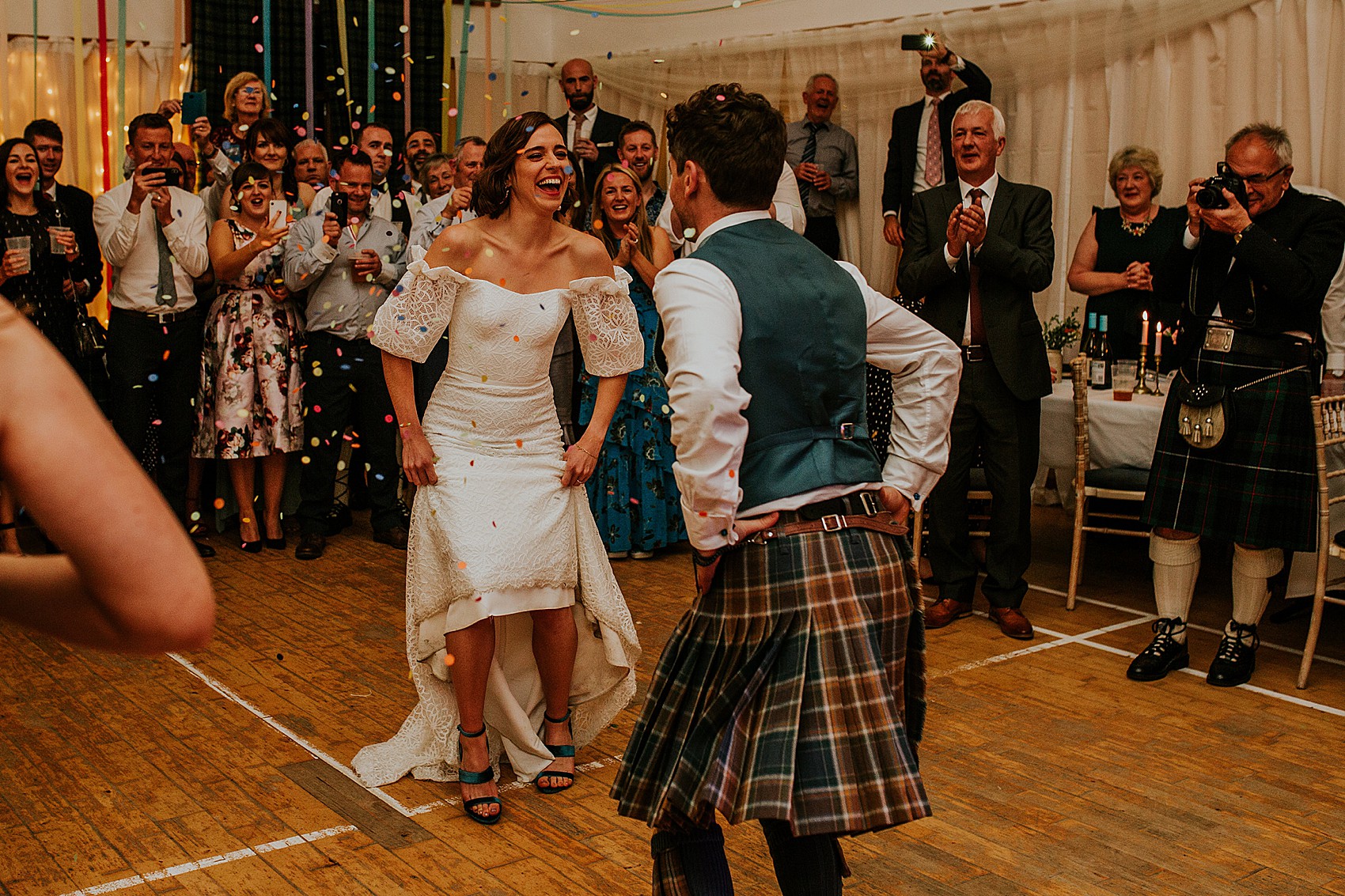 Words of Wedded Wisdom
"Plan a party, not a wedding! Enjoy all the planning and organising. If things get tense or heated take a step back, go for a drink and relax, then get back to it the following day."
"We wished we had spoken to more people for longer but apparently everyone says that after their wedding. It was over too quickly! We were so happy we organised a second gathering the day after so we could properly speak to all our loved ones and thank them for making the huge journey to the Outer Hebrides and sharing such an amazing weekend with us."
Lovelies, how many of you have enjoyed this beautiful tip to the Outer Hebrides? I've really enjoyed seeing how a few simple proper can transform a hall and I love the vibrancy of your colourful flowers. Helen, you look sensational in your Karen Willis Holmes gown, and if you'd like to see more brides wearing pieces by this designer please follow this link.
Ele xx