If a relaxed and laid back approach to weddings feels more like your kind of style, then you're going to love the fun, joyful celebration we have to share with you today. Our couple made the most of the late summer season by opting for a day spent outdoors, before partying the night away by the light of a crackling camp fire.
On the 22 August 2019, Carrie, a data scientist for Aviva, and Ryan, who is Norwich City FC's catering manager, were married at The Firepit Camp in Wendling, Norfolk. The venue has a great festival feel, with a beautiful meadow in which to marry, a warehouse, and lots of al fresco places to celebrate, including the giant fire pit from which they take their name.
Images by Jeremy James Weddings
"This was the only venue we went to look at. I've always wanted an outdoor wedding, and we looked into hiring a field and doing it all ourselves, but that was going to be a lot of work! The Firepit Camp is so quirky and impactful; we were sold straight away, and you can have your ceremony outside – perfect."
"My mum was our planner. She is very good and very cheap if anyone needs a wedding planner! She will organise everything for you at the cost of just a few hundred emails!"
By Carrie's own admission, their generally laid back approach meant that they booked some of their wedding suppliers quite late in the day! This was the case for Carrie's hair and make-up artist, Flamingo Amy, who nevertheless did a wonderful job.
"My hairdresser recommended Amy, and she saved the day. I hate my ears, but Amy managed to give me the most beautiful updo. I felt so amazing and not self-conscious at all."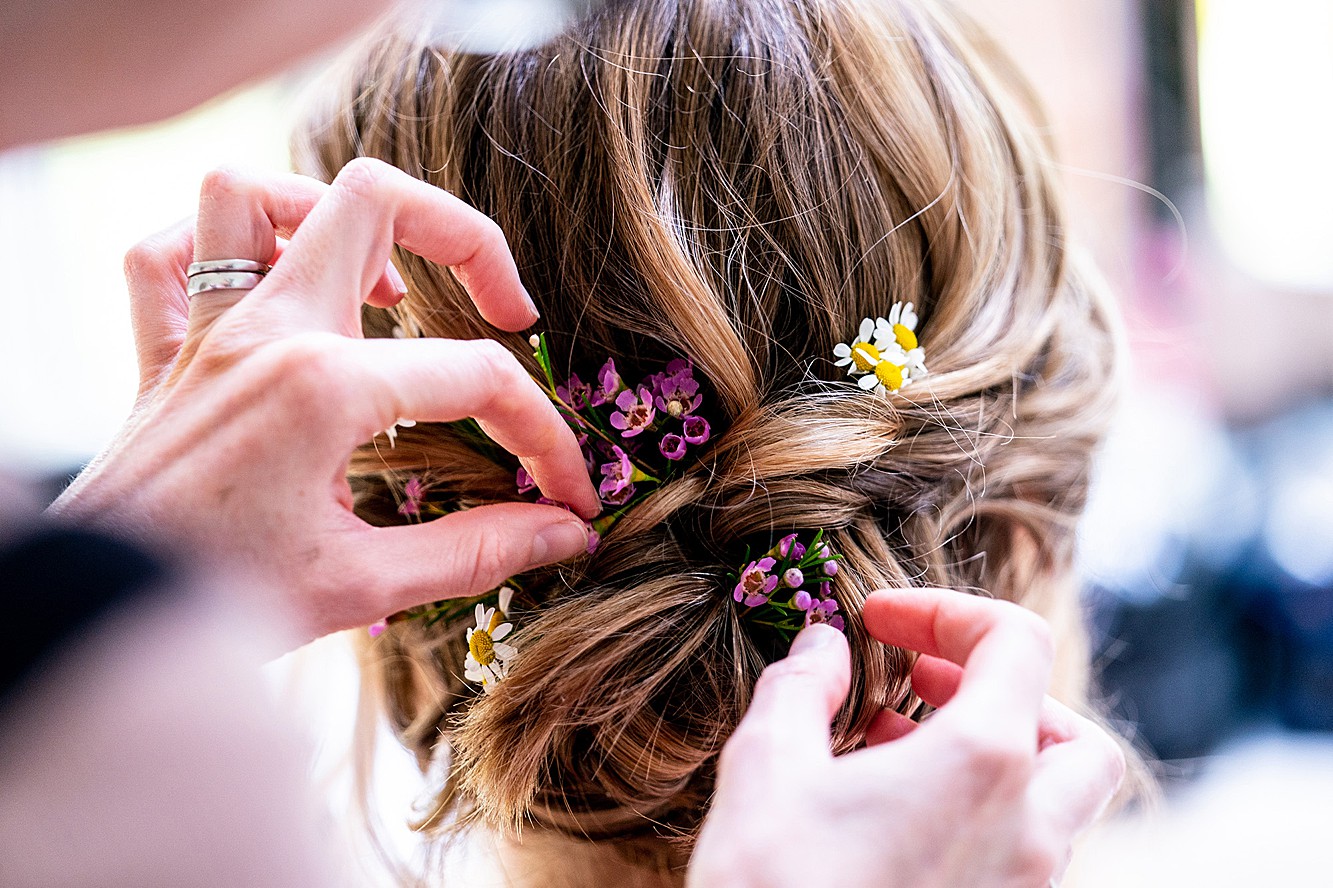 "My make-up was beautiful. She made me look all glowy and lovely, but not too glowy for the camera, mind! She even managed to cover the massive spot that joined the wedding party on the day of the wedding. To top it all off, she is a smiley, energetic spirit, and a joy to spend our wedding morning with."
Carrie's hair was adorned with sprigs of pink waxflower and chamomile daisies, and the perfume she wore was Chloé Eau de Parfum by Chloé.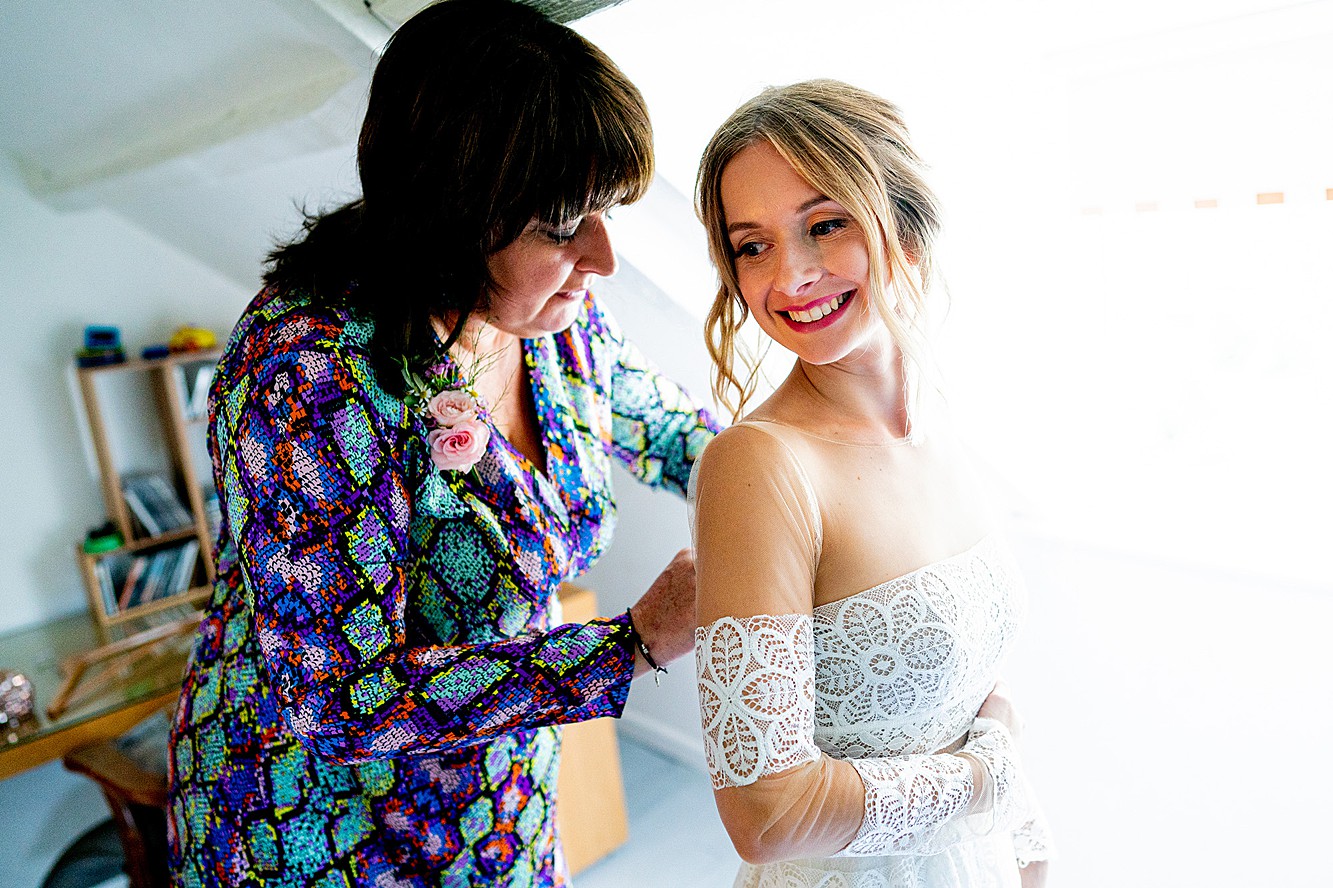 To choose her dress, Carrie visited Jill and Lucy at La Creme Brides in Norwich, where she found her incredible dress from Willowby by Watters – the 'Lennon'. Band after band of striking lace covers a bodice of barely-there illusion tulle, and a tulle skirt full of lovely movement. I love that the combination of delicate illusion tulle and lace gives the effect of an off-the-shoulder look, too. Carrie looked sublime.
"Lucy and Jill from La Creme are amazing! It's a cute little boutique in Norwich, and the staff are so friendly. They're not just there to make a sale, you can tell they really care. They made me feel amazing, they were honest and invested, and I would definitely recommend them."
"I didn't really know what type of dress I wanted. I knew I favoured boho style dresses over traditional. I tried a few dresses that were slinky and more form fitting, but they didn't feel like me. The 'Lennon' dress was a bit of a curveball. It was on the mannequin in the centre of the boutique when we walked in, and my sister pointed it out as a potential. As soon as I put it on, my nan, mum and sister all exclaimed 'It's the one!'"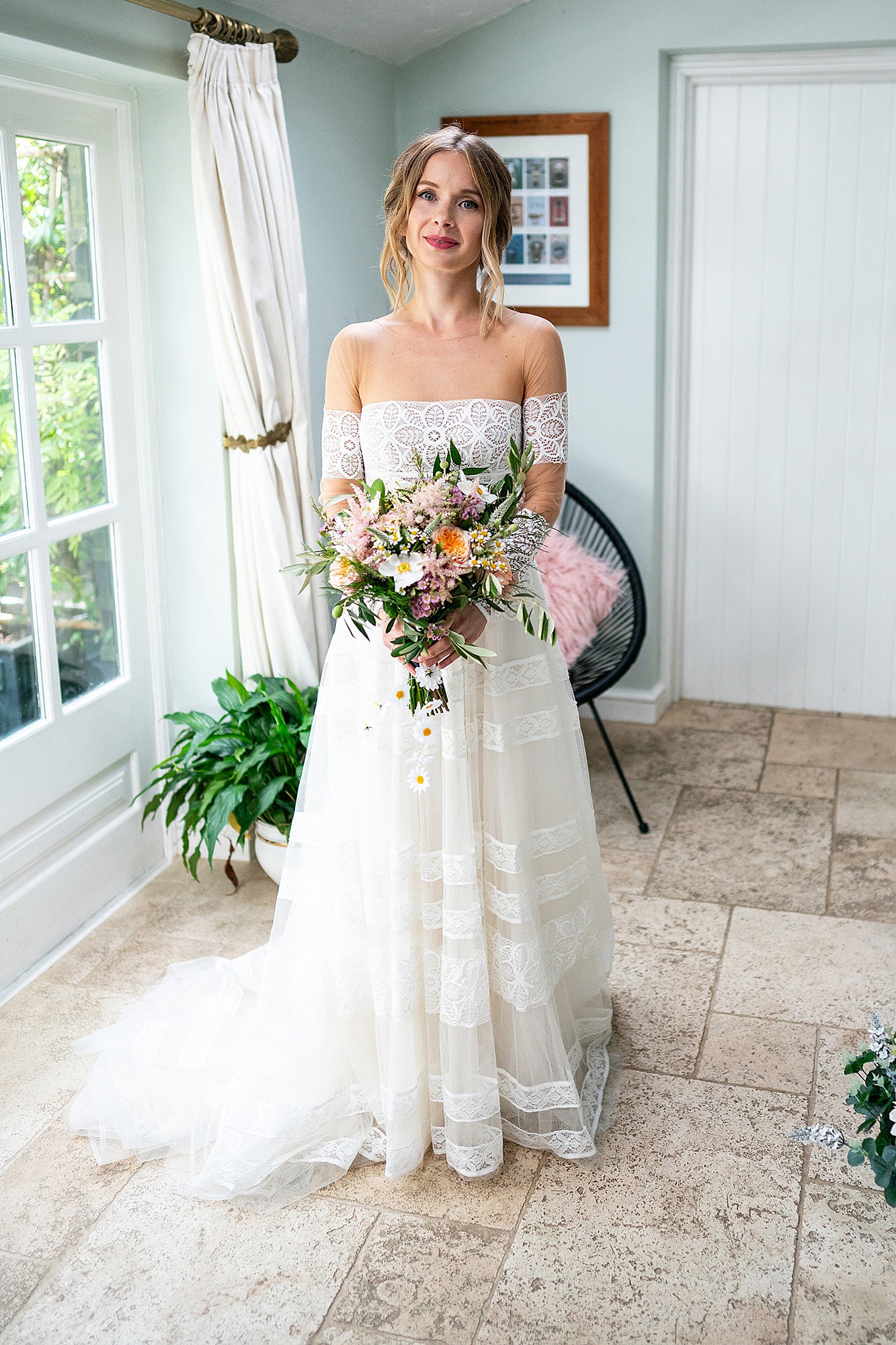 "I was a bit unsure at first, as the dress was too big for me, and I wasn't sure if I wanted something more fitted. But when the ladies in your family know, they know! I'm so glad they helped me make the right choice. I loved my dress on the day, and still want to keep putting it on now!"
"I have size 2 feet, so finding heels is a challenge. Well, not really though, as Pretty Small Shoes do some beautiful shoes. I ended up choosing my shoes because they had a chunky heel suitable for grassy terrain, and I could wear them again."
Carrie's bouquet by La Belle Flowers had a gorgeously light, fresh feel, with peachy roses, pink waxflowers and astilbe, and cheerful cosmos and chamomile daisies, together with Veronica and lots of greenery. I also love that it was tied with daisy chain ribbon, too!
"Caroline is the best! We've known her for years, and she just happens to be one of the best wedding florists in Norfolk – perfect! She is so fun and lovely to be around, and setting up with her the day before the wedding was a joy."
"She made beautiful great swags of greenery for the seating area next to the barn, and made the outside ceremony area come to life. Our bouquets were so beautiful and full of colour. She so, so clever, and a lovely, happy person to have around."
The bridesmaids wore pink, floral beaded dresses from ASOS, and as a thank you gift, Carrie gave them each a denim jacket (sourced secondhand from Depop) customised with name patches.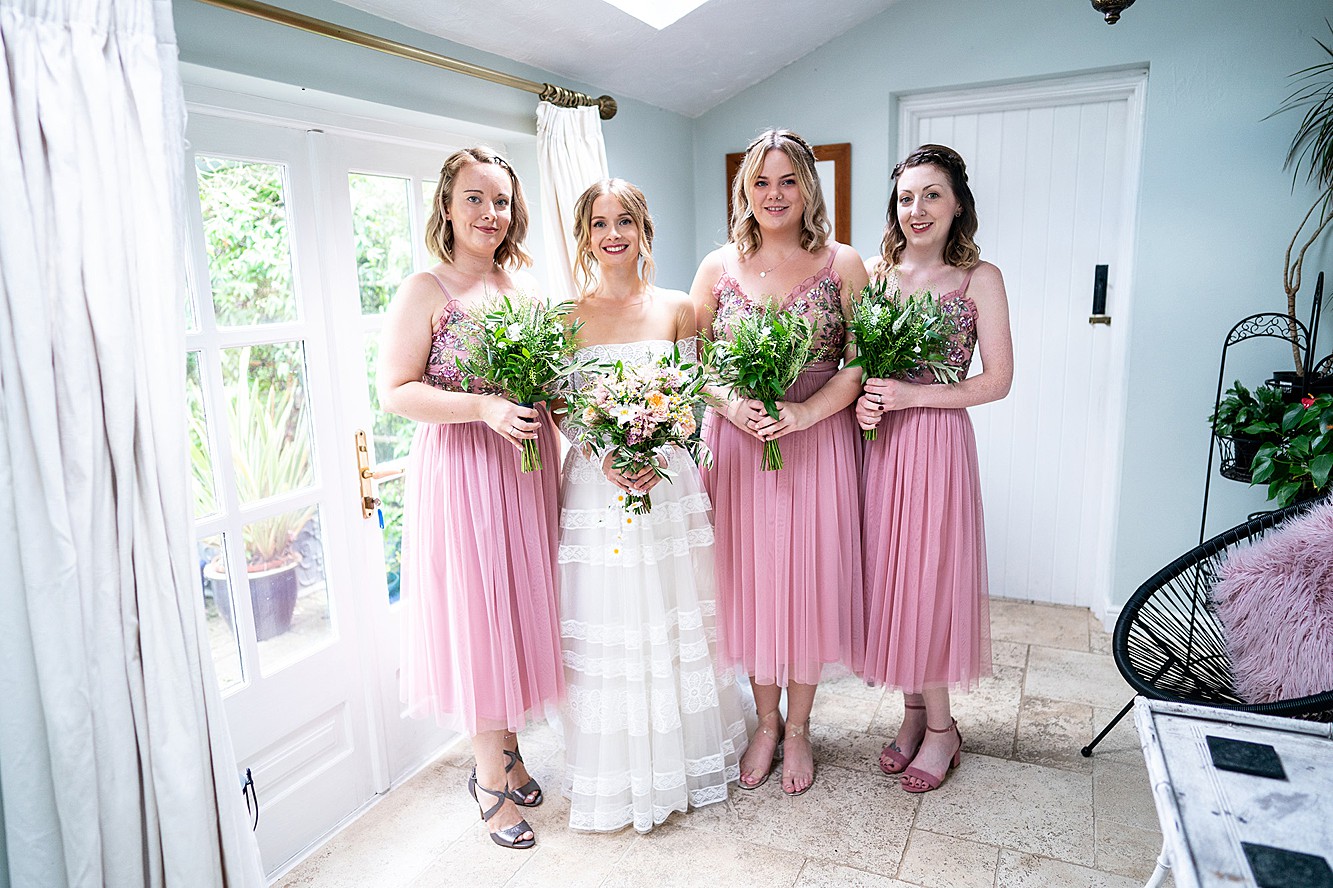 "We met in 2011 when we both worked at Tesco while studying. We got engaged during a late night thunderstorm in Mexico, on the beach in the pitch black, in October 2017."
"It was pouring with rain, there was barely enough light to see the ring, except for when lightning struck! I think Ryan was disappointed it was raining at first, because the hotel was flooded, but actually it was perfect."
Loved ones gathered in The Fire Pit Camp's meadow, where Ryan awaited the arrival of his bride, too. He wore a dark green three-piece suit with a blush pink bow tie, and an Italian leather belt and brogues from Next. He was also gifted a TruWood watch by Carrie's parents, as a wedding and early birthday present combined.
"I walked down the aisle to Sigur Ros – Glosoli – a song we've always loved, especially since we saw the band in London, and have since fallen in love with Iceland, where they are from."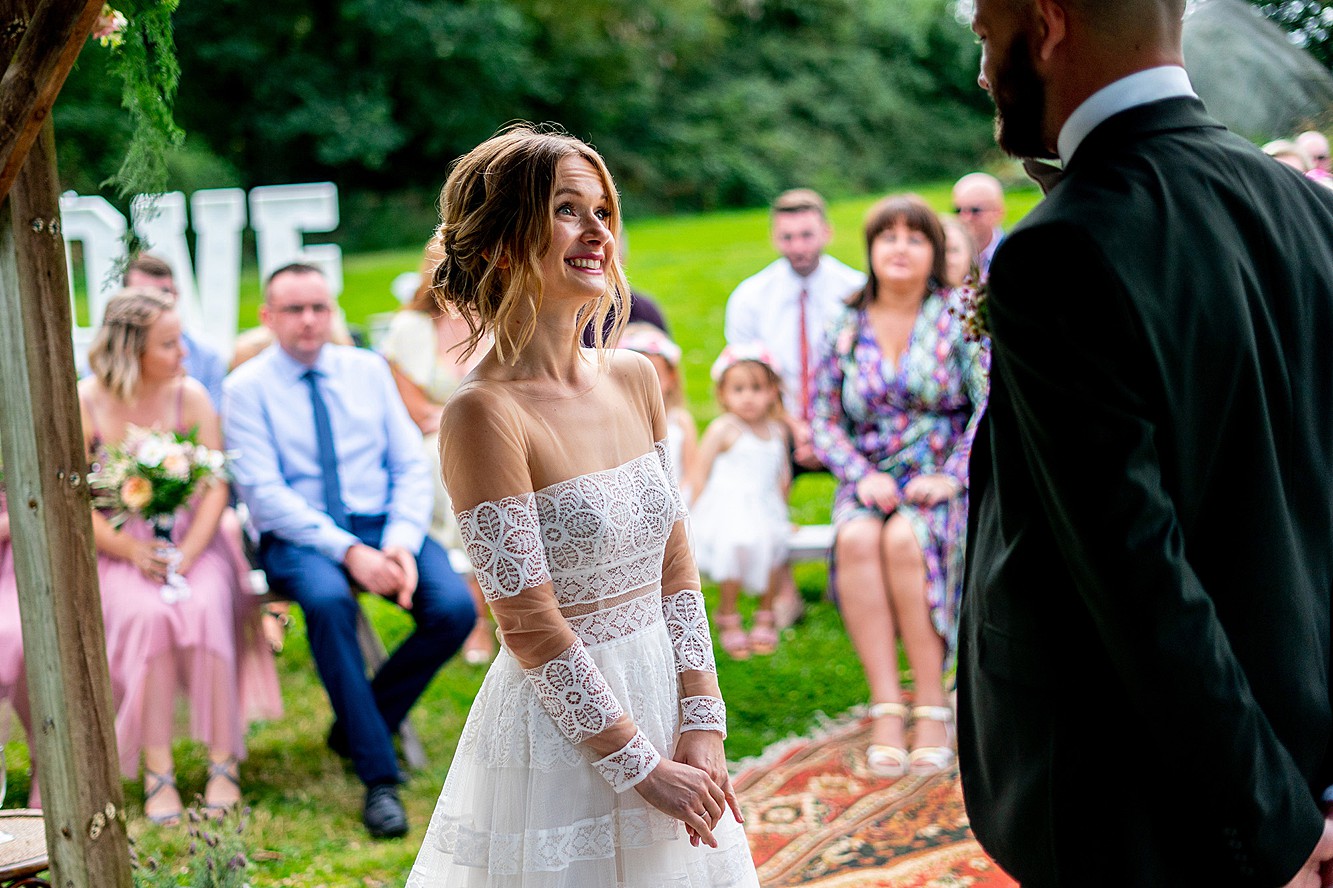 As the couple made their vows to each other, they also exchanged rings, and they both opted for simple matte gold designs from Bands of Love.
"We wanted our rings to be almost like a piece of pipe. That sounds weird I know, but it didn't feel very 'us' to have anything too flash."
There was one short but sweet reading during the ceremony too – a quote by Albert Einstein, read by Ryan's good friend David, which also appealed to Carrie's geeky side, and her career as a data scientist!
"The ceremony was my favourite part of the day. I've never felt so loved and content in one moment. Even Ryan, who dreaded being the centre of attention said he would love to do the day over and over again."
The newly married pair walked back up the aisle to Wouldn't It Be Nice by The Beach Boys, as family and friends wished them well, and also showered them in confetti!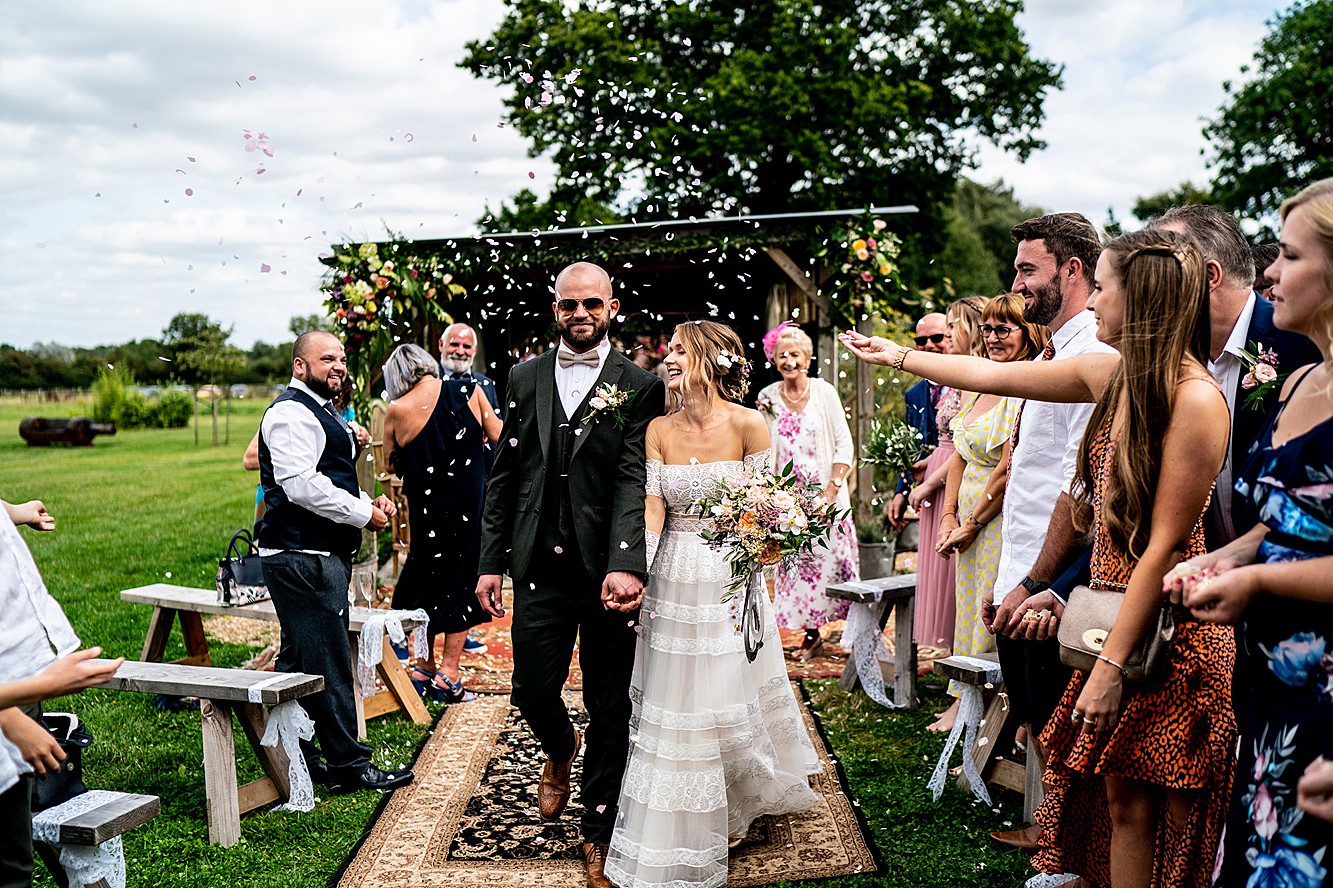 "After the ceremony, my nan gave me a necklace she was given for her 21st birthday. It was so sweet, and is something I will treasure forever."
We have the brilliant Jeremy James to thank for these stylish images of Carrie and Ryan's day, which just radiate joy and fun. With a background in photojournalism, Jeremy brings a natural, documentary approach to his work, which is something that really appealed to Carrie and Ryan.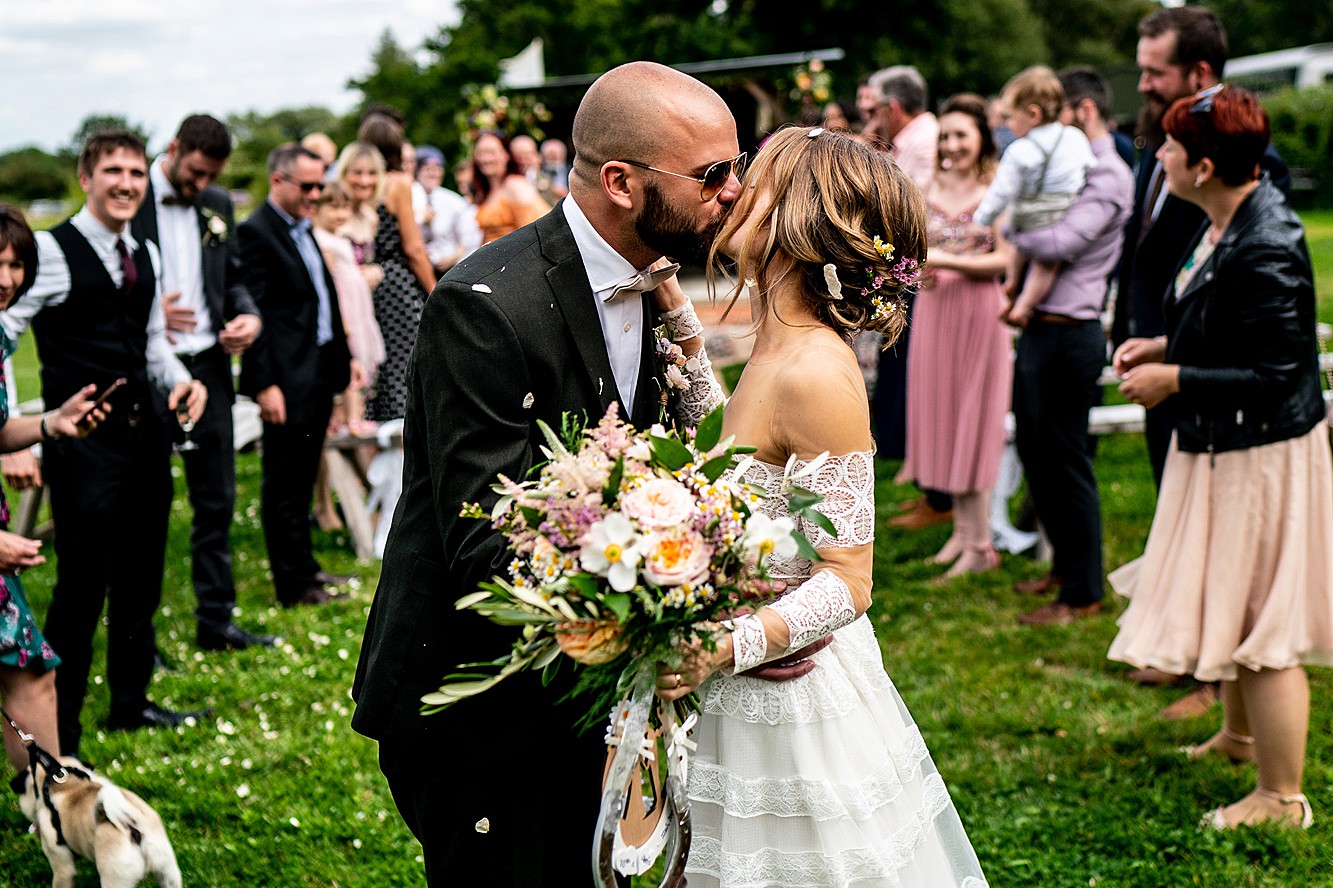 "Ah, Jeremy! I'd heard about him from my friends, Adam and Sophie, who had Jeremy at their wedding. Their photos were beautiful, so I was really hoping we could get him."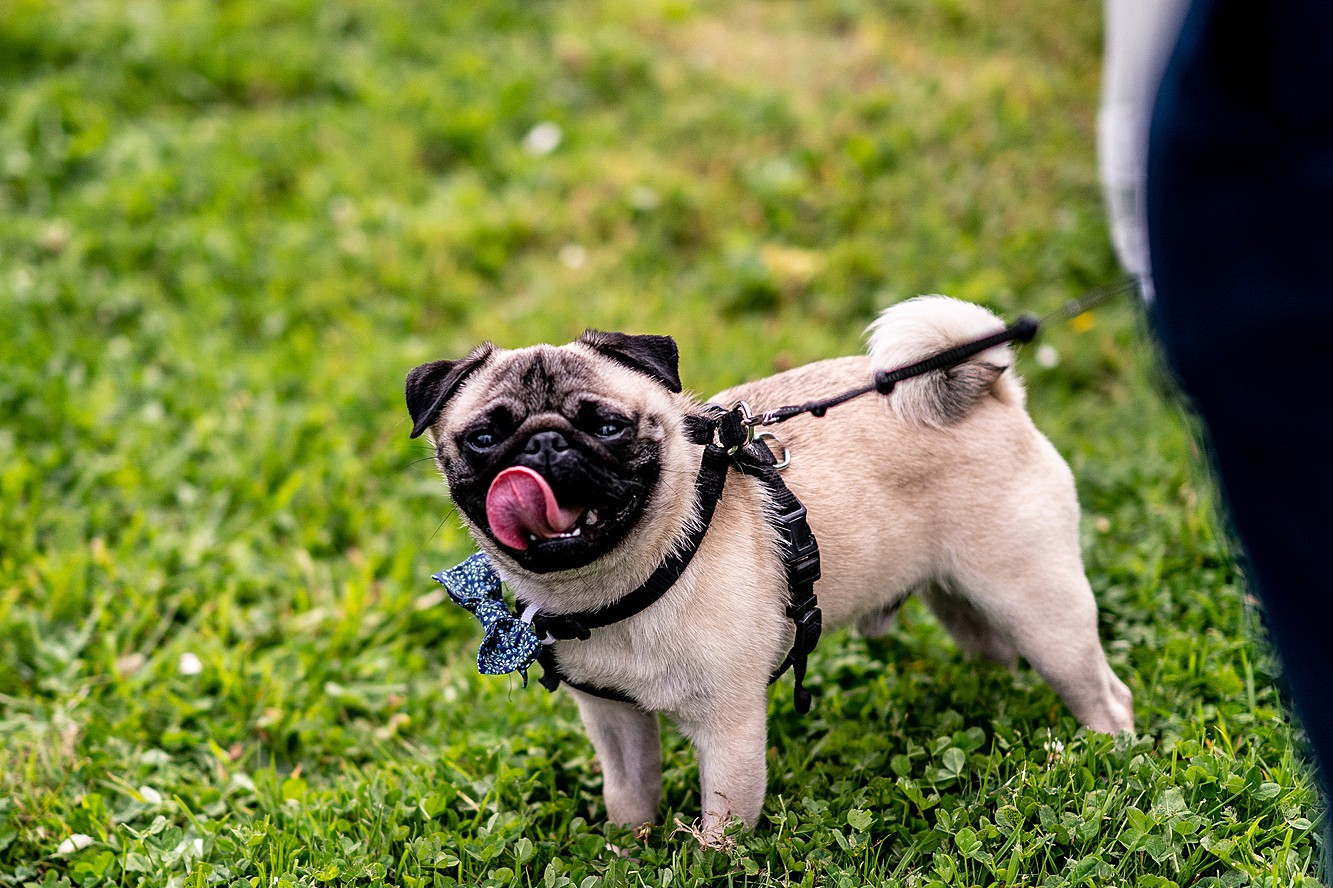 "I wasn't sure if he'd be free because he seemed so popular, and part of our relaxed nature means we booked our wedding suppliers pretty late."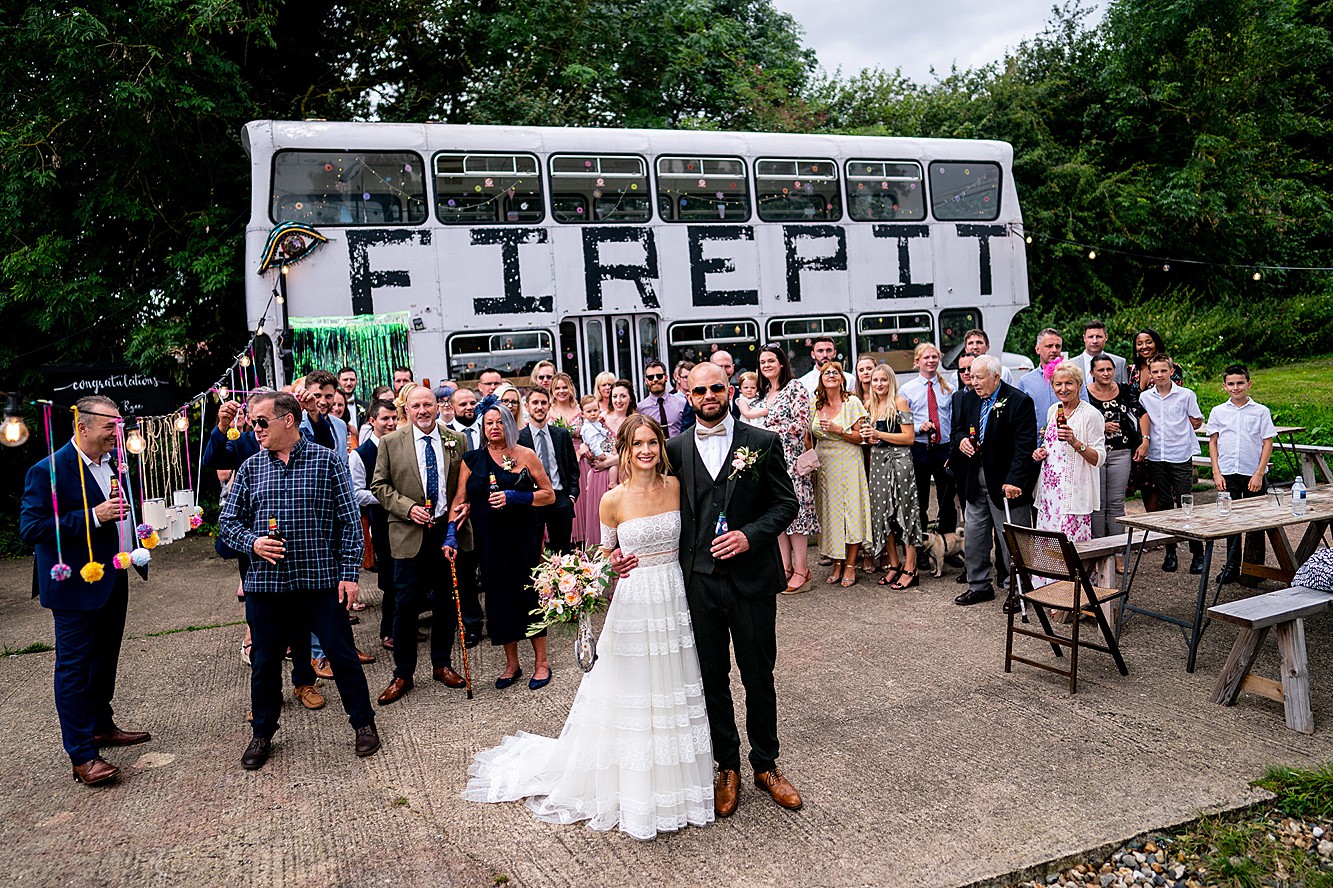 "Fortunately he was willing and available. Thank goodness for weekday weddings! Jeremy explained that he specialises in relaxed, documentary style photography rather than posed photos, which sounded perfect to Ryan as he hates being the centre of attention."
"On the day, Jeremy was so calm and so lovely to have around. He is a lovely, lovely person. We felt completely relaxed around him, and it shows in the photos. They are amazing! He is so talented, and really great value. We had the best day, and Jeremy captured that spectacularly."
The al fresco dining area had long tables and benches set out, with posies of flowers dotted around the space. For their wedding feast, the couple kept things laid back but delicious, with wood fired pizzas from Pete's Pizzas.
"Oh my word, Pete's Pizzas were great! They were such good value, I was sure there had to be a catch, but they were perfect! Minimal input needed from us; Pete and his wife set up on the day seamlessly, the pizzas were yum, they catered for vegan guests, and they were just such a lovely, happy couple."
"We followed with a selection of cakes made by various members of the wedding party. A real 'everyone chip in' wedding, ha! Thank goodness for our amazing family and friends."
"In the evening we ordered picnic platters from Tesco, delivered to the venue. Sounds cheap, but everyone seemed to really enjoy it. We had some lovely staff from Ryan's workplace, Norwich City FC, that set it all up for us. The day wouldn't have been nearly as good without their help."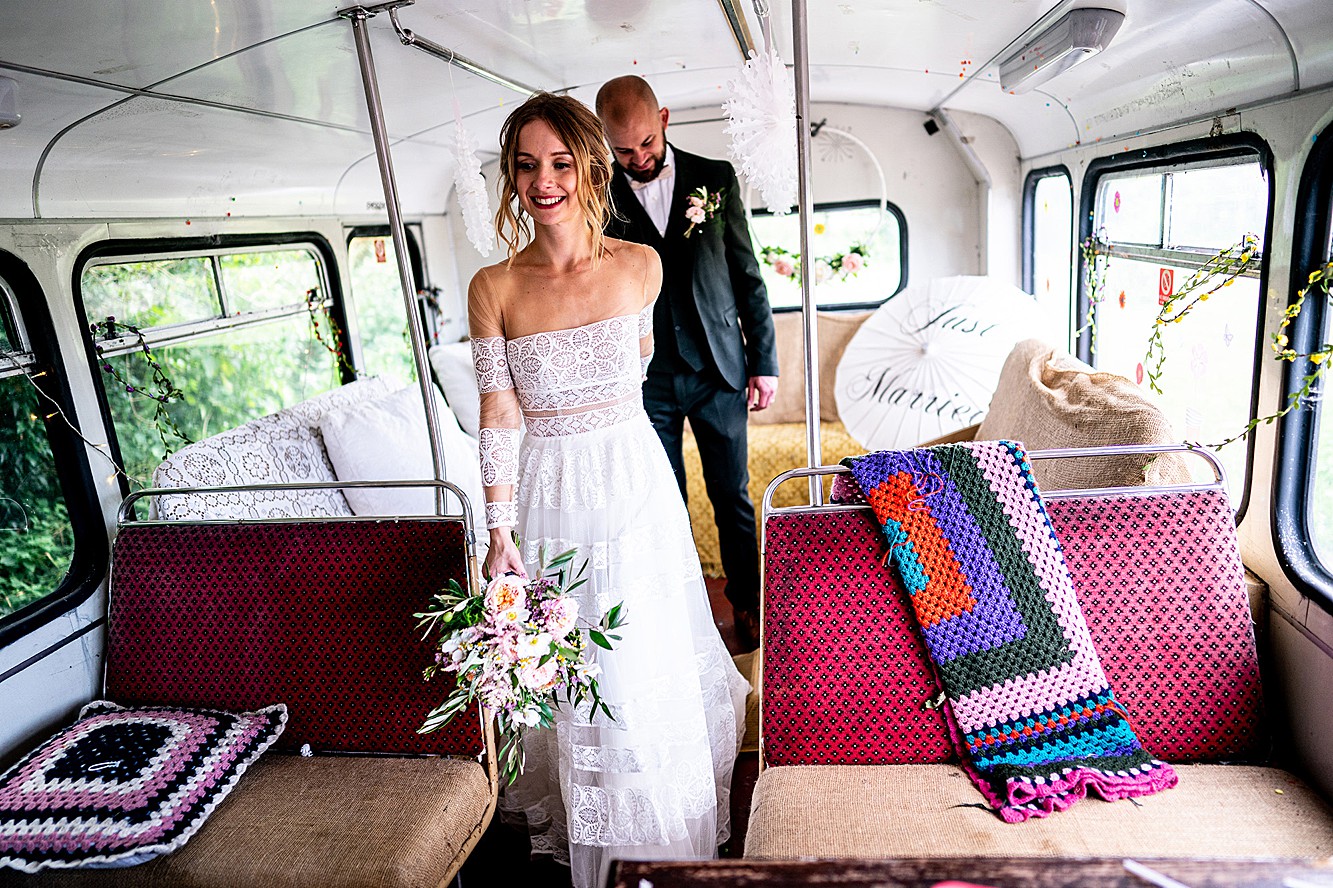 For decor, Carrie sourced a giant light-up 'Love's sign through Gumtree, and at the entrance to the warehouse, there was a colourful balloon installation adorning the doorway.
"Ryan and I are pretty chilled out, and we're not big fans of ceremony or tradition. The inspiration for the day was just making sure people felt as relaxed as possible."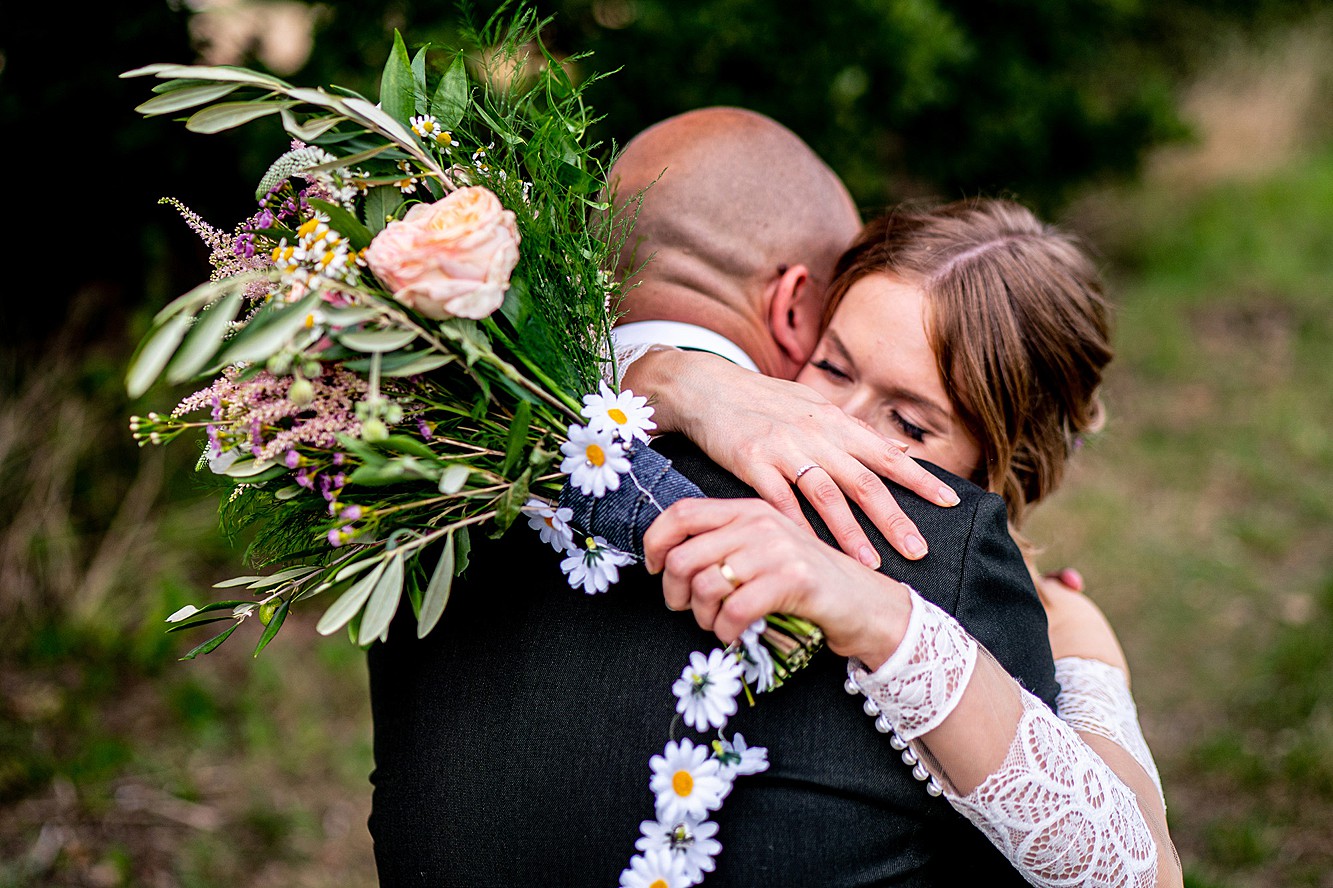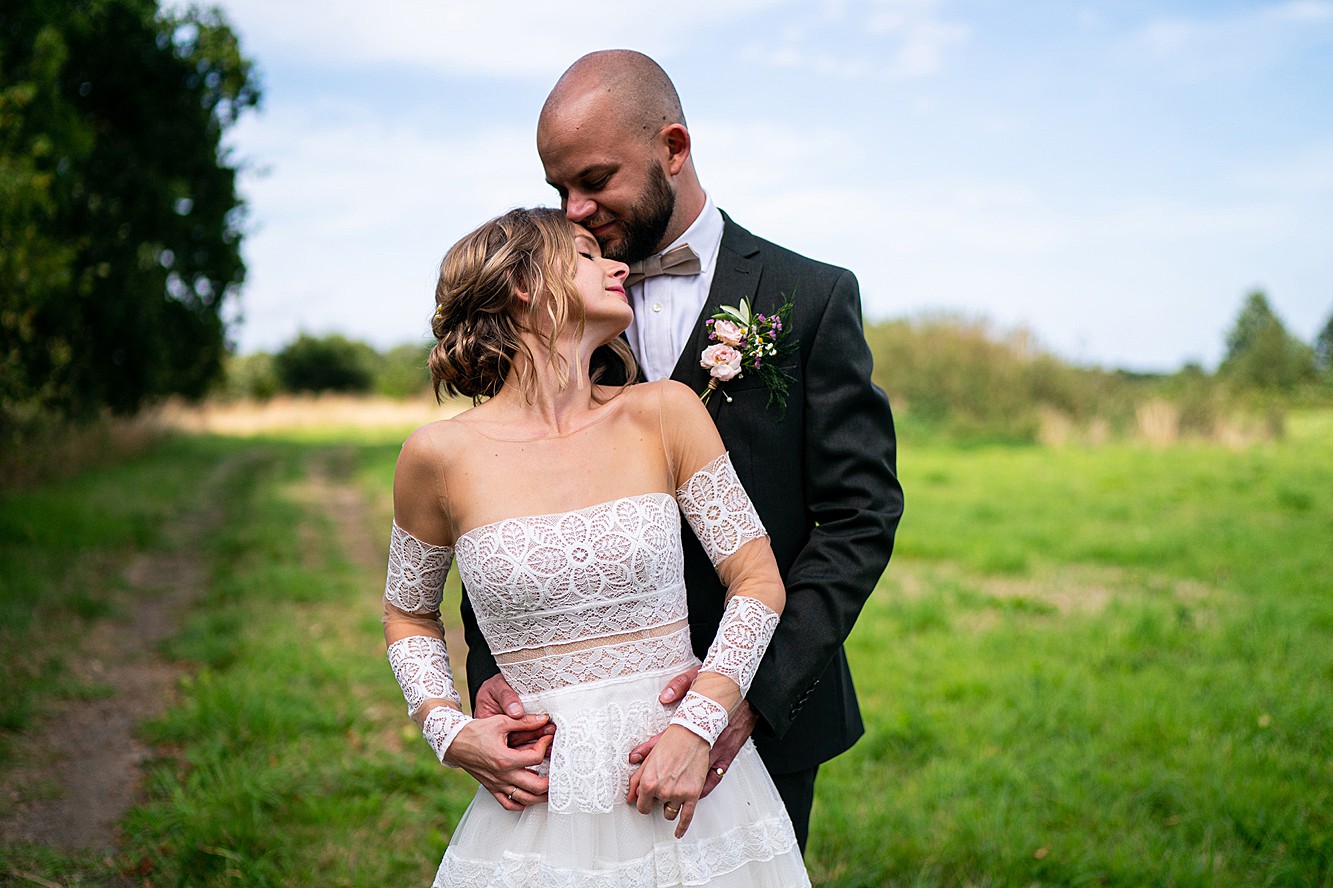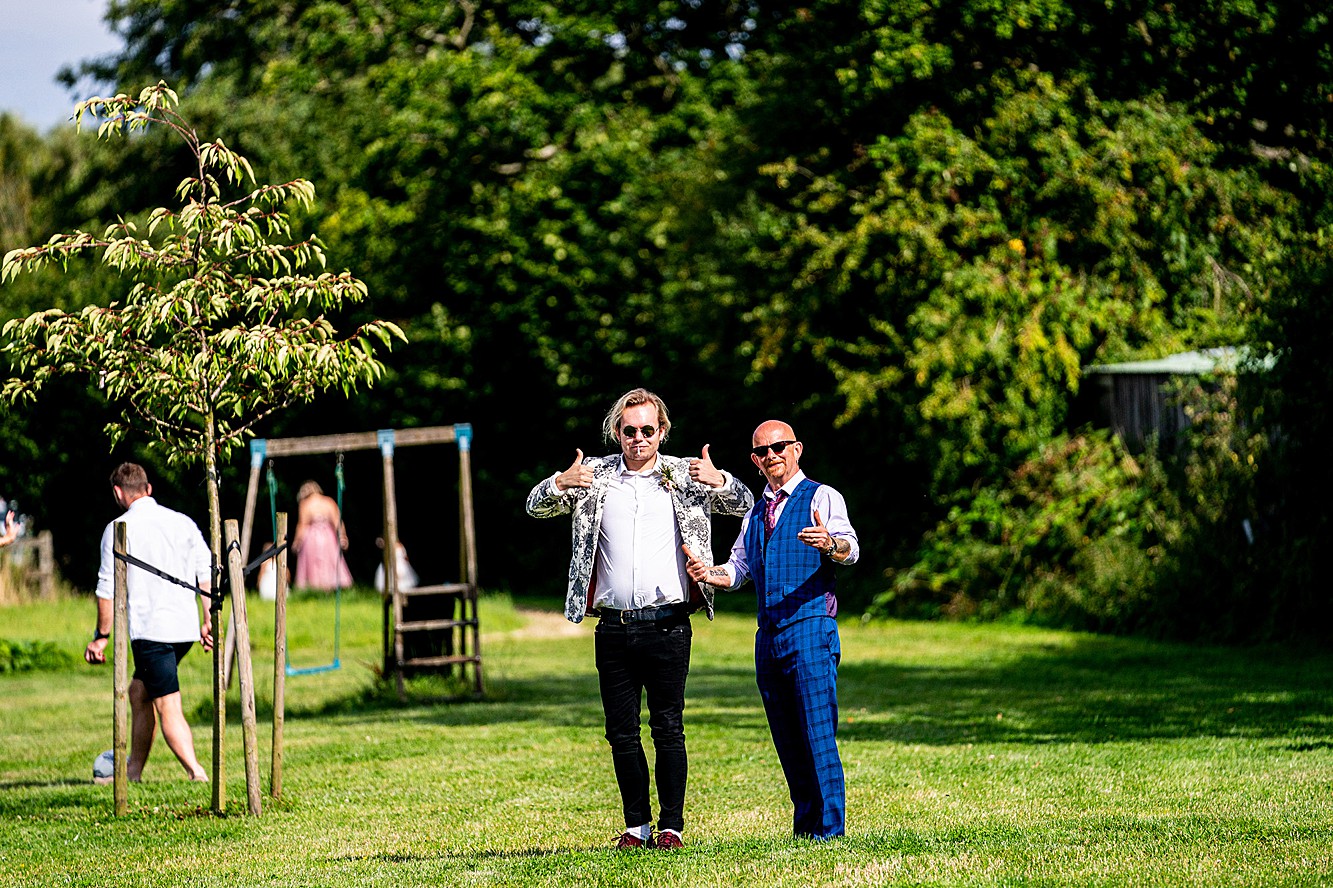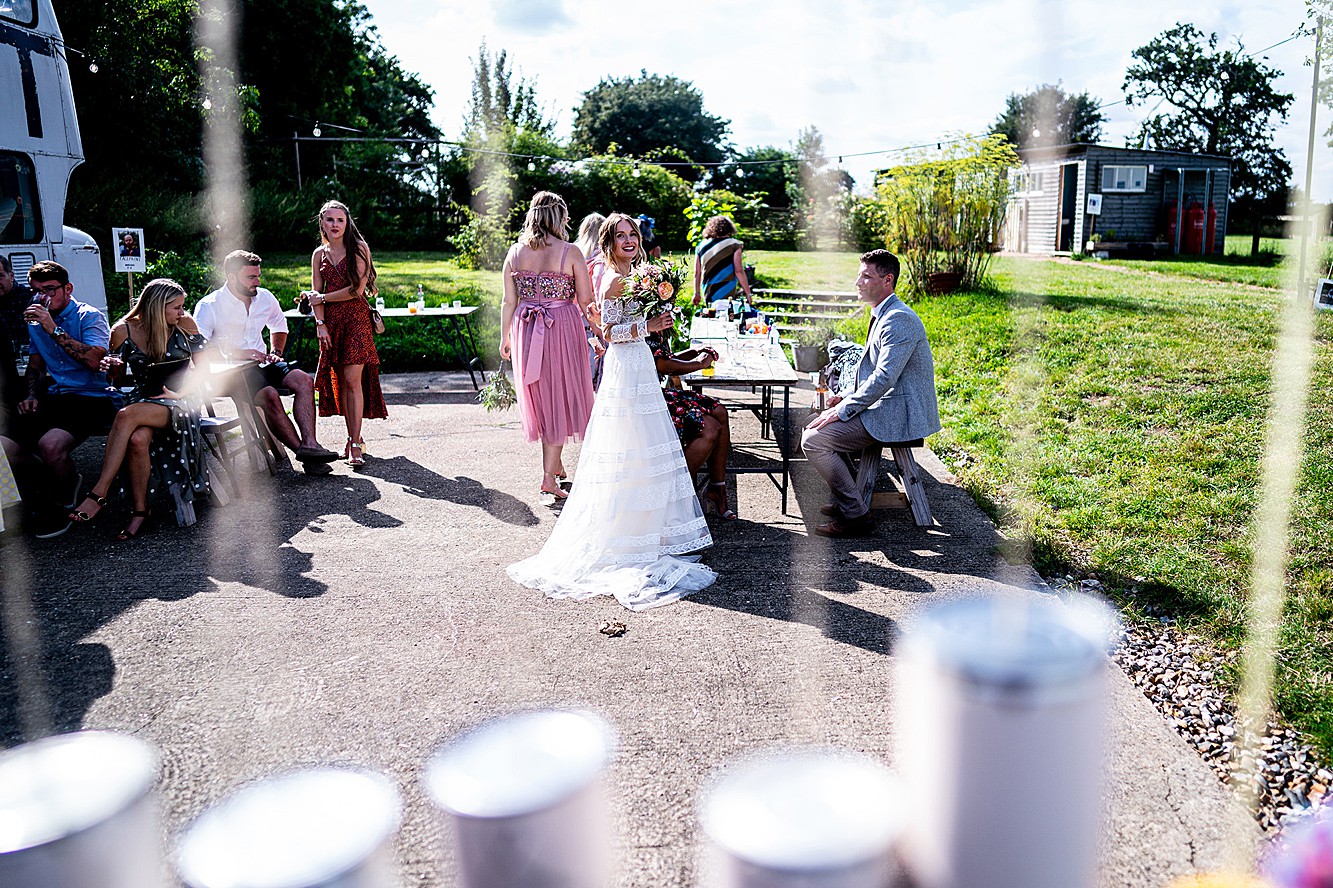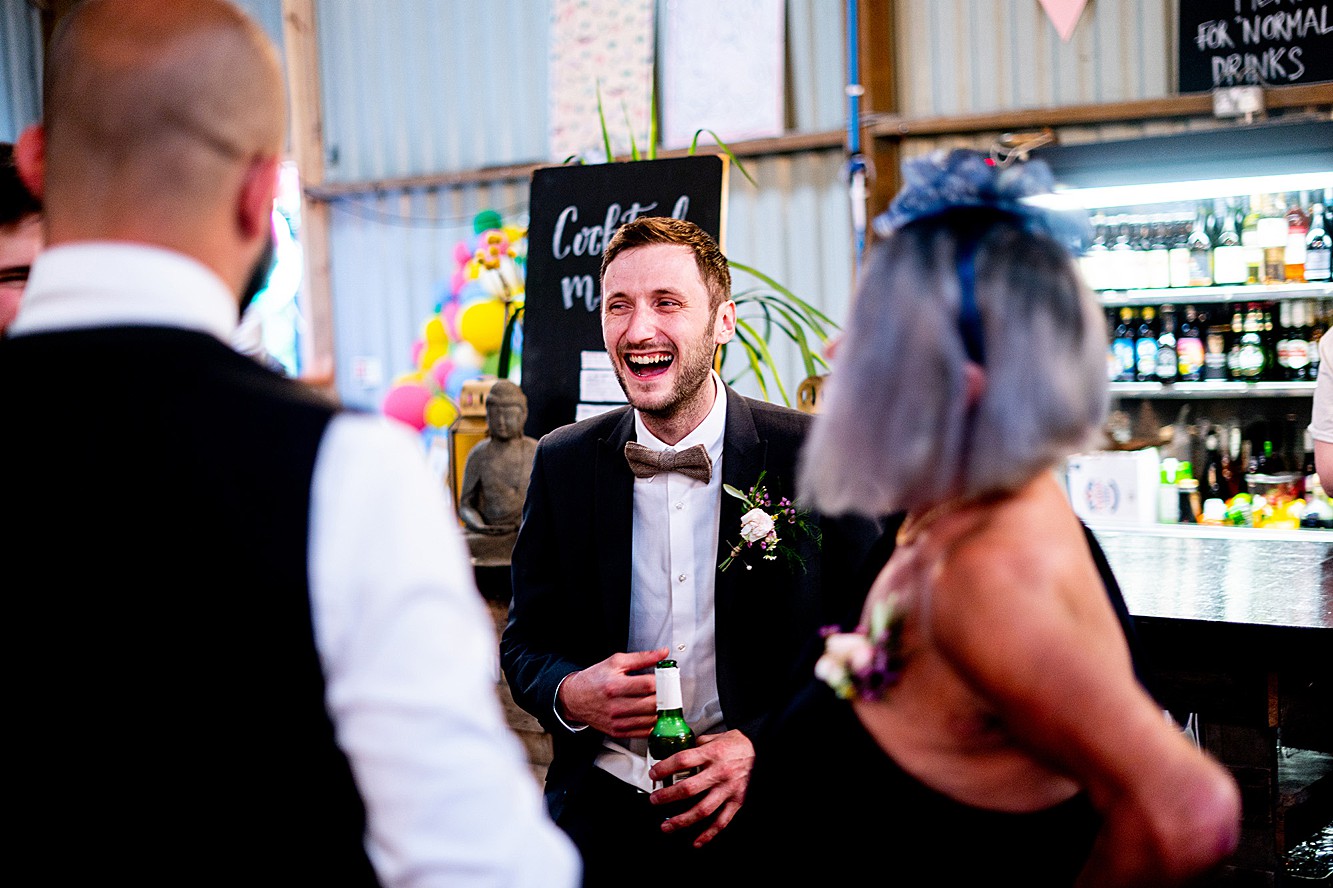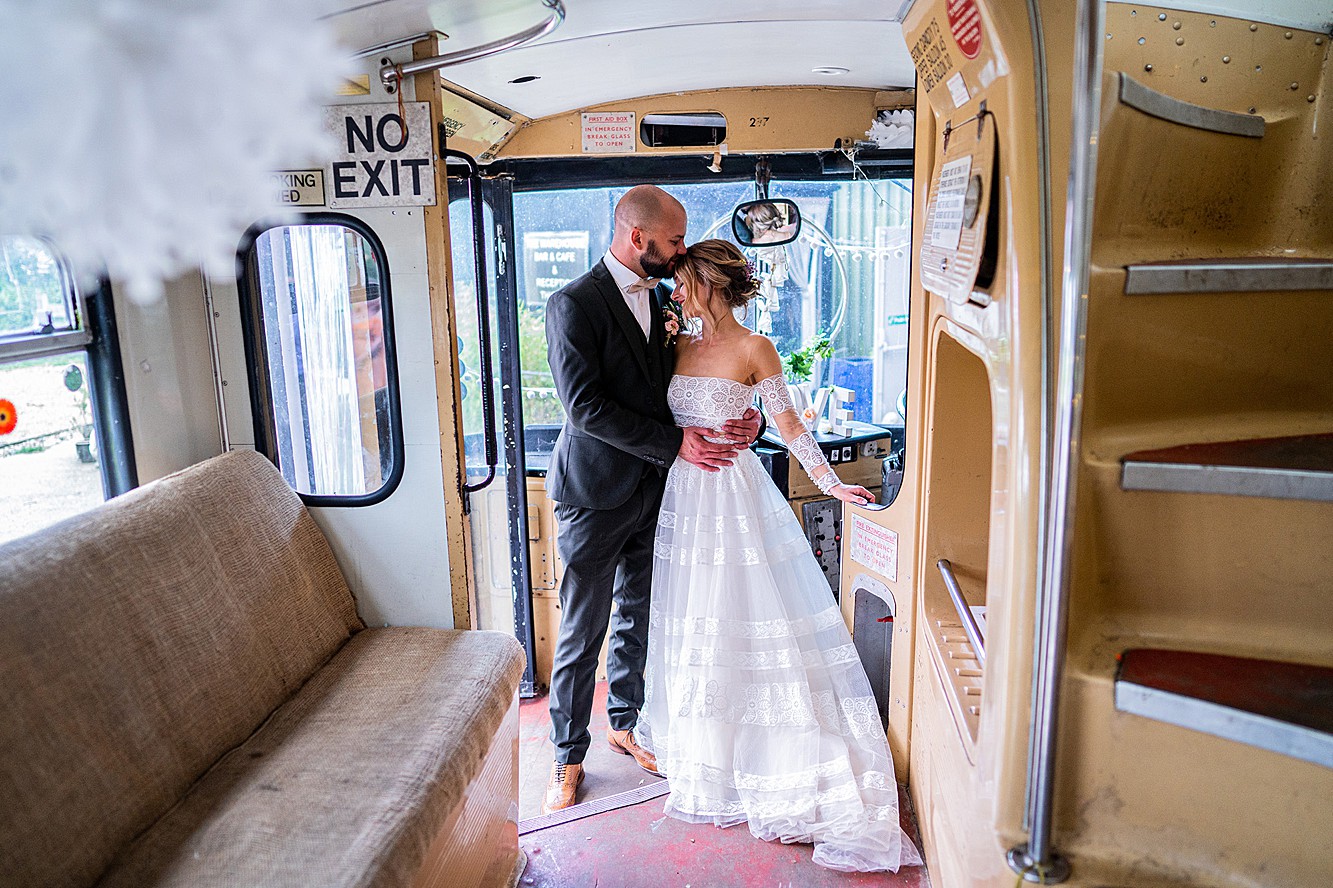 In the evening, there was a kick-about in the meadow, as others sat around the fire pit watching the world go by. There was facepainting from Rooblidoo, and music from Connections Disco.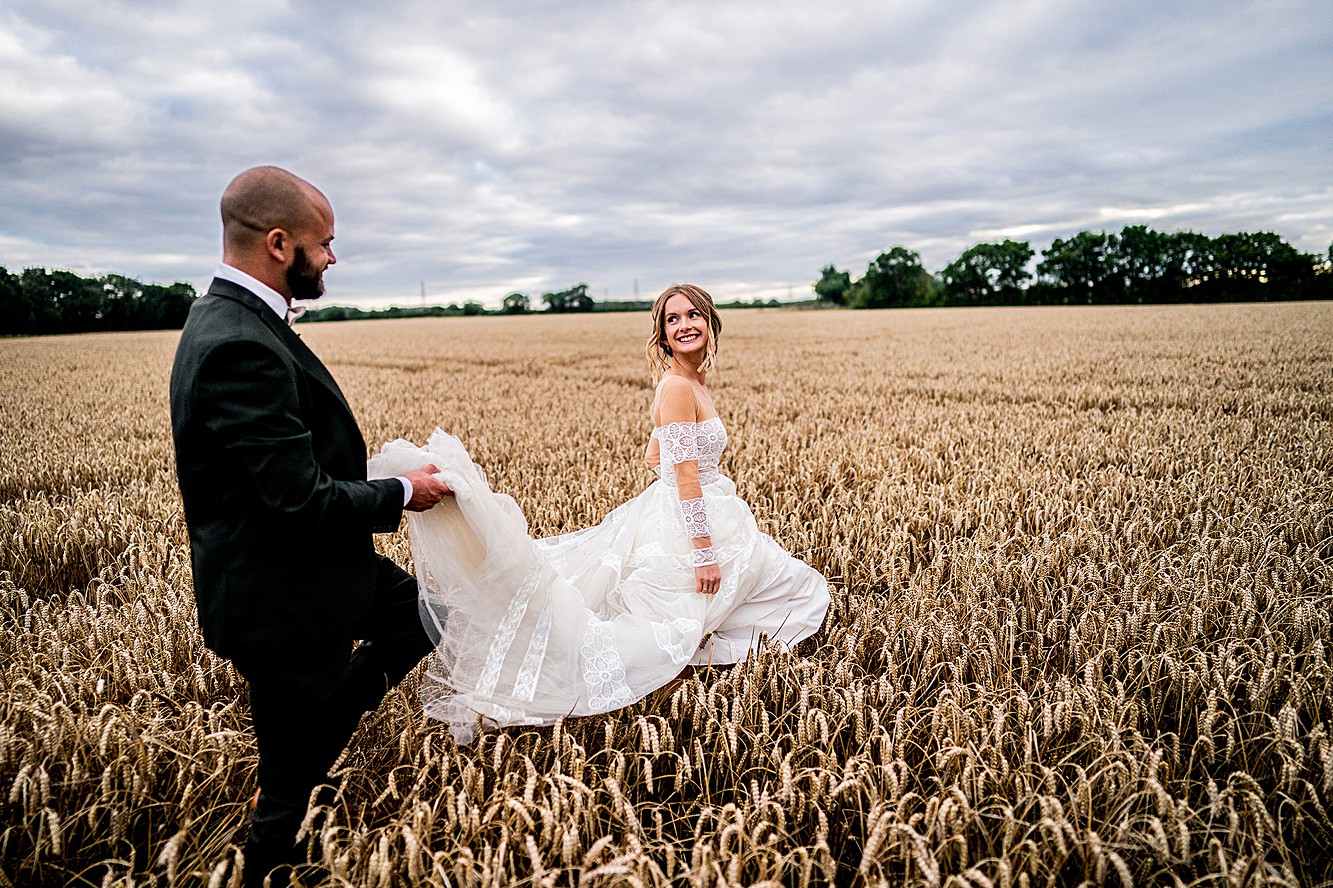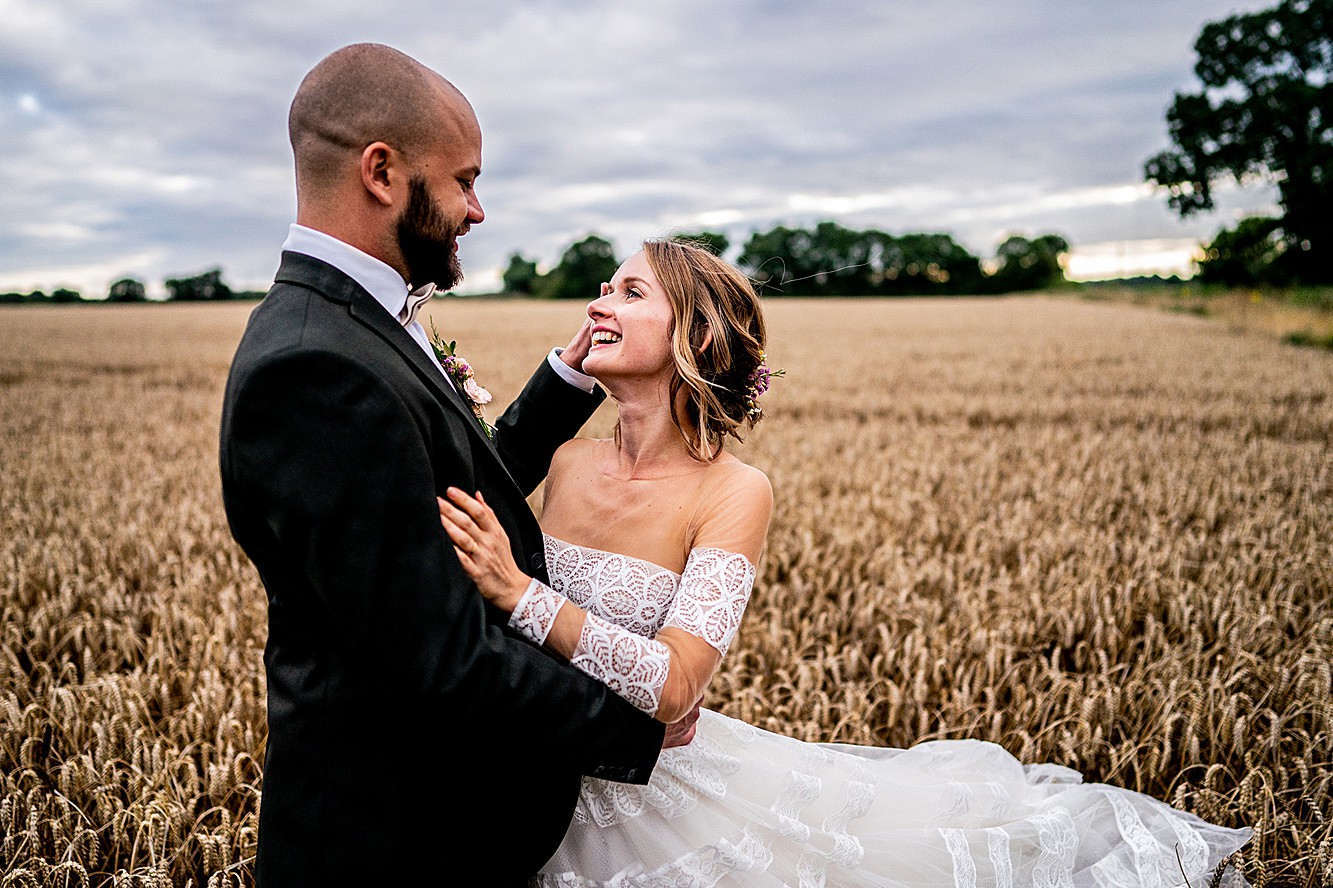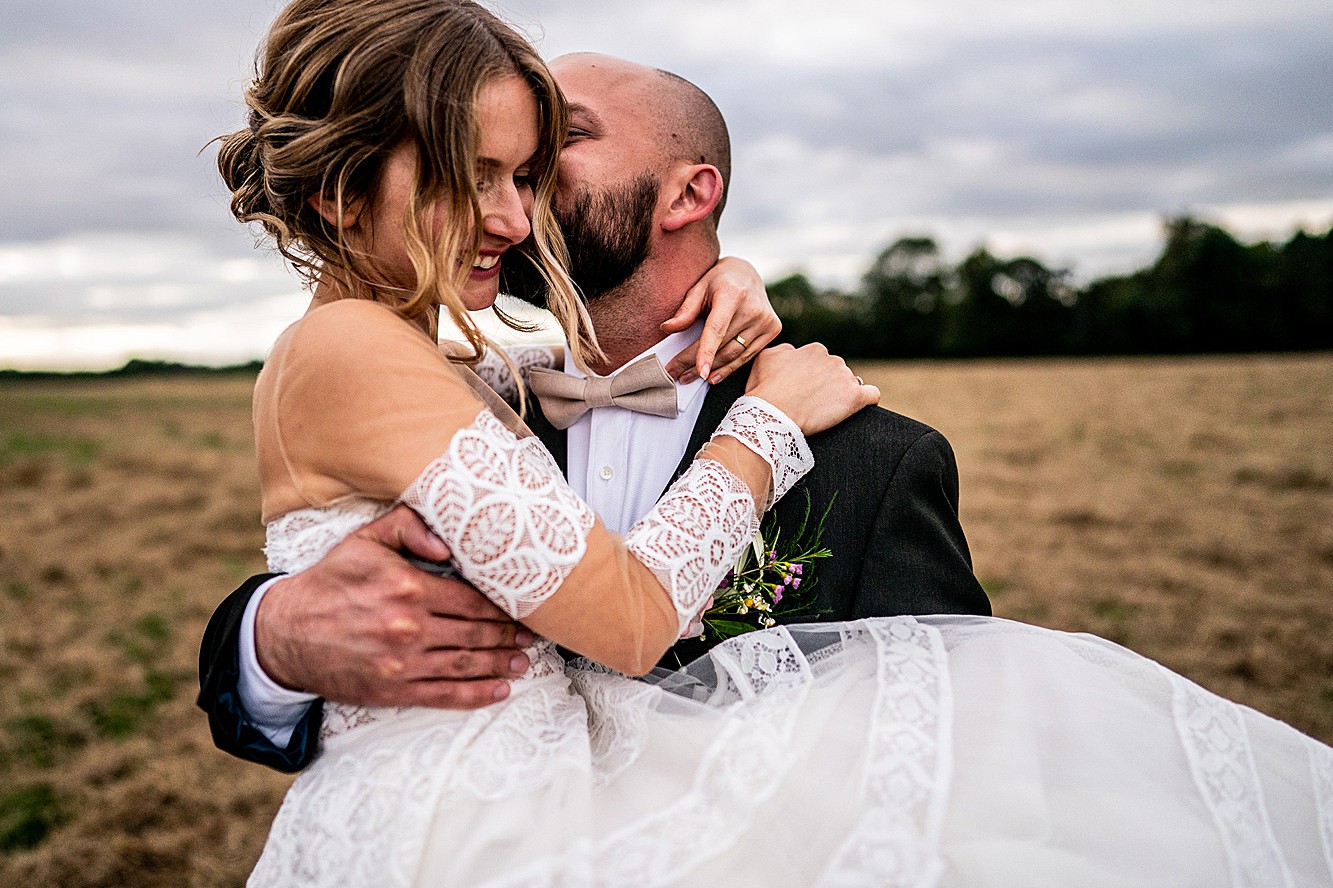 The couple's beautiful three-tier iced cake with the most amazing sugar flower creations was made by Maria Clouting, who has been baking celebration cakes for Carrie's nan for many years.
"We went to scope out the cake one Saturday morning at Maria's studio. I didn't really know what I wanted, and didn't ever expect to find anything besides the standard type wedding cake. Well, Maria exceeded all our expectations."
"From some hastily pinned pictures of cakes with piped wildflowers, she produced the most spectacular three-tiered cake complete with 3D sugar wildflowers. It couldn't have been more perfect. I'm so thankful to my nan and Maria."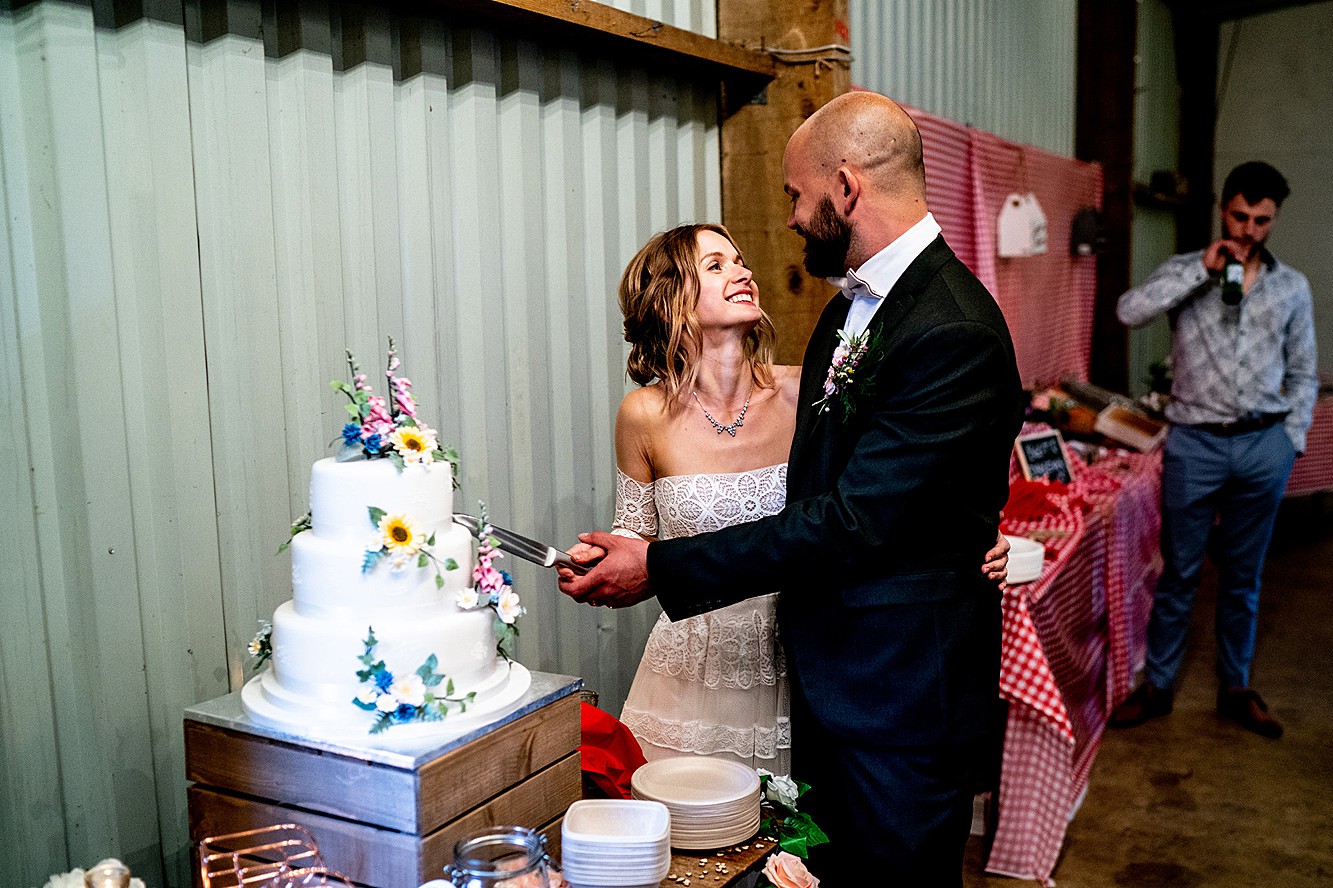 "Our first dance was Book of Love by Peter Gabriel. Ryan is a huge Genesis and Peter Gabriel fan, and so we've played this song a lot in our house. It fit perfectly."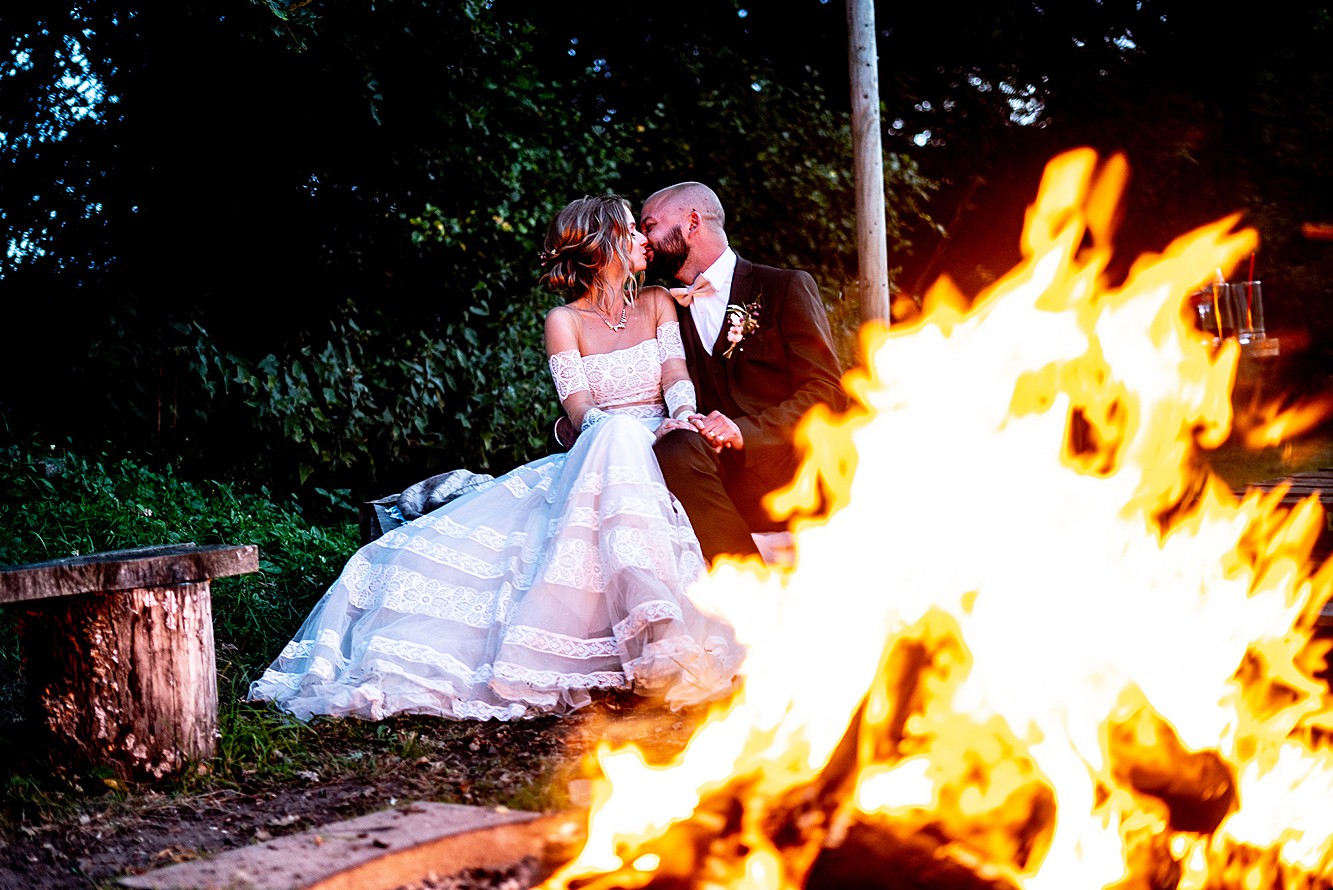 Words of Wedded Wisdom
"Remember the day is all about you and your partner. Don't worry that you haven't spent a certain amount of time with everyone. Don't worry about when the food is going to arrive and if the place is tidy."
Just enjoy. Oh, and try to talk to each other on the day, it's easy not to see each other much!"
"I would have included a speech. We didn't have speeches because we didn't want to add any pressure, but in hindsight, I would have liked to have done so. Also, more guests in the evening! It was such a large space, it needed more energy."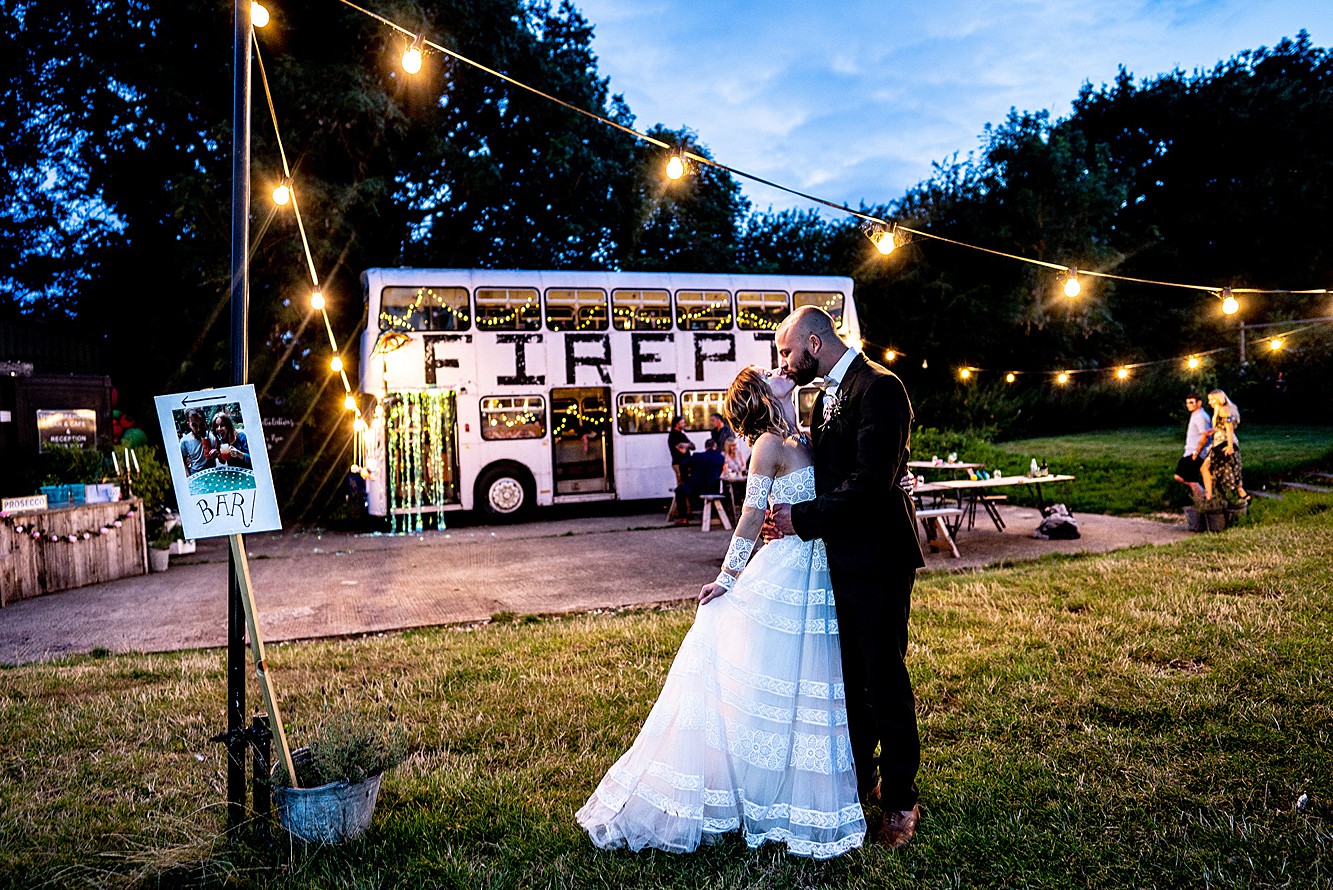 Carrie and Ryan, thank you so much! It's been just lovely to write about your day – it looked like such fun. All the very best to you both. Huge thanks to Jeremy James for these wonderful images, too.
Until next time!
With love,
Laura