I can't tell you how thrilled I am to be sharing and writing about this particular wedding with you all today, not least because I'm a super-fan of the bride – none other than the brilliant Charlotte Jacklin.
Content creator and business marketing mentor Charlotte married her love Jack, a podcast producer and writer, on the 24 October 2019 at the beautiful Aswarby Rectory, in the estate village of Aswarby, Lincolnshire.
It's wonderful to read that Charlotte enjoyed visiting Love My Dress, and there was one wedding in particular that she kept coming back to if she felt like they were losing their way along in the planning process. It was this gorgeous woodland wedding, with a bride in an incredible 1970s vintage dress.
"Sugar 8 use Super 8 film, and it's so beautiful! Plus Eileen had worked with our photographers The Curries lots, which worked really well. Our piano player recorded a version of Tiny Dancer over the top of our video, which I love."
Photographers Gillian and Chris of The Curries weave such a magical and evocative spell with their work; the narrative of Charlotte and Jack's day unfolding beautifully, from big, emotional moments to all the tiny details.
The Curries Photography

+ Follow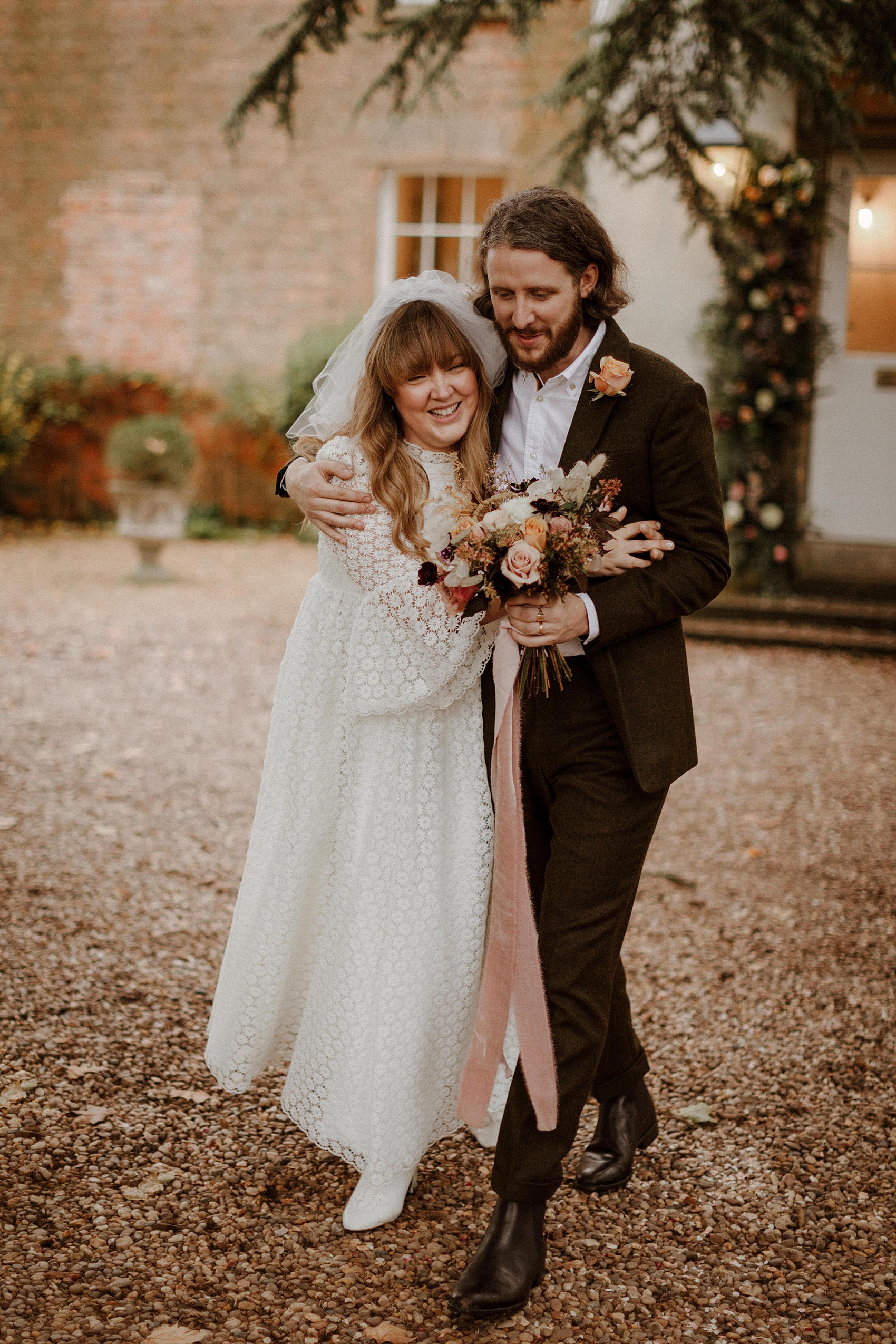 We'd also like to shout out and congratulate Gillian on her work as second shooter alongside photographer Benjamin Wheeler at the recent wedding of Princess Beatrice to Edoardo Mapelli Mozzi.
"The Curries: Worth every single penny. Gill and Chris are so friendly and down to earth, and we love every single photo. I've looked at them a lot during lockdown! Spend the money on the best photographers you can, you won't be disappointed."Aswarby Rectory combines the historic architectural beauty of its house with the natural loveliness of its gardens and parkland, and is also an incredibly warm and welcoming exclusive use space in which to celebrate.
"We chose Aswarby because it's one of the newer and more modern venues in my home county, and it has a wonderful peaceful vibe to it. We knew we'd be able to fill it with flowers, floral Liberty fabric and not overwhelm it, plus you can have real candles and 8 couples can stay on-site, too."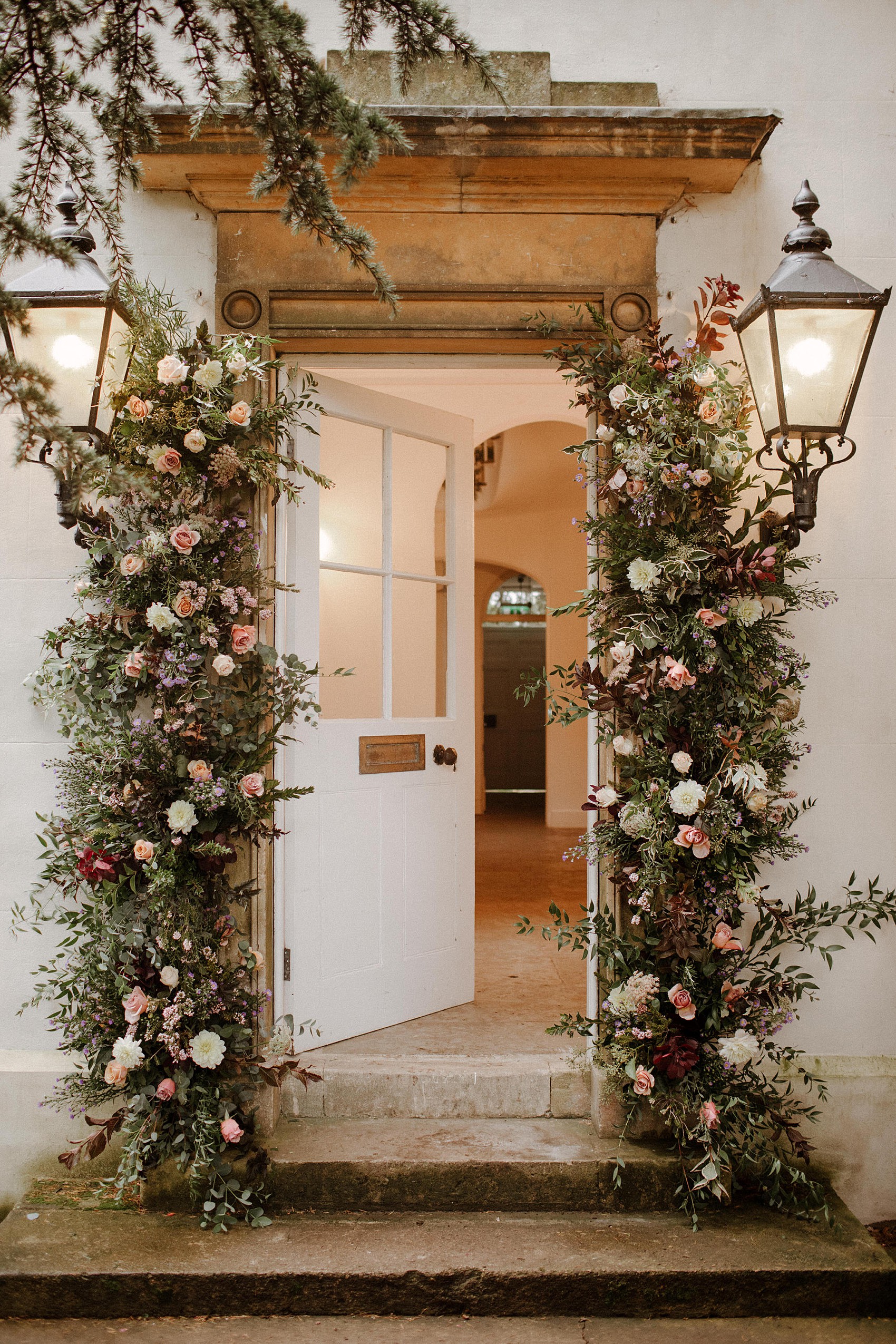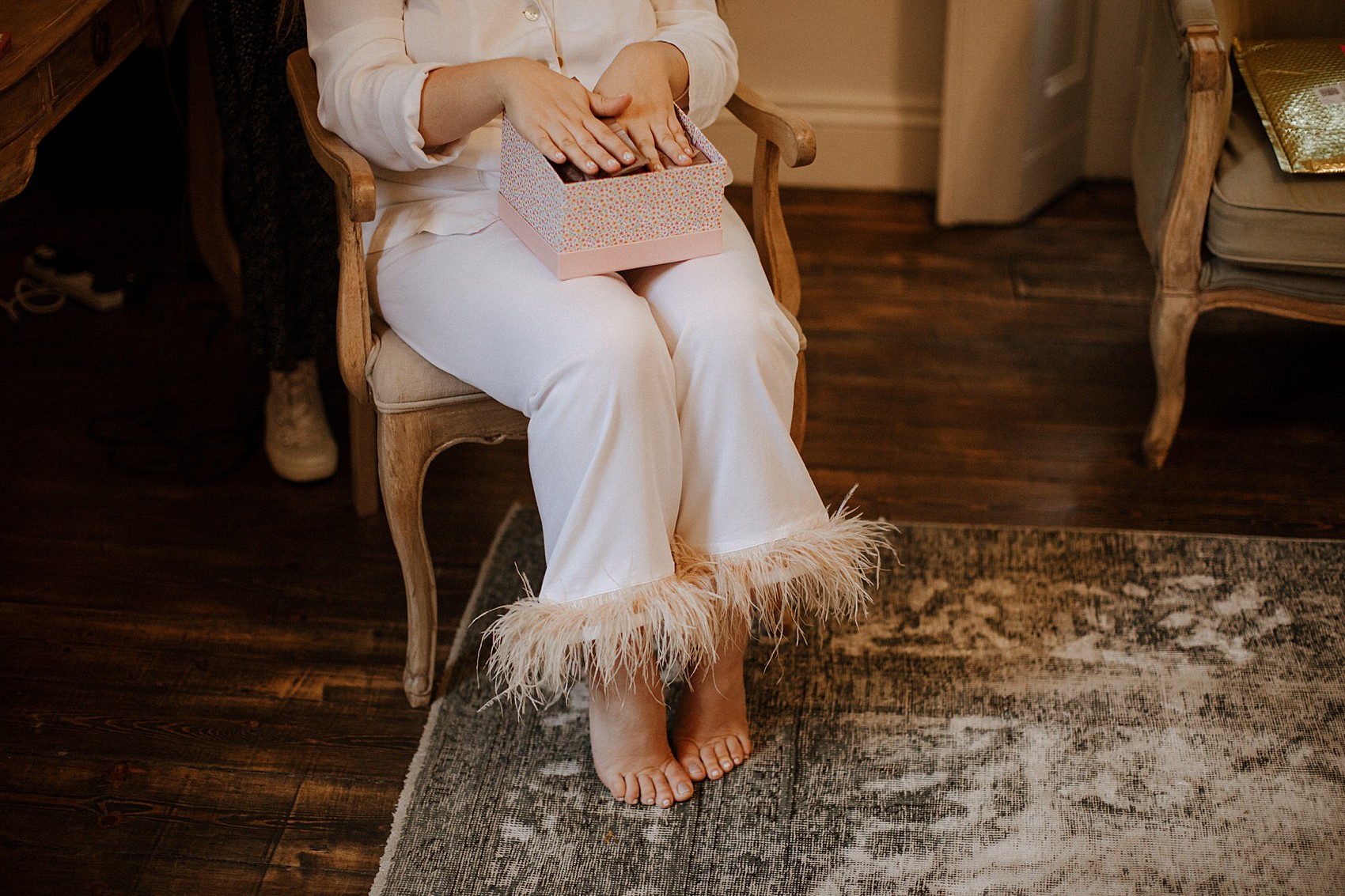 The Rectory was beautifully adorned with flowers in softly muted autumnal shades with pops of sugary pastel colours, and rich, dramatic reds here and there. There were lots of lovely dahlias and roses, as well as dried flowers and grasses, too. These exquisite creations were the work of Lucie and Kim from Coco in the Country.
"Lucie and Kim are incredible. They used lots of dahlias as they are my favourite (after peonies) plus used lots of dried flowers that could be reused. They did the whole thing with no florist foam. The doorway was my favourite part. They did an amazing job."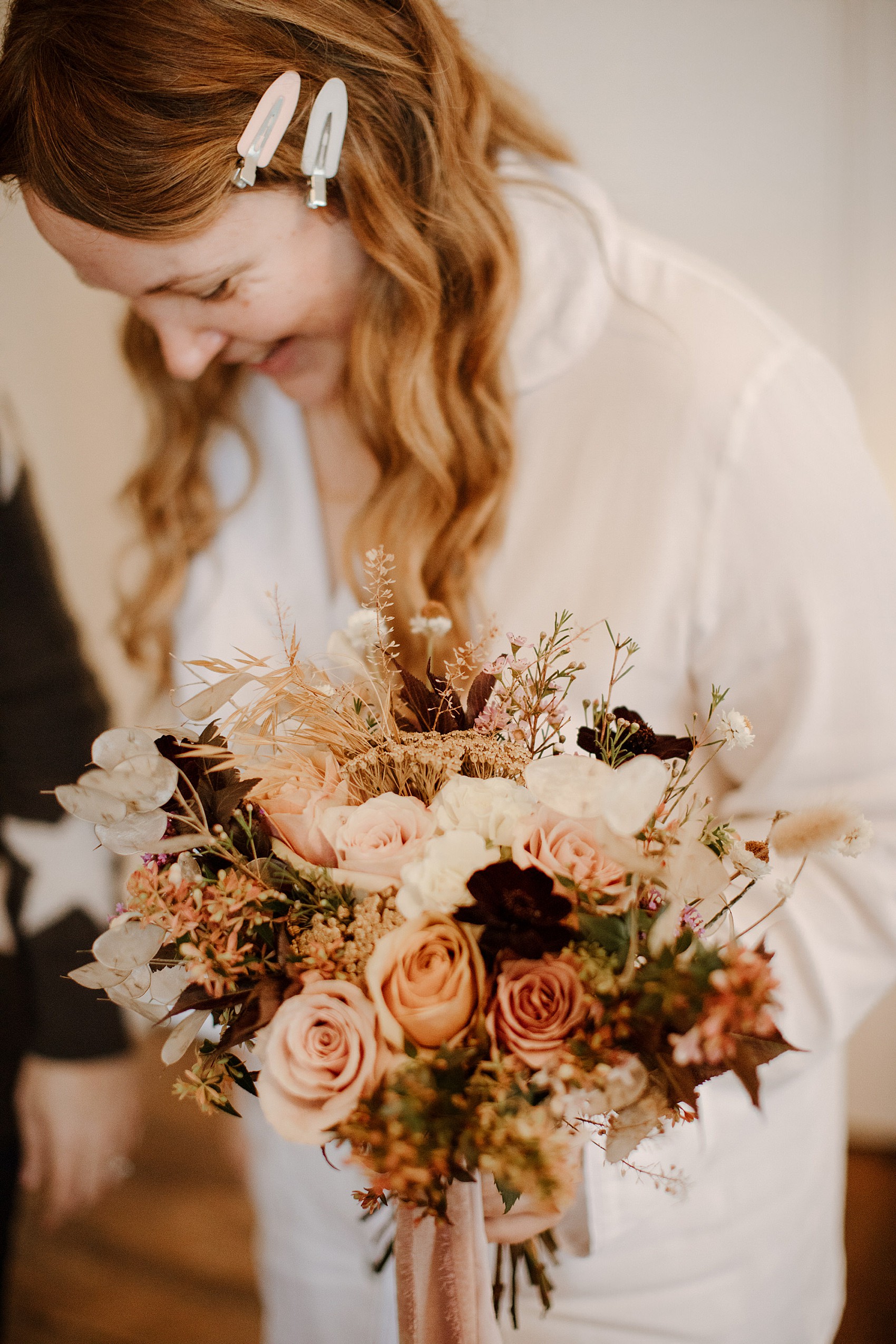 Charlotte's make-up artist was Amy George, and her hair was styled by Alice Lindsay, and her wedding day fragrances were by Jo Malone – Honeysuckle & Davana, and Oud & Bergamot.
"I did one of their complimentary wedding scenting appointments, and it was so much fun. I also got the same scents in candle format, which made the venue smell incredible."
Charlotte's dream of a dress was a 1970s inspired bespoke creation in floral lace by Caroline Chamberlain Couture. I just love those bell sleeves! You can read all about the bespoke design and making process and experience on Charlotte's own blog.
Charlotte also wore a delicate, shoulder length veil by Caroline Chamberlain, and on her feet, a pair of amazing white ankle boots from Office.
"The boots were a pain to track down. I knew I wanted these ones, and they were the perfect shade of white (tonnes of cream ones available but none that were pure white)."
"I tracked down one last pair in the sale in Manchester, and my friend's sister-in-law went to buy them for me and posted them. A faff that was well worth it!"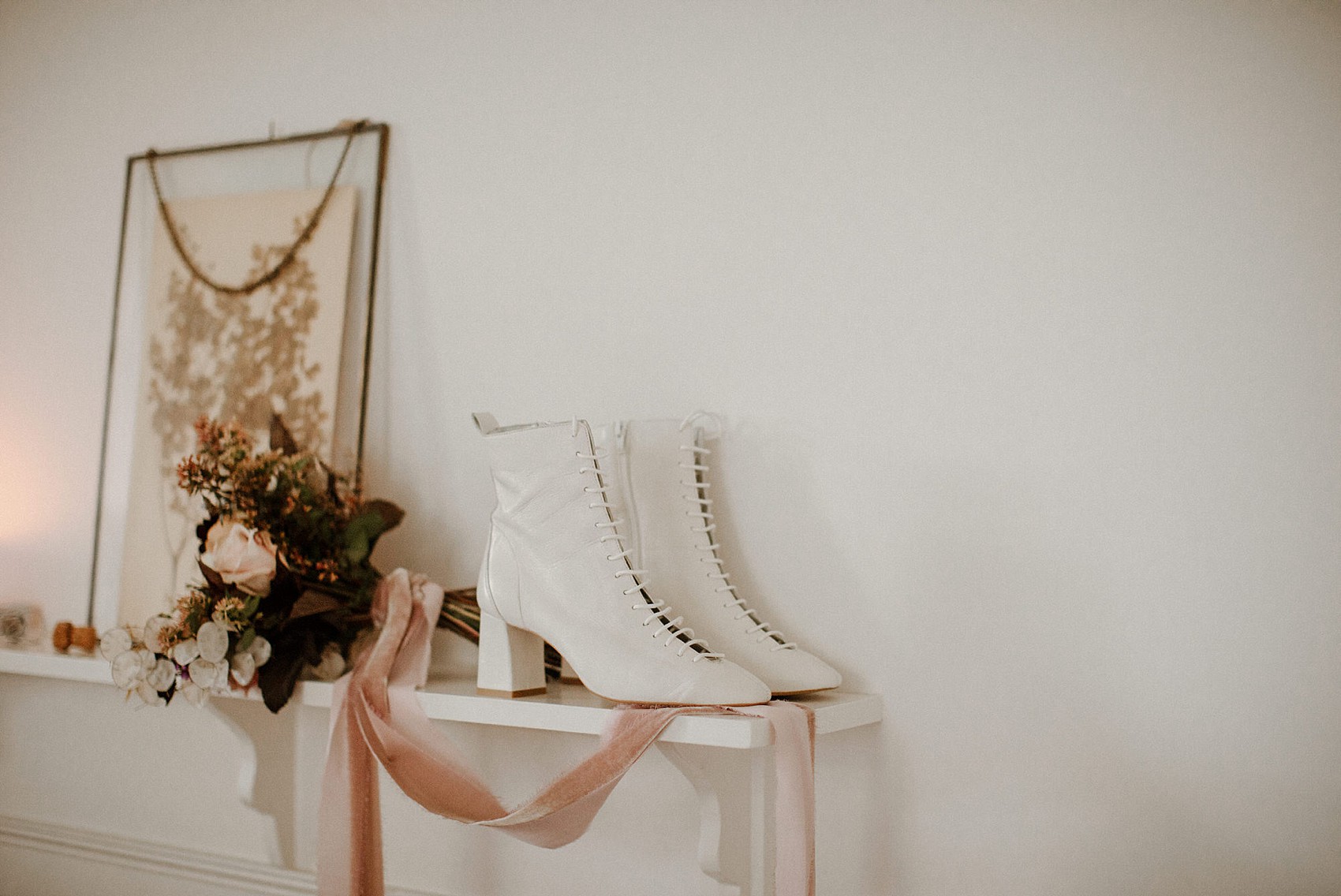 "My Shrimps 'Buttercup' bag was the first thing I bought from Matches when it went it the sale. I used a website called Shop Style, which alerts you when things go in the sale."
"I knew I'd wear it afterwards too, and my mum asked Caroline to make me a small pouch to sit inside trimmed with the lace from my dress."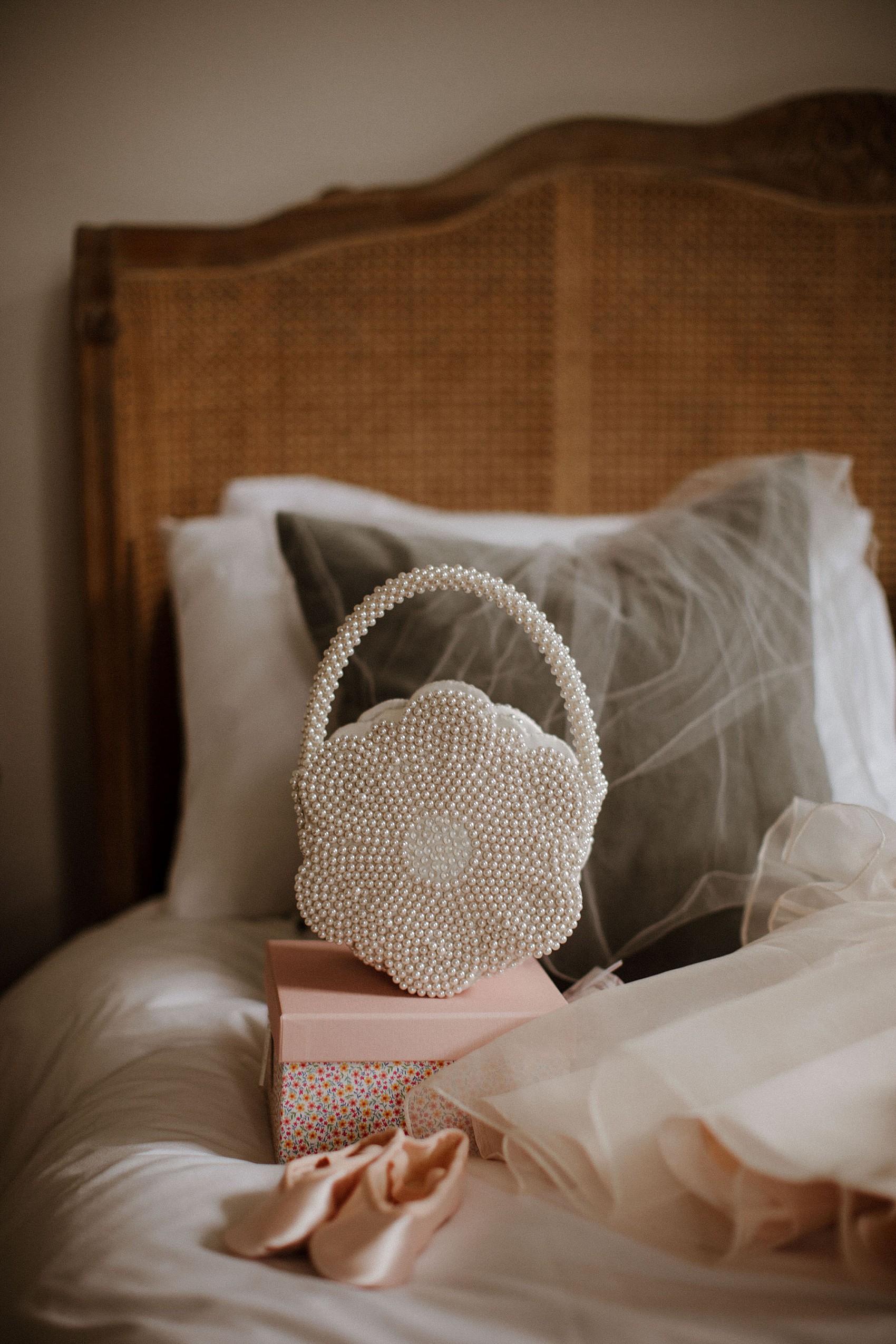 "My dress was entirely bespoke, and the best decision I made. I am a size 16/18, and didn't want to go to bridal boutiques and try things on."
"I know there are ones that cater to those sizes, it's not that much of a problem, but I didn't want to feel like I needed to lose weight for our wedding."
"Plus, I had quite a clear idea of what I wanted, and knew not that many shops would carry what I was looking for. Caroline was incredible, I could not recommend her enough."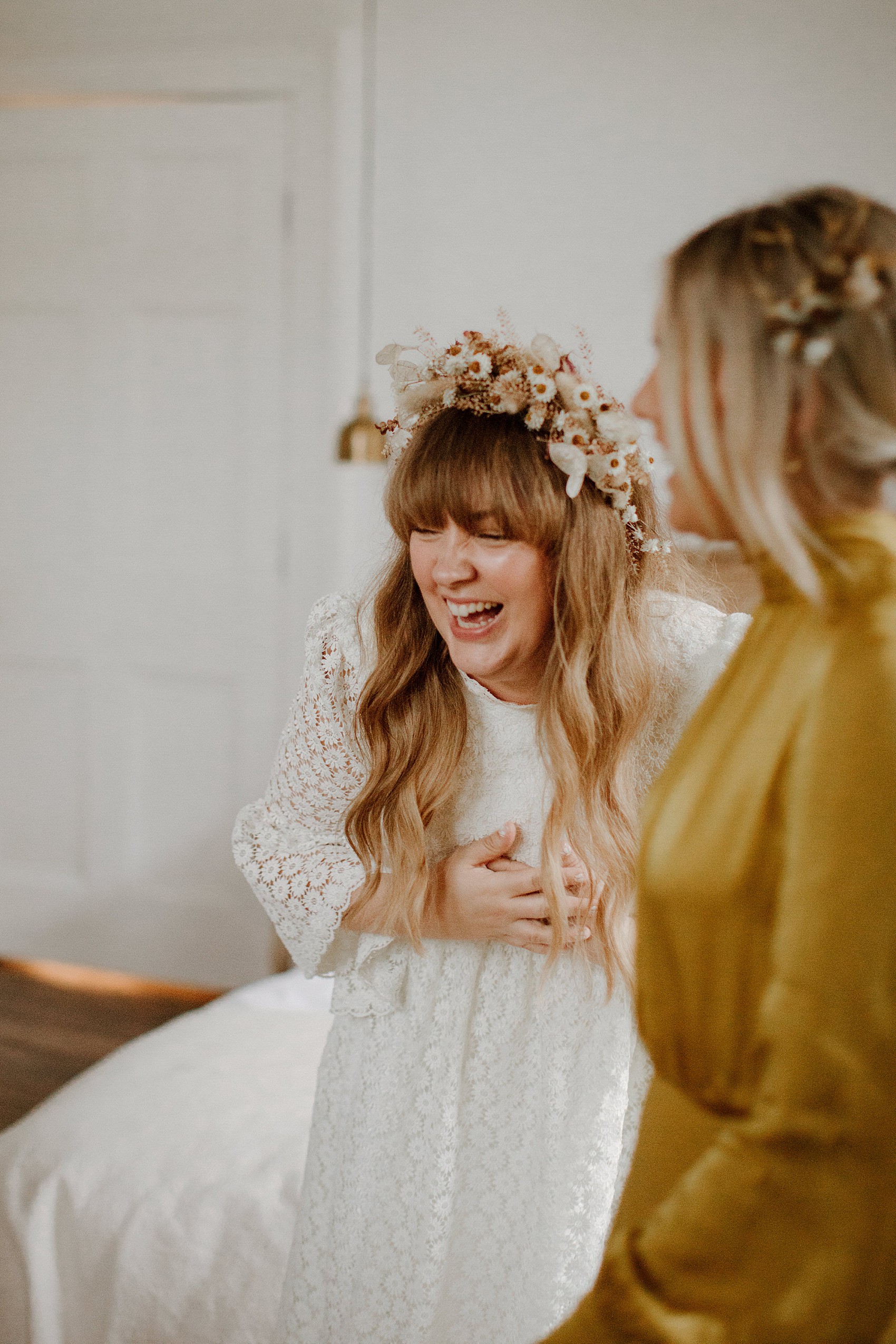 "Like most brides I wanted to feel comfortable, and the best version of me. I put my dress on and didn't think about it again for the rest of the day."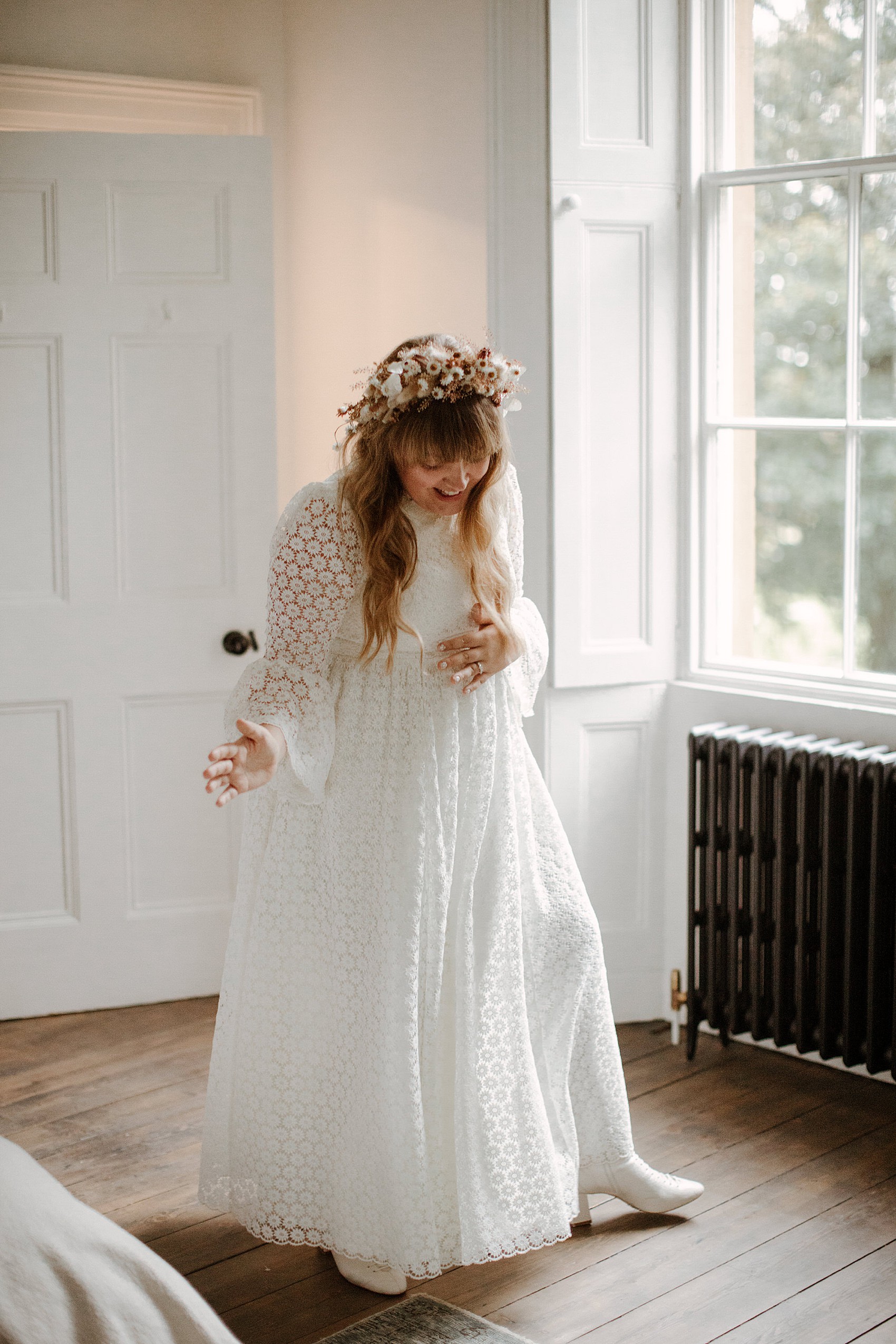 Perfectly complementing Charlotte's dress, Charlotte and Jack's daughter wore her own bespoke creation by Caroline Chamberlain, with a pair of pink satin ballet shoes for the ceremony.
"There were then some sturdier ballet shoes for running around, but she wore her pink glitter wellies for most of the day!"
The bridesmaids looked wonderful in their autumnal hued dresses from Ghost and Les Reveries via Net-a-Porter.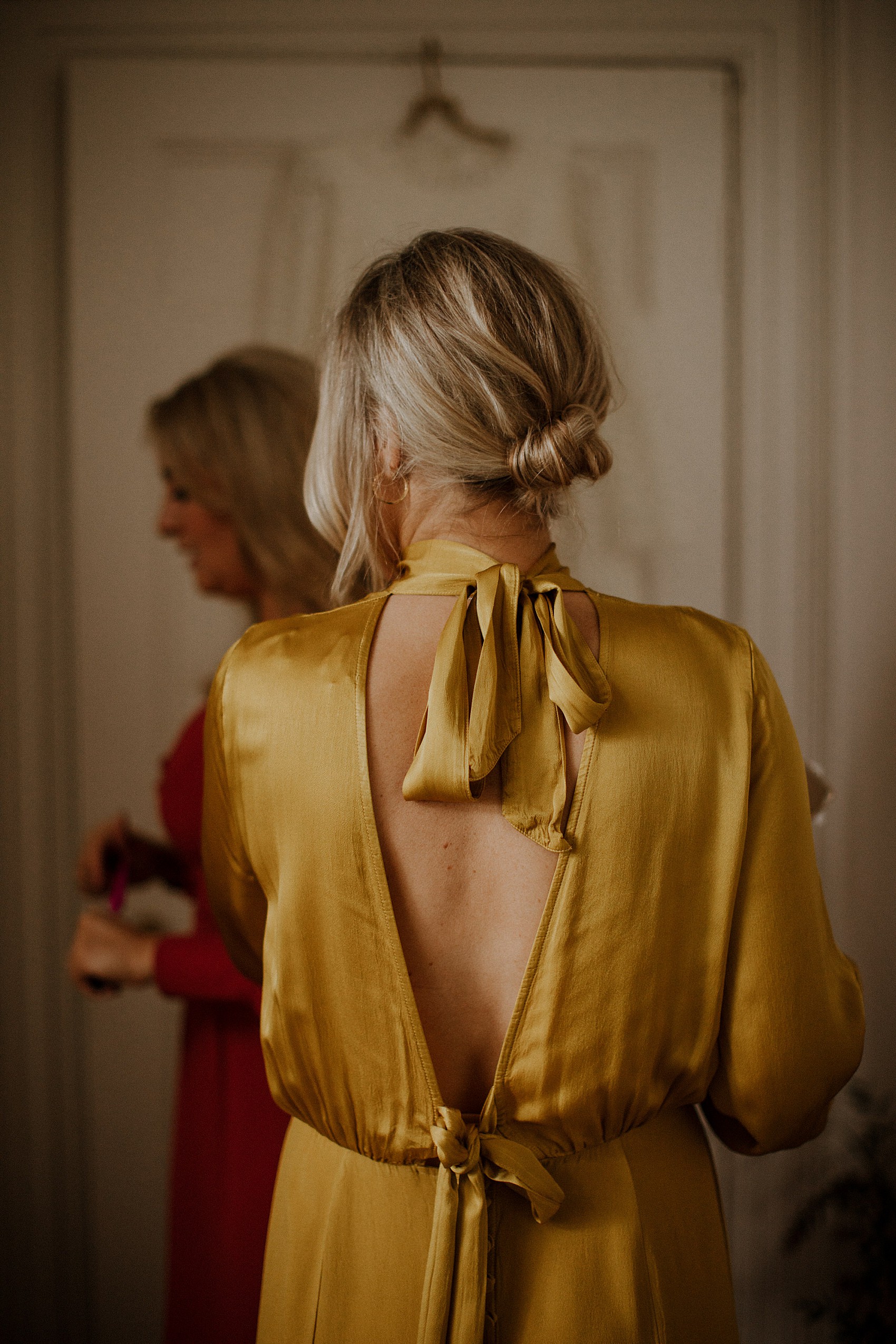 Wanting them to feel as relaxed as possible, Charlotte gave them the brief of midi or maxi length with sleeves, and they then chose their own dresses along with shoes, too. Florists Coco in the Country also made them pretty hair combs of dried flowers to wear.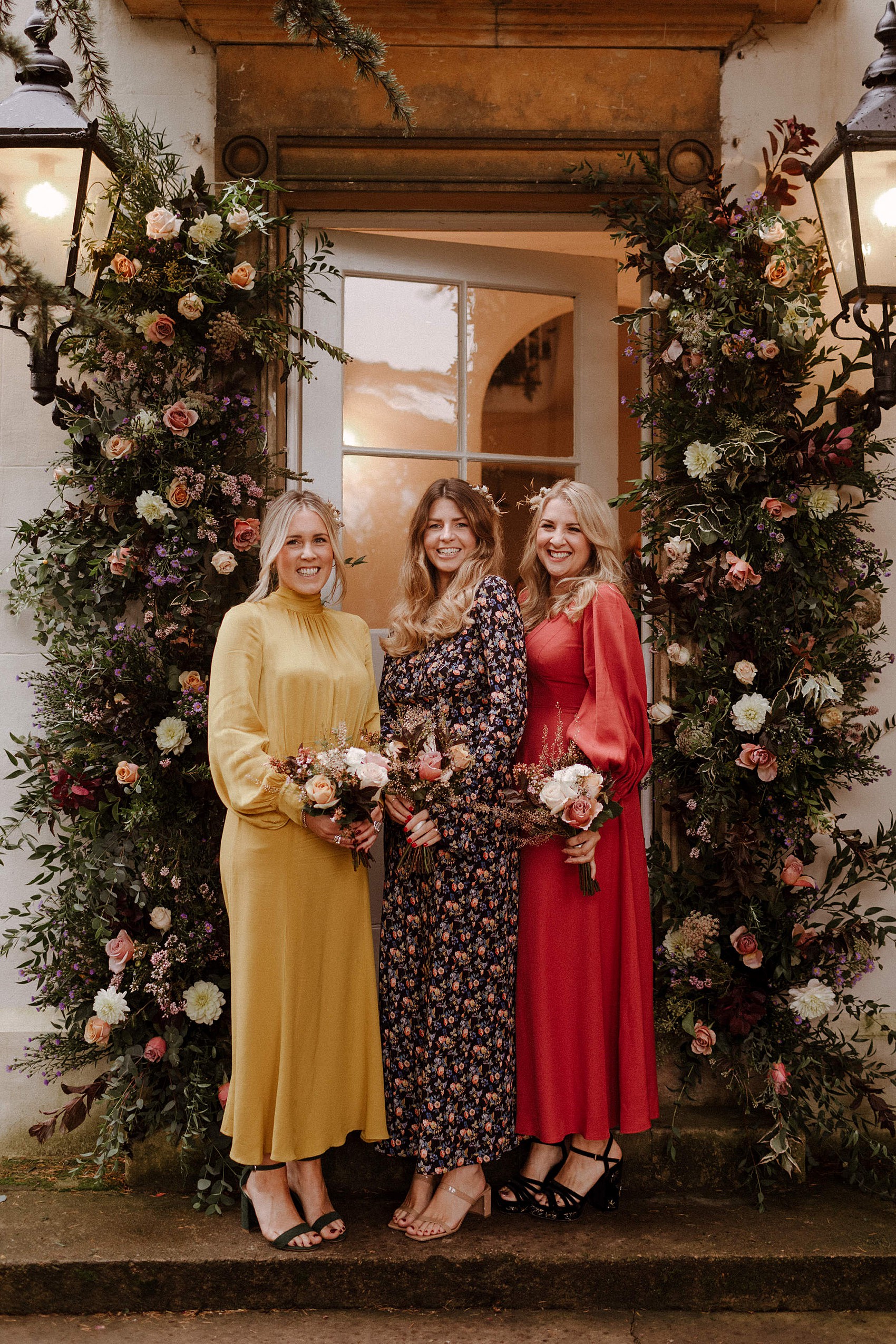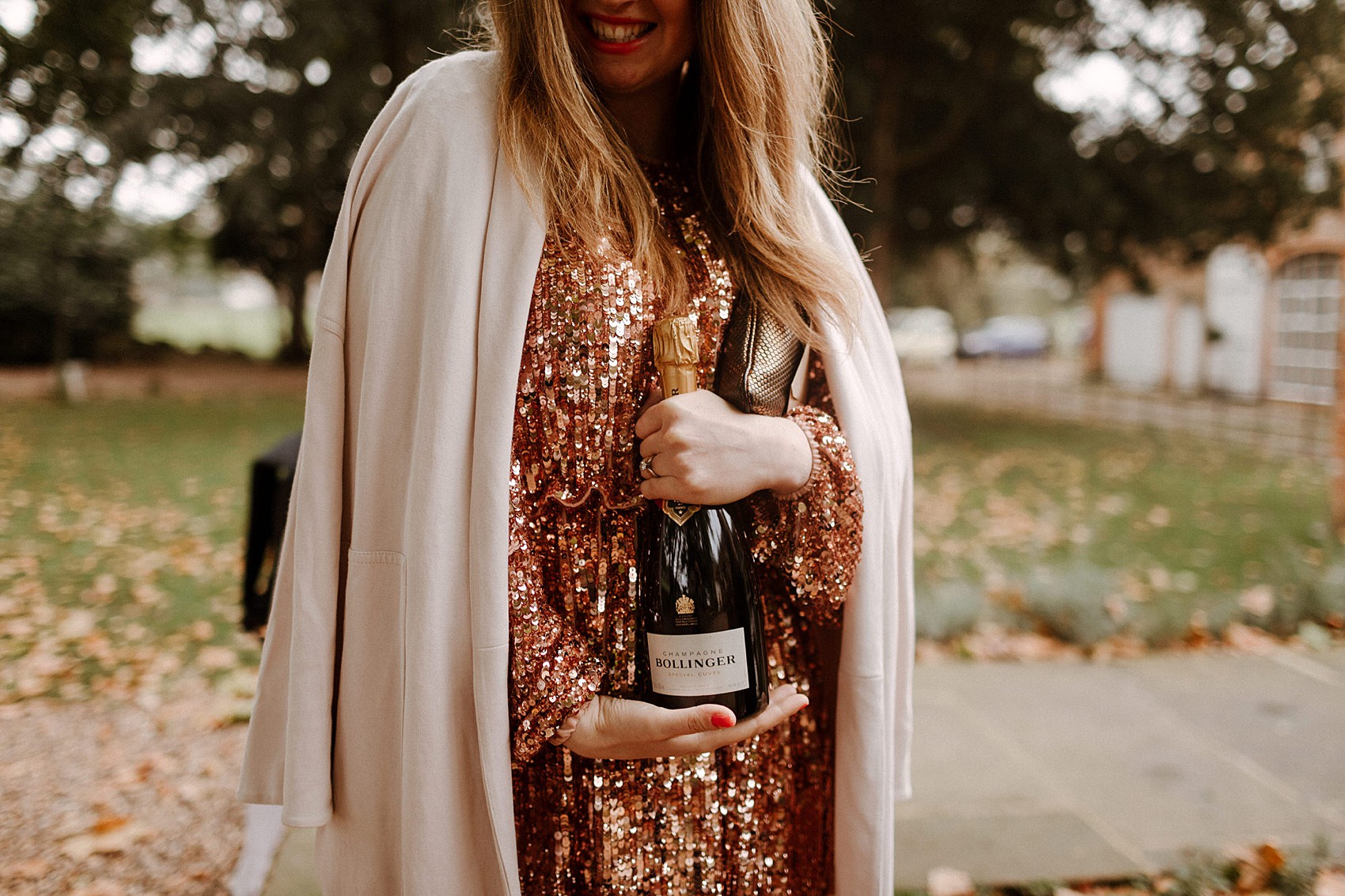 Jack wore a smartly tailored suit from Beggars Run, which he wore with a white shirt from Paul Smith, Sunspel socks, and a pair of brown 'Giacomo' Chelsea boots by Scarosso.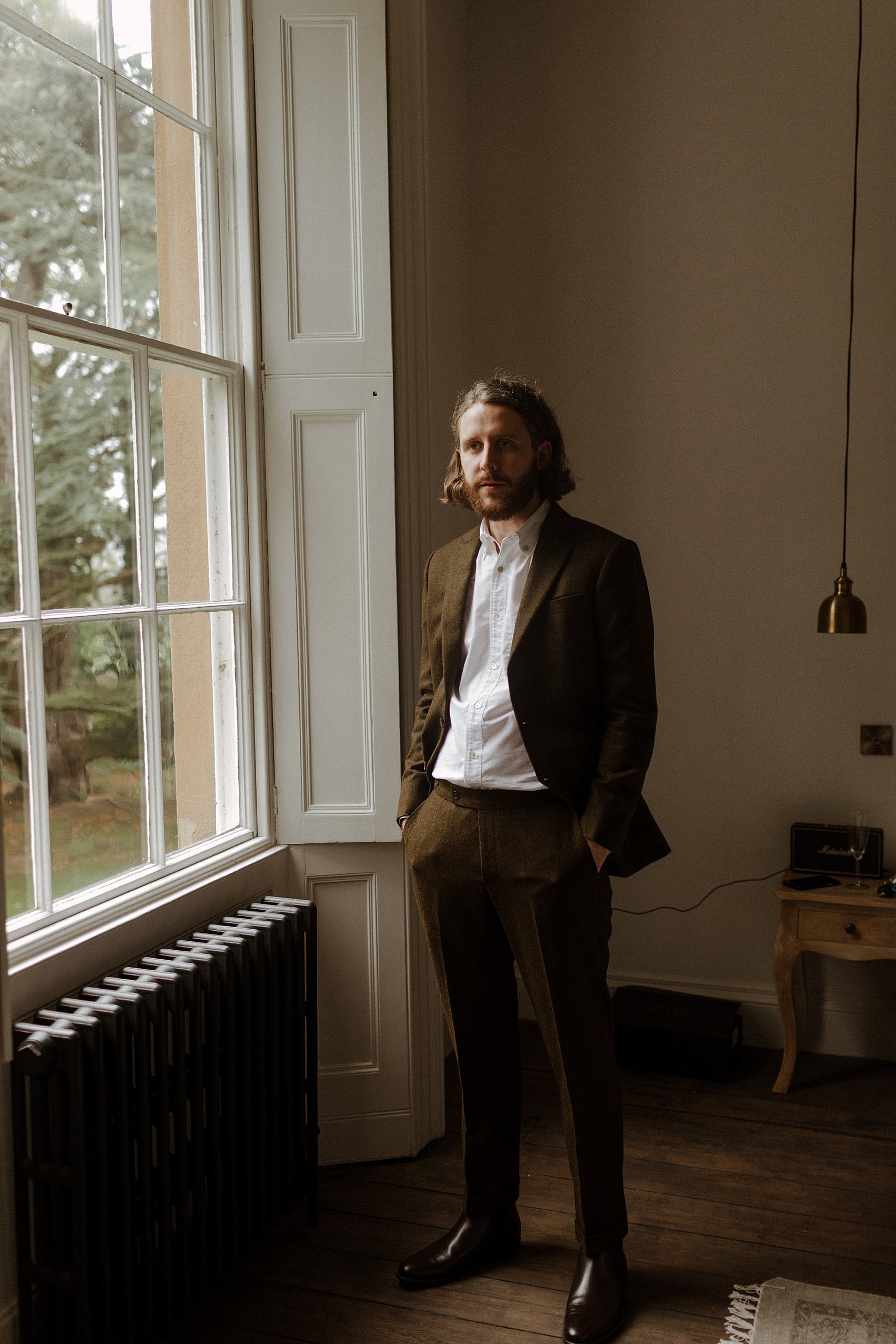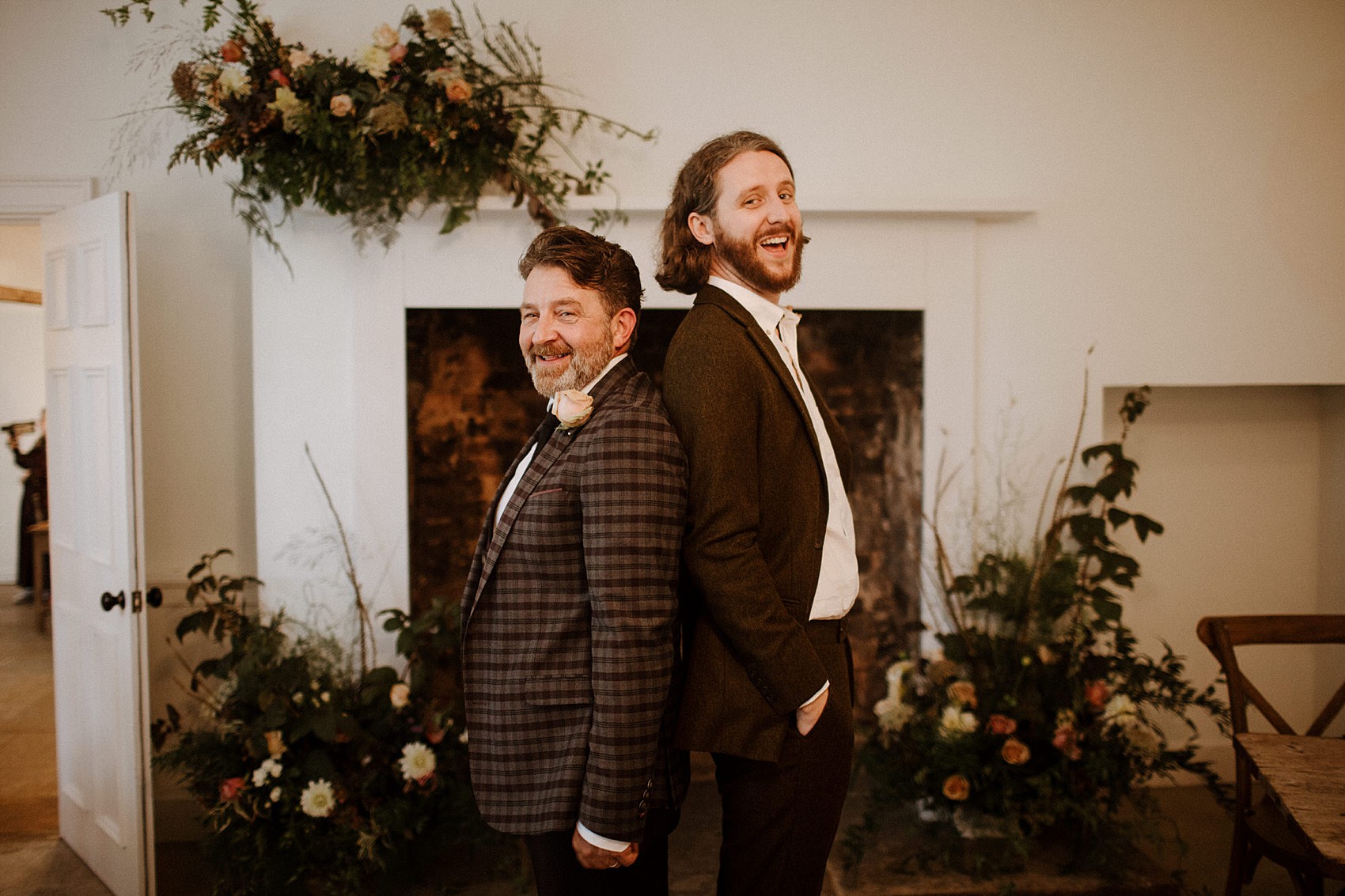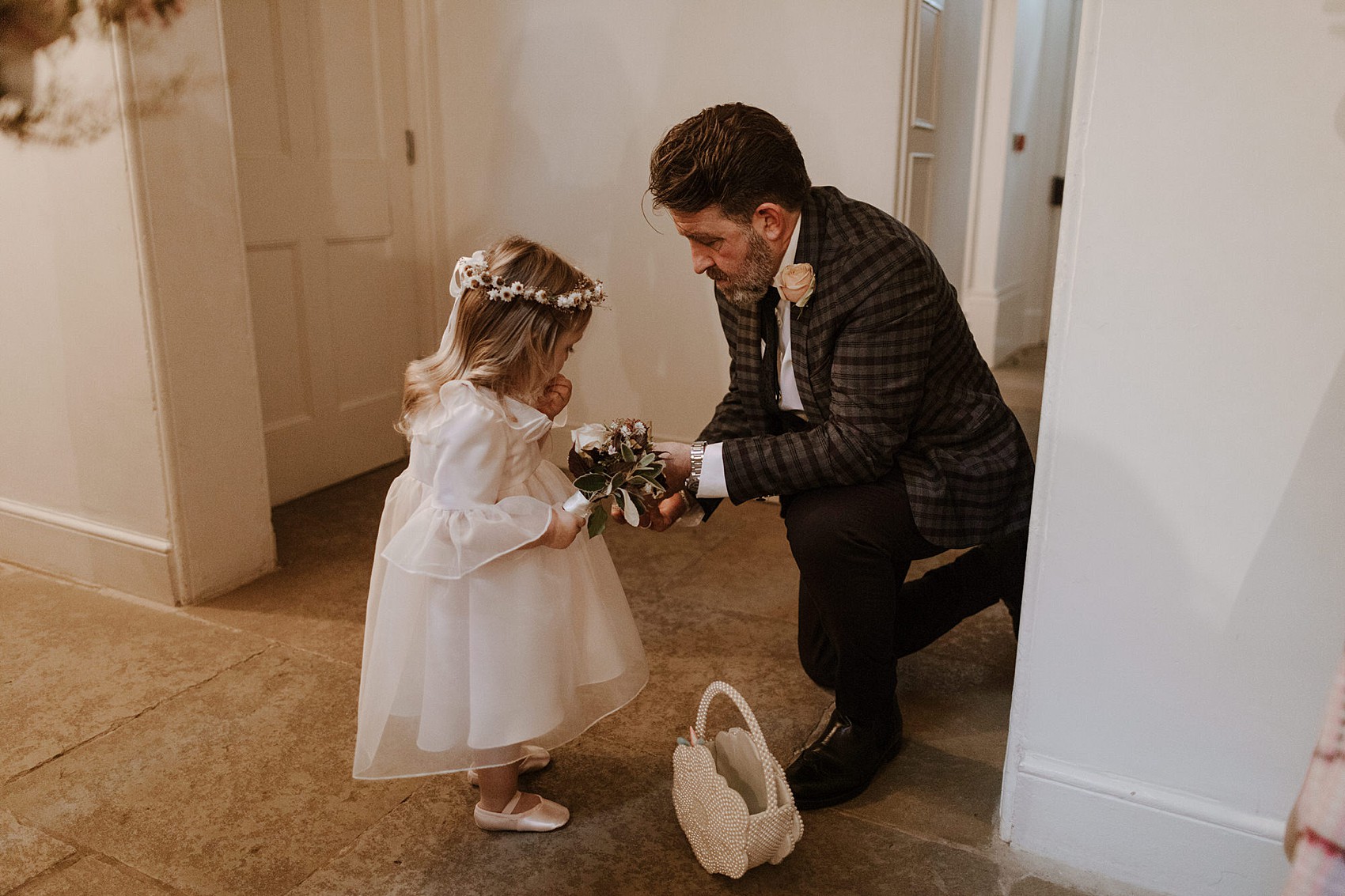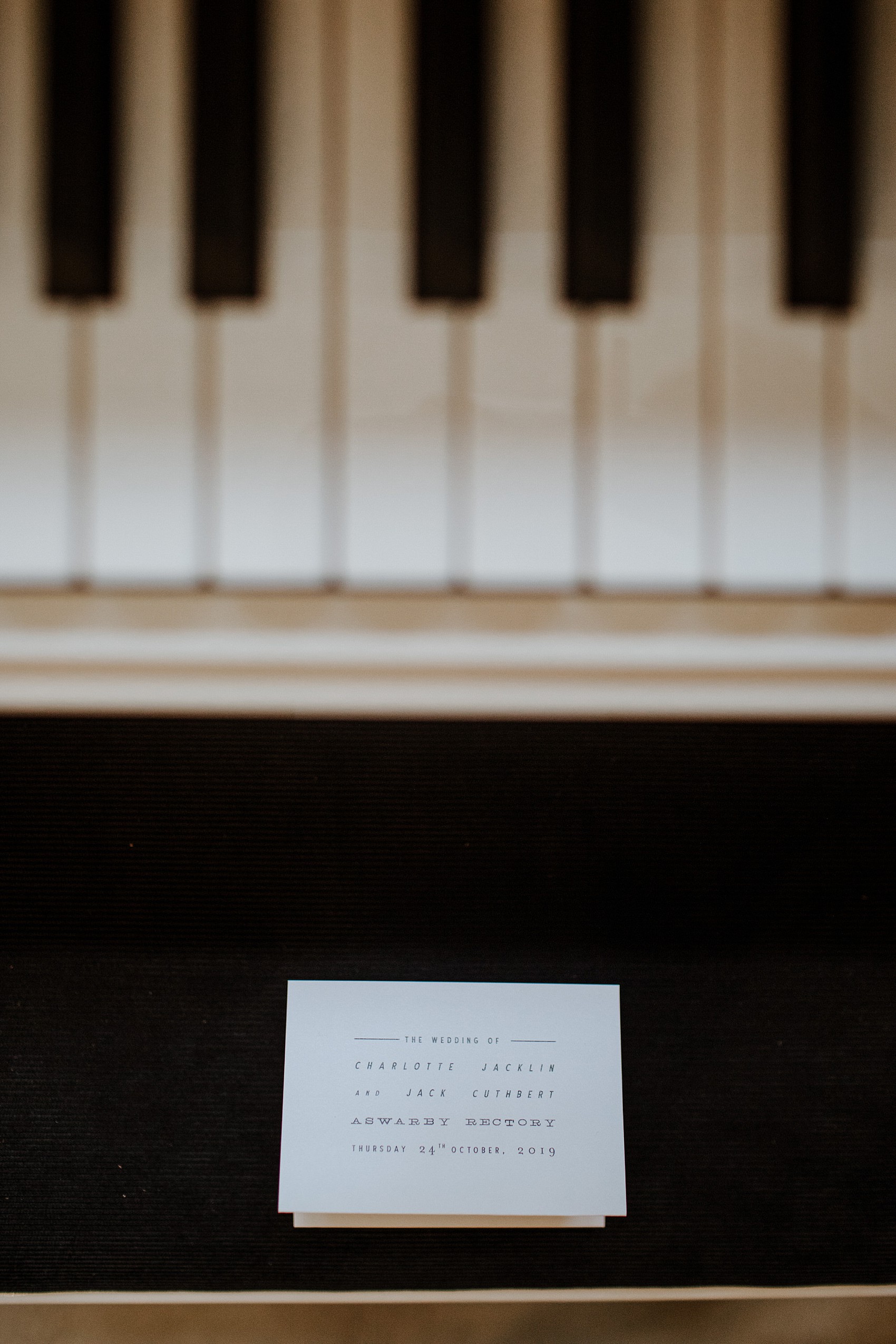 As well as designing all of the stationery (and sourcing special Elton John stamps, too) the brilliant Alice Gabb also made an amazing banner, which was hung in the ceremony room.
"We met at the DJ booth in the Tap 'n' Tin in Chatham, Kent over 11 years ago. We got engaged four years ago, but had a surprise pregnancy three years ago."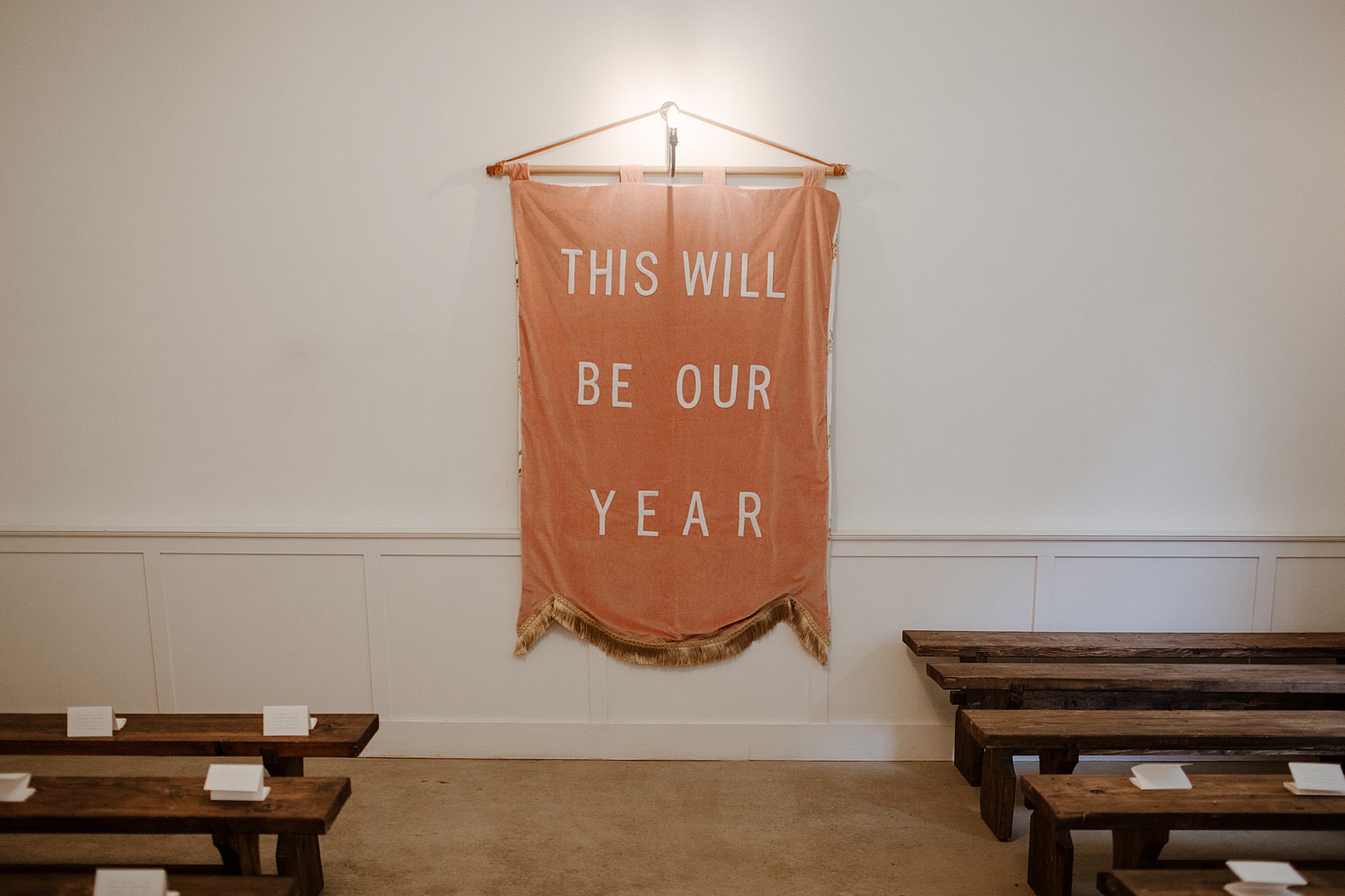 Charlotte's dad walked her down the aisle to the song You'll Never Walk Alone, which the couple both love – and also because Jack is a huge Liverpool FC fan!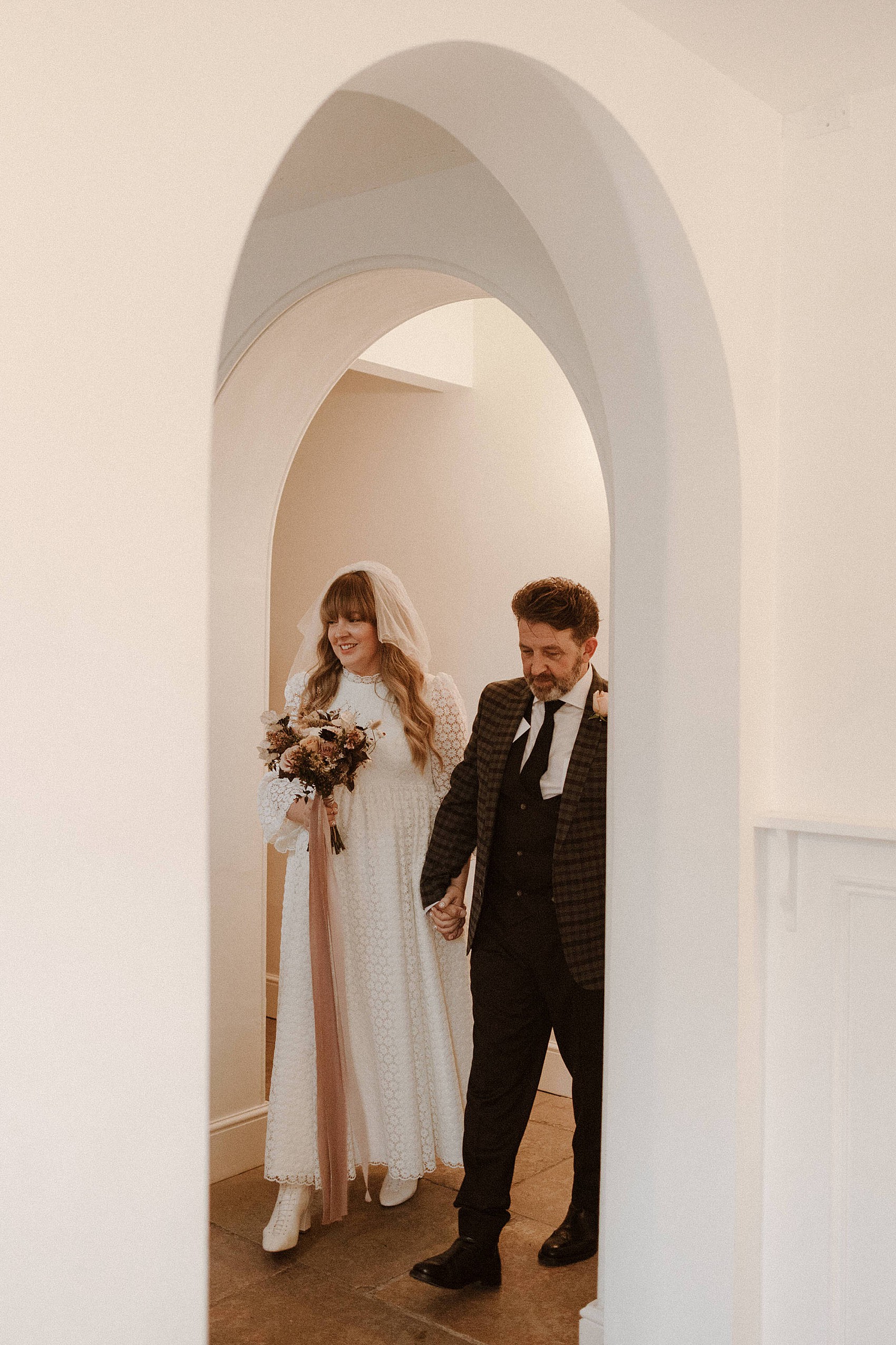 "We were married by a registrar from the local council so it was all done and dusted on the day. We made our vows as short as possible; in fact we made the whole ceremony as short as we could. Jack is quite shy, and his worst nightmare is standing up in front of people like that. You really have to do what works for you both."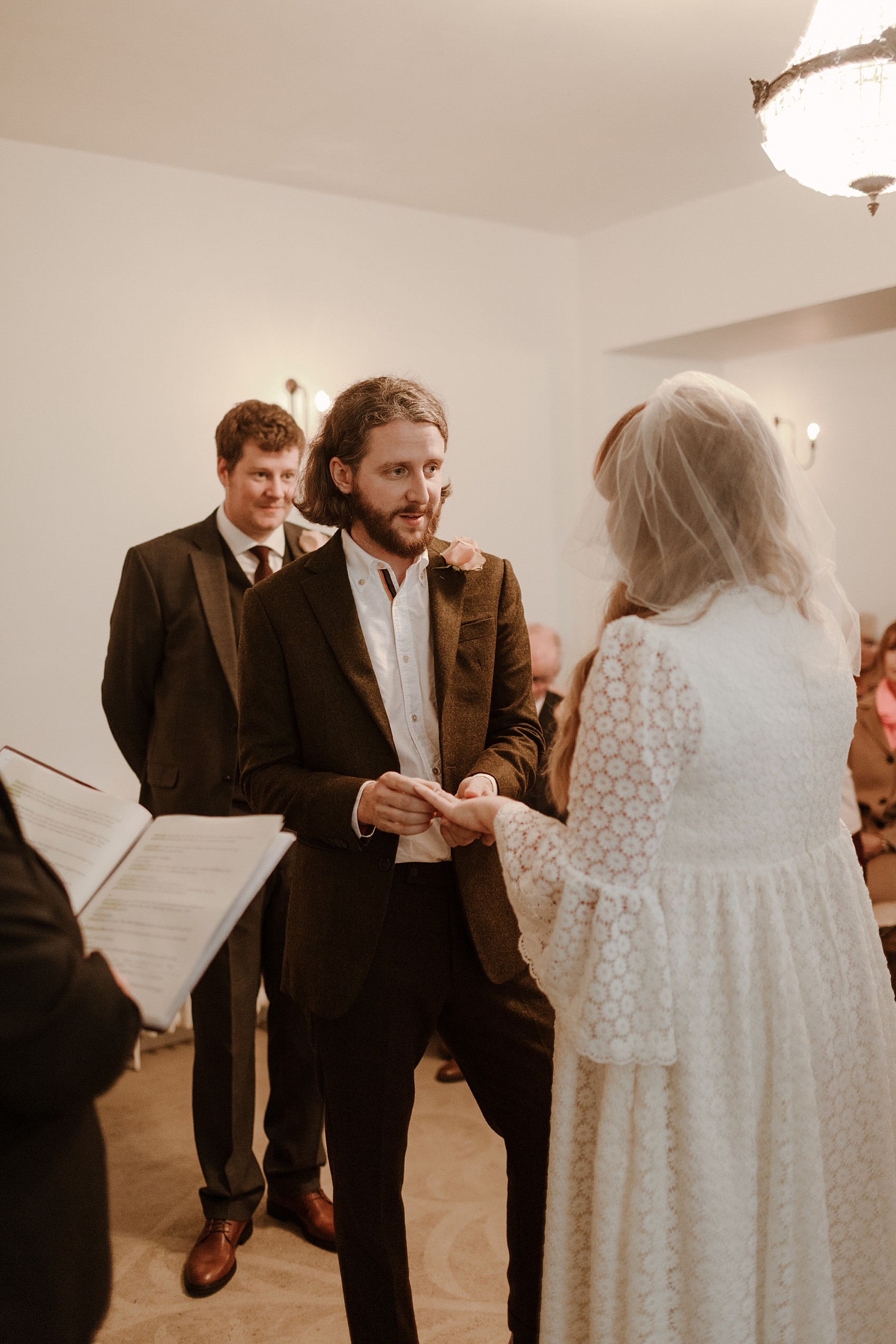 As Charlotte and Jack made their vows, they also gave each other rings, too. Charlotte's was an antique ring from Cuttings the Jeweller in Margate, which she discovered with her mother-in-law whilst there celebrating at her hen party. Jack had his ring custom made by a friend, Emily Margaret Hill (EMH Jewellery).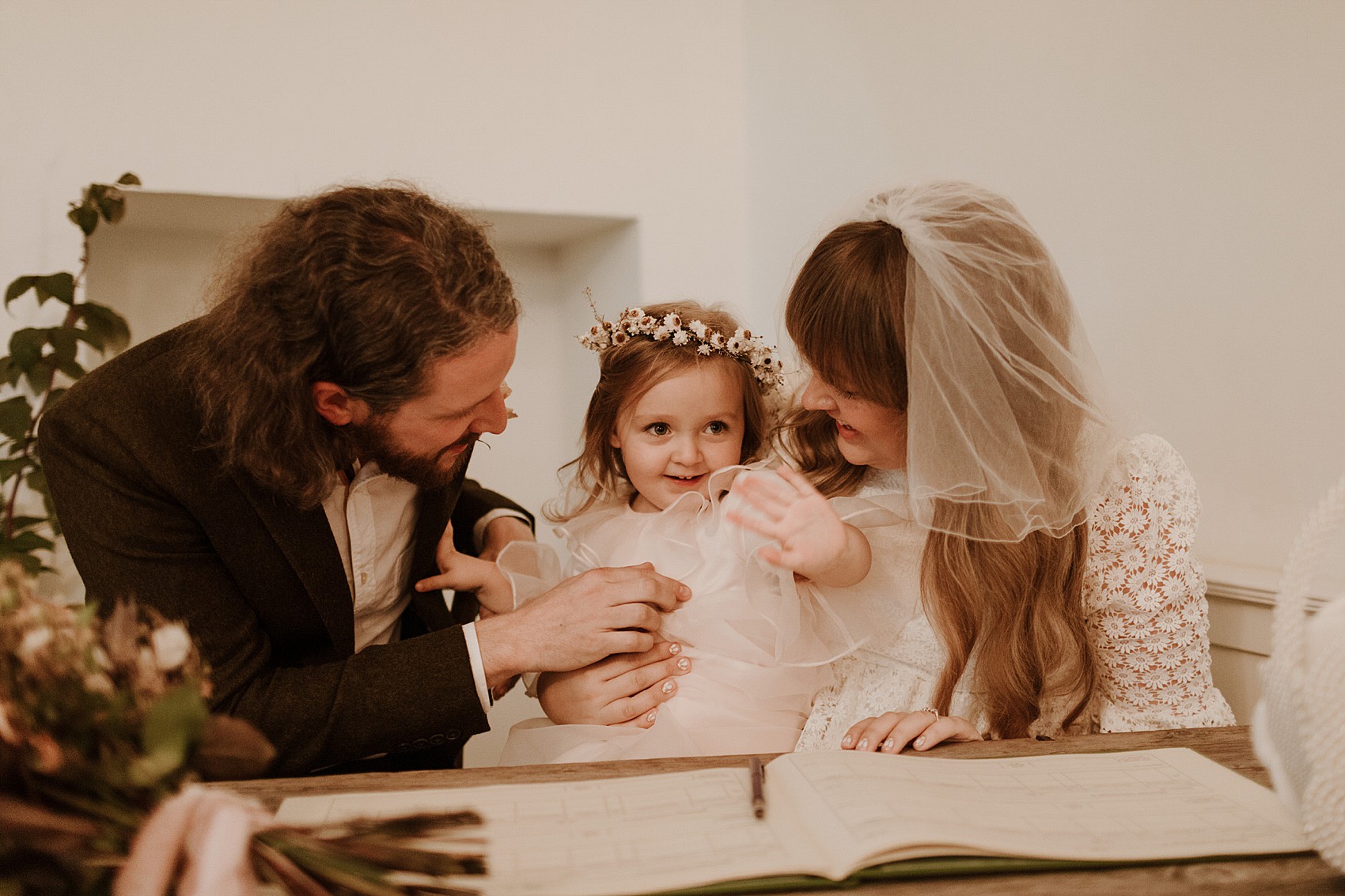 "It looks a bit more like an engagement ring, but I just wanted a nice ring. I love my engagement ring, but trying to pair it up with something was hard, so just picked something lovely and second hand."
After they'd signed the register, the newly married couple walked out together, and were met with showers of confetti from their loved ones.
"Really wanted it to feel like everyone was coming to our (big country) house for the day. One of my friends said it felt a bit like the Rolling Stones' Beggars Banquet, which was the best compliment, and another said it had Scorsese vibes – odd references but I liked them!"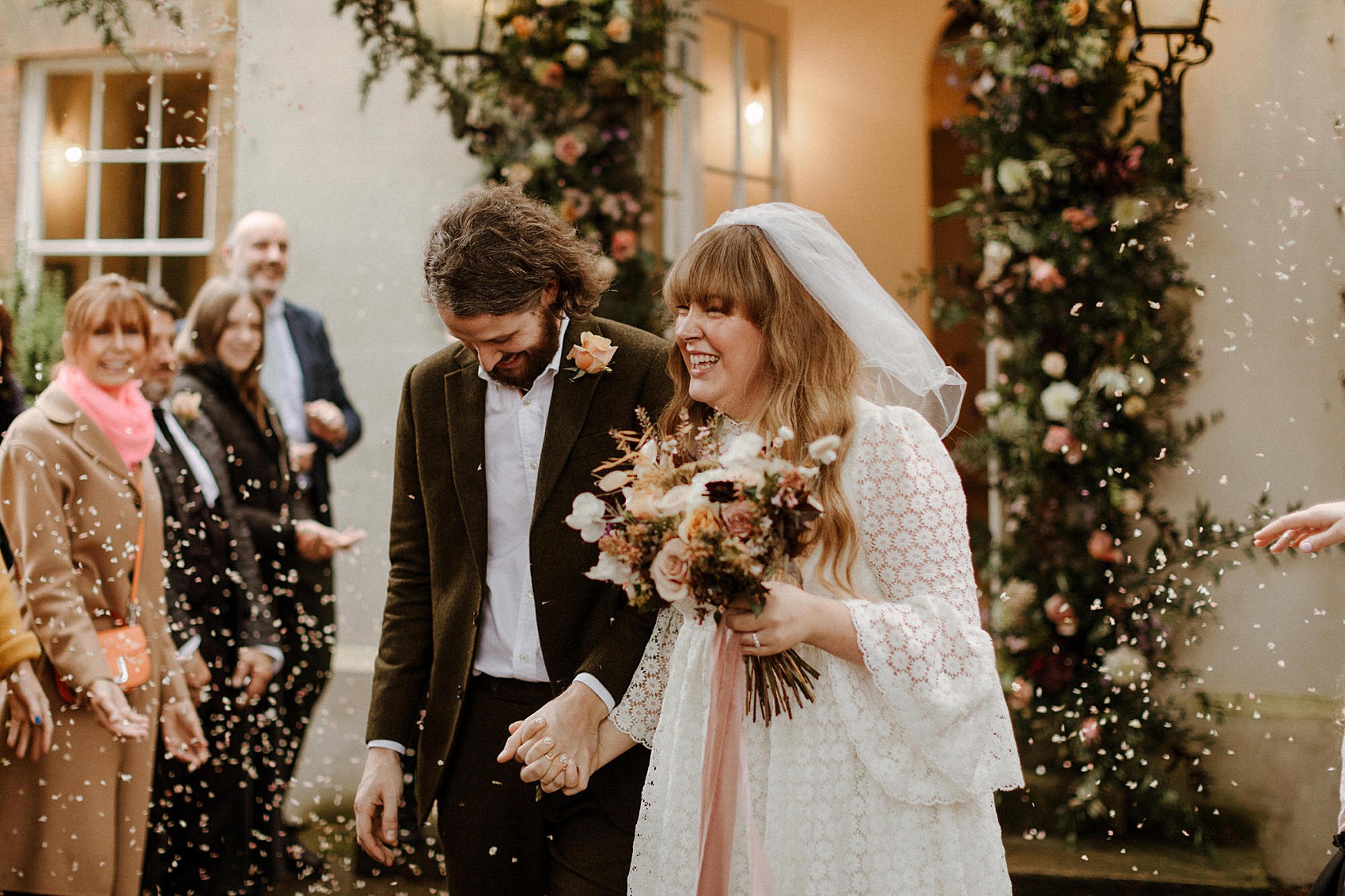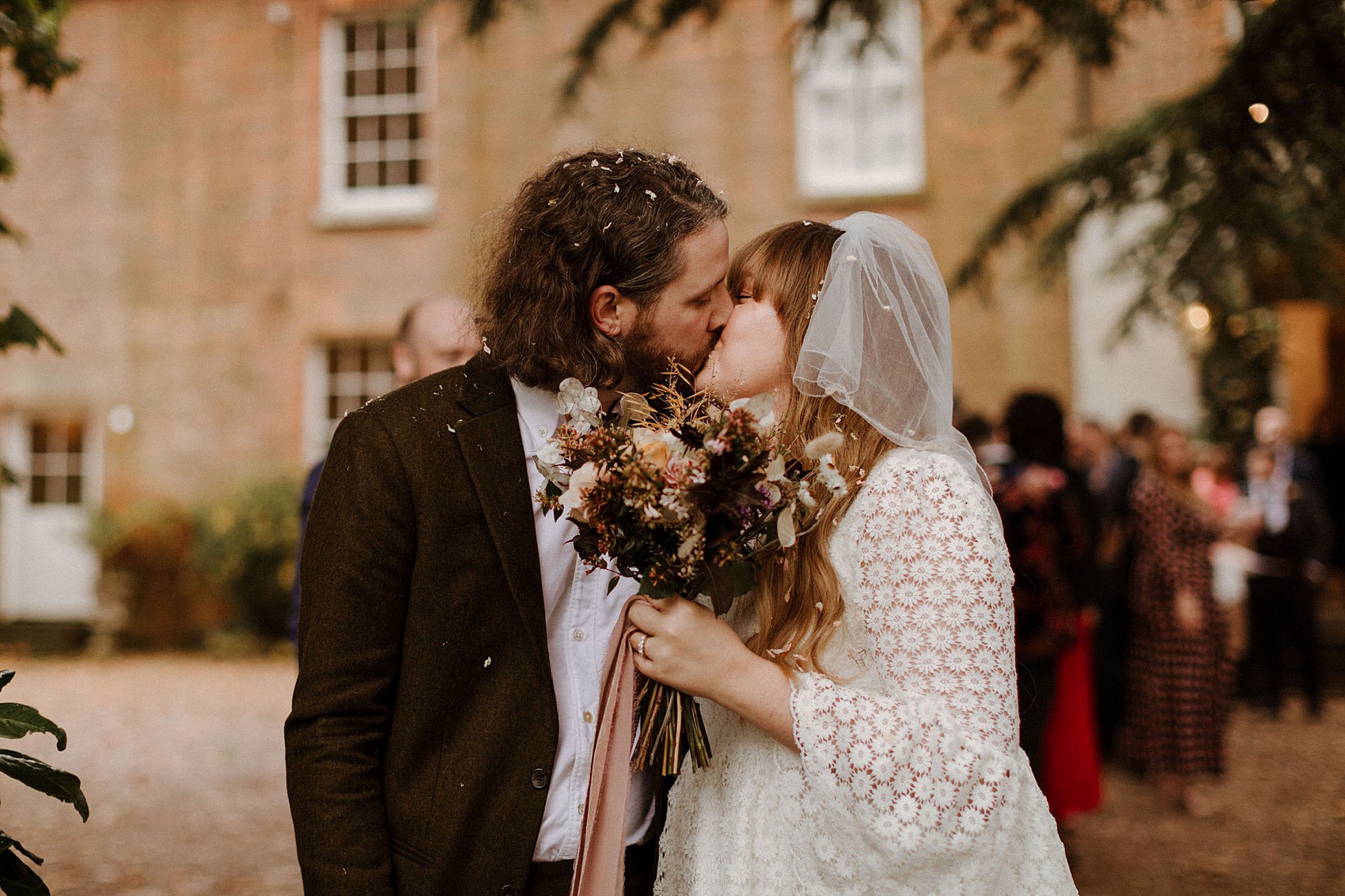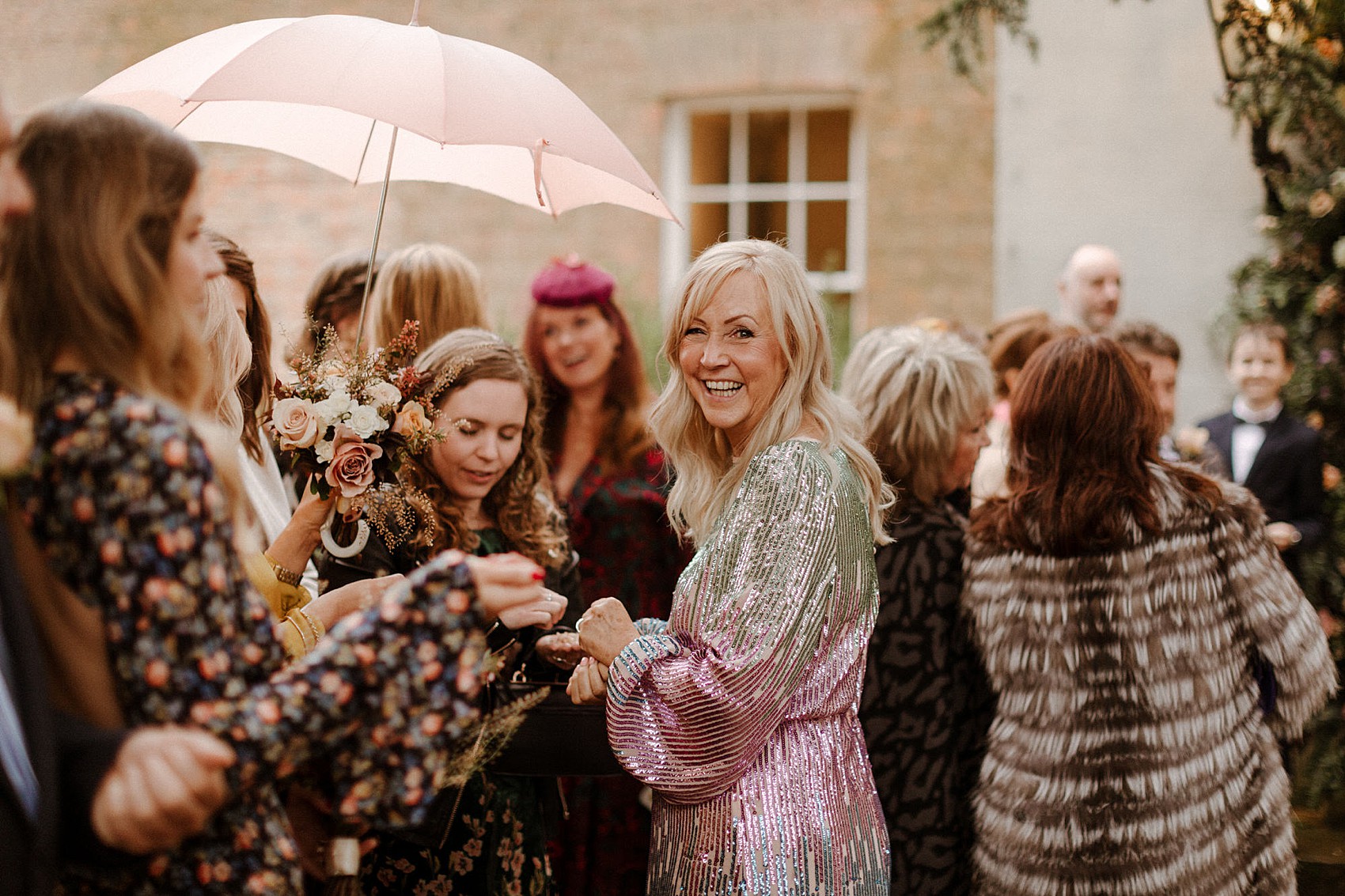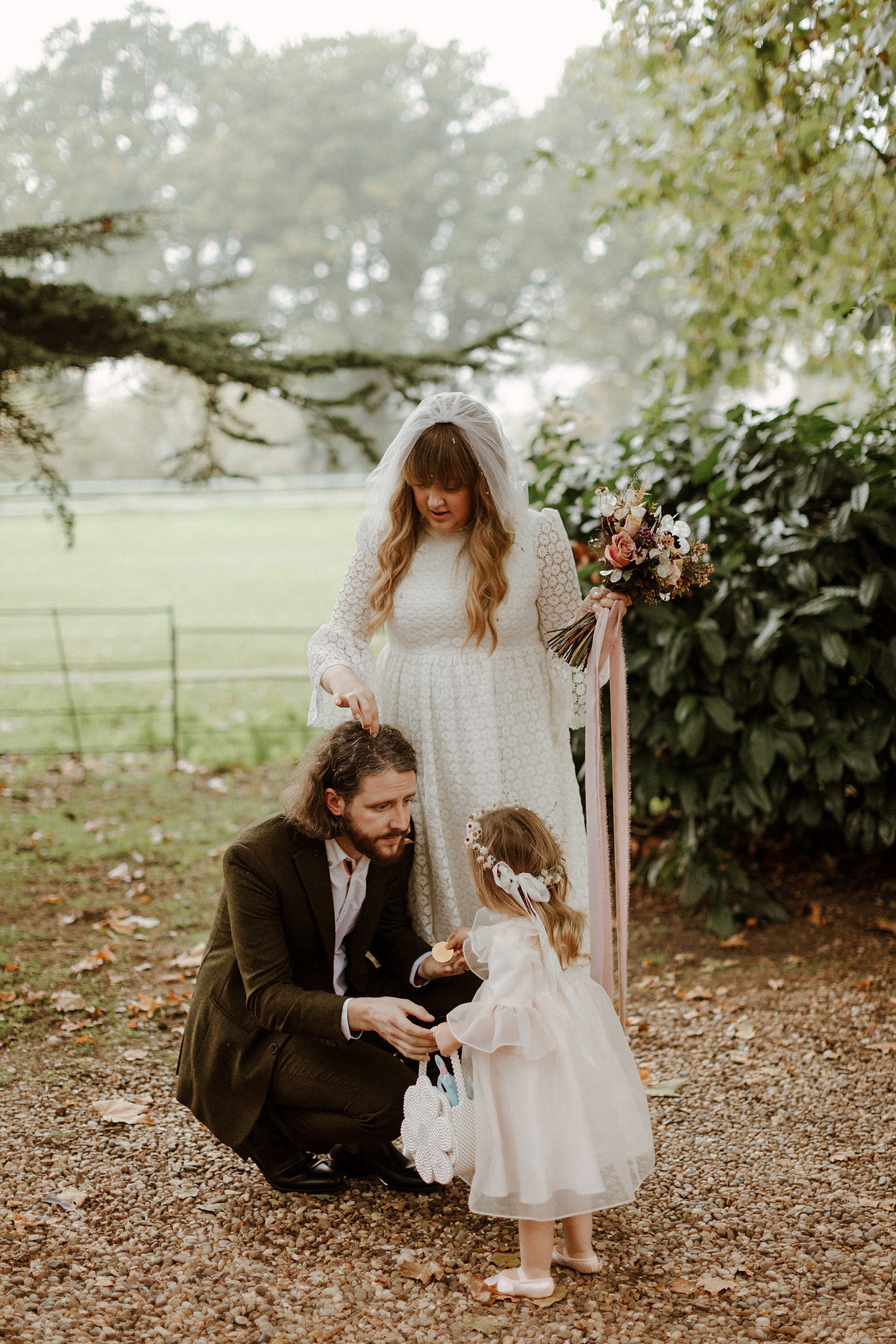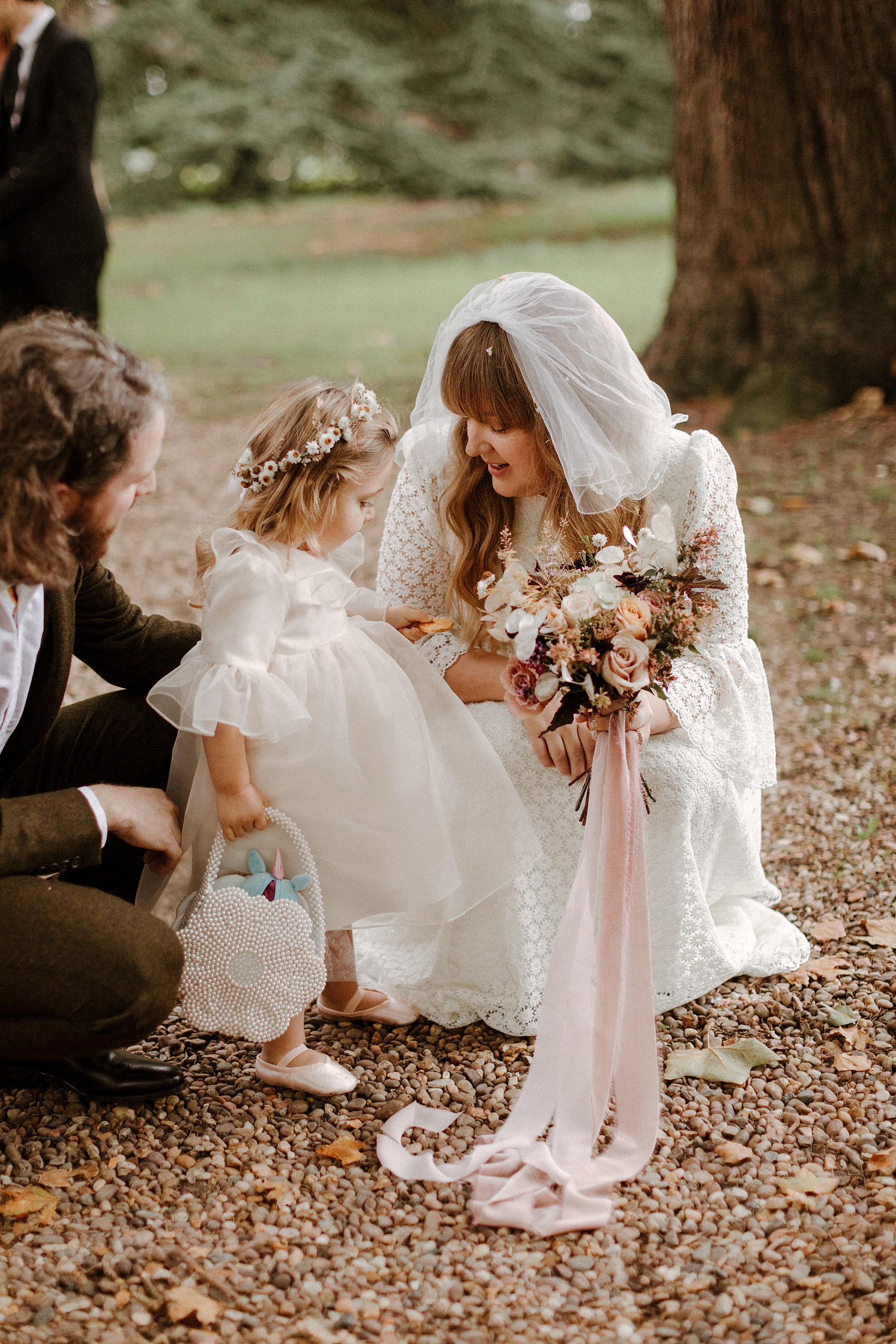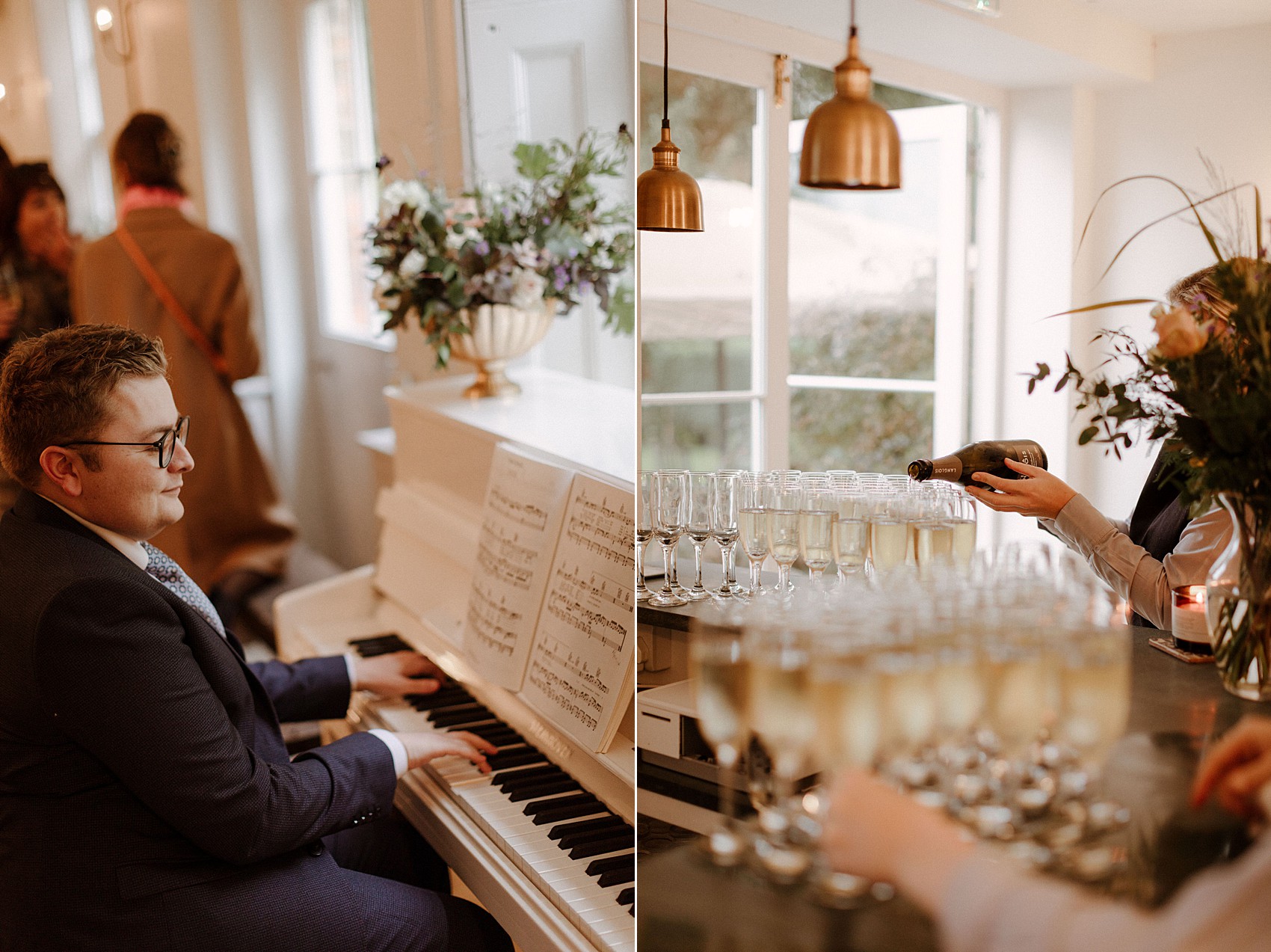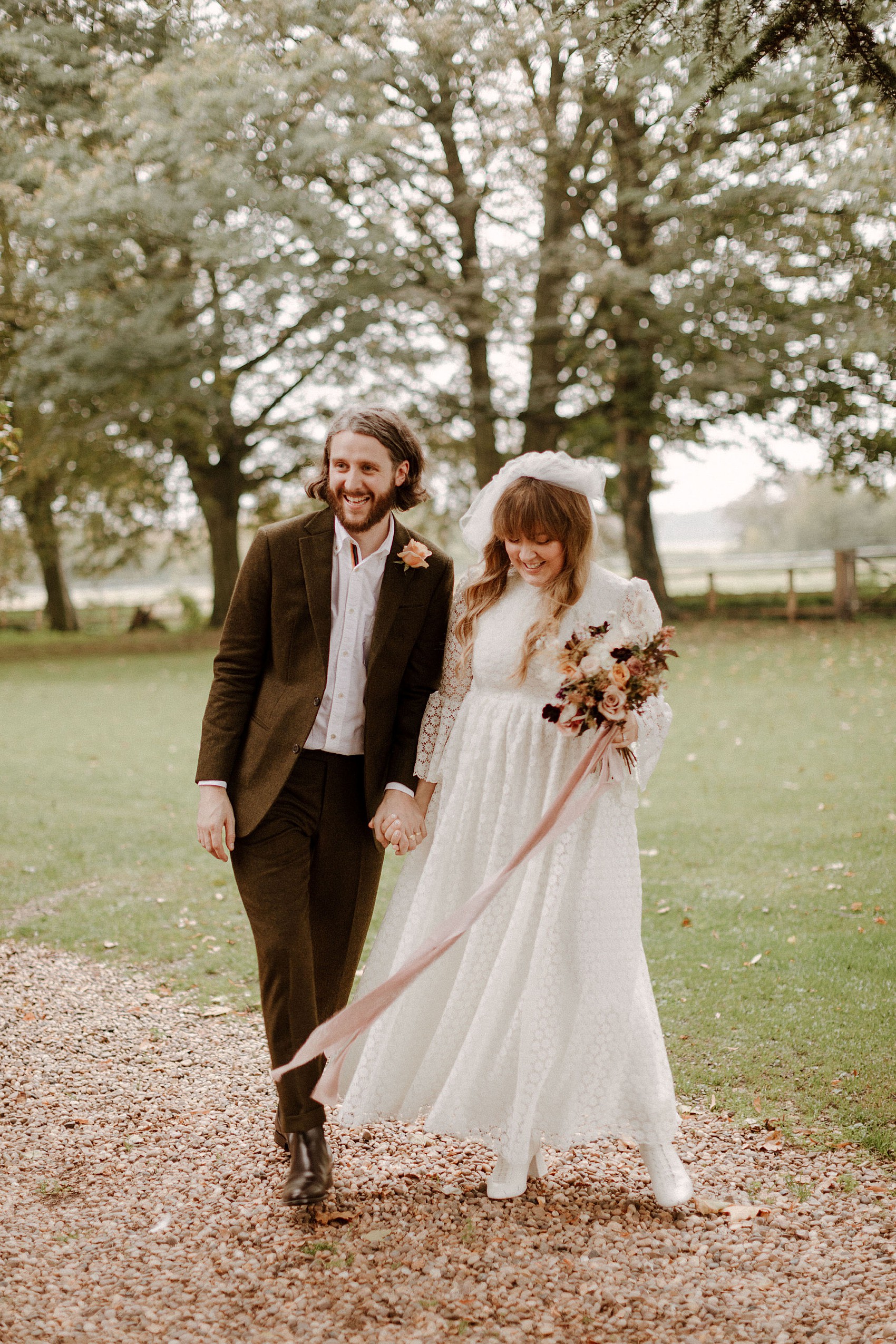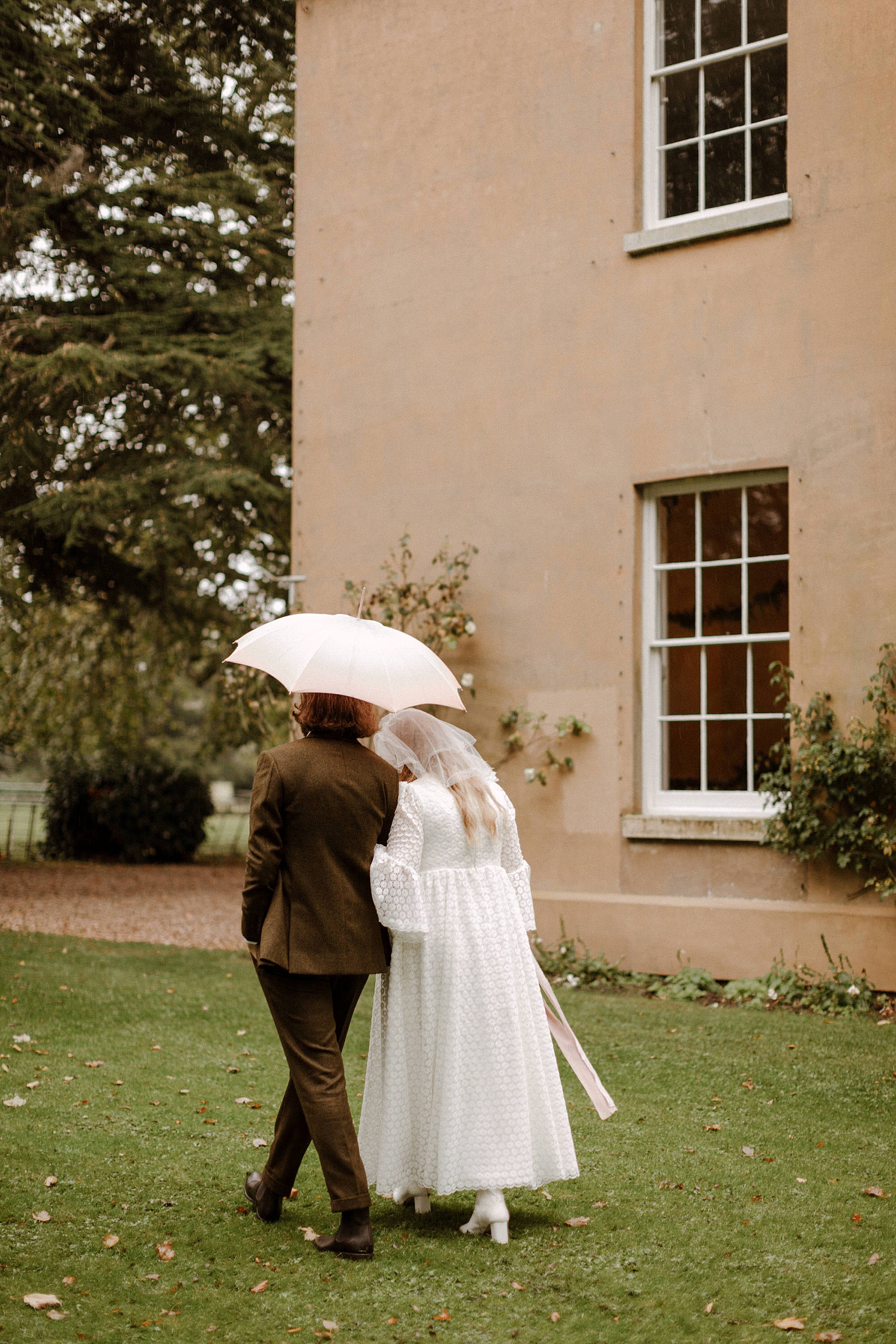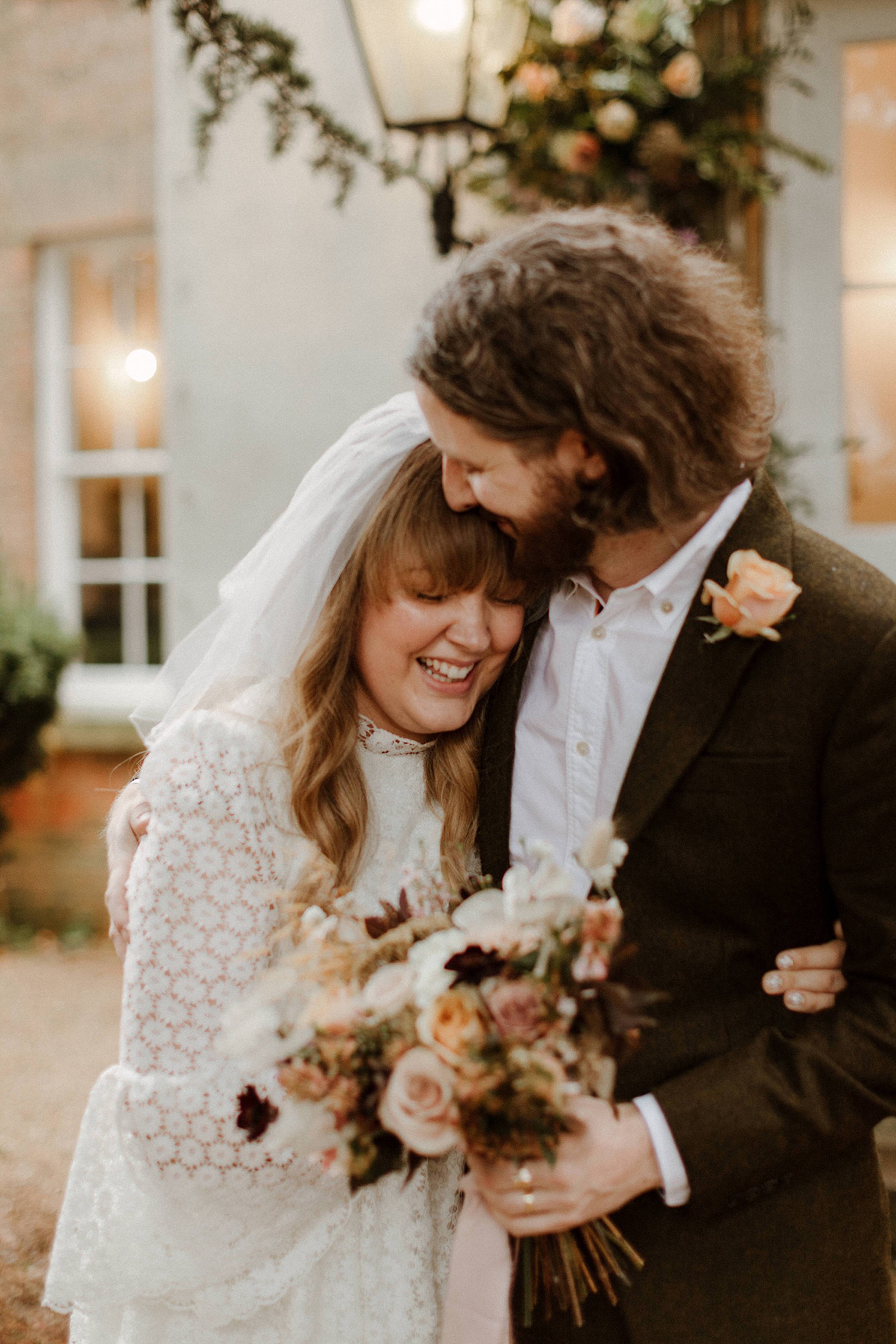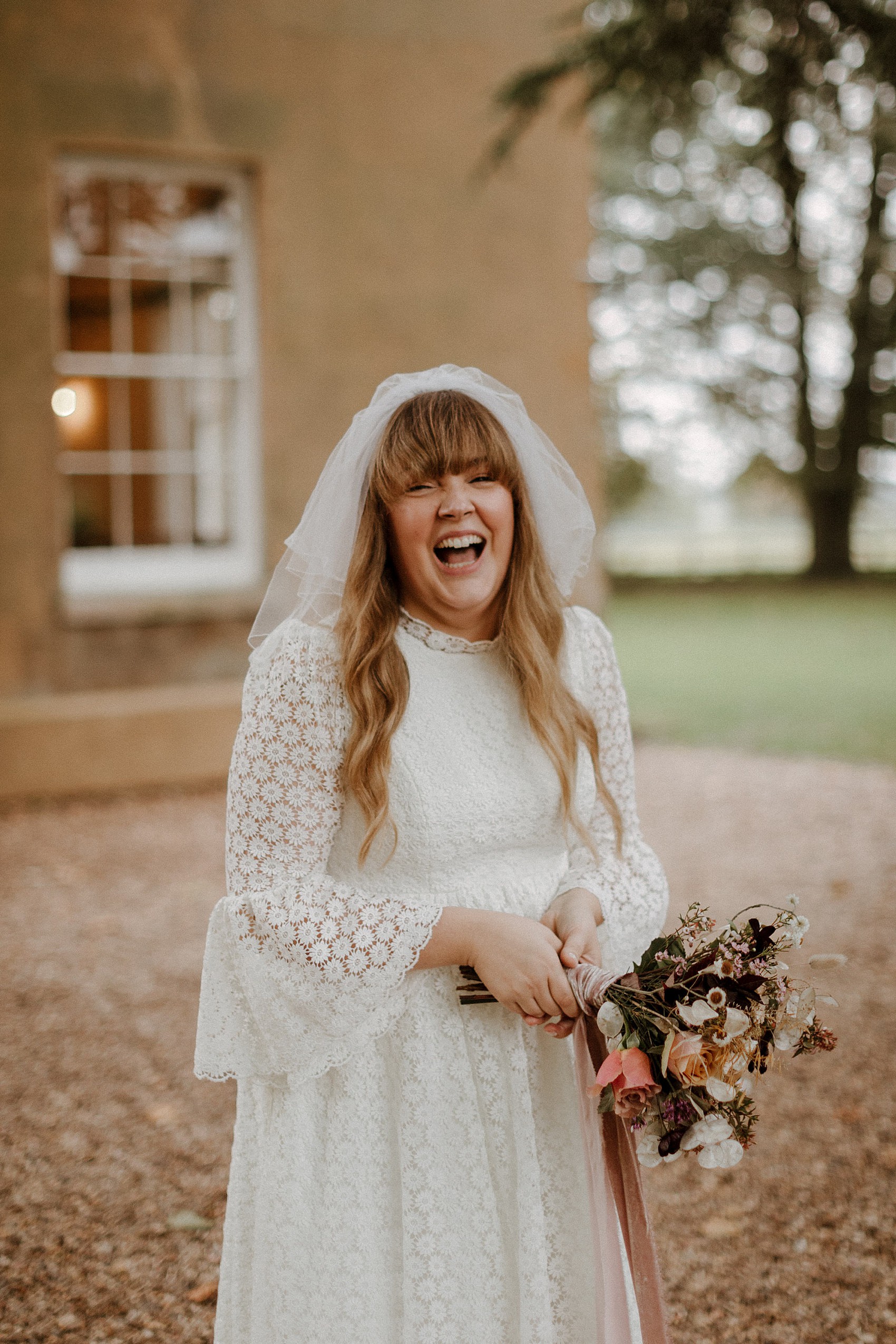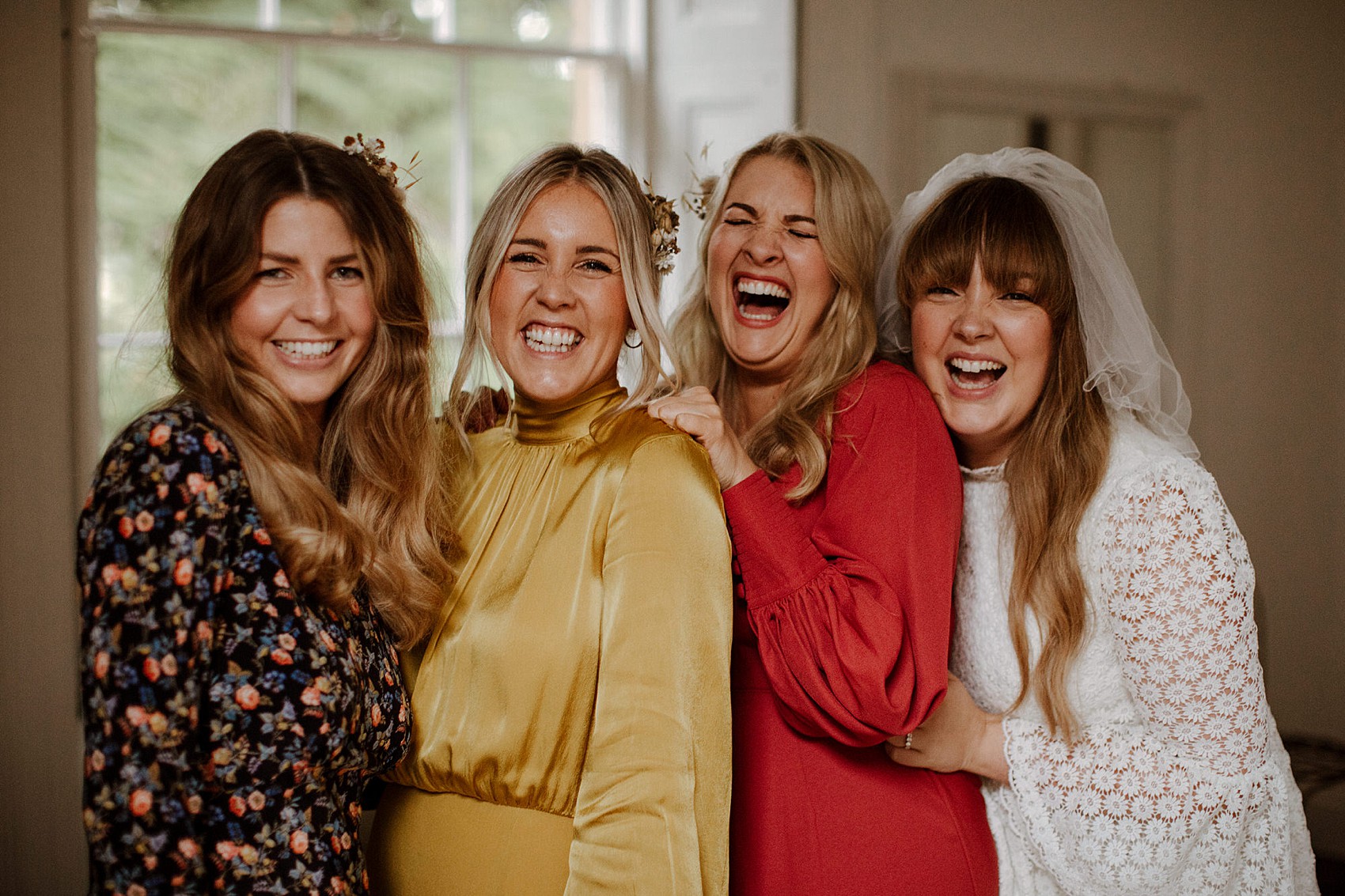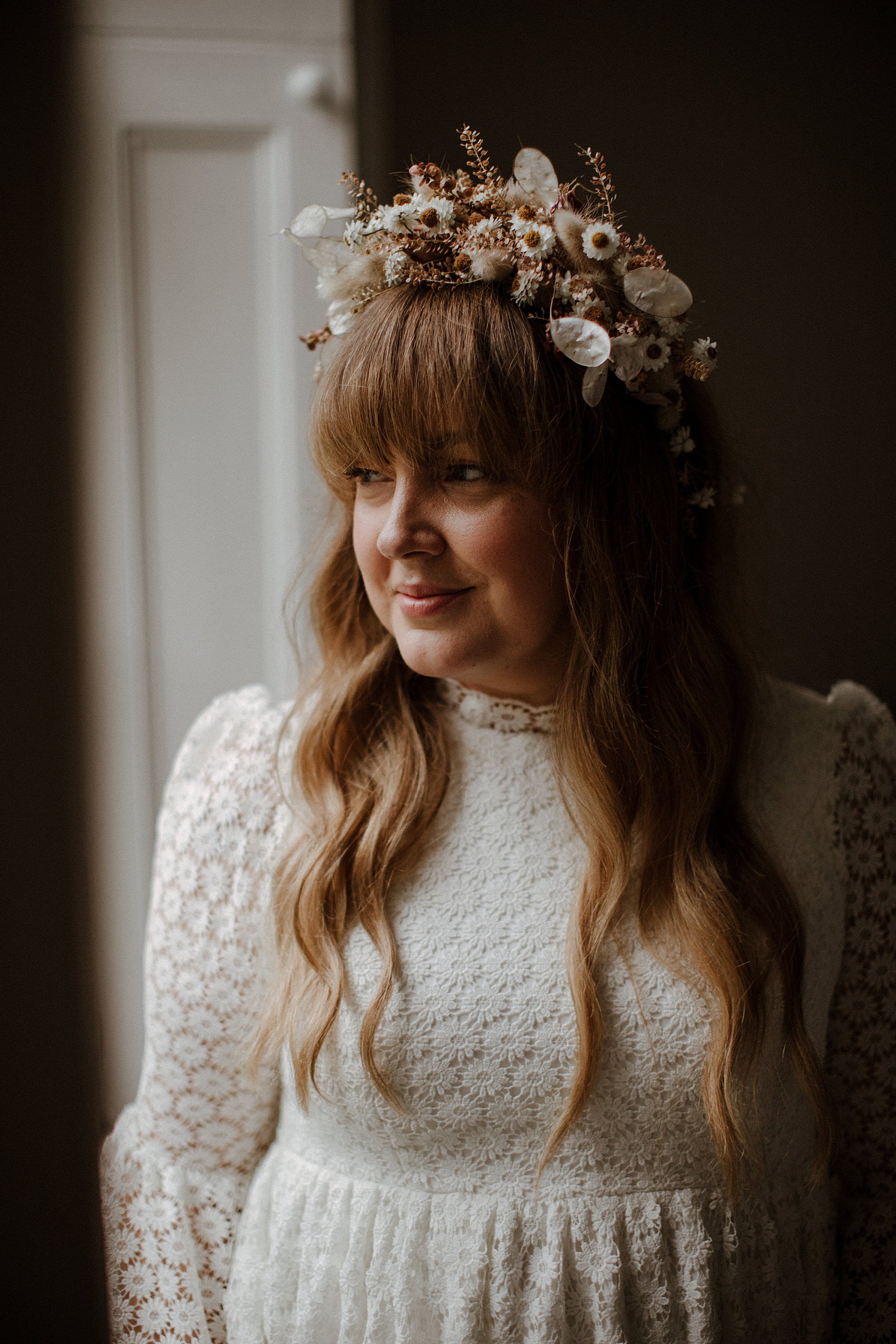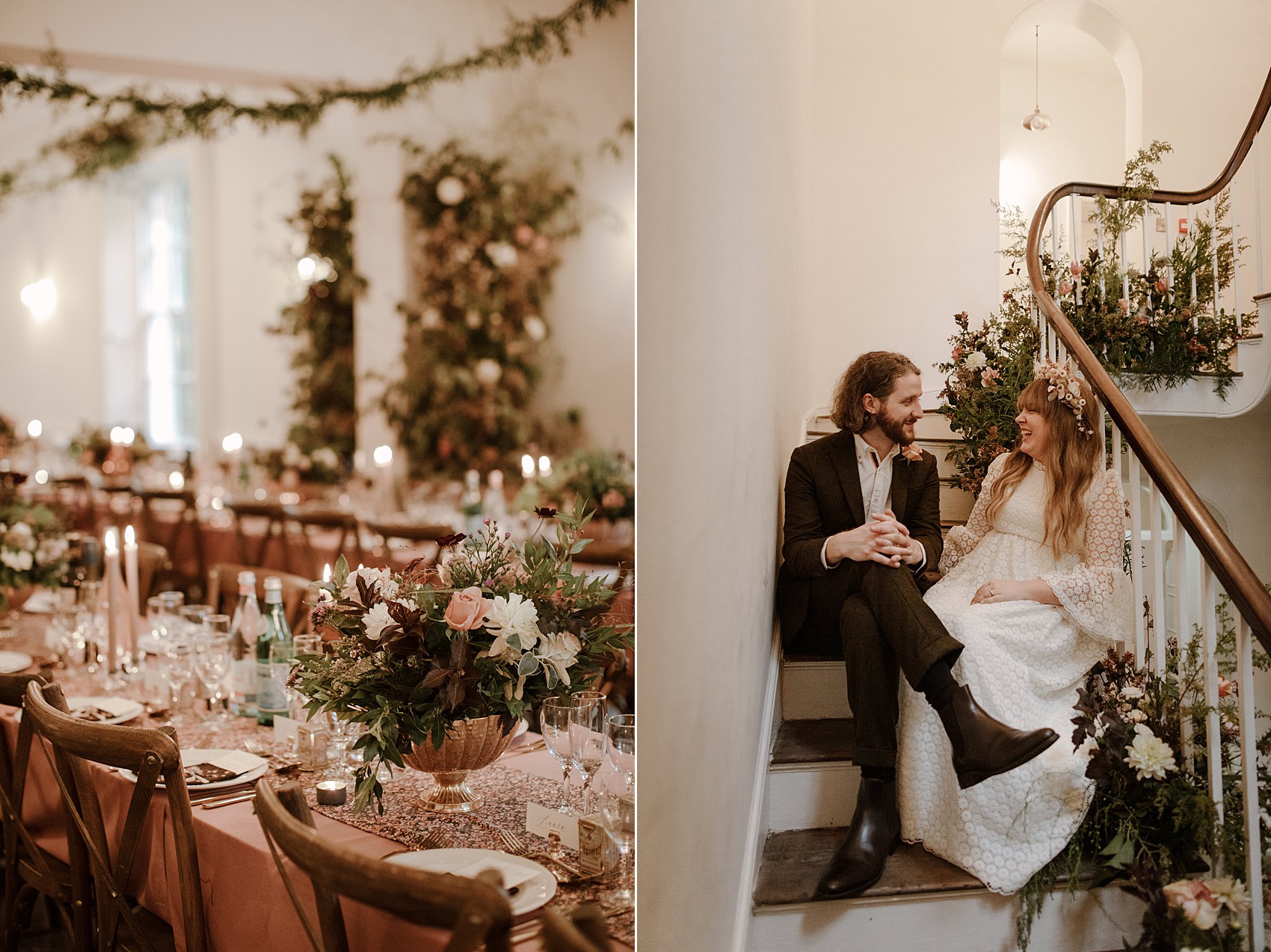 Angela Mugnai Events (formerly Italian Eye) worked together with the couple, and styled Aswarby beautifully for the occasion. In the reception rooms, the elegant neoclassical interior was decorated with swags of greenery suspended from the ceiling, and more spectacular, wild floral arrangements by Coco in the Country.
"We wanted the flowers to make the statement, I particularly love the green garlands the florist made. One thing I really wanted was Liberty print somewhere, and in the end we went for table runners and napkins."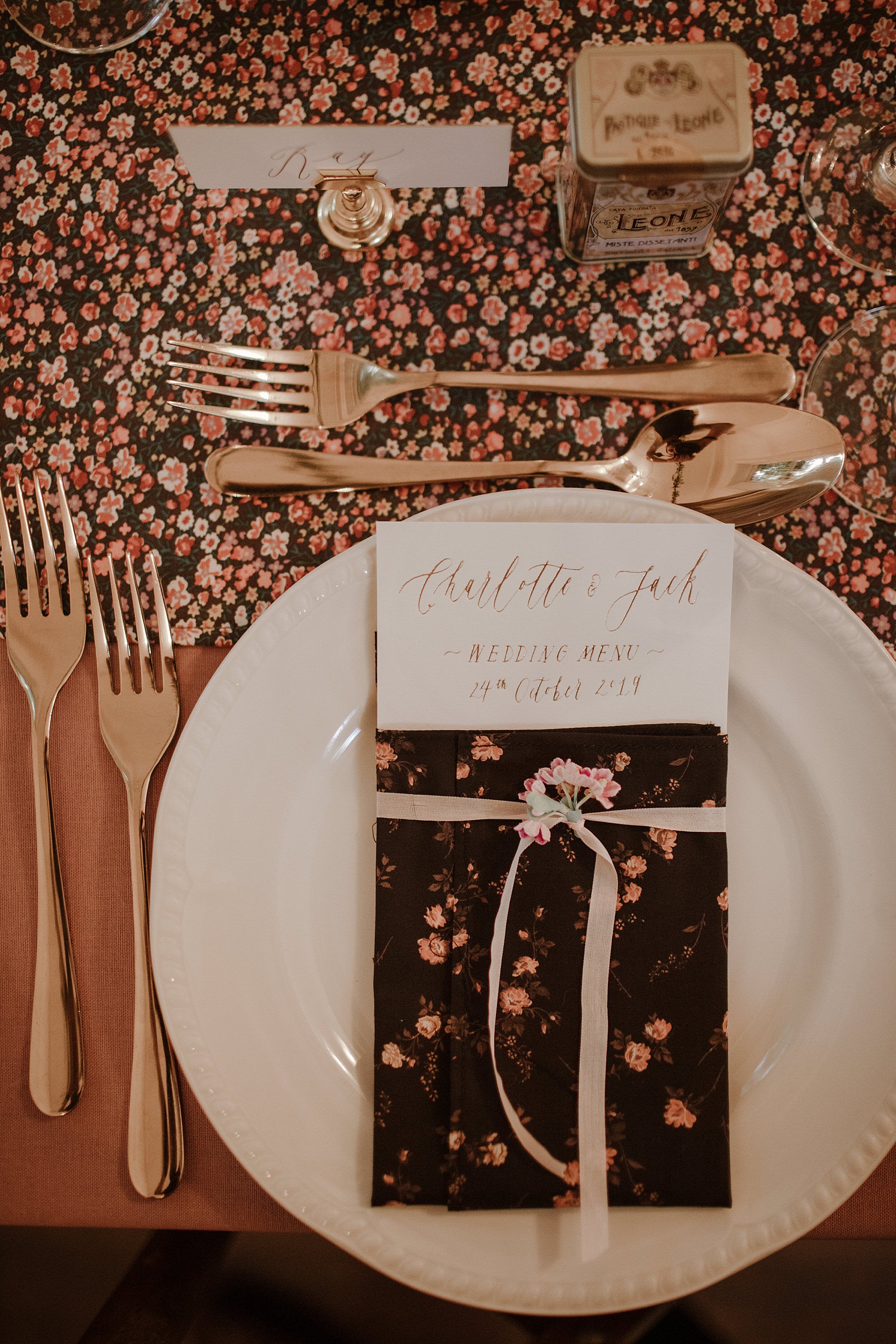 "Angela went to Liberty one day and FaceTimed me all the options (we needed 14m and they didn't have everything available in that quantity). It came together beautifully and lots of the guests took the napkins home as favours, which I thought was so lovely."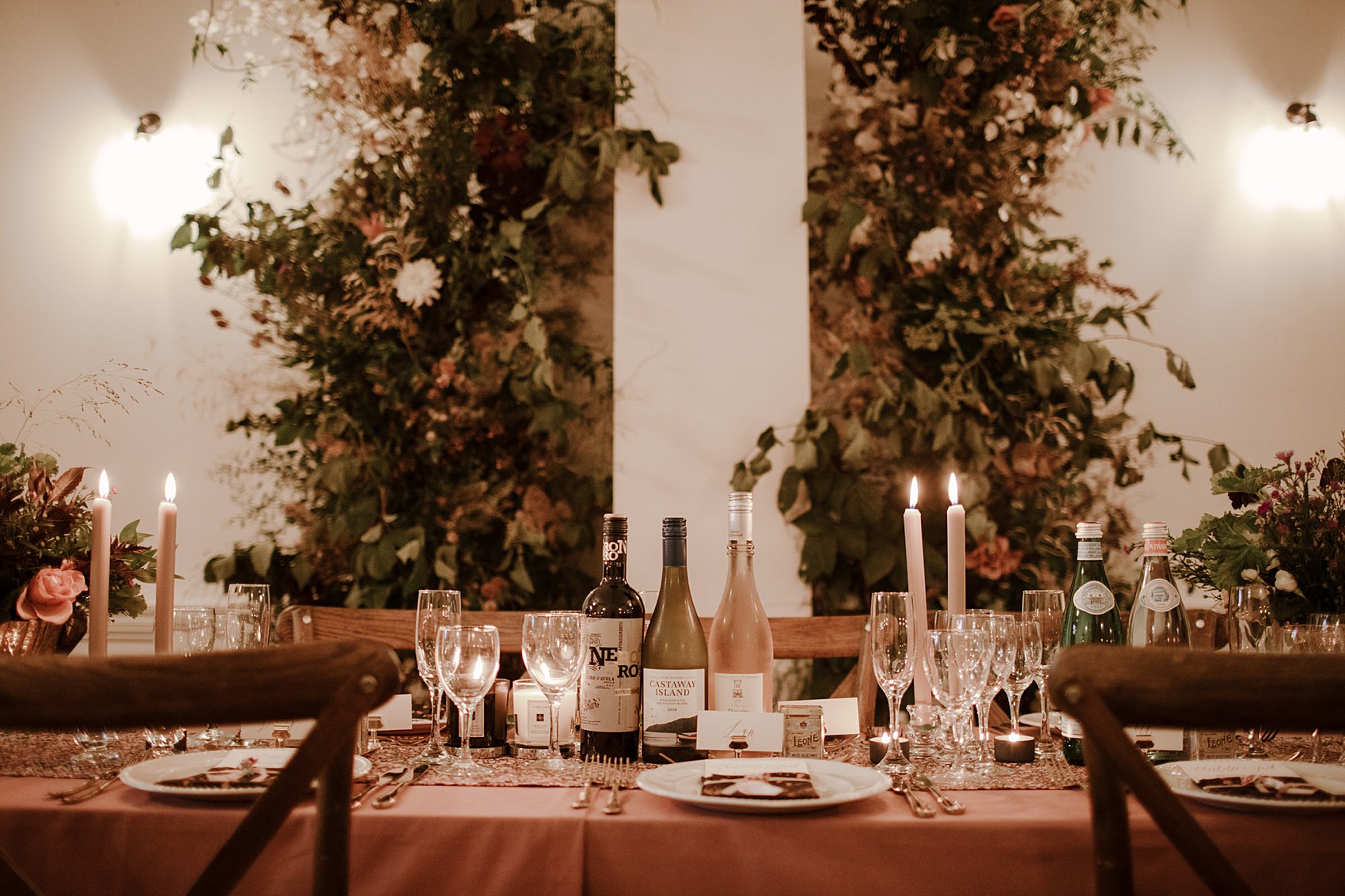 The Liberty print runners and napkins looked lovely alongside the dusky pink tablecloths, with the tables decorated with more flowers and softly flickering candles. Next to the gracefully hand lettered place cards were favours of Italian sweets from Pastiglie Leone.
"Our caterer Rosie Dicker was amazing. I find a lot of wedding catering very disappointing, so was thrilled when I found Rosie. She sourced seasonal food that tasted so yummy, all the guests were praising it."
"During the drinks after we were married, there were loads of canapes, then we had Burrata to start, followed by lobster mac 'n' cheese, and then served our cake for dessert."
The cake was a total showstopper: Five tiers of blush pink buttercream iced loveliness, made by Cake by Caroline Debonnaire. Can you believe the flowers are sugar and not real, aren't they incredible?!
"Caroline made all the flowers on the cake by hand, they are sugar flowers. It was chocolate and carrot cake layers, covered in a thin white chocolate layer, and then buttercream. It was so unique and grand, just how I wanted it."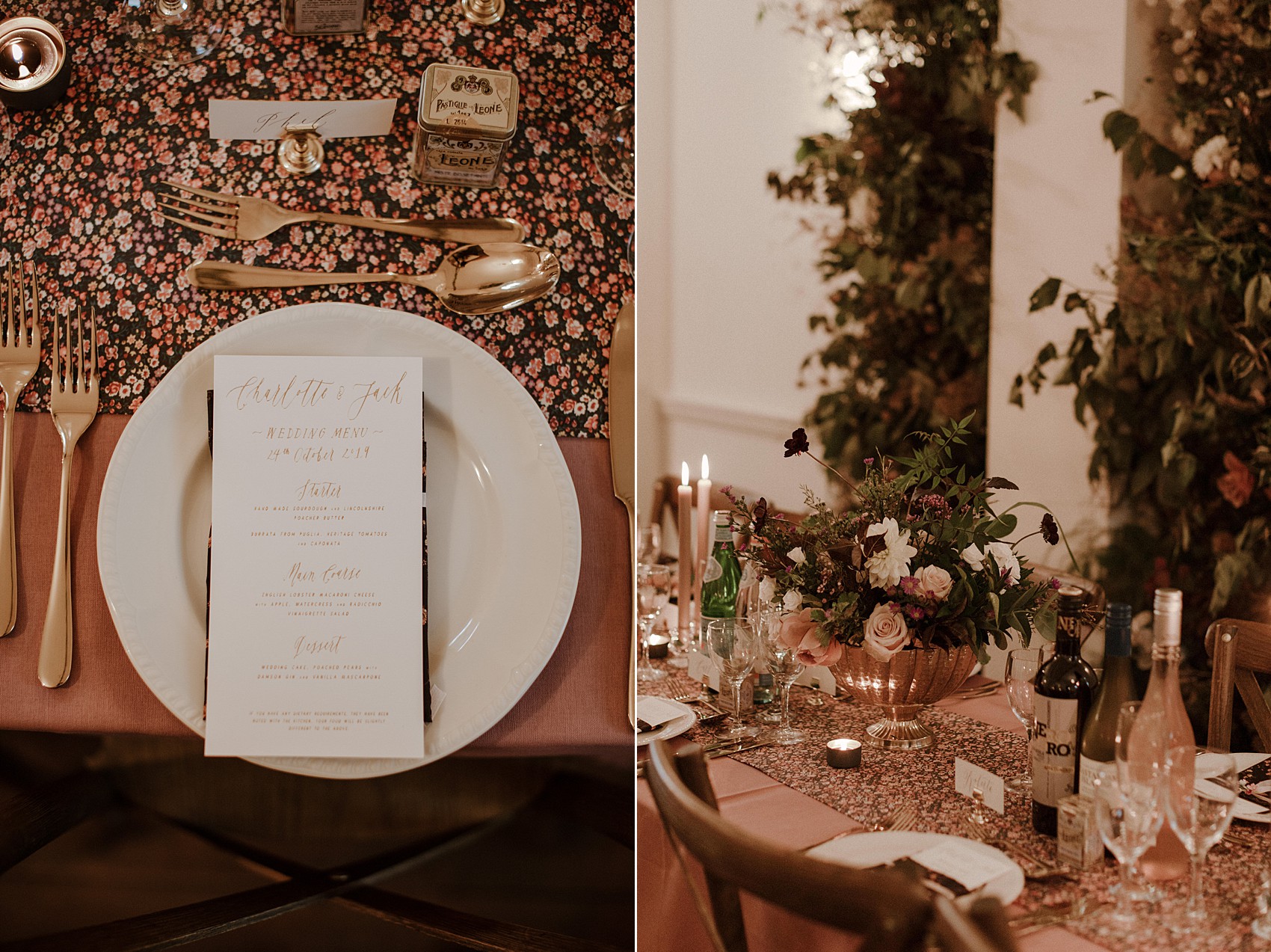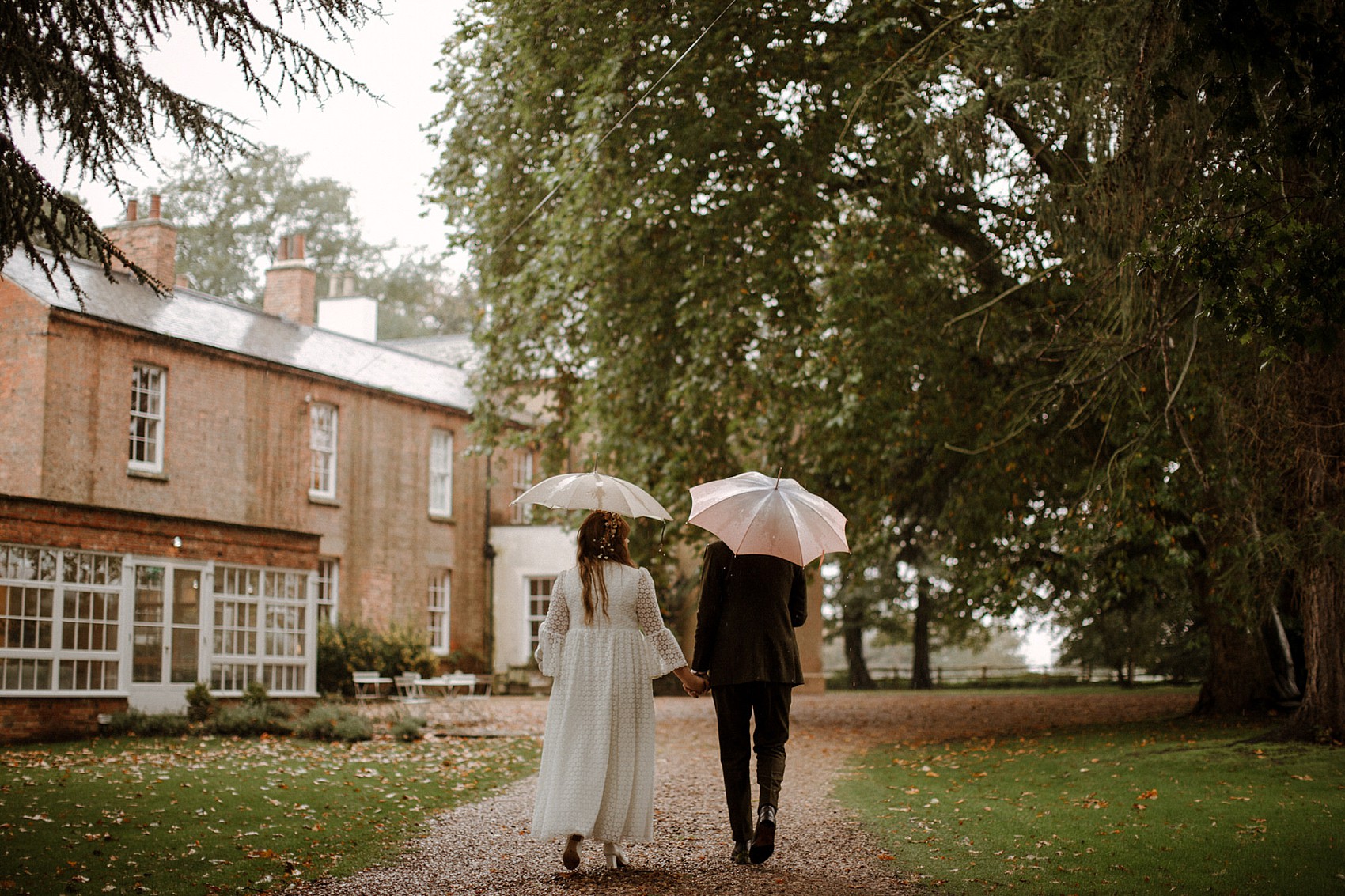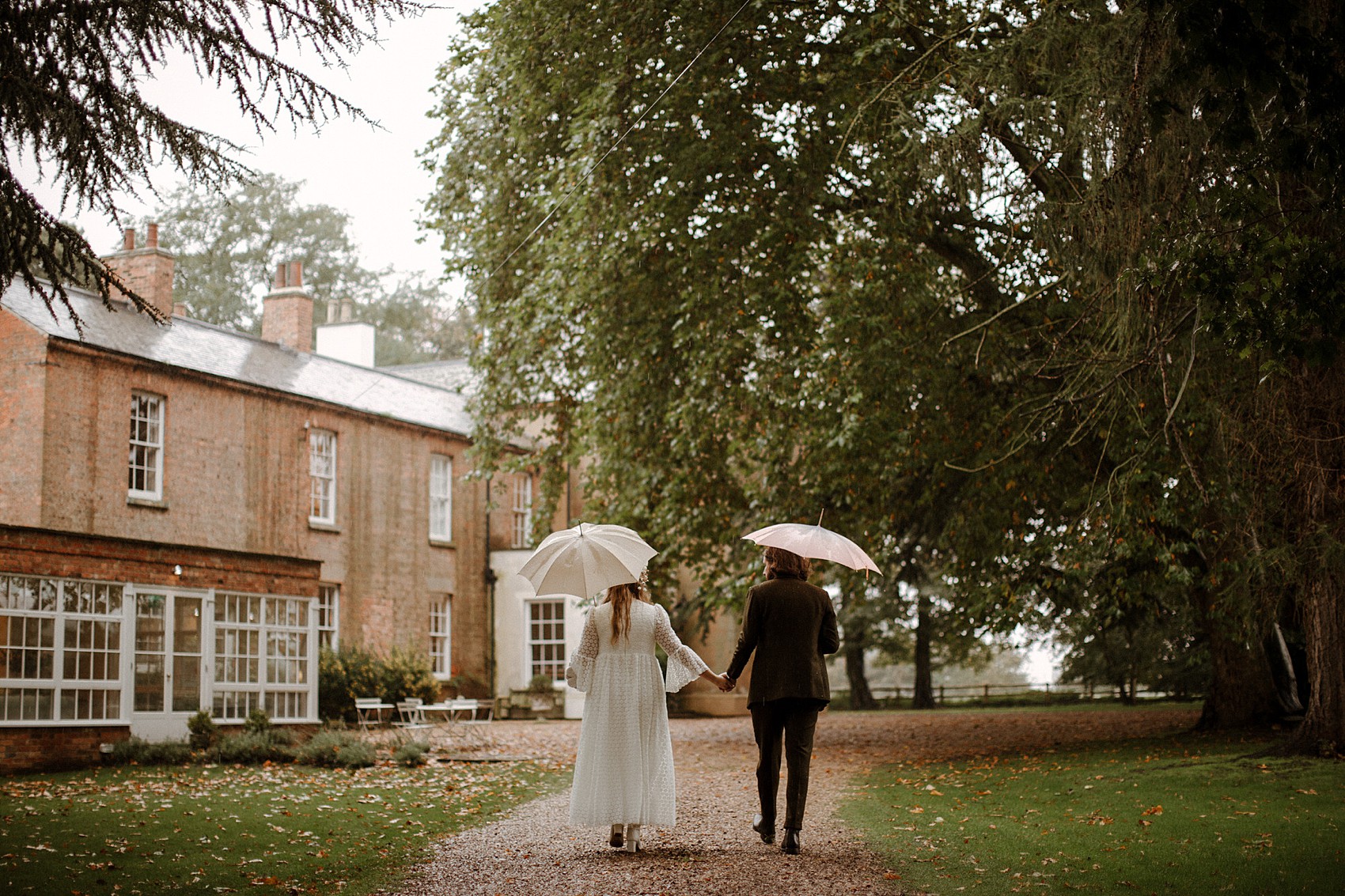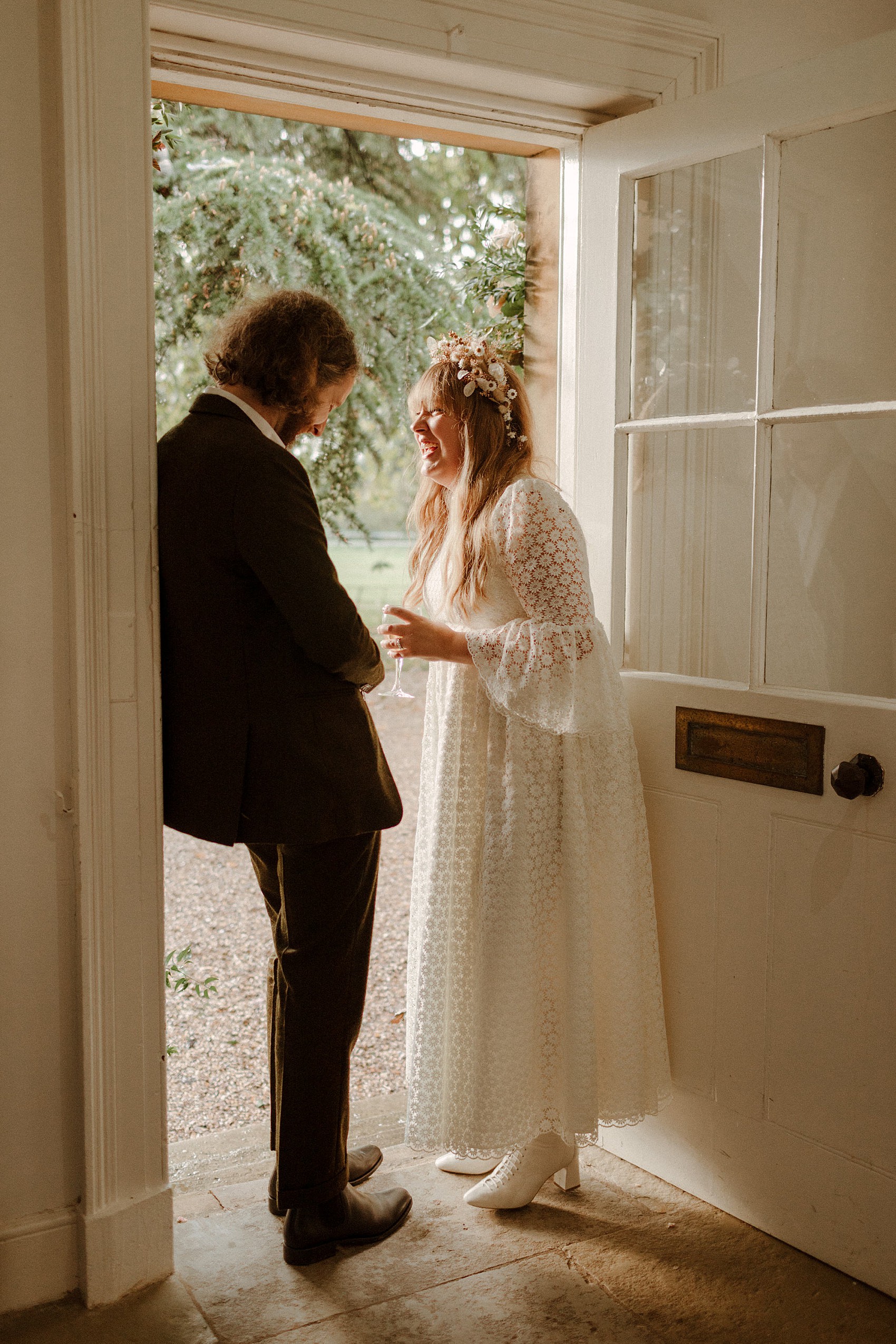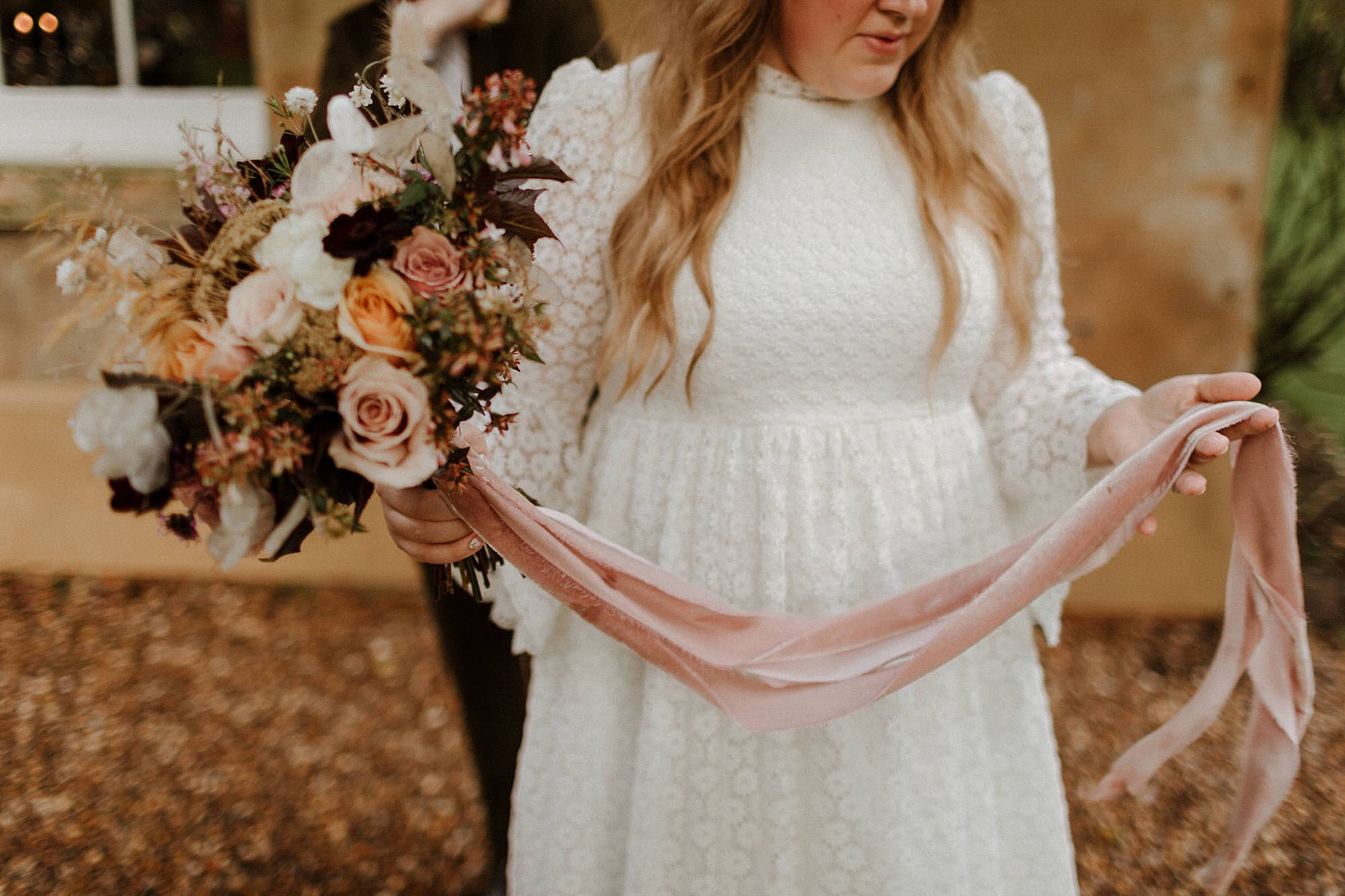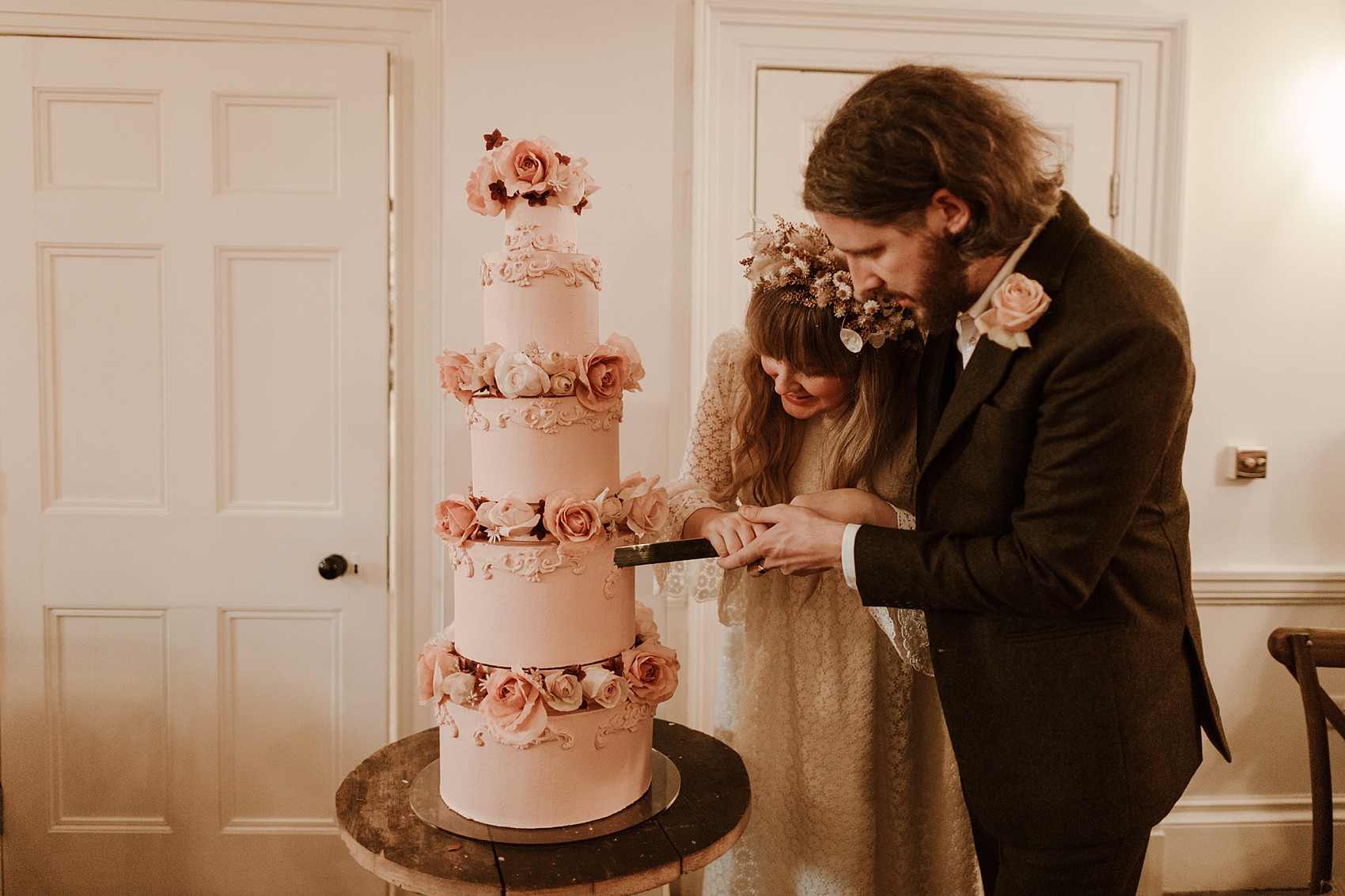 After the cake had been cut and speeches enjoyed, it was time for a singalong around the piano. Jack Watkins had played during the drinks reception, and returned for a post-dinner set. This was Charlotte's favourite part of the day.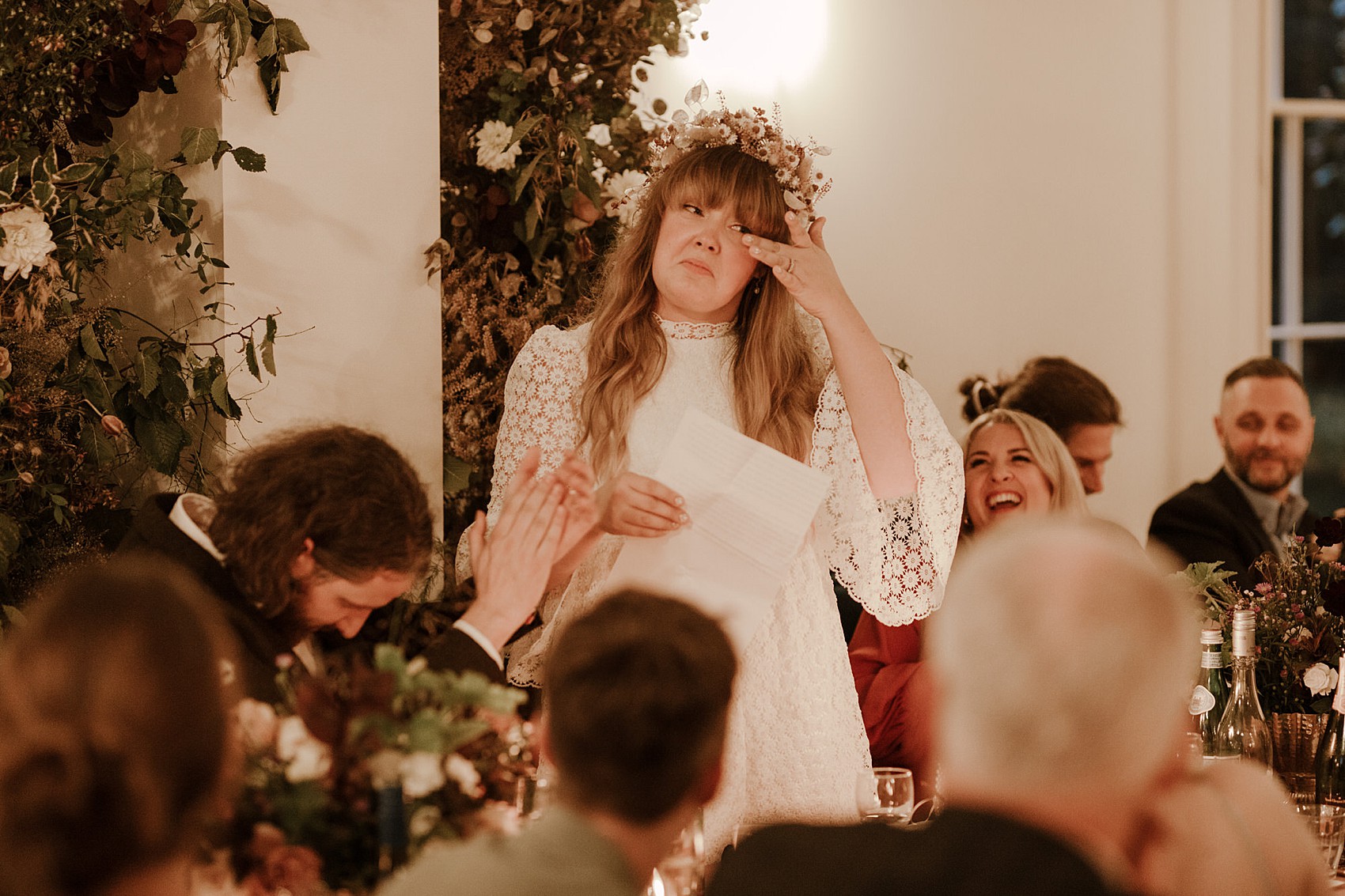 "I hired a white piano from Sherwood Phoenix because that's what Elton would do, right?! I wasn't sure if it was going to be awful, but everyone got in the spirit, and by the end when it was time for Bohemian Rhapsody the noise was incredible and everyone was singing."
As a nod to the DJ booth where they first met, Charlotte and Jack's first married dance together was to Strangers in the Night.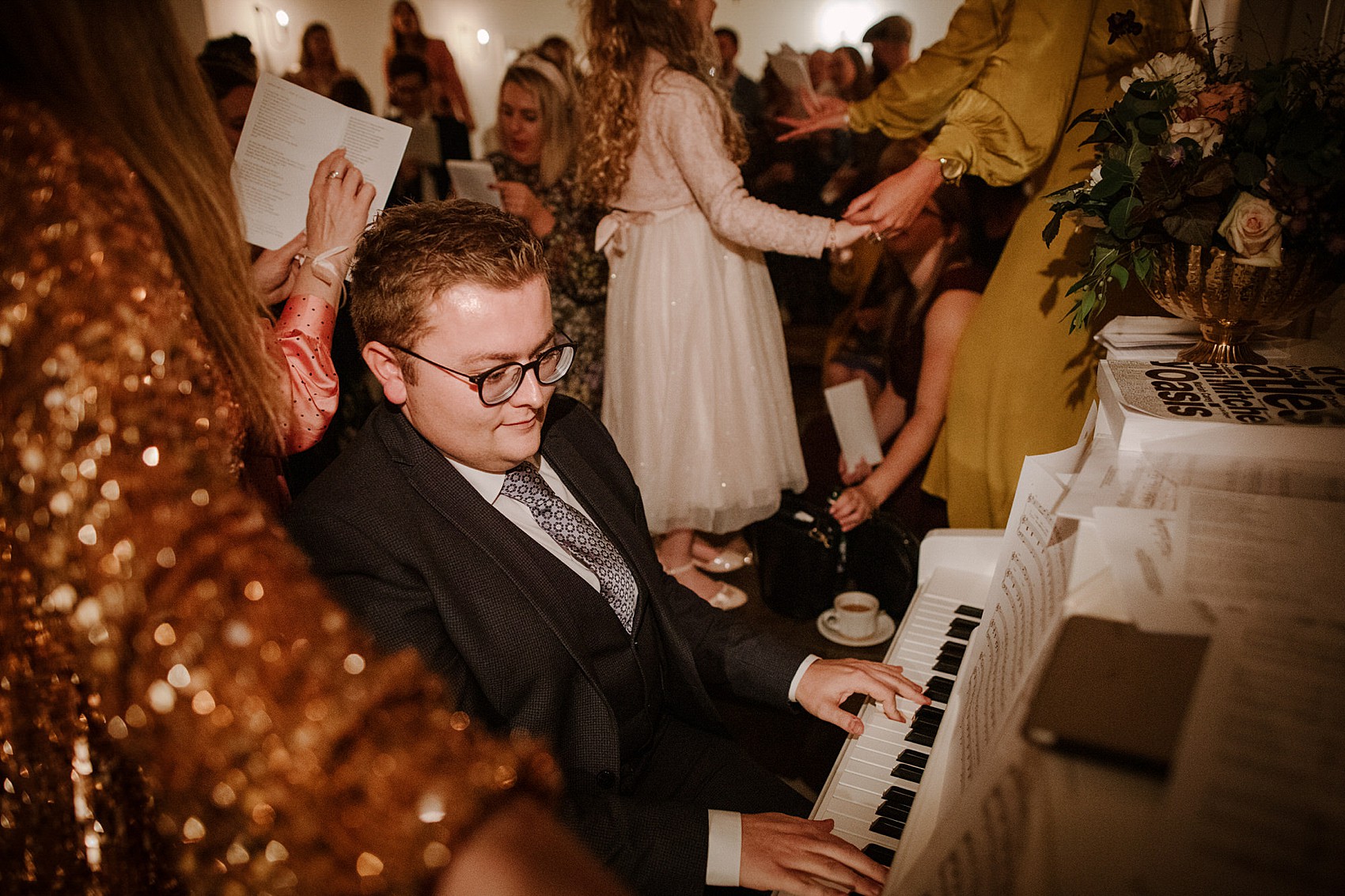 Words of Wedded Wisdom
"Our original budget was £18,000 and we definitely exceeded that. We paid for bits here and there, and still have a chunk to pay off. Considering the current climate, it seems a bit silly, but we are so happy we were able to get married last year. We got our wedding video back recently, and it seems so strange everyone hugging and touching. Really happy we did everything we did."
"Do not please anyone but yourself and your partner, it's your day and everyone needs to get on board and support you. And do not think you have to do something because it's trendy. Always keep going back to 'Is this true to us?' If it isn't, it's so easy to get swept up, get rid of it."
"We wanted everyone to feel comfortable and included, for it to be fun and decadent, which it really felt like it was. We didn't invite many couples, unless we knew both of them, and it really worked well.  We mainly did this because of capacity, but we ensured no-one was coming alone and didn't know anyone. In that scenario we'd invite them as a couple, and this really added to the comfortable / familiar atmosphere."
Charlotte and Jack, thanks a million for sharing your day with us, and for all the wonderful words throughout. Thank you to Sugar 8 for their beautiful Super 8 film, and to Gillian and Chris from The Curries for their superb images. Do make sure you take a look at more of their work on our pages right here.
With love,
Laura