How do you fancy a two day wedding extravaganza at a breathtakingly beautiful country house? Sounds good, right?!
The rural hideaway in question is wonderful Little Book member Dewsall Court, near Hereford; a seventeenth century house and estate lovingly restored, and now playing host to celebrations and parties of all kinds. Happy couple Jess, an Economic Development Consultant, and Xav, a Strategy Consultant, were married there on the 27 and 28 July 2019.
Lucy Little Photography

+ Follow
"We always assumed that we would get married back in Cambridge, where we met at university. However, after visiting Dewsall we immediately knew it was the venue for us."
"The house and the grounds are absolutely beautiful, and we loved how the team at Dewsall were totally flexible in allowing us to create a wedding that felt personal and unique."
"We didn't hire an event planner, but Laura Deakins, our Event Manager at Dewsall was exceptional in helping us plan our wedding – she was an absolute star!"
Jess and Xav spent a whole weekend with their loved ones, from a welcome dinner on the Friday, their ceremony and reception on Saturday, and then a Hindu ceremony and dinner on Sunday.
"It was important for us to celebrate both of our family heritages. Xav is half Indian, and so we decided to have a two-day celebration, with a traditional wedding on the Saturday followed by a Hindu celebration on the Sunday."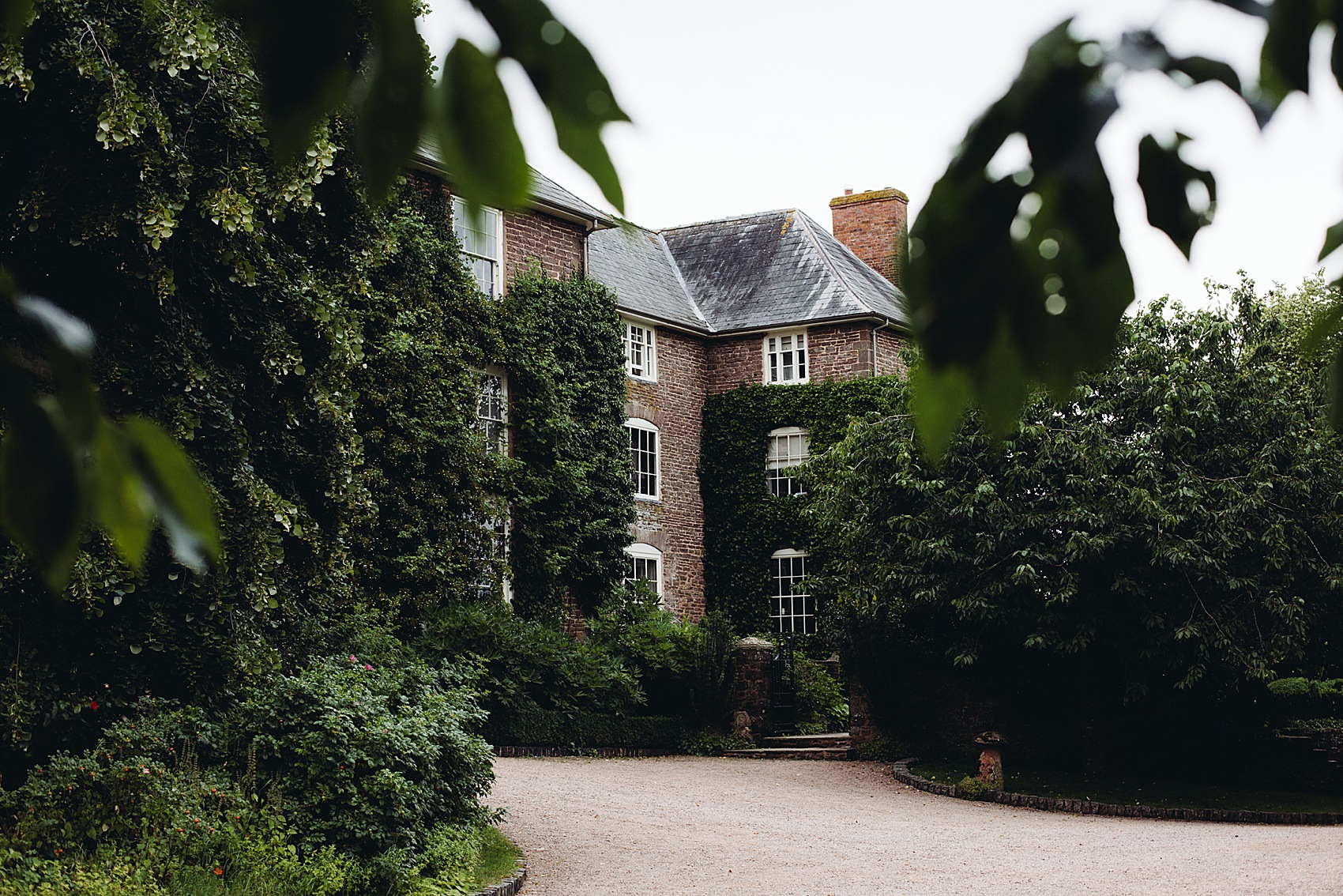 Lovely hair and make-up for Jess, her mum and bridesmaids over both days was by Jennifer's Dressing Table. On the Saturday, Jennifer styled Jess' hair in a pretty braided updo, which was adorned with colourful fresh flowers.
"I wore beautiful pearl earrings and a pearl bracelet, which I bought from Rachel Jeffrey. She is a fantastic jeweller based close to my family home in Harpenden."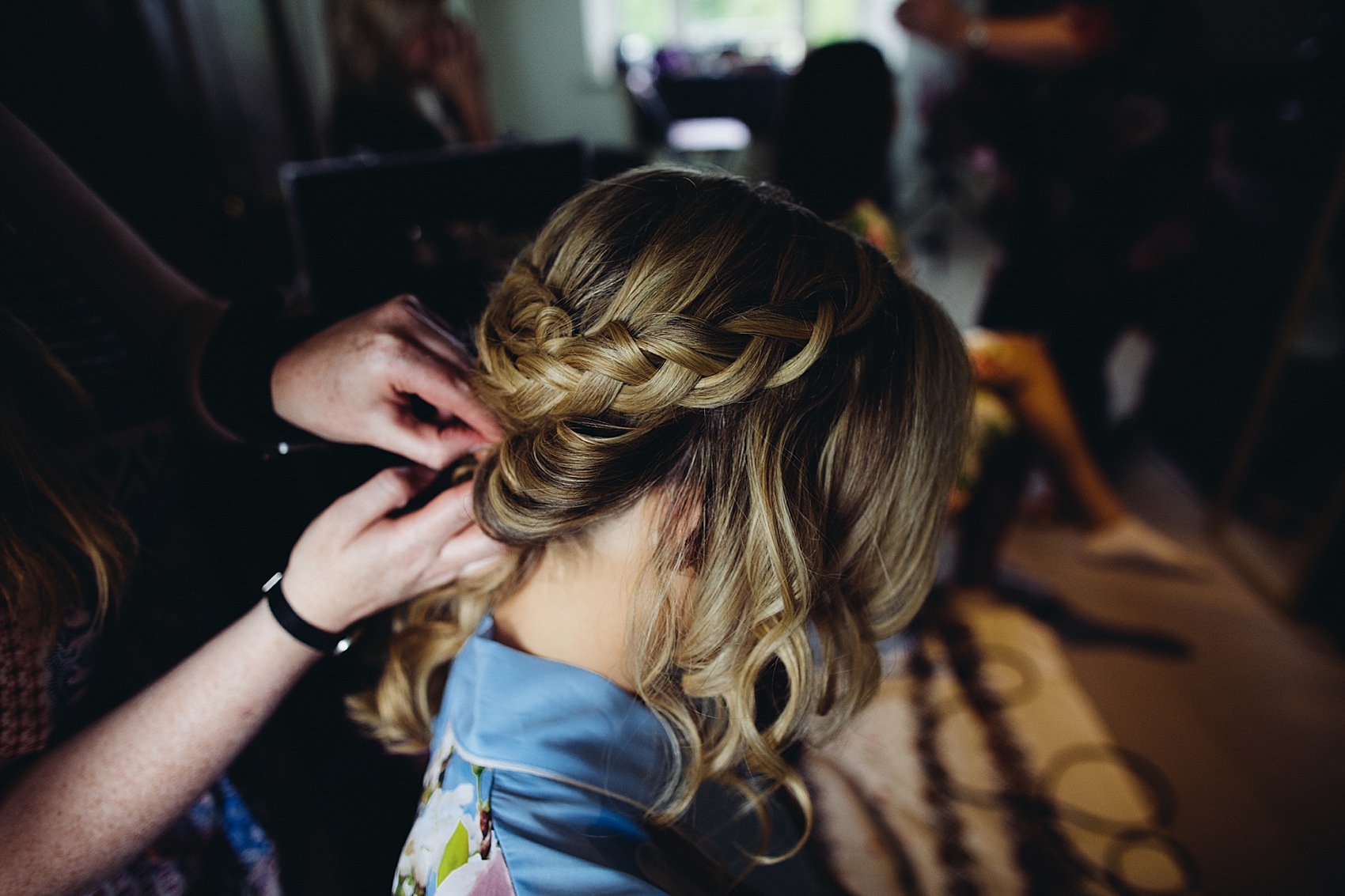 Jess' dress design by the brilliant Katya Katya London gives a lovely nod to the elegant styles of the mid to late 1900s, with its delicate scalloped edged lace, secured with dainty buttons, and gathered at the waist with an embellished silver ribbon.
"I knew I wanted a Katya Katya wedding dress after having seen them at the National Wedding Show. I visited their store in Chelsea afterwards. Their store manager, Dorz, was really helpful."
"I tried on lots of styles but couldn't find one that quite suited me, and as we were leaving, my mum picked up one of the only styles I hadn't tried on – this ended up being the dress!"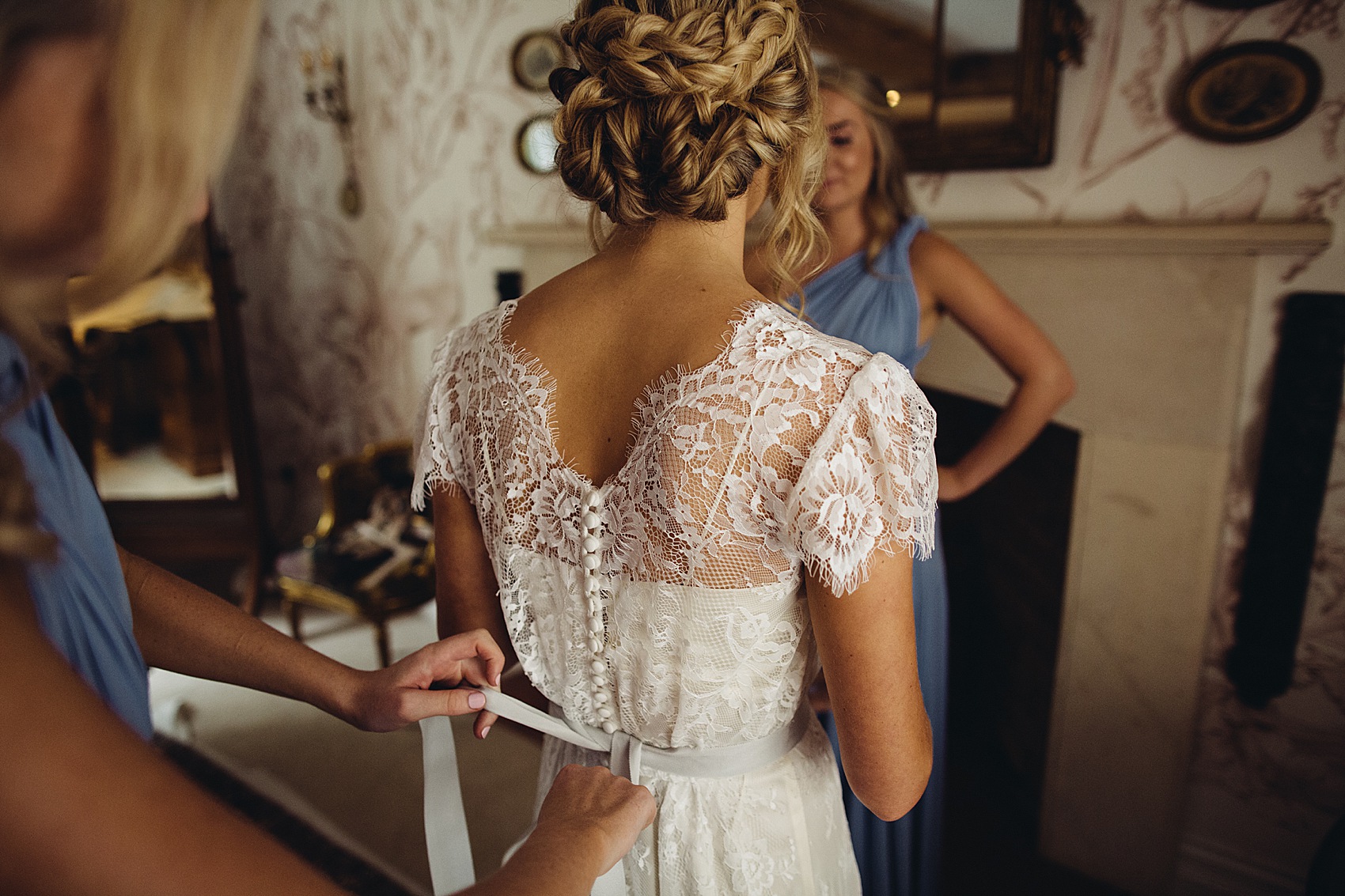 "I went to only two other bridal shops (both that day) but knew the Katya Katya dress was the one, and so went back and got it the same day. All in all a very un-stressful wedding dress experience! It helped that I had a clear idea of what sort of style I wanted before going shopping, as I knew roughly what I was looking for."
"I chose my Katya Katya dress as I love lace, and I love how delicate the dress is. I didn't think I would want colour on my wedding dress, but I thought the belt added an unusual and vintage style touch."
"I also loved the back of my dress and the fact it had a train that was beautiful but manageable at the same time. My dress was so comfortable and light to wear, which was another important point for me as I wanted to be able to dance."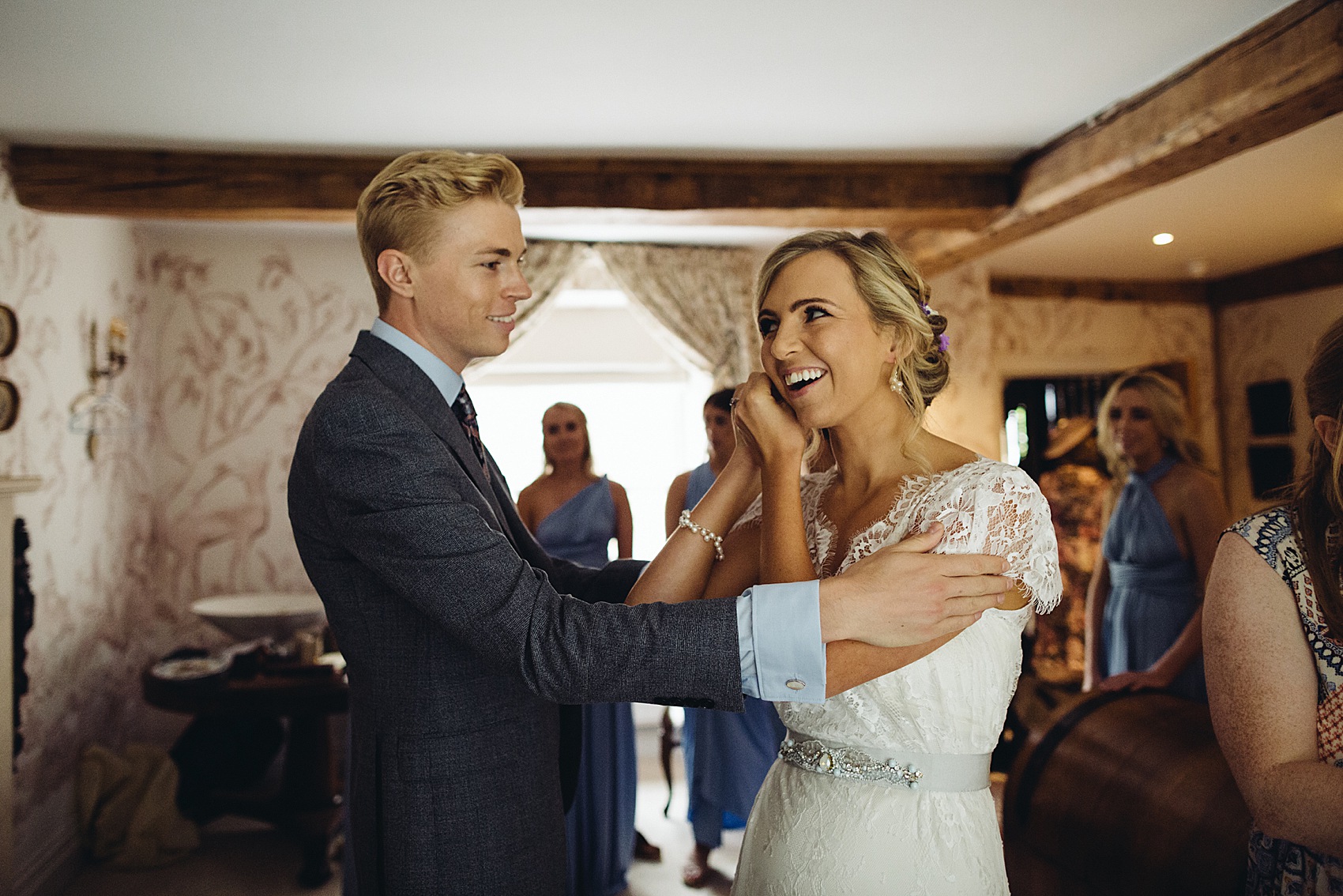 Jess gifted each of her bridesmaids a different pair of blue earrings to wear with their wedding day outfits, too.
"We met in our first year at university and started dating not long after. Xav proposed on a beach while we were on holiday in Colombia. It was completely unexpected – so much so that I thought it was a joke when he got down on one knee!"
"We originally planned to have a two year engagement, but got so excited after having visited Dewsall, we realised that we didn't want to wait that long (and which certain grandparents and family members strongly agreed with!). We were engaged for just over a year before our wedding."
Jess wore Marc Jacobs' Daisy perfume, as it was the scent she was wearing when she and Xav first met, and on her feet, she wore glitter sandals from Carvela.
"They were super comfy, and I loved that they were sparkly! I actually found shoe shopping the hardest part of wedding shopping. I tried on so many, and in hindsight I could barely see them under my dress!"
Xav wore a navy blue suit from Reiss, which he wore with a white shirt and cufflinks from T.M Lewin, and a blue floral print tie from Ted Baker. The Best Man and groomsmen wore matching suits hired from Moss Bros., and ties from T.M Lewin. I love how the ties didn't match, but still complemented each other beautifully with their different blue floral designs.
"I had six bridesmaids, so finding a dress everyone liked was always going to be tricky. Luckily we found Victoria Lou's multiway dresses. These were great, as the girls could wear them in whatever style they liked best. There is also an amazing colour selection."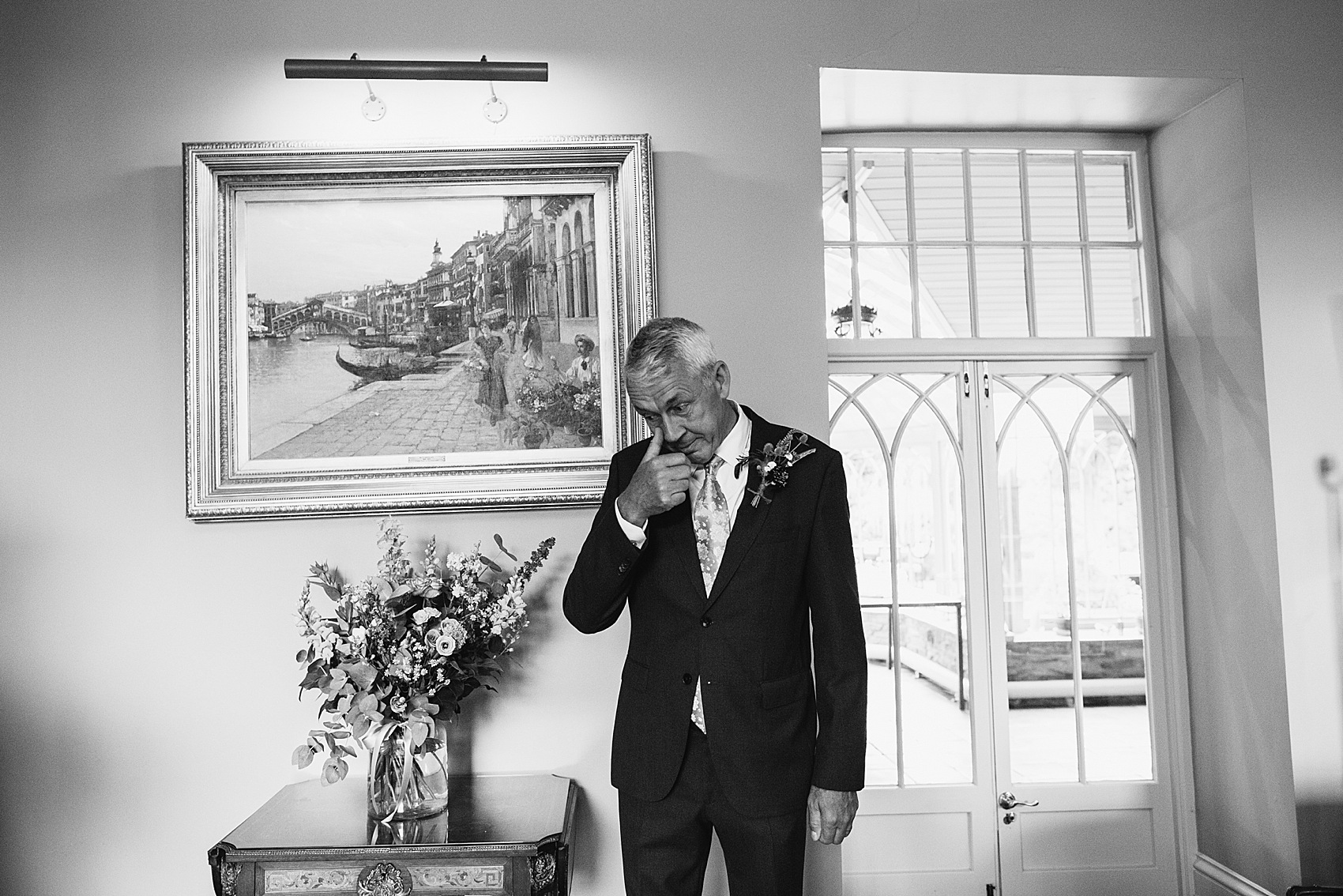 On Saturday, the couple chose to get married outside, but under the cover of canvas. The aisle was lined with pots of lavender, and the carpet scattered with it, too, which made for a lovely, scented walk down it for Jess and her dad.
They were serenaded by Jess' friend John, singing Ombra mai fu from Handel's opera Serse, with piano accompaniment from Xav's cousin Sophie.
"Walking down the aisle was an amazing highlight. I didn't fully appreciate how emotional it would be to see everyone you love standing in front of you, with Xav waiting at the front until it actually happened, and it was lovely to walk down with my dad."
"Rev. Carl Attwood officiated our wedding on the Saturday. We tailored our entire service. As our ceremony was outside, we had done the legal part of signing the register the night before, and Carl undertook a church blessing."
"This meant we were able to tailor the service as we liked, and this was wonderful in making it personal to us."
Wedding rings were chosen at Hatton Garden in London (jeweller details not provided, sorry) and Jess and Xav also included readings in their ceremony, too, as well as the evening before at their legal ceremony.
"We chose an extract from The Amber Spyglass by Phillip Pullman. Xav picked this reading as it is from one of our favourite books when we were young. As well as being a beautiful passage, it meant a lot to Xav, as he has fond memories of reading the books with his Mum."  
The second reading was the beautiful poem Nuptials, by John Agard.
"I love this reading as I like how it is set in nature, which seemed fitting when we had our ceremony outdoors, and I think the symbolism is beautiful. We had the lines 'Two separate footpaths dreaming of a common peak' inscribed in our wedding rings."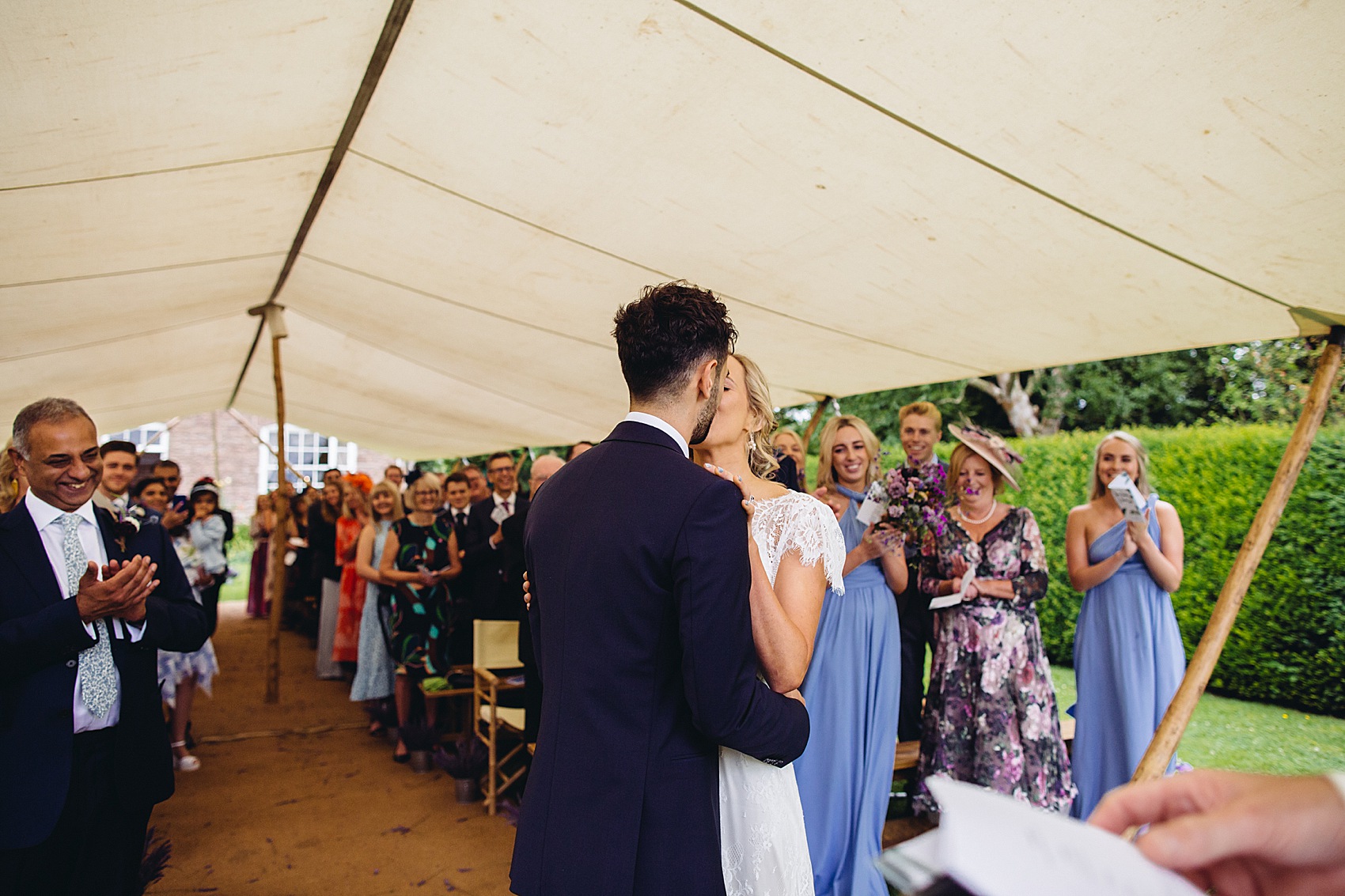 "At the signing of the register, which we did the night before our wedding, my mum read an extract from Captain Corelli's Mandolin, and Xav's dad an extract from Winnie the Pooh!"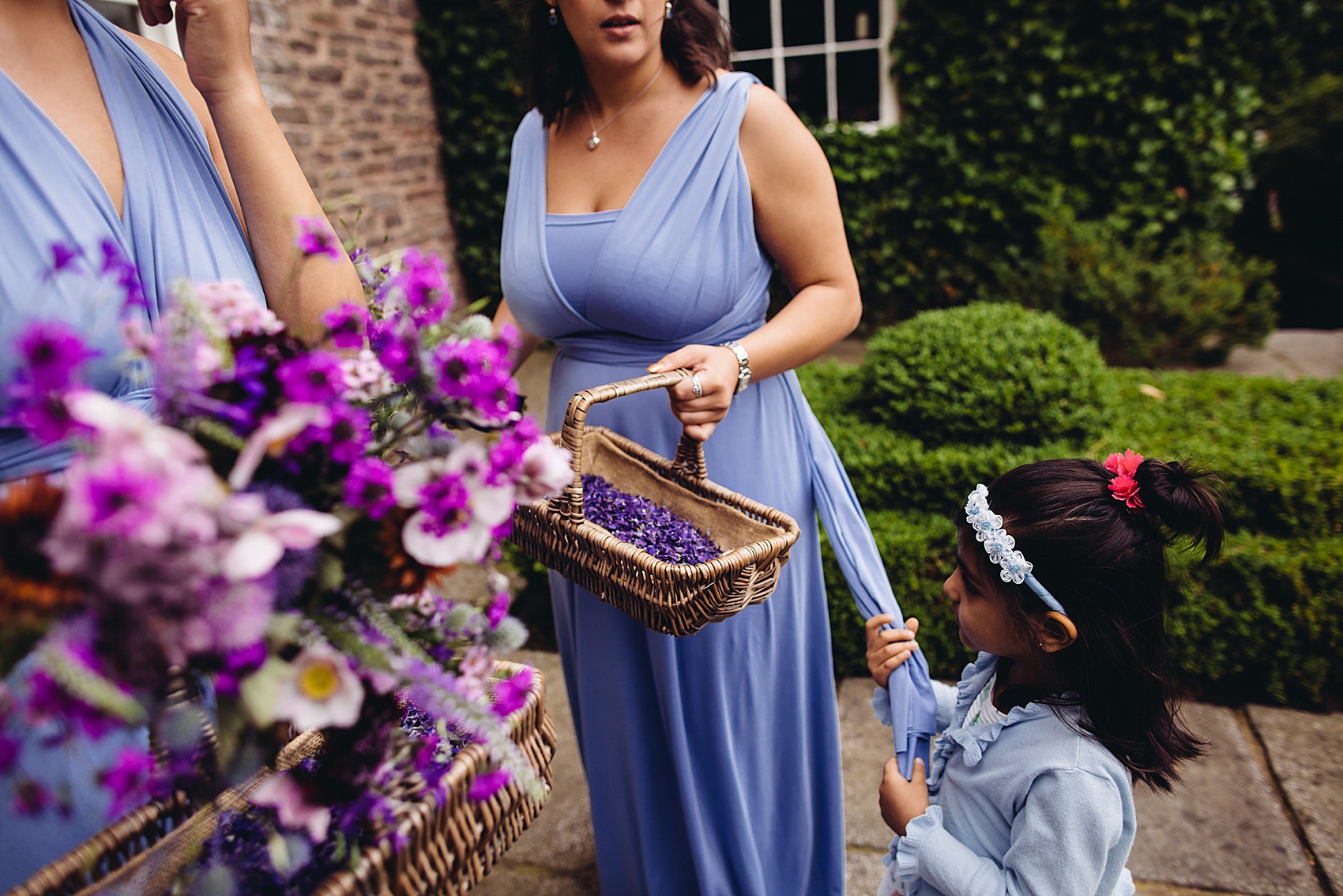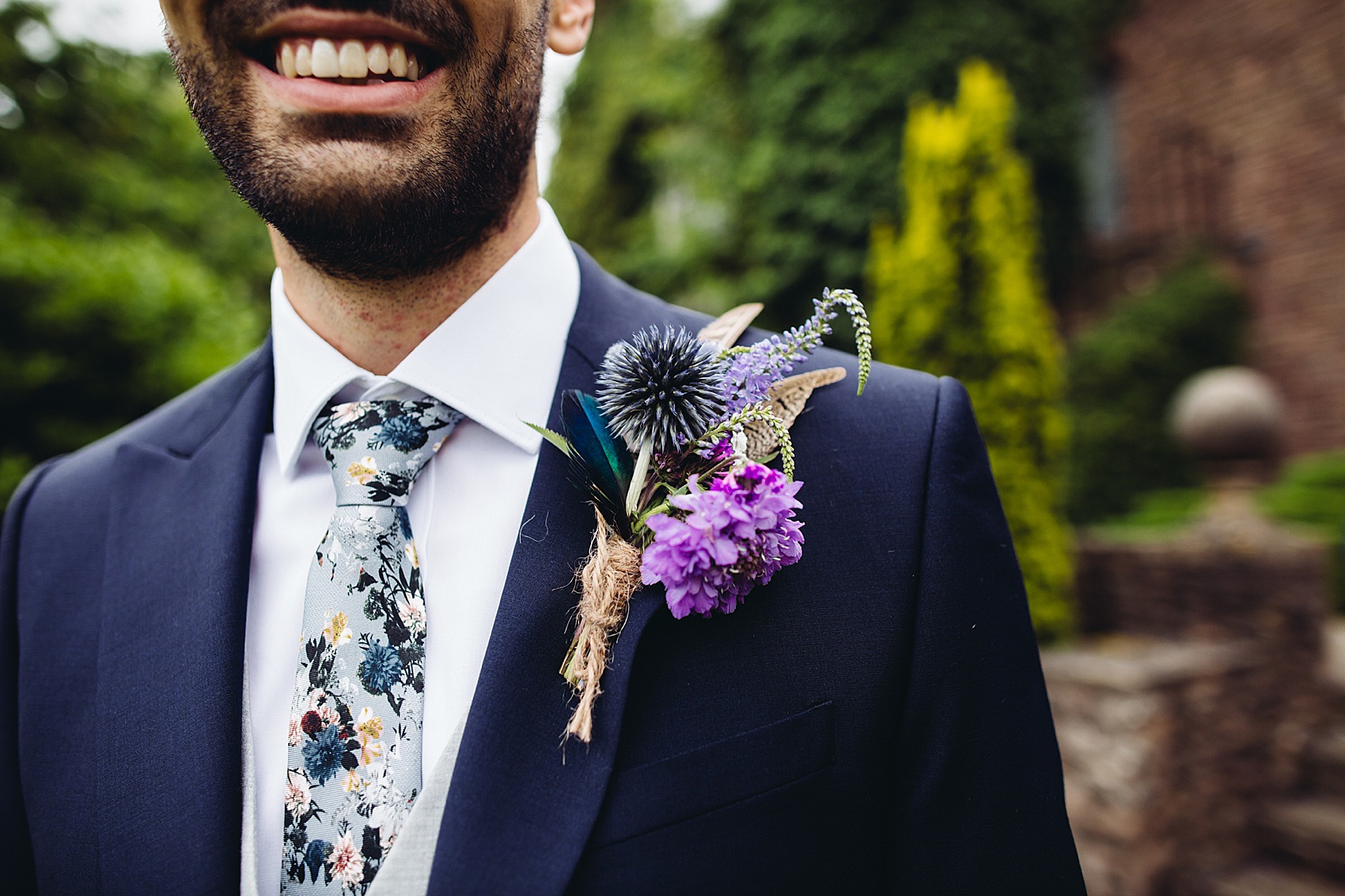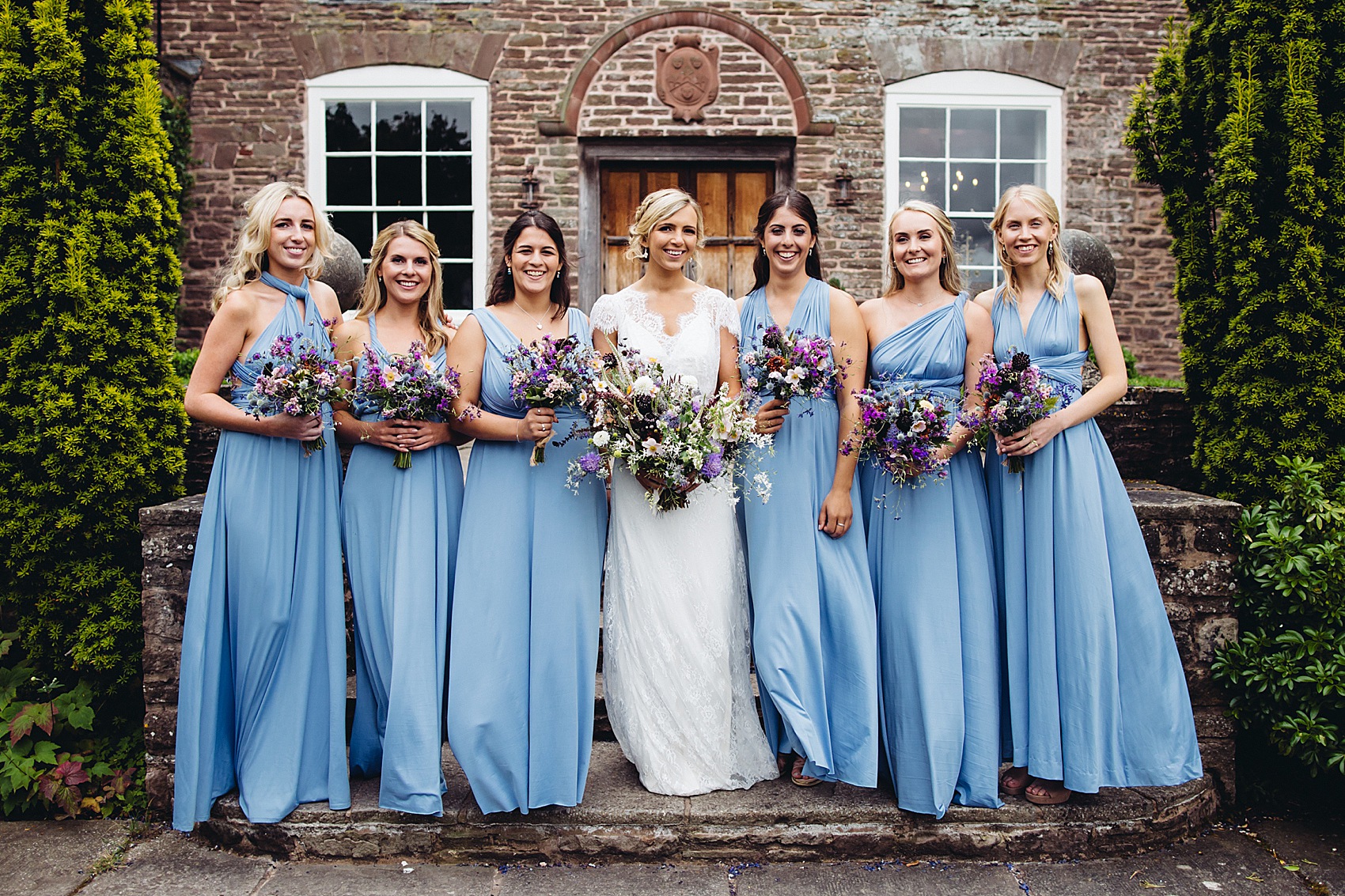 While guests enjoyed drinks after the ceremony, there was live music from multi-talented Rev. Carl, who is also a jazz pianist!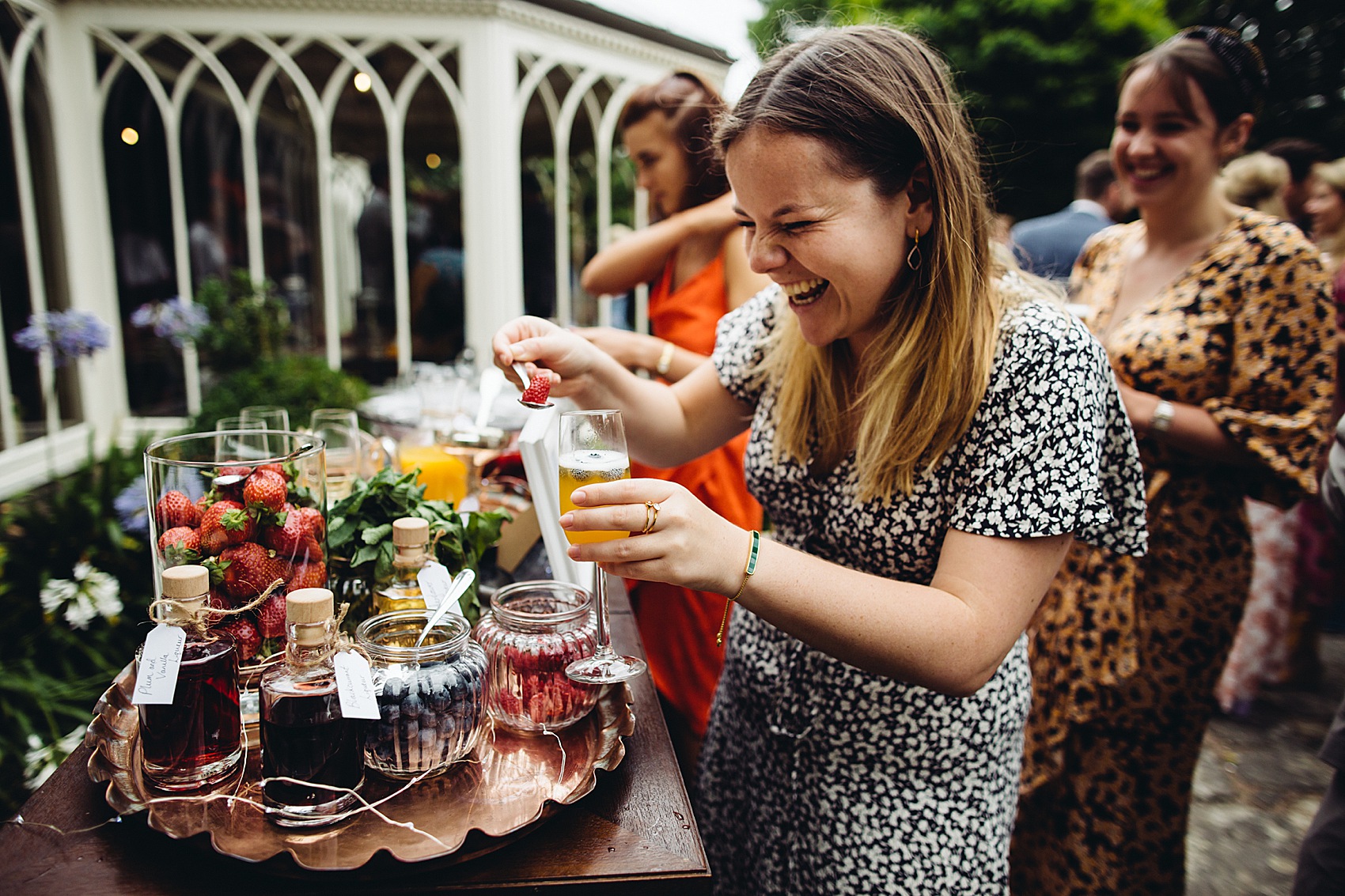 The newly married couple took some time together to walk around Dewsall's lovely gardens and grounds, and this, and so many other magical moments were captured in all their colourful glory by Lucy Little Photography.
"As soon as I saw Lucy's photos I knew I really wanted to book her for our wedding! Her photos are incredible, so natural, and she is amazing at capturing all the emotions of a wedding. She completely exceeded our already high expectations on the weekend!"
"Her photos captured Dewsall Court, the atmosphere, and our guests so amazingly, and we will always treasure them. She is also such a lovely person, and was so great at making us feel relaxed and not awkward during the couple photo shoots."
Bridesmaid Katy designed the couple's palm leaf inspired stationery suite, which included a table plan for the wedding breakfast. The botanical motif also paid homage to where Jess and Xav got engaged – on the beach, as well as a nod to their home life, and a large palm tree they have in their garden. How lovely!
"The Saturday was very much styled as a country, outdoor wedding, with lots of colour and flowers. It was very roughly based on a blue colour pattern – although we didn't really stick to this!"
How glorious are the flowers by Juliet Glaves?! I'm in complete awe of her amazing work. Jess carried a huge bouquet filled with vibrant beauties like frilly scabious blooms in lots of different colours, as well as fronds of veronica. The bridesmaids carried bouquets in lots of different jewel-like shades of purple and orange.
"The evening reception was in Dewsall Court's barn. As it was a sunny day, we were able to have the glass side of the barn open, so it almost felt like we were sitting outside."
Florist Juliet Glaves worked wonders in the barn, decorating the timber ceiling beams with beautifully abundant hanging garlands. Underneath, long wooden dining tables were dotted with more flowers inside jars, and flickering candlelight from ornate silver candelabra.
"Juliet Glaves is an incredibly talented florist. She grows all of her flowers herself, and is amazing at creating displays and bouquets that are wild and colourful looking. I gave her complete creative license to do what she wanted, only saying I wanted colour and natural looking displays."
"She produced a floral arch for our ceremony on the Saturday, as well as decorating the inside of the barn where we had our wedding breakfast and evening reception. It looked incredible and so many of our guests commented on how beautiful the flowers were."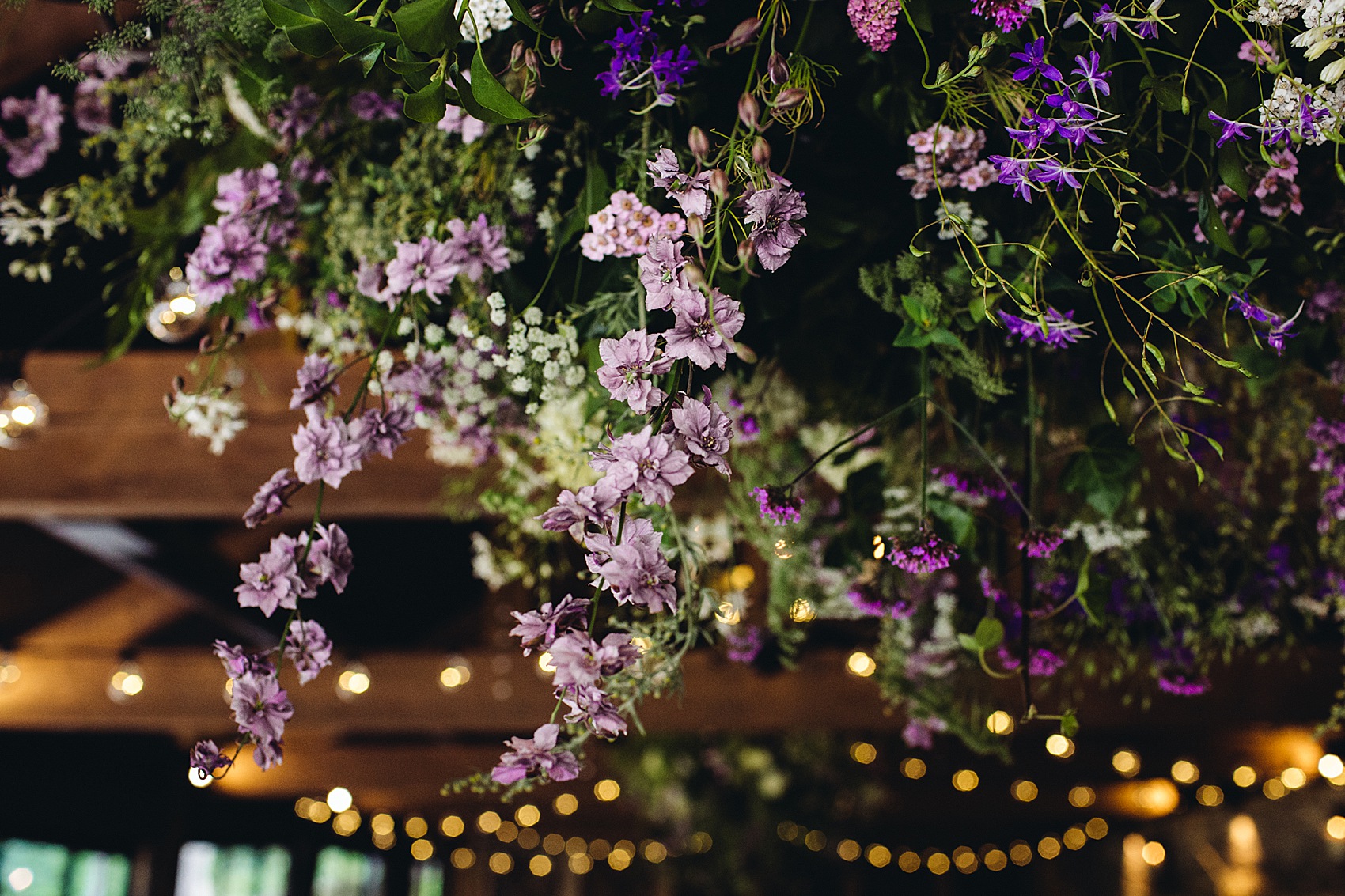 "My bouquet was also amazing. It looked like a huge bunch of wild flowers that had been scooped up. It was enormous!"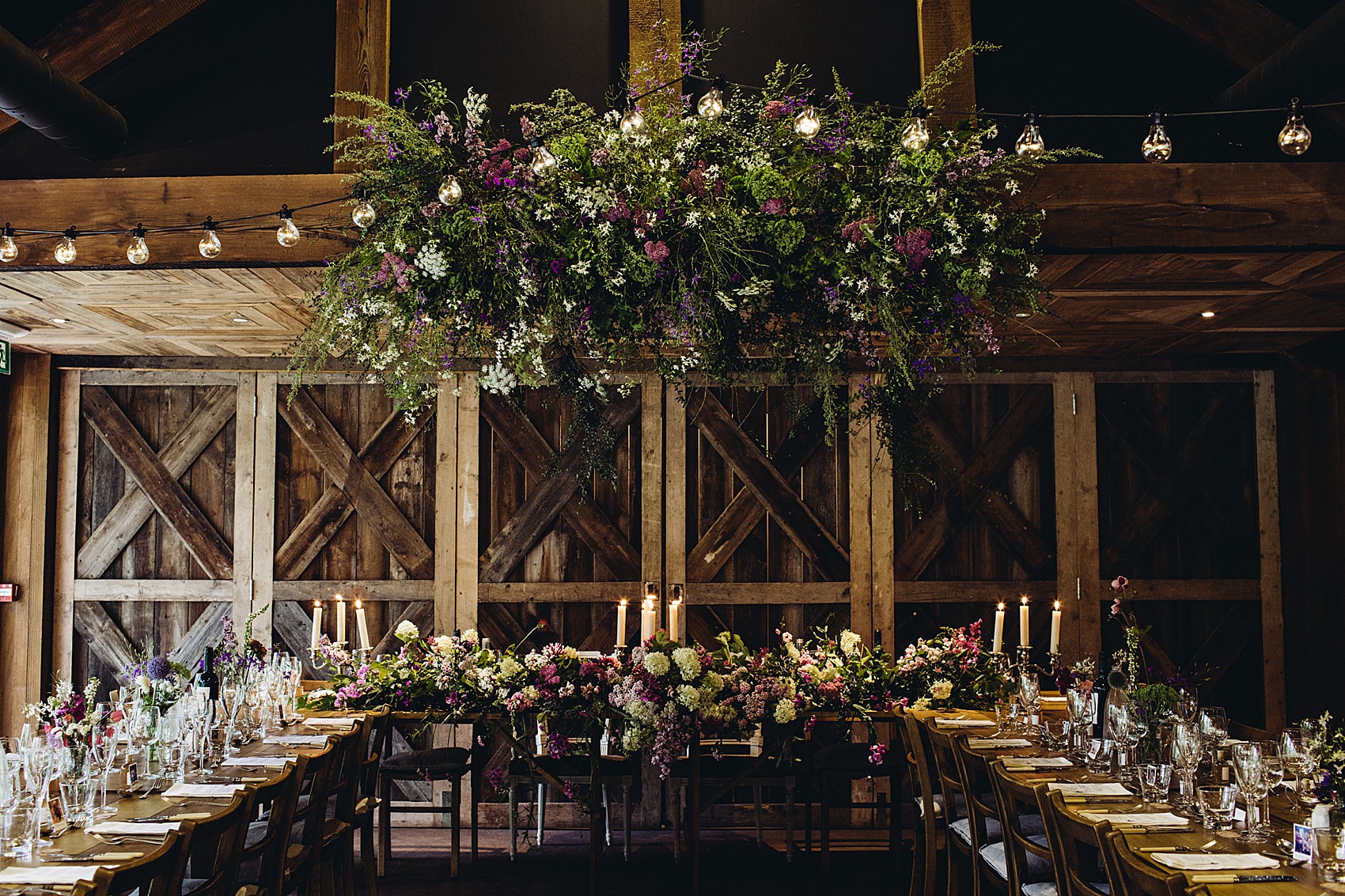 "We made personalised place mats for everyone at the wedding breakfast, with funny pictures of each of our guests. This took a while to prepare but was really fun to do!"
Favours were miniature bottles of homemade rhubarb gin to enjoy during the speeches and toasts.
The wedding meal came courtesy of Dewsall's wonderful in-house team, and began with Spanish croquettes filled with cheese and Iberico ham, and a tomato and caper salsa, or a sweetcorn fritter with an avocado and tomato salsa.
These were followed by sea bass with gnocchi, pancetta, English peas and a lemon butter sauce, or paella with samphire and summer vegetables.
For dessert, everyone could choose two desserts each from a table of raspberry posset, Pimm's jelly and fruit salad, chocolate salted caramel tart, and lemon souffle cheesecake with blueberry compote.
"Xav's younger sister, and one of my bridesmaids, Bella made our wedding cake. It was wonderful to have this made by someone so close to both of us, and it tasted even better than it looked! She did a particularly amazing job transporting it from Surrey to Herefordshire, and having to ice and decorate it in a heatwave of 39c before our wedding day."
"Before the wedding, I agreed to do a joint speech with Xav but felt slightly nervous about doing it. However, on the day this was a real highlight. It was wonderful to get to thank all of our guests for coming and supporting our marriage."
In the evening, there were fire pits outside, around which guests could toast marshmallows and light sparklers, and inside on the dancefloor, Jess and Xav enjoyed their first married dance together to Florence and the Machine's version of You've Got the Love.
"She is my favourite singer of all time, and we have fond memories of that track through seeing her live together. We also had the band A-List, who were great at getting everyone up and dancing, not that they needed much encouragement by that point!"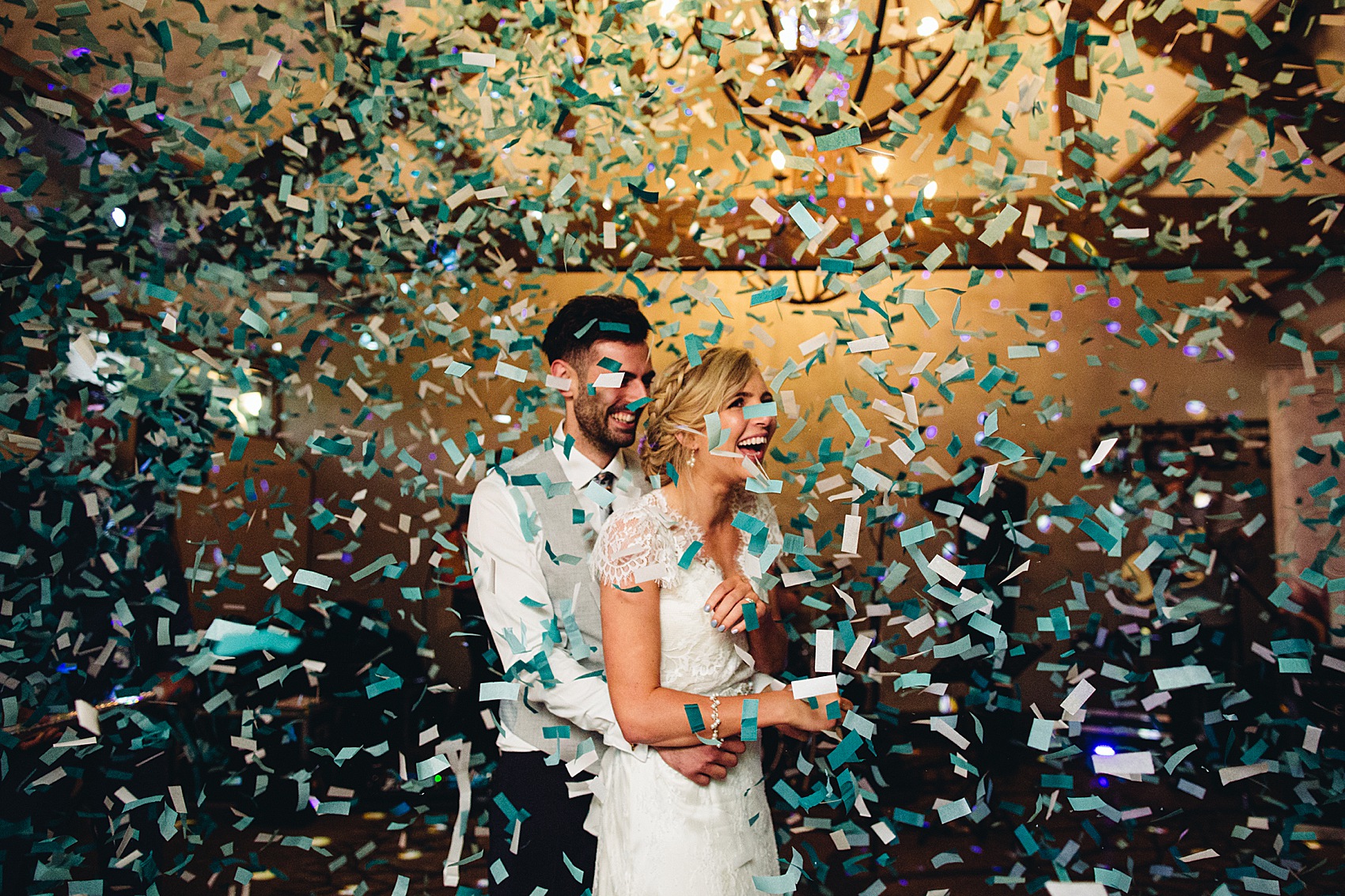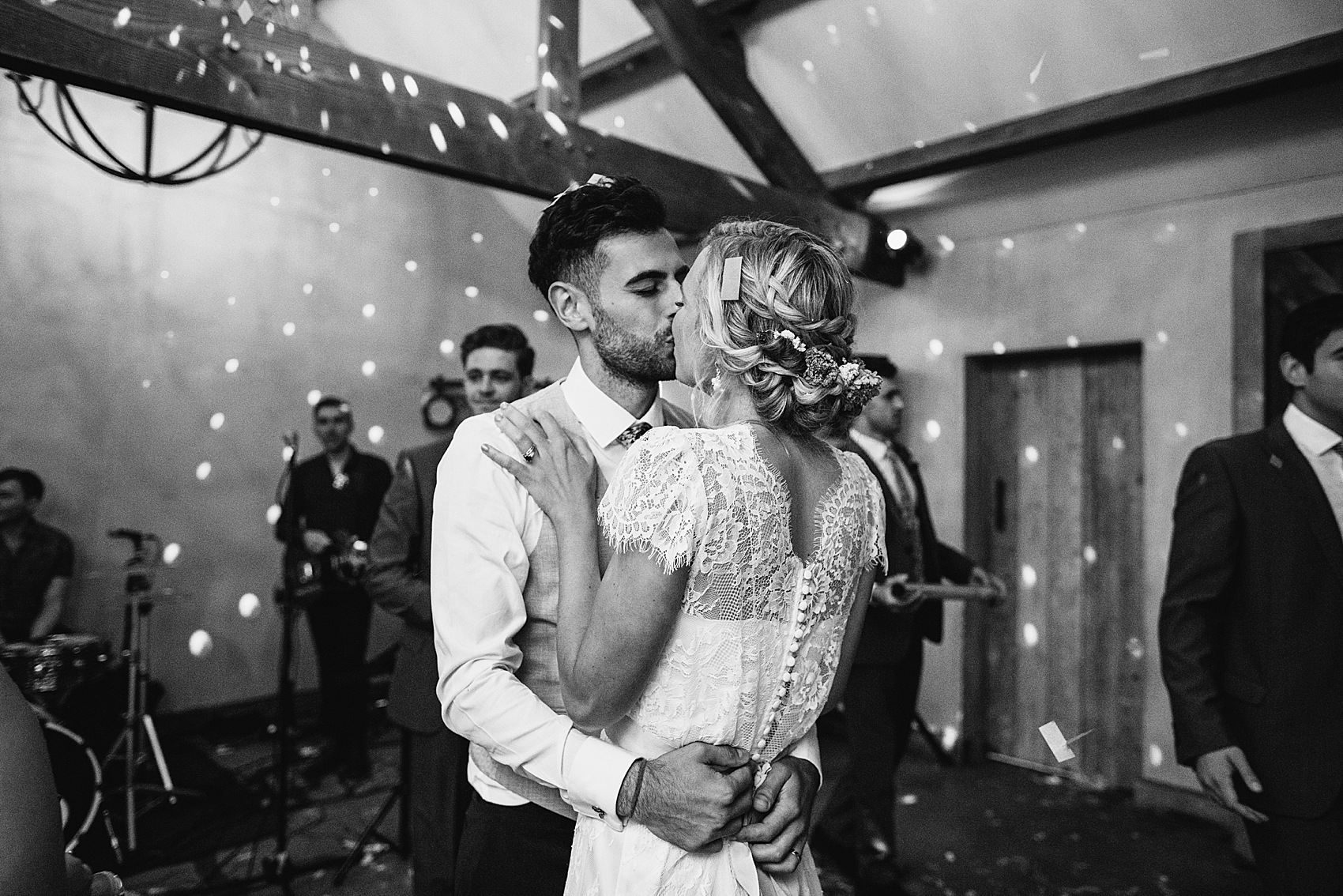 The next day, guests gathered outside once more for Jess and Xav's Hindu ceremony. Florist Juliet returned to Dewsall to re-purpose the flowers from the day before, in order to decorate the Mandap under which the couple would sit during the ceremony.
"The Sunday ceremony was completely outside by the lake at Dewsall, and luckily it was a hot day! As is Hindu tradition, Xav rode in on a white decorated horse with his family and friends cheering and playing drums behind him."
"They were met by my family and friends, before I arrived accompanied by my five uncles. It is traditional in a Hindu ceremony for men close to the bride to accompany them down the aisle." 
Jess wore an incredible vibrant blue and gold lehenga, which she chose at East Shopping Centre in Stratford, London, together with gold jewellery belonging to Xav's mum.
"I wasn't planning on trying any on, and then I saw my lehenga. I loved the colours and beading. It was the only one I tried on, and I ended up purchasing it, so again a relatively stress free experience."
"Following the ceremony we had dancing and an Indian buffet from Greenleaf Catering, Pimms and beers, followed by an impromptu game of rounders with everyone still in their Indian wedding outfits! Both myself and the bridesmaids and Xav and his groomsmen performed a dance. This is known as a Sanjeet. It was so much fun!"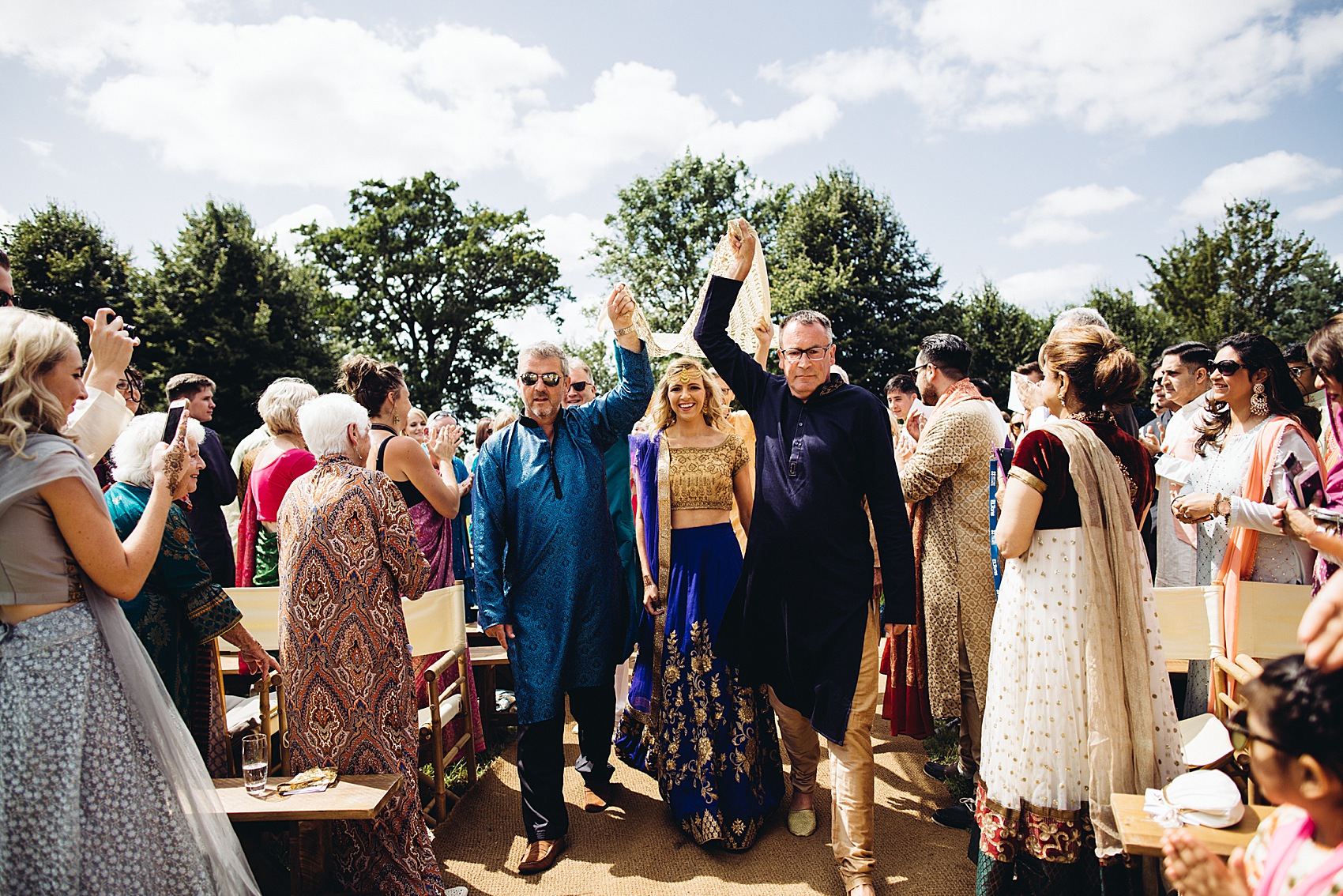 "There was nothing we would have done differently about our wedding. There is so much build up to a wedding and a lot of stress, but it ended up being the best two days of both of our lives, and completely worth it."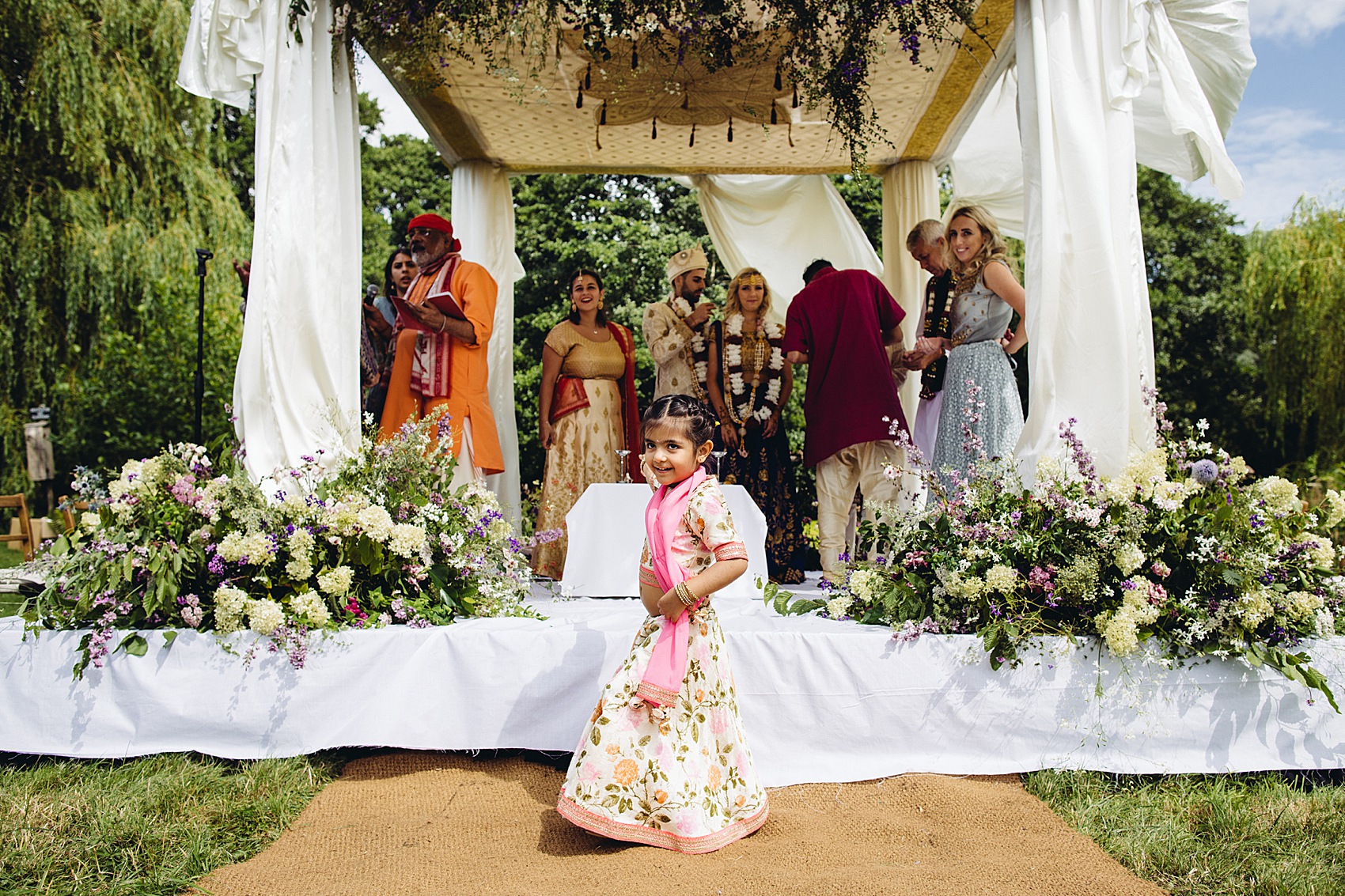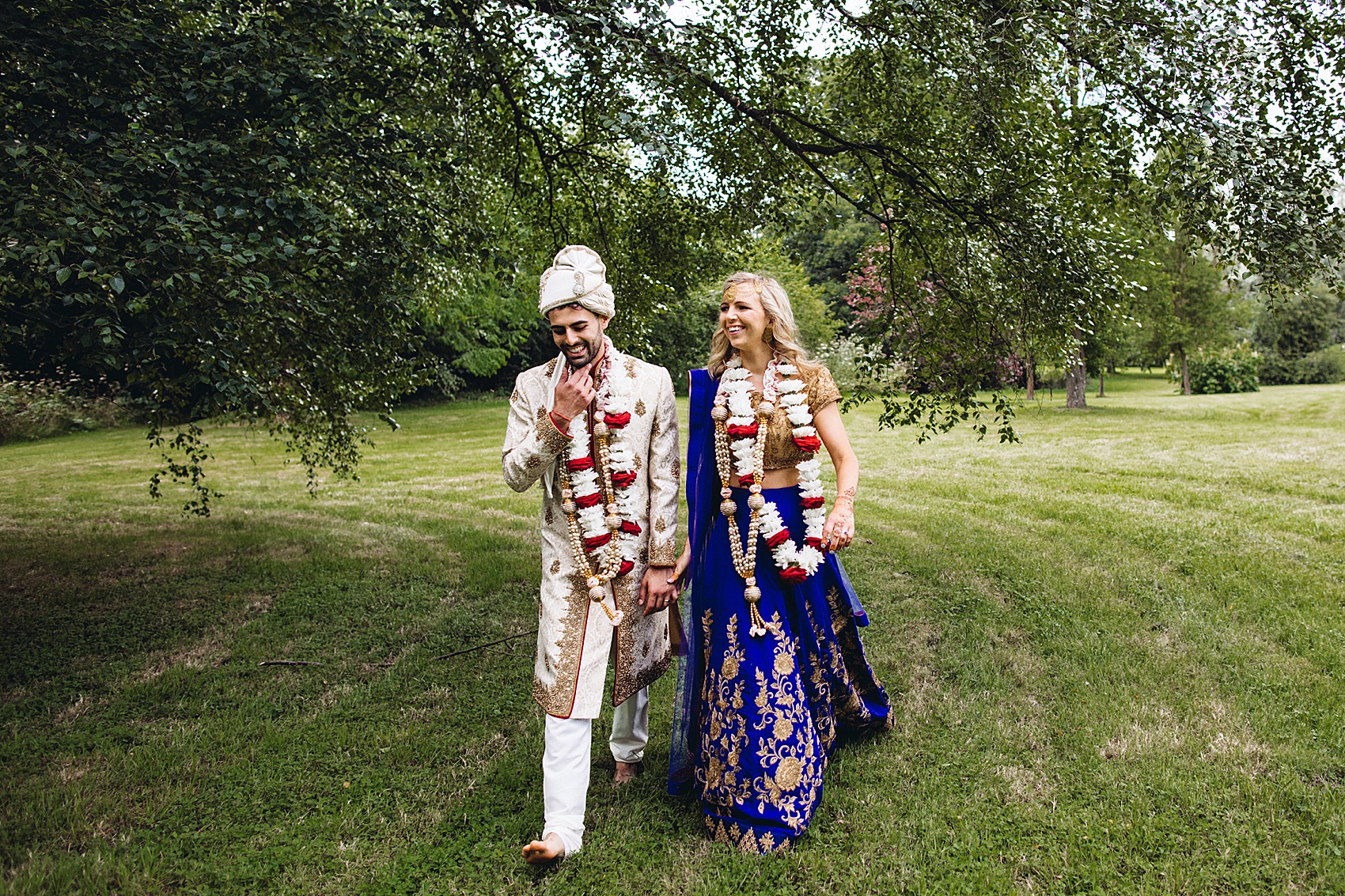 Words of Wedded Wisdom
"Enjoy it! No one will know if anything goes wrong, and it will pass so quickly. Just enjoy the moment and don't get caught up in what should or shouldn't be happening."
"Although time consuming, we were really happy that we added personal touches such as the favours and personalised name places. Guests do appreciate this, and they are a lot of fun to do. Taking the time to personalise your service, where possible, and really think about your readings and why you want them, also gives the ceremony a lot more meaning and emotion on the day."
"It was important to us to have input from family and friends in lots of the aspects of our wedding. This was another way that the weekend was made to feel personal and individual to us."
"Make sure you take some time to take a step back as a couple and have some time alone. Lucy, our photographer, was great at taking us off for a few fifteen minute breaks. This let us enjoy some time together on our wedding day."
Thank you so much Jess and Xav, and as you approach your first anniversary, many congratulations, too. Many thanks to Lucy Little Photography for these wonderful images. To see more of Lucy's work on our pages, do take a look here.
With love,
Laura