It feels rather an enormous pleasure to be sharing this wedding today, for we shared the beautiful bride's sisters's wedding back in 2017 and it remains one of our most popular and much loved weddings here on this wedding blog.
Today though, it's the turn of sister and Primary School Teacher Lucy, and assistant headteacher Luke, who chose Eden Barn in Little Musgrave in Cumbria for their elegant, simple and rustic nuptials on 1 August 2019. Inspired by the charming, exposed stone and vaulted ceiling of the barn, the couple effortlessly styled their wedding with greens, creams and natural shades, as well as making the most of the Cumbrian views.
Louise Anna Photography

+ Follow
It's so good to hear that Lucy gathered inspiration from Love My Dress to style her wedding and to choose her bewitching gown.
"I loved getting inspiration from Love My Dress. Being able to specify what type of wedding you want to look at and the particular style is a real time-saver. If I was ever feeling weighed down with the amount to do, I would come onto Love My Dress and look through the beautiful weddings and what other brides and grooms had achieved. It always made me feel excited again and ready to start planning."Flowers and foliage were a key part of this wedding's style and Greenwheat Flowers & Fika, put together these just-gathered, loosely-arranged flowers which are just perfect in the barn.
"Our florist Laura Tuer was on the recommended suppliers list from Eden Barn. Her style really stood out. We decided we wanted simple arrangements of loose cut flowers in small vases for the tables. For the bouquets and button holes we liked the idea of a lot of greenery along with white/cream flowers. The bridal bouquet was made up of gypsophila, white roses and eucalyptus. The bridesmaids' were gypsophila. We met with Laura in her shop/café and we instantly knew she would bring our ideas to life beautifully."
For a modern touch, she wore a pair of gold-studded, strappy heels in nude leather from Office.
"For me comfort and height were key. I trawled the high street for shoes with a chunky heel for support and ended up not even being that picky about the colour. Eventually I found some that did the job. However I did only wear them until after the wedding breakfast and they were swiftly replaced by flip flops."
The bride chose to keep her look simple with few accessories other than her gold headband and gold leaf hair clips, but she wore a Tiffany & C0. bead bracelet gifted to her by her friends.
"Very early into the wedding plans I'd decided to do my own hair and makeup. I knew I wanted hair accessories so did a huge Accessorize order to see which could work. I ended up deciding on two different hair styles; one to work with my veil and one for when the veil came off. I settled on a delicate gold headband to wear with my hair curled and two gold leaf clips to clip my hair back later on. I worried a lot about changing over my hair during the day. I shouldn't have at all. I slipped off to the bathroom with one of my bridesmaids and within five minutes my hair was changed. I'm so happy with how it turned out."
"I was keen to do my own make-up. My good friend Grace, who works at Selfridges, gave me some great advice and got me some of the products she swears by. I'd done so many trial runs that on the morning of the wedding I was incredibly relaxed getting myself ready. One of my bridesmaids is a beautician and spent the days leading up to the wedding doing everyone's nails, even sorting out Luke's. She gave me the lovely natural nails I wanted."
"Getting ready in the morning alongside my mum, sister and two best friends was the most relaxed start to the day; a part I thought would be filled with nerves but I actually enjoyed so much."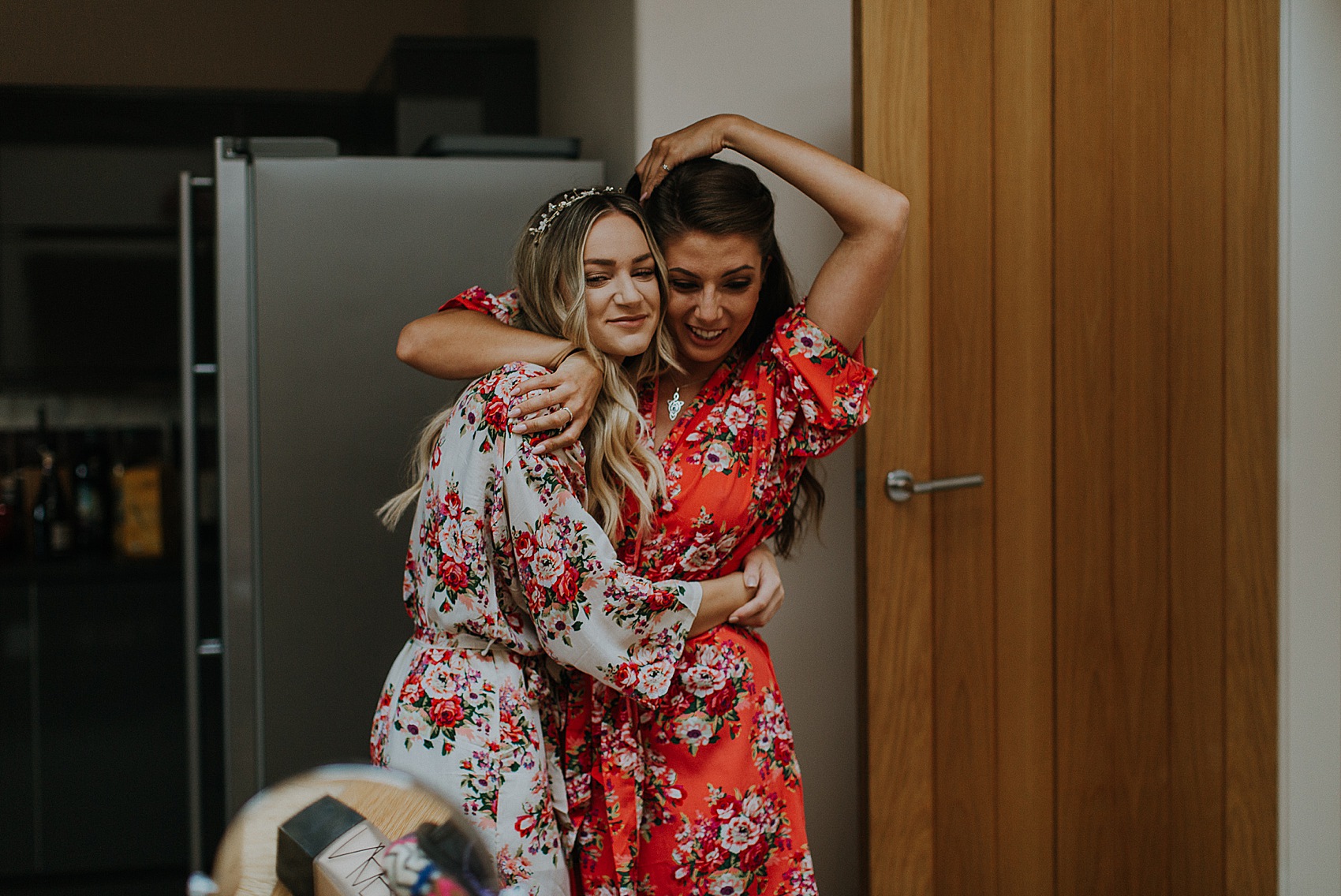 Falling in love with Watters gowns having seen them on these pages, the bride travelled to The White Yard Bridal Boutique in Elsecar, South Yorkshire to select her gown. Its fitted, cross-over bodice, the softness of the off-the-shoulders sleeves and the lightness of its A-line skirt are just so well-suited to the summery, country day.
"I'd seen Watters dresses featured on Love My Dress and instantly fell in love with their designs. This helped me to narrow down my search for bridal boutiques that stocked Watters."
"From beginning to end, the experience was seamless. On arrival at The White Yard, Claire made me feel at ease and like we had all the time in the world. We sat down to discuss my style and what I imagined myself wearing."
"She showed me each and every dress to gauge my reaction, then selected the ones I'd like to try on. The Wtoo by Watters 'Heaton' was the first dress I tried on and I knew there was no need to carry on. We celebrated with Prosecco."
"If anyone had asked me what I would have wanted, I'd have said something with long sleeves and quite high-necked. I know Luke was very surprised when he saw me."
I guess it is true what people say; that whatever image you have in your head, you will probably end up with something the complete opposite. I certainly did but I felt amazing in my dress and was comfortable from beginning to end."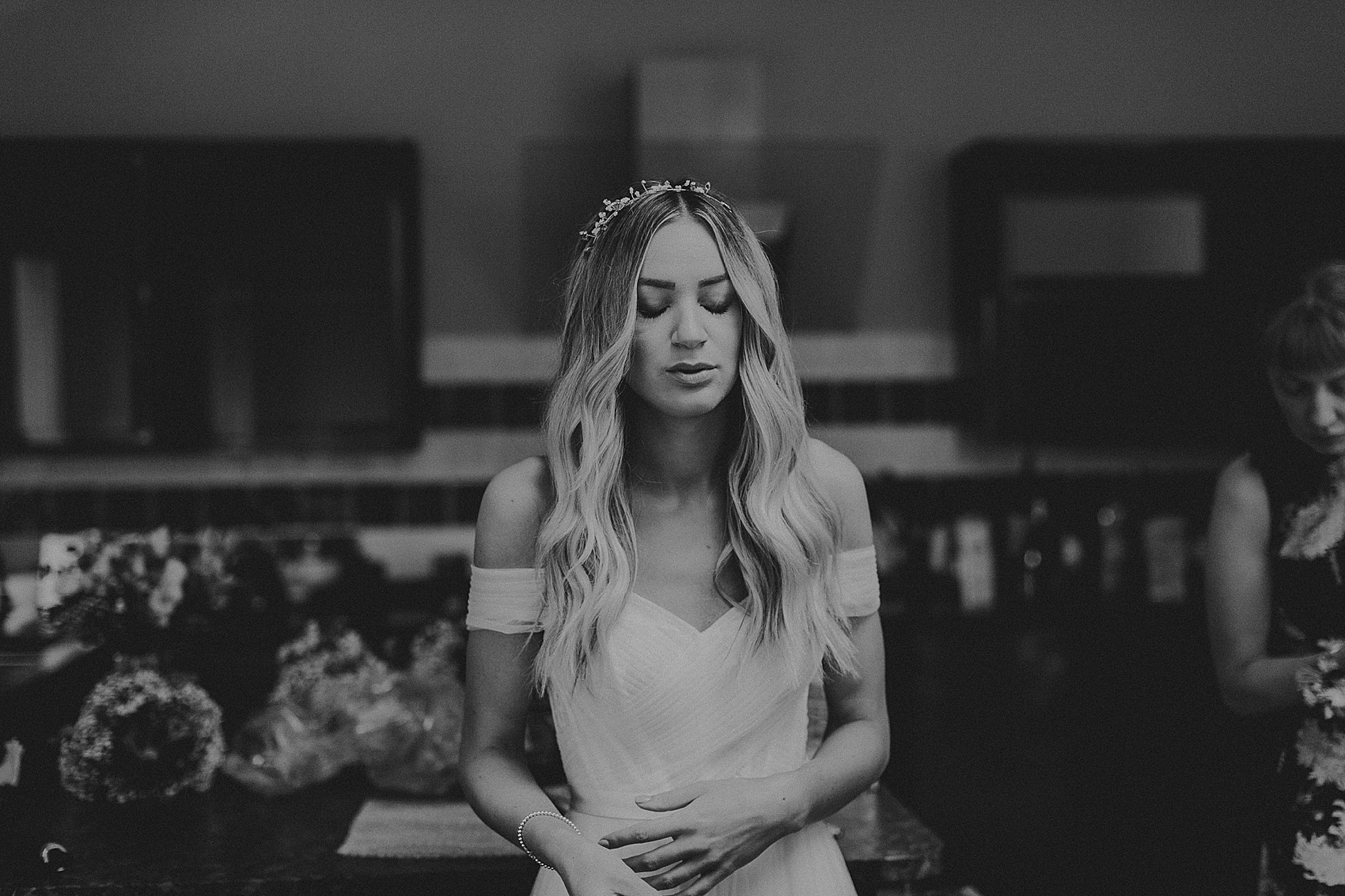 "The dress needed some alterations and Claire had a recommended a seamstress based in Sheffield. I was a little nervous of having the dress taken in but Leann Marie Design was absolutely fantastic and put my mind at rest."
"The work she did was incredible and finally being able to wear the dress when it fit was a brilliant moment."
"As soon as we saw the venue, we knew exactly how we wanted to style our day. The beauty of the barn speaks for itself so we wanted to keep it simple. Greens, creams and natural shades were what inspired us with every element from the flowers to the table decorations to the men's ties."
Having both attended the same high school and university in Leeds, the couple returned to Cumbria, where they were engaged, for their wedding.
"We are both from the same area of Leeds. Luke, however, was two years above me in my sister's year group, so we didn't know much of each other back in high school. Fast forward a few years and to the Leeds Met University Campus."
"We walked past each other and there's a long-standing joke that Luke tried to stop and speak to me but I just said 'Hi' and carried on walking (something he strongly denies, but I had witnesses!). Something he can't deny is that later that day I received a Facebook message and, as they say, the rest is history."
"After being together for five years we bought our first house in 2015. Two years after, Luke proposed on the side of Lake Windermere after having me completely convinced we were going camping with my mum. Our wedding day came two years after."
Lucy's long and flowing 'Phoenix' veil came from Joyce Jackson Veils, also at The White Yard.
"I'd always said I didn't really want a veil, or just a small one. Similar to the dress, this changed very quickly! The White Yard has a fantastic selection of handmade veils and when Claire placed a long one in my hair, I decided that it was perfect. It was simple but so beautiful."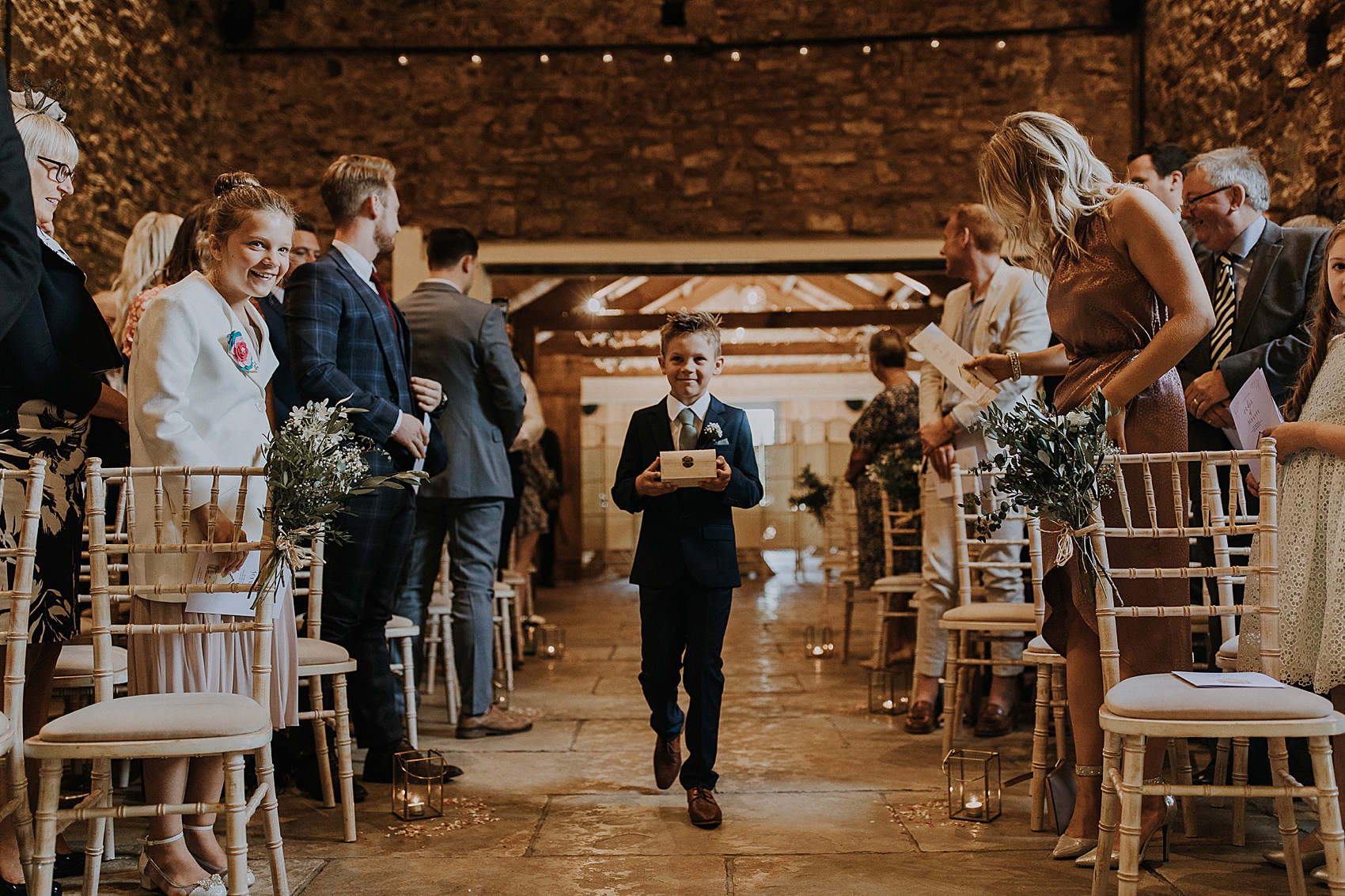 "I asked my lovely uncle to drive me to the venue, as it was only five minutes away. He decked out the car with ribbons and being surrounded by family before walking down the aisle put me at ease. Luke and his best men were driven to the venue by a friend staying with us at the barns."
The bride walked down the aisle with her mum and live music set the atmosphere for the celebration.
"Music was a big part of the day. We knew we'd like live music for the ceremony as we were singing hymns during the blessing and for the drinks reception afterwards. In the school I work at, the children have singing lessons every week. Our school pianist, Nigel Wears, is extremely talented and plays for many weddings around Leeds. He was such a hit, even taking his grand piano outside to play in the sunshine whilst people danced and played lawn games."
"My lovely mum walked me down the aisle which was one of the most special moments. William, our page boy, or as he was known on the day as 'Ring Security', entered the barn first followed by my three bridesmaids. Our entrance song was Ed Sheeran's 'Perfect' featuring Pachelbel's 'Canon in D', played by our pianist Nigel Wears. We found this version on YouTube and instantly fell in love. From that moment, we knew it was the song I should walk down the aisle to and couldn't stop listening to it."
"We were married by a registrar from Cumbria Registry Office. We also had a blessing performed by the Reverend Wilf Gowing. Our blessing was very special as we were able to involve our friends and family."
To mark the end of the marriage ceremony and beginning of the blessing, Luke's mum came forward to light a candle. My mum read prayers that she had written herself and our close friend Annie read a reading that we chose from the 'Song of Solomon'."
"Luke's cousin Katey wrote and read a beautiful poem entitled 'Love'. It brought many tears and laughs. She later gave us a framed picture of the poem, which was a lovely moment during our day."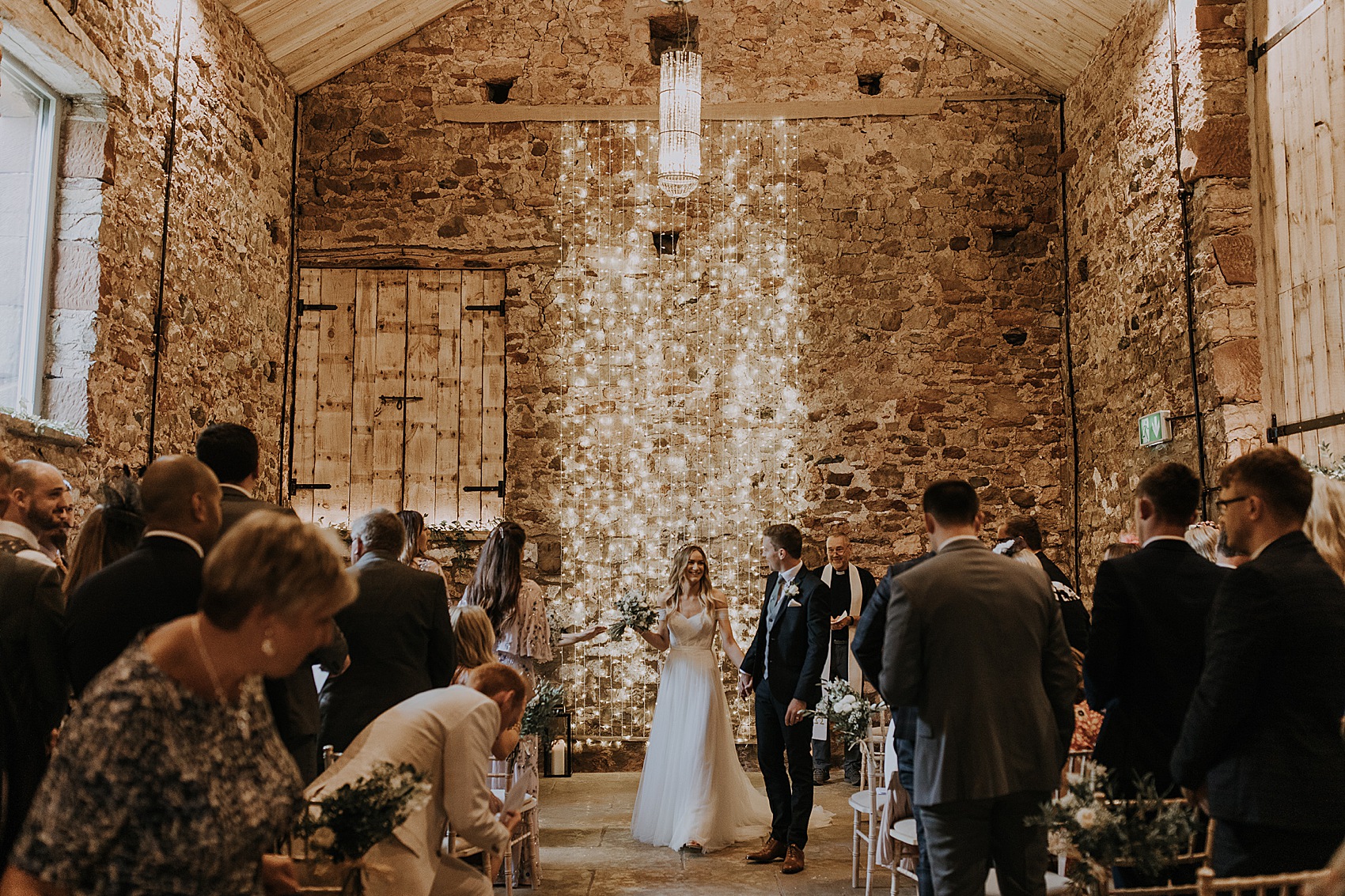 Luke and Lucy chose their weddings bands at independent jeweller Azure Jewellery in Garforth, Leeds
"We wanted matching bands and had them inscribed with the date of our wedding. Lee was fantastic and nothing was ever too much trouble, even when I returned twice for my ring re-sizing after the wedding."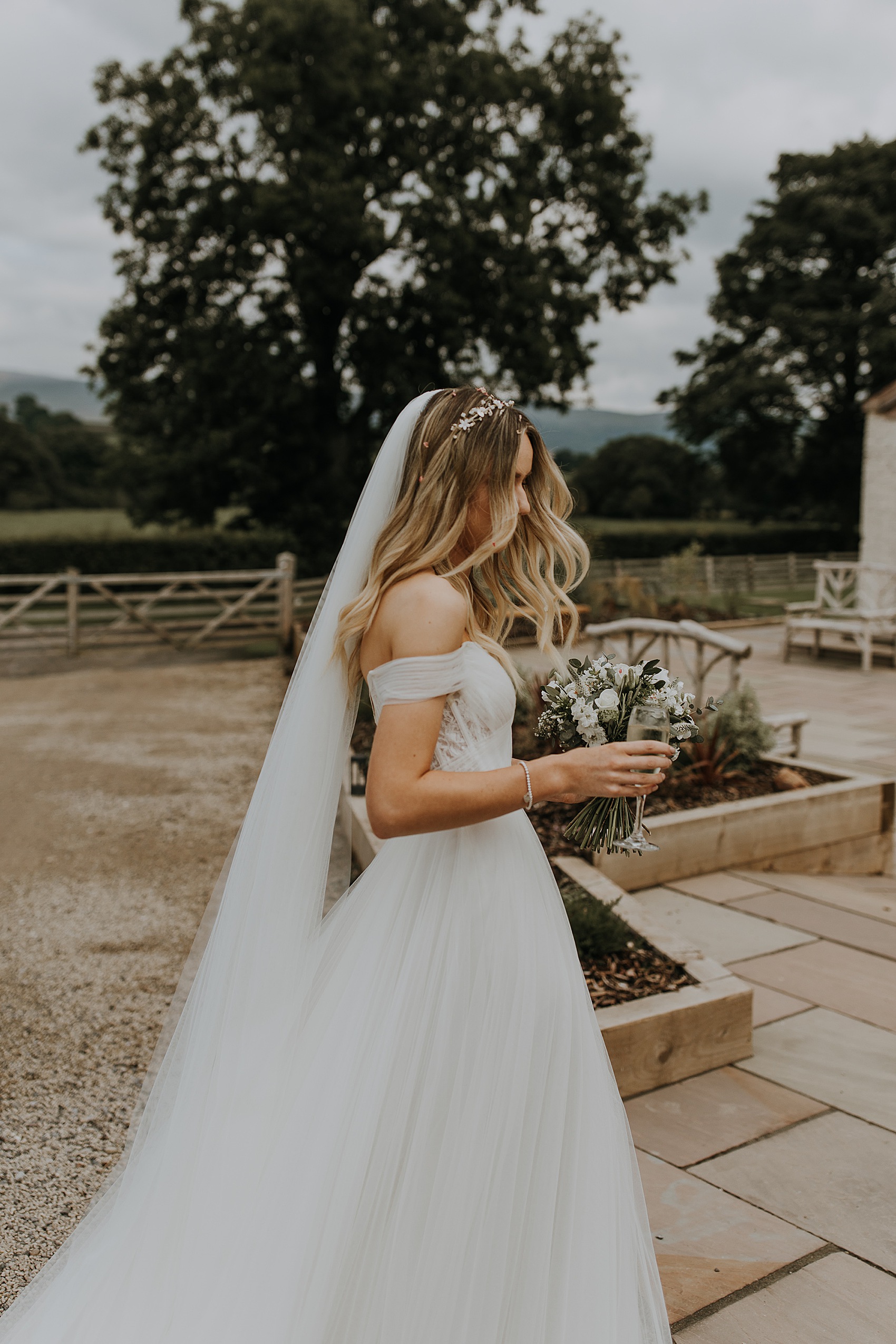 I am absolutely in love with the bridesmaids' embellished gowns from Maya at ASOS. They suit the relaxed, natural vibe of the day so perfectly and look divine on every girl.
"I'd initially found it hard to find bridesmaid dresses as they can easily create a colour scheme for the wedding and we didn't really have one particular colour. After long searches online I came across the embellished Maya dresses which featured some of the colours we were using for flowers. I ordered one and my sister tried it on; it was perfect."
"The bridesmaids all wanted to wear their hair down with loose curls. We bought some silver clips from ASOS for them to put any pieces of their hair back. On the morning we all helped each other putting them in."
The precious memories were caught on camera by Louise Anna Photography. Her dreamy, relaxed style, infused with natural light, is romantic and timeless.
"Louise was the most perfect photographer we could have ever wished for. Louise was recommended by my brother-in-law's sister and when we saw her photographs we knew the search was over."
"On meeting Louise on the morning we were both instantly relaxed. She is friendly and calming. Throughout the day she directed everything brilliantly and made everyone feel so comfortable. It was as if she was just our friend and a guest at the wedding."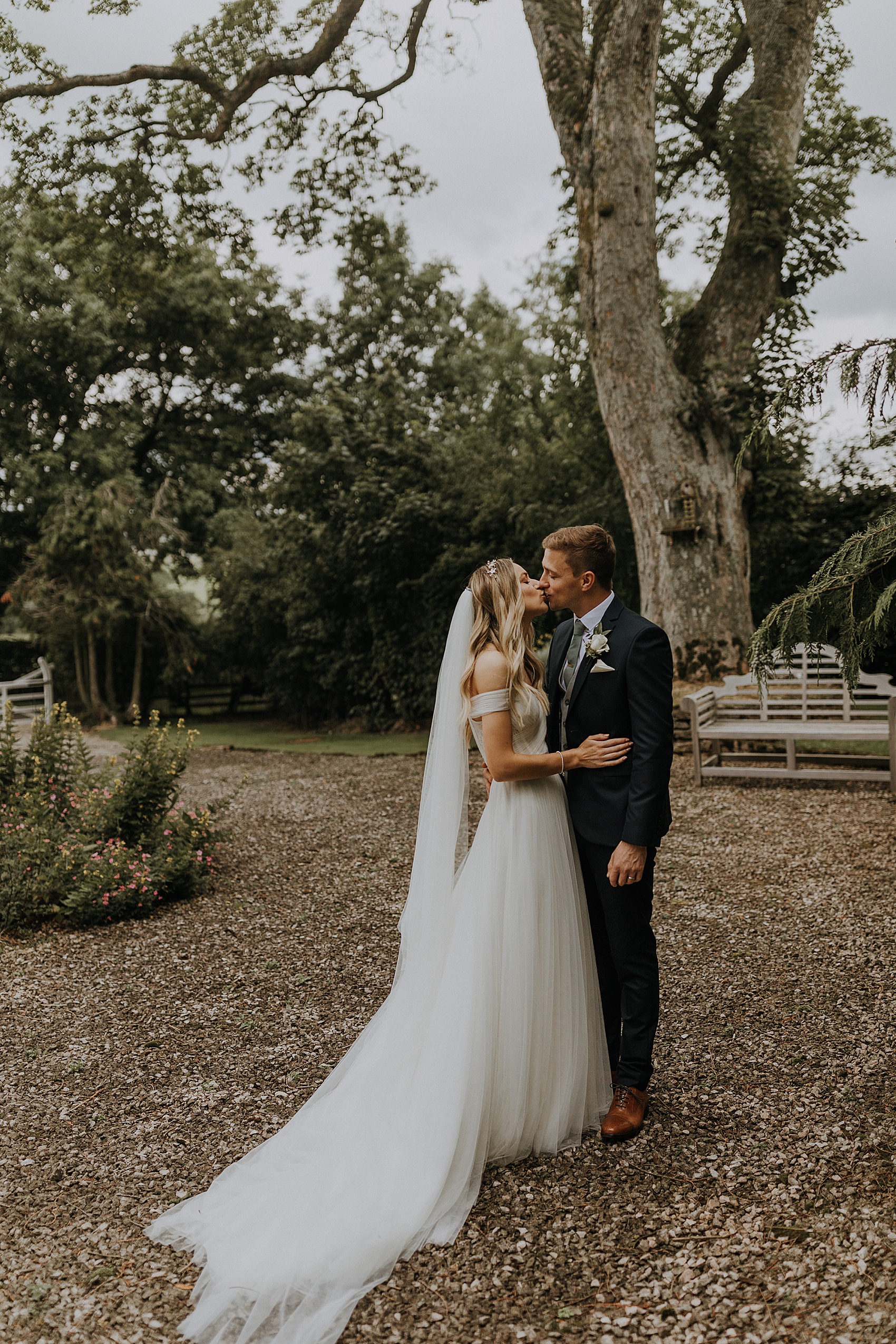 "Every inch of our day was captured so beautifully, from very early in the morning to well into the band's second set. When we first received the previews we were absolutely bowled over."
They were better than we could have ever imagined. The excitement built for the full album. When it arrived, it felt like we were reliving the day all over again but seeing such special moments from our friends and family that we had either forgotten or not seen on the day."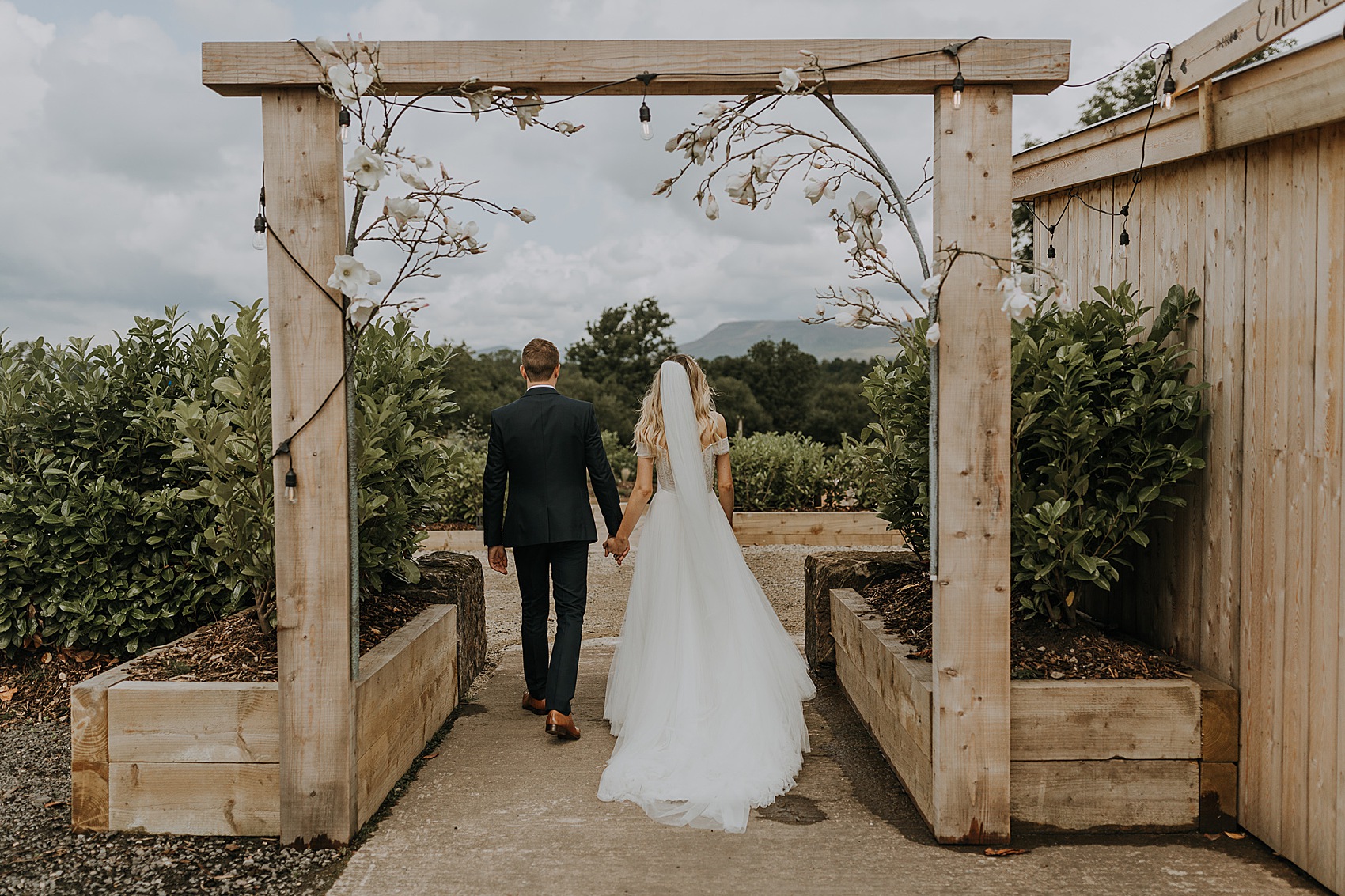 After time relaxing outside, chatting, playing games and sipping on drinks, the party moved back inside for the wedding breakfast.
"We had the most gorgeous day which allowed everyone to spend so much time outside playing games, doing the conga and the hokey cokey (which we couldn't quite believe our eyes when we saw it happening), listening to the pianist in the sunshine and later to the band with the sunset in the background."
Luke wore a dapper, slim-cut suit from Next, worn with a contrasting grey waistcoat from River Island and a narrow, sage green tie from ASOS.
"We went to Leeds and Luke tried on suit after suit until he finally settled on the one. The fit was perfect and didn't need any alterations. The cream pocket squares were from Topman and went perfectly with the buttonholes and flowers. Luke wore brown brogues, a brown belt and his 'Unknown' brown watch, which was a birthday present from me a couple of years ago."
The couple stayed in local accommodation in the week leading up to their wedding, giving them plenty of time to relax with friends as well as style the barn and its surroundings, creating an elegant and simple look that feels so natural and harmonious with the barn's style and location.
"We were lucky enough to be staying with all of our friends and family in the local area for the week leading up to the wedding, We had lots planned and it gave us the chance to see everyone before the big day and make lots of amazing memories."
"Along with our bridesmaids, best men and closest friends we stayed in two amazing barns (Low Ploughlands) where we hosted a pre-wedding party. All of our guests met up the day before the wedding for a very wet, waterfall walk."
"I knew what I wanted the venue to look like but achieving this and finding the right things was hard. We wanted lots of candles, lanterns and loose cut flowers. I think we kept Wilko and Asda Home in business with the amount of gold lanterns and candle holders we bought."
"The guestbook/Polaroid table looked brilliant thanks to my sister and gold accessories from Next and H&M Home. We had crates of flip flops, blankets in case of a chilly evening and sparklers for after dark. Outside, the lawn was taken over by lawn games which proved a huge hit!"
We collected them mostly from the supermarket, Amazon and some were even handmade by Luke. I stole the idea to have a projector showing photos from over the years from one of my close friend's wedding. This got lots of laughs with the photos I'd chosen of our friends and family."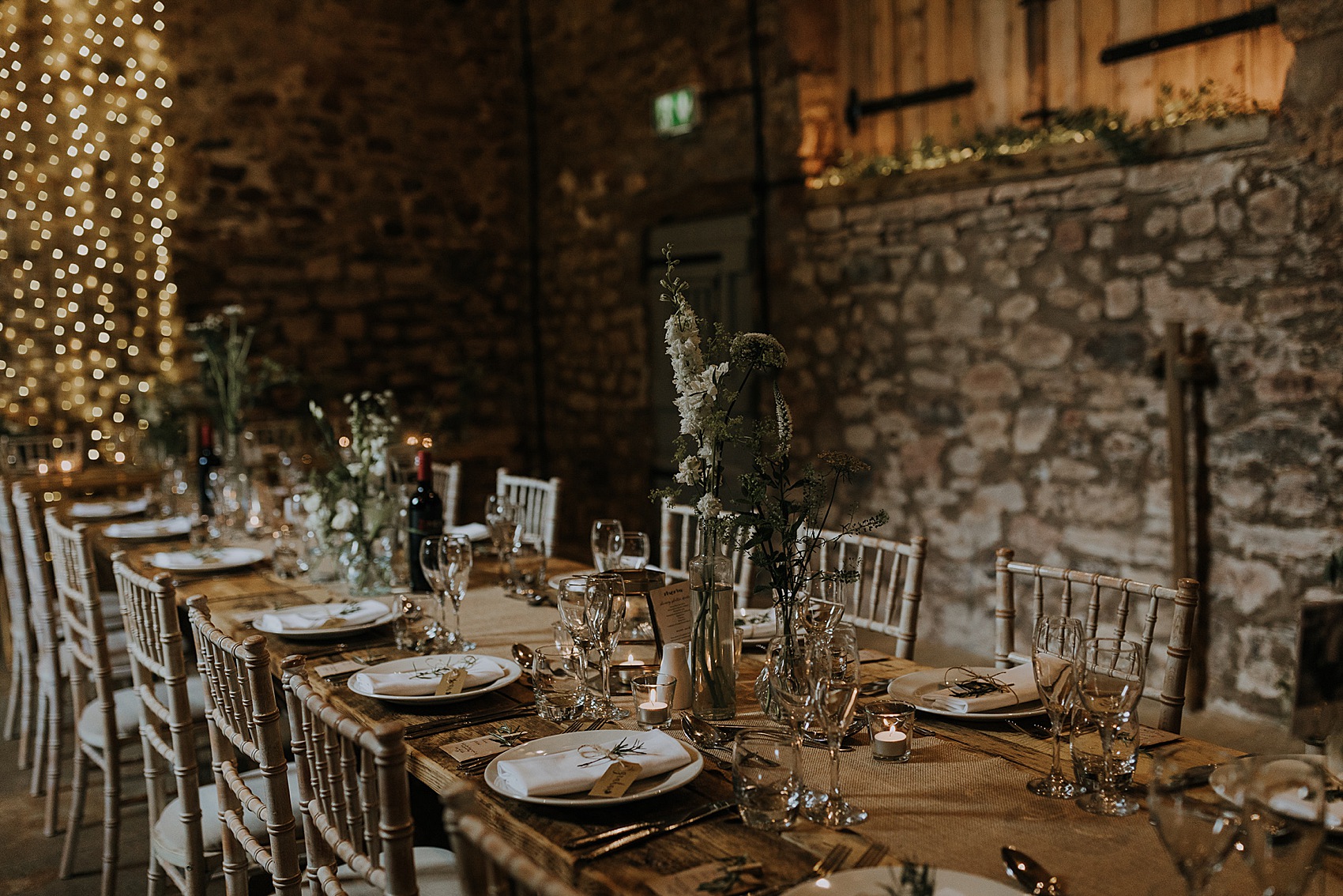 Along with the home-spun theme, Lucy's sister designed the wedding stationery
"There are a few people who went above and beyond to help make it extra special, including my sister Jen, the most creative person I know, her husband Cal, a talented designer and Luke's uncle Jon, who owns a printing company."
"My sister drew and painted every inch of our incredible invites, the timeline for the day, the guestbook, the order of services and the blackboards around the venue. She also provided me with lots of advice on styling the venue, came on numerous shopping trips for vases/candles/signs and dressed most of the tables in the reception area."
"My brother-in-law Cal put together all of Jen's amazing calligraphy and artwork to make the invites, timeline and order of services. Luke's uncle Jon printed everything for us. He even made my idea of see-through labels for our seed bag favours come to life."
To reflect the couple's love of the outdoors and Luke's green fingers, the favours were seed bags of wildflowers.
"Our garden is Luke's pride and joy and he even put in a vegetable patch. We sourced all the different elements to put the seed bags together, mostly from Amazon, and I designed some labels for the front of them."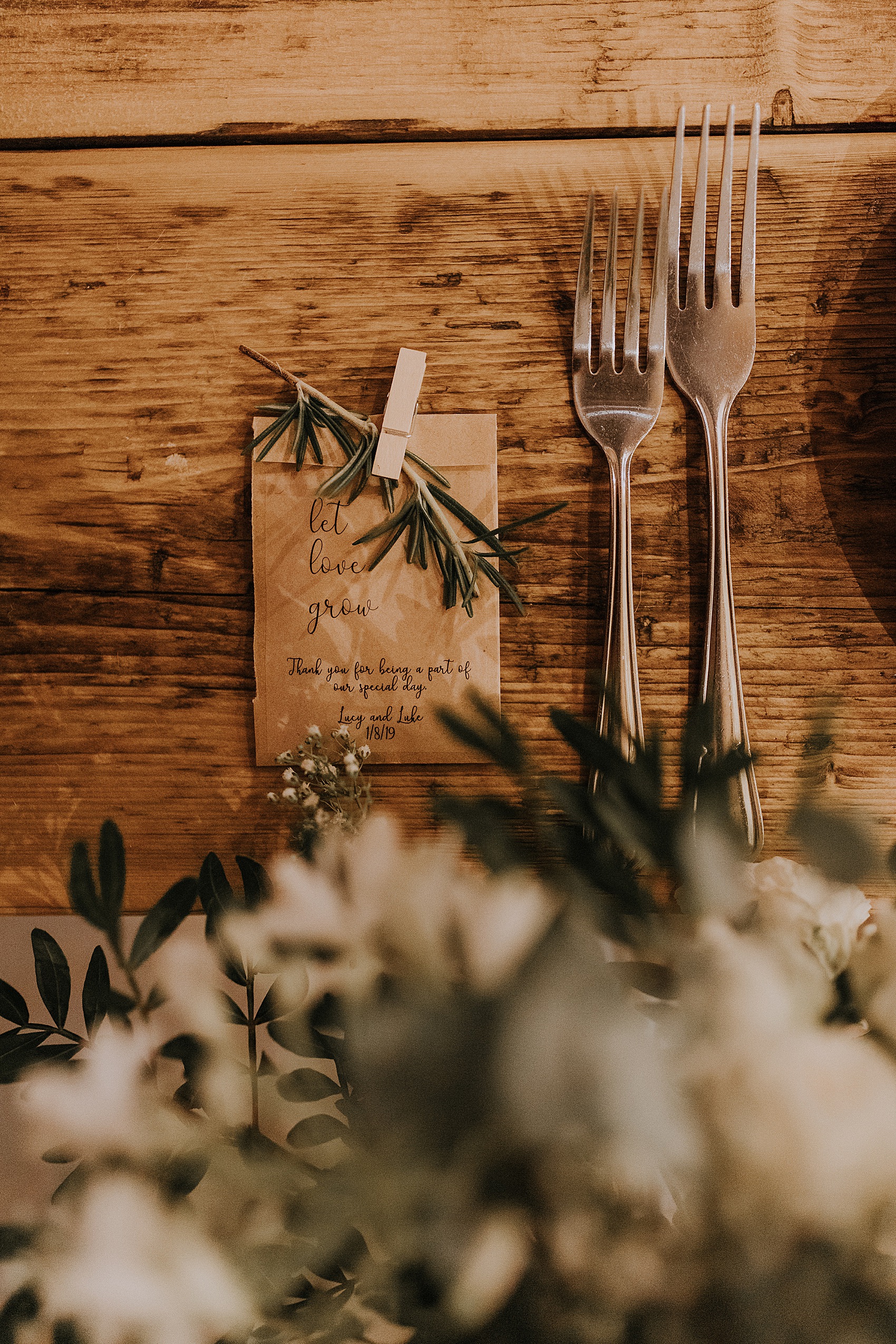 The cake was a masterpiece; a three-tier, semi-naked cake dressed with fresh flowers from the florist.
"We found our wonderful cake maker through our venue's supplier list. After looking at the website of Kelly Nattrass at The Little Kendal Cakery we were instantly sold by the delicious flavours available and how beautiful all the cakes looked. We requested some samples – one of the best moments in the wedding planning process. After much deliberation, we settled on limoncello drizzle, dark chocolate and caramel, and strawberry and champagne. It looked and tasted amazing."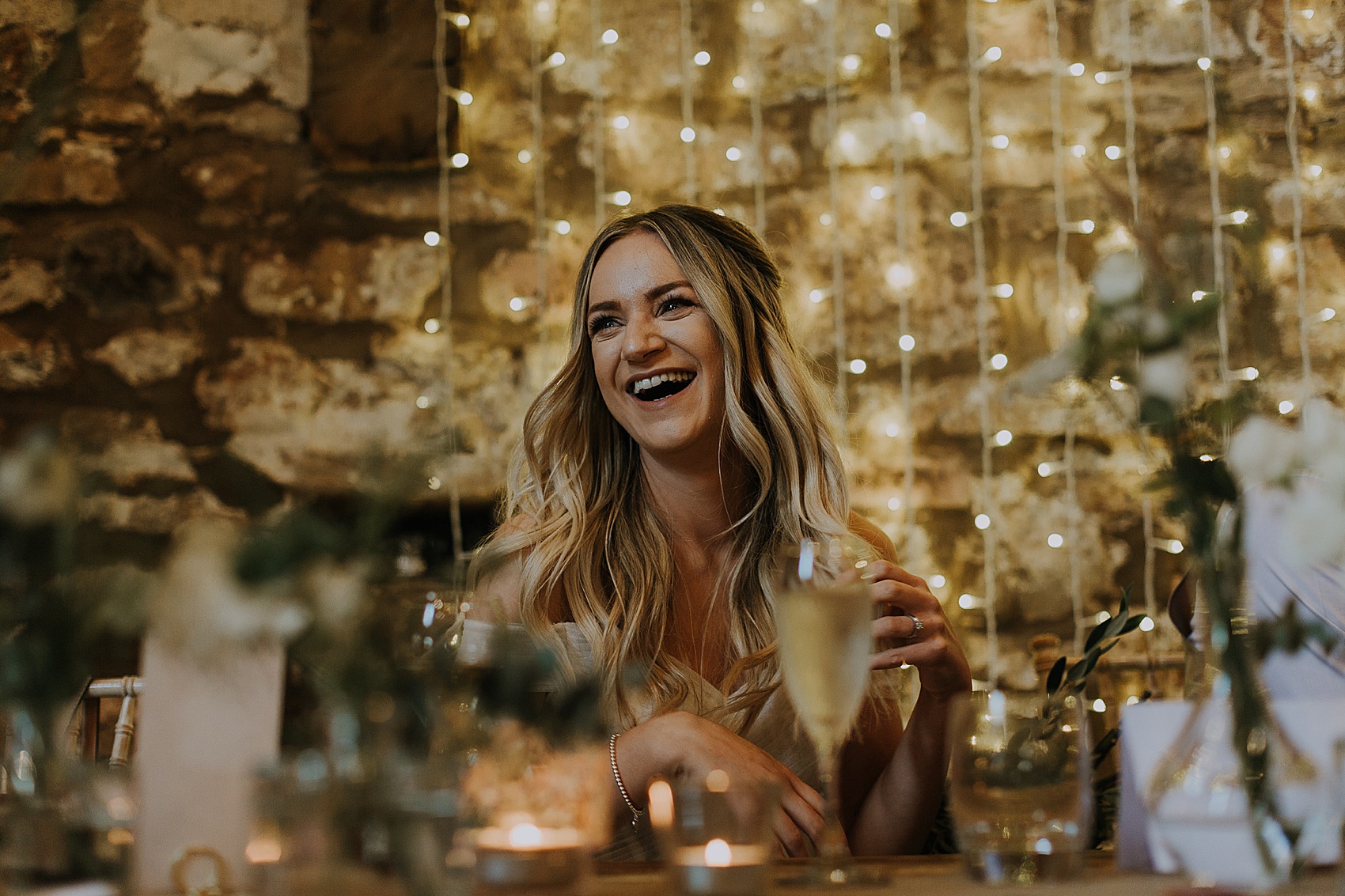 "Our caterers were highly recommended by Eden Barn and we can see why. Southcott Events Catering is run by Jen and Luke, who are both absolutely fantastic. Not only did Luke and his team provide us with the most incredible wedding breakfast, but Jen helped us run the day seamlessly from beginning to end. They are so much more than just caterers and we couldn't be happier with the choice we made."
"The speeches were a highlight for everyone. We strayed away from tradition a little with two best man speeches, a speech from my sister and one from Luke. Some of our favourite photos of the day are the reactions to all the speeches."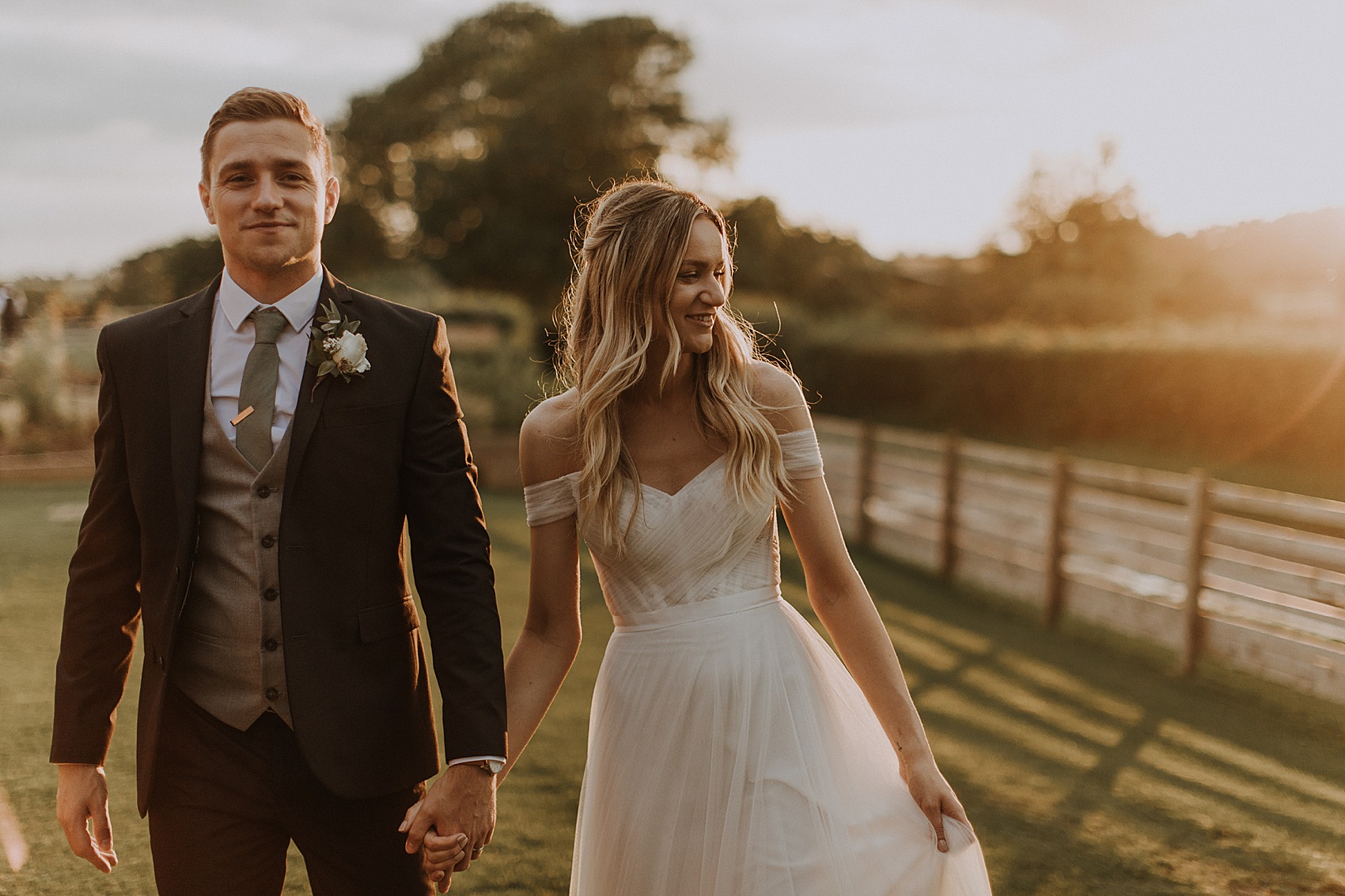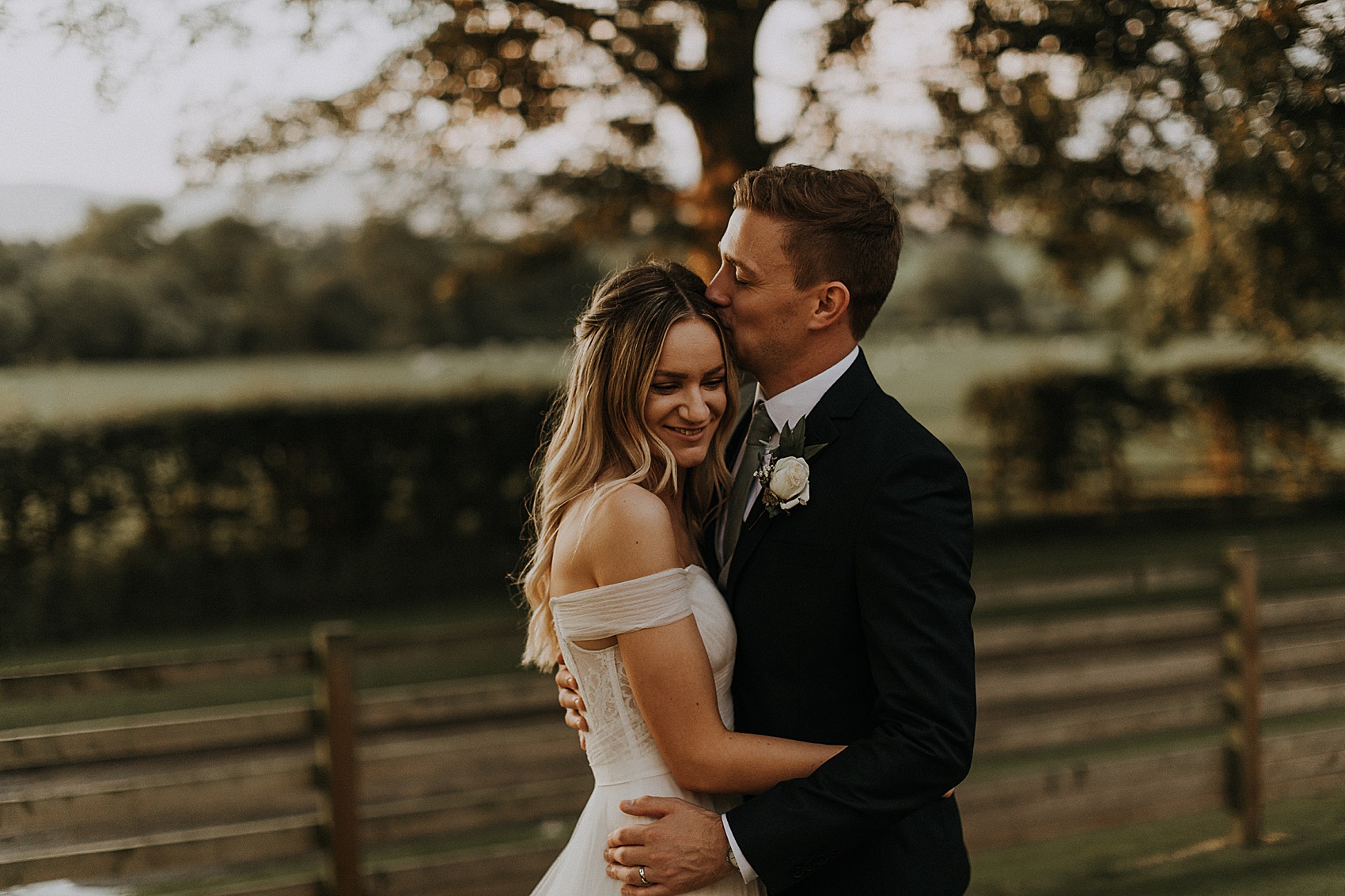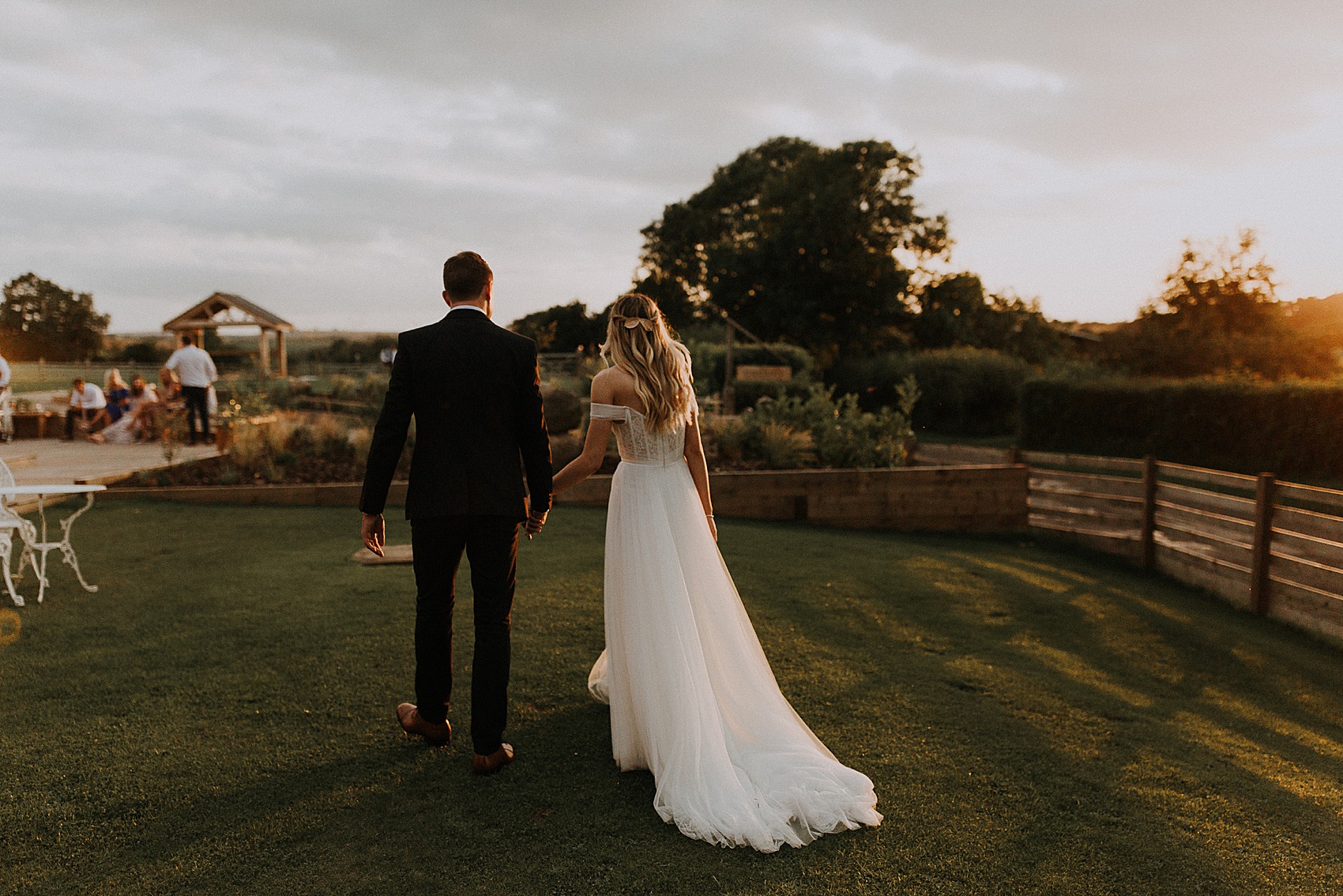 I love the sound of Luke and Lucy's evening music, a brass band who play modern music. They kept the guests partying long into the night, after the newly-weds short and sweet first dance.
"I was very apprehensive about having a 'first dance'. Quite surprisingly, as I'm a teacher and spend my days in front of lots of people, I don't like being the centre of attention and the thought of dancing in front of people is terrifying."
"Through much persuasion we did do a first dance to our favourite song 'All of Me' by John Legend. It only lasted about thirty seconds before I made everyone else join us but I am happy we did it in the end."
"We watched lots of videos and Back Chat Brass really stood out to us. They played two sets in the evening and definitely got the party started! Their showmanship is incredible and everyone was dancing from beginning to end."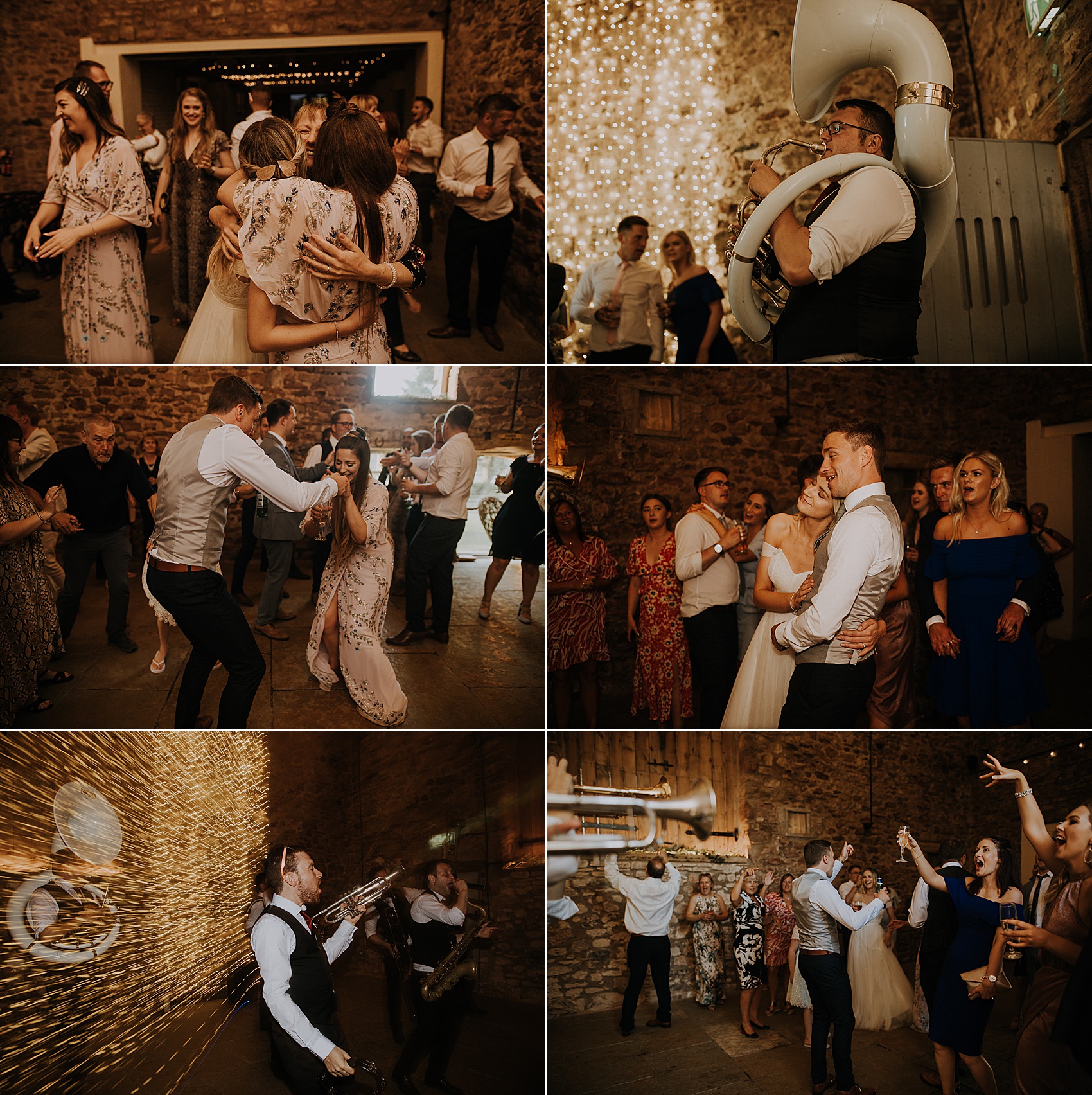 "My favourite moment from their set was when they returned for a second time but this time outside. It was a real 'pinch me' moment dancing around with our best friends and family in the most beautiful setting while the sun was going down."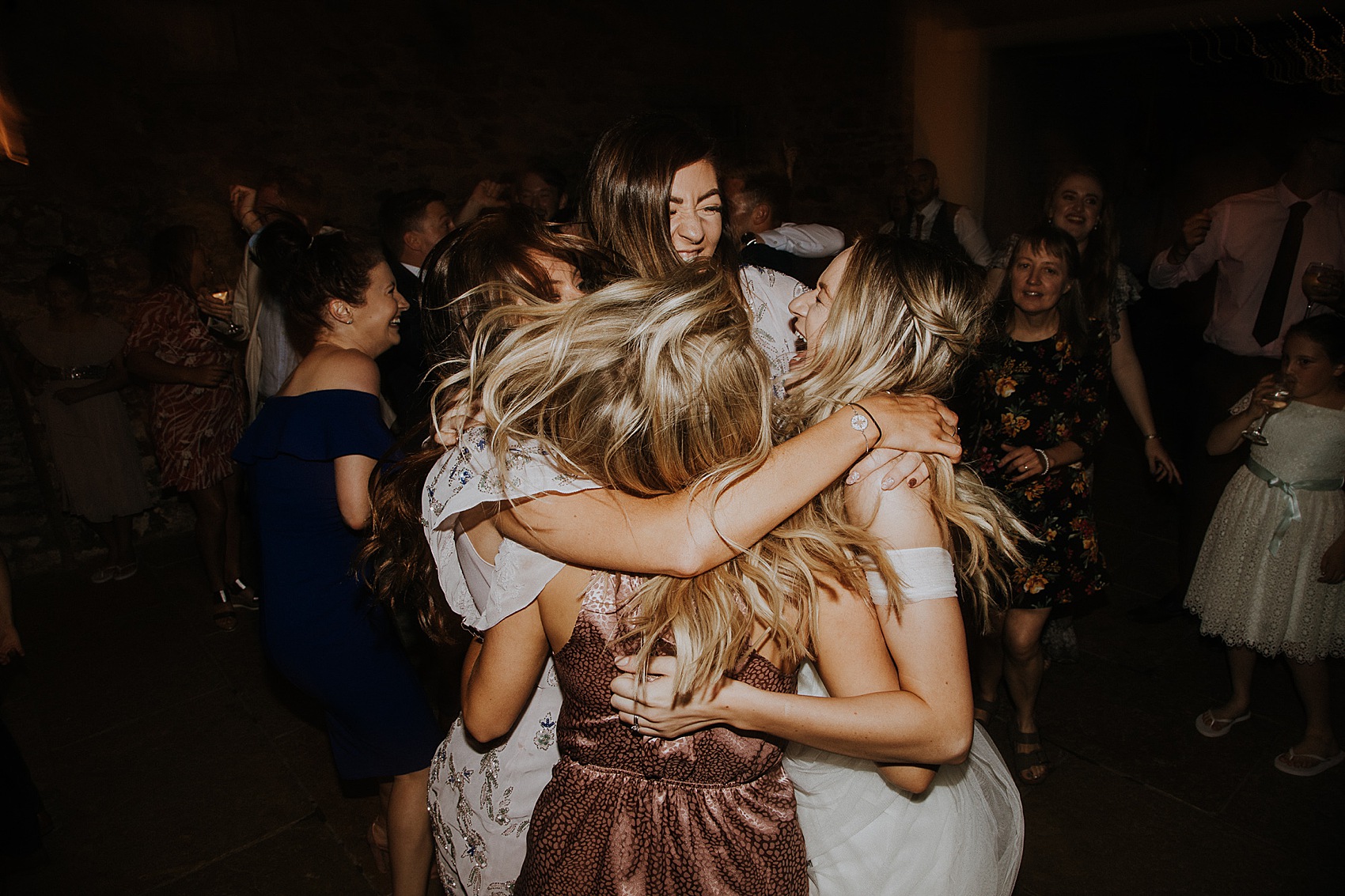 "After the band's first set, we were boiling and a little bedraggled and Louise took us outside for some photos. We walked hand in hand looking at the incredible sunset and everyone still outside enjoying themselves. It was a special moment of calm where it was just us two before the wild dancing started again."
Words of Wedded Wisdom
"I know it's said a lot, but don't stress the small stuff or things out of your control."
"After booking our venue, we found out that the registrar would only be able to perform the ceremony at 11am. I was so upset as I felt it was too early and worried for how the day would run. All our suppliers were amazing and tried to put my mind at rest. However, I spent a lot of time obsessing over this even though there was nothing I could do."
I shouldn't have worried. The day was perfect and went by so fast so if anything, I'm so happy we were able to enjoy the day for even longer!"
"Our other piece of advice, which we since passed on to friends of ours, is to try to spend as much time together as possible. It sounds daft but it could be easy to get swept away and miss special moments together. We made sure we kept coming back together and stealing little moments alone."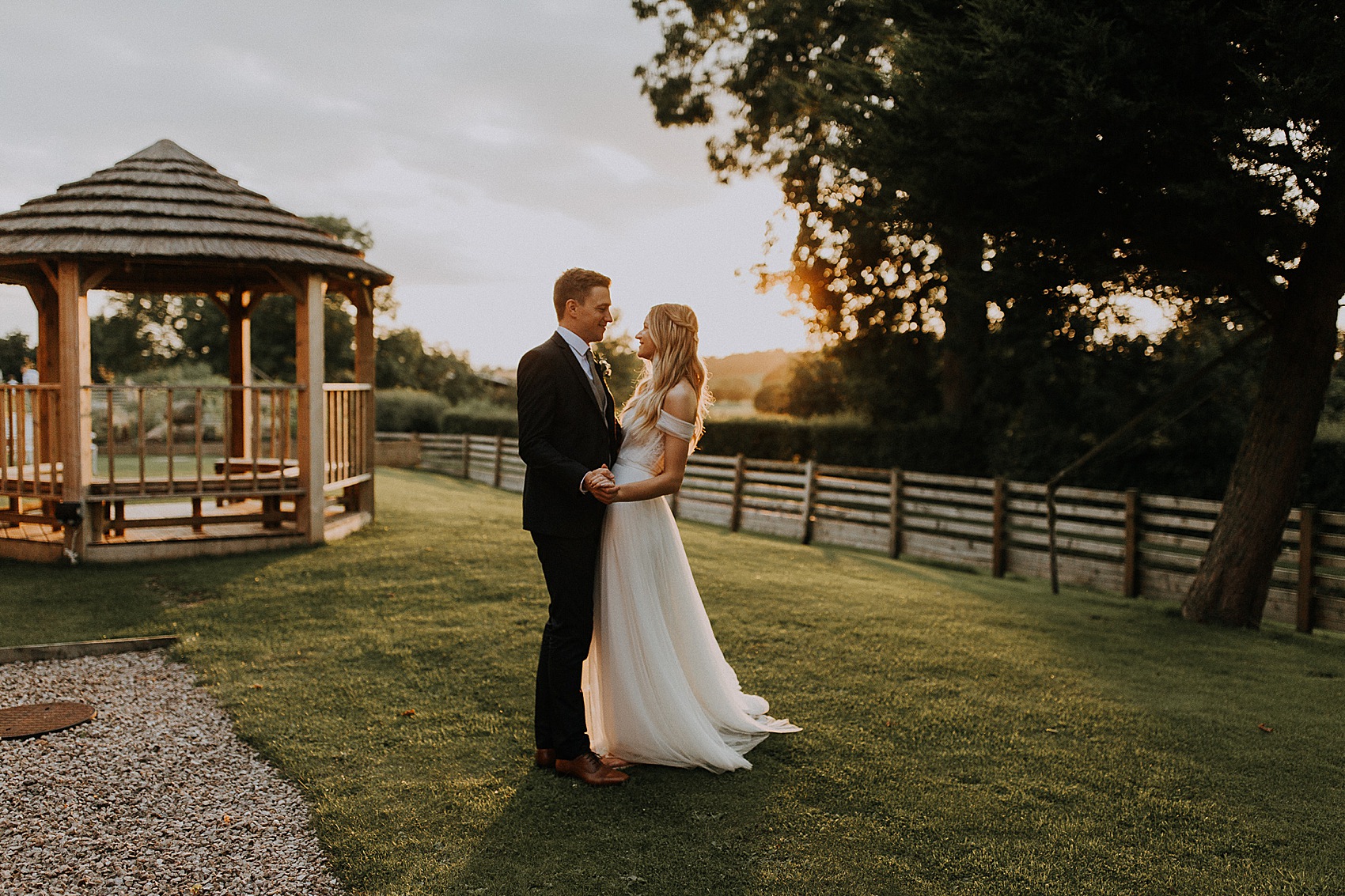 Lucy and Luke, thank you so very much. What a perfect day, and how lucky you were to enjoy dancing outdoors as the sun set. Thank you to you both, and thank you so much Louise Anna Photography for these wonderful images. For more elegant and simple wedding inspiration, why not explore these other celebrations on Love My Dress?
Ele xx