We're feeling bitter sweet vibes in sharing this beautiful wedding today, given the venue was the infamous Ace Hotel  in Shoreditch, London.
Very sadly, after shuttering back in March due to COVID, the ACE Hotel has now confirmed permanent closure of its East London hotel. News articles report the US owners hope to open in another part of London in the near future. But for today, we lament the closure of this wonderfully cool and iconic wedding venue with the gorgeous nuptials of Alina and Chris.
Kitty Wheeler Shaw

+ Follow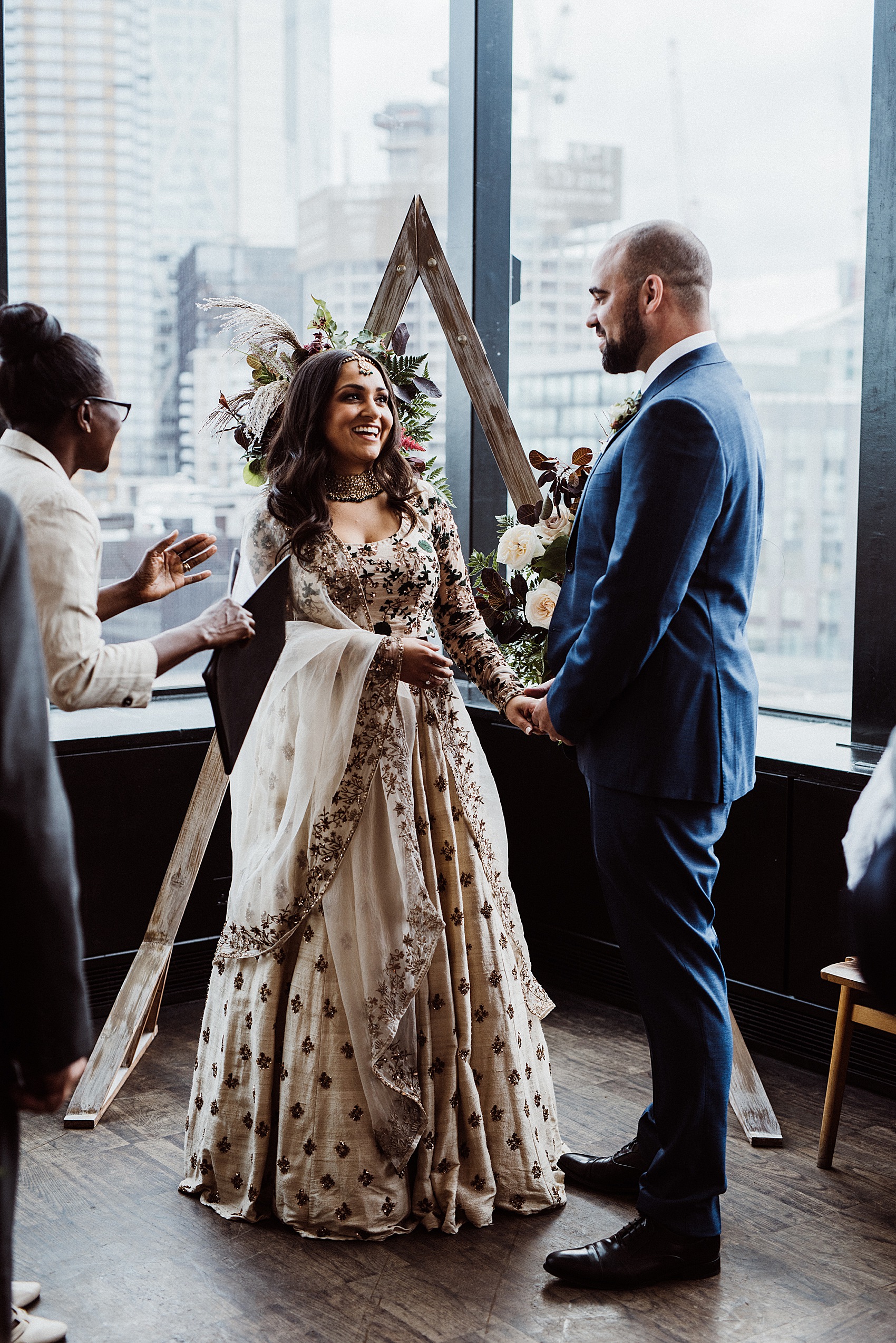 Architect Alina married Chris, a Consultant on the 31 August at Ace Hotel in Shoreditch, East London. The couple first met one Christmas Eve; Chris went to university with Alina's cousin, and met one festive evening for an alumni drink when Alina also went along, too.
"We decided that we wanted get married in London in a registered venue, so that we could be legally married on the same day of the wedding. As we had a lot of family and friends travelling to London from all over the world we didn't want to over exert our guests. We then searched London Local Authority databases for licensed venues for marriages to find our perfect venue."
Alina wanted a different and contemporary take on a wedding dress, and found the search difficult, but then bridesmaid Amina came to the rescue.
"My bridesmaid Amina suggested trying a lehenga (an Asian bridal outfit) so we went to Aashni and Co in Notting Hill, one of the only shops in London to stock high end contemporary Asian designers, and ended up buying an Astha Narang lehenga from there that was hand made in India to my measurements."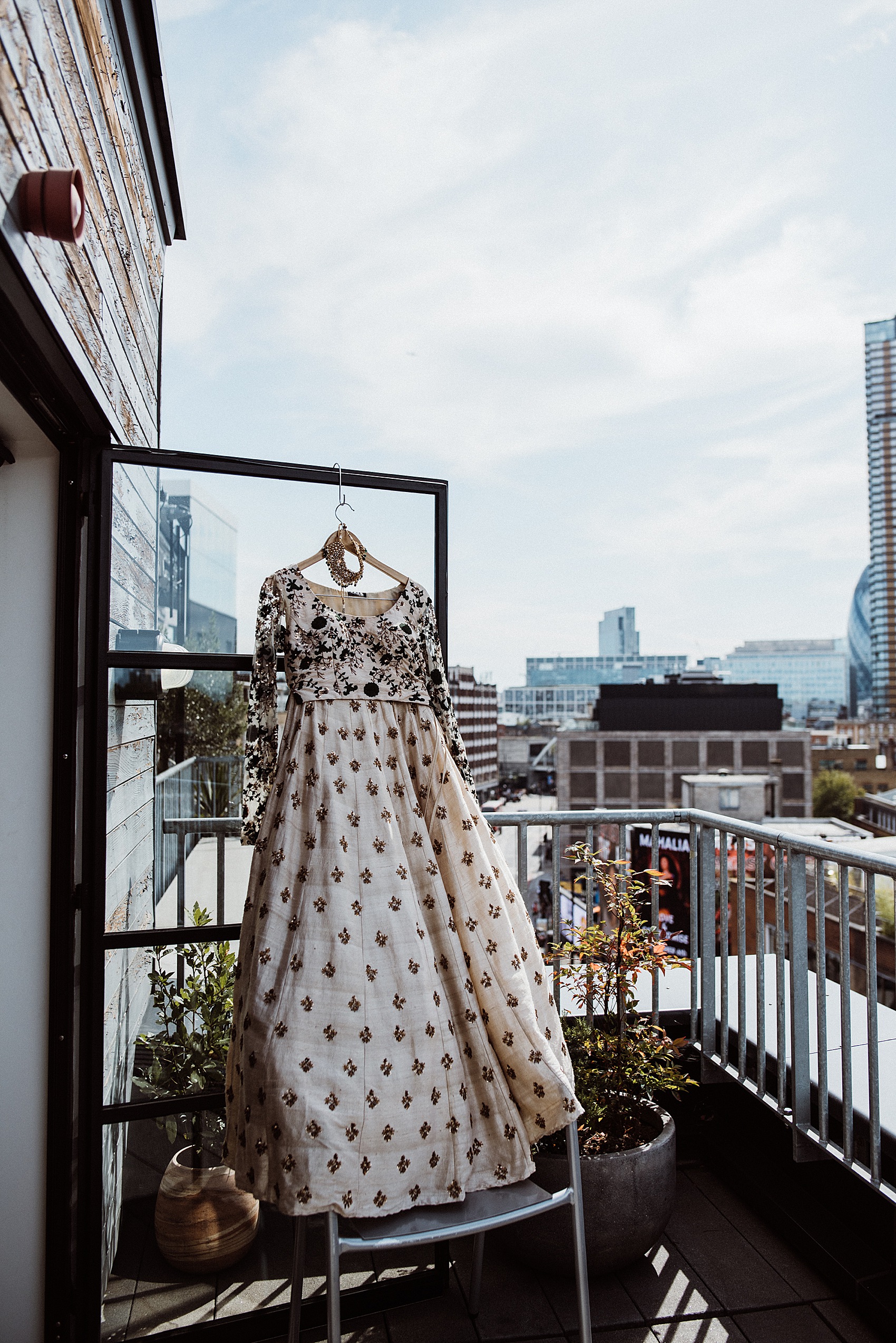 I love the intricate embroidery on the skirt, contrasting with the more free-flowing, floral motif on the top, and more across the matching dupatta. Gorgeous.
"There was something very special about wearing such a traditional Asian wedding outfit and jewellery. It was an unexpected choice for such a modern London wedding, as it gave the wedding a nod to my culture and roots that was picked up later on in the flowers and the wedding favours."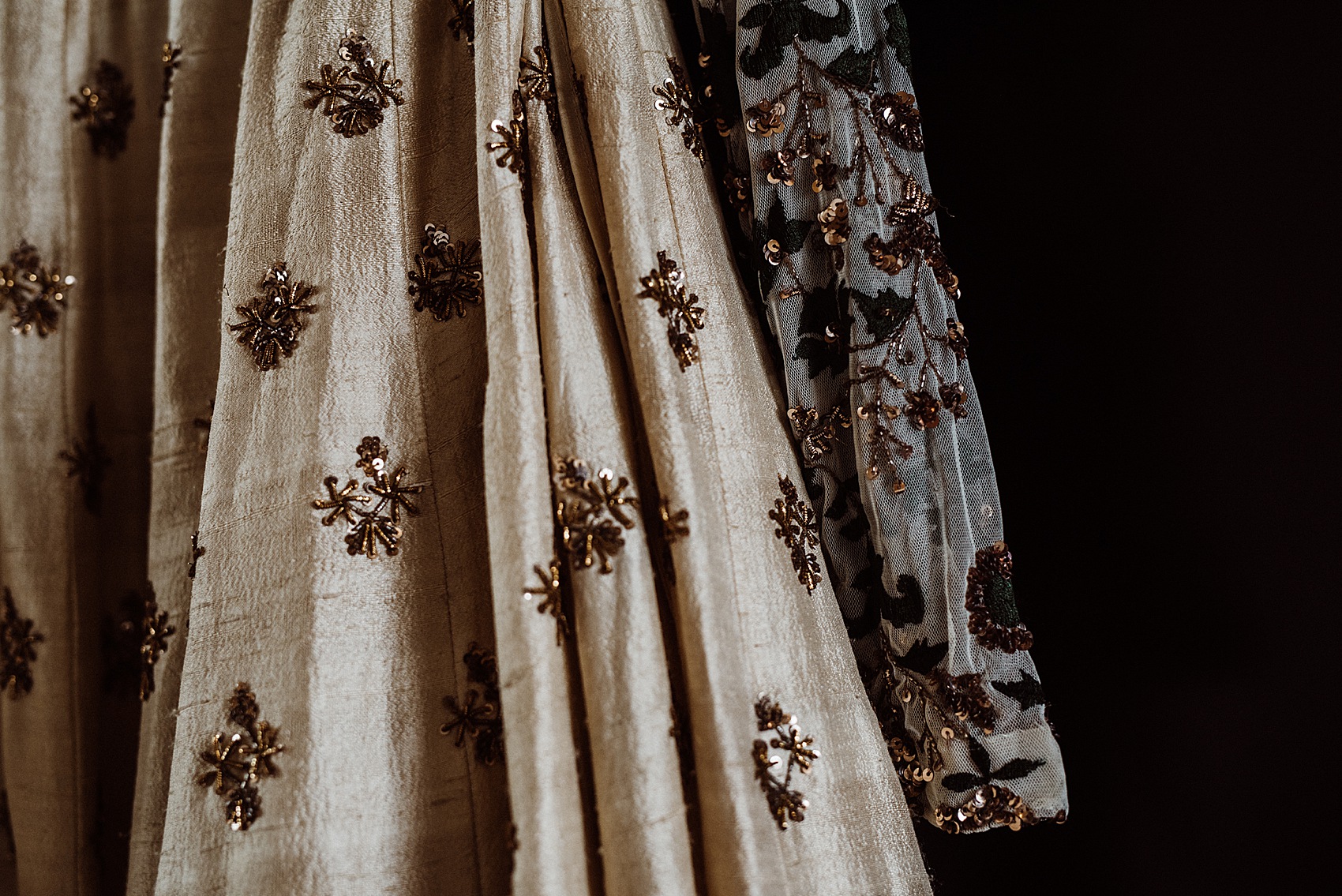 Alina completed her look with a pair of Kolhapuri wedges, which she ordered from The Shoe Tales.
"For the bouquets, buttonholes and the wooden arch we went for dark green foliage with deep red and blush flowers, to complement the racing green of the bridesmaids' dresses and groomsmens' ties."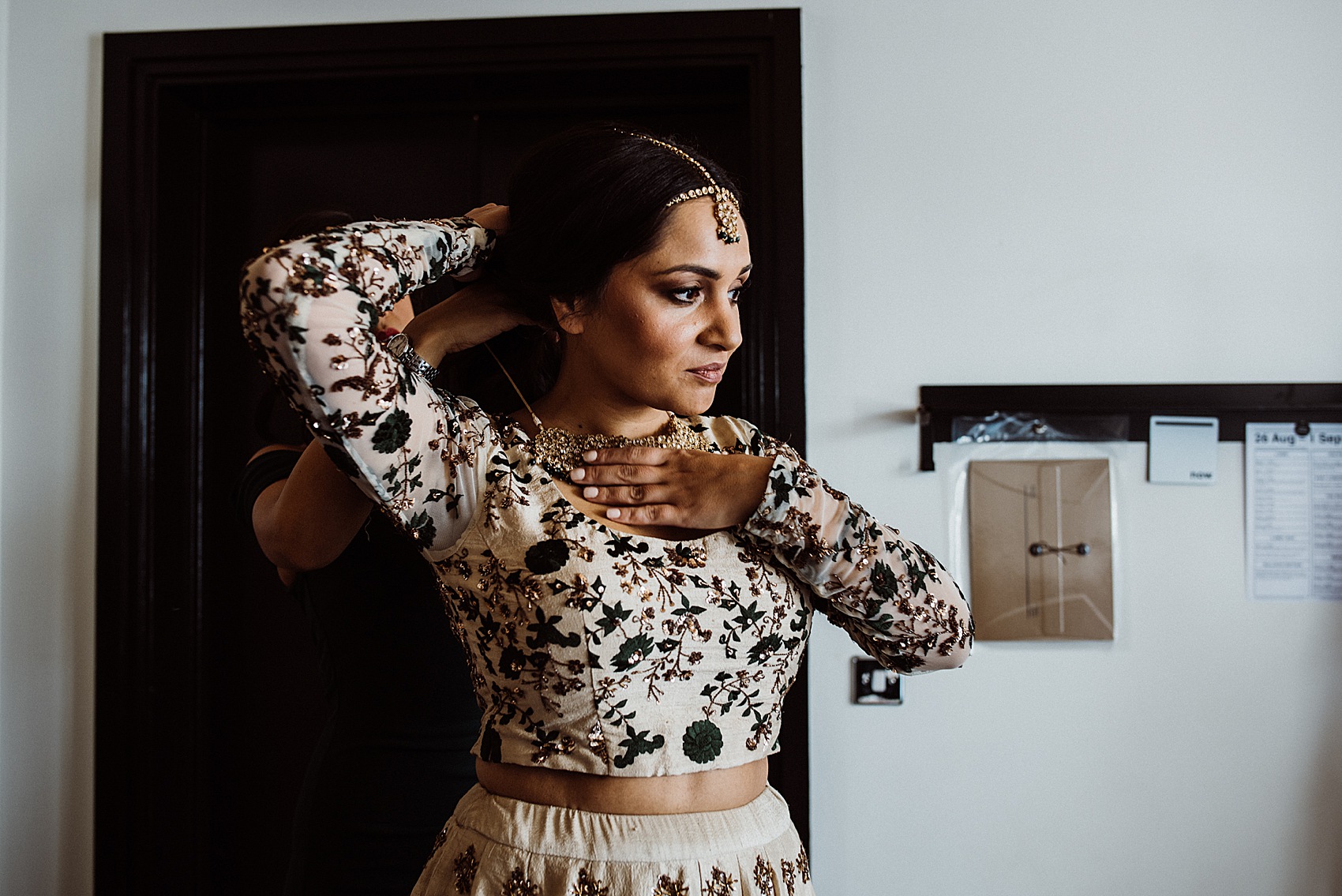 Alina and Chris booked one of the hotel's suites for two nights, and this was the place where Alina and her bridesmaids also got ready on the day of the wedding. Beautifully glamorous hair and make-up styling was by our wonderful Little Book member Natalie-Danielle, whom Alina says was 'terrific'.
"I wore a gold choker with matching earrings and tikka in my hair. I bought these from Southall in West London."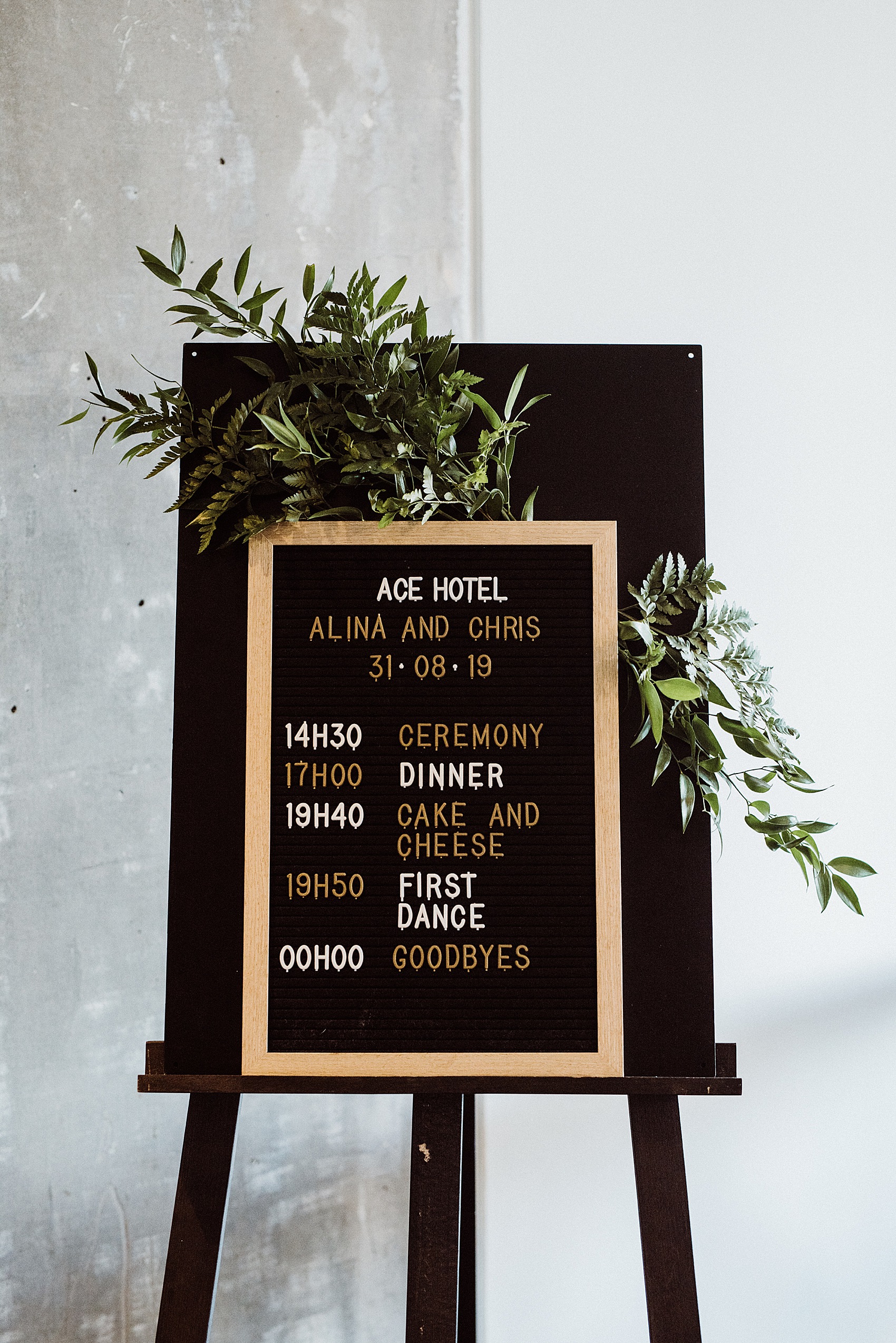 "After months of research, we chose the Ace Hotel in Shoreditch. The venue is beautiful, and within an area of London for which we have great affection and history. It has a fantastic long rooftop terrace, and incredible views over East London. We were drawn to how modern and non-traditional the layout, décor and vibe are, which suited the type of relaxed wedding we were after."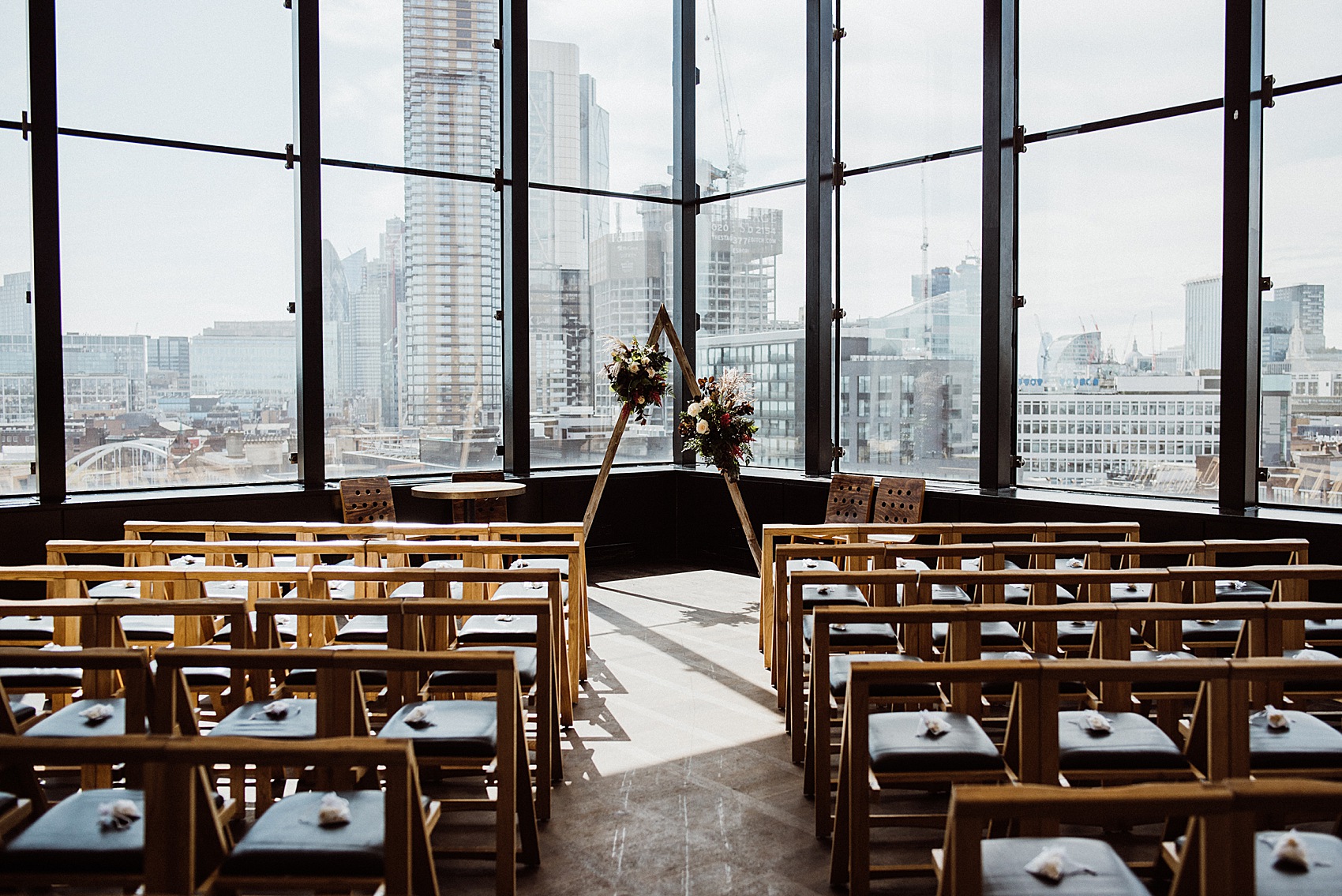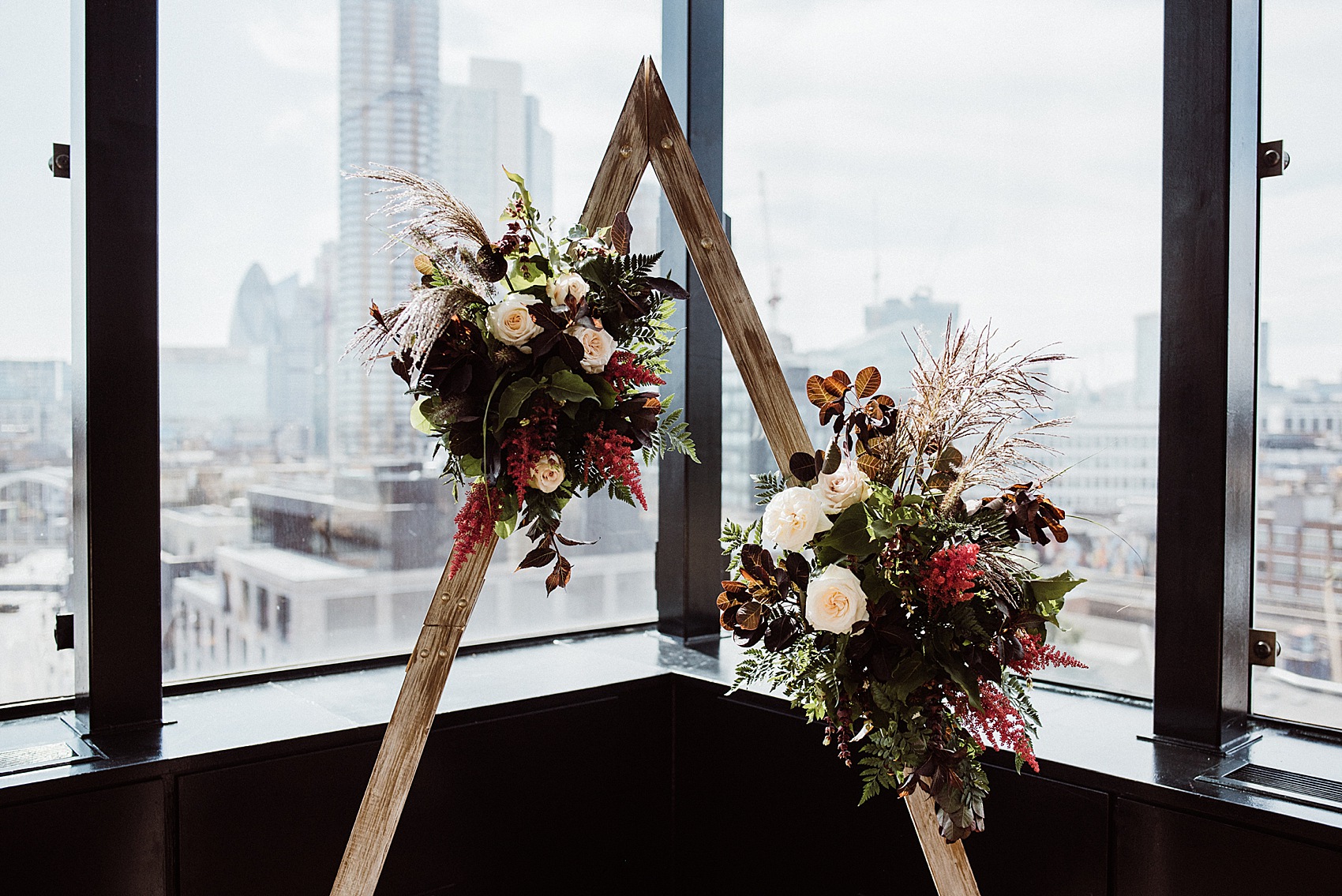 Chris' blue suit was a beautifully tailored design by Canali, which he wore with a deep green tie to complement the bridesmaids' dresses.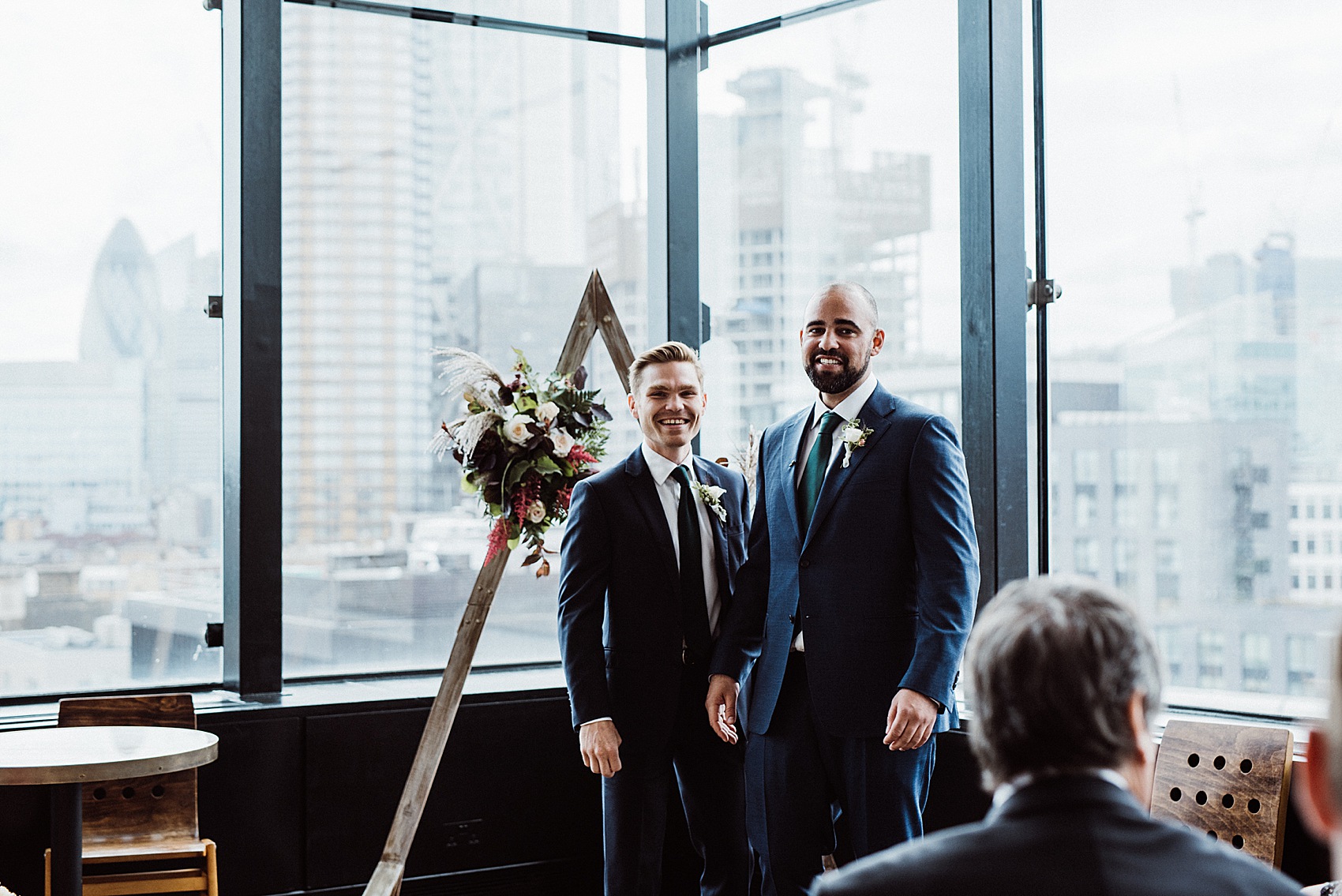 "I had seven bridesmaids, and loved the idea of having them all wear different dresses that were the same colour. The girls all chose their own dresses in racing green (to match the accenting on the bridal lehenga) and I love how the mixture of textures and styles worked together, while reflecting each bridesmaid's personality."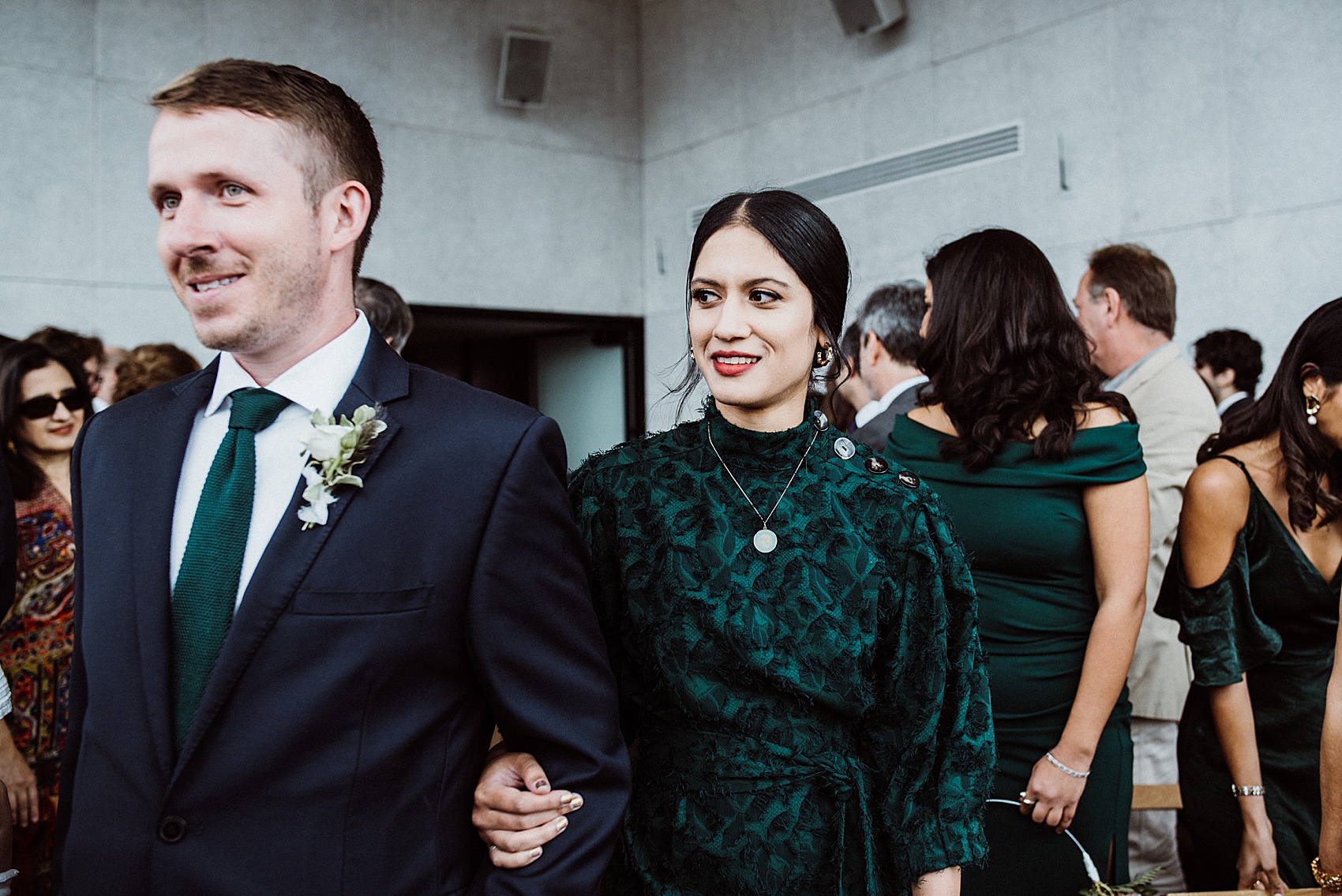 Each bridesmaid chose their shoes and accessories, and they all carried beautiful floral hoops by florists Hibbert & Hagstrom. There was also a wonderful wooden A frame as a ceremony backdrop in the Ace Hotel's 100 Room, with its epic floor-to-ceiling windows.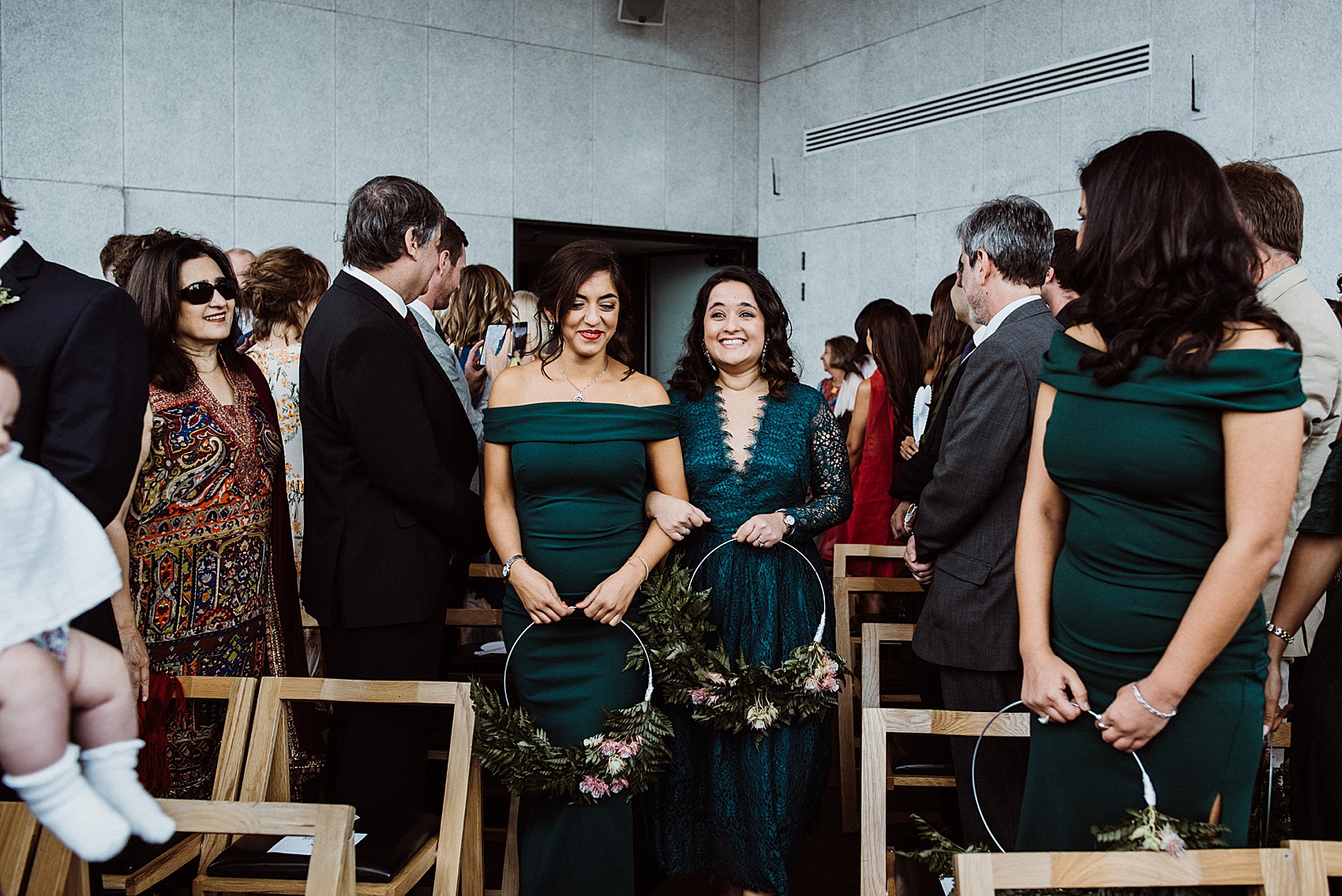 In pairs, the bridesmaids walked down the aisle together with the groomsmen, followed by Alina, who was accompanied by her father Ejaz.
"Alina and the bridesmaids walked down the aisle to You're All I Need to Get By – Take 2, by Aretha Franklin. We wanted something uplifting and non-traditional, and we both adore Aretha. Alina's incredibly talented cousin Rosheen sang covers of Sade's Your Love is King and Lauryn Hill's Can't Take My Eyes Off You at the wedding ceremony."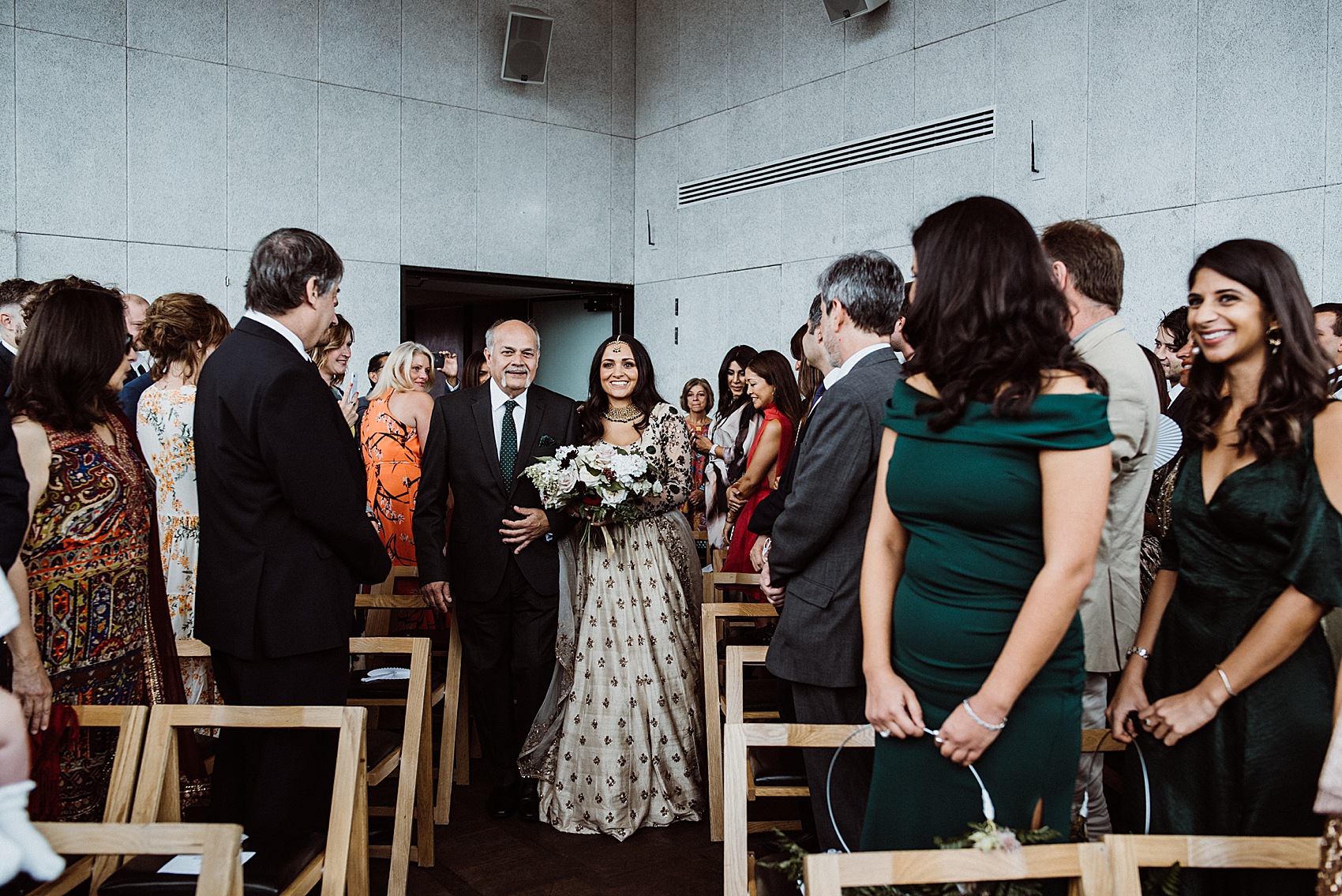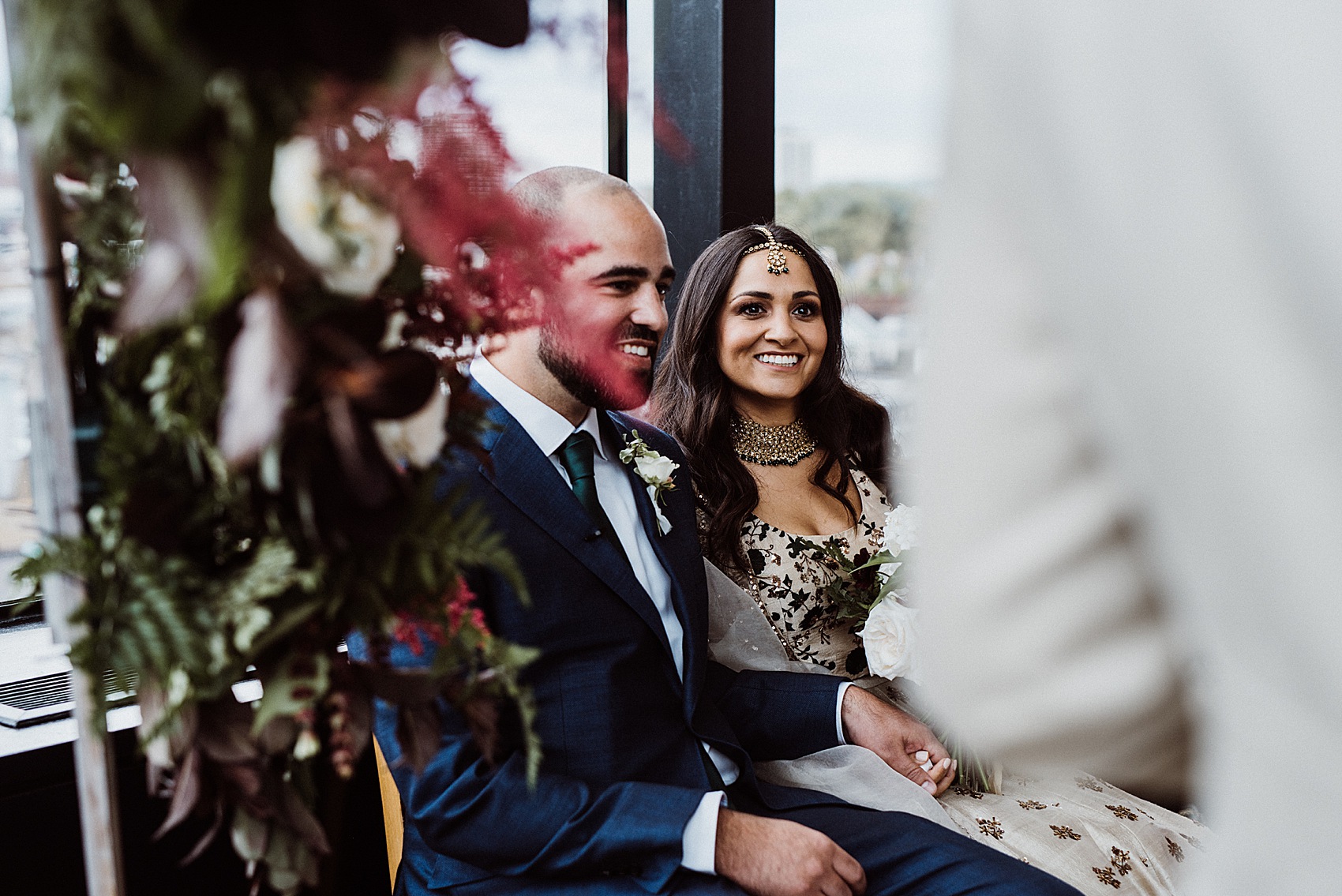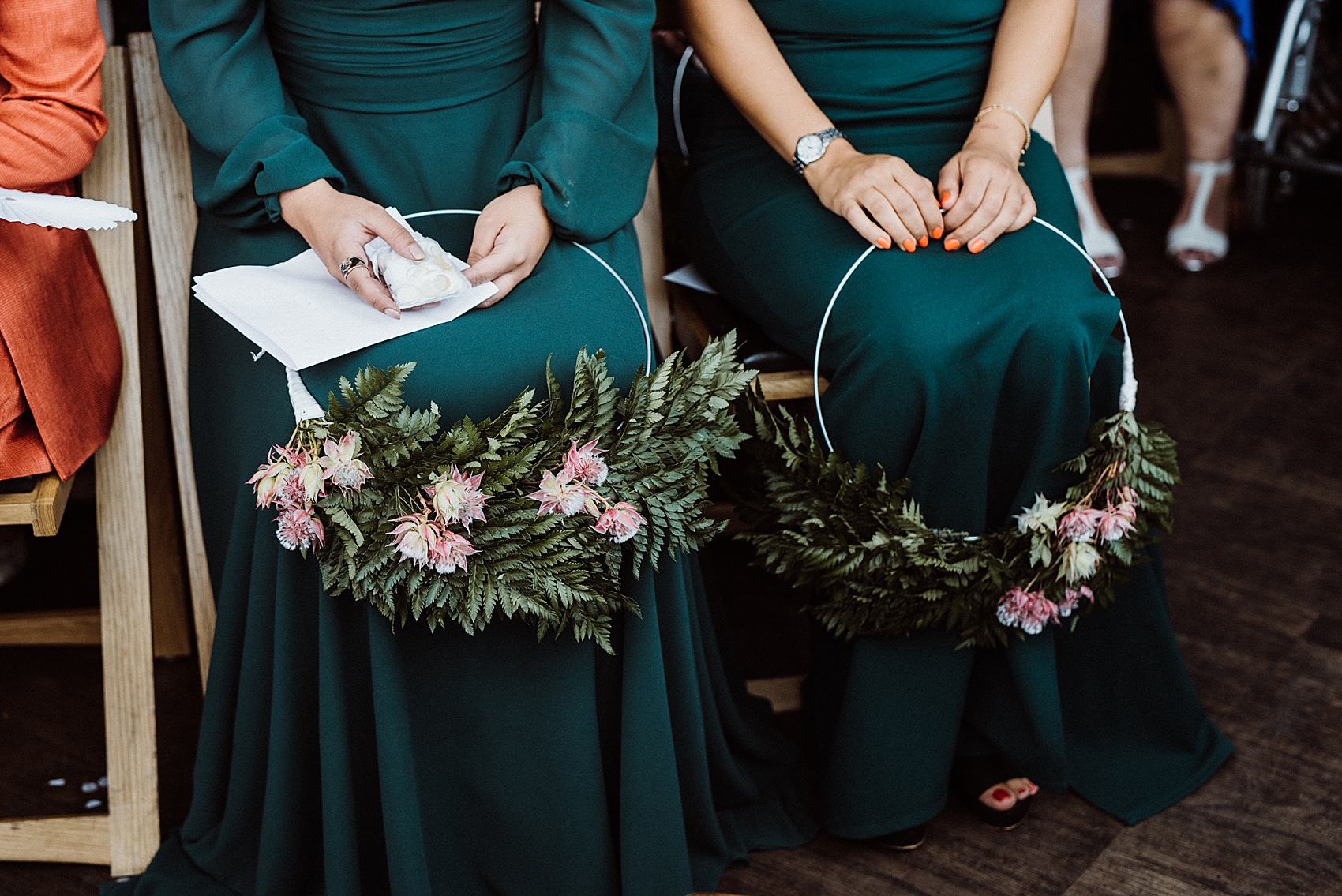 Alina and Chris wanted their whole day to feel like a party, and so consciously kept their ceremony short and simple. There were no readings as such, but bridesmaids (and Alina's sisters) Amina and Anisa wrote and read a funny, touching piece about the history of Alina and Chris' relationship.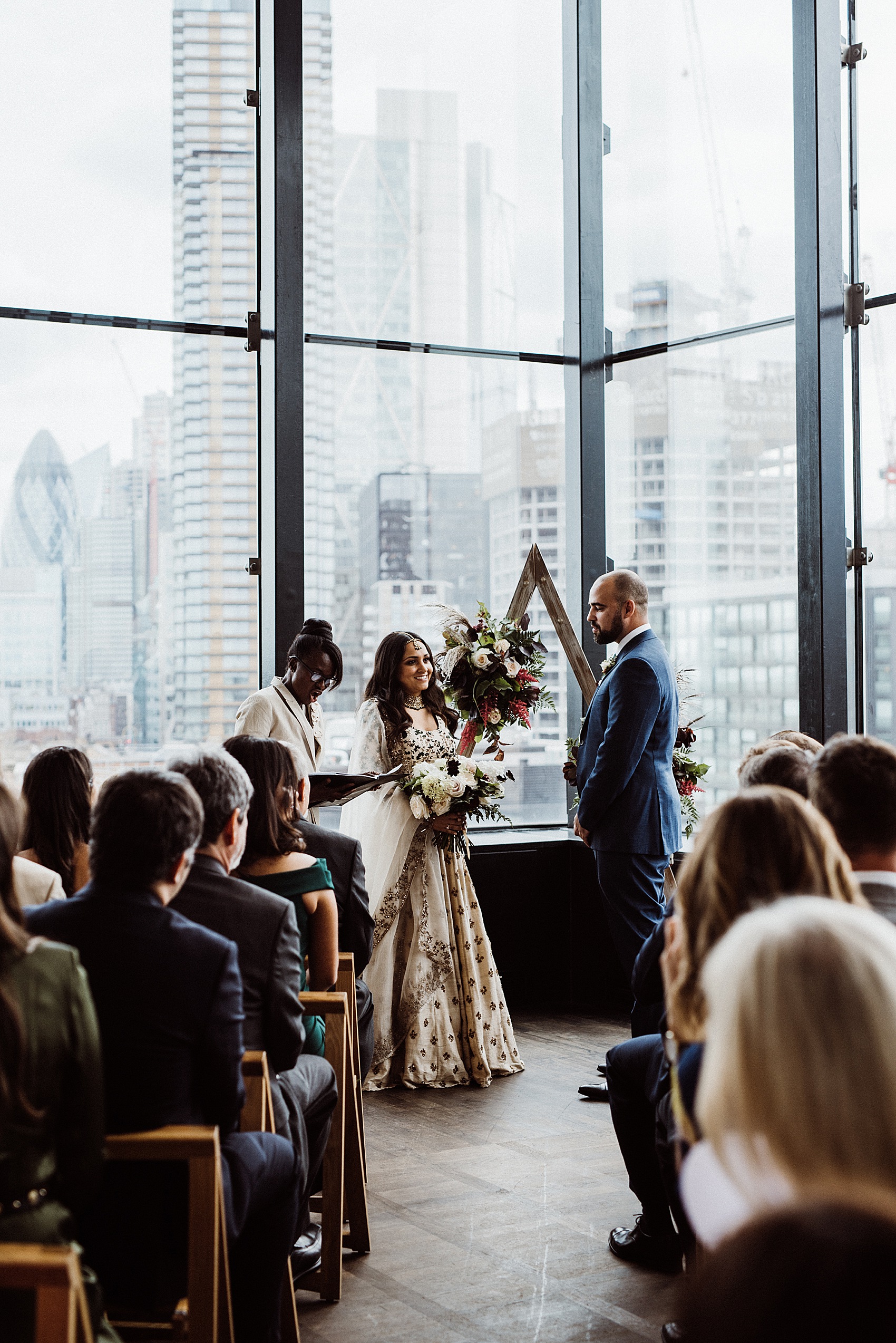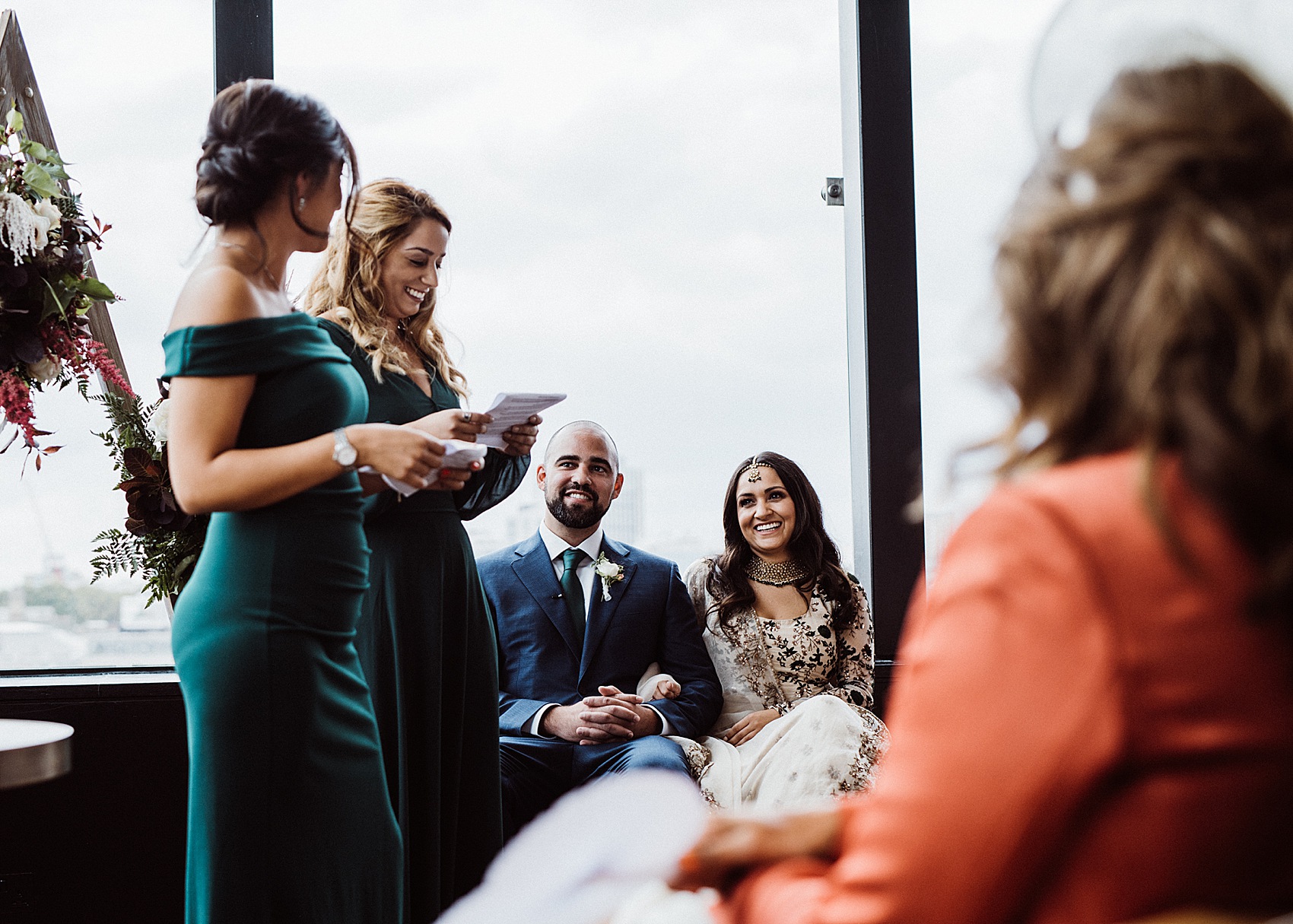 "Chris popped the question whilst on holiday in Porto in April 2018. We were due to marry in May 2019 but we postponed until August due to a family bereavement. Consequently, we were engaged for just over 16 months."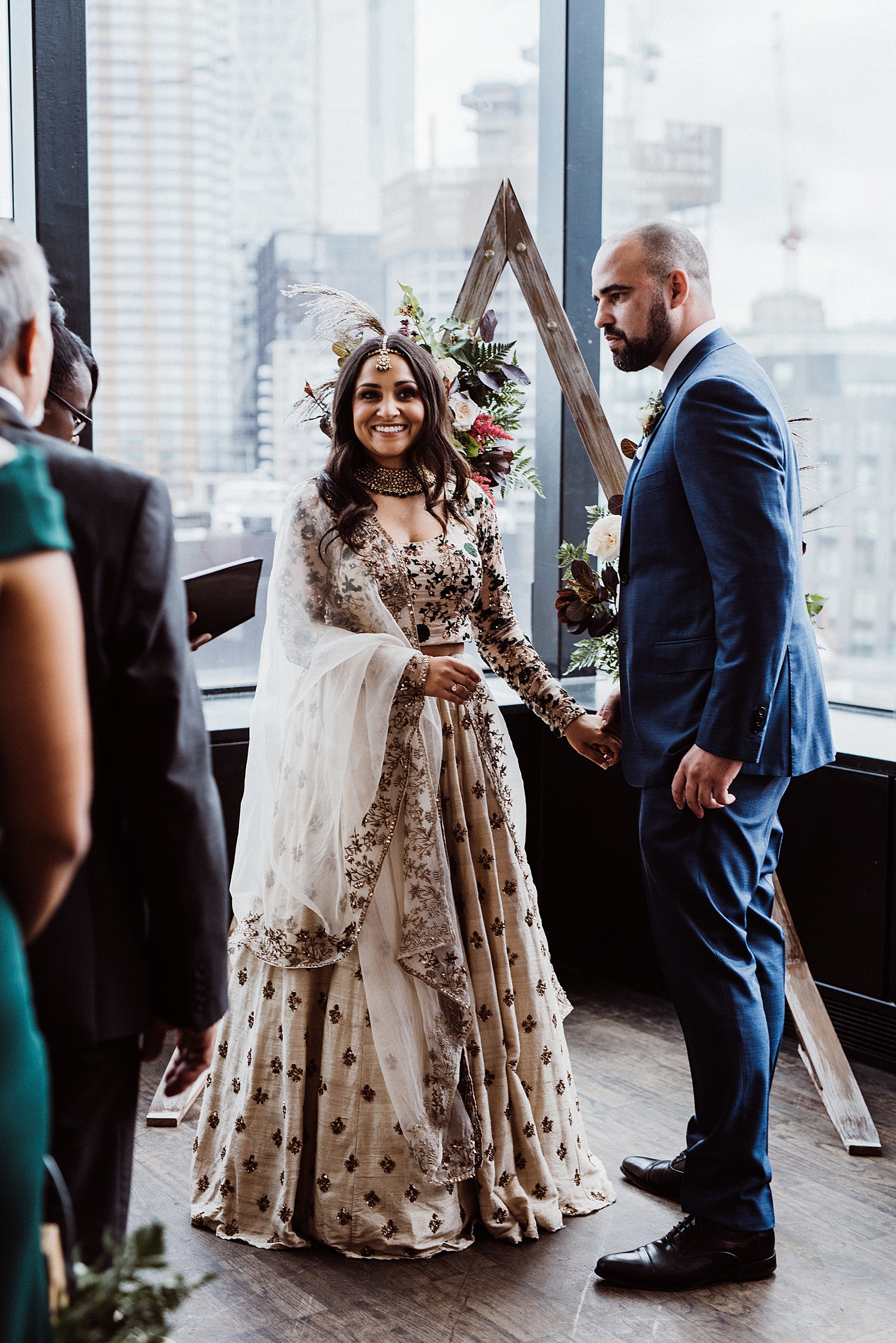 As they made their promises to each other, Alina and Chris also gave each other rings, which were heirloom pieces with beautiful history and meaning attached to them.
"The diamond in my ring was a family heirloom that Chris had re-set into a platinum band. My wedding band was a square edged thin gold band, which Chris inscribed. He revealed the inscription in his groom's speech on the wedding day. Chris' ring was his late grandfather's, which he had re-sized."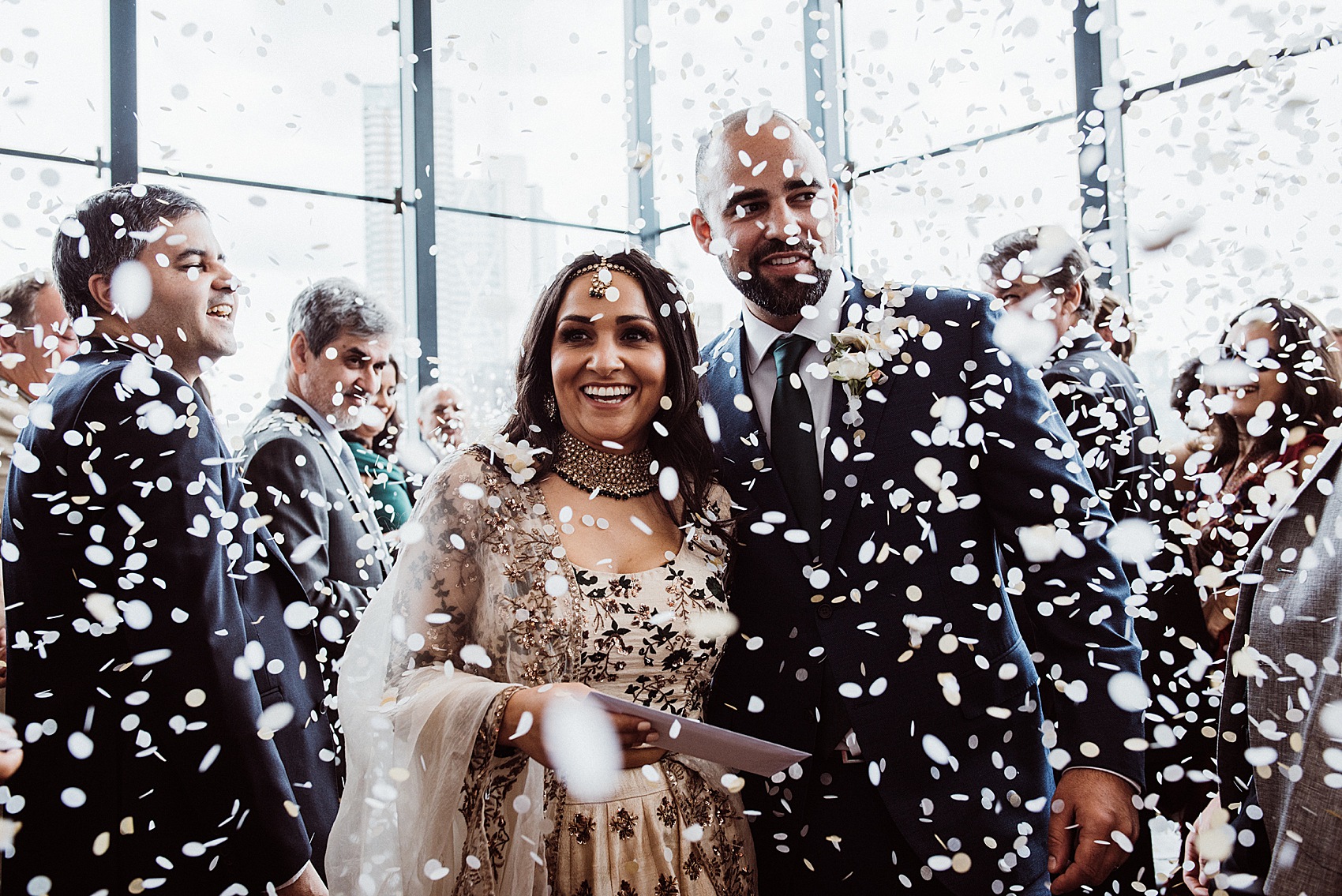 It's wonderful to be able to feature the work of photographer Kitty Wheeler Shaw on our pages again. She has such a crisp, clean and colourful style, and all the joy and loveliness from Alina and Chris' day just radiates from these images.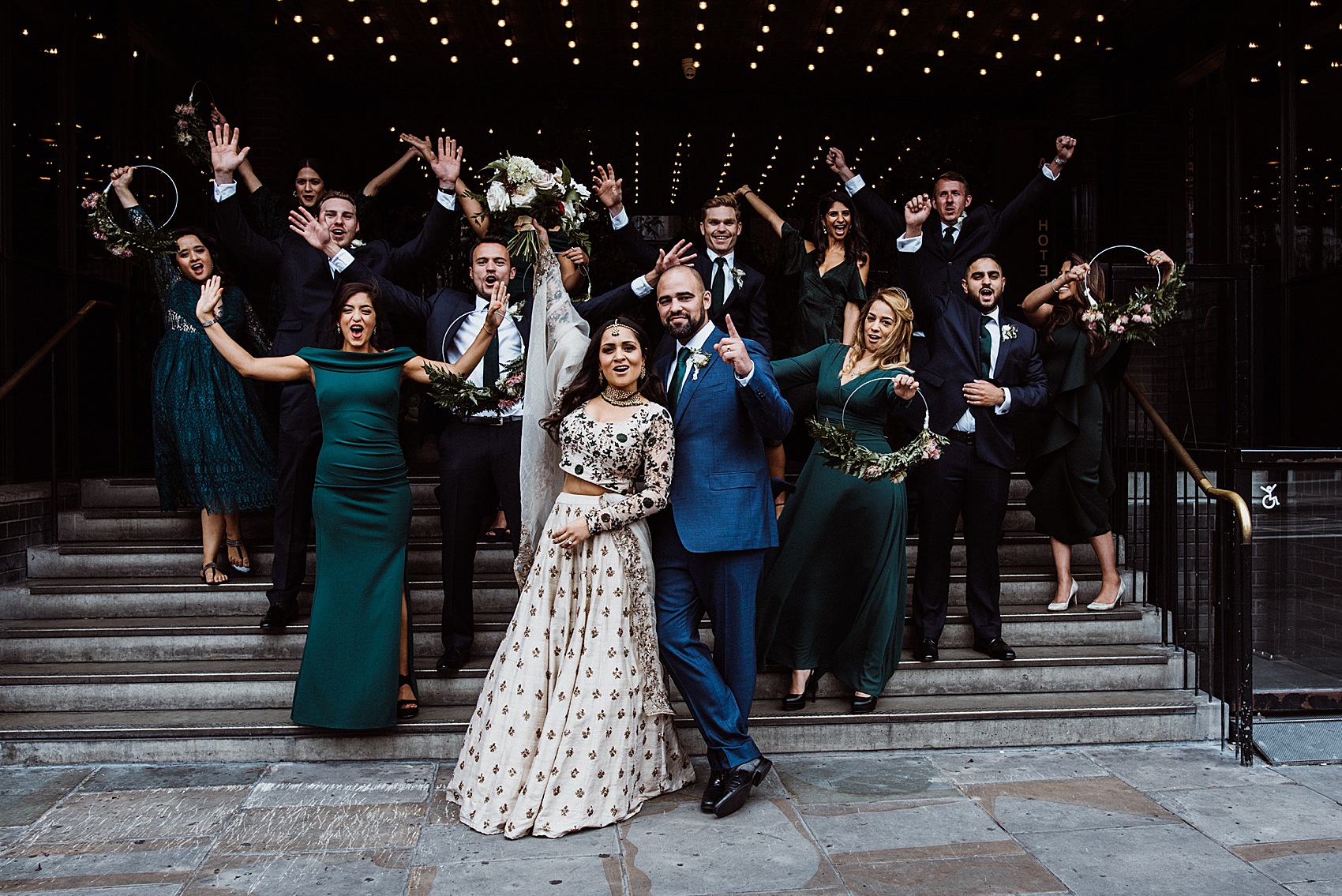 "We met Kitty at the Ace Hotel's wedding fair. We loved her natural, slightly gritty style of photography and were instantly sold. She is an outstanding photographer, was a pleasure to work with and we wholeheartedly recommend her services to everyone."
"As well as doing a great job on our wedding, she included a pre-wedding shoot, which we used for our Nikkah (Muslim wedding ceremony) and we ended up getting lots of photos of that day that we will treasure forever."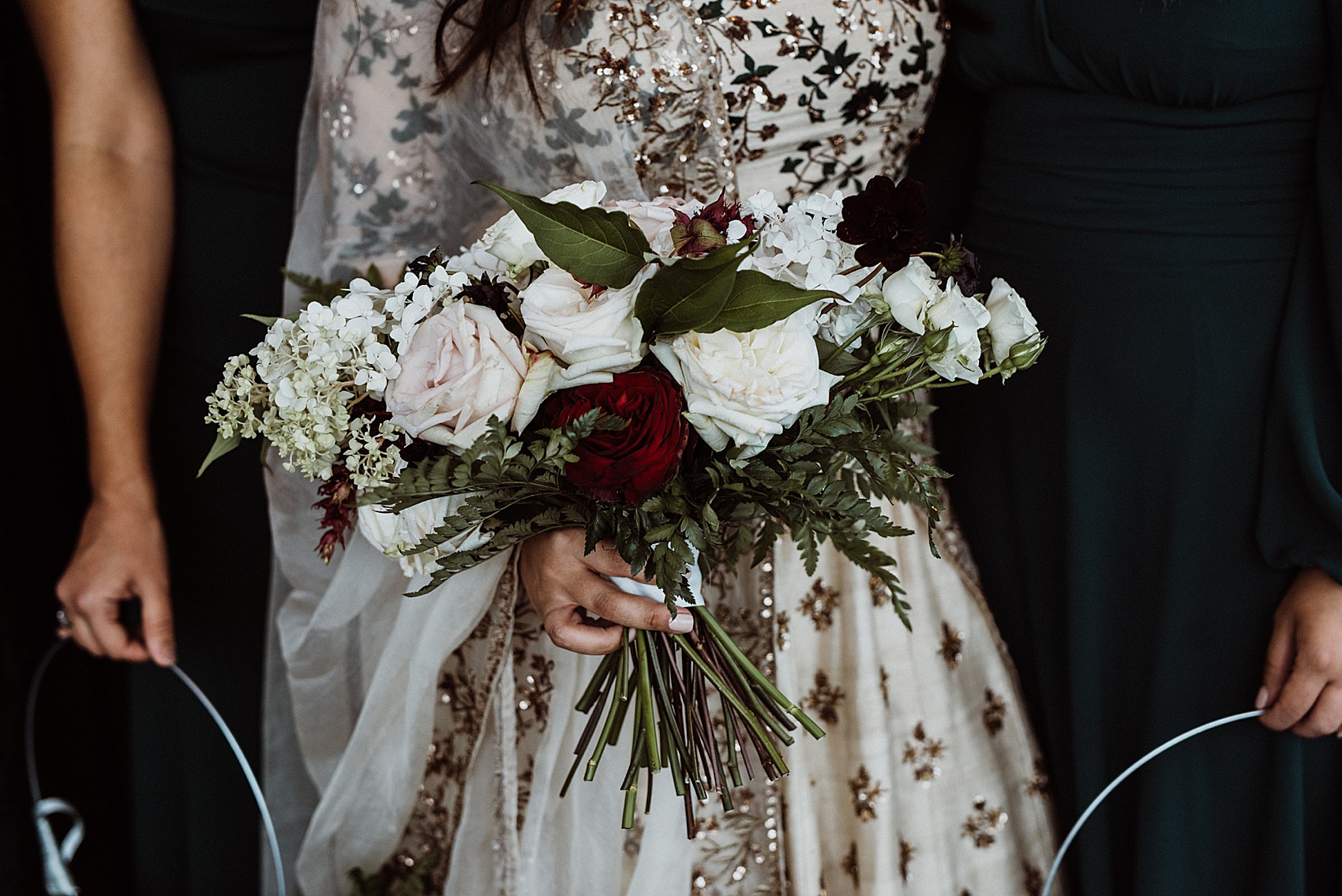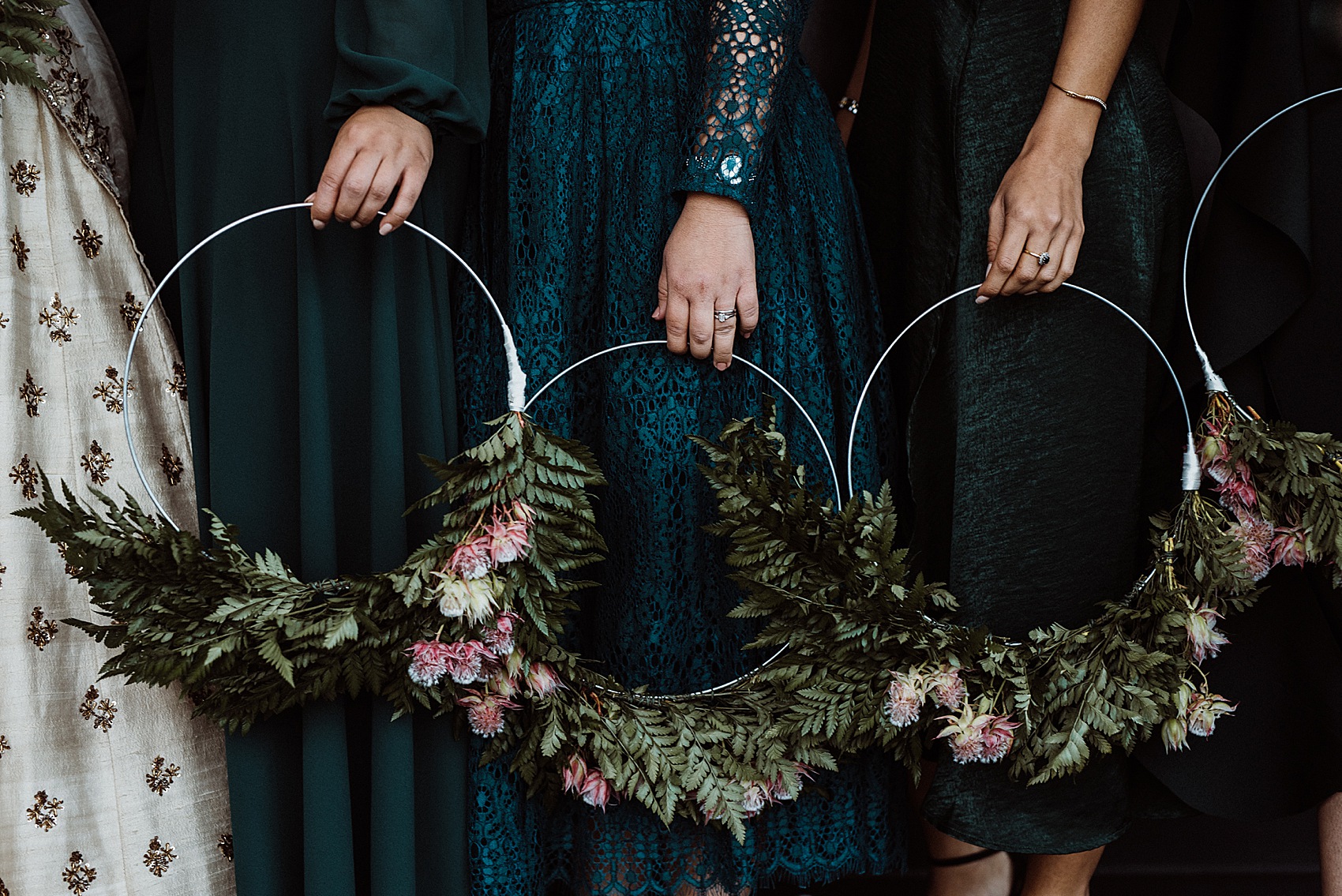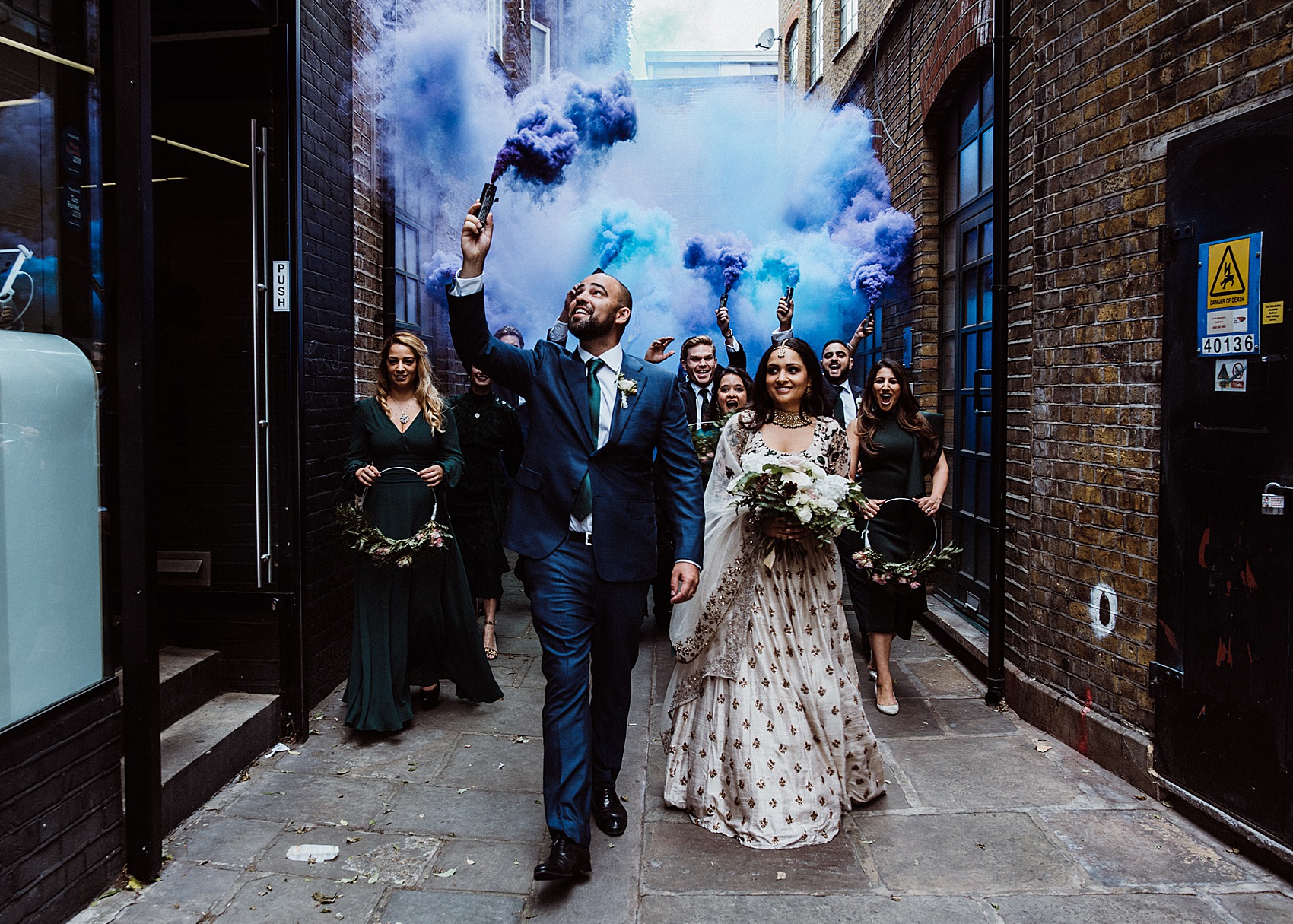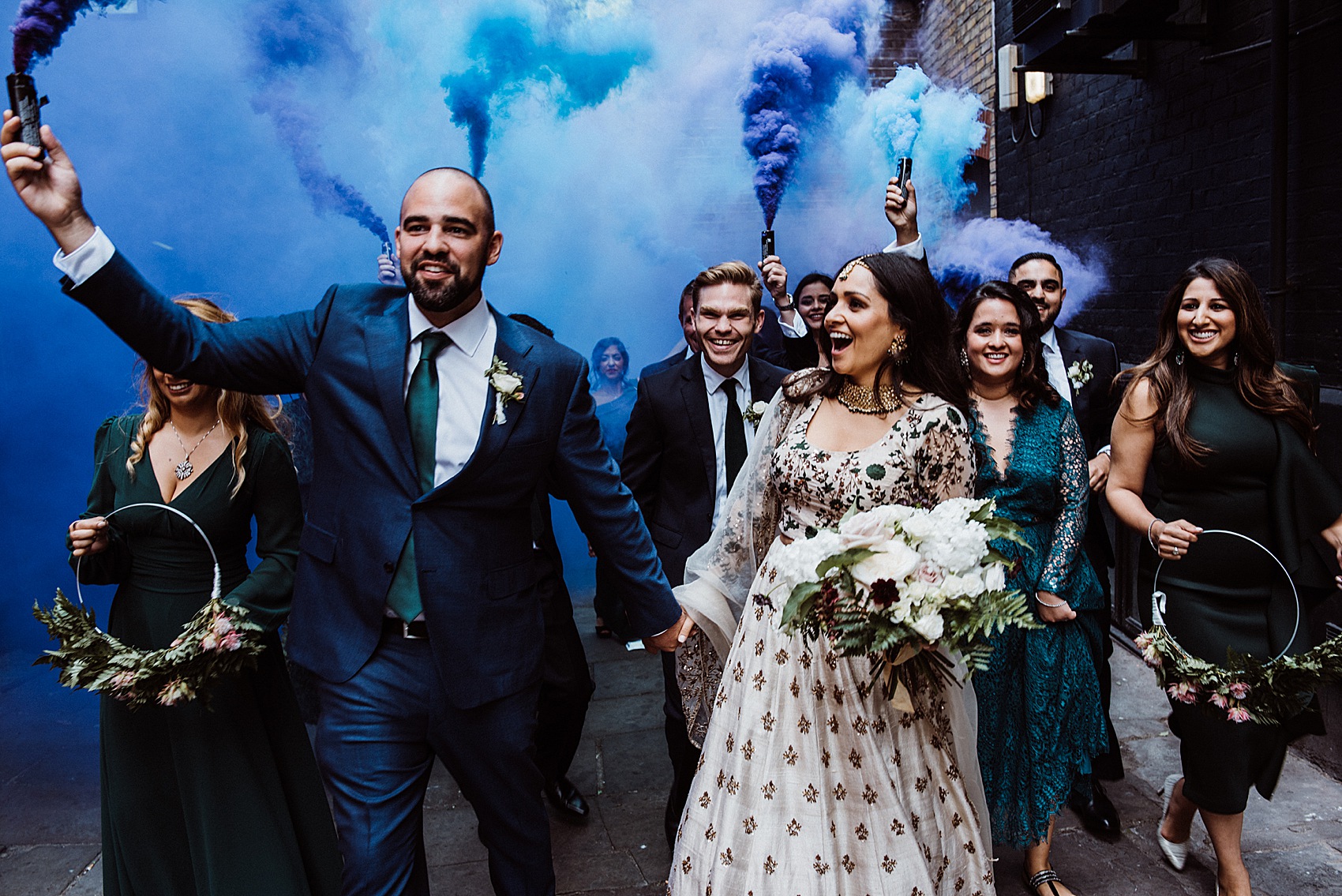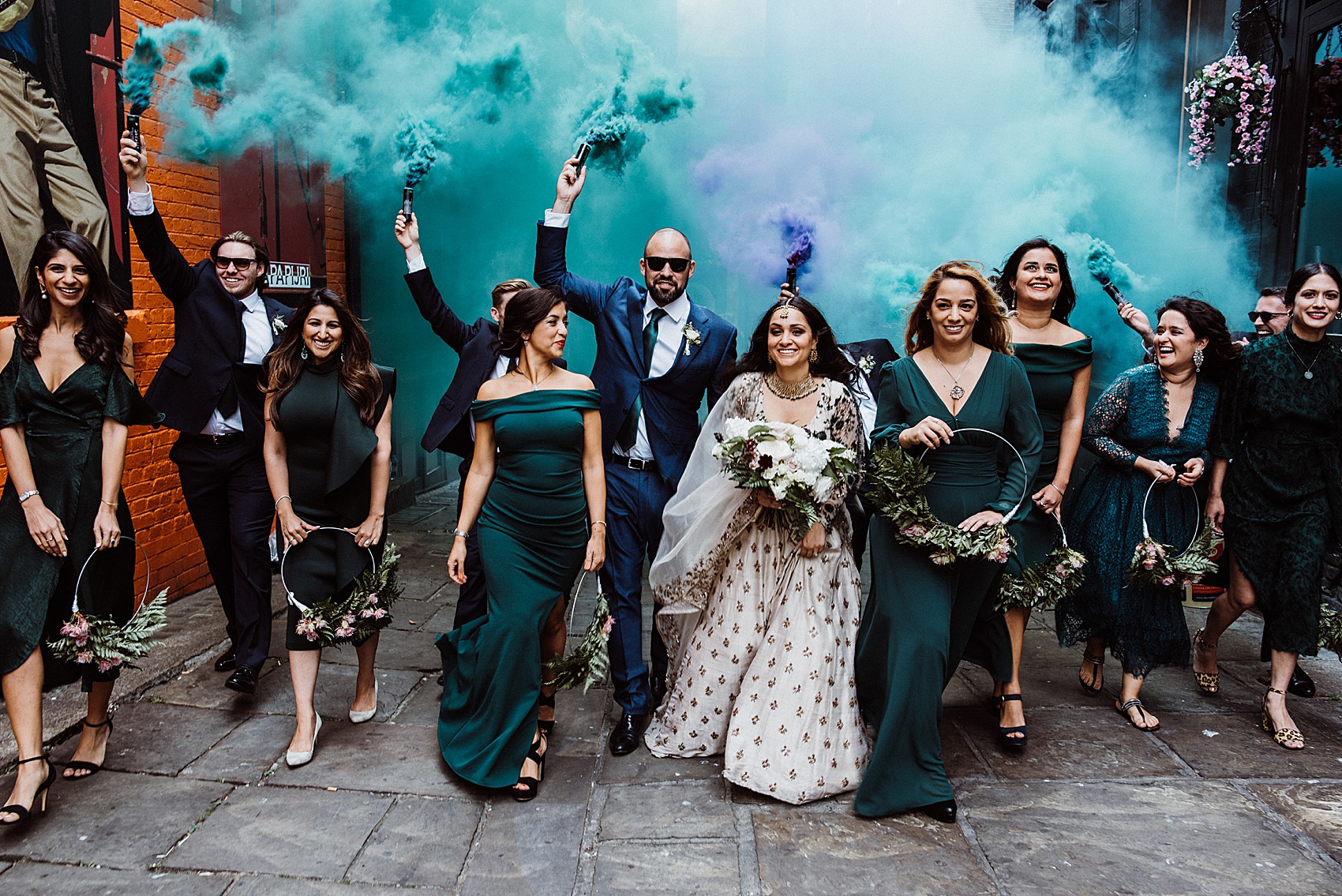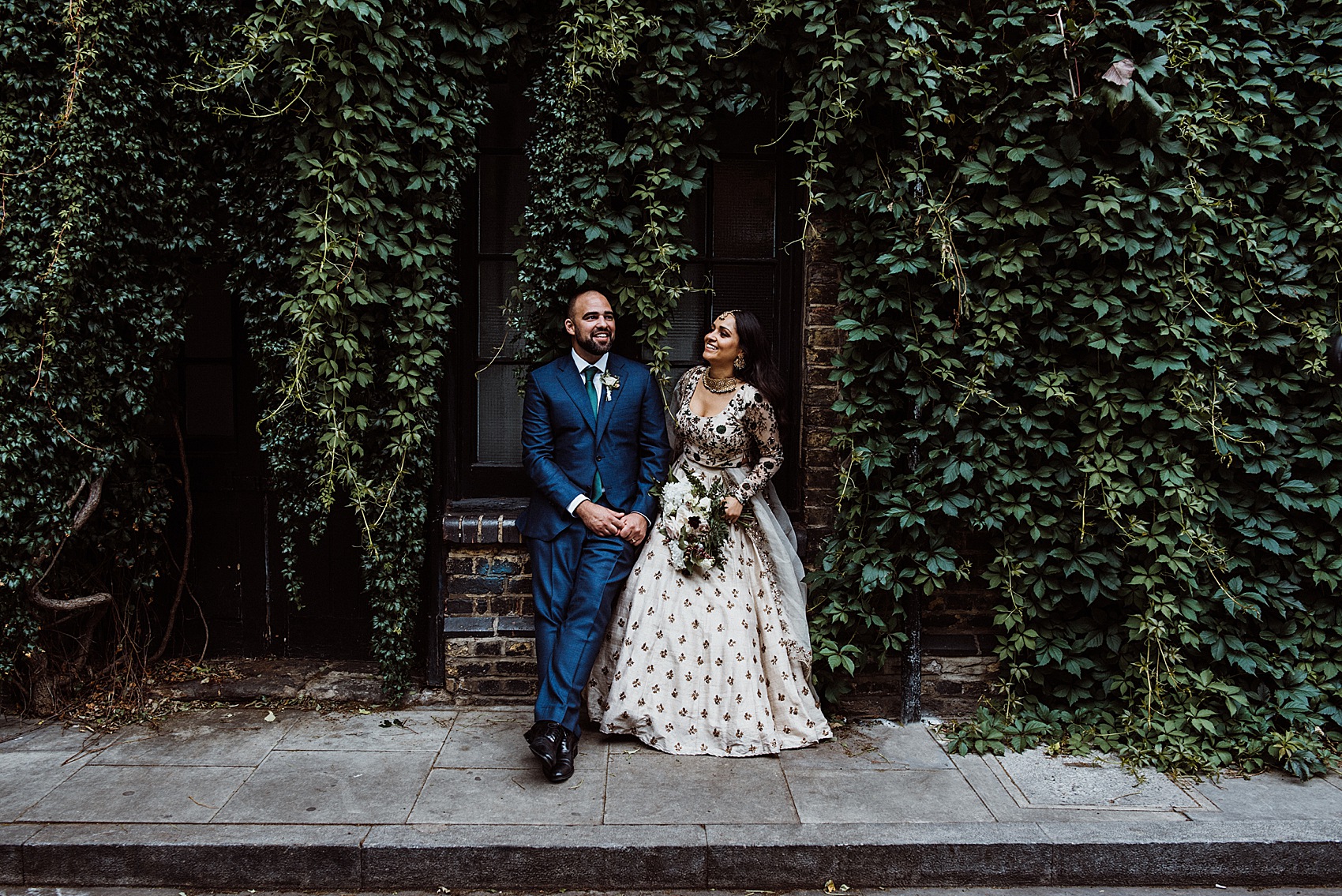 Talented and creative bridesmaid Naila created a brilliant table plan for Alina and Chris, which incorporated their portraits alongside an Ace of Spades theme, with Bollywood motifs and colours, too.
For the wedding feast, long tables were laid with white linens, and decorated with long garlands of greenery, candles inside geometric holders, and more jewel toned flowers.
"We used a family friend's cake business, Cake Owls, who have fun designs like Pollock-esque splatter design cakes. We devised a white, pink and gold smudged buttercream three-tier cake with them. We ordered a personalised 'A+C' cake topper from Etsy."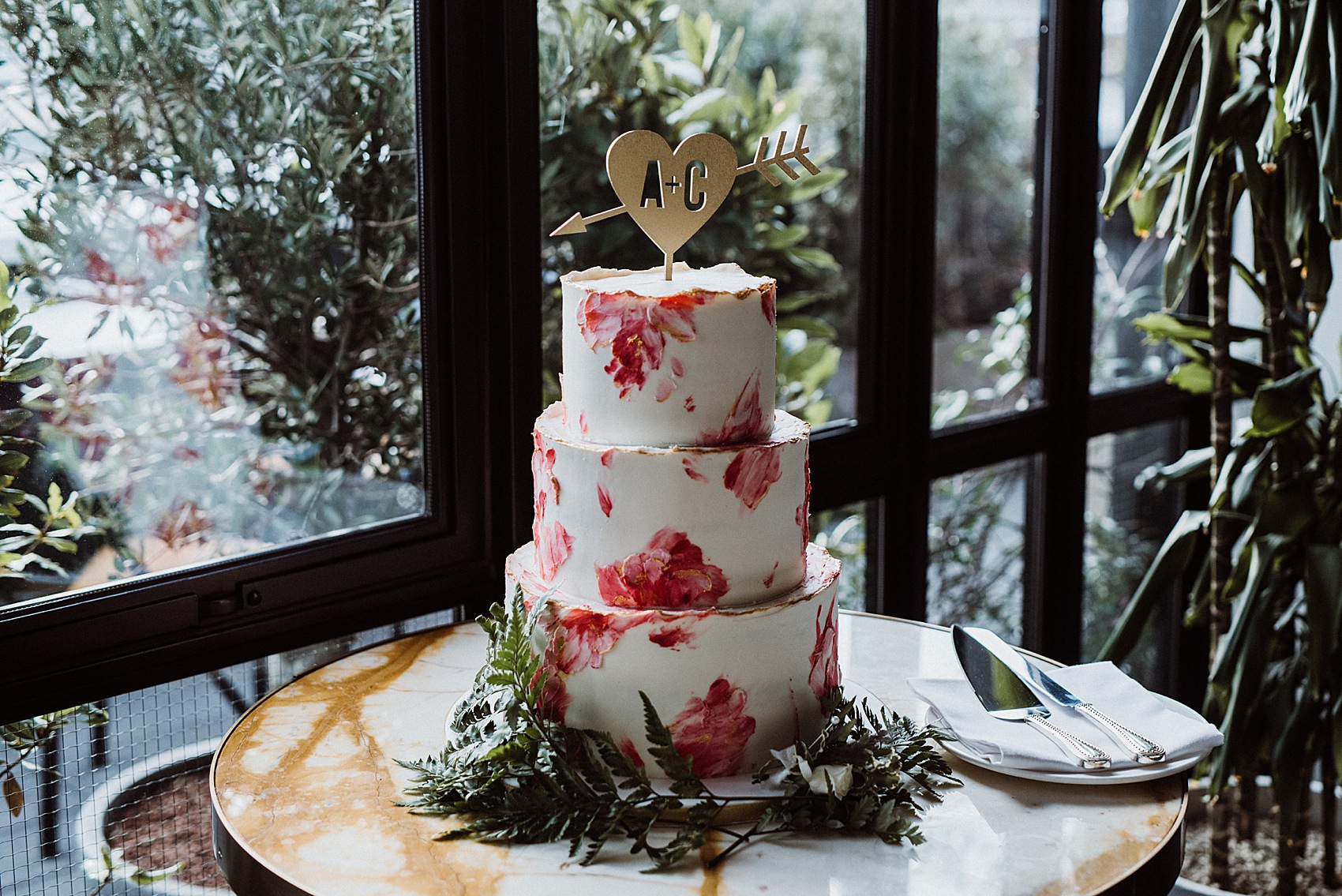 "The theme of the day was – relax, have fun and party! We wanted to remove the air of formality that weddings sometimes have, and have the party of the decade!"
"Ace Hotel provided us with an event planner, Bekki, who was invaluable – at our first meeting we didn't have a clue about what we wanted, and she guided us through the whole process."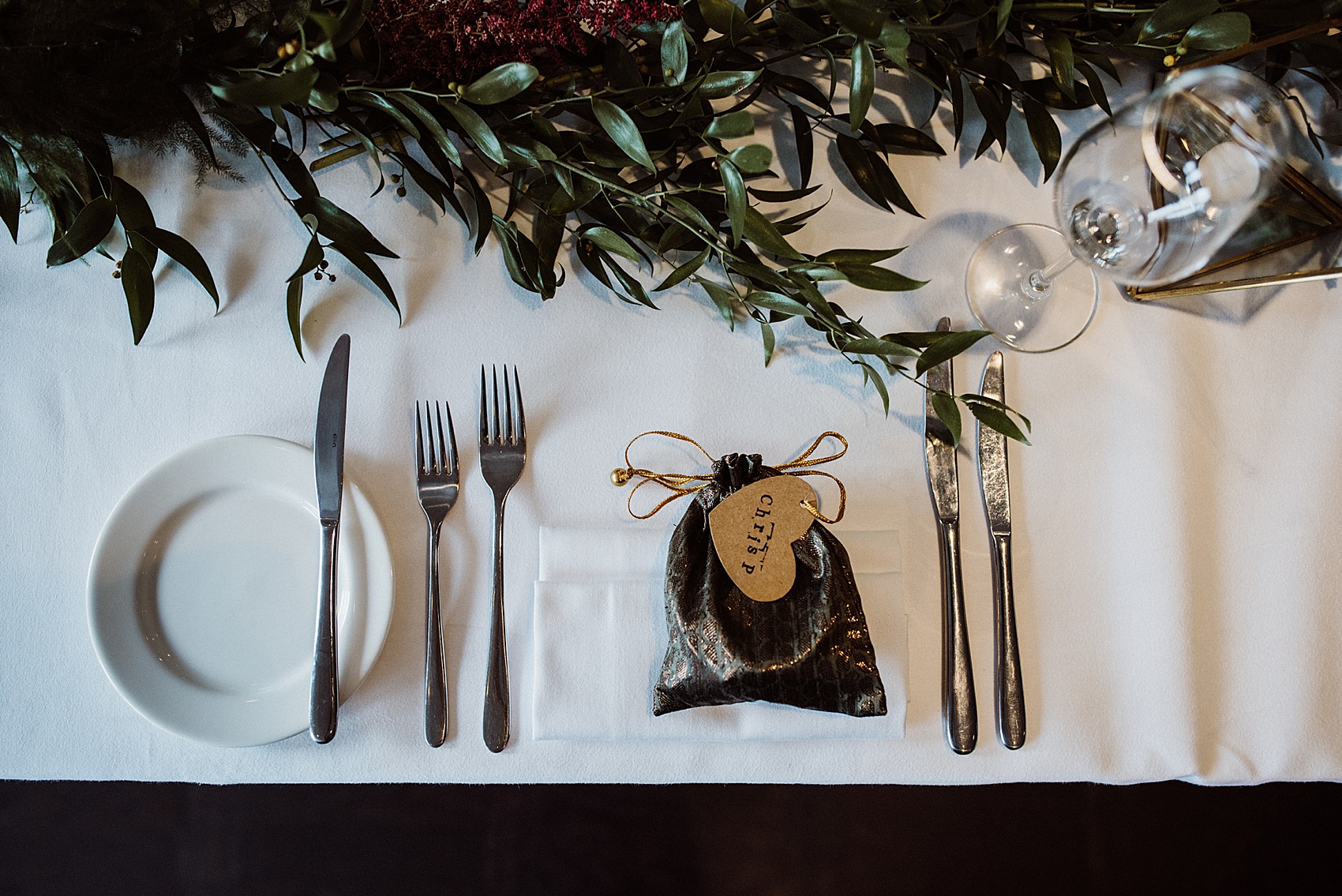 "The wedding favours were brightly coloured drawstring bags filled with traditional Indian sweets, teas and chocolate, tagged with name cards and placed on plates, which added to the colourfulness of the table décor. The wooden A-frame was later placed next to the guest book and a Polaroid camera, and turned into a photobooth prop."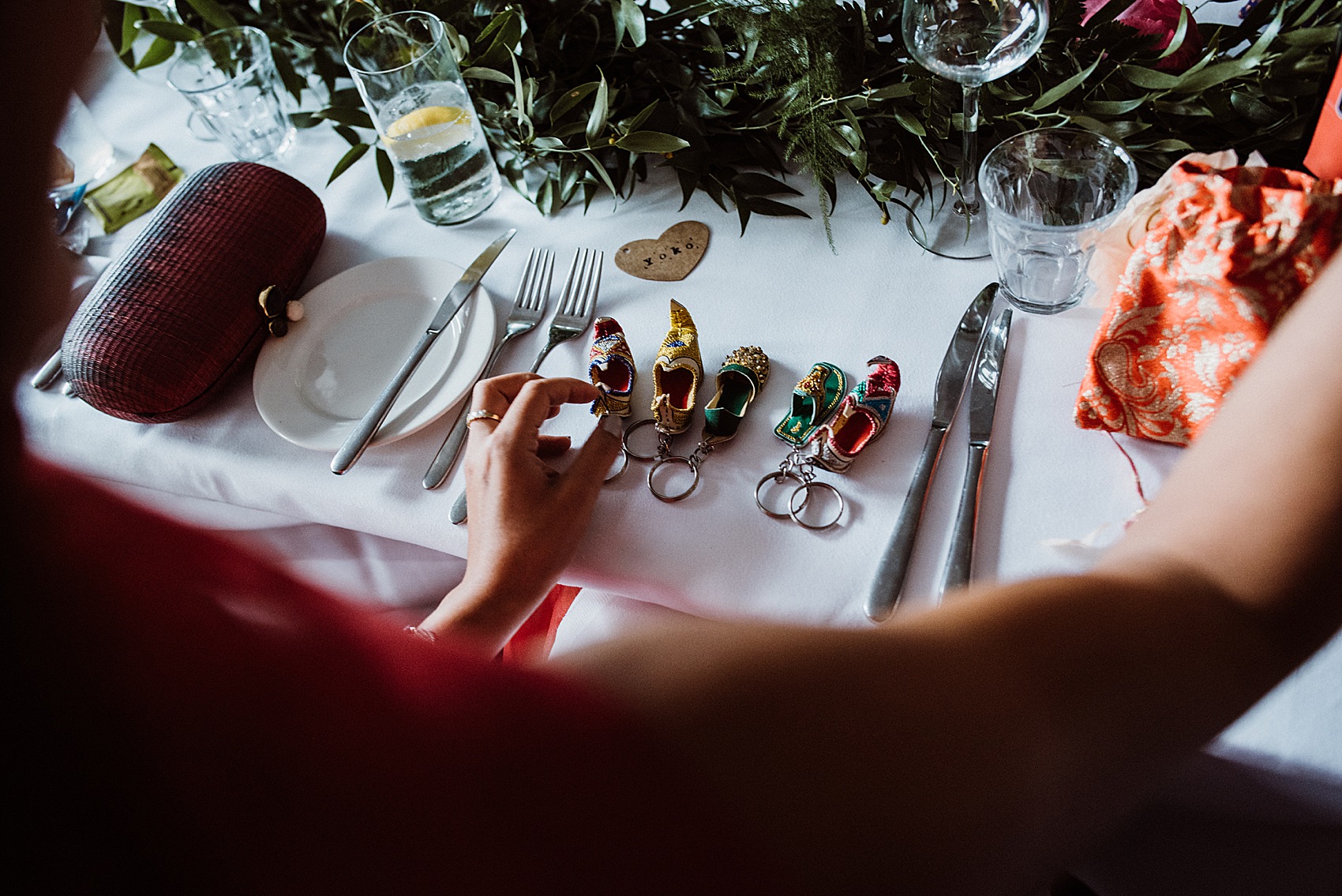 During the drinks reception, there was music from string quartet Xavier (sadly unable to find any contact details for this group) and Master of Ceremonies Matt put together a brilliant Motown playlist for the wedding breakfast.
"The Ace Hotel catered all the food. One of the most remarked upon aspects of the wedding were the canapes and food!"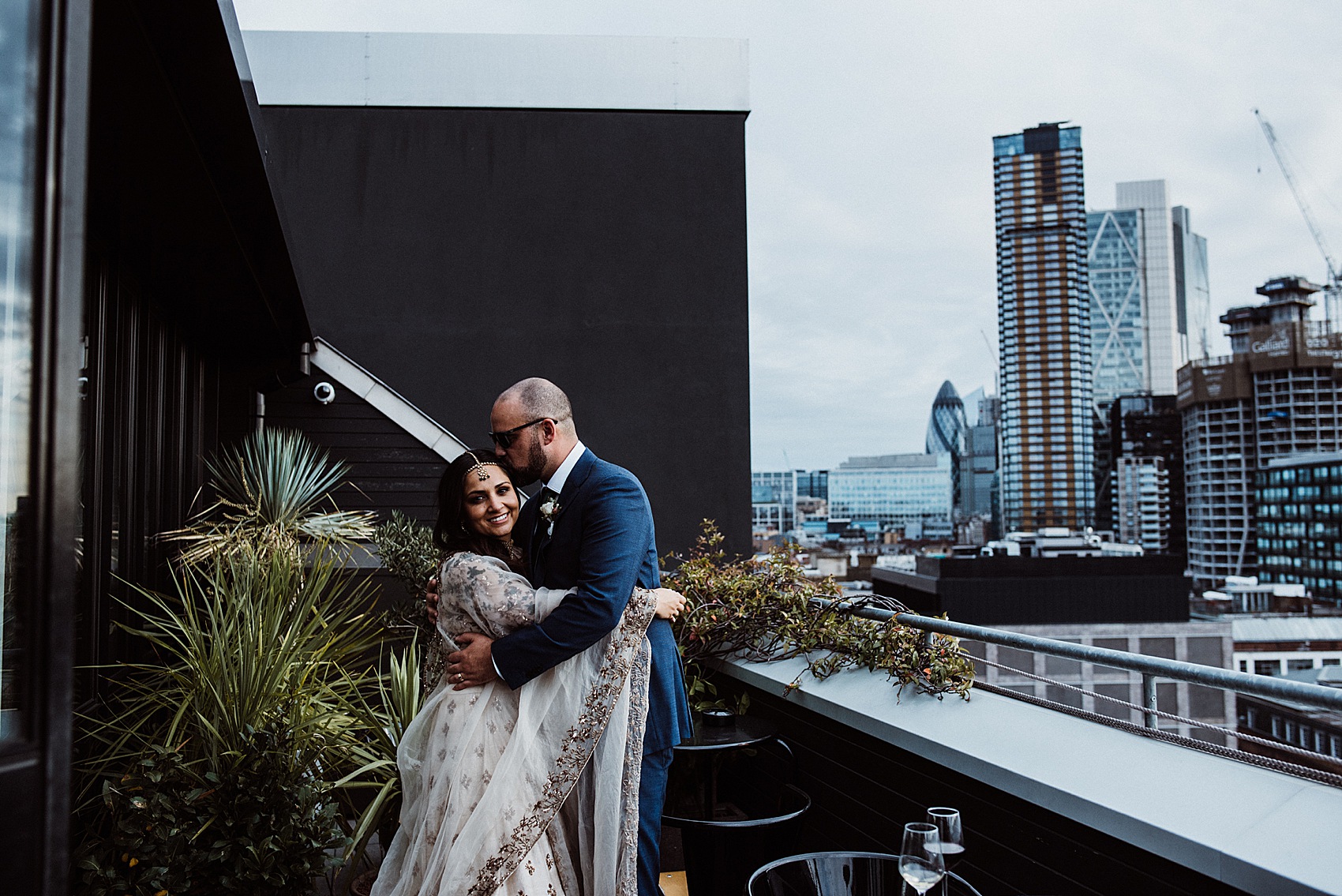 The couple's evening party was held back inside Ace's 100 Room, which was transformed into the perfect disco space, with lighting and a disco ball courtesy of Aurora Lighting Group.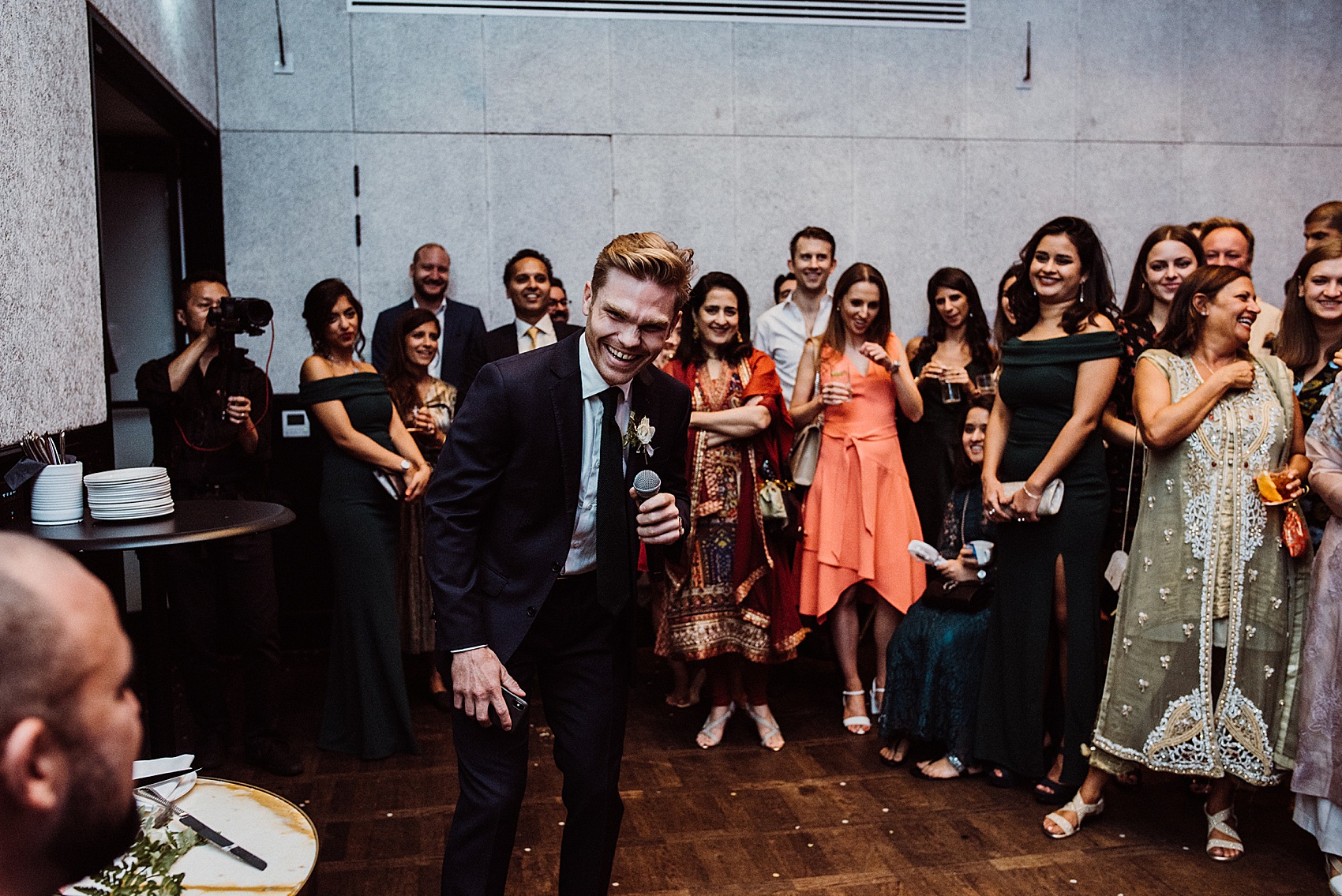 "The entire day was brilliant, and so much fun with so many little highlights throughout, but seeing each other for the first time at the wedding ceremony was the biggest highlight. Also, Chris' speech was truly spectacular."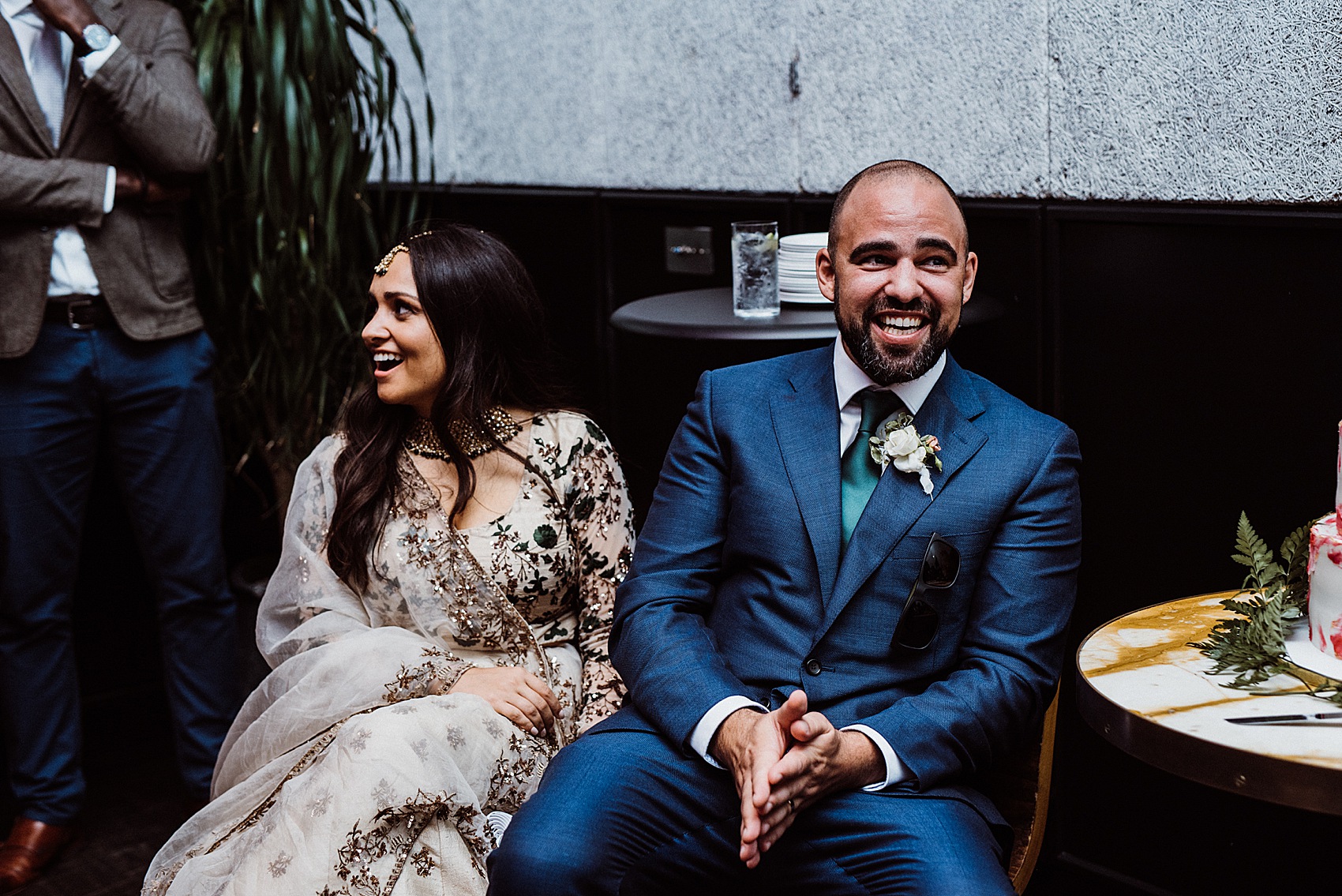 "Our first dance was to Thinking About You by Sister Sledge – one of our favourite songs from when we first started dating. We chose Oh Annie Oh as our DJ for the party, who was sensational. She played a perfect blend of old school Motown, RnB and hip hop, ending with classic garage."
Words of Wedded Wisdom
"Decide early on what the main concept of your wedding will be. For us, we wanted a great big party. The biggest roadblock when it comes to weddings is budget, so when you need to make sacrifices, decide what your main priority is."
"We were lucky enough to have a lot of people who offered us help, and our advice would be – take the help! Work out what needs to be done and delegate specific tasks to the people around you, as there is a lot of do, and people are genuinely happy to help."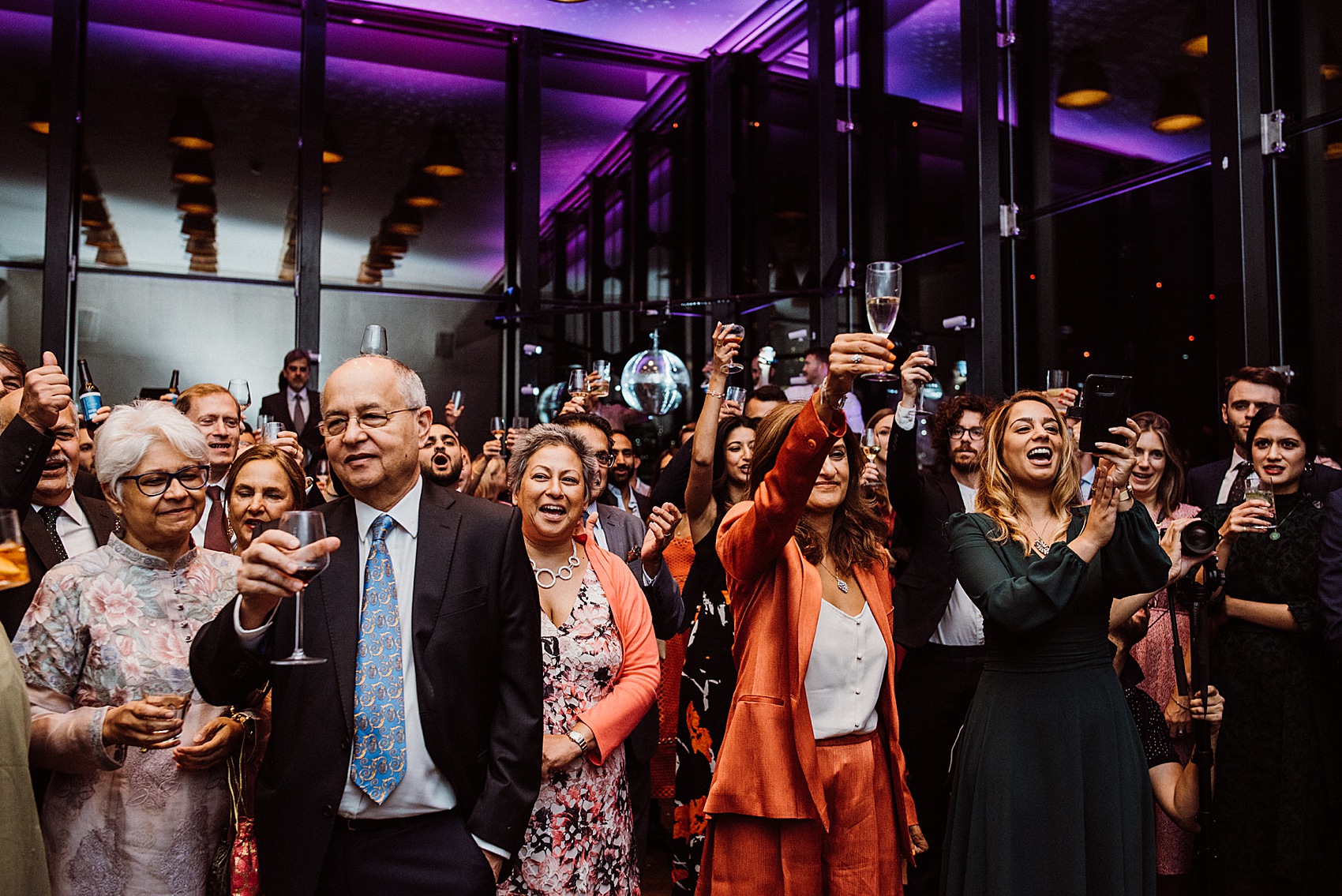 "Finding the venue was the hardest bit of the process, as the options are limitless. We explored lots of different options, from marquee weddings in the country, to town halls, local dry hires, renting out restaurants. Doing the legwork is a necessary part of the process as it makes you realise what will work best for you and narrows down the options."
"If your budget is tight, I would recommend working out the cost of each venue you look at so that you can get a fair comparison between them. There are tonnes of hidden costs in weddings (ours was the lighting, which we literally had no clue that we would need to budget for) so make sure you have some contingency!"
"We had to move the date of our wedding due to an unexpected family bereavement one week before our original wedding date. We were lucky to have been shown so much kindness and understanding by all our guests and suppliers (particularly the venue, who let us change the date of the wedding free of charge), but make sure to get wedding insurance. It's a drop in the ocean compared to what you might lose out on."
"Mostly, remember that it's just one day and the mood of the couple will filter down to the rest of the party. Things will go wrong, things won't be perfect, but enjoy yourself and be grateful to everyone for all the effort they've made to come and celebrate your big day with you. You'll remember the mood you were in more than you'll remember anything else about your wedding day, so don't get hung up on the details, relax and have fun."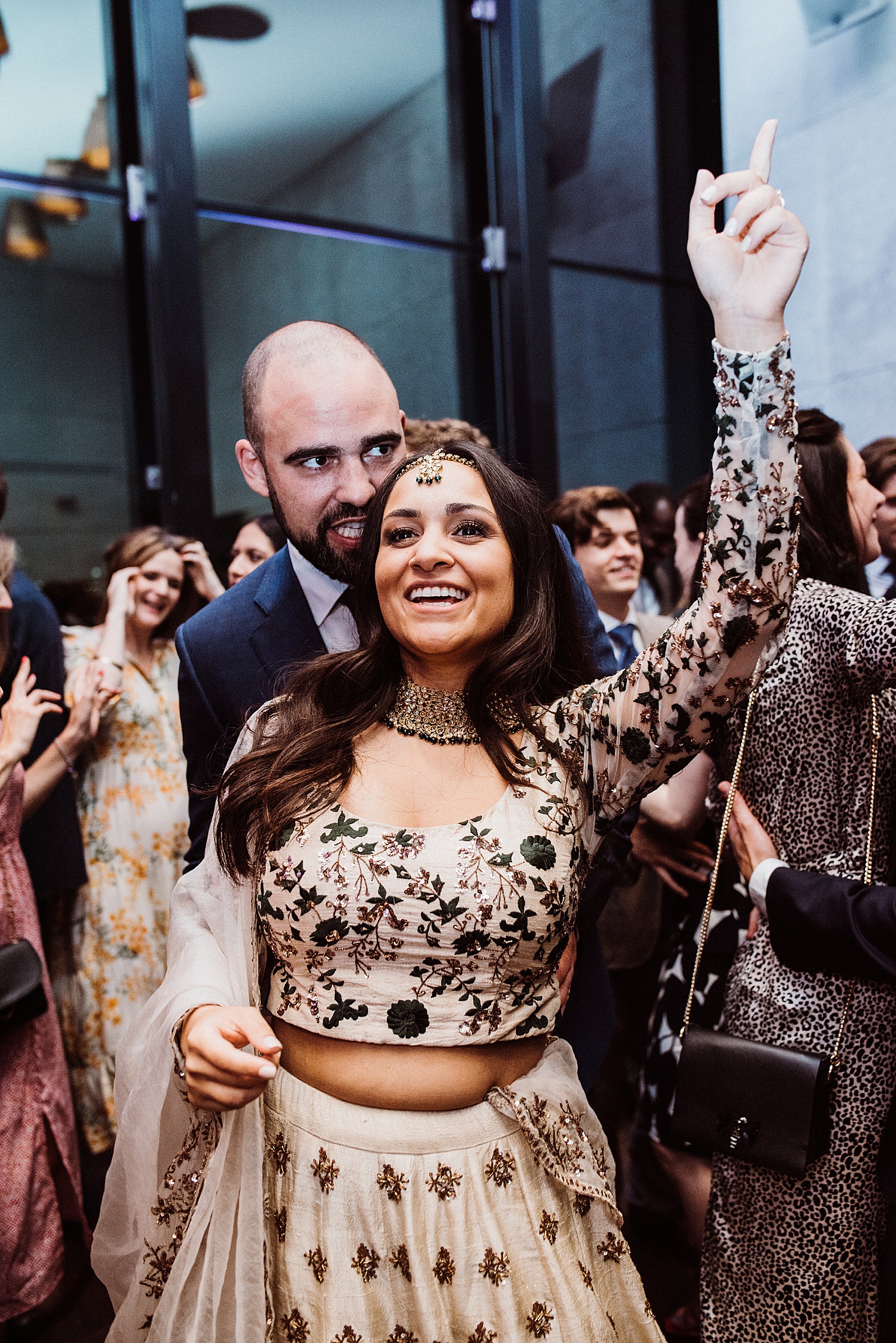 Thanks so much to you both, Alina and Chris! I've loved writing about your day – it looked like so much fun. Huge thanks also go to Kitty Wheeler Shaw for her epic photography.
With love,
Laura