It brings me so, so much pleasure to be sharing this work with you today – the result of a team who poured all of their passion and creativity into producing this exquisite suite of photography and film, to inspire you.
These images were generously shared by a team lead by wedding planner and stylist, Chenai of By Chenai Events. Chenai had a glorious vision of a glamorous English garden wedding and teamed up with a stellar team of fellow creatives to bring her vision to life.
"My concept was a glamorous, intimate garden celebration at Sezincote House which is one of the most unique and exclusive venues in the UK. This project was also a real team effort in every way. The truly epic photo album by Beccy Goddard and sensational video by Loved Up films truly brought our vision to life beautifully. Lucky for me my niece is a professional model and her real life partner Lewis has served as the boxer Anthony Joshua's stunt double for a few different projects."
Beccy Goddard Photography

+ Follow
"I wanted to update the concept of a quintessentially British garden wedding, scaling it back to a micro wedding to reflect the times in which we are in but more importantly intentionally featuring a a beautiful young black couple to reinforce the idea that wedding inspiration should be for everyone. All of our clients should see themselves represented in wedding media."
"I invited Emma Beaumont Bespoke to collaborate on this project and she kindly made two dresses for this shoot based on a few ideas and images we'd both pinned and loved before. The first gown was a princess style of ivory gown with dramatic sleeves. The second gown was a halterneck chiffon and embellished party dress – perfect for dancing the night away in."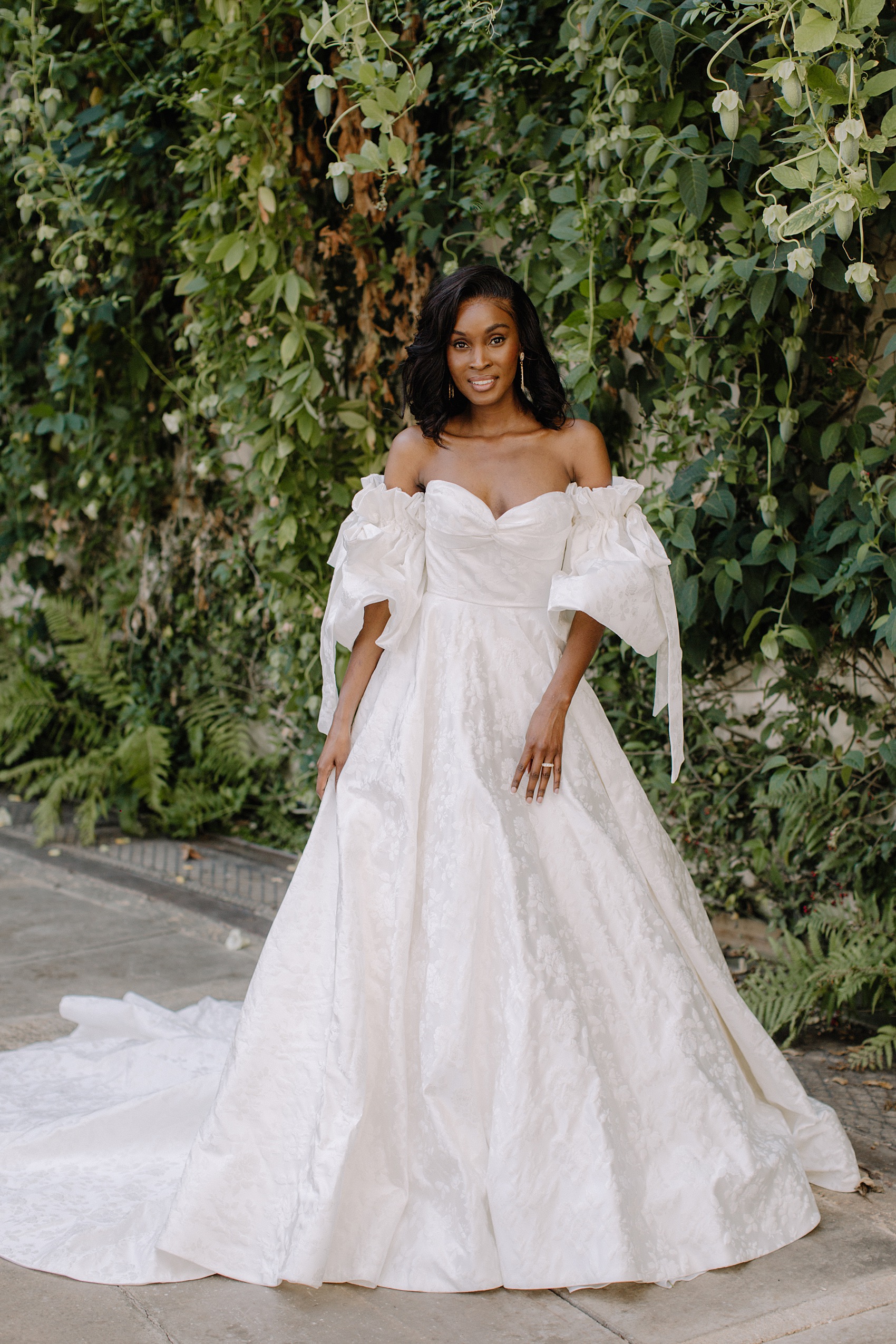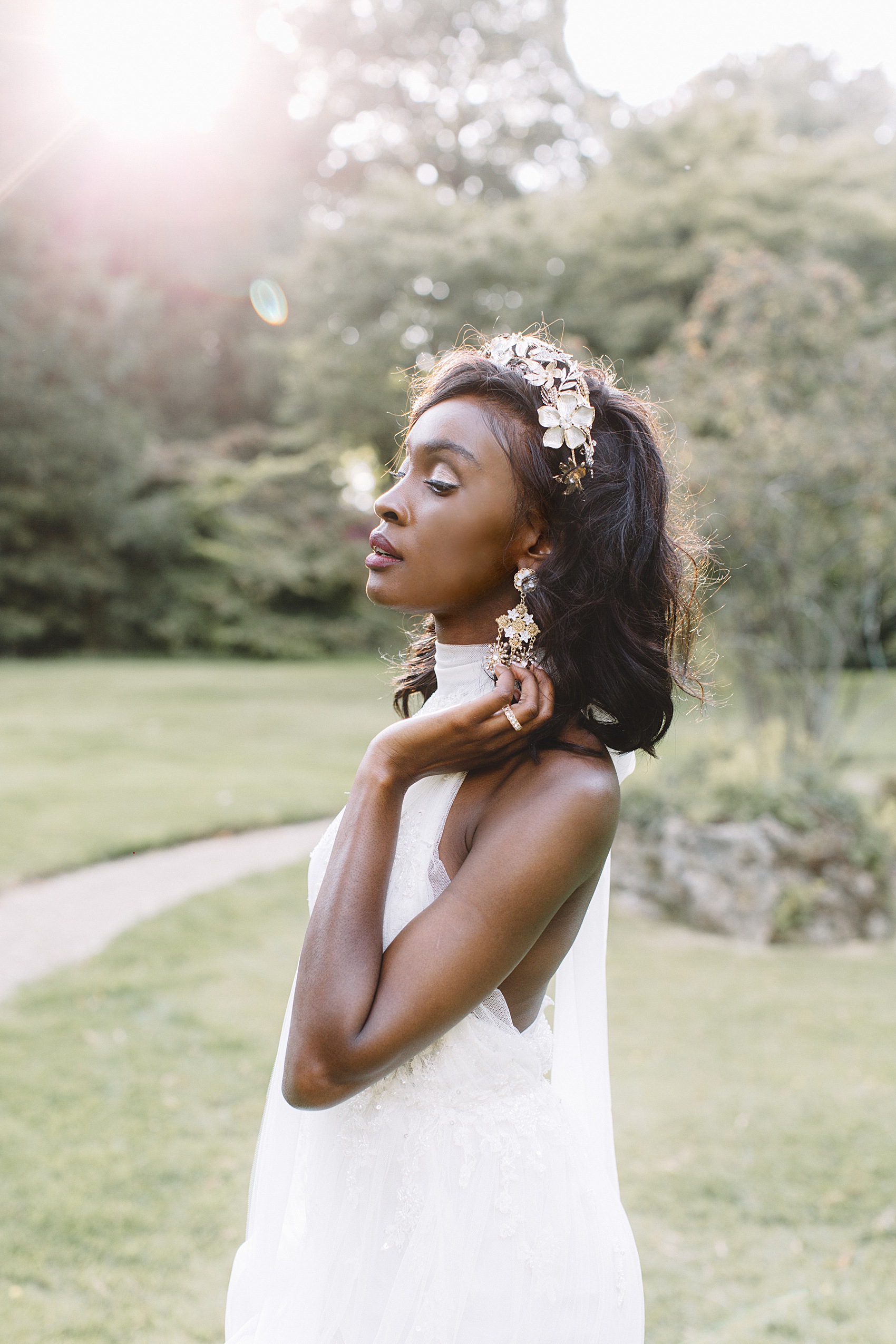 "I collaborated with Ruth at All For Love London about how we could create a luxurious floral installation that would enhance the grandeur of the Mughal architecture and complement the already glorious flora within the grounds."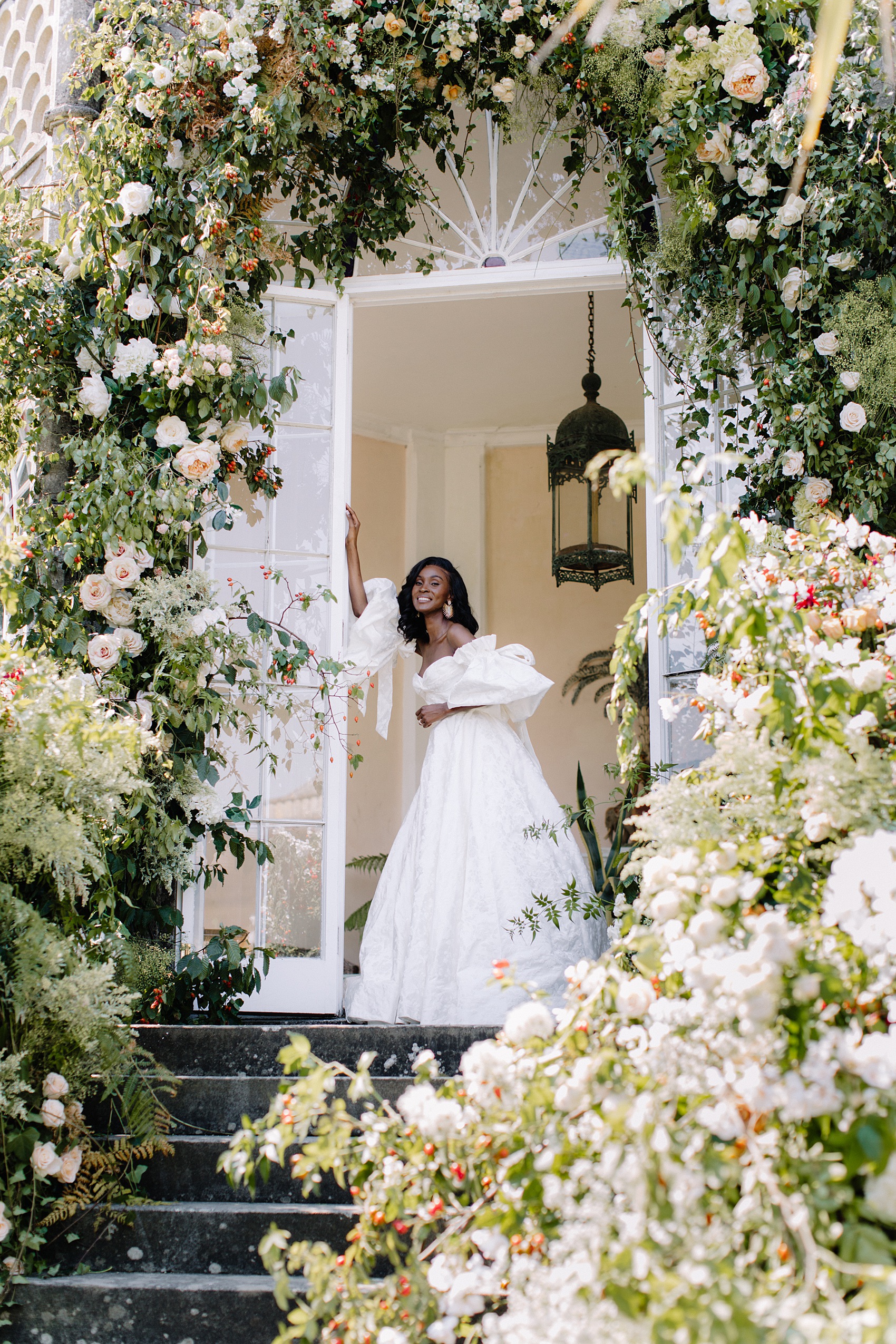 "Ruth's floral design brought this breathtaking floral structure to the outside of the building – she created this concept of florals looking like they were growing from the building and tumbling all the way down and onto the tablescape with great effect."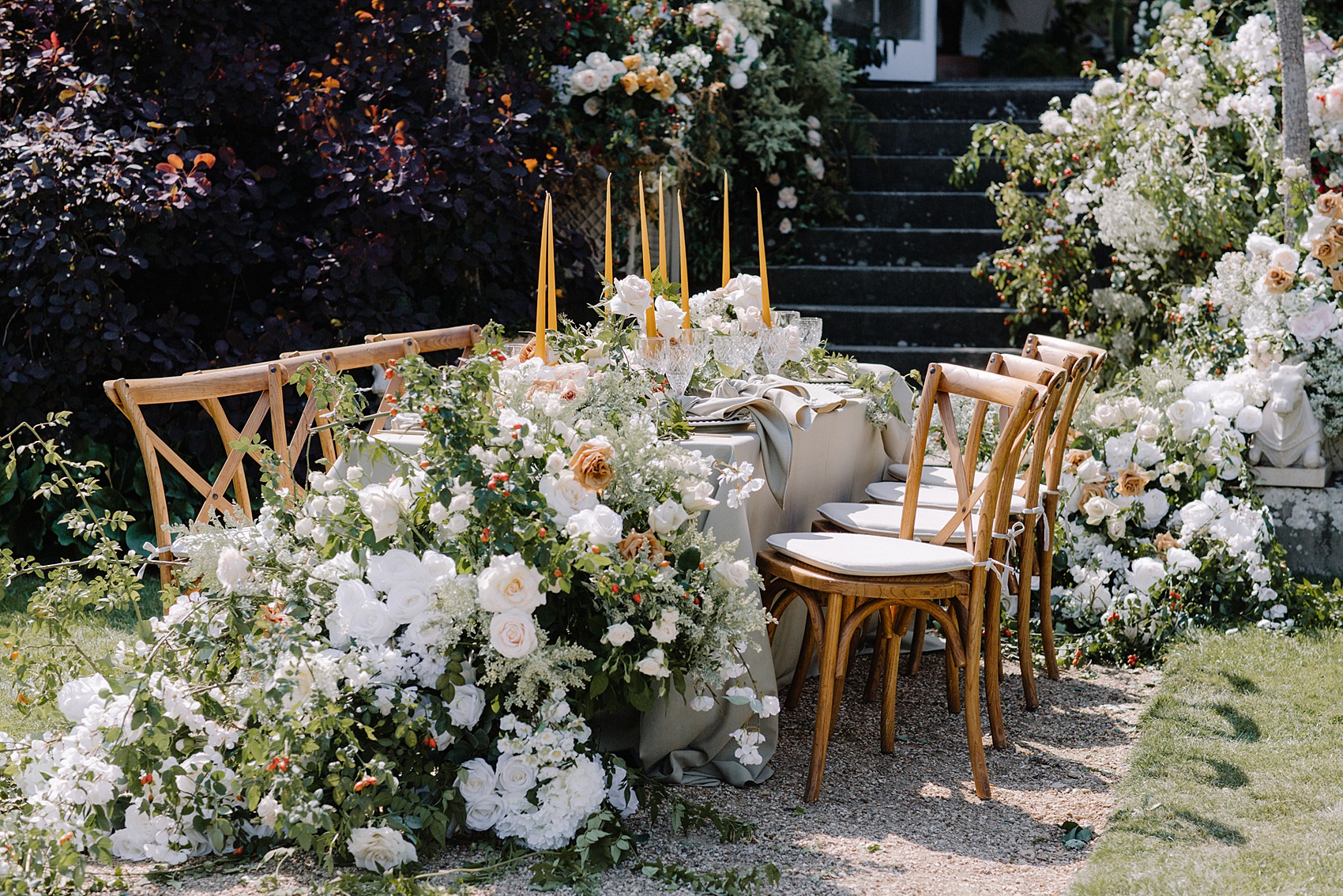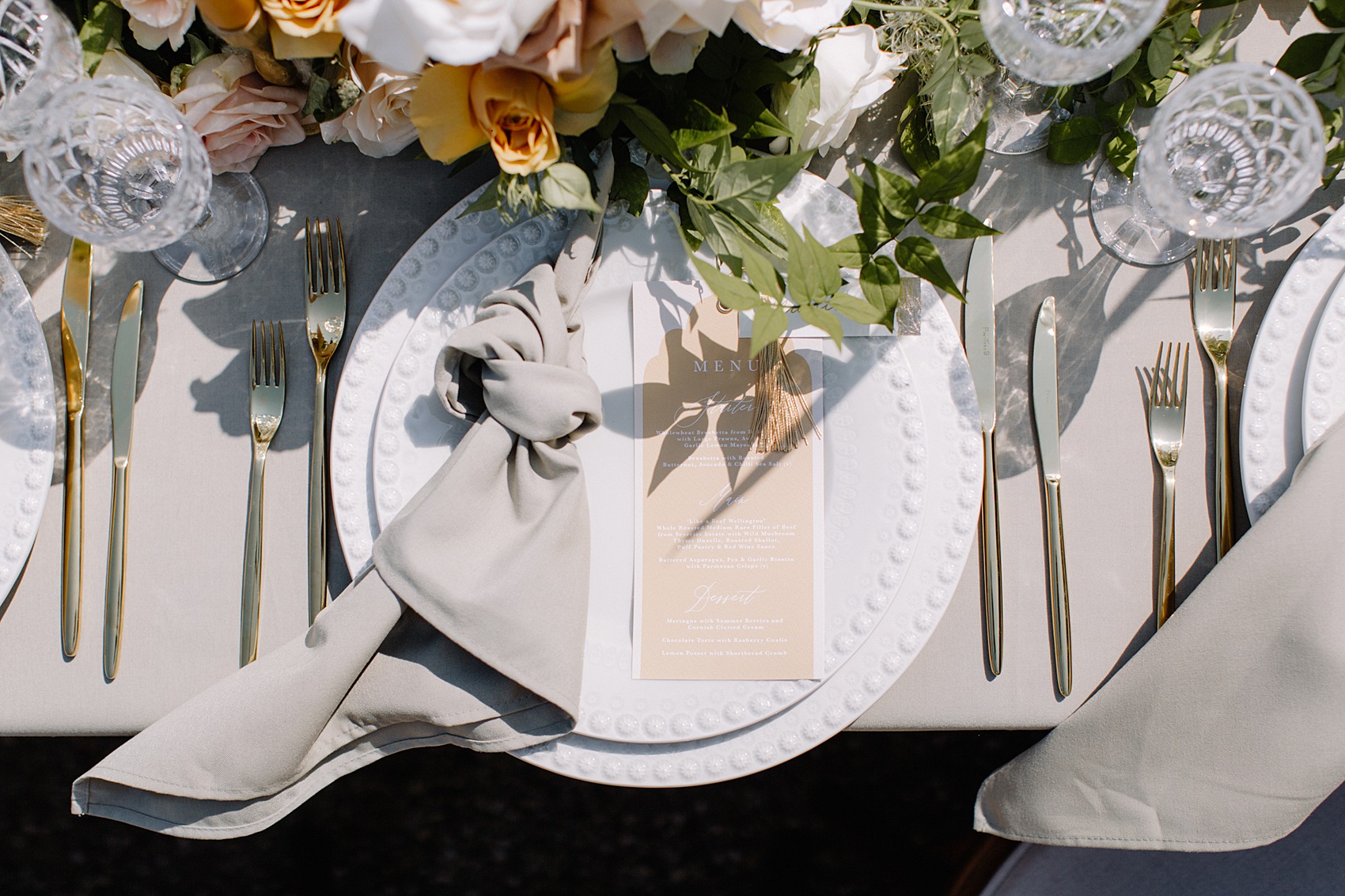 "We repurposed some of these table flowers into a smaller throne set up by the fountain and created a garden lounge area with the help of The W Collection's excellent range."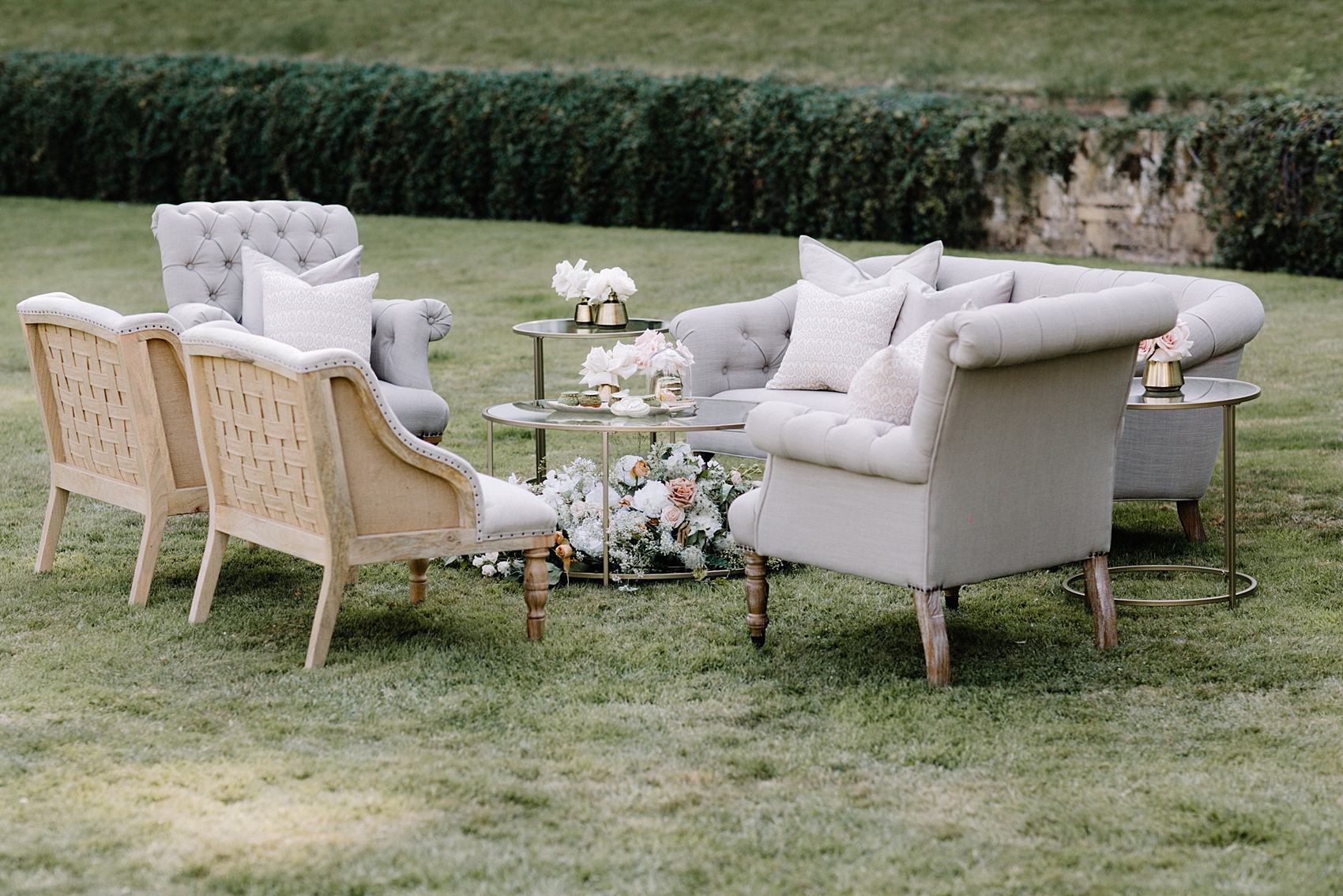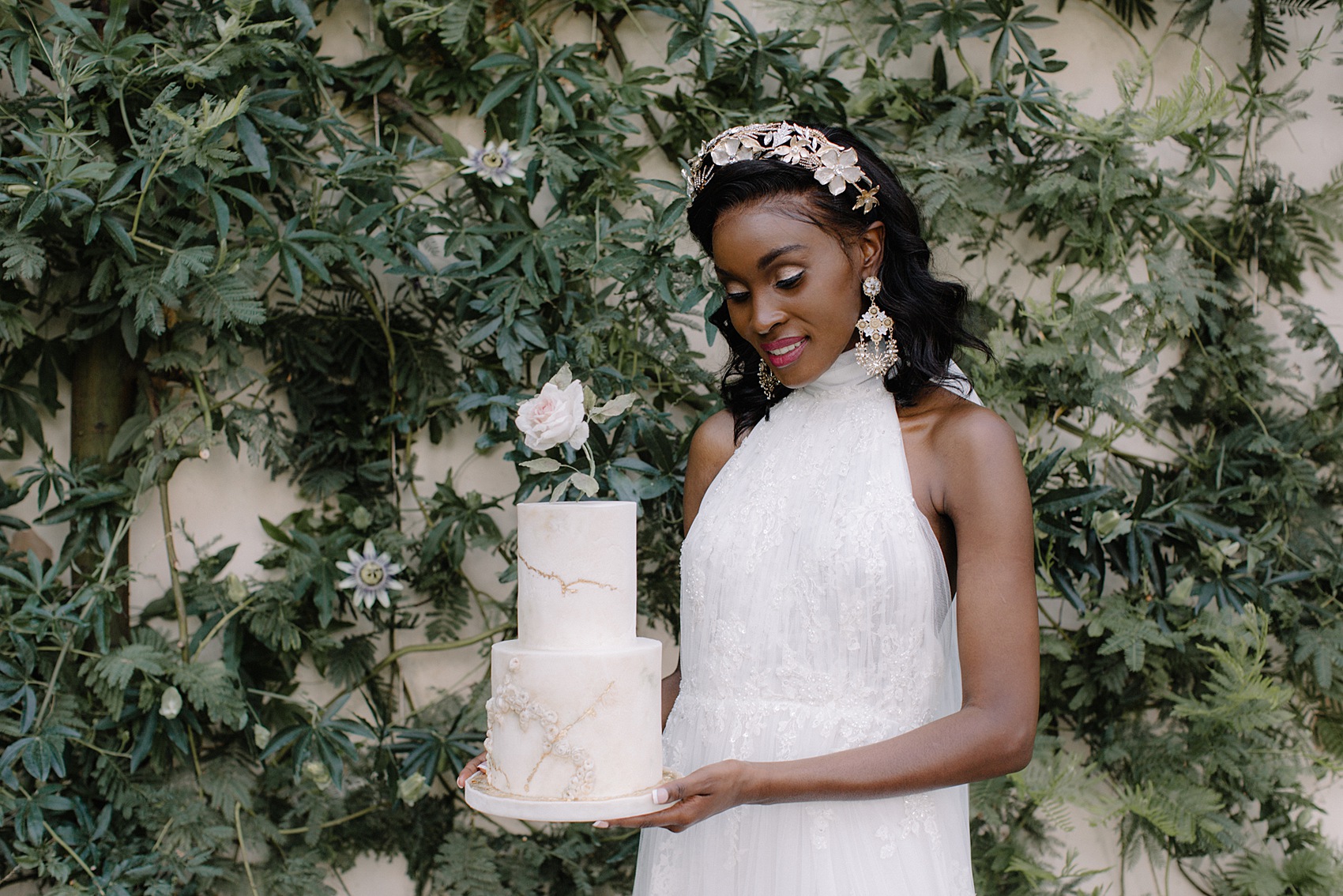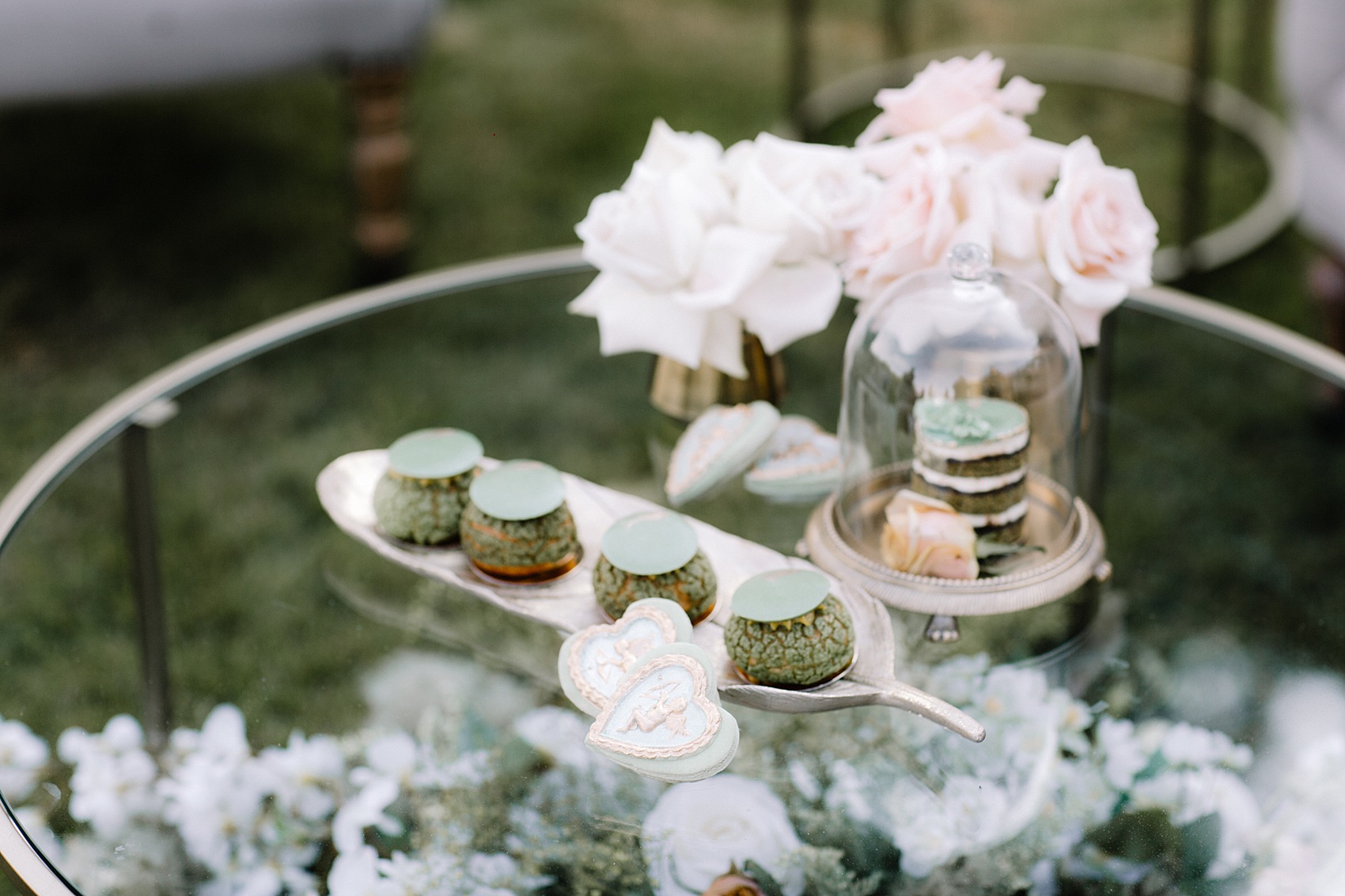 "There were so many considered touches – I gave Aimee Willow Designs  the brief of using the architecture for inspiration when creating the invitation suite, I wanted it to be boldly illustrated mirroring the overall palette of green, sage and gold."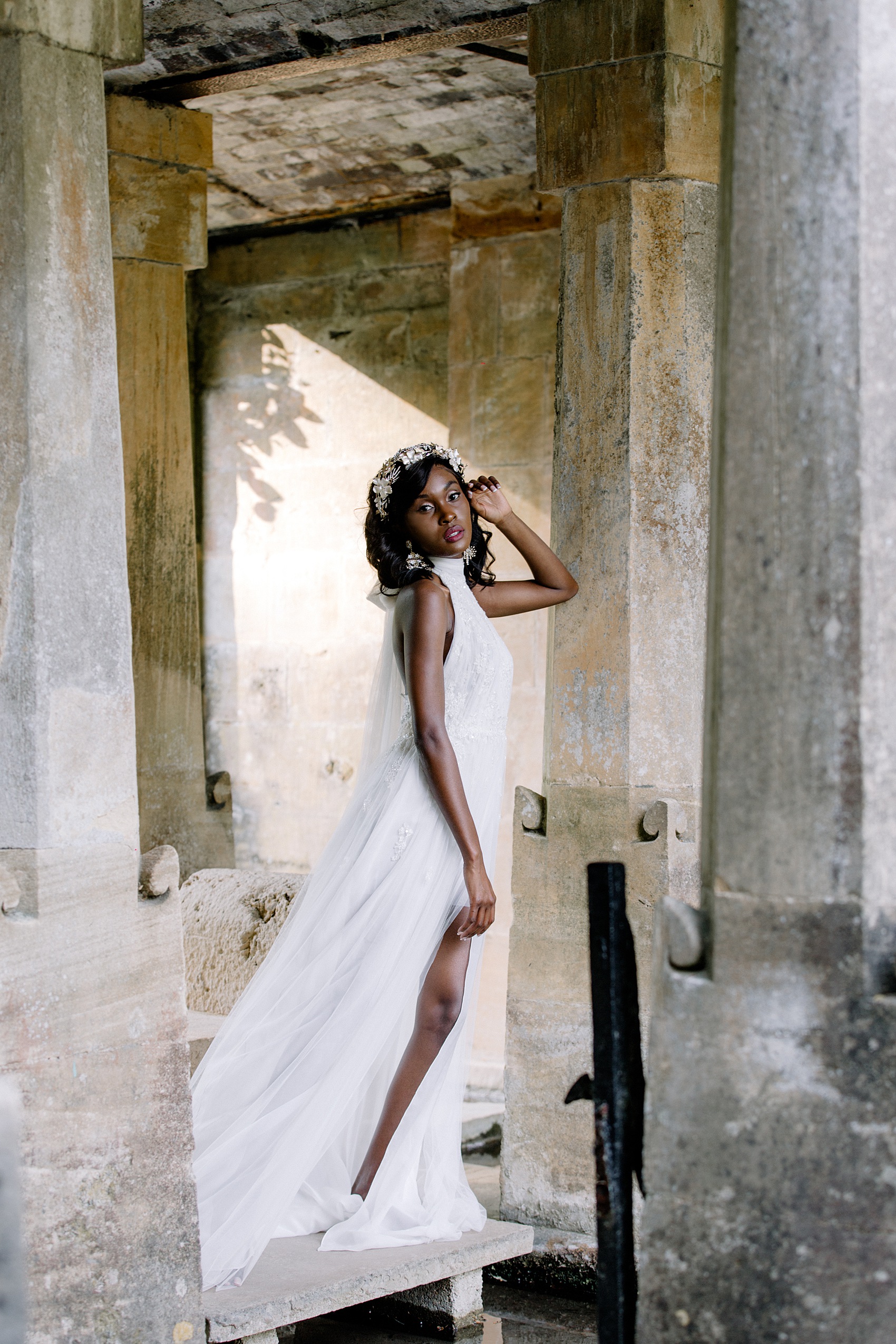 "Monika Kos Cakes took the same brief and really ran with it creating a trio of cakes that borrowed from the architecture and the grounds of Sezincote. She accompanied all this with some of the most delicious desserts."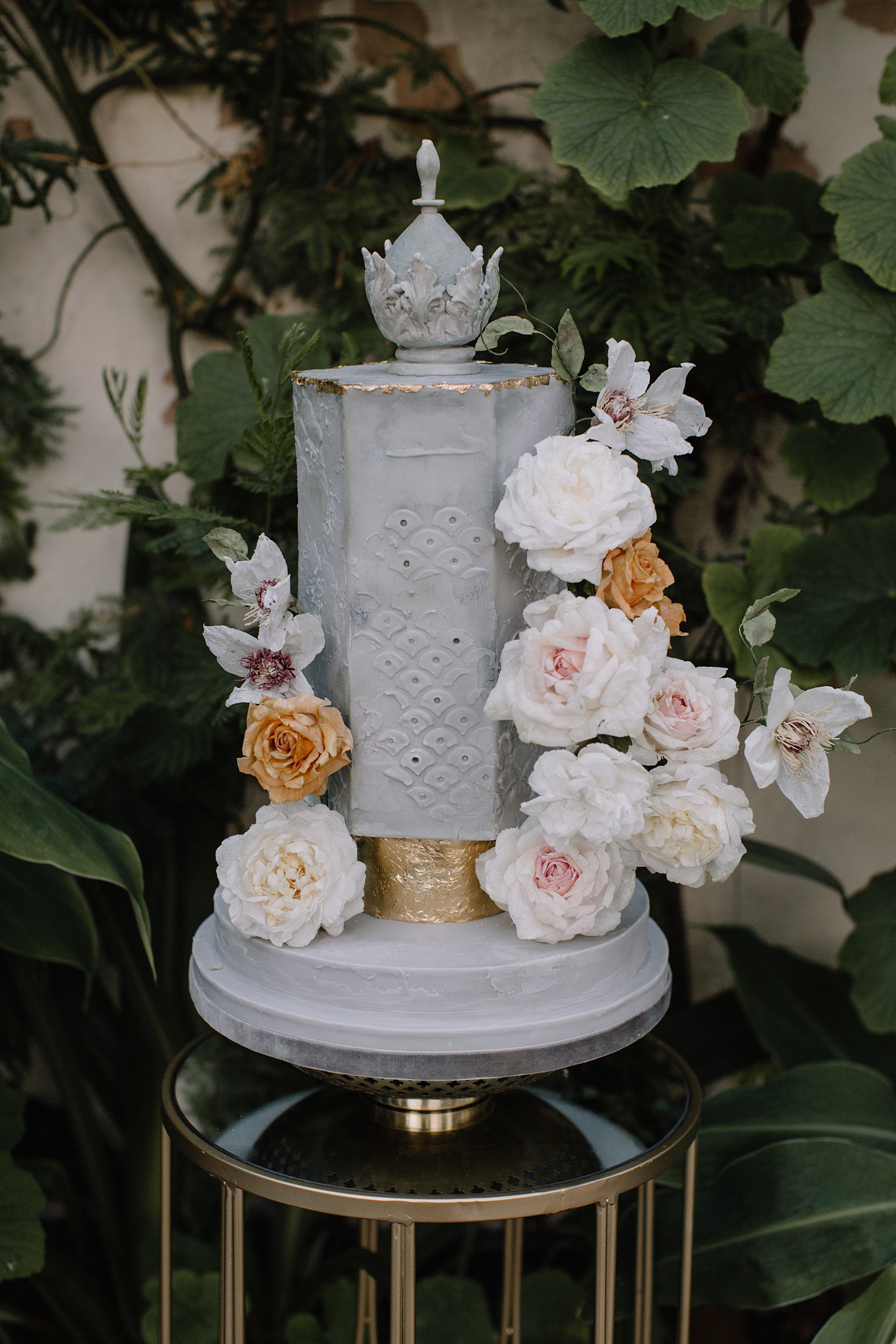 I am incredibly proud today to support the British wedding industry in sharing these images. The past six months have been a deeply stressful, unsettling and uncertain time for my colleagues. By nature, we are a creative, problem solving, positive community – but the COVID pandemic and resulting restrictions have pushed us all to our limits in recent weeks, with many of my dear friends remaining fearful for their careers and livelihoods.
These images provide a breath of fresh air from the worry – and highlight precisely why I personally have been fighting so hard for the wedding industry through the #WhatAboutWeddings campaign. It is full of wonderful, talented, hard working and creative visionary individuals, full of positivity and optimism, who I am so very much inspired by every day.
Chenai, Beccy and everyone involved in this project – thank you so much for allowing me to share your work.
Love Annabel x