This year has proven so difficult for so many thousands of couples unsure what to do about their original wedding plans. There's one thing for sure, we're going to be seeing many more small, intimate, 'micro' weddings for some time yet.
The restrictions imposed by the pandemic mean that many couples are either postponing their main wedding celebrations to next year and holding an intimate micro ceremony this year, or simply deciding to reduce their original vision and guest list and hold their main wedding this year.
Nurse Katy and Mechanic Tom decided they wanted to push their wedding celebrations back to 2021 but still get married this year, which they did, with a beautiful, sunny ceremony on 11th of July, held at The Garden Station in Langley.
From The Smiths Photography

+ Follow
"Our wedding day was completely transformed from what it should have been; sixty guests turned into nine. No woodland ceremony, no white dress, no beautiful tipi reception , no dancing – I couldn't even include all my bridesmaids."
"We made the decision to postpone when the government first announced their plans for easing lockdown. We just couldn't see how we could be excited for a day we could never be sure would happen…or happen safely. Our 2020 wedding was held one week after wedding ceremonies were finally re-allowed."
"We had always liked the idea of a small wedding so took the decision to have a small legal ceremony this year on the original date and move our main wedding celebration to next year, celebrating our one year anniversary with the proper wedding reception party we had always planned. Even then, we couldn't be sure our new plans could even go ahead until a week before."
"All our suppliers have been nothing short of amazing helping us pull together our little ceremony at short notice. Our wonderful florist and friend Katie-Jane made a gorgeous wild flower bouquet picked straight from her garden."
"Sarah -Jane and Simon our photographers were amazing, helping us plan, focusing on couple shots of us and natural shots of our guests, due to social distancing."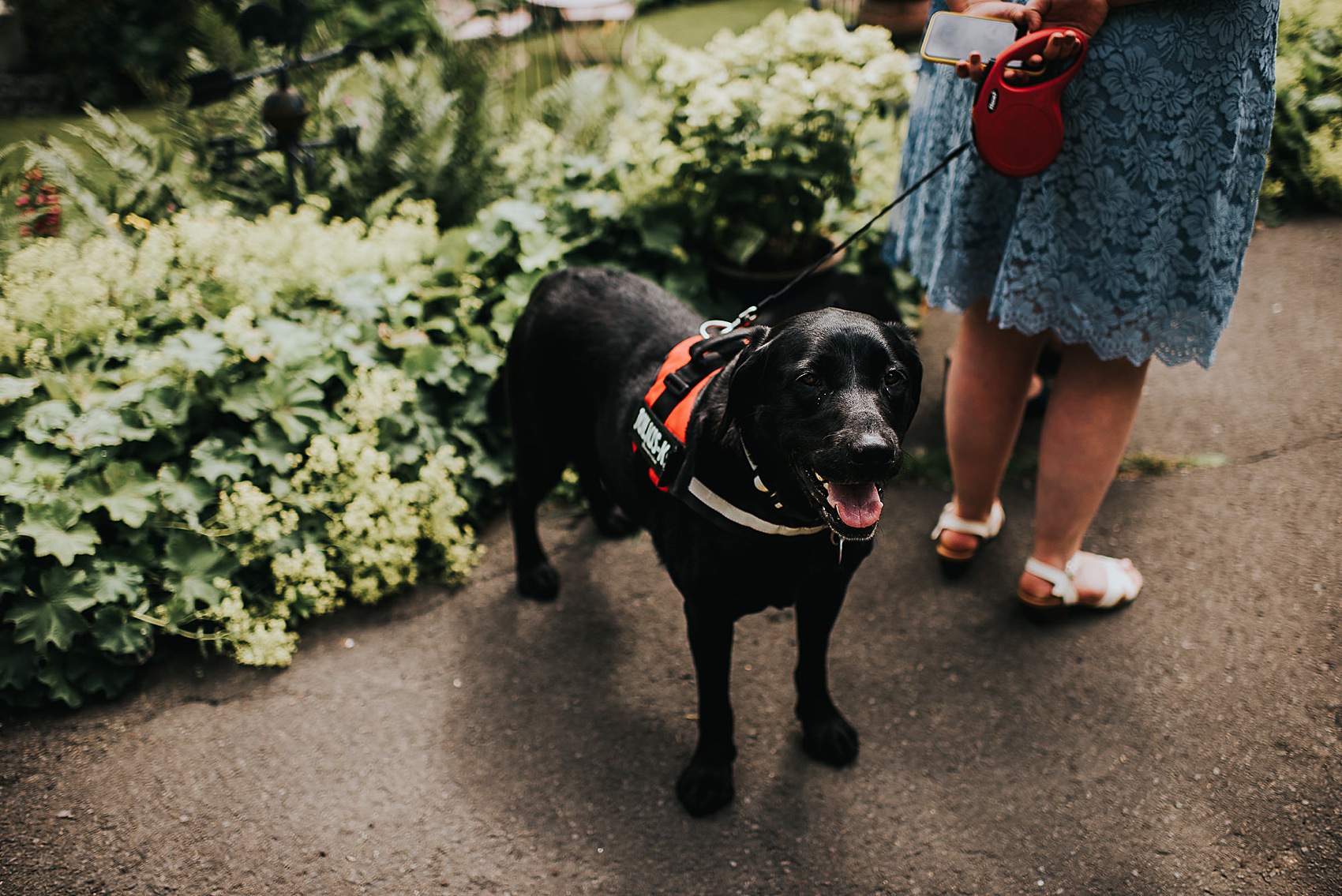 "Jill at the Garden Station measuring up for the 2 metre rule and having flower stickers for where everyone needed to stand."
"The Registrars at Northumberland really helped us understand the guidance and made so much effort to still make the day feel special-we were the first couple post lockdown to get married outside a registry office so it was just as tricky for the Registrars."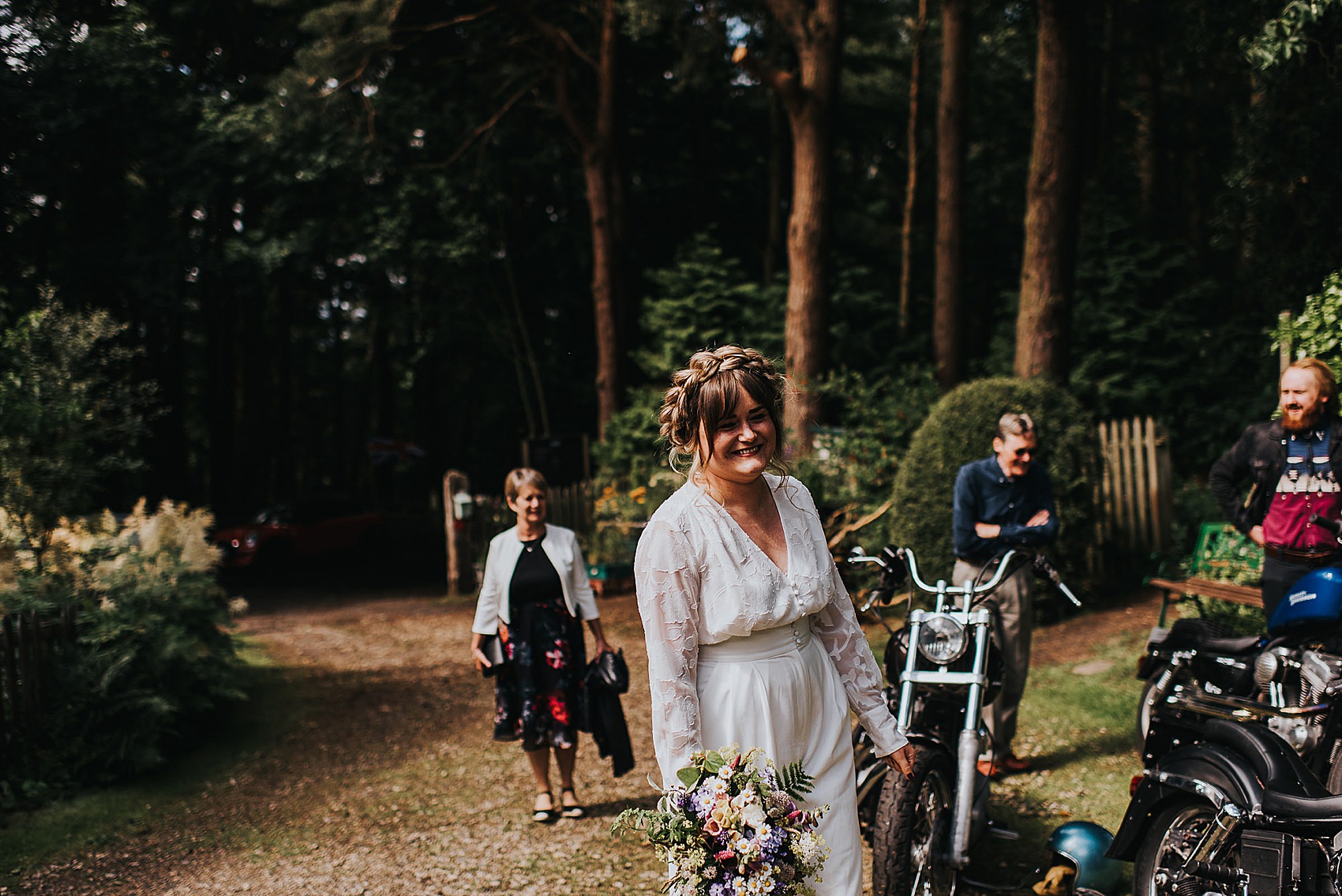 "Tom and I met nearly six years ago – it was a lucky swipe on Tinder. We got engaged last April in our favourite spot overlooking Derwentwater in the Lake District-something Tom had been planning (apparently) since we took our first holiday there about nine months in."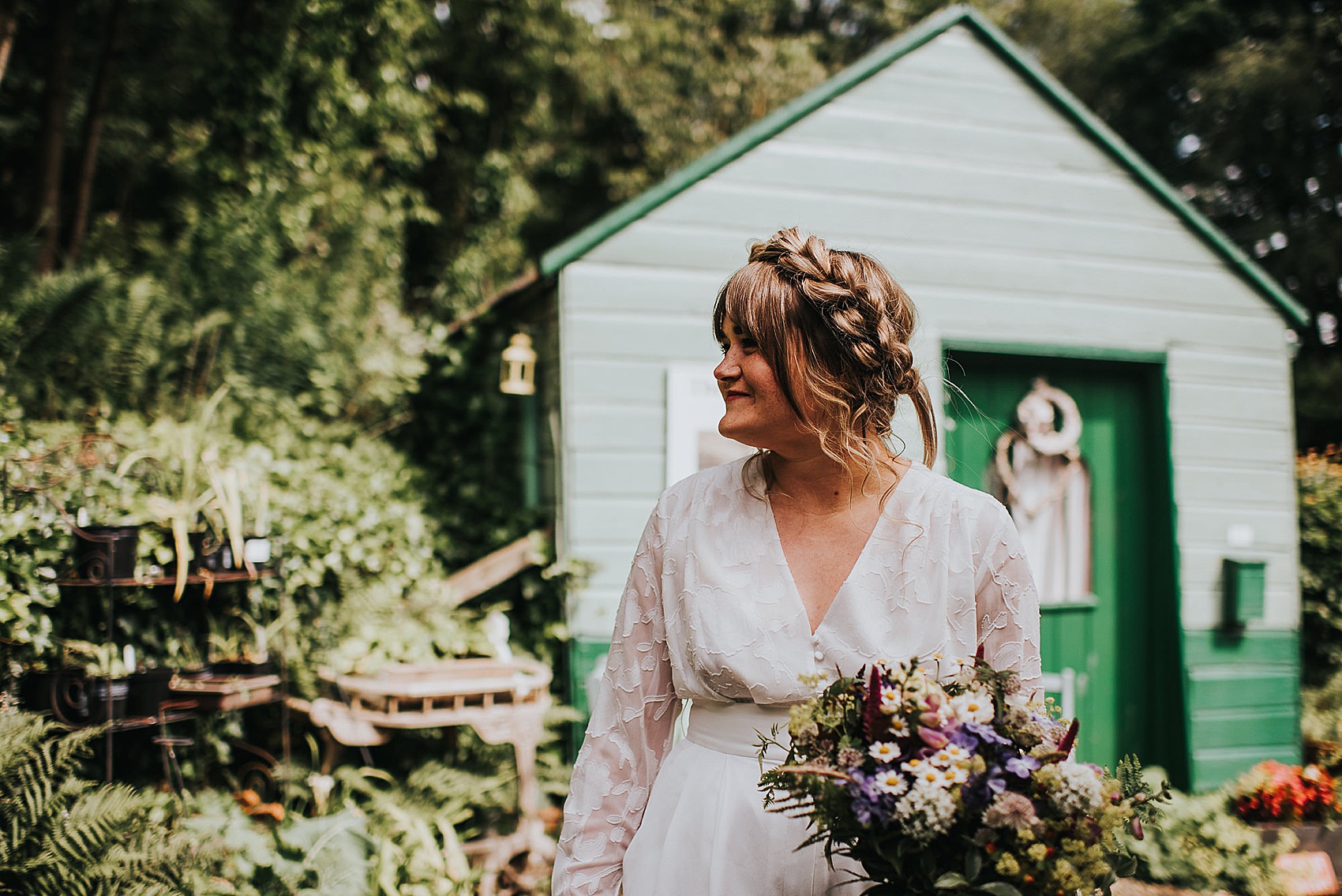 "We just wanted the day to feel informal and chilled. We love being outdoors so to have a formal wedding would never feel like us."
"We planned our day around things we felt essential, like Tom arriving on his Harley Davison, along with his Dad and Best Man. Tom has grown up around bikes and still lives on his. Having our dog Chevy there and being part of the day."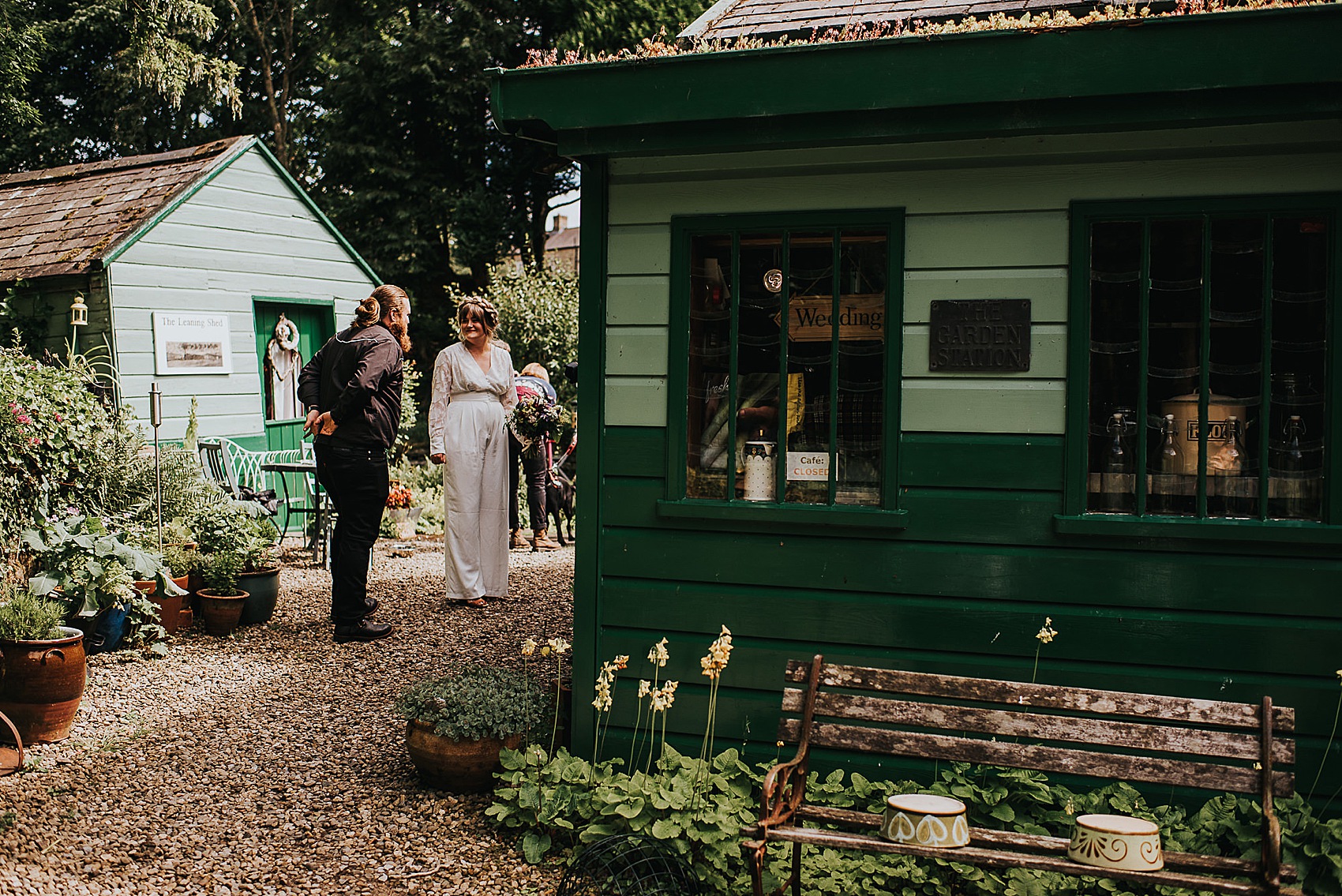 "With it being a smaller wedding we wanted to feel relaxed and comfortable – Tom wore his Levi's and an Elly Cattleman shirt he found on Ebay, as he loves that style. I went for a Ted Baker jumpsuit I found in the sale (I'm saving my wedding dress for the next year)."
Katy's jumpsuit was from high street fave, Ted Baker.
"I loved the fit of the jumpsuit, the buttons, waist and especially the wide leg trousers."
"I would have had my Dad walk me down the aisle, however due distancing it was not possible, so Tom and I decided to walk across the station platform into the ceremony room together."
Because of social distancing, only the couple, Registrar and their witnesses were present in the small room that their ceremony took place in. The lovely weather on the day enabled their other guests to be present in the proceedings by standing outside the building with the door open.
"Our vows had to be basic ones provided by the Registrars due to restrictions on how long the care was a allowed to last."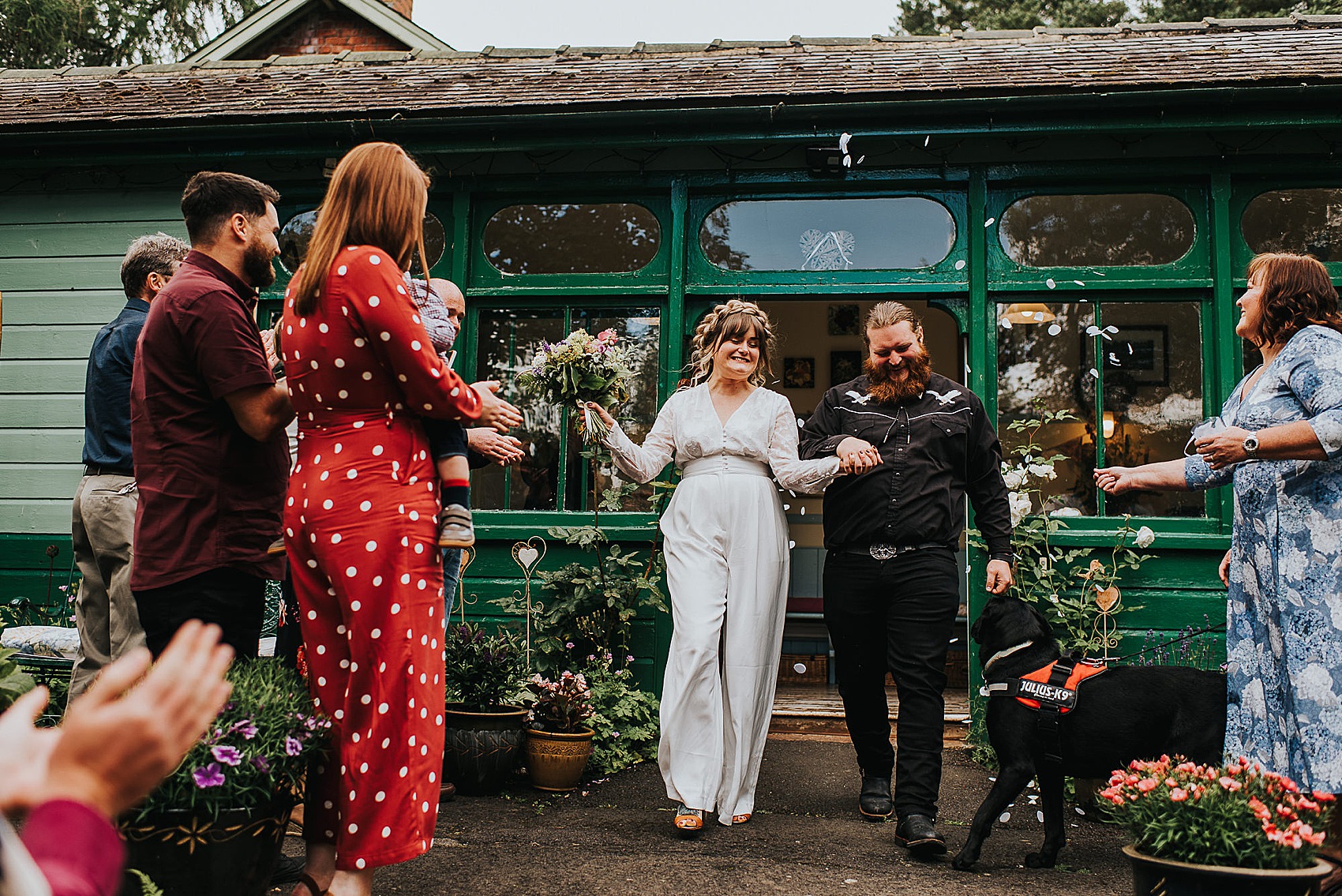 Katy wore her hair in a braid and accessorised with a pearl headband made by Liley Studio.
She also wore Tom Ford's 'Black Orchid' perfume.
"It reminds my Tom of when we first started dating – it's an old favourite."
The couple hired their talented friends, 'From The Smiths Photography'…
"I have known, even before getting engaged that Simon and SJ would be our wedding photographers. I have recommended them to so many friends and family who have used them for their weddings. I just love their style and their focus on natural photograpy."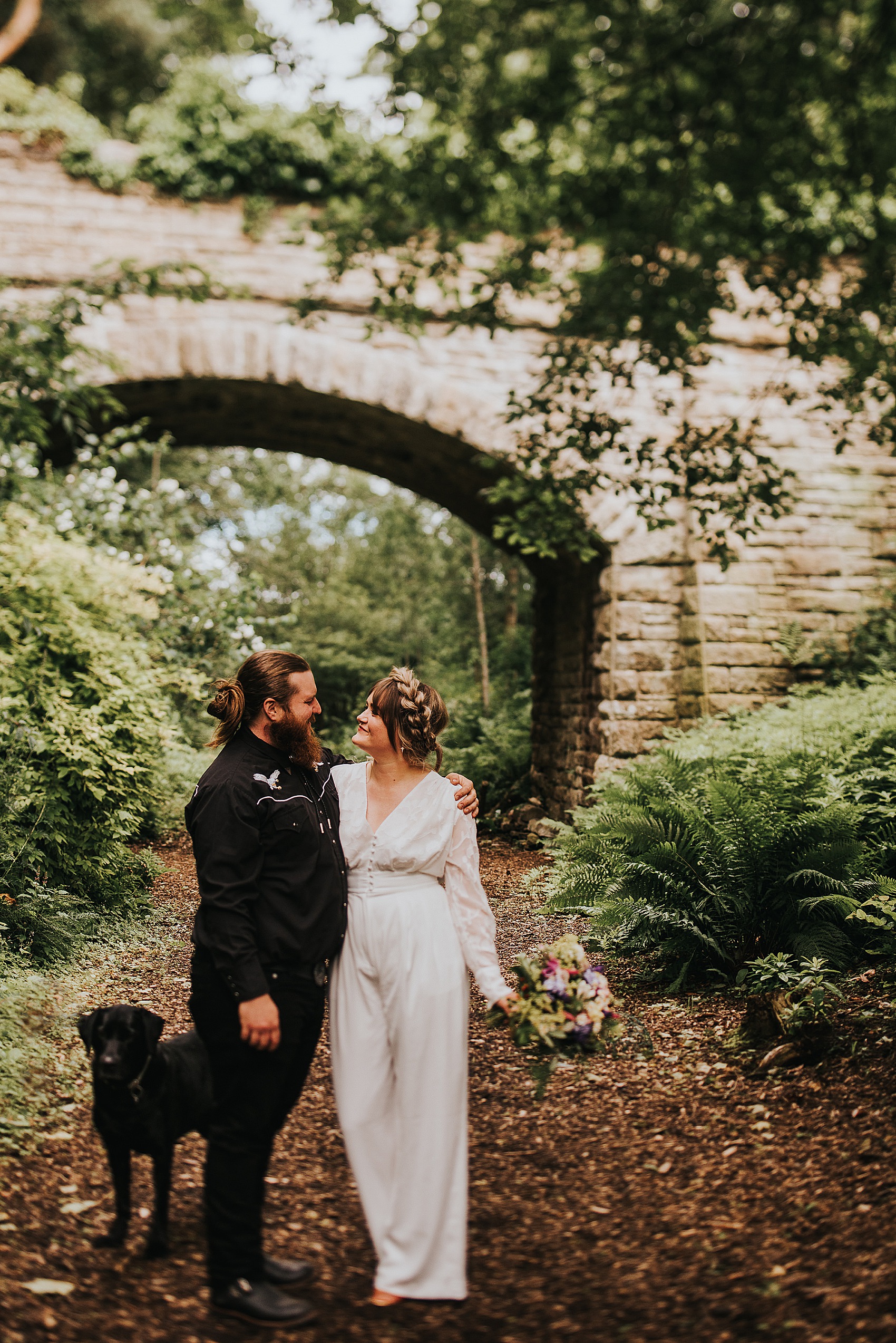 "They really know how to make you look good! We are not naturally camera friendly, we must have driven them mad messing about and moving our wedding dates, but they totally put us at ease and made us feel comfortable and I think it really shows in the photographs. We could not have asked for better."
"I had to do my makeup myself due to restrictions in place because of the pandemic. My hair was styled by Hannah at Very Your Hair @very.you.hair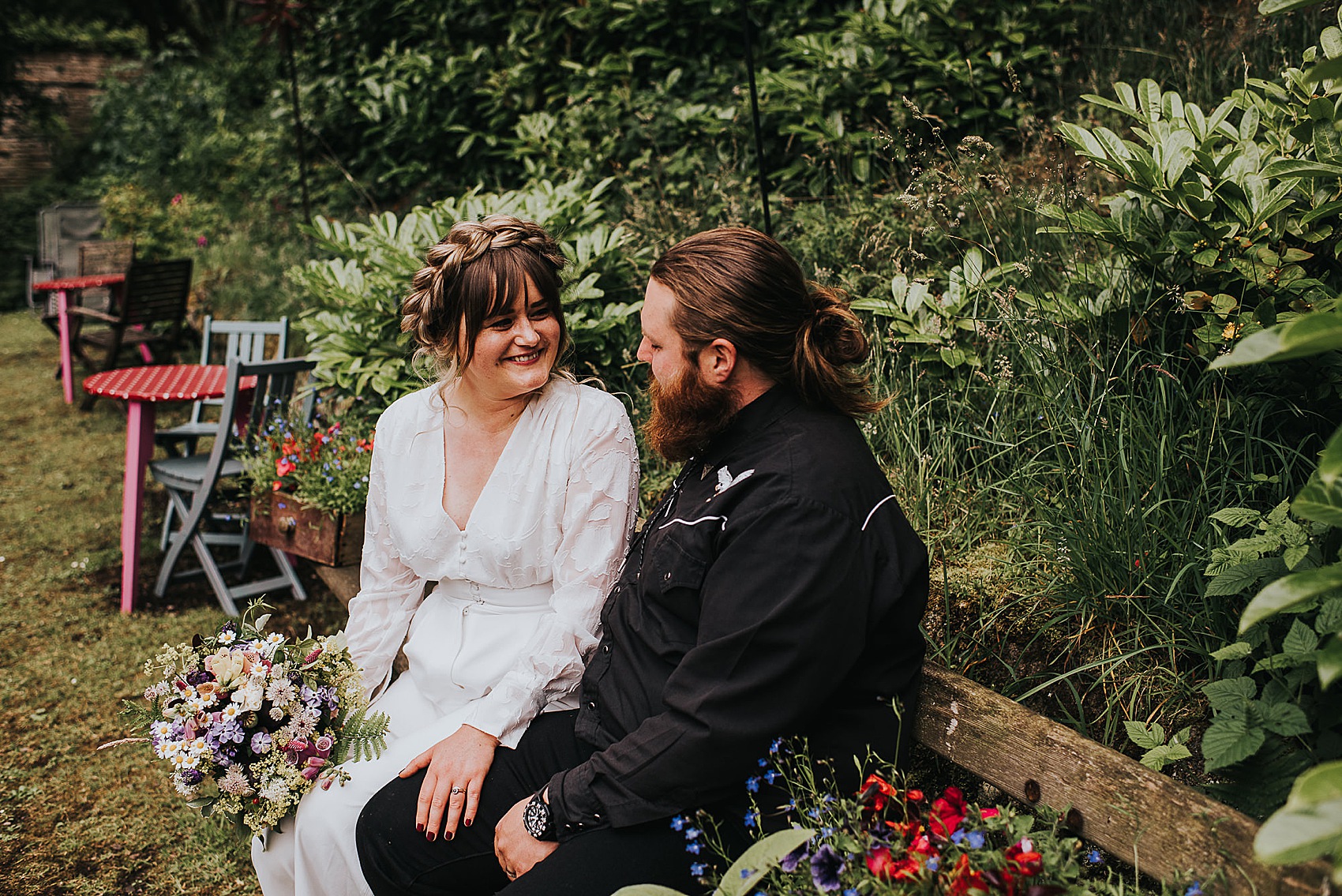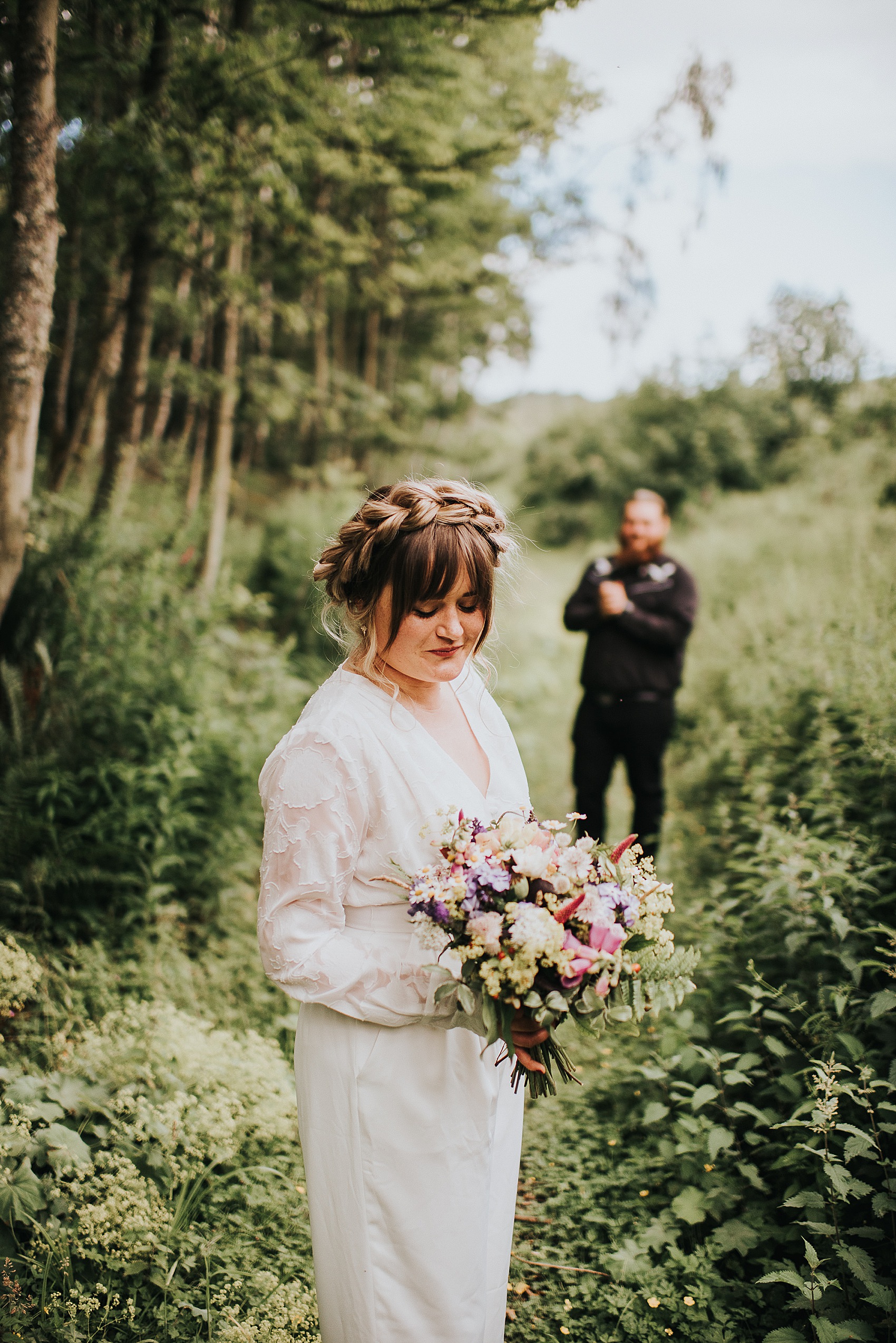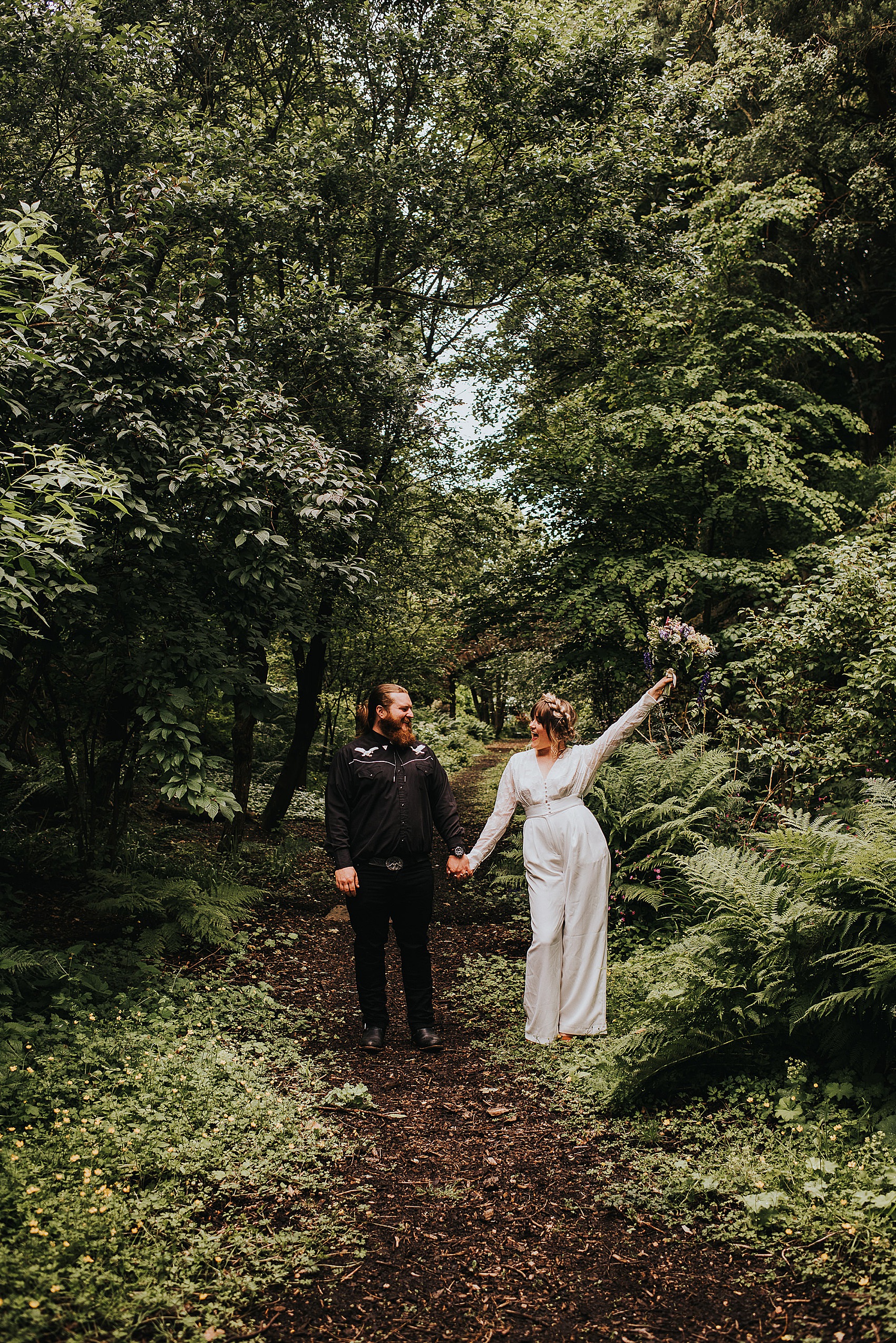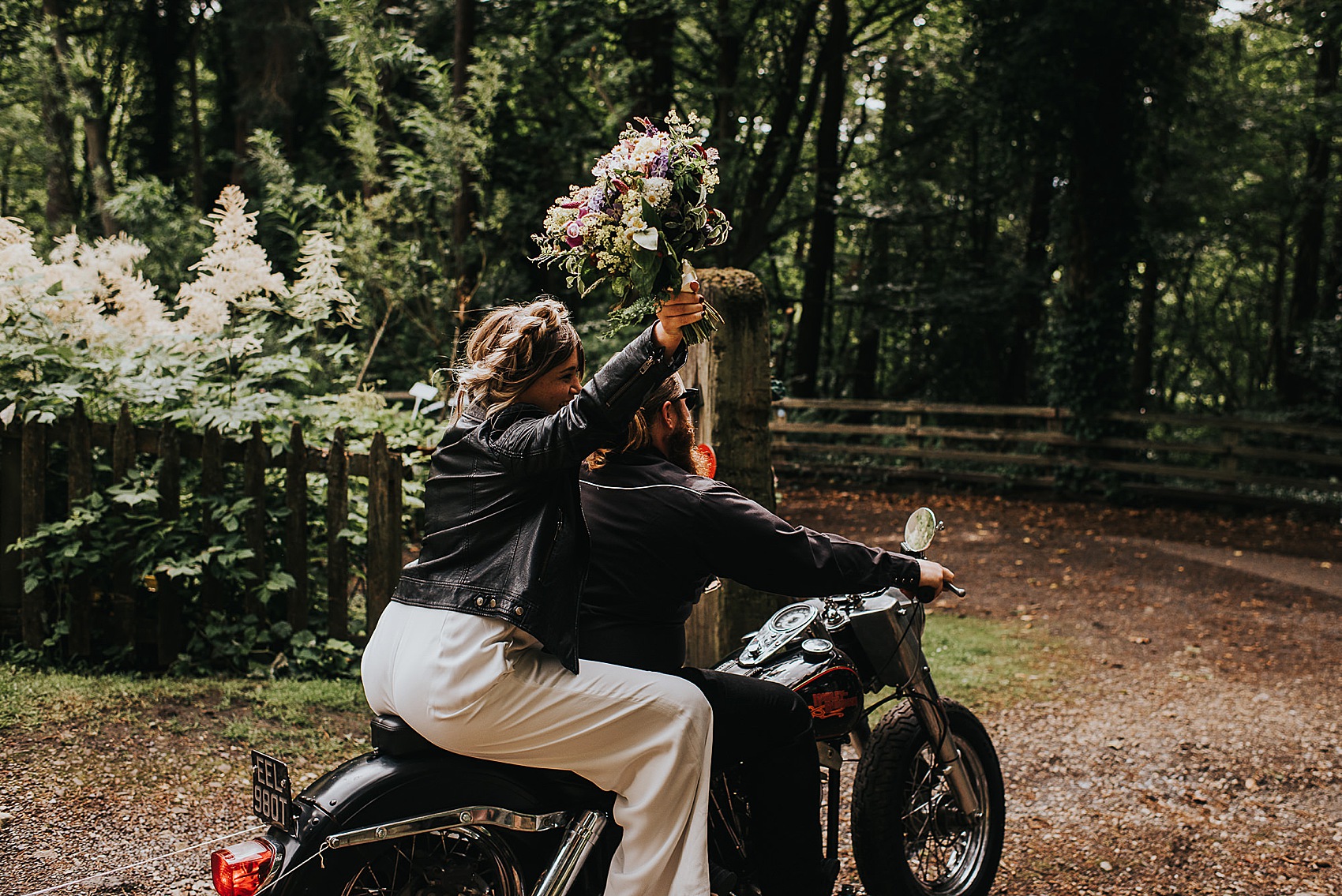 "As much stress and upset as this has caused, I truly loved our day and wouldn't change a thing. After having food and drinks in our garden with our guests, once everyone had left, Tom and I sat by our fire pit, drinking, just me and him – it was just the perfect way to end the day."
Words of Wedded Wisdom
"For all the COVID couples who's day has been disrupted, I could not recommend a small ceremony enough! Understandably, it isn't for everyone, but in doing so, you're not giving up on your big day – you're having the best of both. We just couldn't see ending the year not married, it's all we wanted.  A little silver lining means getting to wear two outfits."
"More than even before I feel that weddings are not a 'one size fits all' standard event, they should be made to fit you both as a couple-do whatever the hell you want."
Katy and Tom, we are so, so very happy for you both and wish you the most amazing first year of marriage, ahead of what will no doubt be an incredible wedding celebration on your first anniversary next year.
With so much love to you both,
Annabel x