I have such a beauty of a beach wedding to share with you all today – all laid back coastal vibes, and a magical venue accessed through a network of hand carved tunnels leading out to a sheltered sea cove in Devon.
With our couple living in New Zealand when they became engaged, this celebration is all the more impressive for being planned from abroad, too! On the 21 September 2019, teacher Jess married her love Drew, a civil engineer in an outdoor ceremony overlooking the ocean at Tunnels Beaches in Ilfracombe, Devon.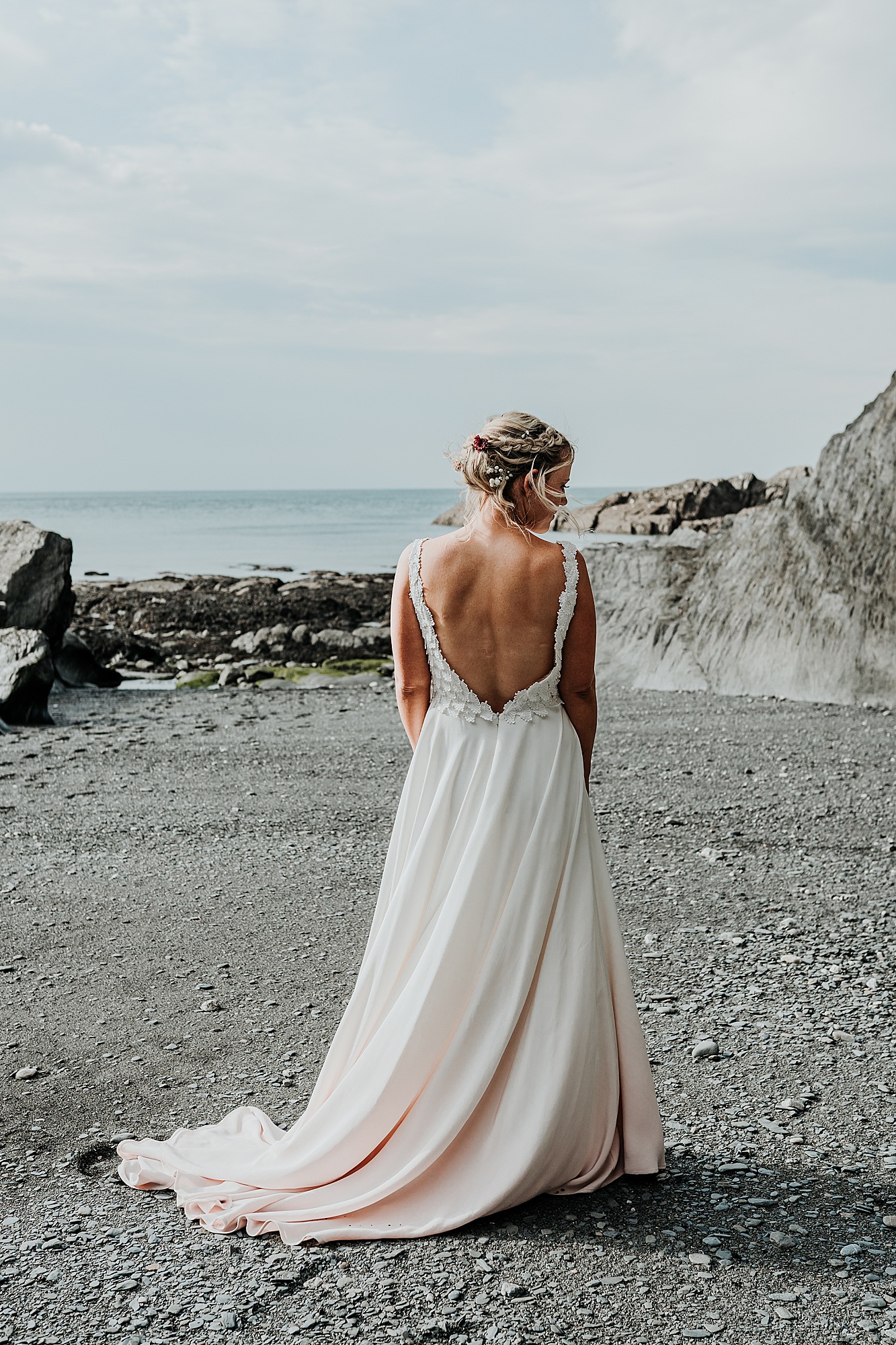 They followed this with a drinks reception by the beach, and afterwards, a wedding feast in the venue's spectacular cliffside dining space.
"We booked this venue without viewing it, as we couldn't visit it whilst we were living away. It was a risk but it totally paid off! We wanted a venue that was relaxed and a little bit different. Our friends and family live all over the country and lots were travelling from abroad, so we knew it had to be somewhere spectacular to make it all worthwhile."
"The Tunnels are truly breathtaking, with access to your own private beach, roof terrace, hand carved tunnels and views from inside to die for. It honestly felt like you could be anywhere in the world."
The staff here are what set it apart even more though, they could not have done more for us in the lead up to, and on the day. It would have been so much harder organising a wedding from abroad without them."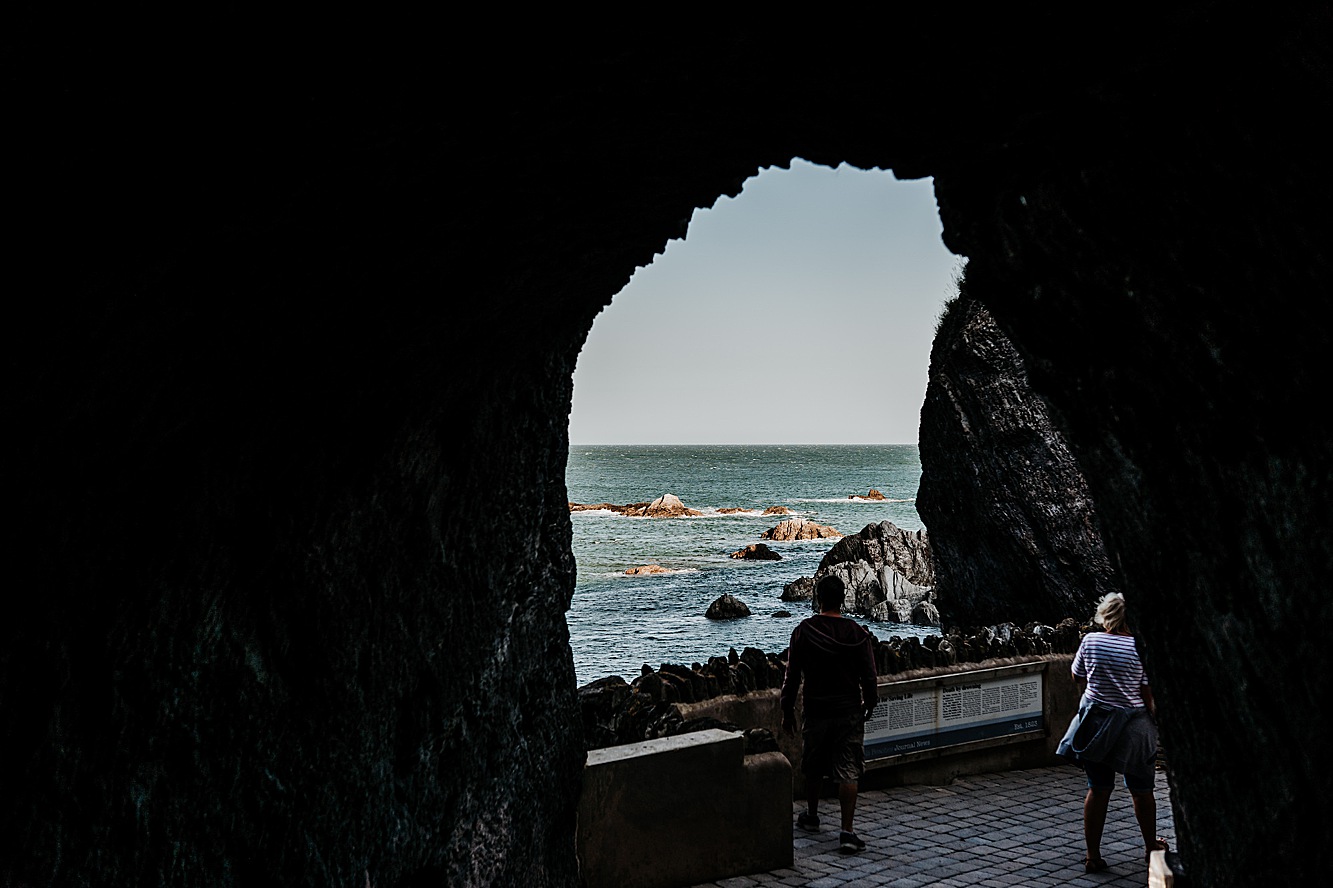 "The only real idea we had about the day was that we wanted it to be relaxed, informal and personal. We initially wanted a wedding abroad on the beach, but had been put off by seeing so many weddings at resorts which were essentially in the middle of a public beach with no privacy. The tunnels offered this vibe, with total privacy and intimacy."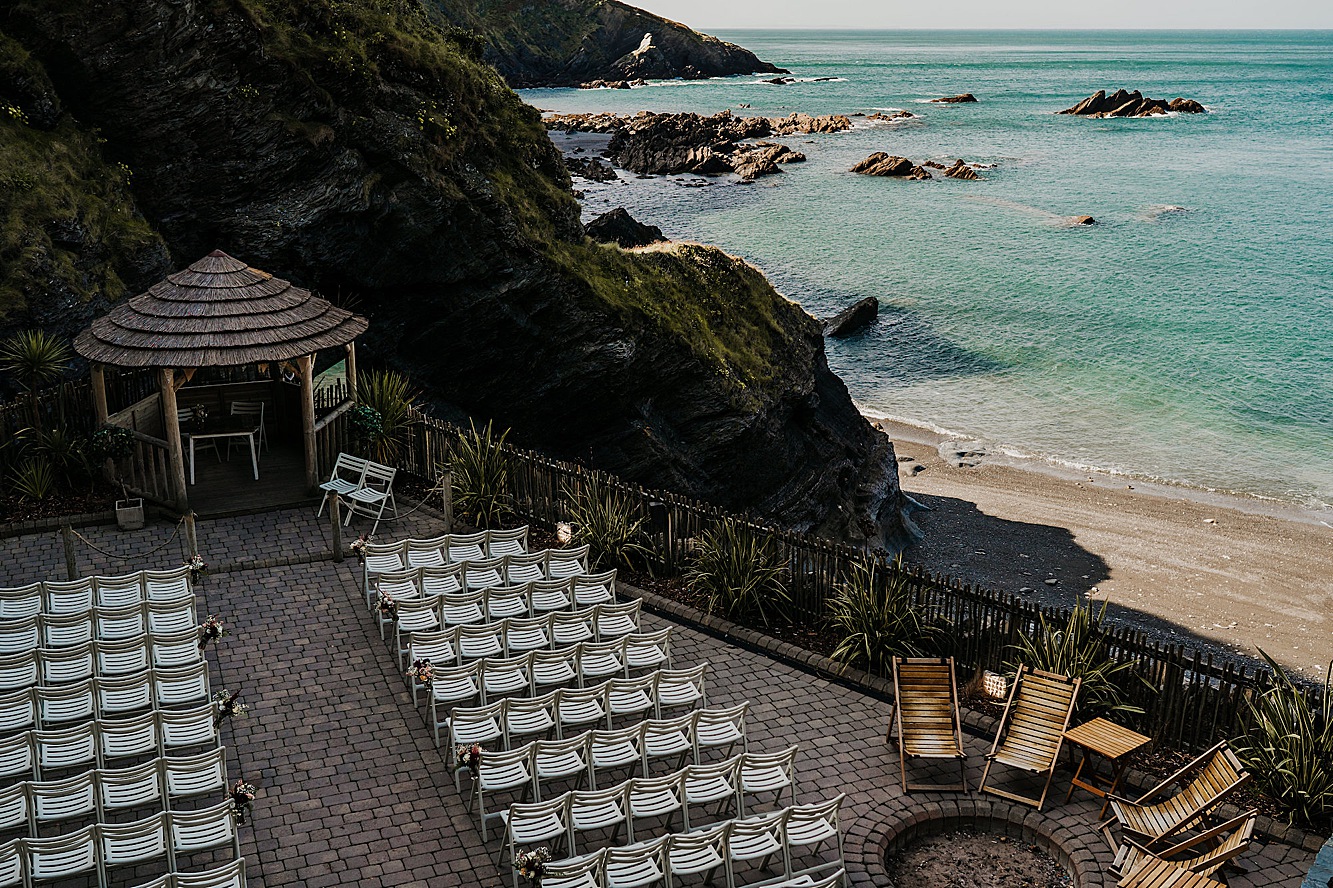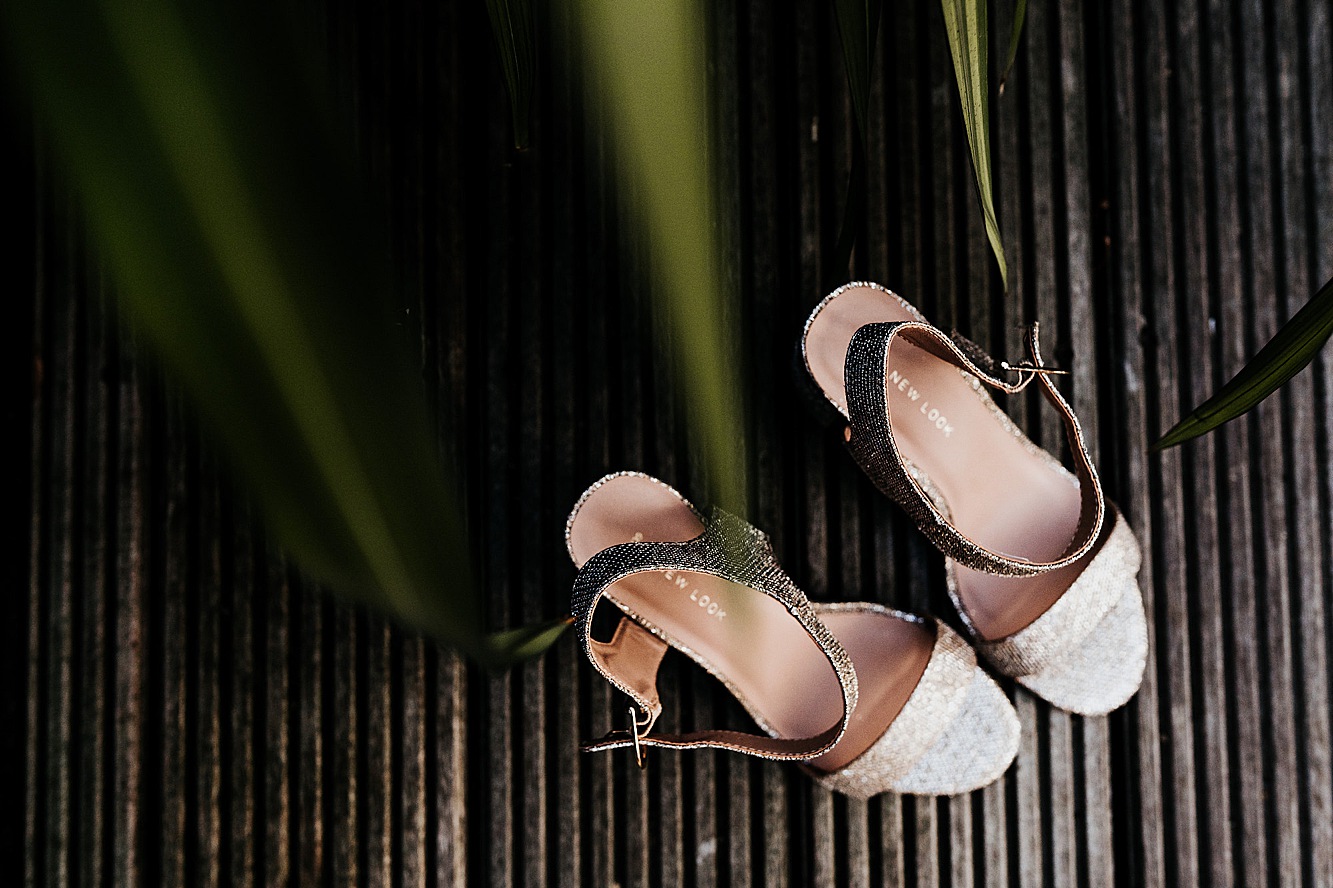 Florist Natasha from Pumpkin & Pye made a gorgeous, subtly autumnal bouquet for Jess, filled with roses in shades of white, apricot, and dusky blush pink, burgundy dahlias, fronds of astilbe and fern, and hypericum berries.
"I really had no idea about where to start with this, so I just sent Natasha some colours and flowers I liked, and asked for some ferns to be included as a representation of our time in New Zealand. She created our beautiful bouquet and floral decorations from my very vague ideas – and they were stunning."
Bath Make-up Artist took care of Jess' make-up, and her beautiful, beauty braided hairstyle, too. On her feet she wore sparkly heels from New Look – although these came off as soon as she got to the beach!
"My dress was by Lucy Can't Dance; a boutique and unique wedding designer based in Essex. AT LCD, you can go in, try them all on and pick elements of each of your favourite dresses, then totally personalise every detail, from the type of material used, the neckline, even which colour you want it to be, which is a big part of this brand."
Lucy Can't Dance specialise in dreamy dip-dyed dresses and skirts, and for her bridal look, Jess went for blush pink fading delicately from the bottom of her dress. The bodice had beautiful, leaf motif lace, and it suited Jess perfectly.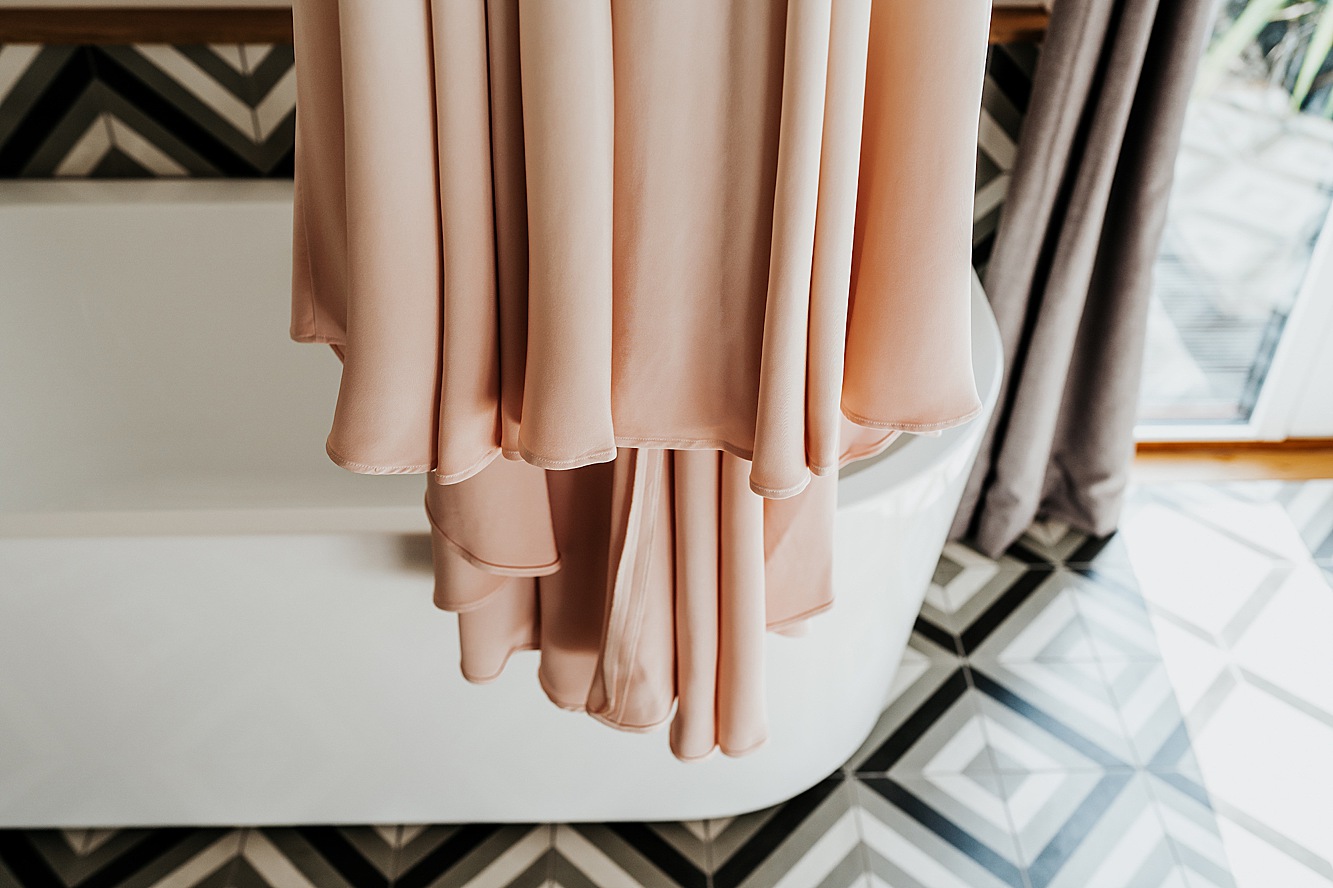 "There really is something for every bride there, and the experience of essentially designing my own dress with the guidance of a professional was so special."
"They even offer a service where they will alter your dress afterwards so you can wear it again. I would recommend LCD to every bride. Lucy (the owner) could not have been any more patient and accommodating."
"I wanted a dress that was comfortable to wear all day and reflected a bit of my personality. It felt like a little piece of myself in a dress."
"The silk was dip dyed a dusky pink, and the top was covered in hand sewn leaves, it felt like Lucy had gone into my brain and pieced together all the dream elements of a dress and created a completely unique one, just for me."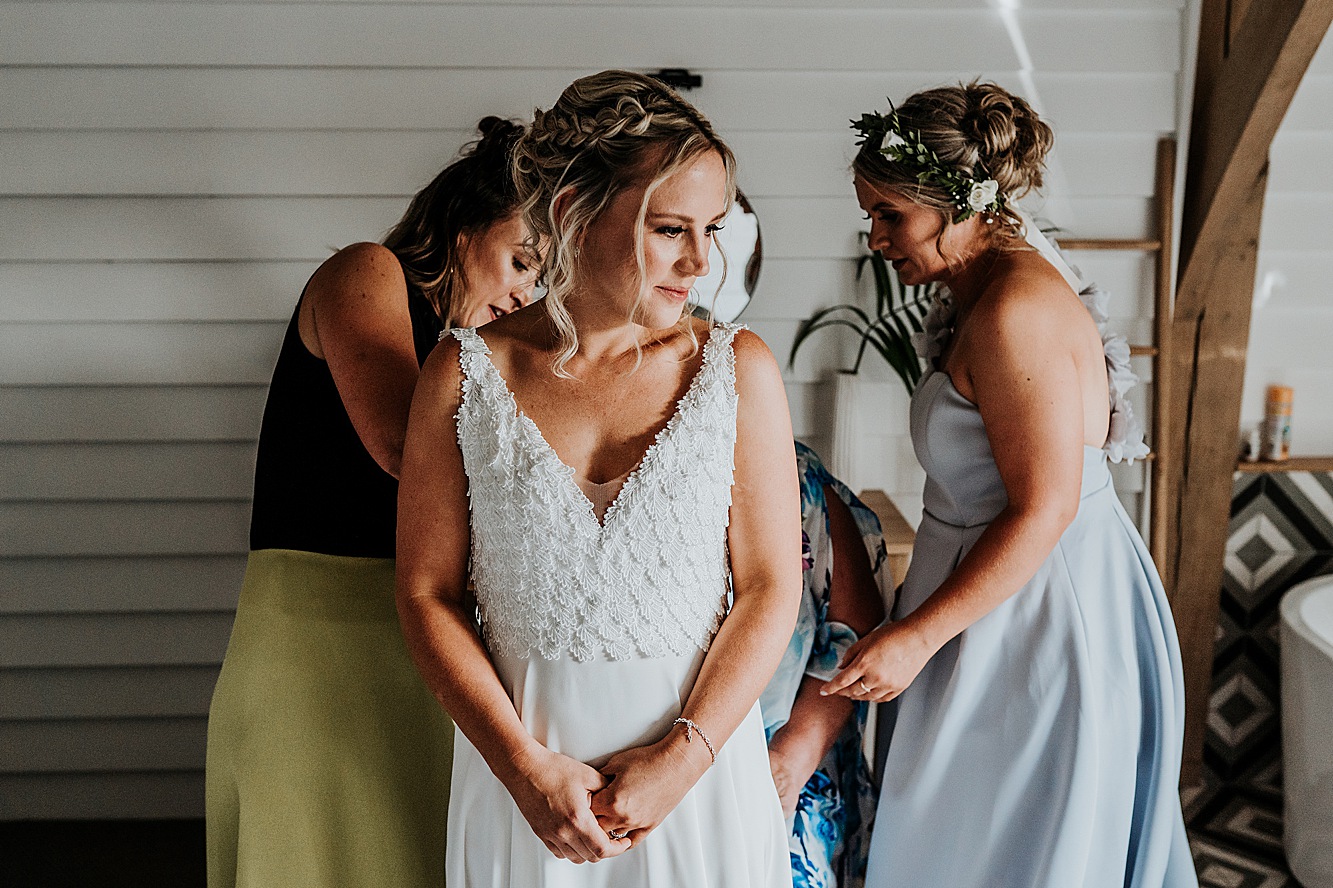 Jess wore flowers in her hair, and for jewellery, a single charm from a bracelet belonging to her grandma, which had originally been given as a gift from her grandad on their 25th wedding anniversary.
It was an incredibly special piece for Jess to be able to wear, and have her grandparents represented on the day.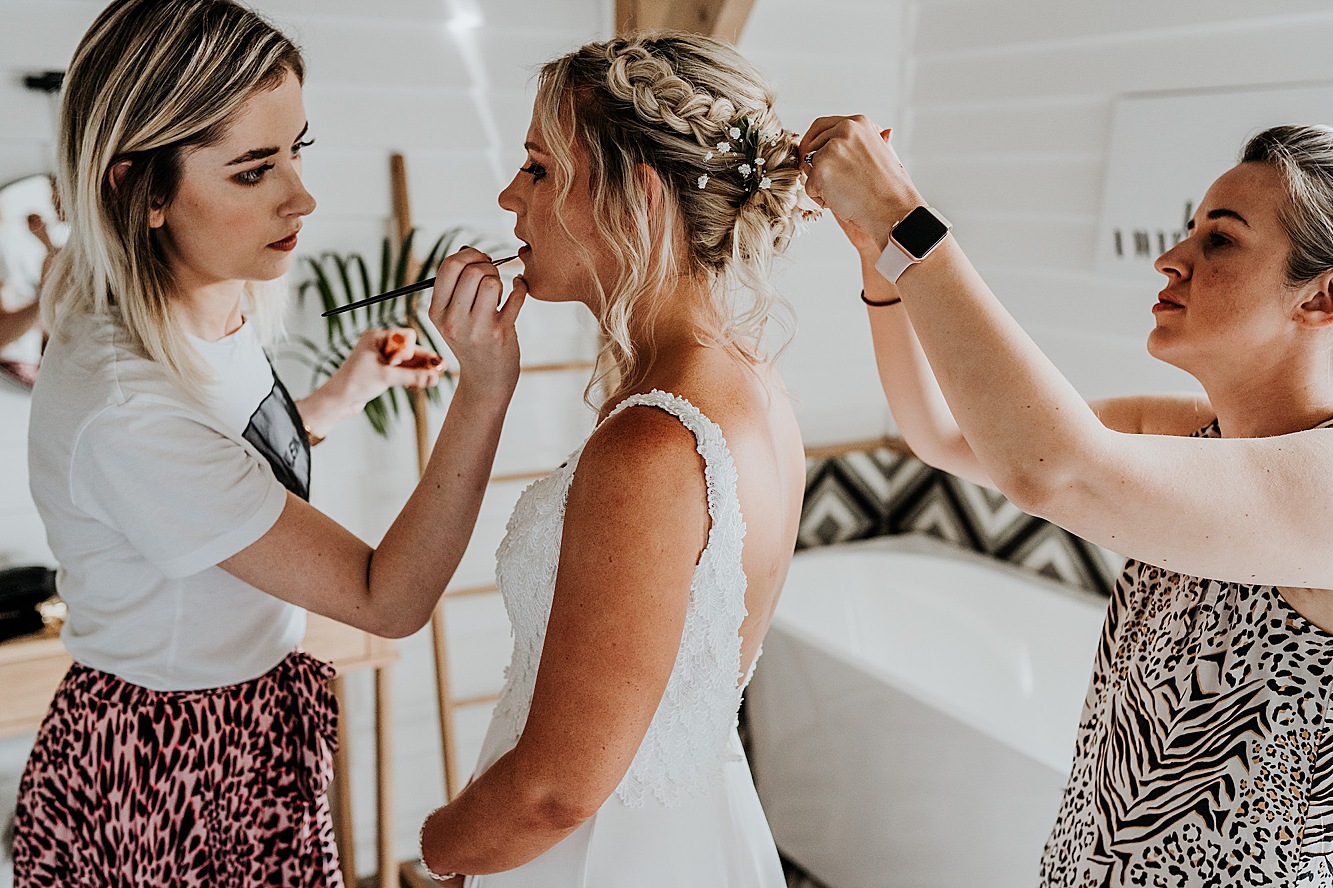 "The flowergirls wore flower crowns and white dresses with a floral embellished top to match elements of my dress. They were bought in New Zealand."
Jess' bridesmaid and Maid of Honour looked lovely in a strapless pale blue dress from ASOS, and Jess gifted her a bracelet to wear, which said 'Best Friends' in Morse code.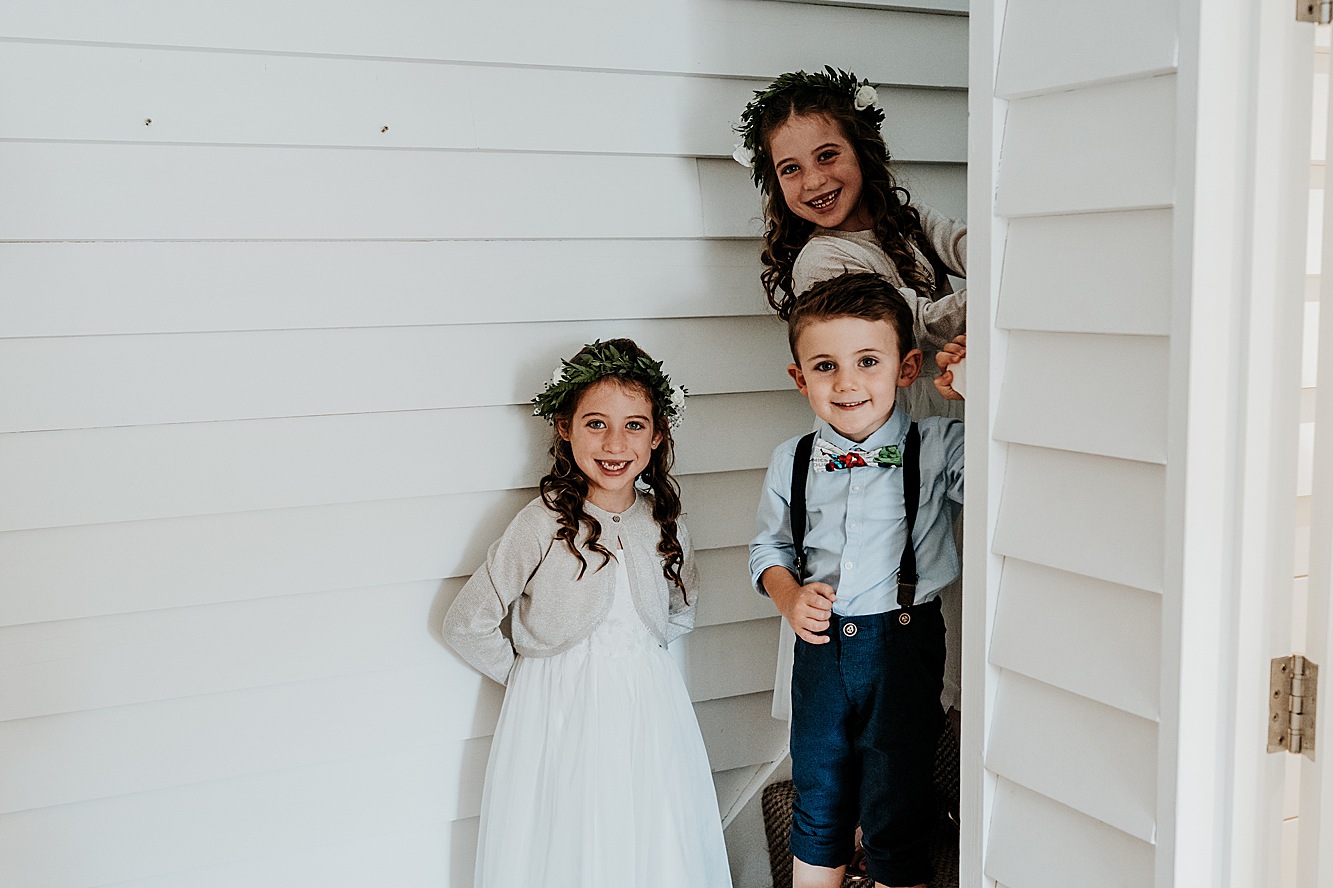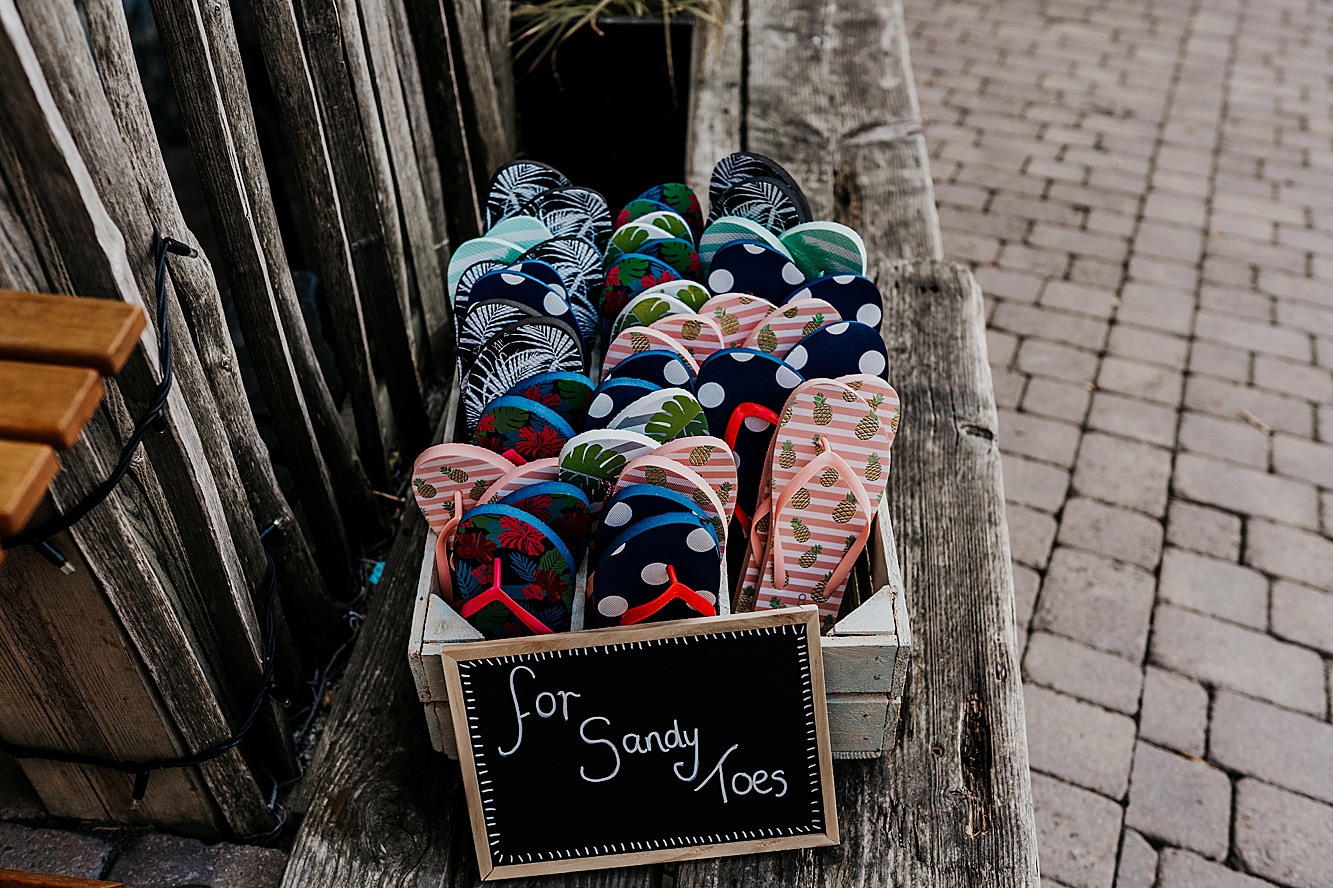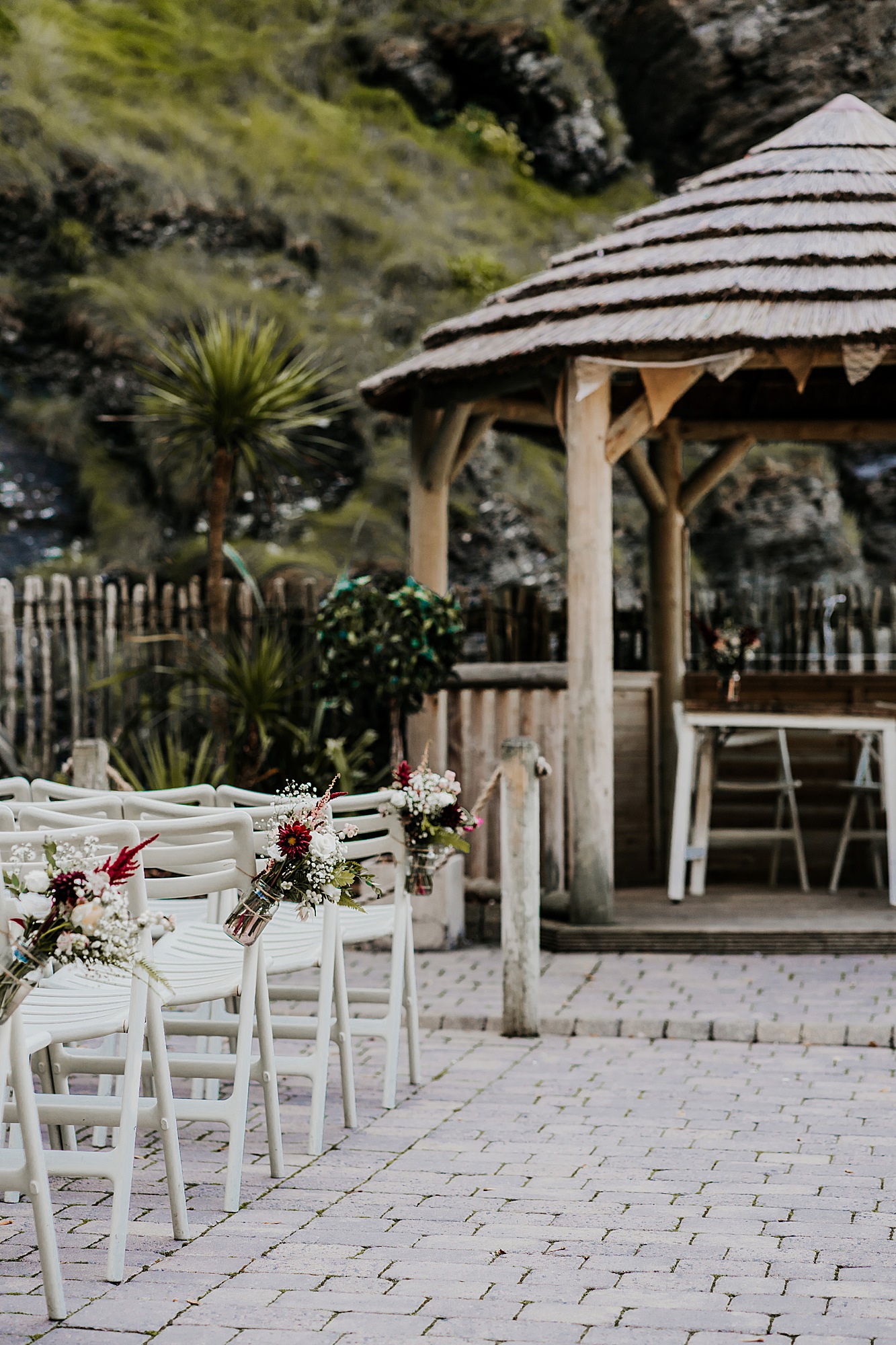 Drew wore a tailored three-piece suit (sadly no supplier details were provided) and shoes by Kurt Geiger. The couple's sweet page boys wore blue shirts with rolled up blue trousers and braces from Next.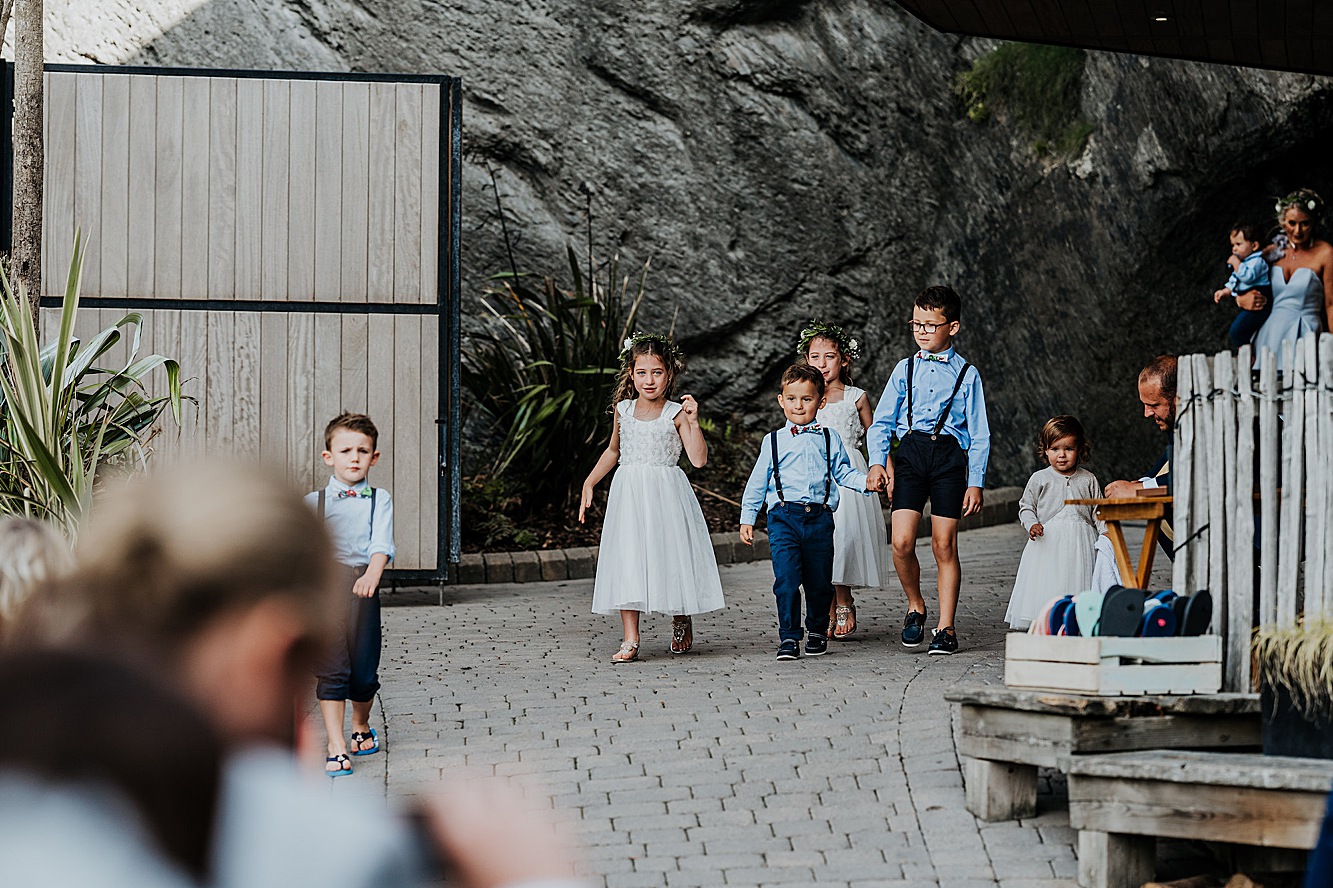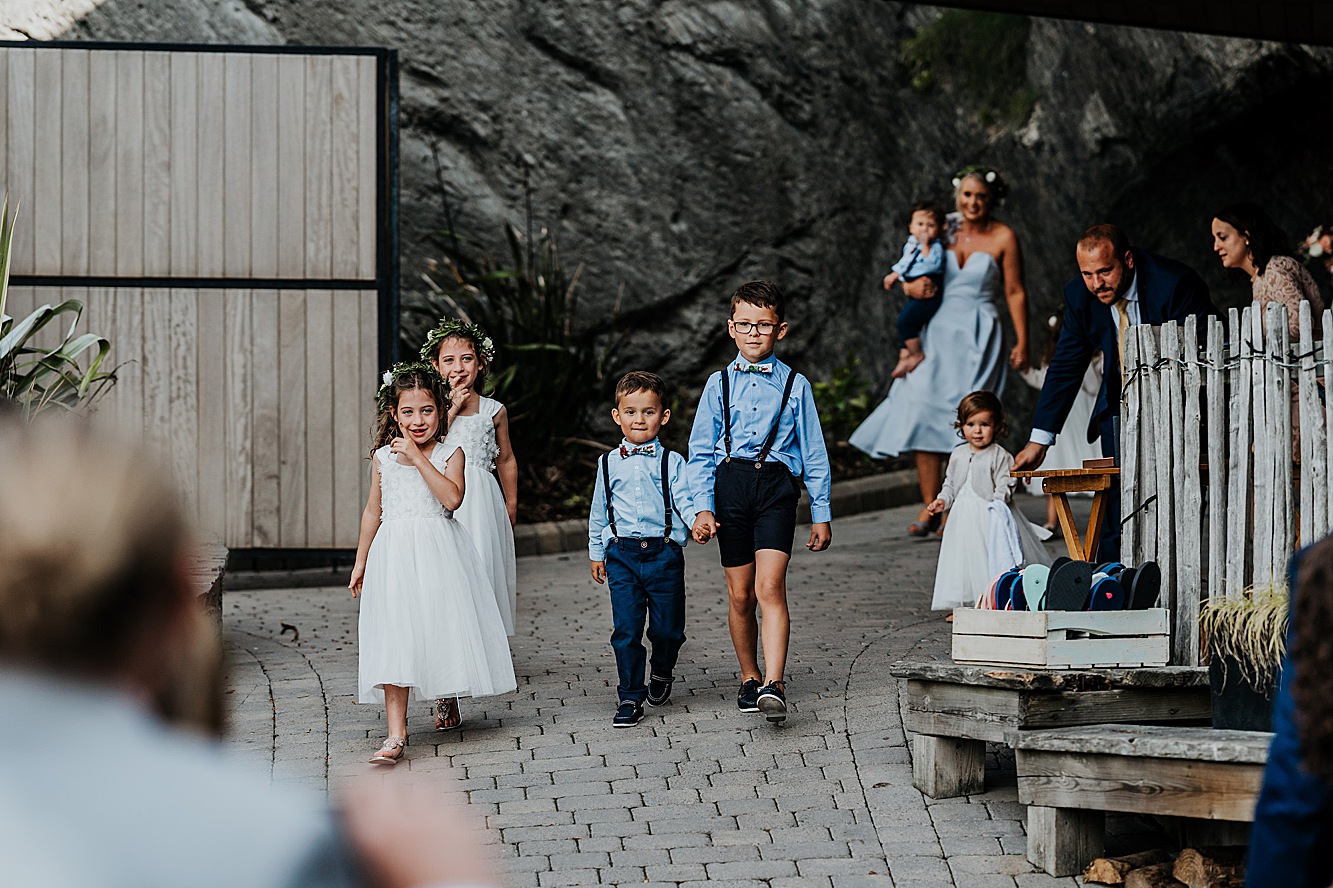 Jess and Drew held their ceremony in a thatched gazebo on the elevated terrace at Tunnels, overlooking the beautiful cove. Jess walked down the aisle together with her dad to Israel Kamakawiwo'ole's version of Somewhere Over the Rainbow.
"Our celebrant was Kate Mortimer from Heartfelt Ceremony. As we had had our son, Alfie whilst living abroad, and many of the guests would be meeting him for the first time, we decided to incorporate a naming ceremony into the wedding."
"We chose his 'guide parents', and they made their promises to Alfie in the second part of the ceremony. Kate helped us to tailor the ceremony to do both, in a really fluid way. Many people told us it was one of the most personal ceremonies they had been to."
"This was a large part of why we chose a celebrant over a church service or registrar. It meant we could make promises to each other which were entirely personal, and just about how we wanted our lives to be shaped together."
The couple's wedding bands were handmade using gold from jewellery inherited from both sides of their families, melted down and mixed to create two new rings for them both. I think that's such a wonderful and symbolic idea!
"We were very lucky to have friends from New Zealand attend the wedding, and one of them very kindly shared her Pepeha and a reading in Te Reo Maori, 'Ehara I Te Mea' as a blessing to our ancestors."
"We followed with a traditional 'Waiata' (song) called 'Te Aroha Ha', both of which I had printed in English and Te Reo Maori, so that the guests could join in. It was a very emotional moment for us, and we felt blessed to be able to incorporate our love and respect for Maori tradition into the day."
After the ceremony, guests congregated on the terrace for drinks and delicious Devonshire scones (cream first, then jam!) and relaxed in giant deck chairs whilst Jess and Drew walked down to the beach with their photographer Ryan Goold.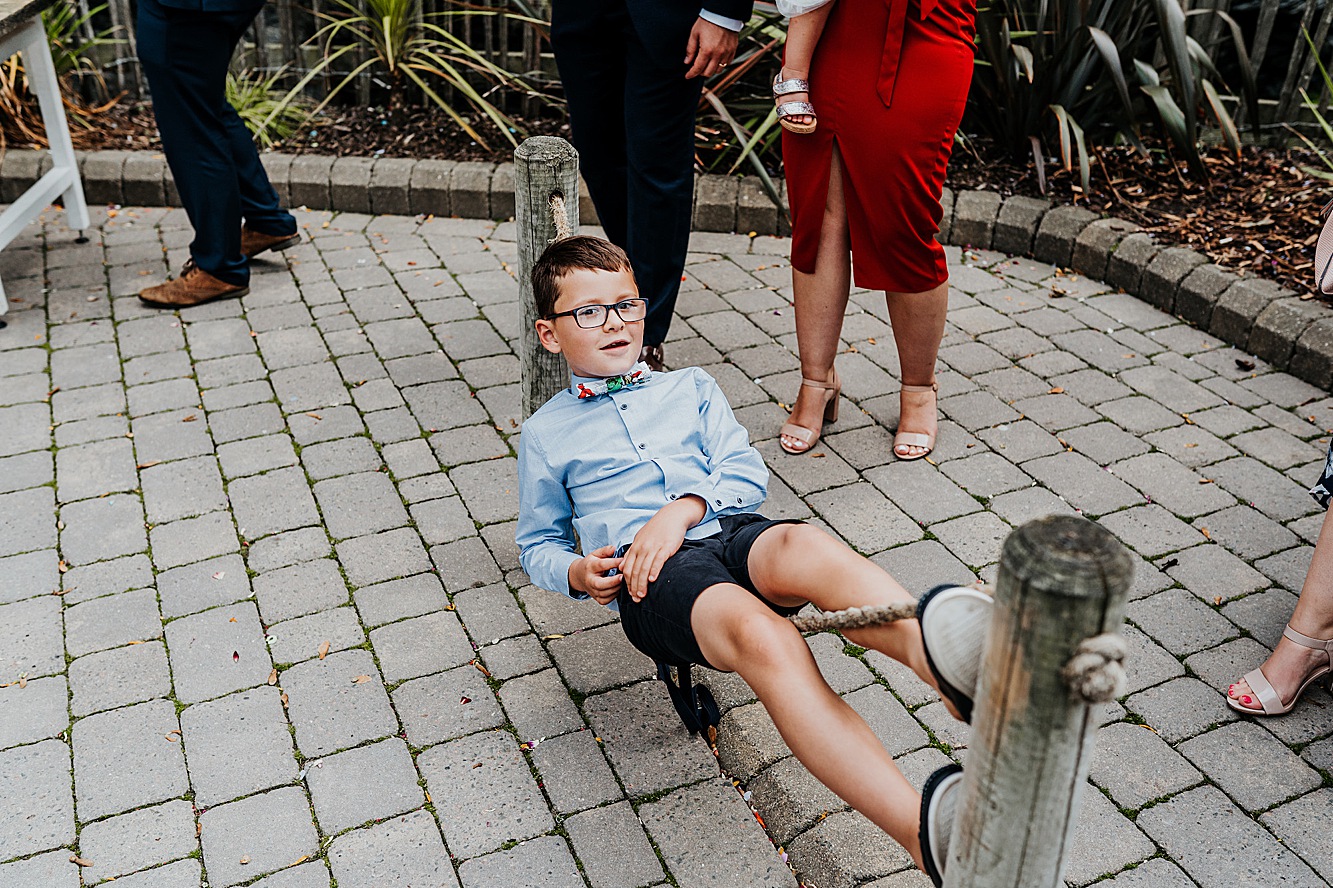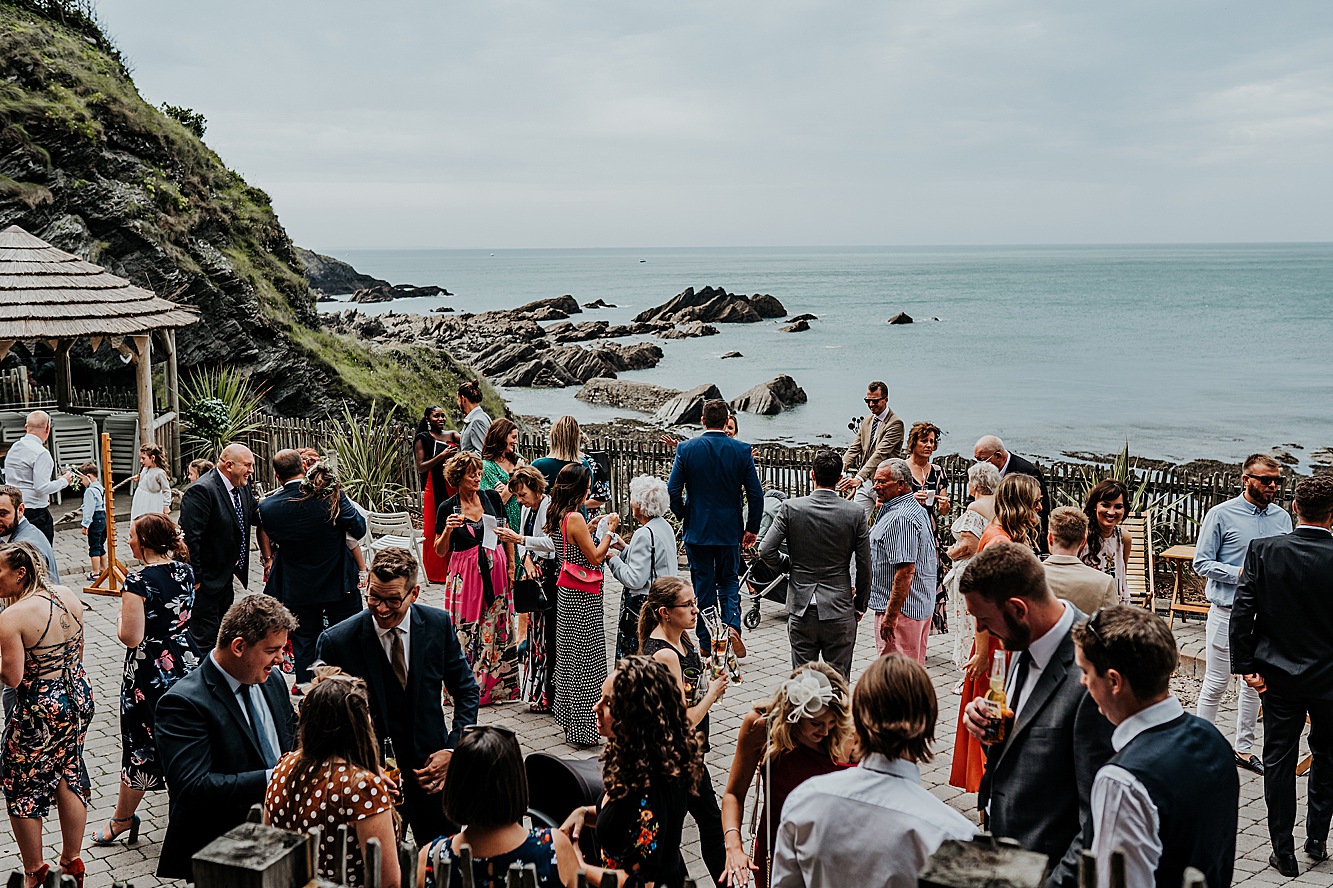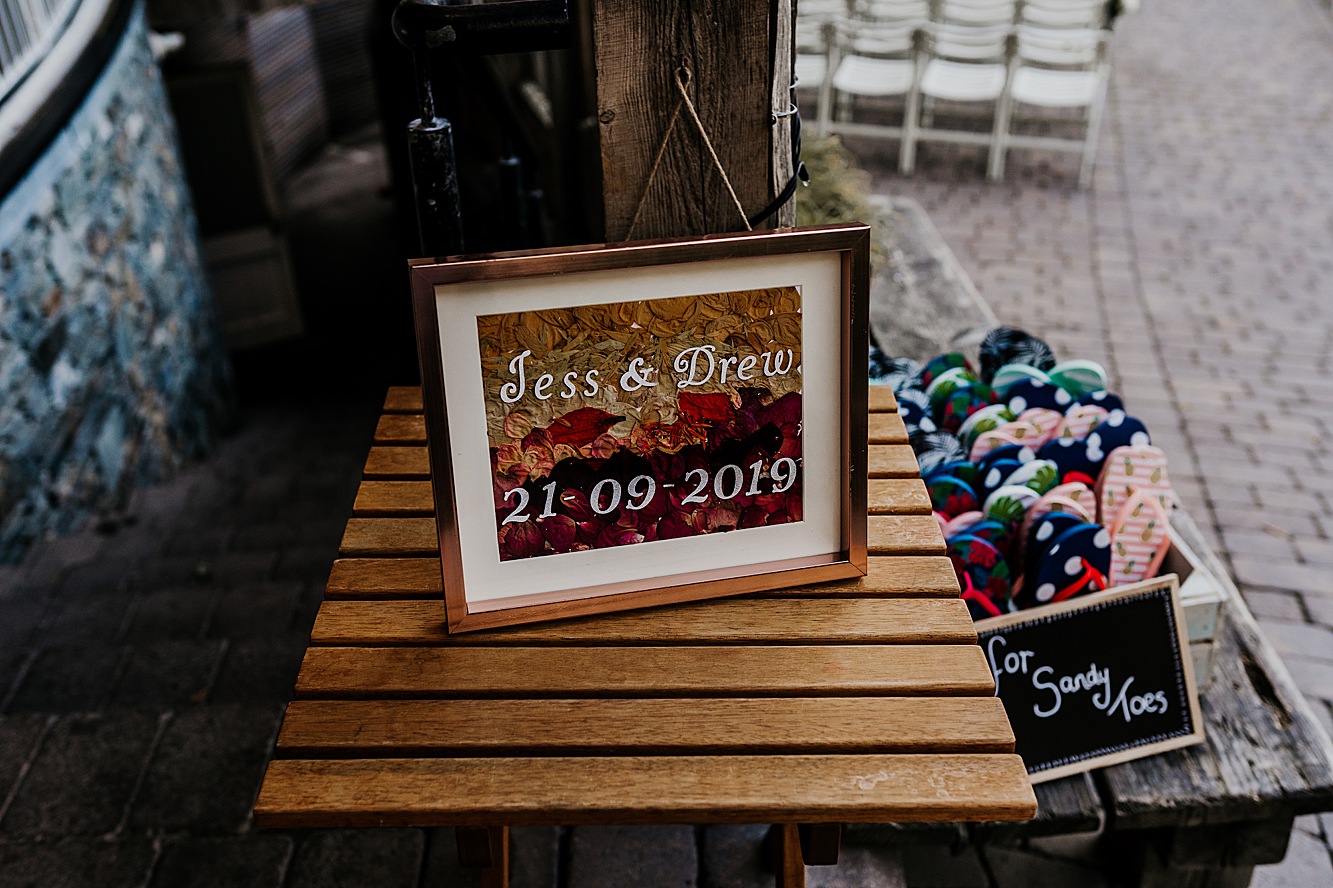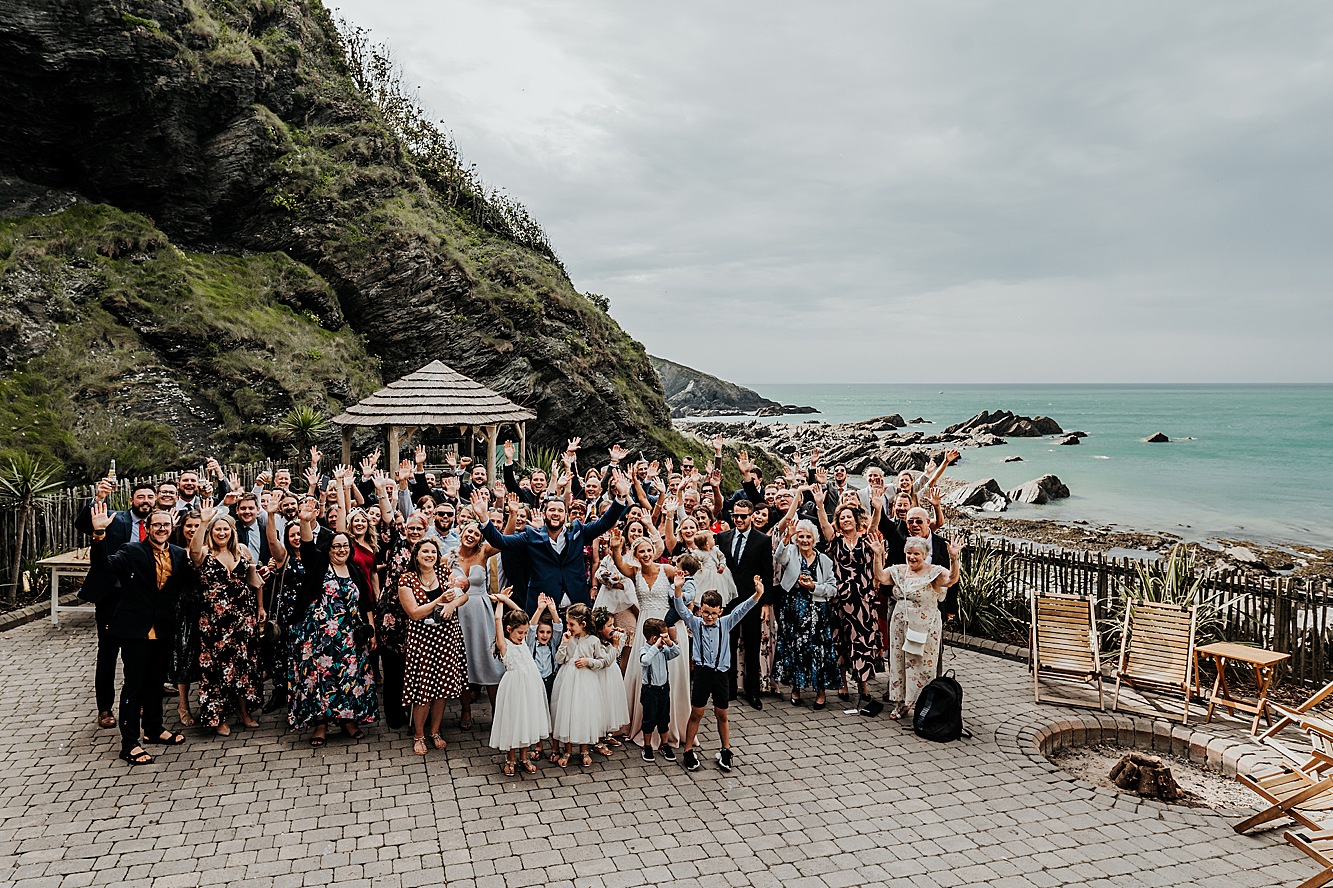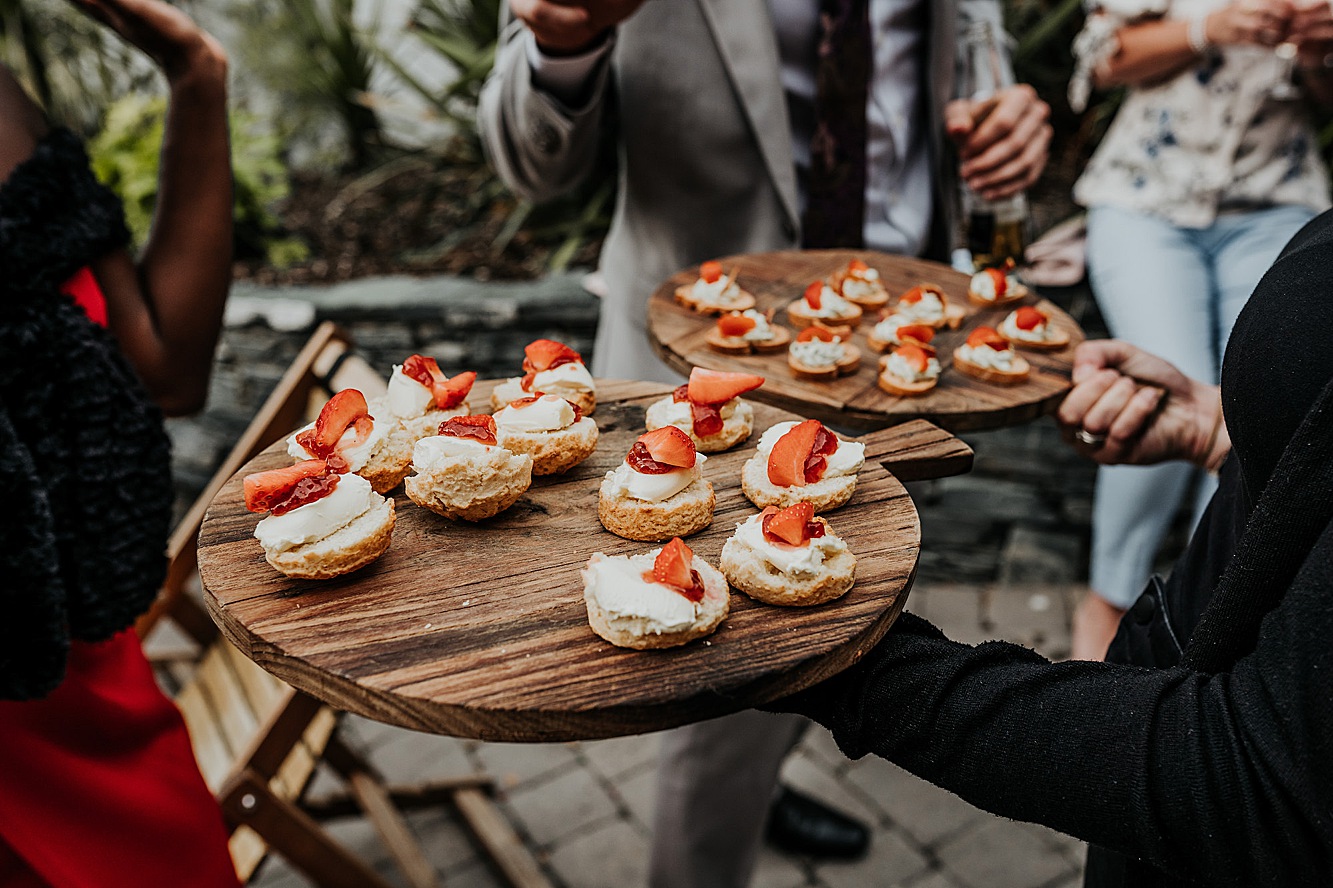 Tables were laid in the Tunnels' light and airy dining and reception space, with the doors thrown wide to enjoy the beautiful weather. Guest favours were temporary tattoos of Jess and Drew's faces, which they had made through an Etsy maker (no details provided).
"Catering was in-house at the Tunnels, and it was a highlight of the day! It was served as a gourmet barbeque that the guests helped themselves too, and  it really highlighted the chilled out atmosphere of the day."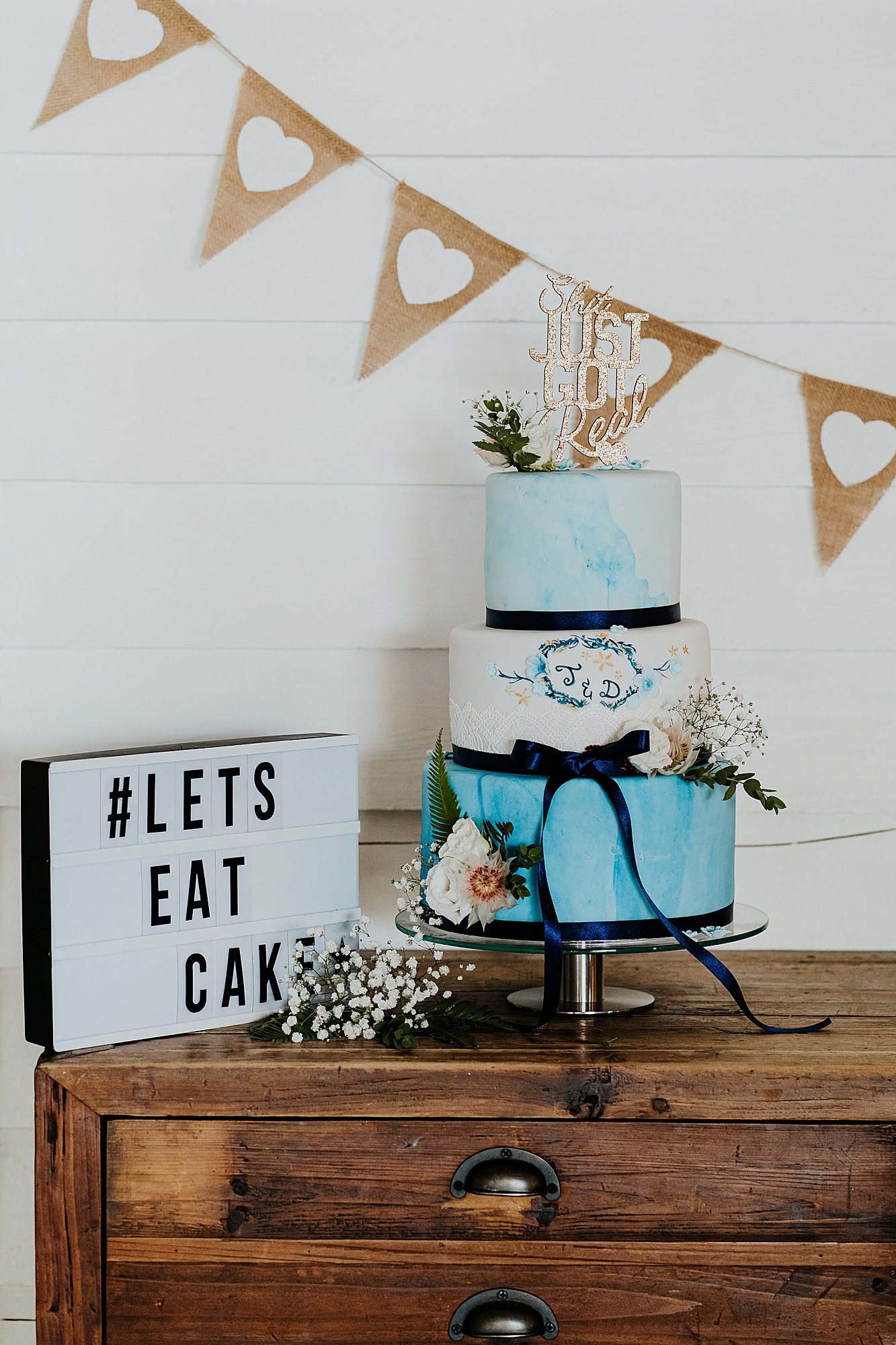 It's great to be sharing Ryan's beautifully emotive and atmospheric work for the first time on Love My Dress today, and Jess and Drew were thrilled with his approach, and the final collection of pictures they received.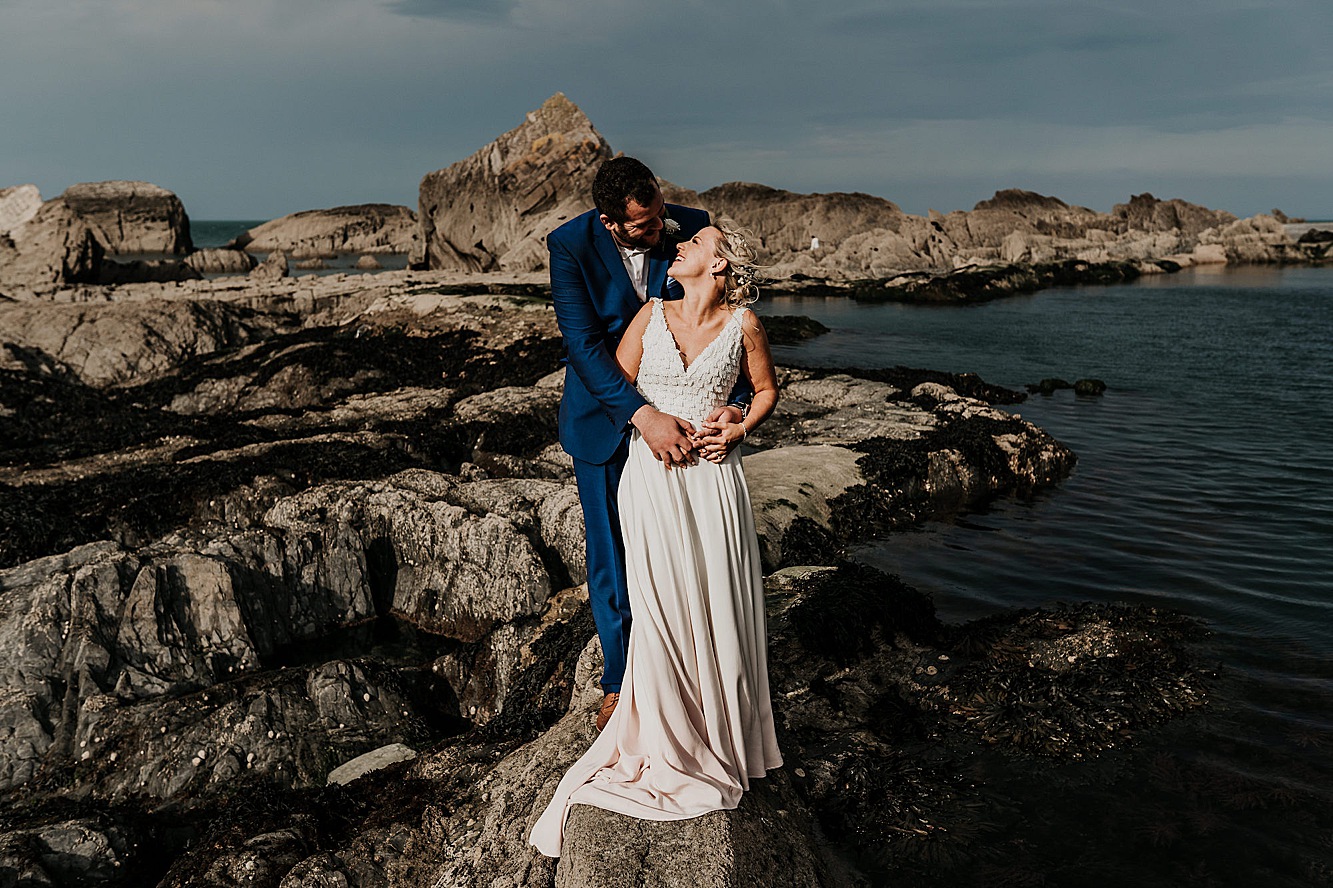 "Ryan offers an amazing service, leading up to and after the day. When he delivered our photographs, he surprised us with driftwood, which he had secretly collected from the beach, which was so special and something we will treasure forever, as we hadn't even thought of doing this."
"Ryan made us and our guests feel so at ease and comfortable, and the photographs are incredible. The only difficulty is choosing which of the many photographs we'd love to display!"
"We met whilst studying at university and were together for 9 years before we got married. We were living in New Zealand when we became engaged, which was where the entire wedding was planned from. The actual engagement happened on a deserted island, over looking a lagoon in the Cook Islands – it was very dreamy."
On-the-day stationery and signage, like the table plan hand written onto a mirror, and flower petals dried at home to place inside frames, were made by Jess and Drew.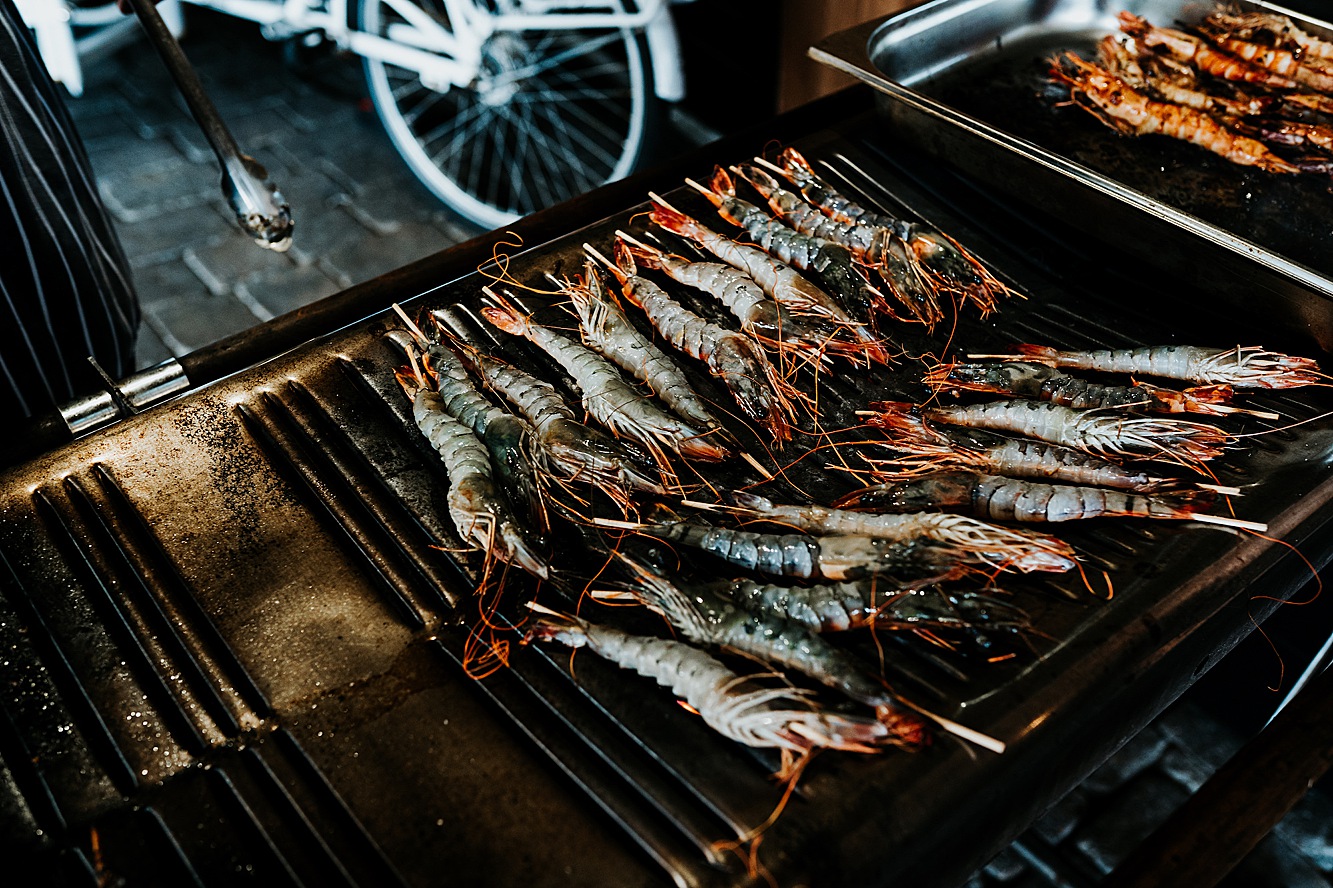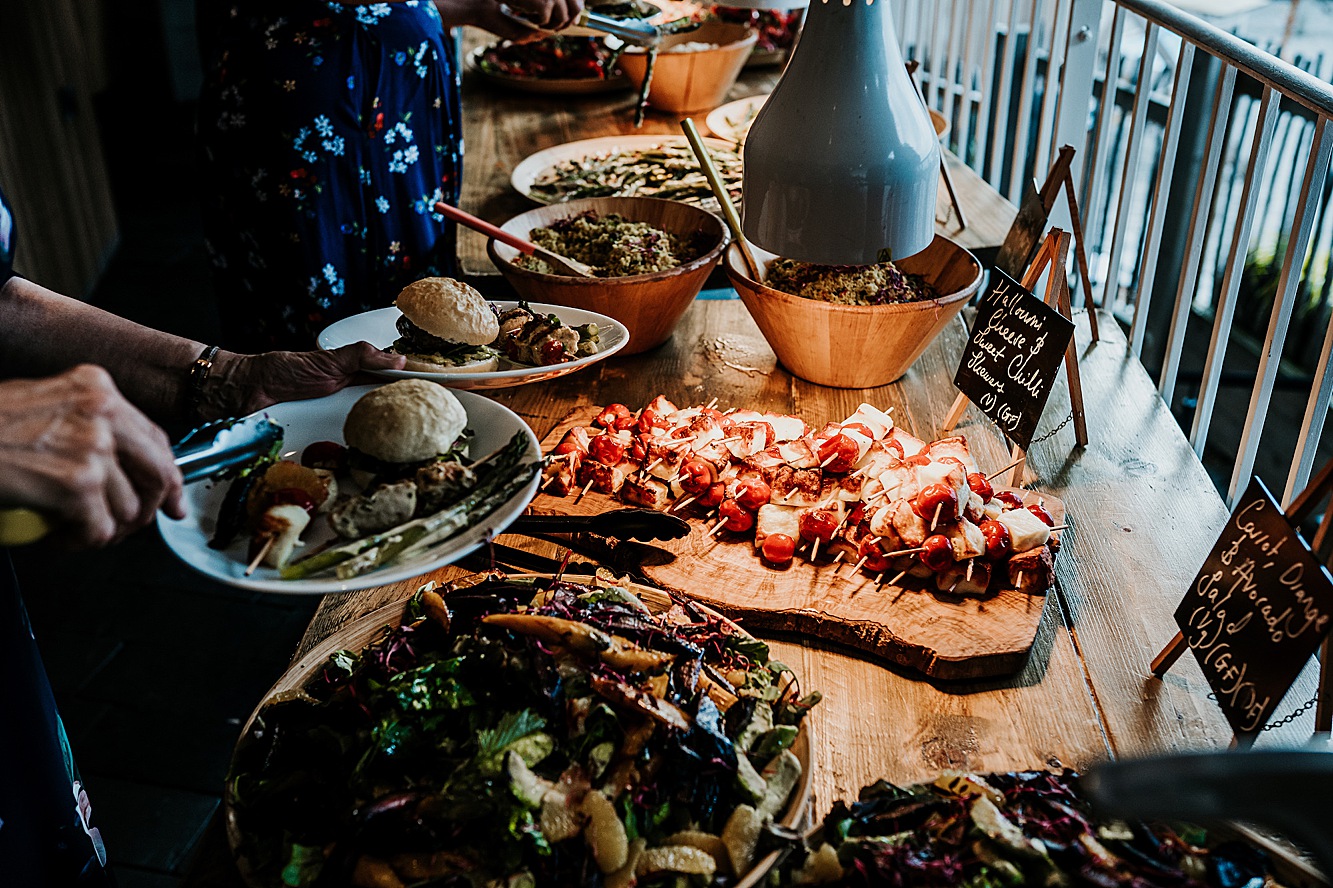 After the barbecue, speeches and ice-cream, Jess and Drew took another seaside walk before cutting their cake, which was made for them by Jess' talented sister – a three-tiered creation with blue and white marble effect decoration, and the couple's initials.
"We had our first dance outside on the garden terrace, overlooking the beach to Angels by The XX. We asked our DJ, The Wedding Spinner, for a playlist which would keep the party going all night long, whether our guests were chilling on the roof terrace, roasting marshmallows by the fire or tearing up the dance floor inside, and boy did he deliver!"
"We loved every second of the day, just being able to be with all of our loved ones. The venue really made it such a relaxed and easy day for us, which is exactly what we wanted. We didn't have to think about any details, they just quietly handled it all in the background. We were incredibly lucky with the weather, too."
"It stayed warm right into the night, so that we could use the fire pit and outdoor spaces. It really was the last day of summer, as the very next day started a very wet few weeks."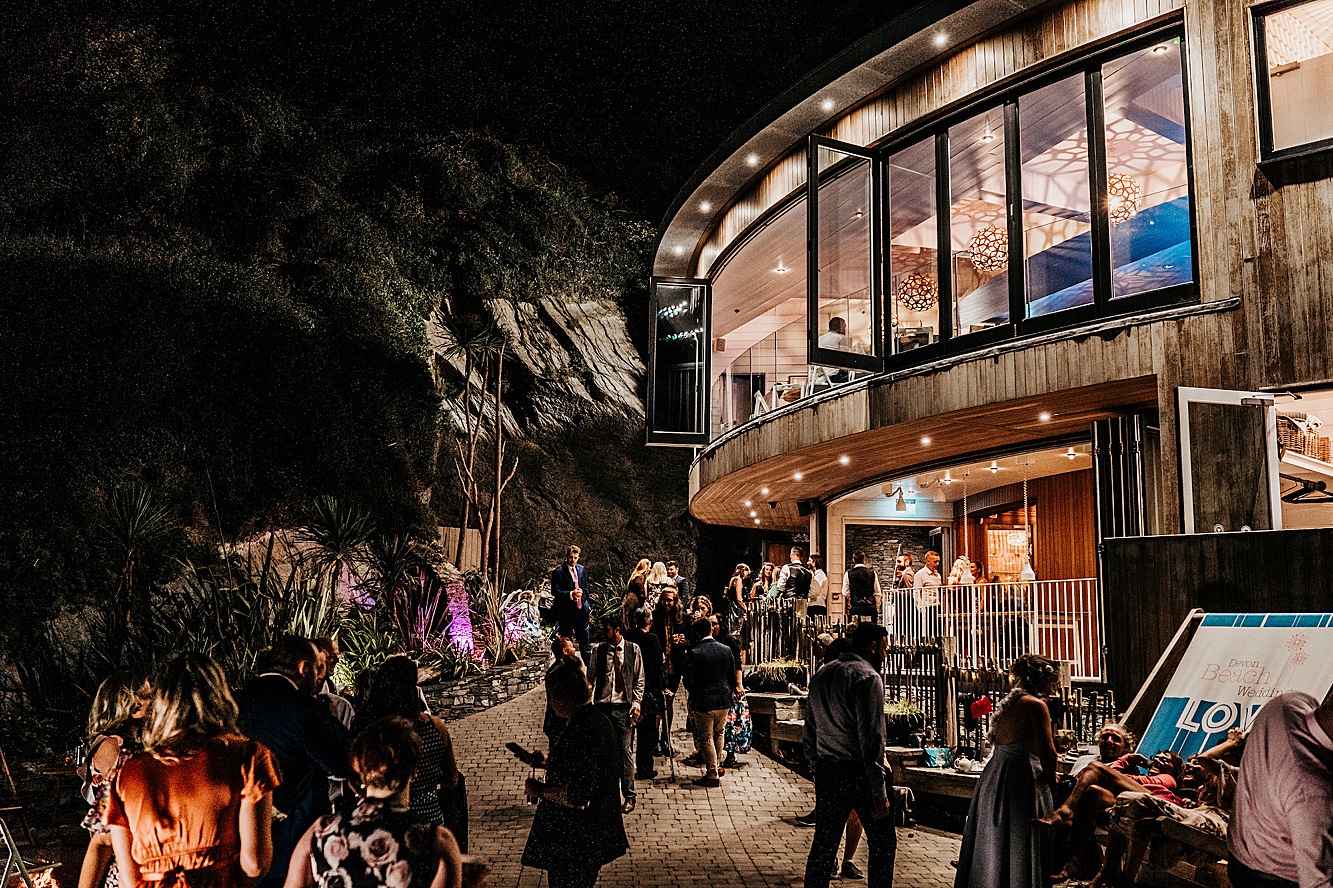 Words of Wedded Wisdom
"Honestly, not much has changed for us since getting married. You go back to the usual routine of jobs and being parents straight away, but it is so lovely to have this special day to look back on together when times are mundane or stressful. It has made me realise that wedding planning doesn't need to be stressful at all, the planning can be as enjoyable as the day if you don't over think things."
"People always say the same thing: enjoy the day as it goes by so fast, which is completely true! To make the most of it, we hired accommodation attached to the venue and made a weekend of celebrations with our families, which I would really recommend to anyone.
"Also, if you choose the right venue, it will take all of the stress out of planning the wedding and the running of it on the day, so make sure you choose somewhere that is going to really take care of you and your vision for the day."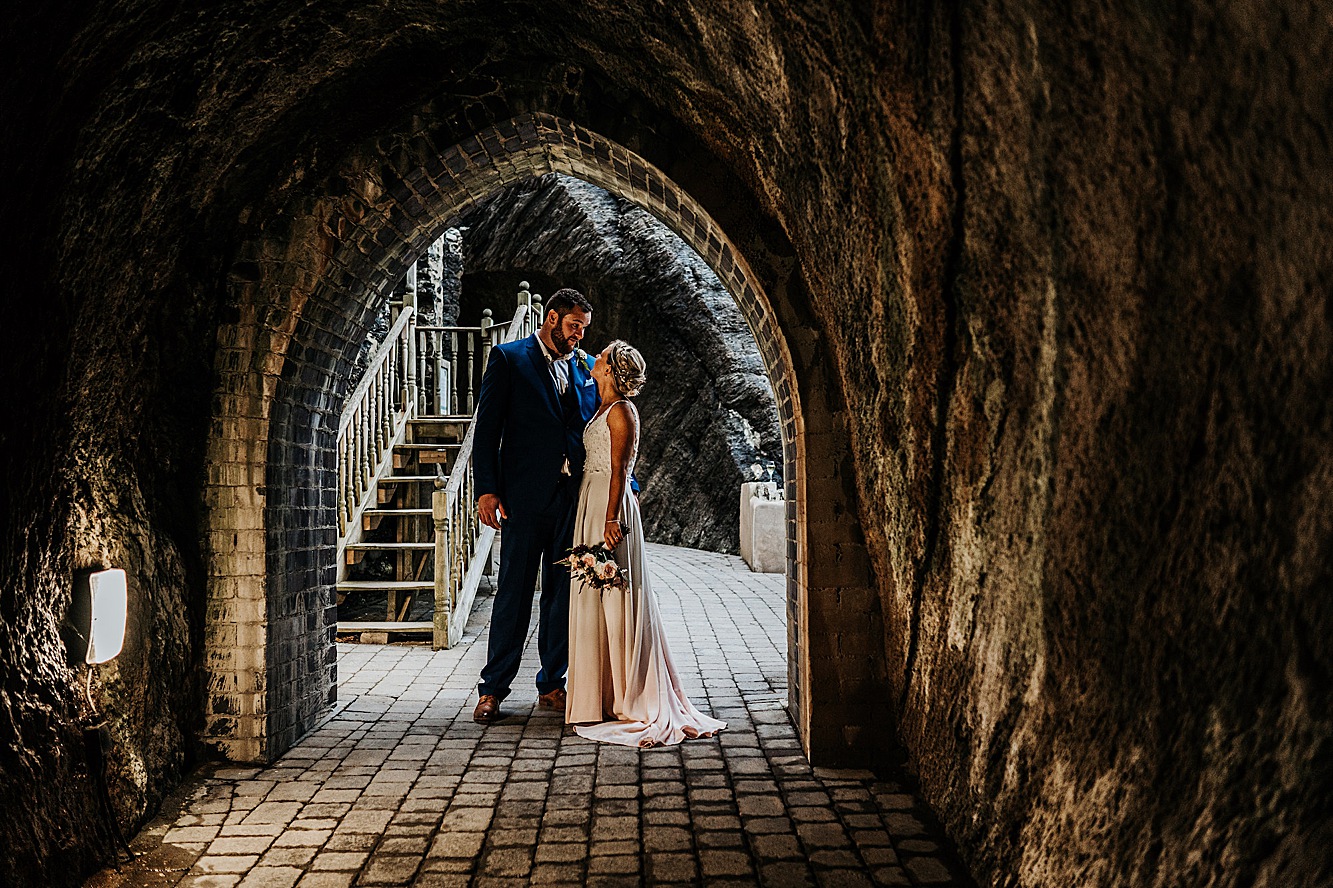 Jess and Drew, thank you so much. I always love a coastal wedding, and this looked so dreamy and laid back, didn't it? Huge thanks to Ryan Goold for the wonderful way it was all captured.
Until next time!
Love,
Laura