Lovelies, how are you today? I think I've got something very special for you which I hope, amidst all the latest COVID-19 'gatherings of no more than 6' headlines, will add a touch of something uplifting and inspirational to your day.
Join me as we head off to to the Balearic Isle of Ibiza to celebrate the summer wedding of Kirsty and Chris.  Hair salon owner Kirsty and car sales manager Chris wed on 22 September 2019 in an outdoor, Mediterranean ceremony in the gardens of Atzaró in Santa Eulàlia, Ibiza.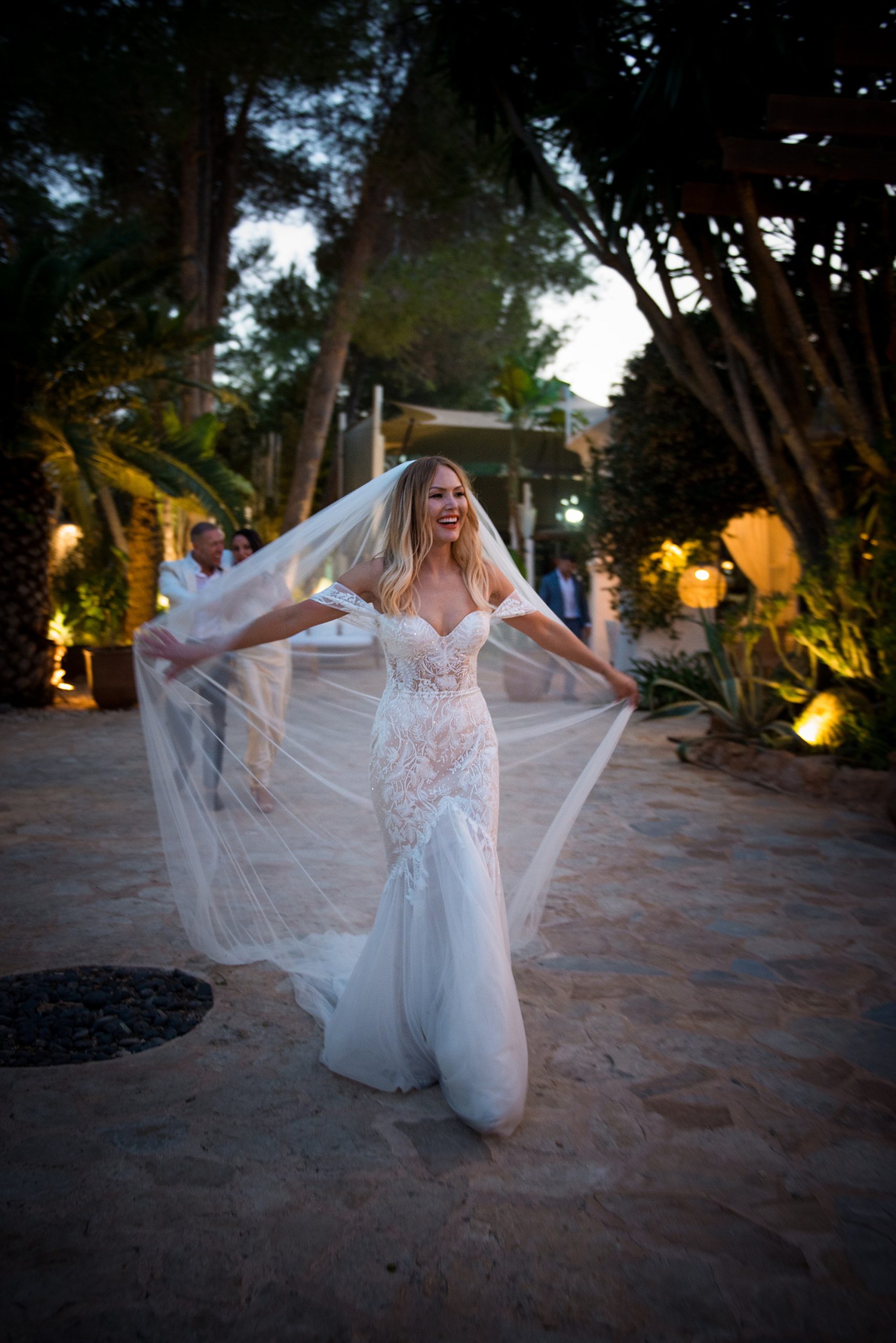 With the help of wedding planner Ruth Alexander, they tailored a day that was relaxed, simple & classic, whilst honouring the natural, Balearic beauty of the venue.
Kirsty strapped on gold Nicholas Kirkwood platforms, with some funky pearl detailing in the soles.
"Simple and classic, they had pearls in the platforms to go with my pearl earrings and bag."
"My perfume was Sundazed by Byredo. I wanted my perfume to be citrusy to fit with the theme of the venue."
The bride wore her hair down in loose, romantic waves, styled by Alex and Mathew at the bride's own hair boutique, Kirsty Flora Jones Hair and her make-up was fresh and radiant. Her look, with its pop of colour thanks to her bright lipstick, was created by Lauren Buckley Makeup Artist.
Kirsty's sexy, off the shoulder gown was a Riki Dalal design and I'm in love with its creative, embroidered detail and the romance of the sheer sleeves.
"The designer of my dress was Riki Dalal, from a store called One1 Bridal in Cardiff. Helen was amazing from start to finish. It was a lot of fun and such a lovely experience for me and my bridal party."
"I planned on having a backless dress but the styles I tried on didn't suit me. Helen suggested my bridal party each pick out a couple of dresses for me to try. My mum picked my dress. I fell in love with it instantly and the shape fitted me perfectly."
"I loved the sleeves on the dress and the nude underlay with all the fine detail. Riki Dalal were also happy to change the trail on dress to ivory from nude."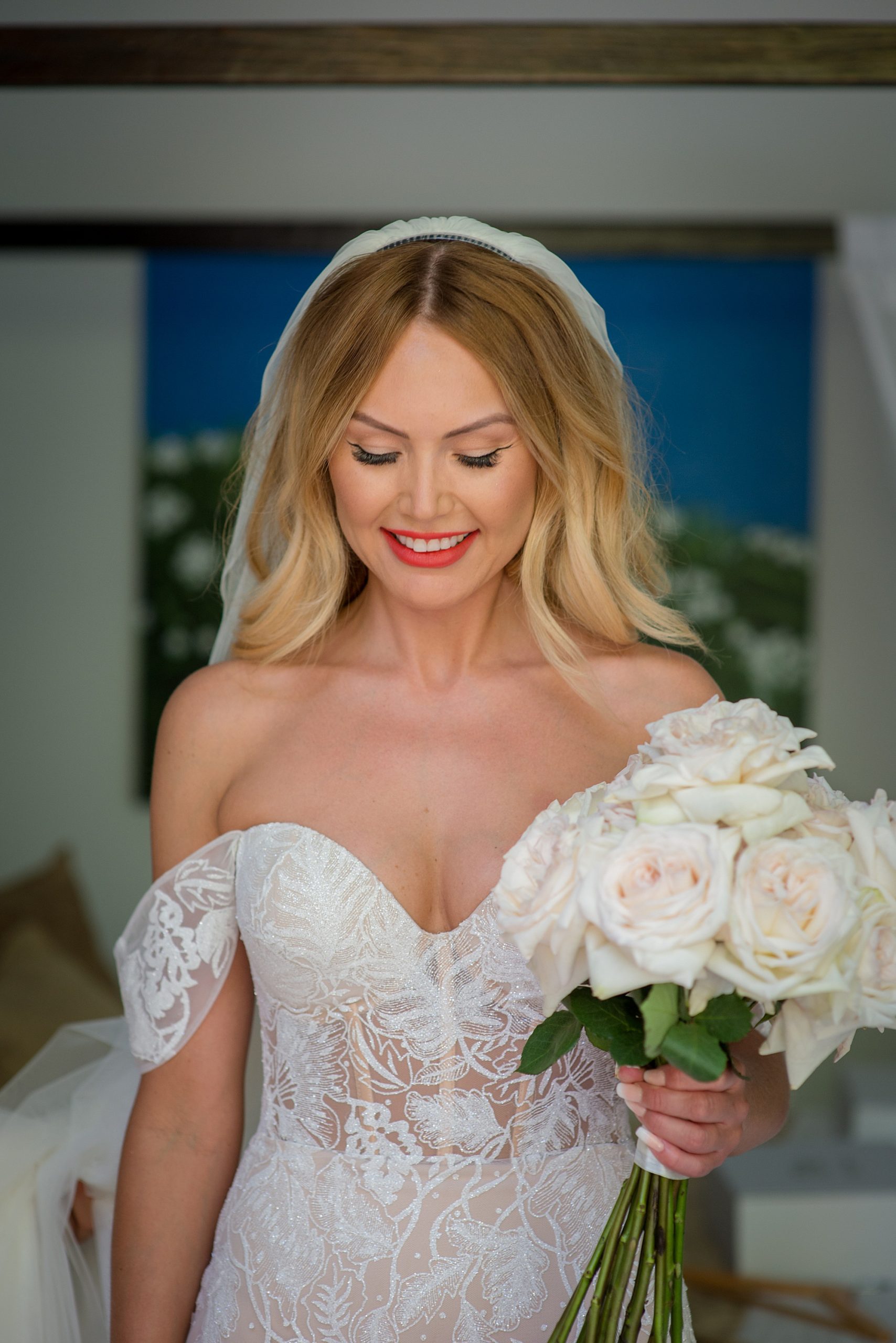 "Ruth of Ruth Alexander Weddings was our wedding planner and such a great help. I would send my ideas across and we also shared a Pinterest board, then Ruth made my ideas come to life."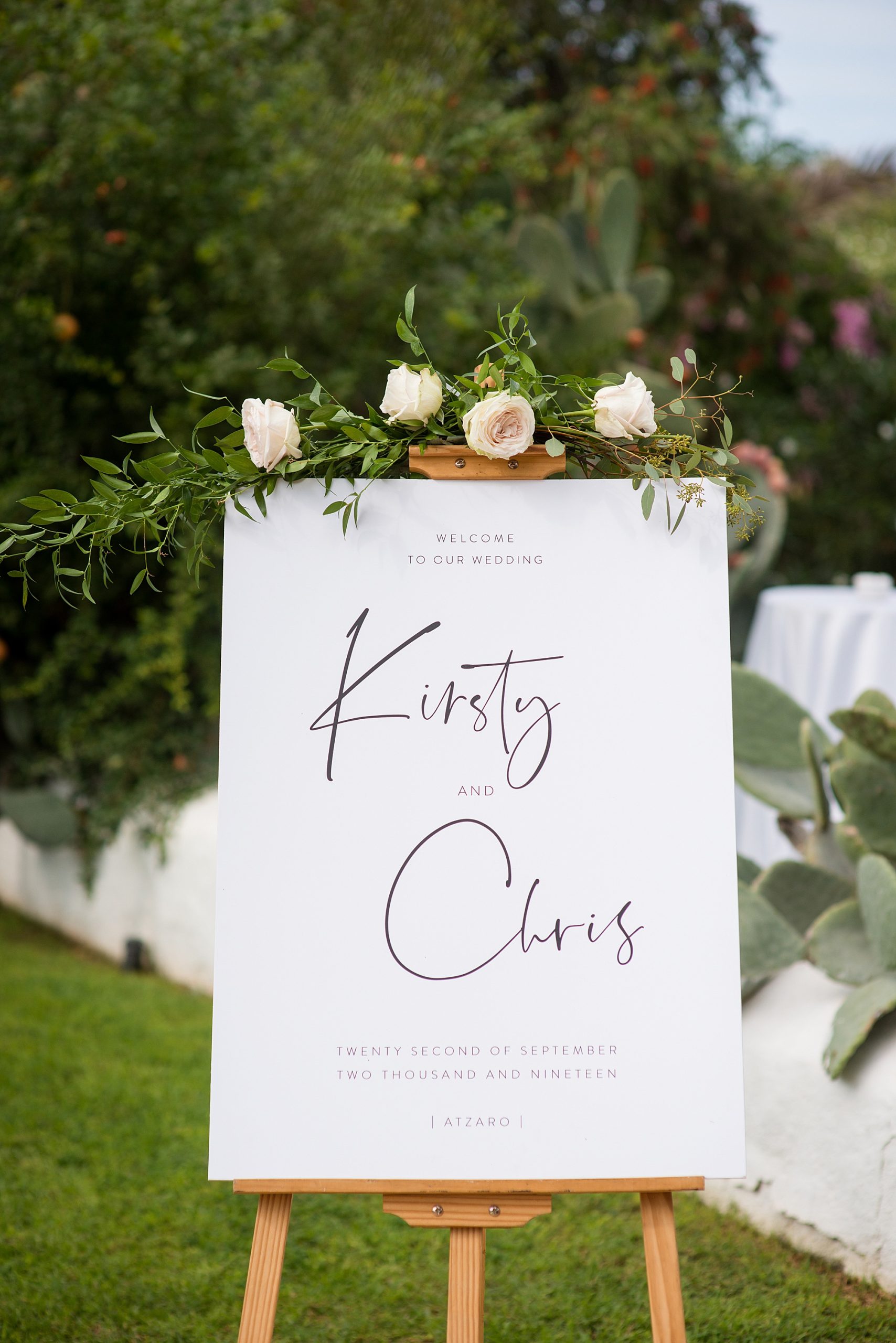 In the manicured grounds of Atzaró, the guests were seated on padded benches, shaded by white parasols, waiting for the bride.
"Ibiza has always been a very special place for us and we couldn't see ourselves getting married anywhere else. We fell in love with the authentic, Mediterranean style of Atzaró."
The vibe of the day was simple and relaxed, the extraordinary beauty of the gardens enhanced by exquisite greenery, gold pampas grasses and candles.
"We used pampas grass and foliage from Velvet Circus Ibiza on the tables to style the venue. They also created the stationery."
"I was over the moon with what Kristin from Flowers Ibiza created for the day. It was exactly what I had imagined. I opted for white long stem roses and pampas grass on the day. I came across the pampas grass on Pinterest and fell in love with it."
"I hadn't seen it in a wedding before and I wanted something different for us. People still keep mentioning the statement pampas grass over the dining tables. Stunning."
"My mum, brother and grandad walked first down the aisle, followed by Chris' daughters Ellie & Libby, my maid of honour Jessica, then my step-dad Stuart walked me down the aisle. We had Nell Shakespeare sing Otis Reading's 'These Arms Of Mine'."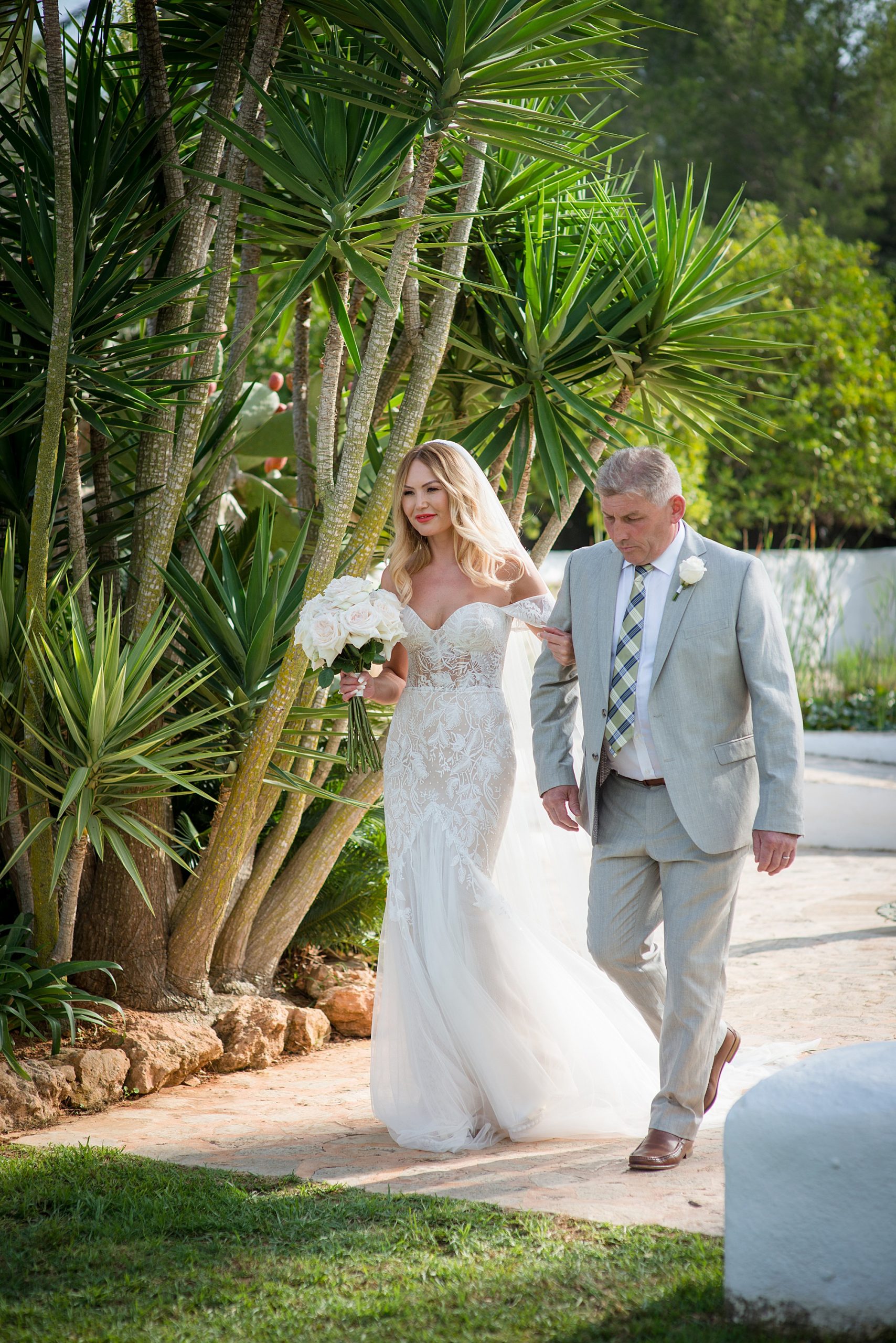 The couple met online via a mutual friend and, two years later, Chris proposed on a visit to Ibiza.
"Chris and I started talking on social media after I commented on a mutual friend's photo. We dated for two years before he proposed in a stunning restaurant called Amante. This was in June 2018 and we got married the following September."
With her figure-hugging dress complemented by a super-long, sheer veil, Kirsty looks incredible under the hot Ibizan sun.
"I kept the veil very simple because my dress was so detailed."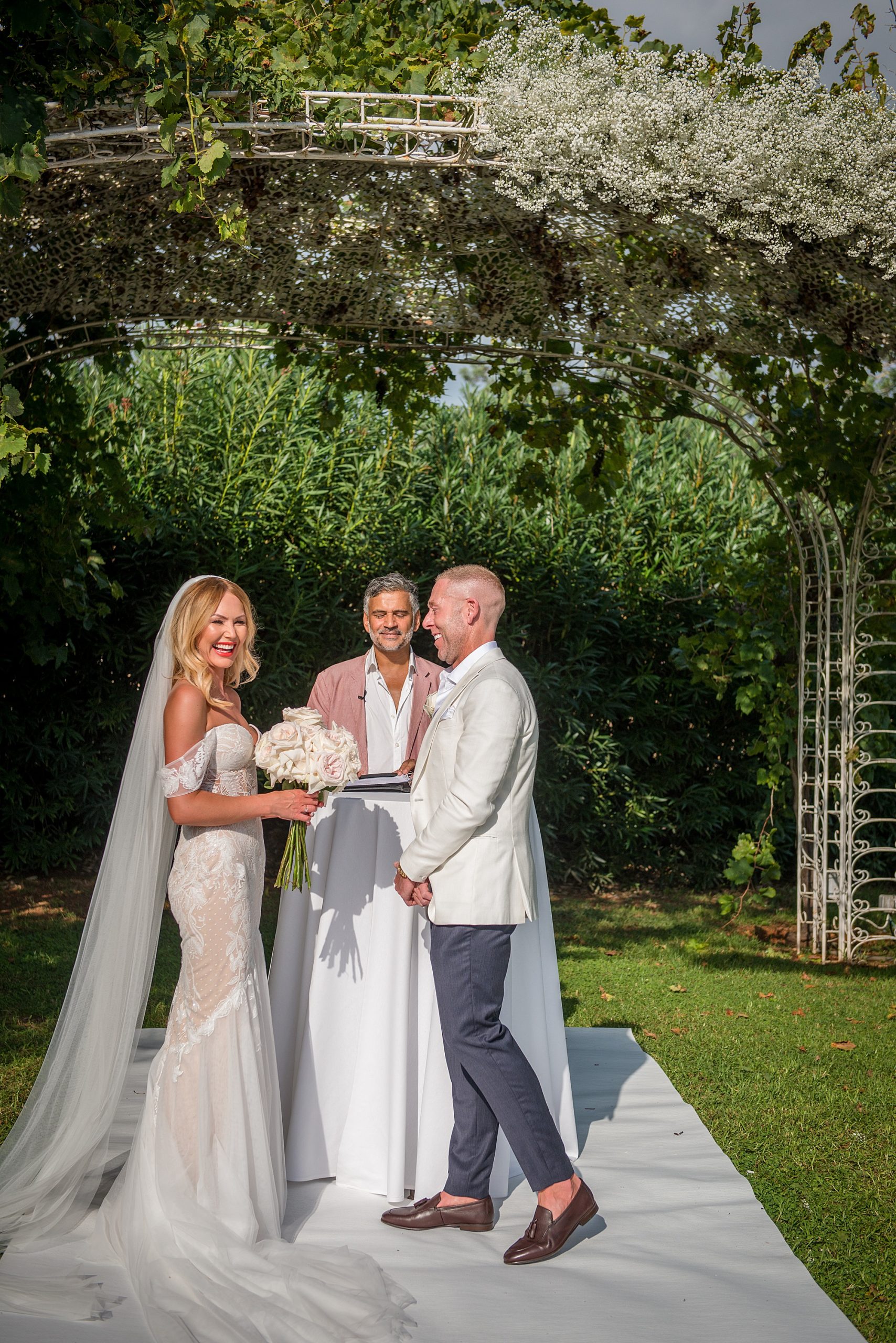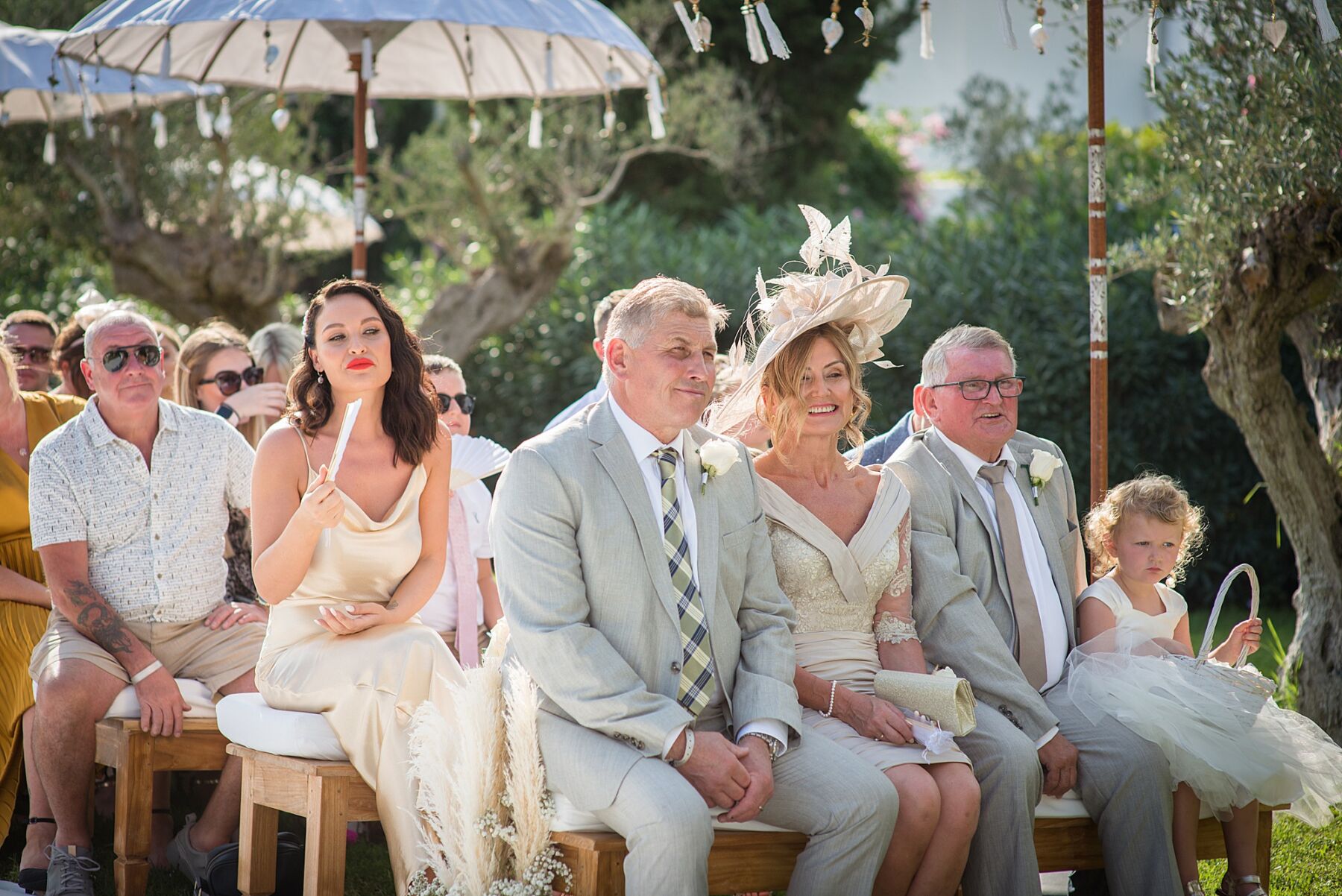 "Our celebrant was Sunny Ruzman. He gave us some options of vows but we kept them simple and not too long."
For her ring, Kirsty chose to use her grandmother's wedding ring whilst Chris received a watch, bought by the bride.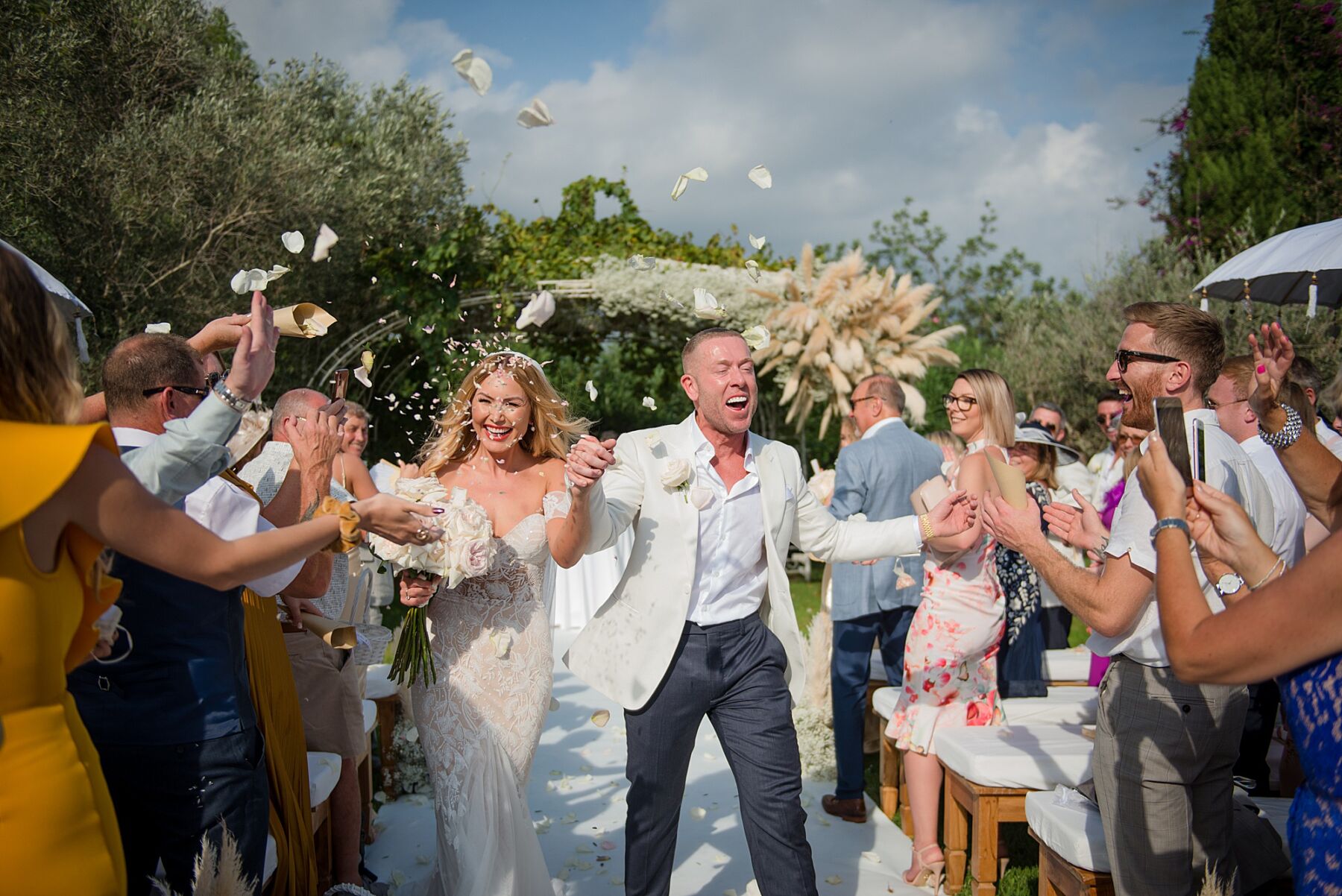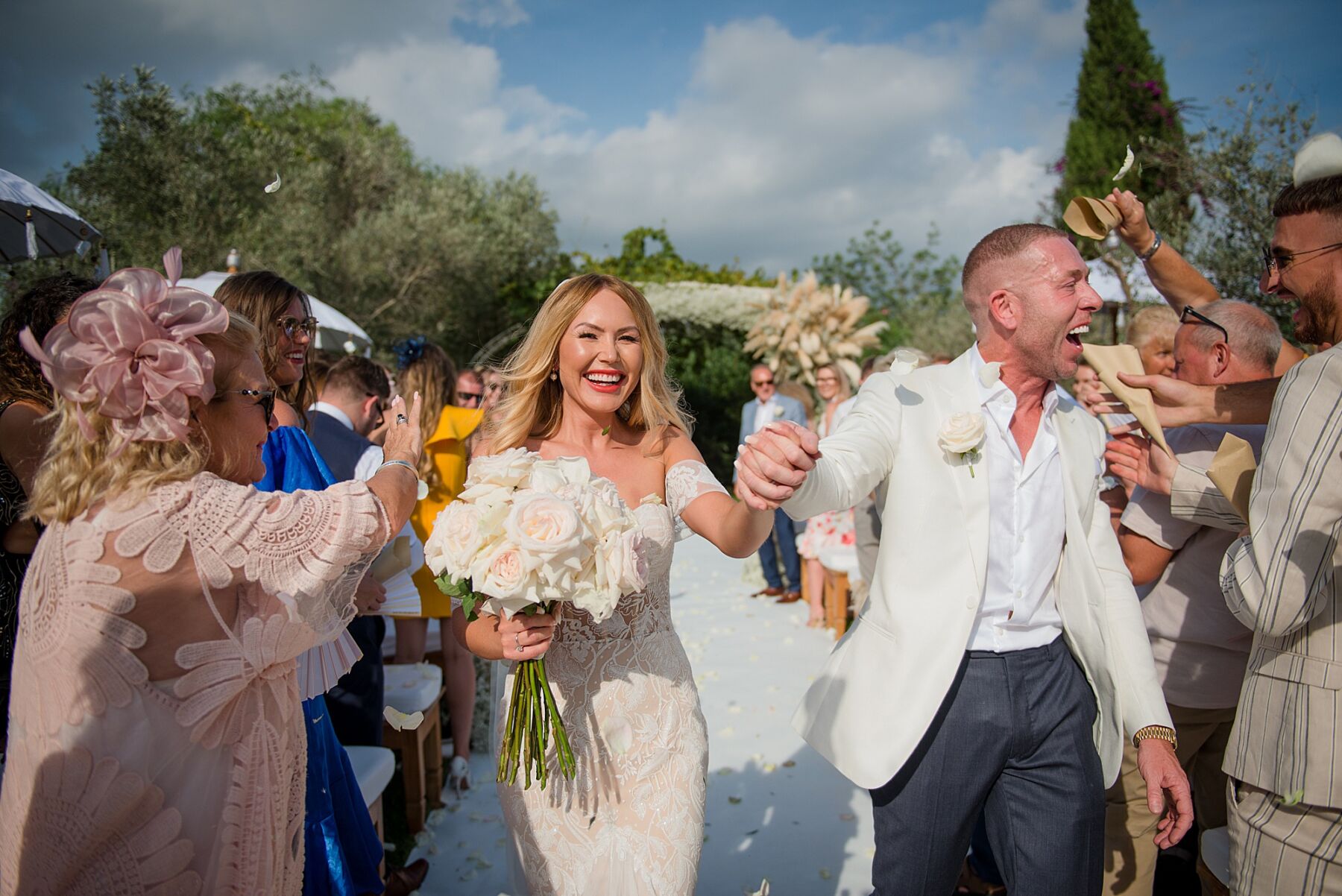 The sprawling gardens look like such a magical and relaxing place to spend time in, and the guests and newly-weds explored every beautiful corner. The wedding breakfast was laid out on the hotel's vine-strewn terrace, the pure white furniture brought to life by the fresh greenery and grasses.
"We had shot of Heirbas (a local aperitif) for wedding favours. Guests had to take a shot before they took a seat. We wanted to do something fun."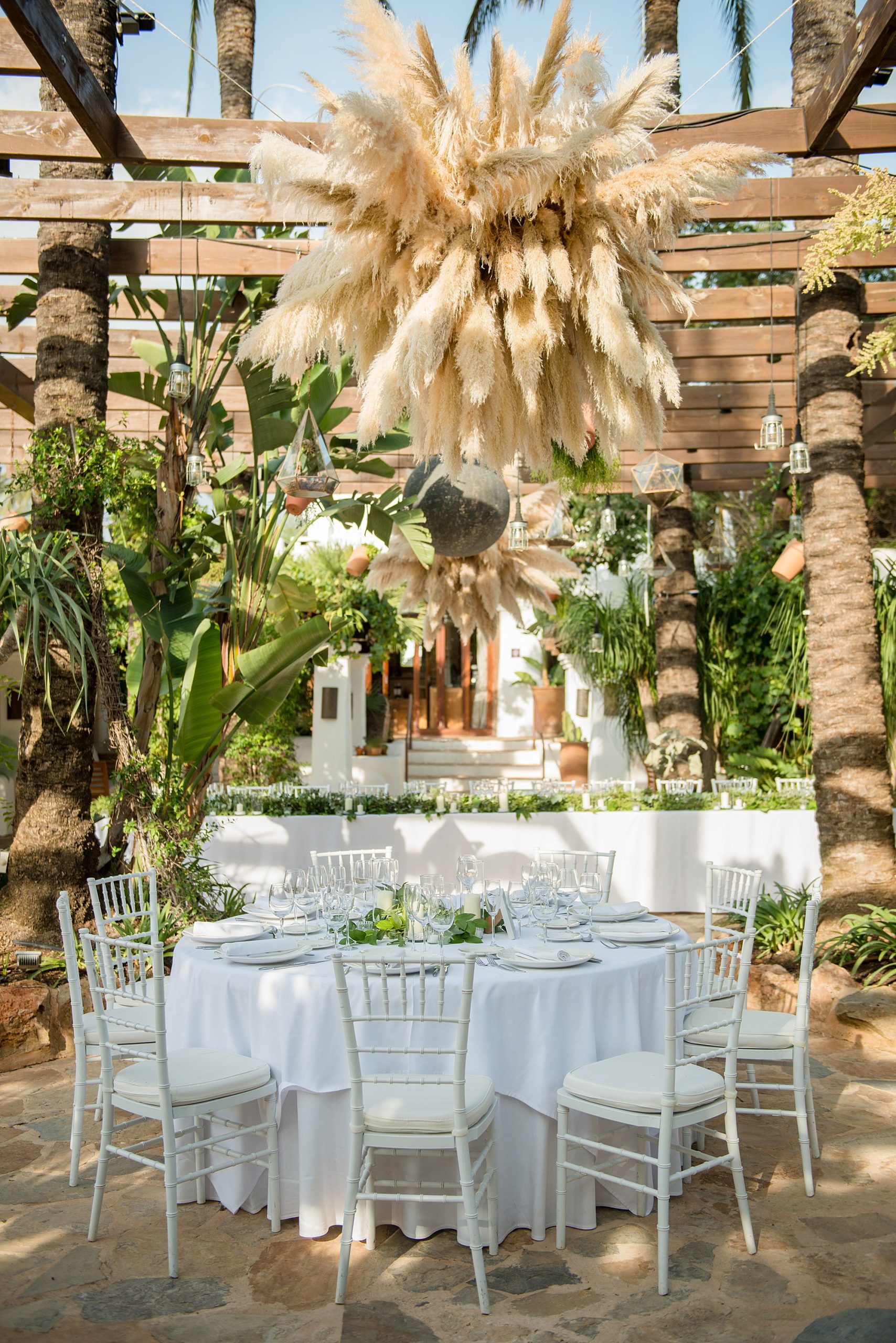 For his summer wedding, Chris wore an open-necked white shirt, black trousers and an off-white suit jacket from Reiss, creating a cool and relaxed look.
"I didn't have much input with Chris' outfit. I was happy as long as it fitted with the theme."
I love the elegance of the bridesmaids' pale gold gowns, from Rat & Boa, worn with Zara shoes. Each girl carried a simple bouquet of full-blown roses for extra elegance. The two flower girls were Chris' daughters Ellie and Libby, who wore dainty, full-skirted ballerina dresses.
"They were made by a local seamstress to a style inspired by an image on Pinterest."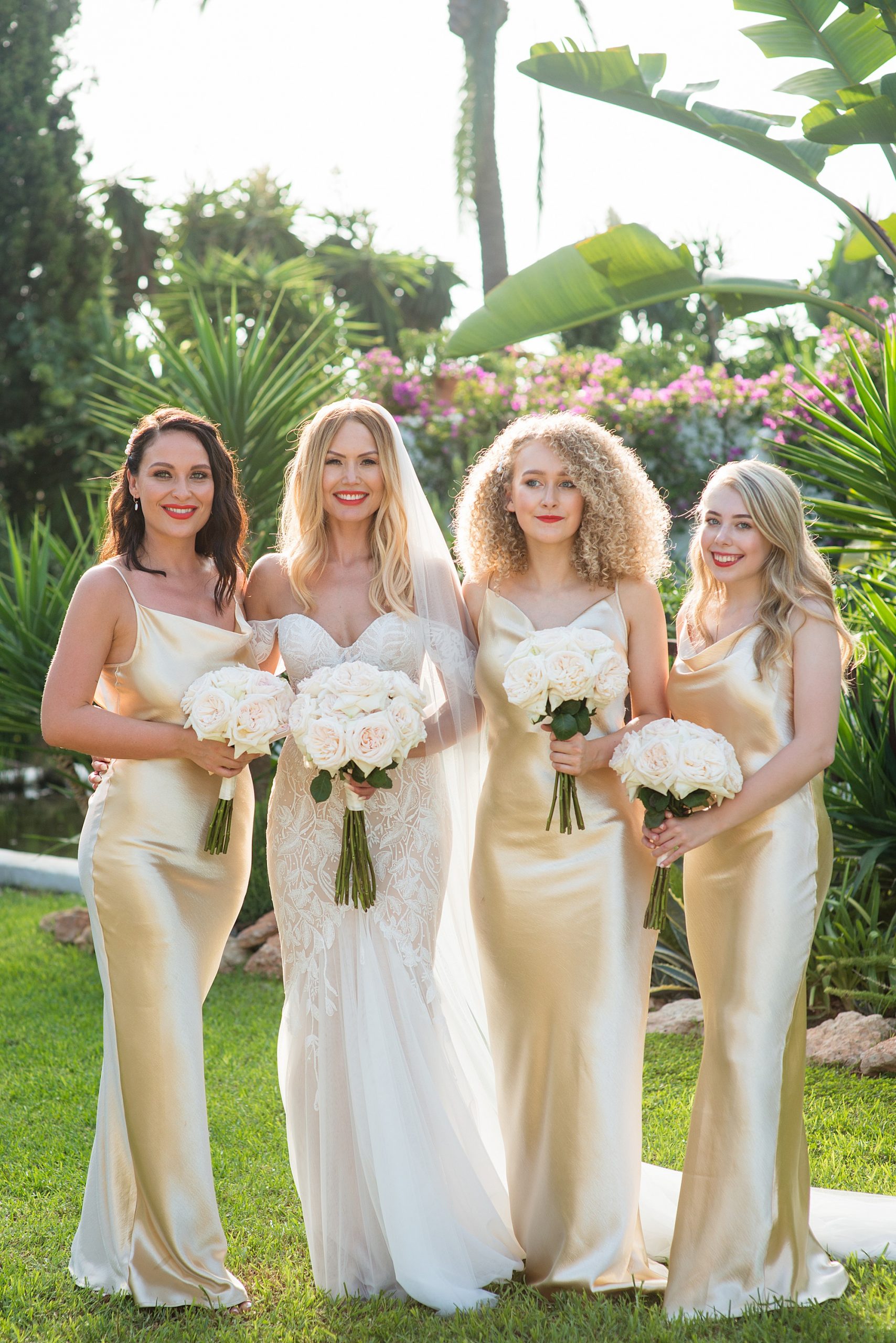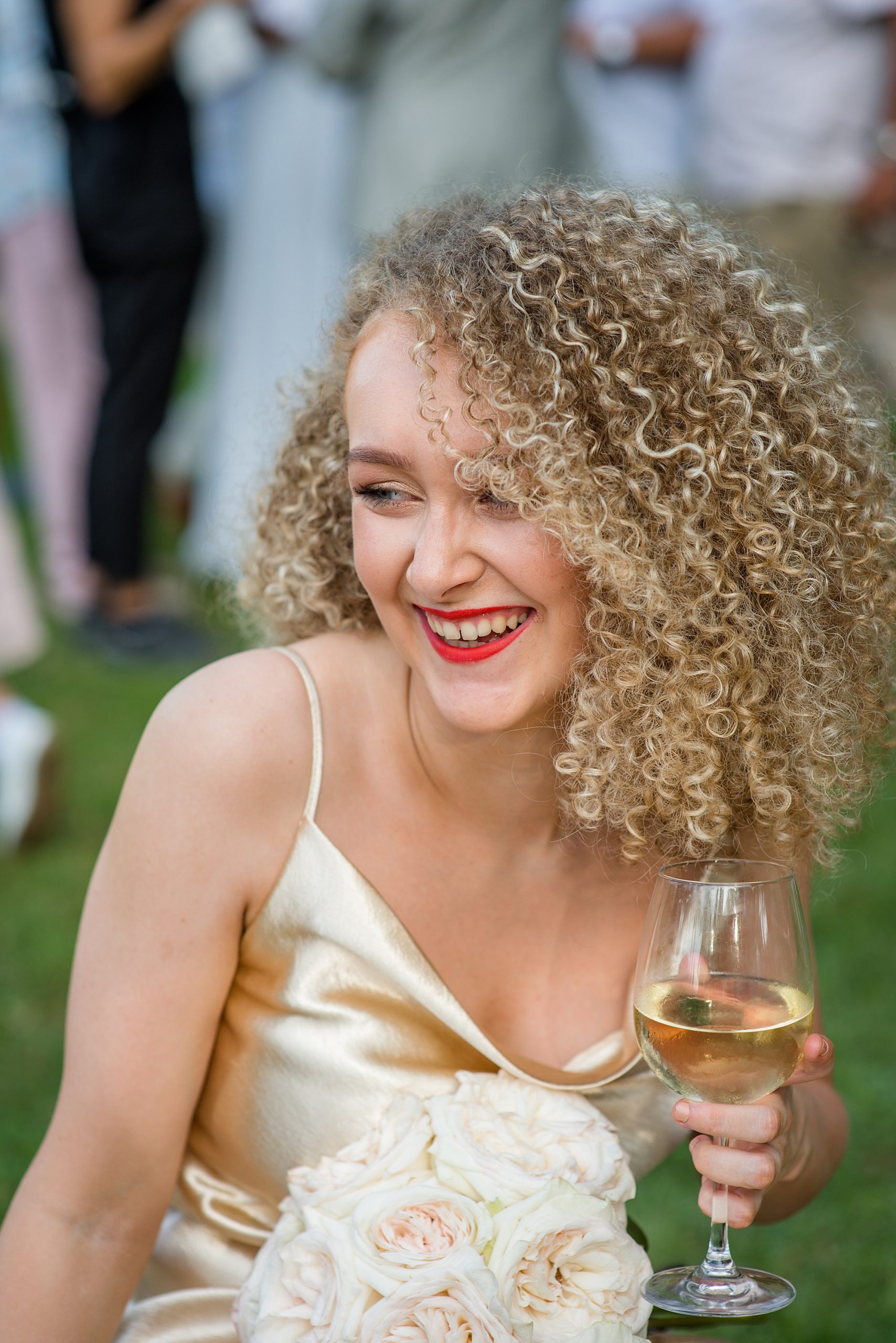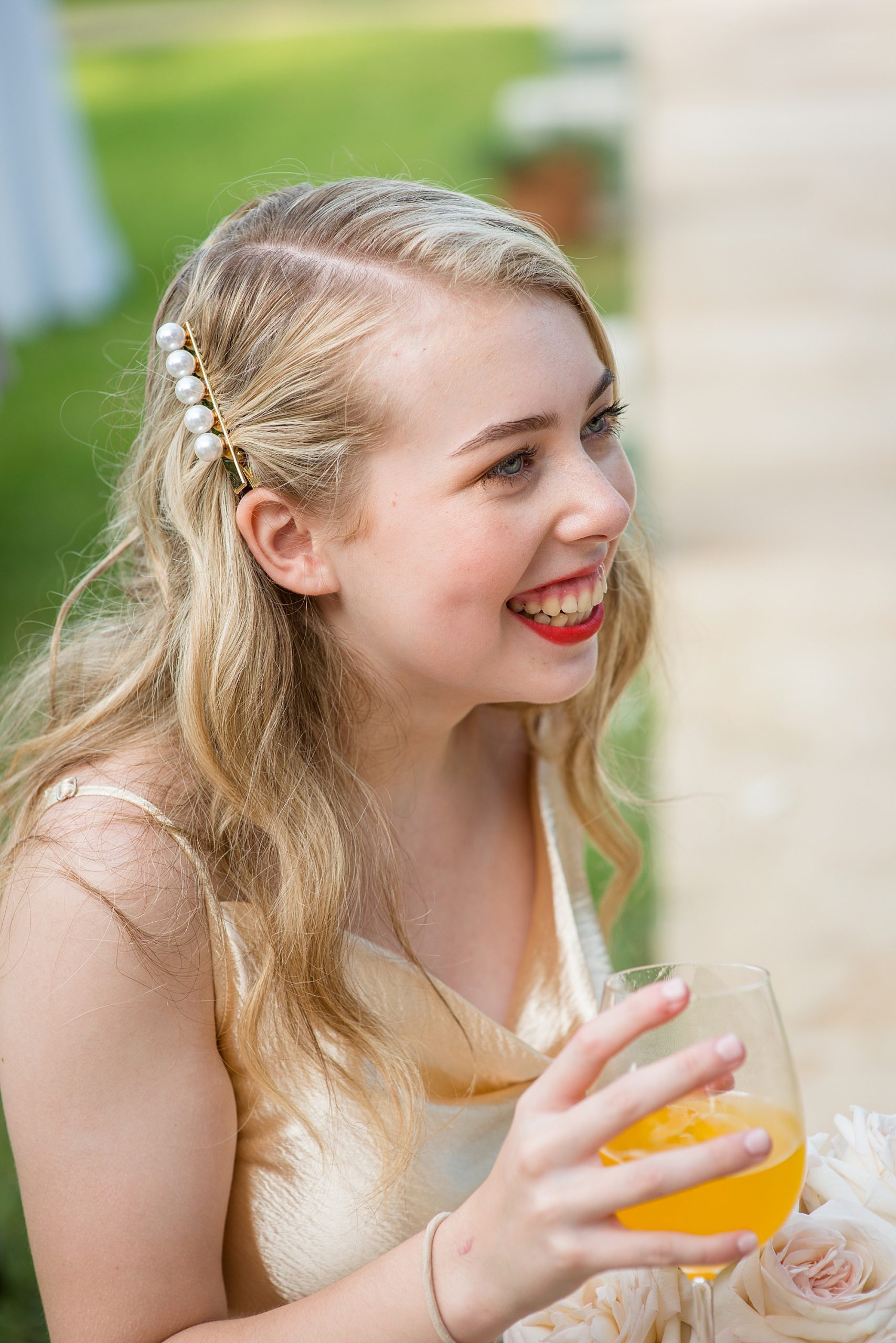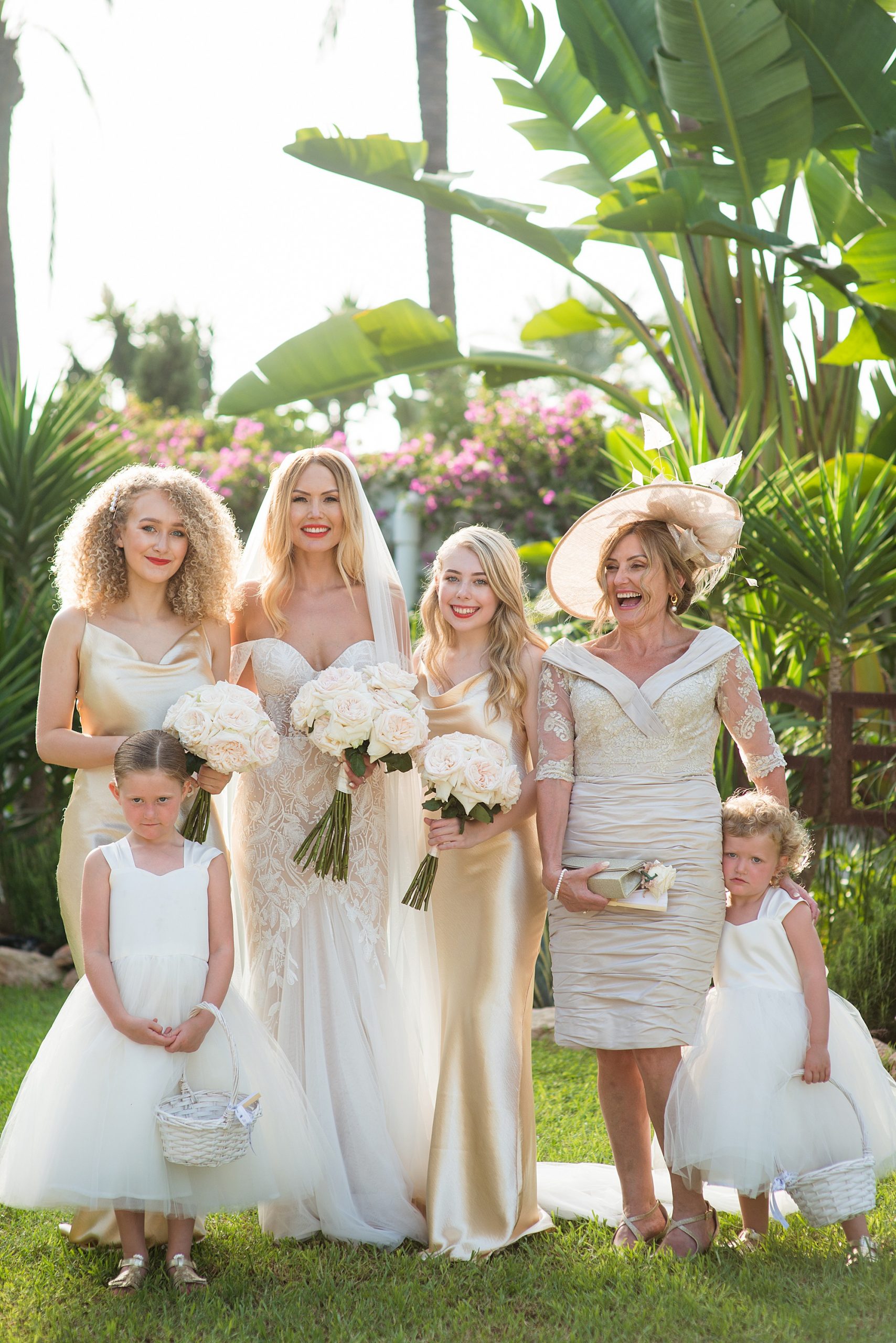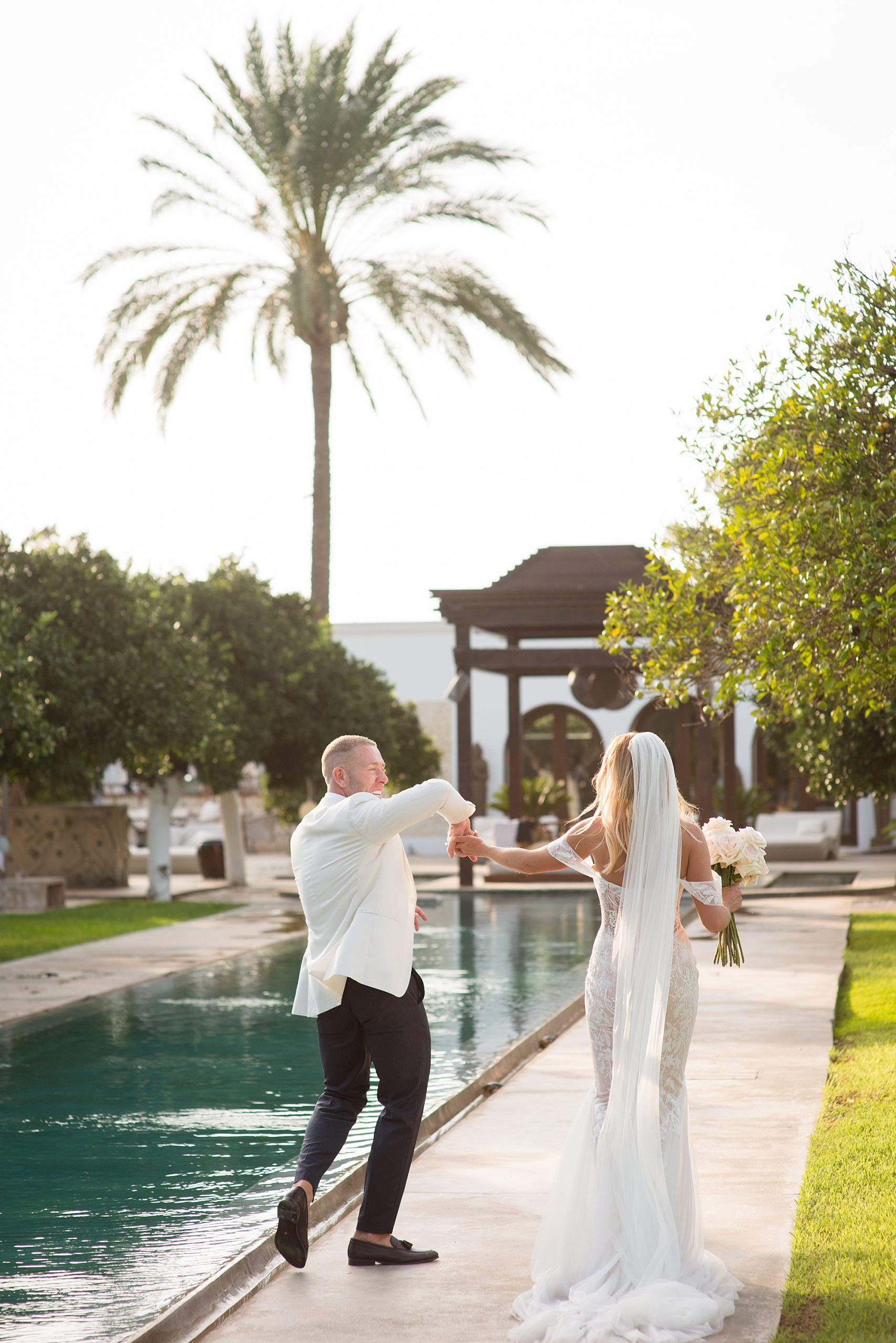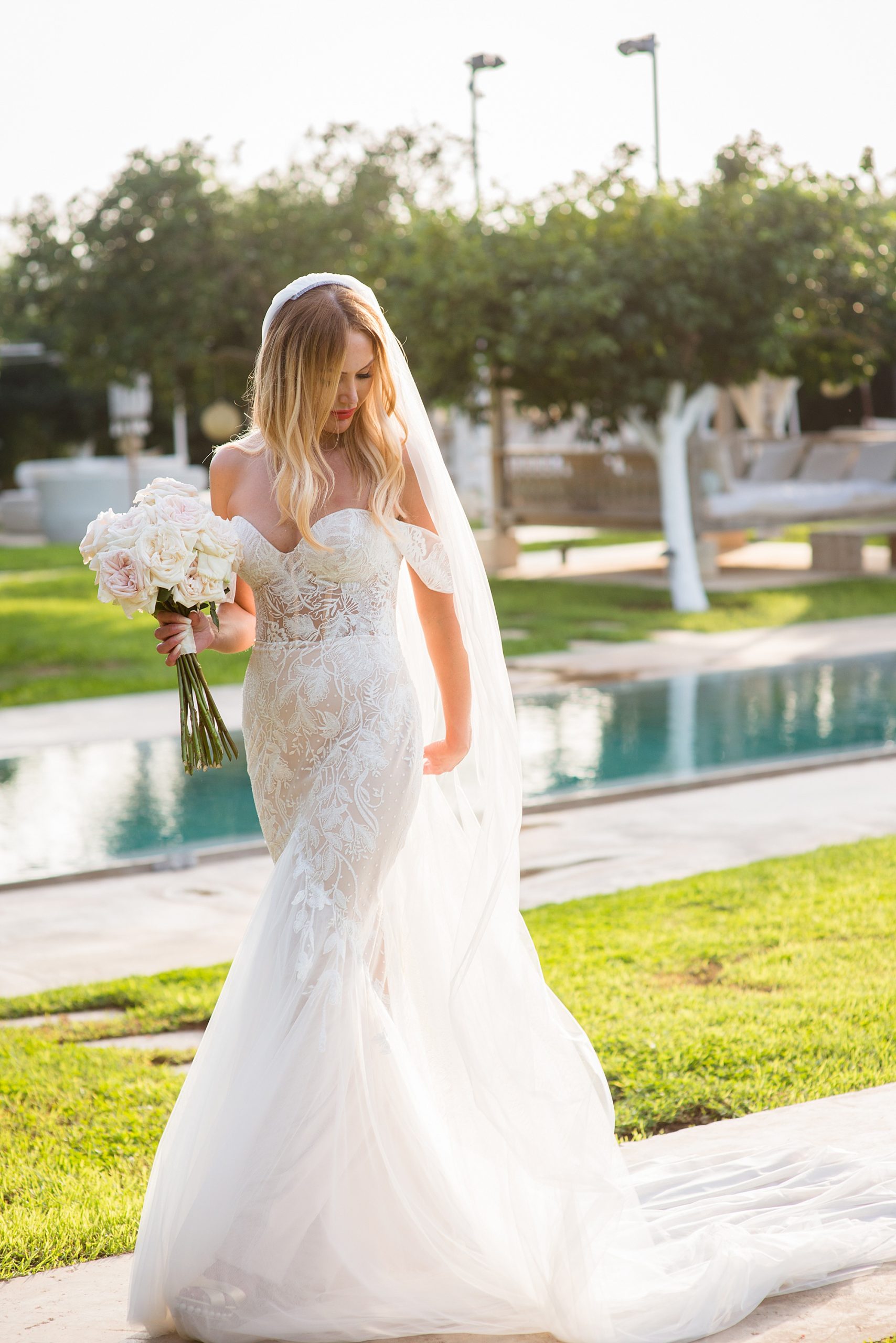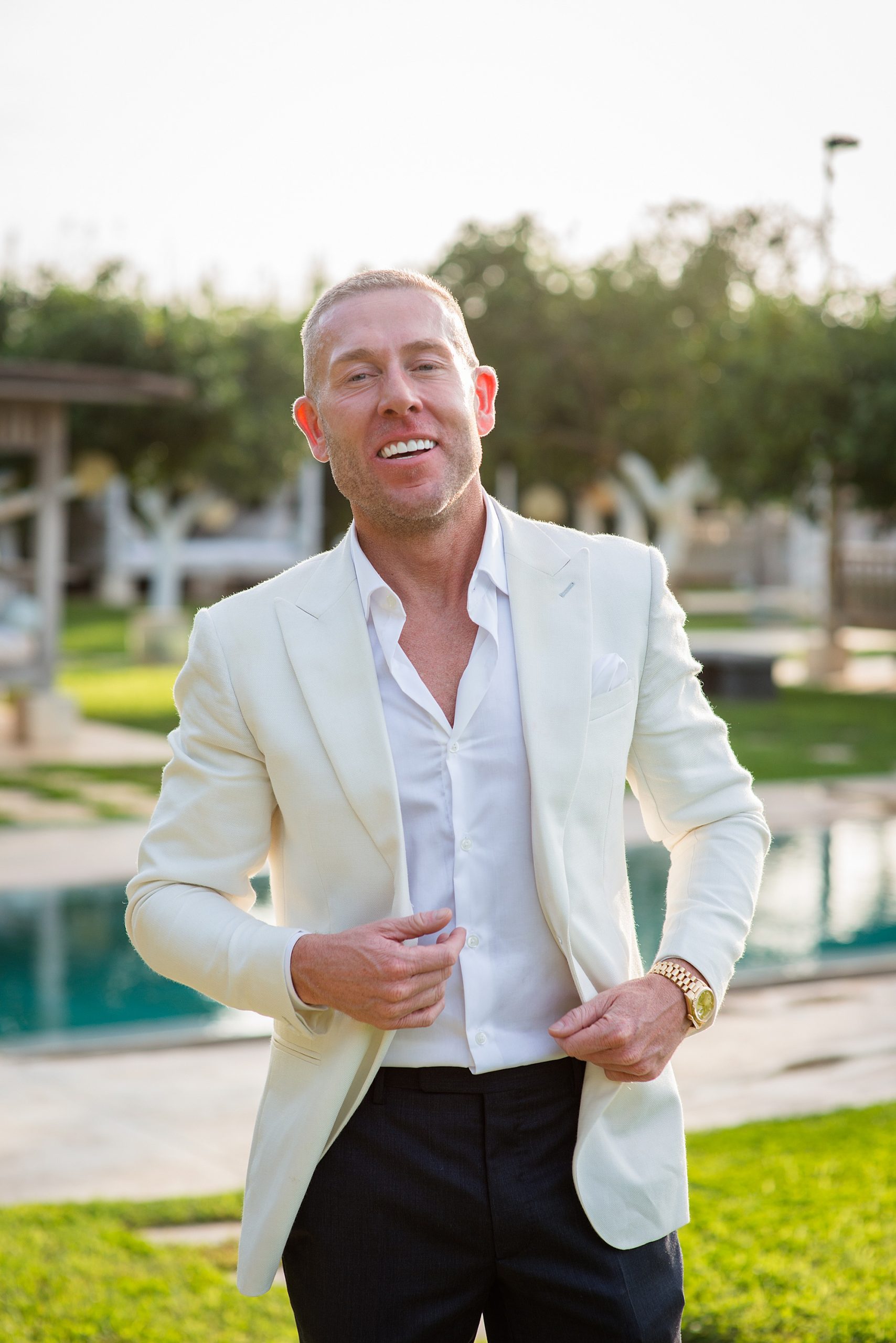 Capturing the beauty and joy of the day was Ibiza-based Gypsy Westwood, who has worked magic to create this romantic, light-filled portfolio.
"I came across Gypsy Westwood on Pinterest. Her style is very bright and relaxed. Chris and I wanted our photos to be caught in the moment and we had very few formal photos. She was amazing on the day and we're so happy with them."
The couple also opted for a wedding film, courtesy of videographers Gary and Bianca of Infinit8 Images.
"We're yet to see our video but we know it's going to be amazing by the tasters we've been sent."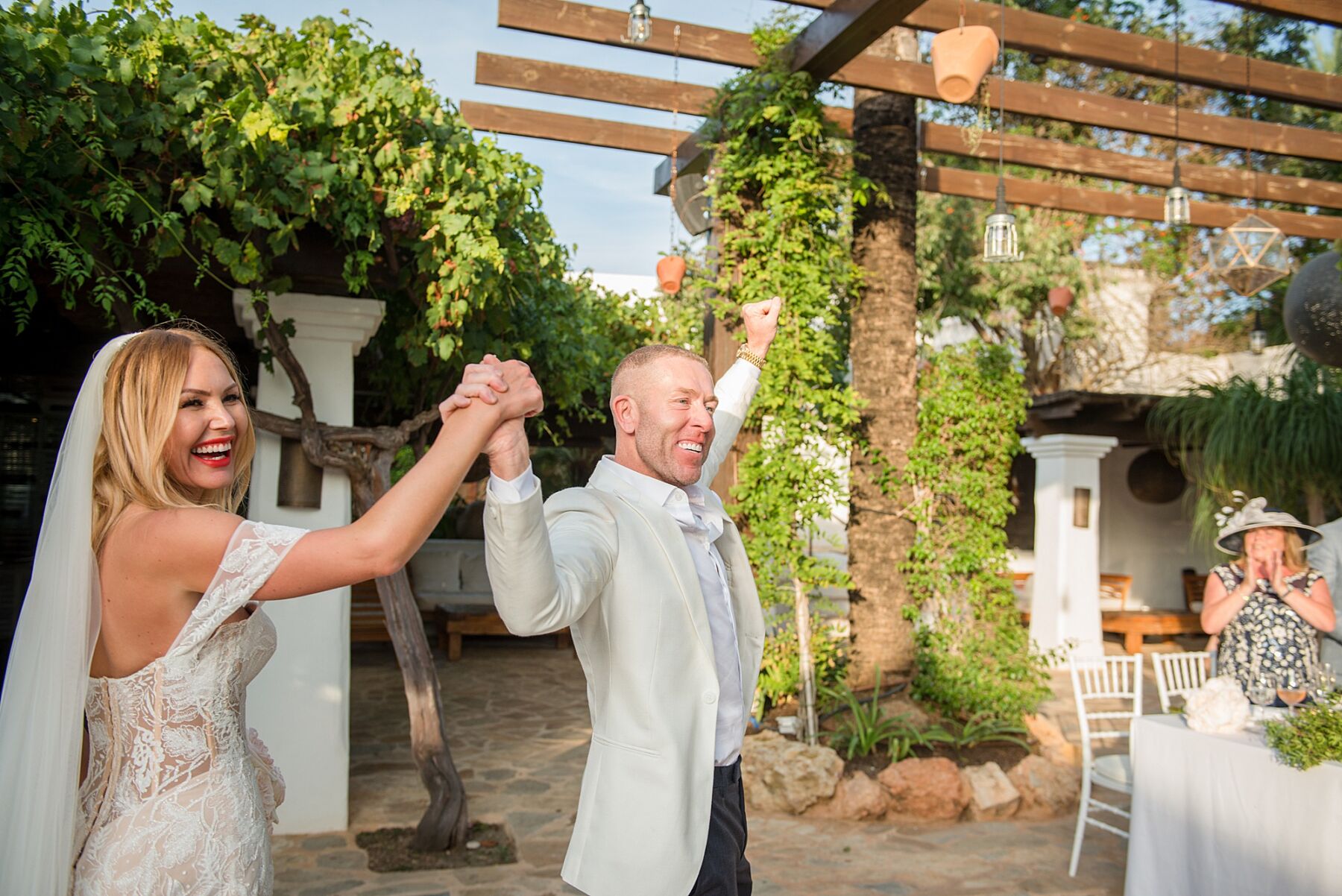 The pure white cake, decorated with fresh roses, came from Sugar Chic Ibiza whilst Atzaró took care of the wedding breakfast.
"The food and drink at Atzaró were out of this world."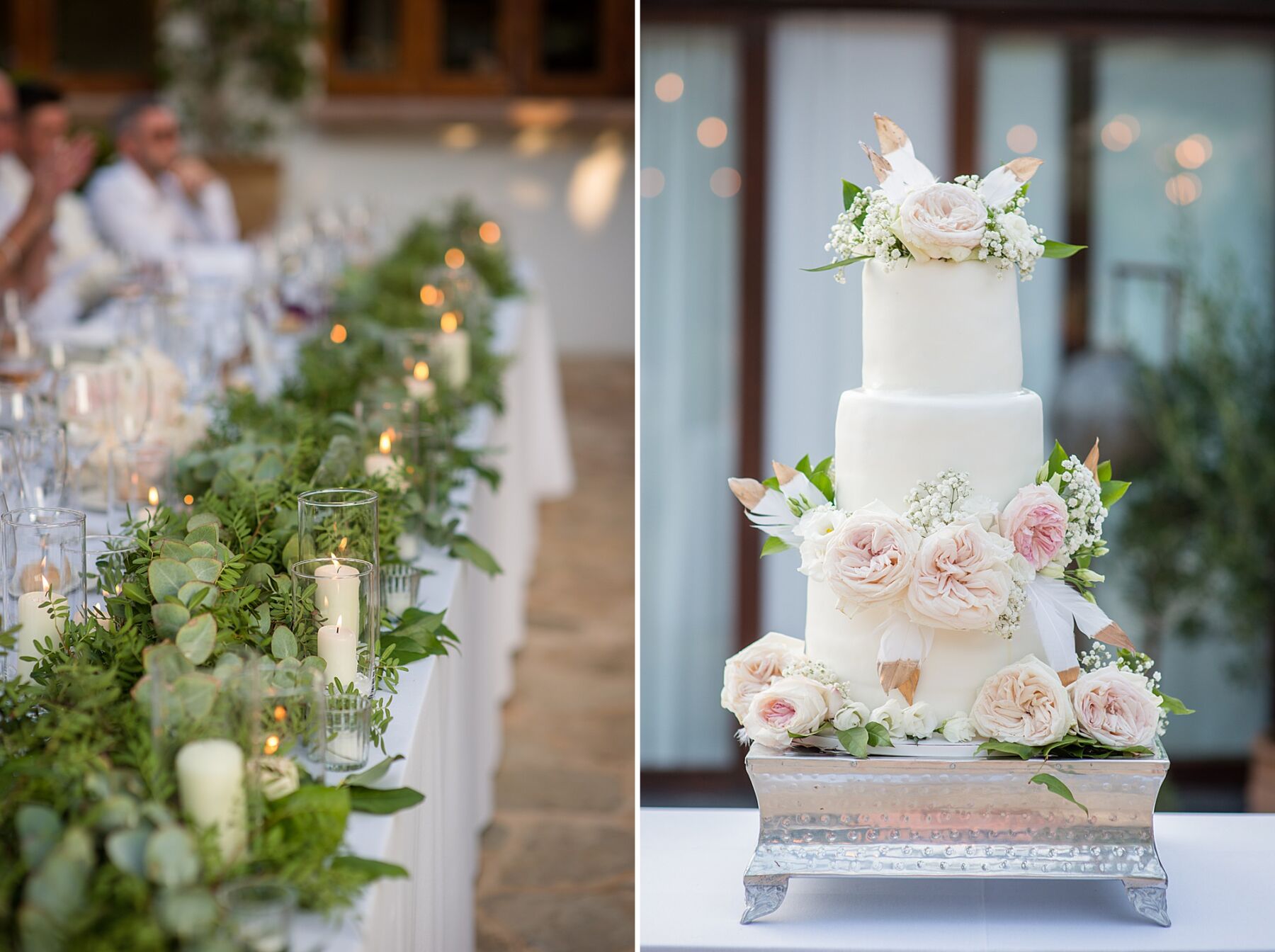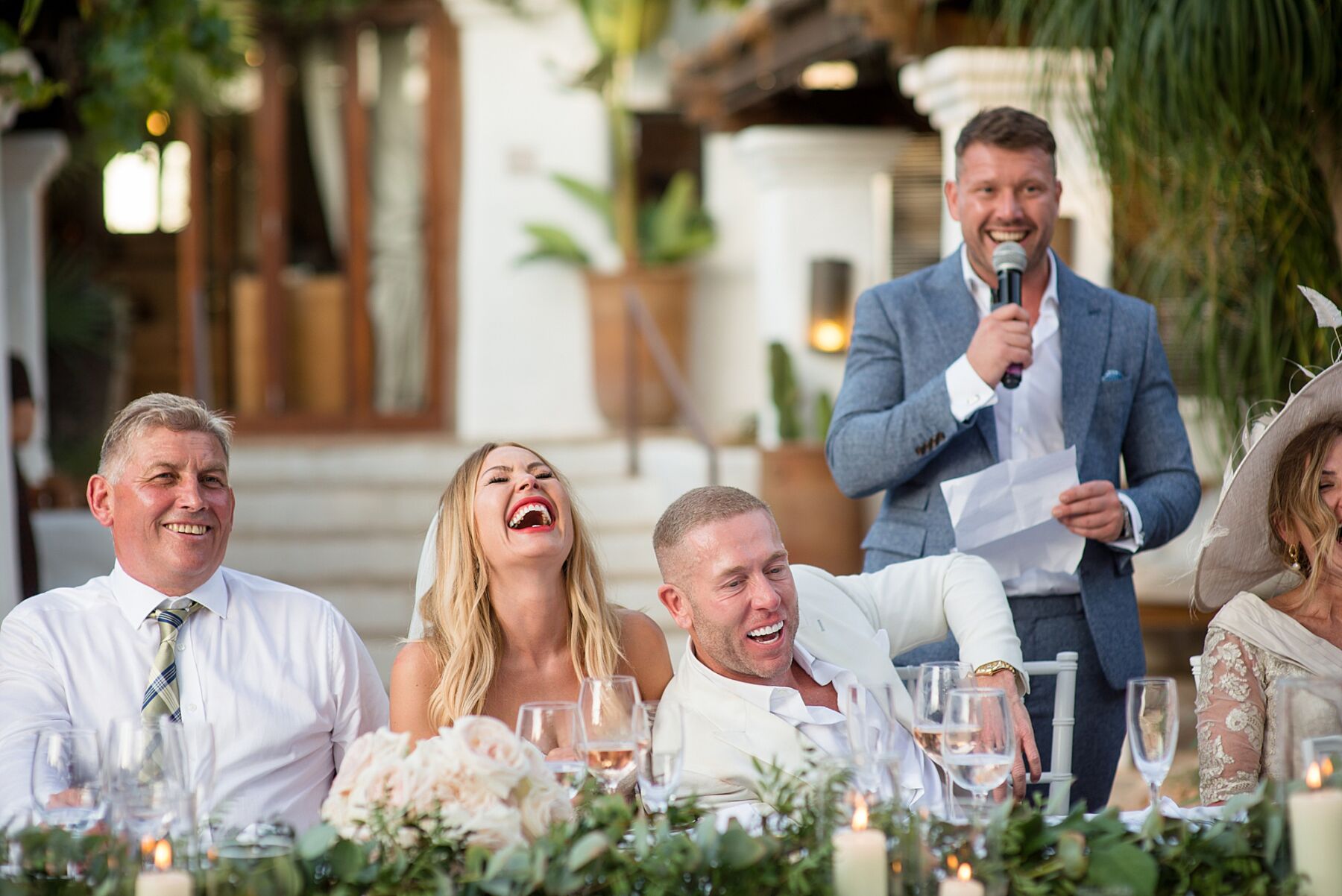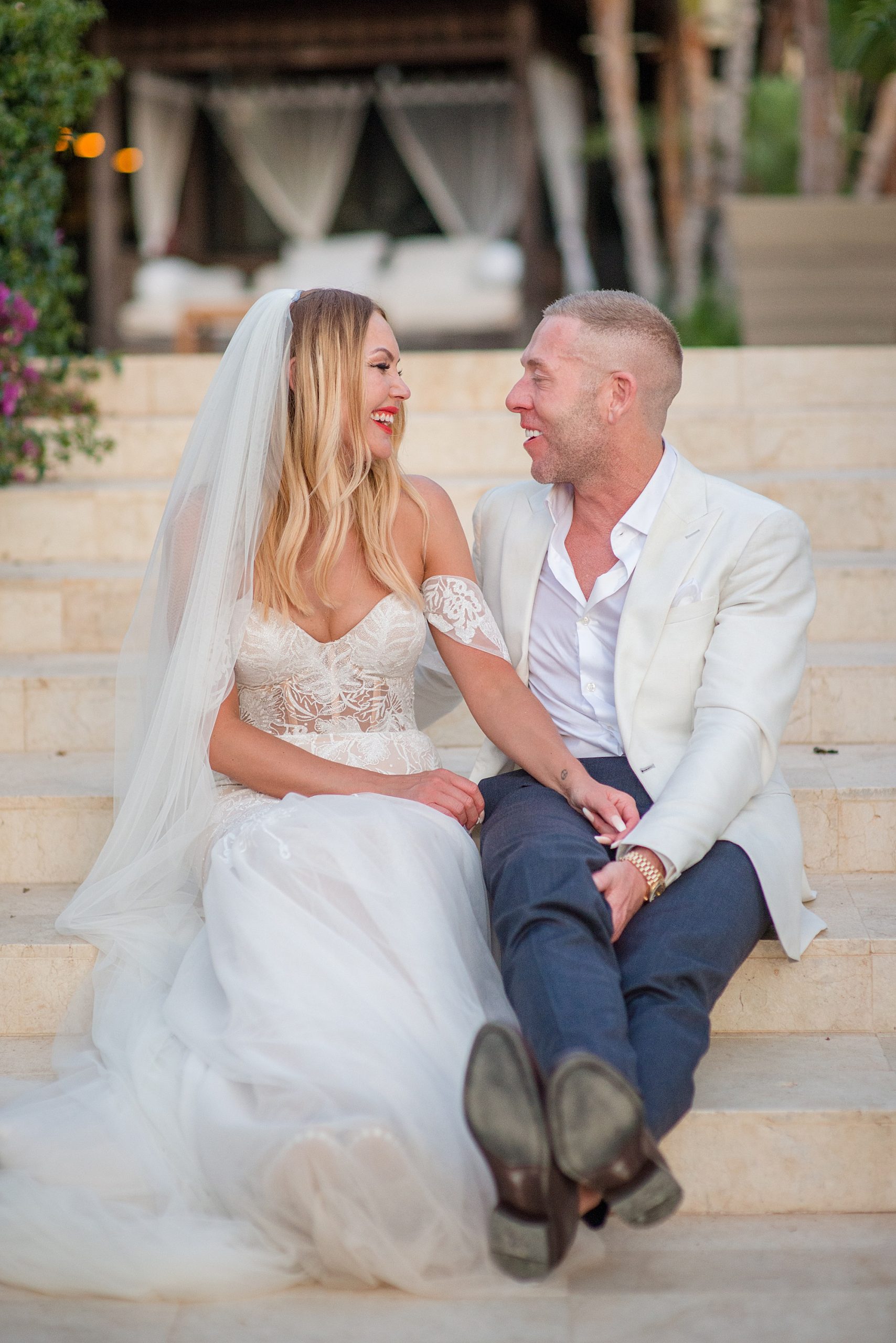 Come nightfall, the palm tree-filled gardens were a magical setting for the wedding party as they were lit with lights and candles.
"After dinner we had a saxophone player, a fire performer, Mitra Hoop and DJ Mikey Brain to entertain our guests. Our first dance was Al Green's 'Let's Stay Together'."
"I couldn't pinpoint a favourite part of the day: Chris enjoyed standing at the altar with family and friends waiting for me to arrive; I loved seeing all our guests after the ceremony when I could relax and have a drink; then walking into the dinner area."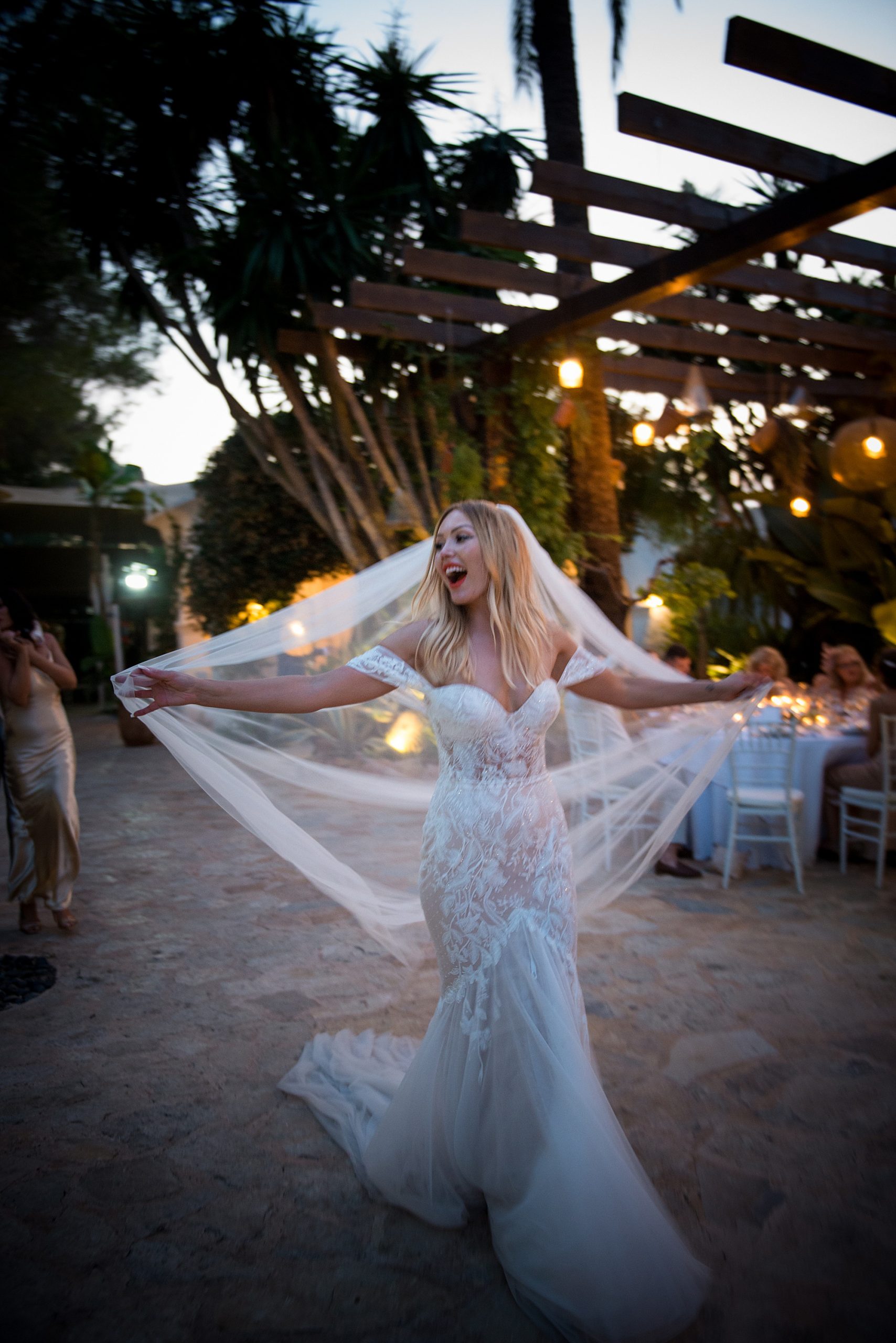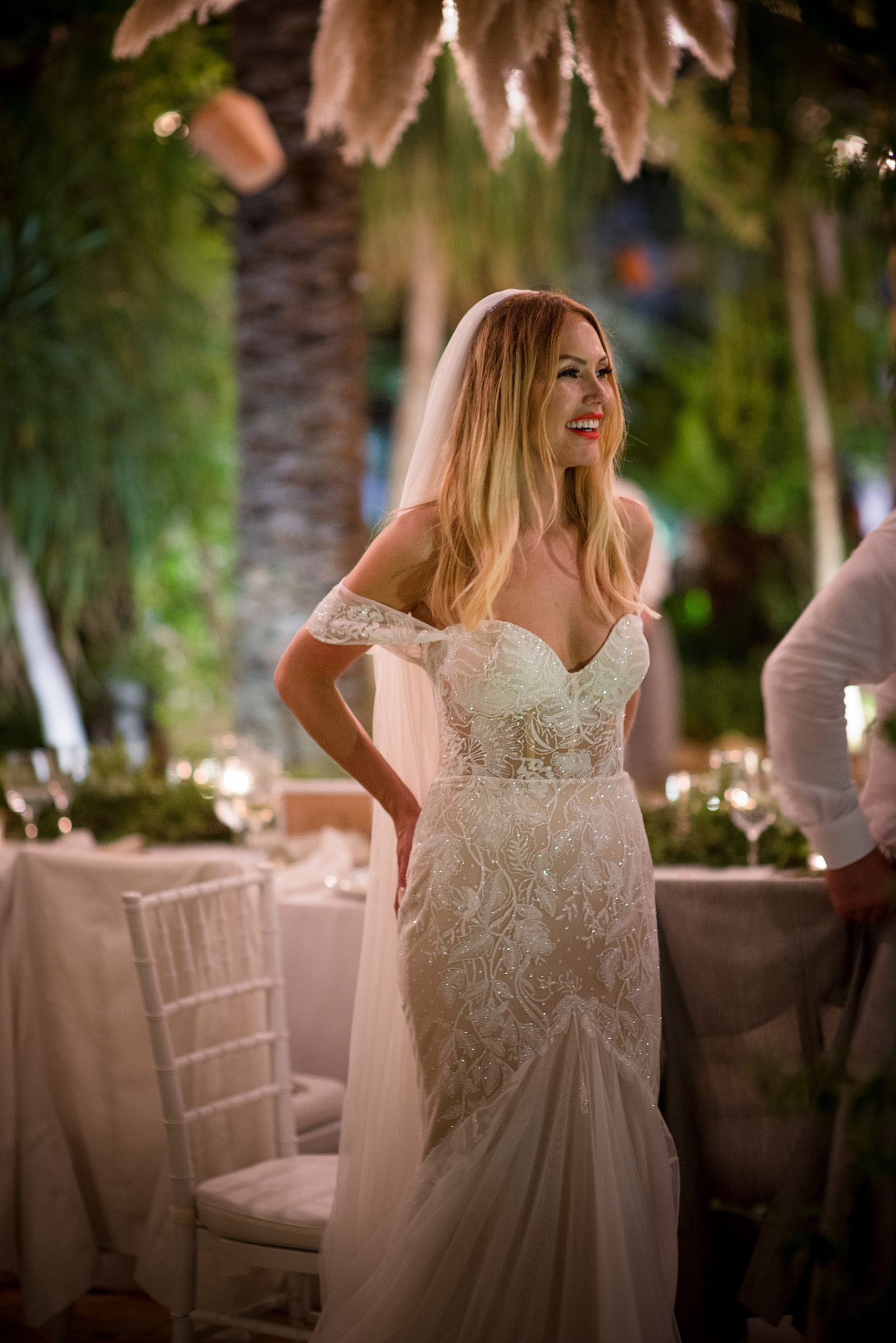 Words of Wedded Wisdom
"Be organised and prepare as much as you can. And just enjoy the whole planning experience!"
Lovelies, I don't know about you but I've luxuriated in this Ibizan celebration. Kirsty and Chris, so many thanks to you both for sharing your day. It's been a real pleasure to share Gypsy Westwood's work again, and if you'd like to see more of her dreamy, airy photography then please head here. Finally, for more outdoor wedding ideas, we have so many to inspire you here.
Ele xx