Today I'm whisking you off to the Scottish Highlands for this enchanting rural estate wedding, made all the more beautiful by the majestic, dramatic autumnal colour of the surrounding countryside, and the flickering candlelight inside the castle. No Bonfire Night wedding would be complete without sparklers, too.
Veterinary Surgeon Adriana and Neil, a Digital Marketing Consultant were married on the 5 November 2019 at the magnificent Achnagairn Castle on the 30-acree Achnagairn Estate, Inverness in the Scottish Highlands.
The Caryls Photography

+ Follow
Transporting us right to the heart of Adriana and Neil's day are our Little Book members The Caryls Photography. Katy and Jim, what magical images these are – I just love them all. I'm also pleased to let you know that The Caryls are currently offering £100 of small/elopement (30 people or less) weddings in 2020/21. All you need to do is mention Love My Dress when you get in touch with them!
"The Caryls are the loveliest couple and amazing photographers! They captured so many special moments on the day that I either hadn't been able to see first hand or had forgotten! We hired them because we had seen the photos they had taken for friends of ours and absolutely loved how they captured them. We would 100000% recommend them to others – you will not be disappointed."
"They specialise in elopements out in the wild, but don't hesitate to hire them for something more traditional! Our wedding was somewhere between traditional and not so traditional, and they just captured everything so beautifully. On the day, they made us feel so relaxed, and they almost just blended into the background. Not intrusive or demanding, they just let us be and captured the day as it unfolded. They whisked us away for a romantic quiet session in the woods right after we were married, and it was so special to have that time together. I will cherish that moment and those photos forever. Cannot recommend them enough."
"We chose this location because we loved the idea of having all our family and friends being able to stay on location. Neil grew up in the Highlands, and I fell in love in Scotland and consider it my second home, so we knew we wanted to have it here."
"We also wanted Neil's grandparents to attend without too much stress, so this venue ticked all those boxes. Plus, it had glowing reviews and was absolutely stunning."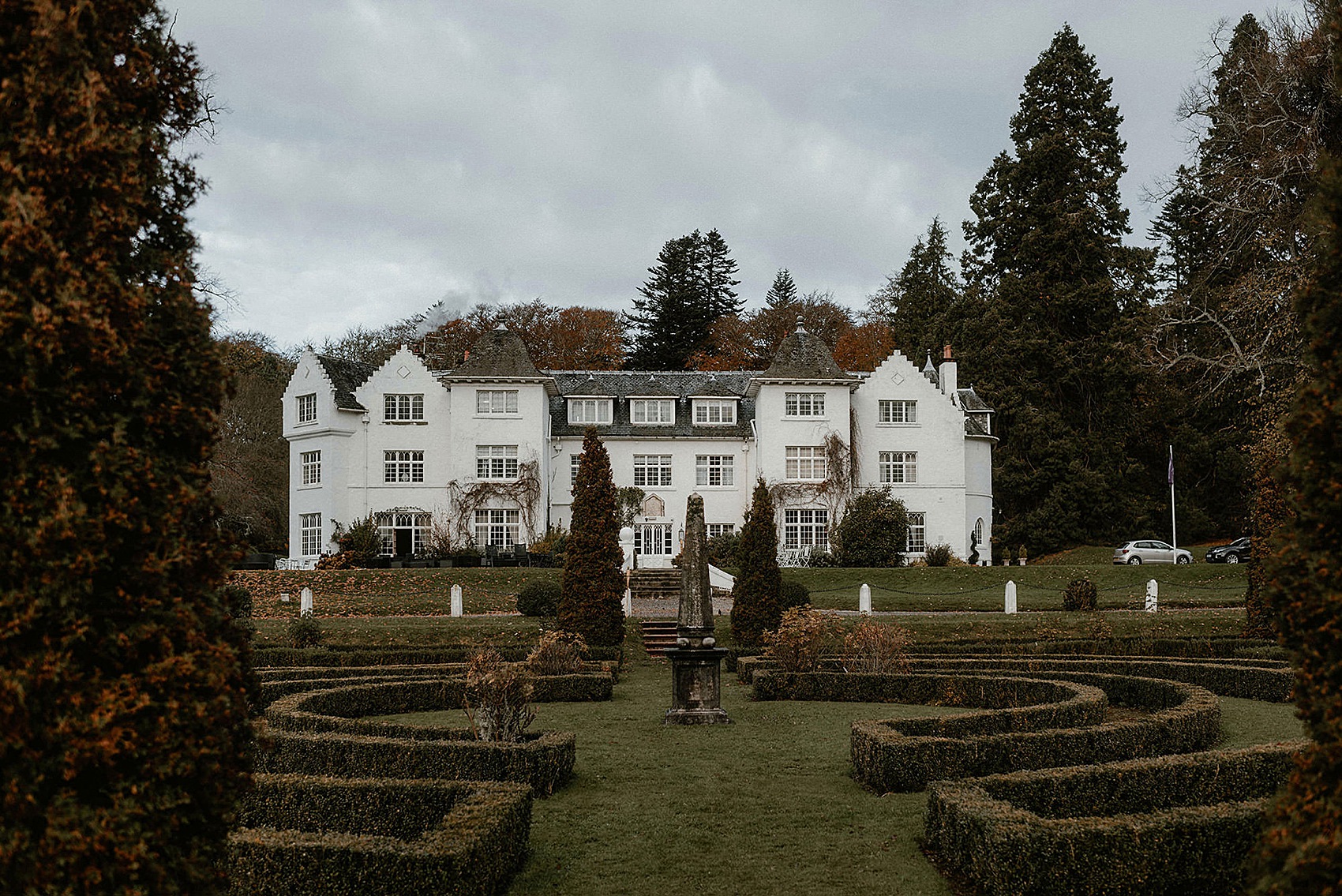 Adriana designed a newspaper using Adobe InDesign for guests to read and enjoy over breakfast on the wedding morning, printed via Newspaper Club, and also designed all of the other stationery in Adobe Illustrator (using a handy YouTube tutorial) and then had printed at Printed.com.
"Our wedding newspaper basically thanked our guests all for being there and how much it meant to us, shouted out our bridal party, and had important info like checking out and breakfast times."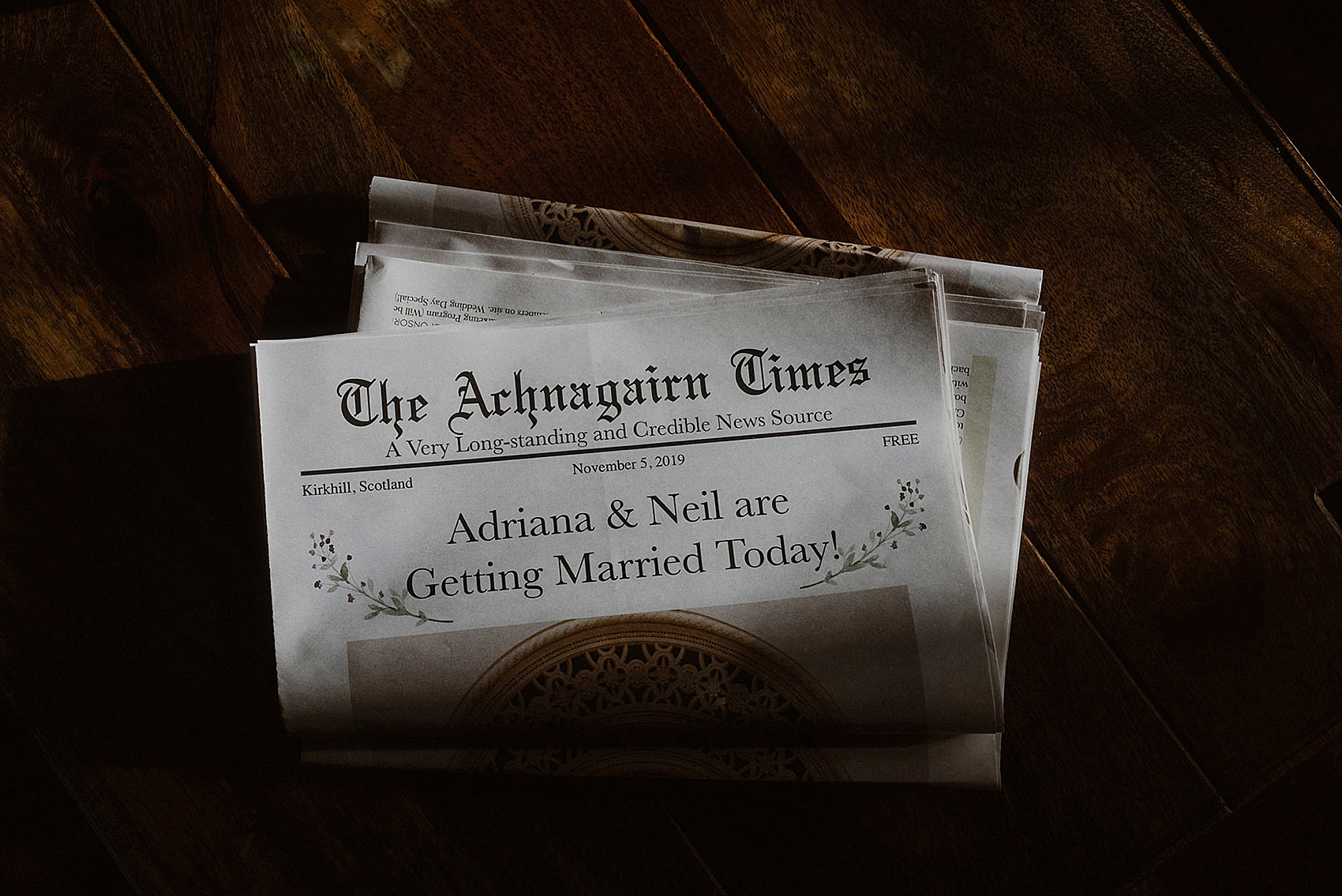 Barry Best at Wordly Nomads Films shot the couple's wedding film, and you can take a look at the lovely extended highlights by following this link.
"If you are on the fence about getting a video done and think it's not worth the expense, I am here to tell you (yelling at you really, in a best friend/supportive kind of way) that you need it! Similar to our photos, when we look at the video, Neil and I are just overwhelmed by the amount of love and joy that we felt on our wedding day."
"Reliving the day as it unfolded, listening to the important message of our minister about the sanctity of marriage, laughing at our loved ones speeches, and being able to have our kids watch our first dance one day is just everything, and I'm so glad we did it."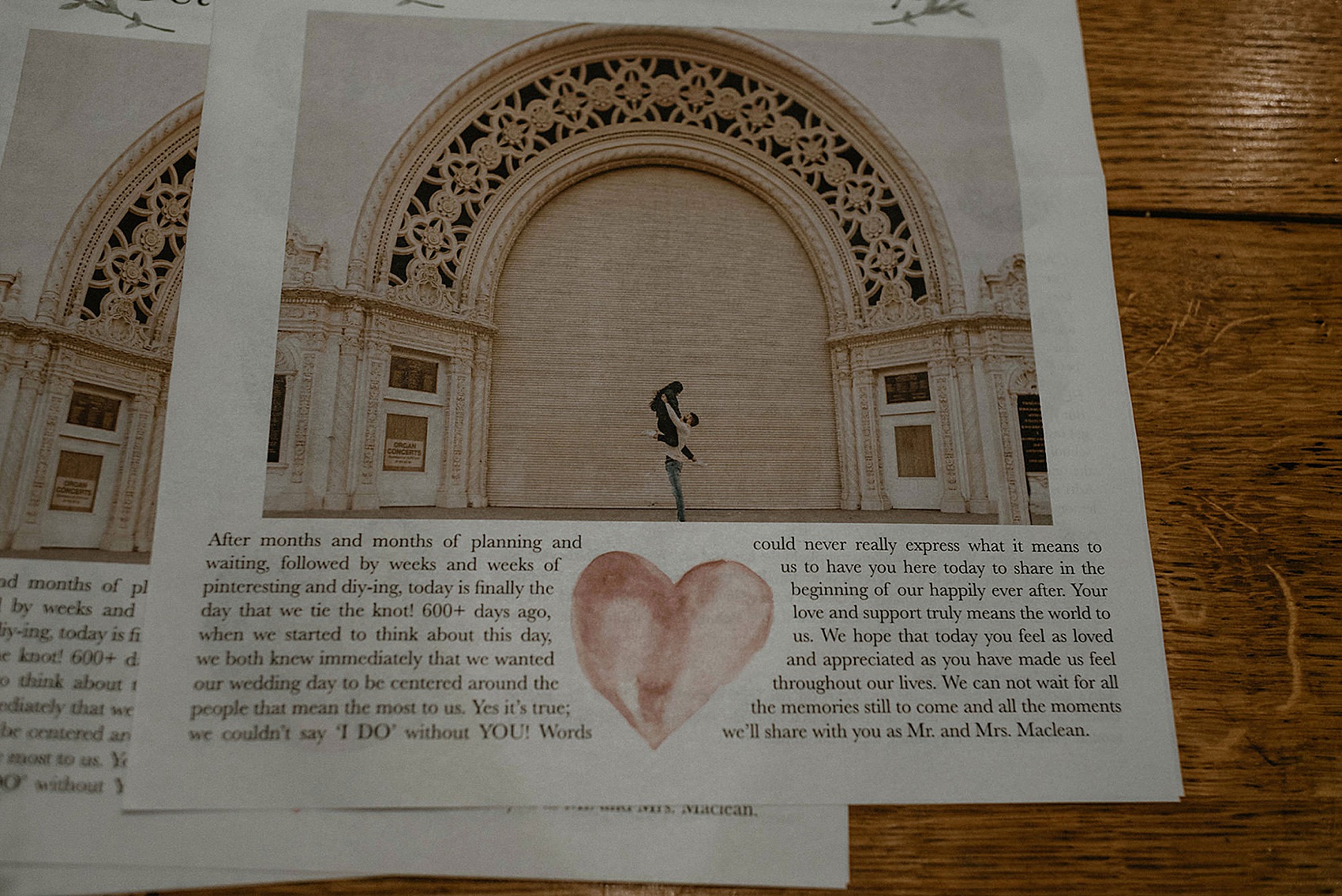 On her feet were Adriana's 'Something old' – a pair of ever-faithful Steve Madden embellished platform pumps in cream, which Adriana cleaned and replaced some of the crystals that had fallen off during a few energetic ceilidhs!
"I'd worn these babies for almost all my vet balls, so they were well broken in – like, I could run in these things. I looked for ages for something new, but it always came back to price and other shoes not being high enough. I'm 5'3" and needed platforms, so I knew I wasn't going to find anything better than my beloved old faithfuls."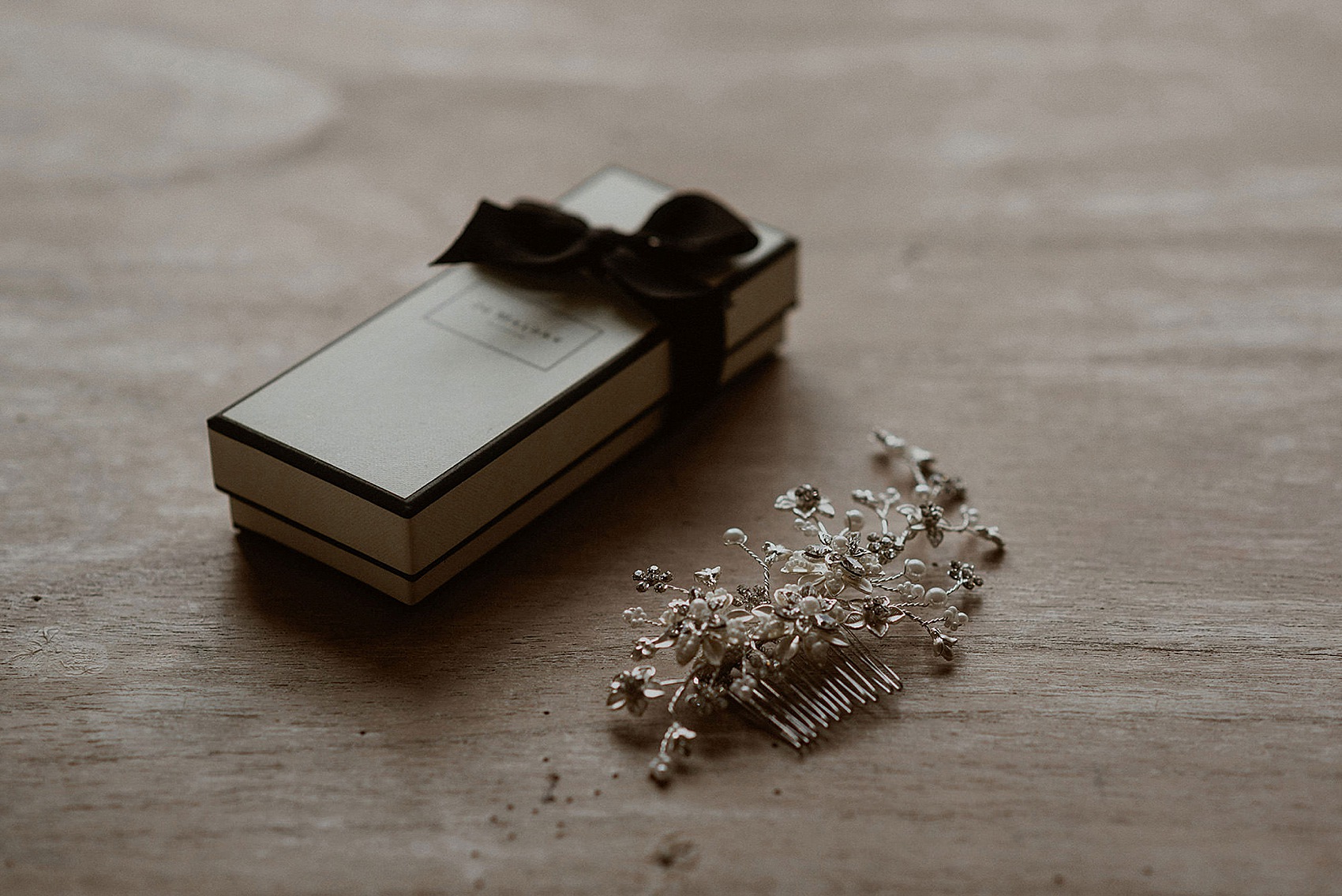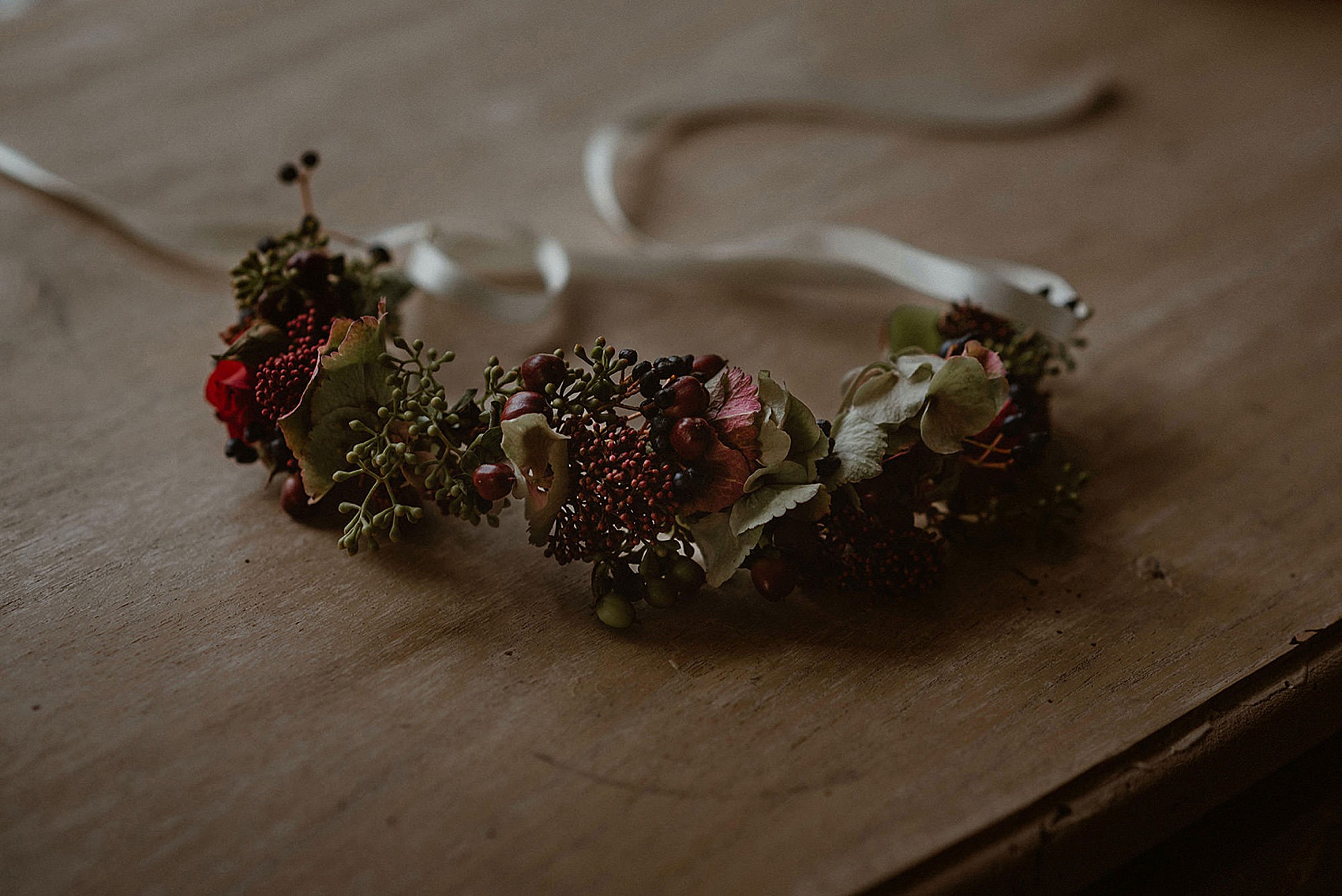 Radiantly beautiful make-up for the wedding party came courtesy of Gillian Hoban, whom Adriana says is the make-up artist to approach for a natural, classic look.
"Gillian is so lovely and really knows her stuff when it comes to make-up. She also did my bridal party and they all looked stunning. I'm biased, I know, but genuinely, she just brought out their natural beauty and the make-up photographed so well and lasted through the night."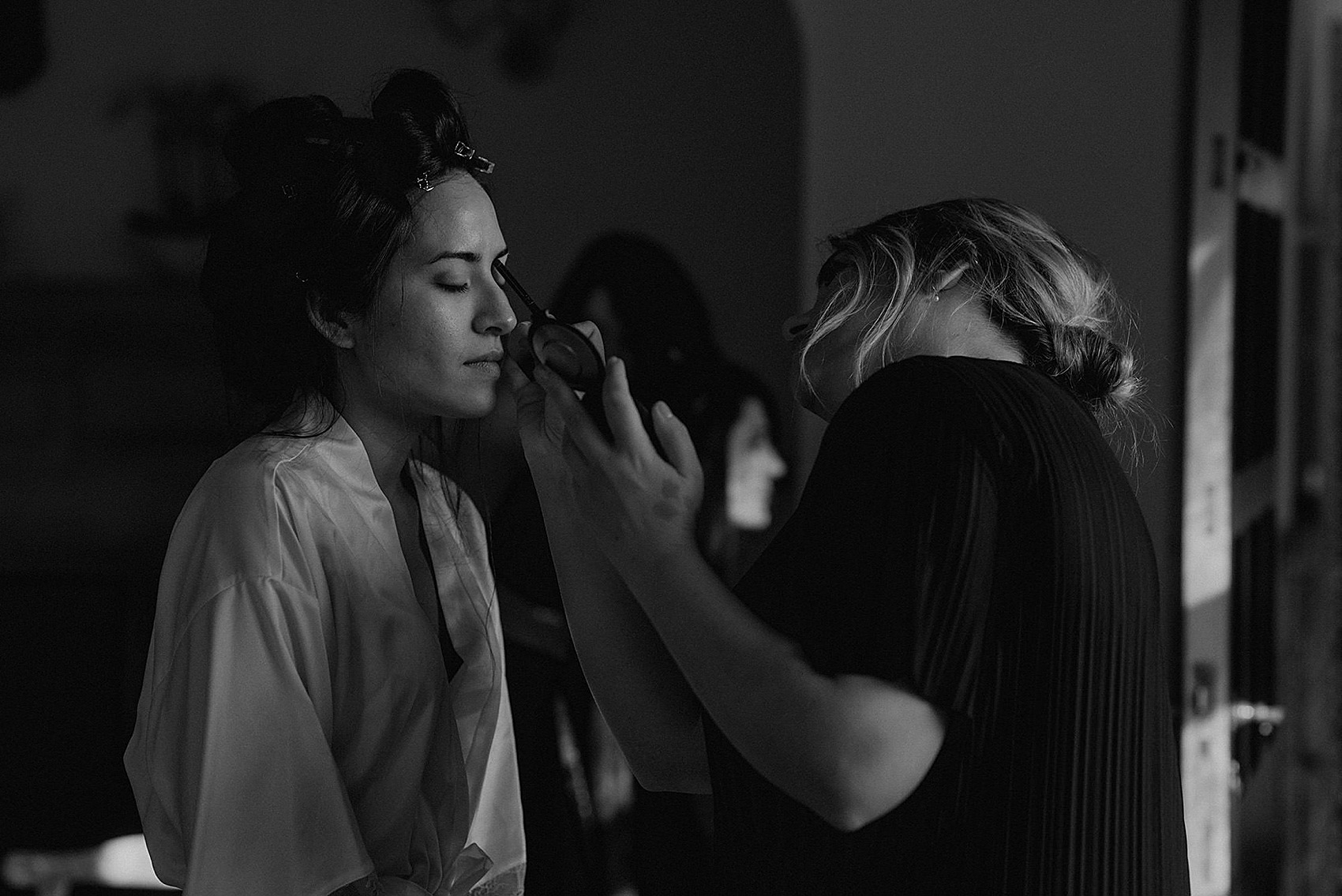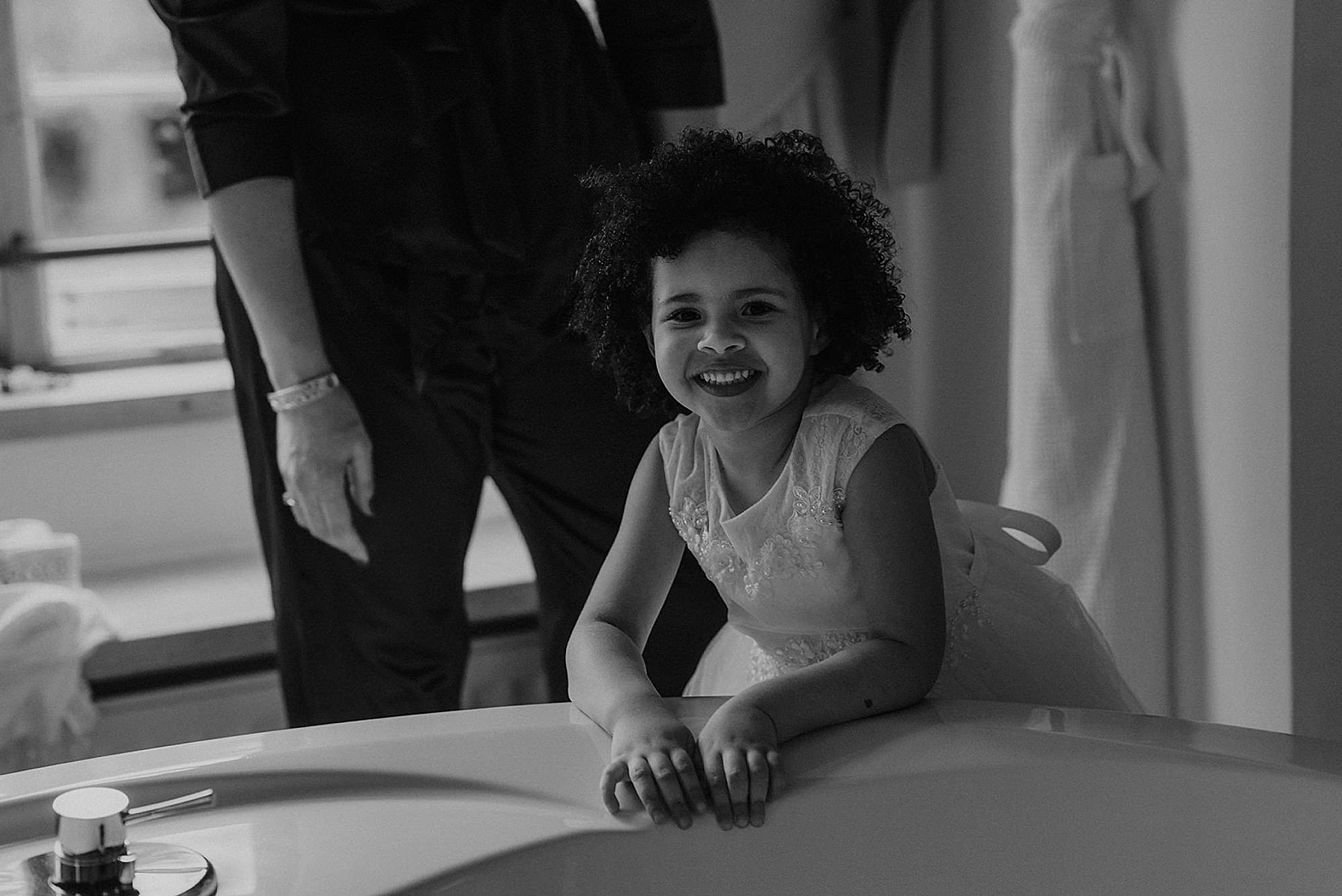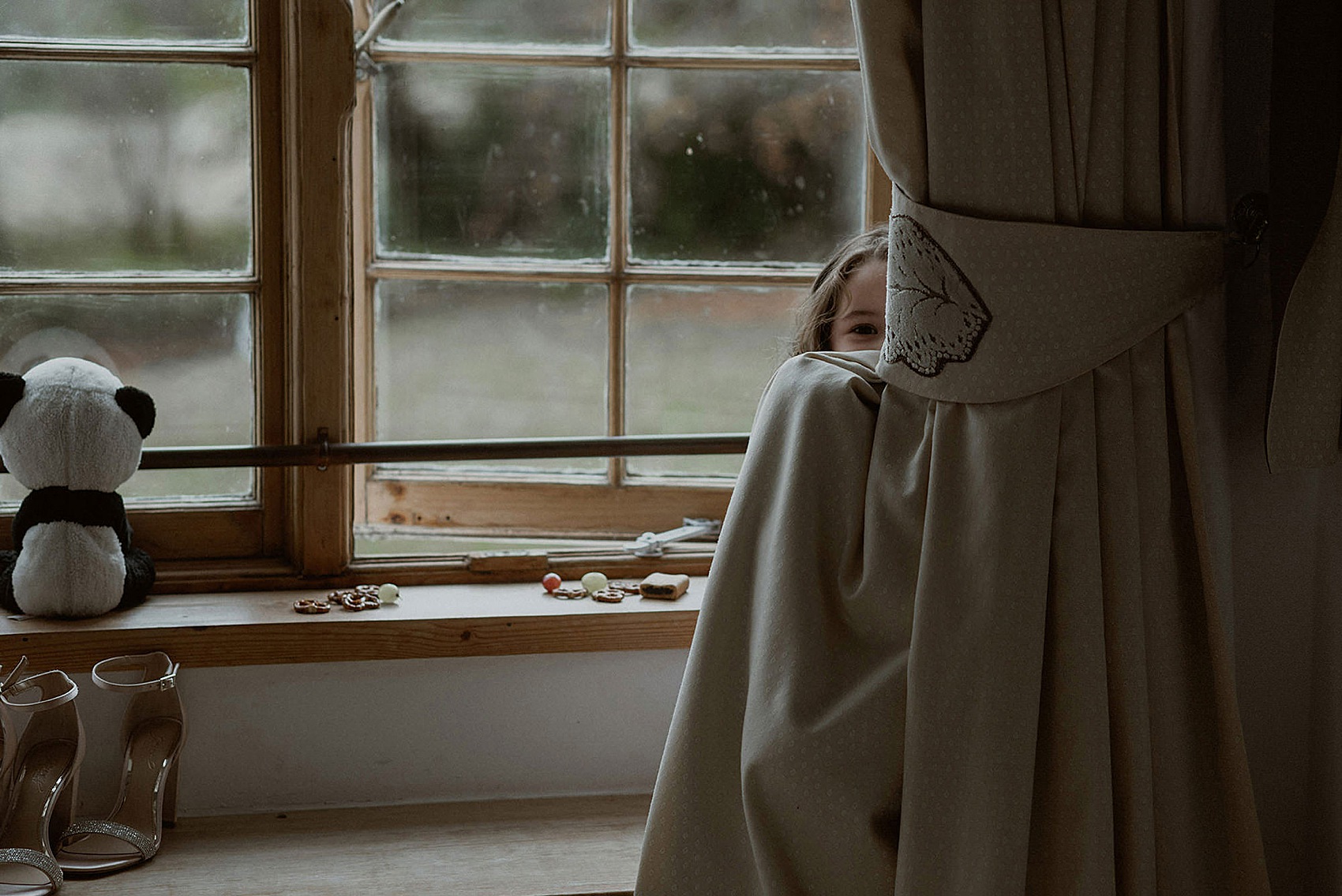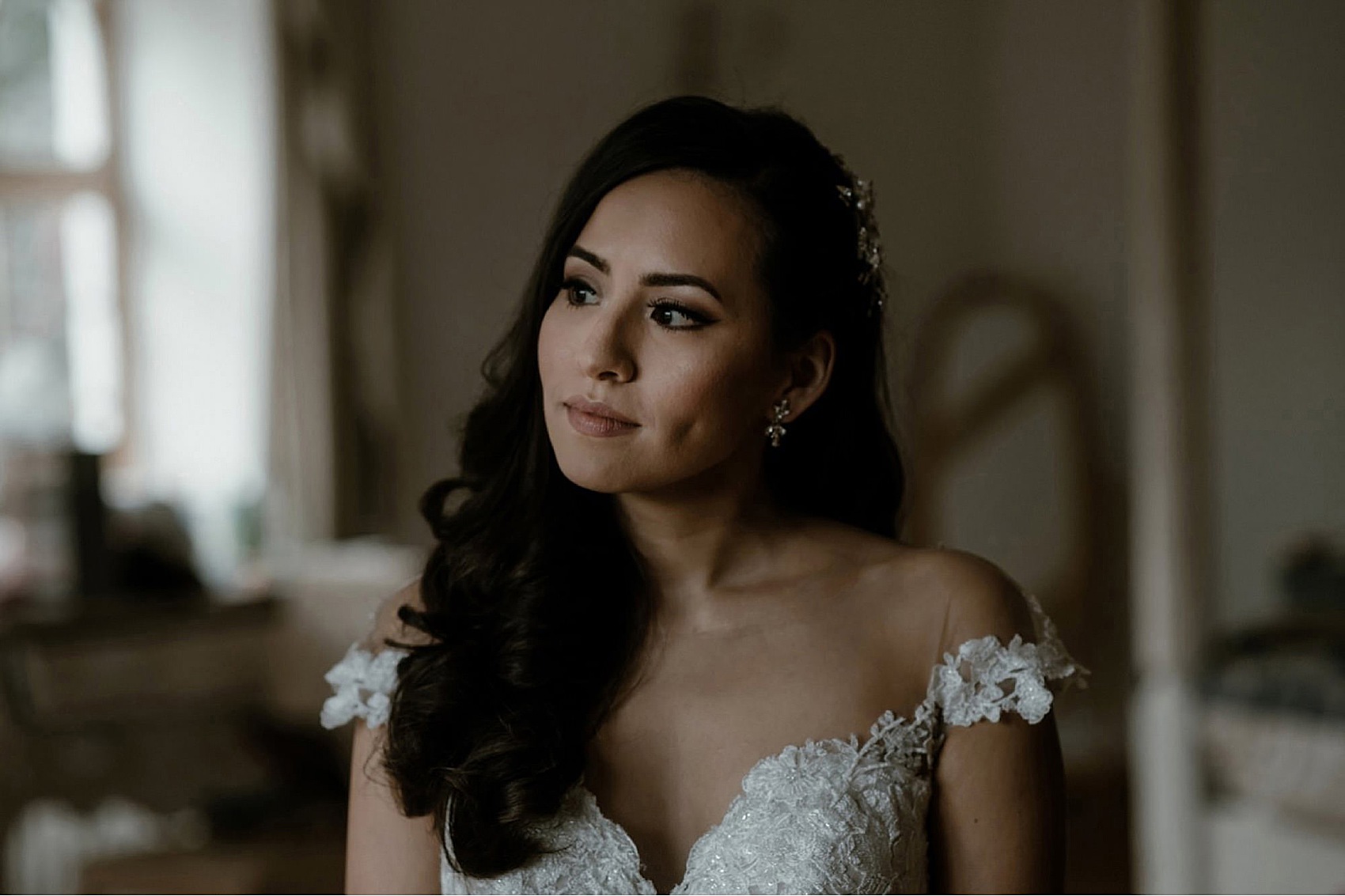 The two sweetest flowergirls wore pretty white tulle and lace dresses from Eleganza Sposa, which complemented Adriana's dress wonderfully. The bridesmaids wore velvet dresses in a rich burgundy shade from Etsy shop Désir Vale.
On their feet they wore embellished ankle strap sandals from Jewel by Badgley Mischka.
From Glasgow boutique Eleganza Sposa, Adriana chose a magical gown by Essense of Australia, with the lightest of tulle illusion necklines, a sexy off-the-shoulder sweetheart bodice, and layer upon layer of delicate tulle and embellished lace.
"I knew I wanted something form fitting, off-the-shoulder, lace, and with a small train. This ticked all the boxes. I had tried on a handful of dresses before, and they were all so lovely, but what sold me on this dress was the floral lace. I had a moment during the fitting when I looked down at the flowers around me and could feel my grandmother with me, and I instantly knew this was it. I didn't think I would get the feeling but it happened."
"Eleganza Sposa's service was just fantastic. They were helpful in pinpointing the style I was looking for and showing me options that fit my aesthetic. I wasn't able to go with my mom and sister because they were in the States, but the staff was so lovely about giving me a moment alone to FaceTime so they could be a part of the experience."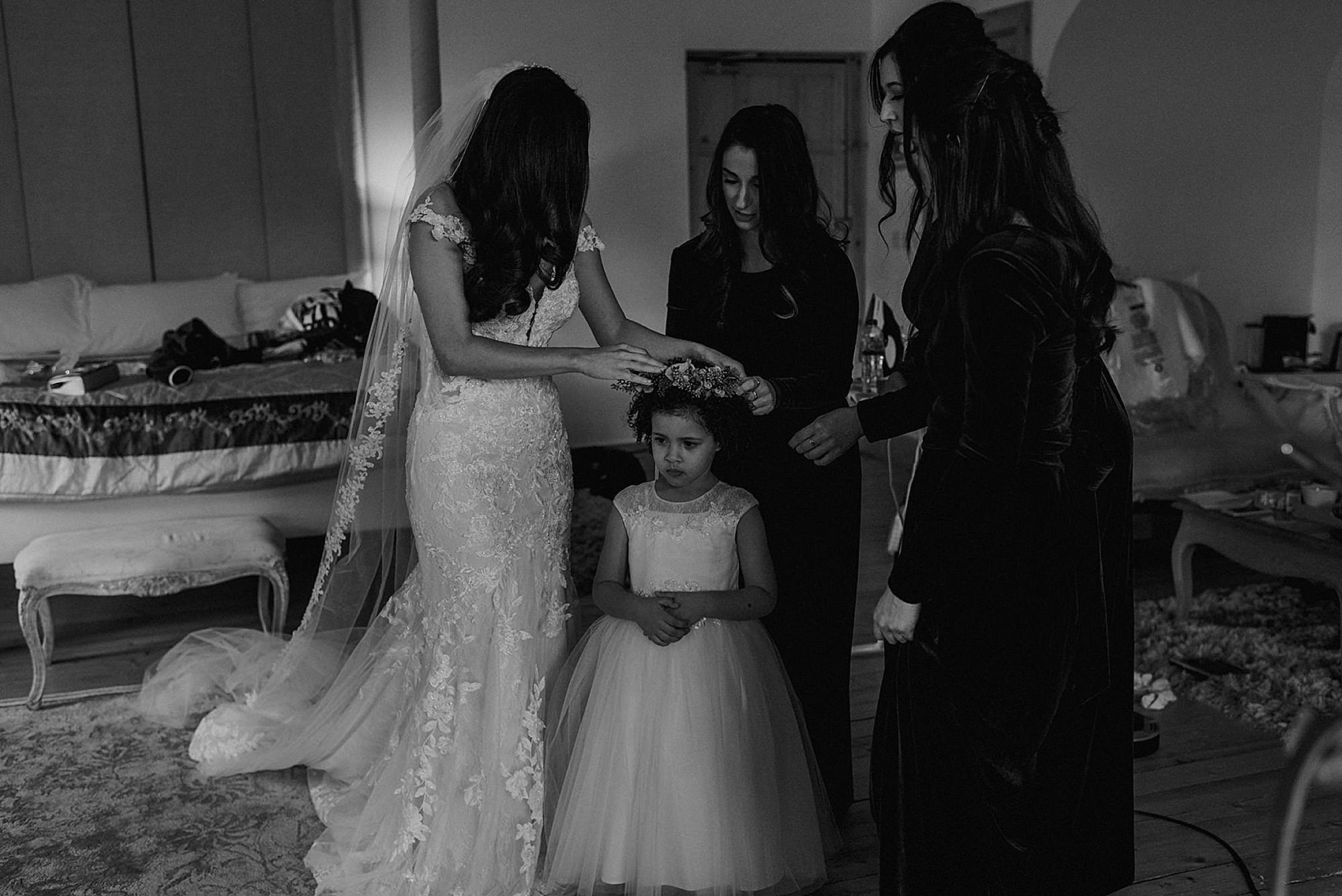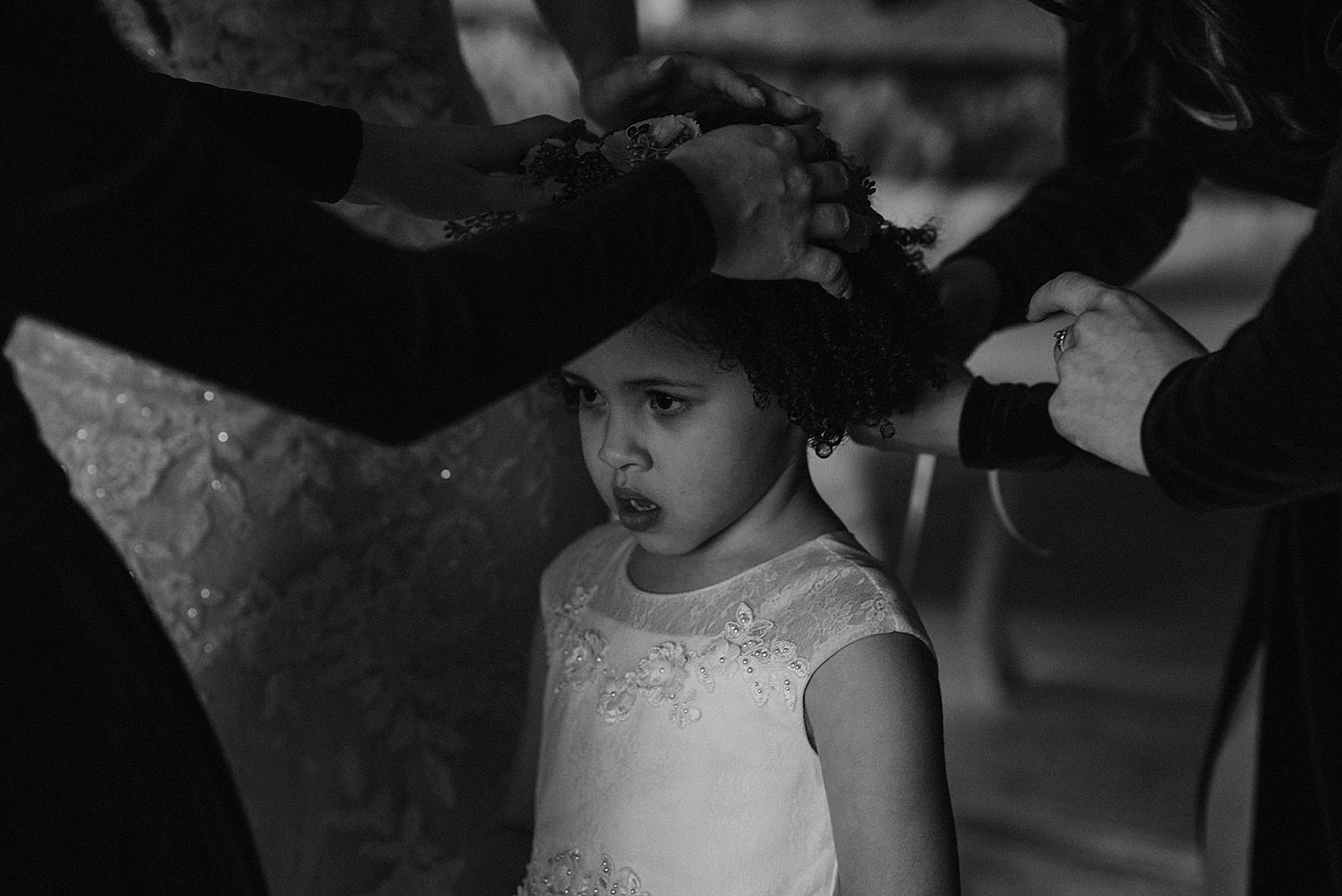 One of Adriana's final finishing touches was perfume by Jo Malone, which she chose after one of her bridesmaids treated her to an in-store scent experience, which she loved.
"I think this is so important! Scent memory is a real thing! At Jo Malone, they basically walk you through different scent profiles and explain all the layers, which I enjoyed as I'm a nerd, and then give you the most lovely hand and arm massage."
"I used my perfume for the days in the run up to the wedding and the big day of course, and now every time I pull it out, I am always brought back to that special time. Extra? Yes. Would I do it again? Uh huh!"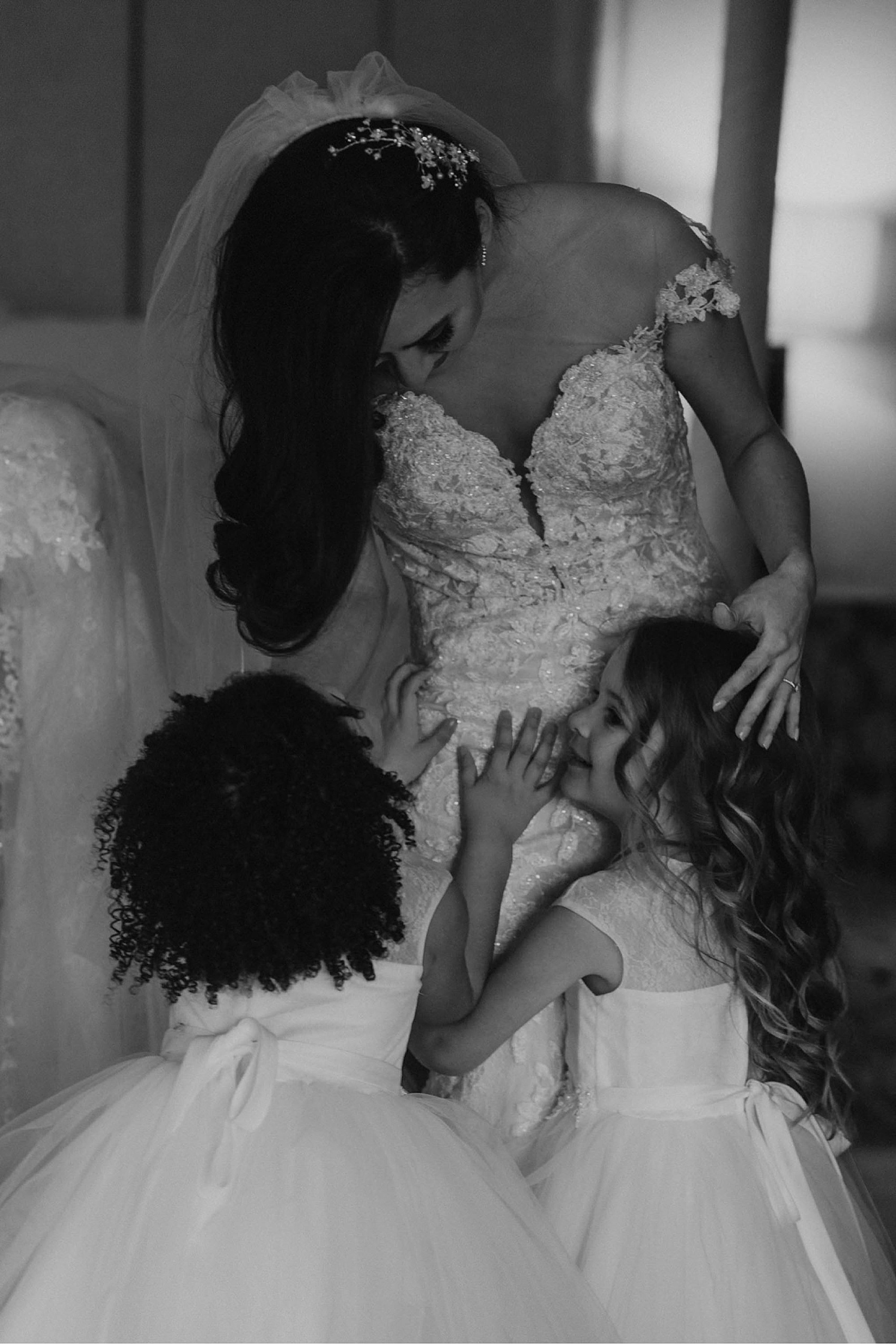 Adriana's absolutely spectacular bouquet was by Wild Gorse Studio. I love how wild, abundant and autumnal it is, with romantic roses paired with jewel-like clusters of berries, along with other beautiful blooms, grasses and greenery.
"My grandmother unfortunately couldn't physically be with me on my wedding day so I went to the craft store and found a small locket. I put my favorite photo of her in it and pinned this to my bouquet. To me, she didn't miss a single thing." 
Suzanne McMahon styled Adriana's hair in beautiful vintage style waves, to which was added a bejewelled floral hair vine from Eleganza Sposa.
"I did wear a veil because I love the way they photograph and the overall bride vibe it gave me. I wore mine almost all day because I just loved it so much! I picked mine up from a small boutique in New York. It was a tulle veil with some lace applique around the edges. I wanted something simple so it didn't outshine the train on my dress."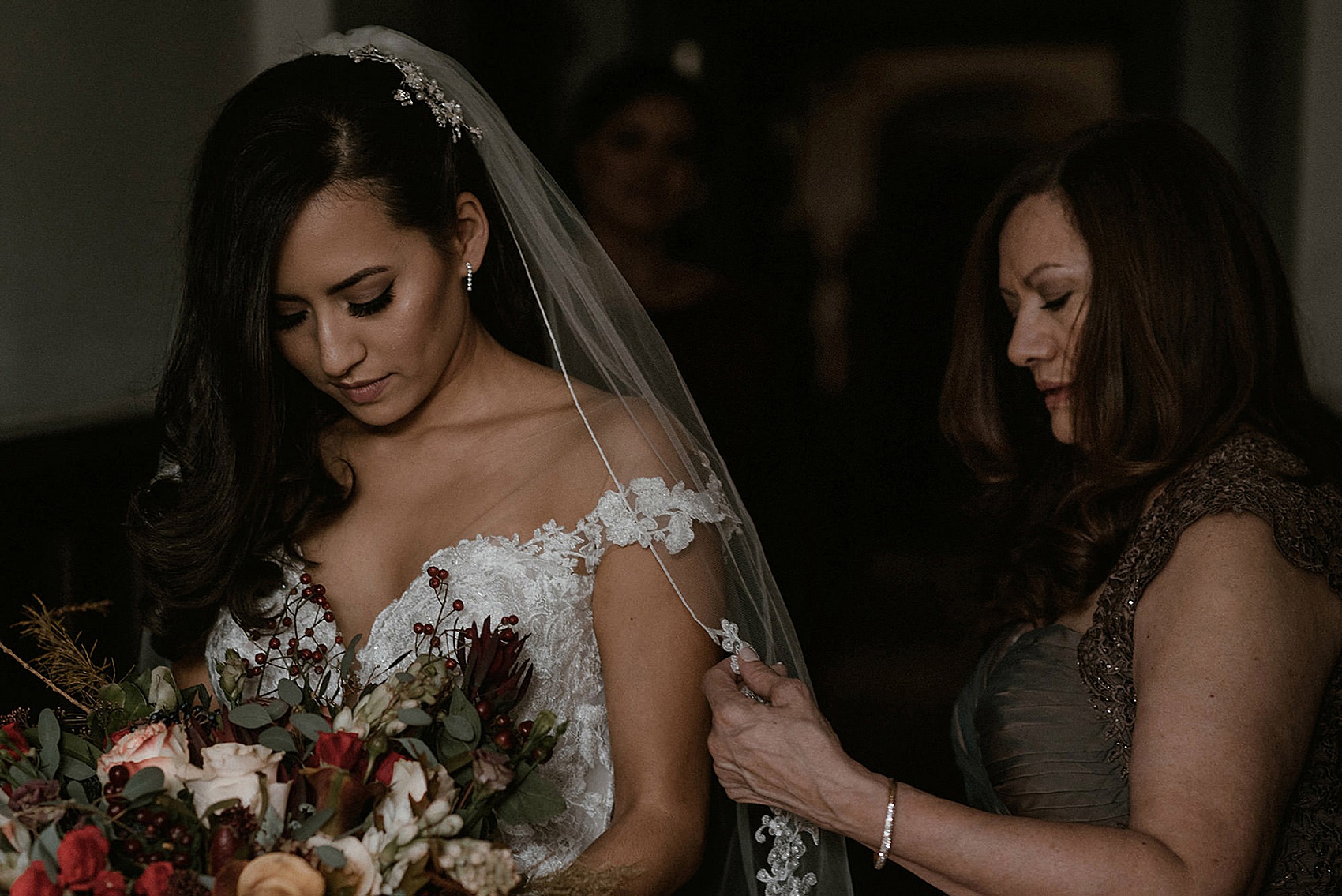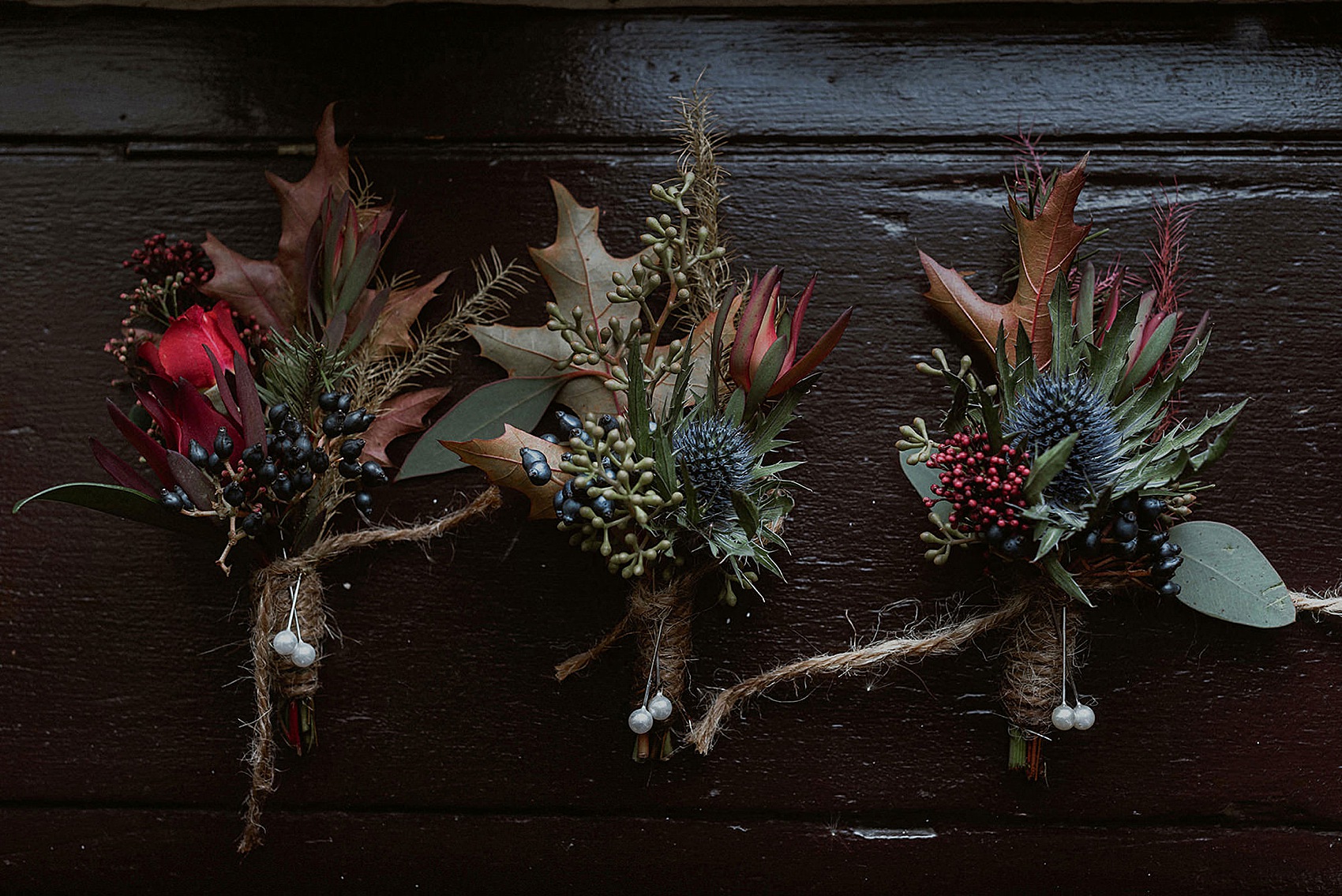 "Neil and his groomsmen went for the Hunting Manx tartan by Slanj Kilts. Neil knew he wanted a tartan that wasn't traditional and had a nice pop of colour in it."
"I was worried the colours wouldn't go at first, but because I didn't have a set colour scheme and went with Fall colours, the kilts actually looked fantastic with our Fall/Winter vibes."
"We met on Tinder – love at right swipe! Neil was running a fitness expo in Glasgow, and I had moved over to attend the vet school. We had a very lovely first date at a coffee shop in the West End, and maybe had two more dates before I had to fly back to America for the Summer."
"We spent that Summer on Skype every day, and that's really how we got to know each other. When I got back, he asked me to be his girlfriend and the rest is history."
In her final year of vet school rotations, Adriana had a placement back in the USA at the Bronx Zoo. Neil flew out to surprise his love, and added to the surprise with a marriage proposal while she was mid-shift at the zoo!
"One minute I was checking on cheetahs and the next my boyfriend who I hadn't seen for 3 weeks was down on one knee in front of me. I was so emotional and just couldn't believe it was happening."
"We had been talking about our future together for a while, but when I asked him 'Why now?' he said 'Because I can't wait any longer to make you my wife', and I thought that was so special – I felt the same way!"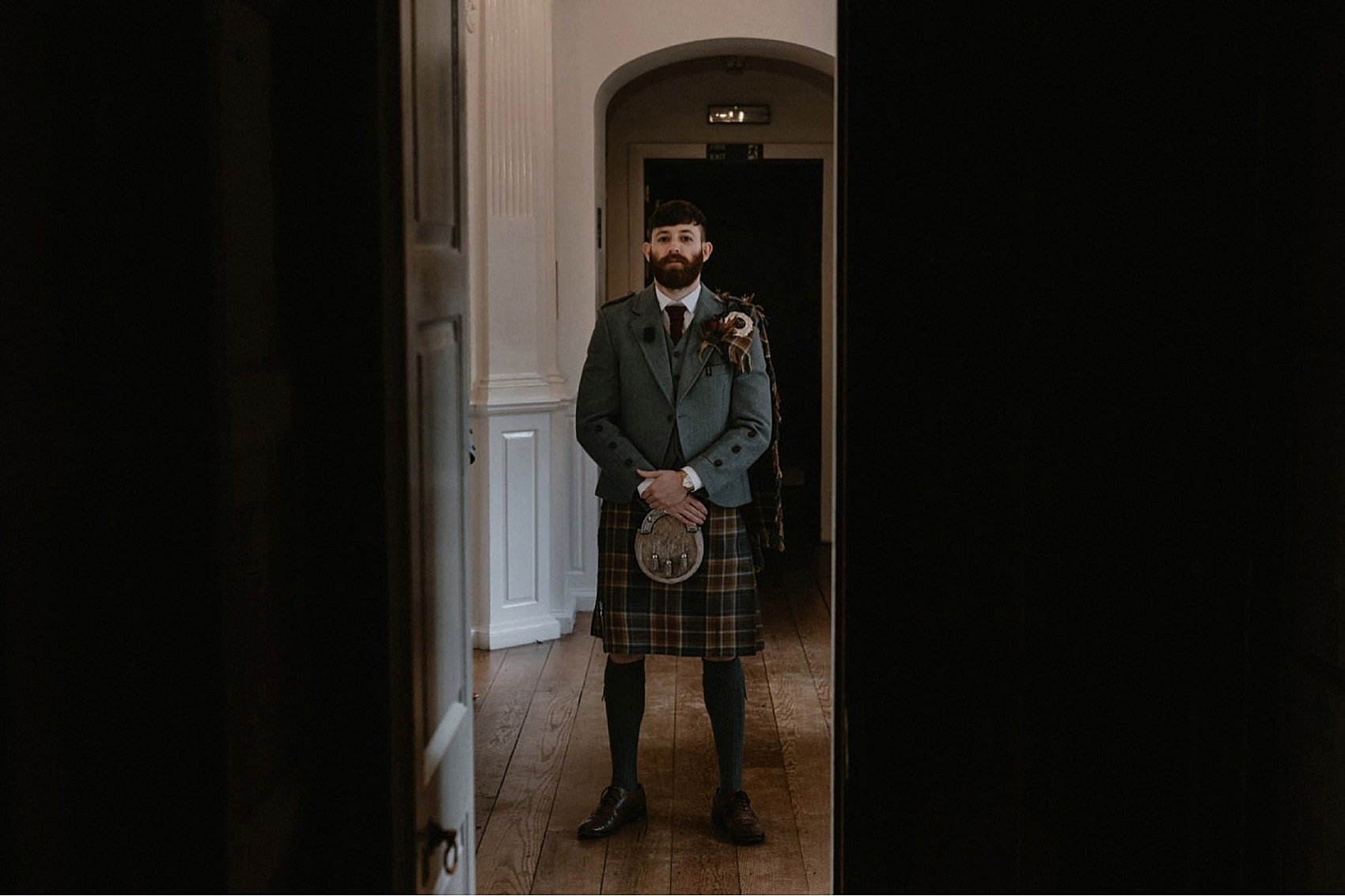 "We wanted to get married right away but I was about to graduate and couldn't handle the stress of final year and wedding planning."
After we picked our venue and looked at dates in their diary, we settled on a Fall wedding for the following year, which gave us the time to plan things in exactly the way we'd envisioned them."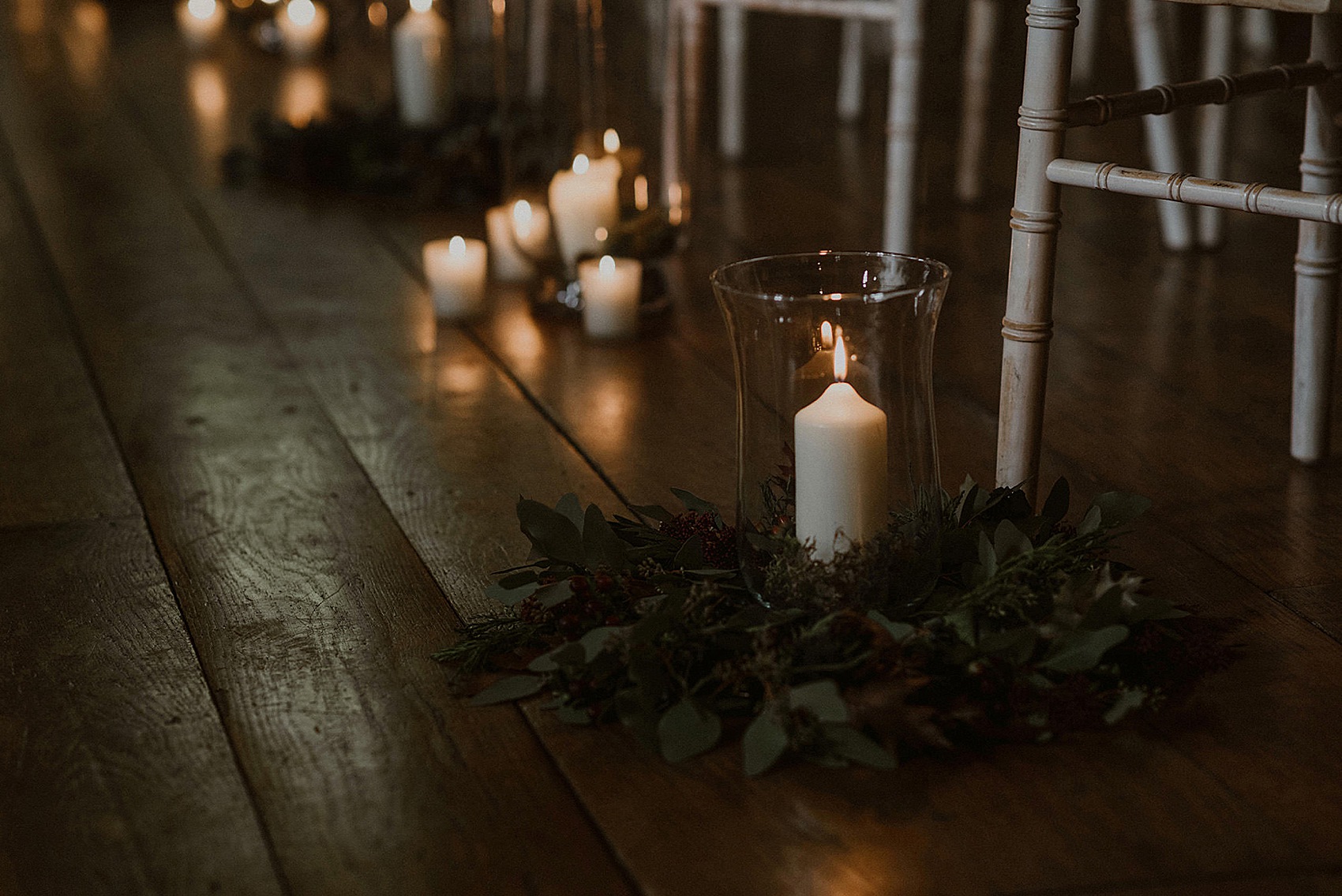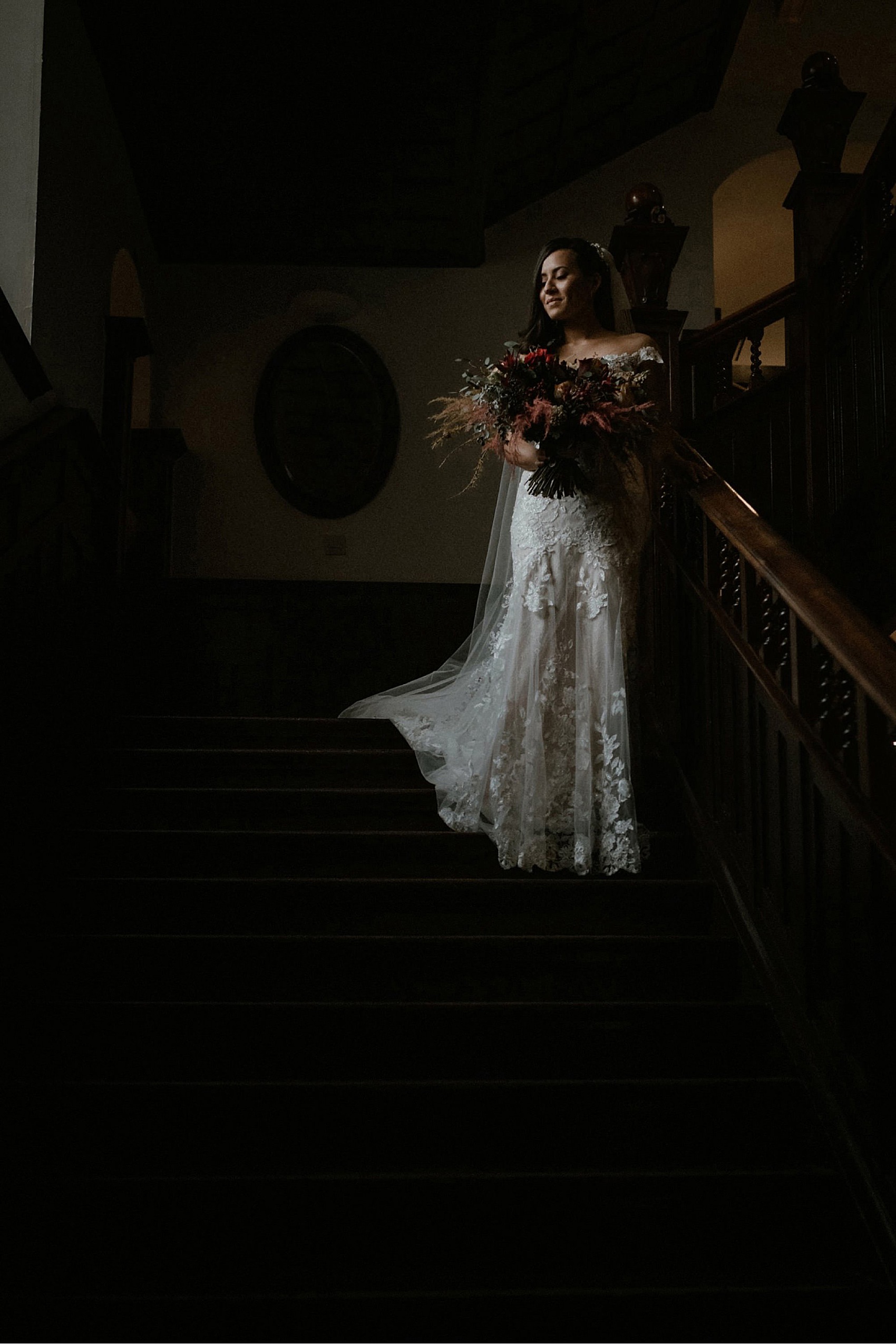 Together with her Mom, Adriana walked down the aisle to a song called Changing Plans by Fara, which she first heard at a gig where the band were playing during one of her first dates with Neil.
In a rather brilliant bit of synchronicity, both Neil and Adriana separately contacted Fara to see if they would be willing and able to play as Adriana walked down the aisle.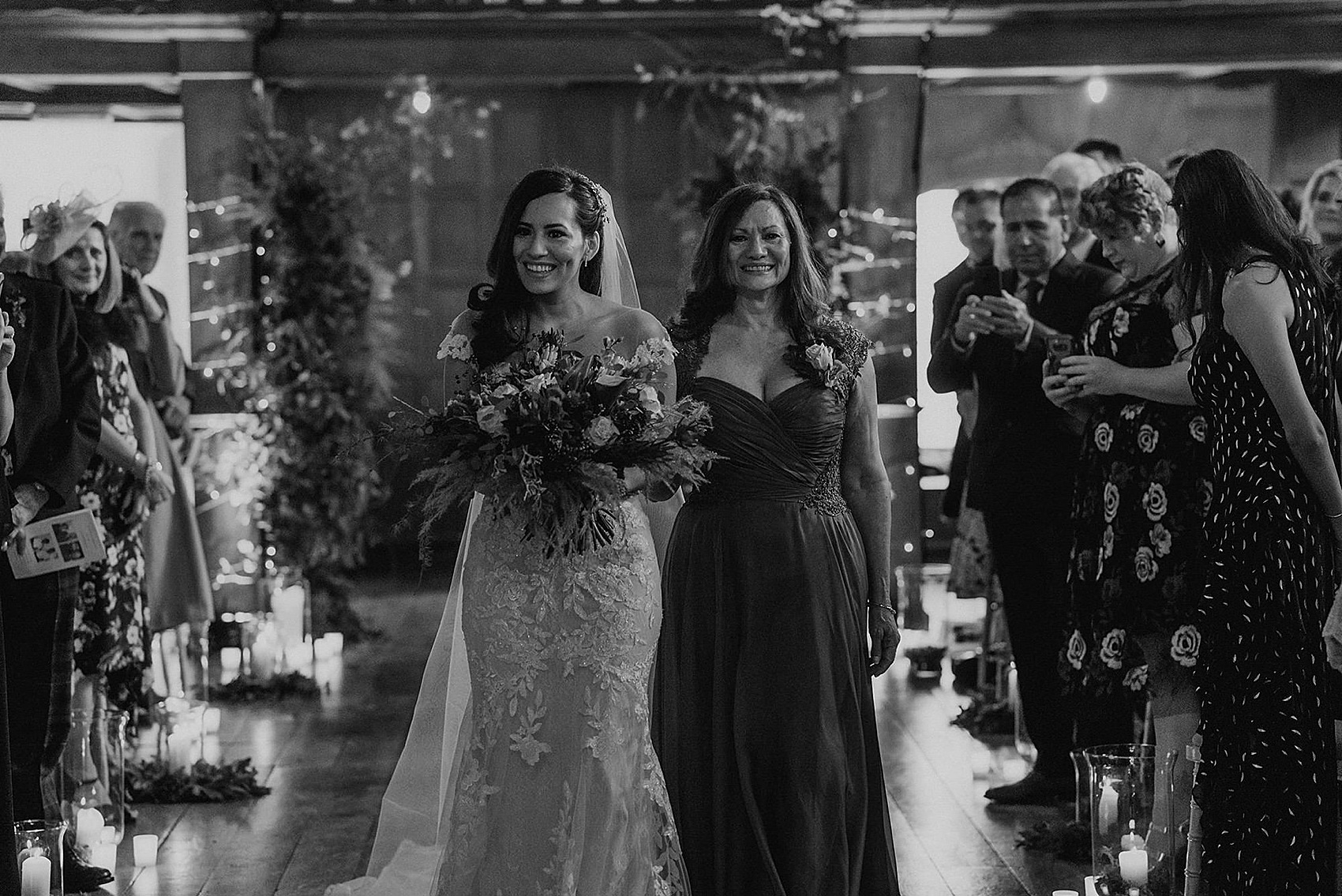 "Shortly after I got in touch, and while in discussions, Neil went to see them live as they were touring in Glasgow. When we FaceTimed that night he said to me, 'I think I know what your surprise is, because it was also going to be my surprise.'"
"The band had accidentally spilled the beans, not knowing, but in the end we were both surprised when they said that they'd come up to Inverness and play for us!"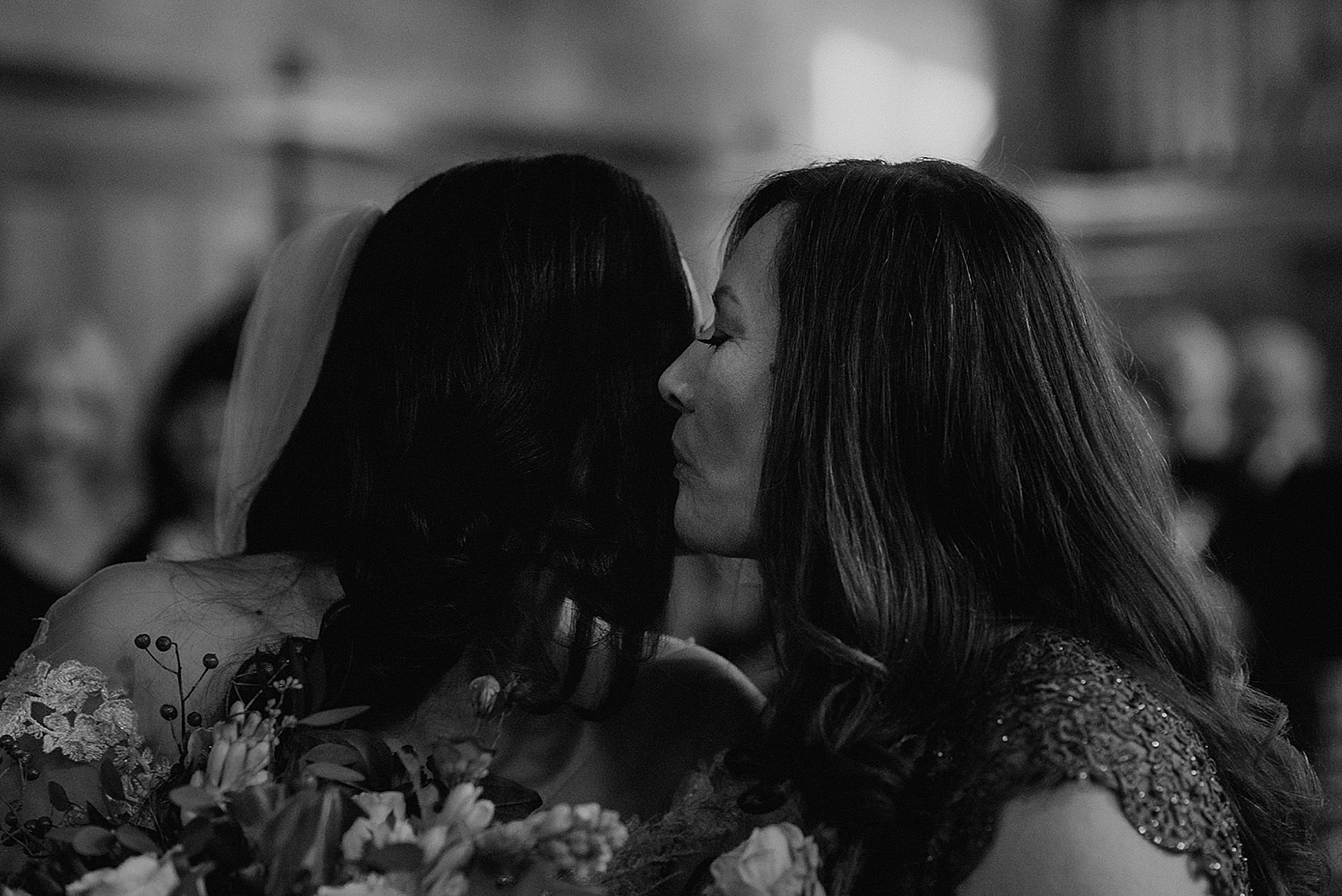 "The morning of my wedding, I was so nervous that things would not be exactly as I'd envisioned, but when I walked up to the ballroom and heard the band playing our song on the other side of the doors, I felt so calm knowing that everything I wanted and had been waiting for was just on the other side. It was really a full circle moment, and I'm just so thankful they agreed to share our day and their amazing music with us."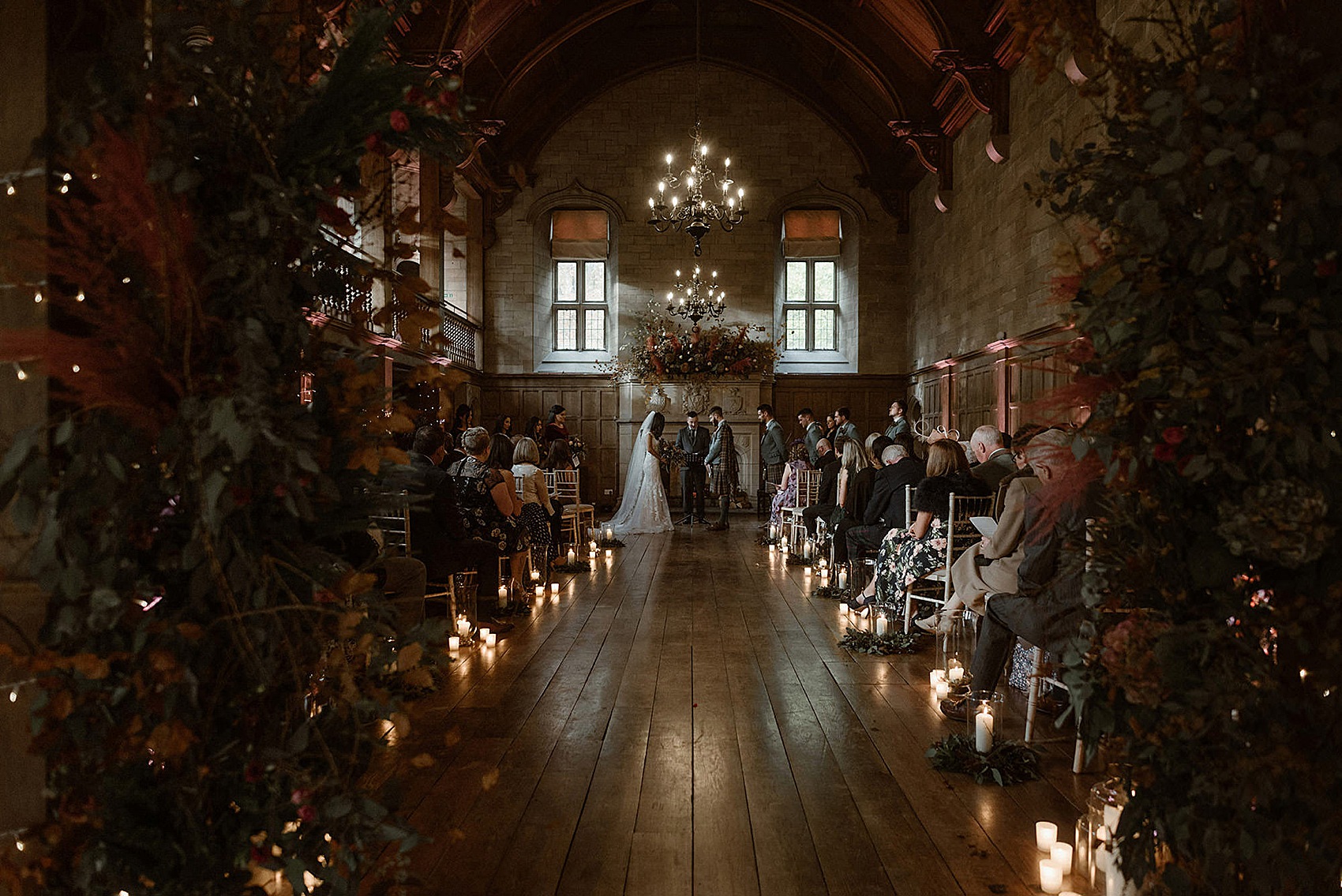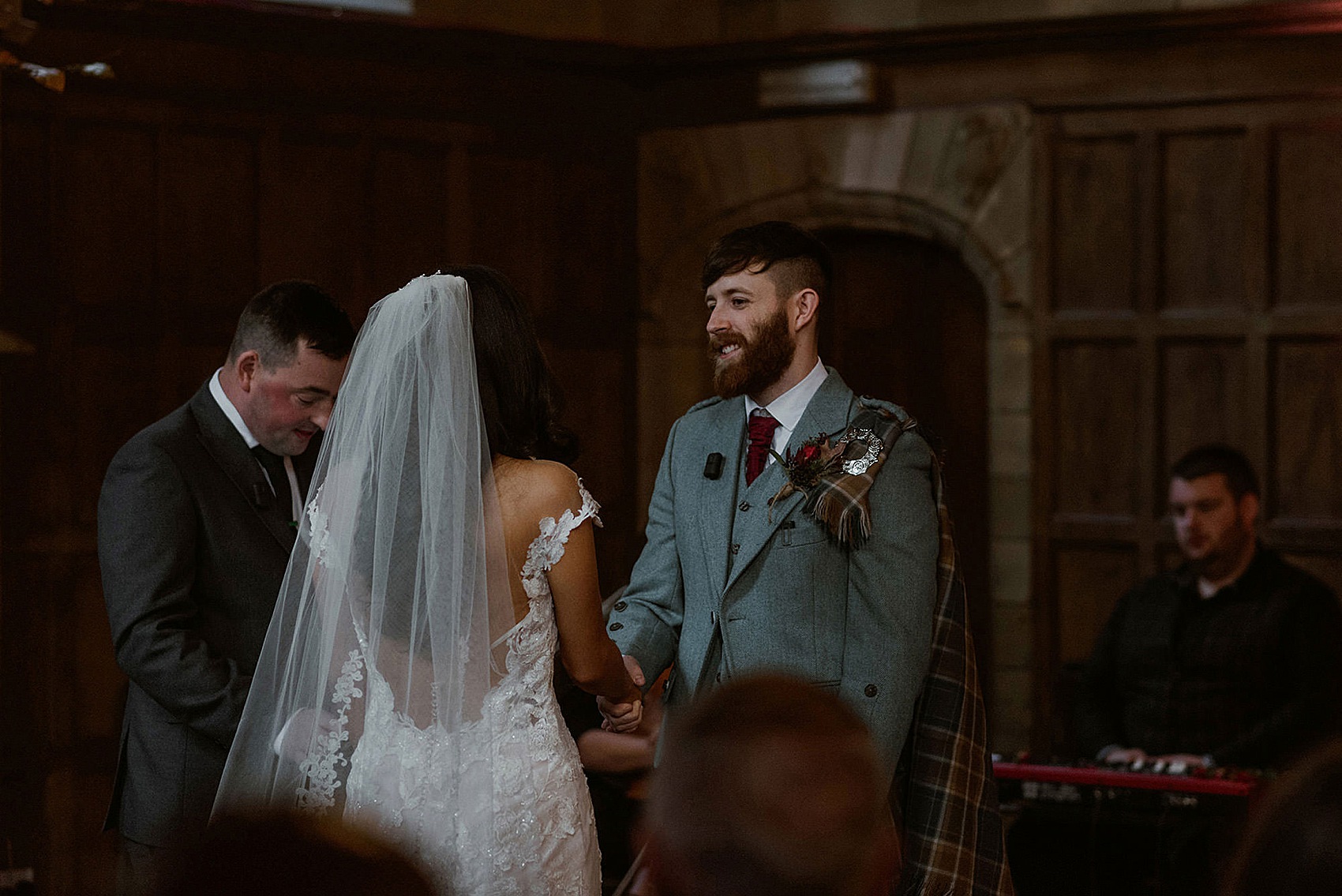 "We went with traditional vows. When it comes to our faith and how we practice, Neil and I are quite traditional. We wanted to honour the sacrament in the way that our parents raised us to. While we didn't get married in a church, everything else about our ceremony was the same."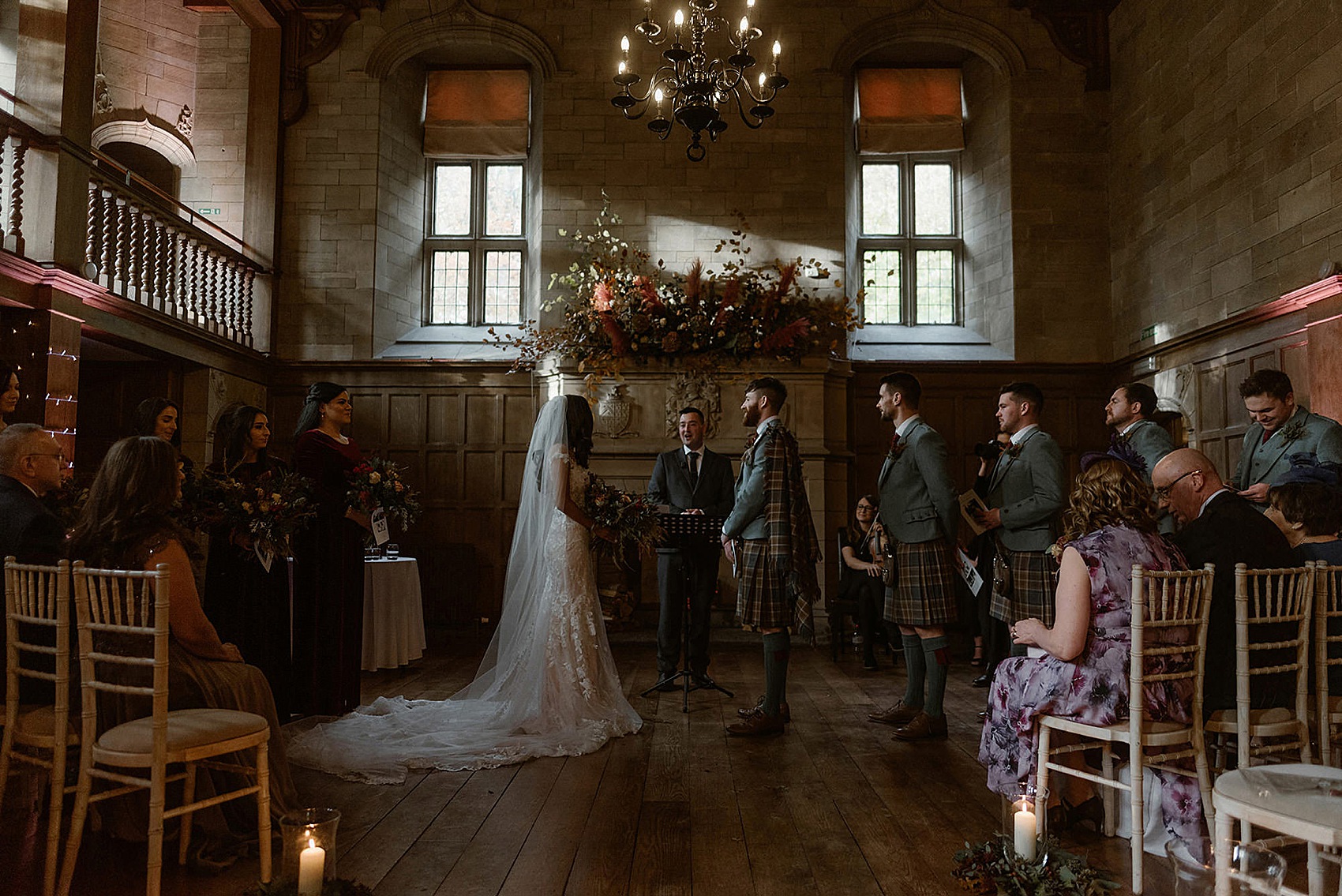 There wasn't a set colour scheme for the day, but the couple found they were naturally gravitating towards autumnal colours like burgundy and green with added splashes of more vibrant hues like yellow and blue.
"The theme of our wedding was very simply about family and close friends and sharing this moment with them. We wanted to them to feel as loved as they'd made us feel throughout our lives. This inspired our venue choice, and our venue inspired my vision from there."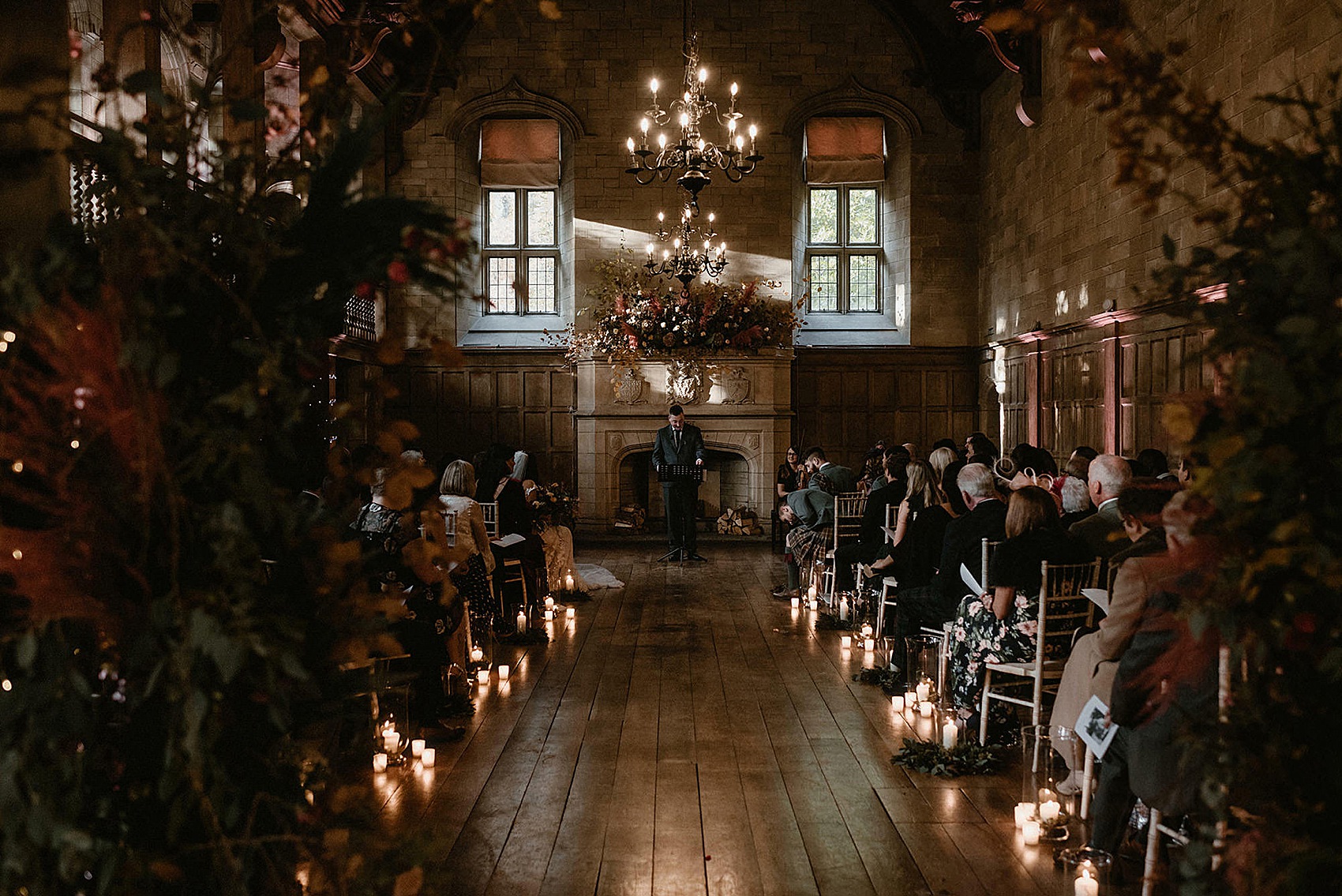 "There were so many words on my moodboard that I drew from,  like nature, homely, rustic, elegant, and at the start, trying to make all those ideas come together can be overwhelming but I tried to keep things simple and let the venue shine."
"We had the most amazing vendors that really helped tie the vision together without too much direction, which I think speaks volumes of how amazing they are at their craft."
As they faced each other and made their vows in the glorious room lit with candles and fairylights, and filled with flowers, Adriana and Neil solidified the commitment they were making with rings, opting for simple and classic bands from Glasgow jewellers Rox.
Hymns during the ceremony were Come to a Wedding and For the Beauty of the Earth, and both Adriana and Neil's mothers each read an extract from the Bible; 1 Corinthians 13:4-8 (Love is patient, love is kind) and Ruth 1:16-17.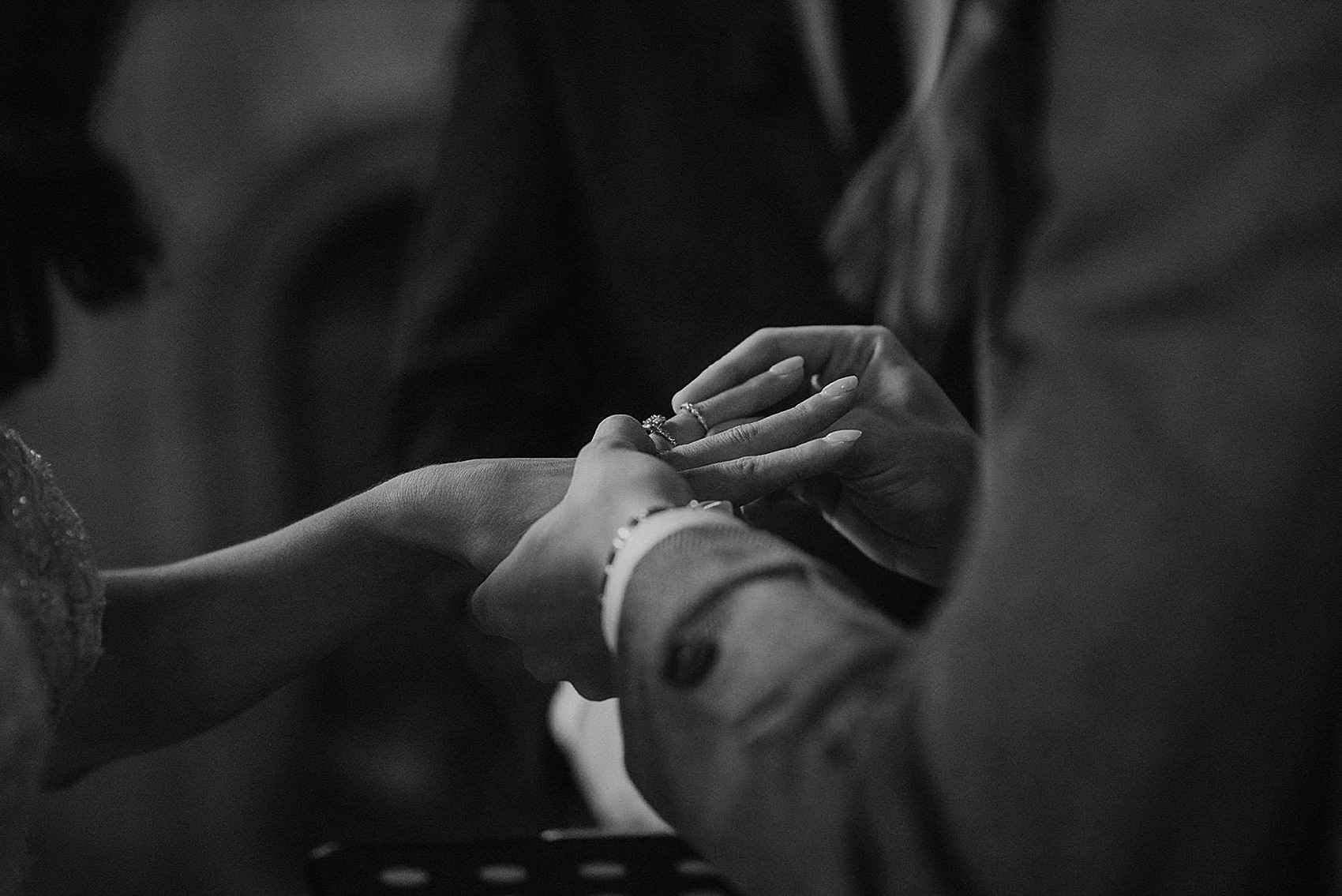 Julia from Wild Gorse Studio left everyone under the floral spell with her breathtaking, seasonal arrangements in the venue's ballroom. Later on for the reception, the couple hired elegant Chiavari chairs from Eva's Covers.
"In the spirit of hiring local vendors as much as we could, we hired Wild Gorse Studio near Inverness. I sent Julia a few photos of things I liked initially of some ideas and colours I had, and left the rest to her. PSA: Julia is a floral wizard/magician/genius and needs no direction. Her work is stunning. There just are no other words to describe the art she creates with flowers, leaves and branches. The ballroom at Achnagairn is naturally incredible but she gave it life. She brought all the warm Fall tones from outside and brought them in."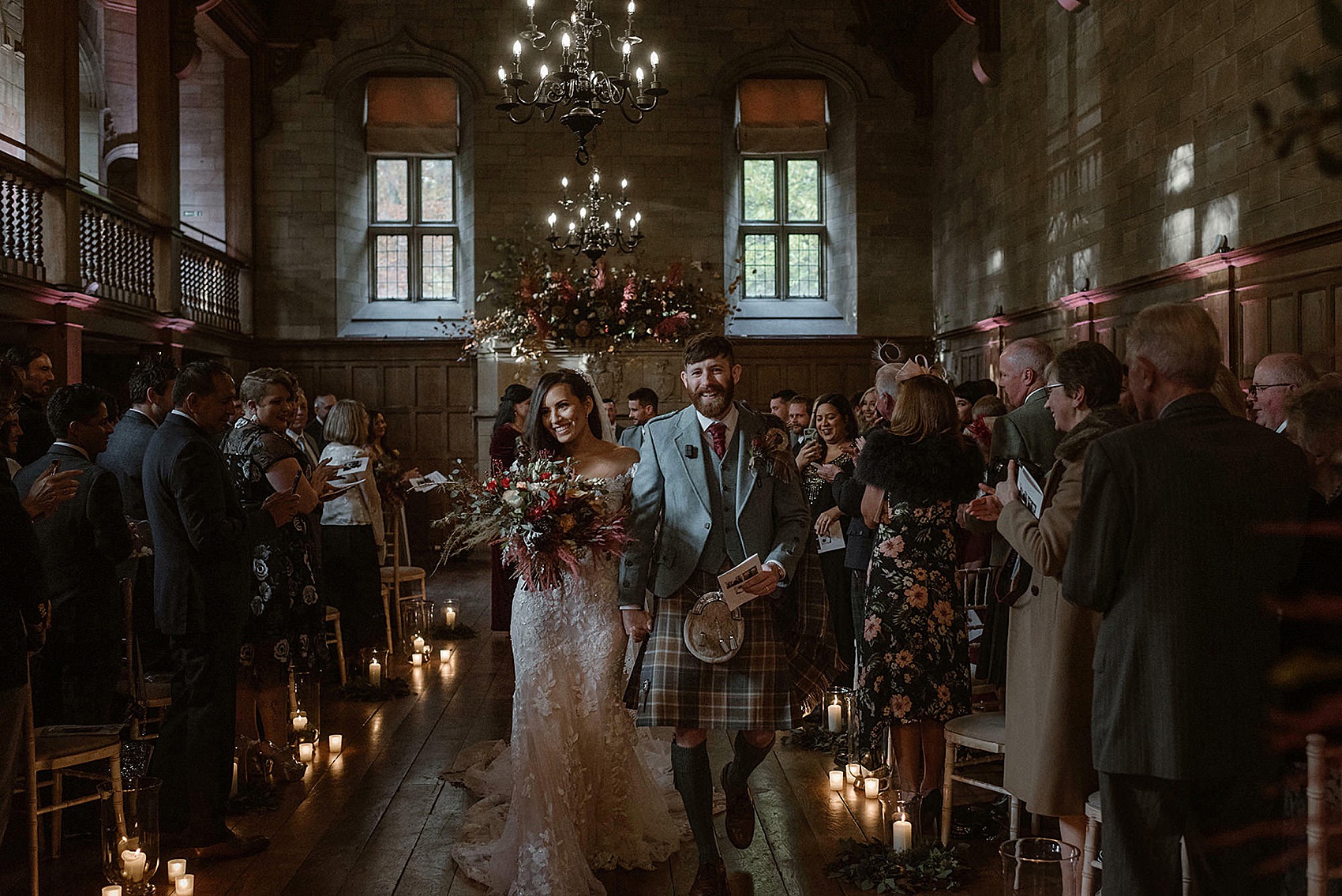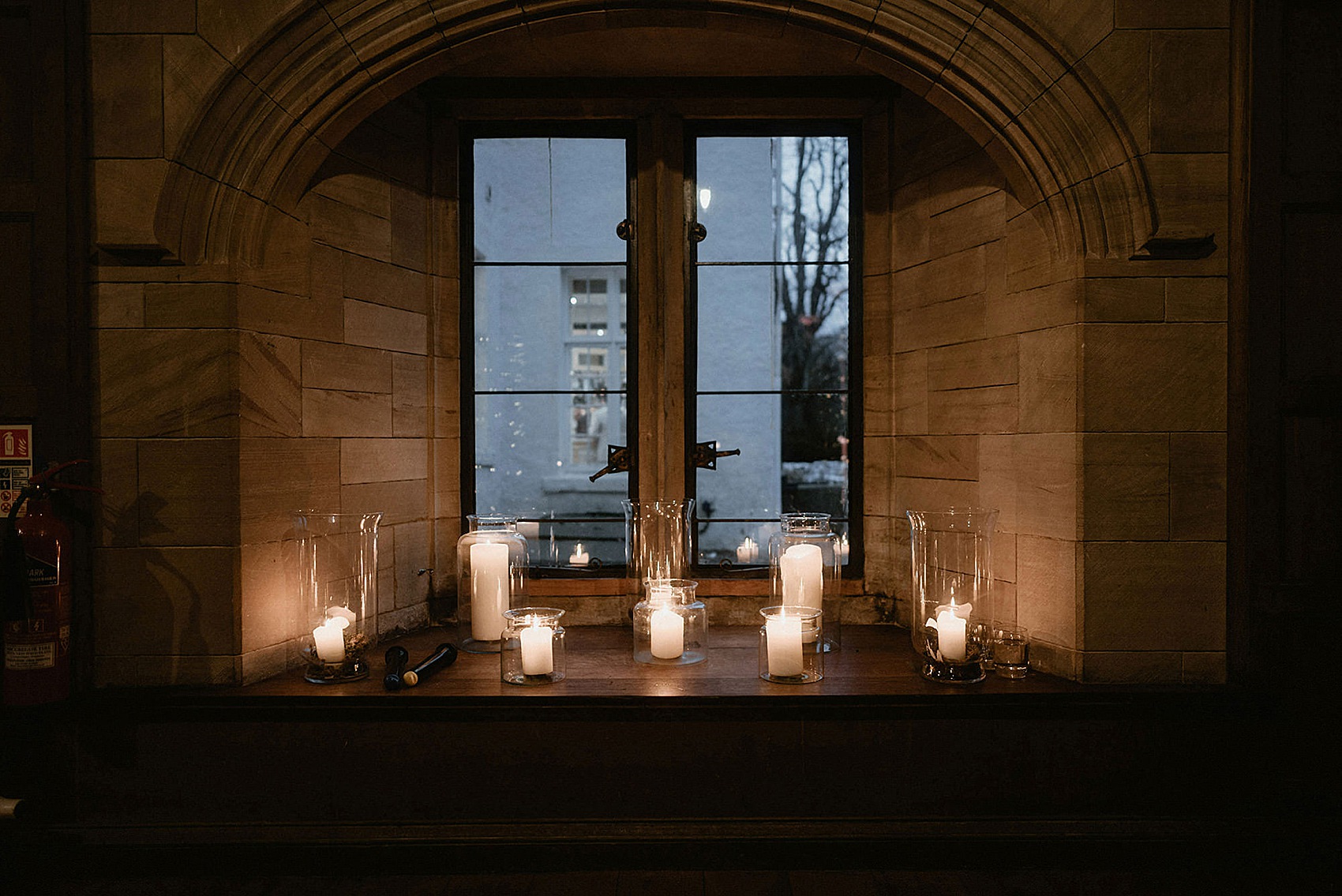 The in-house team at Achnagairn prepared and served a wonderful wedding feast for everyone to enjoy by candlelight, and the couple's lovely cake from Inverness based All Whisked Up.
"Delicious and beautiful! She was so wonderful at seeing my vision and collaborating with me on ideas I had. Wedding food at big catering halls in America is notoriously not great, but I was blown away by how fantastic our wedding dinner was. I wasn't able to do a taste test beforehand so I was pretty nervous, but I definitely had no reason to be. Achnagairn is just 12/10 all-round."
Delicious guest favours were mini bags of handmade, all-butter Scottish shortbread by Chrystals Shortbread, which Adriana first tried at a Country Living Magazine show with Neil in the first year of their relationship. They've both been huge fans ever since, and were keen to include the shortbread in their day.
"It was so fantastic we brought some up to Neil's family when we spent our first Christmas together in the Highlands and they loved it! We pick some up everytime we're in Glasgow and it's part of our story, so we wanted to share that with our guests."
"If you haven't experienced Chrystal's Shortbread, you need to! I ordered small plastic baggies to put them in from Amazon. While we were all covered in sugar by the end of it, I'll always have the memory of me, my sister, my mom, Neil's mum and gran putting all the bags together."
For their first married dance together, Adriana and Neil took to the floor for Kina Grannis' version of Can't Help Falling in Love, which was followed by excellent live music from band Velvet Noir.
"The lead vocalist is amazing and I would definitely recommend them. Got so many compliments on how fantastic they were. They knew what songs would get people on the dancefloor and threw in some ceilidhs for us."
All that was left to conclude Adriana and Neil's Bonfire Night wedding was a few sparklers outside for good measure.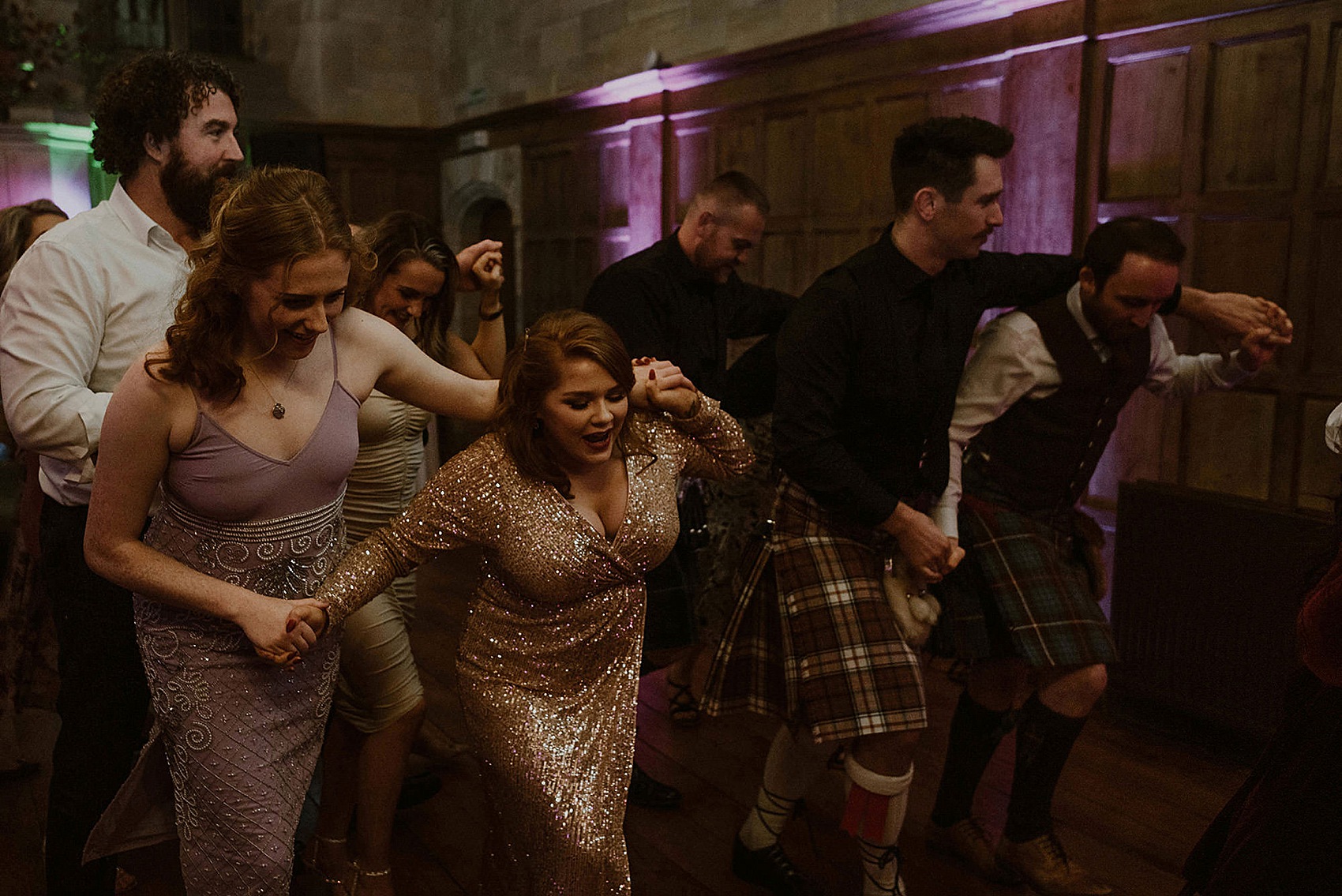 Favourite Moments
"Oh gosh, to say there was one favourite moment would be unfair! I felt most at ease when I saw Neil at the other end of the aisle because I really did miss him all morning, ha! I loved the ceremony, the quiet moments we shared together after the ceremony, chatting to all our guests, the speeches, dinner with all our loved ones, and dancing the night away. Oh, that was basically the whole day in a nutshell. Oops."
Words of Wedded Wisdom
"Keep it simple. None of your guests will know that you didn't hire the Prosecco tower you saw on Instagram or care that there's no photobooth. They're there for you and your life partner to be. Also, take a moment after you're married to just be with your partner, just the two of you. There's so much planning and stress to get to this moment, it's the beginning of the best part; enjoy it!"
"Don't stress about other people's opinion of your aesthetic and how your day should be. Suggestions and help is always welcome, but don't let it cloud your vision. It's your day, so do what makes your heart happy."
"Weddings are and always will be an amazing celebration of love, life's journey, family and friends. There isn't anything I don't love about a wedding and wish I could go to more. I was definitely stressed in planning my own wedding, but there's nothing I would've changed. I would stamp all those envelopes a million times over to have access to a time machine and relive the day. Best. Day. Ever."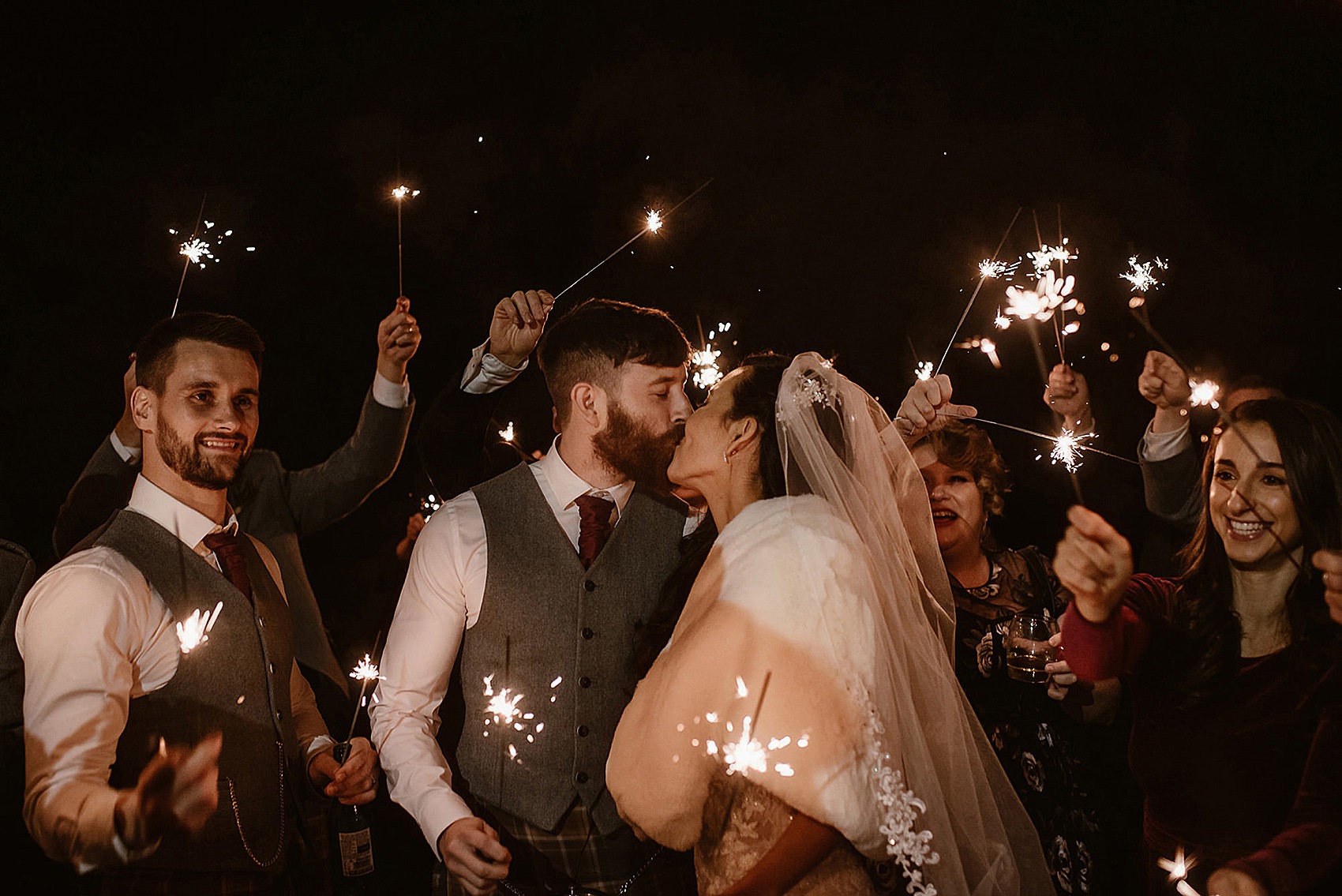 Wasn't that gorgeous? Dear readers, I hope you've enjoyed all of the details from this beautiful day as much as I have. Thank you so much Adriana and Neil, and thanks also to Barry from Wordly Nomads for the film, and to Katy and Jim of The Caryls for these elegant and evocative images.
Love, Laura