Of all the splendid and varied wedding entrances I've seen in the course of writing for Love My Dress, this is a first for me today: a bride arriving by canoe to her watermill wedding.
Every element of our couple's day was so thoughtfully and touchingly personalised, and a fusion and celebration of Somali, British and Irish culture – filled with colour, joy and of course, love.This is the wedding of vet Tamsin to Abdi, who works in education at a school. They celebrated on the 6 July 2019 at historic Jordans Mill on the banks of the River Ivel in Biggleswade. They first met on the dancefloor of a London nightclub, out celebrating a friend's birthday.
Oli & Steph Photography

+ Follow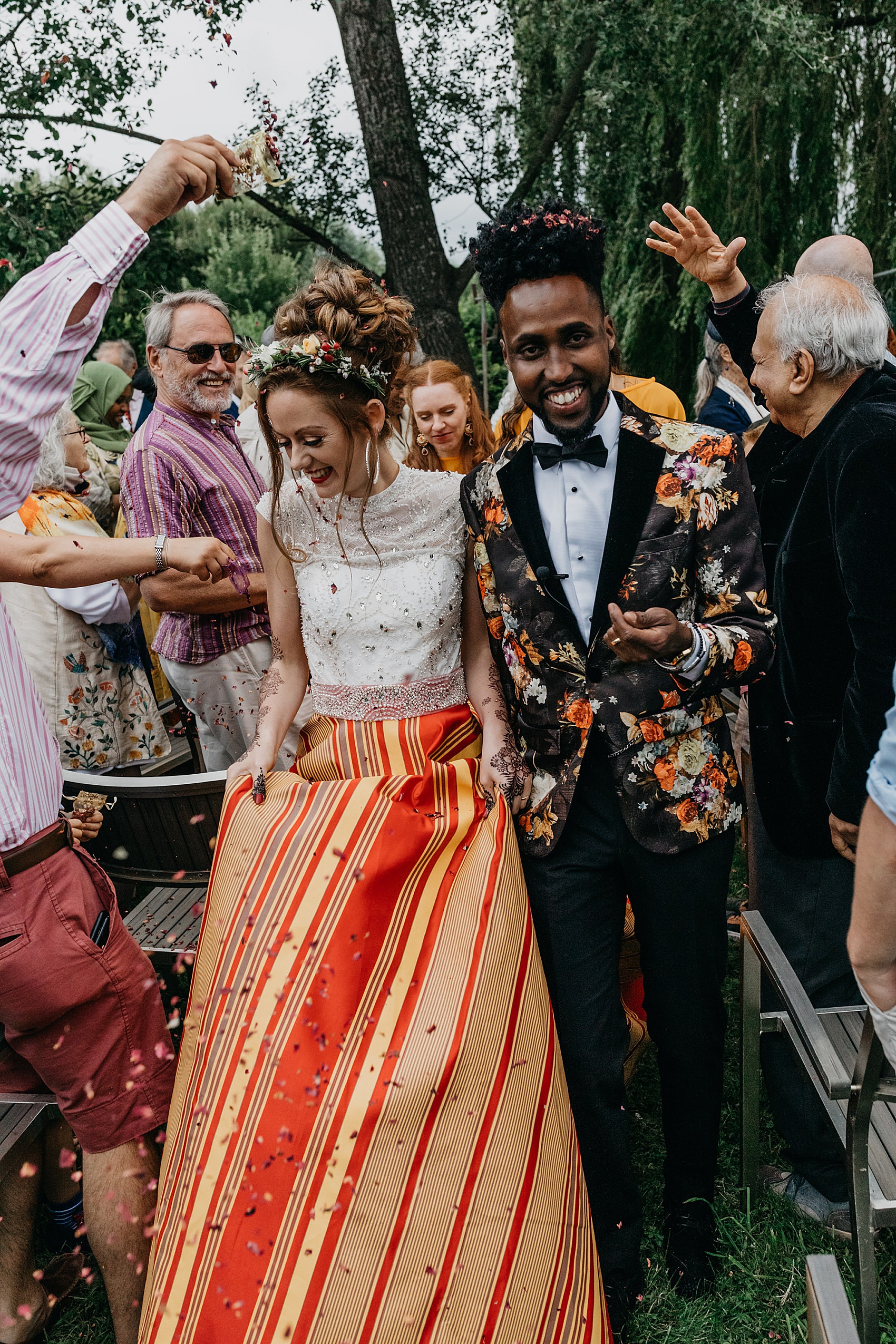 "Our wedding was a fusion of who we are. Somali (dress and colour theme), British (beautiful surrounding countryside and set in an old watermill), spiritual/yoga/ kabbalah (ceremony), Irish (ceilidh), and vegan (food)."
"We actually had two weddings because we got legally married one month prior to our main wedding. It was great because we got to experience both – an intimate 'white' wedding on the day of the legal marriage, and a large, colourful celebration the following month where we could have our ceremony exactly the way we wanted. Plus I got to wear two dresses!"
Nikki Smith at Sheer Perfection Makeup & Beauty created such a wonderful look for Tamsin, including a personal favourite of mine – a statement red lip. Abbie's Salon & Cruelty Free Hairdressing styled Tamsin's hair into a beautiful curled updo.
Tamsin's spectacular bridal outfit was by Somali designer Shukri Hashi, whose bespoke creations combine traditional Somali bridal prints with Western style wedding attire.
"I wanted a fusion of Somali traditional wedding dress with the English, and this designer was perfect. I loved the colours."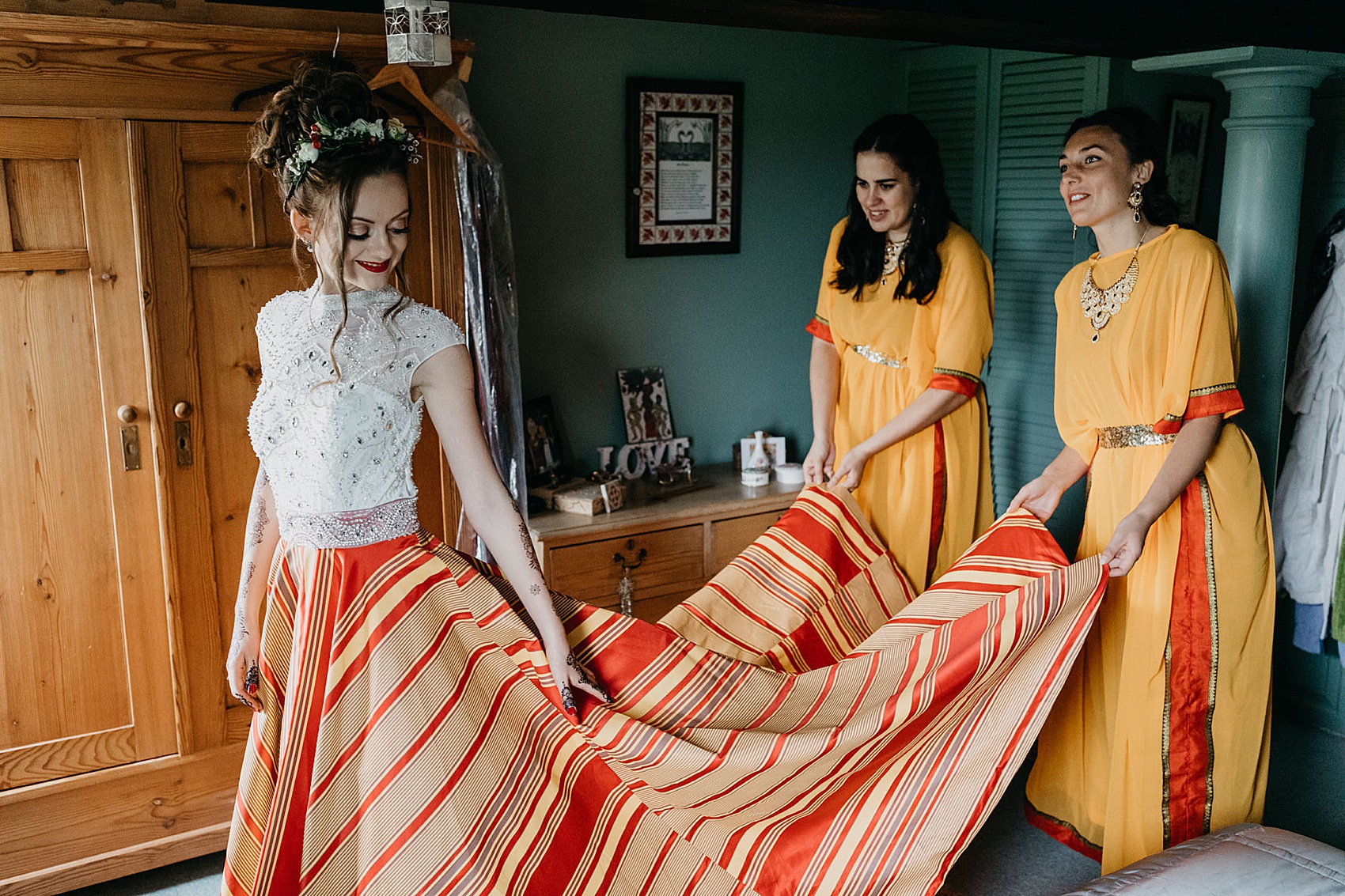 The bridesmaids' yellow tunic style dresses with red and gold detailing were from eBay, and complemented Tamsin's own colourful look beautifully well.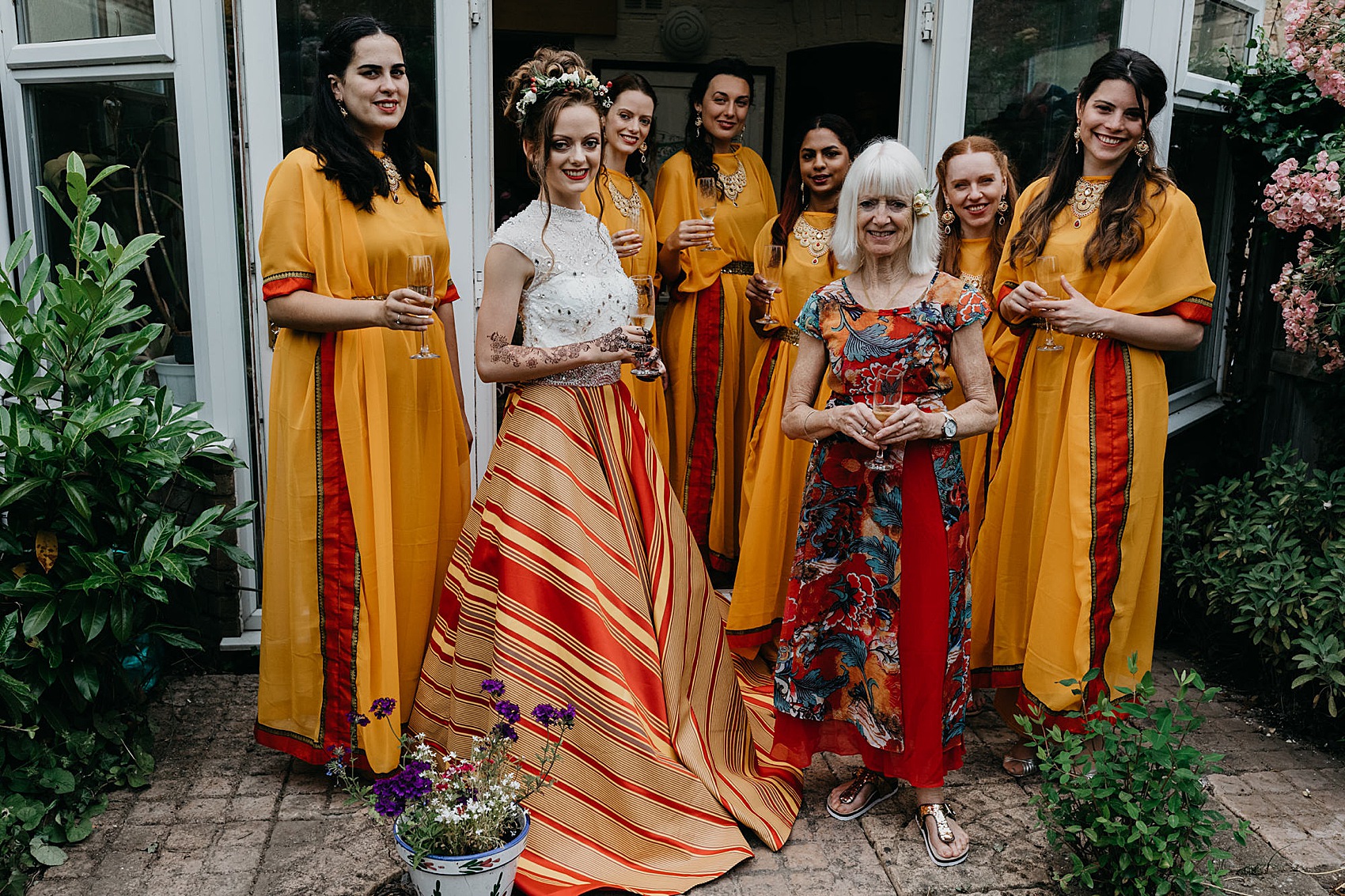 Tamsin added a pair of hoop earrings, a pair of shoes she already had, and a pretty flower crown of white spray roses, red hypericum, waxflowers and fragrant sprigs of rosemary by local florists The Flower Hut. There was also the most beautiful henna across her hands and arms by Humna Mustafa.
Completing Tamsin's look was a colourful bouquet by The Flower Hut, filled with beauties like orange gloriosa, roses, frothy white  peonies, craspedia, hypericum and asparagus fern.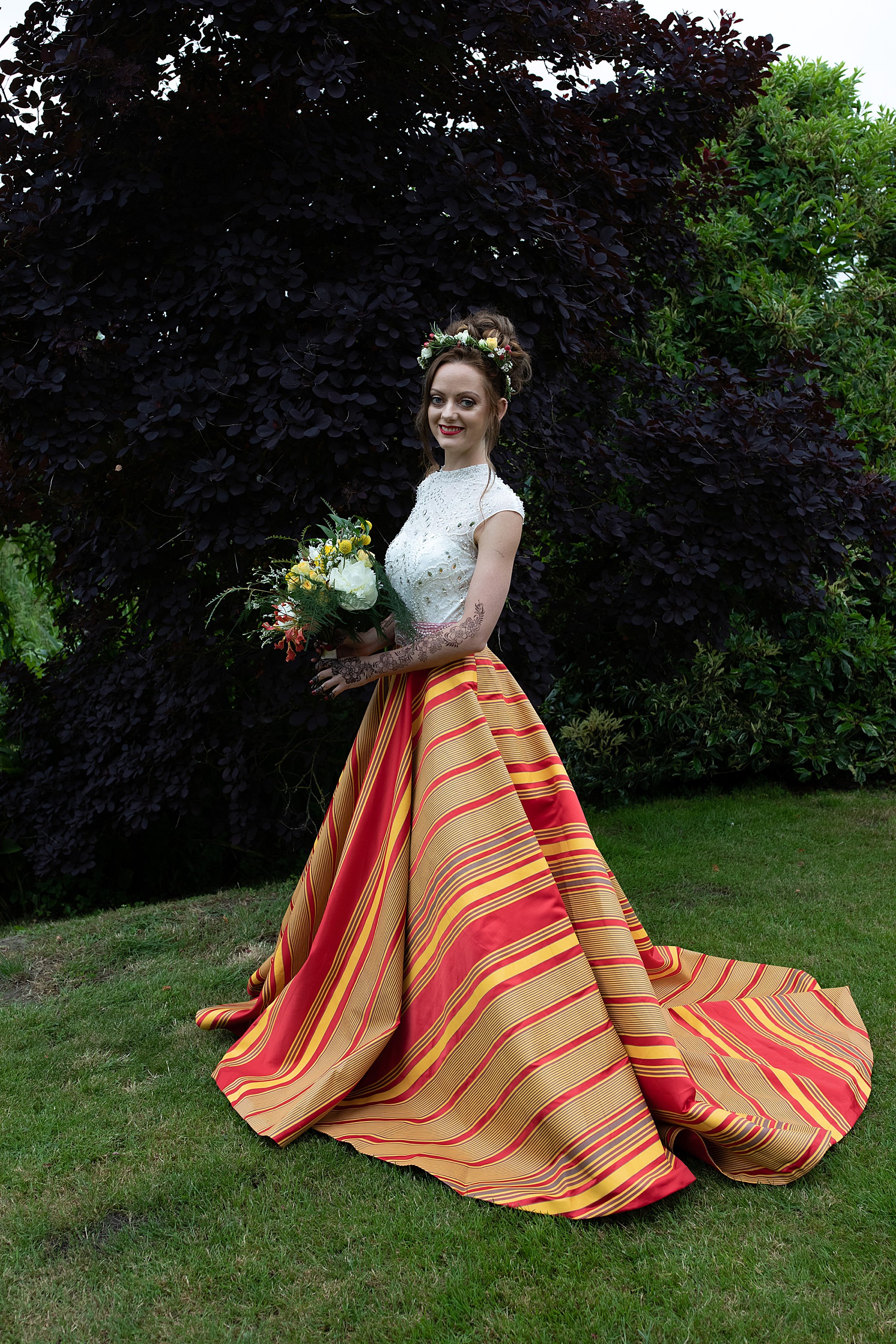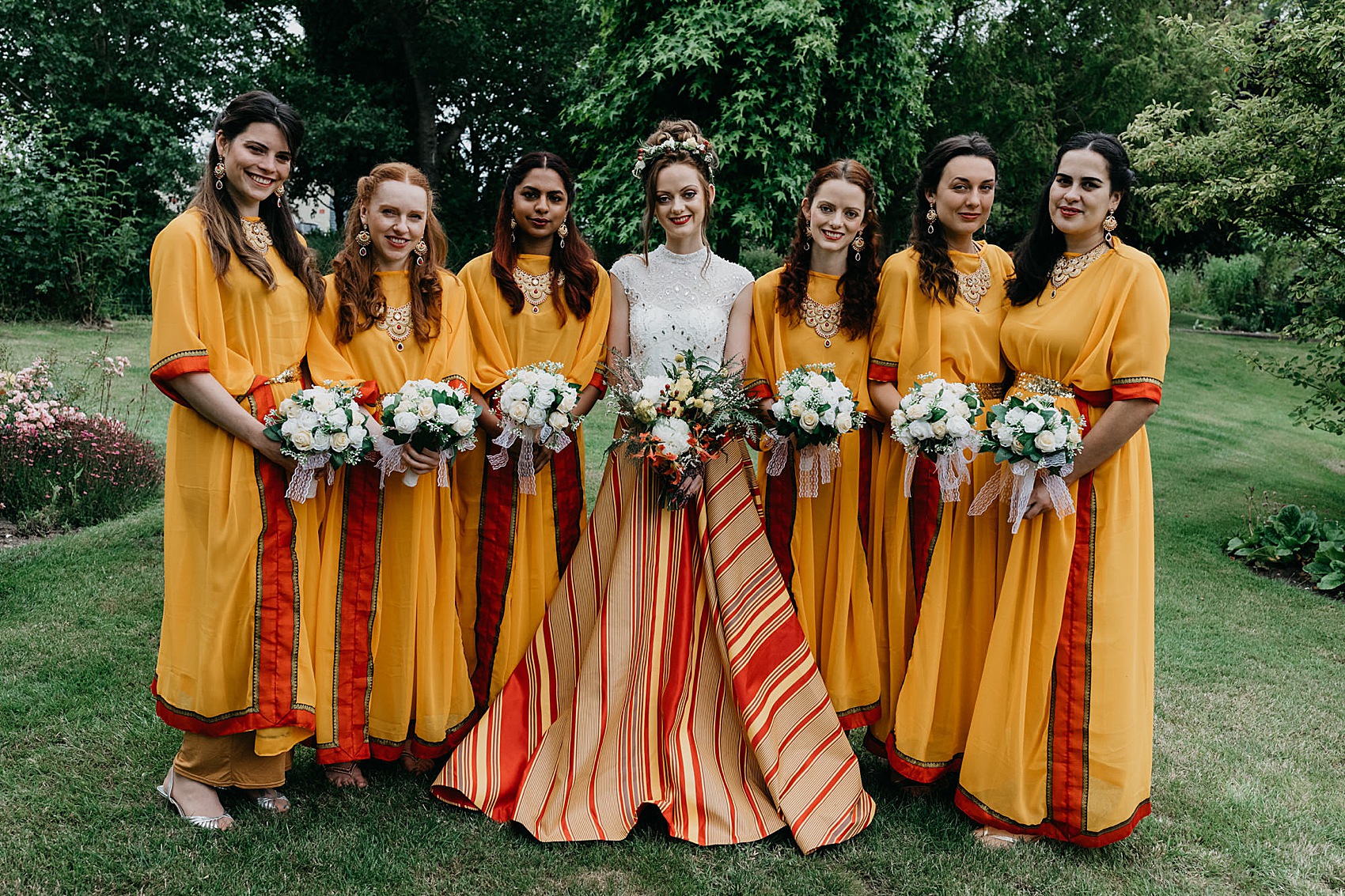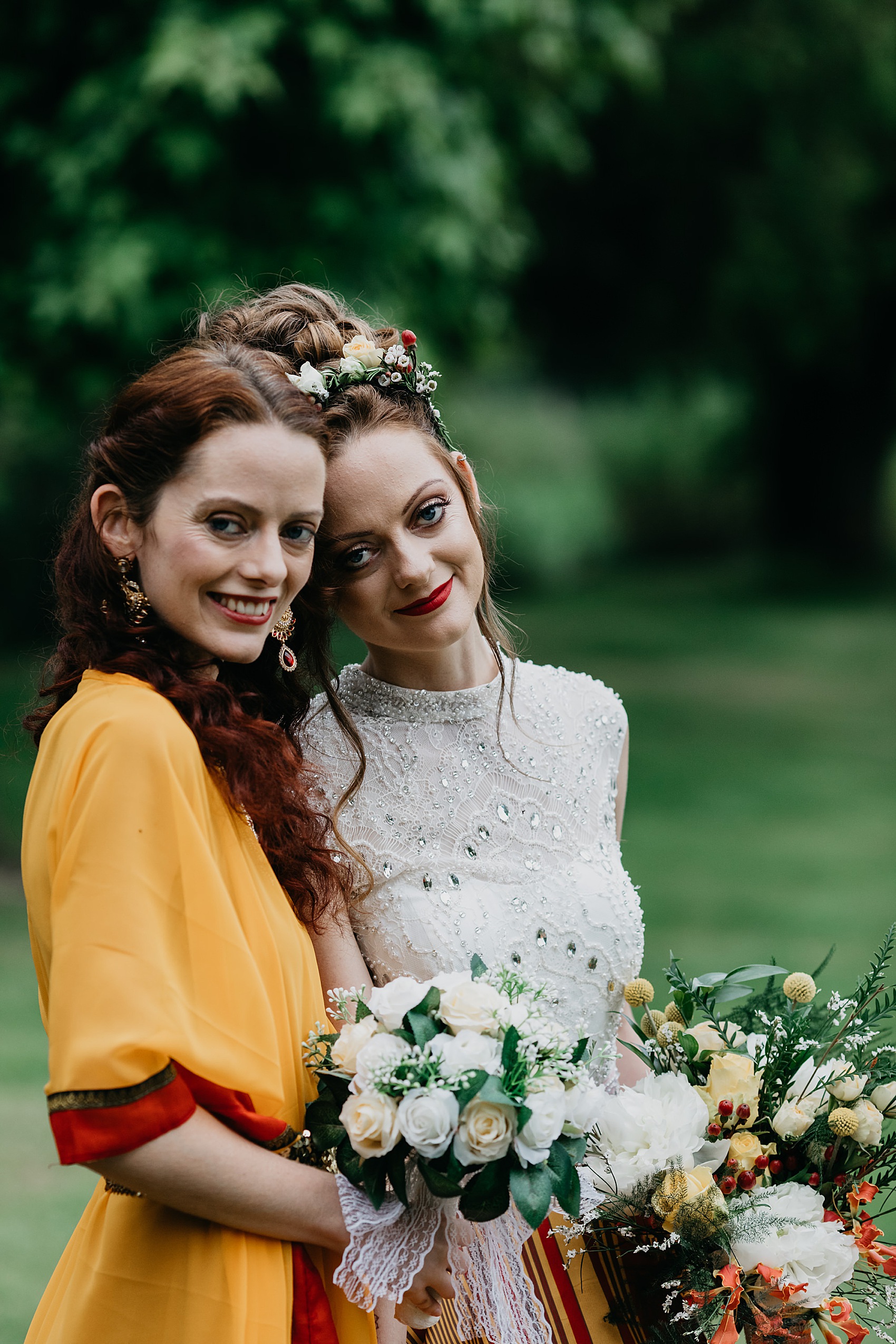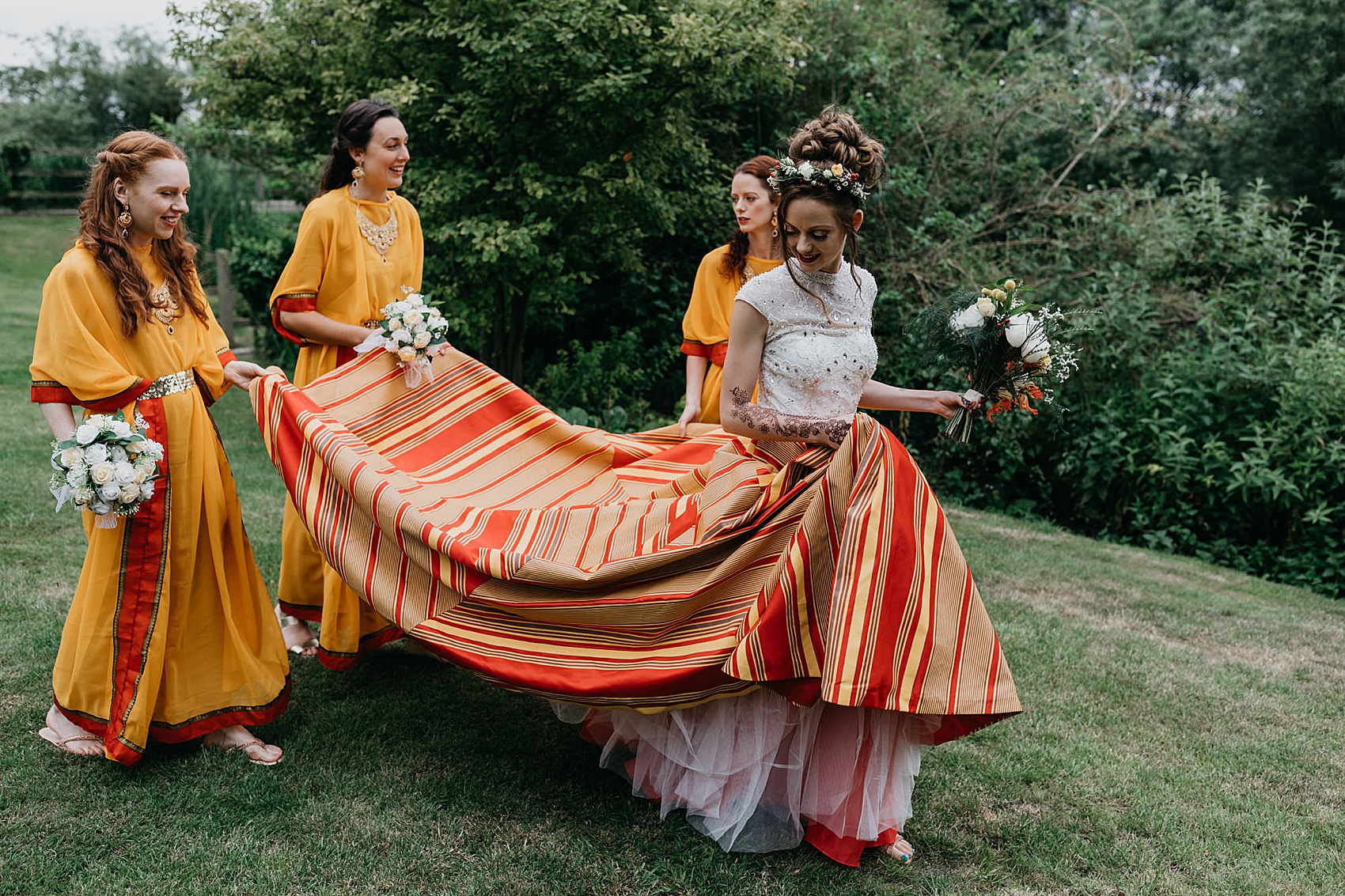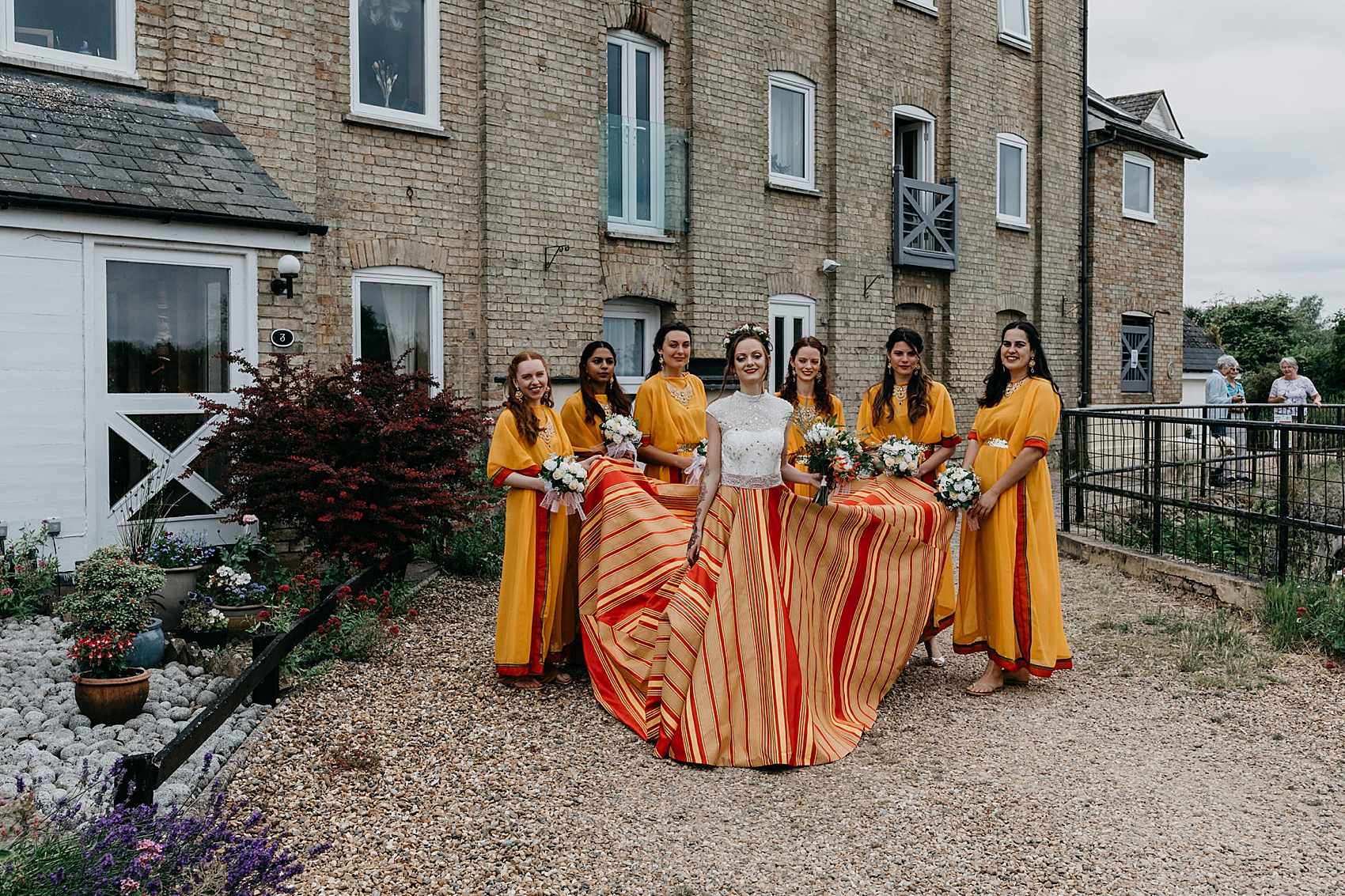 Tamsin and Abdi chose Jordans Mill because of its lovely gardens for their ceremony, and the fact that it's close to Tamsin's Mum's house, so that she would be able to arrive along the river by canoe.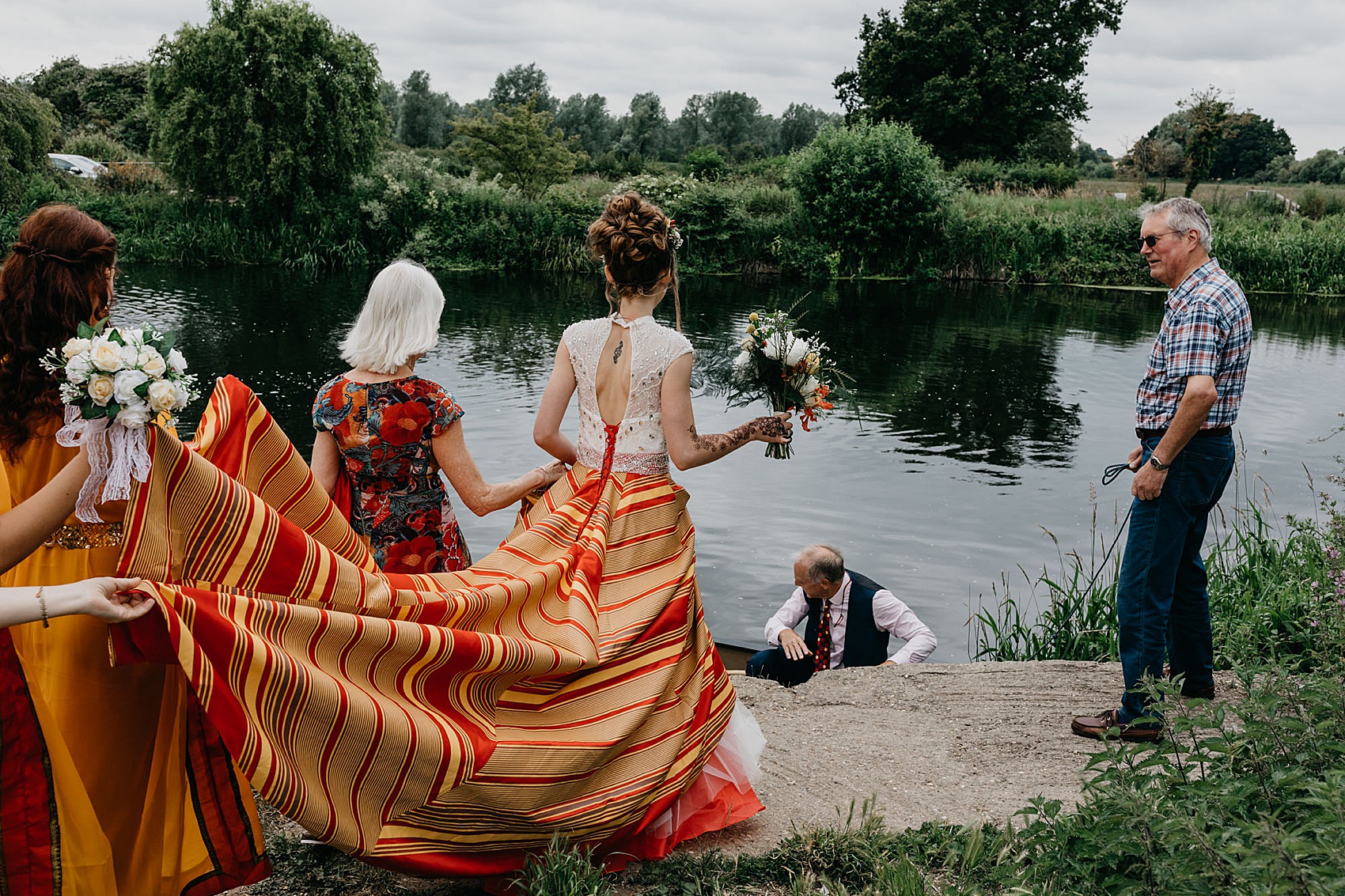 "I arrived at the ceremony by canoe from my Mum's house. My Stepdad and Mum accompanied me, and we borrowed Mum's neighbours' canoe."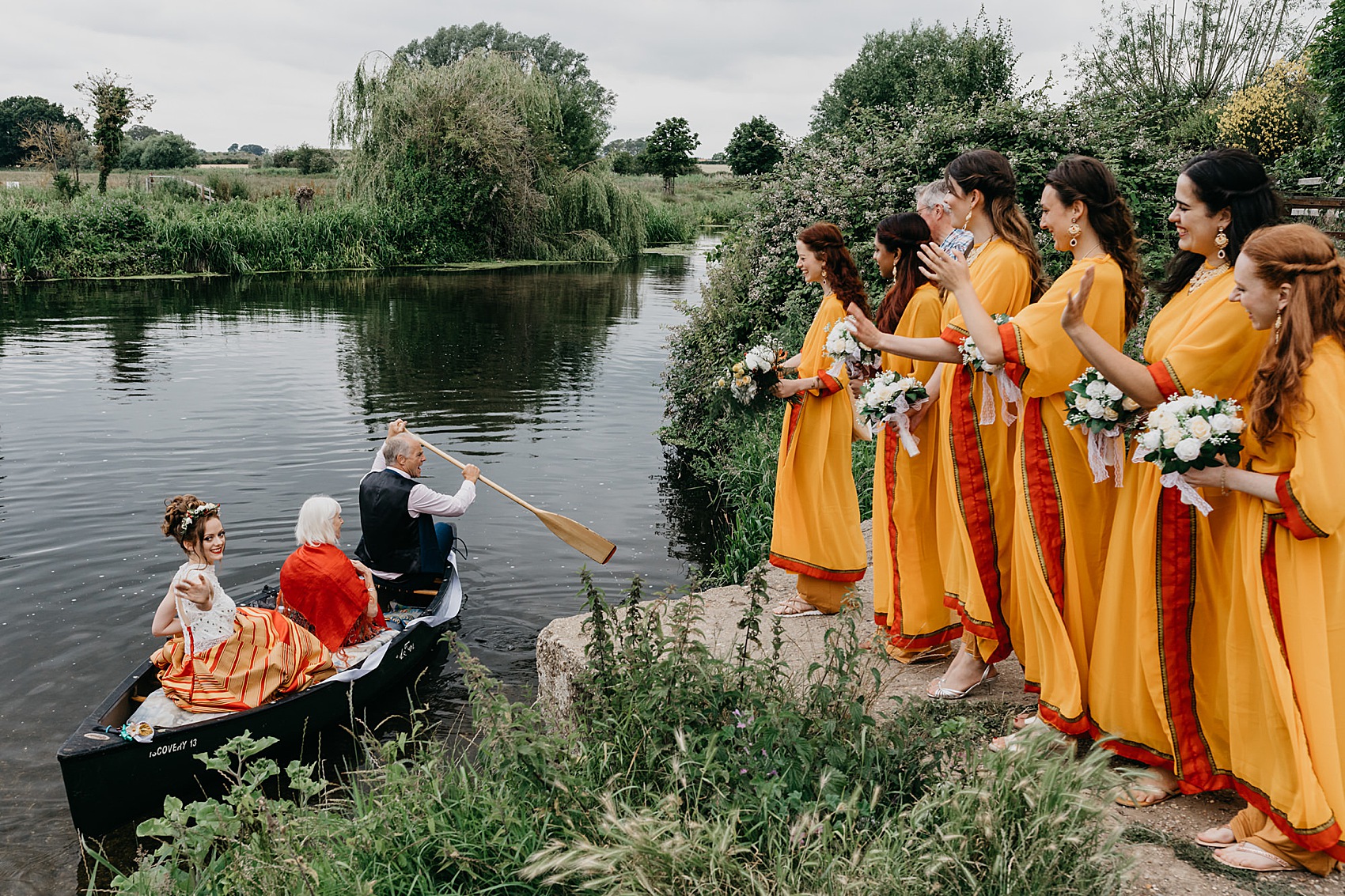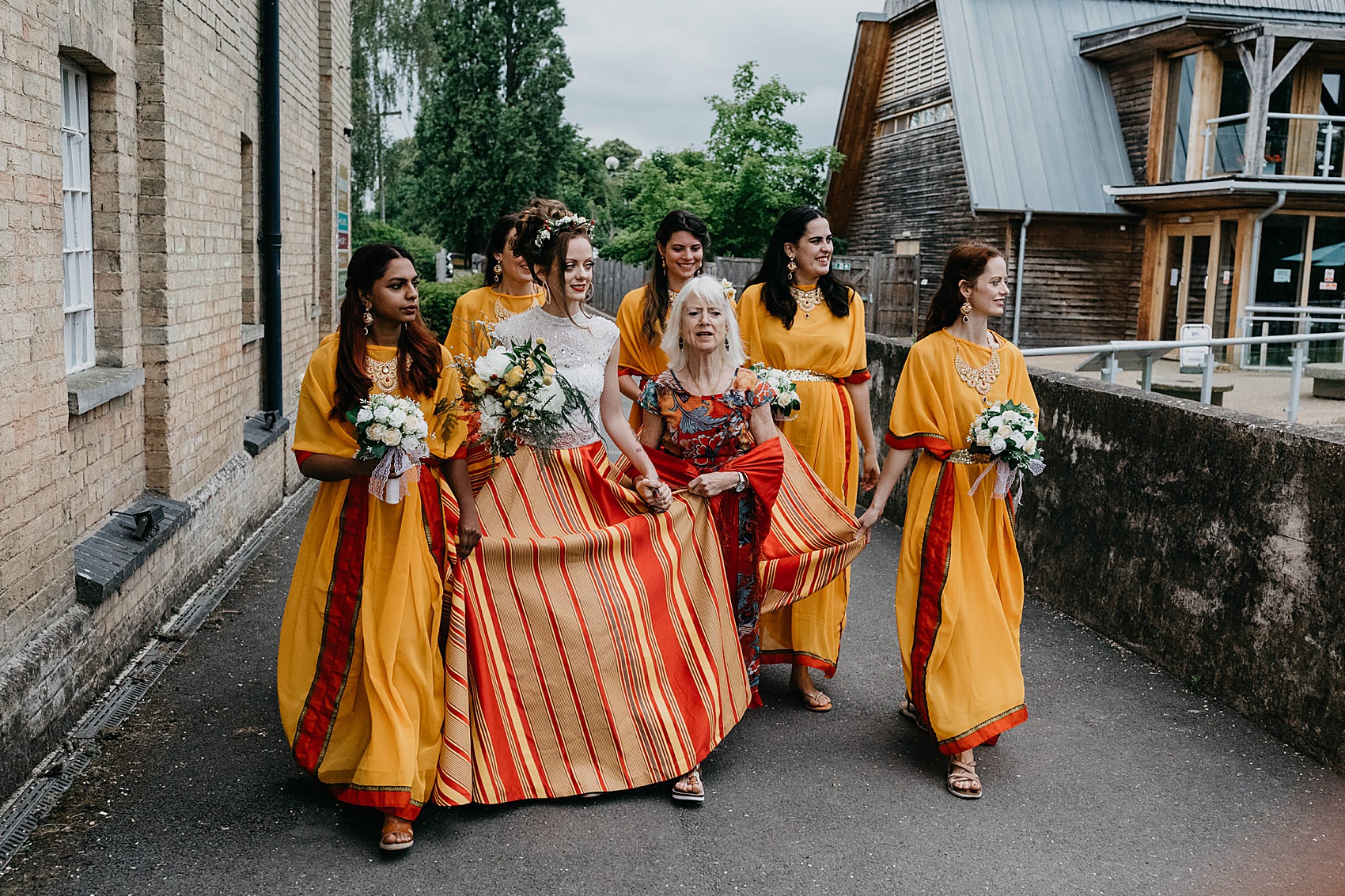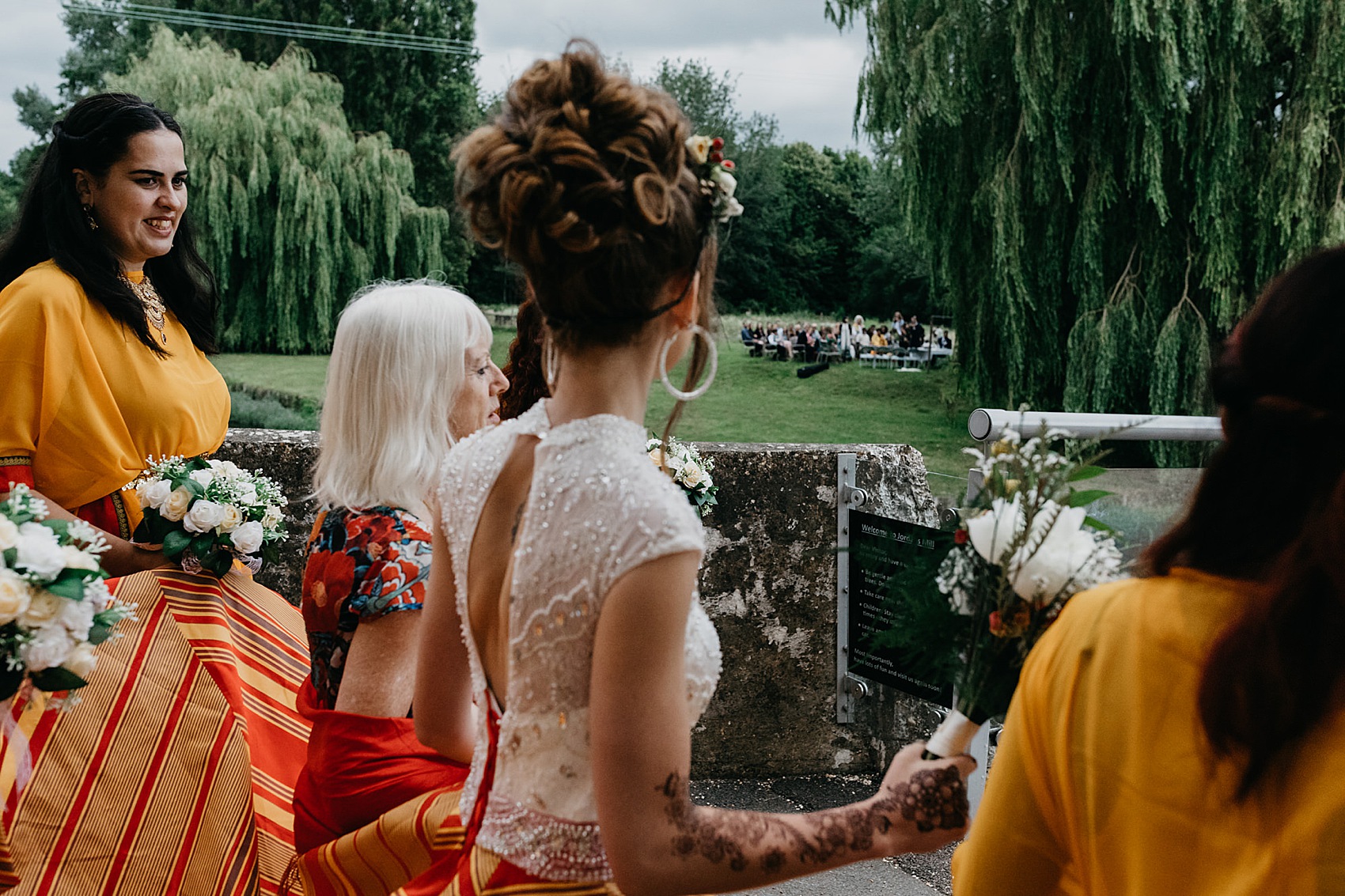 I absolutely love the images of Tamsin, her Mum and Stepdad making their way down the river to the gardens of Jordans Mill, where Abdi, family and friends gathered and waited. Oli & Steph Photography have done such a brilliant job here of capturing so many moments of joy and emotion with real honesty and sensitivity.
The London Videographer was also on hand to capture and make a film of the couple's day.
"We chose Oli and Steph on the recommendation of a friend. They were great and stayed really late into the night to capture all the moments on the dancefloor."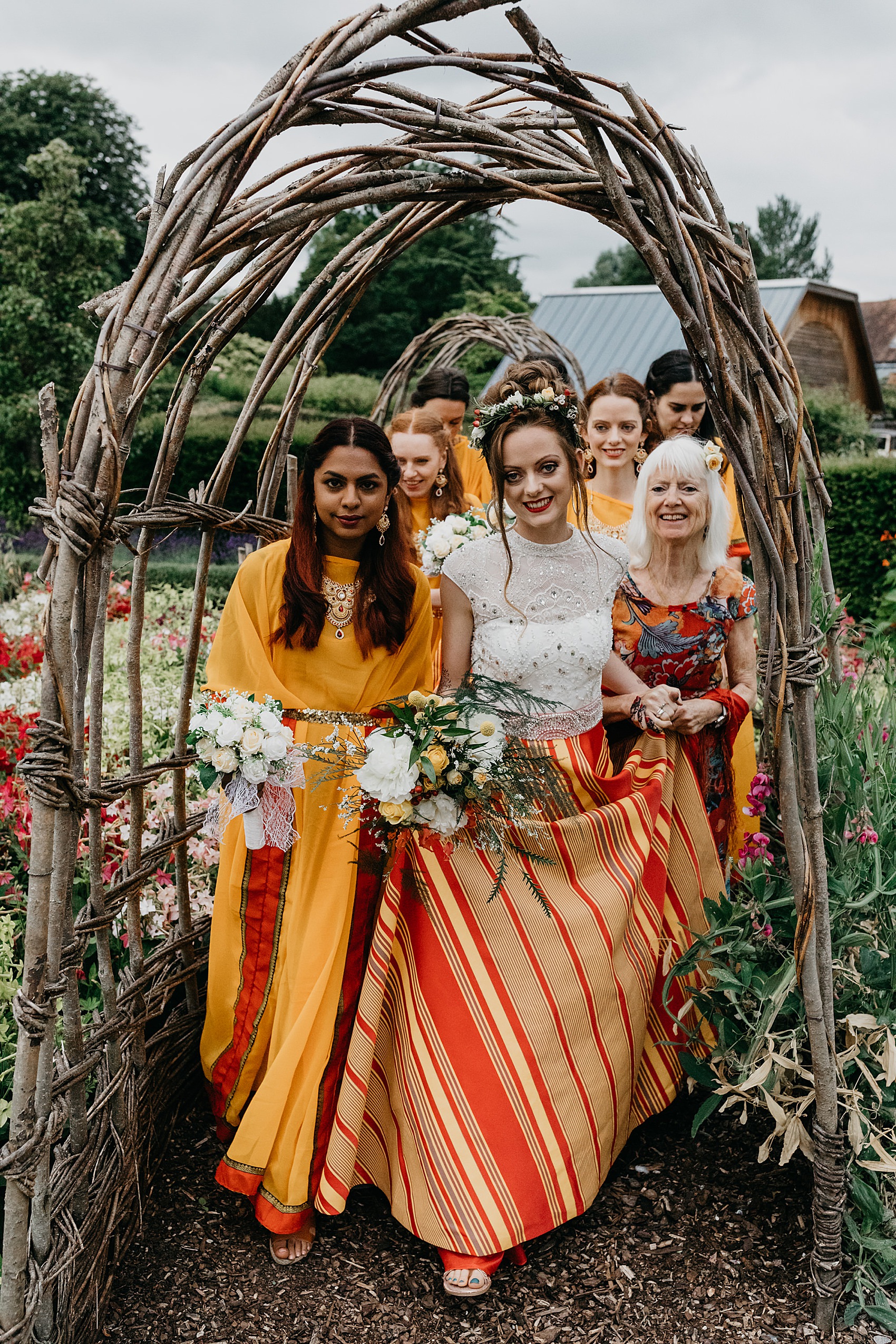 Tamsin walked hand in hand with her Mum and bridesmaids through the venue's gardens to the aisle, where she walked the rest of the way by herself, as a friend played didgeridoo. It's so lovely that Tamsin's Mum was also the couple's celebrant for their beautifully personalised ceremony.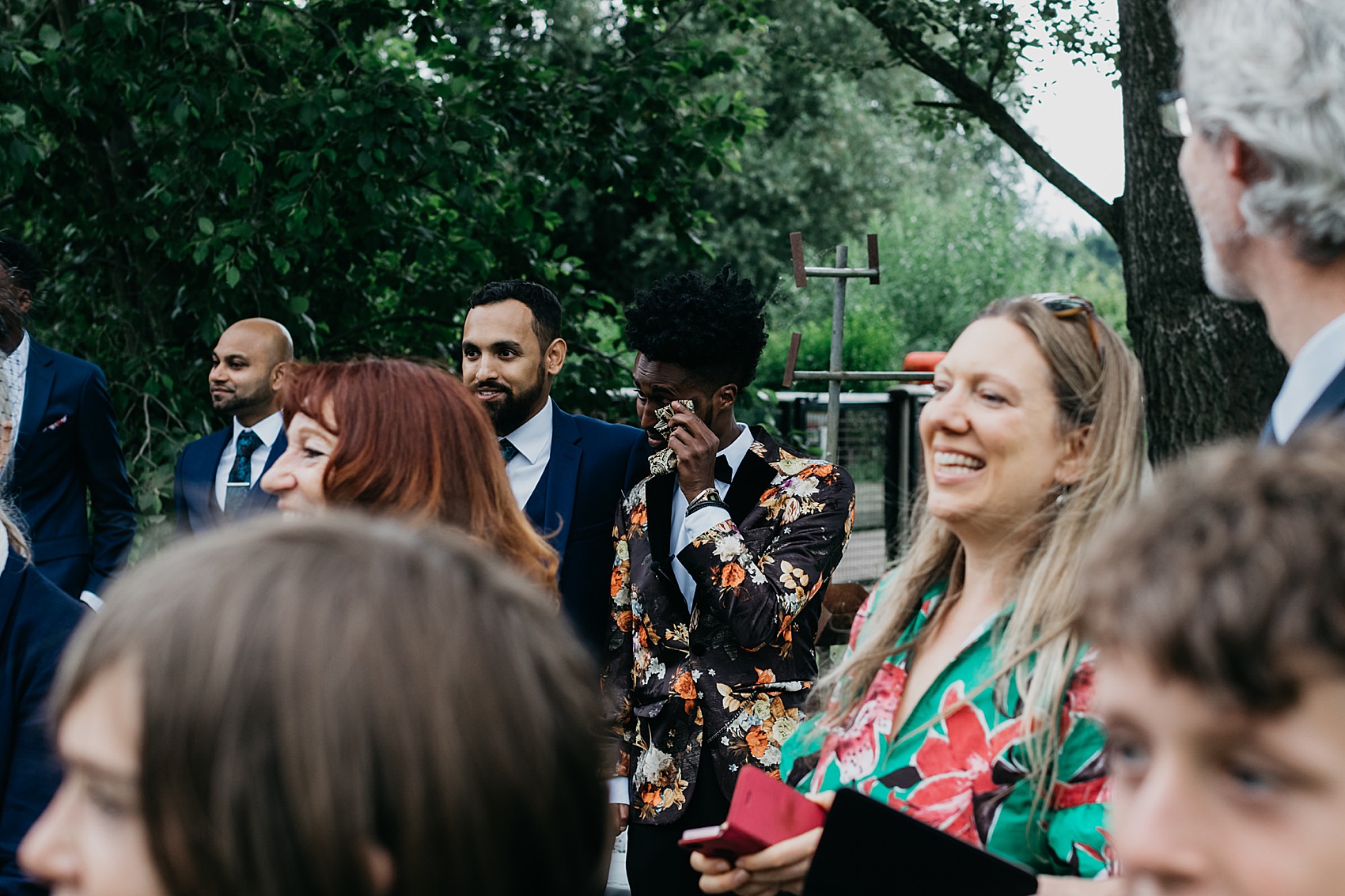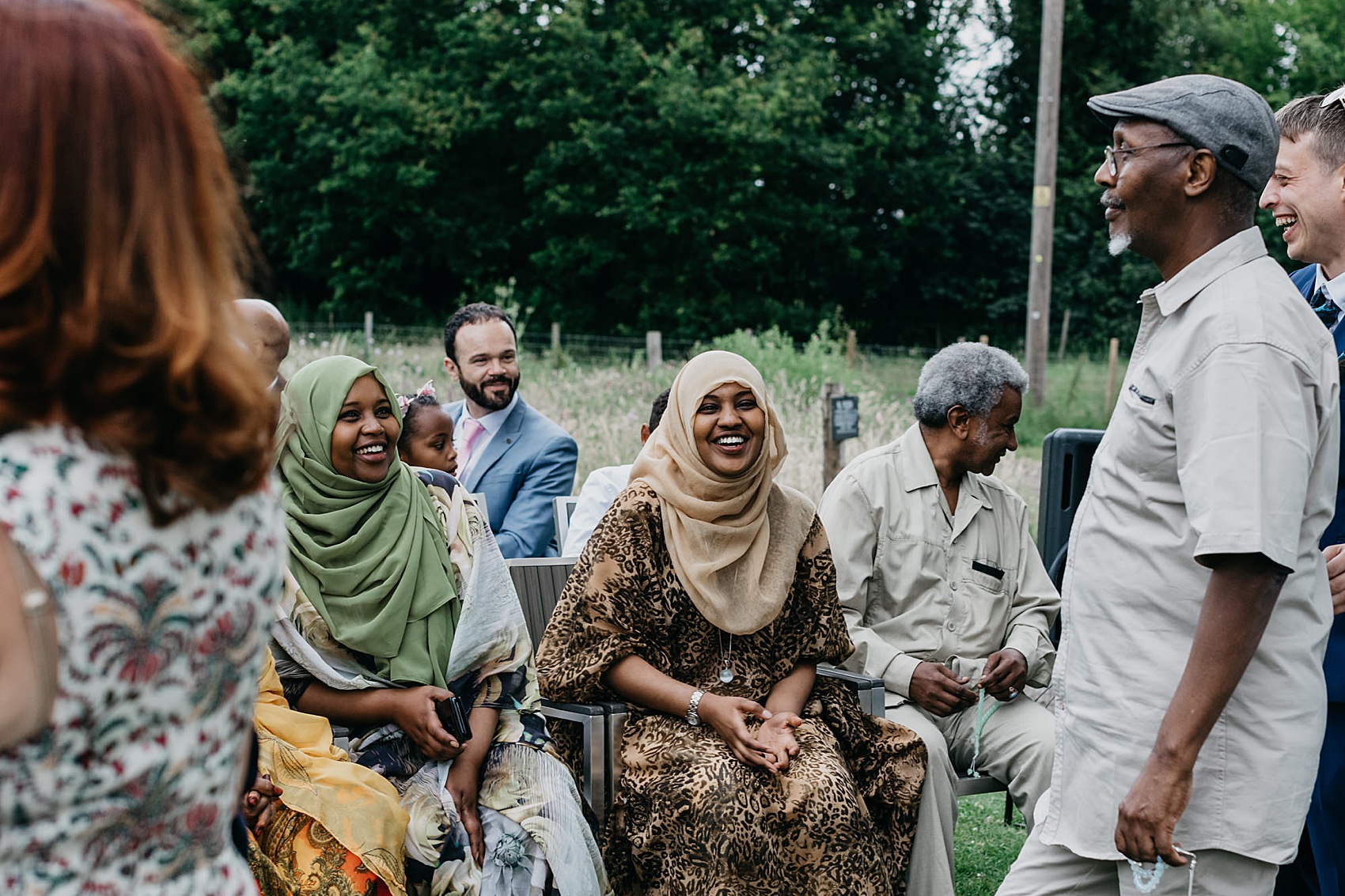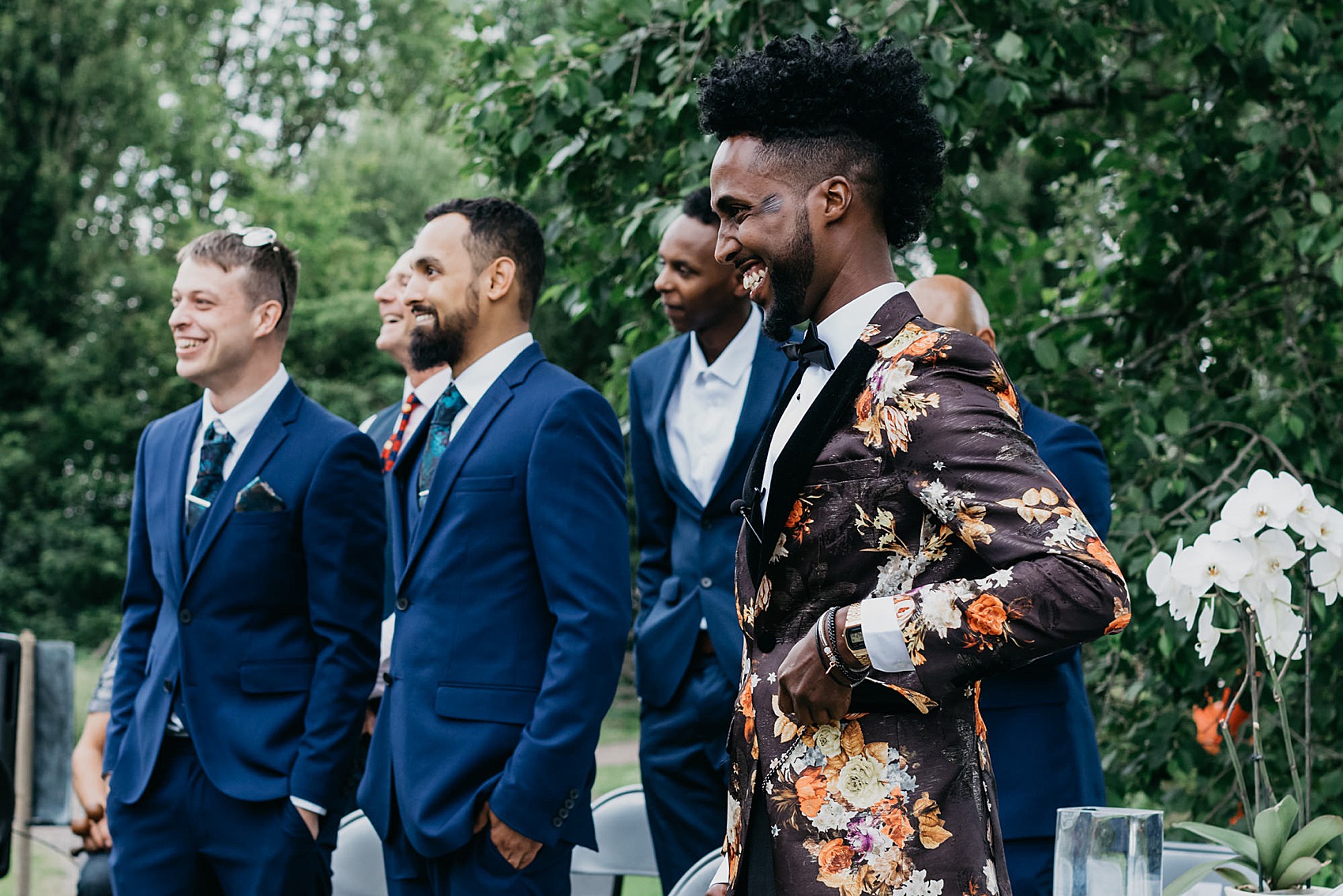 "We created the whole ceremony including our vows ourselves with the help of our loved ones; sharing music, prayers and stories. It was beautiful and we cried a lot of the way through."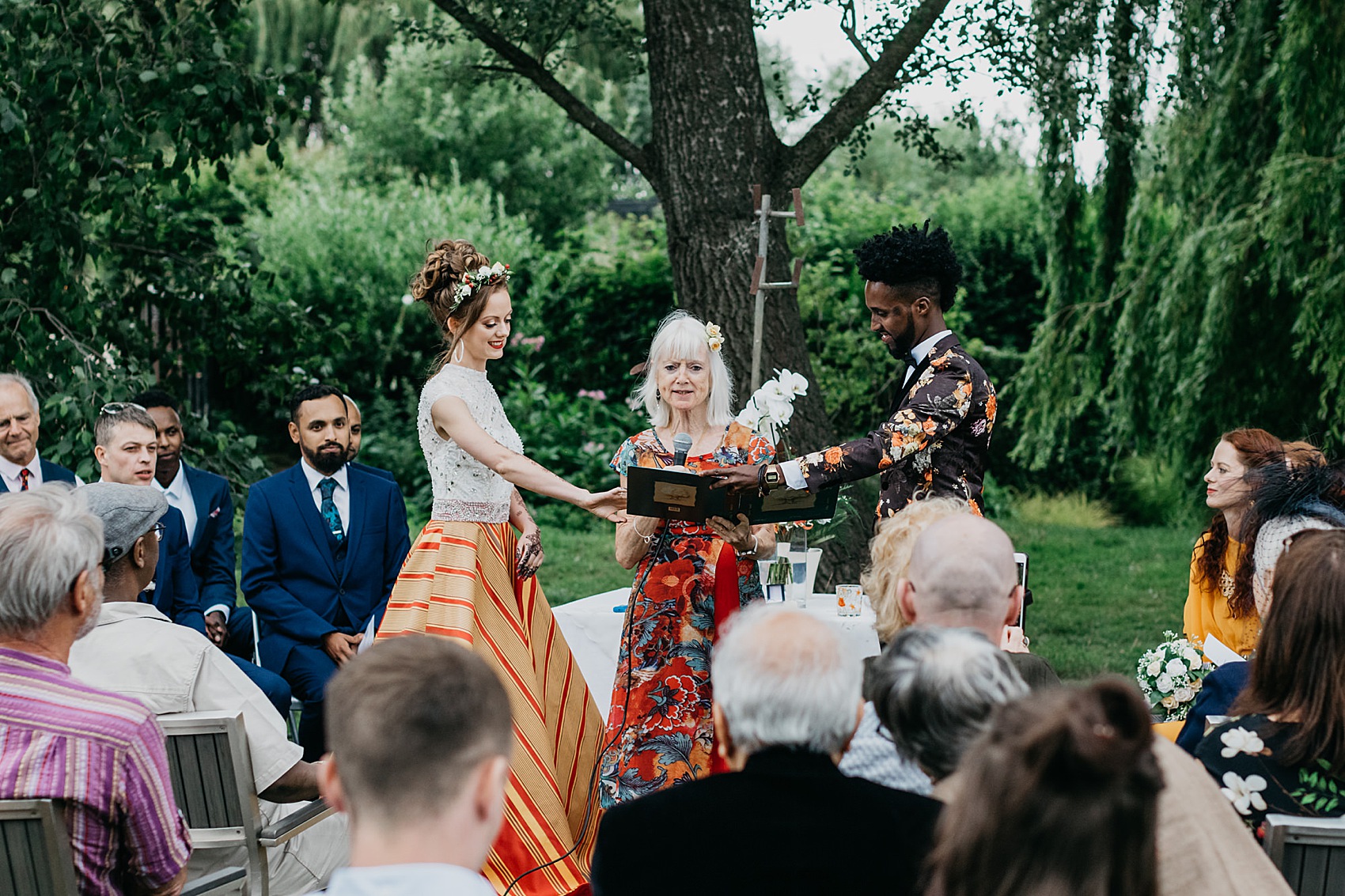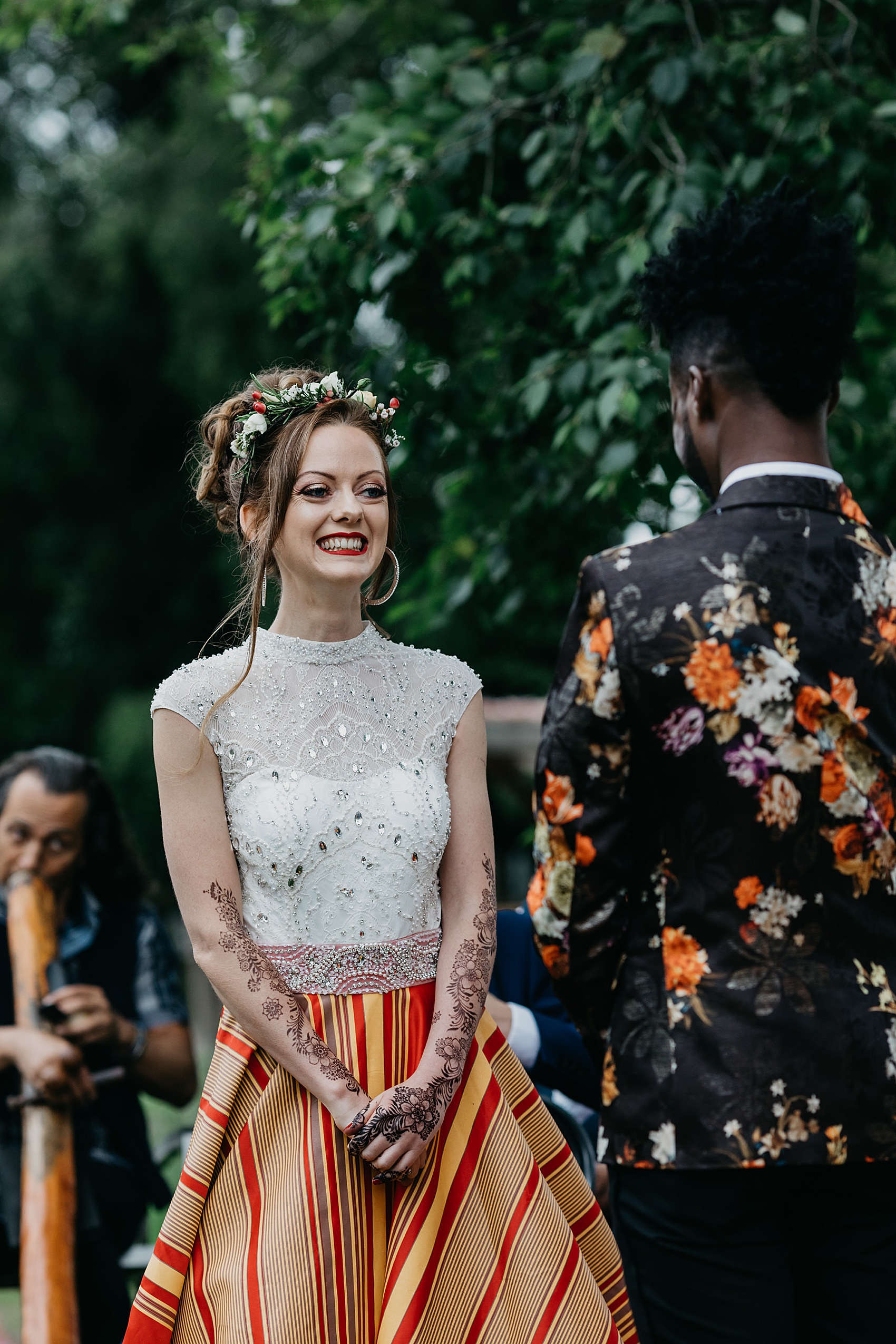 Abdi wore a fantastic floral print tuxedo from Moss Bros., and as he and Tamsin made their vows to each other, they also exchanged antique rings chosen at an independent vintage shop in Biggleswade [no further details].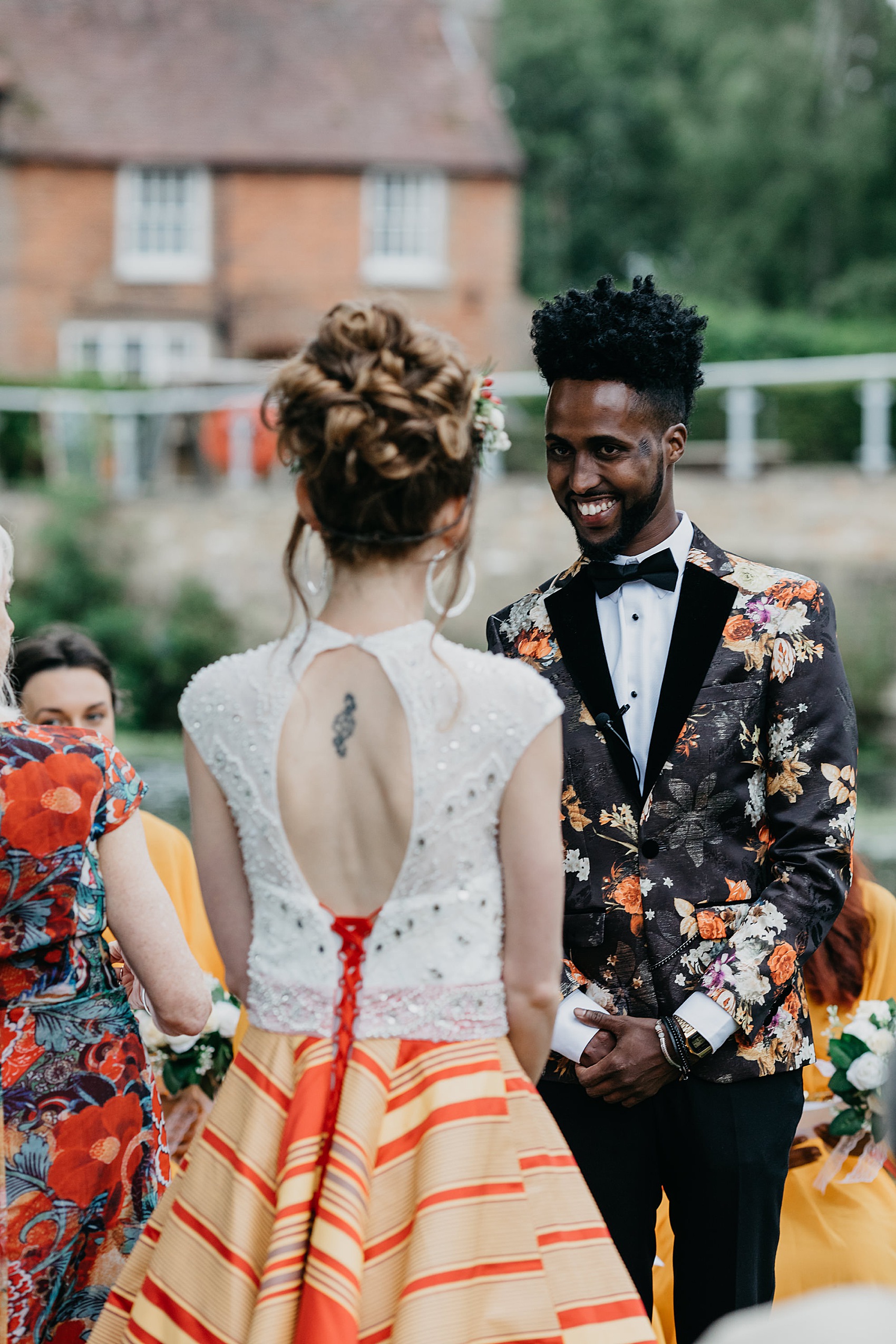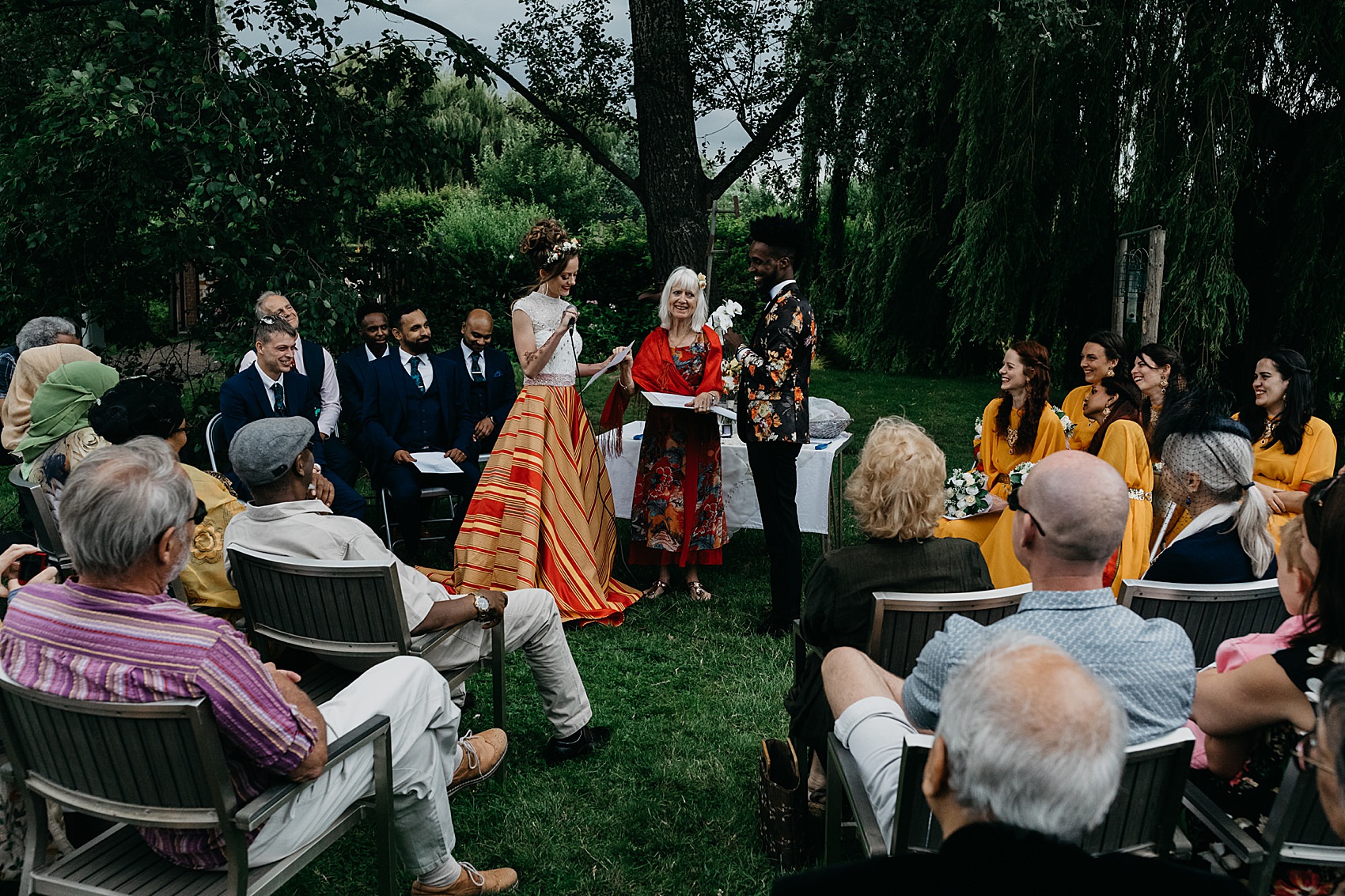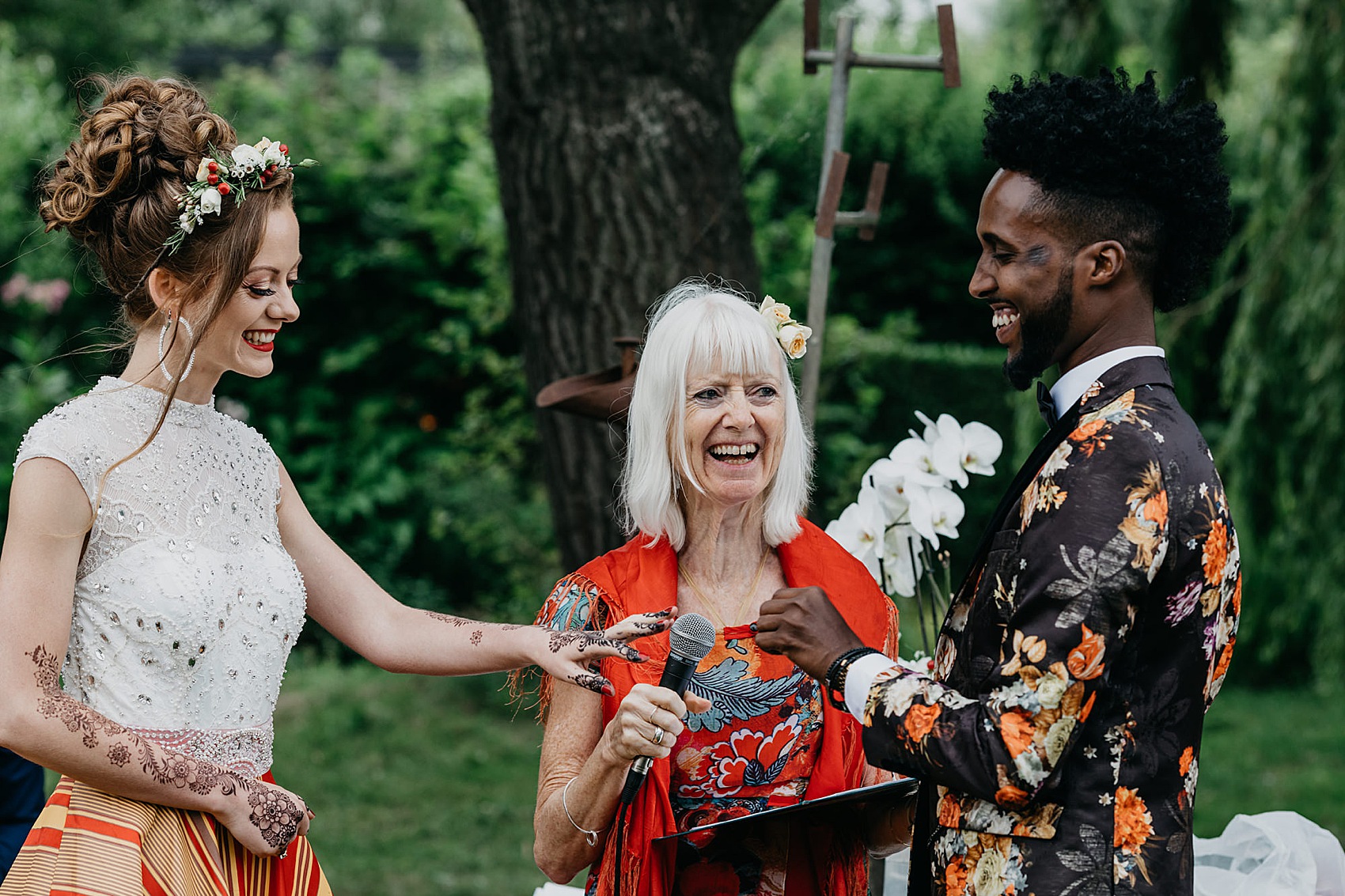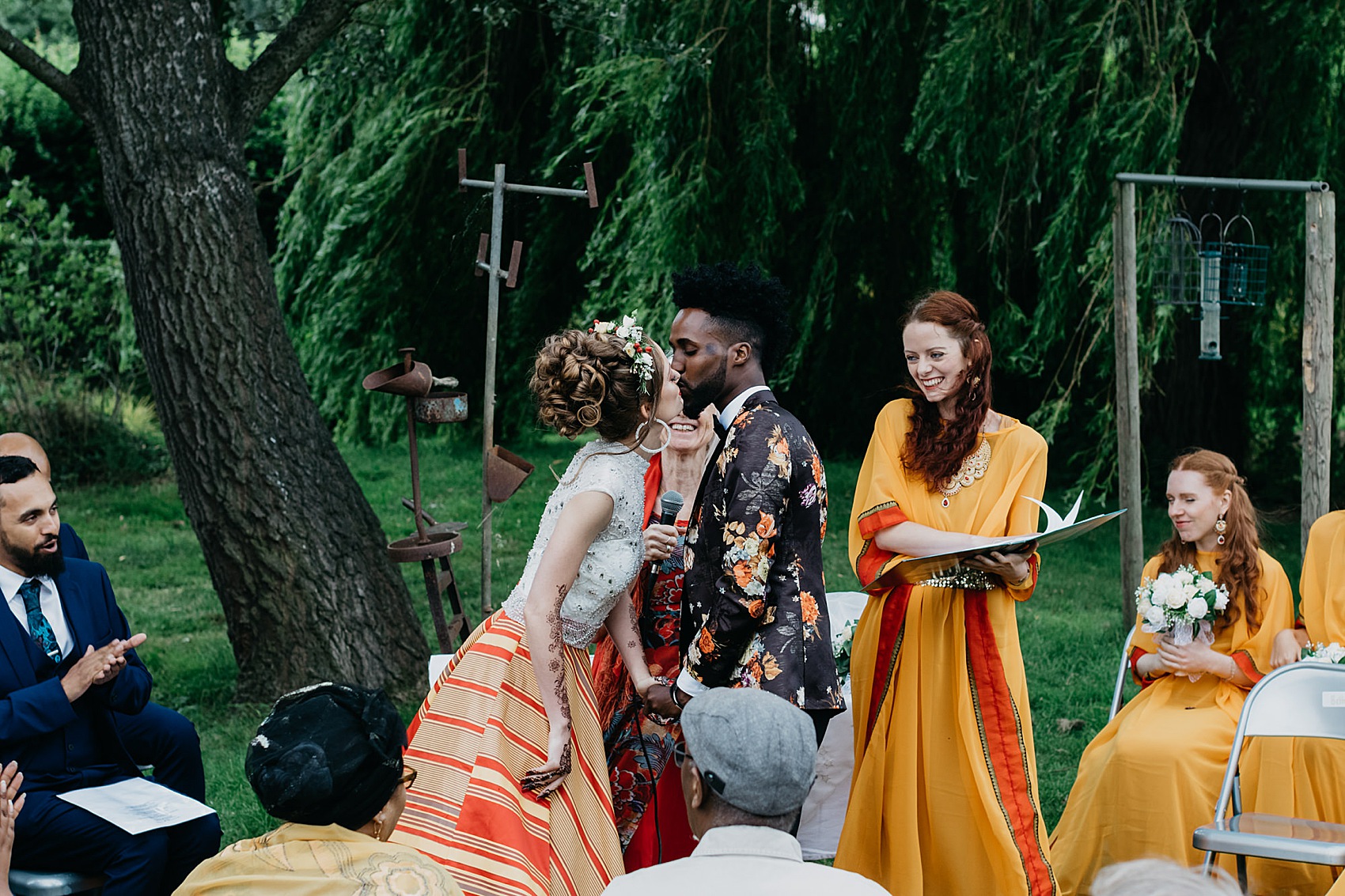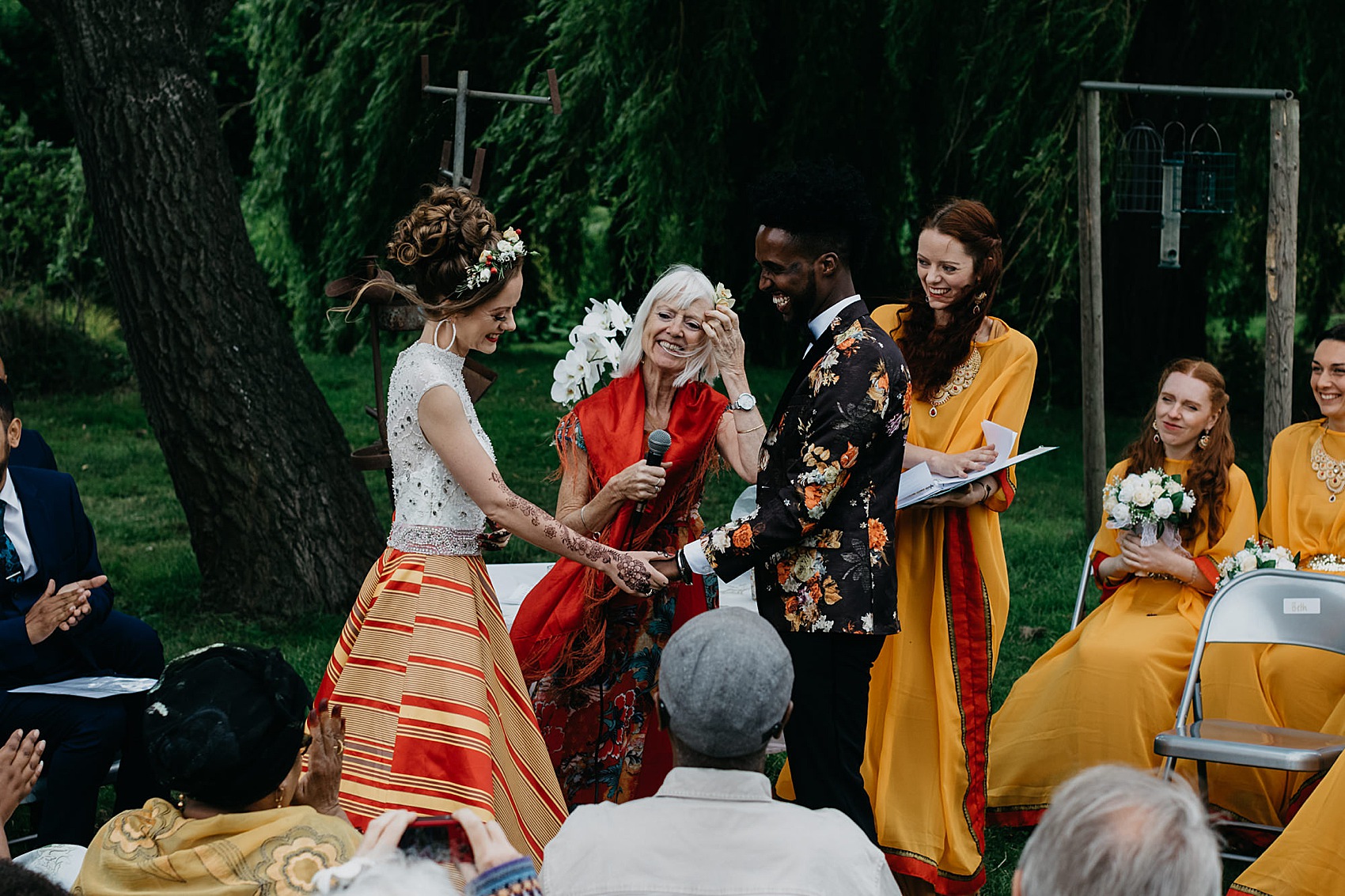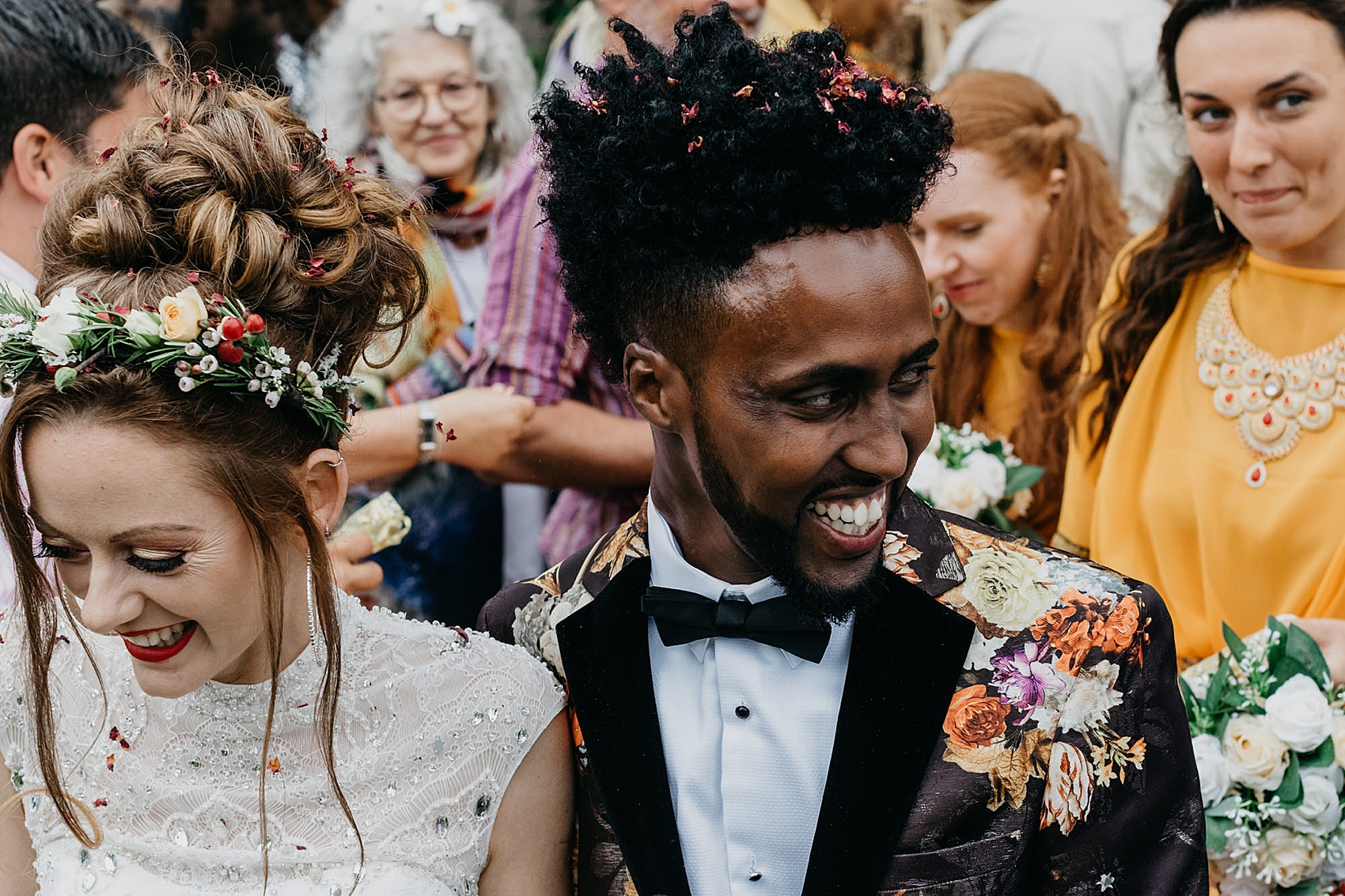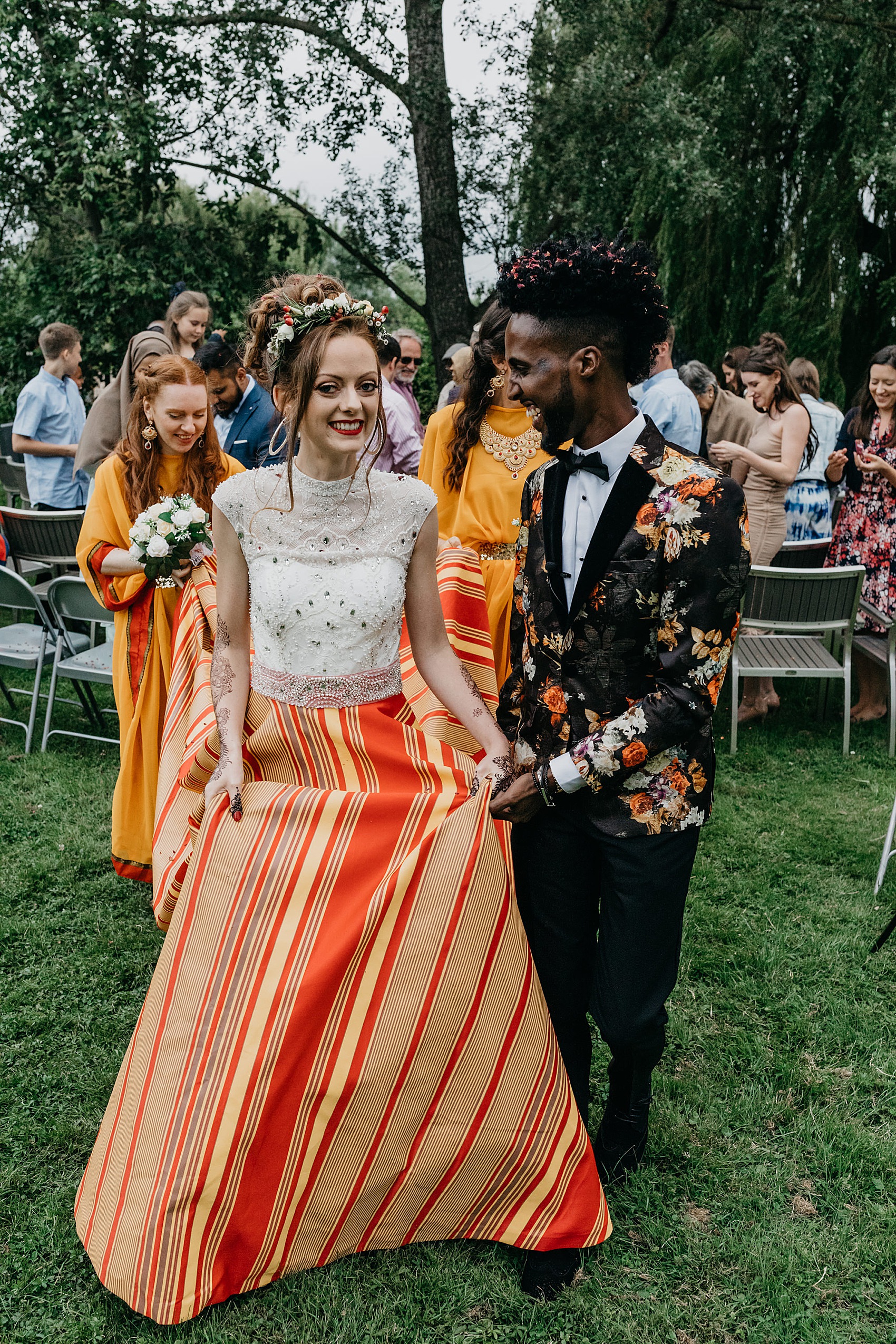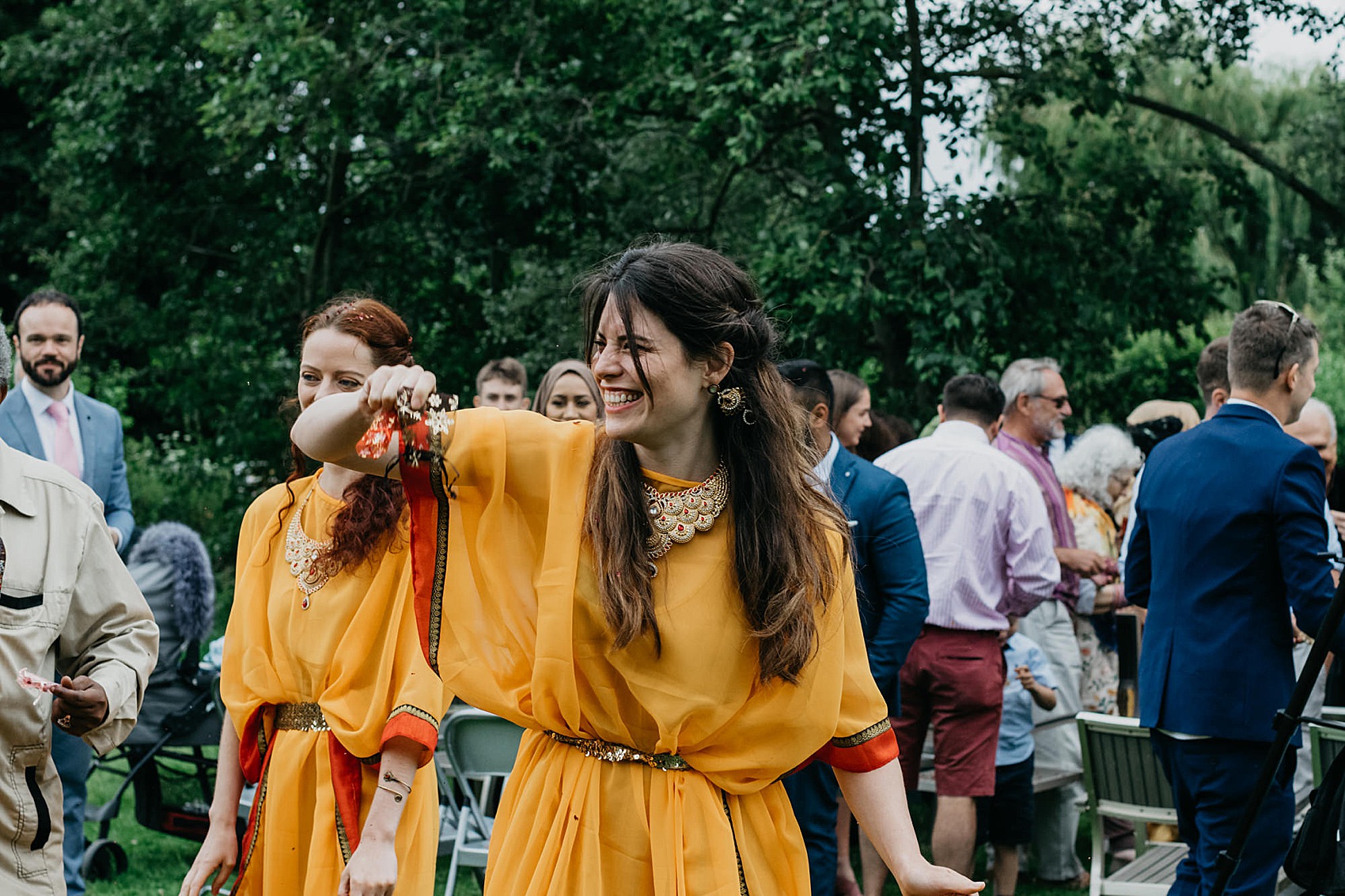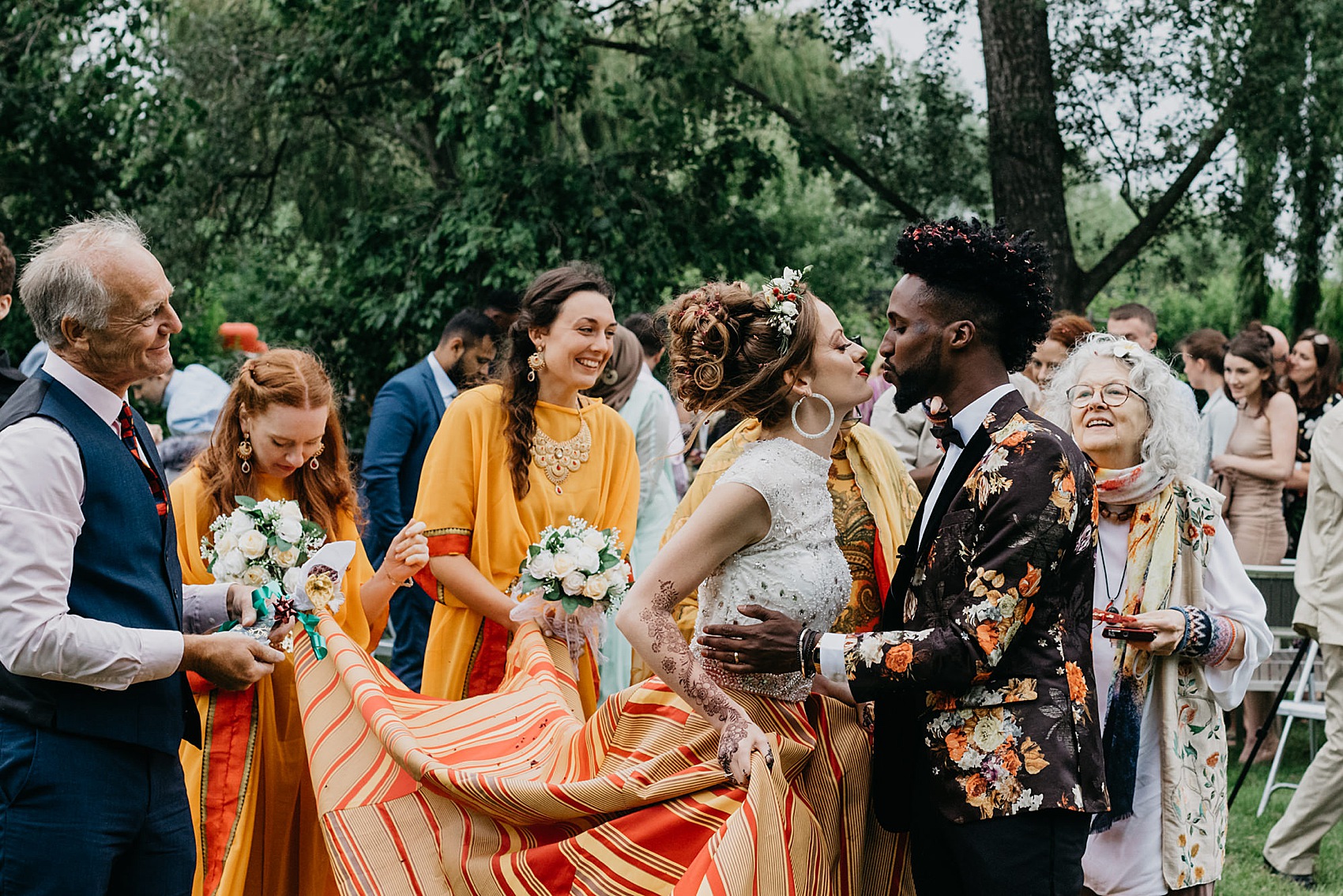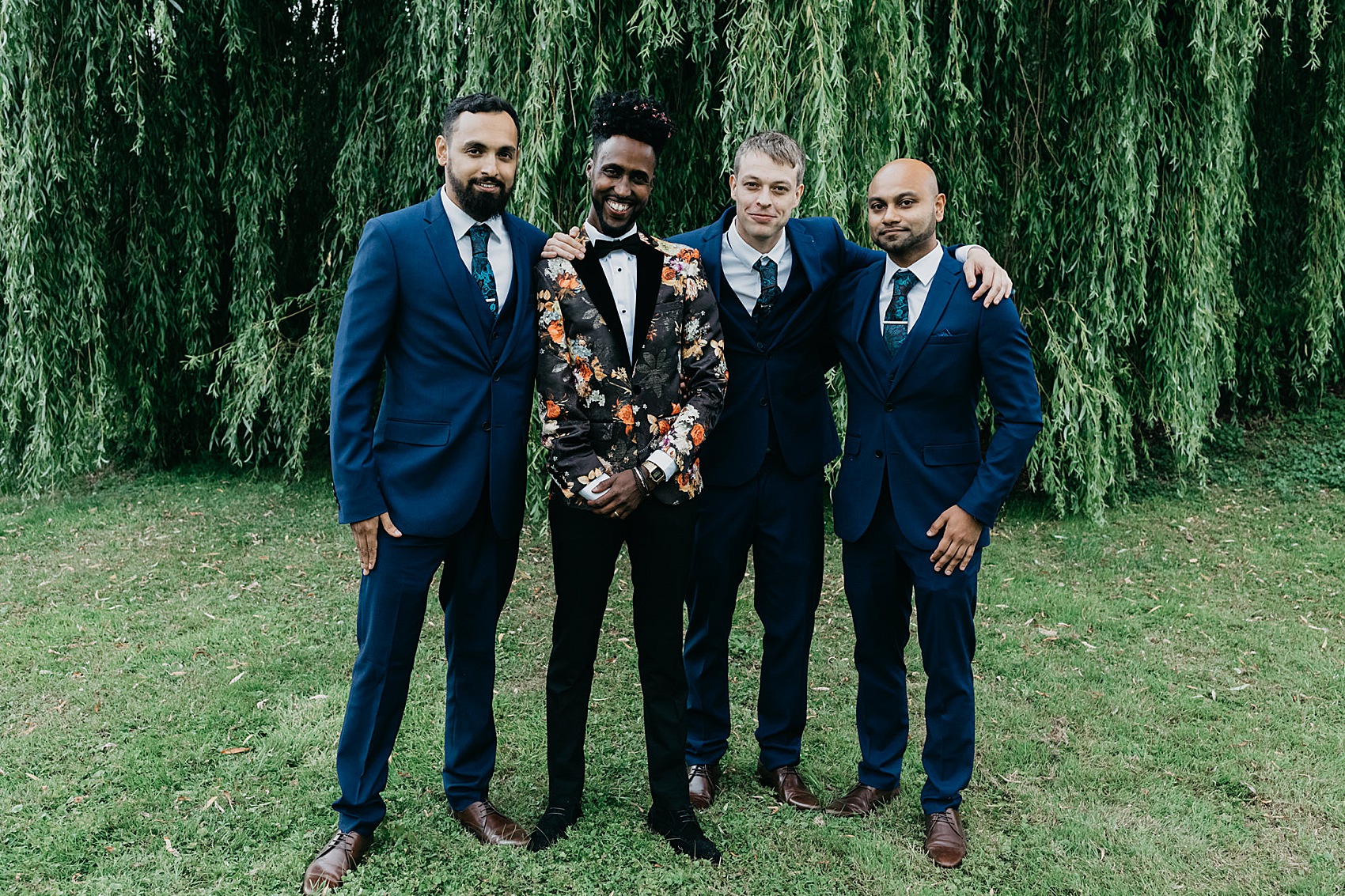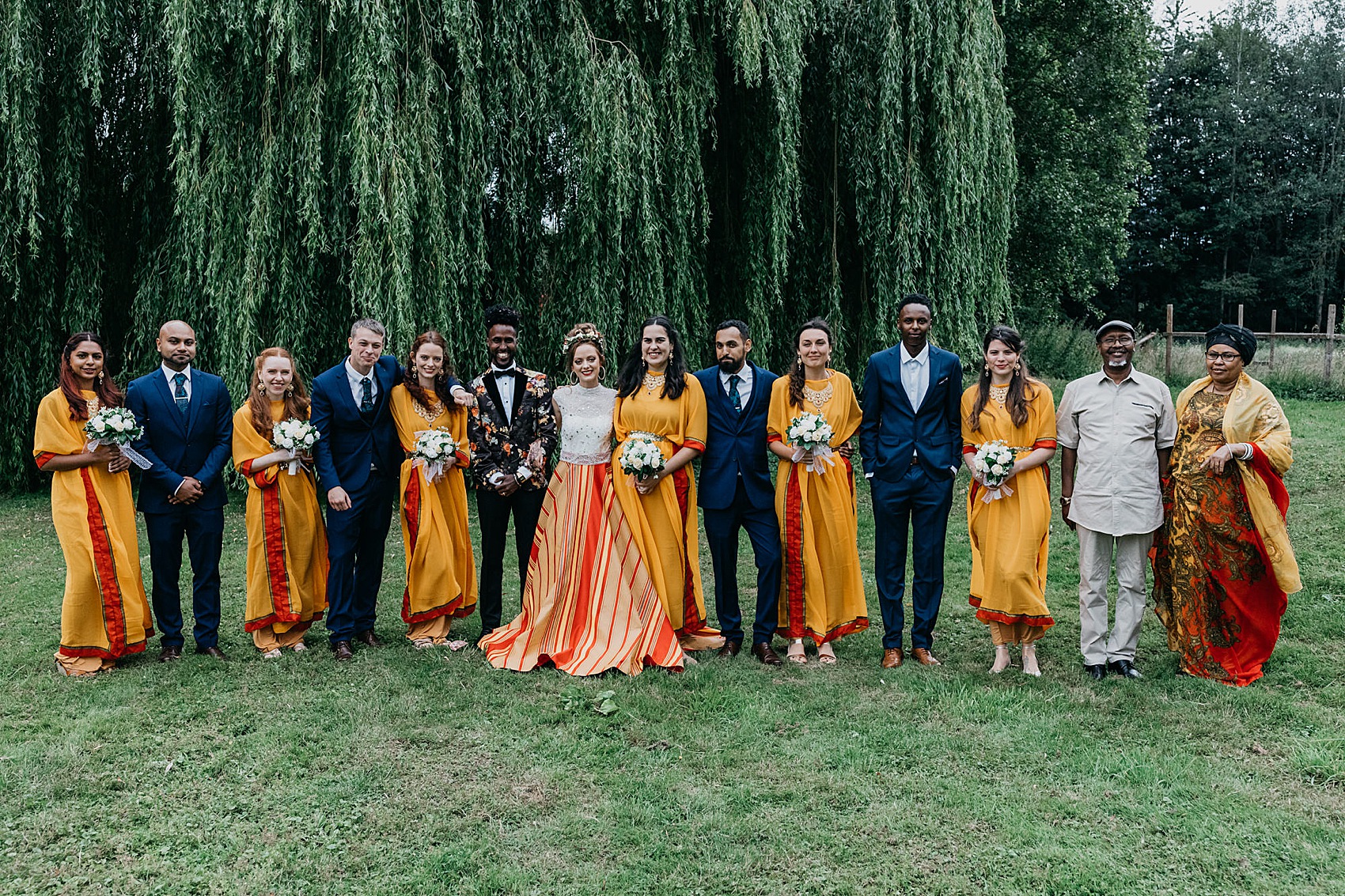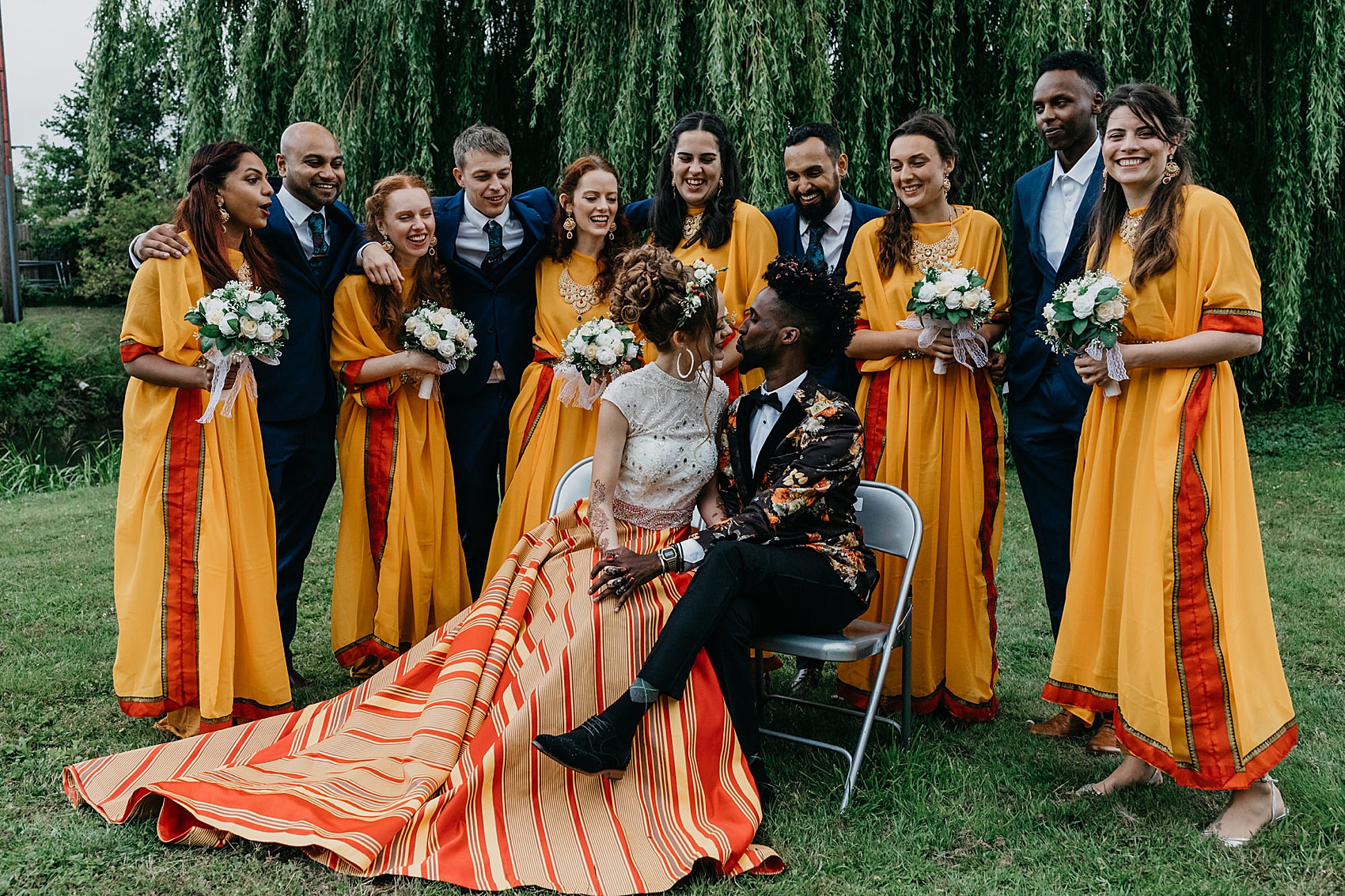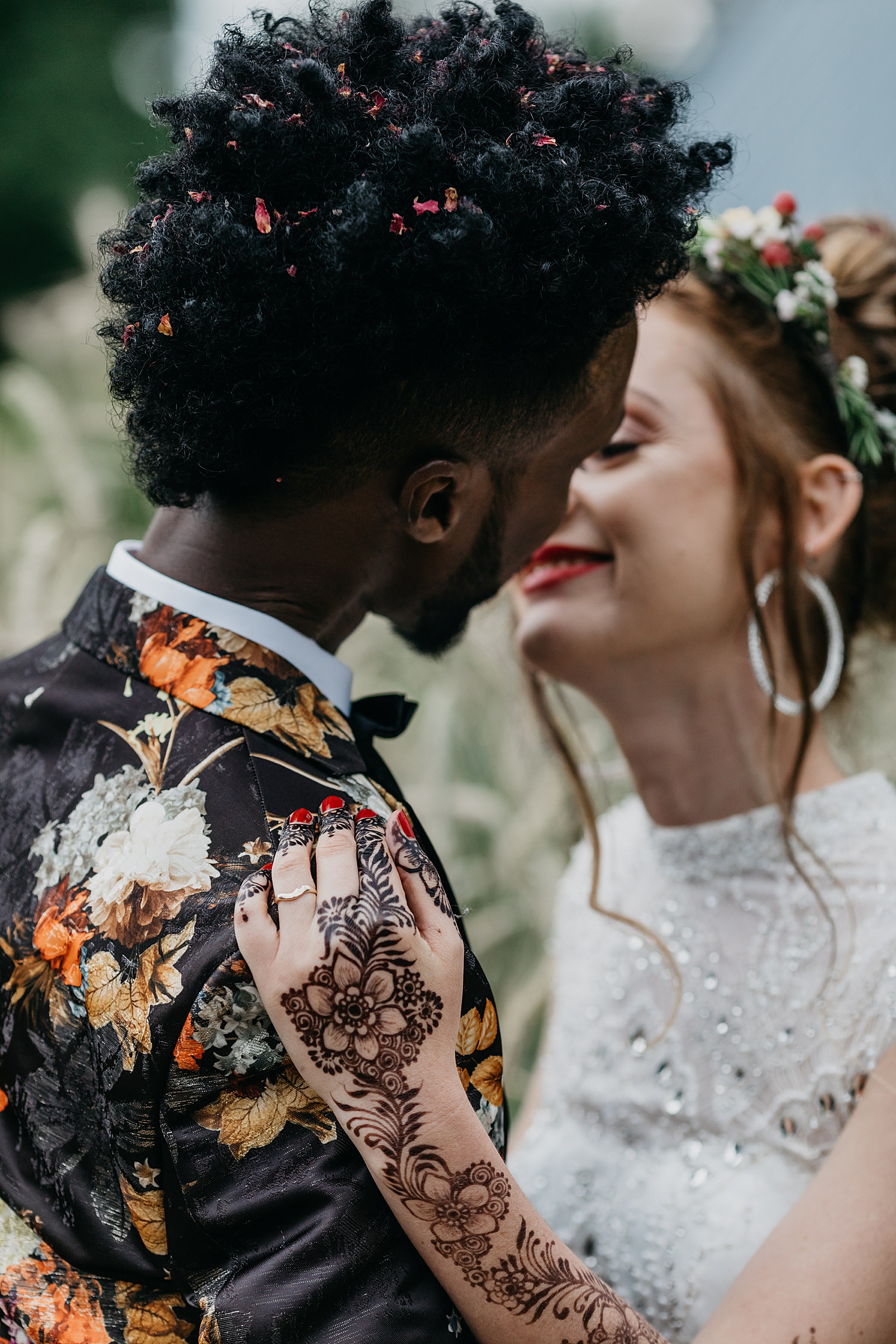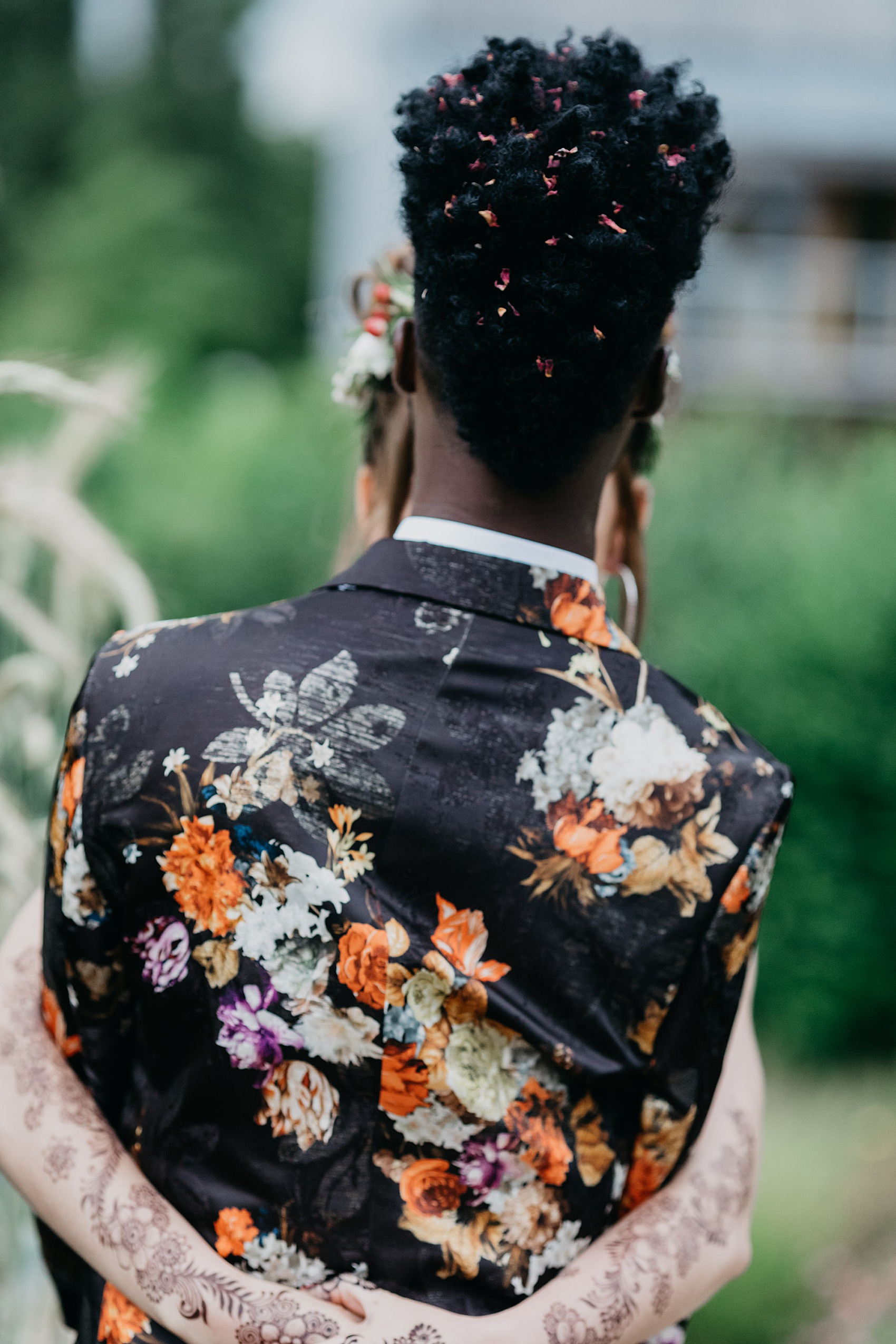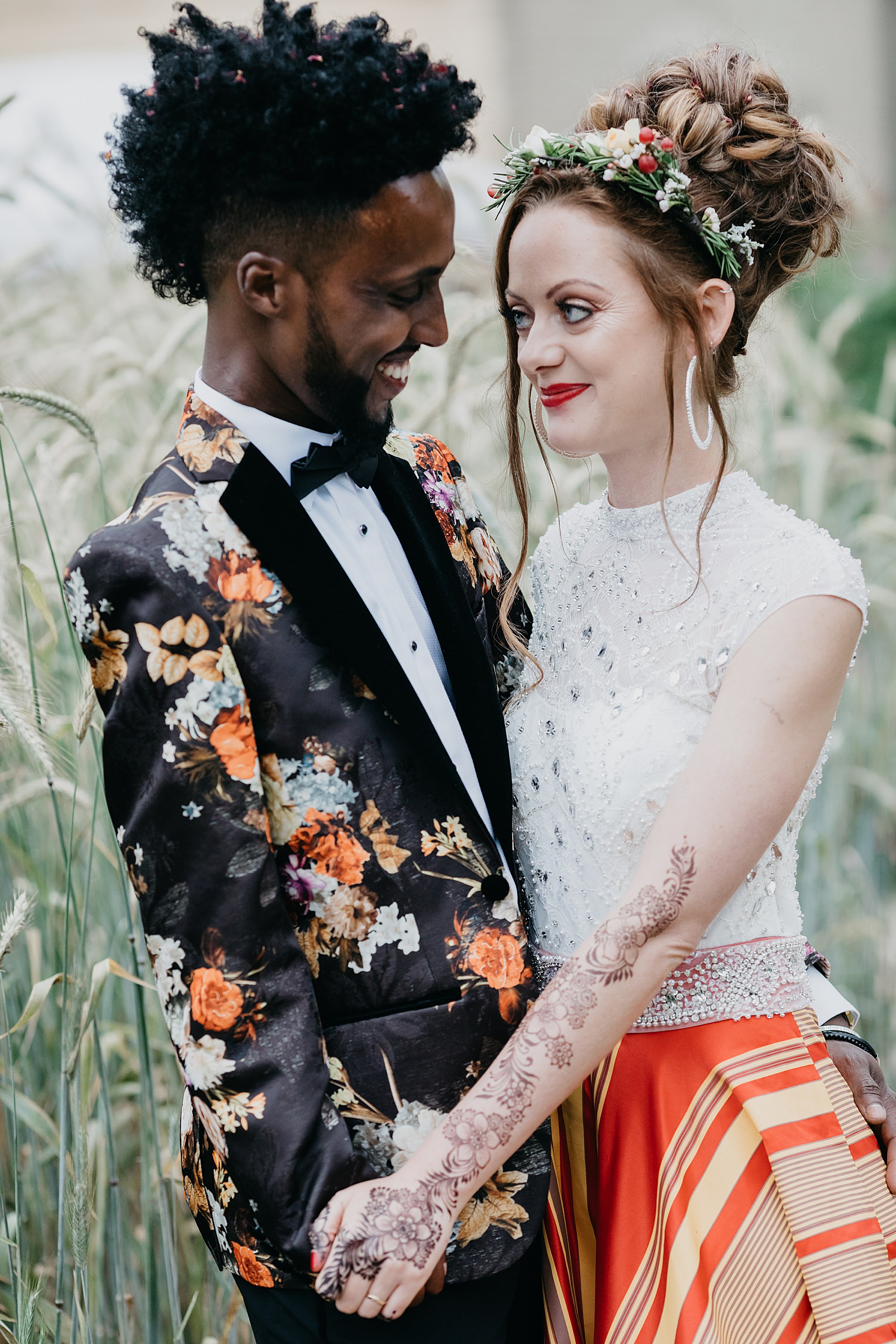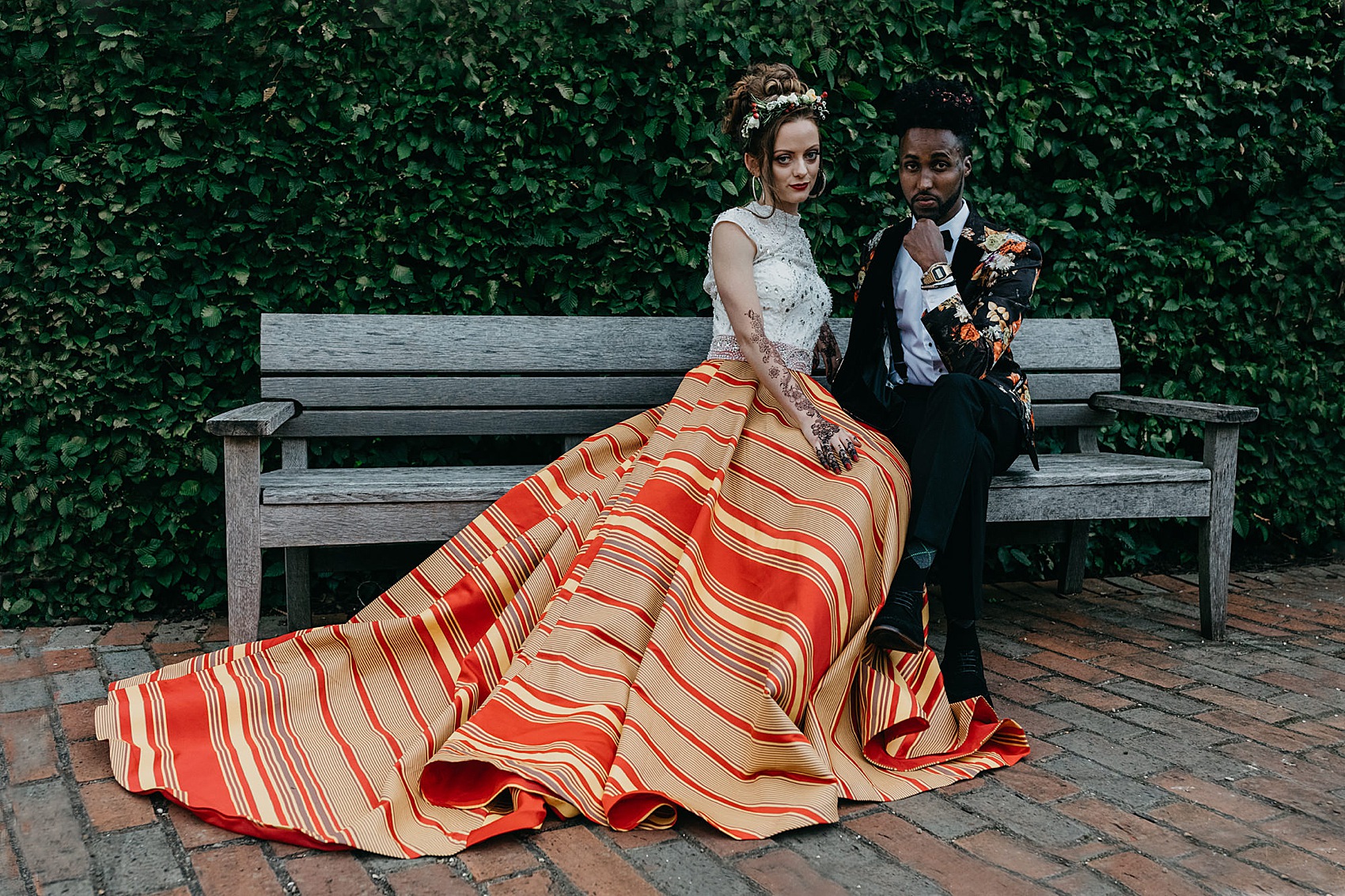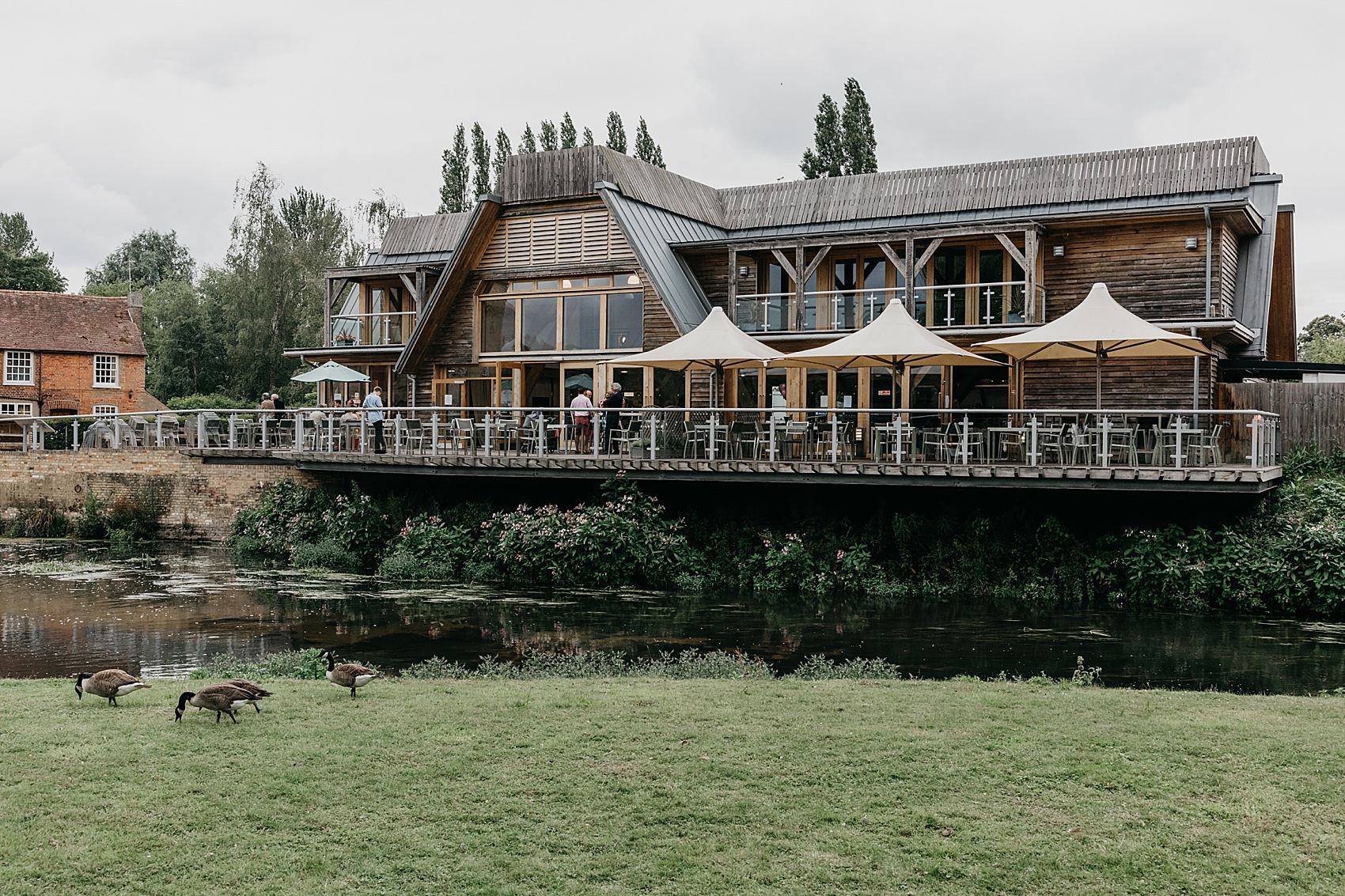 Inside the lovely old timber framed watermill, long tables were laid with white cloths, scattered with dried flower petals, and decorated with log slices which acted as stands for spray painted gold bottles for flower posies, and as ingenious place settings, too.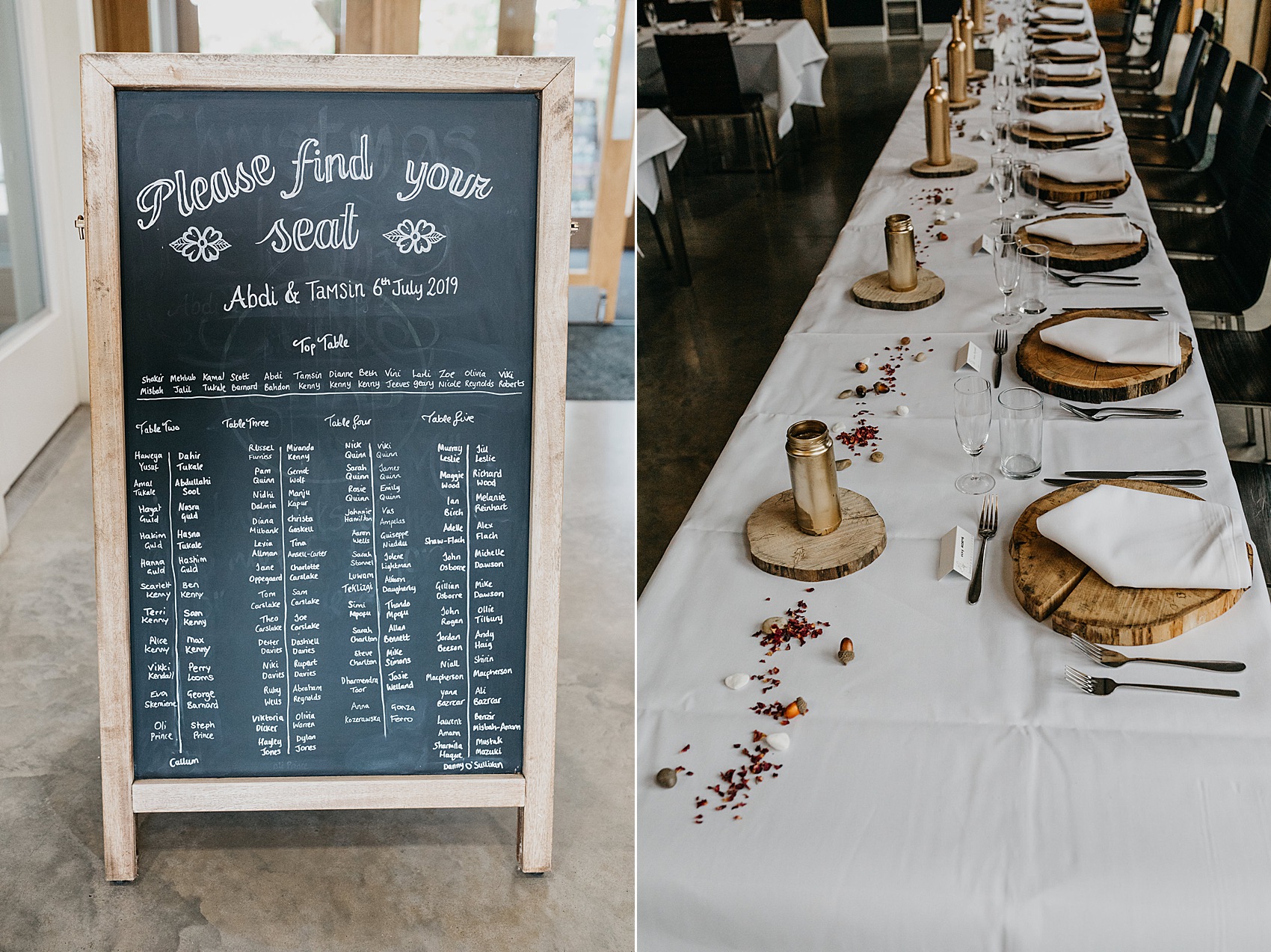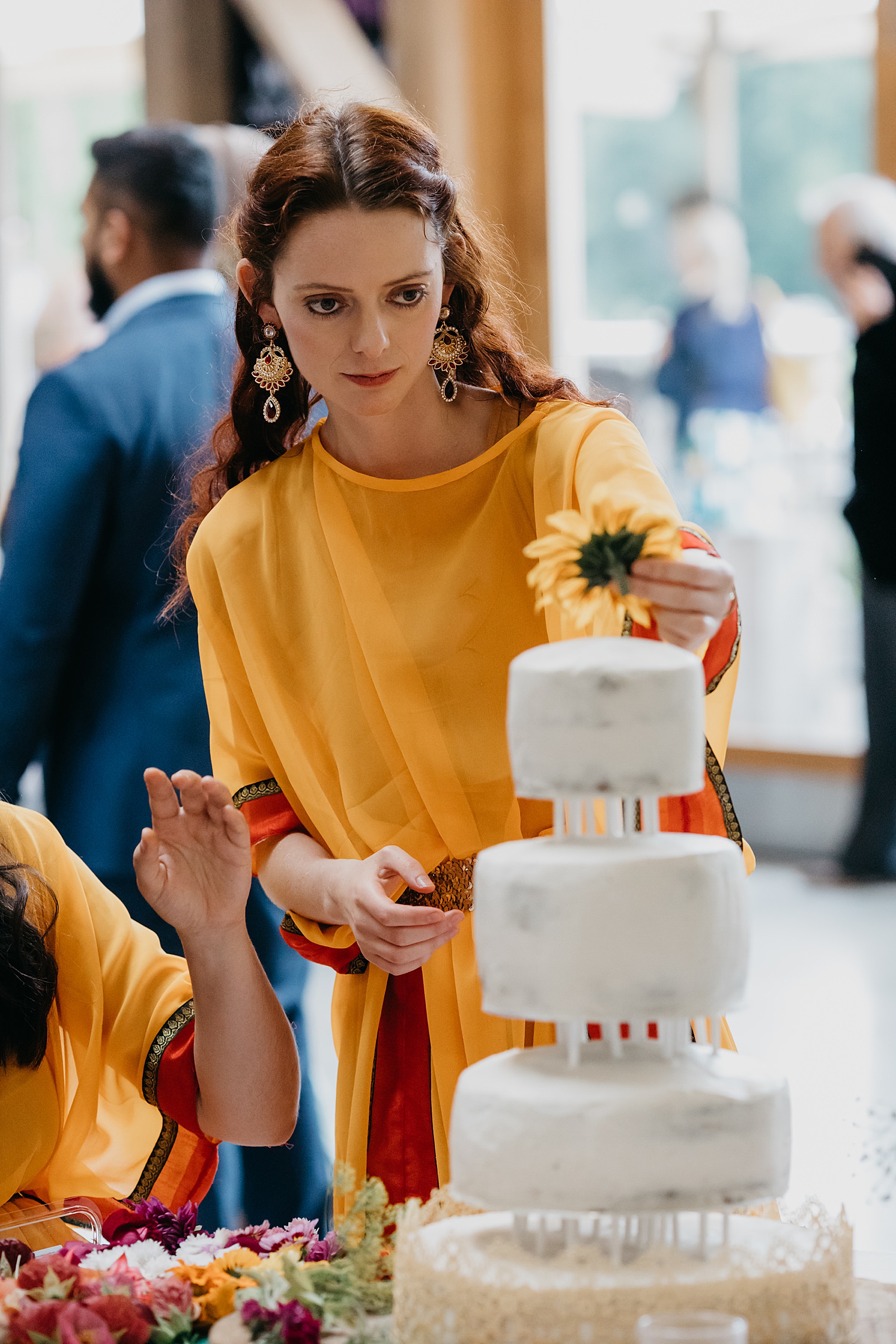 Everyone sat down to a feast prepared by the team at Jordans Mill, and when it came to wedding cake, Tamsin's twin sister Beth both baked and decorated a four-tier creation.
"It was stunning and yummy, and super healthy being vegan, sugar and gluten free. Beth decorated the cake (during the wedding) with over 100 edible flowers."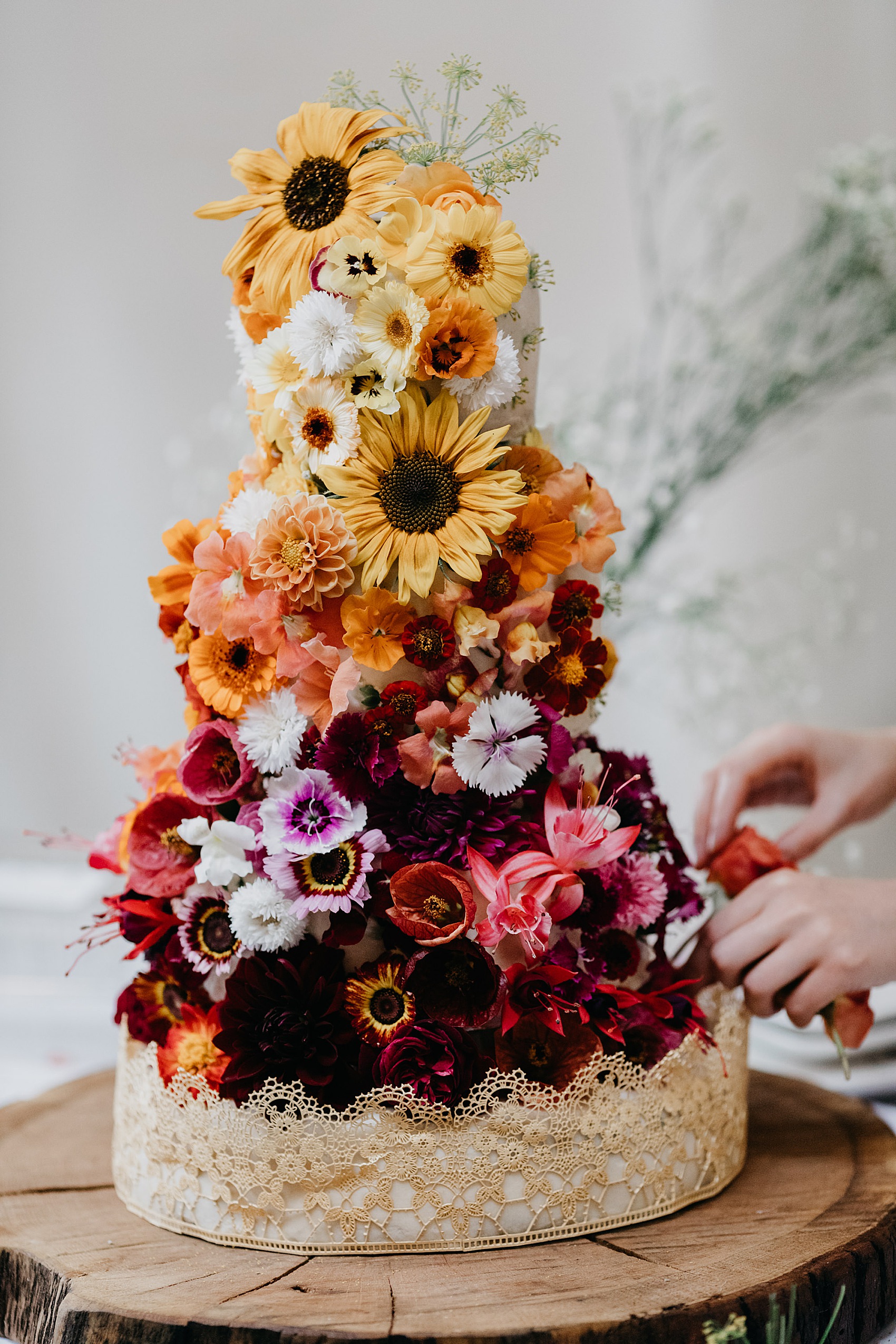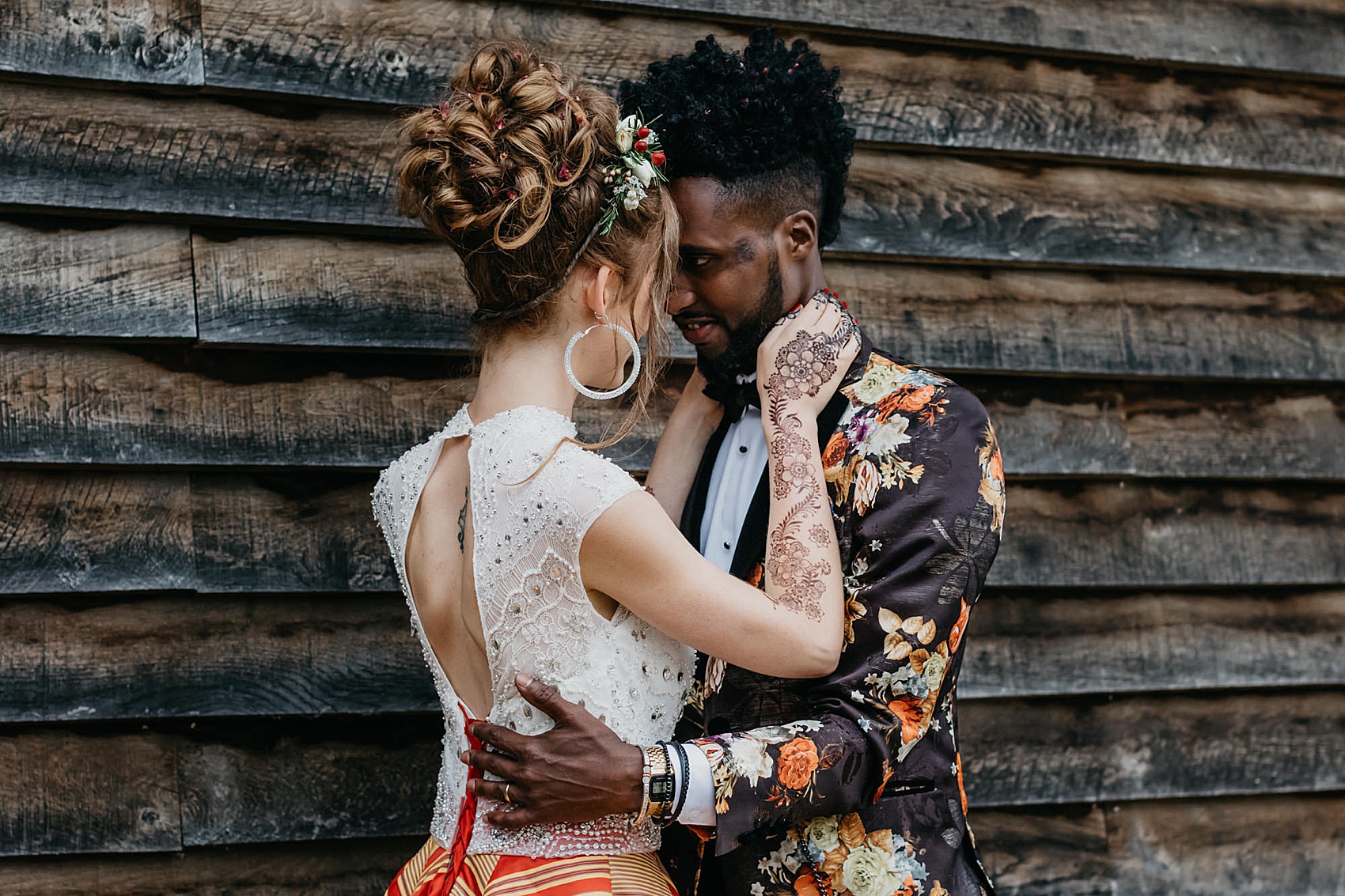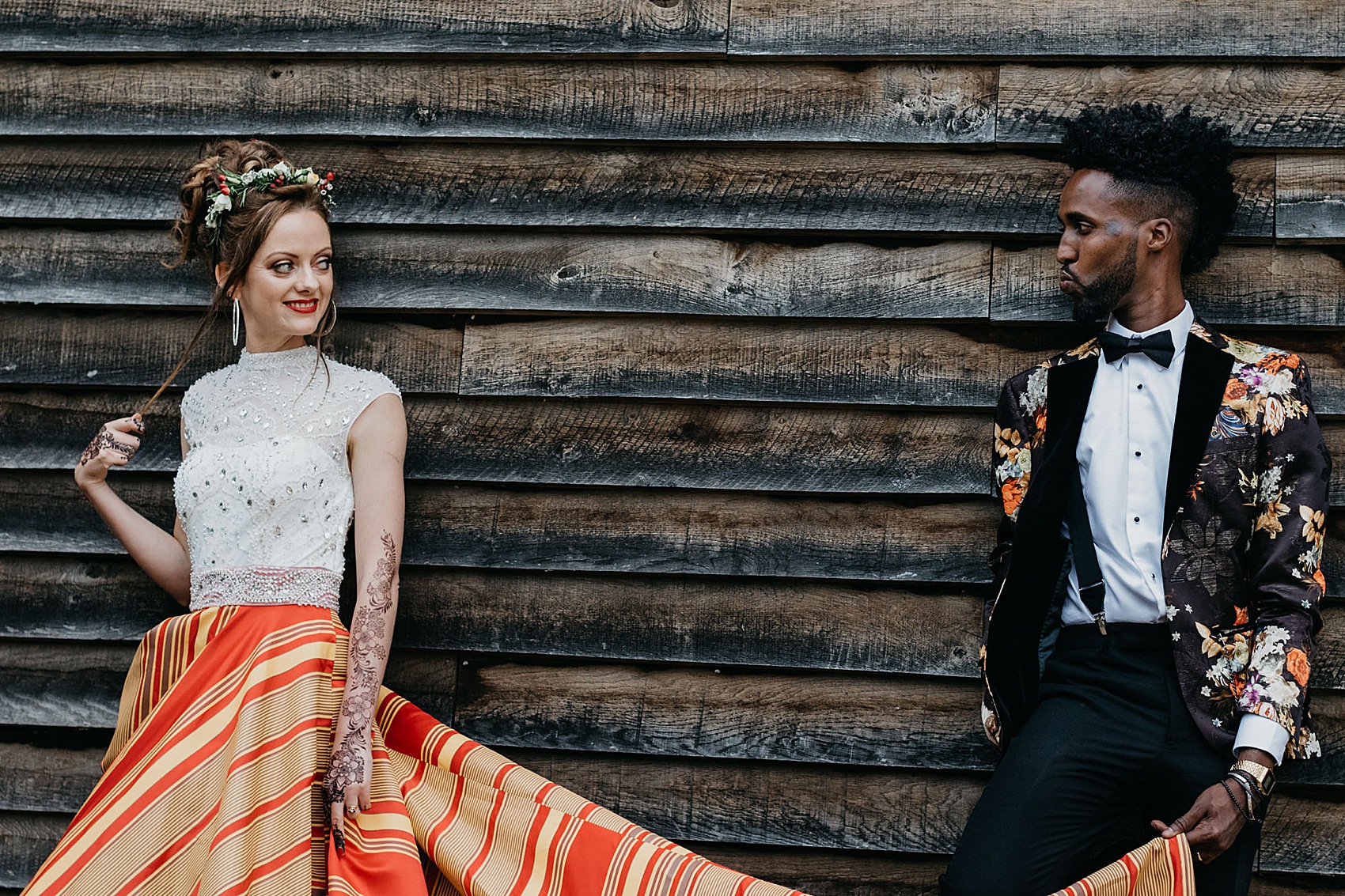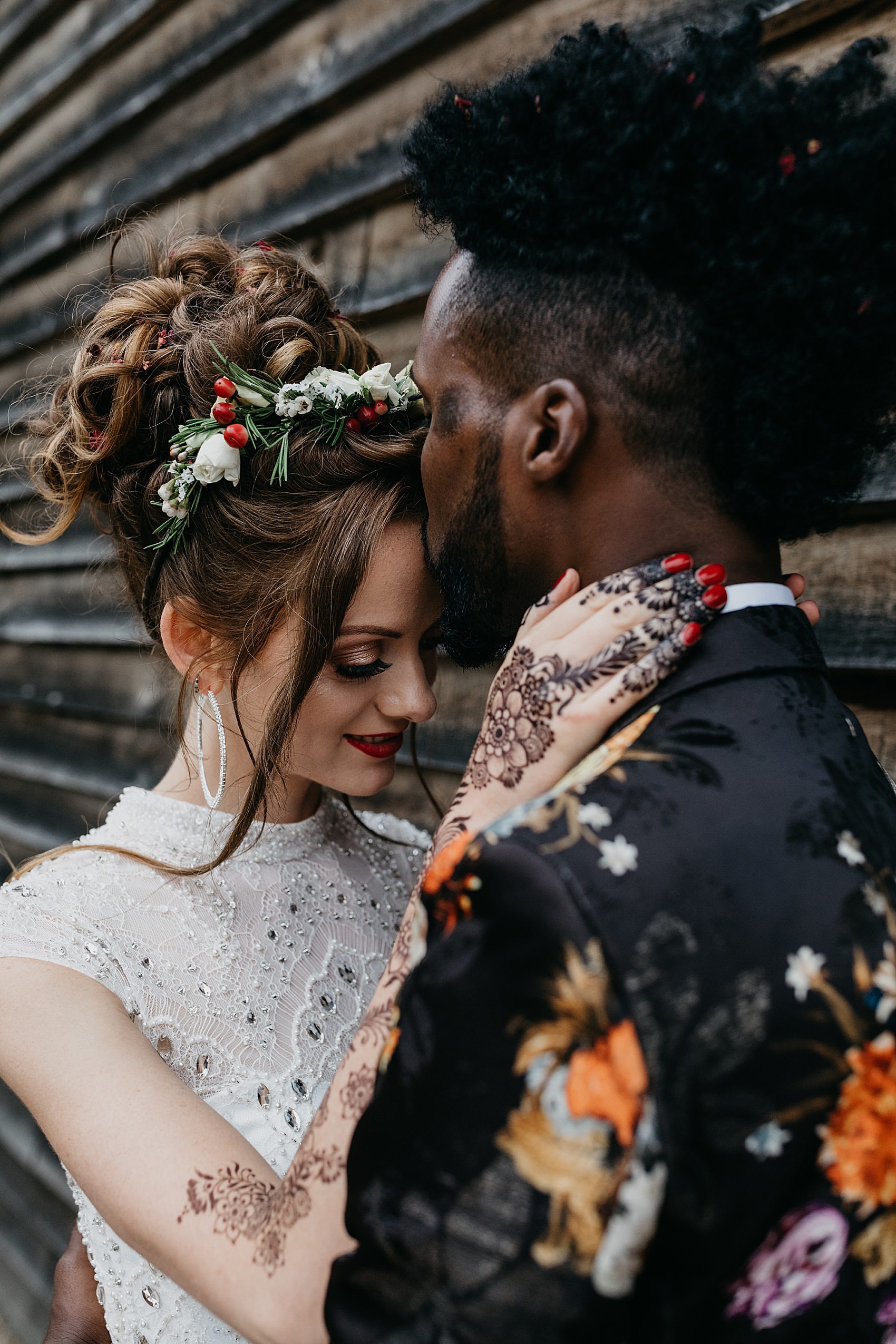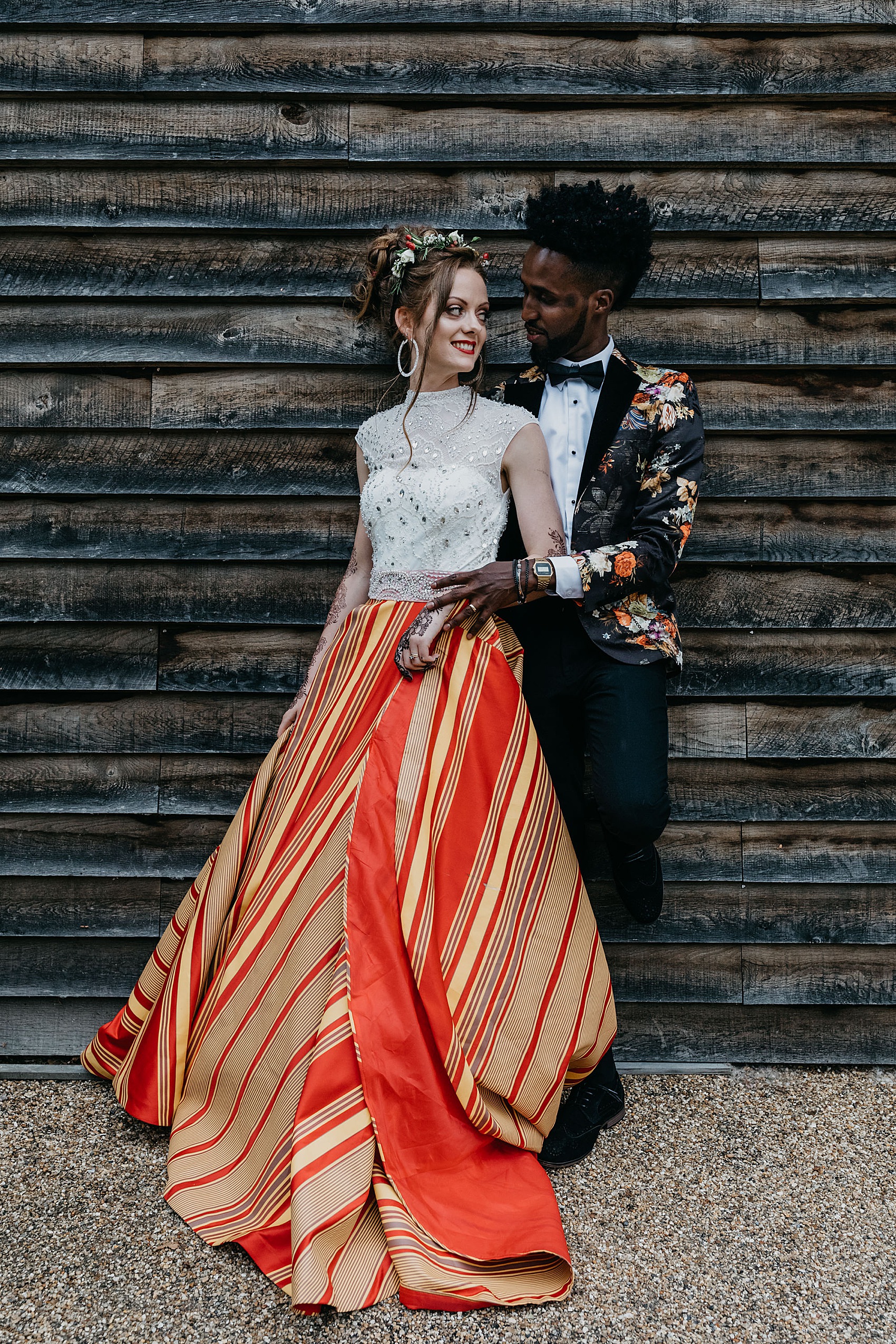 After dinner and speeches, it was time for Tamsin and Abdi's first dance together, and they chose a song they both love – All of Me by John Legend, followed by music from ceilidh band Ceilidh Tree to dance the night away.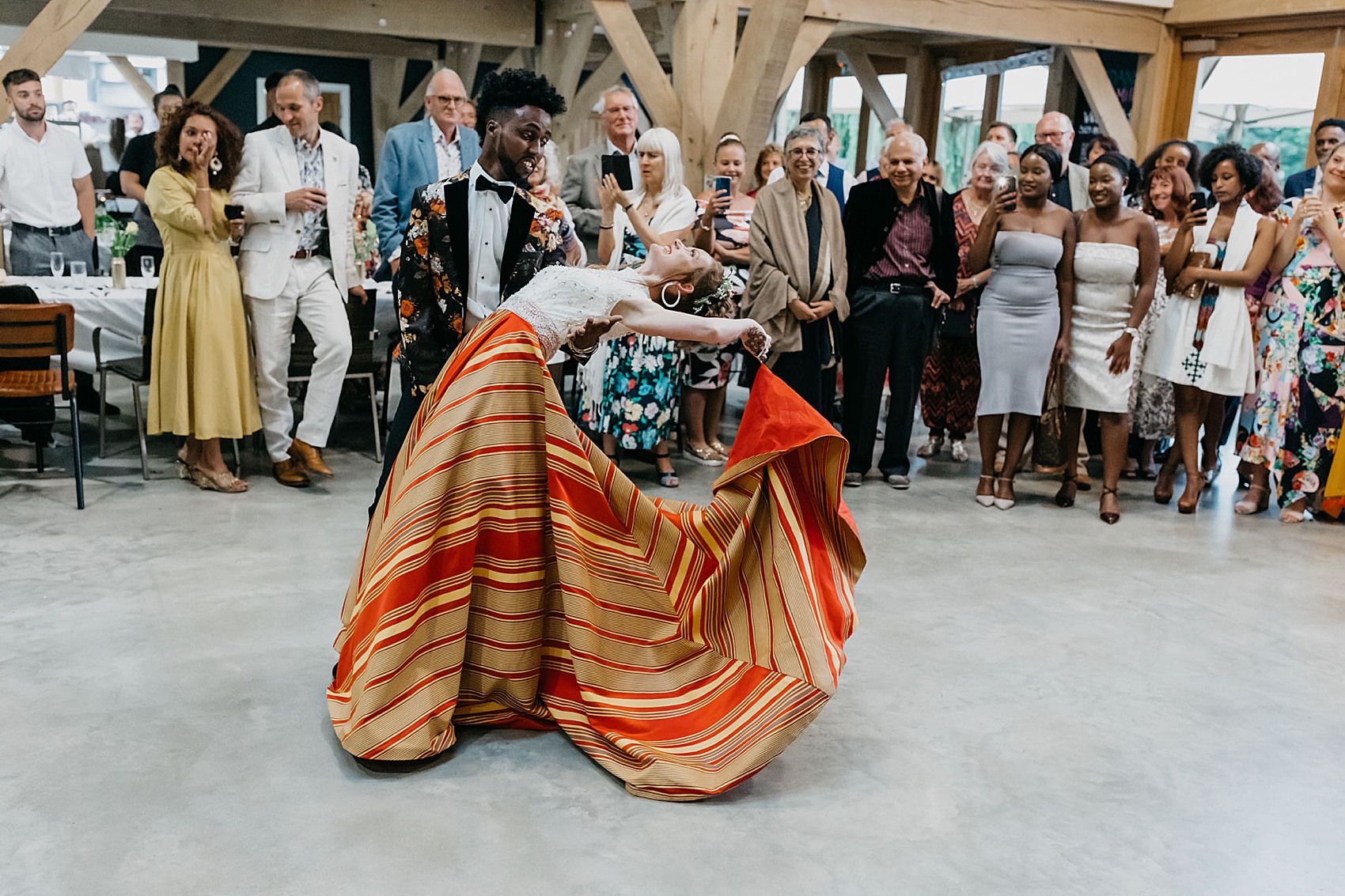 "It's hard to choose a favourite part of the day, but it was probably the ceremony (beautiful and moving), the speeches (hilarious) and just being surrounded by so much love from our friends and family."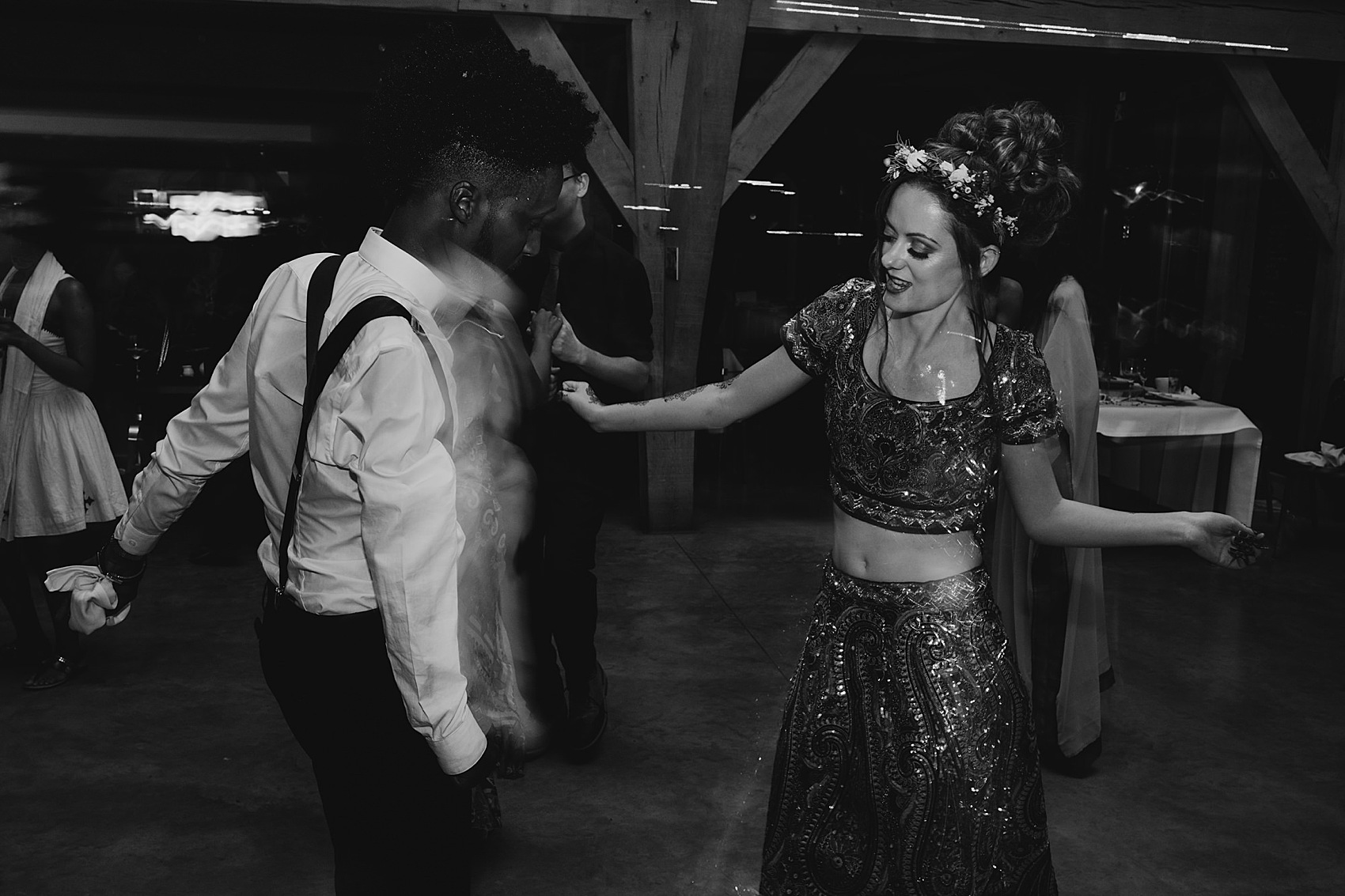 Words of Wedded Wisdom
"It takes a lot more time and effort to plan a wedding than you'd imagine. It's best to delegate tasks early on. Don't stress out – stay relaxed and enjoy the process. Make it your own, not what tradition or anyone else dictates, and enjoy every second of the day because it goes so quickly."
"The best thing about planning your wedding is sharing the excitement together, and getting to spend more time with loved ones who can be an amazing help."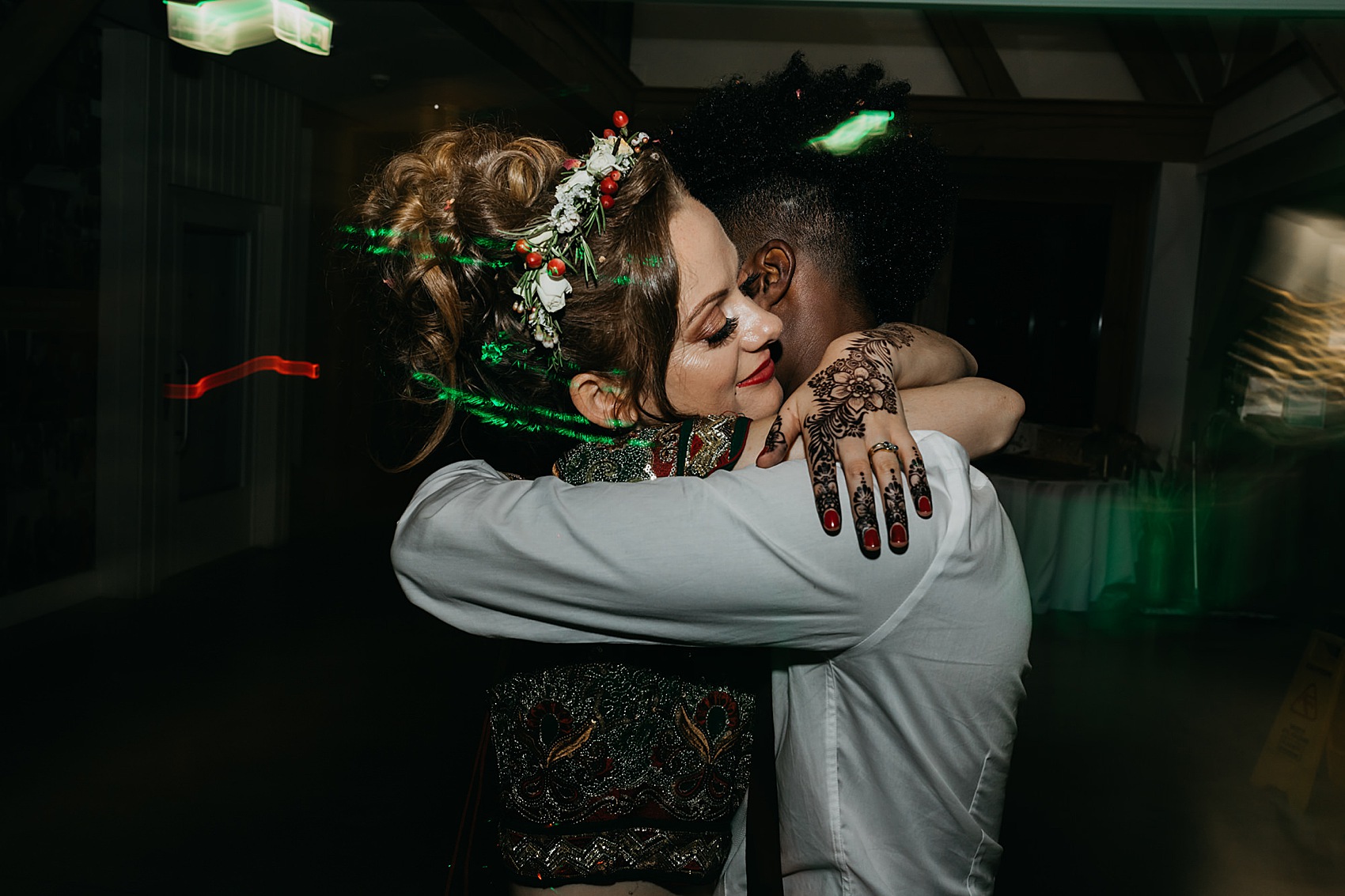 Tamsin and Abdi, thank you so much for sharing your incredible day with us. I love how personal it was to you both, reflecting your shared love so wonderfully. Many thanks to Oli & Steph Photography for this wonderful collection of joyful, heartfelt images, too.
Until next time!
With love, Laura