Wonderful Elmore Court is the setting for today's beautiful wedding; sumptuously styled and inspired by Pre-Raphaelite art and the rich colours of Autumn.
Elmore Court is one of those country houses that manages to be both magnificent (filled as it is with such history) and warm and inviting at the same time. This luxurious, exclusive use venue is also part of our hand-picked directory of suppliers, Little Book. On the 5 October 2019, Director Sophia married Charles, an Editor at Elmore Court in the Gloucestershire countryside.
A Thing Like That Photography

+ Follow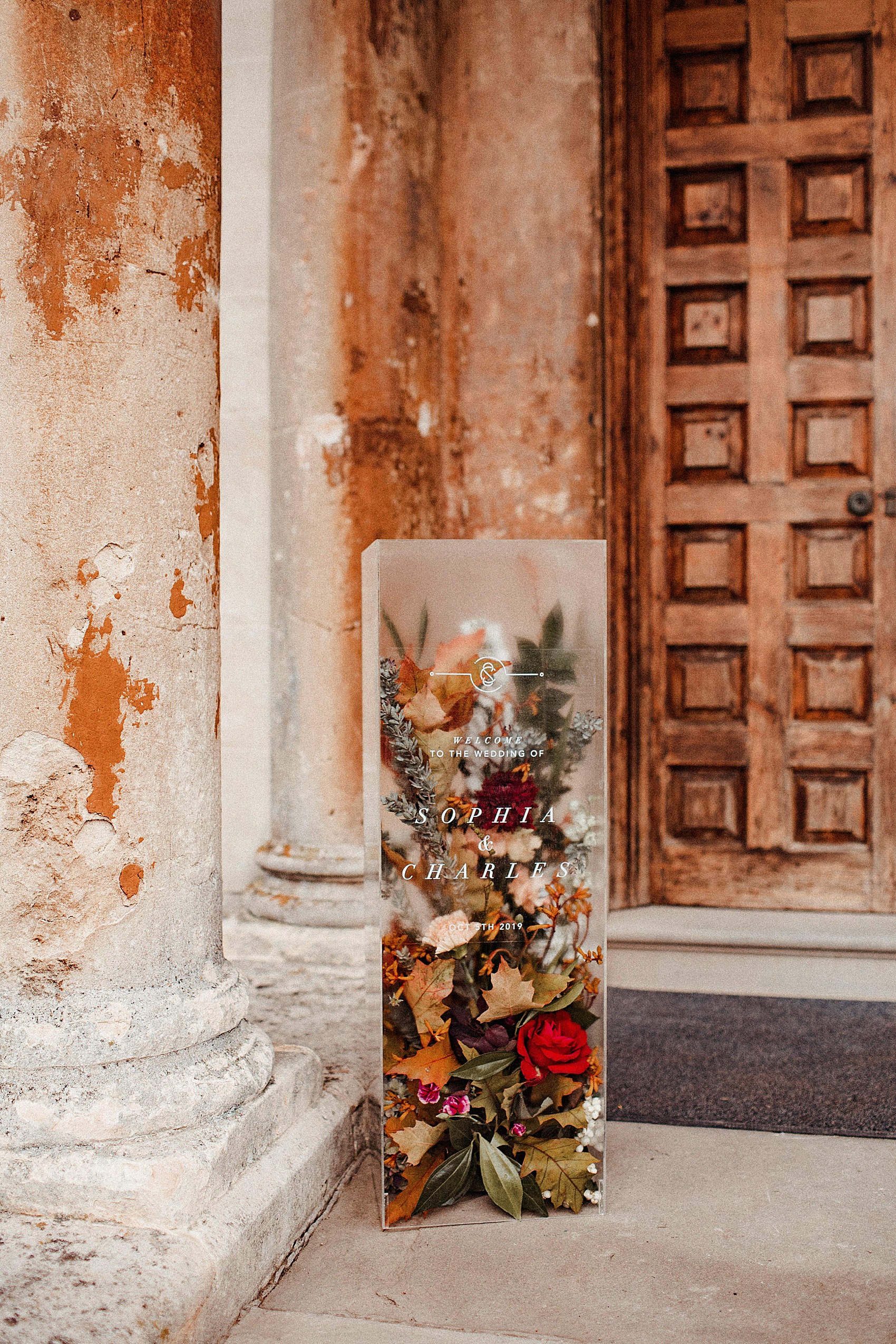 "We both knew we wanted an Autumnal wedding, as it is both our favourite time of the year. I am a big fan of Pre-Raphaelite art, so that was a big inspiration to me with the colour scheme and vibe we wanted to create on the day. We wanted it to feel romantic and artistic with modern edges."
Sophia's make-up artist was Charlotte Tilbury pro artist Helen Rose Drake, and her spectacular long hair was styled by friend Sapphire Driver.
"Angelica Bridal was where I bought my gown from. The girls in there were so lovely and made the whole process so pain free. It's a beautiful little boutique, I would definitely recommend to other brides."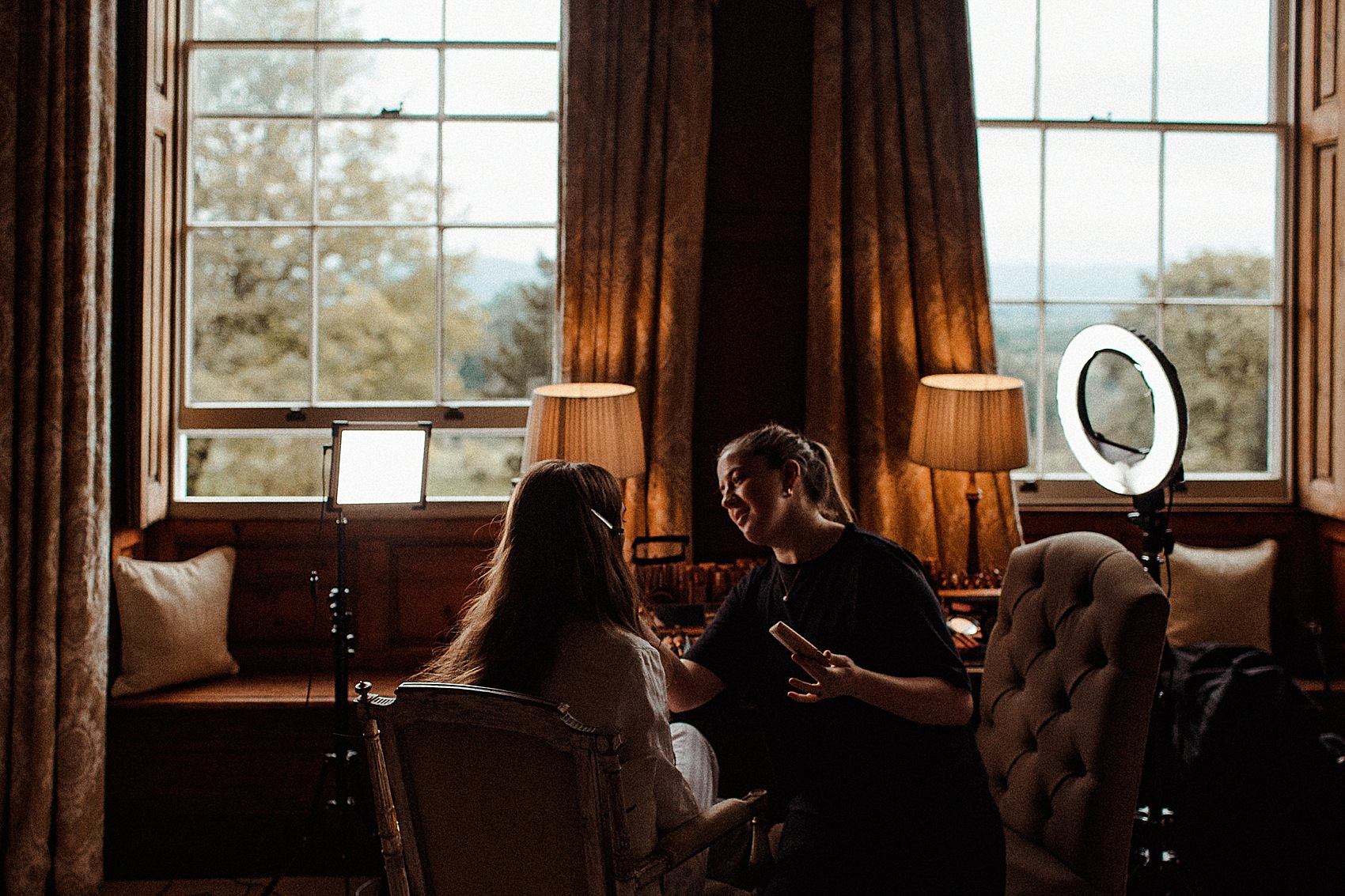 At Angelica Bridal, Sophia discovered her ethereally beautiful dress by Liz Martinez, with gossamer-light tulle illusion across the bodice, along with sinuous, intricate lace, falling to a skirt of white and blush pink tulle.
"With my Liz Martinez gown, I knew she was one of the designers I definitely wanted to try and this one was the second dress I tried on. To be honest there were quite a few of Liz Martinez's gowns that I would have been so happy with – her designs are so ethereal!"
"I never expected I would go for a dress like this though initially. I thought I would go for more of a slinky, simple number. But with this dress, when I put it on I felt so special and I just knew it was the one I had to wear."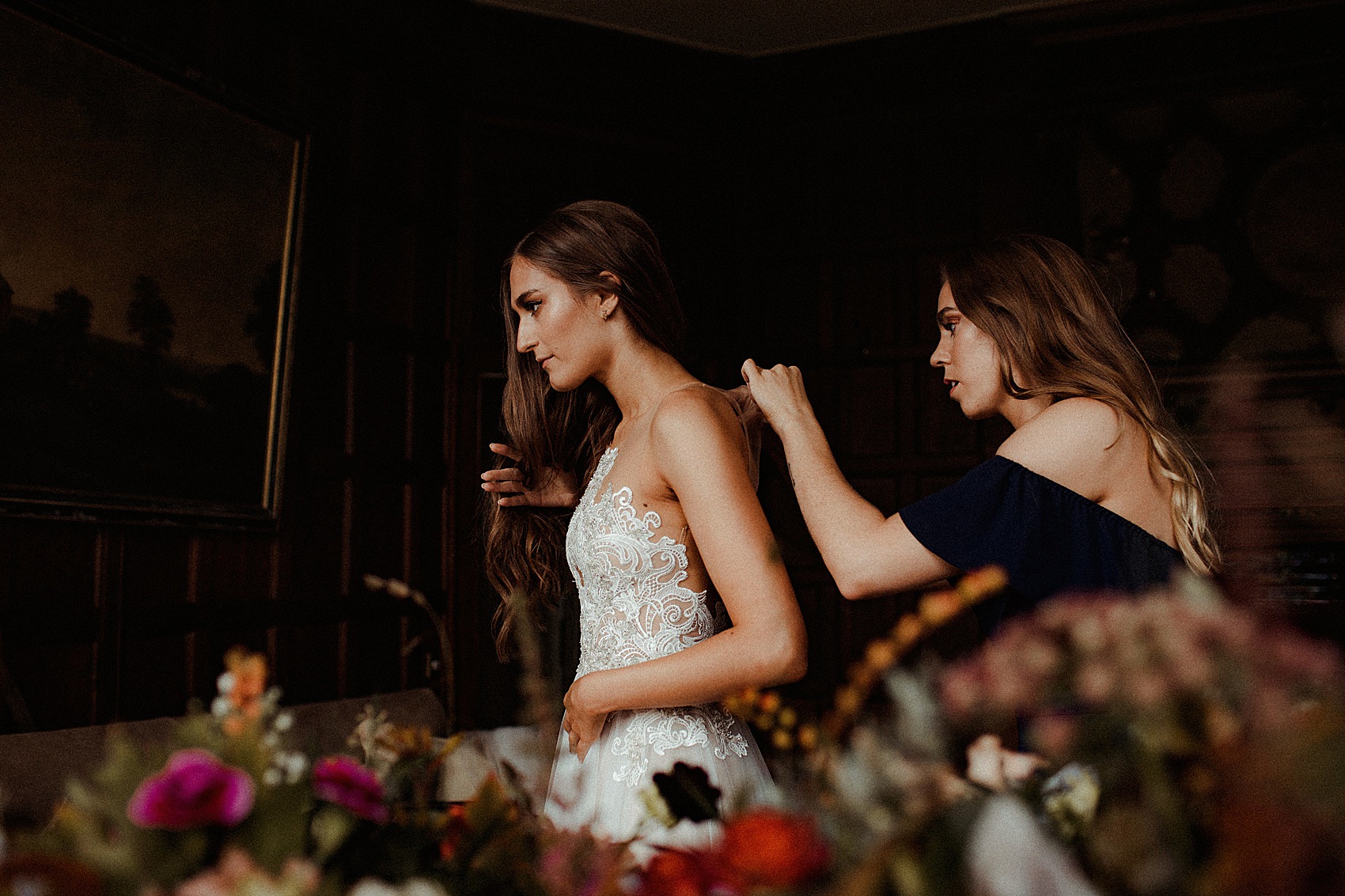 Sophia wore gold Gucci sandals, which she chose because she would be able to party long into the night whilst wearing them, and because they weren't too 'bridal' looking, so she would be able to wear them again and again.
Sophia also wore a simple, delicate veil by Liz Martinez.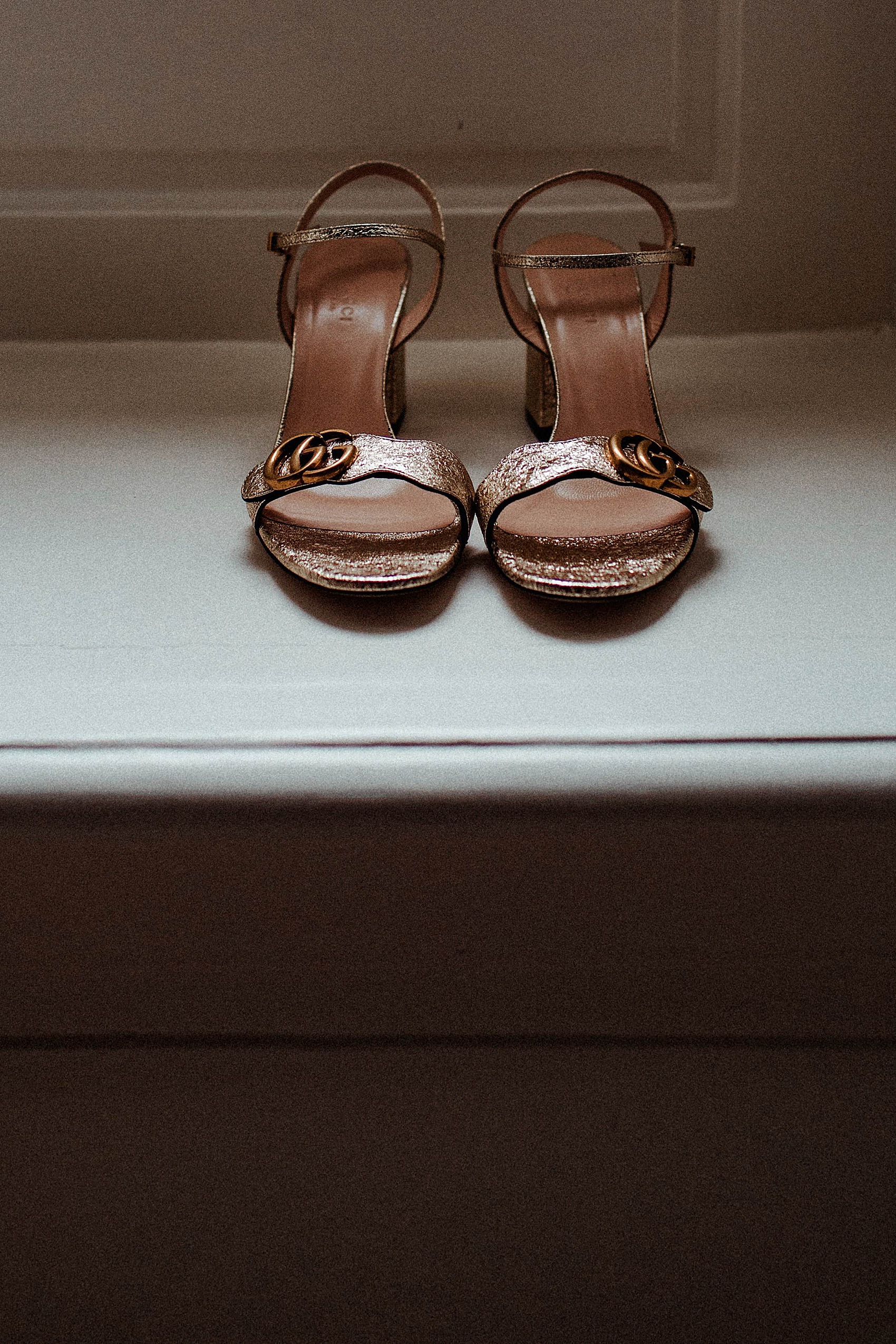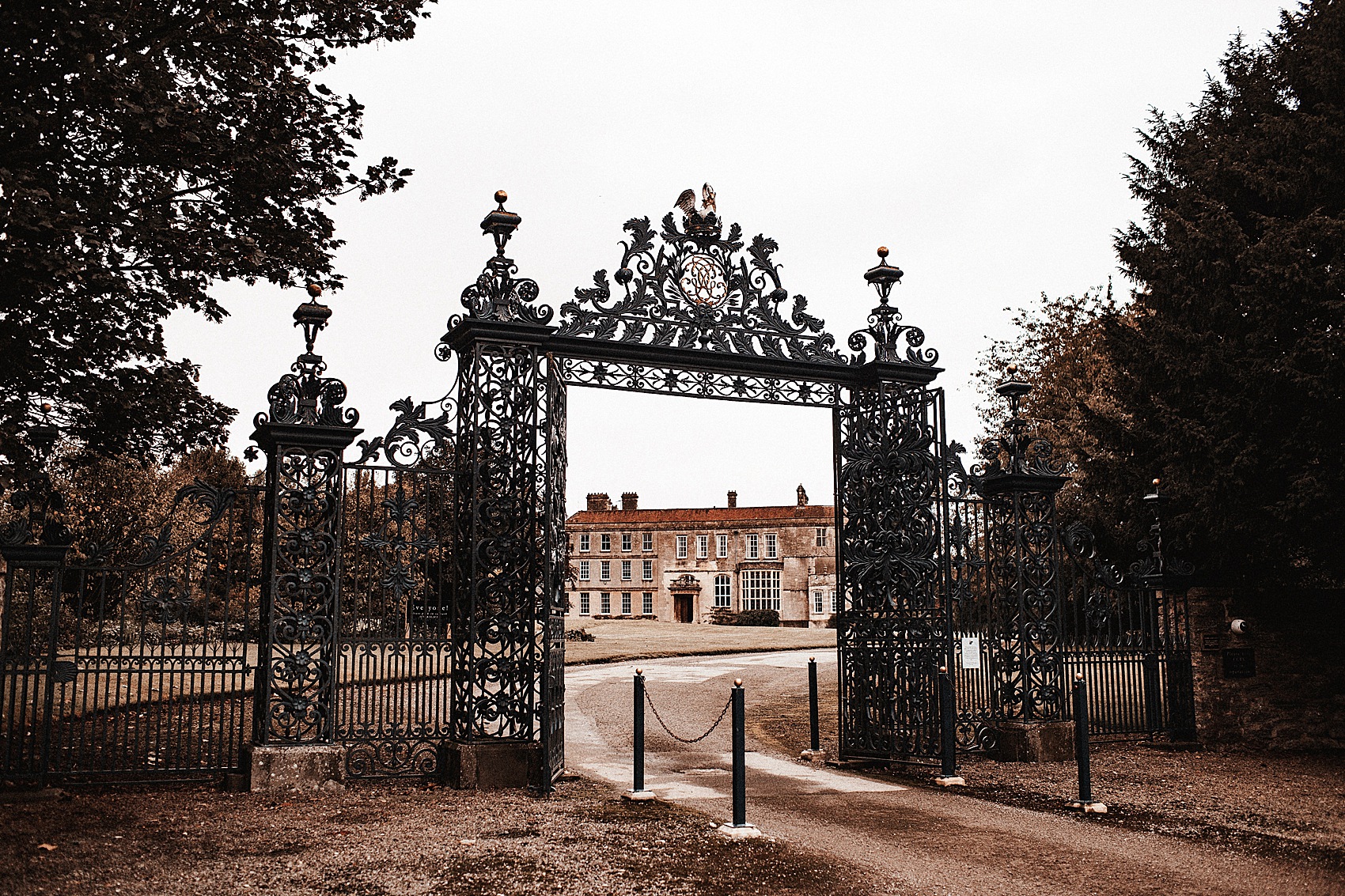 There to take in every gorgeous detail and all the fun of the day were our Little Book member photographers, A Thing Like That, whose contemporary, natural style lent itself perfectly to Sophia and Charles' celebration.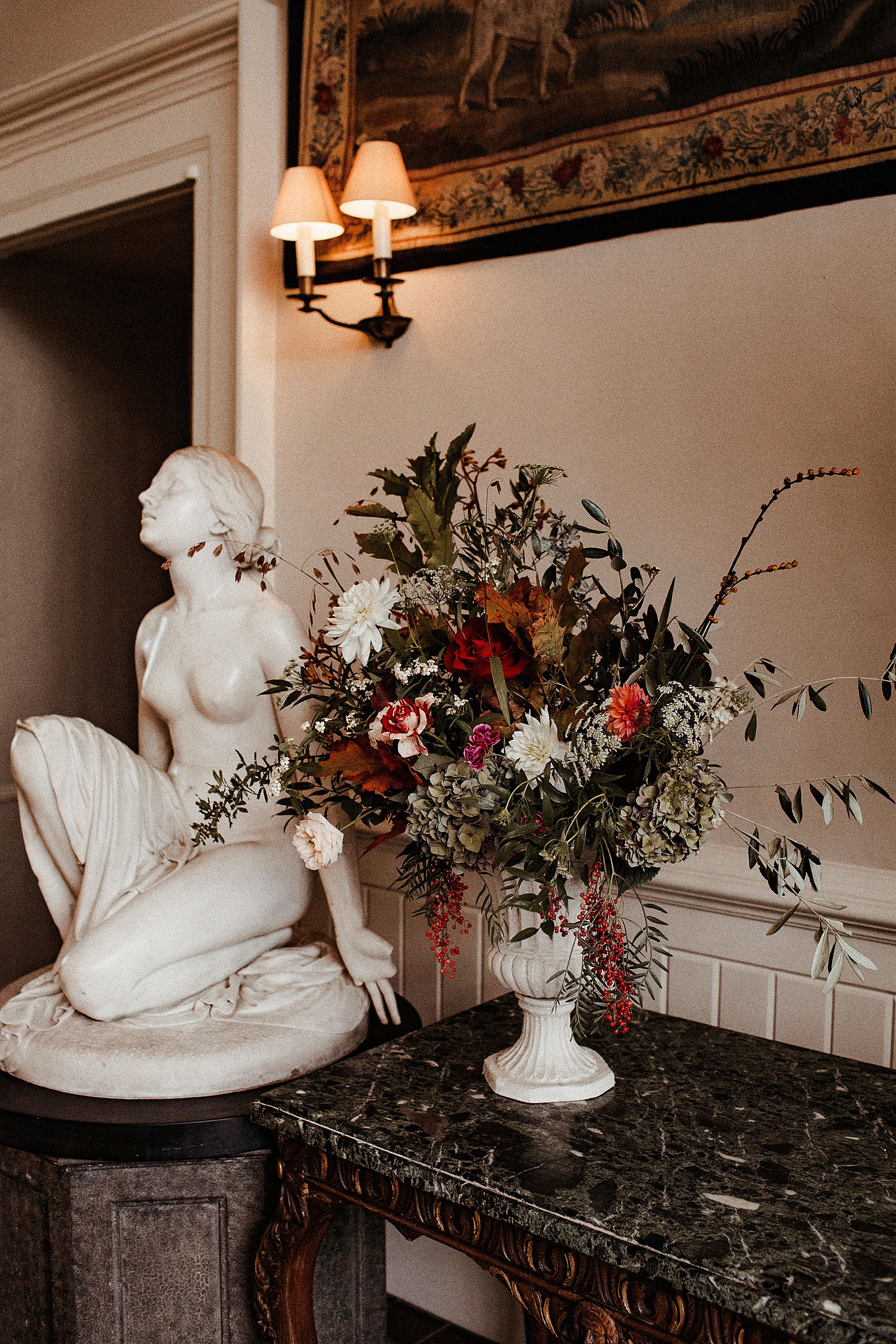 "Rebecca Rees was our photographer. Charlie and I loved her super natural and rich style. All her images felt really romantic with her use of colour and texture. We loved her framing and aesthetic, and knew it would be a great fit."
"In terms of the photos, Charlie and I wanted them to have a relaxed and natural vibe and not take up too much time from us hanging out with our guests, so we allocated 30-45 mins to get them done in. Rebecca did an amazing job."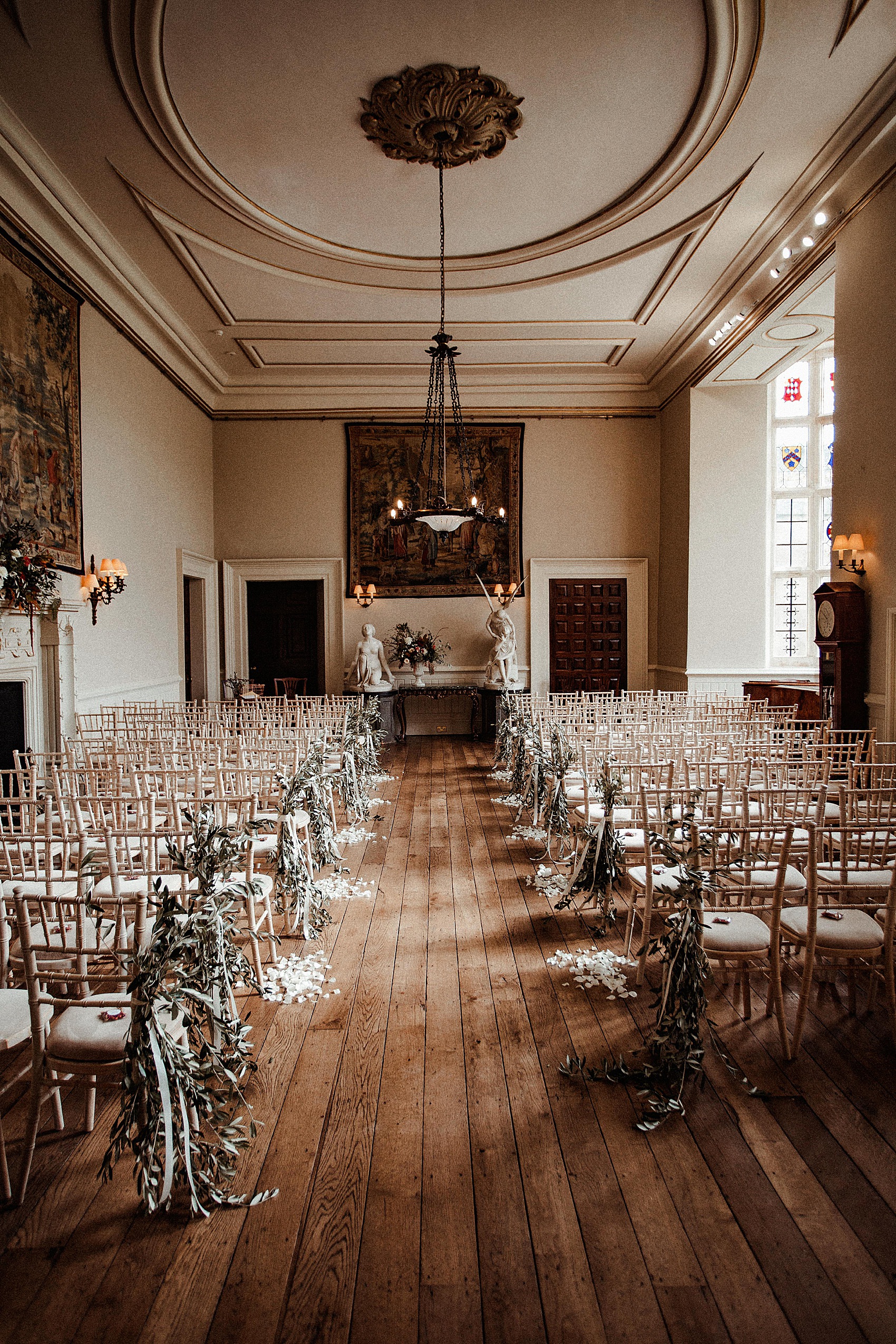 The bridesmaids wore navy blue ruffled off-the-shoulder dresses by Watters, which they paired with their own shoes, and Sophia's flowergirl wore a bespoke dress from JJ's House.
"Charlie wore a tailor-made suit from Suitsupply, and then a Gucci tie with Lanvin cufflinks, and Russell & Bromley brogues."
"We met when I was a student working in a bar in Old Street, London. We had been friends for a while before we eventually got together."
"We got engaged in The Algarve in Portugal in 2017, on a cliff with the sea surrounding us. It was a big surprise as I did not expect it at all!"
"Lots of tears from both of us – Charlie had a whole speech planned, which he could barely get out with us both blubbering all over the place. Charlie had some champagne and glasses he had hidden in his rucksack, so we both drank them looking out to the sea. It was so lovely. Our engagement was two years long, as we wanted to enjoy being engaged for a while and to give us a nice amount of time to plan."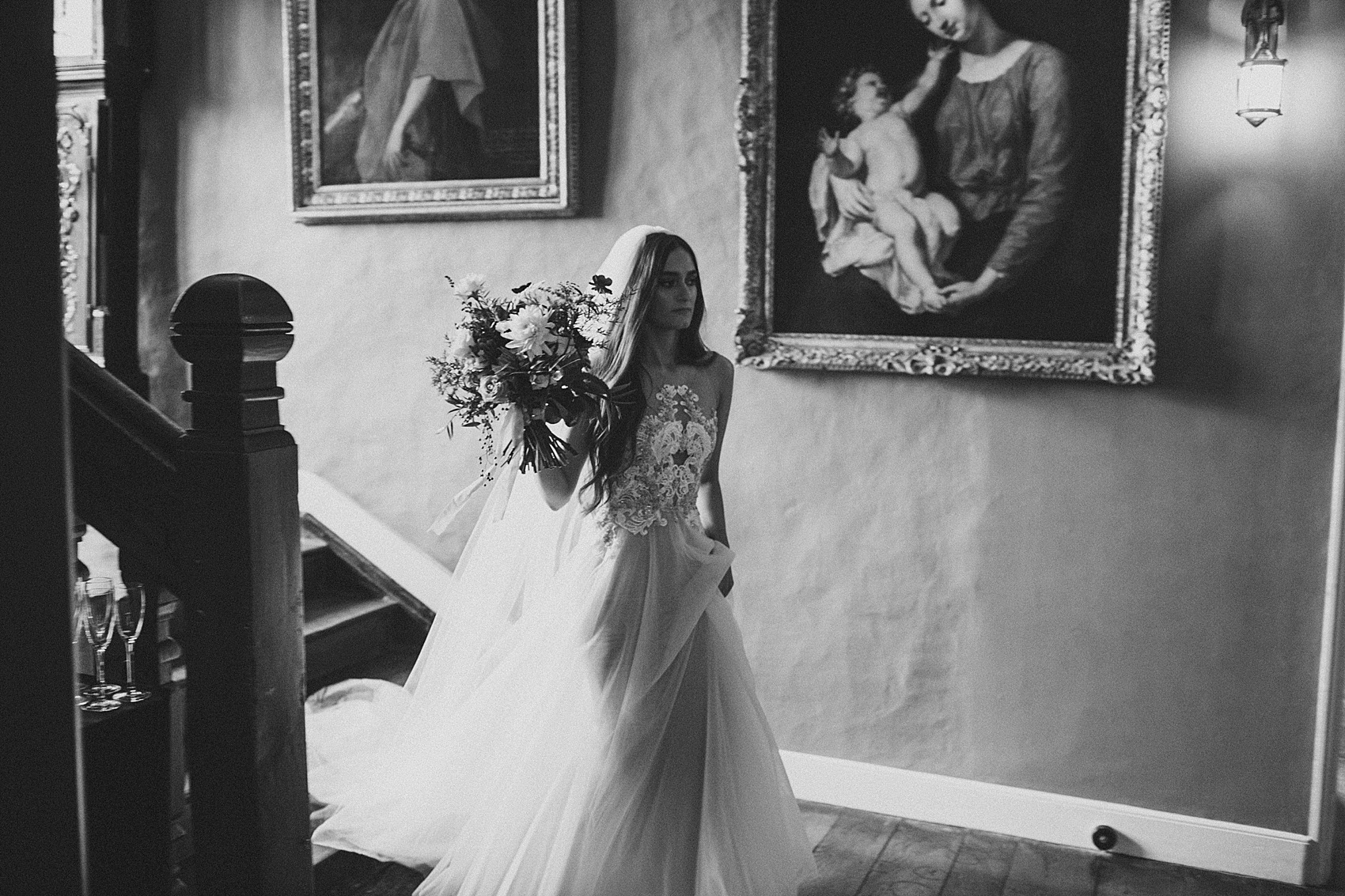 Sophia walked down the aisle accompanied by her amazing Mum, and chose Aphex Twin's hauntingly beautiful piano piece, Avril 14th as her entrance music – can you tell it's a favourite piece of mine, too?!
"If I had to choose a favourite part of the day, for me it was the ceremony. It was so much more intense and emotional then I even thought it would be! It was really like the world had stopped – so lovely. I cried more then I thought I would."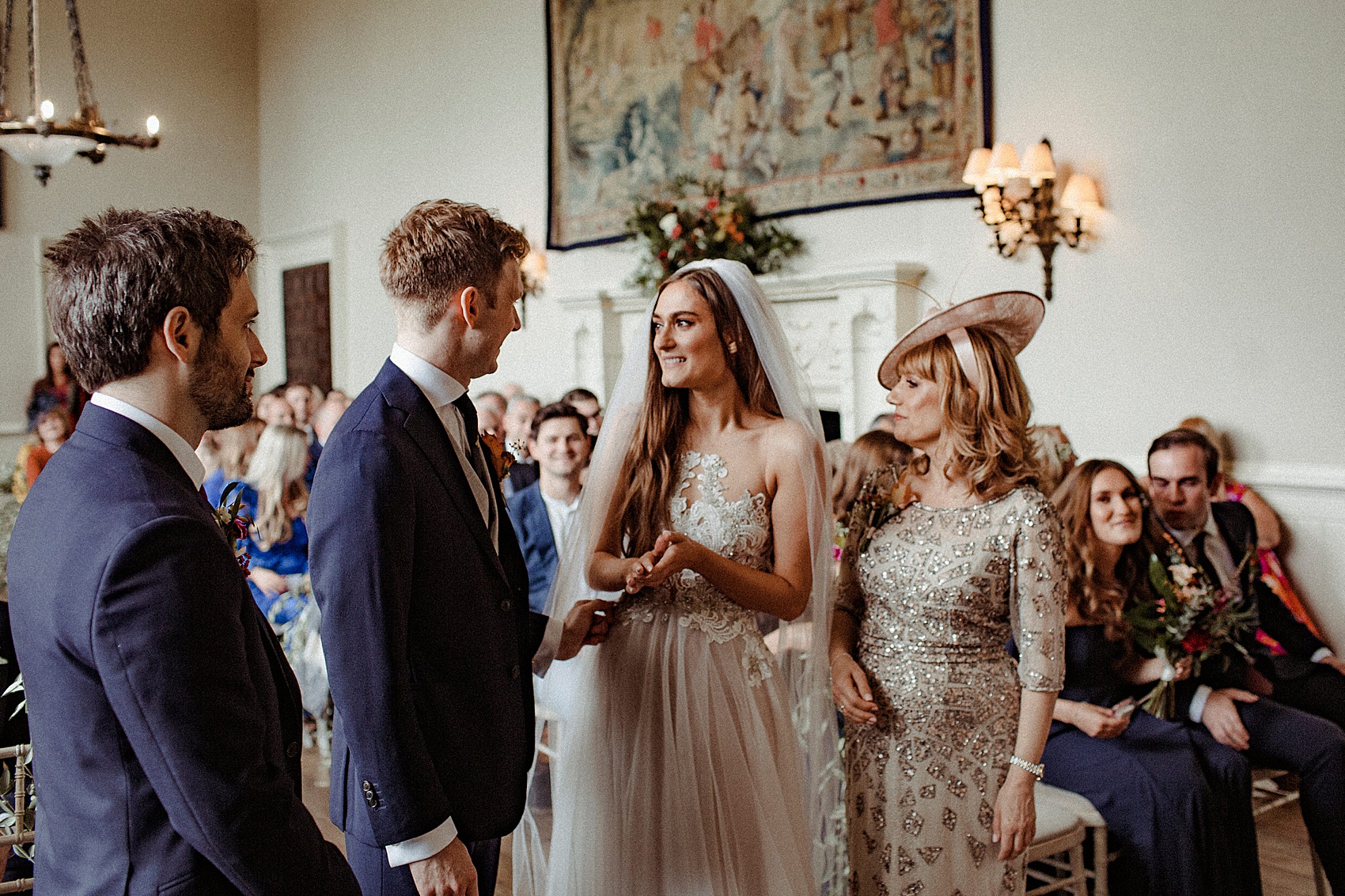 As they made their vows, the couple also placed rings on each other's hands. Sophia's engagement and wedding ring were from ethical jewellers Wwake, and Charles' band was designed and hand hammered by Fraser Hamilton Jewellery.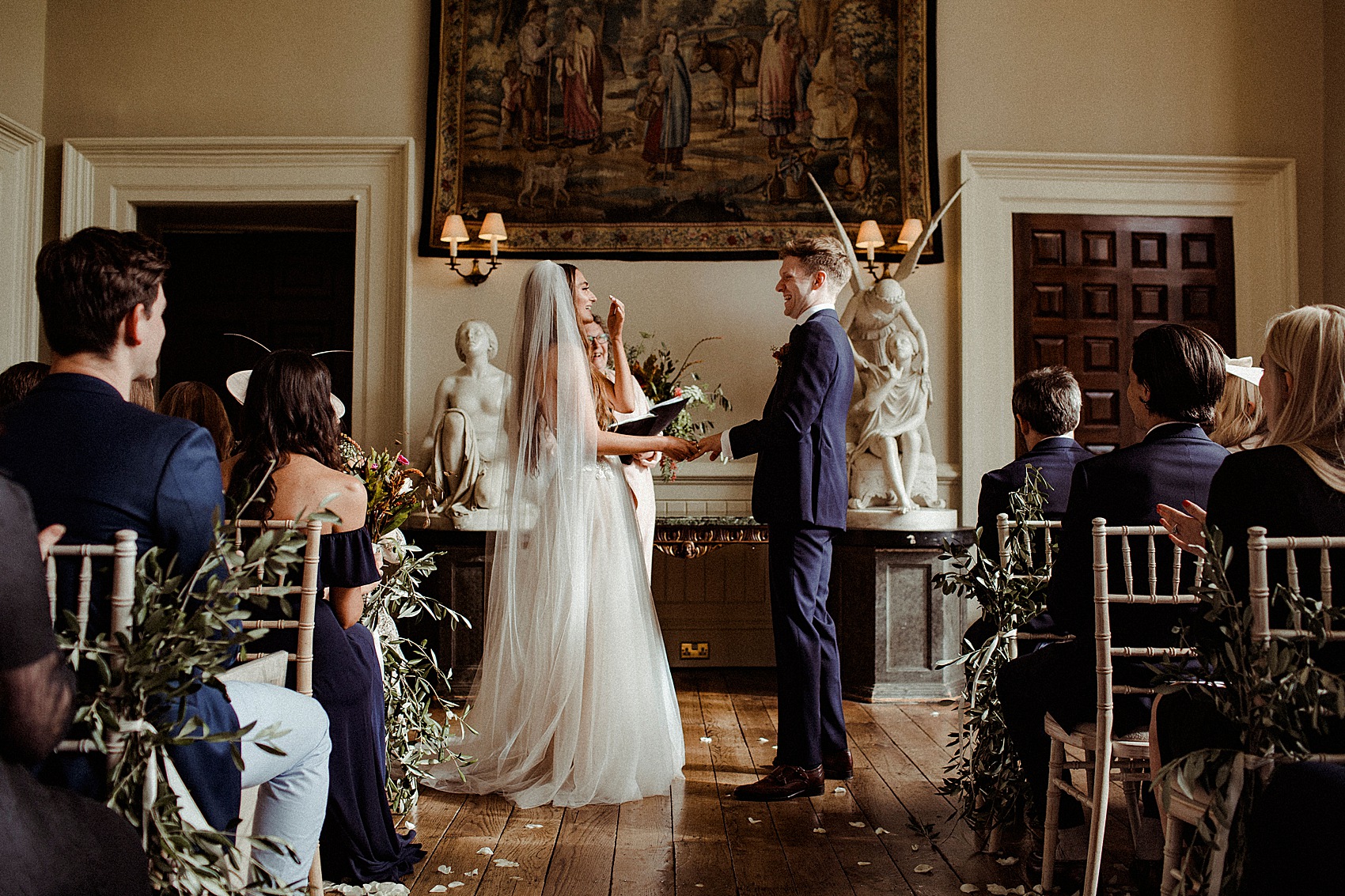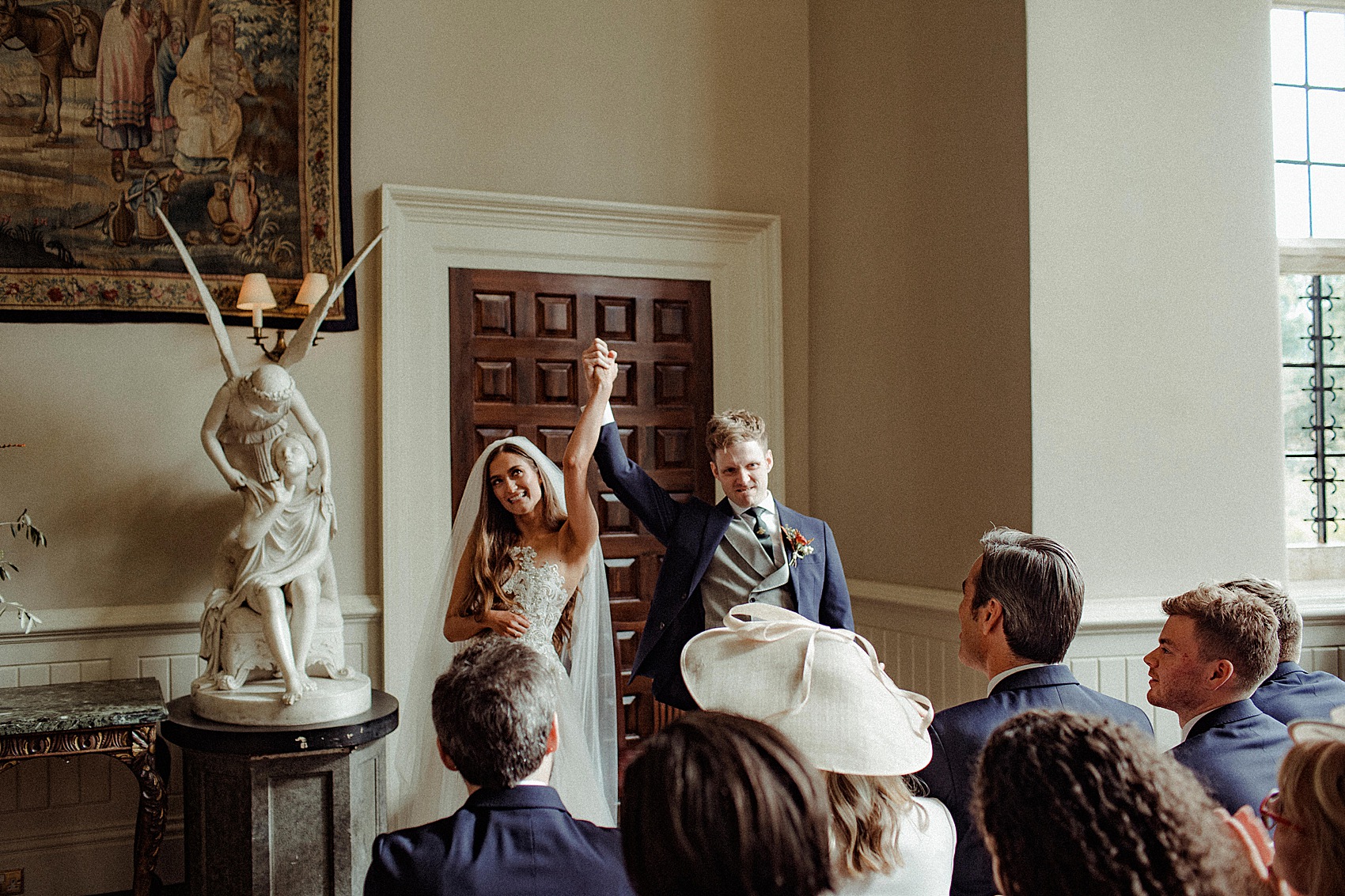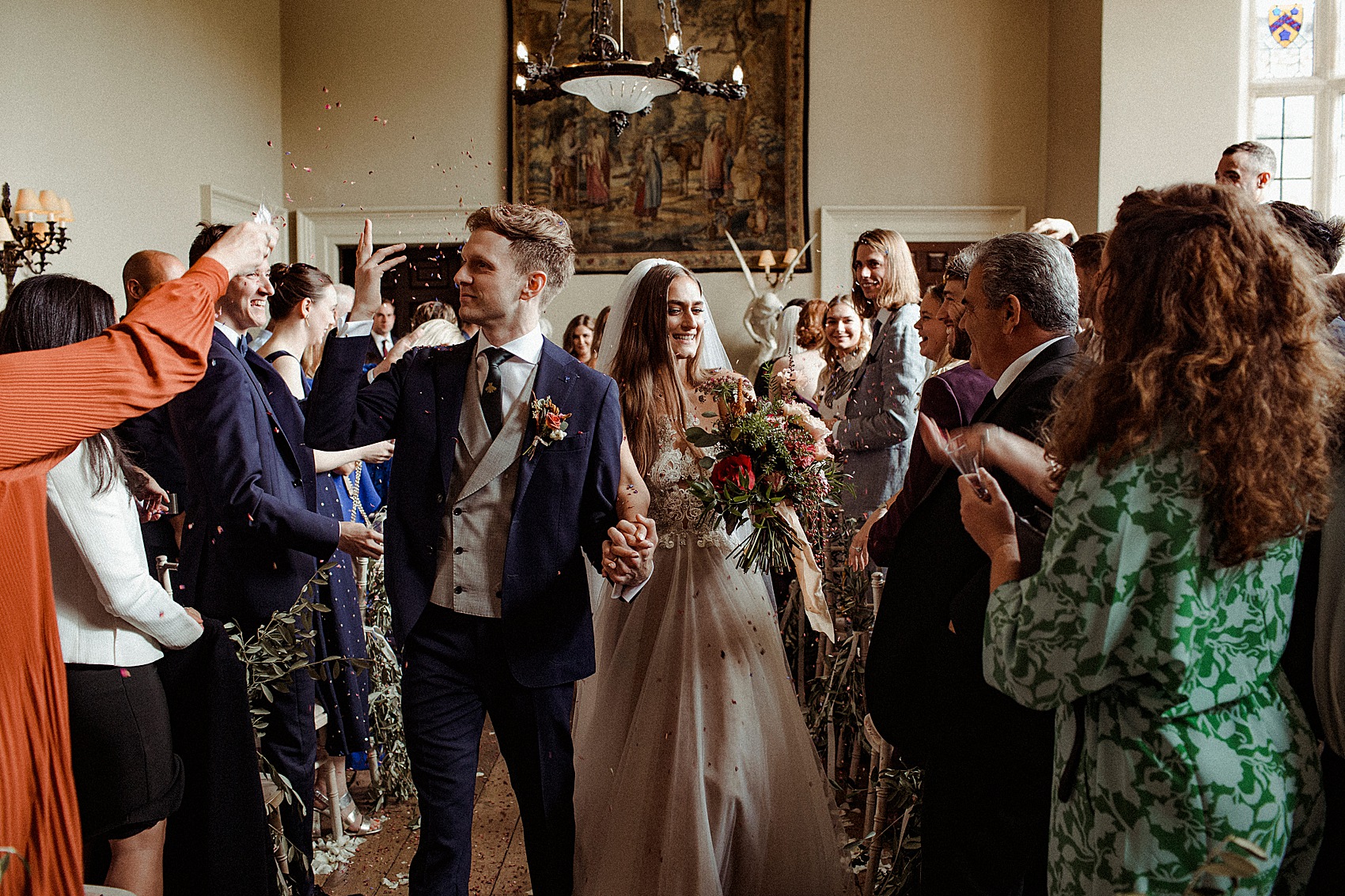 "Blaoum Studio was our flower designer. I looked at a lot of classic Pre-Raphaelite paintings for inspiration for the colour scheme for the flowers, and loved the idea of everything having an asymmetrical and perfectly imperfect vibe."
"Blaoum Studio did an amazing job of these – we asked for a rich, textural vibe with the flowers, and I was so inspired by what Shelena came up with."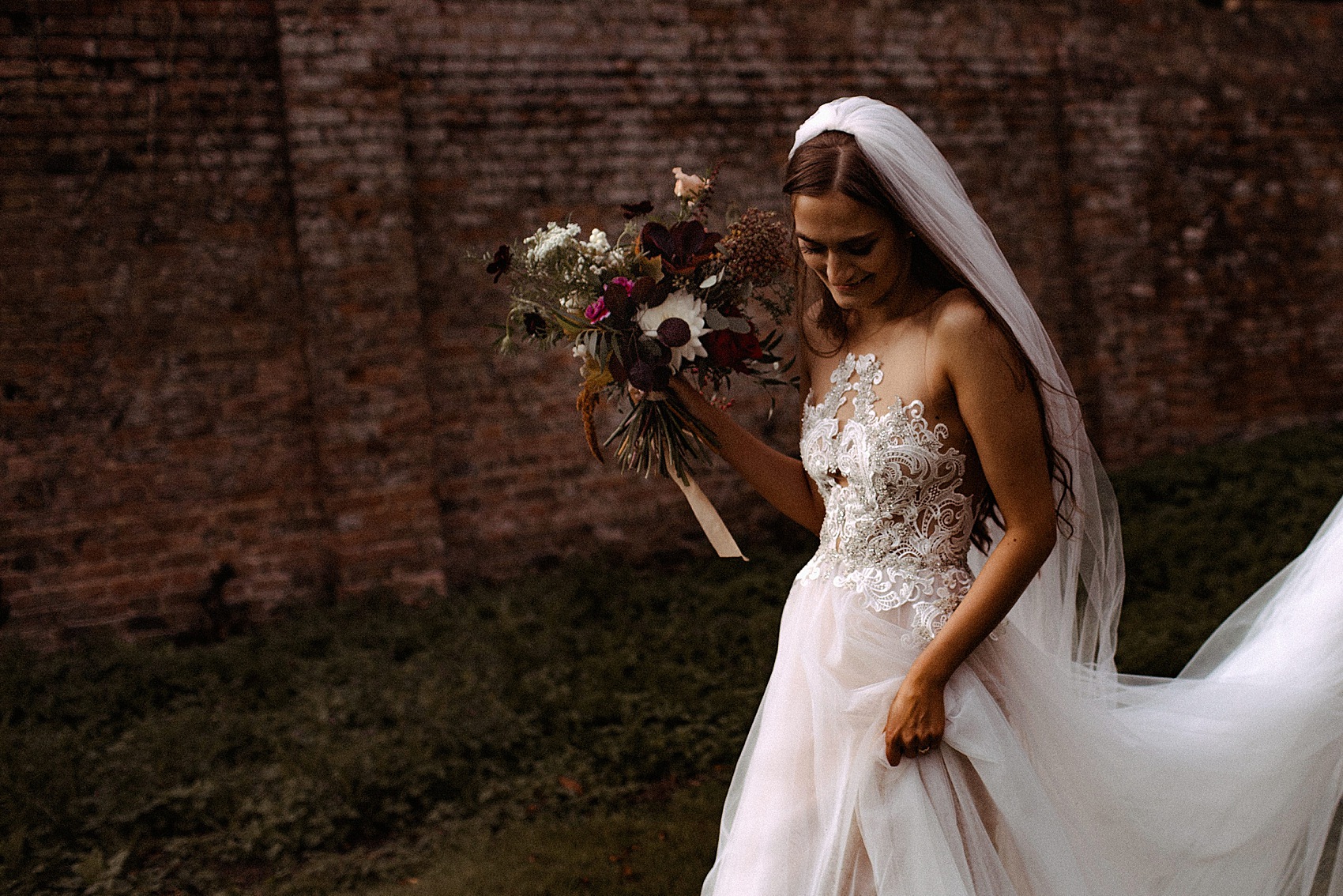 Shelena's amazing floral designs included a wild and unstructured bouquet for Sophia, filled with dramatic colour and texture from dahlias, chocolate cosmos, berries, roses and more.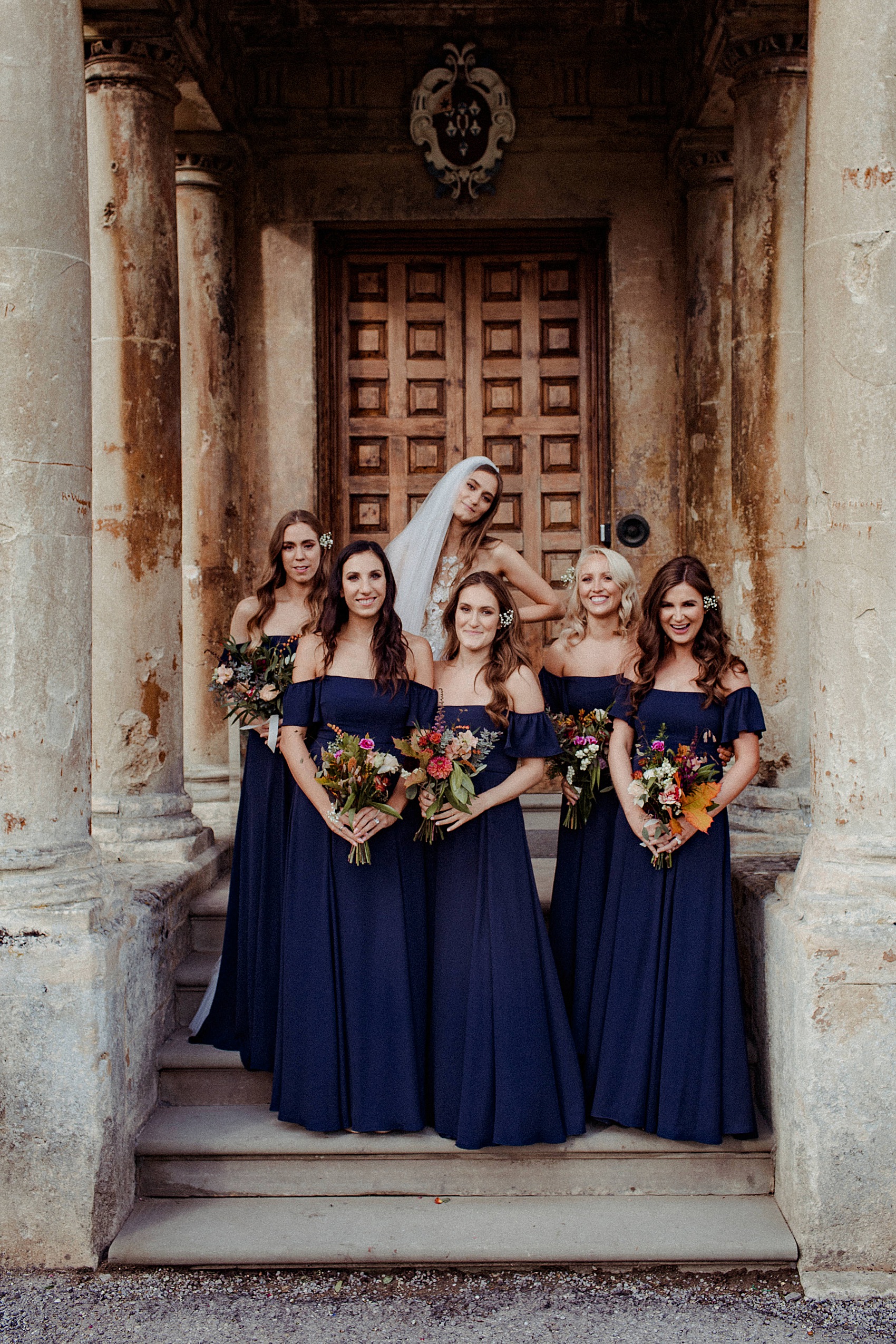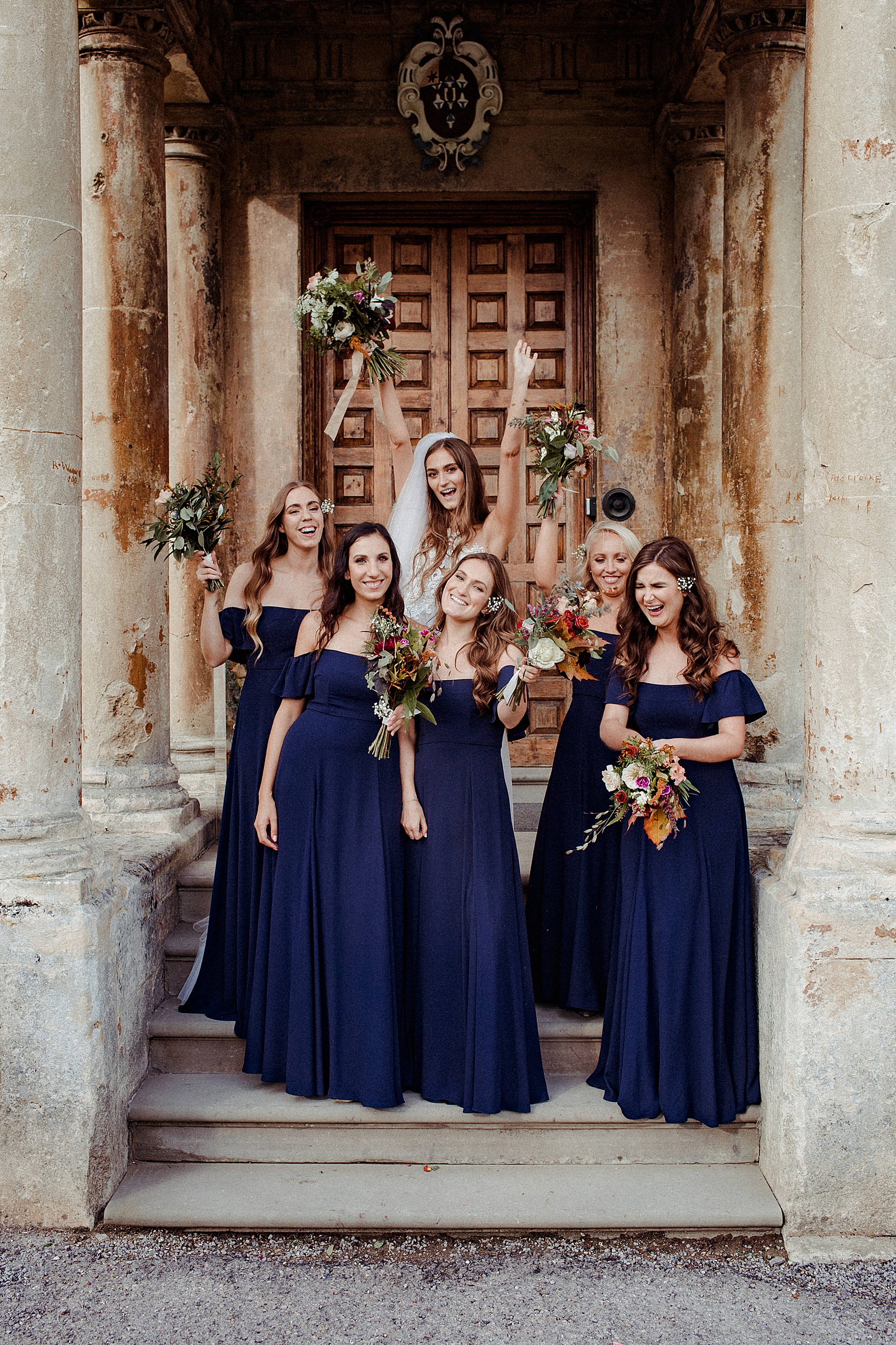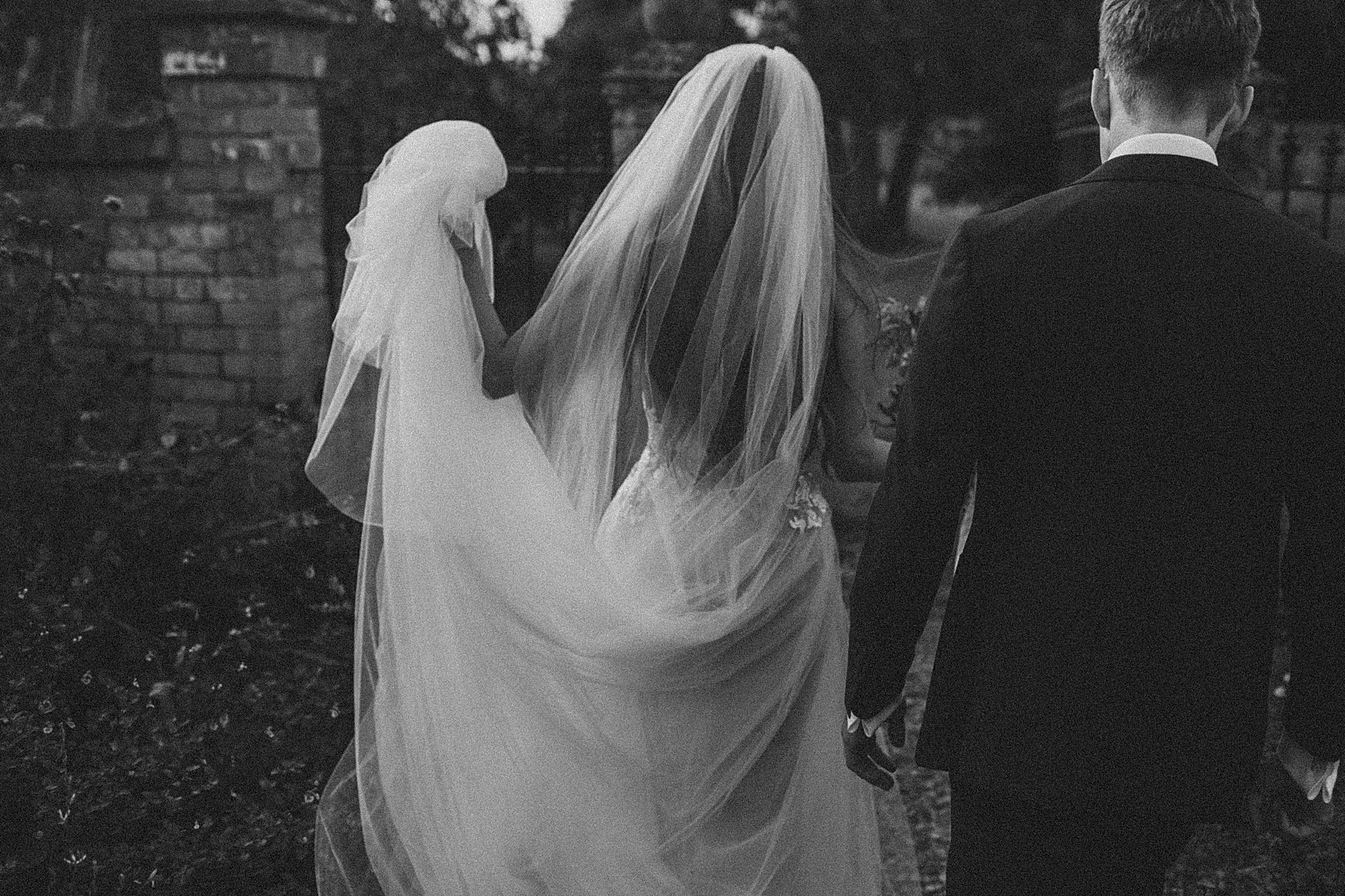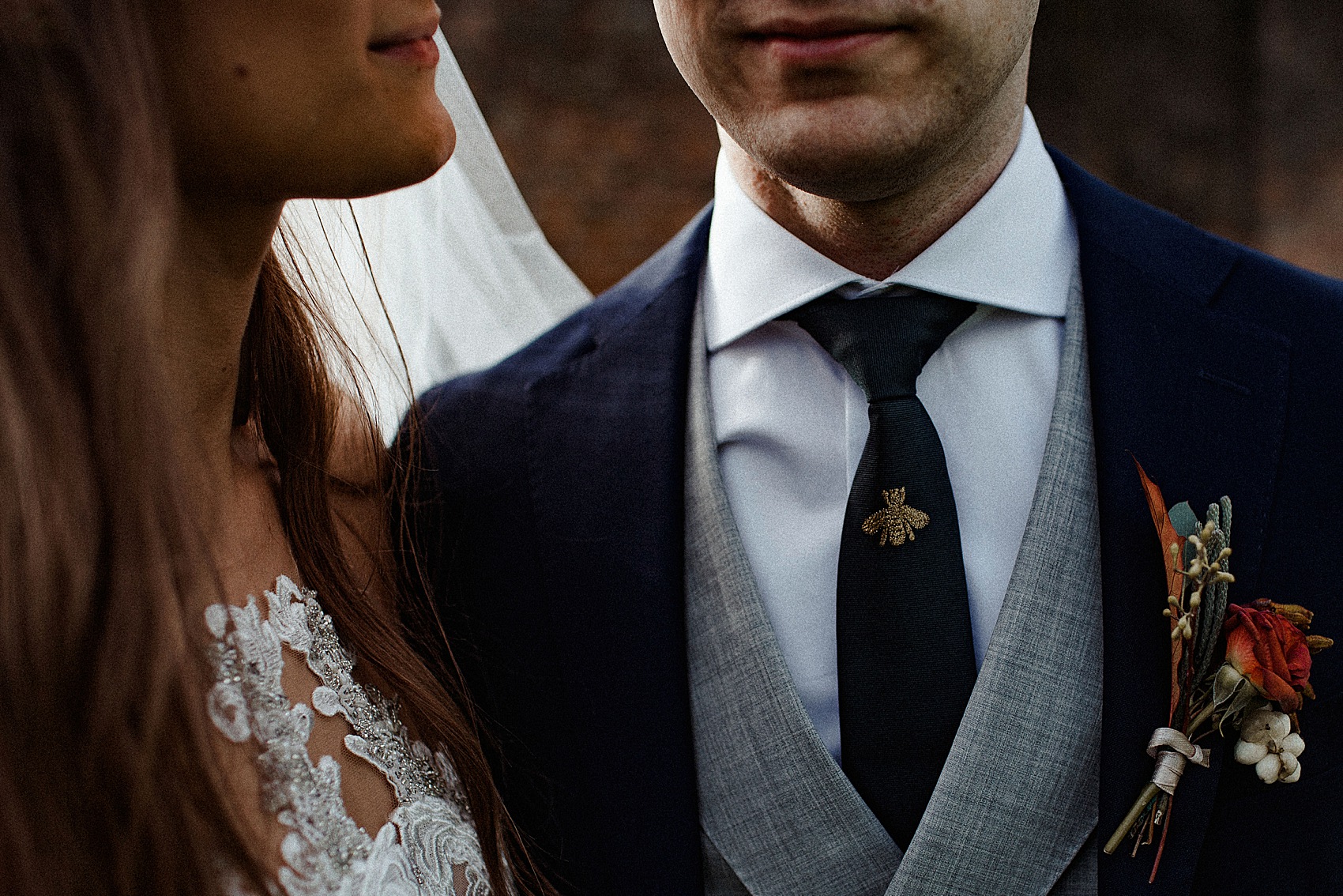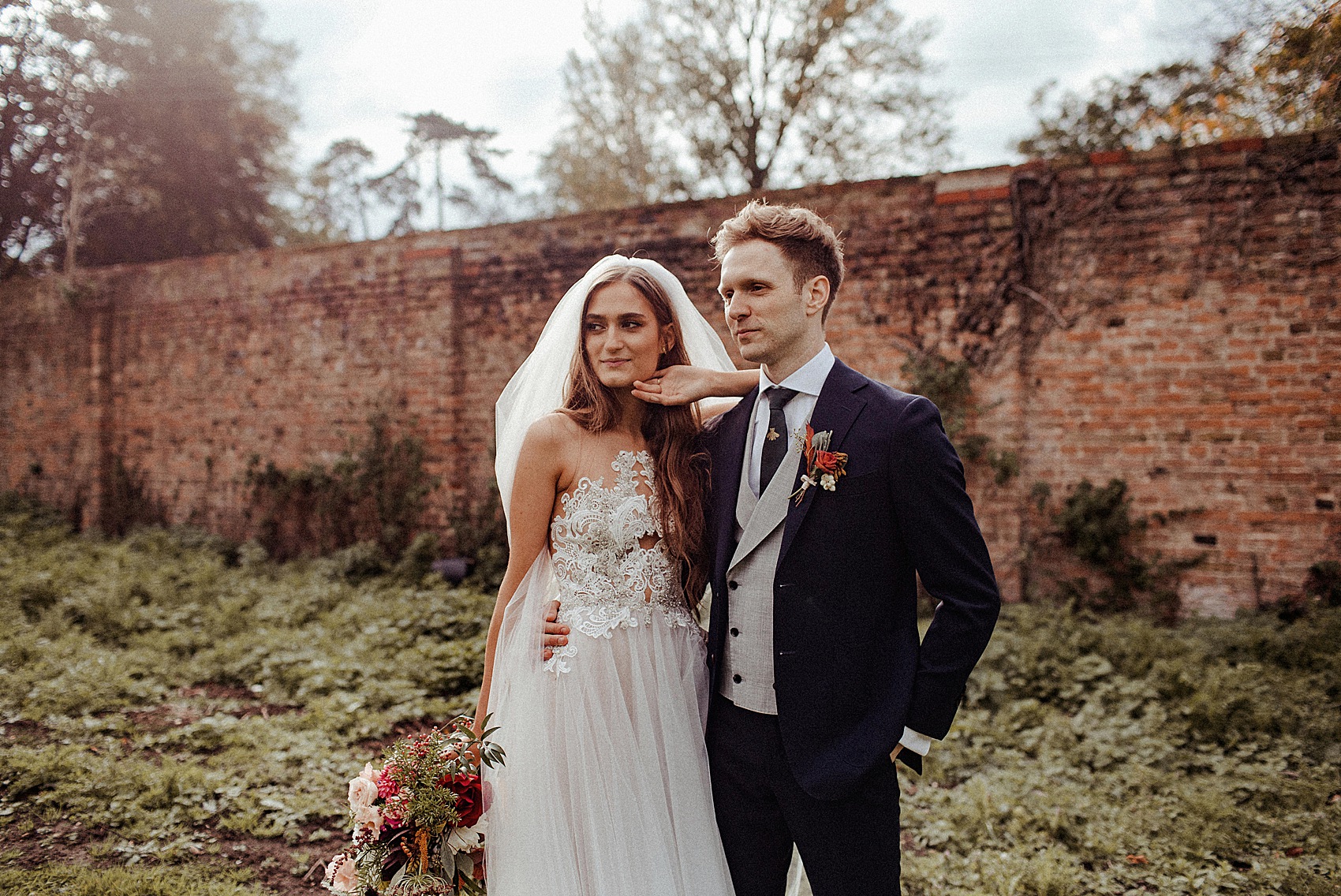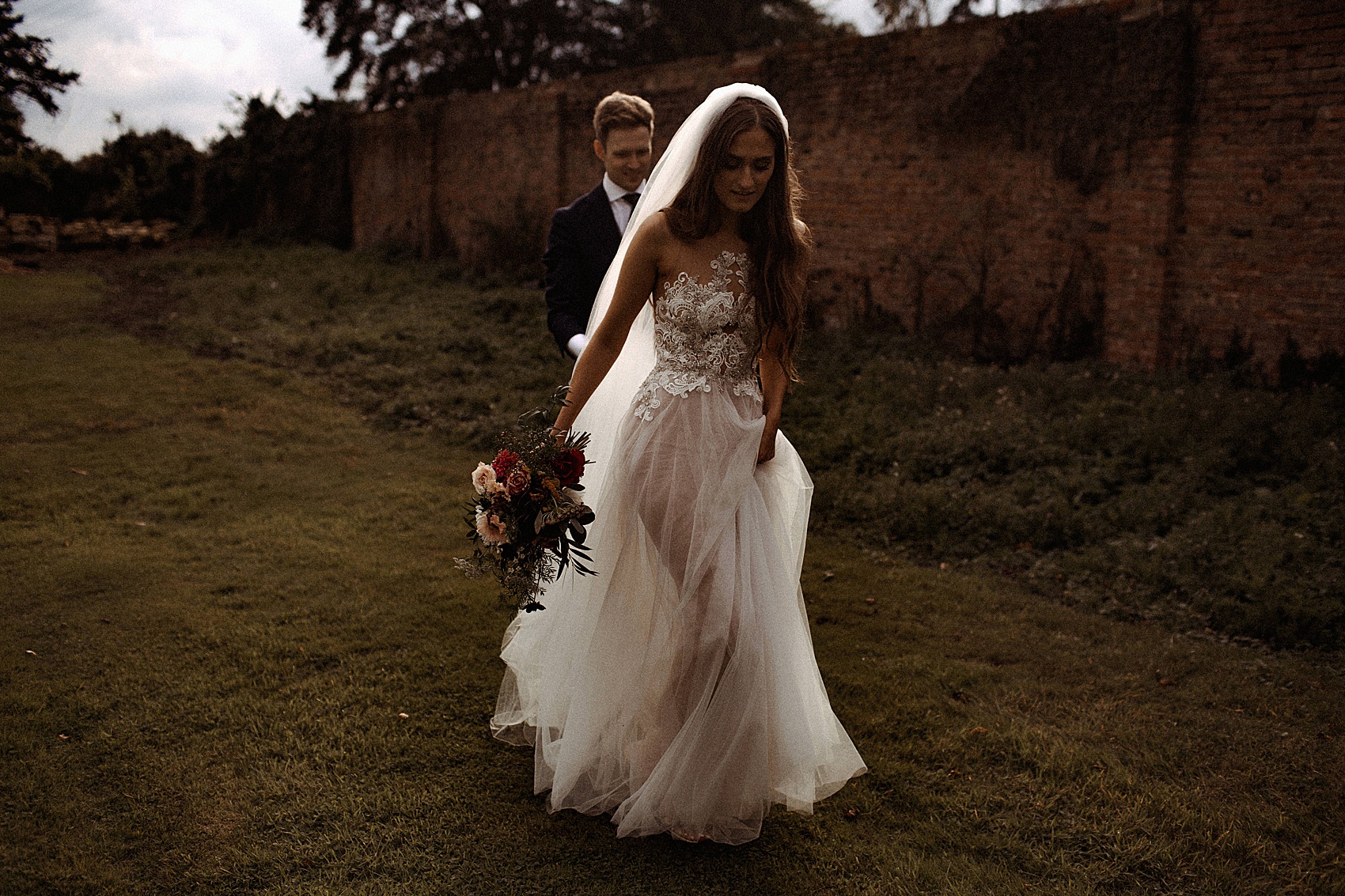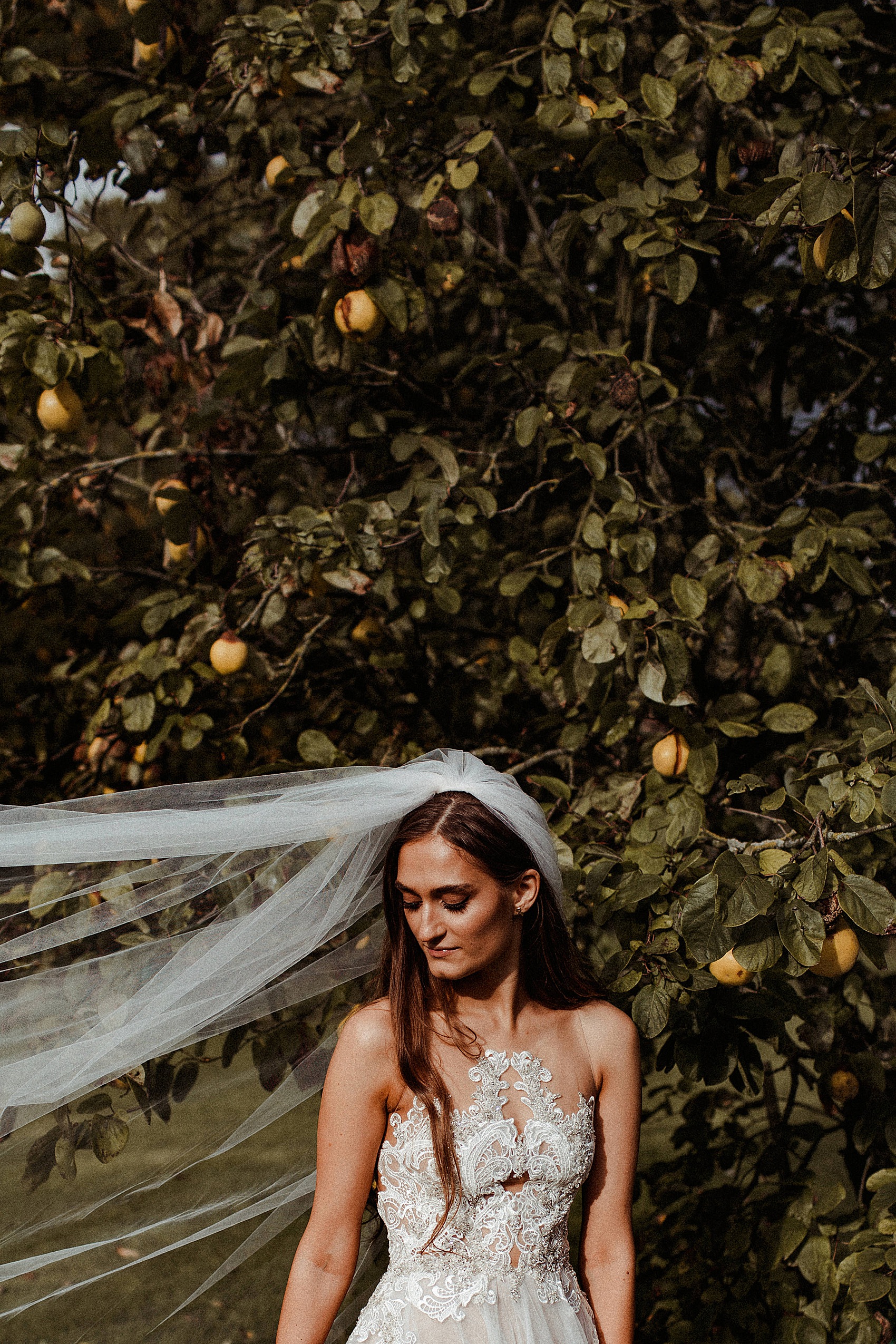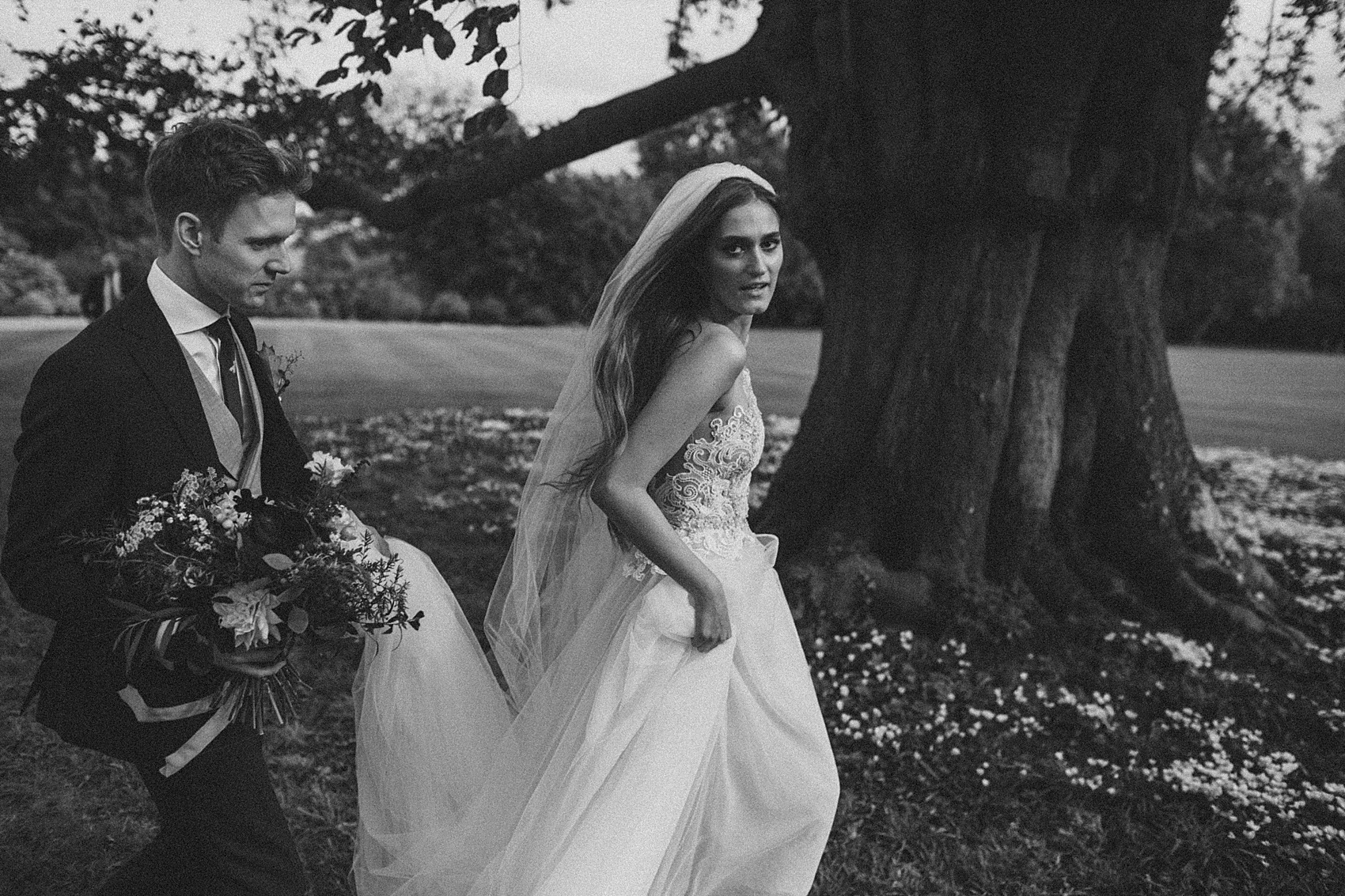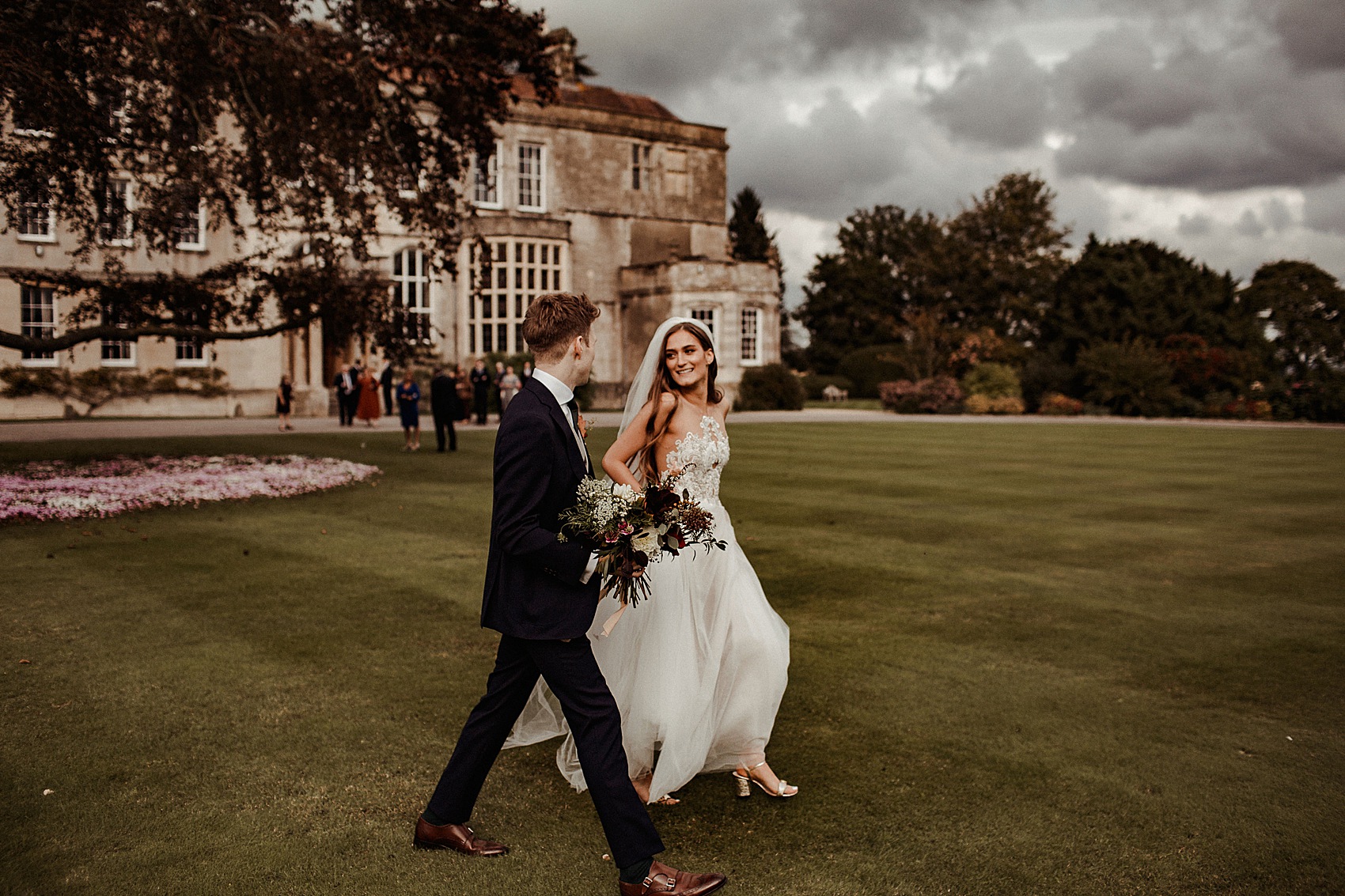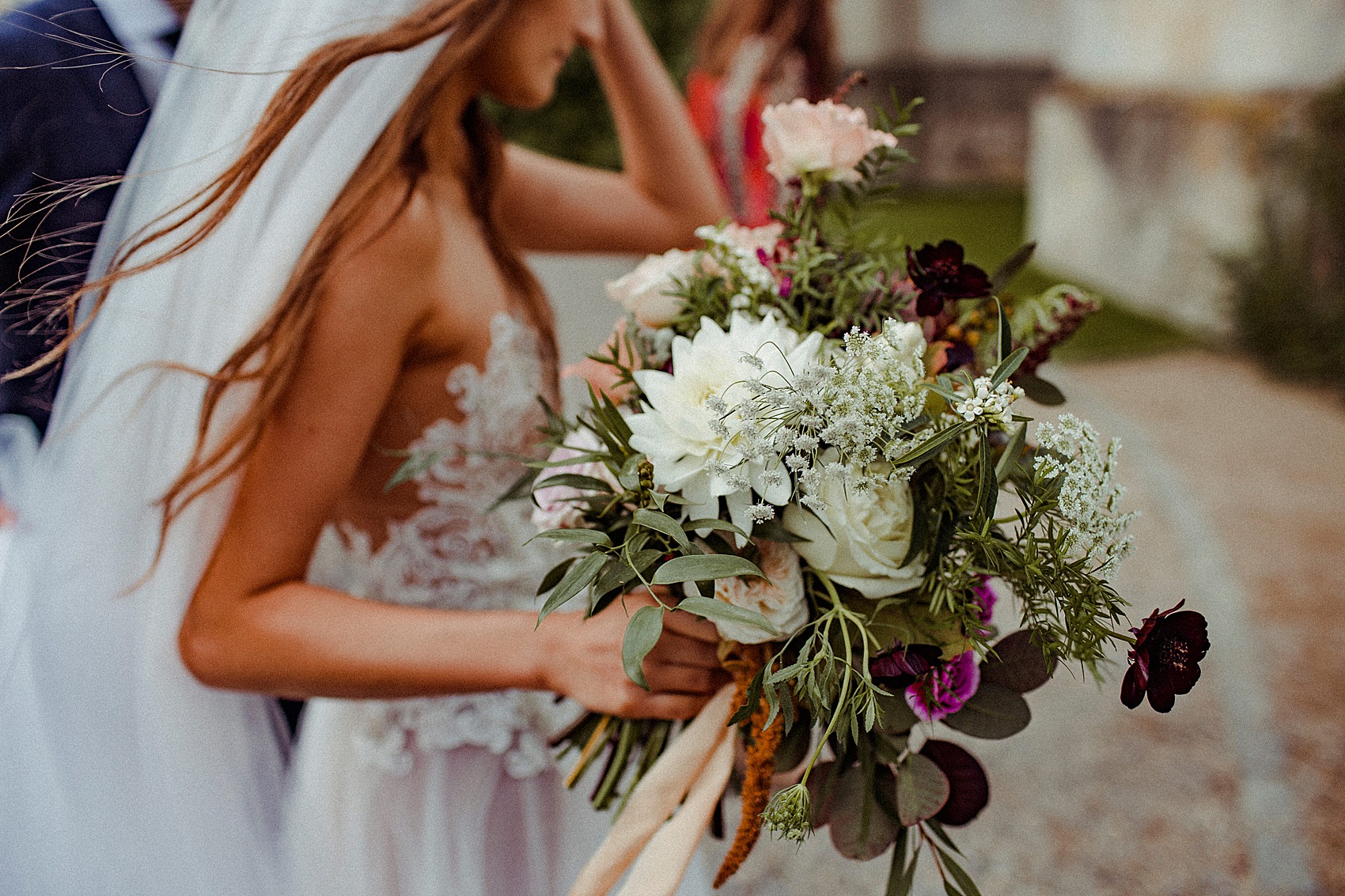 Sophia and Charles held their wedding breakfast and reception in Elmore Court's contemporary, sustainably built party space, Gillyflower. After dinner from the Elmore Court team, there was dancing, and a special speakeasy style cocktail bar actually on the dancefloor itself!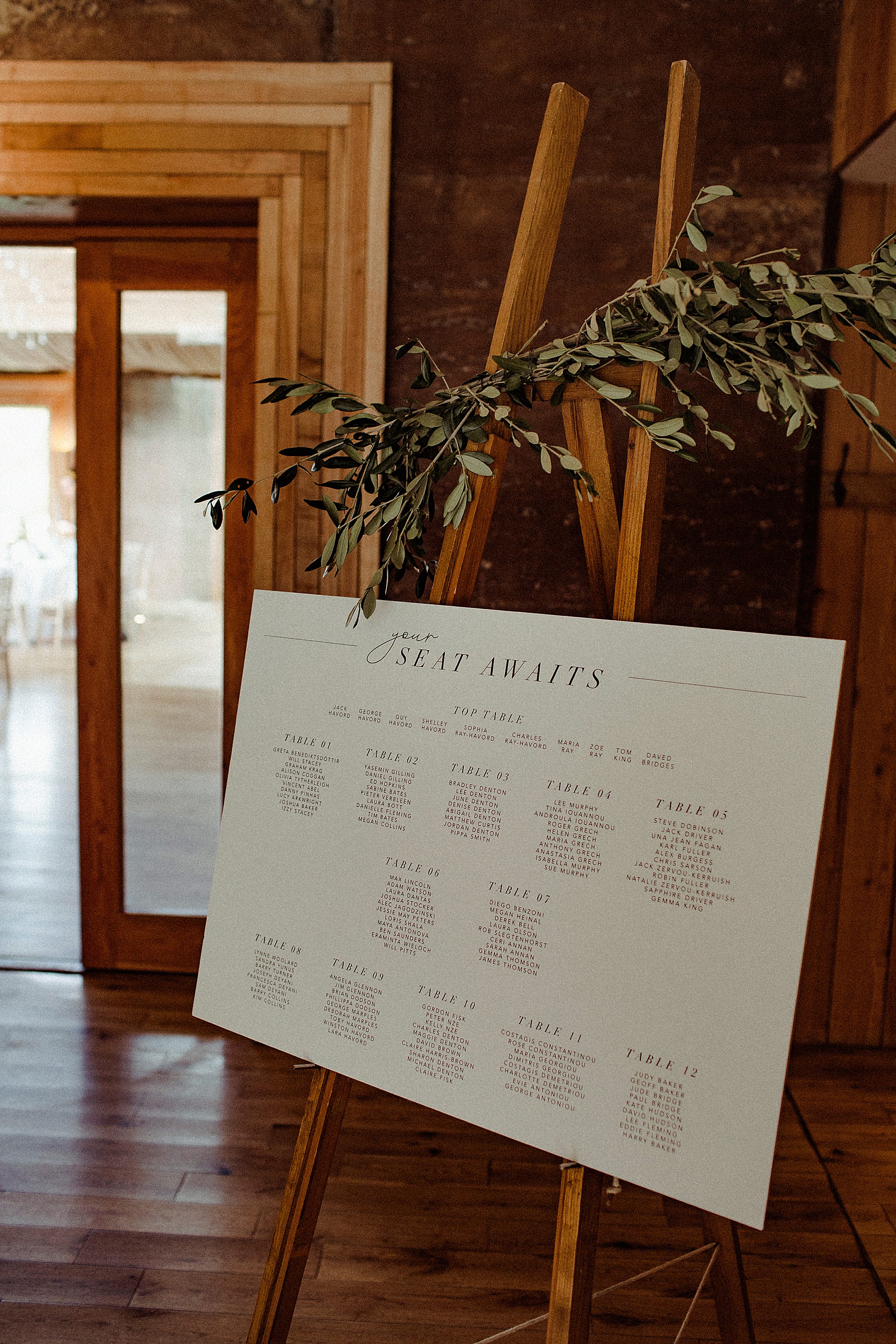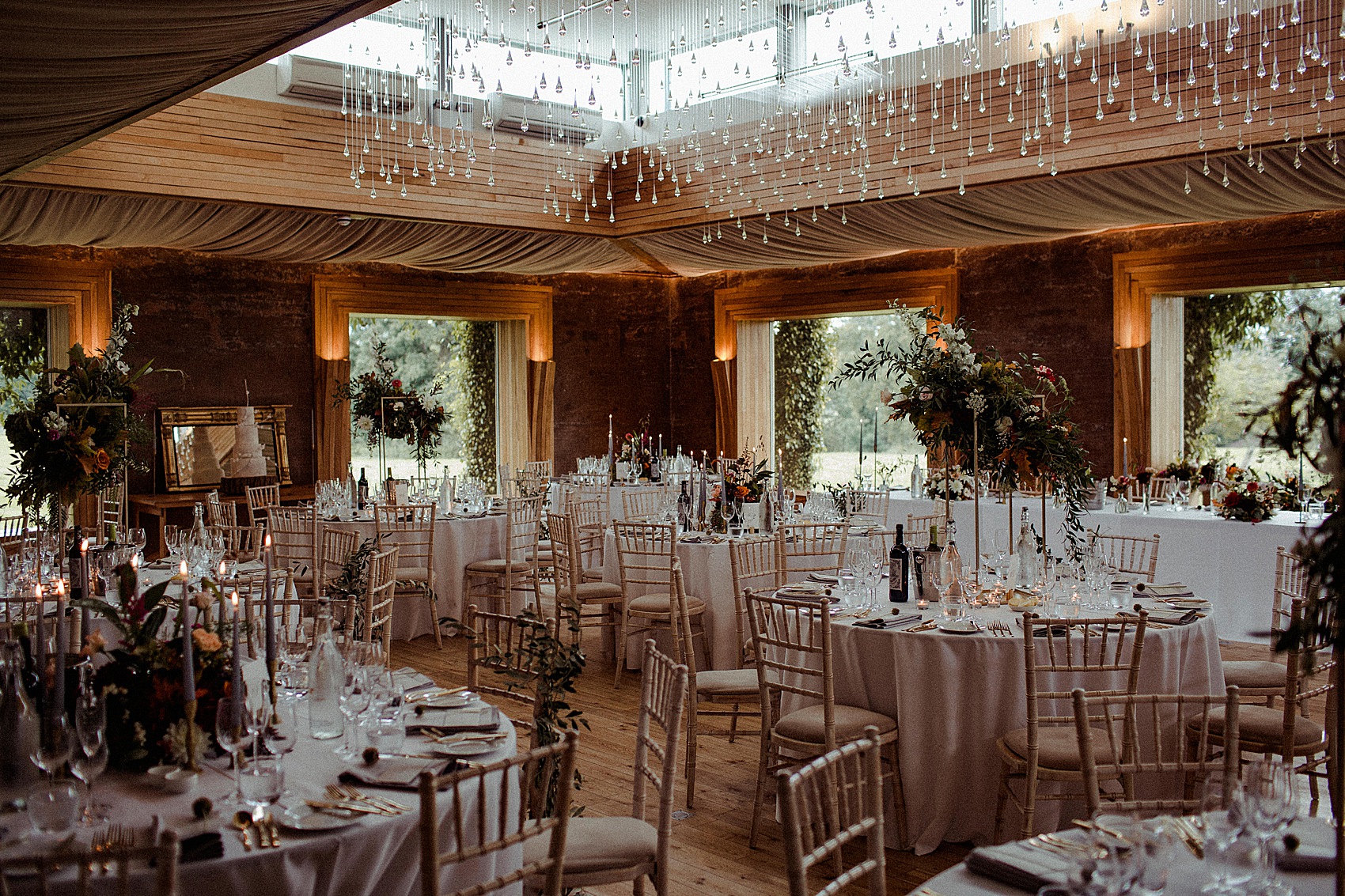 "As it was an Autumnal wedding, we wanted a warm, cosy, romantic and rustic/raw feel to the day. Lots of Autumnal colours mixed with crisp whites, navy and deep greens, then gold cutlery and dusky grey linen for the tables."
"The bridesmaids and groomsmen were all also in navy, and there was warm, cosy lighting tones in the lighting during the wedding breakfast."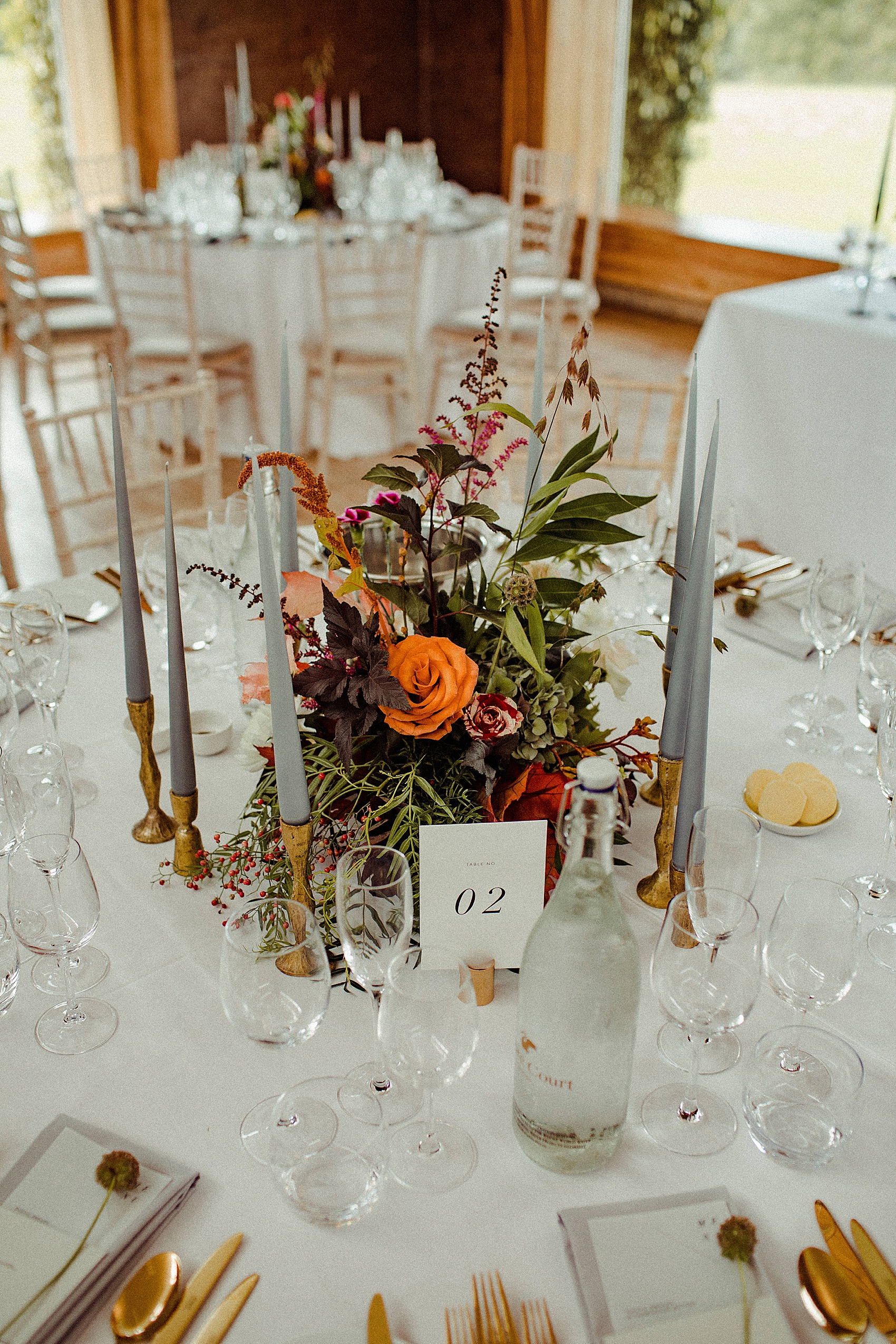 As well as luscious table centrepieces, there was also a beautiful wall of cascading flowers arranged in single stems. The tables were also decorated with elegant grey taper candles in antique gold candlesticks, and self-designed stationery printed by Avenue Litho.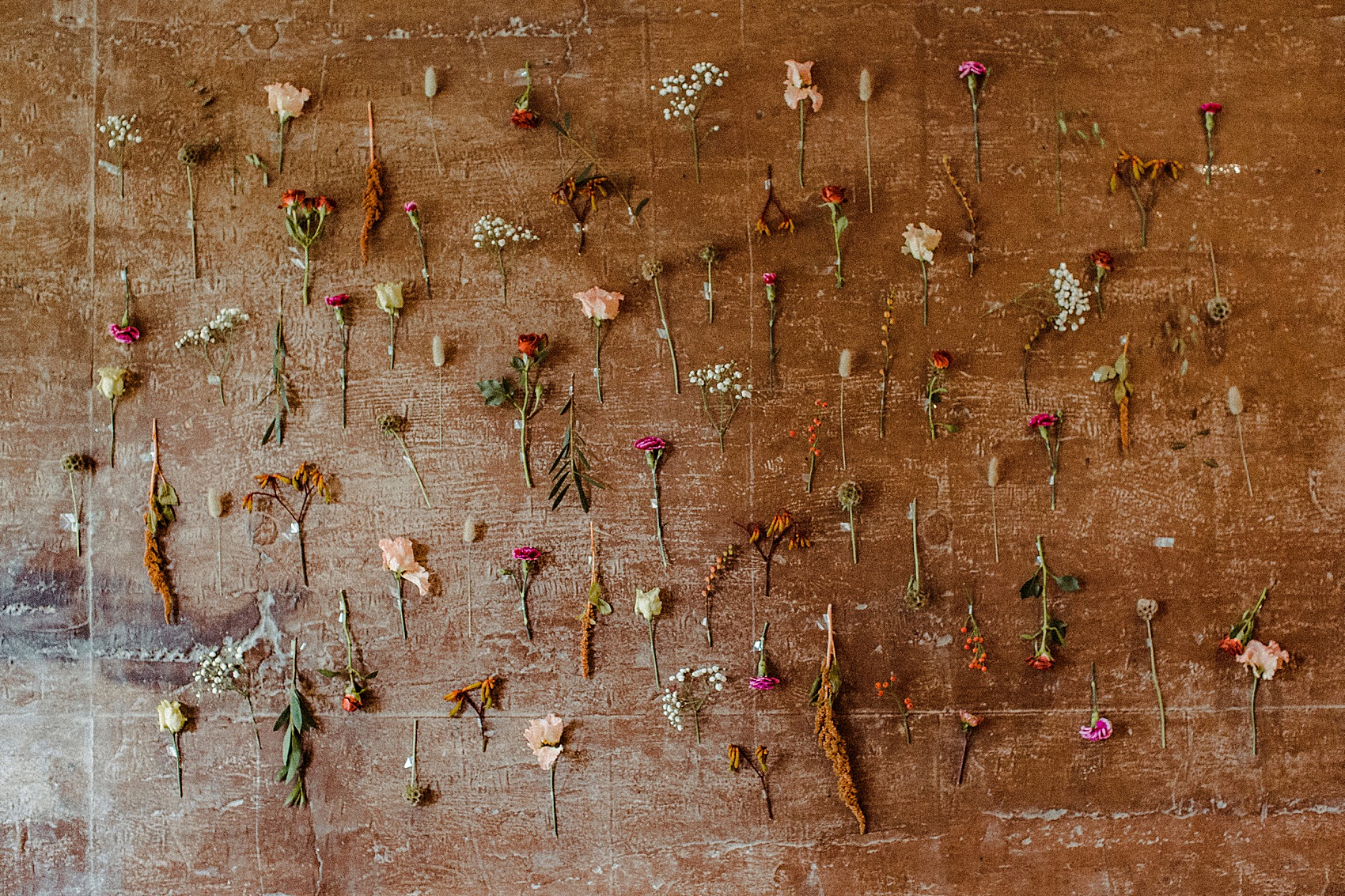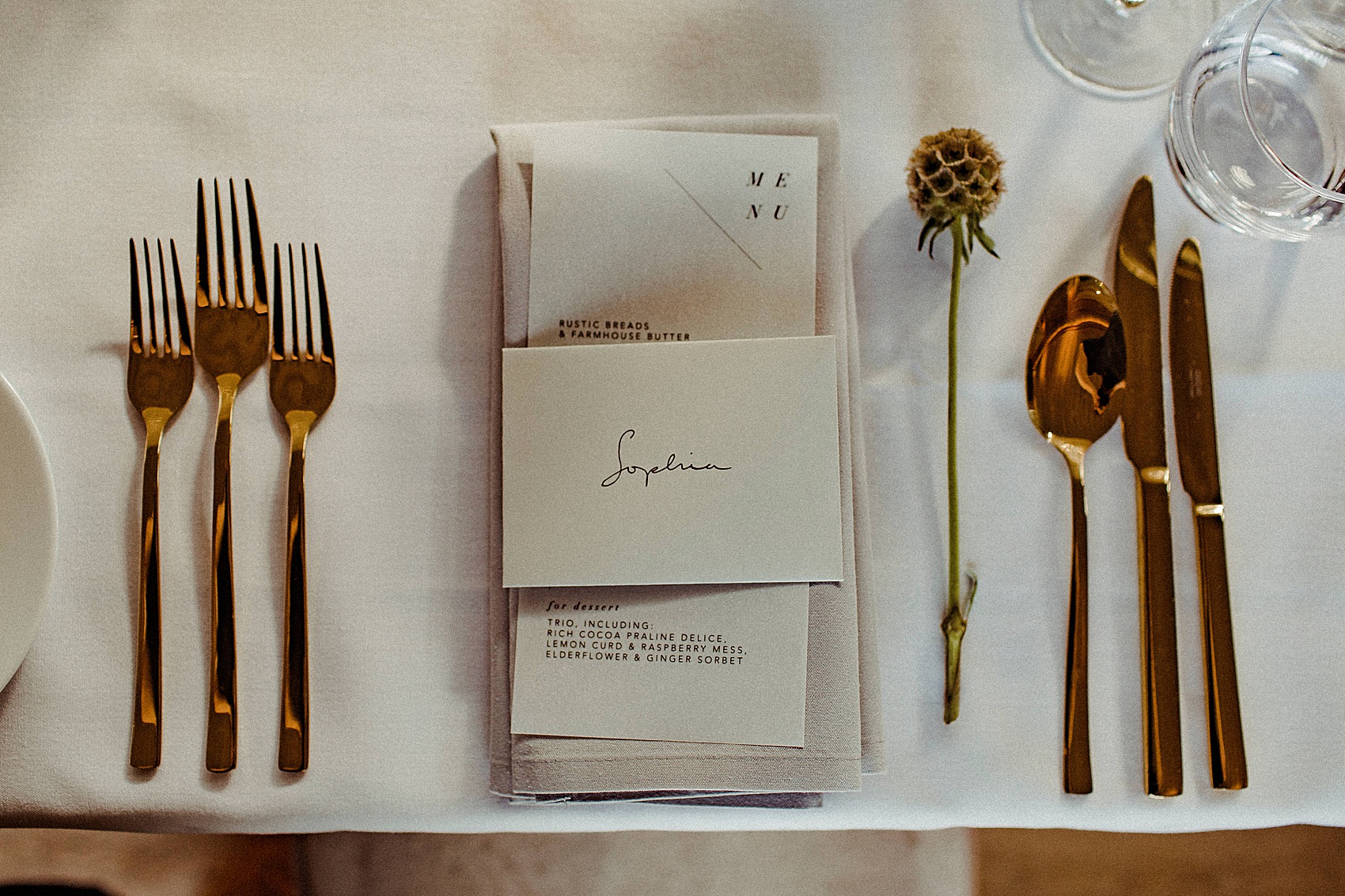 "Our wedding cake was designed and made by the awesome Claire Owen Cakes. It was four tiers with a different flavour for each tier."
"Chocolate and salted caramel ganache, pistachio and rose, gin and tonic, and lemon and poppy seed. The design was inspired by my wedding dress!"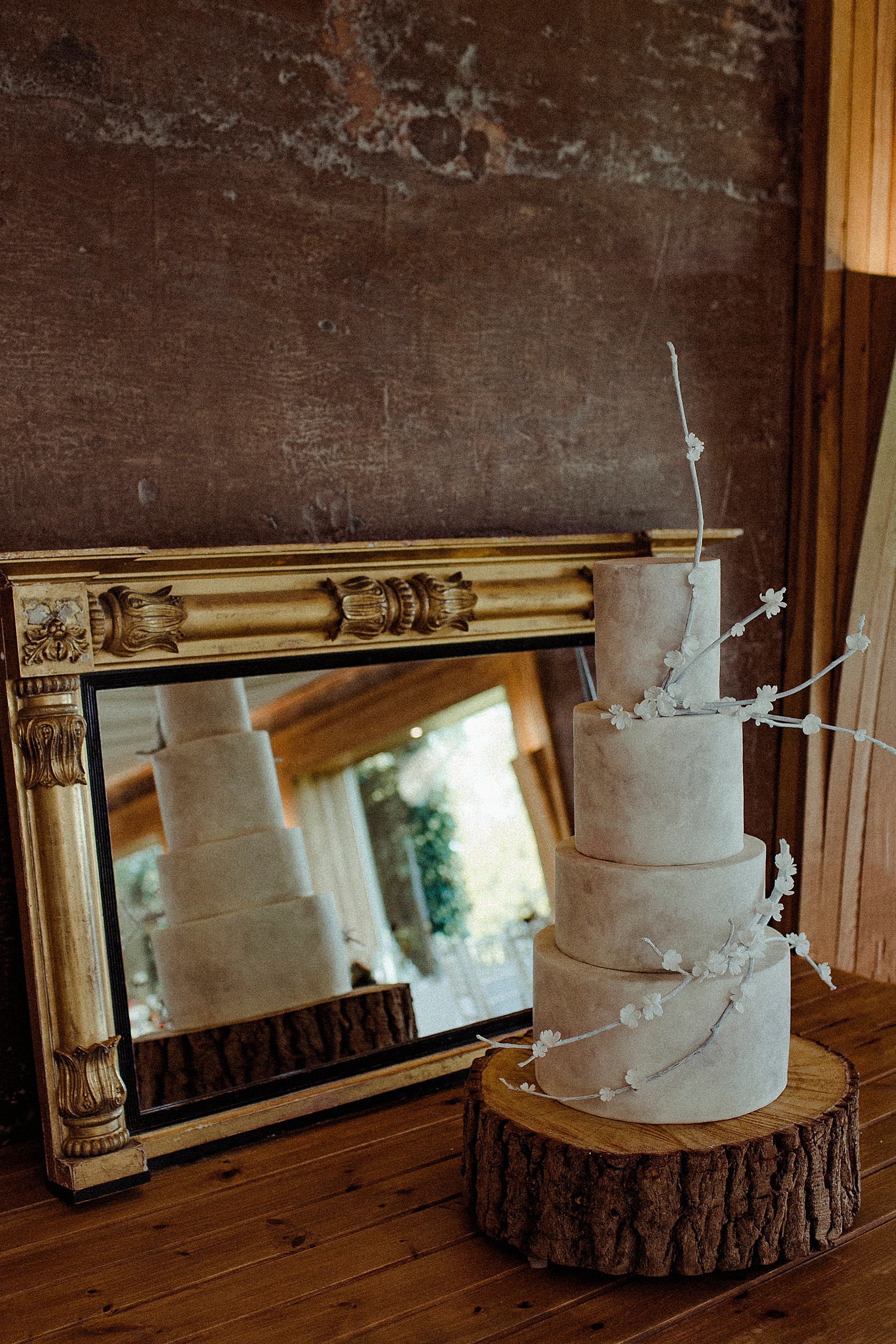 Tilly Thomas Lux crafts the most exquisite pieces, and in the evening, Sophia swapped her veil for one of Tilly's amazing crowns.
"I had spotted Tilly Thomas Lux's accessory designs on Instagram and fell in love with them. I then saw her work at a wedding fair in the flesh, and after trying her designs on I knew they were right for me."
"Chris, a good friend of ours who is also an awesome DJ played an amazing set.  We had sat down, all three of us with a bottle of wine about a month before the wedding and came up with it together."
"We wanted it to be a good mix of bangers that our mates would love as well as some classics for the older guests too. Our mums are big dancers and love 70s disco vibes, so we found a nice middle ground between tracks – think Sean Paul one minute, then Earth Wind and Fire the next."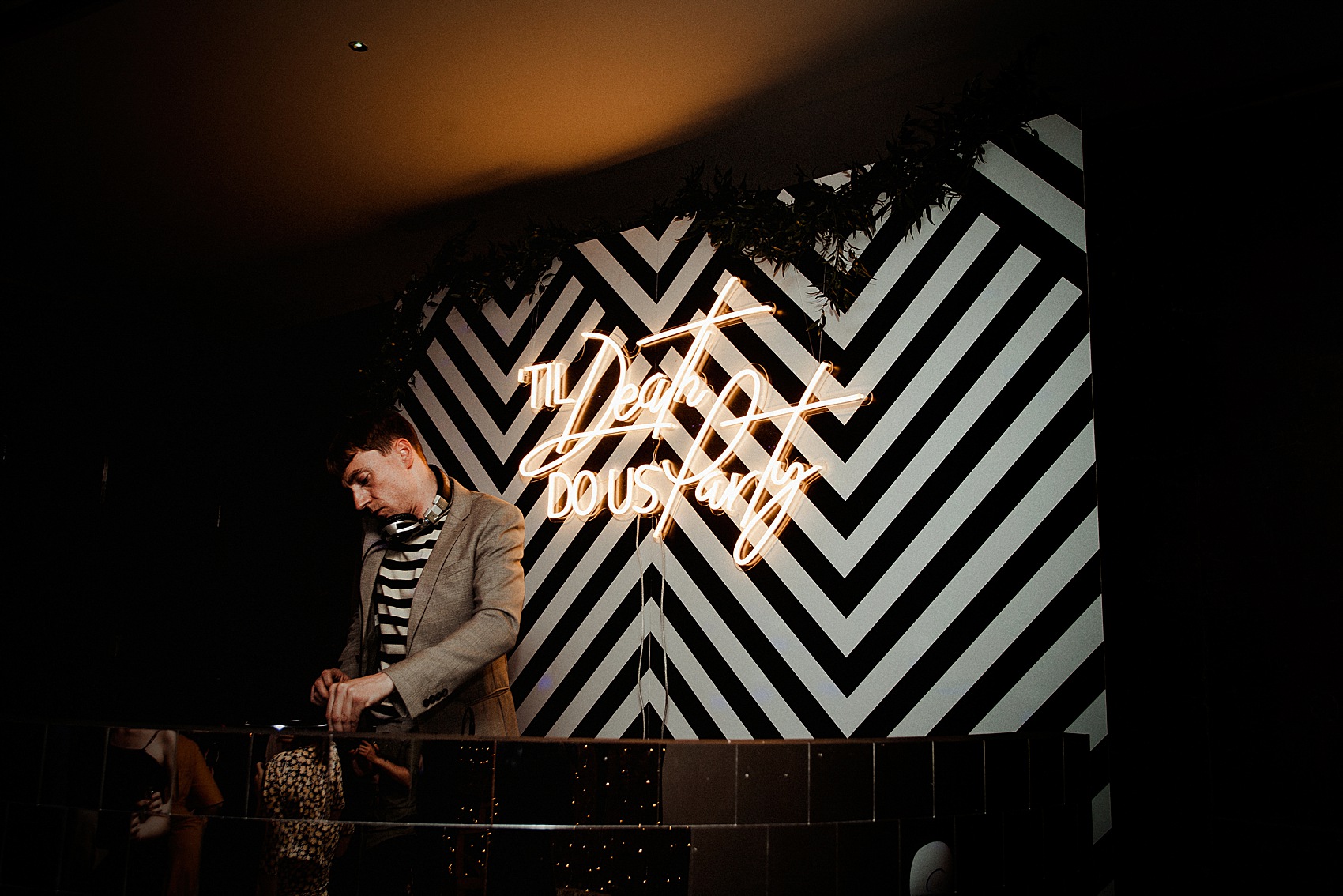 Sophia and Charles' first dance as husband and wife was to such a brilliant song from Sophia's favourite band, The Cure – Friday I'm in Love.
"I (Sophia) am half Greek-Cypriot, and although we didn't have a traditional religious Greek wedding, we did the traditional Greek money dance that my Mum's side of the family have been partaking in for generations."
"Instead of giving traditional gifts, guests gift the couple by pinning money on them as they dance. The Greek side of the family knew the drill, but we were a little worried about the English guests not quite getting it – but they all loved it!"
"Everyone was dancing to Zorba The Greek – it was such a fun moment as every single person at the wedding was on the dancefloor and partying with us – a real wedding highlight. It was such a cool party highlight with the entire wedding dancing in a circle, arms round each other."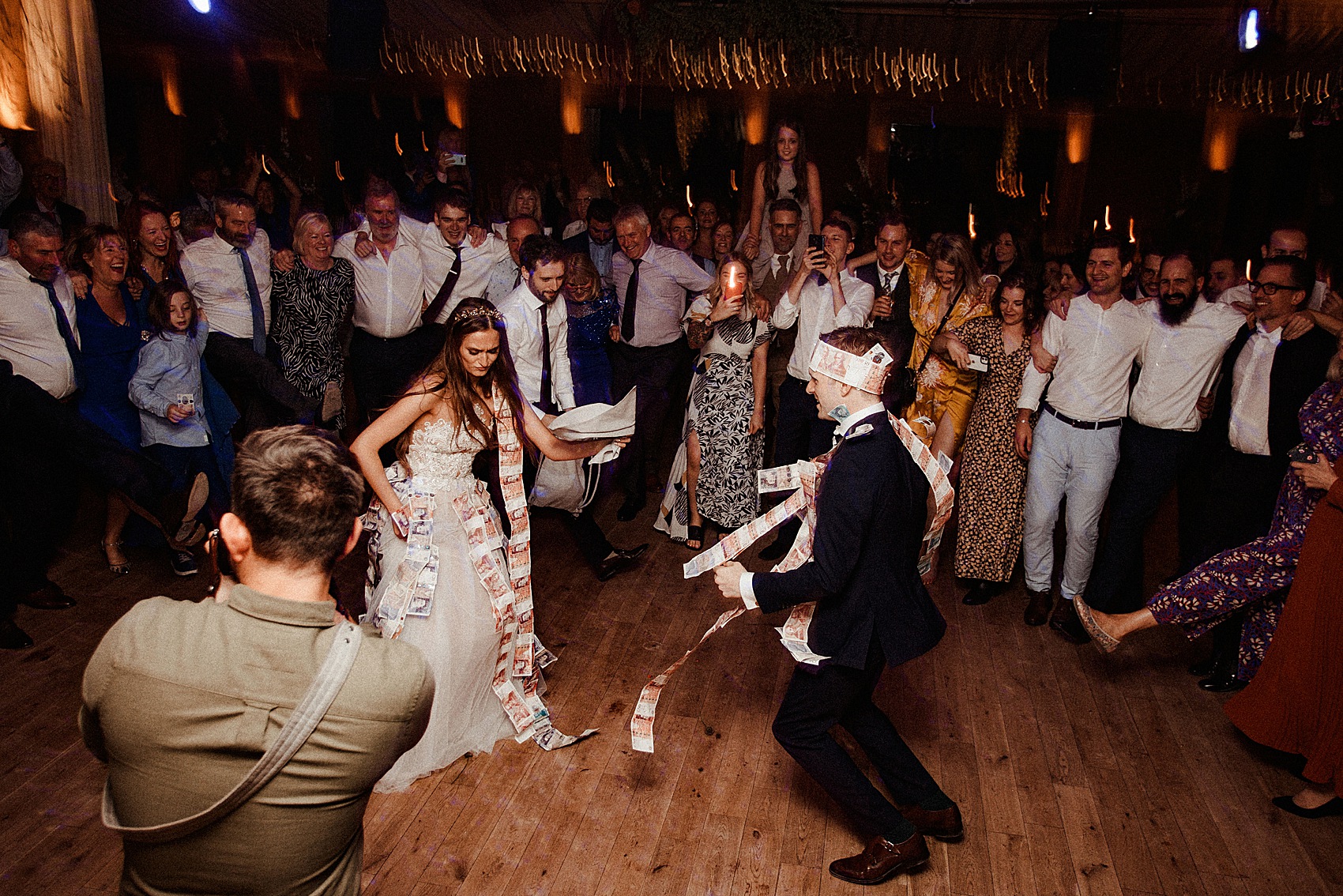 Words of Wedded Wisdom
"I wish I'd known that trusting your gut is the best thing. You don't want to get to the day with any regrets. If something seems like it must be done to you – there is probably a reason for that."
"Also breathe and enjoy yourself. This day is all in the name of love, so have fun as much as you can in the planning and don't sweat the small stuff!"
"Communication is key – the wedding was a real collaboration between Charlie and myself, and there is something really nice in creating your dream day together."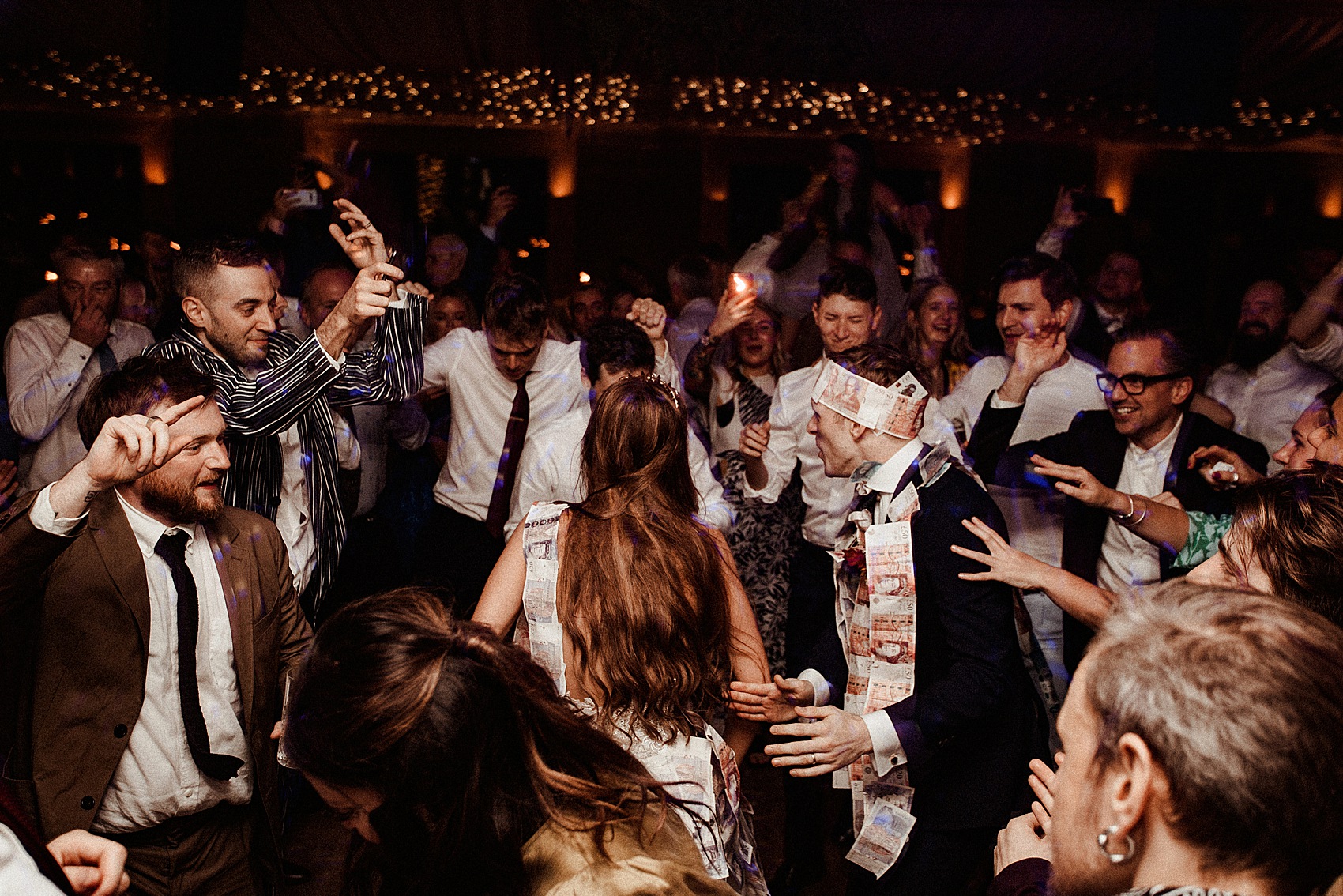 Congratulations Sophia and Charlie, as you recently celebrated your first anniversary. Thank you so much for giving us this magical little glimpse into a brilliant day.
Thanks also to Rebecca from A Thing Like That for this lovely photography, and do make sure you look at their other work on our pages, too.
Until next time!
Love, Laura