Indulge in a little armchair travel with me today, and take some time to sit back and enjoy this elopement wedding to the wild beauty of the Cairngorms in February, full of cosy and intimate details.
Here you'll find crackling fires, warm blankets, delicious food and drink, and a happy, relaxed couple celebrating their love in the midst of a pine forest. Mallory, a product lead for a technology company, and Will, an attorney, were married on the 5 February 2020 at Killiehuntly Farmhouse and Cottages. Killiehuntly was a lovely home away from home, and the couple held their Humanist ceremony outdoors, surrounded by nature. These beautiful images are by The Caryls.
The Caryls Photography

+ Follow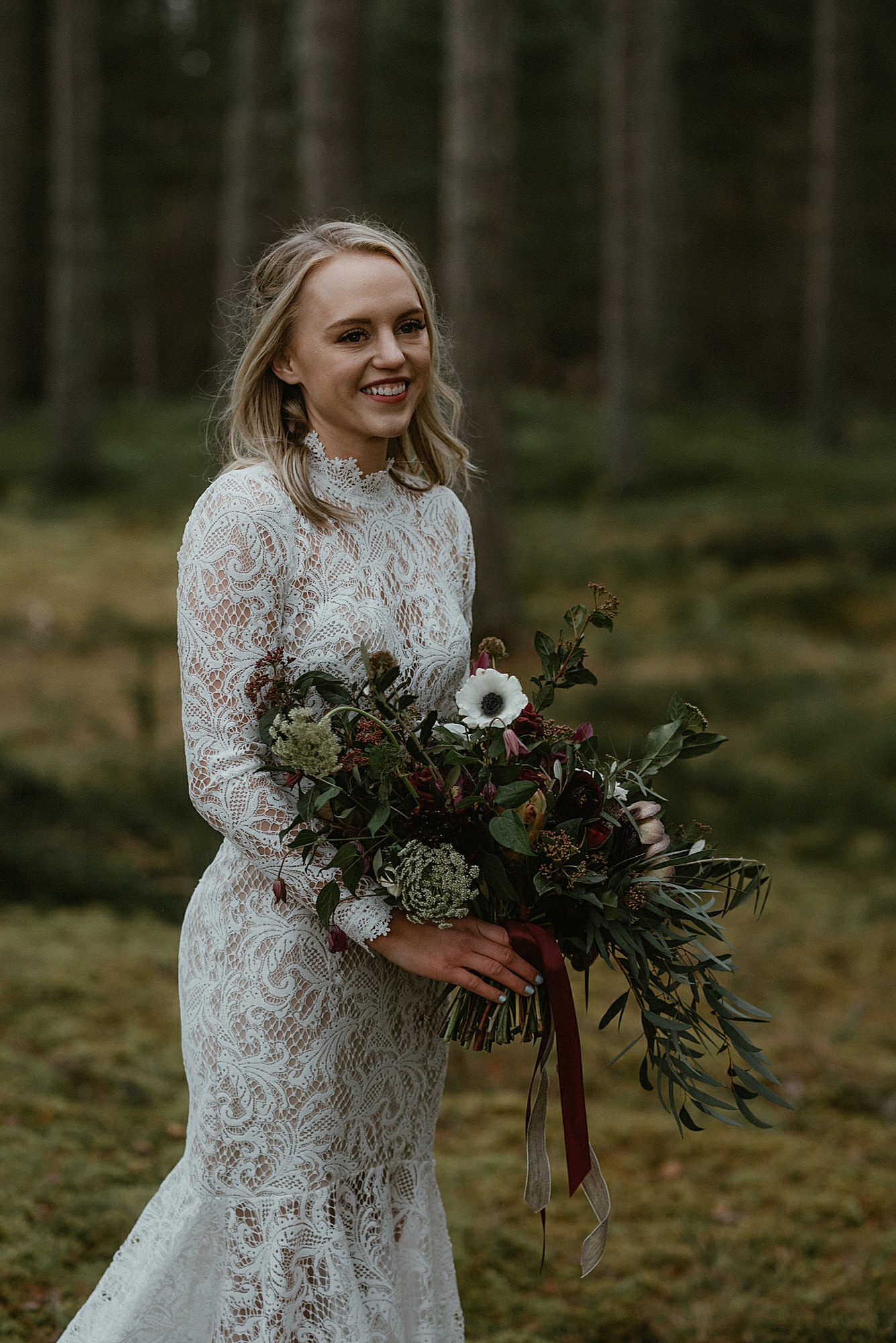 Mallory and Will's photographers were our talented Little Book members Katy and Jim of The Caryls Photography, who are two creative souls inspired by nature, interesting cityscapes, art, film, travel and literature. They also specialise in elopement weddings, and their passions and interests shine through in their evocative fine art work.
"The Caryls were one of the major reasons for us picking Scotland for our wedding. We fell in love with the moody vibes and dramatic landscapes of their work. On the day of they were fantastic. They had scoped out Killiehuntly a few weeks earlier and found a perfect spot for our ceremony, as well as some other places nearby for additional photos."
"We love to travel, so we knew from the beginning that we wanted a destination wedding. We looked at a lot of different venues and times of year but were having trouble narrowing it down. In the end we decided that something small and low key fit us best."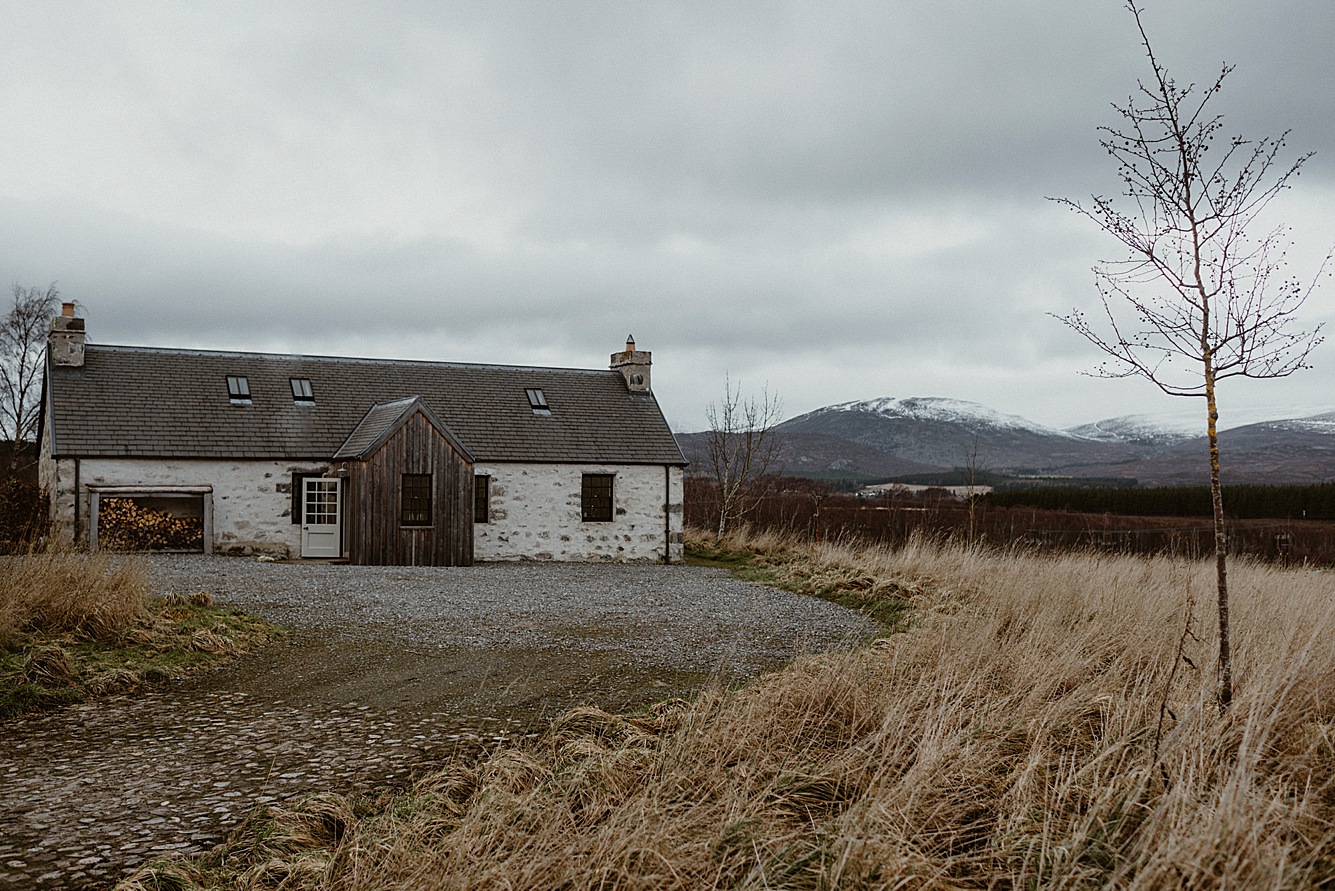 "We loved the wild and moody vibe of Scotland, and finding a fantastic photographer that was available made the decision easy! We fell in love with Killiehuntly's Scandinavian design mixed with the beautiful and moody vibe of the Cairngorms."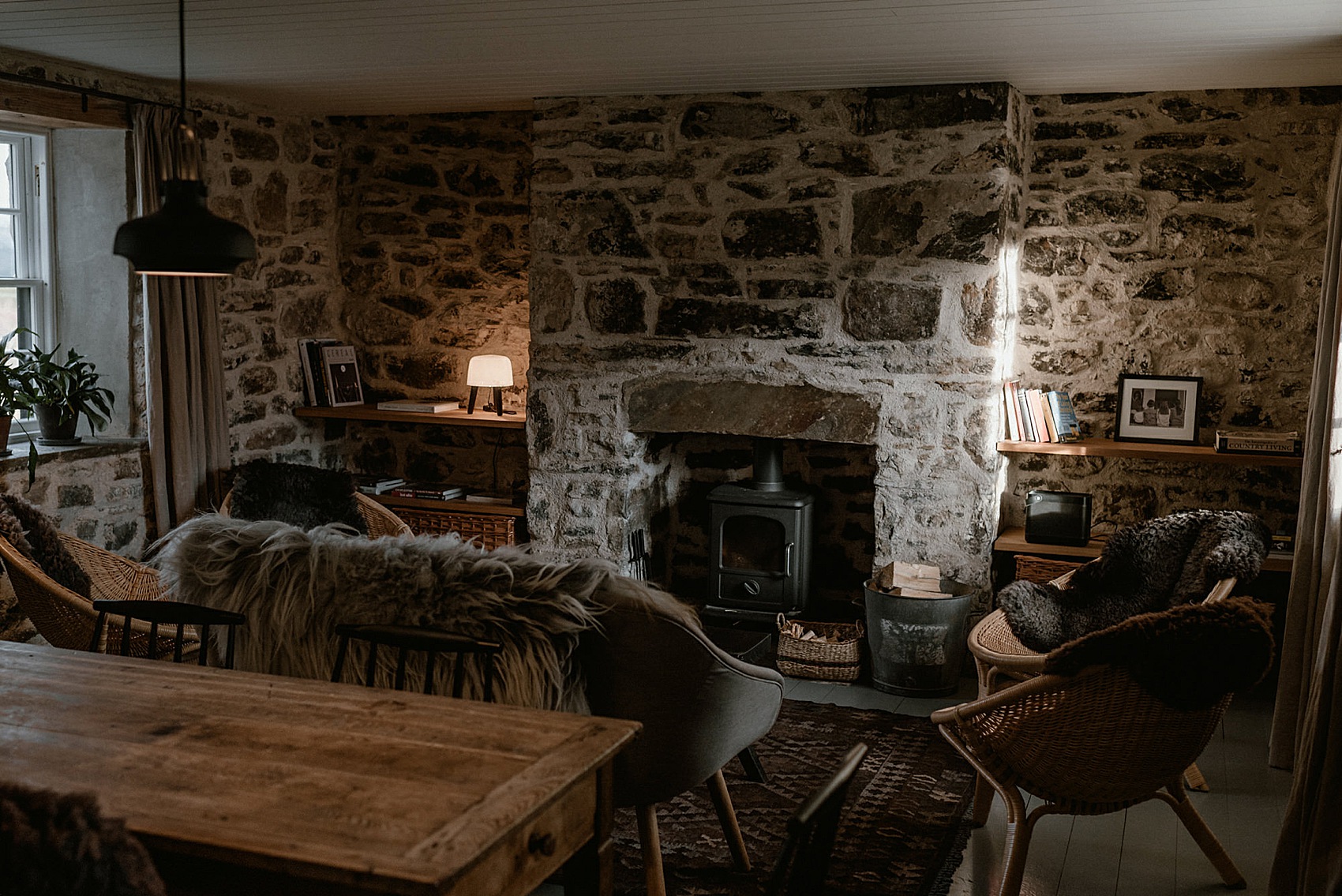 The dress Mallory chose was a gorgeous backless boho lace dress from Willowby by Watters, with a simple crew neckline, long sleeves and a beautiful train.
"I knew I wanted something long-sleeved and vintage inspired to complement the style of our wedding photos. I really loved the open back."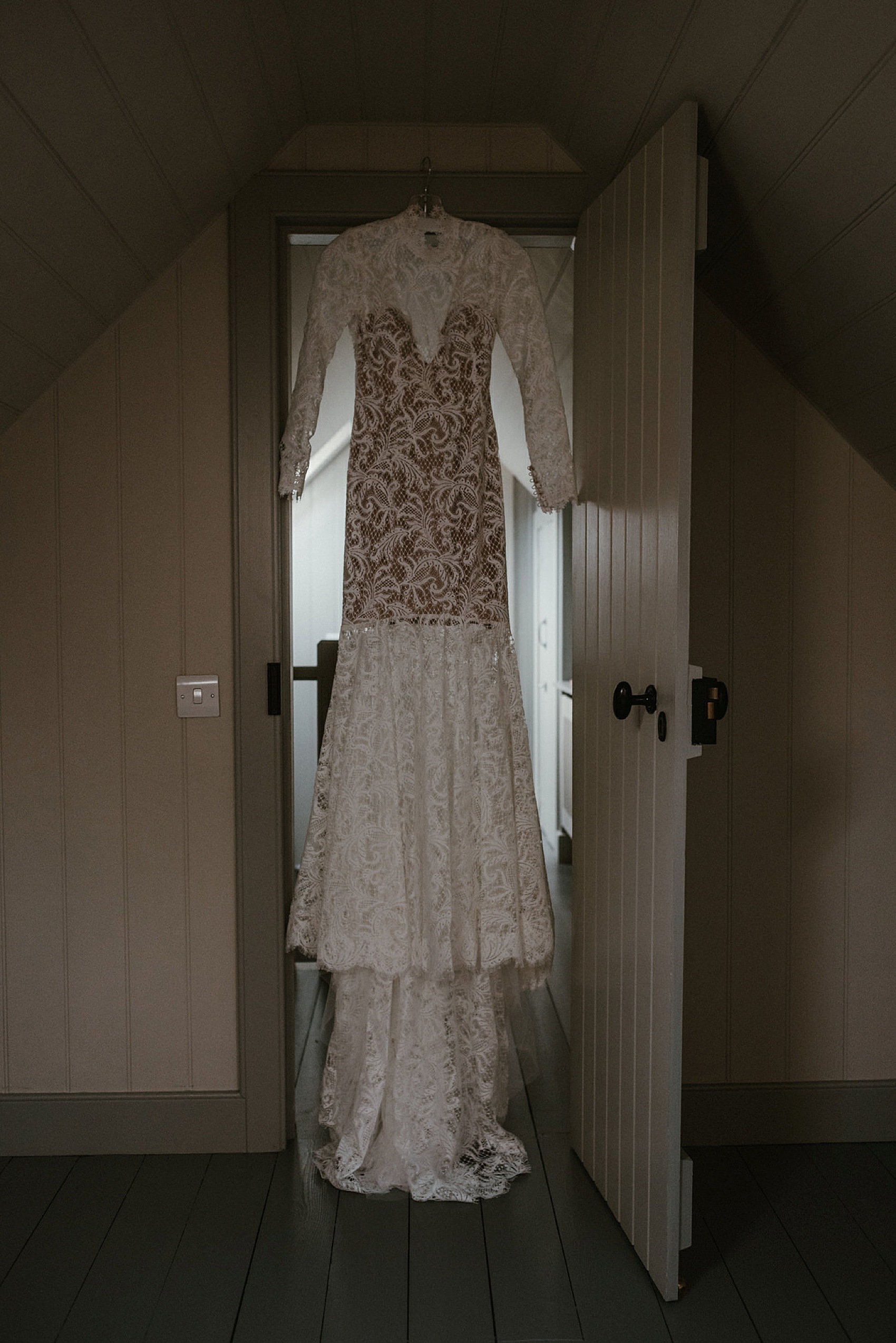 Mallory curled and braided her own hair, and took care of her own make-up, too. Her wedding day perfume was a favourite winter scent – Nirvana Bourbon by Elizabeth & James. She had two pairs of shoes – Nine West heels, and a pair of Sorel hiking boots, which she wore outdoors.
"I purchased my dress online from BHLDN. We planned the wedding in under a month, and I was having trouble finding anything in stock in a size that would work. I was able to order a couple of dresses from BHLDN in my size in under a week and luckily one of them worked out."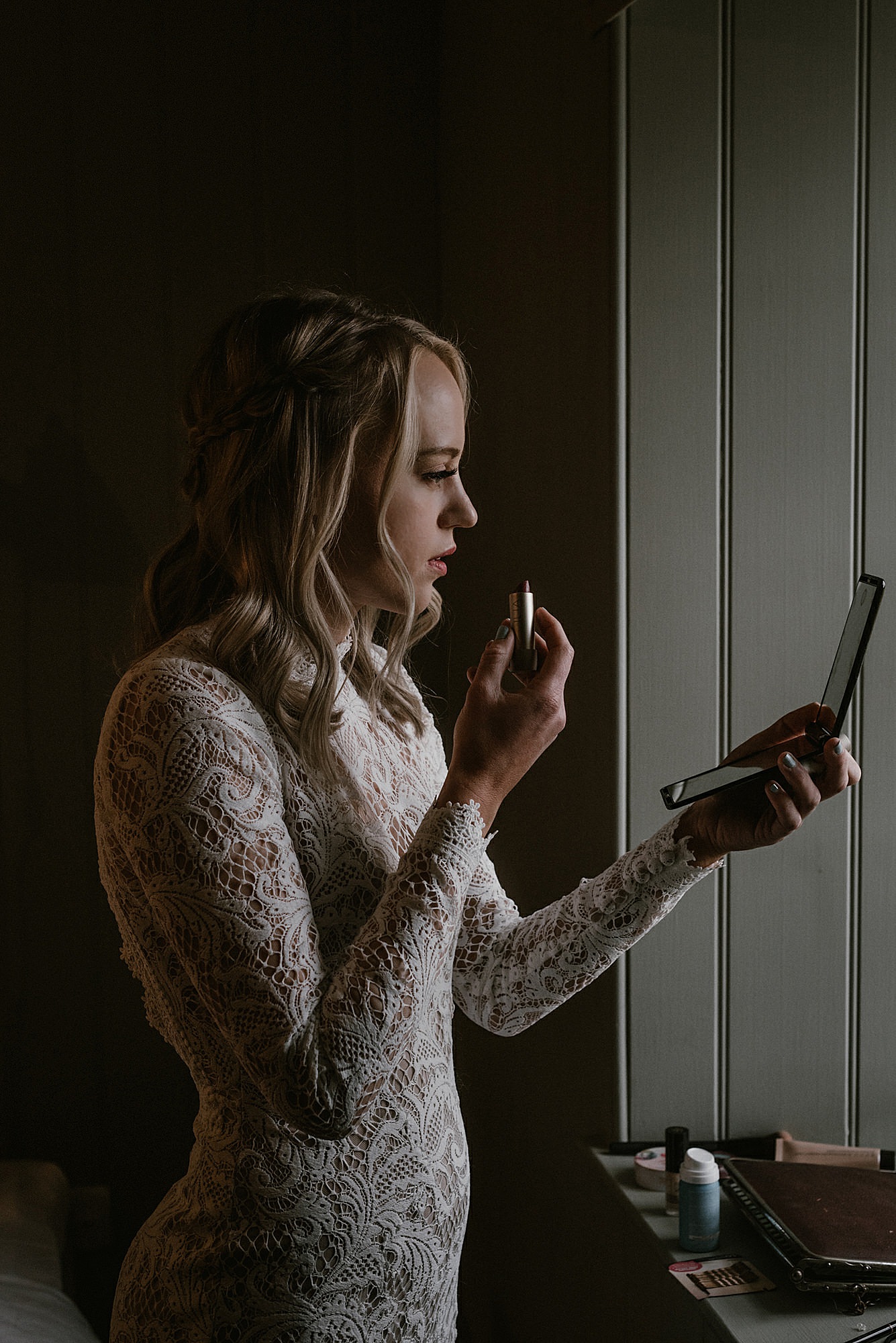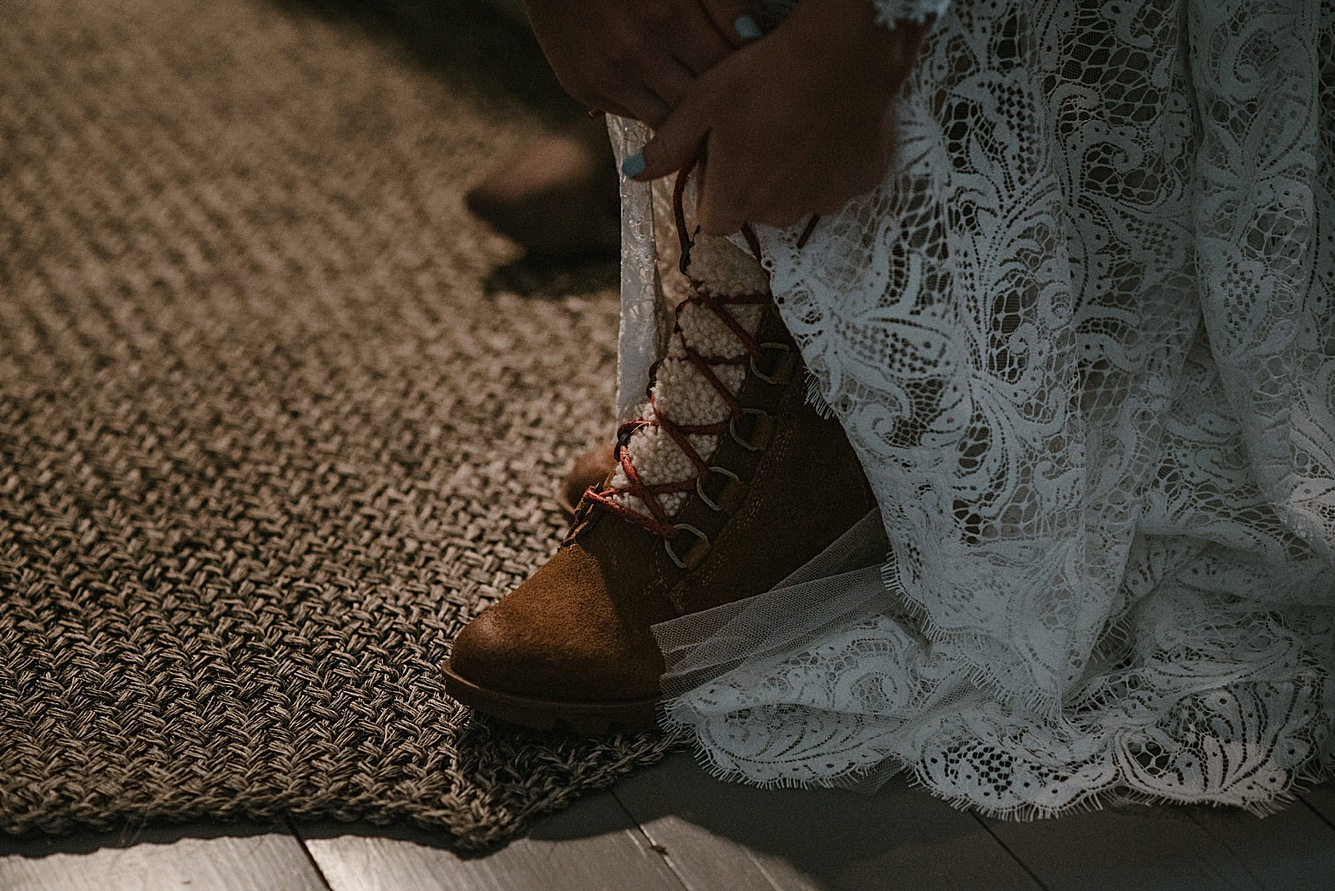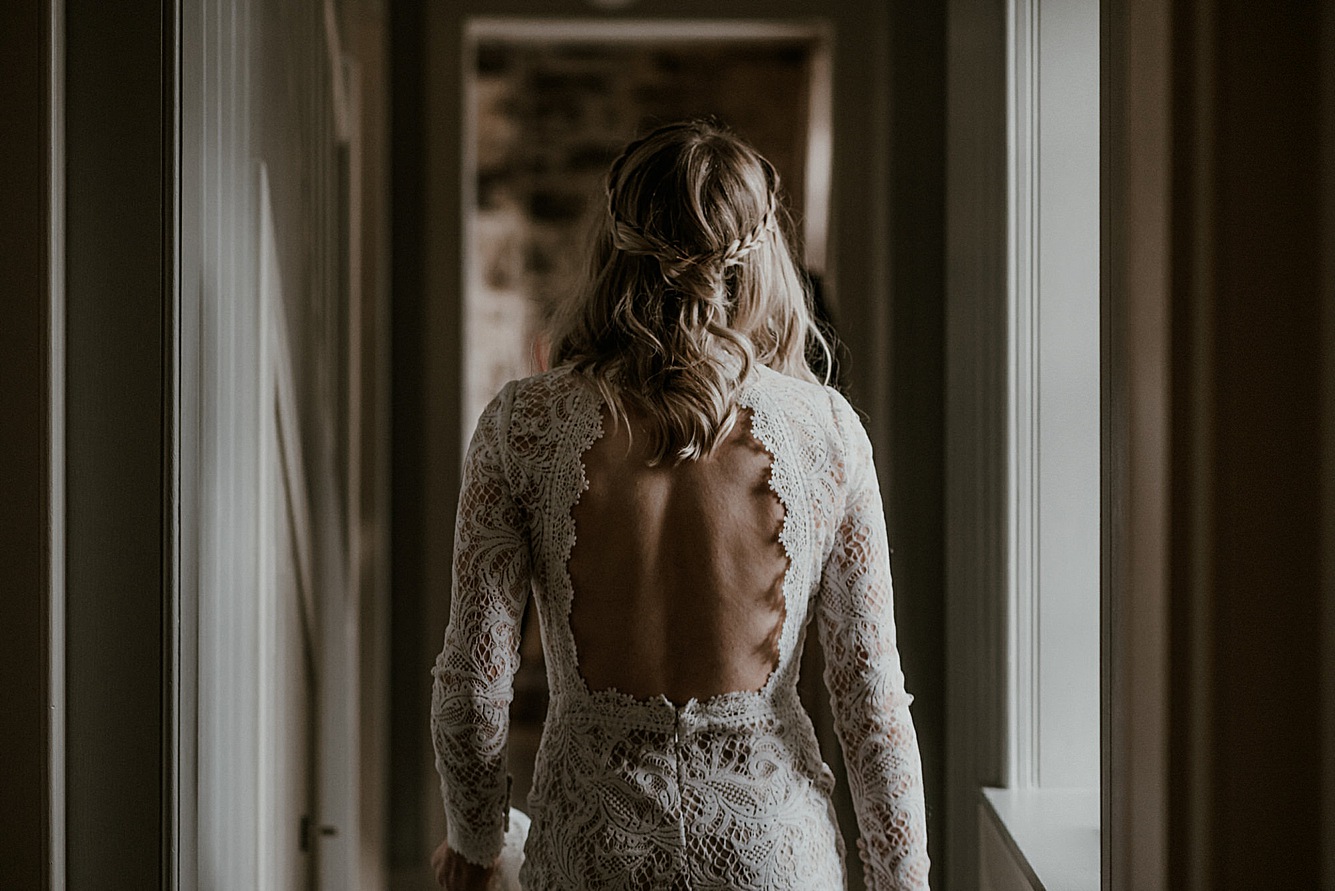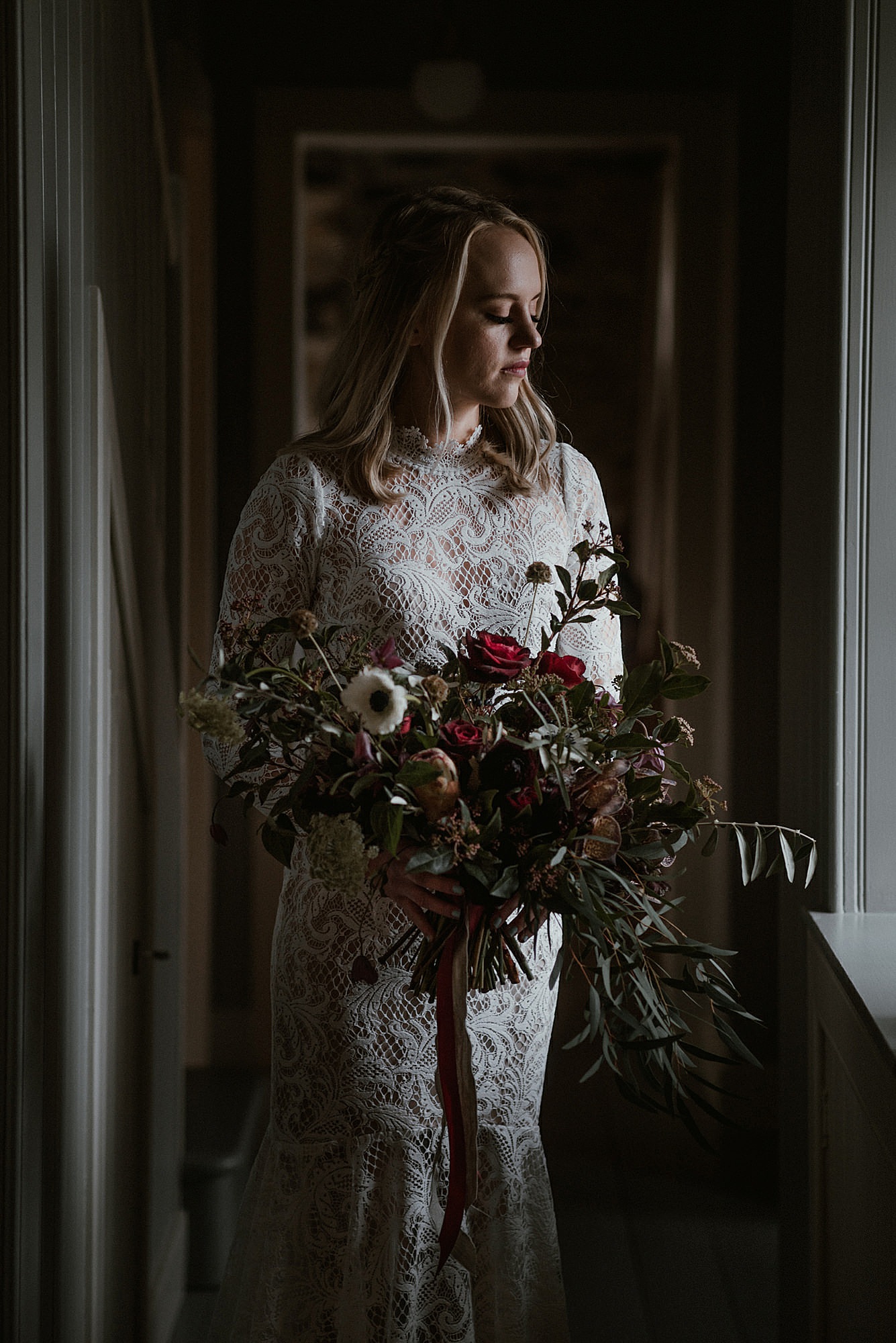 Will's smart suit was from Suitsupply, which he paired with a classic white shirt and burgundy patterned tie and simple pocket square.
"Will's fragrance was Imaginary Authors – City on Fire. It seemed to fit the cosy atmosphere of Killiehuntly and the Cairngorms."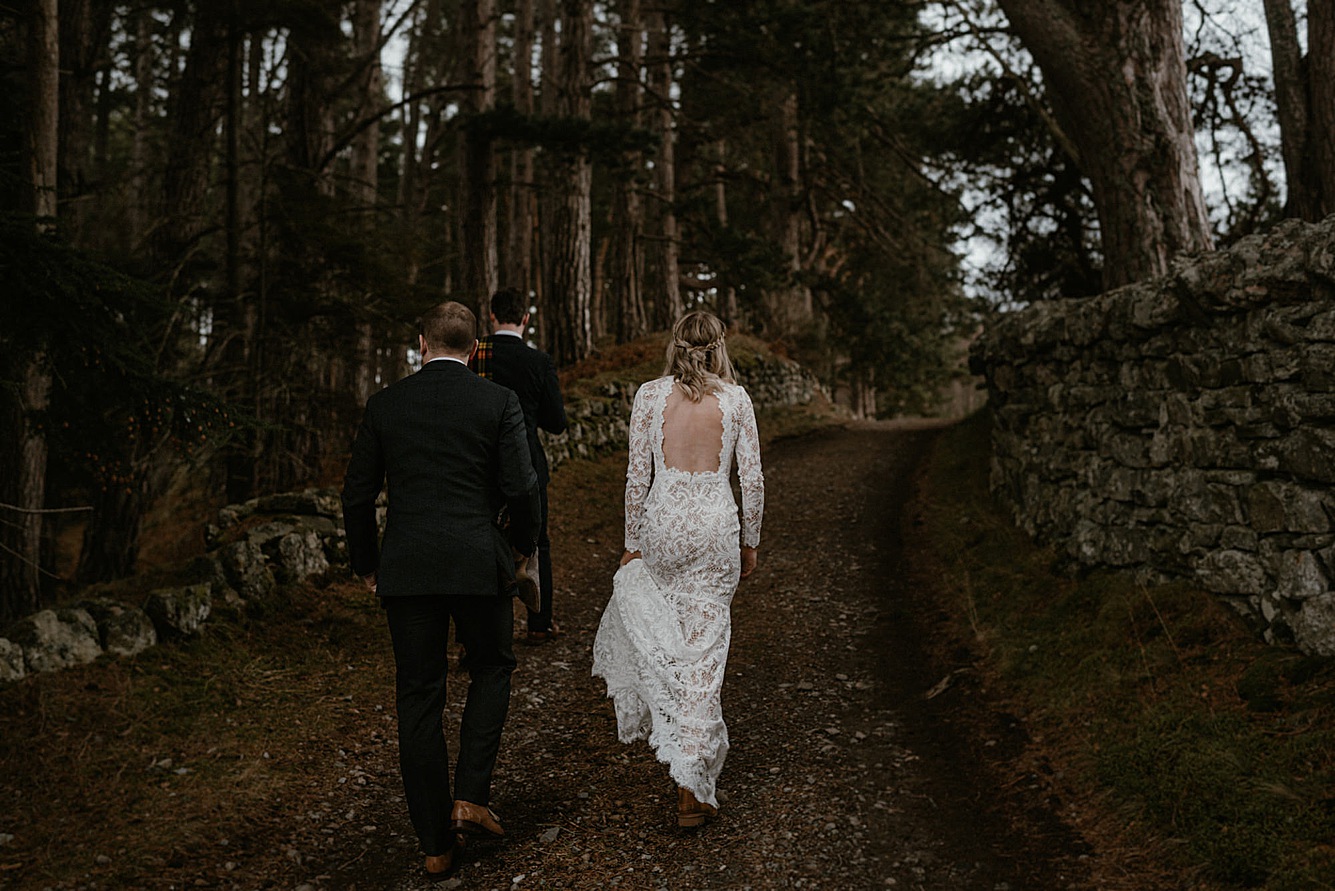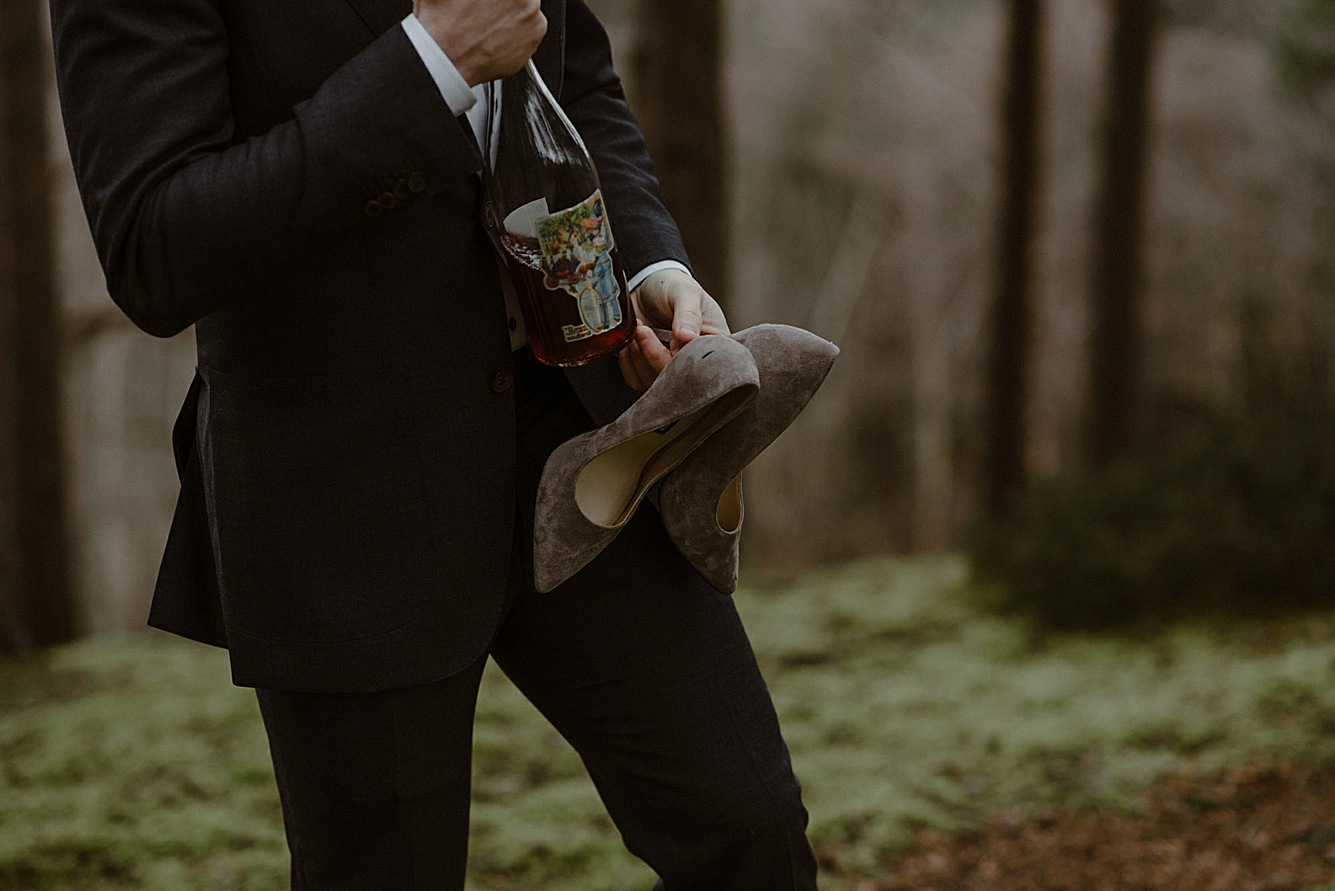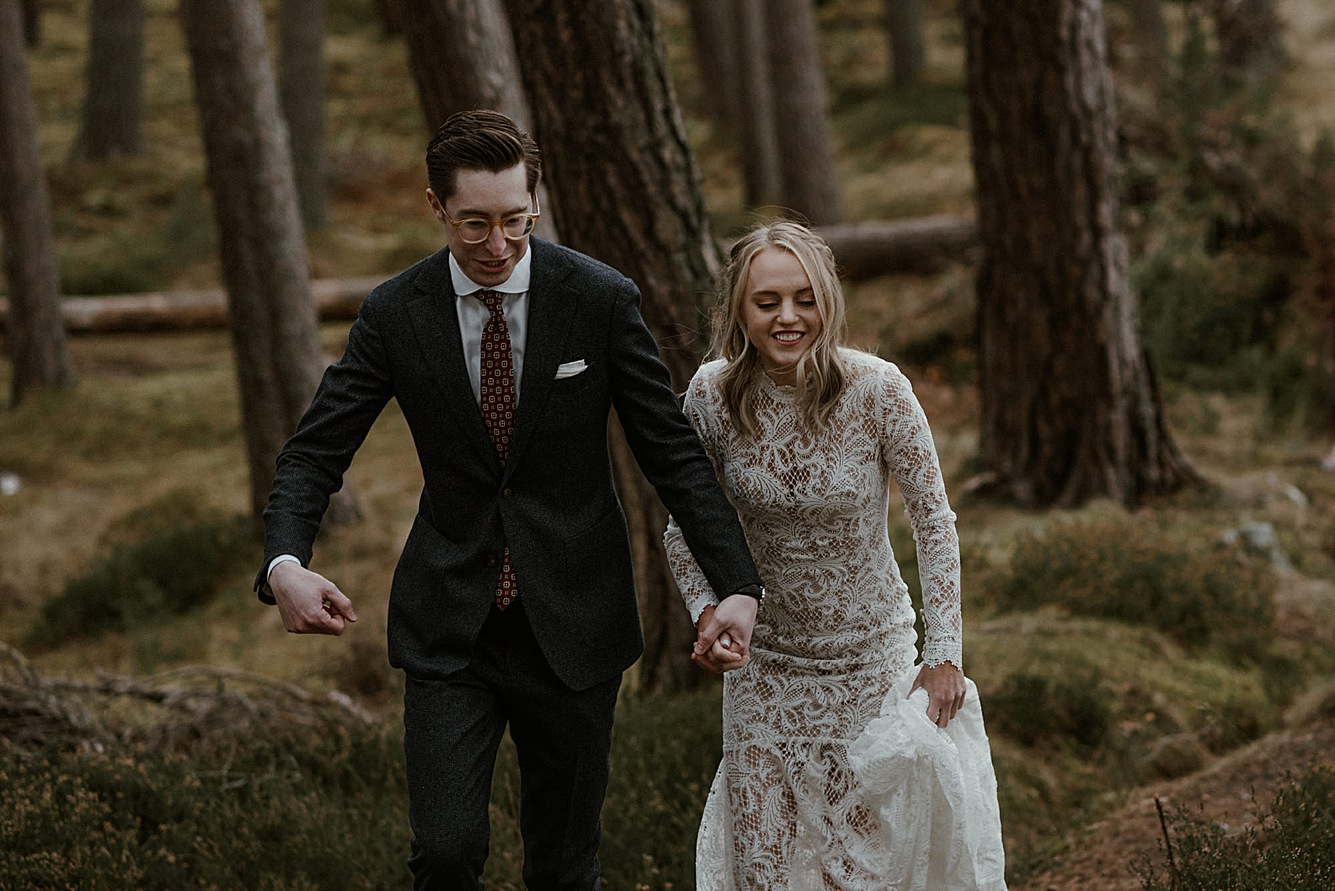 The wedding party walked into the trees together, where Humanist celebrant Ashton Easter was waiting to begin the ceremony; the mossy forest floor underfoot, and surrounded by tall, magnificent pines.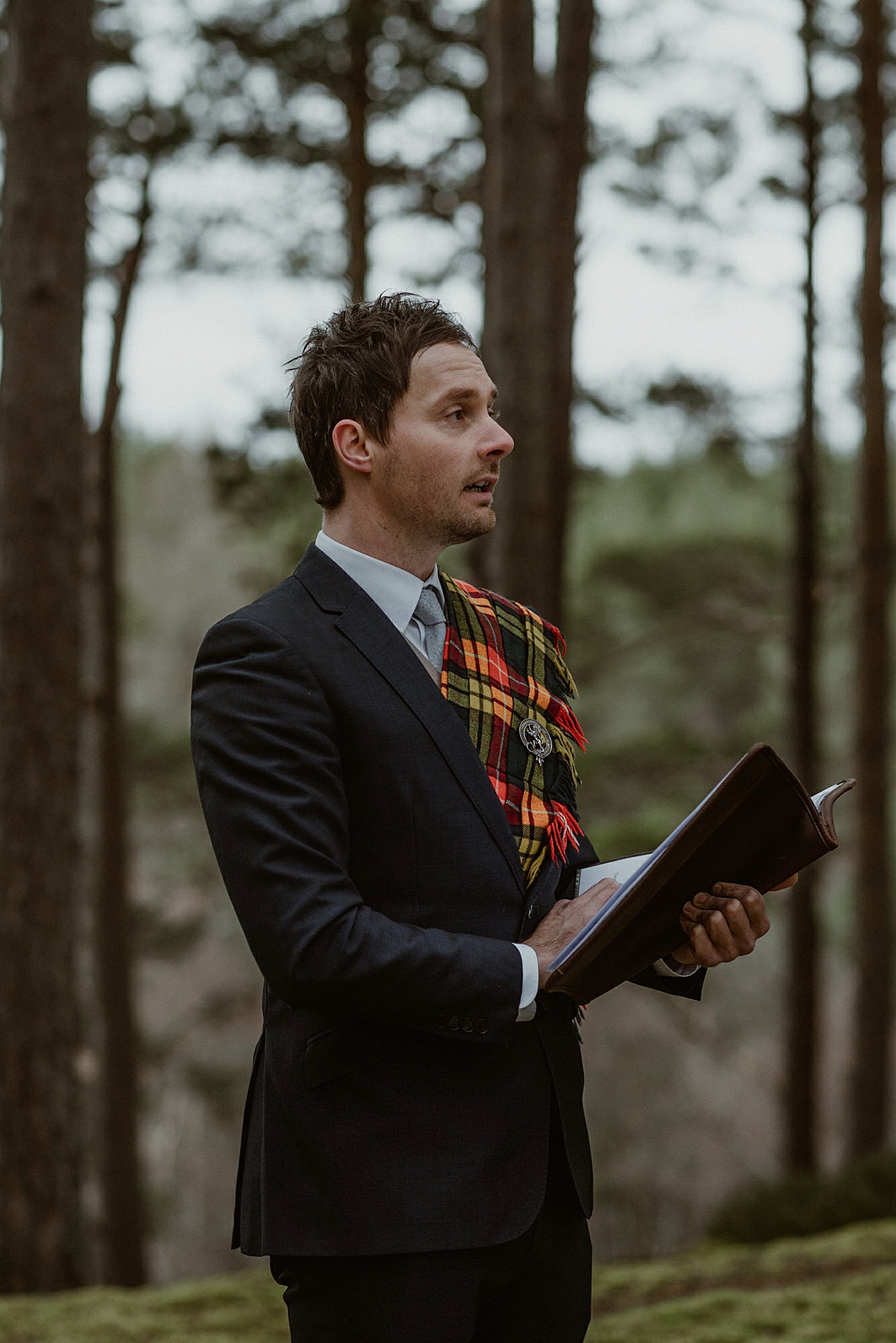 "We worked with Ashton to create the whole ceremony. We did a Quaich cup with wine from our travels together to welcome everyone to the ceremony."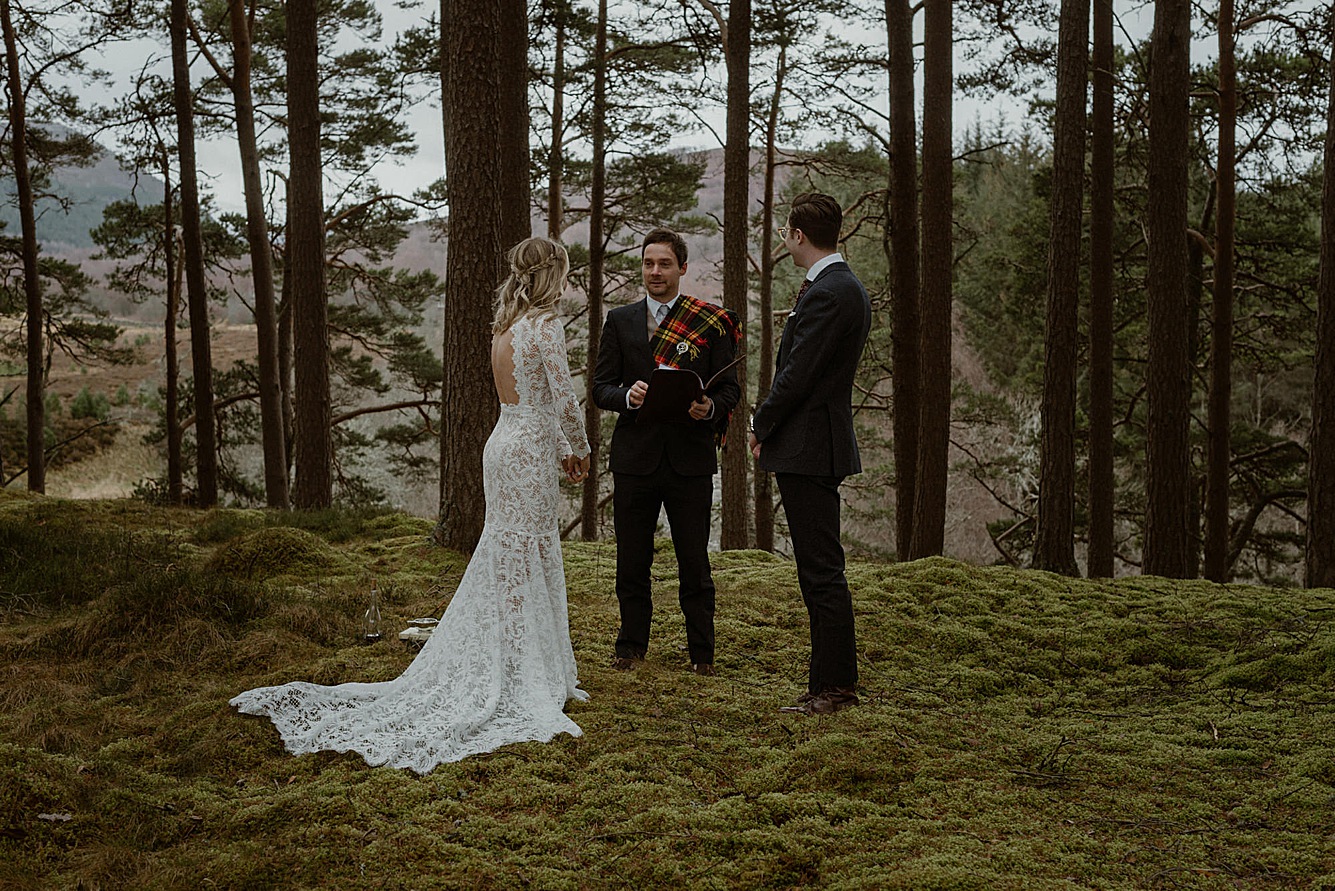 Mallory and Will were able to completely customise and personalise their ceremony, and they each wrote their own vows to each other, focusing on their relationship as an equal partnership.
"One of our favourite parts of the ceremony was our interpretation of what marriage means to us: 'Marriage is an equal partnership of love, support and respect for each other.'"
"'It is a spiritual, physical, intellectual, and emotional partnership that is promised for a lifetime; a commitment to understand, to learn, to help and be helped, to love and be loved.'"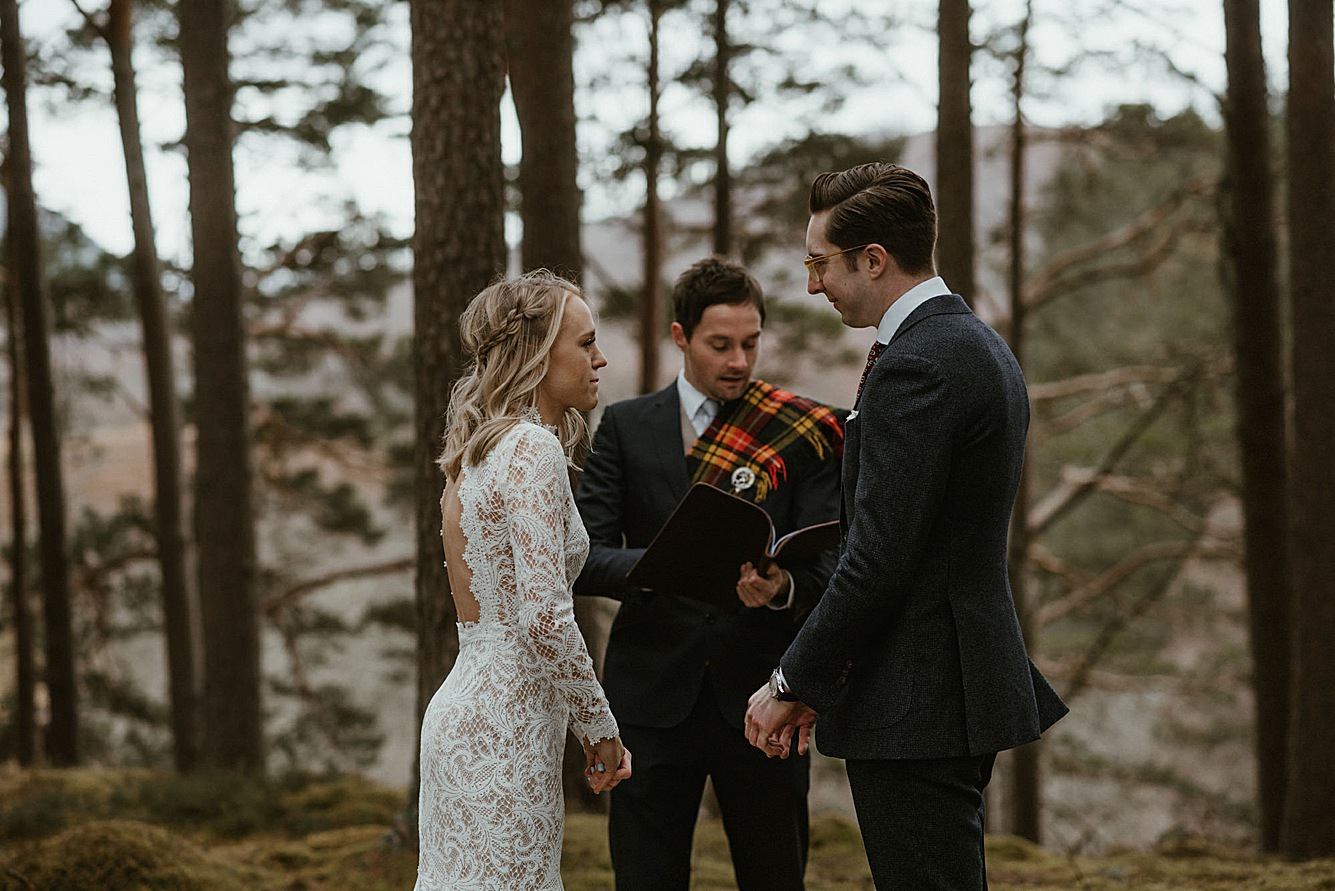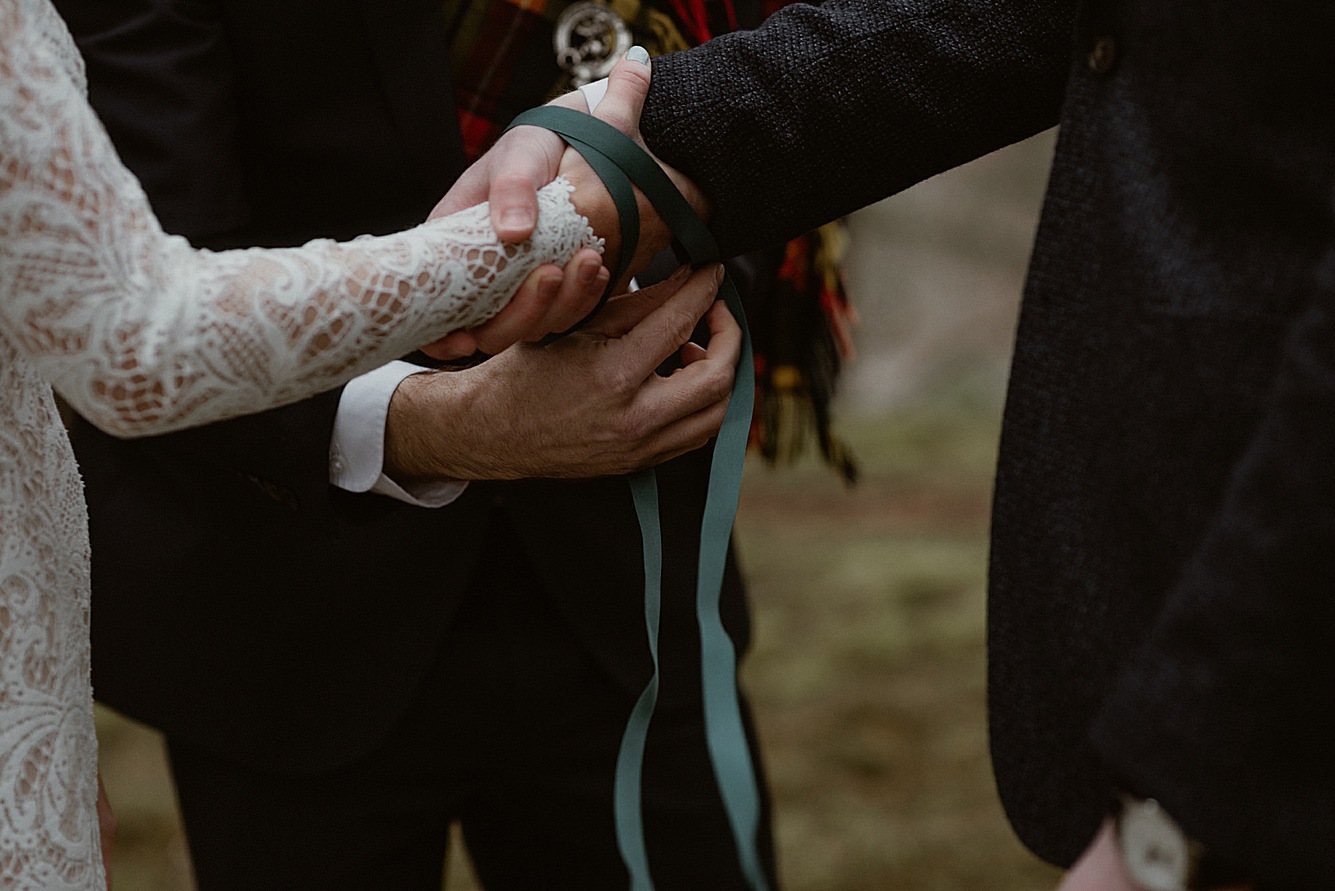 "'In committing themselves to each other in marriage, Will and Mallory have promised to enjoy and grow their lives together. They are not promising to forego their individuality, but to live and enjoy life in partnership together.'"
Narcissus Flowers and Plants (based in Edinburgh) created a dramatic, wild beauty of a bouquet for Mallory, filled with wine red roses and ranunculus, and other seasonal flowers like hellebores, and anemones, alongside protea flowers and trailing greenery.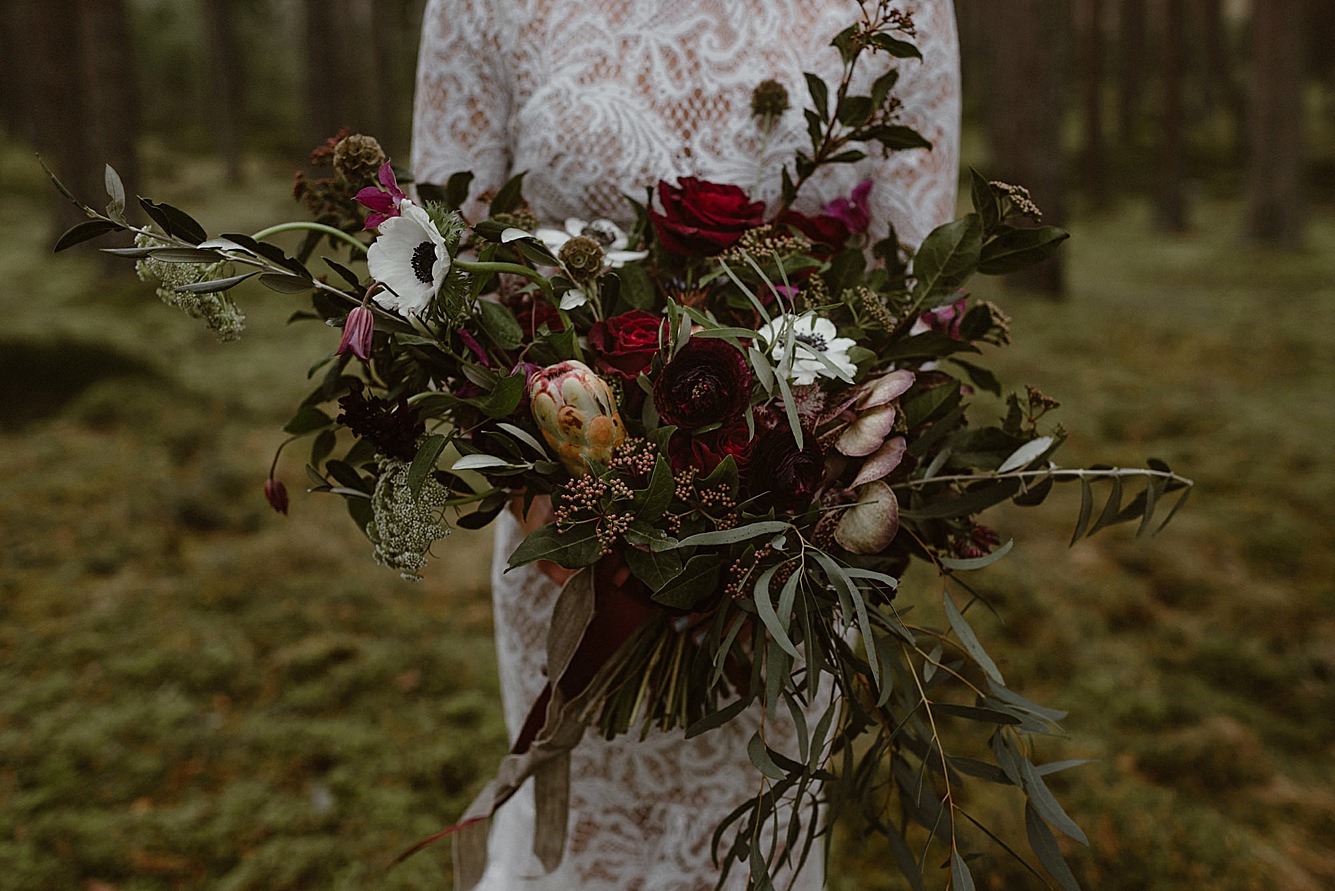 "We met while in law school. We dated for six years and got engaged in Kyoto last April. We were engaged for just under a year."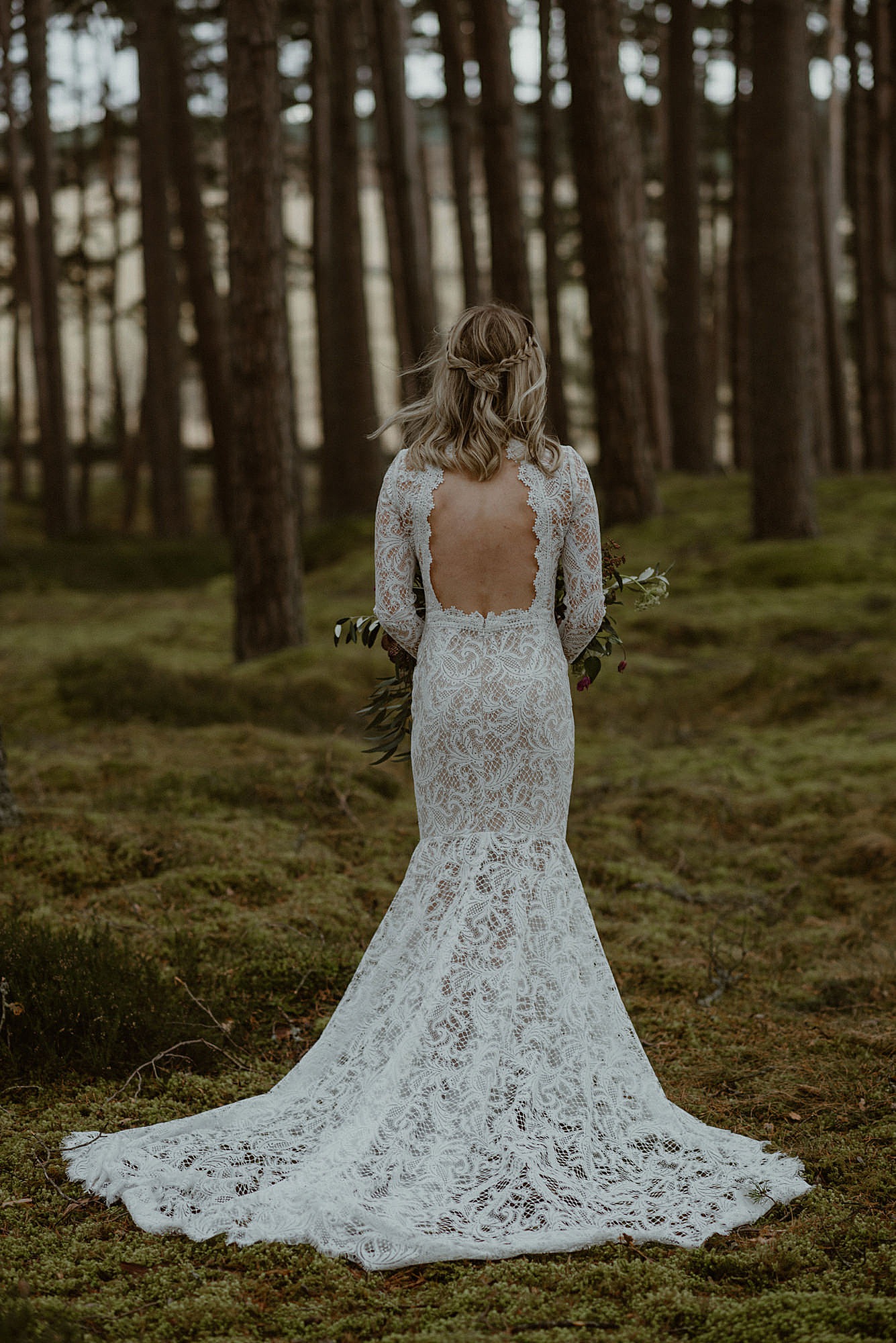 After the ceremony, the newly married couple walked in the woods together, with the snowcapped peaks of the Cairngorms as their spectacular backdrop.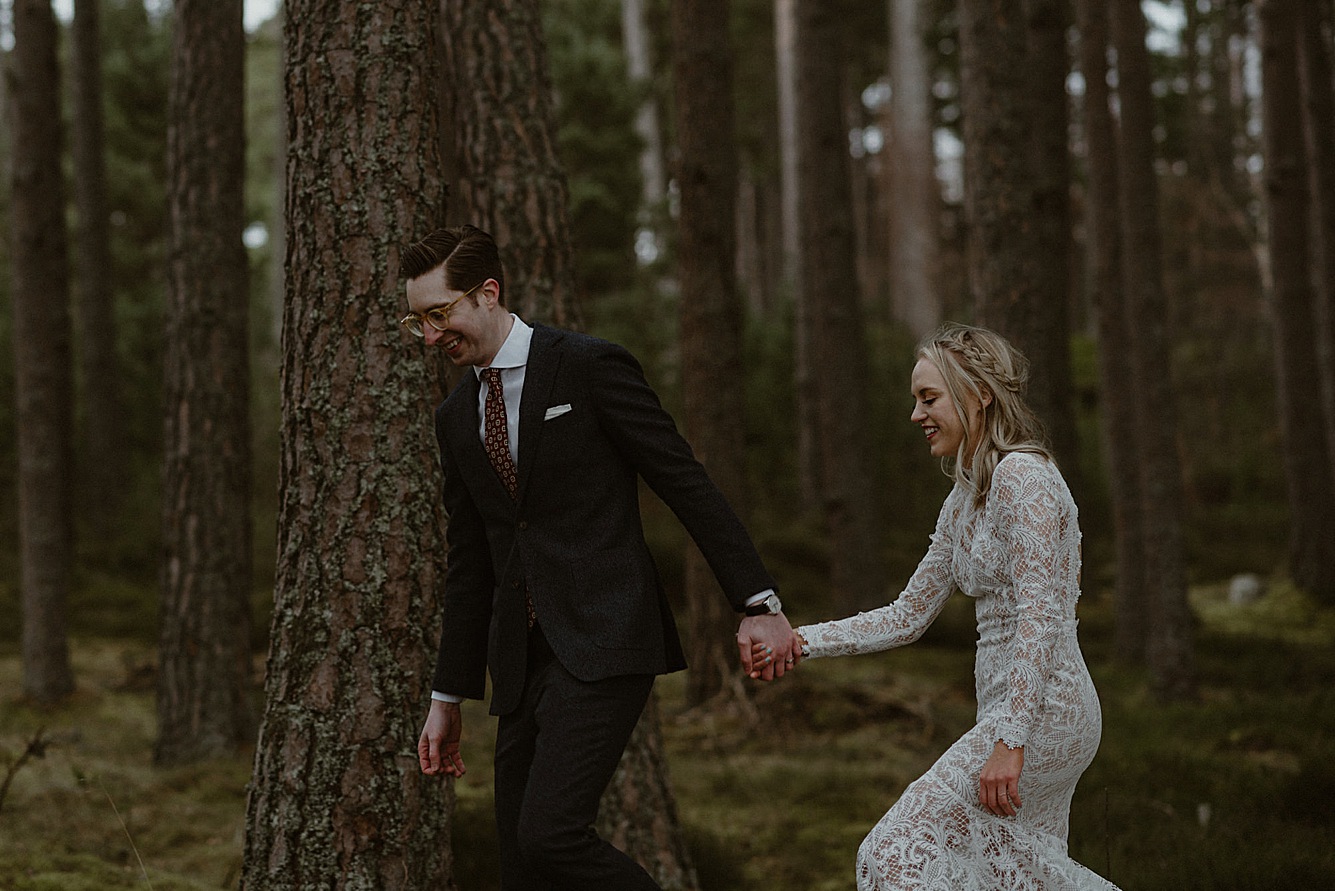 Back at Killiehuntly, drinks were poured and toasts enjoyed before sitting down to a delicious lunch from The Lunchbox Boys, who had also served breakfast for Mallory, Will and their guests, too.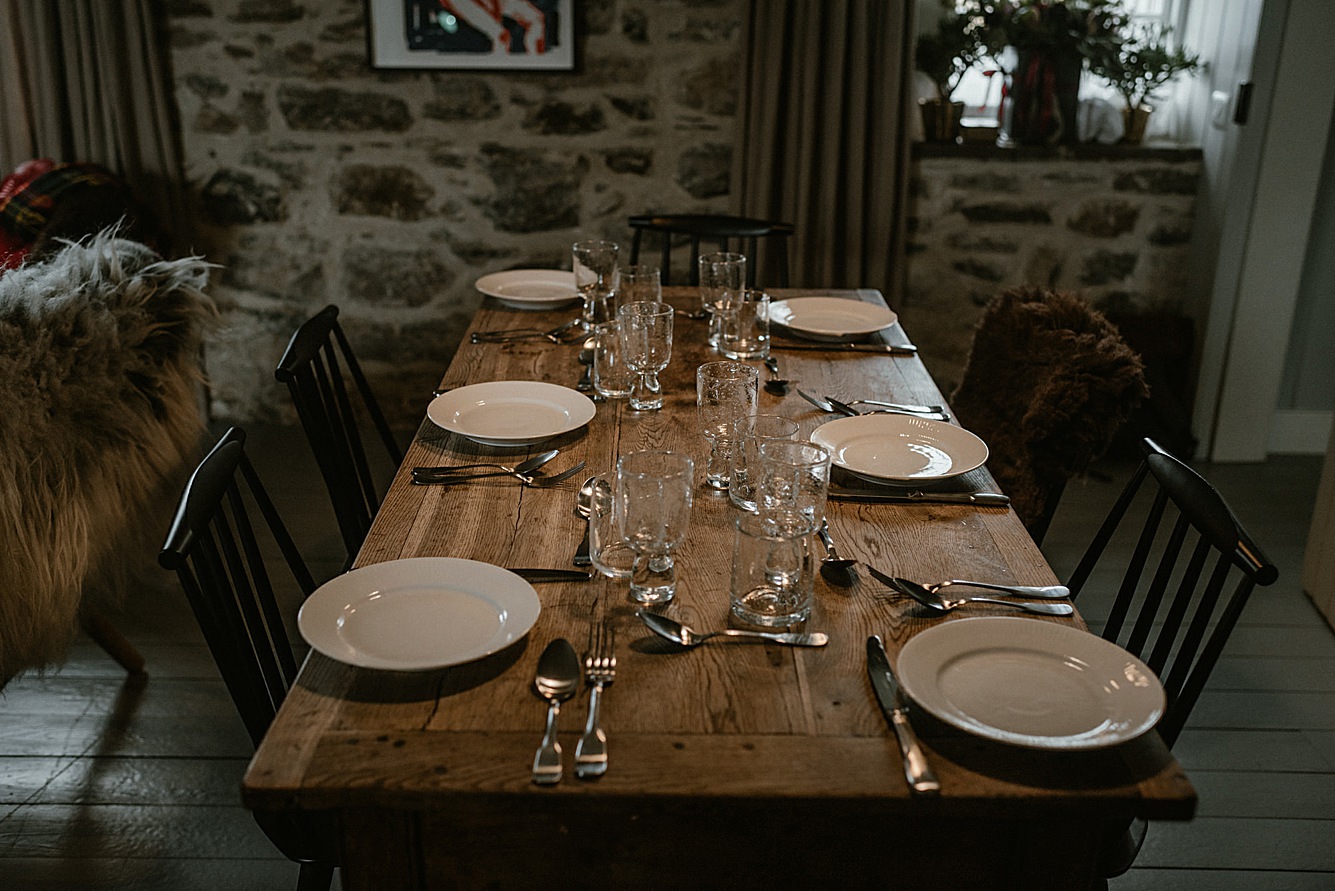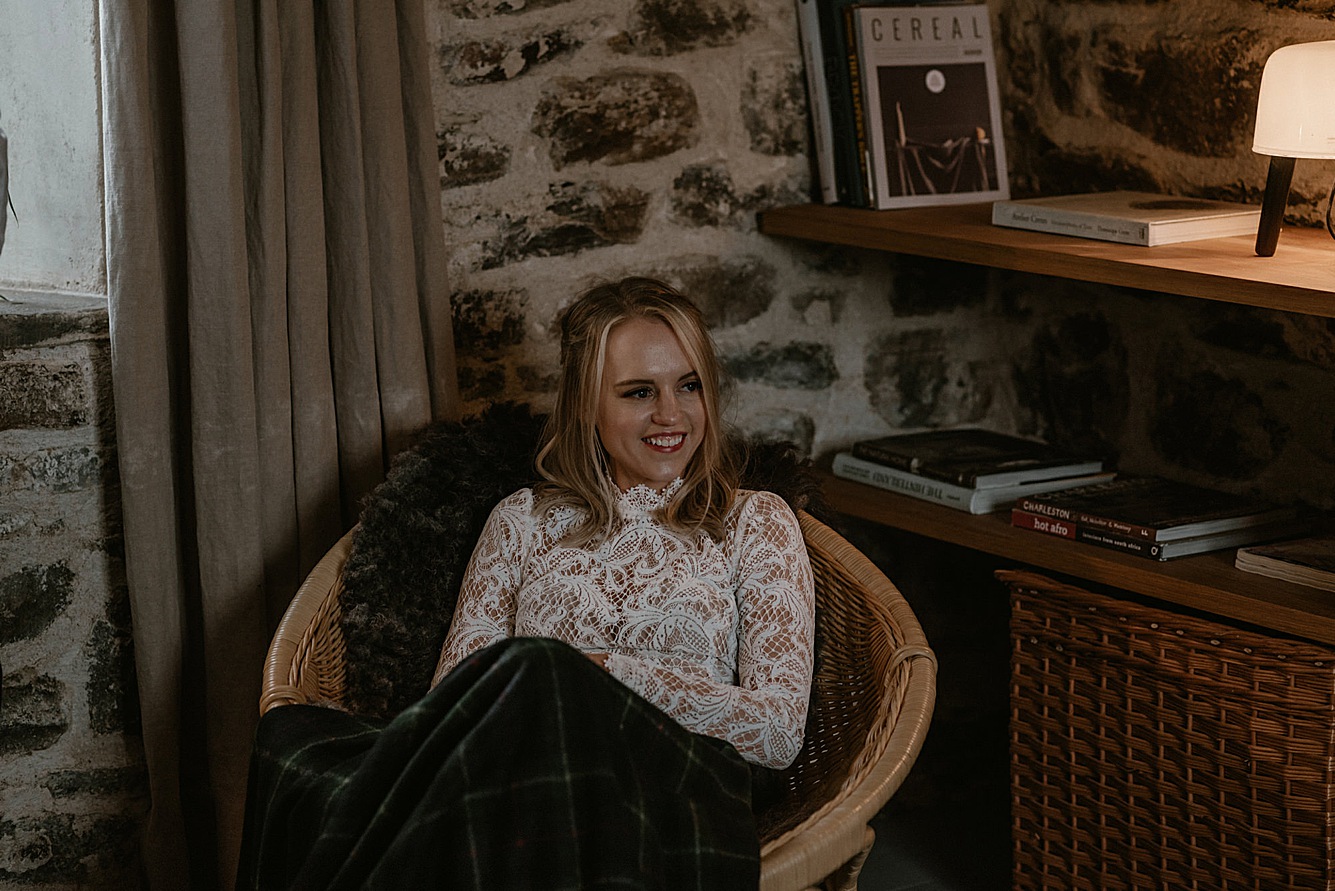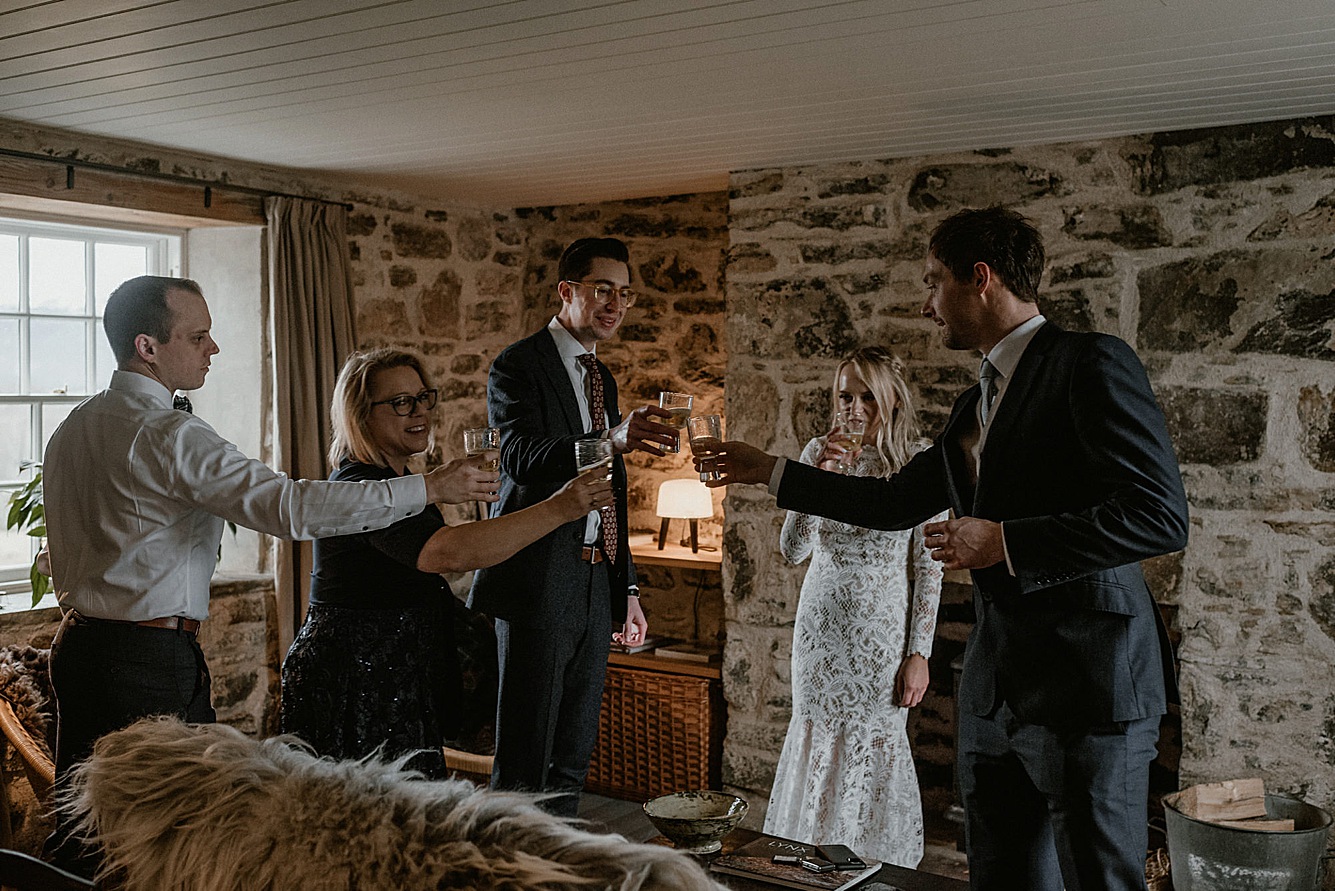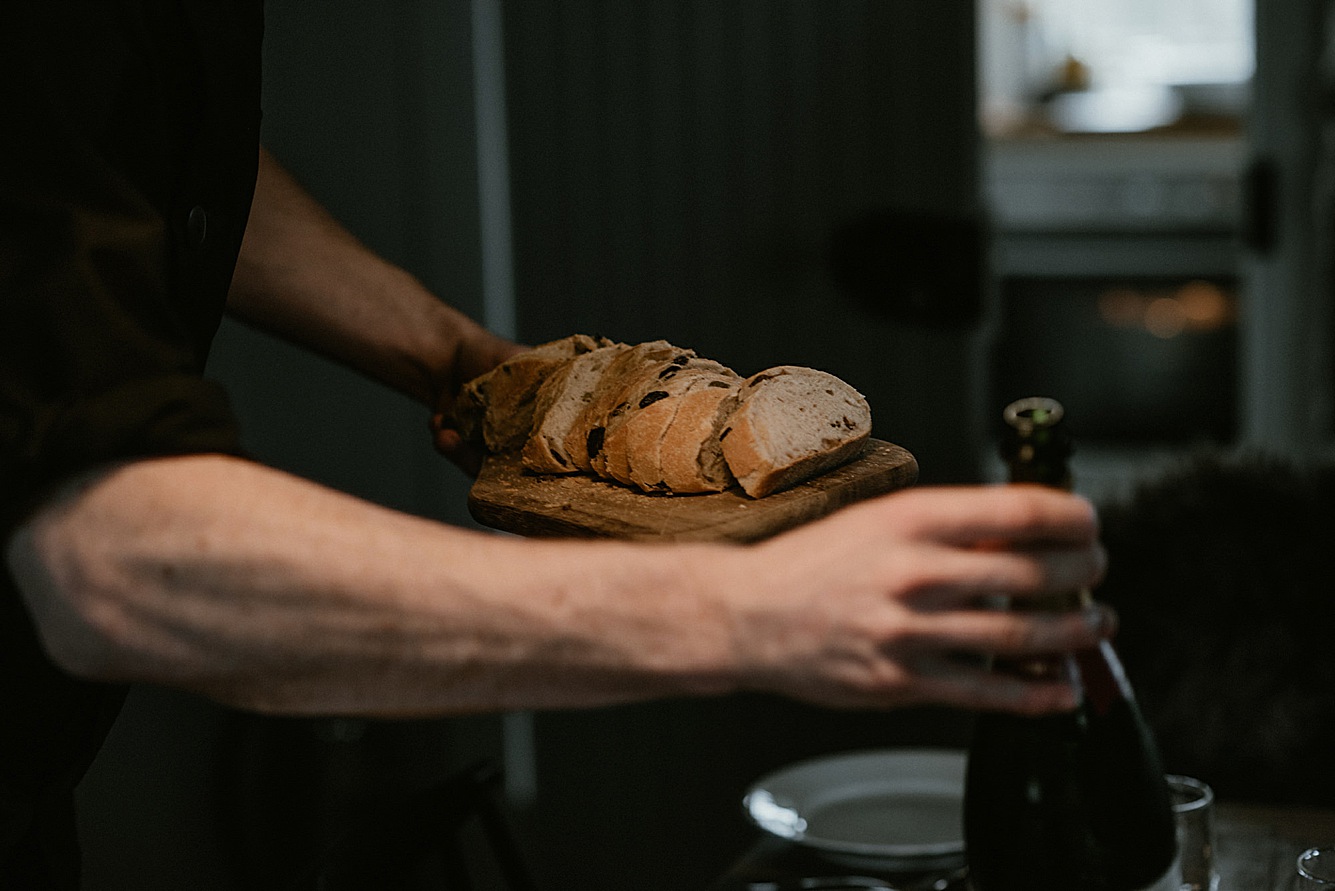 "Flora from ARAN Bakery makes beautiful and simple cakes. We chose a vanilla cake made with seasonal berries and homemade jam topped with vanilla buttercream. It was delicious!"
"We wrote letters to each other on the morning of the wedding. We were intending to exchange them before the ceremony, but lost track of time and didn't end up doing it until we got back from our photos."
"It was a really sweet time where we were able to relax and read the things we love the most about each other and our excitement for the future."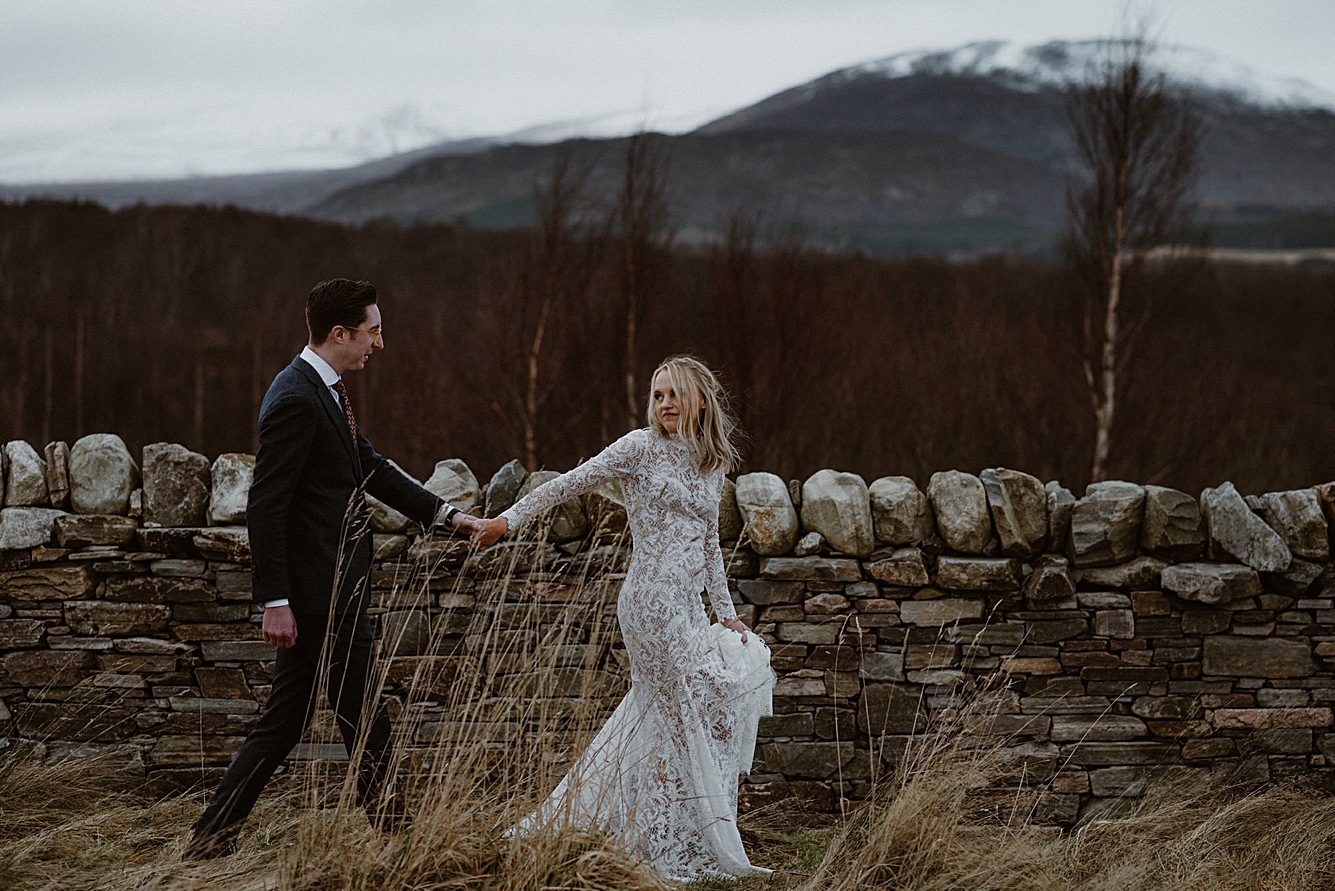 Words of Wedded Wisdom
"We decided to elope pretty last minute and had less than a month to plan and book everything. We were very excited to get the wedding planning done quickly, but the short timeline meant that some people weren't able to make it, and I wish that we had given them more time to plan to attend."
"We love all weddings! We've attended all kinds and sizes of beautiful and meaningful weddings and feel very grateful that we got to be a part of those days. I really respect the amount of effort and love that goes into every wedding."
"Plan the wedding that you want! We felt a lot of pressure to have a bigger wedding and waivered between an elopement and a mid-sized wedding for a few months. After looking at a few mid-sized venues we weren't excited about, we decided to go with an elopement. Once we made that decision we were able to plan everything quickly, and got to focus on the two of us with minimal stress."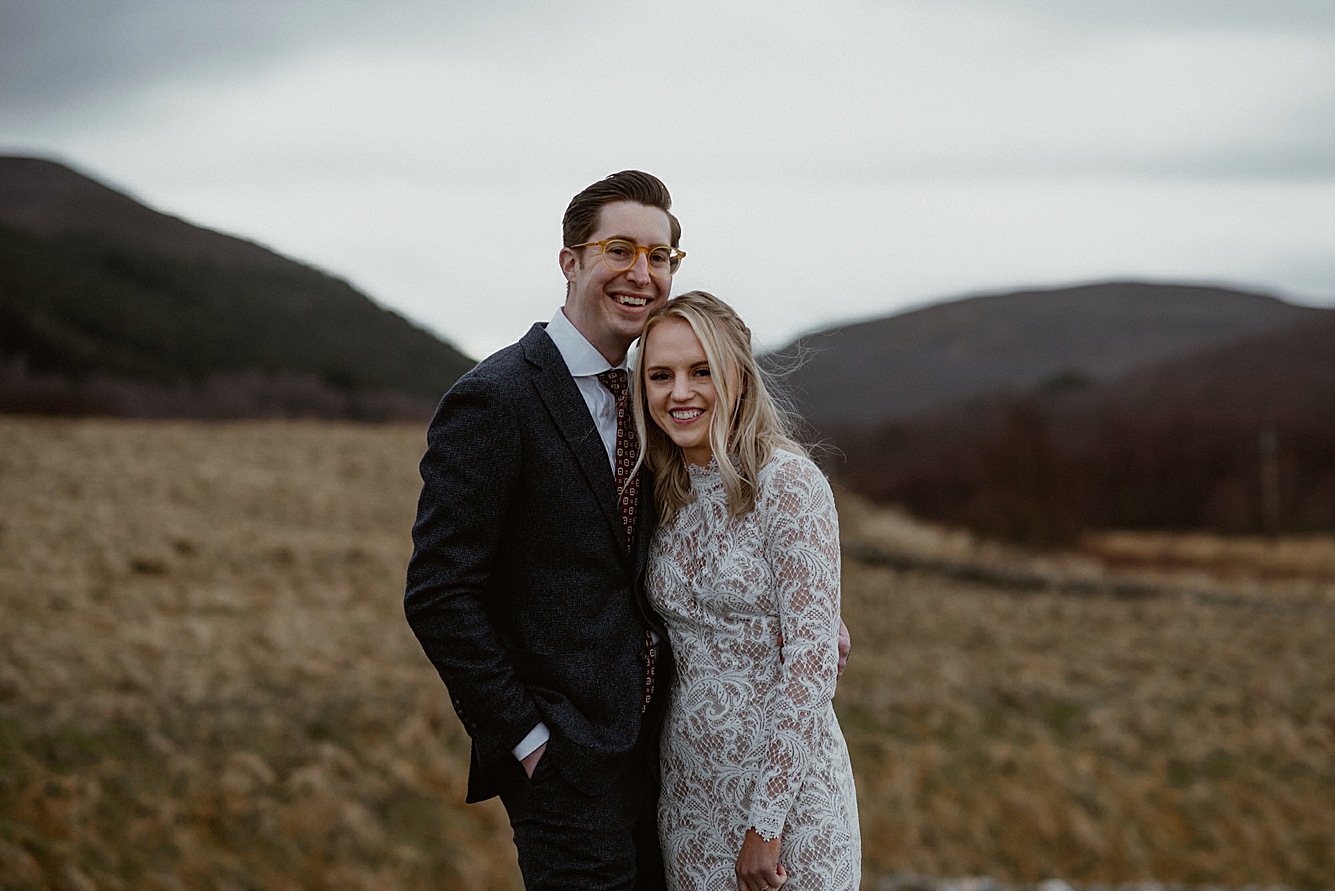 That was breathtakingly beautiful! Thank you so much Mallory and Will. What a wonderful part of the world you were married in, and all of that wild beauty and those magnificent landscapes were captured brilliantly by The Caryls – thank you!
Until next time.
Love, Laura