I do so love an embroidered gown; there's just something about their boho charm that conjures up summer days in the garden. How fitting then, that today's bride Leanne wore a delightful, embroidered Hope & Ivy gown at her intimate outdoor wedding on a Cheshire farm.
This is the wedding of insurance claim technician Leanne and Liam, who works in medical device sales. They wed in an intimate outdoor celebration at Stock Farm, Ashley, Cheshire on 20 August 2020. The intimate day was infused with a relaxed vibe and the venue was the perfect venue for their beloved English bulldog Maggie to play a starring part too. With a wedding in between lockdowns, the couple had to make some serious changes compromises but still enjoyed their celebration which also took inspiration from their love of travelling, food and music.

Photography From The Smiths Photography
From The Smiths Photography

+ Follow
With a wedding in 2020, which has undoubtedly been overshadowed by COVID-19, the couple had to make a few changes to their original plans. Leanne has shared more details with us.
"As our wedding was the bank holiday of August, we remained positive and genuinely thought we may have a relatively 'normal' day but have to make some compromises such as numbers. As the months passed, we cancelled our Ibiza and Las Vegas hen/stag and things were more up in the air. As I'm the only granddaughter of the family and am lucky enough to have three of my grandparents, having them watch me get married was really important to me. We had discussed originally eloping in New York but ultimately decided we wanted a wedding in the UK surrounded with our family and friends. When in early August the Covid restrictions didn't change, we decided we would get legally married at our wedding venue and hold our reception at a later date."
"We were really lucky that our wedding fell in a short period where you were allowed thirty but this had to include ourselves, the two registrars and any suppliers. This left us with being able to invite twenty four guests which just covered our immediate family and two friends each. Our original plan was to get married in the garden of the wedding venue. When we postponed our reception to March, I realised it was unlikely that we would have weather good enough to marry outside so it became really important to me if we were getting married 'twice' I wanted two different style of weddings."
"I didn't wear my wedding dress and luckily it stayed dry and allowed us to marry in the gardens. This also meant our guests didn't need to wear masks and allowed us a bit of normality. At the time, weddings were legally required to be kept to the 'shortest possible time' and therefore we didn't choose our vows, but the ceremony still felt perfect and our guests all commented on how special it felt. After we enjoyed a glass of champagne at the wedding and we all shared afternoon tea."
"We met through mutual friends at university and became an item after we finished in April 2013. We got engaged in April 2019 at home which was completely unexpected because I always thought I would be able to guess when he would propose. "
"I did actually turn up three hours late though! Our engagement ended up being just short of 18 months which we felt was the right amount of time to save and plan for our day."
"We wanted a relaxed wedding and to pick elements of a traditional and modern weddings that suited us. We had picked sharing boards and tapas for our wedding breakfast but unfortunately due to COVID we are saving this for our reception."
"I let my bridesmaids choose a colour they would like to wear and let them pick their own dresses which were not formal dresses. We wanted to feel comfortable and relaxed and have our guests feel that too. We love travelling, food and music so these played the biggest part in our theme."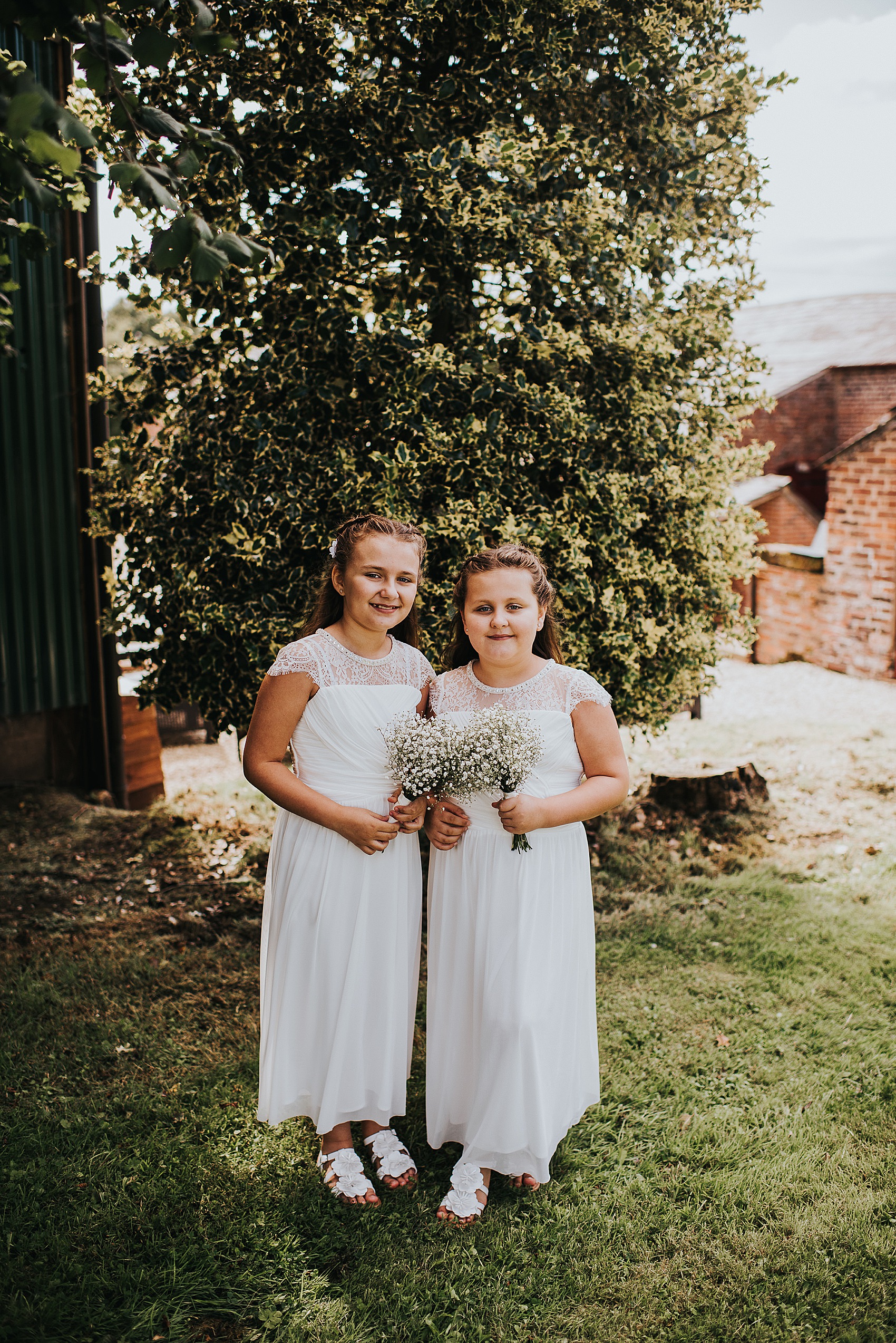 The beautiful late August weather meant that the couple could wed outside, surrounded by their friends and family on wooden chairs. I love the setting, and how wonderful that they could make the most of the sunshine.
The bride walked down to meet Liam as an orchestral version of 'Here Comes The Sun' by the Beatles played.
"I walked myself down the aisle and had intended to do this before any restrictions were put in place."
"We did not tailor our vows but we will be next year. We now have the freedom to create our own vows and wedding given we are legally married."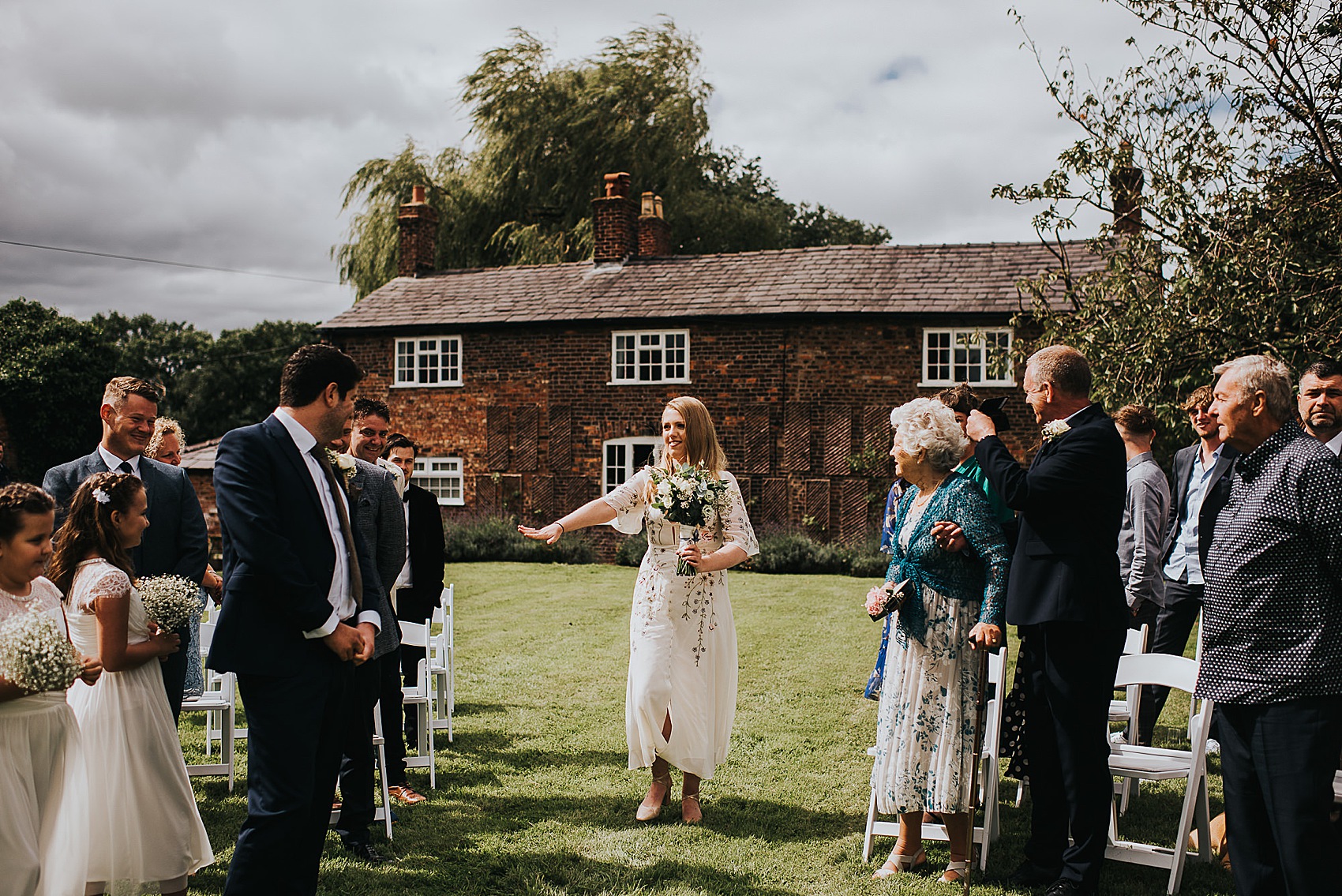 As Leanne has already mentioned, she chose to save her original dress for next year's reception, but she selected this wonderfully boho, midi dress from Hope & Ivy. The delicate, multi-coloured embroidery just suits the laid-back vibe of the day so well.
"I bought my original wedding dress from The White Closet in Didsbury. It is a dress I bought at a designer trunk show and I am DESPERATE to wear it. It was really stressful having the dress delayed as it was made at the designer's HQ in Poland."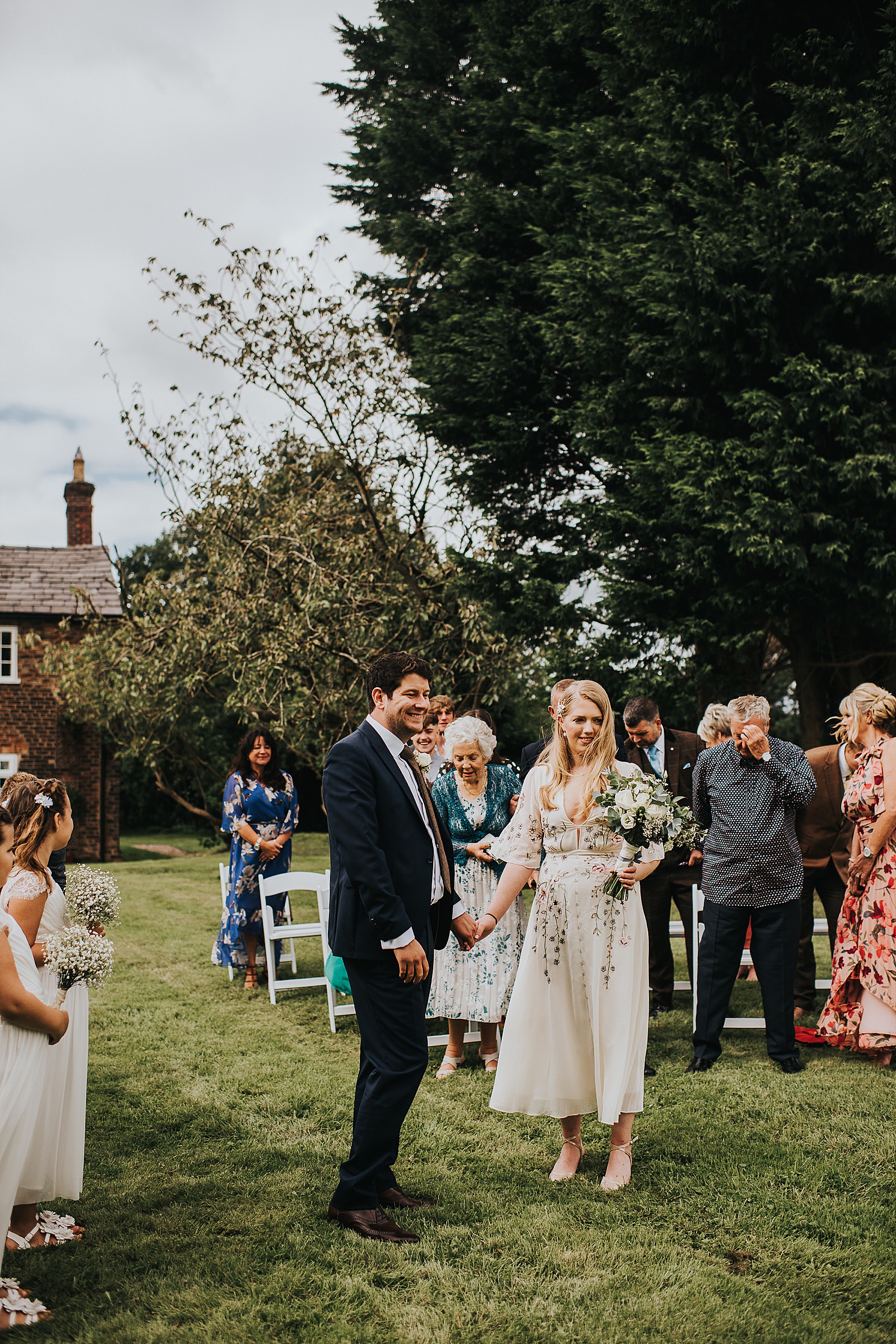 "When we thought our wedding was going to go ahead my dress was only due to arrive two weeks before, so I had it fitted in such a short time then did not end up wearing it! It's now in storage at my seamstress'."
"Because I wanted to keep my dress for our reception (mainly through fear of getting it dirty or ruined) I decided to buy a dress with a relaxed vibe but that was still 'special' and 'bridal'. I decided to order a few off the high street and picked the Hope & Ivy one. I loved it and had so many compliments. I will also be able to re-wear it in future."
"My shoes were my wedding shoes that I was due to wear anyway, so why not wear them! They were from Wallis."
"We got our wedding rings from Steven Stone who are local to us but also have a shop in London. They helped Liam design my engagement ring so we went back to them for our wedding rings. They were so helpful and the service was excellent."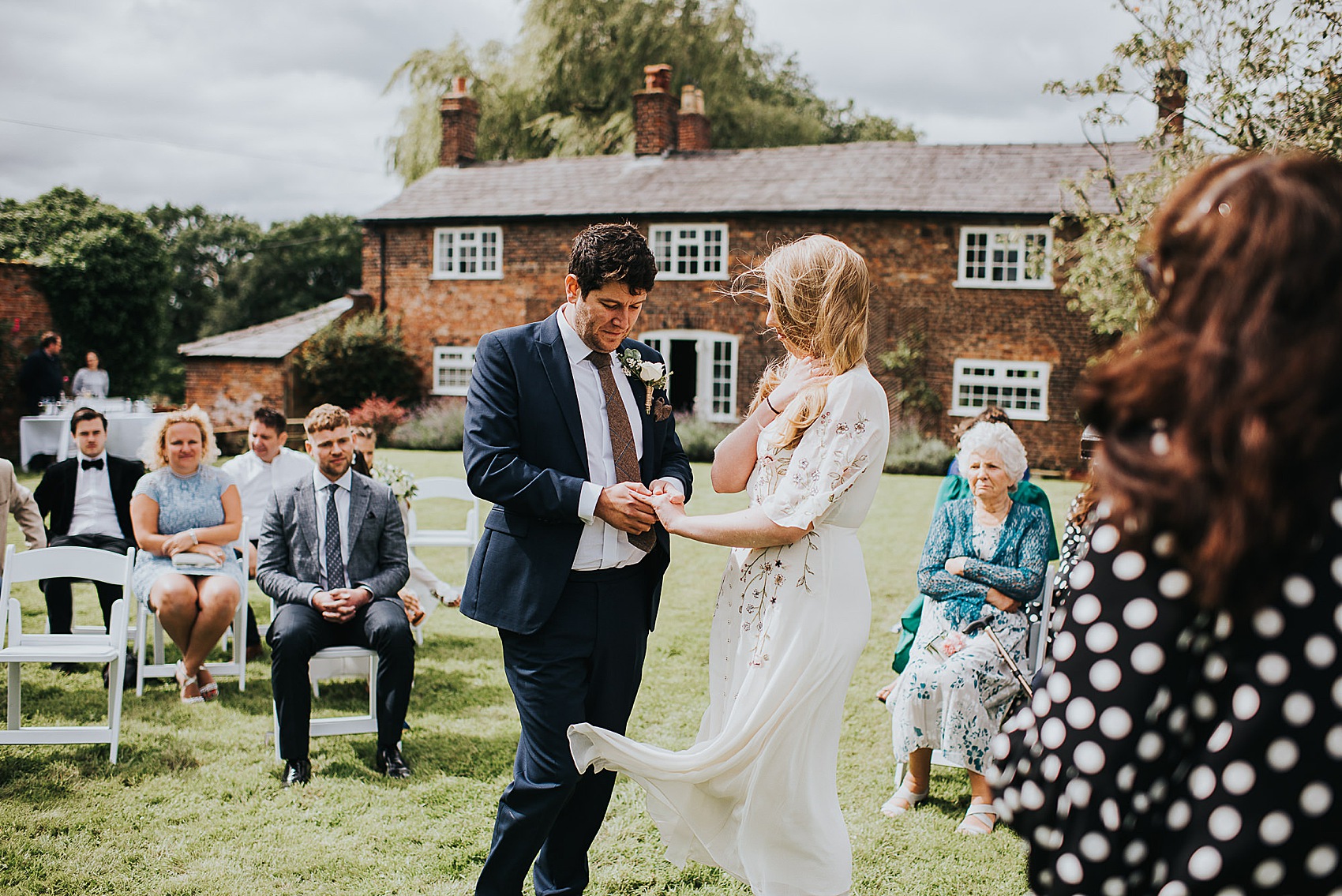 The couple's bulldog Maggie was star of the show, especially with her unexpected performance during the register, one of Leanne's favourite parts of the day.
"We were signing the register when out of the corner of our eye we saw our English bulldog Maggie get loose and run riot round the garden!"
"She genuinely had so much fun being surrounded by all of her favourite people in one day. We also enjoyed seeing my 82 year old grandad try an espresso martini for the first time! I think it's little things like that that made it so enjoyable- it really is the little things."
The groom wore a smart, dark, two-piece suit with a tweedy tie, from Whitfield & Ward.
"Whitfield & Ward were AMAZING with their service with Liam. We had originally booked nine suits for the groom's party and went back to them to pick a different suit for our micro-wedding."
"They understood that we wanted his suit to be 'the same but different' and went through lots of different colour schemes. They were really interested to hear all about our day given that there were so many cancellations and not a lot of their customers were choosing to go ahead at the time."
"We love the suits from Whitfield and Ward and were excited to see the full groom's party in all their suits."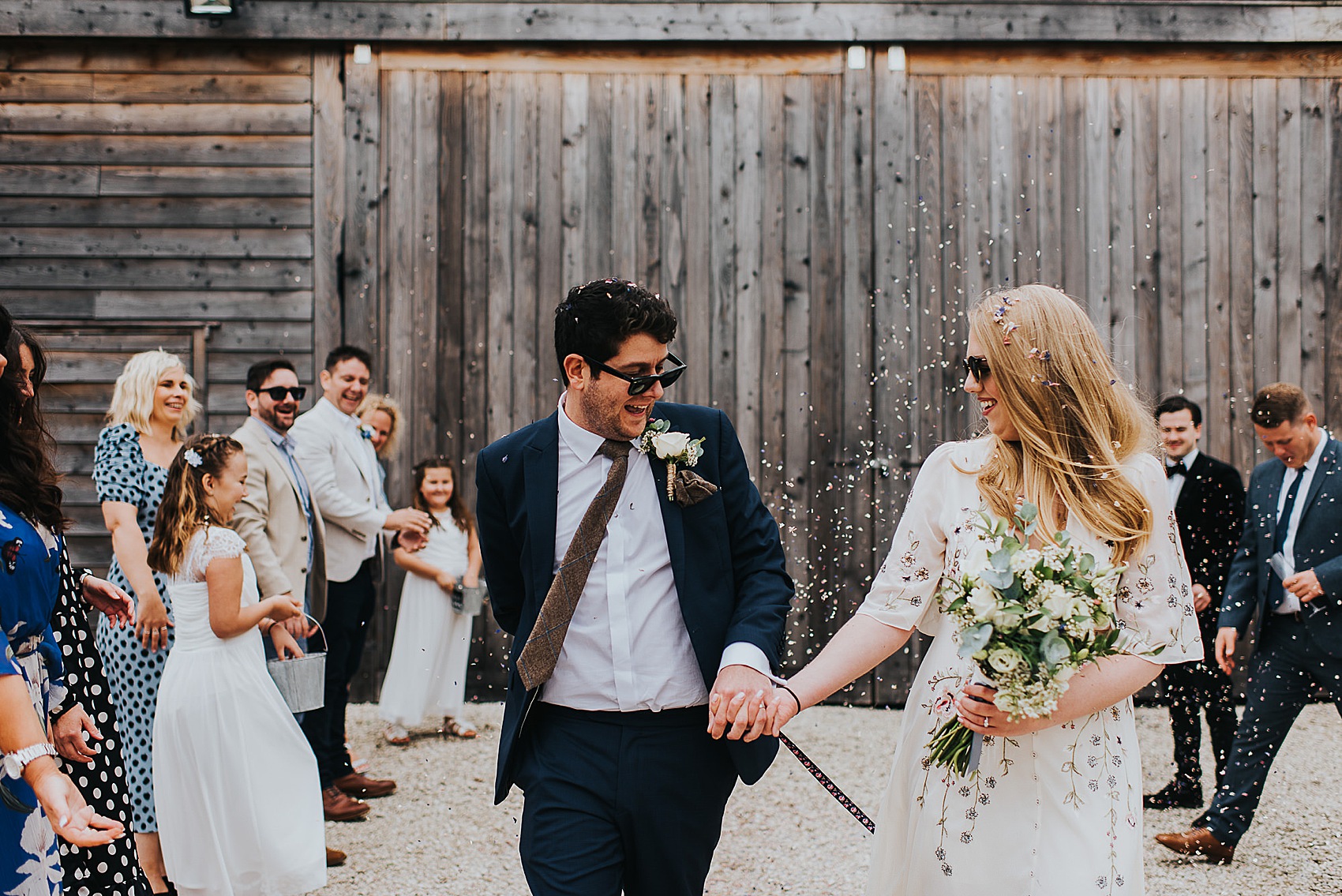 Leanne wore her gorgeous blonde hair down in soft waves, adding in a gorgeous, embellished floral hairpin from The Bobby Pin, which she plans to wear next year too. She also wore simple pearl earrings and a necklace from Steven Stone, which is where her engagement ring was from.
"Mine and my mum's hair and make-up were done by the amazing Jodie A. Smith Makeup & Hair. I hadn't had a trial due to the Covid restrictions so had only met her for the first time on the day of the wedding. She completely got what I wanted and it was perfect."
After the ceremony, the newly-weds hosted a champagne reception on the lawn and crept off for some divine photographs along with Maggie and the photographers. The farm is such a beautiful setting and I adore the funky, quirky vibe of these images.
Once he was ready, Liam splashed on Dior Sauvage whilst Leanne wore Flower Bomb by Viktor & Rolf.
"I love it and have had a few bottles now. The latest was a gift from Liam."
Although the couple chose to delay the planned wedding breakfast, they did share afternoon tea with their guests, including a wedding cake from Marks & Spencer.
"We originally wanted M&S Colin and Connie wedding caterpillars but they stopped making them (boo!). We ended up getting a vanilla sponge cake from M&S and everyone commented on how good it tasted."
To record their day, SJ and Simon of From The Smiths Photography were on hand and I love these chilled-out yet romantic photos and those beautiful, beautiful couple shots of Leanne and Liam in the harvest fields.
"We loved their relaxed style of pictures that looked timeless. We hate having our pictures taken and loved how they seemed to capture so many natural shots. They were so supportive from beginning to end and up for the challenge despite the constantly changing restrictions."
"They were so friendly so much so our family thought they were friends of ours from university, despite never meeting them before! I also think having them photograph our micro wedding will help with the photos at our reception next year."
The bride carried a beautiful, hand-tied bouquet of greenery and pure white flowers; the simplicity is just beautiful.
"I didn't plan on spending a lot on flowers for our original wedding plan anyway. When we decided to go ahead with our micro-wedding we had a bridal bouquet, two flower girl bouquets and a buttonhole for Liam. We had them from Two Petals By Hannah who is local to me. I decided to go for a classic white rose with lots of green foliage and I plan on having a bigger version next year."
"I had two charms made of both my sets of grandparents which were hung from my bouquet on blue ribbon. The pictures were of them on both their wedding days so I classed them as my something old. Unfortunately, my nana passed away a few years ago so my grandad was emotional at seeing this. My other grandad also missed the wedding due to hospitalisation so I felt like he was there on the day. I managed to FaceTime him before and now he's really happy he has a second chance to see me get married."
Leanne and Liam have lots of thoughts to share about making the best of the situation they found themselves in.
"A small wedding is still a wedding and at the end of the day, a wedding irrespective of the size of the guest list or cost of the day is all about the two of you, getting married. In hindsight, I laugh at the fact I had colour-coordinated straws and cutlery for our colour theme because in the grand scheme of things it does not matter."
We had the most amazing special day that we will remember forever and so will our family. A global pandemic was not going to stop us from getting married and in these times, for us, it was about making the best out of a difficult situation."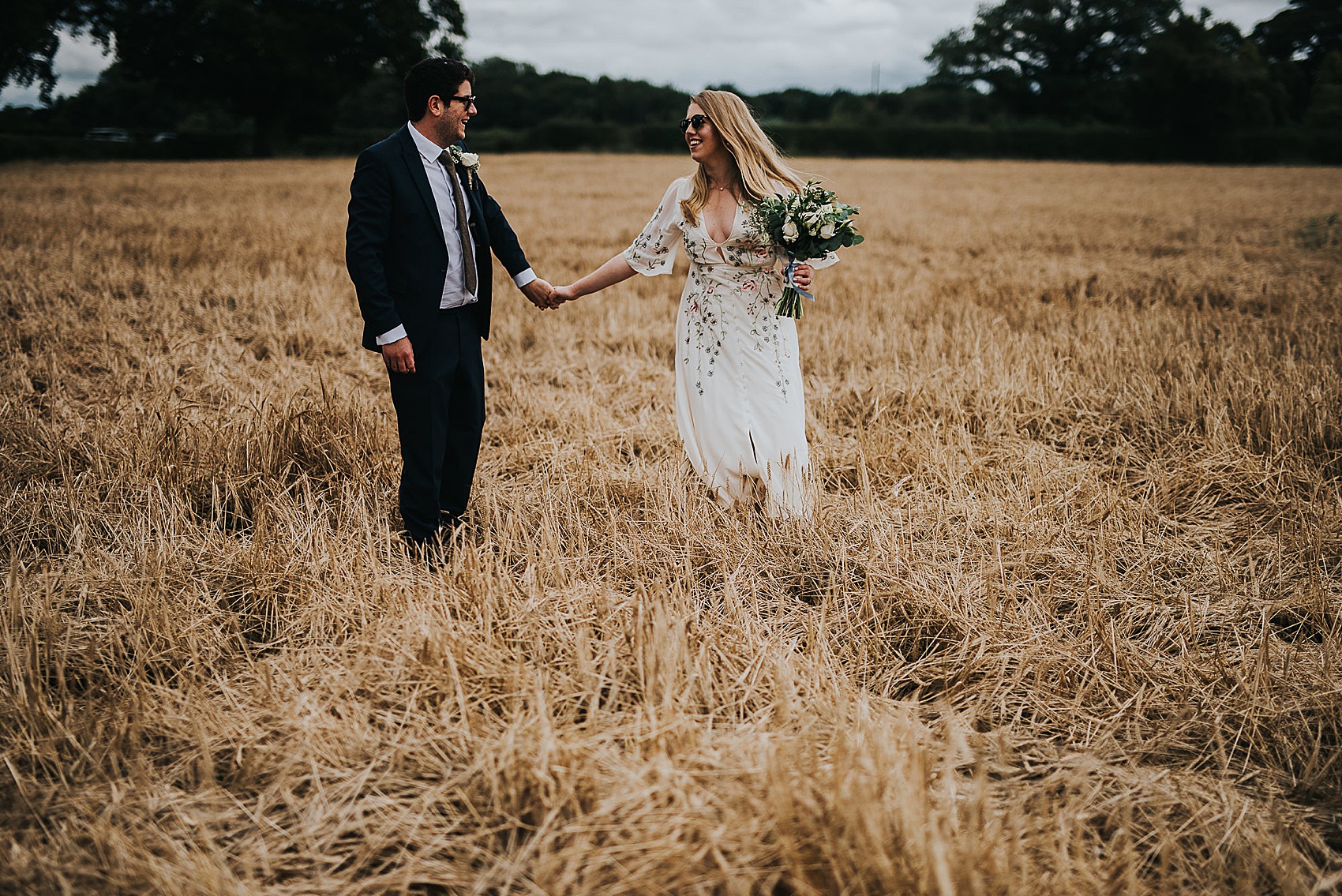 "We will now end up having two completely different styled weddings, how lucky are we! Next year because the registrars weren't available to do a blessing, we have asked two of our closest friends to host our wedding ceremony. I think it will be so special and personal."
My biggest piece of advice is just go for it. Our day did not feel any less special just because I wasn't wearing THE wedding dress and only had twenty four guests instead of 100. We felt it was really important that because it was still our wedding, we had our photographers there to capture the day. We will now be lucky enough to have two sets of wedding memories and two sets of amazing photographs."
Words of Wedded Wisdom
"Don't sweat the small stuff. Enjoy your day and enjoy your newly-wed's company and take time to be together. The things you think are important before the wedding and in the run-up are not the things that you remember after the wedding."
"Also, take each day as it comes – especially when planning in COVID times. Our wedding had been on/off SO many times and we had planned for every scenario possible in our head. In reality, this only caused more stress to ourselves. As someone who needs to know the plan, I found this really difficult to deal with but ultimately this was taken out of our control; we realised there's no point planning for 'what if'."
"We had budgeted £30,000.00 for our wedding in full and I have a feeling this may go slightly over. With regards to our micro-wedding, we did everything for under £1500 which just proves you can have a perfect day on a budget."
Leanne and Liam, it's so brilliant to hear how you made your micro-wedding totally your own and got the most out of every part of the day. Thank you so, so much, and I wish you all the best for your big reception next year. Thank you so much, on behalf of everyone here at Love My Dress, and thank you to the gorgeous pair that are From The Smiths Photography too. If you'd like to see more of their work, we've got many more weddings of theirs for you to enjoy here.
Ele xx