Not only is today's elopement wedding absolutely beautiful – with a striking yellow dress, a gold bridal crown, spectacular flowers and colourful tartan all set against the backdrop of glorious Glasgow's wonderful architecture – but the story our couple have to share with you all is incredibly moving; a testament to their sacrifice and selflessness whilst navigating this global pandemic we're currently living through.
On the 30 August 2020, Legal Officer Alison married her love Mike, who is a Respiratory Physiotherapist.
"We were finalising all the details of the wedding ceremony and reception before the lockdown and ensuing restrictions. We had three months to replan an elopement with the constant cloud hanging over us that Glasgow could be put into local lockdown at any point."
Caro Weiss Photography

+ Follow
They married outside on Ashton Lane in Glasgow, which is a cobbled street filled with history, not to mention bars, restaurants and a cinema, too. Ashton Lane is also where their original (indoor) wedding venue was, at the restaurant Ubiquitous Chip.
"We initially had our wedding booked at the Ubitiquious Chip for an all day wedding extravaganza. The Chip meant a lot to both of us since we had shared many memories there. Food is a really important part of our relationship, and we knew that the food at the Chip is always top-notch so we felt like we had found our perfect venue. We had to make ammendments due to COVID, and thought if we don't get married inside it, we'll get married outside it."
Their early morning elopement wedding was just the two of them with their celebrant, photographer Caro and their florist Phil from Roots, Fruits and Flowers as witnesses.
"The pandemic had been really tough for us. Since I was instructed to shield, Mike had to move out of the flat and ended up living in a Premier Inn for four months. As a respiratory physiotherapist, Mike was regularly working with COVID patients, and the risk was too great that he would bring the virus back home."
"Mike didn't have much fun living in a hotel from April to July and I had no fun living alone, stuck inside, for the same period. The wedding meant us getting our life back and being able to be together again."
Mike was resplendent in traditional Scottish dress, and as purple is his favourite colour, knew immediately that he wanted to wear a purple kilt. He chose the Monarch of the Glen tartan with a kilt from R&I MacDonald Kiltmakers, and paired it with a Lovat green tweed jacket by MacGregor & MacDuff, and a heather kilt pin, brogues and a mustard yellow tie from Kilt Society.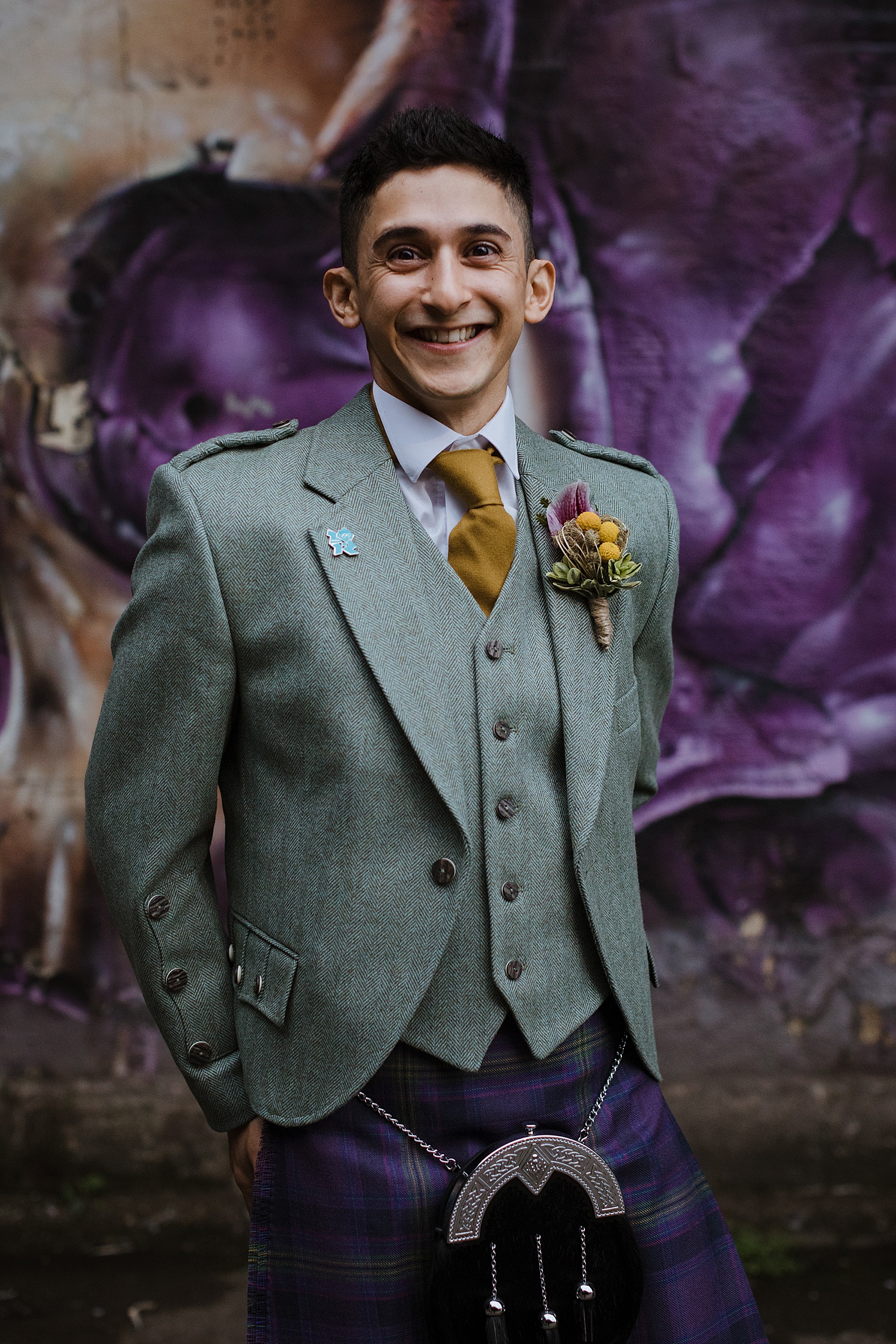 I'm so pleased that it was all so lovingly captured by the brilliant Caro Weiss, a photographer whose work has graced our pages over many years, and who is also a member of our excellent, hand-picked supplier directory, Little Book.
"We found Caro just before we chose our celebrant and venue. It seemed that they had all worked with each other at one point and were all thrilled when we chose Caro. She encapsulated everything we wanted: candid shots, good composition with an element of haunting beauty and unconventional style."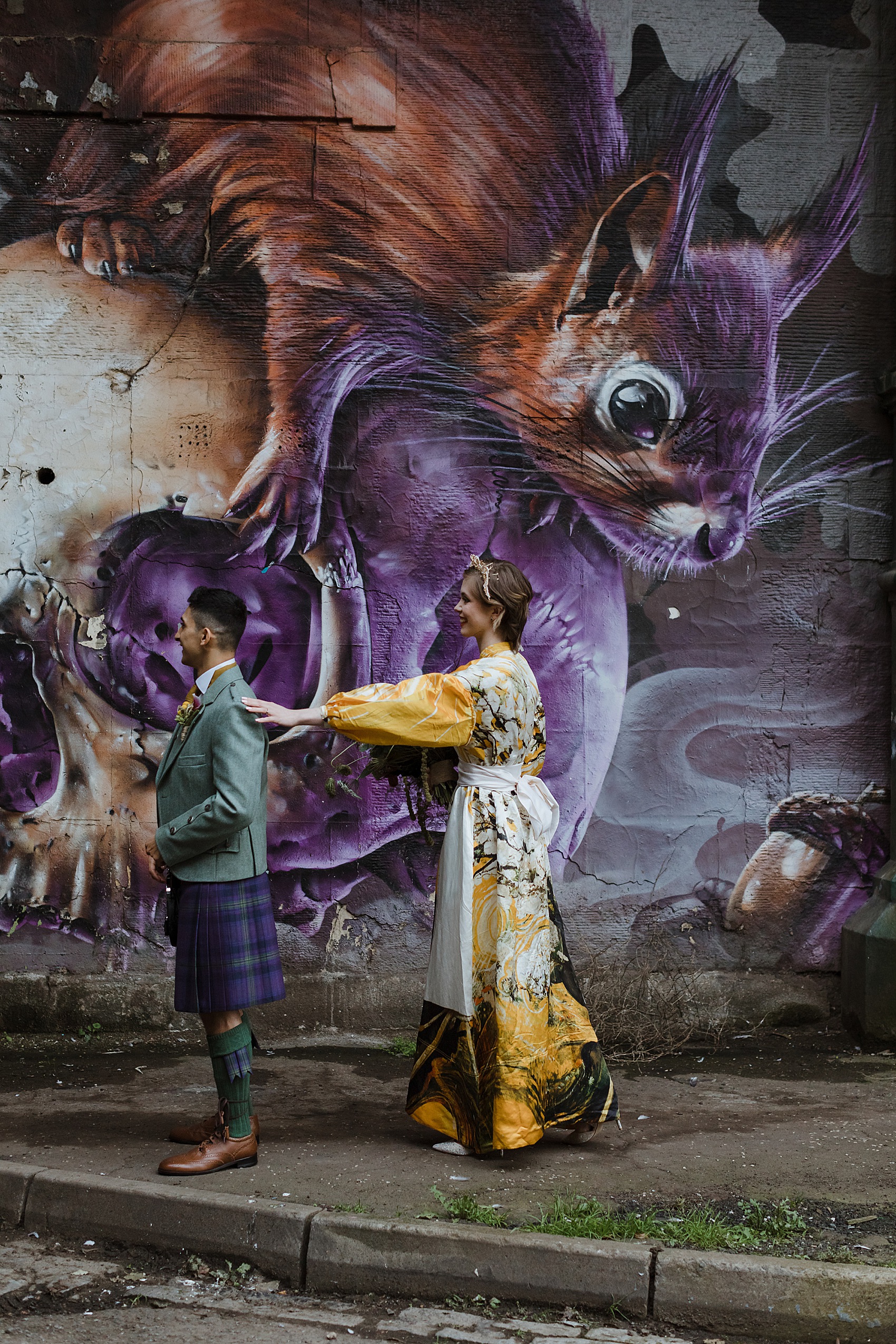 "Both of us would say that we are unconventional and didn't want to pose for photographs. We wanted the images to be captured naturally. Caro took all this on board and made arrangements for us to have a first look, something that we had not considered initially but that seemed to fit with our new wedding arrangements. It was wonderful because the photos just showed how happy and comfortable we are together whilst showing off who we are as a couple."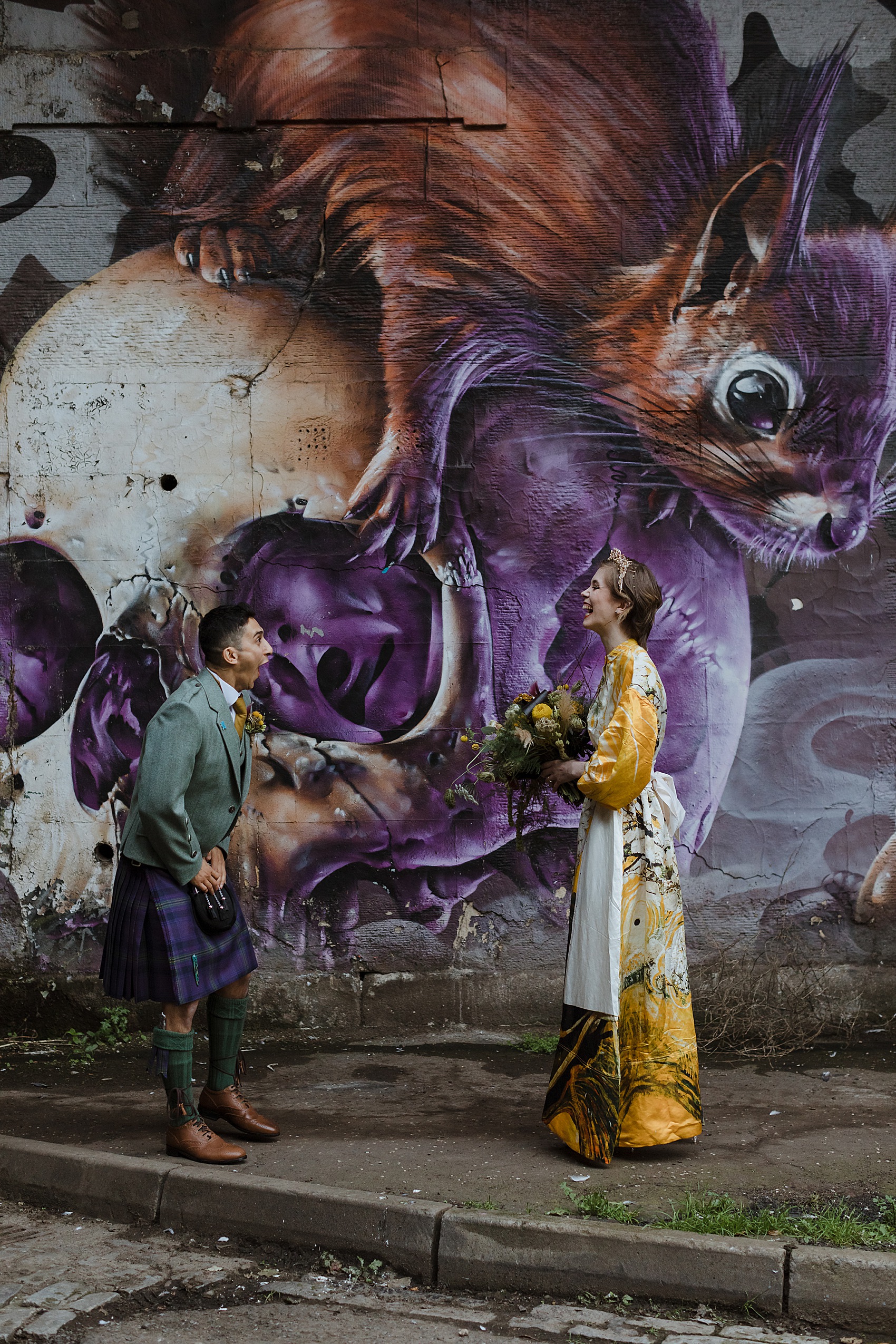 Alison looked magnificent in a long, shirt style linen and silk dress with balloon sleeves and an eye-catching yellow, white and black floral print by AJE X Brett Whiteley from Matches Fashion.
"I knew from the very beginning of wedding dress shopping that I wanted something different and atypical. It was also incredibly important to me that we had the most sustainable wedding possible, and for me that meant buying a dress that I could realistically wear again. This stipulation took me away from traditional white wedding dresses and towards more fashion-orientated looks."
"I wanted a look that felt laidback and comfortable. I also wanted to wear a dress that clearly reflected my personality and my style. My goal was that my friends and family would see me in my dress and think, 'Yep, that look is so Alison!' Buying a dress online came with its own stresses and also meant some anxieties about perfectly matching belts, headpieces and shoes."
"Not choosing a traditional look was difficult because my friends and family didn't always see the vision that I had in mind for my wedding look. Once they saw it all together, they loved everything about it and so did I."
Alison's heels were from Dune, which she swapped for trainers from Rens Original after photos were taken, and in her hair she wore a beautiful bespoke gold, crystal and beaded crown by Glorious by Heidi.
"My belt was made by Heather at Sash + Veil. She was amazing at sourcing the perfect fabric to match my dress. The colour she sent me matched it perfectly, and the belt was an invaluable addition."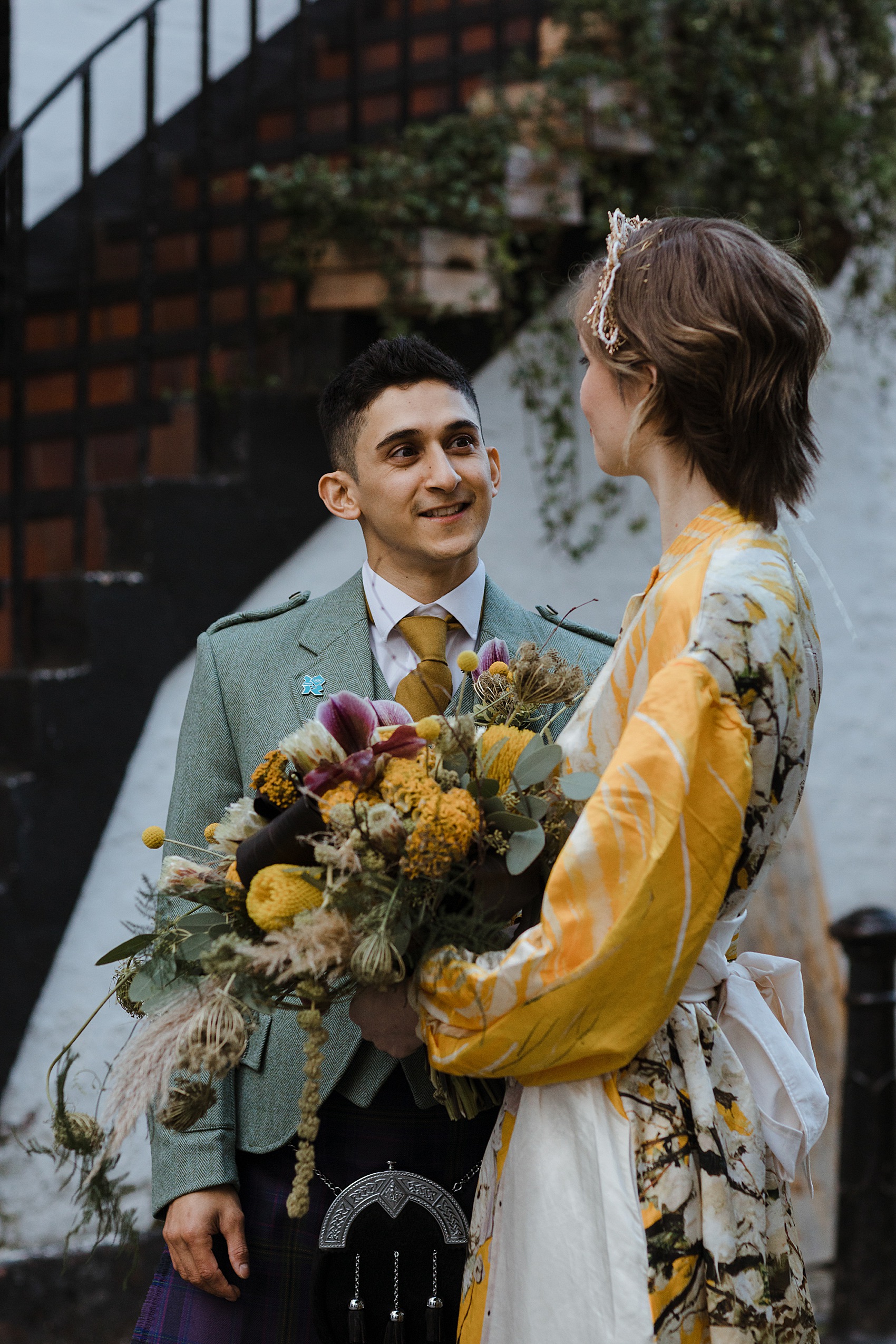 The couple's original plan at Ubiquitous Chip was for their wedding to be a laid back affair with delicious food (including lots of vegan options as they both became vegan in 2019) and all night dancing. They also wanted to include fun, light-hearted elements which reflected them both.
"Our welcome sign was an A1 poster of John McClane from Die Hard saying 'Welcome To The Party, Pal'. During our first Christmas we watched Die Hard at the GFT, and it is now one of our Christmas traditions."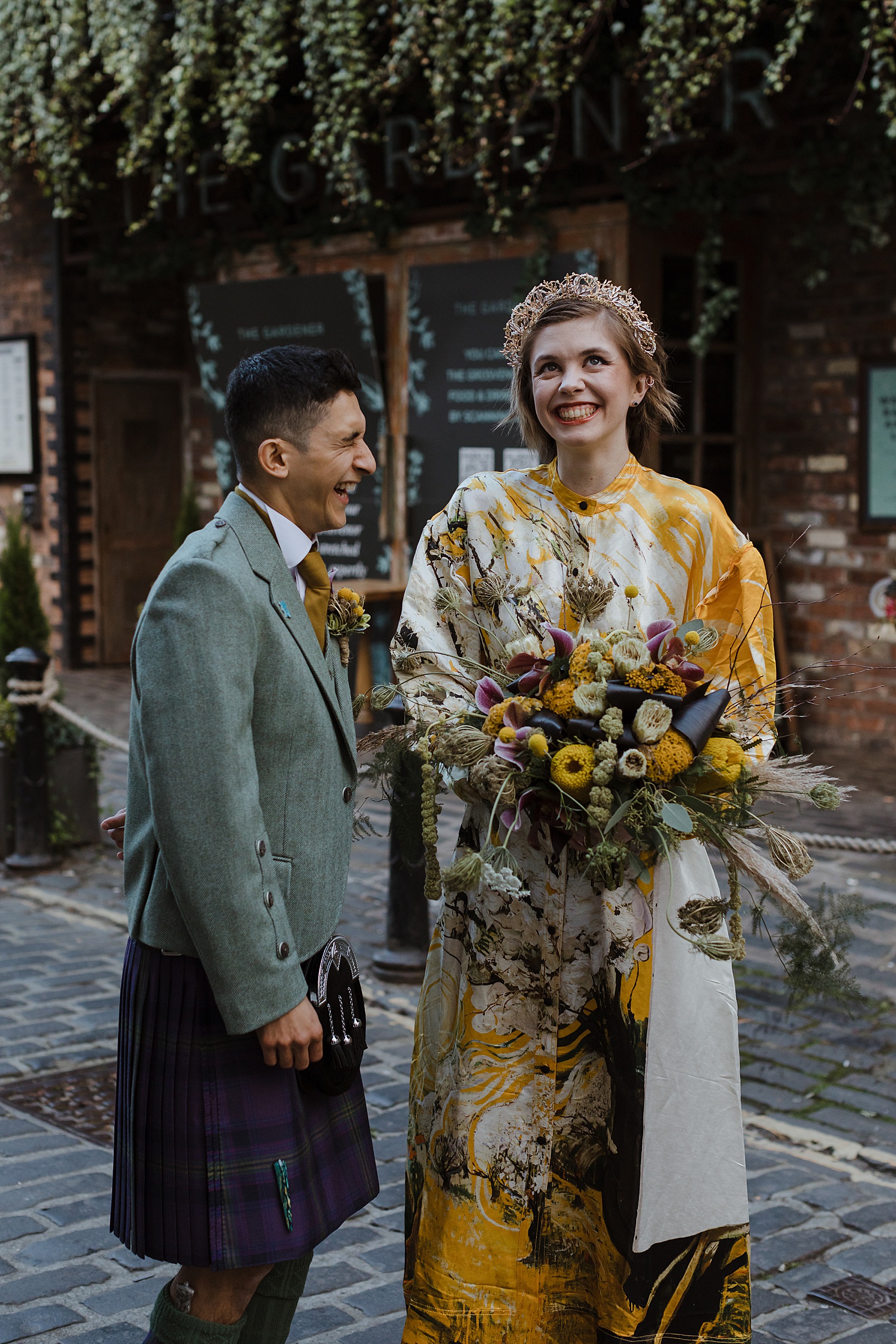 "We also planned on all the tables being named after our favourite TV shows, a table plan as a guess who game (i.e. an interesting fact about a guest and then you had to match yourself to the card description), and a seating plan that ensured that there would be only great conversation all night."
"Instead of a cake cutting, we were going to blindfold paint each other's portrait. We had so many ideas that we are going to resurrect once we can have a party in post-COVID times!"
"We both couldn't imagine getting married anywhere but the West End of Glasgow since it meant so much to both of us. I was a student at the University of Glasgow when we met, and Mike would visit most weekends when we first started dating."
"We wanted our wedding to reflect the city that we love and the type of people that we are."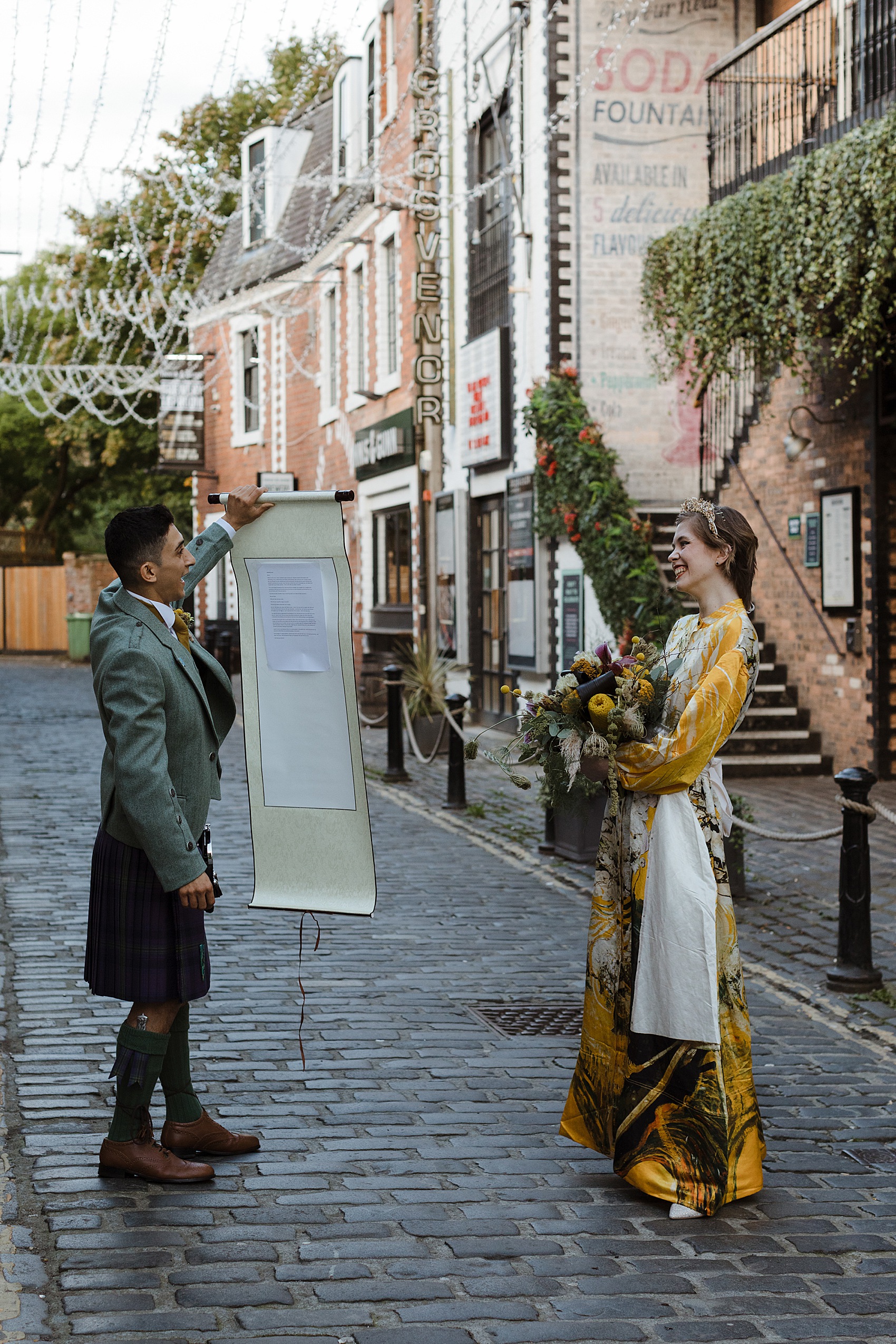 "We met at the London 2012 Olympic Games. We were both Games Makers (volunteers) and stationed at the Excel Arena. We only briefly bumped into each other a couple of times but when we did finally work together, we really hit it off."
"We started making up goodbye songs for all of the spectators and athletes, and whiling away the many quiet hours by asking each other weird and wonderful questions to get to know each other. We went on a date after the Games finished and got on like a house on fire. Mike was living in England at the time so we started to visit each other in London and Glasgow on alternative weekends (we feel like we personally kept Virgin Trains afloat for many years!)"
The first 4 years of the couple's relationship were long-distance, with Alison in either Scotland or France, and Mike in London or Manchester. They then moved in together in London, with Alison getting a training contract as a lawyer, and Mike beginning his Physiotherapy degree.
"We decided to have a holiday in Scotland in 2018 and completed the North Coast 500 in a tartan camper van. Mike had planned that he would propose to me on top of a munro that my Dad had always wanted to climb. However, being the perfectionist hiker, I didn't want to climb it unless the conditions were perfect and I could see the incredible view from the summit."
"We couldn't see the summit on the day of the climb and I said I didn't fancy climbing the munro after all. So Mike persuaded me to drive to the foot of the mountain where he proposed – using the same engagement ring my Dad gave to my Mum. We then planned on getting married the following year, but my Mum had also got engaged in 2018 and planned ahead, so it was pushed back to 2020!"
The couple had carefully curated a whole soundtrack to their original day, including walking down the aisle to Let's Get Married by The Proclaimers – and hope, when they can, to be able to fill the dance floor with guests enjoying the music they love. Their celebrant was Claire Digance from the Humanist Society Scotland.
"Claire was amazing. She wrote a beautiful and personal ceremony for us that described us and our relationship perfectly. We loved the ceremony so much that we sat and re-read the entire script while on honeymoon. Claire was so reassuring throughout the entire pandemic crisis and was available to Skype call to discuss the latest Government regulations around weddings. She was great, and we loved working with her."
"We both wrote our own vows. It was a tough process since our minds were so full of pandemic-related worries rather than beautiful memories and romantic sentiments. Writing our vows made us slow down and remember why we were doing this at all; it made us really think about why we were getting married and what we meant to each other."
Alison and Mike's rings are gold with a honeycomb design (and a platinum bee for Alison) by Christine Sadler, chosen for the special significance that bees have in Manchester, where Mike lived for a couple of years.
"The city became our second home, after Glasgow. The rings were designed in my home town (Ayr) and had the symbol of Manchester (the worker bee) so they felt perfect."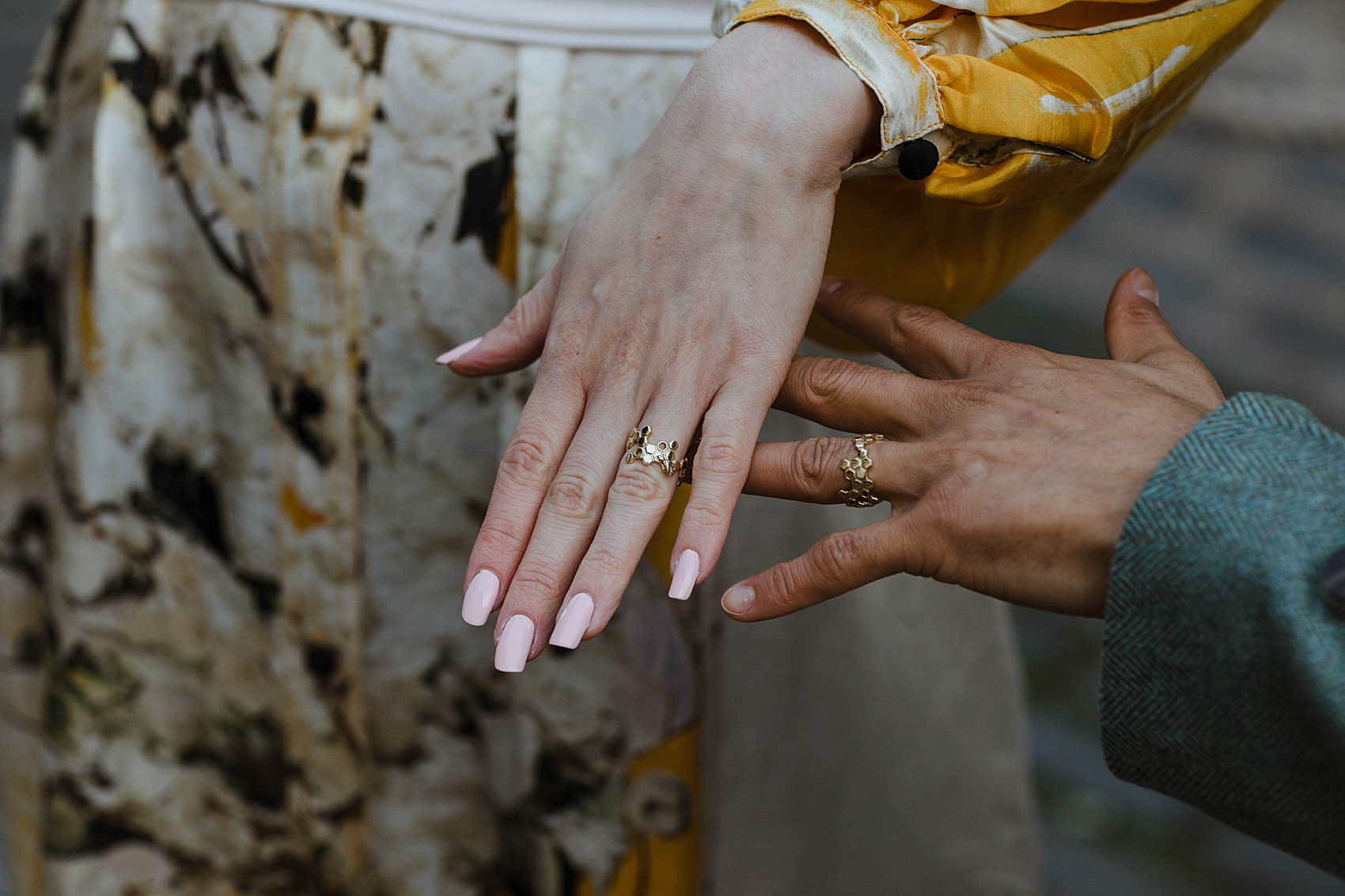 Alison and Mike also enjoyed a huge vegan Victoria sponge made by Three Sisters Bake, which they ate together watching their favourite TV shows in the afternoon, after their early morning wedding.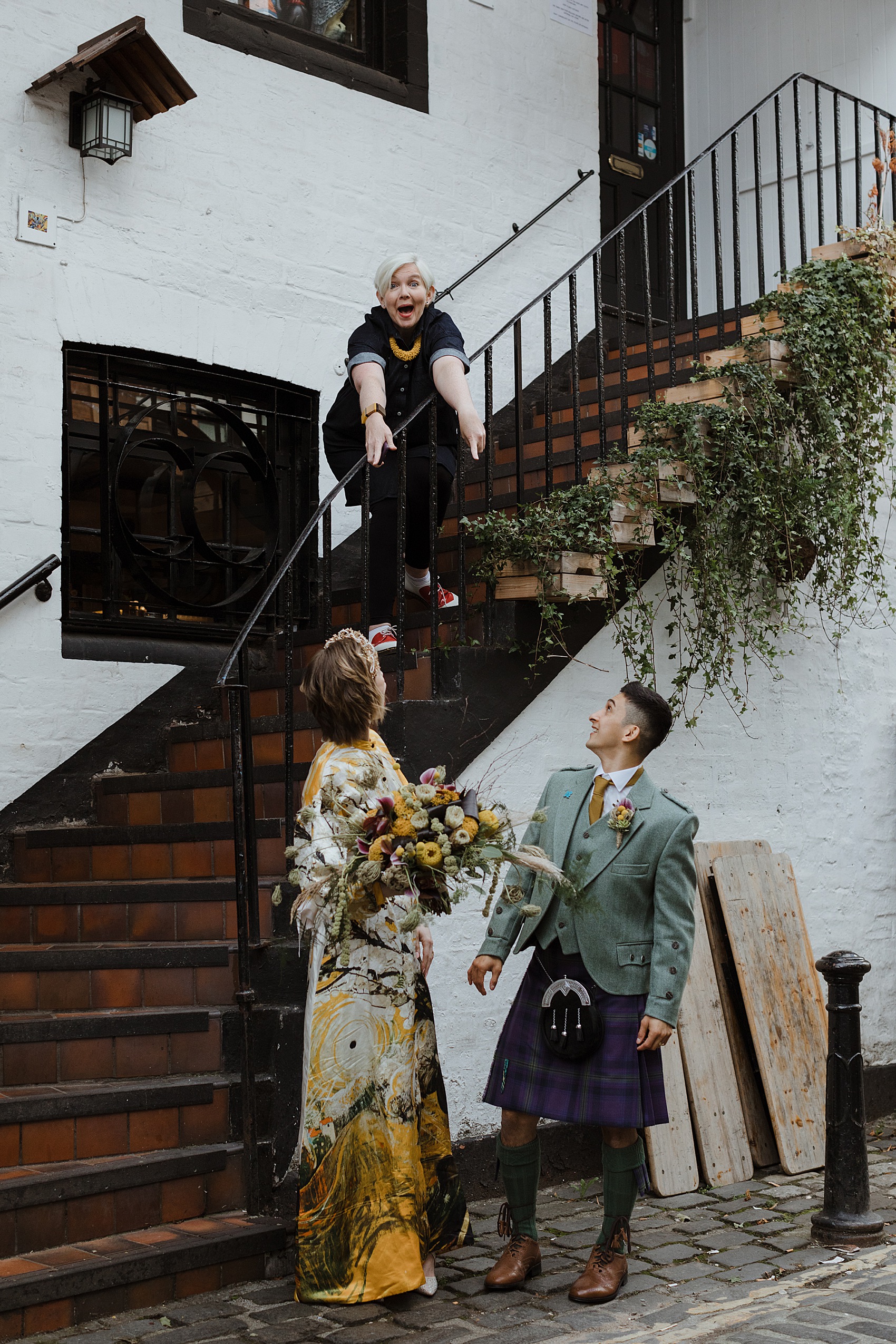 Alison and Mike have very kindly provided extracts from their beautiful vows to each other, which I'm very happily sharing with you here, starting with Alison's.
"First, and most importantly, I love you. I love serious you, I love silly you, I love annoying you, and I love moany you. Sometimes you drive me crazy but I never stop loving you and I promise I never will. You are funny, silly, adventurous and so lovely to be around (and you have a nice bum). When we are together I am the most 'me'. You laugh with me, and at me, and you join in my songs, and you entertain my rants and tolerate my annoying-ness. You sit and watch the thunderstorms with me and you get excited when it rains because you know I love it. Most of the time we seem to share a brain and that is both comforting and really scary."
"I'm going to be blunt, this year has been shitty. For the months that we were apart, all I thought when I watched the news or talked to friends was, 'I don't care, I just want Mike home.' I wanted us to hide inside together and pretend that the outside wasn't happening. But I knew that what you were doing was so important, and that you were great at it. I am so proud of you for everything you have done this year, and every other year, because you really are a fantastic person and always put other people ahead yourself – which is remarkable given how much of a giant misanthrope you are!"
Here is an extract of Mike's vows to Alison:
"You take the time to understand me and believe in me. And you are true to yourself. You are the person I aspire to be. We have always described ourselves as a team and I think that as our relationship has evolved, we have become more and more understanding of what that means."
"Life with you has given me so much clarity on who I want to be and how I want to live. You have shown me (and often sat me down and told me) that life is for living and not for putting on a shelf and looking at once in a while. You have such an incredible talent for making me laugh and smile – even if you don't mean to. You are like a lightning rod, taking the force of my wild outbursts of emotion and always keeping me grounded."
There weren't readings during the ceremony, but there was a lovely food related ritual. Alison often makes sourdough doughnuts (amazing!) and ahead of their wedding, they made some together and filled them with three different delicious flavours of jam.
"Each jam represented a different guiding principle for our first year of marriage: patience; teamwork; and understanding. At the wedding we had a box filled with 3 doughnuts (one of each jam flavour) and we picked the doughnut that we were both drawn to. We picked cherry jam, which meant patience. Our celebrant then read us a short description that we had prepared detailing what patience in a marriage means."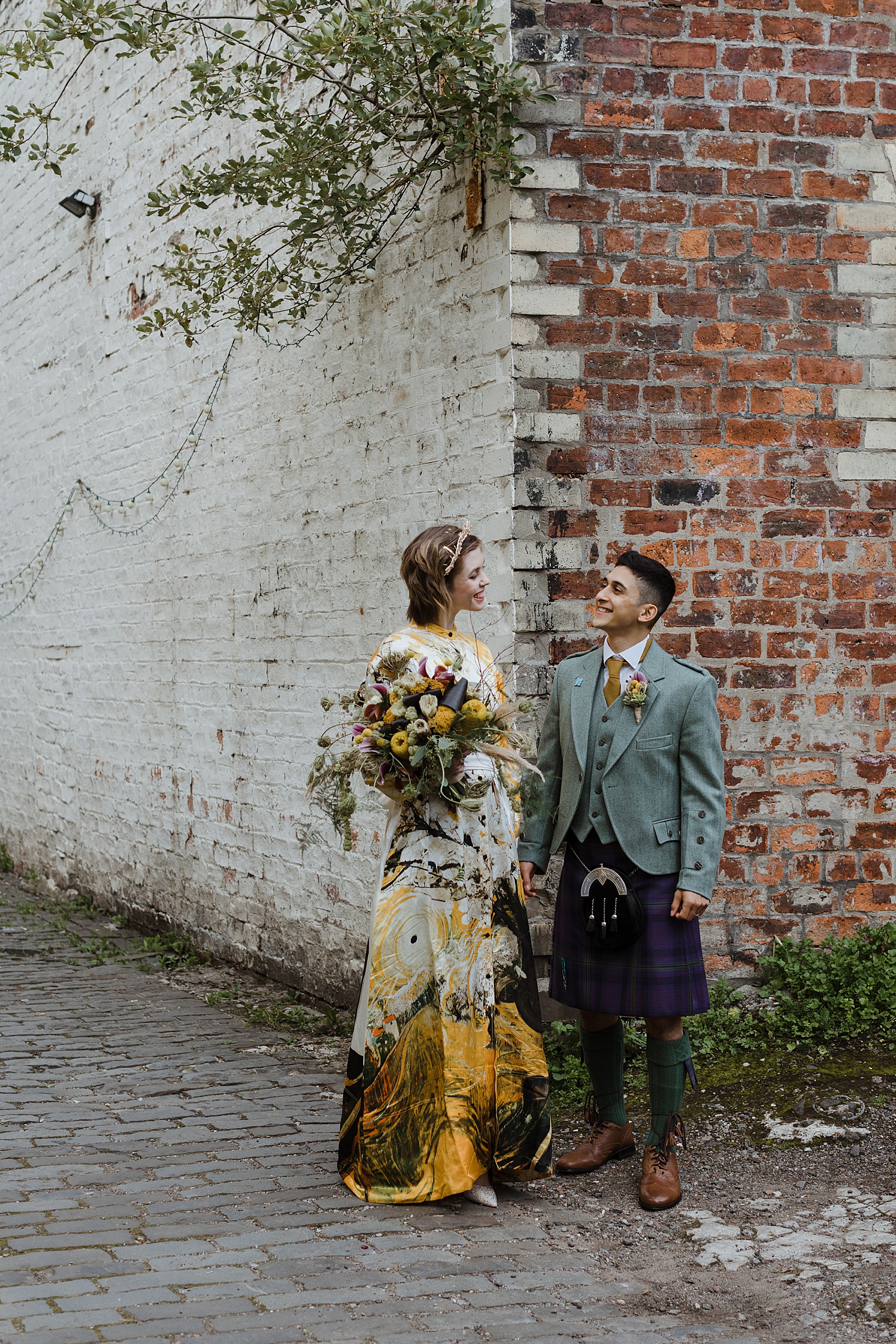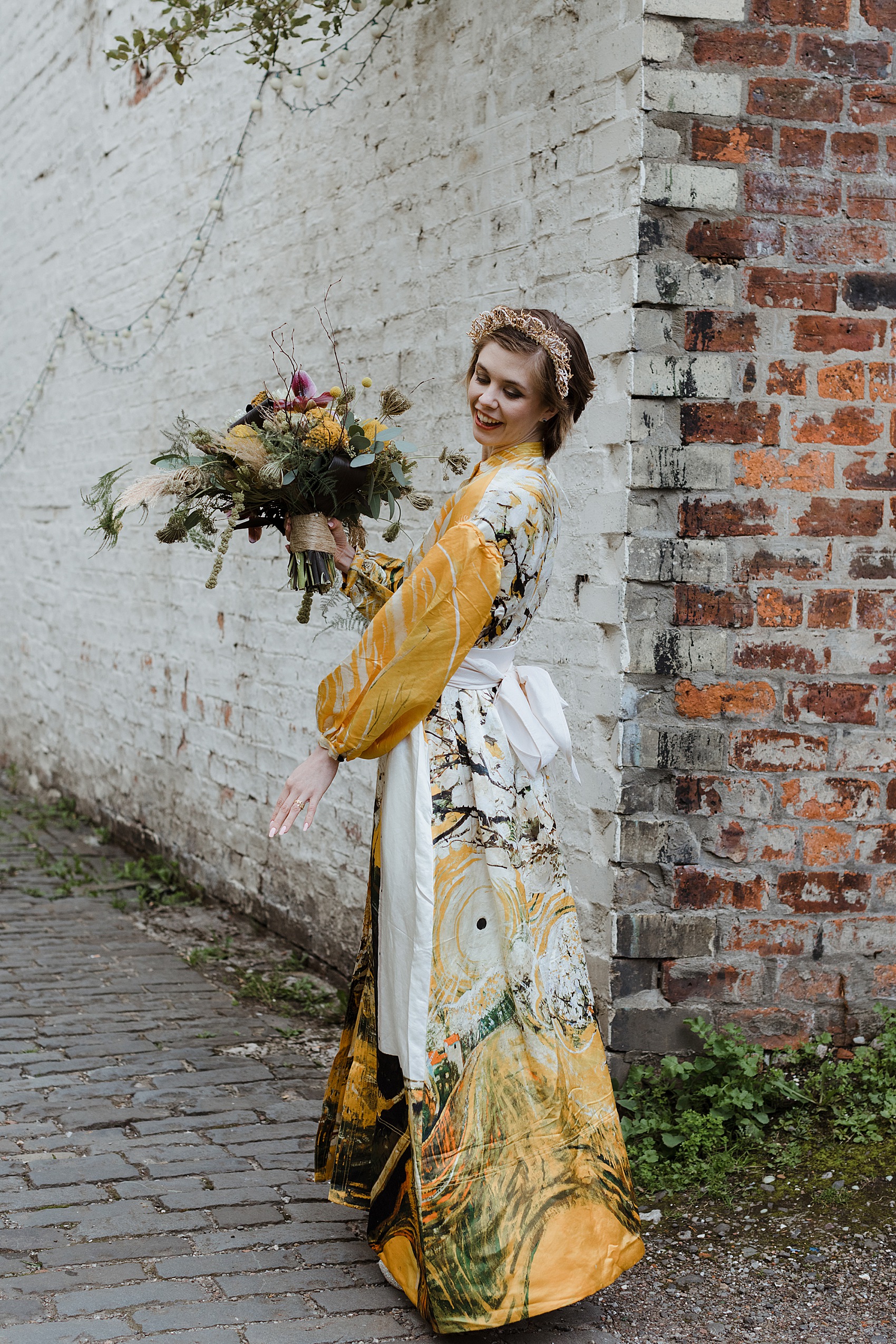 As well as acting as witness to Alison and Mike's wedding, Phil from Roots, Fruits and Flowers made an out-of-this-world bouquet with bursts if vibrant yellow to match Alison's dress, and an array of lovely texture from pampas grass, celosia, craspedia, protea, and lots more besides.
"Phil came recommended by both our celebrant and the venue. When I had my first consultation with him I knew immediately that Phil was the perfect florist for our wedding. Phil took one look at my dress and began designing an avant-garde, one of a kind wedding bouquet."
"He instinctively knew that I didn't want a traditional bouquet, and was able to take inspiration from my dress to create flowers that perfectly complemented it. While I knew what I didn't want in a bouquet, I didn't know what I did want. I felt totally comfortable leaving the design in Phil's hands, and he created the most verdant and magical bouquet with matching buttonhole."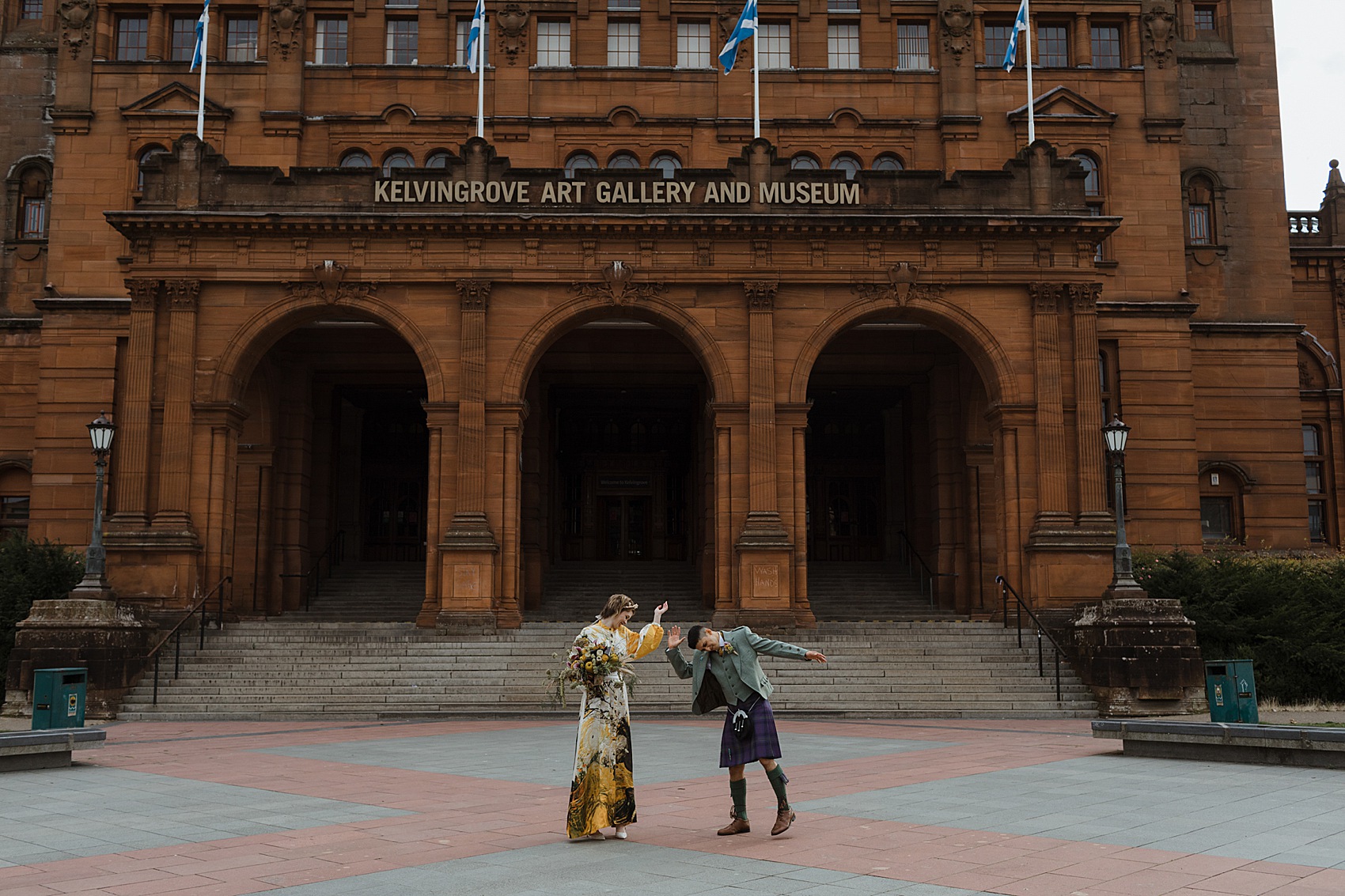 Favourite Moments
"The first look. This was the first time that we really thought we were about to get married. In the run up to the wedding we didn't feel like we could get excited because there was a good chance that the wedding wouldn't happen and we weren't ready to have it taken away from us like that."
"When we saw each other under the bridge at Kelvinbridge, it felt like all our plans had finally come together. We both got to see our individual efforts and wedding outfit secrets, and our worlds were coming together to become one."
"Even though it wasn't anything like the wedding that we initially planned, it ended up being the most perfect day and probably what we wanted all along. We wanted it to be a special day for the two of us, being together and celebrating our relationship in a relaxed way – that is exactly what we got."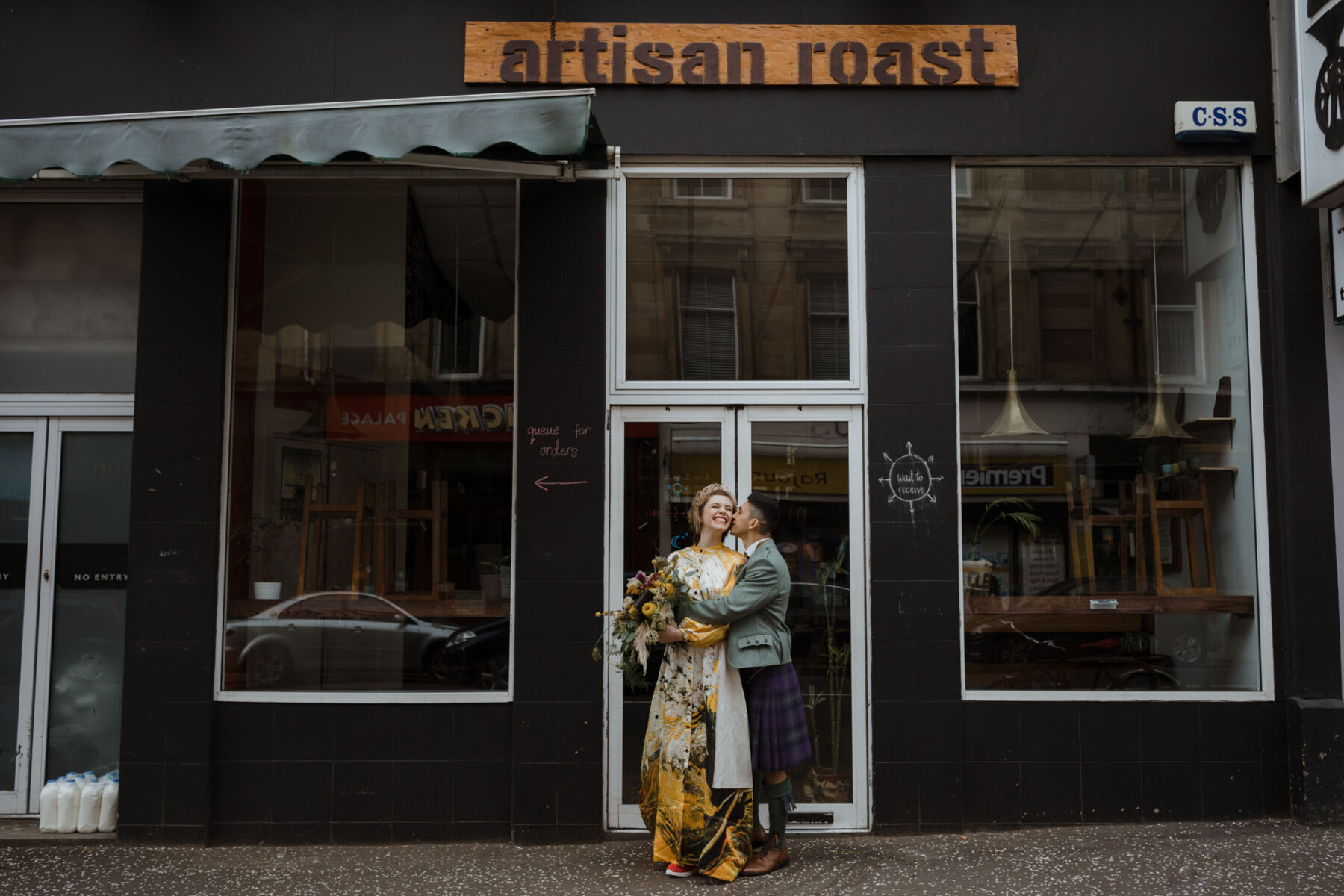 Words of Wedded Wisdom
"Don't be worried about going small. It might feel super selfish; it definitely did for us since we are both only children and we felt like we were depriving our parents of seeing their child getting married. In truth though, we didn't want anyone else there. We could work to our own schedule and tick all the boxes we wanted to tick without having to worry that we were disappointing anyone."
"It also means that we get two wedding days: a wedding and a party. The party will not have the stresses that come with getting married and will be purely about our friends, family, food and joy. We met our photographer at 7am and had wrapped everything up, marriage and all, by 10am. We then sat on the sofa in our wedding clothes eating wedding cake, opening wedding presents and eating a beautiful food banquet provided by the Hanoi Bike Shop – it felt utterly perfect. Don't be afraid to break the norms and be a little anti-wedding."
"Also don't feel worried about not wearing white. You can still look and feel like a bride if you aren't wearing a traditional white gown. You might not get the typical 'Say Yes to the Dress' experience but you get something that feels like you and that you will be comfortable in."
"There is a lot of pressure around a wedding; pressure to make sure the day is everything you could ever want it to be. When your wedding gets decimated due to a global pandemic you realise that a lot of the things you have been worrying about are actually just nice additions. We realised that the most important thing was to get married, however we could. Weddings are still incredibly important because they show that even during a pandemic, you can still commit to the person you love. But as someone said to us, you are no less married if you have a small wedding."
Very well said! Thank you so much Alison and Mike. It's been a privilege to share your gorgeous day, and all so beautifully captured by Caro Weiss – thank you, Caro!
With love,
Laura x