Today's wedding reflects the love of our radiantly happy couple perfectly, and is a joyous fusion of the Ugandan heritage and culture of our bride, and of the city they were married in – London – with a post-ceremony Tube ride, a Thames barge jaunt, and a reception at one of the capital's many quirky, hidden gem museums.
This is the wonderful wedding of Salome, a primary school teacher, and Andrew, who is a civil engineer working for Transport for London. They held a church ceremony on the 7 September 2019, and afterwards took the Underground from Oval to Camden Town to pick up a barge at Camden Lock for a leisurely journey over to London Canal Museum for their reception.
Kim Williams Weddings

+ Follow
"We didn't want to spend too much on videography but knew we wanted a video, having seen so many brilliant ones. Kim's prices were very reasonable and her style was different and fun. We clicked with her when we met and are so glad we had her."
"As I'm is Ugandan, we knew we wanted to have bits of Ugandan culture threaded through our day. We wanted lots of bright colours as the traditional Ugandan dress is colourful. Having a London wedding and Andrew working for TfL meant we knew wanted to thread in some transport, too. We also knew we wanted a church ceremony and gospel choir."
Daisy Powles Photography

+ Follow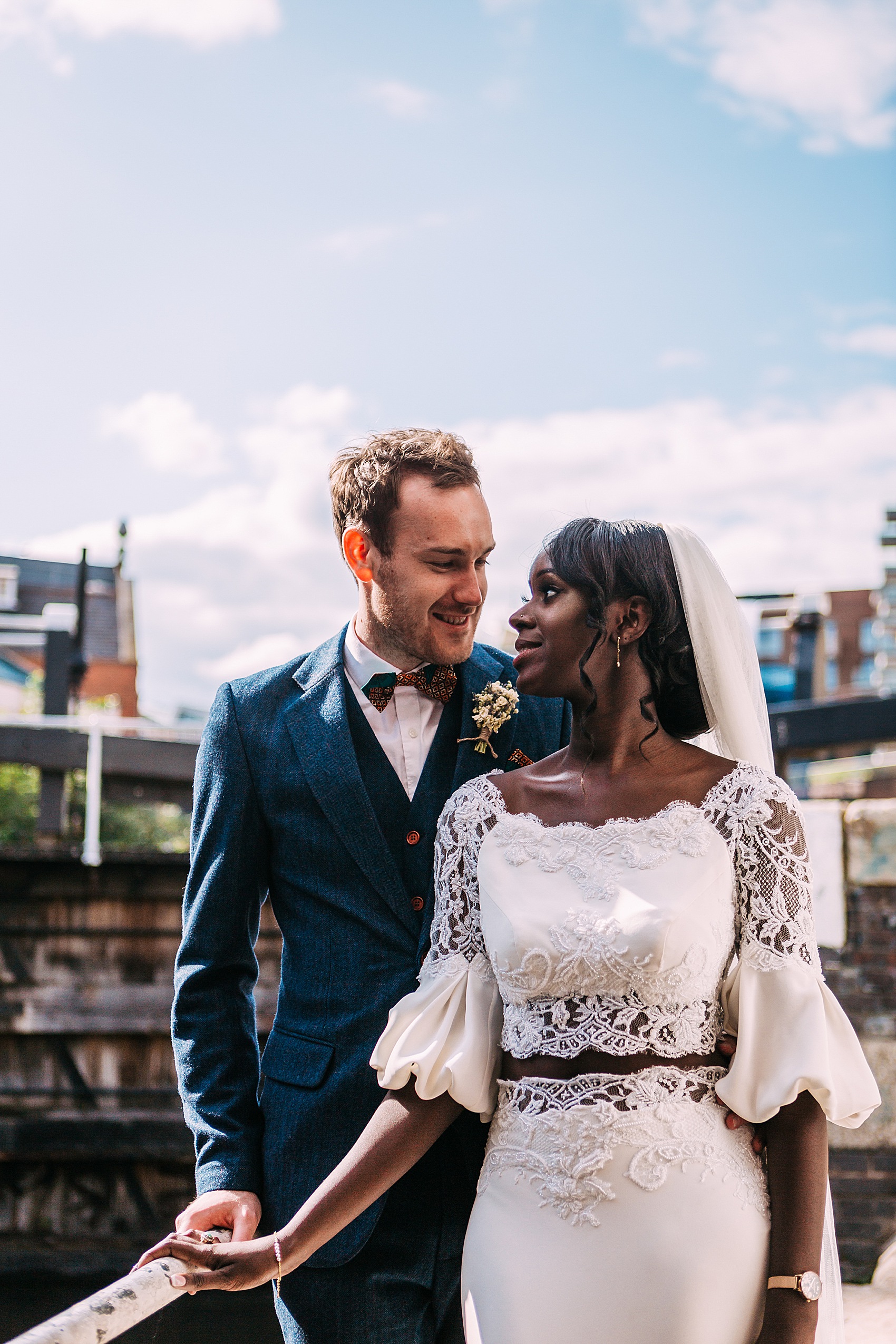 Salome spent a lovely morning with her bridesmaids and family getting ready, and her hair was styled into an elegant chignon with face framing curls by Her Definition. Make-up artist Joan Karimi was also on hand to create radiantly beautiful looks for Salome and her bridesmaids.
"I borrowed my sister-in-law's dangly pearl earrings. I bought all the bridesmaids matching bracelets for us to all wear on the day, too."
In Salome's hair was a scattering of delicate white waxflowers, and on her feet she wore ivory, pearl embellished block heeled sandals from Monsoon.
"Andrew and I went to Jo Malone for the wedding experience and we could not recommend this enough. They gave us bubbles, chocolates and even a hand massage! I bought the Myrrh and Tonka body cream paired with the Poppy and Barley perfume. Andrew wore Birch and Black Pepper from their Huntsman collection."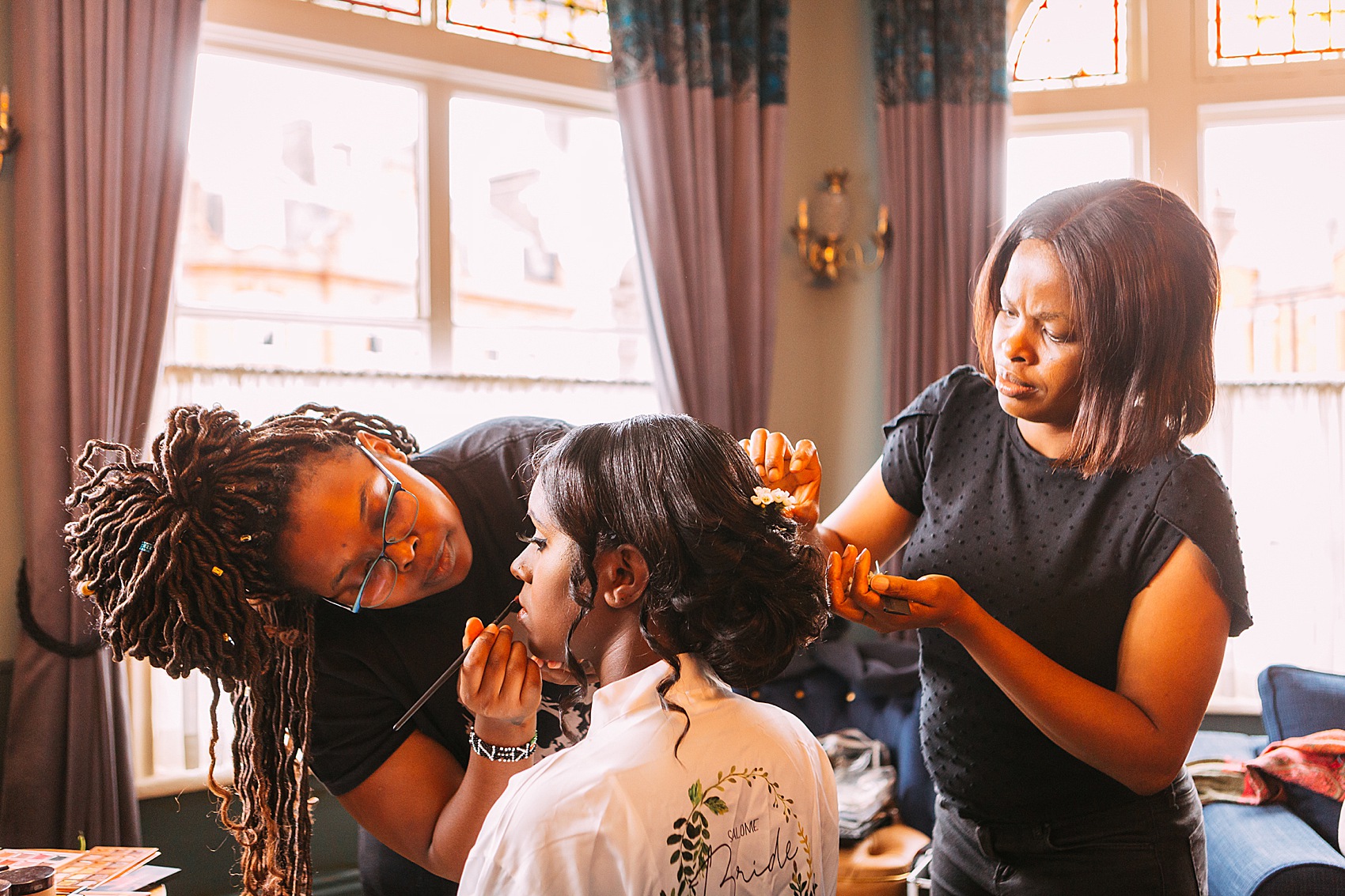 Salome's bouquet in shades of soft white with little accent bursts of blue was made by Stoke Newington florist Gingerlily Flowers, whilst the bridesmaids carried bunches of gypsophila and lisianthus from Elaine, AKA The Flower Lady Herne Hill.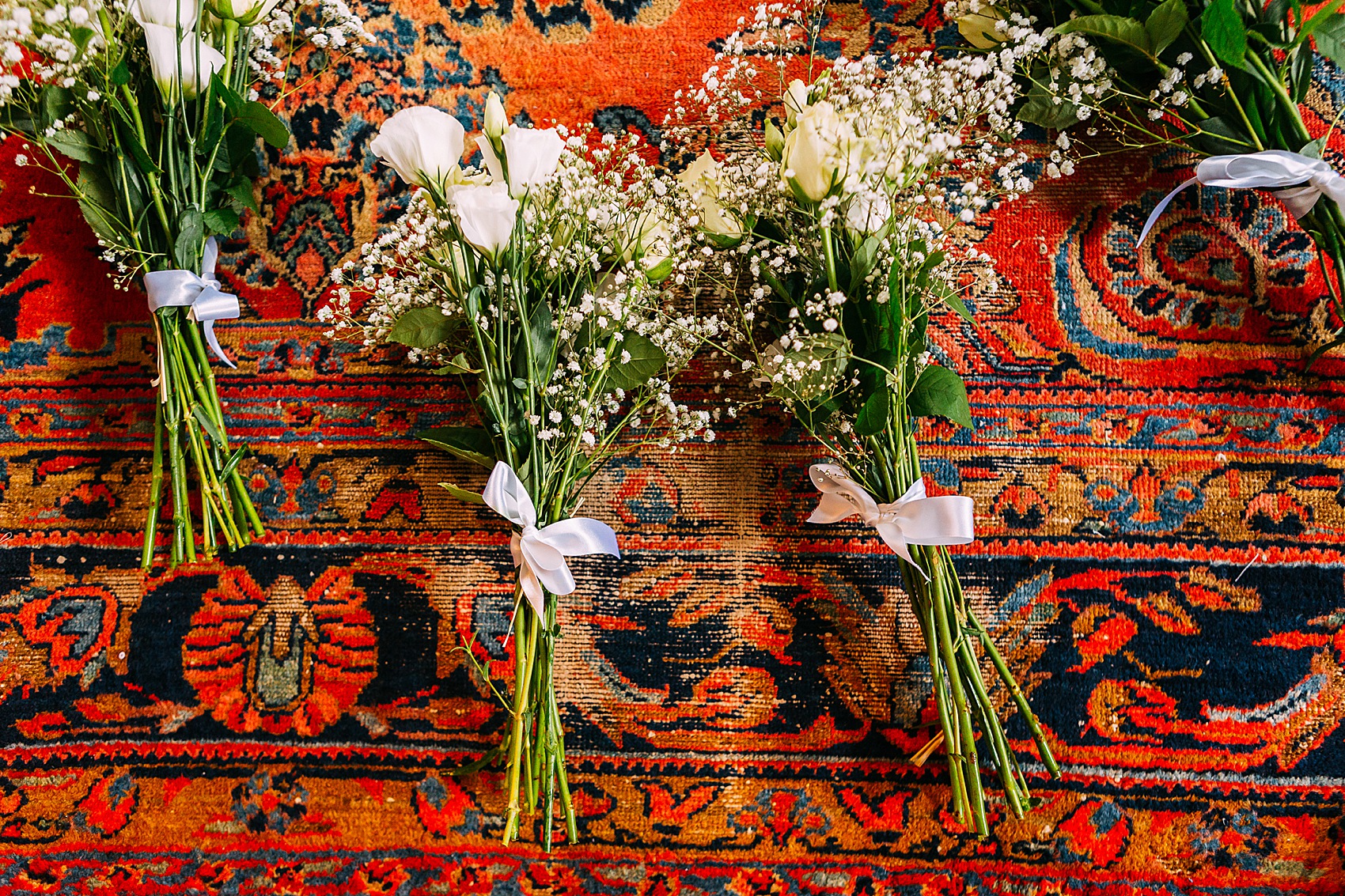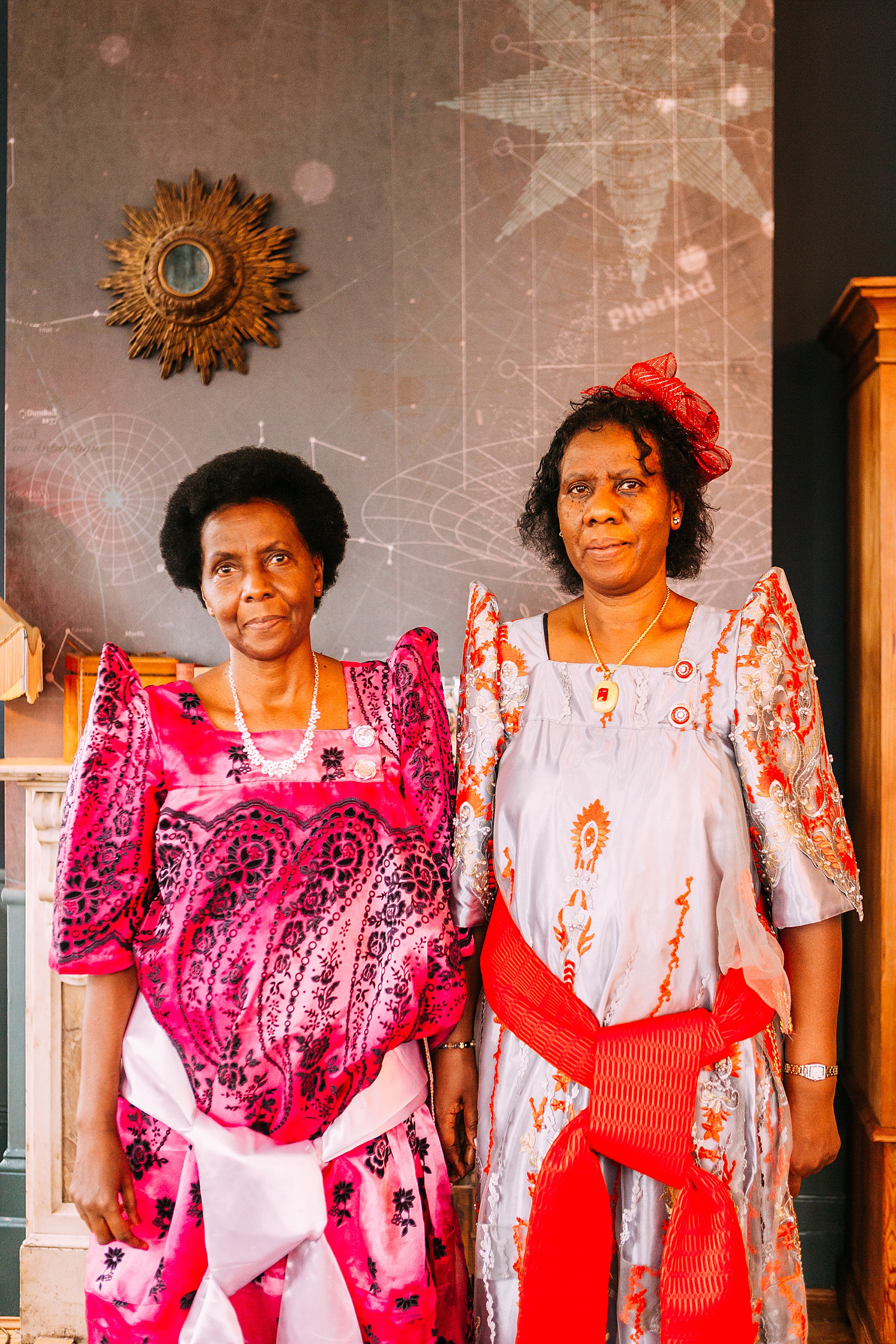 For her wedding outfit, Salome decided to go down the bespoke route, and had a beautiful, graceful top and skirt combination designed and hand crafted by Desiree Koster.
The cropped top was made from exquisite floral lace with scalloped edging, with softly draped bell sleeves, paired with a slinky fishtail skirt with a long train.
"The outfit was all done at Desiree's house in Putney. I knew I wanted a two-piece rather than a dress, and designing a wedding outfit from scratch was such a fun process. One of my bridesmaids helped me and came to all my fittings."
"We chose the lace, made decisions about sleeves, the neckline, how long the train should be, whether there should be lace all over the skirt or just on the train, etc."
"I would definitely recommend this to brides if they like the look of several dresses and want to take different parts of them. It's something I'll never do again so it was incredibly special."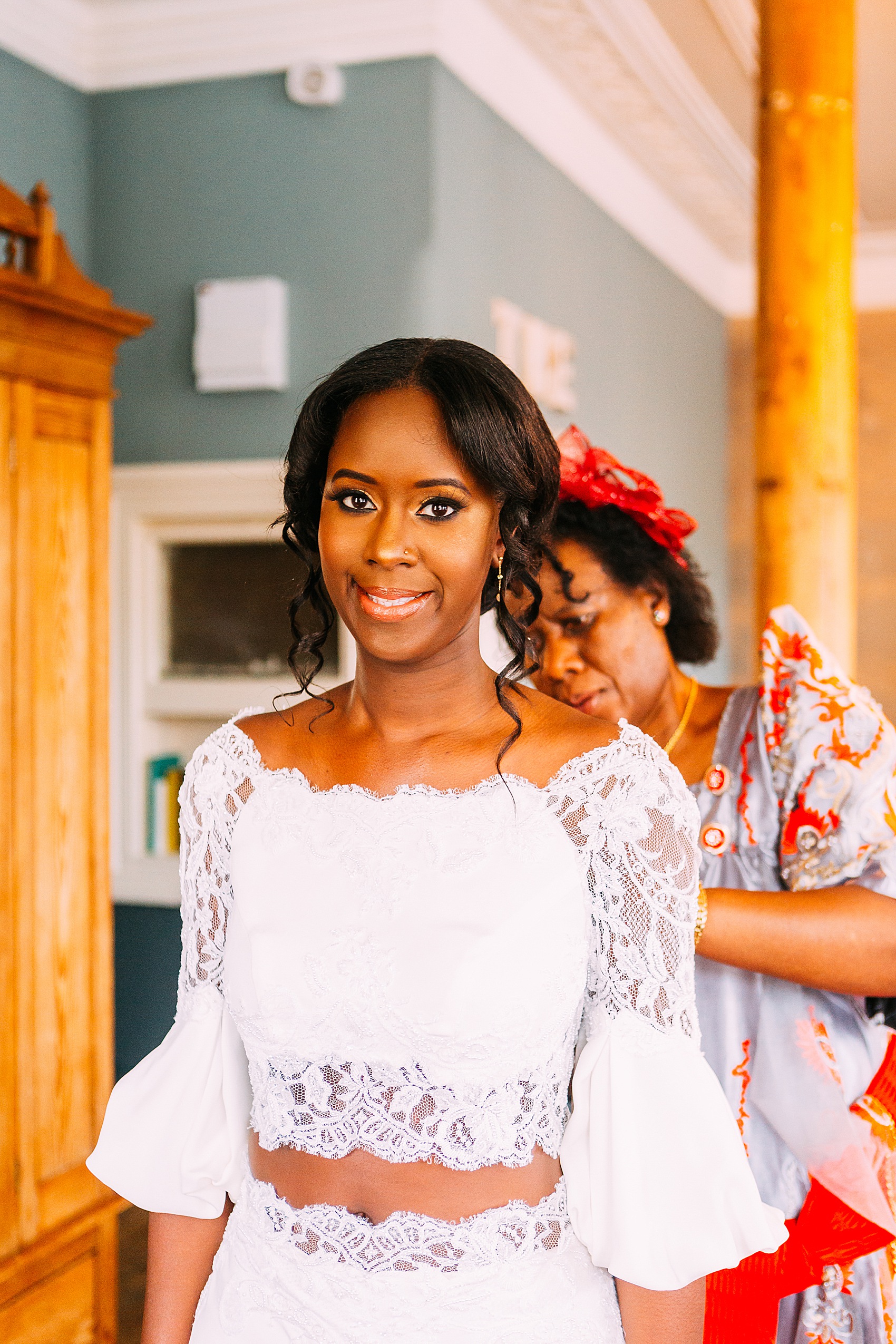 "I wanted something I could wear again, and knew I would wear the top with jeans at some point. I didn't want anything too traditional which is why I opted for a two-piece. The lace on the back of my top was so beautiful, and I loved the little buttons that went down my back."
"I was desperate for a feathers or sparkle on my train so chose lace which had some small sparkles. This looked gorgeous in the light! I also wore a Wed2B single tier cathedral length ivory veil. I wore it until about 8pm, I didn't want to take it off!"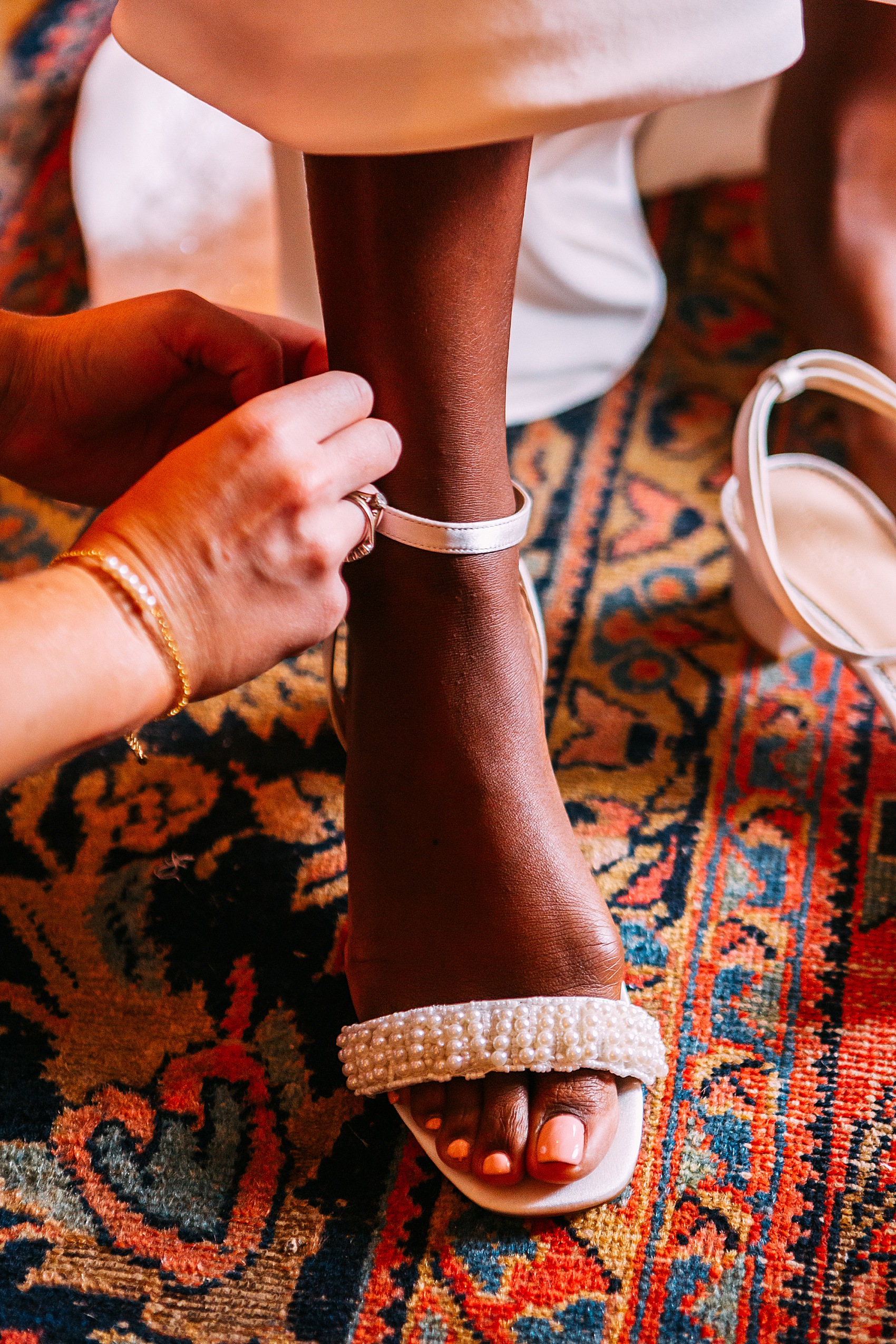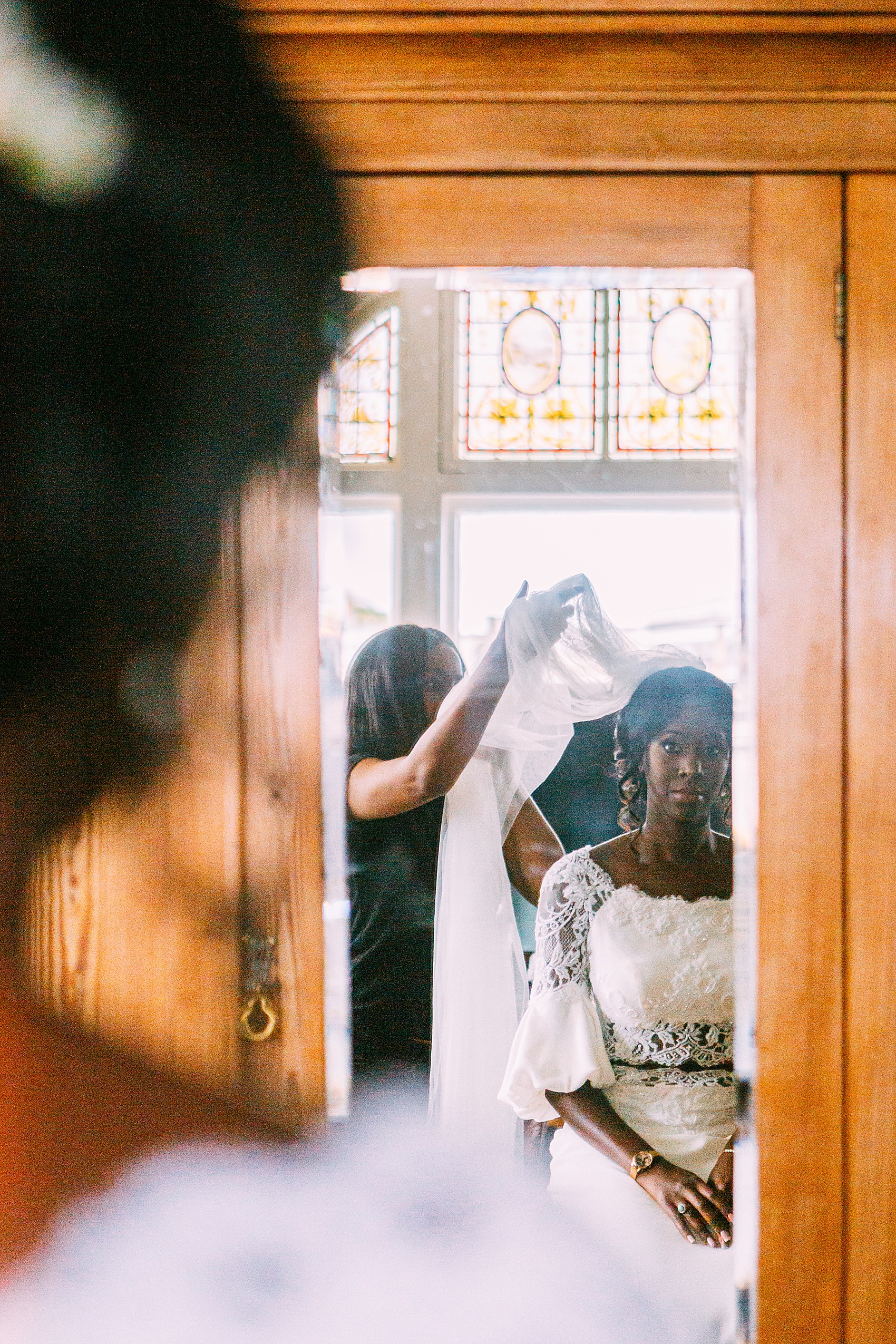 Salome travelled to the church in a black London cab, and inside the church Andrew awaited the arrival of his bride, surrounded by the couple's family and friends.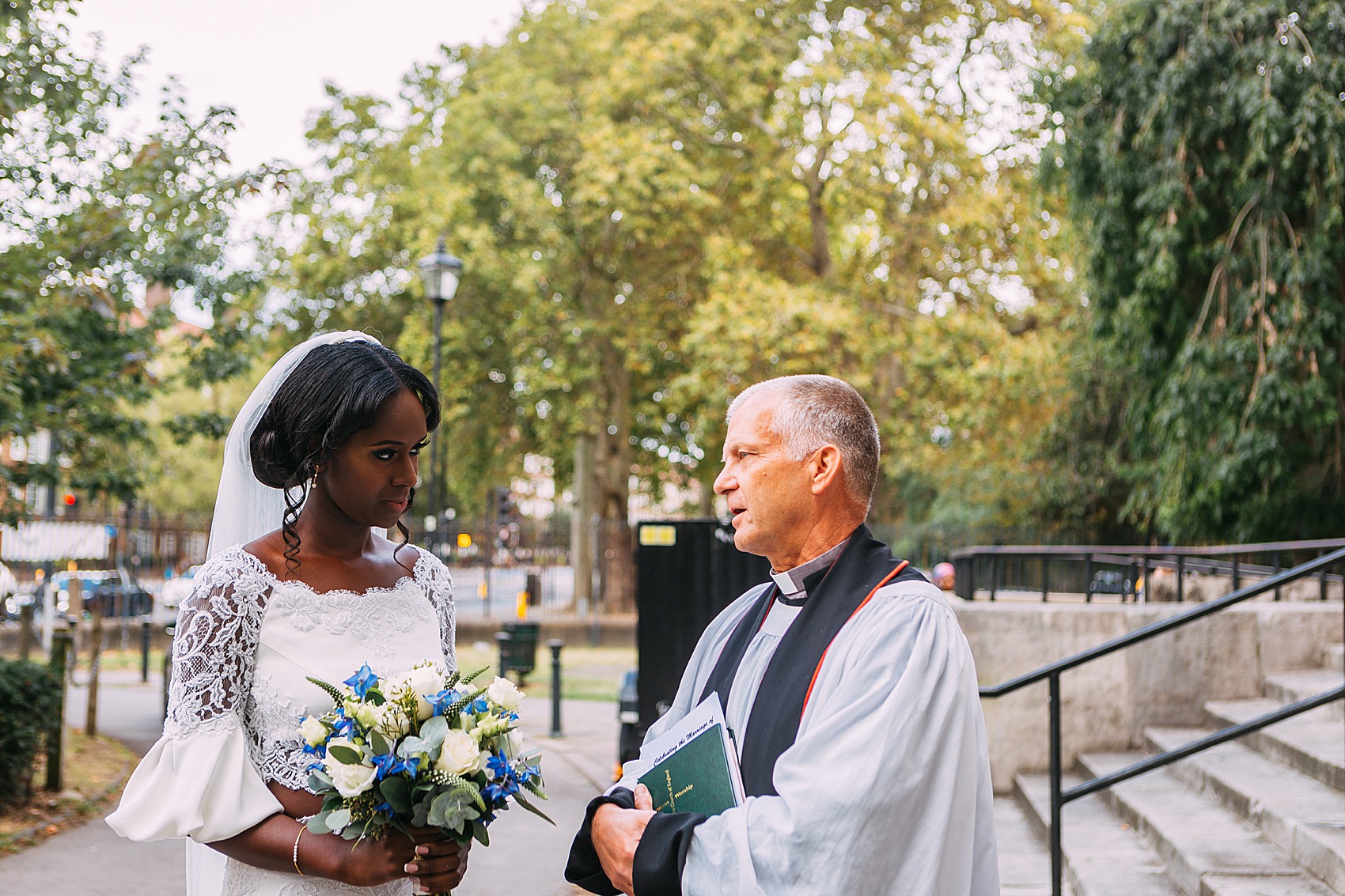 "My bridesmaids wore custom made African print skirts. I bought the fabric from an African fabric shop in Peckham, and they were made by Tania, who is the owner of Africa's Pride in Brixton."
The skirts were worn with white camisole tops (sadly no details as to where these were from) and rose gold sandals from Missguided.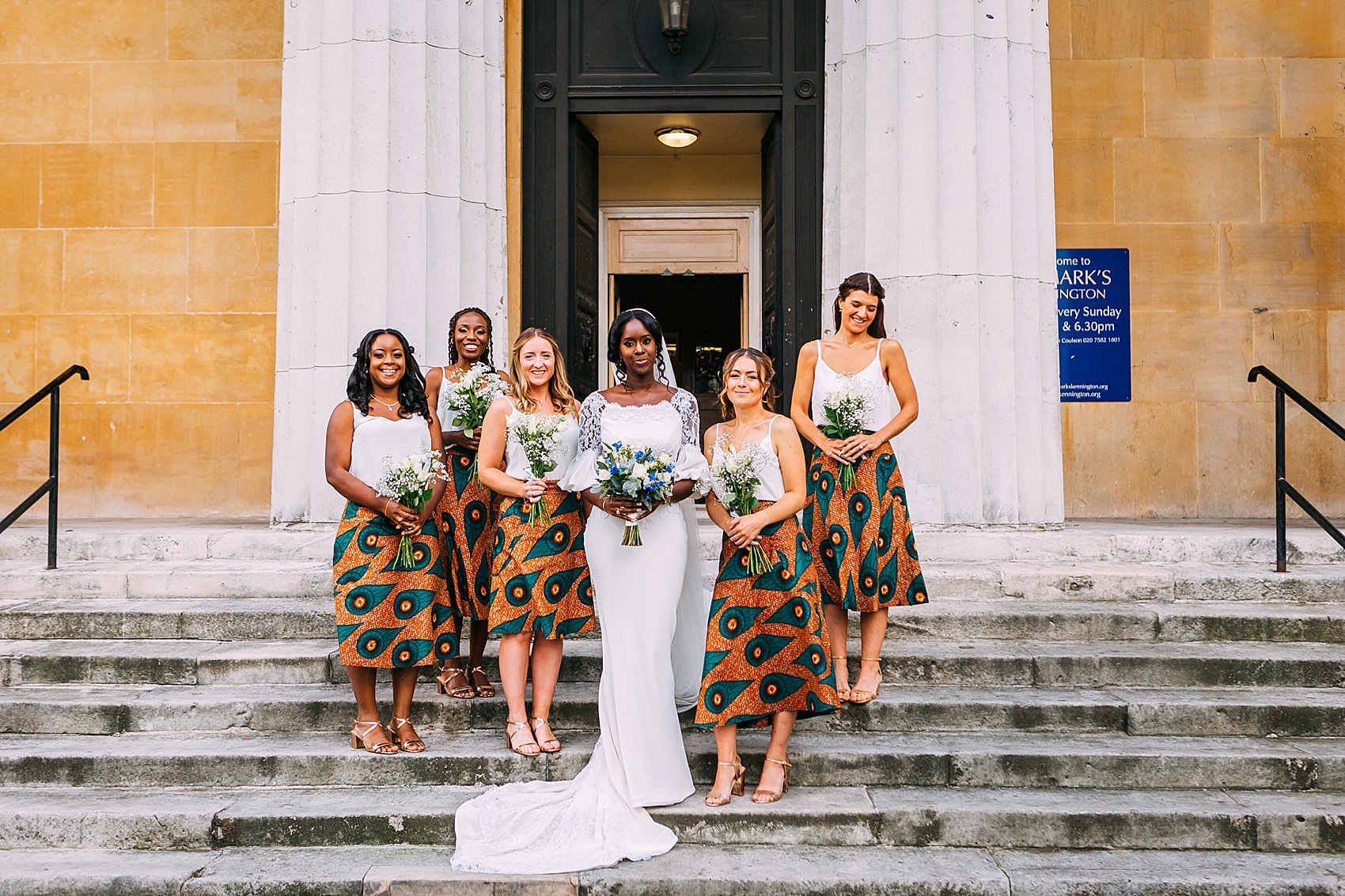 Andrew's smart blue tweed three-piece suit with contrasting orange buttons was from The Vintage Suit Hire Company, which he wore with a bow tie to match the bridesmaids' skirts, and a vintage Rolex watch, which belonged to his grandad.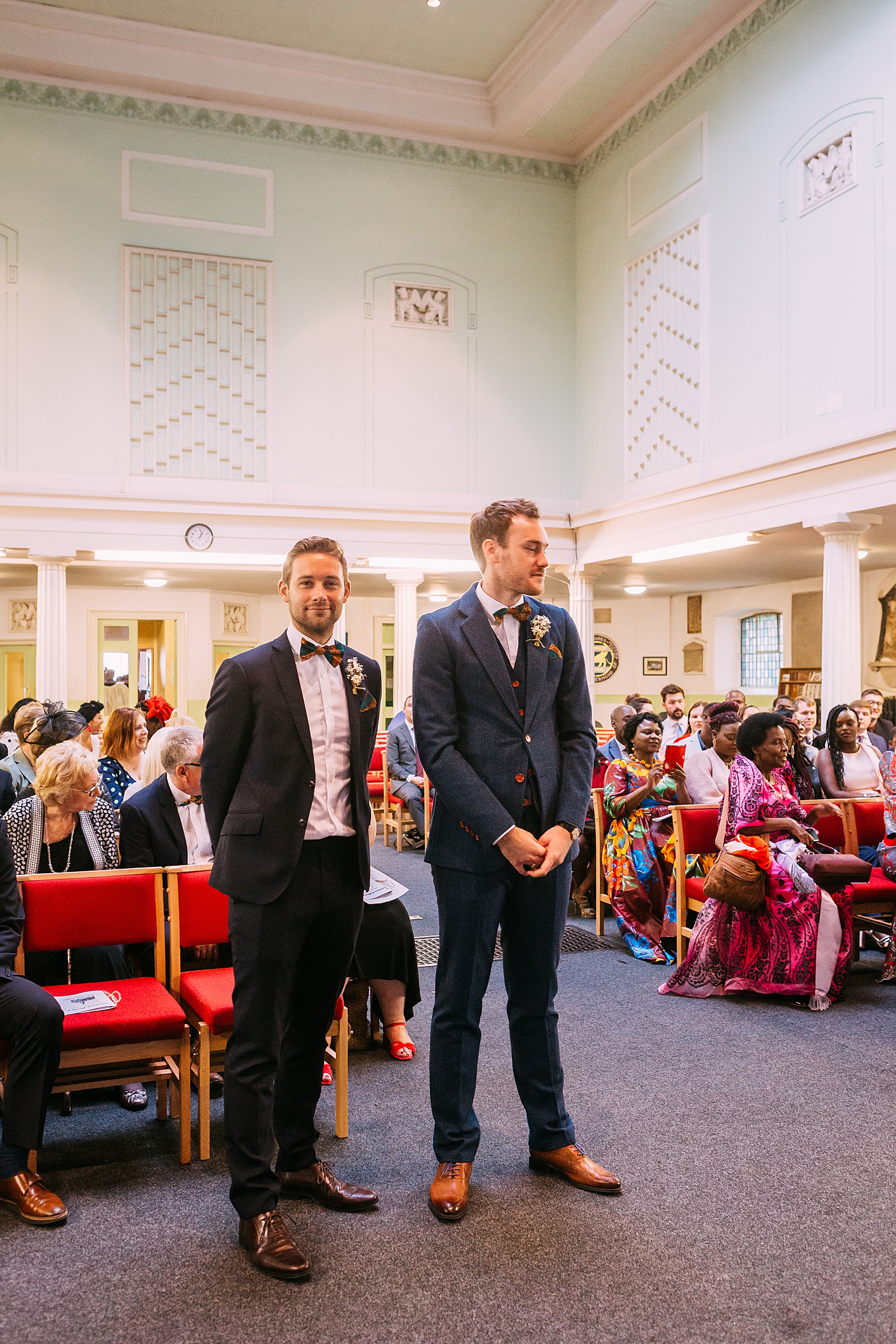 "We met 10 years ago at Liverpool University. We got engaged in April 2018. We were due to go to Liverpool for a reunion weekend with our friends and I was off work for the Easter holidays. Andrew pretended that he had an important work meeting and got suited and booted."
"As he came up to say goodbye, half asleep I turned around to find him on one knee. Andrew had booked for us to go up to Liverpool a few days early, and we stayed in a lovely hotel on the docks."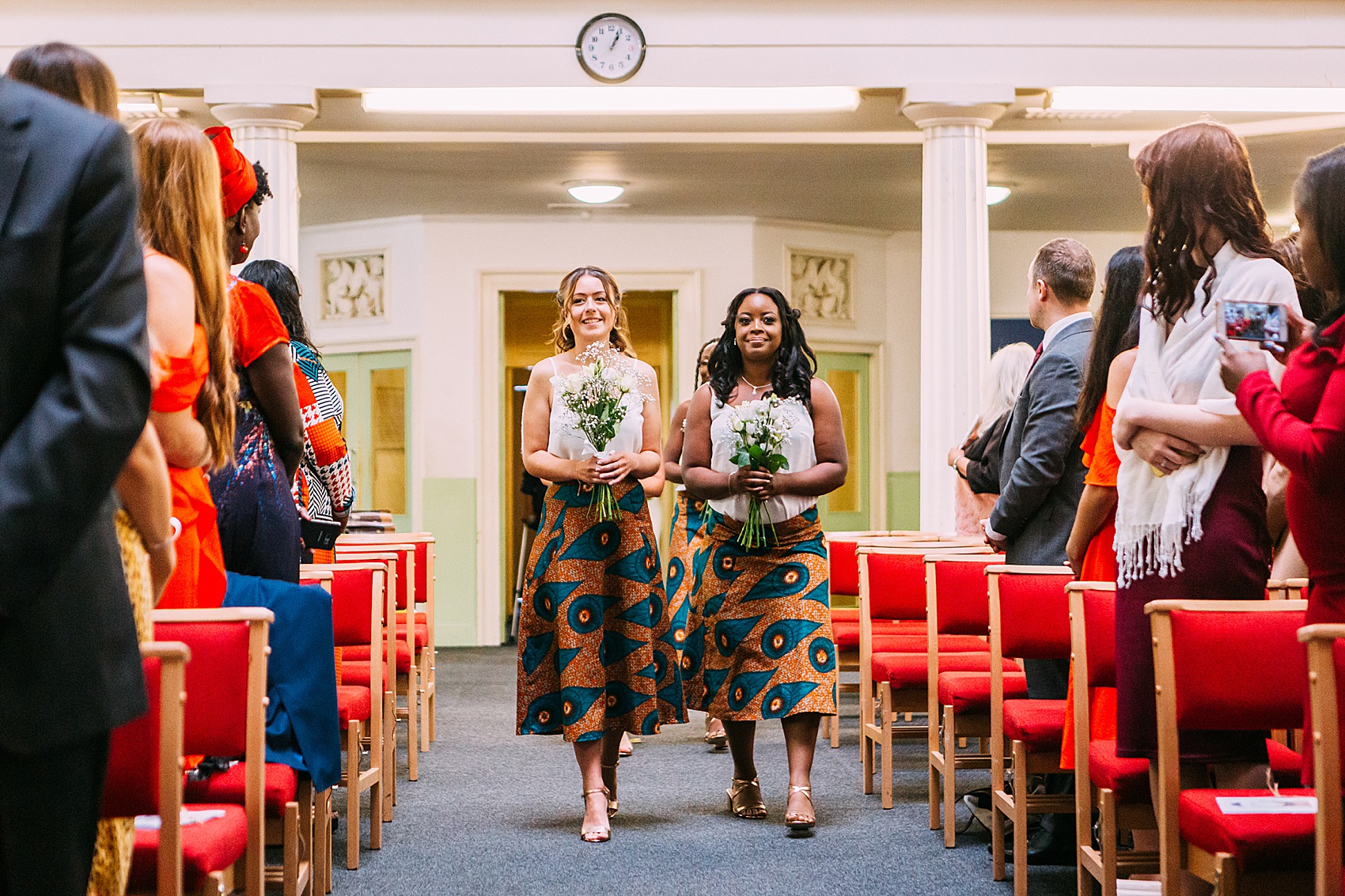 Soul Sanctuary Gospel Choir sang an acoustic version of the song Places by Martin Solveig as Salome walked down the aisle accompanied by her uncle.
"We got our rings from Hyde Park Design, and it was great being able to completely customise them. We would highly recommend people do a round of Hatton Garden, which is what we did before settling with the guys from Hyde Park Design."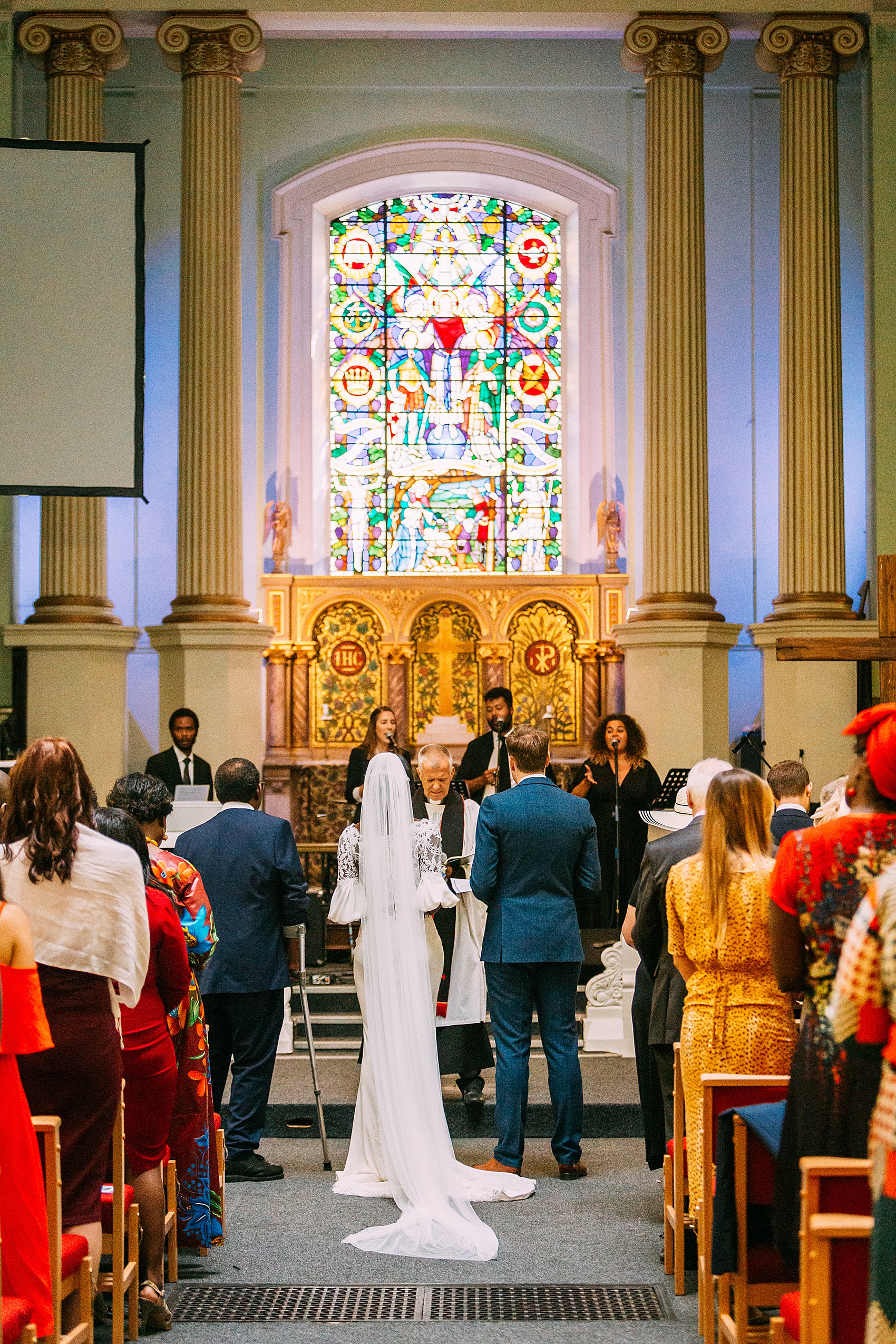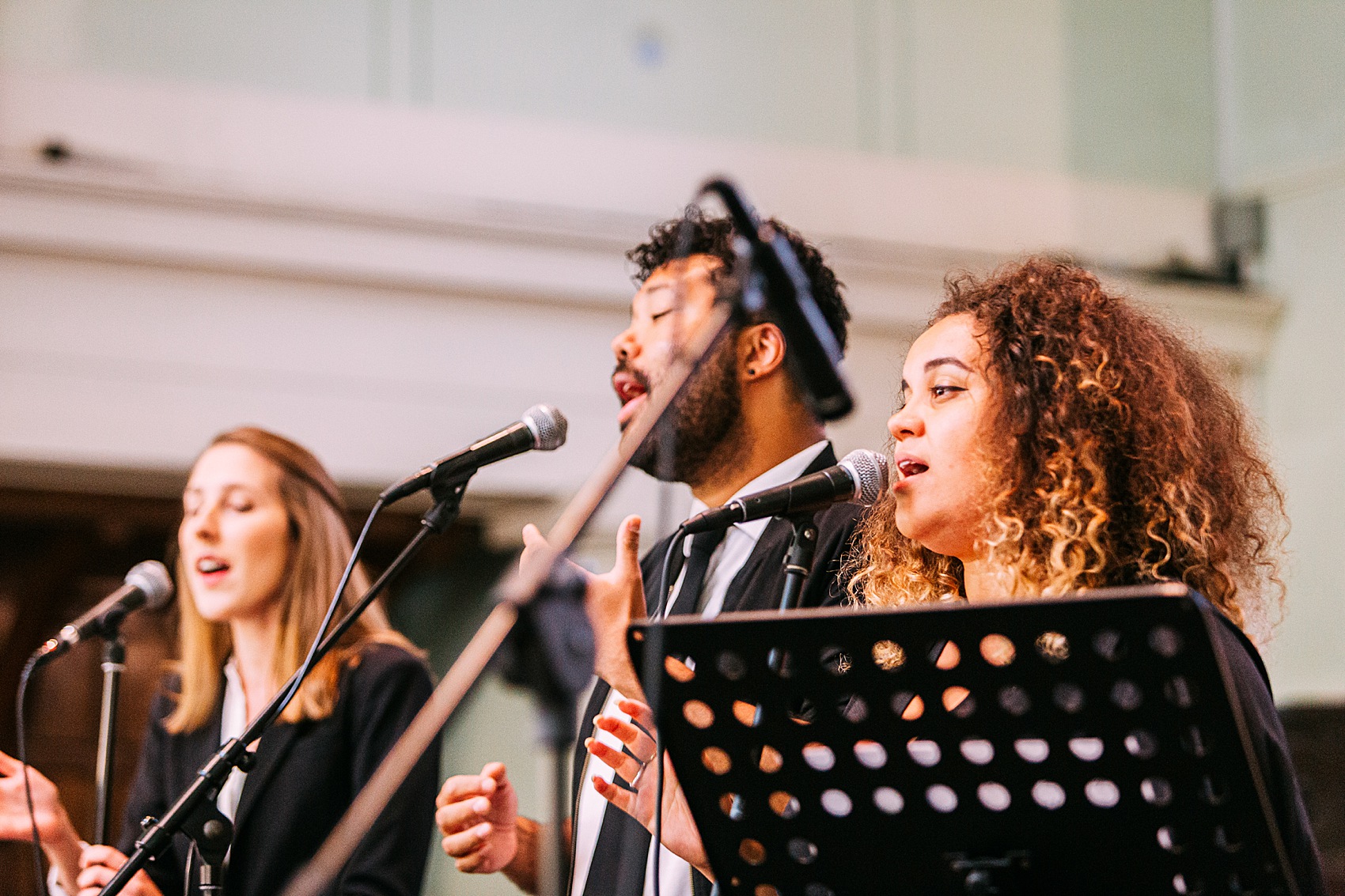 Along with their rings, Salome and Andrew made vows to each other, choosing traditional Christian vows as well as both writing four promises to one another, which they had a friend look over ahead of the ceremony to check they were along the same lines. They have very kindly shared extracts from those promises with us, starting with Salome's to Andrew:
"I will always be by your side when times are good and not so good. I'll find the best animal videos to make you smile, and when you're feeling sad not judge you for eating an entire Dairy Milk and drinking a pint of milk."
Here are Andrew's to Salome:
"I promise to be there for you and look after you in all those little details: To tuck in your toes, kill spiders, go back to the shop and keep fetching things for you when you don't want to move."
There were three touching readings during the ceremony, with Andrew's Mum and Dad reading Edward Monkton's A Lovely Love Story, which the couple chose because the two dinosaurs in the story represented them perfectly.
"Andrew being fierce and also extremely kind and myself being a free spirit. We wanted Andrew's parents to read this as they have been married for almost 40 years. It was poignant as it felt like a story of their marriage as much as ours going forward."
Salome's best friend and Andrew's sister read The Giraffe and the Monkey by Daniel Thompson, and Salome's cousin read Colossians 3: 12-17.
"We loved this Bible reading about giving thanks, being grateful and forgiving one another."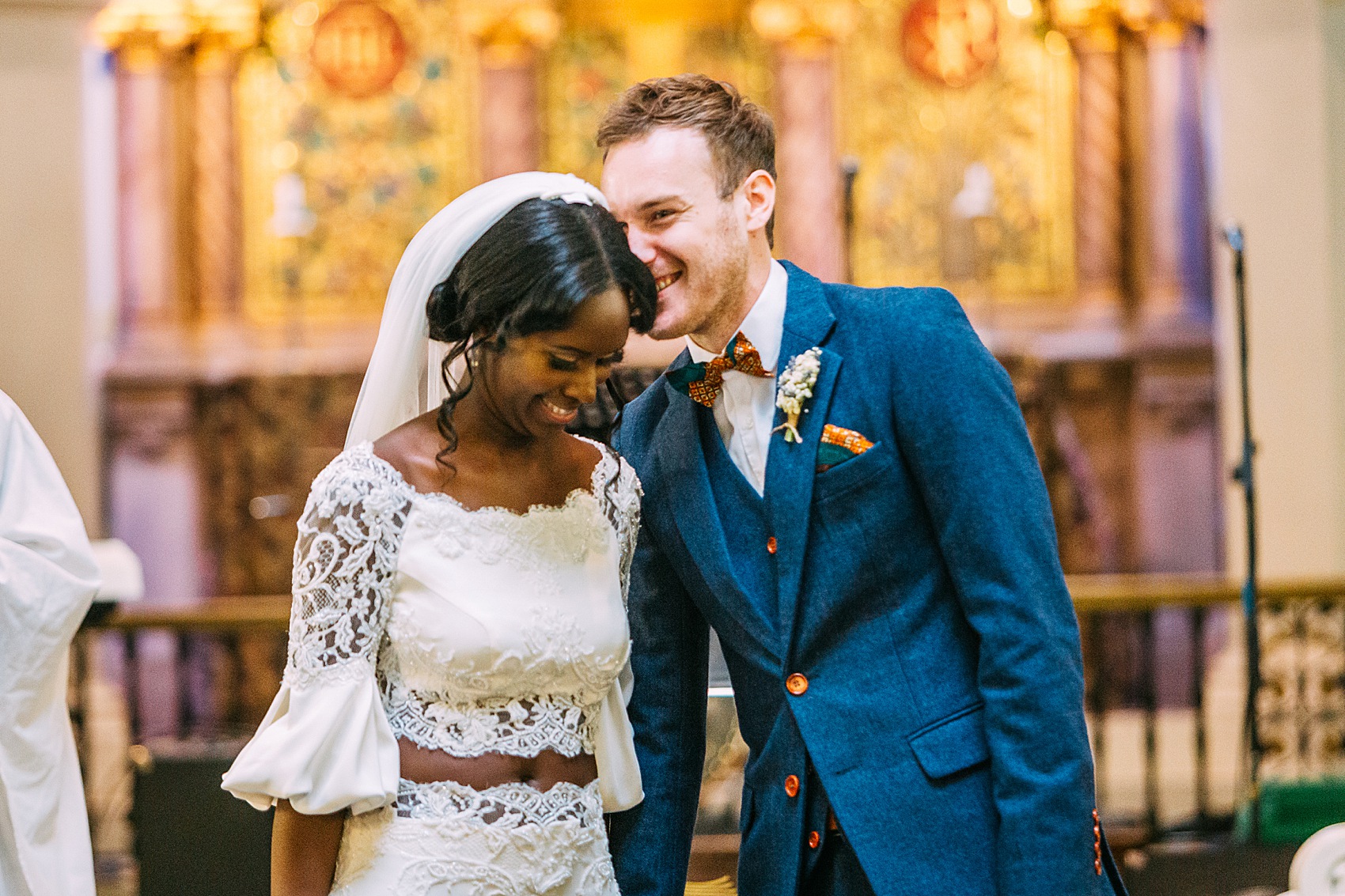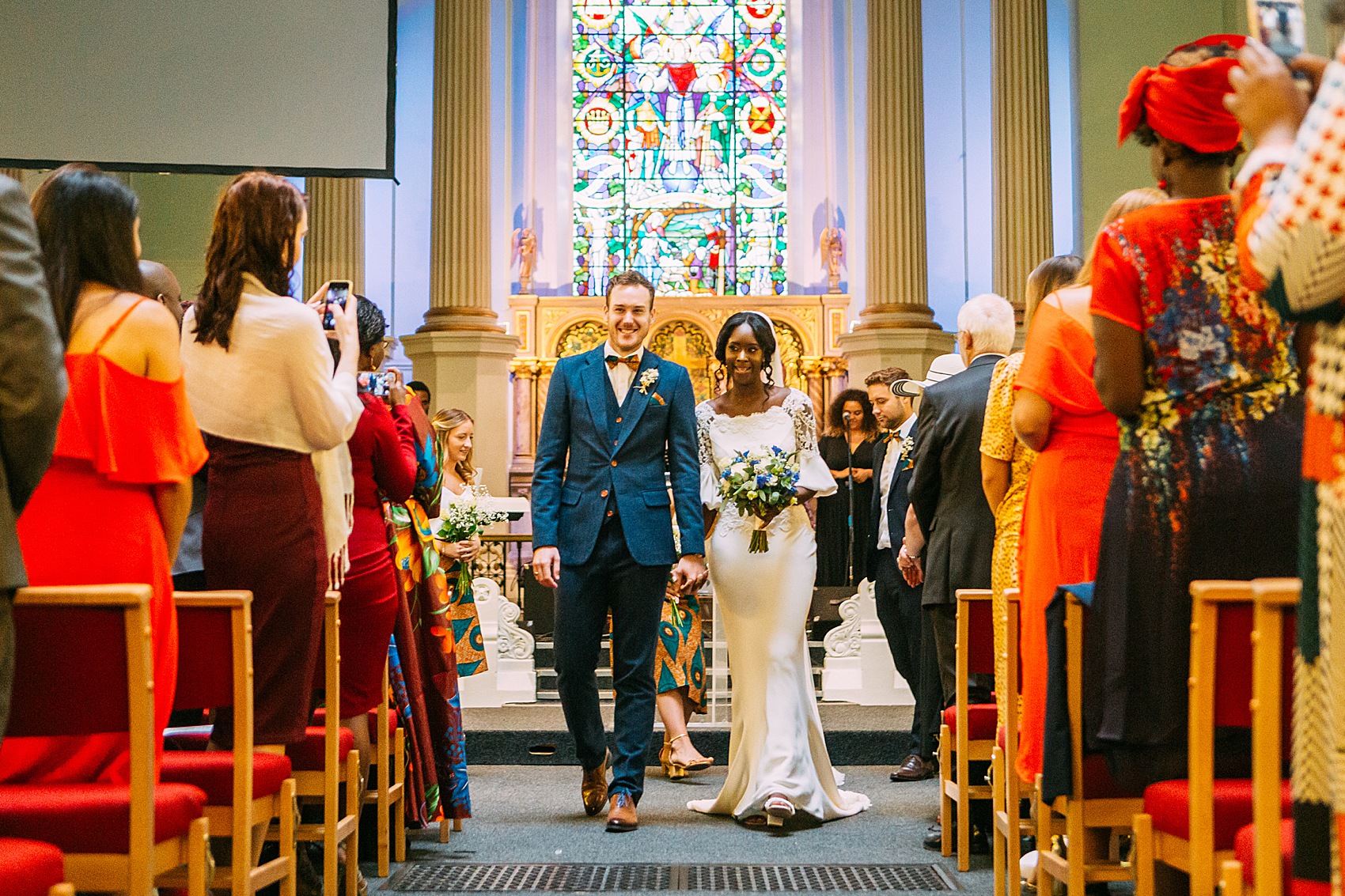 After celebrating a little more outside the church, the newly married couple and their guests walked over to Oval Underground station, where they took the Northern Line up to Camden Town. As Andrew works for TfL, he was able to arrange special congratulatory messages on the station noticeboards, as well as PA announcements, too!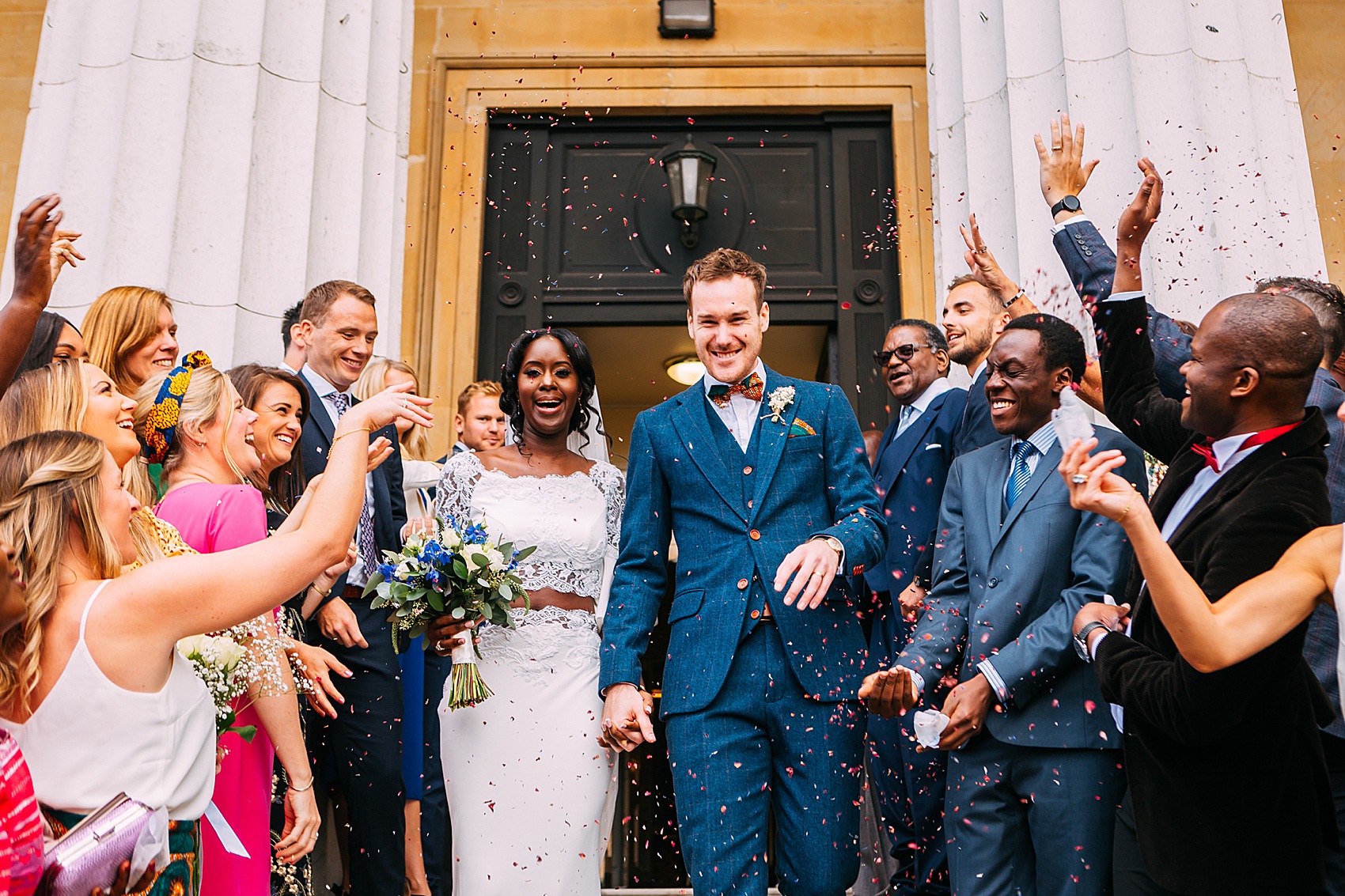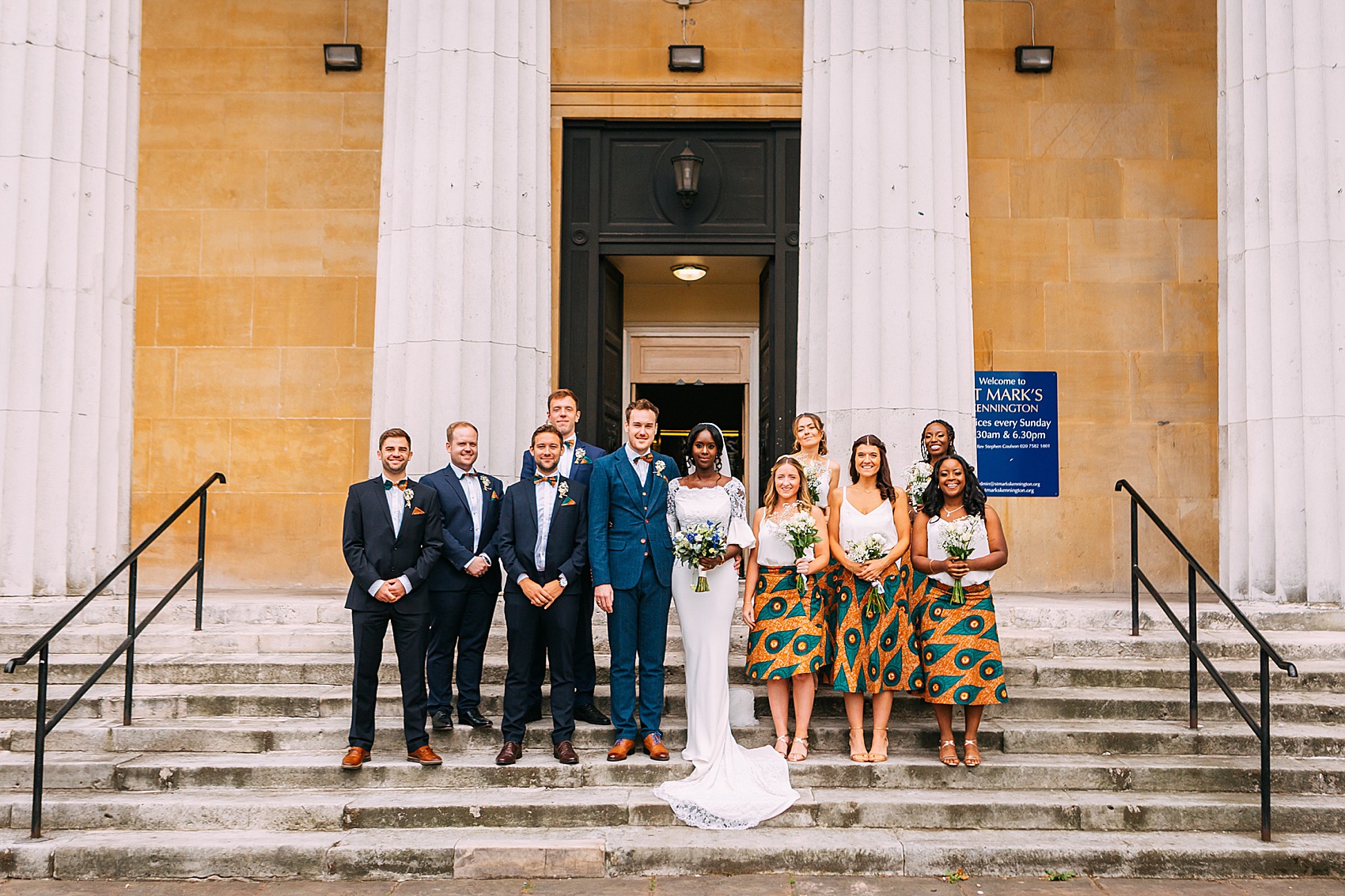 "We got off the Tube at Camden Town and walked up Camden High Street to board a canal boat, which took all the guests to the reception venue. We got a lot of attention en route, which was a bit daunting but brought so much positivity and joy."
"Most of our guests were on a large canal boat and we were on a smaller boat (12 people) with just the bridal party and photographer. The canal boat journey was about 90 minutes and was so special, allowing us to spend some proper time together and relax with our closest friends."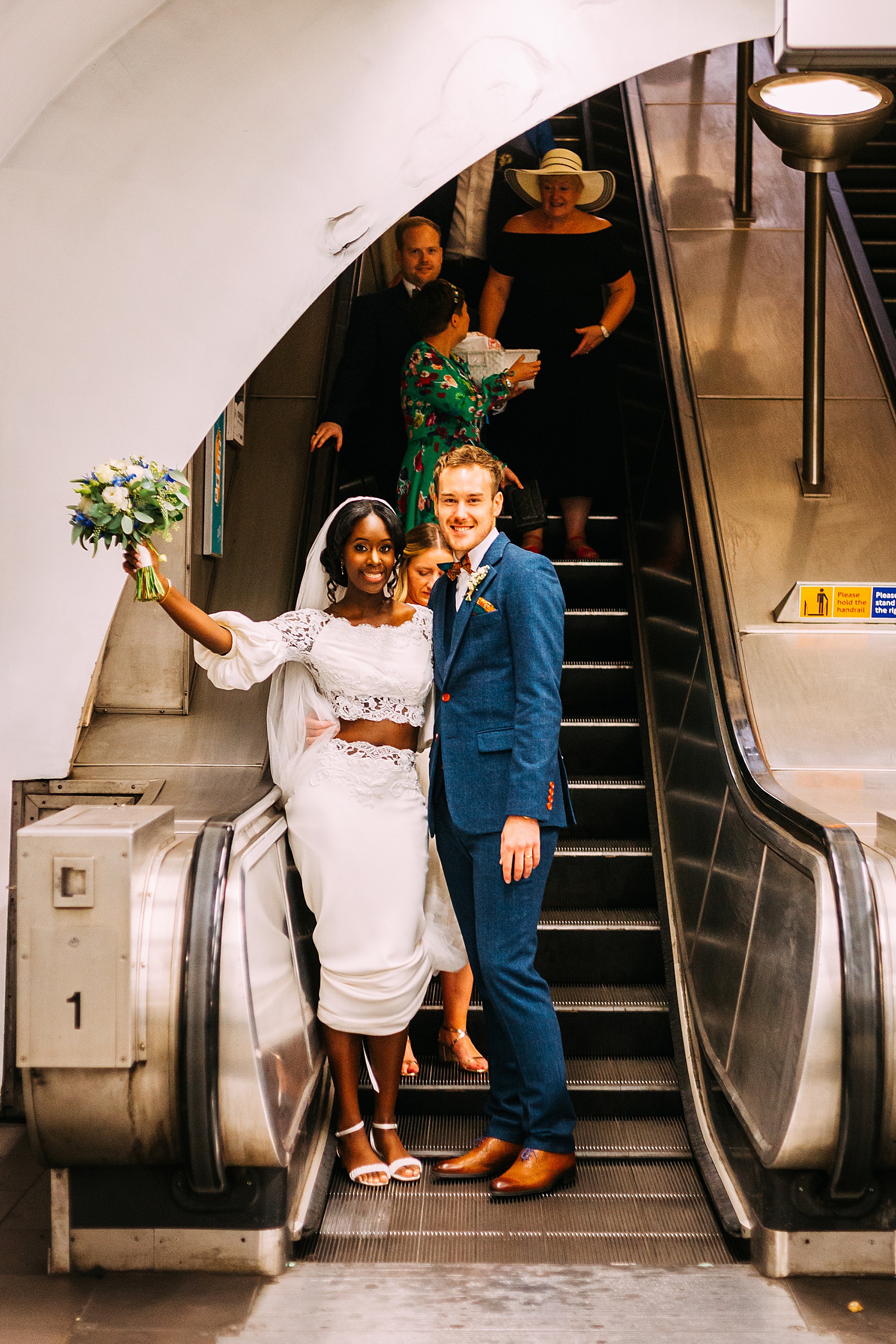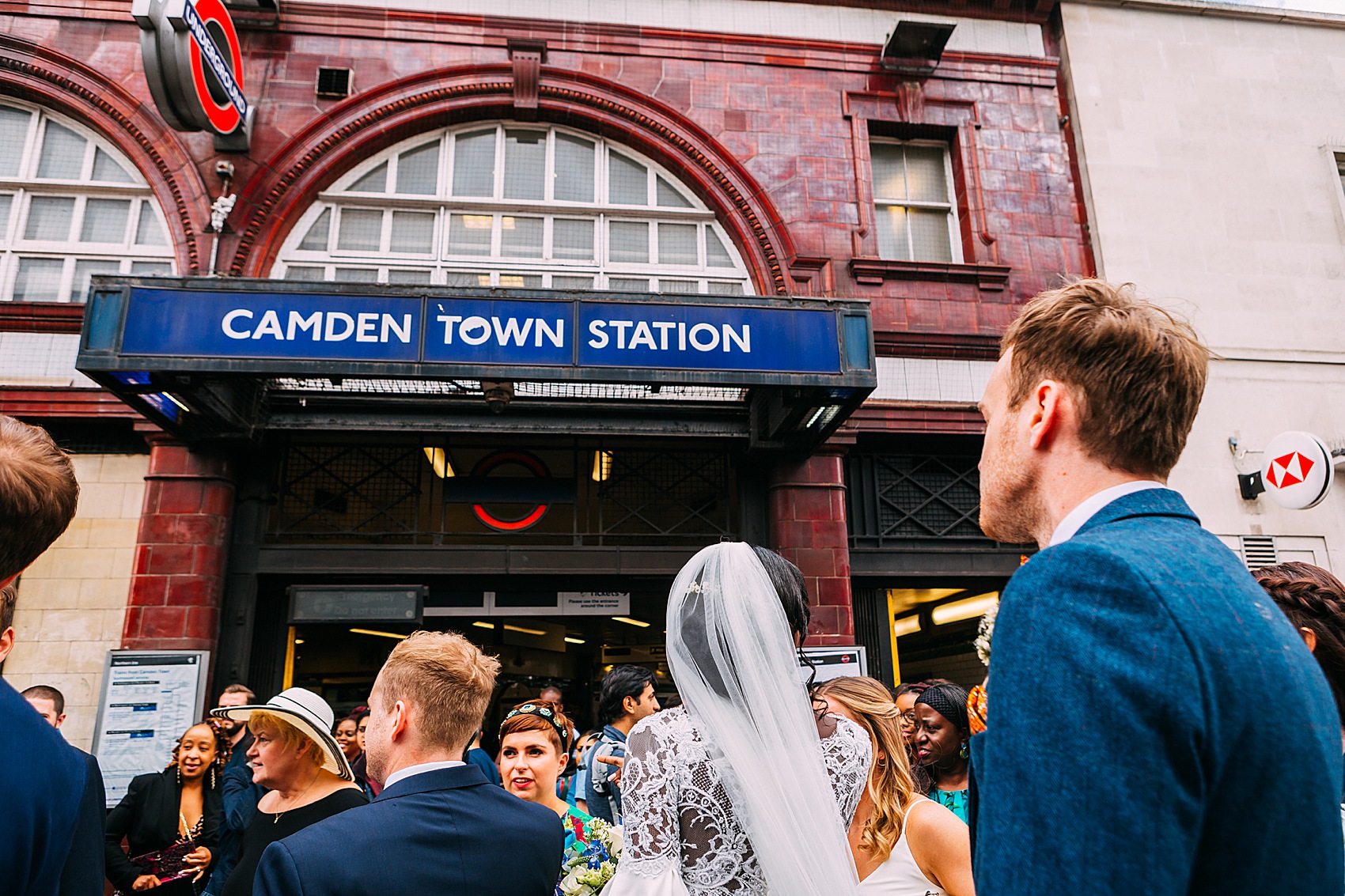 Photographer Daisy Powles did such a wonderful job in capturing all of these moments, and the images from Salome and Andrew's post-ceremony Tube and canal boat ride are among my favourites from this beautiful collection. Daisy, it's brilliant to welcome you to the pages of Love My Dress!
"We found Daisy after lots of Google searching and meeting up with a few. She made us feel comfortable straight away and loved the sound of our wedding. We wanted reportage style photography, but also some formal shots and she was perfect."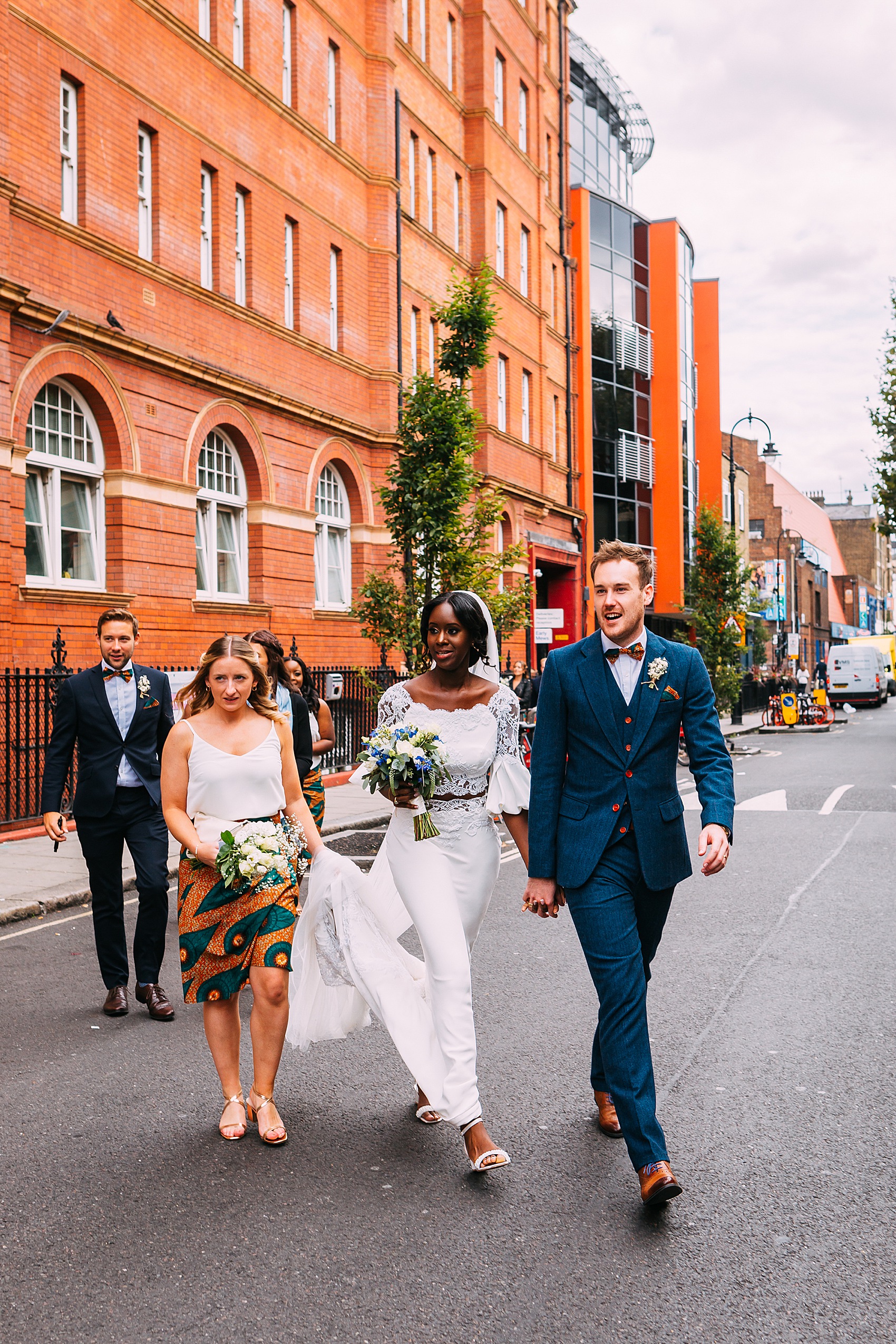 We also wanted to have a pre-wedding shoot beforehand, which we would definitely recommend to get used to being photographed. Daisy was really friendly and fun to be around. She made us so relaxed on the day and we would highly recommend her."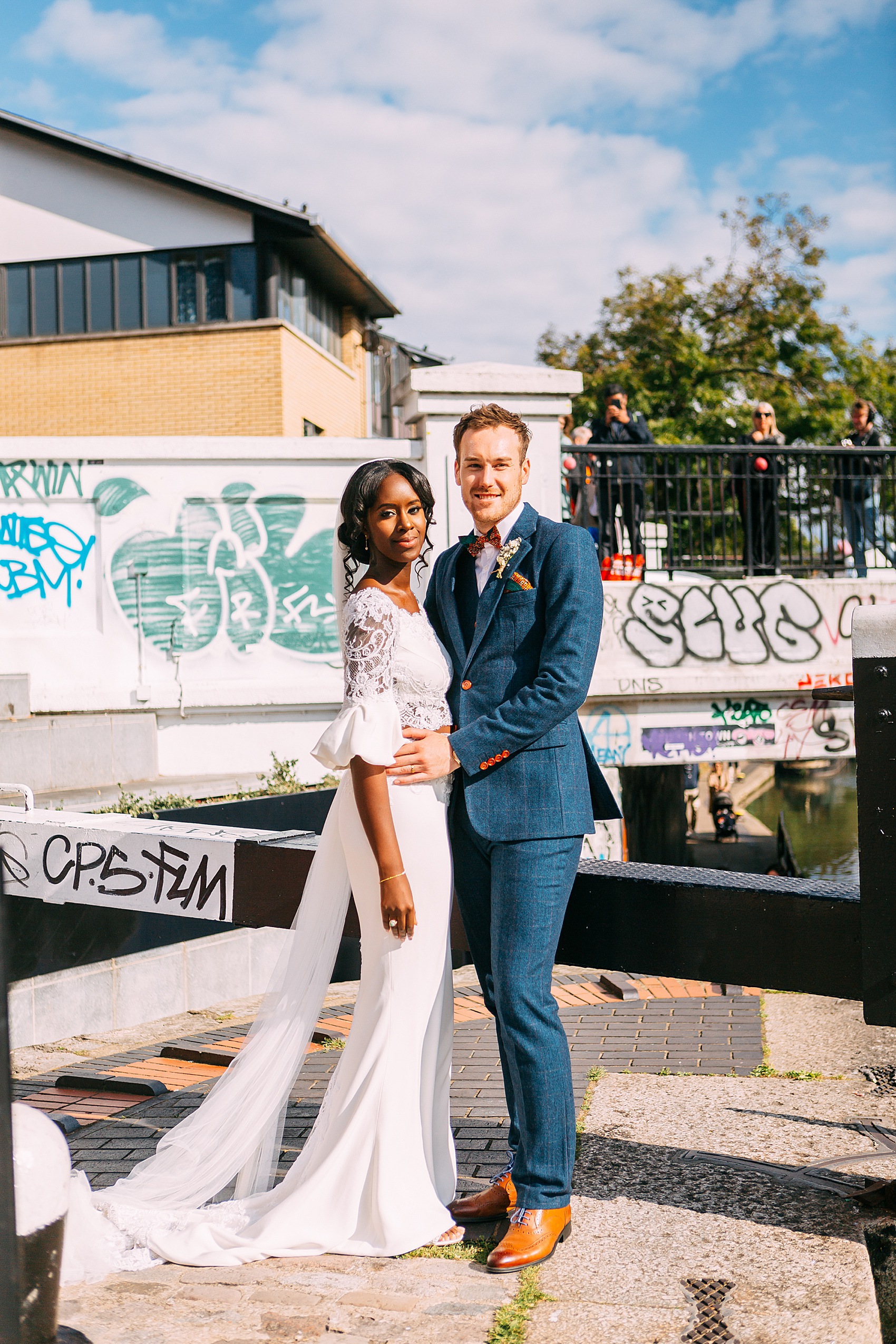 Calling London their home, and with so many family and friends close by, Salome and Andrew wanted a city wedding through and through, and that's where their reception venue, London Canal Museum, came in.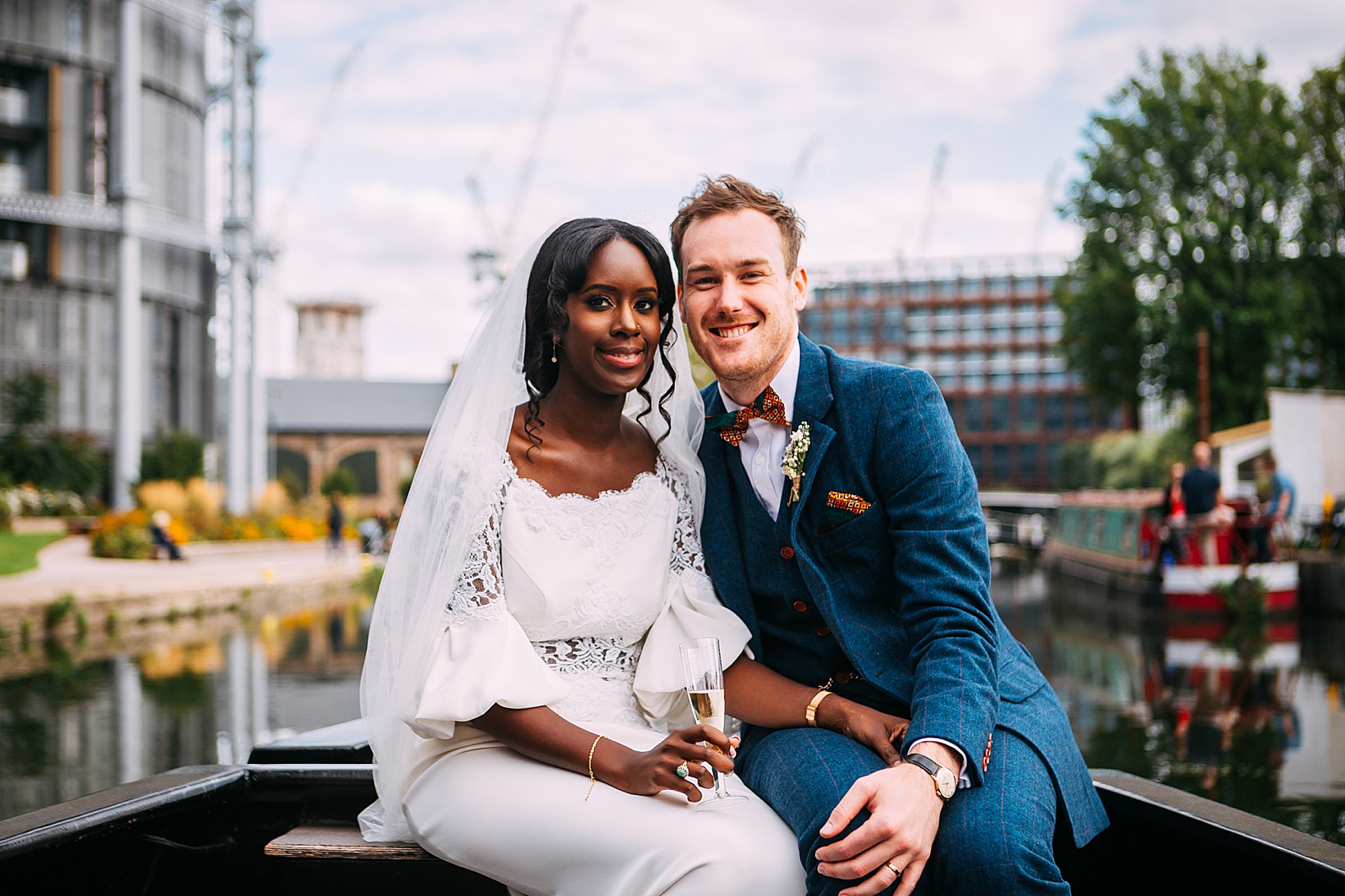 "We were set on a wedding in this great city that we love! We were looking for a venue that was quite relaxed in letting us plan the day we wanted, and were instantly drawn to the museum when it came up in my search for 'cheap wedding venues in London'. As soon as we saw it, we knew that it would make for a really unique and special party, especially when they suggested arriving by boat!"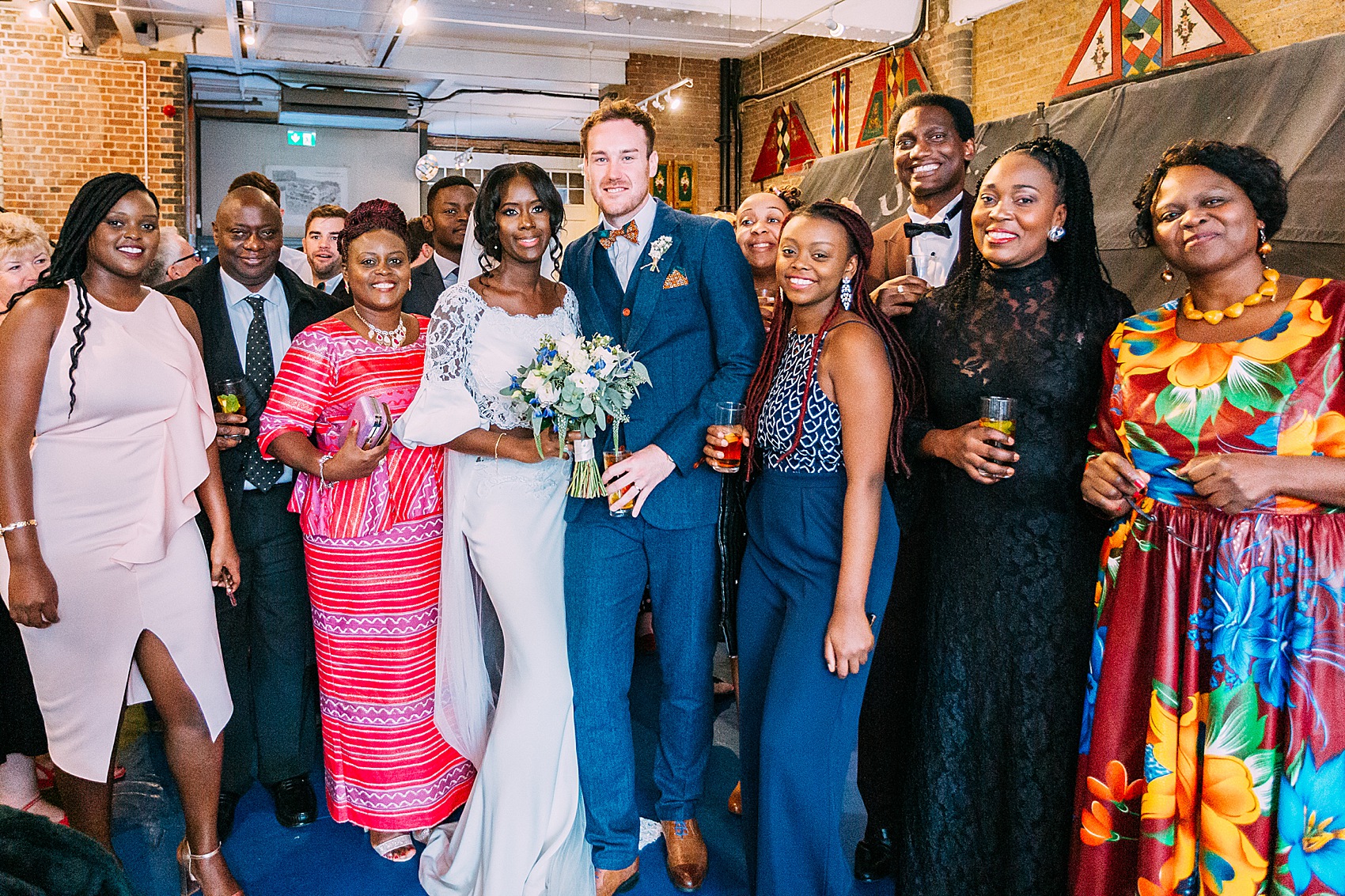 Wedding stationery was kept to the minimum by opting for a website rather than sending out paper invitations (Salome and Andrew used The Knot). Save the Dates were fridge magnets with a photo of the couple jumping for joy on holiday in Zanzibar, where they wrote their wedding date in the sand on a beach there.
"Quite a lot of my family hadn't met Andrew, and we thought this way they could learn about our story, and we could give clear information about the transport. We also posted a video of the electric slide so everyone could learn the steps ready to dance to Cameo – Candy."
The table plan was handmade using a world map with luggage tags pinned onto different countries, to match to photos of Salome and Andrew in those various places on the dining tables.
"We bought lots of African print fabric when we were in Uganda in 2018. We had this made into individual napkins for everyone that people could take home – in fact we had guests trying to steal sets of them!"
The museum was decorated with bunting that was first used at Andrew's sister's wedding, as well as lots of twinkling fairylights, and colourful paper lanterns. Alongside the photos on the tables were centrepieces with flowers, geometric lamps, and up cycled gin bottles with more bright blooms inside.
"We spray painted cans gold, and chose a variety of bright wildflowers for the tables. We had blues, purples, oranges, yellows and foliage. We painted a palette white and Salome traced and wrote the order of the day."
"Emily Eats was our caterer. Emily was amazing – so friendly and completely tailored a menu for us. We told her we loved burgers, and so we had different burgers for our main meal with amazing sharing side dishes and brilliant appetisers."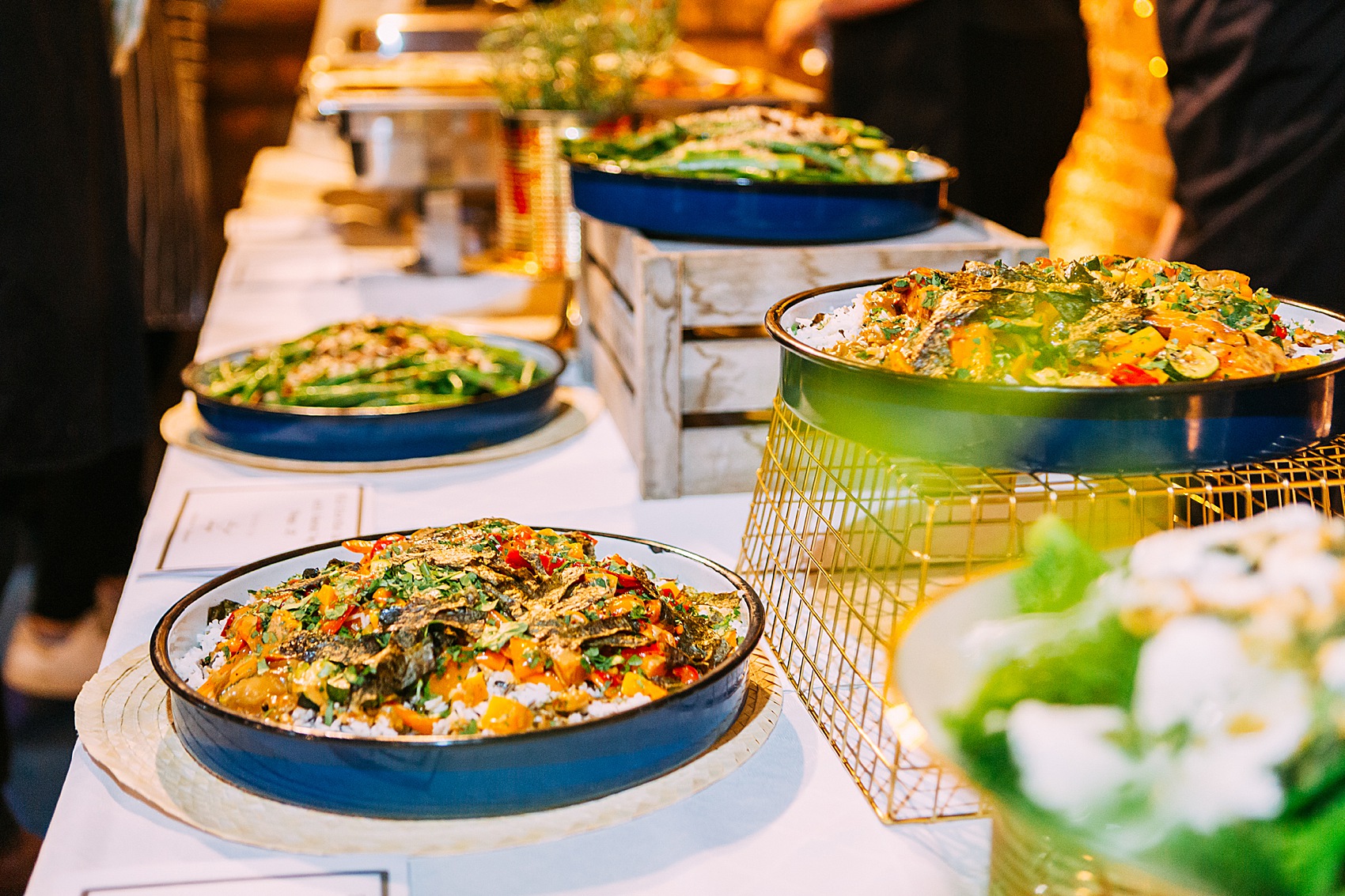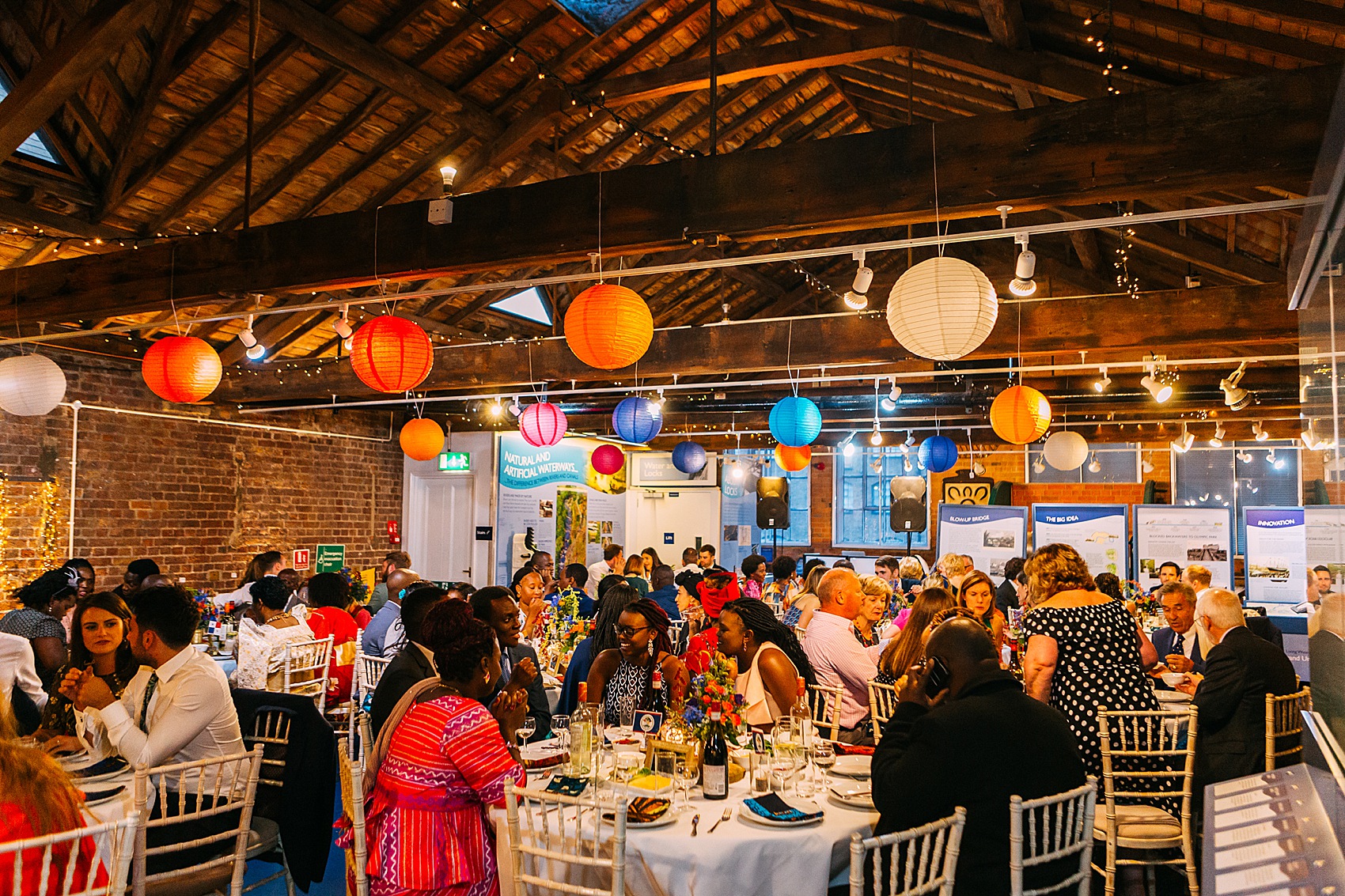 "She is an incredible chef, and the tasting was one of the best things we did in the run up to the wedding. She also has a great team who made the day run so smoothly – it was great to have her there."
Instead of a wedding cake, Emily Eats made a delicious brownie tower for Salome and Andrew, reflecting their shared love for this sweet treat.
After dinner and brownies, it was time to dance – signalled by a colourful confetti cannon explosion! DJ, sax and percussion band Conga Revolution made sure everyone danced long into the night.
"Our first dance was to Klangkarussell – Sonnentanz feat. Will Heard. We wanted an upbeat, feel good song that also had meaningful lyrics. We have seen Will Heard perform this song live a few times and absolutely love it. When the chorus started, confetti cannons went off and everyone ran into the middle to dance with us!"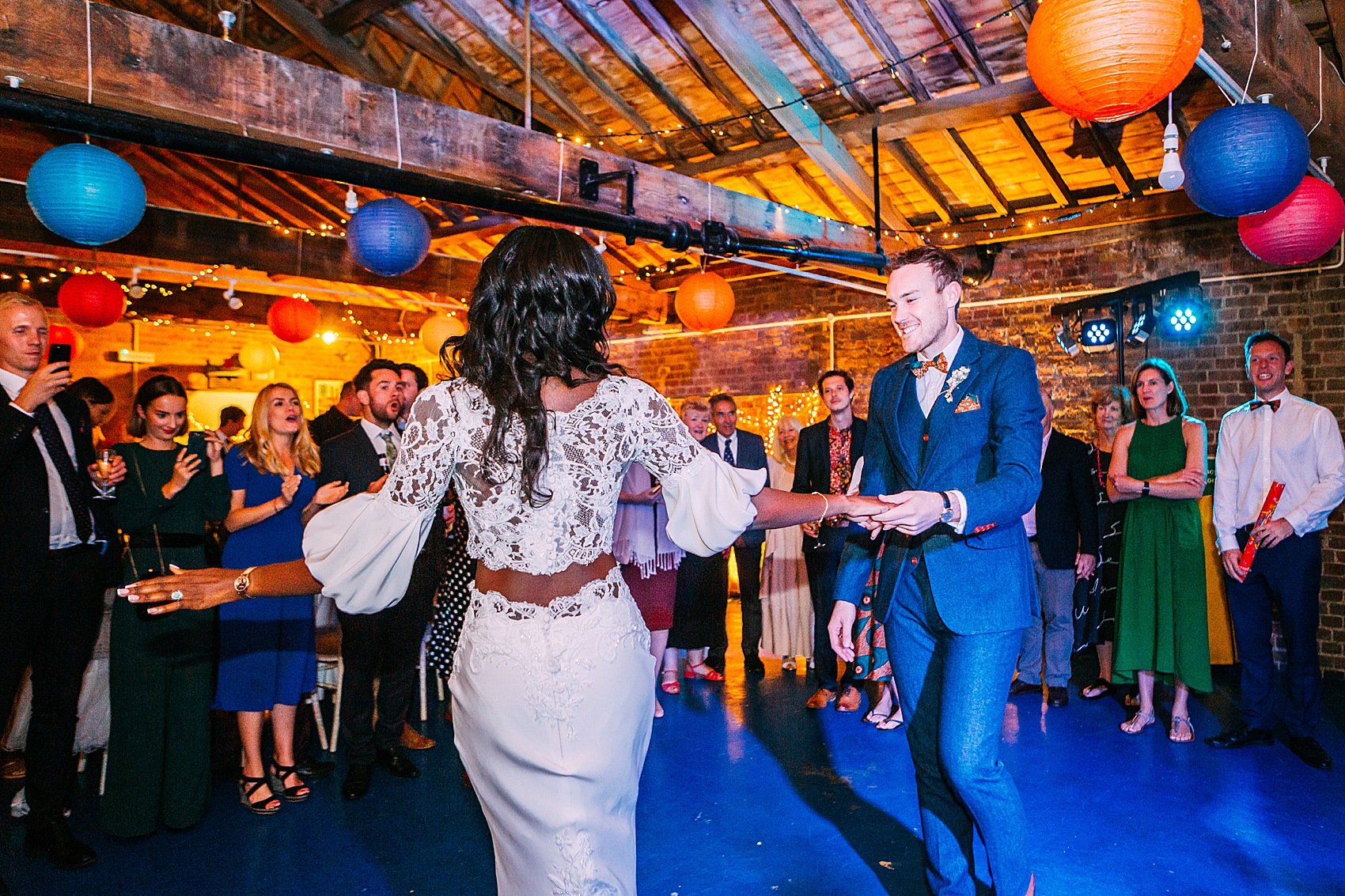 Favourite Moments
"It's so hard to choose a favourite part! We loved being on the boat and having that hour in a small group with our wedding party. Everyone was waving, cheering and clapping, which made us feel so special."
"Our ceremony was also a highlight. Our vicar has lived in Uganda for 8 years, and so was able to casually switch between speaking English and Luganda. This went down so well with my family who couldn't believe that a white British man could speak Luganda so well!"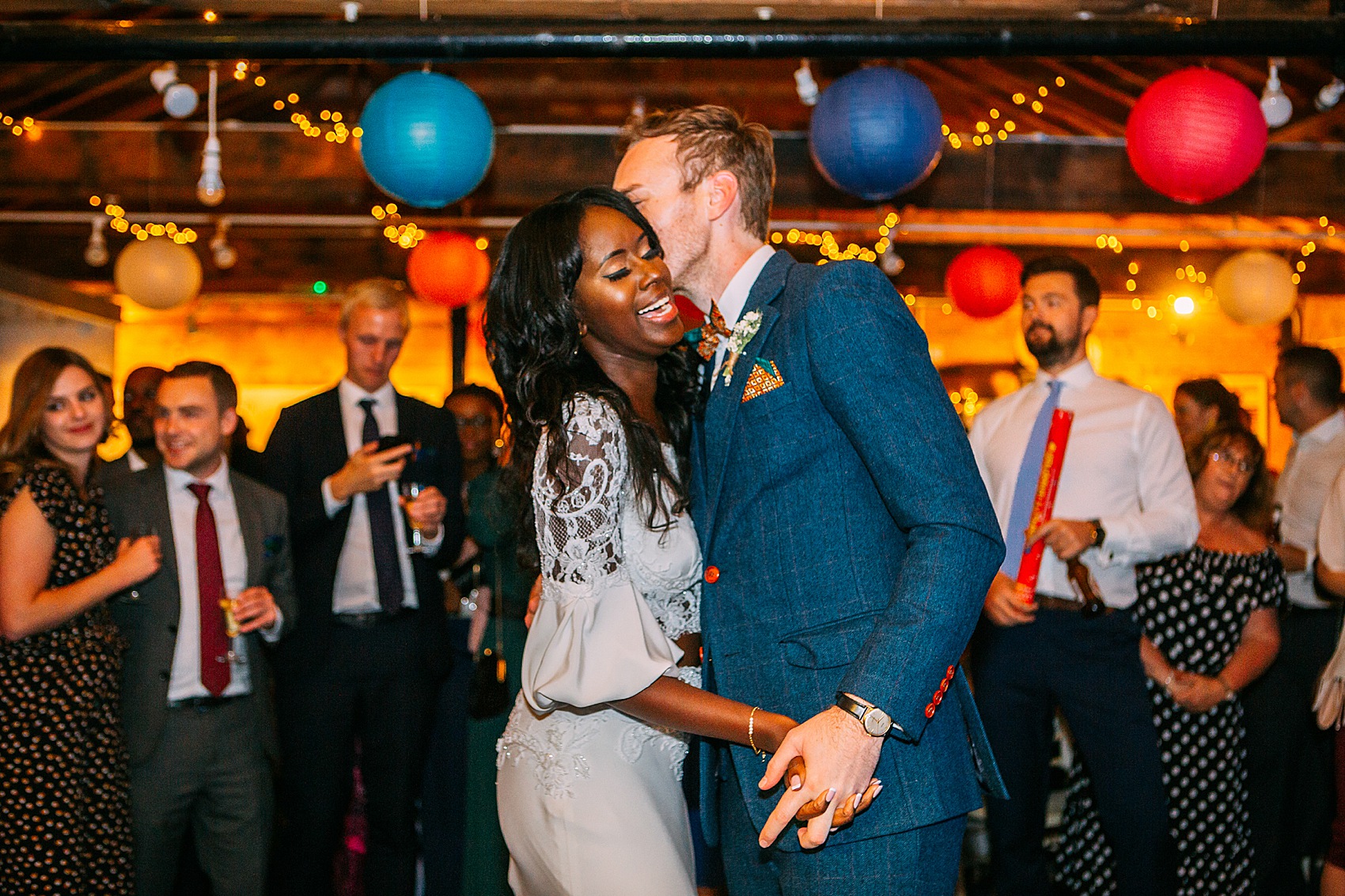 "Everyone doing the electric slide together was also a highlight. We had about 80 guests all doing the same dance together. It's a fun dance that means a lot to both of us – we always run to the dance floor whenever it comes on."
"After this we had some Ugandan dancing with special skirts which my cousin had brought along. This got everyone involved, and altogether this was a great way to get the evening started."
Words of Wedded Wisdom
"The Love My Dress Facebook group is how we found our caterer, florist, groom's suit, bridal designer, and lots of little decorations and ideas."
"I thought that I should have my hair and make up done to make sure it lasted all day. On hindsight I wish I had gone first as everyone else was ready, and I was the last one, which meant I missed out on some photos and ended up being half an hour late to the wedding!"
"Brides, if you're nervous about doing a speech think about giving a joint speech. Everyone loved that we did our speech together and it felt like we were starting our marriage together as a team."
"The planning can be stressful but it is all completely worth it. It truly was the best day, and after hearing from other brides that you should take moments out just the two of you, we made sure we did this. It was great to just take a step back and watch all our family and friends together."
"We were blown away by how incredible the day was, and how much joy there was in all the planning. For men in particular there seems to be lots of negativity around 'Wedmin', but Andrew is giving all his friends much more positive stories!"
Salome and Andrew, thank you so much! As a London dweller myself, it's been lovely to see so many familiar landmarks through your celebration. Thank you also to Kim Williams for the wonderful film, and to Daisy Powles for these effervescent, joyful images.
With love,
Laura