We frequently received really positive feedback on the breadth of different weddings we publish on our much loved wedding blog.
Indeed, we do try to share a huge a variety of weddings as possible – though they all share a common thread – it's something I can only really describe as 'Love My Dress', that effortless elegance, images that tell beautiful stories and content that encourages human connection. This wedding is one I know will resonate with many of you for it's laidback and gentle Spring style.
This is Rosanna and Mike, who tied the knot in Spring last year.
Matt Penberthy Photography

+ Follow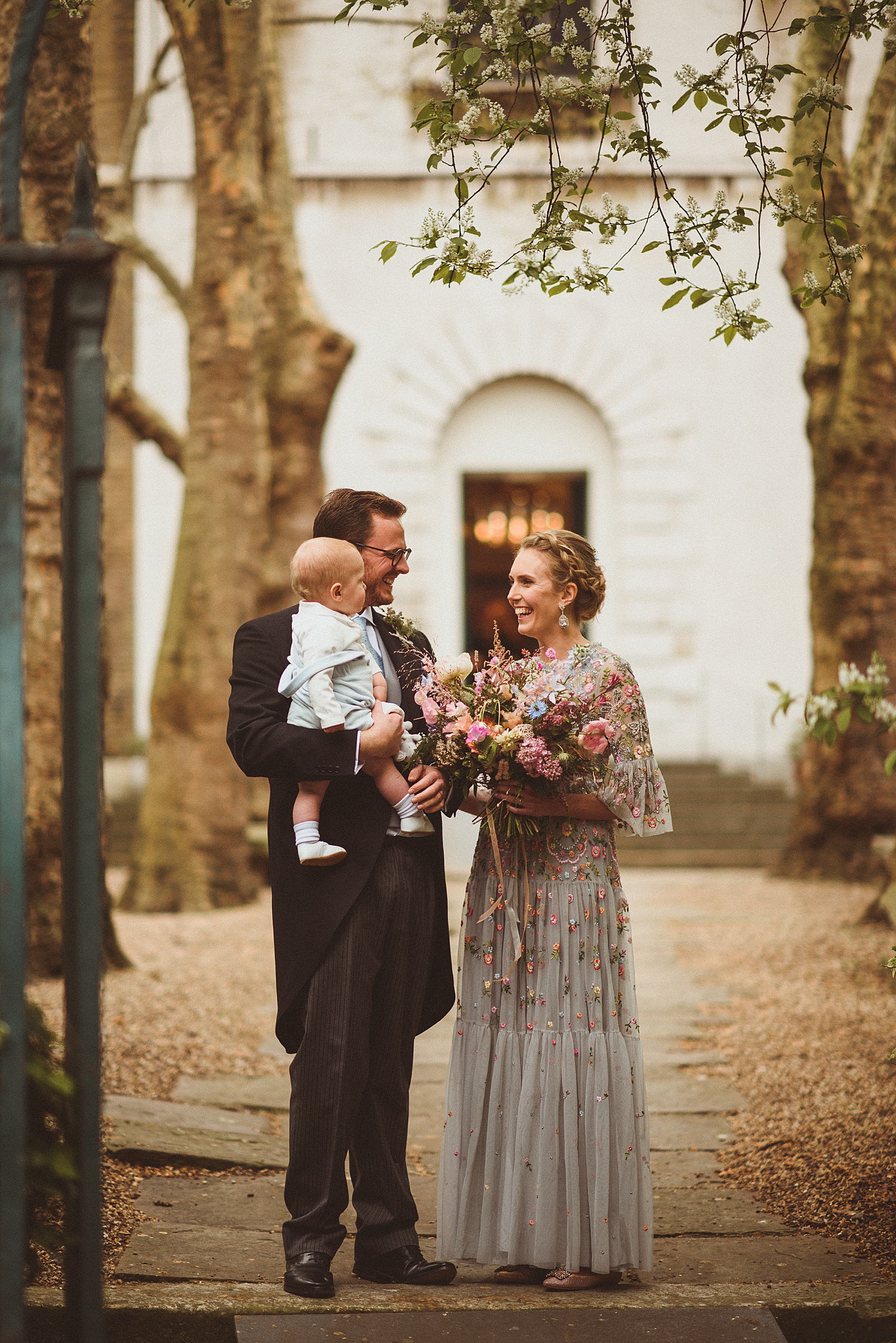 "The style of the day fell together quite easily – neither of us wanted a full on white wedding. I liked the idea of having quite wild and colourful flowers and that fitted well with the aesthetic of Bourne & Hollingsworth as a venue, the relaxed party feel we wanted and having the wedding in April – the perfect time for spring flowers.
"I had also found the dress I wore for the wedding which was pale blue with pastel flowers embroidered on it so it all fitted together and I went from there really."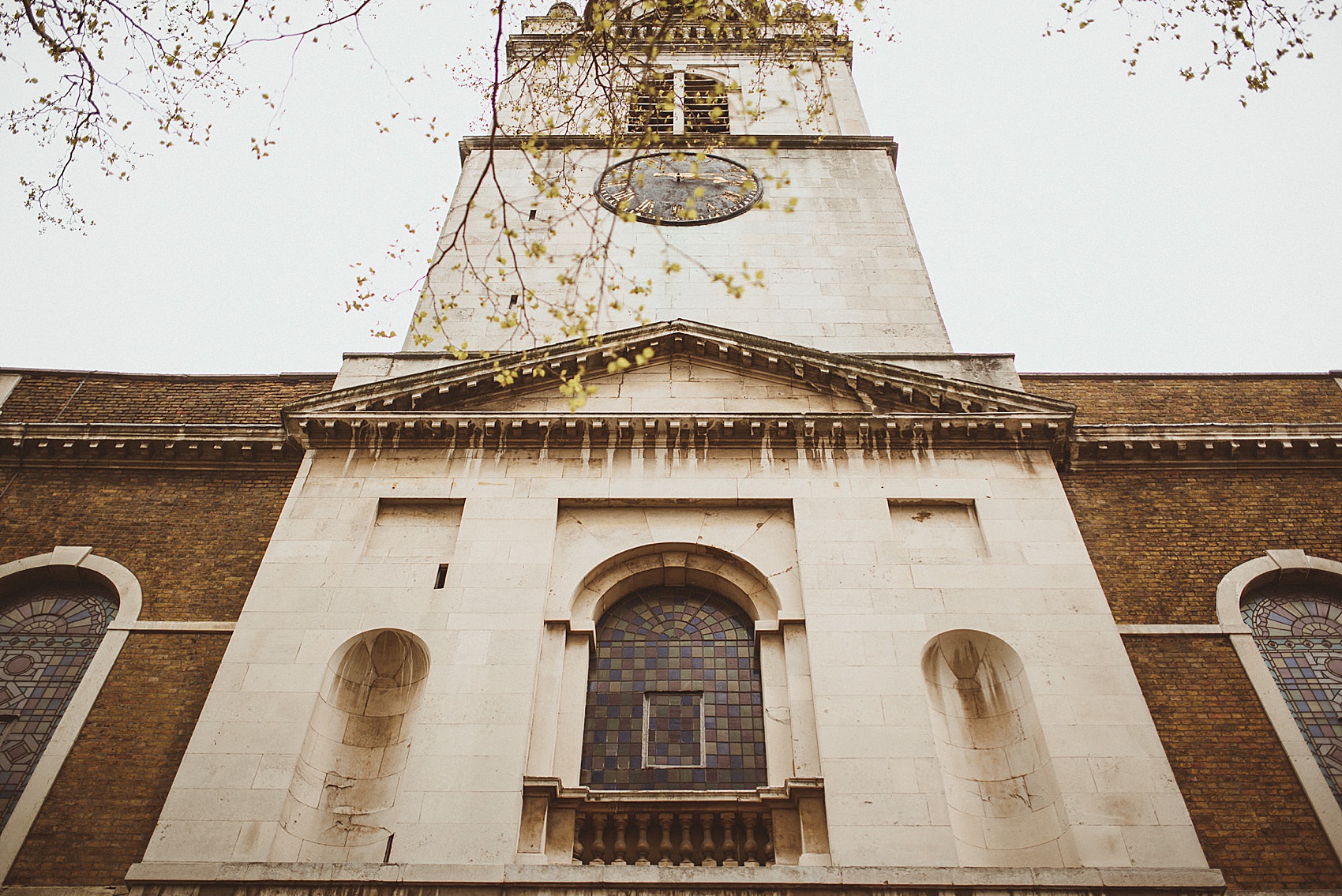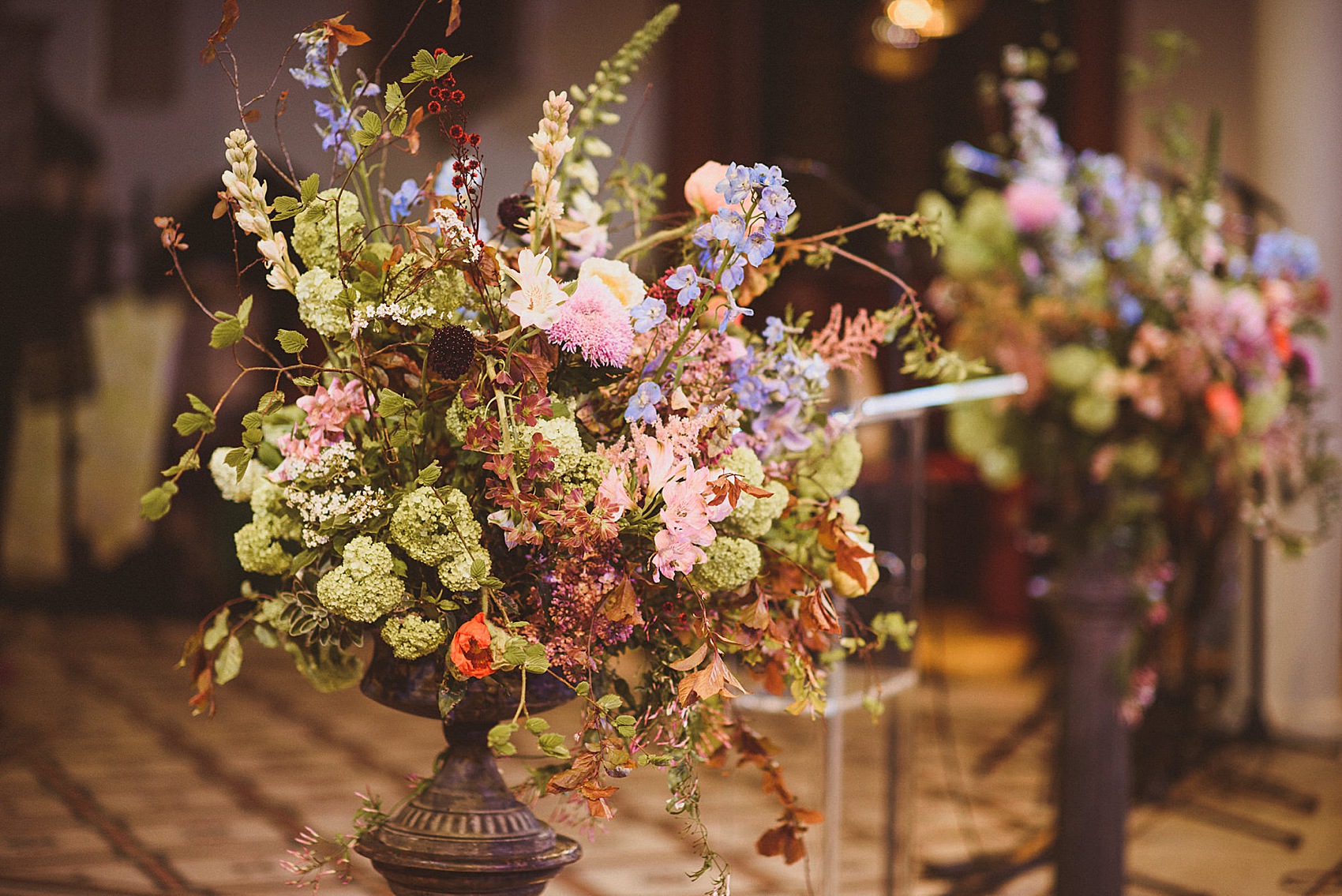 The couple used Papier for their wedding stationery, opting for a modern, watercolour design that reflected the tone of their florals.
Their ceremony was held at St James's Church in Clerkenwell.
"We hired the Because I'm Golden gospel choir in the church and it was so fun. I saw a video online of them singing 'Signed, Sealed, Delivered', and got it in my head that I needed to have them at the wedding singing that as we left the church to kick off the party."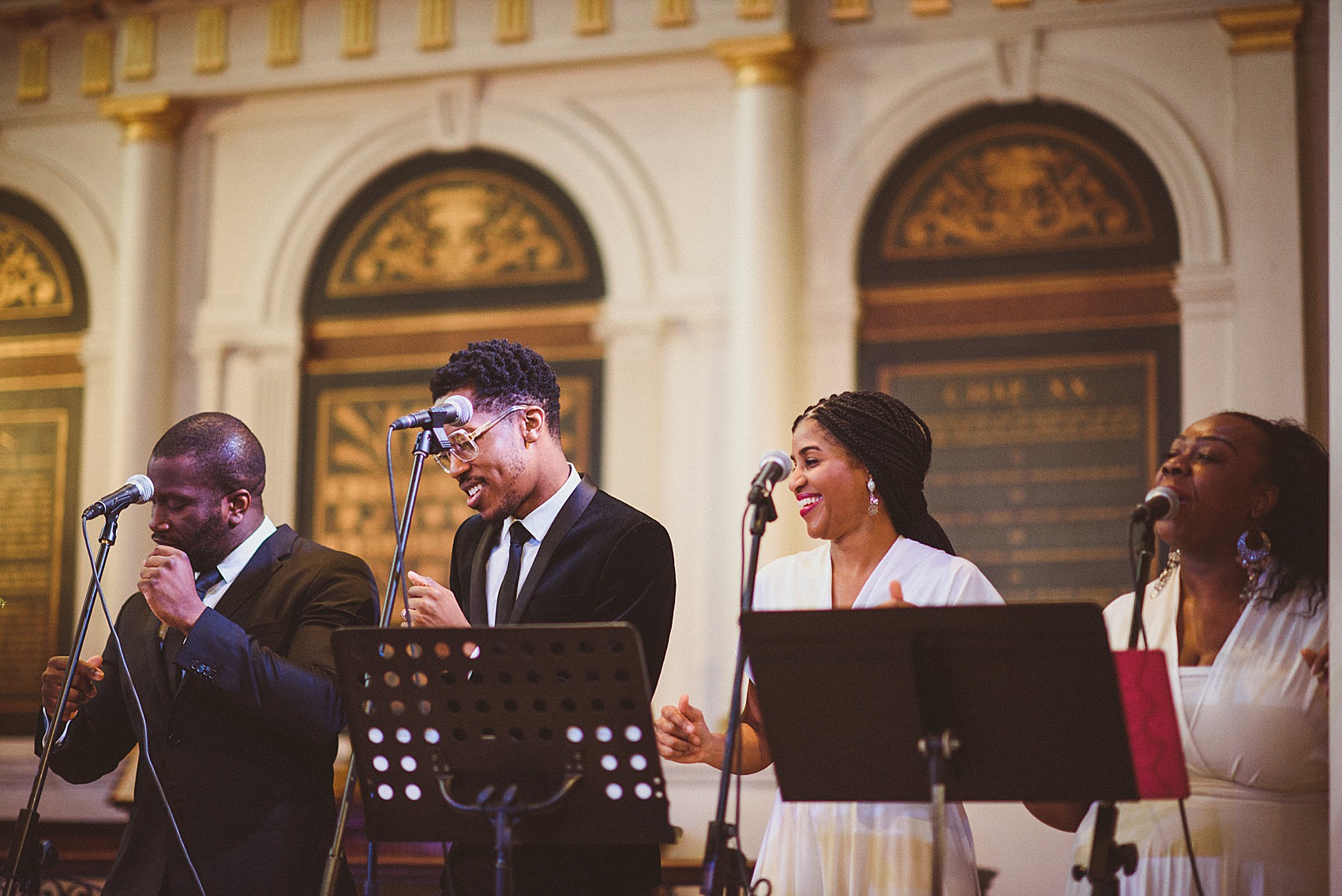 "We walked down the aisle together – I really didn't like the idea of everyone looking at me so made Mike do it too and we had the gospel choir singing too to add distraction."
"We had 'A Vow" by Wendy Cope which my good friend Charlie read for us. I like the reading as its not cheesy and is quite fitting for a couple that has been together a long time and is definitely out of the honeymoon period by the time they get married!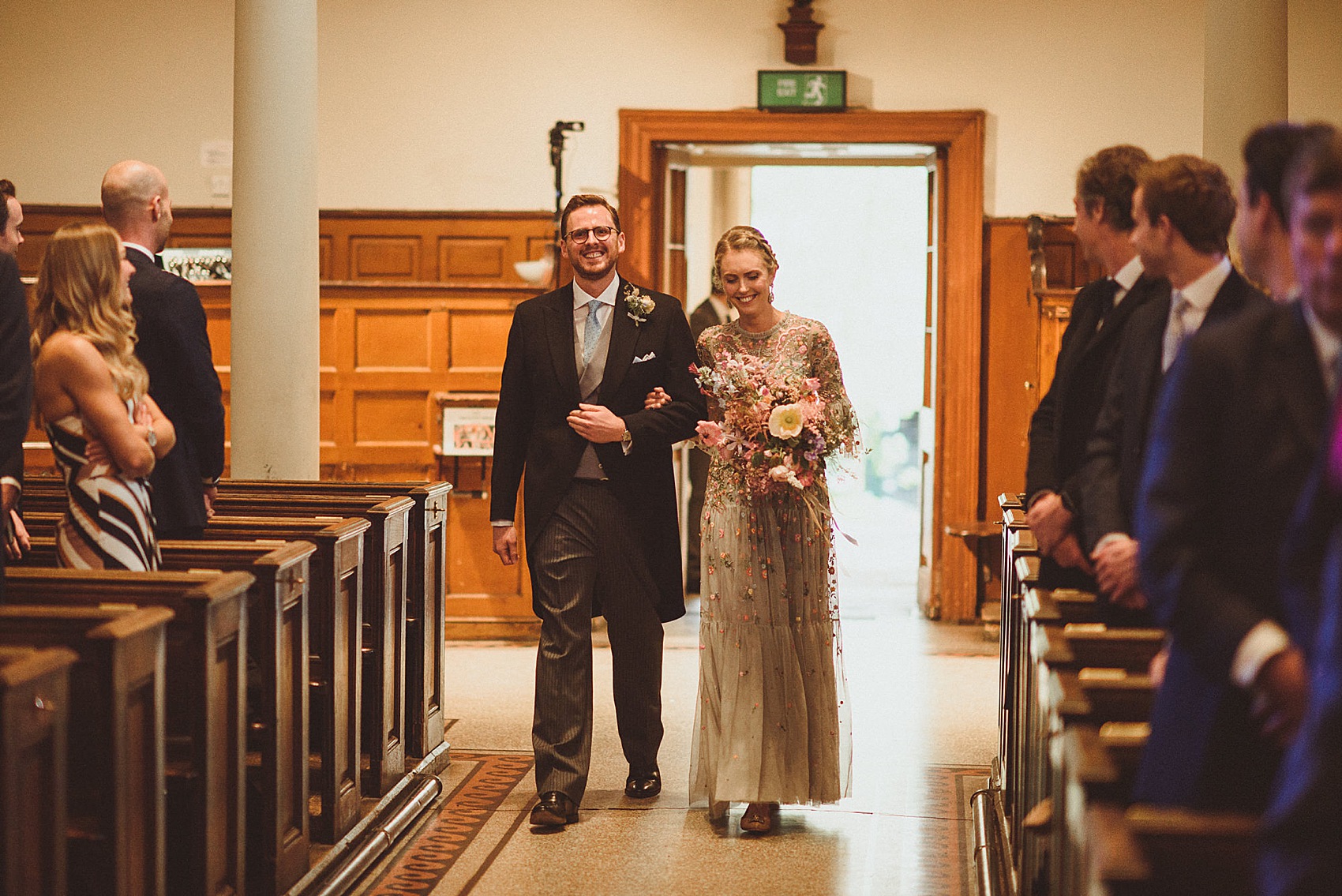 "My ring was a thin Tiffany platinum band – I needed as thin a band as possible to sit under my engagement ring which is antique so sits quite flat."
"Mike wasn't planning on having a ring but got a bit of a disapproving look from our vicar at the wedding rehearsal so panicked into saying he was going to have one then had to spend the day before the wedding calling around to try and find one in his size."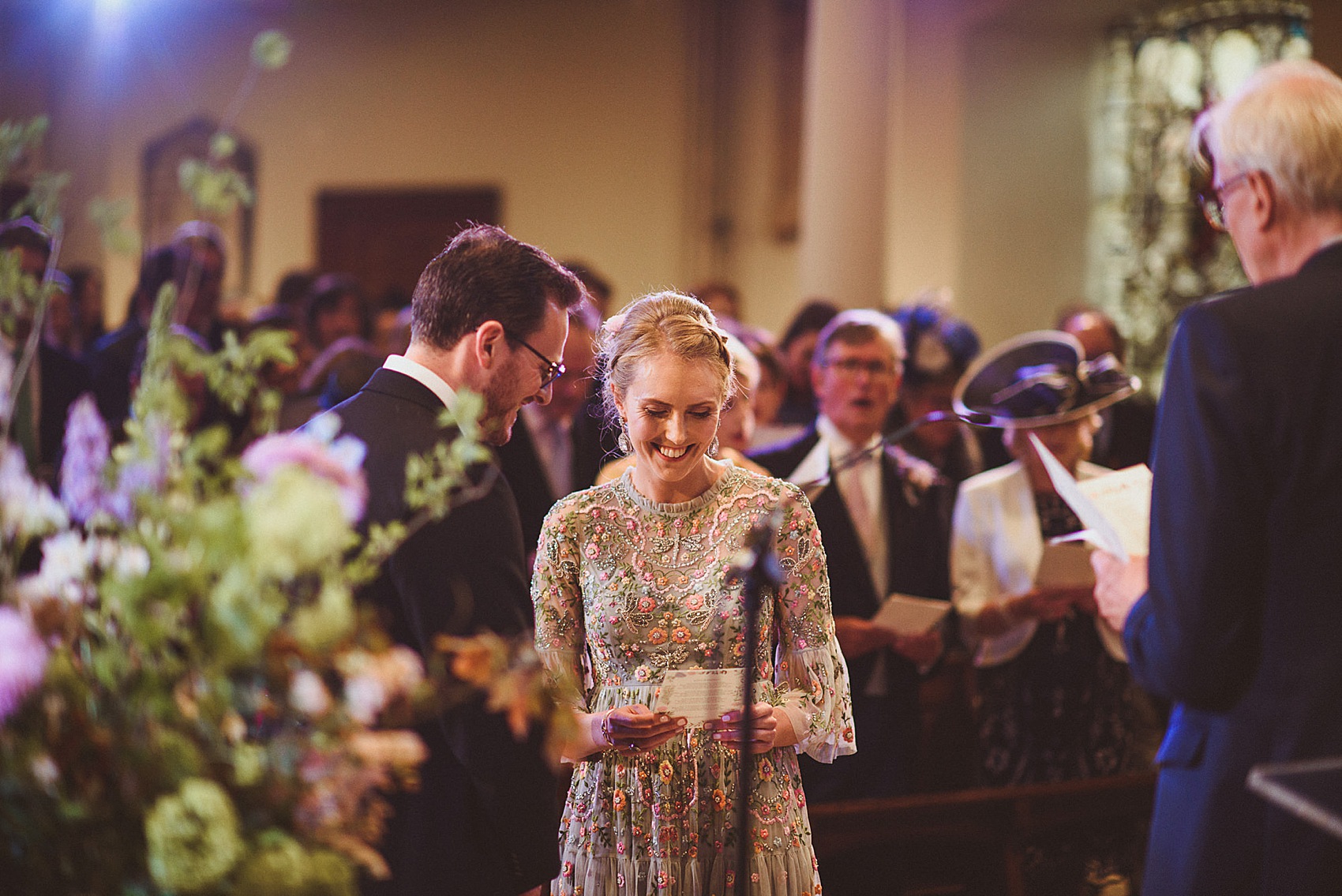 "Hannah Antmann of Saint Floral did the flowers and I think they made the wedding. She is really creative with an amazing attention to detail and I love the wild look of her work."
"The arrangements had so many different flower varieties and colours in them. Hannah made the arrangements in the church slightly more vibrant to pick up the brightness of the colours in the stained glass windows."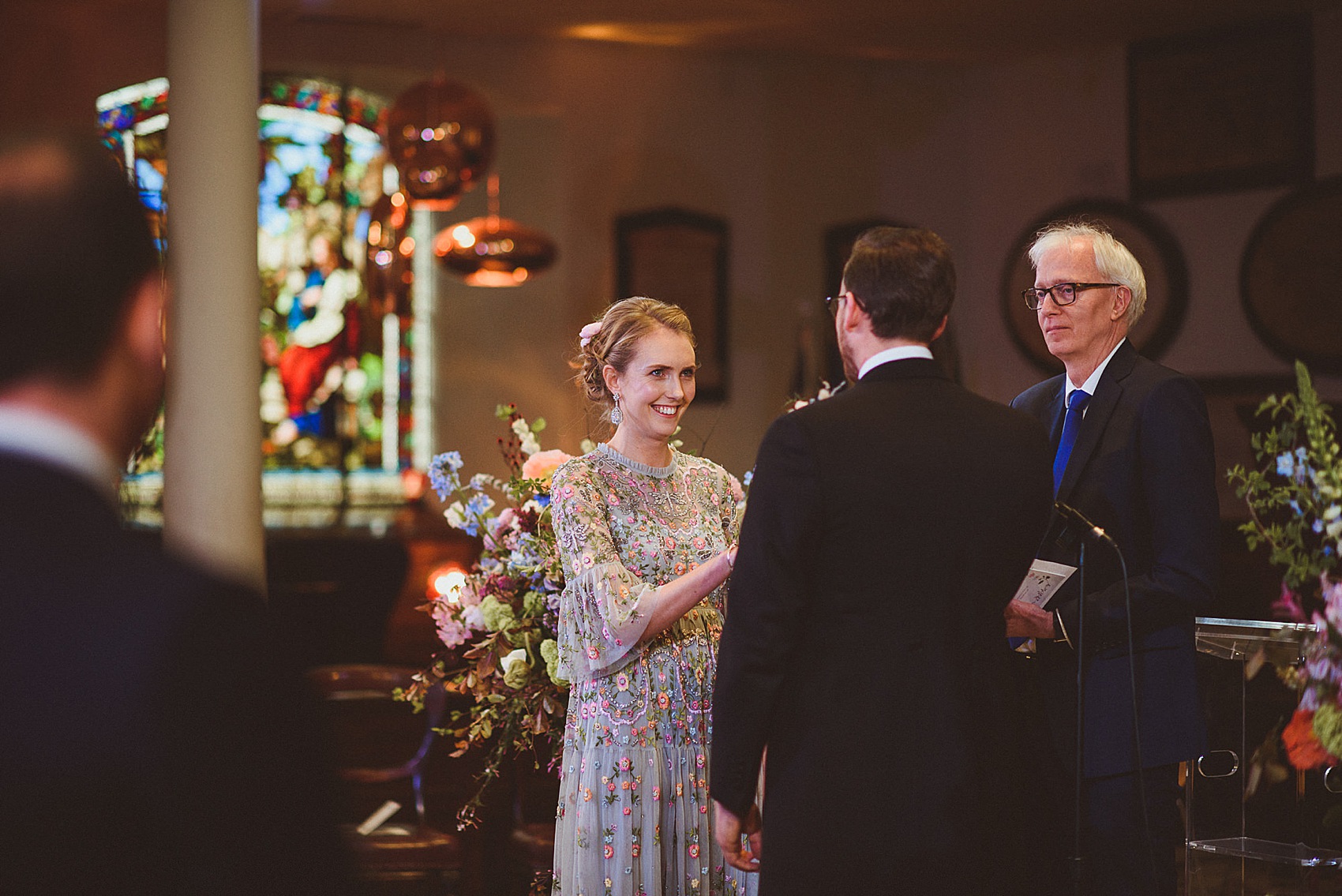 "Mike wore a traditional morning suit from Ede & Ravenscroft – I think this was the plan all along but he only ordered it the week before."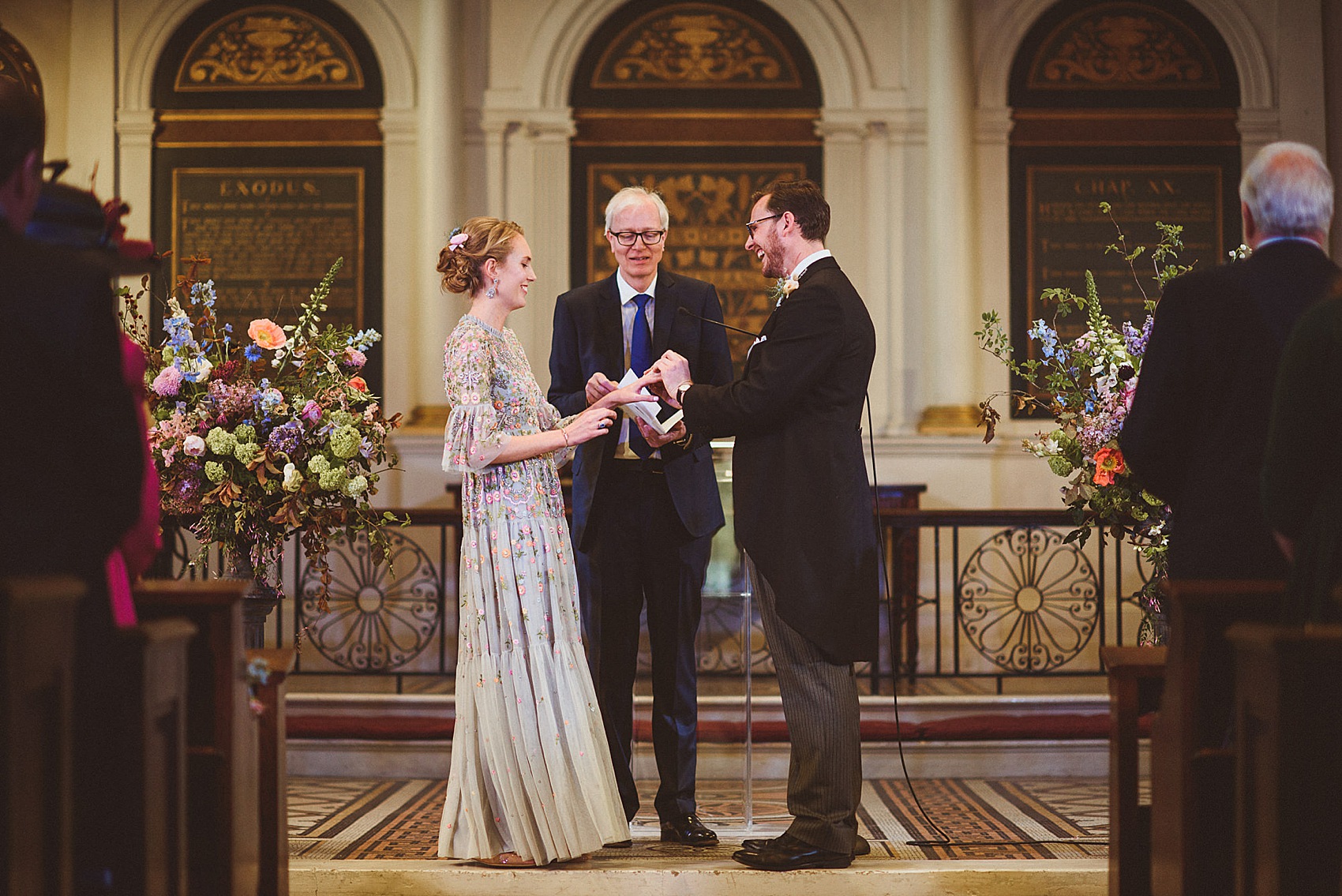 "I actually ordered my dress online from the Needle & Thread website – I saw the dress during a late night internet shopping/scrolling session whilst up with our baby quite soon after we got engaged and instantly liked it."
"I ordered a couple of other styles in the same order to test my choice but stuck with the original one I had seen."
"I didn't feel that strongly about wearing a proper wedding dress and once I tried my dress on the decision was made really – it felt non traditional without being too alternative and I loved the colour and detail and could imagine it working well with a wild spring flower bouquet."
"It was also cut quite forgivingly which was important when considering what to wear a couple of months after having my son."
"My make up was done by Cassie Antmann of Cassie Antmann Studio – she is a friend but also an experienced make up artist and was great at creating a natural look that lasted throughout the day."
"Cimone did my hair and was great – I wanted my hair up but wanted it to look relaxed and a bit bohemian to match my dress. We had a trial session and she created a "braid with lift" – I loved it and it stayed in place perfectly all day."
"Mike and I met at university and were together for 11 years and had our son before we got engaged. We got engaged in August 2018 and married 8 months later- I was quite keen that we had the wedding before I went back to work after maternity leave as life was bound to get more hectic then."
"We wanted to get married later in the day (our marriage ceremony started at 4pm) so I chose the date to fall after the clocks changed so that it would still be light for the first bit of the party and, ironically in retrospect, to avoid the planned date for Brexit."
"I also hoped that by April it would feel more like spring as when the sun shines I feel like people are most up for a party!"
The couple hired photographer Matt Penberthy to document their day.
"We liked the style of Matt's photographs – they are informal and creative. Looking back at the photos now they capture the energy of the day and the fun that we had."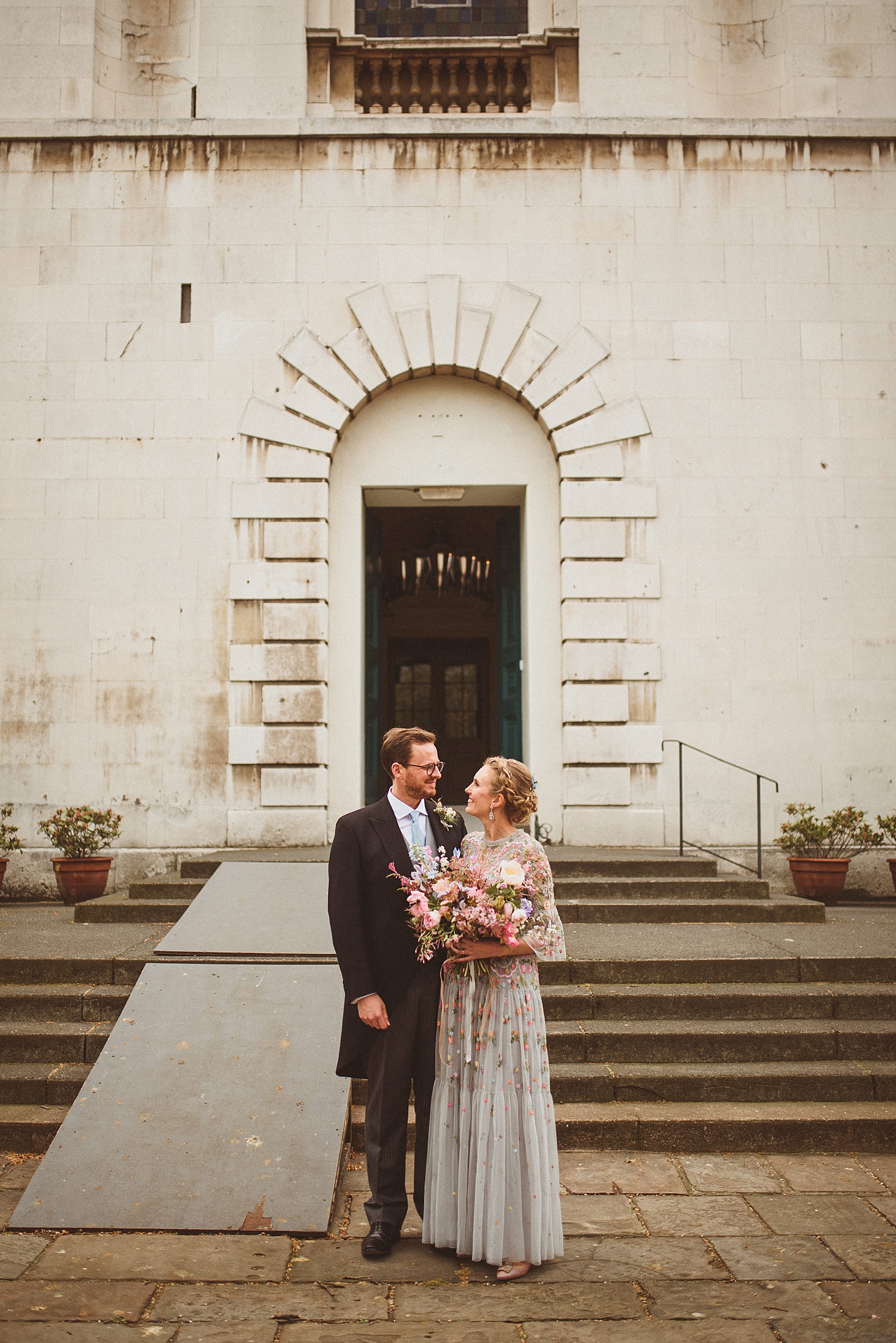 "My husband hates having his photo taken and because we got married later in the day we wanted to get to the party and not spend too long on photographs just the two of us."
"We kept the photo session after the ceremony really short (I think under half an hour including getting some family shots) but Matt managed to get lots of photos of us, with our baby and with our wider families."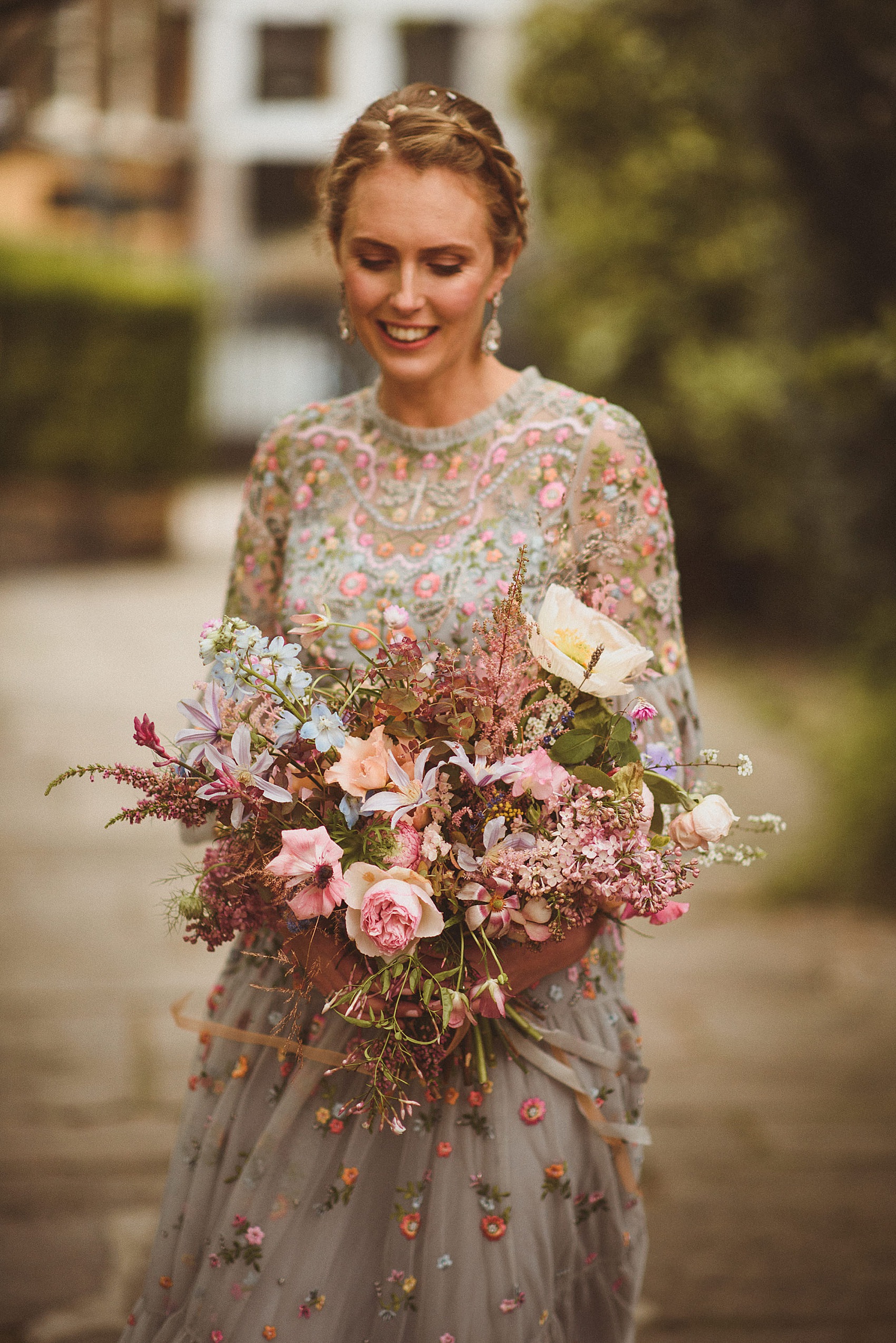 Shoes – Manolo Blahnik Hangisi flats in a pink glitter colour – my only slight regret of my wedding day is that they got torn to shreds on the dance floor!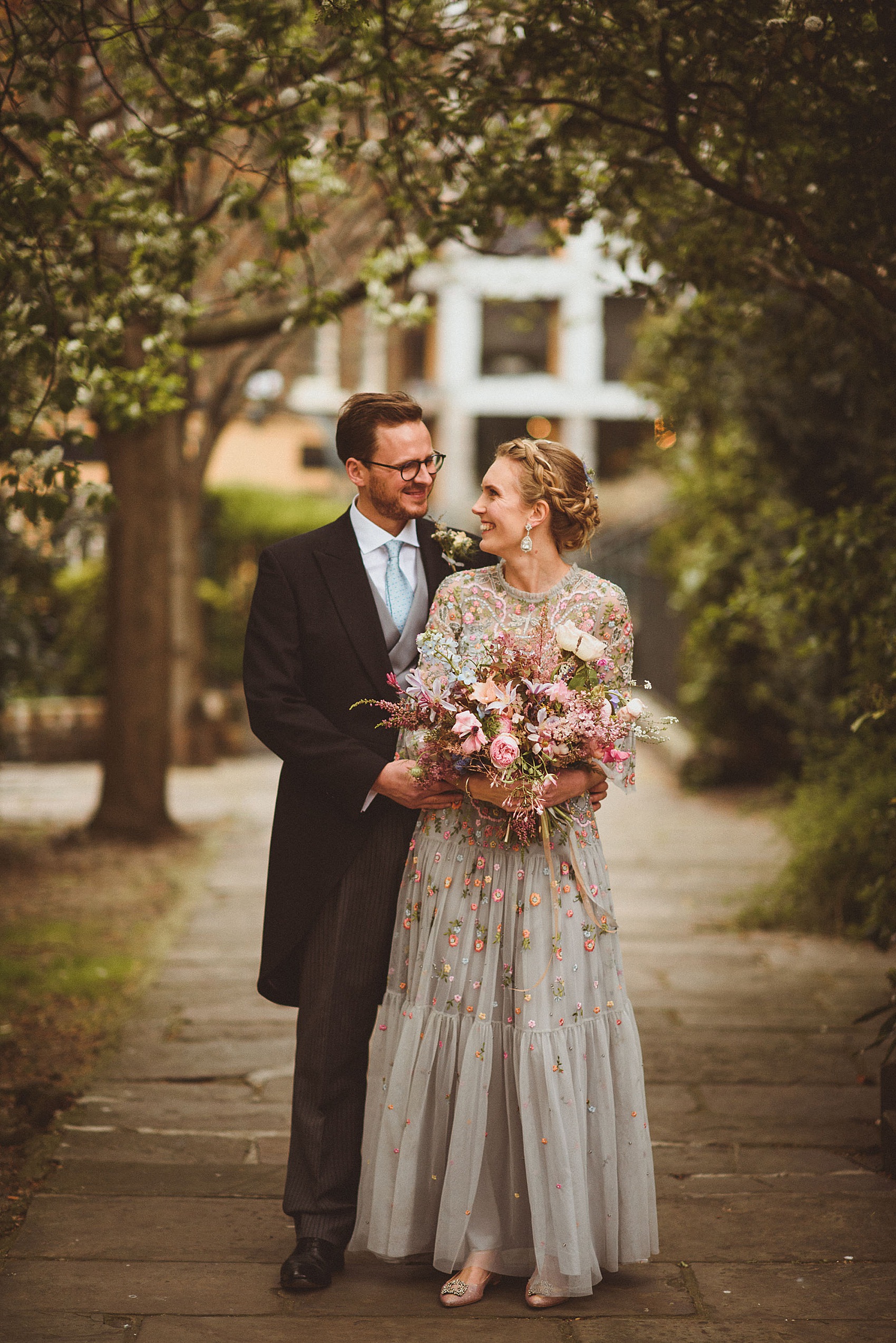 "I didn't then really even notice Matt at the reception or during the ceremony and that is a big compliment – he was moving around taking photos and capturing the guests having fun without interrupting anything."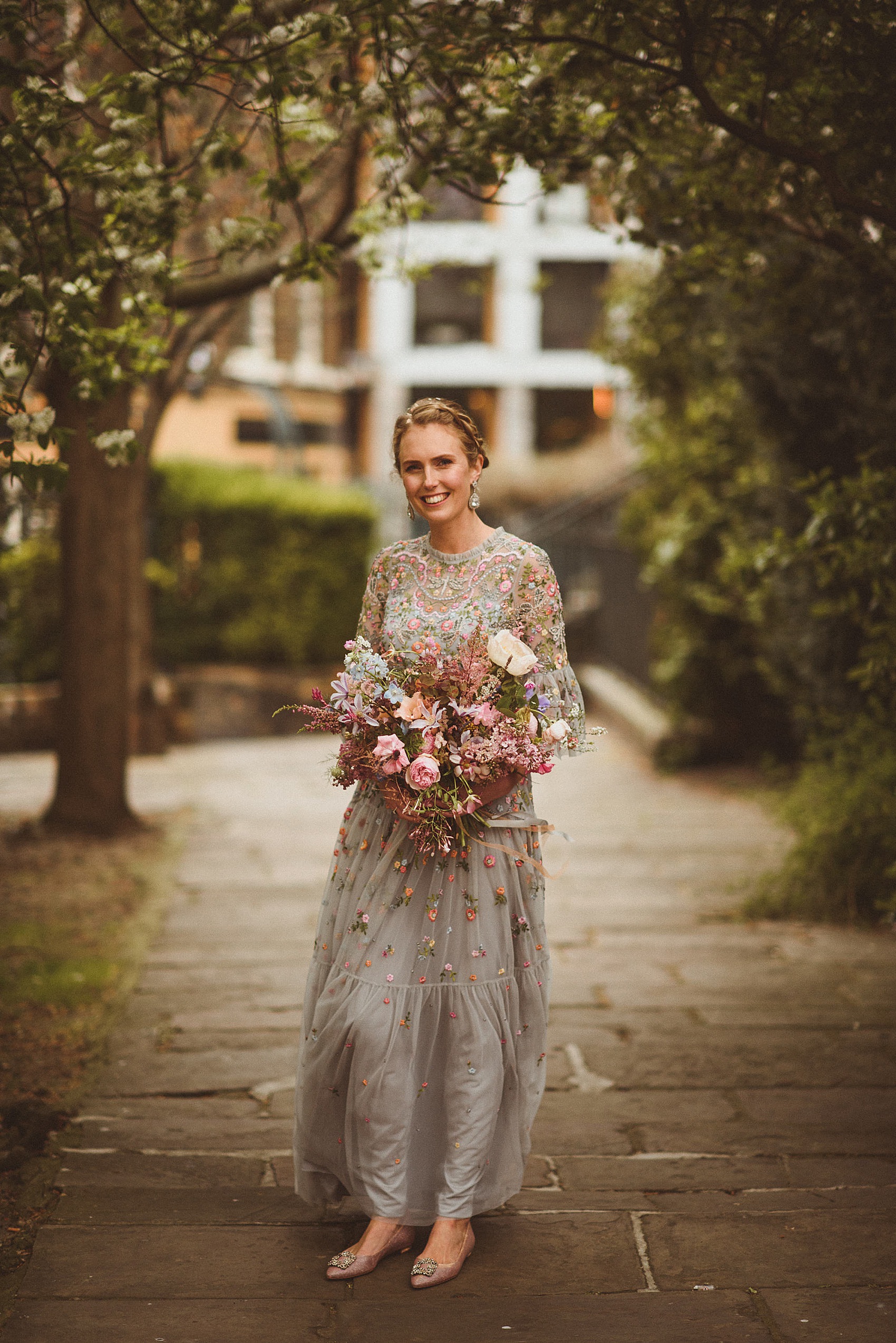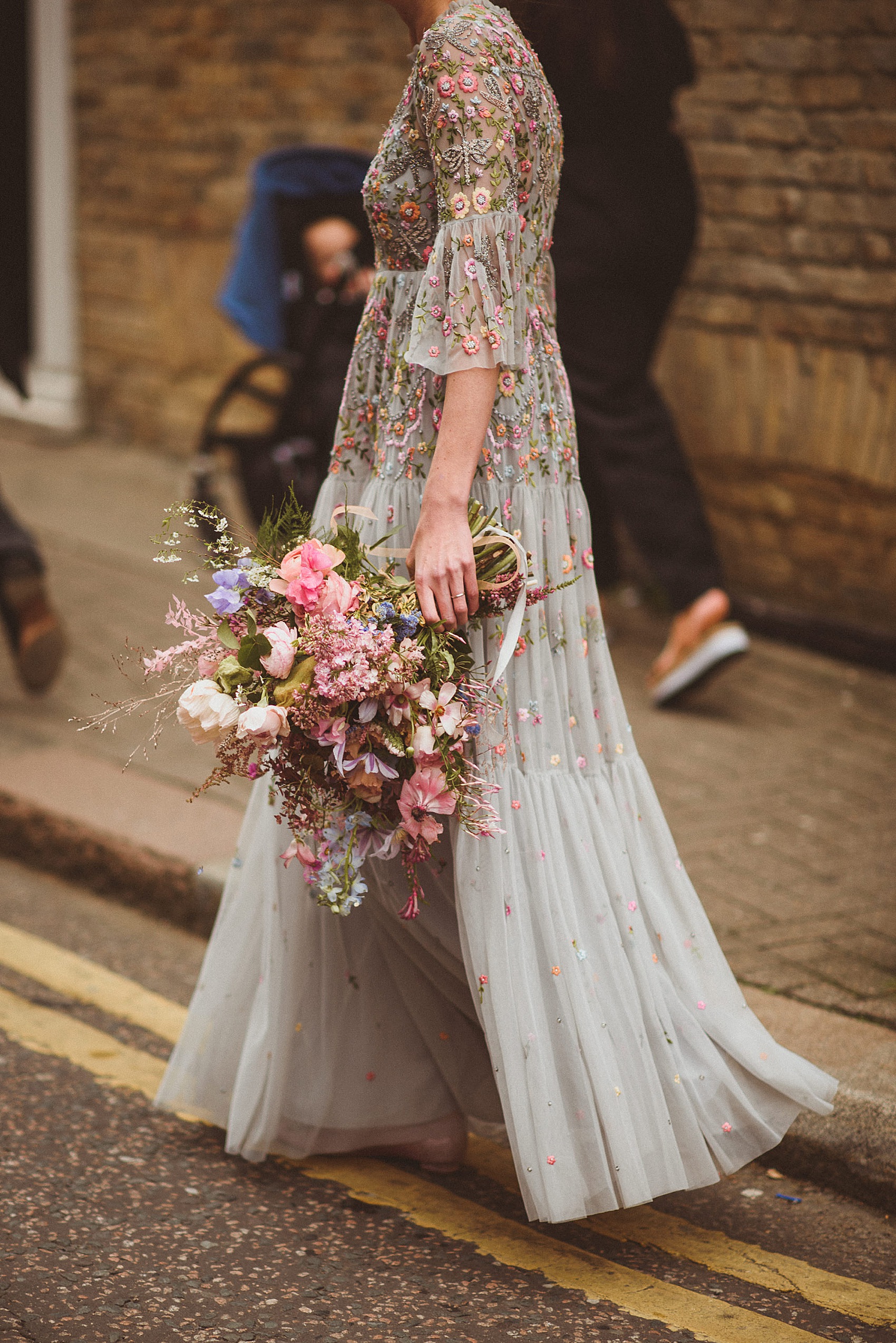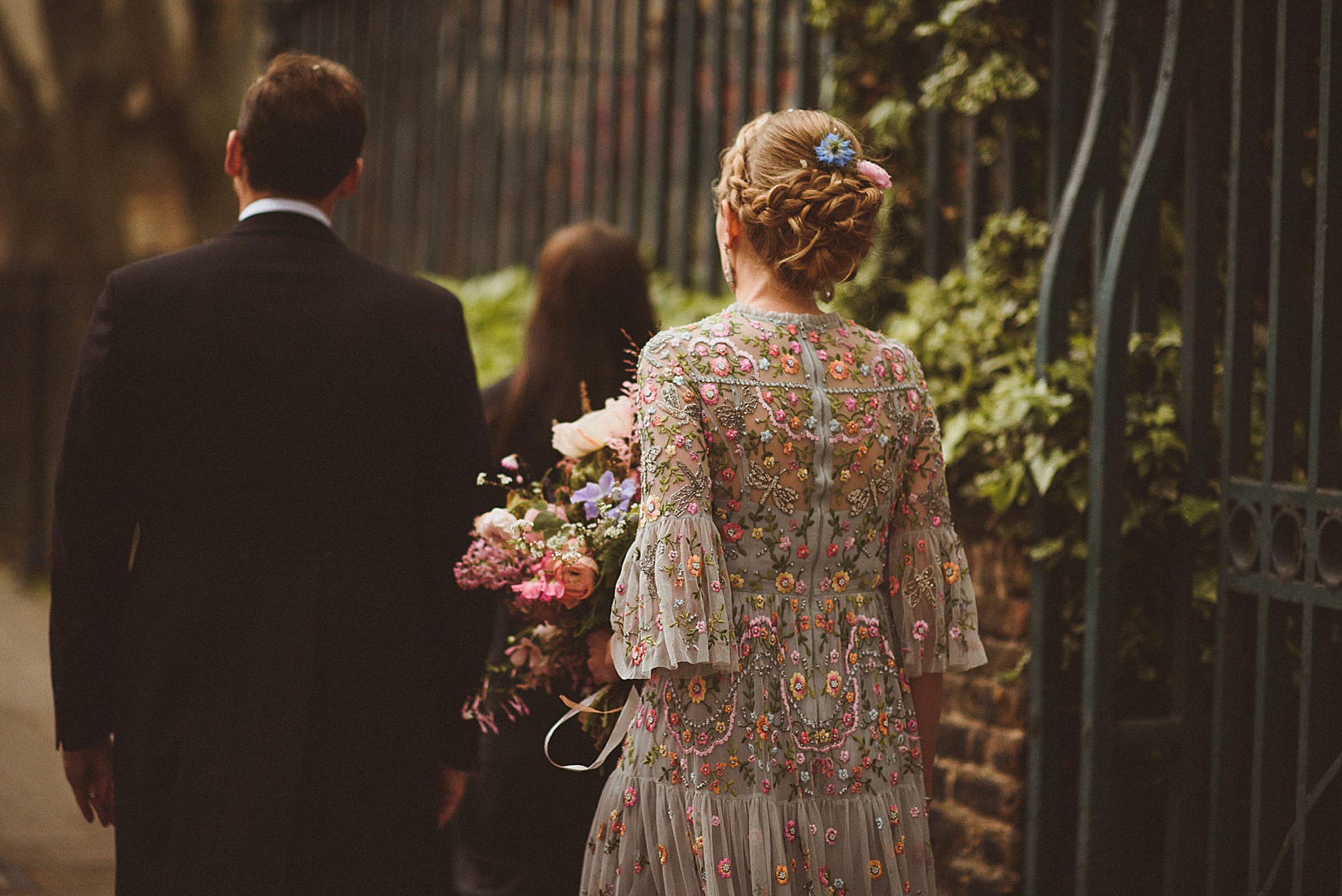 "We wanted a central London location where all the guests could be kept together in one large space for the party to create the best atmosphere. B&H Buildings ticked that box and is a lovely bright open space with great interiors and greenery which fitted the relaxed, spring feel that I wanted for the wedding."
"When we were looking around B&H buildings I saw St James's and went to look inside – it is a really beautiful building with stunning bright stained glass windows, a pretty pale blue ceiling and really striking lighting."
"I liked the idea of having the official part of the day quite traditional in a church before we walked around the corner for a party."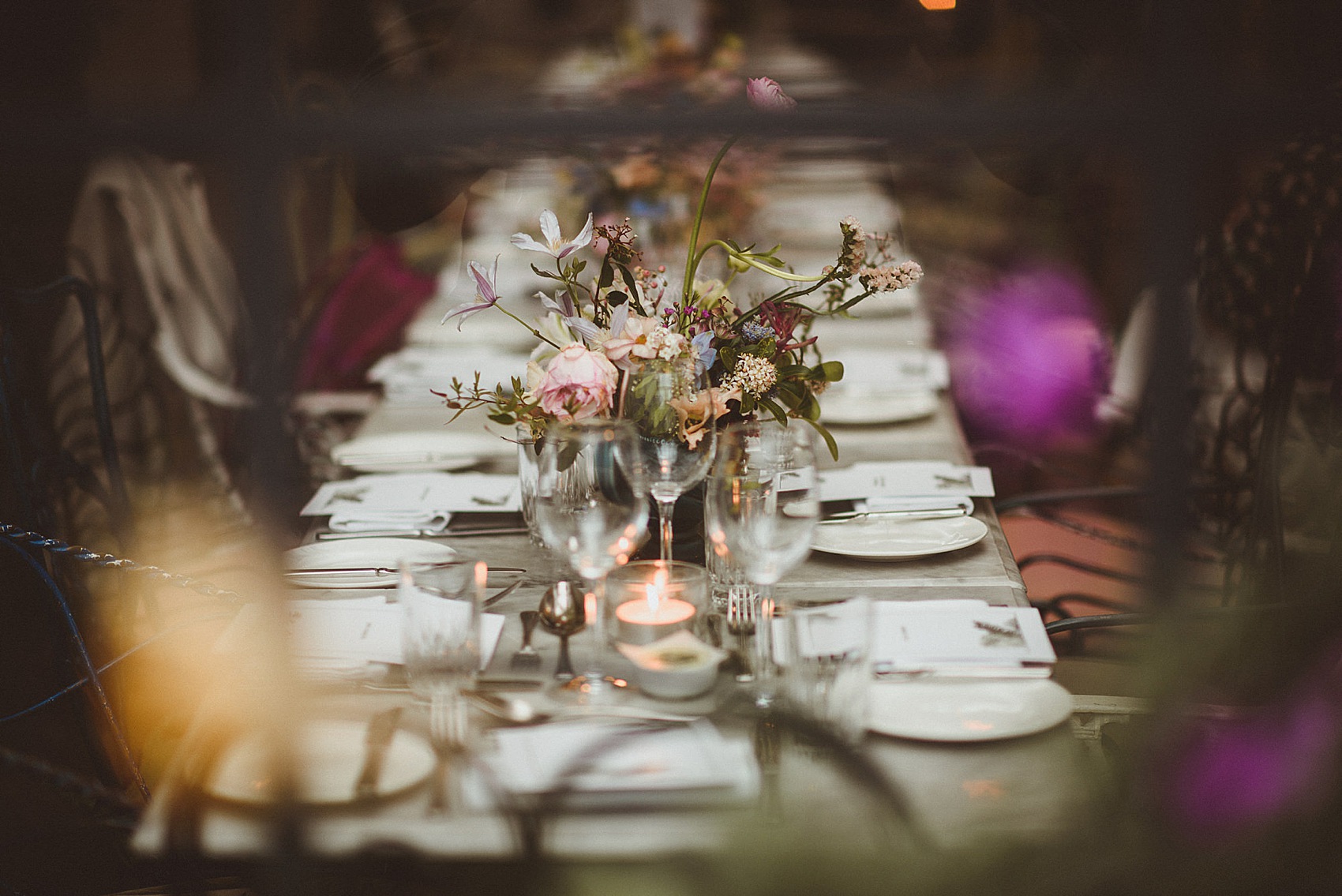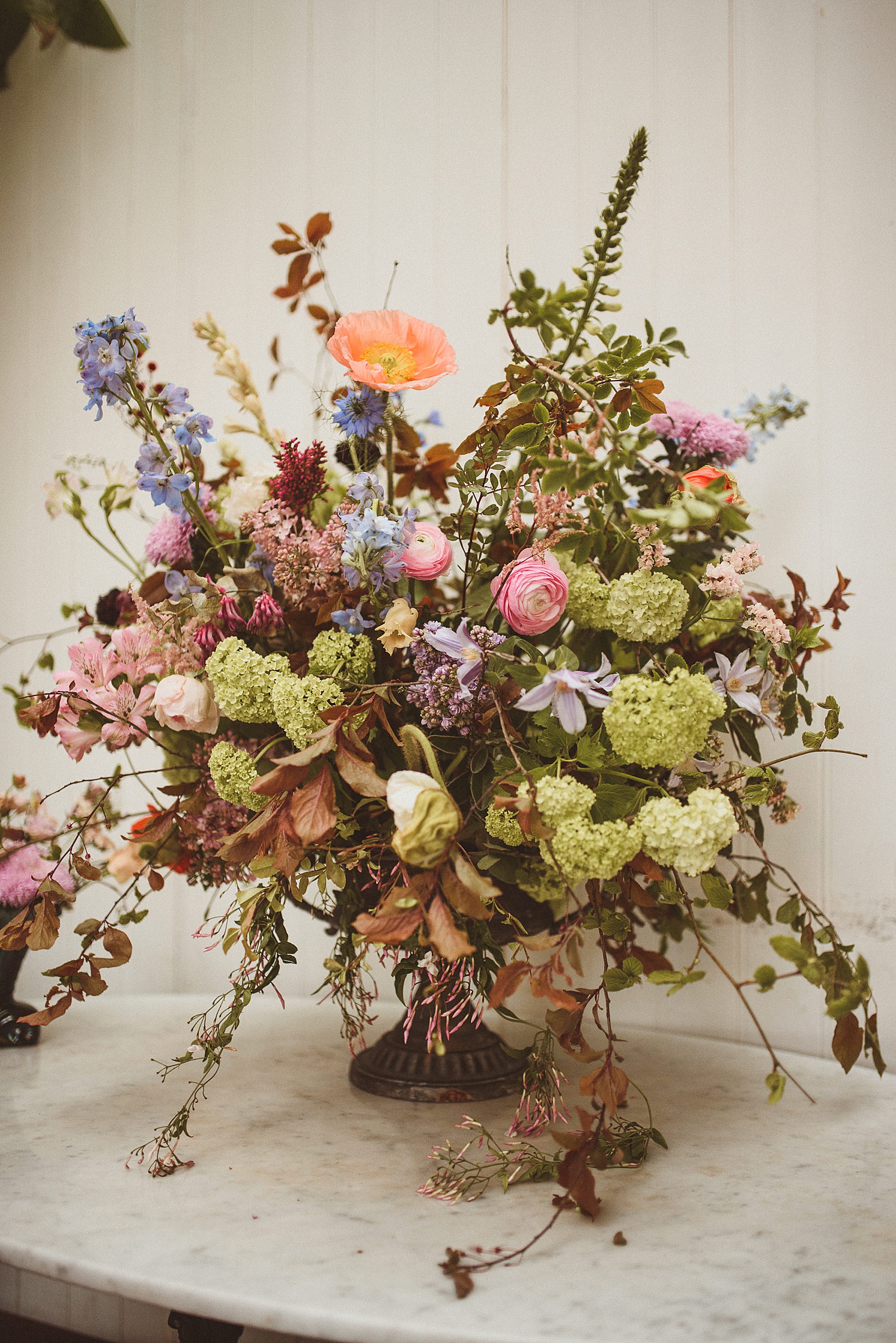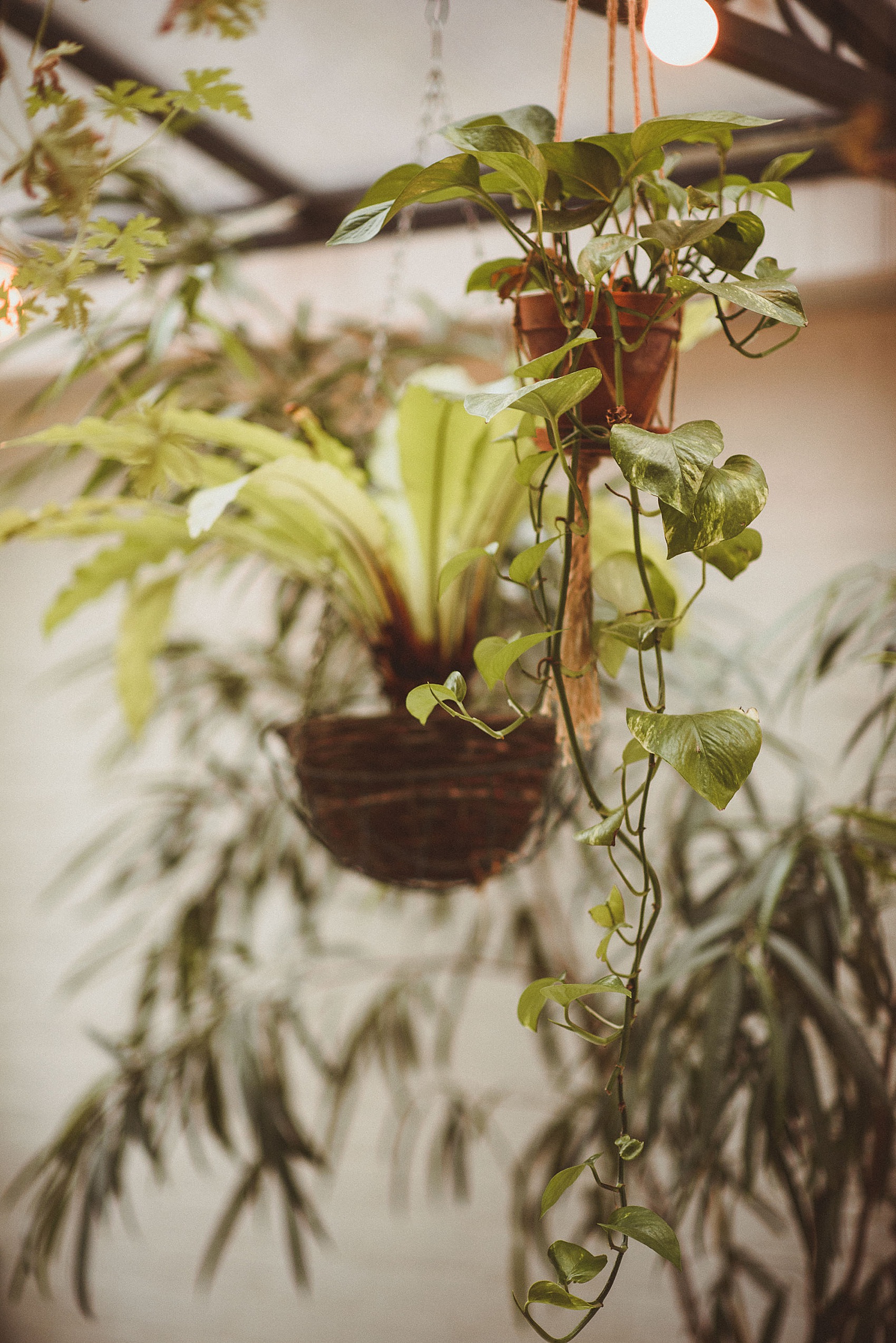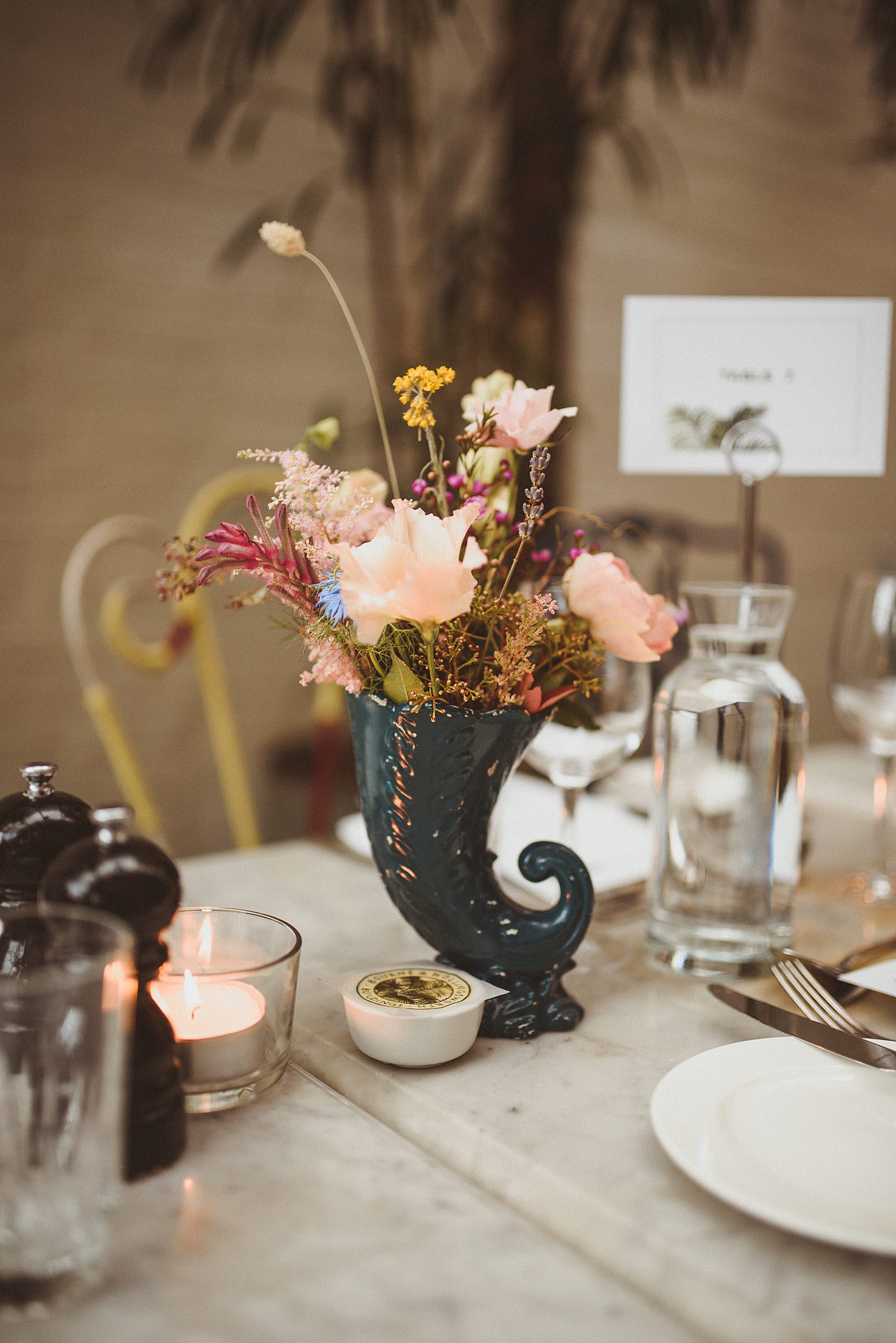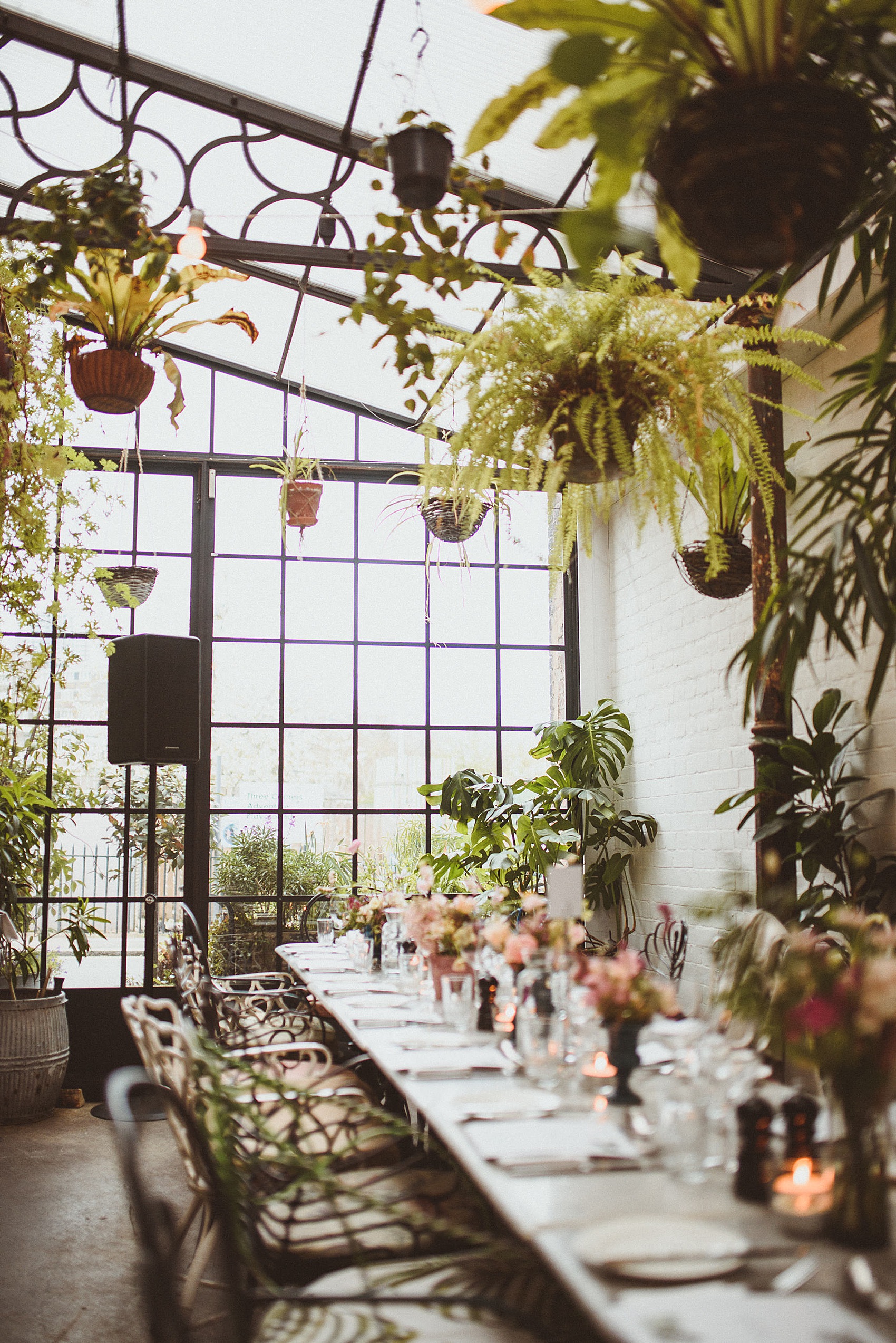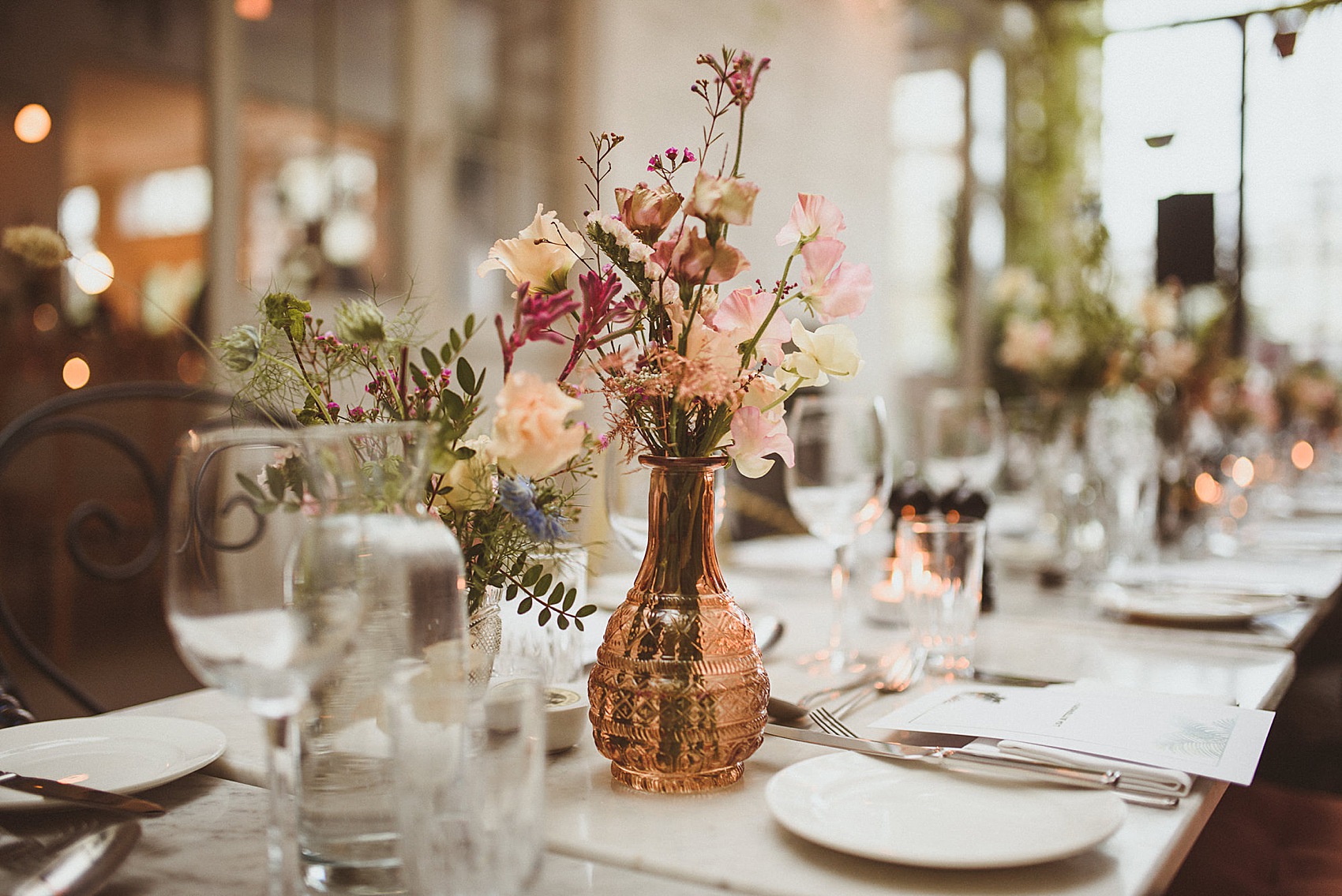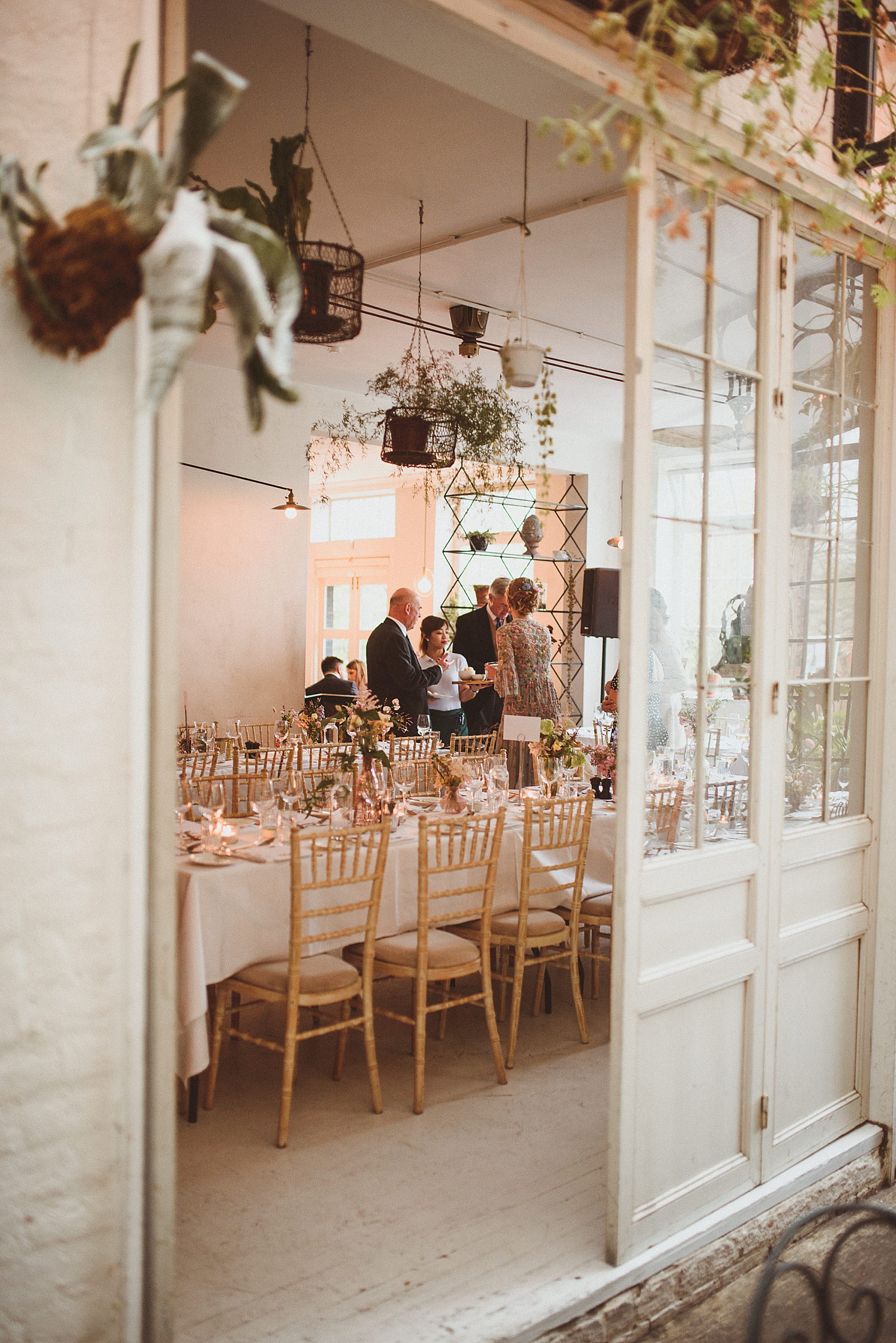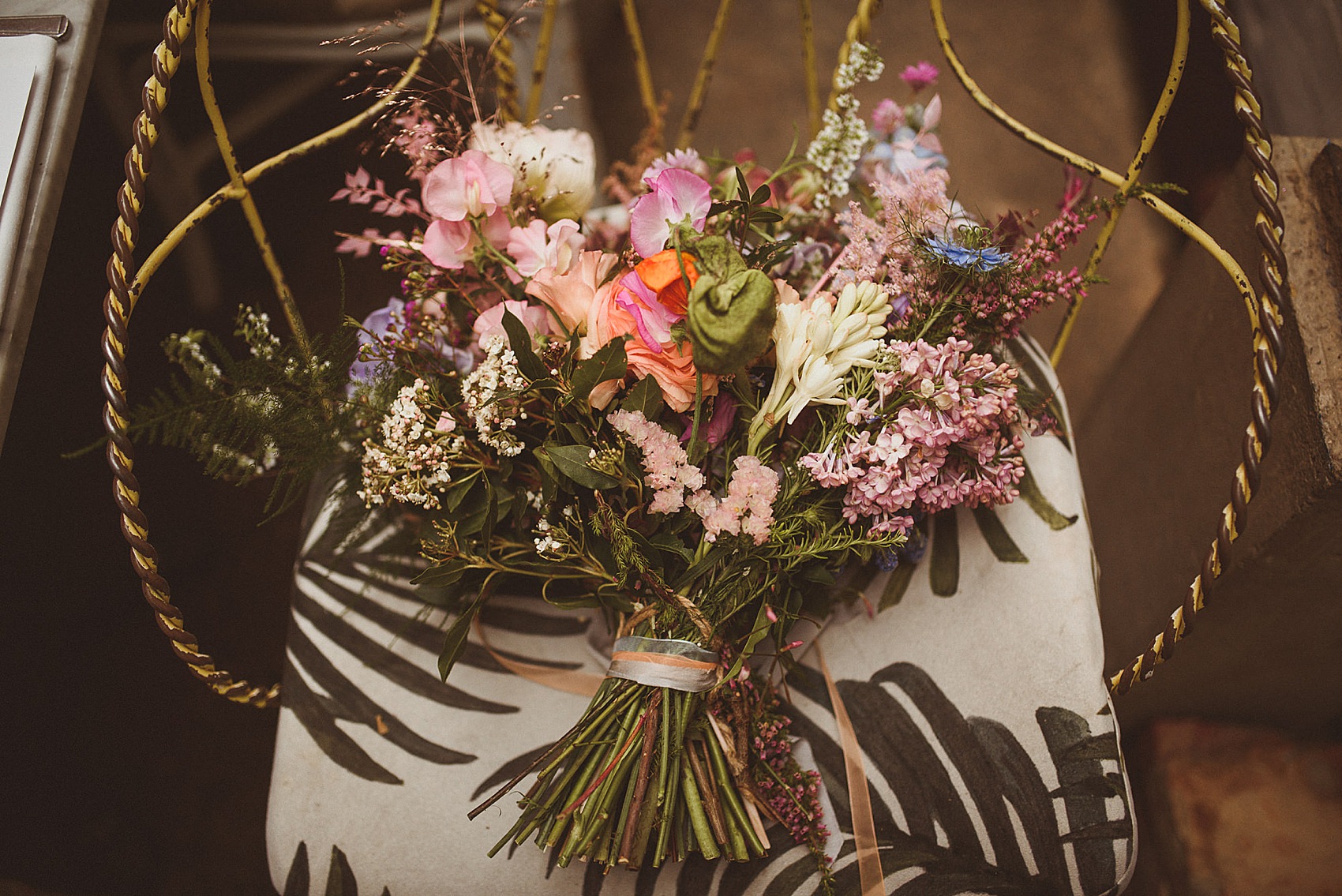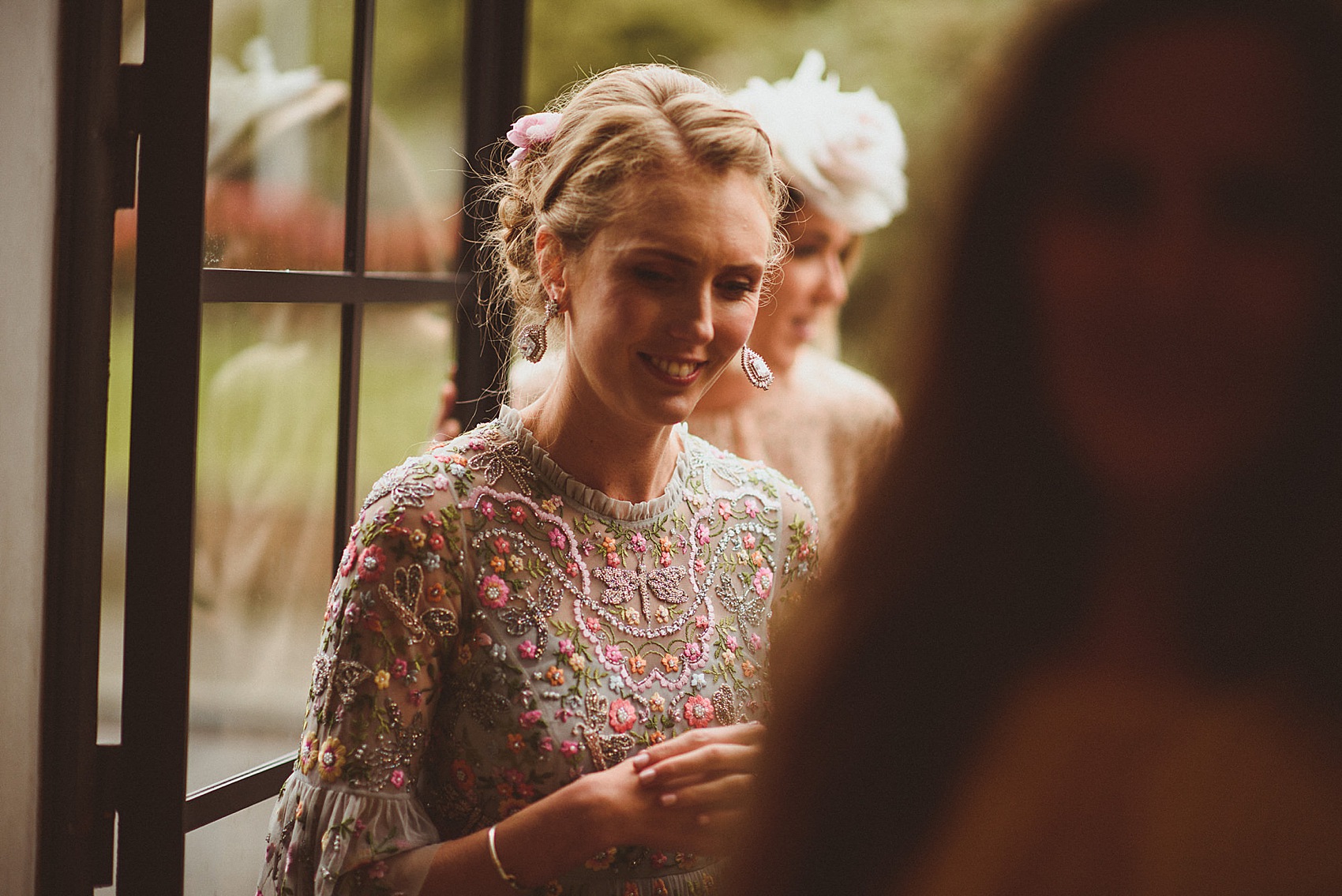 "We had a macaron tower from Laduree – I always think it's a shame when a wedding cake doesn't get eaten and we weren't going to have a cake cutting as our speeches were after dinner so these were perfect as people picked at them after dinner finished and all were gone by the end of the night – they also looked beautiful on display beforehand."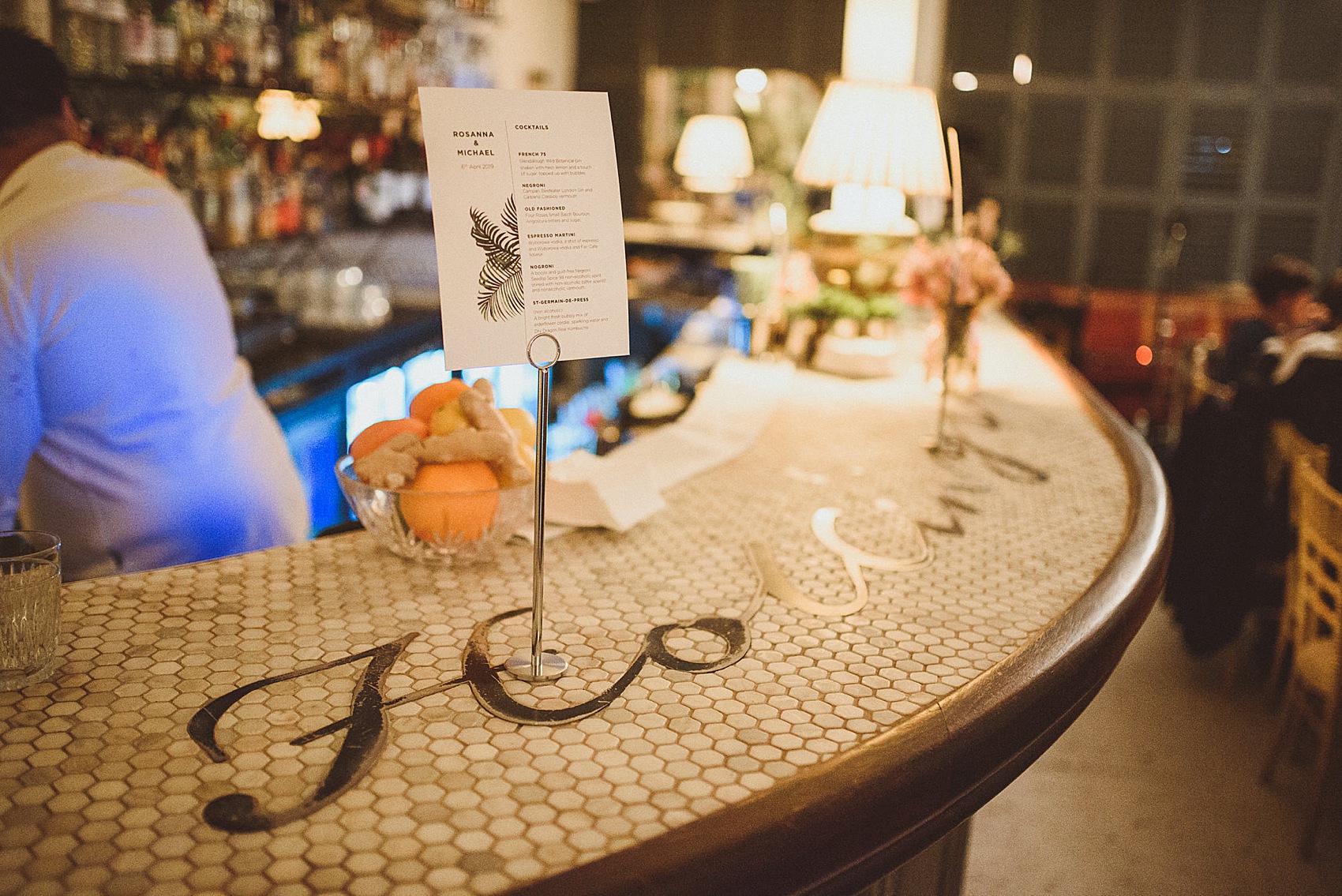 "Got It Covered were our band after dinner and they were so good. My biggest fear of the wedding was an empty dance floor and that was certainly not the case. I love a live band for atmosphere and these guys were fantastic."
"We didn't have a first dance – that was actually one of my main fears of a wedding was having to do it and then I realised I could just choose not to."
"The dance floor was crowded, a bit sweaty and people were shouting for more at the end of the set which is exactly how I wanted it to be!"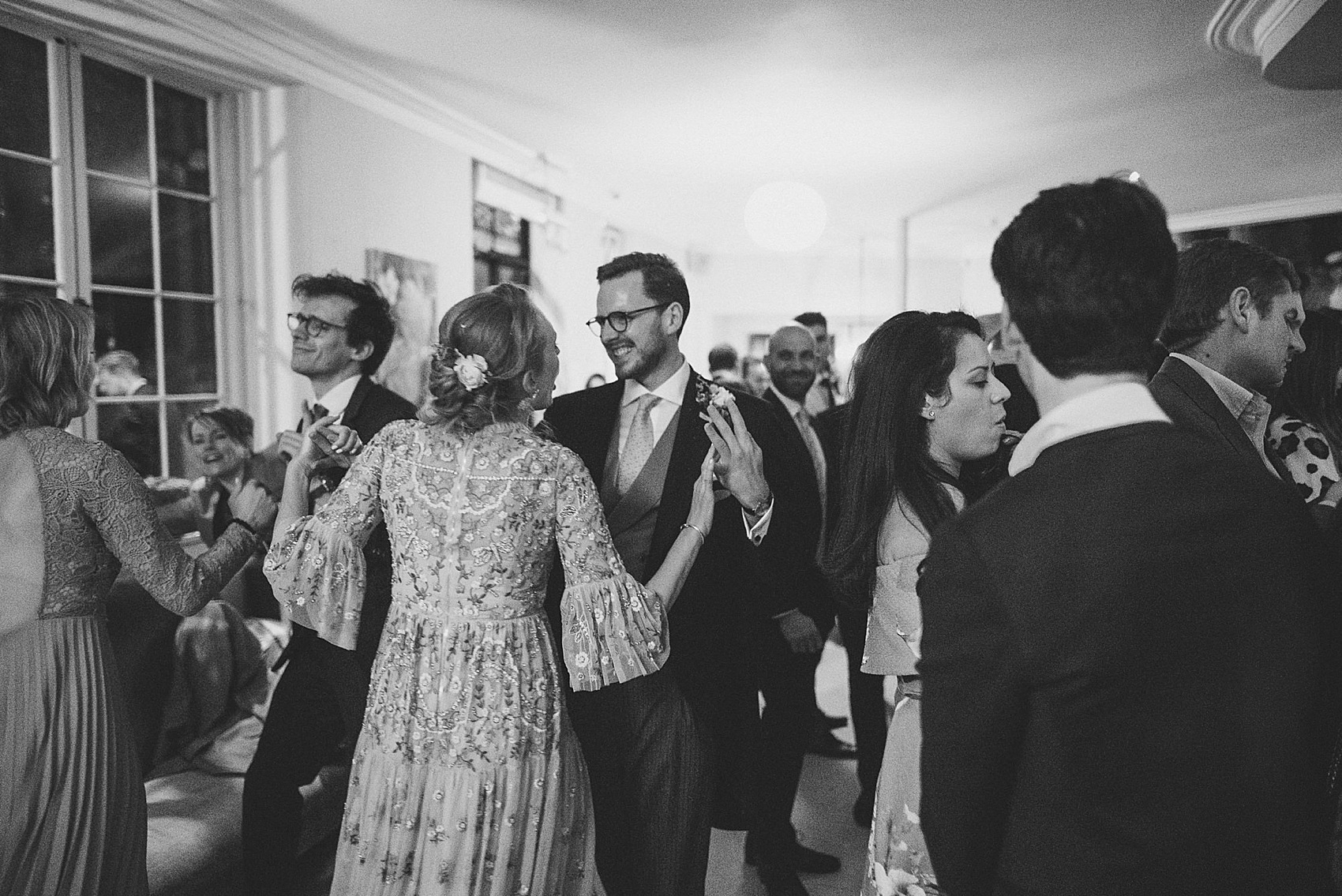 You can see lots more beautiful Needle & Thread brides and content here.
Love Annabel x