Lovelies! As soon as I saw today's collection of sumptuous, rich photographs I literally could not wait to share them with you. Please, sit down comfortably and get ready to indulge yourself in today's beautiful wedding, captured oh-so wonderfully by the incomparable Eclection Photography.
This is the wedding of car mechanic Ben and stakeholder and community manager Vicky, who chose 2 November 2019 for their late-Autumn inspired day at St Mary's Church in Astbury, Congleton, Cheshire and nearby Cloudside Shooting Lodge. With rich Autumnal tones, a touch of golden sparkle and inspiration from the shooting lodge's history, which was founded by Ben's grandfather, this day has a beautifully warm country vibe.
Eclection Photography

+ Follow
Vicky and Ben's photographer, Heather Shuker at Eclection Photography, is a much-loved member of our Little Book Wedding Directory, and we love her creative and individual approach to each and every wedding, which she captures with such vibrancy with a fine art touch. Please do visit her Little Book listing to find out more about her work.
"Heather did the photos for my friend's wedding and I loved the originality of her work. We weren't looking for staged photos; we just wanted to get people having a good time and she did this perfectly. We met up a year before the wedding to visit the venue and alternative locations for the photos of just me and Ben. She was incredible on the day. Everyone was delighted when we got all the photos back – I think my mum cried at each one."
A touch of luxe warmth came from the bride's burgundy velvet platforms from L.K.Bennett and she carried a cute Katie Loxton clutch. Finally, her perfume was Prada's Amber, the only scent she wears.
"I treated myself and my bridesmaids to Katie Loxton clutch bags. I have the 'Just Married' one and all the bridesmaids have 'Fabulous Friend'."
The couple's families have a long history together and their lives growing up were intertwined.
"The Croppers and the Clarkes have always been close friends; my dad and Ben's grandad Eric moved to Congleton at around the same time and remained good friends. Myself and Ben have always known each other but because of the age difference we didn't hang around with each other."
"I moved down to London when I was 18 and we lost contact. It was during a pub ski trip to Austria in 2015 that we set our eyes on each other and had a holiday fling. We didn't think it would become anything serious but it did and we managed a long-distance relationship for two years. At the beginning of 2017 I left London and moved back up north."
"Ben proposed in front of our family and friends at a house party we were having for my birthday. This was so out of character for Ben because he's quite shy and doesn't like a fuss so it really took some balls to get down on one knee while everyone was watching."
"We were engaged for eighteen months."
Vicky's make-up was flawless, and I adore the bright red lip which her make-up artist Jo Taylor applied. Her dark locks were swept up into a vintage-inspired up-do by Bryony Mitchell.
Agapé Bridal Boutique, an absolutely beautiful Cheshire boutique which we are so proud to support via our Little Book here, was where Vicky came across her long-sleeved, sequinned 'Celine' gown by Karen Willis Holmes, which is so elegant for the winter wedding.
"I got my dress from Agapé in Altrincham. Karen Willis Holmes is an Australian designer so I was very lucky to find a boutique close to home which stocked the dress I'd fallen in love with at the beginning of my search. The team at Agapé were fantastic, they made me, my mum and one of my bridesmaids feel very welcome and relaxed."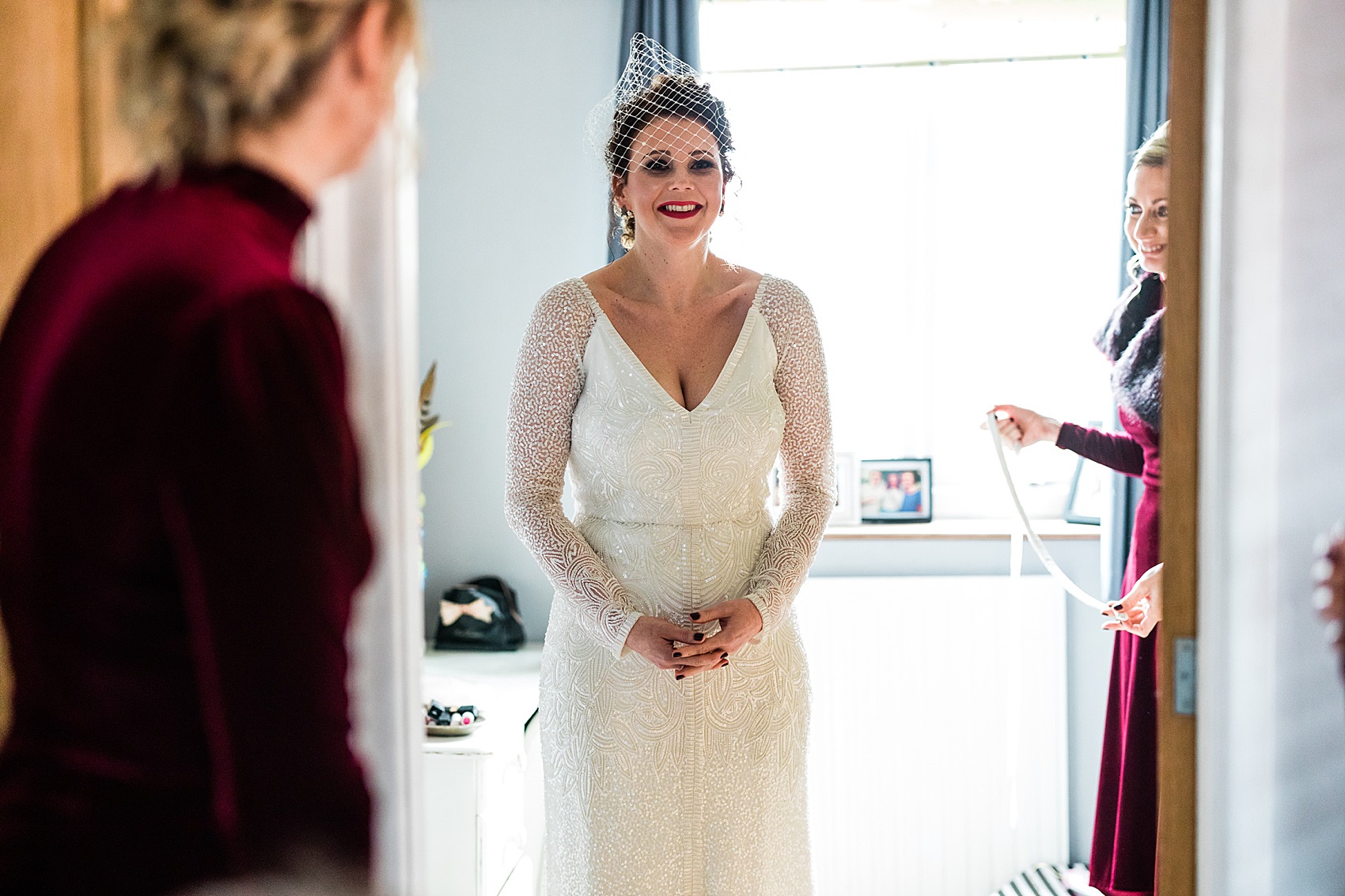 "They had a great selection of dresses. I tried on about four other dresses but knew immediately that the Karen Willis Holmes dress was 'the one'. I needed some alterations making to the dress and again the team did an incredible job. I couldn't recommend them enough."
"I instantly fell in love with the thousands of sequins and embellishments. I'm not a massive fan of getting my arms out so the long sleeves were a big bonus."
"We got married at St Mary's Church. The majority of Ben's family had either got christened or married at this church so it had a family connection. It's a beautiful church and it was big enough to hold all of our guests."
"The wedding reception was held in a marquee overlooking the Staffordshire hills at Cloudside Shooting Lodge.  The lodge was created by Ben's grandad Bill and is still owned by the Clarke family but managed by Karen and Maurice."
"t has a very special place in Ben's heart so there was nowhere else where we wanted to hold the reception."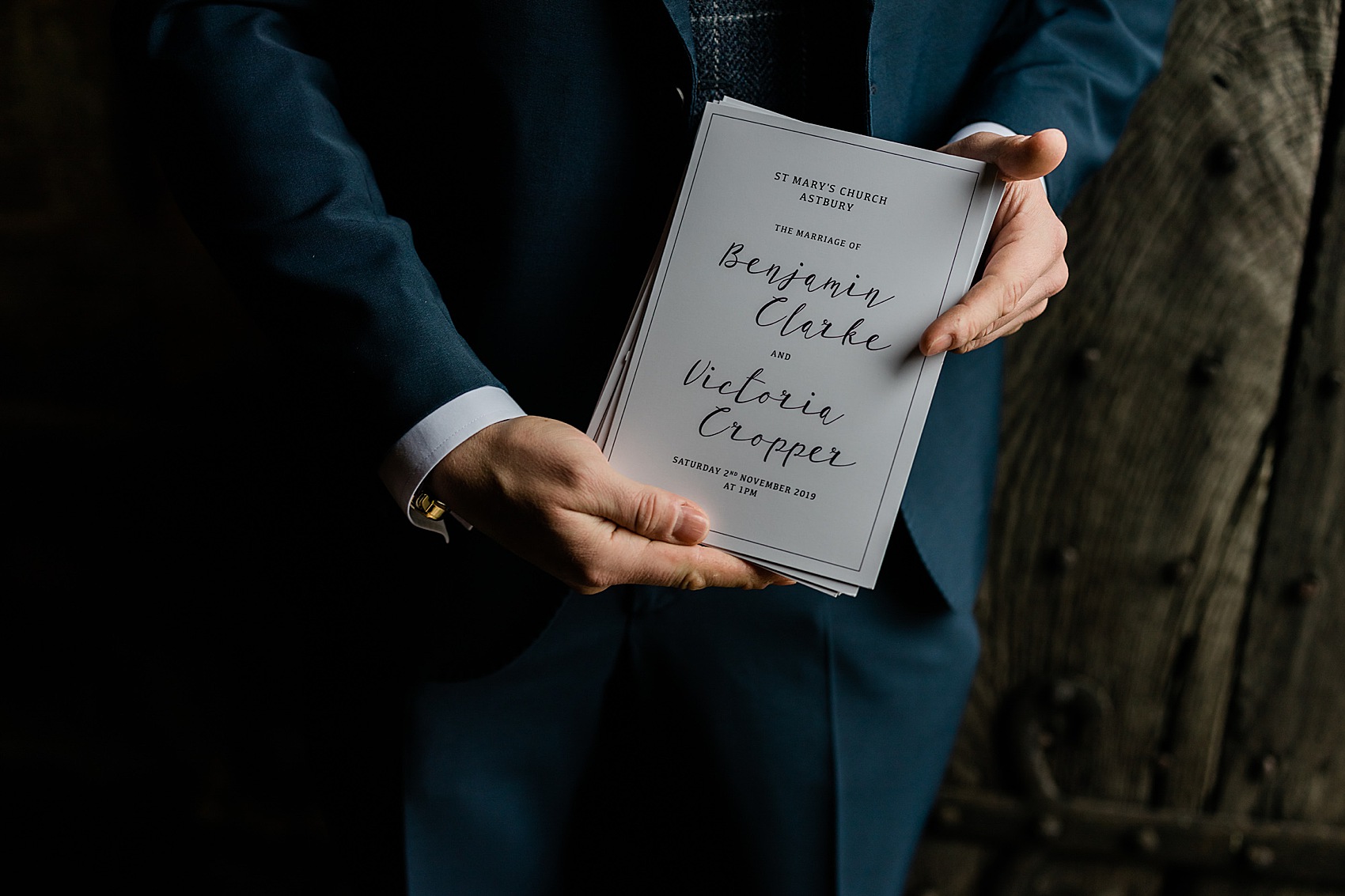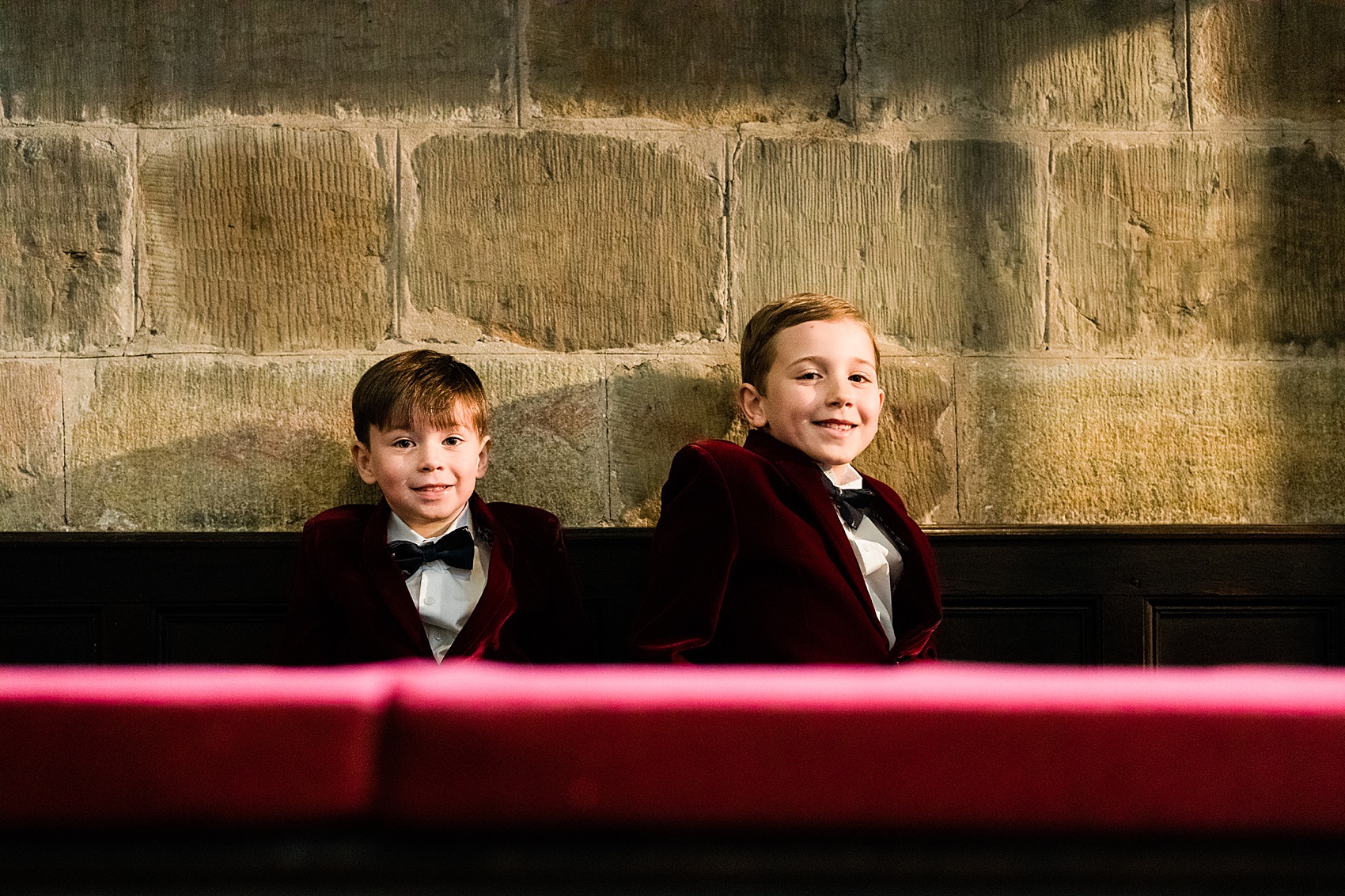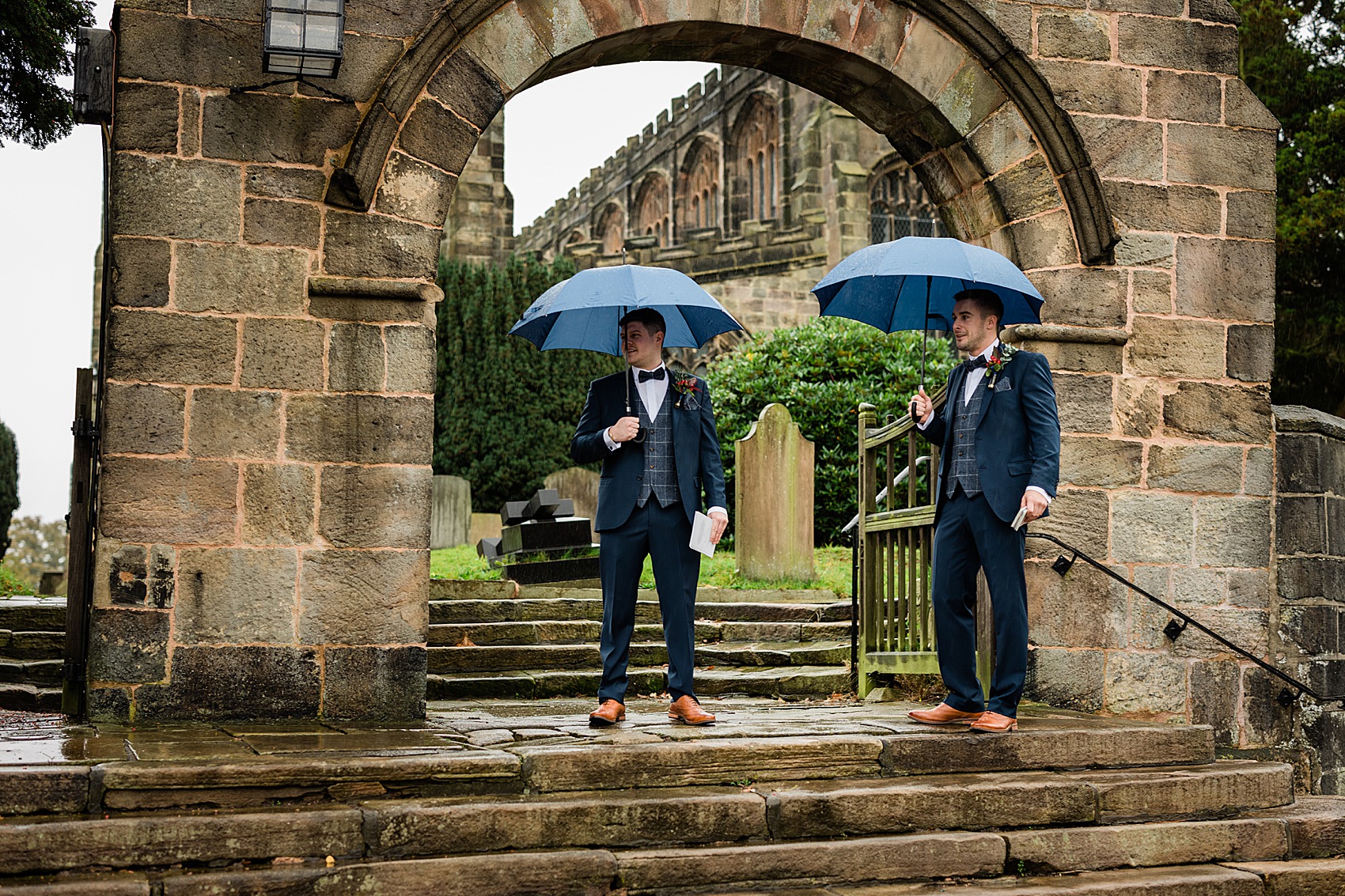 I love the quirky touch which comes from Vicky's dainty birdcage veil, which she made herself.
"I chose a birdcage veil and picked out some material from Petershams Millinery Supplies."
The bridesmaids' high-necked, velvet gowns are just so perfect for the winter season, and tie in with the bride's shoes so well.
"These were an absolute steal, found in the sale from Oasis. I found their shoes on All Chics."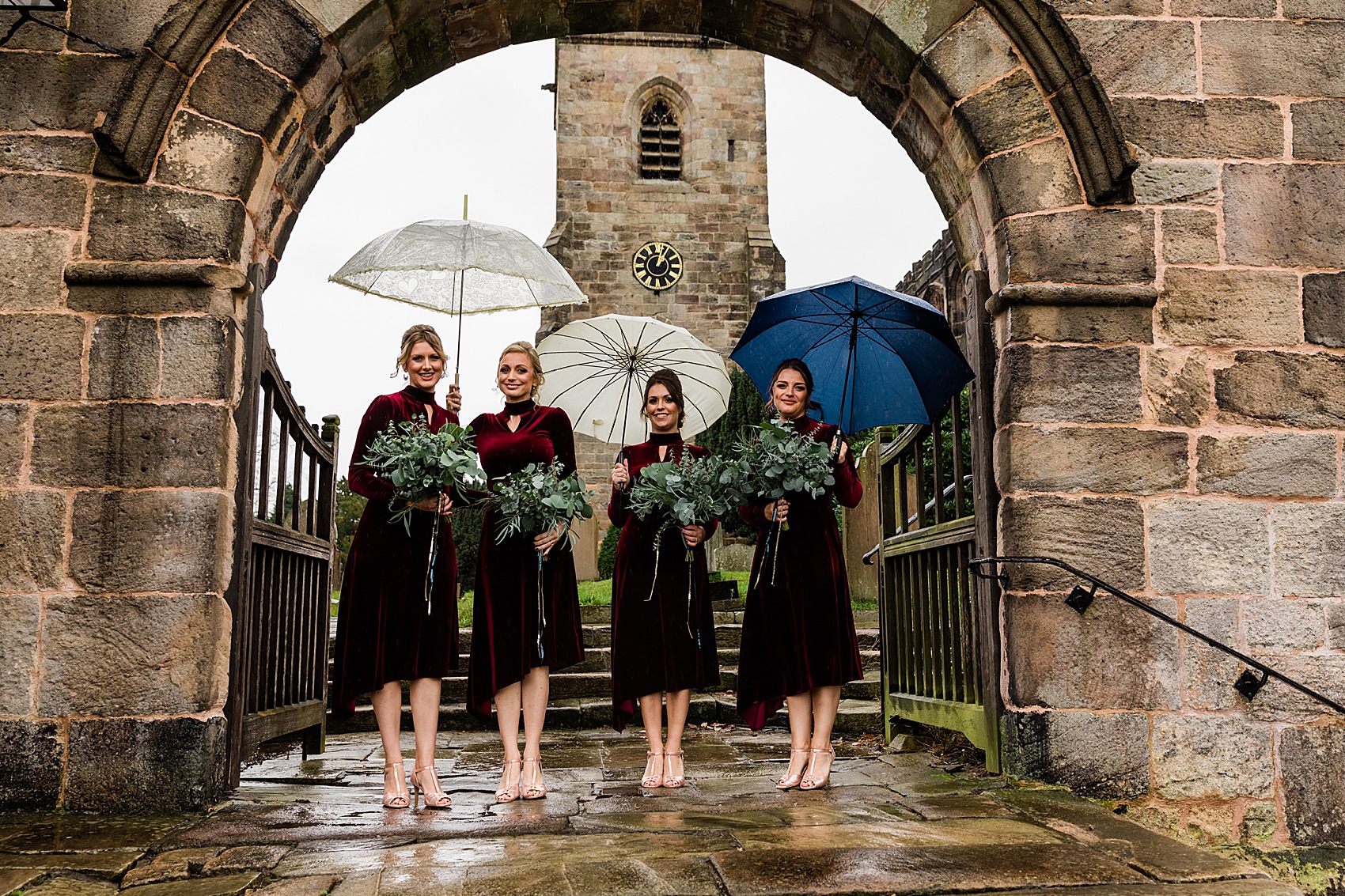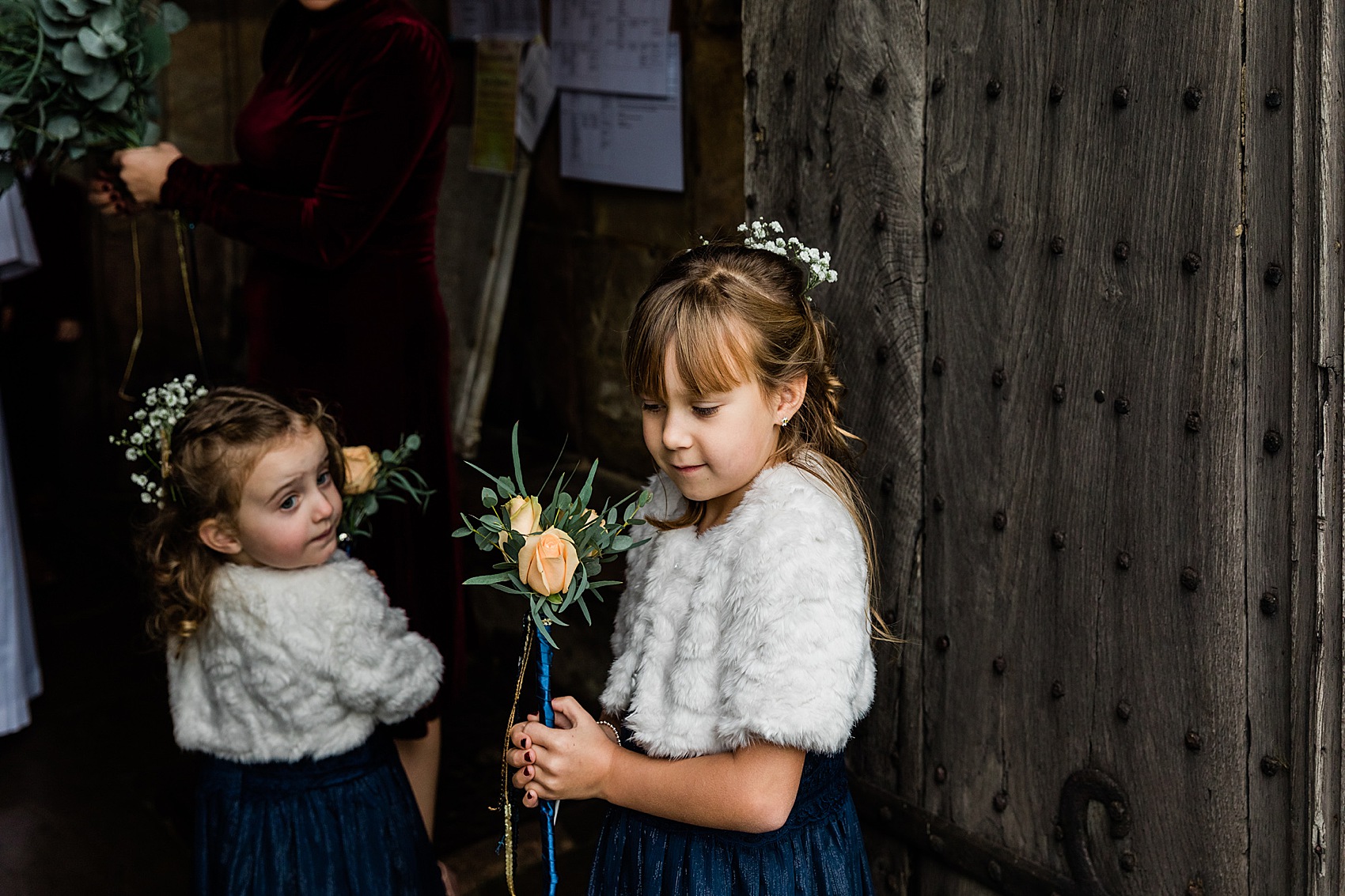 Channelling the countryside gent-vibe was Ben in his tweed Marc Darcy suit, supplied by Chaplins Formal Hire.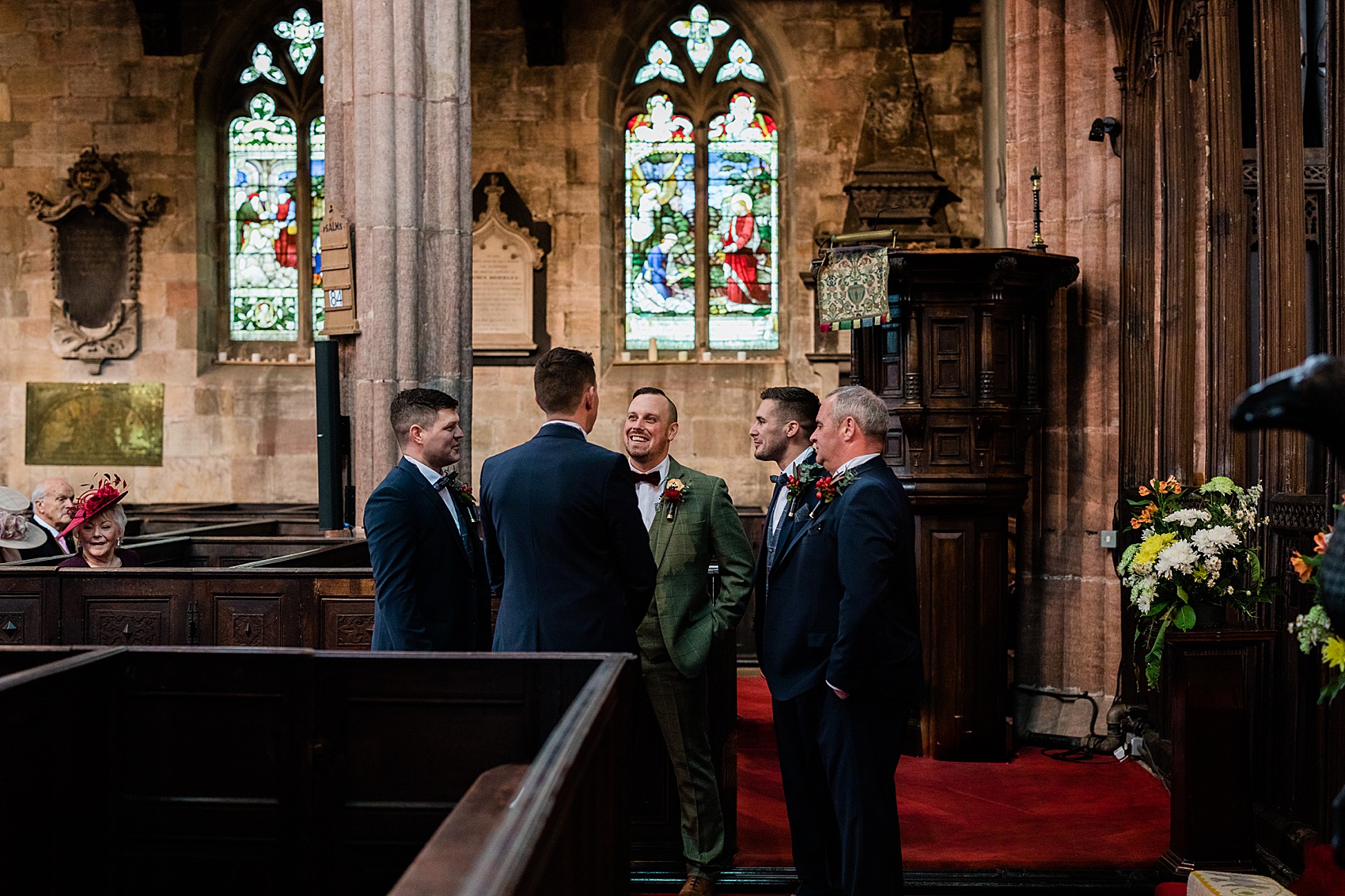 The bride travelled to the church with her father before entering to Pachelbel's 'Canon in D'.
"A friend of the family provided a couple of classic Jowett Javelin cars to transport myself and the bridesmaids to the church. Ben arrived in a Mustang which we drove to the venue where our photos were taken and then up to the wedding reception."
"Ever since watching 'Father of the Bride' when I was a young girl, that's the only song I wanted to walk down the aisle to."
The couple used the traditional wedding vows for their service, and asked three of their family and friends to do readings.
"We asked them to pick the readings themselves and our only stipulation was that they weren't out of the Bible. They all did an amazing job – the readings were so original and personal to us – something we will never forget. They made us laugh out loud, cry and squirm with embarrassment and I'm so happy we've got them on film."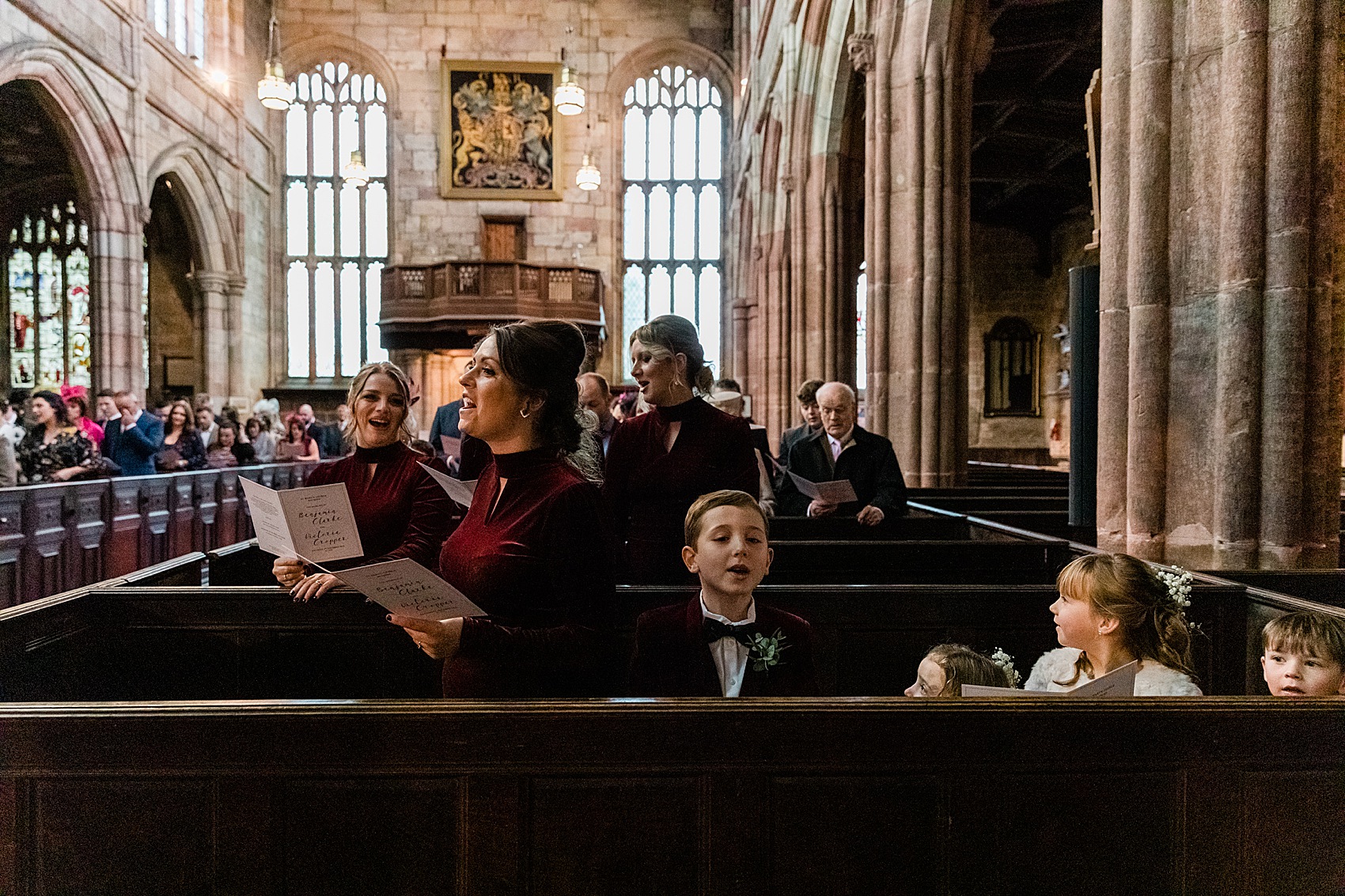 "My wedding ring was made by William White. It matched my engagement ring and is just a simple yellow gold band. Because of the nature of his job, Ben didn't want to spend a fortune on his ring so he picked his ring up from Park Lane Working Jewellers in Macclesfield."
The bridal party also included flowergirls and page boys. The girls were in deep navy dresses from Debenhams with fur stoles from H&M and Primark shoes whilst the boys wore the most adorable velvet blazers from Diffusion with H&M shirts and trousers and shoes from M&S.
Each girl carried a divine bouquet of greenery whilst the bride had a bouquet of greenery studded with rich seasonal blooms.
"Our beautiful flowers were provided by Biddulph Flower Shop, a local independent business where a friend of the family works. They were absolutely incredible, I went in with some pictures of flowers and bouquets that I'd seen and Kerri just recreated them to absolute perfection."
The rain stopped falling just as the newly-weds emerged from the church, but that didn't stop them from having the most divine confetti shots before they headed to the marquee reception.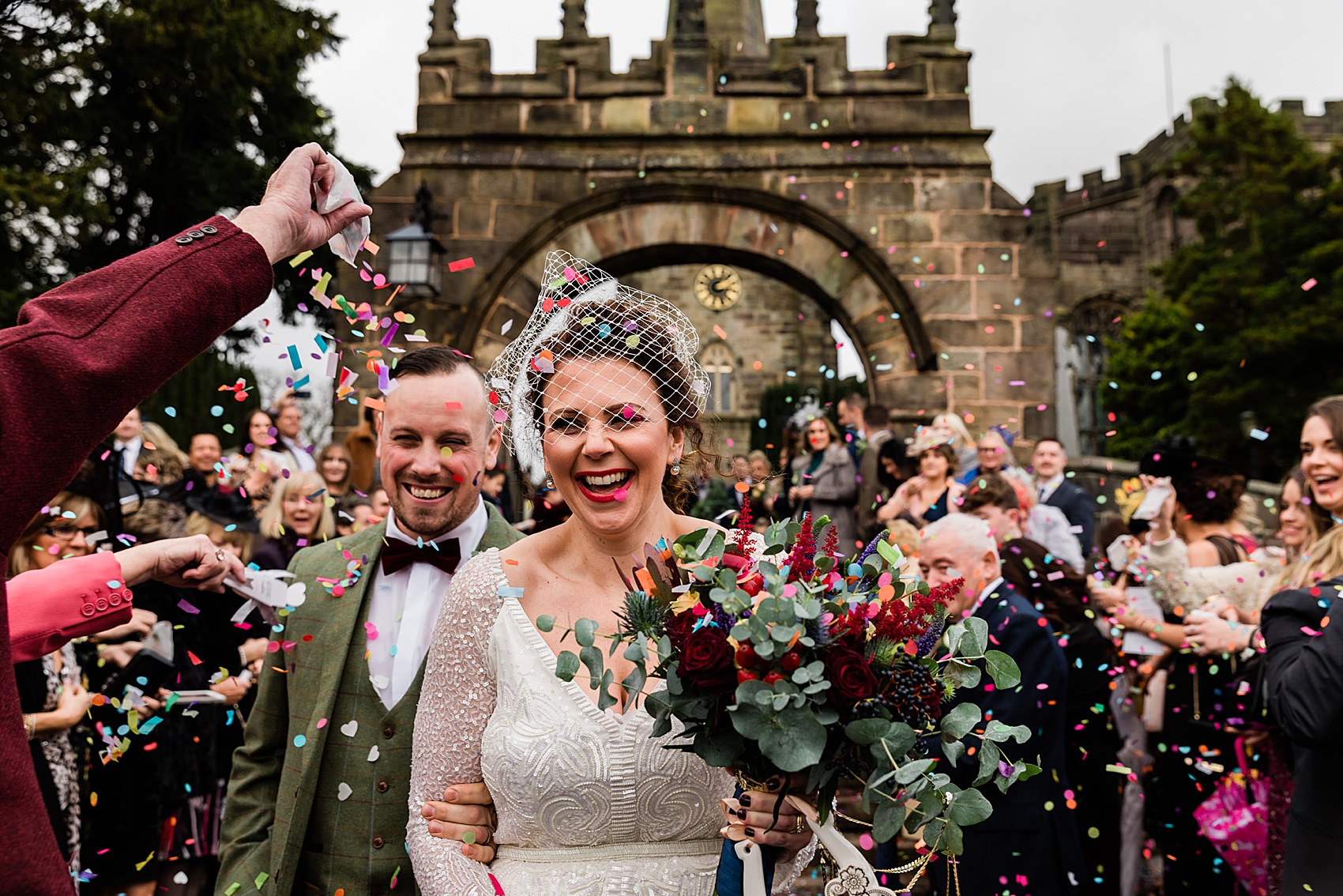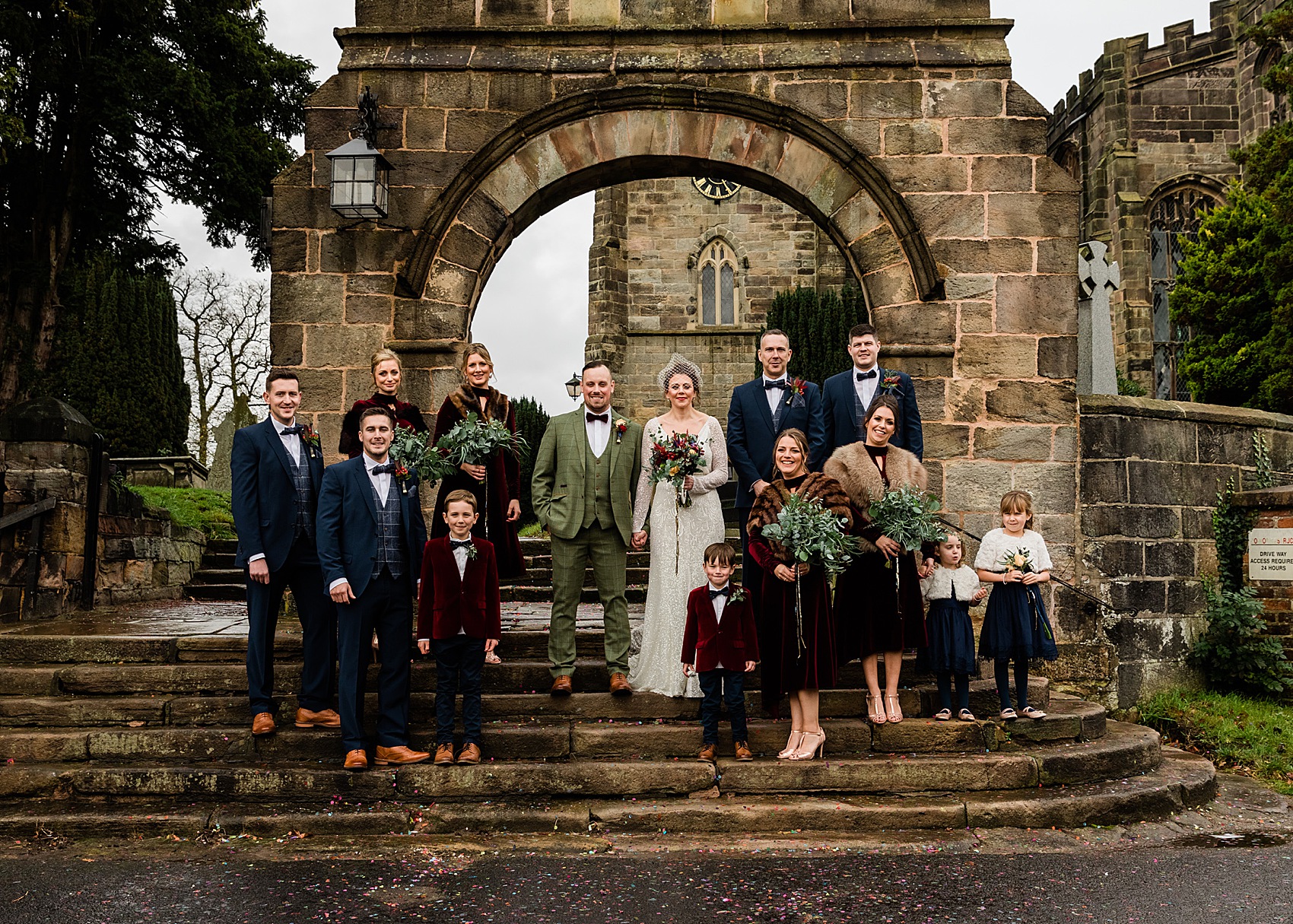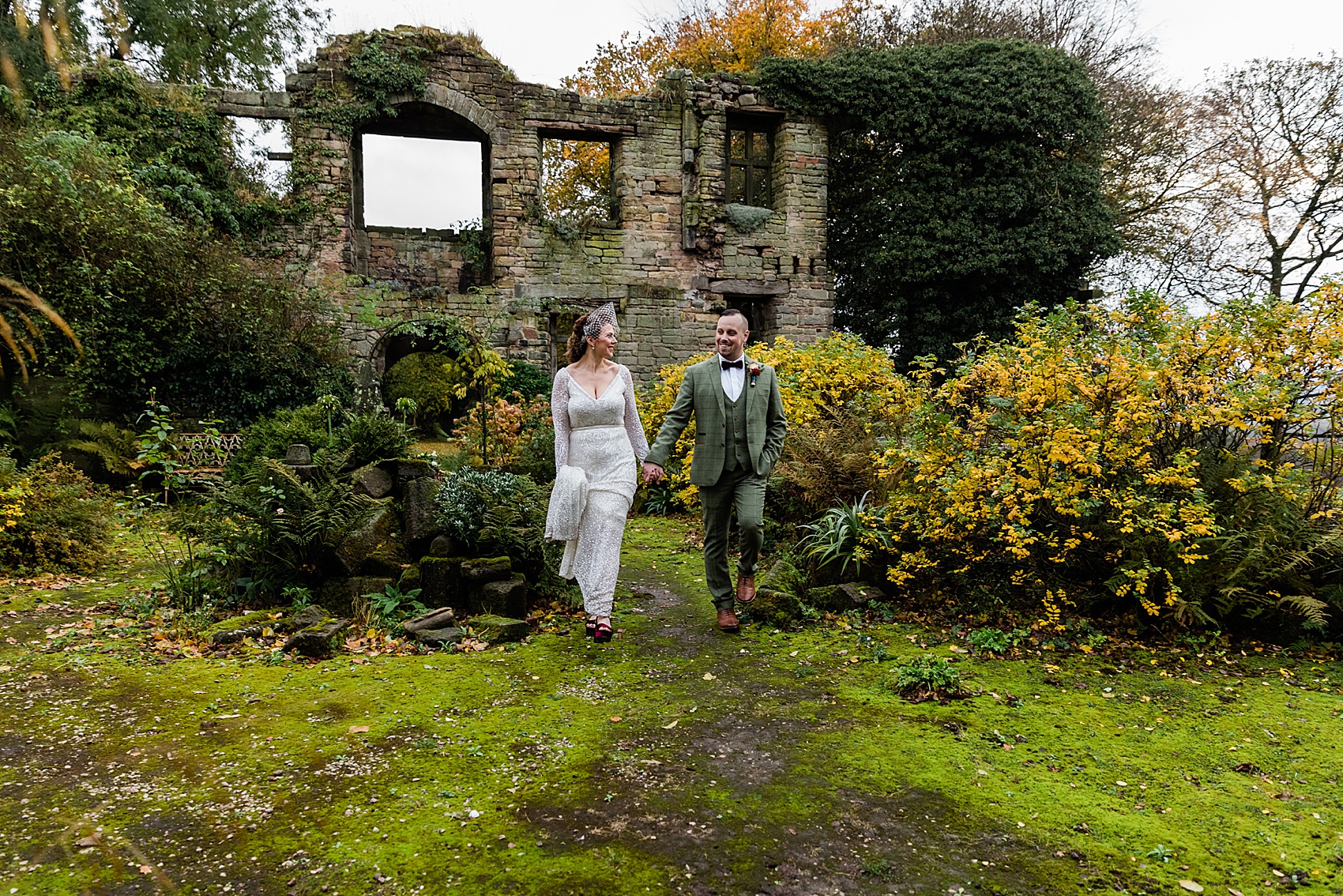 The reception was held in a bright and airy marquee from The White Marquee Company and Vicky planned the day herself, with a little extra help from Wachadoin Events to dress the tables.
The marquee offered the most wonderful warm and magical welcome for the guests, with hundreds of fairy lights draped from the ceiling, and the trestle tables dressed with greenery and roses and flickering candles. The "Til Death Do Us Party' neon sign was from The Word is Love.
"We wanted to take inspiration from the colours which are around in late Autumn, so we used a lot of burgundy, navy and greens with a generous smattering of gold and glitter. Because of the location of the venue and shooting theme we also wanted to incorporate this into the décor of the marquee, so the gents' buttonholes were made out of empty shot gun cartridges and they went shooting on the morning of the wedding. I was really happy with how the colours and decoration came together on the day."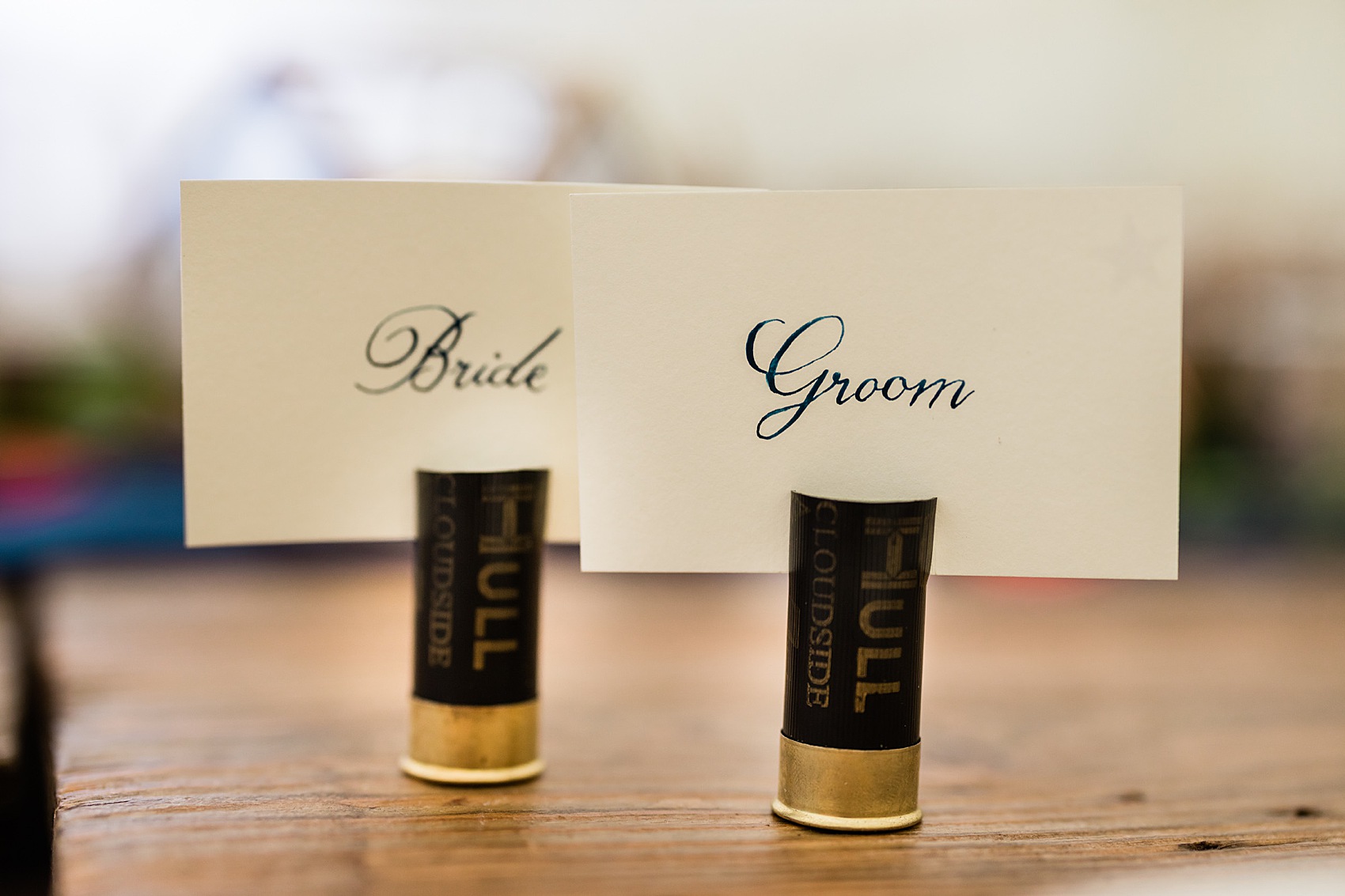 "Our fabulous bridesmaid and dear friend Sophie helped us design all the artwork for the Save the Dates, invitations, table plan, website and order of service booklets. She did a beautiful job, and my friend Stacey Lewis did a fabulous calligraphy job on all of the name cards."
"I wanted to keep things quite rustic and natural, so we didn't have any cloths of the tables or chairs and the cakes were displayed on wooden blocks. The marquee was lit by festoon lighting and there were hundreds of tea lights on the tables."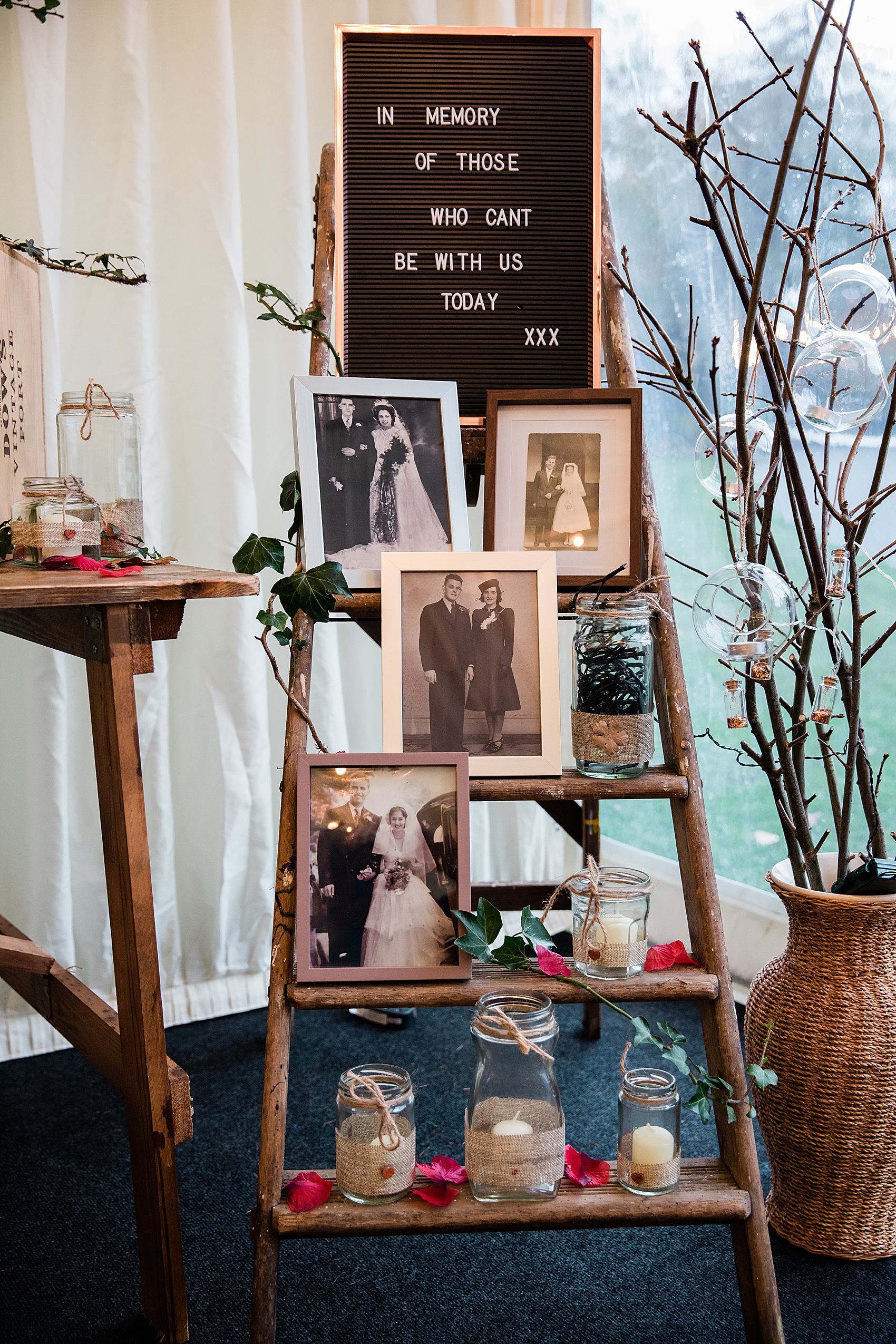 "We used Ridgway Caterers who came highly recommended by the managers of Cloudside. The pies which we had for the main course were amazing and huge. For the evening catering Wood Fire Smoke Pizza from Wilmslow provided pizzas and we also had a hog roast baps provided by supplier of Nixon's Farm."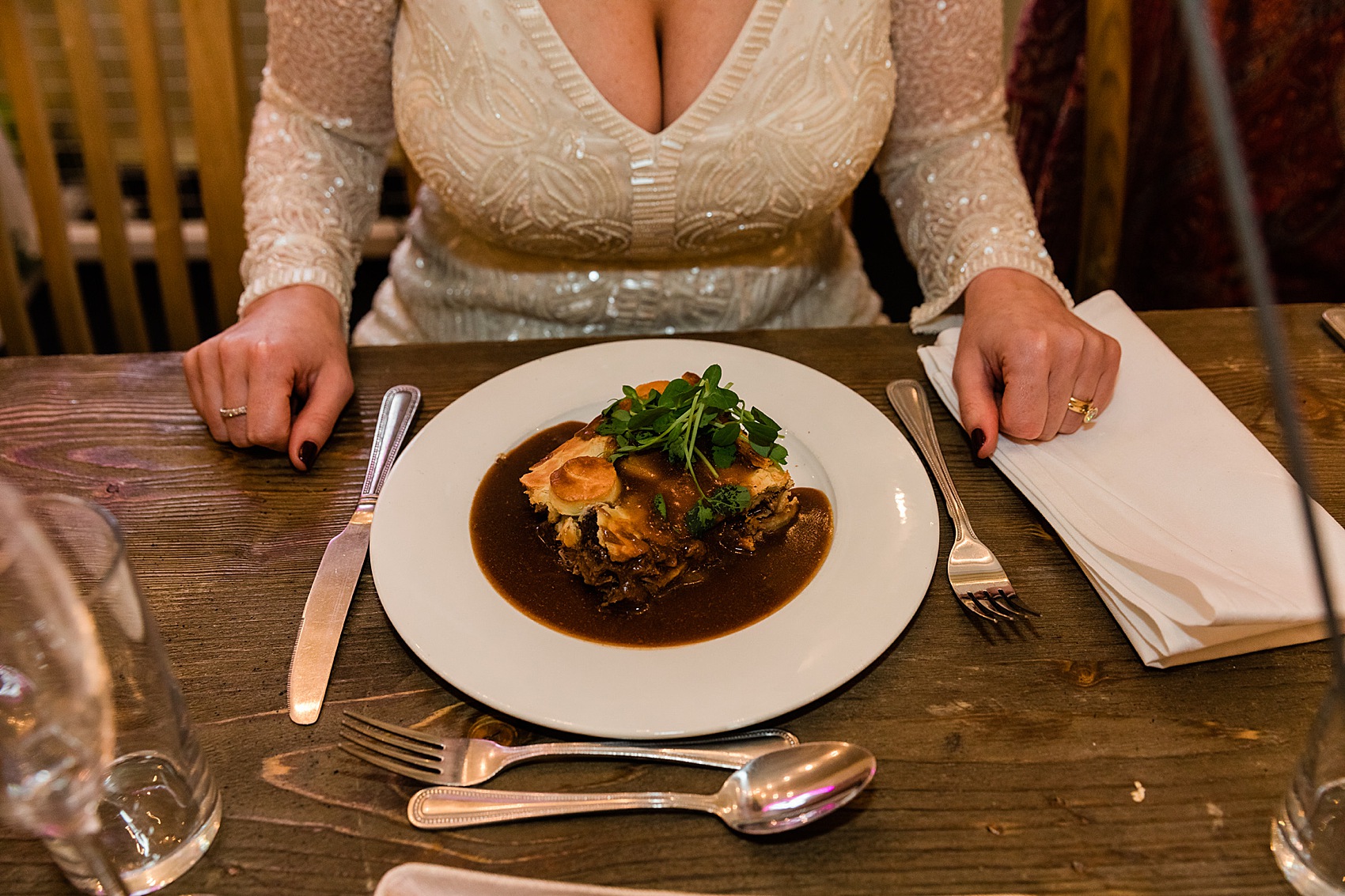 "We didn't have a traditional wedding cake. Instead, we had cheesecakes which we cut and were then served as dessert. Ben's incredible Auntie Dawn made fourteen cheesecakes which were a massive hit with the guests."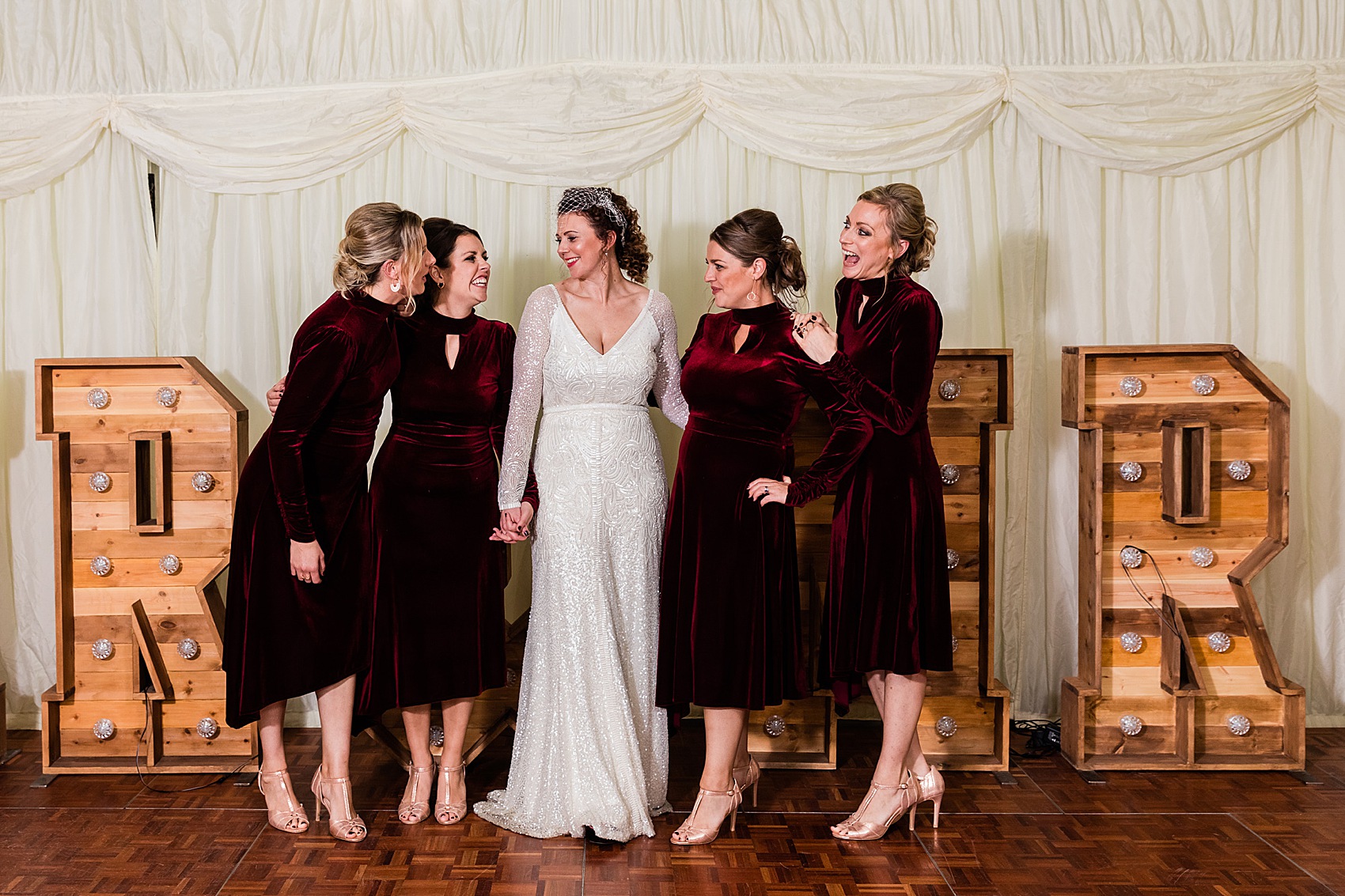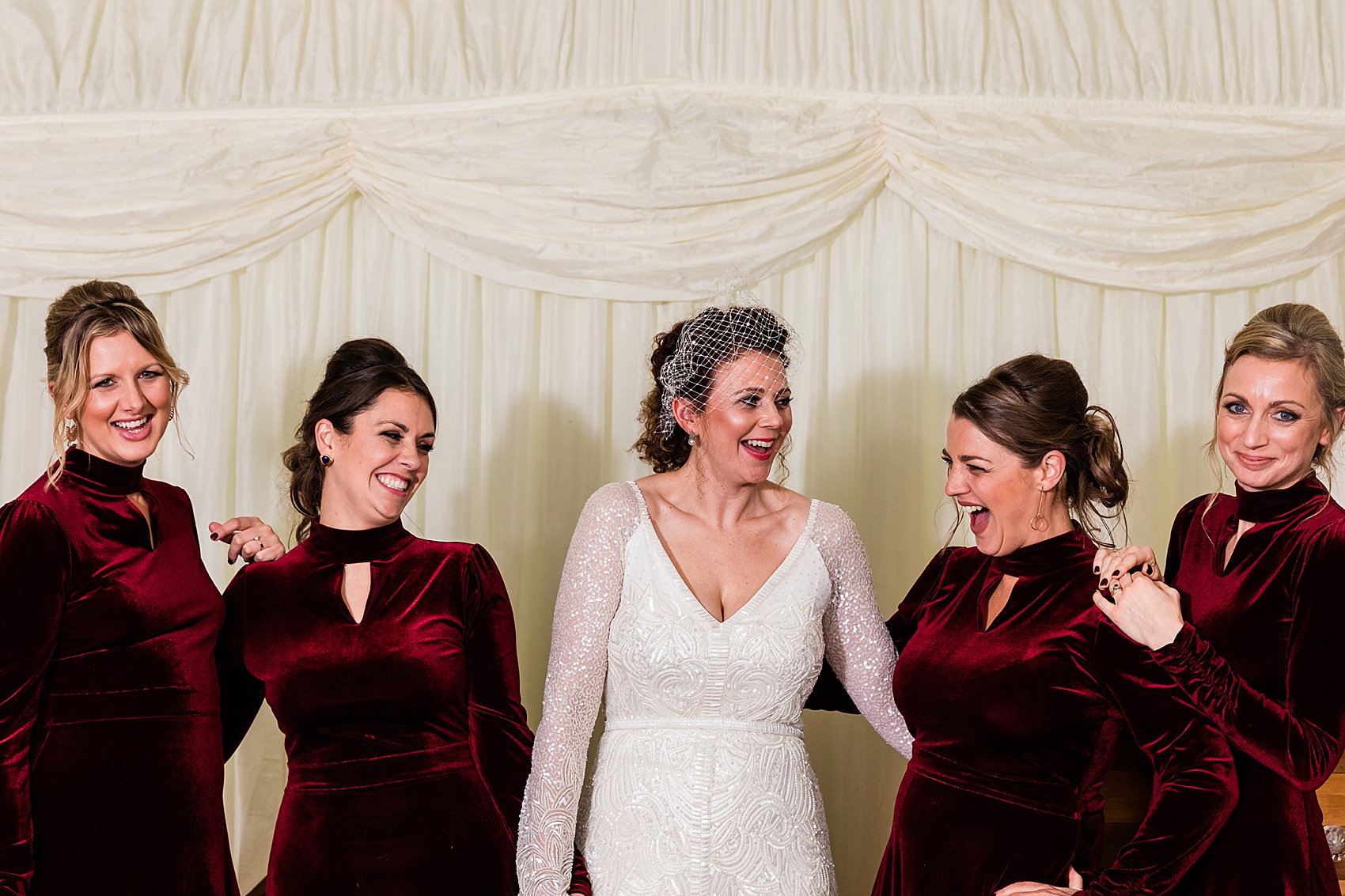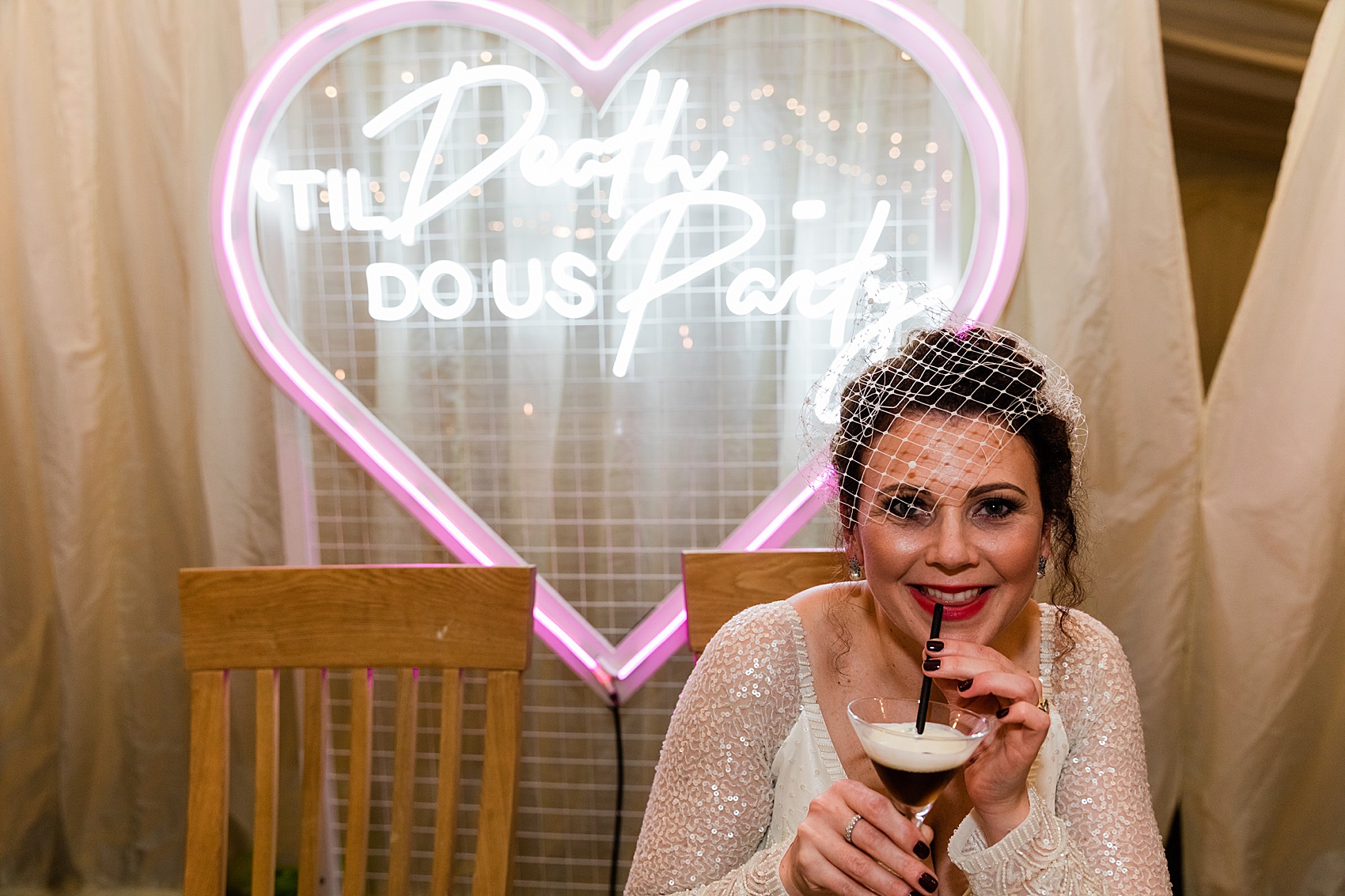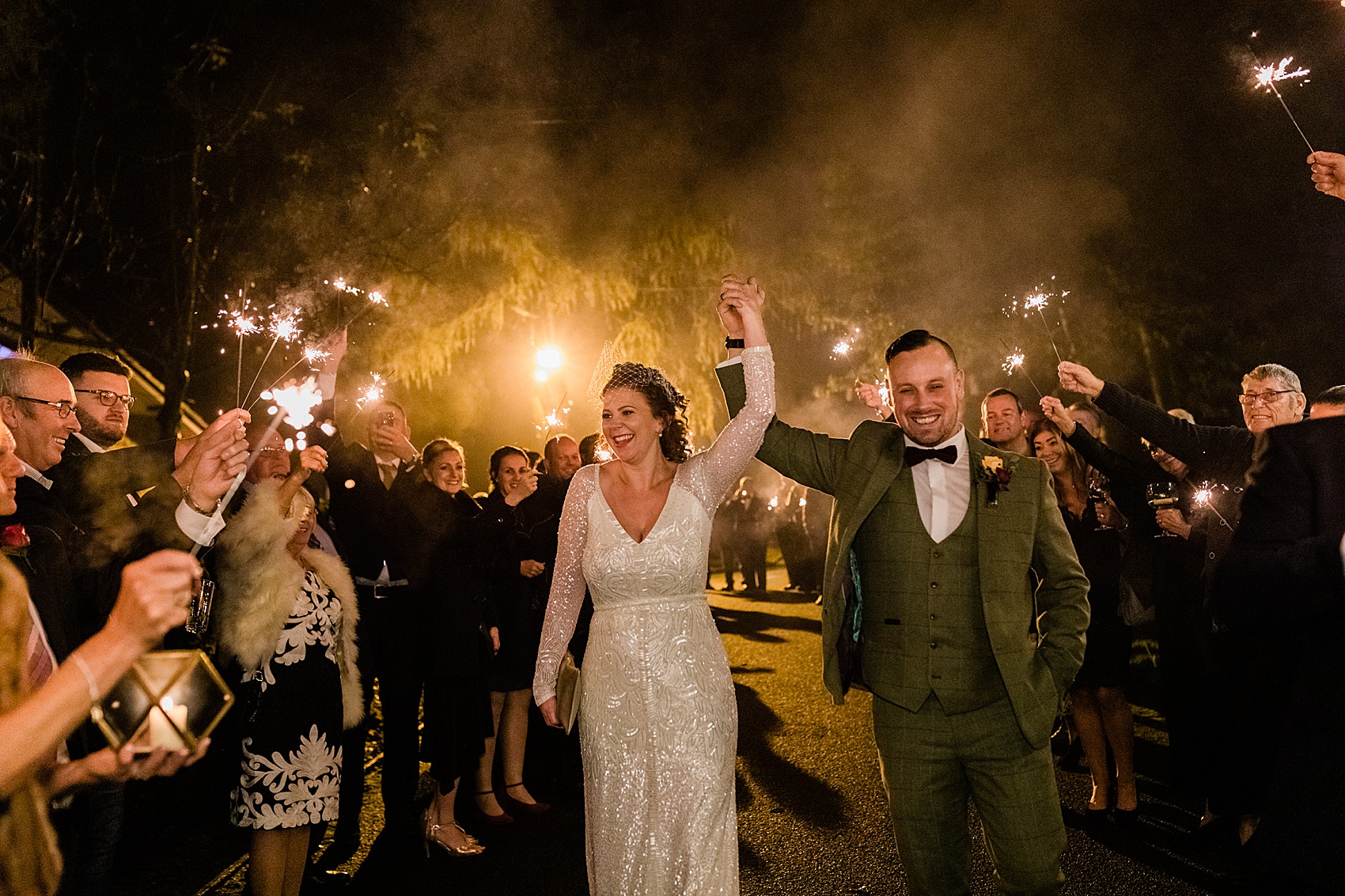 As night fell, the guests and the newly-weds headed outside for a beautiful promenade lit by sparklers, before the party got started back in the marquee.
"Bare Brass Band provided our evening entertainment and they were incredible. They are a fourteen-piece band and the playlist had people on their feet from start to finish."
"Our first dance song was 'Paradise' by George Ezra. We found it really difficult to decide on a first dance song because we have different tastes in music and we don't have 'a song'. So, we decided to go with something that evoked happy memories of us singing it in the car and also something which we could invite people to join us on the dance floor."
Ben and Vicky share some beautiful memories from their November day.
"My favourite moment was probably listening to the readings in church. They were all so different but captured mine and Ben's story so perfectly and they made the whole congregation laugh out loud."
"It was also really nice to see everyone up dancing. You go to some weddings where no one dances but our dancefloor was packed and it was great to see everyone having such a fun time."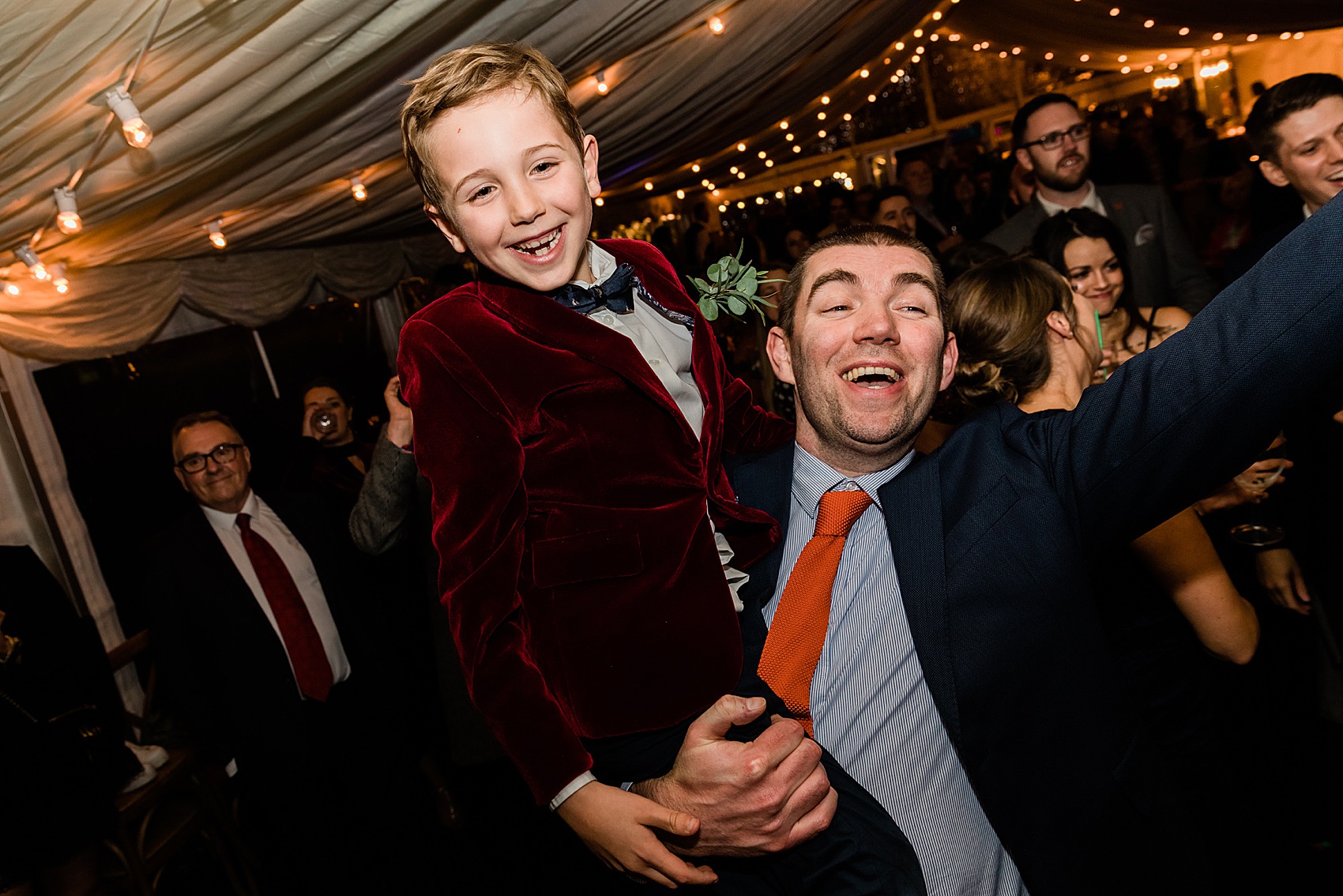 Words of Wedded Wisdom
"Don't fret about the weather, especially the rain – you can't control it. We were lucky that it stopped raining when we needed it to stop coming out of church and the photos but in the grand scheme of things it's really not worth stressing about."
"Accept all the help which is offered to you; many hands make light work. I found it helped giving each person a task and people really appreciate being involved."
"Take five minutes each hour to sit back and take it all in, look at your guests having a laugh and enjoying themselves. Those are the memories that will stay with you forever."
"Involve your family! We were so lucky that our families got along, so we would meet up every three or four months to go through all the arrangements and do some planning. We'd alternate between people's houses and make it fun instead of a chore."
Vicky and Ben, what a warm and magical wedding! The subtle sparkle of your Karen Willis Holmes gown is just sublime and perfect for the winter season. Thank you so much for allowing us to share it right here, and for all of you lovelies who are looking for more inspiration for an autumn wedding, you can get your fill here.
Ele xx