Today, we're looking forward into the new year and beyond with our friends at Andrea Hawkes , the ethical and sustainable British bridal fashion brand that we're incredibly proud to recommend through Love My Dress.
And, as a rather special seasonal treat, Andrea Hawkes is currently providing a 20% saving through to the 19th December on all new dress orders, and we've got all the details here to share about that.
Andrea Hawkes Bridal

+ Follow

Let me give you a little introduction to Andrea Hawkes before we go any further. Based in London, Andrea's collections feature modern, simple designs that are just so timeless and elegant. Meticulously made in London and finished to perfection, you can be sure that your chosen dress will fit like nothing else you've ever worn.
Delightful natural silk, exquisite French laces sit are embellished with perfectly placed beading and sequins.

Sustainable Bridal Fashion
Another thing I must mention is that Andrea Hawkes is wholeheartedly committed to sustainability too. From careful production in London to dress fabrics made from 100% silk and natural fibres, the team has carefully been taking steps that make their gowns 'good' in more ways than one.
They've reduced fabric waste and their use of certain fabrics, they visit their silk producers and even the silk they use is 'raw', which avoids all the nastiness that comes with the dyeing and softening process.
View this post on Instagram
The latest collection, Elements , is everything we have come to expect from Andrea Hawkes, and more besides. Fluid lines, exceptional design and truly beautiful accents and embellishments. I personal adore the sheer sleeves and button cuffs of Pearl, the combination of Lucian and Britt with chequered lace and a cut-away back and the flowing skirts and sleeves of Saint, along with that adorable wide tie-belt, just makes me happy.
This collection simply takes your breath away with its soft, feminine and fluid styling. In a year when we've all realised that the simple things in life really are the best, these dresses couldn't be more perfect.
There are also a myriad of options available to you when it comes to selecting your dress. Firstly, you can choose to either visit the London showroom which I heartily recommend – a private consultation is a wonderful experience so do book your appointment (and don't forget that December discount if you'd like to squeeze in before Christmas!)
Dress Shop From Home
If you're not able to get to London to visit the showroom, don't worry because you can still enjoy a personal experience with the AH Home service. Starting with a video consultation, you'll then be sent a number of dresses to try on at home, followed by another online consultation before your dress is then made by the team in London, just for you.
This service is available wherever you are in the world and we know it's proving incredibly popular. Arrange your consultation here.
View this post on Instagram
And if you're looking for even more ways to buy, there's also an online shop , where dresses, tops, capes and veils are made to order, or you can keep an eye on the sample sale where you could well find the perfect pieces from the comfort of your sofa!
As you'd expect, Andrew Hawkes gowns are also stocked at bridal retailers around the world too so however you plan to shop for your wedding dress, you're completely looked after.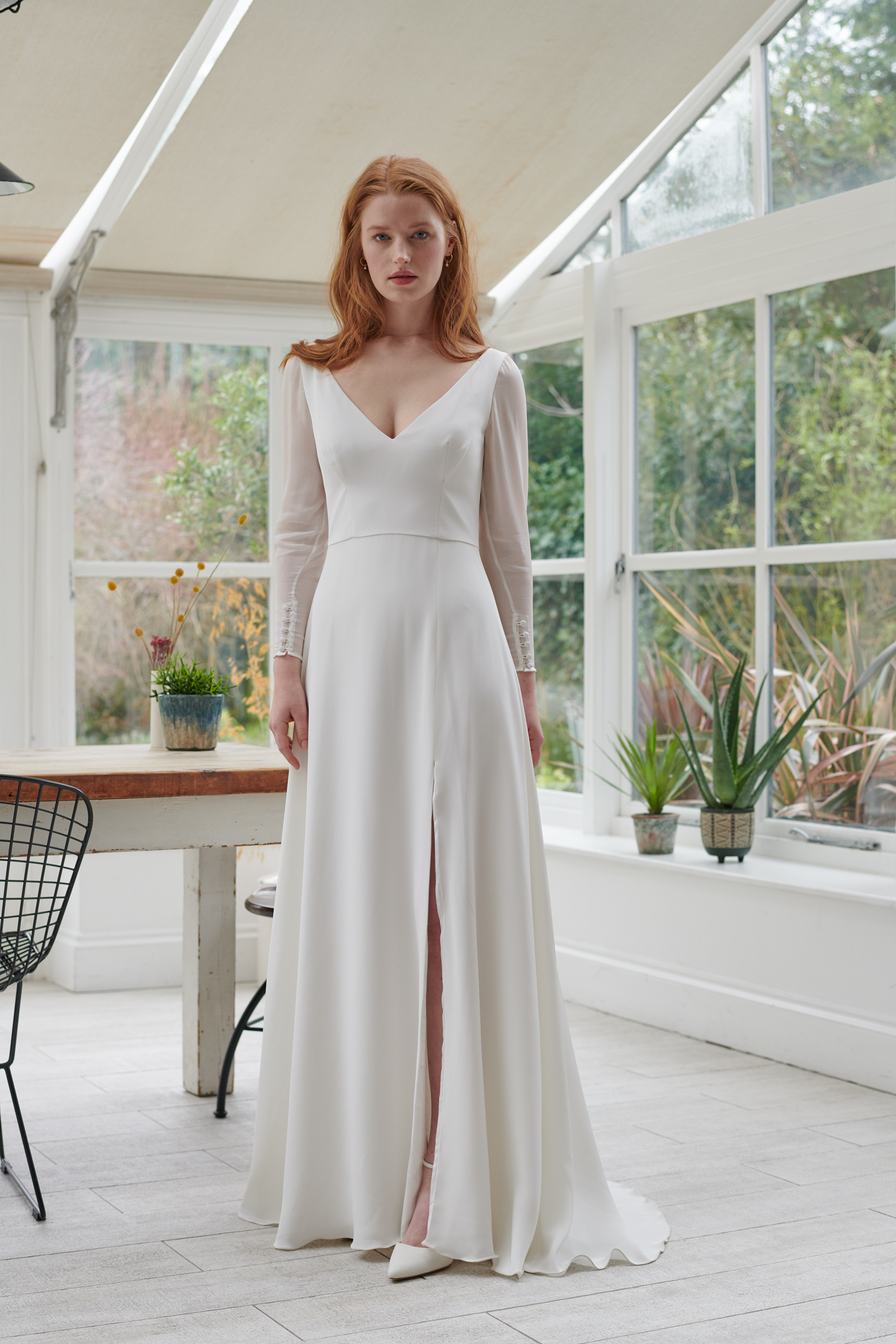 So, whether you're looking for a made to measure or bespoke gown or whether you'd prefer to have a standard size dress altered in house for that perfect fit, know that you'll be taken care of by the team in every way.
For more information, do take a look at the Andrea Hawkes website and remember that there's a 20% discount on new dress orders before 19th December. Now there's some seasonal cheer!