Well here we are, the final day of a year like no other in any of our lifetimes, and our final real wedding for 2020.
Lucy, an Access Manager, married Social Worker Tom on Saturday 3rd October 2020. Our gorgeously talented Little Book member, Norfolk wedding photographer, Georgia Rachael, took these photographs, which for me, really capture the spirit of the 'micro wedding' of 2020.
"Because of COVID, we were able to keep our original date, but had to change our venue. We cut our guest list from 120 down to 30, and with only 1 week to go before the wedding, we then had to make the further decision to proceed with only 15 guests."
Georgia Rachael Photography

+ Follow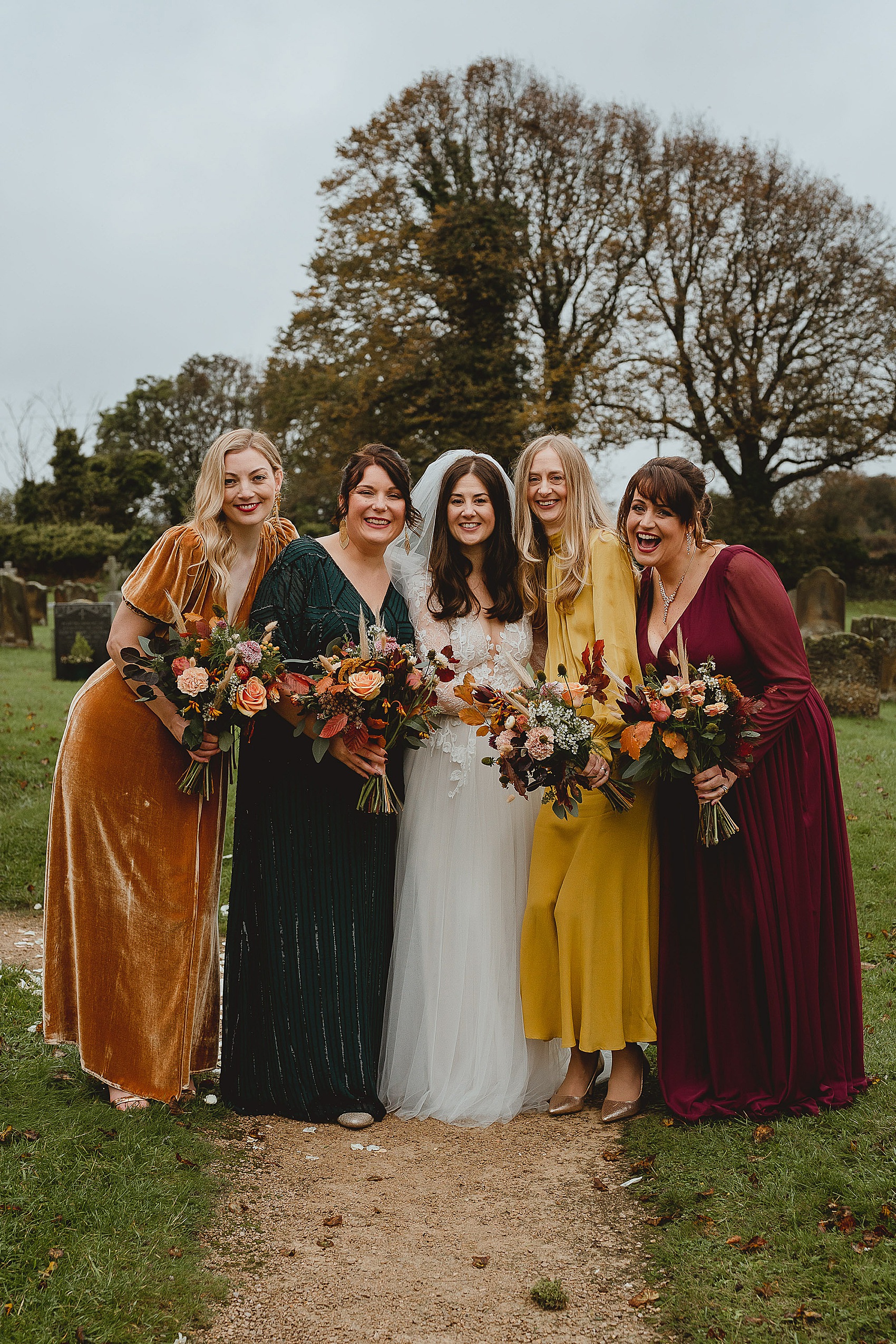 "It was the most intense week of my life, having to let down friends and family. We missed so many people but will make sure we celebrate when we can with a wonderful party in London."
We have no regrets with going ahead with our wedding even though the world seemed to want to stop it, but those no regrets are down to how magical our team of supplies made us feel. It was very small but somehow it felt so big. The Bride
"We really wanted to get married this year, but little did we know what this year was going to bring us all. When we got engaged in September 2019, October 2020 seemed like a perfect amount of time to plan our wedding. That was before I knew we would have had 3 different wedding plans due to COVID."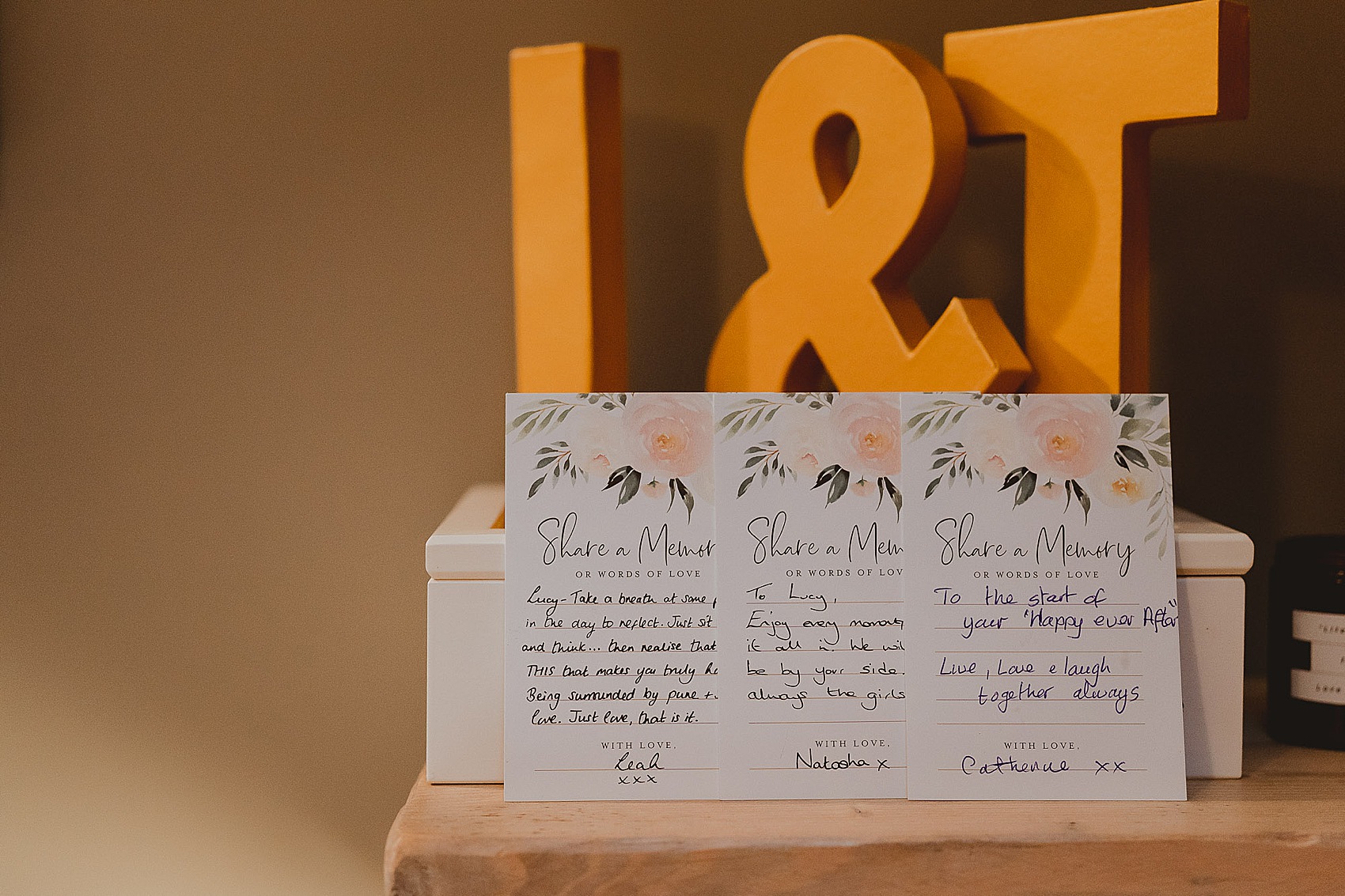 Lucy hired stylists Bronte Fulcher and Tia Knuckey of Jo Jordan Hairdresser to style her hair. Makeup artist Lisa Boni was also a part of the beauty team.
"They are a great team, really support and kind and made sure the morning of the wedding went smoothly and that we were all ready on time."
Lucy wore the beautiful 'Jude' dress, by designer Anna Kara, who she discovered at Blackburn Bridal.
"Blackburn Bridal are a wonderful team – the whole experience was wonderful. They created a very calming experience."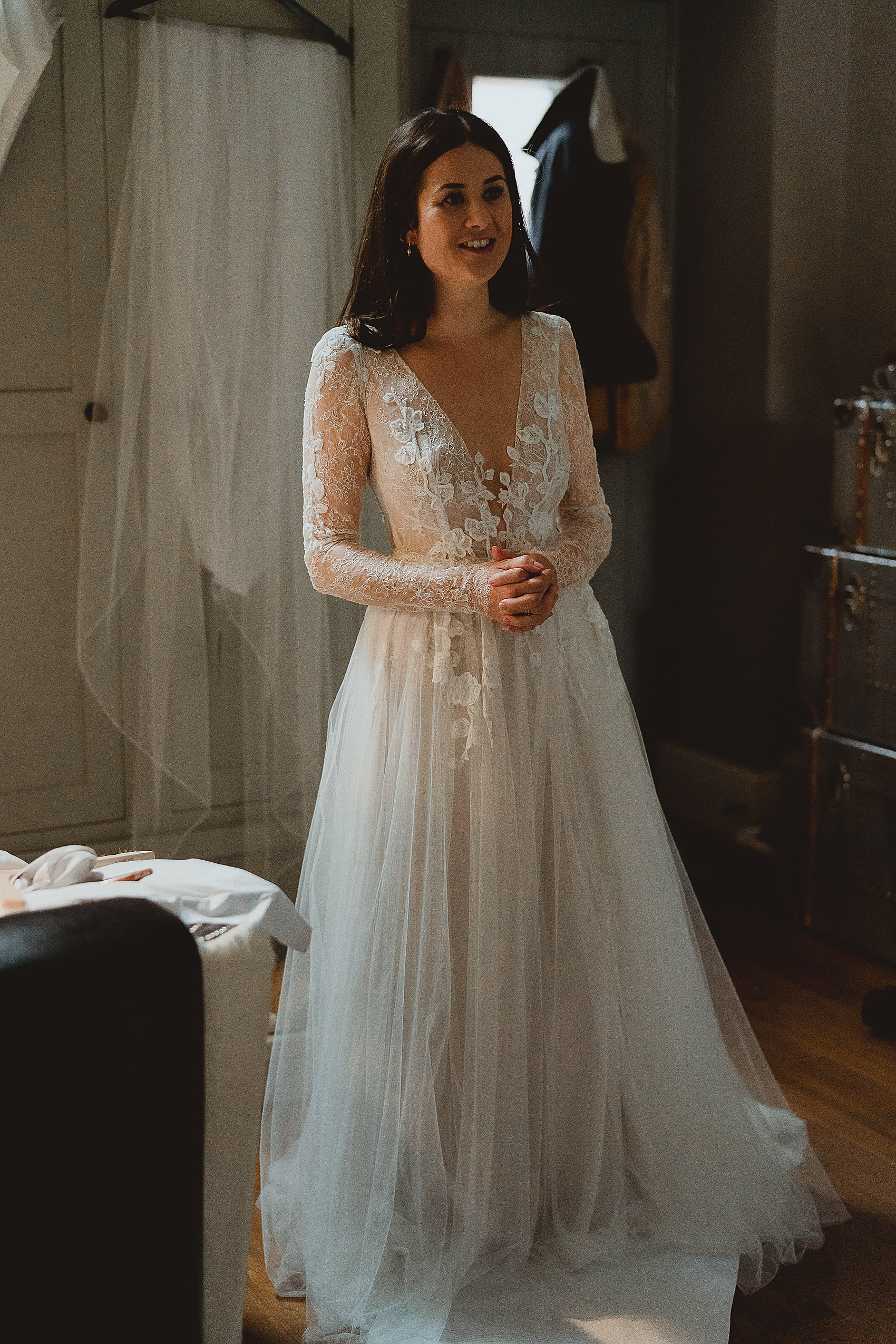 "I had two appointments with friends and family before I chose the Anna Kara 'Jude' dress."
"My dress fitter, Fran Rios, was so wonderful and professional and very understanding, which is amazing when you are working together, to make that dress fit perfectly to your body."
As well as a beautiful sparkly pair of Jimmy Choo heels and delicate veil, also from Blackburn Bridal, Lucy chose to wear the divine 'Diptyque L'Eau Des Sens' as her signature wedding day scent.
"I worked in central London when I was younger – I would walk through Liberty just to spray this scent on me before work."
"Tom and I met at a new year party in 2016. I work for 'Access All Areas', as the Access Manager supporting learning disabled and autistic artist. Tom is a social worker, in the adults learning disability team both in Hackney, London."
"Tom proposed at North Creek Abby in Burnham Market, on 21st September 2019, while we were playing a game of 40/40."
"My sister and father accompanied me in the wedding car, and then both accompanied me down the aisle – my father by my side and my sister following behind me."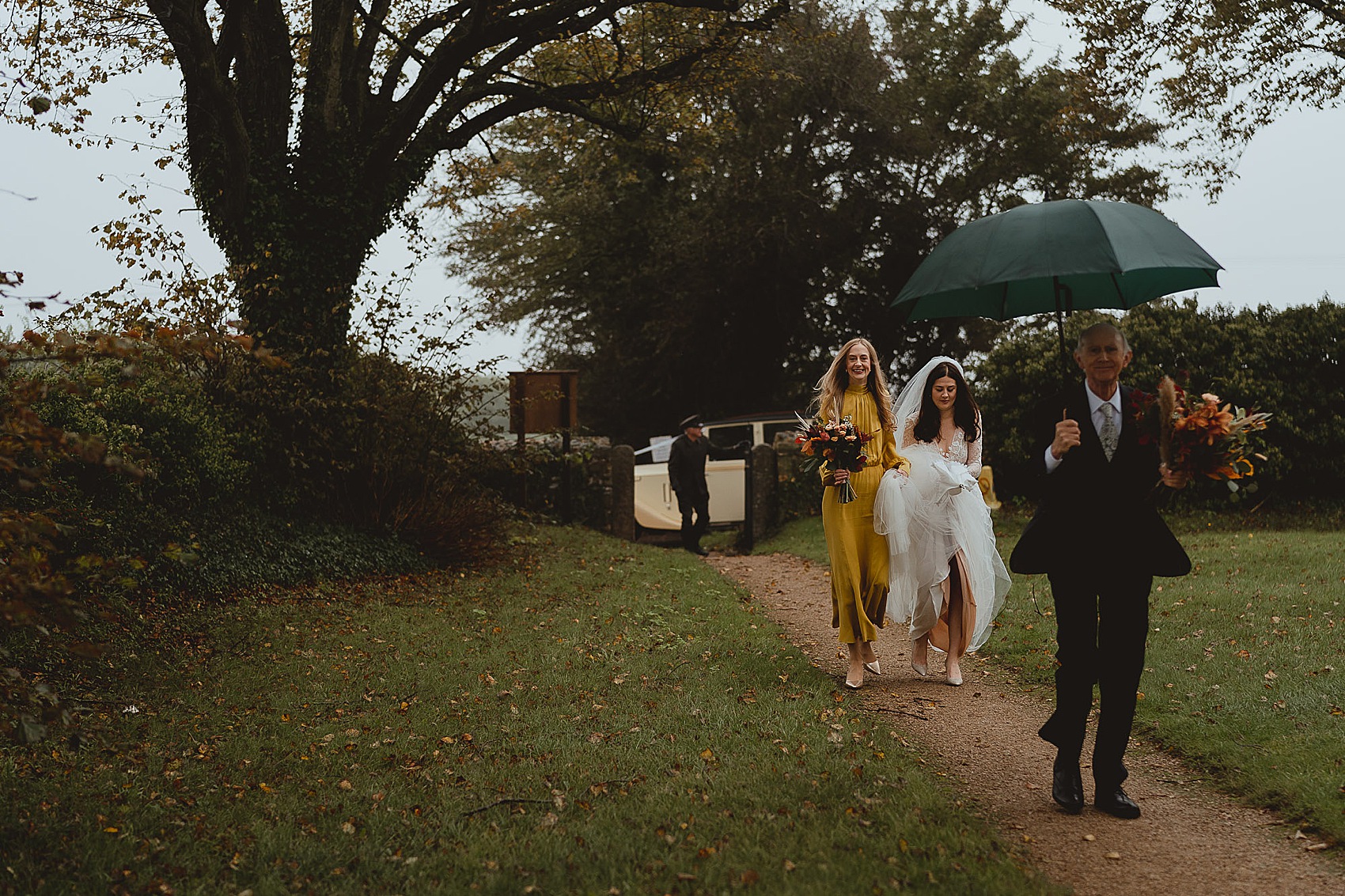 "We worked with Michelle from Floral Sistas and Penny from The Little Lending Company, and wow what a team, who know how to make a venue look magical."
"They were so helpful and understanding through changing many different set ups due to covid, even down to Penny running to buy candles on the day of the wedding."
"When we first spoke back in February, I spoke about autumn colours and creating a whimsical vibe a little bit like A Midsummer Nights Dream and when I walked into he church and I could see all the candles and flowers, I just thought, wow!"
"When we arrived at the church and then Number29, we were utterly taken aback at what they had created. We can't thank them enough."
"Alison Collantine, designer and art director of Dream Fly, created our 'order of service'. Alison only got the call from me on the Monday before our wedding and turned it around in no time."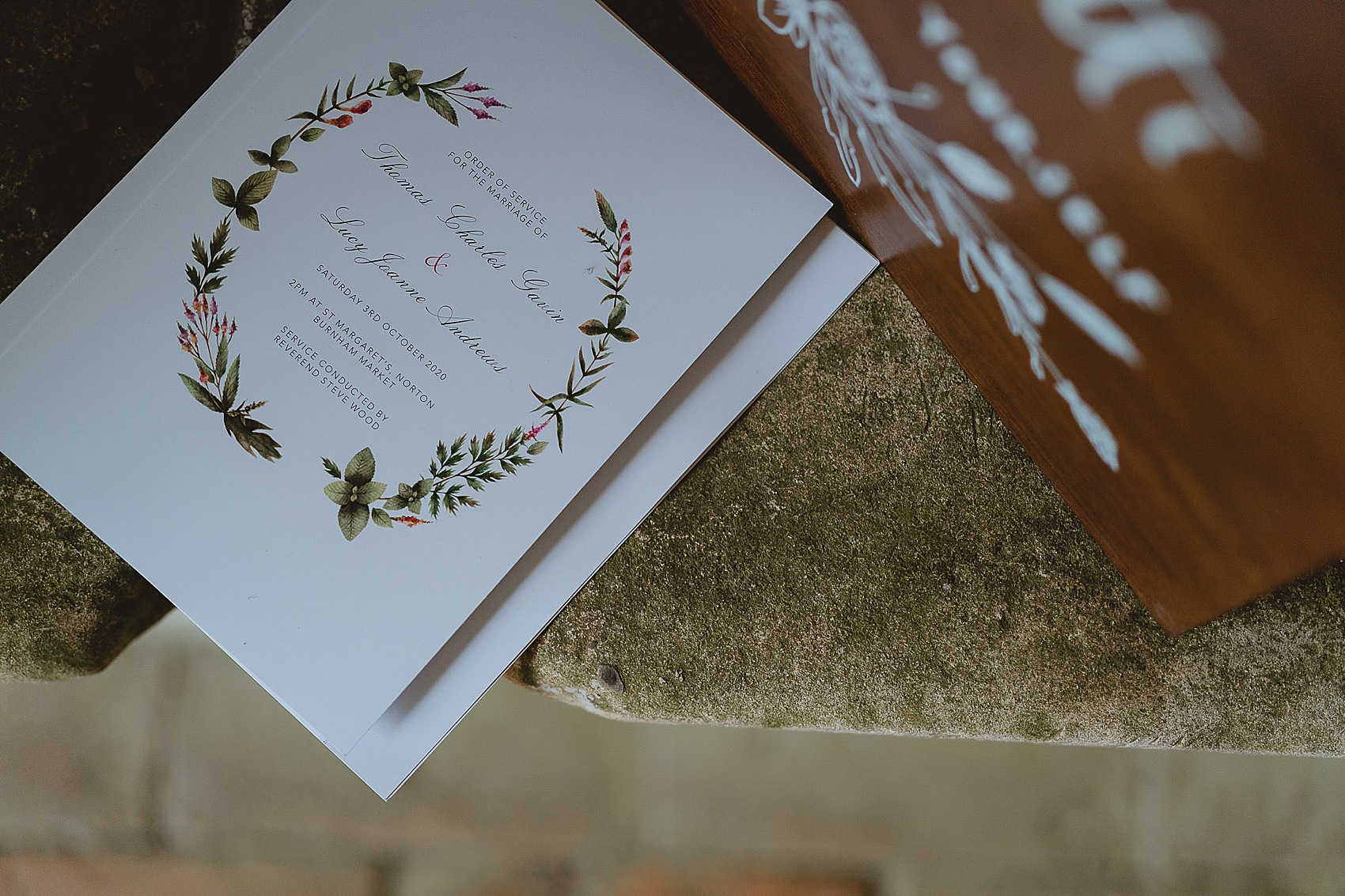 "Penny from The Little Lending Company created all the signs and table plan and place cards that went with our favours."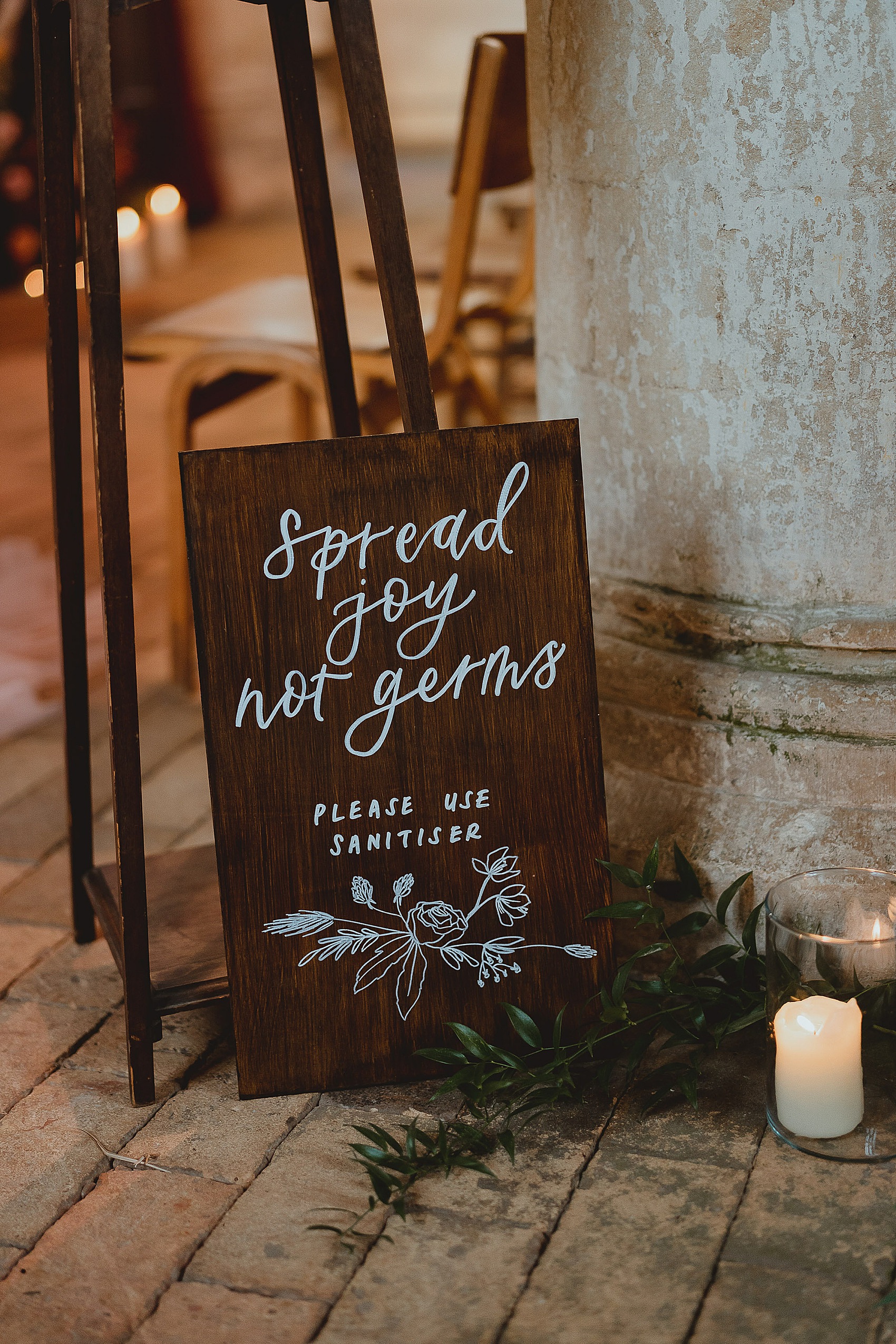 The couple had two readings during their ceremony. The first, 'My beloved speaks and says to me', from Song of Solomon, was delivered by Tom's sister.
Tom's mother read the couple's second reading of 'The Privileged Lovers', by Deepak Chopra.
Tom looked fabulous in a Boggi Milano suit, which he accompanied with a pair of Russell & Bromley boots and a Liberty print tie.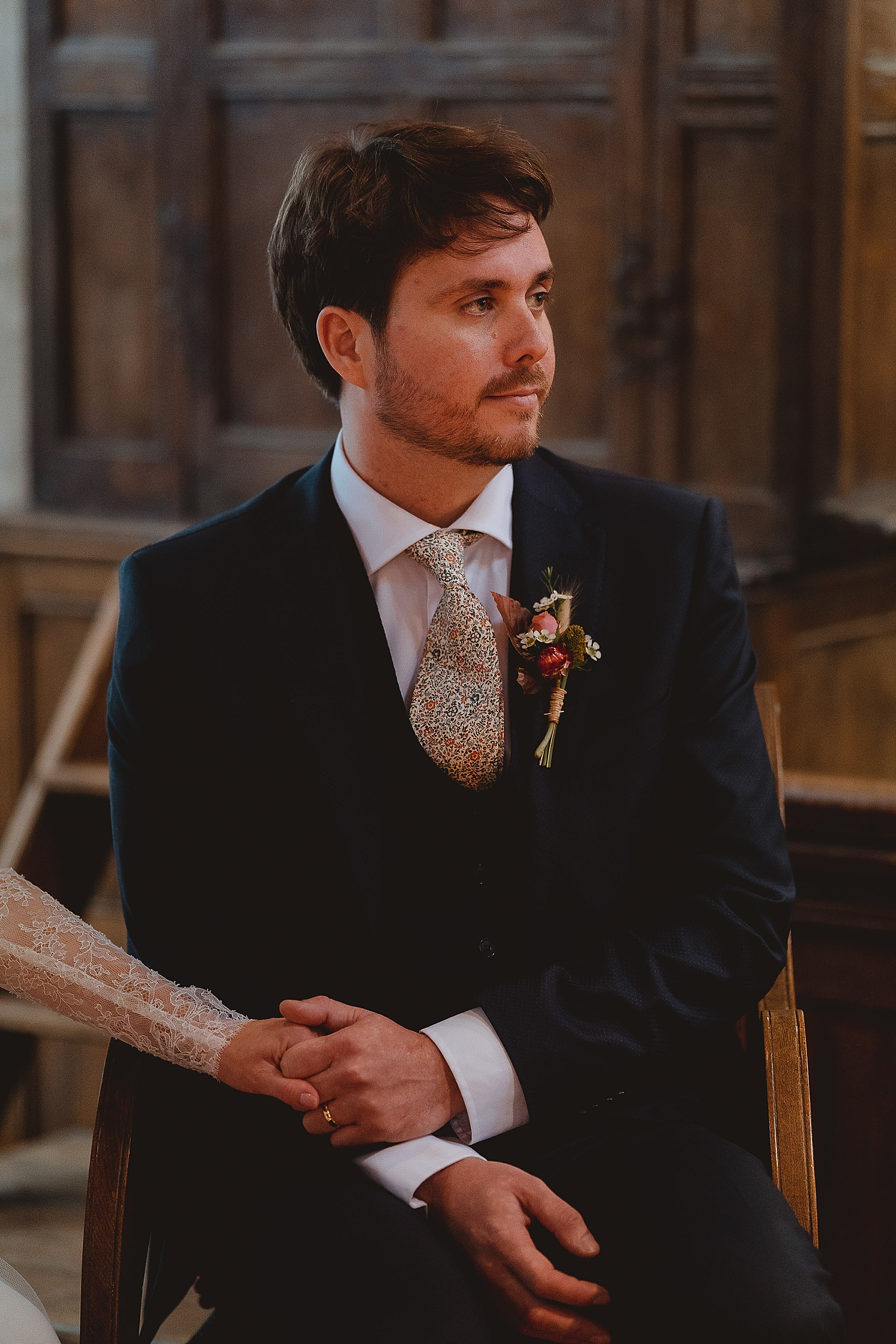 "Our service was conducted by Reverend Steve Wood – we met with Steve after new wedding restrictions come into place, and he took us through the process of getting married in a church."
"Both my engagement ring and wedding band is from Ruth Tomlinson. Toms wedding Band was handmade by Lucy Burke from Margot and Mila."
"My friend Ange is amazing at making and creating things, so she offered to create handmade bamboo silk masks for our guests that would match our wedding day colours."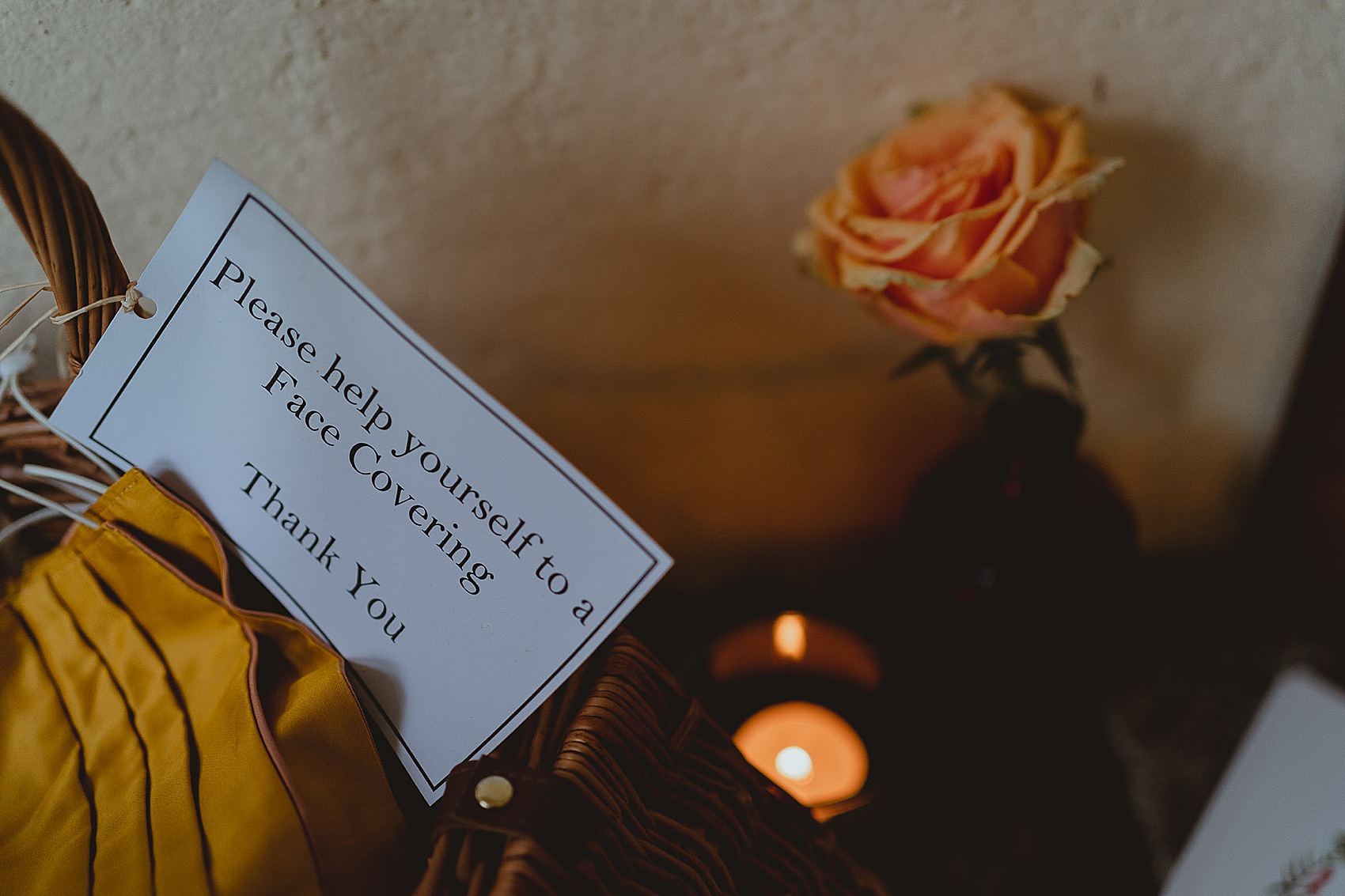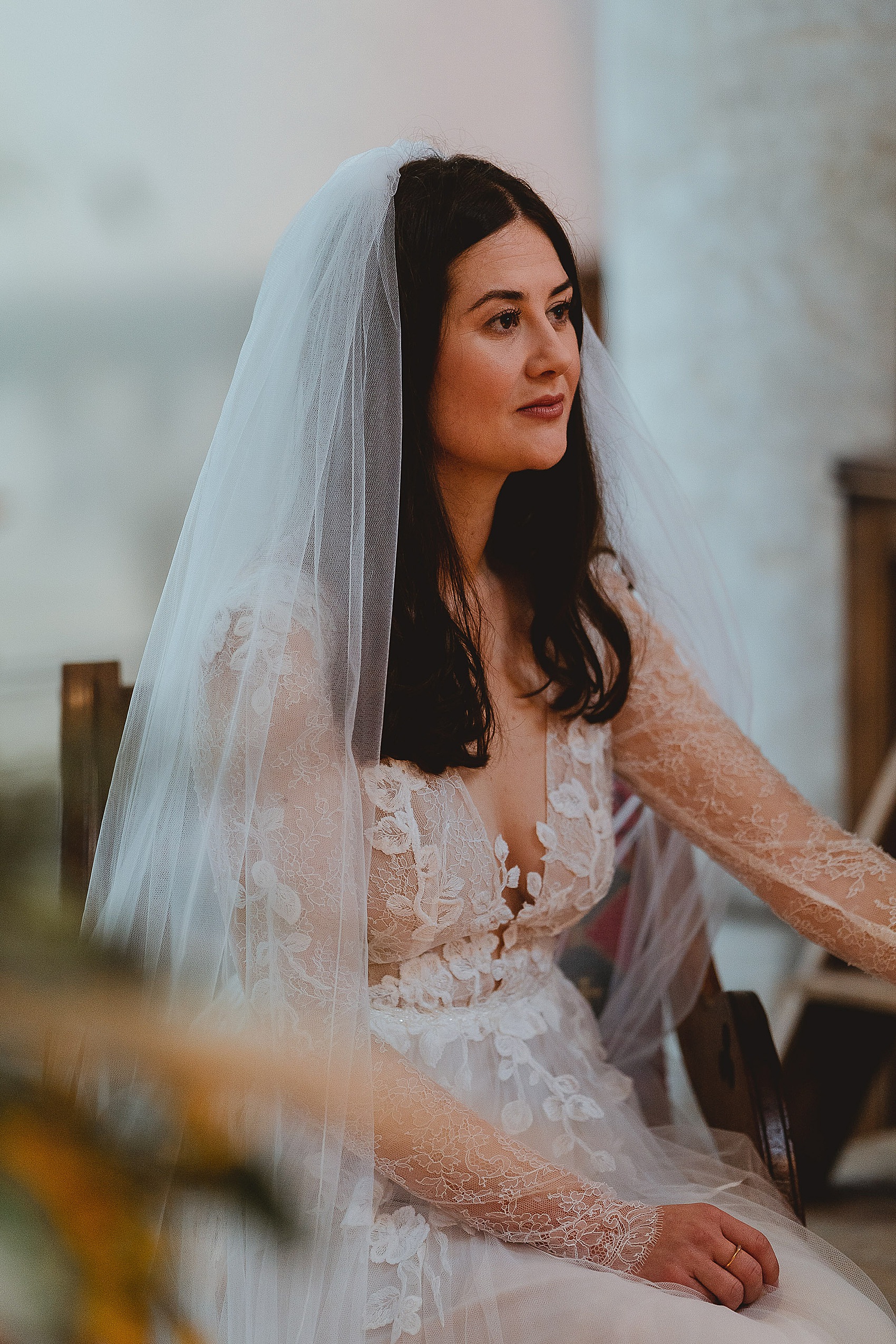 "When we walked back down the aisle, 'Country Road' was playing, and it was such a great feeling that we had done it."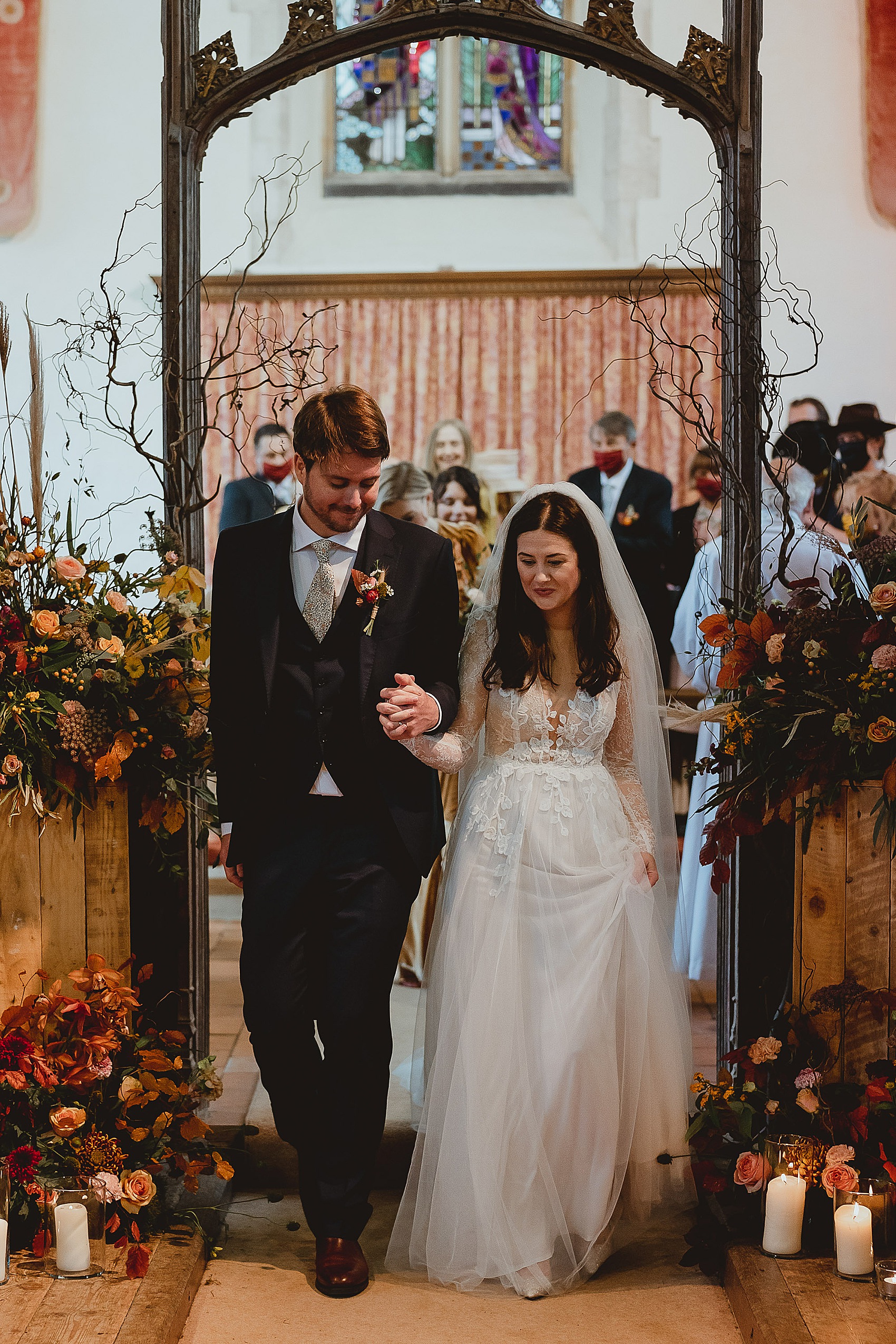 "My aim was to always achieve a boho/classic feel to the wedding. I always knew when that I didn't want the full 'bridesmaids look' and I liked the idea of all different dresses, with different fabric, styles and material."
"However, that's a lot harder than they make it look on Pinterest! So, my friends and I made grid after grid after grid to make sure the colours and style were going to match. The dresses were from Reformation, Free People, Phase Eight, Shein, David's Bridal and Ghost."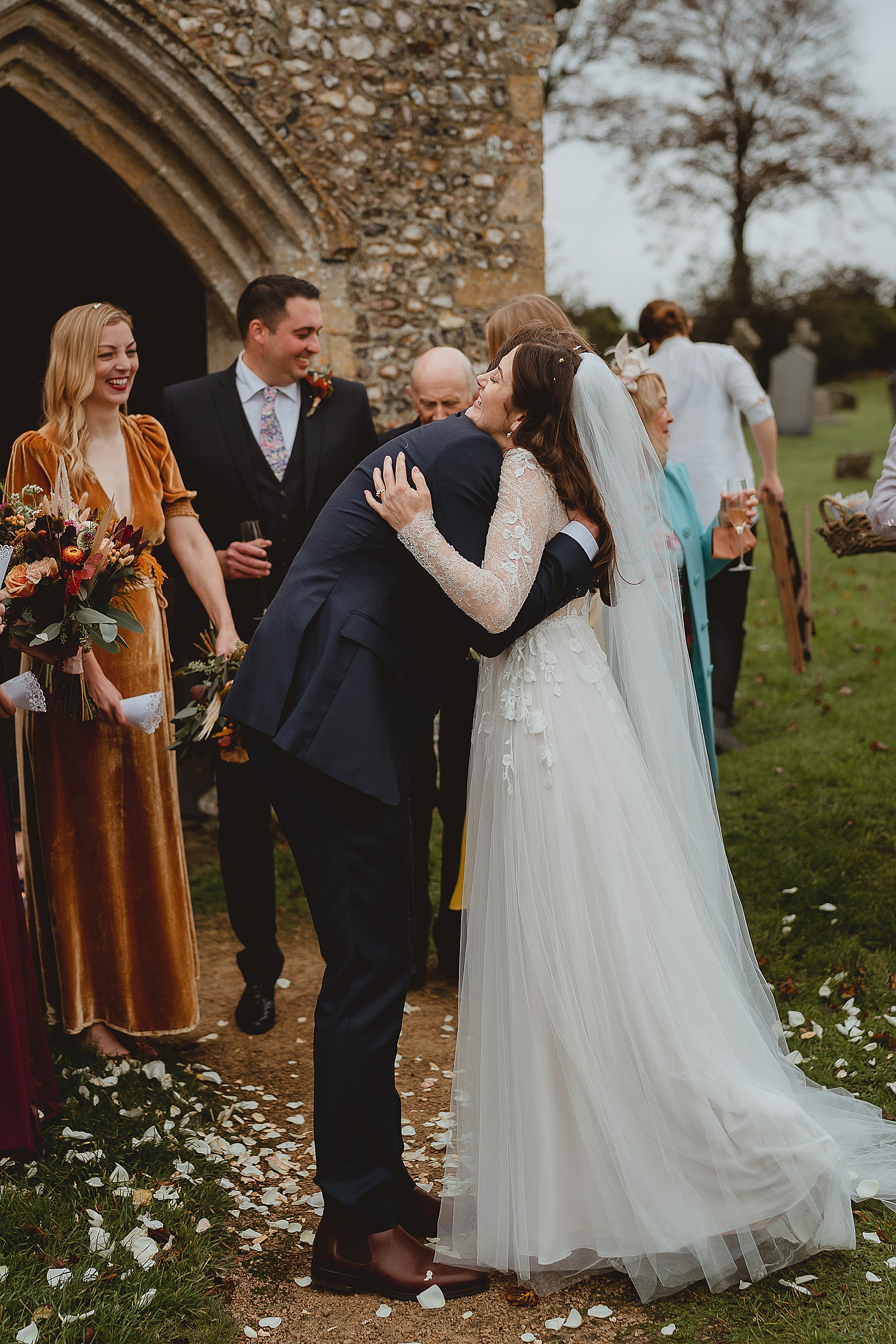 "Our photographer, Georgia Rachael, was utterly brilliant. On the day, Georgia felt like a long lost friend – she worked her socks off. She put in so much thought, care and fun into making sure we got the best shots throughout the day."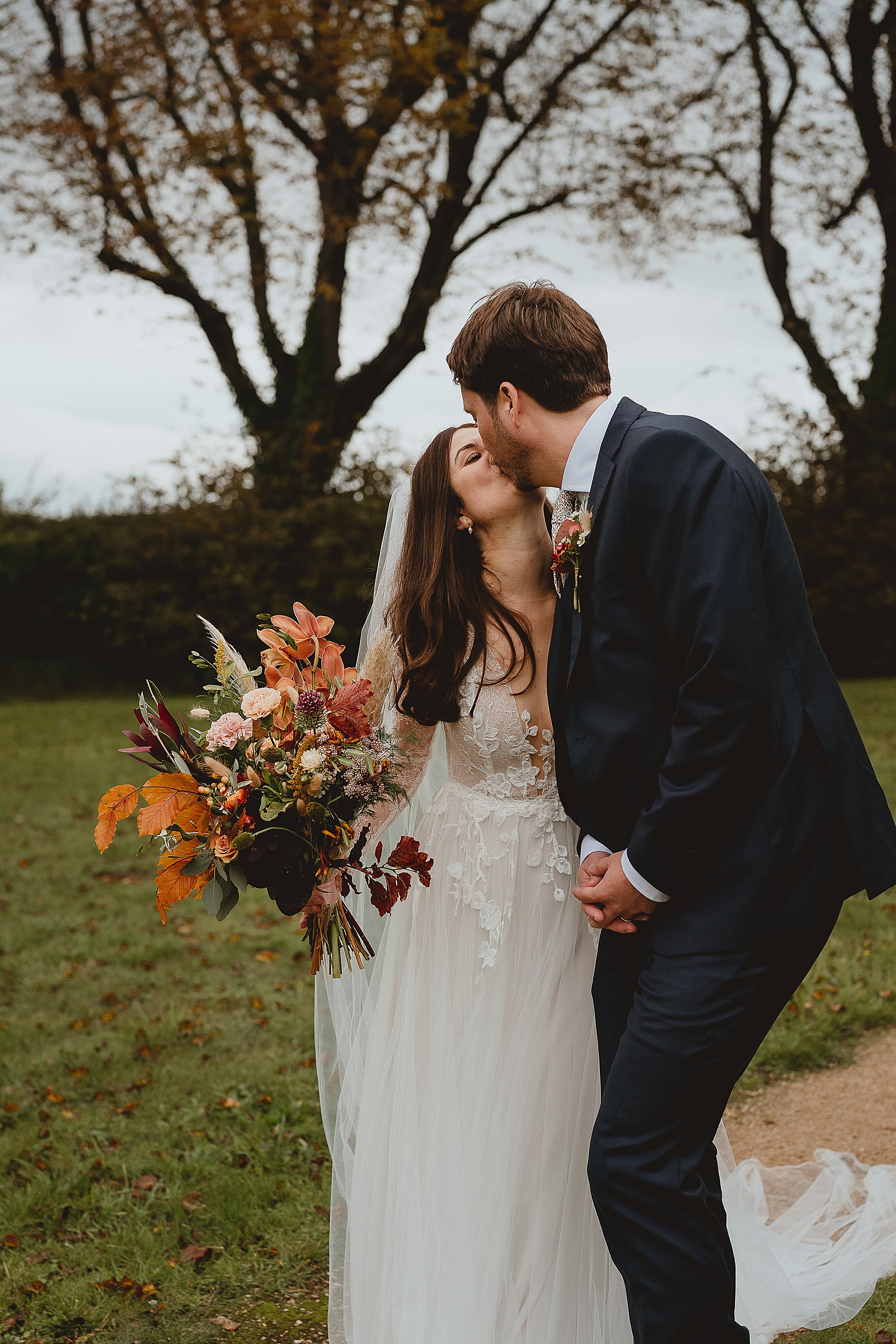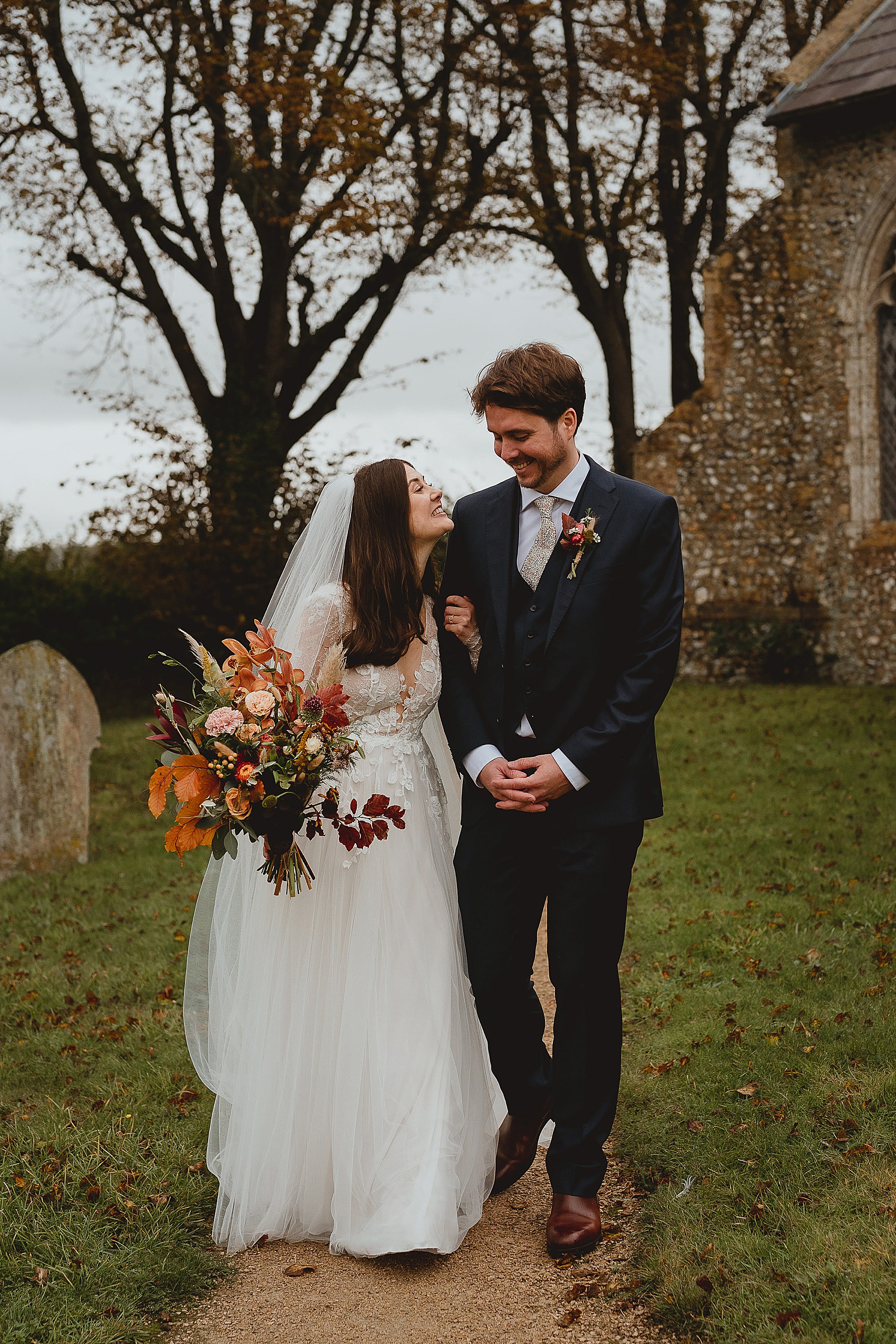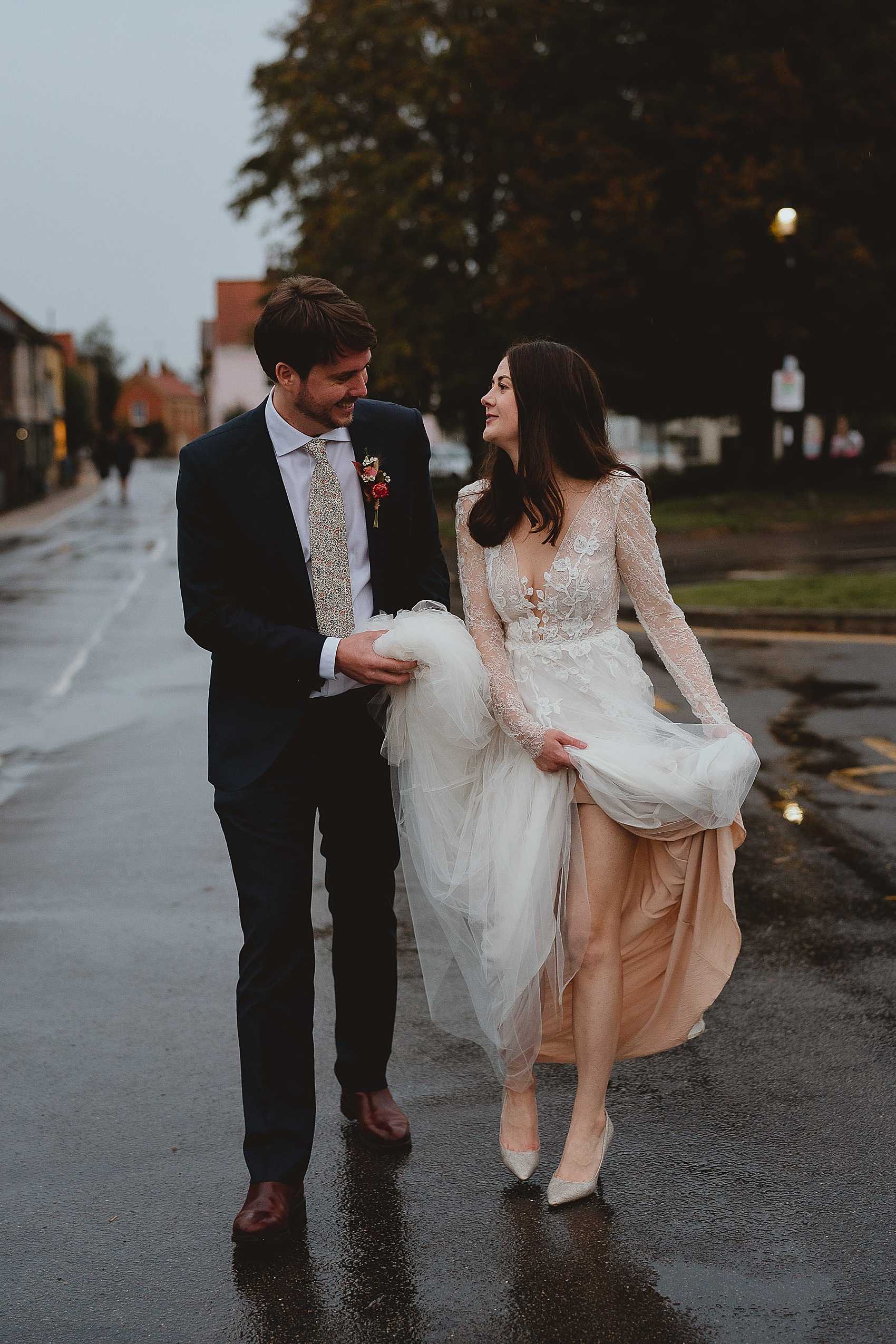 "Tom's Mother is from Norfolk and it's our happy place and where Tom proposed. We got married at St Margaret's Norton church in Burnham Market at 2pm and then had our reception at No.Twenty9 Bar and Restaurant 3.30pm."
The couple adapted their reception seating plan to ensure that those living together or already in bubbles were sat next to each other – space was also provided in between tables to assist with social distancing.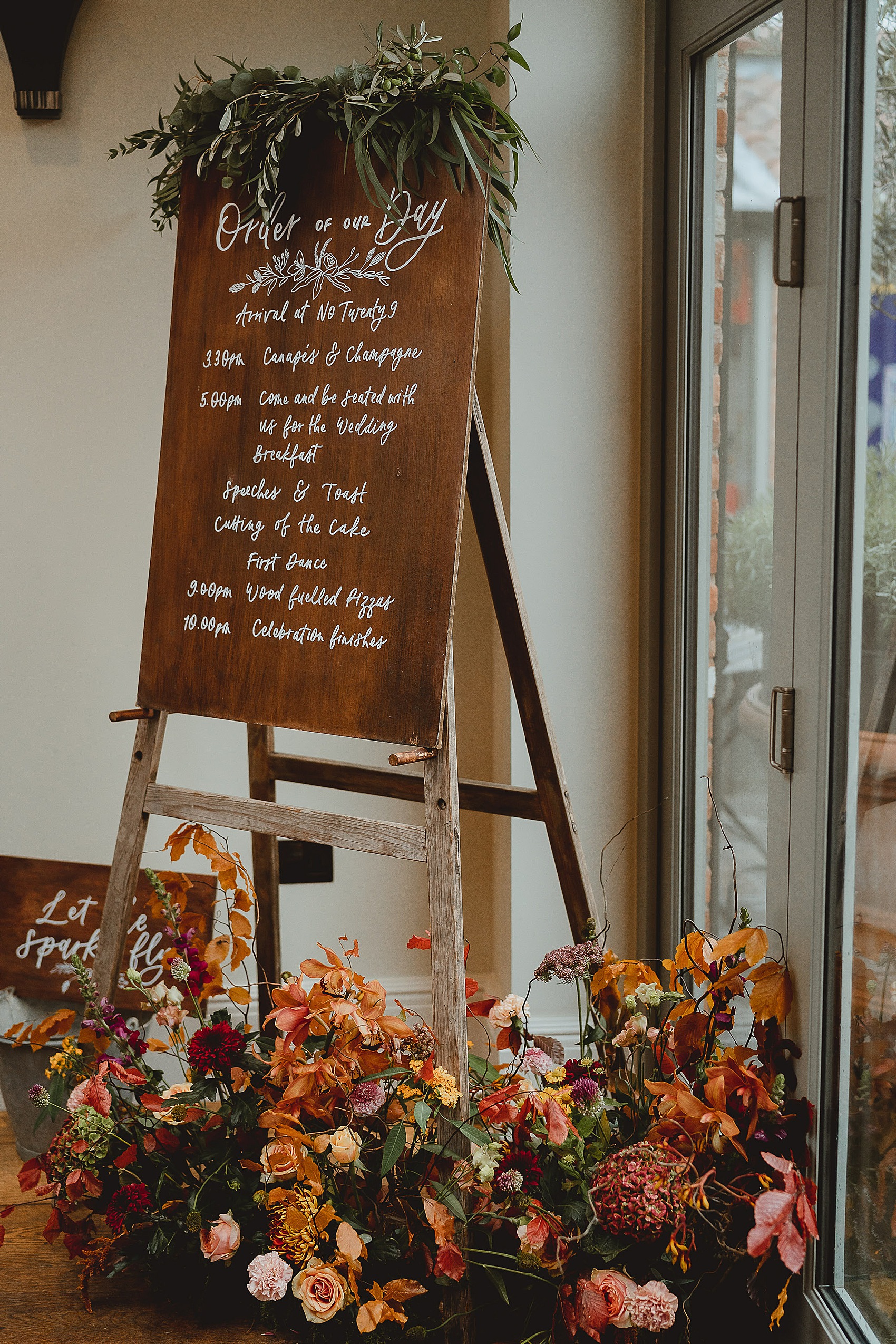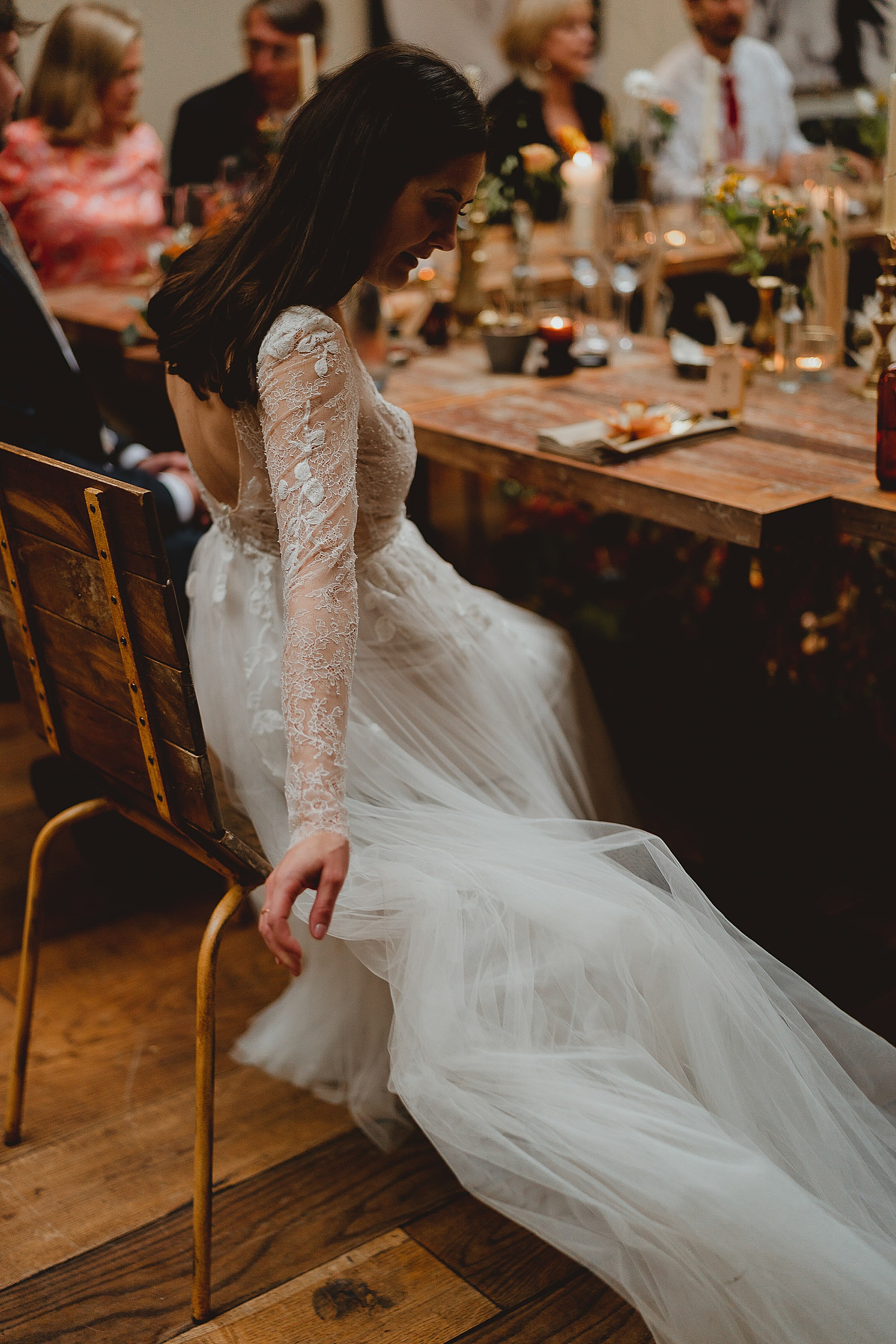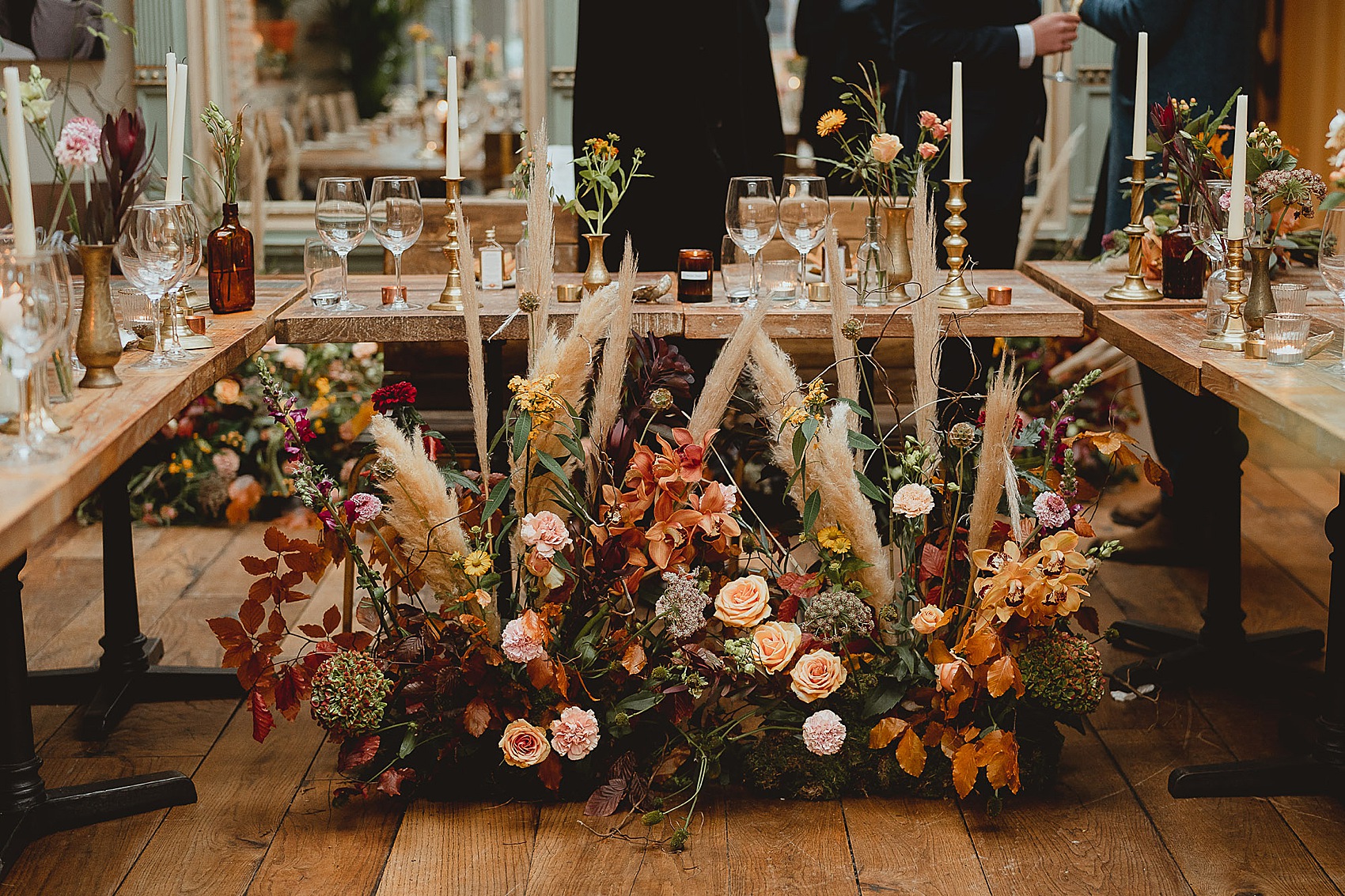 "Ange , my friend, had also recently created a candle for Tom and I with our own personal scent, which I thought would be wonderful to include in the wedding."
"This is a little message from Ange, who you will find on Instagram at @ansonhouseshop; 'The wedding of someone you love deserves to be filled with as much beauty and joy as you feel for them right down to the smallest detail."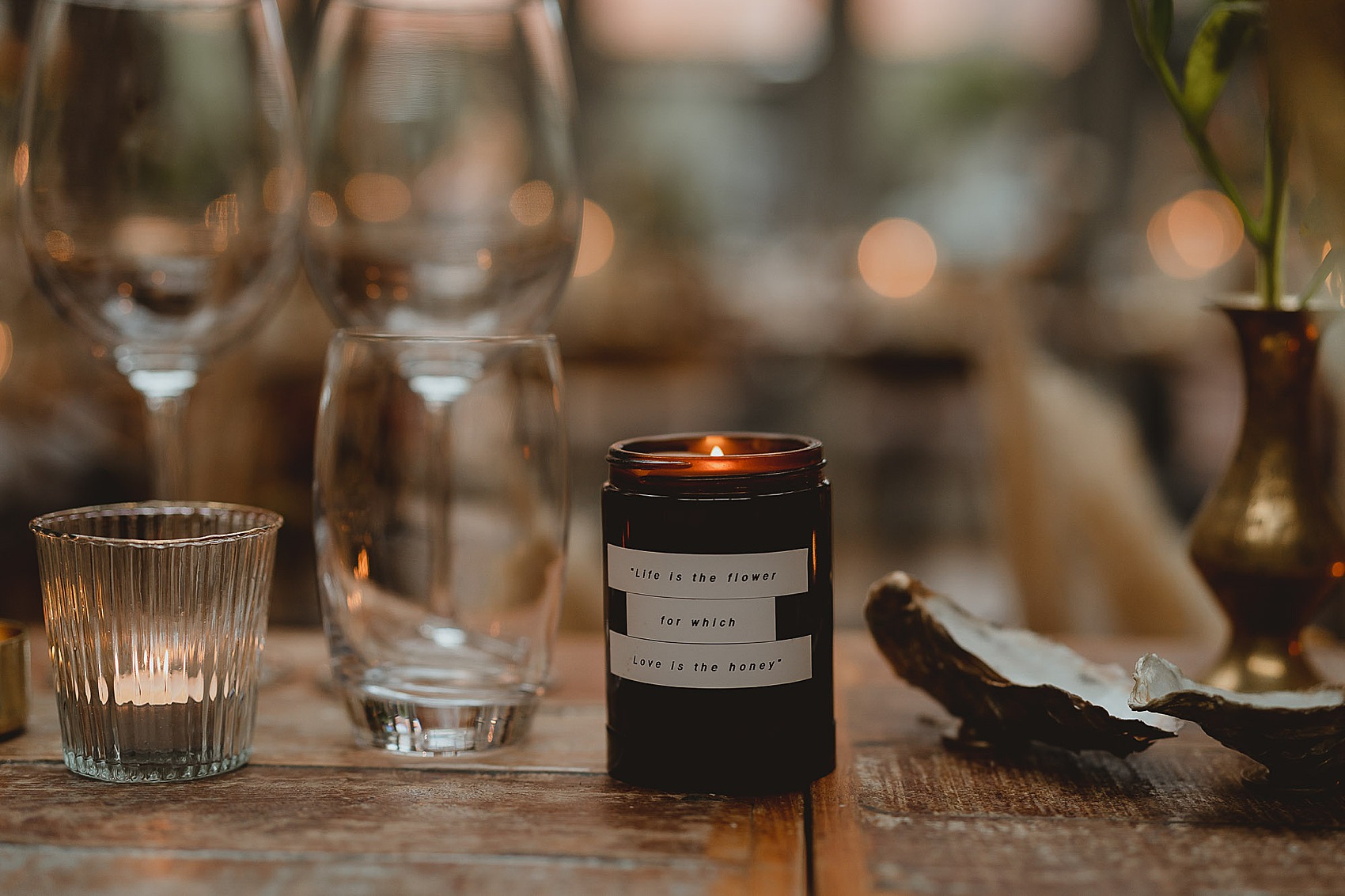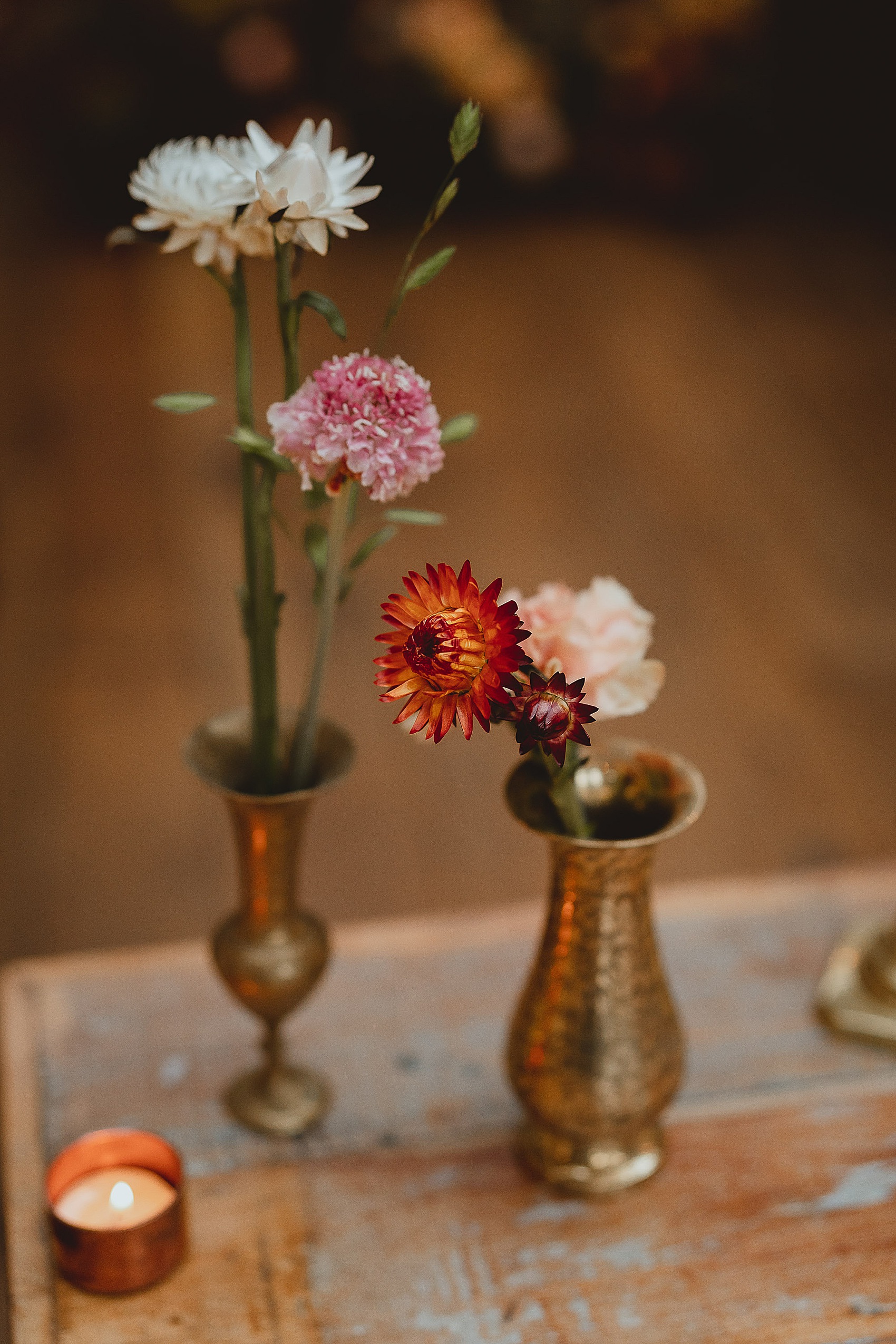 "Working with Tom and Lucy's wedding colours, I sought to create face coverings that not only would complement the background of images captured by the photographer but by using Bamboo silk create something that feels beautiful on the face for guests as well."
"Creating beauty doesn't just stop with things you can see and touch so we discussed creating a signature scent that would accent the wedding day."
"I created aromatherapy candles using orange blossom with love quotes chosen by the bride and groom and for a burst of scent."
"This was a bridesmaid friendly, purse sized room fragrance that could be spritzed discreetly ahead of the bride's arrival at the church and at the reception venue to welcome people into the space.'"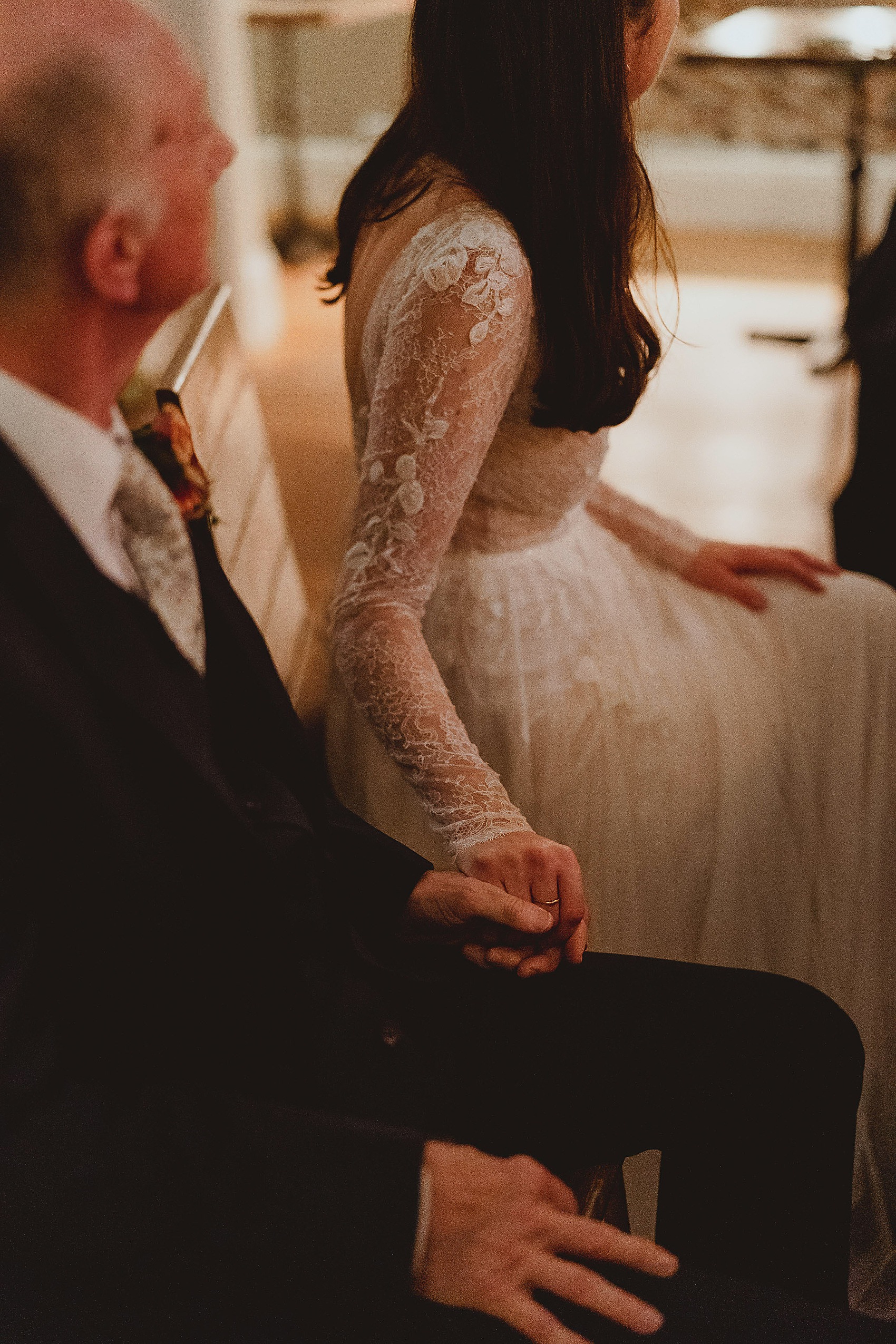 "We had mini bottles of gin bottle with our guest's names on a name tag as favours. The gin was from Archangel Distilleries – where we had sampled it at North Creake the year before."
The couple hired talented take maker Emma of Buns of Fun to create their gorgeous wedding cake.
"Our cake looked stunning and tasted like heaven. Our guests said it was one of the most beautiful cakes they have ever seen. The drawing was such a lovely touch and wonderful keep sake"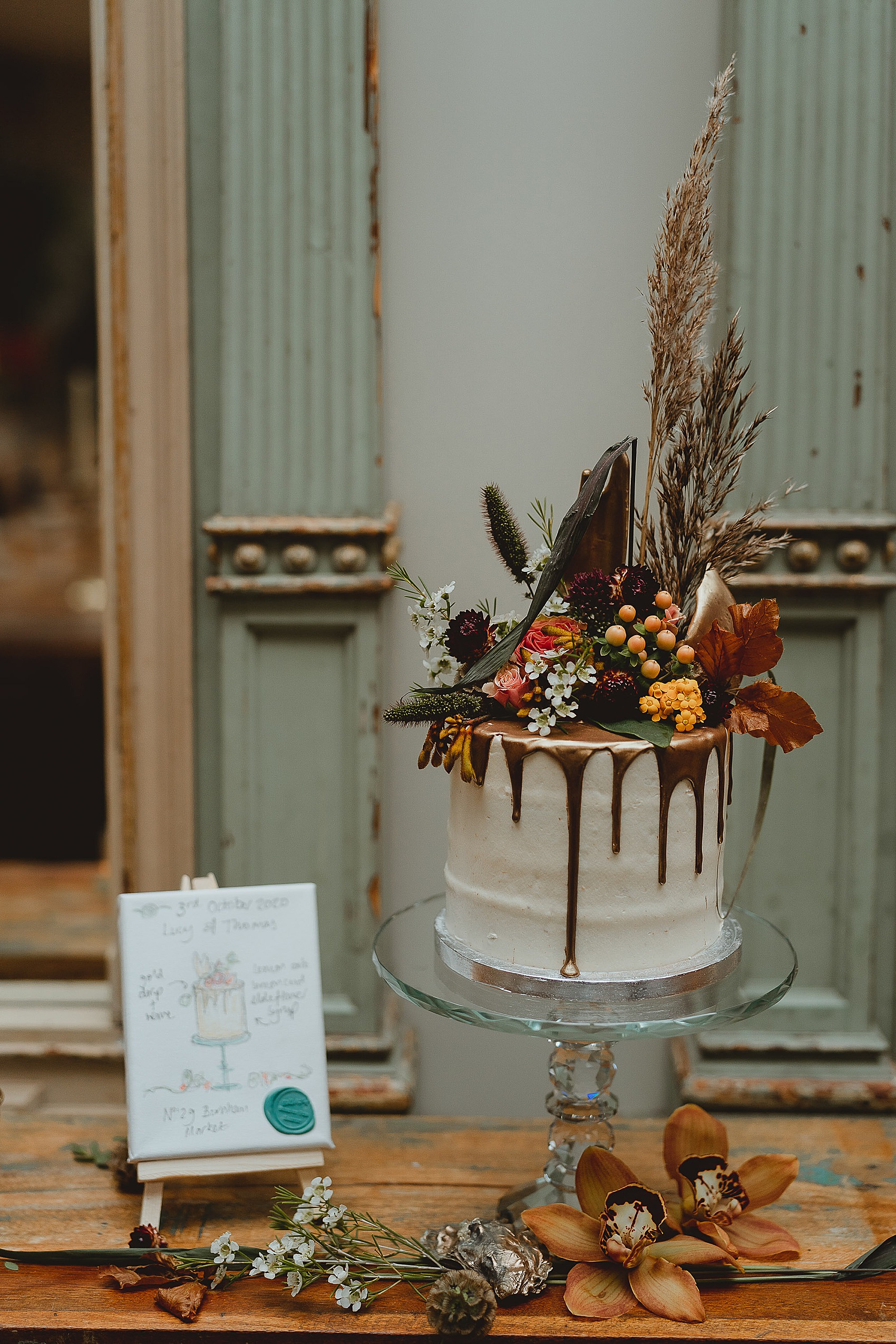 Words of Wedded Wisdom
"Weddings are always going to be stressful, because they are such special days, full of emotional. If I was going to tell any new bride anything, I would say, 'follow your heart and be confident in your decisions'. Also, 'try not to have any regrets'."
"The moment you're ready and waiting to walk down the aisle, all the stress and worry goes away and all you feel is excitement."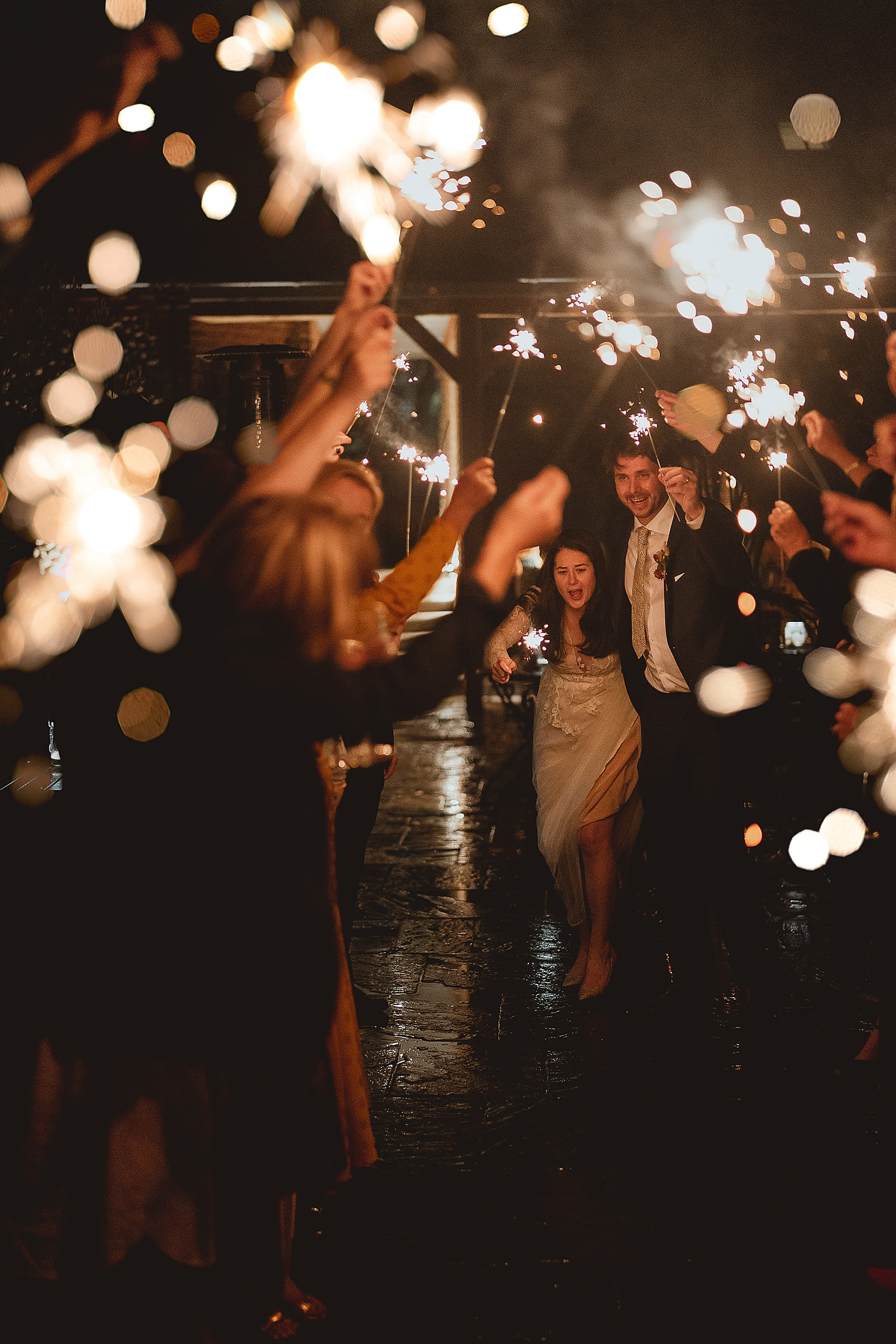 I'm so pleased that our final wedding of 2020 is one that has proves beyond doubt, that despite the many challenges presented by COVID, small weddings will always provide joy and create magical memories.
Lucy and Tom, thank you so very much for kindly allowing us to share your day. And to our wonderful Little Book Wedding Directory member, Georgia Rachael – thank you for all your support of Love My Dress this year and for once again allowing us to share your beautiful work.
With all my love,
Annabel x