I set out on Monday of this week to write an 'end of year' feature, but it just wasn't happening.
There are times like that, where your creativity just dries up, and I've come to learn that whenever that's the case, there are usually other areas of your life requiring more urgent attention.
For me, over the past few days, this has meant prioritising my personal health through the most glorious long sleeps and daily walks. Because if I'm honest, I arrived at the Christmas holiday this year feeling more burned-out than I quite realised.
Burn-out doesn't fix itself in 2 weeks, and I've made a mental (and printed out and firmly fixed to my office white board) note to be kind to myself in January. But by 'eck, a week and a half of healthy food, sound and solid sleep, daily fresh air and exercise and rare down time with the family has worked some serious magic on my overall sense of wellbeing. I can't believe how different I feel now compared to just 10 days ago.
It's not at all unusual for Christmas to come around and for me to feel done in, but this year, the fatigue was next level. If you're new around here, hiyaaaaa! I'm Annabel – the founder of this here wedding blog.  The short story: I got engaged on Christmas eve 2007, spent 15 months planning my own wedding, an experience that was to change my life forever, got married on 20th March 2009, set up 'Love My Dress' later that same year, took on my first clients/advertisers in March 2010, left my full time job in May 2011 and, the rest is history. I've been self employed ever since and could not love my job more. I've never really been a big fan of the term 'blog'. I used to call Love My Dress a 'platform', but these days, I prefer 'space'. I believe that a safe, friendly and welcoming space exists here, one that offers an open invitation to all. Brides, join our closed Facebook group if you haven't already. Whether you're newly engaged, long term wedding planning or rescheduling/managing multiple wedding day postponements because of COVID, this Facebook group is for you.
I had big plans for 2020, to develop Love My Dress and our venue/supplier directory, Little Book, but these plans swiftly derailed after the very sudden and unexpected death of my father on 30th January.  I was only really just getting over the mental shock and immediate heartache of dad's passing, when the world changed forever thanks to COVID-19. Like a million others, I experienced very real fear and pain, thinking we'd lose everything we 'd worked so hard for ('we' – as my amazing husband is also my business partner).
Instead of pursuing the original 2020 business plan, last year became a game of survival. It was clear right from the start of the pandemic that the wedding industry was in trouble. I knew, from that first ghastly evening of pure fear and dread for the future, that I wanted to help as much as I could. I set out, immediately to create community and help others come together to support one another and explore solutions (a Facebook group of some 6,200+ wedding businesses exists now as a result), host online meetings for both brides and business owners (had never heard of Zoom pre-Covid, yet pre-Christmas, I was using it multiple times every day).  Then on July 14th, I published an article, with the support of others, that ignited a movement within the wedding industry – one that that hopefully, a good number of you reading this will already recognise as 'What About Weddings'.
What About Weddings started out as a hashtag concept (#WhatAboutWeddings), a way of not only bringing together voices online and highlighting the plight of thousands of business owners struggling throughout the pandemic, but of many thousands of couples whose wedding plans had (and continue to be) impacted by COVID-19 too. Over the past 5 months however, What About Weddings has become a powerful, influential and much-respected campaign movement for the entire wedding industry, uniting thousands of businesses from all over the UK. Those behind it (myself, Tamryn Settle – our senior writer and independent Celebrant, as well as Jessie Westwood, one half of Studio Sorores) have spent the past 5 months lobbying government intensively for urgent change. You can find out more here, here and here – though much of the behind the scenes work we've done so far, we haven't written about.
I don't for one moment want to make a song and dance of it, as I truly don't feel I 'had it bad' in 2020, compared to so many others who have lost so much – but I do feel I need to acknowledge in writing somehow, the level of mental impact that all the campaigning, lobbying, grieving and trying to do all the many other life things at the same time had on my health and wellbeing. I have never felt so tired, or so permanently close to tears as I did when I washed up ready for my Christmas break just under two weeks ago. And so, for the very first time since starting Love My Dress 11 years ago, I've allowed myself to fully switch off from work, decompress and replenish my energy throughout this holiday.  It's been freaking blissful, with today being the most blissful day of all (hello local cheese, wedding cake and Netflix binge).  As a self confessed workaholic who genuinely struggles to set boundaries and switch off, this has been a mega lesson for me.
And there's a thing, because despite 2020 being the most unexpected, most painful and challenging of years, it was also a year of the most valuable lessons and opportunities that gifted me with the deepest well of resilience and most extraordinary levels of contentment and inner peace.
Like so many millions of others across the globe, my resilience has only strengthened after everything we've been through in 2020.  I would sear my life on the fact that my contentment and sense of mental wellness are a direct result of getting out to walk as often as possible – admittedly, initially, as a way of ensuring I was fit as poss should I have ended up crossing paths wit the coronavirus. But walking soon turned out to be and feel like a daily requirement that felt as natural and necessary as water. I have walked through sunshine, rain, snow and mud, in daylight and by moonlight – I now have a fancy-pants new head torch Chrimbo pressie for those super dark new moon nights. I have learned that walking makes me feel SO alive and connected on a spiritual and universal level, and that I'm not afraid of the dark like I thought I was. The incredibly beautiful poem you see below was written by talented wordsmithJen Feroze for her new book, 'The Colour Of Hope' (a collection of poems of happiness in uncertain times). It was inspired by the moonlight walks I started to take in the first national lockdown. I honestly can't read it without tears welling every time. The words have a profound impact on me…
View this post on Instagram
I have also started wild swimming in the sea with my dear friend Sophie of Ginger and Flynn, encouraged by the amazing community over at Whitby Wild Swimmers. There is nothing quite like getting up on a dark winter morning to join your friend (socially distanced!) with a warm cup of freshly made coffee then a dip in the sea with all the heavenly pinks and fiery reds a spectacular sunrise sky over the North sea could generate.
I cannot tell you how much joy and comfort these outdoor experiences have brought me this year – and I can't help but think that had it not been for COVID, I'd have probably come up with the same old boring excuse of being 'too busy' to fit such activities into my life.
I didn't want to write an end of year 'fuck 2020' post – that somehow didn't feel right.  Because whilst I won't miss the chaos, sadness and grief of the past year, I will forever be grateful for the opportunities that 2020 has presented.
View this post on Instagram
2020 is a year I will never forget; from losing dad, to thinking we were going to lose our business, home and all our security, to worrying endlessly about the impact on our children and those I love, to the tears and frustration and stress that made me physically sick. It is a year I will also remember forever for the precious new friendships I have made, for the discovery of crazy levels of self belief and confidence, for joy I've found in my solitary walks and wild swimming, for discovering inner peace after grief, achieving my 7th year of alcohol sobriety and celebrating 11 years of my beloved Love My Dress.
I left this article unfinished until today – I wanted to write a little right from within the moment as I sit here on the first day/evening of the new year. And as I do, I feel so much pride for Love My Dress as it enters its 12th year of existence. Whatever 2021 has in store, I vow to enrich and nourish this beautiful online space and promise to always be led by my heart and passion as I guide its evolution, making Love My Dress more inclusive, more welcoming, more inspiring, encouraging and more comforting a space than ever.
There is a touch of magic about Love My Dress and I'm not afraid to say so for fear of that sounding a little cringe. I really do believe there is magic amongst these digital pages, where thousands of love stories lie and inspiration is waiting to be discovered by newlyweds and excited couples planning their special day.
In no particular order, here are your fave real weddings of 2020 along with some words of wedded wisdom from each article. This list is based on Google Analytics and Instagram insights and I hope you love them as much as I do – you'll find our entire real weddings archive here – though a word of warning, it is highly, highly addictive.
All my new year love to you, sincerely, I hope it is a happier, healthy one for you,
Annabel xx
YOUR FAVE WEDDINGS OF 2020
Suzie & Laura
This is the wedding of West End and Musical Actor Suzie, who married TV Producer Laura at the majestic Chateau de Lisse in Reaup-lisse, South West France. The couple's day was bursting with happiness – friends and family gathered as they recounted how they met during their ceremony and went on to dine outdoors in the warm French sunshine.
See the full wedding here.
Write a mission statement, right at the start of wedding planning. Just a few sentences about what is really important to you and what kind of day you are trying to create. If you find yourself getting stressed about something during the process, go back to your mission statement… if it's not mentioned in there, just make a decision and move on to something else that really matters to you. Also, find suppliers who 'spark joy' and who get on board with your creative vision. This makes for a much more exciting process and creates some very happy planning memories.
Richard Skins Photography + Follow
Mary & Will
Mary and Will's wedding took place on 17 August 2019 took place at The Asylum, Peckham with a reception afterwards at the quirky blank canvas venue Shoreditch Studios in Shoreditch, London. The day was heavily influenced by two factors – Mary's Keralan heritage and the couple's shared love of music. If you haven't already, please do check out the gorgeously energetic, modern wedding film captured and edited by Hushabye Films.
See the full wedding here.
Go with suppliers you have total confidence in. They may not be the cheapest but they will be absolutely worth the money. Will and I were not stressed in the run up to the wedding or at all on the day because we had complete trust in all of our suppliers who were total experts in their field.
Beatrici Photography + Follow
James & Lauren
James and Lauren tied the knot on 12th October 2019 at Sibton Park on the Wilderness Reserve Estate in Suffolk. Lauren wore a bespoke gown by British couturier Emilia Wickstead before changing into a slinky Galvan number for the evening.
See the full wedding here.
I would say to try to not have too many cooks in the kitchen. Find a few vendors who you really trust and are excited to partner with, and a friend or two where you really respect their taste and judgement, and leave it at that.
Cinzia Bruschini Photography + Follow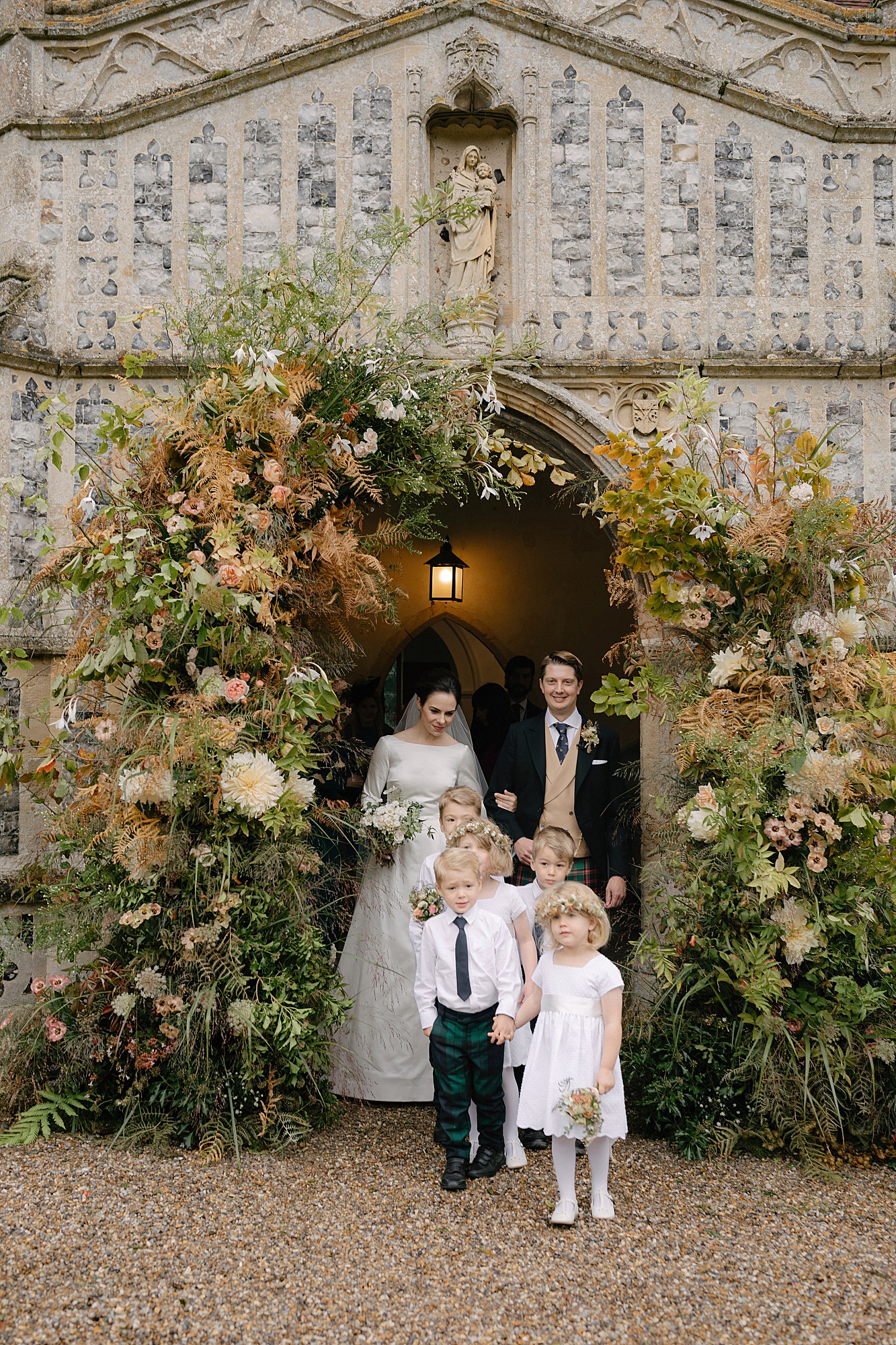 Emily & Paddy
On 28 September 2019 Emily, a marketing and events manager wed Paddy, a mental health nurse, in a Church of England ceremony at St Mary's Church, Dartington followed by a relaxed, flower-filled reception in the bucolic setting of The Riverford Field Kitchen, Buckfastleigh, Devon. Taking the restaurant's whimsical dried flower wall as a starting point, the day was full of flowers and celebrated the seasonal produce of Devon. Emily wore a Halfpenny London gown and embroidered cape.
See the full wedding here.
Don't worry about the weather! You can't control it and honestly it really doesn't impact the day at all. We had yellow weather warnings in the evening and my, did it rain! But, it was fabulous and just meant everyone stayed inside and danced the evening away with us. And I know everyone says it but don't stress or put yourself under any pressure.  Just try to enjoy the moment as you build up so much to it and it's gone in a flash. You will end up looking back and wishing you hadn't.
A Thing Like That Photography + Follow

Chessie & Ollie
Talent agents Chessie and Ollie married on the 4 August at St. Edward's Church, Stow-on-the-Wold; a truly magical medieval church, whose doors are flanked by two ancient, sinuous yew trees. This wedding had strong family ties; the ceremony taking place at the parish church of the bride's family, and the reception in a converted barn belonging to family friends of the groom's parents. The couple took their inspiration from their quintessentially English countryside setting in the beautiful Cotswolds, as well as Italian inspiration in the delicious food. The bride wore Hermione de Paula.
 See the full wedding here.
It really is such a cliché, but it is to not get bogged down in the detail and forget what it is you're actually doing. I wanted everything to be perfect, so at times I found myself sweating the small stuff, and I wish I hadn't. Everything always works itself out, and you can go crazy deciding between so many little details. Just go with what you love and don't over think it. There's too much choice out there at the moment, just take a leap and trust it will be perfect.
Divine Day Photography + Follow
Mel & Kirsty
On the 29 July 2019, University Lecturer Mel and Quantity Surveyor Kirsty celebrated their marriage at The West Mill, Darley Abbey. The couple have made their home in Leeds, and have families at opposite ends of England, in Cumbria and Suffolk. It made perfect sense, therefore, to marry somewhere between those two places, but not too far away from their own home.
See the full wedding here.
Make sure what you're doing is to make you happy and not others, and/or to pacify traditions. If you are gifted help with money or time for the day, remember it is a gift and you shouldn't have to compromise on things you want or don't want because of this (thankfully this never became an issue with us).
Sarah Gray Photography + Follow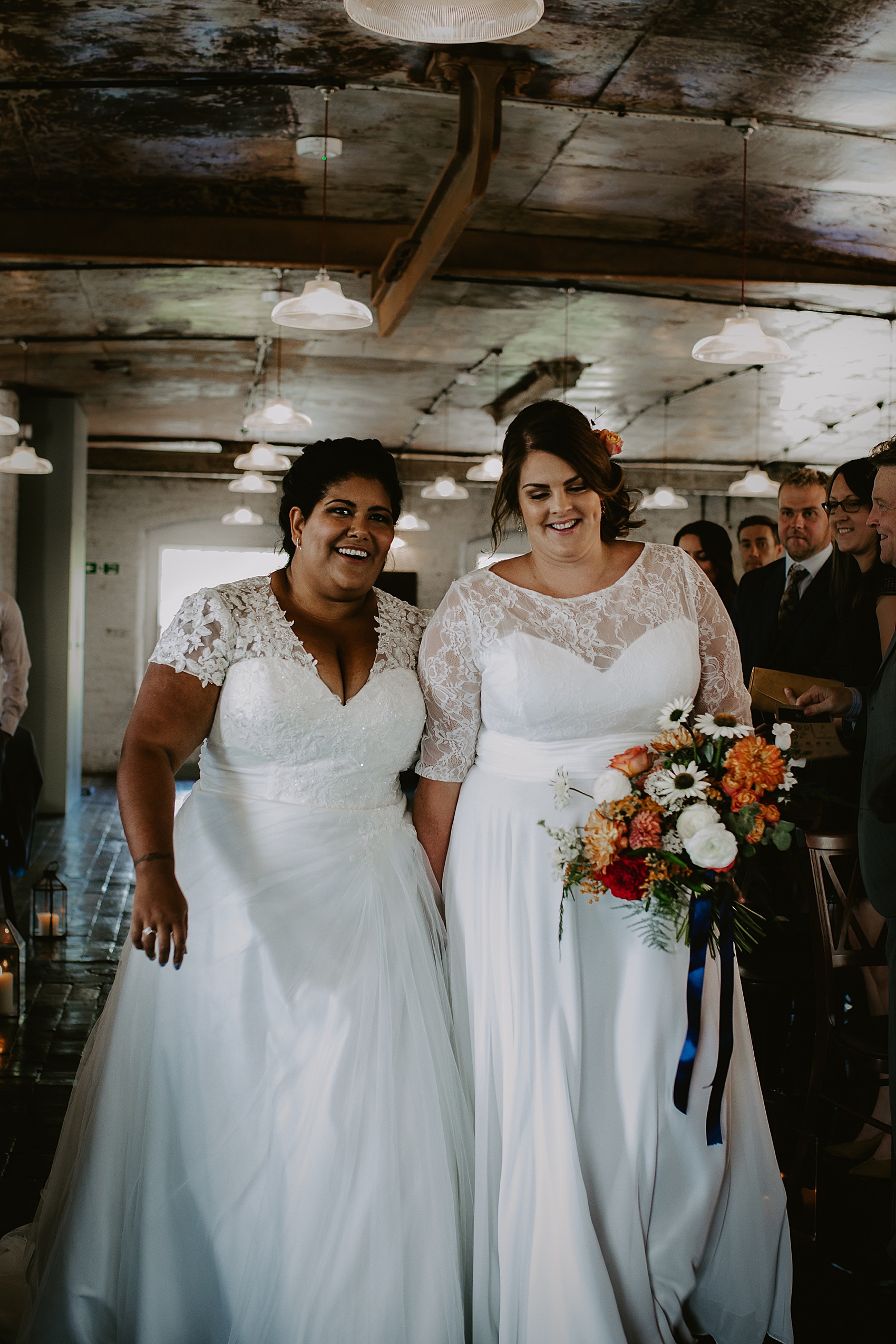 Rosie & Kieran
This is the wedding of Rosie, a Project Manager at London based florist, Wild at Heart, who tied the knot with Field Engineer Kieran on 19th October 2019. Rosie wore an effortlessly elegant dress with a sensuous high split, by the incredibly talented British designer Pippa Cooke of Bon Bride.
See the full wedding here.
I spent the run up to the wedding worrying that my guests wouldn't have a good time. Looking back, I have no idea why I was so worried about it, everyone is there for you and to celebrate together, whatever happens everyone will have a great time. Find suppliers that you can trust, I think this is key to your day running smoothly, it will mean you can concentrate on enjoying the day rather than worrying about something not getting done or going wrong. Spend the time to meet them beforehand, build a relationship with them, it will put your mind at rest.
Rachel Takes Pictures + Follow
Stacey & Luke
Stacey and Luke had a pink/Californian style wedding, inspired by the couple's annual trips to the Coachella Festival, with a healthy dose of Shoreditch cool for good measure. The first of three gorgeous looks worn by Stacey was a simple slip dress with a delicately patterned voile overlay with super shoulder ruffles, by Berlin-based label, Kaviar Gauche.
See the full wedding here.
Surround yourselves with like-minded, creative and determined people (friends and suppliers). Don't settle for no – often barriers will crop up, but if you truly want or believe in something, anything can be possible.
A Thing Like That Photography + Follow
Lilly & Rich
Freelance wedding photographer Lilly married film maker Rich on 7th October 2020 at the dreamy Glencoe in The Scottish Highlands, described by the couple as one of our their most favourite places – wild, beautiful and romantic.
See the full wedding here.
Choose your absolute favourite photographer. Your memories and their photographs are the only things that last after the wedding day. It really is worth investing in a good photographer. You won't regret it and you will treasure the images they give to you.
The Kitcheners + Follow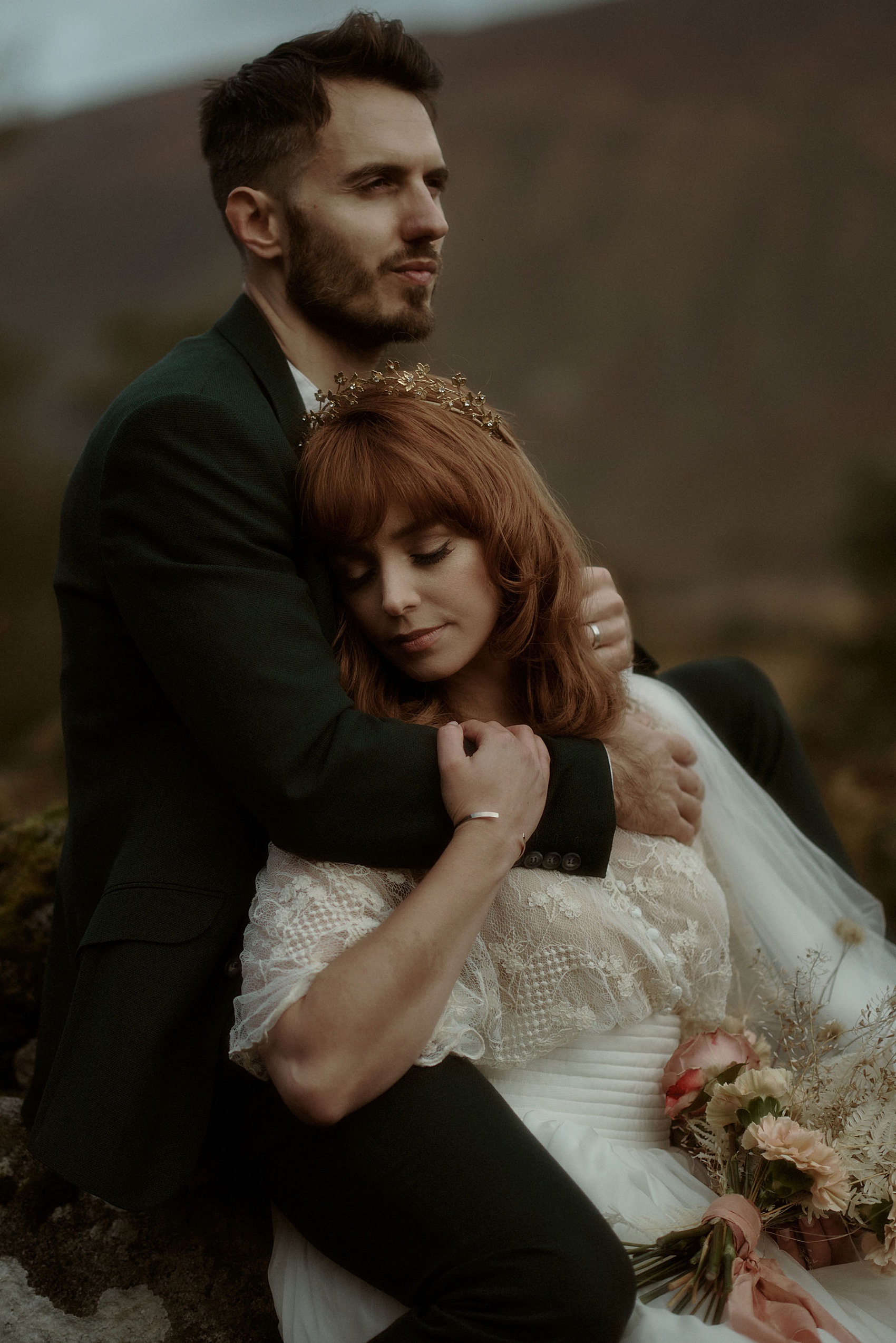 Ashley & Tom
This stylish late autumn wedding was held at The Garden Museum. Housed inside a deconsecrated church, it's close to the river, and also right next door to Lambeth Palace. Ashley works in fashion and lifestyle PR, Tom works in corporate/financial communications, and the couple live in Dubai. They were married on the 23 November 2019 in a church ceremony followed by a reception at the Garden Museum, on the banks of the Thames with views across to the Houses of Parliament. Ashley wore Laure de Sagazan.
See the full wedding here.
Try not to hold yourself up to 'wedding' standards of beauty. I think that the industry is changing, and brides are increasingly being themselves more and more, however there is still a lot of noise around weddings, which makes you believe you have to look absolutely perfect at all times, and perhaps change yourself for what is one day, essentially.
A Thing Like That Photography + Follow