I am so excited to flex my writing muscles and share today's wedding with all of you lovelies. Not only did the outdoorsy September celebration take inspiration from a delicate dried flower wall, but the bride chose the most elegant combination of pieces from our favourites, Halfpenny London. Shall we take a look?
On 28 September 2019 Emily, a marketing and events manager wed Paddy, a mental health nurse, in a Church of England ceremony at St Mary's Church, Dartington followed by a relaxed, flower-filled reception in the bucolic setting of The Riverford Field Kitchen, Buckfastleigh, Devon. Taking the restaurant's whimsical dried flower wall as a starting point, the day was full of flowers and celebrated the seasonal produce of Devon.
Halfpenny London

+ Follow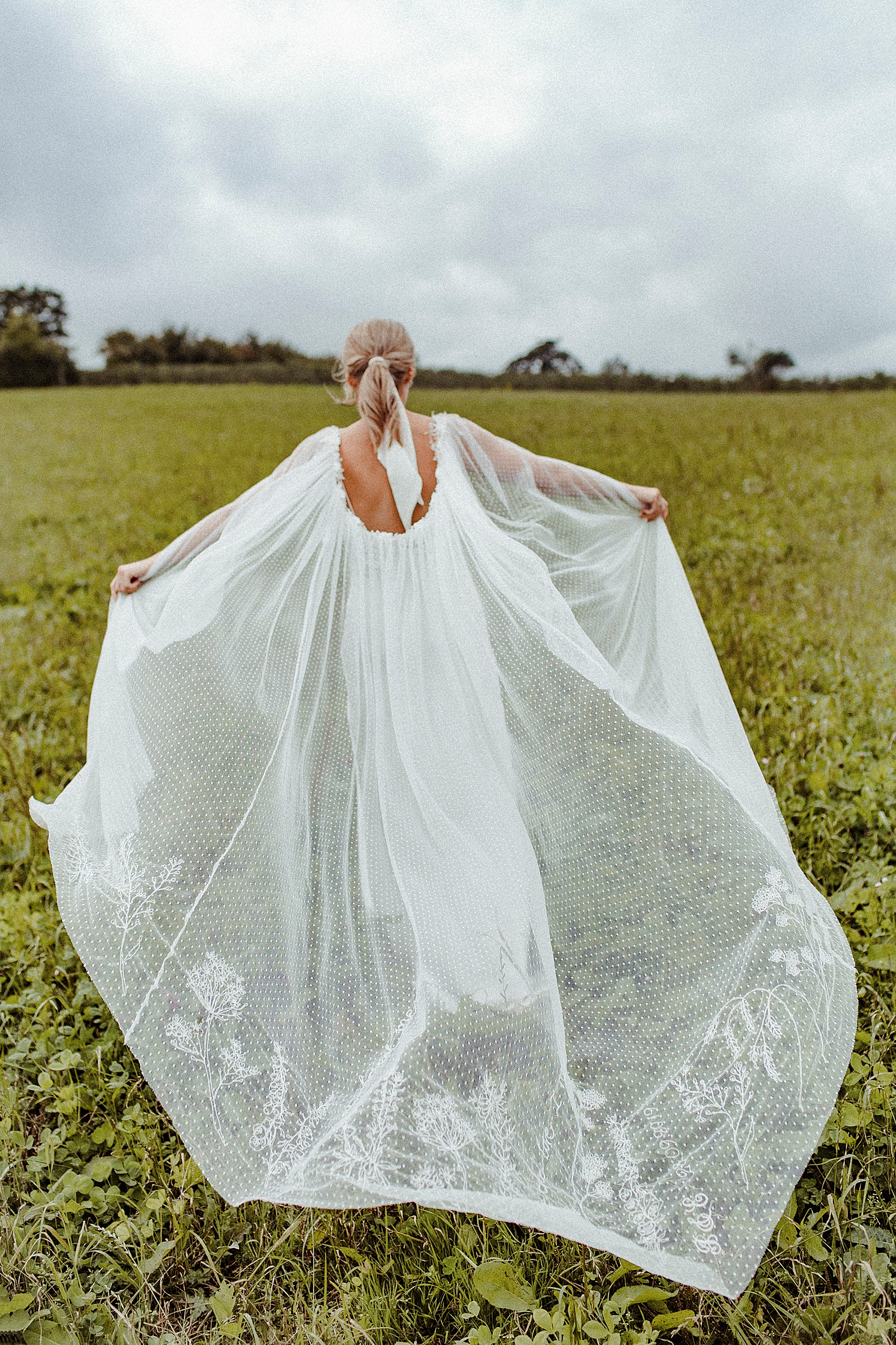 "We chose Riverford because we wanted the reception to feel relaxed and intimate, like one of those big family feasts where everyone just feels comfortable with one other. The food they serve is incredible, all the produce is grown on the farm or sourced locally and we wanted it to be delicious. Plus, the space and its dried flower walls are gorgeous."
To offset the simple cut of the gown and for a touch of contemporary glam, the bride chose glittered, pointy slingback shoes from Balenciaga.
"I was obsessed with my shoes! Not everyone's cup of tea but they were all-over glitter, including the sole."
A Thing Like That Photography

+ Follow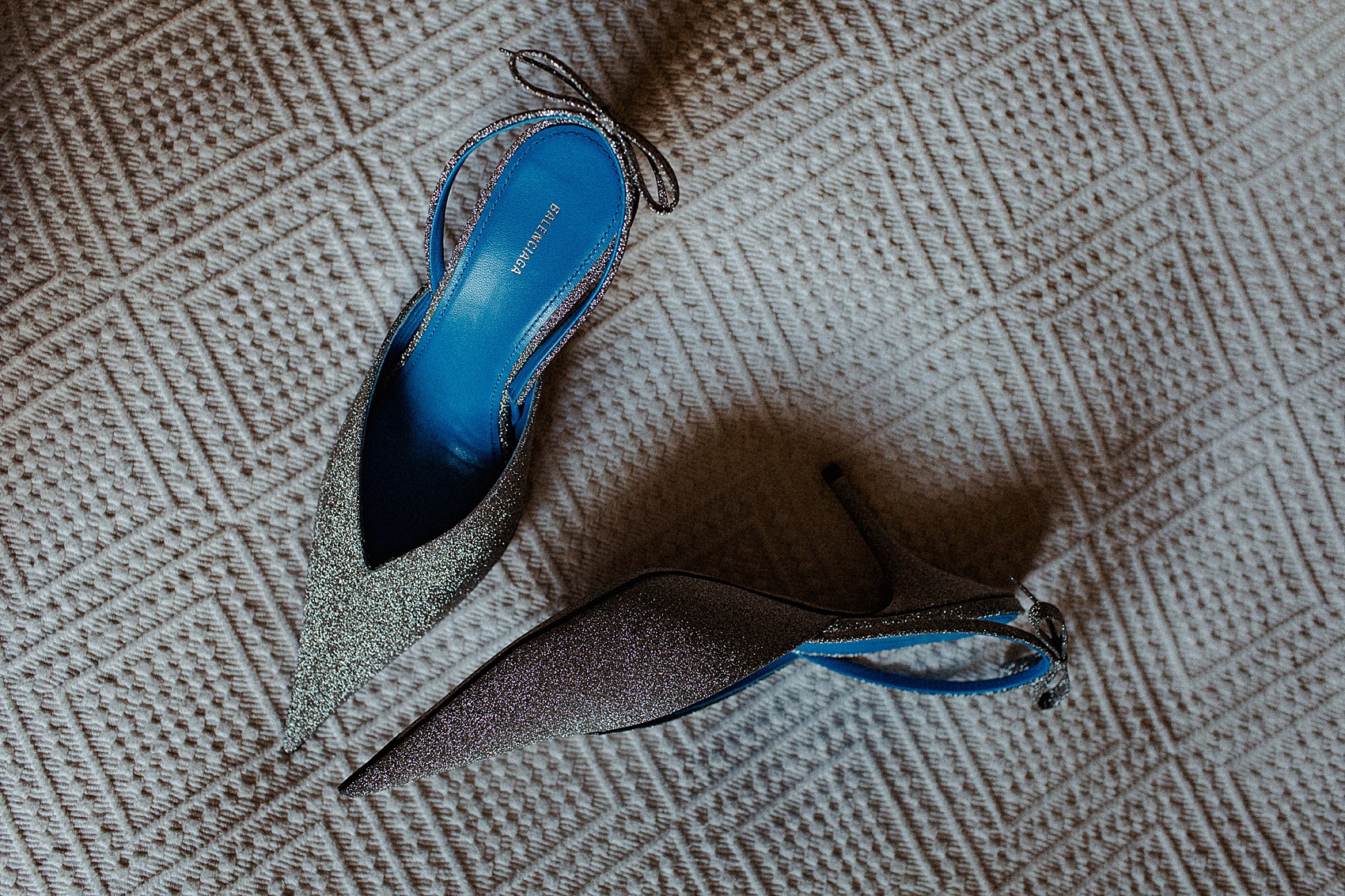 The bride wore her hair in a sleek, low ponytail, styled by Sadie Slade Smith and I love the addition of the wide hair-tie, which the Halfpenny team created using the same material as the slip dress.
For accessories, she wore a pair of diamond earrings, borrowed from a close friend, a wishbone ear cuff and gold barbell from Astrid & Miyu, and a lavender-hued sapphire and gold pendant from Erin Cox Jewellery, a gift from Paddy on the morning of the wedding.
Dried flowers are such a wonderful choice for a September wedding and, inspired by the dried flower wall at Riverford, the bride continued the theme throughout the rest of the wedding.
"Friday Flowers is a lovely, local, independent florist that I followed for a year or so before the wedding. I had a vision of lots of dried flowers, from my bouquet, to inside the church, to the table names and plan. Hannah had the exact style and taste I desired. She was incredible to work with and happily executed all the additional extras I added on."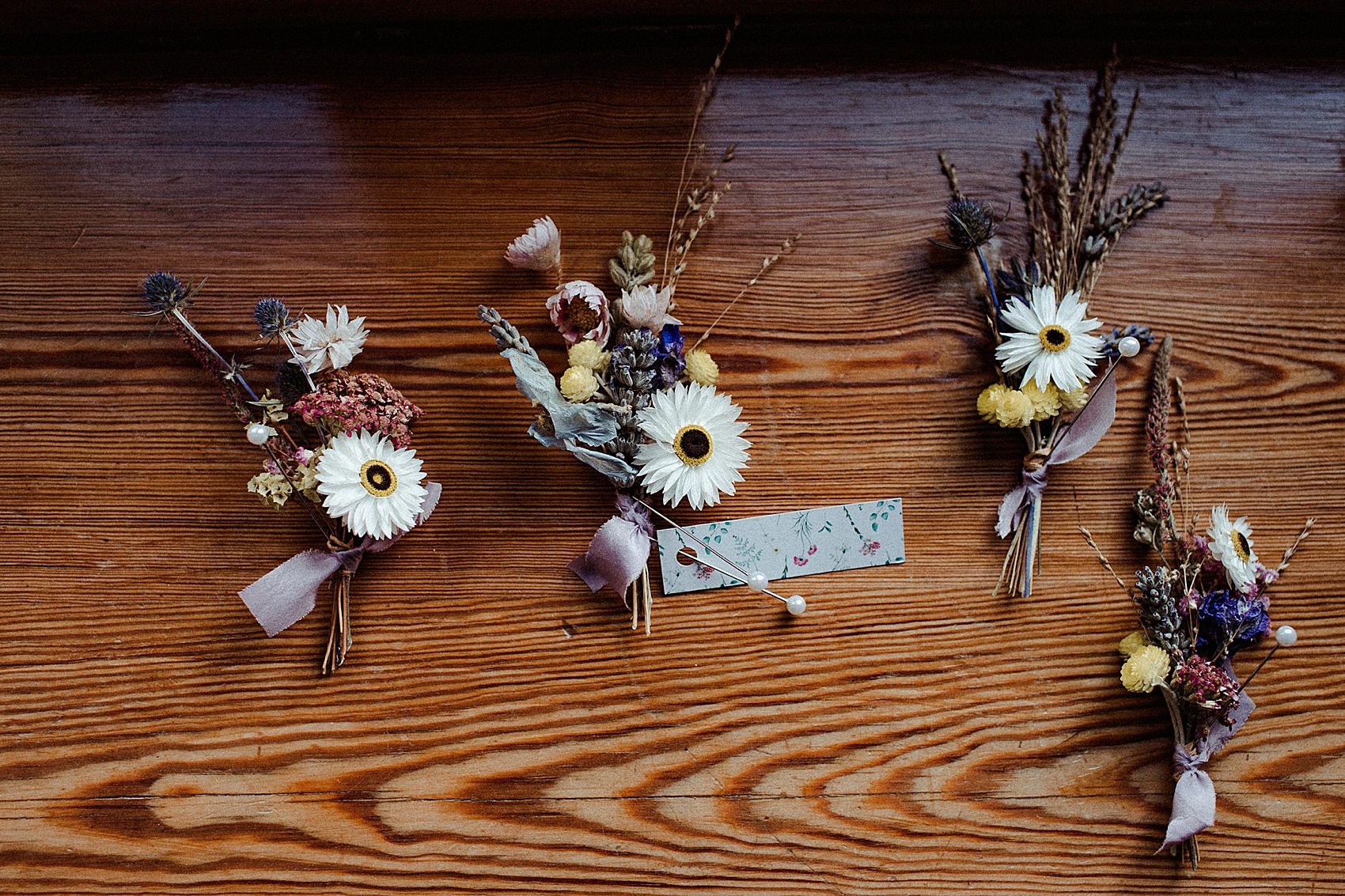 The bride visited Halfpenny London's glorious boutique in Woburn Walk, London where she tried on some of this wonderful designer's gowns and chose the impeccably-cut, minimal Iris slip.
She wore it with the sheer and flowing Peter cape, fitted to the line of the slip dress and delicately edged with leafy lace and hand-embroidered, too.
I love that the bride took inspiration from Florence Welch (of Florence + the Machine fame) for the cape, too. If you'd like to find out more about Kate Halfpenny and her incredible designs, why not check out her listing on our Little Book Wedding Directory?
"All my appointments with Halfpenny were wonderful experiences. The lovely team really listened to my thoughts and desires in the first appointment and let me try on the most amazing dresses. They also helped me to source an embroiderer and accessories.  I would highly recommend the Halfpenny team; they were incredibly patient and helpful."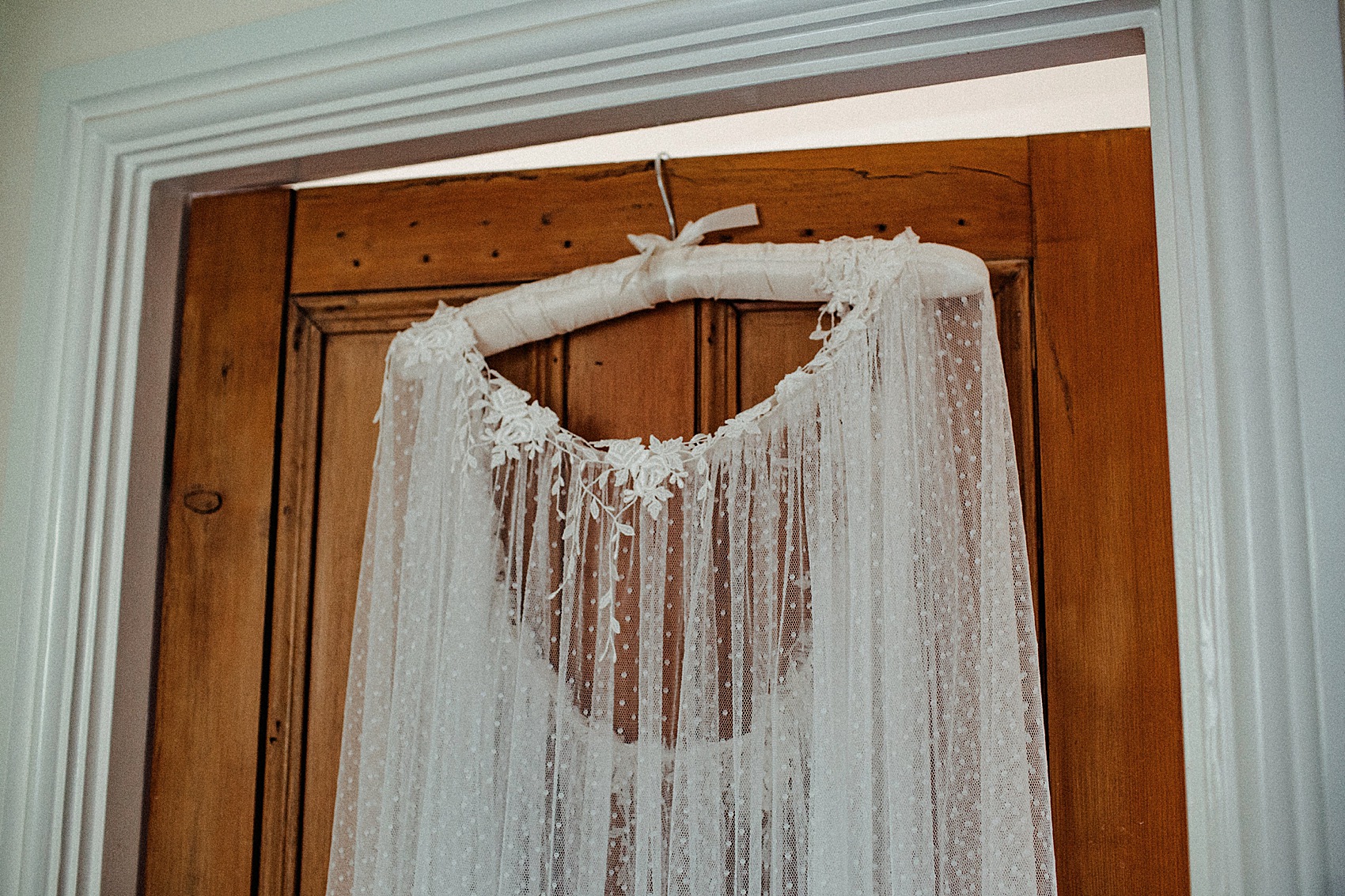 "I choose the Iris slip dress and Peter cape. I always wanted a dress that was minimal and chic (less is definitely more) with something a little unusual and unexpected. I loved the element of surprise when it came to my fashion choices growing up and yearned for my wedding dress to include this but in a non-fussy way."
"I always envisioned myself having personalised embroidery incorporated into my wedding outfit, a piece that could be passed down as a modern-day family heirloom that other generations could add their own individual embellishment too. I imagined a veil but when I saw the cape I knew that it would be perfect! The Halfpenny team were incredible at making this dream a reality and helped me to contact a fantastic independent embroiderer."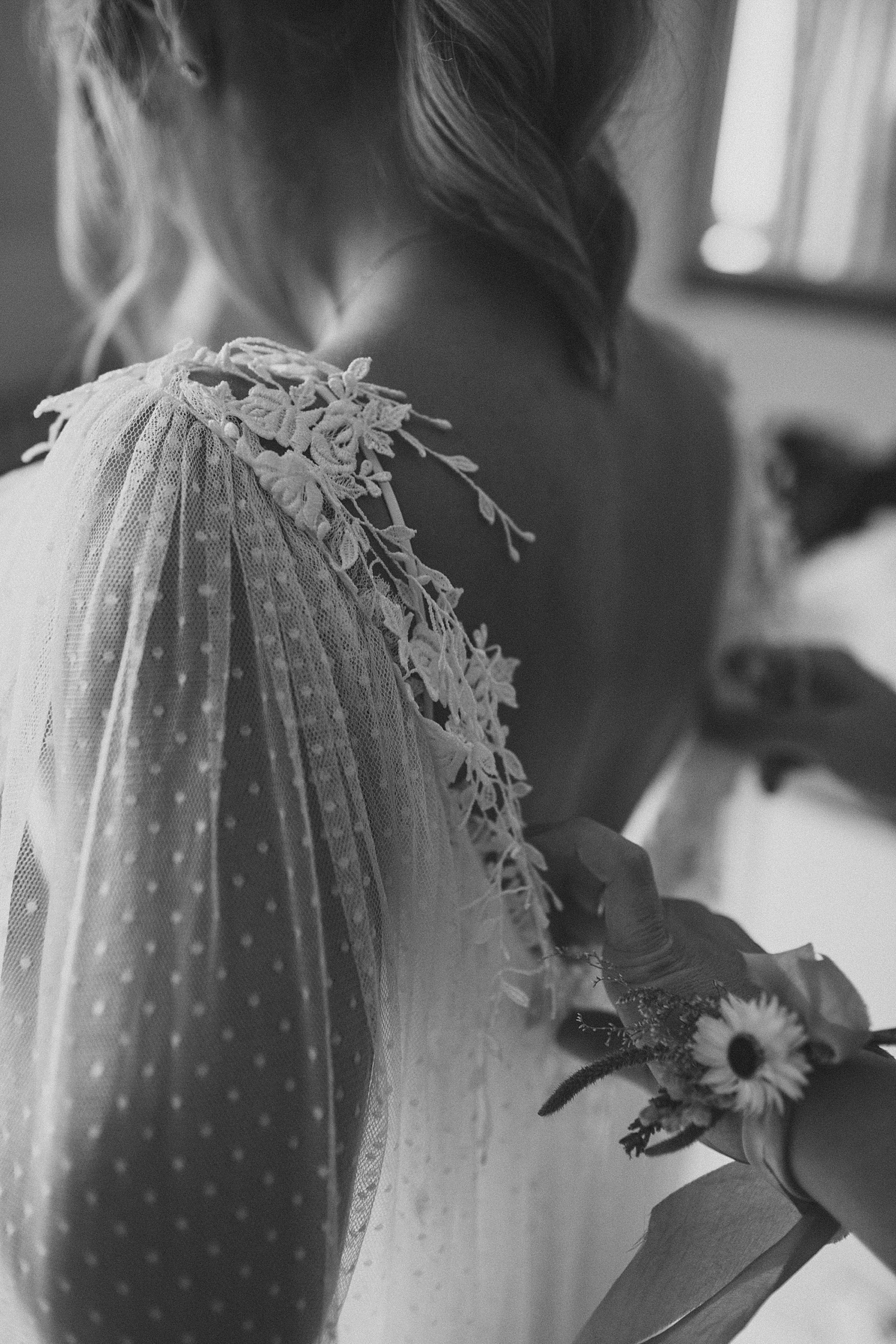 "Someone told me to wear a new scent for the day as every time you wear it after you'll be transformed back. I choose F*cking Fabulous by Tom Ford. It's a gorgeous scent."
"I adore Florence Welch and her unique style. The way she floats whimsically across the stage and as soon as I put the Peter cape on it just made me feel carefree and magical."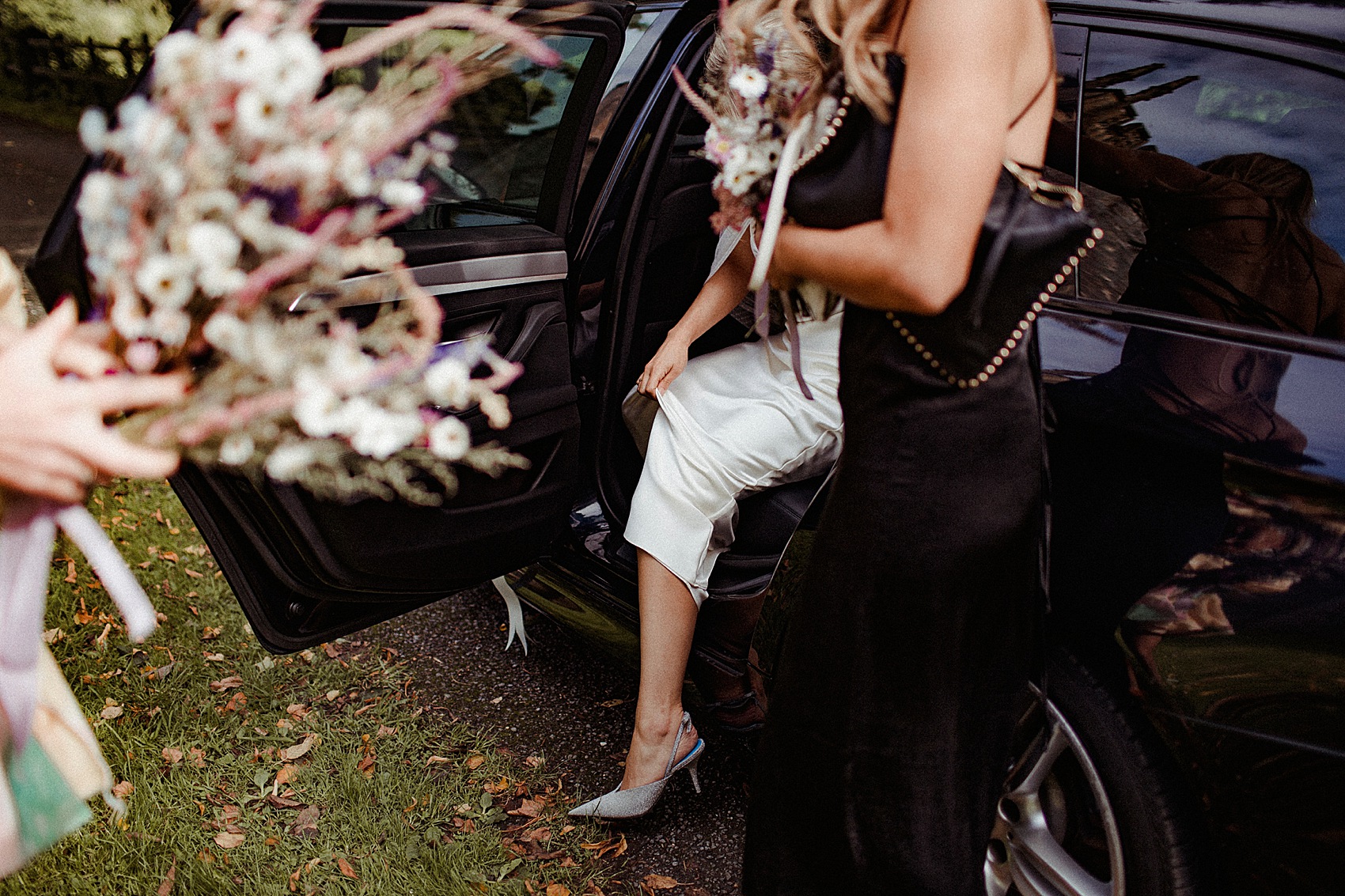 "My sister and best friend attended the first appointment with me and I distinctly remember them saying my face just lit up and my whole body language changed when I first tried the dress and cape on. I swooshed around the showroom feeling utterly fabulous yet completely comfortable. It was exactly what I had dreamed of."
The floral vibe fed into the stationery, created by Kate Hall Design.
"She created the most gorgeous bespoke wedding stationery incorporating lots of wild flowers."
The couple grew up together in Devon, went to the same school and hung out with the same group of friends as Paddy is Emily's brother's best friend. They started to date in 2011 and had an eleven month engagement after the groom's proposal in Sicily.
"We got engaged in Sicily in October 2018. I had been dropping multiple hints across the year and I had given up a little hope when he caught me completely off guard at the top of a mountain (I am scared of heights so was concentrating on other things)."
"We were staying in the gorgeous village of Gratteri, which only has around 1,200 inhabitants so it was incredibly private and intimate basically just the two of us for three days."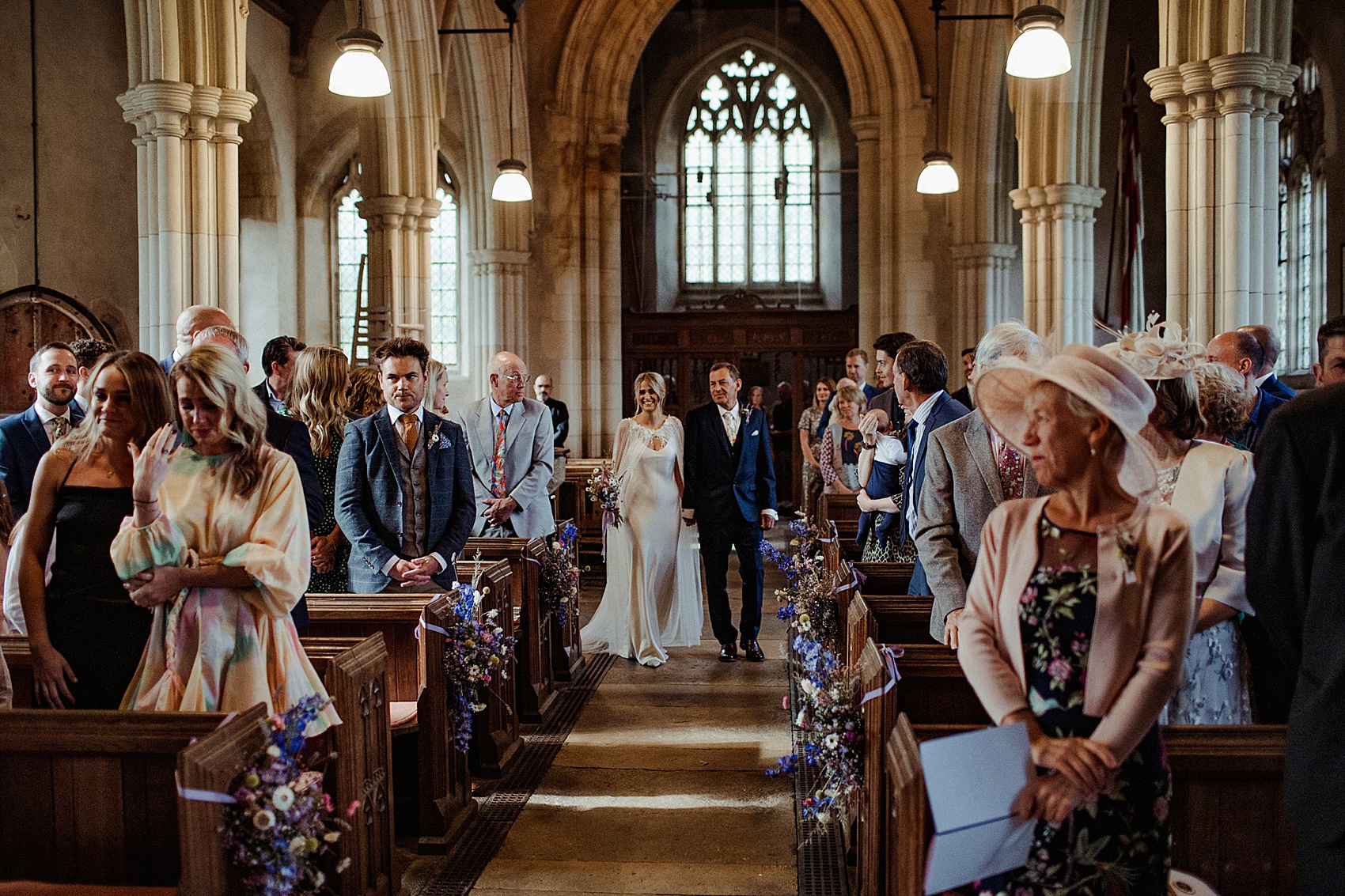 The bride and her father travelled to the church together in his car, before entering to 'Because You Loved Me' by Celine Dion.
"This was my mum's song as sadly she wasn't with us."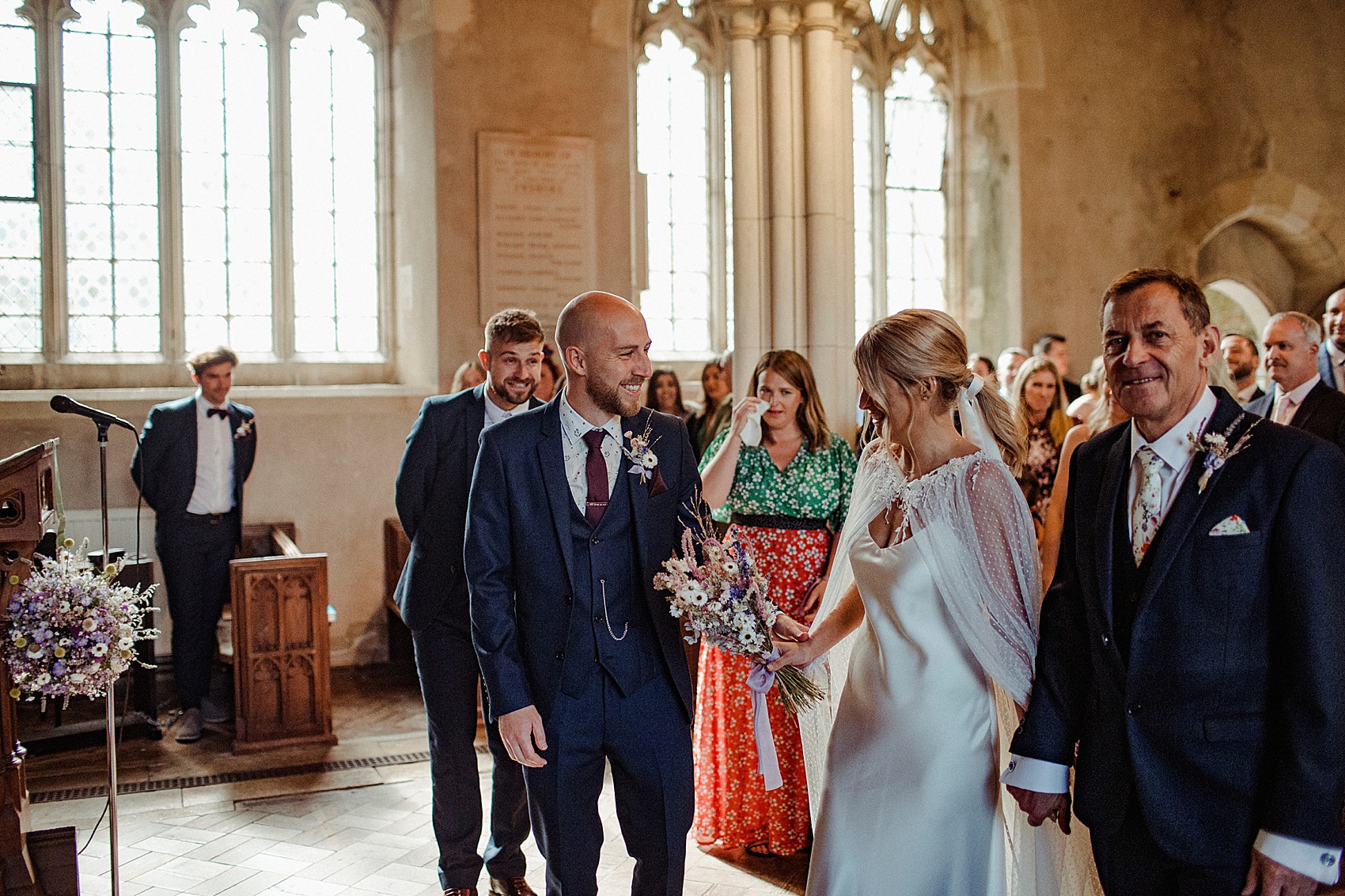 The ceremony was led by Andrew Godsall, the church vicar and a close family friend, and included two readings.
"We had one from Paddy's sister Maddie, an extract from 'Captain Corelli's Mandolin' by Louis de Bernières and 'Songs of Songs 2: 10-13' from my mum's best friend Anne Marie."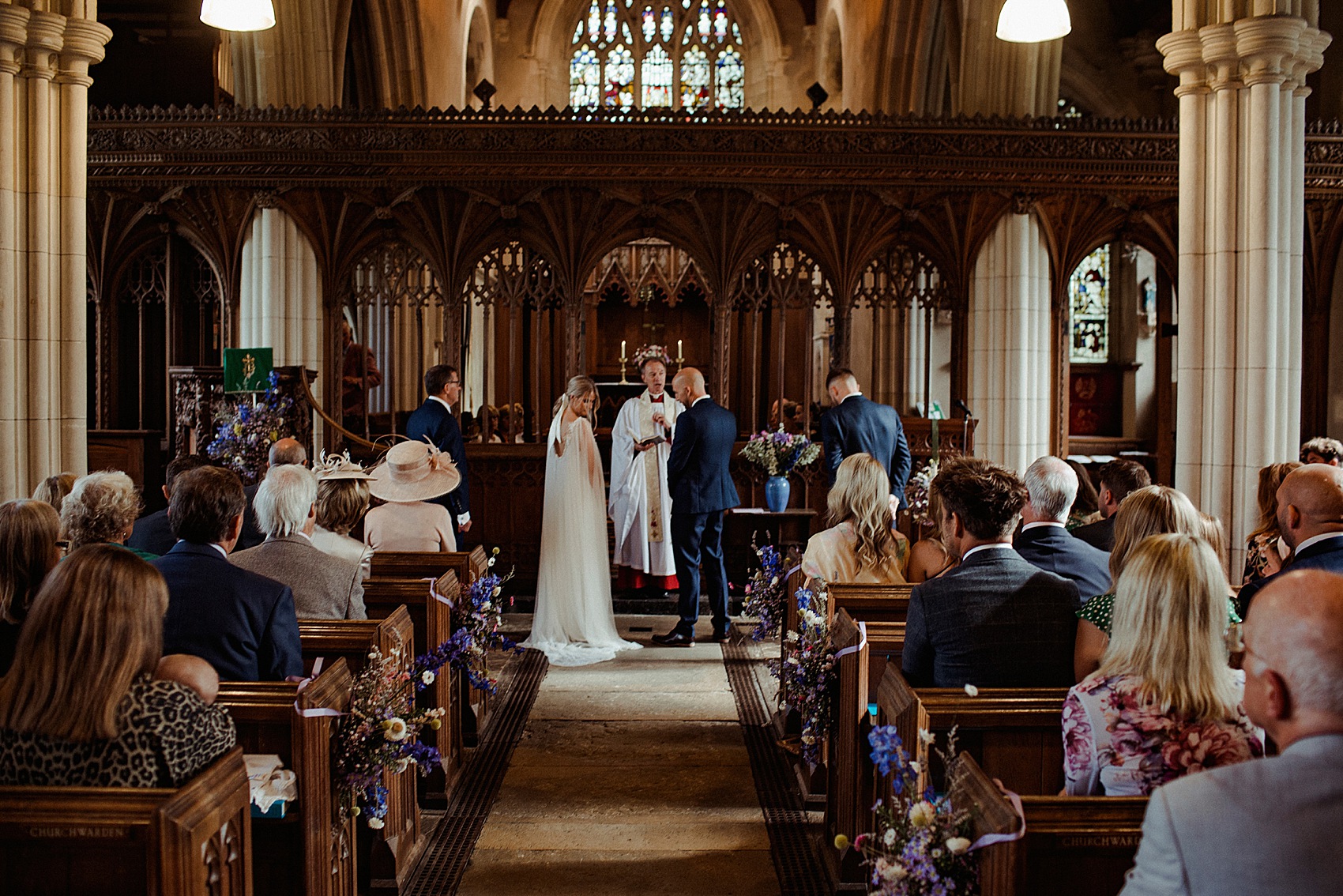 The rings were bespoke designs to suit Emily and Paddy.
"I wanted something unique and fitted under my unusual shaped engagement ring. Jessie Harris London created a beautiful curved gold ring with baguette diamonds."
Paddy chose a brushed gold plain wedding band from Mortimers Jewellers in Devon.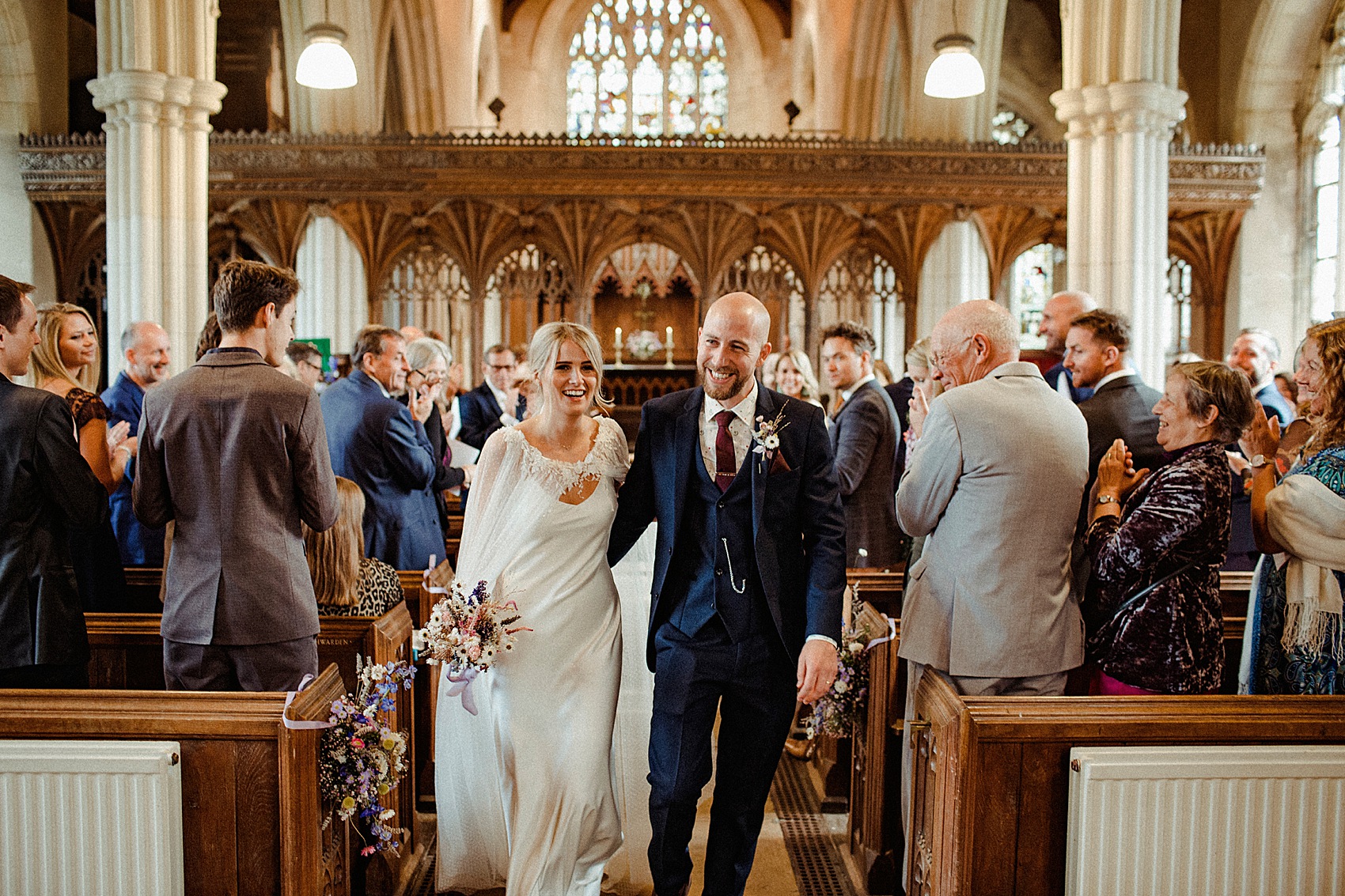 For the September wedding day, Paddy selected a deep blue suit from Zebel in Exeter, worn with a quirky, flower-sprigged shirt from Paul Smith together with striped cufflinks and socks, also from Paul Smith.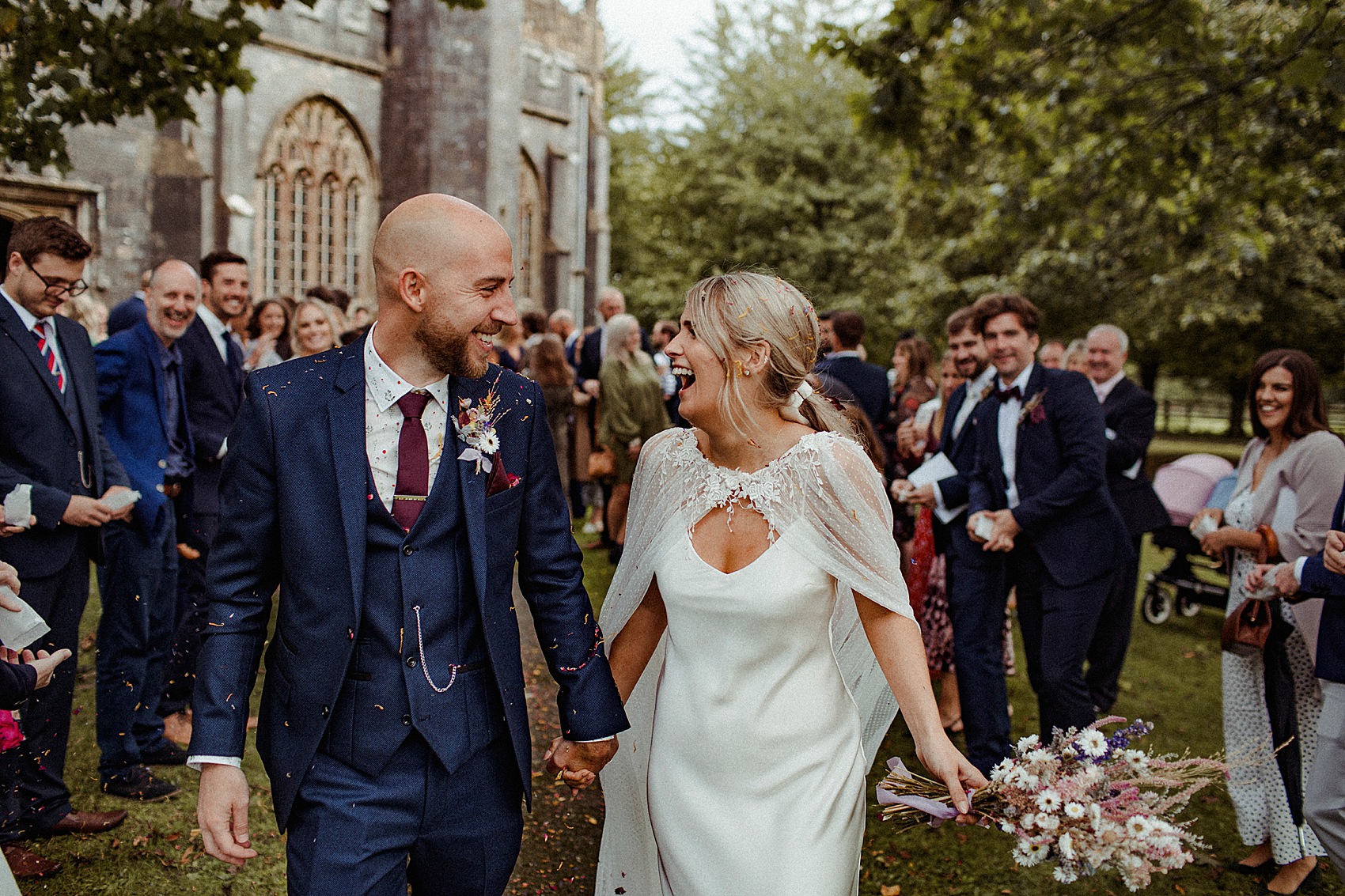 The intimate, atmospheric photographs that we're enjoying are from the camera of the super-talented Rebecca Rees of A Thing Like That, who combines contemporary and romantic vibes for a truly unique style.
I adore the timelessness of these images, particularly those newly-wed shots out on the moors.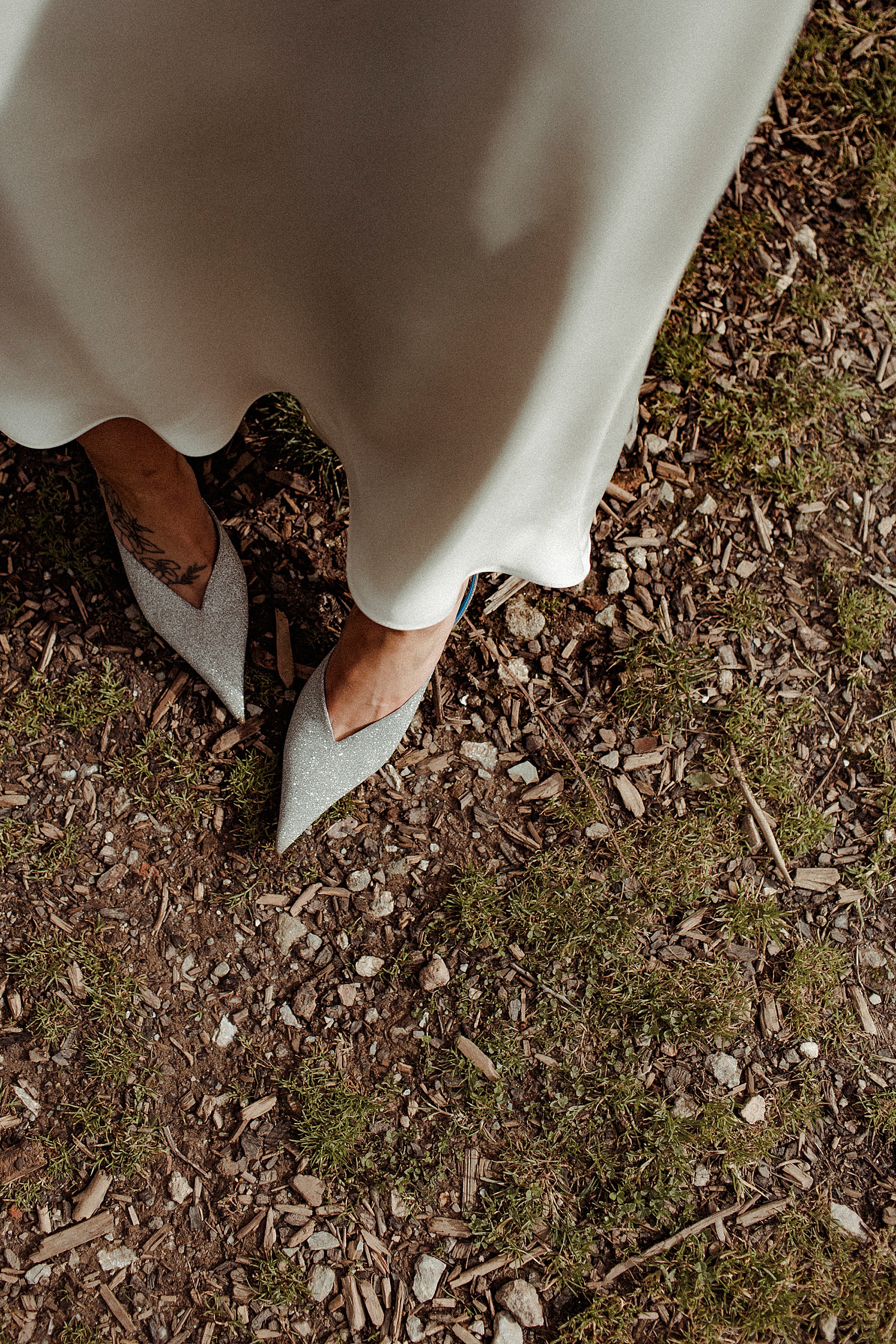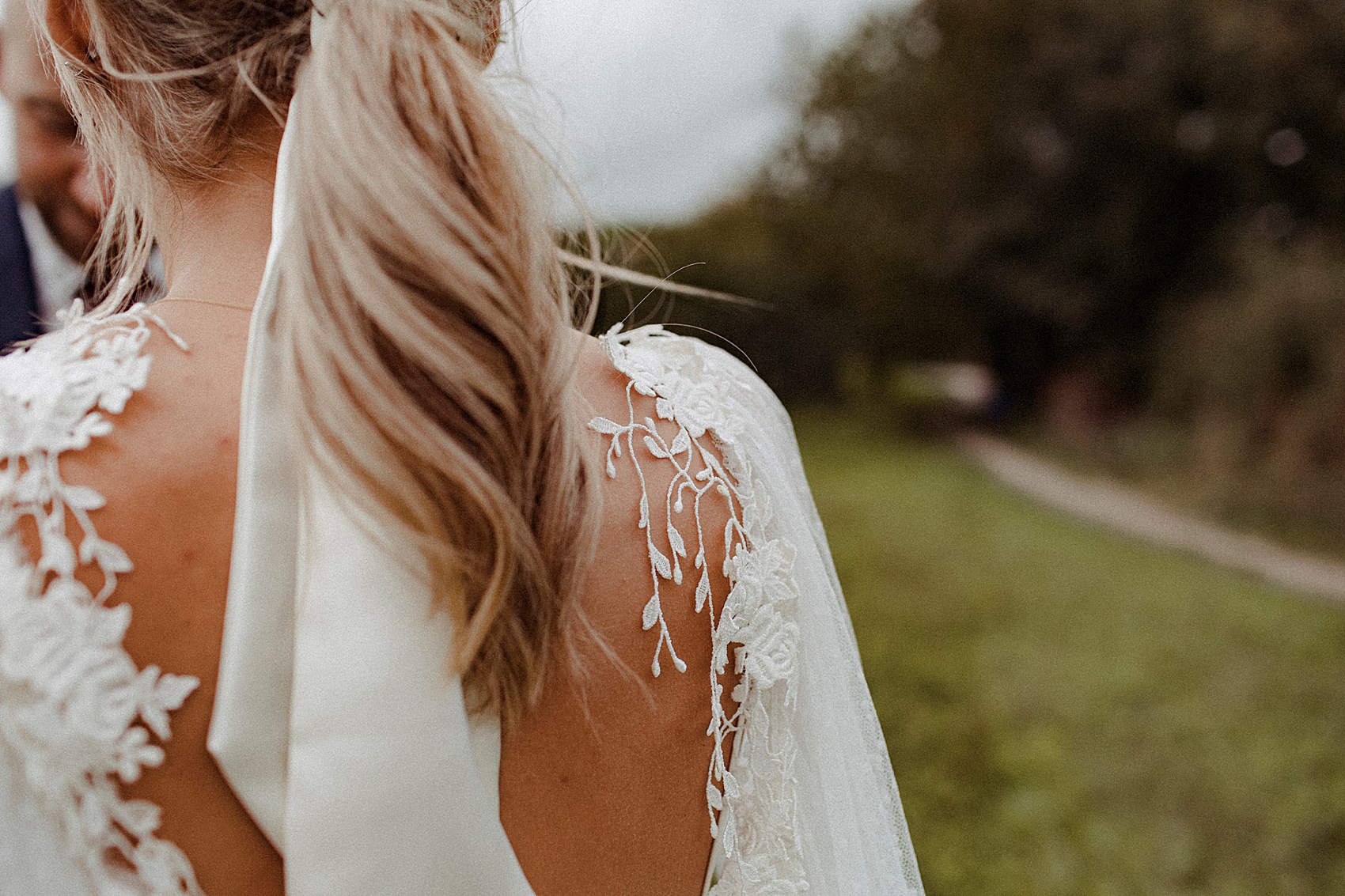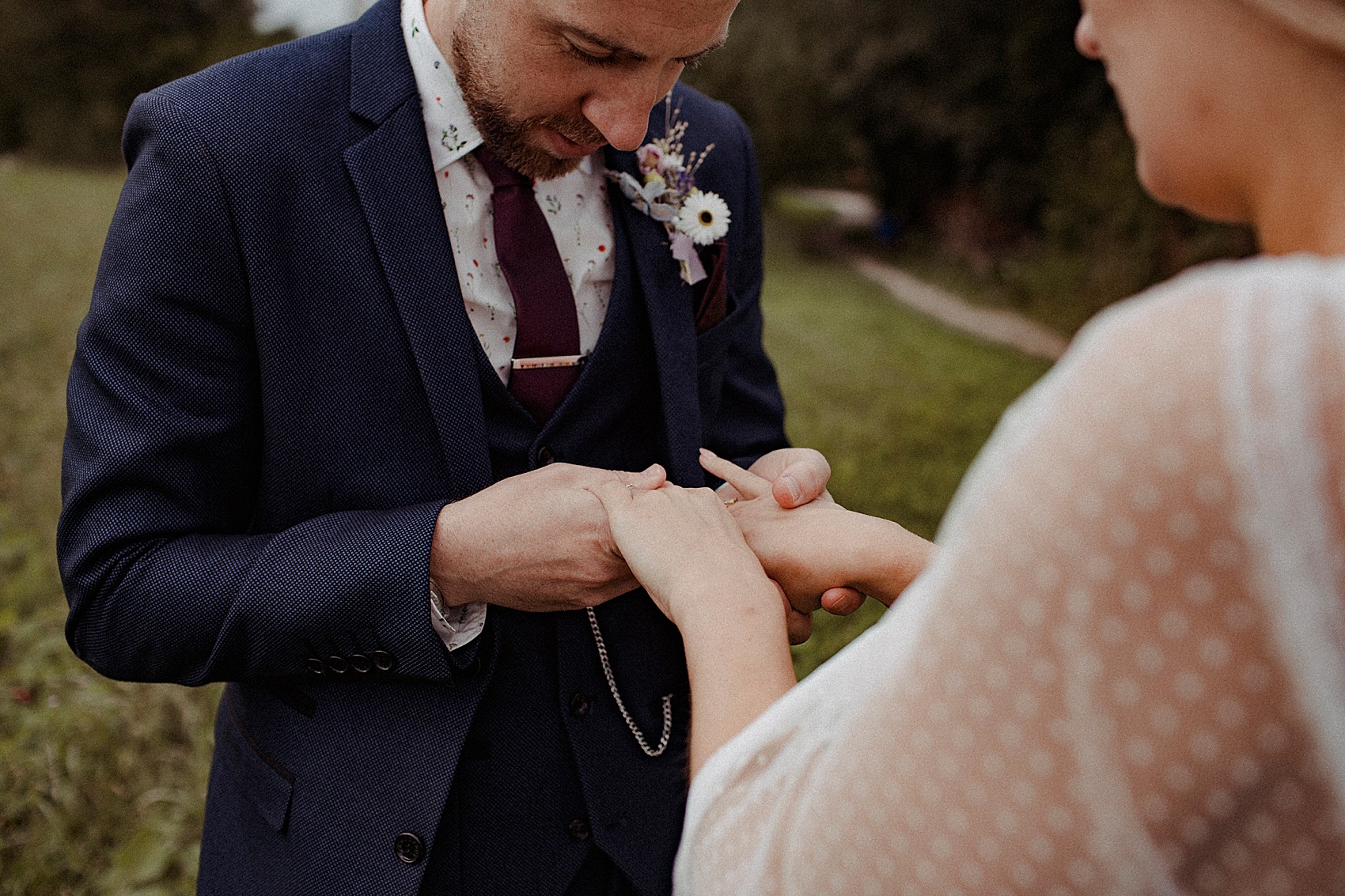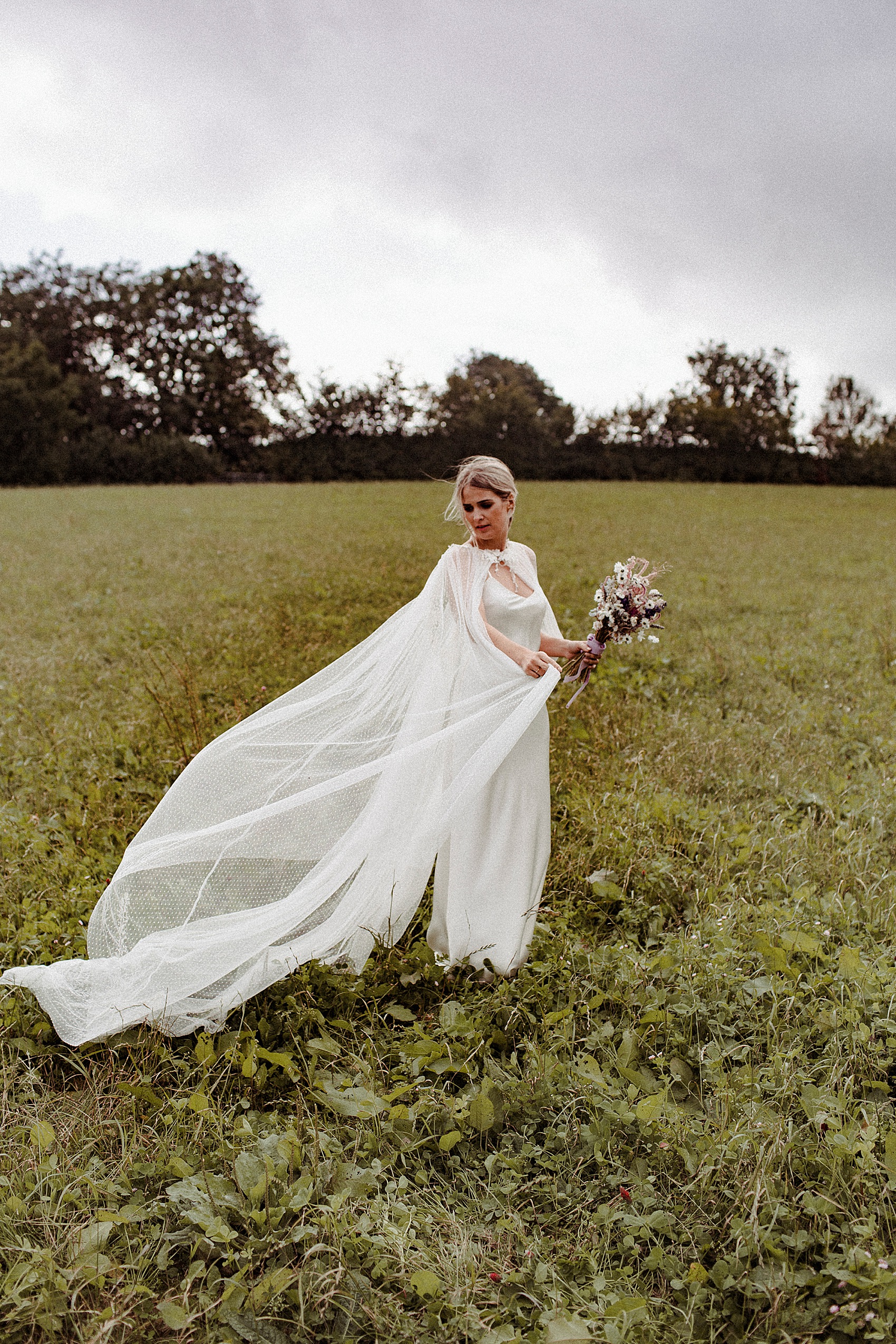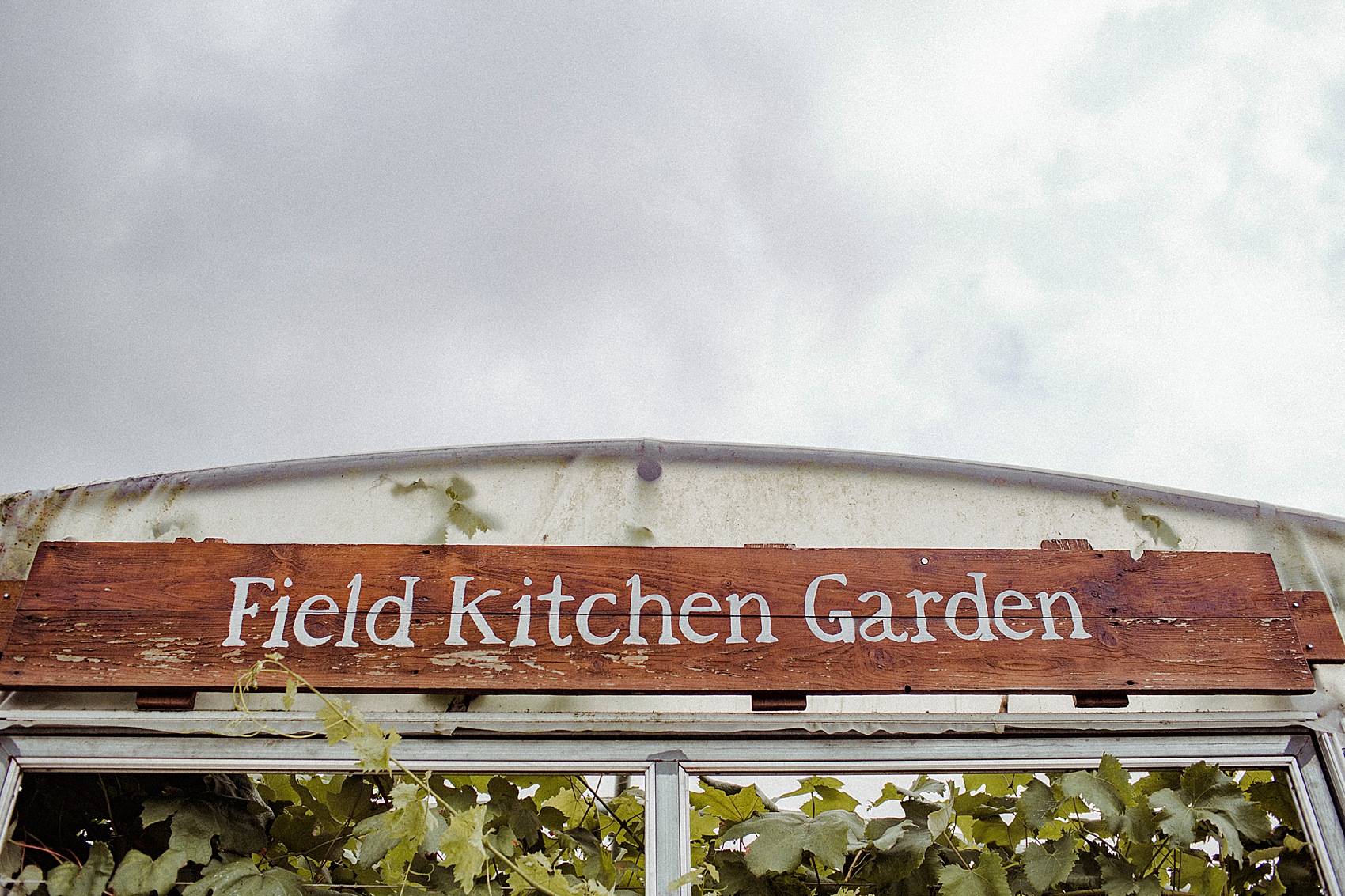 After the service, the newly-weds and their guests headed over to Riverford Field Kitchen, where a mixture of sunshine and showers meant that both the glorious indoor areas and greenhouses were used as much as the acres of Devonian countryside which surround Riverford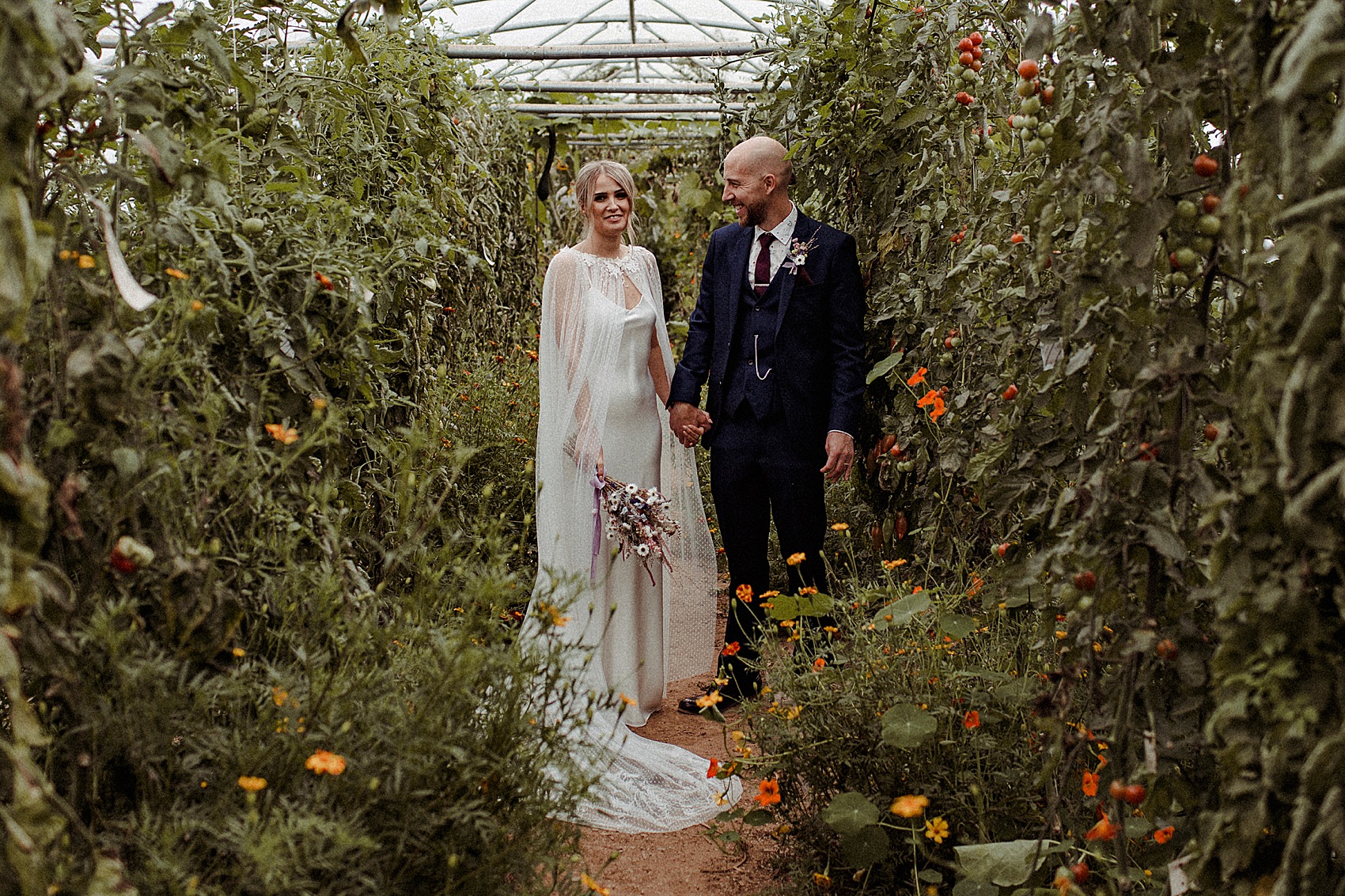 The newly-weds made the most of the landscape for the beautiful portrait shots, but I love those in the glasshouse full of lush greenery and vegetables.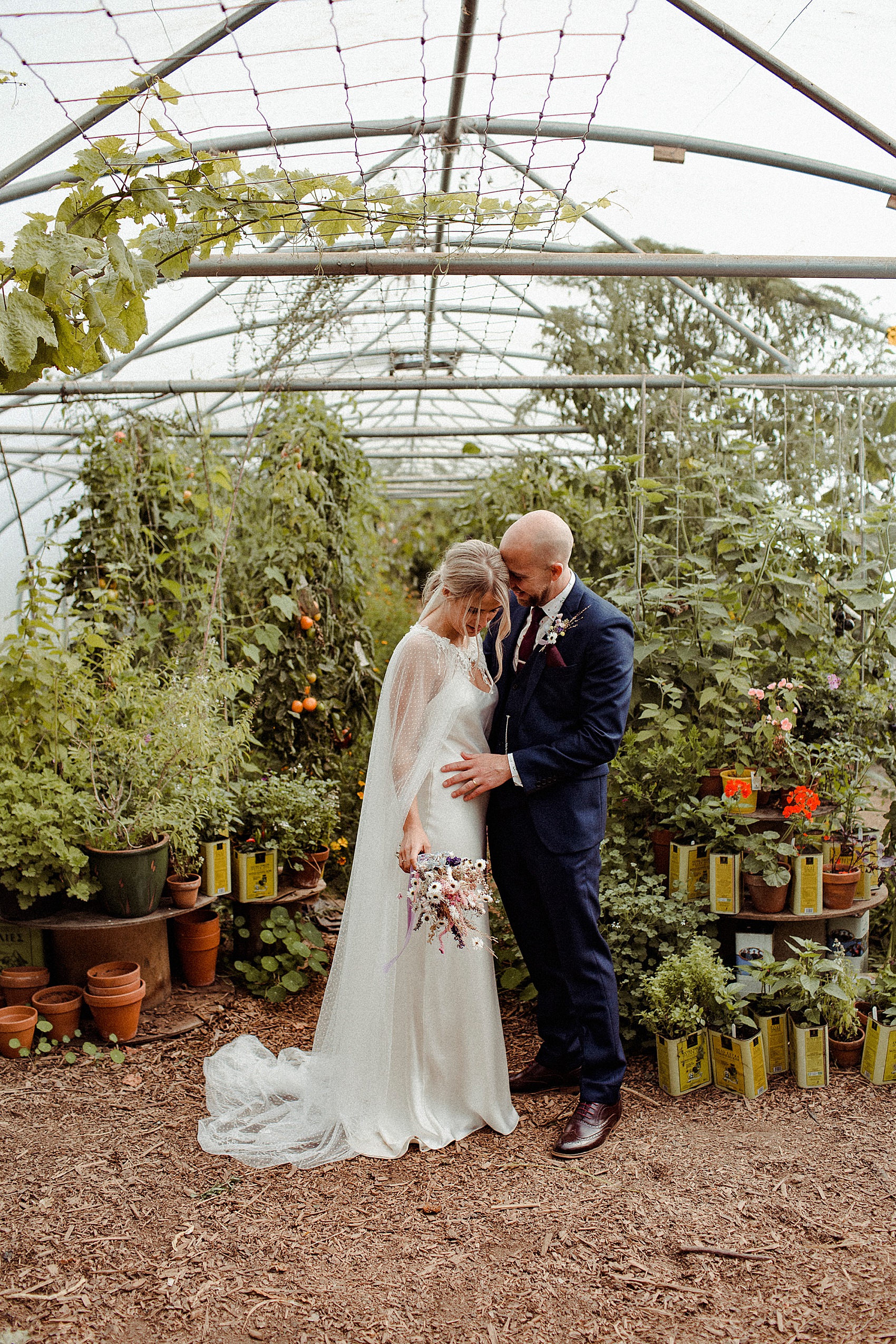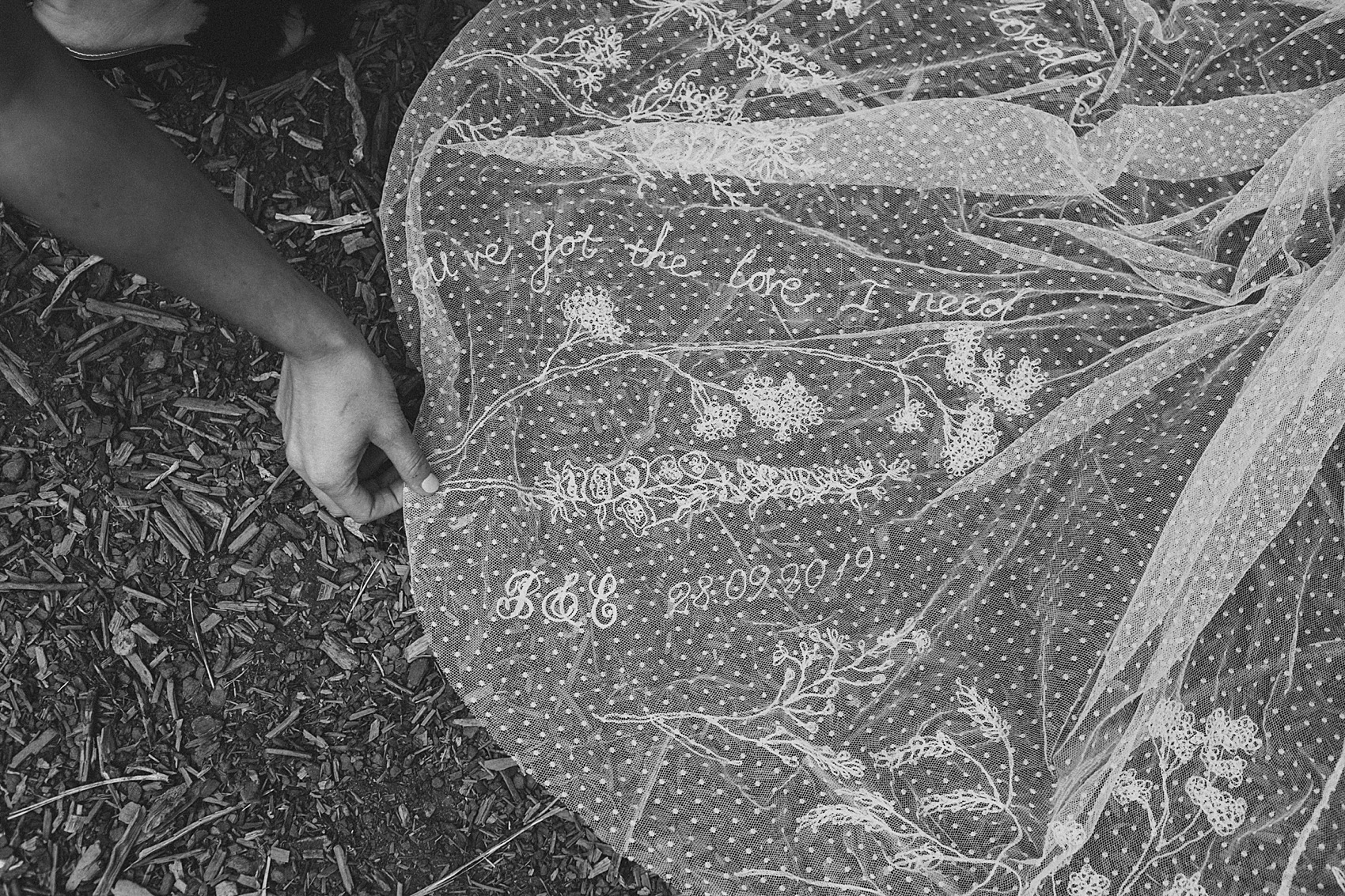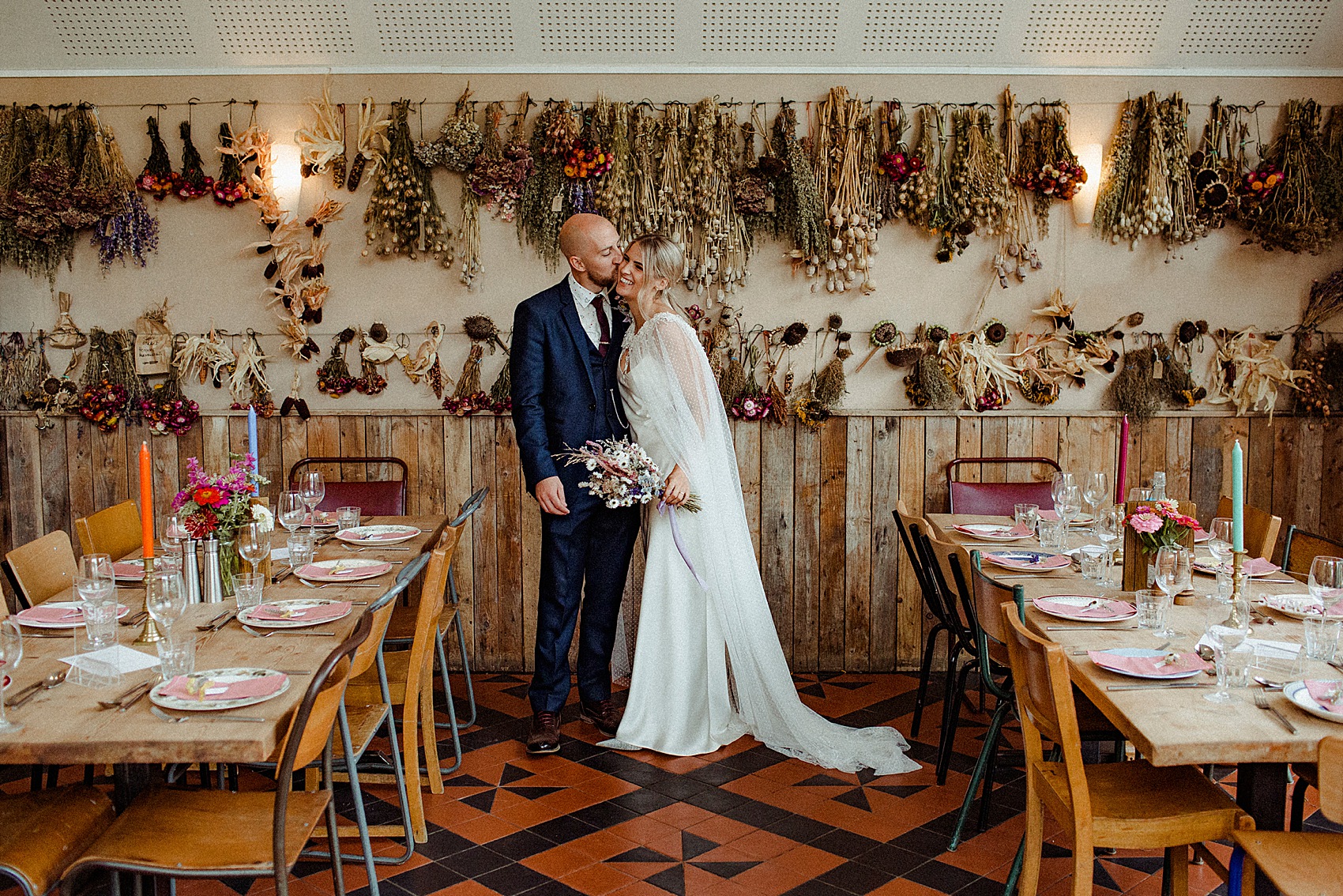 The light and airy interior was simply decorated with wild flowers and trestle tables laid with pretty crockery, glassware and bright candles, a relaxed setting for the wedding dinner that was served up feast-style.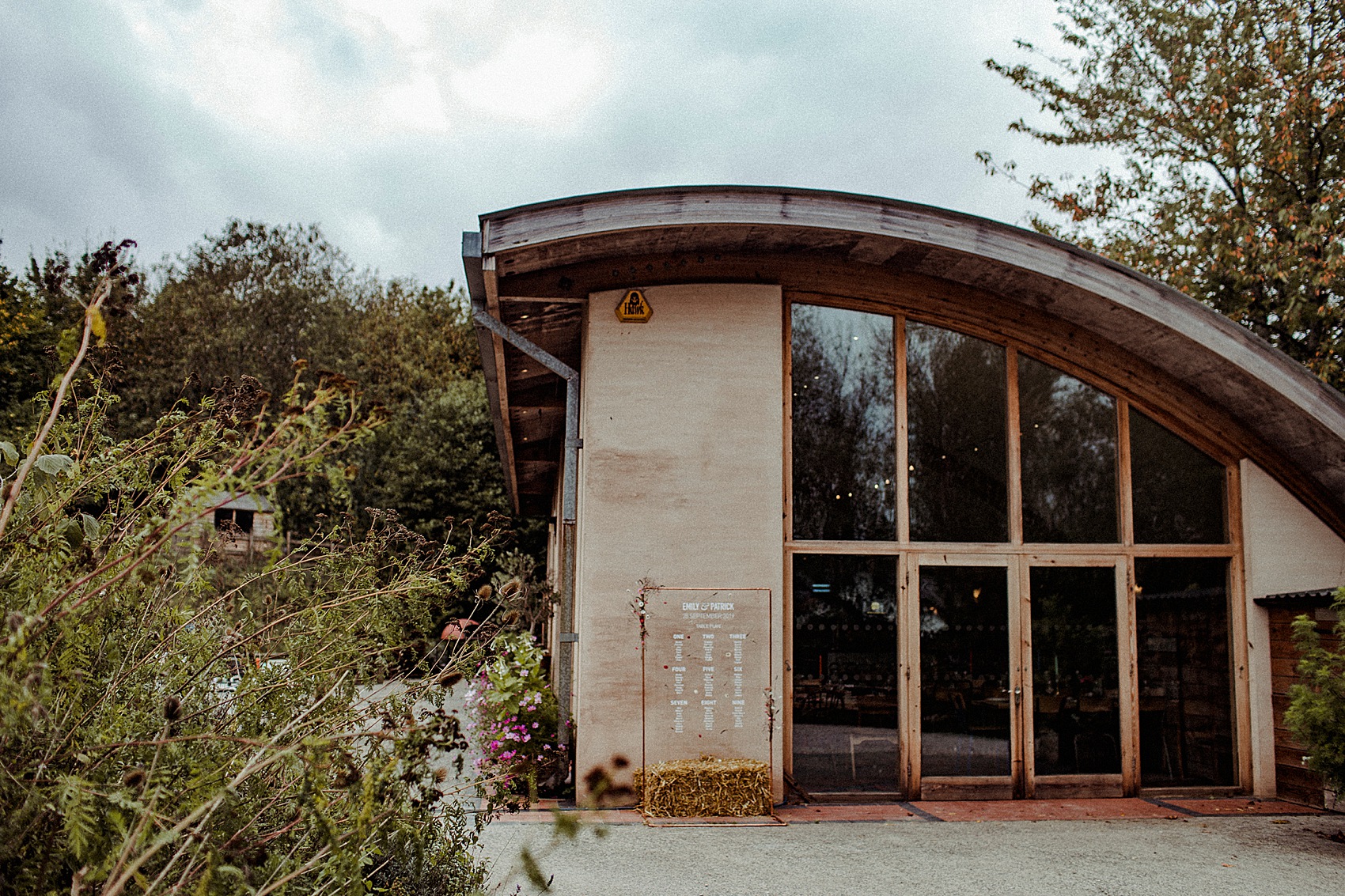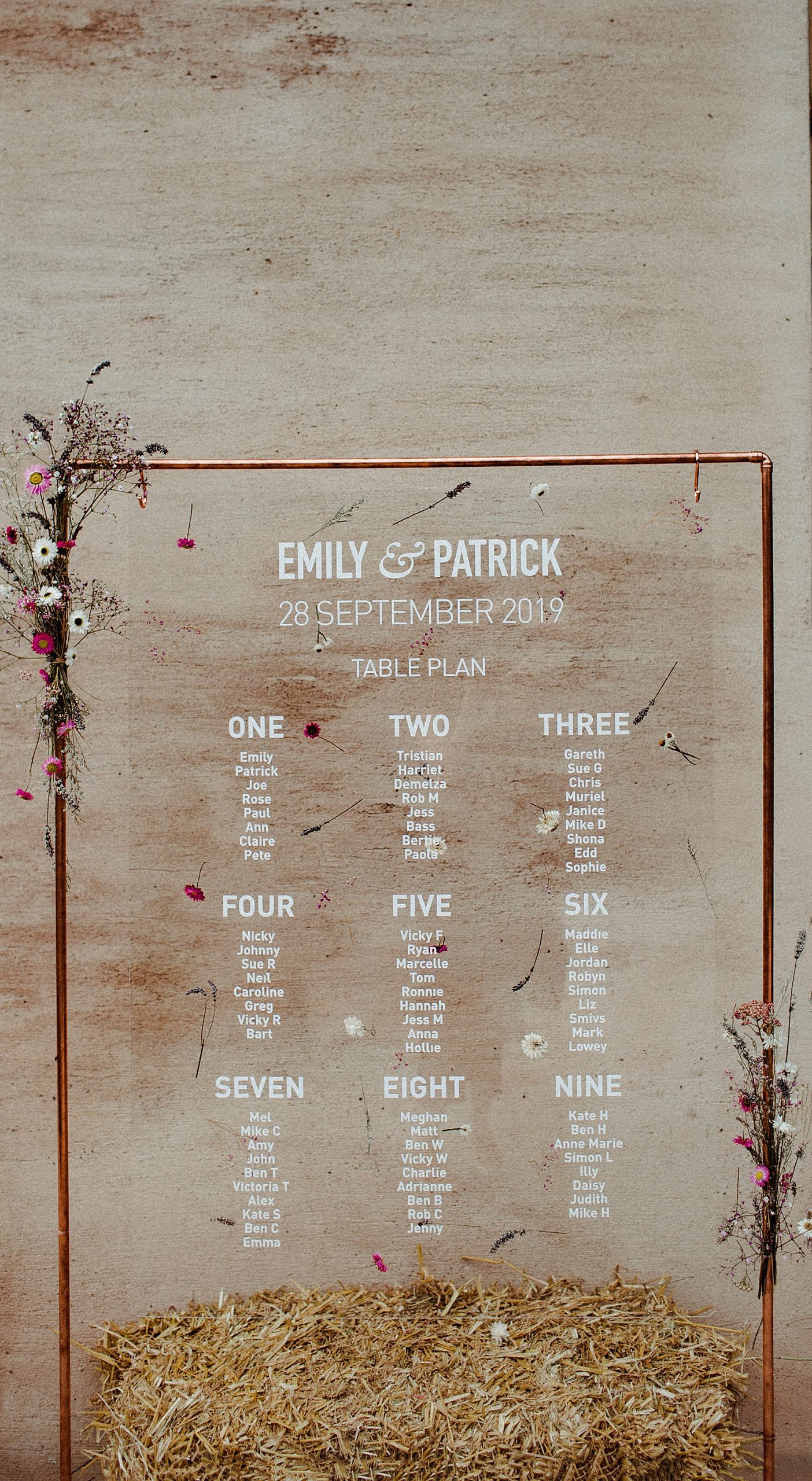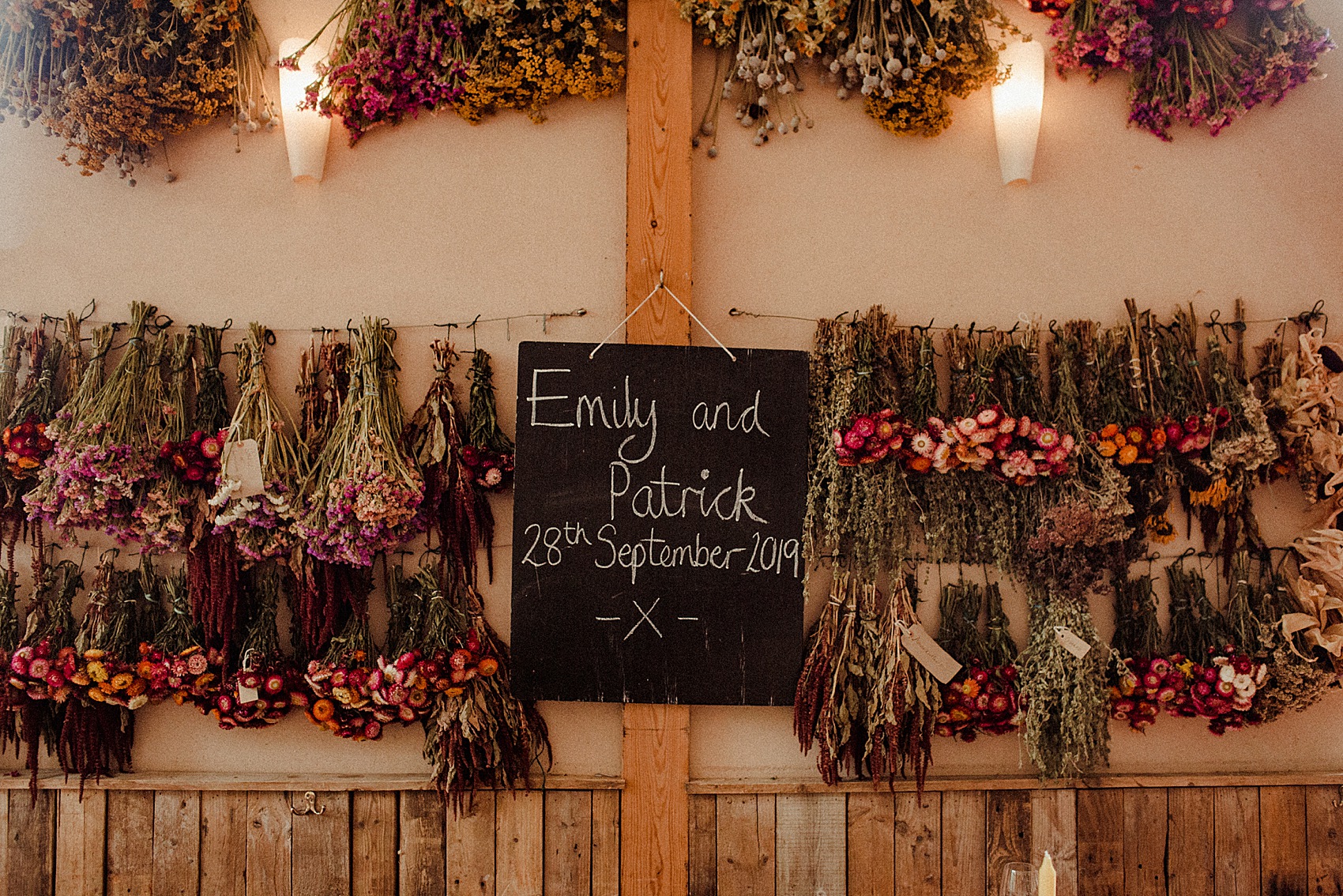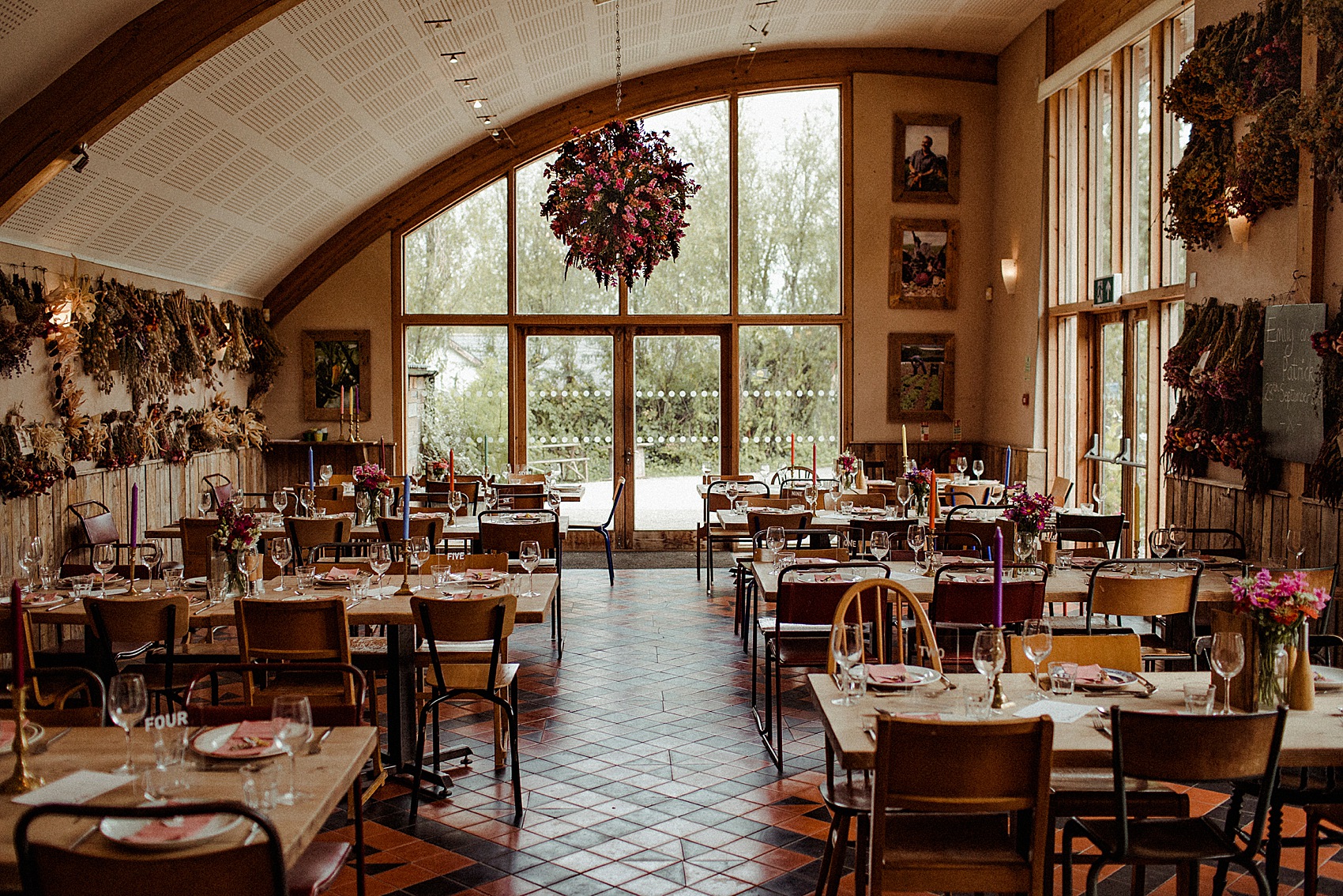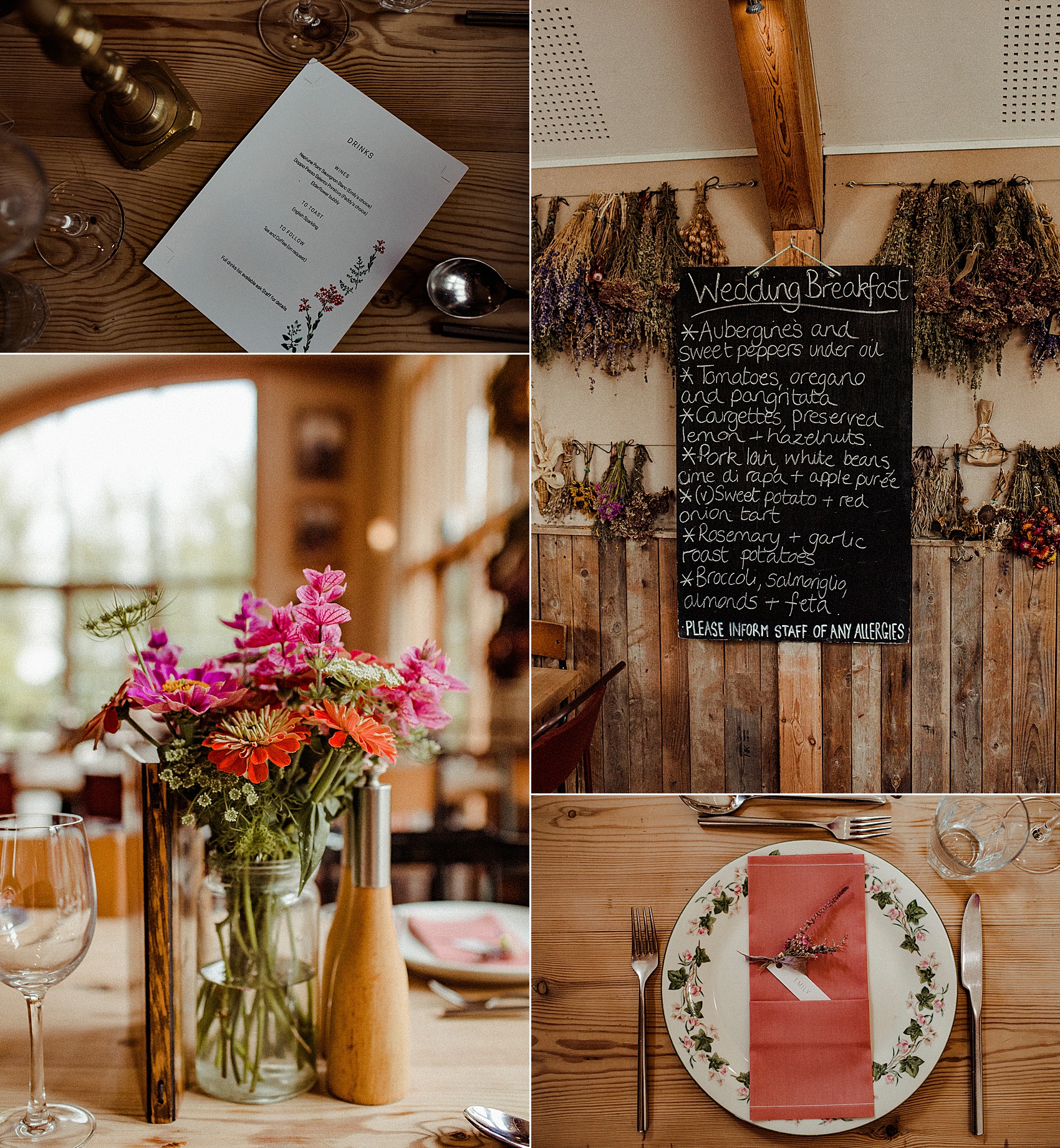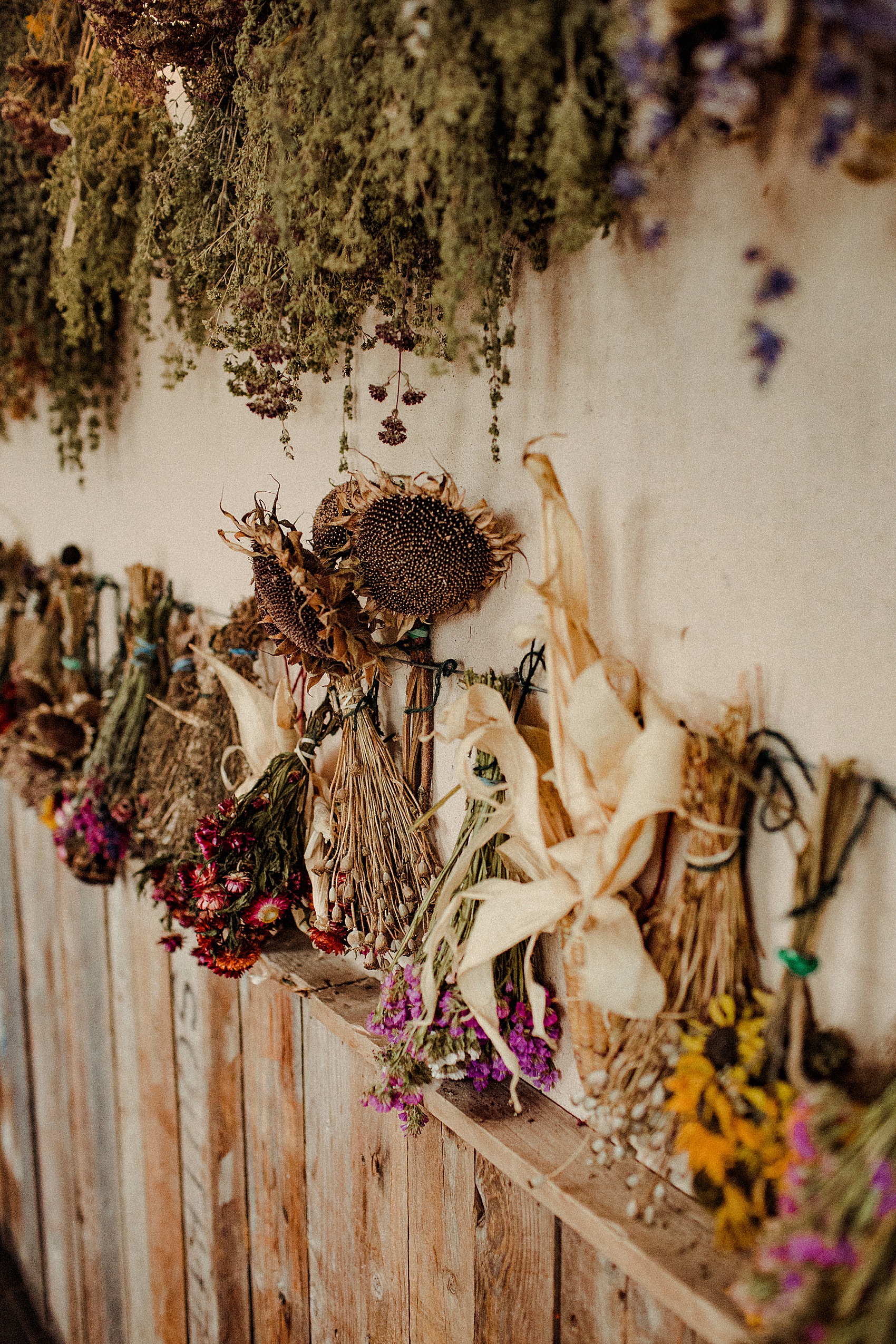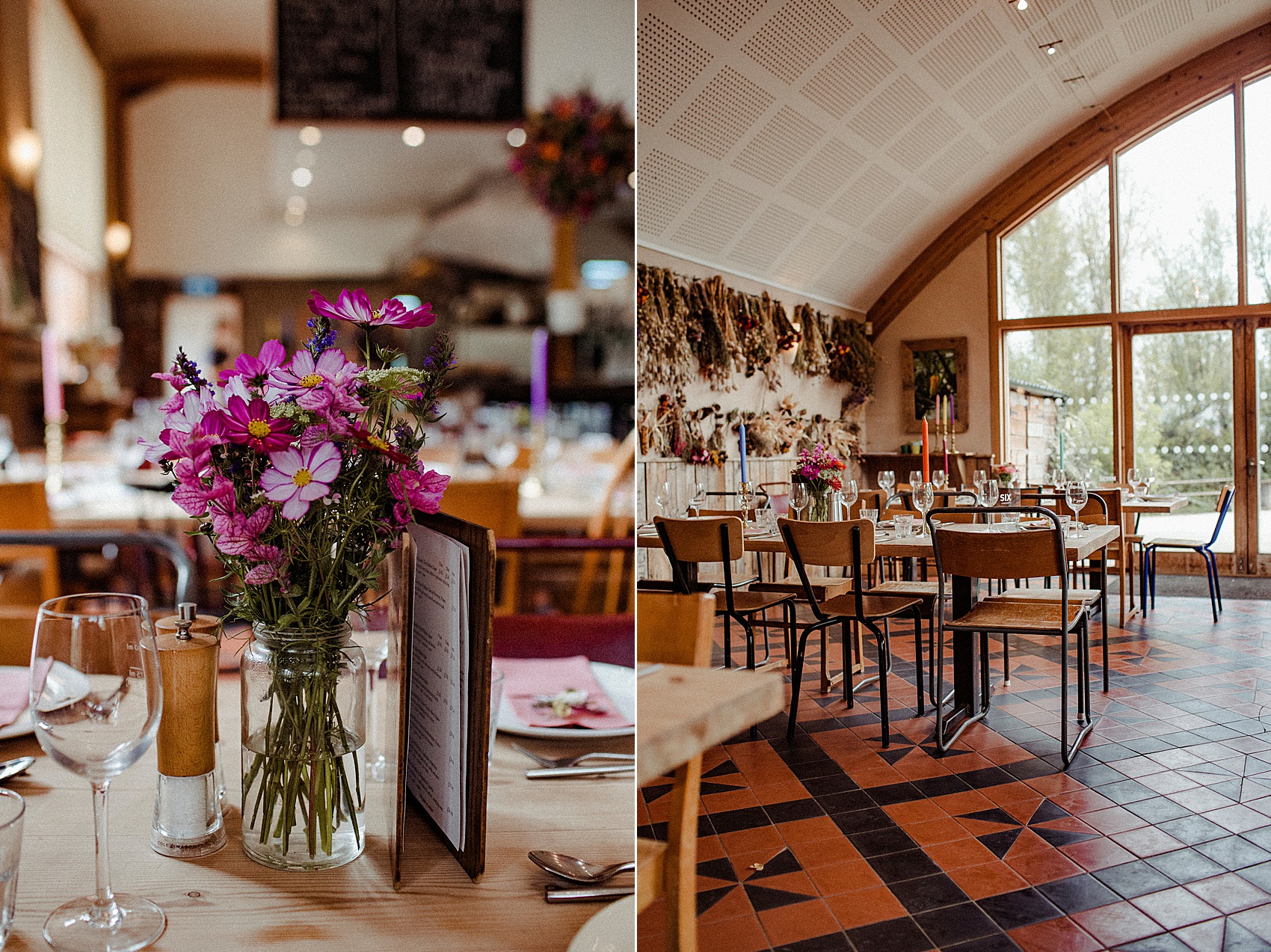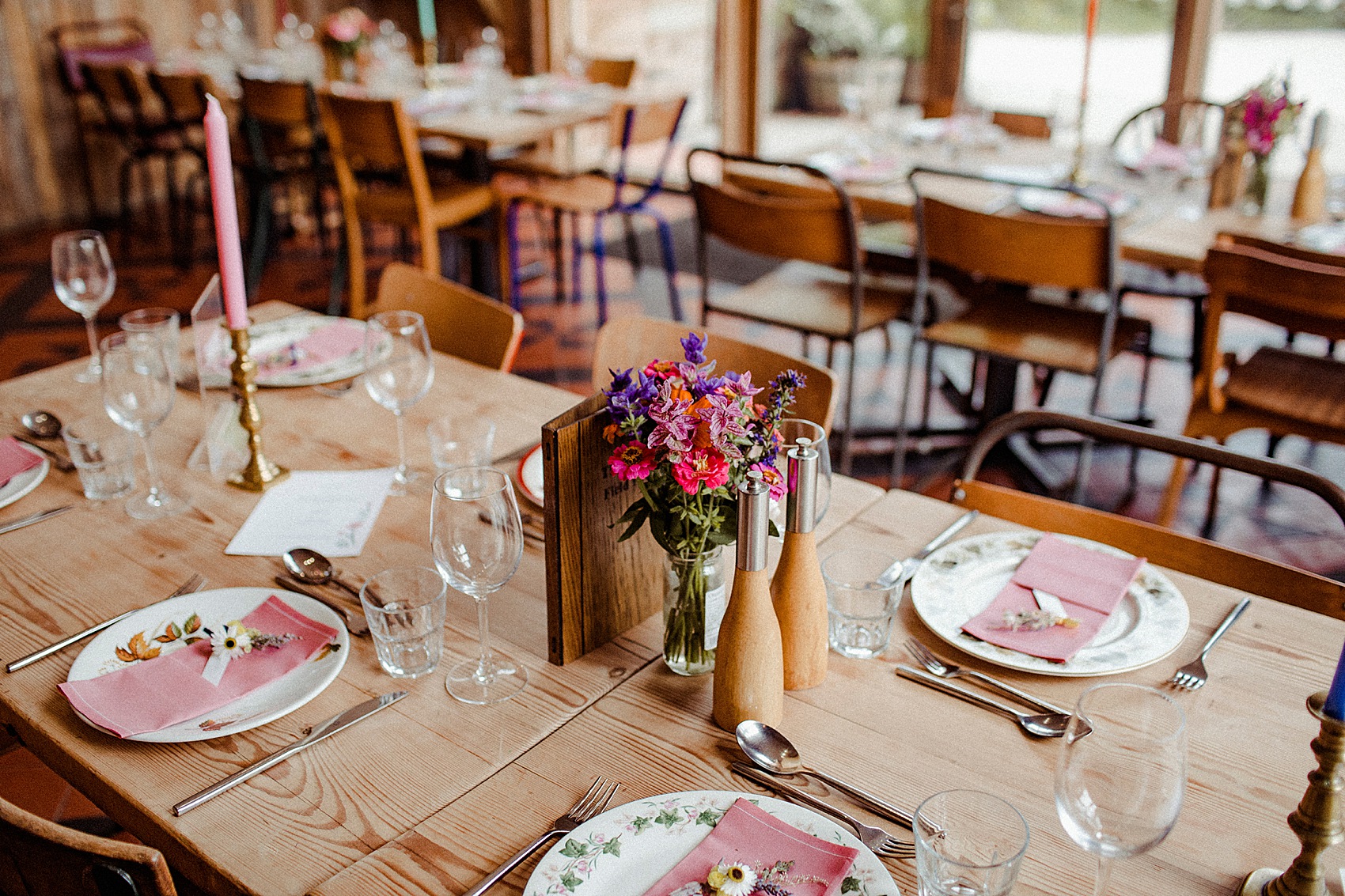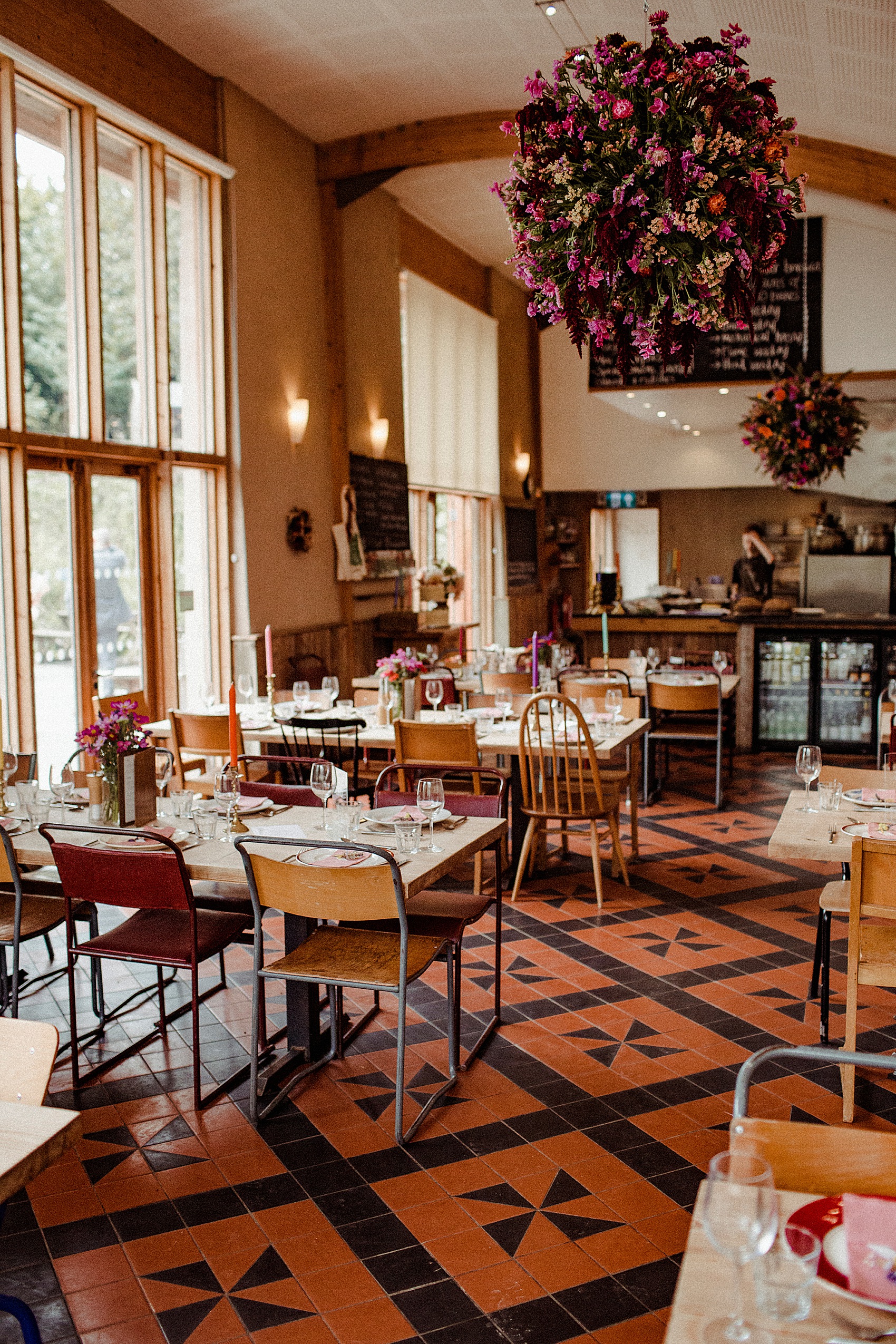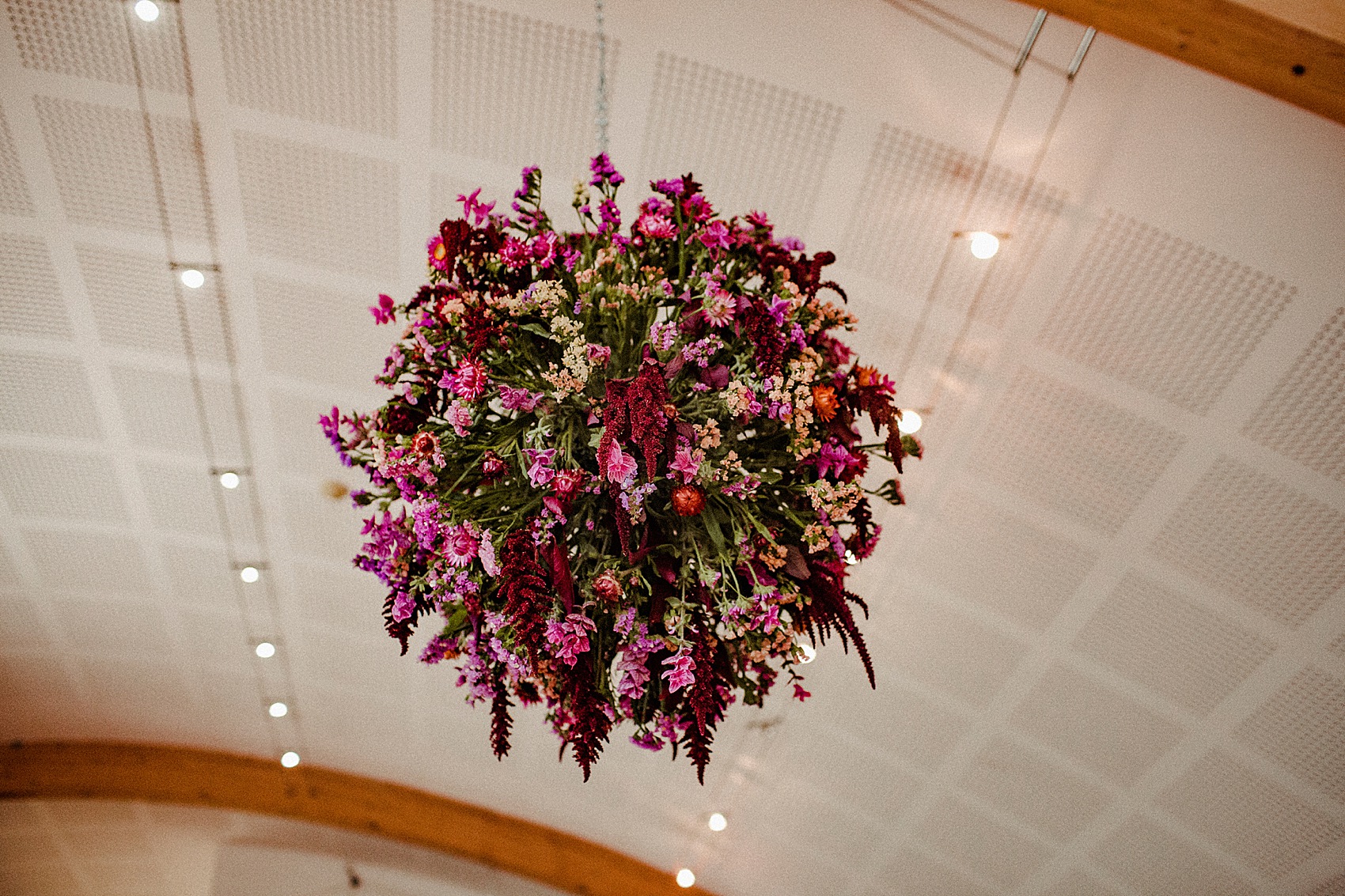 "My uncle made our cake. We didn't want the traditional elements you normally get at a wedding so didn't cut it or anything."
As night fell, the wedding part moved into the yurt for a night full of dancing.
"I am a huge Florence + the Machine fan. We have been to see her live five times and Pad always says it's where I am happiest so it had to be 'You've Got The Love'."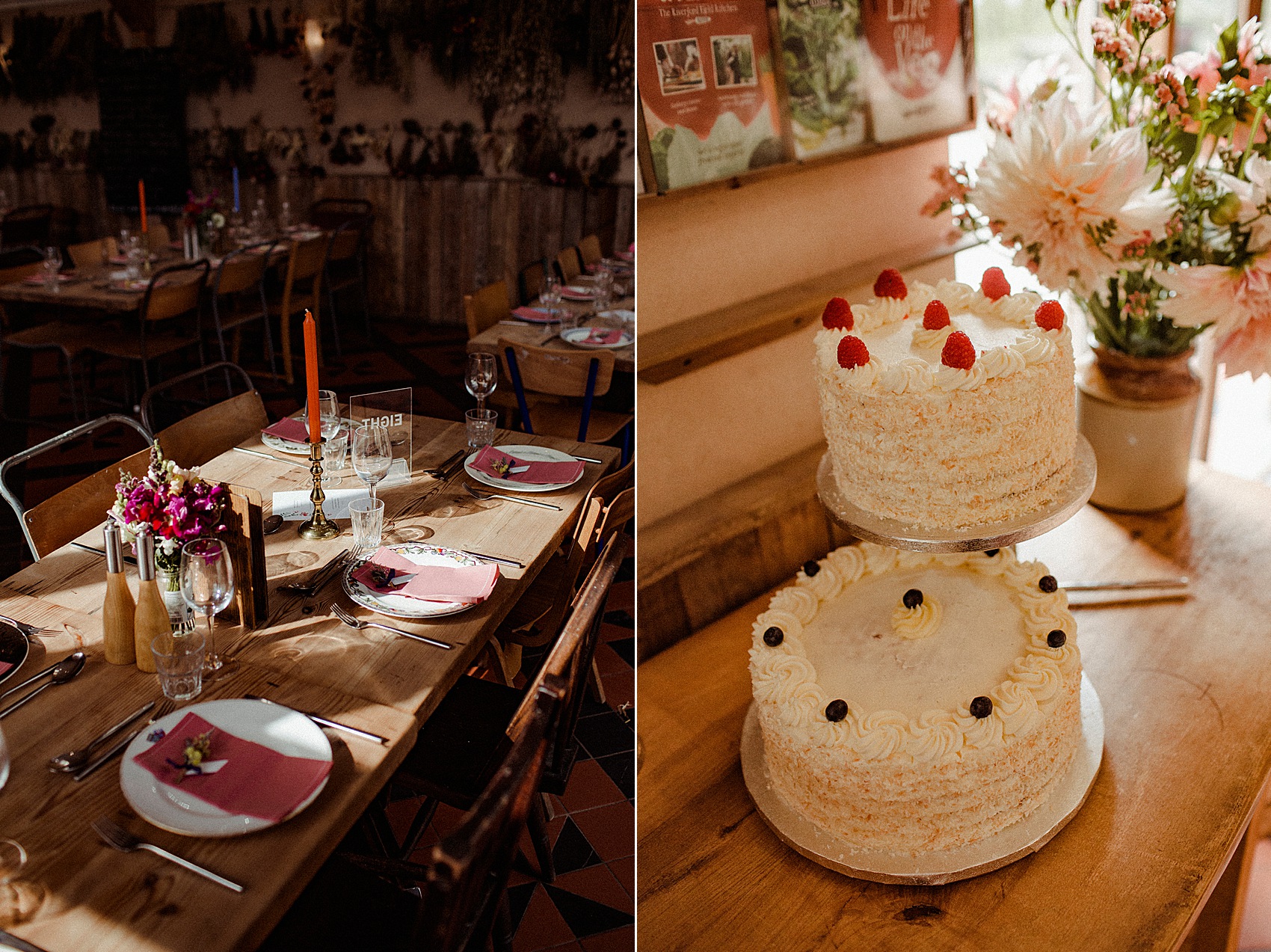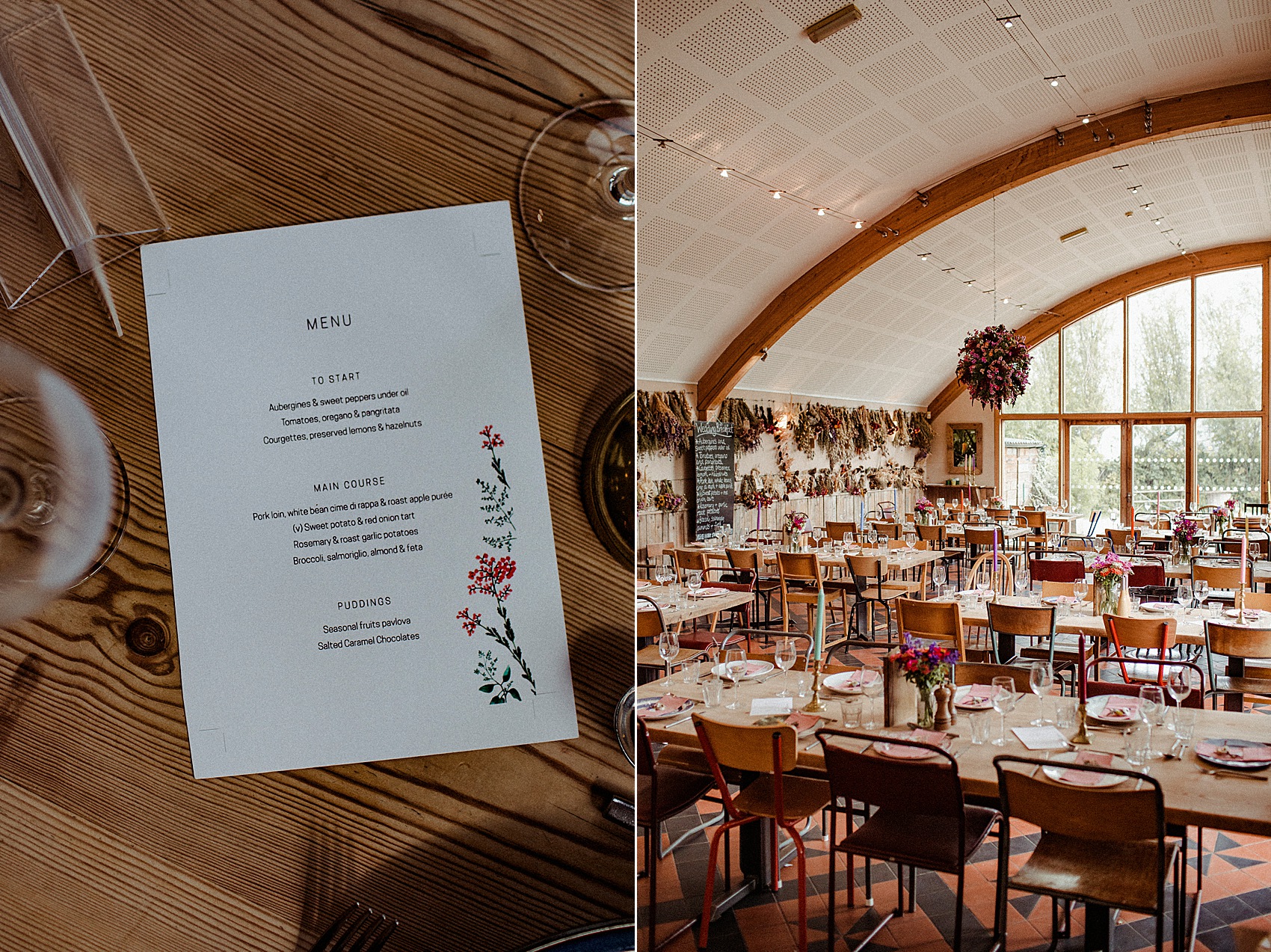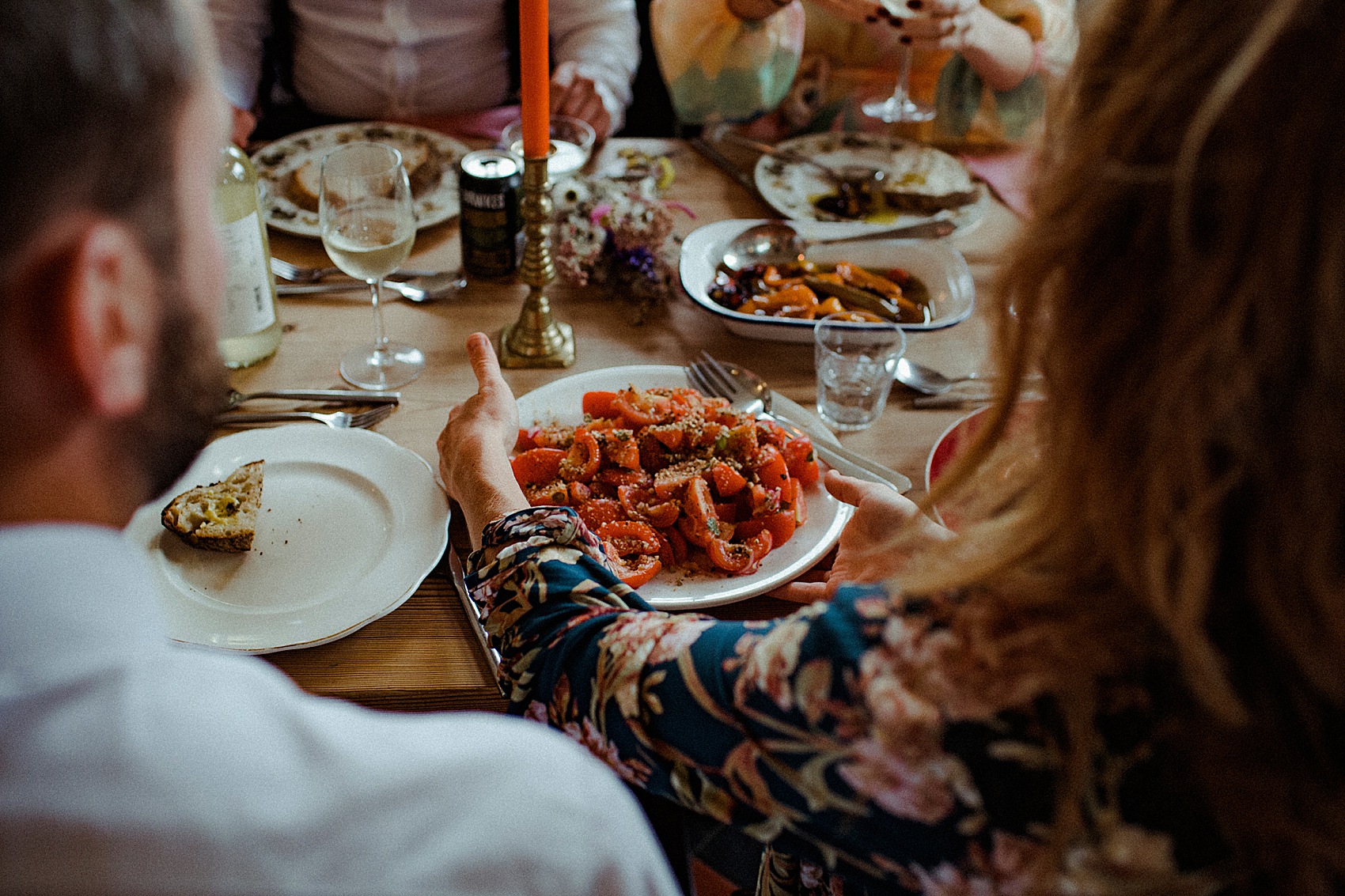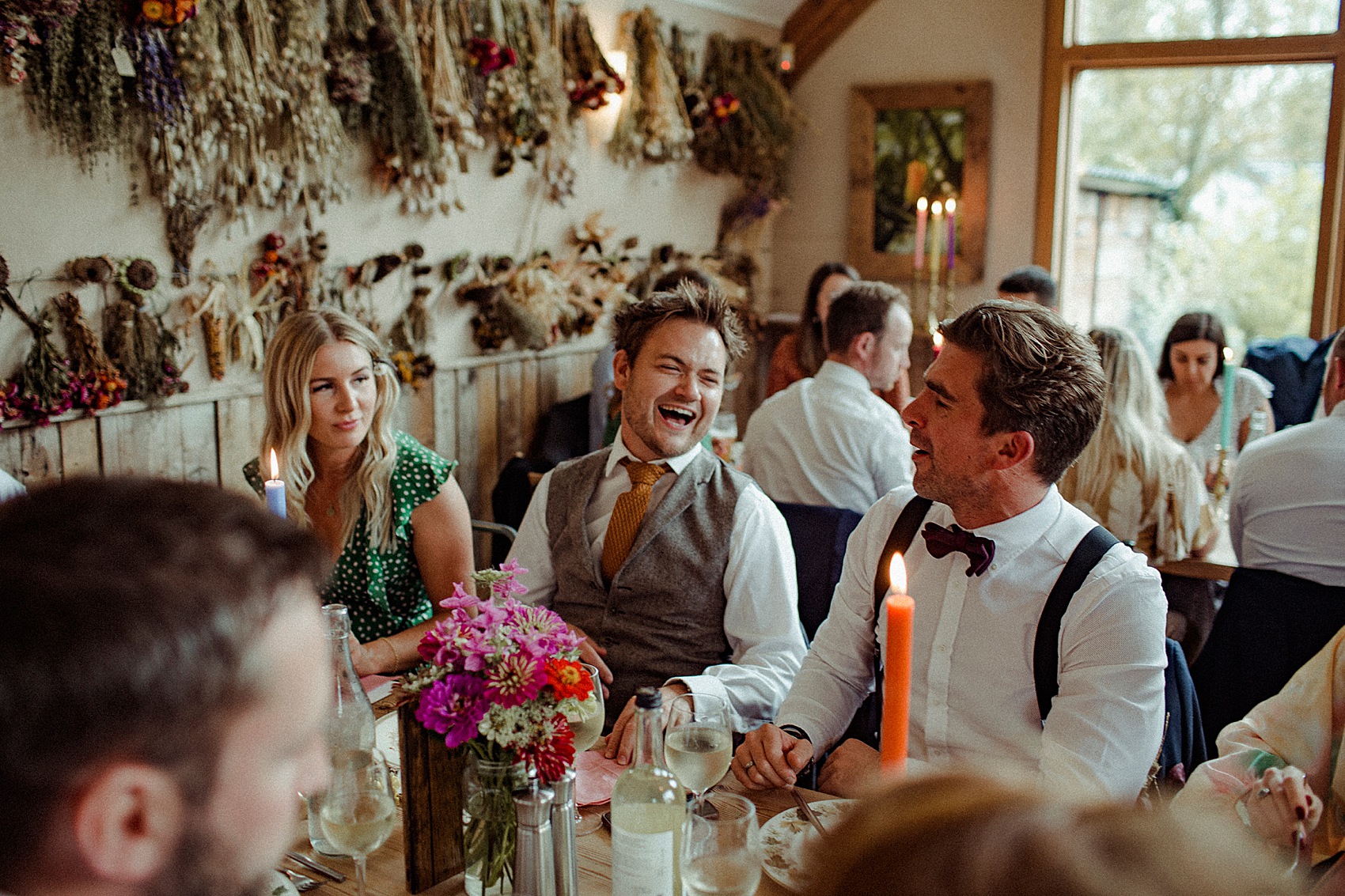 "The speeches were a huge highlight – my dad, my husband and my brother, who was best man. They were heart-warmingly funny and just filled the room with love and laughter."
"We had a two piece instrumental for the drinks reception and a five piece band in the evening."
Words of Wedded Wisdom
"Don't worry about the weather! You can't control it and honestly it really doesn't impact the day at all. We had yellow weather warnings in the evening and my, did it rain! But, it was fabulous and just meant everyone stayed inside and danced the evening away with us."
"I know everyone says it but don't stress or put yourself under any pressure.  Just try to enjoy the moment as you build up so much to it and it's gone in a flash. You will end up looking back and wishing you hadn't."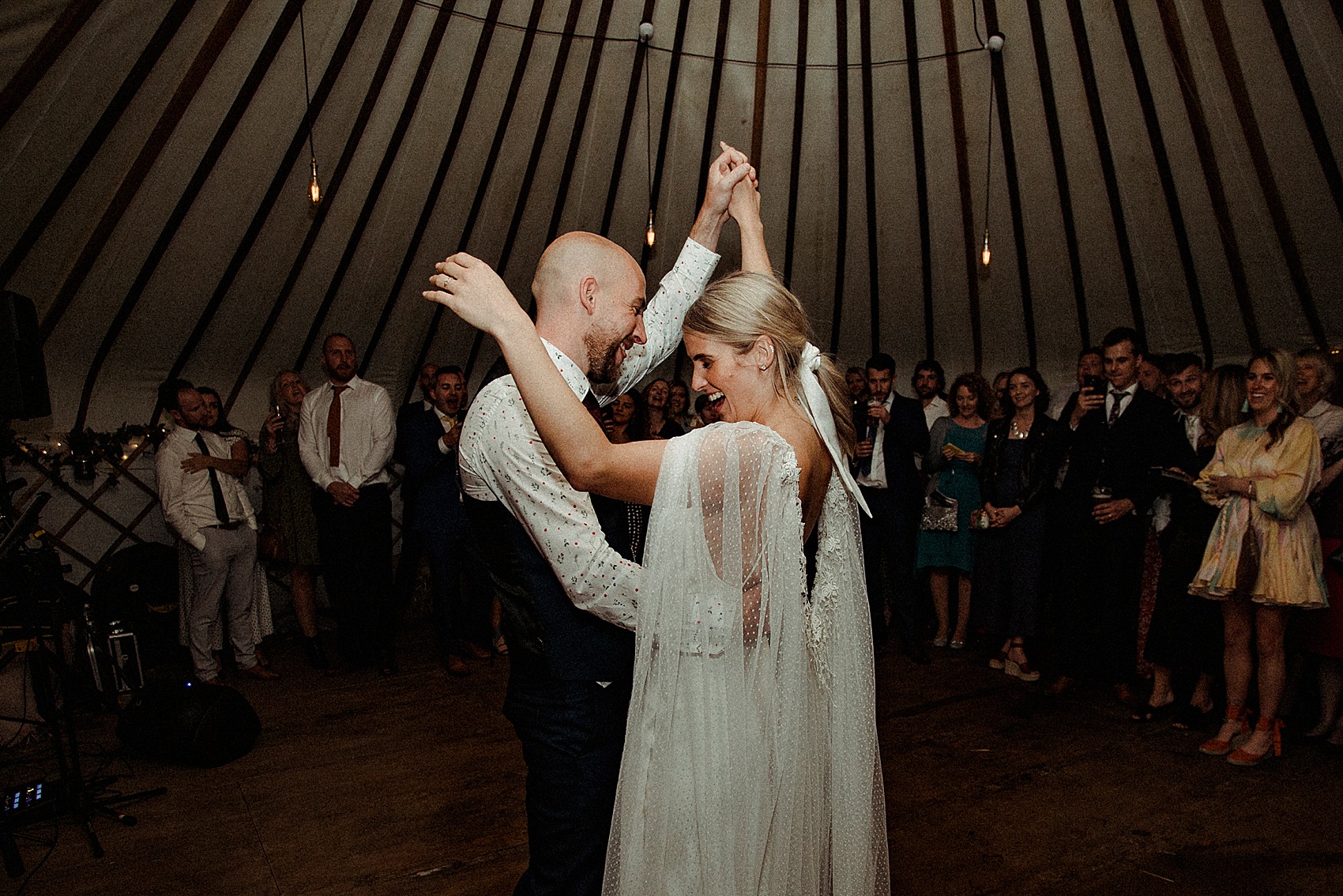 Well, Emily and Paddy, I cannot tell you how much I've enjoyed learning about your wedding and drinking in these divine photographs. I've pored over each and every single one, including the exquisite embroidery on your cape. Thank you so much, and thank you to A Thing Like That as ever, for your beautiful work.
If you'd like to see more brides in Halfpenny London, then head over to these pages and drink in the beauty.
Ele xx