It's such a pleasure to continue our long-tradition of interviews with designers and makers by welcoming Katy Britton, the designer behind Katy Britton Bride, an award-winning British bespoke bridal label.
For me, there is so much joy in these interviews. Not only are we able to get to know the talented designers themselves and find out more about their journey but it's also a wonderful opportunity to learn more about the business of bridal and the design process itself. I hope you enjoy hearing from Katy as much as I did.
Katy Britton Bride

+ Follow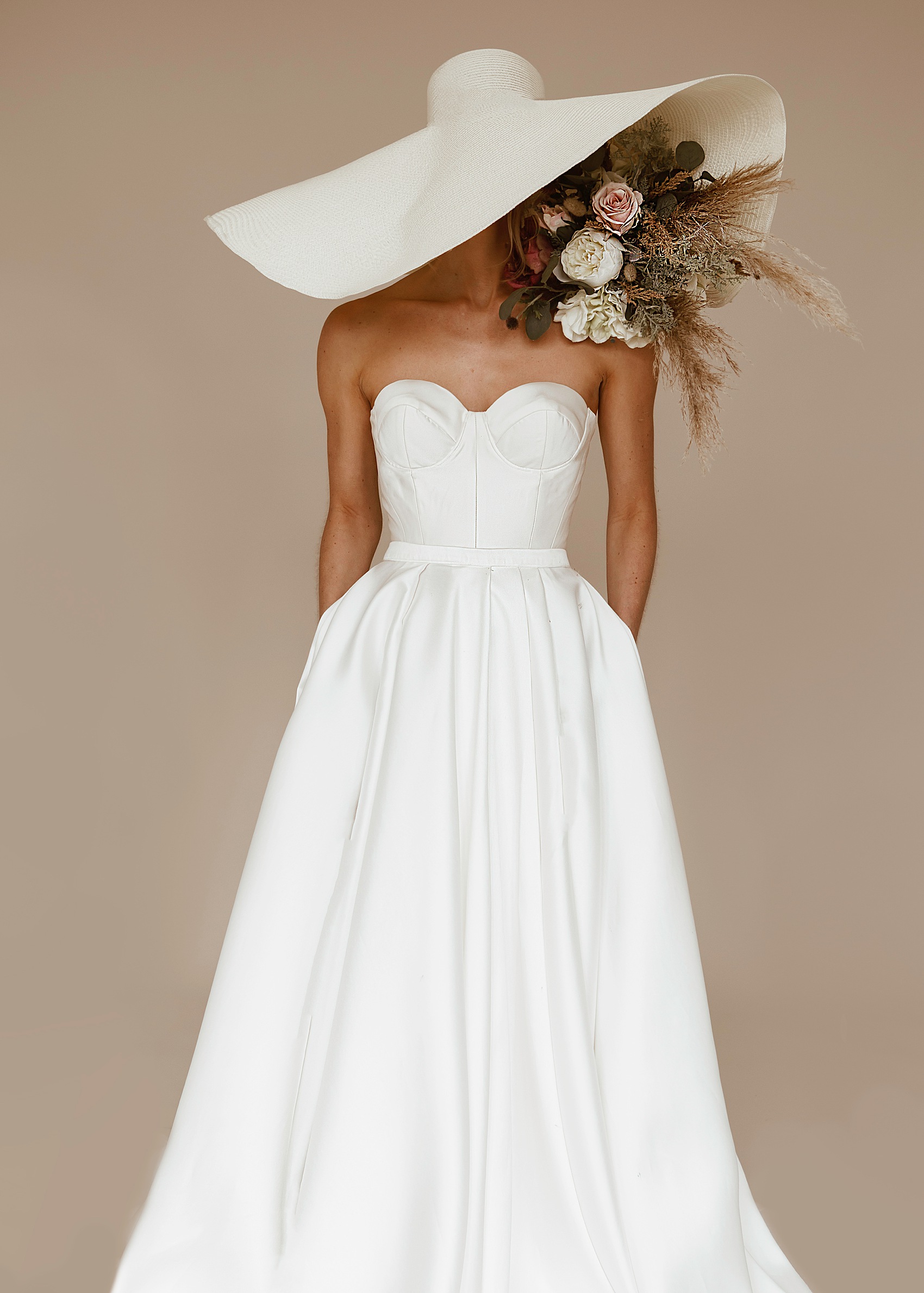 Would you like to introduce yourself and tell us how you started out in bridal design and what drew you to bridal in particular?
My name is Katy Britton and Katy Britton Bride is my bespoke bridal label. Everything I make for my clients is made from scratch.
I have always loved sewing and design from a young age, but originally wanted to study costume design. My tutor suggested bridal wear to me as she felt costume wouldn't be what I expected. There was a bespoke bridal shop in the town where I lived that I had always admired. I applied to work there, became her assistant, and she taught me everything I know.
After going on to gain a Fashion degree I realised my heart still lay with bridal. I love working with beautiful fabrics and creating the ultimate dress for a client. Bridal wear offers up endless possibilities in terms of design. It's exciting!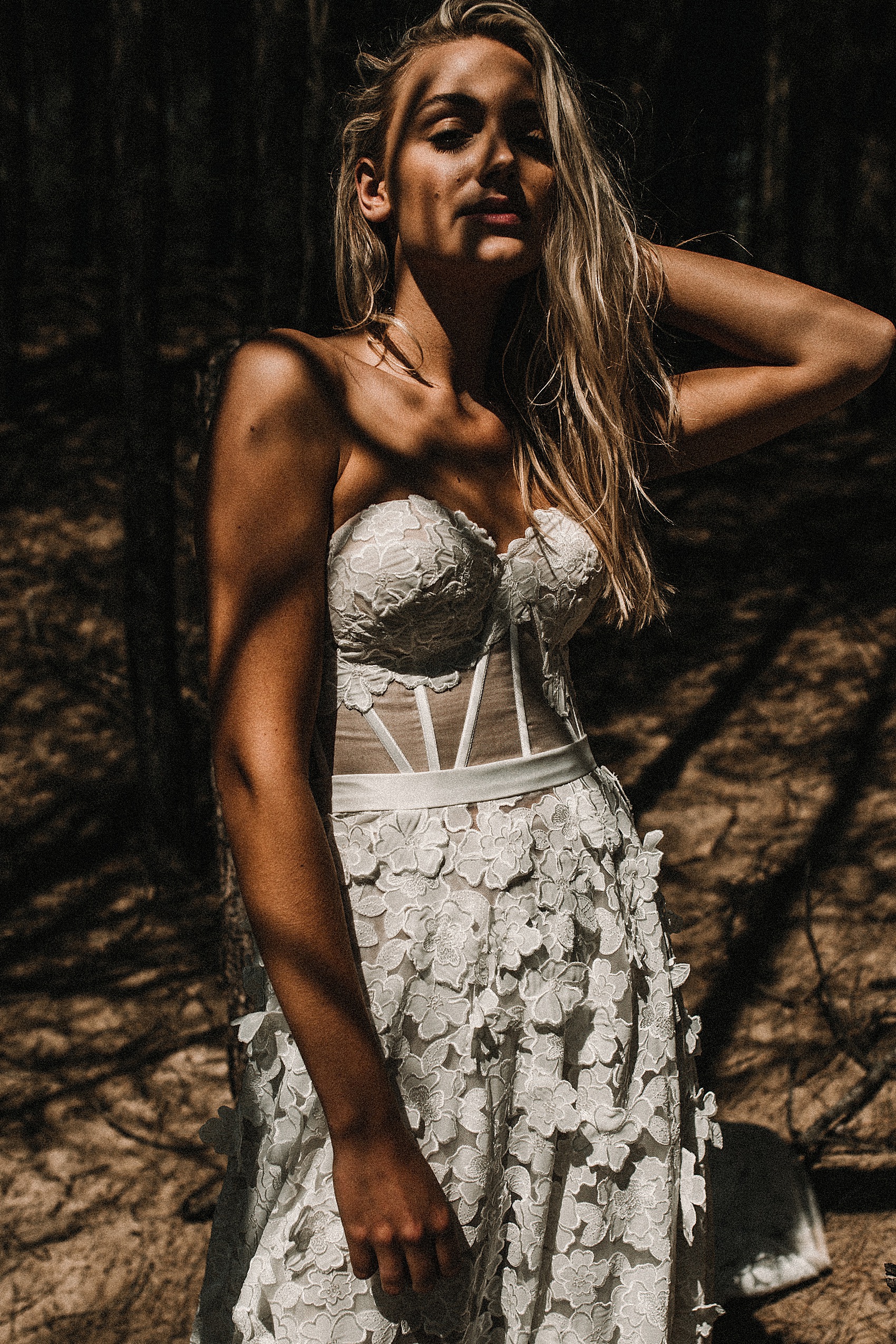 What do you love most about working in the bridal world?
I love to design, it is my favourite part of the job, and working in bridal allows me to work closely and form relationships with clients and so every day is different. My job is full of creativity and challenges, so I am never bored. Stressed, yes. Bored, no!
Can you describe your signature style?
I think my style can be described as romantic, feminine and chic. I like to use the cut of the design as the focal point of a dress, not necessarily embellishment.
What do you think makes your brand so appealing to brides?
The appeal is definitely that they can have almost anything they want. They may have ideas completely of their own, and we can bring them to life. Or they may love one of my designs but want to change it slightly. For certain body shapes, a made-to-measure gown is definitely the best option. It isn't a process that suits every bride, but it's a rewarding journey for those who choose it.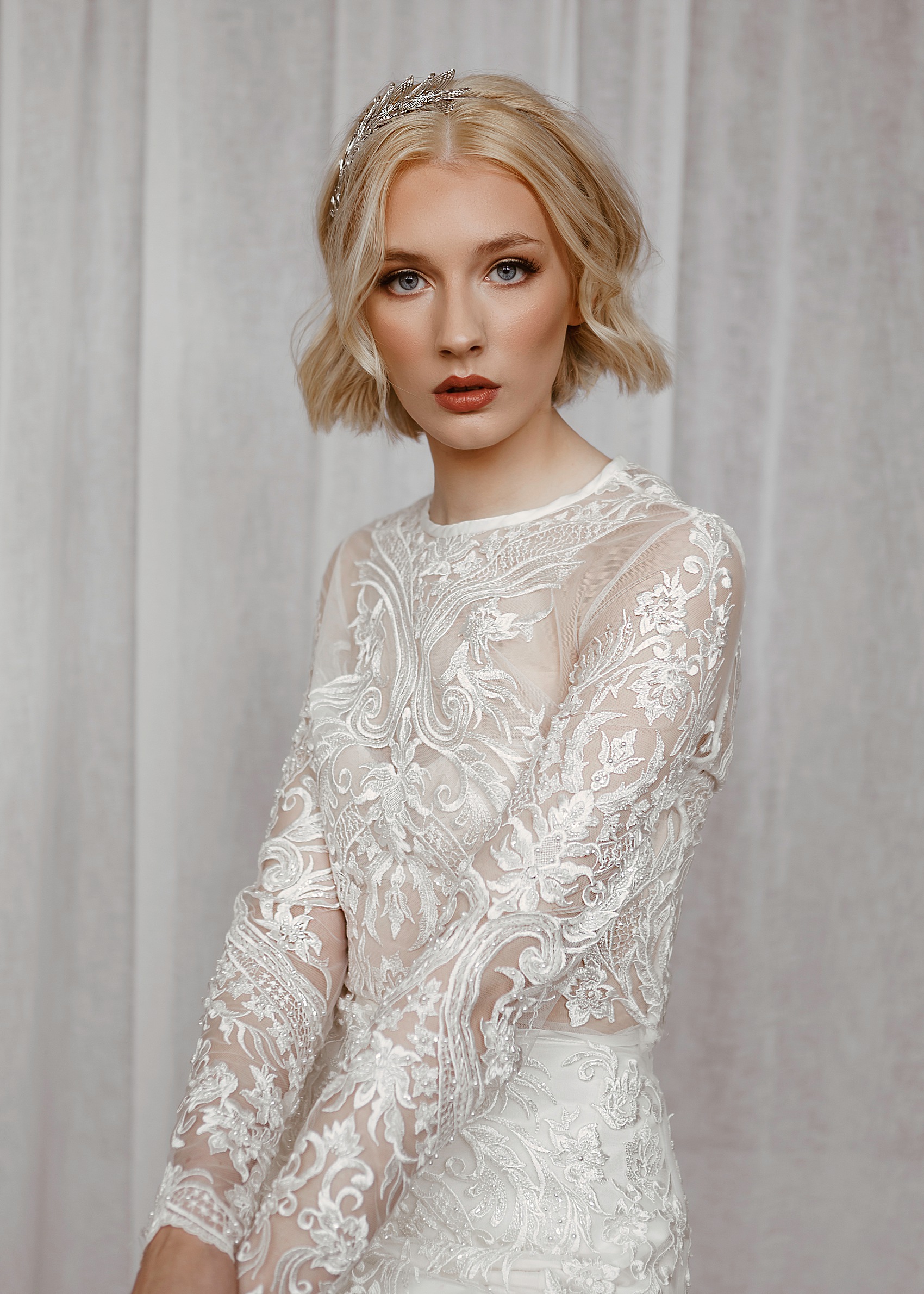 Do you have a 'typical' bride or do you work with a huge range of clients?
My clients are all so different. Although I feel perhaps I do have a style in my own designs, my clients incorporate their own ideas in their dresses and so there is great variation. The one thing they have in common is that they all want to wear something unique.
Where do you start with each new design – can you talk me through your process?
When I'm designing for my collection the starting point is very often the fabric or lace. If I find something I love, the dress is usually designed around it. Once I have sketched out the design, the end result rarely looks the same as it evolves so much during the pattern cutting process. I will often make a mock-up of the design before starting the final garment, and this is really helpful for envisaging the final result. During construction I am constantly experimenting on the mannequin, pinning bits on and cutting bits off.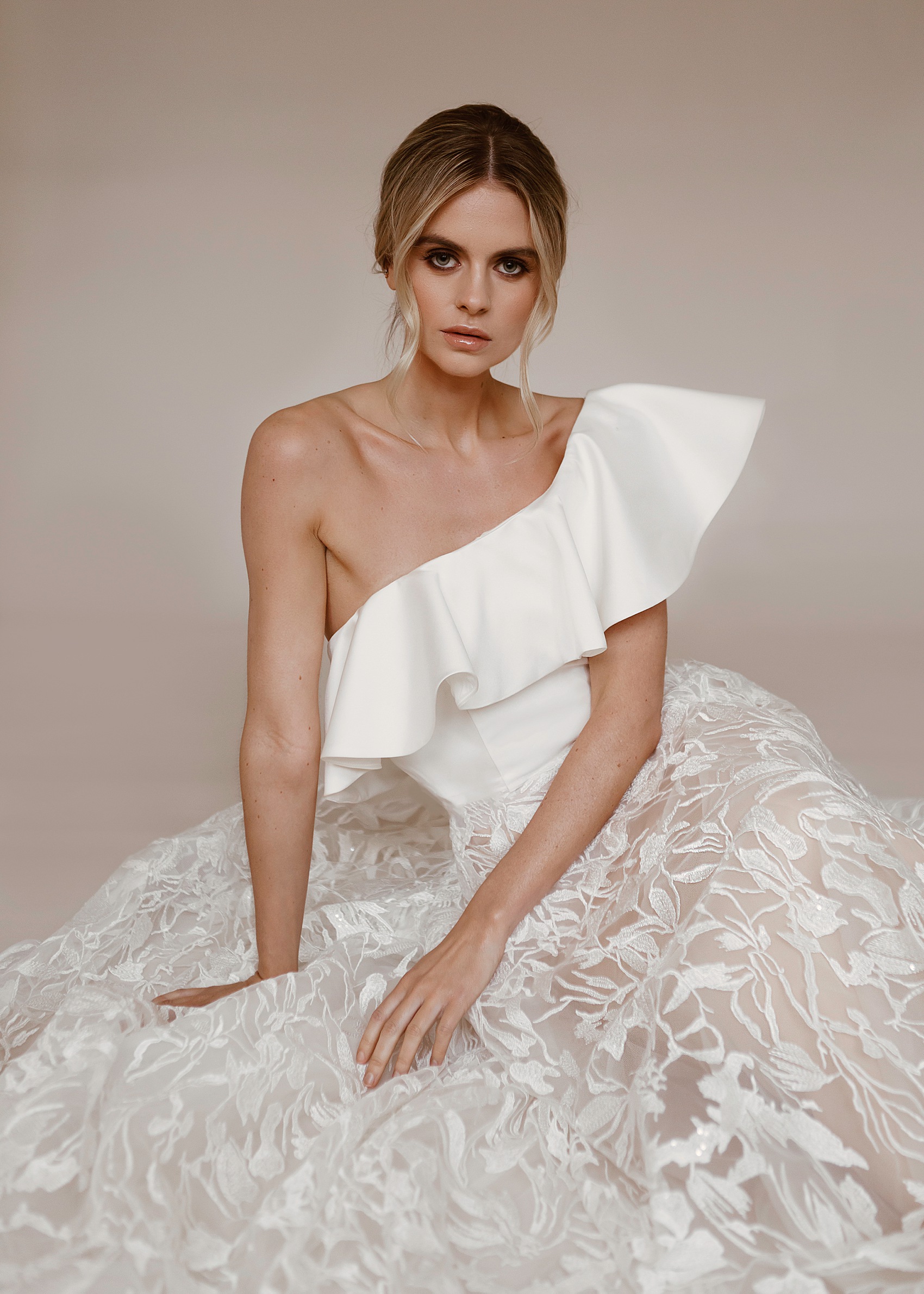 Tell us about your latest selection of designs, and what inspired you to create it?
My current collection is the first one I have ever produced for wholesale. I wanted to recreate what I do for my brides for other boutique owners to offer to their brides. The collection is predominantly separates and layers that the bride can mix and match and essentially build a dress. many of the pieces are sheer, so they can be tried on with different colour linings, or extra sequin or lace layers.
Can you tell us about the materials you use?
I am passionate about fabric, it is absolutely crucial to the success of the final design. I love laces and embroideries that are slightly unusual. I have staple ivory silks that I know will always produce beautiful results.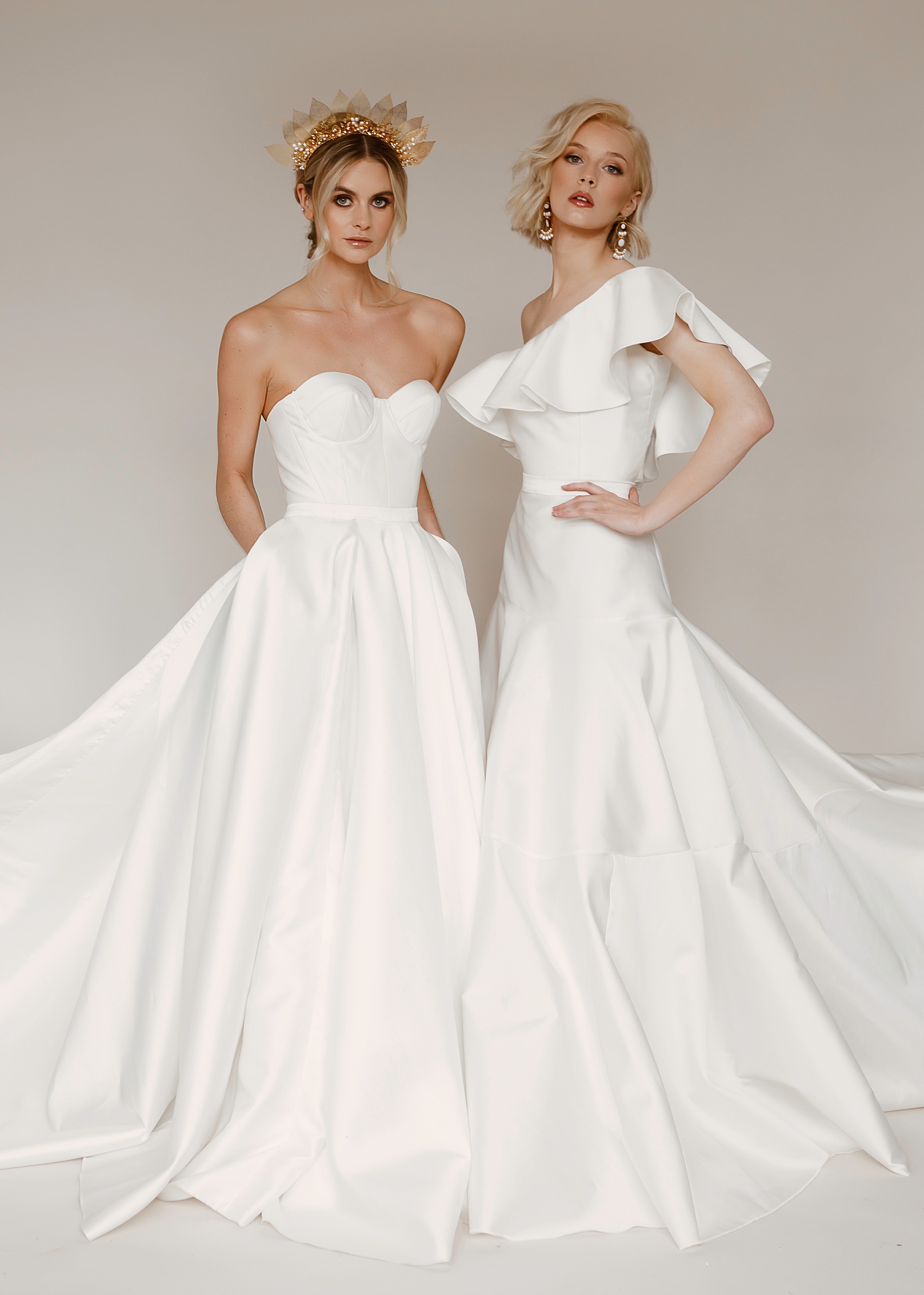 Do you have a favourite piece (or maybe one or two pieces) you think might be really popular with your brides?
One of my most popular pieces is the Florence skirt. It is made with a huge amount of mikado, which gives it fullness and flow without using a petticoat. It has box pleats, pockets and a split. It's simple, but makes a statement.
This year has knocked us all of course a little. How have things changed for you since March?
Business is very much on hold. I have two young children, and no childcare so work at the moment isn't possible. I squeeze in phone consultations where I can, but it was as though a switch was flicked.
How have you had to change what you're doing and even your plans for the year?
The biggest change for me was the cancellation of London Bridal Fashion Week, as I was due to exhibit and launch my collection. I had concentrated so much energy into it during the months running up to March, for it to not happen was very deflating. The show organisers have been great, and very quickly set up an online marketplace. Digital and virtual serves an initial purpose in bridal, but it can only take you so far. People need to see gowns in the flesh, see how they move, and inspect the fabrics.
What are you most looking forward to about getting 'back to normal'? Have you re-opened for appointments?
I can't wait to get back to work properly. My youngest starts school this year and so I'll be able to work more than I could pre-lockdown. I'm looking forward to seeing my clients who have moved their weddings and helping them to get excited again, and to meeting all the new brides that have been in touch during the past couple of months. I'm re-opening in September once school starts.
I think the pandemic will create an awakening within couples planning weddings. I think the expensive little details will no longer carry as much importance, and the main focus will be on sharing the day with those who matter most.
What do you love most about working with brides?
I love to share their excitement, and bring their dress vision to life. I often form some sort of relationship with each one, which is lovely. I'm still in touch with so many of my brides from over the years.
If you had one message for readers who have had to postpone their wedding days or delay their plans, what would it be?
I completely understand your devastation, but the most important thing about your wedding day is marrying the person that you love. As long as you can still do this in some way at some point, you will have a great story for the rest of your lives. You will be part of history.
Find out more by visiting the Katy Britton Bride website.